Christmas is definitely one of the most euphoric holidays and one of its charms are different decorations.
Yes, you buy find in Christmas time a wide range of different decorations, but it is also the opportunity to show your creativity and play with colors, shapes and materials.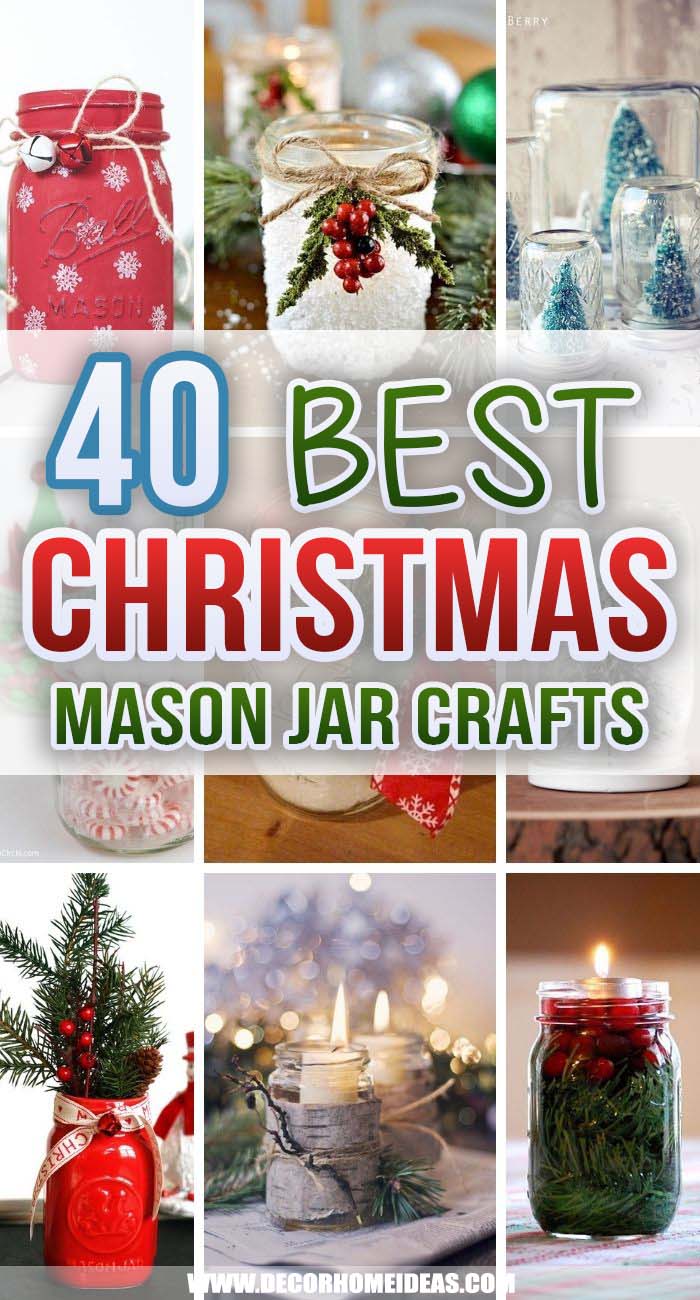 In this article, we will meet you with beautiful Christmas Spirit Jars ideas.
Some of them can be found on the market, but don't be lazy, make your holidays fun and try to decorate your own Christmas jar using some of our proposals.
You will have the opportunity to choose between different fabrics, colors and shapes. Make the season merry and bright.
Break out the glitter and glue guns, the pinecones, paint and mason jars. Have fun!
1. Bring Christmas Cheer with Santa's Colored Mason Jars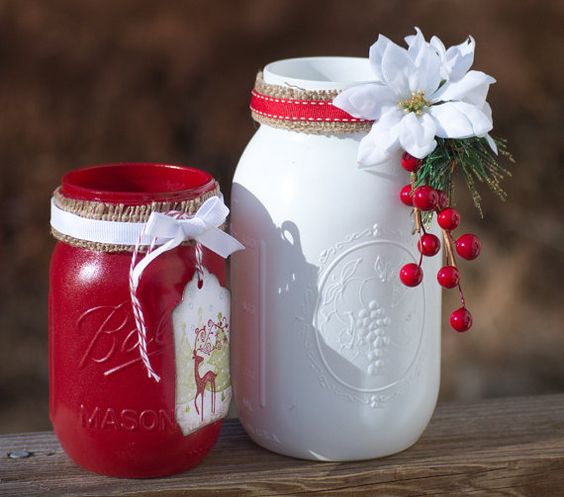 Photo: Credit
Our first proposal is a couple of Mason jars painted in Santa's colors, red and white and decorated with white and red oily, flowers and a mistletoe.
2. Create a Winter Wonderland with a Romantic Candle Jar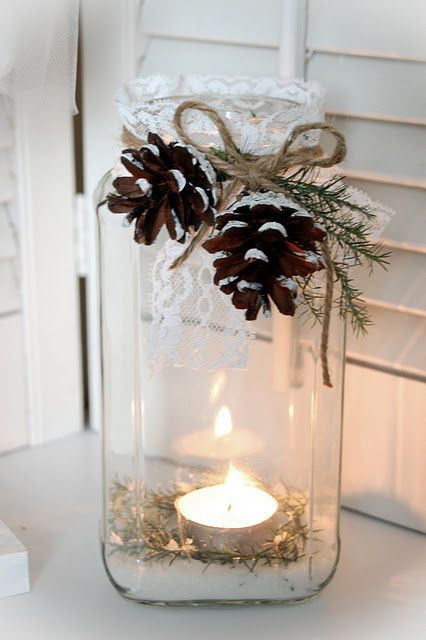 Photo: Credit
Here is one romantic candle jar that can be easily made using a candle, epsom salt on the bottom that symbolizes the snow, fir twigs, a couple of pinecones on the top tied to a lace in white color.
3. Give Your Home a Magical Glow with a Candle Jar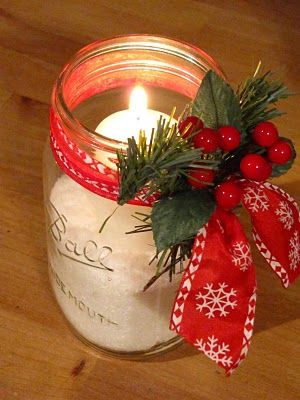 Photo: Credit
We propose you one more decorative party candle light.
Use Epsom salt to hold the candles in the jar, the same as in the previous example, it will glisten like snow for Christmas!
Decorate the jar with a mistletoe and red strip with winter symbols: snowflakes, reindeers, Santas and similar.
4. Create a Romantic Atmosphere with a Simple Candle jar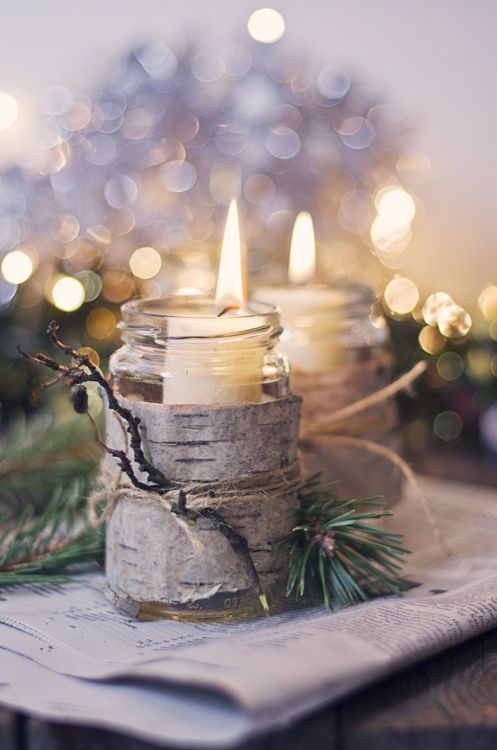 Photo: Credit
To make this simple romantic Christmas jar, hollow out bits of branch to cover small candle holders and tie with twine.
Place them in small groups of odd numbers in the center of your table. You can also add sprigs of rosemary for some color and a fresh scent.
5. Make a Homey Atmosphere with a Candy Candle Jar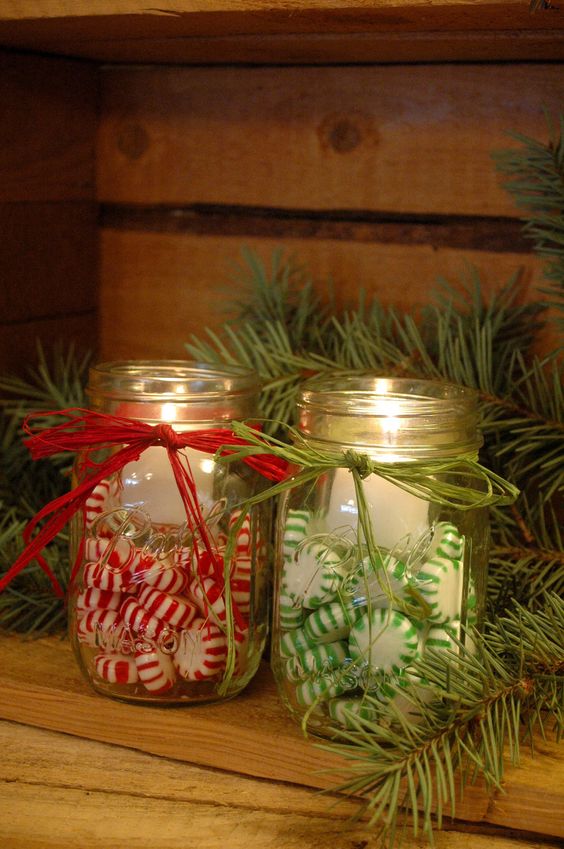 Photo: Credit
For this sweet combination put red and white and green and white candies, tie red and green twines in oily on the top of jars and put some fir twigs around the jars.
6. Build a Winter Wonderland in a Mason Jar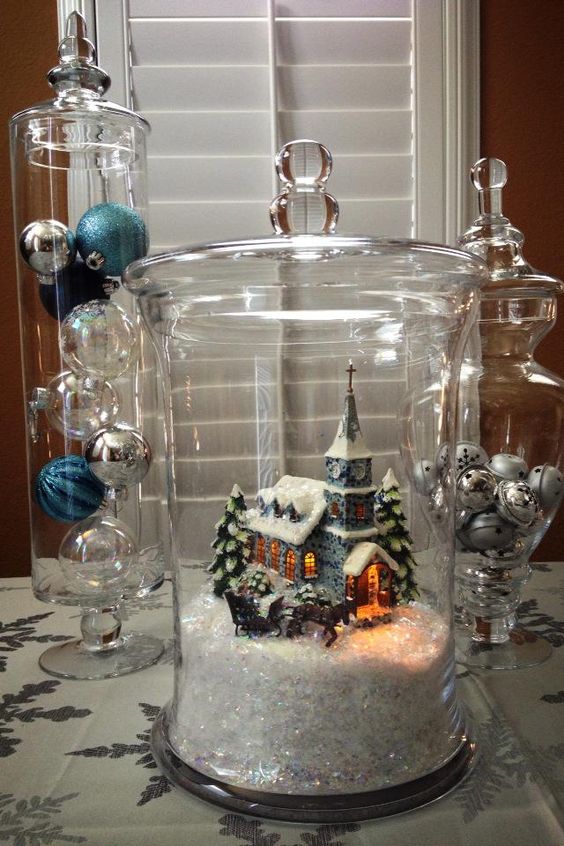 Photo: Credit
The figurines of some village, cottage or church under the snow could be found anywhere during Christmas time and they are becoming boring, but if you put them in the jar with Epsom salt on the bottom with some glitter simulating the sparkling snow, you can make beautiful snow globe.
7. Get a Stunning DIY Deer Centerpiece with a Mason Jar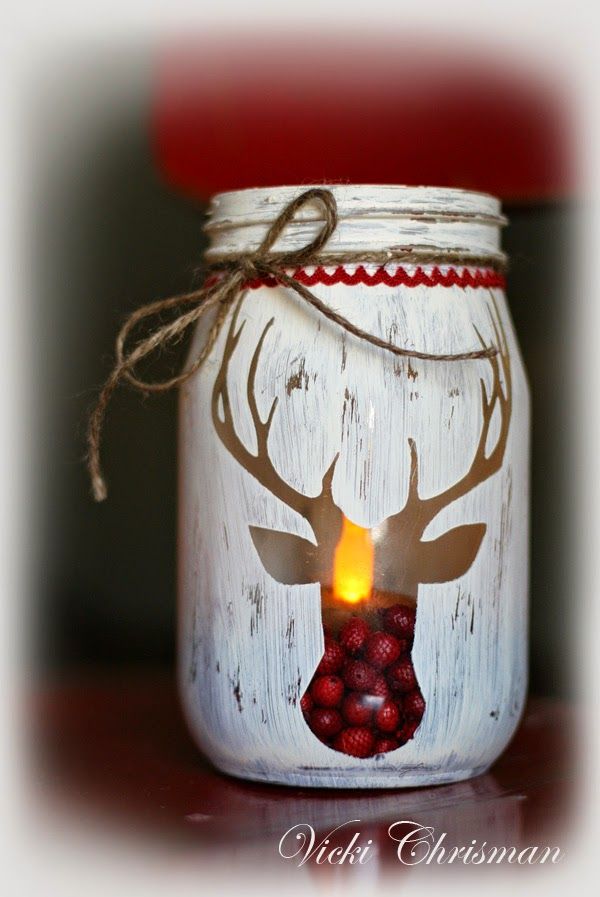 Photo: Credit
Draw the deer silhouette on the paper, cut it and glue it in the center of the jar. Don't glue it too much so you could remove it later.  
Paint the jar with white and leave it to dry. When it is dry, remove the deer silhouette and put some berries in the jar.
8. Illuminate Your Festivities with a Cranberry Candle Jar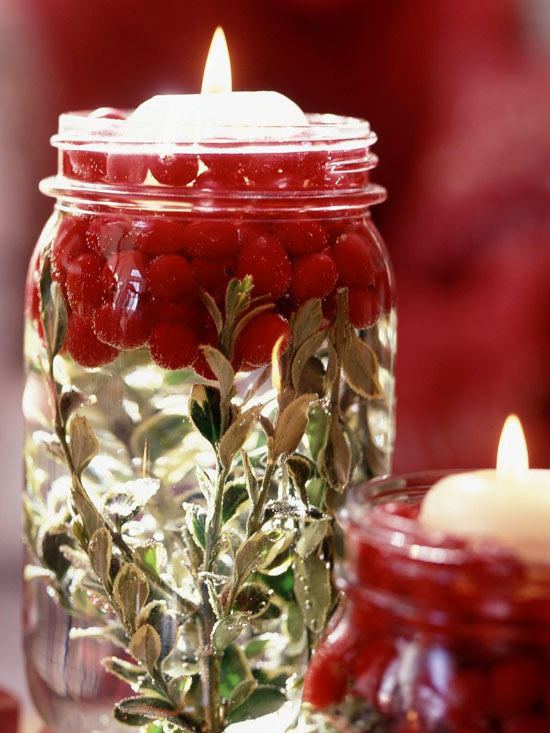 Photo: Credit
Fill the jar with cranberry and greenery, and put the floating candle on the top. This jar is ideal for a Christmas centerpiece placement.
9. Turn a Glass Jar into an Eye-Catching Glitter Reindeer Decor
                                                                                                                          Photo: Credit
Make a cute glitter reindeer from your jar using the brown, draw eyes, cut them and glue them on the jar. Make the hors from strings and sheathe them with plush. If you want to go bold – try rose gold Christmas decoration.
10. Transform Your Home with a Glitter and Mistletoe Jar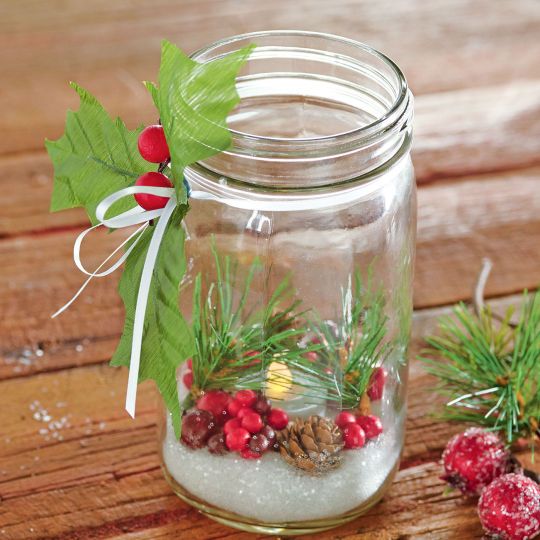 Photo: Credit
If you prefer simplicity and basic Christmas symbols, put Epsom salt with glitter on the bottom of the jar, some pinecones,  a mistletoe and there you are!
11. Enchanting Joy Sign with Three Mason Jar Lanterns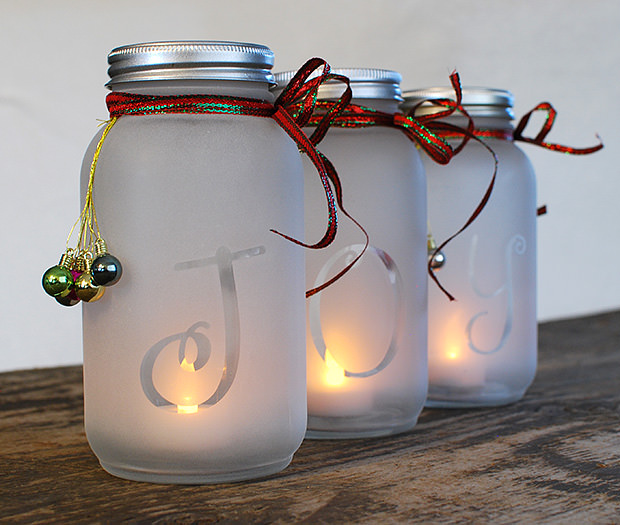 Photo: Credit
These three Christmas jars with candles and beautiful Christmas decorations are perfect to be filled with chocolate or yogurt covered pretzels.
12. Create a Guileless Snowman Mason Jar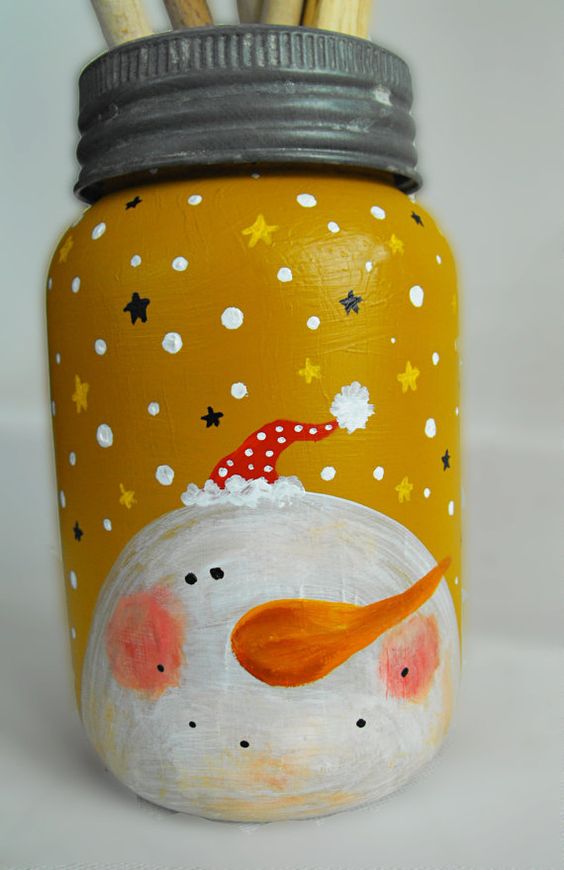 Photo: Credit
Want to paint on your jar? You don't have to be perfect artist. Even if some lines aren't perfectly drawn, you can draw a funny Snowman. The kids will definitely love it.
13. Decorate Your Home with Festive Nature-Inspired Jars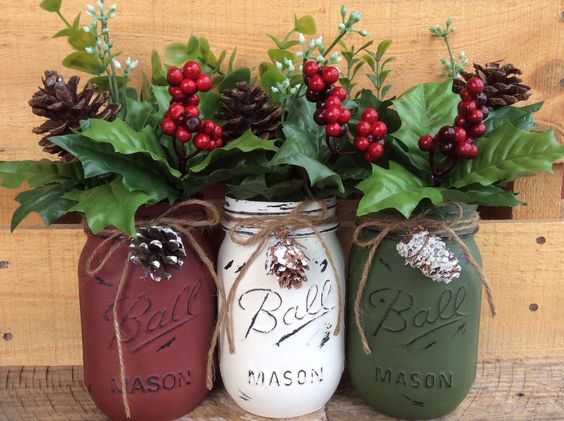 Photo: Credit
A simple but a festive trio. Paint your three jars in different colors like in this example, decorate them with pinecone and fill them with springs of mistletoe.
14. Place a Cute Bambi in a Snowy Mason Jar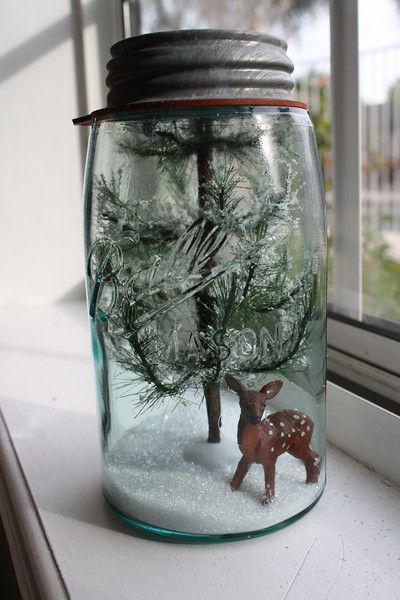 Photo: Credit
One more cute idea is a snow globe with a lost Bambi on the snow.  Find the way for your Bambi, and put it to some special place.
15. Create a Blizzard for Your Christmas Tree Jar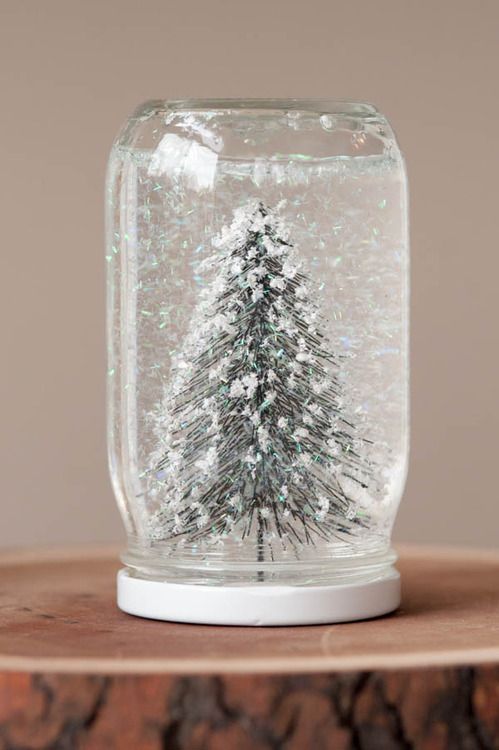 Photo: Credit
You don't need many details to get effective Christmas  jar. This is what you will need to do in order to get this great snow globe:
A clear plastic or glass bottle 1/4 full of rubbing alcohol.
Add one drop of food coloring if you want to give the liquid mix some color (and make it easier to differentiate the alcohol layer from the layer of oil that we will add next). Fill the remainder of the bottle with baby or vegetable oil (the oil will sit on top of the alcohol).  Leave a bit of room in the lid area for the tiny, shiny stuff.
Add glitter, sequins, small beads or any other tiny, shiny objects.
Fill the remainder of the bottle, all the way to the rim, with baby oil.
Screw the lid on tightly.  Tape it so it does not come loose (or apply a little glue to the inside of the lid before twisting in on).Note: If you are using a wide-mouth jar for your bottle, you can also glue some sort of decoration (e.g. church, snowman, Christmas tree, plastic deer, etc.) to the inside of the lid before putting the lid on the jar.
Gently shake the bottle to mix the alcohol and oil together.  The mixture will turn a milky color and the shiny stuff will float and spin in the mixture.
Allow the mixture to settle.  The oil will separate from the alcohol after about 5 minutes.
16. Light Up Your Space with Beautiful Frosted Jars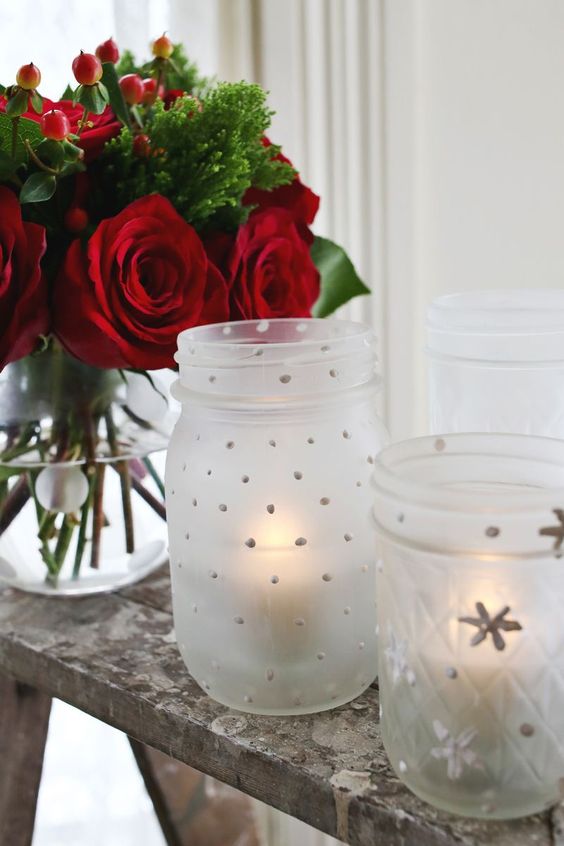 Photo: Credit
Find some blurred jars, paint on them some gray details on them and put in them candles and you will get beautiful frosted jars.
17. Add Chic Snowflakes to Frosted Mason Jars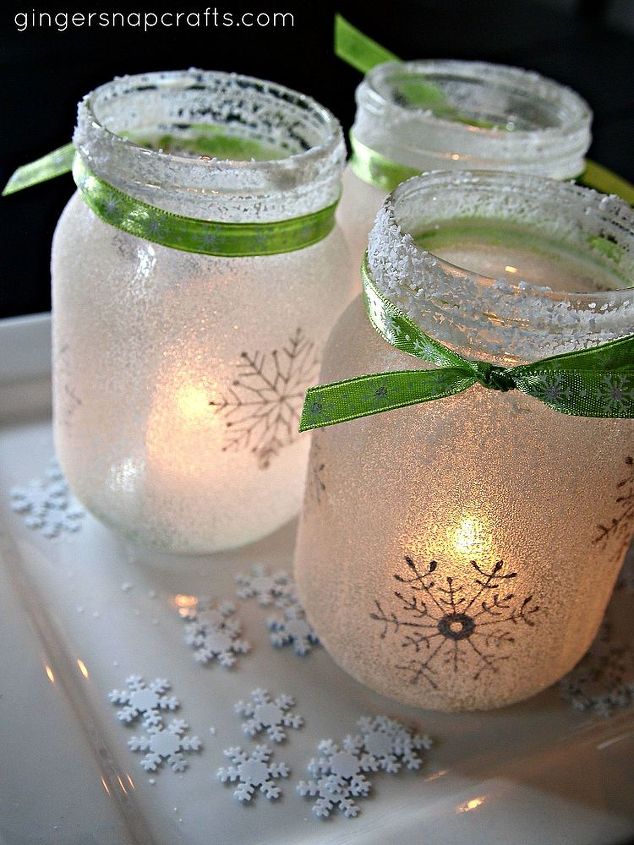 Photo: Credit
The steps are the same as for the previous example, you can make your own Christmas jar using: mason jars, metallic glass paint and silkscreen snowflake stencils.
18. Decorate Mason Jar Candle Holders with Christmas Colors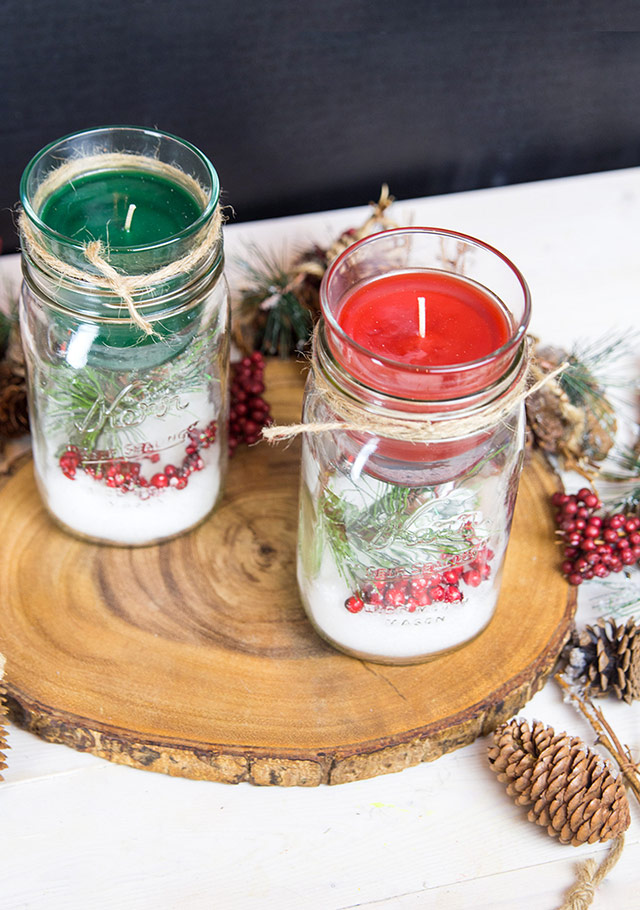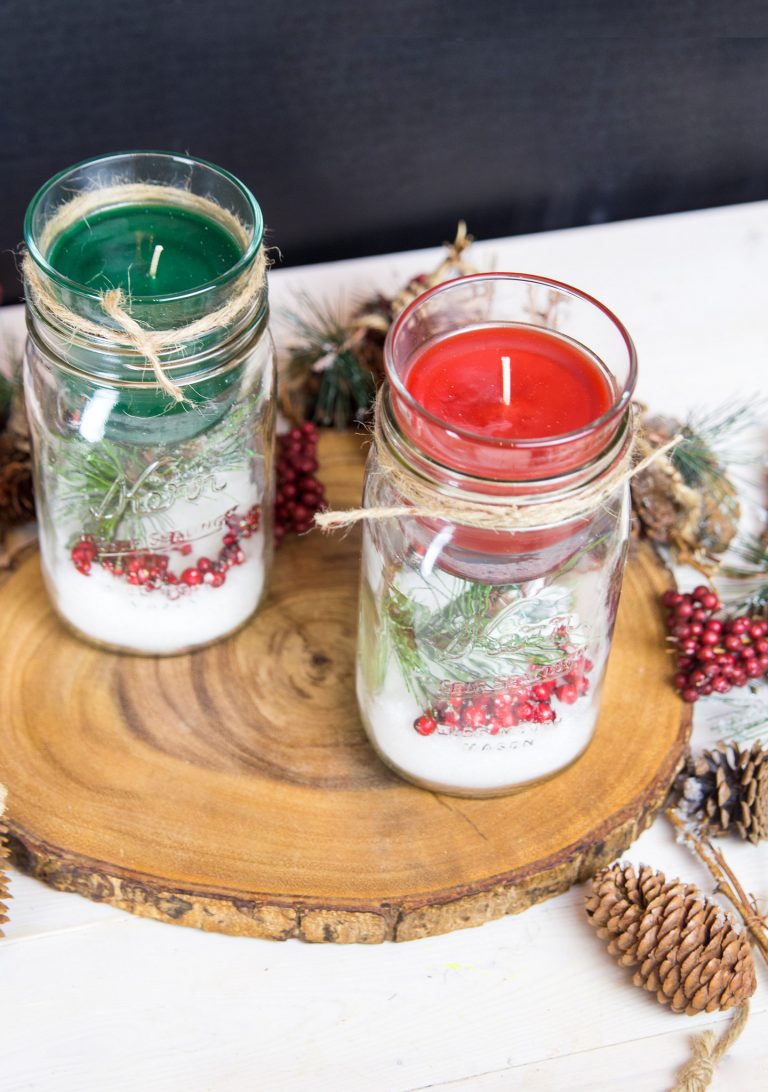 Photo: Credit
Use the narrow jars for Christmas candle holders and decorate them with Epsom salt on the bottom simulating snow and add a mistletoe with fir twigs.
19. Create a Festive Ambiance with a Tree Snow Globe Jar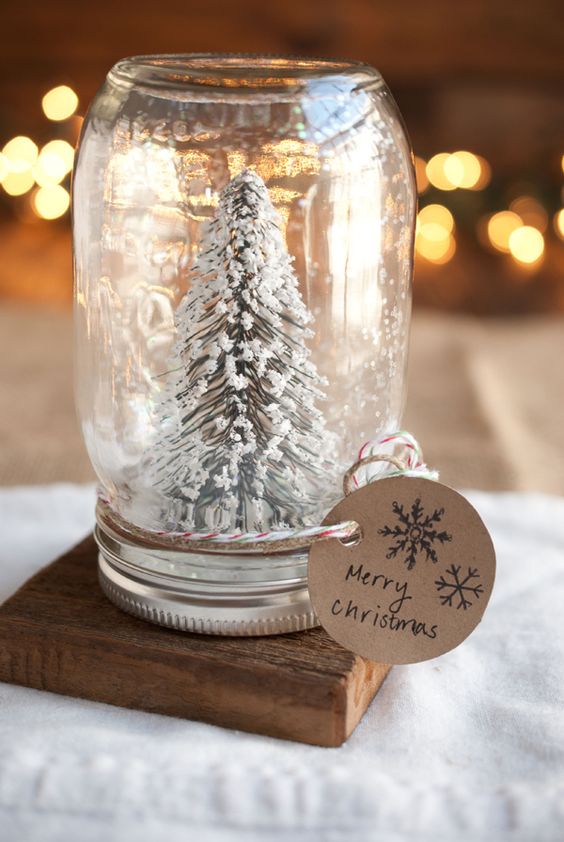 Photo: Credit
In order to make this beautiful Christmas tree you will need a snowy tree, a mason jar and glitter. This can be perfect for someone who appreciates handmade presents (and really, who doesn't??) They're my favorite kind of gifts 🙂
20. Make Thrifty Snowballs for an Amazing Snowman Jar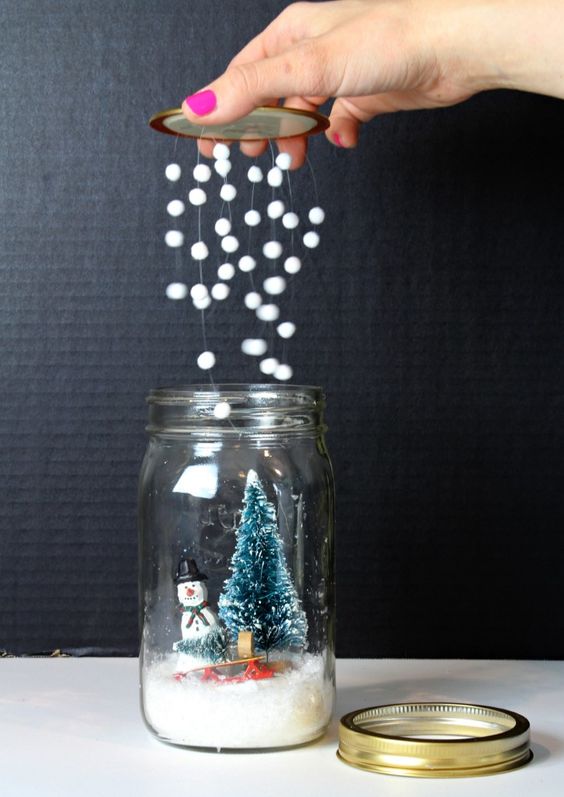 Photo: Credit
You can make this fun snow globe with a quick trip to your local craft store along with a few things you probably have around your home you can make these fun globes. This snow globe with a Snowman and a Christmas tree will definitely attract attention of every child.
21. Give Your Candle Jars a Modern Look with Oil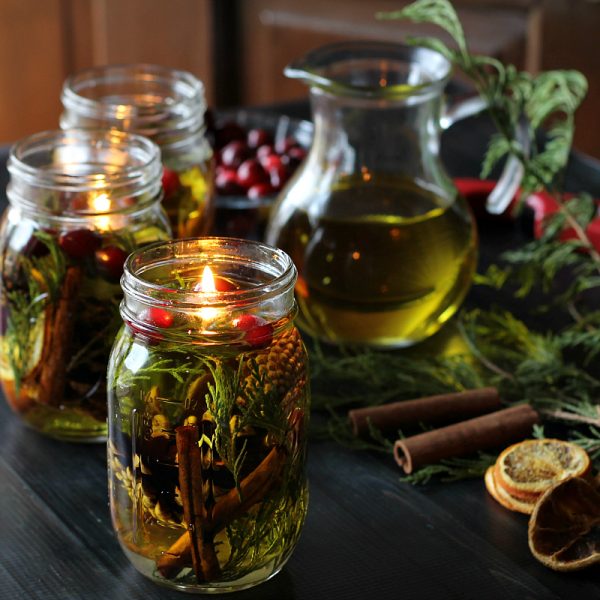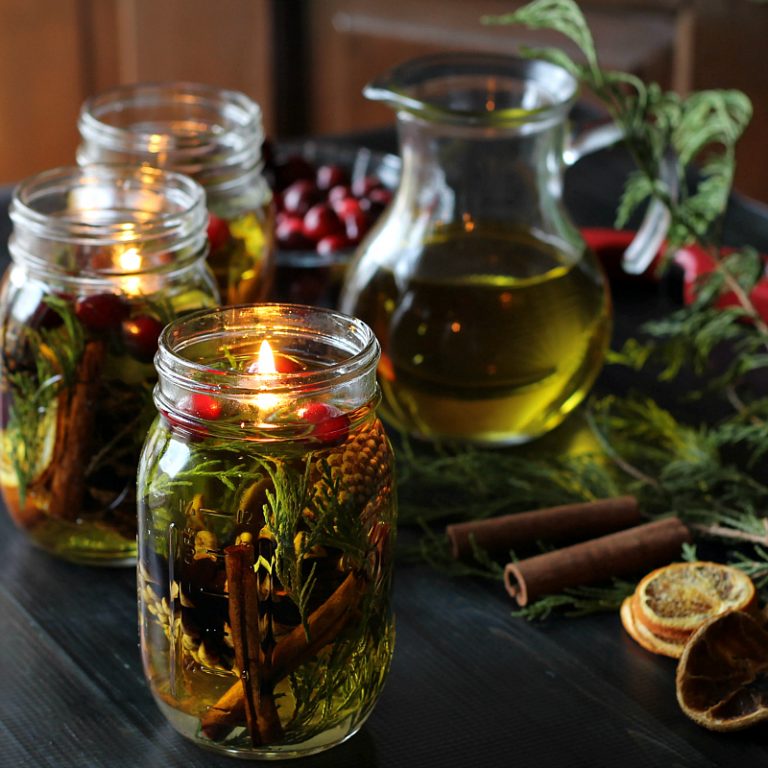 Photo: Credit
Fill the jar with botanicals like cranberries, dried orange slices, pine cones, cinnamon sticks and some fresh cedar from the yard.  Fill the jar with oil, and then add your floating wick. You can use a piece of an old candle's wick when the original one burns up.
22. Rustic Snowman Jars with Matching Buffalo Check Bows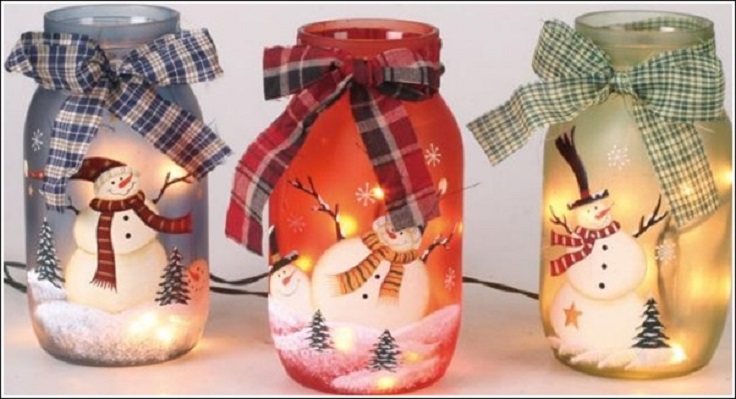 Photo: Credit
In order to make these beautiful painted Snowman Christmas jars, you will need acrylic paint, ribbon and tea light. Paint the jar any color that you like, and after that paint the Snowman with white color. When you finish the painting tie a ribbon around the jar and put a tea light inside.
23. Elegant Traditional Christmas Jar with Holly and Fir
Photo: Credit
This is one more simple, but an effective vintage design Christmas jar in red. As all the classic jars it has a warm, Holiday message on the strip.
24. Craft Rustic Reindeer Jars for Your Christmas Treats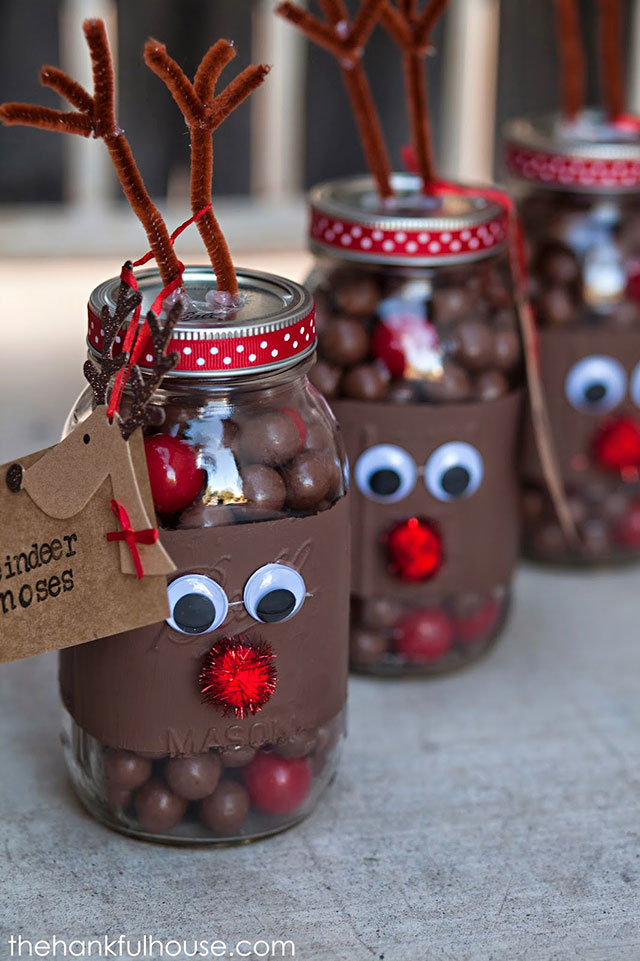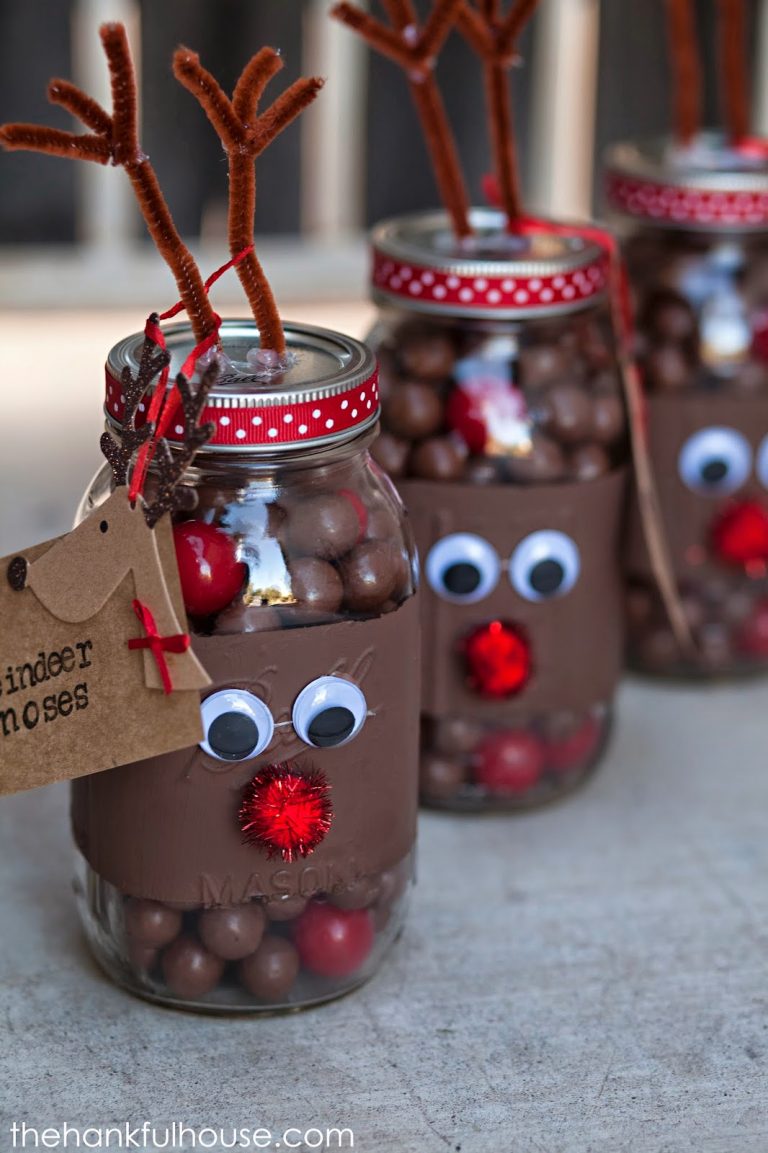 Photo: Credit
Make more interesting deer Christmas jars, drawing and cutting the reindeer's eyes, put some horns made of wires and fill the jar with your favorite Christmas delight.
25. Make a Festive Duo with Elf and Santa Jars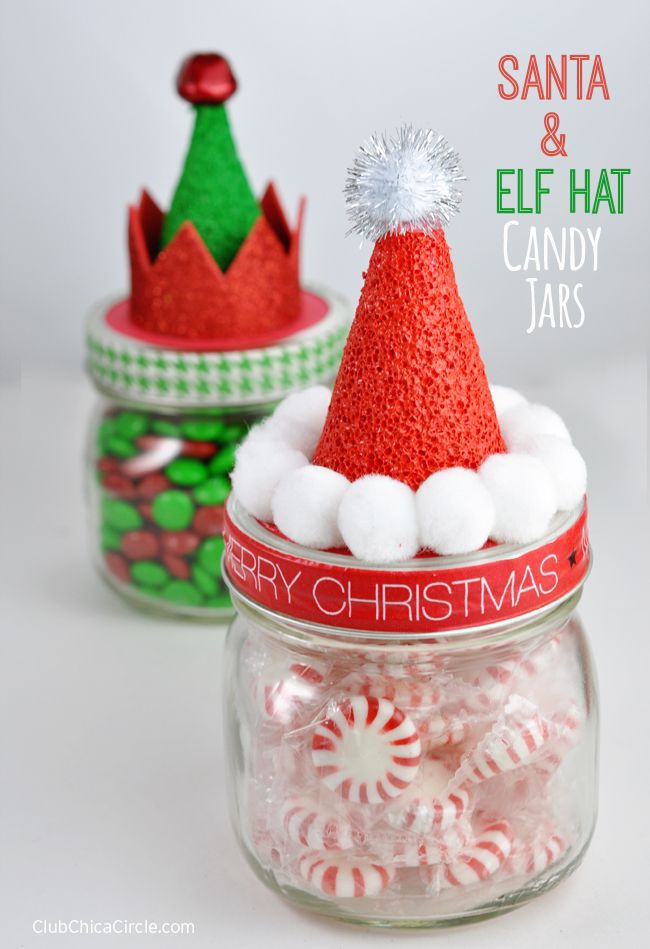 Photo: Credit
For this idea use small jars and fill them with candies. You can use white felt balls and a red  cone to create a Christmas hat and stick the pompoms  to complete the Christmas jar.
26. Make Christmas Magical with a Rustic Candle Jar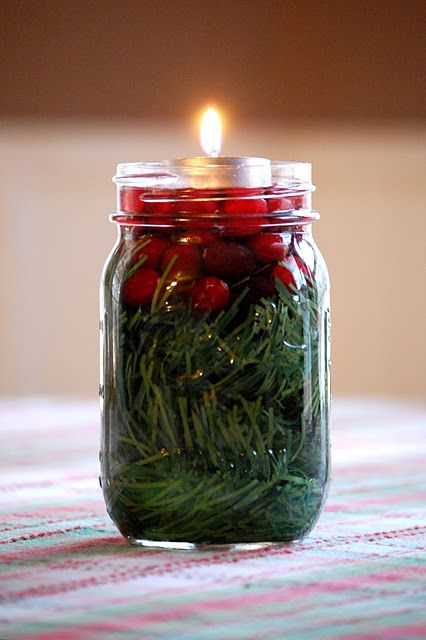 Photo: Credit
Use leaves, cranberries and a floating candle to get this beautiful Christmas jar. Simple and rustic!
27. Put a Vintage Christmas House in a Your Jar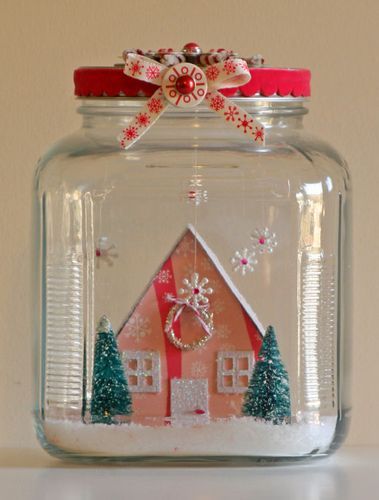 Photo: Credit
One more snow globe jar idea is a waterless snow globe – simple but pretty crafty. You can also upcycle a glass jar and save some money.
28. Enjoy Christmas with a Bewitching Mason Jar Forest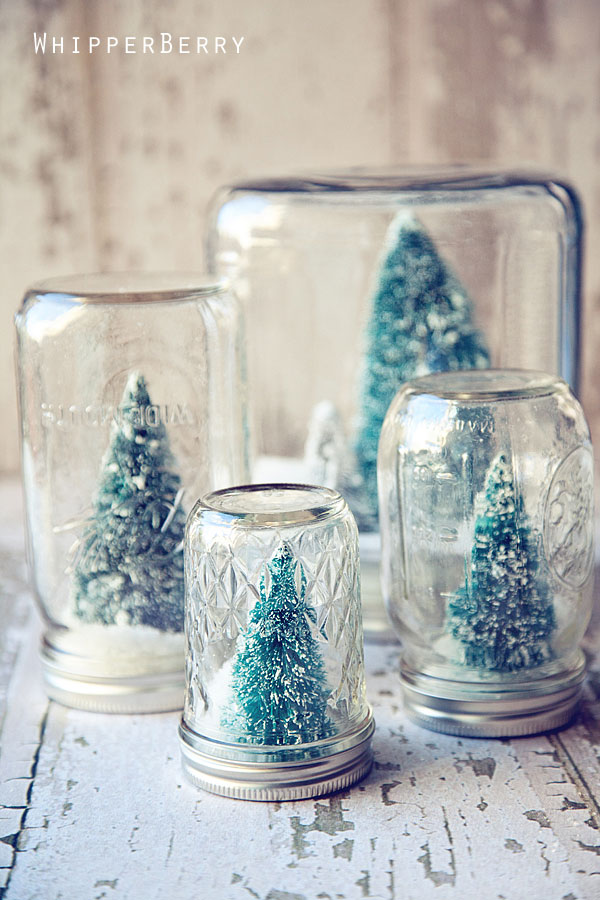 Photo: Credit
All you need to make this super easy snow globe is a jar (a good shape and size for your tree), bottle brush trees, buffalo snow or any type of faux snow and glue dots.
29. Add Festive Charm with a Snowman Candle Holder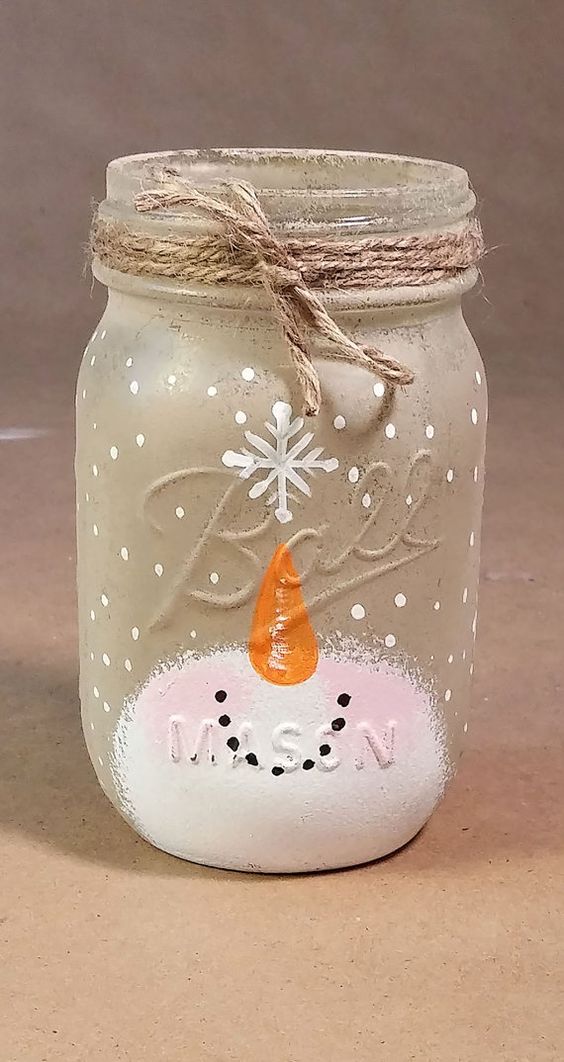 Photo: Credit
Here we have a jar candle holder that features an adorable Snowman catching a snowflake on the tip of its nose. This will definitely perfect addition to your holiday décor.
30. Embellish Your Home a Homespun Snowman Candle Jar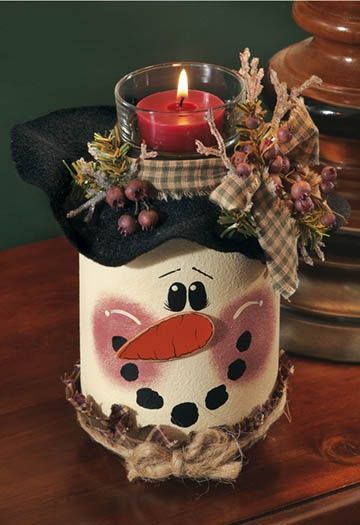 Photo: Credit
All you need to get this, or similar cute Snowman candle holder is to download a pattern from the Internet and play with the decorations.
31. Celebrate Musical Classics with a Snowman Mason Jar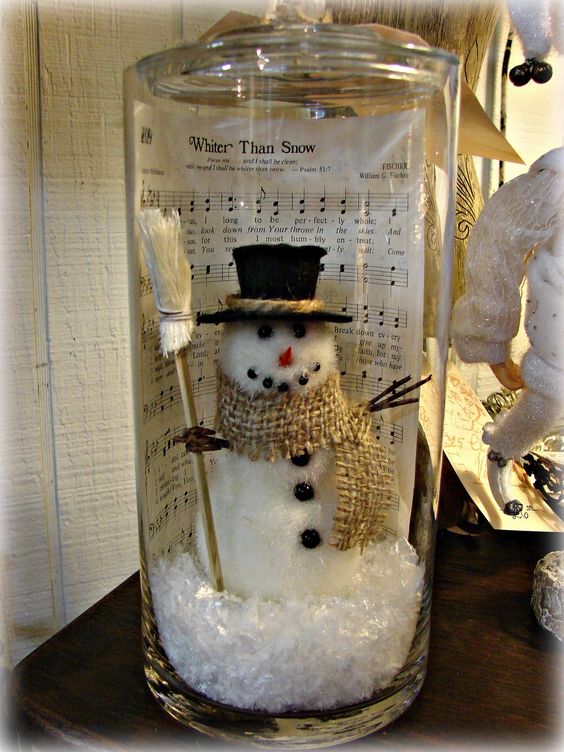 Photo: Credit
For the  music fans we prepared a Snowman in a jar with a Christmas music sheet. It looks cute and warm in the same time. One more great idea!
32. Add an Art Piece to Your Home with a Firefly Jar Decor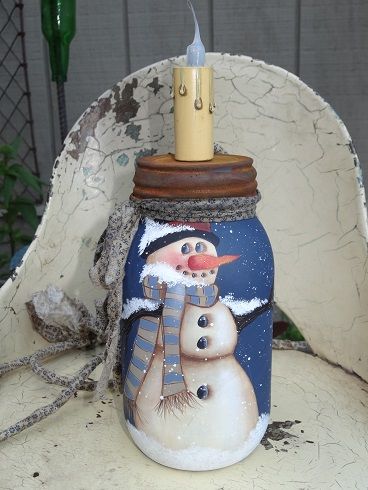 Photo: Credit
Love to paint on jars?! You can rust the lid and find some cute little "fire fly" light bulbs for this decoration!
33. Utilize Styrofoam to Make a Snowy Mistletoe Jar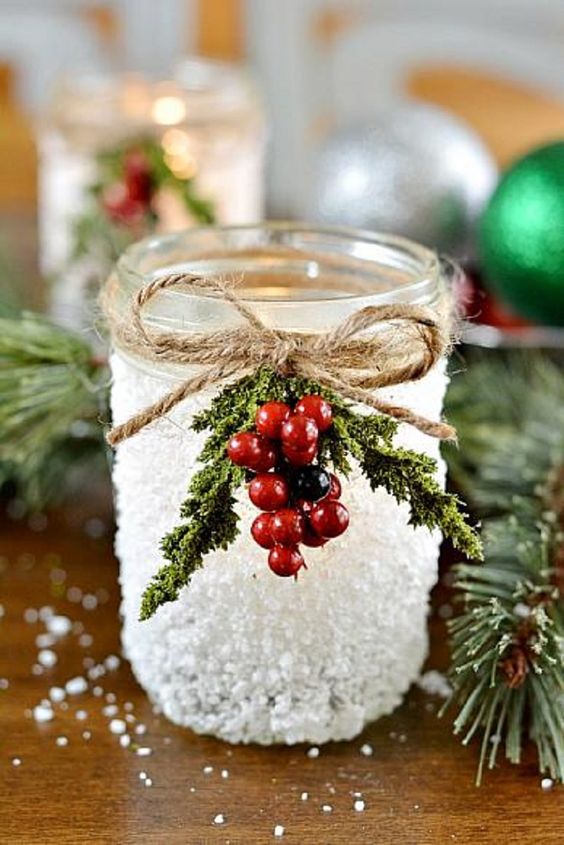 Photo: Credit
Here is one simple candle holder that can be easily mad using styrofoam , glue it strongly to jar and decorate the jar with a mistletoe and fir twigs.
34. Adorn Your Home with a Gingerbread City Jar
Photo: Credit
It is a Gingerbread city in a glass jar. We recommend you to make template in a classic country style.
35. Make Dreamy Candle Jars with Snow and Pinecones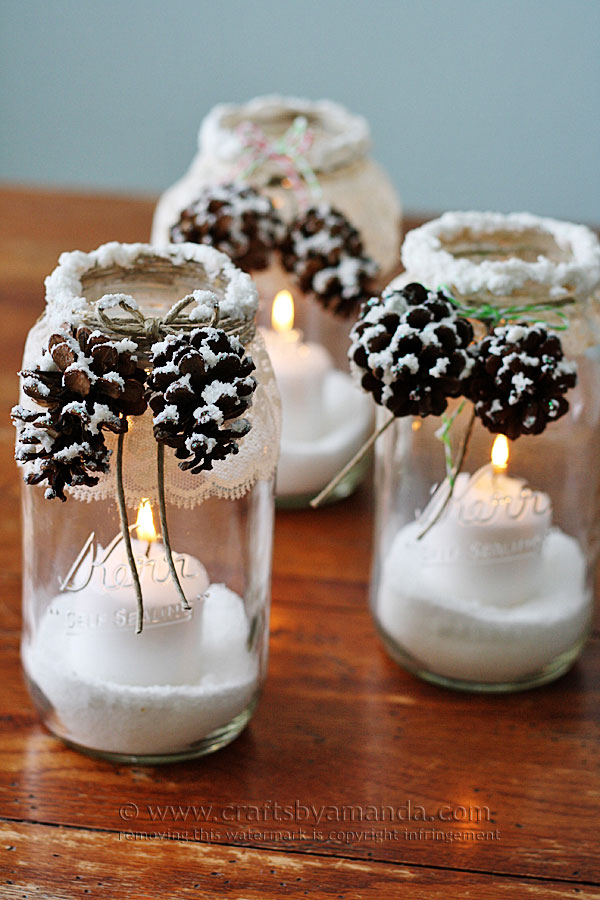 Photo: Credit
If you are searching for something really simple, clean and elegant, make yourself some of these candle holders with those jars that you've been collecting.
Snow, candles and pinecones will be a classic match for Christmastime.
36. Create a Stylish Red Christmas Jar with Snowflake Art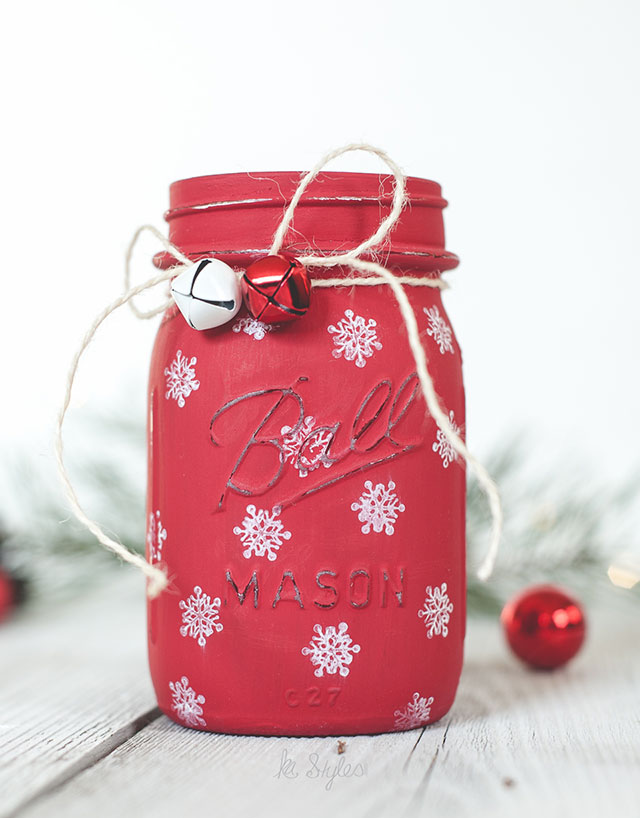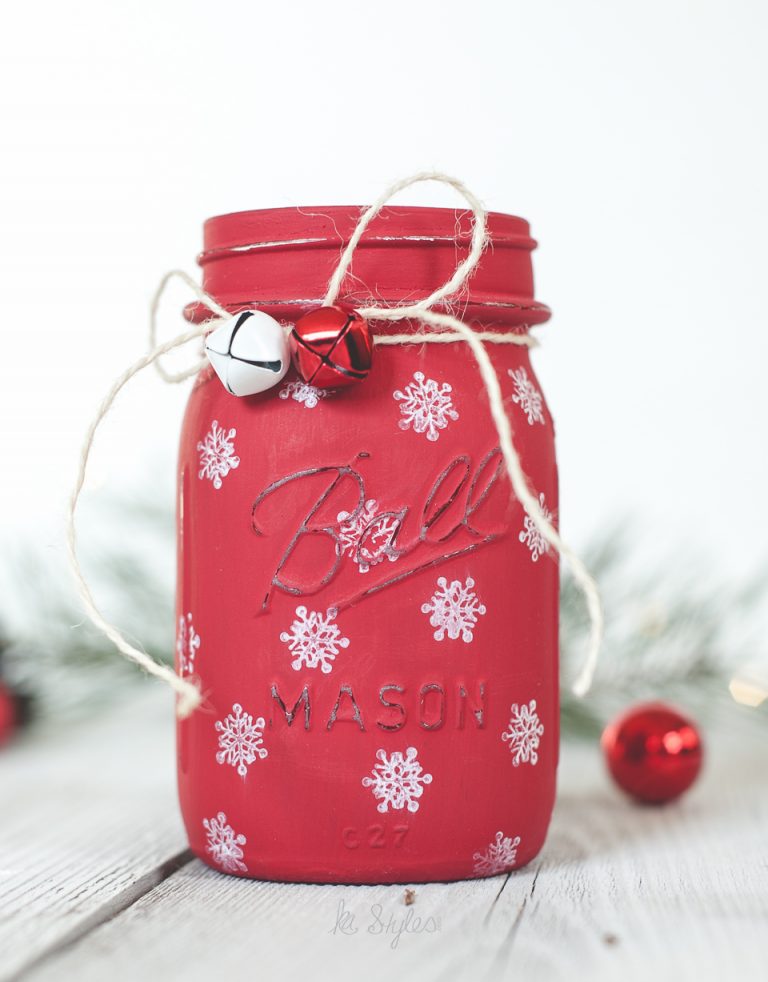 Photo: Credit
You can use three coats for this jar.  Apply light handed coats with painting brush since, adding many paint layers will wrinkle and drag the coats you already applied.
You can pick the snowflake stamp in one of those holiday stamping sets. A thin twine tie, bells and there you have it, a cute holiday decor piece.
37. Create Seasonal Scenery with Christmas Township Jars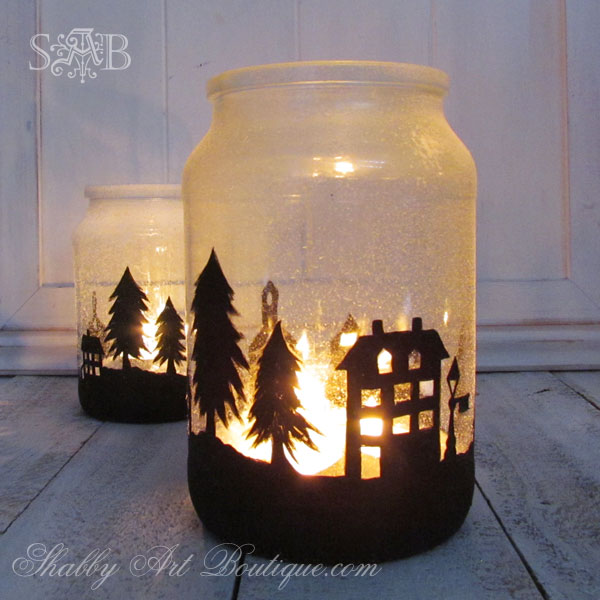 Photo: Credit
This is the project so effortless to do, especially with the supplied templates, but don't be afraid to create your own scene.
Don't forget that the fake snow is a temporary thing that will eventually come off, so if you want something more permanent that you can use again next year, consider flecking white paint with a toothbrush instead.
38. Add s Stuck Car in Your Christmas Jar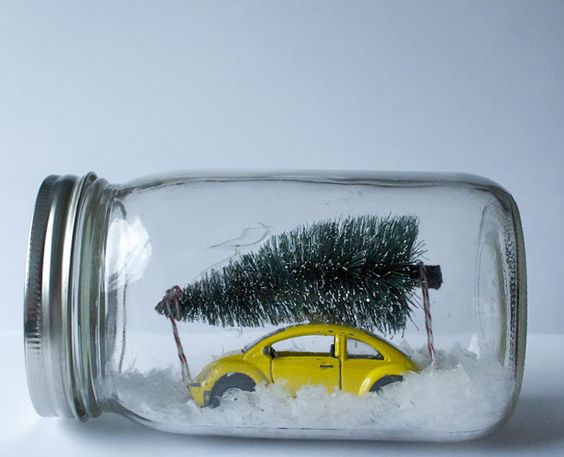 Photo: Credit
These are main things  you will need for this funny yellow car stucked it:
jar with a lid (you can even use a wine glass if you want to!)
pretty paper cut into the same size of the lid
snow (Epsom salt)
bristle brush trees
little figurines (and/or trinkets that you've kept from your adventures)
bakers twine
small piece of felt
glue gun
39. Brighten Your Home with Turquoise Christmas Jars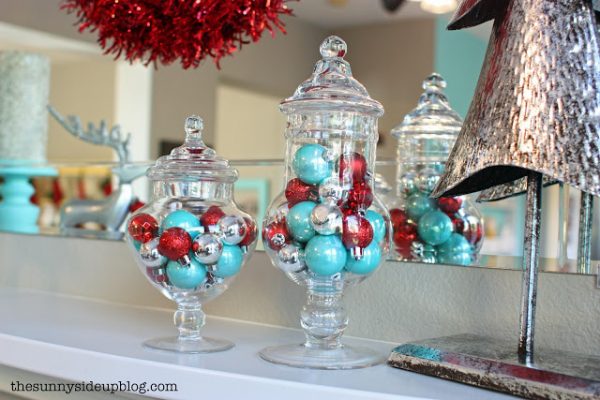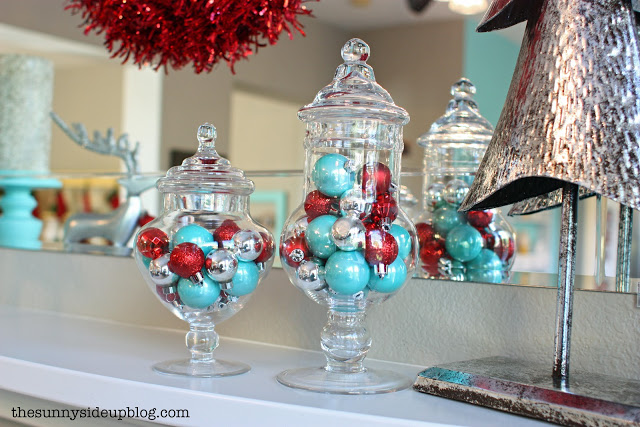 During the holidays you can find many figurine with balls associated with winter.
40. Construct a Simple Snowman with Stacked Candy Jars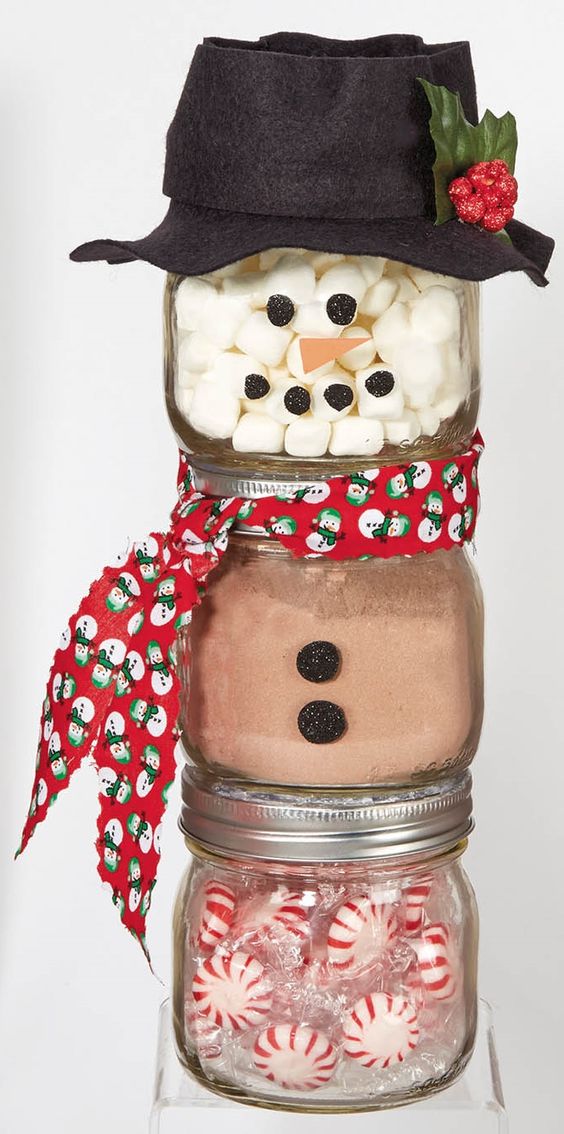 Photo: Credit
For the end we left the model that children will absolutely love; Snowman jars full of different candies. For this project you will need:
Wide mouth pint jars (3)
Black felt square
Black Glitter Foamy sheet
Orange Foamy sheet
1-1/2″x18″ fabric for scarf
Hot glue gun & glue sticks
Glue or Super Glue
Peppermint candies
Hot cocoa mix
Miniature marshmallows
41. Upgrade Your Christmas Jar with Buffalo Check Wrapping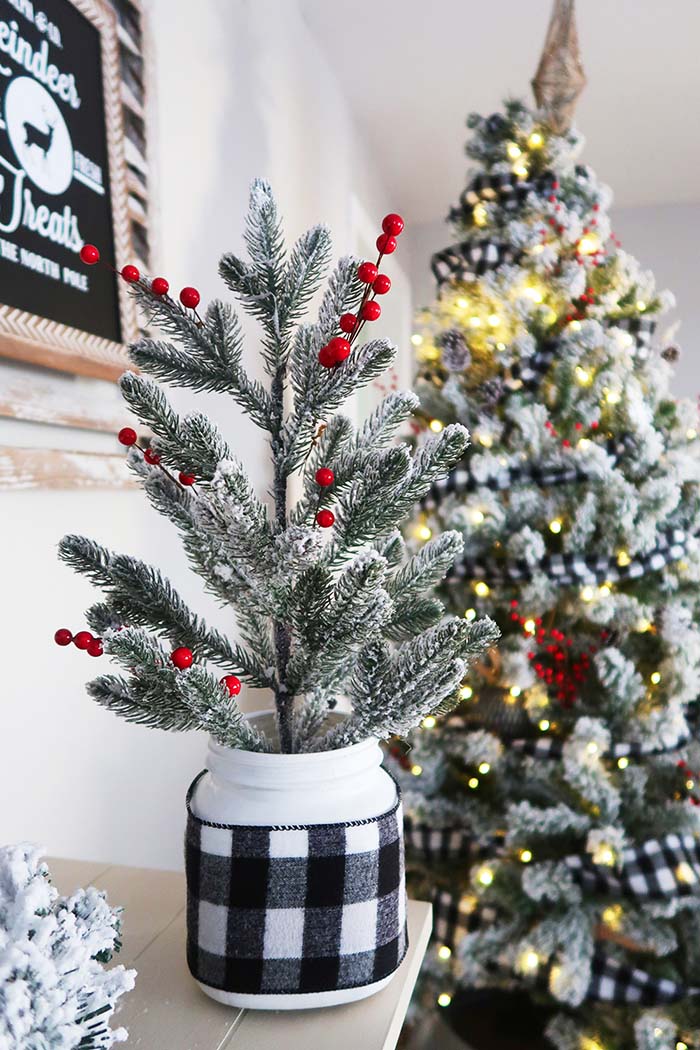 You can make Buffalo Check Christmas decorations by adding some accents like mason jars, garlands or ornaments.