Glass jars or mason jars are one of the most easily acquired items at home. With so much grocery related shopping you do for your family, you get quite a large number of empty glass jars free at your disposal.
Many use them to store items in the kitchen, craft room or even tools room! But there are some creative minds who use these unattractive glass jars to create a stunning work of art!

Some even use these jars to display their garden flowers.
If you are one of those people who would love to decorate your house with your handmade items and give a touch of your imagination to every nook and corner of your lovely home, then you must try a project on recycling jars.
Recycling mason jars is an easy and quick craft. But, deciding on how to do it may be a bit time consuming job.
This is because the internet is full of mason jar art and crafts. Choosing the best one will be difficult for any DIY lover.
So, we here at "decorhomeideas" have selected the best of DIY mason jar craft which will be worth the effort and will make you feel proud of your work.  Come, let us dig in to see the colorful art of jars.
1. Add Color and Fun to Your Home Decor with Clay Decoupage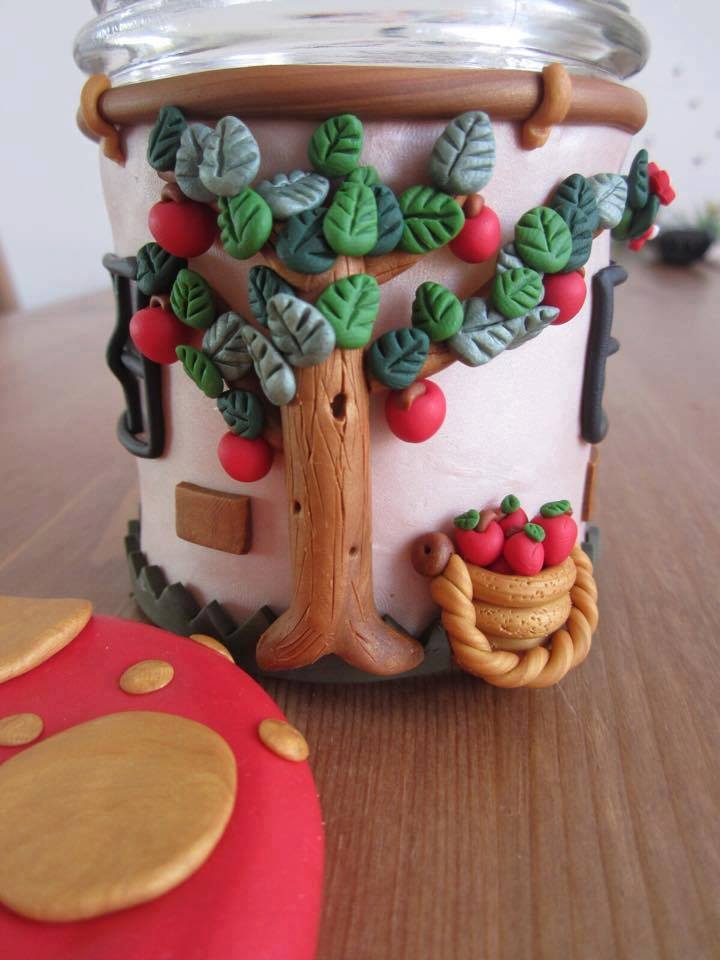 Photo: Credit
Use kids air hardening clay to create this lovely colorful jar for your kids' table to hold their pens and pencils. This is a lovely way to encourage your child's creativity.
2. Turn Your Jar into a Fairy Hut with Clay Art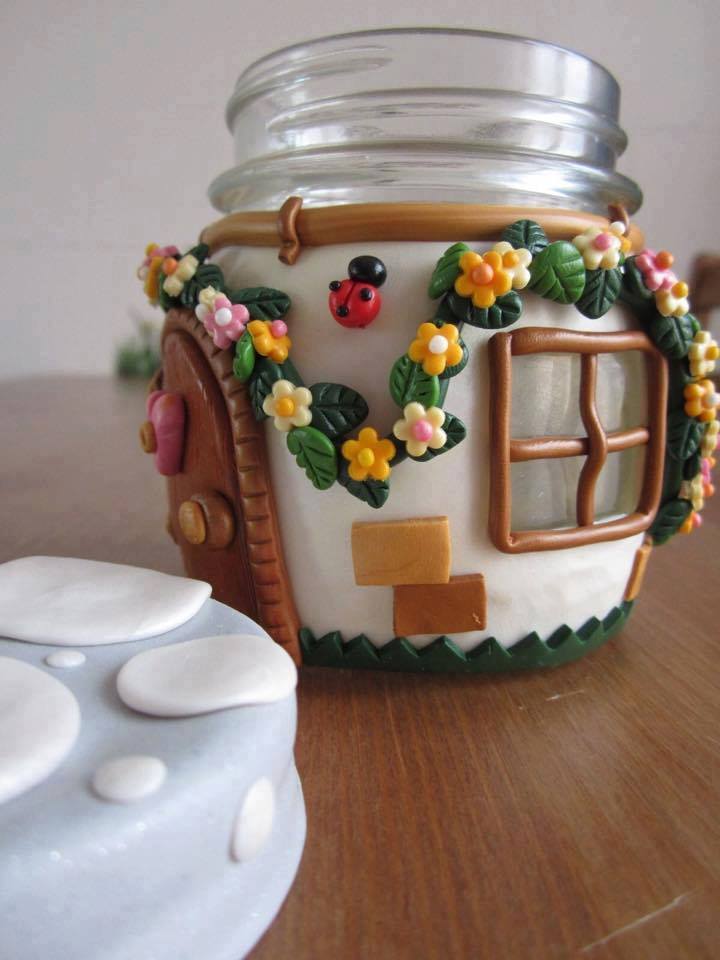 Photo: Credit
This is another example of using air hardening clay to decorate the dull glass jar and bringing a colorful life to it. Having whatever design you want on the jar makes it ideal for using it the way you need it.
3. Update Your Jar Candle Holders with Paint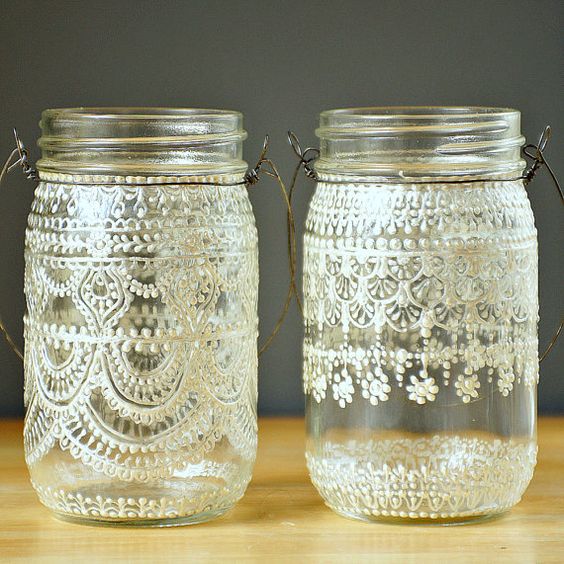 Photo: Credit
An easy way to create a stunning candle holder is by painting/ doodling on the glass jars with glass paint. The jars shown above create a rich look and will be a great candle votive.
4. Bring Rustic Charm with Colorful Netted Candle Votives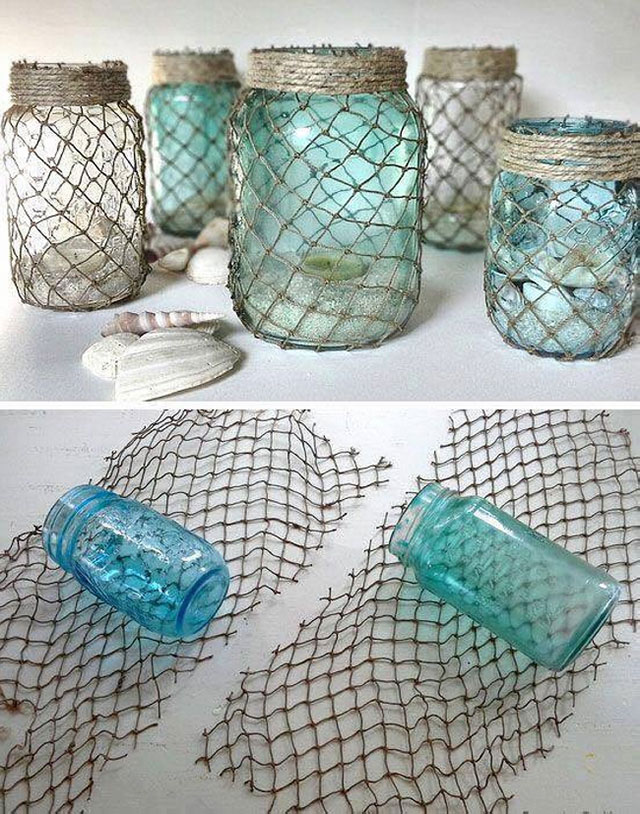 Photo: Credit
Have a lot of colored jars lying around? Use this kind of nets and make beautiful candle votives. The usage of jute thread to tie this net adds to the style.
5. Get a Fresh Twist with Doodling on Your Mason Jars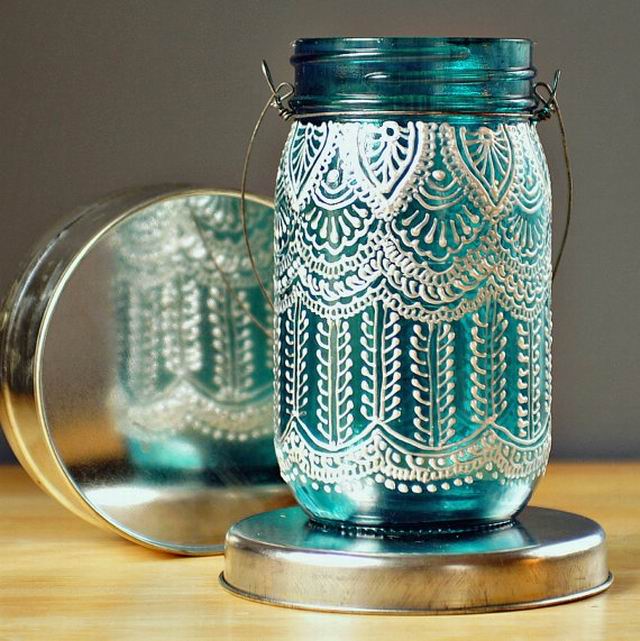 Photo: Credit
Use those unused colored mason jars for any creative purpose like pen stand etc. This can be done by doodling on the jar using glass paint.
Here the blue color of the glass jar and the white color of the paint complement each other in a lovely way.
6. Decorate Your Colorful Flower Vase with Rustic Jute Thread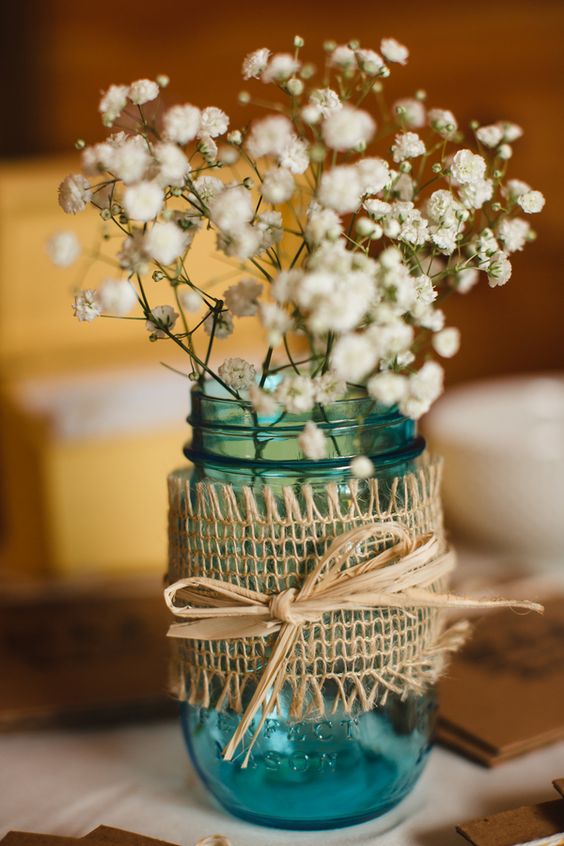 Photo: Credit
Having the jar tied with a teeny tiny jute cloth and a matching thread makes this colored jar a great alternative to traditional vases.
7. Make a Bold Statement with a Dark Purple Mason Jar Decor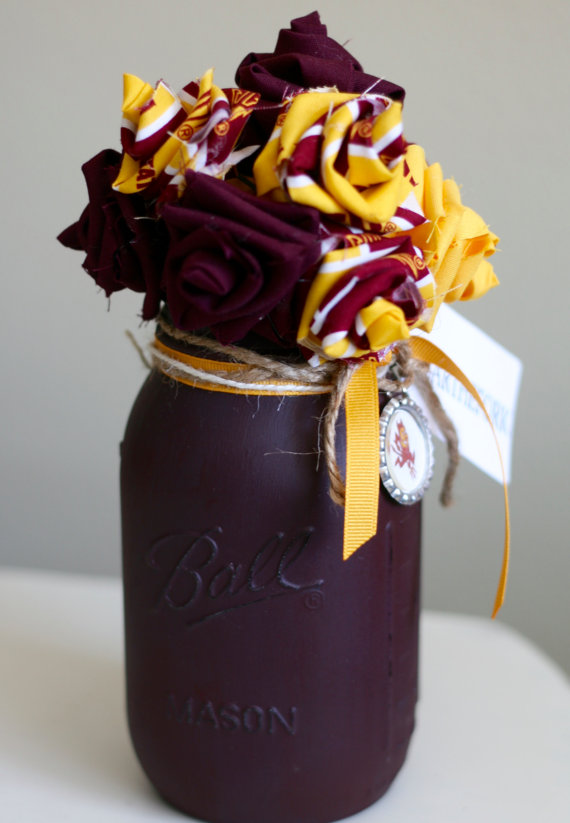 Photo: Credit
Another way to use these glass jars is to paint them from inside! Yes, having painted dark purple this jar looks stunning and beautiful for any flower arrangement.
8. Brighten Your Mason Jars with Floral Clay Art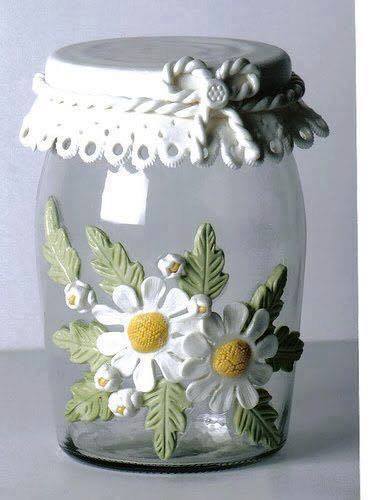 Photo: Credit
A beautiful way to decorate your unused glass jar is by making air drying clay floral designs. This makes a cute DIY gift jars for any occasion!
9. Add Sparkle to Your Home with Glitter Flower Jars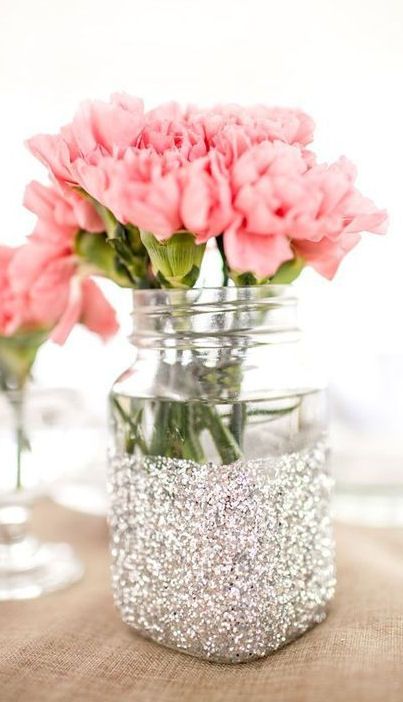 Photo: Credit
An amazing way to decorate your dining table centerpiece would be by coating an old jar with a layer of glitter powder. This is a great way for any easy DIY wedding decor.
10. Personalize Your Glass Jars with Inspirational Quotes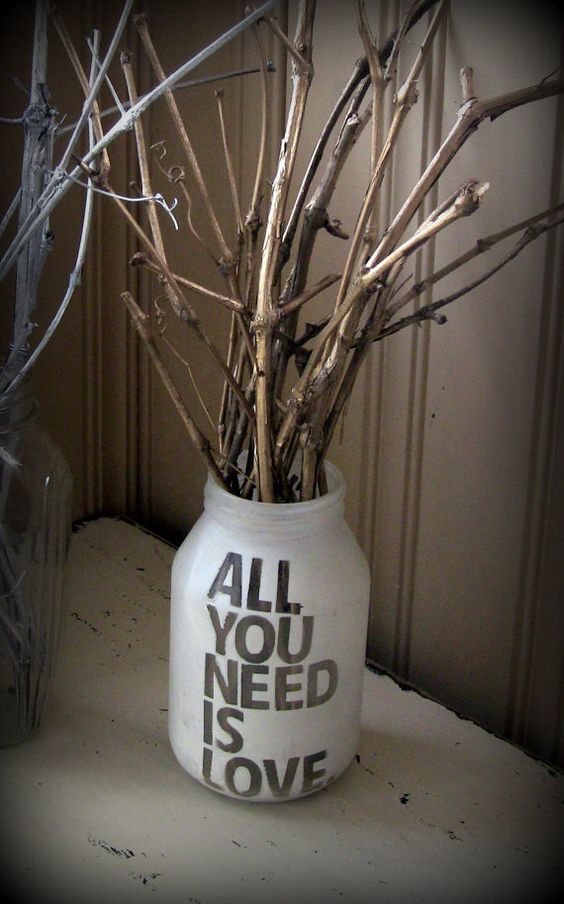 Photo: Credit 
Want to keep a slogan encouraging you all the time? Try this easy DIY using glass jars. This is a tiny amazing way to motivate yourself every day!
11. Upgrade Your Key Holder with a Hanging Flower Jar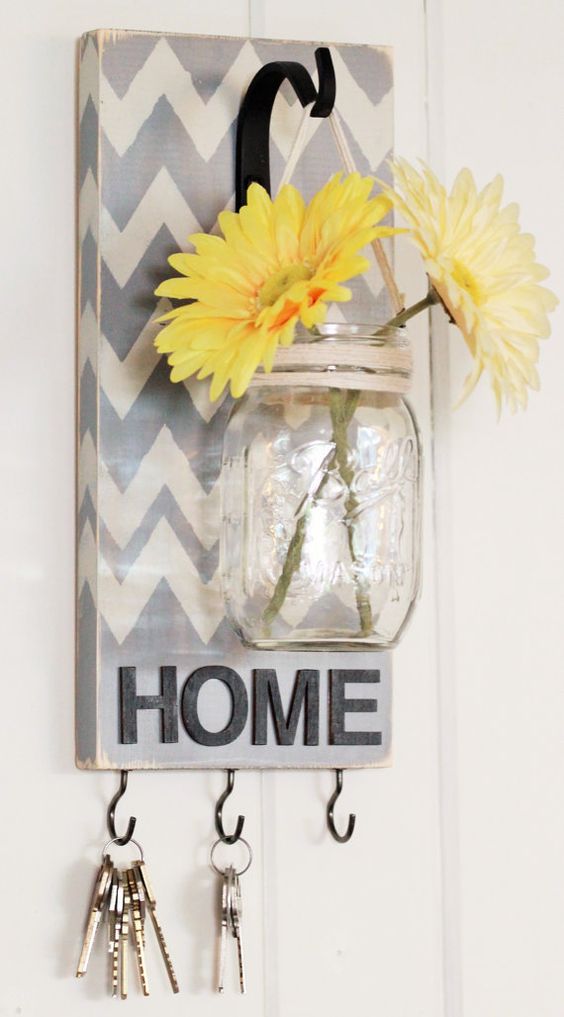 Photo: Credit 
This beautiful design is a way to decorate your key holder. Made with palette as the base with an attached mason jar as a vase, this key holder is a conversation starter.
12. Get Creative with a Jute Cloth-Wrapped Mason Jar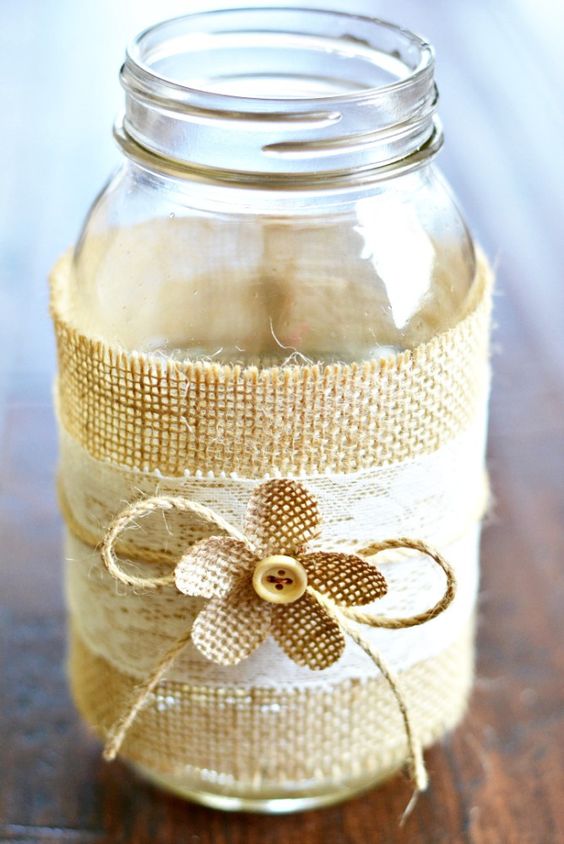 Photo: Credit
A simple jar dressed up using a jute cloth will lead you to have a cute container which can be used for various purposes like pen stand, gift jar etc.
13. Elevate Your Space with Mason Jar Terrariums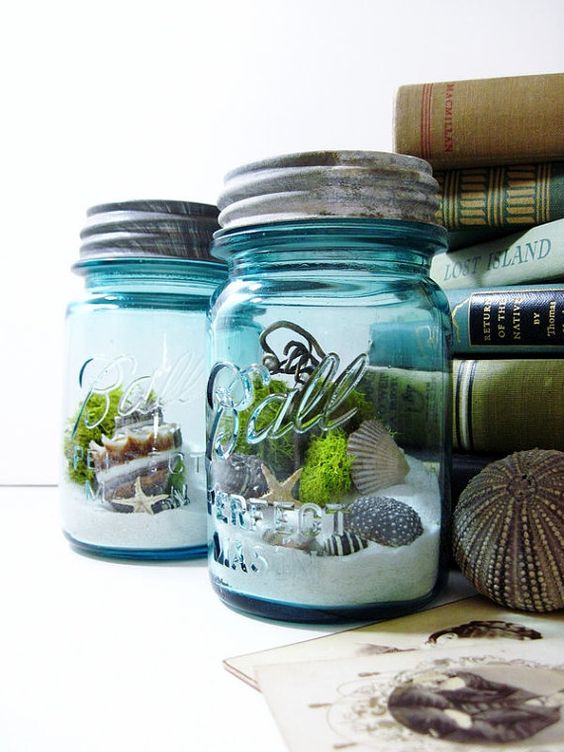 Photo: Credit 
With the  beach or  the desert in mind, you can build a terrarium of your choice to decorate your table top and add a little lovely scene.
14. Transform Your Mason Jar into a Musical Masterpiece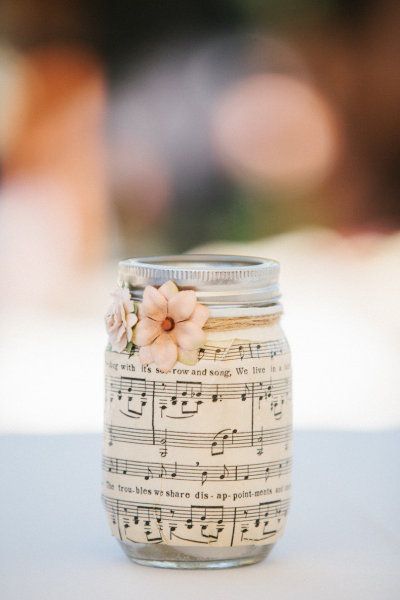 Photo: Credit 
This is another way of decorating your mason jar by just inserting a printed sheet of musical note inside it. This is a great decor idea for any music lover.
15. Bring Nautical Vibes with Sea-Themed Jar Candle Holder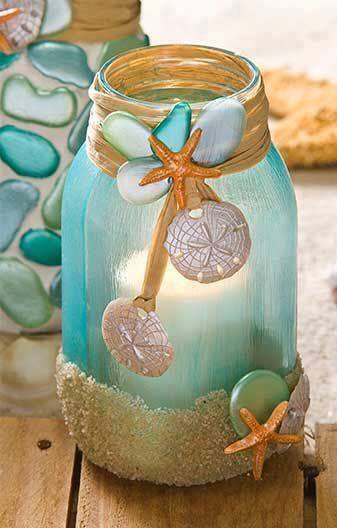 Photo: Credit
This is a great way to make a beautiful marine themed candle holder. Paint the jar sea blue and embellish it with the dust of sand and shells and starfish to create a stunning beach-themed votive.
16. Add a Touch of Sophistication with Floral Glass Jars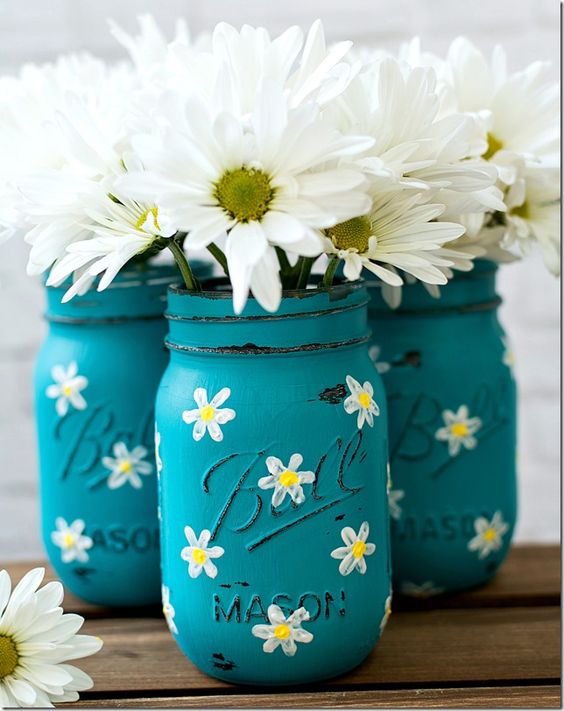 Photo: Credit
A simple floral themed paint makes these glass jars adorable. The color used for the jars is gorgeous and is complementing the flowers in white color.
17. Enhance the Beauty of Your Décor with Floral Lace Cloth Jars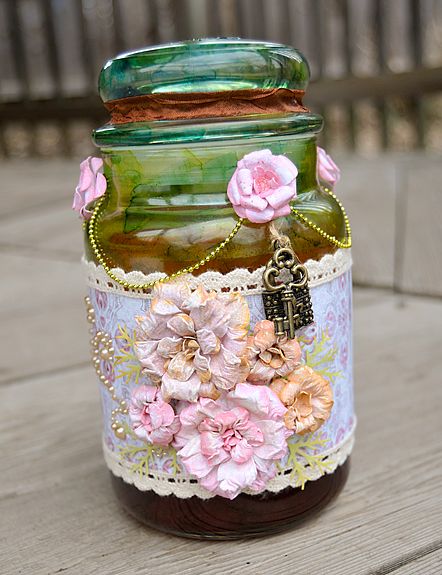 Photo: Credit
Another simple way to decorate old jars is by decorating it with lace cloths that can go well with your overall decor theme. This floral lace jar is an absolute must for summer decoration.
18. Add Splendour to Your Home with Felted Jars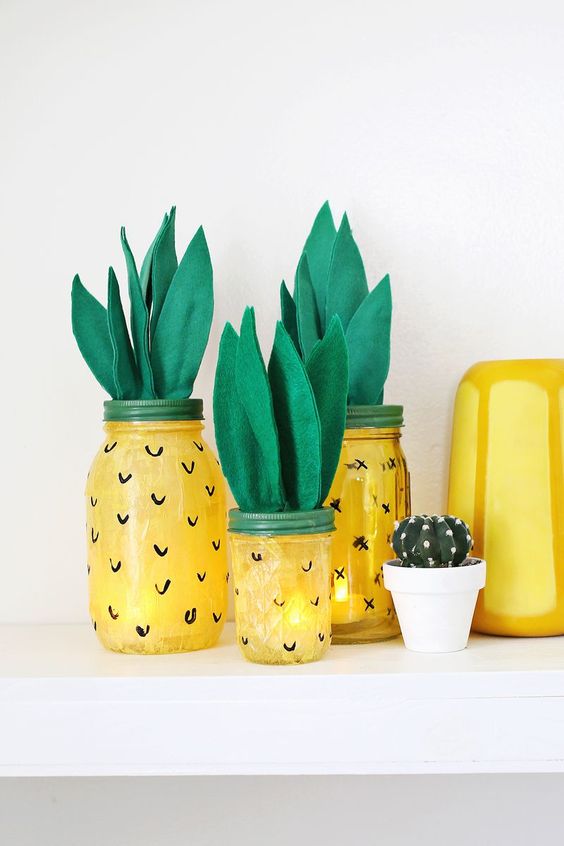 Photo: Credit 
Want a green thing in your room year round. Then this project is perfect for you. The vibrant yellow and green combination keeps your room alive with their lovely pop of color.
19. Bring Character and Warmth with Colorful Laced Mason Jar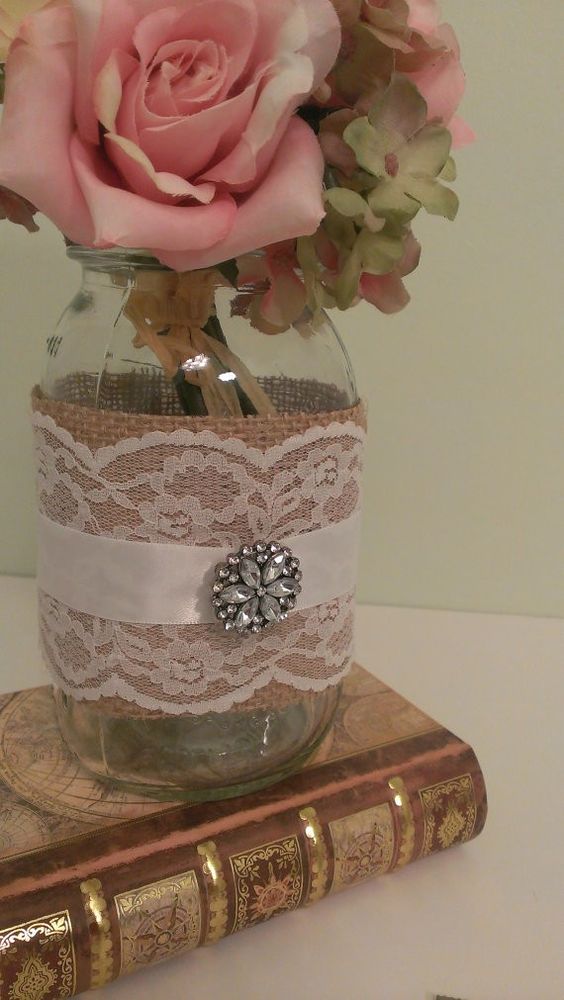 Photo: Credit 
Another way to have a mason jar upcycled is by using colorful lace which creates the richness and sophistication appeal to the jar vase.
20. Illuminate Your Home with a Gold Glitter Polka Dot Vase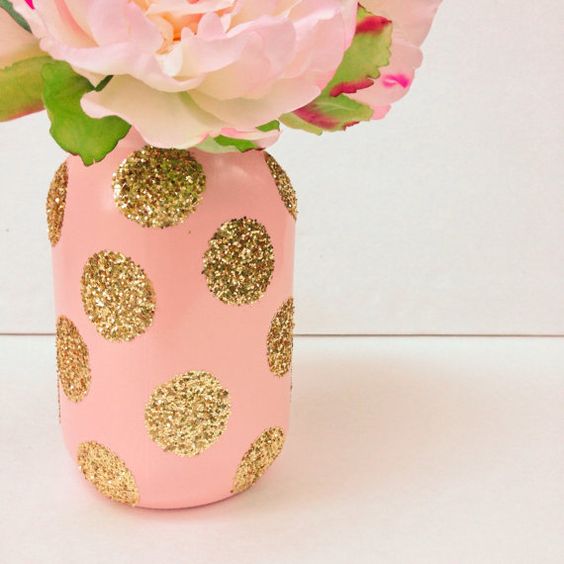 Photo: Credit
This jar is a winner! With beautiful pink color painted on the inside of the jar, and stunningly decorated with the shimmery golden glitter polka dots, this vase is a conversation starter.
21. Refresh Your Candle Votives with Paint and Lace Art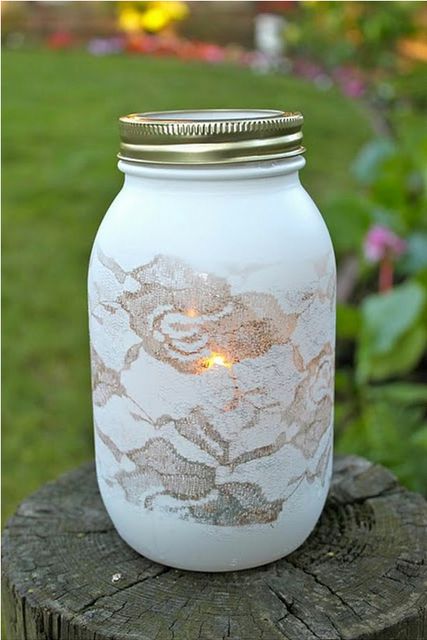 Photo: Credit 
This is an absolutely great addition to any patio table. With its half painted and half-laced work, this candle holder looks even more appealing at night when the candle glows inside it.
22. Unearth the Beauty of Mondrian Jar Art with Paint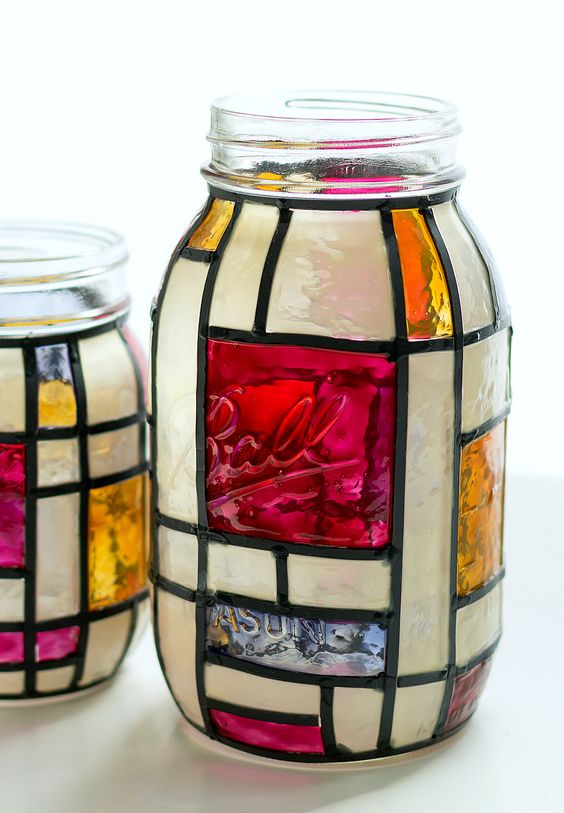 Photo: Credit
Painting one color all over the jar is one thing, but having it painted in geometrical shapes in different colors like a Mondrian painting makes it an eye-catching decor element.
23. Farmhouse Charm with Rope Wrapping and Starfish Accent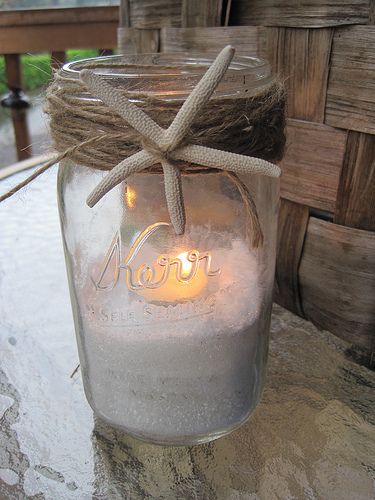 Photo: Credit 
This jar is simply decorated with a rope of jute on its neck and filled with salt to hold the candle. The starfish adds a marine essence to the jar here.
24. Turn Your Glass Jars into Rustic Terrariums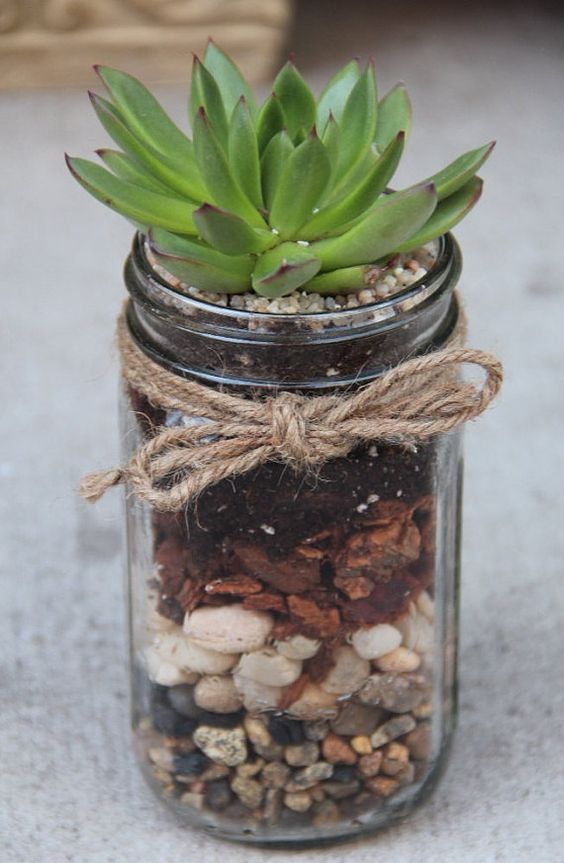 Photo: Credit 
This is another way of creating a little terrarium in a glass jar. With succulents planted properly, this will act as a great green addition to any indoors.
25. Cherish Your Memories with Photo Jars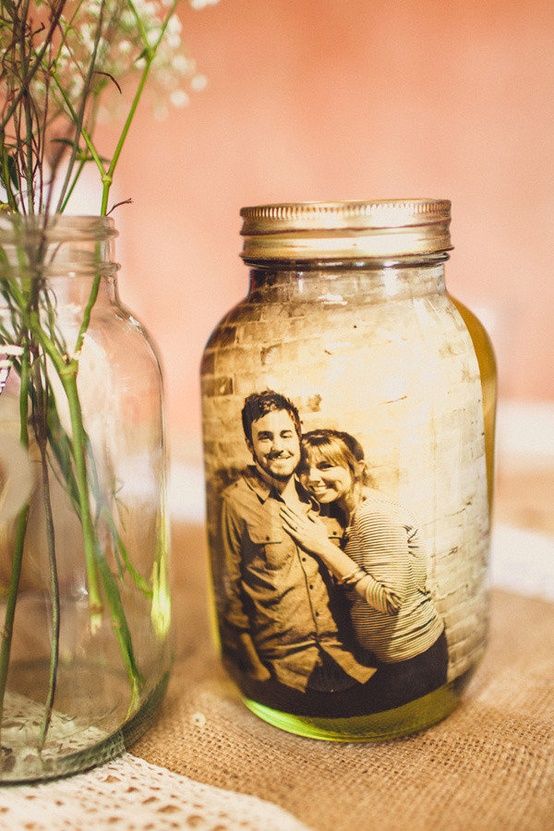 Photo: Credit
An easy way to display photos of you and your loved ones is to put them in glass jars. They act as great frames and create a new look to your display area.
26. Create a Lavish Look with Gold Painted and Glitter Jars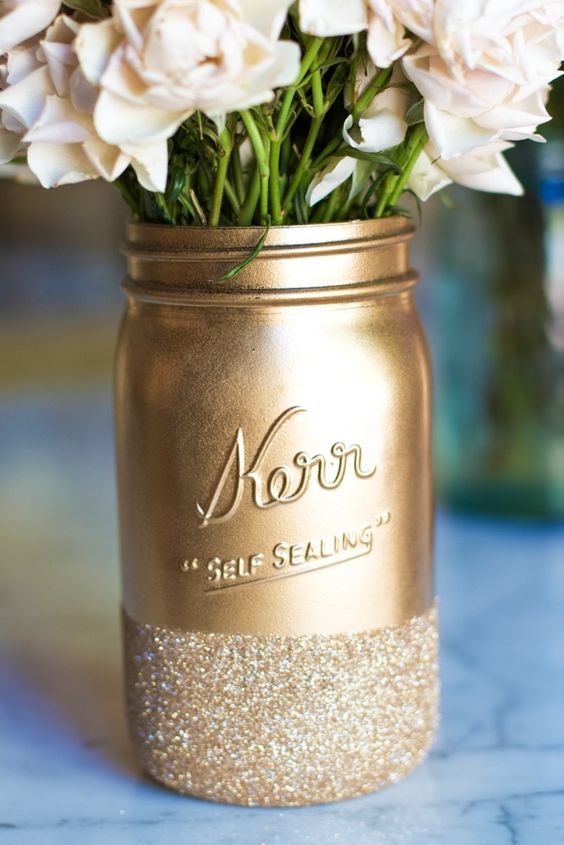 Photo: Credit 
If you love glitters and metal gold, then this will be the perfect choice for you. The jar is painted from inside and is glued with glitter on the outside.
27. Upcycle Your Jars into Rustic Succulent Planters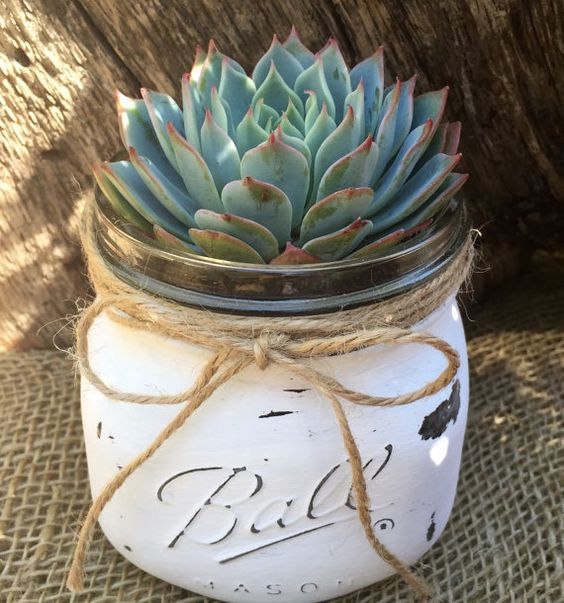 Photo: Credit
This will be an ideal way to grow succulents in your garden. With white paint inside, the glass jar will keep the plant cool and also make it look vibrant in sunlight.