32 Fantastic Dining Table Centerpiece Ideas That are Perfect For Any Time Of The Year
A centerpiece is an easy way to accessorize your dining table — it adds personality and style, connecting the dining room to the rest of your home.
Whether you're getting ready for the holidays or dressing up an infrequently used dining room, these simple decorations offer plenty of room for creativity.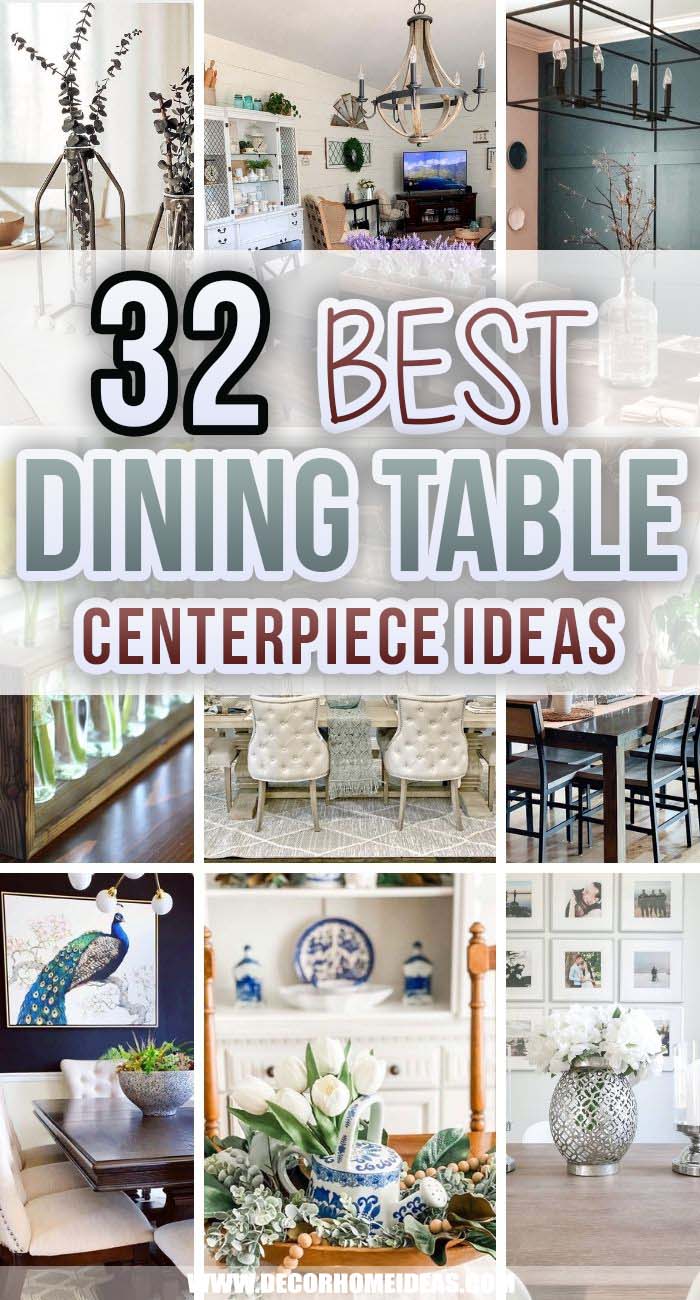 To get your imagination flowing, check out these beautiful dining table centerpiece ideas.
1. Blue and White China with Greenery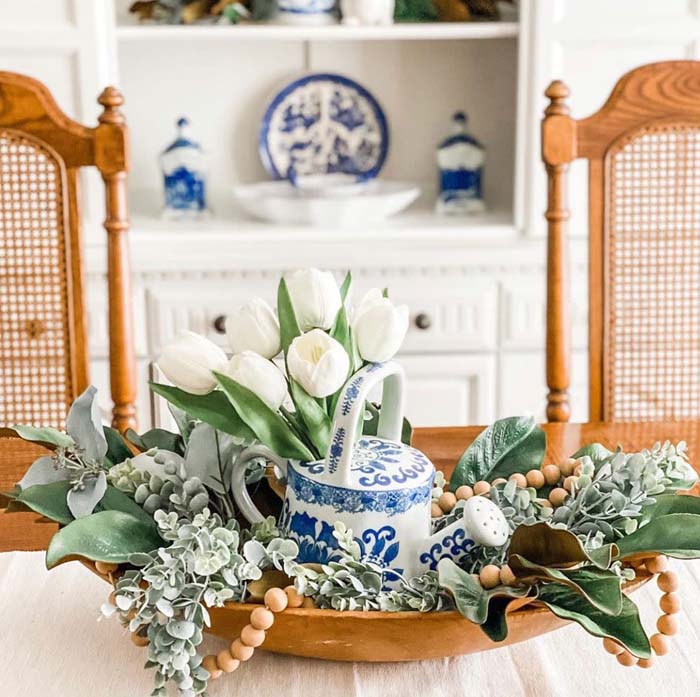 Do you have a beautiful china cabinet?
Pull out one piece and set it in a dish of faux greenery on the center of your dining table — it'll bring out the colors of your collection, tying the room together and spreading out the splashes of color.
2. Box of Flowers in Mason Jars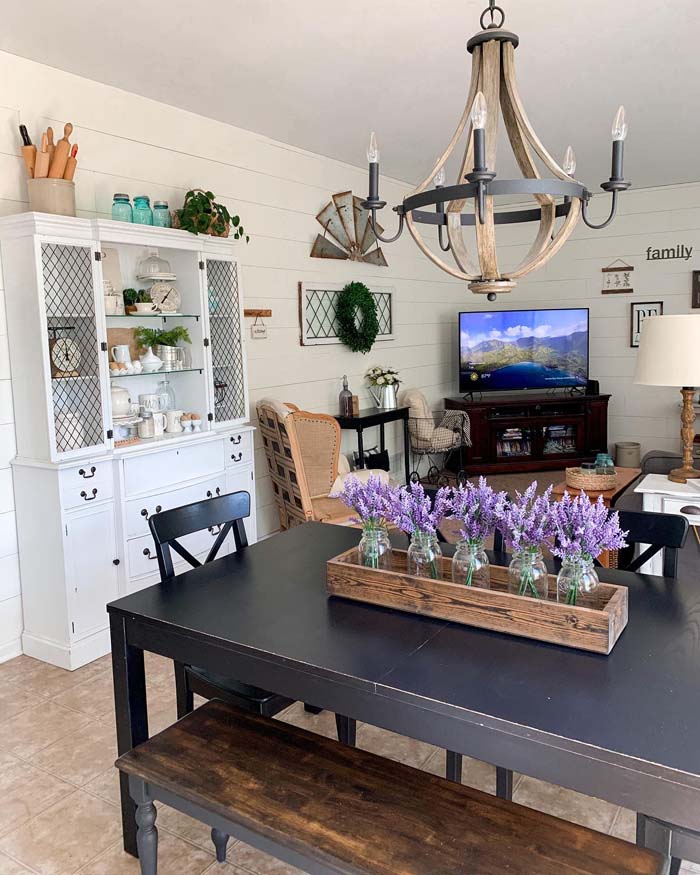 Do you have an old wooden box and a few Mason jars on hand?
Add some fresh flowers to create a stunning centerpiece for a casual home. The texture of the wood plays beautifully next to the petals, and the clear glass adds just a hint of shine.
3. Clear Jar with Fresh Greenery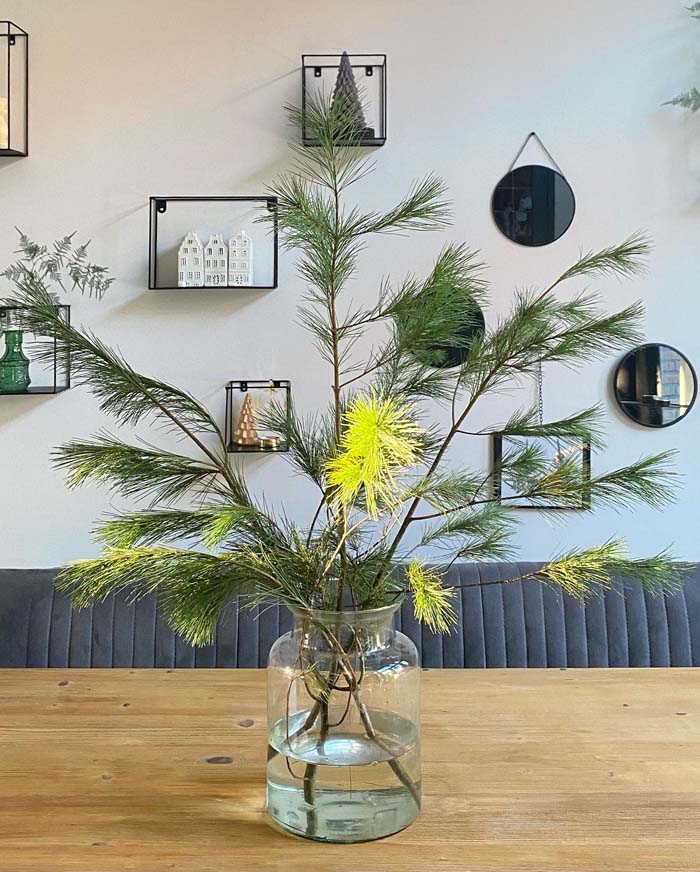 If you have a clear glass jar, you can make a gorgeous centerpiece without spending a cent.
Just add water and fill the jar with any type of greenery you can find outside: branches, pine needles, flowers, and wildflowers all work well.
4. Clear Vase on a Natural Wood Slice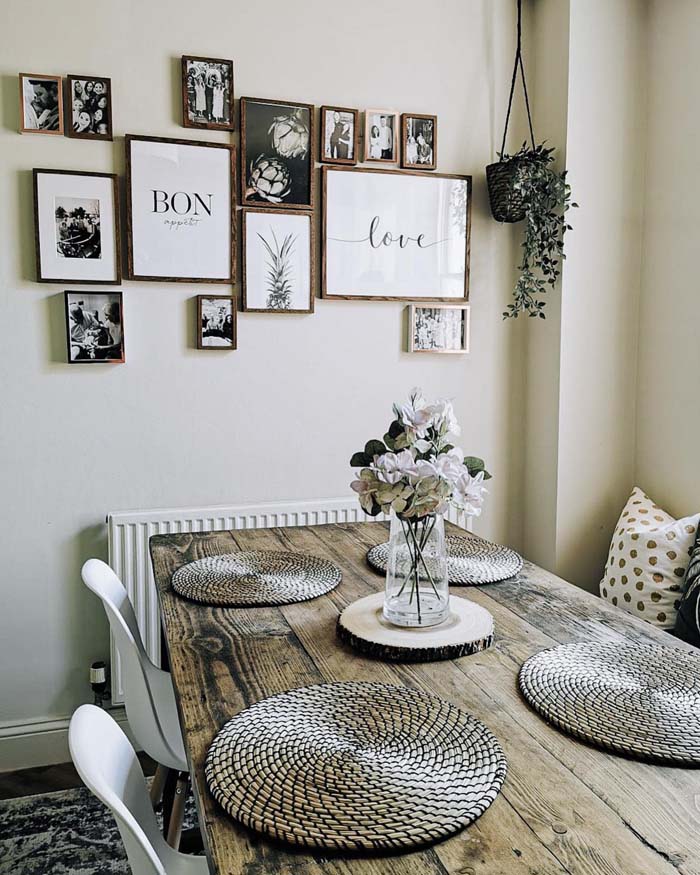 There's something magical about the combination of a wood slice and a clear glass vase. It's simple yet chic, adding a distinct sense of style to your dining room.
Add a few stems of fresh or faux flowers for a finishing touch.
5. Collection of Centerpiece Pottery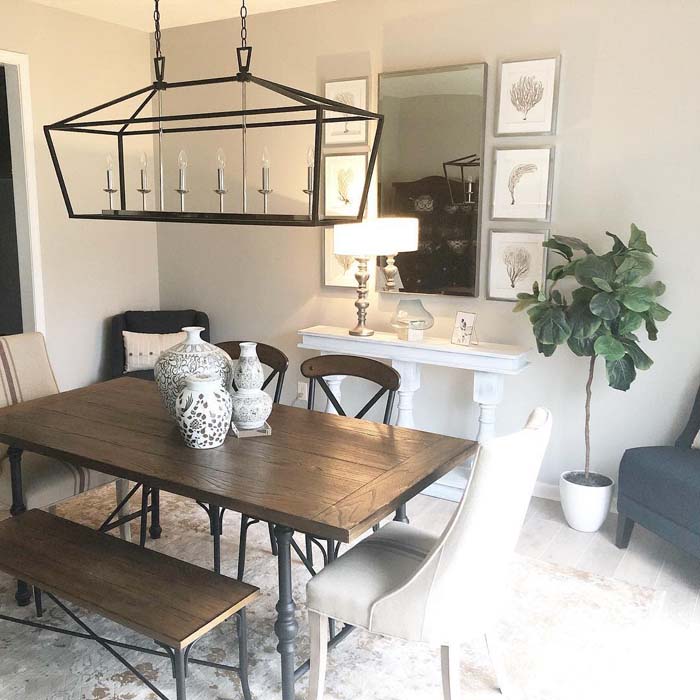 For a quick and easy centerpiece for any time of the year, find three pieces of pottery.
Arrange them on the center of the table for an intriguing and artistic look. For best results, choose pieces in different sizes.
via Jessica Johnson
6. Contemporary Farmhouse Centerpiece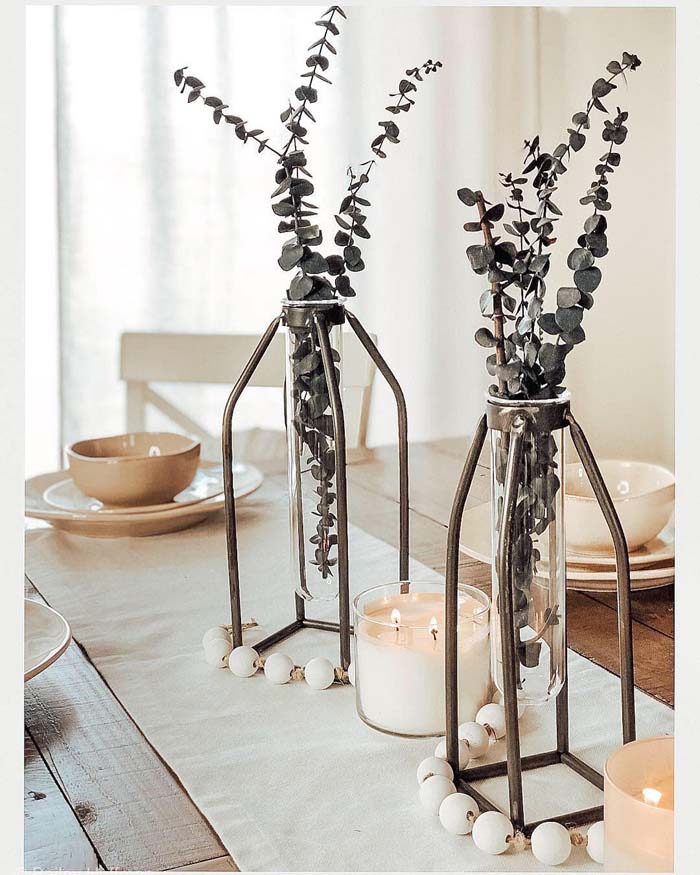 Make your modern farmhouse feel chic and cozy with this contemporary centerpiece.
Metal test-tube vases hold simple greenery, setting off the cream-colored candle and wooden beads. Swap out the plants and candles to suit the season.
via Bailey Huffman
7. Decorative Dish and Plants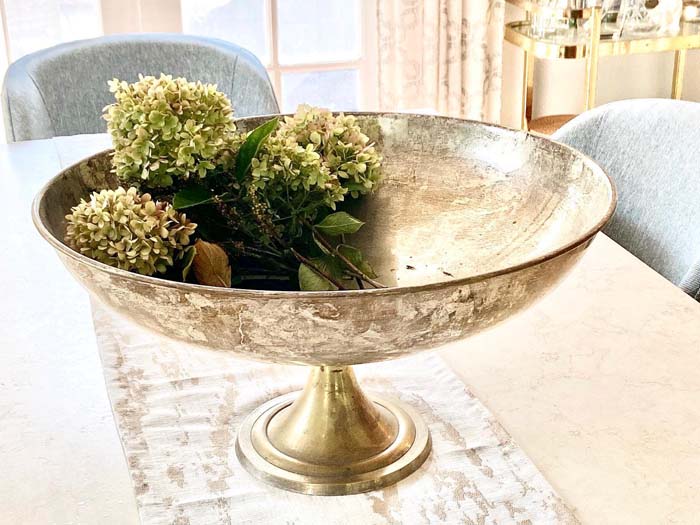 Do you have a decorative dish or cake stand that rarely sees the light of day? Use it as a centerpiece, and you can enjoy its beauty every day.
Just add a small collection of faux flowers or fruit to transform your table.
via Amy Wilens
8. Clear Vase with Dried Flowers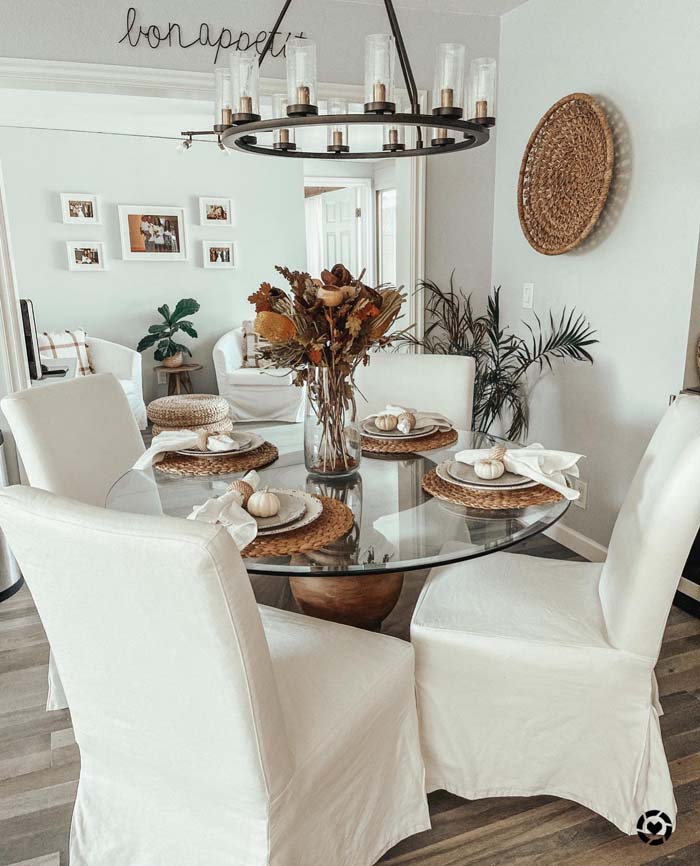 The next time you get a bouquet of flowers, hang them upside down to dry.
Then, set them in an empty jar — it'll show off the autumnal colors, and you don't need to worry about adding water.
via Ness
9. Eclectic Plant Centerpiece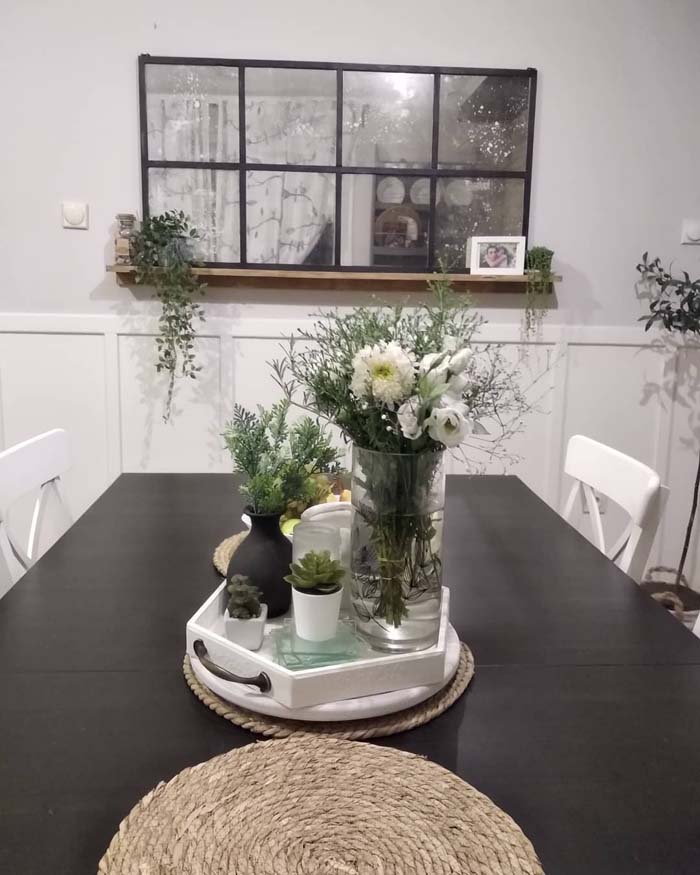 If you love greenery, why stop at just one vase of flowers? Fill a tray with vases and planters in varying sizes and heights.
The result is a wild and delightful collection of colors and textures that looks great on any table.
via Emina Videkanic
10. Elegant Halloween Pumpkin Centerpiece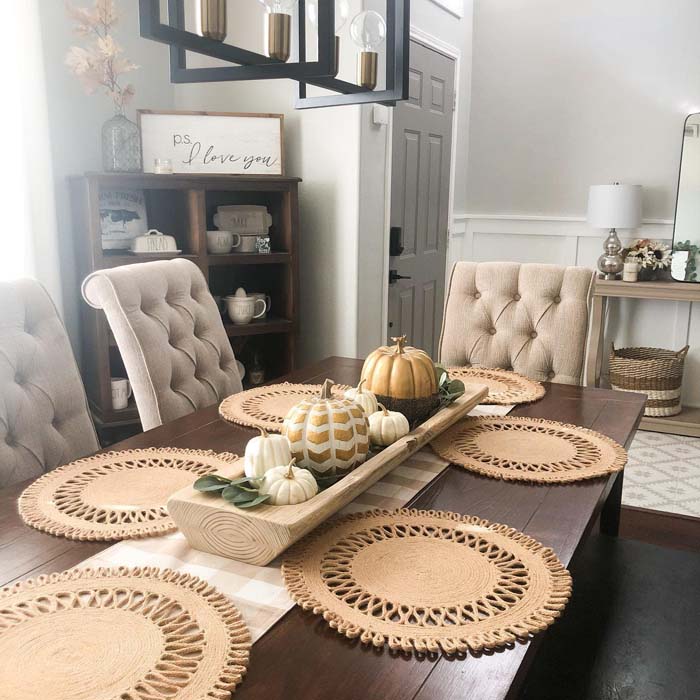 Pumpkins are the perfect fit for a Halloween centerpiece — make them feel more elegant by painting them in soft cream and gold tones.
Set the painted pumpkins in a shallow wooden dish and add a few faux leaves for color.
11. Elegant Orchid Centerpiece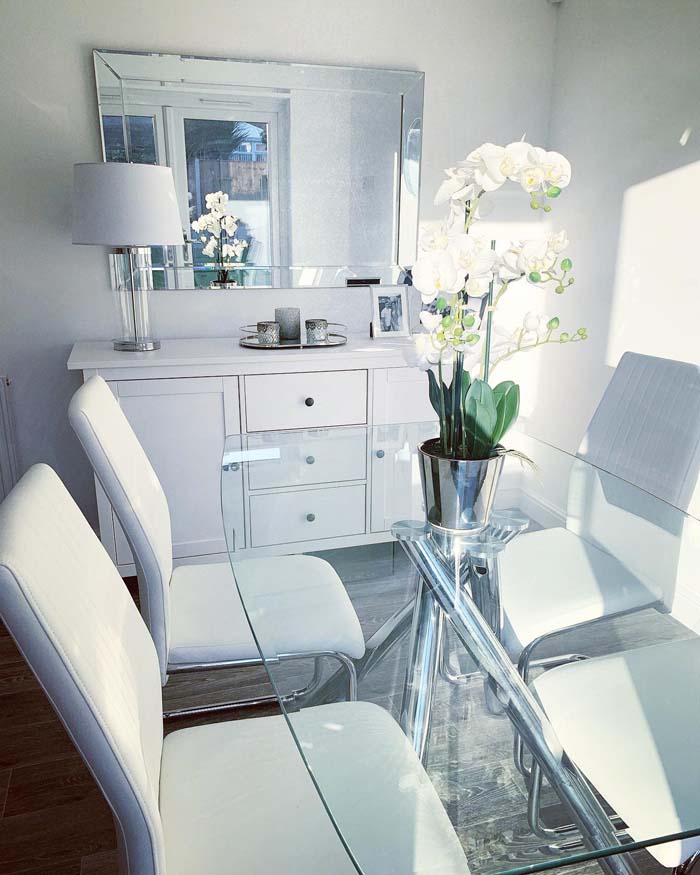 Match the vibe of your modern home with an equally chic centerpiece.
A potted white orchid is a perfect choice — it's striking yet streamlined, so it makes an impression without detracting from the rest of the room.
via Helen The Dunham
12. Elevated Wooden Dining Table Planter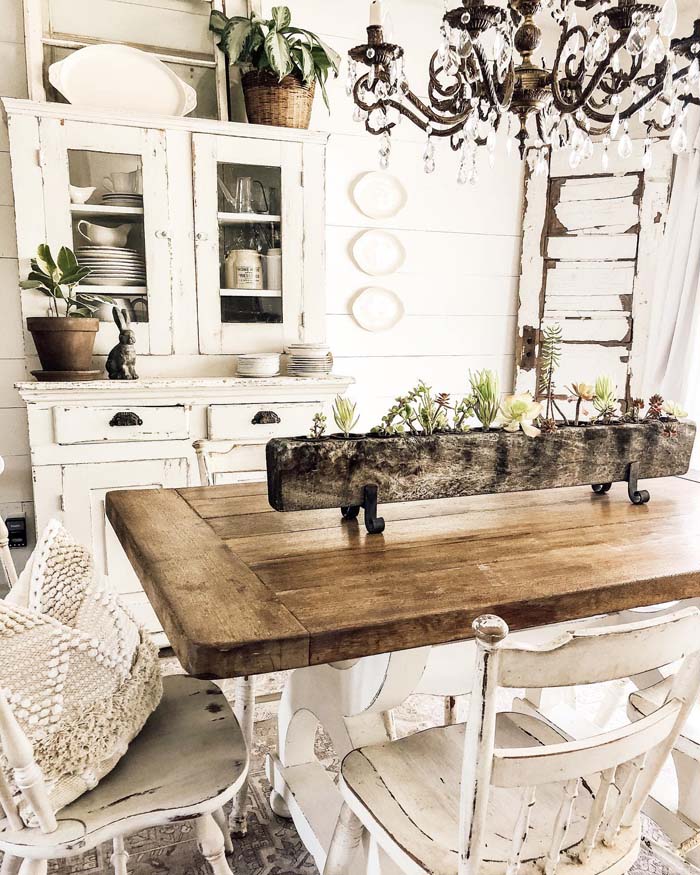 Do you want a simple centerpiece that looks great all year long?
Make a narrow planter out of reclaimed wood planks and simple metal feet. Plant a row of small, unusual plants; succulents work well. For less mess, use artificial plants.
via Ashley Knie
13. Fairy Garden in a Bowl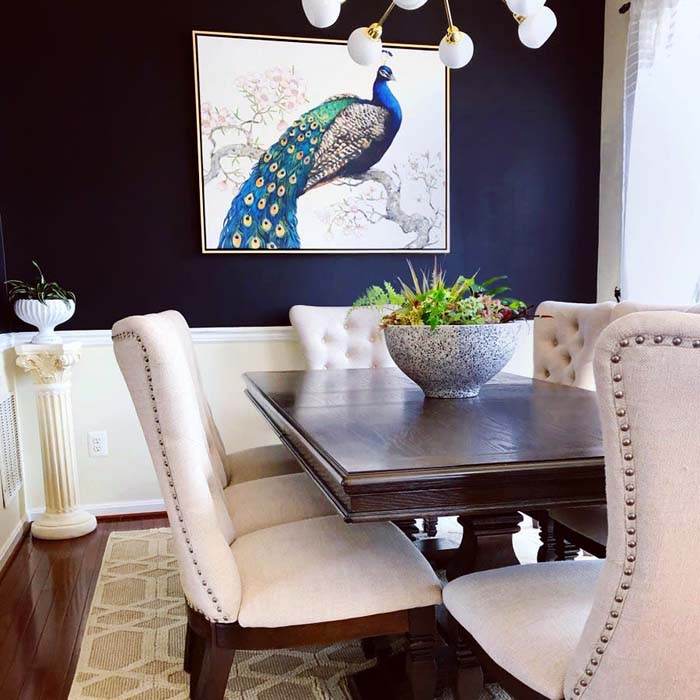 Dig out your best-looking mixing bowl and turn it into a lovely fairy garden centerpiece.
Fill it with potting soil; then, add a mix of tiny plants. You can even add a tiny hiding place for fairies and other magical creatures.
14. Fall Colors and Candles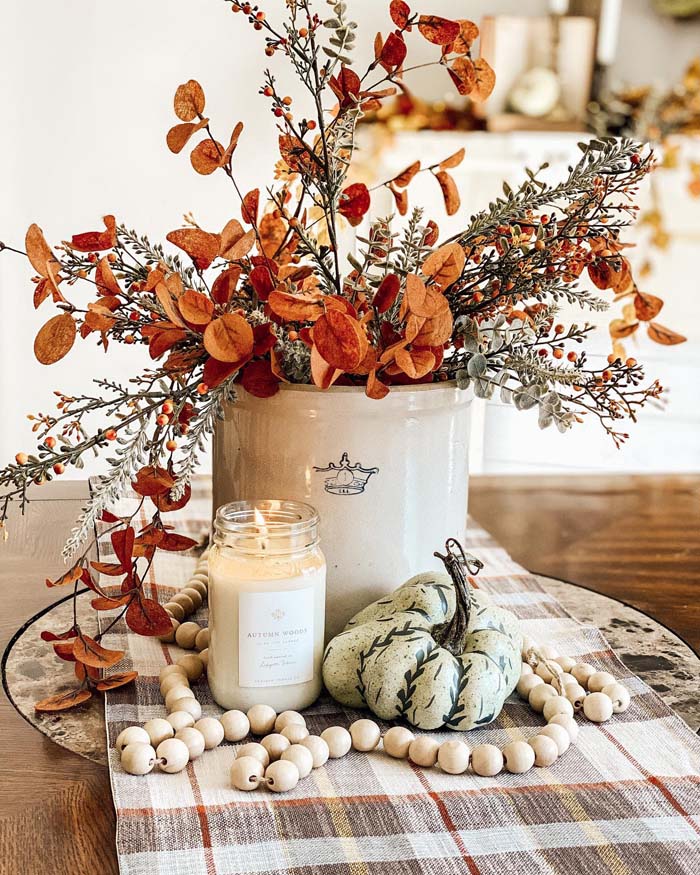 Create a centerpiece that works throughout the fall by combining classic autumnal elements.
A jar of fall leaves, a scented candle, and a pumpkin look beautiful; tie them together with a string of wooden beads.
15. Farmhouse-Themed Centerpiece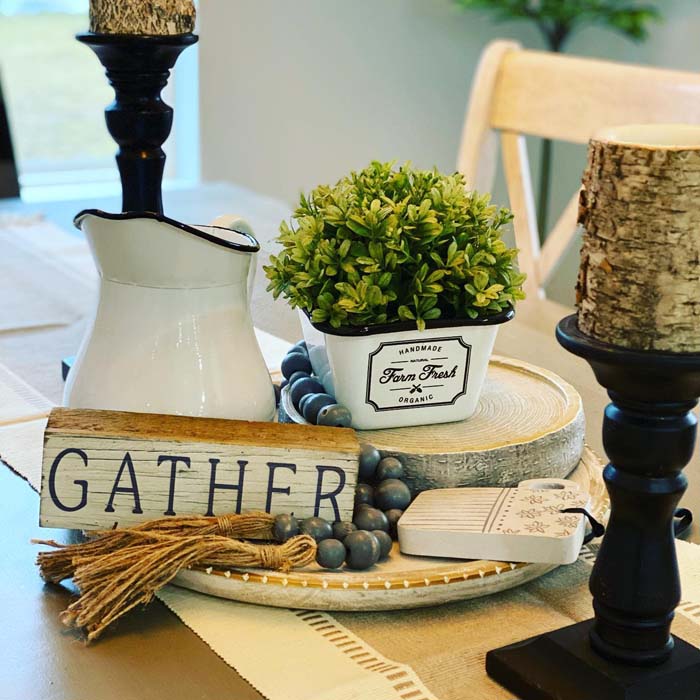 Rustic farmhouse style is all about textures.
Embrace that tradition by combining lovely, country-themed items on a wooden plank plate — a potted plant, vintage jug, and wooden sign create a comforting vibe.
16. Festive Christmas Centerpiece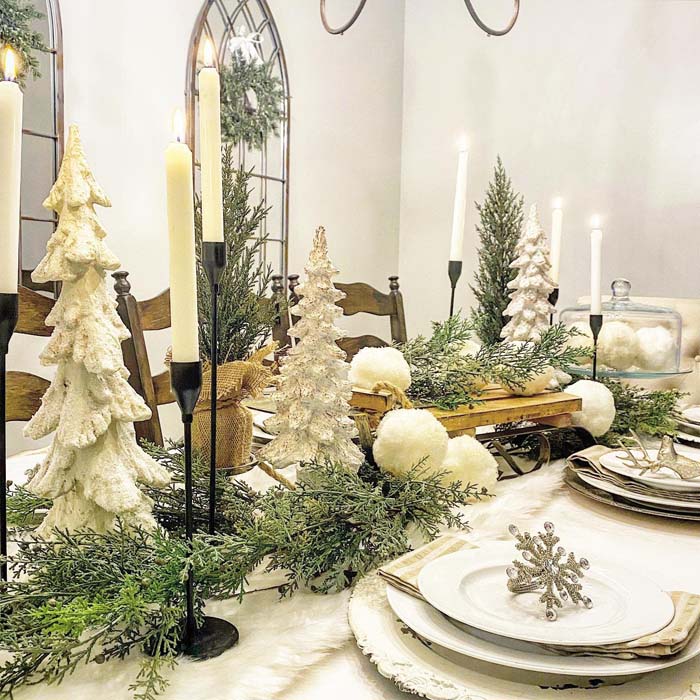 Are you hosting a sophisticated Christmas dinner party?
Line the center of the table with small Christmas tree figurines. Then, fill in the gaps with fresh greenery and white pom-poms for a festive and chic effect.
17. Functional and Beautiful Centerpiece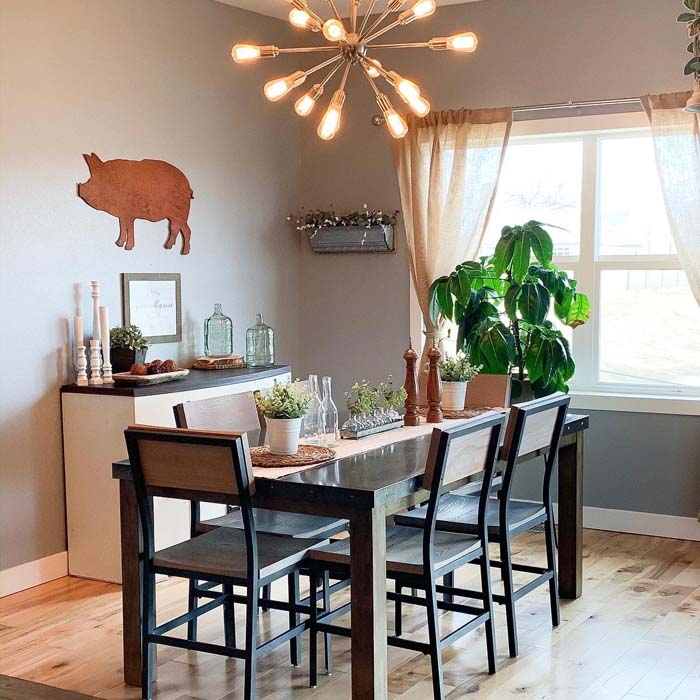 Do you tend to use the same items for every meal?
Swap a few of them out with stylish alternatives, and you have a centerpiece that's useful and eye-catching.
Beautiful salt and pepper shakers, refillable carafes, and a few green plants upgrade a simple dining room.
via APS Design
18. Orchid Fairy Garden Centerpiece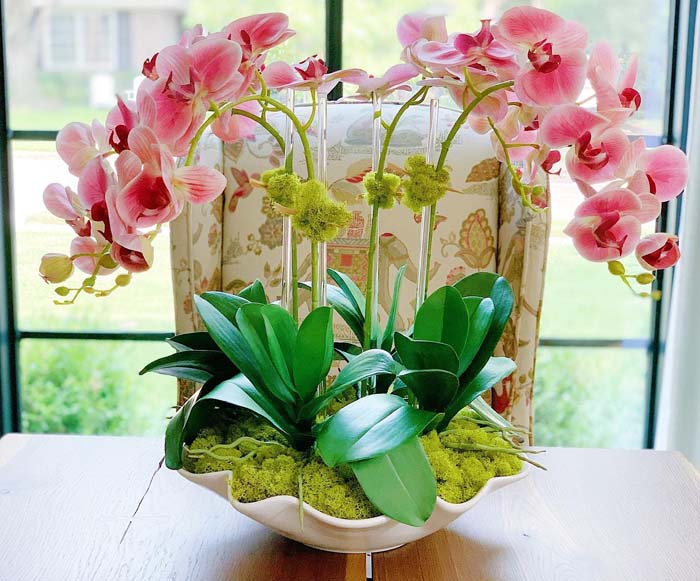 Looking for a Japanese-inspired centerpiece?
Plant a colorful orchid in a decorative planter, and cover the soil with moss. The extra pop of color and texture adds a fascinating dimension to this exotic plant.
via Lisa and Tessa
19. Oversized Glass Vases with Blue Leaves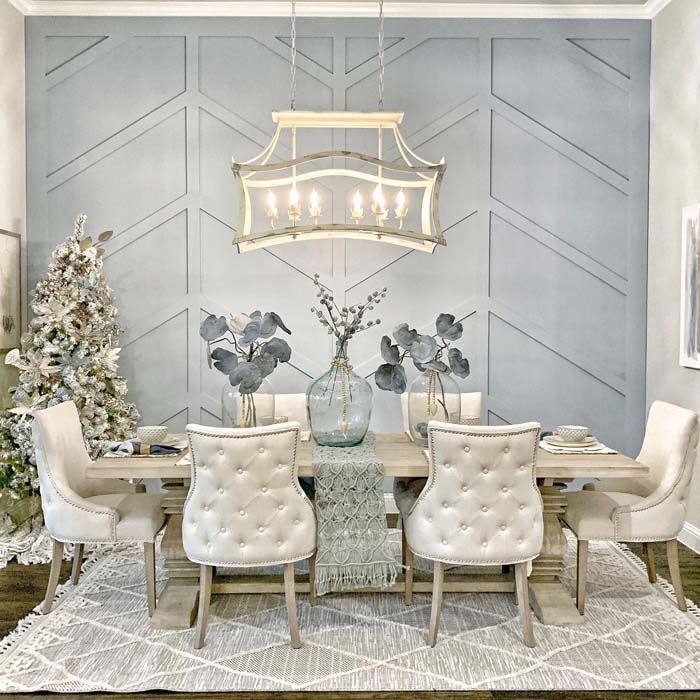 If your holiday decorating theme is wintry and icy, deck your dining table with three enormous glass vases.
Add in oversized blue leaves for a centerpiece that's bold and contemporary.
20. Painted Pumpkins on a Tray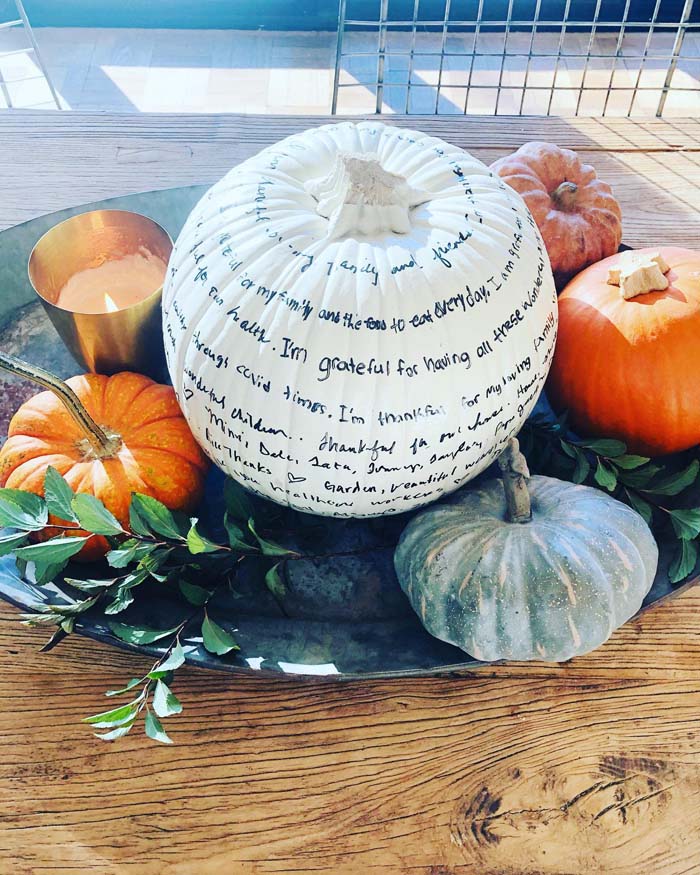 Remind yourself of the good things in life by painting a pumpkin with a string of gratitude statements.
When paired with other small squashes, it looks sophisticated and stylish. Put this centerpiece together in October, and you can leave it up until Thanksgiving.
21. Potted Plant Centerpiece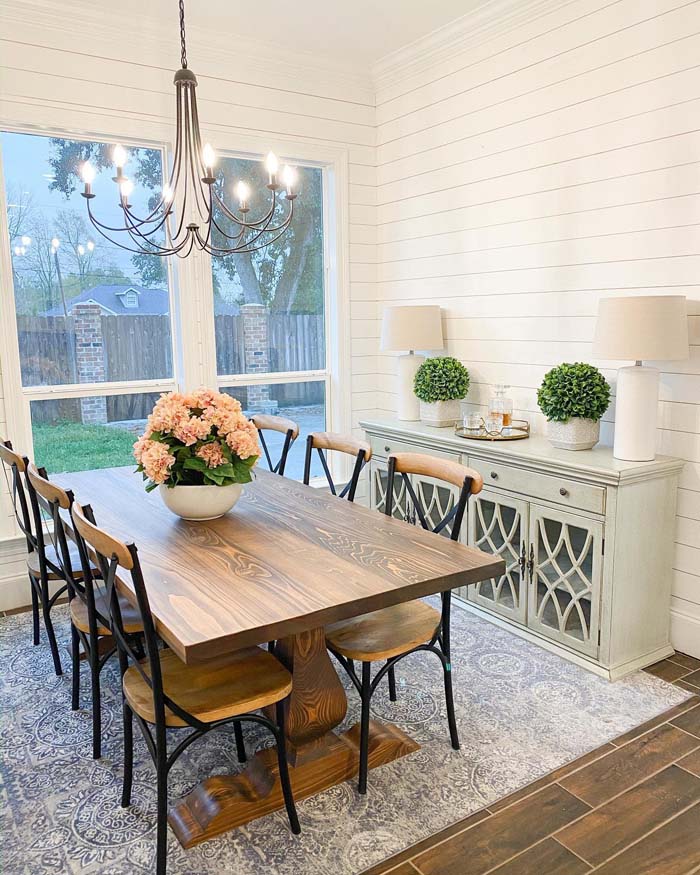 When in doubt, top your table with a potted plant — it adds color and life to space without making it feel cluttered or crowded.
The trick is to choose a simple planter and a striking plant. Here, a white bowl sets off pink flowers and large leaves.
via Brooke Casey
22. Rustic and Chic Wooden Tray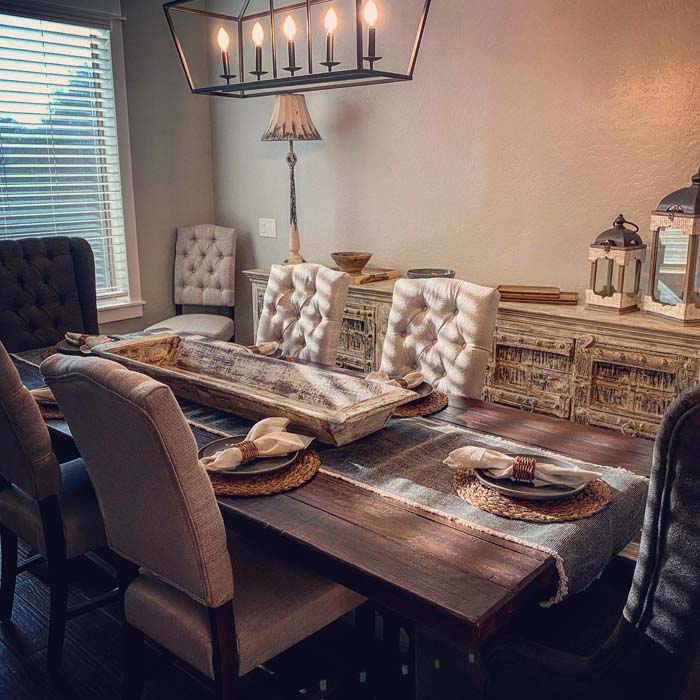 Sometimes, simple is best — here, a gorgeous wooden tray makes a surprisingly striking centerpiece.
The key is to choose a piece with lots of visual interest: a distressed surface, carved details, and a unique shape.
23. Rustic Centerpiece with Antlers and Candles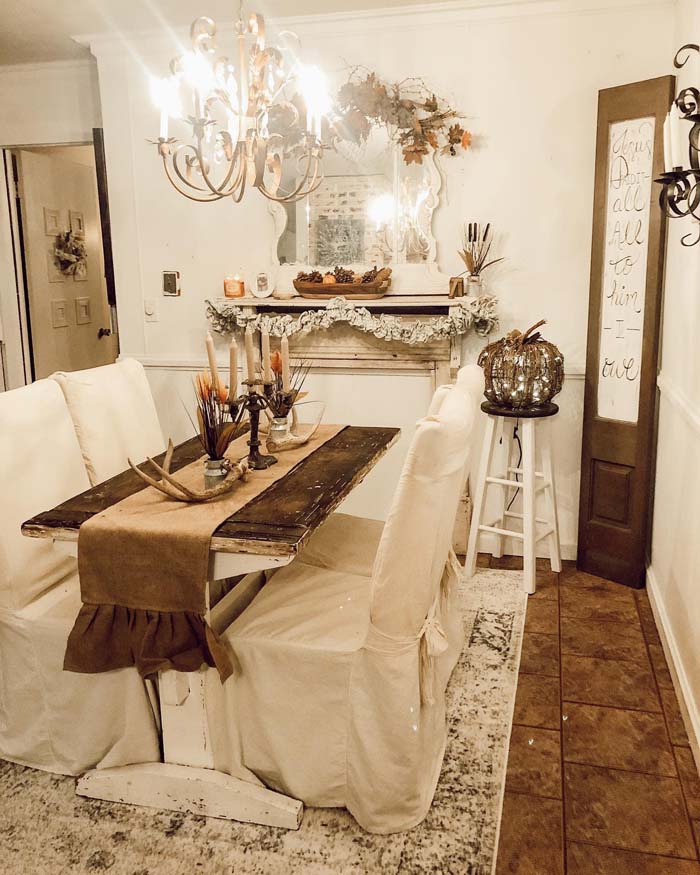 Give your dining room the feeling of a mountain cabin by combining antlers with a candelabra.
The effect is grand yet inviting — a fun combination for cozy family dinners and intimate dinner parties.
24. Rustic Metal Vase Centerpiece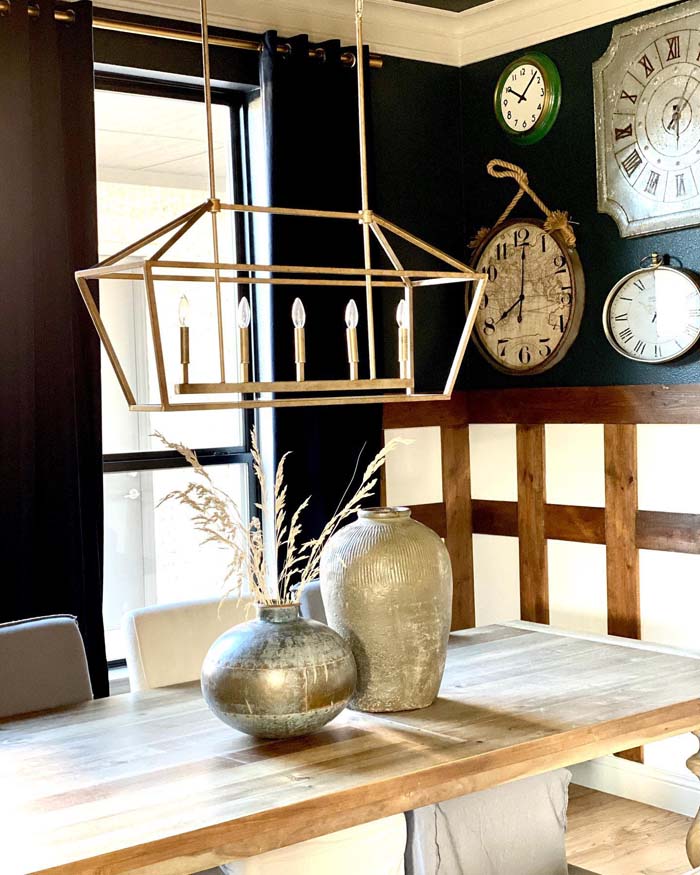 Add a touch of texture to an all-wood dining room with rustic metal vases.
Choose one to three, depending on the size; leave them empty, or add a sprig of greenery or a stalk of dried hay.
25. Rustic Wood and Metal Centerpiece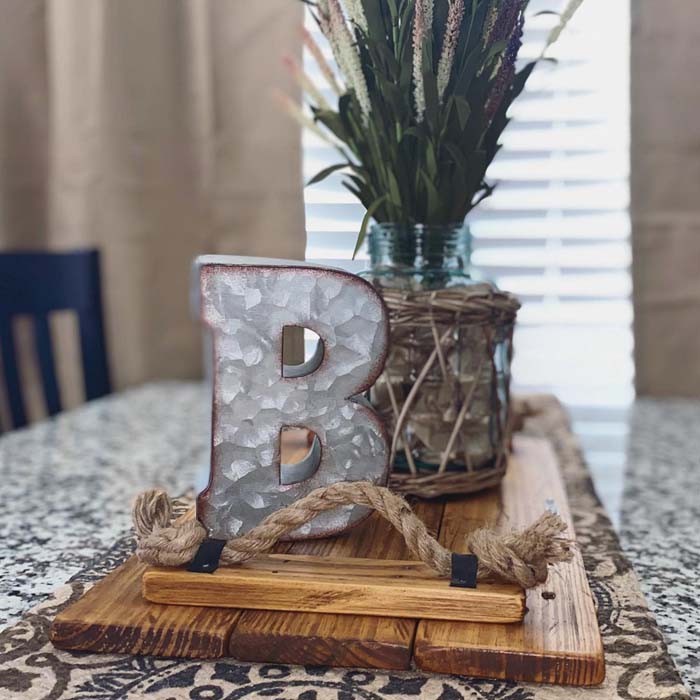 Wood and metal are the perfect materials to decorate a rustic cabin or farmhouse.
This simple centerpiece uses a reclaimed wooden tray as a base; top it with a galvanized metal sculpture and a green plant for a lovely combination of texture and color.
26. Silver Vases and Candles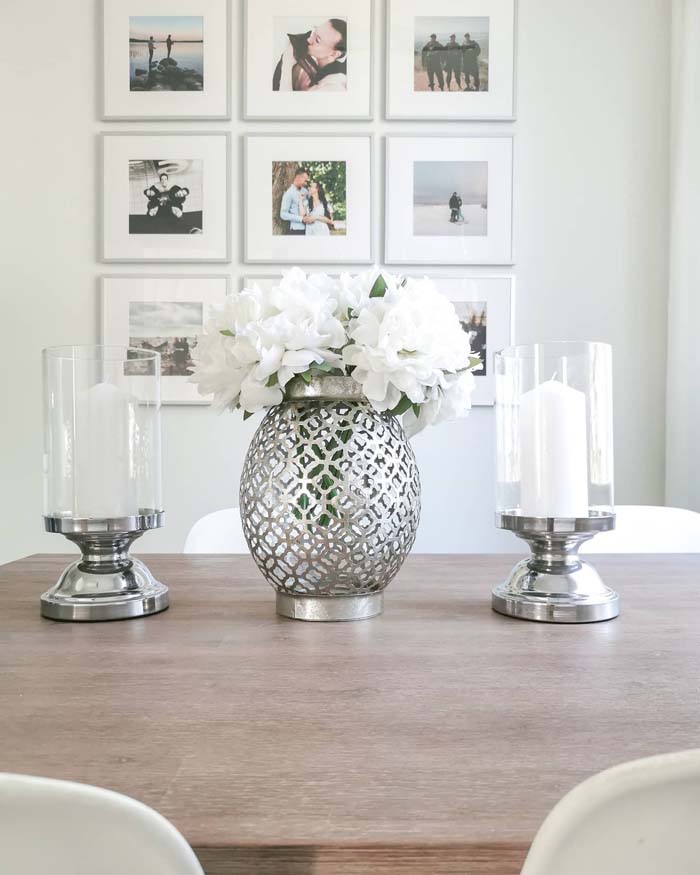 Get ready for an elegant brunch with this clever centerpiece, which features silver candle holders and a silver vase.
To create a cohesive look, add white candles and flowers.
27. Simple and Chic Rustic Centerpieces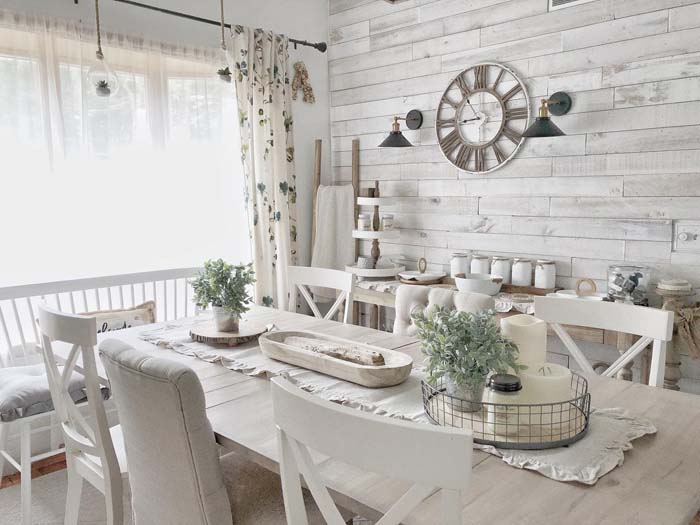 In a rustic home, you can't go wrong with wooden trays; here, they serve as gorgeous centerpieces.
Top them with plants and candles, and you'll have a table that's chic and casual.
28. Test Tube Holder with Flowers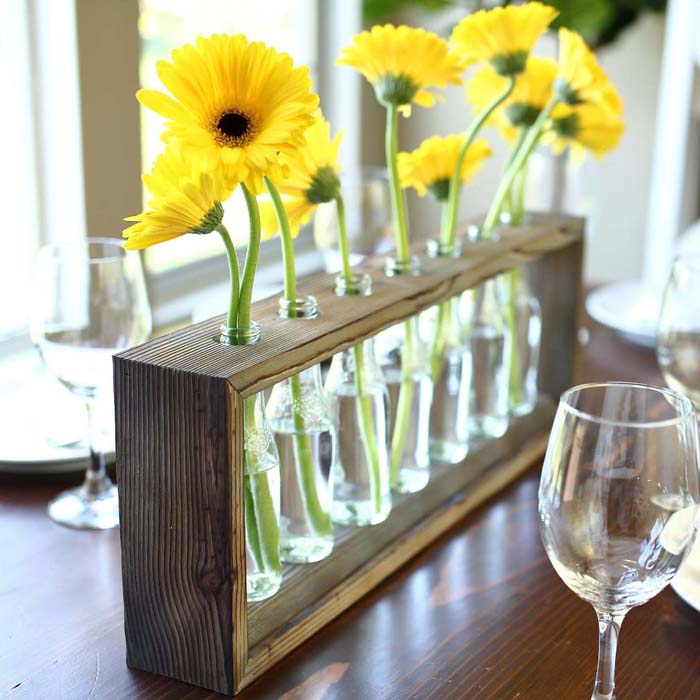 Decorate a tiny dining table with an adorable test-tube vase display.
The individual tubes hold one or two flowers, and the cute wooden frame gives you a peek at the stems. Since it's narrow, this centerpiece leaves plenty of space for serving dishes and place settings.
via The DIY Plan
29. Tiny Glass Bud Vases in a Box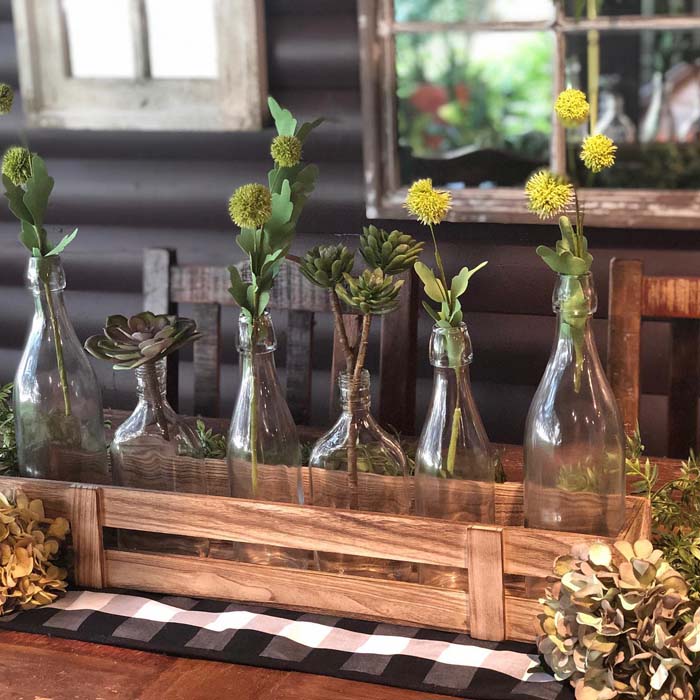 Buy or make a shallow wooden box, and you have the perfect base for a trendy centerpiece.
Just add a row of bud vases; antique glass bottles also work well. Slip a succulent or an individual flower into each vase.
30. Trendy Wood Candle Block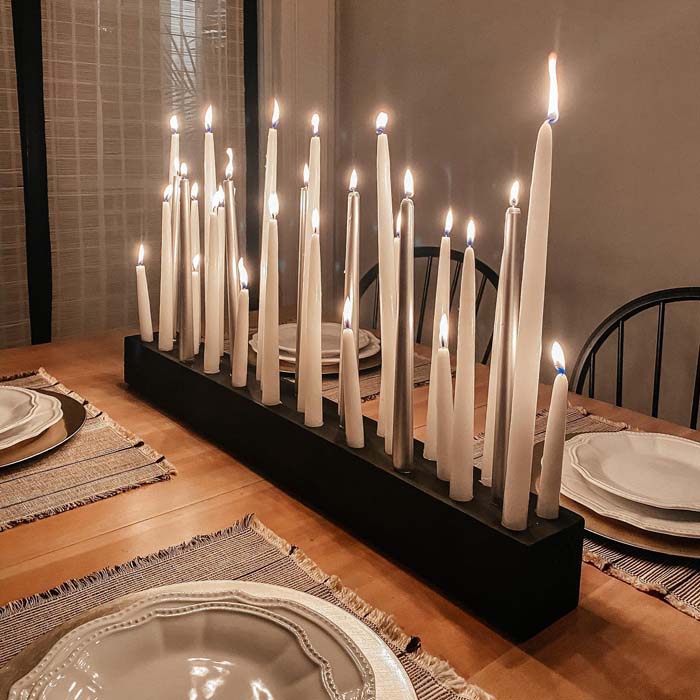 Candles make any meal feel special.
For a centerpiece that's both functional and lovely, drill a series of holes in a block of wood. Insert taper candles into the holes to create a piece that looks expensive and casts a cozy glow over the table.
31. Vases of White Tulips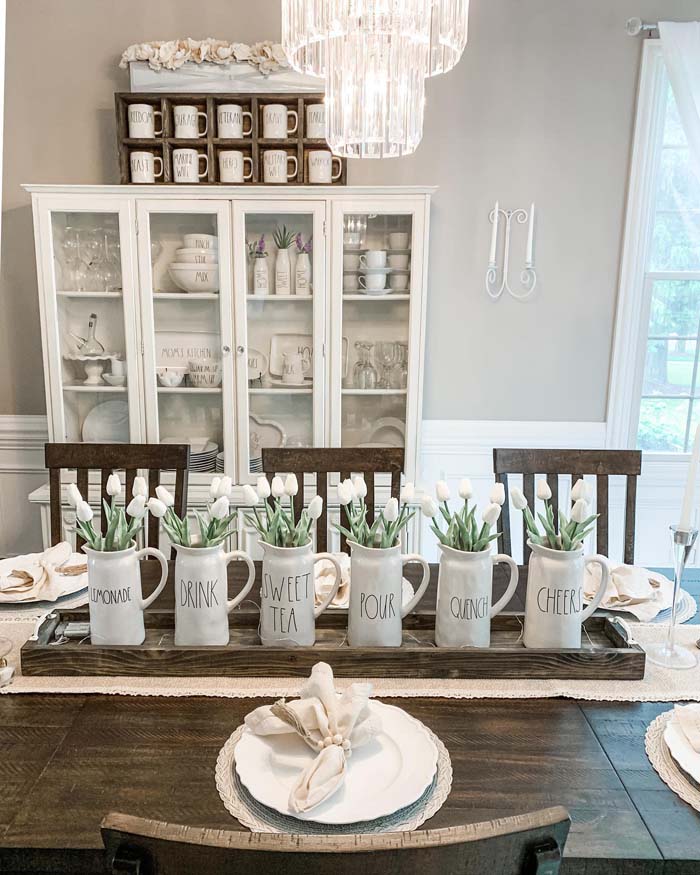 Add a sense of sophistication to a farmhouse by combining a dark wood tray with white accents.
A row of white vases makes the perfect backdrop for artificial tulips with sage-green leaves. The colors are simple, but the impact is striking.
via Rose Sobczak
32. Vintage Glass Jug as a Vase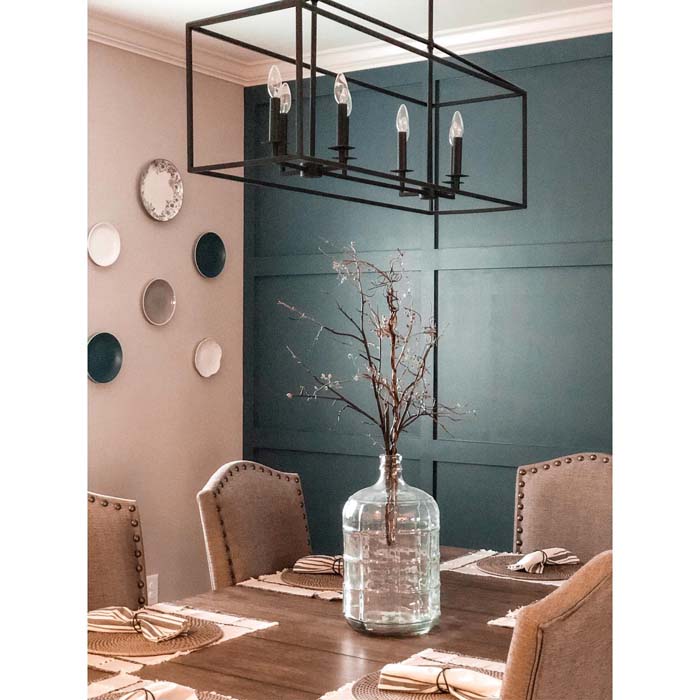 Head to the nearest thrift store or estate sale and keep your eyes peeled for interesting glass jugs — they make stunning centerpieces.
All you need to do is add a handful of branches or flowers.