Are you dreaming of a warm, cozy Christmas?
Reclaimed wood decorations are the perfect way to create a welcoming and relaxed atmosphere — the soothing colors and the natural texture brings just a touch of rustic style to your decor.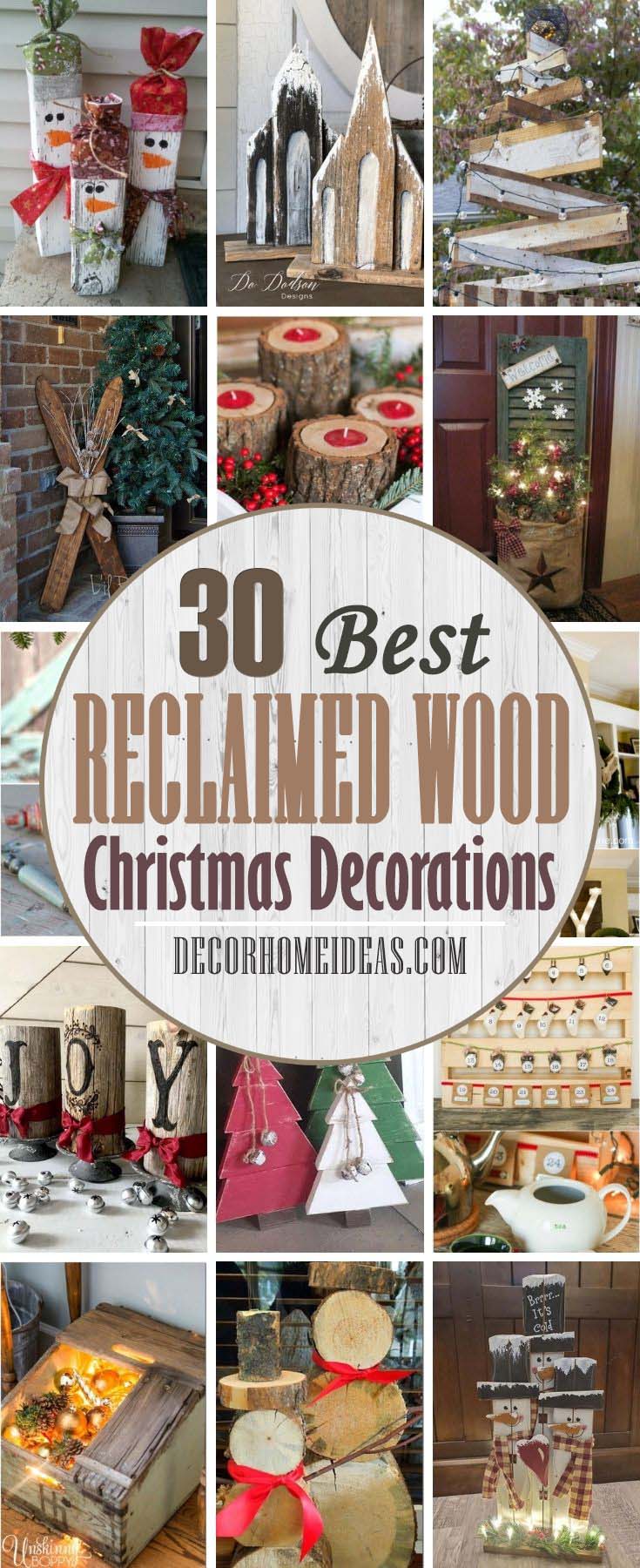 Whether you're going for Scandinavian charm or a full-on traditional Christmas wonderland, these gorgeous decorations are a great place to start decking the halls.
1. Stenciled Tree Plank Art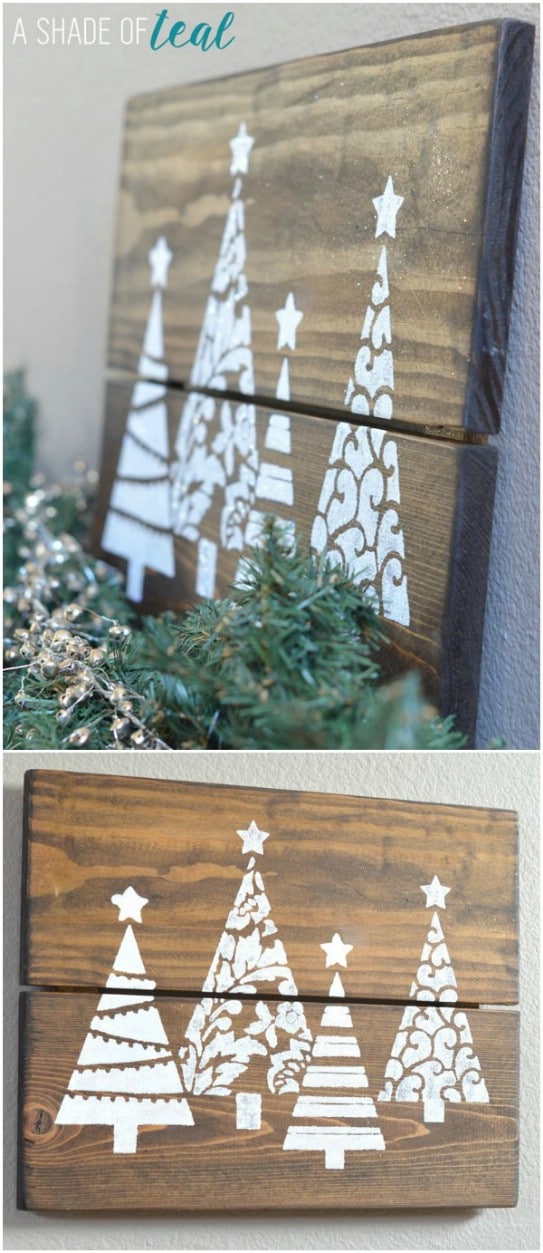 A little glam, a little rustic — this glittering Christmas tree sign has it all.
Simple painted trees keep the reclaimed wood planks looking modern, and the oh-so-subtle dusting of glitter creates the effect of sparkling snow.
via A Shade of Teal
2. Vintage Look Ski Porch Display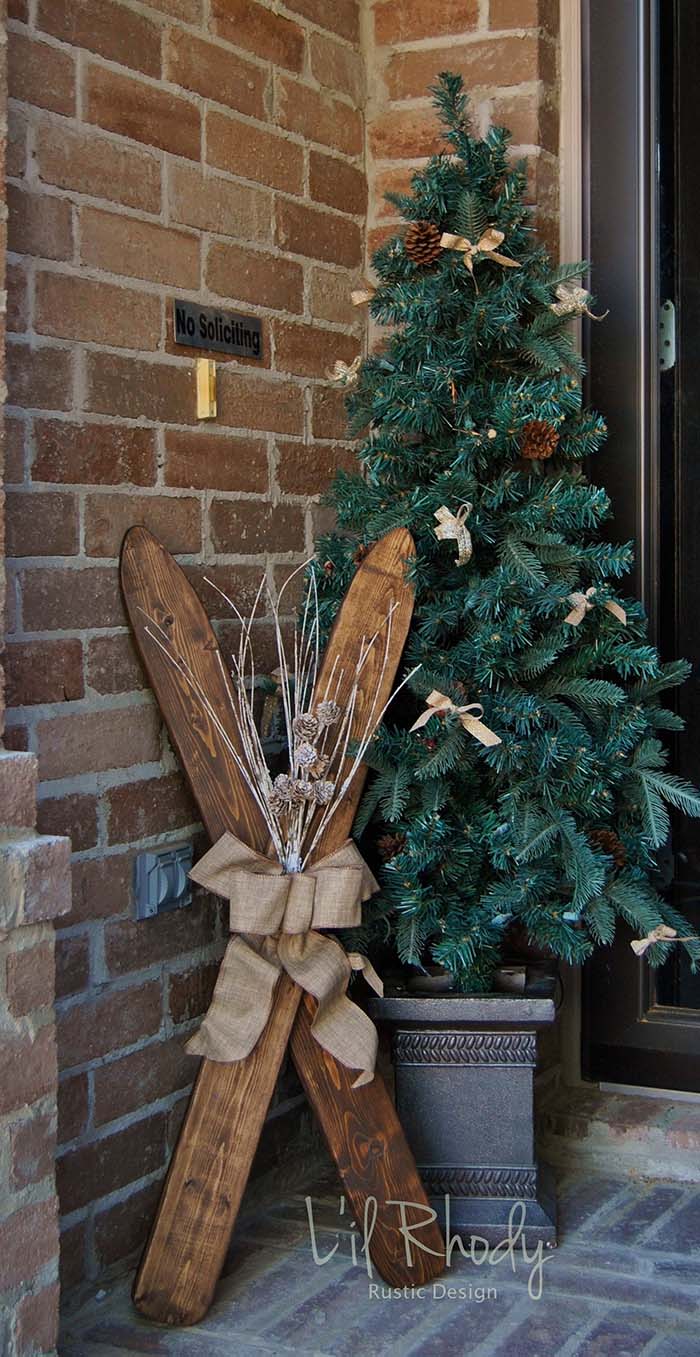 Repurpose a pair of vintage wood skis — or simply make your own out of some scrap wood — to create a charming front porch decoration.
The trick is to choose wood with a bold grain pattern that shows up beautifully under a coat of stain.
A burlap bow sets just the right rustic vibe.
via Lil Rhody
3. Glowing Antique Lit Box

Are you looking for new ways to use Christmas lights?
This stunning reclaimed wood box is an easy option. The lights are placed beneath a bed of ornaments and pine cones, creating a gorgeous, cozy glow.
Choose golden ornaments for a warm glow, or pick any color that matches your theme.
via Unskinny Boppy
4. Natural Log Tealight Holder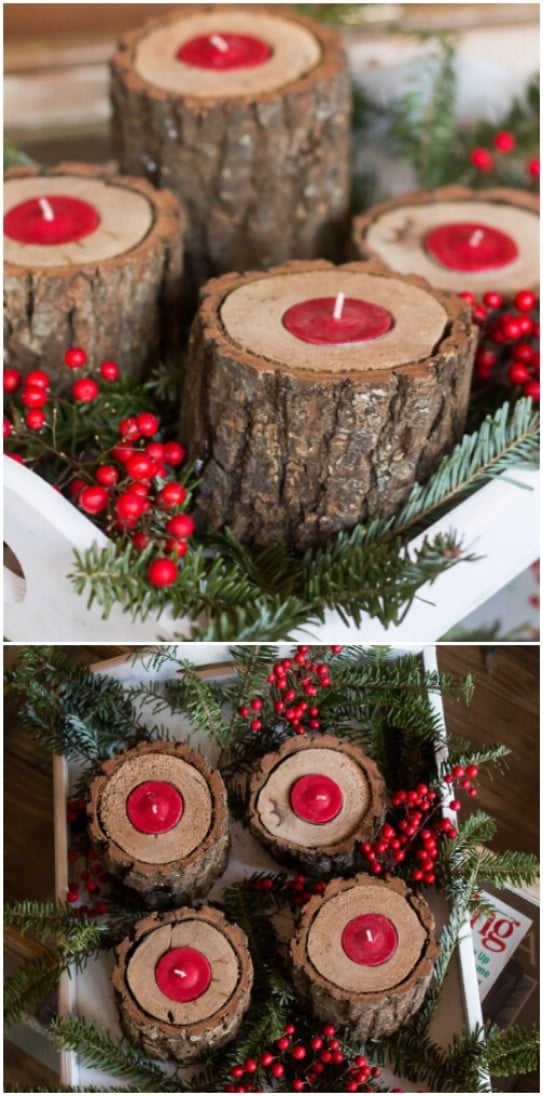 Candles are a classic part of Christmas decor.
Give your small pillar candles a rustic upgrade with these stunning holders. Made from slices of a small tree, they add the natural texture of bark to a centerpiece or shelf decoration.
Set them on a bed of greenery for extra impact.
via Martys Musings
5. Hang Stockings From A Wood Art Piece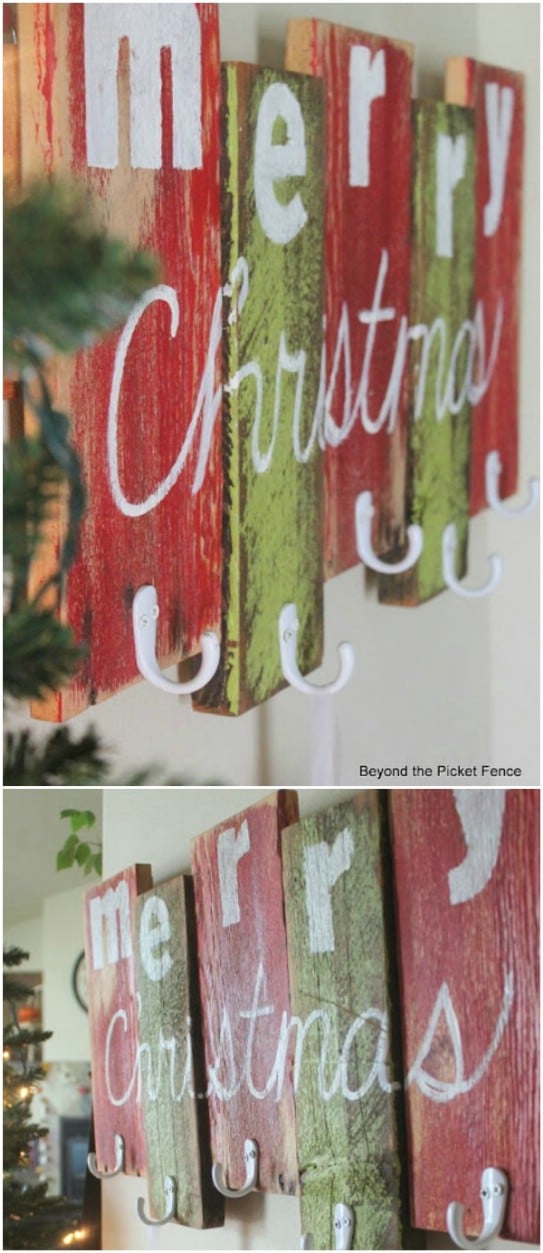 When you don't have a fireplace, it can be a challenge to find the perfect spot to hang your stockings.
That's where this lovely piece comes in — hang it on the wall in your living room to turn the family's stockings into a work of art.
6. Reclaimed Natural Log Mantel Candleholder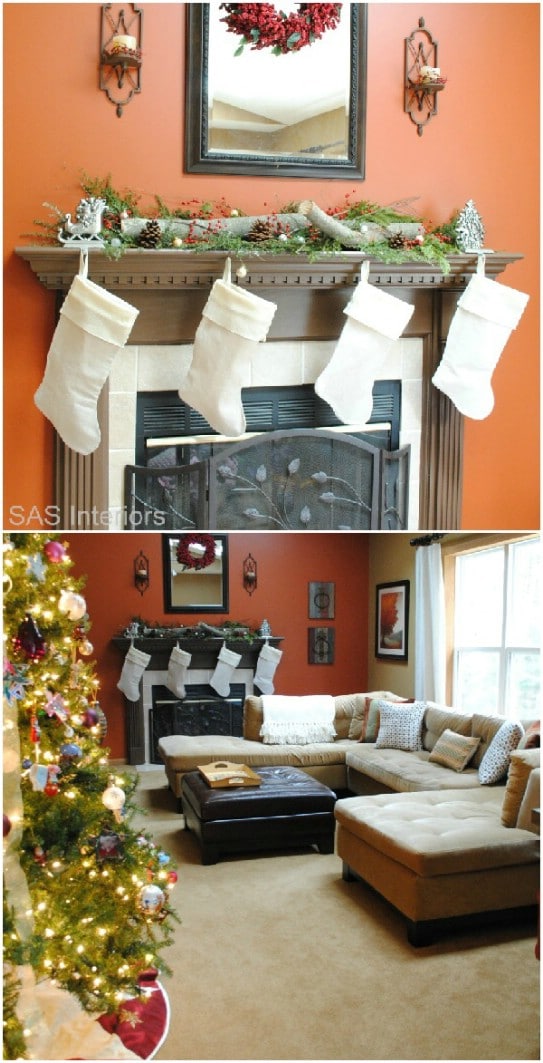 Give your mantle a fresh look this Christmas by repurposing a part of a fallen tree.
Simply cut off the section that appeals to you the most, drill tealight-sized holes, and you're all set.
Depending on the size, this holder also makes a stunning centerpiece.
via Jenna Burger
7. Easy DIY Wood Plank Snowman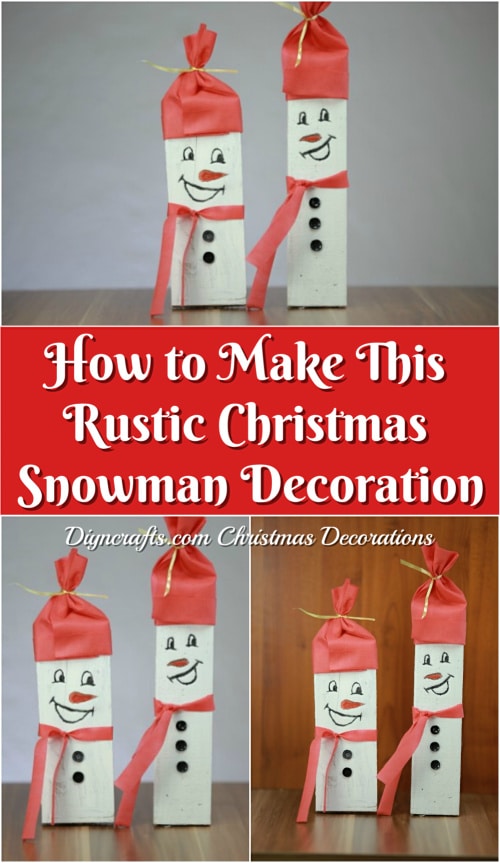 Get your little ones involved in the Christmas crafting fun with these DIY snowmen.
Made from pieces of scrap wood, they don't require any cutting or tools.
Your crew can paint faces and add accessories to create adorable, one-of-a-kind pieces for the mantel, windowsill, or side table.
via DIY and Crafts
8. Burned Letters Wood Log Candleholders
Here's a chic take on rustic Christmas candle holders.
Featuring reclaimed fence posts, they bring a gorgeous weathered texture to your home.
The wood-burned "JOY" letters look lovely with the red bows, adding just the right amount of festive cheer.

9. Stacked Log Snowman Project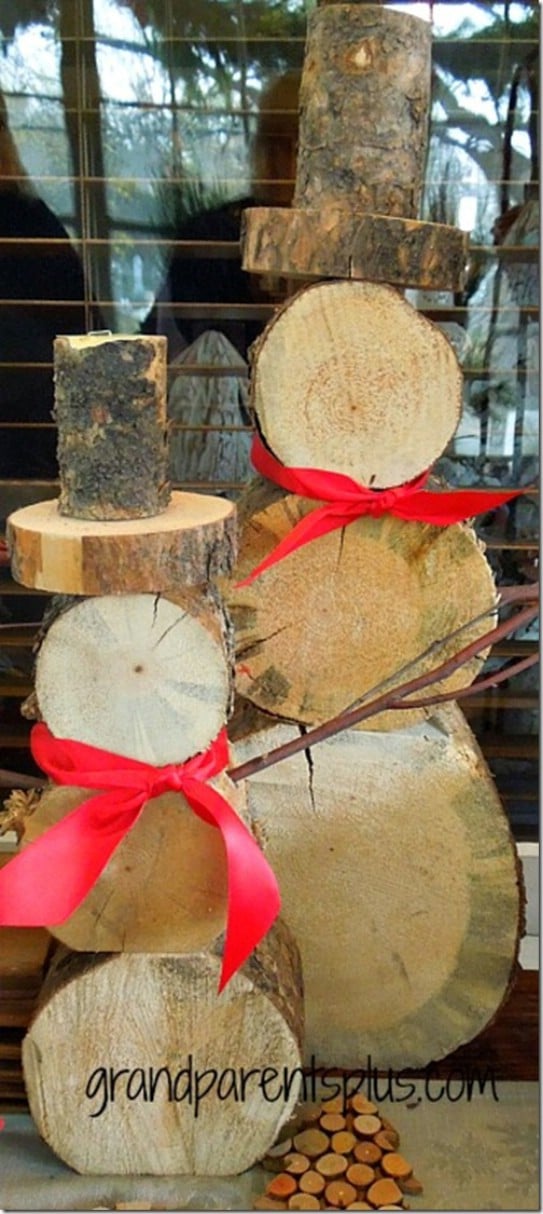 Maintain the casual vibe of your home with these super-cute snowmen.
They're made from simple wood slices — no sanding or painting required.
Add a ribbon scarf and stick arms to create a lovely porch or shelf decoration.
10. Wood And Fabric Painted Beam Snowmen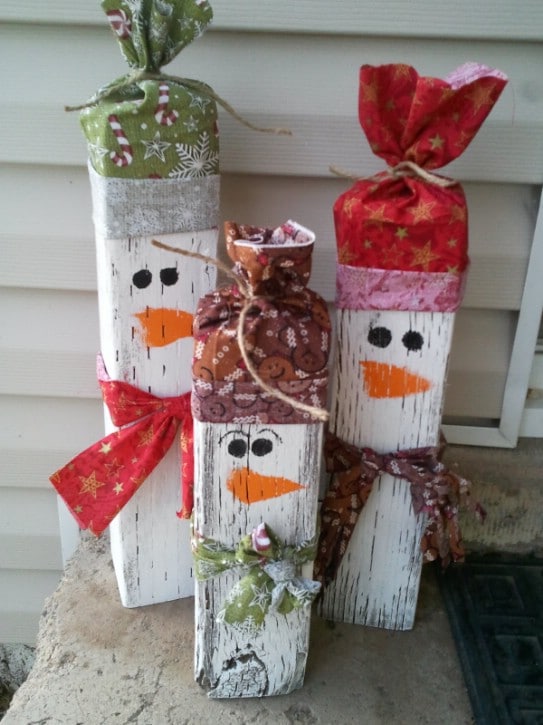 Welcome guests with these adorable DIY snowmen.
The charm lies in the reclaimed wood beams that form the bodies; the wood shows through the white paint for a sweet, rustic touch.
For maximum impact, cut the wood into different heights.
Since they're heavy and stable, these little snowmen make a great addition to your front step or another high-traffic spot.
11. Primitive Wood Log DIY Reindeer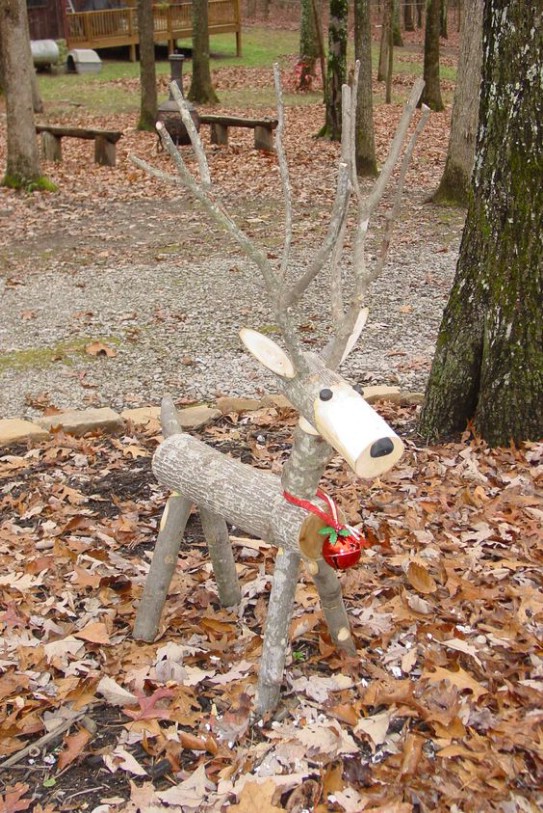 If inflatable outdoor decorations aren't your thing, this sweet reindeer is the ideal alternative.
Crafted from reclaimed logs, he's weather-resistant and durable.
Plus, the unfinished wood helps him blend into the natural surroundings.
12. Festive Advent Calendar From Upcycled Pallet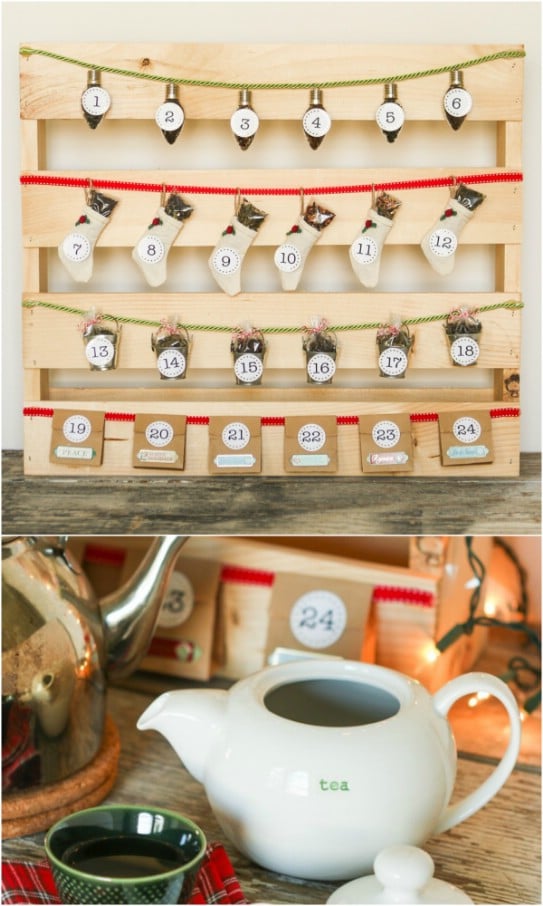 Bring a bit of rustic charm to this year's Advent calendar by making your own out of a reclaimed pallet.
Use simple paper tags to create the days of the month, and conceal your special Advent treats in ornaments, tiny bags, or miniature stockings.
via Thirsty For Tea
13. Architectural Salvage Christmas Ornaments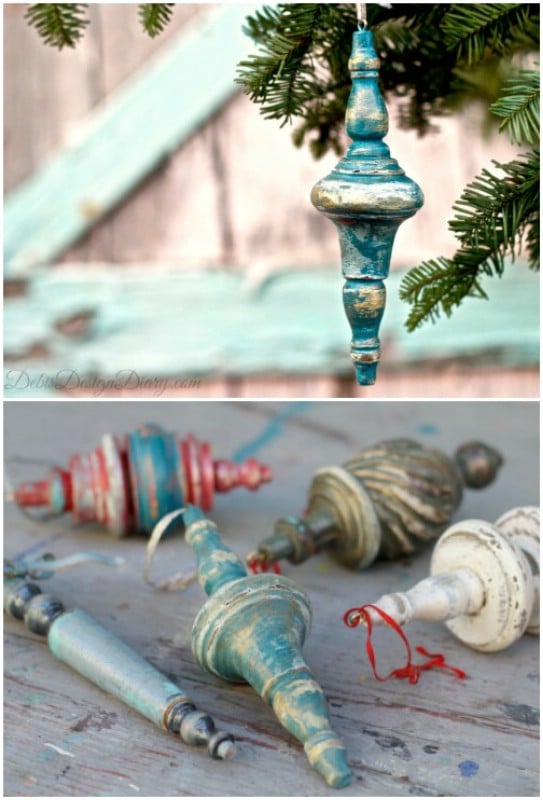 These gorgeous ornaments put a rustic spin on classic retro shapes.
The secret? Each one is made from a reclaimed table leg.
The turned wood detailing recreates the vintage ornament shapes, all while blending into your relaxed Christmas decor.
14. Vintage Shutter Holiday Décor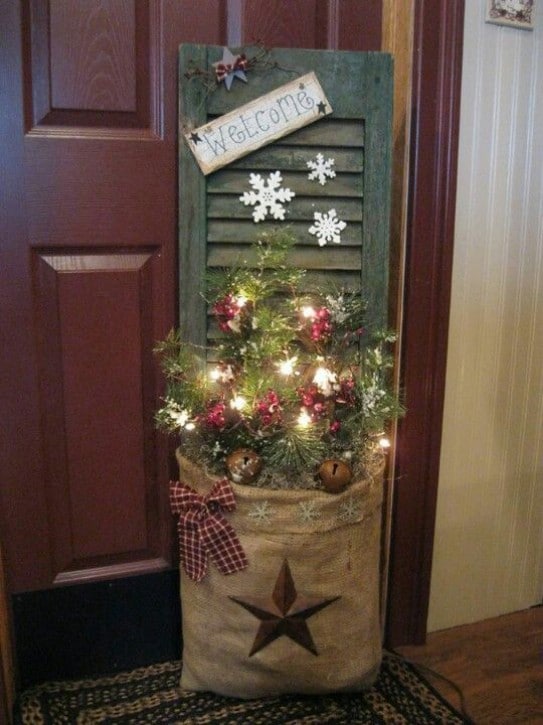 Give life to a discarded window shutter with this adorable DIY decoration.
Every element works together to create a classic, rustic look.
From the faded paint on the wood to the burlap sack, each detail is sure to bring joy to every holiday visitor.
15. Simple Antiqued Wood Trees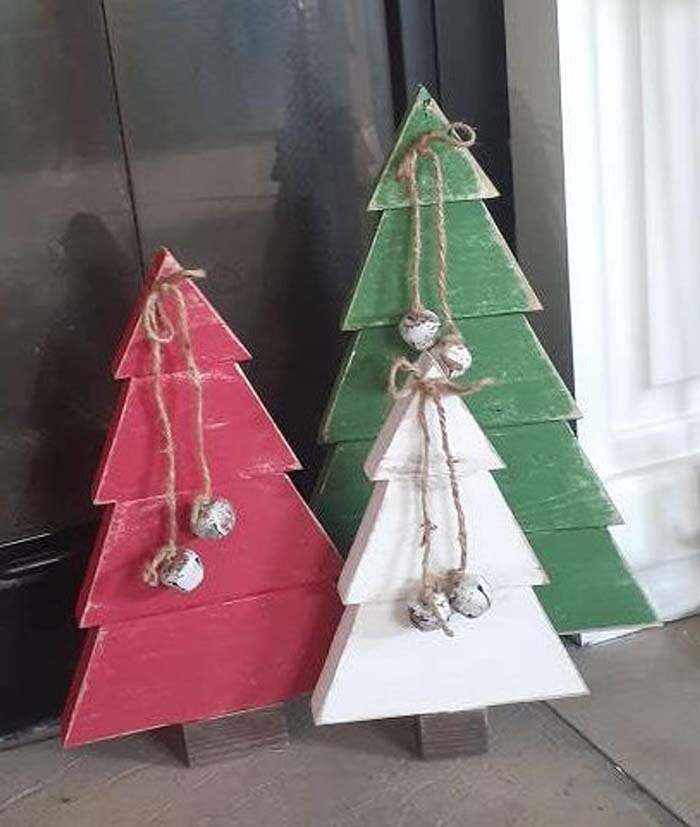 Simple and elegant, these reclaimed wood Christmas trees are a fun way to add color to any spot in the house.
Set them on a shelf, tuck them into your mantel display, or hang them on a wall for an instant pop of holiday cheer.

16. Outdoor Lighted Box Display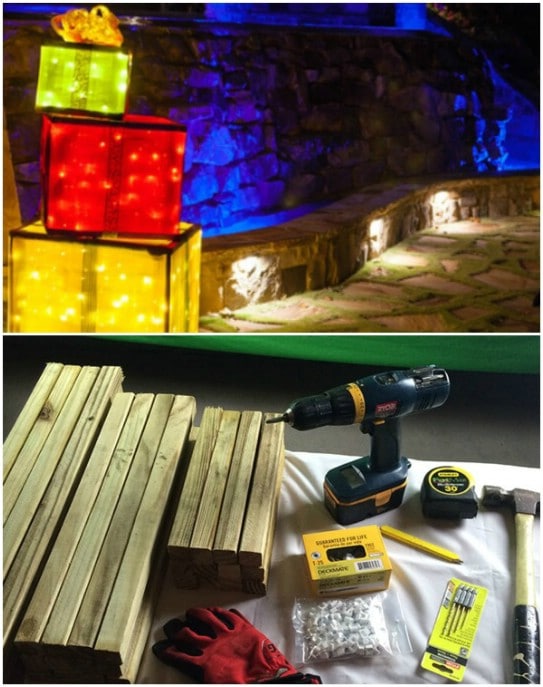 Make your home feel more festive from the moment you drive up with lighted gift boxes.
This piece looks complicated and expensive, but it's remarkably easy to make.
As long as you have a few basic tools and a bit of time, you can create a custom piece that you'll bring out every year.
17. Wooden Santa Door Hanging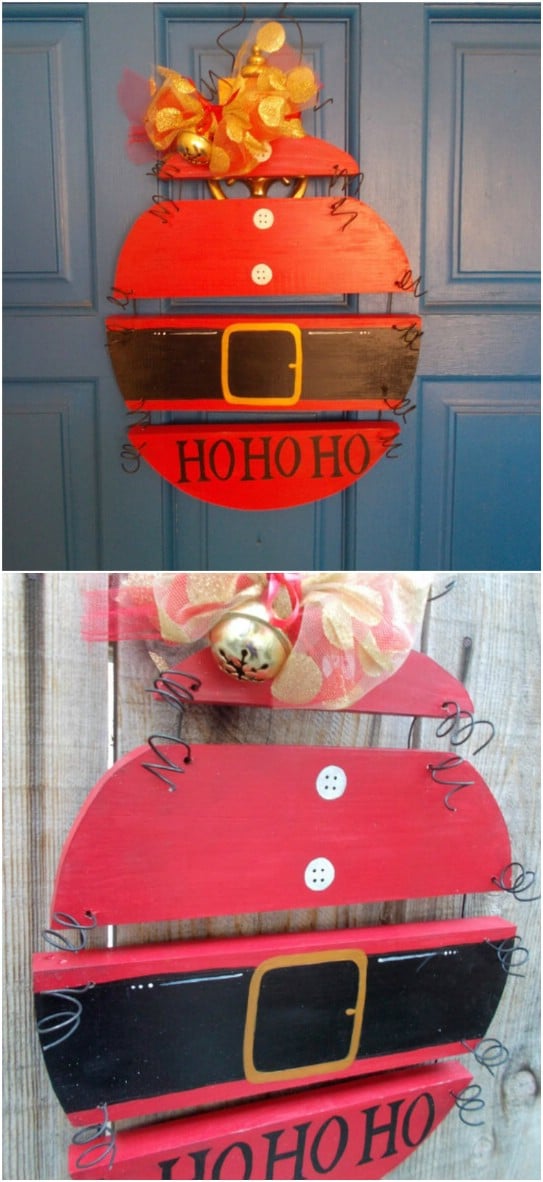 Welcome guests to your home by decorating it with this cute Ho Ho Ho sign.
The wooden planks are cut into a vaguely circular shape, giving the impression of Santa Claus' roly-poly belly.
Hand-painted details give this sign a charming, casual feeling.

18. Rustic Wooden Tree With String Lights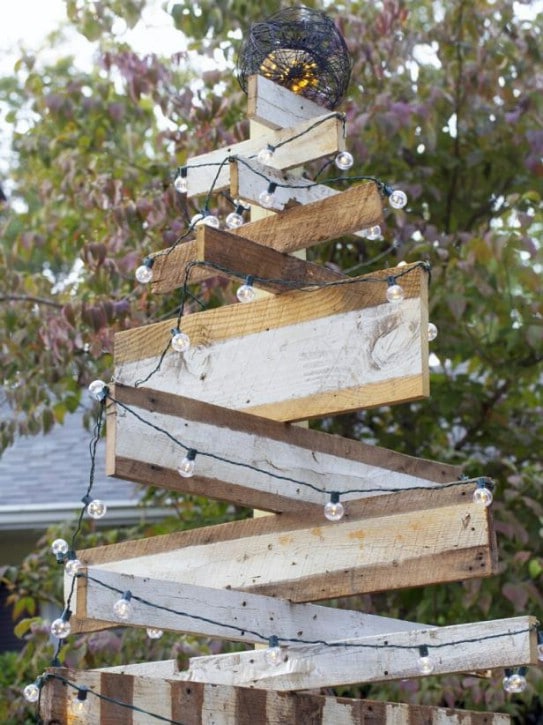 Nothing makes your evening better than peeking outside to see a lighted tree in your front yard.
If you don't have a full-grown tree, make your own out of reclaimed wood planks.
The descending sizes create the shape of the tree, and a strand of Christmas lights brings the piece to life.
via HGTV
19. Glittering Wood Shim Wall Art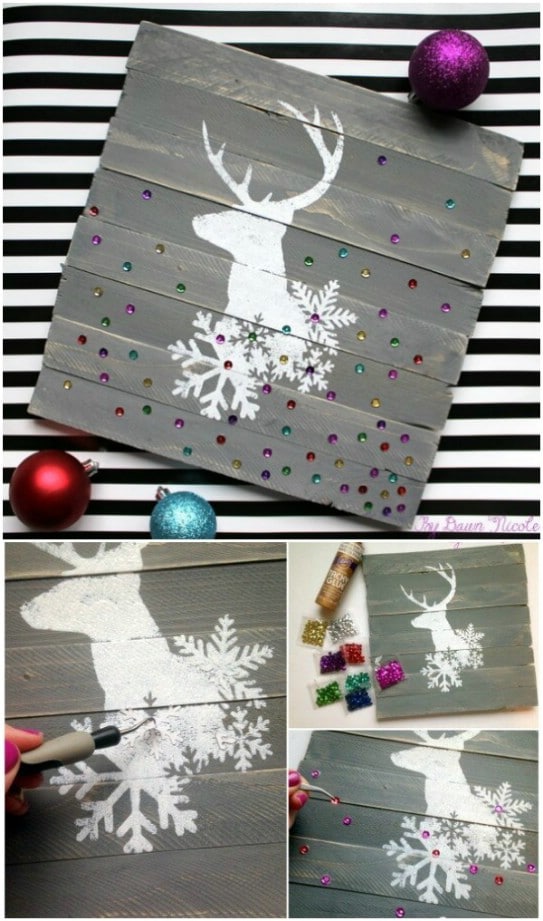 If you don't have lots of scrap wood on hand, wood shims are an affordable solution.
This sign features a panel made from shims and painted with a soft grey color.
A stenciled reindeer and a selection of colorful rhinestones add a glamorous hint of shimmer.
via Dawn Nicole
20. Tree Shaped Painted Wood Décor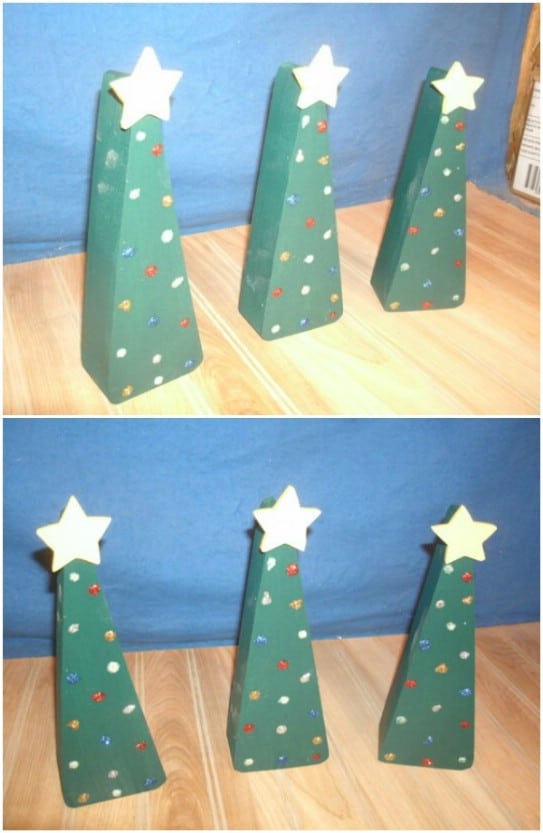 Get your kids in on the Christmas spirit by making tabletop tree decorations as a family.
All you need to do is cut reclaimed wood planks into triangles — your little ones can paint the trees and add ornaments to create truly personal decorations.

21. Statement Making Wooden Star Project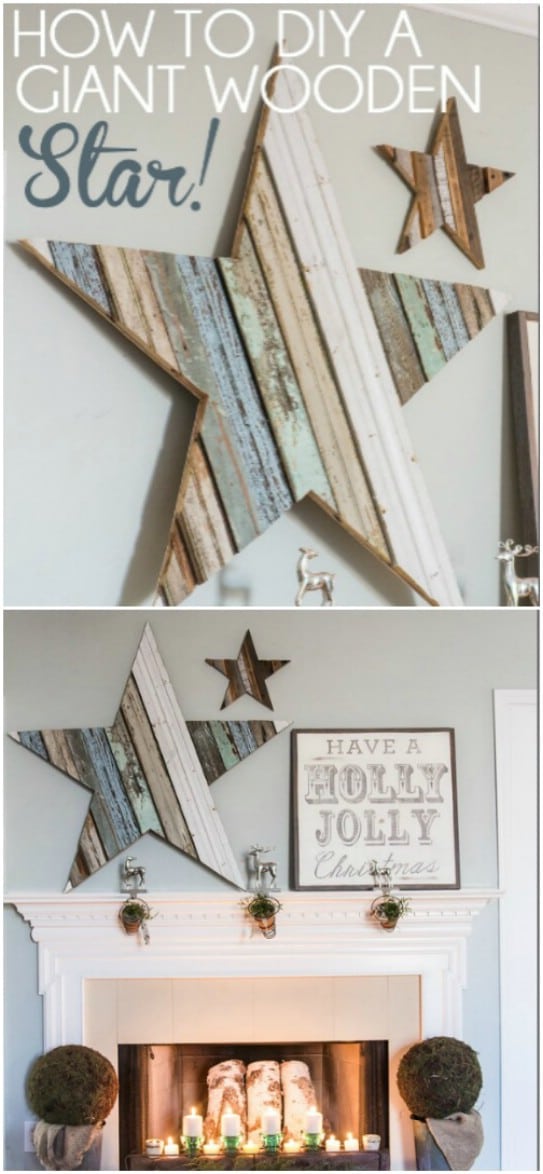 Make a rustic Christmas decoration that you can keep up year-round by turning reclaimed pieces of wood into a star.
You'll need a saw for this project to create the perfect points of the star; the result is a lovely Americana piece to add to your festive decorations.
via Unskinny Boppy
22. Night Sky Christmas Art Piece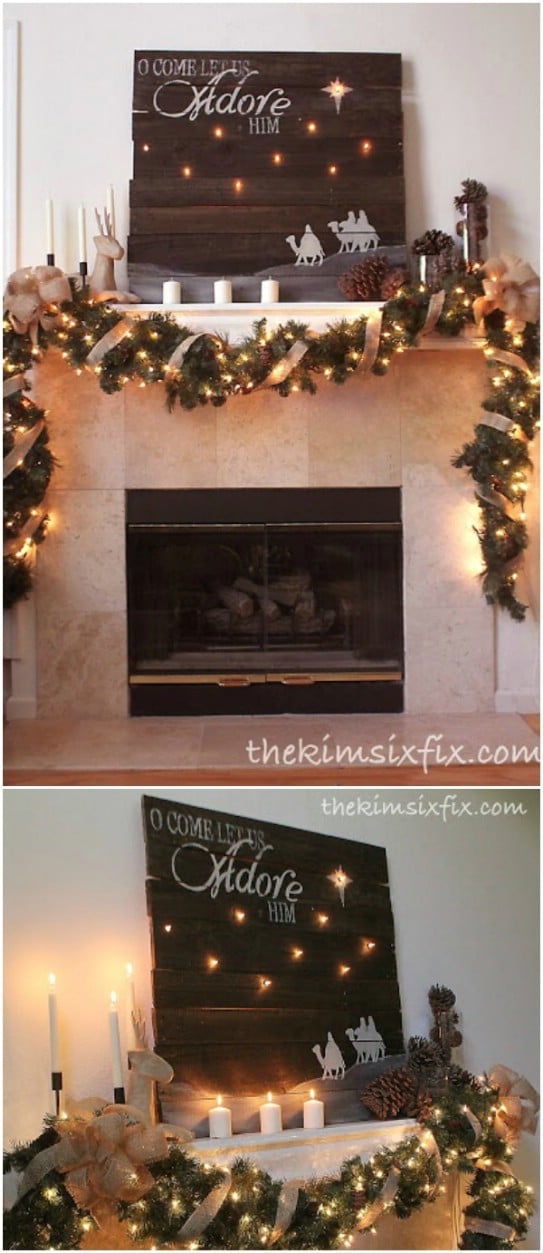 Do you have a mantel that's begging for a new look this Christmas?
Turn a collection of wood pieces into a planked sign.
Here, the lyrics from a favorite hymn work well with a silhouette depiction of the tree-wise men.
The most magical part is the lighted stars, which you can create by drilling holes and inserting Christmas lights.
via The Kim Six Fix
23. Repurposed Wood Panel Card Holder

Every year, your house is flooded with Christmas cards from loved ones — put them on display using this fun, rustic piece.
The twine-wrapped wood panel is a blank canvas for your favorite cards.
Slip them under the twine or clip them on with tiny clothespins.
via Shanty 2 Chic
24. Country Christmas Snowman Standee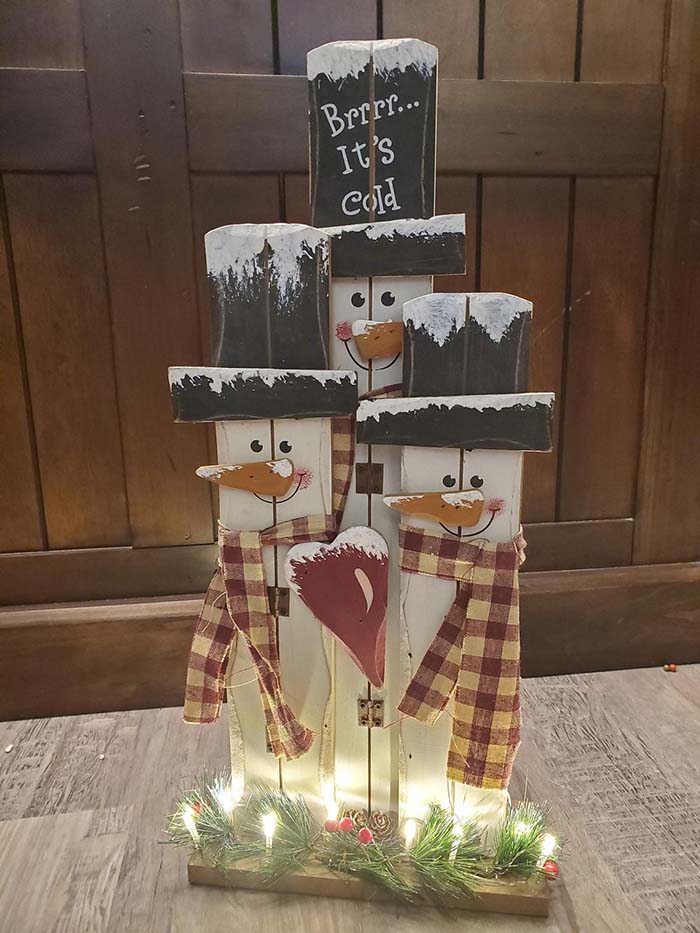 How cute is this family of snowmen?
Buy the arrangement online or recreate it in your woodshop with basic tools.
We love the adorable gingham scarves and the heart decoration; they bring warmth and cheer to your porch this Christmas.

25. Rustic Pallet Marquee Sign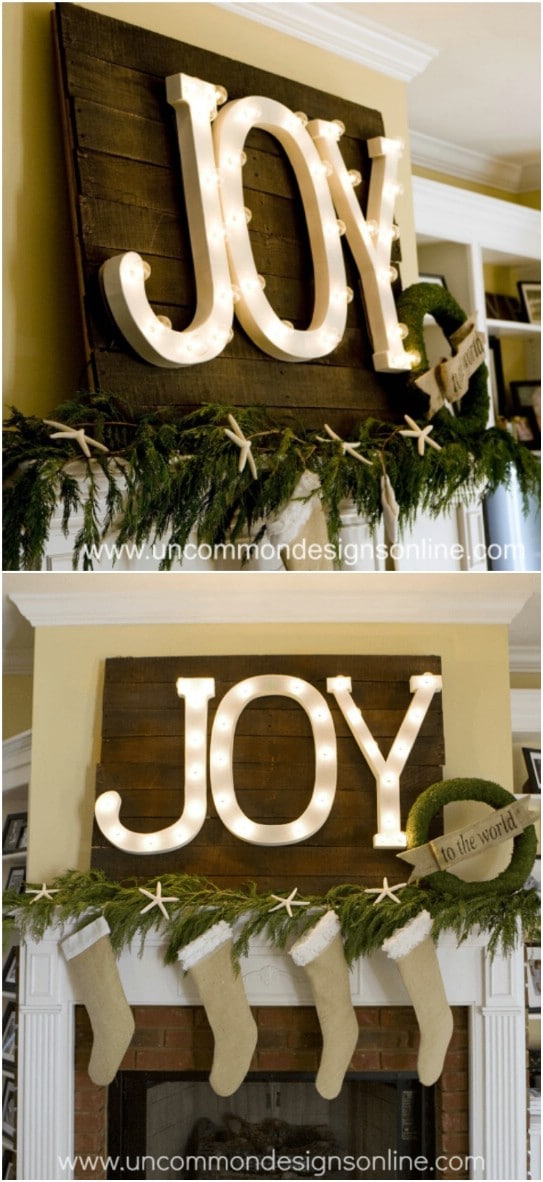 Here's a fun take on traditional Christmas lights — the JOY letters feature tiny globe lights to recreate the look of a marquee.
A backing board made from recycled wood adds a rustic twist to the vintage letters.
via Uncommon Design
26. Wood Log Santa Claus Decoration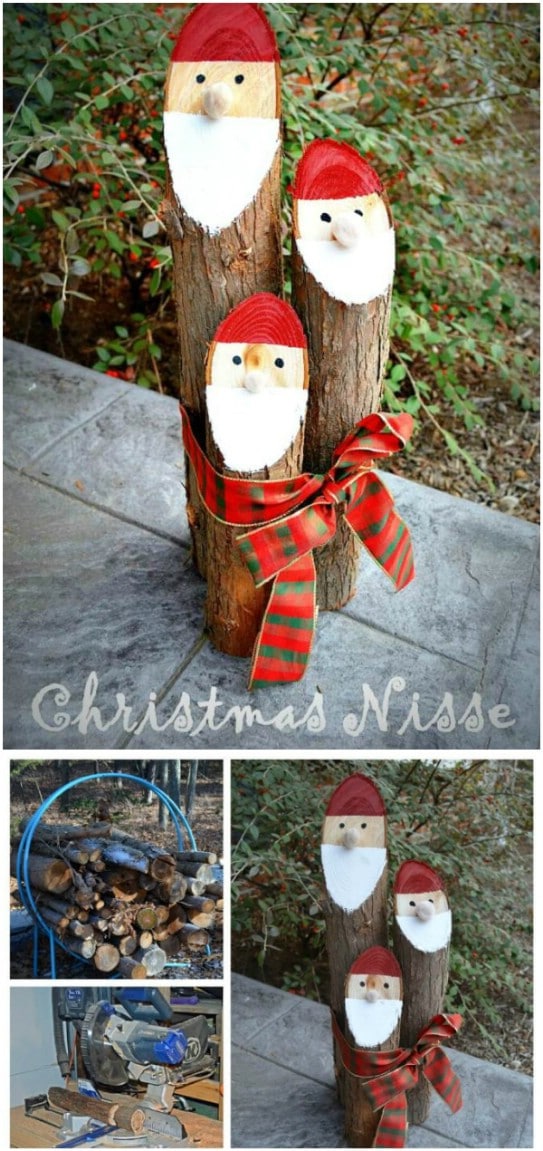 When you're working with limited free time but you still want to create a DIY Christmas decoration, this fun Santa project fits the bill.
With a hand saw and a bit of paint, you can make a trio of Santa logs.
Tie them together with a red ribbon and set them on the front steps to welcome guests.
via Smart Girls DIY
27. Craft A Tree From Vintage Spindles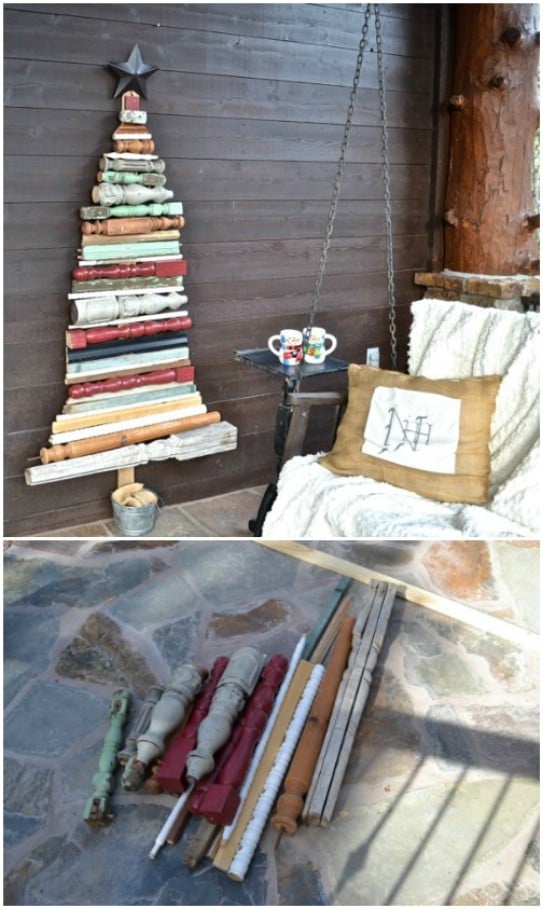 Head to the thrift store to find old chair and table spindles for this lovely project, which is durable enough to display indoors or outside.
The blend of colors, shapes, and finishes brings an intriguing variation to the tree — no decorations required.
28. Primitive Twig Star Project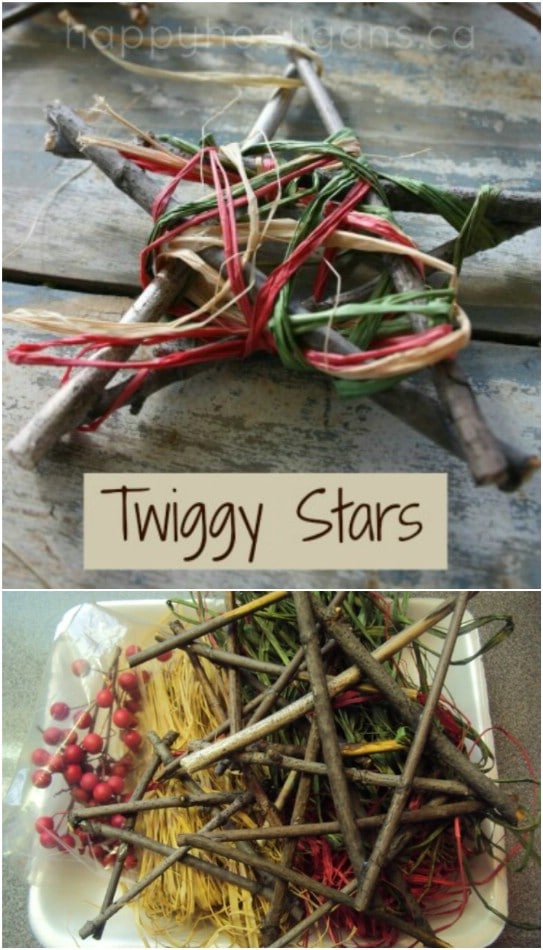 Twigs are a surprisingly versatile and affordable craft supply.
Here, they form a simple, rustic star.
Decorate your stars with red and green raffia to add a pop of color; depending on the size, you can hang them on the tree or scatter them throughout the house.
via Happy Hooligans
29. Vintage Clothespin Snowman Family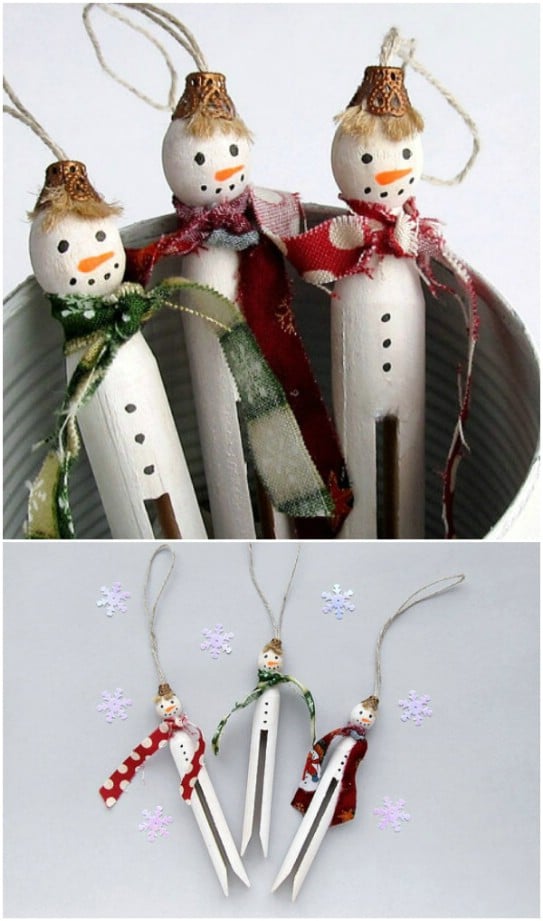 Bring reclaimed wood to your Christmas tree with these impossibly cute snowmen ornaments.
Made from recycled wooden clothespins, they're an easy, budget-friendly craft project.
Personalize your snowmen with custom scarves; they also make fun gift charms or party favors.

30. Snow Topped Rustic Wooden Church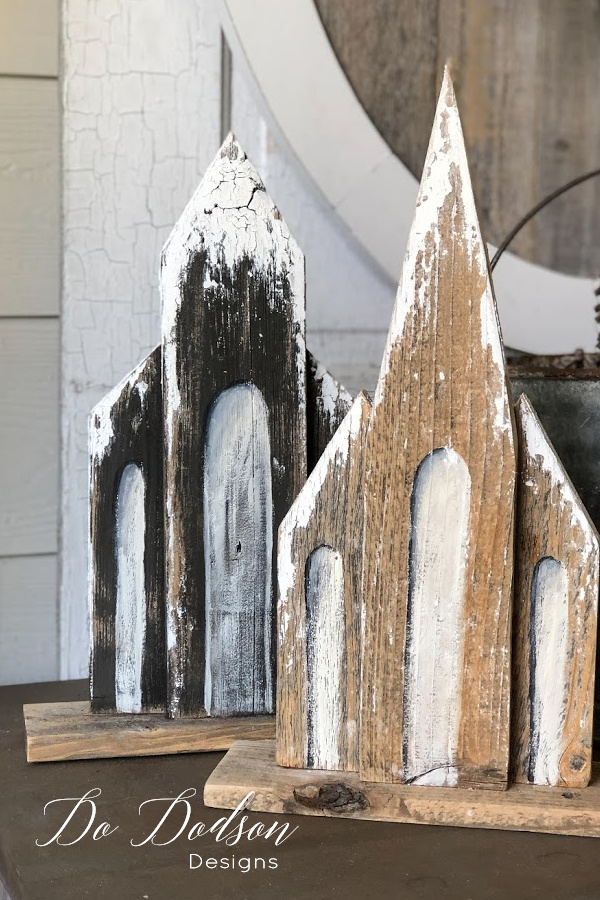 Reclaimed wood in a distressed finish brings a faded sense of grandeur to these beautiful church decorations.
The materials are simple — all you need is wood and white paint to represent snow.
Mount your churches on planks for an easy mantel or shelf decoration.
31. Combination Crate Tree And Winter Village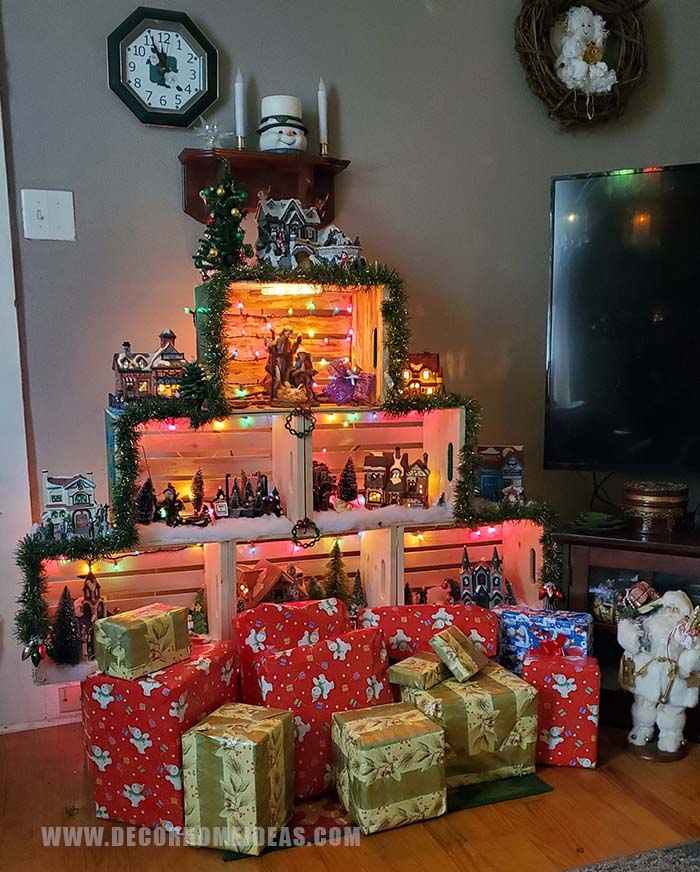 Make a unique Christmas tree from old crates. Decorate them with garlands and small houses and arrange the presents in front of it.