Spindles are that part of the furniture that gives it a unique design. Thanks to their shape achieved by carving, they add value and style.
Even when the chair or the bed are no longer functional, it is worth saving the wood spindles as they can be recycled into a new piece of the decor.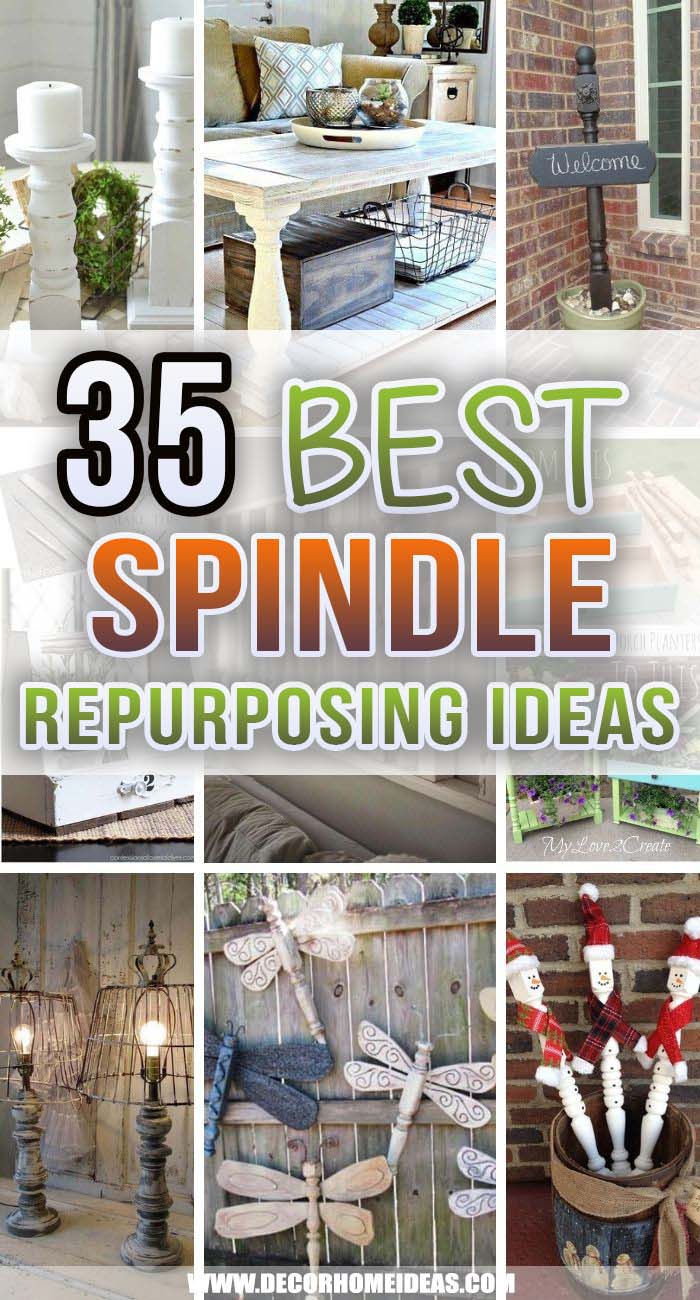 There are many spindle types and so spindle craft ideas. You can use them simply as a decor piece or you can upgrade them to a functional unit spreading rustic charm in the atmmosphere.
From candlesticks for the mantel to beautiful farmhouse butterflies hiding the defects of the wooden fence, check the inspiring spindle repurposing ideas that will give the beautifully shaped spindles a new application.
1. Antique Wire and Spindle Table Lamp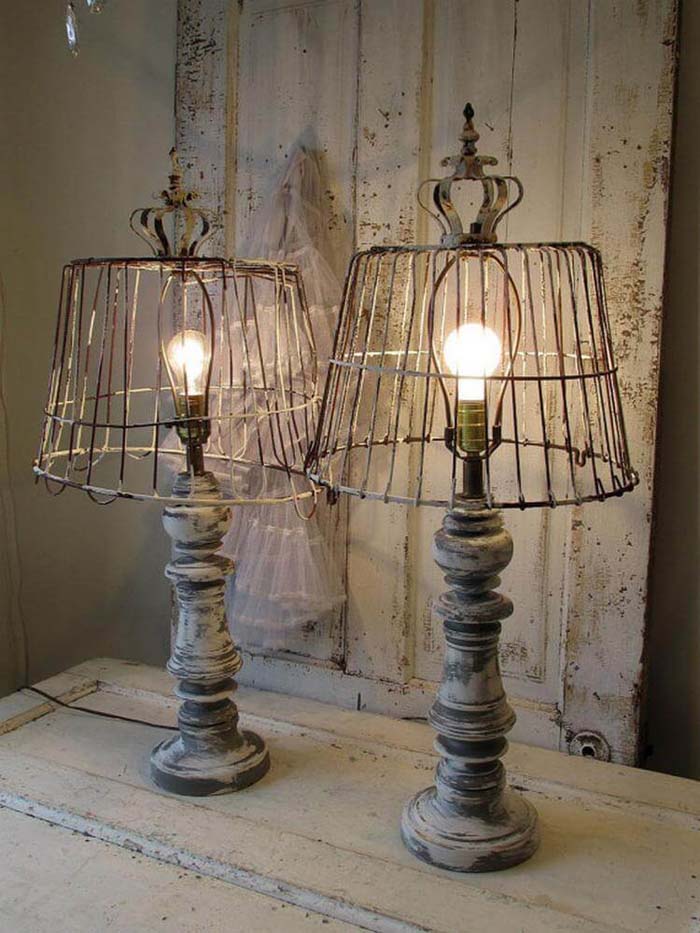 Spindles are mostly repurposed into farmhouse stands- candle sticks, for example. But have you ever seen wood spindle lamps?
They are simply outstanding with their weathered finish- one of the easiest wood spindle projects ever!
2. Believe Wood Tile and Chain Wall Decor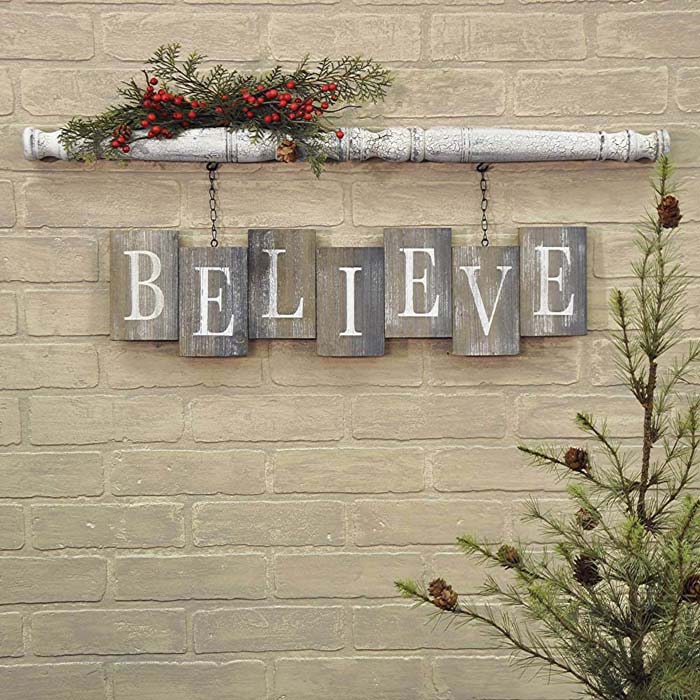 If you have only one spindle, you can turn it into wall art. Inspired by its antique look, the sign craft spreads out a Christmas pray.
All you need is to believe!
via Crafting Intent
3. Breakfast in Bed Serving Tray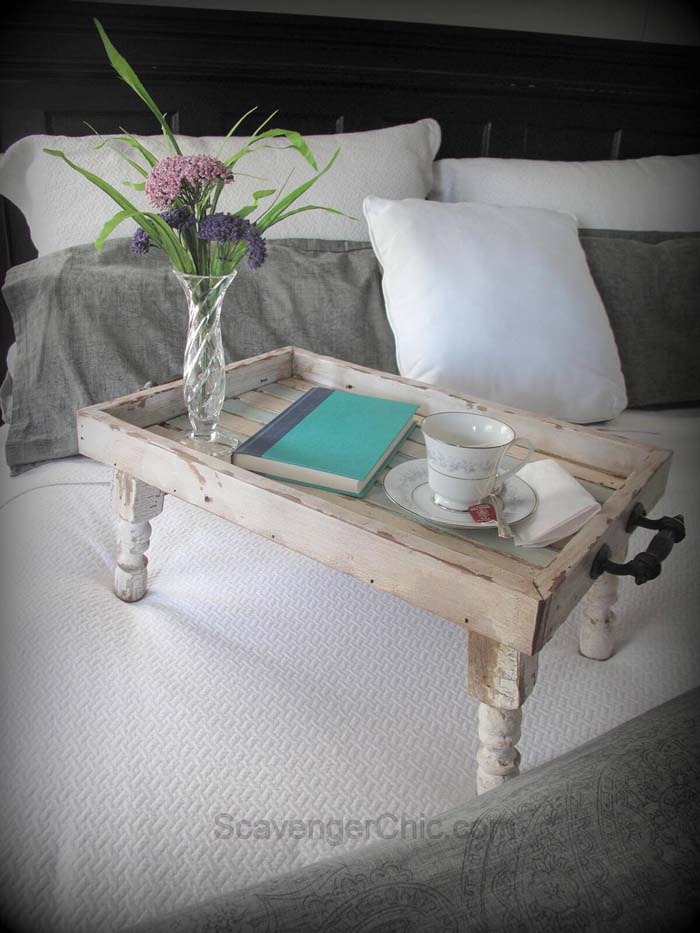 Short spindles from an old piece of furniture can be repurposed into a functional farmhouse serving tray.
Recycled laths and wrought iron handles add vintage textures to enhance the aged look of the piece.
via Scavenger Chic
4. Bucolic Pedestal Style Wreath Display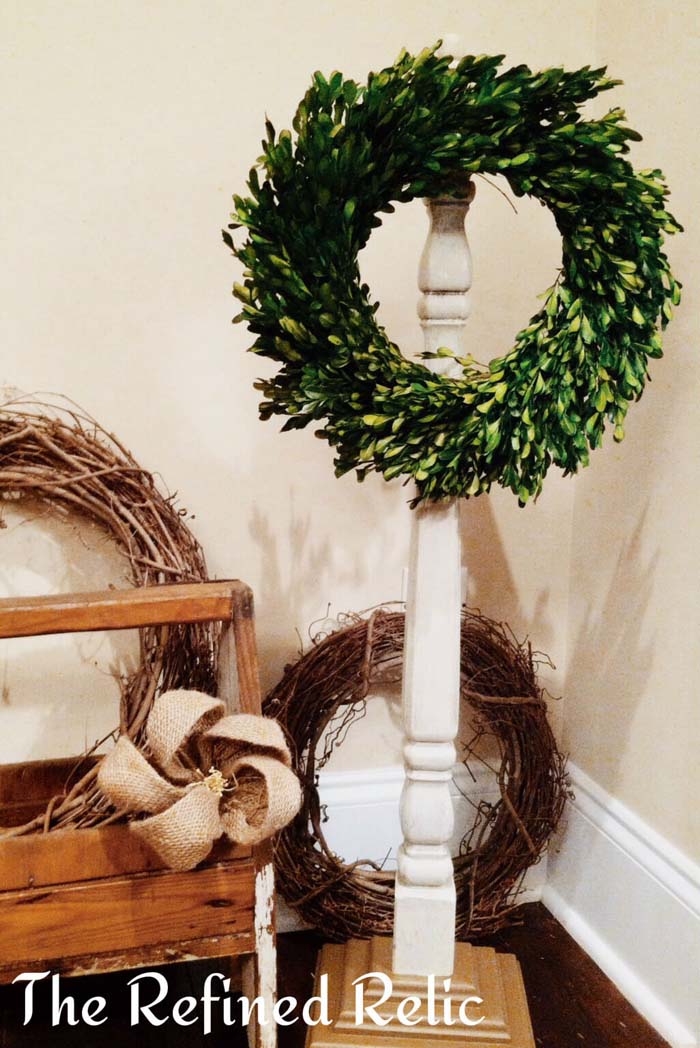 This long spindle has been salvaged from a bed headboard to turn a welcoming boxwood wreath into the centerpiece of hallway decor.
5. Casual Country Holiday Spindle Tree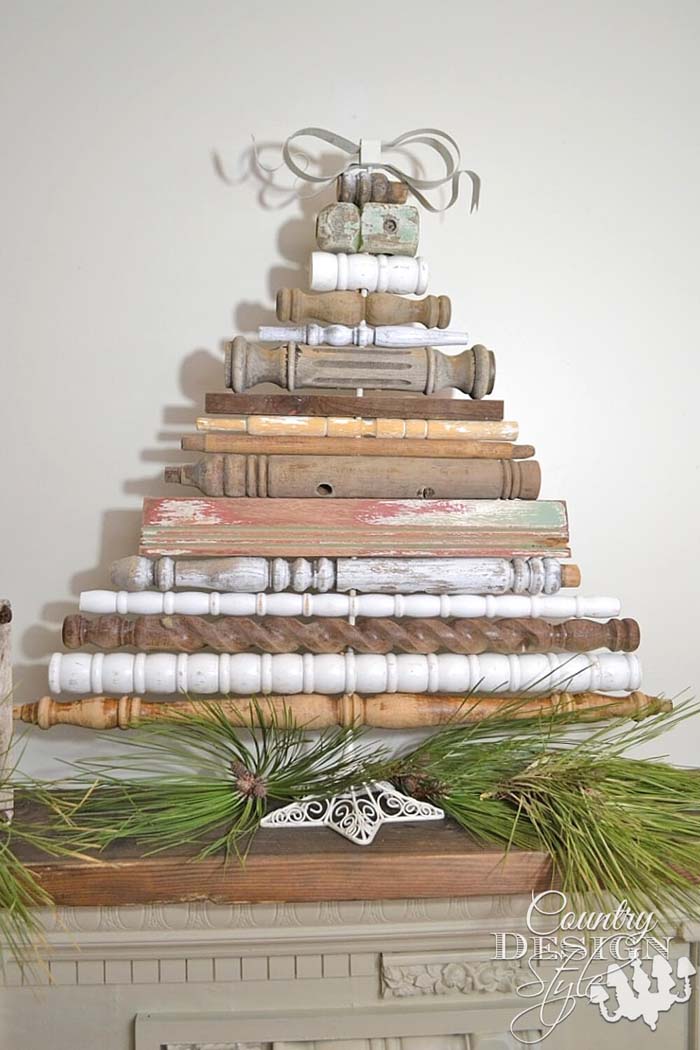 Looking for a Christmas wood spindle project? The collection of various wood spindles couldn't look better together than turned into a farmhouse Christmas tree.
This repurposed spindle idea could inspire the Christmas decor of those of you who are looking for alternative and unique tree ideas.
6. Country Chic Spindle and Rail Wall Hanging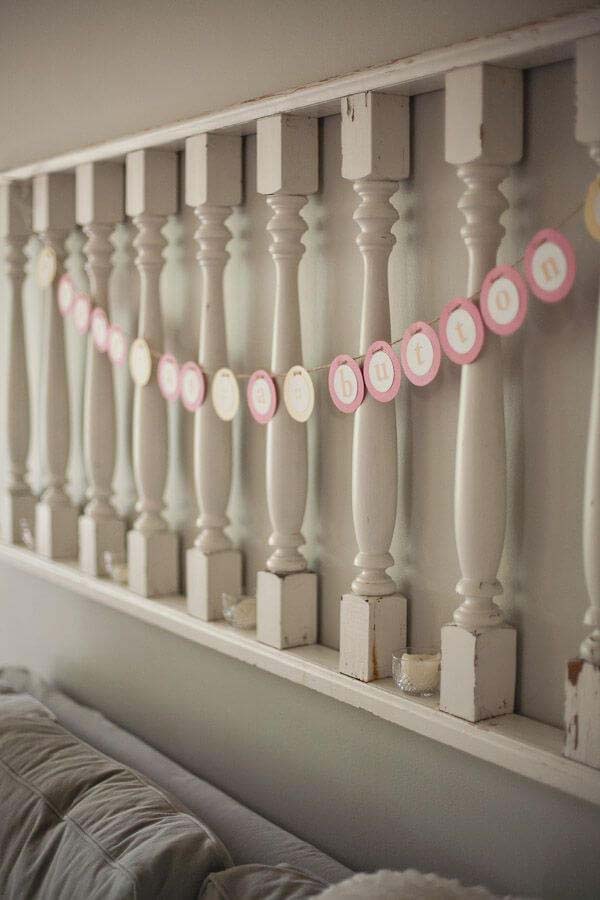 Identical spindles are arranged vertically in a frame to create fence-like wall art.
Placed above the sofa, it functions as a universal background for personalized banners or signs.
7. Country Perfect Decorative Spindle Ladder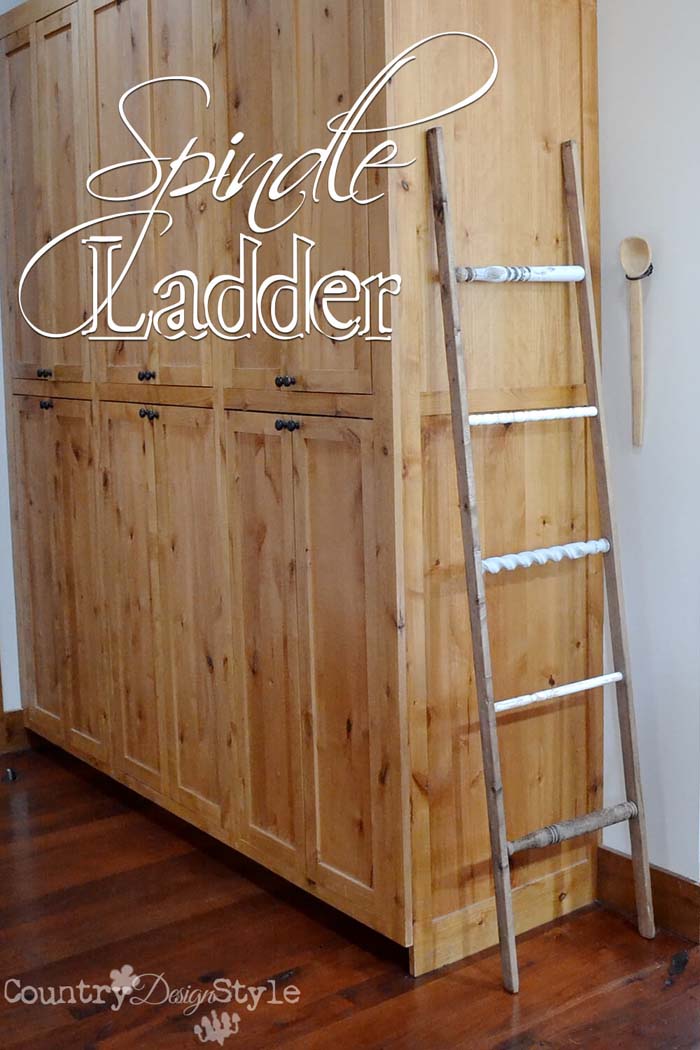 Ladders are beautiful and functional. Leaned against a wall or another flat and stable surface, they can store seasonal decoration.
This ladder has been handmade from old spindles and wooden posts to enhance the rustic welcoming atmosphere.
8. Daffodil Yellow Wall-mounted Quilt Rack

Handmade quilts and textiles incorporate so much personal effort and thoughts! Their value deserves a special place to be exposed. What could be a better display than a vintage wall rack?
Three spindles and two-bed posts are upcycled into a rack. The new paint coat is so bright that it adds cheer to the interior.
9. Decorative Distressed Spindle Accent Pieces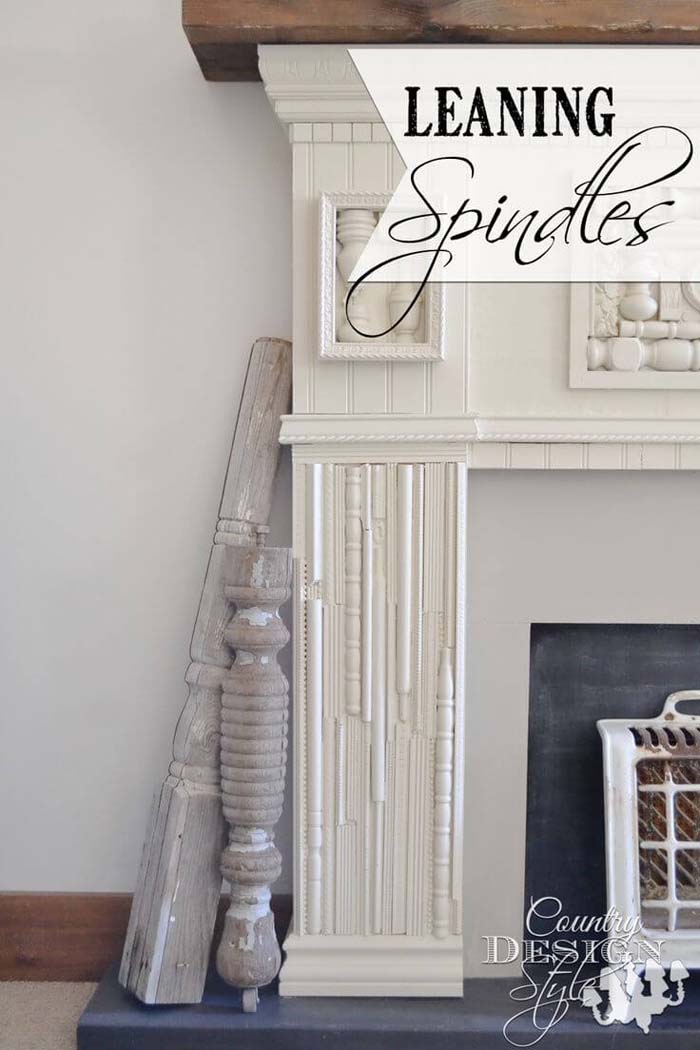 Crafts with spindles could be so versatile that they will easily turn into your new upcycle passion.
The carving of the wood of antique spindles is just enough to enhance the welcoming vibe of the living room.
A coat of white paint and a bit of distressing blend the spindles with the existing decor.
10. Duo of Decorative Spindle Curios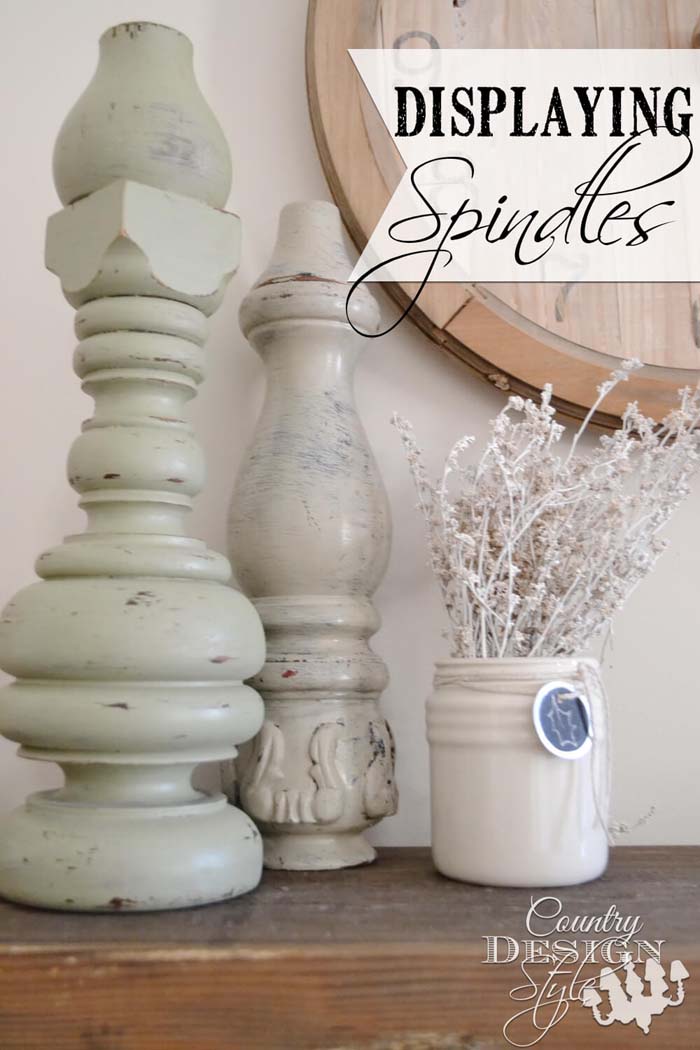 Another inspiring idea of how to use antique spindles in the farmhouse interior! You can go with one spindle in combination with other rustic items.
For a greater effect, use two spindles with different wood carvings. Simply place them on the mantel.
11. Farmstead White Wood Candle Holders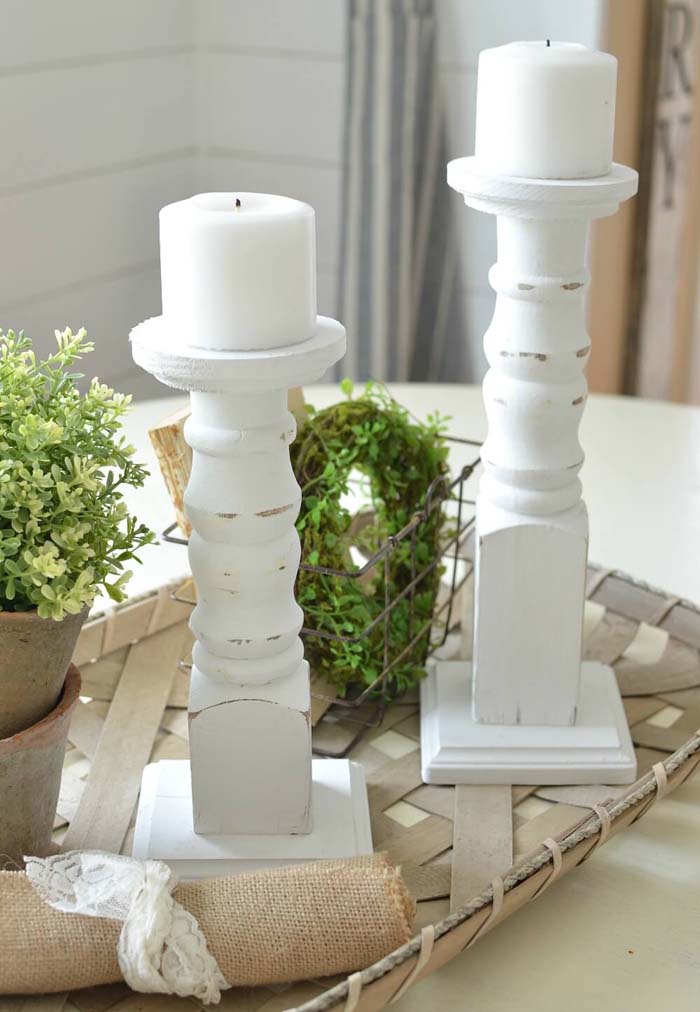 Spindles prove to be the easiest candlestick craft! Just grab a few from the Craigslist!
Little paint, sandpaper and wooden bases to keep the sticks and the candles stable. You can customize them in height and in color to match your place.
via Sarah Joy
12. Festive Snowman Snow Sticks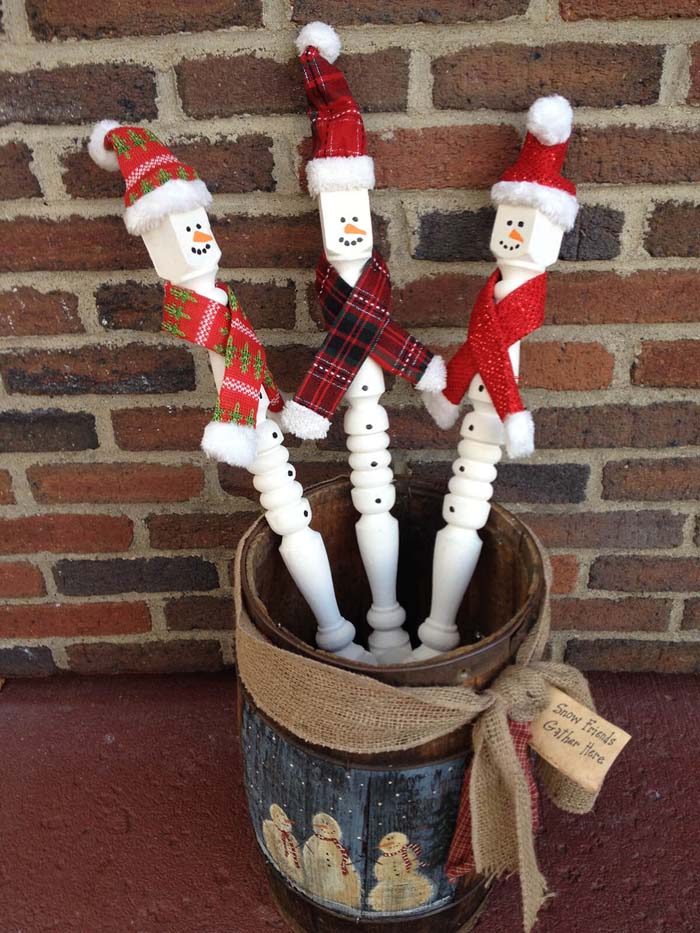 Identical staircase spindles form a snowman family that adds cheer and festiveness to the front porch.
Placed in a wooden barrel with a Christmas decoupage, its brightness the outdoors.
13. Flowering Drawers Porch and Garden Planters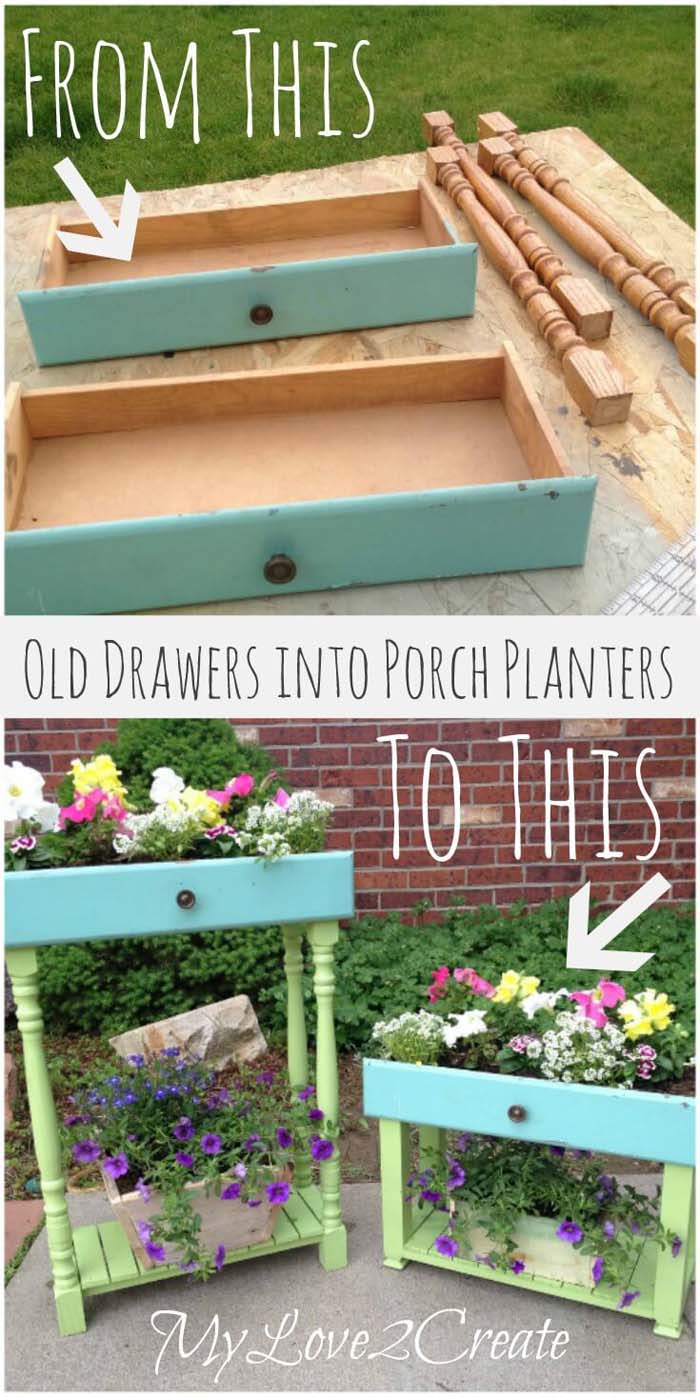 A cute idea for adding festive and practical planters that will improve the curb appeal!
Spindles are turned into legs of old drawers. The bottom level is made from slats to hold a flower pot.
via My Love 2 Create
14. Flyaway Home Dragonfly Garden Art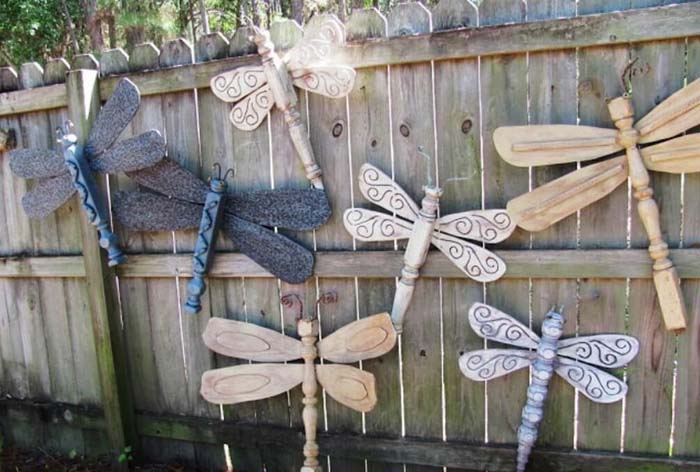 These large butterflies are made from wooden leftovers and spindles.
When money is not enough to upgrade the garden fence, you can do a temporary decoration to hide its defects. Try different colors and arrangements to create an appealing focal point.
15. Gently Aged Newel Post Lamp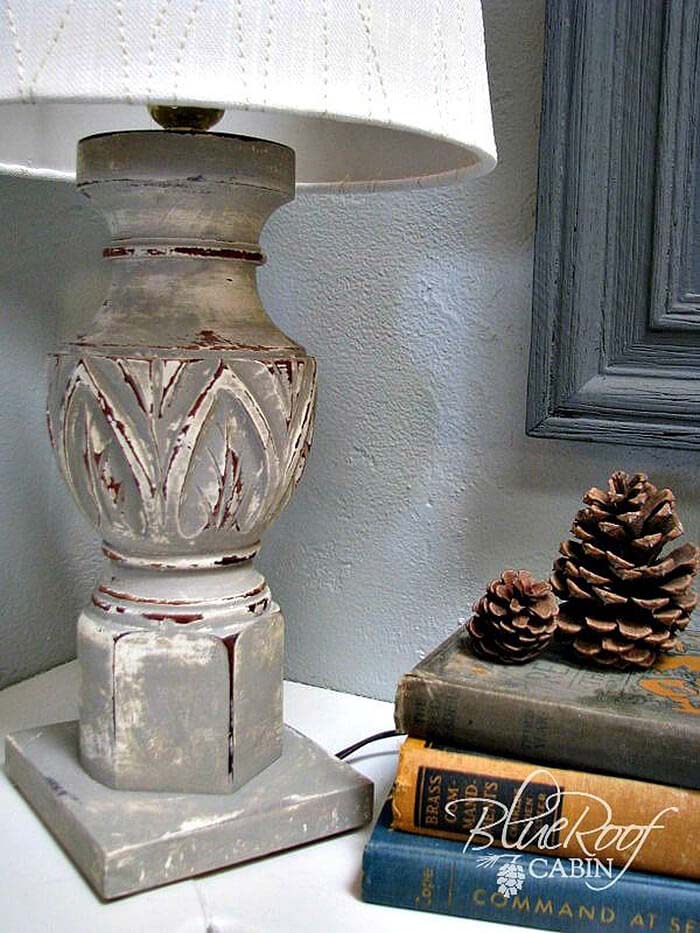 If you ever see a thick spindle at the thrift shop, don't pass it by. You would be amazed how good it will look like the support of a vintage reading lamp.
You can give it a fresh new look with paint, however, make sure that the wood carving remains visible as it gives the lamp the unique design.
via Blue Roof Cabin
16. Grand Entryway Door and Table Statement Piece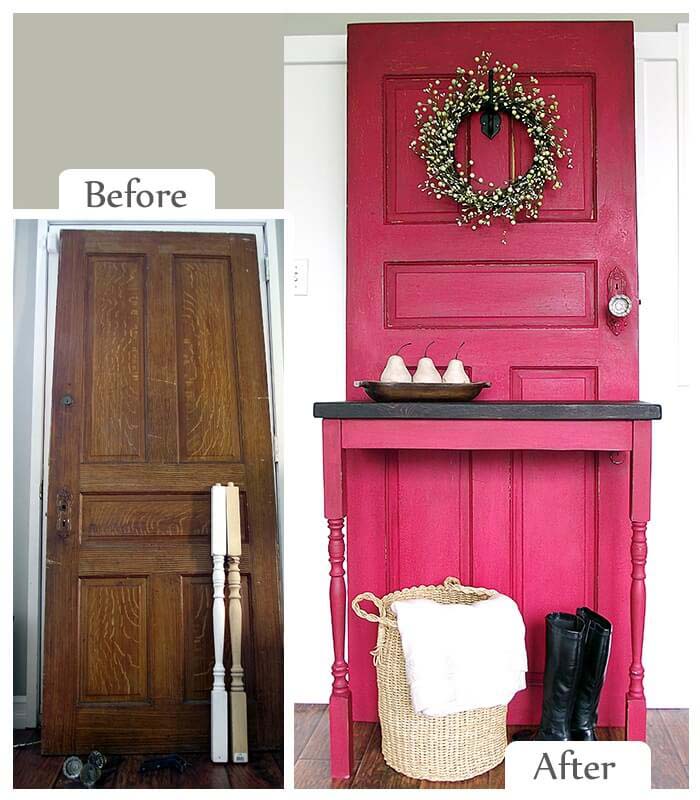 Your hallway can be totally transformed by adding an old wooden door with a little table painted in vivid color.
Hang a small mirror or a wreath to decorate the surface and turn the upcycled pieces into a focal point.
17. Grandma's Front Porch Wall Hanging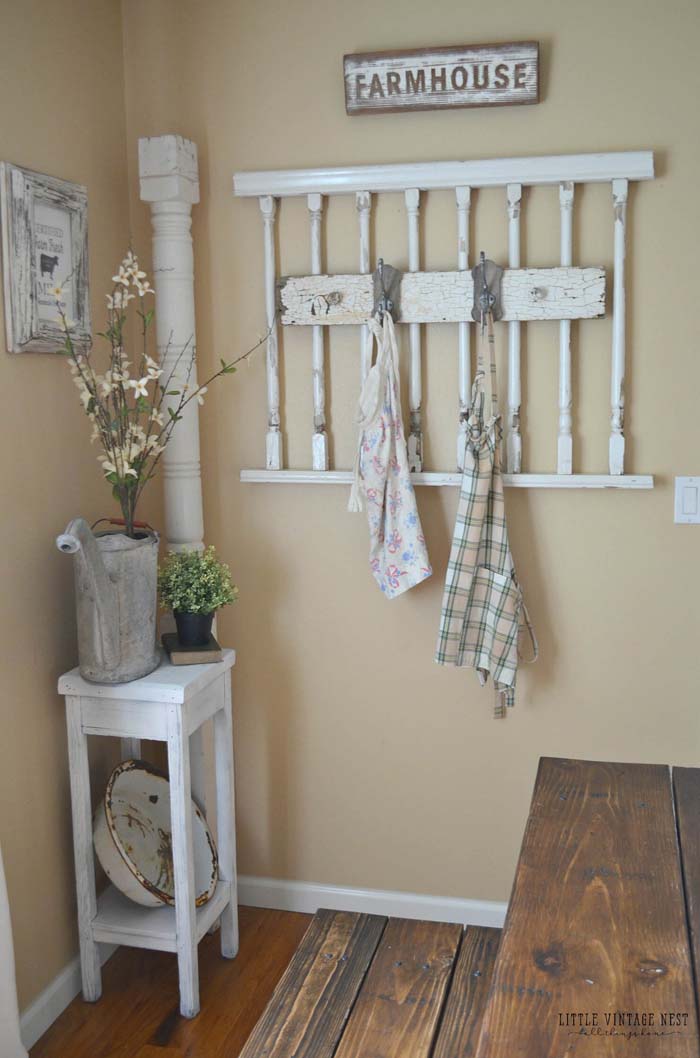 This part of the fence reminds me a lot of the side of a vintage baby crib. The weathered slat nailed in the middle provides places for hanging farmhouse aprons.
The cute arrangement makes the entryway cozy and welcoming as if you are entering your grandma's cottage.
via Sarah Joy
18. Idyllic Spring Center Piece or Display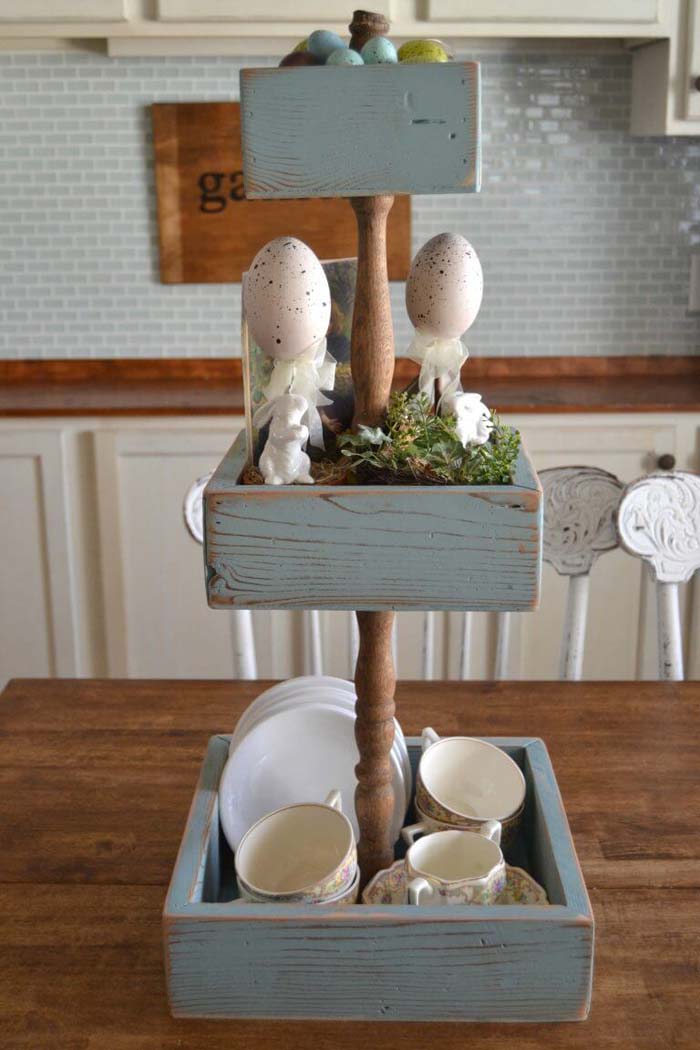 Looking for a handmade tiered tray idea? Three wooden boxes and two spindles make it possible.
You can customize the tray in color to match the interior or give it a bold contrasting color if you are missing a statement piece.
via My Creative Days
19. Nostalgic Erasable Black Reminder Board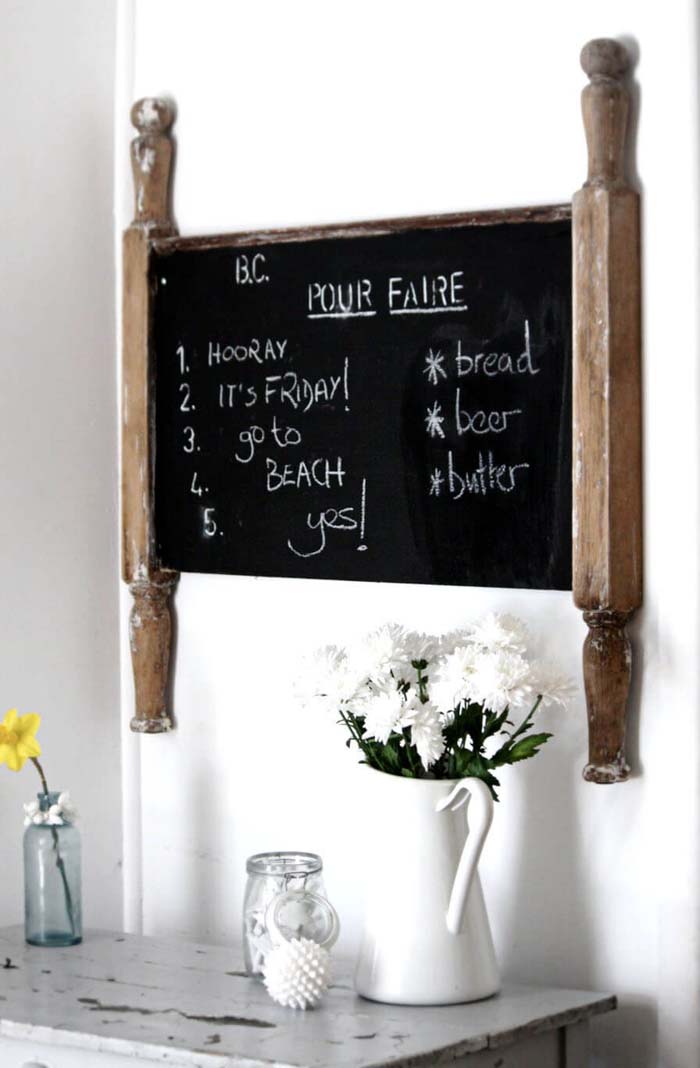 This is a gorgeous idea of how to replace the wooden frame of a chalk sign or board to make the piece more rustic and attractive.
Get two spindles and insert the chalkboard in the channels.
20. Primitive Wooden Christmas Tree and Door

Looking for a Christmas tree idea that is compact and unique?
This craft idea repurposes spindles and a chippy door.
The little Christmas tree can be leaned against a flat surface in any room to improve the festive decor in a farmhouse way.
via Liz Marie Blog
21. Quaint Hanging Sign for Garden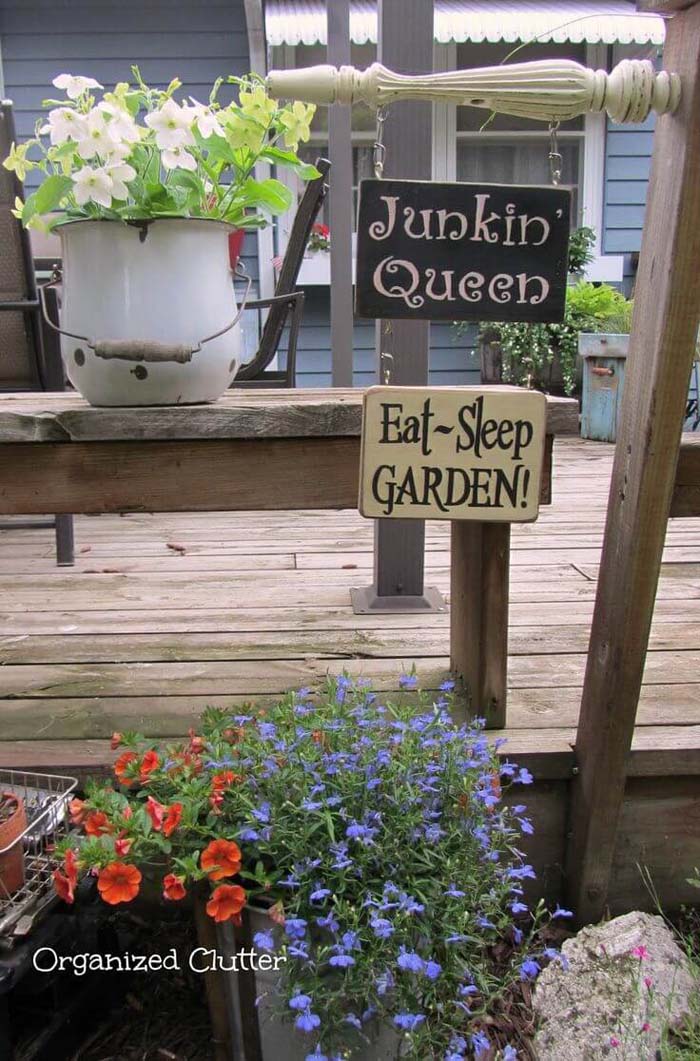 Use the texture of the vintage spindle as a support for an outdoor sign.
The decoration can add a personalized message to the outdoors and thus enhance the welcoming feel of the place.
22. Remember When Fanciful Drawer Tray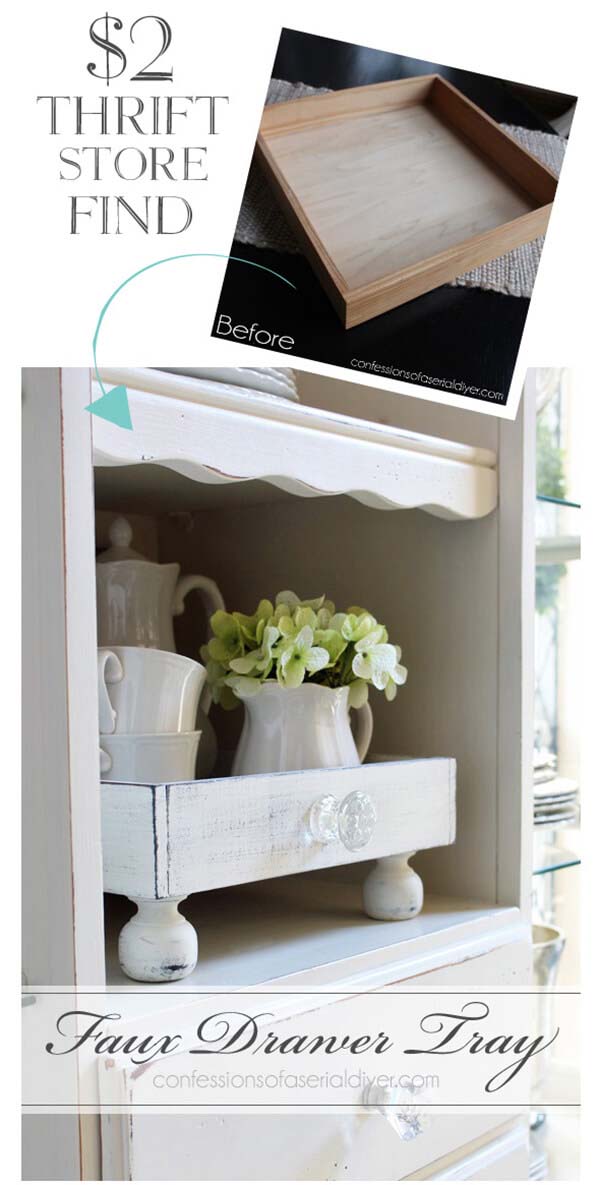 Isn't that piece amazing? A plain wooden square tray has become an elegant vintage holder by adding a short spindle for legs.
via Prodigal Pieces
23. Rustic Newel Post Coffee Table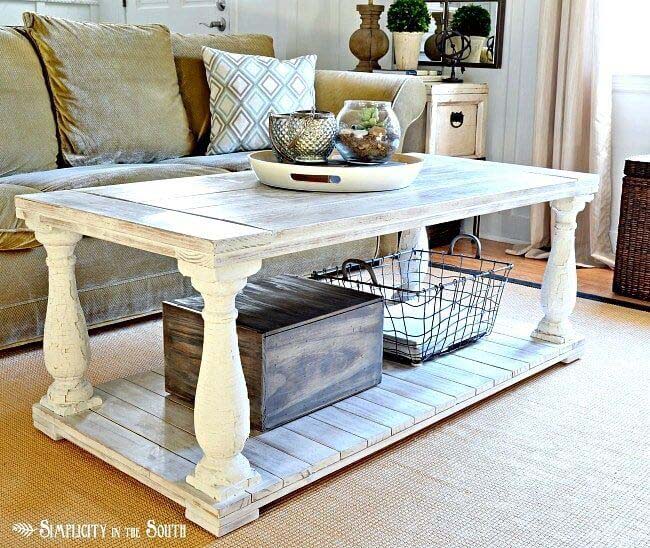 Crafting yourself the furniture promises unique designs, and appealing interior, and a cozy atmosphere.
This coffee table has been made to match the farmhouse interior of the sunny living room. All of the wood pieces are brand new, except for the spindle legs. Used as supports of the two levels, they do a grand transformation to the entire look of the table.
24. Rustic Wood Tote or Book Caddy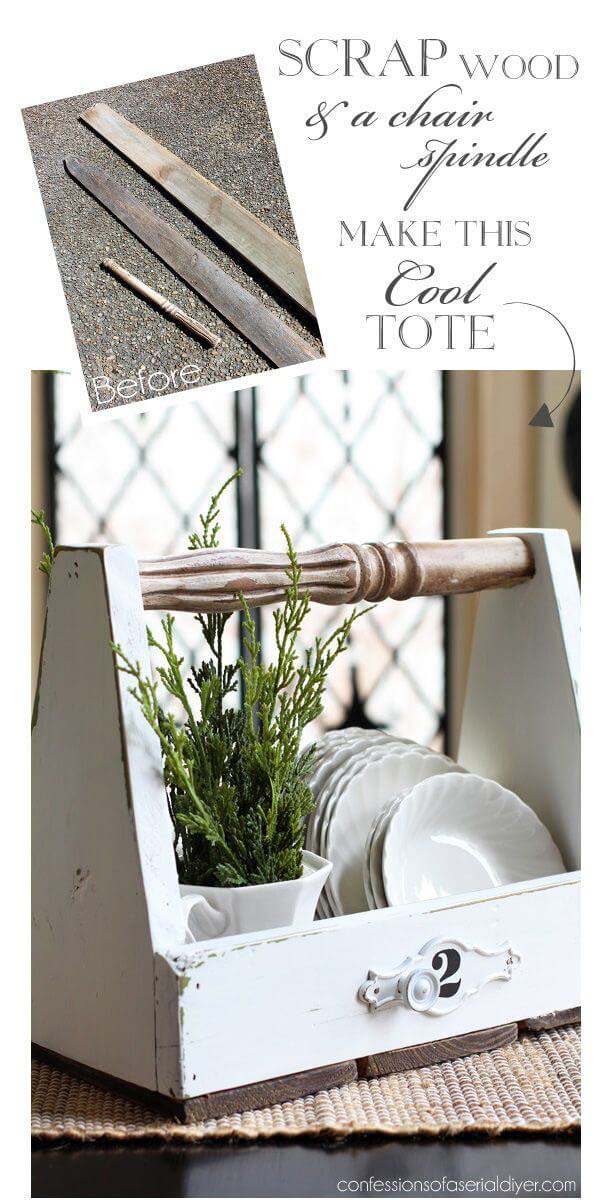 This tote can become the most functional piece of decor! Its spindle handle lets you move it to different rooms to either use it as a storage unit or to turn it into part of the decoration.
via Confessions of a Serial DIYer
25. Rustic Wooden Clock Country Accent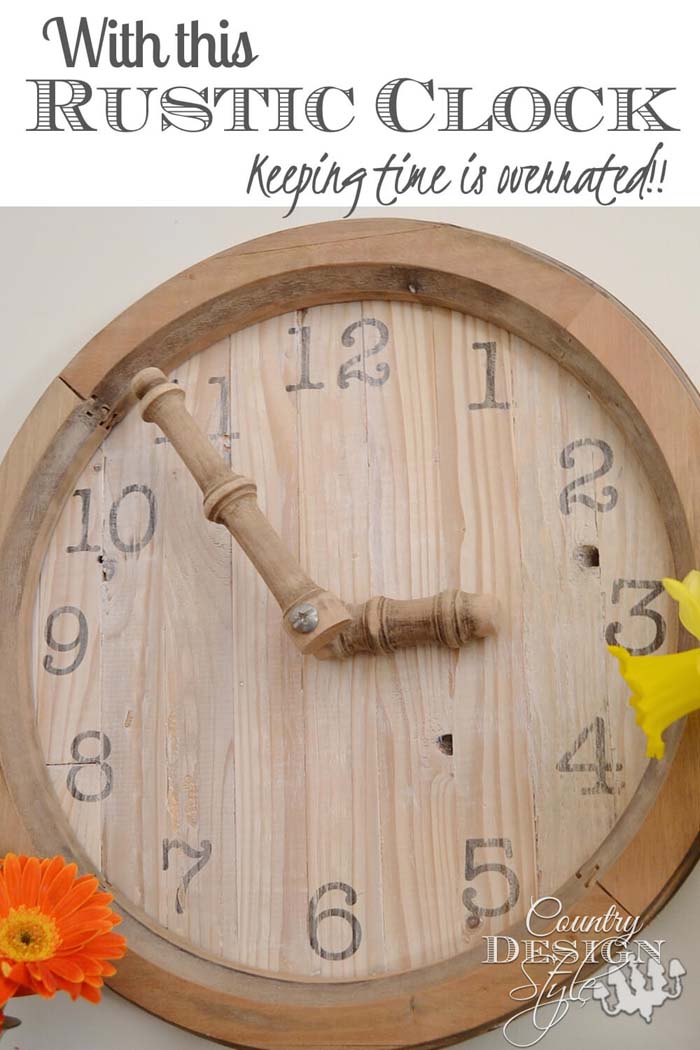 Have you ever thought about which one is the most universal decoration? That is probably the clock. People have that need to be in control and the clock helps them be on track of time.
This clock does the contrary- it doesn't actually work, it acts as a rustic decor piece. The hands are made from spindle parts cut to the length that mimics the real hands.
26. Salvage Plank Sofa Table with Spindle Legs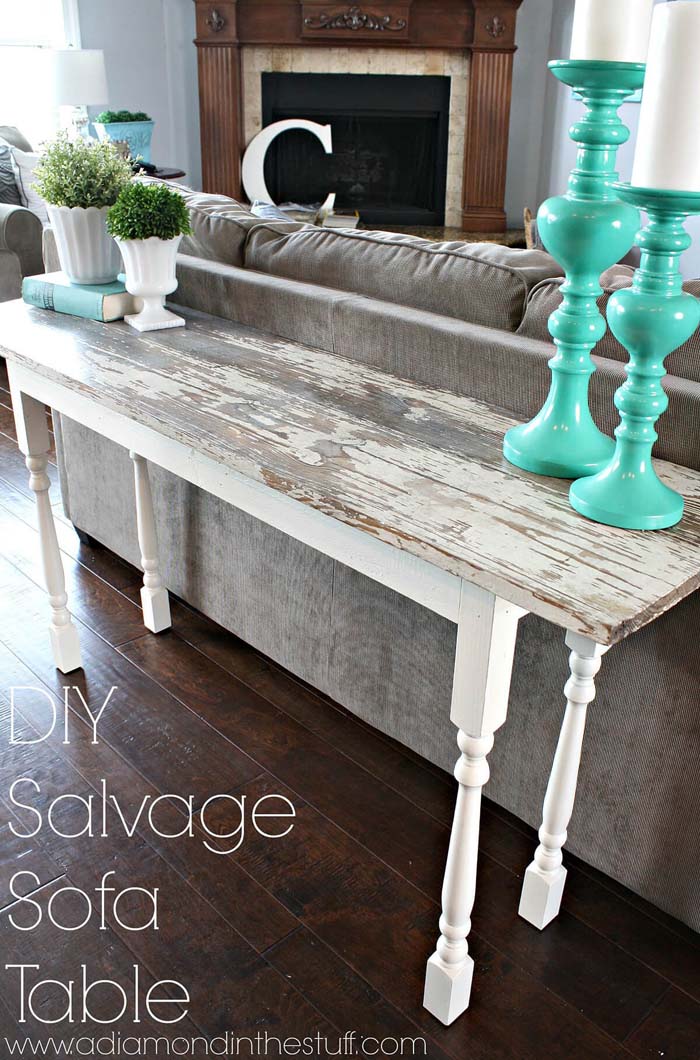 Baluster spindles and pallet slats could create a helpful and well-looking side table. It is perfect to create a point of interest in the room with rustic pieces.
Spindles from railing work perfect for this DIY idea. You can customize the size of the countertop easily by adding to the number of slats and with the length of the slats so that it matches the size of your sofa.
27. Septet of Distressed Wood Candle Sticks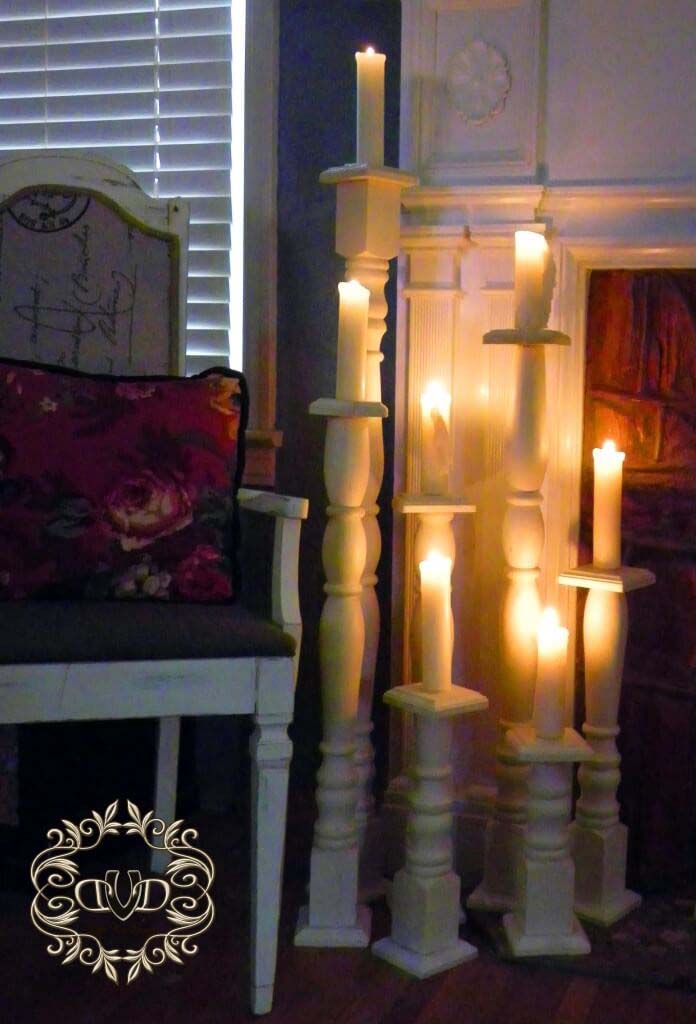 Finding big candlesticks could be difficult. So you should probably make them yourself. The baluster pieces will work perfectly for this idea.
Cut them in different heights to create a point of interest by grouping them together.
via Deja Vue Designs
28. Simpler Time Reclaimed Wood Jewelry Display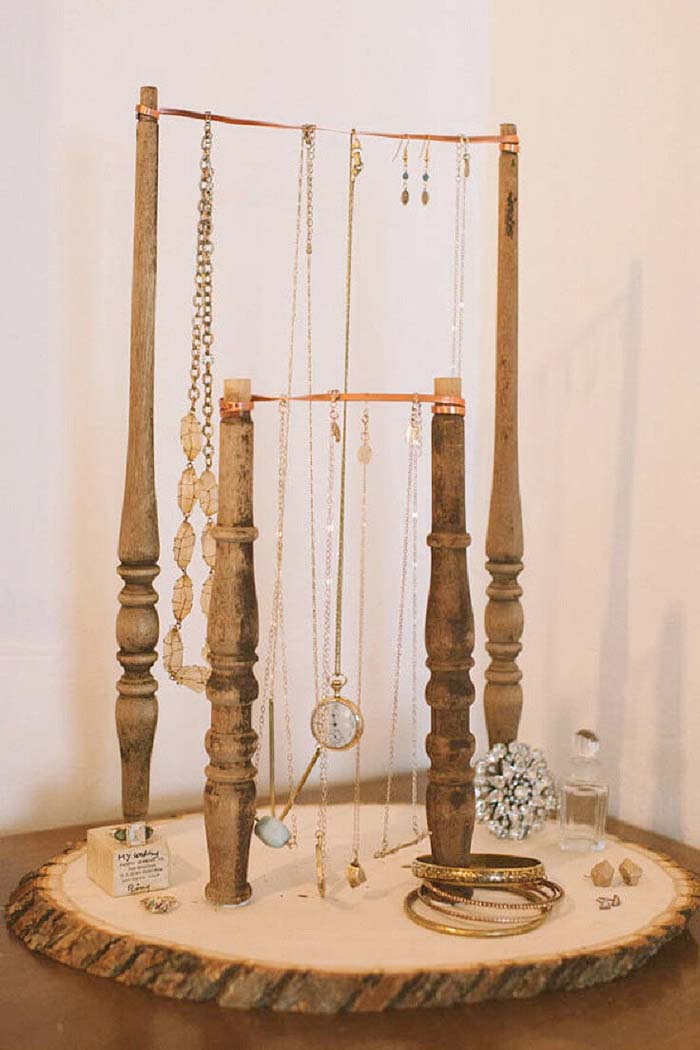 Spindles can be repurposed to become part of your bedroom home decor. But why not upgrade them by giving them also a functional feature?
Place them upright on a wood slice and then stretch a piece of copper wire or a leather thread. The string becomes an organizer for necklaces and bracelets.
via Lisa Leonard
29. Star Topped Country Spindle Tree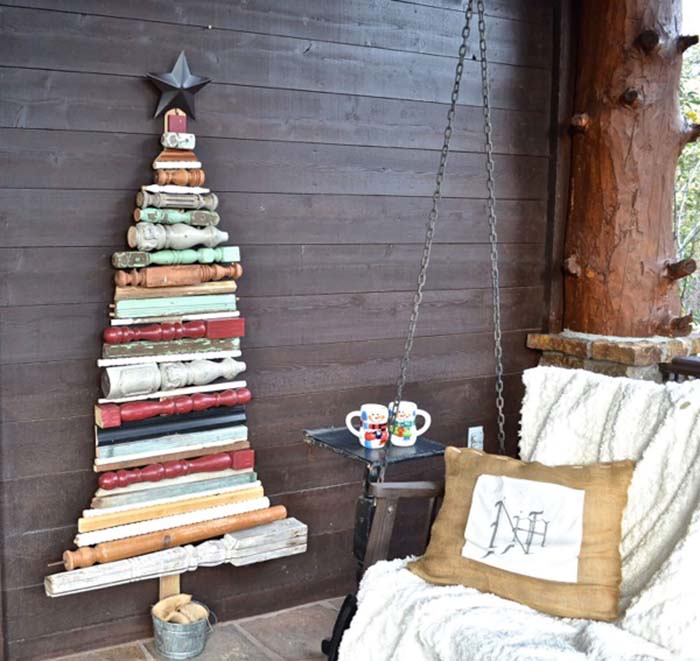 This alternative Christmas tree craft manages to incorporate a wide collection of spindles upcycled from balusters, chair legs and bed supports.
Paint some of them in the colors of Christmas-red, white, green to mimic the festive shades and make the atmosphere very cheerful.
30. Thinking of You Repurposed Wood Picture Frame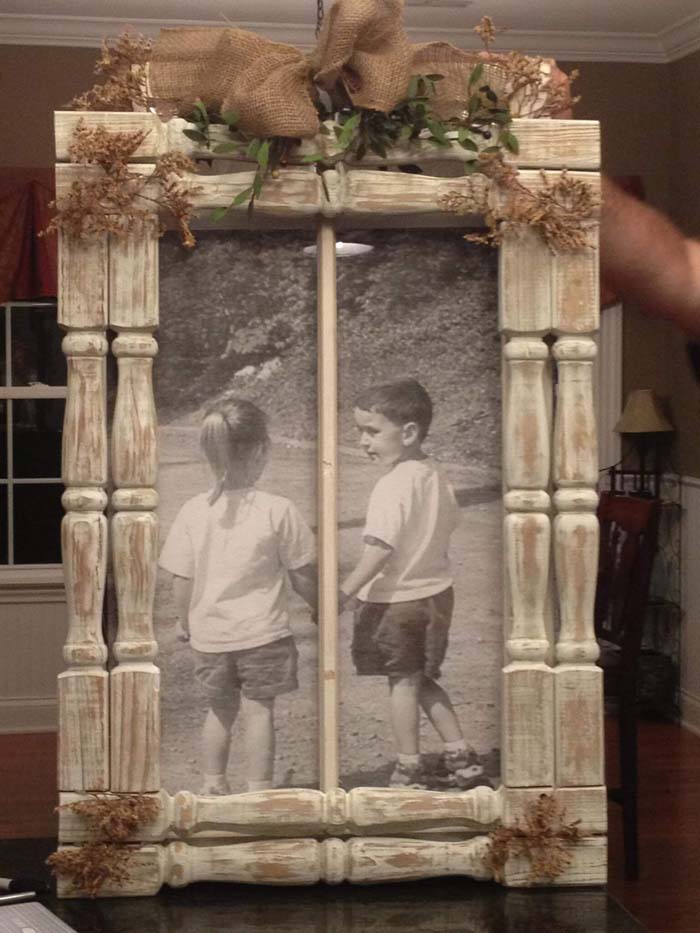 If you have a black and white photo from your childish times, its value will be enhanced if placed in an antique frame. When you are missing such a piece, you can mimic it with spindles.
Cut them short to fit the size of the image and give them a good distressed finish. The weathered look will speak about the age of the frame itself and the held photograph.
31. Uniquely Crafted Spindle Plate Holder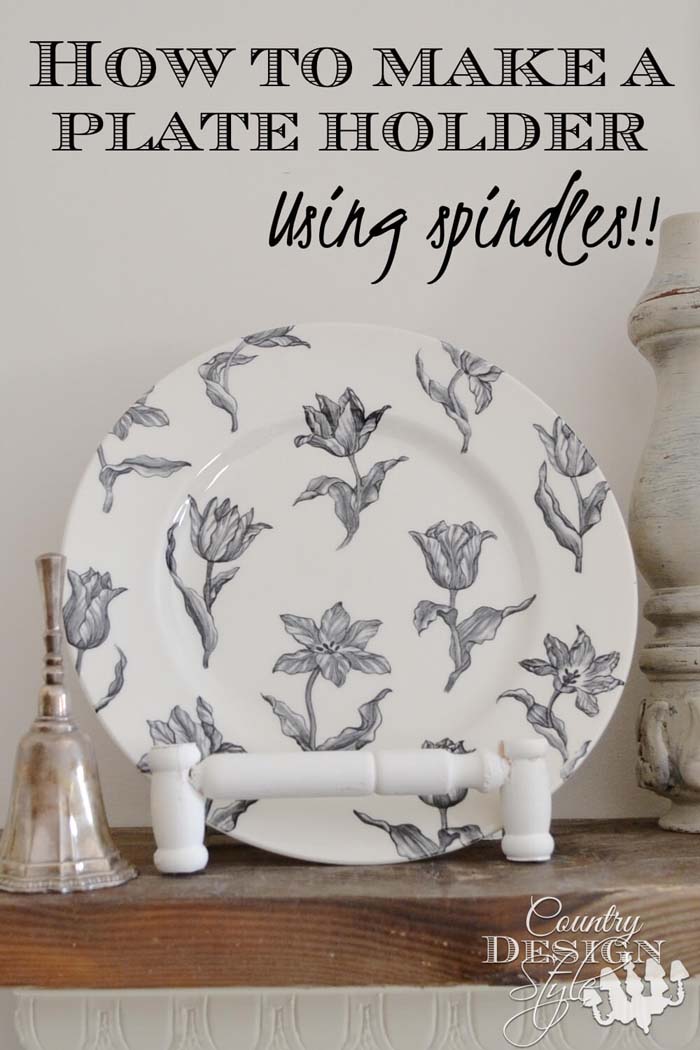 If there are short pieces left from a spindle craft, you can still use them meaningfully. Their size is perfect for assembling a small stand for a decorative plate.
It is rigid and beautiful and when painted in a color seen on the plate, it will let the plate ornaments stand out.
32. Vintage Suitcase Conversational Piece Table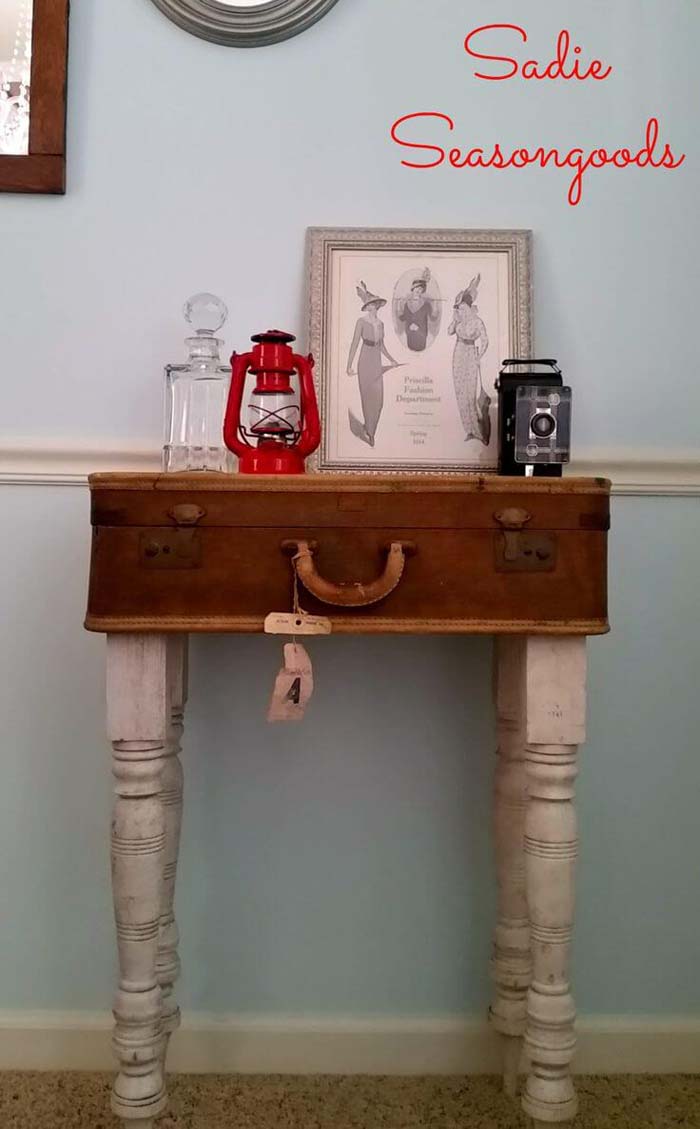 If you have a special vintage collection, then it should be placed on a display that is of the same style so that it doesn't overwhelm or blur the rustic effect.
That could be a handmade side table from four spindles from a staircase railing and an old leather suitcase. The spindle legs should have a weathered look that can be achieved by distressing the paint coat.
33. Welcome to My Home Entryway Accent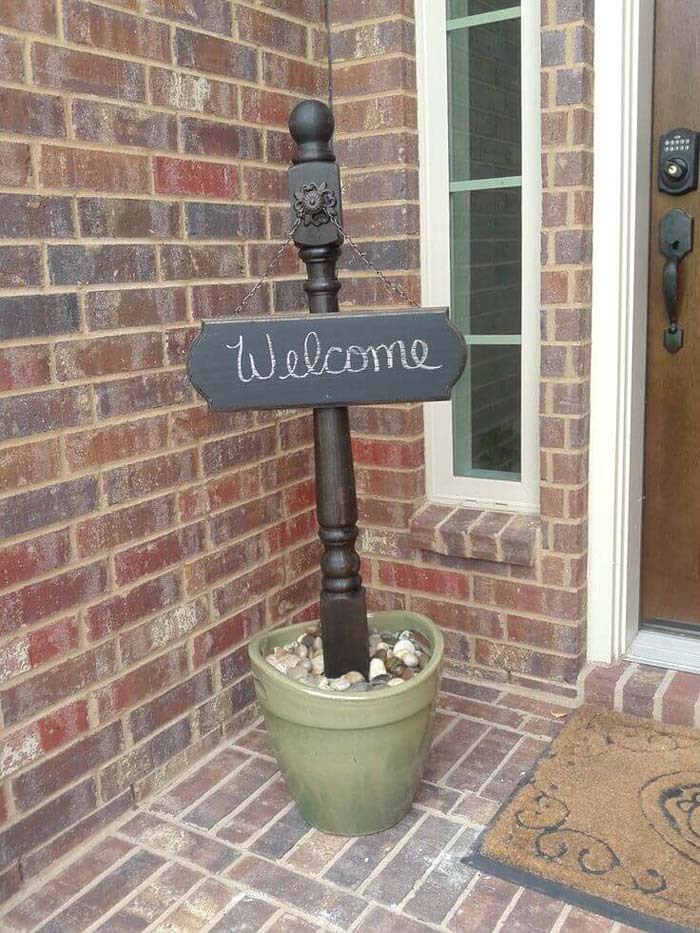 This front porch piece of decor says welcome in a personalized way. The handmade post combines a garden feature with a piece of rustic furniture.
To hold the post rigidly, there is a filling with sand and river rocks. The chalkboard sign hangs on a wrought iron knob.
34. Whimsical Pastel Wooden Bird Wind Chimes

Another one from our spindle ideas features an outdoor decoration that plays with the wind. The wooden wind chime makes smooth sounds from the spindles' touch.
All of the eight spindles are hung on a wooden round base decorated with a cute bird.
via Confessions of a Serial DIYer