50 Awesome Garden Fence Decoration Ideas To Add More Cheer To Your Yard
Liven up your old fence in the backyard with creative decoration.
This collection of garden fence decoration ideas features impressive embellishments and means to hide defects of the weathered fence or to make the boring surface more cheerful and attractive.
If you love your backyard and have invested many efforts and time in making it look like a part of your home, you will find an idea that will help you improve the curb appeal of your outdoor space regardless of the fence type.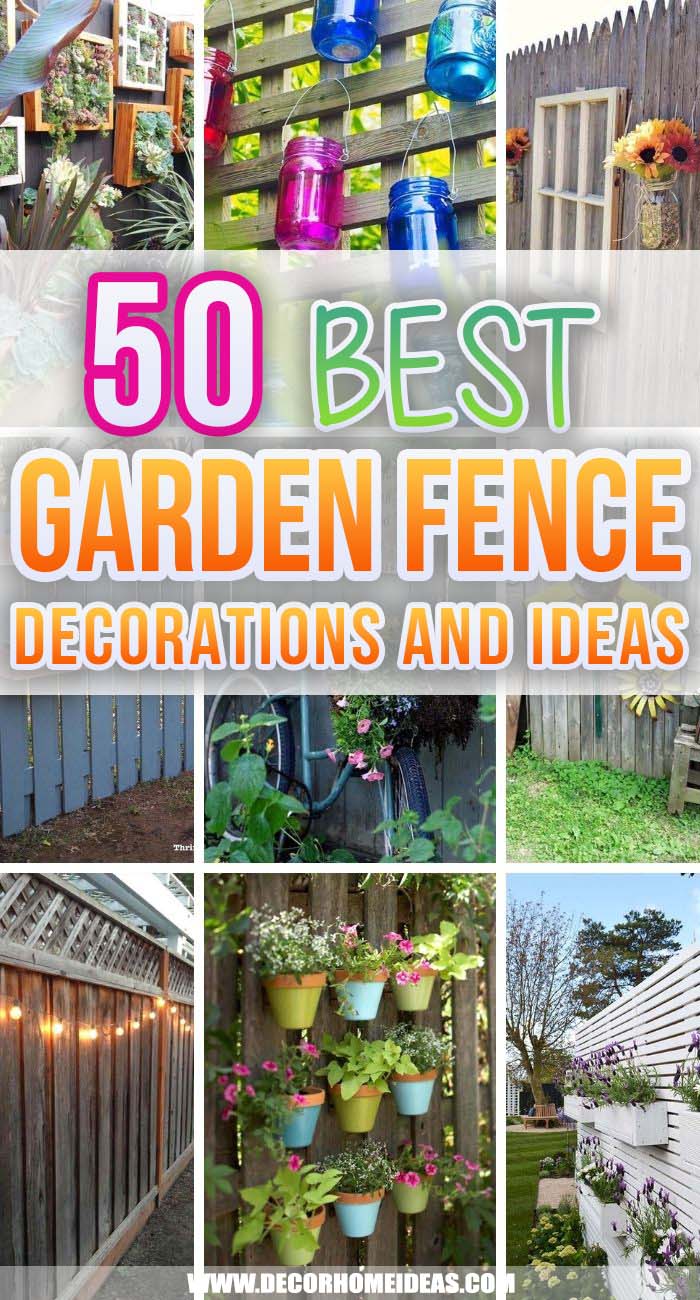 1. Adorable Birdhouses Hung on the Fence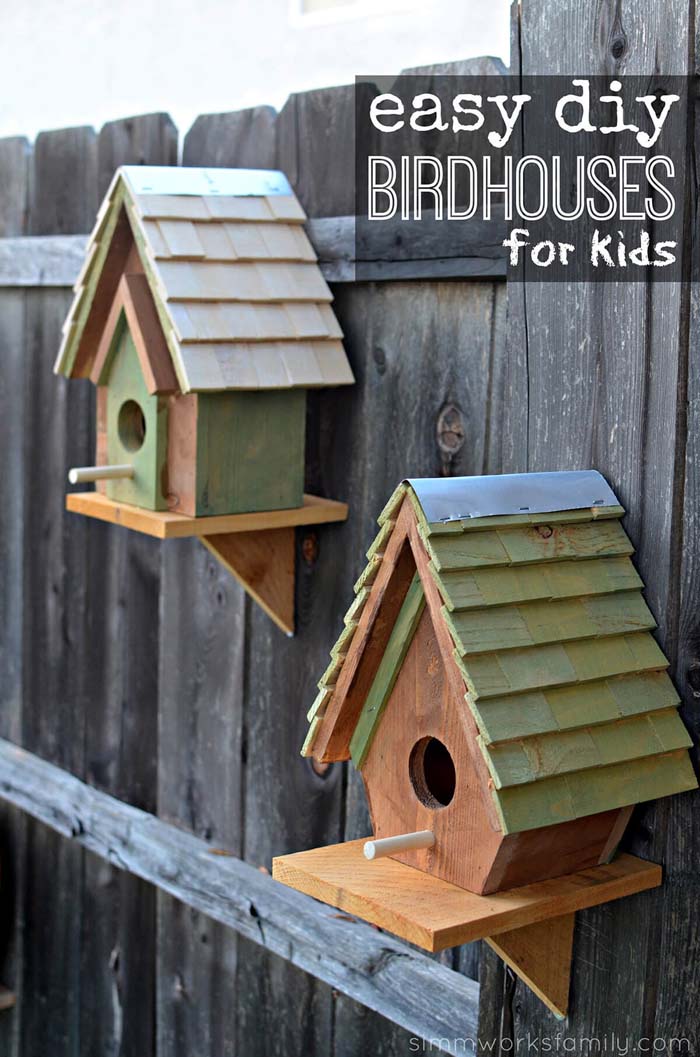 Use the stable support of the wooden fence to create a whimsical wall for birdhouses.
This DIY project is the perfect way to spend a summer weekend outside to create and contribute to the wildlife and the backyard decor.
2. Adorable Lizard Cut into the Fence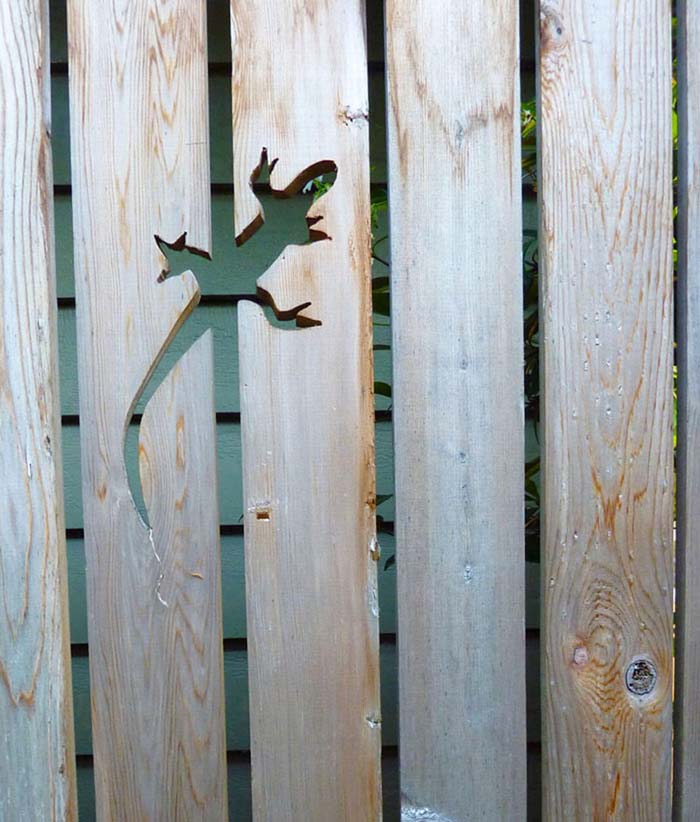 Give your fence a curious point of interest with a cut in the wood beams image. That can be a flower, a bee, a butterfly and why not a lizard?
You may have happened to see a few climbing up your fence in the stillest time of the hot day, haven't you?
via Kate McMillan
3. Birdhouse Fence Dеcor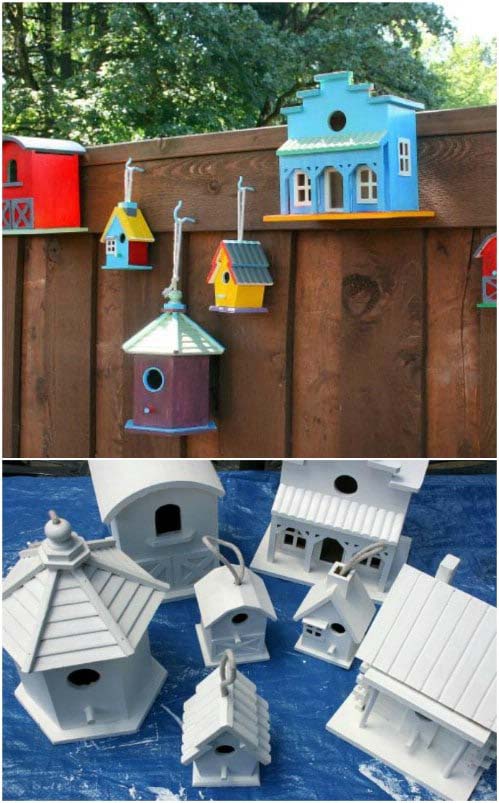 Set different in design birdhouses on the fence to create a cute rustic decoration. Use cheerful colors that will liven up even the most boring backyard fence.
via HGTV
4. Brilliant Orange Floral Decorations on the Fence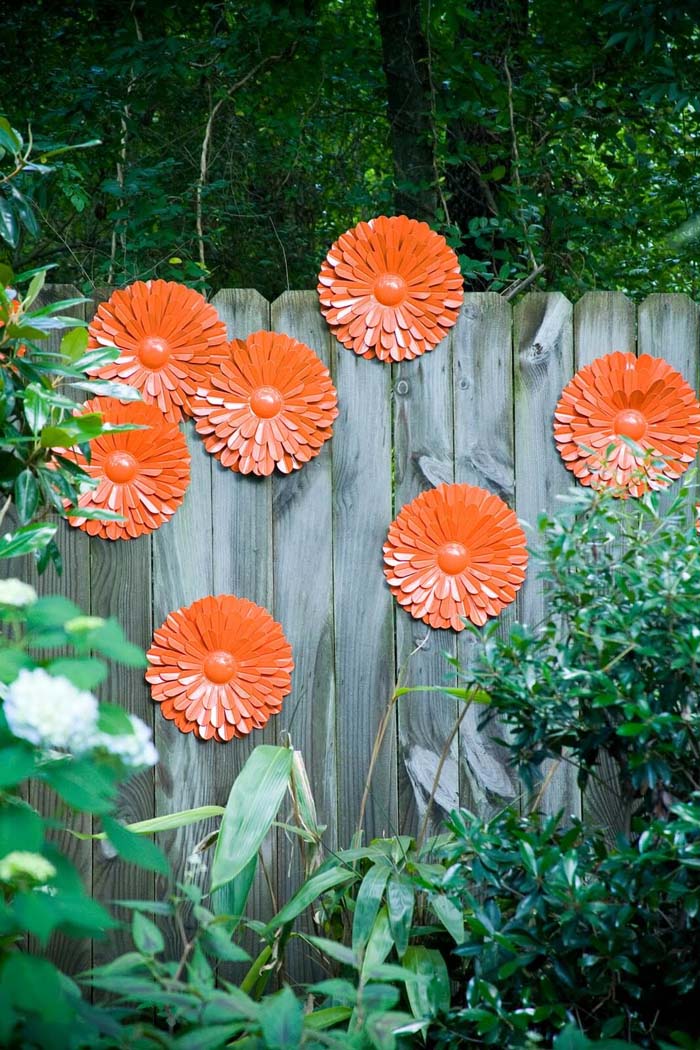 The old wooden fence will be a forgotten memory of the past with these adorable flowers! Find cheap metal art from the Dollar store and paint them in vibrant color.
Then place them on the fence on a random pattern and enjoy the easy and affordable backyard focal point.
In case the flowers are not that heavy, you can use them also as a decoration of a chain-link fence.
via Chris H Olsen
5. Colorful Bag Planters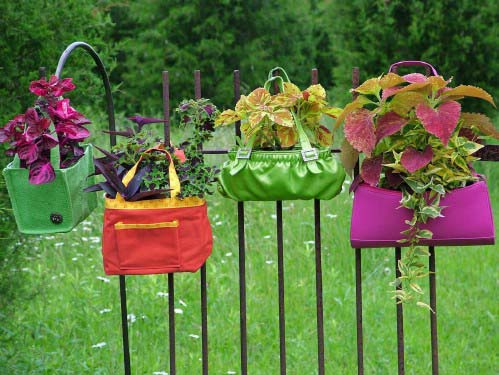 The flower pots are an easy means to decorate a fence.
Among the wide variety of pots you can find in the stores, you can also experiment by upcycling items for a unique personalized touch.
Try old handbags, rubber boots, shoe organizers with kind of a pocket that can be repurposed into a planter.
via HGTV
6. Corrugated Metal Butterfly with Wooden Body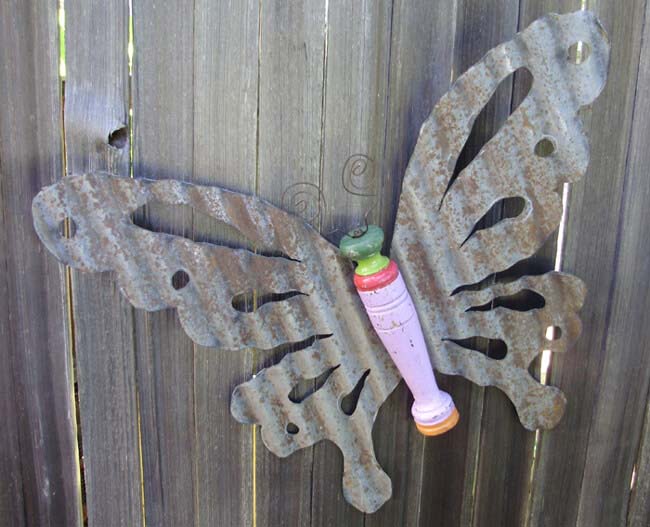 Make yourself a metal art to attach to the fence and give its plain look a focal point.
Scrap pieces from corrugated metal sheets that remained after a backyard overhaul are given a new shape with a hand cutter grinder.
Specifically for this fence butterfly, you are going to need another scrap item like a wooden chair leg.
7. Cute Flowers made of Car Hubcaps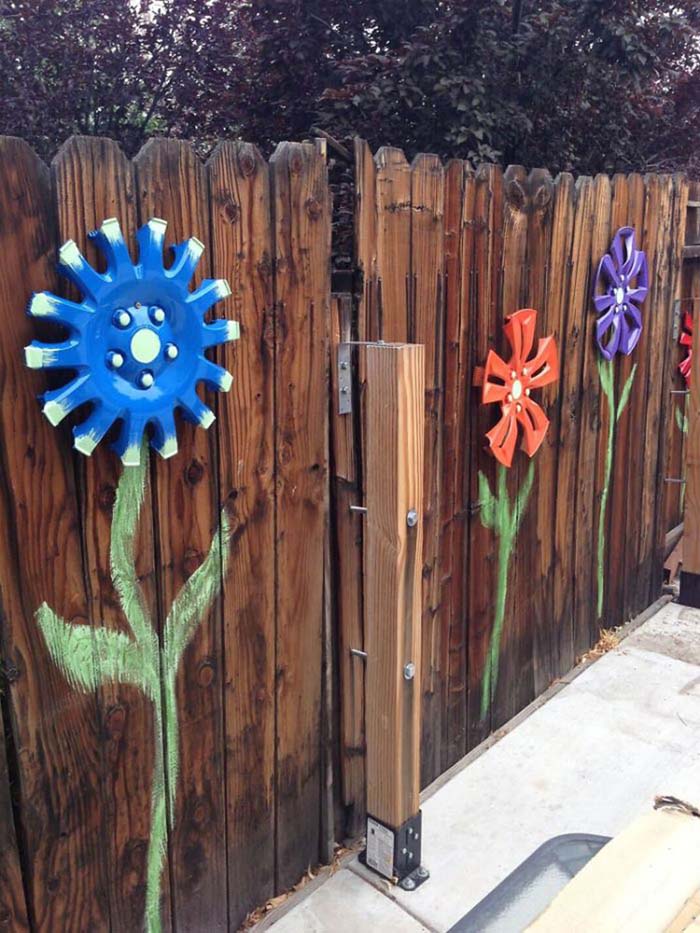 For this interesting idea, you literally don't need any money. Ask your friends whether they have any car hubcaps left in their garages. In the worst case, you can find a set of different hubcaps at a thrift shop.
Cut the edges off the circle to form the petals. Then spray paint a bright color and screw them on the top part of the fence. Use chalk or green acrylic paint to draw the stems.
This fence art turns the old and boring fence into a cheerful garden-themed part of the backyard.
via Hometalk
8. DIY Outdoor Chalkboard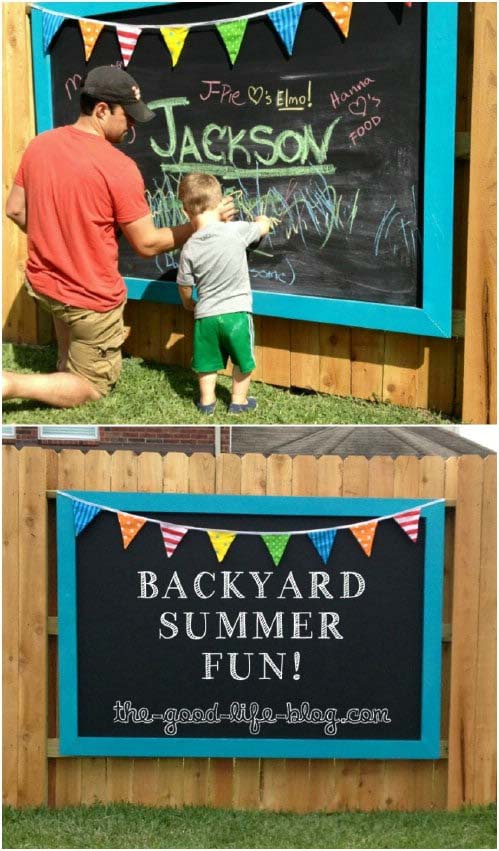 A chalkboard on the fence is a universal addition to the backyard decoration! During the day the toddlers can make paintings with chalks or be taught letters and numbers!
On special occasions, like a birthday or party, the chalkboard can quickly become part of the thematic decor.
via The Good Life
9. Easy DIY Fence Butterflies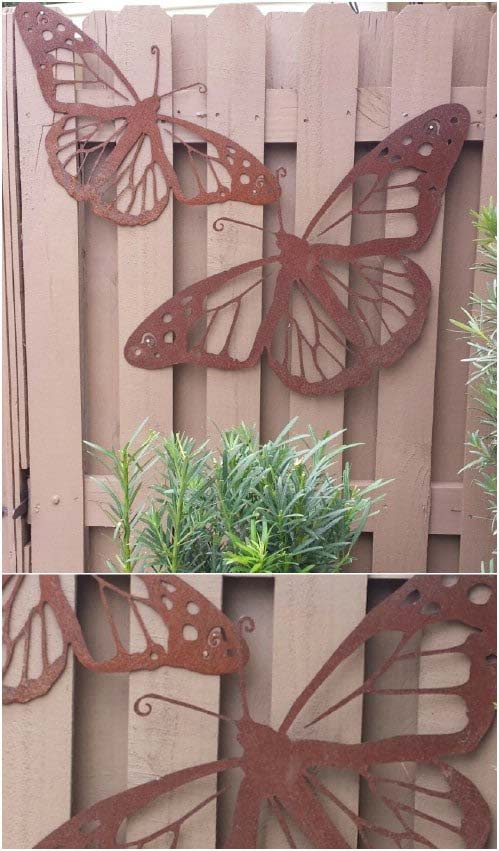 You can get a set of these metal art butterflies from Etsy. Butterflies are the perfect outdoor decoration because they are related to the garden environment. The boring wood fence will quickly transform into a customized focal point.
You can try making these large butterflies from materials that are prone to cutting and resistant to atmospheric conditions.
10. Fill in Fence Holes with Glass Gems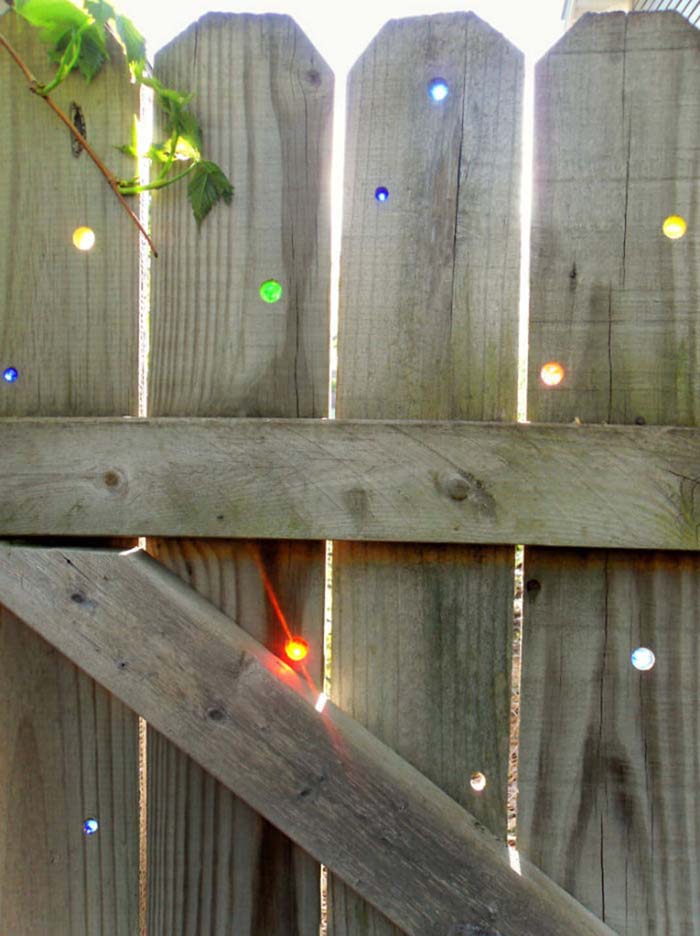 Turn the defect of the weathered fence wood into a magical effect!
Holes start to appear on the wood surface as time goes by. Fill each one with a small faux gem and watch the light go through and reflect the color of the glass.
You will be so amazed by the playful rays of light that you would be willing to drill additional holes!
via Garden Drama
11. Friendly Window Display Fence Dеcor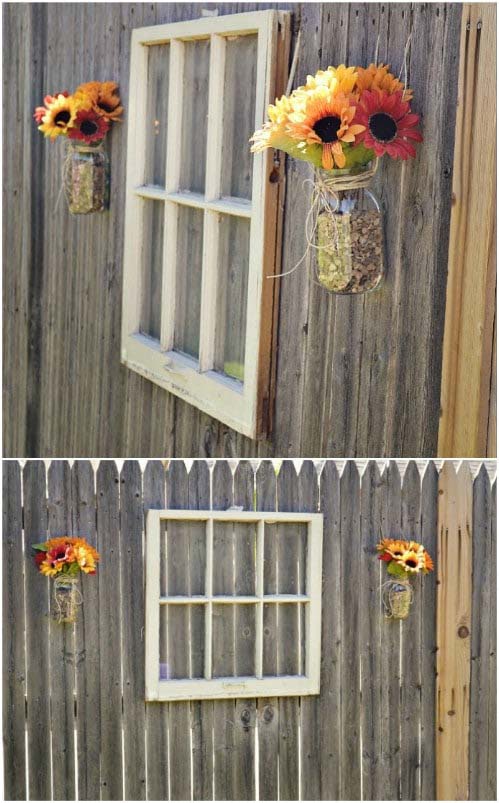 Take an old window and hang it on the fence. Decorate either side with vases, jars or flower pots to make the repurposed wall art beautiful and attractive.
This type of farmhouse decoration can remain on the fence all year long and be part of the seasonal decoration.
For example, in autumn or for Halloween the flower pots can be replaced with pumpkins or wreaths. In winter, use the frame of the window to weave Christmas fairy lights.
12. Garden Fence Decoration Idea with Shelves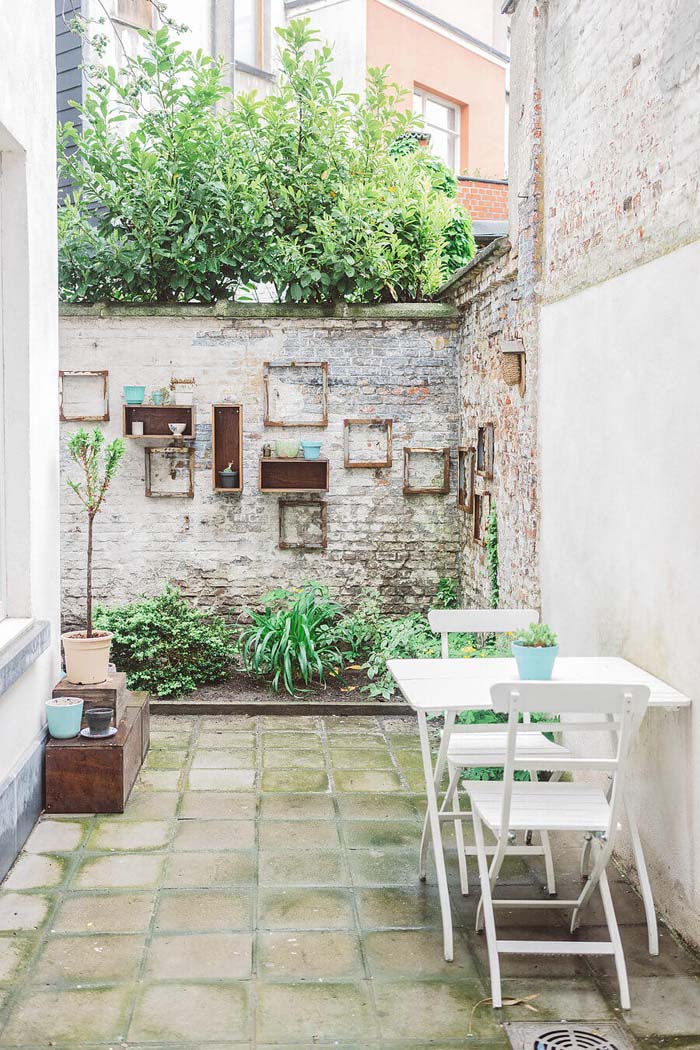 To hide the unevenness or defects of a fence, use unexpected items as decoration. The repurposed application will draw attention away from the fence's weaknesses.
For example, unused storage units like drawers and shelves can be hung on it to hold garden items and decor. Combine them with picture frames left empty to enhance the charm of the rustic wall decoration.
via Le Blog De Bea
13. Garden Fence Decoration Idea with Sunflowers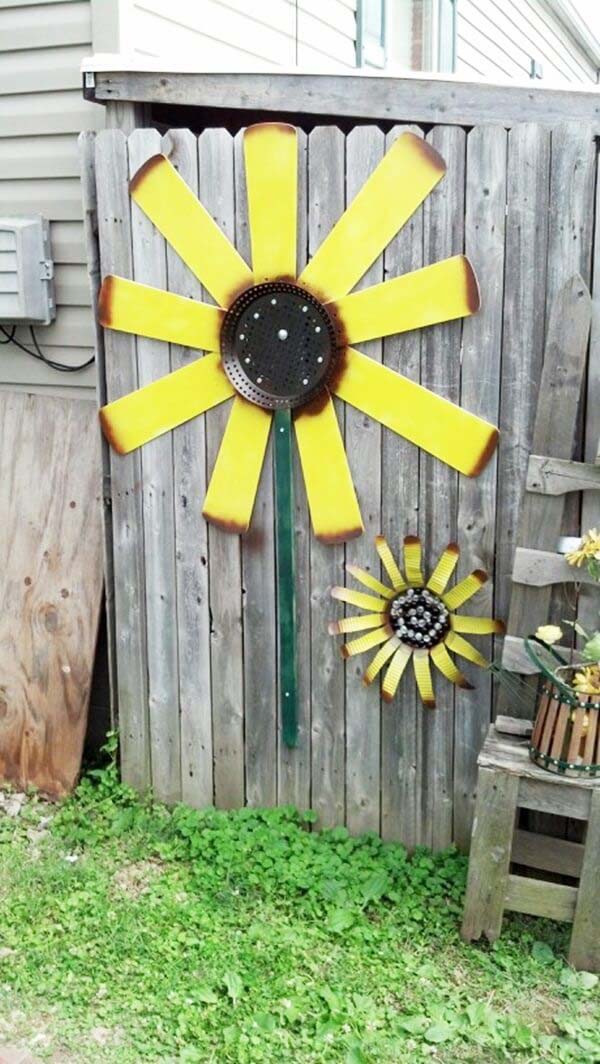 Sunflowers are one of the most favorite garden-themed decorations. Their bright color welcomes the sunny mood and the shape of the bloom reminds of the sun. Using the sunflower motif as a garden fence decor will add a cheerful and summer-themed vibe to the yard.
You can make these of any scrap materials you have on hand- wood, metal pieces, cooking pots and sieves, etc. any that remind of the shape of the sunflower.
14. Garden Window Scene with Cute Owl Statue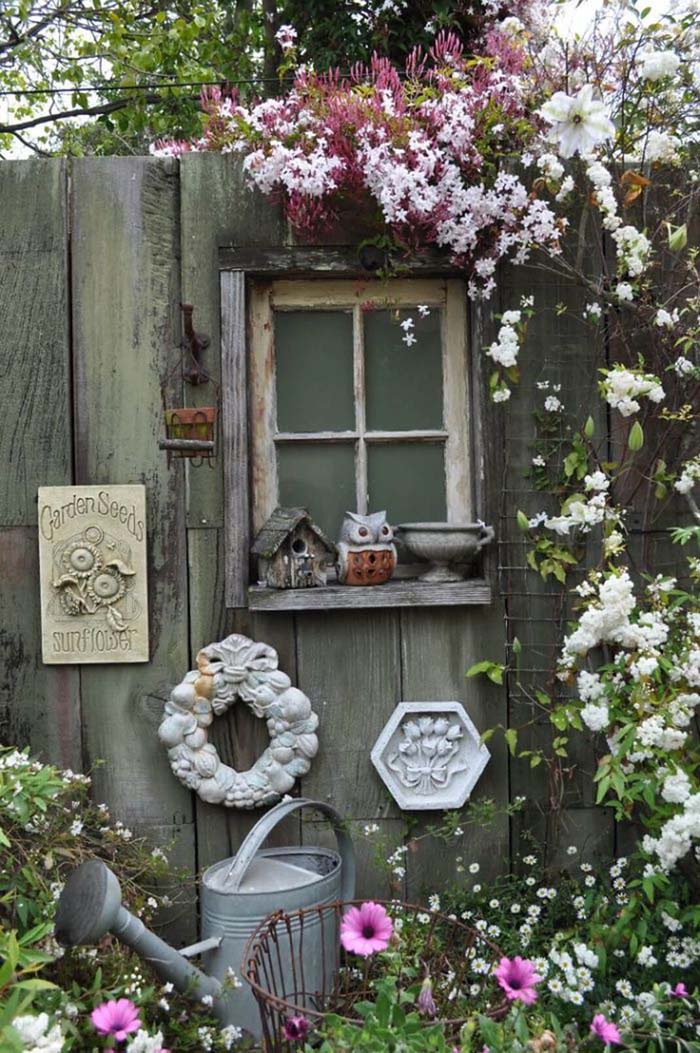 Prepare signs, vintage items and decorative figures to create this whimsical fence decoration idea. The center point is the reclaimed window which sets a garden landscape on the fence.
The windowsill accommodates cute garden-themed statues. Around and below it, there are other garden-related decorations that enhance the decor idea.
15. Gutter Fence Garden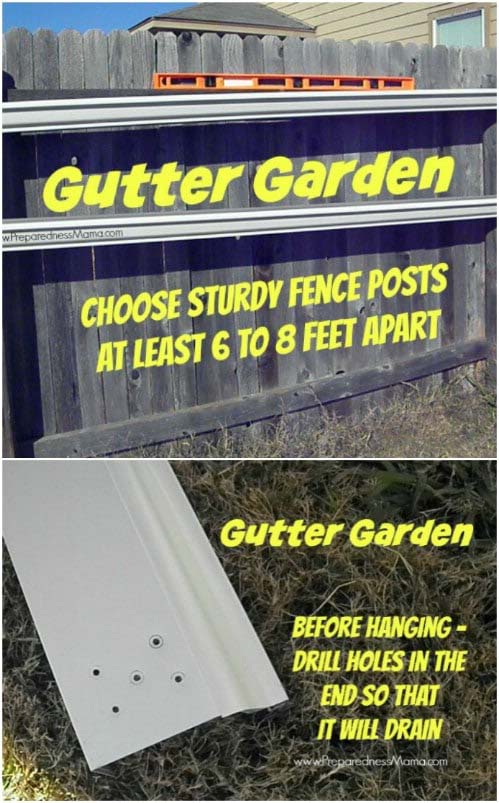 Use gutters to build planters with the length of your fence! If you want not only to beautify this part of your yard but to also hide the boring fence material, plant cascading flowers that will create a blooming waterfall.
For the bottom part of the fence, you can plant climbing plants and support them on trellises to ensure that the fence is hidden during the warm part of the year.
16. Half Planters Hung in Frames on the Fence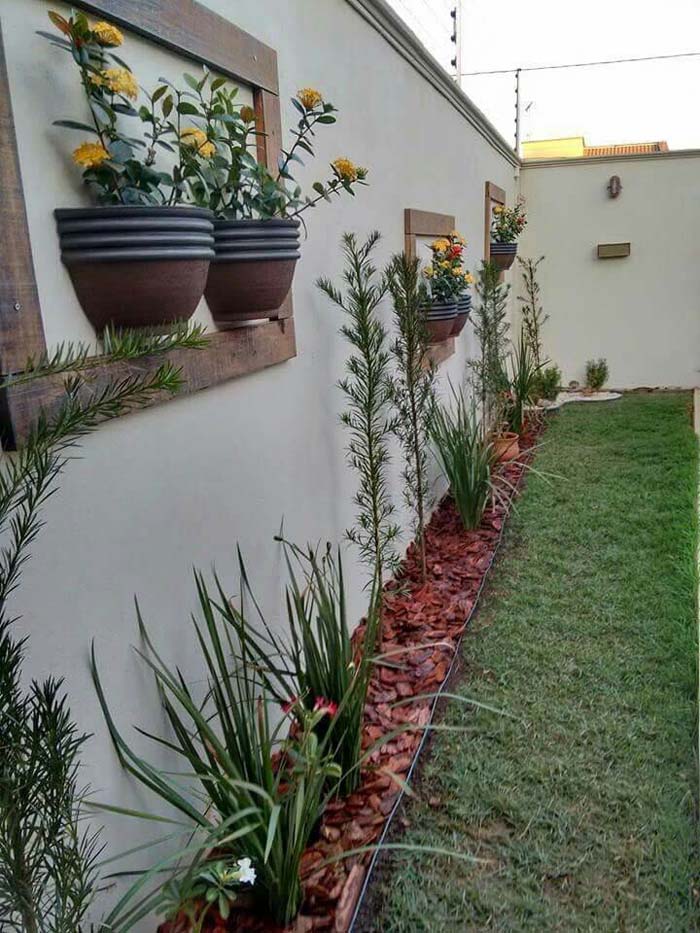 These planters look like built in the fence. Actually, this is a visual illusion achieved by their design. You can find such clay or plastic pots in the garden stores.
They are fixed to the wall the standard way- with nails or screws. To enhance their interesting visual effect, frame them with upcycled windows.
17. Hang Flowers in Upcycled Wooden Frames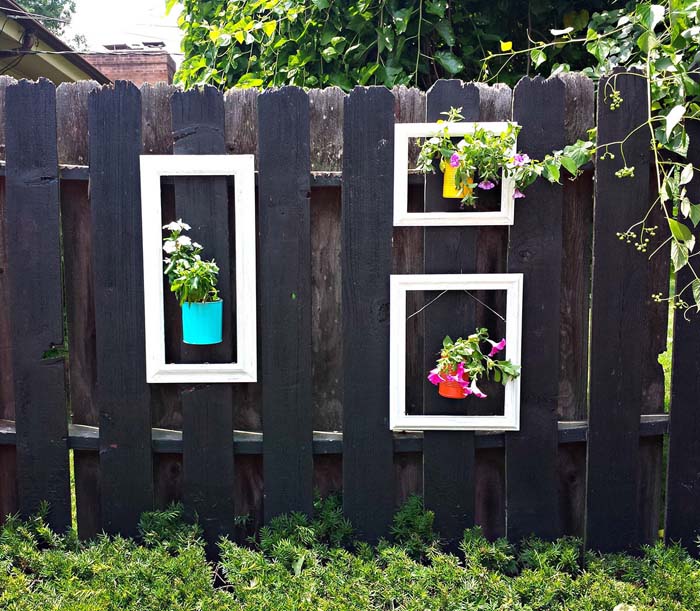 The same framing idea can be used with other types of flower planters. The metal galvanized buckets or the cans from food are perfect for quick DIY fence decoration.
The metal is an easy-to-be-painted material so you can create a vivid fence decor with no effort.
18. Hang Mirrors on the Garden Fence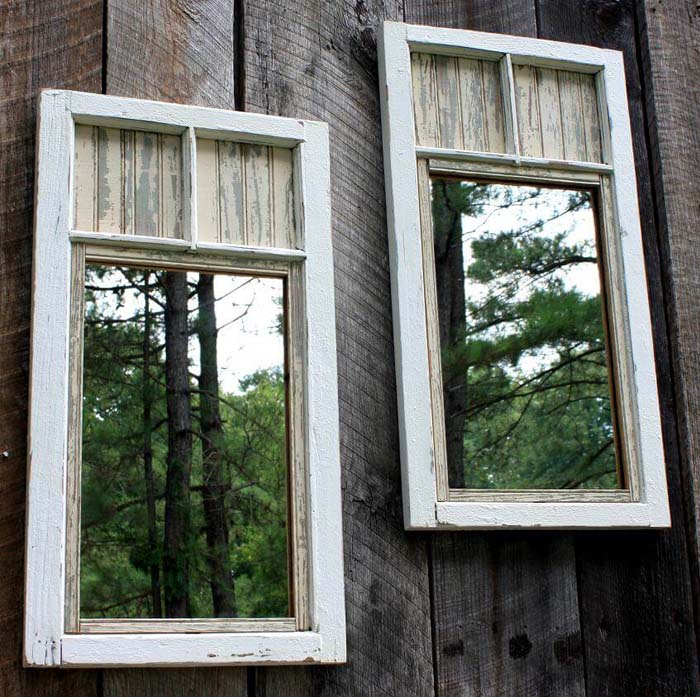 This is an amazing idea for fence decor in case your house is surrounded by beautiful landscape.
Attaching the reclaimed window frames holding mirrors will reflect the woods opposite and will create a visual illusion as if the landscape is seen through the transparent glass.
19. Hanging Basket Fence Planters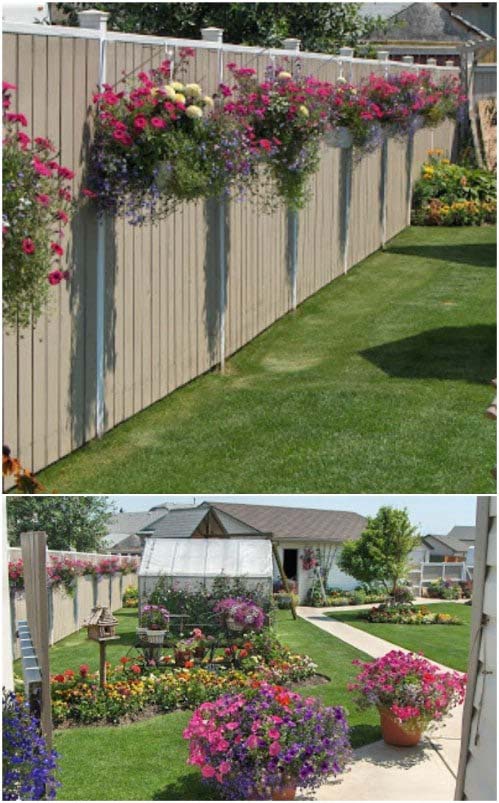 The symmetrical alignment of these hanging baskets creates an organized and elegant-looking backyard.
Each basket is suspended on a metal bracket of the fence post that ensures space from the fence to let the planted flowers develop well and turn into a floral fountain.
via Tootsie Time
20. Mason Jar Tea Light Holders on Metal Hooks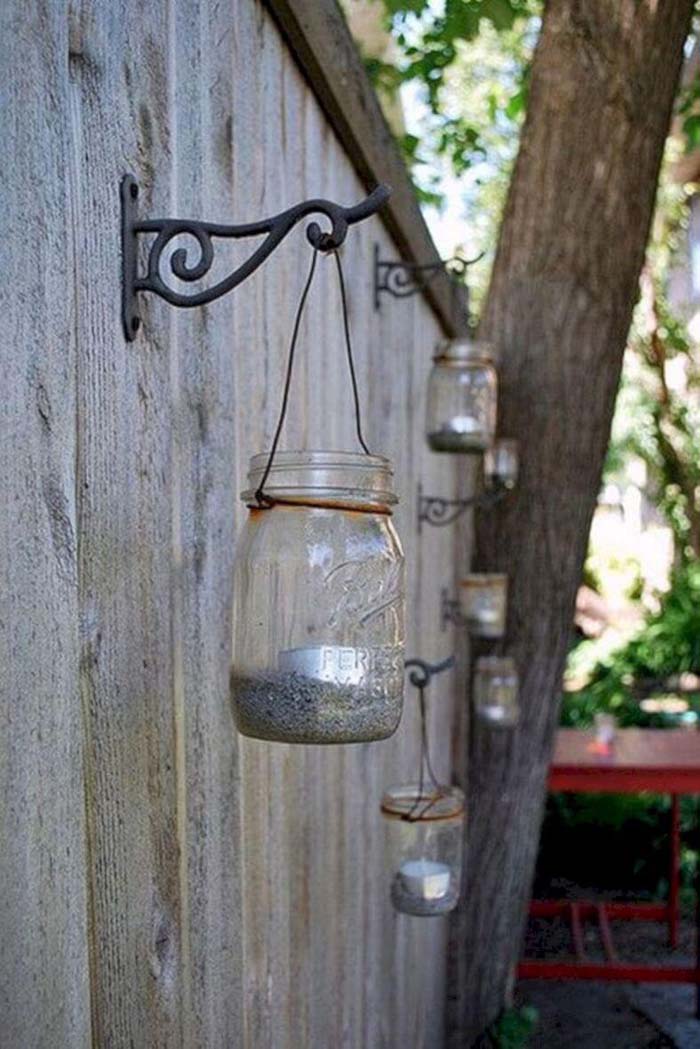 Adding decorative outdoor lighting quickly improves the curb appeal of the house. In addition to that, it makes sure that staying outside at night is more comfortable. One of the most affordable ideas to add lights along the entire fence is with Mason jars. They are not expensive, they come in various sizes and have an incredible farmhouse charm.
Weave wire around the neck of every jar to make a hook for suspending on the fence. You can either fill the inside with sand to place a tea candle on or go the eco-friendly way with solar lights or strings of light.
21. Meaningful Fence Quotes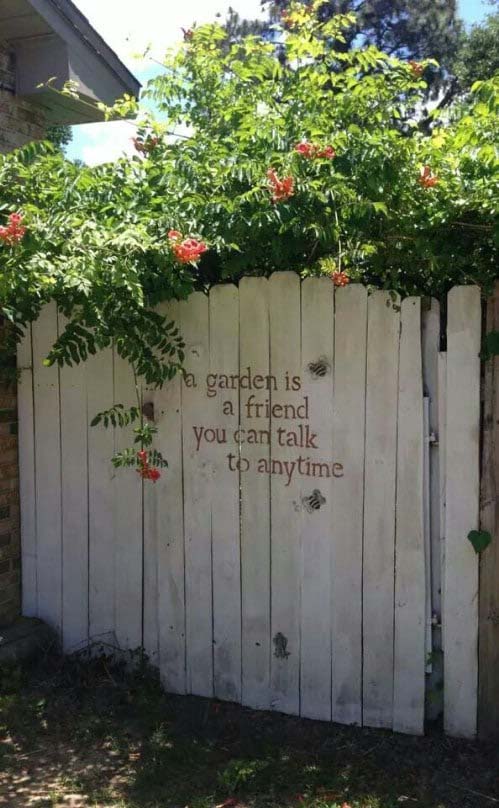 In case the condition of the wooden fence is not bad and you don't need to hide it, you can use it as a canvas for poetic quotes.
Inscribed on the white wooden surface, they will give this structural part a character and a connection with the garden.
22. Mirrored Door with Metal Lintel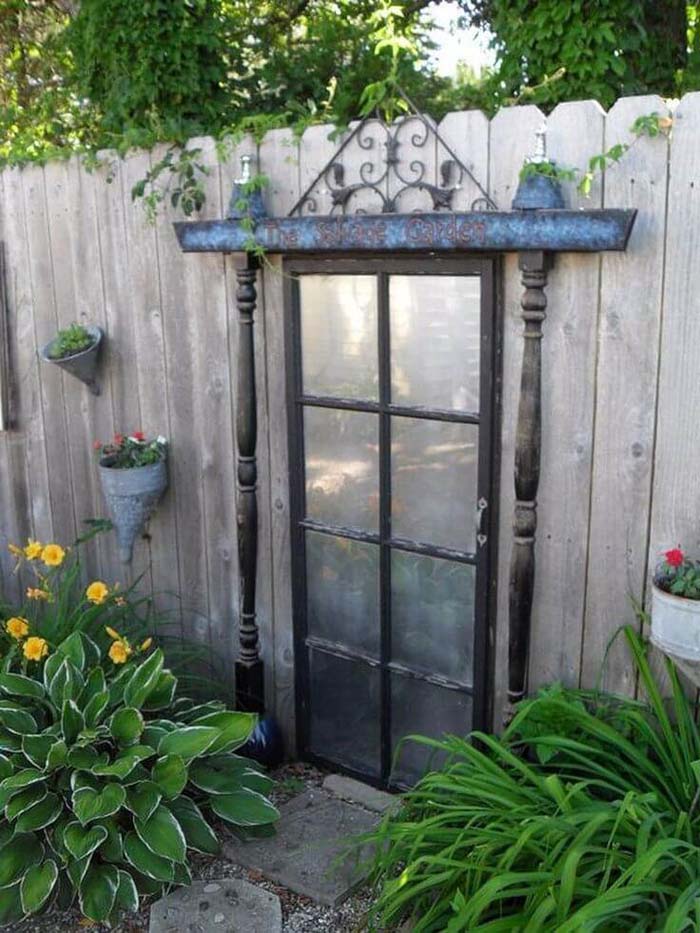 This interesting idea gives the backyard fence vintage charm and uniqueness. It is a salvage DIY using an old door with window panels. Special mirror paint has been applied to the glass to give the plain windows an amazing blurry effect.
Surrounded by planters made of galvanized containers, this new focal point makes you wonder what world will be revealed if you could actually open it.
via Hometalk
23. Multicolored Mason Jars with Wire Hangers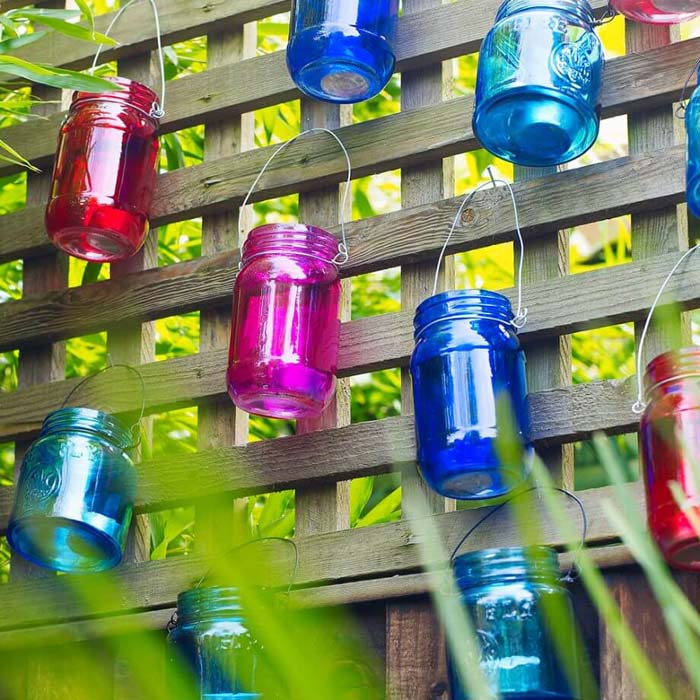 This Mason jar fence decor can be used in many ways- as outdoor lighting, as flower pots, as containers for seasonal decor or simply as they are- empty, aligned in a staggered pattern glowing with their cheerful colors.
24. Outdoor Garden Curtain Lights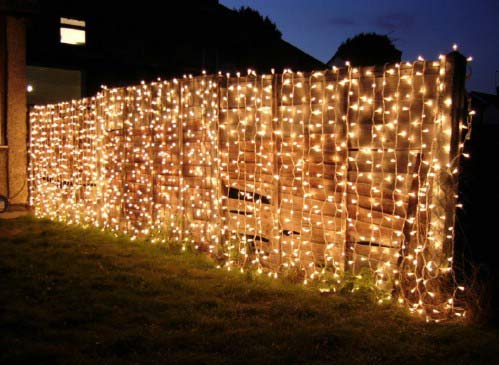 An easy idea for a fence or screen decor that can stay all year long is to cover the wood with Christmas lights. Drop each string of lights down the fence so that at the end the entire length of the fence is covered.
Such outdoor decor will give additional illumination at night and can also be part of a special occasion decor. This idea could also be applied to a chain-link fence.
25. Painted Terra Cotta Plant Hangers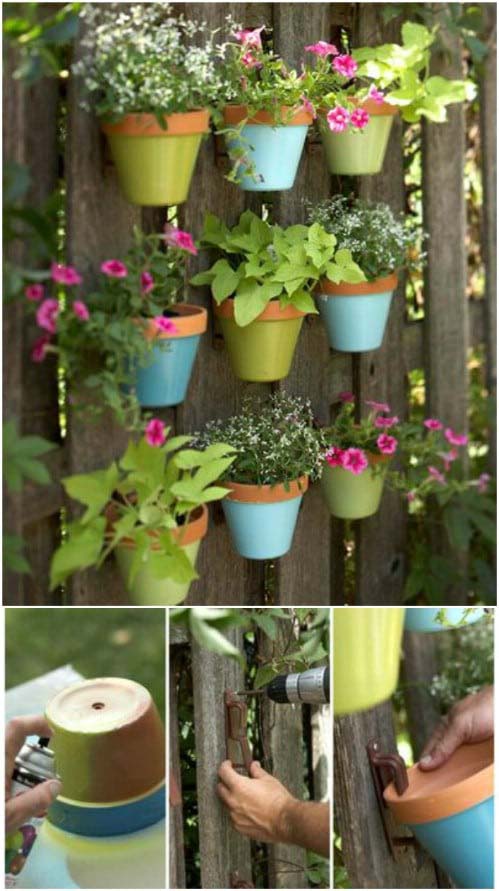 A dozen small terra cotta pots, some paint, flower pot hangers, and screws and your fence is upgraded in a day! This vertical planter idea is good also for a fresh herb garden.
via Shannon Eileen
26. Pretty Arrangement of Painted Crates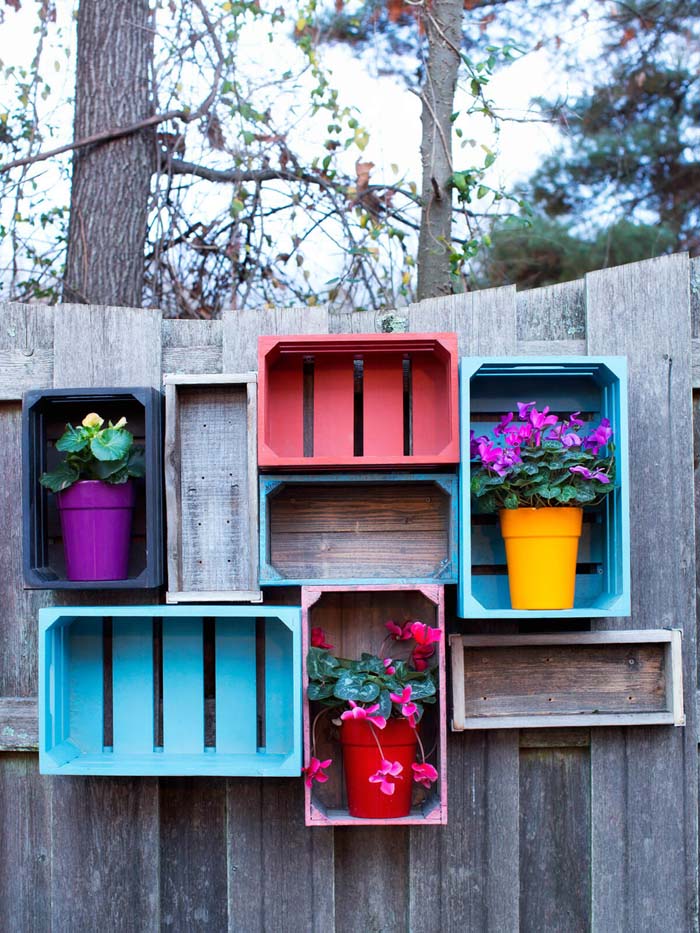 The old wooden crates are transformed into lovely fence planters with the help of bright colors. Their sizes and designs don't matter.
The more different they are, the more attractive the decor effect will be.
via HGTV
27. Pretty Birdhouse Display on the Fence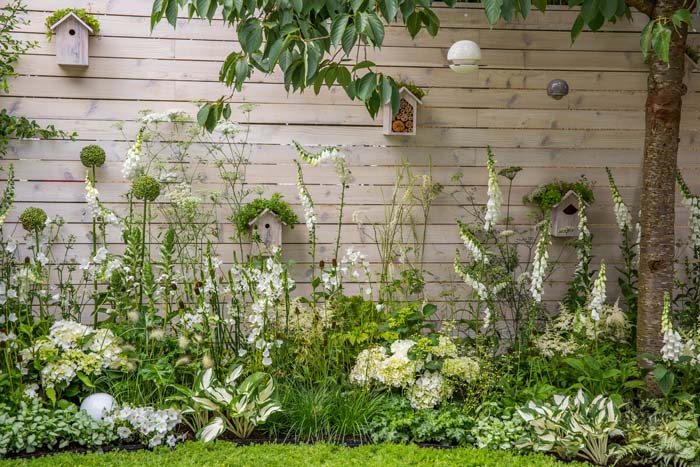 The birdhouses are cheap outdoor decor that is useful not only for the curb appeal of our homes but also for the birds.
We saw what a cheerful decor the colorful birdhouses become when grouped together. When you are looking for a more elegant effect, paint them all one color. The interest can be created with the way they are aligned and the accents added.
28. Purple and White Blooms with Wall Boxes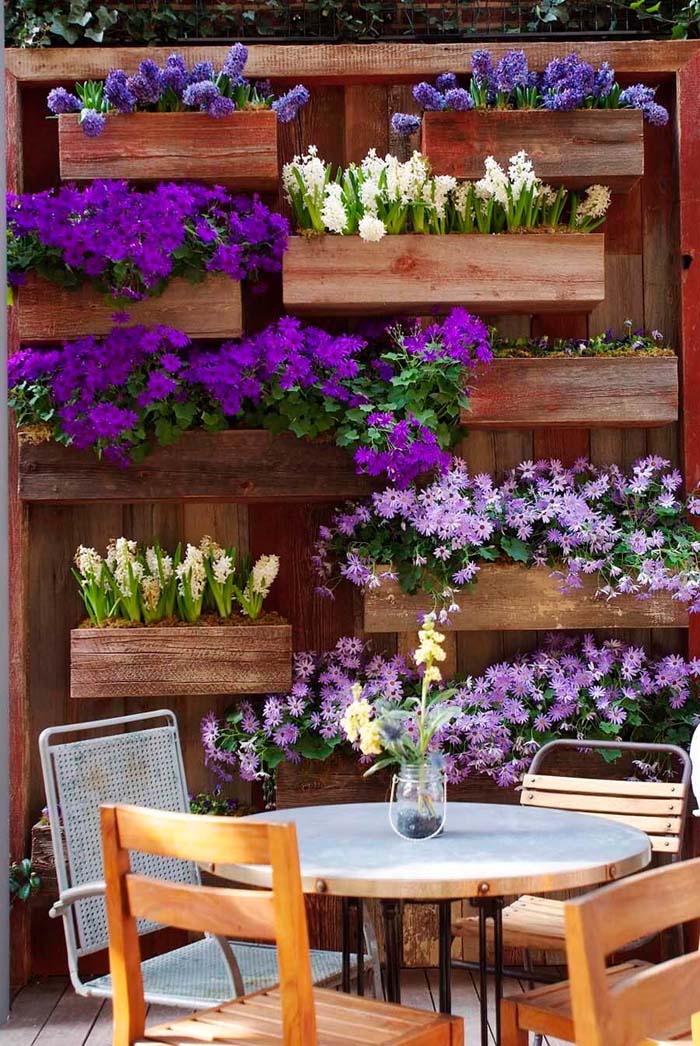 This garden screen aimed to add privacy and to make the atmosphere of the sitting nook more welcoming.
The added wooden boxes are upcycled to serve as flower planters staggered all way down the screen.
29. Recycled Bike with Flowers in the Basket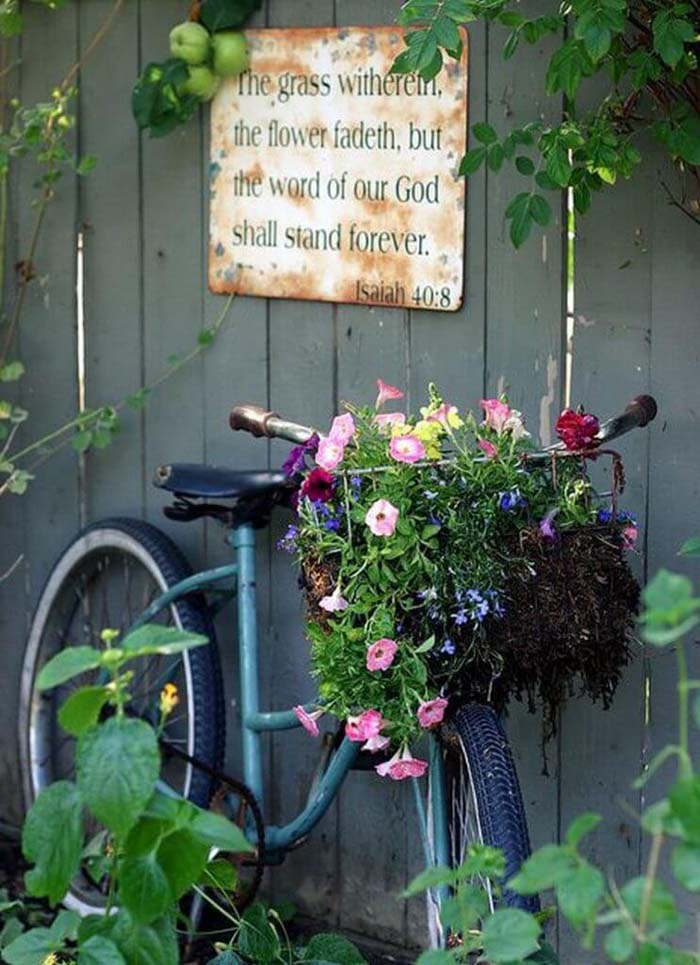 Reuse the bike that collects dust in the garage as a dual-action garden decoration! Lean it against the fence and plant flowers in the front basket.
The landscape it will create will be attractive in a romantic way and will draw attention away from the fence.
30. Recycled Metal Fence Decoration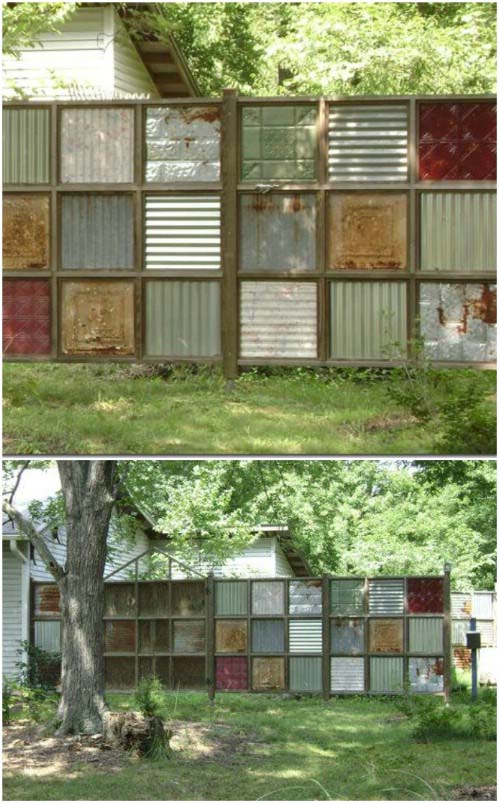 This is an idea about how to give the fence a new look with recycled metal pieces. It will also work on an existing fence if you screw the pieces onto the existing wood.
All square pieces are cut to an identical size that fits into framed holes. The varying textures and colors give the screen a unique look which is just enough to add to your backyard a personalized point of interest.
31. Repurposed Croc Planters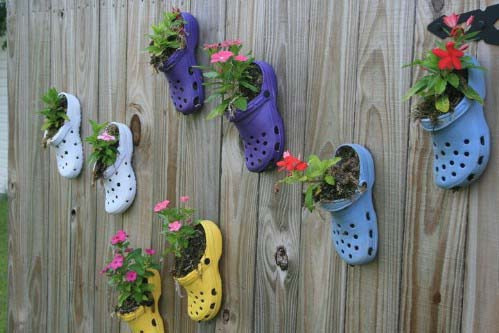 Stepping on the fence is not possible for humans but it is possible to imitate this with Croc planters! The original holes in the rubber will act as drainage so no preparation is needed to turn the slippers into planters.
via Green Moxie
32. Repurposed Plate Fence Dеcor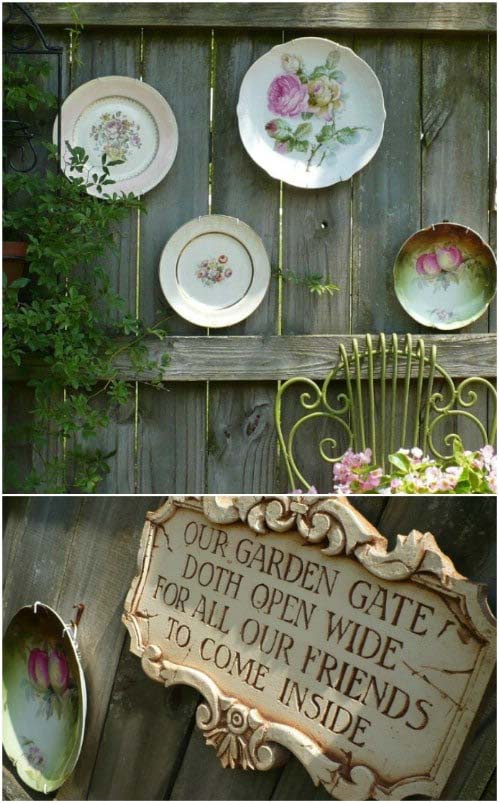 Do you have a collection of vintage plates? Give them a new function as garden decor by hanging them on the fence.
They will add a homely feeling to the yard so make sure that you beautify that part of the fence which is adjacent to a nook for resting.
33. Repurposed Silver Trays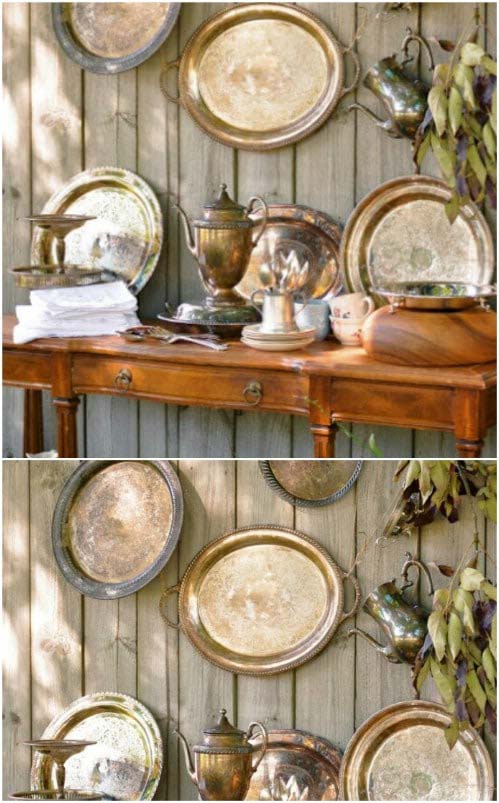 The same homely vibe can be achieved with other kitchen-related items like trays, for example.
That can be a collection of different trays or a collection of silver valuable ones.
via Jennifer Rizzo
34. Reused Old Window with Charming Sunflowers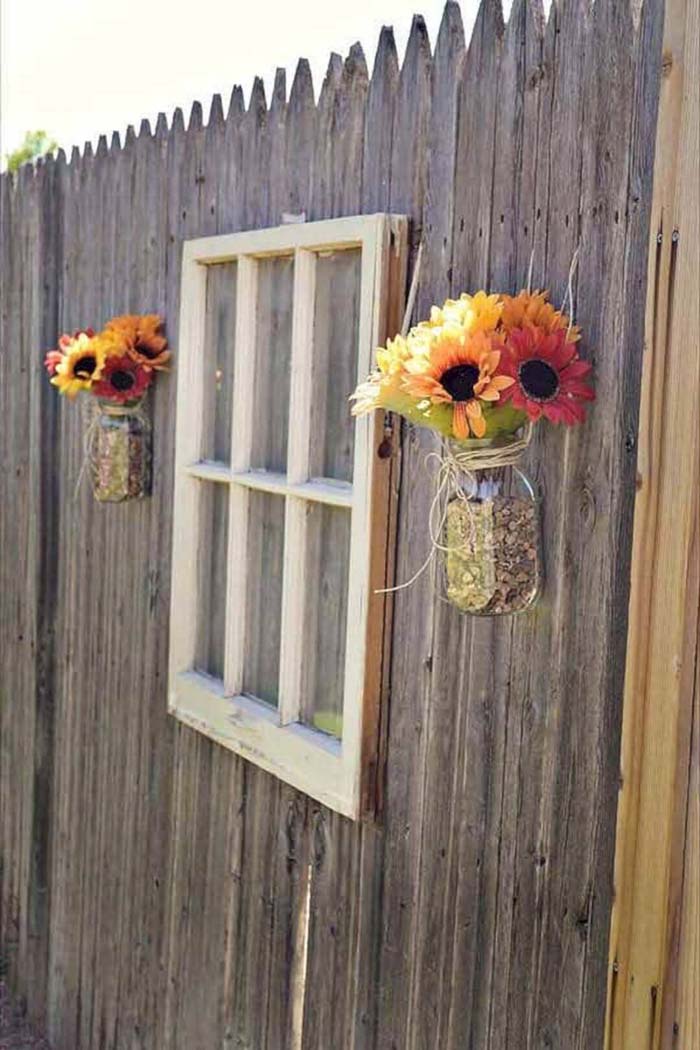 Mimic a part of an interior wall with a weathered window. Hang the window on the fence and decorate it with jars on both sides of it.
The jars can hold faux flowers or bouquets of seasonal flowers from your garden. This is an amazing idea for fence decoration if you love to change the outdoor embellishments every season.
35. Stacked Window Boxes on a White Fence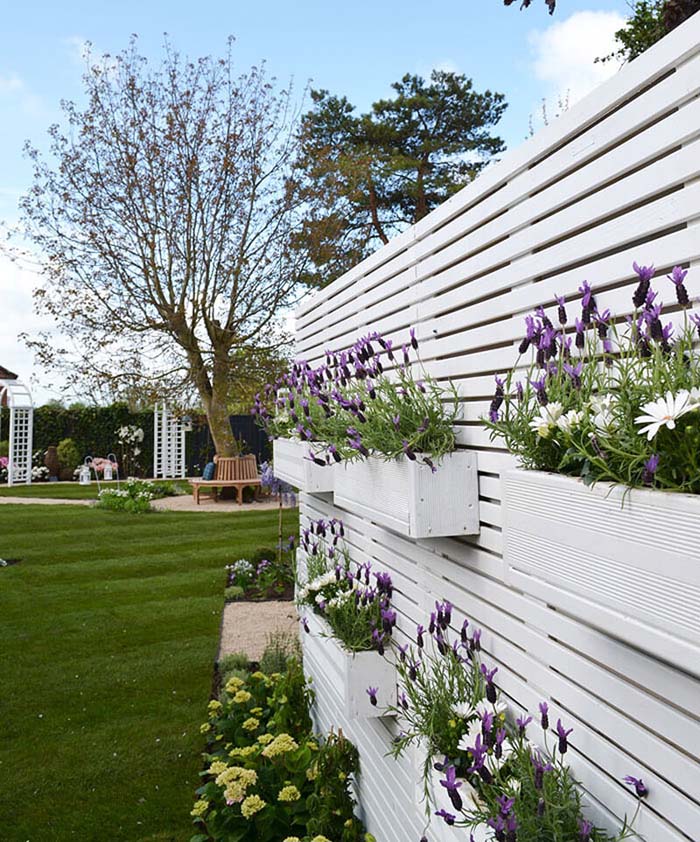 The planters on this fence aim to look like an integral part of it and therefore they are all in one and the same color.
The flowers growing into the wooden boxes quickly become the focal point of the garden because their colors stand out against the continuous universal background.
via David Domoney
36. String Pretty Globe Lights Along Your Fence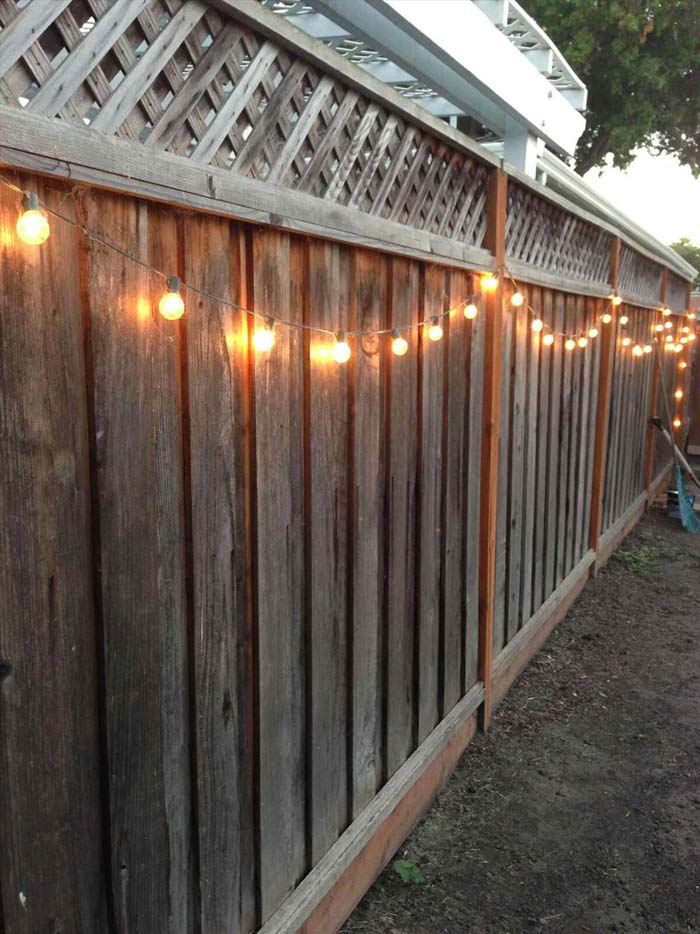 This image features another idea for fence decoration with lights.
Strings of Edison bulbs are stretched along the top of the fence creating an illuminating garland.
37. Succulents Overflowing from Framed Boxes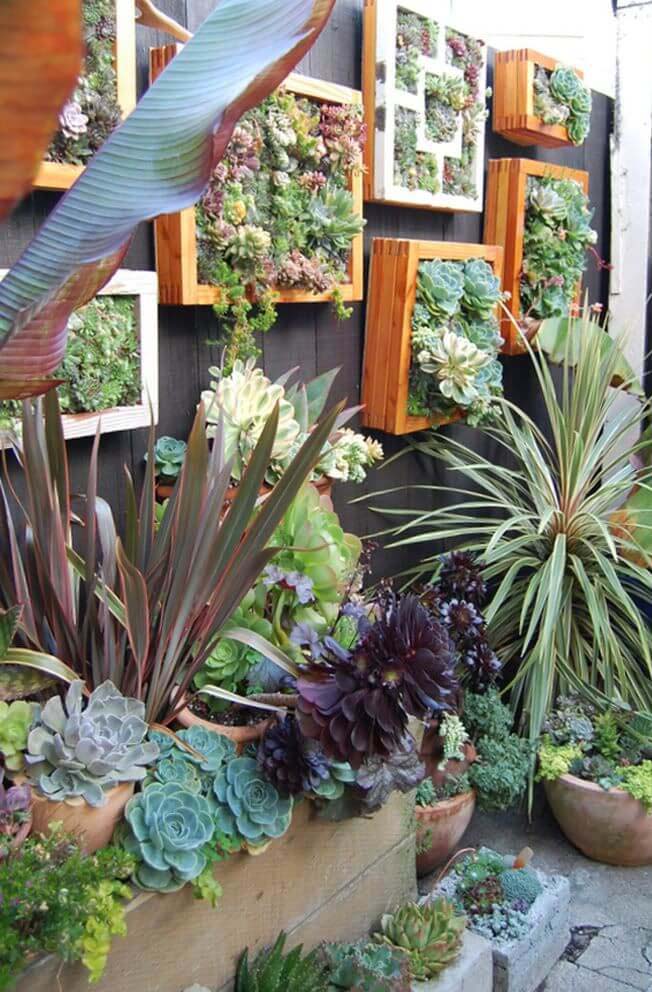 Turn the boring wooden fence into an art piece by transforming it into a vertical garden. That can be achieved with planters or with the shown "living" frames.
Making them is not easy but when you finish them the maintenance will be close to zero. You need some scrap wood, wire mesh, soil and succulents.
38. Upcycled Bottle Fence for the Garden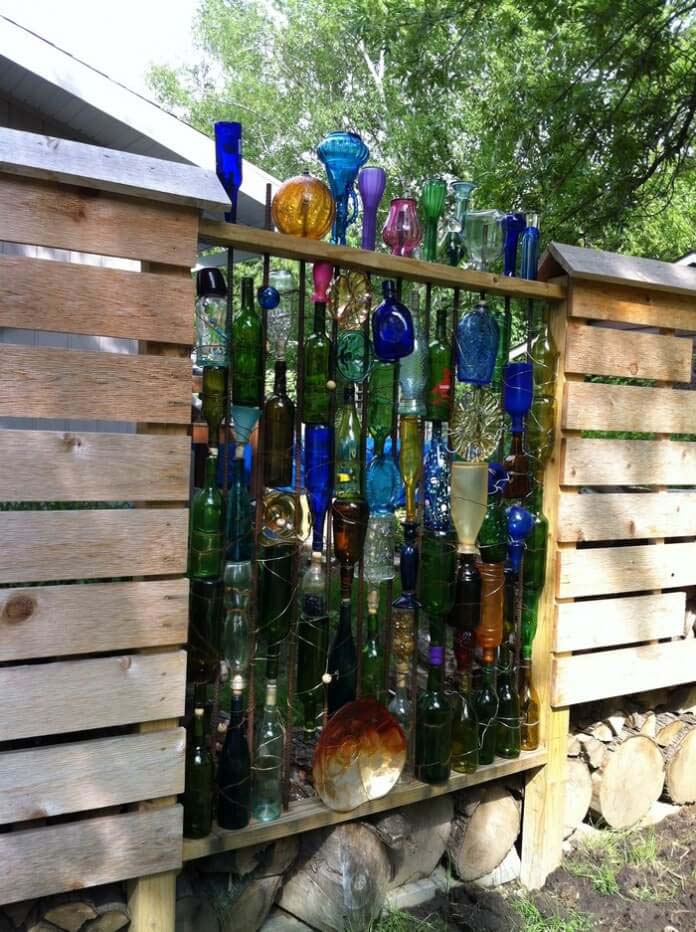 This is one of the most creative fence decor ideas! Actually, the wine bottle decor is not an embellishment but part of the fence!
The more varied colors of bottles, the better effect.
39. Upcycled Coffee Table Fence Dеcor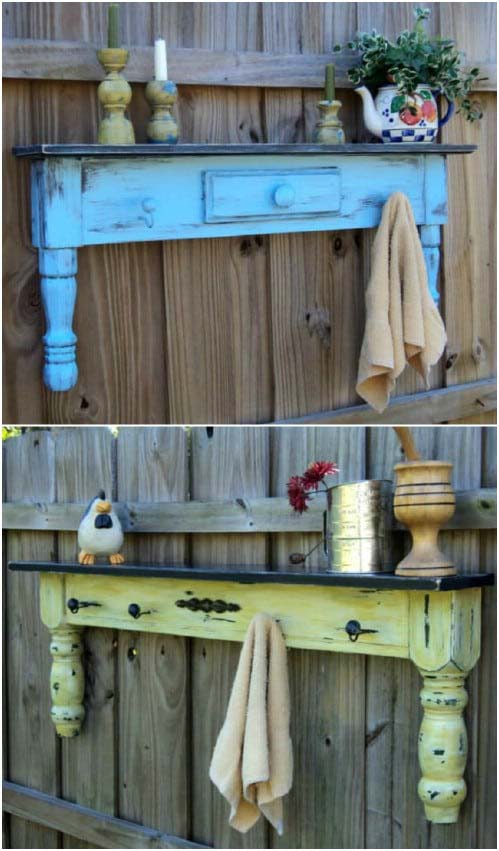 This fence decor can also be a practical backyard addition that will help to declutter the outdoor living space.
Make it from a vintage coffee table or a desk and screw it to the wood. The shelf is big enough to hold utensils while the beam underneath it can store towels.
In case you would rather use it in its decorative aspect, use the top to accommodate pots and garden statues.
40. Upcycled Junk Garden Fence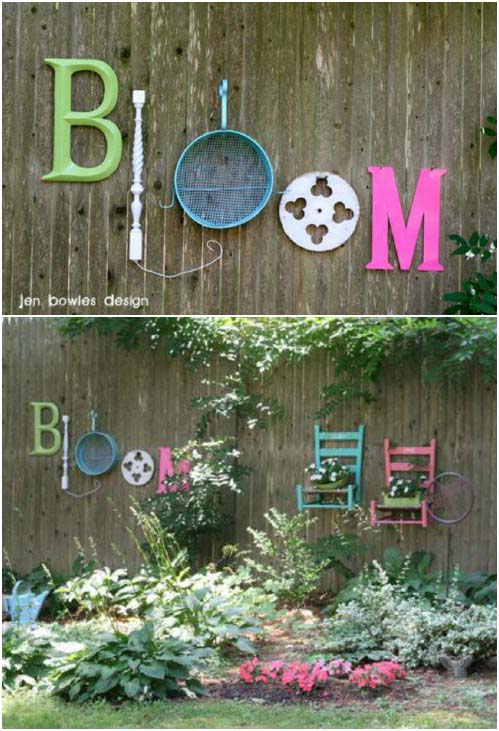 "Trash for some people is a treasure to others!" and so this idea proves this saying. Only a little creativity and a variety of junks are turned into colorful garden-themed fence decor.
In addition to the wordplay, part of the wall decor is also practical. The wooden chairs serve as vertical planters holding pots in the place of the seats.
via Jen Bowles
41. Upcycled Paint Lid Flowers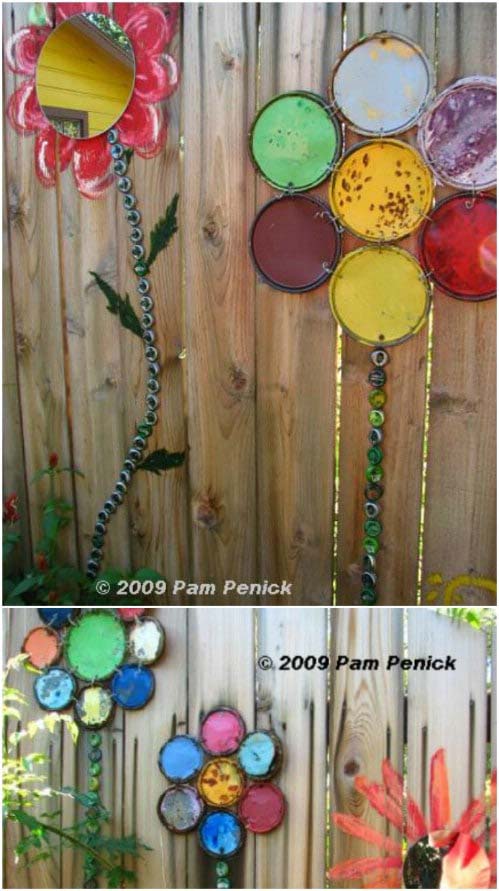 If you have already tried a couple of DIY garden projects, you have a dozen paint cans. Usually, you would throw them in the trash when the paint is over. But here is an idea of how to repurpose them into a garden-themed fence decoration.
Put them in a round pattern on the fence to form a flower. The stem can be imitated with bottle caps nailed to the wood.
via Penick
42. Upcycled Rain Boot Flower Pots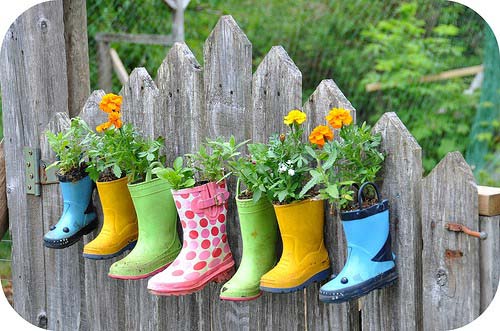 The old rain boots become beautiful and unusual garden planters hanging from the fence.
Fill the inside with soil and plant seasonal flowers.
via Rosy Posy
43. Upcycled Table Leg Dragonflies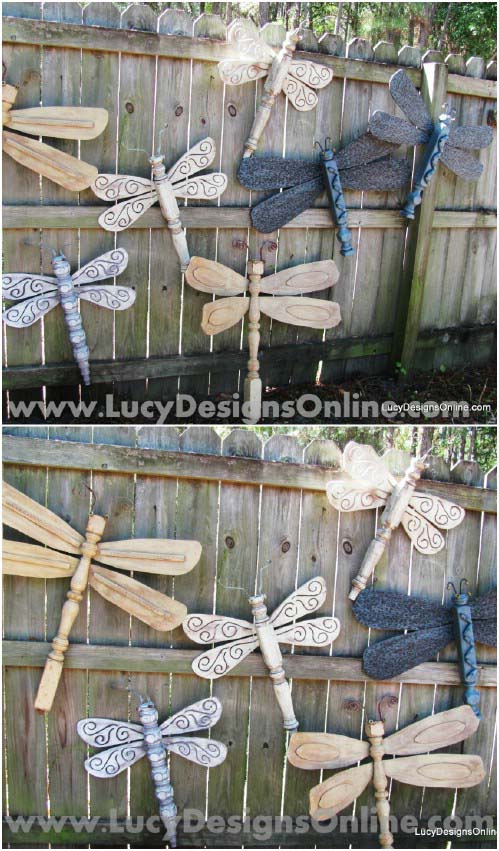 These rustic dragonflies have been made from wood furniture pieces. Each one needs one leg from a chair or a headboard and pieces from a flat surface. The ornaments can be painted on hand or cut with a special tool.
Hang them on the fence in a random pattern and enjoy the lively dragonfly decoration.
44. Upcycled Tin Can Planters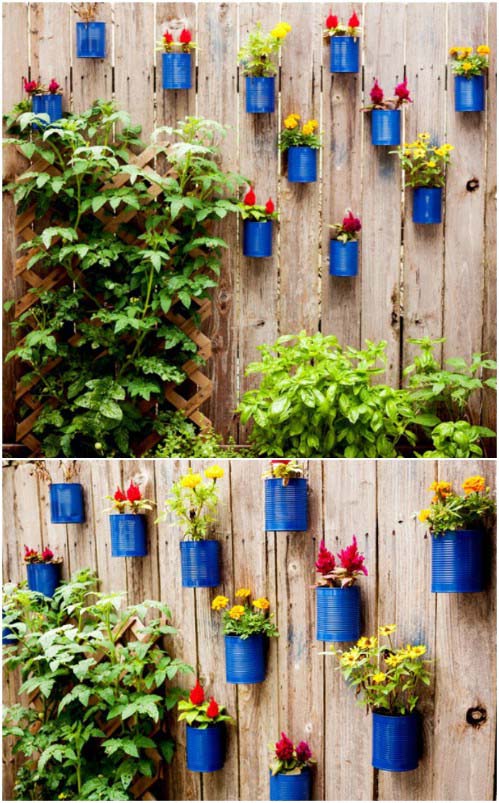 Do you have a baby? Collect the cans from baby food to create a vertical fence garden.
Paint them various colors or stick to one bright paint to create an accent.
via Ciera Design
45. Upcycled Tire Planters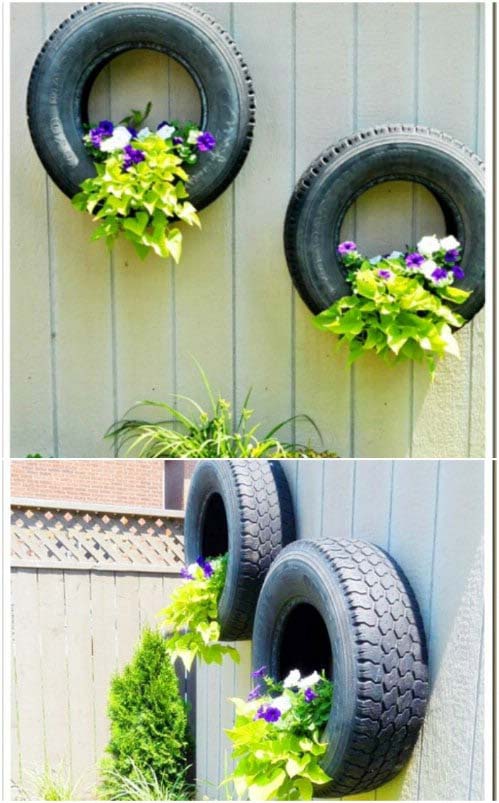 There are many ways to give the old tires new life. Most of the ideas are applicable to the garden decor because they are very durable to the outer environment.
This one focuses on their surprising function as planters. Attach the tire to the picket fence and use the existing hollow to plant a flower.
via Recaptured Charm
46. Wall Planter Garden with Stenciled Lettering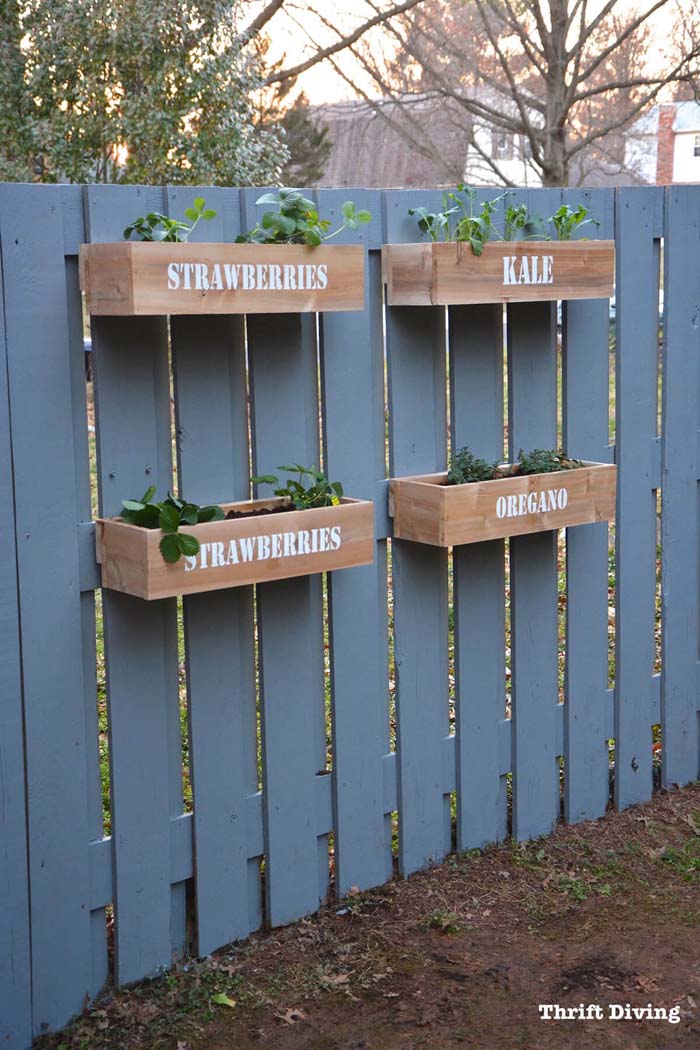 The wooden planters are a suitable fence decor for picket fences because they can bear the load of the wood boxes. Make as many as you wish and stencil them with the name of the plant they contain.
This idea is very good for practicing green thumb with seeds.
via Thrift Diving
47. Wall Shelf with a Herb Garden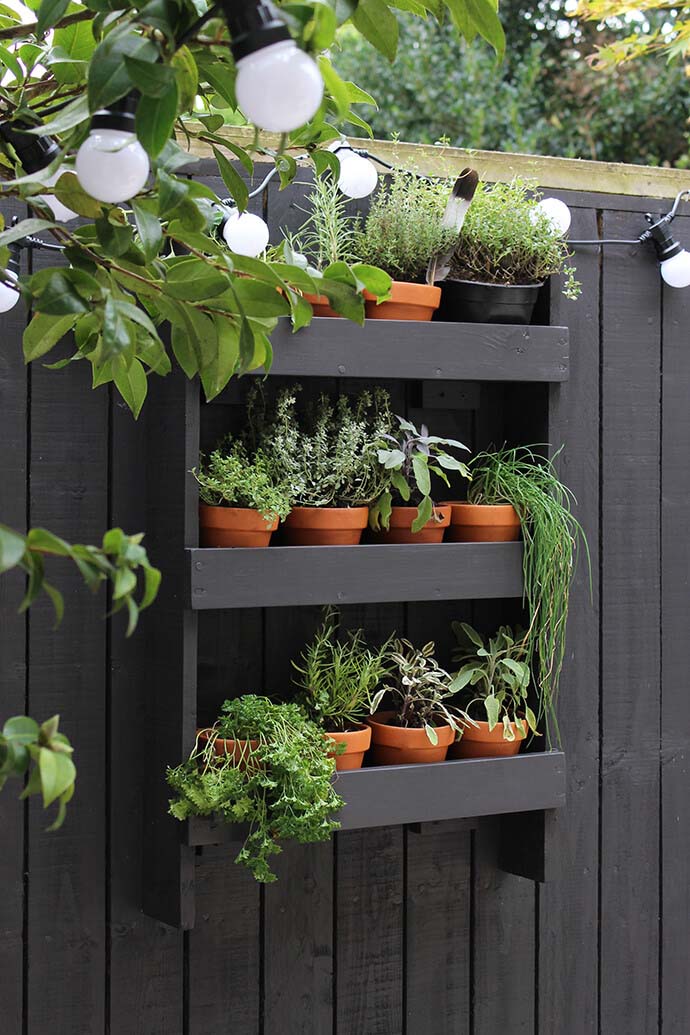 You can increase the number of plants you grow without the need for space in the garden. Do it with a stylish wooden shelf unit attached to the fence.
The deep grey color on the wood hides the original pallet surface and gives the outdoor planter a unique look.
via Growing Spaces
48. Weathered Dragonfly Sign on the Fence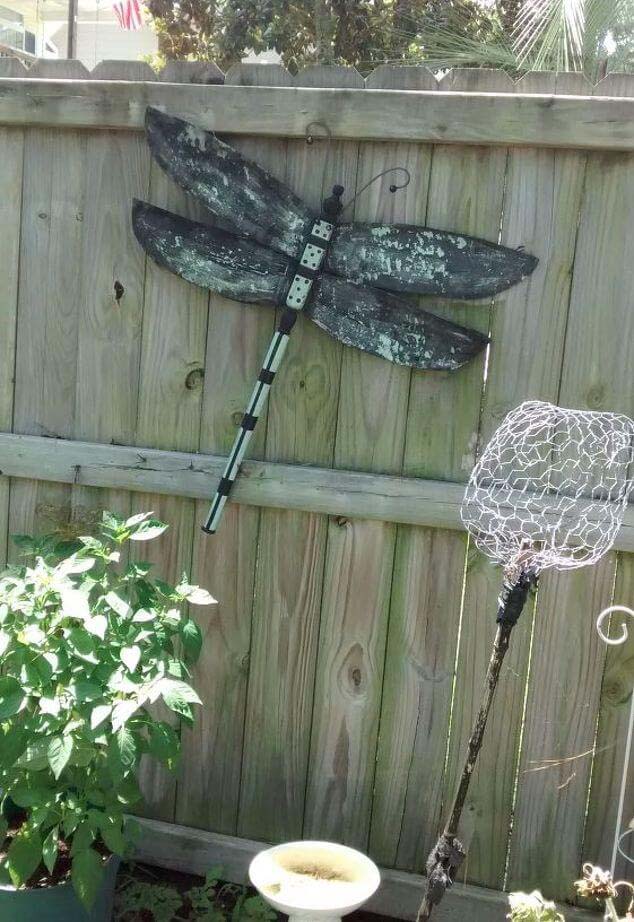 This is another DIY dragonfly project. It has been made from reclaimed materials, skilfully assembled to create a significant in size dragonfly.
via Hometalk
49. Wire Frame with Dozens of Terra Cotta Pots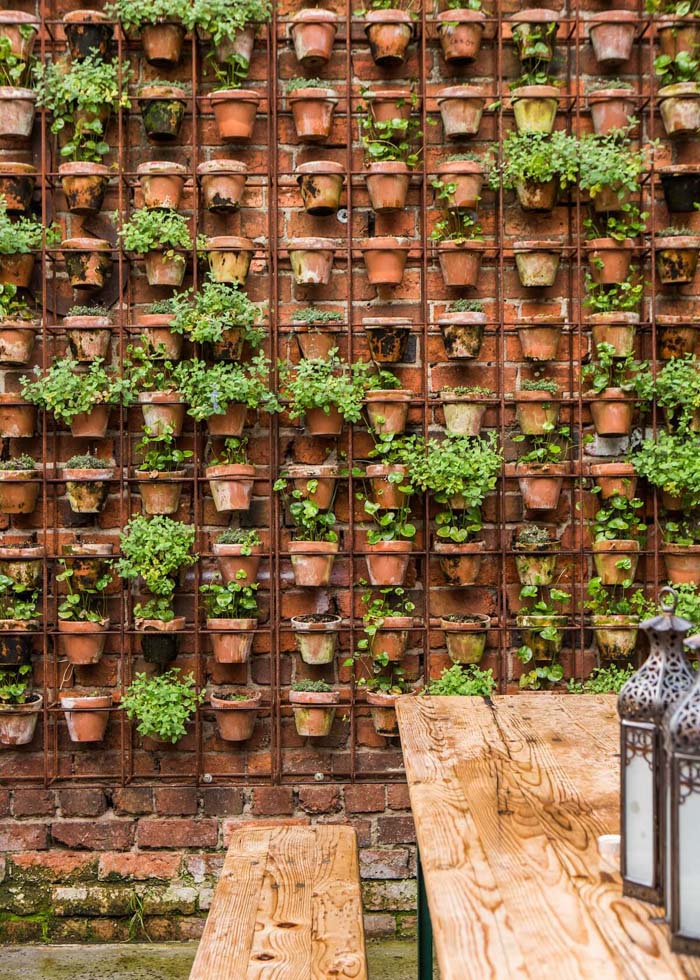 This outstanding fence decor creates a farmhouse focal point. Numerous terra cotta pots create a new fence layer being placed in front of the brick structure.
Only greenery is planted into them, which will develop and transform the structural part of the yard into a living green wall.
via Nena's Notes