We have shared with you many DIY projects that don't require any special skills or specific materials and tools. For most of them, you need only creativity approach and will to create something unique. And of course, to get messy…
Today we are going to show you quick, easy and affordable DIY with wood crates. You can repurpose and upcycle them into furniture like bookcases, tables, benches or turn them into storage solutions with loads of rustic appeal.
All inspiring DIY wood crate projects and ideas are easy and most of all budget-friendly. Another advantage of incorporating the wood crates into your decor is that they can be customized to fit your own style- shabby chic, rustic, vintage, farmhouse, even contemporary.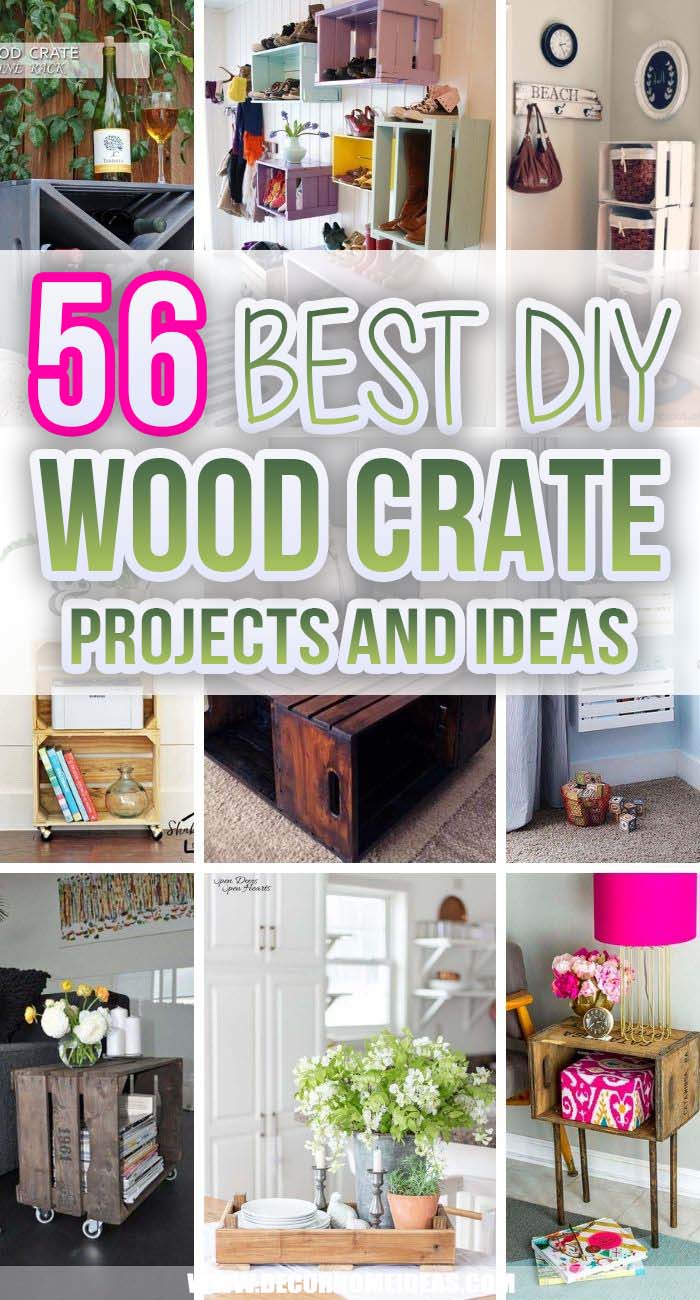 As far as their durability is concerned, the crates are surprisingly strong. The wood material they originally made aims to ensure handling of heavy stuff so their new design will ensure strength and quality.
1. Stack Crates To Create A Bookshelf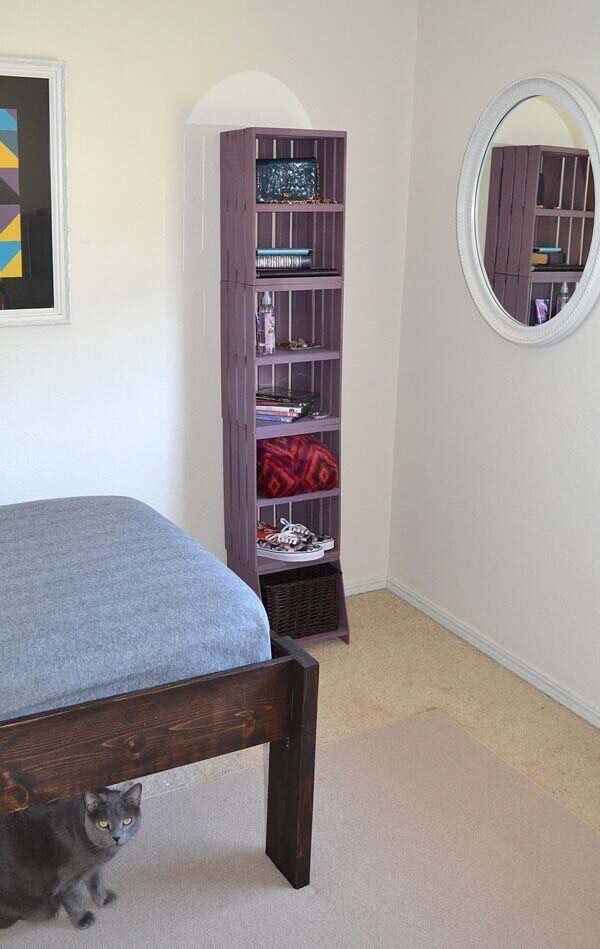 Turn old crates up on their side and stack them up. Only in an instant you already have a new standing shelf for your bedroom or living room. Use the sides of the crates for storage or add more sections in the middle to increase the number of shelves.
In addition to making your home cleaner and organized, you will be enjoying a space-saving storage system with gorgeous rustic appeal.
2. Natural Crate Table Display Tray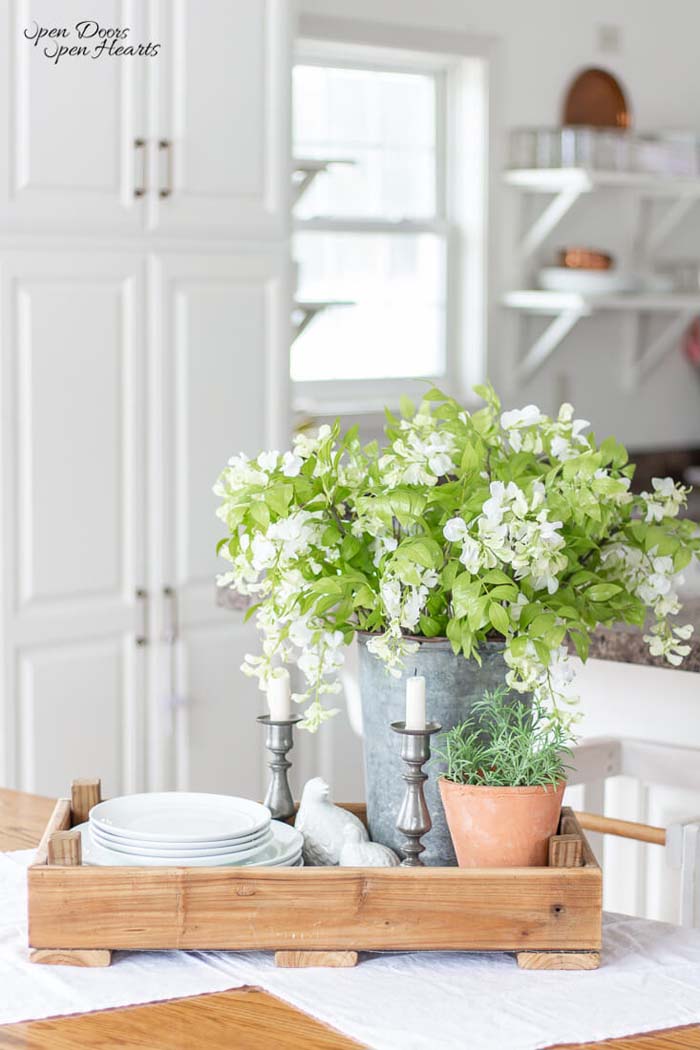 This tray has been made to add the final aesthetic touches to the contemporary farmhouse decor of the living room. The bottom part of a crate is well sanded to remove dirt, edges and damages.
The usage of the tray may vary- from a useful serving unit to a table centerpiece keeping vintage accents together for a greater decor effect.
3. Non-Permanent Built-Ins From Crates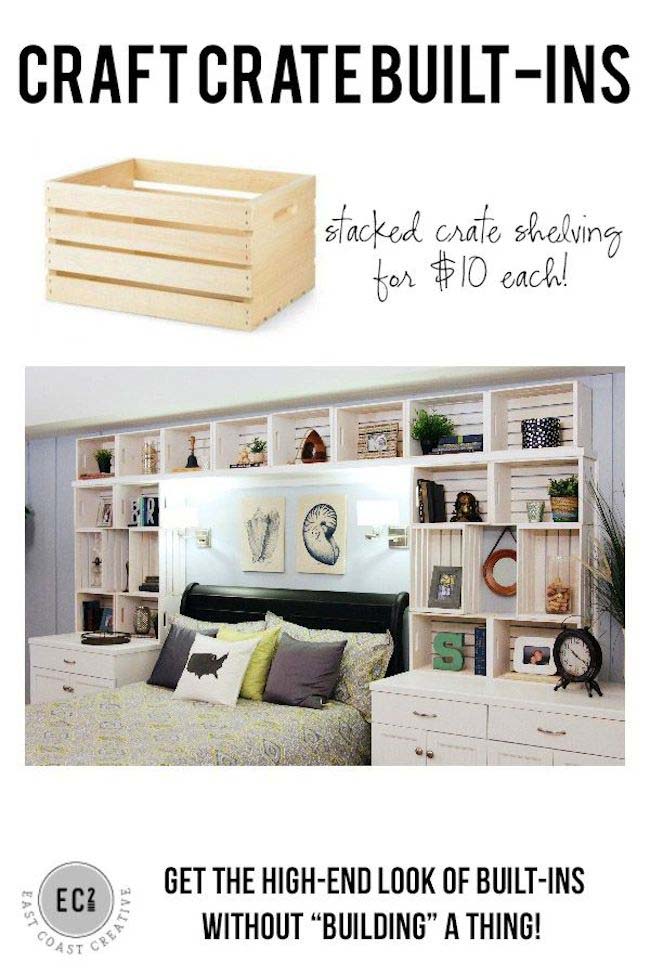 If you want to upgrade your bedroom without making a drastic makeover, consider using wood crates as a source of inspiration for an affordable shelving unit. Being stacked and hung on the wall above the bed, they create a built-in design without actually building them in.
If you don't already have crates, go to the local Dollar Store where you can find new crates for around $10 each. This awesome idea may inspire you to add a storage shelf unit around the TV in the living room.
4. DIY Pet Crate Bed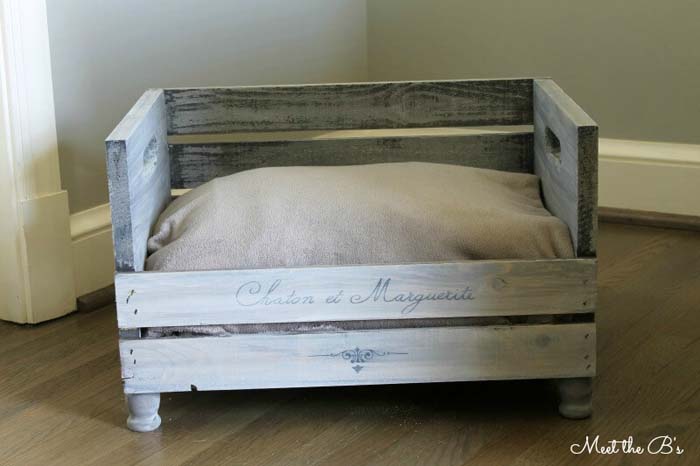 Having a small breed or young dog? This crate DIY project thinks about its comfort and for your interior at the same time.
A wood crate is upcycled into a cozy pet bed with its own soft cushion and a cute tag on the front. To make the access easy, two of the slats are removed.
5. Add Storage To A Firewood Holder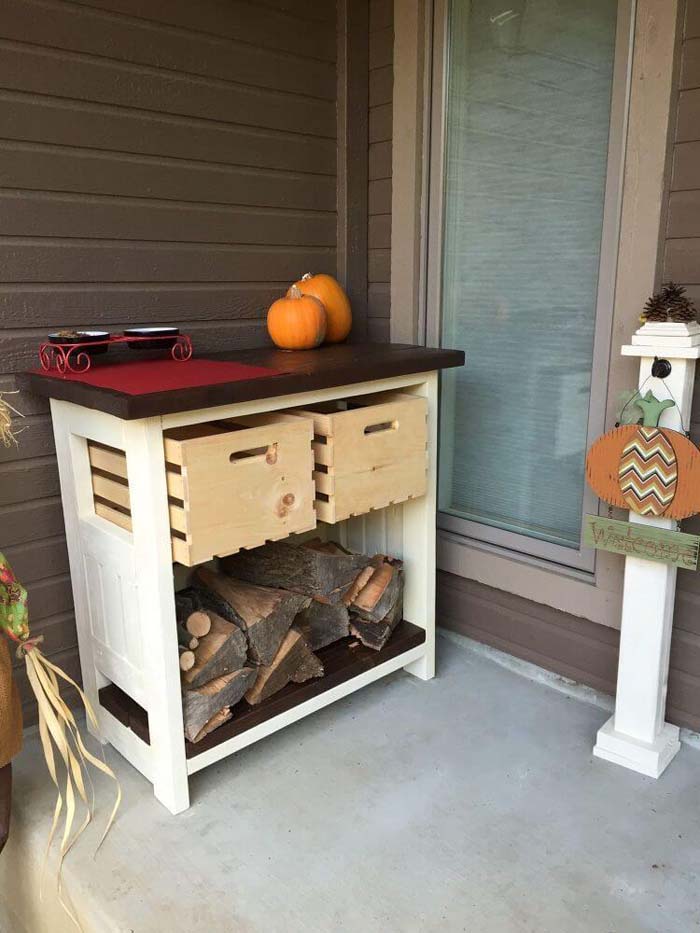 This is a DIY firewood rack that can be placed indoors next to the fireplace or outdoors if you prefer outside storage of logs.
The structure of the rack reminds the design of a chest with drawers. But instead of drawers, the author decides to use crates that provide wider storage places.
The bottom of the rack is the log organizer. It can accommodate as many logs as you may need for a daily fireplace supply. Placed on the porch, you won't be worried about dirt accumulated on the living room floor.
via Pinspired To DIY
6. Multi-Functional TV Stand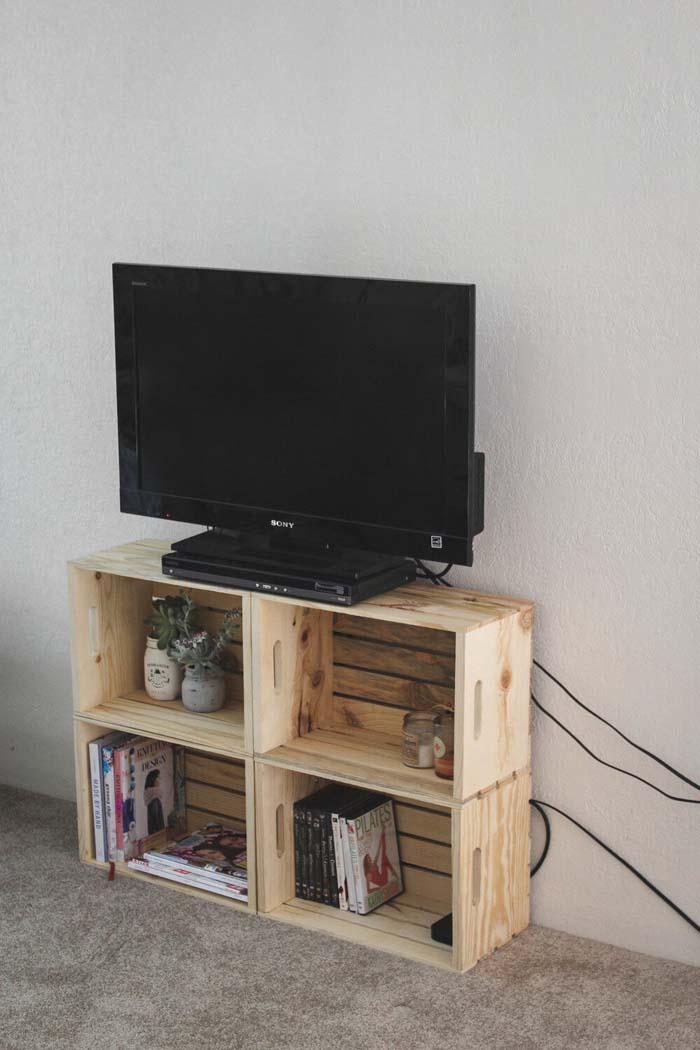 If you haven't decided where the TV will stay in your new home, you can use crates as a temporary stand until you make up your mind.
Four crates are stacked in two rows to create a sturdy stand for the TV which also provides open storage places for magazines, DVDs and remote controllers.
Besides its budget-friendly execution, this piece of furniture is also very attractive so you may end up turning it into a permanent TV stand solution.
7. Storage Crate On Casters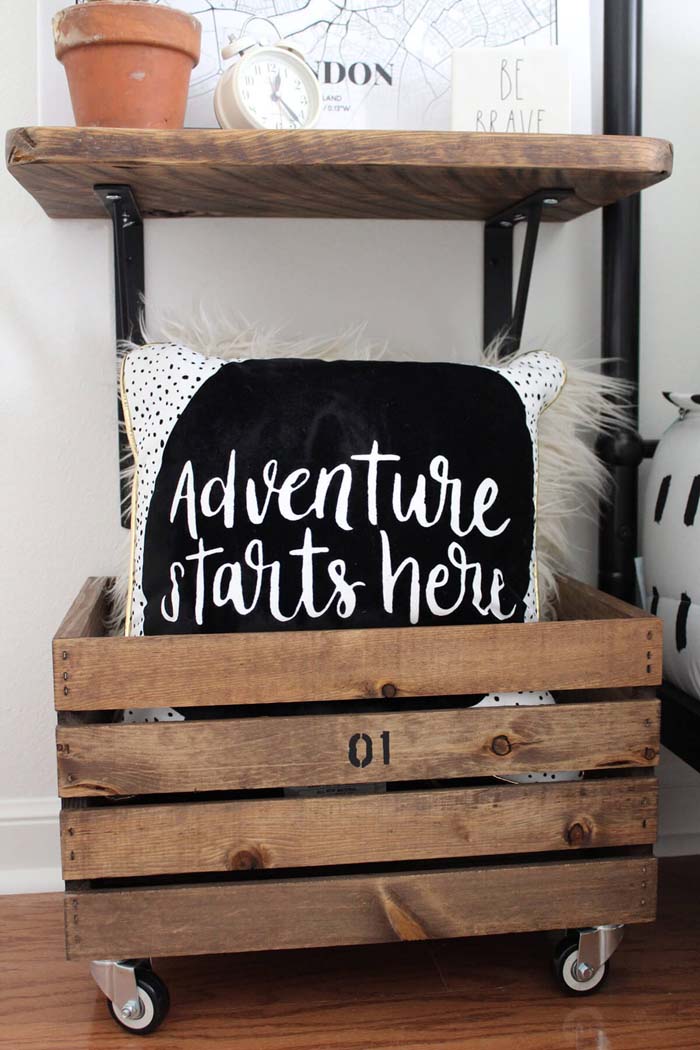 Equip a crate with casters on its bottom side and quickly get a portable storage unit. Its small footprint and rigid design turn it into a universal storage box that can bear heavy items such as the laundry, the detergents for cleaning, etc.
via Beauty for Ashes
8. Crate Storage Ottoman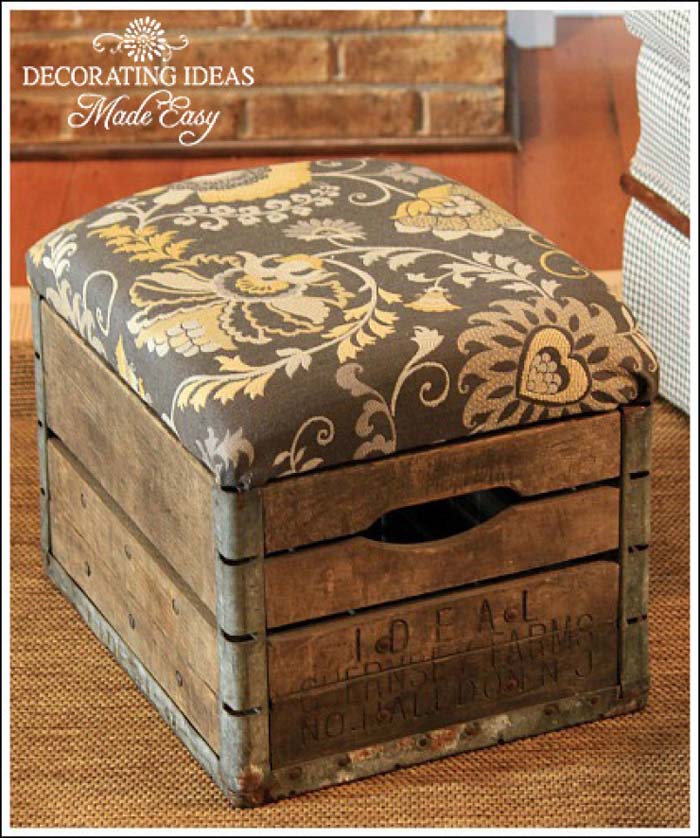 A vintage milk crate is transformed into a unique ottoman that will fascinate with its functionality and style! No sewing is required, only stapling the fabric on top of a foam piece that is of the size of a plywood board that covers the top.
Such a great idea can be an inspiration for increasing the sitting area in the living room or even outdoors at the porch.
9. Add PVC For Toy Organization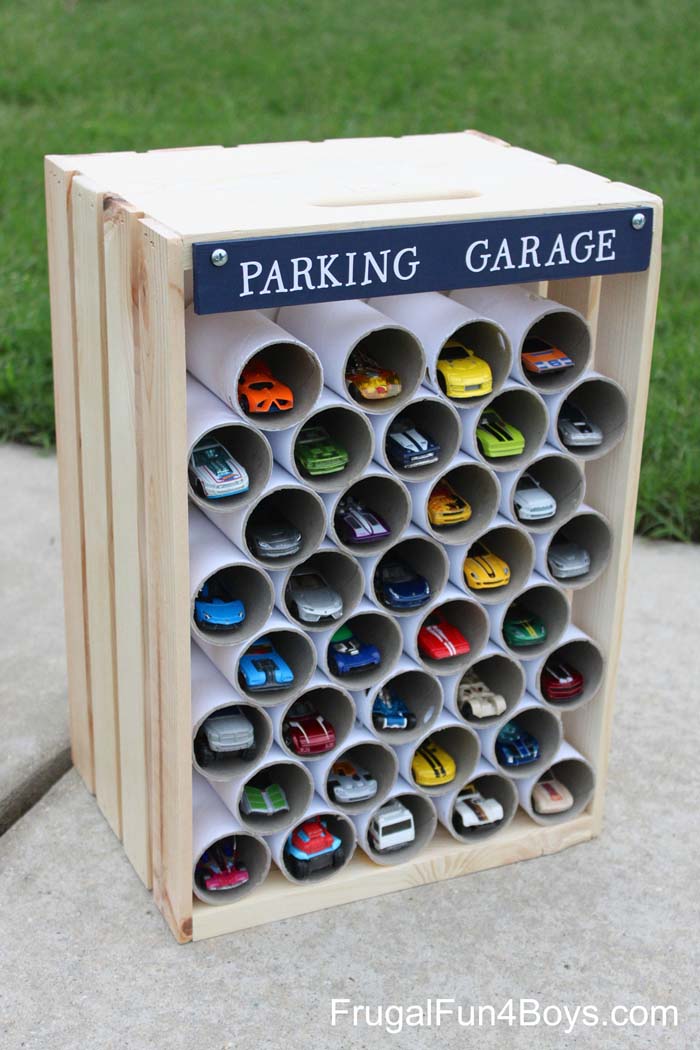 Combine recycling with fun and make an amazing toy car organizer together with your kids. This clever project uses a wooden crate that you already have on hand or have taken from the Dollar Store and toilet paper rolls.
Providing numerous dedicated compartments for storage, this organizer could come in help with the sorting of other identical but small items like jewelry, scarves, socks.
via Frugal Fun 4 Boys and Girls
10. Integrate A Light Fixture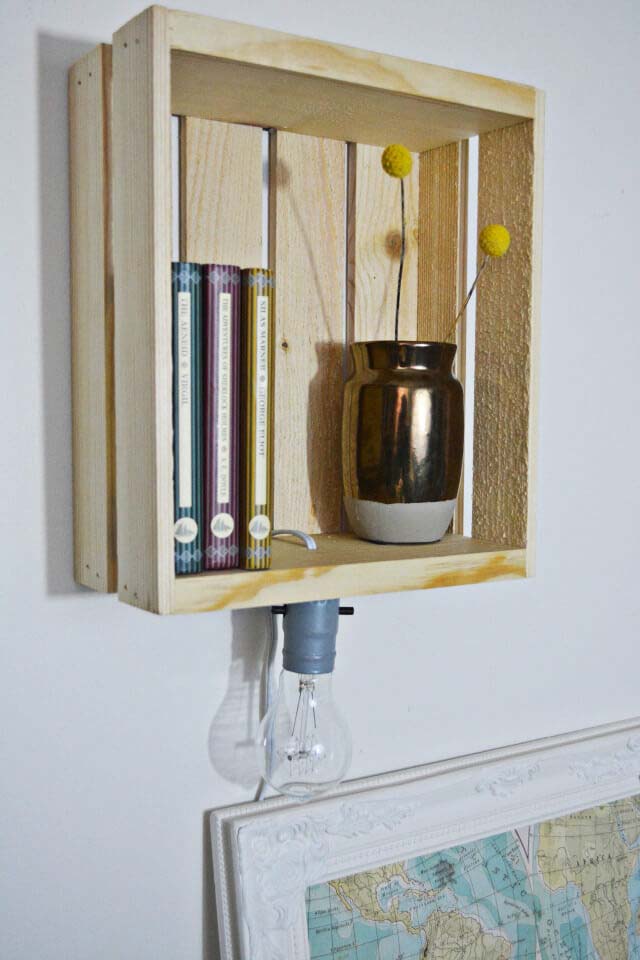 This multifunctional crate project provides you with an extra wall storage place and a light feature in one. A hole is drilled on one of the crate's sides to make space for the bulb socket equipped with a cord to get through.
The positioning of the bulb imitates the design of a light scone. Nevertheless, it looks very unique because of the clean and basic design combined with the farmhouse style of the shelf.
via A Joyful Riot
11. Two Shelf Rolling Crate Cart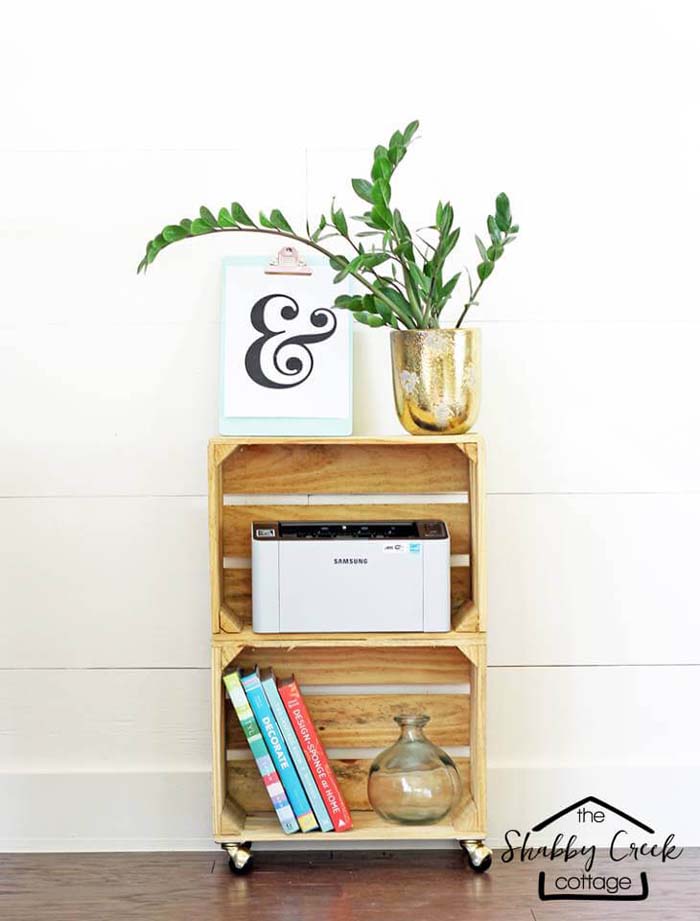 If you like reading books or collecting magazines, you need much-dedicated space for these to be neatly and properly stored.
A crate is turned on its side up and then supplied with casters to facilitate cleaning and moving if needed. Prior to that the wood can be treated with paint or stain in case its color should match the interior or if the room is missing a point of interest.
12. Decorate A Hanging Crate For Handy Storage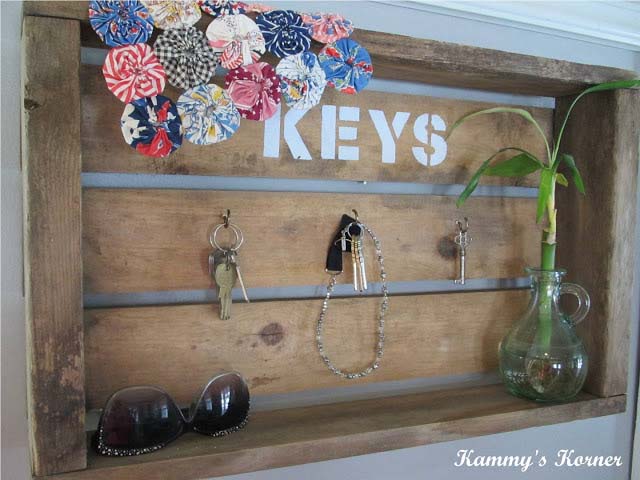 If you are an organization addict, then you will love this crate upcycling project! Not only because it is super easy and fun DIY but because it will make your entryway more organized, particularly the smallest items that belong to this space.
A crate becomes a key organizer in one quick step- by inserting screw hooks on the bottom side. Depending on your entryway decor, you can paint the crate in a color that matches the surroundings or you can use the wooden canvas to add accents that will enhance the interior style. Then, just hang the key organizer on the wall.
via Kammy's Corner
13. Build Your Own Custom Shoe Rack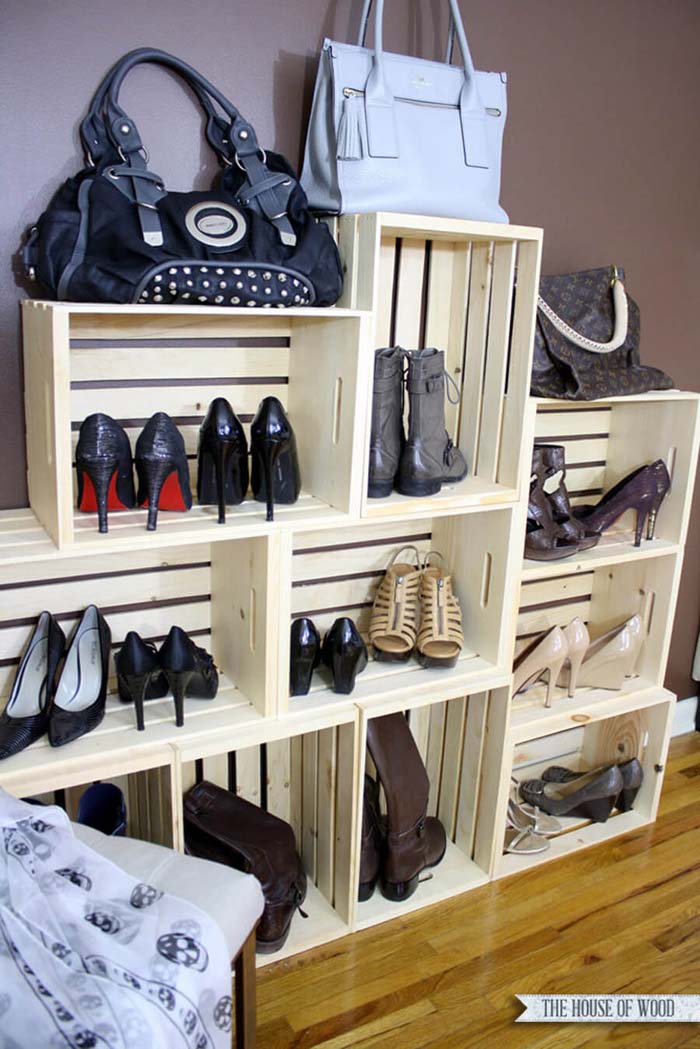 Having enough space for your shoes is a dream come true for every woman. This means repurposing an Ikea storage unit into a shoe rack or upcycling crates into a storage compartment in a budget-friendly aspect.
Either way, you will end up with an interesting design and plenty of compartments for the proper storage of many shoe pairs.
When crates are used, you can play with the positioning and alignment of each crate to add visual interest to space.
via Jen Woodhouse
14. Pretty Painted Crates For Kid's Storage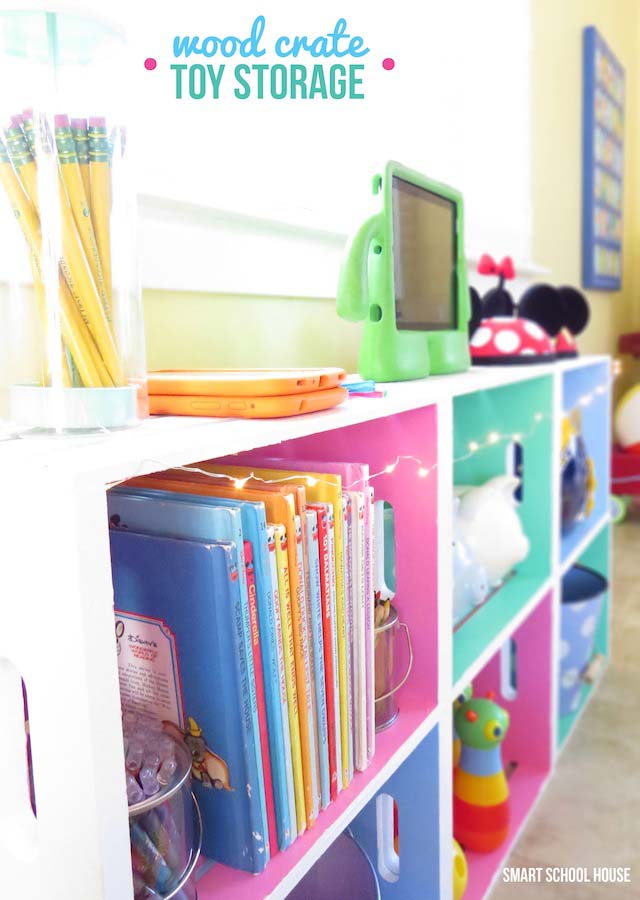 Paint the inside of the wooden crates you have bright colors to adapt them to the cheerful interior of your kids' room. The stacked crates can be positioned in a pattern that will suit the size of empty space.
Use them for storage of toys, as book organizers, for Lego sets sorters, why not for clothes storage? Their open concept will ensure easy access for your kids, teaching them to be more self-dependant and organized.
15. Sectioned Crate Makes Perfect Utensil Organizer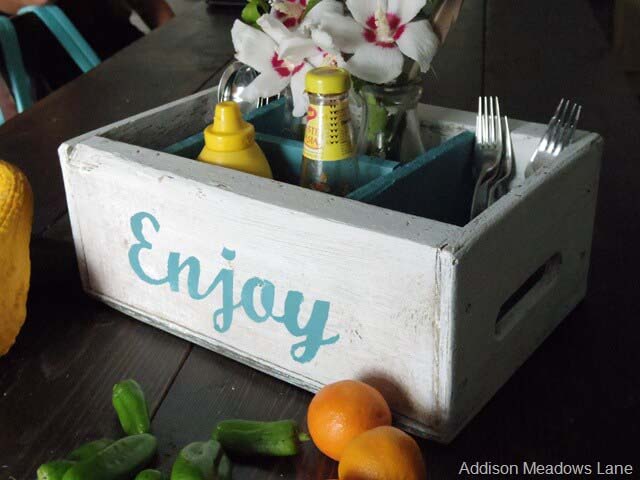 This is an old bottle crate with thick sides which has been saved to once become again a useful part of the household.
The wood is freshened up with white paint which makes the surfaces look clean. A stencil is used to write a cute kitchen-themed inscription and turn this upcycled crate into a customized piece.
16. Add Drawer Hardware For A Standing Cabinet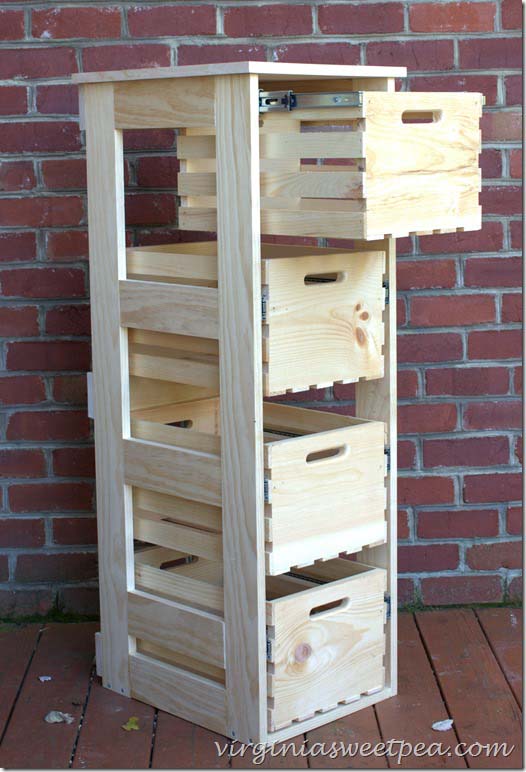 The design of the crates is so durable and attractive that it becomes the inspiration for making a brand new cabinet with sliding drawers in the shape of crates.
The crates are inserted on sliding bars which make access to contained items easy and the storage protected. The structure consists of ladder-like sides and thick square boards that close it on the top and at the bottom.
After the model is assembled, there are plenty of options for its final look. It can be distressed in case a rustic vibe is desired. It can be painted a bright color if it will be the piece to add a pop of color to a more neutral interior. Decoupage and whitewashing are other surface treatment techniques that are able to give this furniture a more customized look.
via Sweet Pea
17. Staggered Storage In A Colorful Entry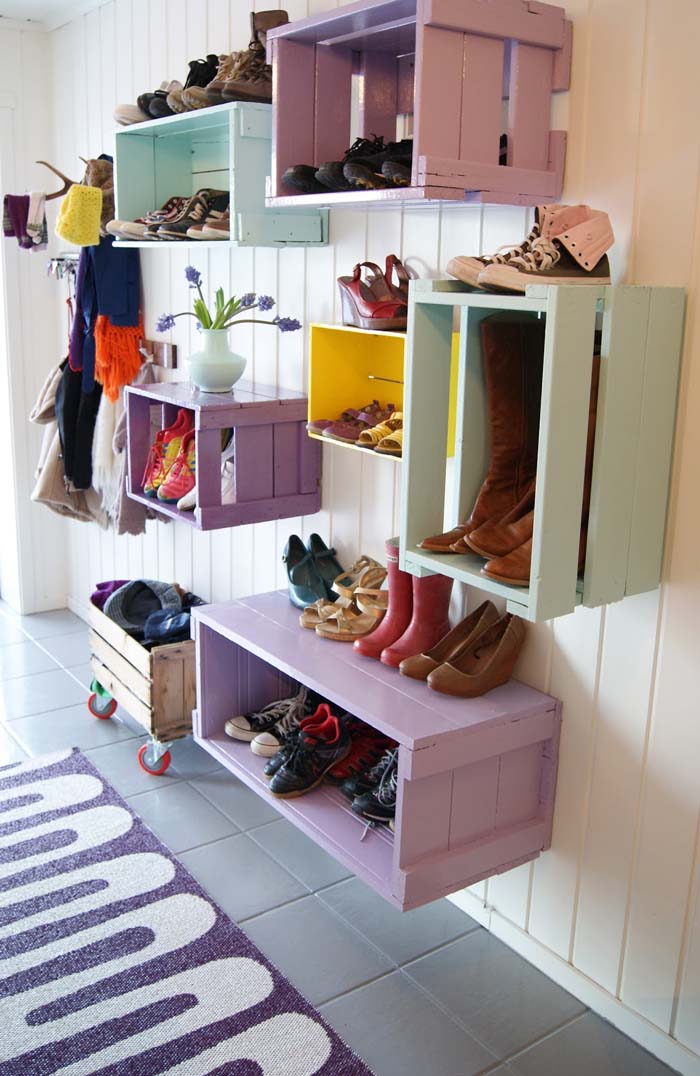 Placing wood crates on the wall will give you extra storage spaces even when you are limited in space.
Related: 30 Creative Shoe Organizers To Remove The Mess
Making this DIY crate project more intriguing, paint each crate a different color to coordinate it with the interior and why not coat it with a paint of the favorite color of the person the crate is dedicated to?
via Thea's Mania
18. Upgrade A Humble Crate With Cottage Paper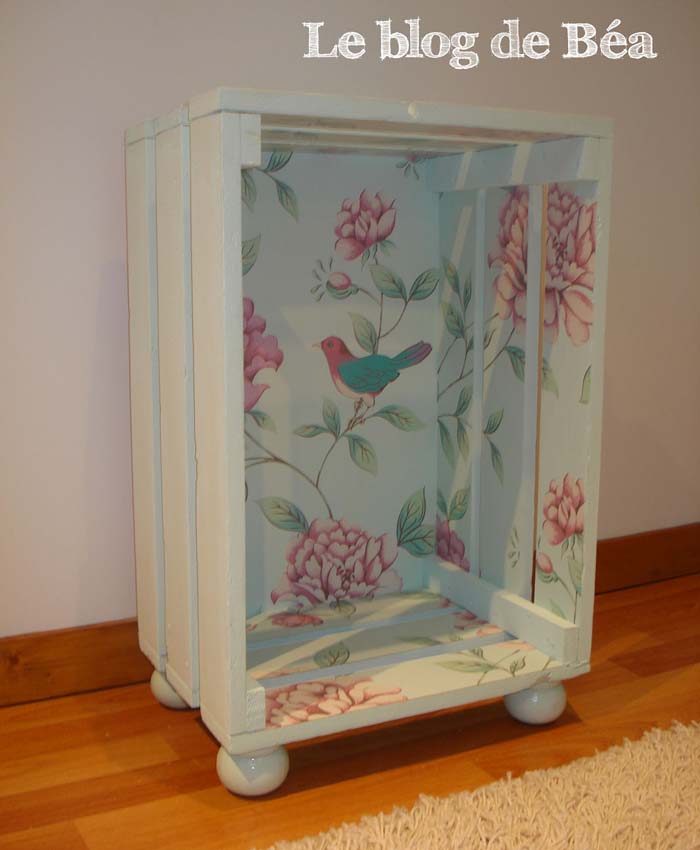 The author has been looking for a unique way to add more shabby chic vibes to her interior and there came the idea- to make a wooden crate from scratch.
Inspired by the reclaimed wooden crate projects, she makes a brand new crate with lumber slats. The inside is covered with wallpaper with floral motifs making an easy connection with the typical shabby chic elements.
via Le Blog De Bea
19. Moveable Side Table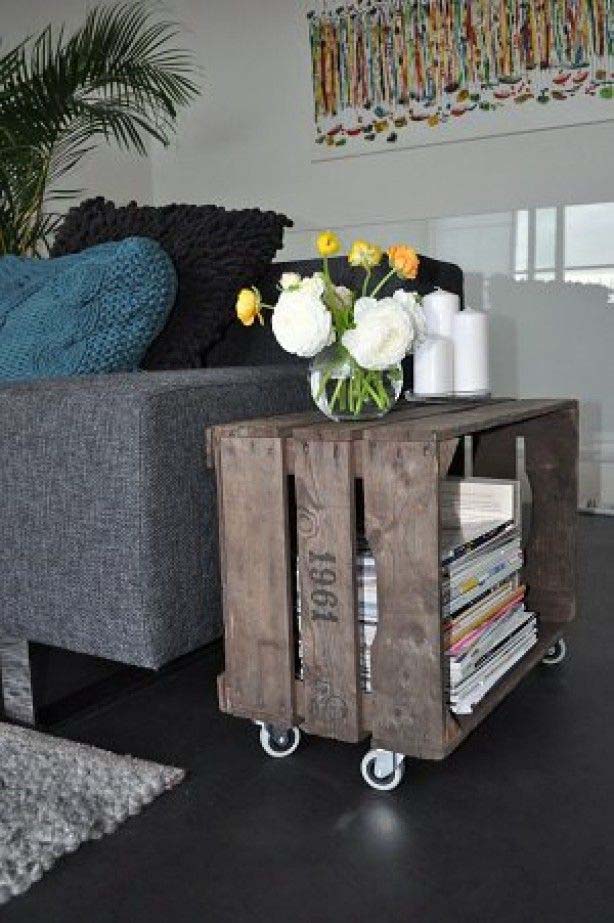 A crate is upcycled to become a bookcase for magazines. The casters on the bottom make it a very practical storage unit that can easily change its place and application.
This DIY project can be uplifted to a side table and a bookcase in one by adding a plywood board to the top of the crate so that there aren't any openings.
20. Corral Items With A Crate Toybox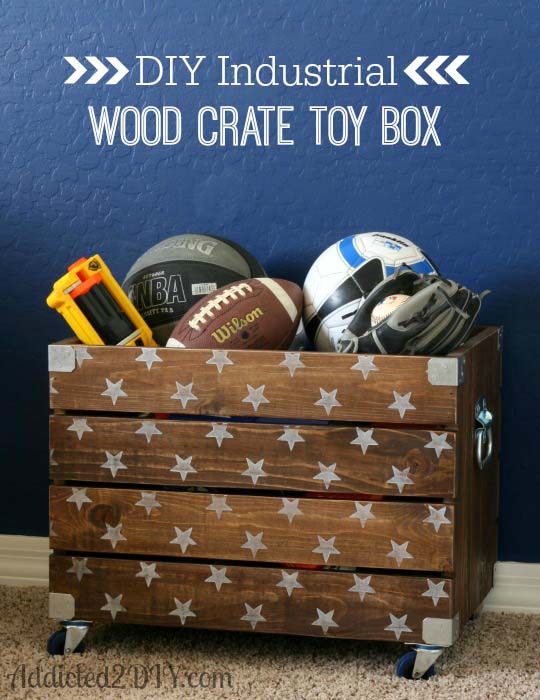 In most projects, a crate is turned into a storage unit that includes casters because it gives the unit the freedom to change its place and function.
This idea features how a crate can be used in a kids' room and how it can be decorated to have a cheerful and childish design. And while toy boxes can be quite expensive, the crate storage idea lets you have a large compartment for less than $10.
via Addicted 2 DIY
21. Cozy Bed For Your Furry Friend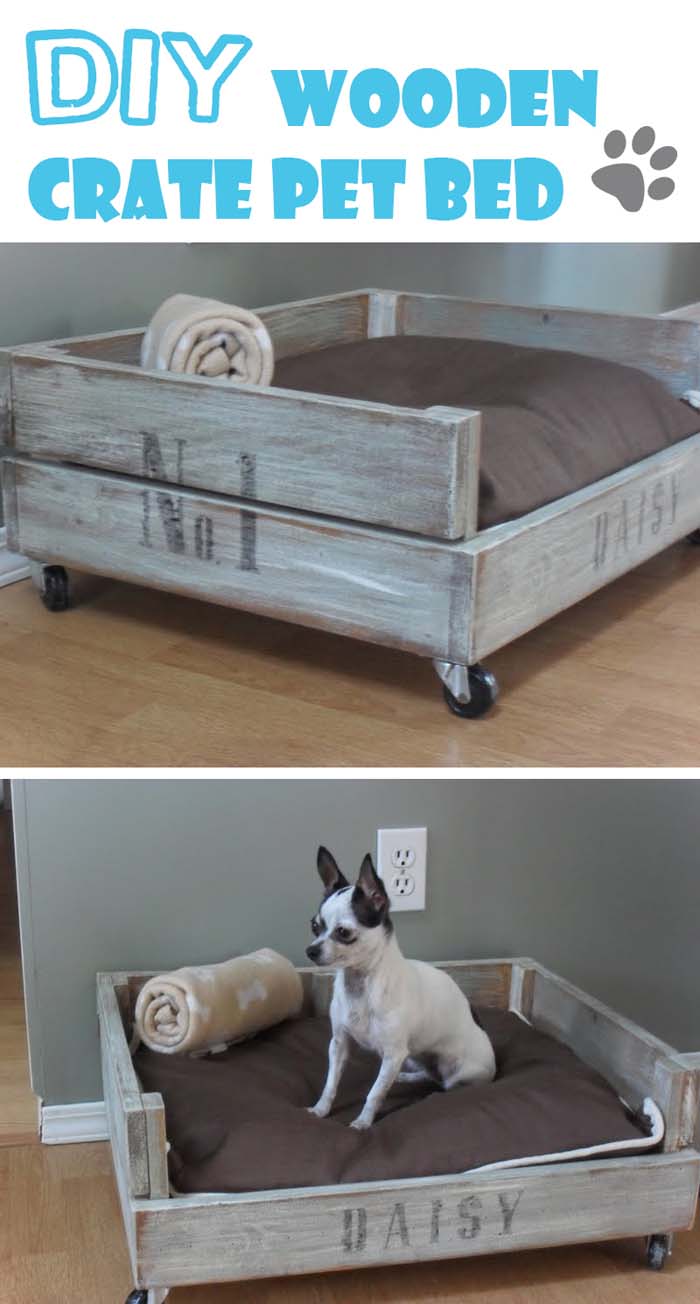 This is another design of a pet bed made out of a crate. The top slats of three of the sides are taken off. All of the slats of the fourth one are removed to serve as an entrance to the bed.
The author has decided to put the bed on casters in order to move it to different rooms as needed. The wood has been whitewashed to get a country look and provide a clean canvas for writing the name of the dog.
via Home Frosting
22. Add Whimsy To Kid's Crates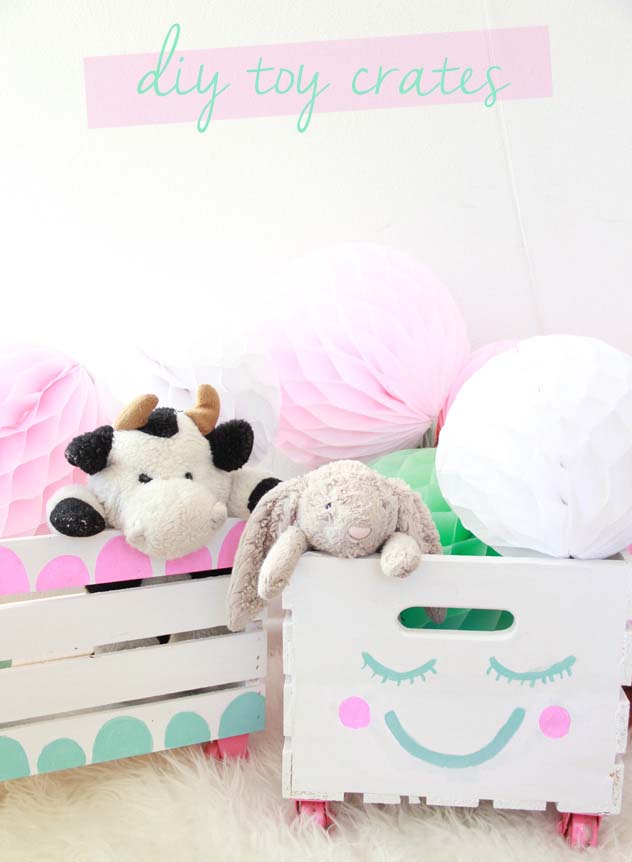 Kids need a lot of storage and when you are looking for containers that are on a budget and are thematic, crates come in help. You can use old ones or store-bought pieces. Since their outer look will be completely changed, their original look is not a problem.
Sand the wood surfaces well to make sure that they are safe. You can add casters to the bottom which will give the kids a possibility to play with them.
Paint the crates white and then draw cute faces and patterns on them. These crates can be used for toy containers during the night and for fun trains for play when the kids wake up.
via A Bubbly Life
23. Pretty Patterned Planter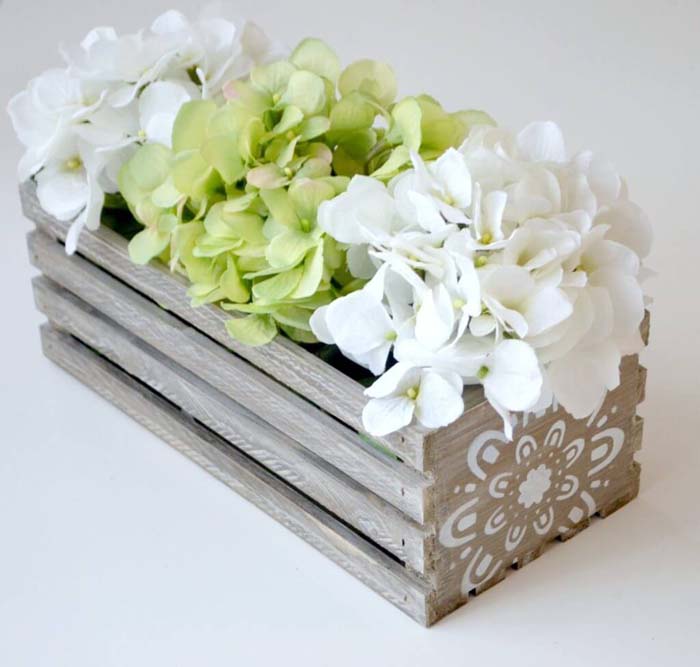 Have you seen small crates used for decoration? They are often holding flowers, candles, jars. And while this type of holder is the perfect table centerpiece for a romantic wedding, it can also bring a lot of delicate vibes to every home's interior.
If you haven't seen such small crates sold at the stores, you can try making them yourself with slats of pallets or lathes. Sand the surface well prior to applying paint or stain. Use stencils to embellish uniquely the wood or leave the wood in its natural color for more farmhouse appeal.
24. Keep Counters Clean With Crate Snack Storage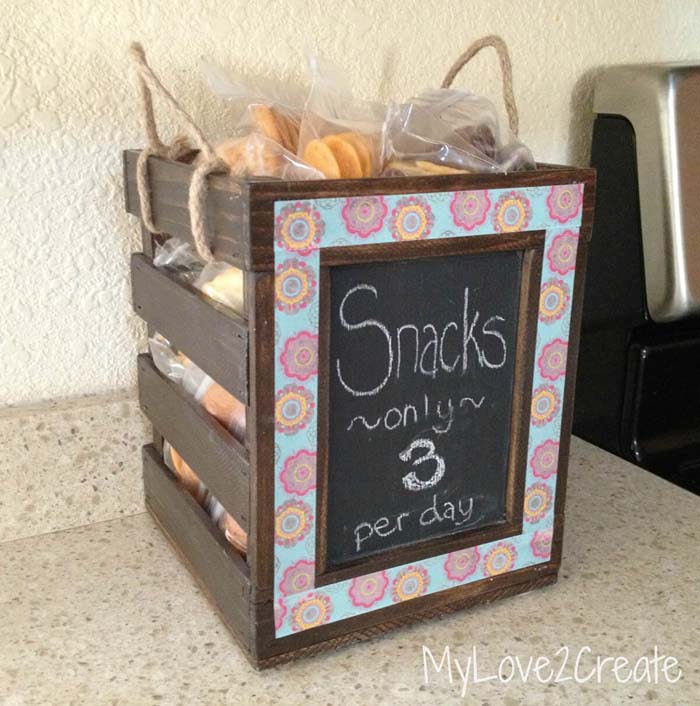 Looking for a comfortable way to store the "forbidden" snacks for your kids? Limit the number of packages in a cute and fun way by storing them in a chic wooden crate.
The snack box follows the design of a crate. The difference comes with the thick side where a chalkboard piece lets writing fun words and the open-top from where kids can actually get the snacks.
via My Love 2 Create
25. Decorative Crate Holds All Your Treasures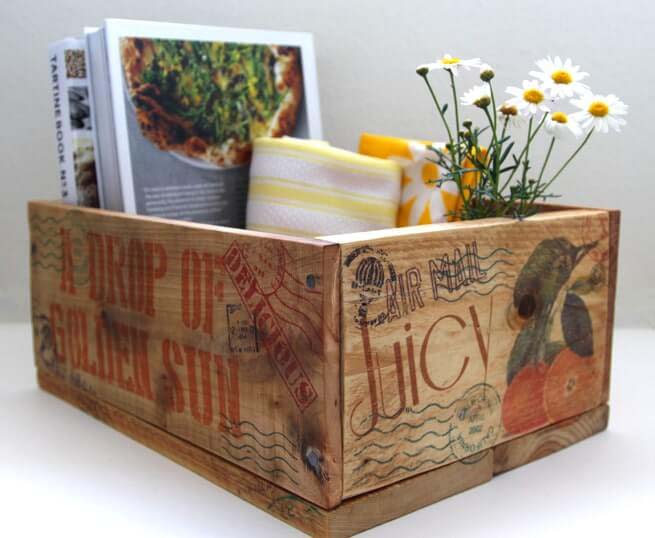 Only a few pallet slats and you can make this stylish storage box. It can be used in many ways- to store books, make-up, bath essentials. It can be a plant holder or simply a rustic centerpiece for the table or the mantel.
And if you wonder if the images have been originally on the pallet slats, there is an answer in the tutorial below. They have been transferred on the wood with plain wax paper.
26. Add Shelf And Casters For A Stylish Side Table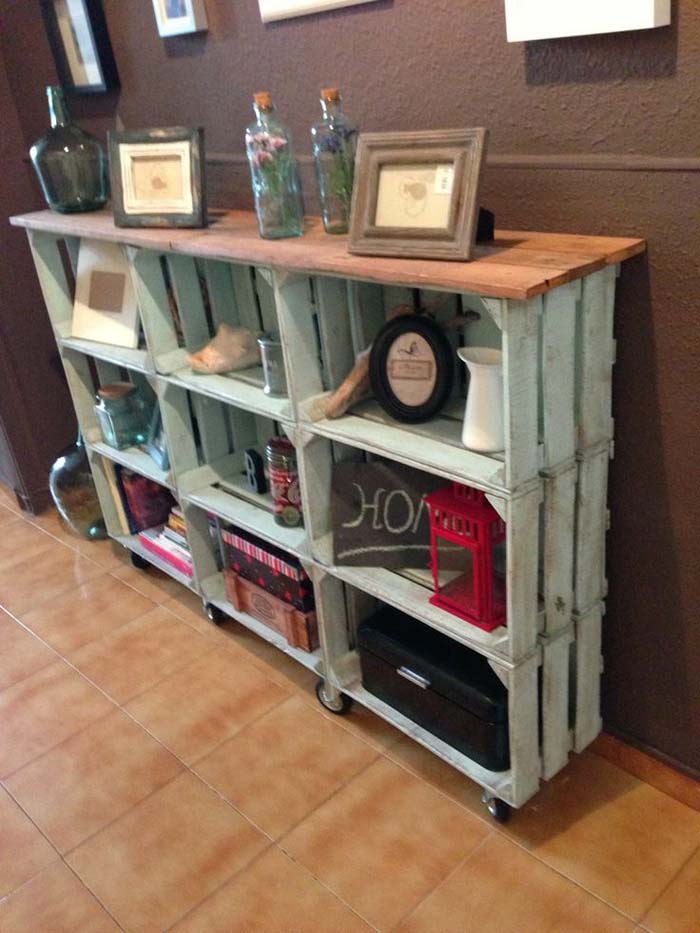 This is a rolling console that combines farmhouse beauty and contemporary functionality. Made only with crates, the unit has 9 open shelves for storage of living room accessories like remote controllers, chargers, books, etc.
The top surface has been applied with an additional wooden beam to cover the gaps between the slats of the crates and make the top another useful space.
Related: 40 Best DIY Entryway Bench Project Ideas You Can Do In One Day
As it has a rustic vision, decorate with items that are enhancing it. This idea can be used for all rooms where there is a need for more storage places but there are certain limits.
Especially in the entryway, this type of console can organize the shoes and the bags on a vertical level covering a very small part from the floor.
27. Stack Crates For Easy Nightstand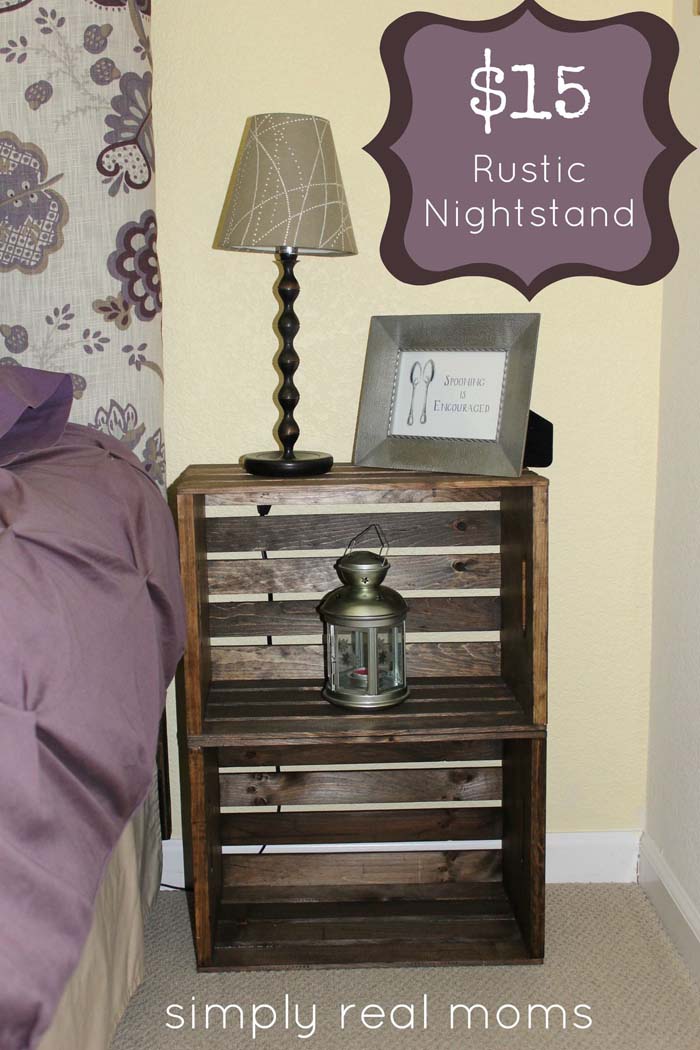 Need a nightstand? This idea is on a budget but doesn't mean that it will be a compromise with the function and the general look of the bedroom. On the contrary, the final effect is fantastic, especially if it complements other pieces of furniture or accents in the room.
Two crates are stacked one on top of the other with glue that will hold them securely together. Depending on your room's interior, you may want to change their color. Then just arrange some decorative items, place a reading lamp and enjoy the quick and easy nightstand you have made.
via Simply Real Moms
28. Wall Mounted Crates For Vertical Storage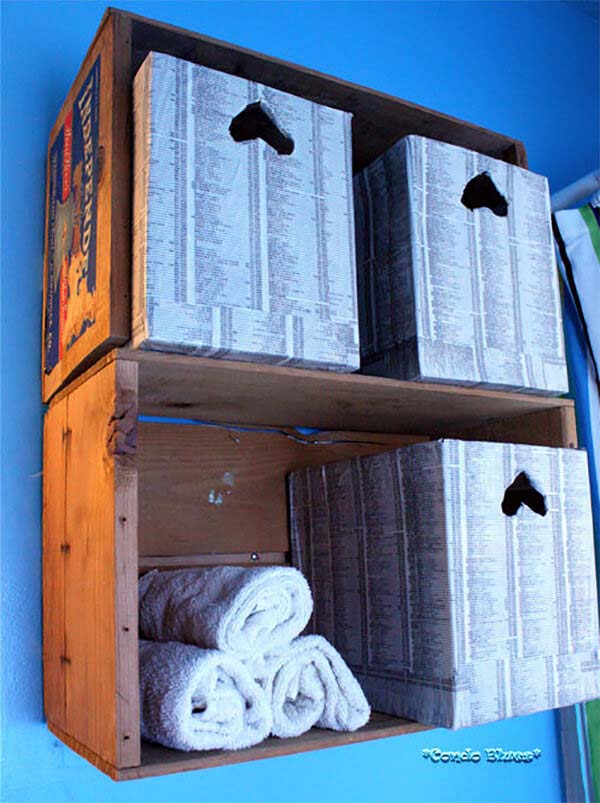 If your bathroom is small but you want to make it comfortable and organized, you need to start thinking vertically. There are lots of floating shelves sold at the stores. However, if you are looking for a more unique effect, do it with crates.
You can use any type of crate as long as it is intact. Fix it to the wall with suitable hardware and then start placing the bathroom stuff on. If it is close to the bathtub, you may want to store cosmetics, towels, candles.
If you have utilized the wall above the toilet, turn the crate into a toilet paper roll shelf.
via Condo Blues
29. DIY Bench Storage Project

The crates are the source of many DIY outdoor furniture projects because of their durability and strength of the wood material.
This one features a tutorial on how to group three crates together to create the basis of a porch bench. Additional boards are assembled on the top and on the bottom to make the structure more rigid and also to give the bench more functionality.
The bottom board is equipped with wooden legs cut from posts. The top surface is flat and smooth to be used for sitting, for a plant stand or simply as a display for seasonal decor.
via Operation Home
30. Get Artistic With Decorative Garden Crates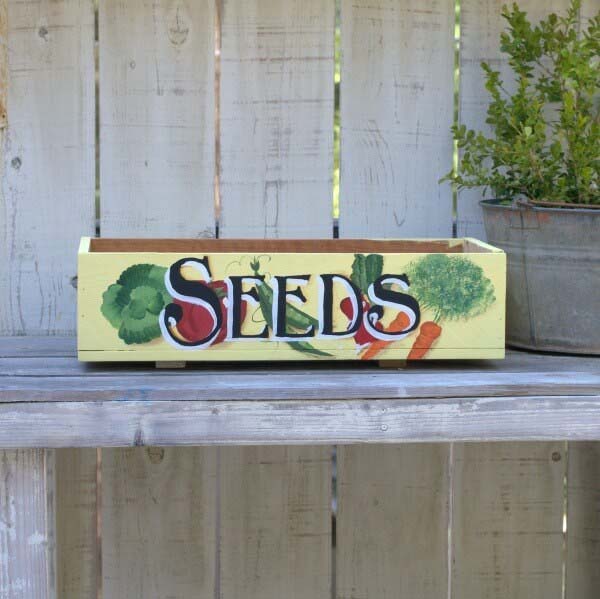 Do you have a garden? This handmade wooden crate will be an attractive and useful plant box. Made of reclaimed pallet slats, it can be customized in the size you like and depending on the greenery you will plant.
The outer surface of the box has been painted in a garden-themed color and images to affirm how much effort and attention is paid to the plants.
31. Moveable Crate Storage Trunk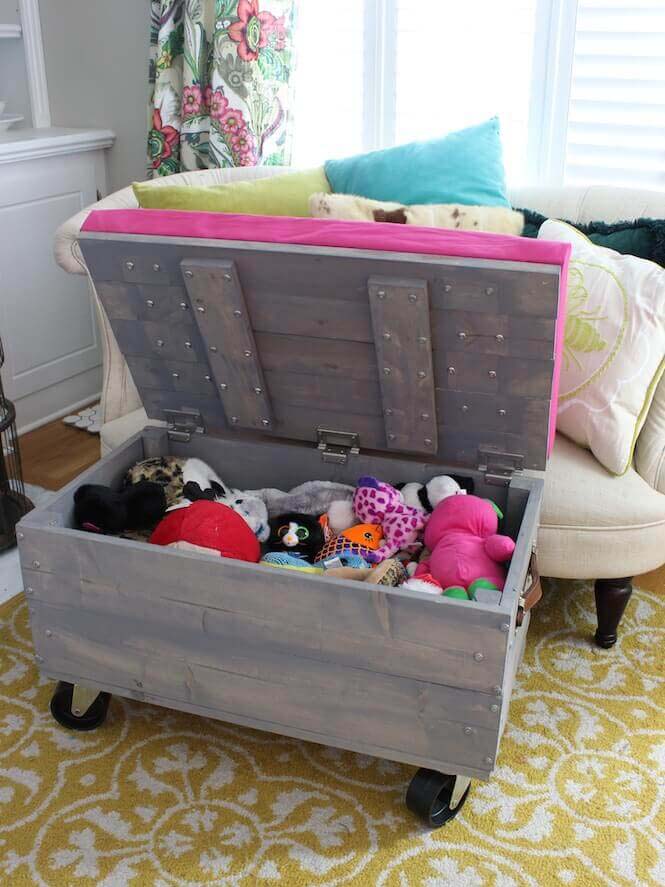 This storage ottoman thinks about how to clean the mess after your kids play, how to put all their stuff in one place and how to blend this storage furniture with the living room decor.
Well, this DIY crate project is the peak of creativity. The rolling casters on the bottom make collecting toys far more pleasant. It is quite big to store bulkier toys. The best of it all is that when the lid is closed it becomes an additional sitting place.
32. Easy Crate Indoor Planter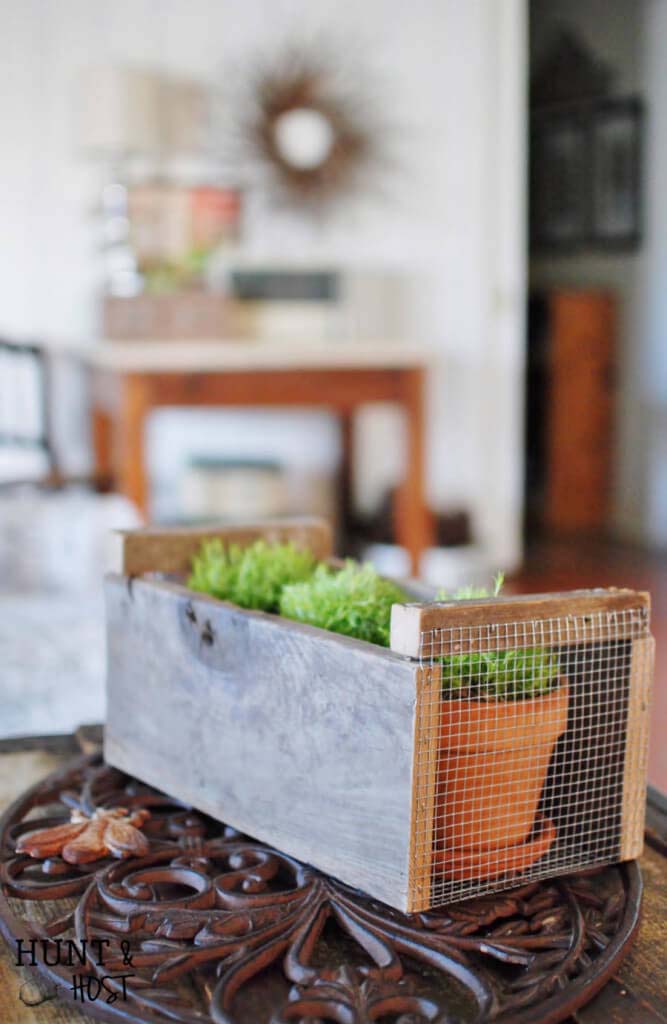 This crate idea is perfect to welcome nature indoors. Suited to be a planter box thanks to the wire sides letting sun and air in, the planter can accommodate up to three small pots.
Grow green plants, decorative grass, succulents, why not blooming flowers in it and make the living room far more welcoming by placing the box opposite the door.
An alternative use we suggest is to make it your indoor kitchen garden planter. Grow your fresh herbs inside and enjoy the flavor of fresh spices added to the homemade food.
via Salvaged Diving
33. Attach Legs For A Stylish Table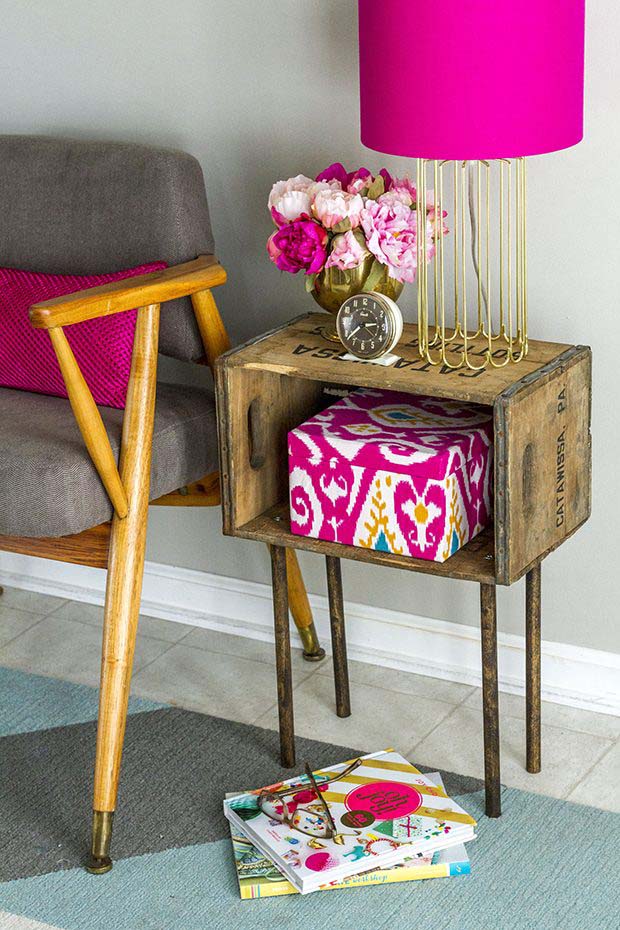 This side table attracts with its vintage look and the amazing decoration it displays. The DIY starts with a wooden crate. The dowel legs are attached to one of its sides with screws. To adapt them to the rustic look of the crate, they are stained dark.
The accents placed on the crate make an amazing contrast with the existing decor turning the whole set into a beautiful point of interest.
via eHow
34. Stackable Book Storage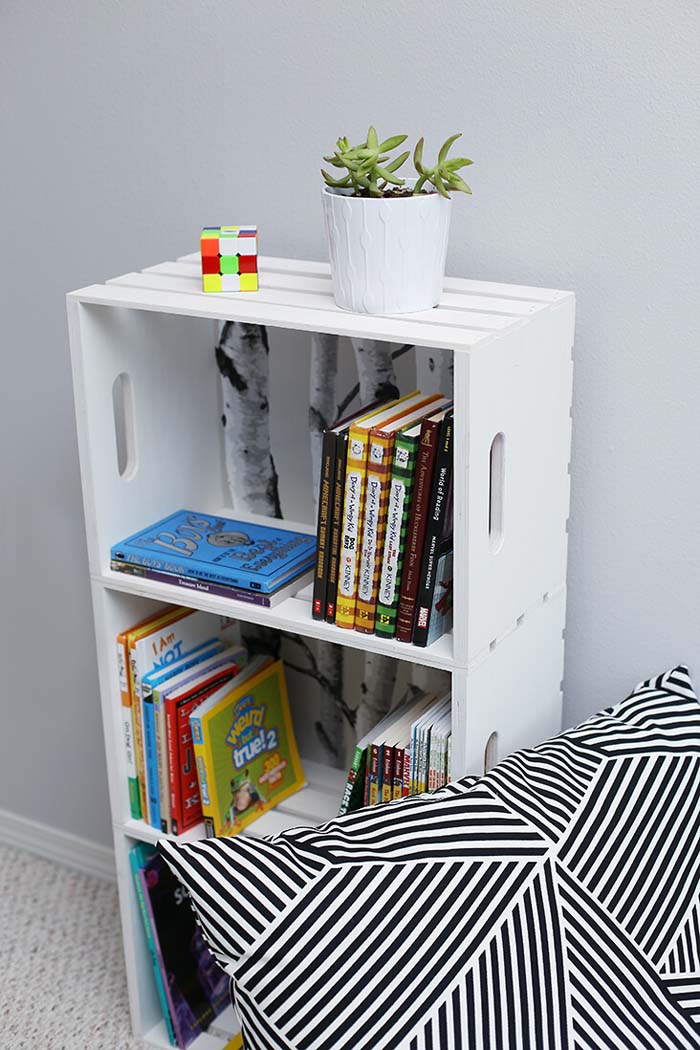 This DIY crate project is very simple. Stack three or more crates on top of the other to create a shelf unit. The color of the storage unit and the accents depend on the interior of the room you want to use it in.
Use wallpaper on the inside to hide the gaps between the slats of the crate and to give the piece a finished customized look.
via Sew Much Ado
35. Let The Slats Make A Statement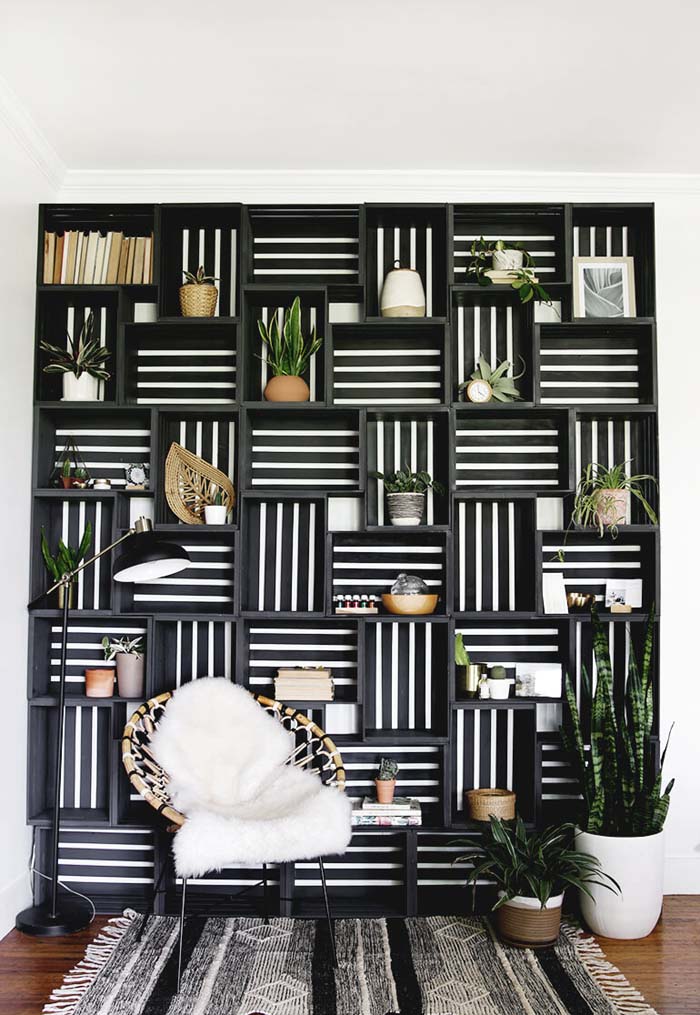 For those of you who are bolder and like the idea of turning an empty wall into a statement wall, here is an idea of how to do it with crates on the practical side.
Many crates are attached to an empty wall alternating their alignment to create a crate collage with open storage possibility. The wood has been preliminary painted black to stand out against the white wall and create a playful zebra color pattern.
Coordinate the statement wall with suitable decor accents like a rug, pots, cushions, etc.
36. Crate Toy Wagon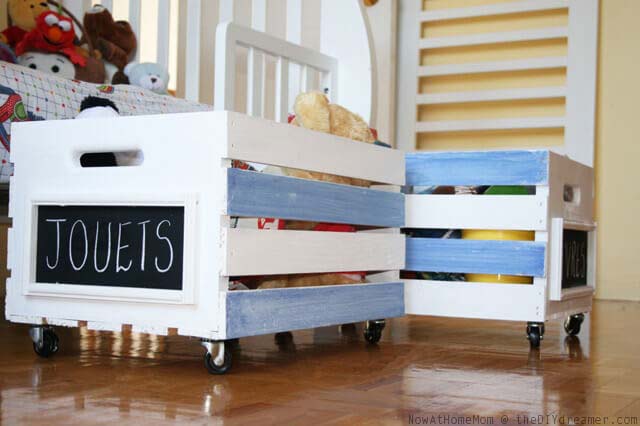 This is another idea for a toy bin that will declutter the rooms from the spread toys of your kids. It is supplied with casters to make sure that not only the adults collect the toys. Kids can pull the bin through the handle slot and move it flawlessly to the next stop.
An interesting idea the project features is adding a framed tag to each of the crates to facilitate sorting.
via The DIY Dreamer
37. Paint A Stylish Crate For Storage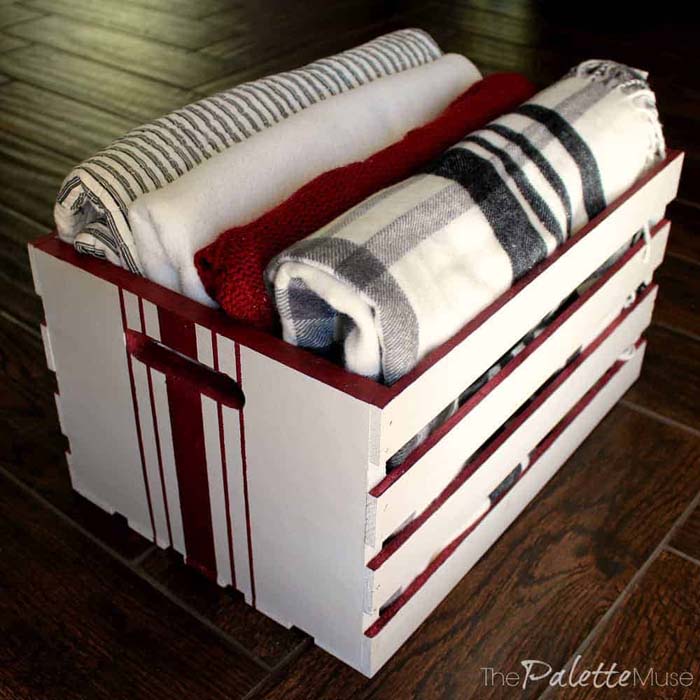 This DIY crate box is not only a storage place. It is a convenient means to move your favorite throws around- whether to the bedroom or to the porch when the temperatures fall down at night.
Make this functional container also beautiful by decorating its outside surface. Use paints, stains, decoupage napkins, ribbons.
via The Pallet Muse
38. Easy Outdoor Coffee Table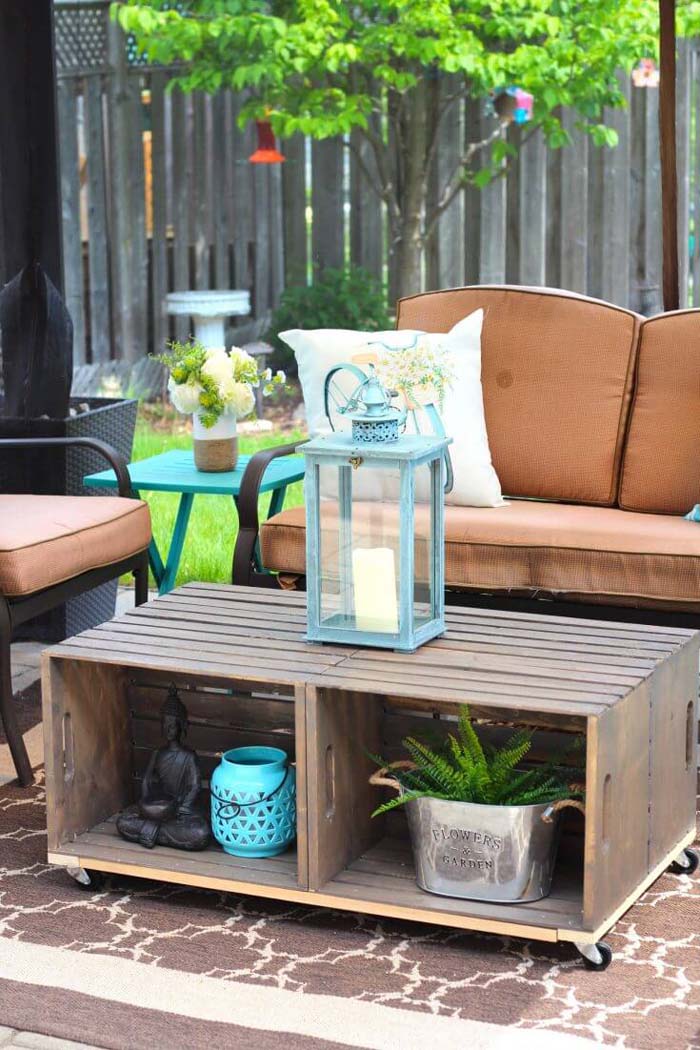 Need a functional coffee table for your porch? Making a table from crates will give you places to store things like books, flower pots, drinks and snacks. In addition to that its footprint is small so it can fit even on the smallest porch.
For this coffee table design, you need four crates, lumber and castors. The key to achieving the storage feature of the table is to arrange the crates properly. This means that their opening shall face outwards and the bottoms of the crates- back to back.
The crates are fixed together in a stable united structure with a lumber frame outlining the future coffee table bottom. Use a staple gun to connect the pieces and a screwdriver to attach the castors to the frame.
via Feeling Nifty
39. Indoor Flower Planter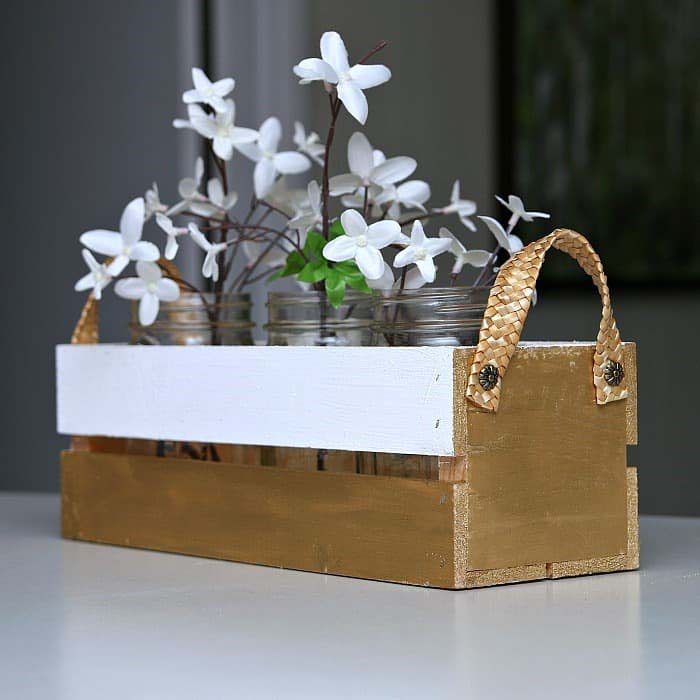 This is another design for a plant holder made in the shape of a crate box. The author has combined white and gold to create a beautiful rustic planter. The added handles are functional but their purpose is more or less to anchor the farmhouse presence.
Such a box can hold vases or jars with cut flowers in summer. In winter, they can be replaced with faux flower arrangements. The crates can be also perfect for seasonal decor like small pumpkins when autumn knocks on the door.
40. Utilize Underbed Storage Space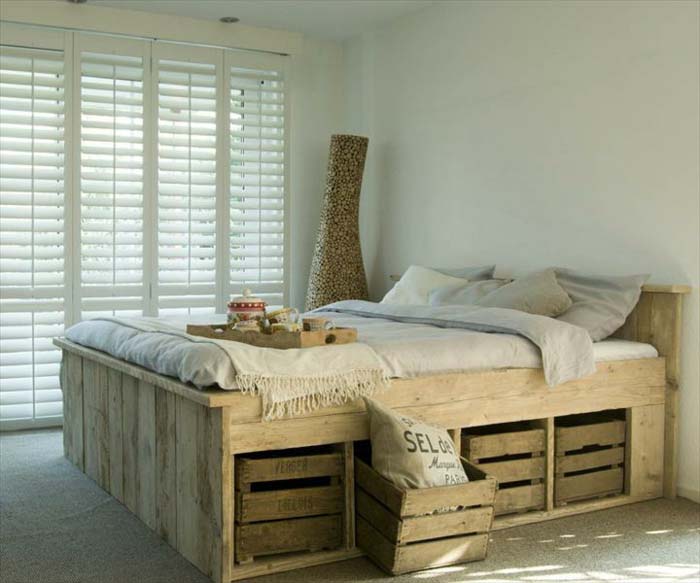 This customized bed has been made to suit the owners' perceptions for comfort, functionality and individual style. Made only from lumber, the mattress is raised on a wooden structure.
It is hollow on its base to accommodate four crates on either side of the bed frame. These containers can store various items like blankets, pillows, books.
via 99 Pallets
41. Midcentury Iron Legs Crate Table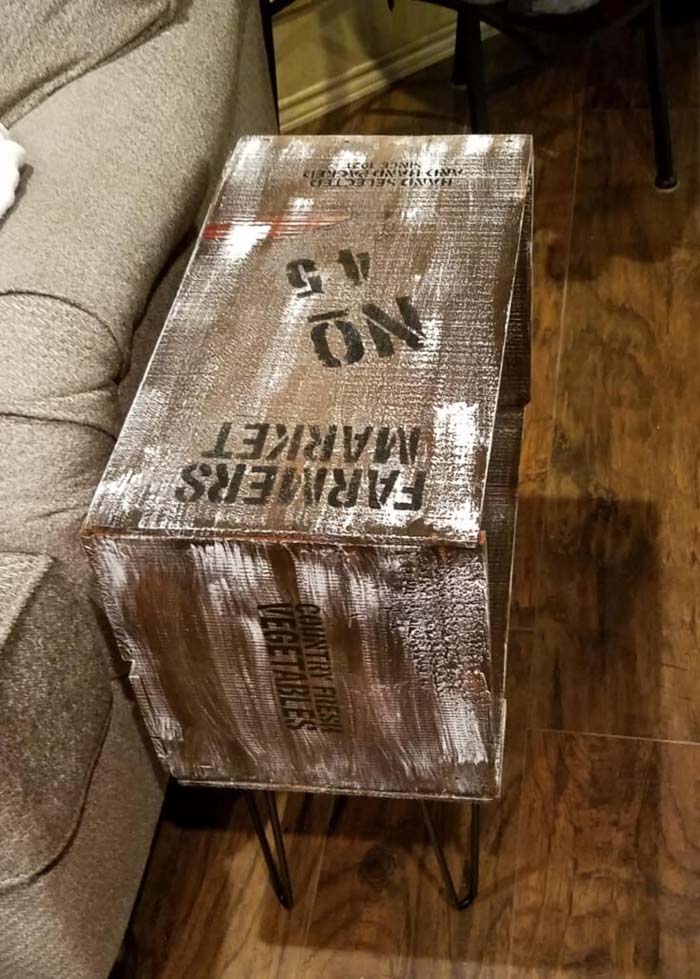 Remember the idea for a side table from a crate standing on dowel legs? This DIY side table is almost the same besides the finish of the wood and the legs type.
This project aims to combine the rustic with the industrial modern elements. The hairpin legs are attached to an additional beam with screws to support the wider side of the crate.
Prior to assembling all pieces together, the crate has been additionally distressed with paint. Images have been painted thanks to stencils to give it an authentic customized look.
via Mixed Kreations
42. Crafty Wine Storage Solution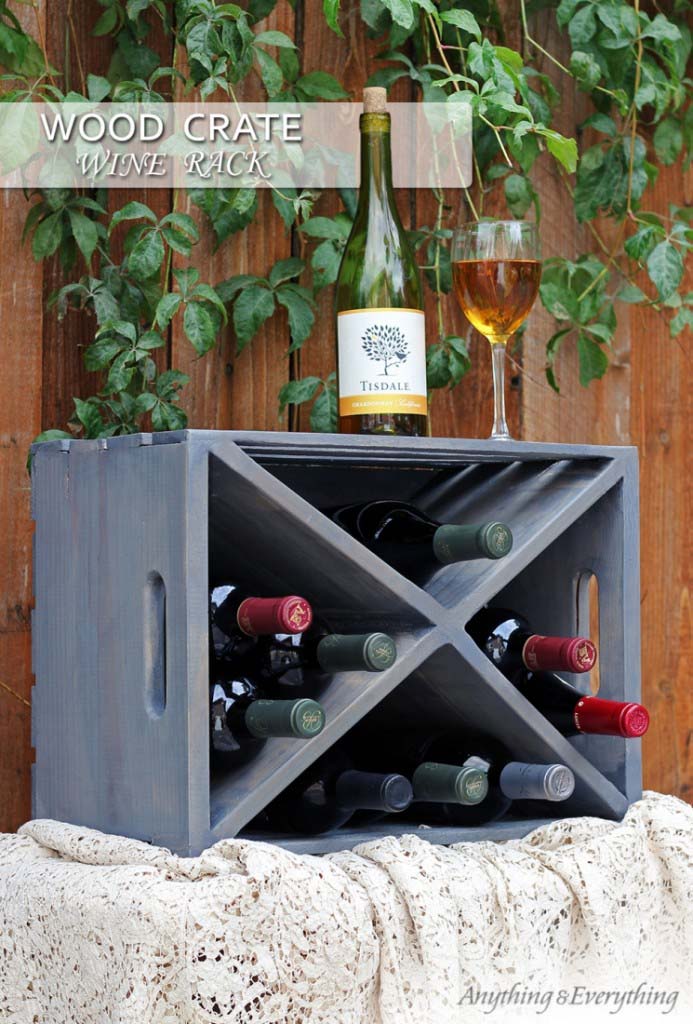 This crate project provides a special place for the wine collection of wine lovers. Even if you are not one of them, you will appreciate the smart idea behind this repurposing project.
Cross-sections are placed diagonally inside the crate to form four triangular compartments for a safe arrangement of wine bottles. Another advantage of this wine station comes with the flat surface of the crate's side. When there is no place for your wine glass, use the crate as a side table.
via Hatch and Haven
43. Hanging Halved Crates Hold Kids' Books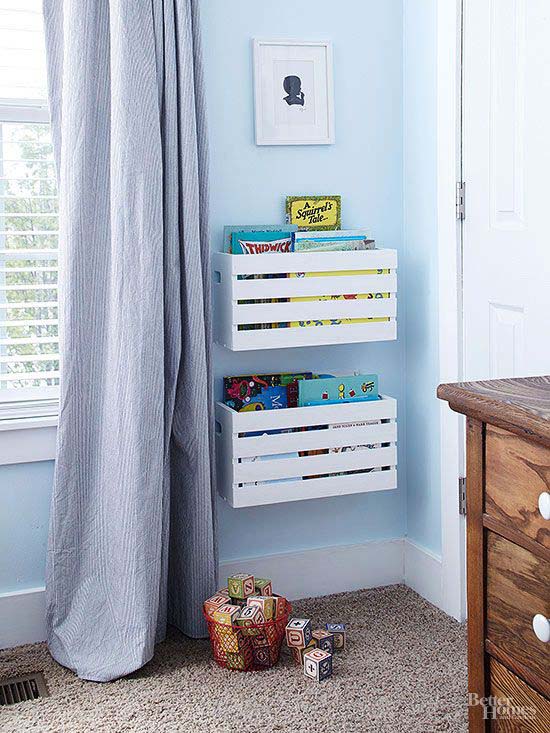 No tutorial is needed for this crate project. It is enough to get inspired by the endless applications of the crates, simply by experimenting with their position.
In this case, they have become additional storage places in a space-saving way. Attached on an empty part of a wall they can accommodate heavier and bulkier items like books.
via BHG
44. Stack for Vertical Or Horizontal Storage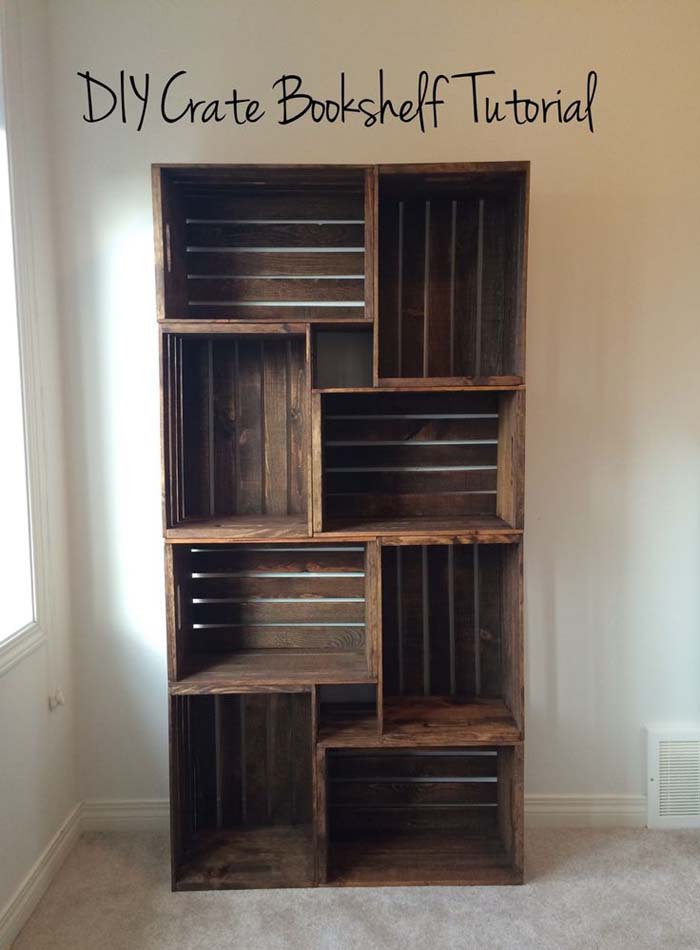 This bookshelf has been made to help with the organization of the books in a kids' room. The crates are aligned in a pattern that creates visual interest and ensures storage of various sizes of books.
Before stacking the crates, each one has been stained dark to get a rustic look. This shelf unit design can be used in all rooms where additional open storage place is needed and where the interior needs improving in a welcoming aspect.
via Tara Michelle
45. Staining Adds Sophistication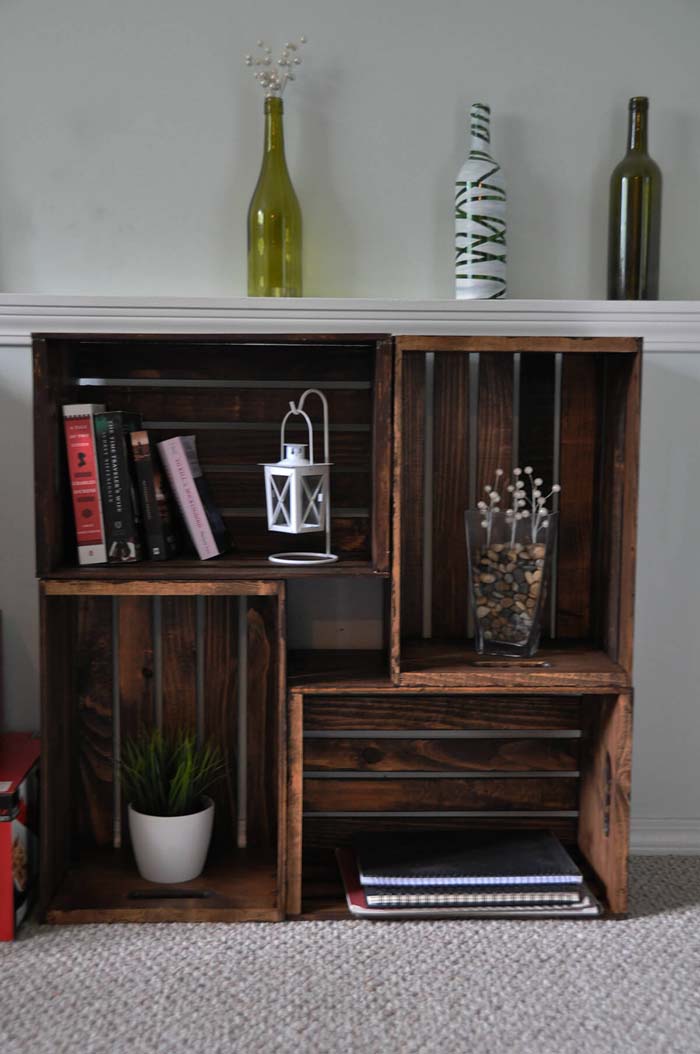 Here is an idea for a smaller bookshelf suitable for an empty wall in the living room. The dark stain that has been additionally applied to the wood creates a warm contrast with the neutral interior.
It has been made to add interest to a blank wall and provide storage places for decorations that will turn the living room into a more welcoming place.
via DIY Craft Corner
46. Add Graphics For Fun Tabletop Crates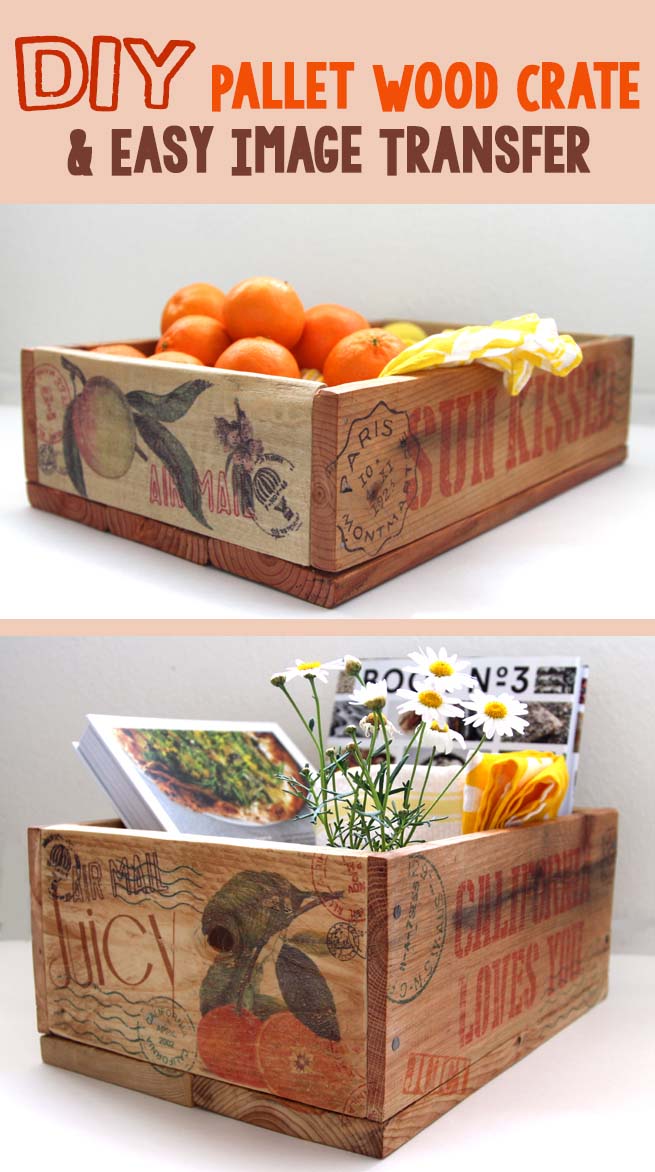 To make this wooden box, you need pallet slats that are preliminarily sanded until the wood gets smooth. Apply a thin coat of stain to even the color of the wood and to ensure overall contrast for the transferred images.
In this case, they have been applied to the wood using the transferring technique with wax paper. A similar effect can be achieved with stencils or decoupage paper.
47. DIY Desk Storage With Crates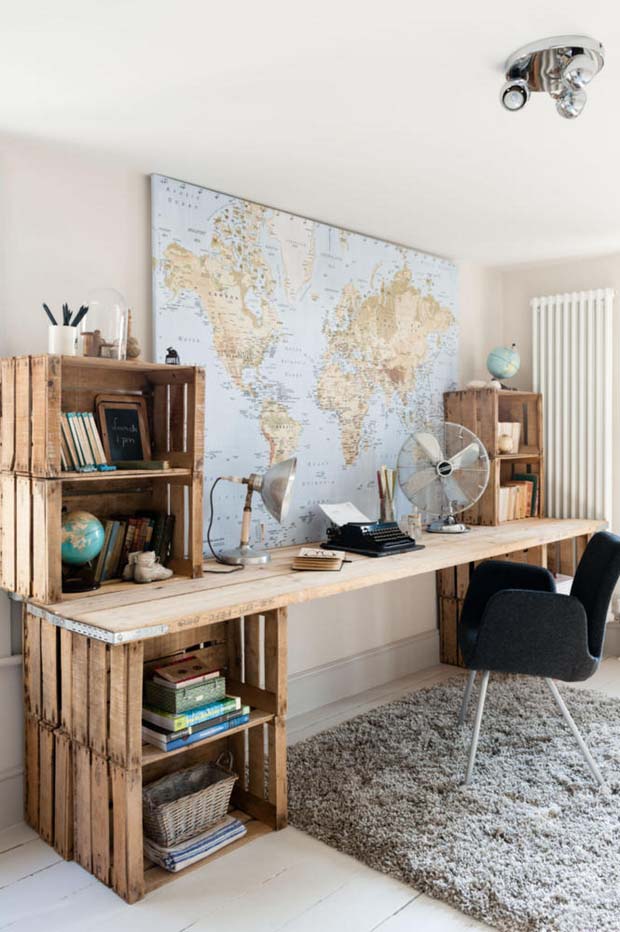 The home office is a trendy thing nowadays. This cool idea for repurposing wood crates lets you create a comfortable corner for work at your home without spending tons of money. Especially, if this home office is not a permanent situation, you will be looking for more budget-friendly ideas that will look just fine when you are no longer using this nook that often.
For the entire project you will need 8 old crates. Four of them form the supports of the desk, the other four become shelves over the desk. Three long beams are attached together to create a continuous smooth desktop where the computer can be securely positioned.
Use the openings of the bottom crates practically by storing files, printer paper, etc.
via Upcycled Wonders
48. Add Vintage Knobs For Jewelry Storage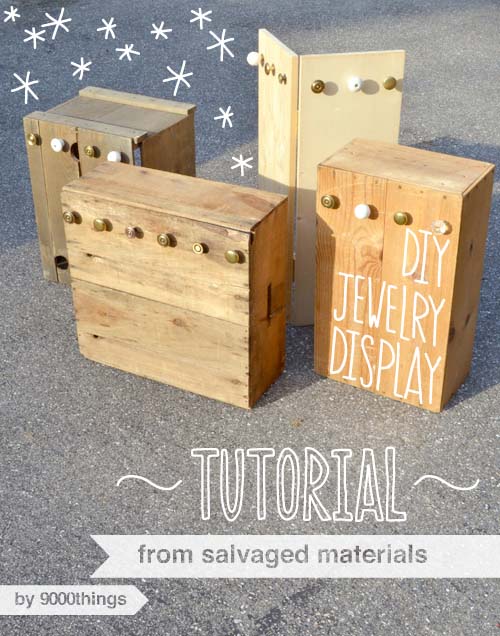 Need a dedicated jewelry organizer? With this idea, you will be able to make more than one organizer with crates you already have on hand or find on a deal. The crates don't have to be in perfect condition because they act as supports, not the actual holder.
The storage of the jewelry is ensured by screwing vintage knobs, handles and pulls to the wooden surface. Combining these two antique elements, the final result is unique.
via 9000 Things
49. DIY Storage Coffee Table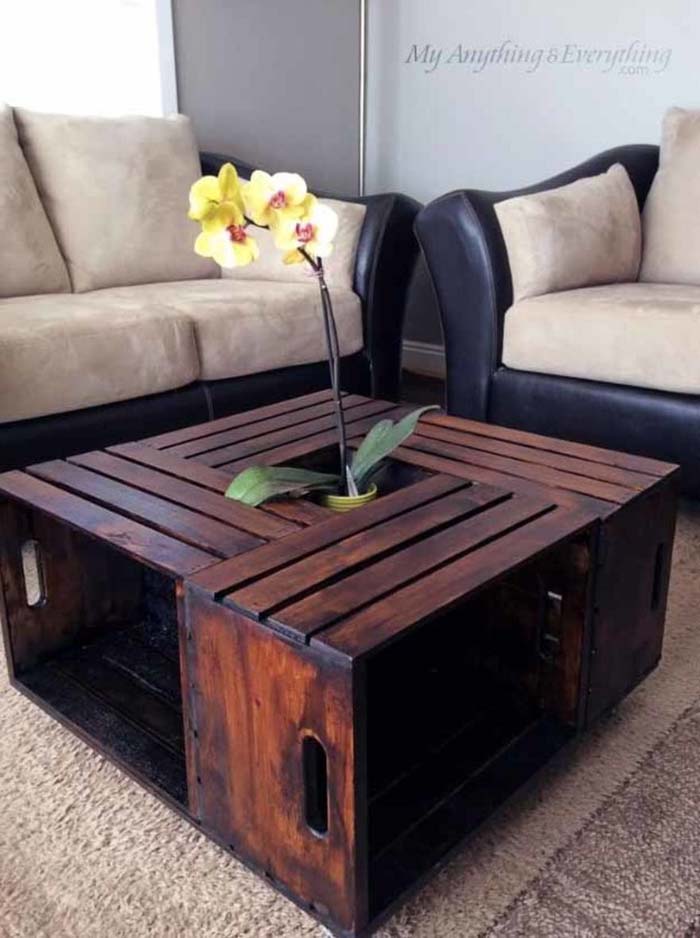 Take advantage of the functionality of the DIY crate coffee table and add it to your living room decor to enjoy its unique rustic design.
It has been assembled out of brand new crates but to achieve the vintage aged look, a dark stain has been applied. The alignment of the crates is very important as it makes the table more than a serving surface. Each opening of a crate can be used for storage if it is pointing onwards.
In the middle of the assembly, a hole quickly finds application- to hold a beautiful flower and enhance the connection with nature.
via Hatch and Haven
50. Add Wall Storage In The Bath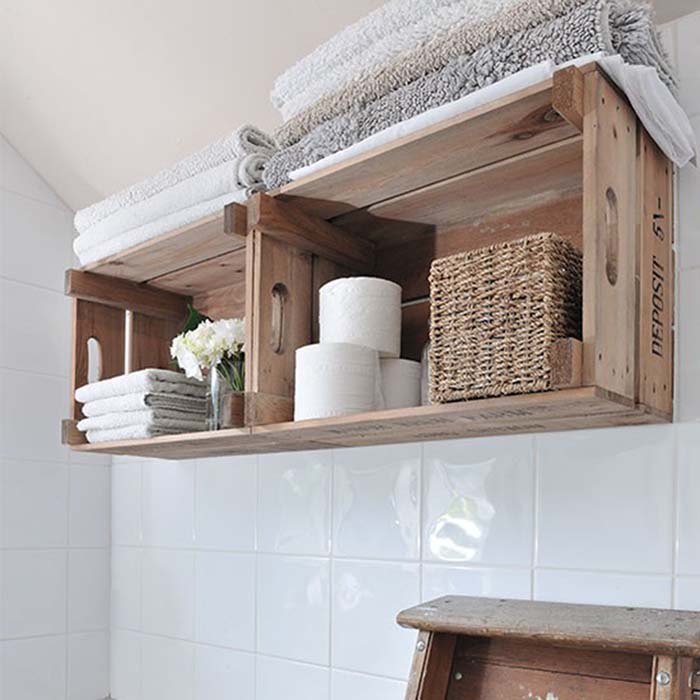 In case you like the basket storage type, you can enhance their visual effect by placing them in crates. This type of wall storage unit is perfect for all rooms where space is limited but the organization is a must.
Use the crates as shelves in the bathroom to neatly arrange your towels and bathroom essentials. Attached to the wall in the laundry room, you can store laundry detergents. Hung on the wall above the toilet, you quickly get extra storage for the toilet paper rolls.
via Compare My Move
51. Stylish Details Add Industrial Flair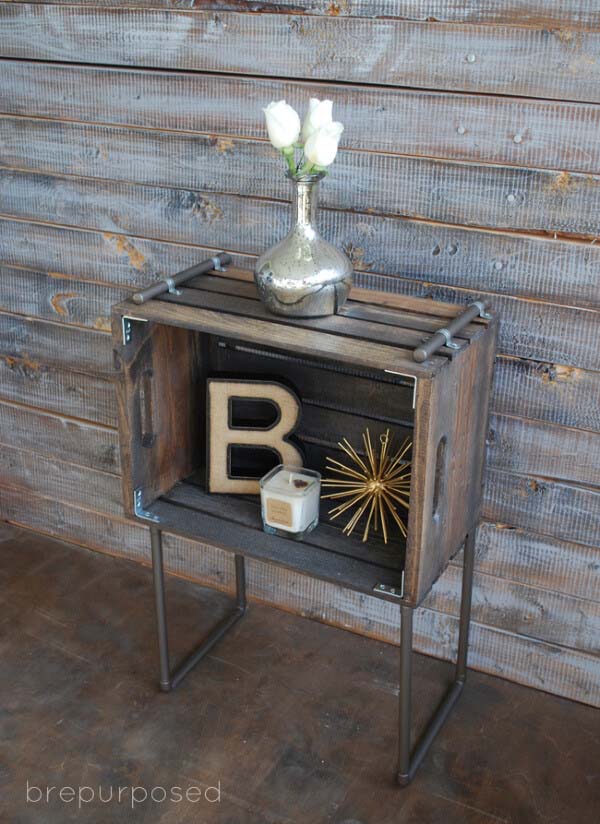 If you like the crate side table idea but your interior has been influenced by the industrial style, here is an idea of how to combine the farmhouse crate with industrial piping to get an outstanding auxiliary piece of furniture.
Copper piping is connected together with elbows and then painted black to match the color combo of the room. The crate is suspended on the newly made legs with brackets and screws.
via Brepurposed
52. Organized Entryway With Crate Storage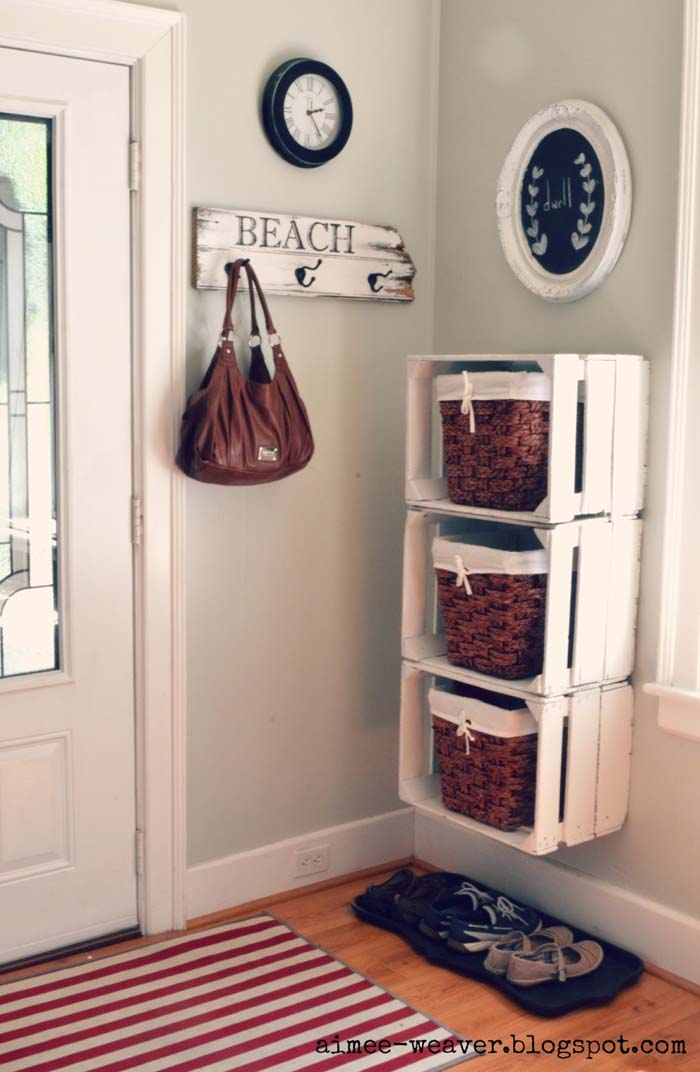 This is how a crate shelving unit can look like in the entryway- awesome! Three crates are painted white to ensure maximum airiness in this small part of the home and then stacked on top of the other.
Since they have openings, the author has decided to store the items in a neater way using baskets. The combination of wooden crates and rattan baskets creates a harmonious farmhouse storage unit and that without taking any of the floor space.
via Aimee Weaver
53. Coca-Cola Crate Repurposed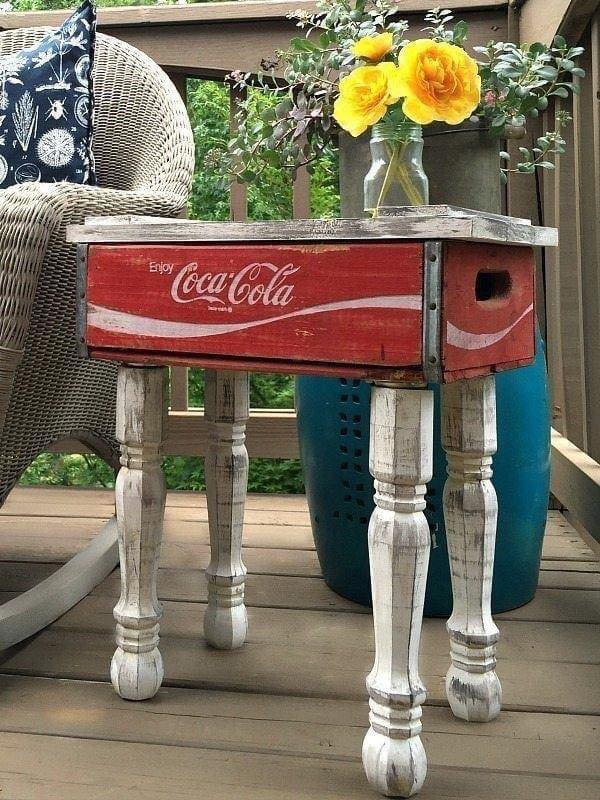 via Refresh Restyle