It can be pricey to go to a furniture store and difficult to find the perfect farmhouse table to put in your kitchen or dining room.
That's why taking on one of these DIY projects is the perfect way to incorporate your favorite style and ensure it's the exact colors to match your living space.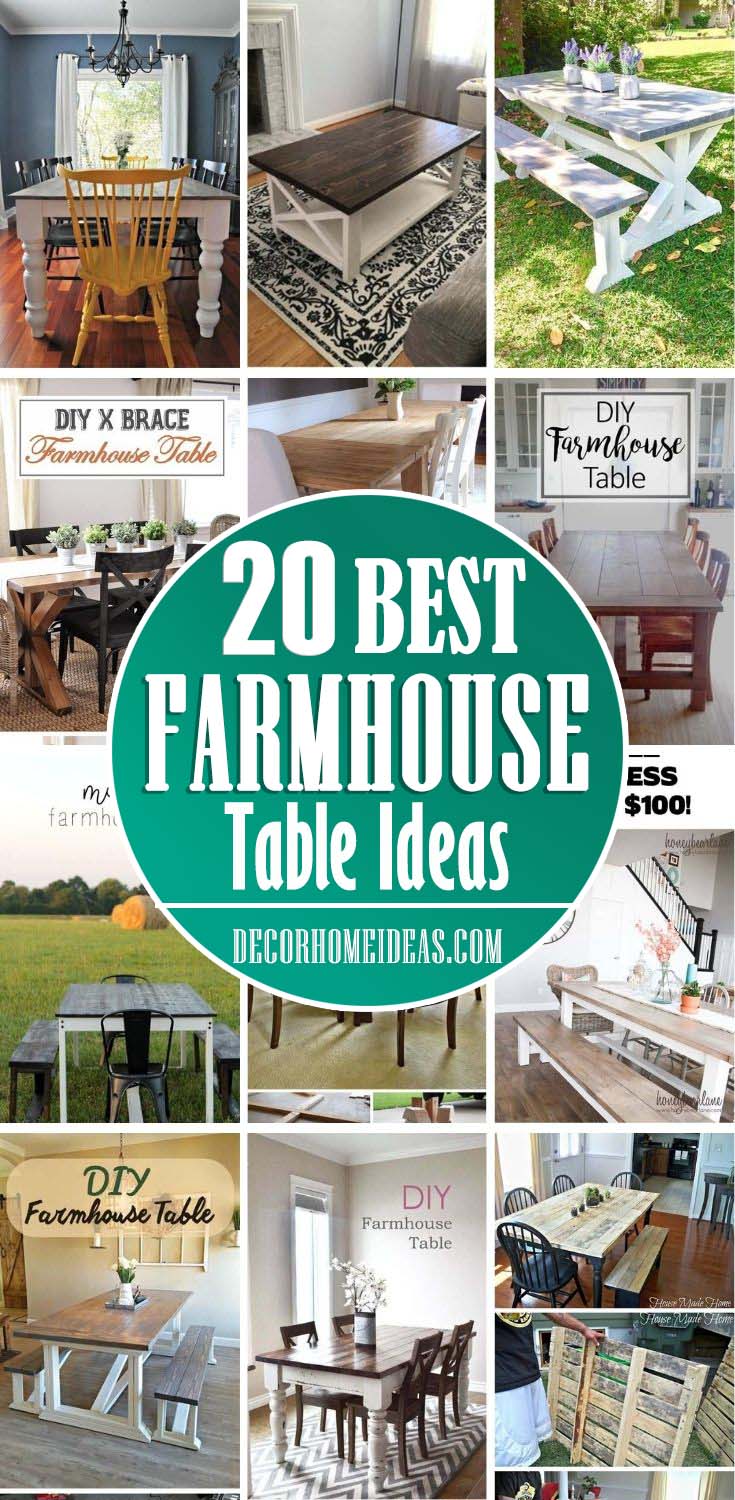 1. Barn Door for DIY Farmhouse Table Ideas

While this table isn't made from an actual barn door, it's made to have the aesthetic of one.
The table is a time-consuming DIY project and the finished product is sturdy.
It's also decently heavy so make sure you have someone help you flip it and put the table in its place.
This elegant DIY barn door farm table has that woodsy charm that gives it an appearance that's both classy and classic.
DIY Project Details: Leap Of Faith Crafting
2. Assemble Your Dream Country Dining Room Set on a Budget

This is the perfect dining set to build for those with minimal DIY experience who are sticking to a strict budget.
It's designed so pretty much anyone can build this country dining room set regardless of whether or not you already have experience with DIY projects.
The design is relatively simple so it's also ideal for those going for a more minimalist look.
3. Custom X-Brace Farmhouse Dining Table and Benches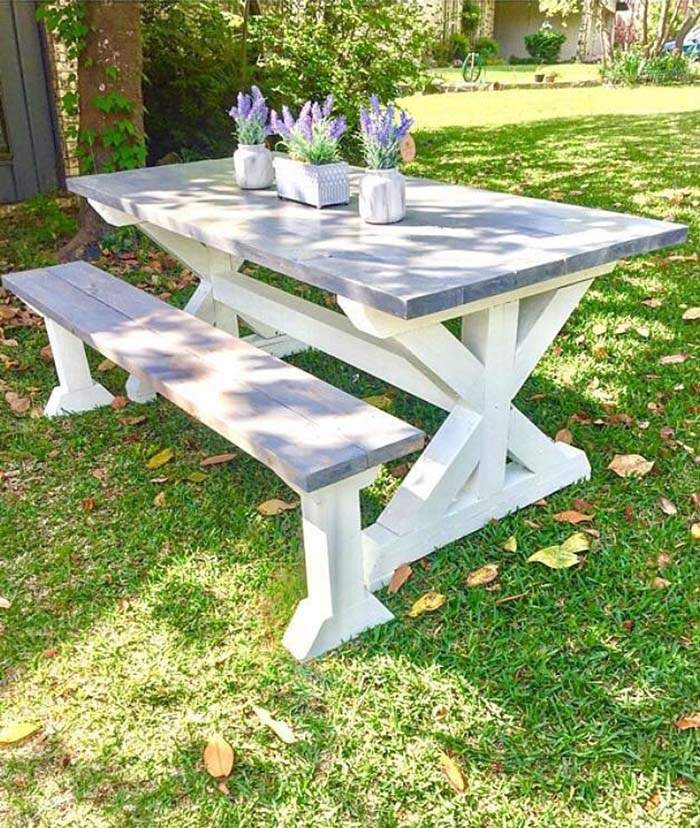 This custom farmhouse dining table flaunts x-shaped braces for a more intricate look.
The tabletop has a classic picnic table look but the sides make it look like an elegant piece of furniture for indoor or outside use.
Coordinating benches bring together the whole aesthetic of the set which is great for nearly any environment.

4. Elevate Your Home's Style with a DIY Farmhouse Coffee Table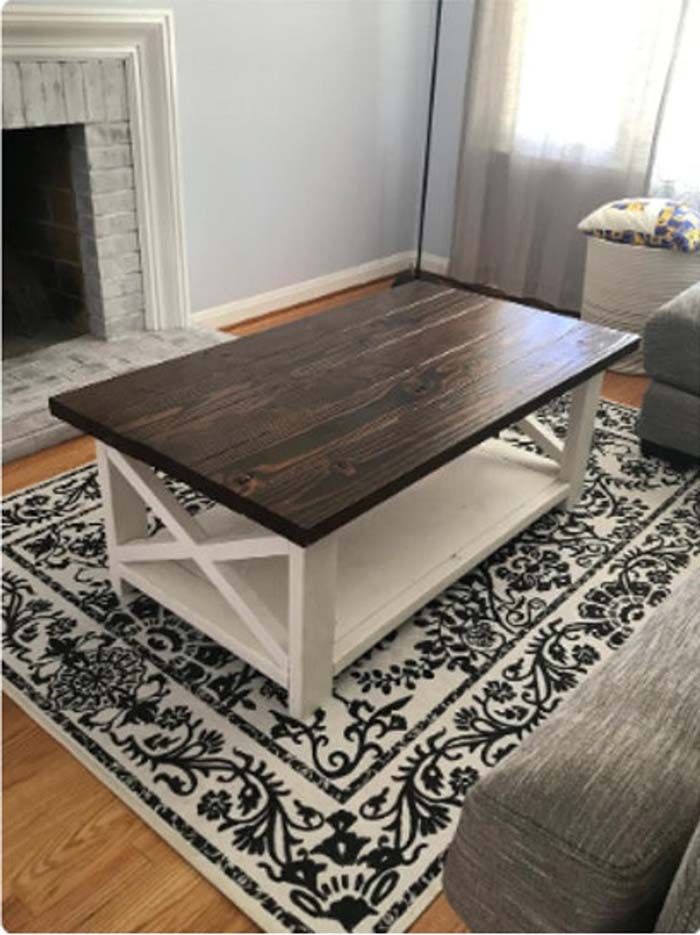 For those just looking for a nice coffee table that flaunts a natural style, this DIY farmhouse coffee table is just the accent piece that you're missing in your home.
It has a very modern feel to it with just the right amount of a farm-like aesthetic.
The coffee table even has a functional lower base as well as the traditional tabletop.
X-shaped side braces bring the whole piece together for a coffee table that looks more complex than many would expect from a DIY coffee table.

5. Make a DIY Farmhouse Table and Bench with Simple Tools 

This coordinating set for a farmhouse table and bench uses only a handful of tools and some basic supplies.
It's sturdier and heavier than what you'd spend significantly more on in a store so it's really an all-around great choice in terms of farm-style tables.
The design is relatively simple while maintaining its elegance.
DIY Project Details: Honey Bearlane
6. Create a Farmhouse Table Set with Unused Pallets

A lot of people have unused pallets hanging around so why not use them to make elegant home improvement projects such as a farmhouse table set.
This project focuses on using up spare wood. It has one of the most natural-looking appearances in terms or farmhouse tables for bringing a little country into any home
DIY Project Details: Hometalk
7. Bring a New Look to Your Dining Area with a Round Farm Table 

Most farmhouse-style tables are rectangular with bench seating but this round farm table dares to be different.
Due to the shape, it's a little more difficult to build and doesn't sit as many as the traditional shape.
However, it's a space saver and really brings a new look to your eating space. In addition to the round shape, this table also has x-shaped bracing that supports it in the center.
8. Build a Sturdy Farmhouse Table with Classic Style

This farmhouse table design gets across the look you want to portray while maintaining a certain simplicity that also makes it easy to build.
The classic style will lead people to believe that you spent a fortune on this sturdy table as opposed to having built it yourself.
DIY Project Details: Ana White
9. DIY Farmhouse Dining Room Table With Angled Legs 

This DIY farmhouse dining room table has a classic design with some flair added by angled legs.
It's a relatively simple build but not quite as straightforward in design as some of the tables aimed at beginners.
DIY Project Details: Delightfully Noted
10. Classically Styled Farmhouse Table with Modern Flair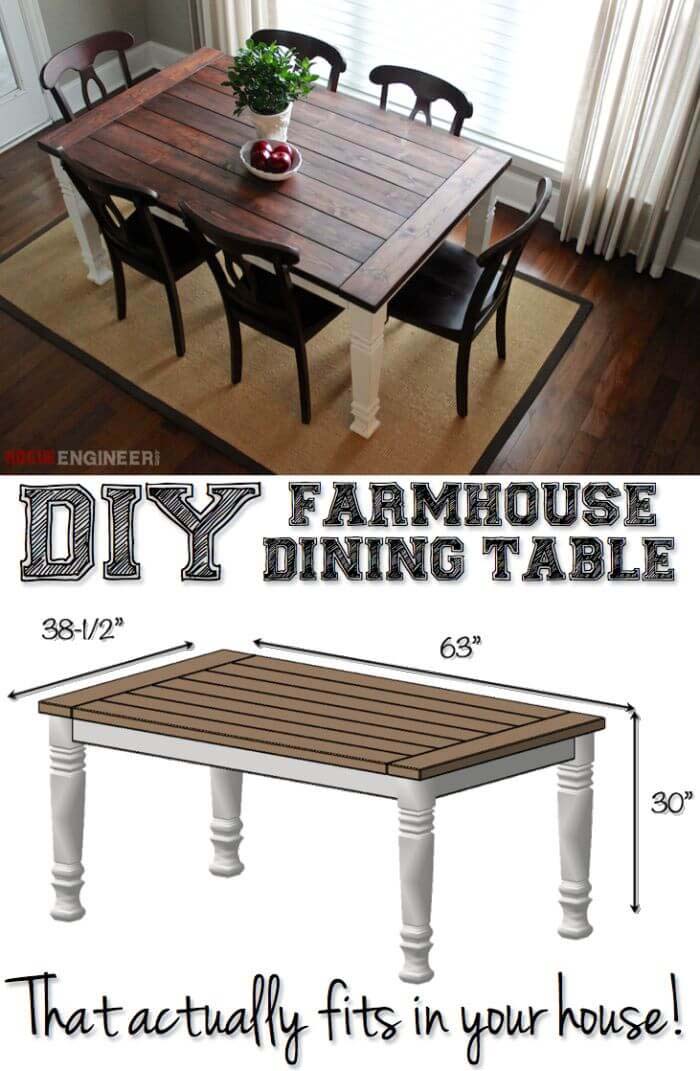 This DIY dining table adds some modern flair to a classic farmhouse tabletop design.
It has an aesthetic that adds elegance to any dining room without the worry that the table looks too outdoorsy for your holiday meals.
DIY Project Details: Rogue Engineer
11. Make a One-of-a-Kind Farmhouse Table with Reclaimed Wood

For a DIY farmhouse table with a distinct look, this table is made with reclaimed wood and is sure to be one-of-a-kind.
The design itself isn't overly complicated but the tabletop brings a unique look to any dining area.
DIY Project Details: Table and Hearth
12. Country-Chic Farmhouse Table for Your Small Kitchen Space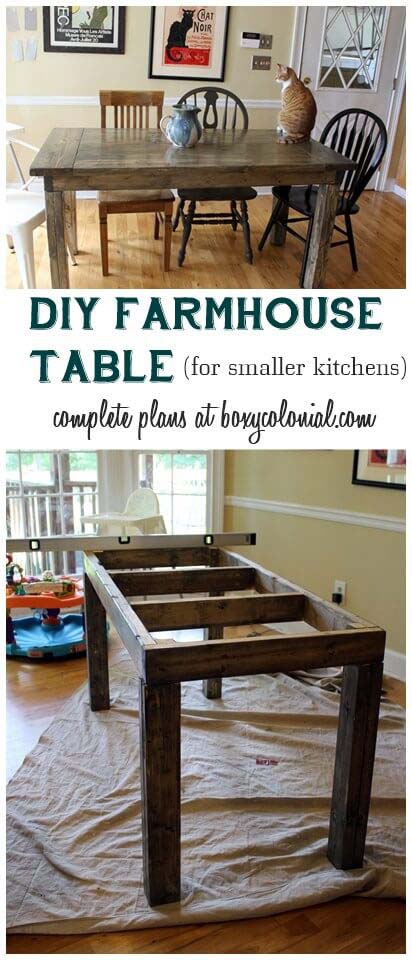 A classic farmhouse table that actually fits in a small kitchen space is hard to come by.
This DIY is all your country-loving heart could desire and will fit in almost any space. The design has a classy simplicity to give your dining area the southern charm that you crave.
DIY Project Details: Boxy Colonial
13. Expand Your Dining Space with an Extendable Table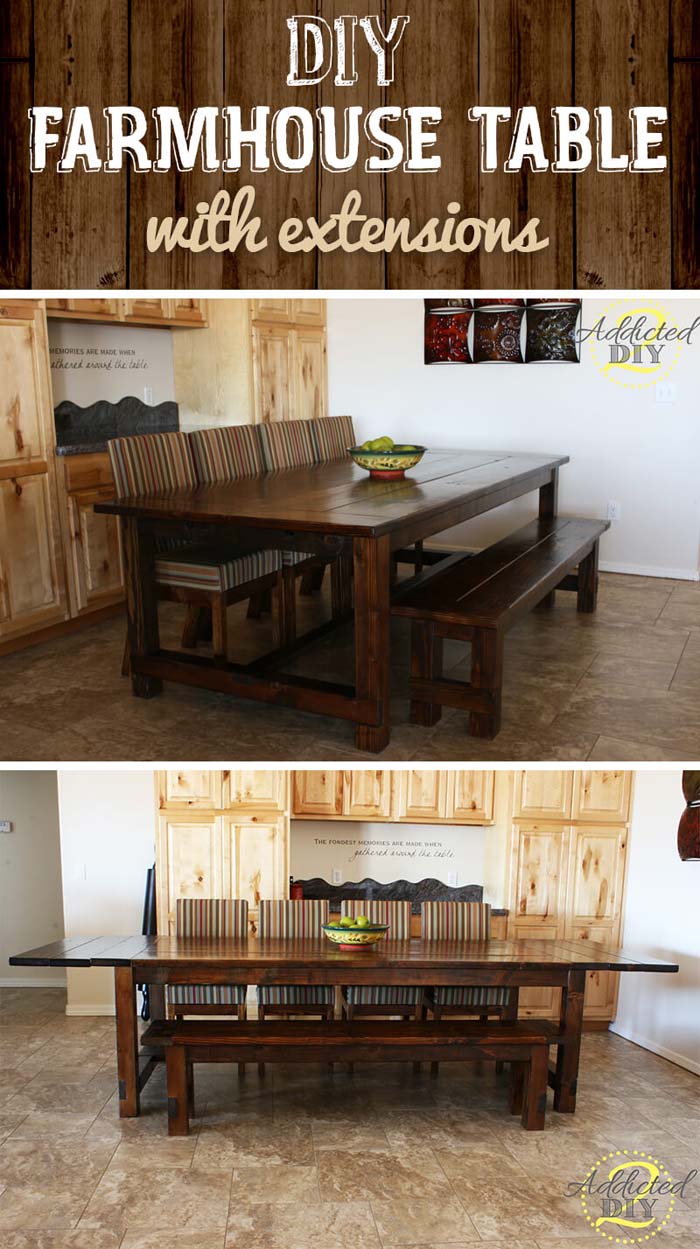 Something most DIY tables are missing that are useful is extensions.
Expand your dining space for holiday meals or whenever you're entertaining guests with this amazing dining room table.
Don't worry about it taking up too much space as some of the tablespaces can be easily removed and added to both sides.
DIY Project Details: Ana White
14. Rustic Tabletop and Matching Benches

Perfect for indoor or outdoor use, this modern DIY farmhouse table has a rustic tabletop complemented by a modern frame.
With matching benches, this set is sure to liven up your eating area.
DIY Project Details: Life Storage Blog
15. Distressed Wooden Legs for a Rustic Country Kitchen Look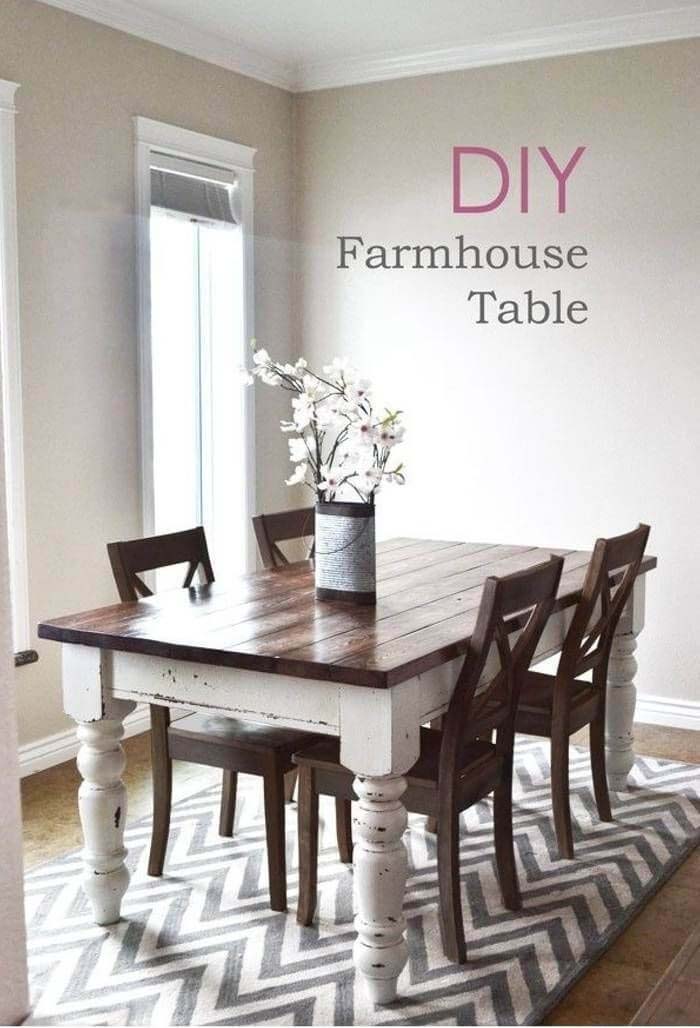 A classic farmhouse tabletop with distressed wooden legs is a recipe for this husky farmhouse table.
It takes some modern aspects and twists them to fit the farmhouse aesthetic. Altogether, this table just screams country kitchen.
DIY Project Details: Ana White
16. Exquisite Design and Durability in One Package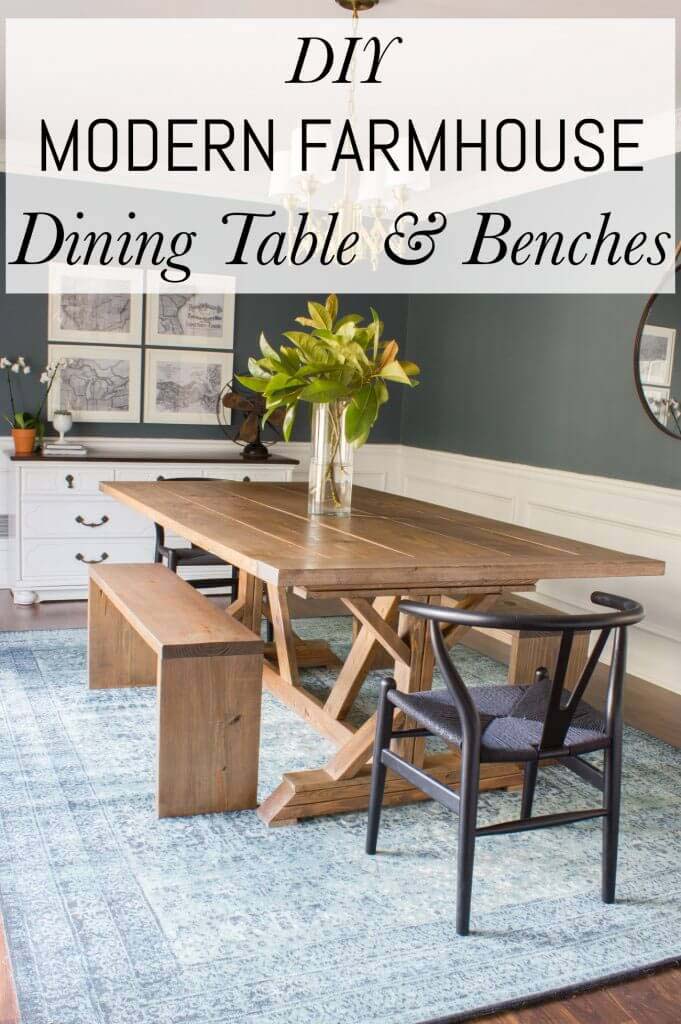 The modern farmhouse dining table has intricate x-shaped bracing that will make it hard for your guests to believe that you built such a beautiful table.
It's softened by some simple classic benches that perfectly complement the set.
DIY Project Details: Erin Spain
17. Enhance Your Home with an Oak Statement Table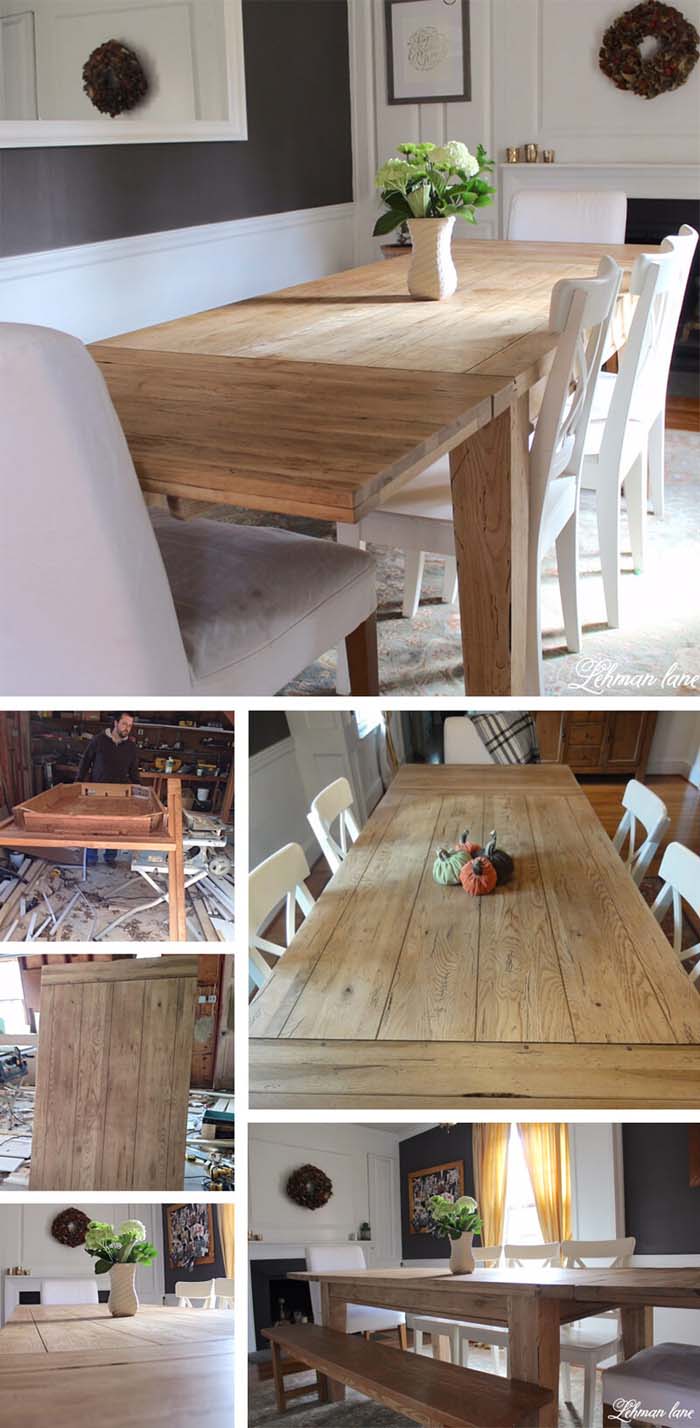 For the most naturally elegant look, this oak statement table is the way to go.
While it's still finished, it's designed to show off the beauty of oak wood without extra frills.
DIY Project Details: Lehman Lane
18. Reclaimed Oak DIY Farmhouse Table with X-Braced Benches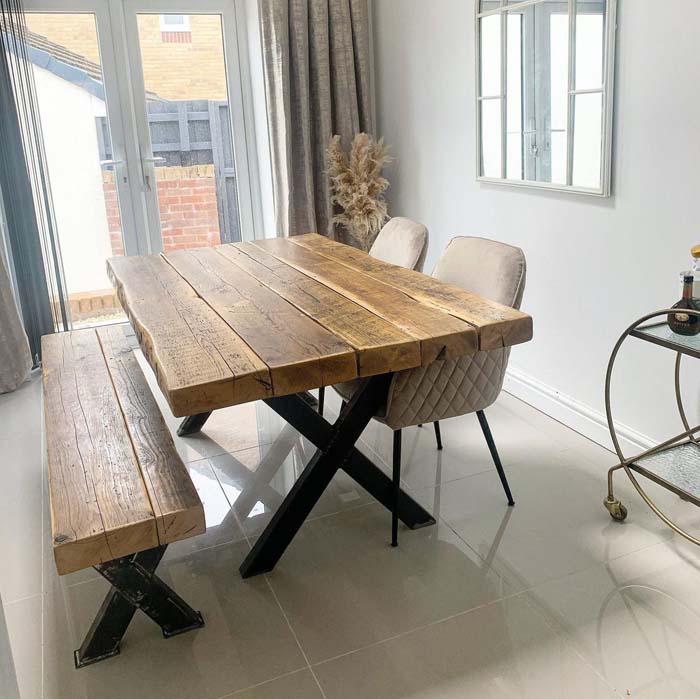 The reclaimed oak farmhouse table has that rough around the edges appeal that really drives home that country kitchen feel.
The x-shaped braces supporting the benches and table add to the elegance to make the pieces feel complete in a well-balanced way.

19. Brighten Your Dining Room with DIY White-Washed Table

Brighten up your dining area with the white-washed frame of this beautiful DIY table.
The contrasting colors of the tabletop and the legs make this table a real statement piece.
DIY Project Details: Decor and The Dog
20. Add a Rustic Charm with a DIY Farmhouse Table Top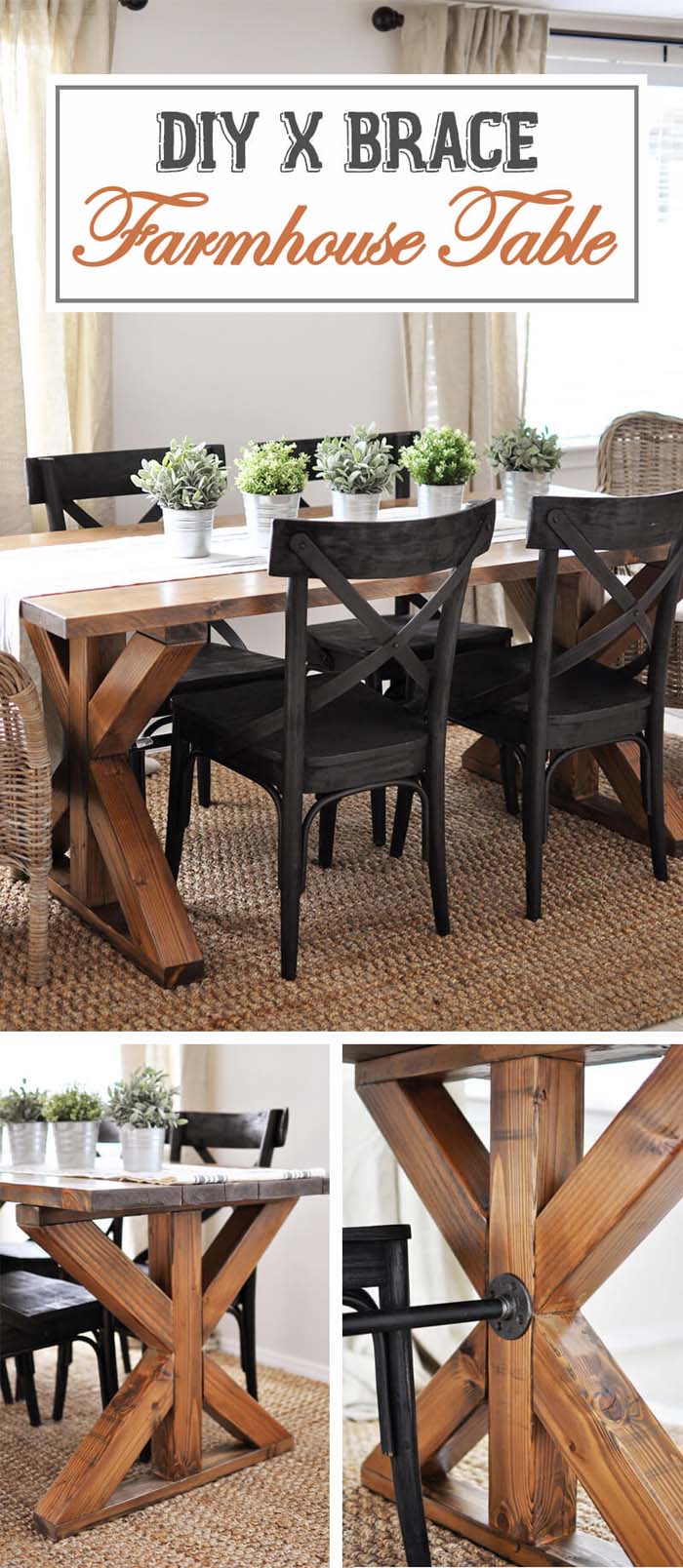 A simple farmhouse tabletop with classic x-braces is exactly what your country kitchen needs. This design isn't too complicated to build but is sure to be a highlight in your home. It gives a real homey feel to your eating space.
DIY Project Details: Cherished Bliss
Turn your dining area into the country kitchen you've always desired. Build your DIY farmhouse table to become the creator of your favorite piece of furniture in your home.