35 Best Farmhouse Dining Room Design and Decor Ideas
Farmhouse style is probably one of the most admired and incorporated trends in interior design recently. And it has deserved this nomination because it is the coziest design ever.
It easily collaborates with the contemporary world, making it look more welcoming, warm and quiet.
You may have seen a lot of ideas for farmhouse decor on the Internet but have you ever found ideas on how to include it in the dining room?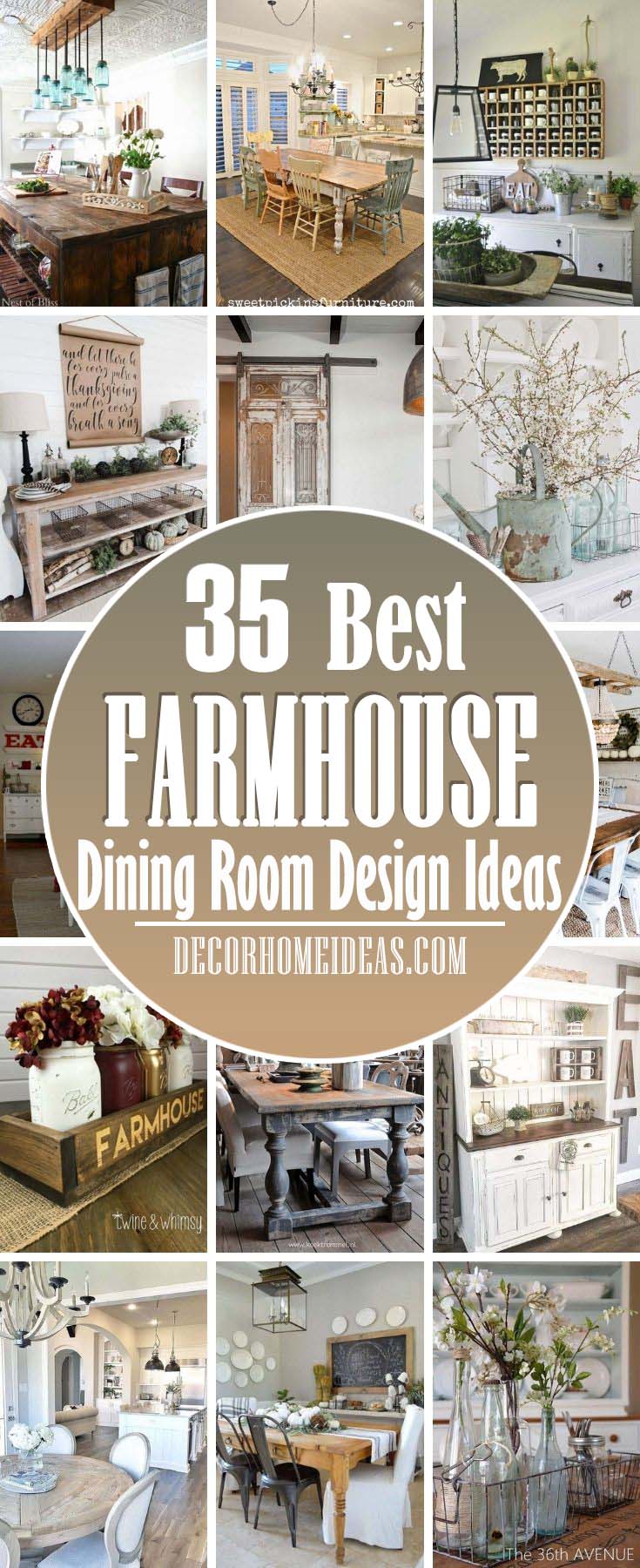 Don't forget to PIN this image for quick access to all these ideas!
This part of our homes is an entertaining place and it should not only be comfortable but also very inviting.
Decorating it in the farmhouse style will surely ensure both of these characteristics and this is the right place where you can find easy ideas on how to achieve it.
A Clean, Old-Fashioned Look with Rustic Decor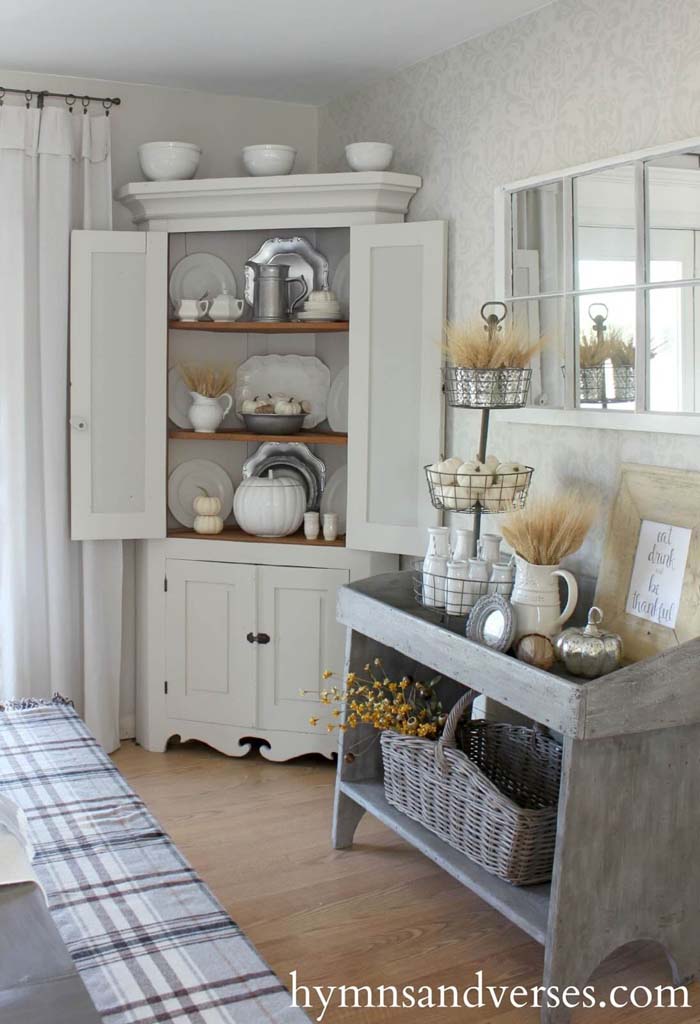 The design of a mirror hung onto an afresco accent wall brings an outer motif of the cottage indoors.
A handmade kitchen bin holder painted in grey makes a bold farmhouse statement with its weathered look and set of accents displayed on it.
The corner buffet is another vintage element in this dining room revived to hold a collection of elegant plates.
All of these elements are tied up by a rug with a silver and white plaid pattern which anchors the presence of the countryside living in this contemporary dining room.
via Hymns and Verses
A Clean, White Space with Vintage Charm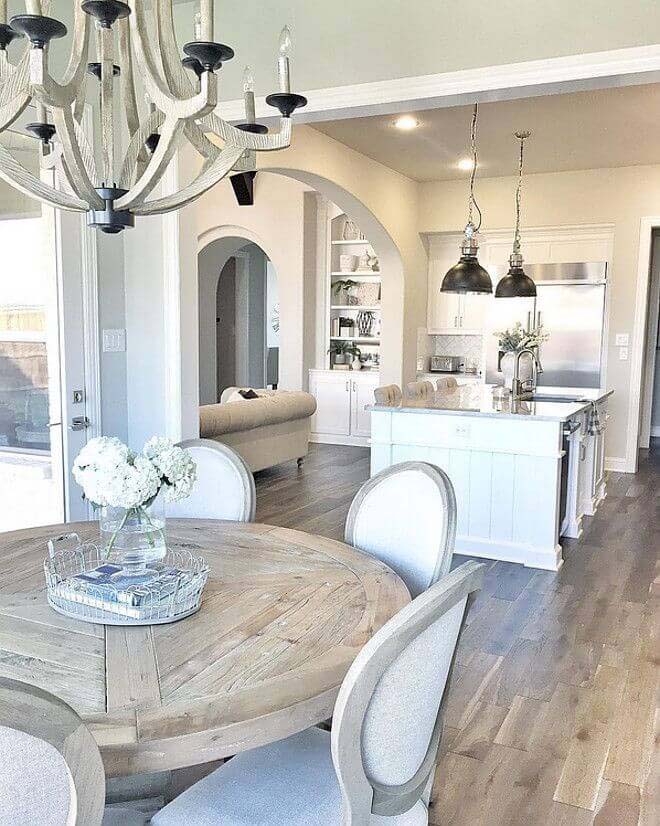 This is how a modern famrhouse dining room looks like. It doesn't make any compromize with comfort but it does it in a cozy and welcoming way.
The island has been planked with wooden slats creating a shiplap pattern. The tufted chars surround a wooden round table which reveals authentic design and finish.
The chandelier above it is made of the same wood. Its carved design gives the dining room additional sense for uniqueness and class.
A Country-Inspired Look with Simple Decor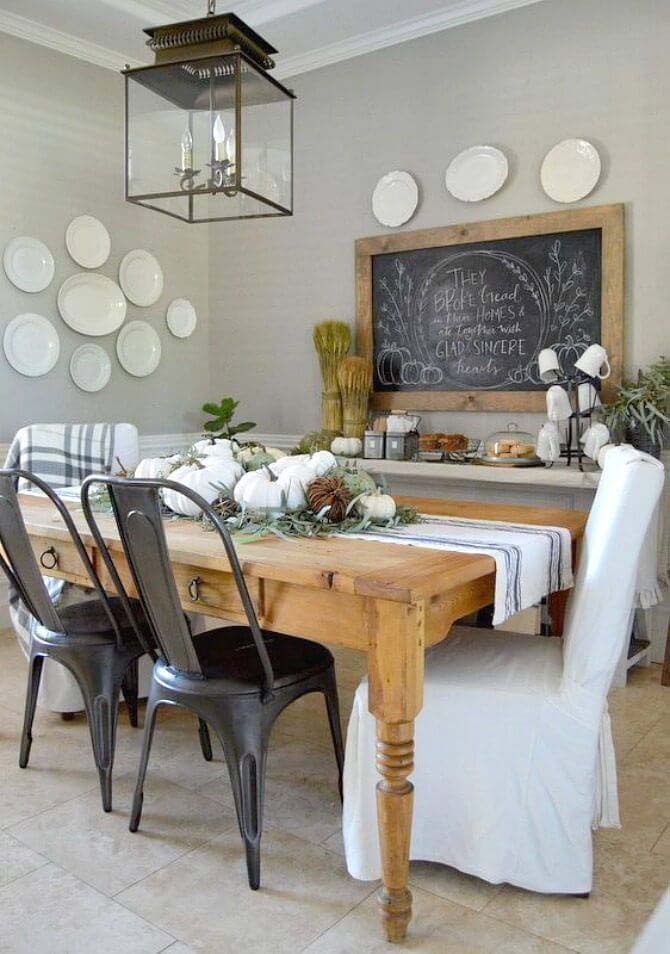 This chandelier finishes the appealing decor of an elegant farmhouse dining room. The color of the metal matches the black painted chairs, the chalkboard sign and other very small accents spread around the room.
White is the other color seen in this interior- it also marks the accents and easily contributes to creating an airy and neat ambiance.
Earthy colors dominate in this dining room being a typical farmhouse palette and also ensuring a good backdrop for the unique textures and applications.
via Home Remedies
A Craft Egg Centerpiece for a Farmhouse Touch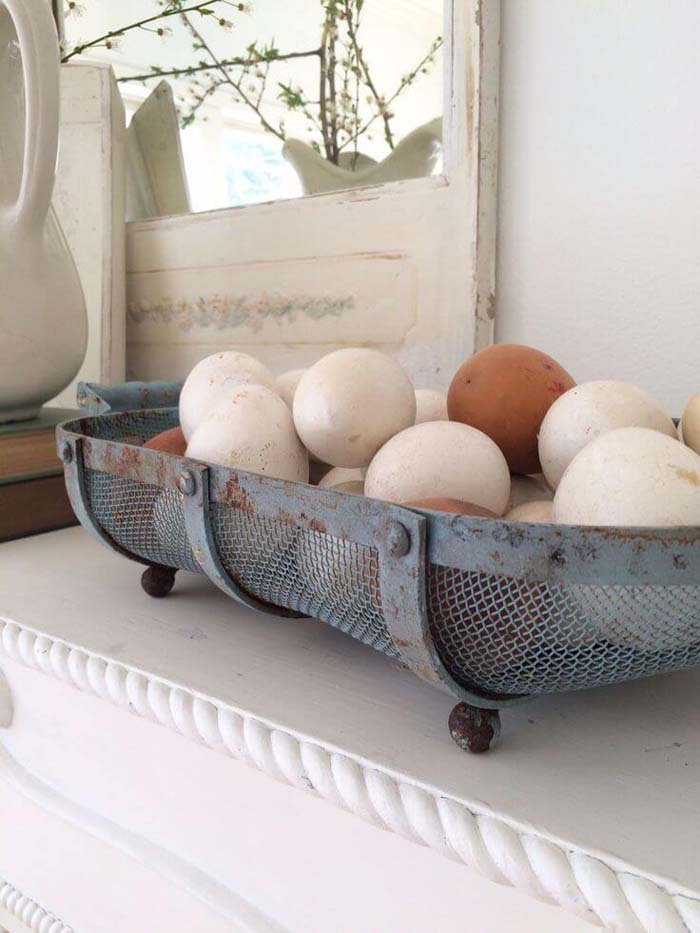 Another motif from the farmhouse living makes eggs a charming and nostalgic decoration in the contemporary dining room.
You can either use real eggs or artificial ones, the second option will be safer. Find a vintage container like this basket with patina signs to arrange the eggs in and finish your new focal point or centerpiece for the dining room.
via Little Farmstead
A Delicate Arrangement with Class and Elegance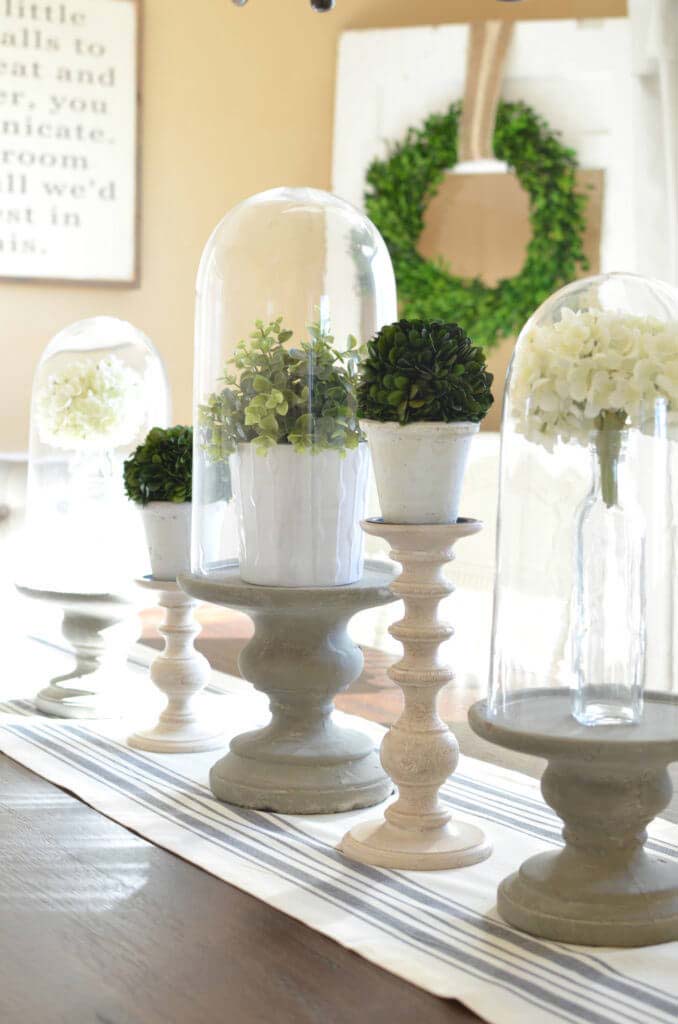 These wooden candle stick holders have been turned into a fantastic ptable centerpiece. Instead of holding candles they are displaying small pots and vases at differet heights to create a point of interest with a farmhouse nuance.
Some of the plants are topped off with glass cloches, others are left unprotected to ensure attractive design and alignment.
via Sarah Joy Blog
A Floral Arrangement with Old-Fashioned Jars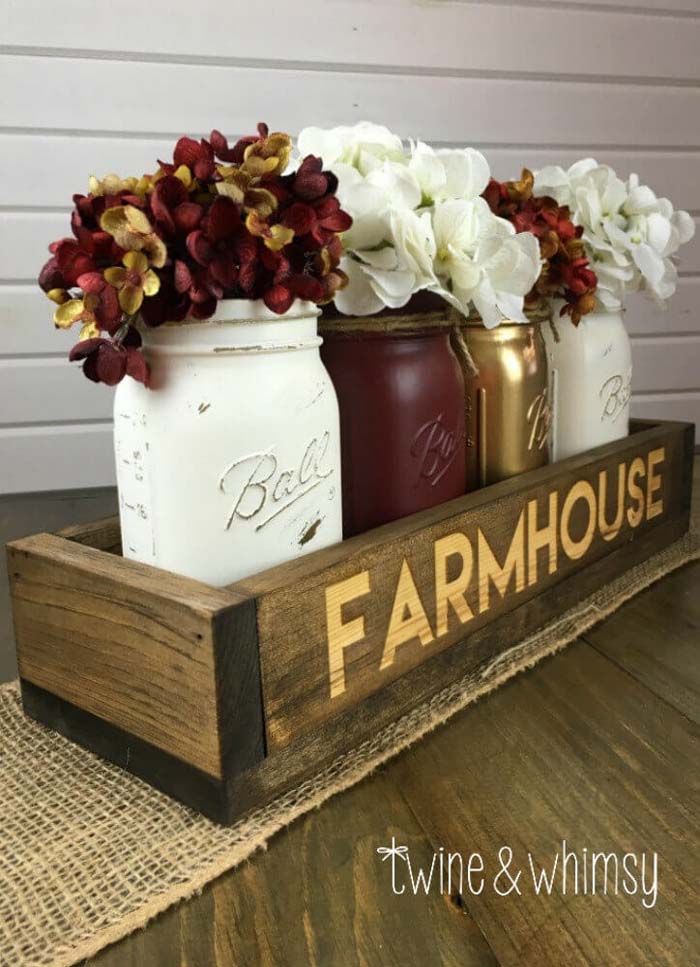 This centerpiece idea is an easy and affordable craft idea that will take you not more than a couple of hours.
To decide the color of the jars, you need to choose the flowers you are going to dip into them. In this case, faux hydrangea blossoms in white and dark red have defined the non-traditional color combination.
White is typical for the farmhouse interior and it suits the neutral walls behind. The red jar complements the red hydrangea blossoms and the gold one- enhances the gold spatters that are barely seen.
To ensure a clutter-free and attractive loo,k, all of them have been grouped together in a wooden box-shaped crate
via Etsy
A Floral Centerpiece for a Touch of Spring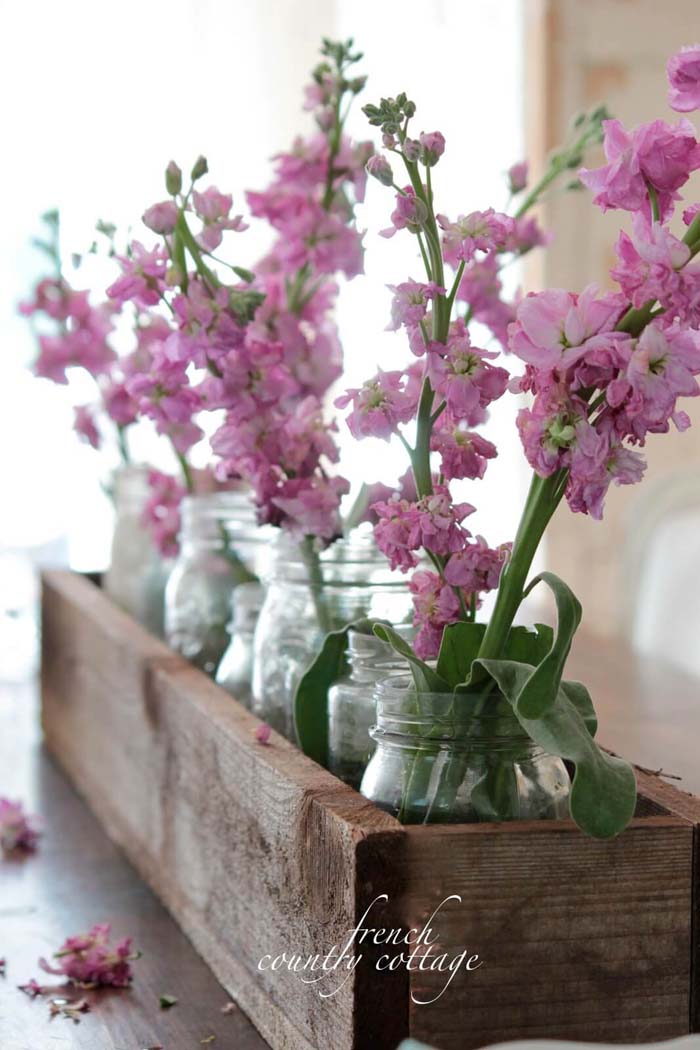 Finishing touches can make a significant difference in any space. your dining room doesn't have to be entuirely designed in the farmhouse style. You can give it a significant amount of appeal by including a simple but very charming table centerpiece.
Made of reclaimed wood, this boxed container looks like an old possession with a farmhouse story. Use plain jars in their original transparent look to welcome spring indoors.
A Floral Centerpiece with an Old Farmhouse Backdrop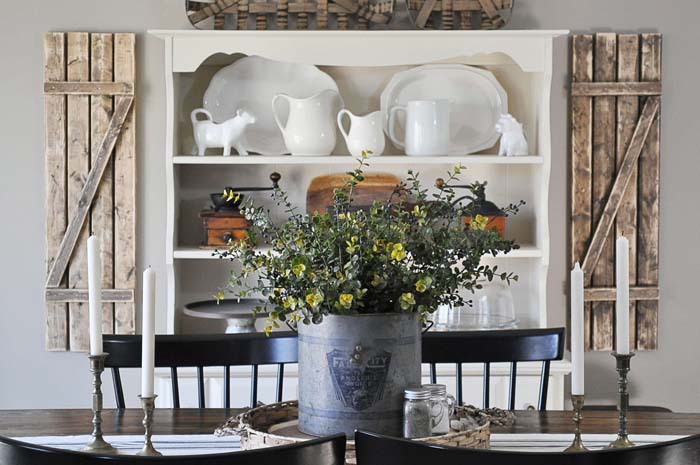 It is always a great idea to place a vase with flowers on the table to make the atmosphere more homely. Using a galvanized bucket instead of the traditional glass vases will add another feature to the interior- it will make it welcoming in a lovely casual way.
The tin can be placed directly on the table or into a wicker tray to ensure a more elegant representation.
via Little Glass Jar
A Functional Centerpiece with Sprigs of Flowers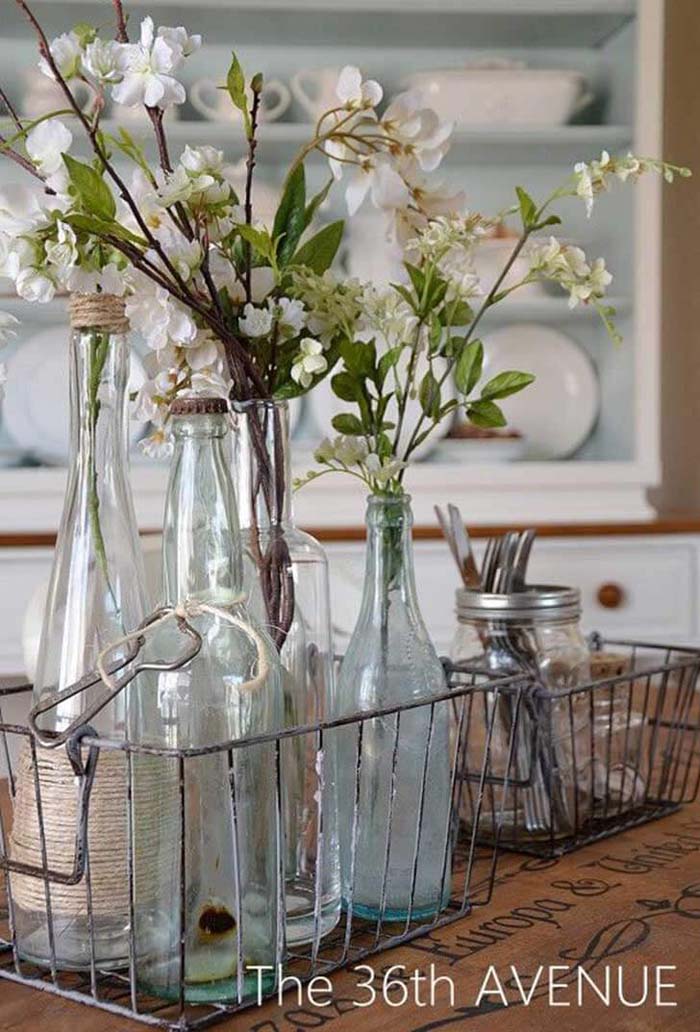 A quick farmhouse accent for the dining room is represented by two metal wire crates.
The larger one accommodates glass bottles holding beautiful spring blossoms. The other crate has also a functional purpose holding spices and cutlery.
via The 36th Avenue
A Rustic Plaque with a Lot of Character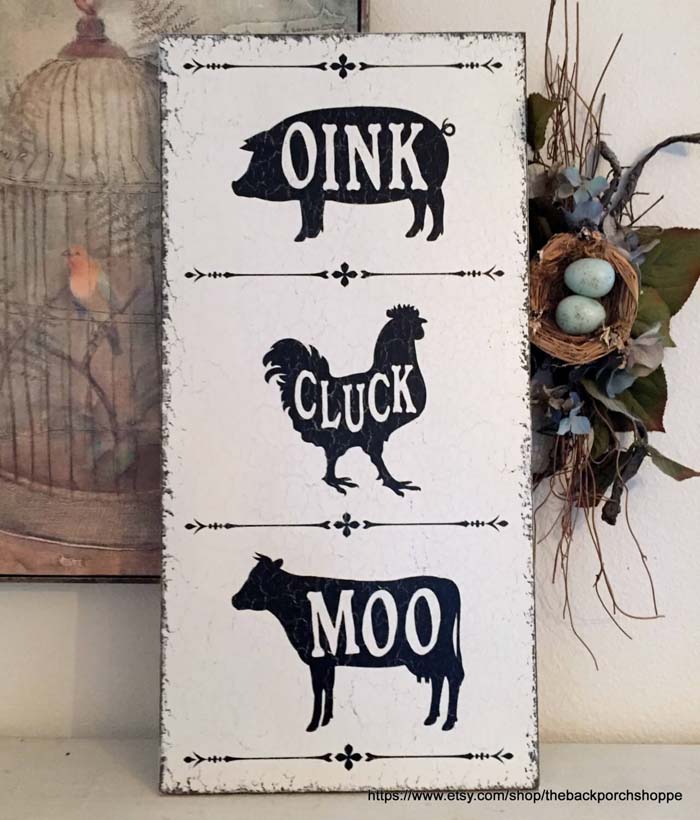 This cute sign will add a lot of charm in a countryside decorated dining room.
If you are keen on making it yourself rather than buying it, prepare a wooden board, white and black paint and stencils with cute farmhouse animals.
To give the sign an antique look, distress the edges with sandpaper. You can either lean it against a wall or nail it next to other vintage wall art.
via Etsy
A Simple Arrangement with a Message of Gratitude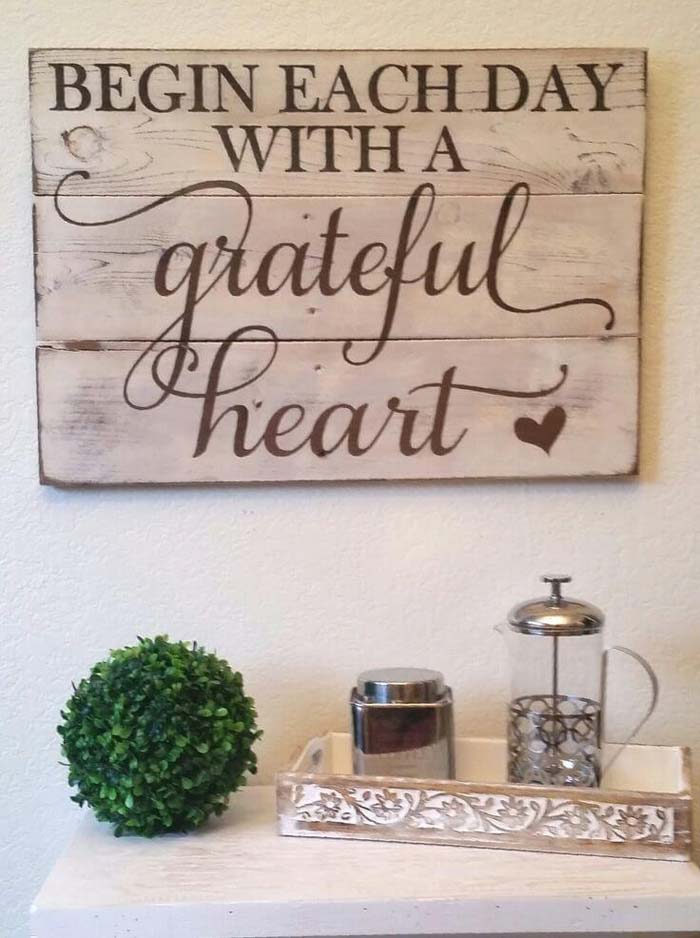 Make your personalized sign that can inspire you or state your every day prayer easily.
Such a sign can be made out of pallet slats which have been nicely sanded. Laminate slats are also an option. Print the saying you have chosen out and transfer the letters to the wood.
Stencil will also do a great job. Then paint the entire surface applying a white-wash technique with chalkpaint.
A Simple Design with Vintage-Inspired Accents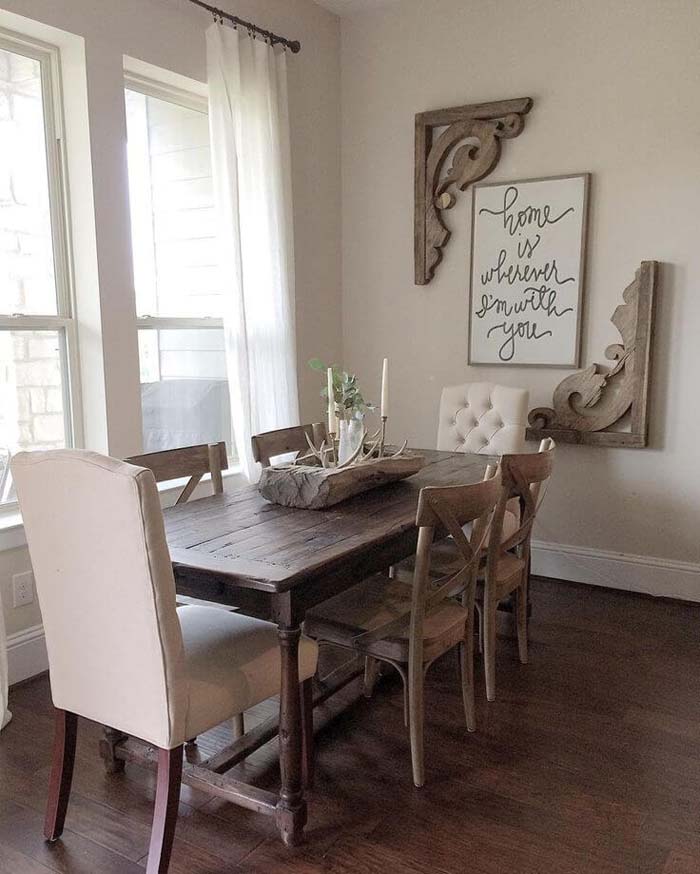 A beautiful saying is transferred onto a framed canvas in this traditional farmhouse dining room. To make this wall art focal point, two wooden corbels have been repurposed by placing them on two opposite sides of the sign.
The fascination with this room is also arisen by the simple and clean lines which create an airy and welcoming feeling.
A Unique Spin on the Rustic Look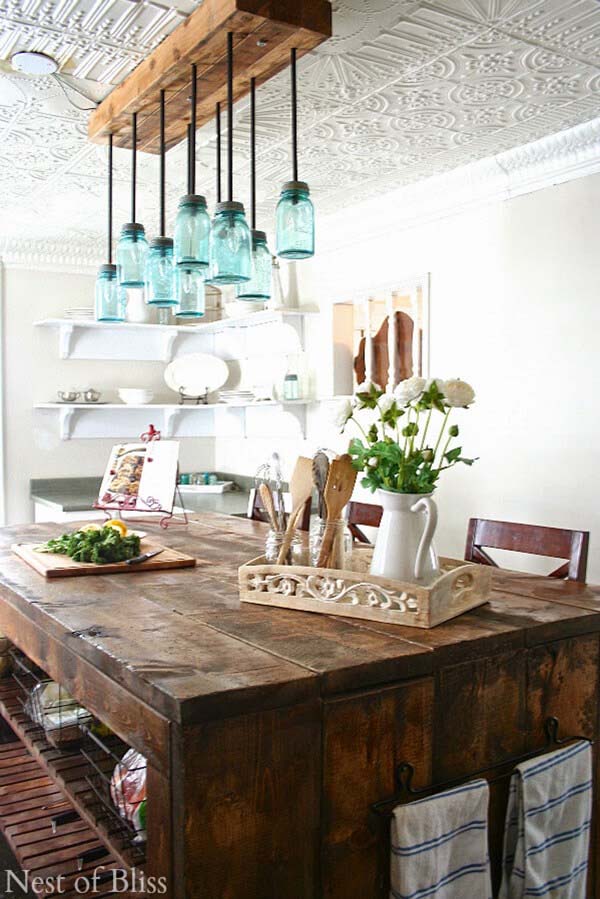 Another idea for a handmade chandelier features wood blocks with blue Mason jars hanging from different lengths of rods. The stain of the light fixture support unites with the color of the antique massive wood table beneath it.
To let the jars embrace the light bulbs, each lid has been preliminary drilled to create a hole with the size of the rod.
A Wall Arrangement with a Lot of Character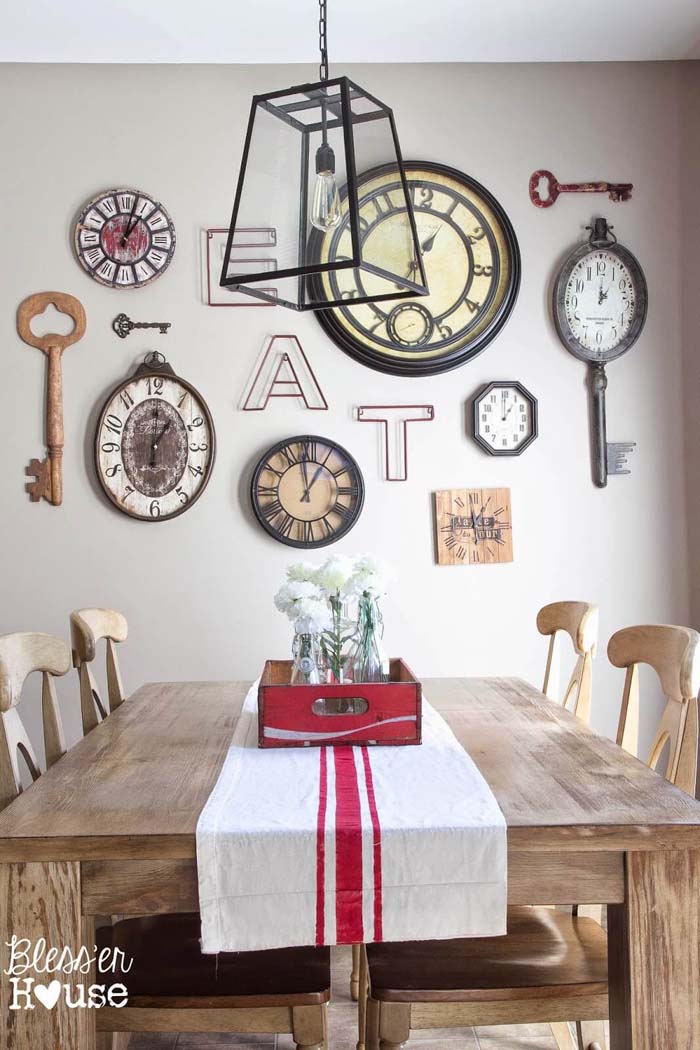 Create a unique point of interest in your dining room by decorating a wall of it with a gorgeous set of antique clocks and keys.
A sign "Eat" is sneaking in the collection to remind what should be done in this room. Its color matches a centerpiece represented by a red-colored farmhouse crate holding glass bottles with flowers.
via Bless'er House
A Warm Rustic Design with Antique Charm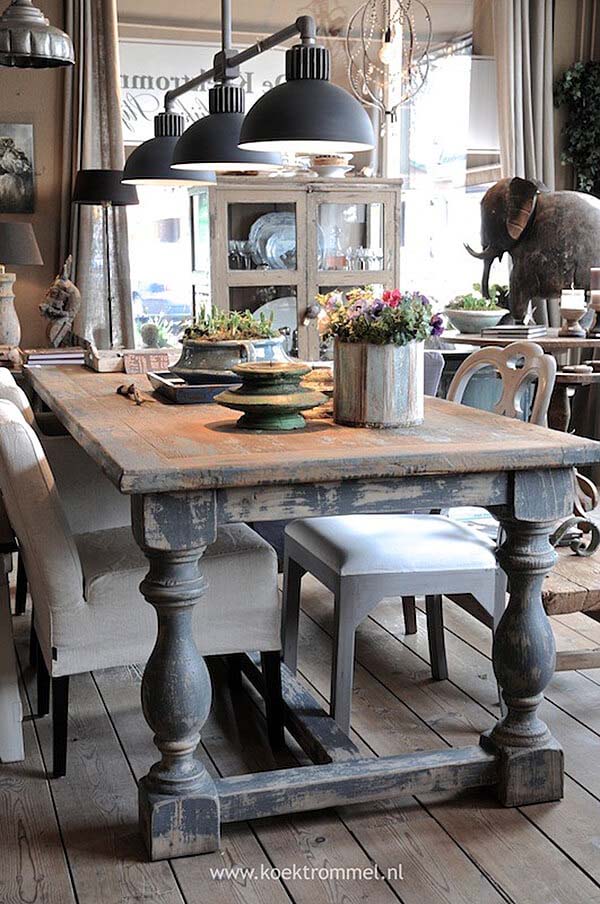 This untraditional farmhouse dining room has been created using items and accents from three different times. The majority of the furniture has belonged to a cottage and has been upcycled to give it new life in the contemporary world.
The light feature above the butcher block table marks the presence of a factory interior typical for decades ago.
An interesting inclusion in this interior is done via Eastern sculptures taken from a trip to an exotic country.
The collapse of these three styles in one place is well managed with matching textures and colors in an earthy palette to actually create a unique setting with a lot of personal touches.
A Wintery Centerpiece with Spring Feathers and Eggs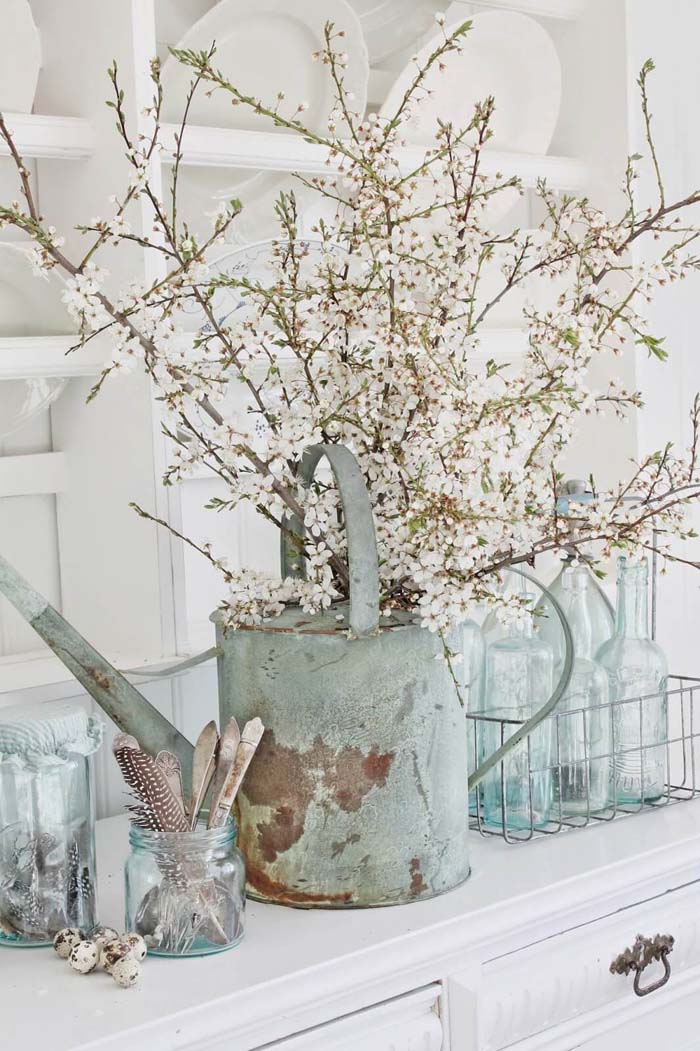 Use untraditional containers from the countryside living to create a farmhouse warmth in the dining room.
For example, any vintage watering can, even the rustiest one can become an amazing vase for spring blossoms.
Match it with an arrangement of glass milk bottles in a wire basket and jars containing vintage silver or metal cutlery.
via Vibeke
An Antique Cupboard with Charming Farmhouse Decor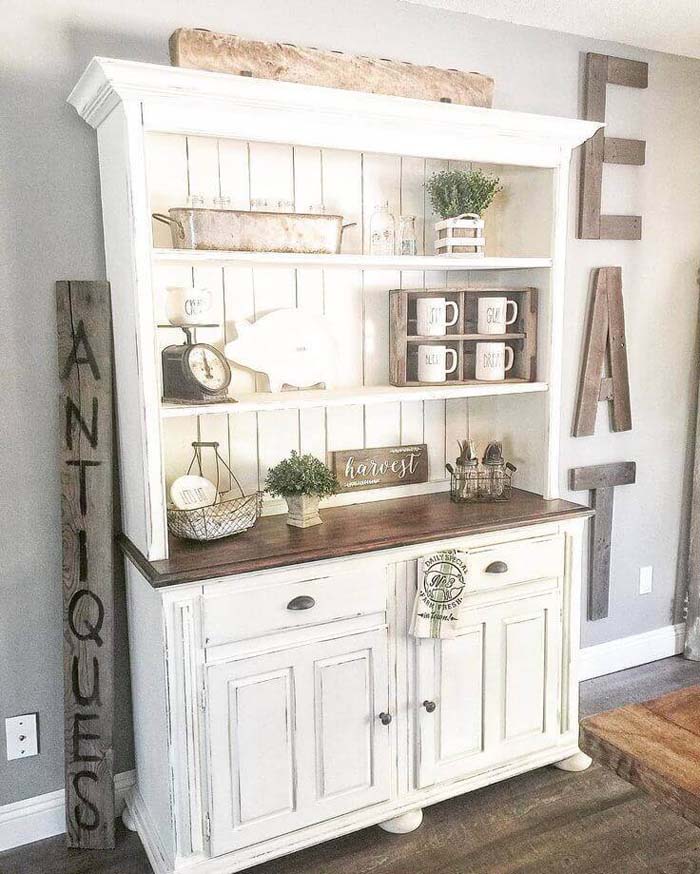 Make a special dedicated area for your farmhouse accents into the dining room. You need an antique piece of furniture like this buffet.
Depending on its condition, you can do a little touch up or leave it as it is.
Place various farmhouse accents- metal wire baskets, old vases, antiques, containers, glass bottles.
To blend this farmhouse nook with the remaining of the interior, hang a large hand made letter sign. It will mark the purpose of gathering in this room in a very cute rustic way.
On the other side of the buffet, lean a weathered slat with a hand-written word.
via Ashley Knie
An Antique Door with a Sturdy Metal Construction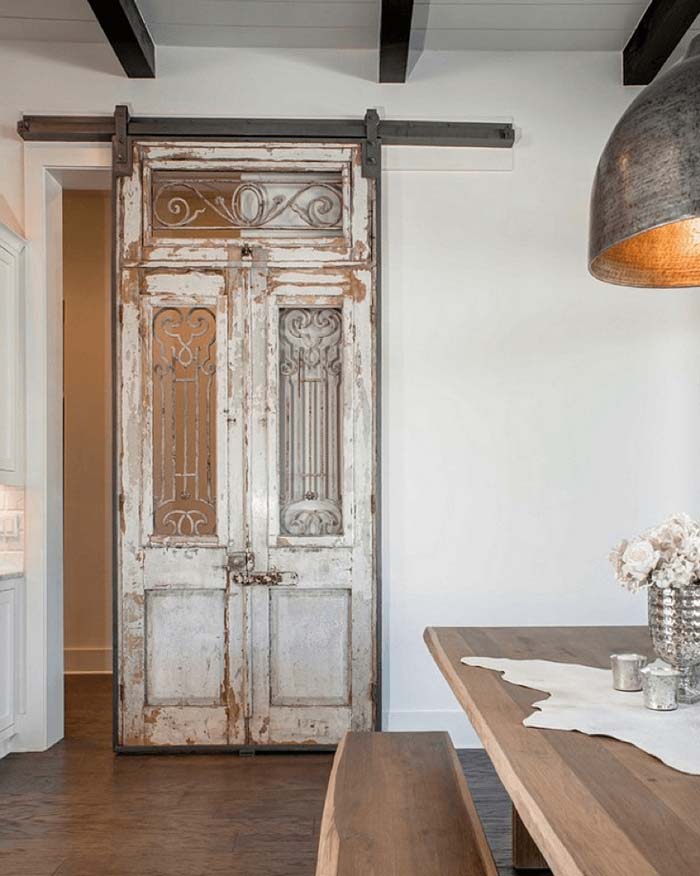 The antique vintage doors are a certain sign of the farmhouse style. This beautiful one has been salvaged and used as a sliding transition between the dining room an the rest of the house.
The patina and the marks of age and long-time usage add a warm contrast with the neatly organized room.
via Geschke Group
An Artistic Design with Bold Contrast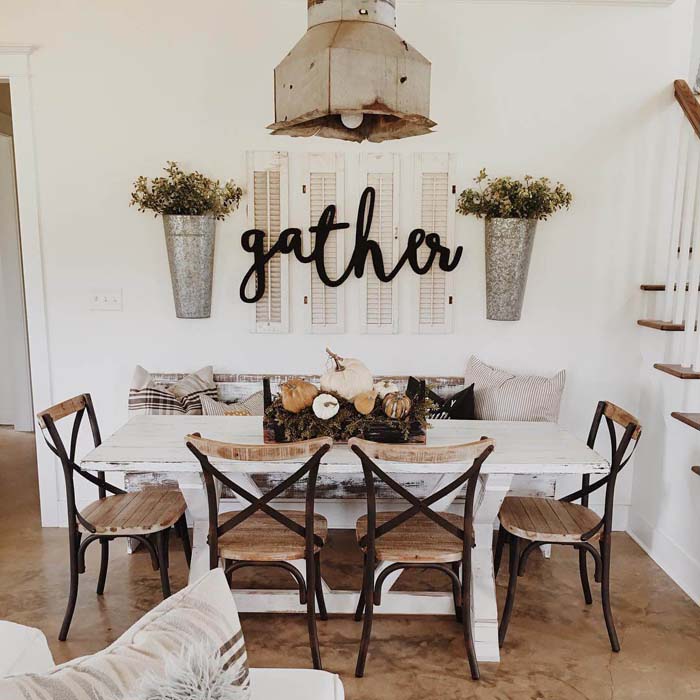 The neutral colors of the walls let the accents pop out. The vintage chairs combine colors of dark stained frames and weathered seats, framing a large distressed barnwood table.
The galvanized tins are turned into wall art coinciding with the ends of a large bench. Inbetween them an outdoor motif like shutters is brought indoors to attract attention and become a contrasting backdrop for a word sign marking an eternal value.
The centerpiece on the table sets a seasonal arrangement typical of the farmhouse in autumn.
via Brittany York
An Earthy Wreath to Bring Nature into your Home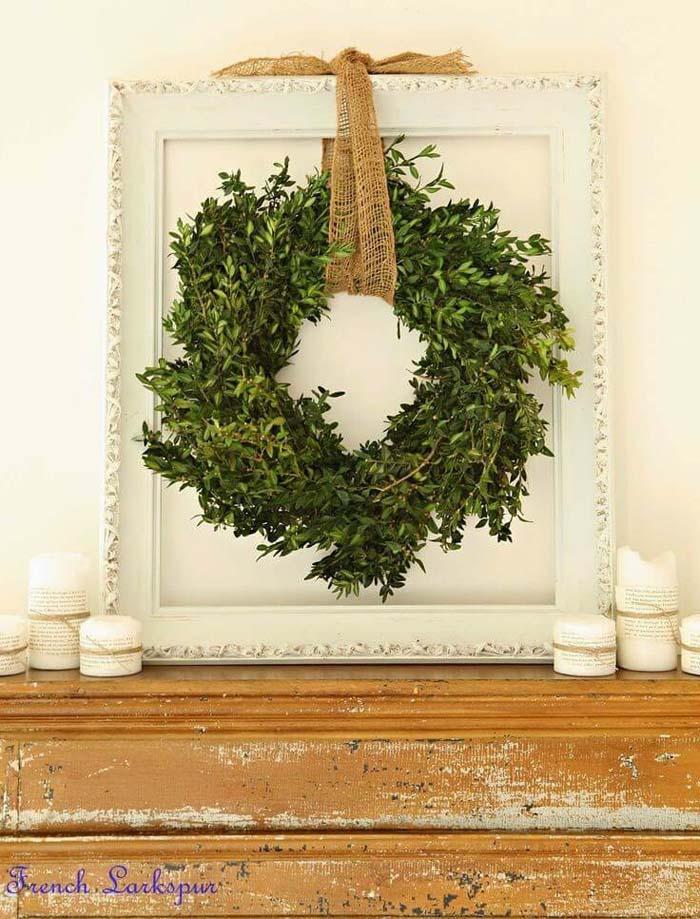 Another easy project that will add a farmhouse charm in a natural way is a wreath made of evergreen twigs.
What makes this idea more interesting than others is that the wreath is tied onto a wooden vintage frame with a wide burlap ribbon.
All supplies of this craft are of textures and materials related to the rustic decor so they will surely enhance the coziness of your dining room.
via My Bella Bug
An Old-Fashioned Clock for a Farmhouse Look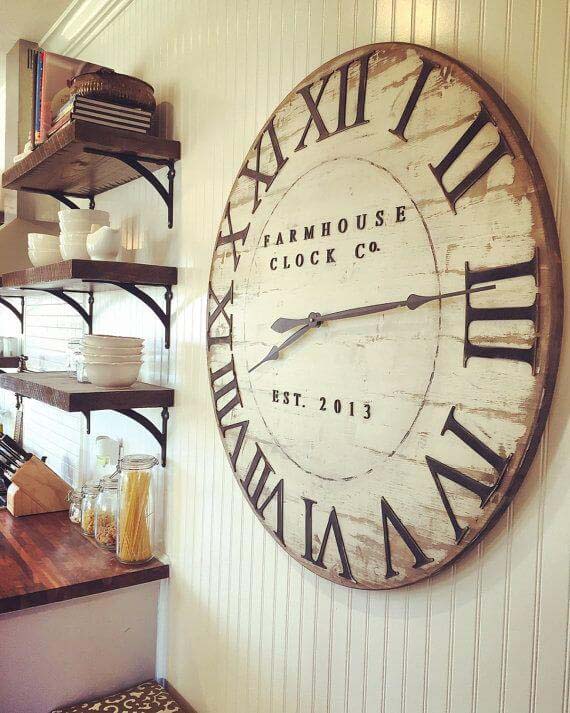 A wood planked wall provides a neutral canvas for display of farmhouse wall art. The majority of it is covered by an oversized farmhouse clock.
It has been given an antique look via distressing of the surface and the large Roman numbers typical for ancient times.
The clock possesses a cute personalized sign expressed in the name and the year of establishment.
via Fajna Strona
An Old-Fashioned Cupboard for Plates and Decor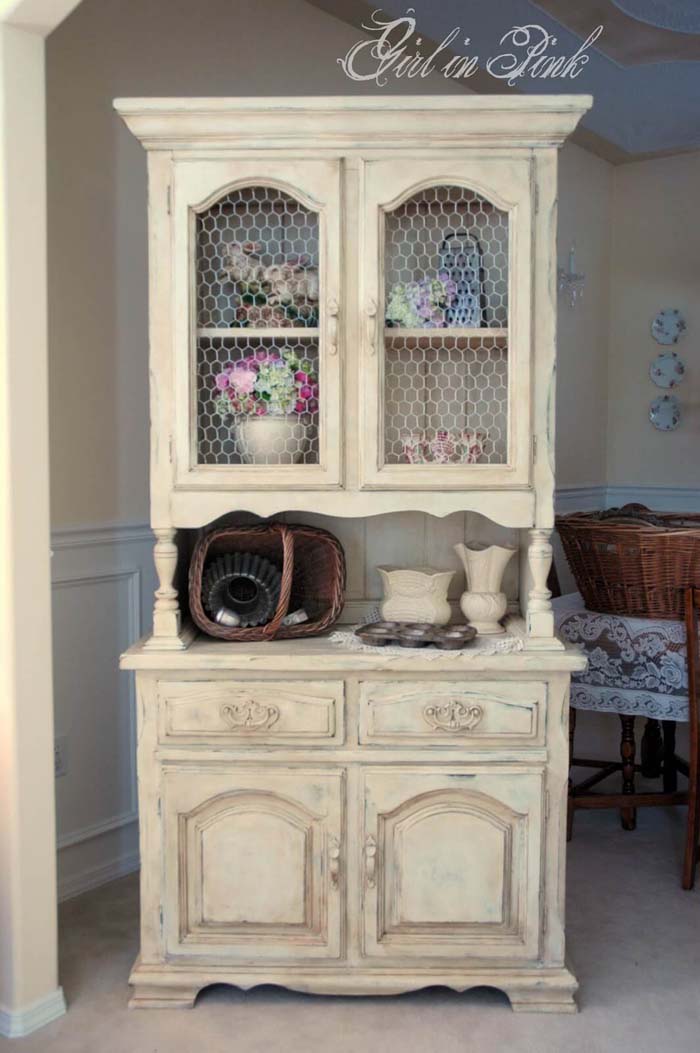 Giving new life to an old piece of furniture is a fun project which will surprise you with the final result.
Playing with the paint layers and colors, the areas left uncovered to show signs of age and usage, will let you update it without changing its rustic charm and influence over the entire interior.
If you want to give the buffet a farmhouse touch, replace the glass with chicken wire.
via One Girl In Pink
An Old-Fashioned Way to Bring Light into your Dining Area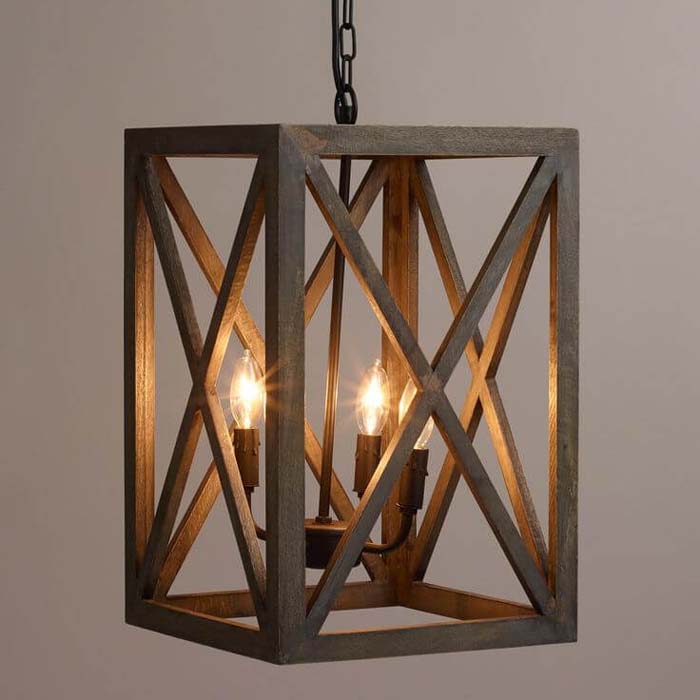 Such a design of a chandelier will complement the farmhouse designed dining room in a unique way.
It is made by framing a vintage light feature with a lantern-like wood structure. In case you have some lathes left out from old DIY, you can try to make this chandelier yourself.
The stain should be the same color as the one of the accents in the interior in order to create a harmonious countryside ambiance.
via Shop Style
Basic Farmhouse Dining Room with Simple Rustic Decor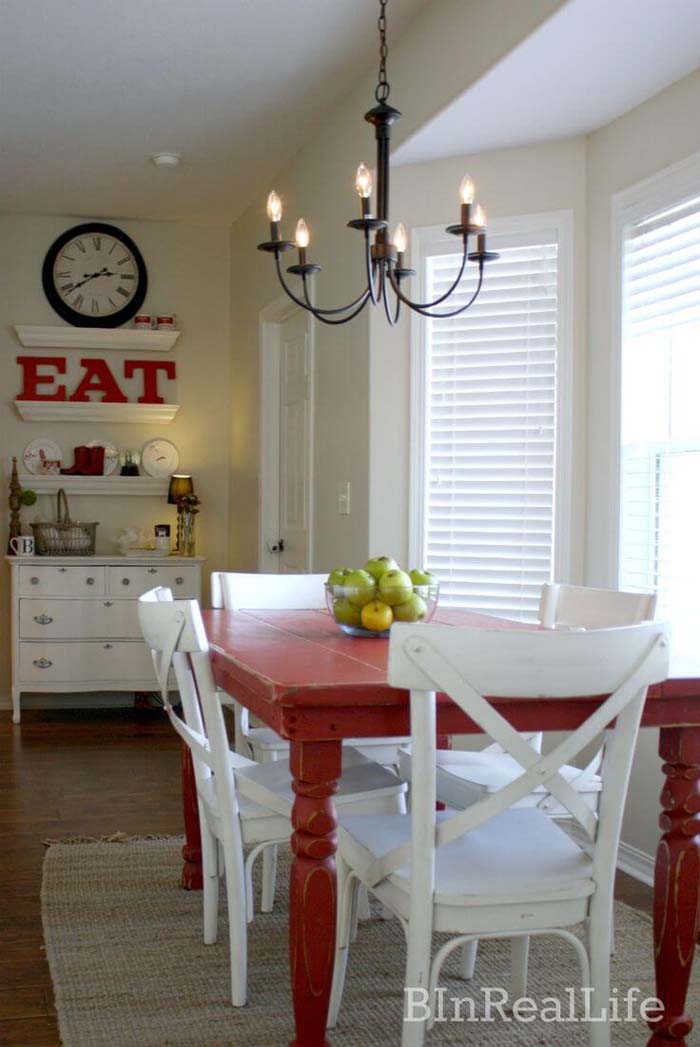 The interest in this dining room is given to the non-traditional color of the table. Usually the farmhouse design trusts the earthy colors. In this case all of the interior follows this rule apart from the boldly painted table.
If you take another look, you will see that there is a small accent on the buffet which complements the color of the table and thus it doesn't look odd at all.
This extravagant decision is surely interesting and gives this dining room a personalized look.
Dining Area with a Touch of Class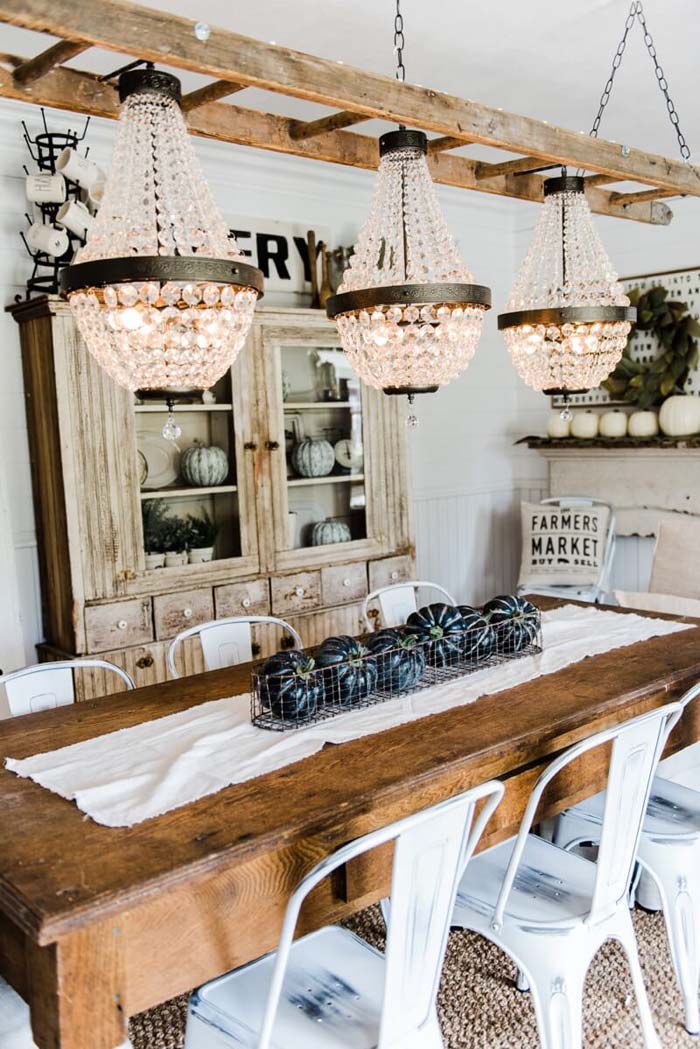 When you are designing your dining room in the farmhouse style you are not limited to that style only. On the contrary, adding a non-standard accent will make the space more personalized and appealing.
Here, the author has decided to use three identical chandeliers of a glamorous luxury design. They have been mounted onto a ladder to ensure a logical and nice looking connection between the mix and match.
Such an inspiration could be useful for those of you who would like to create a customized dining room with a unique interior.
Durable Wood Furniture with an Old-Fashioned Look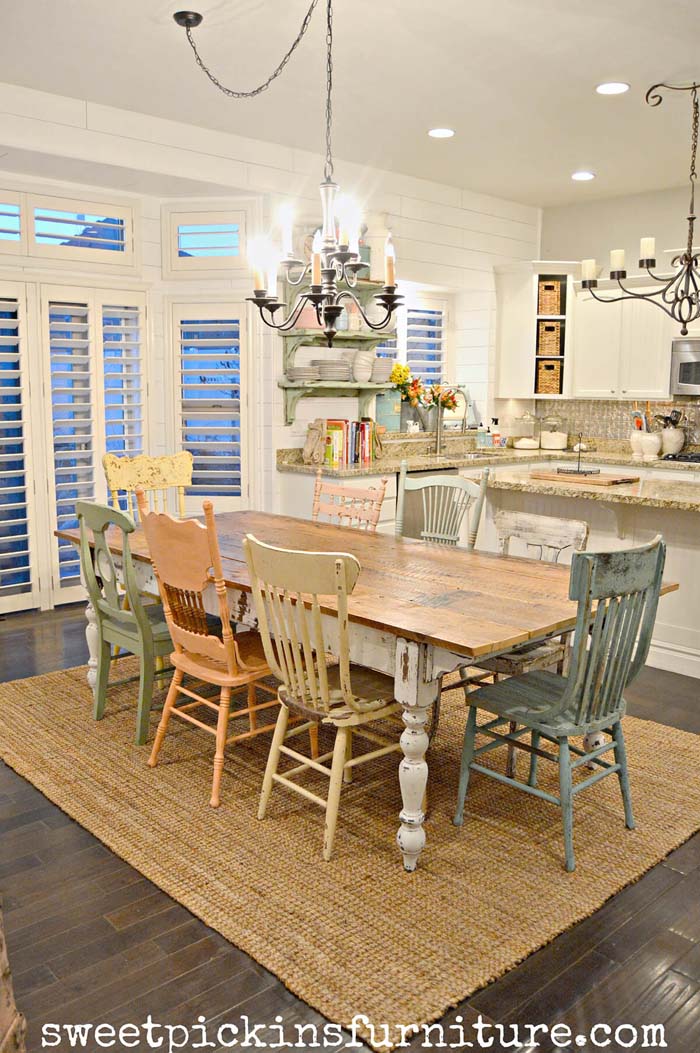 The table set in this dining room looks like a junk collection of old chairs. Their unique antique designs are additionally strengthened by paint in djfferent pastel colors.
The rustic presence is anchored by a large jute carpet and a vintage chandelier.
The farmhouse style continues in the kitchen area where it is represented by a shiplap wall against which vintage accents pop out.
Fall-Inspired Decorations with an Earthy Touch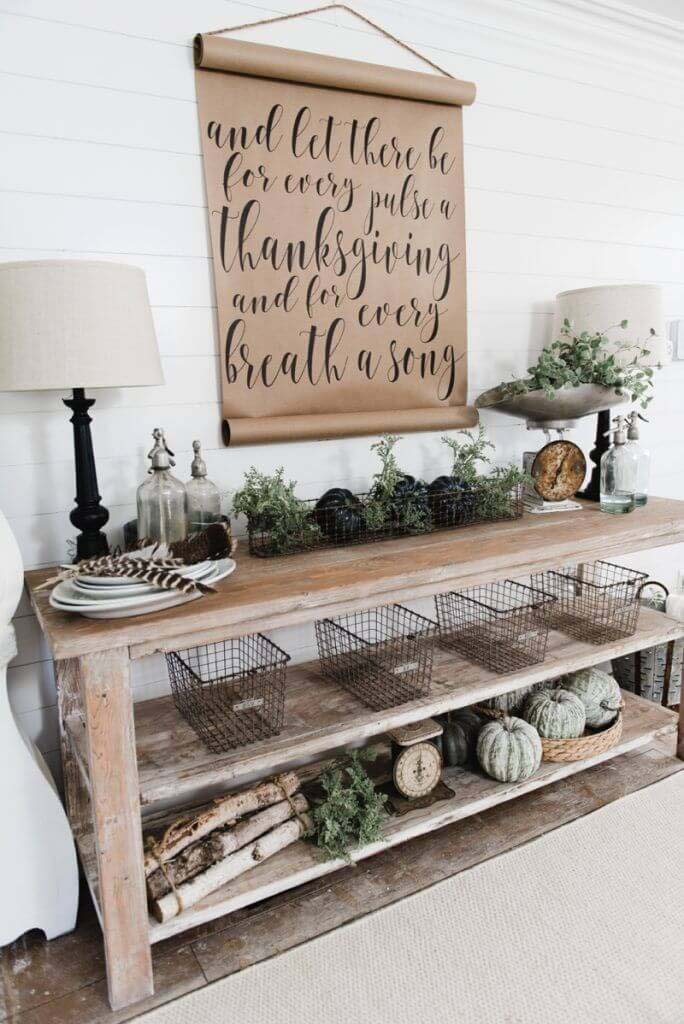 The farmhouse furniture is the best place to expose seasonal decoration inspired by nature.
This bread table with an unfinished table is chosen to be the core of a farmhouse nook that welcomes the guests into the dining room.
A burlap scroll sign displays a sentimental saying. Two lamps mark the ends of the countertop and between them, vintage repurposed items find their right place and new application.
via Liz Marie Blog
Farmhouse Dining Room Design with a Simple Three-Color Scheme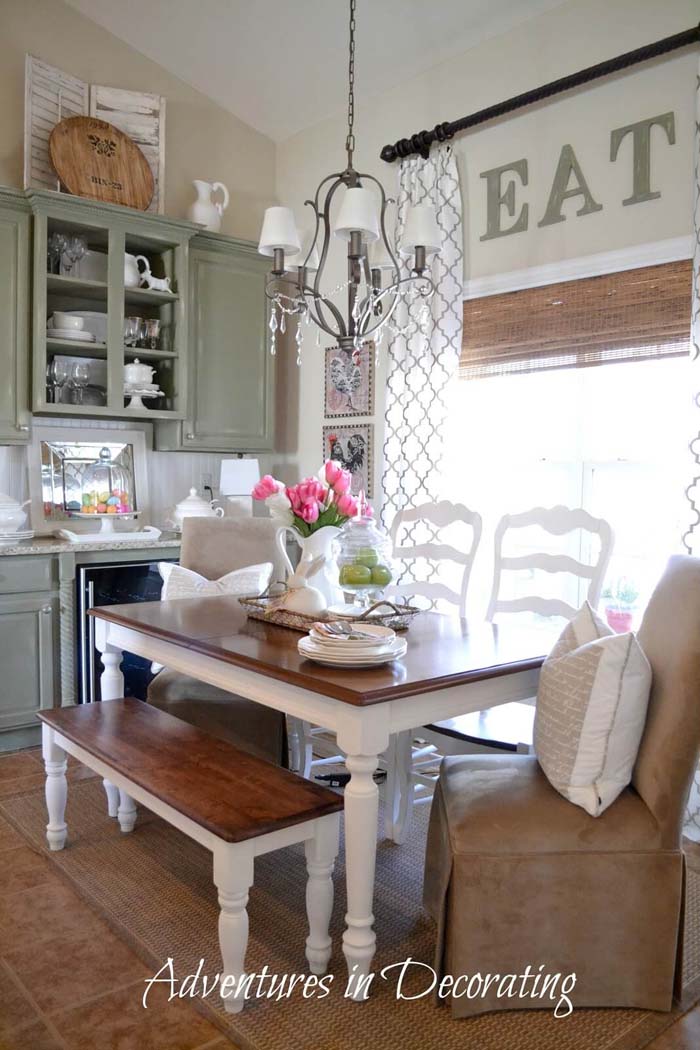 Neutral colors are the traditional farmhouse palette regardless of the type of room they will be used in.
Combining three of them will give the dining room a fresh unique look with rustic charm.
White is used as an accentuating color, enhancing the beautiful antique shapes of the wooden sitting set. Dark brown has been used on every level, starting from the floor and finishing with the highest part of the room.
The olive green has been chosen for the vintage buffet to create a point of interest and give the relatively small space depth.
Old Farmhouse Decor with Beauty and Functionality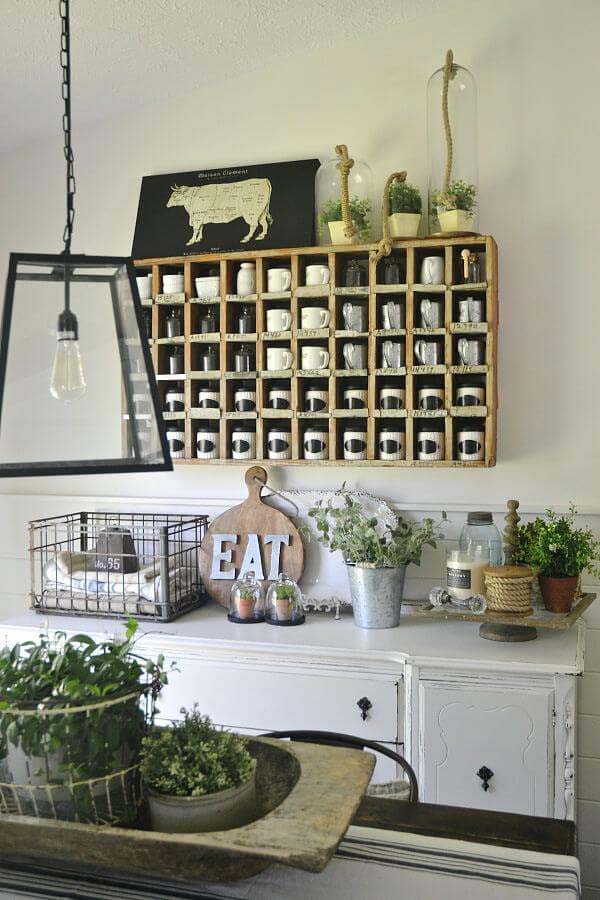 These cubies are great, aren't they? And they are also very functional providing numerous sections for storage of jars and cups.
The rest of this dining room decor is also very impressive- galvanized buckets become gorgeous vintage planters. Another way for exposing plants has been presented by small pots covered with glass cloches.
A wire crate features another functional part of this dining area holding napkins and towels.
via Liz Marie Blog
Rustic Decor with Real Wooden Planks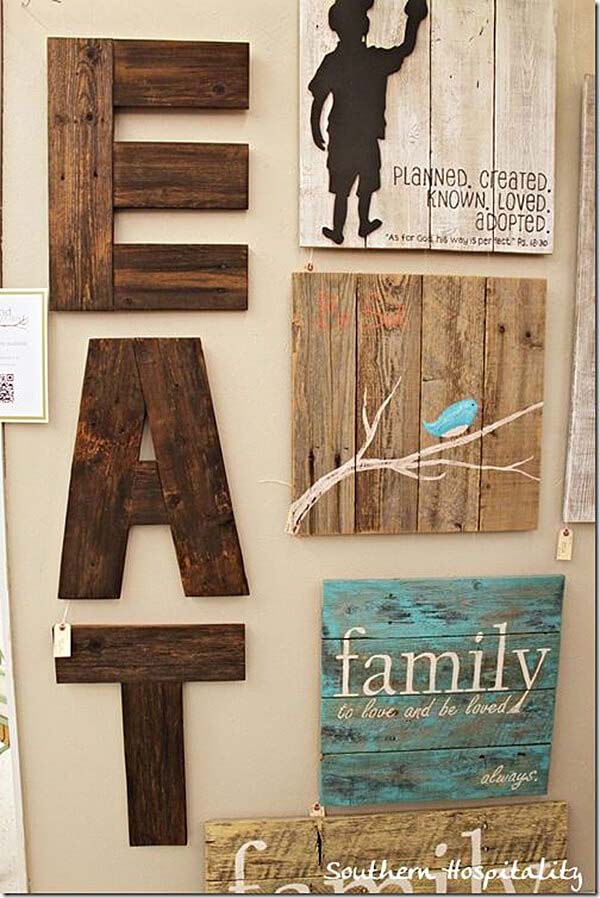 If you are looking for a way to decorate an empty wall of your farmhouse designed dining room, use this example for upcycled wood art.
Each piece of this decor has been made out of wood. The stains and the paint techniques have changed its texture giving it an aged look.
Simple but Effective Decor Ideas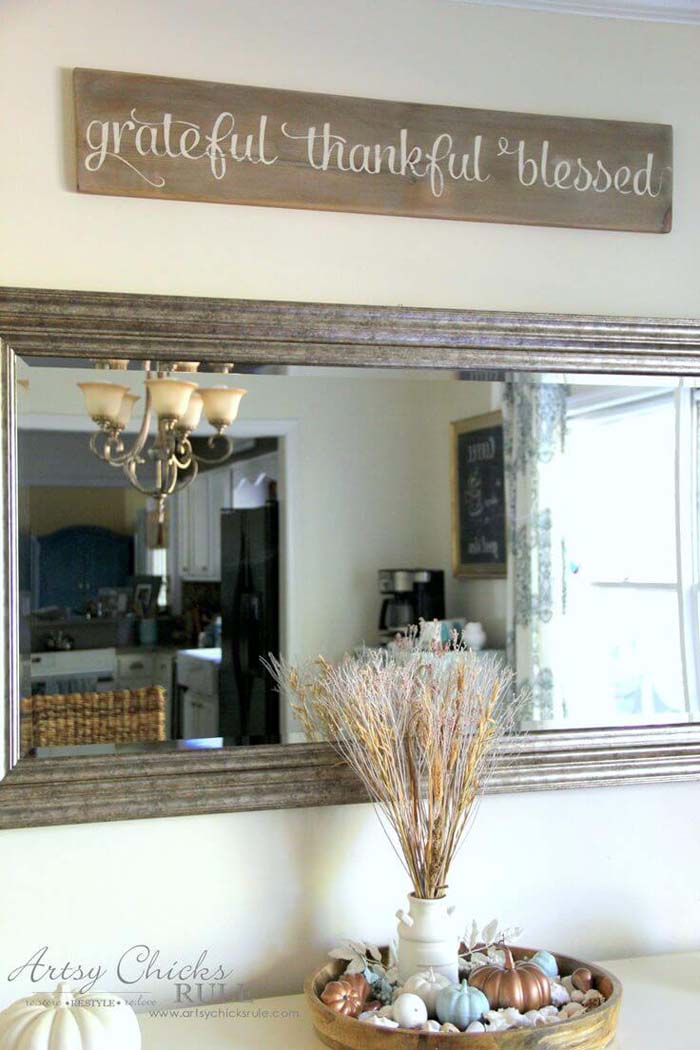 If you are looking for a quick and affordable makeover of the dining room, replacement of some of the accents with such touched by the rustic trend will surely transform the interior.
A farmhouse nook becomes the focal point of this dining room. It includes a large vintage mirror that creates an illusion for a wider space and reflects the natural light. Above it, a simple wooden sign acts as a board for displaying the family values.
Below it, a rustic cabinet displays a charming tray filled with gifts from nature- small painted pumpkins placed onto pebbles and a vintage vase holding a bouquet of field plants.
Simple Decor with Classic Elegance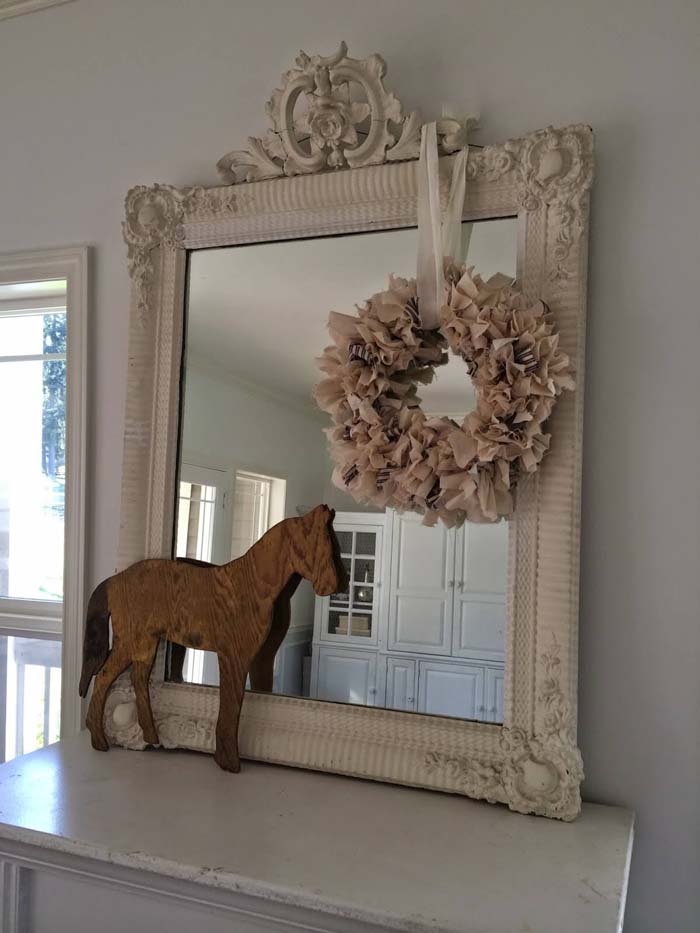 Remember the wreath hung to a wooden frame? This idea is very similar with the exception that the wreath is made of coffee filters and that the frame is holding a mirror.
Its creamy color pops out against the neutral colors exposing its vintage beauty. A small horse wooden statue stands in front of it to make the decor more unique.
via Little Farmstead
Tasteful Wall Decor with a Wintery Vibe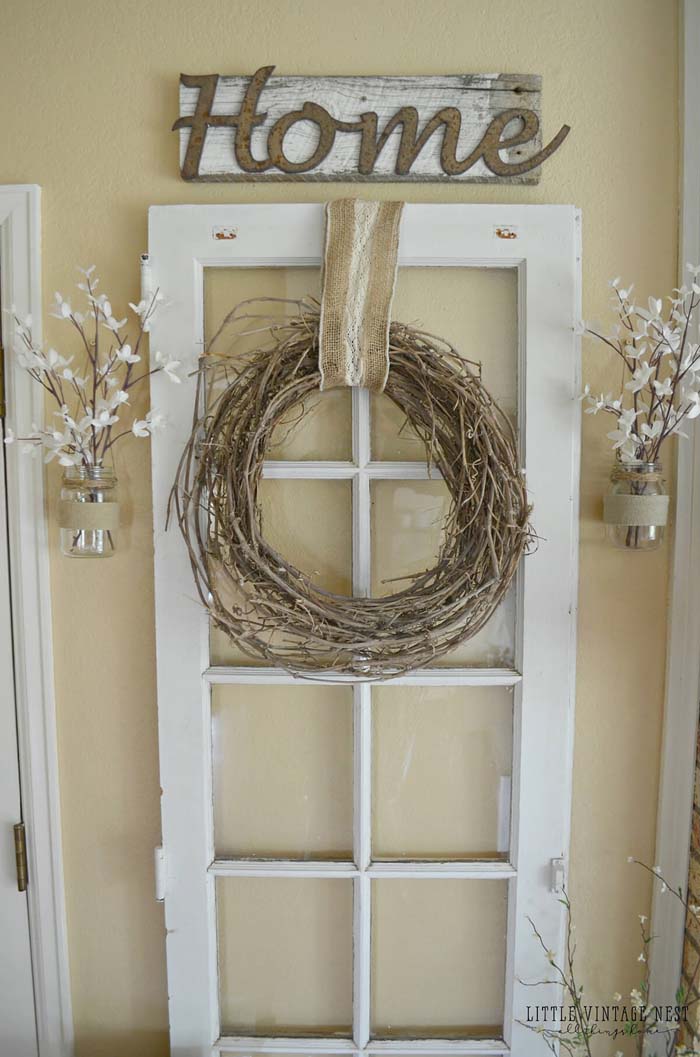 A useless door finds its place in this farmhouse style arrangement. It becomes a backdrop for an unusual branch wreath tied with a large burlap ribbon to the top of it.
On either side of it twigs bloom into glass jars wrapped in burlap. Each of them is secured to the wall with twine.
Above the repurposed door a unique sign says home to undoubtedly make the place more homely and welcoming.
via Sarah Joy Blog
The Old-Fashioned General Store Look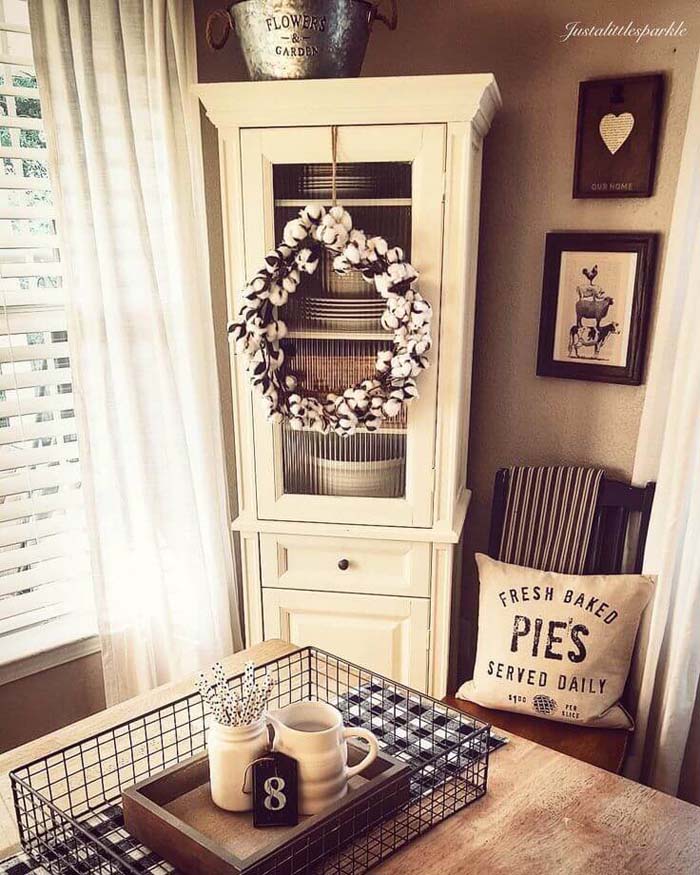 Creating a general-store look in your dining room will surely throw you back to warm memories.
Recreating such an atmosphere requires vintage furniture like a buffet or antique drawer and a few accents. A wire crate placed onto a plaid patterned tablecloth will add an antique vibe into the room.
Use a cotton wreath, vintage pillows, farmhouse animal wall art and vintage repurposed containers to create accents on the other room levels.
The Right Balance Between Modern and Vintage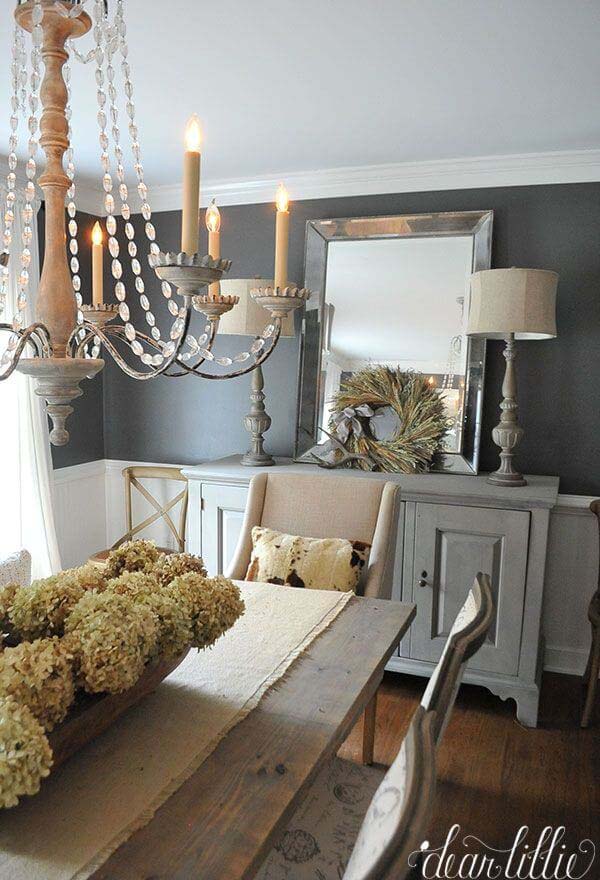 A butcher block table, a wooden drawer, dark stained flooring make the dining room inviting for cozy family dinners or cheerful gatherings with friends.
The modern influence of the contemporary world is sensed in the grey walls, sparkling glass framed mirror and comfortable chairs.
The balance between these two interior styles in one place is tied up with a vintage chandelier decorated with crystals.
via Dear Lillie