The second place from our homes which can be defined as a workplace is the laundry room. Given that most of us do up to ten loads of laundry each week, we can easily calculate how much time we spent in there.
Making your laundry room both functional and appealing is a challenge but not if you incorporate farmhouse motifs in its interior.
A few farmhouse touches will quickly make even the tiniest room attractive and welcoming. And that will surely make all of the activities related to the laundry room far more pleasant.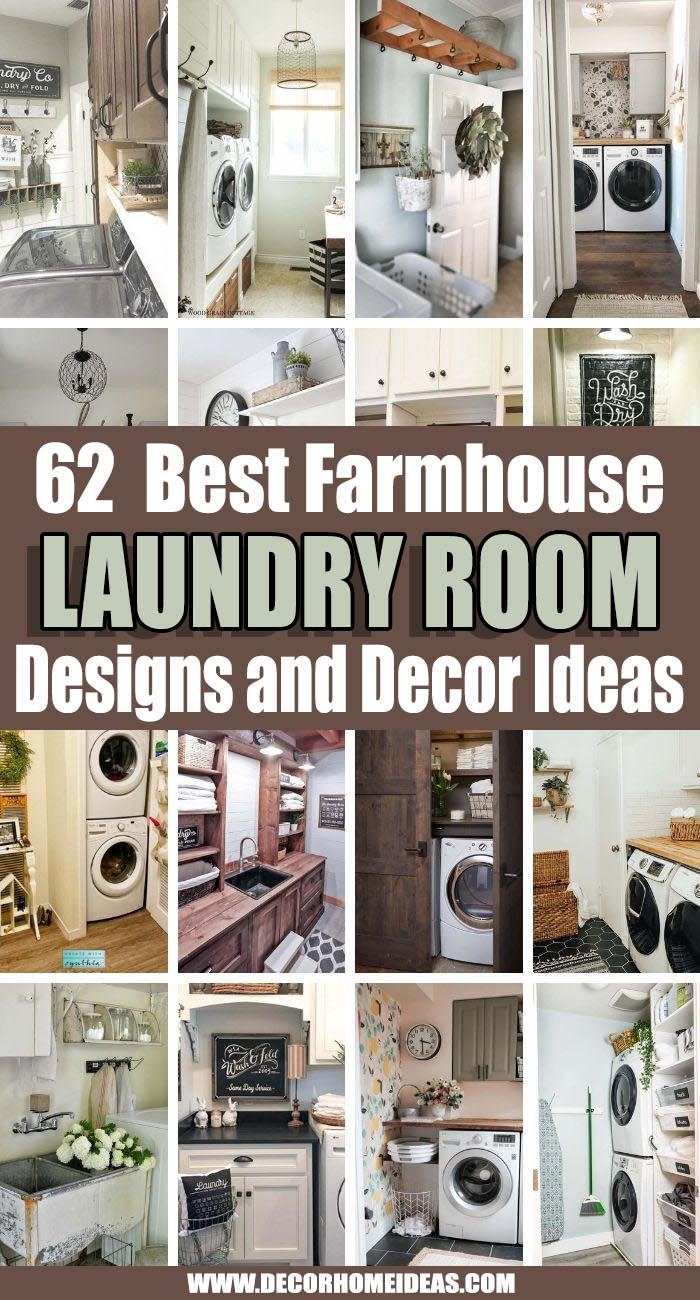 There are many ways for decorating the laundry room but we have gathered the best ones that will make the most of the space in a charming farmhouse way.
1. Hanging Stray Sock Sign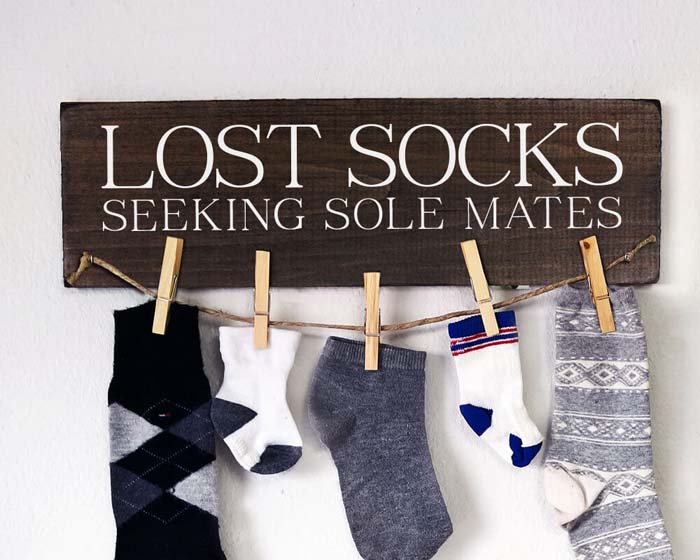 This cute wall art displays the lonely socks of a pair from the laundry. It will surely facilitate finding the missing one and will add a fun vibe to the room.
Made of a wooden board in dark stain, a contrasting inscription and a rope, it is one of the most attractive and functional famrhouse-inspired signs.

2. Add A Mudroom To The Laundry Space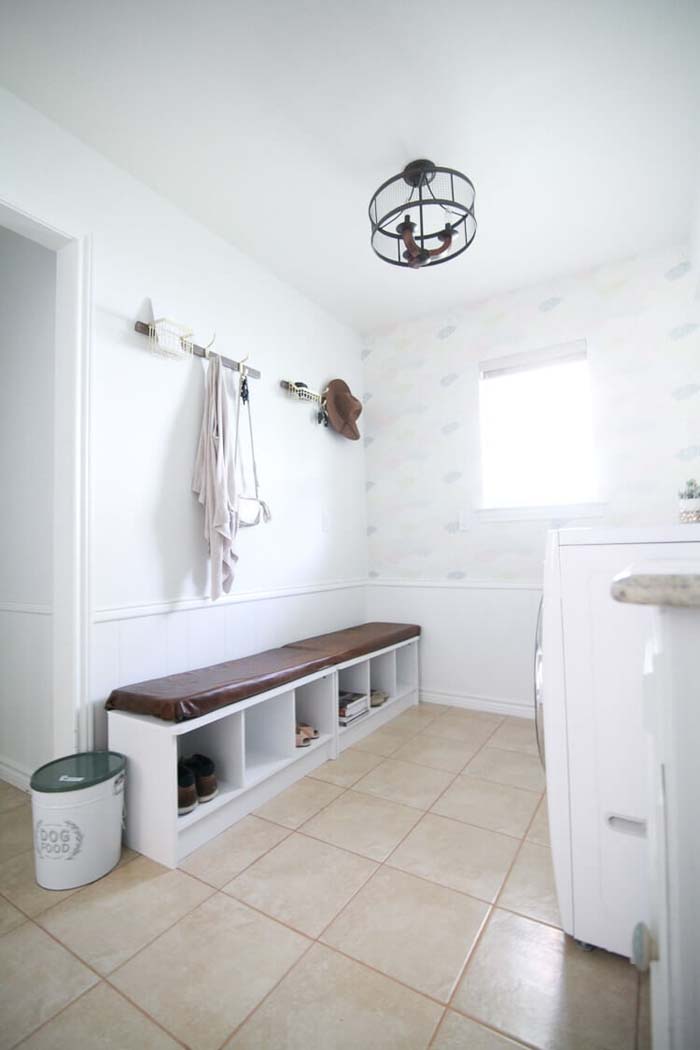 Add a bench to the laundry room right along a wall will be a practical solution for organizing the most often worn shoes. The top of it is equipped with soft leather cushions that will make you sit longer than needed.
The whole atmosphere of this laundry room is very inviting being bright and neat. The farmhouse accents are seen here and there contribute to making this space look part of the home.
via Run To Radiance
3. Farmhouse Chic Vintage Wash Basin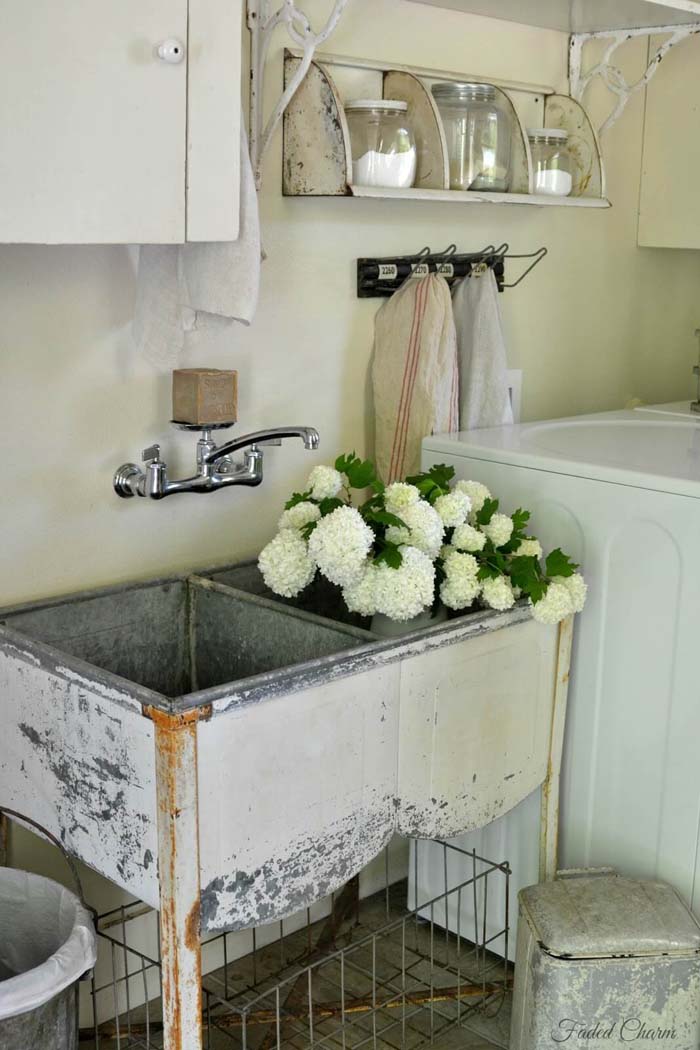 Such an antique vintage washing tub can become one of the most attractive and functional pieces of the laundry room. The two wet compartments can be actually used for pre-washing, dying or storage.
The bottom basket will give another storage place for detergents.
4. Industrial Cottage Tiled Laundry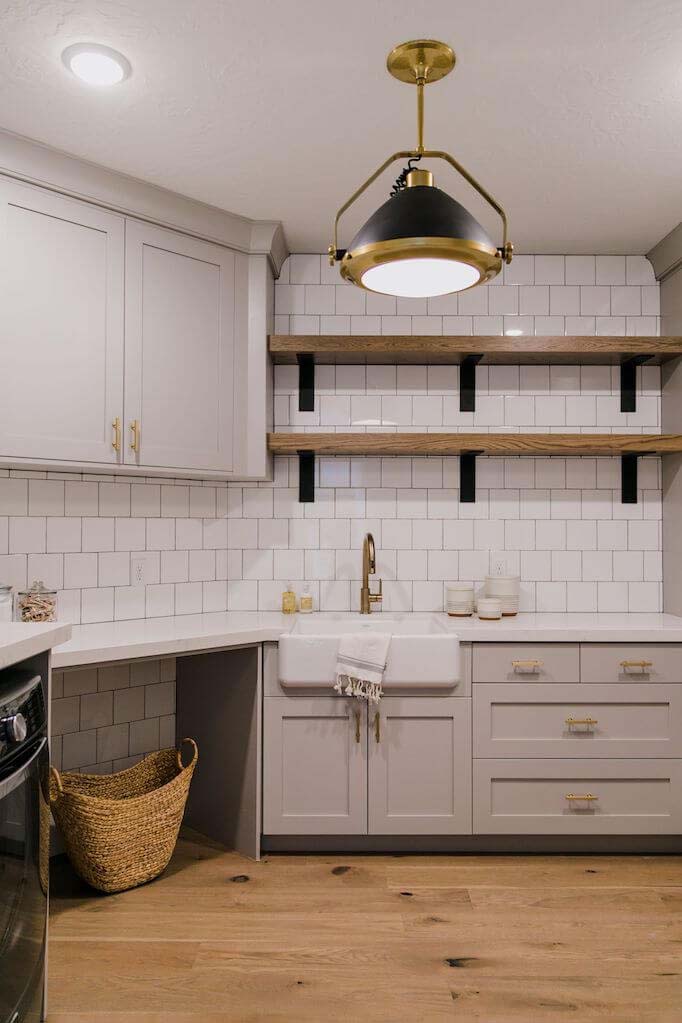 The elegance of this laundry room is achieved by combining retro textures and colors.
White-colored tiles cover the entire wall of the laundry room, giving it a clean look.
To give the space some depth, open shelves made of dark-stained solid wood make a company of closed cupboards where bulkier or not that pleasant for the eye stuff can be stored.
via Becki Owens
5. Classic Black And White Farm Style Laundry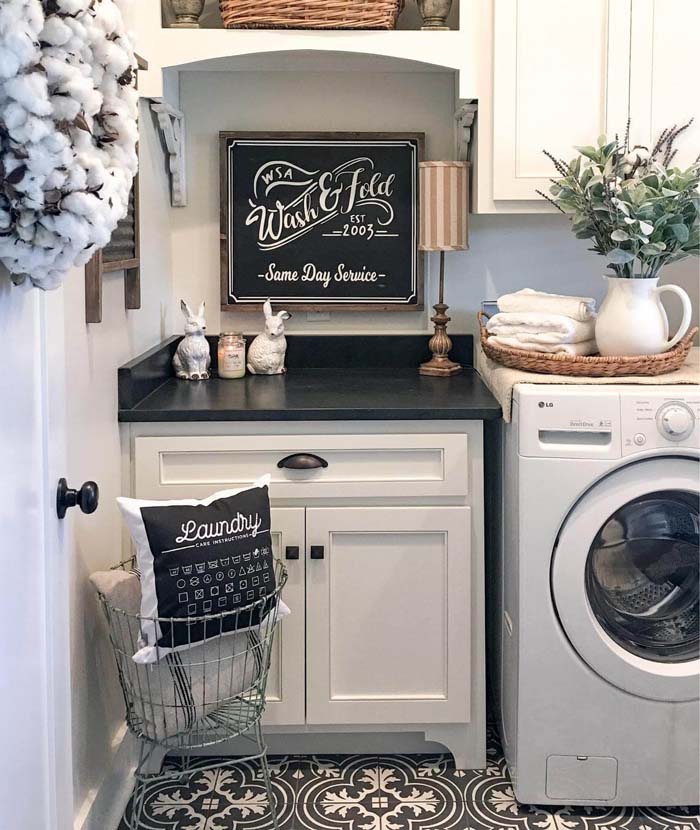 The counter in the laundry room doesn't have to be big to be functional. A small dedicated area consisting of a cabinet and a countertop will be just enough to prepare the clothes for and after laundry.
The black and white color combination seen on the personalized farmhouse sign and the cabinet design matches the graphic flooring.

6. Rustic Wood Shelving Built Ins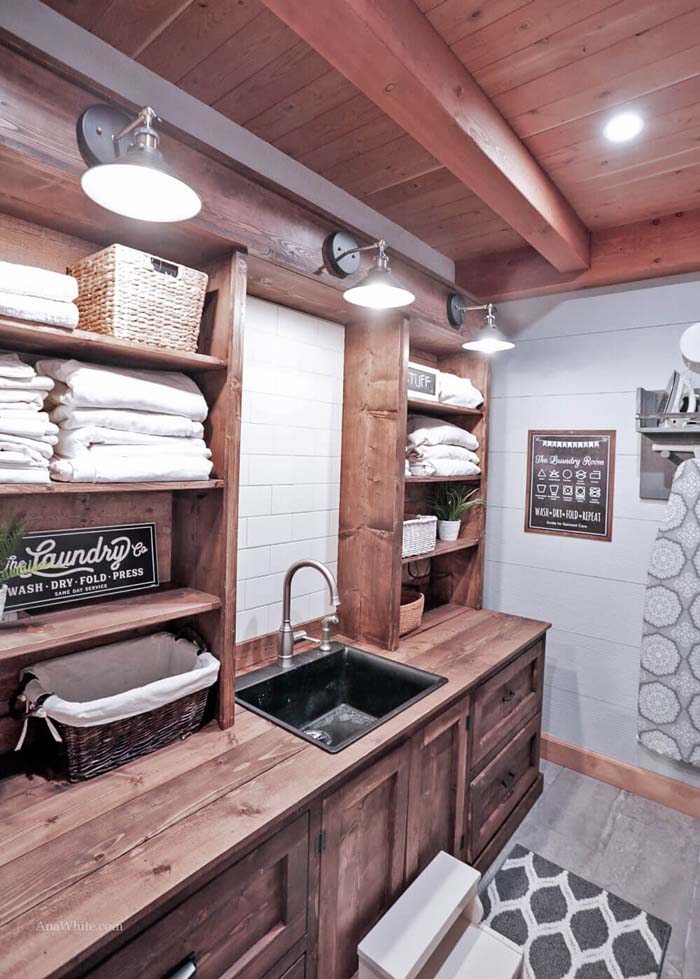 Use the vertical plain of the laundry room smartly by turning it into a large and organized storage place.
Thanks to the free plans and instructions below you can make yourself a storage unit consisting of open shelves, cabinets, and a sink. Made of dark stained lumber, the unit anchors the farmhouse charm and comfort.
via Ana White
7. Pallet Wood Light Fixture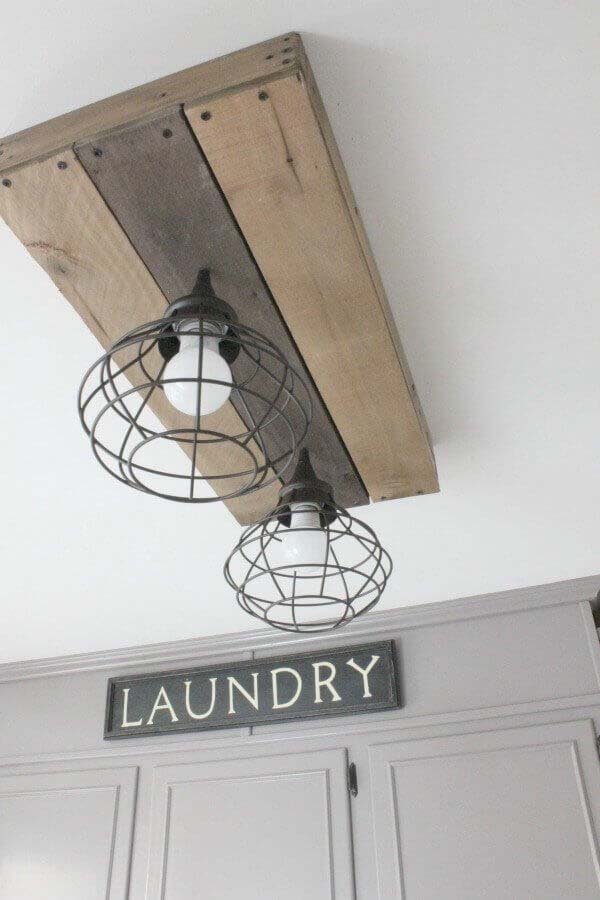 Are you looking for a chandelier that will match the farmhouse interior of the laundry room?
This vintage chandelier has been crafted from slats and wire light fixtures. Being placed in the center of the ceiling, it gives it a rustic accent to match the general interior concept.
via Noting Grace
8. Country Style Hanging Rack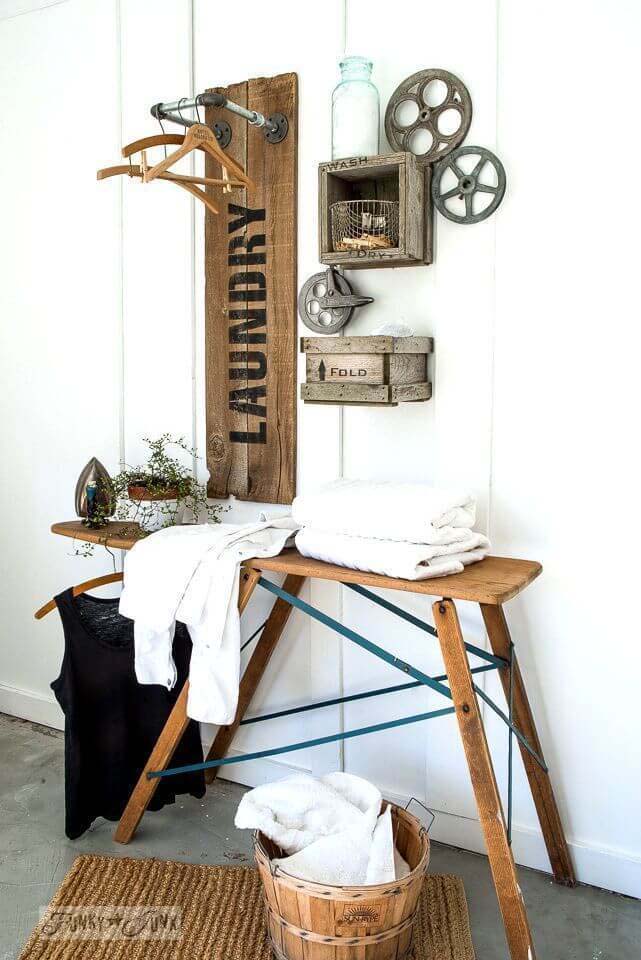 Make one of the walls of the laundry room the accent of the space by creating a farmhouse vintage nook.
It consists of a wall art combining a sign made of a reclaimed beam, two weathered small wooden boxes turned into shelves and wheels used as a framing motif.
The rustic sign has been given a functional feature by being equipped with a hanger made of pipes.
9. Funny Laundry Schedule Decorative Sign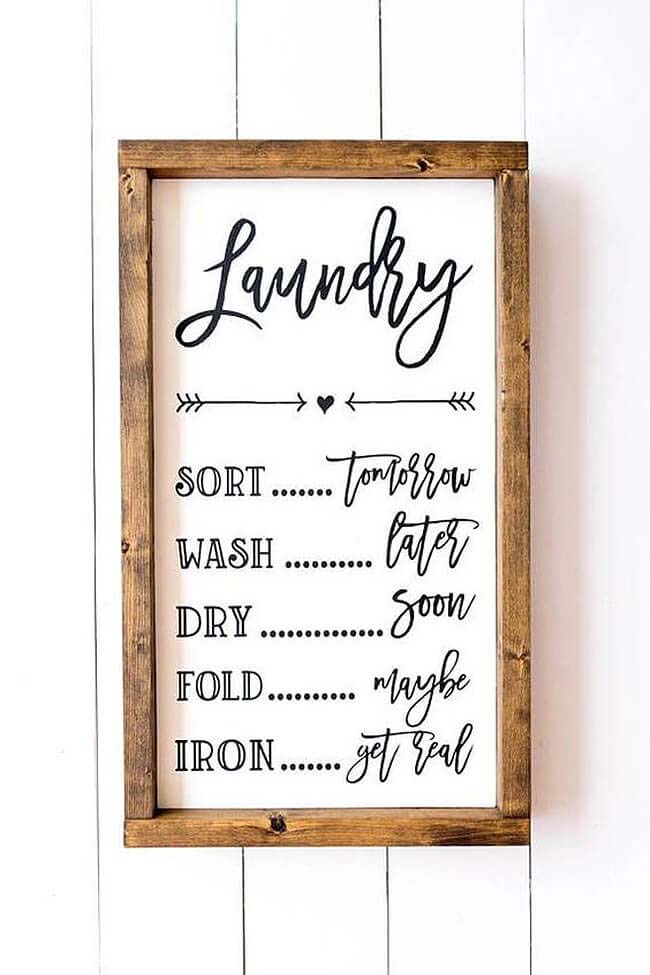 Go back to the traditions by adding a sign to the laundry room.
Today the designs are unlimited but almost all of them are made of wood or chalkboard and state a fun or cute message.

10. Natural Wood And Subway Tile Laundry Space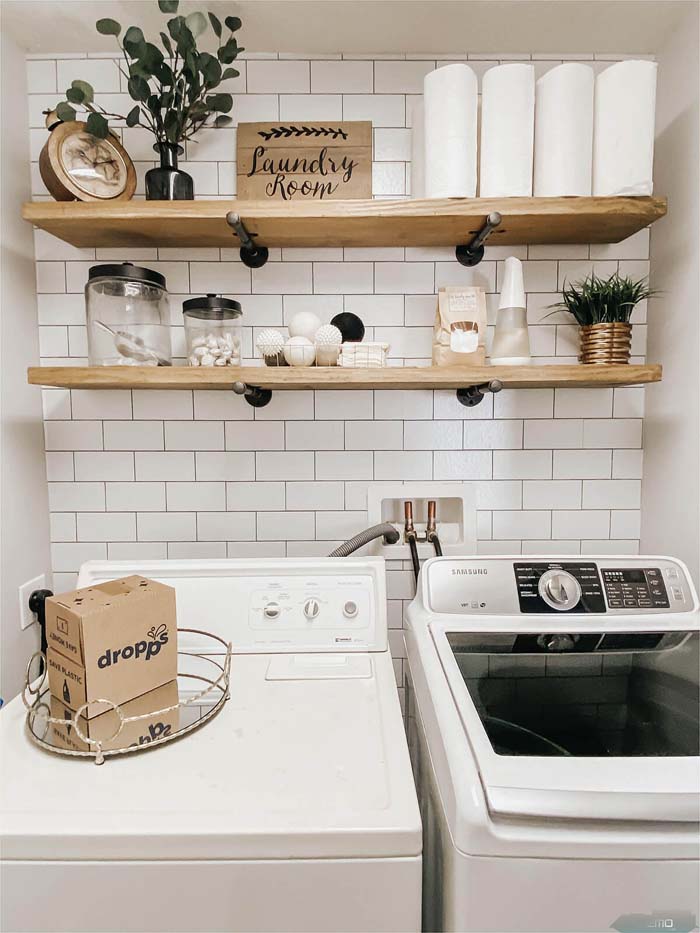 Subway tiles used for the wall of the laundry room look amazing with farmhouse decor.
Being white gives you all the freedom you need when deadding the final touches of the space. Wooden open shelves, wire or wicker baskets, signs- they will all pop out against the clean bright backsplash.
11. Spacious Shelving And Cabinet Storage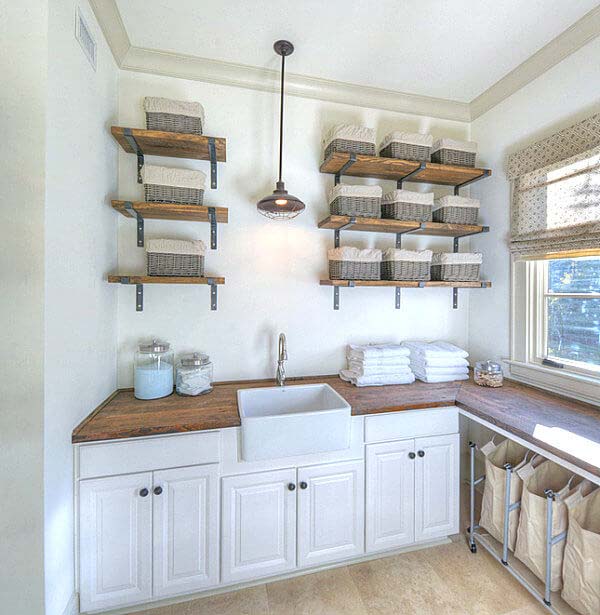 The most appealing farmhouse color combo is white and dark wood stain.
Most of the time the white color is the predominant one to give the space an airy and spacious look while the contrasting color is used for accents to create the illusion of depth.
12. Clean And Bright White Space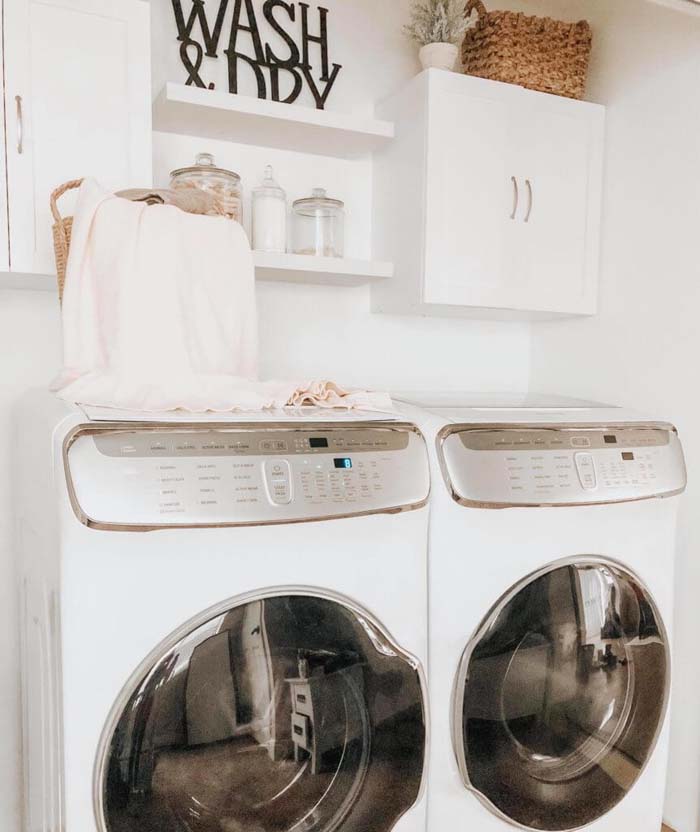 Design the interior of the laundry room as a visual representation of its function- to make the dirty laundry clean, neat and bright.
Choosing the white color for the walls, the cabinets and the shelving will instantly create the feeling of a clean place.
Because of this neutral interior you are given a wide variety of small accents- they can be in earthy colors, of metallic texture, glass, galvanized etc.
13. Simple Laundry Activities Sign Collection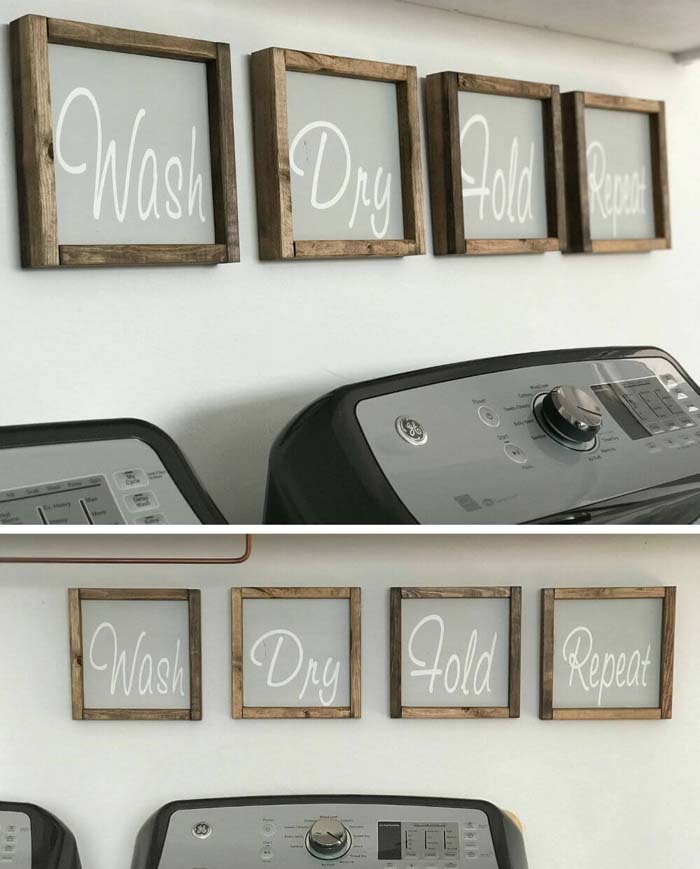 Hanging a wall art consisting of a few framed signs like those will give the laundry room a farmhouse focal point.
Being very native and simple, they mark the activities related to the laundry room in a cute way.

14. Antique Farmhouse Laundry Elements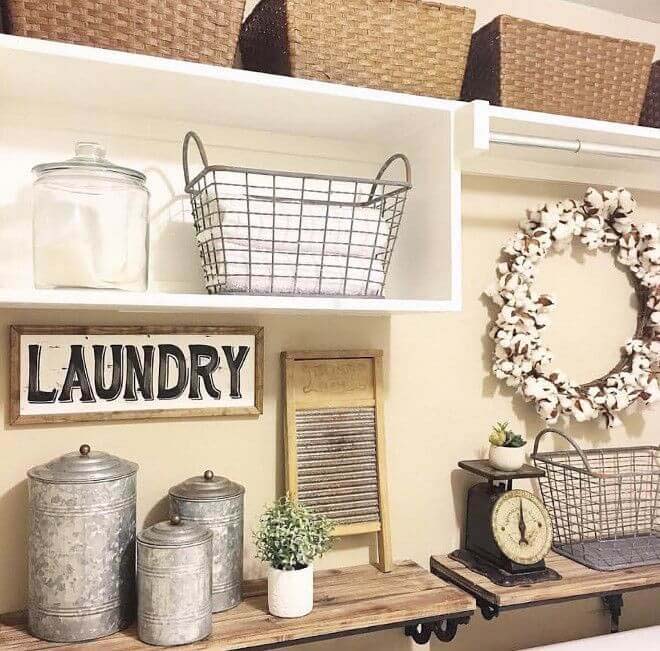 This well-organized laundry room incorporates a lot of vintage accents to be attractive and functional.
The metal canisters, the glass jars, the wicker baskets provide a storage place for all types of stuff that belong to the laundry room. The other antique pieces like the scale just enhance the farmhouse spirit of the room.
via Aly McDaniel
15. Quirky Colorful Lemon Paper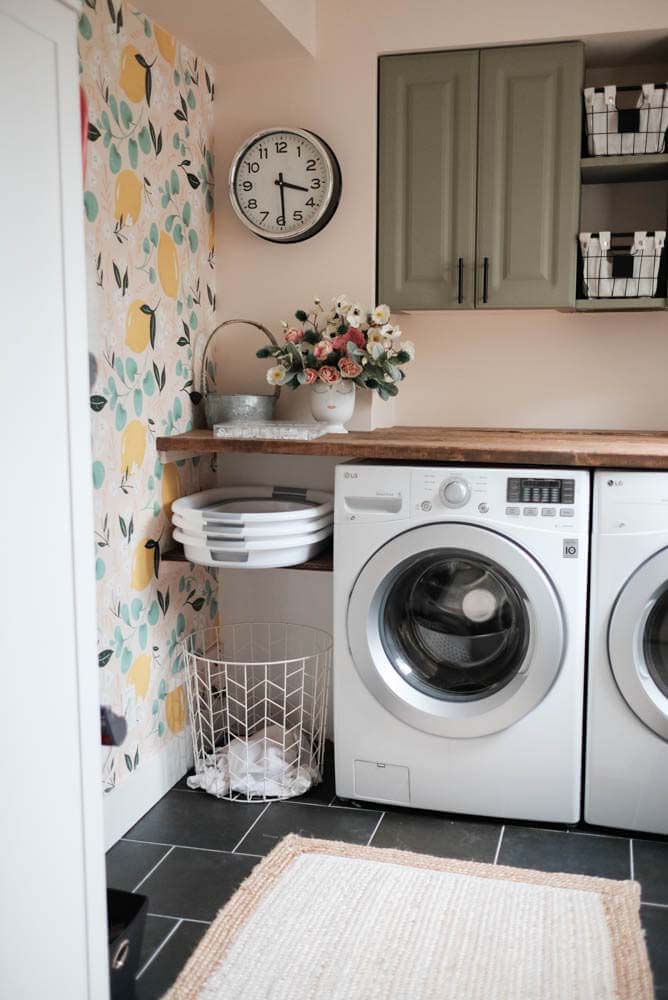 This contemporary laundry room has been given an inviting look through the farmhouse accents in it.
The olive-colored cabinets keep things that would otherwise create a clutter look hidden. The open shelves accommodate vintage baskets for stuff that needs to be easily found.
The cutest part of it is the lemon print wallpaper which adds a pop of color and a fun vibe to this great laundry room.
16. Rustic Gray Wood Paneling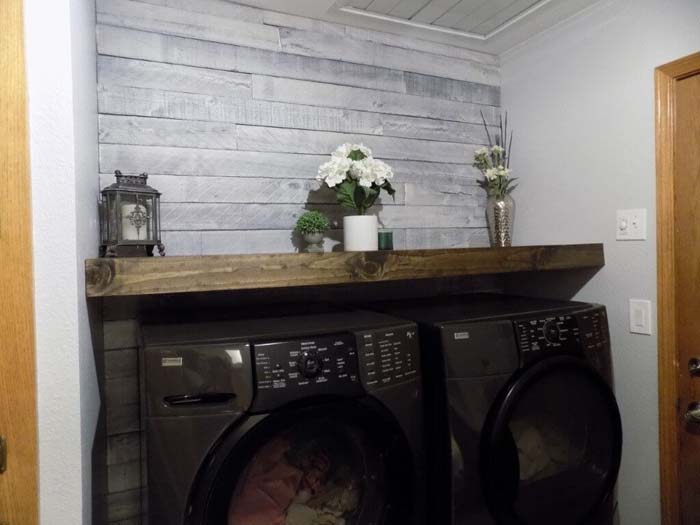 If your laundry room is small you must be wondering how to make it more personalized without creating an overwhelming look.
The best move in such cases is to accentuate on the wall choosing textures or colors that are not typical. Replace the white tiles with grey-washed lathes.
They will create an attractive background for decor accents accommodated on a solid wood countertop.
via Pinspired to DIY
17. Stylish Black And White Laundry Space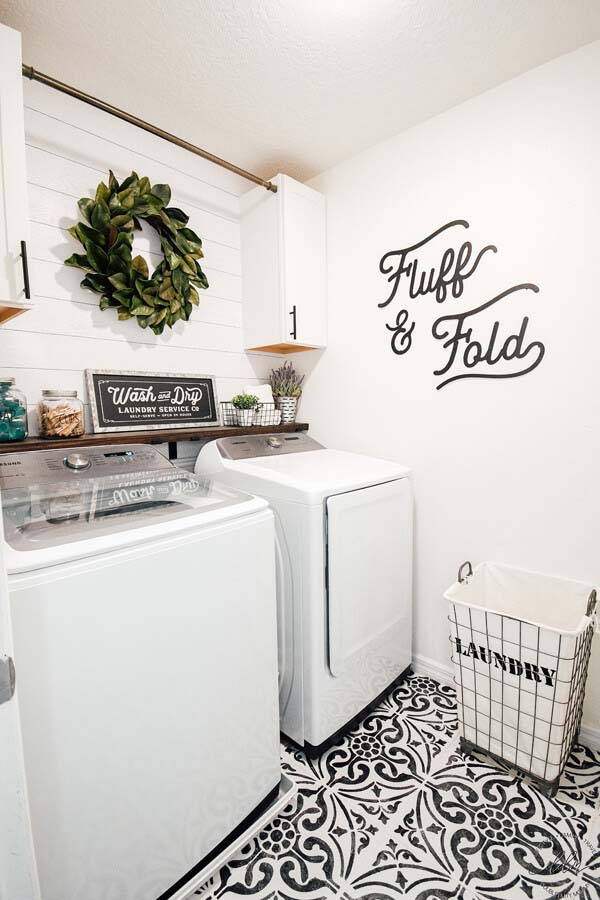 Give your modern laundry room a homely look by adding farmhouse accents on every level.
Start with the floor by replacing the plastic bin with a wire laundry basket. Continue to the mid-level and add a small dark-stained shelf over the washing machine. Use its surface for small accents like plants, signs and other vintage antiques.
The next level is the top part of the room where shiplap can provide a white rustic backsplash for a green wreath.
Complete the decor with a cute sign on the empty wall next to the appliances.
18. Add Decorative Wall For A Stylish Space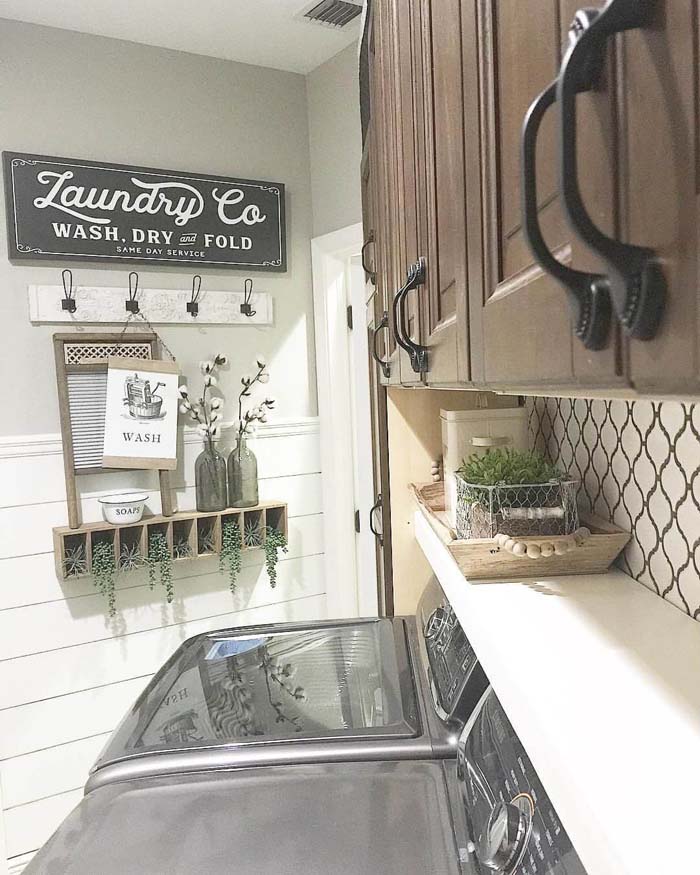 The easiest way to achieve a farmhouse look of the laundry room is to hang interesting vintage wall art.
A personalized chalkboard sign will send a cute message. You can continue working on the decor of the same wall by hanging a weathered wood hanger and a repurposed shelf. Use it to display small accents that enhance the rustic feel.
19. Antique Galvanized Metal Washtub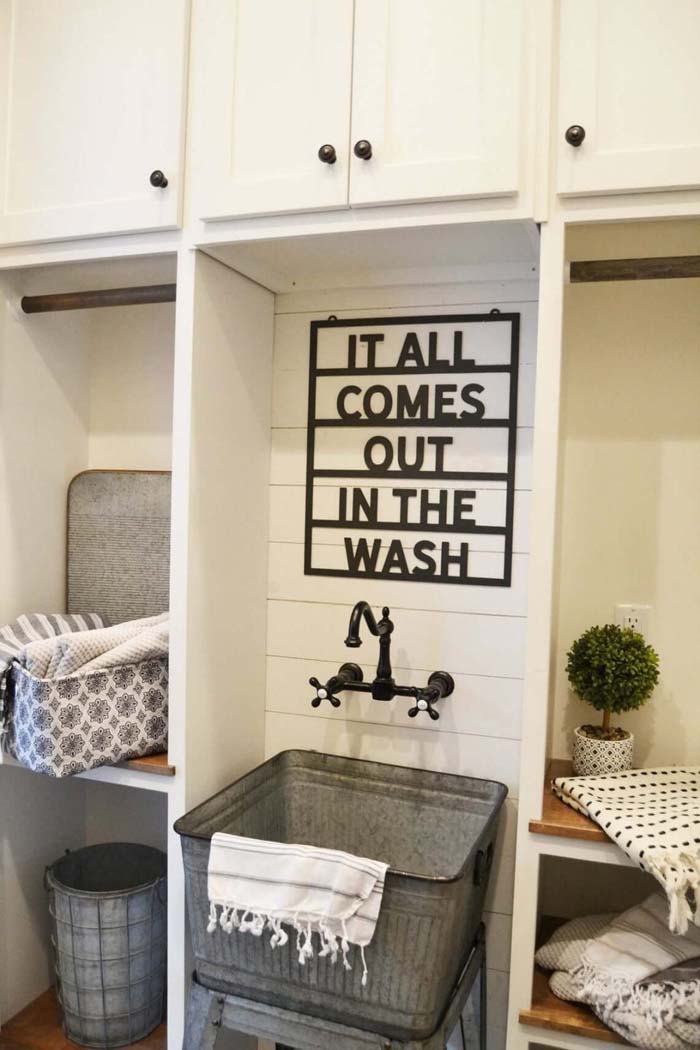 Cheer up the atmosphere in the laundry room with a fun sign. Being placed right above a vintage washtub, the whole setting creates a farmhouse focal point that goes beyond being only a decorative element.
The washtub can be actually used for taking out stains before washing, for dying, for temporary storage.

20. Cheeky Hanging Sign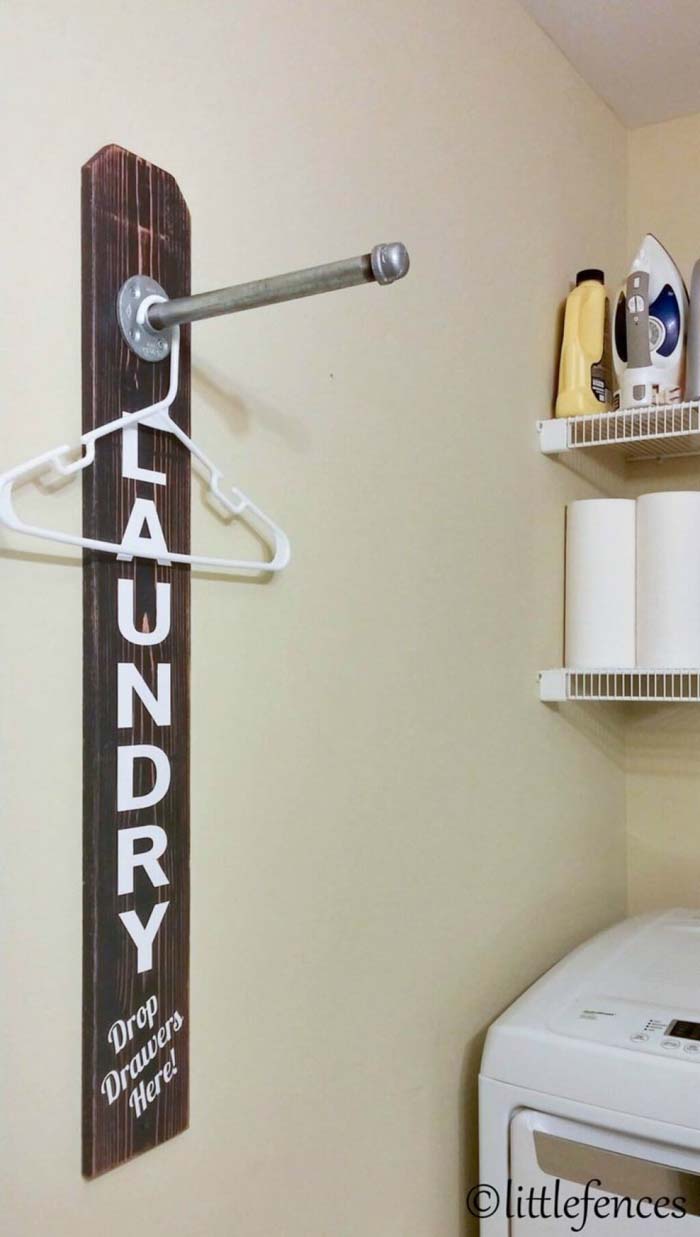 This distressed handmade sign features a screwed pipe that can take up lightweight hangers.
It is relatively small so you will easily find its place to add a cute reminder for everyone using the room.

21. Add A Bucket To Find Lost Socks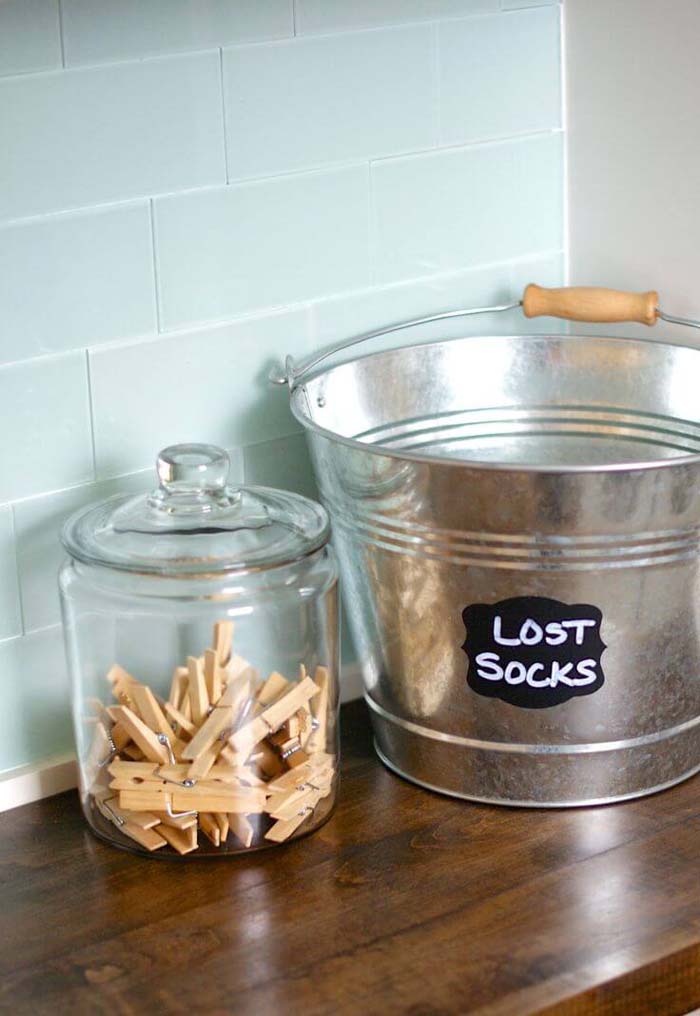 If you have loved the idea for the lost socks display, here is another way you can make it far more qickly and easily.
For that you only need a galvanized bucket and a chalkboard label. Write what should be contained in it and voila!
22. Statement Wall Behind A Washtub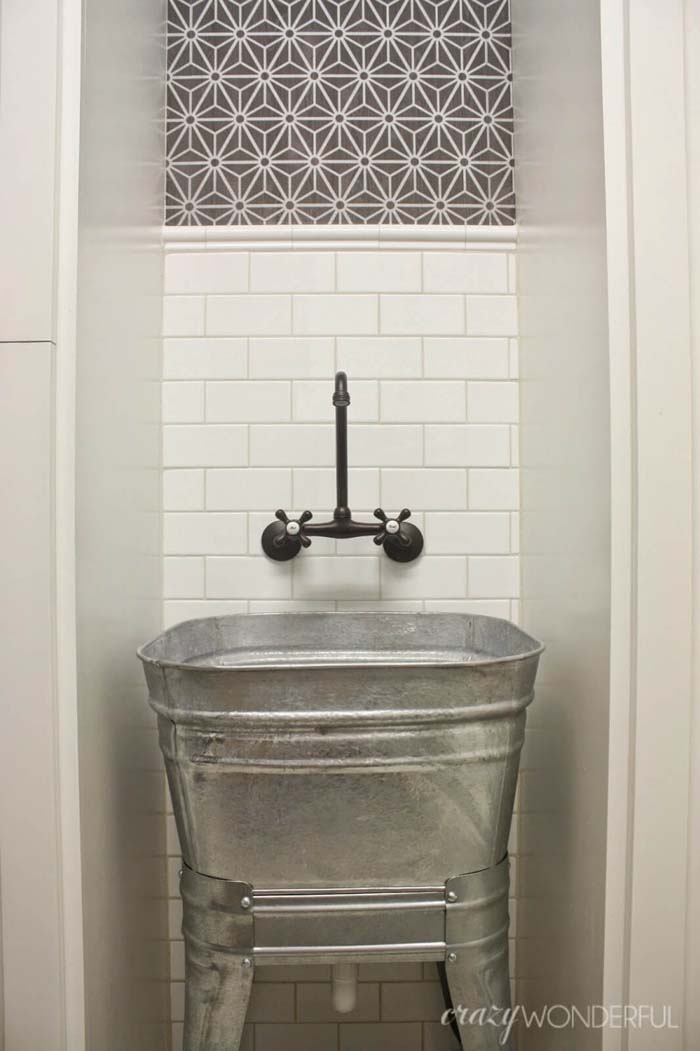 The sink is an important part of the laundry room. If you are thrilled to give the space a farmhouse touch, replace the contemporary models with a repurposed metal washtub.
It can be easily connected to the plumbing system to be as functional as any other sink would be.
via Crazy Wonderful
23. Easy Hook Hanger For Ironing Boards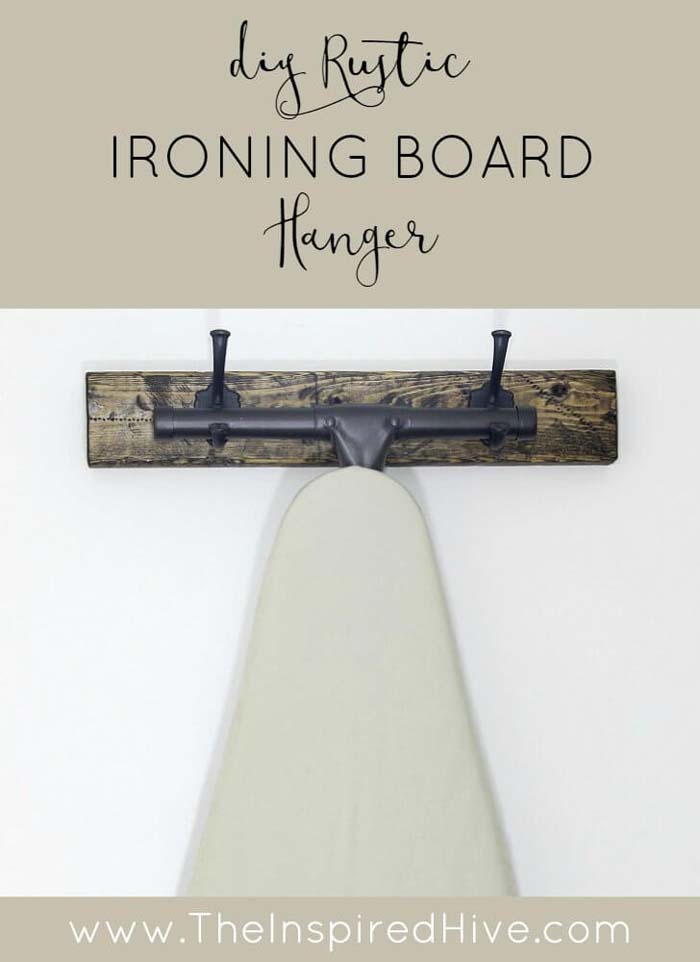 Regardless of the interior style of the laundry room, it has to be well organized. Do you miss a place for your ironing board?
This DIY hanger will bear the load of the board and will become an important rustic spot from the room.
24. Mirror Your Hex Tile With A Fun Fixture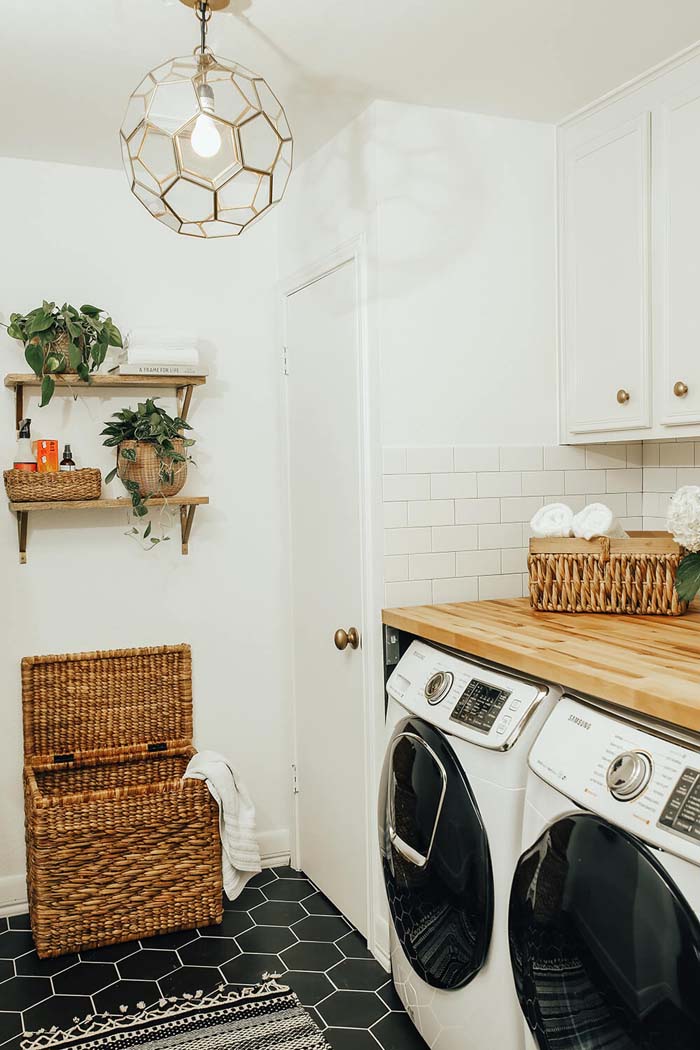 Give your farmhouse laundry room a point of interest with a geometrical chandelier.
Being very modern, it will smoothen the permitting country accents to make them feel belonging to the contemporary world.
via Livvy Land
25. Primitive Country Laundry Shelf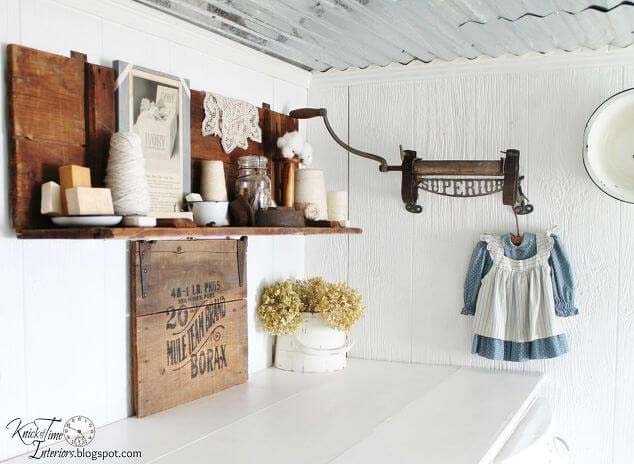 The remodeling of this laundry room was focused on making it more homely and inviting.
Different textures and materials related to the countryside create the base of the space. The rest of the pieces that make the goal accomplished are antique items that are both functional and decorative like a small painted galvanized bucket, a metal upcycled hanger, a weathered wood shelf.
via Knick Of Time
26. Narrow Laundry Cart On Casters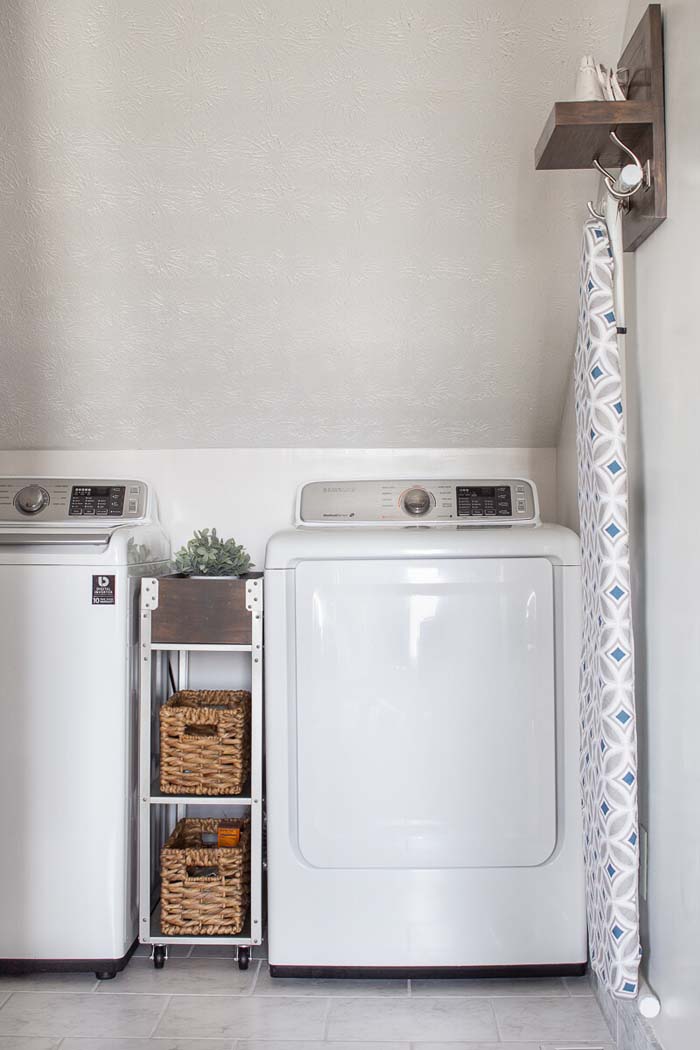 If there is a small space between the washing and drying machine, you can easily turn it into a great storage place with this rolling cart.
It has been made by transforming an Ikea metal shelf into a functional for tiny spaces cart. It is great for the storage of detergents and other washing accessories.
To store them well and to make the cart more attractive, use wicker baskets on each level.
via Handmade Weekly
27. Use A Narrow Space For Hanging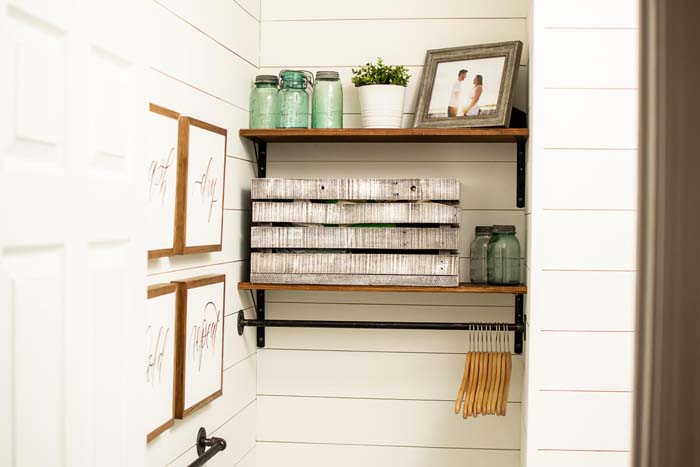 You can increase the storage spaces even in the tiniest laundry room with this great shelving unit.
Made of black industrial pipes for hanging clothes and wooden dark stained shelves for any type of stuff or just for decorative accents will add a welcoming and cozy touch to space.
via Building Our Rez
28. Basket Storage Folding Table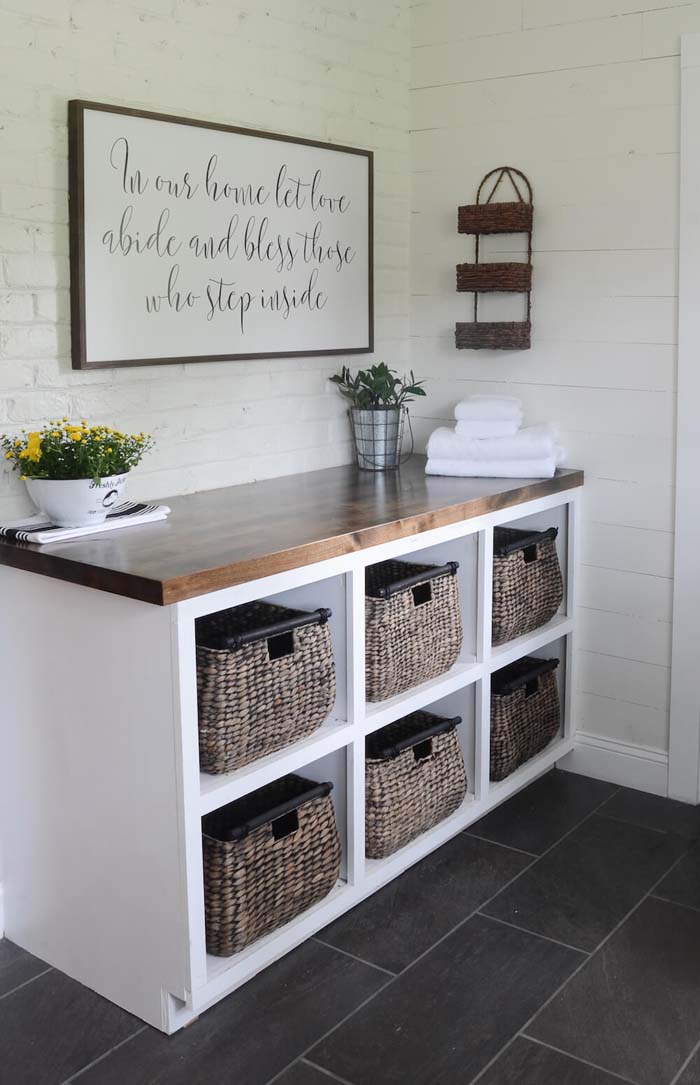 This handmade cabinet is an impressive storage area that gives a separate compartment with a basket dedicated to every member of the family.
Since it has become a focal point of the room, the wall above it has also an important role. It has been dedicated to a large framed sign with a beautiful saying welcoming everyone with love.
via Beneath My Heart
29. Rustic Wood Door Disguises Laundry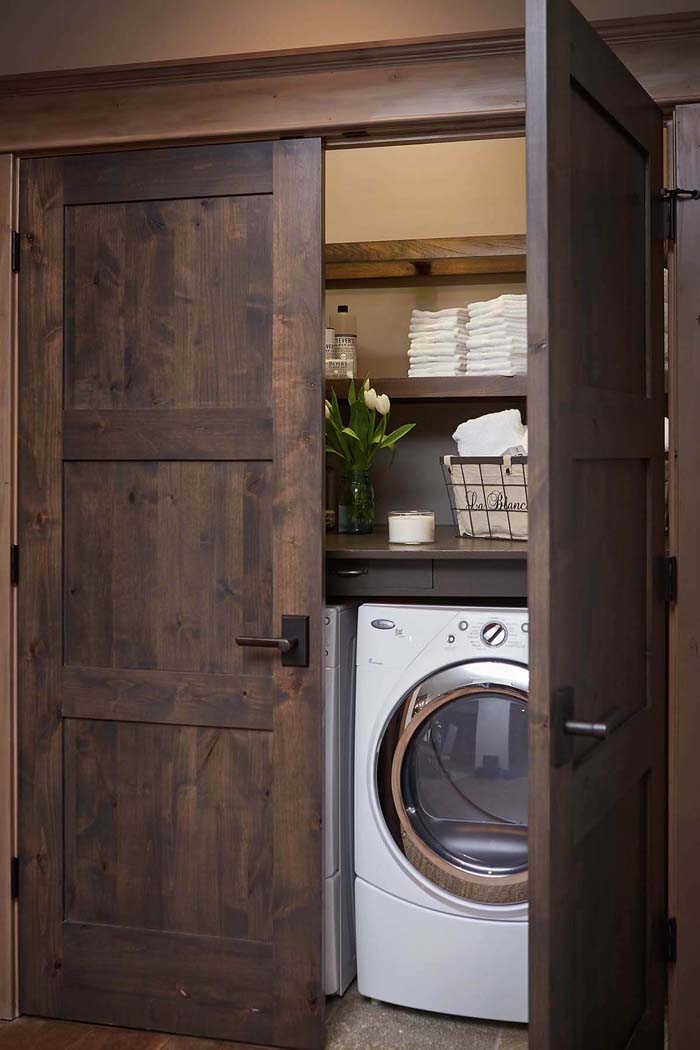 If you want to keep your washing and drying machine hidden, close them behind doors.
There are special cabinets made to accommodate both appliances and with additional sections on top for storage of accessories and detergents.
In case you don't use the closet, you can transform it into such a small laundry room providing all the comfort you may need.
via Villa Decor
30. Repurposed Ladder As Drying Rack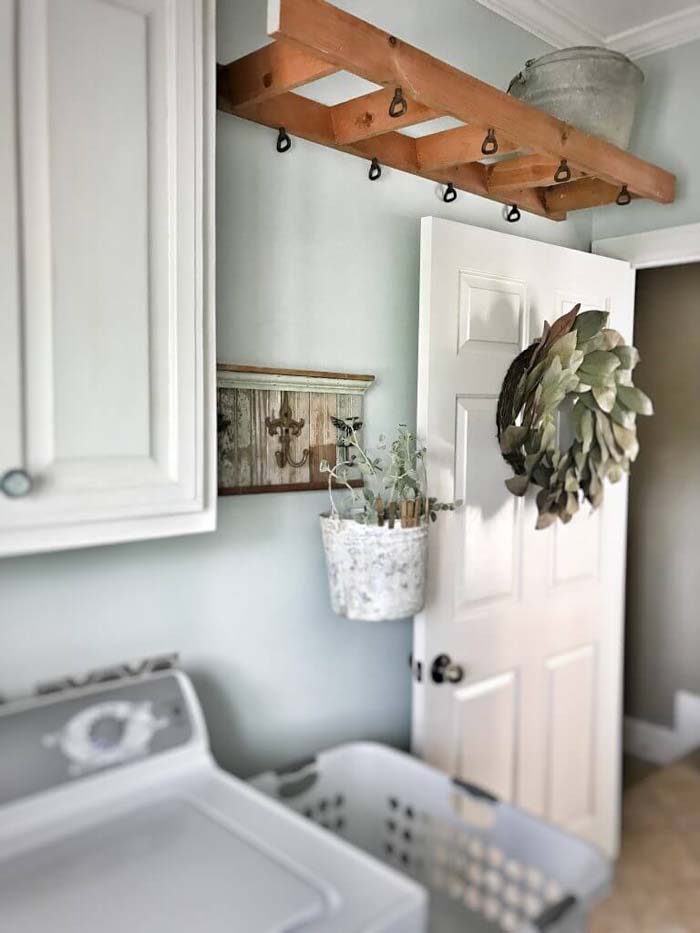 Do you need more space for the hanging of delicate clothes in the laundry room? Use the maximum of your space by utilizing the ceiling with a hand-crafted hanger rack.
This DIY project can be taken to a very easy one if you already have an old ladder. Just suspend it to the ceiling with suitable hardware and add screw hooks where the hangers will be placed.
via Bless This Nest
31. Laundry Folding Table With Storage Baskets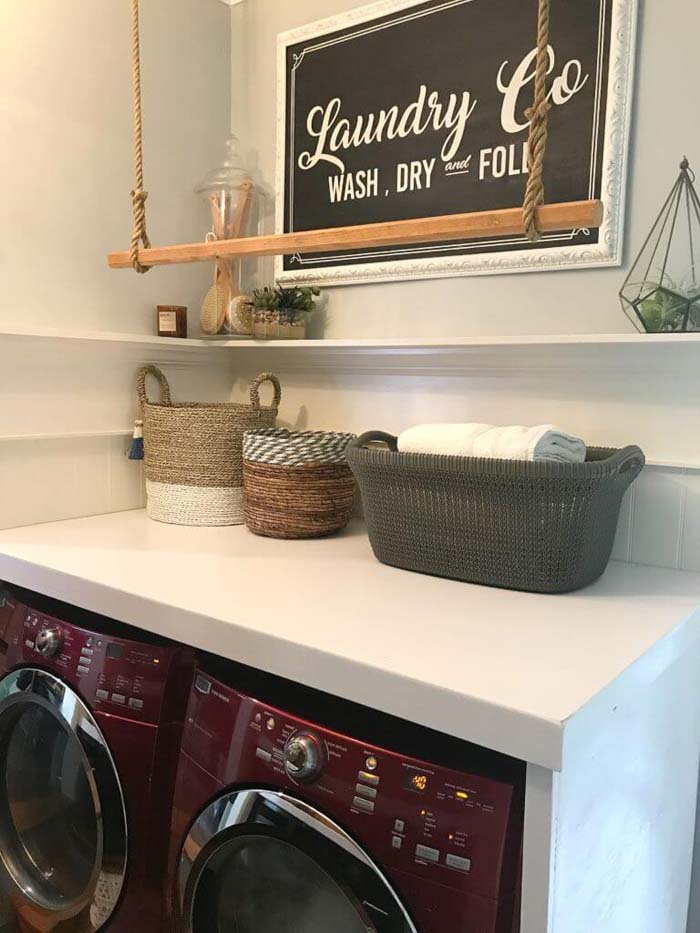 Make the space above the laundry room appliances attractive by decorating it with farmhouse accents.
Hang a fun laundry sign on the wall. In front of it, an interesting gadget hangs- made of rope and a wooden dowel, it is a place to hang clothes that needs additional drying at the air.
A set of three baskets of different sizes find their place on the countertop closing the appliances to serve as sorters or folders.
via Hallstrom House
32. Farmhouse Chic Laundry Space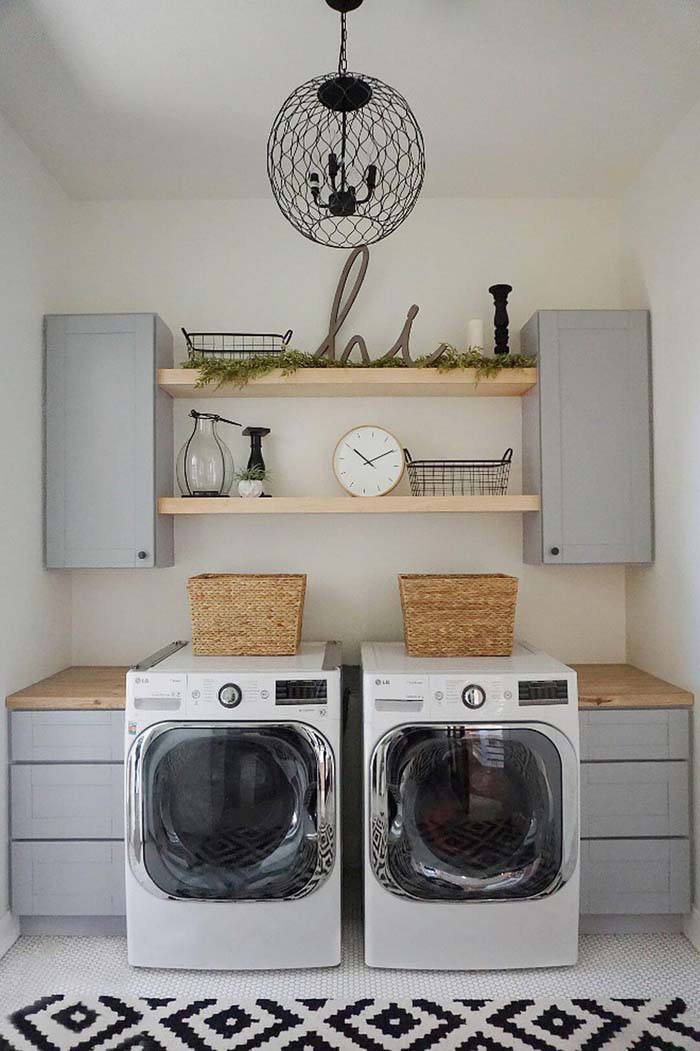 The light fixtures that go best with the farmhouse laundry room are chandeliers made of chicken wire.
They illuminate the area well and give the interior an interesting and non-traditional motif from the outside of the countryside.
The color of it can be easily changed with spray paints in order to match the rest of the accents.
33. Elevated Appliances Offer Extra Storage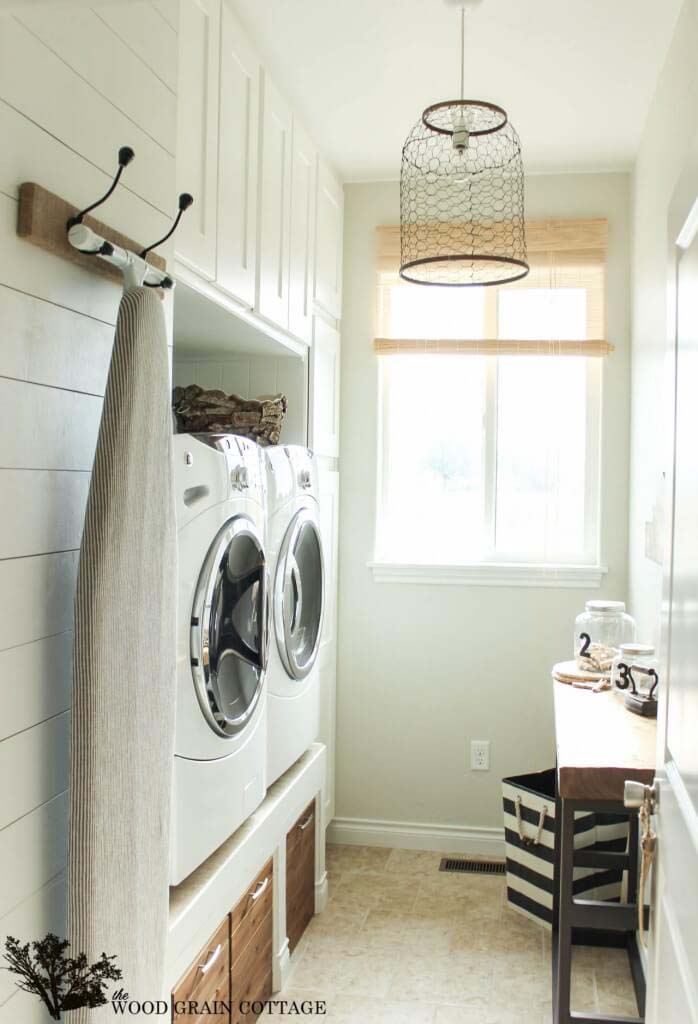 If you have set your laundry room on the bright colors because it is tiny, the farmhouse accents can also belong to the light color palette in order to enhance the airy feeling.
Instead of painting the chicken wire chandelier, you can leave it in its original look.
34. Beautiful Built Ins With Marble Top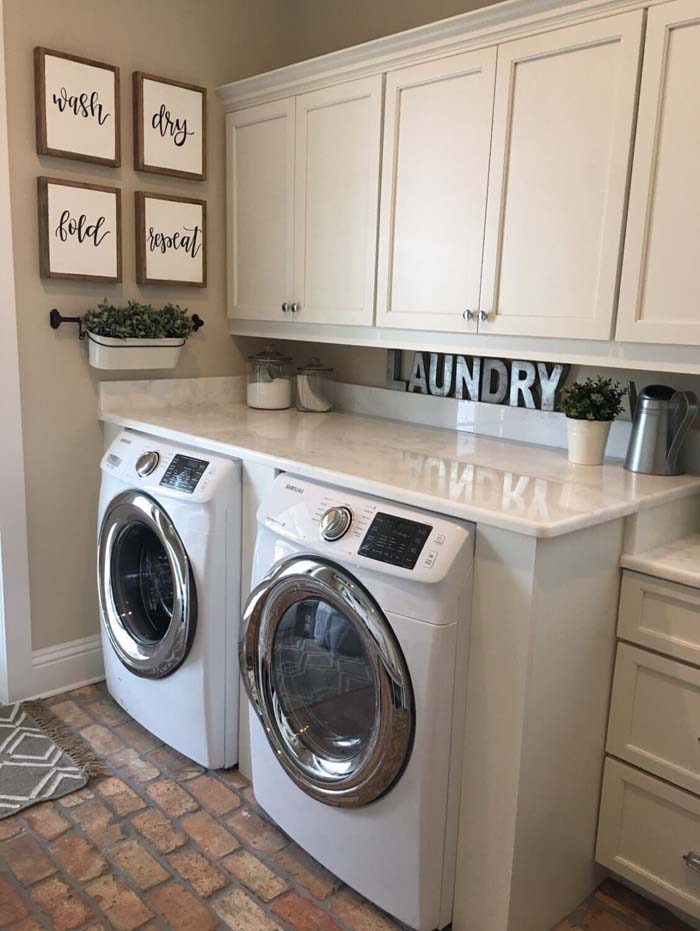 Do you want to give your farmhouse laundry room a quick uplift? Do it by replacing the wooden countertop of the cabinet the machines are built-in with a marble one.
Marble is a great material for similar applications. Its surface is smooth and perfect for folding and ironing. It can be easily maintained and damaging it is almost impossible so you would surely enjoy it for long years.
Combine the grey lines of the marble countertop with a metal laundry sign inserted in between the countertop and the cabinets.

35. Wood Paneling And Metal Bins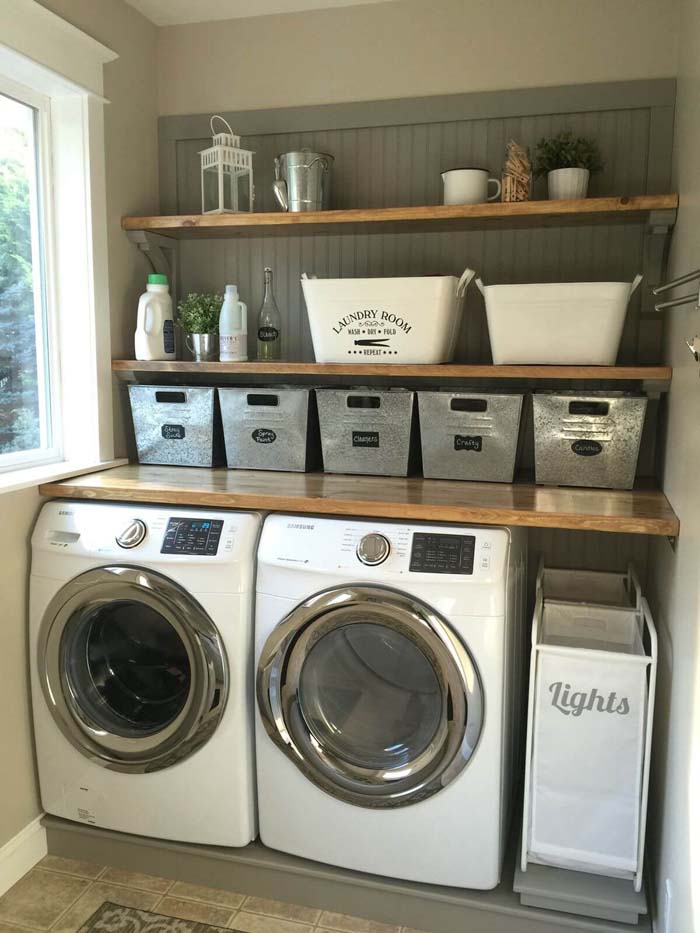 One of the simplest DIY laundry room ideas is to get a set of vintage galvanized baskets to store the essentials.
They can be placed on the countertop or on a shelf. Combined with other countryside accents like lanterns and glass bottles the laundry room quickly acquires a charming farmhouse look.
36. Chalkboard Wall With Creative Storage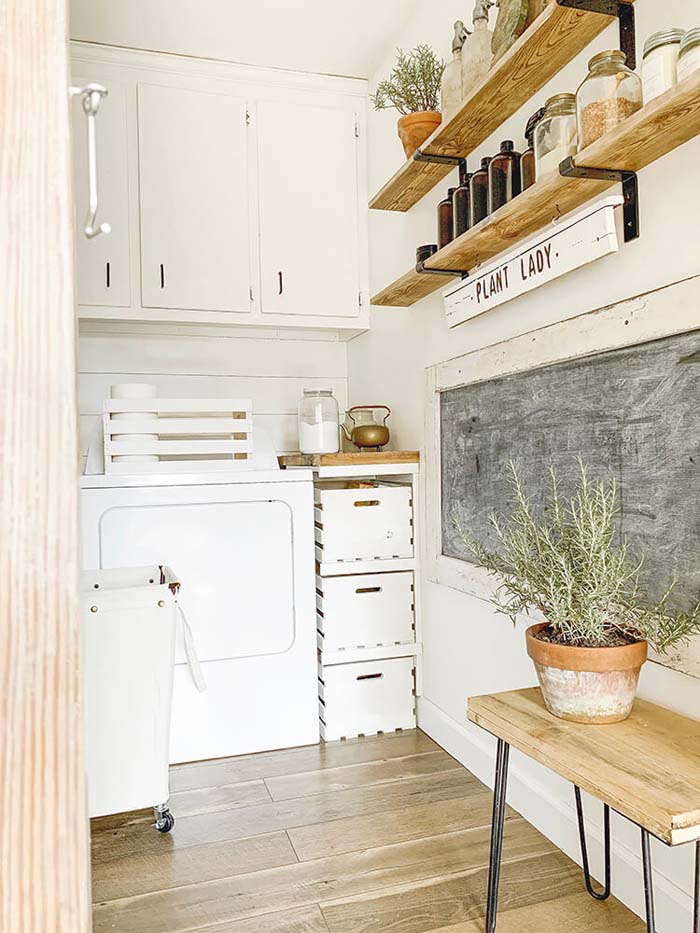 If your laundry room is small you can use this example as an inspiration to create a nook where everything is well organized and very welcoming.
The inviting feature is created with weathered wood in its natural color used on the storage furniture. The rest of the interior is set in white to create a neat and airy space.
This laundry room has all you may need- appliances, storage units, shelves, a laundry basket and a lot of beautiful vintage accents creating the most appealing modern farmhouse laundry room ever.
via We Lived Happily Ever After
37. True Farmhouse Sink With Wood Counters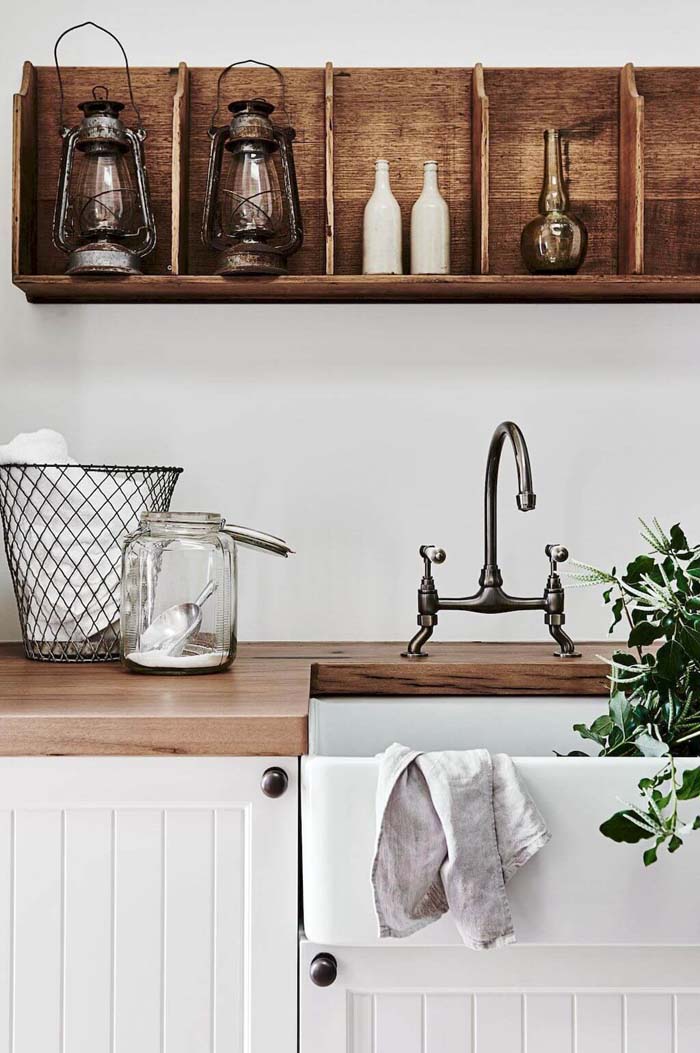 Lanterns are known to be another light fixture that suits the farmhouse interior. They can be successfully used in the laundry room as decor accents during the day and as an actual illumination source at night.
Place them on the shelves and at each side of the countertop to make sure that each corner is well lit.
38. Go Vertical In A Small Space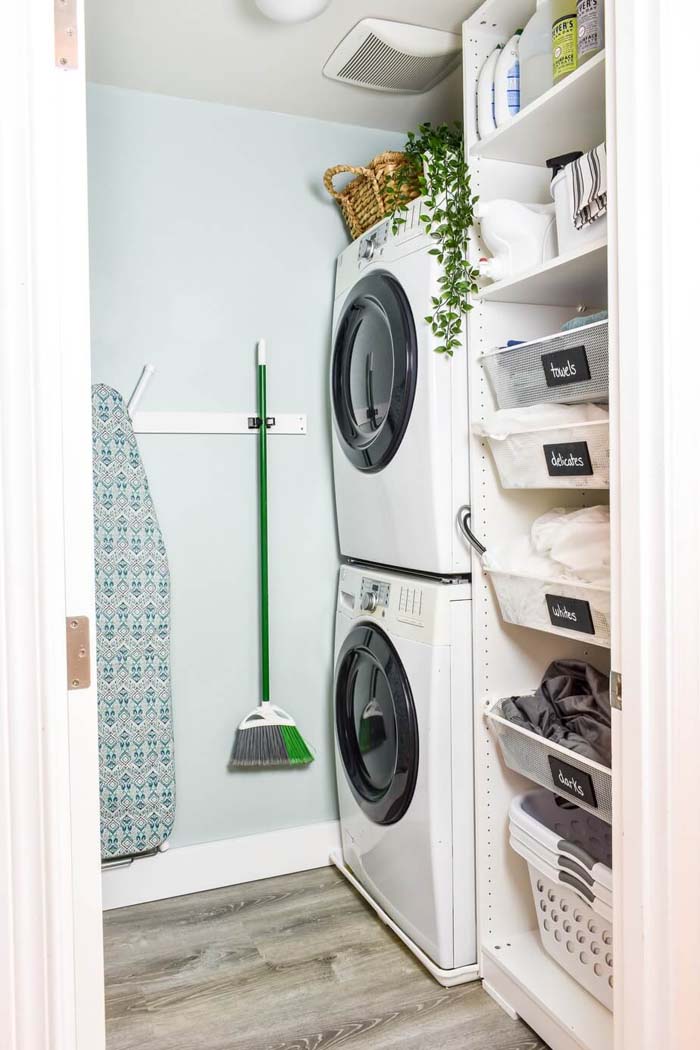 When the laundry room is very small, you need to think vertically to make it look good and comfortable.
The appliances have been stacked to leave an empty wall for a large storage unit made of wood.
Because of the space characteristics, it has been designed as open shelving in order not to overwhelm and close the space additionally.
The clearly marked metal trays make the processes in this room easy and very structured.
39. Black Appliances With Crisp Shiplap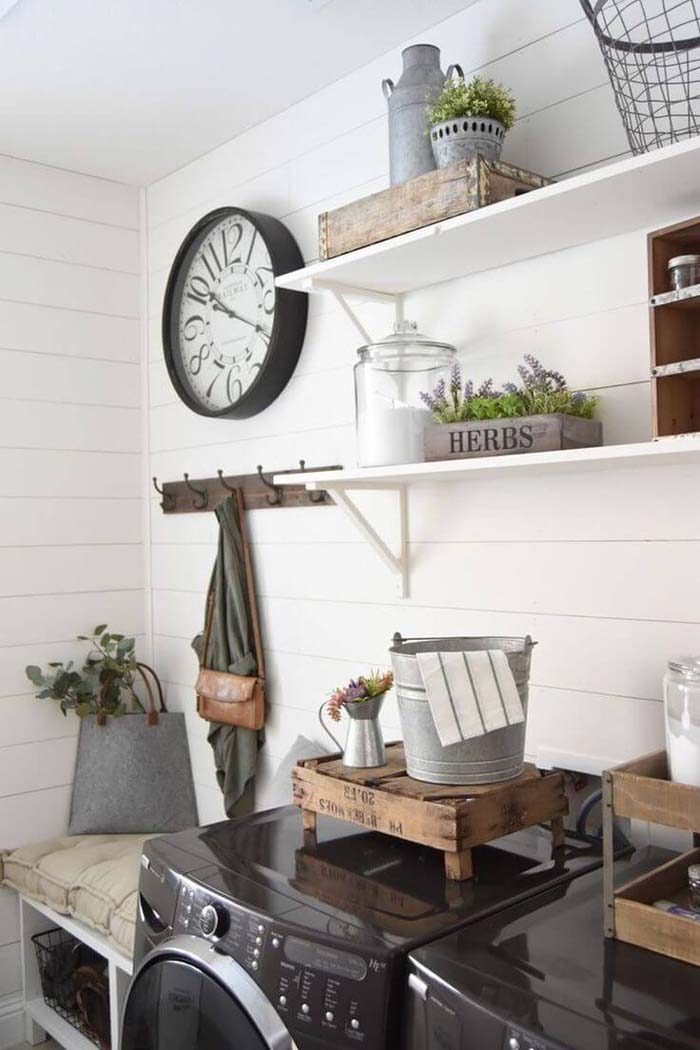 A shiplap accent wall works perfectly in a farmhouse laundry room with modern black appliances.
Place crates onto each machine to add other countryside accents like galvanized containers turned into vases.
The black and white combo is a traditional interior decision and it looks very attractive even in farmhouse laundry rooms.
40. Found Wash Items Cheeky Sign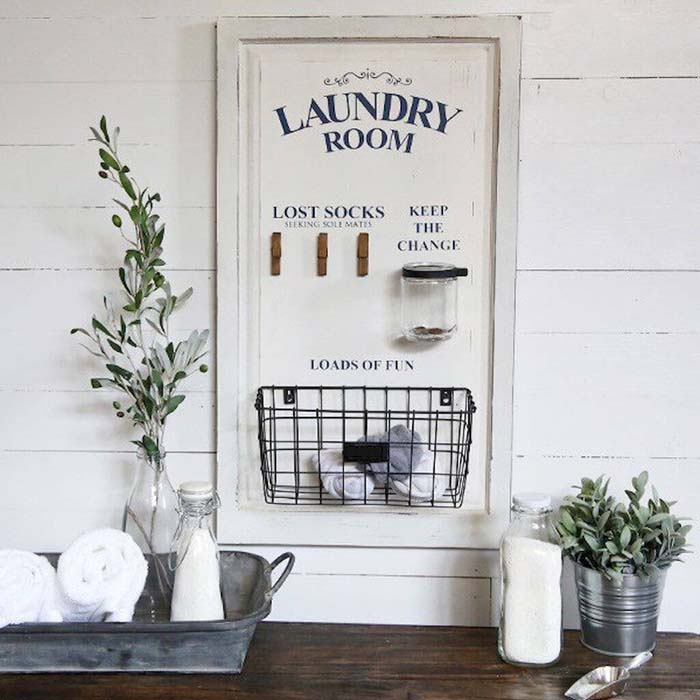 This fun board is a great way to collect things that have been lost during the laundrying at one farmhouse-inspired spot.
An old cabinet door has been repurposed into this fun display separated into three sections- the first one possesses three clothespins for hanging lost socks.
The second one is a glass jar collecting the change in the pockets that haven't been taken out before laundry. The third one is a basket for pairs of socks.
via Decor Steals
41. No-Permanent Storage With Hampers And Cart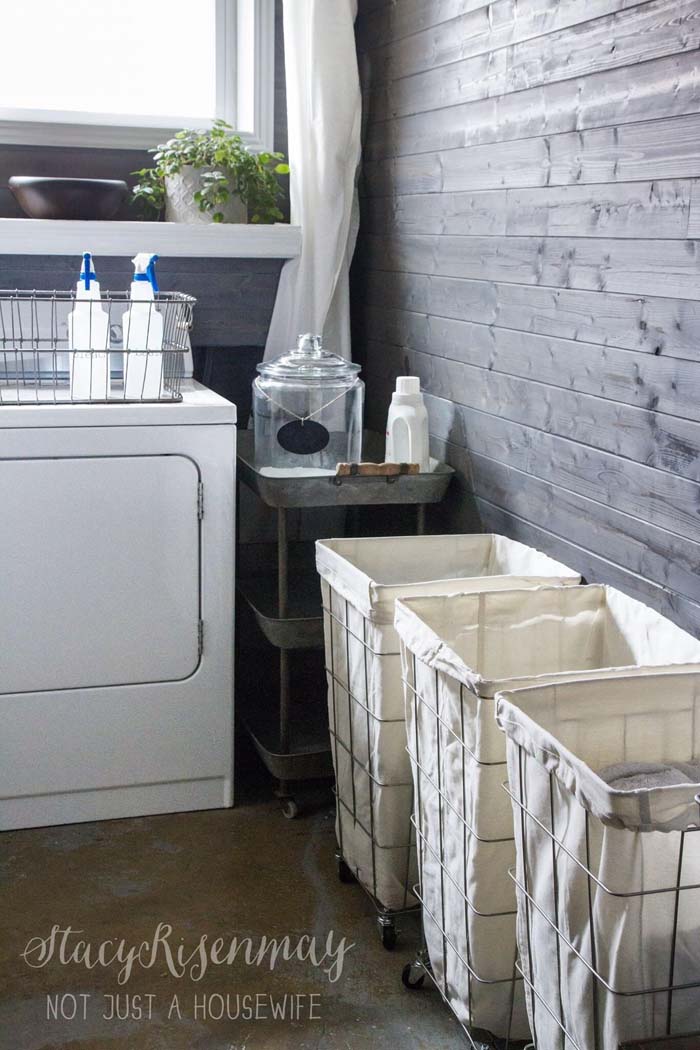 Such big hampers will look and function well in a farmhouse laundry room. Place as many as you need to sort the clothes according to their color, type or owner.
Use other vintage containers like small baskets, crates, glass jars to store the essentials and let them fit well into the welcoming neat atmosphere.
42. Add A Bold Decorative Sign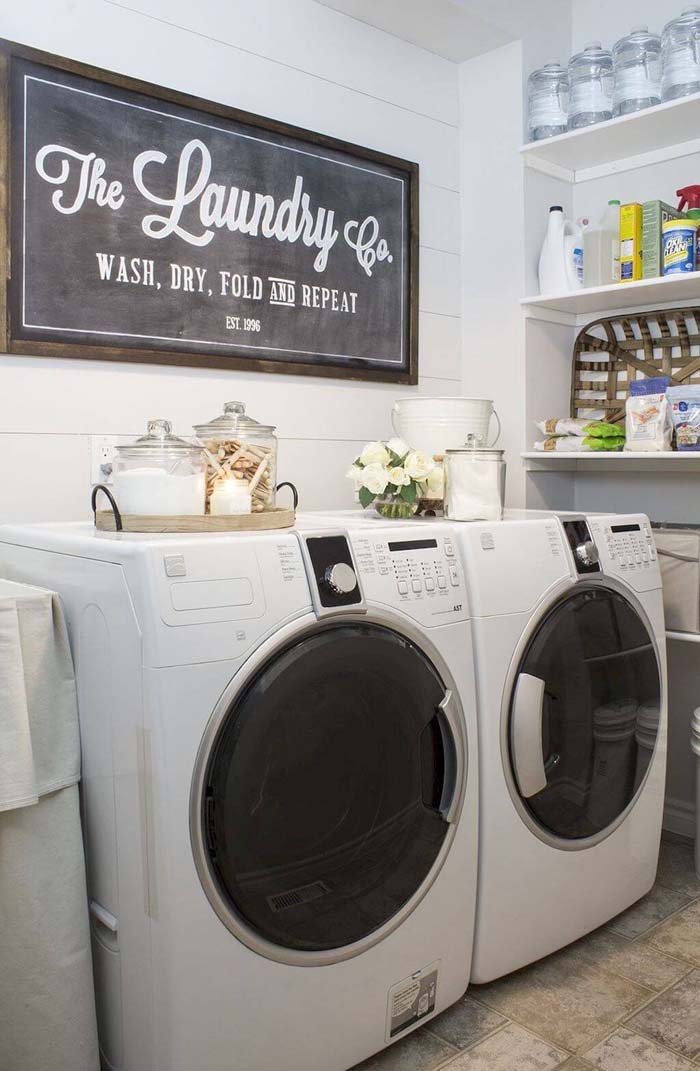 In case the wall above the appliances in your farmhouse laundry room hasn't been covered by shelves, use it to hang a picture vintage laundry sign.
Made of chalkboard, the inscription is personalized at the part with the year of establishment.
43. Painted Wall Sign Adds Charm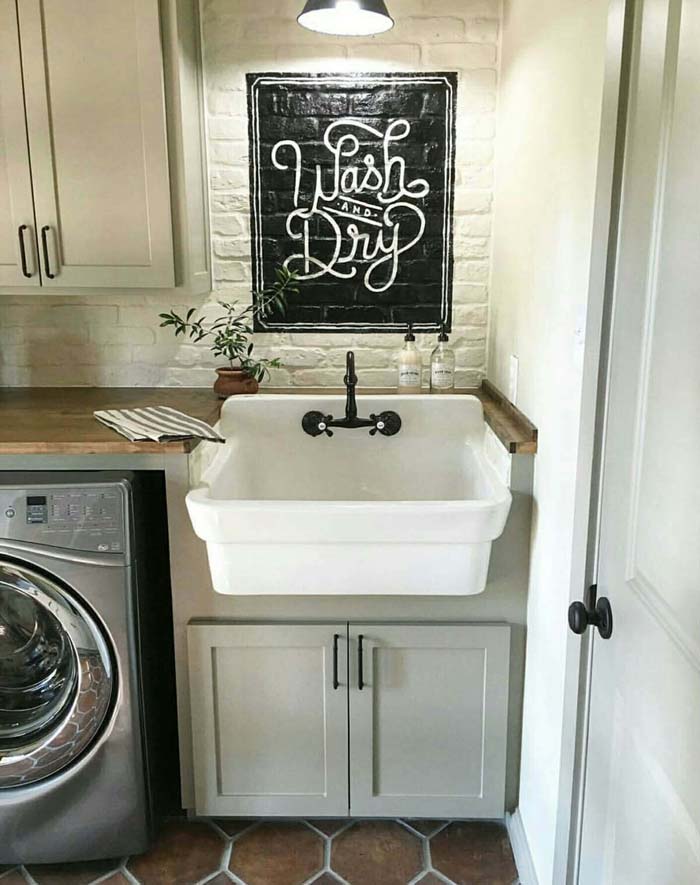 Another alternative of the farmhouse sign is to paint it right onto the wall. Use acrylic or chalk paint and preliminary cut stencil with the wording you want.
via Joanna Gaines
44. Whimsical Wallpaper In A Small Space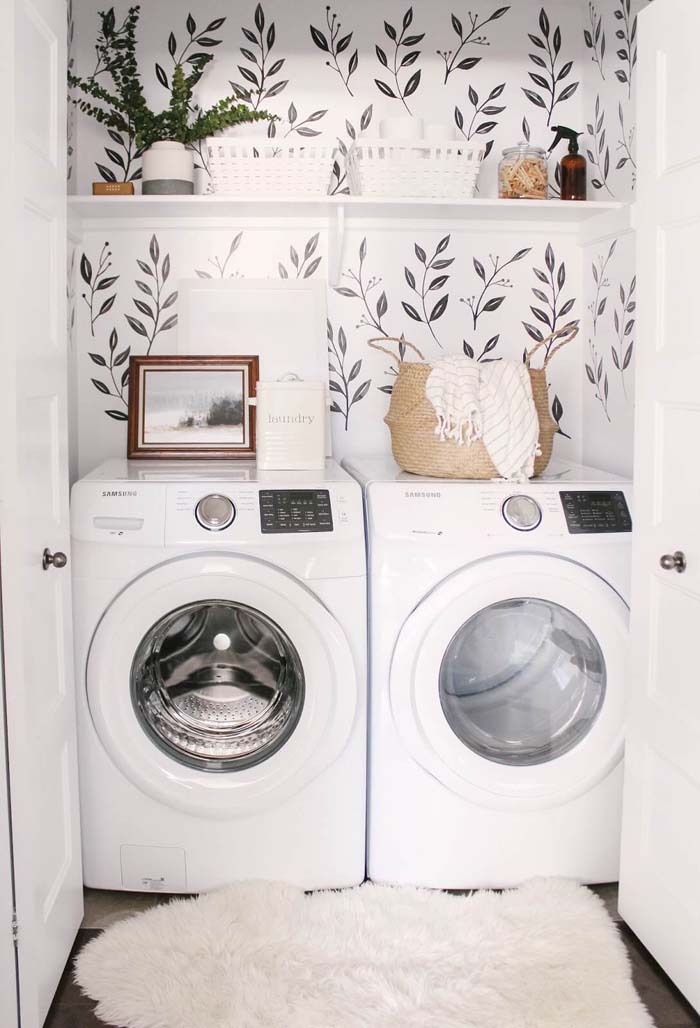 Want to make your tiny laundry room interesting? Then turn the wall behind the machines into an accent with a beautiful leafy panel or wallpaper.
It will turn the small space into a cozy and unique place.
via House Of Hire
45. Black Sink Pops In Crisp White Space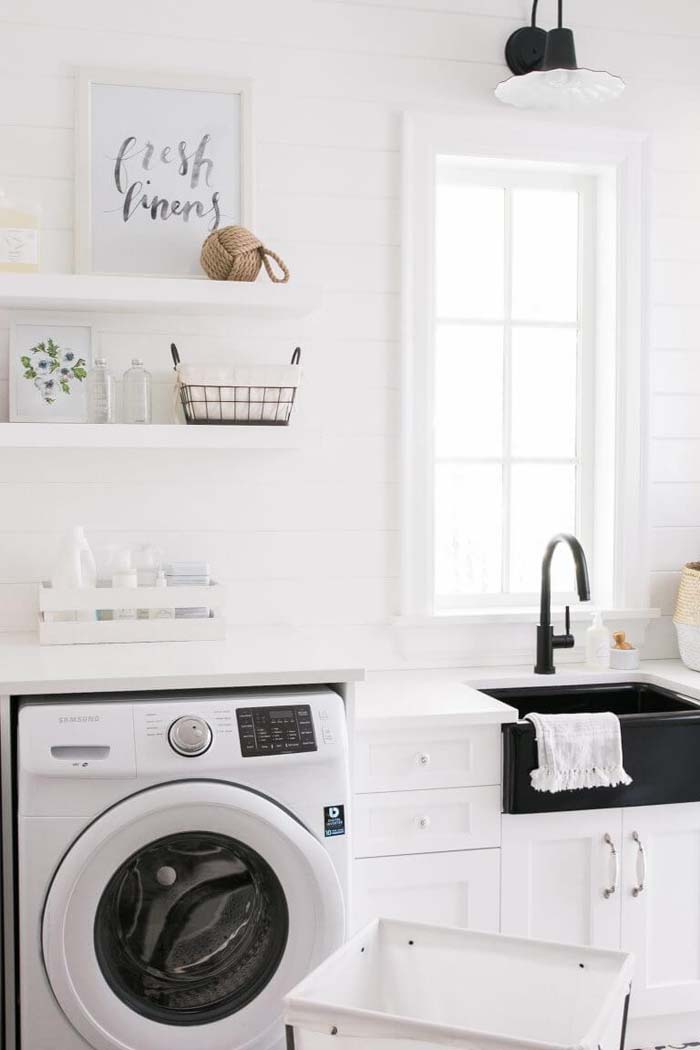 This is a traditional look of a farmhouse laundry room set in white shades.
The point of interest in it is left to a black farmhouse sink. To let it look like belonging to the room, the light fixture above it is in the same color.
via Monika Hibbs
46. Upcycled Vintage Door With Stenciled Window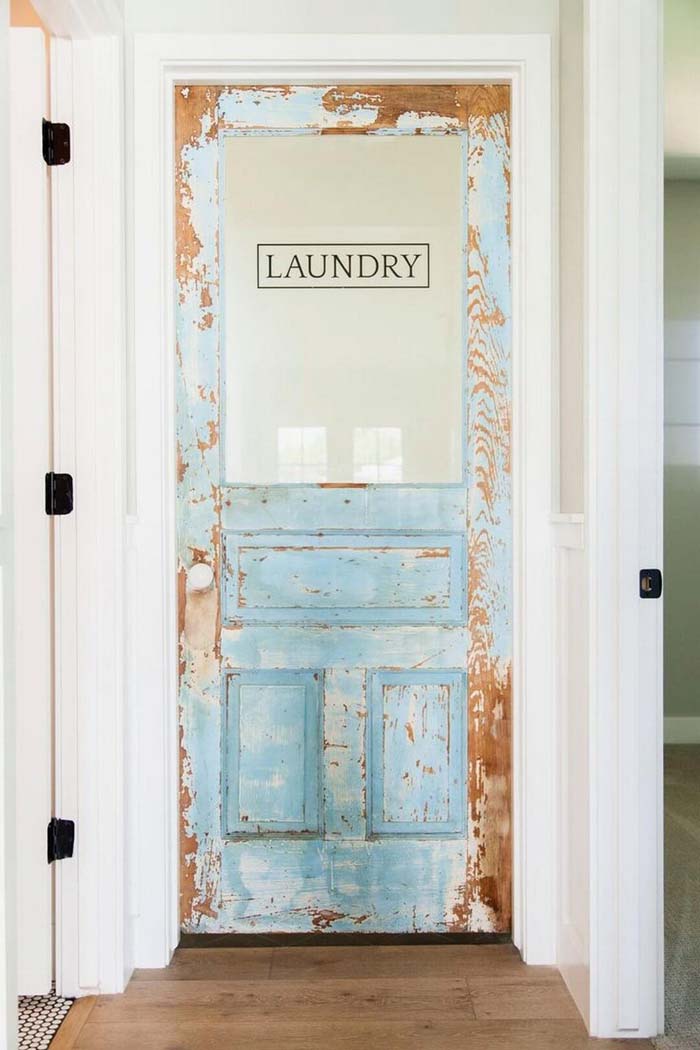 Mark the beginning of your farmhouse laundry room with a unique weathered vintage door.
Having a glass section, it is the perfect place to place a decal with the name of the room.
via Rafter House
47. Reuse A Hutch As A Laundry Room Organizer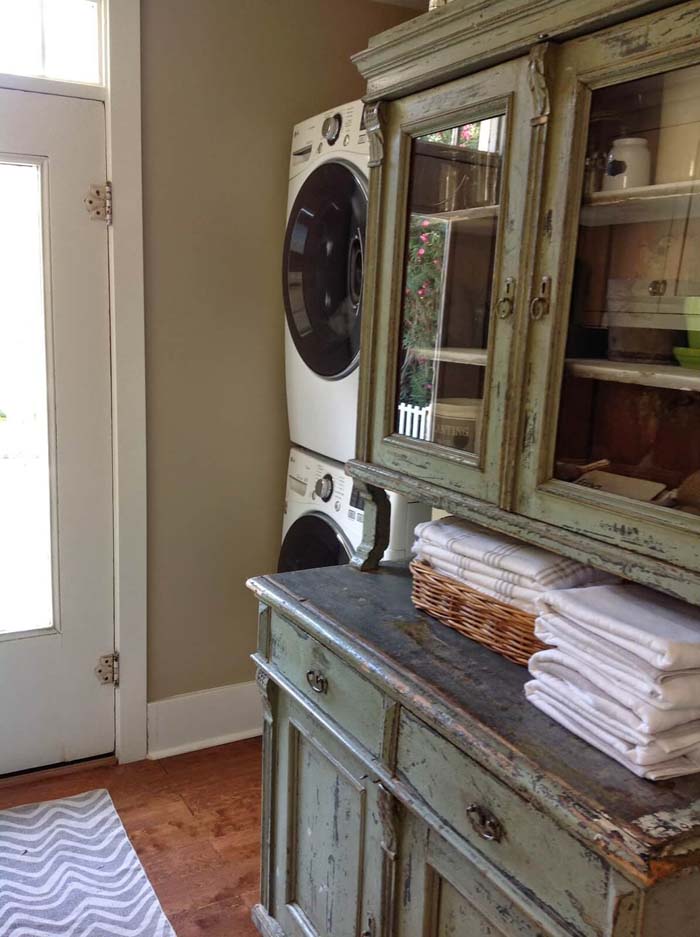 You can increase the storage places in the laundry room and make it more welcoming quickly and with no money. Simply get out the old vintage pieces of furniture you have got and find their place in the room.
Leave them as they are or give them a thin coat of paint. Don't forget to distress parts of the surface to reveal its marks and age. This will add a lot of antique charm to the space.
via Gracie Blue Blog
48. Add Versatility To A Hamper With Casters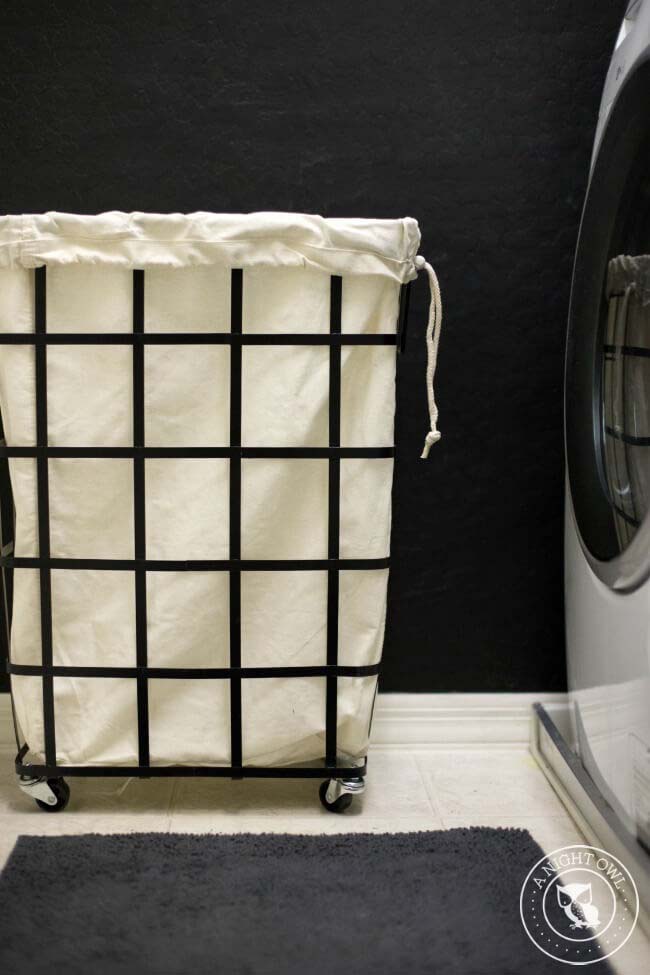 The new design f the metal carts on wheels is very trendy for the farmhouse laundry rooms. It is very practical and good looking- all you need for your laundry sorting.
It is intended for small spaces where access is limited, however, if you love its look, get as many as you may need so that every family member has his own.
via A Night Owl Blog
49. Save Space With A Rustic Barn Door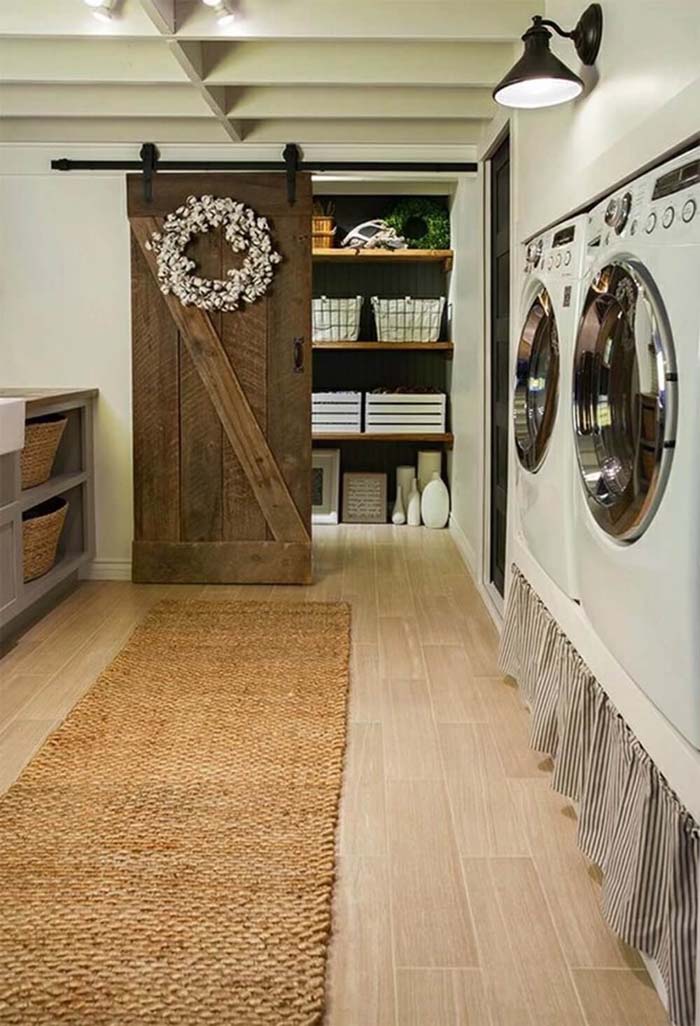 There isn't a better way to close your farmhouse laundry room than a sliding large barn door.
It looks great and also fits well in smaller spaces because it doesn't have to swing open and shut.
via Jenna Sue Design
50. Add Over Door Storage In A Small Room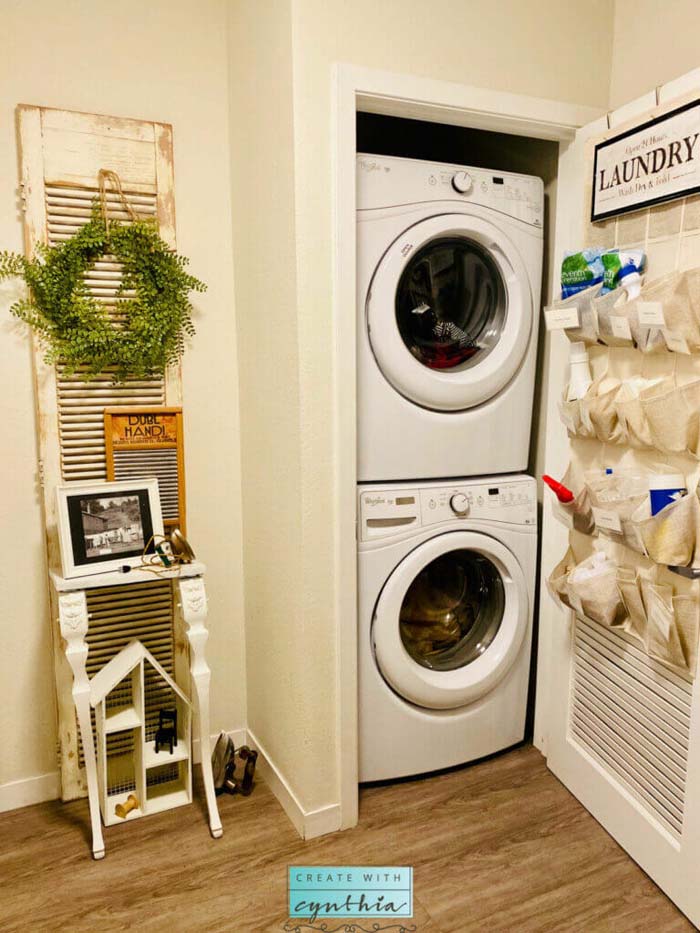 This great idea will solve all your issues with the organization of the small farmhouse laundry room. The door that hides the machines has been equipped with an over-the-door organizer.
It is made out of burlap and provides many pockets in which all the necessities for washing and drying of clothes can be inserted.
51. Hide Storage With Sliding Doors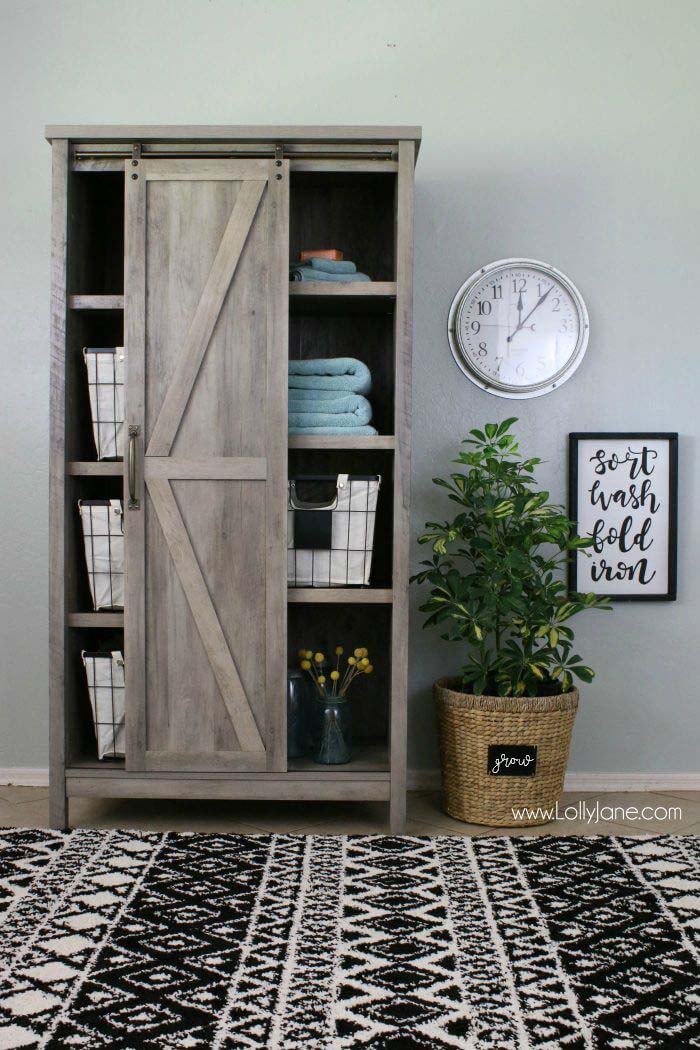 The laundry room you see in the photo is one of the most affordable transformations ever.
The cabinet has been given an authentic farmhouse look through the sliding barn door. Each compartment is big enough to accommodate wire baskets for perfect sorting and organization.
via Lolly Jane
52. Subway Tile And Butcher Block Shelf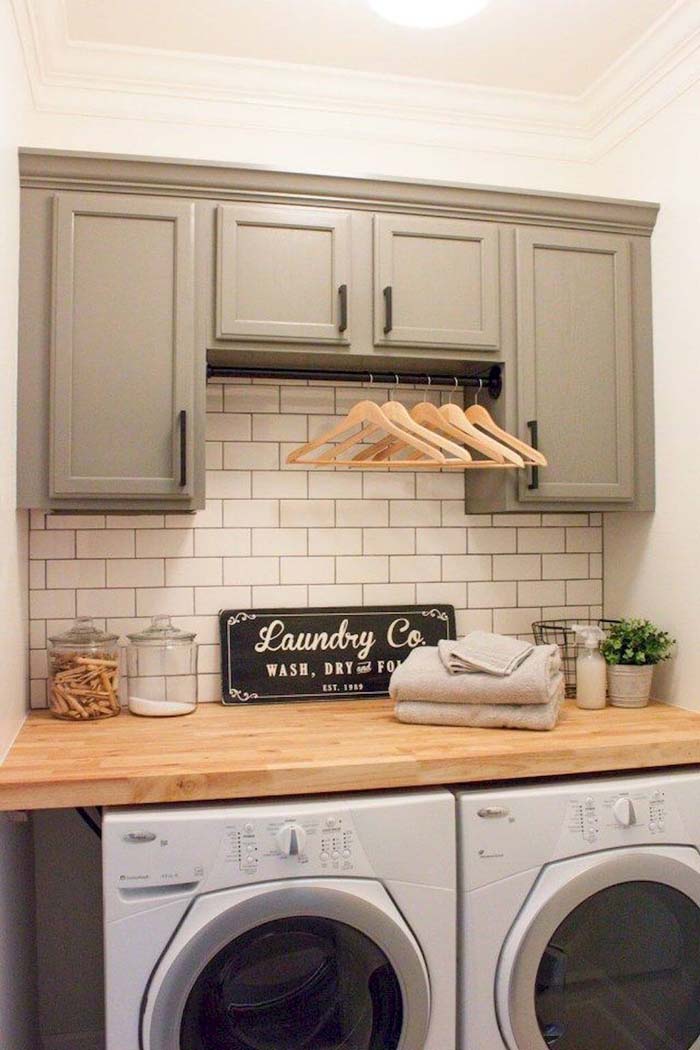 The subway tiles are the perfect way to add a traditional farmhouse motif to the laundry room. They are also a perfect backsplash for small vintage accents like glass jars, wire baskets and an antique-looking sign.
53. Mason Jars Offer Clear Soap Storage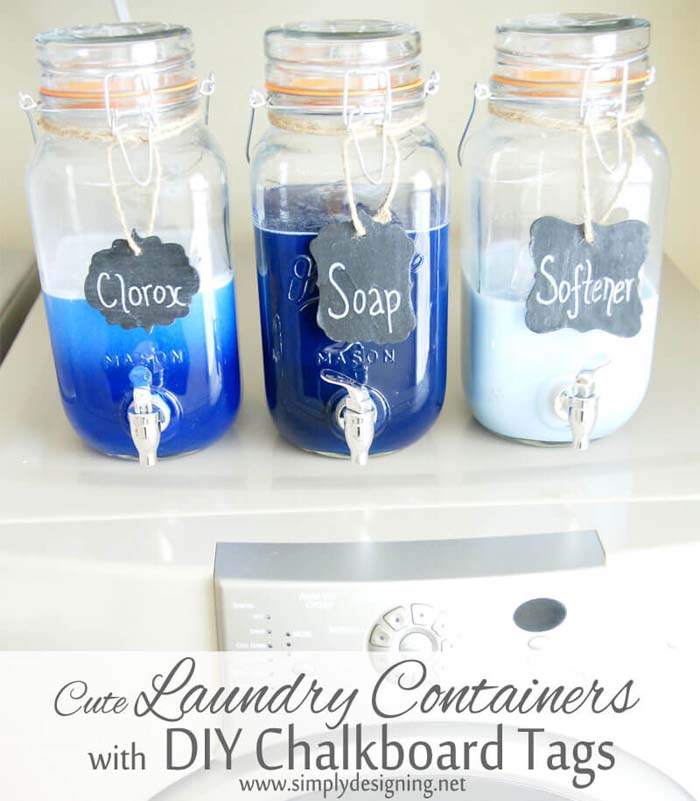 If you want to make your farmhouse laundry room perfect to every detail, you will fall in love with these laundry containers.
They have been given a farmhouse look with easy to be made tags.
via Simply Designing
54. Get Big Impact From Bold Wallpaper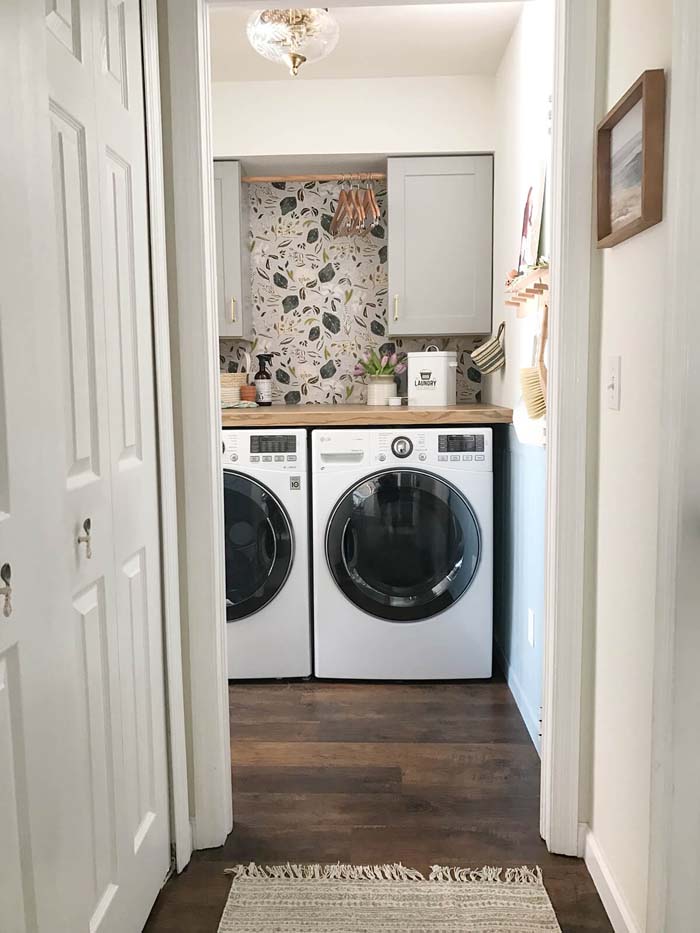 Looking for a quick and easy uplift of your farmhouse laundry room?
Just cover the wall behind appliances with a fun wallpaper. It will brighten up the space and will give it an individual touch regardless of its size.
55. Add Shelves For Open Décor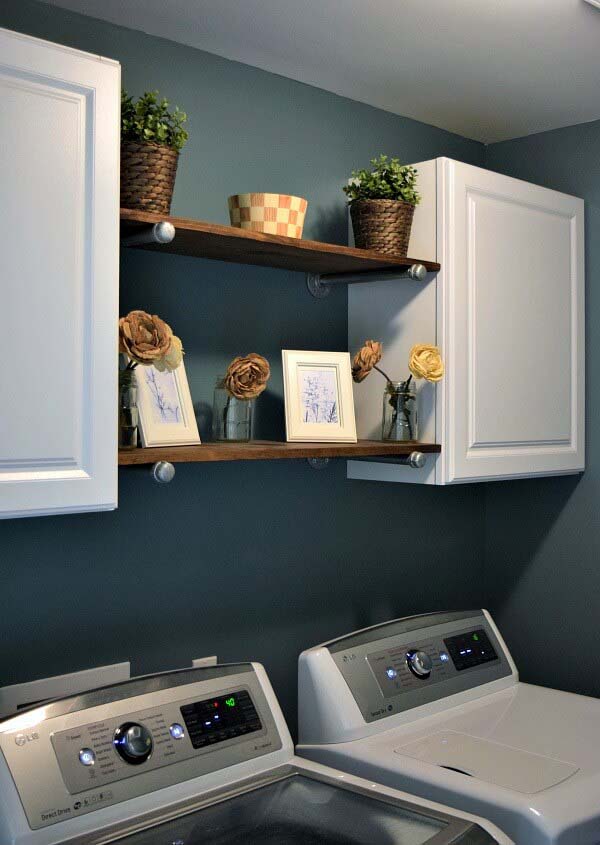 The combination of cupboards and shelves is often used in small spaces. If you are not lucky to have a spacious laundry room but yet want to have enough storage places, use this model.
The cupboards are usually the place for toxic r bulky items while the shelves remain for the nice part- the accents. For a big farmhouse look let the cabinets be white and the shelves- in a dark stain.
56. Shiplap Adds Farmhouse Charm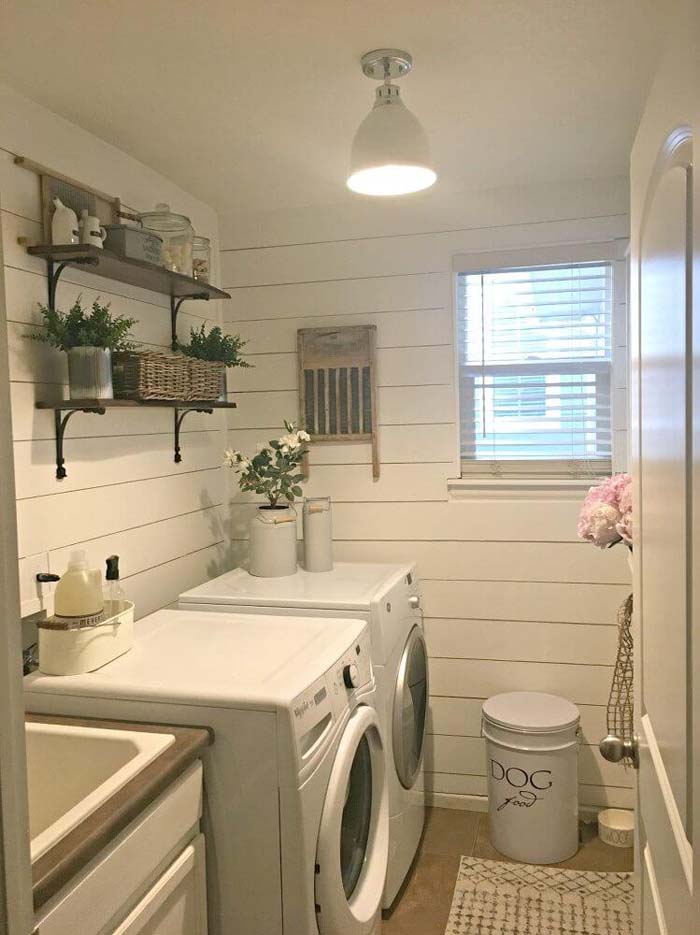 Another classic look of the farmhouse interior is represented with walls planked with wood slats. Depending on the size of the room, they can be painted in a different color.
Surely, when the room is small, light colors should be considered.
via Hometalk
57. Add Wood Look Paper To Basic Cabinets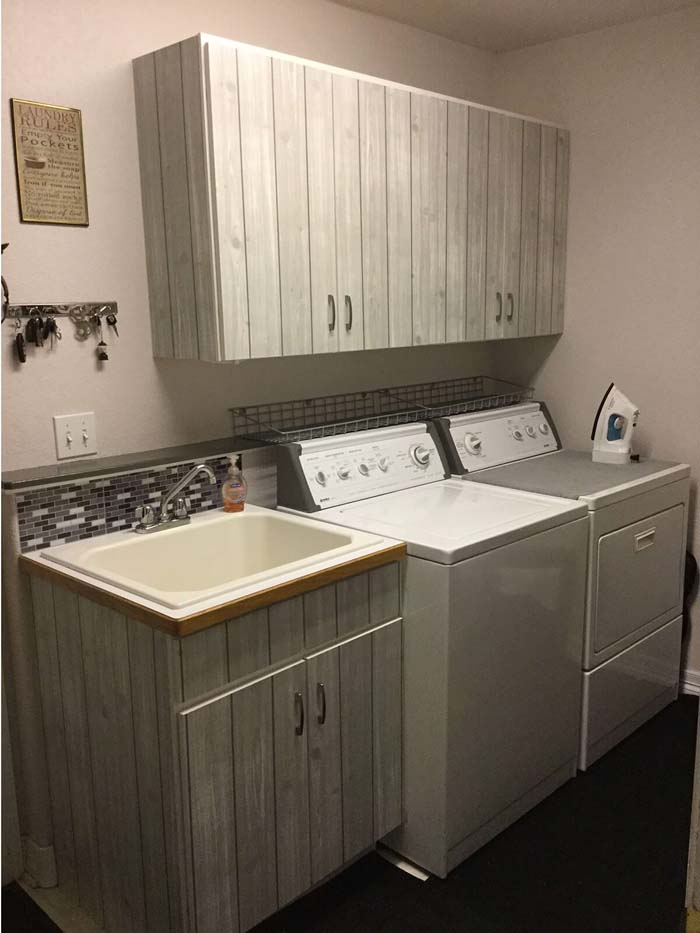 The white-washed wood gives an ultra-rustic look to space. If you are looking for this effect in your laundry room, you can easily give this effect to the existing wooden cabinets.
Increase the storage places with wire baskets placed onto the machines and vintage metal hangers on the walls.
58. Dark Gray Walls With White Cabinets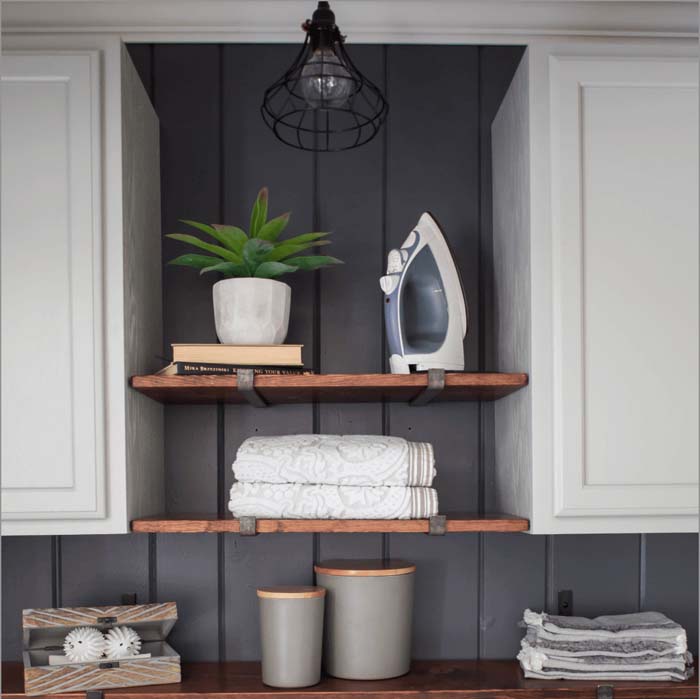 The combination of wood, grey and white will give the farmhouse laundry room a sleek modern look.
Paint the slat planked walls grey to make the room feel calm and create an illusion of depth.
The grey background will let the white cupboards and wooden shelves pop out and enhance the inviting level of the space.
via Joyfully Growing