Give your home a sophisticated look and pleasant atmosphere by decorating the table with a centerpiece. We all love and expect the festive Christmas decoration, the colorful Easter décor, and the warm Thanksgiving setting.
We look forward to welcoming spring with fresh spring accents. When autumn approaches our threshold, we use fall leaves and pumpkins to decorate our homes.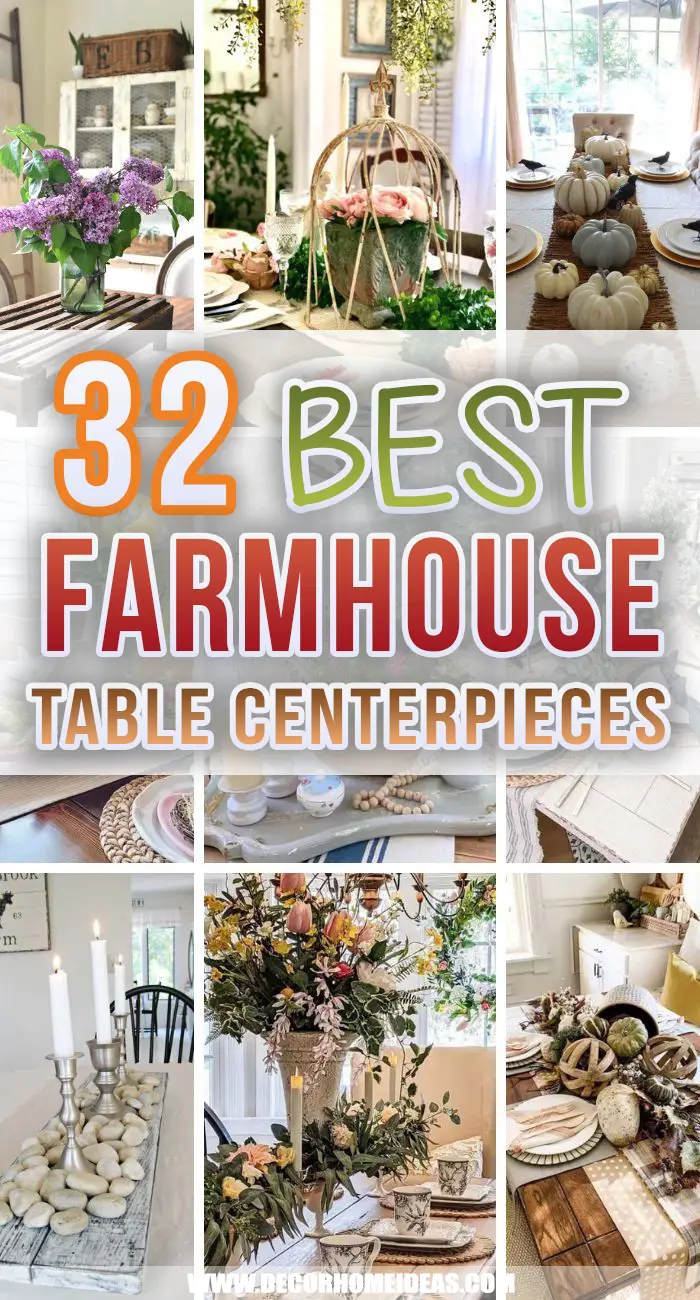 Normal workdays can also be more pleasant if there is an interesting decoration on the table. No need for complicated arrangements or expensive centerpieces because they can affect the communication between the people at the table.
A simple centerpiece can be more effective when it comes to home décor impact, especially if it has been made by you.
Farmhouse table centerpieces are all that- simple, unique and able to make any décor more homely.
Create effortlessly one of the farmhouse table centerpiece ideas here or get inspired to make your own unique arrangement.
1. The Perfect Autumn Tablescape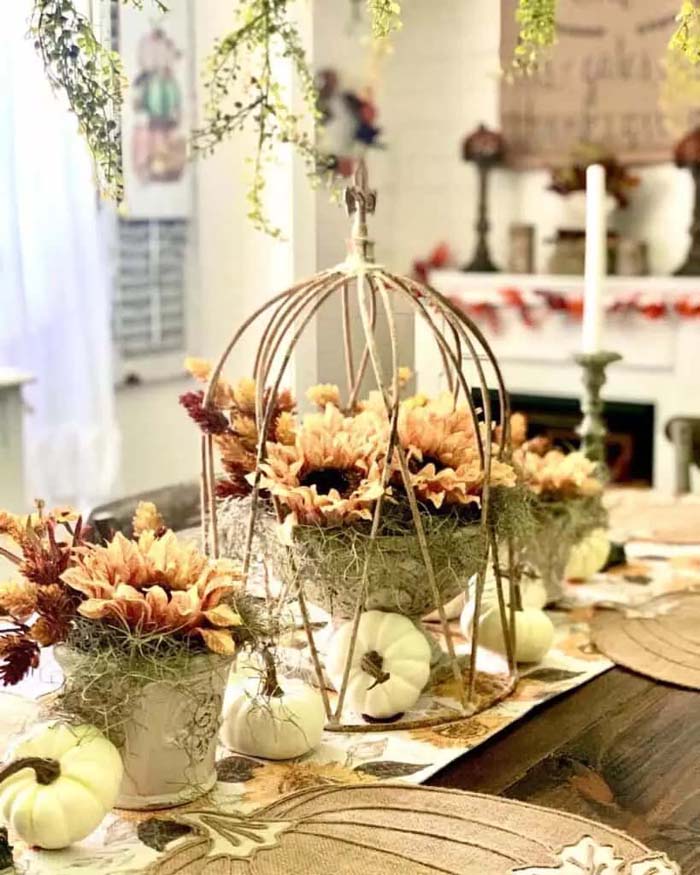 This setting features warm tones of faux gerbera flowers in muted grey-colored metal baskets.
The color combination is complemented by creamy white small pumpkins spread along a table runner with a sunflower pattern.
The focal point is a brass cage that covers a large bowl filled with gerberas. The table burlap mats are in the shape of pumpkins to reflect the holiday theme and complement the subtle tablescape color scheme.
2. A Farmhouse Table Centerpiece Idea With Functionality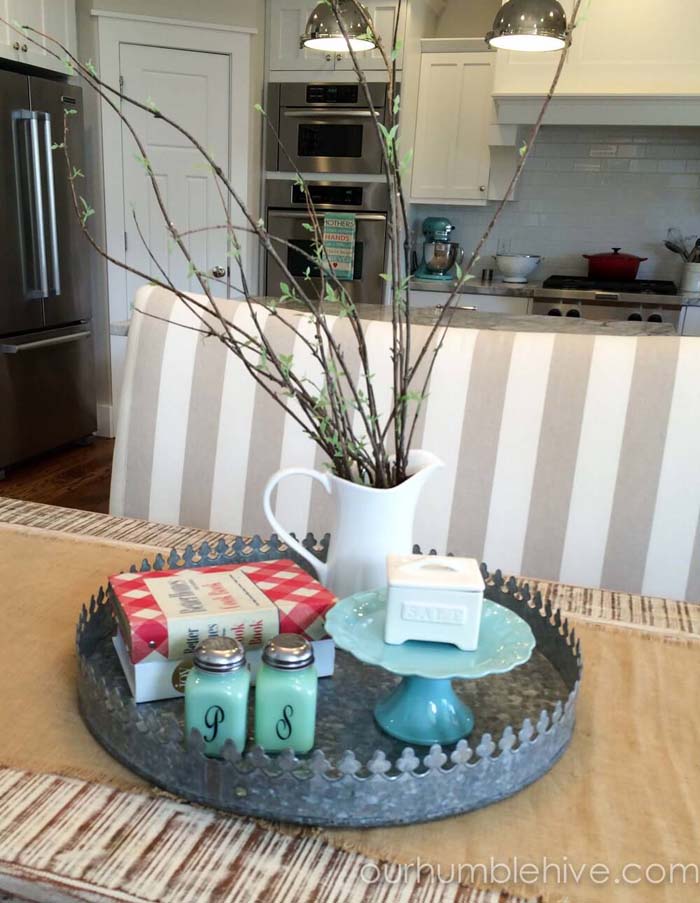 The table centerpiece can be also used functionally as shown in this example. A vintage steel tray collects in one place antique salt and pepper shakers and a cake stand holds a sugar bowl.
These containers are dear to the family and useful in the household when the family sits at the table. Two old books and a milk pitcher holding a bouquet from spring branches combine with the rustic nature of the containers to give the centerpiece a décorative look.
via Our Humble Hive
3. Elegant Farmhouse Centerpiece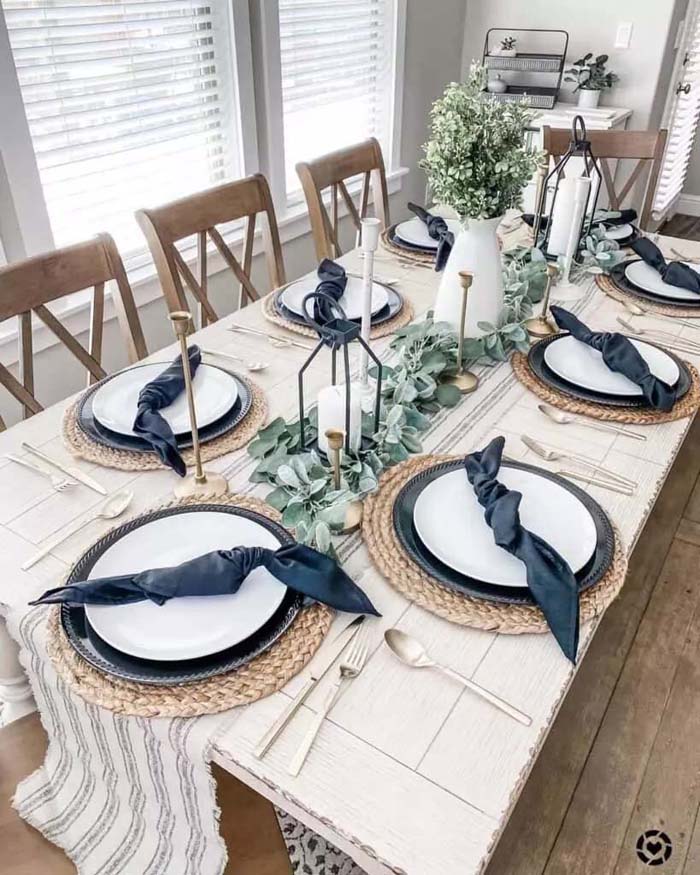 The well-decorated table is a joy for the eyes. No need for a special occasion to create a beautiful and welcoming table setting. This idea features a farmhouse centerpiece idea that can be used all year long.
The center of the runner is covered with a garland of eucalyptus leaves which set a frame for the filling.
It consists of metal candle holders featuring a modern black cage and a rustic gold finish stick.
The center is a tall white pitch filled with greenery which sets the finish symmetry of the arrangement.
4. Soda Crate Centerpiece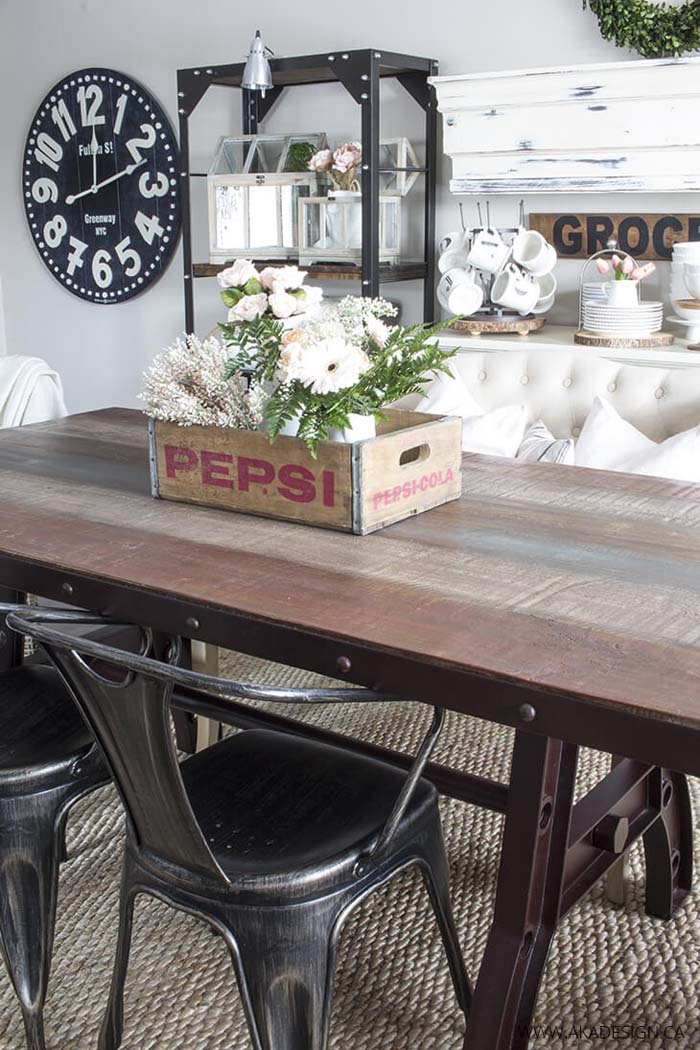 A farmhouse container set in the center of the table is an easy way to create a universal home décor for the table.
You can change the contained elements on a seasonal basis or choose accents with a timeless look.
A bouquet of fresh flowers is always a good idea. The faux boxwood or eucalyptus branches inserted in a glass jar or a porcelain milk pitch will add a touch of fresh natural beauty.
via Home Made Lovely
5. Cake From Natural Materials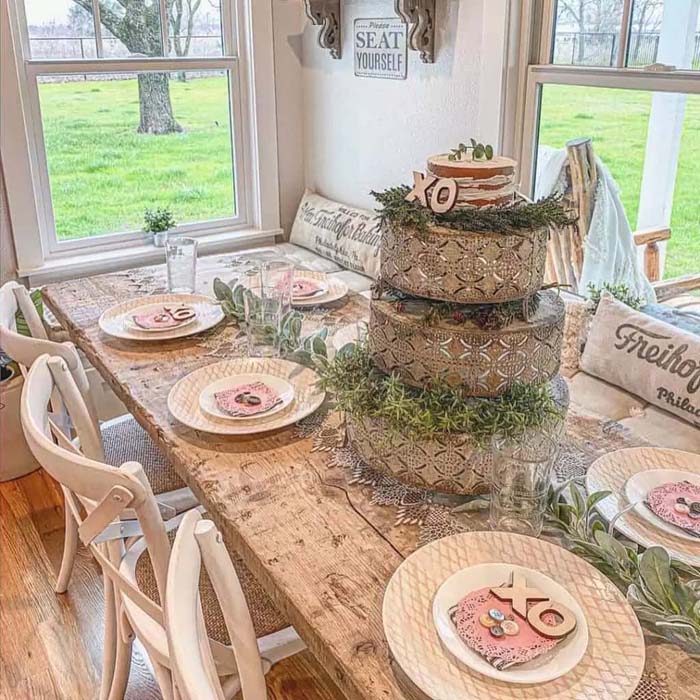 This is an amazing farmhouse centerpiece idea that has been created for a romantic occasion.
The focal point is a cake made from metal lattice containers.
The layers are decorated with green garlands. The top of the "cake" is a short log that perfectly fits the natural theme.
A garland of eucalyptus leaves decorates the table runner. The green colors and the patina of the metal reflect the authentic beauty of nature and create a unique table setting.
6. Simple Arrangement With An Industrial Globe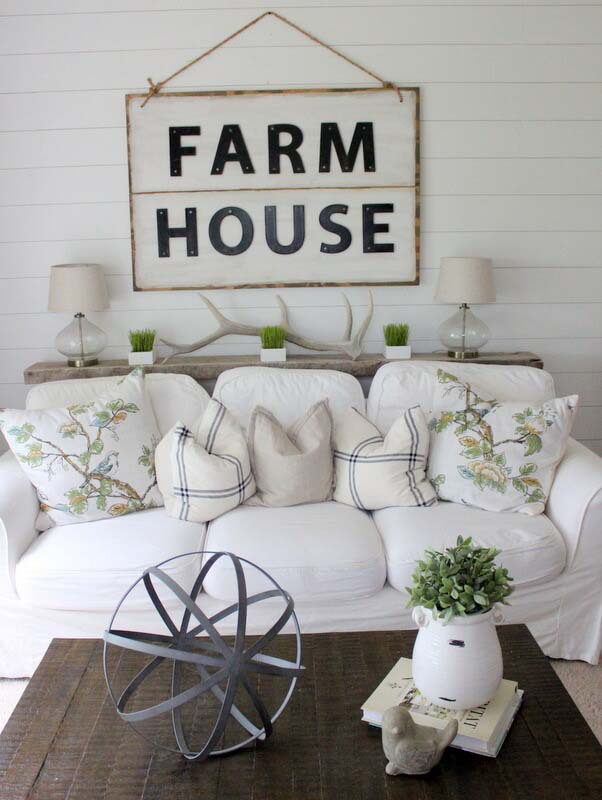 This is another idea for an all-year-long farmhouse centerpiece. It features an arrangement of four elements that complement each other and at the same time pair with the surrounding décor.
The vintage milk jar stays on an old book to create a vertical point of interest and to equal the height of the large metal ball.
A cute bird statue coordinates with the accents in creamy color and finishes the tablescape vignette.
via Proverbs 31 Girl
7. Spring In a Dough Bowl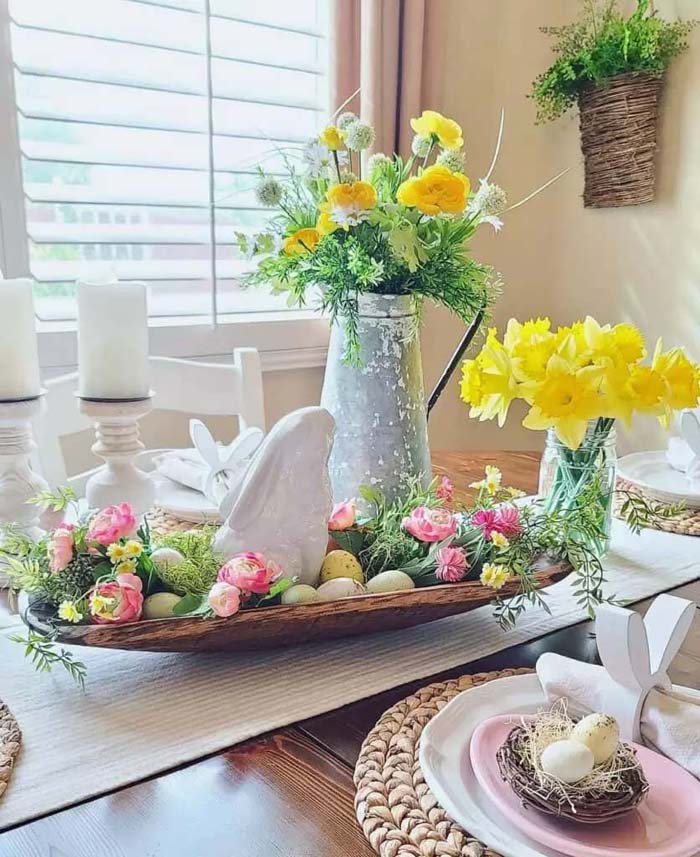 Dough bowls are great for centerpiece holders. You can find them at thrift shops in different sizes and take advantage of their authentic beauty for cheap.
The bowl can be filled with any kind of decoration so it is up to you if you want to change the filling every season or create a universal arrangement.
The idea here shows it as a holder of Easter decoration. The dark brown color of the wood is perfect for bright eggs and flower decorations.
8. Small Dough Bowl Centerpiece Idea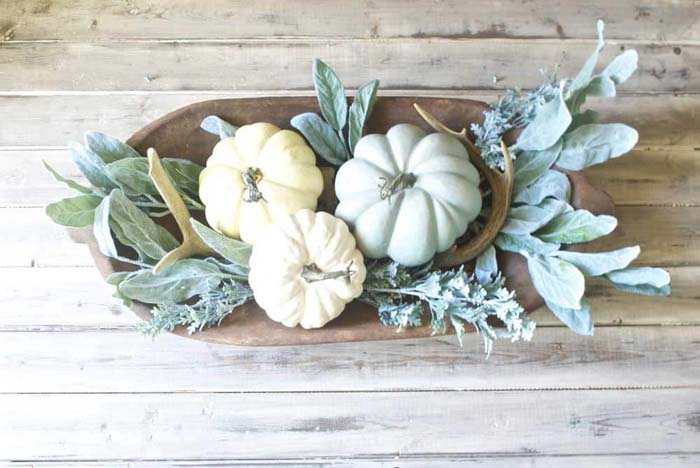 The smaller dough bowls are great not only for dining room tables but also for farmhouse coffee table centerpieces.
You can use such to make your home festive for a season or for a holiday. The wooden background creates contrast for lighter-colored elements.
9. Wire Basket Centerpiece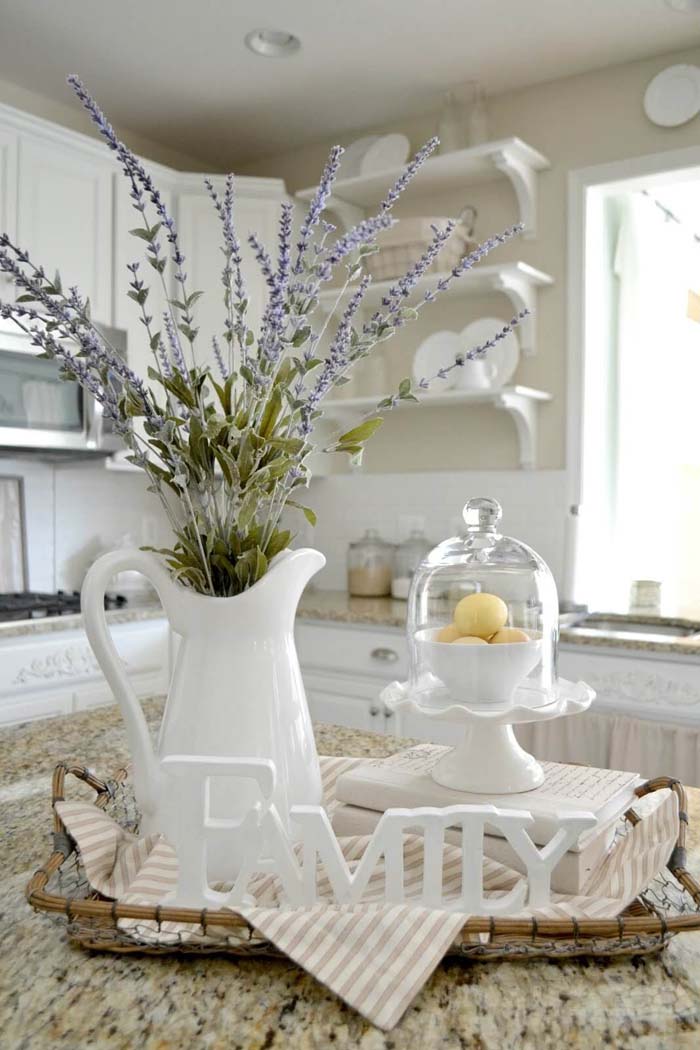 Another container that can be used to hold together more décor accents is the wire basket. There are many kinds and sizes of it so you can easily find the best ones for your home interior.
This basket is very interesting because it also features a rattan outline on the top rim and rattan base. The combination of metal and wood is charmingly rustic.
The décor pieces in this arrangement vary in height to create a symmetrical arrangement. Lavender cuts and lemons are very important to bring a pop of color and contrast for the most important sign to stand out.
10. Mason Jar Vase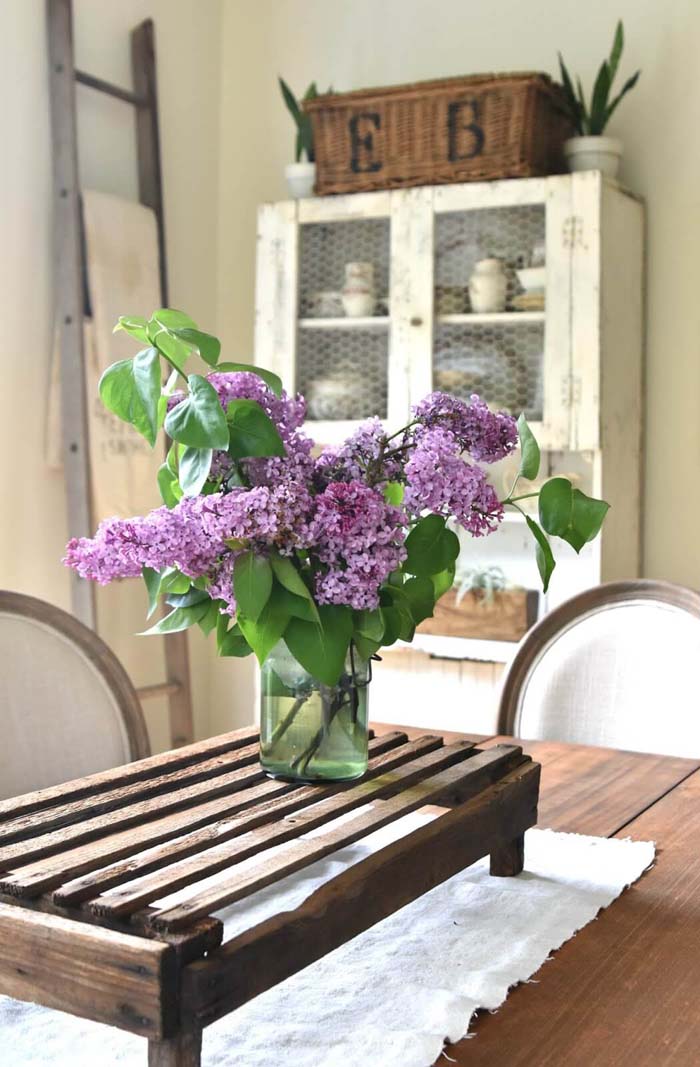 This is a very simple centerpiece idea but it is sure to add so much farmhouse charm to the décor. A mason jar or a glass container is repurposed into a vase.
Gather flowers from your garden to display the delicate beauty of the blossoms in the warmer months. When autumn comes, the flowers can be replaced with branches with colorful leaves.
For winter, the pine tree branches will make your home festive and ready for the best time of the year.
11. Elevated Table Centerpiece For All Seasons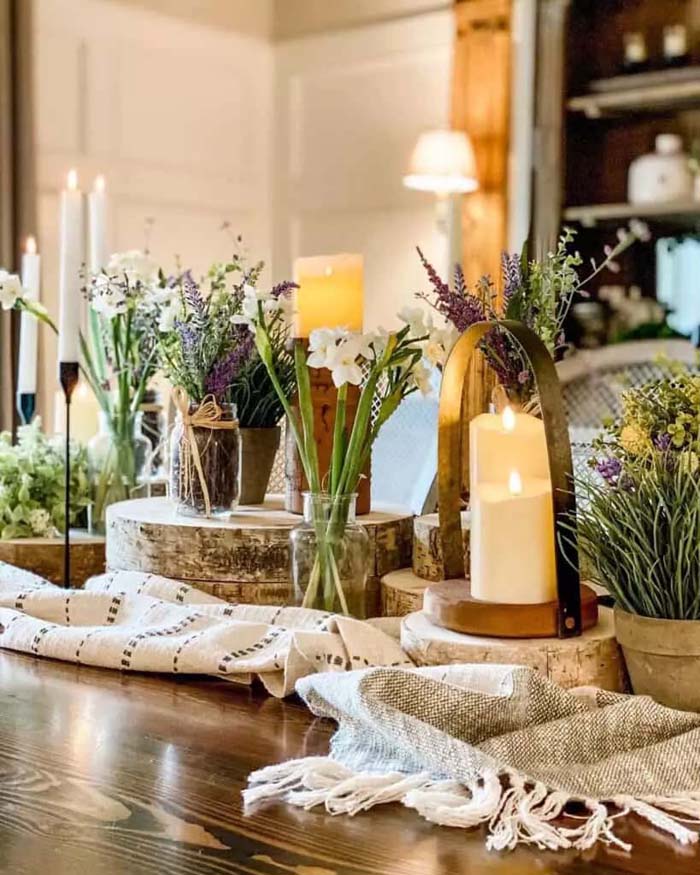 Isn't this a lovely farmhouse centerpiece idea?
Birch slices are used as pedestals for flower pots and glass jar vases. Here and there there are candles to enlighten the natural arrangements and to improve the cozy feel of this dining room.
The earthy tones of the slices are complemented by the cotton runners to provide together a neutral backdrop for the floral table accents.
via Tina Schaible
12. Garden-Inspired Farmhouse Centerpiece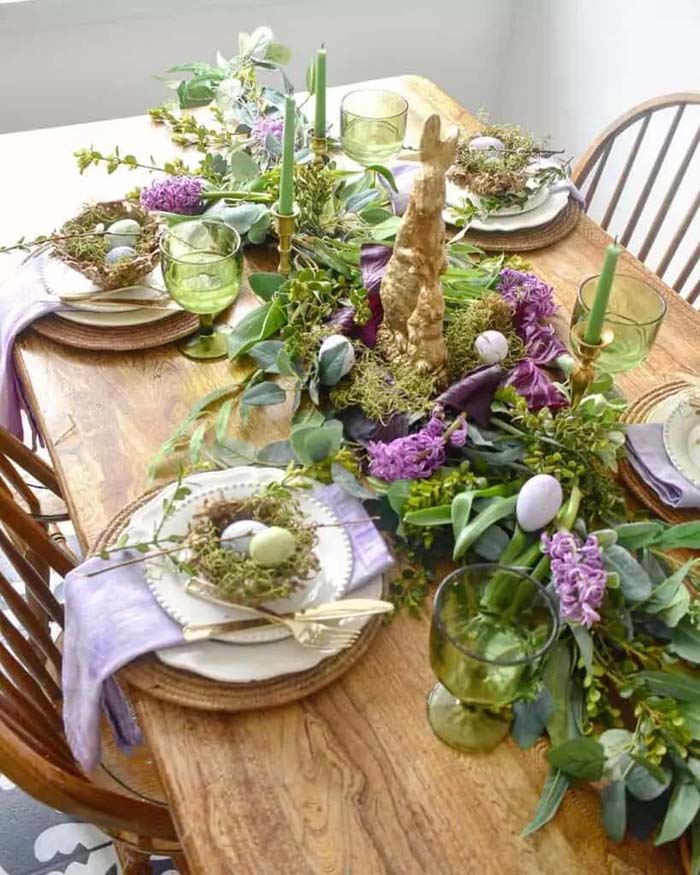 Green and purple create one of our favorite color combinations taken from the surrounding nature.
Bringing it inside your home to create a table centerpiece for Easter promises a unique setting.
There is no tablecloth, nor a table runner. Instead, there is a long garland of greenery replacing them and setting the natural theme on the table.
Hyacinth flowers in purple are a symbol of spring. They are added to the garland symmetrically together with foam white eggs.
The focal point is a tall rabbit figure with a metallic finish which coordinates with the candle holders peeking out the centerpiece.
via Sharon
13. Elegant Cottage Tablescape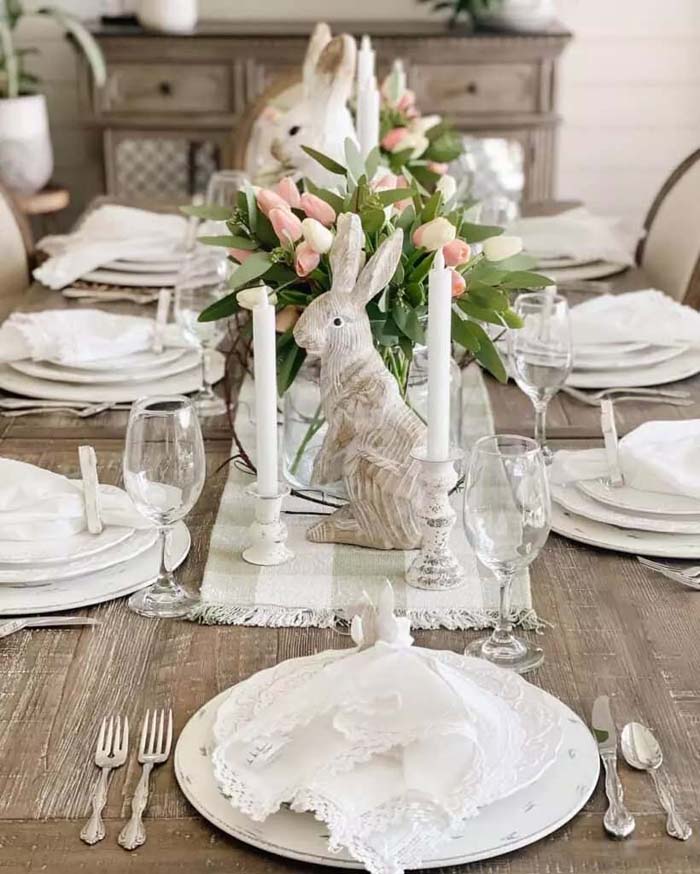 The neutral color palette represented by a buffalo plaid table runner, wooden rabbit figures and vintage candle holders sets a calming background for delicate spring bouquets.
Tulips are early spring flowers and when we see them we know that Easter is soon to come. Adding them to the tablescape for Easter creates a sweet and inviting setting for the holiday.
14. Weathered Holder Of Candle Sticks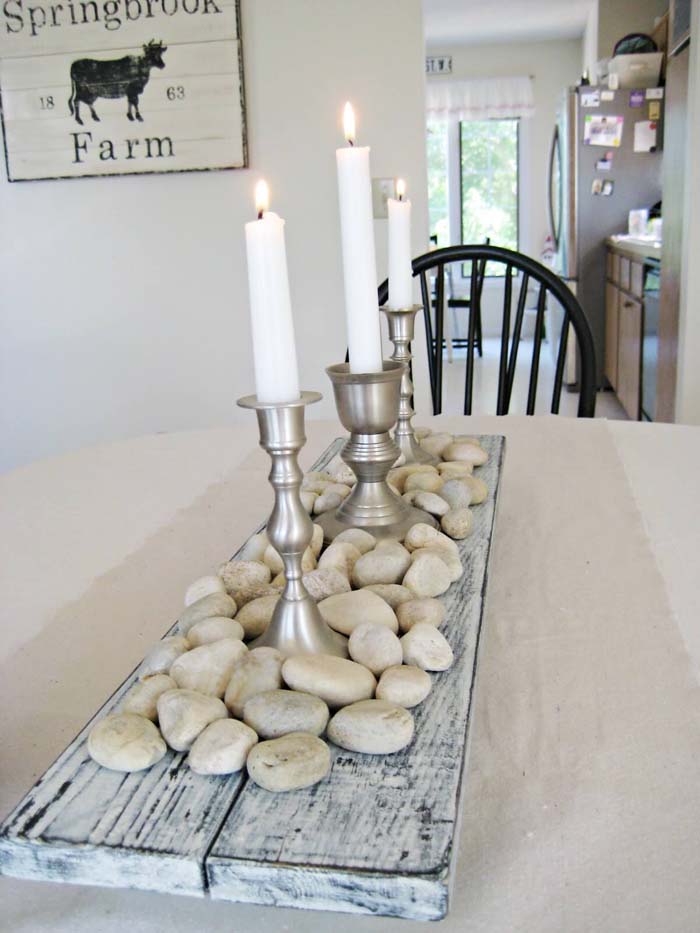 If you don't have a dough bowl or a crate to make a farmhouse centerpiece, you can make your own unique holder. For this DIY holder, you need two wooden beams. Attach them tightly together and give them a weathered look with whitewashing and distressing.
The centerpiece arrangement here features a mixture of coastal and vintage. The neutral design of the wooden base is great for creative experiments so don't waste time and add your own décor hatches.
via Happy at Home
15. Glass Bottles Into Elegant Vases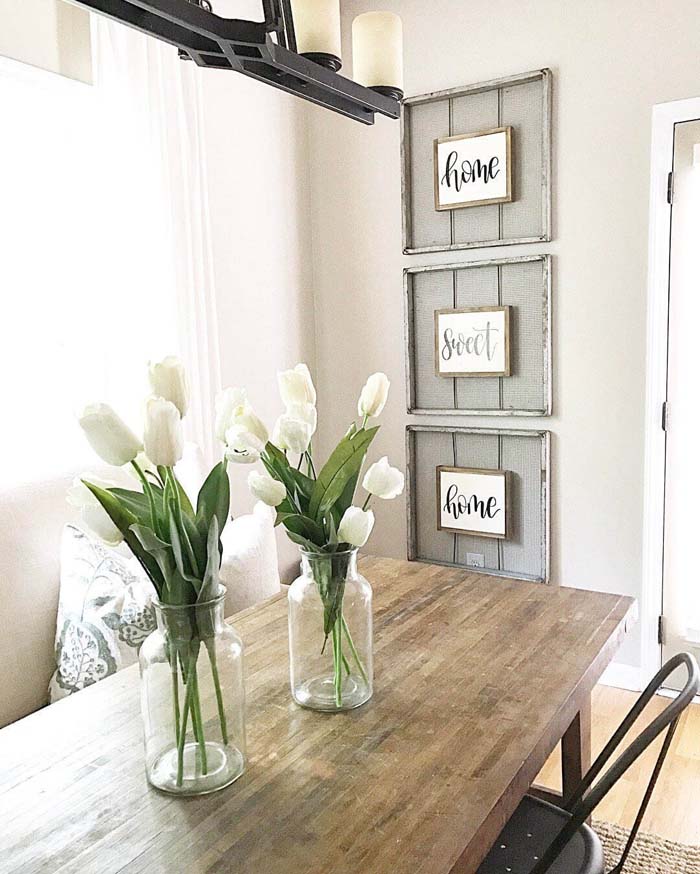 Simpler centerpiece ideas are great for everyday décor. If you want to add a rustic centerpiece to a farmhouse coffee table, one glass bottle is enough.
When you are looking for a table centerpiece idea for the dining room, you can place two or three of them. As simple as it looks, you need a pile of real or faux white tulips to recreate this idea.
Insert them directly into the glass and watch them fill the dining room with gentle elegance.
16. Moss And Succulents Eggs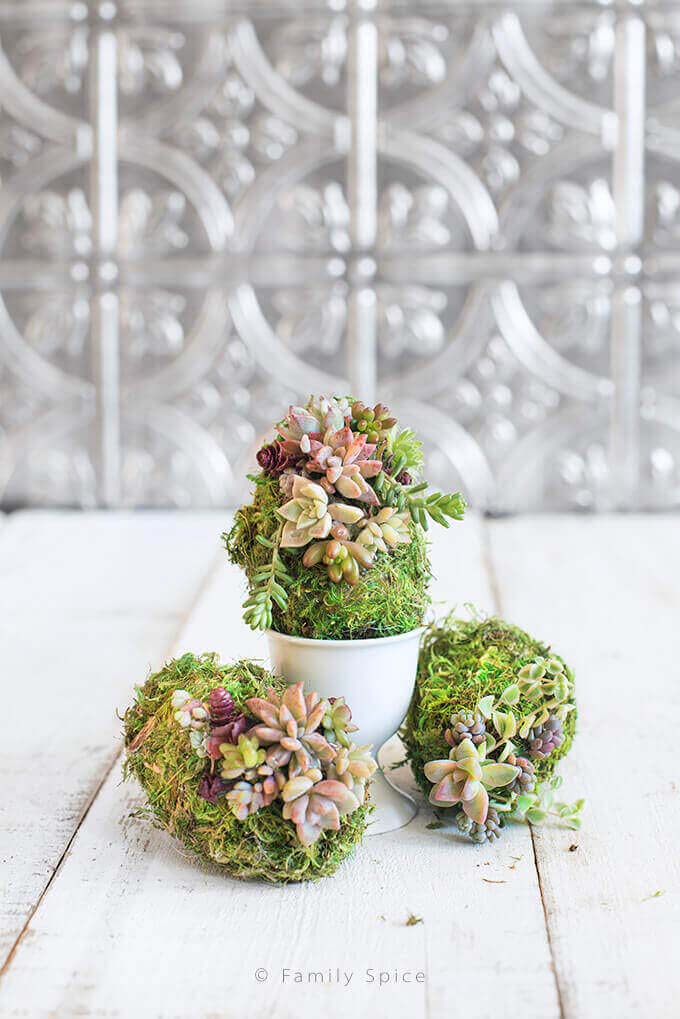 This is a DIY centerpiece idea you shouldn't miss! Succulents are great with their variety of colors and shapes, and also flexibility when it comes to inclusion in an arrangement.
To make these unique moss eggs you need oval moss sheets and plastic or cardboard egg. Cover the egg form entirely with moss and then start creating the succulent arrangement.
The greatest news is that you can apply this arrangement to any shape.
via Family Spice
17. Halloween Galore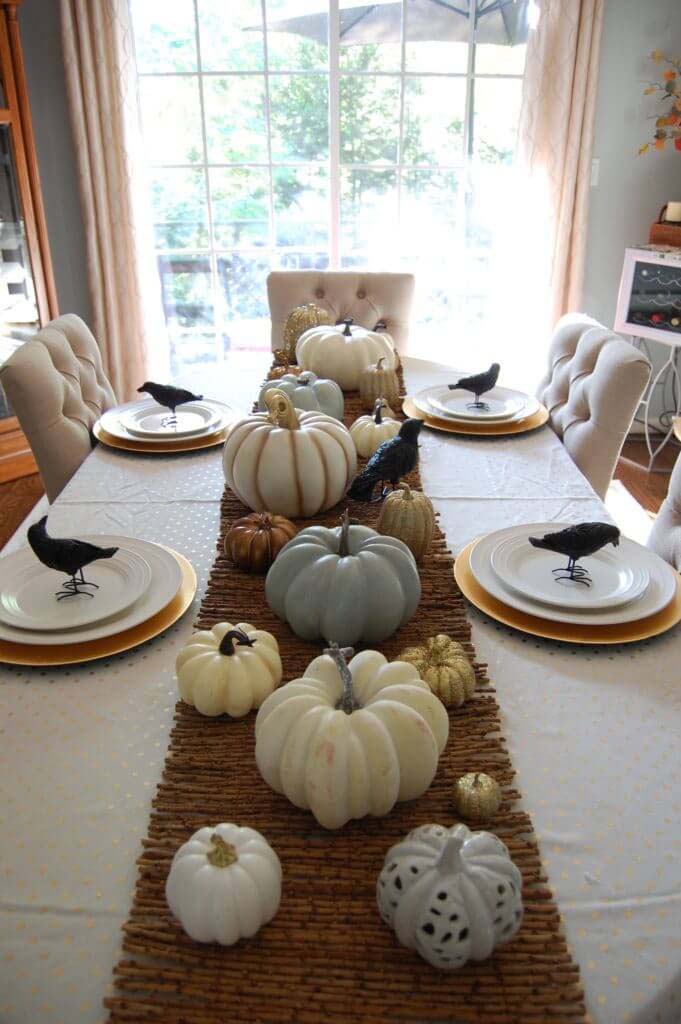 A table runner made from bamboo sticks sets a farmhouse backdrop for subtle shades of blue, yellow and white. They come in the shape of pumpkins covering the runner.
Metallic touches add contrast to the pumpkin arrangement and let each of them stand out.
The blackbirds alighted on the plates are very important for imposing a scarier touch to the Halloween decor.
via Made 2 Style
18. Blooming Tablescape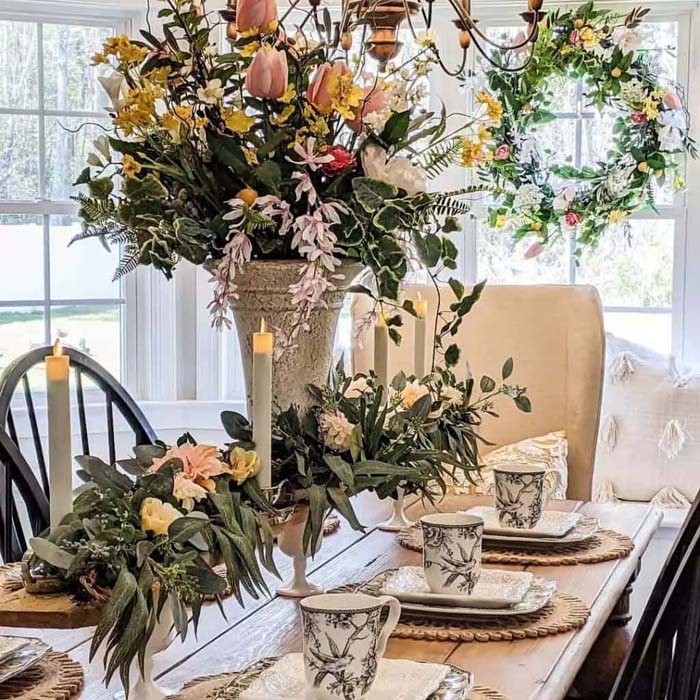 This tablescape is fascinating not only with the wide variety of fresh flowers included in it but also with its presentation. The garland is not placed on the table as we would expect. Instead, it is lifted up with white stool glasses.
This centerpiece idea is perfect for the spring season or for a special occasion for a woman.
19. Old Toolbox Centerpiece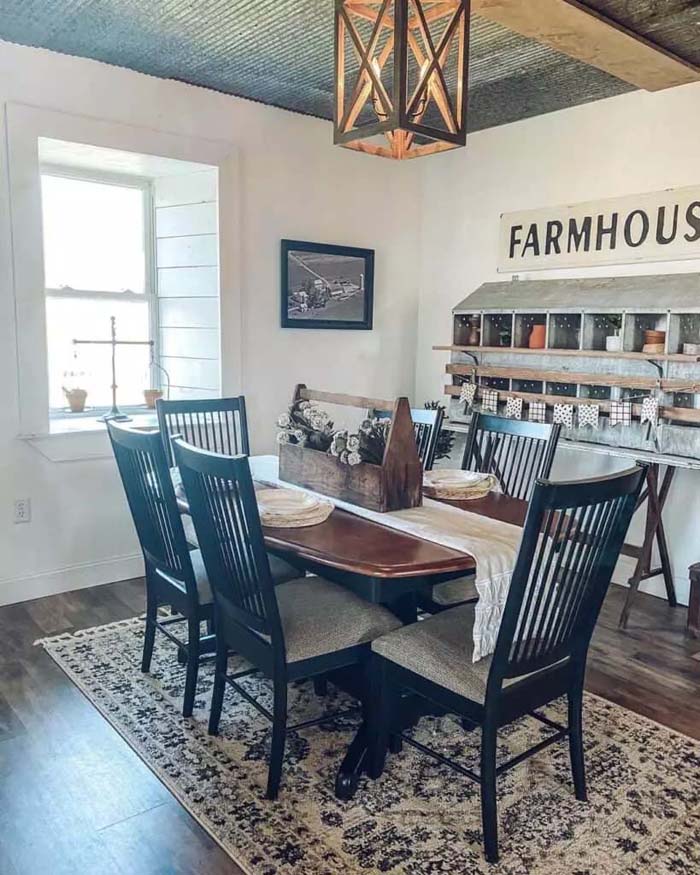 For a unique farmhouse table centerpiece, use an old toolbox as a container. Fill it with fresh flowers, candles, or Easter eggs on a moss base.
If you want to give it more functionality, you can use it as a dining table organizer. Instead of tools, you can place salt and pepper shakers, napkins and small tableware.
20. Farmhouse Table Centerpiece From A Cheesebox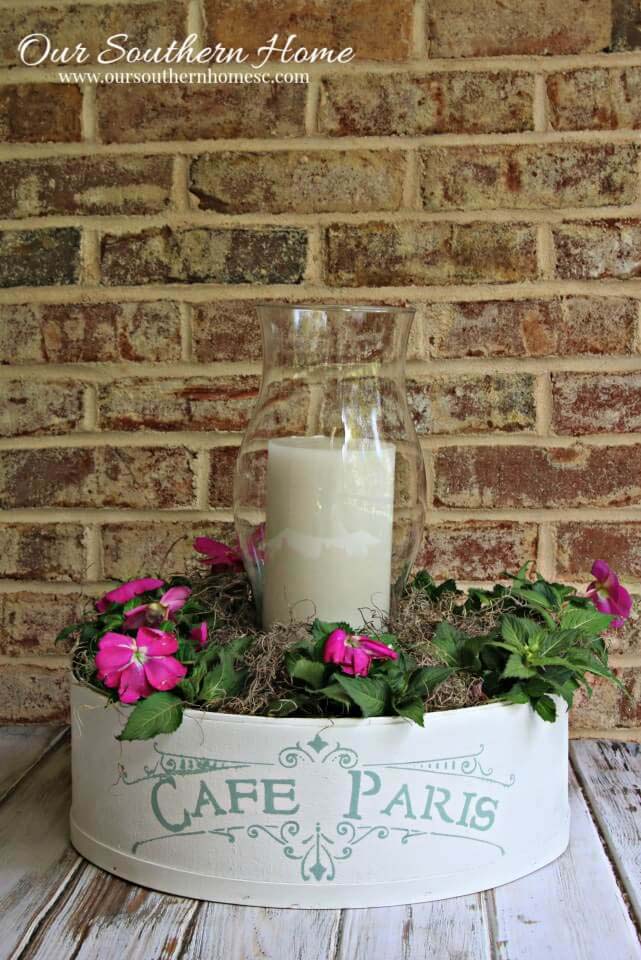 Cheeseboxes are rare and reusing them for a farmhouse table centerpiece will add a unique character to the home décor.
To give the plain plywood this French cottage look, you need to prepare white paint and a stencil to imprint an inscription.
The oval form can be used as a flower pot holder, as a tray for candle arrangement or as a container for smaller décor accents.
21. Farmhouse Baskets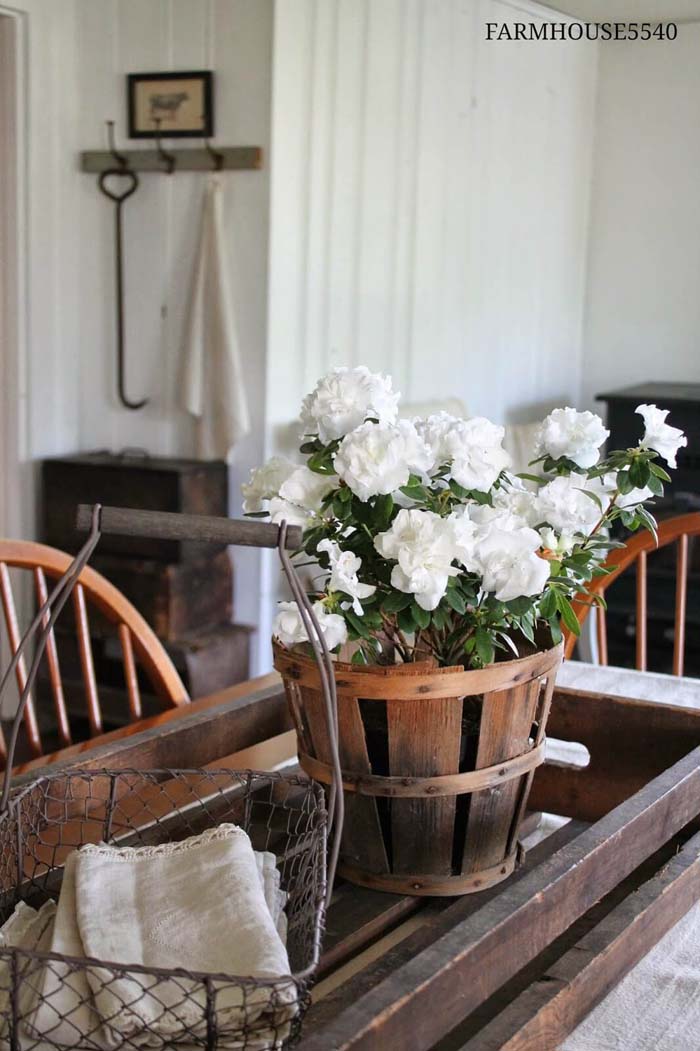 Another rare container from the past times is the orchard basket. If you happen to see one at a thrift shop, make sure to get it for your table centerpiece décor arrangement.
It was intended for the gathering of eggs so its shape is perfect to insert small items or a big tall one such as a bouquet of fresh flowers.
Use the orchard basket alone or combine it with other farmhouse elements for a bolder statement.
via Farmhouse 5540
22. Milk Pitcher As A Vase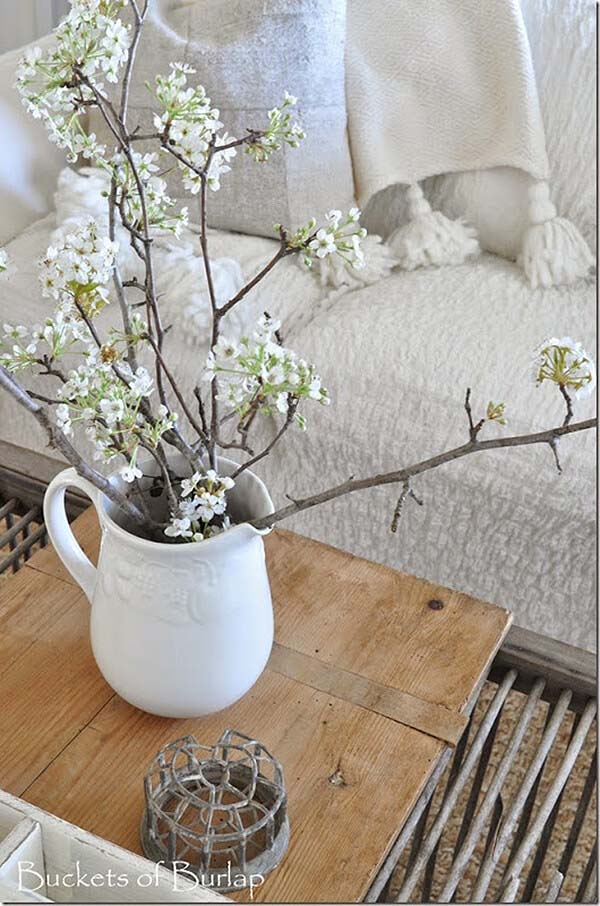 Welcome spring in your home with a bouquet of branches with blossoms. Put them in a milk pitcher to enhance the authentic beauty of nature.
This arrangement is very simple but very impacting so you can use it alone on the table.
via Beckys Farmhouse
23. Gentle Cotton Ball Centerpiece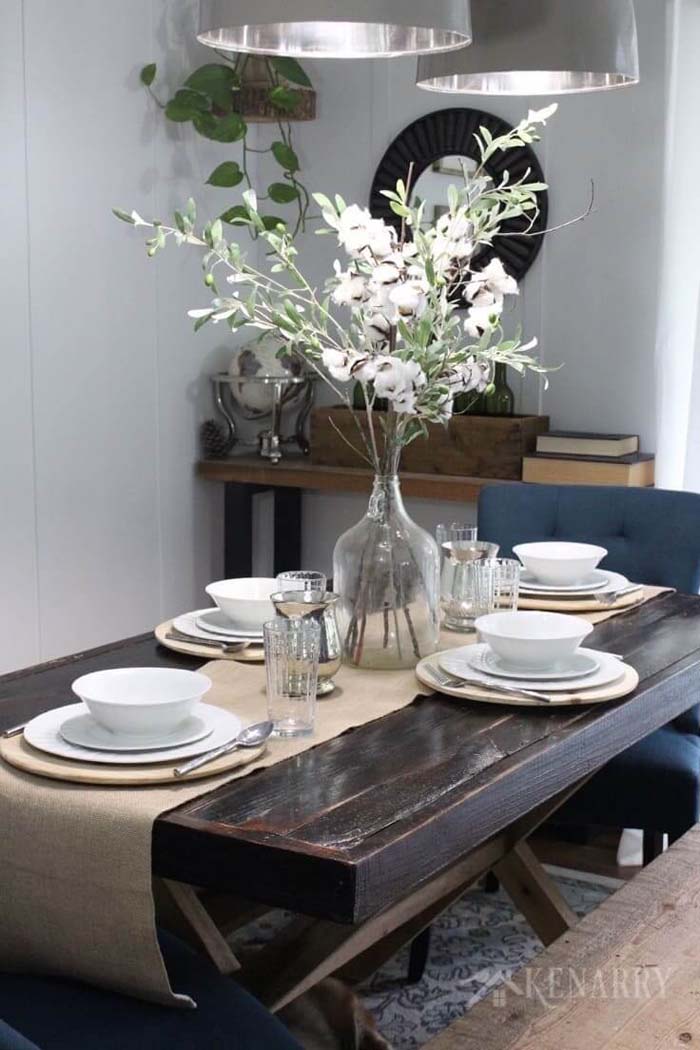 The centerpiece is important for the tablescape but also the base for it. The burlap runner is perfect to set the tone for a cozy gathering around the table.
It adds texture and a great backdrop for a clear glass bottle filled with cotton ball branches.
via Kenarry
24. French Chic Farmhouse Table Centerpiece Idea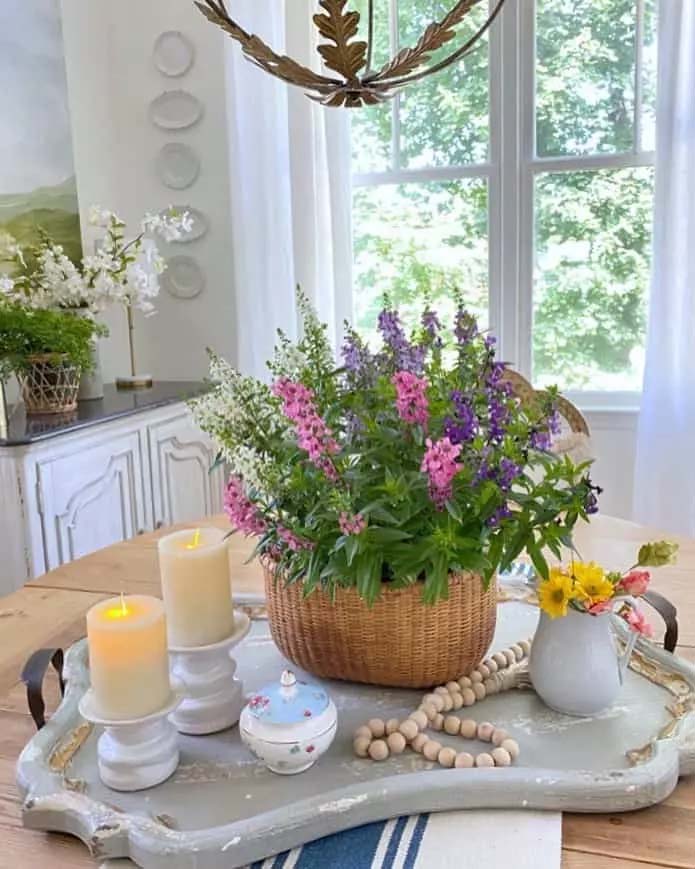 A wicker basket filled with lush seasonal bloom is an adorable addition to a neutral palette farmhouse tray.
Complement it with other vertical elements such as a small pitch with flowers and a couple of pillar candles.
The string of wooden beads highlights the vintage sugar bowl with floral decorations and gives the arrangement a finished French cottage look.
via Anissa
25. Centerpiece To Celebrate Harvest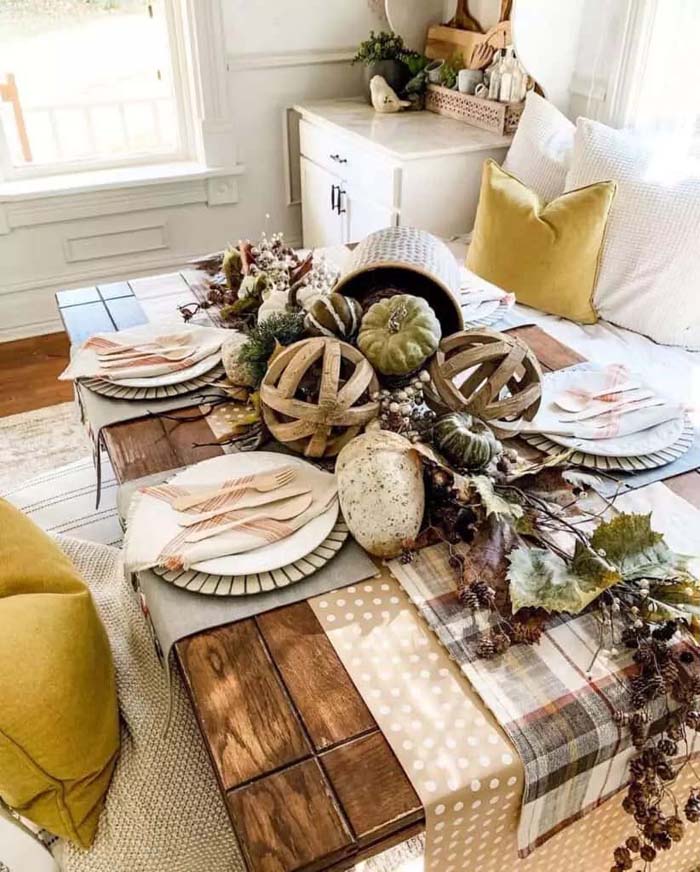 This table centerpiece has been inspired by the rich autumn harvest. Pumpkins and acorns are set on a buffalo plaid table runner together with decorative wooden balls and lush garlands from pinecones and leaves.
This arrangement is perfect for the entire fall season. If you need more inspiration to decorate your home in an autumn-inspired theme, don't miss our collection below.
26. Fall Centerpiece In Green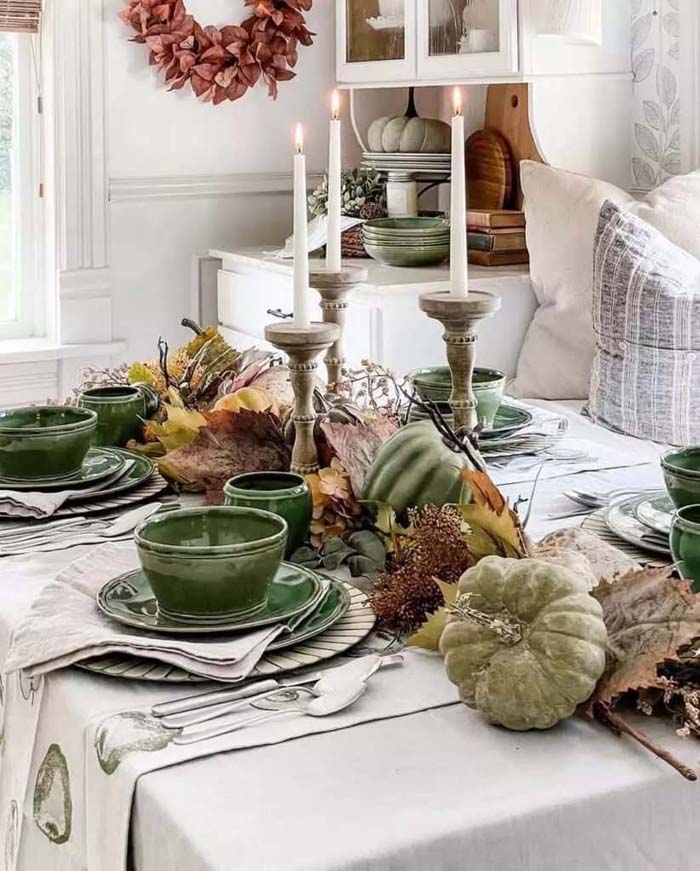 The centerpiece in this farmhouse table décor idea aims to cohere with the unique tableware. The green color defines the tone of this tablescape but to let it stand out, contrasting colors and textures are needed.
This arrangement shows us how to do it in an elegant and eye-catching way. Use colors such as red, orange and brown to define the subtle accents of the arrangement. Add pillar candles to give the setting also an interest in height.
27. Caged Flower Pot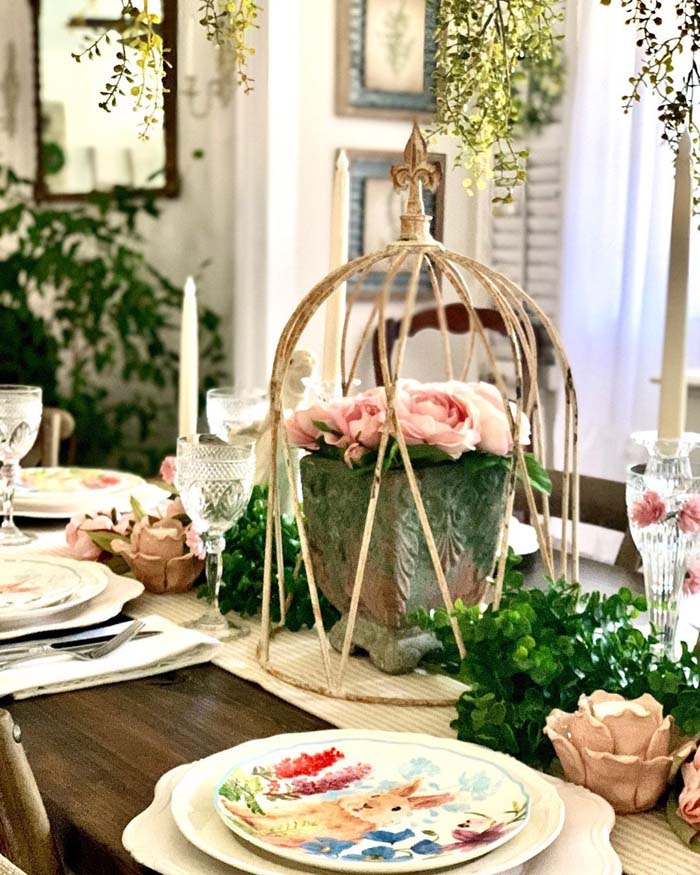 This is an inspiring hint about how to give the focal point of your table centerpiece more interest. Cover it with a vintage cage! The weathered look of the metal cage easily attracts attention which is then drawn to the delicate roses sitting underneath.
The green garland on both sides of the pot coordinates with the green patina finish of the clay pot and the rose leaves and creates a natural contrast for the pink color accent.
28. Porcelain Jug Into Shabby Chic Vase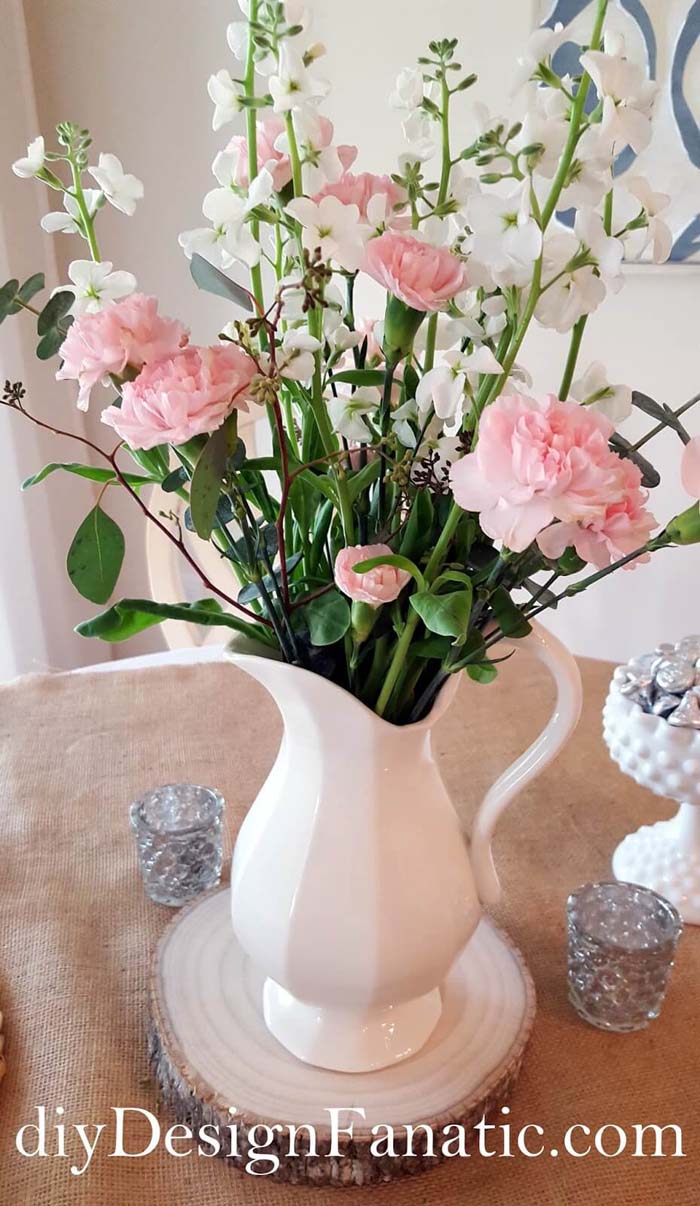 The white color of the milk pitch is the best base for pink and white flower shades.
These two colors work beautifully together and create an elegant centerpiece design. If you want to give the vase a more rustic look, place it on a slice of birchwood.
29. Industrial Farmhouse Fall Centerpiece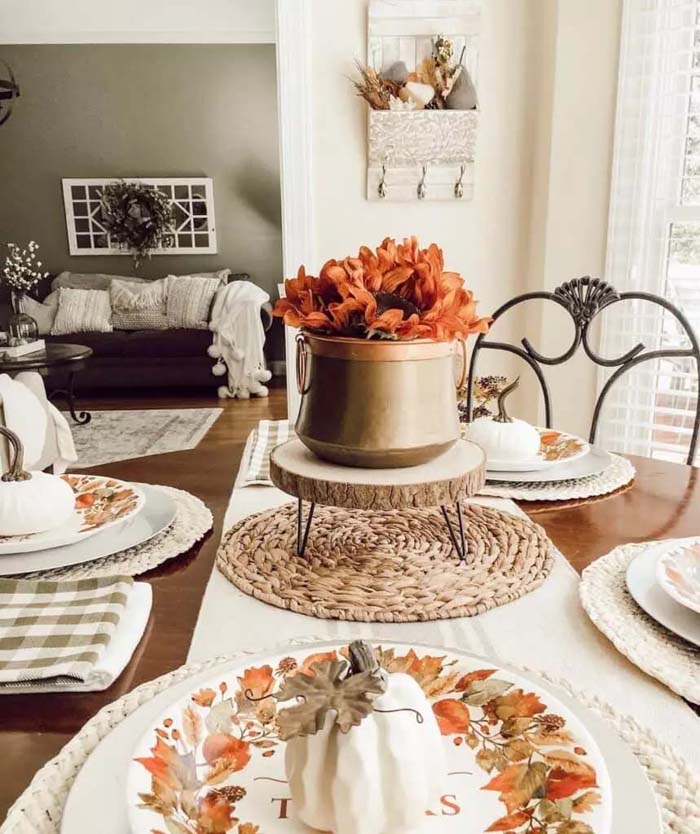 The base of this farmhouse centerpiece is clearly affected by the modern farmhouse style. The wood slice is lifted on metal clothespin legs which make sure that even the smallest accent stands in the focus of attention.
The focal point is a floral arrangement of deep orange flowers. The bouquet is placed into a tin bucket and together they coordinate with the unique plate ornaments in the fall theme.
via Heart Of Wendy
30. Natural Fall Table Centerpiece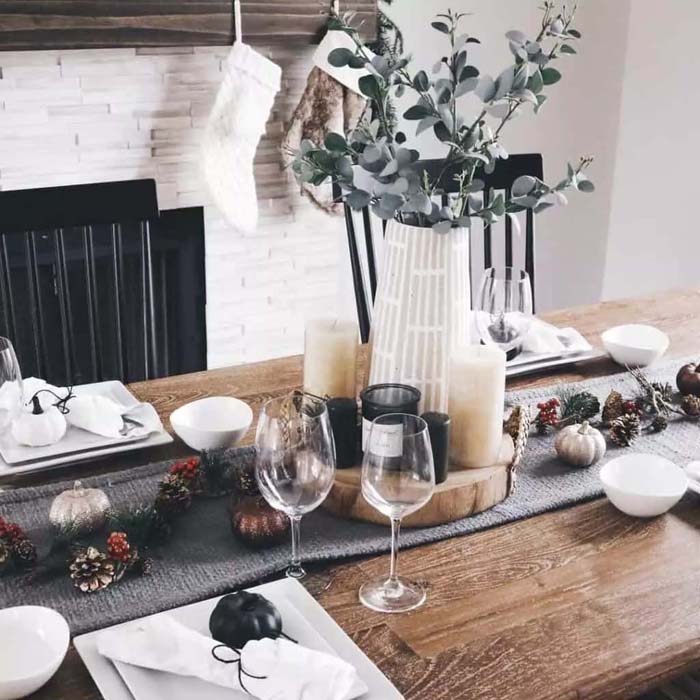 If the tableware of your festive table is white or neutral, you can be more creative with the centerpiece décor.
Add a tall decoration in the center white to combine with the tableware. The rest accents can be in varying tones and heights to give the centerpiece visual interest.
Use pinecones and glitter-finished pumpkins in combination with pillar candles to balance the arrangement vertically.
via Last House On Bedford Lane
31. Different Thanksgiving Centerpiece Idea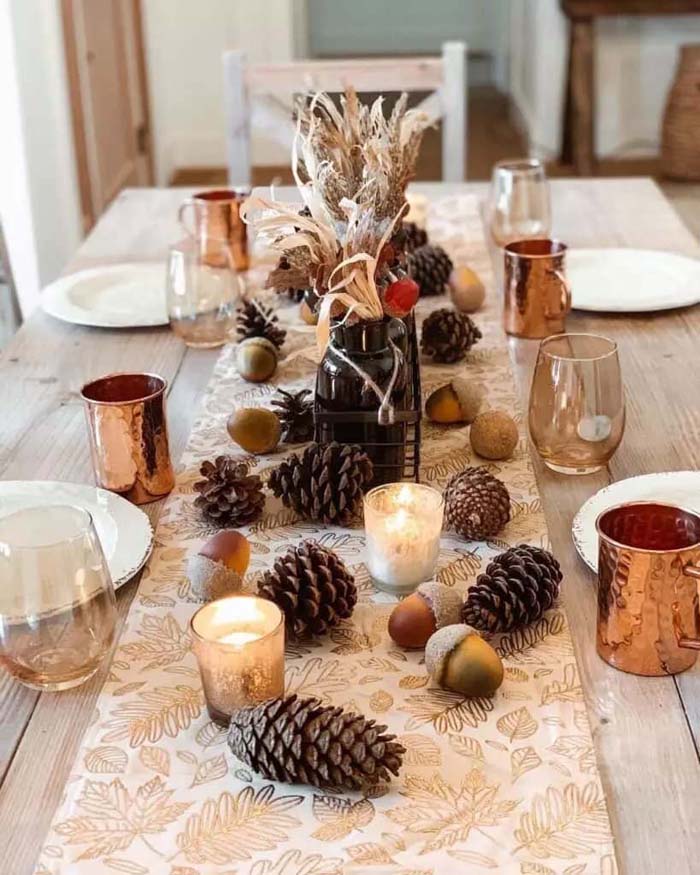 Do you want to "run" away from the typical pumpkin table arrangement for Thanksgiving?
Here is an inspiration for you. It does say fall with its colors and textures but it is nothing to do with the traditional home décor.
Amber bottles are repurposed into vases for faux acorns and bouquets from leaves. The table runner is chosen to include a shade of amber to cohere with the focal point and with the copper glasses on the table.
32. Farmhouse Winter Centerpiece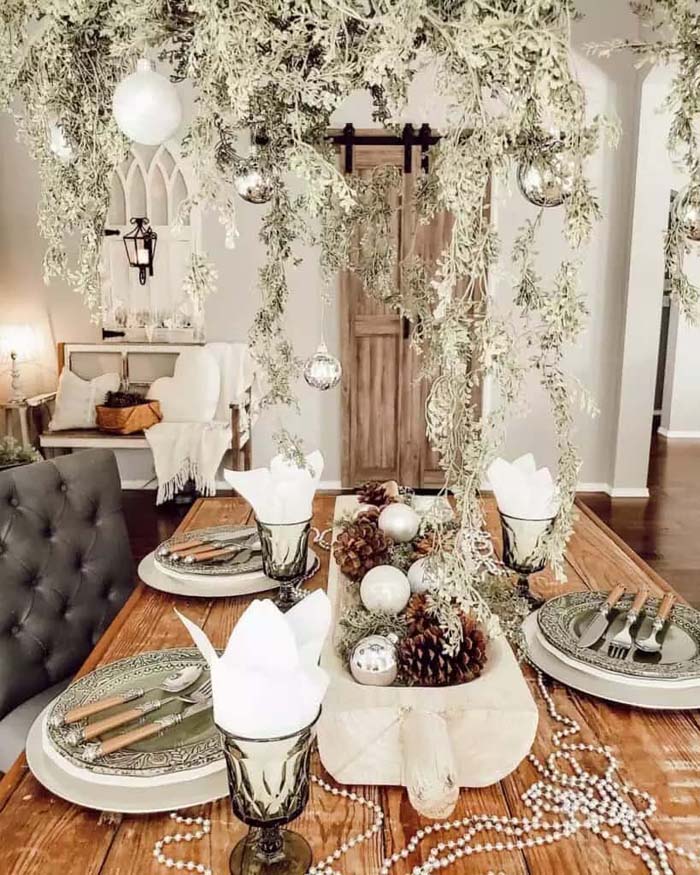 Farmhouse centerpiece accents work perfectly together with sleek metallic accents!
The moss and the pinecones set a textured natural backdrop for the glossy and glittery Christmas baubles. They are placed together in a long wooden tray that unites them and turns them into the focal point of the table.
via Lambert Cottage