Autumn is so warm and charming season! Although the intensity of the sun's rays decreases, the sun still spreads its warmth over us.
And as the seasons change, our mood and interior also do. One of the most popular decorating styles is the farmhouse. It is because it combines wood in earthy warm tones, rustic elements and nature gifts combined in such a way as to make the home cozier.
The greatest thing about the farmhouse style is that you don't have to actually live in the countryside to incorporate it. If you are looking for autumn-inspired farmhouse decorating ideas, no need to waste more time.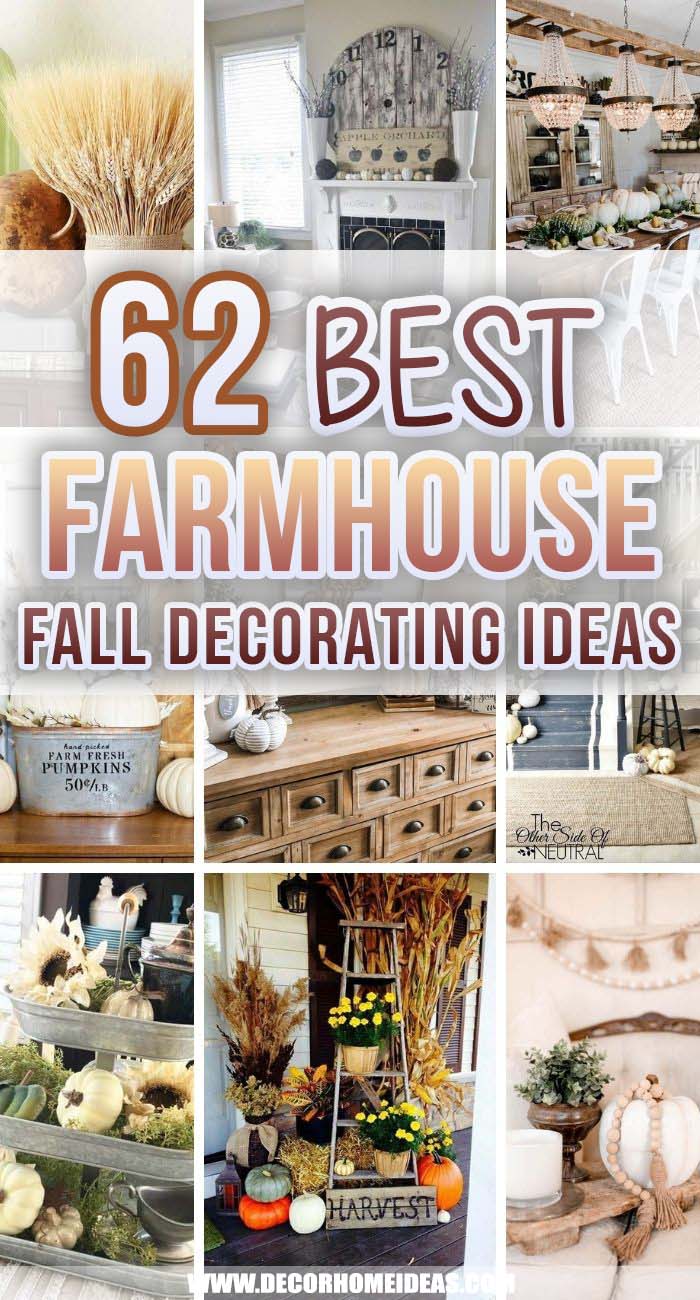 Our 60 farmhouse fall decorating ideas come right on time to add the fall theme to your interior and let you celebrate the new season properly.
1. 100 Ways to Say Fall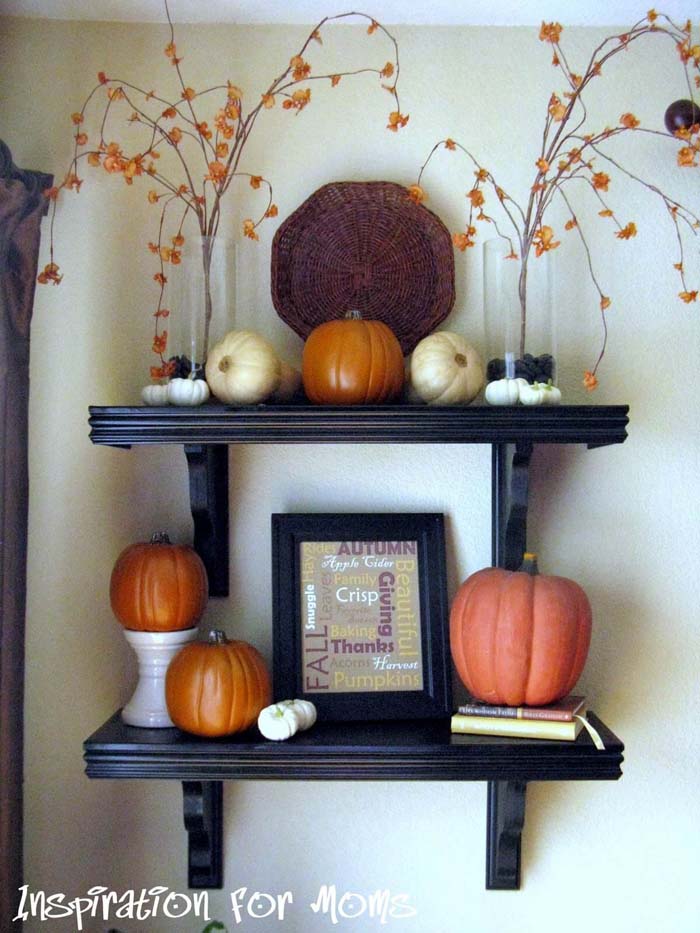 The pumpkins are the typical fall decoration but there are so many ways to arrange them that you can never get enough!
The vivid orange tones of these fruits add a pop of color to the black wooden shelf and remind of the colorful carpet the autumn creates outside.
2. Autumn Leaves & Pumpkins Please Fall Decor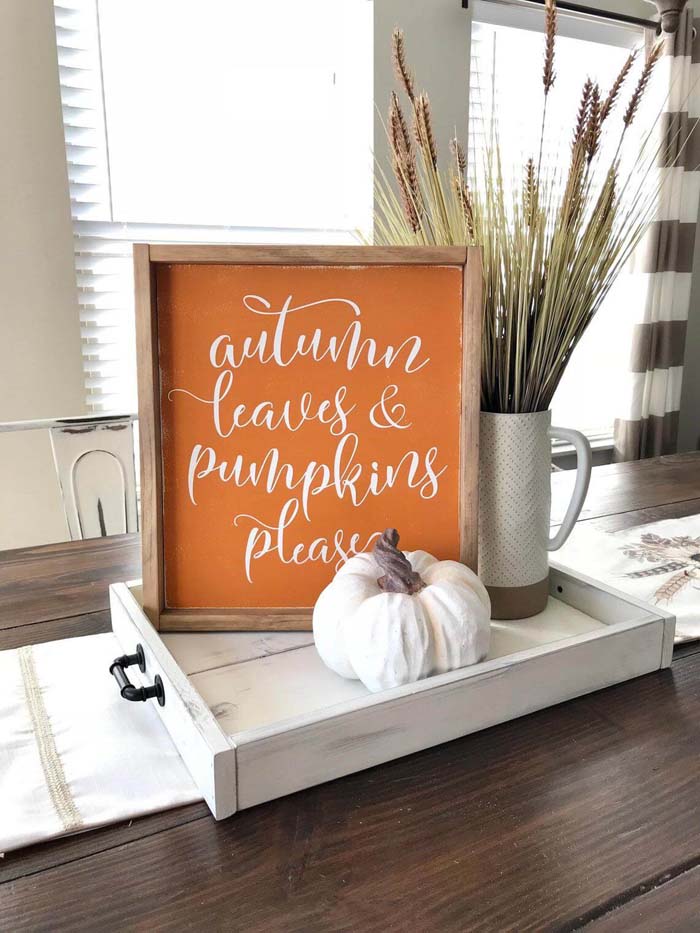 Create a fall-inspired table centerpiece with items for free! Create a sign out of an old wooden frame and write an inspiring autumn sentence.
Place it upright in a tray to serve as a background for an arrangement of natural treasures- a pumpkin and a vase full of grains. In case you don't have a tray to use, repurpose an old drawer into a decoration holder.
3. A Basket of Pumpkins in Any Color Means Fall is Here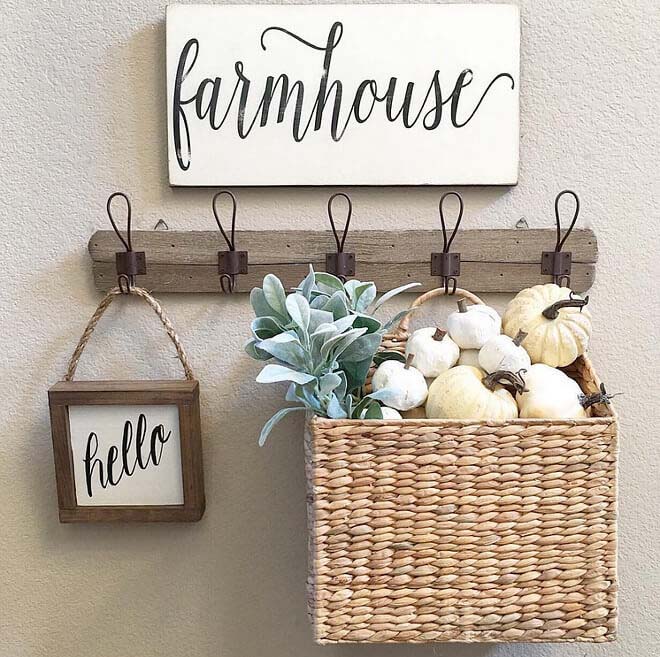 This entryway rack holds a rustic sign that greets everyone entering and a basket holding many little pumpkins.
The leaves inserted to create a contrast with the neutral tones of the wicker material of the container and draw attention to the fruitful arrangement.
via The Downtown Aly
4. Berries and Flowers in Pretty Fall Colors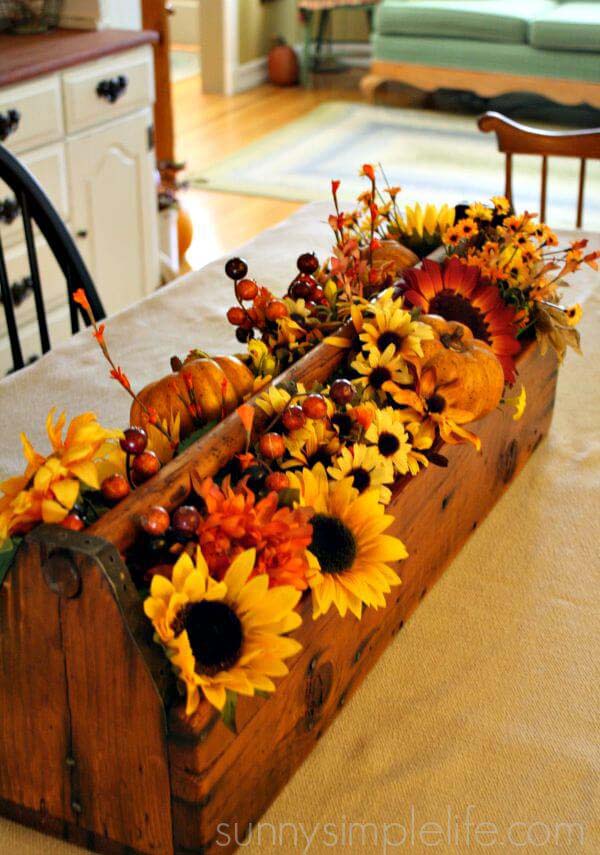 Take the summer flowers out of the basket in the table center. Instead, fill it with items related to fall. That can be sunflowers, mums, pumpkins, twigs. grains, berries.
5. Black and White Buffalo Plaid Fall Wreath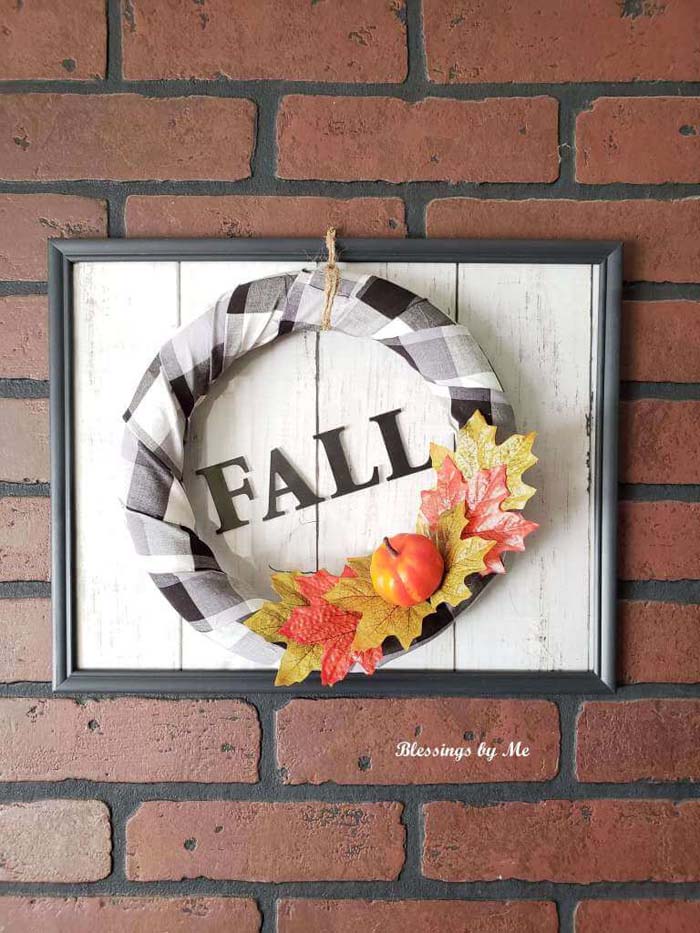 Decorate your wreath with orange and yellow leaves and a small pumpkin. This is an easy idea of how to make an existing item "season-friendly".
If you want to upgrade this idea, you can make a brand new wreath in the fall theme by weaving buffalo plaid fabric around a styrofoam ring. Add "fall" letters inside the circle to emphasize the season celebration.
via Blessings By Me
6. A Bounty of Fall Decor in Any Color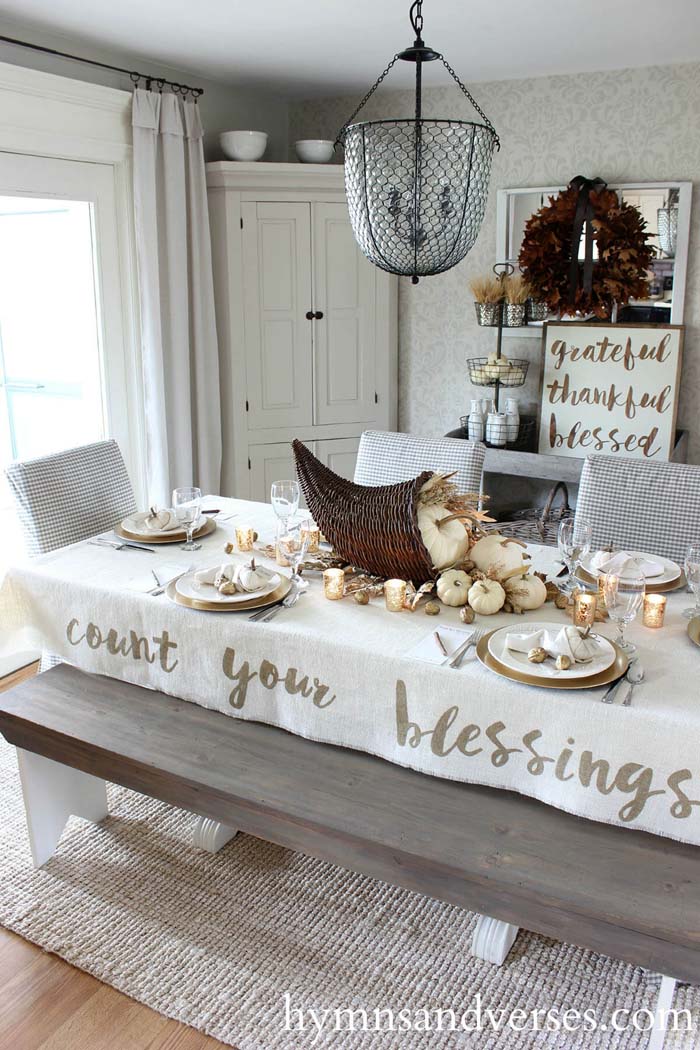 This is an amazing idea of how you could decorate your table for Thanksgiving Day. The tablecloth inscription and the sign behind the table remind the precious values not only valid for this holiday but for every day of the year.
The centerpiece features a cornucopia spilling small pumpkins and dried grasses- a masterpiece arrangement marked by the autumn theme.
via Hymns and Verses
7. Cheerful Marigolds Light Up this Porch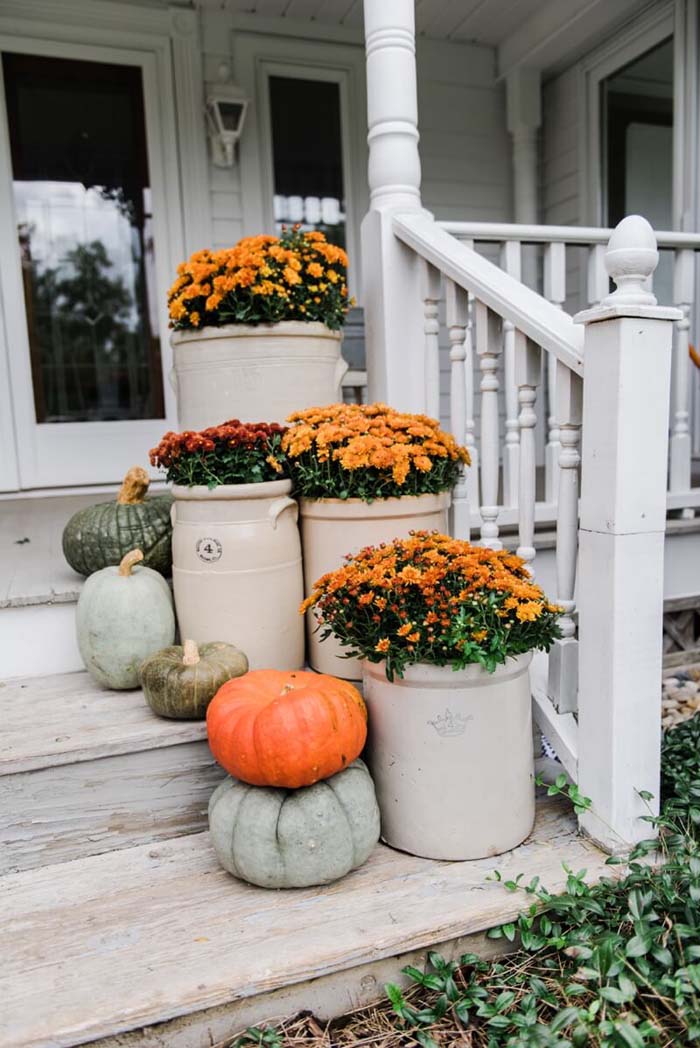 Change the flower pots that used to hold flowers blooming in the summer with dairy crocks. Plant mums that will create a thick tuft of autumn colors once they bloom and surround the containers with pumpkins of different sizes.
This is a great way to add fall to your outer stairs and make the beginning of your house very festive and welcoming.
via Liz Marie Blog
8. Cheerful Sunflowers Bring Early Autumn Joy to the Table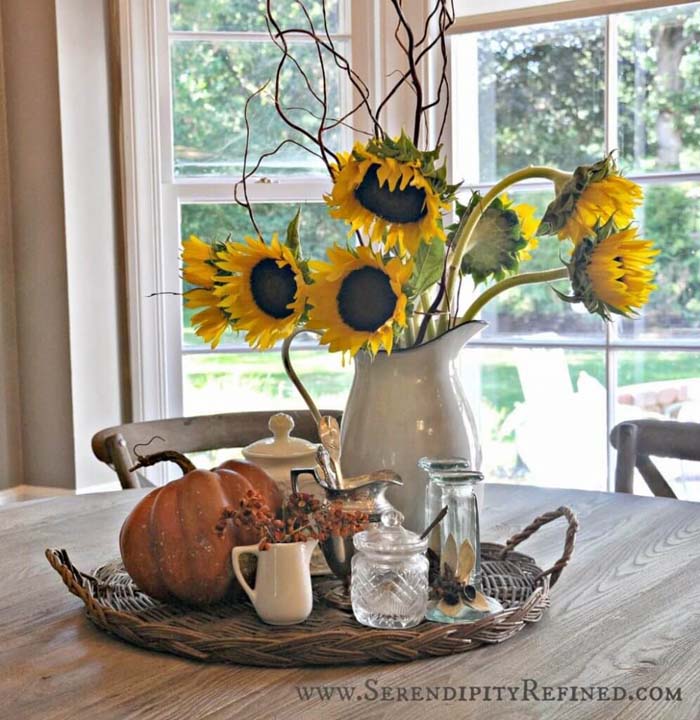 When autumn comes you can enjoy the cheerful blooms of the sunflowers. Once they are cut, they can stay fresh for a long time so which makes them perfect for your fall interior.
9. Chicken Wire Tray Background for Spilling Flowers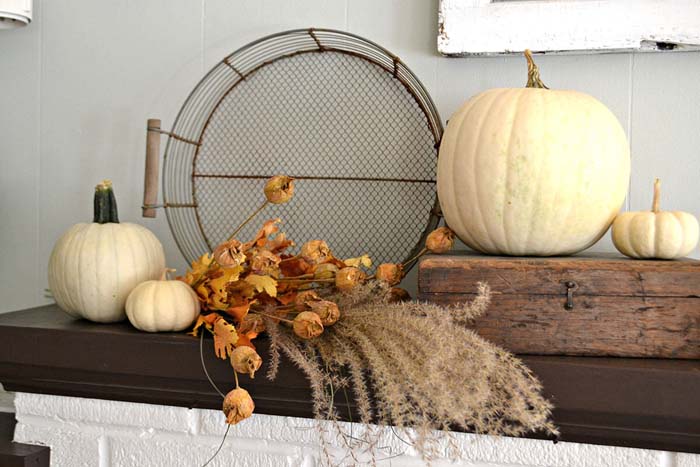 When you make your farmhouse fall decor, consider adding old items like wire trays, porcelain tableware, wooden containers to enhance the antique feel.
Use these as background to let the pumpkins and seasonal twigs and flowers stand out.
10. Clever Cotton Boll Wreath is Pretty and Unique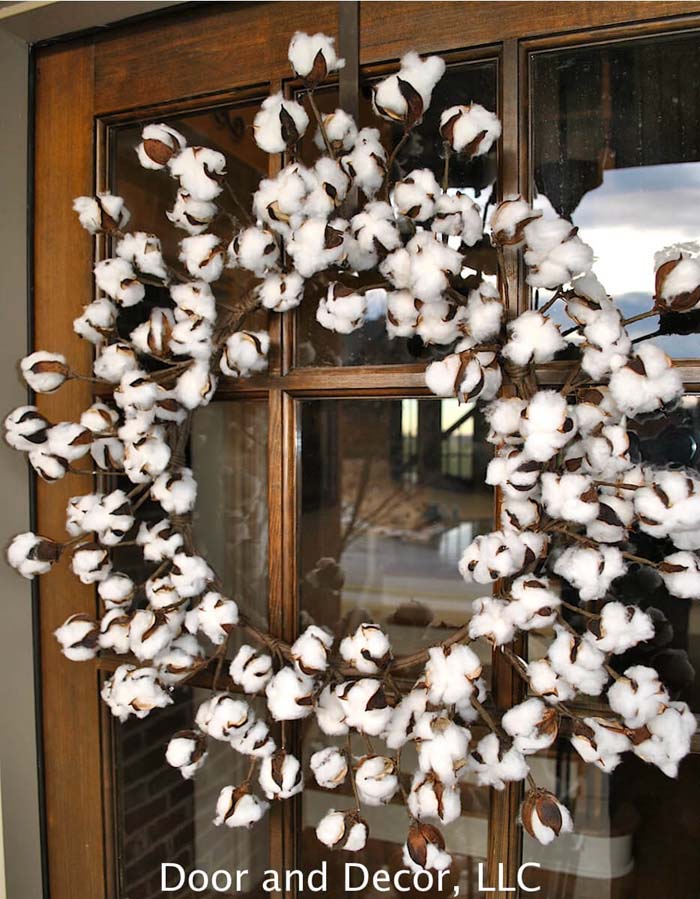 The cotton twigs are a popular element added to the farmhouse decoration.
The soft texture of the balls makes them the perfect means to add some warmth indoors whether that is with a simple bouquet in a vase or a wreath hung at the front door.
11. Coffee Table Tray with Pitcher Vase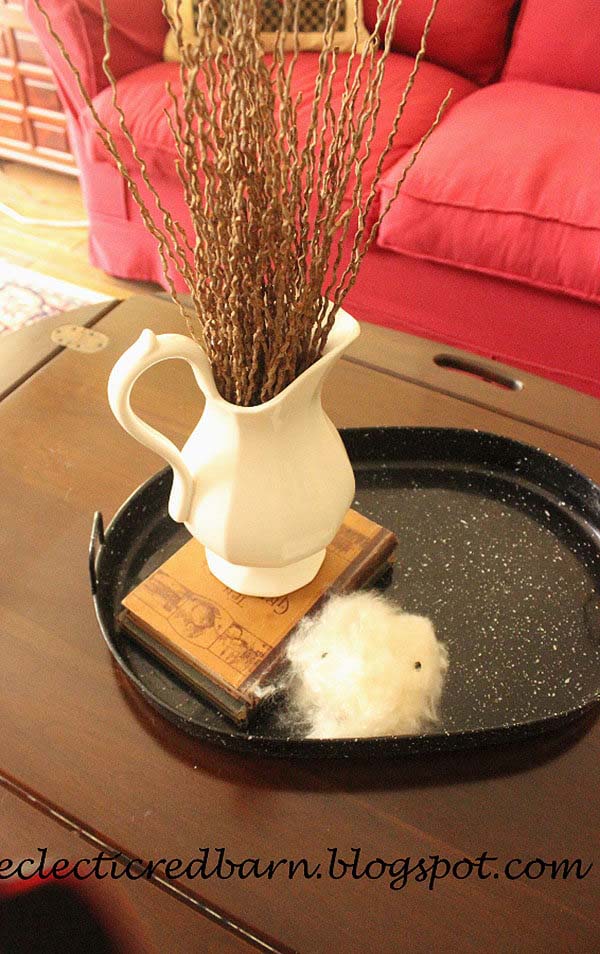 Small elements like this pitcher, an old book and a clump of cotton could create an outstanding fall theme if they are gathered together.
Place them in a tray and see how quickly the farmhouse autumn vibe vivifies the atmosphere.
12. Decorative and Distressed White Faux Fireplace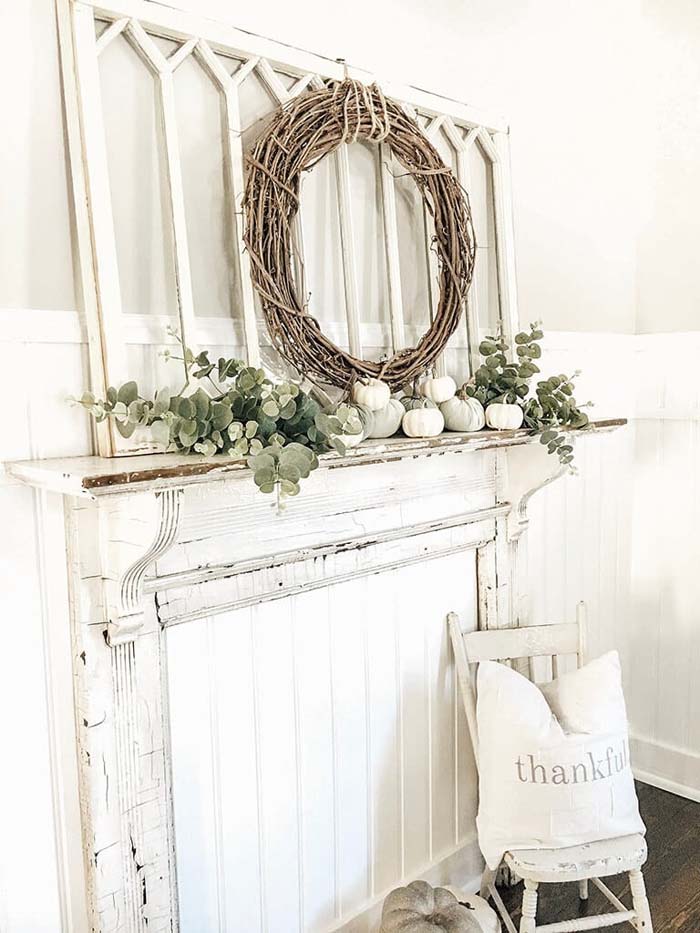 If you have a real fireplace or you have made a faux one to make your living room cozier, you can decorate the mantel in the same spirit to welcome fall.
You need a piece of old furniture to attach a wreath from grapevines on it. Below this centerpiece spread a garland of faux foliage, eucalyptus is a great choice, and group small pumpkins in front of it.
13. Denim and Plaid Beautiful Banner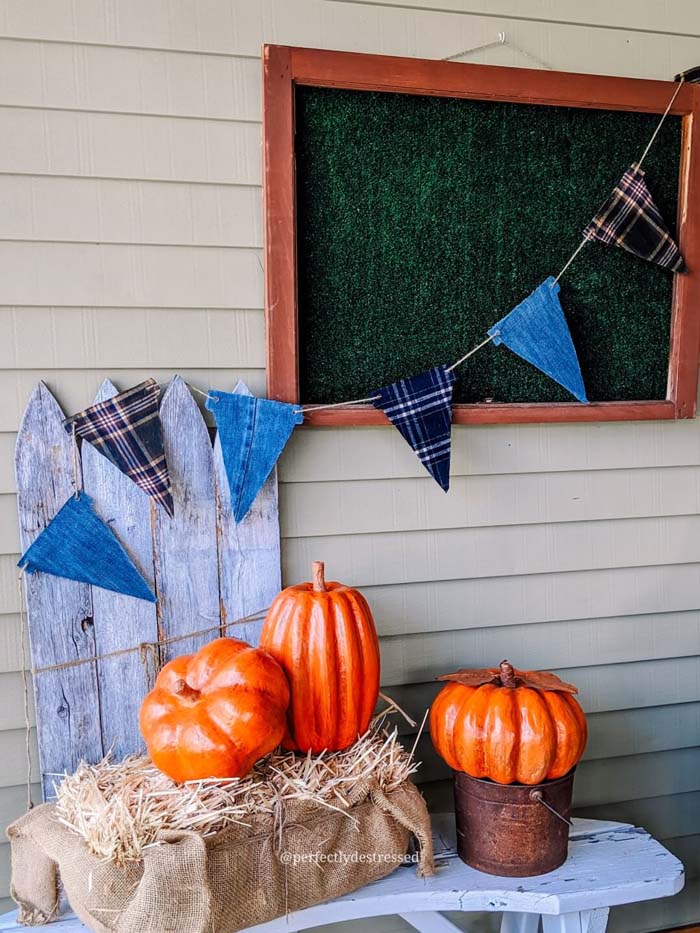 If your fall decor is missing an elevated element, try this handmade banner.
Triangles cut from old denim and plaid clothes and then added to a thread create a decoration that instantly adds a festive vibe to the arrangement.
14. Dried Plants and Wreaths Evoke the Harvest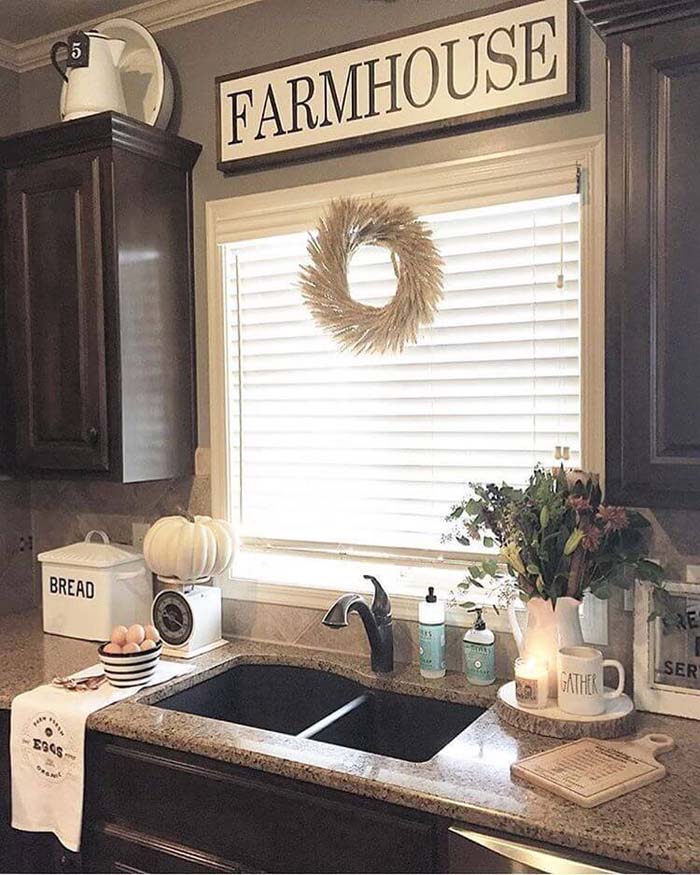 If you already have pieces that form your farmhouse interior, you can always only add temporary ones to update them for every season.
For example, when fall comes, you only need to upgrade the existing with elements typical for this season and of the same style, of course. That could be a wreath of grains and a bouquet of dried flowers.
Add pumpkins here and there and voila! Your farmhouse interior is ready to celebrate autumn coming.
15. Dried Wreaths are Simple Fall Decor Pieces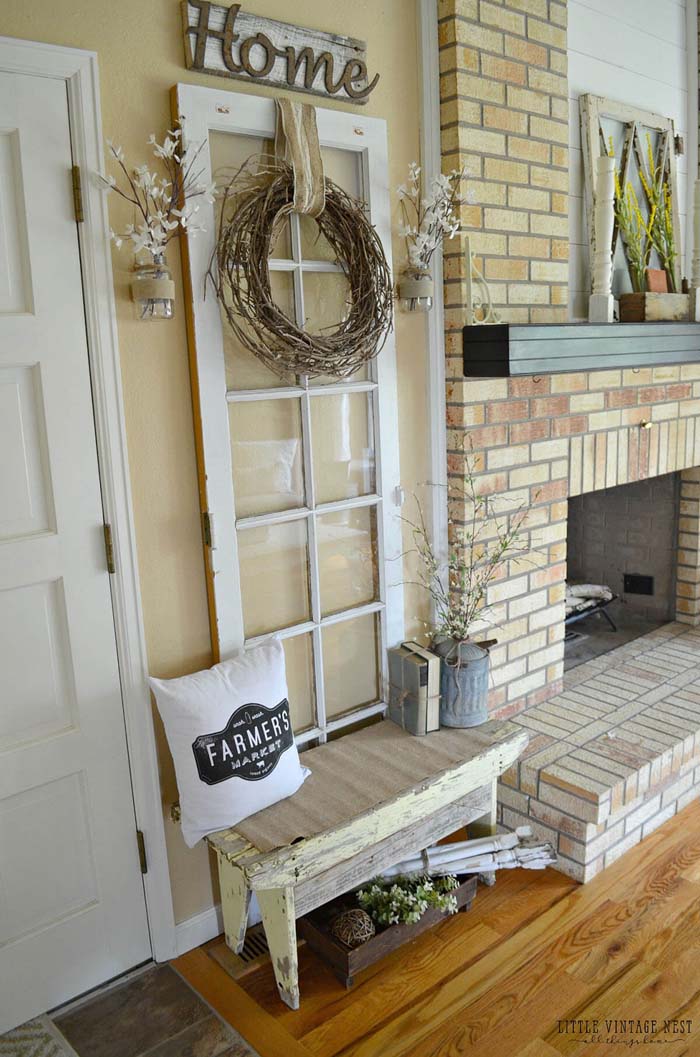 This idea is perfect for decoration both indoors and outdoors. Bring an old window and repurpose it into a stand for a large grapevine wreath.
You can simply lean this fall piece against the wall or hang it to the wall with hardware. Added farmhouse vases on both sides of it hold white flowers to enhance the presence of nature.
A weathered stool acts as a display of other antique elements that add coziness to the nook.
via Sarah Joy
16. Dry Summer's Hydrangeas for Fabulous Fall Decoration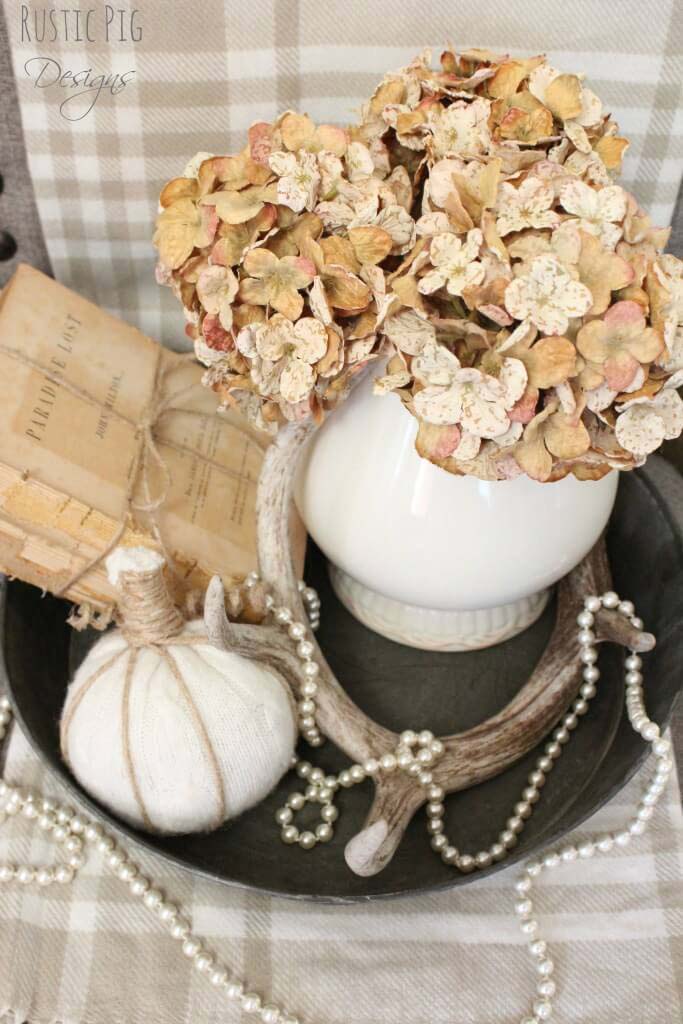 The hydrangeas look pretty in their blooming phase but you would be surprised how wonderful they are when dried. Their richness remains although the colors of the petals have faded away. In fact, this effect gives them more delicacy and charm.
Use the bouquet of dried hydrangeas as a means to make a farmhouse arrangement more attractive. Combine with old books and other antique items.
via The Rustic Pig
17. Embrace All the Feels of Fall Corner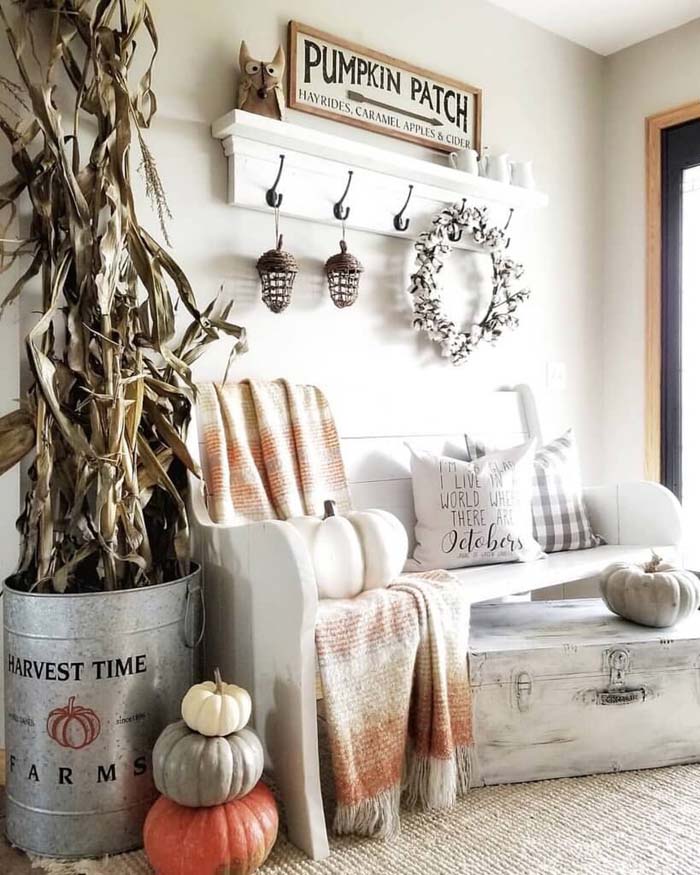 When you decorate your home for fall you can focus only on one nook. That could be the entryway or the reading nook, for example.
Add a throw, a wreath, a large metal bucket holding dried flowers or cotton twigs, spread pumpkins here and there, and see how the fall magic is created.
The calming colors of the autumn will give this space warmth and coziness that you would like to feel every day.
via Returning Grace
18. Eucalyptus with Black and White Gather Wreath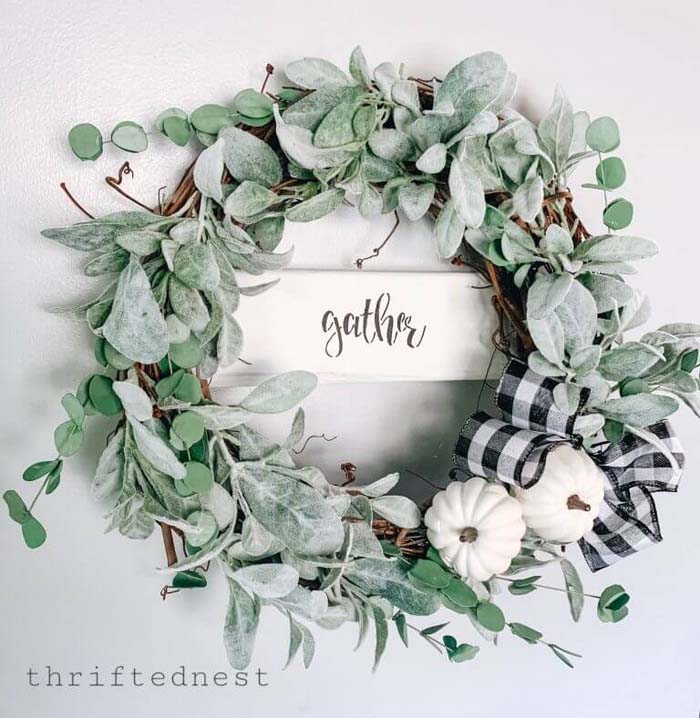 It is clear that this wreath is inspired by fall. A grapevine circle holds eucalyptus twigs- so simple and charming. The focus of this wreath is the sign placed in its center. Although made in the black and white combo, the inscription is very clear and catching.
On one spot of the wreath, there is a large buffalo plaid ribbon that matches the sign color and makes the two little pumpkins next to it stand out.
via Thrifted Nest
19. Fabulous Felt and Fabric Covered Pumpkins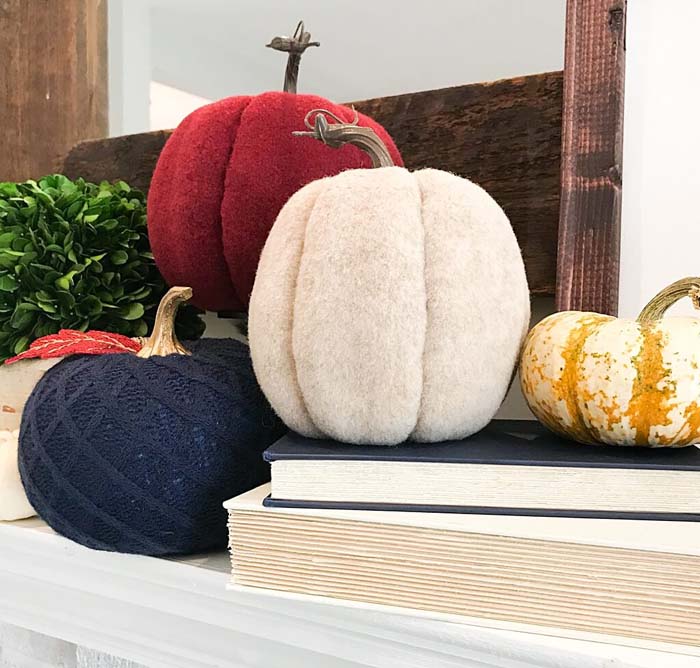 This is an inspiring idea of how to give the pumpkin symbol a new look. They all have a new fabric cover of such color and texture as to match the existing decor.
In this easy and affordable way, you can also add color to the interior in case that it is more muted. Use books stacked in a pile to add varying heights to your pumpkin decor.
20. Fall Bouquet Bursting with White Antler Mix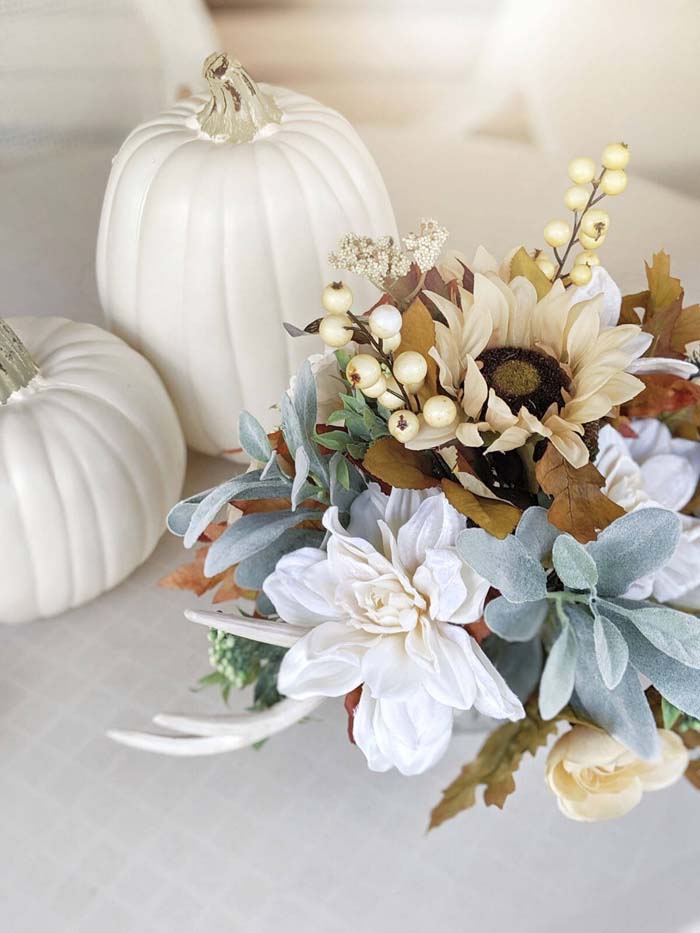 If you prefer the permanent decorations then you can make a fall bouquet from faux flowers to enjoy every year when autumn comes.
Choose flowers in pastel colors and greenery in muted green and brown tones to let the blooms stand out.
21. Fall Means Warm Fireside Hues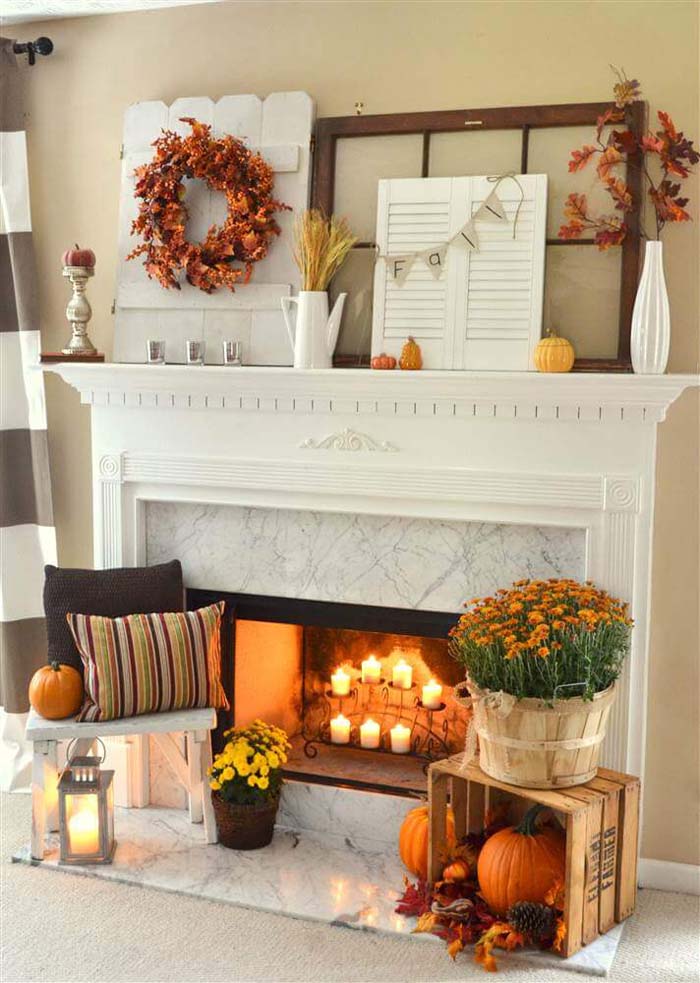 This is a great idea where you can focus your seasonal decoration. The fireplace, being that element from the interior that creates the most coziness acts as the focal point of this fall decor.
Even though the weather outside doesn't require firing it up, you can use candles to mimic the warmth of the burning flame.
Repurpose a crate and a stool into stands to place pumpkins and pots with mums to give the arrangement heights.
22. Fall Pumpkins to Match Any Color Scheme

This arrangement can make the farmhouse decor ready for fall. The combination of the galvanized metal with the warm beige and white creates a charming farmhouse bucket.
This idea is perfect for displaying seasonal elements on small spaces like shelves, mantels or chest tops, for example.
via A Night Owl
23. Fall to Winter Transition Greenery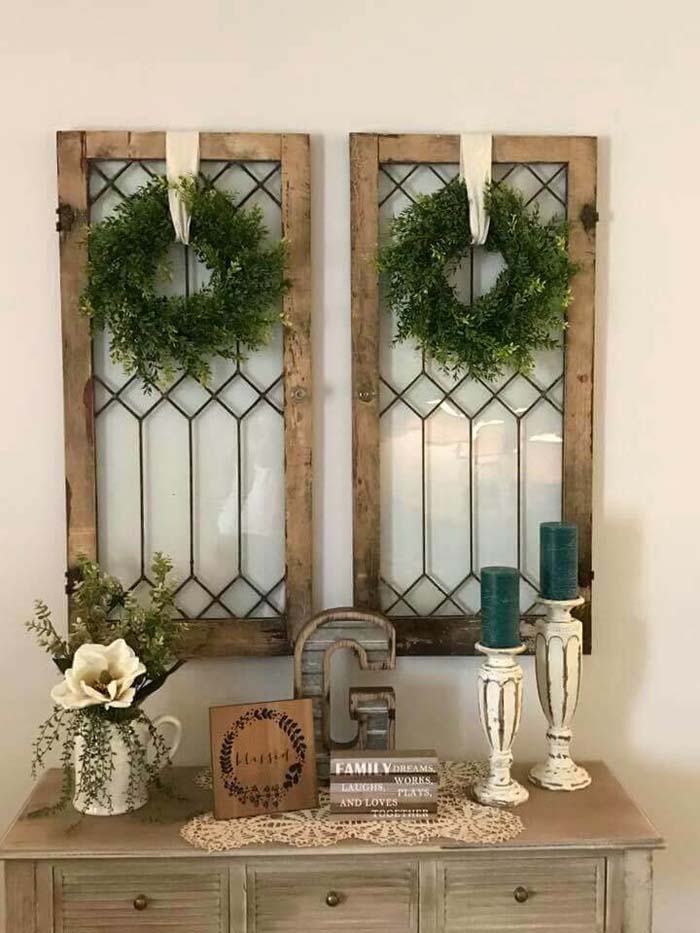 This idea features a decor that can stay from early autumn to the end of winter. The boxwood wreaths are hung onto window frames with glass panes.
The set of two identical repurposed windows stays on the wall above a side table displaying a vintage pitch holding a simple bouquet on the one side and two identical antique candle holders- on the other.
The center is left for family-inspired decor featured by a large G initial, a sign and a figure imitating a pile of books with a valuable thought.
24. A Few Subtle Touches of Fall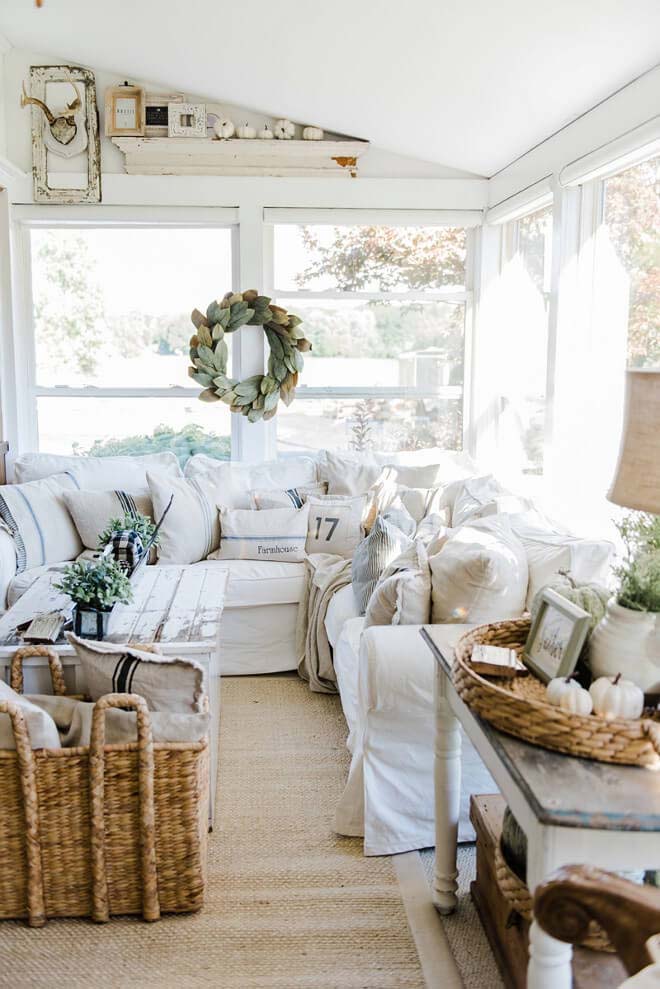 The simplicity of the decor of this living room makes it so unique and inviting. Not much space is needed to create a nook to rest and enjoy family time.
A section with white cushions accommodates many pillows dressed with linen pillows. The fabric patterns differ but they all unite over a repeating stripe element and color.
Fall is celebrated in this cozy place also in a simple but charming way- an oversized leaf wreath instantly anchors the new season. Small pumpkins arranged on a shelf close to the ceiling continue the fall decor in a cute subtle way.
via Liz Marie Blog
25. Front Porch Harvest Decor Glory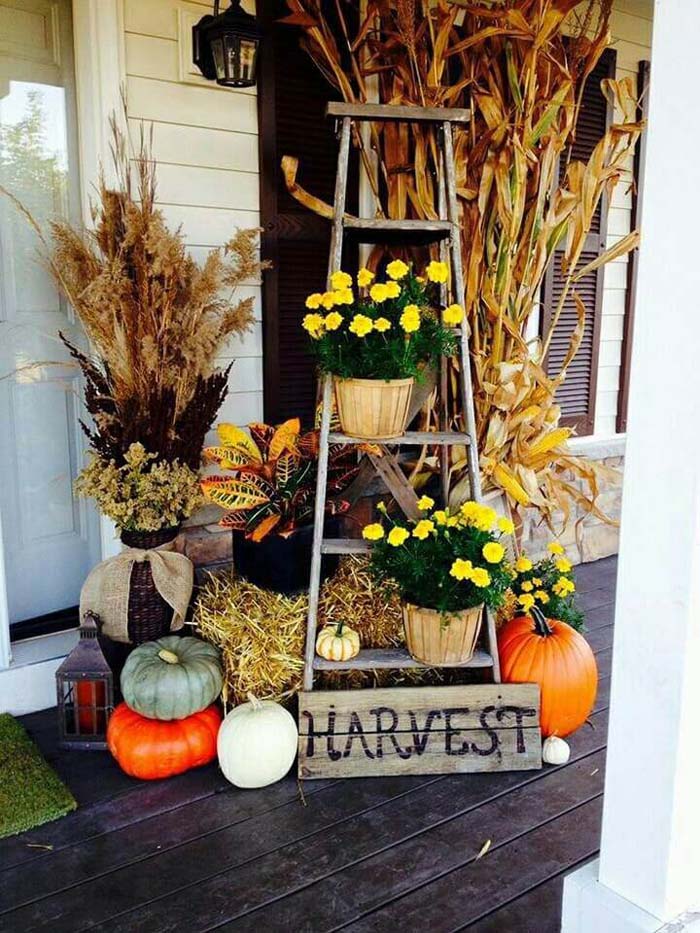 This porch decor fascinates with its colors and curious arrangement. Things are built on height to create visual interest. This is achieved thanks to an old ladder serving as a tiered shelf where pots with autumn flowers bloom.
Next to the ladder, there are various sizes and colors of pumpkins. At both ends of this arrangement, there are two large farmhouse containers holding dried flowers which also aim to elevate the decor.
The display is tied up by a large weathered sign which aims to emphasize how rich and fruitful the fall is.
via Shelterness
26. Gorgeous Golden Leaves Brighten Up Classic White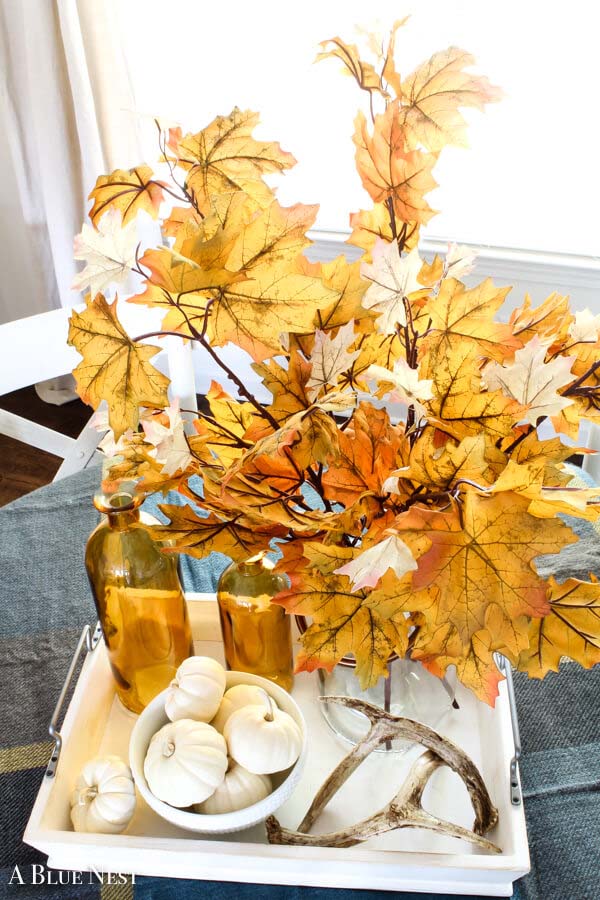 Using trays to display seasonal decor is a great idea. You keep them all in one place which is easy for maintenance and make sure that the arrangement will be noticed.
If this is your solution for accents in the decor, then you can easily transform it into farmhouse fall decor. Take the summer embellishments out and replace them with items related to autumn.
A jar is full of autumn leaves, a few small pumpkins and vintage glass bottles- that is all you need to create a table centerpiece in the farmhouse style.
via A Blue Nest
27. Hand-painted Wooden Letters to Spell Out Gather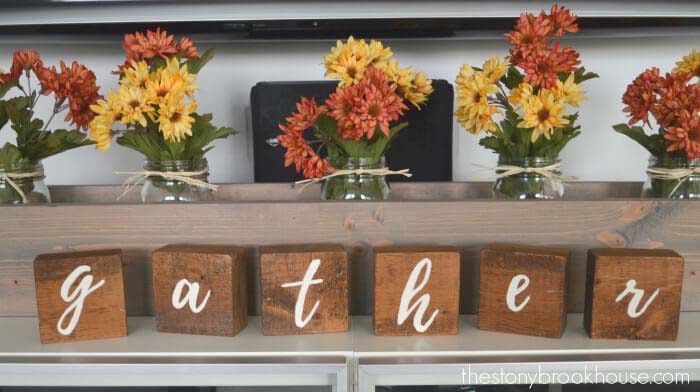 Add this cute letter puzzle to your fall decor to praise the importance of family and friends. These blocks are actually a DIY which is super easy and quick.
Place the letters in front of your fall decor and make the atmosphere more homely and sentimental.
28. Hand-picked Pumpkins and Cotton Farmhouse Decor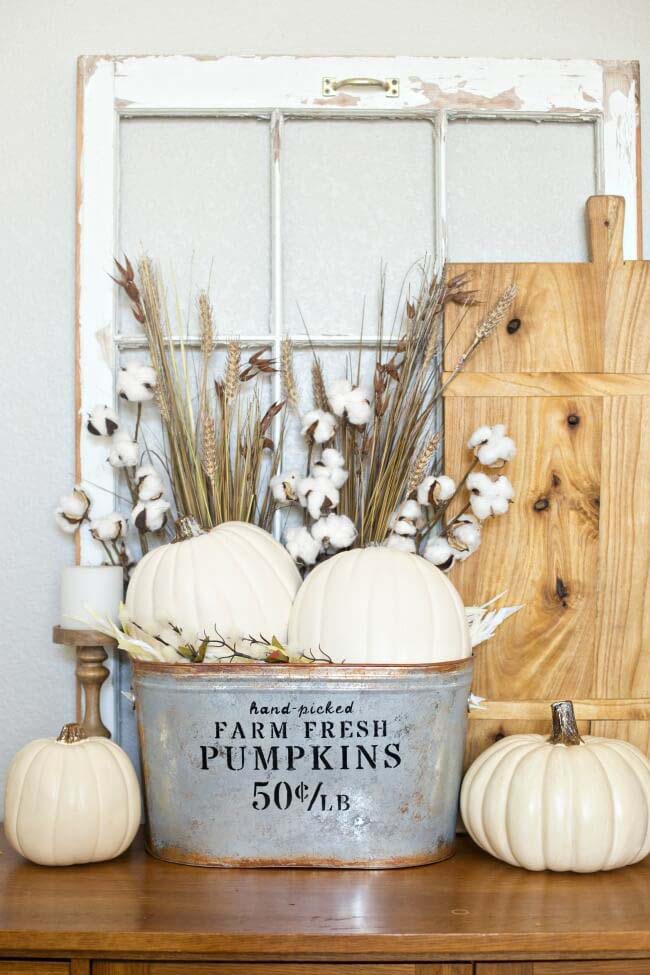 This arrangement focuses on the natural fruits harvested in autumn. As simple as it looks, pumpkins are placed into a cute vintage bucket. They are complemented by other two pumpkins on both sides of the galvanized metal.
To make sure that this arrangement stands out, a weathered window frame is repurposed into a backdrop hung on the wall.
via A Night Owl
29. Heirloom Pumpkins for a Farmhouse-Perfect Centerpiece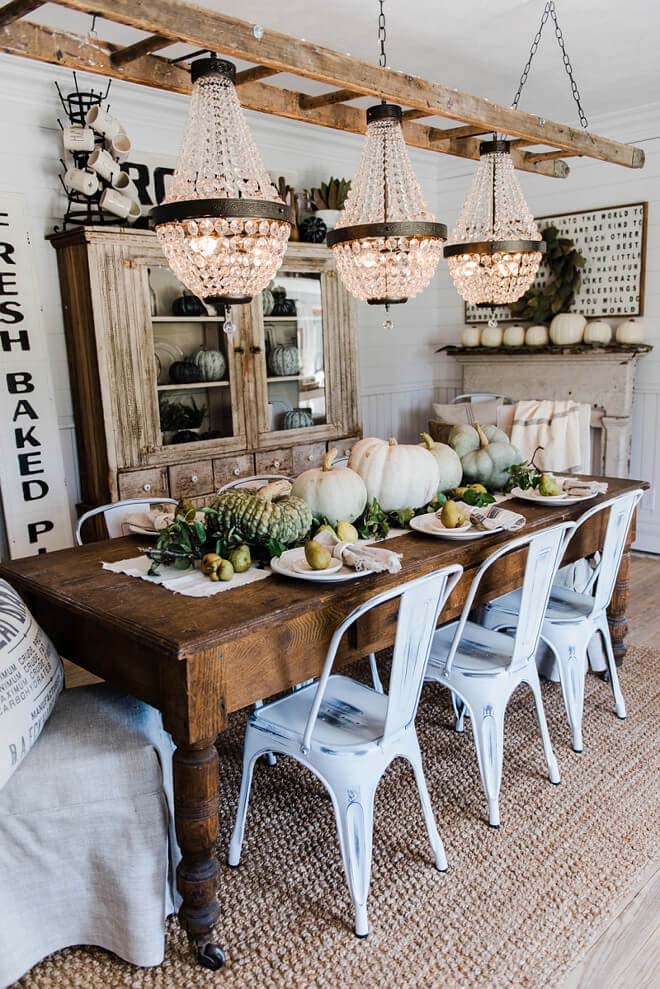 If the table of your dining room is large, you can source from this image as an idea for a fall centerpiece. Get the biggest pumpkins you see and place them right on the table. The dark stain of the wood is sufficient to let the pale tones of the fruits stand out.
Continue with setting tableware in beige or white. You can add some twigs around the pumpkins if you feel that there is a need to make the backdrop more intense.
via Liz Marie Blog
30. It's Good to be Home Cathedral Mirror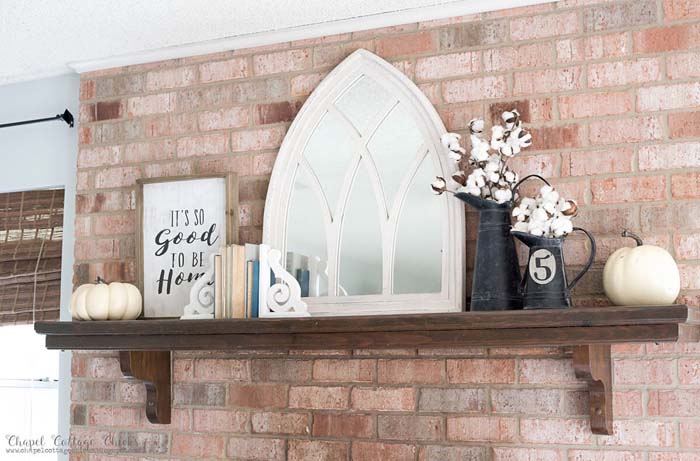 Do you like this curious fall decor? Actually, the secret is in the cathedral mirror. Its shape adds interest and charm and makes sure that all items adjacent to it will be noted.
The arrangement here features two pitchers filled with cotton stems which symbolize softness and warmth. There is a handmade sign that praises home. Two rustic corbels hold antique books to continue the interest created with unique shapes.
At both ends of the shelf, there are pumpkins that anchor the season outside.
31. Love Simply and Be Grateful for Autumn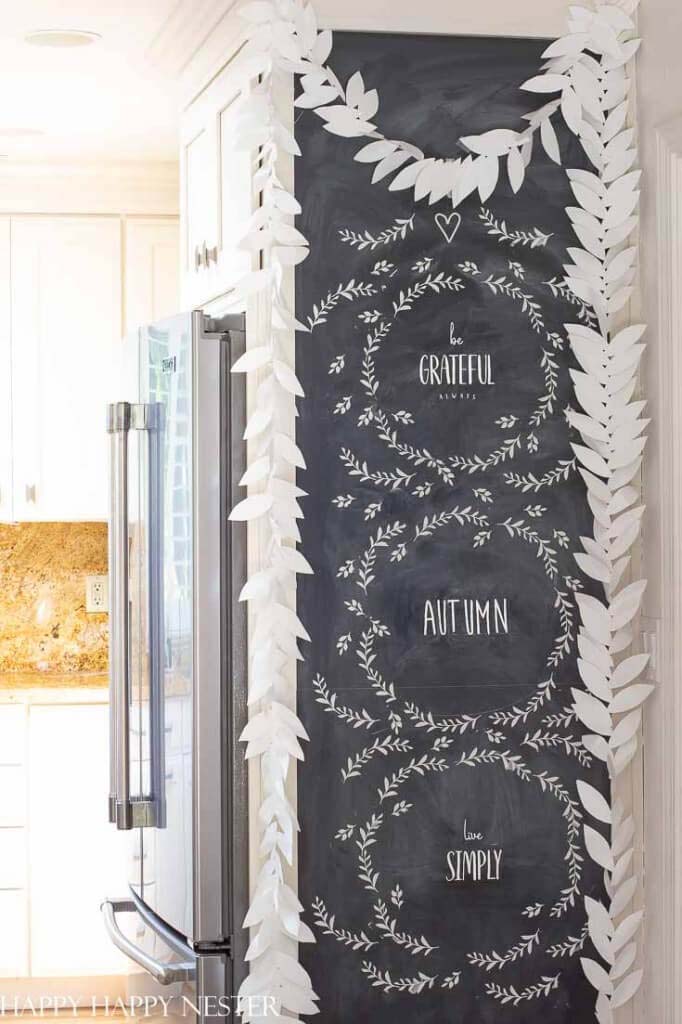 Having a black chalkboard wall at home is a great idea. Depending on the room it is made in, it can have different usage. In the kitchen, the wall can be used for recipes and notes. In the entryway, it becomes a display of inspirational thought.
This idea features how a chalkboard in the kitchen has become the place to praise the seasons' coming. Being floor to ceiling size, there is plenty of space to release your drawings skills.
32. Metal and Burlap Pumpkin Candle Holder Centerpiece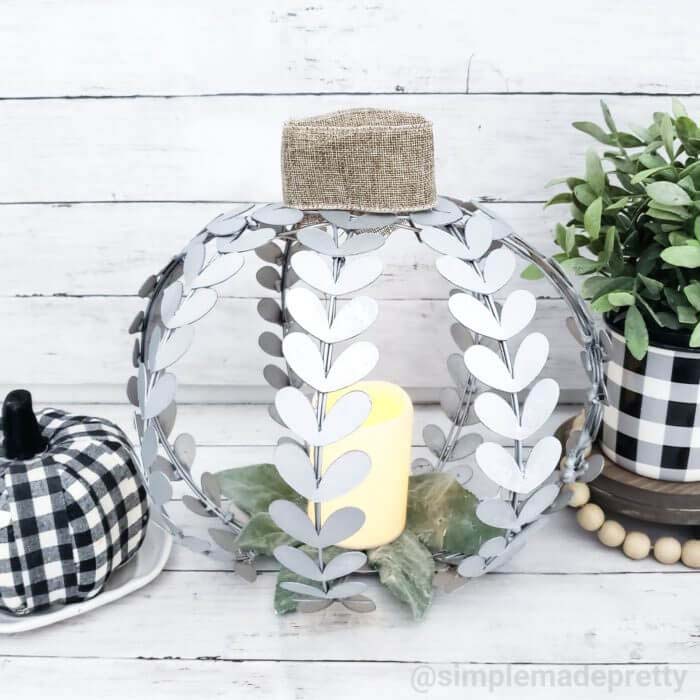 The supplies for this interesting pumpkin decor are almost all from the Dollar Tree. And that should be just enough to make you want to try it.
Two wire pumpkins get a ball shape to be then decorated with leaves. Silver spray paint is applied to the 3D pumpkin and then a burlap stem is added to tie up the fall centerpiece.
33. Mossy Pumpkin Farmhouse Centerpiece Display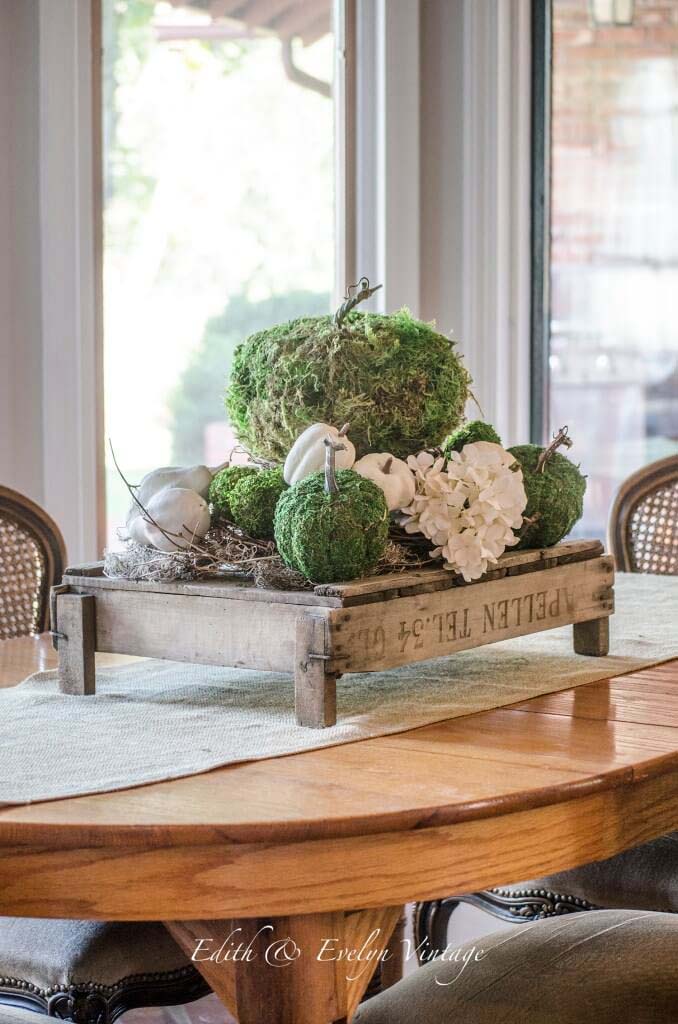 Have you always loved the mossy decor? Well, it is time to make your own and fascinate your guests for Thanksgiving! You need plastic pumpkins, preserved moss linings and a glue gun.
Set the mossy pumpkins on an old crate, weathered wooden tray or a drawer serving as a holder and fill the empty spaces with grapevine, dried flowers, grains, anything that will match the natural centerpiece.
via Edith and Evelyn
34. Oranges and Browns Warm the Fall Scene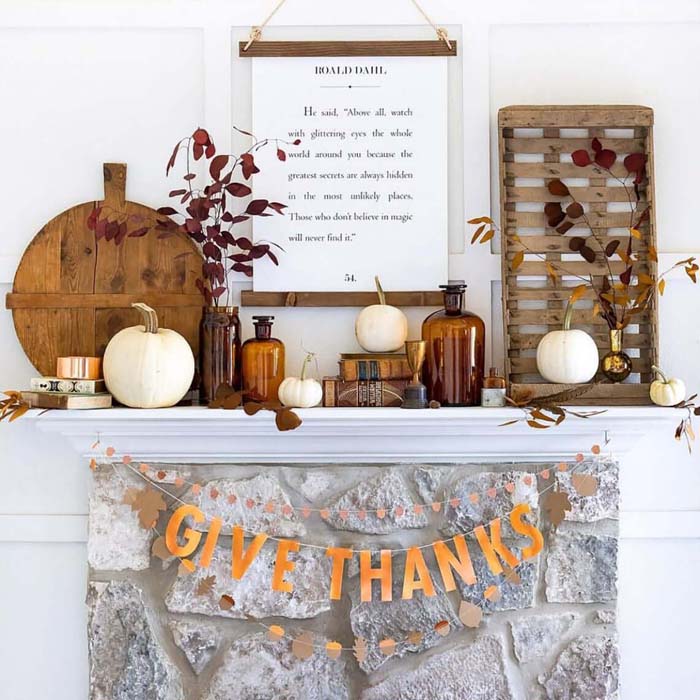 The blank wall is the perfect canvas to make your farmhouse personalized autumn decor. Inspired by the colors of the leaves at fall, all of the pieces included in this mantel display pop out with their brown and orange hues.
Place beige pumpkins here and there to diversify the color scheme and to anchor the seasonal theme. String a garland with leafy embellishment to remind yourself and your family what should be done on Thanksgiving day.
35. Picket Fence and Plenty of Pumpkins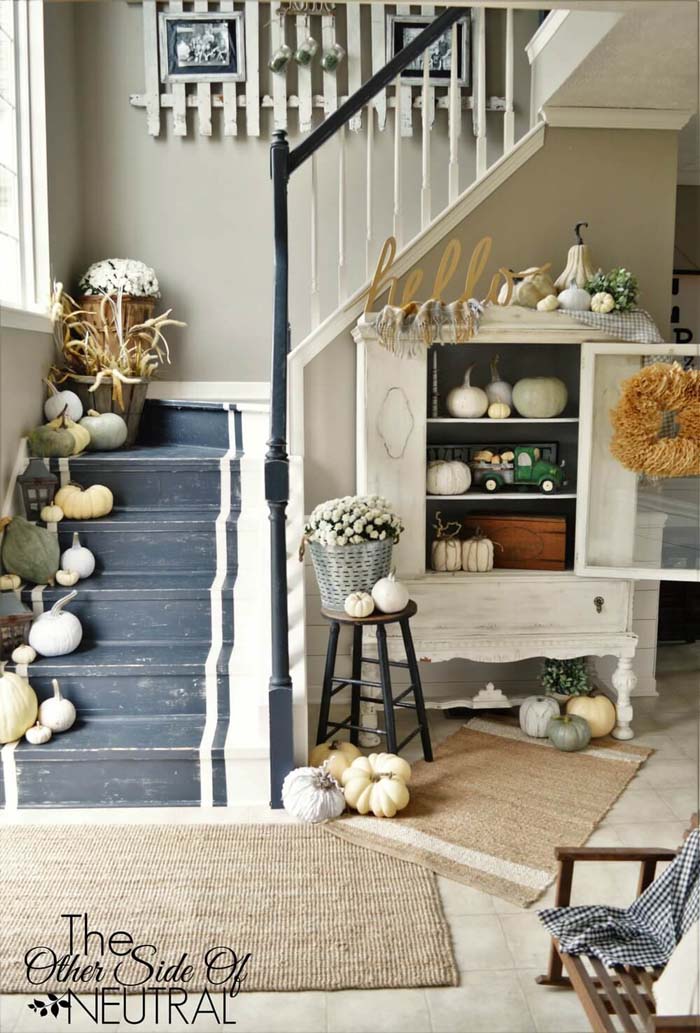 The typical white picket fence and the pumpkins come together in this fall farmhouse arrangement. The place chosen to display them is a staircase next to the front door. Being there, they make the entryway very friendly and cheerful.
The richness of this season is symbolized by the various kinds of pumpkins placed while the homely vibe is spread through the images held by the picket fence and the friendly sign greeting from the buffet.
36. Pretty Plaid Painting Party Fun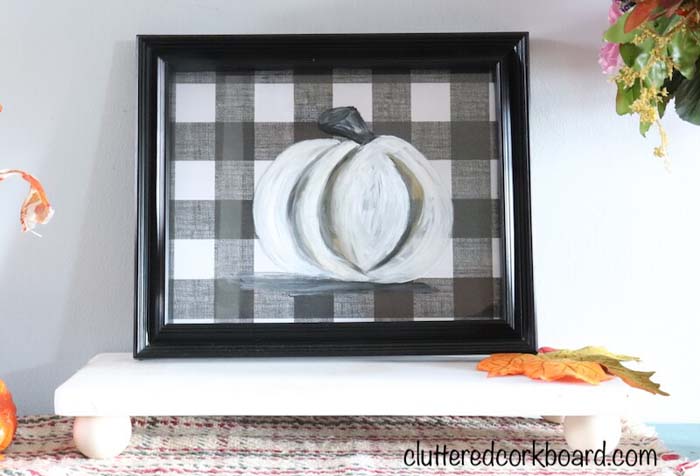 This is an interesting and very easy DIY wall art inspired by the coming fall season. The backing of a picture frame is wrapped with buffalo plaid wrapping paper which becomes a backdrop for a drawing.
Right on the glass, a pumpkin is drawn with barely 3-4 strokes. The classic black and white combination creates an elegant wall decor that can add a cute element to the kitchen interior.
37. A Pretty Tabletop Display for Thanksgiving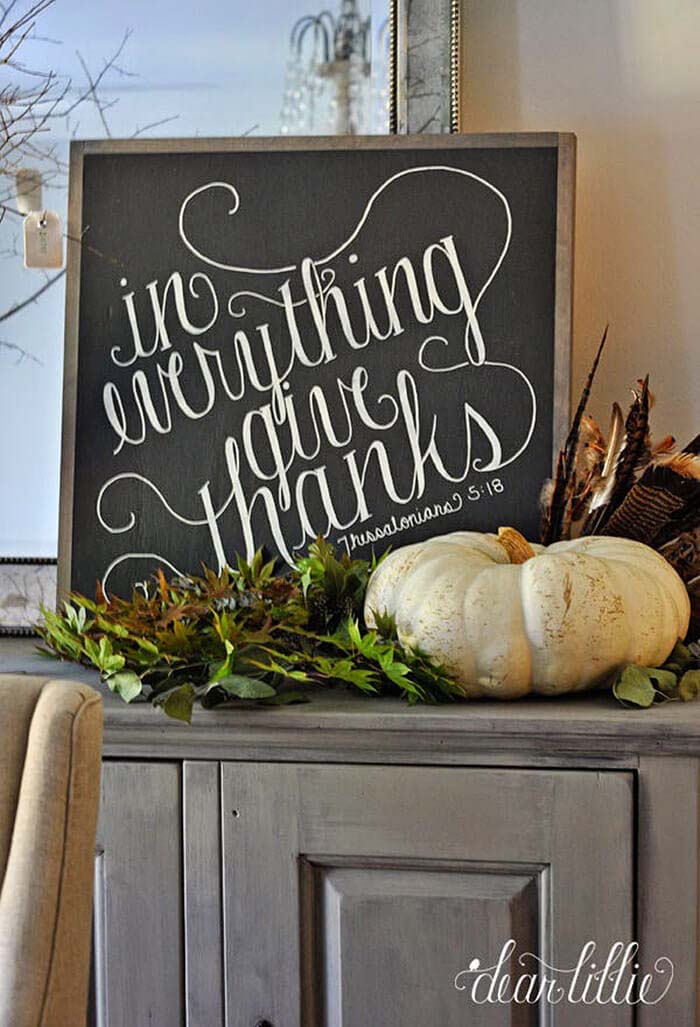 Add a large inspiring sign next to the dining table to enhance the importance of Thanksgiving Day. There are plenty of ideas to craft a sign but if that is taken to the farmhouse style, stake on the chalkboard.
Surround the sign with other seasonal elements like pumpkins, twigs, dried flowers to complete the look of this special corner.
via Dear Lillie
38. Pumpkins and Gourds Dress Up Your Hearth for Fall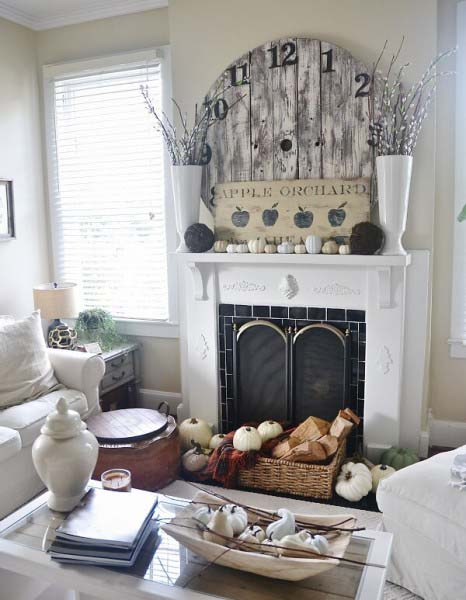 This is another idea of how to turn the fireplace into a focal point celebrating the fall season. Various kinds of pumpkins and grounds decorate the mantel and the front of the fireplace.
A wicker basket holds logs and a red plaid throw which adds warmth and color for the pumpkins placed over it to stand out.
via Liz Marie Blog
39. Rough Wooden Tray for Your Fall Display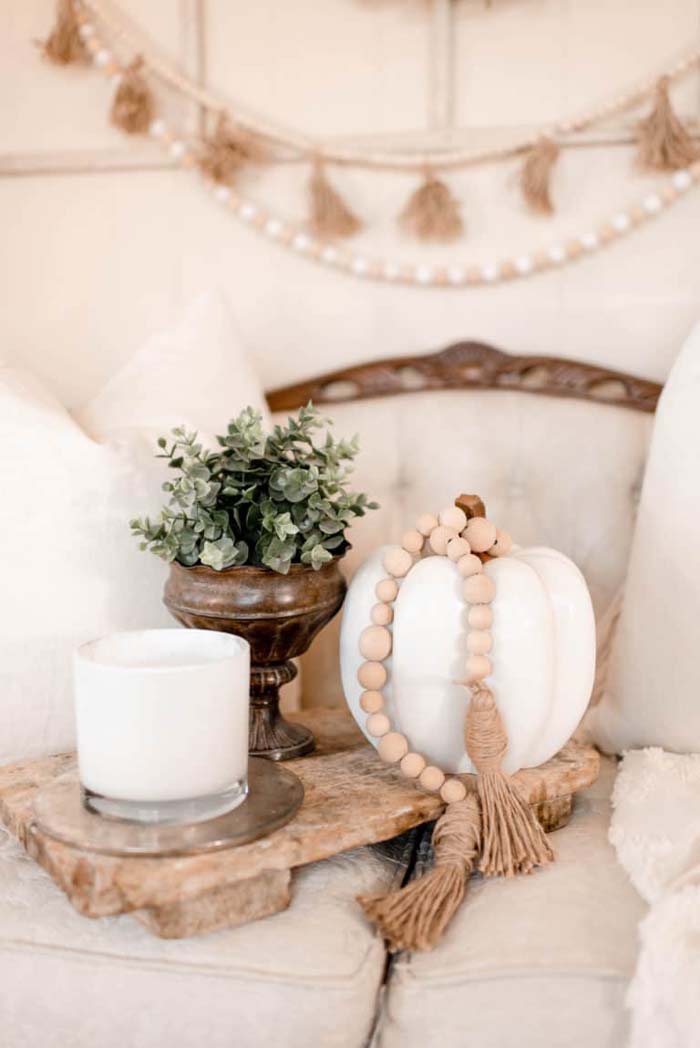 Looking for a small fall arrangement? That can be your inspiration affected by the farmhouse style. A small rustic wooden tray is placed on the seat of an armchair to hold tiny but cute accents.
A small urn holds succulents that add a pop of color to the neutral tones. A little pumpkin holds a thread with wooden beads. The arrangement ends with a candle that adds more warmth to the cute set.
via Hudson Farmhouse
40. Rustic Harvest Bushel and Pumpkin Pedestal Centerpiece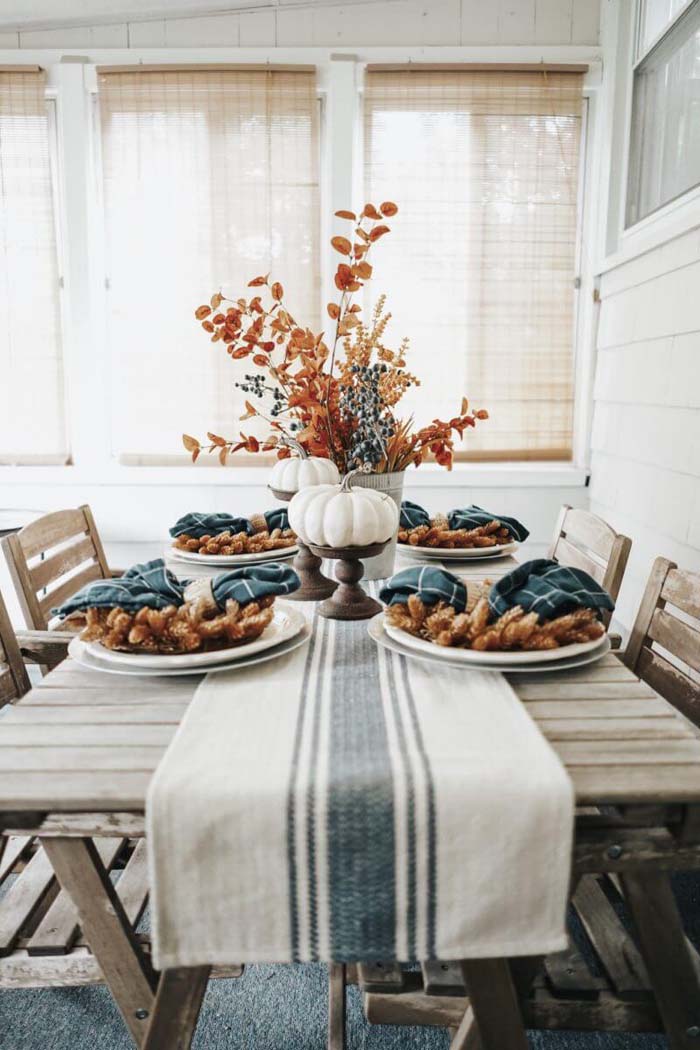 If you want to make your Thanksgiving diner more inviting, use farmhouse decoration. Add pumpkins on pedestal stands and a bucket full of colorful leaves.
The autumn colors are interrupted by blue accents seen in the berry twig in the bouquet, the napkins and the tablecloth.
via The February Fox
41. Rustic Pinecone and Twine Fall Garland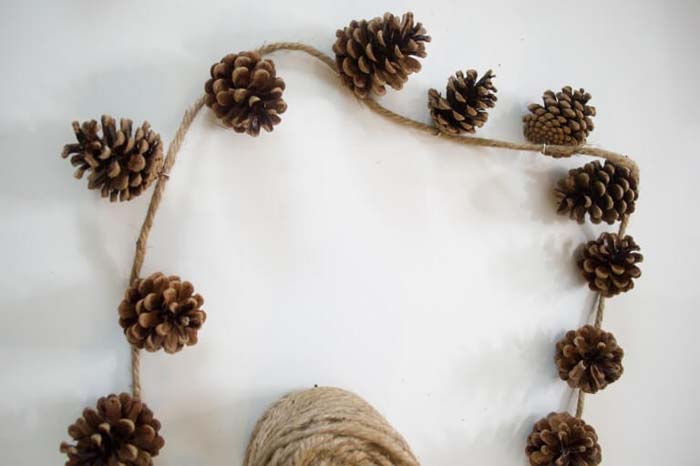 Another idea for a garland to add to your farmhouse fall decor features a simple DIY combining twine and pinecones. Gather a bundle of similar in size pinecones and then twist a length of twine around the bottom of each.
This garland can stay on the mantel for longer and complement the winter decor.
42. Say Hello to Fall with Farmhouse Decor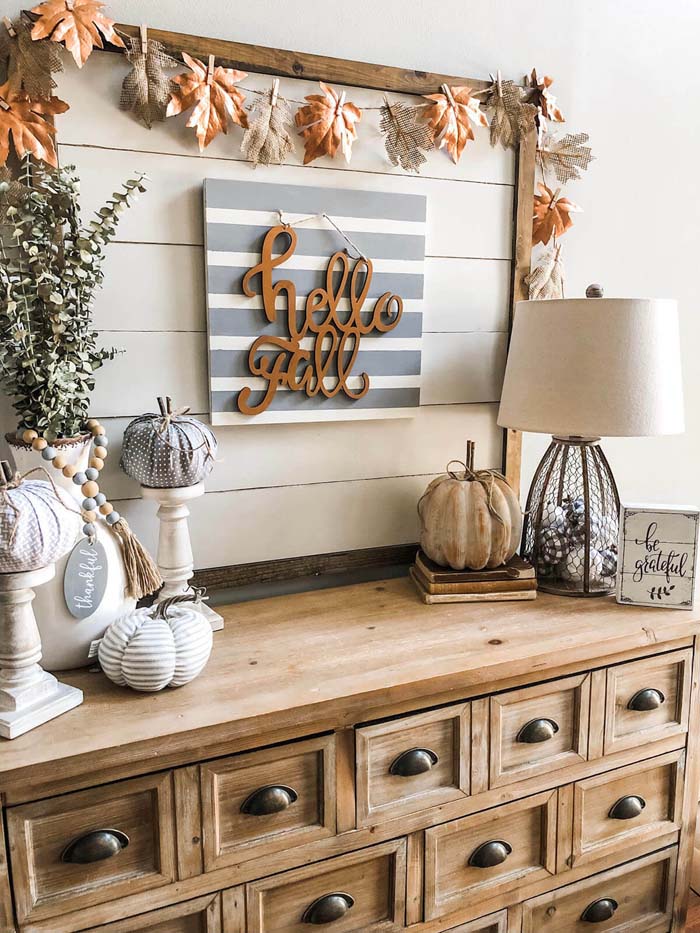 Welcome fall in the best possible way! All you need is a sign that clearly states it.
The color scheme of the sign can be customized to match your existing decor. In case your interior is more neutral, use the stripe pattern to create a point of interest and make sure that the sign will be the first thing noticed from the arrangement.
43. Signs of Fall in a Lovely Wire Basket Display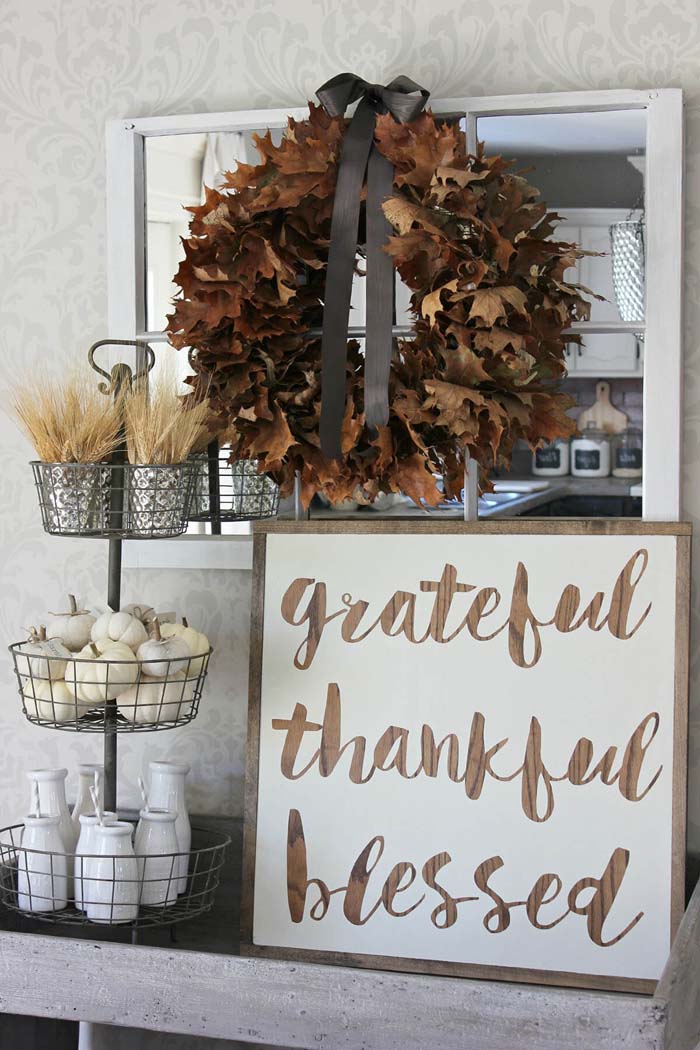 Decorate the mirror in the entryway or in the living room with a gorgeous wreath made of autumn leaves. Place a large sign inspired by the holiday in this season and a wire basket stand which will enhance the farmhouse style. Gather the collection of vintage jars and bottles and place them in one of the baskets.
The rest levels can be filled with pumpkins and vases with dried flowers. This arrangement is so elegant that it is certain to become a great fall accent in your home.
via Hymns and Verses
44. Simple Signs of the Harvest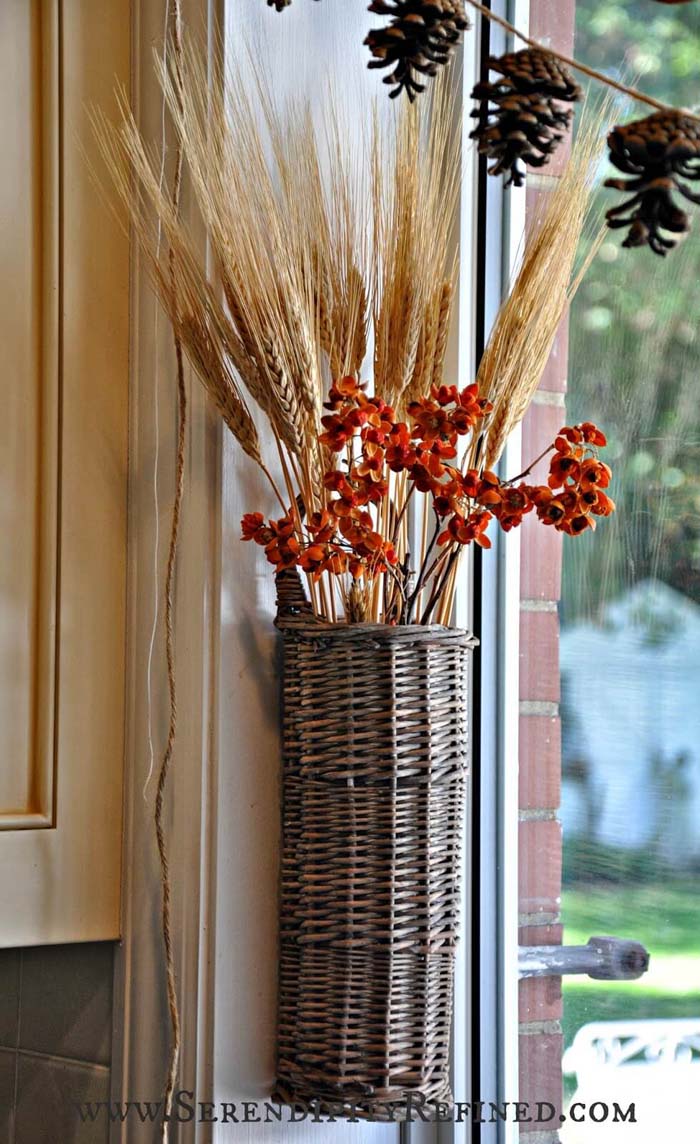 Such a tall woven basket can easily find its place in your home. You need a very narrow empty piece of a wall to display a bouquet of autumn gifts.
That can be dried leaves, cotton twigs, grains, even evergreen pine twigs with pinecones.
45. Small White Church Decoration Filled with Flowers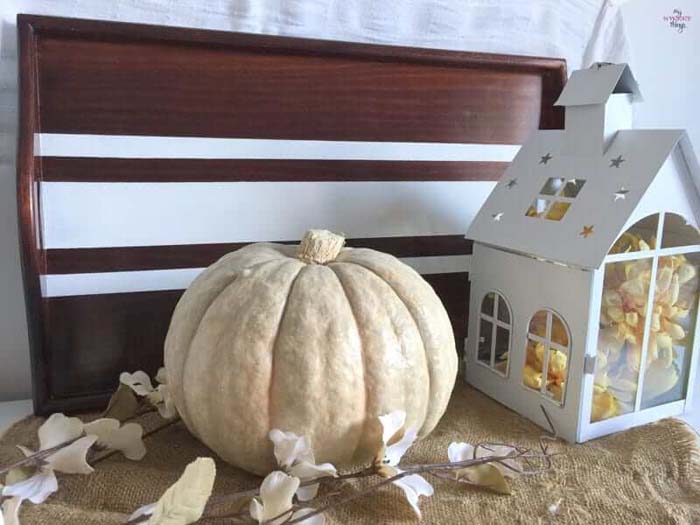 In case you have lanterns, you can use them as containers for dried flowers for your fall decor arrangement. Their shape doesn't matter, in fact, it can even have a greater effect as shown in this idea.
The windows of this small church lantern are transparent and let you see what is held in there. Place mums, hydrangeas, eucalyptus leaves or a little pumpkin.
via My Sweet Things
46. Spell Out Fall with Your Mason Jars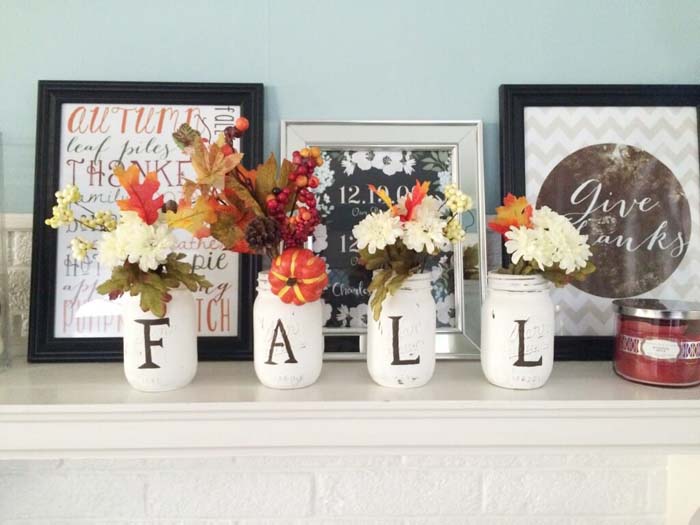 Four jars and some paint are all you need to make your seasonal decor unique! Creamy white covers the transparent glass to become the vivid contrast for the letters in "fall".
Each jar is filled with bouquets of seasonal flowers that add vibrant colors to this fantastic set. Add them in front of your fall decor or on the mantel to let your home embrace the coming season.
via Riss Home Design
47. A Spray of Autumn Greenery can Transform a Room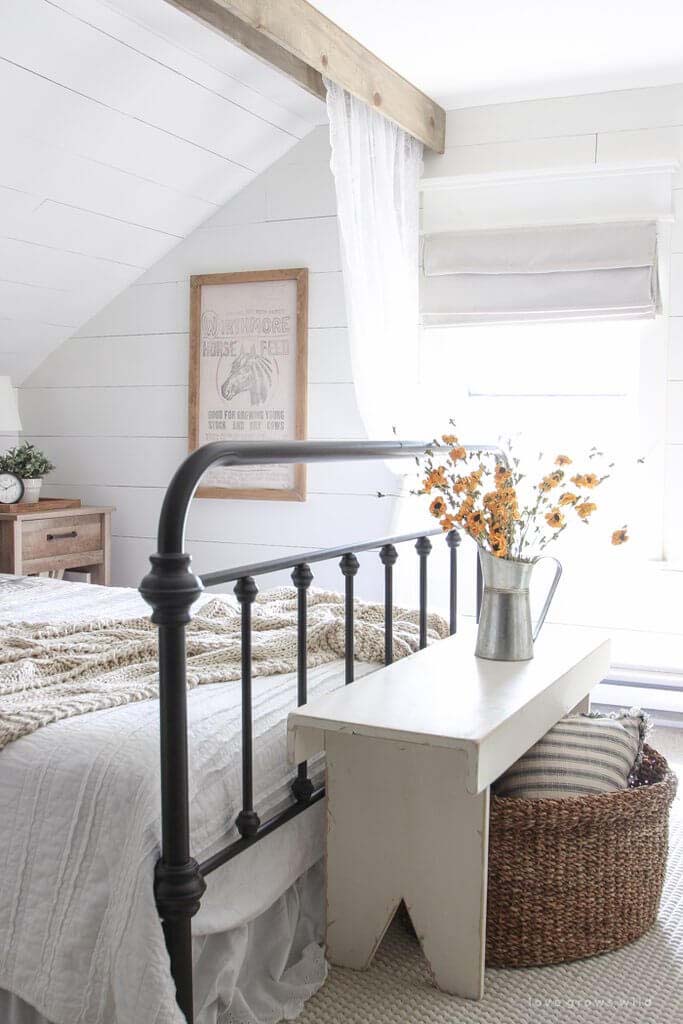 The farmhouse fall decor can be added to every room. This simple arrangement features a stool hiding large wicker baskets holding throws and pillows.
On its top, there is a galvanized pitcher which bursts with the colors of the autumn.
via Love Grows Wild
48. Stairs are the Perfect Stage for a Decor to Celebrate Fall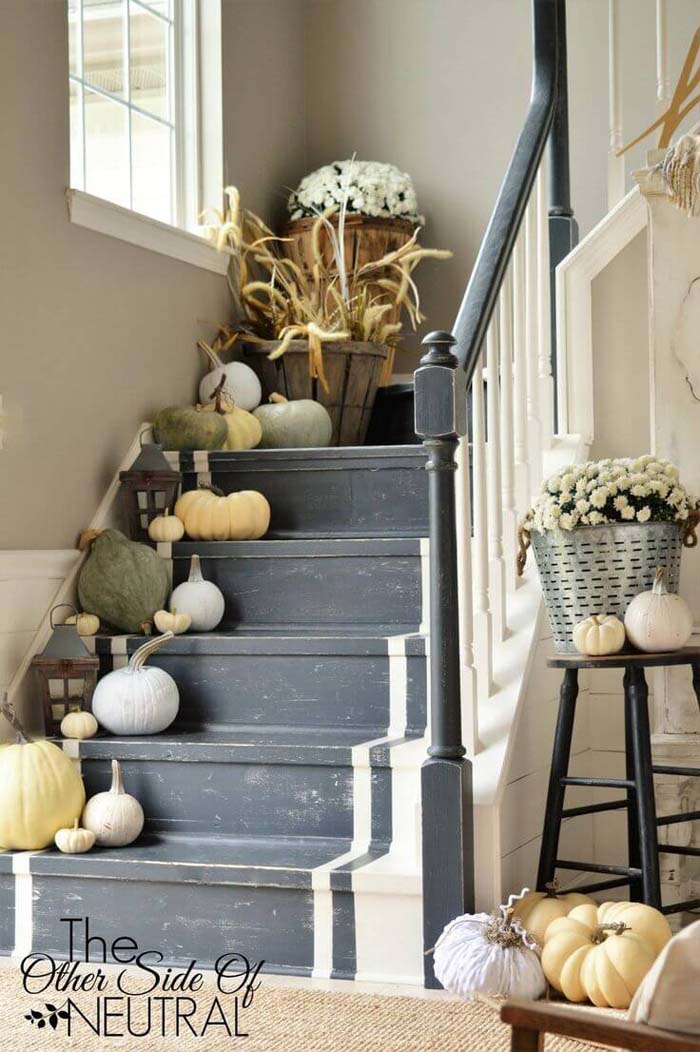 The milky grey color of this staircase is the perfect background for the neutral beige and white colors of the pumpkins. The variety of kinds and sizes create a wonderful overflowing fall scene.
At the landing of the stairs, there are two farmhouse wooden baskets holding dried grasses and chrysanthemums. They continue the color scheme and the topic of this appealing decor.
49. A Stunningly Sophisticated Harvest Centerpiece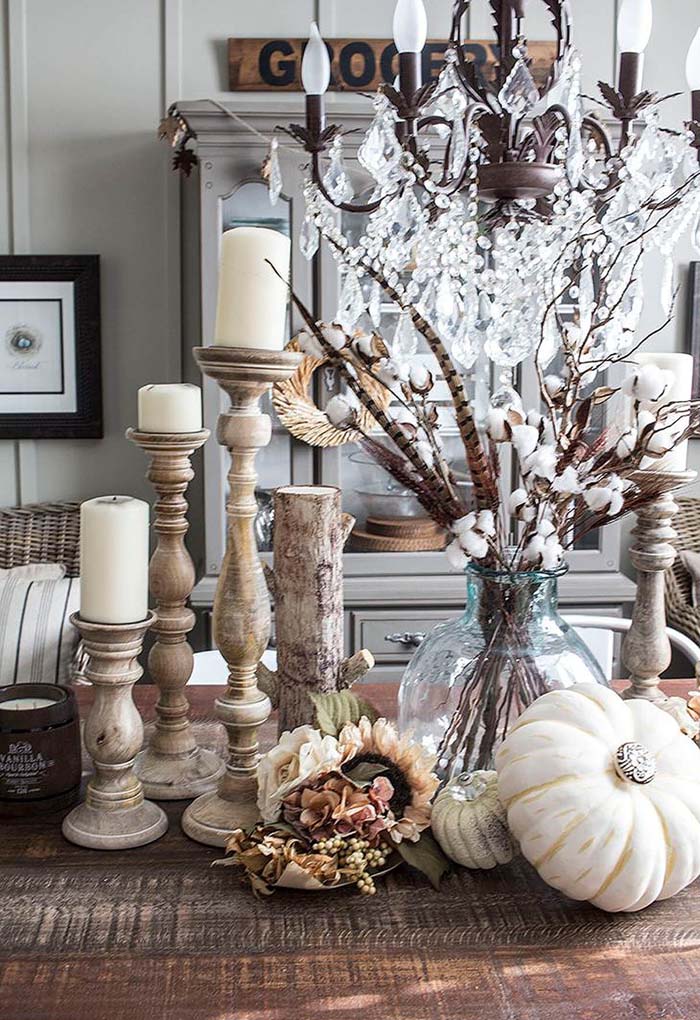 Get your vintage collection of wooden candlesticks and place it on your dining table. Add a large glass vase to hold a bouquet of cotton twigs and various size pumpkins.
This farmhouse centerpiece can be complemented with other antique items which will add to the warm effect. That can be a small pot with faux flowers, pheasant feathers.
via Homemade Lovely
50. Switch Out Your Plants and Message for the Season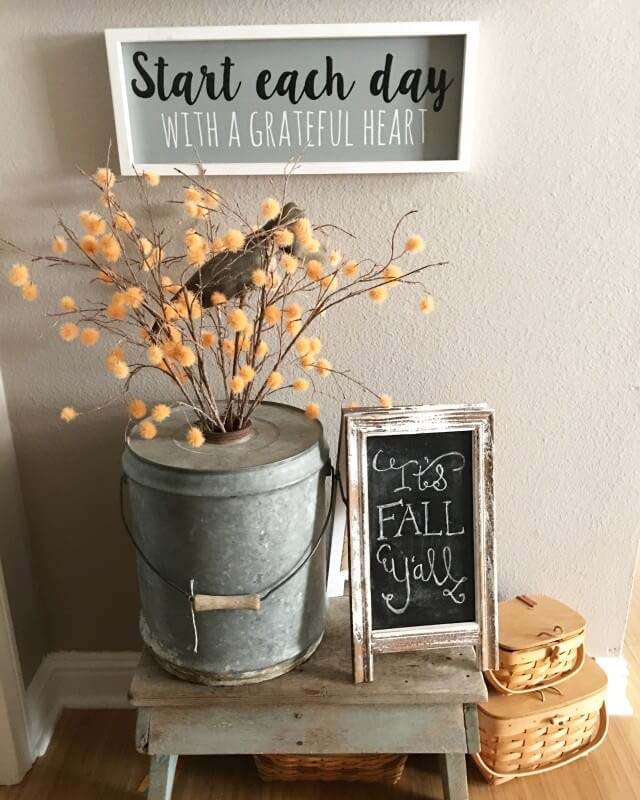 Use a galvanized bucket as a unique vase for fall branches. Place it in a corner of your entryway and enhance the welcoming look with a chalkboard sign greeting fall.
When the season is gone, take the fall bouquet and place pine twigs into it.
via Jedi Craft Girl
51. Textured, Smooth, and Striped Plethora of Pumpkins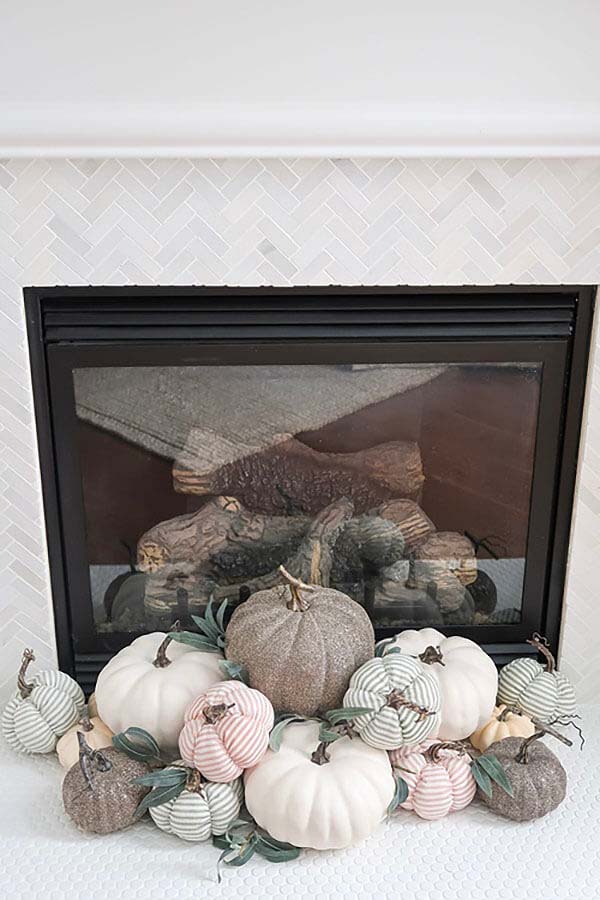 This fireplace displays a set of small and medium pumpkins in different colors.
This effect can be achieved in three ways- to embellish with paint real pumpkins, to wrap with fabric plastic pumpkins or to sew pumpkins with fabric and fill them with wool so that they get the desired shape.
52. Tiered Antique Basins as a Centerpiece for Fall's Treasures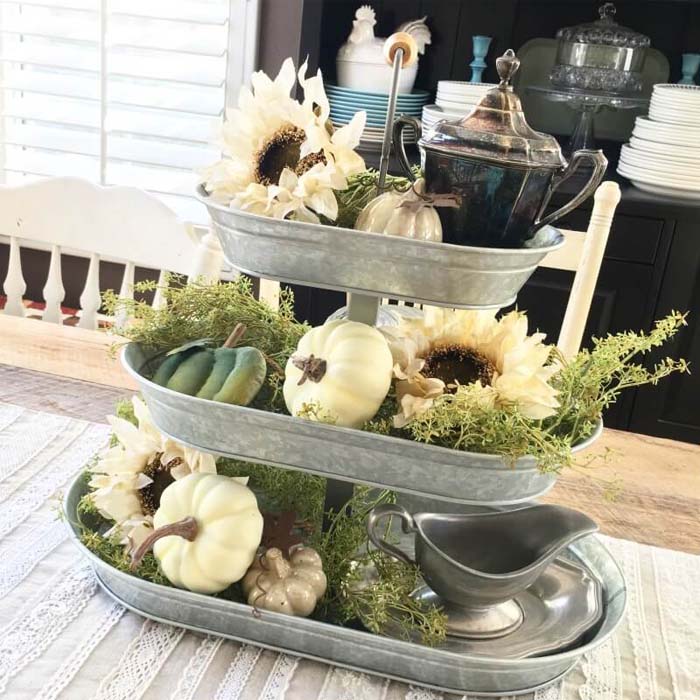 Use the tiered galvanized tray as an autumn decor simply by filling every compartment with items related to this season.
You can try out two ways for arrangement. To mix the items or to add identical ones to every tray. Use pumpkins, moss, faux flowers and small vintage tableware to add more charm to the vintage display.
via Jedi Craft Girl
53. Tons of Textures Looking for Fall Flavor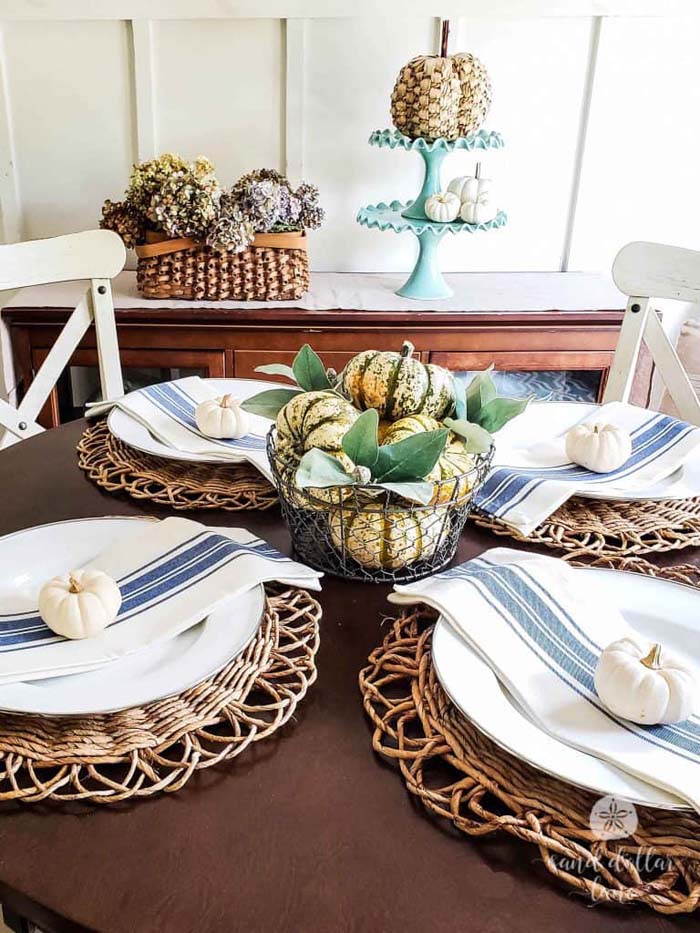 This fall decor features many textures that give the dining room a cozy and inviting atmosphere. The fabric napkins are held down on the plate in so cute way- with small pumpkins.
The plate pads are also very impressive. They are made by the wicker technique and are a rare thing to find these days. Therefore, they must be a possession from old times which has a sentimental value. And of course, the best day to take them out is Thanksgiving Day.
via Sand Dollar Lane
54. Traditional Farmhouse Warm Thanksgiving Decor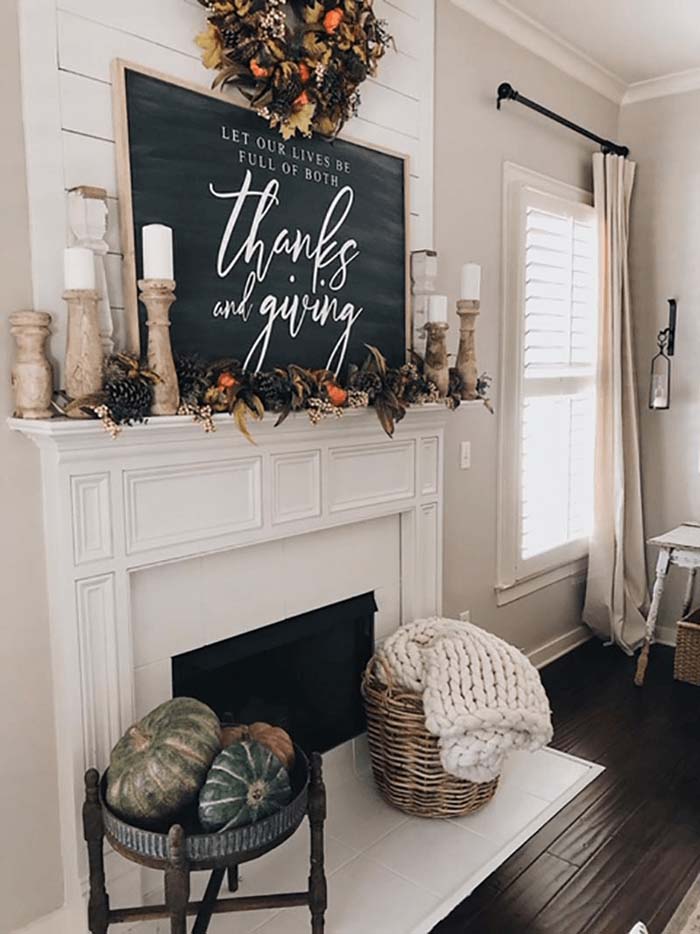 The farmhouse decoration can match almost every interior design, however, it will look best with the traditional and rustic one.
This idea proves how the traditional decor embraces farmhouse fall accents to make the interior welcoming and festive for autumn.
The large chalkboard sign attracts the sight with the contrasting white letters urging us to be more thankful and giving. Mini orange pumpkins and pinecones peek out the green garland covering the mantel.
The combination and the colors of this garland can be seen upper on the beautiful wreath decorating the wall above the sign.
via She Gave It a Go
55. Unique Great Grains Bunch Tied with Burlap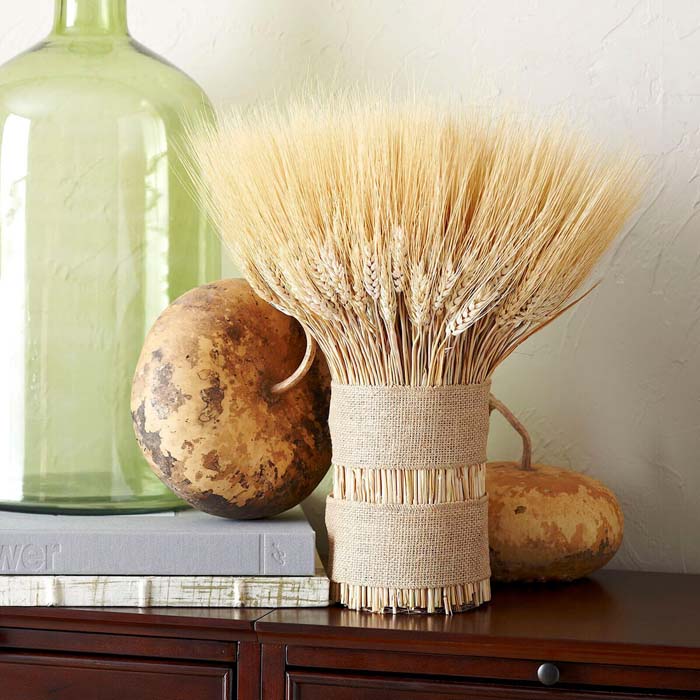 If you like having a bouquet of seasonal flowers in your home, you can have such a decor element even in autumn. That can be an arrangement of mums, leaves and twigs or a non-standard bouquet of grains.
To make sure that the bunch is well presented, tie two burlap strips on the stem part to hold them all together. This fall bouquet could also inspire the arrangement for the bride's bouquet in the autumn.
via Joss and Main
56. Upend a Crate for a Perfect Fall Display End Table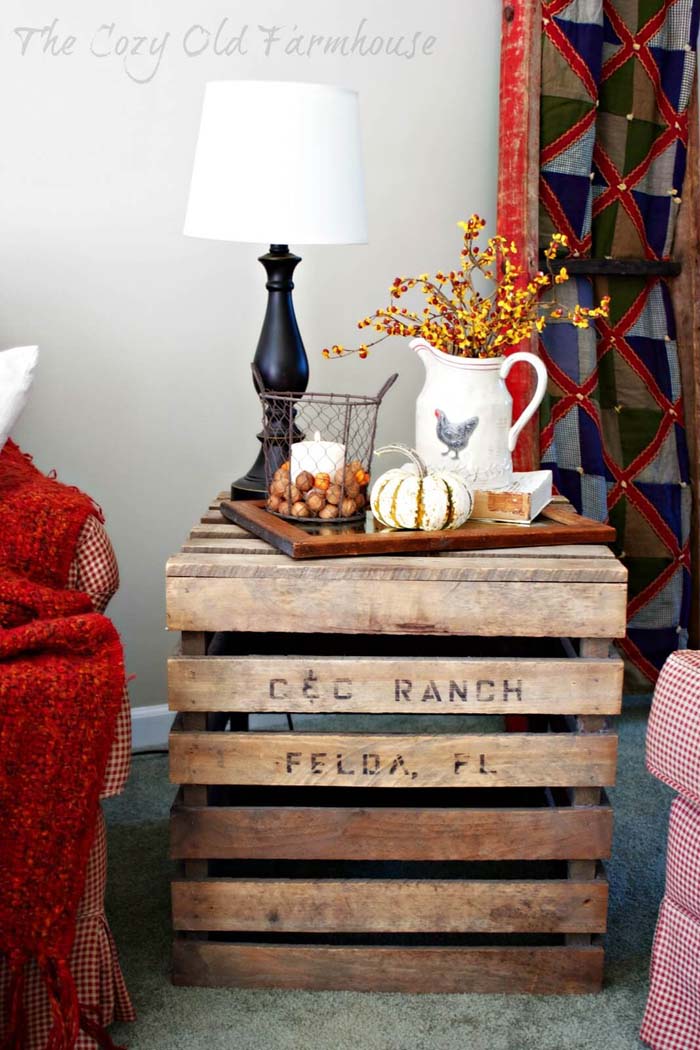 If you are looking for ultimate autumn decor in the farmhouse style, make sure that the display of the seasonal treasures is suitable. For that, you can use old pieces of furniture, crates, barrels.
Wire baskets, galvanized containers, vintage tableware could also come in to help to hold a group of smaller accents or simply to enhance the countryside vibe.
57. Vintage Green Old Truck Fall Print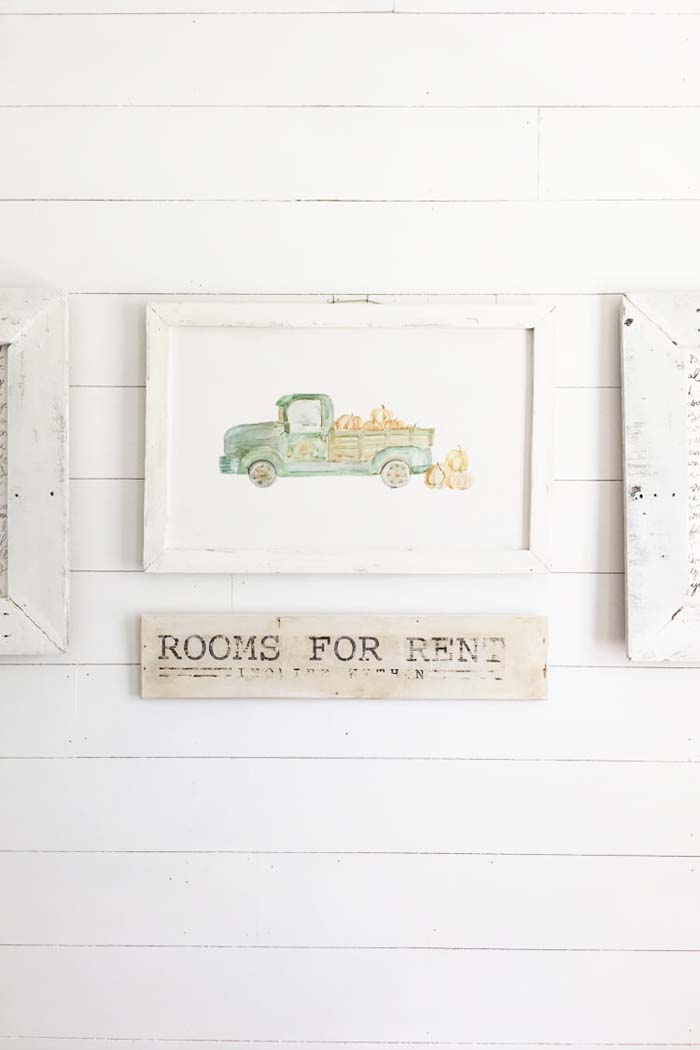 Express the harvesting of pumpkins in autumn in a drawing! The old pickup is so vintage and charming and so rare to be seen these days that its image will surely attract the eyes.
In case you are not good at drawing, you can print such a painting out and frame it with weathered wood laths.
via We Lived Happily Ever After
58. Welcome to Our Patch Pumpkin Porch Sign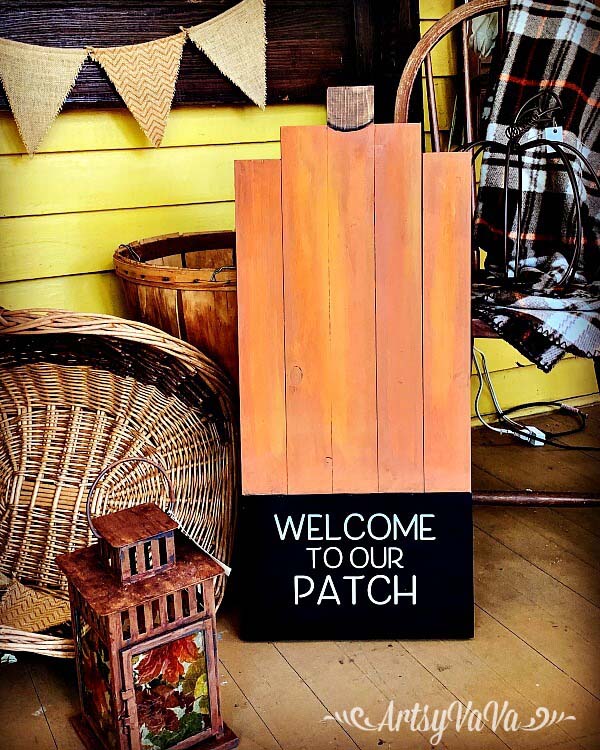 Make a greeting sign for your porch in the typical colors of autumn. And if you are wondering which they are- orange is certainly the one most related to fall.
If you take a closer look at the sign, then you will realize that it actually mimics a pumpkin!
via Artsy Va Va
59. Who Says Halloween Has to Include Orange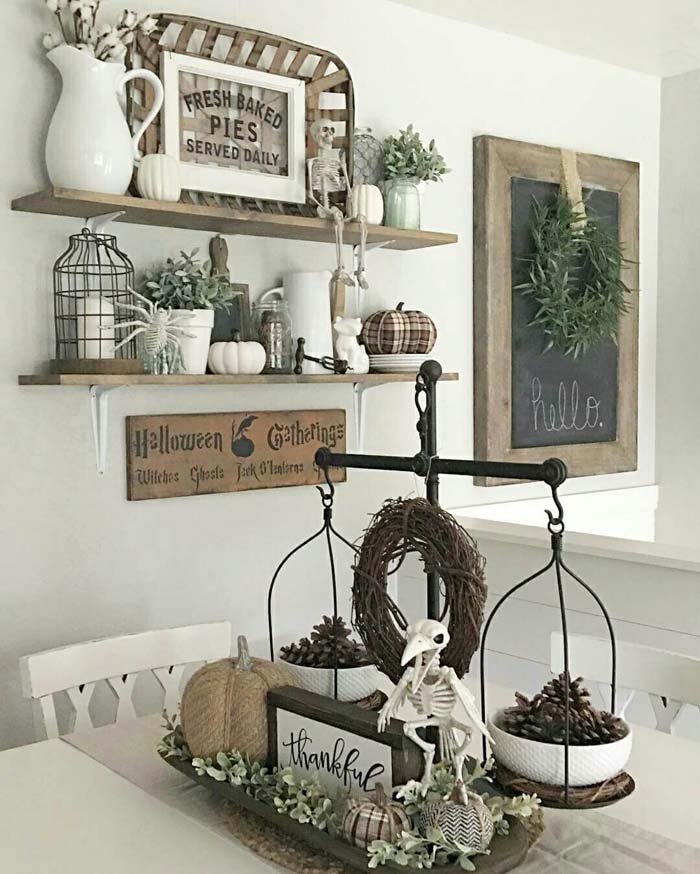 Do you think that Halloween cannot be matched with the farmhouse decor? Well, this idea proves that this is possible.
To make sure that the final result is satisfying, you need to follow a certain concept and that is to keep all of the decor pieces in the chosen color palette, to be moderate in the number of items included and to arrange them well so that they complement each other.
See how the earthy tones and white configure the color palette of all items. Burlap, wood, wire and ceramics are the textures you can notice. In general, this is a wonderful farmhouse arrangement. Suddenly, taking a closer look, you will recognize the Halloween accents- skeletons, spiders and a sign.