Fall is a transitional time for your garden — the summer flowers are gone, and your plants may lose some of their fullness.
If you're longing for a burst of color, why not decorate your garden for fall?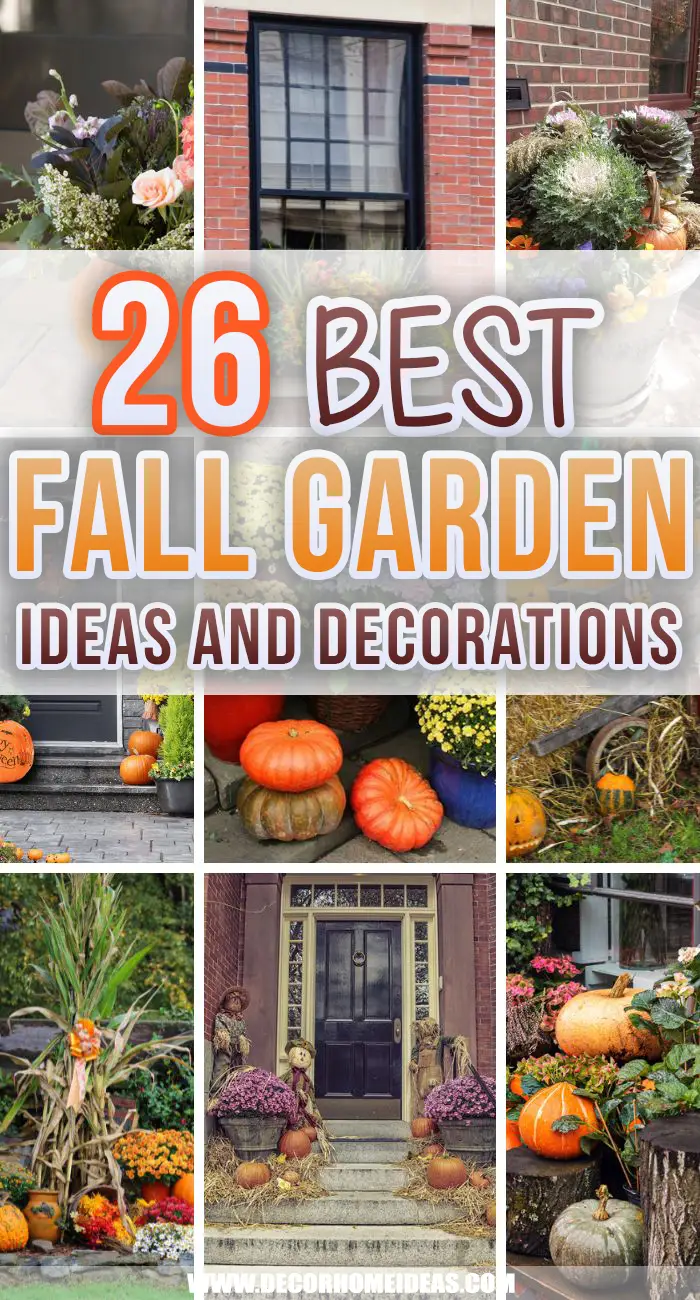 The warm colors and rich textures are the perfect way to revive your outdoor space and welcome the cooler weather.
1. Create an Enchanting Pumpkin Display in Your Front Yard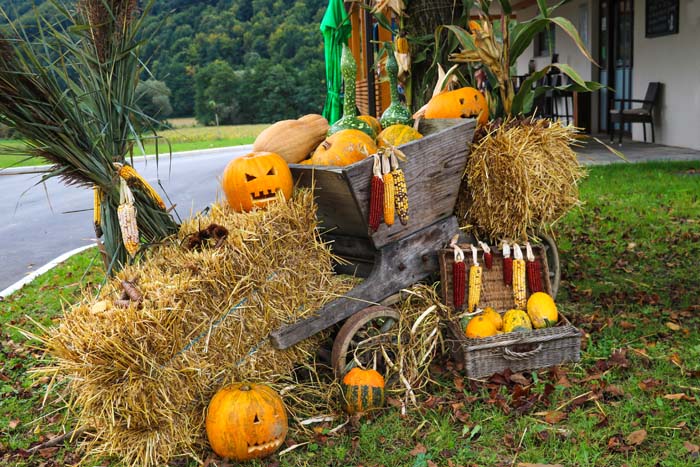 Your neighbors will smile every time they pass this adorable display.
It looks complicated, but all you need is a wheelbarrow, some hay, and a bunch of pumpkins.
Carve scary faces when Halloween draws near, or leave the squash whole for a setup that looks lovely for the whole season.
2. Decorate Your Planter with Miniature Fall Vegetables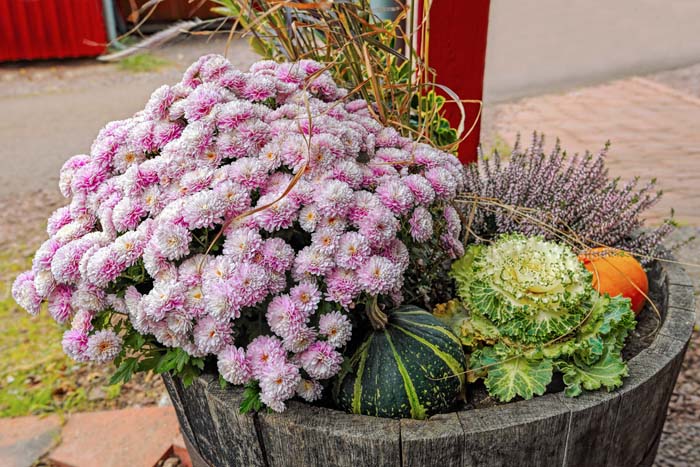 Don't have a garden to decorate? No problem — a planter can have a big impact.
Pick up two or three miniature pumpkins and squash and nestle them in with your plants for a sweet fall setup.
3. Adorn Your Garden with Fall Foliage and Pathways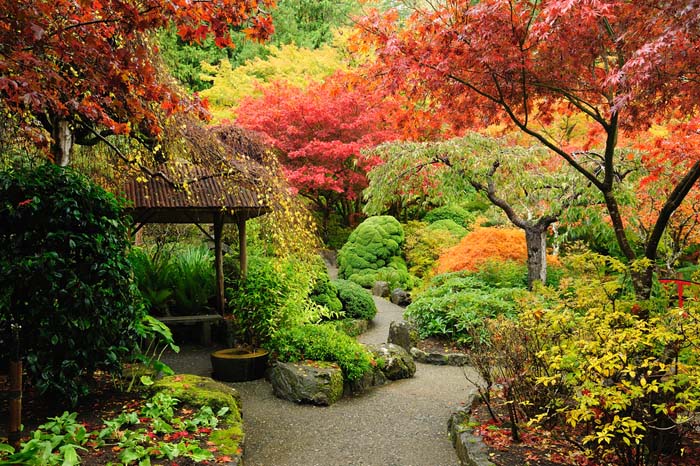 In gardens that are overflowing with fall foliage, you don't need to worry about decorations.
The easiest way to spotlight the leaves is to maintain the walkways throughout the space. The neat paths make it easy for guests to explore.
4. Create a Magical Autumn Scene with Your Garden Bench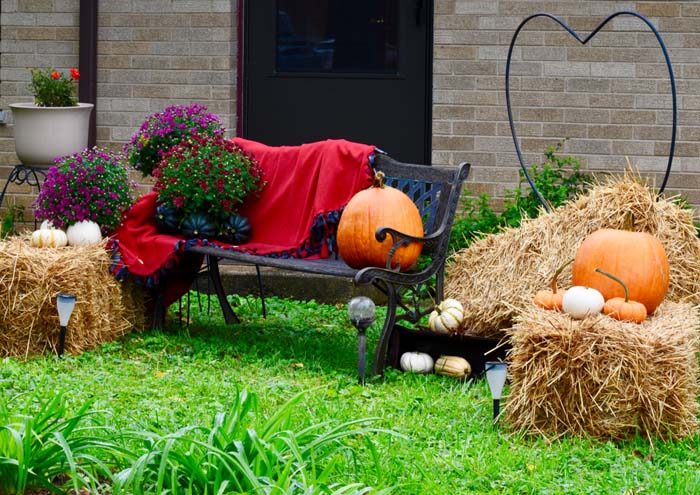 Do you have a bench in your garden?
Turn it into the centerpiece of an autumn scene with plants, pumpkins, and a cozy throw for a pop of color.
If you can get your hands on a few hay bales, scatter them around for a classic harvest-inspired look.
5. Welcome Guests with Captivating Fall Front Porch Décor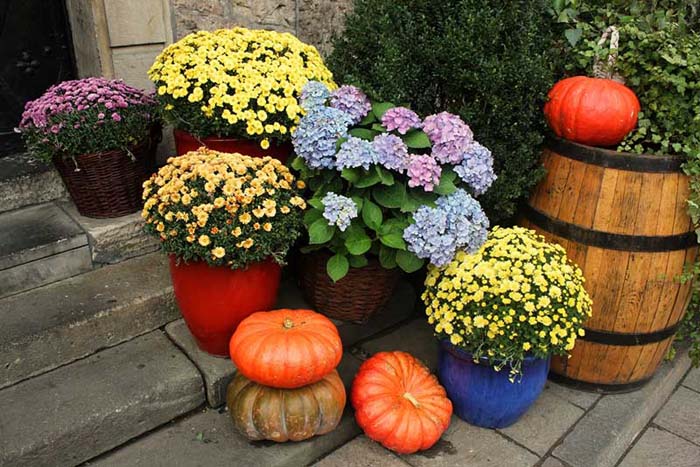 Welcome visitors to your home with fall front porch decorations.
A collection of potted plants and pumpkins turns your stairs into a riot of color and life. We love the wooden barrel, which serves as a table and a textural contrast.
6. Create Autumn Charm with Potted Flowers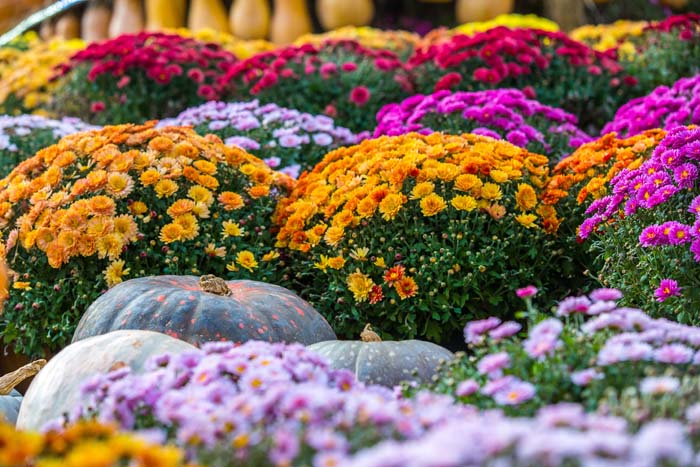 If your city has warm, sunny autumn weather, you might not see changing leaves — but you can recreate the cozy, welcoming colors with potted flowers.
Surround your home with blooms in deep orange, red, and yellow to capture a classic fall feeling.
7. Welcome the Harvest Season with Decorative Corn Stalks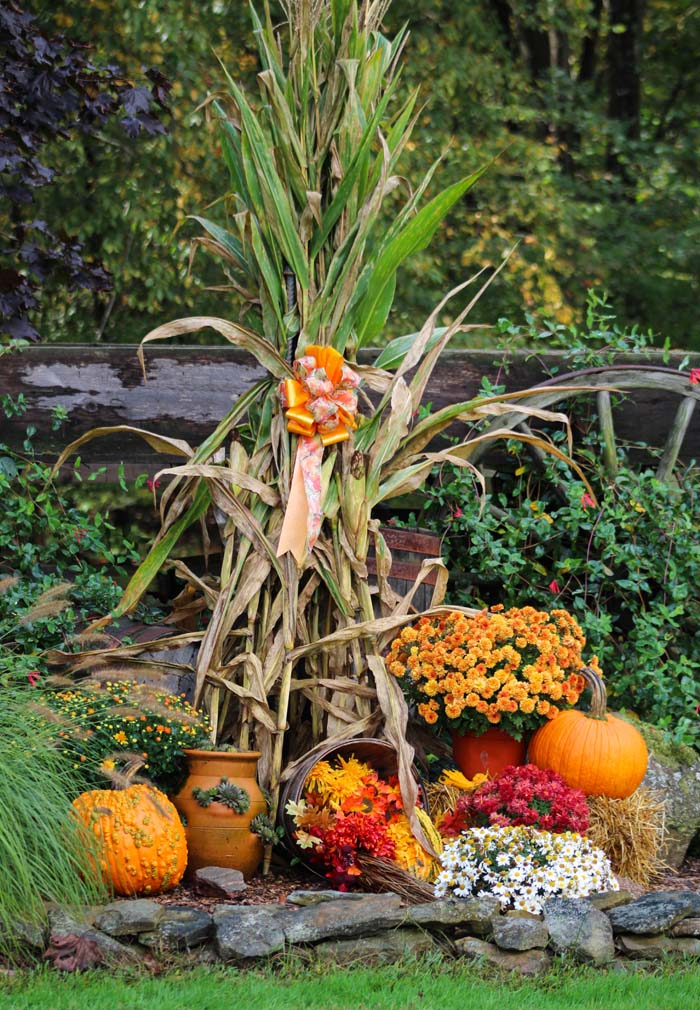 Celebrate the harvest season with a bunch of tall corn stalks.
The natural shape of the leaves brings movement to your display; tie them together with twine or a pretty ribbon for security.
Lean your stalks against a fence for a low-key look, or surround them with flowers and pumpkins for an extra-festive vibe.
8. Bring Fall Color to Your Small Space with a Big Potted Plant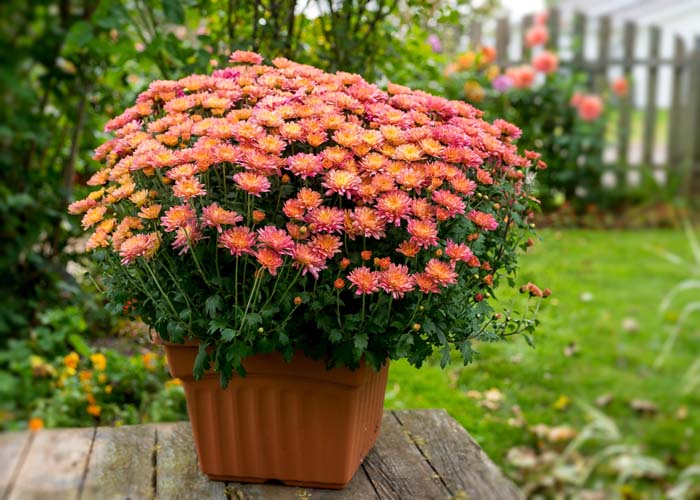 Do you have a tiny amount of space for decorating?
A big potted plant helps you make the most of it. The trick is to select an option with rich fall colors, like this stunning flowering bush.
The deep orange planter completes the autumnal palette.
9. Bring Autumnal Charm to Potted Plants with Extra Elements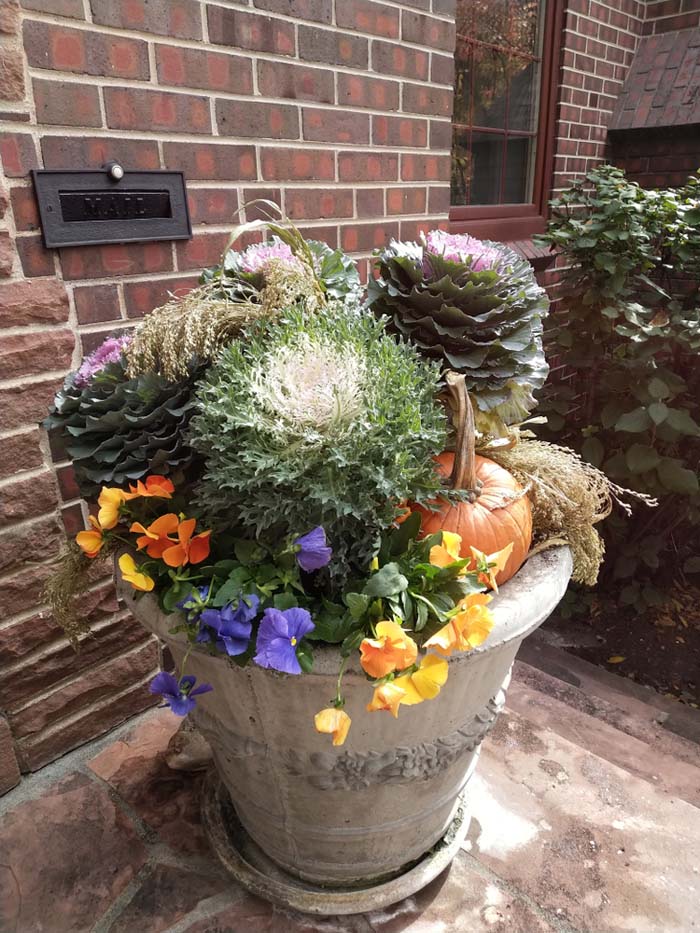 When the temperatures cool, your potted plants may lose some of their fullness.
Restore the lush vibe by adding extra elements to the pot.
Dried hay, fresh flowers, and pumpkins fill in the area around the plant, echoing the bounty of the harvest season.
10. Beautiful Fall Décor with Pumpkins and Flowers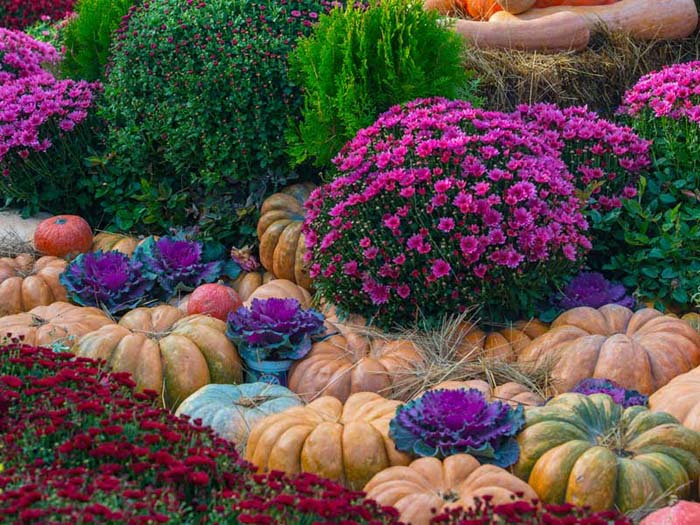 Put an unexpected twist on fall decorating by pairing traditional pumpkins with contrasting flowers.
Here, the gardener uses stunning purple, teal, and fuchsia flowers to create a setting that delights every passerby.
Fill in the gaps with squash, and you're ready for the season.
via Bonacks Garden
11. Bring a Touch of Nature to Your Front Door With a Fall Wreath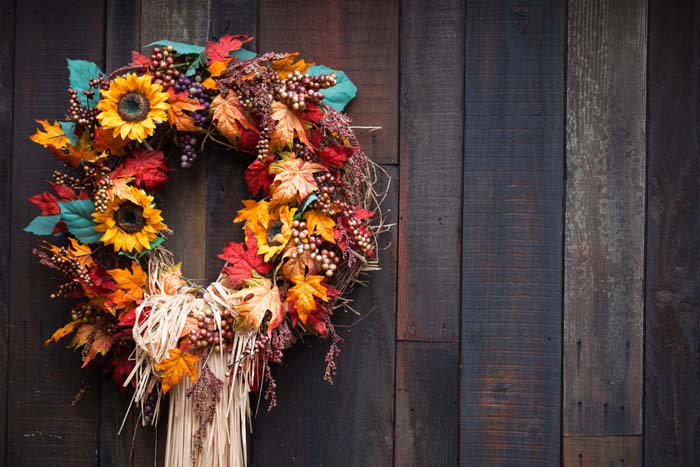 Don't have your own garden or yard?
Bring the cozy, warm colors of nature to your front door with a charming wreath. Sunflowers, fall leaves, and dried twine set the stage for a beautiful autumn.
We love the scattered green leaves, which keep this piece feeling fresh.
12. Create an Autumnal Aesthetic with Orange and Yellow Décor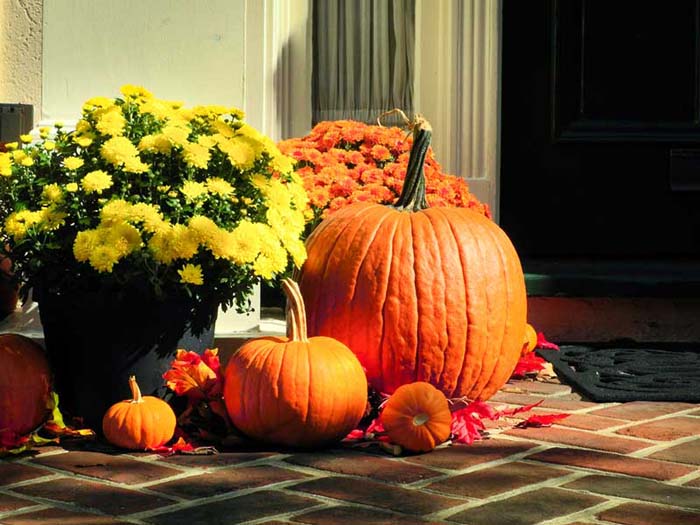 When it comes to fall decorating, you can't go wrong with orange and yellow.
This budget-friendly setup uses two potted plants and a selection of pumpkins — it's quick and easy, but it makes a stunning impression.
13. Enjoy Fall Outdoor Seating with Colorful Leaves Centerpiece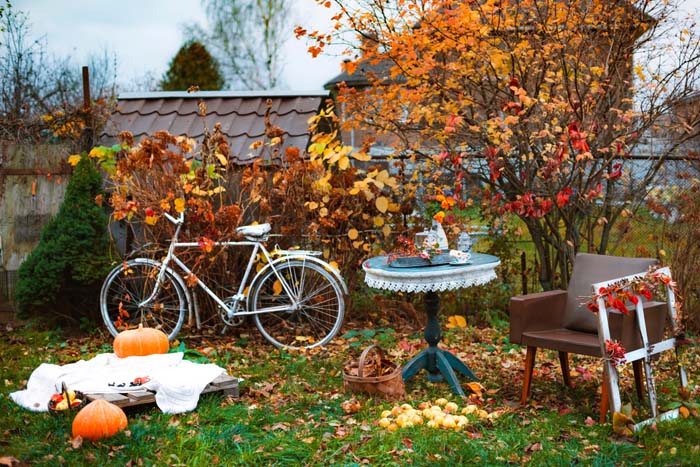 If you're lucky enough to live in an area with colorful fall leaves, why not make them the star of the show?
A few vintage-inspired pieces in pale colors make the leaves pop — plus, you'll get an adorable seating area for your afternoon tea.
14. Create a Gorgeous Window Box Display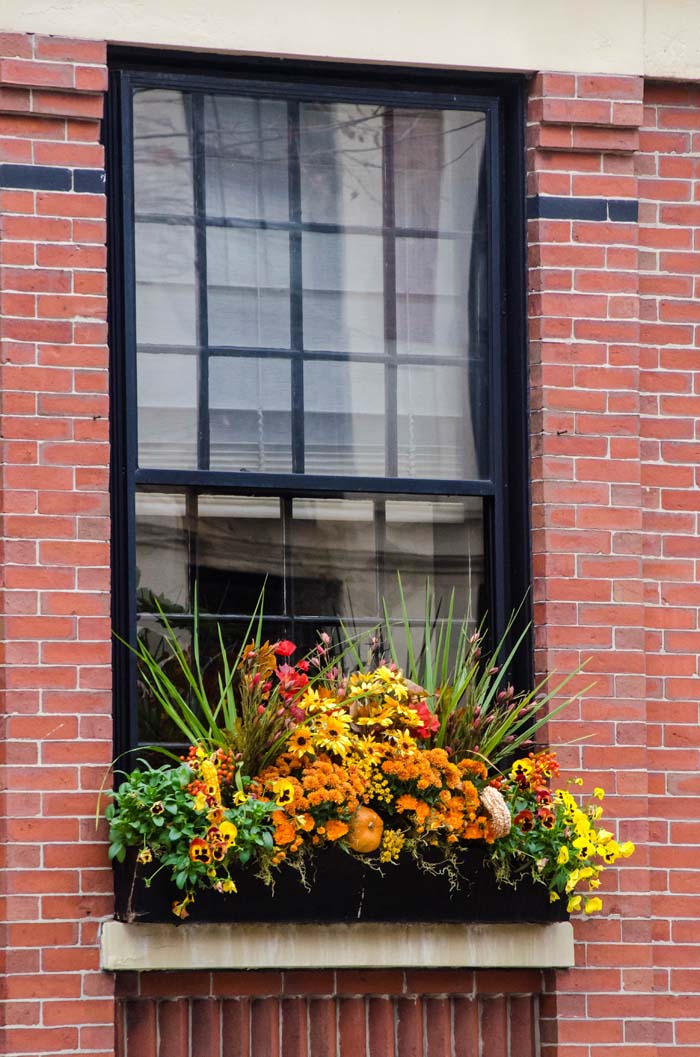 Why retire your window boxes when the temperatures drop?
With a few hardy plants in bright colors, you can turn an empty box into a gorgeous display. This is also a great option for apartment-dwellers.
15. Decorate Your Outdoor with a Colorful Fall Porch Display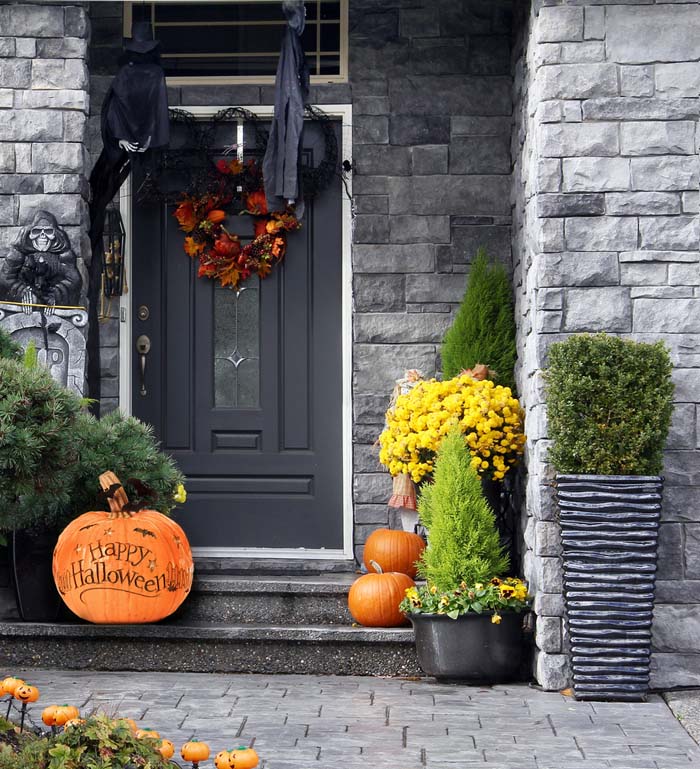 On a cloudy fall day, there's nothing like a burst of color to improve your mood.
That's why we love this flower and pumpkin front-porch arrangement — it'll make you smile every time you pull into the driveway.
A leafy wreath is an adorable finishing touch.
16. Combine Summer and Fall Elements for Transitional Décor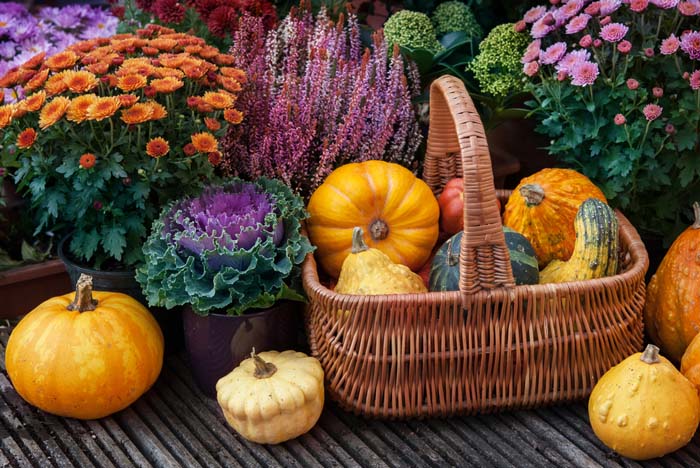 If you're looking for ways to bridge the gap between summer and fall, try combining elements from both seasons.
Here, potted flowers in cheerful colors make a lovely background for a basket of squash. As the days get cooler, simply move the flowers indoors.
17. Transform a Pumpkin into an Elegant Vase with Dried Flowers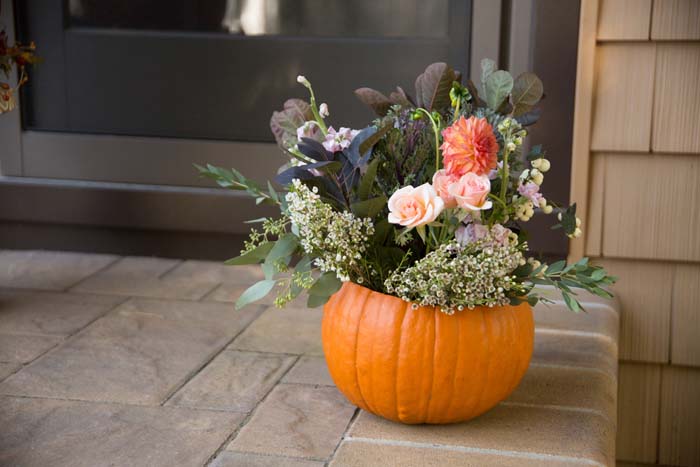 It doesn't get any prettier than this pumpkin-turned-vase — it's both seasonal and sophisticated.
Making it is a breeze; just hollow out the pumpkin, set a potted plant inside, and fill the gaps with dried flowers.
18. Jazz Up Your Fall Décor with Pumpkins and Stumps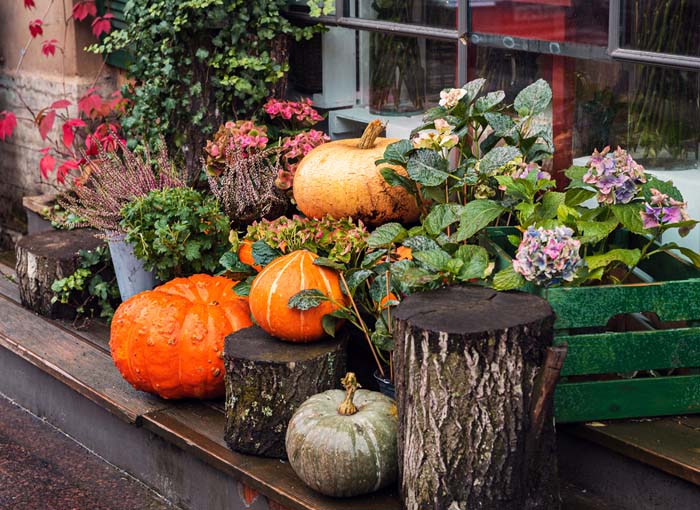 Pumpkins are the go-to element for fall decorating, and for good reason — these hardy fruits are tough enough to handle the elements.
Tuck a few pumpkins in between your existing planters to jazz up the green leaves, and add a few stumps for a rustic twist.
19. Quick DIY Garden Decoration with Pumpkins and Squash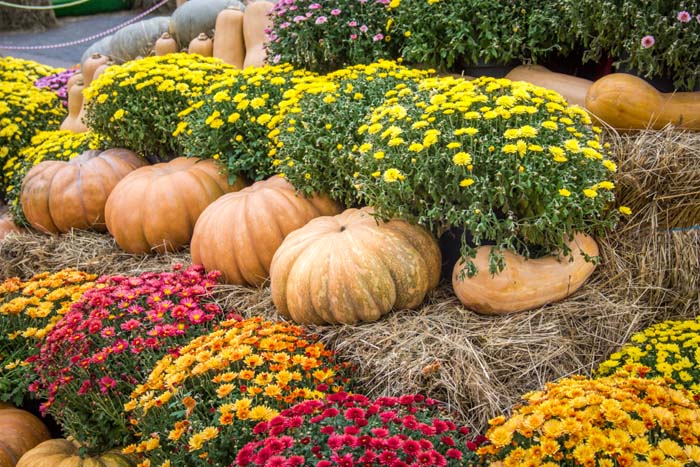 Need a fast DIY garden decoration idea?
Buy a selection of squash and pumpkins — then, tuck them under the base of your plants for an instant facelift.
If you don't have plants, pair the pumpkins with potted versions for the same effect.
20. Create a Festive Garden with Ornamental Cabbage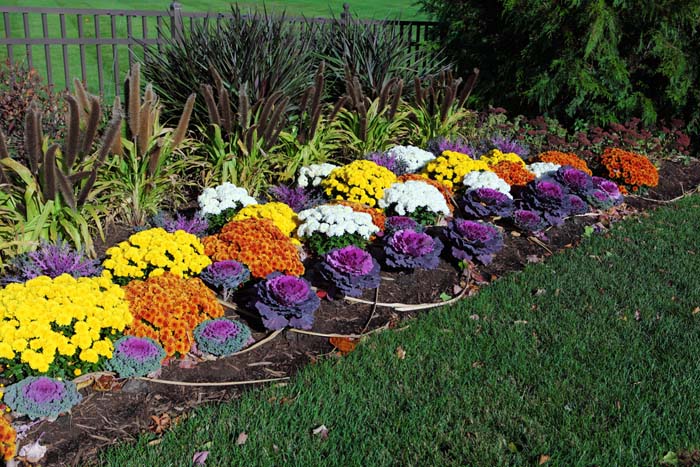 This beautiful festive garden is all about ornamental cabbage.
The lush leaves and deep colors pair perfectly with the classic orange, yellow, and white blooms for a look that's unconventional but completely delightful.
21. Capture Autumn's Rich, Moody Vibe with Rustic Décor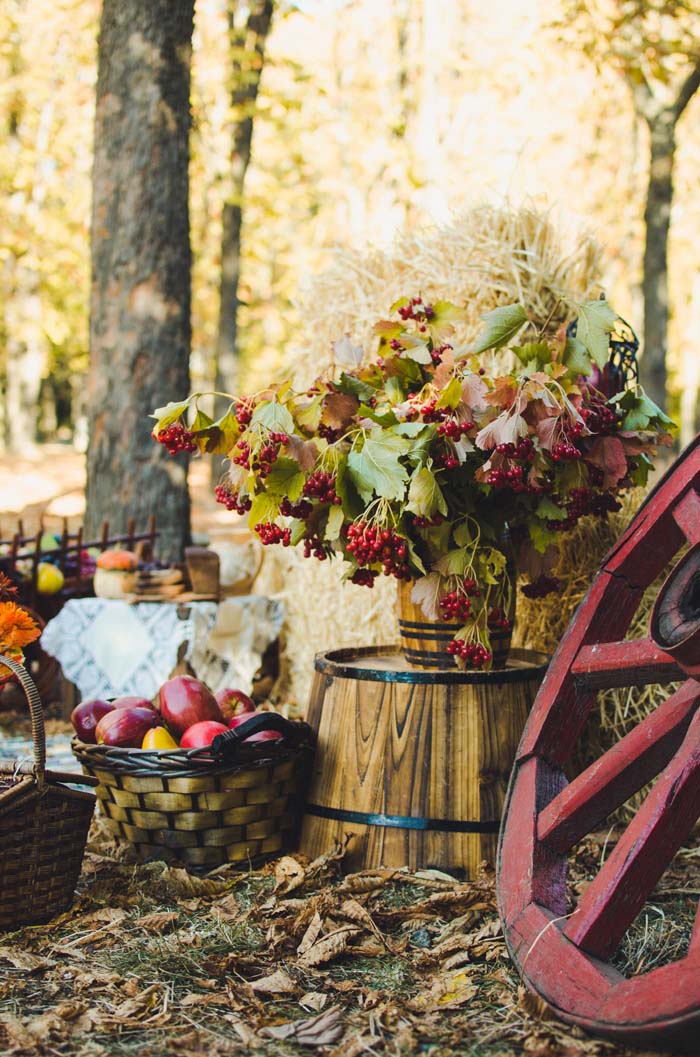 Capture the vibe of the turning leaves and crisp weather with a rich, moody decoration.
Gather rustic wood, red apples, and crimson berries, and arrange them in your front yard.
Here, the homeowner has cleverly used a wooden bucket as a display table.
22. Enjoy Fragrant Flowers in a Hot and Humid Autumn Garden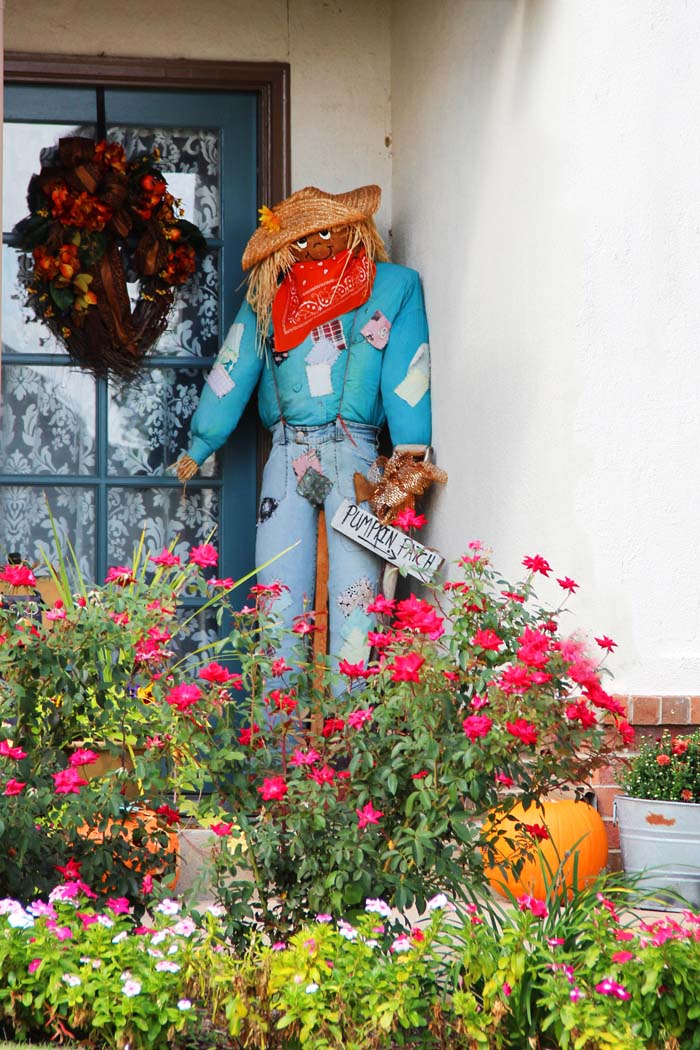 When you live in a hot, humid climate, you might enjoy fresh flowers well into the fall season.
A sweet scarecrow and a solitary pumpkin introduce just the right hint of traditional autumn colors, all without taking away from your garden's grandeur.
23. Elegant Fall Décor with Colorful Natural Fibers and Blooms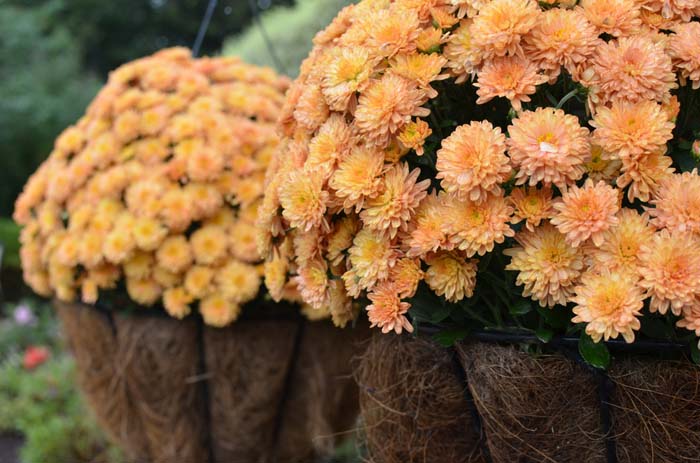 Sometimes, the best fall decor is rooted in simplicity.
Here, it's all about color and texture — from the natural fibers in the planter to the riot of petals and orange tones in the blooms, every element is perfectly suited to the season.
24. Make an Autumnal Oasis With Colorful Potted Plants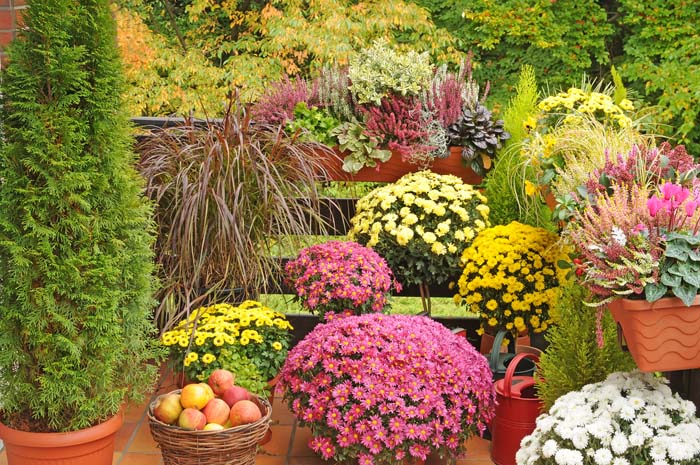 Transform your deck or porch into an autumnal wonderland with a selection of enormous potted plants.
Here, a blend of yellow, purple, and green brings out the colors of the changing leaves in the surrounding trees.
25. Enjoy a Cozy Autumnal Vignette in Your Garden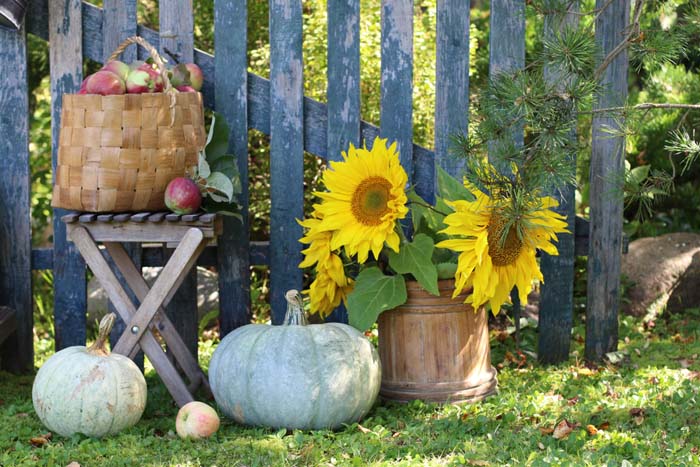 Sometimes, the best autumnal garden decorations are fruits and vegetables.
This adorable vignette gathers all of the iconic fall favorites — enormous sunflowers, a basket of apples, and a few pumpkins.
A wooden bench and vase complete the scene. The best part? You can set up a small fall scene anywhere you have space.
26. Bring a Rustic Country Vibe with Farmhouse-Themed Décor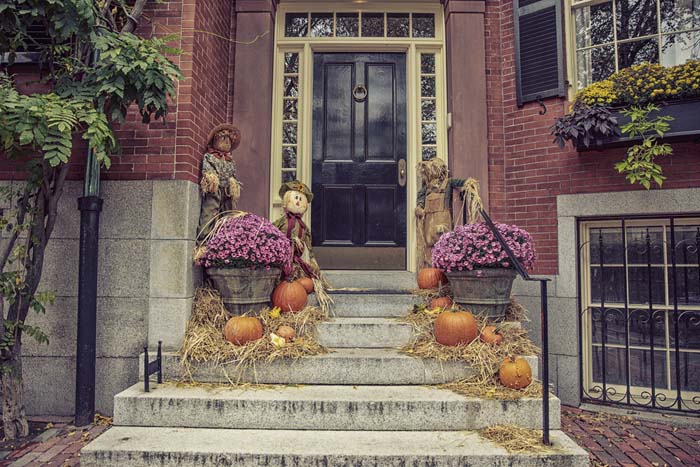 Bring a bit of the country to your city home with a farmhouse-themed stoop decoration.
Scarecrows, pumpkins, and hay transform your steps into a rustic tableau that's sure to brighten everyone's day.