Today we are going to emphasize the painted crafts for the garden. Painting is the preferred renovating method for several reasons.
Paints are affordable. They highly vary in colors, effects and applications which make them suitable for any type of surface or exposure. Last but not least, they are the easiest and quickest way for home transformations.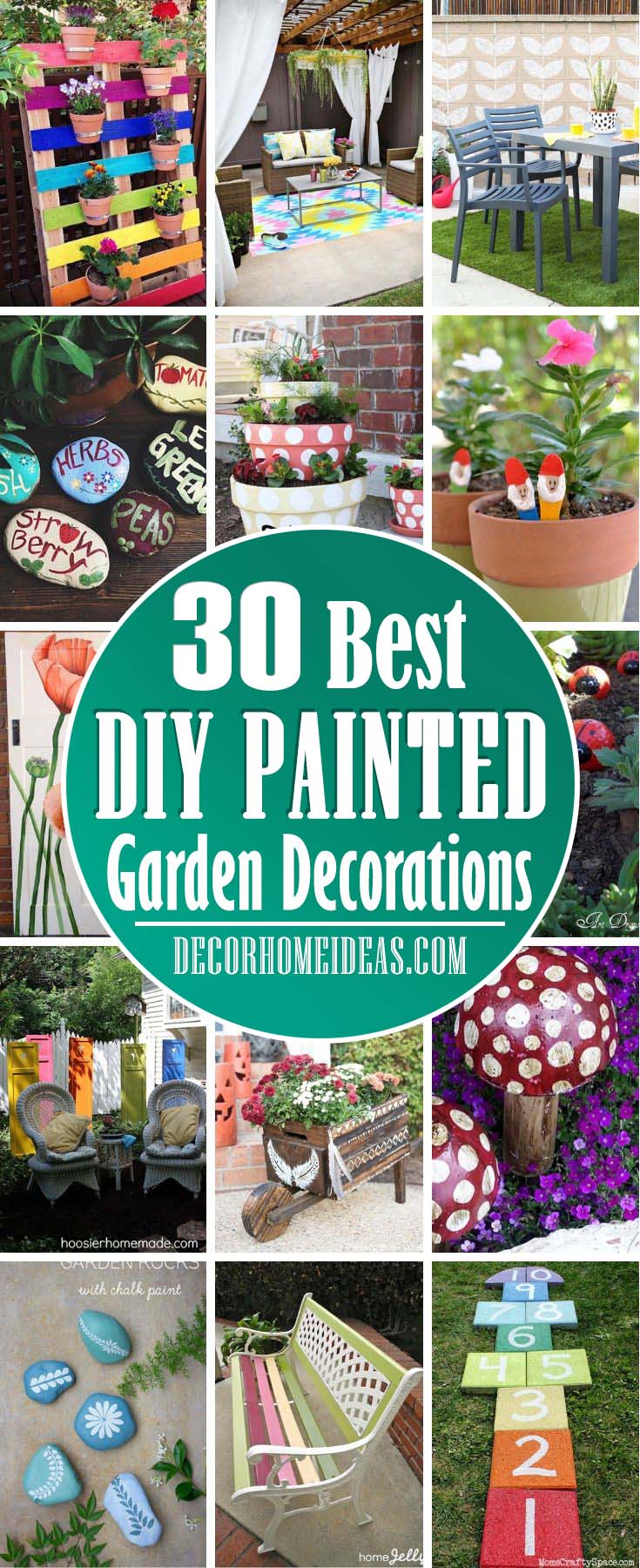 From small decorative accents for flower pots, through the garden play area, to furniture make-overs, paints will help you add individual and seasonal nuances to your diy painted garden decoration ideas.
1. Turn Plain Terra Cotta Pots into Art Pieces with Chalk Paint

Plain terra cotta pots become a breath-taking art piece with chalk paints. The texture changes to matt and deep finish which reminds of an aged decoration.
via The Navage Patch
2. Add Decorative Stones to Your Garden for Visual Interest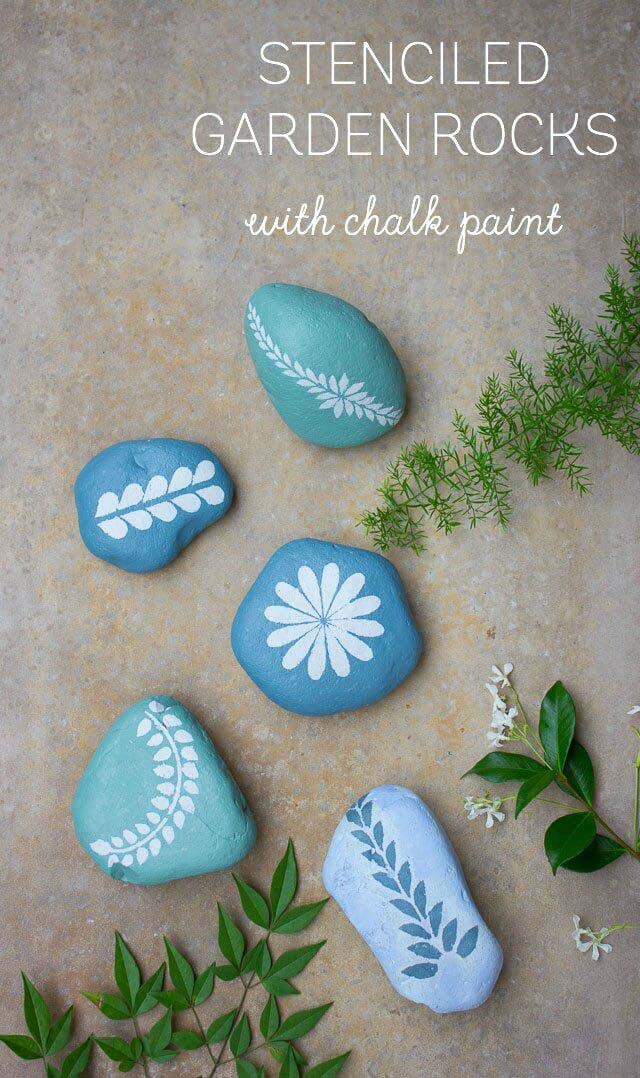 Stones are lovely garden decorations or addition. Changing their color and painting images on them will make the stones more visible.
Place them around the flowers in the garden, on the top of a flower pot or outline your pathway on both sides.
3. Elevate Your Porch with a Chandelier Planter

Who says that flower pots must be on the floor? Be creative and use a chandelier as a patio flower accent.
Change the light holders with terra cotta pots and paint in a color that suits your décor.
via DIY Show Off
4. Make Cinder Block Plant Holders with Stencils and Paint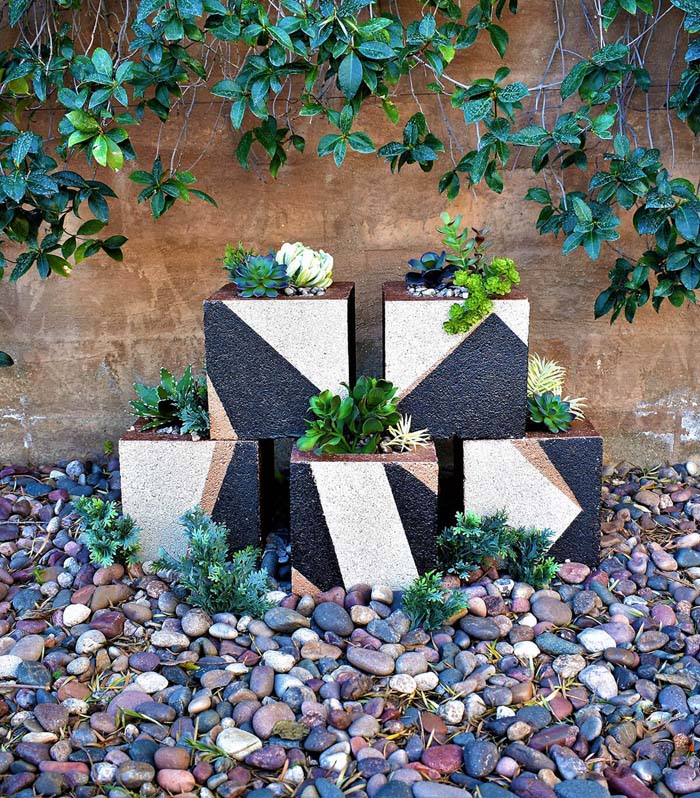 Cinder blocks could be seen in various garden applications. If you use them to build a stacked plant holder, consider changing their fabricated color.
You can use stencils, masking tape and other painting supplies to create interesting images.
5. Repurpose a Baby Crib into a Porch Swing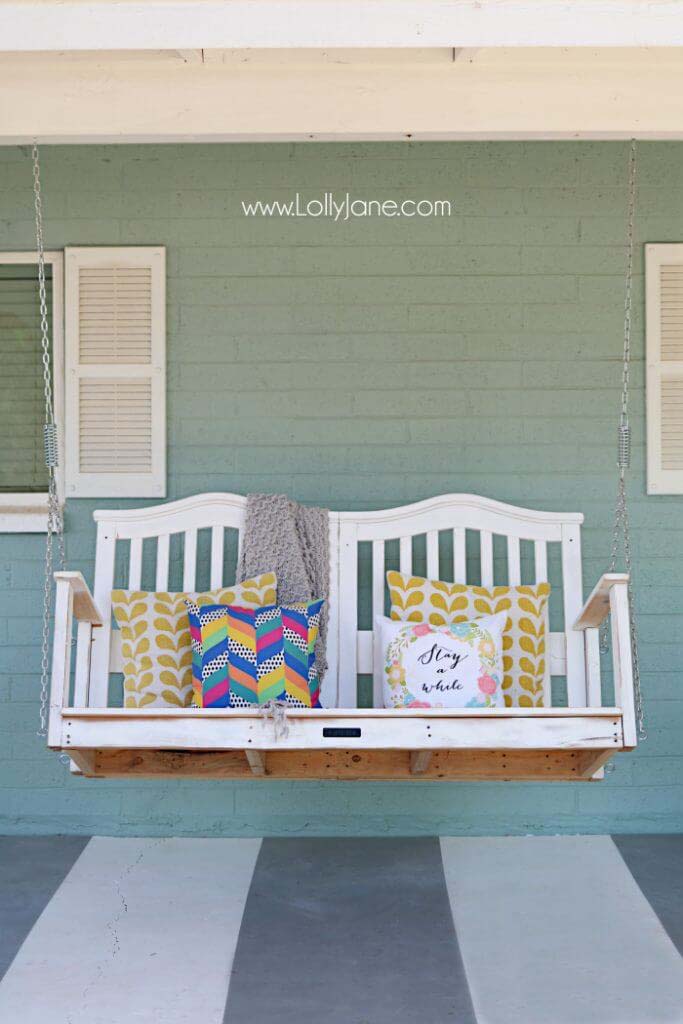 When kids are already grown up, the baby and toddler furniture become unnecessary.
Instead of throwing it away, repurpose it and treat yourself with the loving memories it brings each time you see it.
via Lolly Jane
6. Create Garden Miniatures Using Terracotta Pots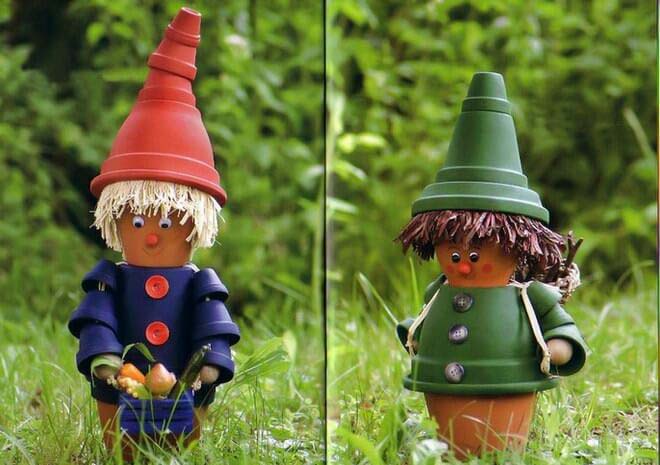 If you like the garden miniatures, you can easily make yourself a few with the help of terra cotta pots in different sizes.
Painting them in different colors will help you define the parts of those cute dressed small people.
via Marietta
7. Build a Bohemian Wheelbarrow Planter for Your Garden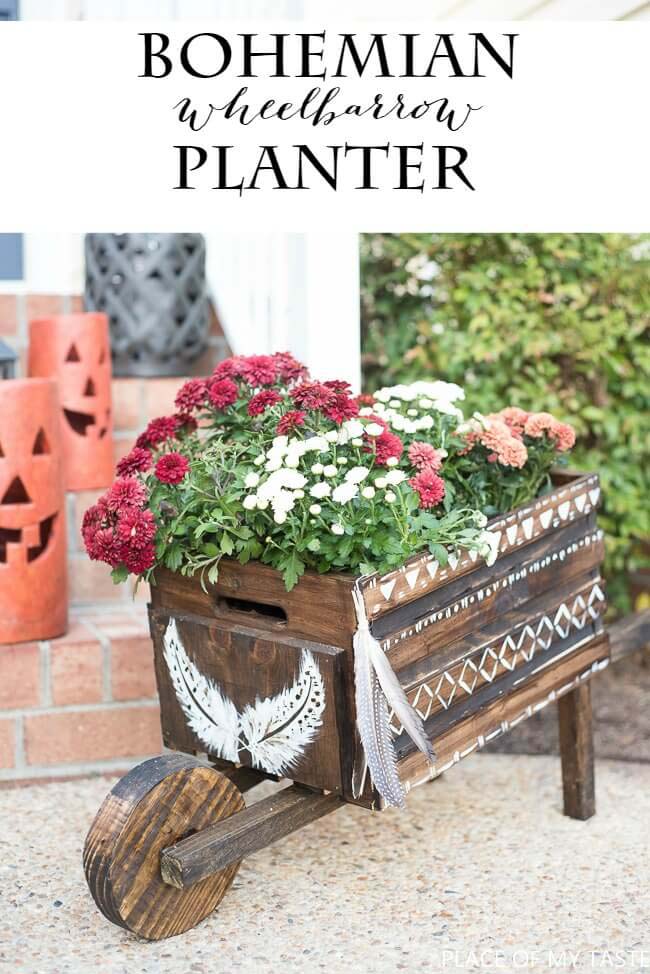 If your garden is your summer take-away, you will be thrilled to understand how to make yourself such a cute wheelbarrow.
Stenciling the stained wood with white ornaments makes it more noticeable amongst the rest of the flower containers.
8. Make a Colorful Wind Chime with Metal Keys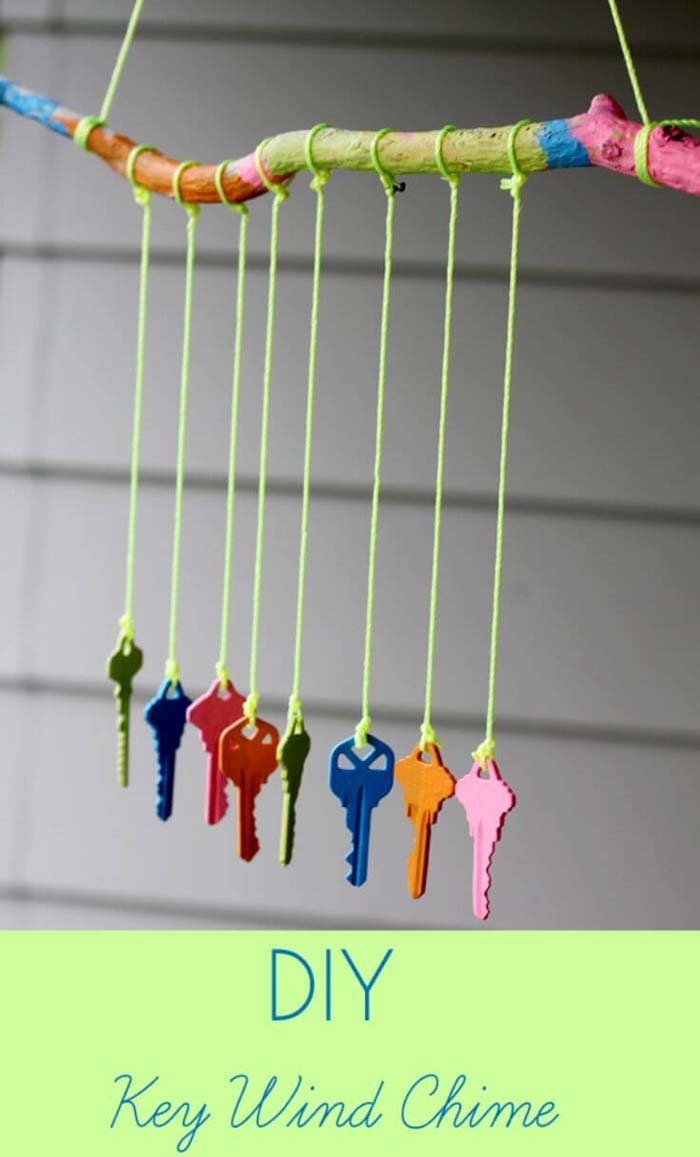 The melodic clinking sound of the wind chimes is one of the most calming ones. You can easily make yourself one, using old metal keys.
Paint each key in a different color to blend the wind chime with your summer outdoor decoration.
via Inner Child Fun
9. Transform Rocks into Colorful Plant Markers for Your Garden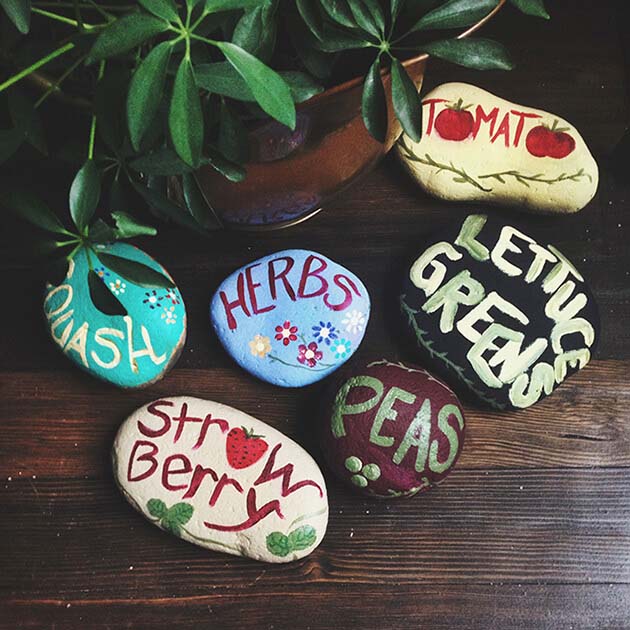 Larger rocks could become cute plant markers with the help of paints and sharpies.
When the surface is wide enough, reproduce the images of the veggies and fruits or add garden symbols like flowers, vines etc.
10. Show Off National Pride with a Pallet Front Porch Sign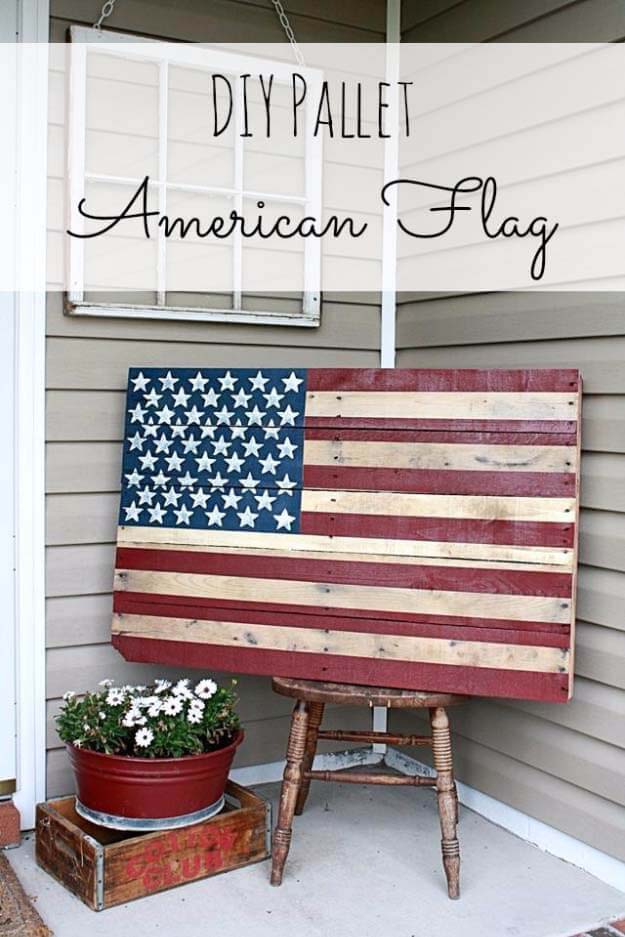 A plain pallet becomes a beautiful front porch sign that reveals your national dignity.
The size of the pallet easies the painting process and provides a wide enough surface to reproduce exact details from the flag.
11. Revive Your Space with a Colorful Tire Planter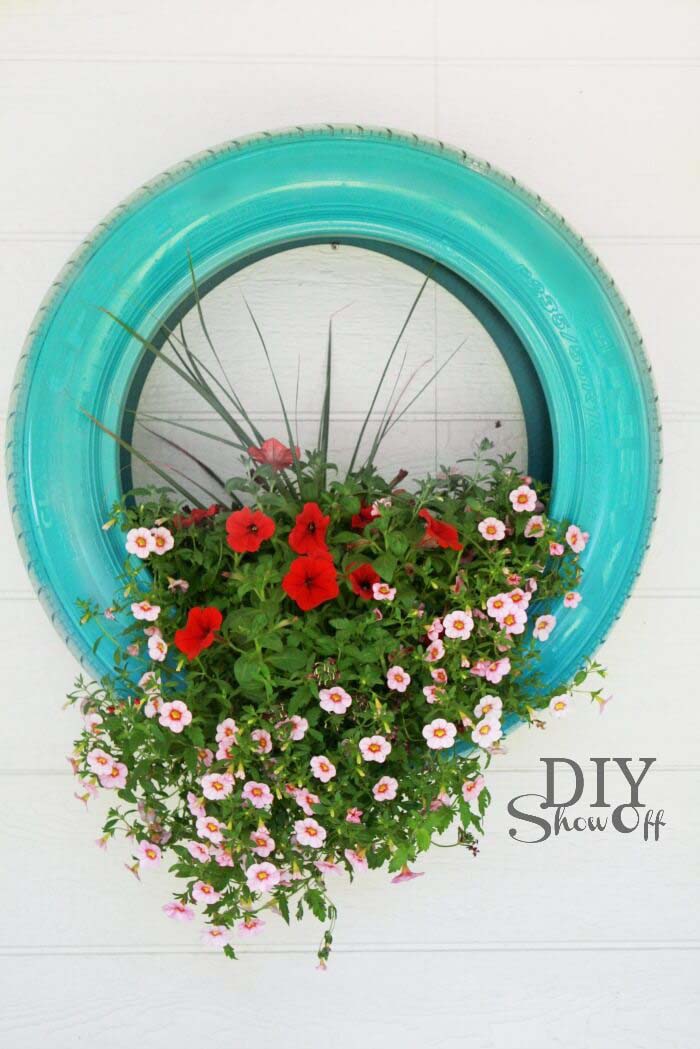 Spray paint in bright color magically and quickly transforms an old tire that can be hung on a tree or wall and hold a tuft of blooming flowers.
via DIY Show Off
12. Brighten Your Garden with a Colorful Pallet Planter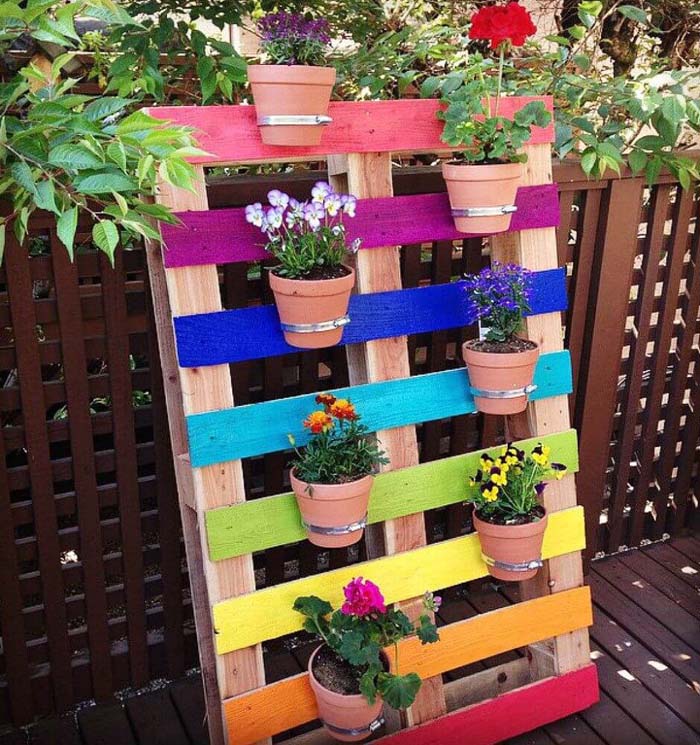 For a certain effect of the garden decoration, use a pallet as a vertical plant holder.
Paint in the colors of the rainbow to spread the bright summer mood around.
13. Create Striking Artworks on Your Doors with Acrylic Paints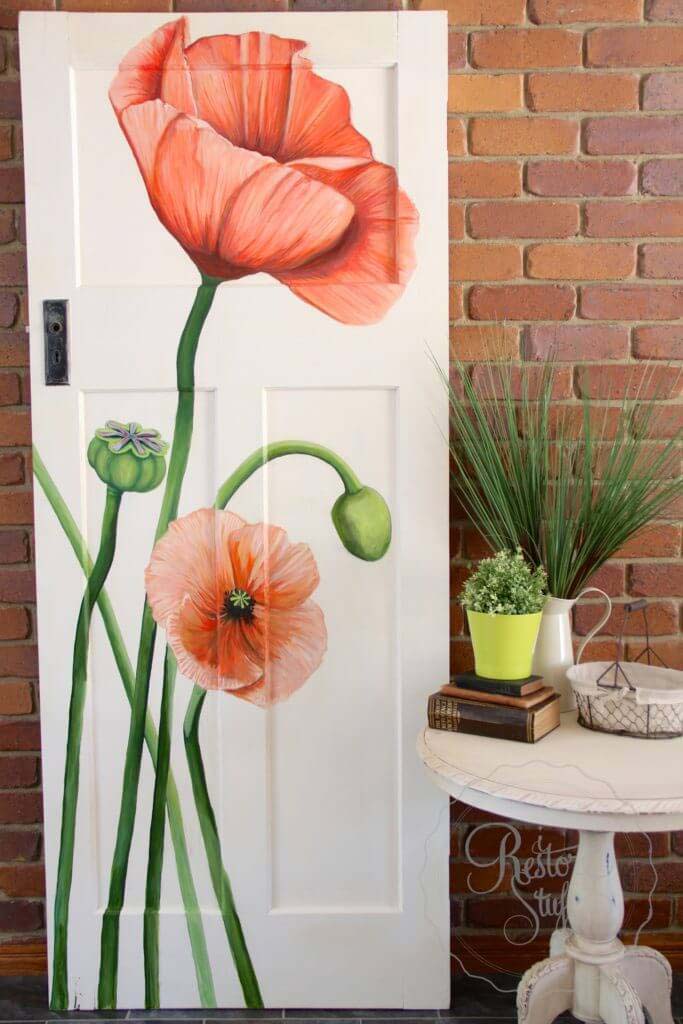 Acrylic paints are great for home art on various surfaces.
They are suitable for any kind of wood and applying them doesn't require any special skills. Use the wide surface of a door to reveal your painting abilities.
via I Restore Stuff
14. Add Fun for Kids with a DIY Hopscotch Paver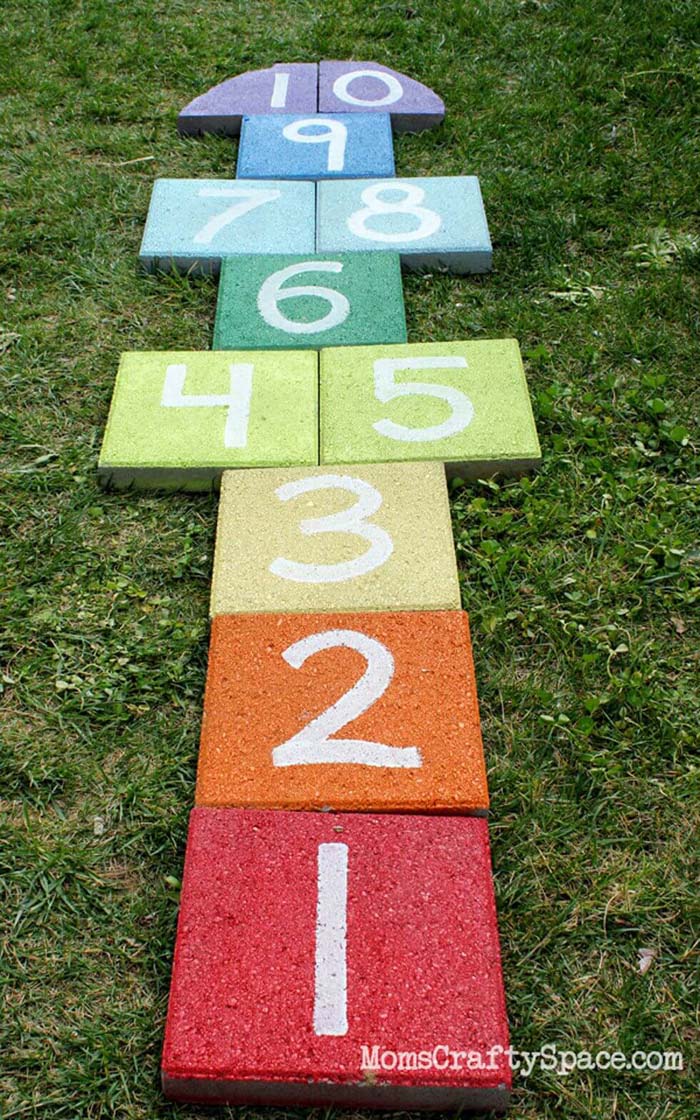 The garden is the favorite place of the property of all kids during summer. Make their time outside more fun and interesting with DIY paver hopscotch.
Use paints to differentiate each paver and to mark the numbers.
15. Use Dollar Store Decorations into Focal Point of Porch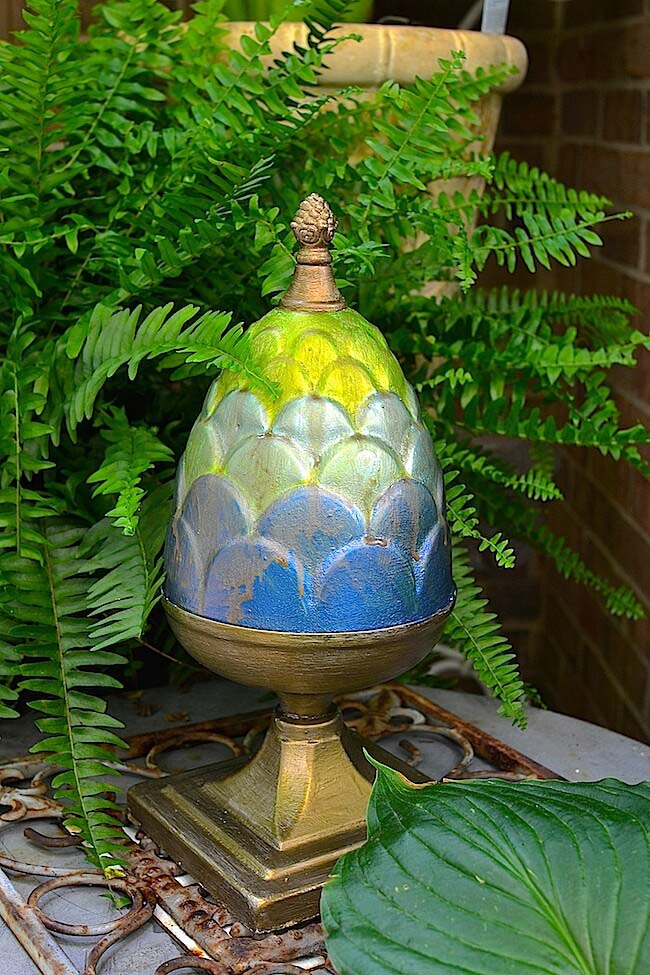 Plastic decorations from the dollar store can easily be transformed and turned into the focal point of your porch.
Use the metallic effect to give the decoration a faux metal finish.
16. Adorable Gnomes Bring Charm to the Garden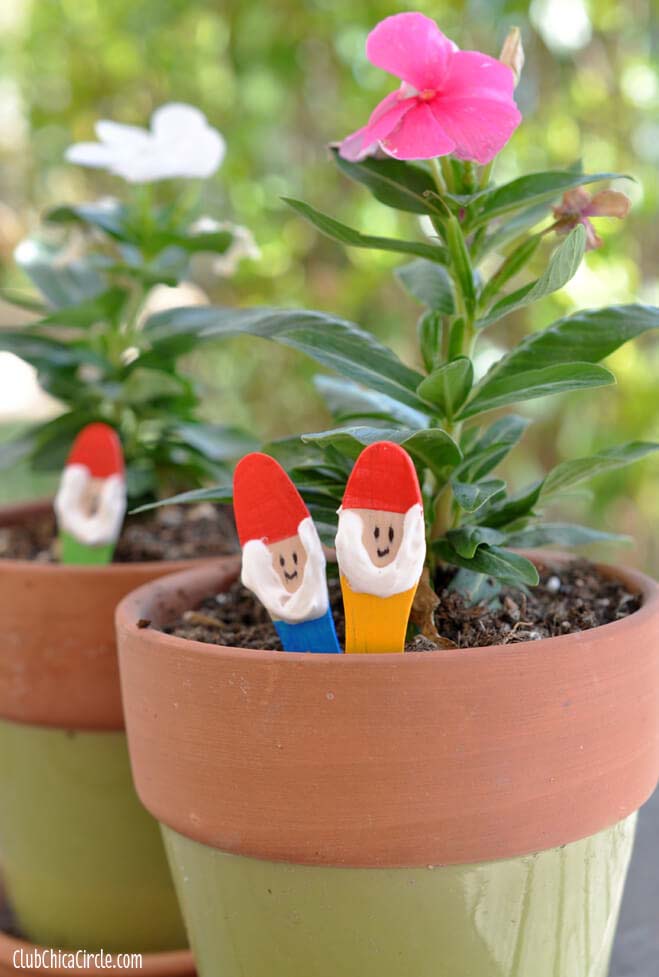 When you see the cute gnomes peeking out of a pot, you will instantly smile.
Small accents make a great impact when the message they carry is positive.
via Skip To My Lou
17. Make Garden Gypsum Sculptures with DIY Ladybug Projects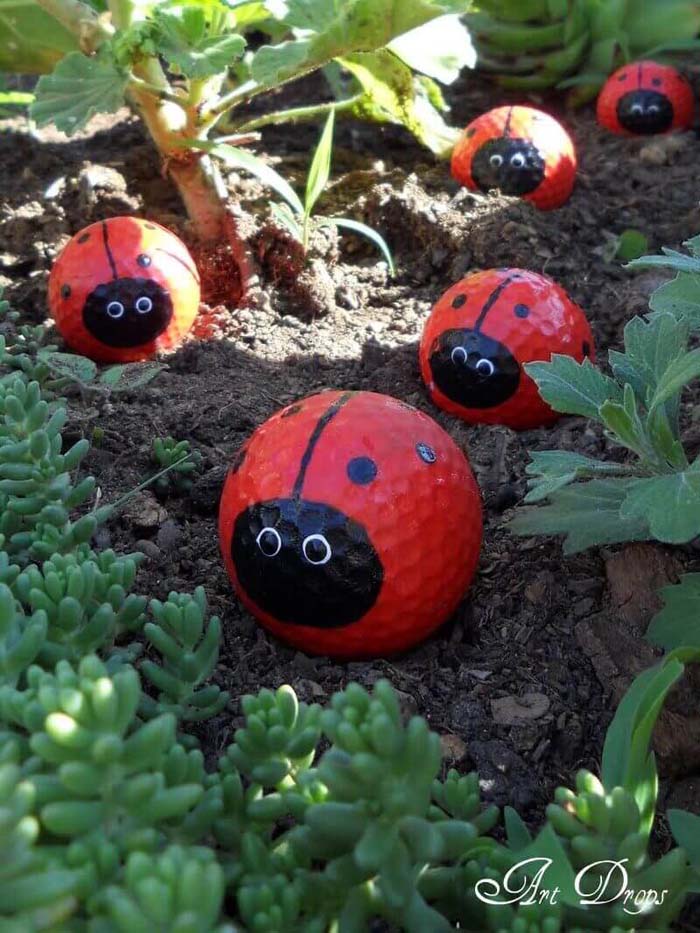 Garden gypsum sculptures are usually expensive. Luckily, there are numerous DIY projects which let us make our own figures which will bring the same amount of beauty as the sold ones.
Paint plain golf balls in a ladybug pattern and lay them randomly on the ground.
via Tatijana
18. Refurbish a Garden Bench with Colorful Paints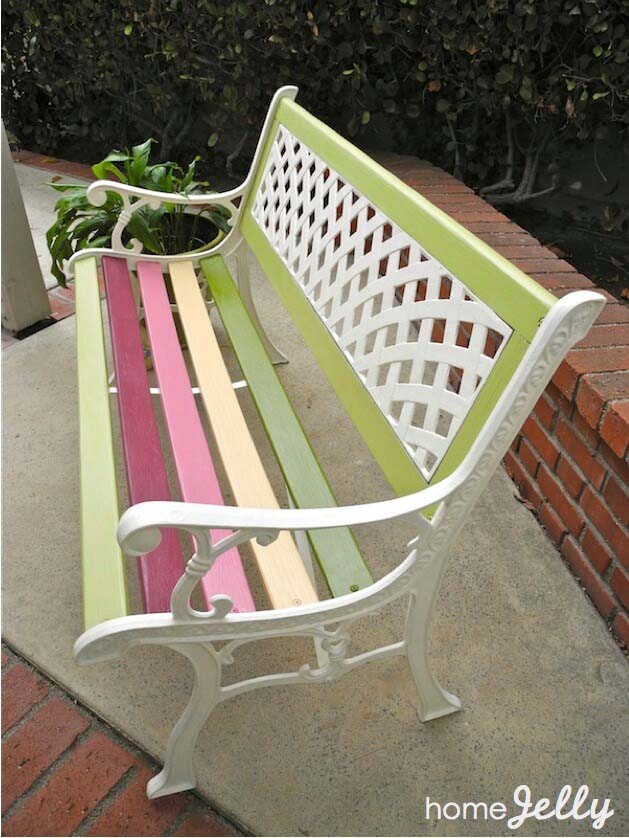 Refurbish the old garden bench into a comfortable welcoming furniture.
Spray paint the iron support and use oleum paints for the wooden beams.
via Home Jelly
19. Create Colorful Patio Floor with DIY Painted Rug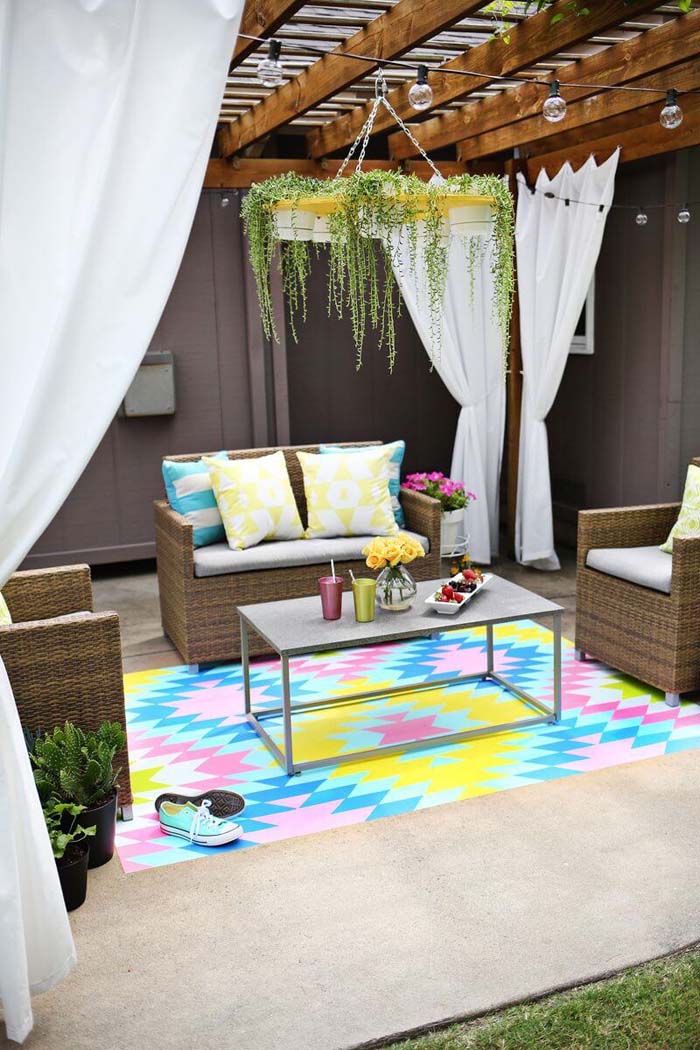 You will be surprised to understand that the rug in the photo is actually a painted area from the concrete patio floor.
Make yourself different stencils that will add color and pattern to the faux rug.
via A Beautiful Mess
20. Paint Your Beehives with Nature-Inspired Colors and Motifs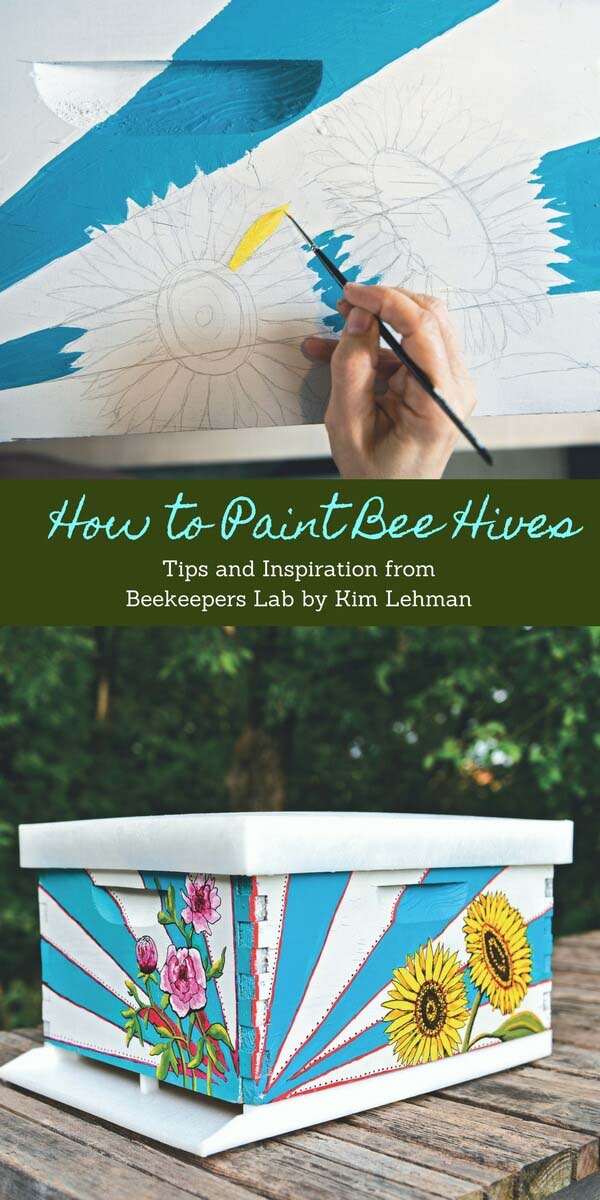 If you have bees, you will love this DIY tutorial on how to paint your beehives. All motives and colors are inspired by nature.
via Garden Therapy
21. Build DIY Mushroom Shaped Garden Statues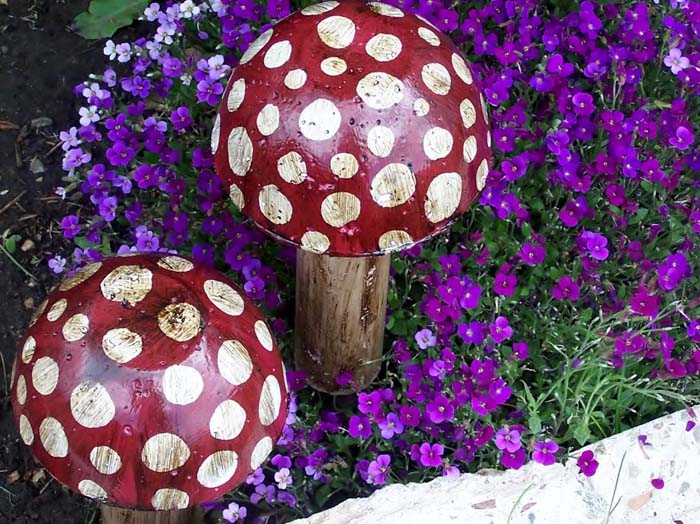 Another great DIY project for making your own garden statues, this time in the shape of mushrooms.
They are very cute and could inspire you for the decoration of a fairy garden as their size can vary.
via Stef Hall
22. Decorate Your Porch with a Polka-Dotted Terracotta Planters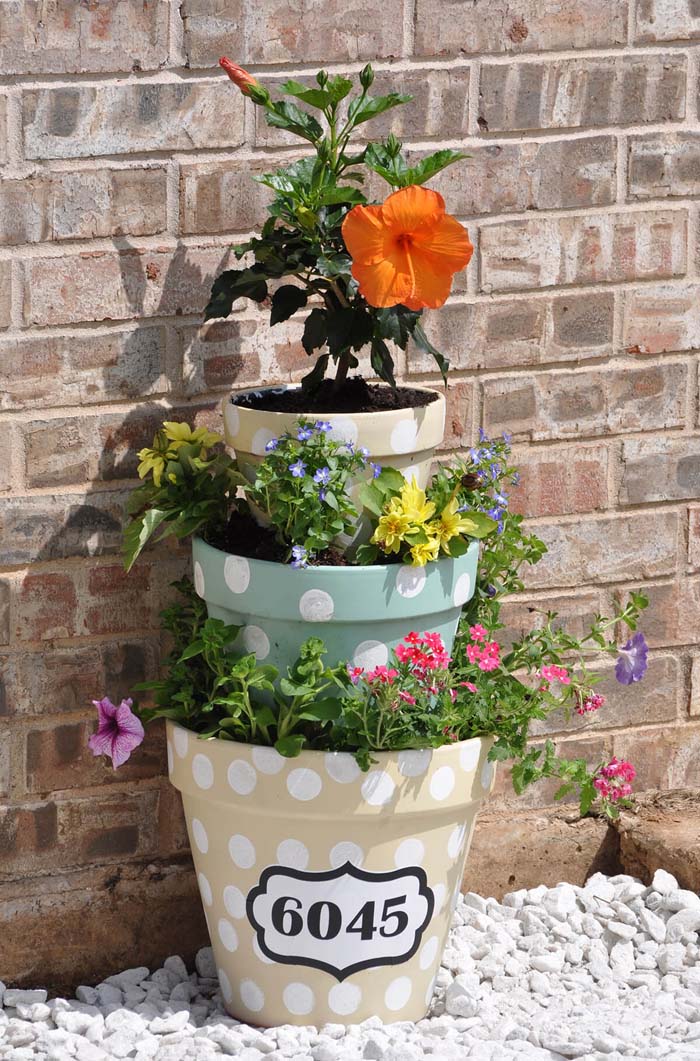 Use the tiered terra cotta planter as a multifunctional porch decoration.
Choose a pattern to paint the pots in and add the number of your house on one of them.
23. Rejuvenate Your Garden with Colorful Refurbished Shutters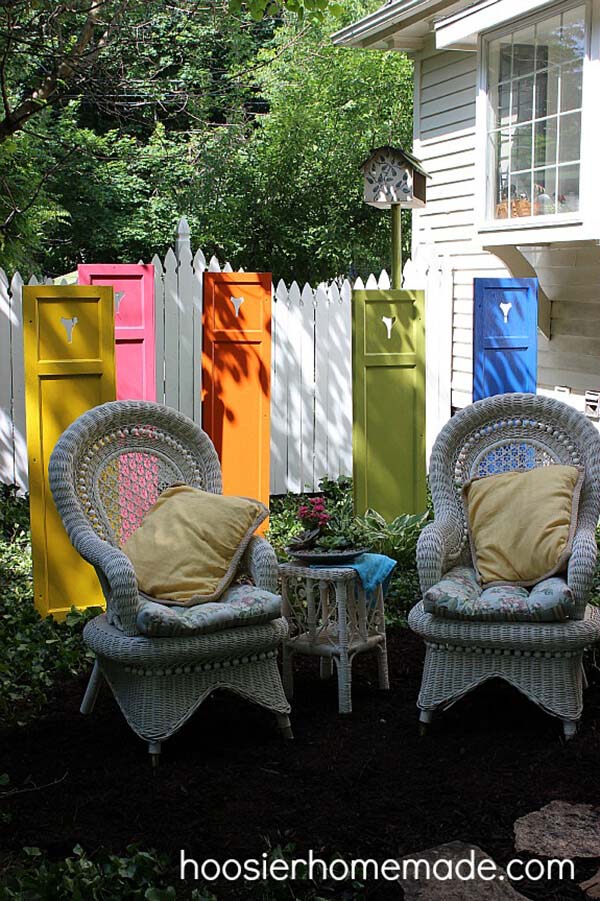 If you are looking for a garden screen inspiration, how about refurbishing old shutters?
Paint each in different colors and fix it to the ground where you would like to increase the privacy level.
via Hoosier Homemade
24. Transform Your Garden Furniture with Spray Painting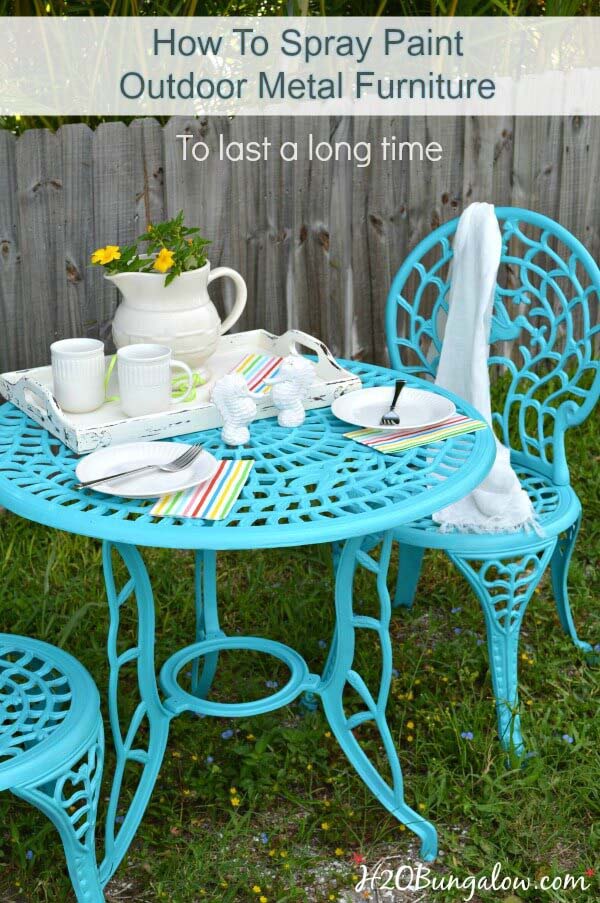 If you are happy with your garden furniture but it needs some improvement, try spray painting it.
You would be amazed how drastically its look has changed. It is also very budget-friendly compared to getting a new set.
via H2O Bungalow
25. Patio Wall Decor with Stencil and Chalk Paint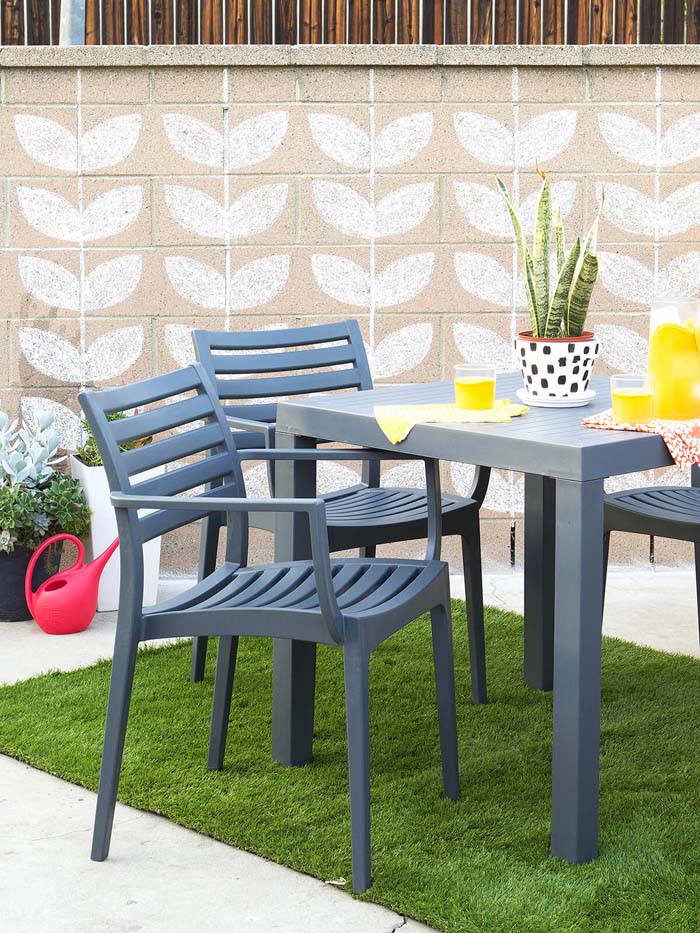 Here is an idea for a very quick patio wall decoration with a stencil and chalk paint.
The tulip leaves make the plain cinder block wall an artistic divider.
via Sarah Hearts
26. Refresh Your Garden with Colorful Terracotta Planters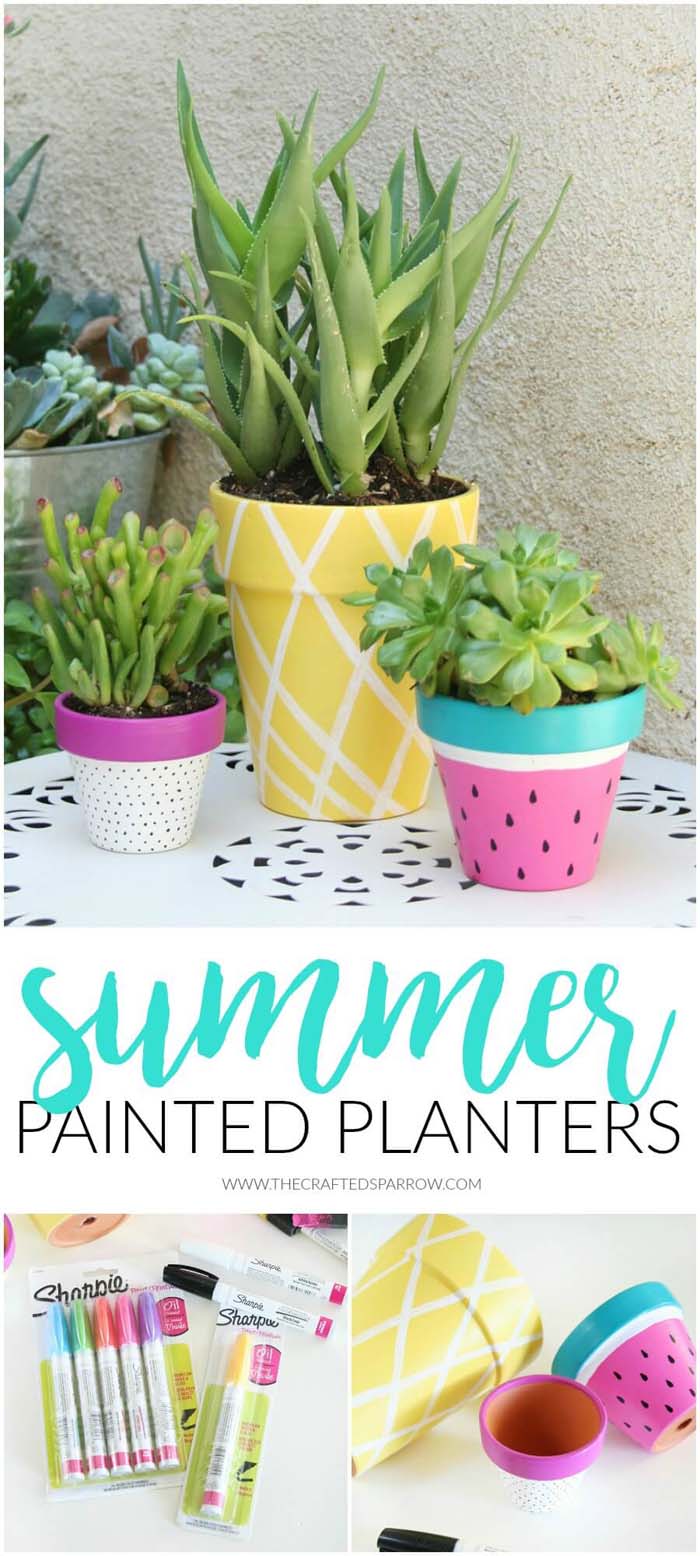 The colorful designs of the terra cotta pots refresh the garden instantly. Summer symbols like watermelon and lemon will give the right amount of cheery and summer appeal.
27. Make a DIY Porch Sign With Styrofoam and Paint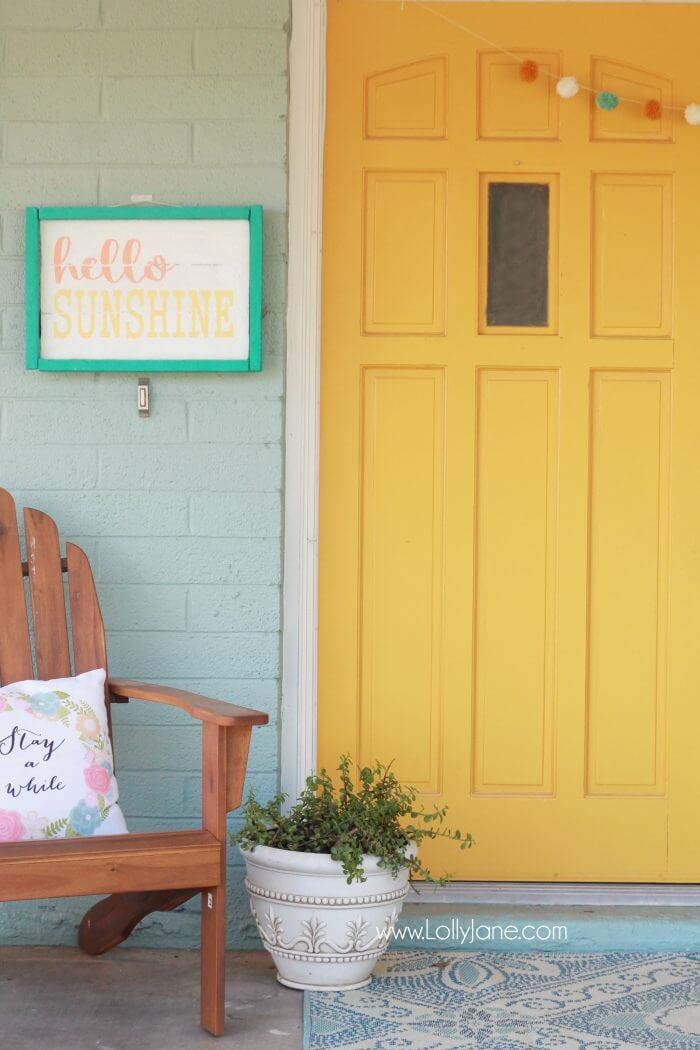 If you are looking for an easy-to-make and inexpensive sign for your porch, this one will intrigue you.
Made of styrofoam and paints, it will add charm and will make the porch more inviting.
via Lolly Jane
28. Upcycle an Old Window into a Garden Accent with Paints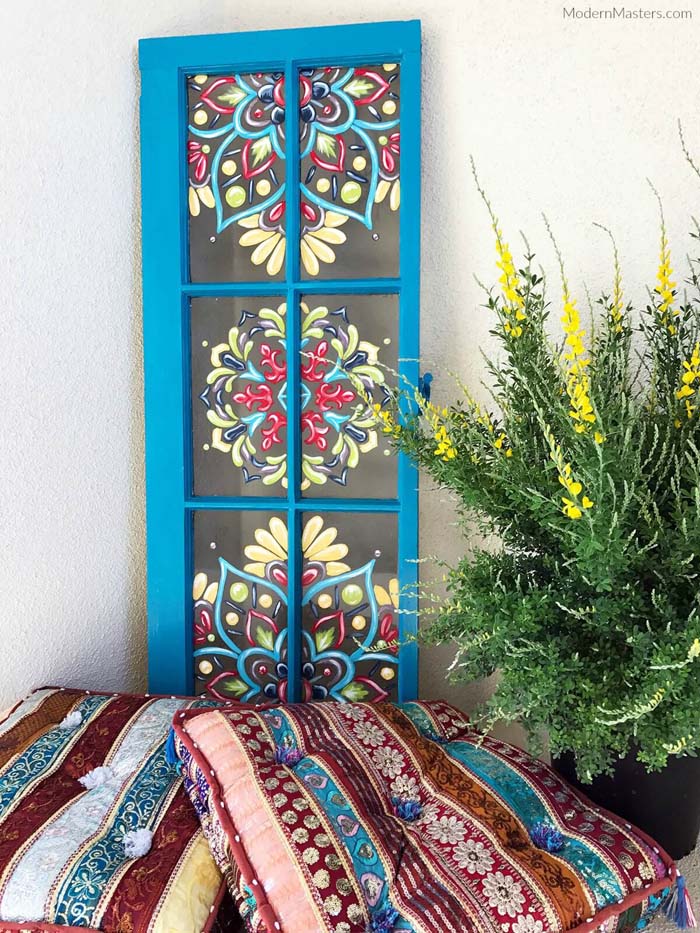 Refresh an old window and make it a fresh and colorful decor accent for your garden with paints.
Choose a pattern with flowers for the glass pieces which will match the season and the existing decoration.