A cinder block ( concrete block ) is a material that is easy to use in the garden. They are not expensive and creating different DIY projects is fun. They are often referred to as cinder block garden ideas.
You can get them at your local home improvement store.

One of the best advantages of cinder blocks is their durability and long-lasting life.
SAFETY: Some people are concerned about how safe is to use cinder blocks in the garden ( when building raised bed especially for growing vegetables and herbs ), so here are some answers:
Are cinder blocks toxic for gardens?
It depends on the manufacturer – ask in the store for full details of the materials included. They will be able to give you all the needed information.
Absolutely, but if you are planning to grow vegetables, herbs or any other food, be sure to check the manufacturer's specs for all the materials used in the blocks.
What is the difference between a cinder block and a concrete block?
Cinder block is fabricated of concrete and coal cinders, while concrete block is produced by steel, wood, and cement. More info on the differences: Here
Among the most popular DIY projects are flower beds, planters, patio furniture or simple decorations.
We picked 20+ cinder block garden ideas to inspire you for your next project.
1. Create a Colorful Cinder Block Garden with Neon Paint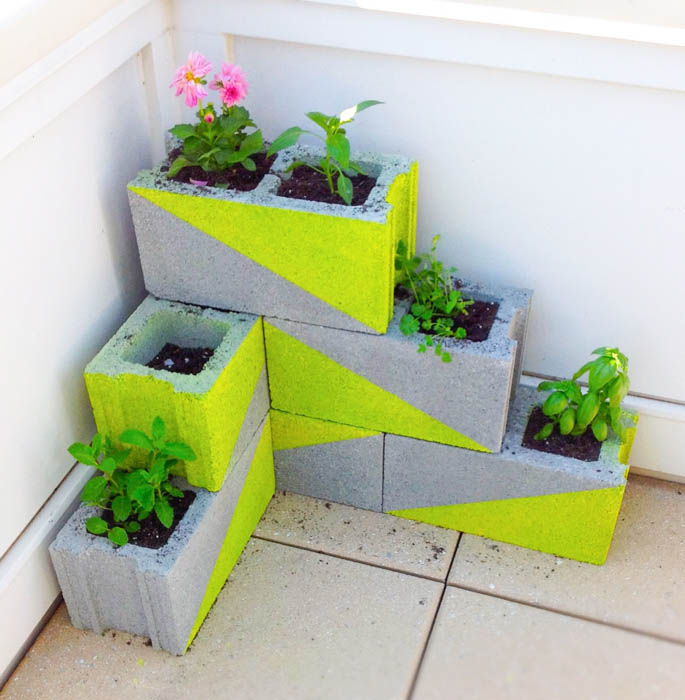 Need more planters? This cinder blocks project offers endless color and pattern options.
A simple, easy-to-make, and budget-friendly DIY option, which can add functionality, visual interest , color, and personality to any outdoor space.
Definitely a creative way to turn cinder blocks into a chic, statement piece of outdoor décor! Cinder blocks are large ingenious structures that we can use as a base for many creative tricks.
These planters are painted in gray and neon colors and they seem like the perfect beds for flowers.
You can put them on the porch, in the garden, wherever you want to add some more color and life.
You can buy cheap cinder blocks, which are not as heavy as the bigger and more expensive products ( they are made of concrete, you know ).
Just get the size that you can easily carry and move if you need. Don't go for many pieces, first try with several and then go and buy more if you need to.
2. Make a Masterpiece with a Cinder Block Planter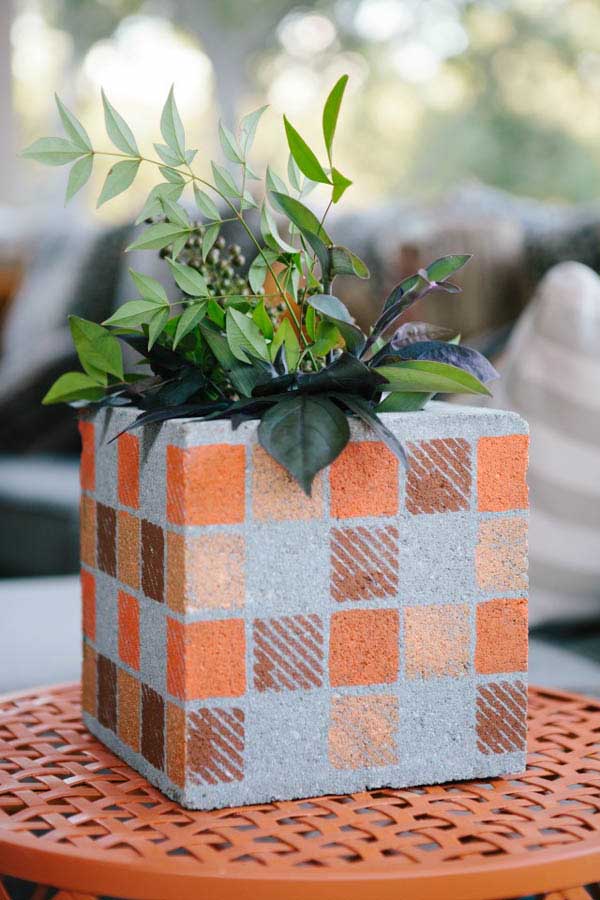 Next on our list is this single cinder block, which has become a surprising home for a vivacious green plant.
So if you need pops of color for your patio – check it out? This stunning vase can definitely do the job!
Actually, this stenciled beauty is a simple DIY project and if you like the result, take a cinder block, unleash your creativity, and improvise with the colors, stencils, and flowers you like most.
Definitely a fascinating, budget-friendly way to embellish any outdoor space!
It is playful, fun and exciting to have an original item outside in the yard.
You also get an extra satisfaction from the end result when you get to paint the block.
Learn more: Here
3. Bring Life to Your Tablerunner with Cinder Block Grass Planters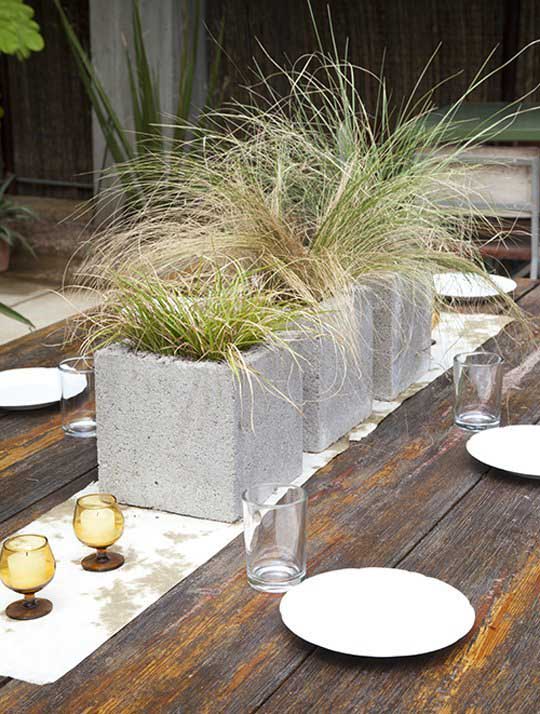 Striking, durable, and beautiful, grasses are widely used in landscaping. Plus, they usually soften the space. In this centerpiece, grasses stand out against the gray background of the cinder blocks.
Simple yet so impressive! Furthermore, this arrangement could be easily turned into a permanent planter. Generally, potted plants are a gorgeous way to create a centerpiece.
Make no mistake, not all gardens are meant to be tamed by us humans. Sometimes they are as wild as our youth and as fresh as life gets at that time.
These cement blocks are filled with the wilderness of the plants and look pretty fabulous. The candles on the side make the view really pretty.
Learn more : Here
4. Build a Stylish Patio Bench with Cinder Blocks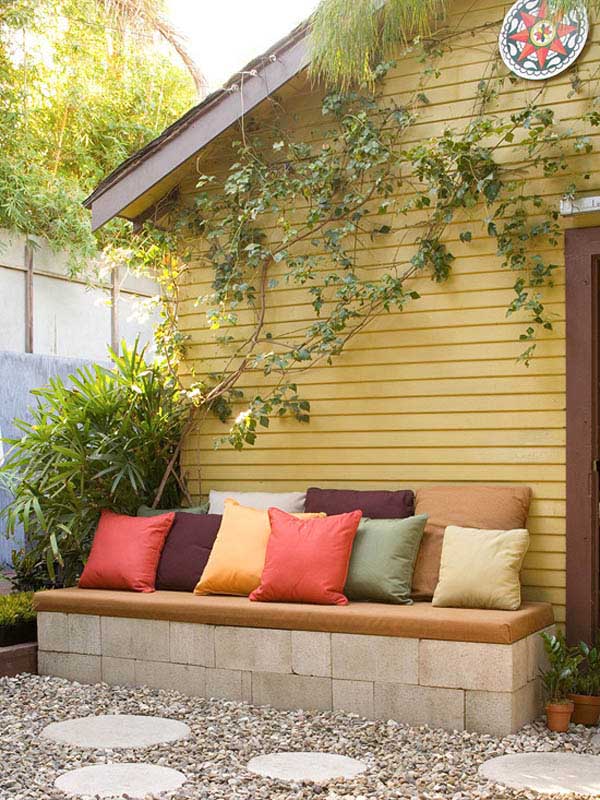 Looking for a budget-friendly bench option?
Try this one, it would be a great addition to any outdoor space!
I bet you have not thought of this yet and forgive me if I'm wrong. Another way to use the cinder blocks is to actually create a real sofa in your backyard!
Isn't this awesome? By layering the blocks like bricks, you can create a great solid base for a sofa. Add colorful pillows and plants everywhere.
Learn more: Here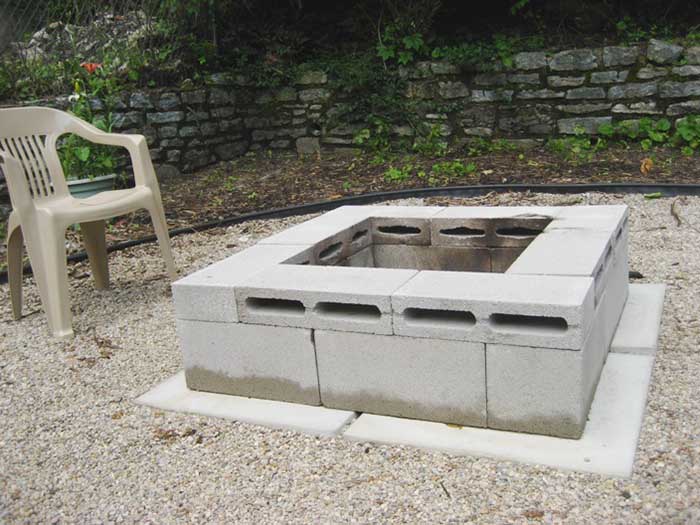 Any backyard needs a fire pit.
This is an affordable DIY way to add one to yours.
Another super innovative, creative way to use these buddies. You can create your own fire pit, right there on your property.
It is useful, rustic and ambitious. It also looks pretty inviting at night when you light up the fire. Super affordable and somewhat easy to achieve, assign this task to the man of the house.
Learn more: Here
6. Utilize Cinder Blocks for a Contemporary Garden Bed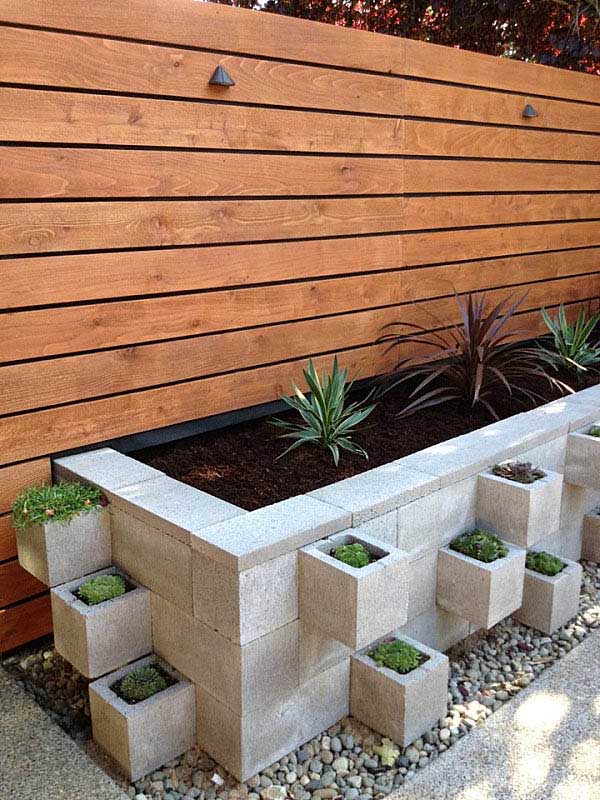 Your space needs a focal point?
Alright now, these flower beds are stunning! How simple and chic is this? You can root plants or place succulents inside, the options are endless.
You can also add small decorative figures and have them look even brighter. Your backyard can look like the cover of a fancy magazine!
This raised flower bed is definitely a great option to create one.
7. Build a Cozy Garden Bench with Cinder Blocks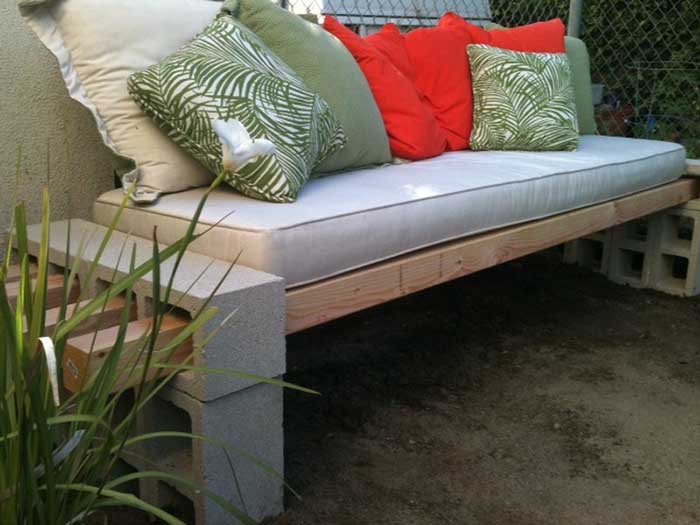 Dreaming of a comfortable sofa to sit on in your own backyard? I know where you can read books, sip coffee or tea and feel right at home.
This DIY sofa has been made by using properly the main characters of our story. The cinder blocks support the construction and altogether, this looks like a lovely setting!
Try this easy, affordable, and functional garden sofa.
Learn more: Here
8. Take Landscaping to the Next Level with Cinder Block Stairs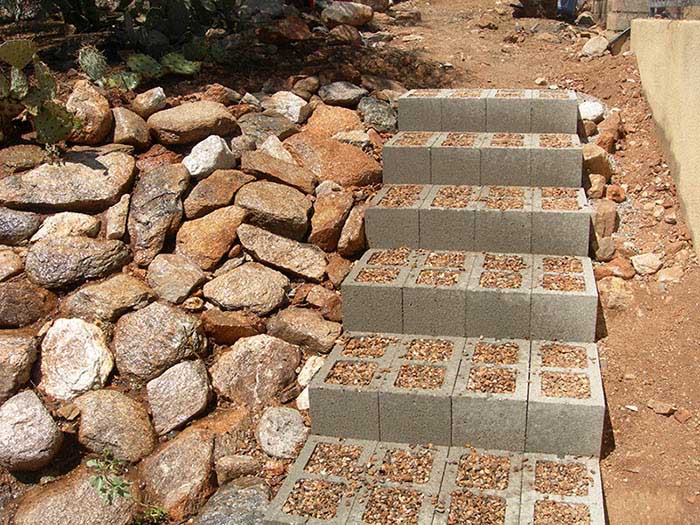 Planning to add landscaping stairs to your outdoors?
Consider this creative DIY project.
Okay, time to get more functional and in a project mode! Creating your own paths and steps outside isn't always easy.
This is a super inexpensive alternative for a steep road that leads to your doorway.
Research online how to add some charming decorations along the path and get excited!
Learn more: Here
9. Upgrade Your Yard with a Mosaic Raised Garden Bed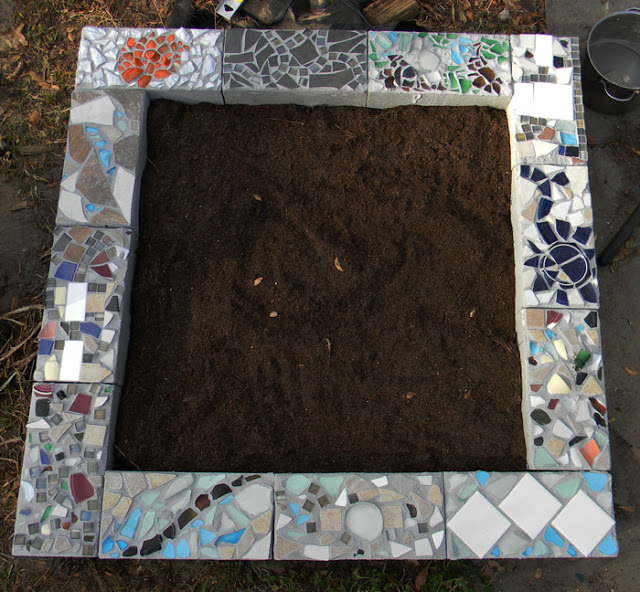 Would you like to highlight your flower beds?
If so, this is a truly creative way to do it!
Creativity reaches the next level of originality here. Look at these mosaic artistic elements made by broken plates! They have been successfully built into the cinder blocks.
It is possible to do so many geometric shapes and colors on top. You can also color some of the elements and leave some just like they are.
Learn more: Here
10. Create a Rustic Outdoor Cinder Block Kitchen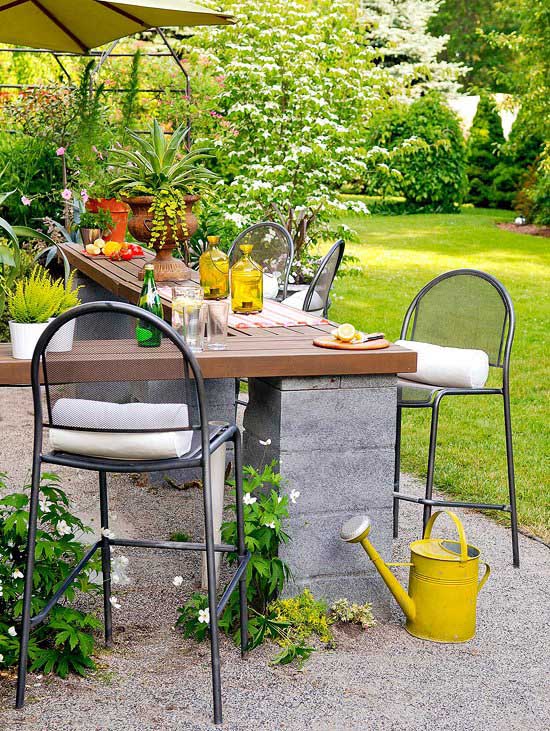 Photo: Credit
Outdoor kitchens are a dream to have in the summer. Usually they call for a heavy budget and a lead time of an oversea delivery.
The good news is that there are other options, too. This outdoor garden has been made by cinder blocks, reusable materials, and items from discount stores.
11. Enjoy Drinks Outside with a Cinder Block Mini Bar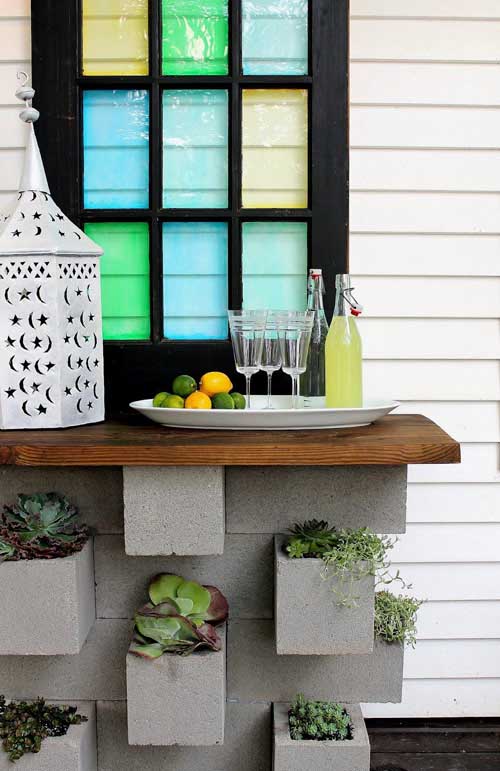 This cinder block bar with planter is definitely a gorgeous idea!
It is quite nice to have an outdoor bar for refreshments and let's face it – warm weather usually calls for it.
This project has made use of an old door, planting of cinder blocks and colorful adhesive tape. You can also paint the cinder blocks in any color that comes to mind.
Learn more: Here
12. Reclaim Uphill Stability with a Cinder Block Retaining Wall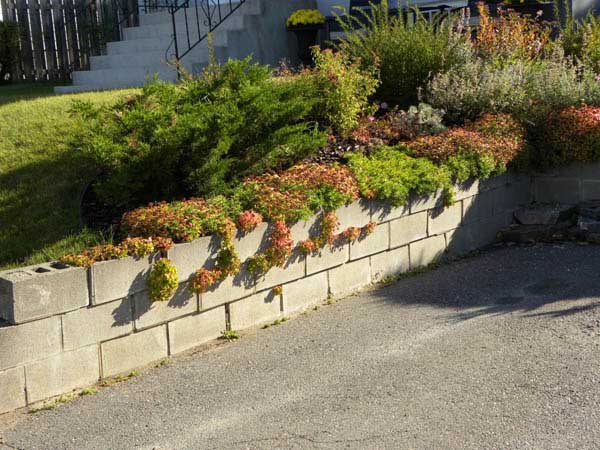 Need to prevent downhill movement?
Try with this cinder block retaining wall. You can put some drought-tolerant plants that need low maintenance.
Learn more: Here
13. Get Ready for Fall with a Cinder Block Centerpiece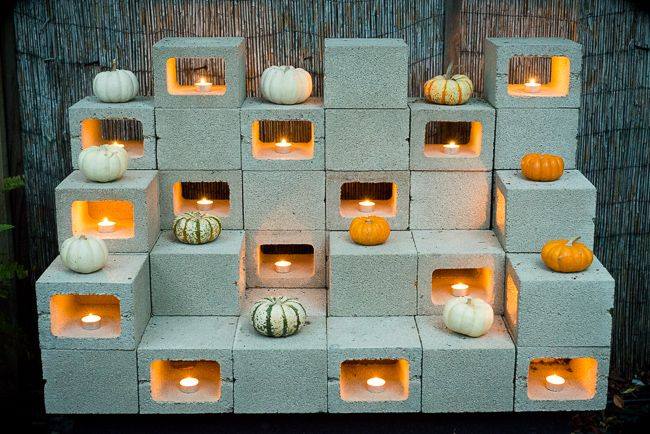 Cement blocks could be your next outdoor fall decoration inspiration.
You can arrange them as per your desire and then add some candles and mini pumpkins.
14. Transform Your Home with Cinder Block Succulent Planters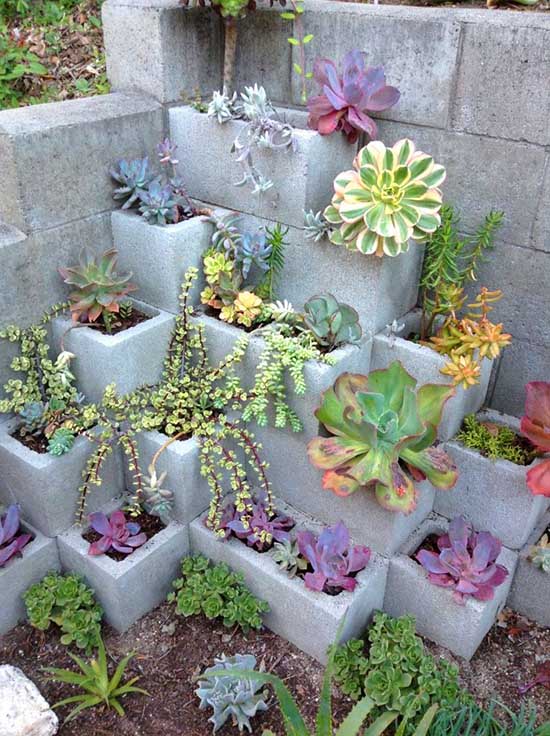 Succulents are the perfect fit for the cinder blocks as they don't need a lot of space.
You can plant different small flowers in each cinder block opening.
15. Create a Colorful Cinder Block Vertical Garden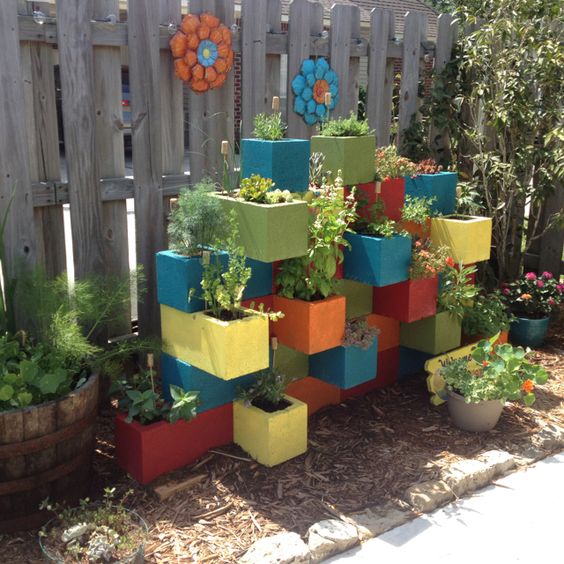 When you need more color in your garden you can paint cinder blocks in different bright colors.
16. Repurpose Cinder Blocks for Your Raised Garden Beds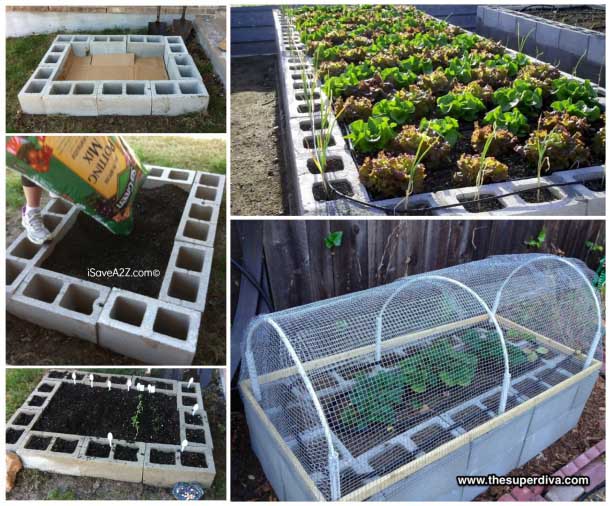 One of the easiest way to make a raised garden bed is to make it from cinder blocks in any shape you want and then put mulch.
17. Build a Modern Garden Fence with Cinder Blocks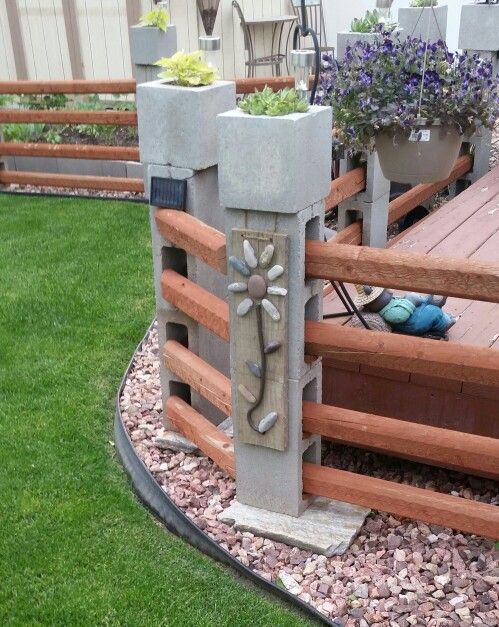 You can get really creative when working with these cement blocks in your garden.
This amazing garden fence is not so hard to be replicated – just stack the blocks and add horizontal wood boards.
18. Elevate Your Patio Furniture with Cinder Blocks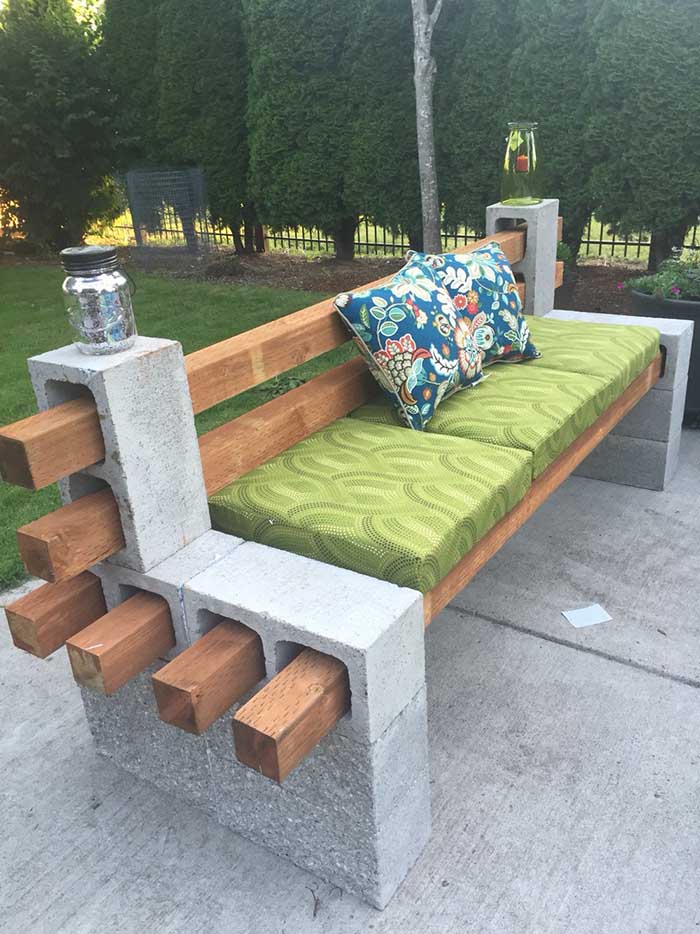 Photo: Credit
Watch a step by step tutorial on how to create such beautiful patio furniture here:
19. Upgrade Your Home's Landscape with a Cinder Block Bar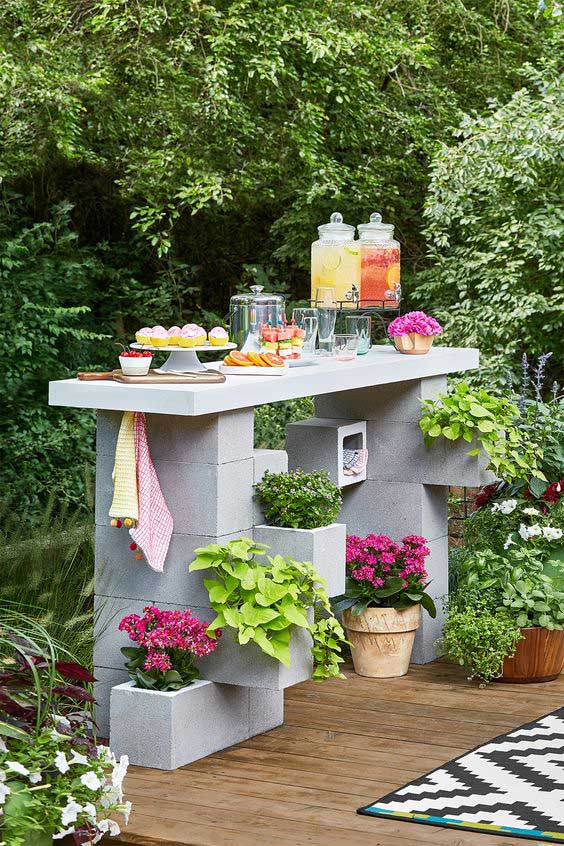 Another great DIY idea with concrete blocks is making an outdoor bar with planters.
Learn more: Here
20. Bring Farmhouse Charm with a Cinder Block Garden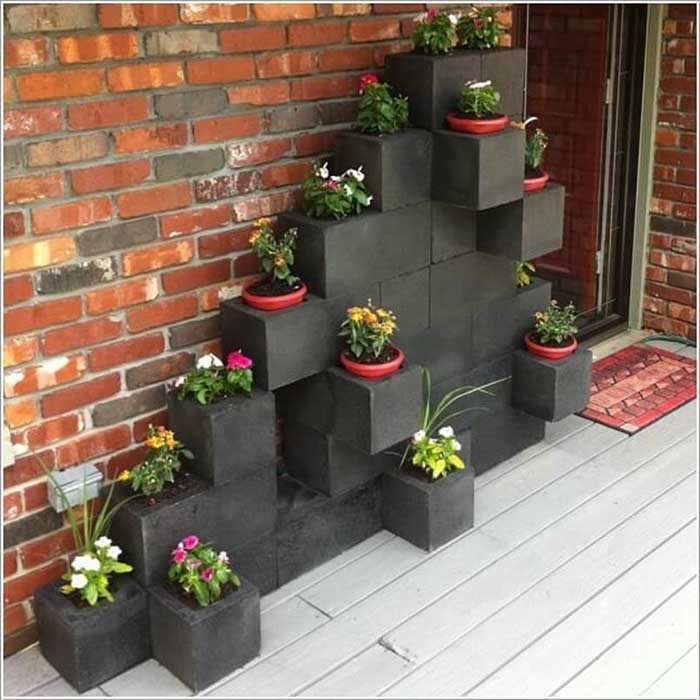 What could be easier than stacking some cinder block vertically and planting flowers?
Cinder block garden wall is great for small flowers or succulents.
Cinder blocks are amazing assistants in any outdoor project. I hope you are feeling stimulated to try using them. Good luck!