Having an outdoor bar is the latest backyard trend. Many people would think that this addition is expensive but that is not true.
There are gorgeous DIY outdoor bar ideas based on upcycling and repurposing to create a practical and curb appealing cool solution for the summer days.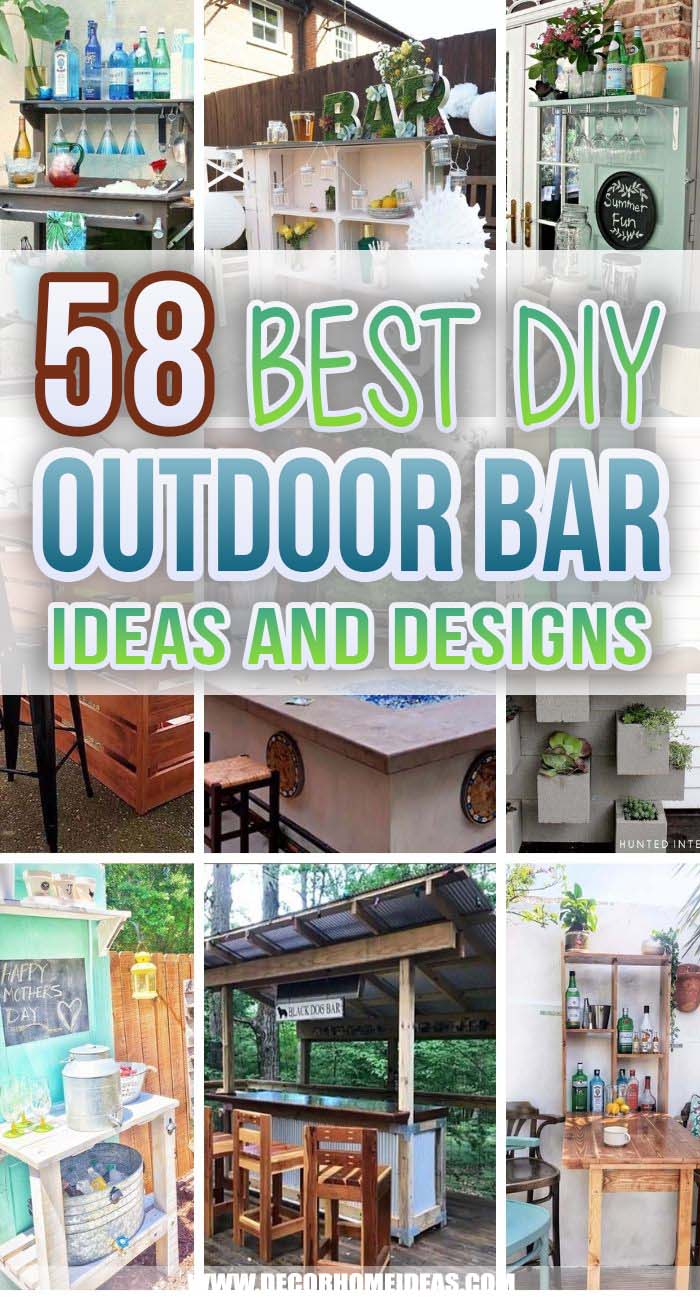 Get to know the best DIY outdoor bars that will adjust your mood to a party mode but in the comfort and privacy of your own home.
1. A Bar of Pallets for Your Garden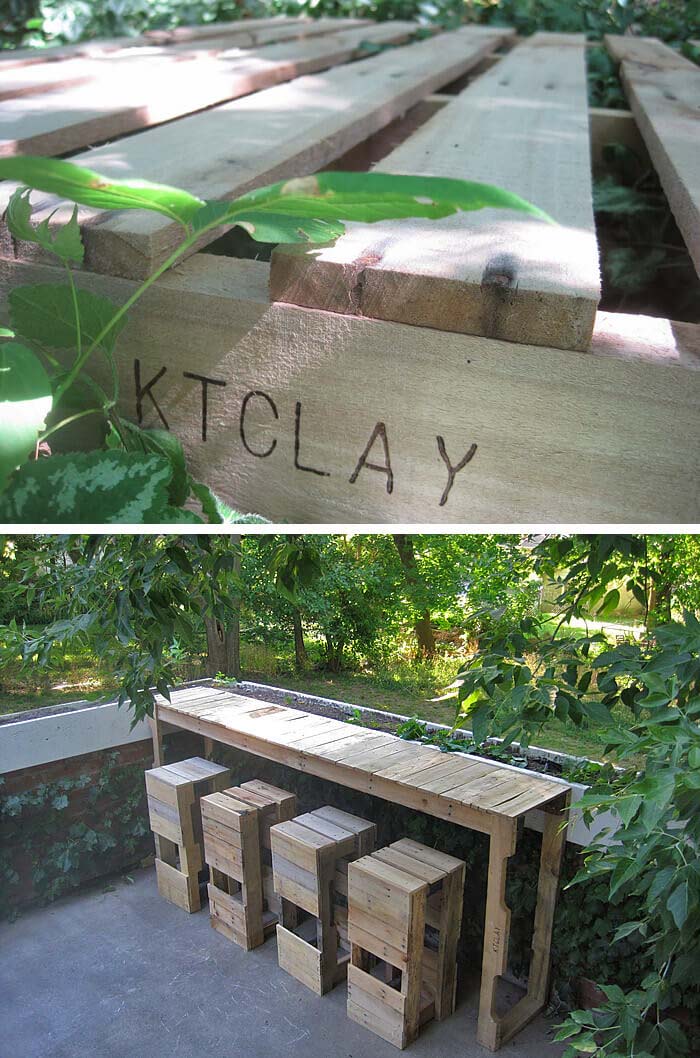 If you are starting your outdoor bar project from scratch, here is a great budget-friendly idea. Made only from pallets, the built set has a long and tall table and four stools.
via Stacked Design
2. A Buffet Style Bar for Outdoor Parties

When planning an outdoor party or a special occasion celebration, you can use this buffet as a station for treats and drinks.
The added hooks around the periphery of the top allow hanging different accessories like towels, openers, ice clips, etc. so that all you may need is in one place.
3. A DIY Bar with Plenty of Space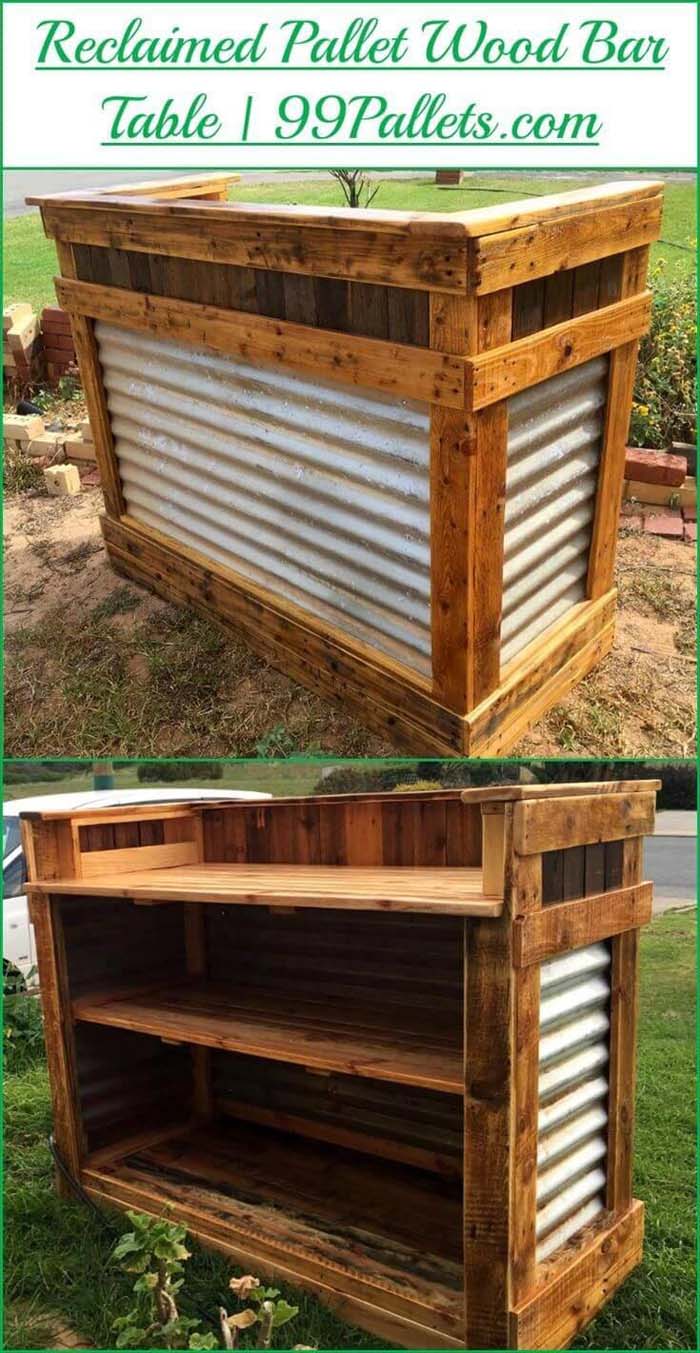 This bar deserves the tag a "cottage bar" because of its unique farmhouse design. Reclaimed wood and metal sandwich sheets are assembled together to create a sturdy and practical bar station that can be adapted to serve not only domestic parties but also to run a local bar shop.
The built-in pallet shelves can store the beverages and keep the glasses protected from dust.
via 99 Pallets
4. A Dual-Level Shelf for a Vineyard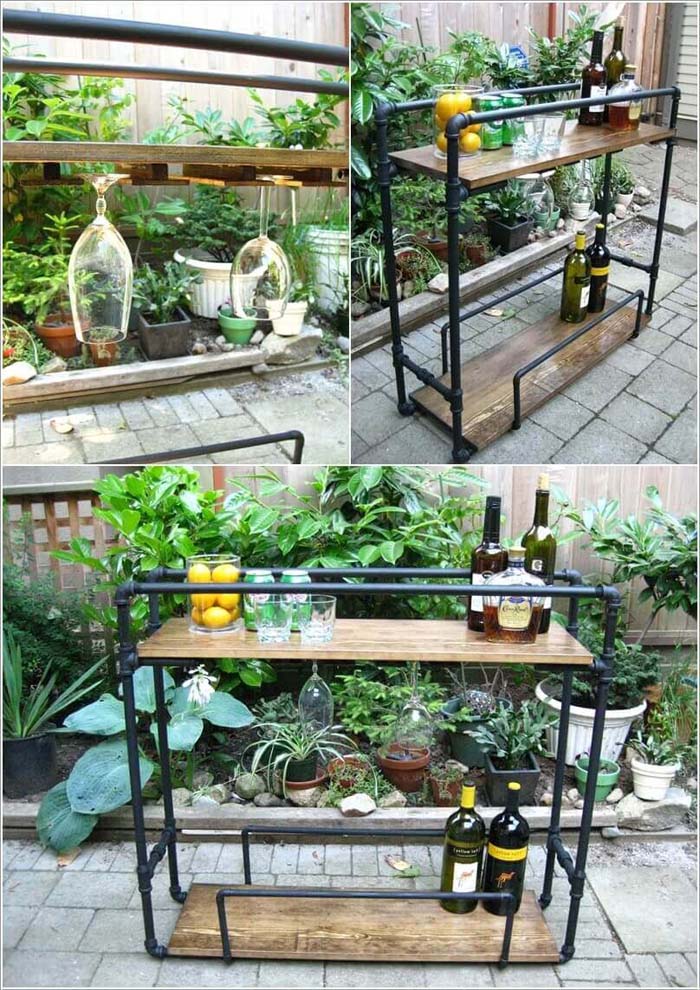 Inspired by the appealing effect from the combination of the farmhouse and industrial styles, this outdoor bar cart becomes an integral part of the flower garden by placing it in or close to it. The metal pipes form a stable structure and curves that make moving the cart easy.
This function is additionally facilitated by castors. The two wooden shelves comfortably accommodate all products needed for a fun night outside. Once you are in the backyard, you don't have to run to the kitchen for anything as there is a dedicated space for storing the glasses.
via A Life Designed
5. A Fold Away Surface for Outdoor Meals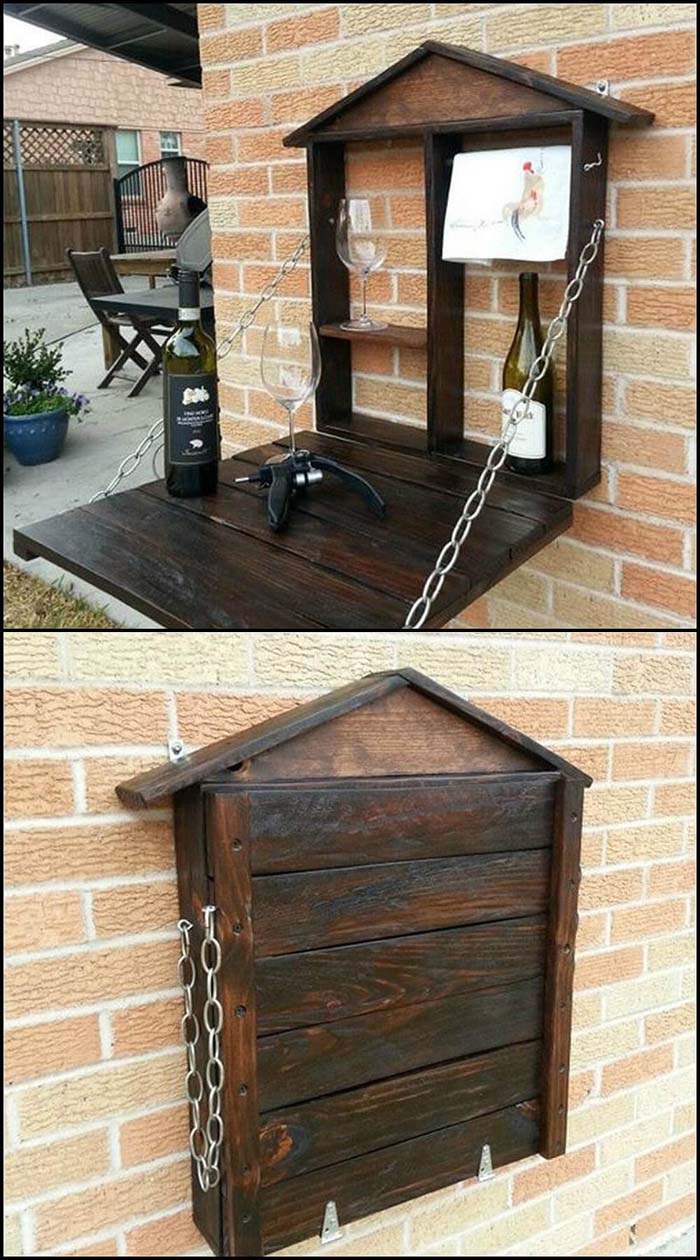 When the budget is small and the outdoor space limited to go for a full-size outdoor furniture set, then the fold-away bar comes to save the summer.
Made of pallets stained dark, it is a great solution to spend time outside feeling the warmth and welcomeness of the rustic Murphy-type bar.
6. An Elevated Cooler Encased in Blue Wood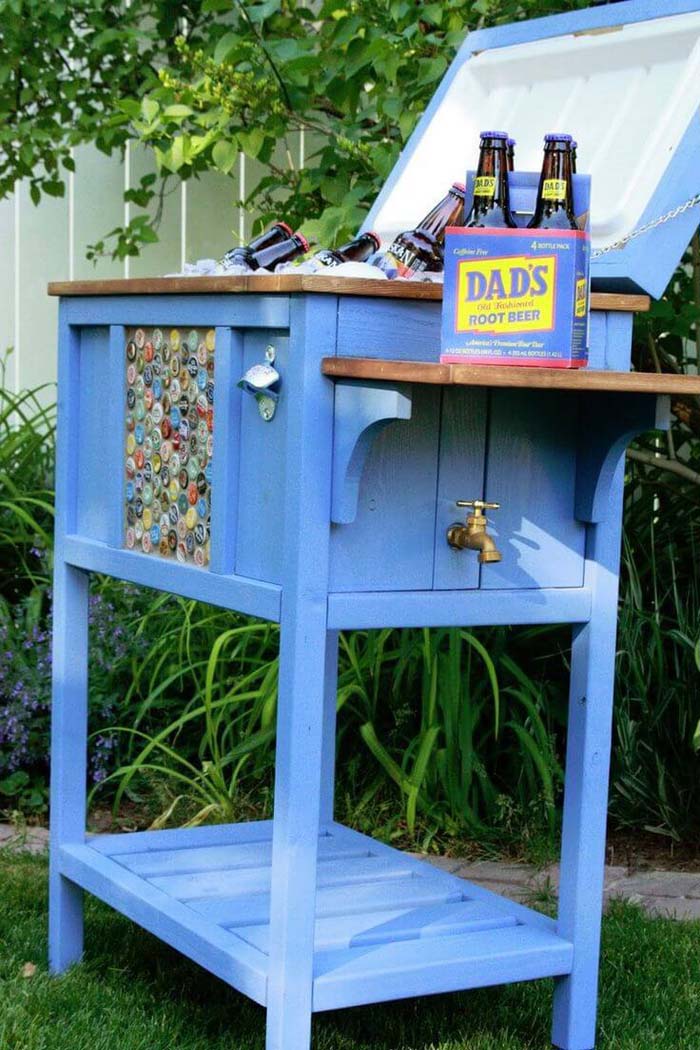 This cooler station thinks about how to have cold drinks outside at a one-hand distance with little maintenance. Built on two levels, this outdoor bar idea has a shelf for extra bottles and a wide container for ice.
The installed faucet lets the melted ice flow outside effortlessly.
via Ana White
7. An Ice Box Lined with Driftwood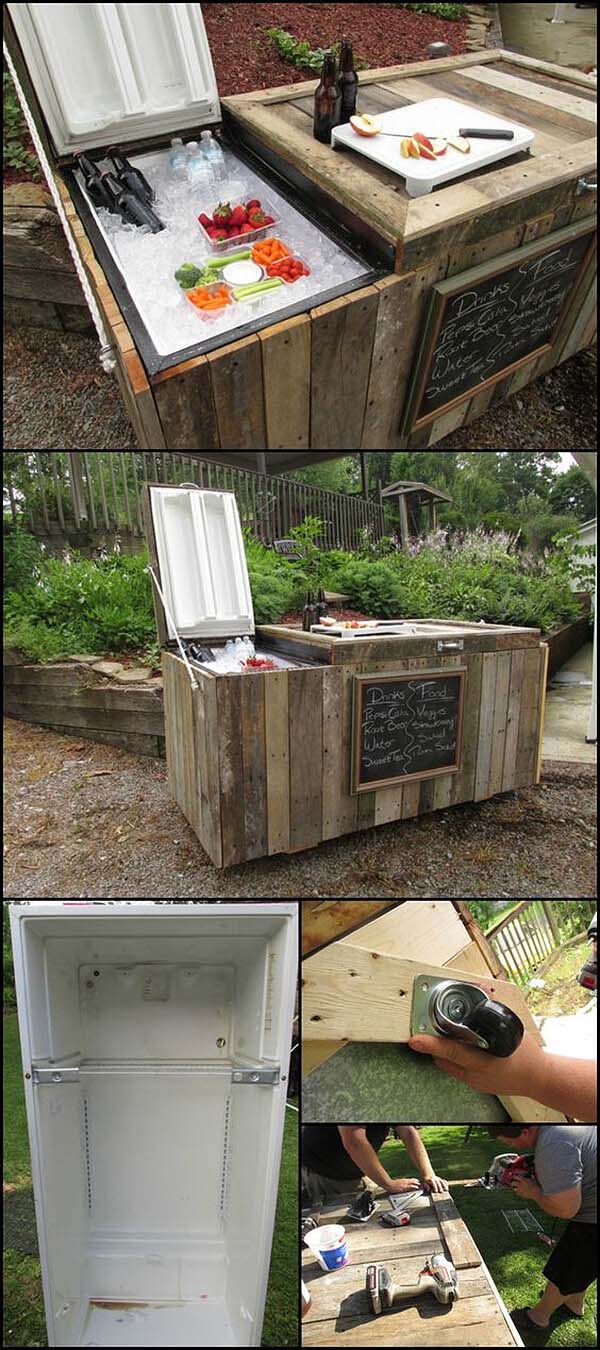 An old refrigerator has been an inspiration for a large DIY outdoor bar. Its original function as a storage container and a cool keeper makes it the perfect solution for a garden bar, especially for occasions when many people gather at the same time.
The entire fridge is covered with lining from pallets to give it a transformed look of a rustic chest with opened-on-top sections.
via Ideas 2 Live 4
8. An Icy Wheelbarrow to Keep You Cool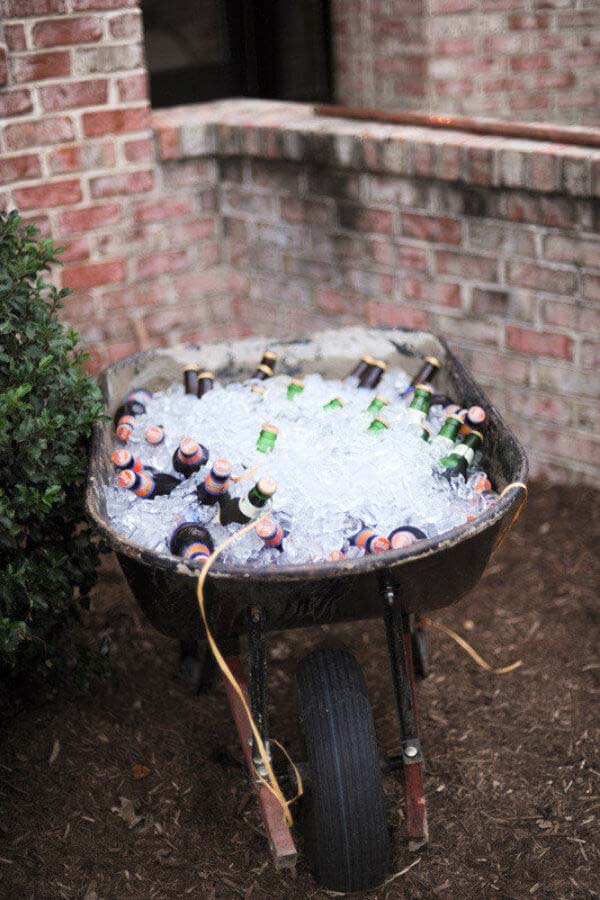 What a simple but fun idea to upgrade your outdoor space with a drink cooler! An old rusty wheelbarrow has a large and deep metal basin- perfect to keep the ice unmelted for a longer time and to make space for half a dozen beers.
The handles of this repurposed bar will make throwing the water easily in the flower garden.
via Style Me Pretty
9. An L-Shaped Pallet Bar for a Deck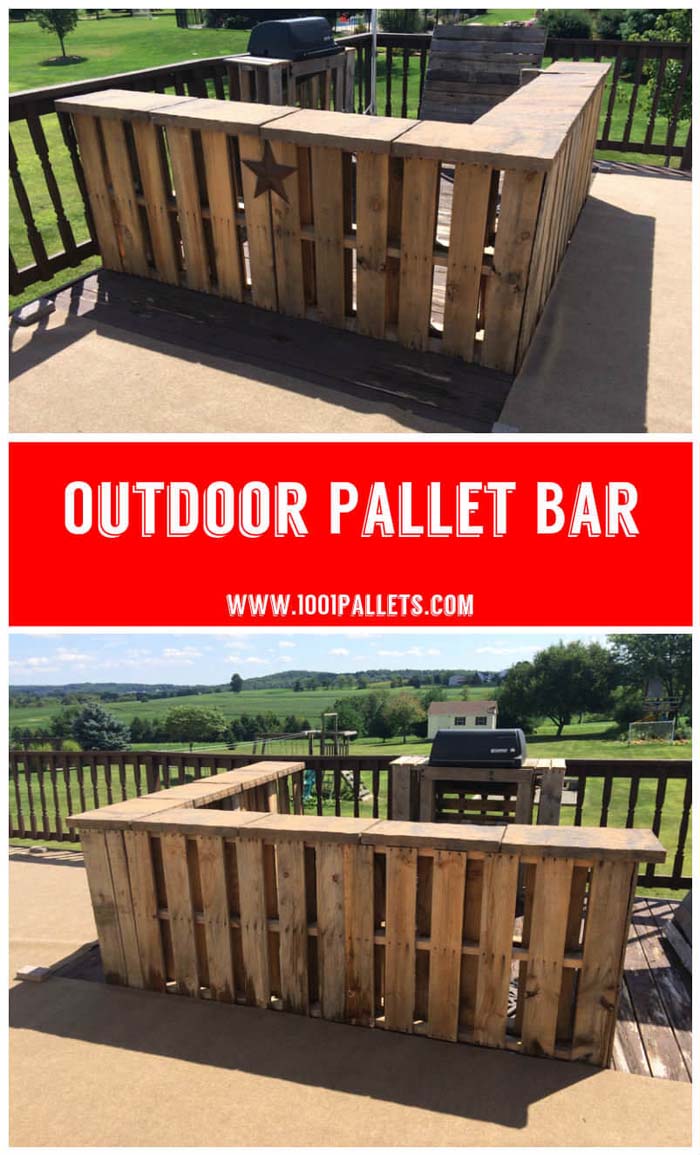 This type of outdoor bar will boldly define the outdoor entertainment area of your deck. Being of an L shape, the time and the materials for building are minimized by using the existing fence as part of the bar. The other two sides that have to be created require 8 pallets.
Concrete pavers are fixed to the top to make the bar look finished and provide a comfortable area for serving drinks. This is one of the easiest but most durable outdoor bar ideas.
via 1001 Pallets
10. An Old Stand with a Bucket Cooler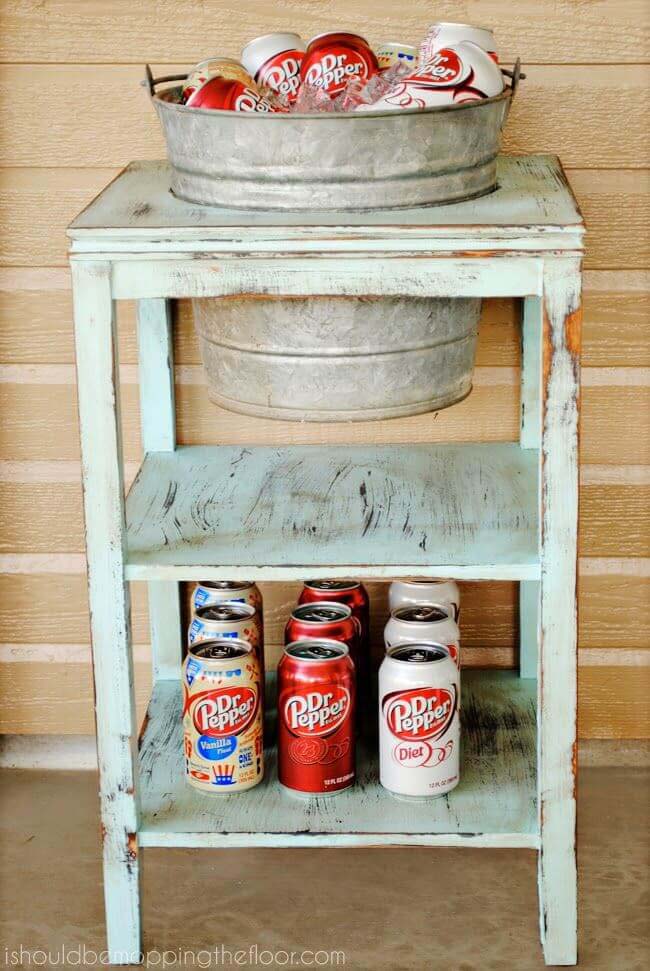 If there is a stand at your home that is outdated and no longer fits your perceptions for a functional and stylish piece of furniture, make it outdoor-friendly by turning it into a patio bar.
For that new application, find a metal bucket and cut a round hole in the top countertop to keep it fixed. Fill the bucket with ice and drinks and make sure to charge the bottom shelf with more cans.
via I Should be Mopping The Floor
11. An Outdoor Bar Idea made from Wood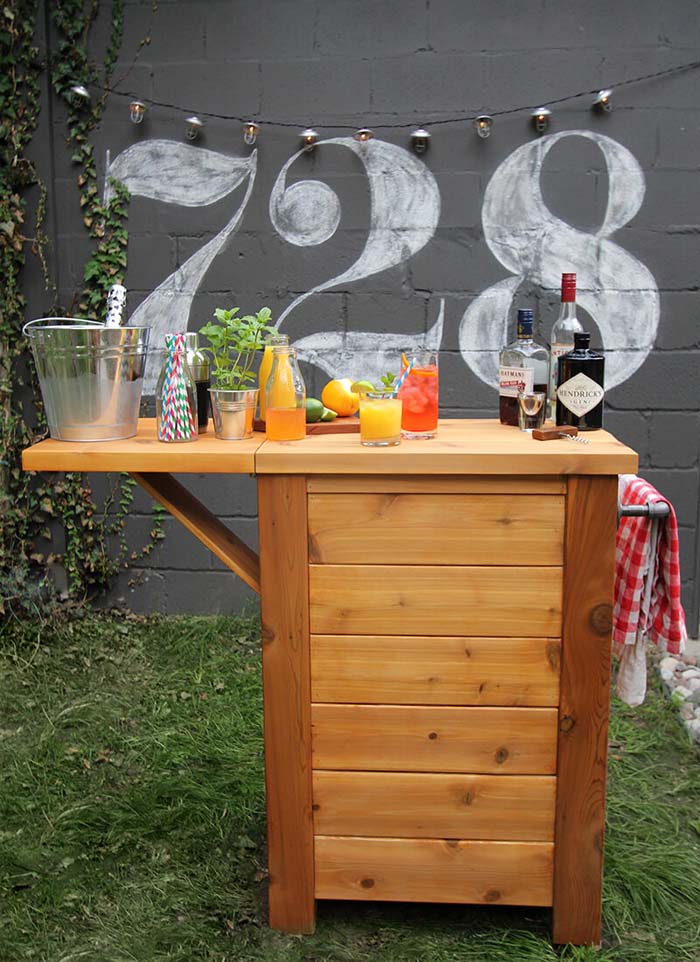 Show your friends a good time in your outdoor garden with this inspiring backyard bar. It is a multitasking piece- there is a storage section, a countertop for serving, an additional top that drops in case the bar will also be used as a serving cart for a grill.
via Storefront Life
12. An Outdoor Stove with an Ice Chest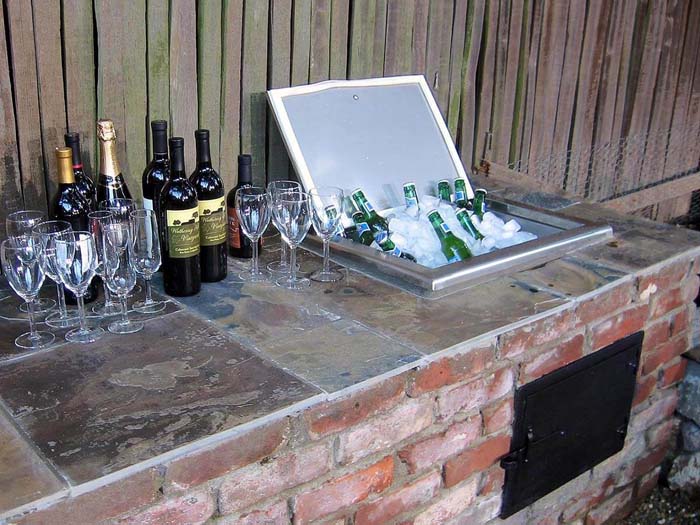 This DIY project thinks about the comfort of having a permanent outdoor multitask solution. Built from bricks, it has a stove, a wide granite countertop and a hollow section where a metal container is inserted to keep the drinks cold.
via DIY Network
13. A Recycled Pallet Bar Near a Hedge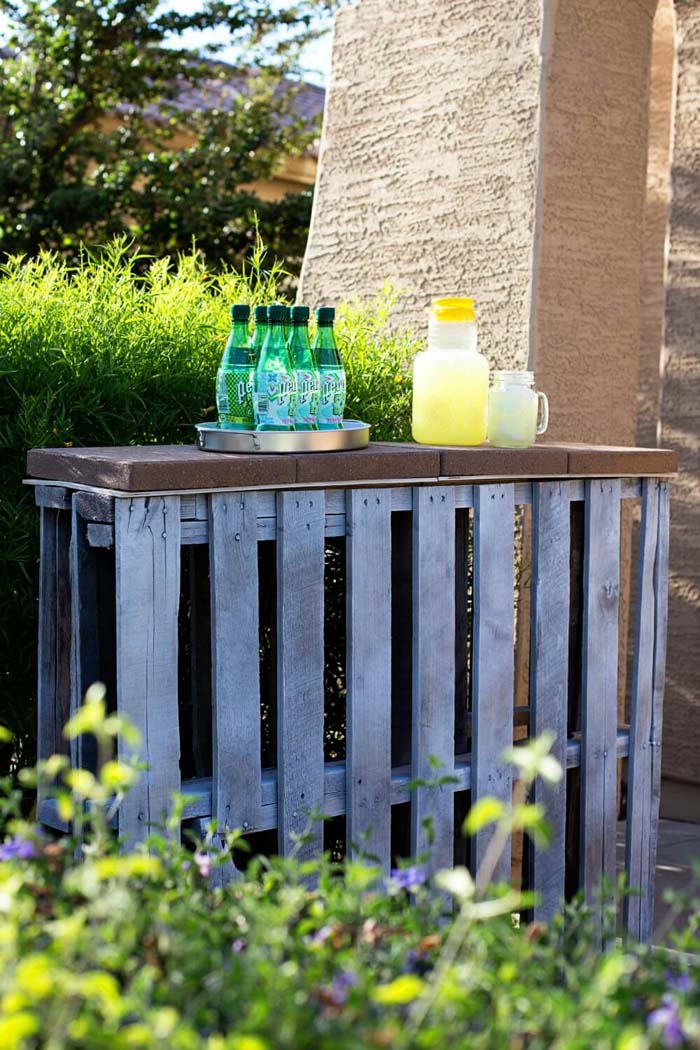 When you don't want to invest money in your outdoor bar idea, use reclaimed materials to build it. Four pallets will do a perfect job for the structure even when they are not in perfect condition.
Cover the top with pavers or granite tiles to create an even and leveled countertop.
via True Value
14. A Simple Wooden Shelf to Hold Drinks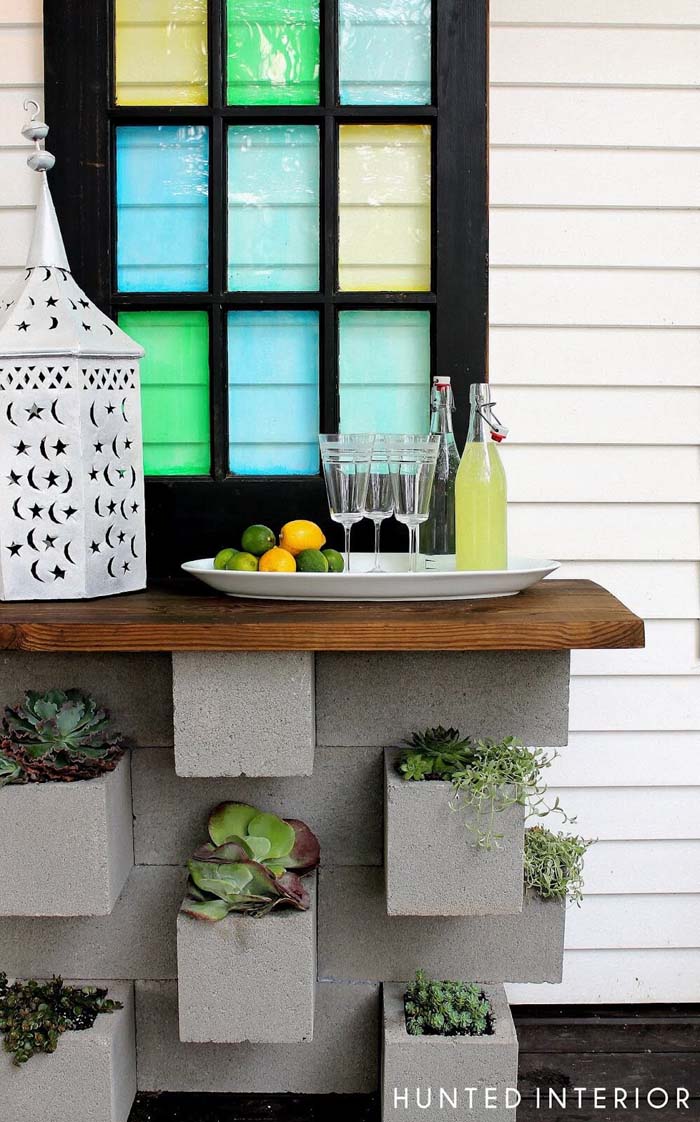 Make the outdoor bar garden-friendly by adding the possibility to display plants and flowers. The cinderblocks are a great material for building outdoor structures- easy to assemble, affordable and durable.
Another advantage they have is the hollow section. Fill it with soil or put a small pot inside it to make usage of your bar very pleasant also for the eye.
via Design Sponge
15. A Soft Wooden Bar for a Cabin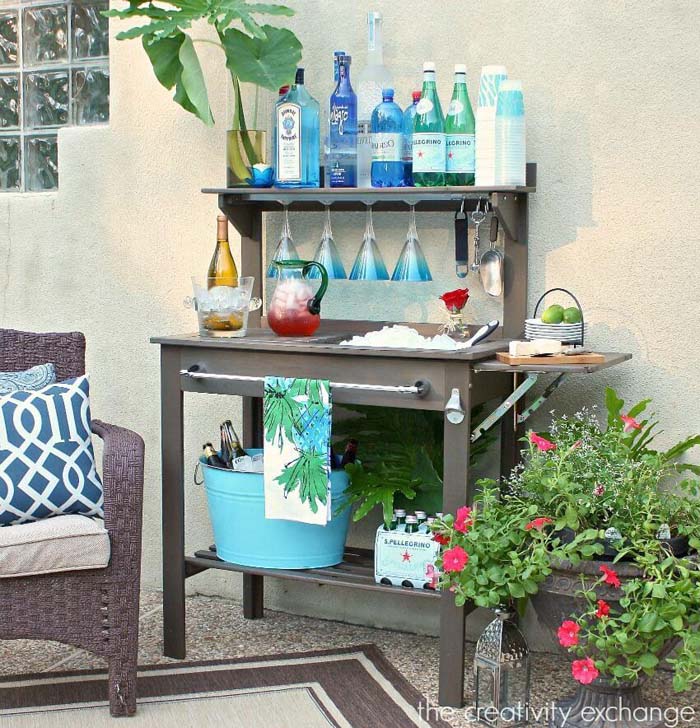 Add a channel trim and a towel holder to the potting bench to transform it into a patio bar in a day. The trim will make a dedicated place for the hanging glasses.
The pipe will hold a towel for cleaning or drying. The potting bench's other original accessories can just be repurposed by adding ice to the tray and arranging your favorite summer drinks on the countertop.
16. A Stained Wooden Pallet Bar on Wheels

This outdoor bar idea is made of pallets that are disassembled in slats to give it a cart design.
Thus, the bar is supplied with two levels for storage and additional hardware to hang a bottle opener, ice clips, towels and even grill utensils. Yes, you will be able to move the cart to any outdoor spot thanks to the castors.
via Home Depot
17. A Standing Bar for the Deck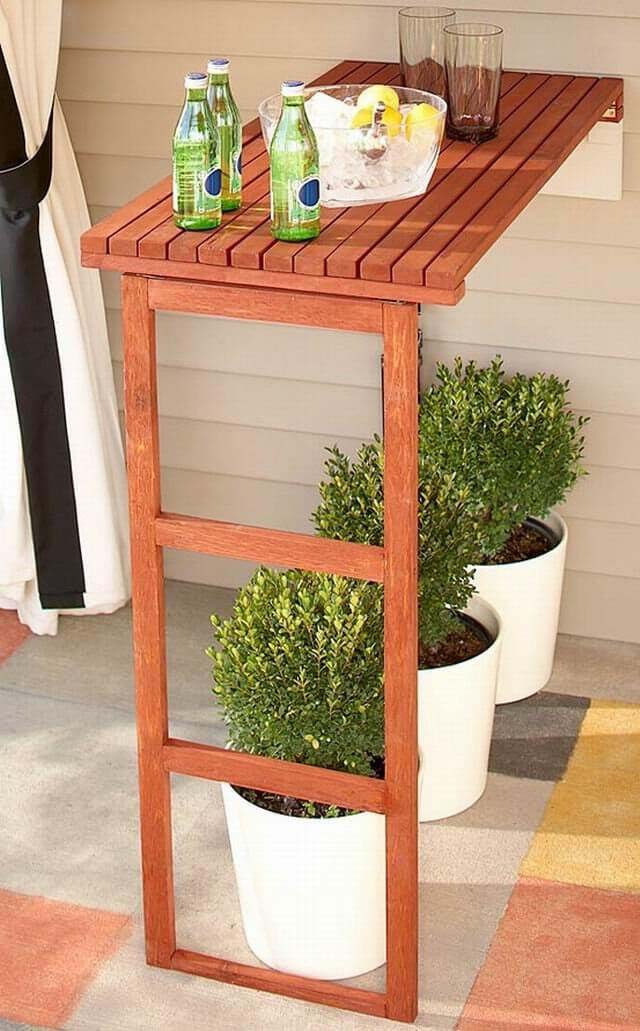 This Murphy's bar differs from the other ideas with its elegant design with a farmhouse effect. The ladder-like support reveals identical flower pots placed under the table when it is dropped away.
The countertop is long and wide enough to accommodate four people at the same time sitting on bar stools.
via Lowe's
18. Awesome Upcycled Patio Bar Cart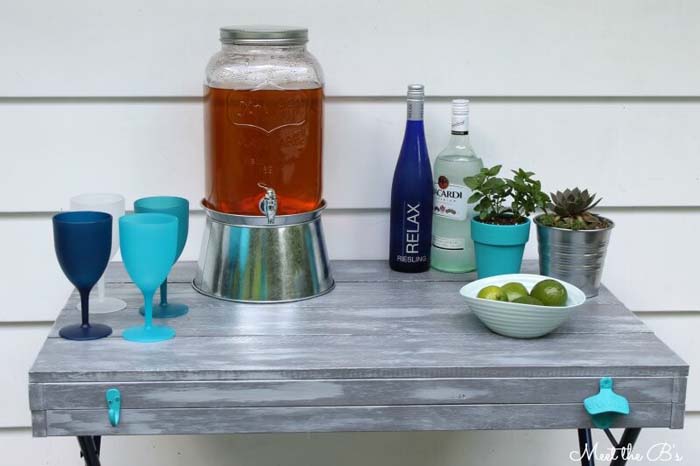 You will be surprised to understand that this outdoor bar has been a laundry sorter in the beginning. The added reclaimed wood top has upgraded it into a functional table on wheels.
The author has chosen neutral colors for the structure and bright colors for the accents- a combination that both fits the existing décor and adds a summer vibe to the outdoors.
19. A Wooden Bar Cart for your Patio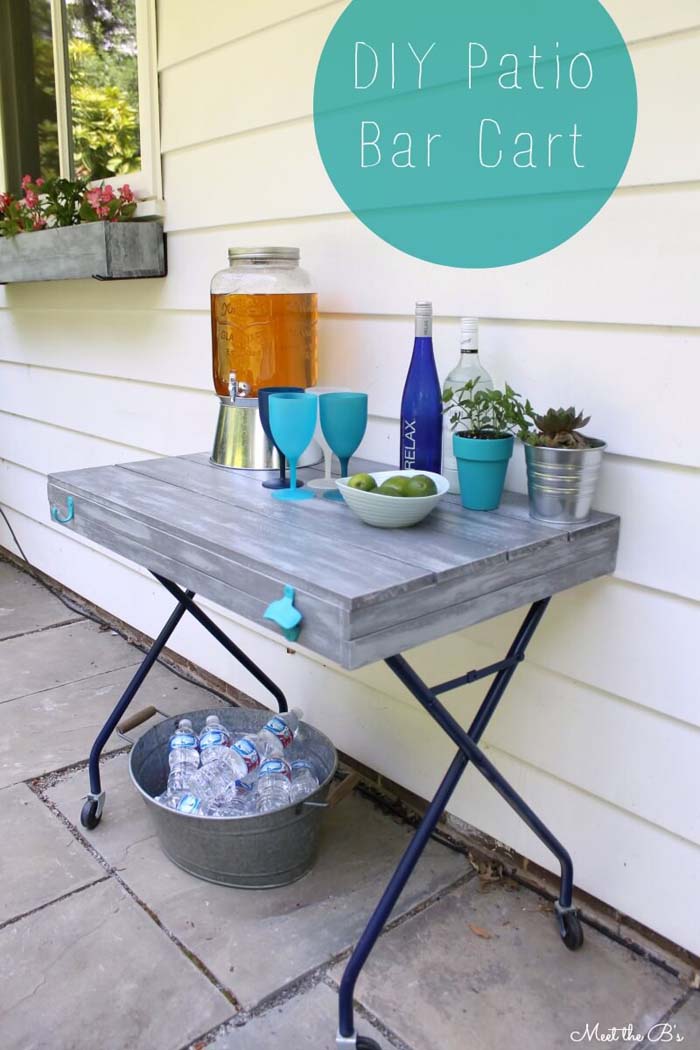 Supply the bar cart with wheels to move it to the funniest spot in your backyard.
Accompanied by a bucket with ice, this portable bar will increase the curb appeal of your home.
20. A Wooden Bar Cart with Storage Galore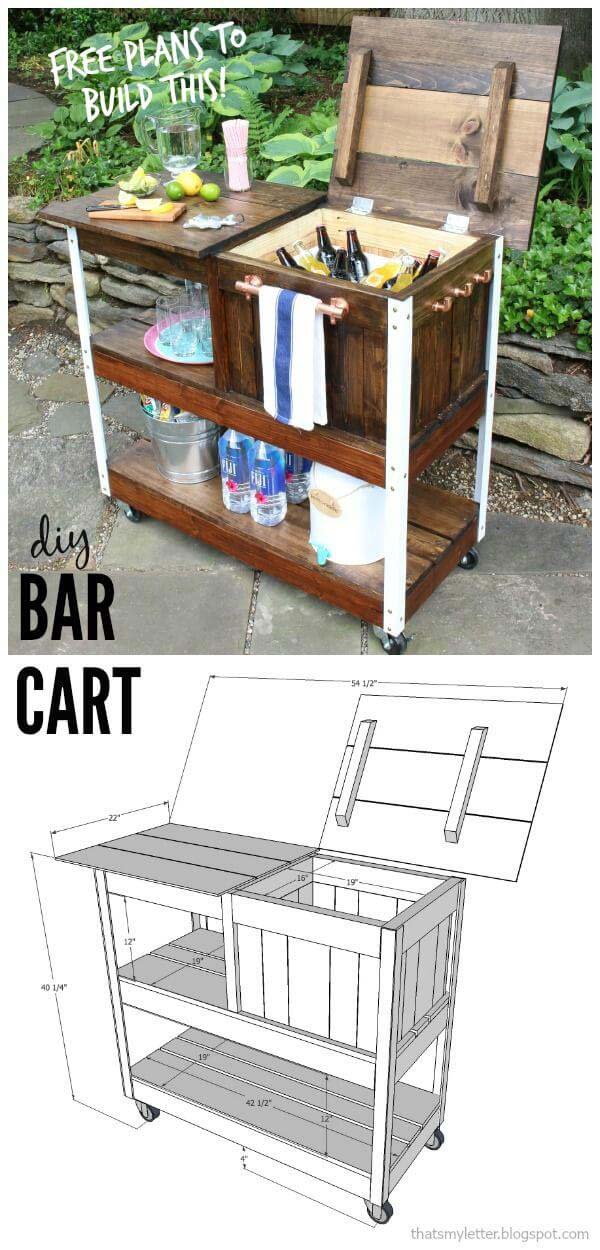 This DIY cart may look complicated at first glance but if you follow the cut list and assembly instructions, you won't regret making it as it is a piece of multitasking outdoor furniture.
It combines features that will make having a drink and a grill outside more comfortable and tidy.
via Jaime Costiglio
21. A Wooden Fold Away Murphy Bar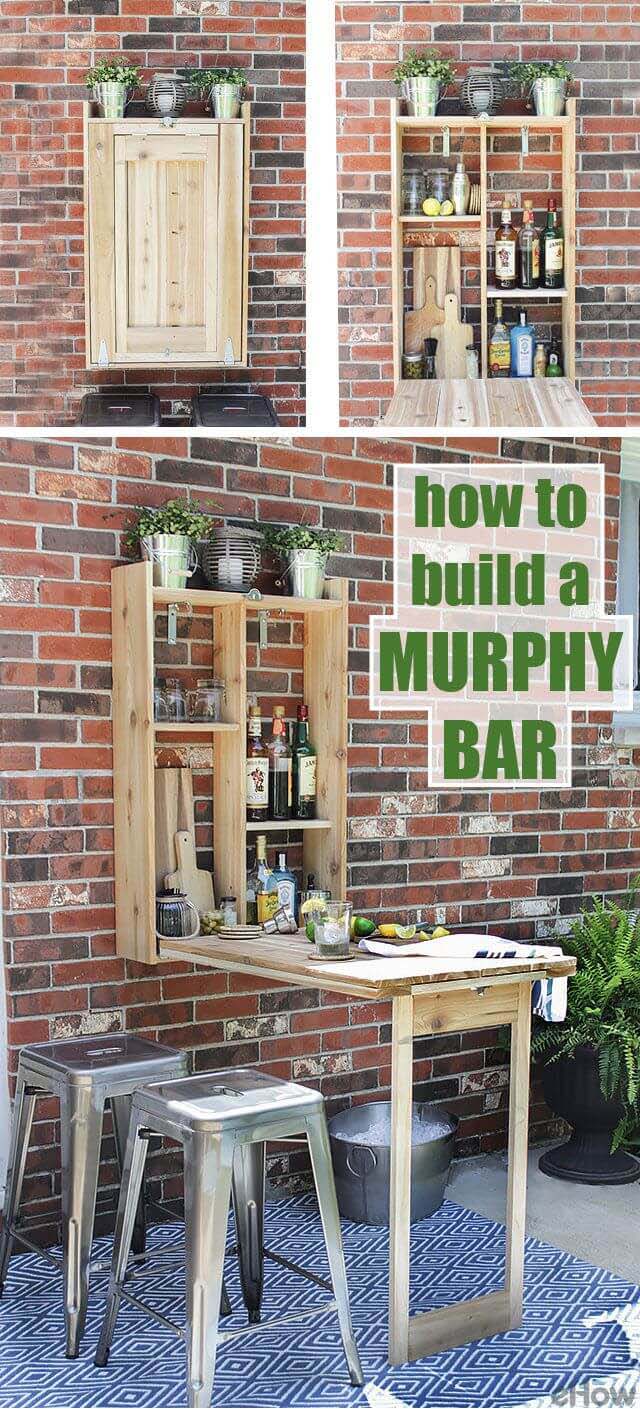 This DIY outdoor bar is very compact when it comes to space, very practical when functionality is concerned and budget-friendly when investment is calculated.
Made of wooden beams, the size and the number of storage shelves can be customized.
via eHow
22. A Wooden Table with a Built-in Cooler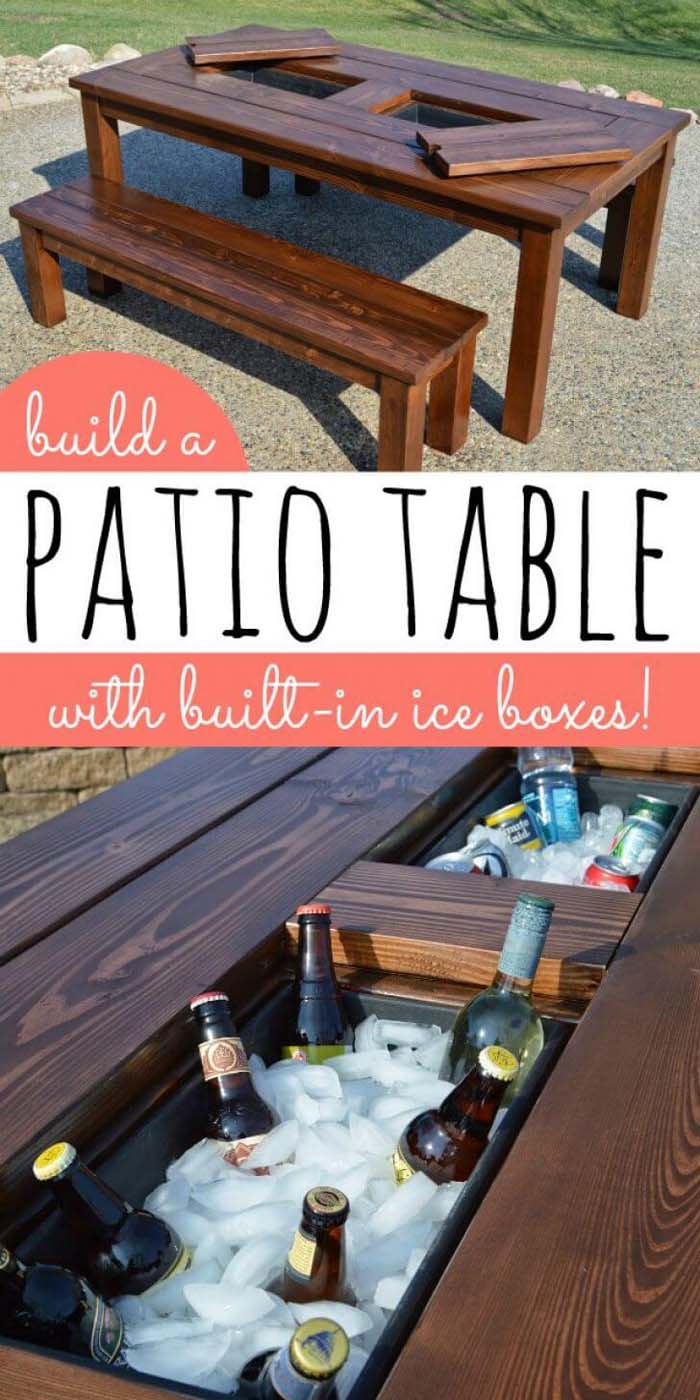 And if your space is limited, then the outdoor bar must be more functional. This DIY design features a building plan for a table in a set with two benches. At first glance, it is just a piece of stylish farmhouse furniture.
But when you are introduced to the hidden built-in ice boxes, you know that this is your summer savior. When summer goes away, this table doesn't lose its multifunctionality as the built-in sections can accommodate flower pots or seasonal decorations.
via Remodelaholic
23. Best DIY Pallet and Door Bar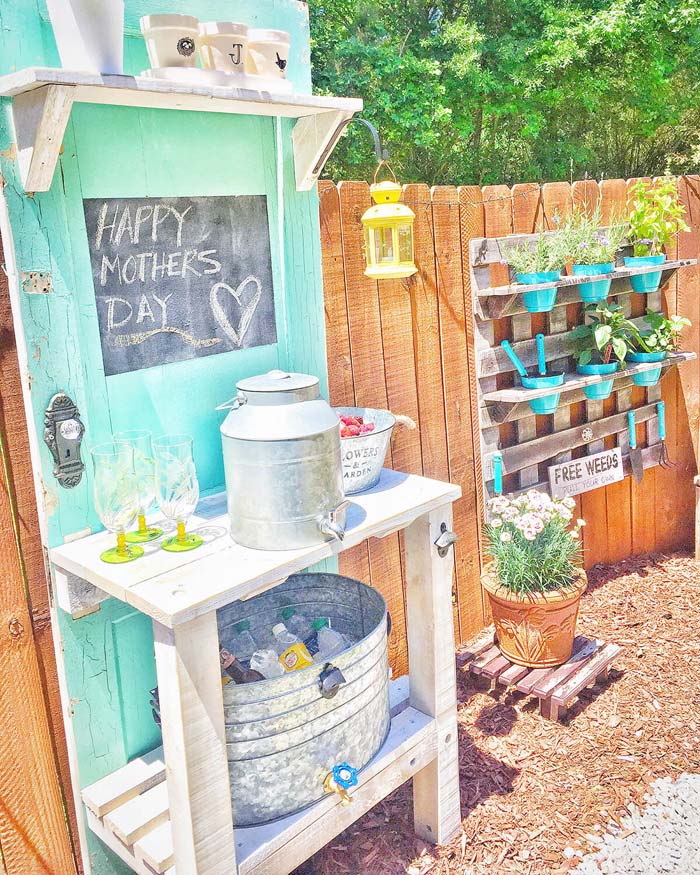 What a brilliant idea- to use the old door as a support for a rustic-inspired outdoor bar! With a few additions like a vintage doorknob, a reclaimed wood shelf and handmade corbels, the door becomes an appealing focal point. The corbels are supplied with a bent metal strap to hold another rustic element- a lantern.
The bottom level that actually functions as a bar is attached to the middle of the door with hinges. This gives the possibility to fold the table any time you don't use the bar and need more air.
24. Best Outdoor DIY Murphy Bar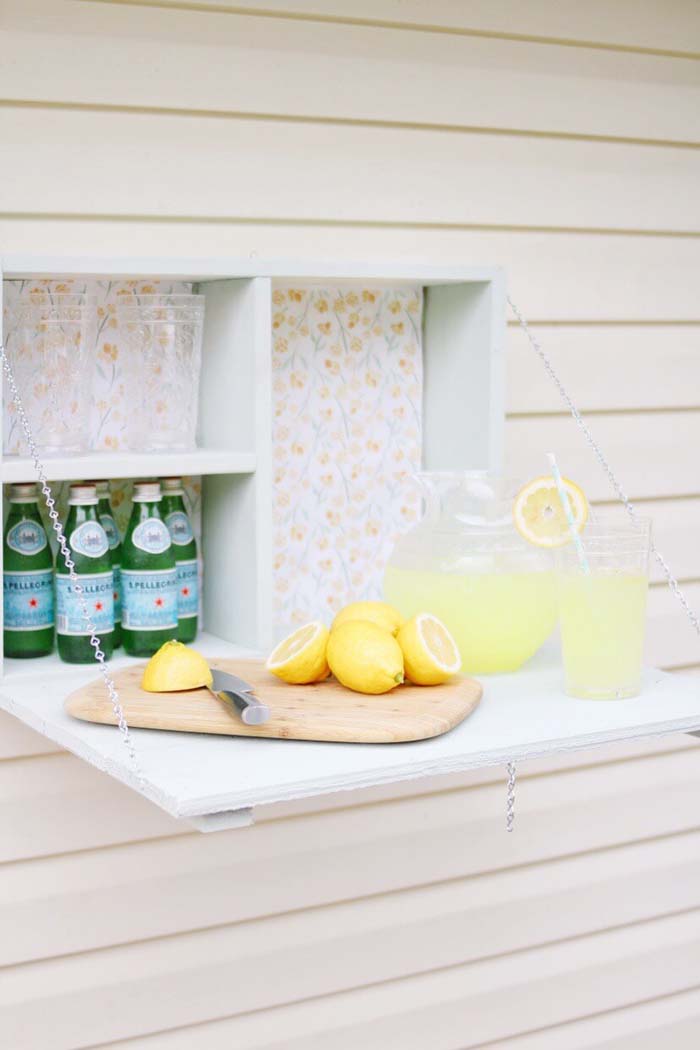 If you have heard about a Murphy bed, then you know how practical it is for small spaces. Well, the Murphy bar is based on the same concept.
It is almost unnoticeable when closed. However, when you open it, it is perfect for accommodating a few glasses and a bottle for perfectly spent outdoor time.
via Like Honey
25. Bucket Tree for Parties in Your Yard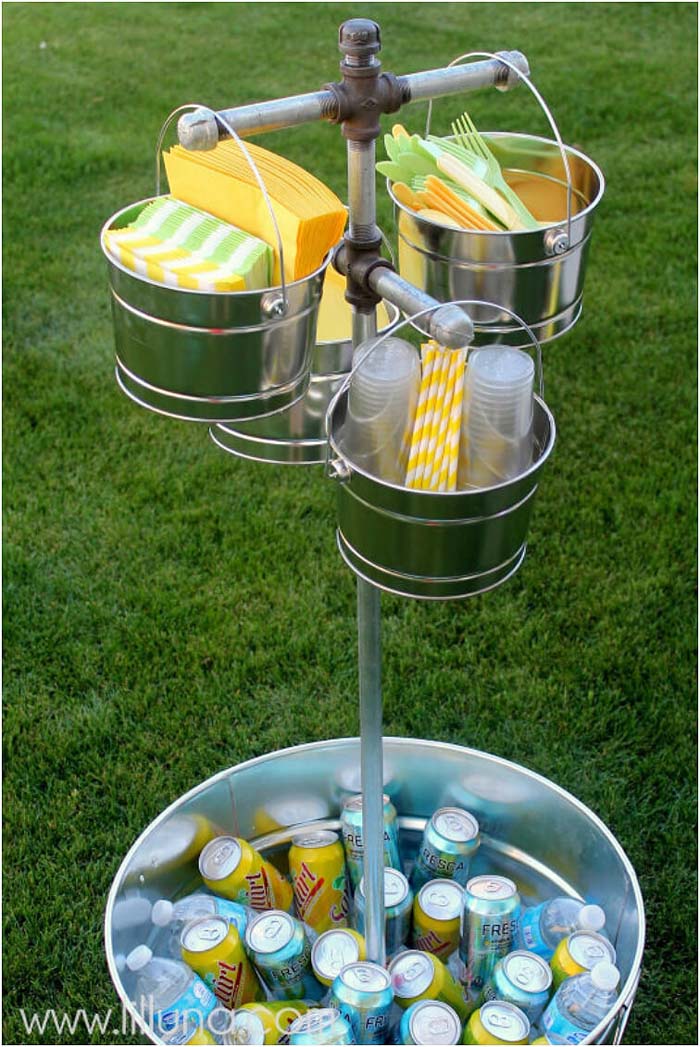 A few metal pipes and buckets of different sizes make a quick DIY backyard bar. The largest bucket plays the role of support and a fridge at the same time, while the smaller ones at the top keep the drinking and eating accessories sorted and stored.
This outdoor bar idea is perfect for celebrations decorated in a farmhouse theme.
via Let's DIY it All
26. Built-in Outdoor Bar for Decks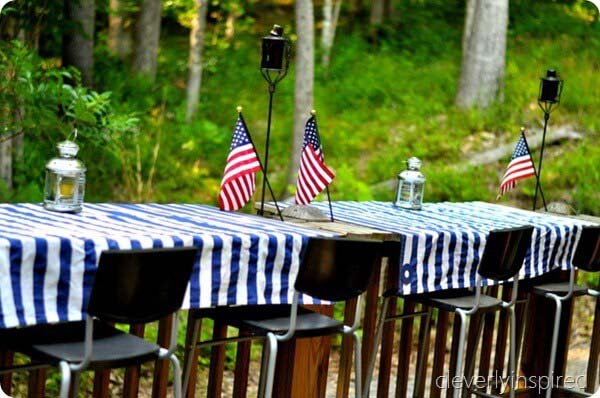 Add boards to the fence of the deck to create a permanent built-in bar. Before installing it, make sure that the bar boards match the color of the deck structure so that the entertaining place has a continuous stylish appearance.
This DIY outdoor bar can be uplifted by making the bar addition foldable with suitable hardware and additional posts to keep it stable when unfolded.
27. Desk Upcycled Into Rolling Island Bar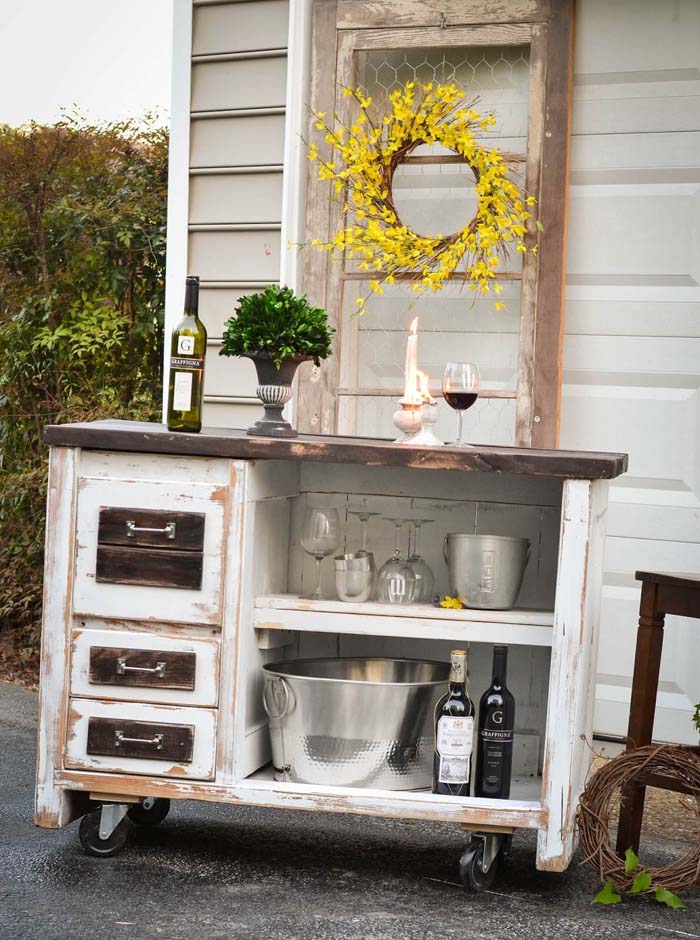 It is inspiring how an old vintage desk has been transformed into an appealing bar cart. Removing a few drawers has formed open shelves for serving set display.
The desk's surface has been distressed and stained at places to turn this cart into the perfect addition to every outdoor space.
28. DIY Bar designed from an Old Door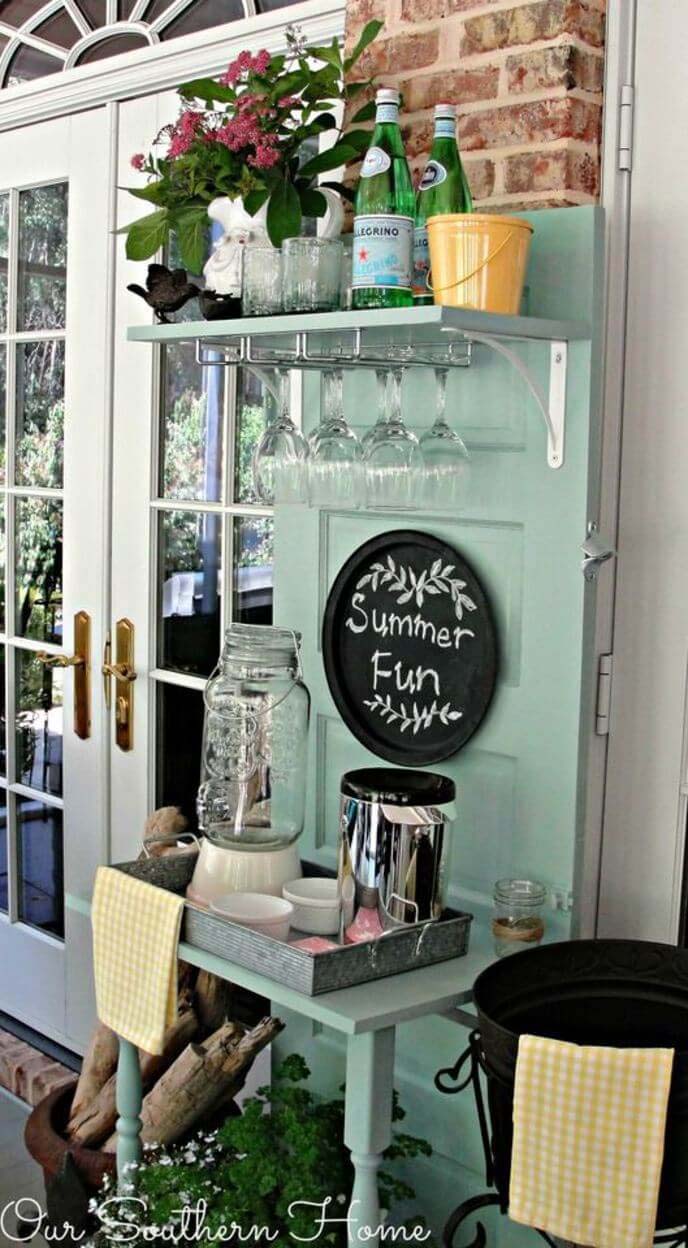 You can create a gorgeous rustic patio bar from useless pieces of old furniture. A door becomes the basis of two shelves. The top one functions on both sides thanks to a channel trim.
The bottom one becomes the serving table when chair legs are screwed to keep it stable. Different decorations are added to the outdoor bar to connect it with the existing vintage decor.
29. DIY Bar Idea with a Sliding Lid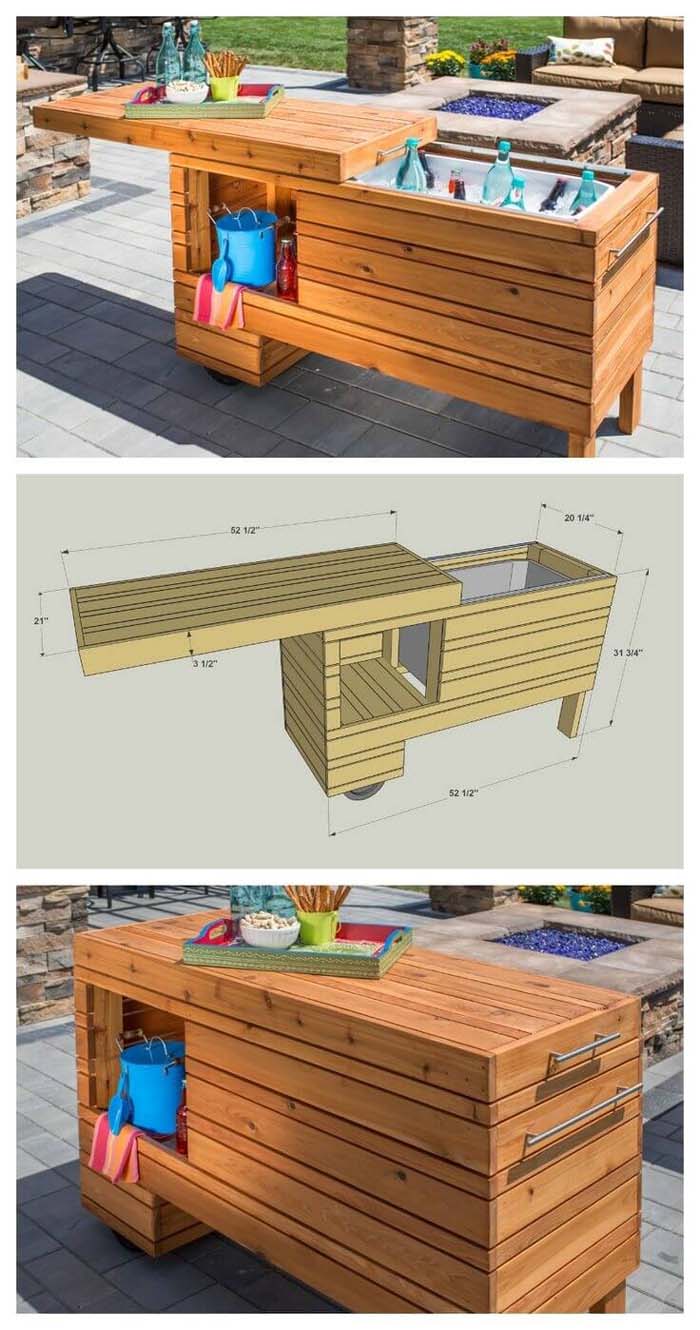 This large chest hides numerous functions. Sliding the top away, a deep ice container is revealed. At the same time the pulled surface is no longer a door- it becomes a serving countertop.
There is a hollow section at the side- in addition to adding interest to the outdoor bar, it accommodates an ice bucket and bottles.
30. DIY Outdoor Bar Ideas With Wash Basins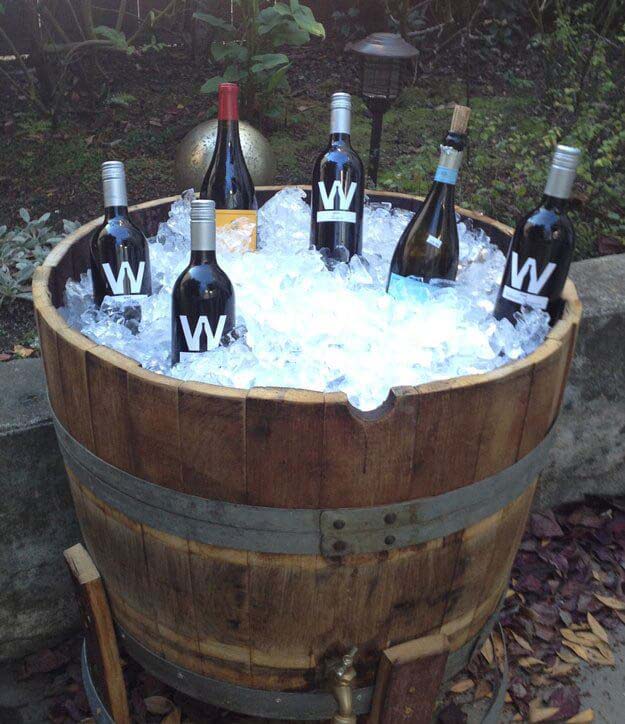 Any large container can be transformed into an outdoor ice holder for cooling drinks.
Giving the wine barrel this new function is very reasonable as you will be able to easily drain the melted ice from the existing faucet.
via Homesteading
31. DIY Outdoor Buffet Stand with Tiled Top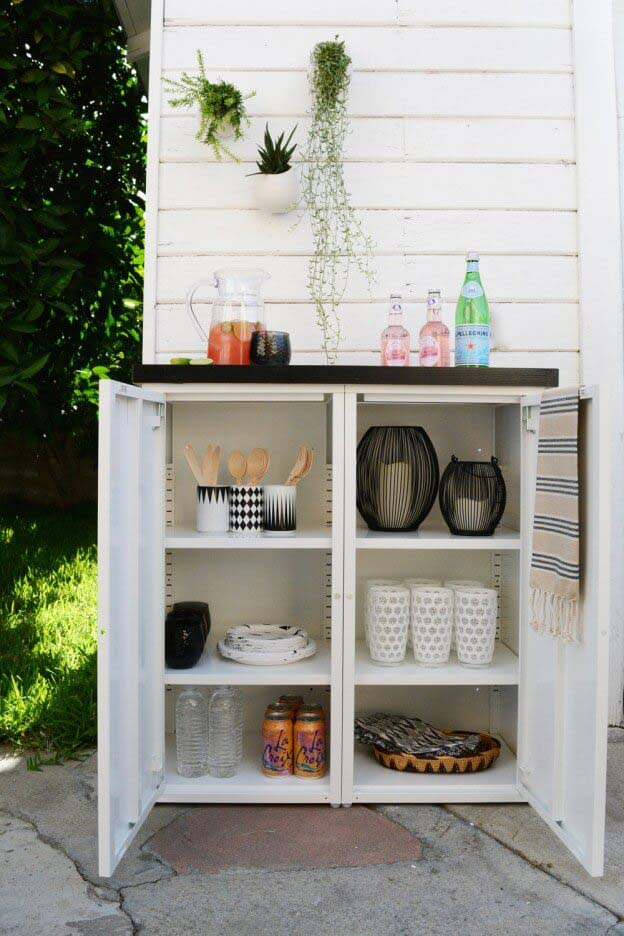 The indoor buffet goes outside to add functionality in a stylish way. All bar-related accessories are neatly arranged and hidden inside on the shelves to be kept clean for their next usage.
The top surface is the serving place where different decorations can be added to make the buffet more appealing.
32. DIY Pallet and Paver Bar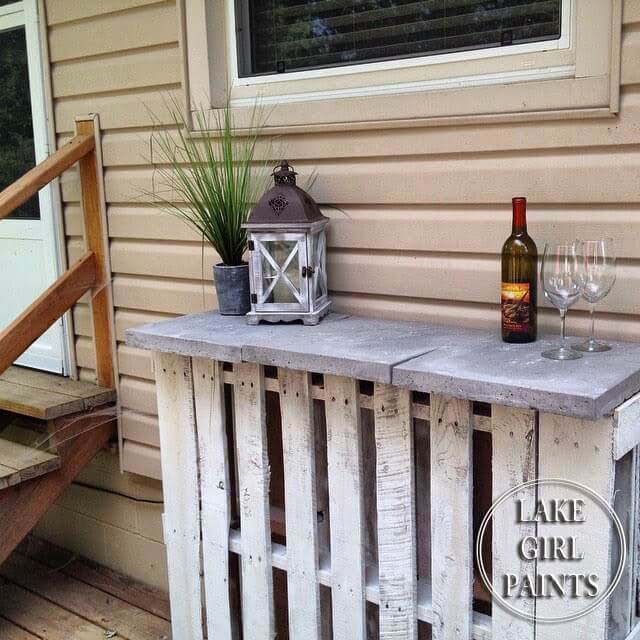 Two affordable supplies are used in this interesting DIY outdoor bar project- pallets and pavers. The pallets are fixed securely to the porch wall to give the bar a height and interesting 3-dimensional structure for storage.
The added cement pavers to the top are very trendy and perfect for outdoor use. In case the pavers are wider than the pallet, don't worry. Fix them well over the wood and you will be enjoying a bigger display of the outdoor bar.
via Lake Girl Paints
33. DIY Wall-Mounted Fold-Up Table Bar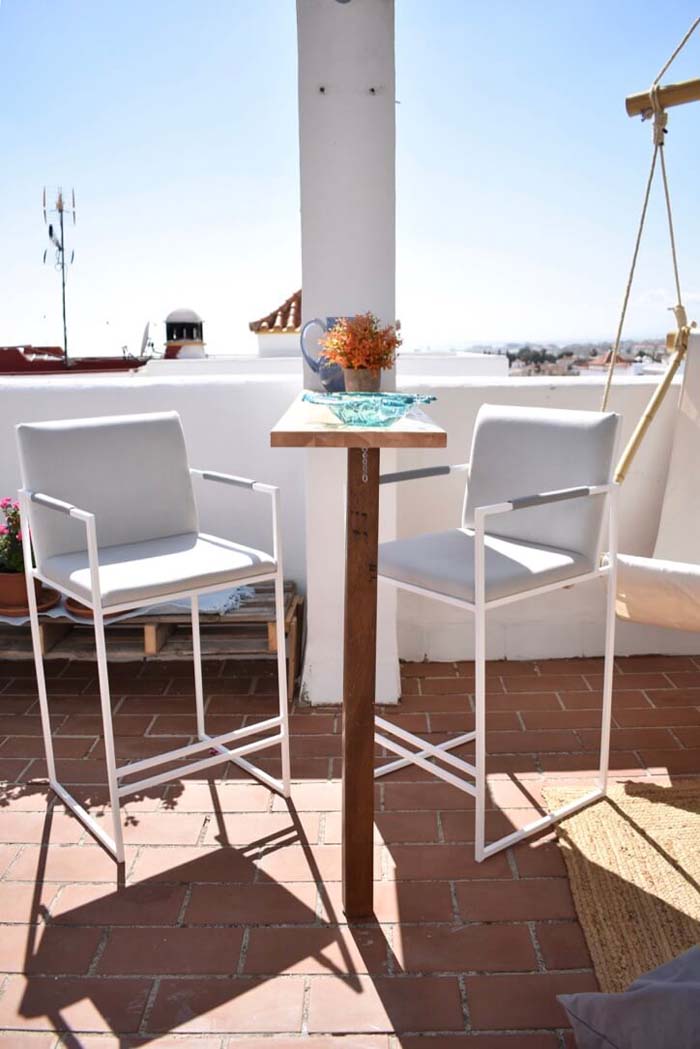 The foldable furniture has been designed to fit the smallest spaces without a compromise to functionality.
So if you want to have an outdoor bar area in your small patio or backyard, the foldable furniture is the means to have a great entertainment nook as needed. When the set is folded, the size of the free room is not affected at all.
via Essenziale
34. Full-Sized Outdoor Pallet Bar with Lights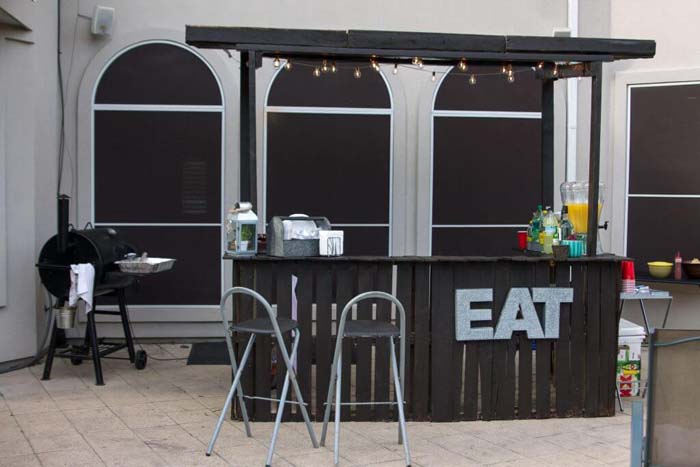 Furniture made of pallets is so inspiring and unique! This outdoor bar can be built on the deck or under a large tree in the backyard. Making it will be a fun and easy activity the whole family can get engaged with.
For visual interest and a unique look, add 3-D bar-themed initials. String lights can be stretched alongside the top to spread smooth light in the night and enhance the entertainment level.
35. Lime Green Kitchen Cart for a Porch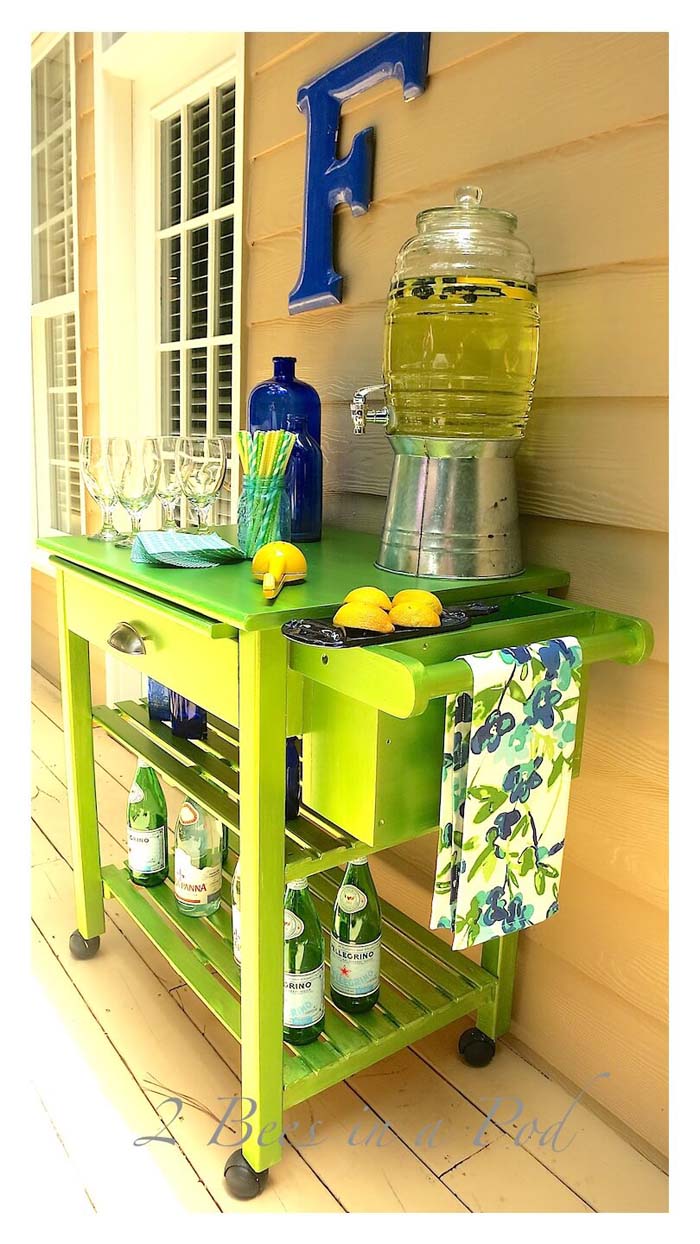 This outdoor bar has been placed on a porch that has been missing a focal point. The fresh coat of bright paint transforms the old kitchen cart into a beautiful summer drink station.
Use the existing drawers, racks and shelves to accommodate everything you may need to serve your favorite drinks.
via 2 Bees in a Pod
36. Outdoor Bar Cart with Plant Stand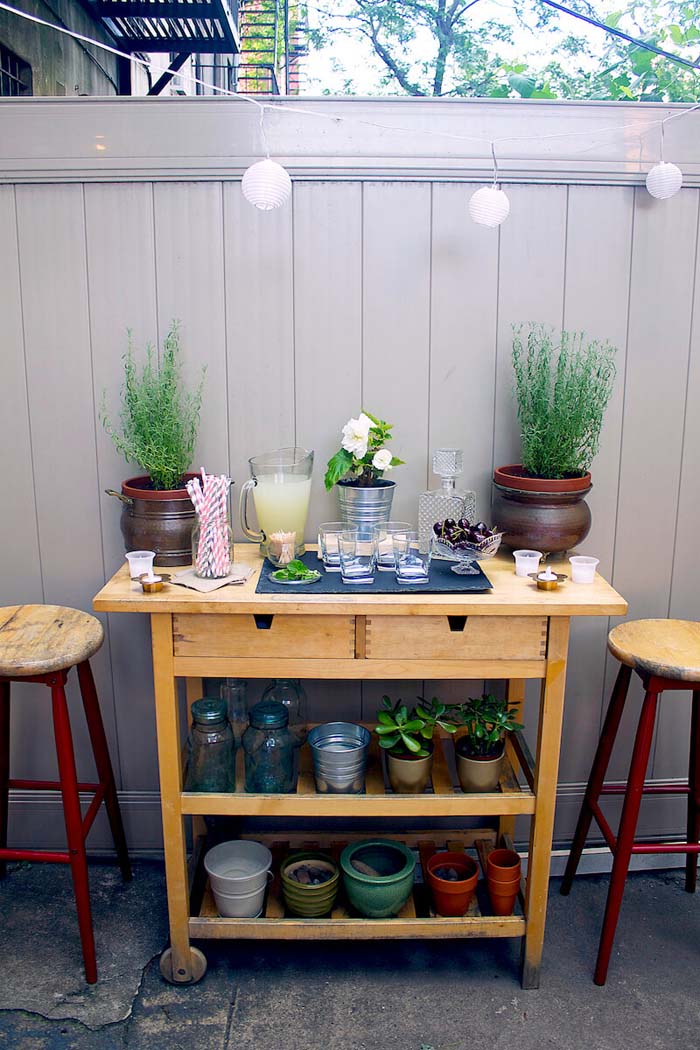 This repurposed vintage table is the summer savor this year! Its top is wide enough to take up the drinks and some of the greatest flowers you have and need to expose.
With this outdoor bar idea, you are given the opportunity to blend the party element with the natural look of the outdoors without investing a dollar.
37. Outdoor Metal Bar Cart Makeover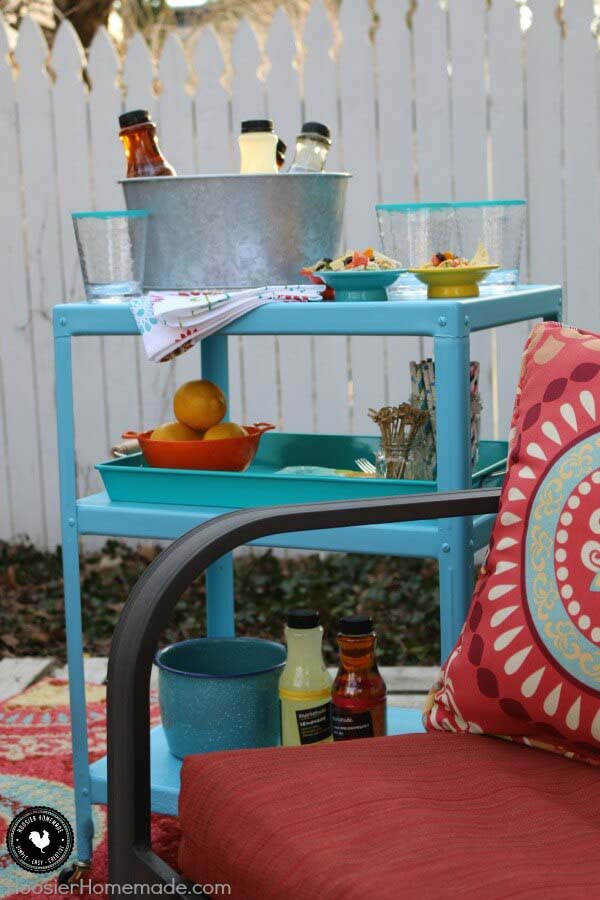 The old metal cart has no longer been good-looking although its functionality hasn't been affected. So, a surface update was needed.
With a little bit of sanding the rusty areas and the appropriate type of paint, its look has been changed to indistinguishably from new. The new paint coat is in a summer bright color that gives the outdoor entertaining area the needed point of interest.
38. Sleek Metal Bar Cart on Wheels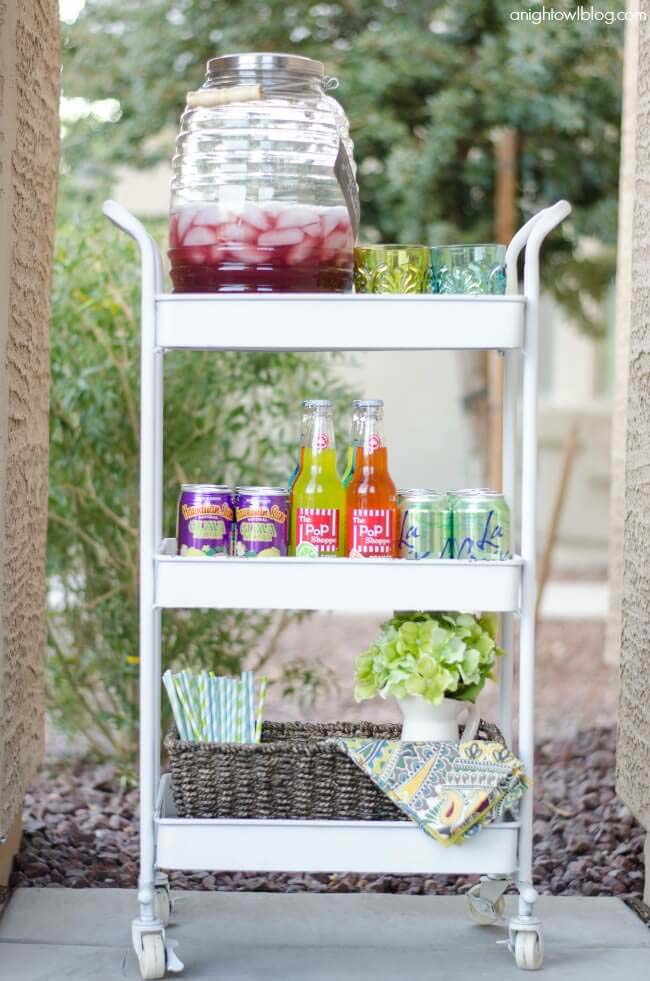 This metal organizer becomes a bar cart that can fit the smallest spaces. Supplied with wheels, taking it out from the niche it stays or moving it to different areas of the backyard is no problem at all.
Don't judge by its size as there is plenty of room thanks to the tiered design.
via A Night Owl
39. Small Table with an Ice Pail Base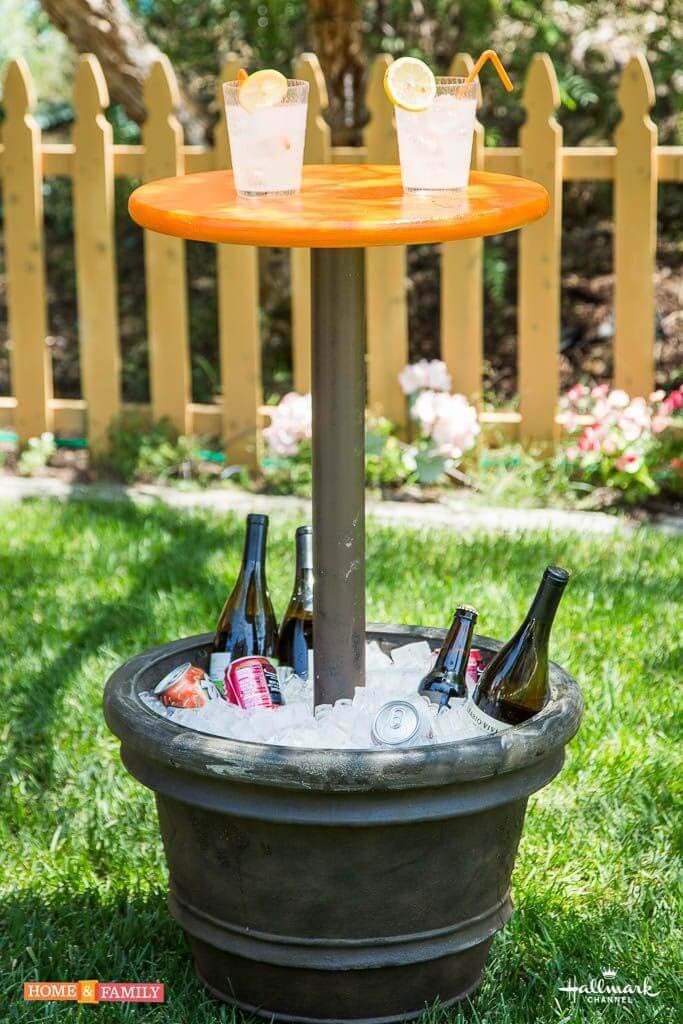 This compact bar station will turn your backyard into the most desired outdoor party destination! The round surface of the stool is repurposed into a table. The metal pipe support is inserted into a large pot where ice cools drinks at one hand distance.
This compact bar is perfect for small spaces. But in case you are not limited in space, you can make more of these stations to make the outdoor gathering more comfortable.  
via Hallmark Channel
40. Tile Toped Bar with a Midwestern Feel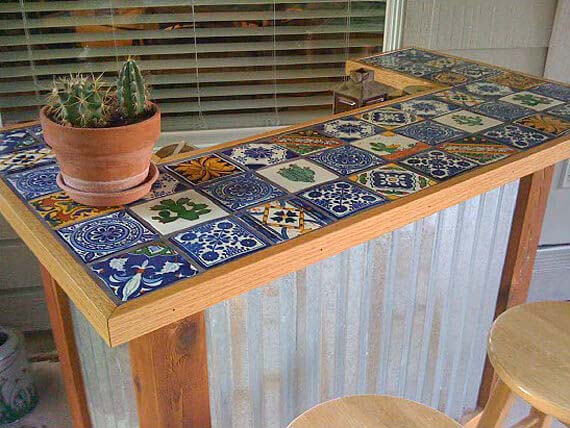 The farmhouse outdoor bar quickly becomes a Moroccan accent by covering the countertop with thematic tiles. This solution may be preferable provided that food and beverages will be served.
Just wipe out the water and the bits to prepare the bar station for its next round.
via My Carpentry
41. Unique Wooden Crate Bar on Wheels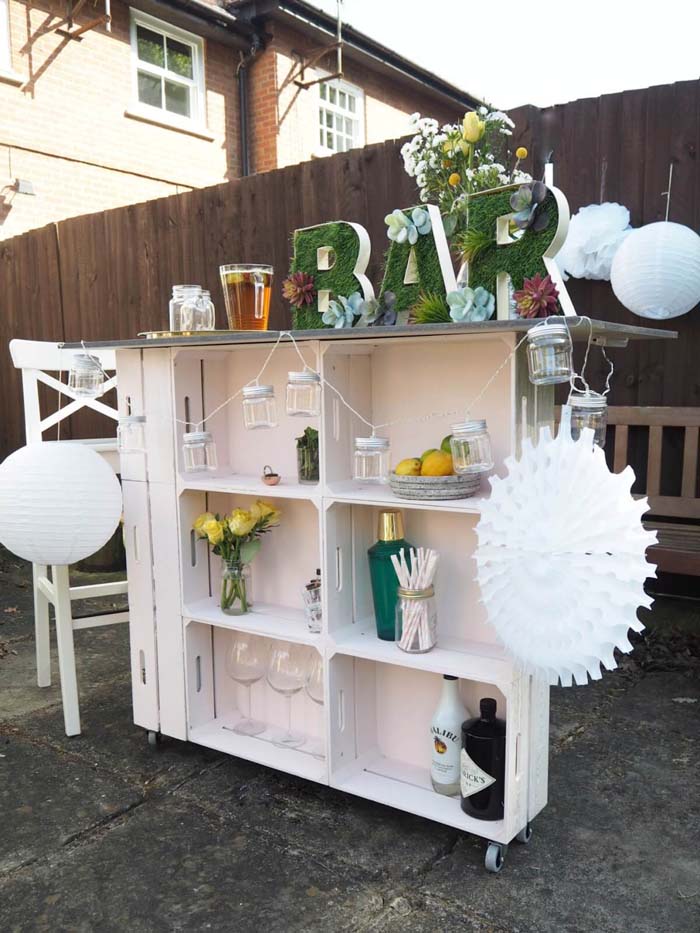 The wooden crates are perfect for a DIY outdoor bar because they give space for storage and also flat surfaces where you can serve and place the full glasses.
This smart idea has thought about one more thing- how to make it party-friendly. Equipped on castors, it can be moved to that part of the backyard where the party is on.
via Dove Cottage
42. Upcycled Baker's Rack Outdoor Bar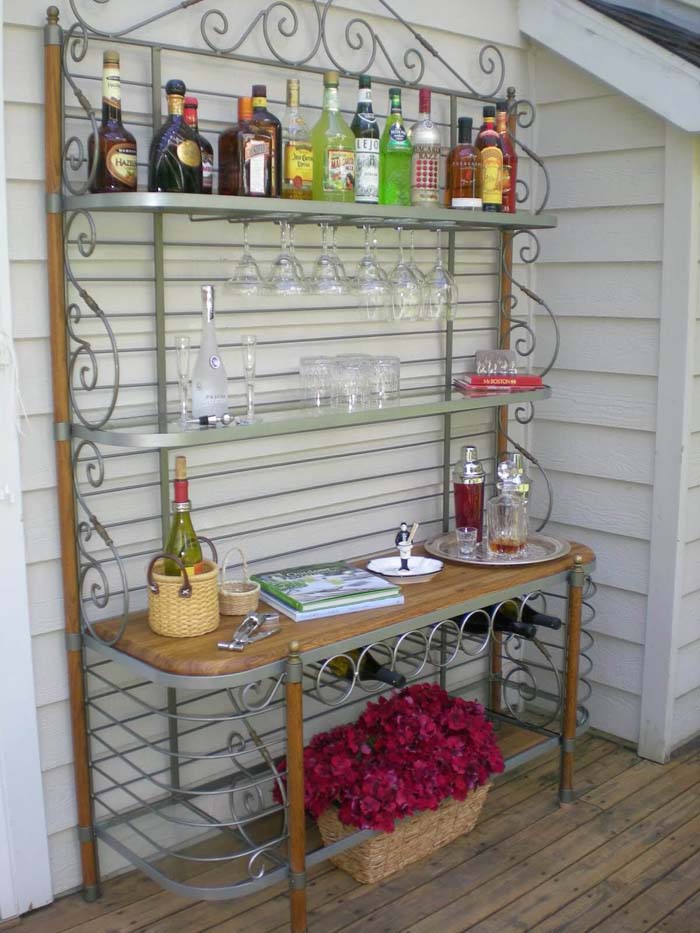 The old baker's rack can be easily updated with some paint. Adding shelves to it will ensure a few levels for storage and displaying of the bar-associated accessories.
This bar idea is a great solution for an outdoor entertainment nook because it is made of metal and wood that with the appropriate treatment can last outside for ages.
via La Bella Vie
43. Upcycled Potting Bench as a Beverage Cart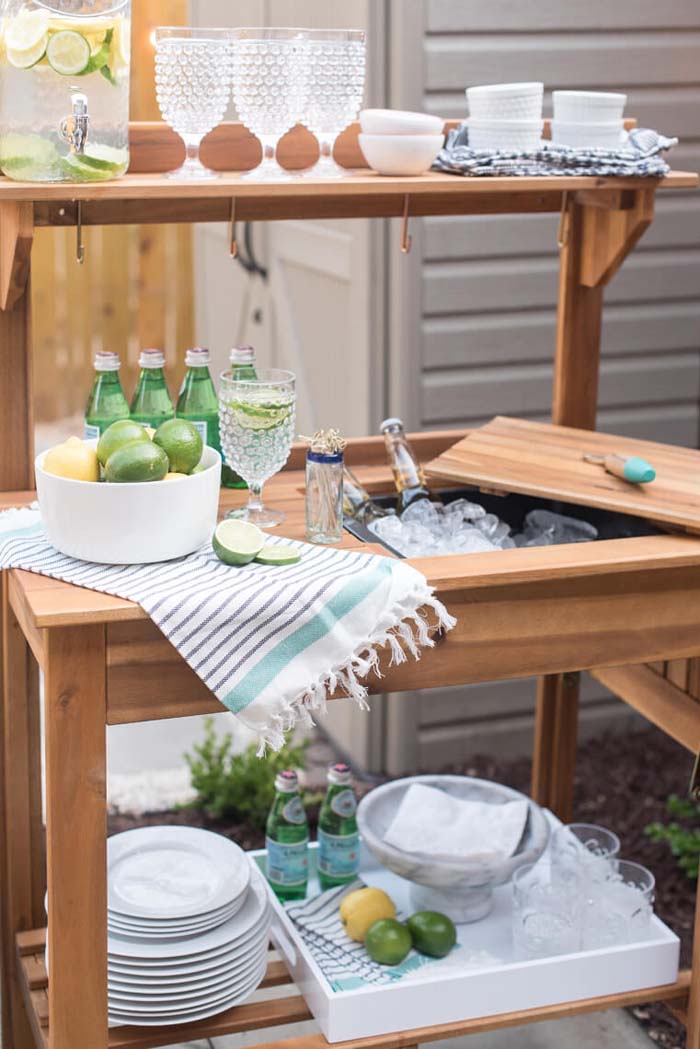 What has inspired the author to turn the potting bench into an outdoor bar is the built-in opening. Like it has initially been intended to store ice to keep the drinks at the perfect temperature for summer.
The bottom level is strong and can bear a collection of drinks for your outdoor party. Usually, the potting benches are in wooden brown but this isn't a problem as they can easily be changed in a color that matches your décor.  
via Simple Stylings
44. Upcycled Wooden Outdoor Bar Cart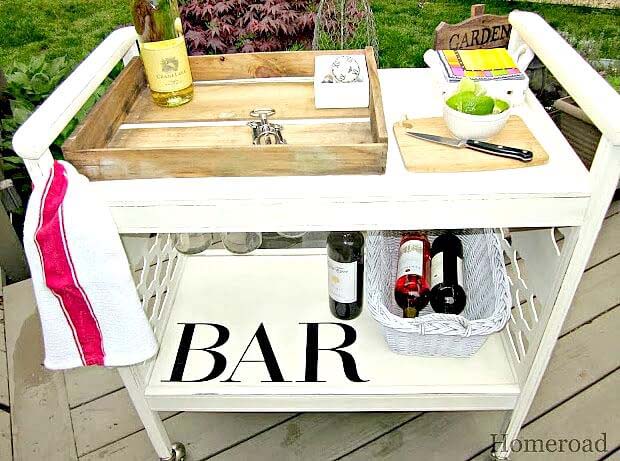 This trolley bar cart has been created by upcycling an old piece of furniture. Some chalk paint has given it the shiny clean look. A stenciled bar inscription clearly marks its new function and gives the piece a visual interest.
Add trays, baskets and other containers to keep things sorted and properly stored.
via Homeroad
45. Wooden Chair with an Ice Bucket Center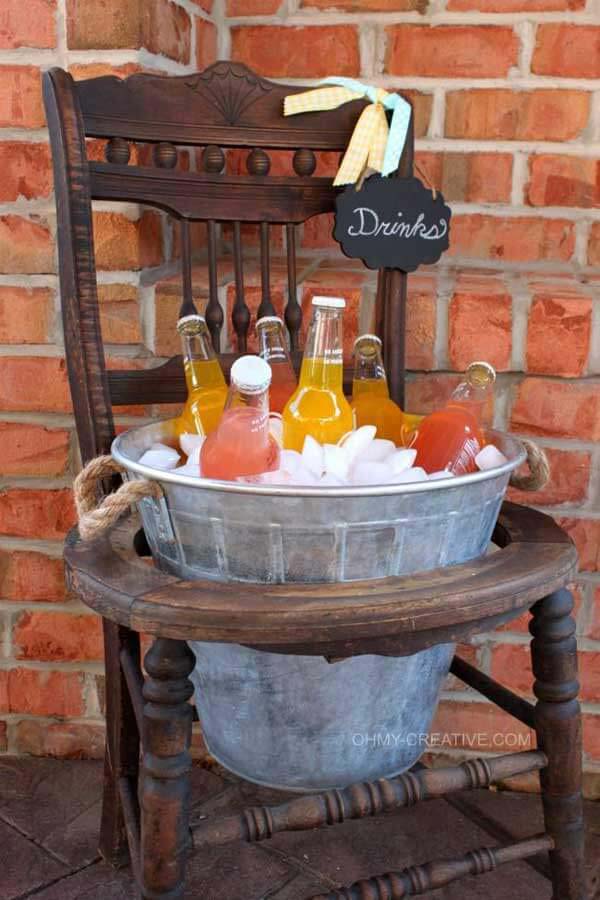 An old chair quickly becomes an entertainment table for outdoor beverage storage.
Take a metal bucket, ice and your favorite drinks and adjust yourself to chill out in your own property on a hot night.
via Oh My Creative
46. Pallet Bar With Storage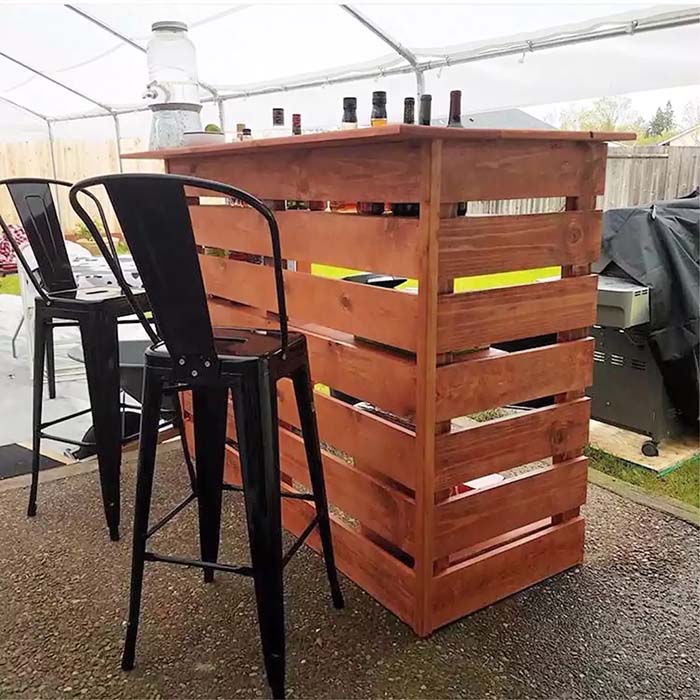 For that idea, prepare two new pallets. Sand the wood slats well to make them smooth and friendly for direct contact. Cut one of the pallets in halves that will become the sides of the bar.
Fix them to both sides of the one-piece pallet with screws. Your garden bar is almost ready. For the countertop, you may choose from wooden boards to enhance the rustic vibe or concrete pavers to anchor the modern trend.
47. Outdoor Bar With Pizza Oven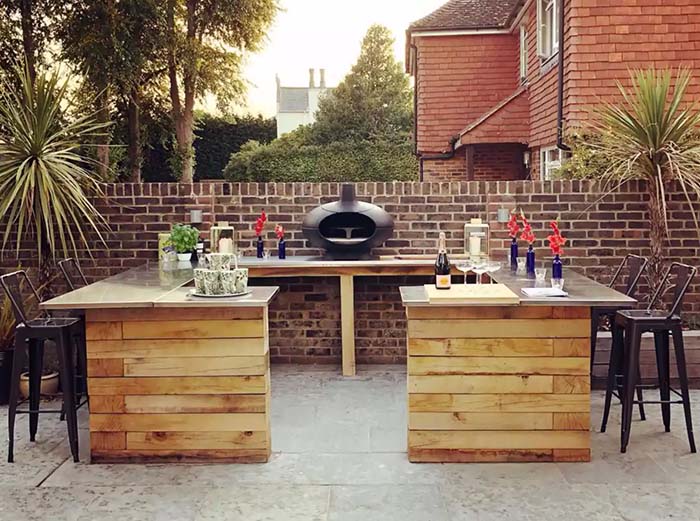 This is a project that develops the DIY outdoor bar idea to another level. It thinks not only about the comfort of having a drink outside in your backyard but also of having dinner under the stars.
A pizza oven has been the easiest appliance to include in the project. However, if you are looking for a more universal solution, you can build in a stove, a grill, a barbeque.
via Summer of Sussex
48. Happy 21st Bar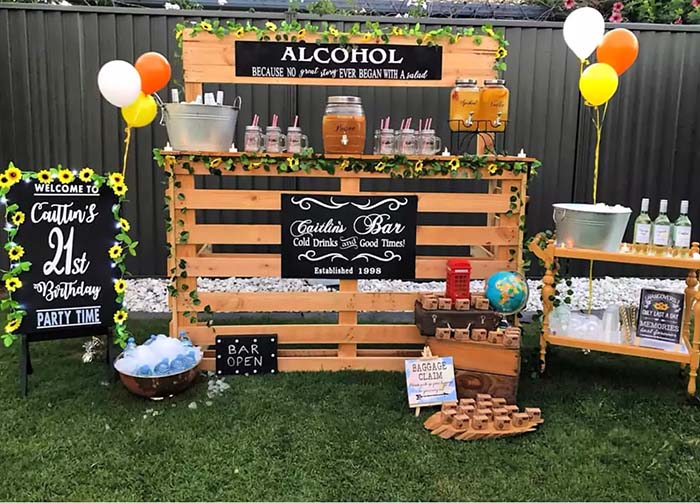 If you are looking for a quick outdoor bar idea, check this one with pallets. The raised structure makes sure that it will be the center of the party. Garlands with green leaves and sunflowers pin the theme and blend the new wooden structure with the outdoor environment.
Added chalkboard signs make the mode more cheerful and give the celebration a personal touch.
via Cakes by Kaz
49. Farmhouse Outdoor Bar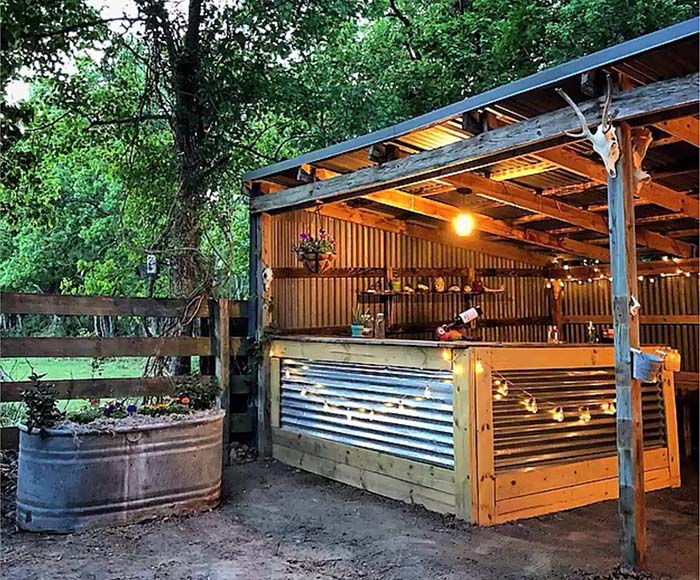 If you are dreaming of a proper outdoor bar, then make it! For that you need to dedicate a large piece from your backyard, preferably a shadier one. In case that is not possible, you can build it under a pergola or make a roof that will keep the sun away.
This project incorporates affordable materials that will make the outdoor bar durable. After all, it won't be worth investing time and space if it is a contemporary entertainment solution.
The metal corrugated sheets are framed with thick wooden beams that keep the sides straight and fixed. Add signs, strings of lights, wicker baskets and galvanized containers to enhance the unique farmhouse charm of the outdoor living area.
50. Outdoor Kitchen and Bar Combo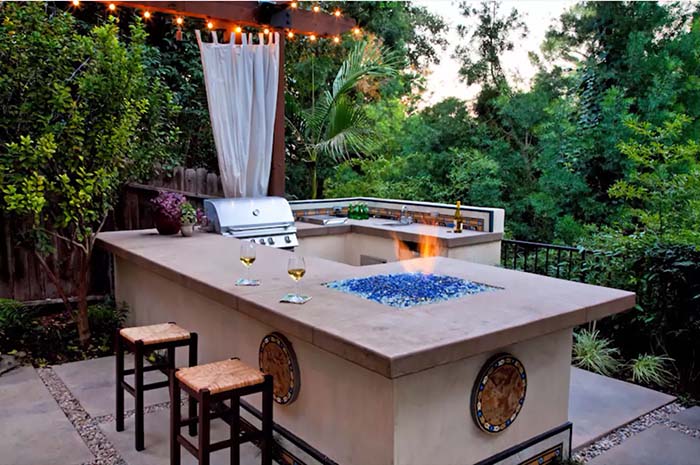 This nook replicates the indoor kitchen to create a comfortable outdoor living area. The combination of cooking and a drinking place make sure that the hosts and the guests spend the time together.
The outdoor kitchen is built under a pergola that separates the nook from the ambiance and ensures privacy and shade all day long.
51. Wood Wall-Mounted Bar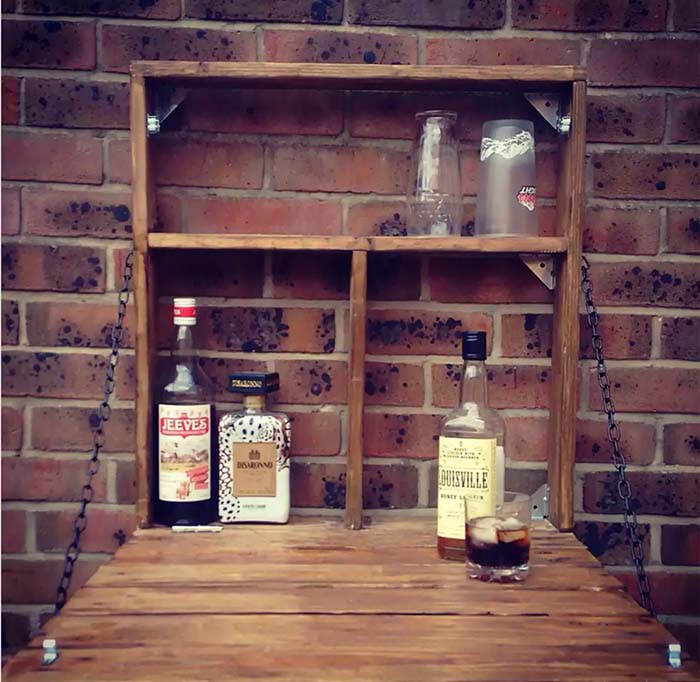 Give an old pallet a new life by turning it into a wall-mounted bar. Make as many sections as you want by inserting slats square to the frame.
Depending on your outdoor decor, you can give the wood a rustic vibe by staining it dark. In case the outdoor is too gloomy, coat the wood with bright cheerful paint color to make the porch summer-friendly.
52. Black Dog Bar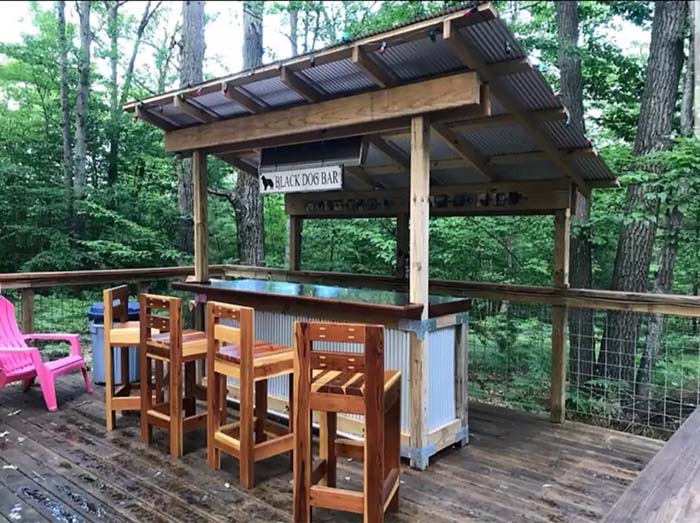 This bar is built on the deck to enclose a wild natural landscape and the cool temperatures of the forest. The project uses corrugated metal sheets, wood and a granite countertop.
The combination creates a countryside design that has the most natural and authentic vision of all styles.
via Lizton Sign Shop
53. Tiki Pallet Bar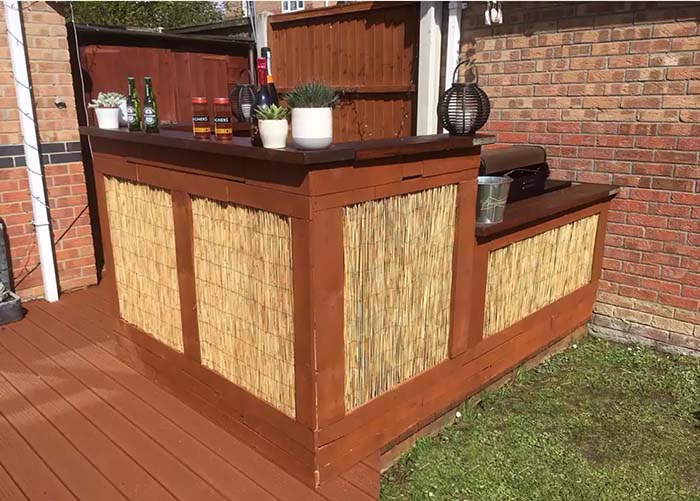 The tiki bar has the ability to make the mood more cheerful and party-adjusted only by looking at it. Maybe because of the instant connection with the exotic countries, the replication of a tiki bar built in your own backyard will have the same effect.
Use pallets for the structure and cover the slats with thatched rolls to give the bar a tropical vibe.
via Scott McLeod
54. Fold-Out Bar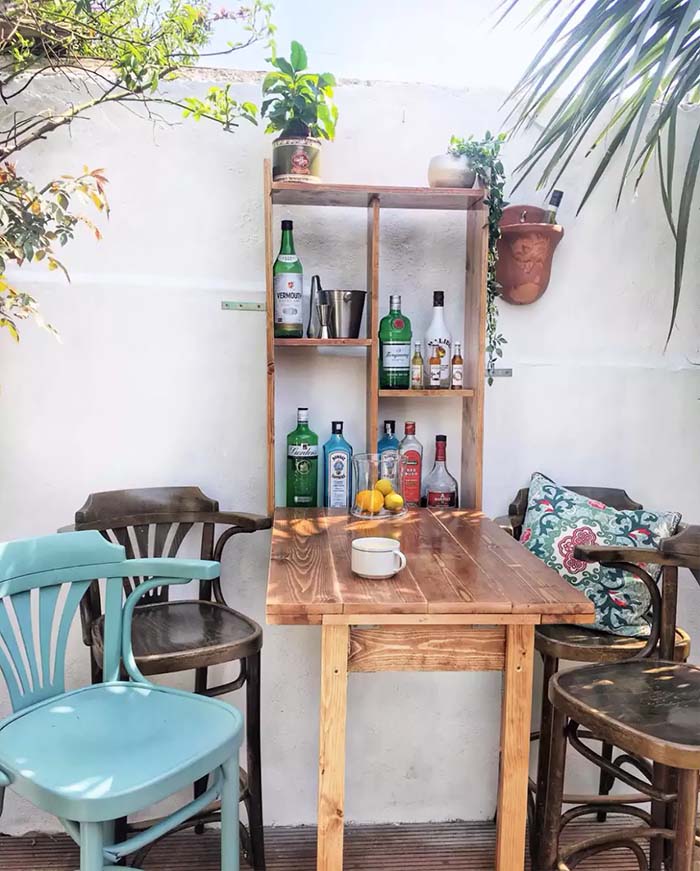 Check this interesting Murphy bar idea. There aren't any complicated steps, even decorations. You can uplift its visual appearance by displaying flower pots on the top surface.
Leaving the wood in its natural color gives it a rustic effect so make sure to use vintage bar stools for your DIY bar.
via Doxy Interior
55. Bar Focal Point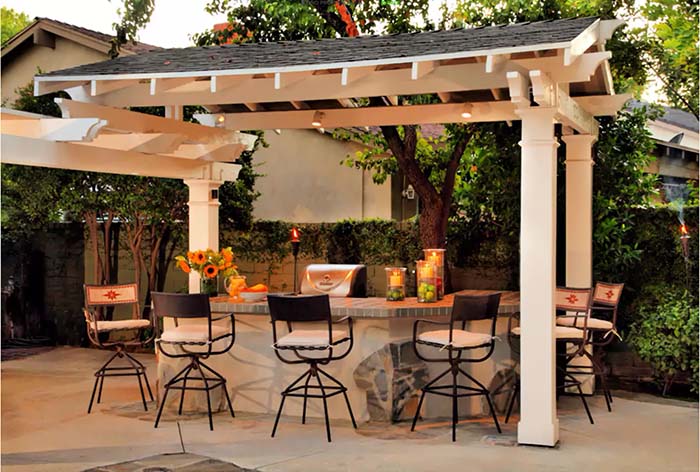 With an accent on the clean lines and the traditional outdoor bar look, this DIY backyard bar is elegant and comfortable. It becomes an important piece of the outdoors that has its own cooking spot, a pergola, light fixtures and enough sitting places for the entire family to spend the night outside in fresh air.
The used materials aimed to make the bar area the focal point while also making a connection with the existing decor.
56. Northampton Backyard Pub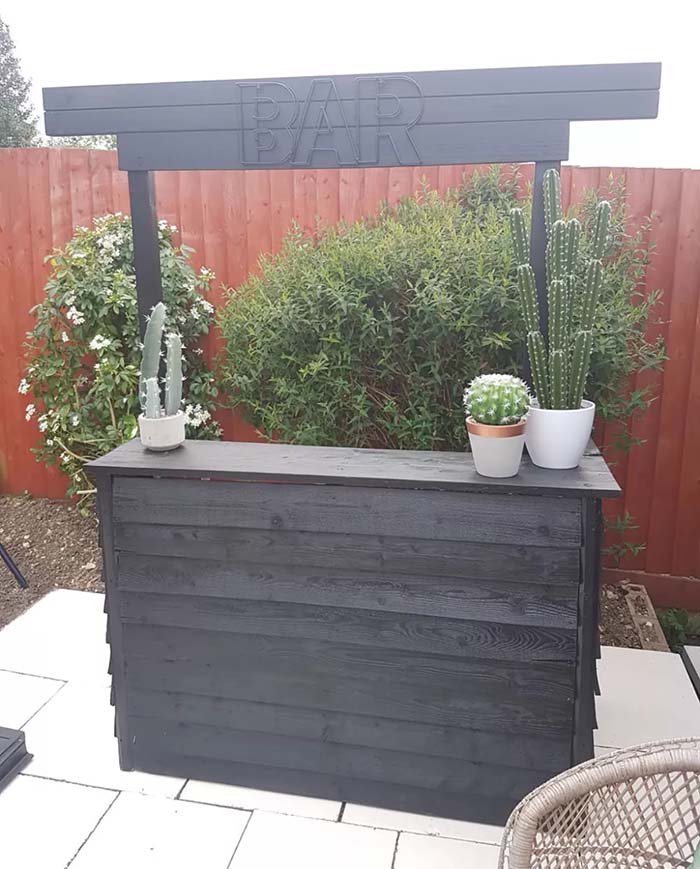 This pallet structure has got the outdoor bar look after painting it black and adding a clear sign of how the station will be used.
Not much is needed to complete the idea- strings of solar lights, bar stools and a couple of flower pots will make the bar welcoming and attractive.