Galvanized metal is a mainstay in rustic and farmhouse decor, and for good reason — although the material is utilitarian, its soft grey tones and signature speckled look adds a stunning texture to an indoor or outdoor space.
If you have an old galvanized tub or bucket, don't toss it in the trash.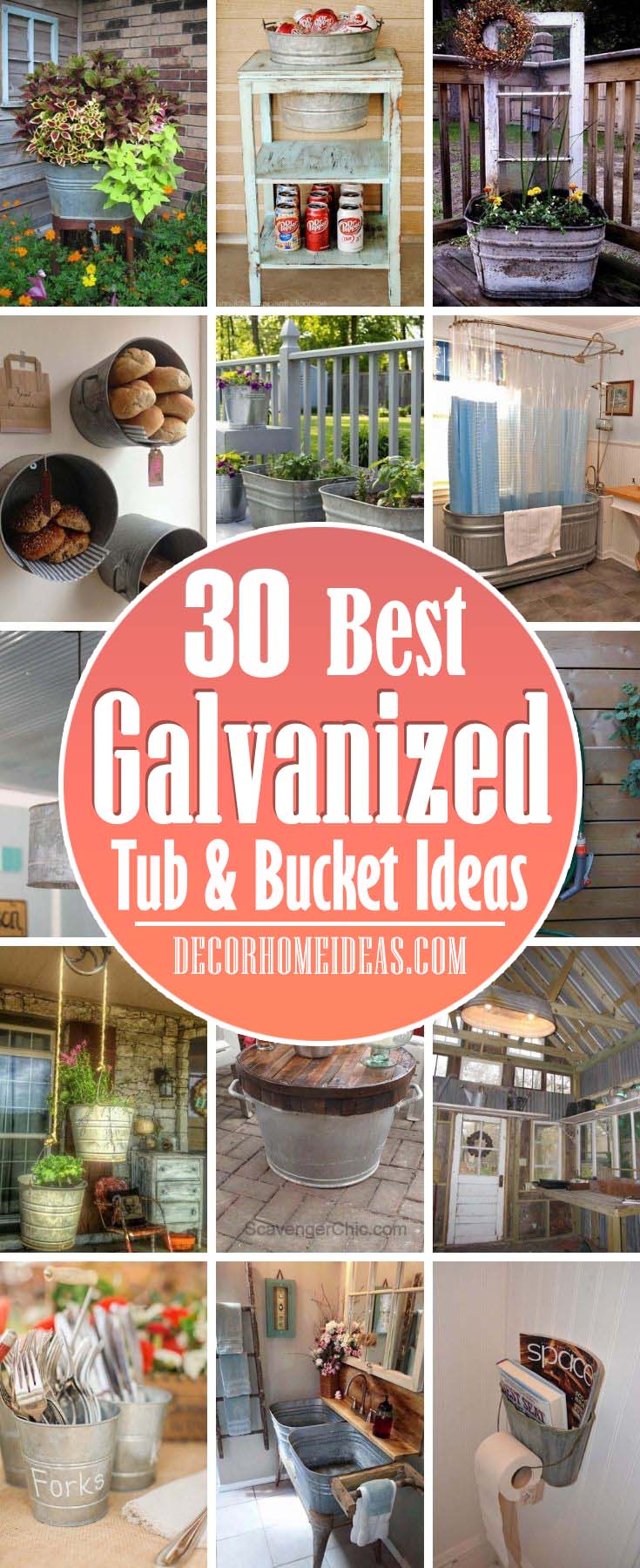 These fantastic ideas show you how to repurpose your tub into a functional and beautiful decorative piece.
1. Galvanized Bucket Toilet Paper Holder for Your Bathroom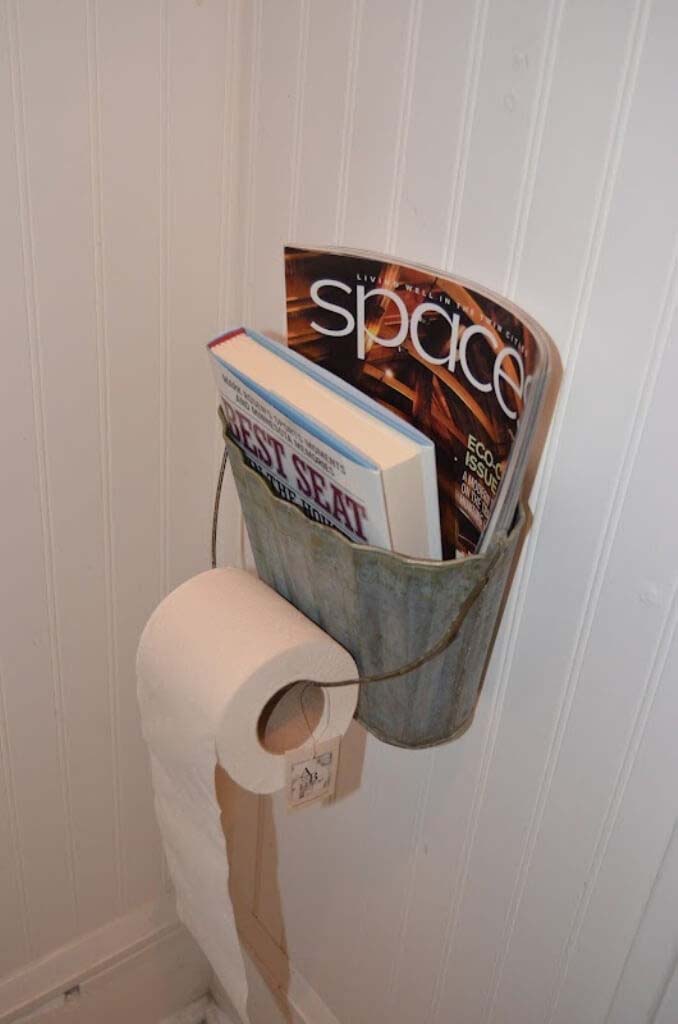 Don't love the idea of a standard toilet paper holder?
Turn a small, shallow galvanized bucket into a more stylish option.
The handle is a creative way to dispense toilet paper, and the bucket offers space for reading material and other supplies.
2. Rustic Water Feature with Galvanized Tub and Vintage Pump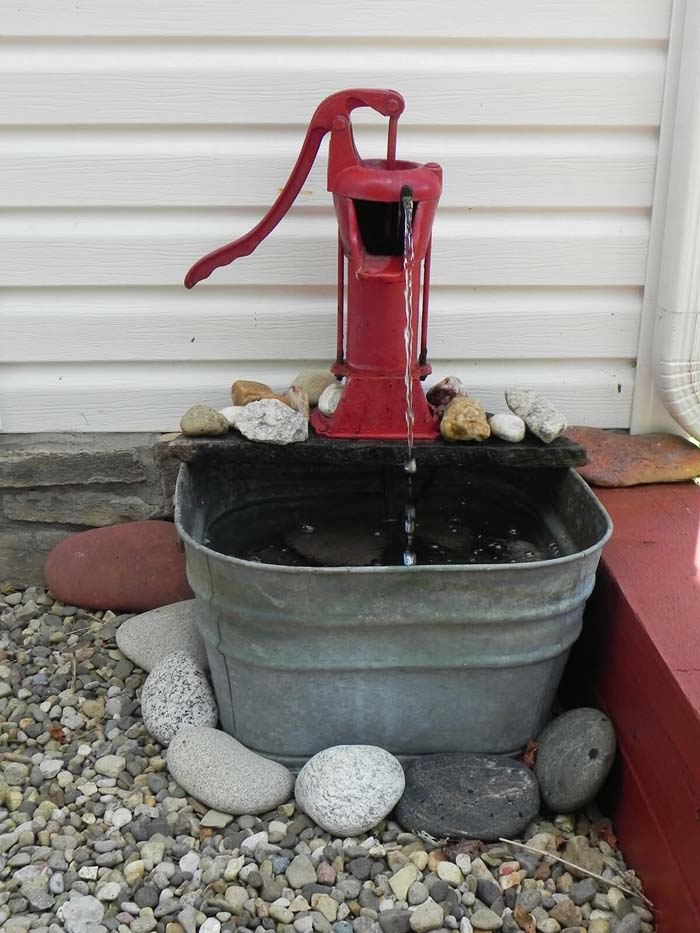 Combine a gorgeous galvanized metal tub and a vintage water pump to create a one-of-a-kind water feature.
Leave the tub unfinished, and give the pump a coat of paint to help it pop.
Here, the homeowner has added a selection of river rocks to enhance the casual vibe.
3. Galvanized Metal and Reclaimed Wood Coffee Table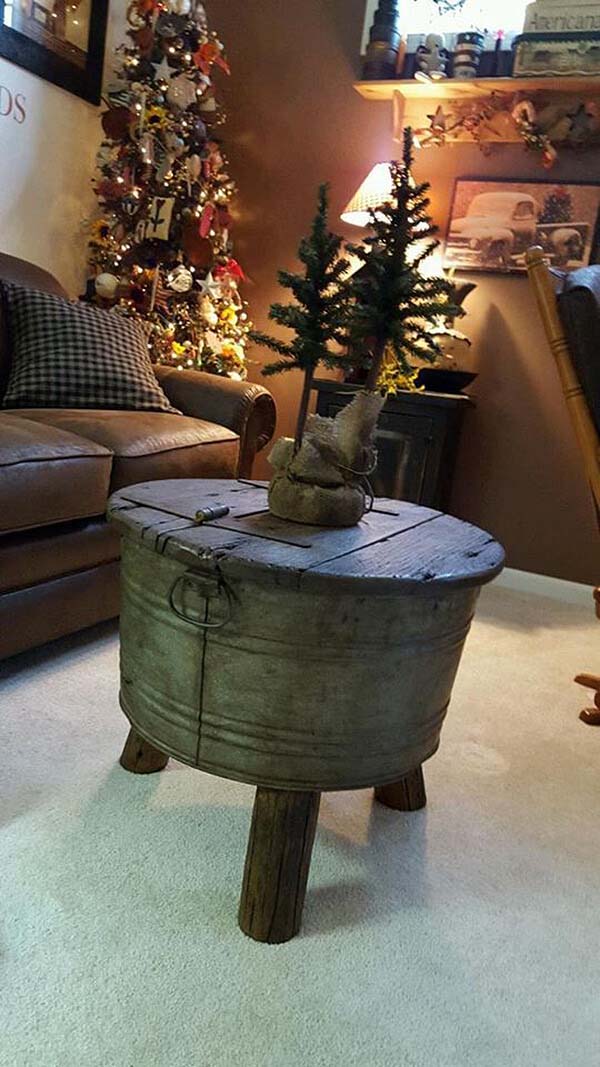 What's a more beautiful combination than galvanized metal and reclaimed wood?
This creative project uses a large round bucket and a selection of wooden scraps to create a custom coffee table.
The original hinges on the tabletop bring out the metal of the bucket for a cohesive look.
4. Innovative Kitchen Storage with Metal Buckets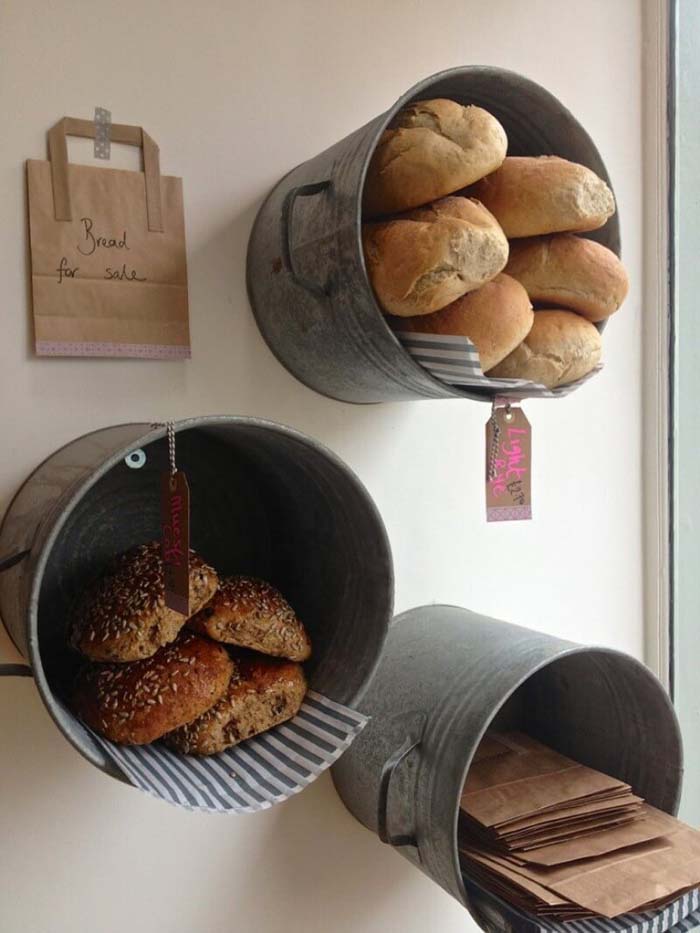 Transform your kitchen storage system into a thing of beauty using metal buckets.
Mount them to the wall using a few sturdy screws, and you have a convenient set of unconventional open shelves.
Line each one with rustic printed paper to complete the country vibe.
5. Galvanized Tub Coffee Table Crafted From Reclaimed Wood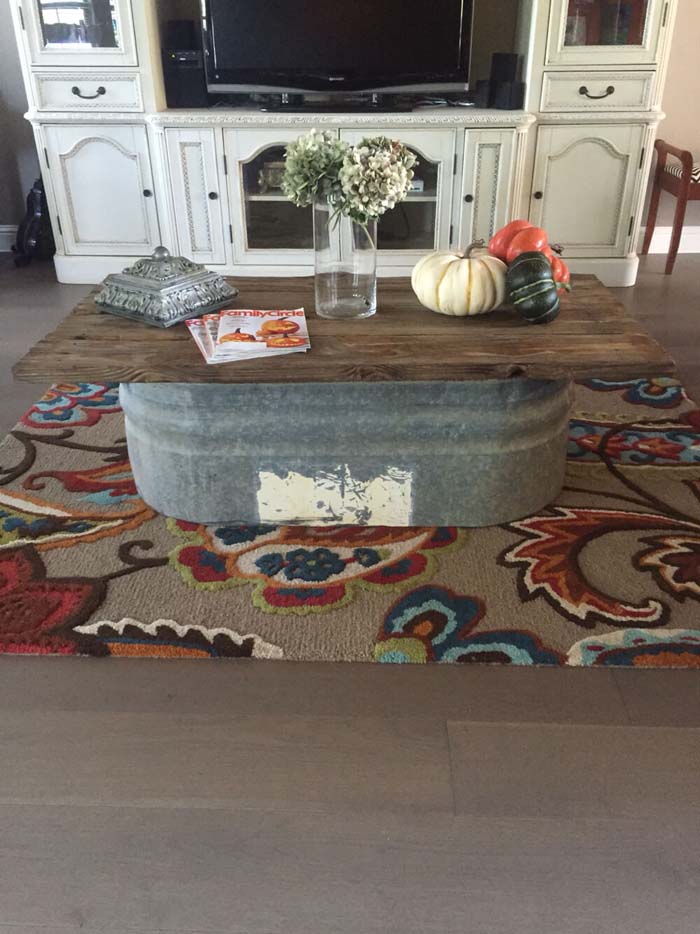 If you're searching for a coffee table that stands out from the crowd, this beautiful DIY project has you covered.
A few wooden planks form the top, and a large galvanized tub makes a sturdy base.
Add your own stain to match your furniture or leave the planks unfinished for a natural, weathered look.
6. Keep Your Drinks Cool with a DIY Galvanized Tub Cooler

Keep your drinks cool and ready to go with this fun DIY cooler.
Just fill a galvanized tub with ice and add drinks; the wide mouth makes it easy for guests to grab what they need.
Take it an extra step further by adding a few more buckets to hold cups, napkins, and utensils.
via Lil Luna
7. Transform Galvanized Tubs into Stylish Planters for Your Patio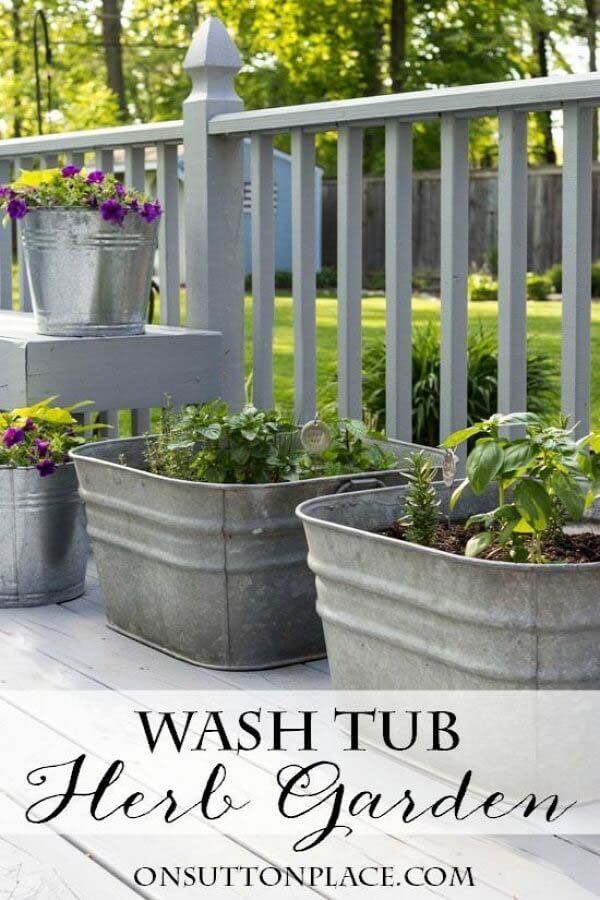 Durable and weather-resistant, galvanized tubs make the perfect planters.
All you need to do is drill a few holes for drainage and you're ready to plant.
Use a selection of sizes and shapes for an eclectic porch or patio arrangement.
via On Sutton Place
8. Elevate and Protect Firewood with an Innovative Metal Tub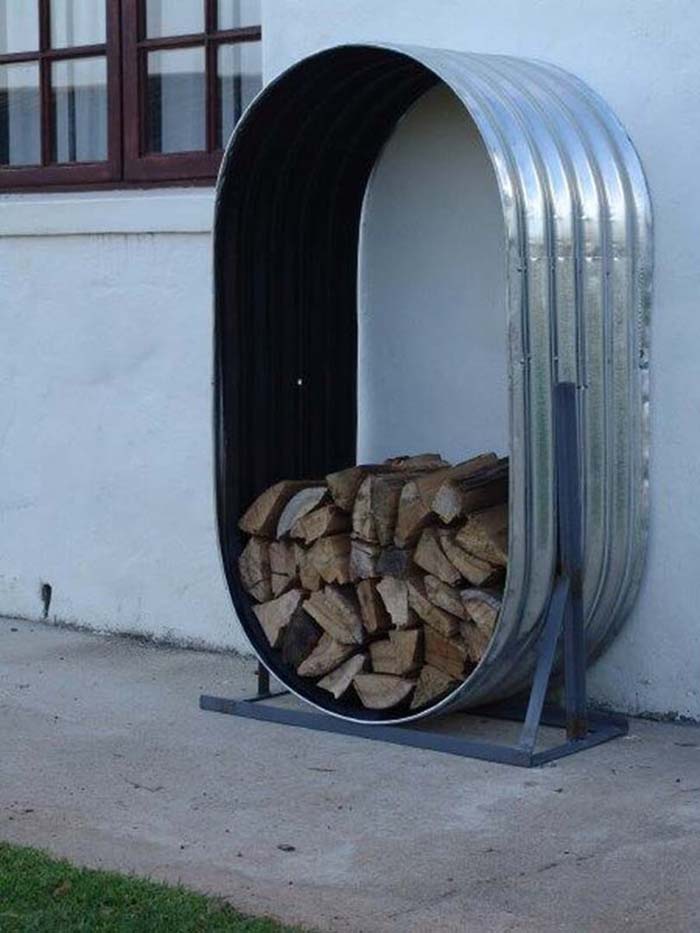 Who knew that firewood storage could be so beautiful?
The stunning oval shape of the metal tub gives this DIY system a distinctly modern vibe, and the creative metal base keeps the wood elevated to prevent moisture buildup after the rain.
9. Rustic Dual-Sink Vanity with Galvanized Tubs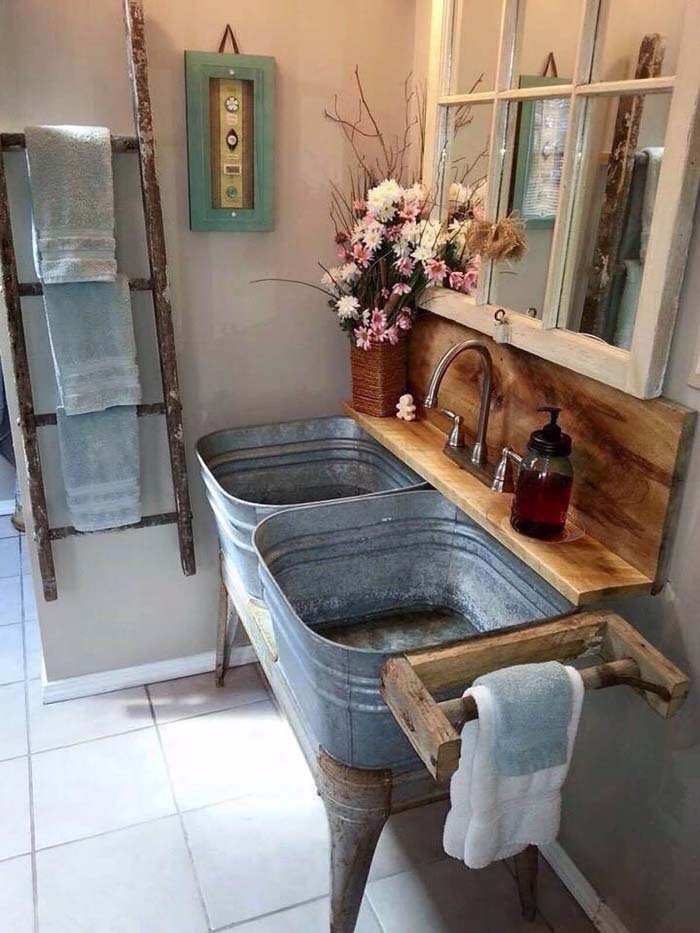 Go all-in on your rustic decor by transforming two galvanized tubs into a dual-sink bathroom vanity.
The deep sides prevent splashing, making these sinks a great option for homes with kids.
A few reclaimed wood accents take this farmhouse-friendly design to the next level.
10. Make Vintage-Inspired Hanging Planters for Your Front Porch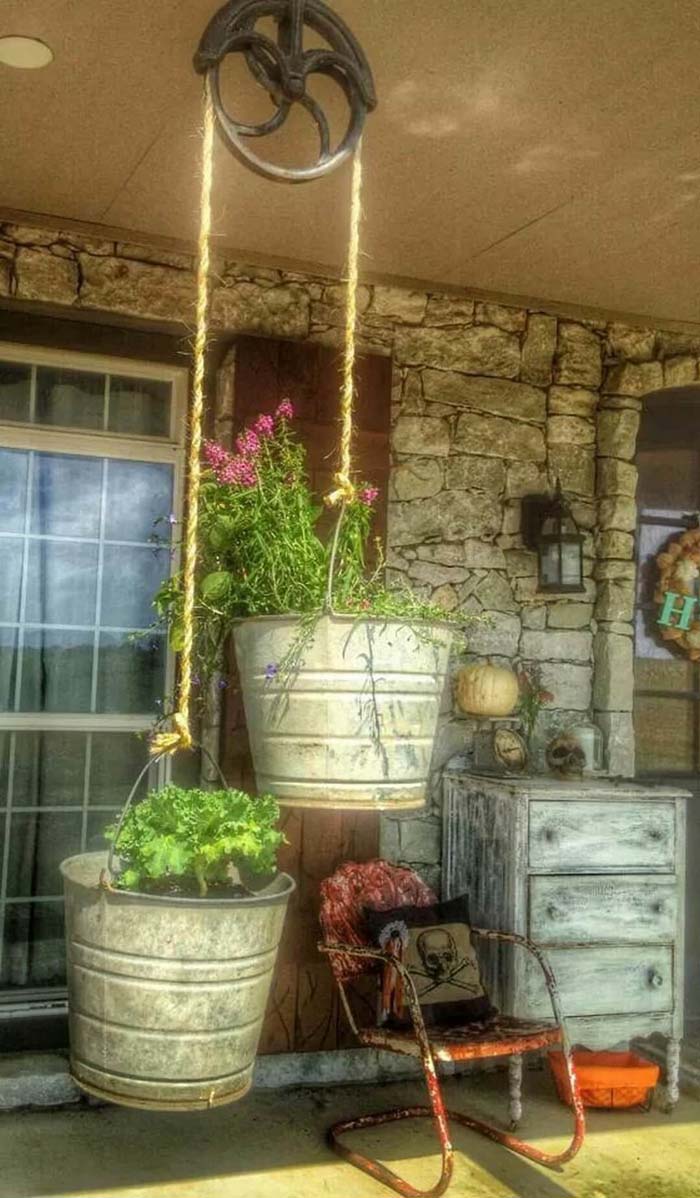 Hanging planters are a lovely way to decorate your front porch.
This clever project uses a variety of vintage items — metal buckets, a pulley, and rough rope — into a truly unique planter that your guests will love.
Use these hanging planters for flowers, or turn them into a striking herb garden.
via Kelly Elko
11. Creative Hose Storage Solution with a Fence-Mounted Bucket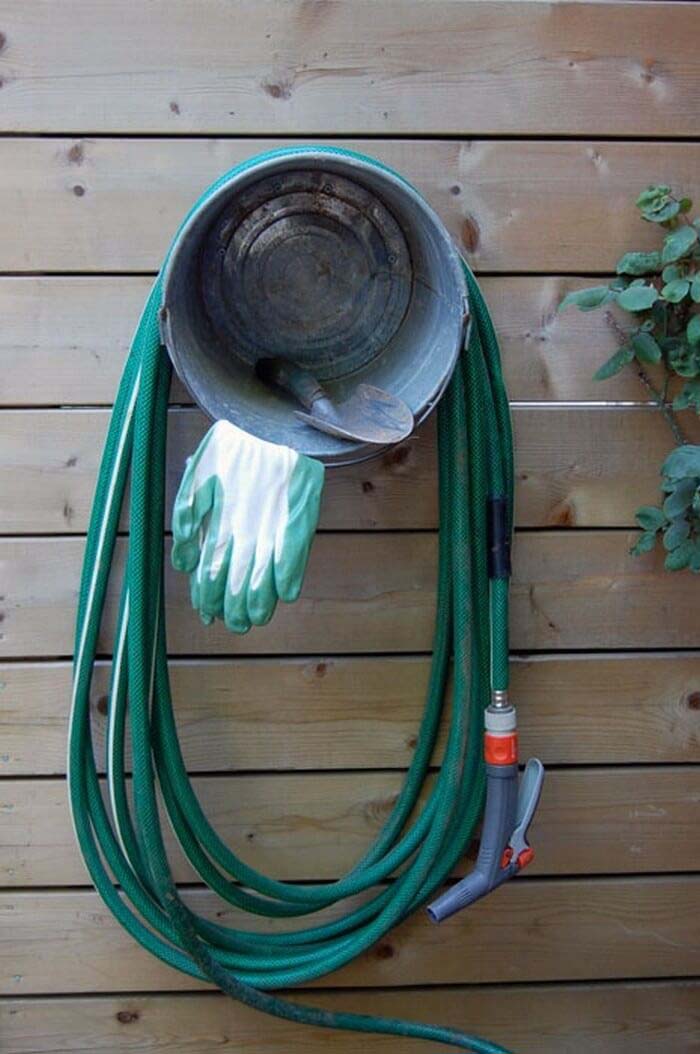 The best solutions are often remarkably simple, as proven by this creative option.
All you need is a fence-mounted galvanized bucket — wrap your hose around the exterior, and use the interior for storage.
You can even use the handle as a drying rack for gardening gloves.
12. Make a Rustic-Chic Drink Station with an Old Table and Bucket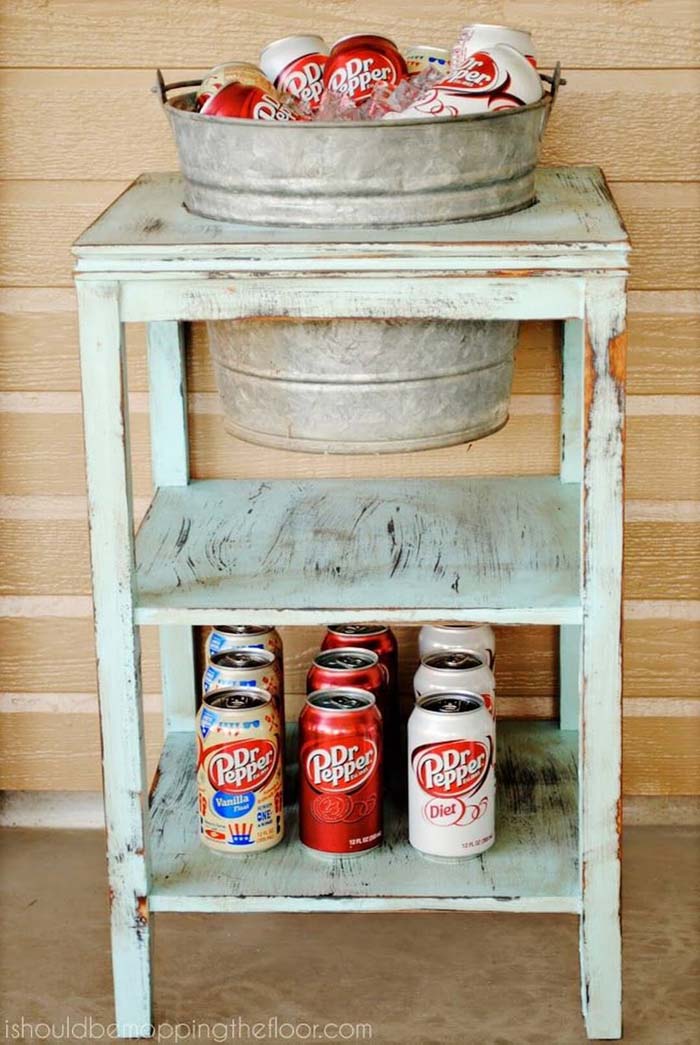 Get ready for summer gatherings with this creative drink station.
It turns an old table and a bucket into a rustic-chic piece that's sure to bring smiles to your guests' faces. Just add ice, and you're ready to entertain.
via I Should Be Mopping The Floor
13. Store Towels and Blankets with Galvanized Buckets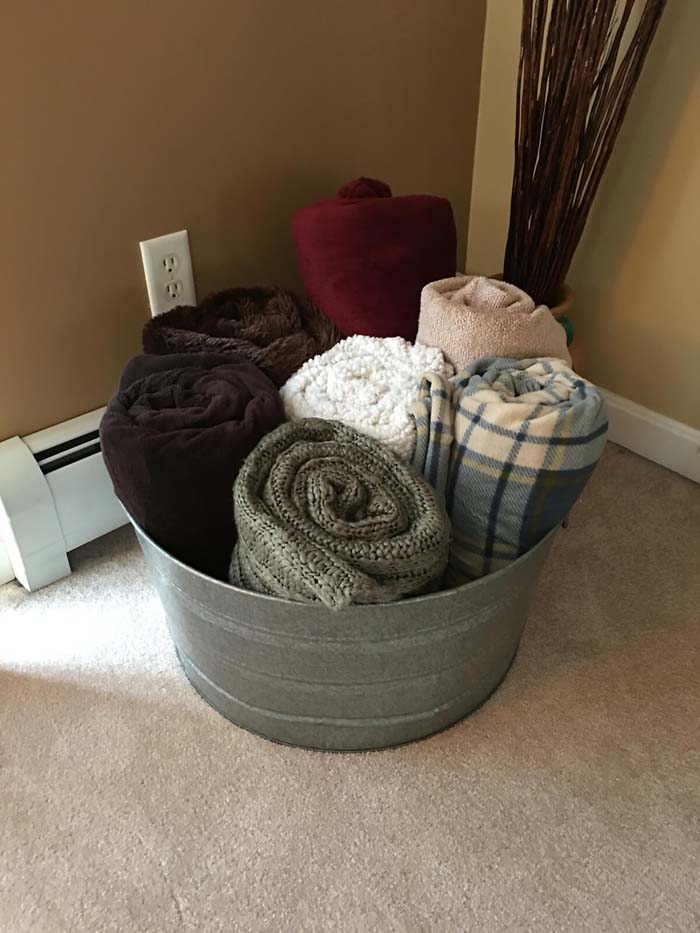 Have you ever struggled to find beautiful ways to keep towels and extra blankets ready for visitors?
Just roll them up and stuff them into a durable galvanized bucket.
Guests can find them easily, and the waterproof metal keeps everything fresh and dry.
14. Craft a Kitchen Island with Metal Tub and Wooden Planks

A kitchen island is a lifesaver in a smaller kitchen.
This unique piece uses a metal tub mounted on an old table base and topped with wooden planks to fit your farmhouse style.
We love how the homeowner uses the handles as a towel holder.
15. Transform Your Bathroom with a Galvanized Metal Tub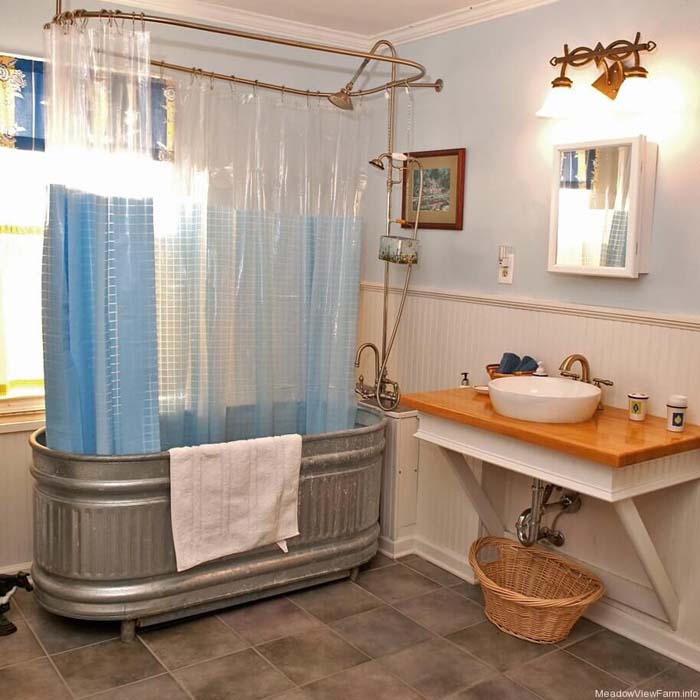 Make a splash in your bathroom by replacing your tub with an enormous galvanized metal version.
Sturdy, waterproof, and durable, this is a lovely alternative to a traditional design.
The texture and shine set your bathroom apart from the crowd.
16. Streamlined Home Storage Solution for Small Items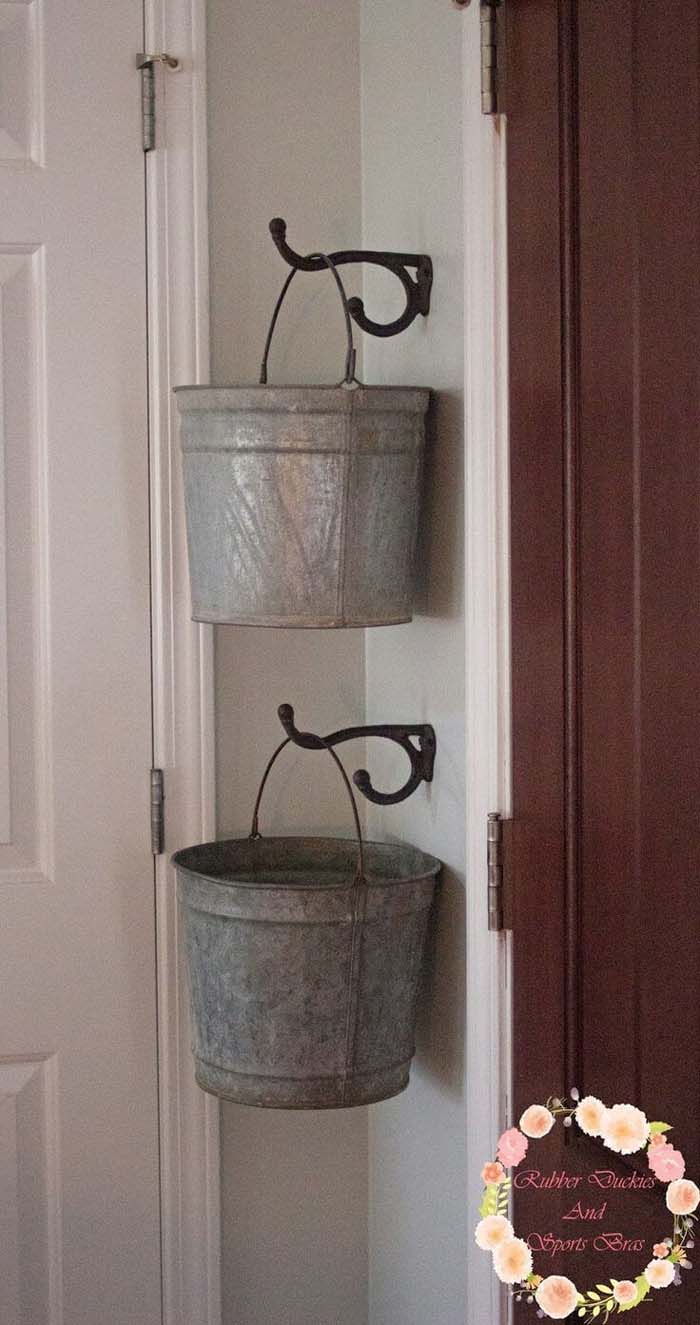 Every home has a selection of small items that are useful but difficult to store.
This fun system uses two metal buckets hanging from simple coat hooks to keep odds and ends in a stylish, easy-to-access location.
17. Host a Summer BBQ with Small Galvanized Buckets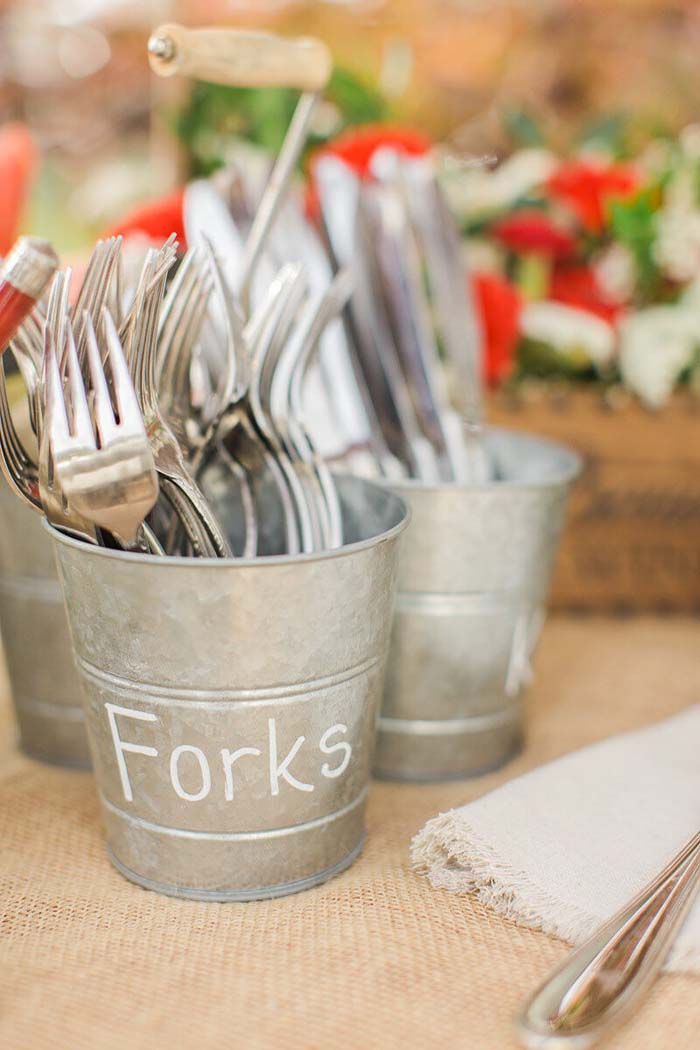 Do you like to host summer barbecues or picnics?
Keep utensils, straws, and napkins in order with a bunch of tiny galvanized buckets.
Use a paint pen to create handwritten labels, and set the buckets right on the table for a sweet, casual touch.
via Save On Crafts
18. Create a Practical Shelving Unit with an Old Metal Tub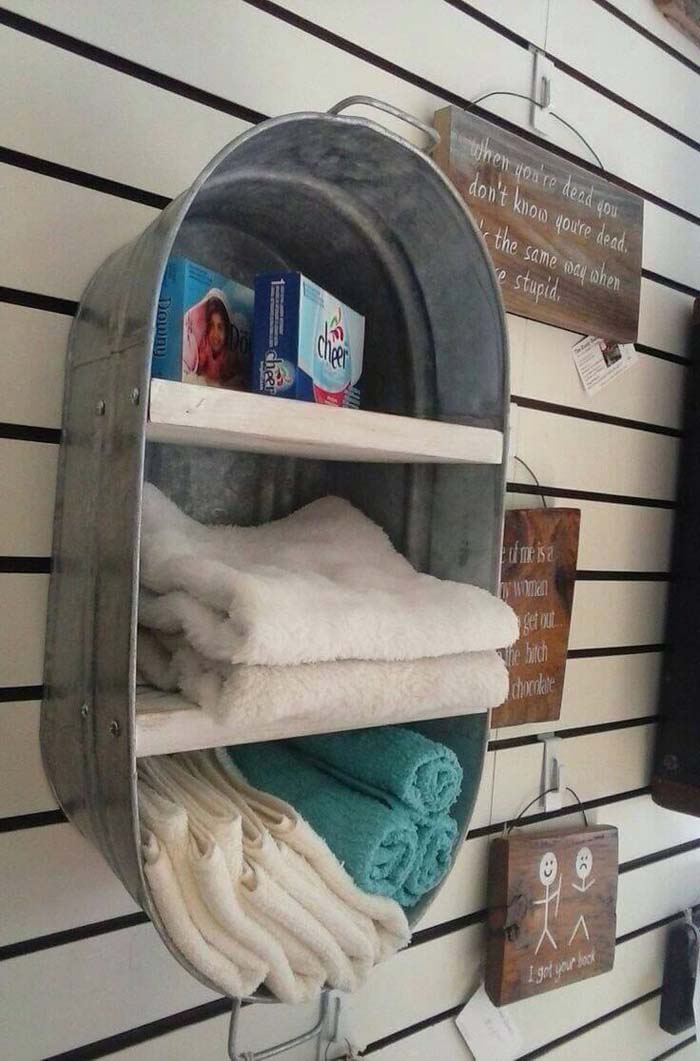 Convert a metal tub into a shelving unit with two simple wooden planks, and you have a farmhouse-chic piece that's ideal for the bathroom.
The metal holds up beautifully in a damp environment, and the large interior offers plenty of space for folded towels, toiletries, and more.
19. Illuminate Your Workshop with a Galvanized Tub Light Fixture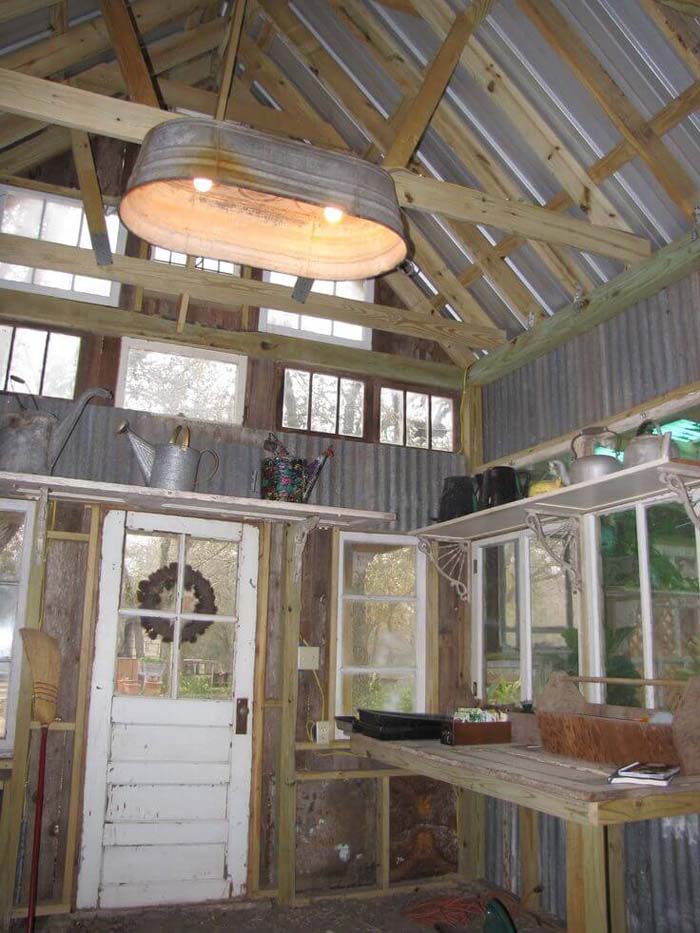 Looking for a unique way to illuminate a porch, workshop, or garage?
Why not replace the existing light fixture with a galvanized tub?
The sides help direct the light downward, and the metal texture makes bare bulbs look stylish.
via Valerie Yard
20. Update Your Kitchen with a Vintage Metal Bucket Light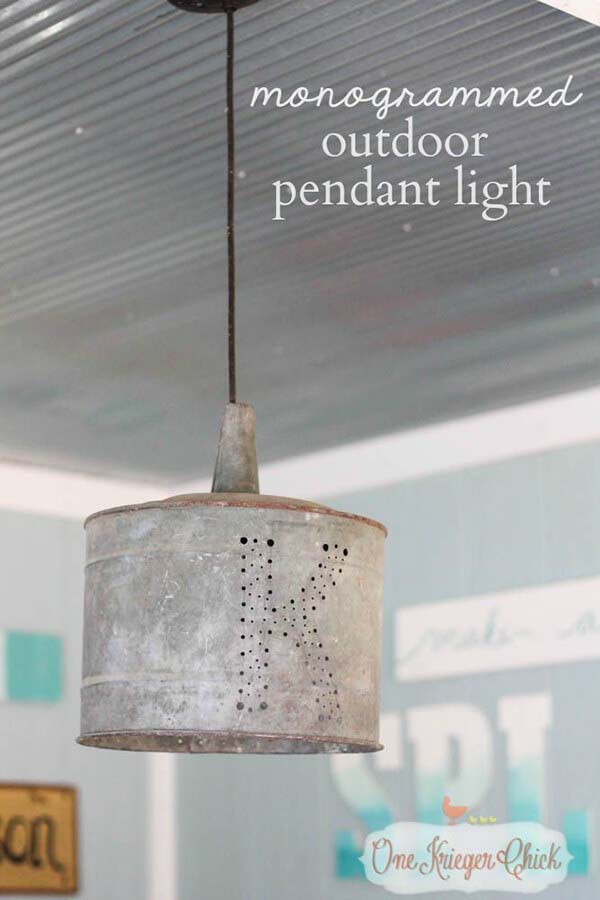 Give your kitchen lighting a rustic makeover with a vintage metal bucket.
The secret?
A monogrammed design is made by punching holes in the side of the bucket. Flip on the light, and the letter glows.
21. Design a Functional Porch with a Bucket Table Seating Area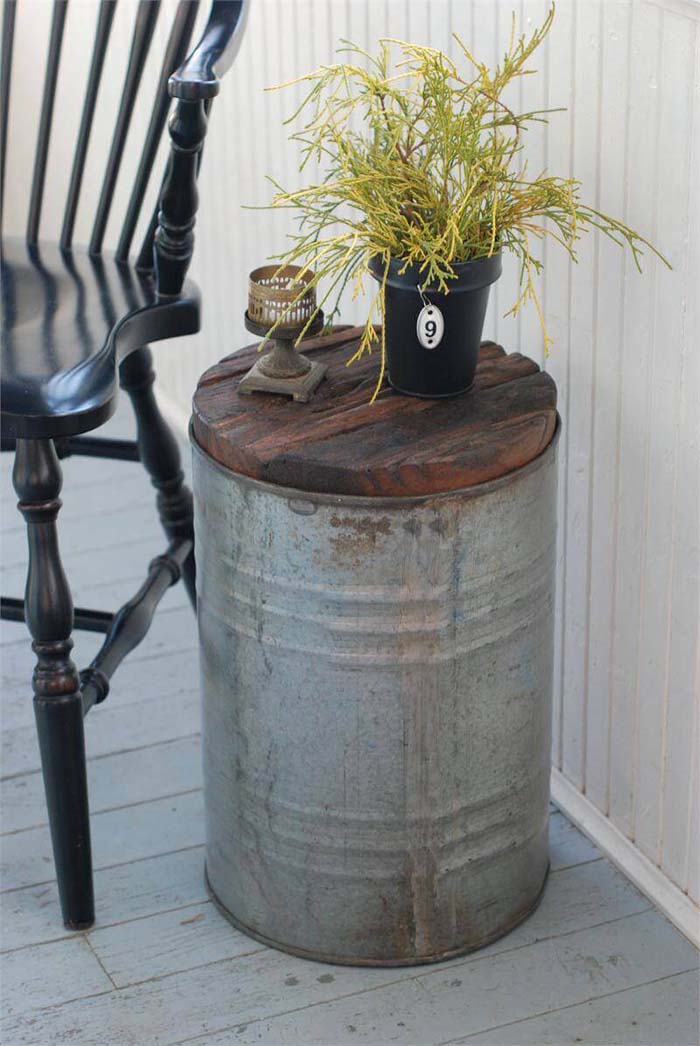 Design a more functional front porch by adding a bucket table to a seating area.
Here, a few weathered wooden planks fit neatly into the bottom, creating a tabletop that looks beautiful and stands up to the elements.
22. Rustic Galvanized Metal Bucket Centerpiece

If you can't find an old galvanized metal bucket, you can still achieve the rustic style.
A coating of toilet bowl cleaner and a bit of sunshine add an instant aged look. Fill your antiqued bucket with flowers for an instant centerpiece.
via Hometalk
23. Outdoor Table with Galvanized Bucket and Wooden Barrel Top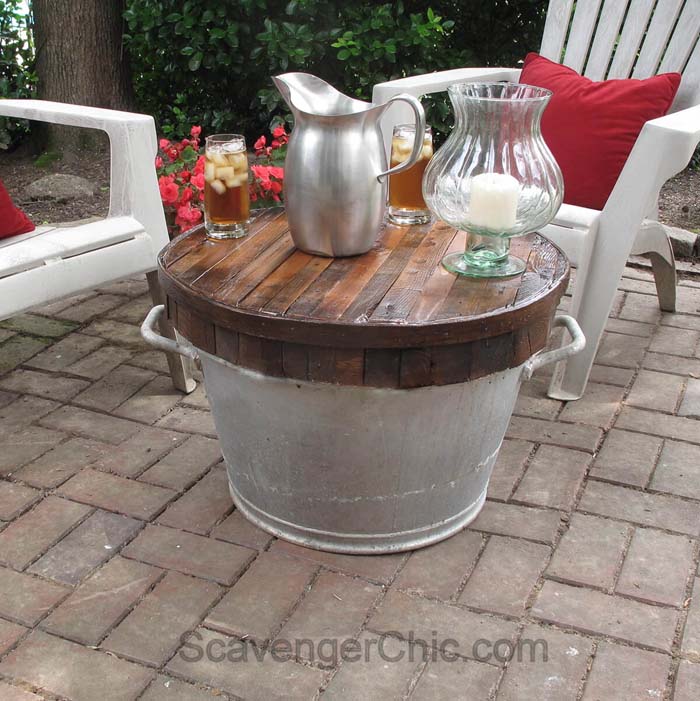 A galvanized bucket and a wooden barrel-style top create a durable outdoor table in this project.
The thin wooden strips make an attractive contrast with the metal, creating a design that's part vineyard, part farmhouse.
via Scavenger Chic
24. Transform an Unused Metal Tub into a Charmed Seating Area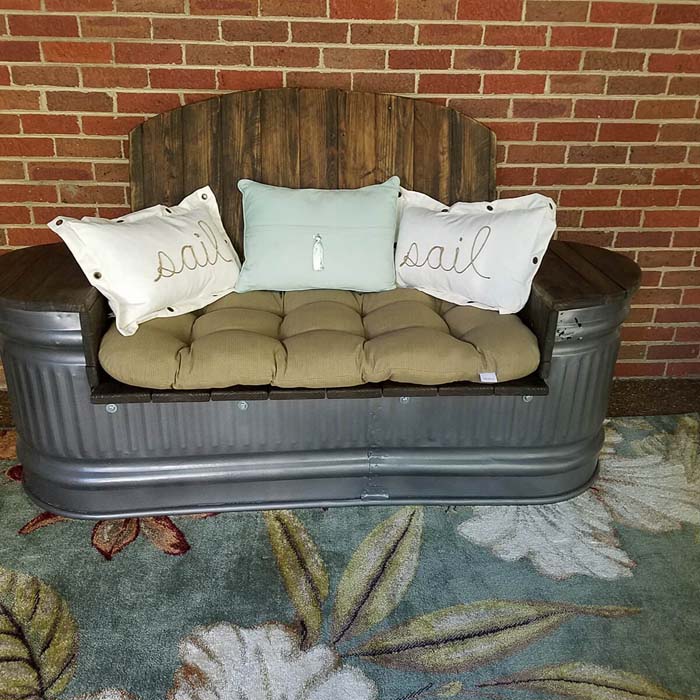 Your guests will be instantly charmed by this unexpected seat, which is made using a large metal tub.
You'll need a few power tools to cut out the seating area and build the wooden seat, backrest, and armrests, but the result is well worth the effort.
25. Reimagined Sewing Machine Base with Galvanized Metal Tub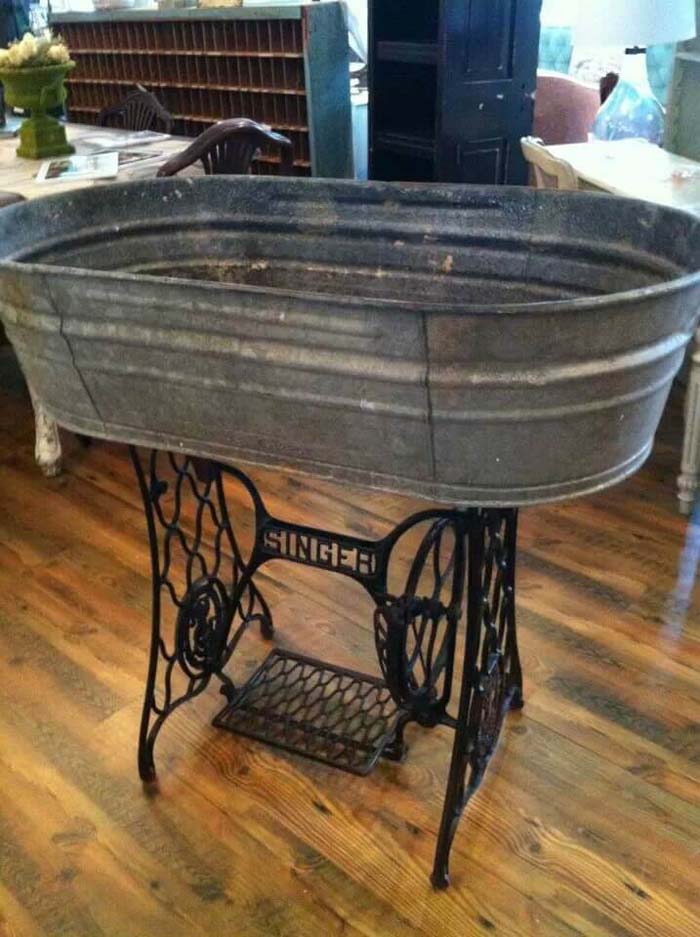 Make use of a historic sewing machine base by adding a galvanized metal tub to the top.
Add a few boards to turn the piece into a table, or leave it hollow to use as a planter or a beverage storage unit for parties.
26. Rustic Planter Featuring Galvanized Metal and Lush Greenery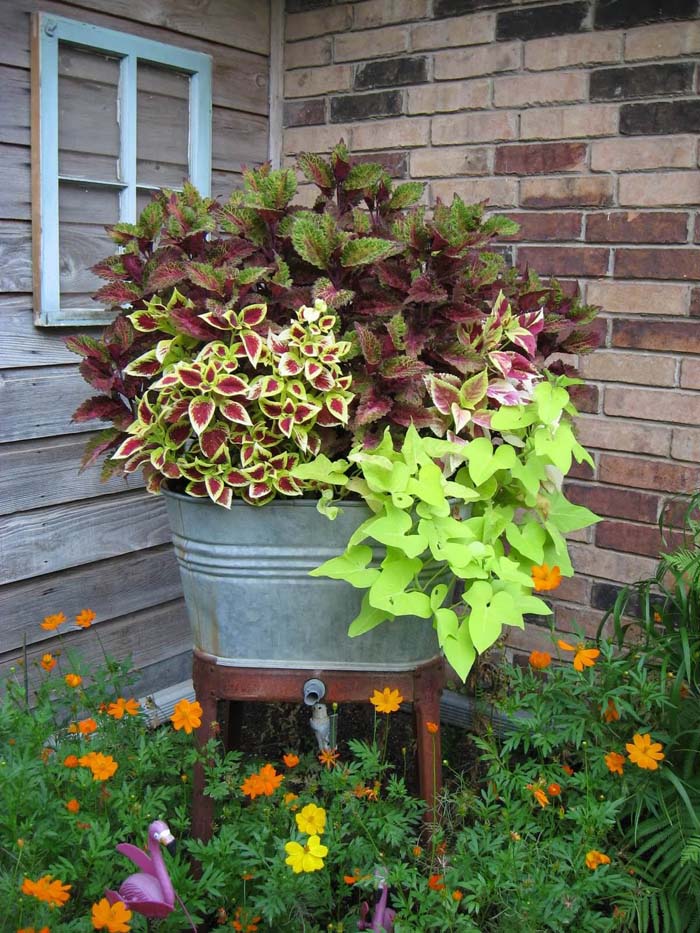 Galvanized metal contrasts beautifully with natural greenery in this planter project, which makes use of thick, cascading plants.
Note the creative drainage system and the rustic metal stand; they enable easy outdoor use.
27. Repurpose an Old Washing Tub into a Durable Deck Planter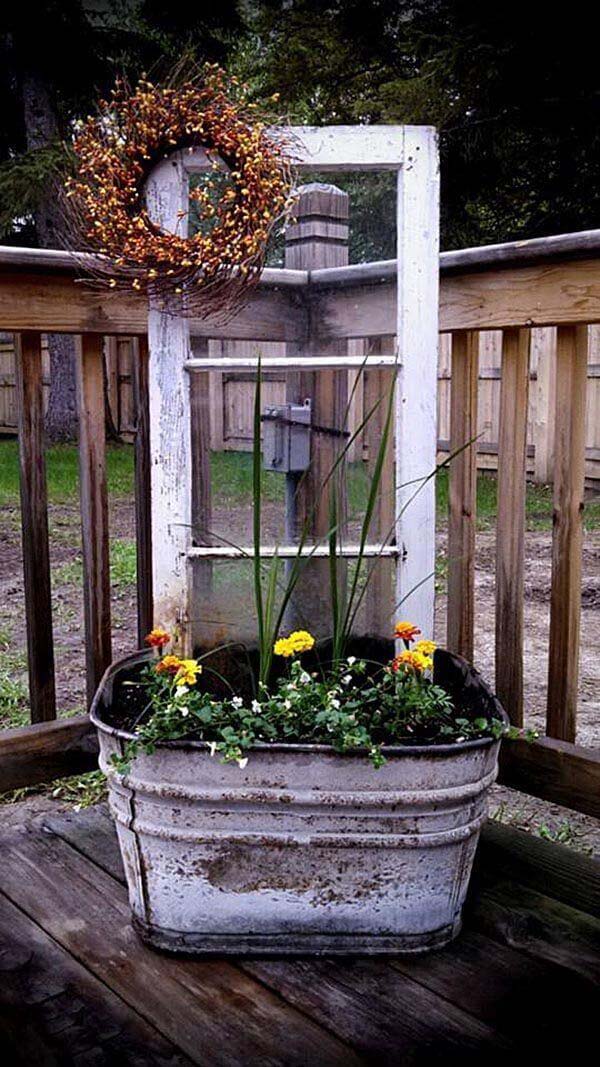 Deck planters need to be sturdy and weather resistant — and that's where an old washtub comes in.
The metal will age naturally as it's exposed to the sun and rain, and the durable sides offer lots of support for a full load of soil.