The entryway of your home sets the tone for the entire house, welcoming guests and family members to your relaxing sanctuary.
A beautiful farmhouse foyer is a perfect way to create a warm, cozy vibe that sets your friends at ease from the moment they walk in.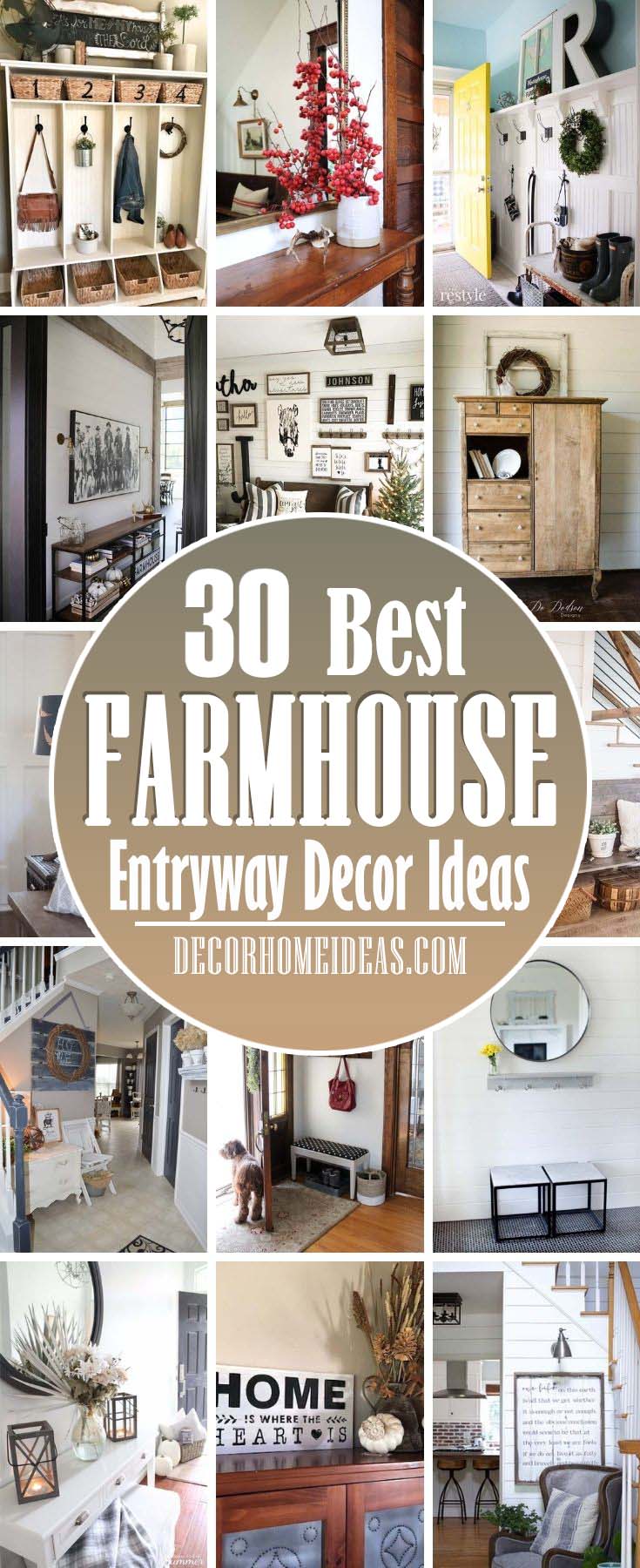 These fantastic rustic ideas show you how to design a foyer that's both beautiful and practical.
1. Cheerful Perriwinkle Entryway Chest with Green Spray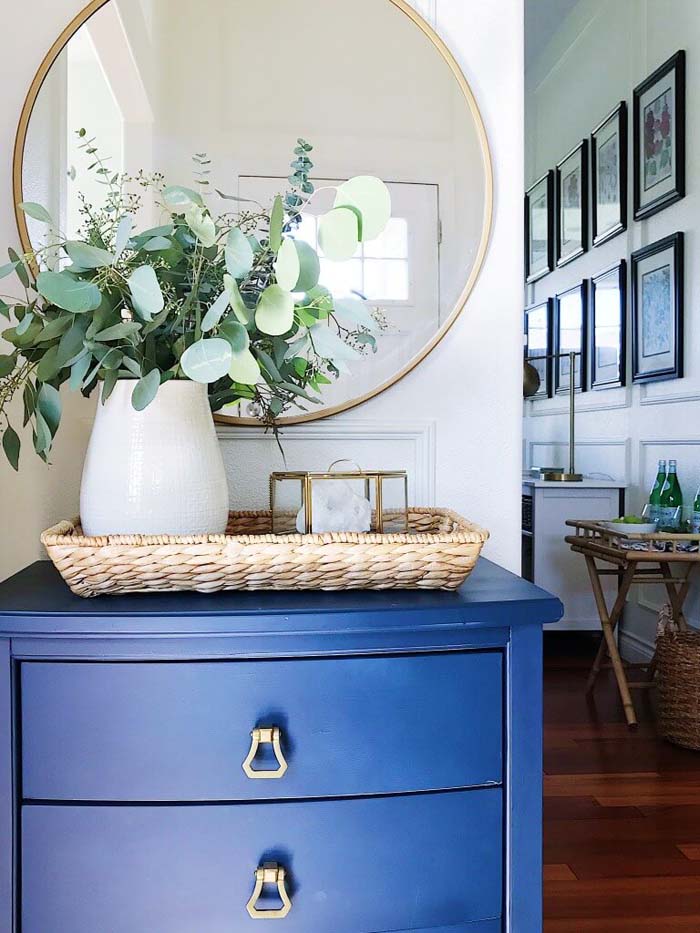 A cheery bright blue chest adds a splash of color to this small rustic entryway.
The top of the chest is the perfect spot for a seasonal bouquet and a tray to hold your keys.
Here, the tray is made from natural fibers for a laid-back touch.
via Jane at Home
2. Chic Southern Stool and Hook Arrangement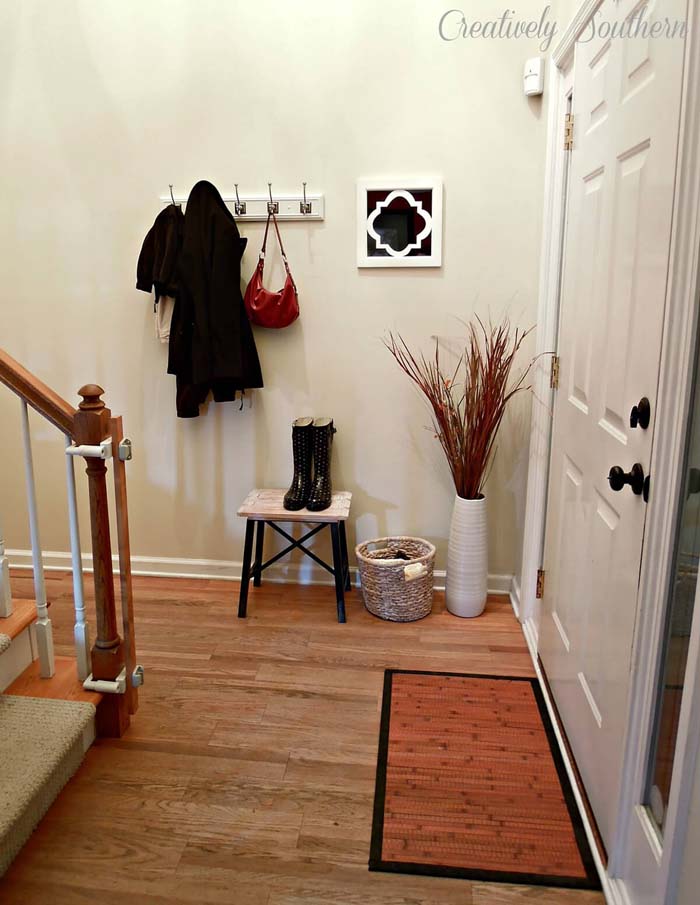 When you're working with a limited amount of space, you can't beat a row of wall hooks and a small stool.
Use the stool as a place to sit when you're putting on your shoes, or add a pair of cute rain boots for a fun country vibe.
A seagrass basket adds the perfect rustic texture.
3. Classic Entryway with Large Antique Style Clock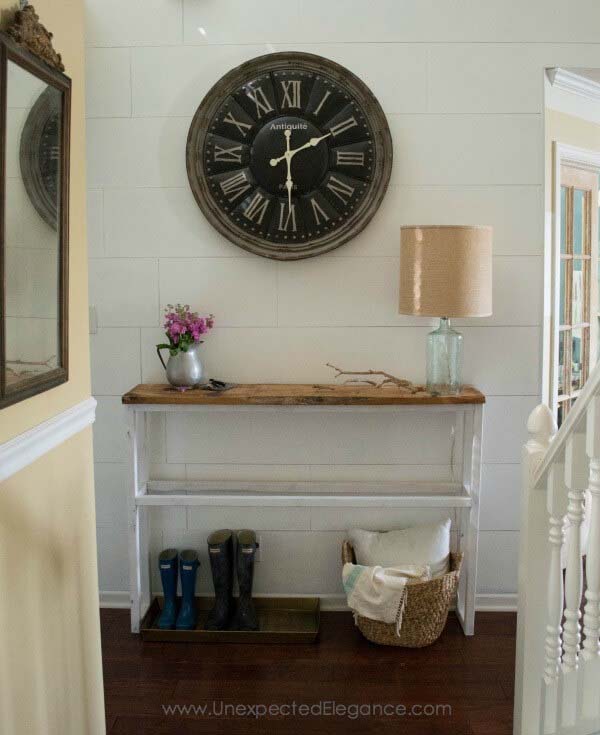 Old-World farmhouse decor gets a fresh update in this design.
The white walls and table keep everything bright and cheery, and the antique clock delivers a touch of tradition.
A sweet metal pitcher and a contrasting wood tabletop complete the look.
4. Cozy Corner with Armchair and Hanging Accents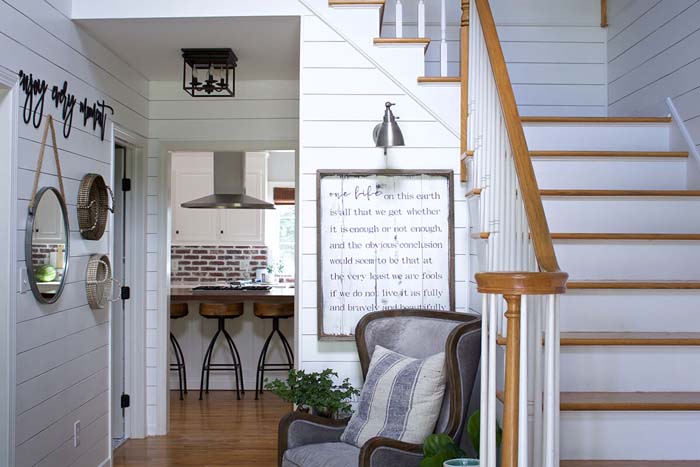 Is there anything more welcoming than a cozy armchair?
If you have a beautiful farmhouse chair that doesn't fit anywhere else, tuck it into your entryway and deck it out with a pillow.
Hanging rustic mirrors and wall art complete the sweet vignette.
5. Farmers Market Parlour with Wooden Bench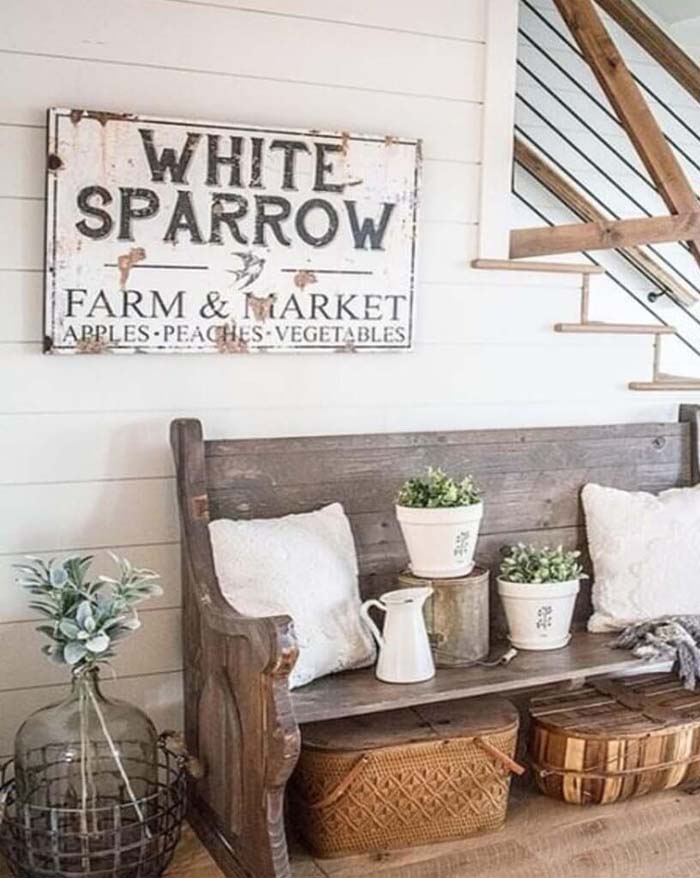 A weathered bench takes center stage in this adorable entry, serving as a display space for plants, rustic baskets, and a few homey pillows.
Hang a vintage farmers market sign on the wall as a casual work of art.
6. Feather Entryway with Accent Lamp and Pillows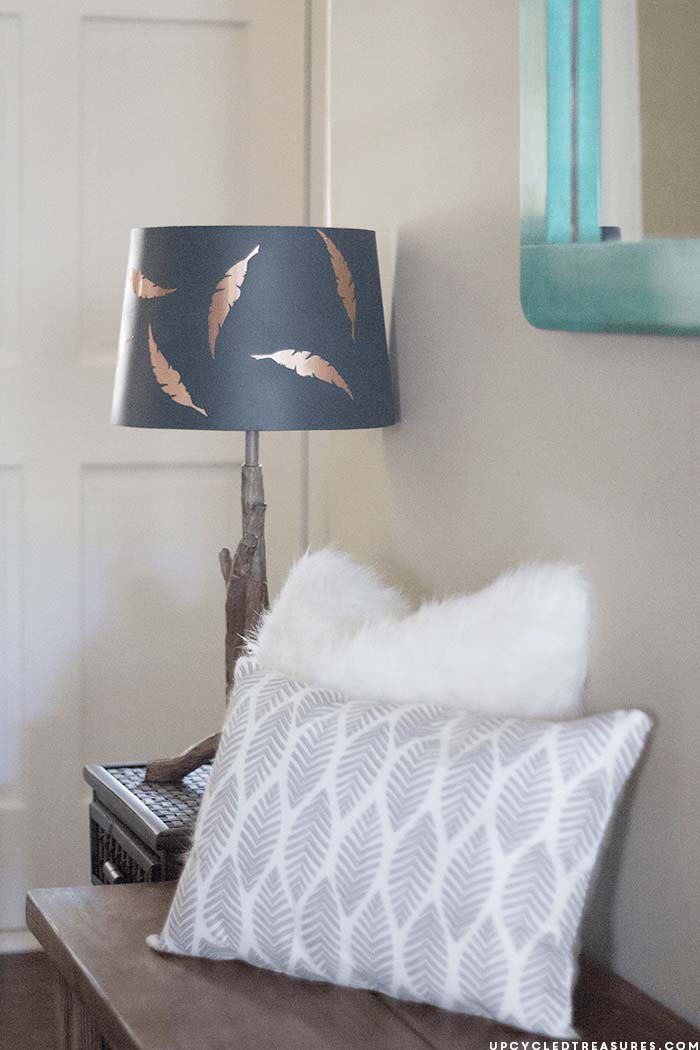 Farmhouse style can be sophisticated, as shown here — a feather theme evokes a soft, natural look that contrasts perfectly with the wooden bench and lamp base.
Add in a fun faux-fur pillow for a hint of glam.
7. Gardeners Themed Distressed Wooden Shelf and Bench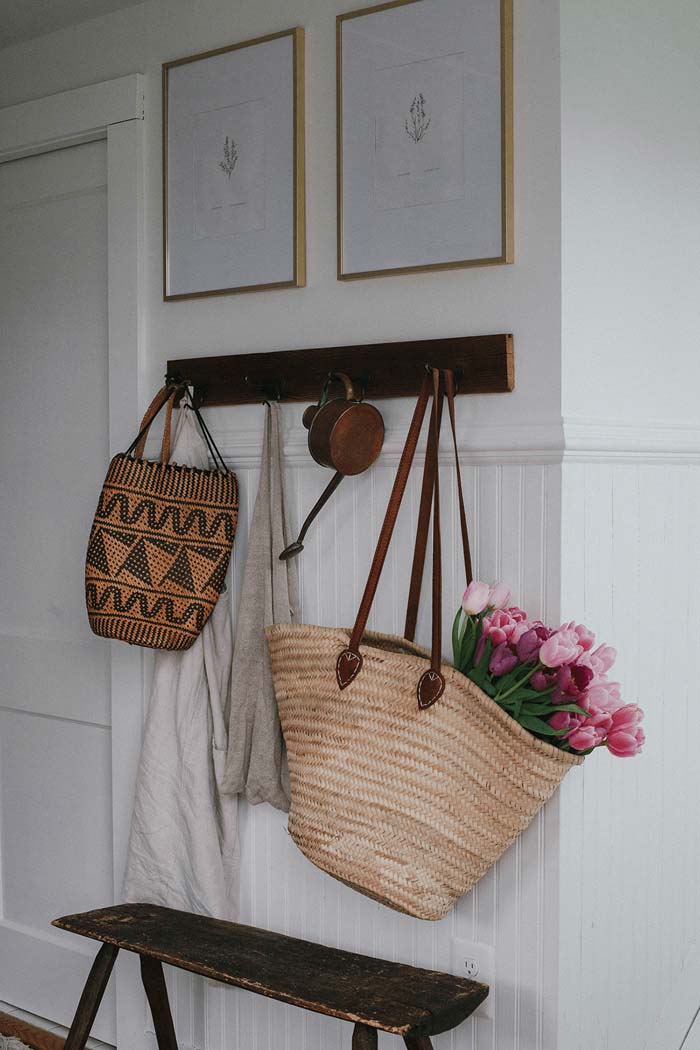 Let all of your visitors know about your passion for gardening using a collection of themed elements.
From the framed plant art to the hanging watering can and the artificial flowers tucked into a tote, every element is right on trends.
8. General Store Corner with Antique Signs and Tools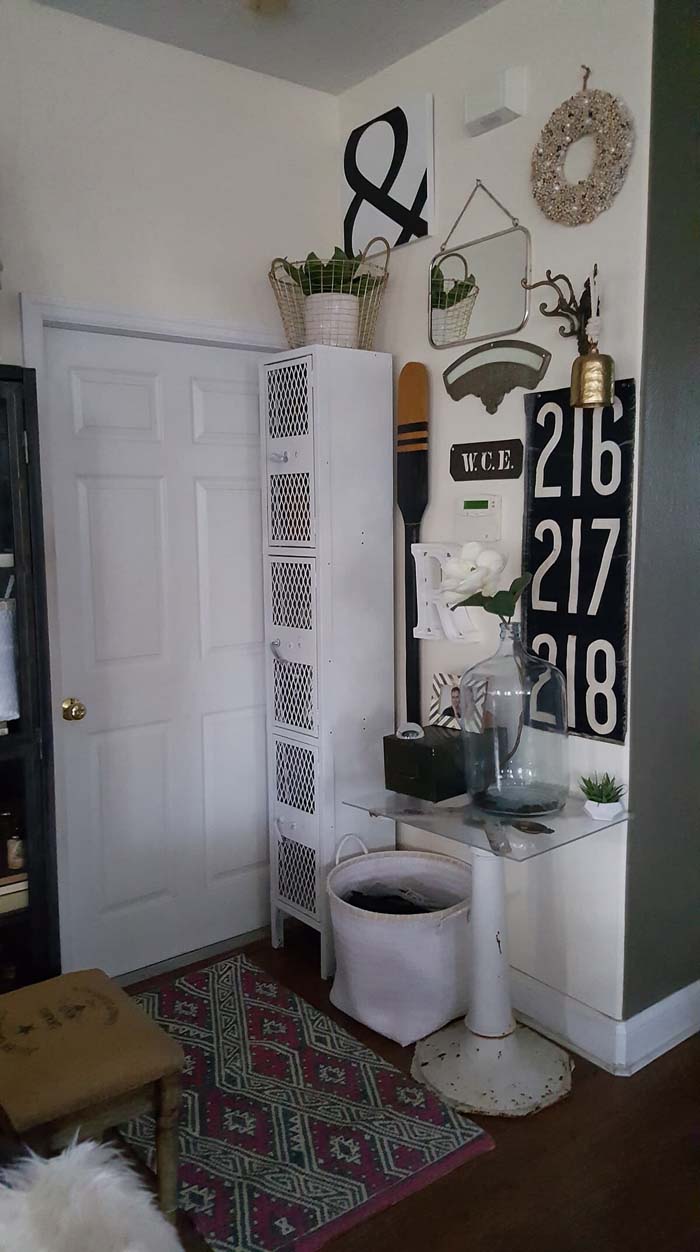 Do you love the crowded, eclectic feeling of a historic country store?
Recreate it in your entryway with a collection of beautiful antiques and art pieces.
As a bonus, this is a great way to display vintage pieces that don't fit anywhere else in the house.
via Bees and Burlap
9. Harvest Themed Entryway Table with Pumpkin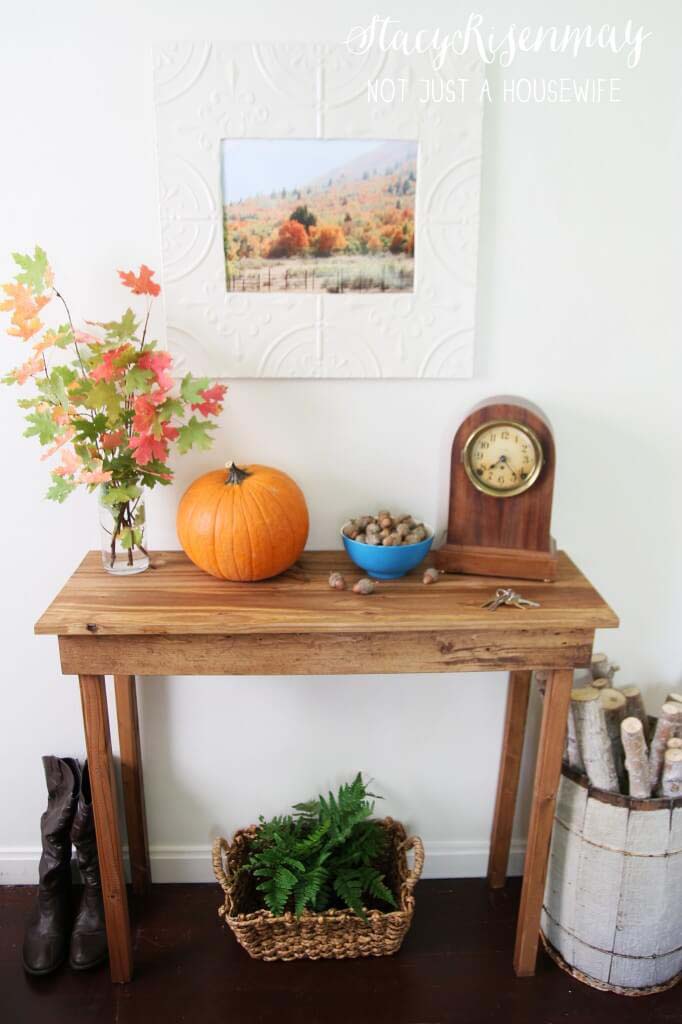 When fall comes around, celebrate the rich colors with a seasonal entryway.
This makeover doesn't have to be expensive — a pumpkin, a bouquet of changing leaves, and a bowl of acorns are all you need.
Print off a fall photo for an extra pop of color.
10. Home is Where the Heart Is Entry Greeting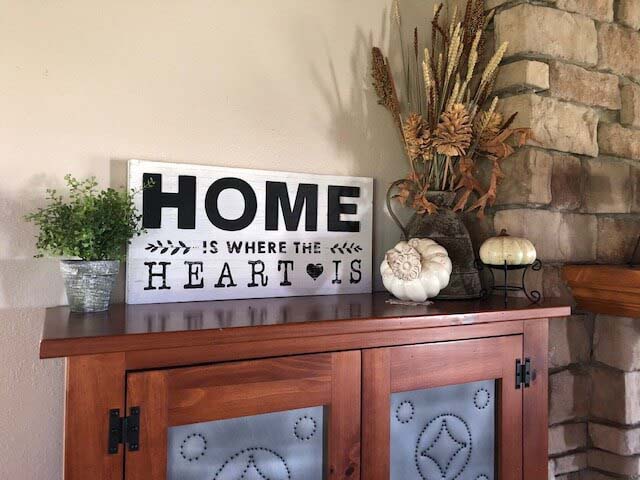 Farmhouse style is all about cozy, homey elements.
This entryway takes a literal approach with a home-themed wooden sign.
If you have a block of wood and a steady hand, you can even design your own for a personal touch. A galvanized metal bucket and dried plants add the perfect rustic twist.
11. Individually Numbered Entryway Cubby with Vintage Decor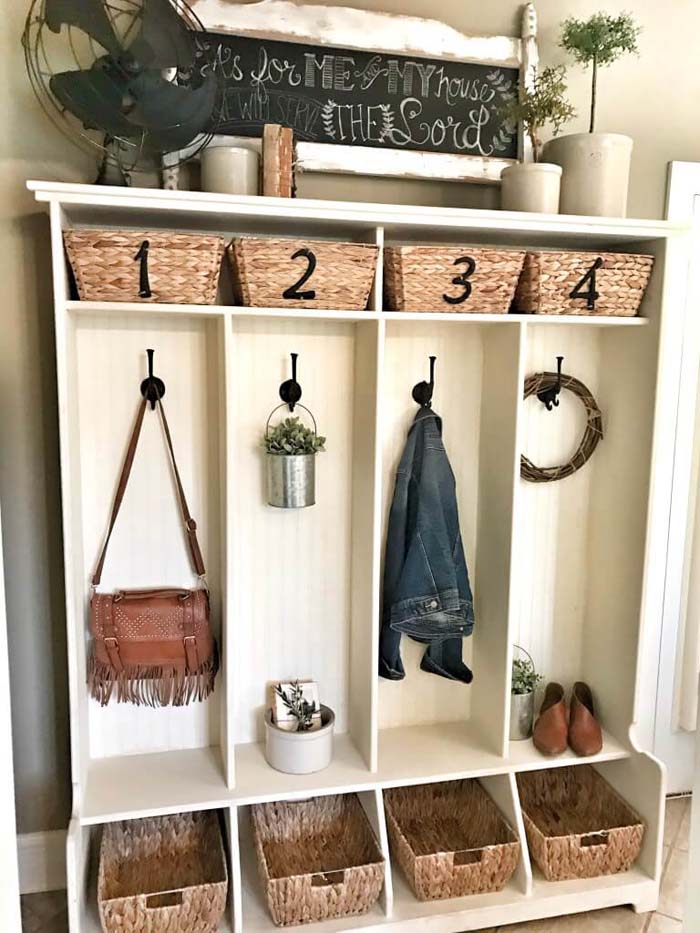 Do your family members ever struggle to find their gloves or shoes?
Elevate and organize your entryway with an adorable cubby system.
The wood planks, rustic baskets, and scattered plants turn this beautiful piece into a country-chic masterpiece.
via Bless This Nest
12. Ivory Entryway Flower and Lantern Display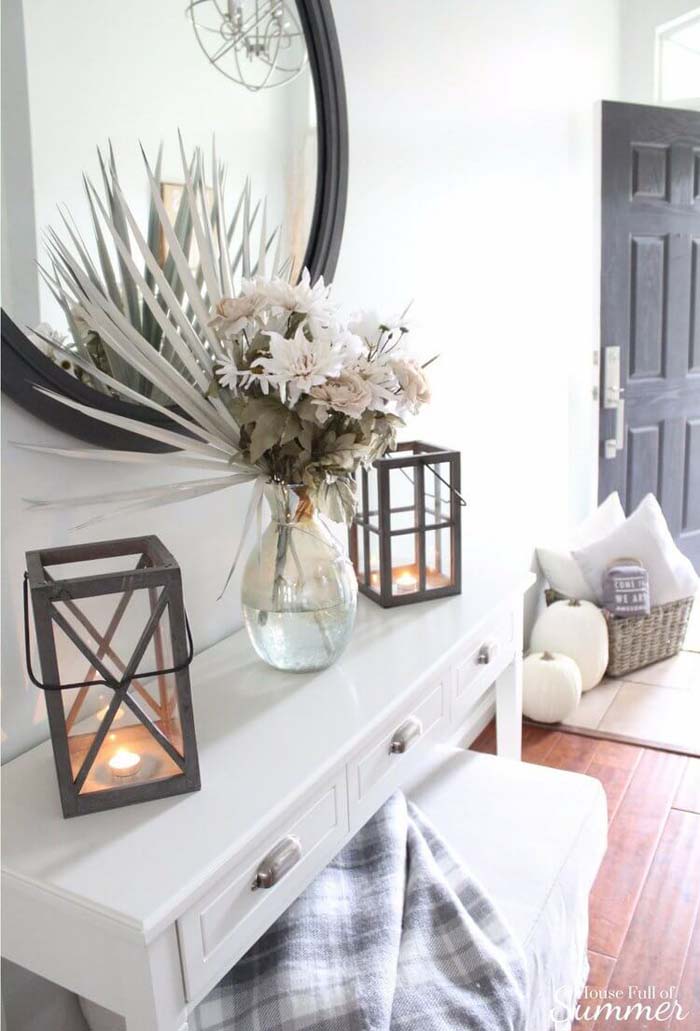 Modern farmhouse decor is all about bright spaces and rustic pieces.
Carry that style into your entryway with a bold vase of white flowers and a couple of reclaimed wood lanterns.
Light tealight candles any time you have a visitor for a cozy glow.
13. Marble and Tile Cosmopolitan Foyer with Mirror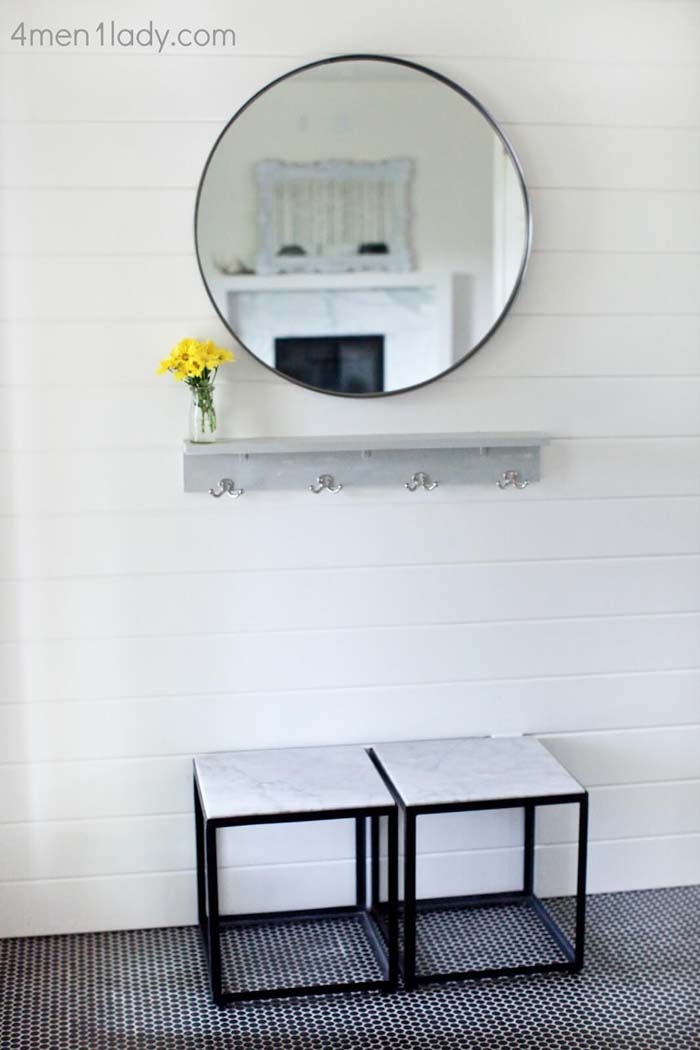 Bring a modern flair to your farmhouse foyer by switching up the furniture.
A set of black metal benches topped with marble adds texture, and the weathered coat rack keeps the rustic vibe going strong. The secret?
A tiny vase of colorful flowers that brings just the right pop of color.
via 4 Men 1 Lady
14. Corner Nook with Slate Picket Sign and Garland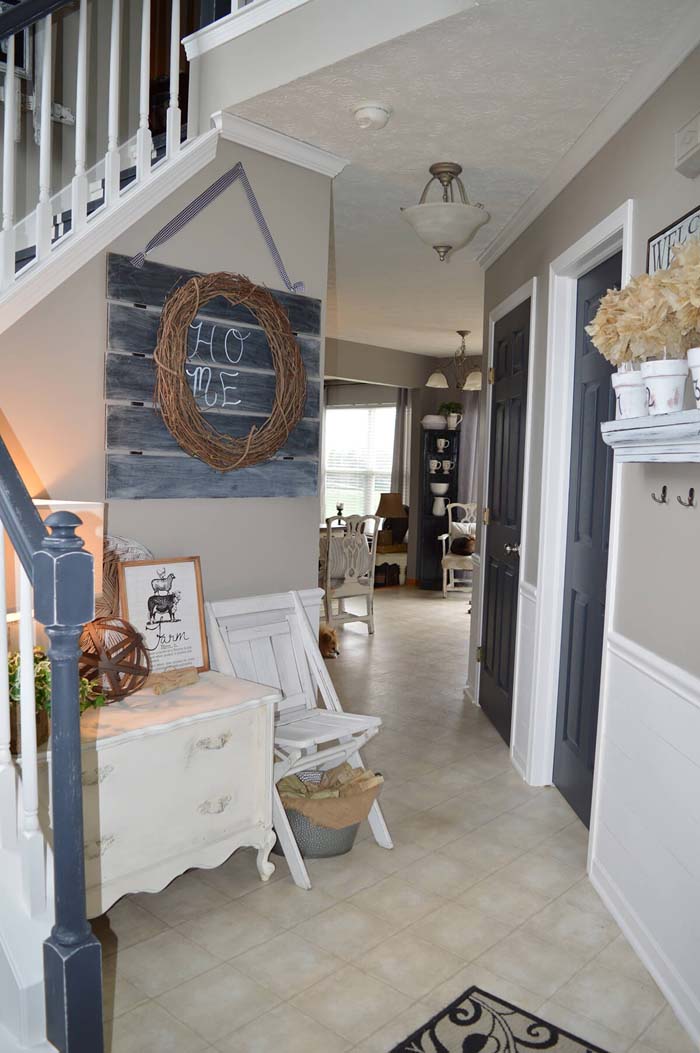 Turn a tiny corner into a designer-style area with a collection of rustic pieces.
A slate-style wood plank sign, a twig wreath, and whitewashed vintage furniture strikes the perfect blend of texture and sophisticated color.
A burlap-lined metal bucket takes this design to the next level.
15. Rustic Pacific Style Stripped Chest and Antique Sign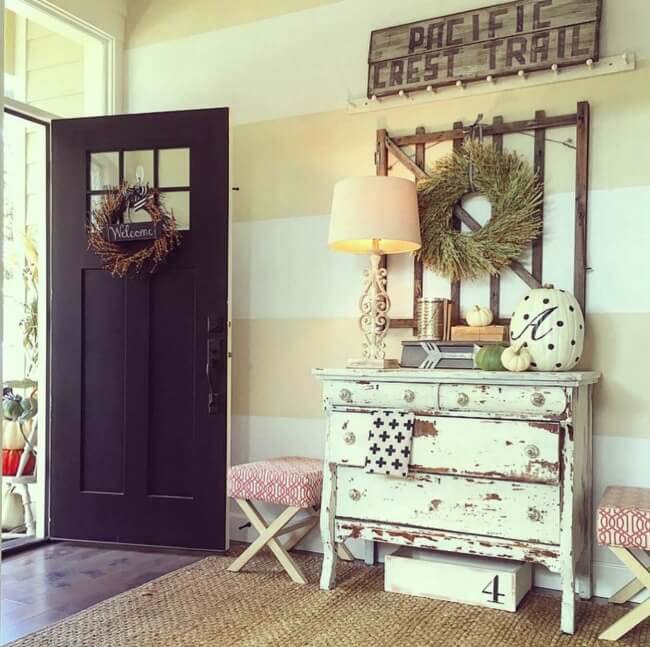 Do you have an old chest tucked into the back of a storage area?
With a bit of sandpaper and some elbow grease, you can turn it into a distressed work of art.
Top it with a few rustic pieces, and you have a foyer display that's right out of the pages of a design magazine.
16. Painters Ladder Multi-Use Entrance Rack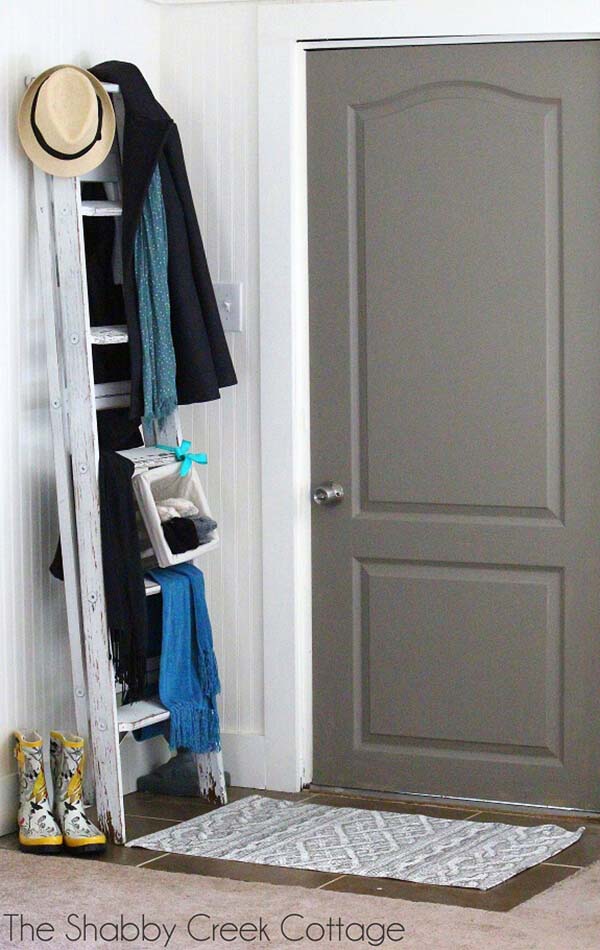 Is your entryway too small for a traditional storage system?
An old ladder is a perfect solution — it's slim enough to fit into any space, and the rungs act as a spot for coats and other supplies.
Tie on a basket with a ribbon to hold gloves and accessories.
17. Ranch-Style Front Hall with Assorted Signs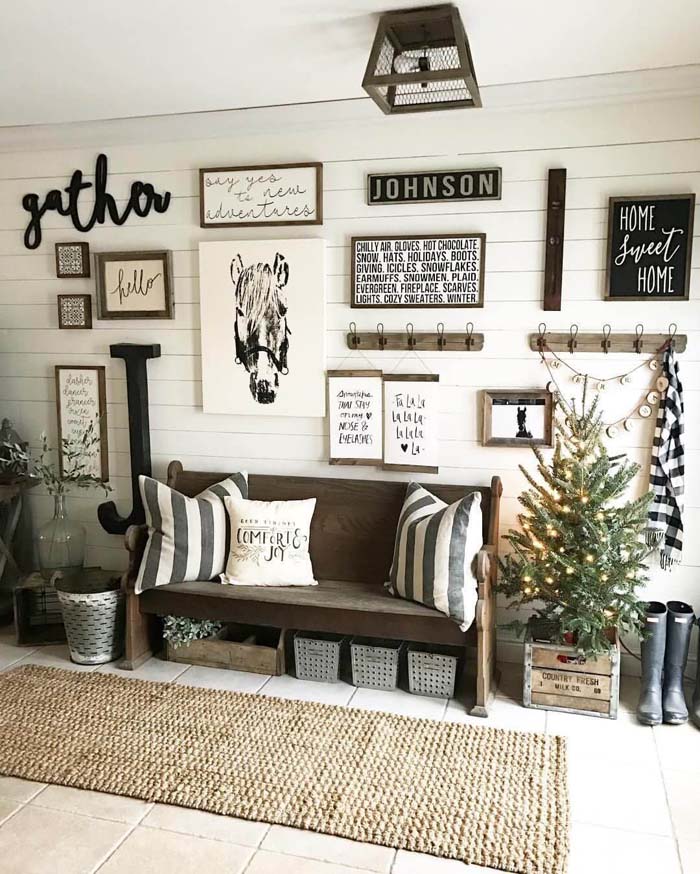 There's no denying the charm of a gallery wall — here, the homeowner has gathered rustic pieces in a cohesive color palette for a contemporary farmhouse display.
Tuck a wooden bench under your pieces to create a handy place to sit.
18. Raw Wooden Wardrobe with Garland and Window Pane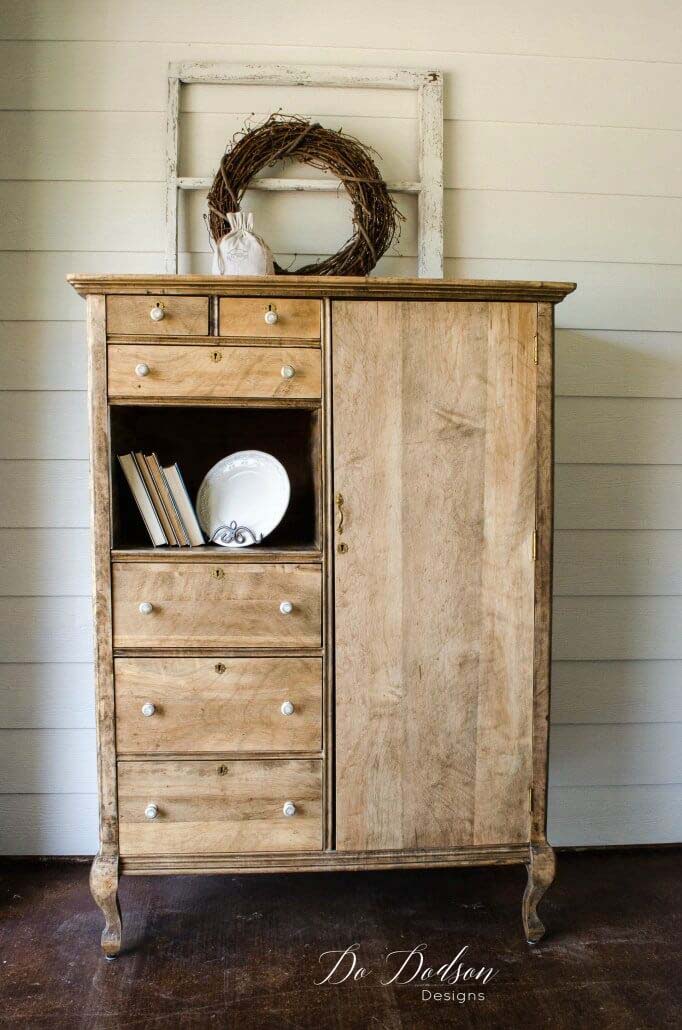 Simple and impossibly chic, this foyer display uses vintage furniture to create a stunning design.
The magic lies in the raw wood of the wardrobe and the peeling windowpane; they play beautifully against the carefully chosen wreath, book, and dish accents.
19. Schoolhouse Style Wooden Seating and Storage Entryway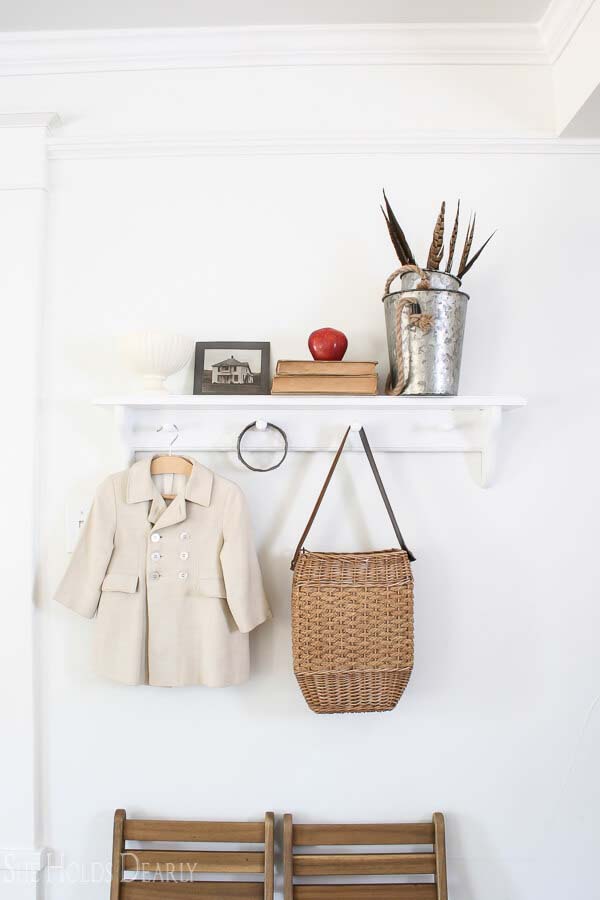 Bring the charm of a country schoolhouse to your home with vintage wooden chairs and a whitewashed wall shelf.
A brilliant red apple adds just the right touch of color to this magnificent neutral arrangement.
For a pop of shine, add a couple of galvanized metal buckets into the mix.
via She Holds Dearly
20. Simple Entry Nook with Numbered Hooks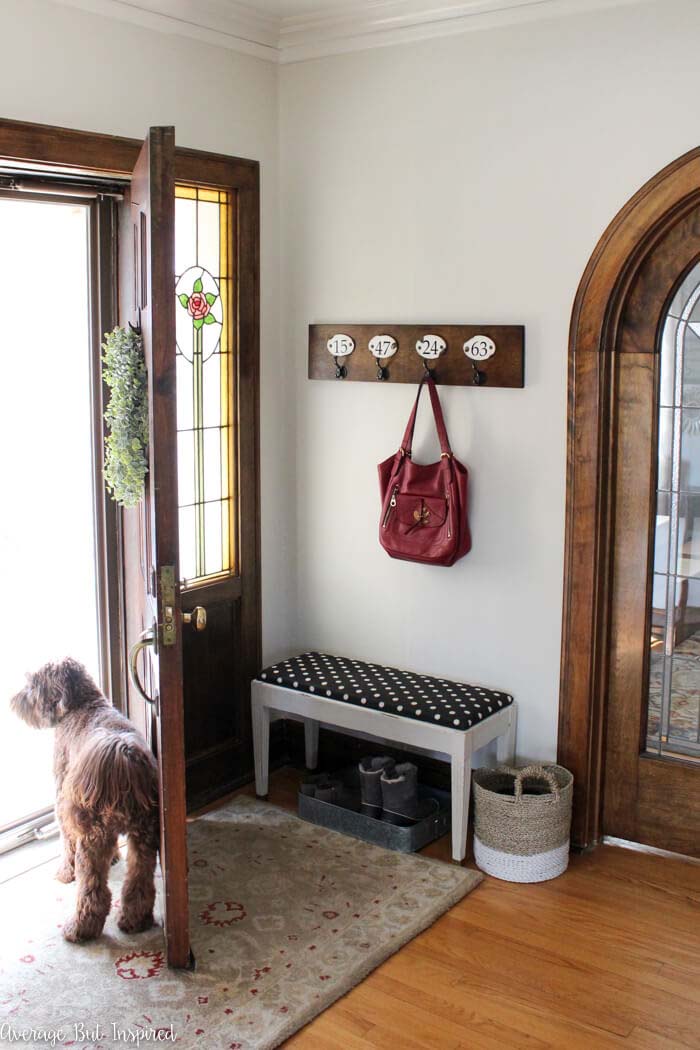 Simple antique number plates make a surprisingly striking accent in this small foyer.
The DIY coat rack comes together in an afternoon, so you can do a quick entryway makeover.
For a fun finishing touch, add custom upholstery fabric to a small bench.
via Average Inspired
21. Simple Nautical Hook and Display Shelf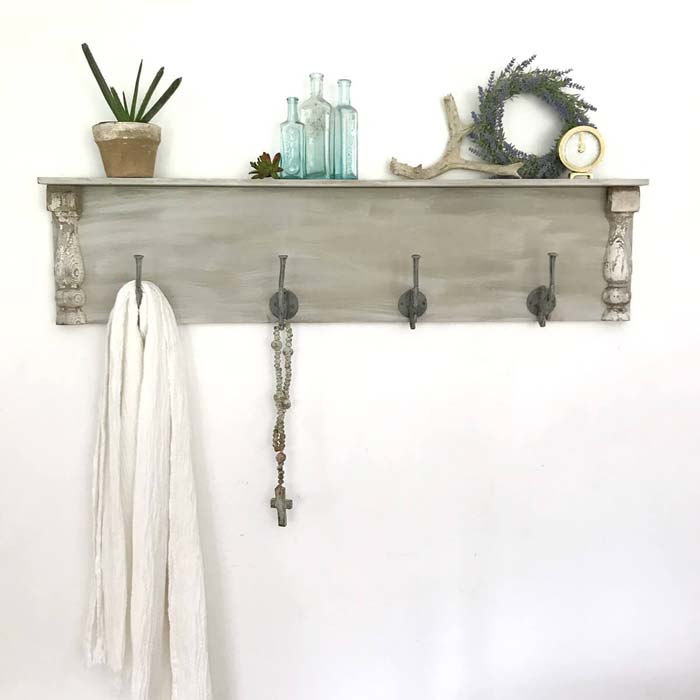 Going for a coastal farmhouse vibe?
This tiny shelf seamlessly blends the two design styles, thanks to elements like sea-colored vintage bottles and a piece of driftwood.
The soft grey and green palette adds an elegant, contemporary look.
via Hallstrom Home
22. Stable-Style Entrance with Wooden Storage Seating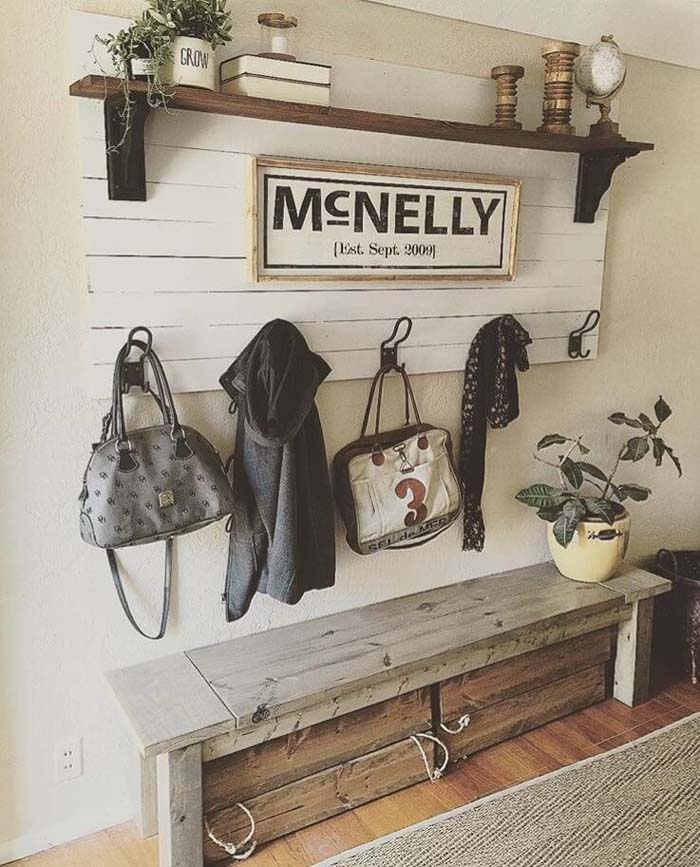 Embrace an equestrian look with an entryway that features stable-style accents.
A wood-panel backboard serves as the base for a stable sign and a few carefully chosen rustic pieces.
The low-key bench and wood baskets amp up the farmhouse texture.
23. Supermarket Sign with Multi Lighting Accents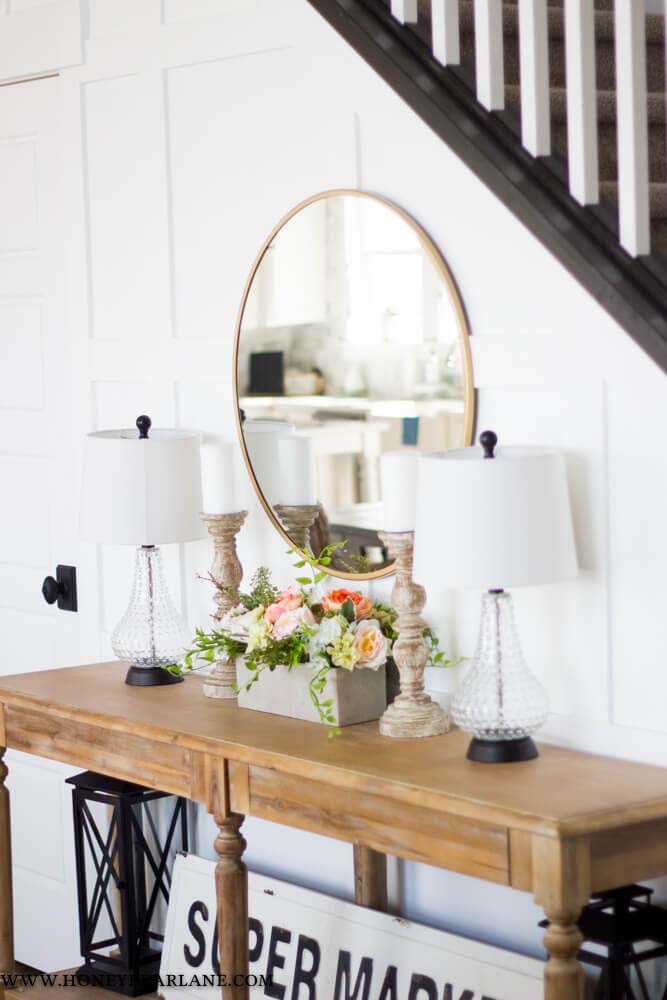 This stunning foyer strikes just the right balance between fresh, feminine style and rustic decor.
The bold supermarket sign is tucked into the base of a table for a balanced look, and the weathered wooden candlesticks add a subtle hint of barn-style wood.
via Honeybear Lane
24. Chic Uptown Farmhouse Foyer for Modern Homes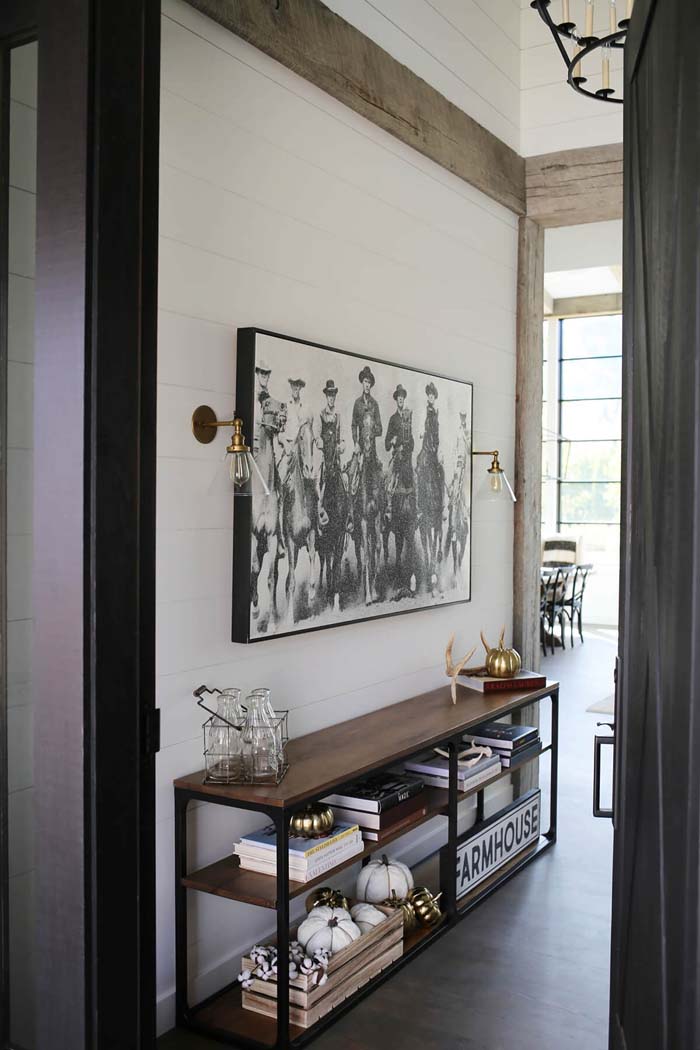 Are you figuring out how to add farmhouse style to your contemporary home?
This is a gorgeous solution.
The secret is the stark black, white, and natural palette, which unifies the varied pieces and keeps everything looking sharp.
via SBK Living
25. Wintery Corner with Chalkboard and Evergreen Garlands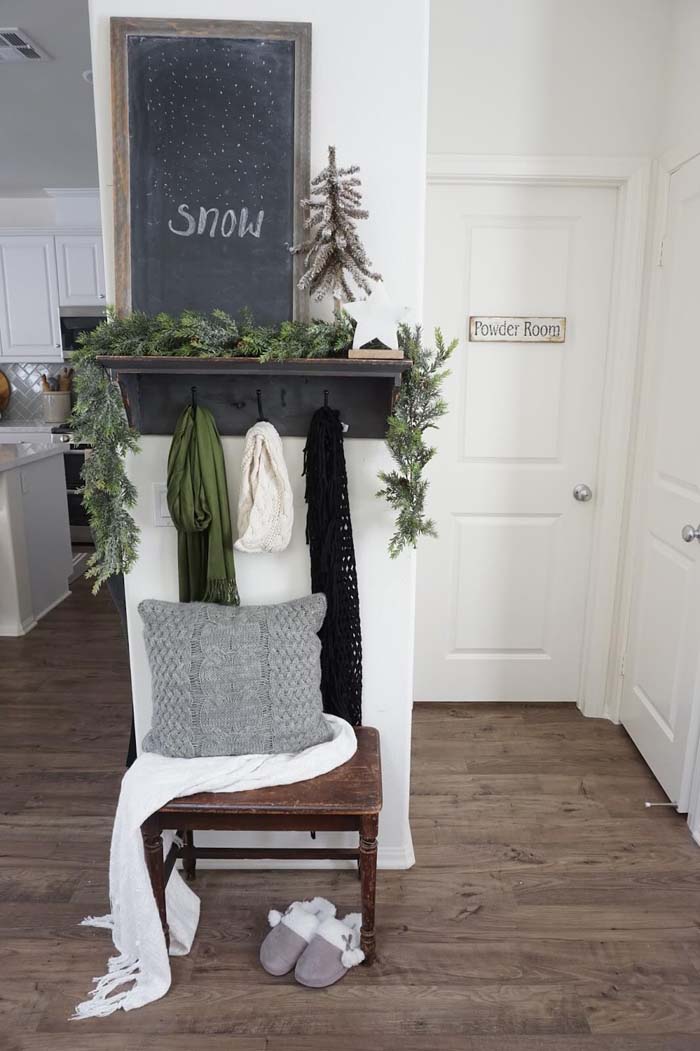 Update your entryway for the winter season on a budget with a bit of snow-covered garland and a tiny tree.
Top it off with a cute chalkboard sign, and add a personal message to welcome your kids and guests in from the cold.
via Mrs Rollman Blog
26. Wood Paneled Country Coat Room with Hooks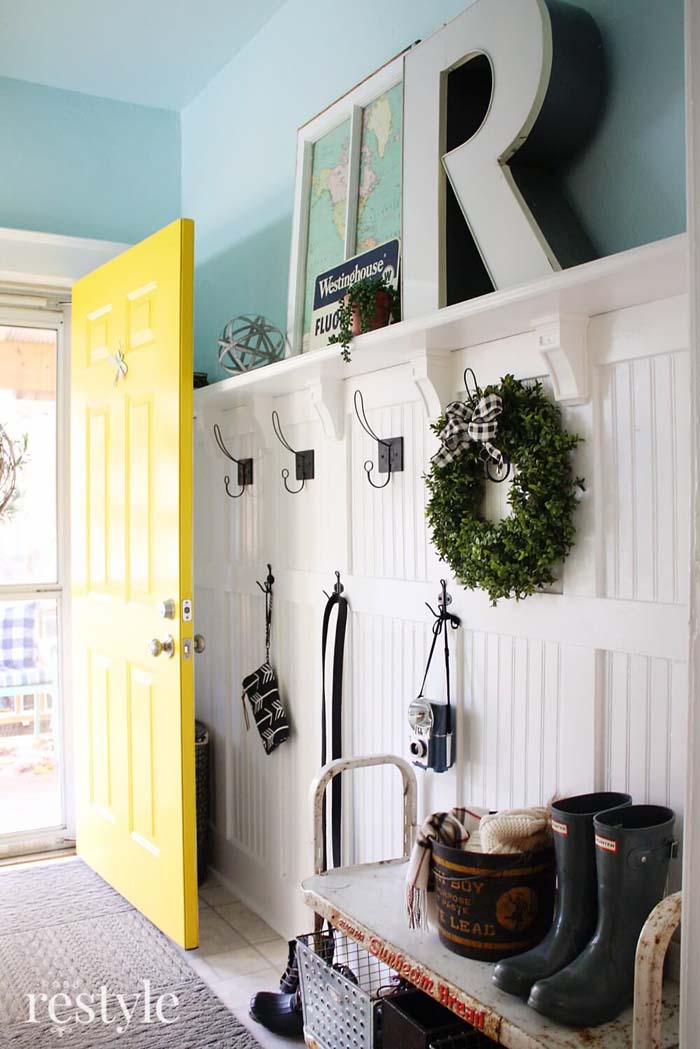 Working with lots of space?
Wood paneling and sturdy frames make a bold farmhouse-inspired statement.
Two rows of hooks organize your gear — or, use them to hang vintage wreaths and other decorative items.
via Robb Restyle
27. Wood and Winter Berry Entryway with Vase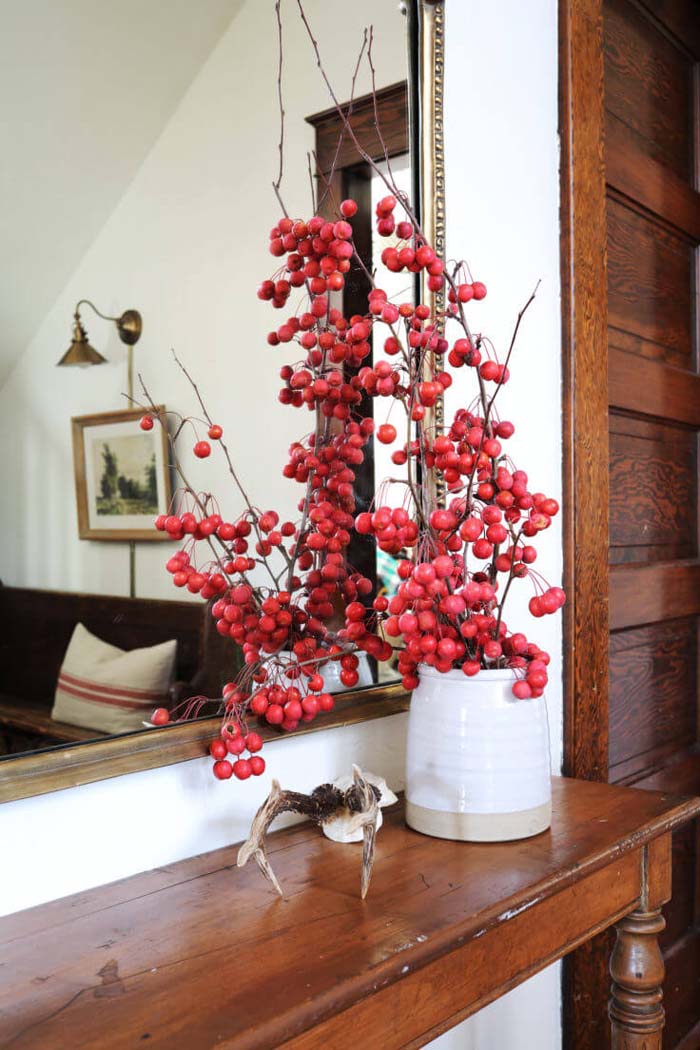 Brilliant red berries add a cheerful splash of color to your entryway when the winter hits.
Here, the vibrant color brings out the warm undertones of the wood for a look that's rustic and cozy.