No doubt, the Farmhouse style is here to stay. Whether your home is traditional or modern, a rustic fence adds loads of charm.
Don't be overwhelmed by the number of farmhouse fence ideas available. We've collected them here so you can narrow down your decision.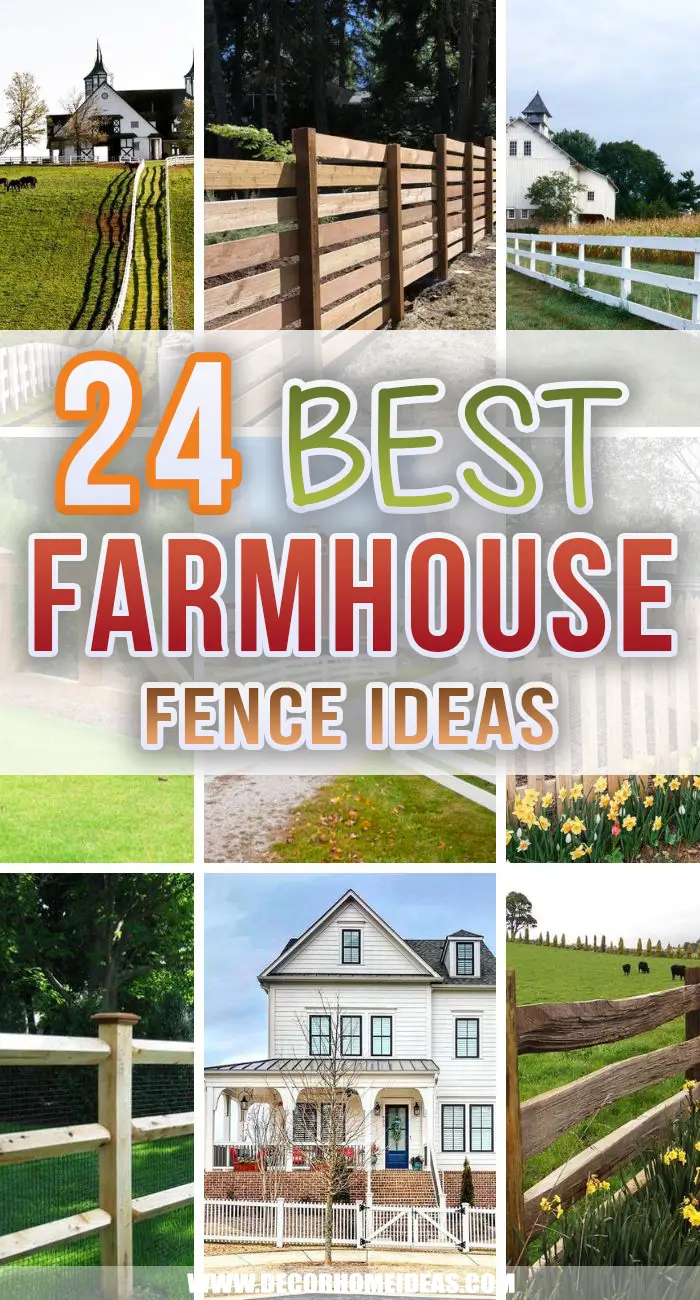 Besides the ideas that follow, these materials are also used to create a rustic style fence:
Chicken wire
Corrugated metal 
Bamboo
Barbed wire
Woven wire 
Wooden pallet
While wire fencing can certainly look rustic, it can also come with a lot of challenges. A barbed wire fence is probably the least desirable type of metal fence and may not be allowed in certain neighborhoods. An electric fence may also have the same restrictions attached to its construction.
If your heart is set on having a wire fence, try chicken wire or a woven wire fence. These types of fences are common and you'll find plenty of DIY garden fence tutorials online to walk you through the project.
A wood fence is the most common type of fence you'll see. Wood fences can be built from timber or pre-made panels. A special type of wood fence is the pallet fence, which is just pallets that are secured into place on their edges. A bamboo fence is also considered rustic, but is not often associated with the farmhouse style.
Finally, you can find every style here as a vinyl fence. They come in different colors and can even come in different textures. Take a look at the list below and see what type of rustic fence style would best suit your landscape.
1. Horse Fence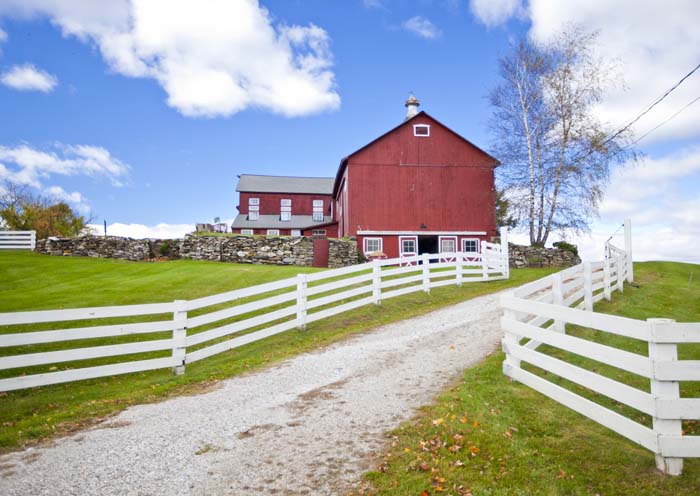 This perfect picture is an example of a four rail horse farm fence. They could be made of any fencing material from wood to metal to PVC vinyl.
It's easy to assemble and maintain over long stretches of land.
2. Ranch Rail Fence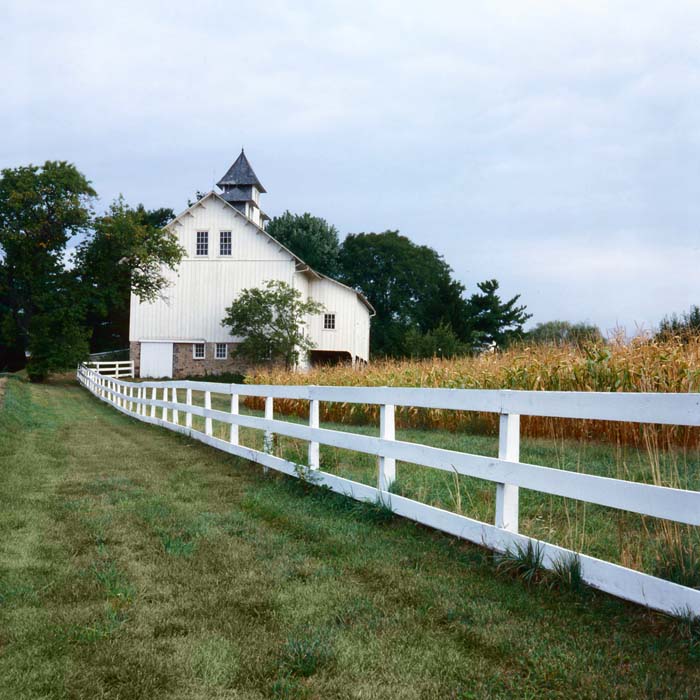 Another look for a ranch fence is the three rail wooden fence.
If your property's perimeter fence is more about aesthetics rather than keeping animals out, this style offers a better view through the rails.
3. Arched Picket Fence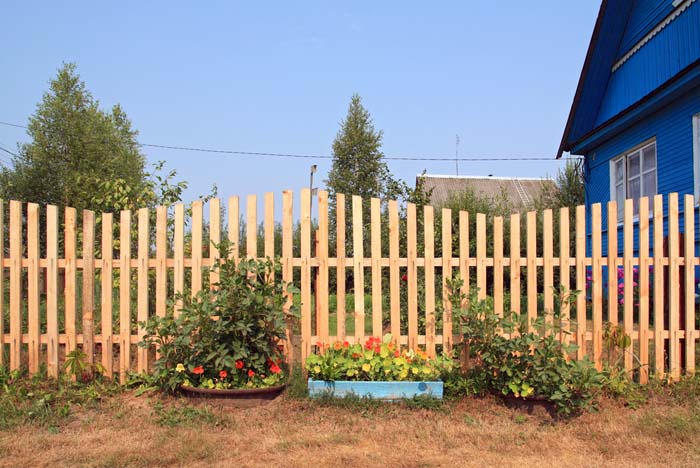 There was a time when building a picket fence with curves like this was a time-consuming, labor intensive choice. Today, you can purchase this fence style from any reputable supplier.
Getting it level is key, so it isn't a project for a first-time builder. The look is worth the expense of having a pro install it properly the first time.
4. Black Estate Fence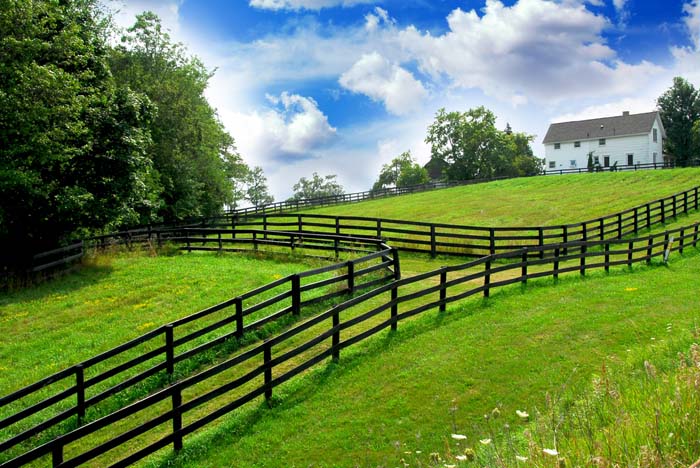 For a more modern look, choose a dark color like black or brown. This three rail style makes it easy to buy the right length for your home.
Dropping the sections right along the road discourages motorists from camping on your property.
5. Just for Show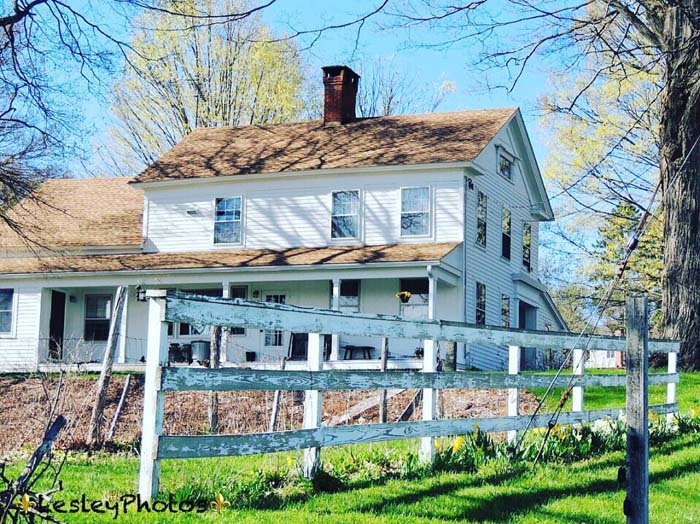 A weathered section of an estate fence is a precious piece of the history of the farmhouse in the back.
Holding onto this rustic piece now is more about showcasing the property than protection. It can be replicated as a DIY fence project for your home.
via Lesley Meyer
6. Cattle Panel Framed Fence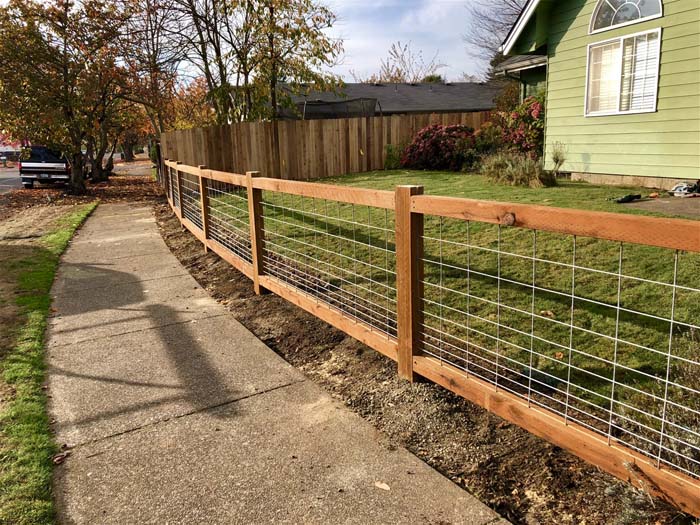 Metal fences don't have to look industrial. A framed fence panel designed for cattle may not seem like it belongs in a suburban neighborhood, but take a look at its function and style.
Wood fence top and bottom rails are connected to a wooden post using mortise joinery. You get the clean look of wood blending in with the rustic style of your home.
This welded wire fencing is an aesthetically pleasing alternative to the more urban, aggressive look of a standard chain link fence.
via JAS Contracting
7. Cedar Fencing with Horizontal Slats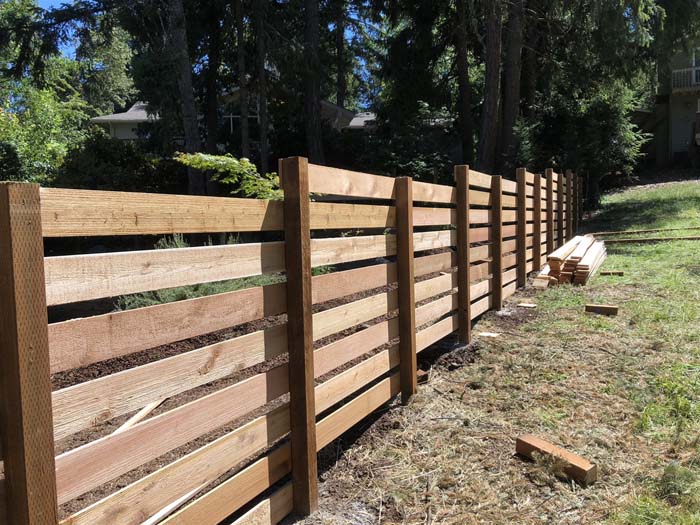 Cedar will always be a popular choice for wood fencing. It goes well with many types of landscapes and weathers well. Horizontal slats with small gaps keep the feel casual while showcasing an artistic charm.
This is a great choice for a privacy fence and a very common backyard fence.
via JAS Contracting
8. Black Farmhouse Fence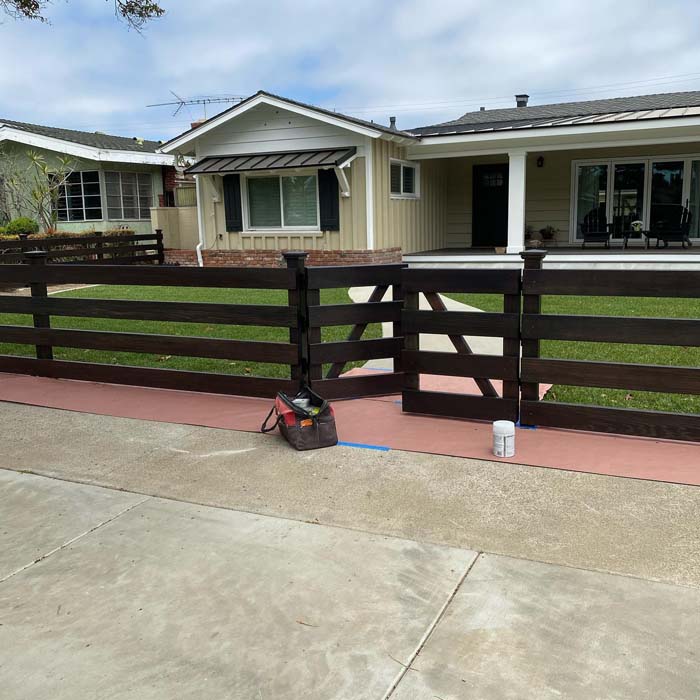 Nothing says modern style quite like black. It's a great choice for this farmhouse fence. The white trim of the home would fight for the attention of a white fence.
The black works with the shingled roof to frame the home.
via Alford's English
9. Flat-tipped Osborne Picket Fence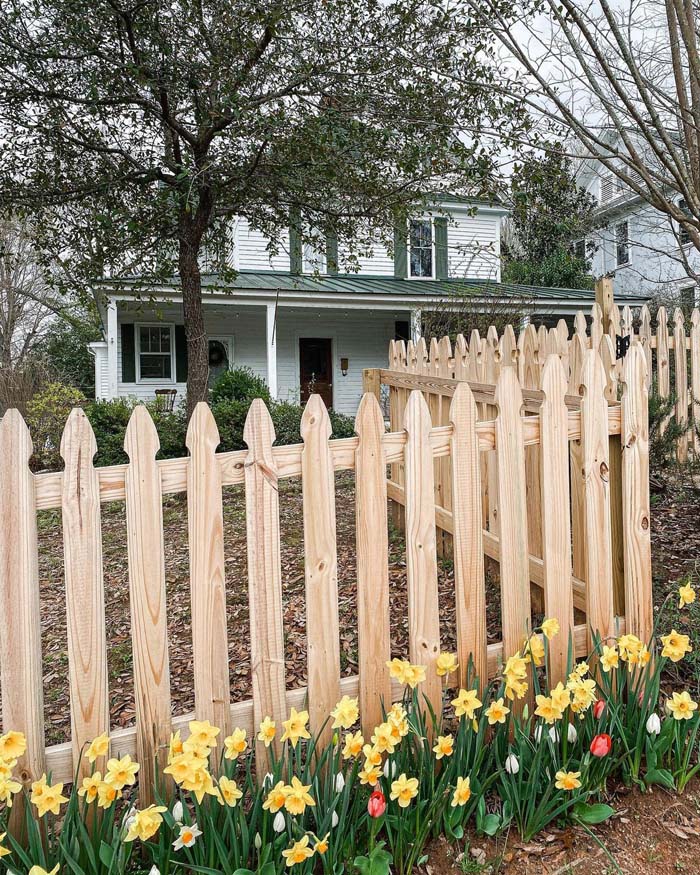 No one will question the style of your home decor when you construct a picket fence out front. Instead of going with white, the homeowners decided to stick with a natural finish.
The best part about this is you can use wood pallets to create new pickets.
10. Post and Rail Rustic Fence Idea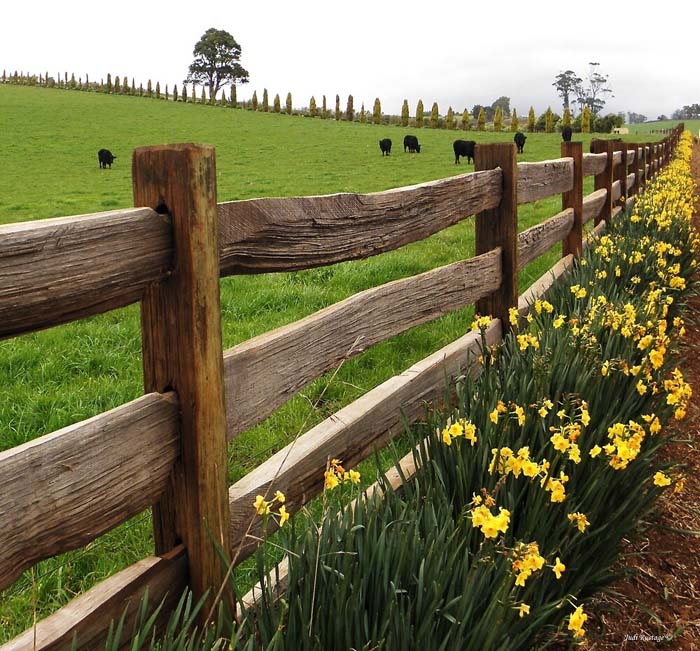 This is the essence of the Rustic style. A post and rail fence is built using rough timber and a mortise and tenon style joinery.
The thicker lumber looks rugged, giving the fence a commanding aura of strength.
via Red Bubble
11. Wooden Horse Fence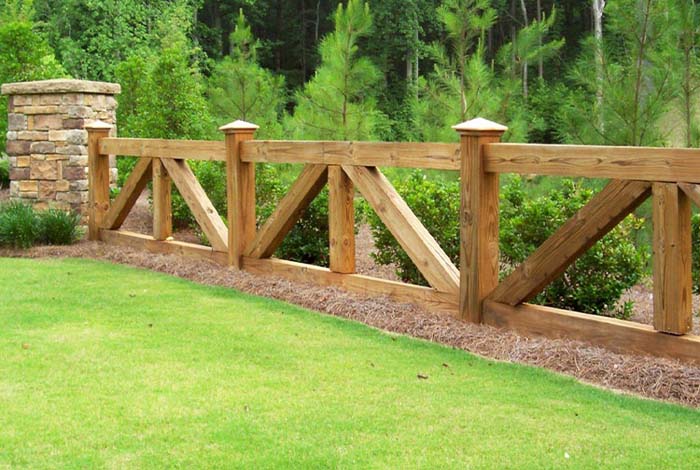 Pyramid caps and heavy timber pieces bring weight to this horse fence. In all honesty, it wouldn't keep anything smaller than a horse from leaving the premises, but on an aesthetic level, it looks like it belongs on a horse farm.
via Mossy Oak Fence
12. Vinyl Dog Ear Picket Fence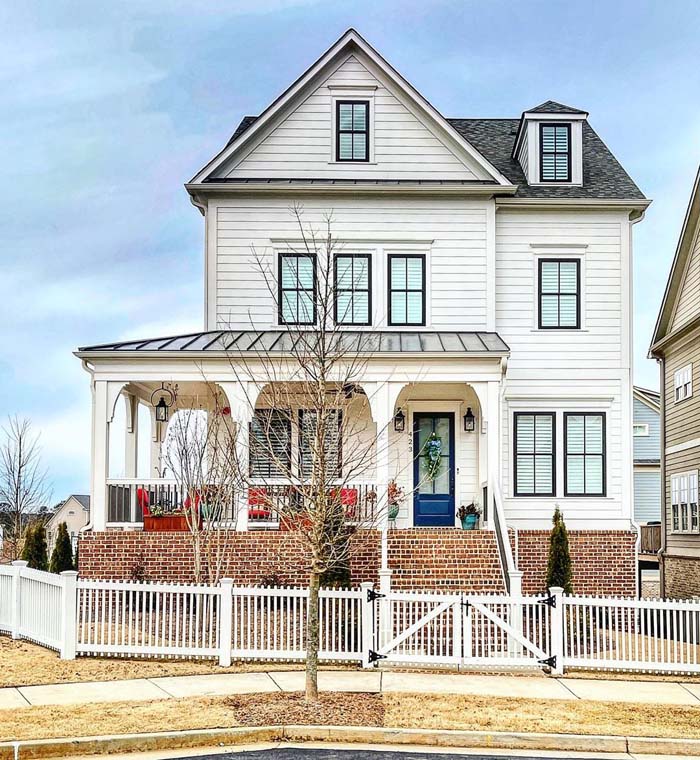 Here's another example of how to bring the Rustic style to your home. The picket fence is just one style of vinyl fencing available today. It's the traditional straight lines and pyramid caps that are a throwback to earlier days.
Not to miss a trick, the black retro style hardware and double gate are also throwback touches. The hardware matches the black framed windows.
via Mary Miller
13. Two-Rail Crossbuck Horse Fence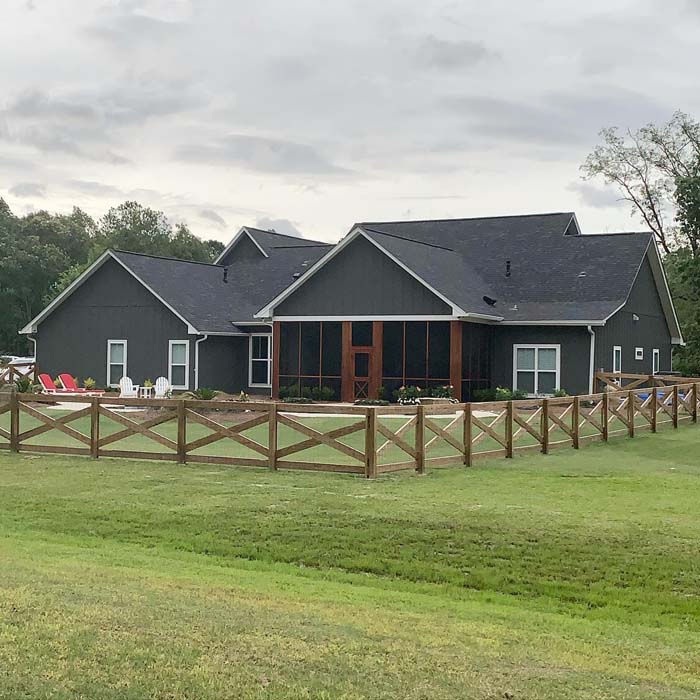 Here's a style of horse fence that many will remember from visits to local farms.
The crossbuck style keeps the view when looking out from the backyard while the fence itself sets boundaries for young family members.
14. Classic White Picket Fence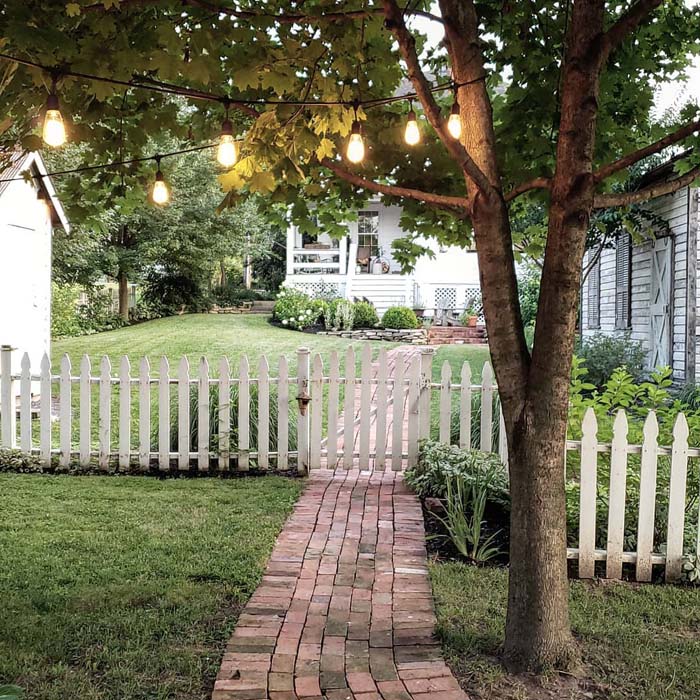 White picket fences can't be beaten when you want to explore the rustic style. Here, it's the perfect way to set up a gate across a red brick path. It looks great following the perimeter of the garden, too.
One of the most attractive features of a picket fence is that you create pickets from pallets.
via Jeannie Leach
15. Post and Rail Fence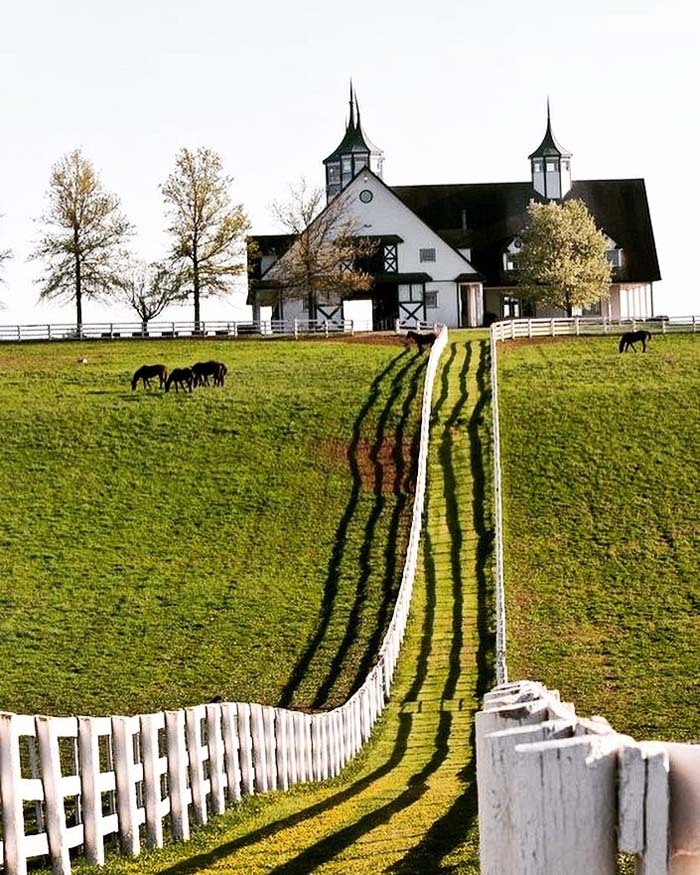 The advantage of this type of post and rail fence is that it's easy to make repairs as the sections are a standard size. Now, take a long look at the curb appeal.
The rustic style leads right up to what's obviously a modern farmhouse, decked out in black and white graphics.
Using the long shadows of the sun, the fence itself creates its own black and white signature along the path.
via Milton Lane
16. Mix and Match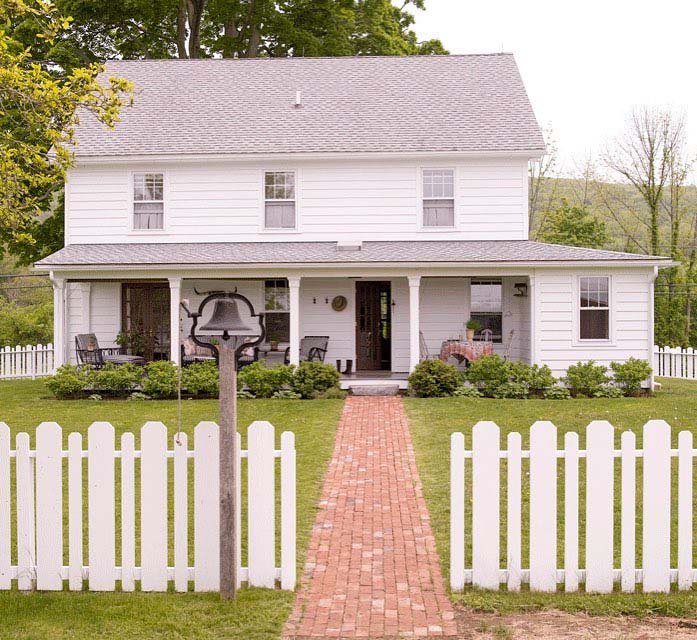 Create an interesting take on a picket fence by using pickets of two different lengths and widths.  It's a symmetrical variation. This gives you the chance to express creativity without taking away from the rustic style of the home.
Notice another difference from the fence shown above with a red brick path; the entryway is gateless. It's up to your personal situation as to how much of a barrier is necessary.
17. Rustic Split-Rail Fence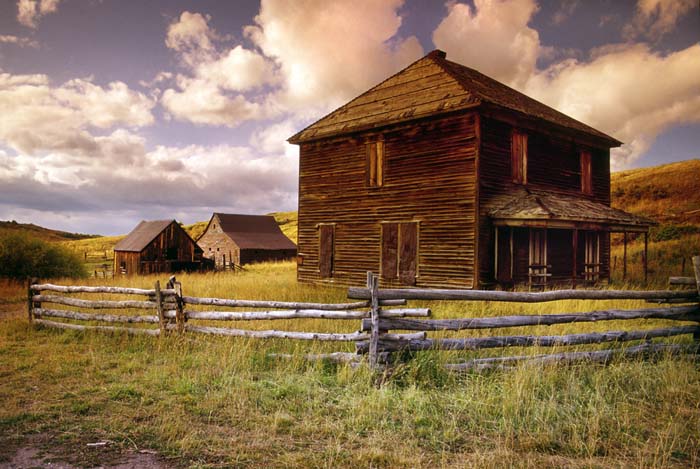 Here's a very old style split rail fence. Its leaner, more hand crafted style lends itself very well to the apparent age of the house. In this build, two posts are set close together and the long timbers are stacked on top of one another.
They can be secured with wire or hemp rope. They're often used in a traditional zig-zag pattern.
18. Black Picket Fence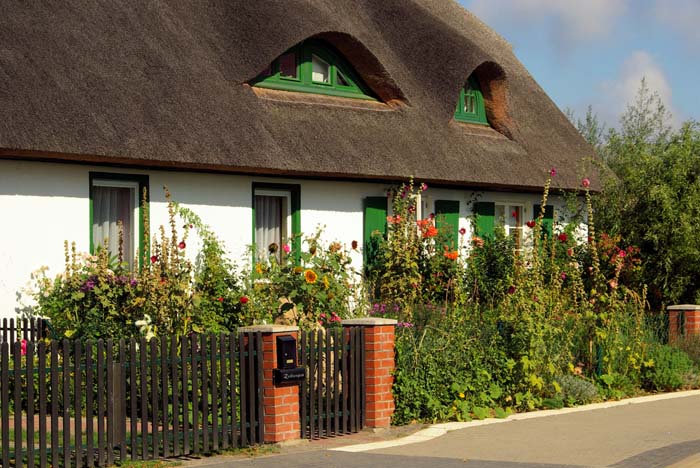 Black pickets vary with spade, rounded, and traditional pickets joining forces.
Mixing several styles and painting them black adds to the eclectic nature of this whimsical cottage style home. It's an easy style to recreate as all the pickets are available at any hardware store.
19. Two-Rail Rustic Fence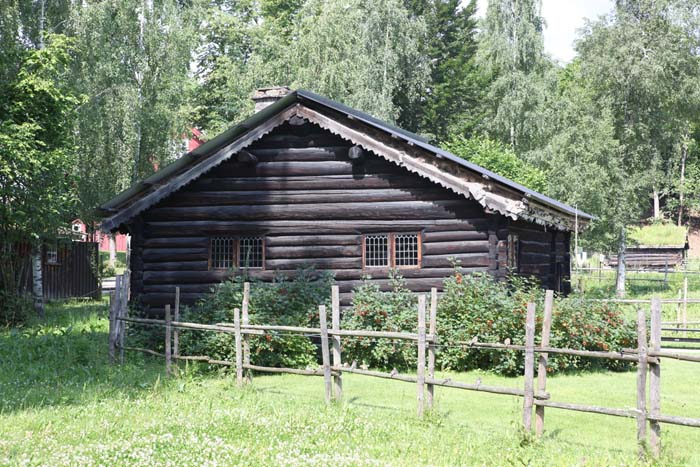 Here's a split-rail fence that looks perfect with a log cabin in the background. The posts can be positioned parallel to one another as shown here, but you'll also see them set at a diagonal.
This creates a 'V' and the rails are set inside.
20. Mortised PVC Post and Rail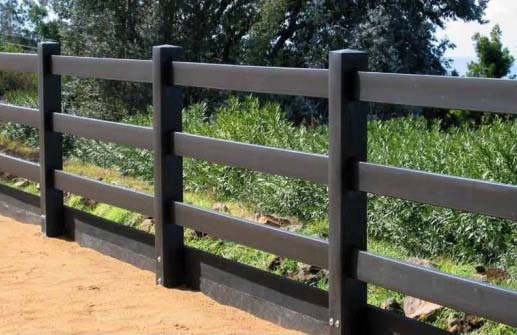 The rustic look can be bought right off the shelf. The darker fence looks old, but it's really PVC vinyl. The post and rail mortise system makes installation easy.
The dark color works with the modern farmhouse look and is easy to keep clean.
21. Timber Fencing with Slotted End Posts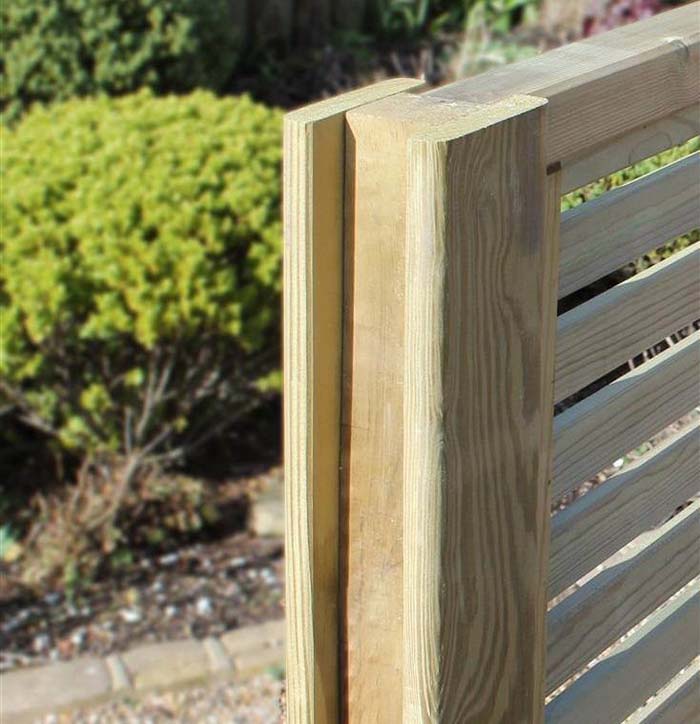 The modern way of constructing fencing is built on the old way. It takes a cue from the parallel posts of the old split-rail fences.
The modern way is to add a section in-between the outside posts for the thinner wooden slats to float inside the slots. It's more precise and more economical in the long run to replace the thinner rails.
via Jacksons Fencing
22. Split-Rail Fence with Welded Wire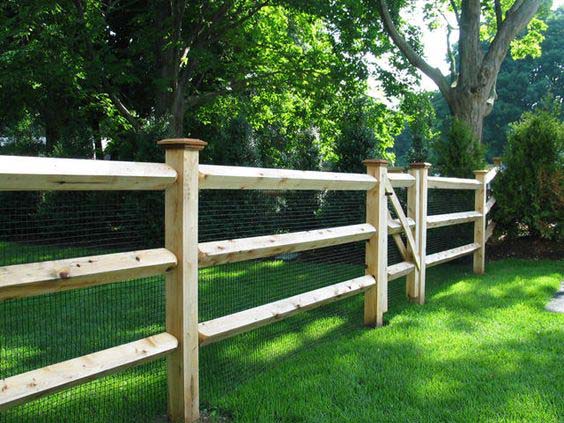 We haven't talked a lot about welded wire, but it's an easy addition to a mortised split rail fence.
If you need the security of chain link or another type of no-climb fencing, black welded wire brings the security without changing the aesthetics.
The black blends into the background, making it barely noticeable.
via Britain Fence
23. Use the Fence You Have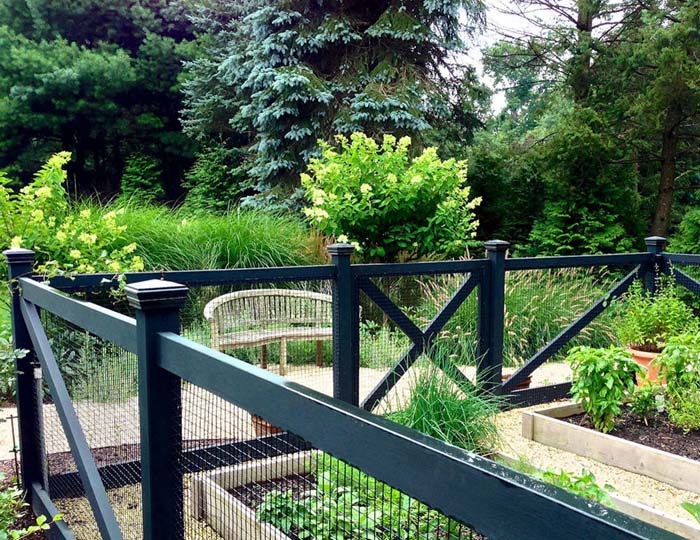 You don't have to set up new fencing to get a new look. The metal fence around this garden was re- painted and end caps were added to the fence posts.
Like the points on pickets, post end caps come in a variety of styles, giving you an easy and affordable way to change up the look of a perfectly functional garden fence.
via Artemis Landscape Architects
24. Diamond Trellis Fence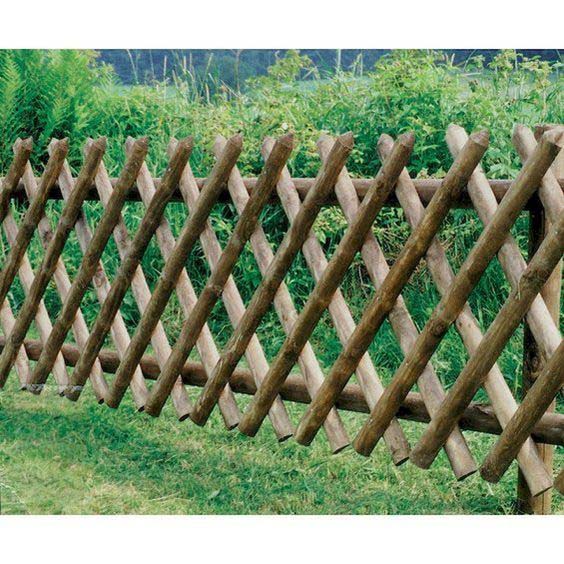 These types of diamond pattern fences are easier to install than they would first appear. They are panels built out of half-round timbers.
The panels collapse and when they're ready to be installed, they open and are attached to the back rails.