If you're looking for a sustainable material for your fencing project, consider bamboo. Bamboo is one of the most sustainable materials used in building anything today. It's actually a type of grass that's fast growing and very strong.
Today's bamboo fencing is made of rolls of stalks secured with galvanized wire. Rolls of bamboo can be expensive. You'll have to balance whether the time saved is worth the price.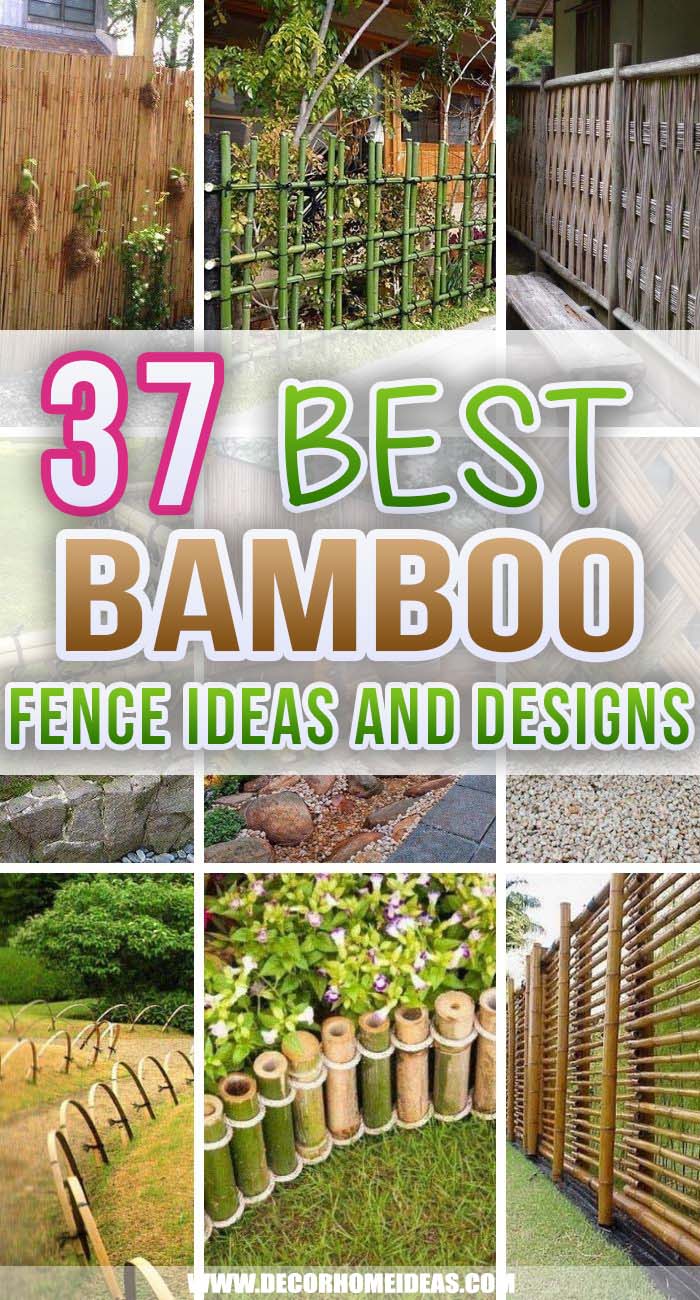 Keep in mind that you can't nail bamboo pieces together. Bamboo can be drilled, but nails will pop right out.
If you don't want to use wire in your project, consider tying the reeds together with hemp or gardener's lashing cord. You'll see a traditional knot used in many of the bamboo fence ideas listed here. It's known as an Ibo knot. It's a variation of the square knot.
1. Create a Stunning Pathway with Arched Bamboo Fence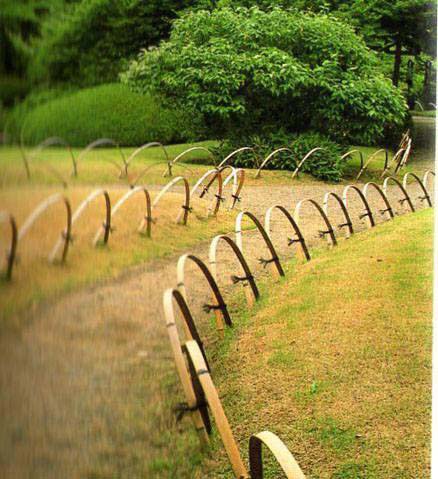 Bamboo strips are tied together and buried in the ground. This works well in a park when you want people to stay on the path.
Since it can be split, a single bamboo pole goes a long way.
2. Instantly Boost Curb Appeal with Bamboo and Rope Fence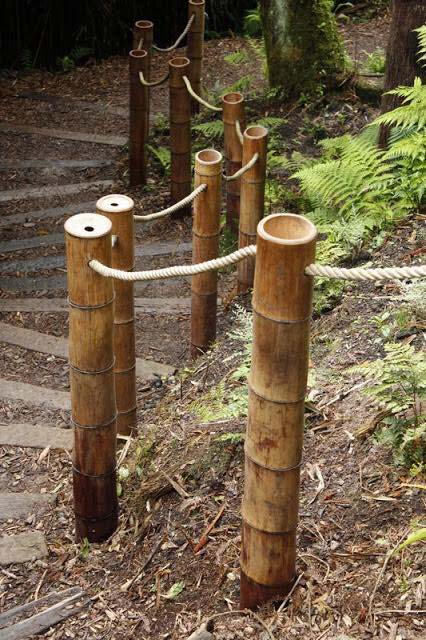 Simple construction using aged bamboo posts and decorative rope creates a good looking barrier.
3. Enhance Your Home's Aesthetics with Bamboo Fencing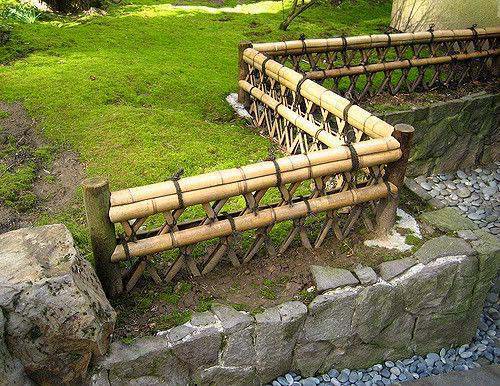 Bamboo fencing brings a uniform look to the stone wall and rolling lawn.
4. Build Brushwood Fence with Small Branches and Bamboo Rails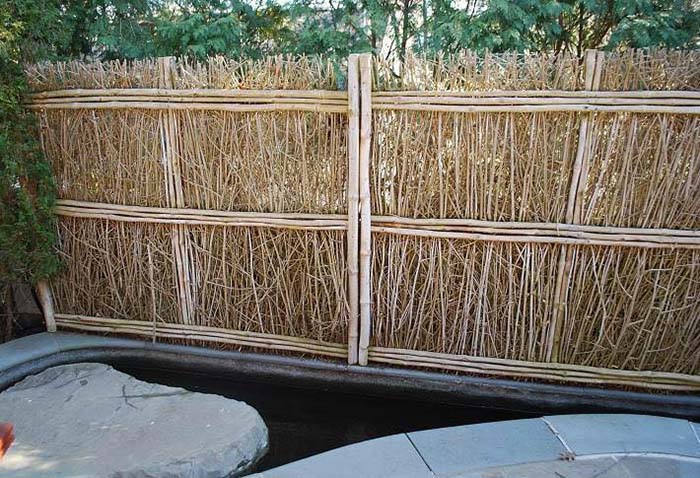 Brushwood fence ideas like this are made with small branches, twigs, and undergrowth.
It's a traditional look. They're supported with thicker bamboo rails.
5. Add Glamour and Personality with a Bamboo Criss-Cross Fence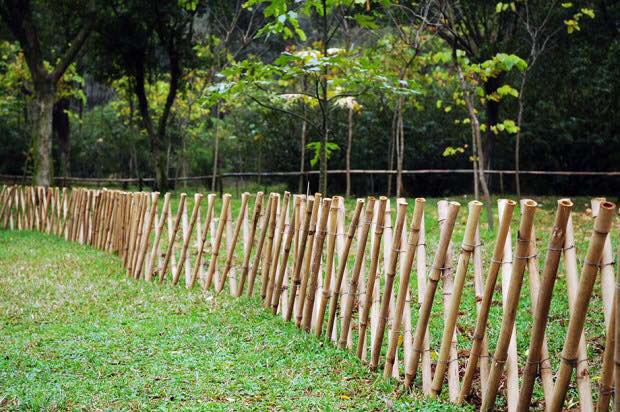 This is a simple do-it-yourself project. Bamboo reeds are cut to equal lengths.
They're put in a trench and tied together with galvanized wire.
6. Add a Hint of Nature to Bamboo Fence with Vertical Garden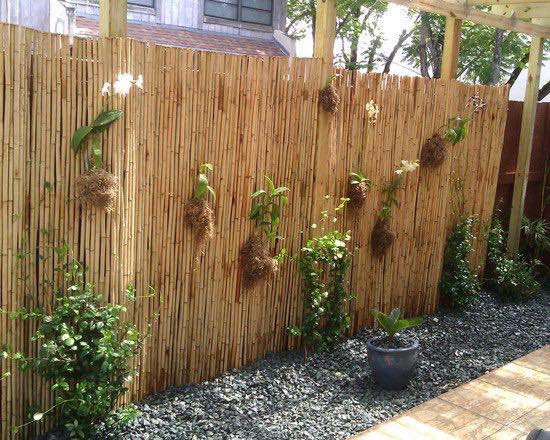 These bamboo screens are secured to pergola posts.
This makes them strong enough to support hanging plants. The roots of the plants are wrapped with coconut coir.
7. Protect Your Yard with a Stylish and Sturdy Bamboo Fence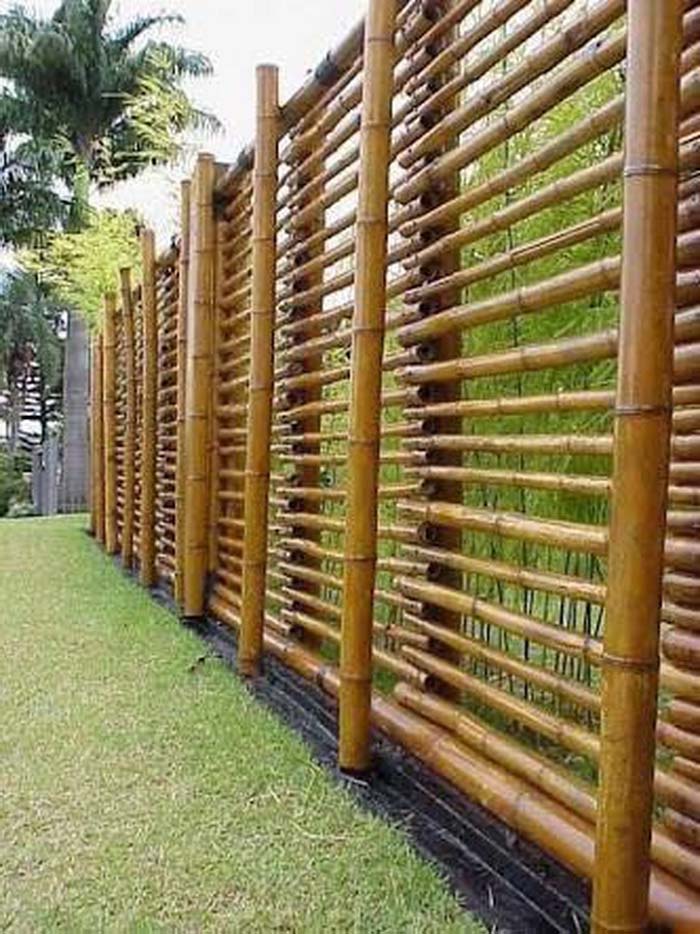 This is a great fence for providing a view of the adjoining property while keeping a formal grass line.
Fences like these are useful for discouraging medium size wildlife from wandering into the backyard.
8. Illuminate Your Deck with Bamboo Fence and Rustic Lanterns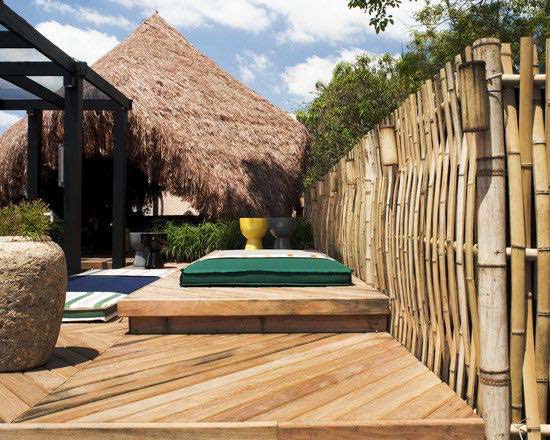 Vertical pickets weave in and out of the mid rails.
This fence extends the use of the deck by adding light sconces. They blend in with the larger reeds.
9. Add Lasting Charm with a Bamboo Guardrail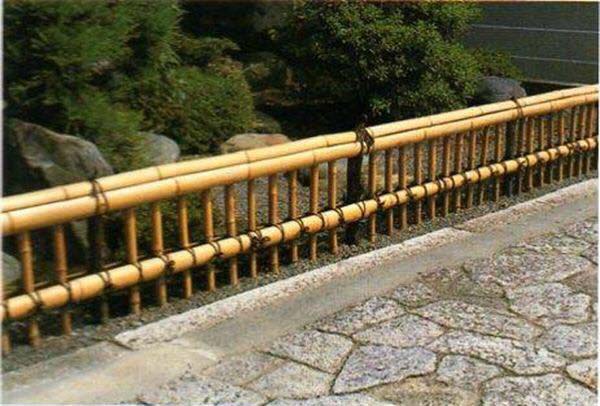 This bamboo fence has two thick top rails. It's a visual deterrent to keep people from climbing over the fence to climb on the boulders.
10. Build a Bamboo Fence on a Retaining Wall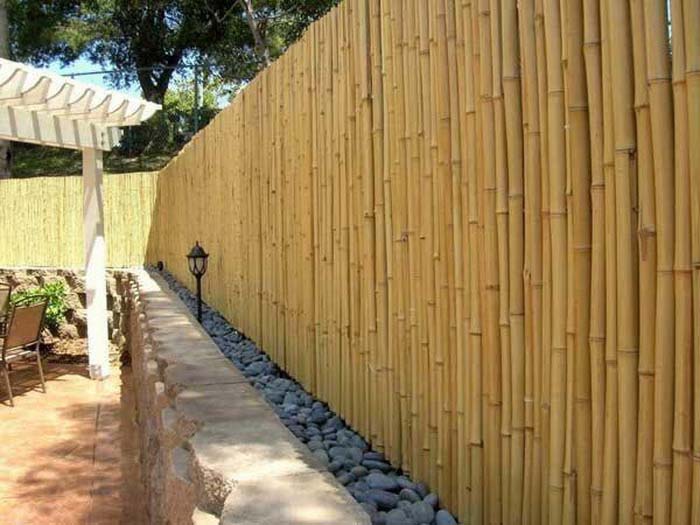 This privacy fence is raised up onto the retaining wall. This gives the impression of a sunken patio.
11. Discover Timeless Beauty with Bamboo Panels with Sconces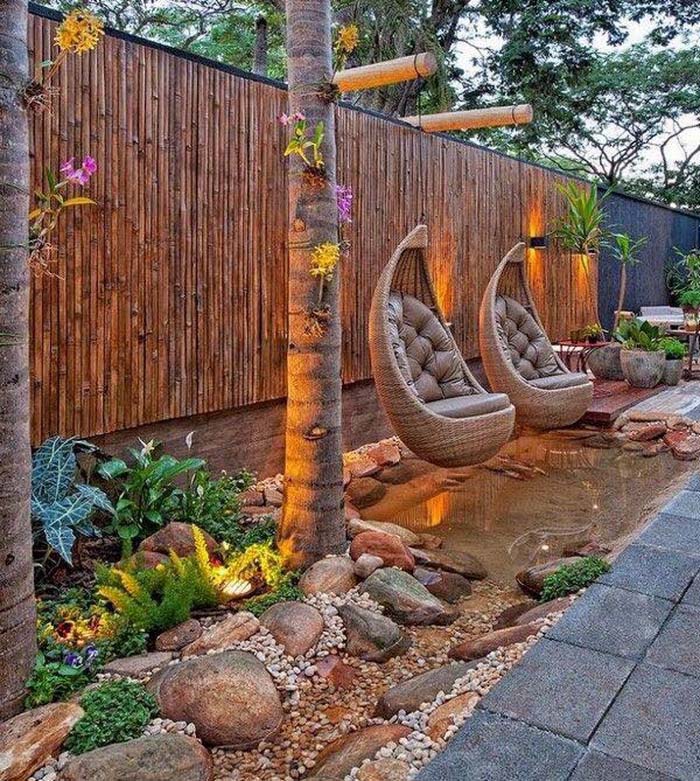 The secret to this privacy fence is that it's secured to another fence. Without mid or bottom rails, it has a very clean look. It's positioned above a brick wall.
Choosing a different color for the fencing in the corner creates a separate entertainment zone.
12. Create a Beautiful Contrast with Bamboo Posts and Pickets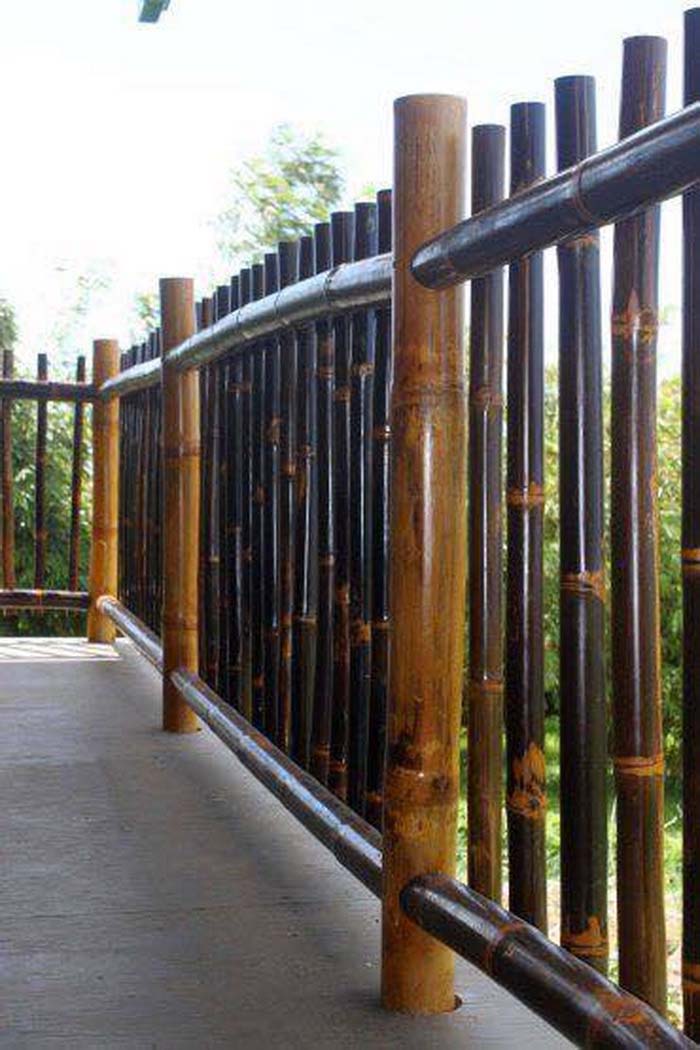 Use a bamboo pole instead of a traditional post. The larger reeds can also conceal permanent western style posts.
Dark Indonesian bamboo pickets and rails are a nice contrast to the lighter posts.
13. Bring a Tropical Vibe with Bamboo Fence and Lush Greenery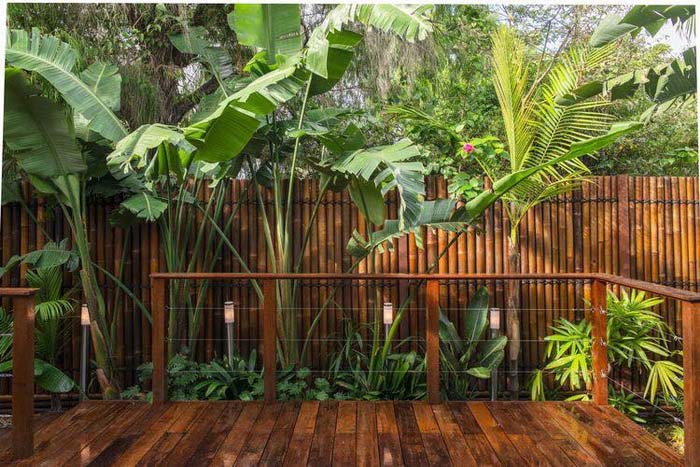 This fence is secured to vertical deck posts.
The lush greenery in front of the fence enhances the tropical mood.
14. Make an Artistic Statement with a Curved Bamboo Fence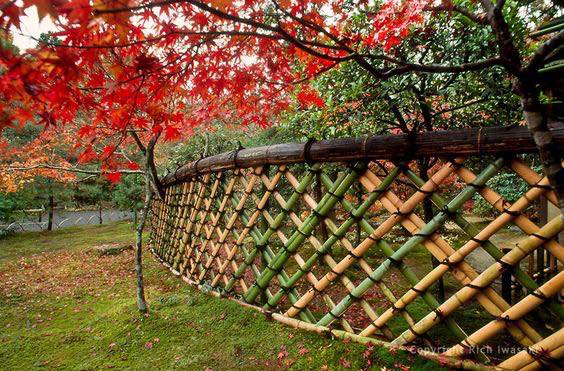 Bamboo is very flexible. It can be bent to a ninety-degree angle.
This fence uses newer, green trees to help create the curved look. It uses older, hardened bamboo on the top rail for stability.
15. Be Bold and Creative with a Dark Bamboo Fence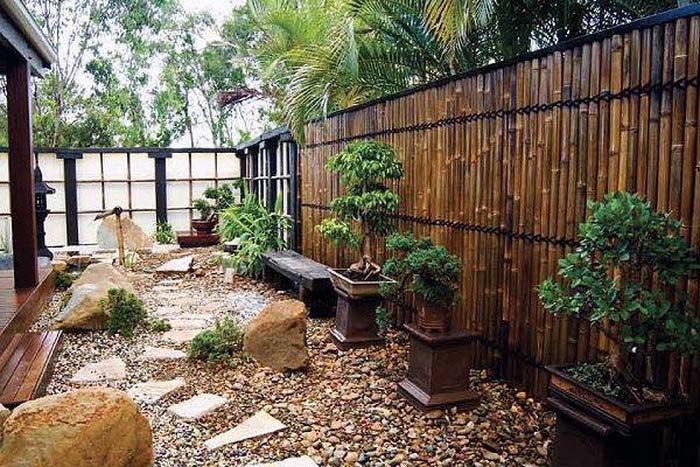 One of the striking features of bamboo is its variety of colors.
This dark cane privacy fence blends well with the dark stained bonsai stands and other wood structures.
16. Indulge in the Lavish Look of Woven Bamboo Reeds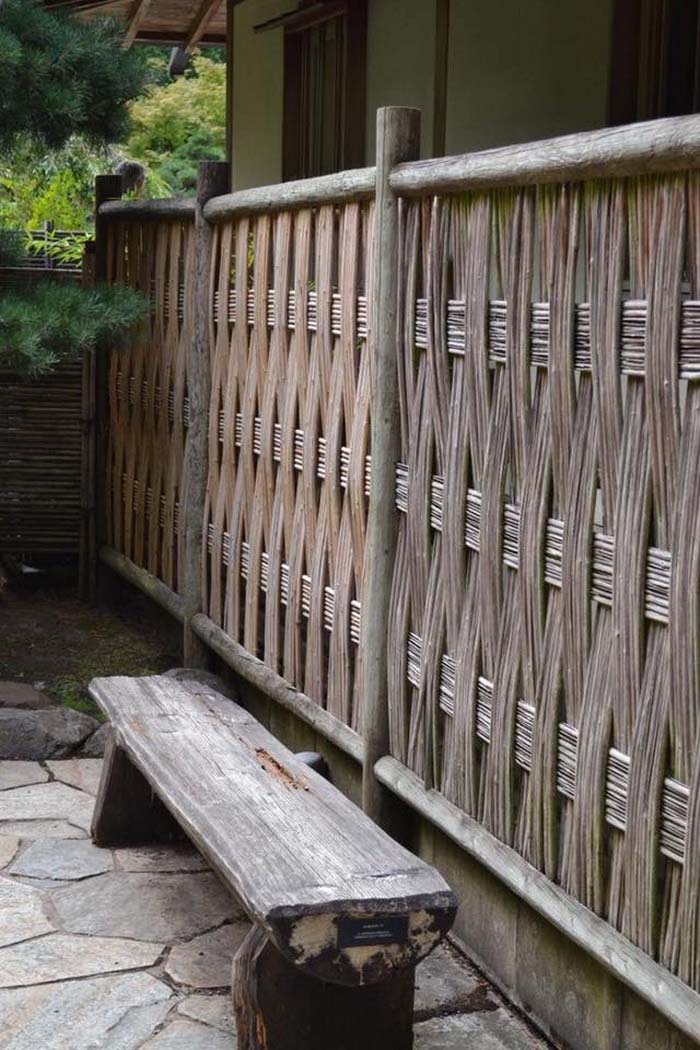 Bamboo reeds of a uniform thickness are woven to create the pickets and backer rails for this fence.
It's secured at the bottom with a kicker board. It's secured at the top with a rounded top rail.
17. Showcase Your Home's Beauty with a Freestanding Backdrop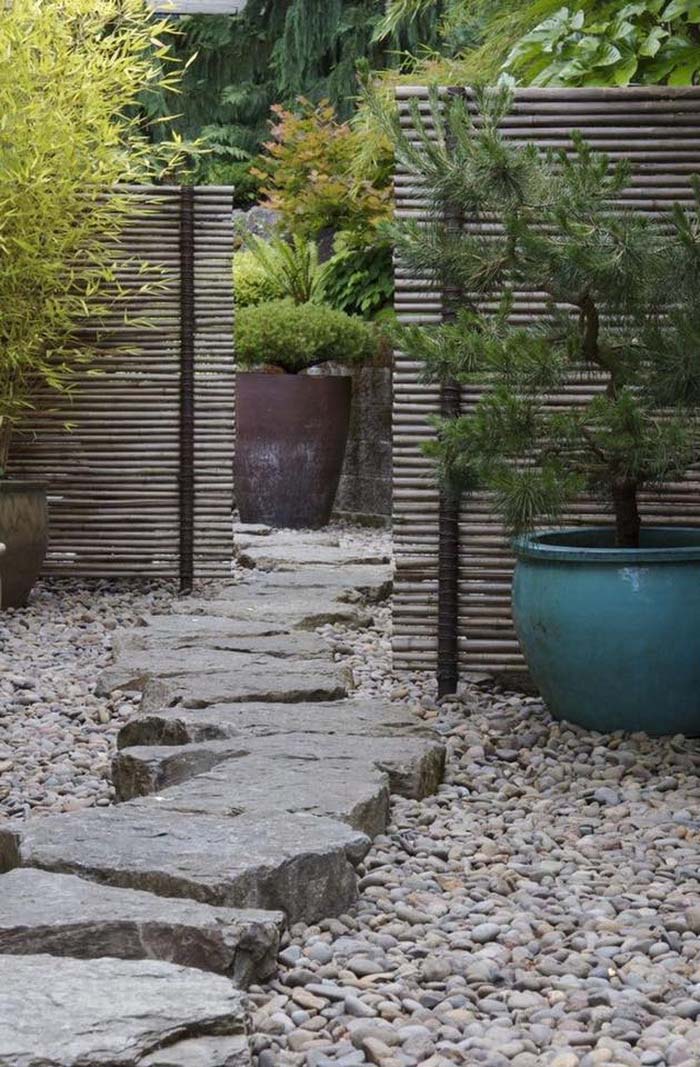 Free standing partitions break up a wide space and help define the path.
They provide a neutral canvas backdrop for displaying the large potted bonsai trees.
18. Step into Paradise with Free Standing Bamboo Fence Sections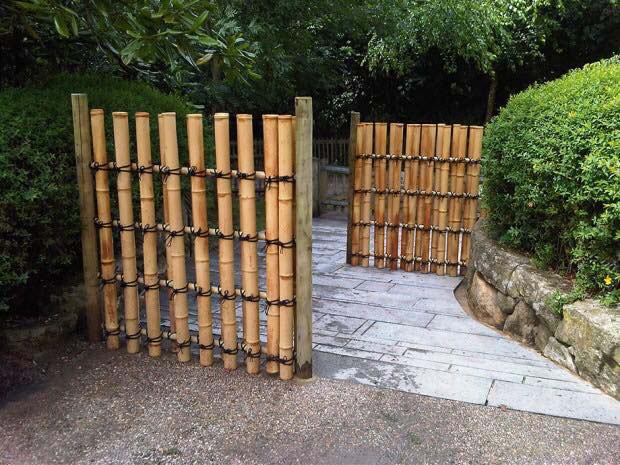 Freestanding fence partitions break up a walkway, creating interest and privacy.
19. Add Style and Sophistication with a Green Yotsume Fence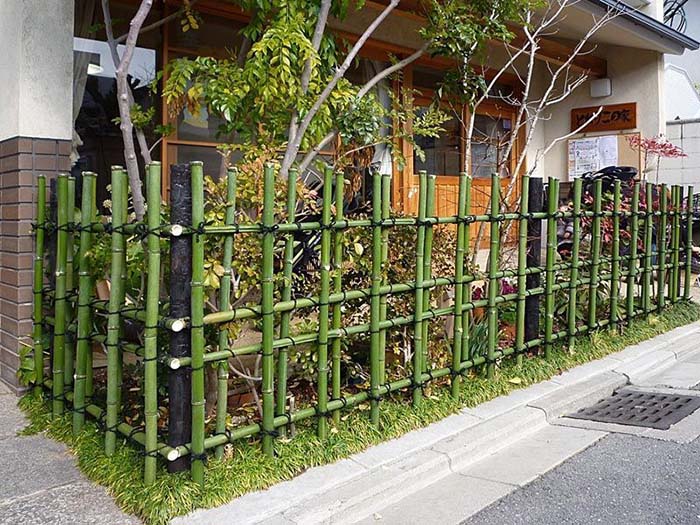 Yotsume fences are a traditional design. It creates a quiet zone next to the street.
To secure the bamboo, stalks are set up in pairs, one on each side of the crossbeams. These partitions are secured to thicker black posts.
20. Improve Your Privacy with a Tall Bamboo Fence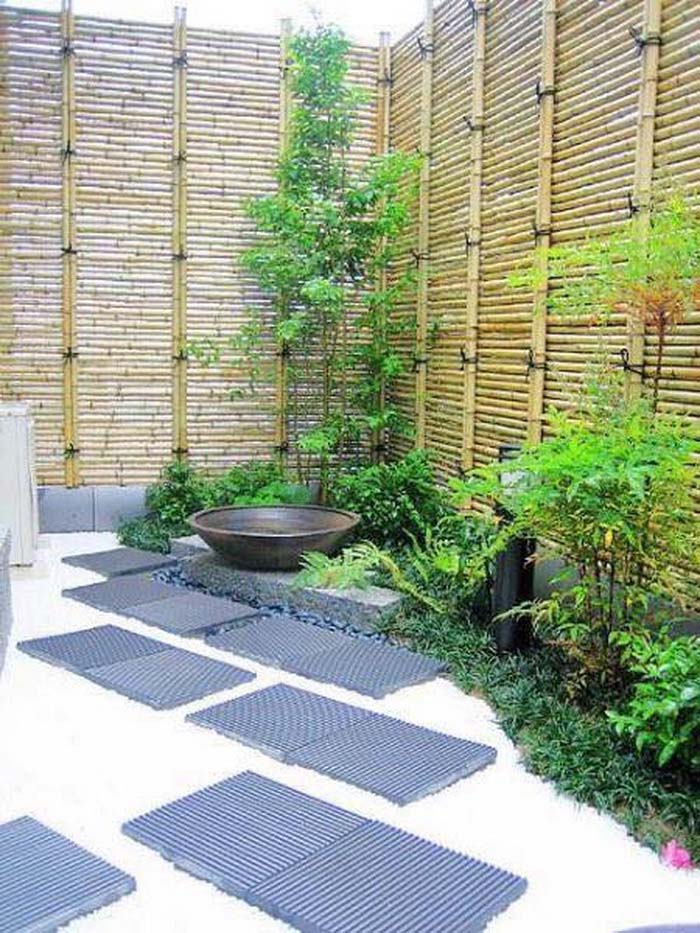 The speed at which bamboo grows gives you an advantage when you want a tall fence.
The screens are rolled out vertically and then tied together. Everything is stabilized by using a concrete wall at the base.
21. Create a Zen-Inspired Space with a Unique Bamboo Fence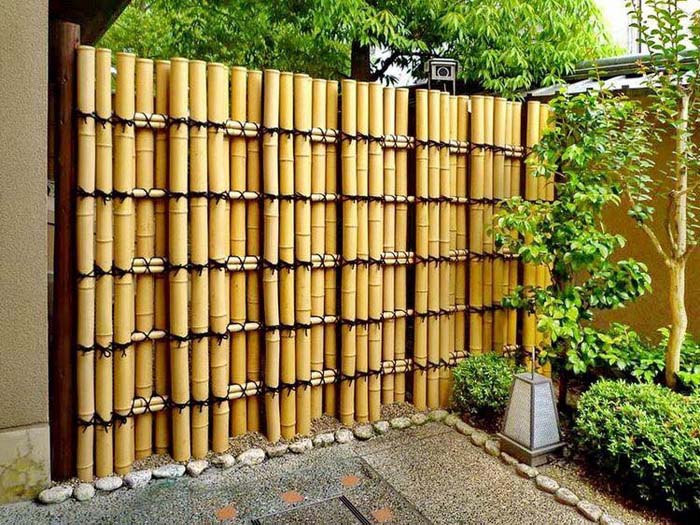 The thicker pickets of this fence are secured to another fence. It's all resting on garden pea gravel.
The security camera in the corner is barely noticeable.
22. Take Garden Edging to the Next Level with Bamboo Reeds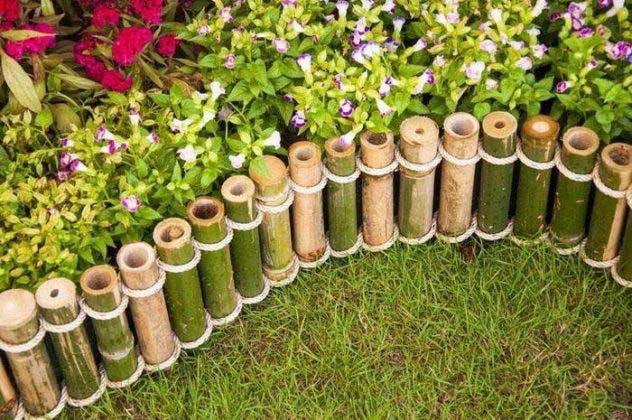 Reeds are tied together with decorative rope.
The fence follows the contours of the garden and lawn line.
23. Modernize Your Space with Multiple Bamboo Fence Patterns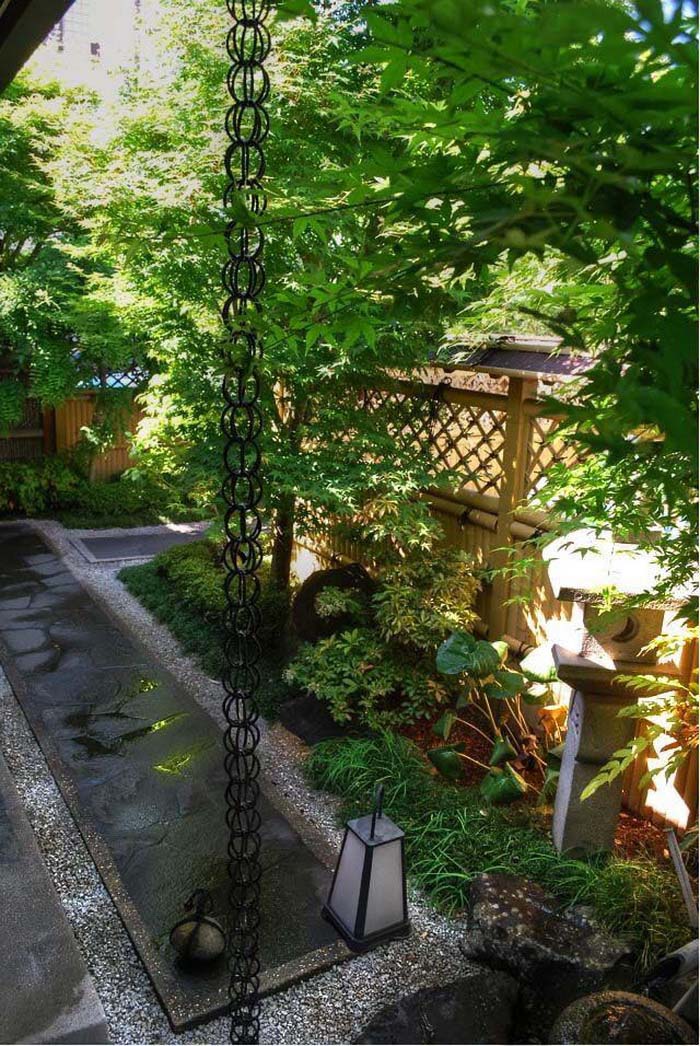 The lattice on top provides privacy but still lets in lots of sunlight.
The reeds on the kickboard fit together tightly, creating more intimacy.
24. Add Modern Flair to Your Home with Peeled Bamboo Fence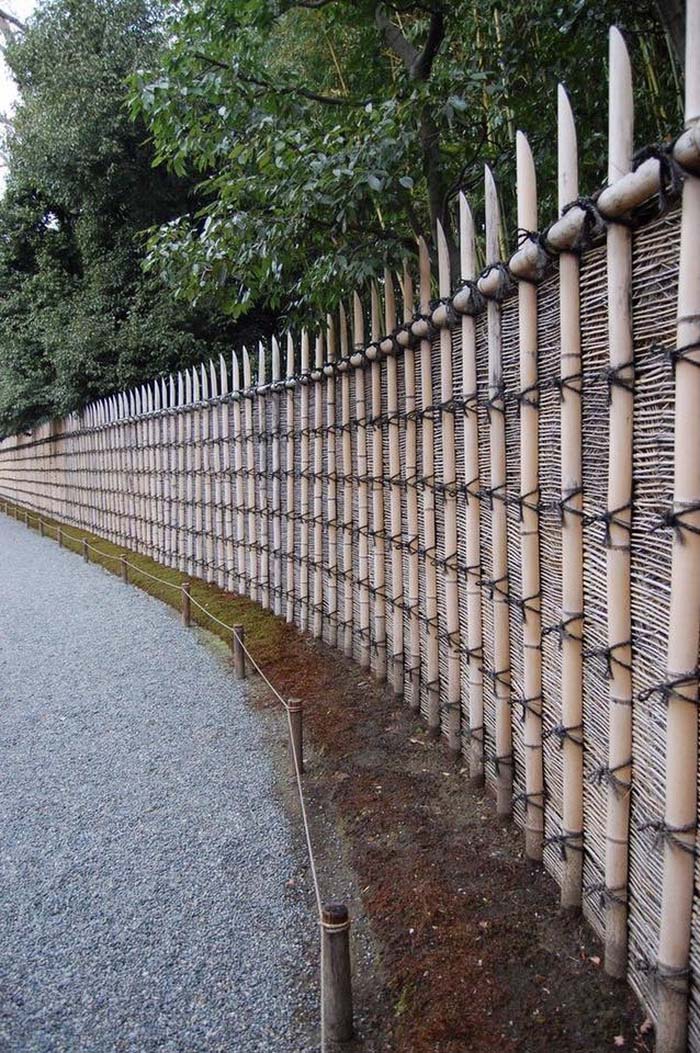 The outer bark of these bamboo reeds was stripped off. This gives them a very light color. Twigs were treated the same way. Always add a sealer to this style.
The pointed tips of the pickets are more of a western-style design.
25. Add Visual Appeal to Bamboo Fence with Pipe Organ Pattern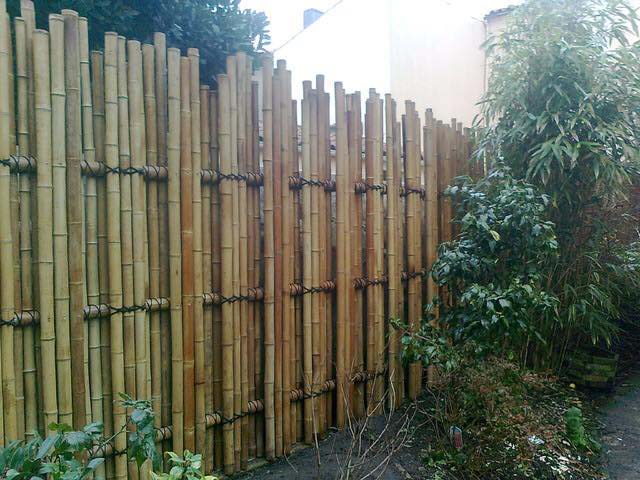 Give your privacy fence an interesting look by alternating sections of pickets on each side of the backing rails.
This bamboo fencing uses pickets of varying heights. This is known as a pipe organ pattern.
26. Keep Your Bamboo Fence Sturdy with Wood Posts and Rails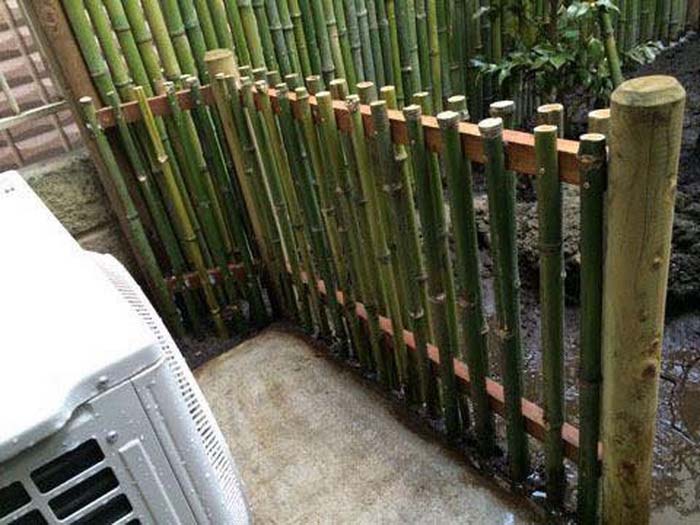 New bamboo is secured to traditional square rails with screws.
It's an easy way to keep the fence straight. The rails provide contrast to all the green in the garden and on the fence.
27. Spruce Up Your Yard with a Bamboo Trellis Fence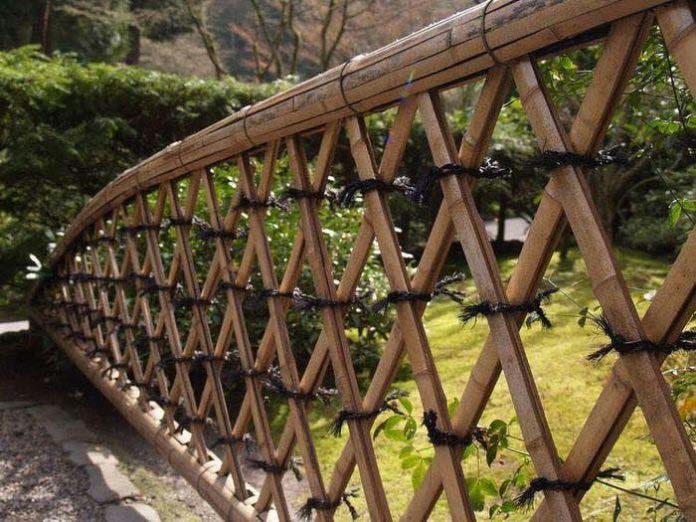 A traditional trellis is built in dirt. This fence secures the lattice work in holes in the bottom channel.
28. Get a Polished and Trendy Look with a Bamboo Wattle Fence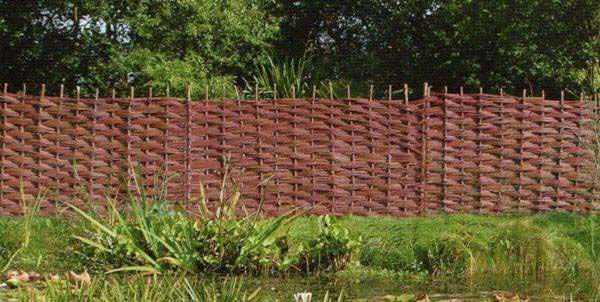 A wattle, or woven fence, is a do-it-yourself answer to creating an affordable privacy fence.
It can be built in sections and attached to a chain-link fence. It's made from split bamboo, so it takes fewer trees to build out.
29. Upgrade Your Gate and Fence with Lattice-Patterned Bamboo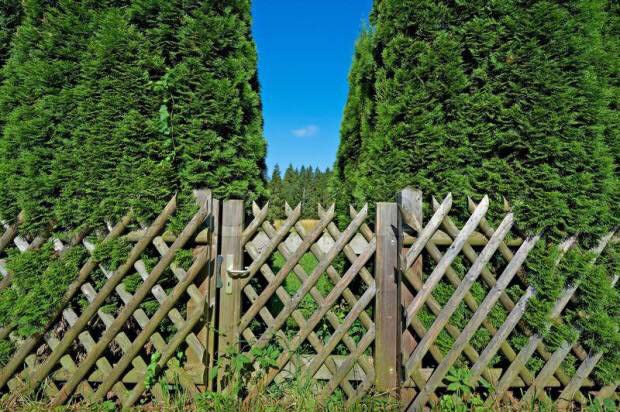 The pickets are split and fastened to create a lattice pattern.
The top and bottom rails are also bamboo. They're attached to a post and gate made from western hardwoods.
30. Impress Guests with a Split Reed Crosshatch Bamboo Fence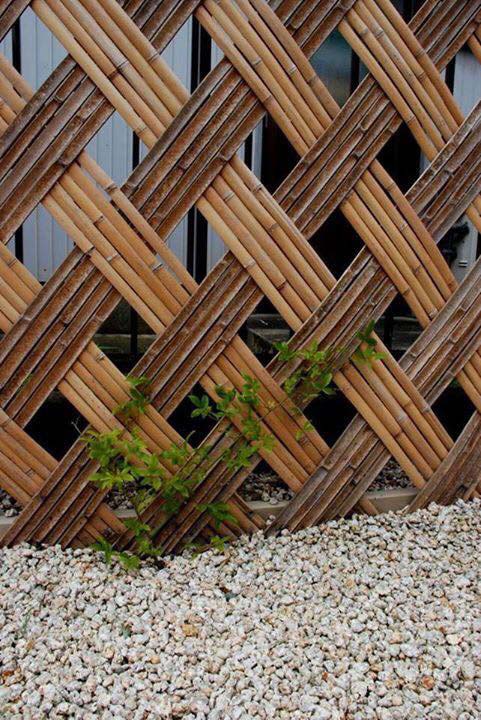 The inner and outer sides of split reeds were finished in two different colors.
They're woven together to create a multi-colored lattice.
31. Make a Bold Statement with Thick Diameter Bamboo Fence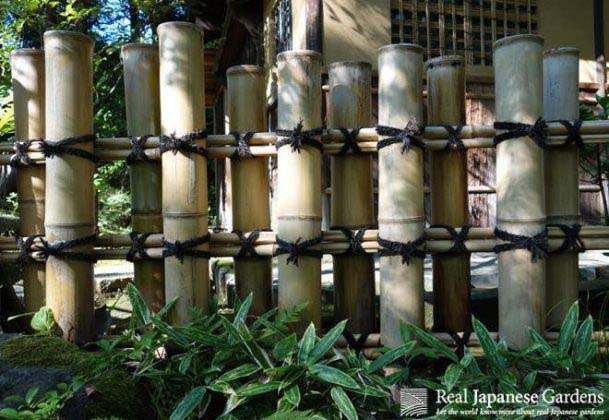 Here's a unique fence idea. This decorative fence uses larger reeds as the pickets and smaller stalks as the rails.
It gives a heavy, grounded look to the fence.
32. Unwind in Luxury with Multiple Bamboo Fences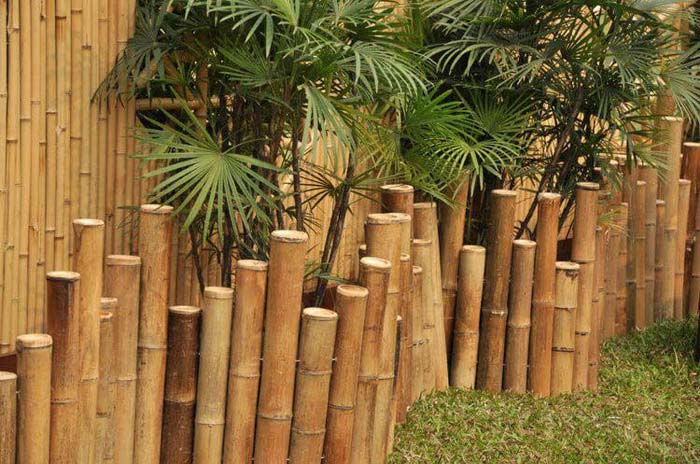 Smaller bamboo stalks are placed in a pipe organ pattern in the front.
A live row of trees is growing between the front and the privacy fence in the back.
33. Bring a Contemporary Vibe with a Uniform Bamboo Fence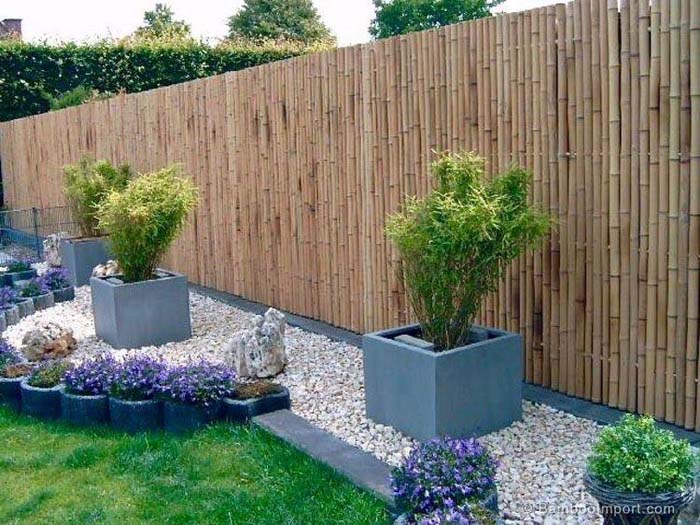 These thin, light-colored bamboo screens sit on top of cement pavers.
It's secured to another fence using galvanized wire.
34. Enhance Your Walkway with a Chic Bamboo Fence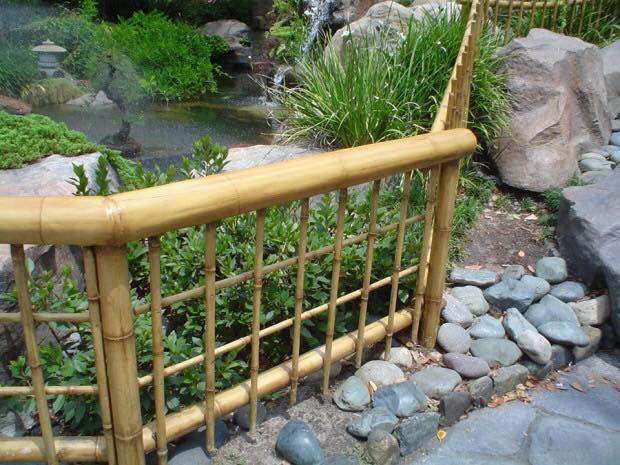 The edge of this property has sudden drop offs.
This low fence provides a decorative way of discouraging people from trying to find a shortcut to the pond.
35. Young Bamboo with Squared Top Rail for Accurate Alignment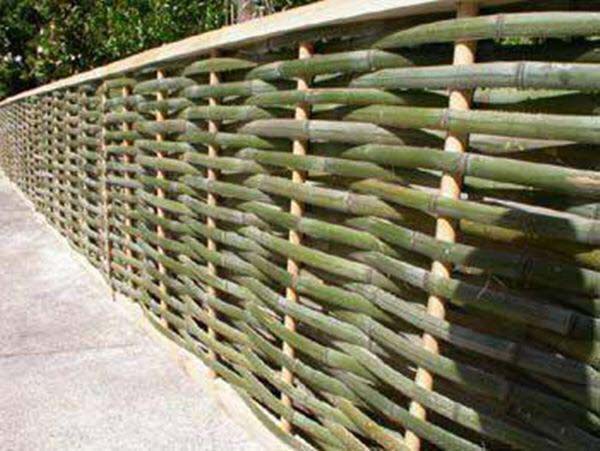 Bamboo is very pliable. Using younger, green bamboo made weaving this fence much easier. A squared off top rail keeps the fence true.
36. Stand Out with a Yarai-Style Bamboo Fence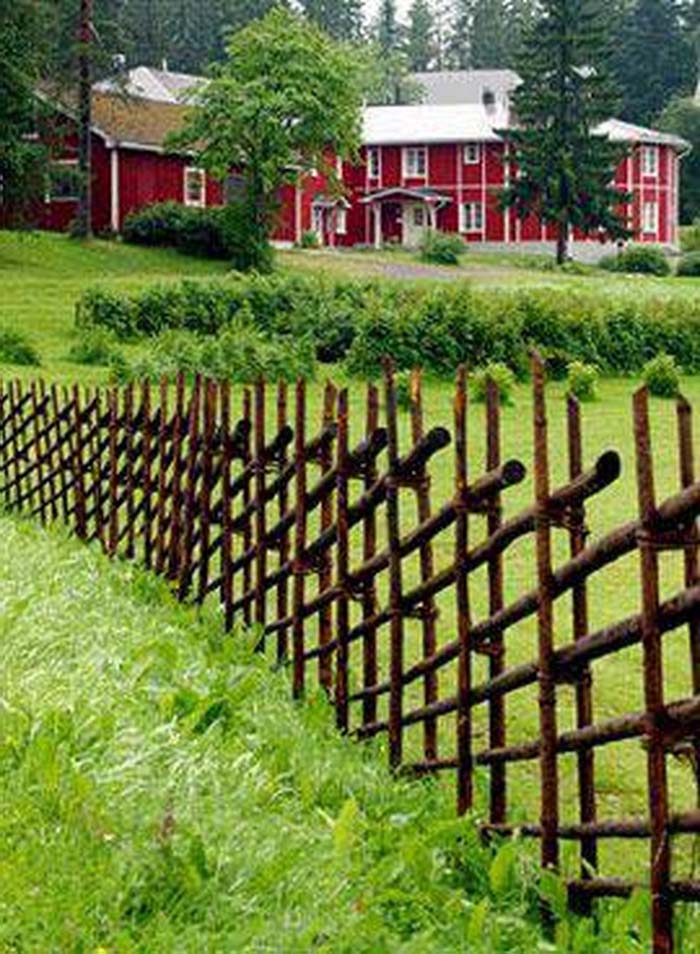 This design is thought to have originated in Japan's Kensei region. It's used as a decorative property line fence.
This particular fence has unique elements. Instead of using cross rails, a pair of sticks creates a ladder for the crossing reeds. This creates an intricate lattice pattern.
37. Add Texture and Character with a Yostume Bamboo Fence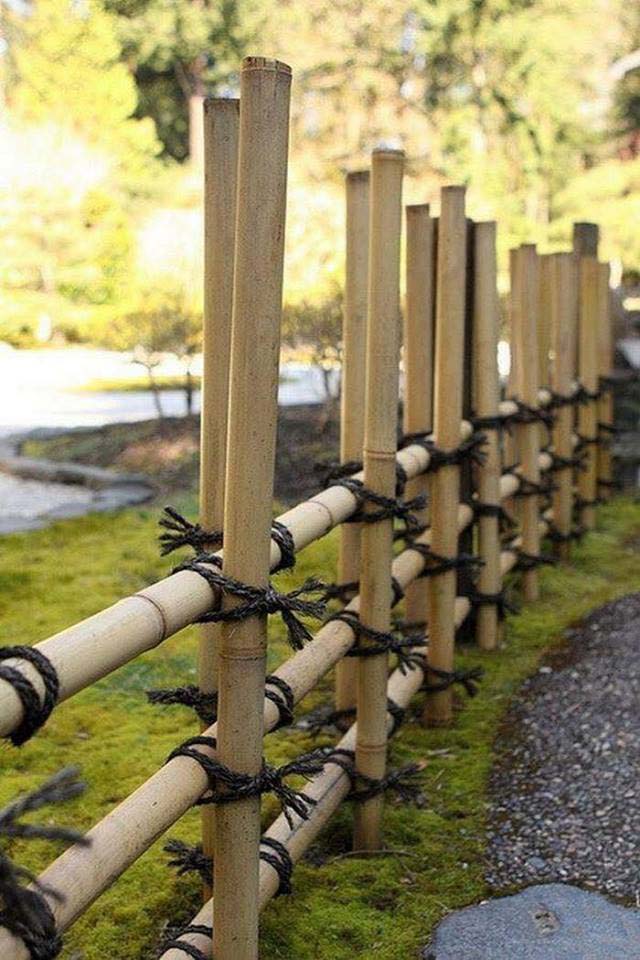 This is a great idea for a fence that doesn't block the view. Positioning tall posts closer together makes it difficult to climb over.
Three rails tied between the pairs are enough to secure the fence without obstructing the view.