Are you considering building a fence to keep intruders or wild animals off your garden? Or maybe you just want to get some privacy from the noisy neighbors, but don't want to go bankrupt.
I assume hiring a pro to make one for you is not an option, that's why we will show you some really cheap fence ideas using inexpensive materials and all of them are easy to do all by yourself.
Yes, you can install a front or backyard fence using simple tools and budget-friendly materials even if you are not an experienced DIYer.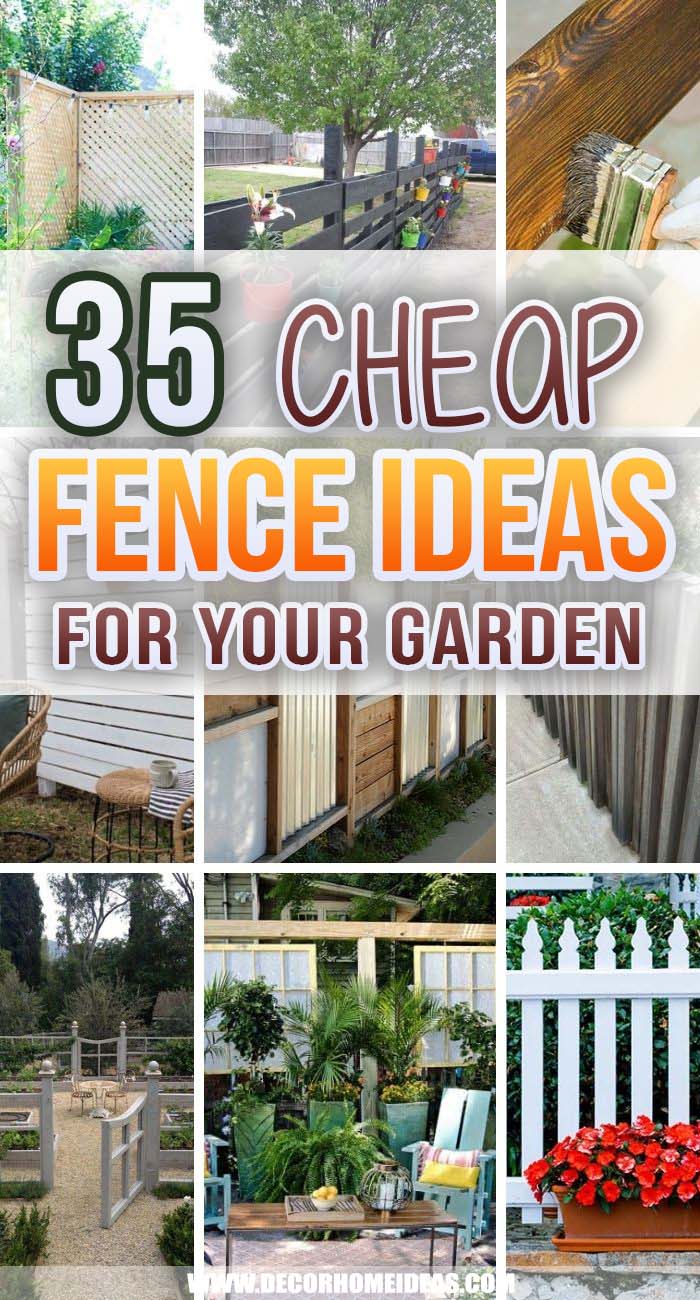 Below each photo, you will see an estimate of the cost per linear foot for each type of fencing so you can decide if it is within your budget. Let's take a look at these fantastic garden fence ideas.
1. Repurposed Pallets With Flower Planters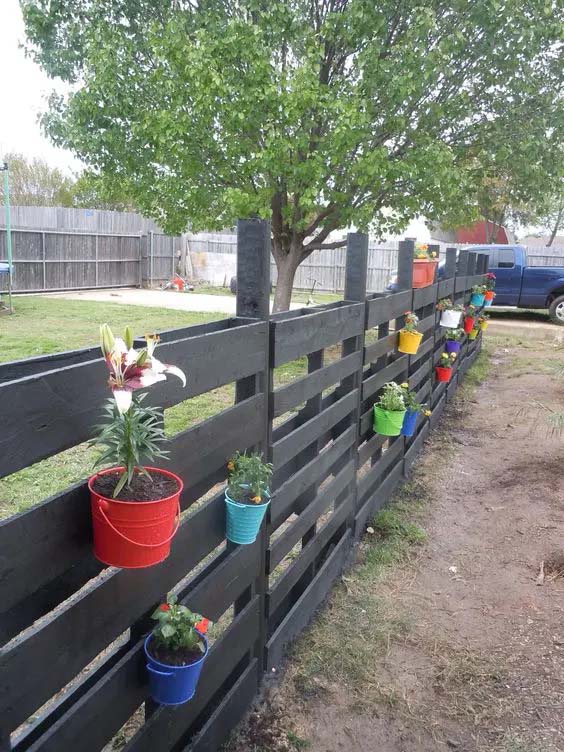 Cost per linear foot: Free
If you need a cheap, DIY fence in a low-visibility area, pallets are a great option.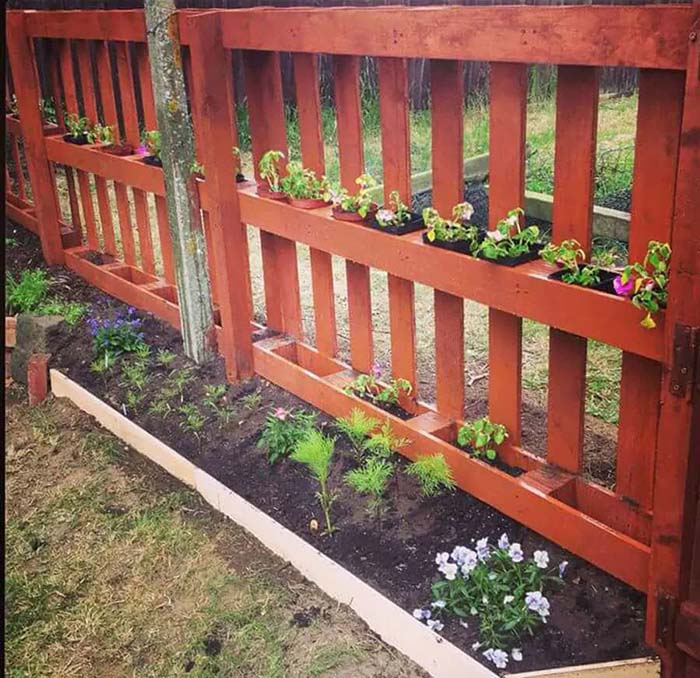 Collect pallets from local stores and warehouses for free, and stand them on end to create a sturdy fence.
Construction is minimal, so you can fence off a garden or a yard without advanced skills.
2. Weather Treated Pine Fence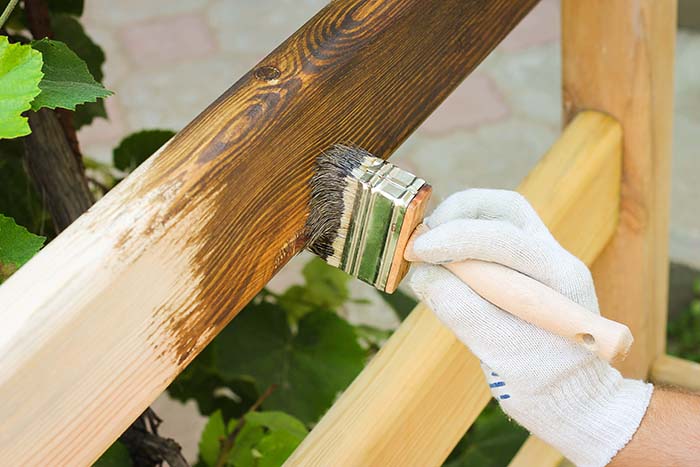 Cost per linear foot: $12 to $19
Fences endure a great deal of stress from weather and moisture.
Treated Pine is a special type of board that wards off rotting, termites, and other insects. It's a great option if you want the natural beauty and privacy of a wood fence without the high price of cedar.
3. Electrified Security Fencing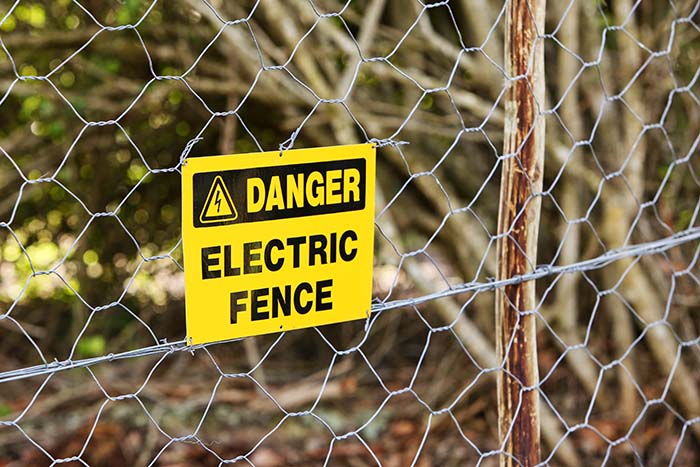 Cost per linear foot: $1 to $6
When you have a large property, security is a must.
An electric fence sends out a shock on contact, deterring intruders. It also prevents livestock or pets from getting out.
Electric fences aren't designed for aesthetics, but they're extremely affordable and easy to use. Make sure to check local regulations before choosing this option — it's usually prohibited in cities and busy areas.
4. Traditional White Picket Fence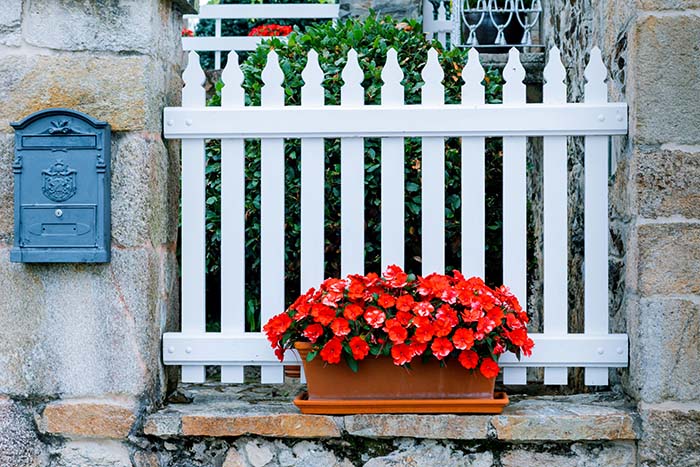 Cost per linear foot: $5 to $10
If you live in a pretty cottage or bungalow, a picket fence blends in beautifully with the exterior of your house.
This traditional fencing option features narrow boards with pointed or rounded tops.
Horizontal support braces and sturdy corner posts complete the setup, creating a fence that keeps out critters without obscuring the beauty of your yard.
5. Versatile Chain Link Fencing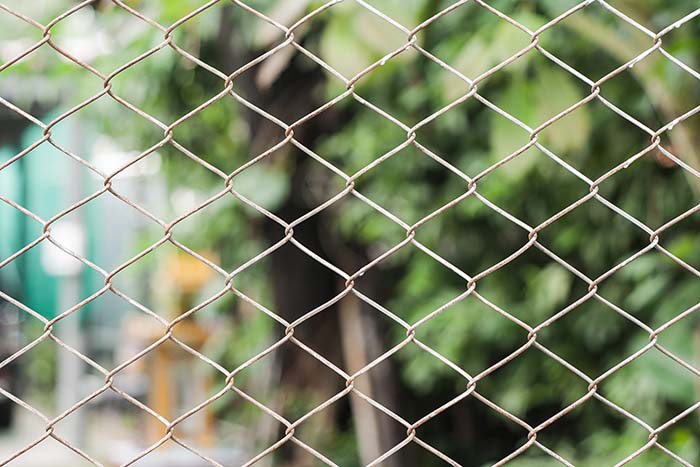 Cost per linear foot: $10 to $20
Chain-link fences are sturdy, long-lasting, and incredibly durable.
Made from a web of heavy-duty steel wires, these fences are ideal for homes with pets and kids. To improve the curb appeal of a chain link fence, you can cover it with climbing vines.
6. Wrought Iron Provides Strong Protection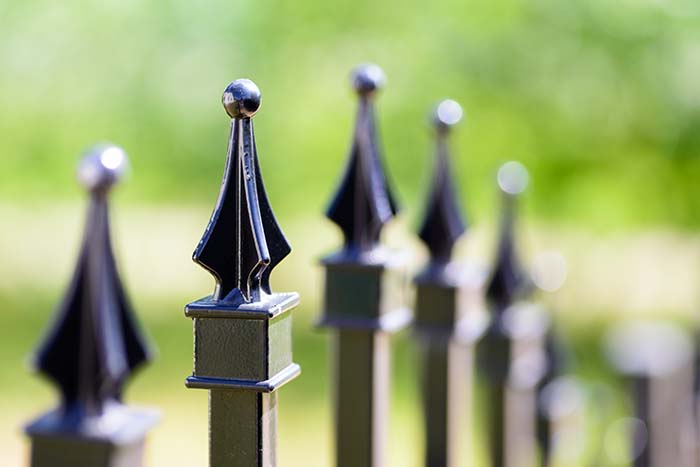 Cost per linear foot: $24 to $32
When your priorities are durability, protection, and beauty, it's hard to beat wrought iron.
These classic fences are made from ultra-tough iron posts that stand up to weather, intruders, and animals.
Customize the fence to match your home with decorative finials, scrolls, gates, and more, or stick to a simple design for a more modern look.
7. Fence Posts With Strung Barbed Wire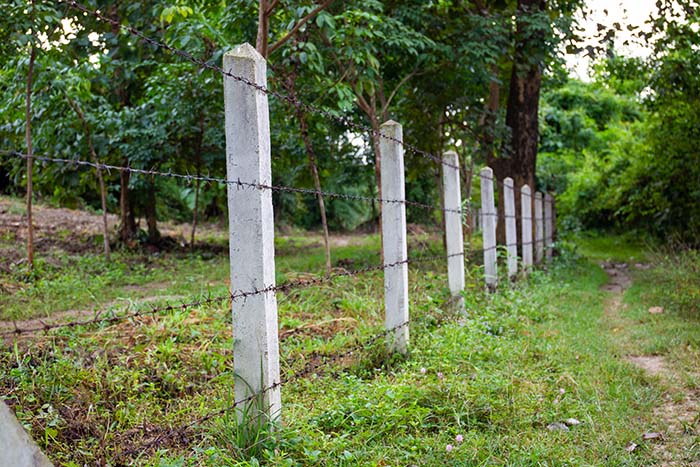 Cost per linear foot: $1 to $2
Barbed wire is one of the cheapest fence materials on the market. It's not pretty, but it's extremely effective at keeping livestock inside a pasture or field.
Installing the fence is a breeze — just string several lines of wire between wooden fence posts ( a concrete fence post is also an inexpensive option) .
Like electric fences, barbed-wire fences aren't allowed in all locations; check your local regulations for specific restrictions.
8. Framed Metal Hog Wire Fence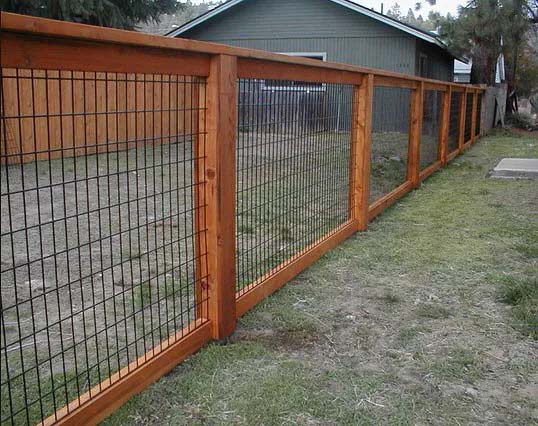 Cost per linear foot: $3 to $5
Hog wire is another inexpensive metal fencing option.
Featuring a sturdy metal wire grid, this material is a great way to protect your garden or keep animals inside a pen.
You'll need to build a wooden frame to support the hog wire; choose low-cost wood like treated pine for an affordable fencing solution.
9. Rustic Split Log Fence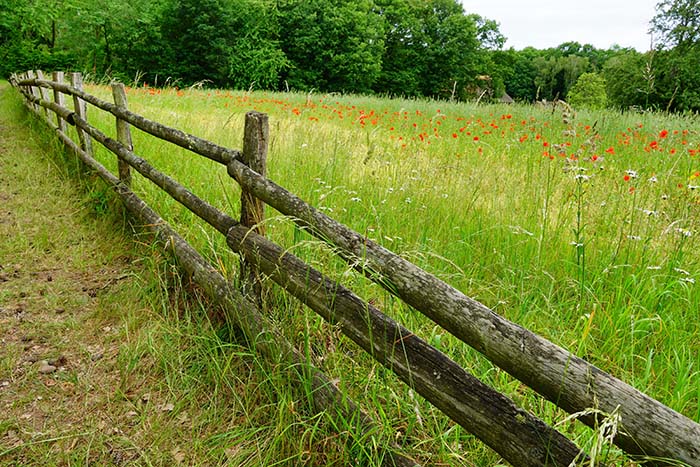 Cost per linear foot: $10 to $20
Are you looking for a rustic fence option?
A split-rail fence could be the perfect solution. It features vertical wooden posts connected by long, horizontal rails.
Each rail is made by splitting a log, so it often has an organic shape and a beautifully imperfect surface. Use split-rail fences for aesthetic value and to keep animals penned in.
10. Mortised Split Rail Fence With Hog Wire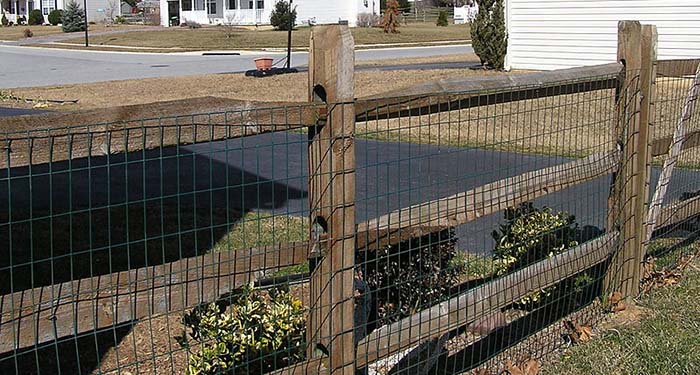 Cost per linear foot: $15 to $25
Like a traditional split-rail fence, this type of fence is built with split logs.
For extra security, particularly when it comes to kids and small pets, it features a layer of metal mesh.
This feature maintains visibility but adds an extra layer of protection to prevent small animals from slipping through the rails of the fence.
11. Paneled Wood Fence With Dog Ears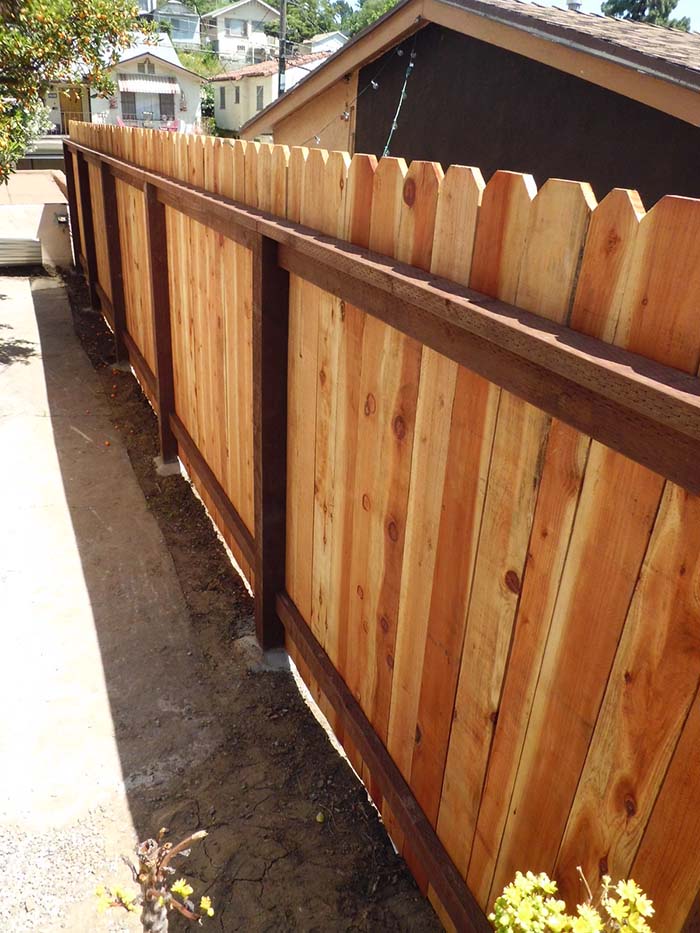 Cost per linear foot: $15 to $20
Dog ear looks like a cross between picket and wood-plank fences.
It's made with vertical wooden planks — but instead of a square top, the corners of each plank are cut off at an angle.
Use this type of fence if you need privacy and protection; it's both functional and beautiful.
12. Natural Look Privet Hedge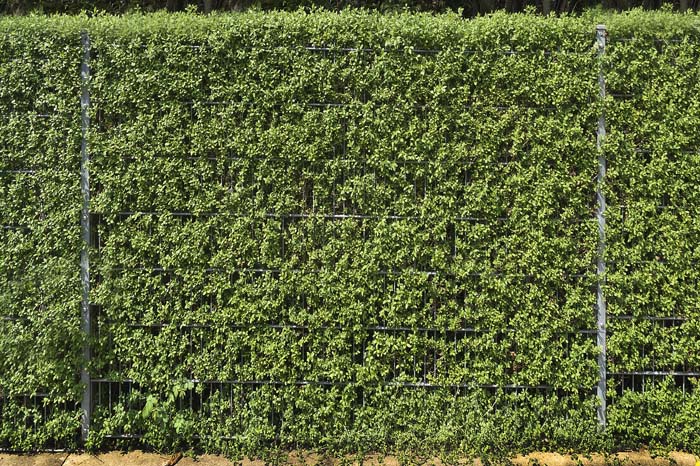 Cost per linear foot: $1 to $2
Privet is a special type of hedge that features densely packed leaves.
Plant it around your yard or property, and it can grow up to 10 feet tall.
Affordable and easy to grow, this hedge makes a gorgeous, green fence that creates a natural feeling and blocks the view into your yard.
13. Wrought Iron Fencing With Laurel Hedge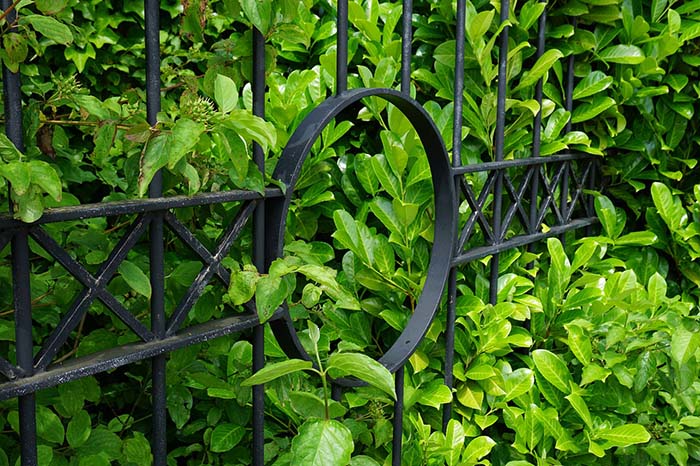 Cost per linear foot: $8 to $9
If you want the beauty of a green fence without the formal look of a pruned hedge, laurel is a fantastic solution.
This brilliant green bush features a thick growth of leaves and a slightly wild look — it's perfect for both country homes and suburban dwellings. Some varieties can grow up to 10 feet tall.
14. Bamboo Hedge Hides A Privacy Wall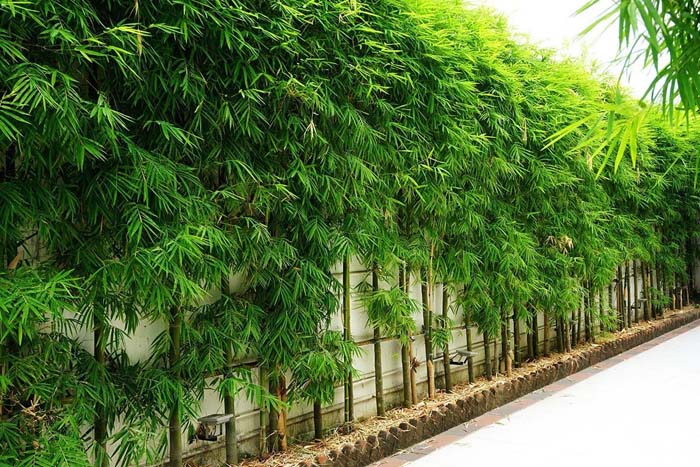 Cost per linear foot: $3 to $6
Give your home a Japanese feeling with a bamboo fence.
When planted close together, these lovely stalks create a tall, vertical fence that adds privacy and keeps intruders at bay.
If you're growing a garden, bamboo is a great way to repel deer.
15. Low Maintenance Yew Hedge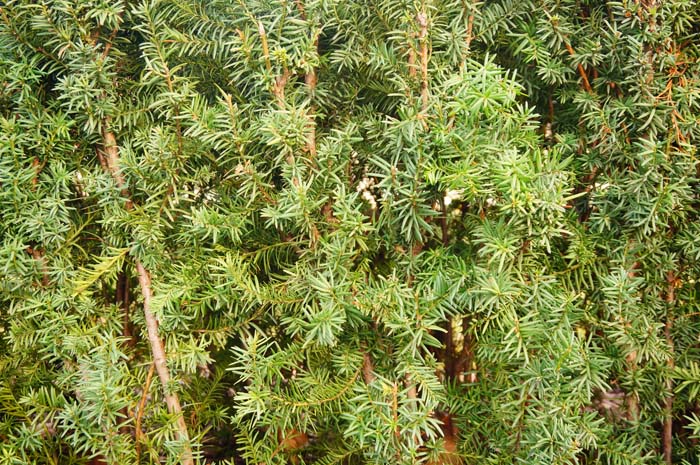 Cost per linear foot: $3 to $6
Yew is a dense, dark-green hedge that can reach exceptional heights — in the right conditions, it tops out at 20 feet tall.
Growth can be slow, but with a few years of watering and pruning, you'll have a sturdy, long-lasting natural fence that looks stunning year-round.
16. 4-Rail Ranch Fencing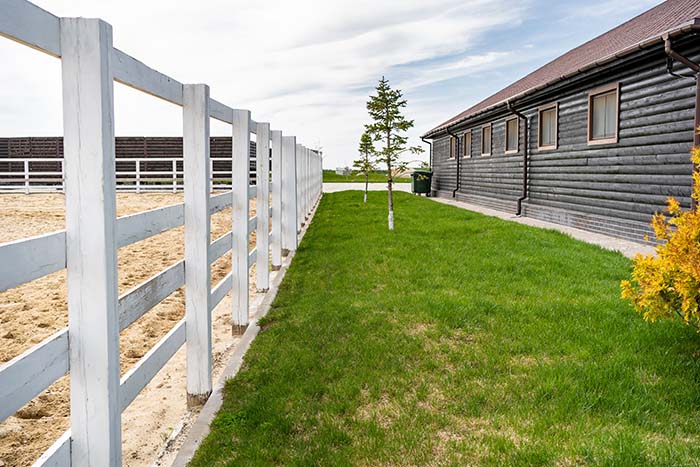 Cost per linear foot: $8 to $10
A four-rail horse fence is an affordable DIY project that's doable even if you have minimal woodworking skills.
The hardest part is sinking the vertical supports; after that, all you need to do is add four horizontal beams between each support.
The result is sturdy, beautiful and suitable for large and small properties alike.
17. Woven Wood Wattle Fence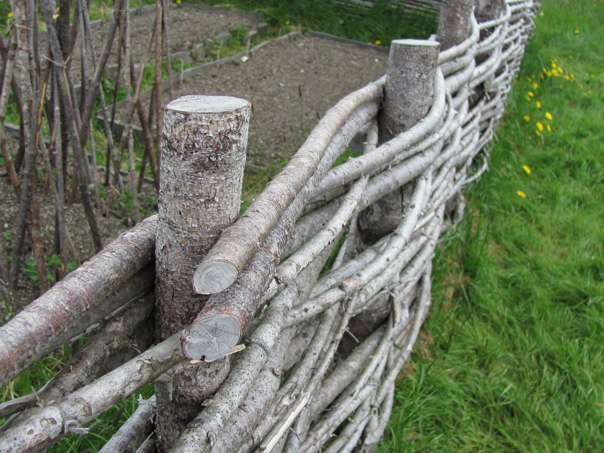 Cost per linear foot: $6 to $12
Wattle fencing delivers a beautiful, natural look without the hassle of pruning and watering.
This type of fence uses slim, flexible branches and sticks that are woven around vertical log posts.
The result is durable and unexpected; it adds a distinct curb appeal to your country or city home.
18. Easy Stacked Log Fencing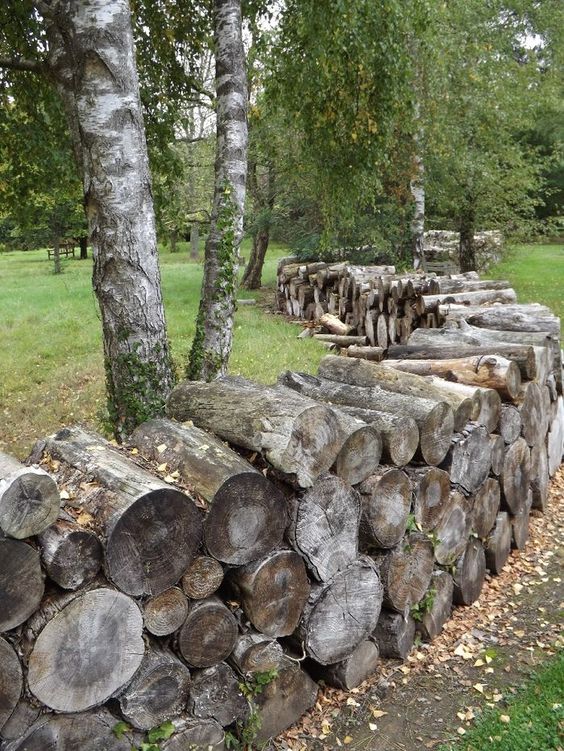 Cost per linear foot: Free
If you have access to a large supply of fallen trees, a log fence is a cost-effective option.
Building it is a breeze — just cut the logs into pieces of the same length, and stack them to create a wall.
The fence is sturdy, and it keeps pets in the yard. Plus, when you're ready for a new fence, you can use the logs for firewood.
More DIY Cheap Fence Ideas
19. Plastic Netting Garden Fence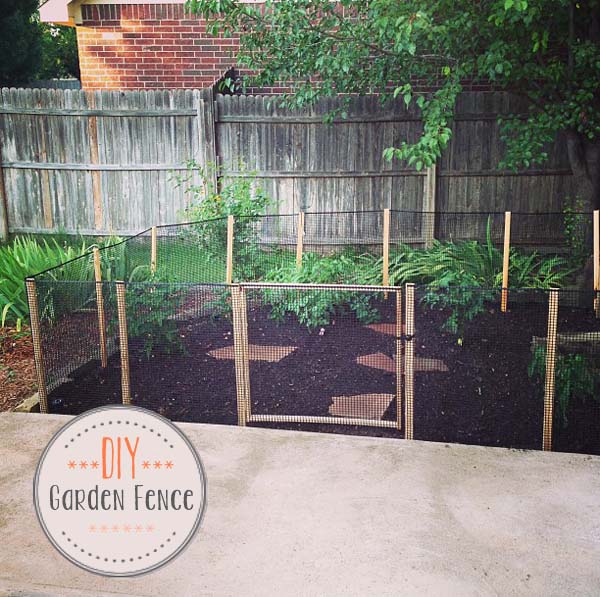 Deer and small animals can destroy your garden — unless you install a fence.
This affordable, DIY garden fence deters deer, rabbits, and other pests.
Make it yourself using an inexpensive plastic net and wooden supports, and your fruits and vegetables will be protected throughout the growing season.
20. Wire Fencing With Wood Posts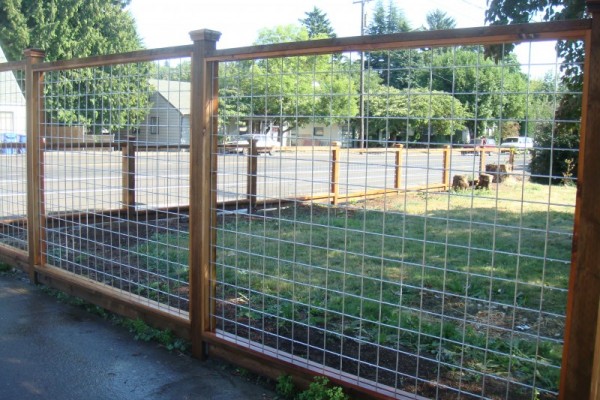 This light-duty fence is a great way to keep your dogs and cats safely inside your yard; it's also an easy way to protect a garden.
Build it on a weekend using a simple wooden frame and a metal wire grid. The result is simple, attractive, and remarkably effective on large and small yards.
via Deck Masters
21. Garden Fence With Decorative Finials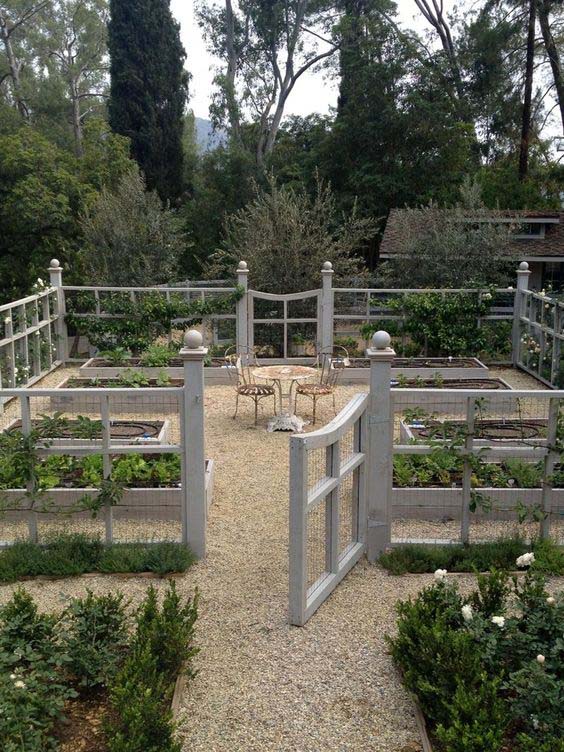 Ensure that your homegrown vegetables survive to the harvest with this handy veggie fence.
It looks lovely, but it's surprisingly simple to make — just sink wooden posts into the dirt, and cover them with wire mesh. Add horizontal cross braces as needed.
The metal grid keeps out animals, and the wooden posts provide a long-lasting structure.
22. Easy DIY Prefab Fence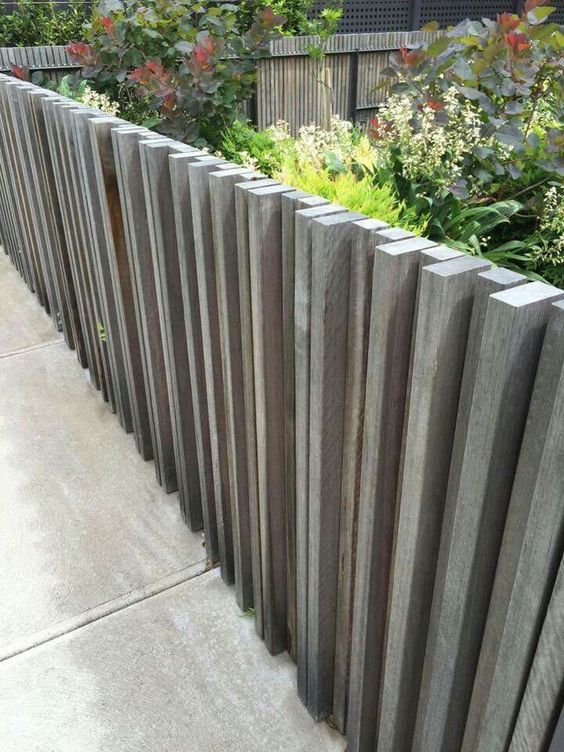 Don't have time to build your own fence? No problem; a prefab fence saves time and effort.
Just buy it in sections to fit your yard — all you need to do is install the wooden panels.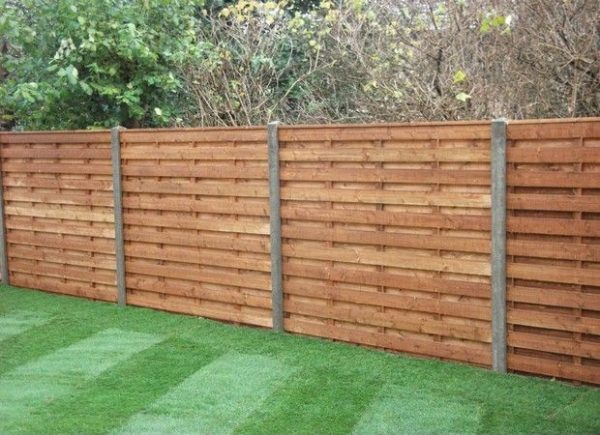 Choose from a wide range of open-frame and solid fences to suit your style and privacy needs. Most manufacturers offer a range of colors and materials to complement different home styles.
23. Add A Decorative Element With Marbles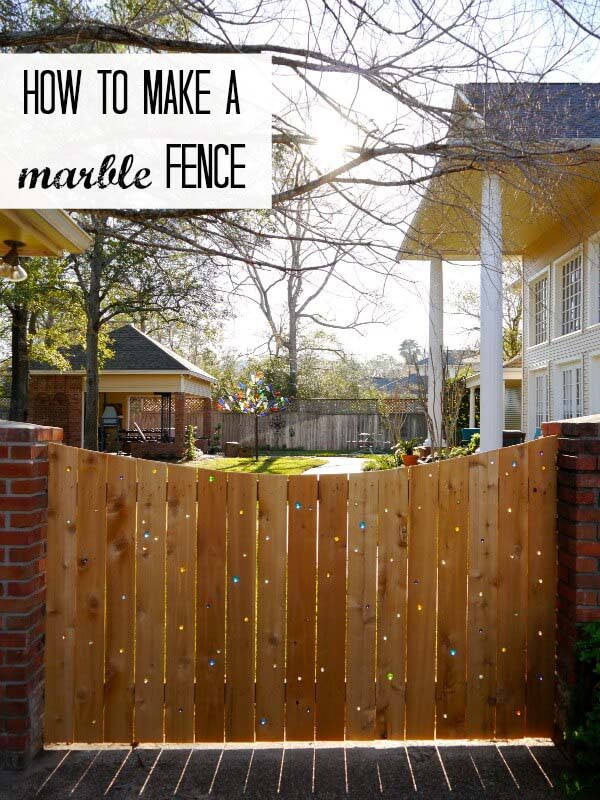 Turn an everyday fence into a work of art with a collection of translucent glass marbles.
Drill holes into the fence, and insert the marbles.
When the light shines through, the fence will light up with tiny spots of color. This is an easy way to dress up a gate or an entire perimeter fence.
via C.R.A.F.T.
24. Horizontal Wood Plank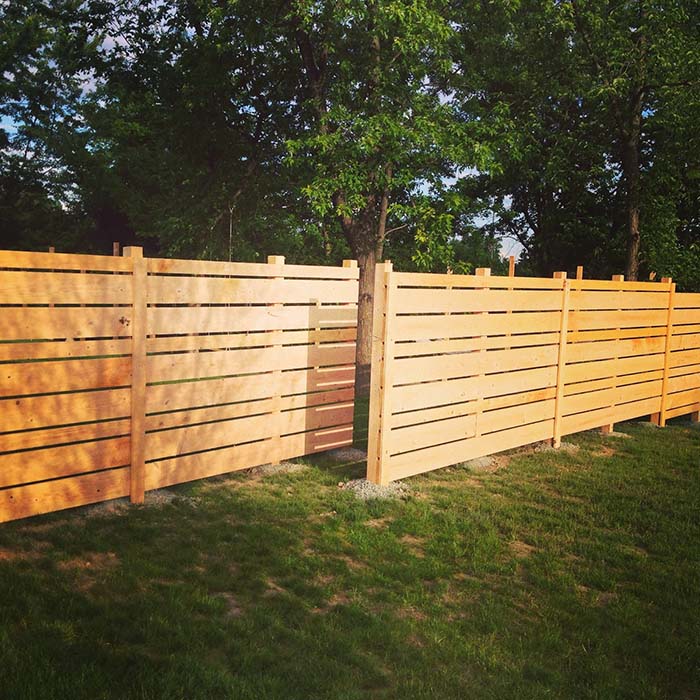 Pretty and functional, a wooden plank fence is a timeless classic.
The horizontal planks rest on sturdy square wooden posts; 4-inch square posts usually provide ample support. Use identical plank sizes, or vary the widths for visual interest.
Leave a small amount of space between each plank to reduce weight and material costs.
via The Unique Nest
25. Mixed Material Wood And Corrugated Metal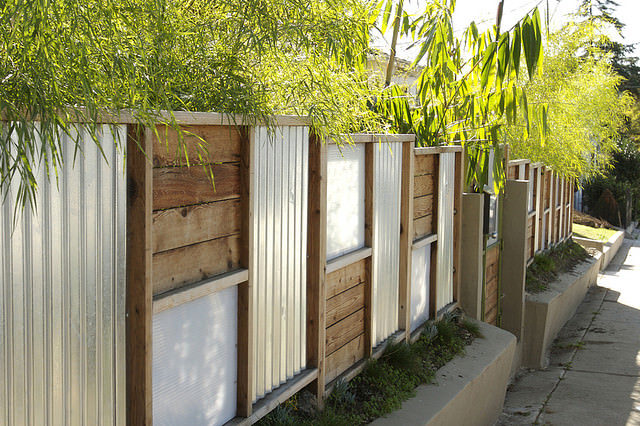 Corrugated metal fencing works beautifully in industrial and rustic homes.
Screw it to a wooden frame for a chic look, or combine it with wooden planks to create an unexpected work of art.
If you live in a modern home, a sleek metal frame is a weather-resistant option.
via Jeremy Levine
26. Framed Lattice Panels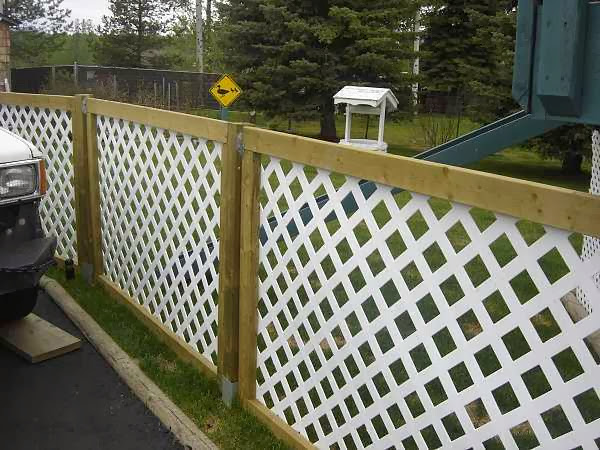 Are you on a tight budget?
Wooden lattice material is an easy way to fence in your yard without breaking the bank. Simply nail sheets of lattice to a wooden frame; the result is both pretty and private.
Lattice is available in white and natural wood, and you can paint it to match your home.
27. Rustic Wood And Chicken Wire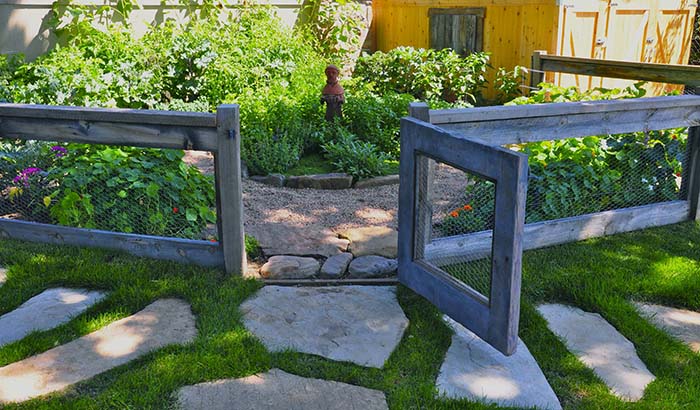 Chicken wire is an affordable way to fence in your garden. The slim metal wires seem to disappear in the light, creating full visibility and protection.
This material works best when fastened to a sturdy wood or metal frame.
28. Split Log And Wire Garden Fence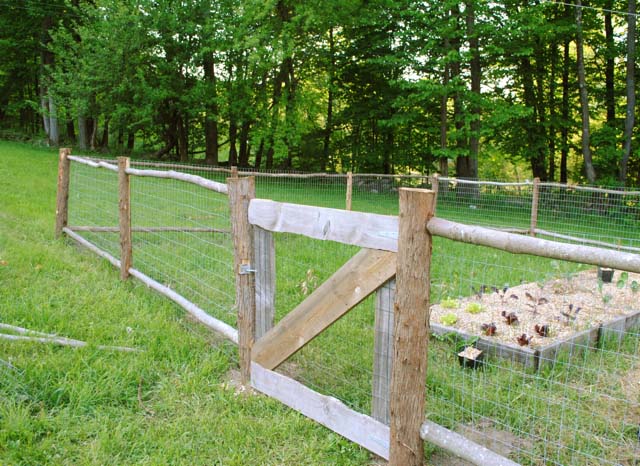 When it comes to fences, the function is often more important than form.
Protect an out-of-the-way garden by gathering downed trees and scrap wood pieces — they're the perfect materials to build a simple wooden frame.
Cover the frame with metal mesh or chicken wire, and you have a fence that can keep out deer and other veggie-loving pests.
29. Tall Smooth Modern Wattle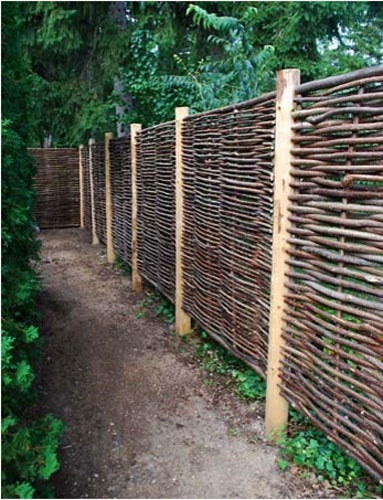 Make a wattle fence work for a modern home with this streamlined design. The trick is to use similarly sized sticks for an even, balanced look; cut off the knots for an extra-smooth aesthetic.
The result is natural, contemporary, and unique.
30. Tall Lattice Privacy Fence With Planter Boxes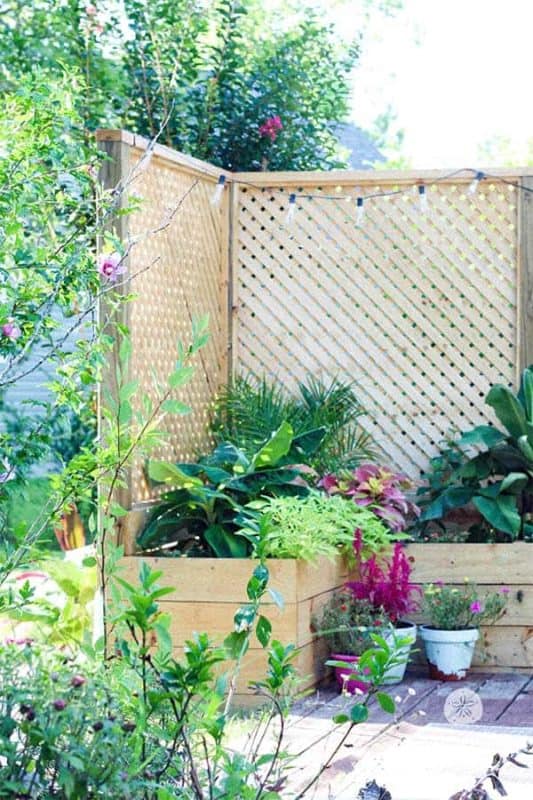 If you have an outdoor dining area, lounge, or pool, a privacy screen allows you to relax away from prying eyes.
Building it is a breeze — just pick up tall lattice sheets from any home supply store, and nail them to a simple 2 x 4 wood frame.
The open-weave design allows light to come through, all while blocking the view into your yard.
via Sand Dollar Lane
31. Decorative Planters Upgrade A Plank Privacy Fence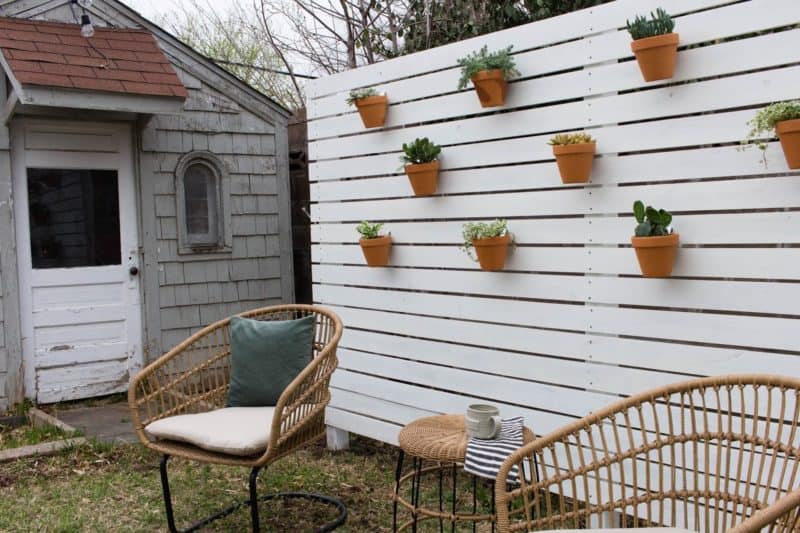 In a small yard, a privacy fence can feel oppressive. Make space feel homier by adding planters.
Here, vertical wooden planks shield the yard from view; pots with green plants turn the wall into a work of art.
via Rooney
32. Upcycled Vintage Window Privacy Fence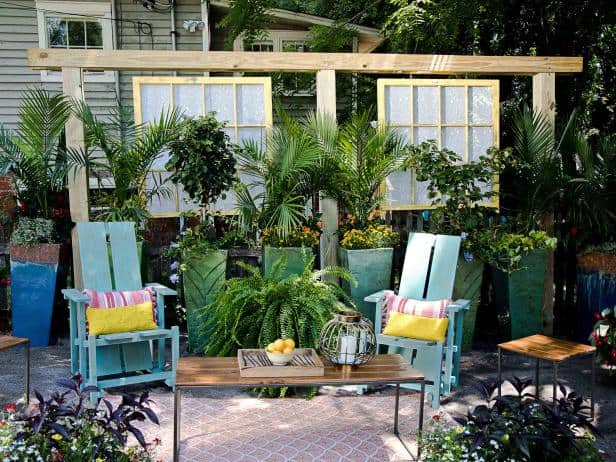 Satisfy your eclectic aesthetic by turning a collection of old windows into a fence.
Cover the window panes with frosted adhesive film for privacy; you can also fill each pane with stained glass for a pop of color. Use chain hangers to suspend the windows from a wood beam.
via HGTV