Need a piece of home decor that adds the charm and coziness of the farmhouse style instantly and in big amounts?
The Repurposed Old Window Ideas is your collection for easy and inspiring projects with old window frames that add interest and uniqueness to the interior and exterior.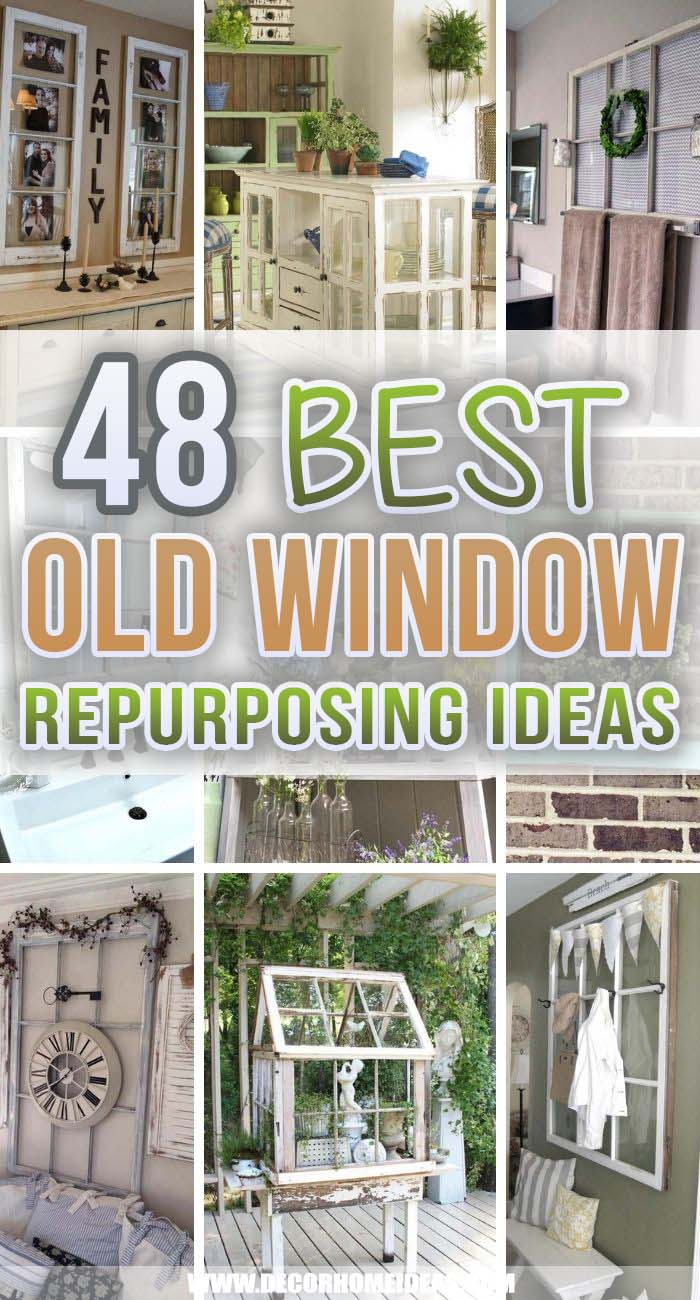 You may already have some old windows in the garage or find a great antique piece at a thrift shop or a yard sale.
To make your window frame an appealing decor piece, you can apply different surface or embellishment techniques.
Whitewashing, distressing, and staining are perfect to age the wooden surface. When it comes to filling the frame, you can leave it with the original glass panes or replace them with chicken wire for enhanced country-style chic, a chalkboard for practical usage, mirror for an elegant touch.
The repurposed design depends on the new application of the window and here we will show you how to turn a useless wooden piece into a priceless decor element.
1. Whimsical Chalkboard Message Station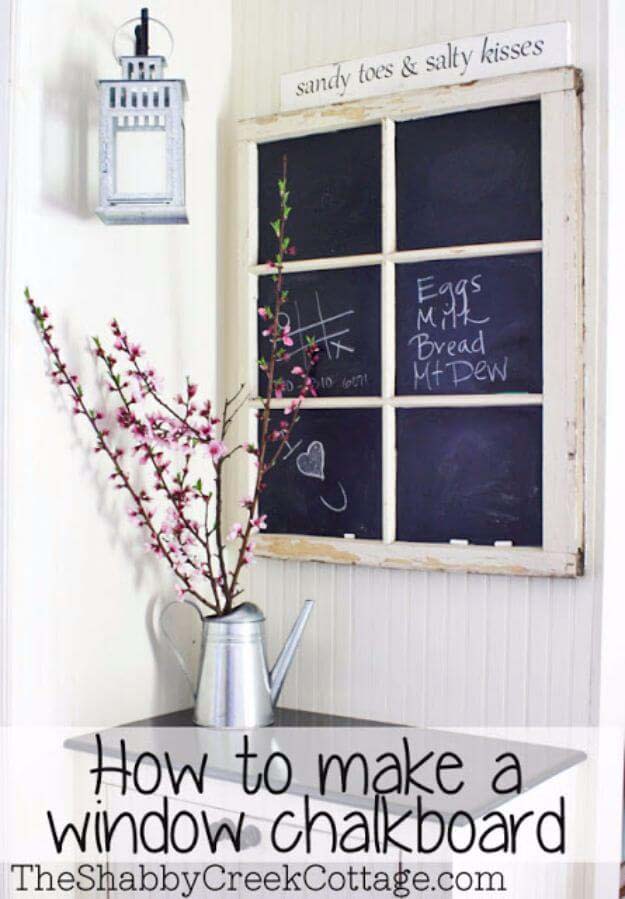 This adorable repurposed window idea is adorable and helpful for the home-duties organization. Equipping the frame with a chalkboard in the places of the window panes gives it a bit of a country feel.
There are many ways to use the functional chalkboard surface and that mostly depends on the place this wall piece will be hung. In the kitchen, it becomes a memory board. In the living room, you can write family values on the black background.
Use it in the entryway as a canvas for motivational thoughts to make your day brighter.
2. Add Color and Charm to a Brick Wall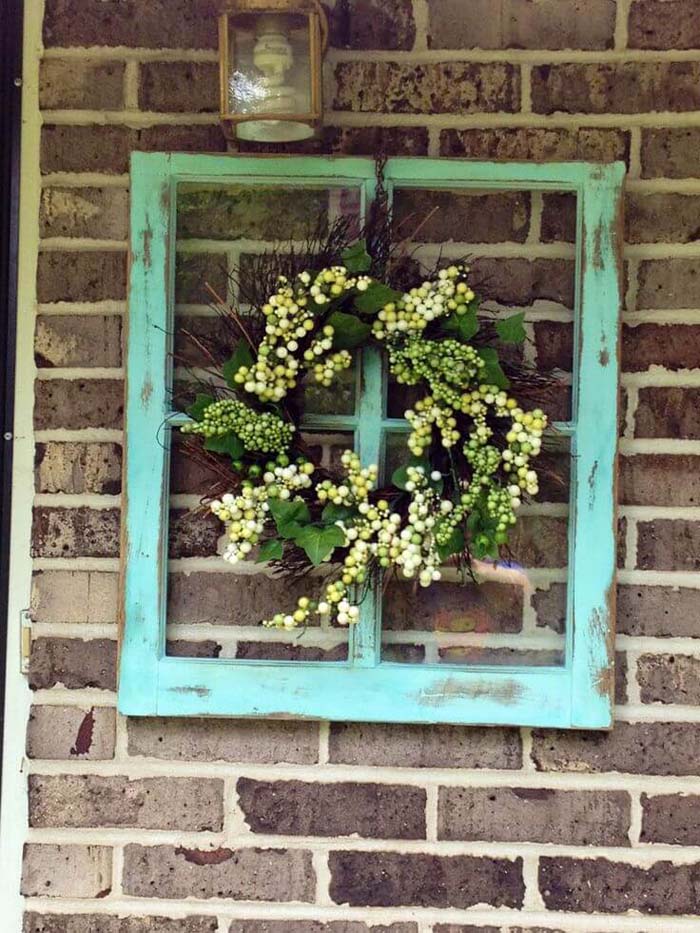 You can update the neutral color with a window frame painted a contrasting color. The grey brick wall is boring and cold but when the teal-colored window frame is hung on it, it instantly becomes more cheerful and attractive.
The wreath in the center of the frame showcases hues of green, yellow and white that work nicely with the base color and together they make a stylish customized piece of decor.
3. Window Becomes Top of Coffee Table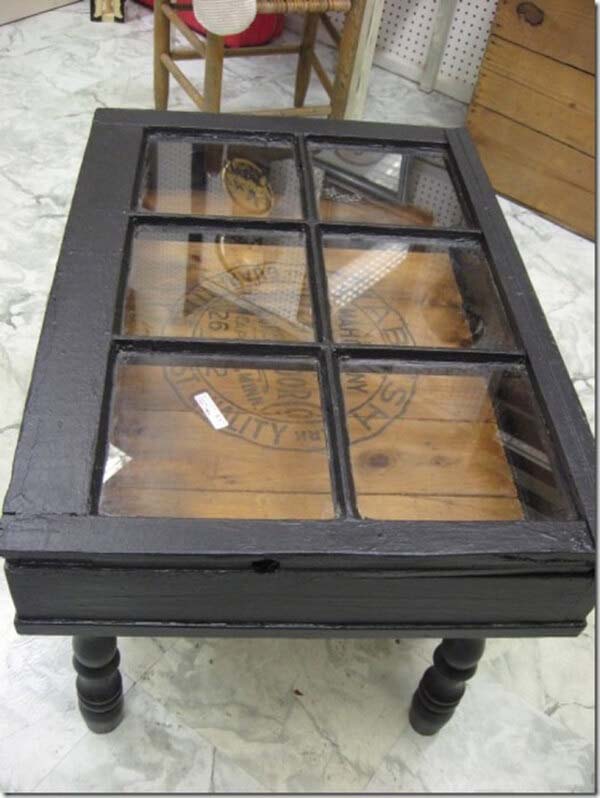 One of the most inspiring repurpose ideas with a window frame is using it as a top of a customized coffee table. There is a lot of charm in the design because of the non-traditional window application.
To make the top surface usable, think about changing the ordinary glass with a tempered one.
4. Frame Ties Together Mantle Décor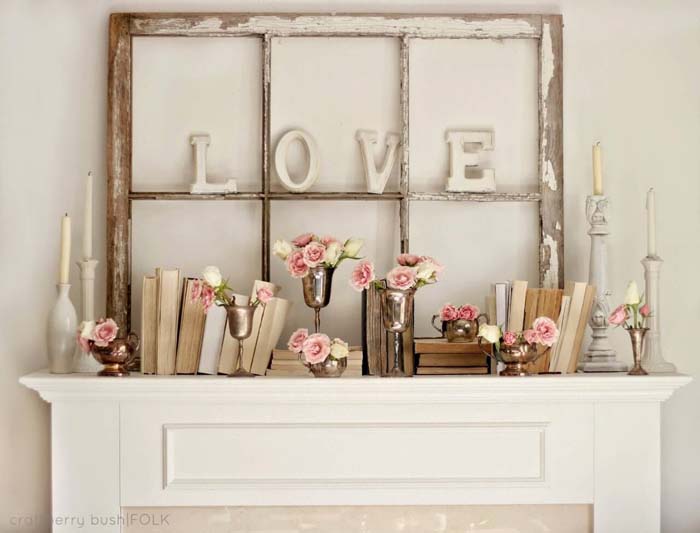 Do you need new spring decor for your living room? The window frames come in help, adding an interesting outdoor element to the interior.
Placed against the blank wall above the mantel, it sets a charming backdrop for the focal point. Different metal glasses are repurposed into vases.
Complemented by white candlesticks and ceramic vases, the spring arrangement becomes an elegant decor element.
via Craftberry Bush
5. Reframe a Bathroom Medicine Cabinet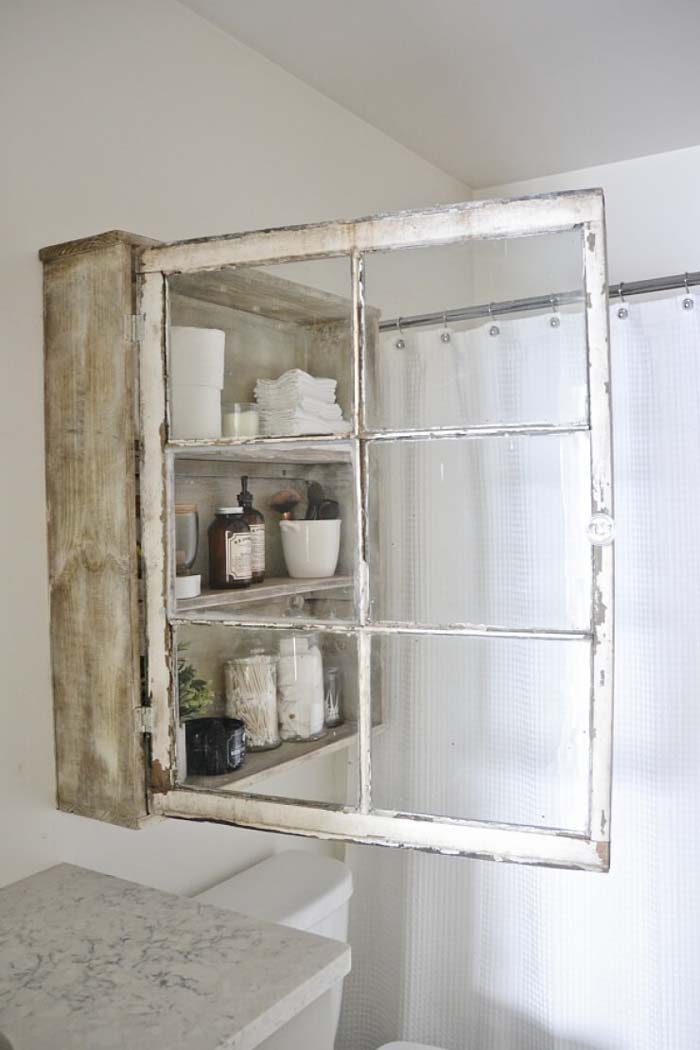 Do you like the antique apothecary cabinets with glass doors? You can make your own possessing the same aged look as a genuine cabinet with scrap wood and an old window frame.
48 Best Repurposed Old Window Ideas That Are So Beautiful video:
Give the pieces an aged weathered look by distressing different areas of the paint coat. It is very important to use suitable hardware for assembling the window cabinet pieces together.
Make sure that it has a vintage look to coordinate with the concept of the bathroom organizer.
6. Frame Turns Into Vertical Plant Hanger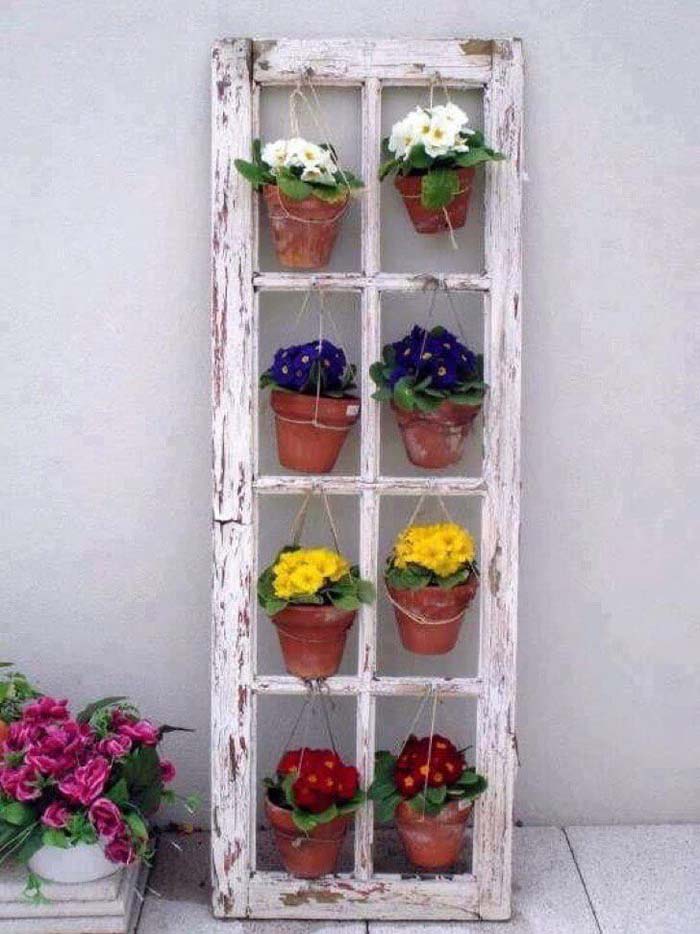 The old window frames can be turned into a chic addition to the garden or porch flower decor.
Use the pane openings as sections for flower pots. Attach them to the frame with thick twine, rope or wire. Then just lean the window frame against the wall and watch how whimsical your new flower stand is.
7. Hang a Wreath in a Window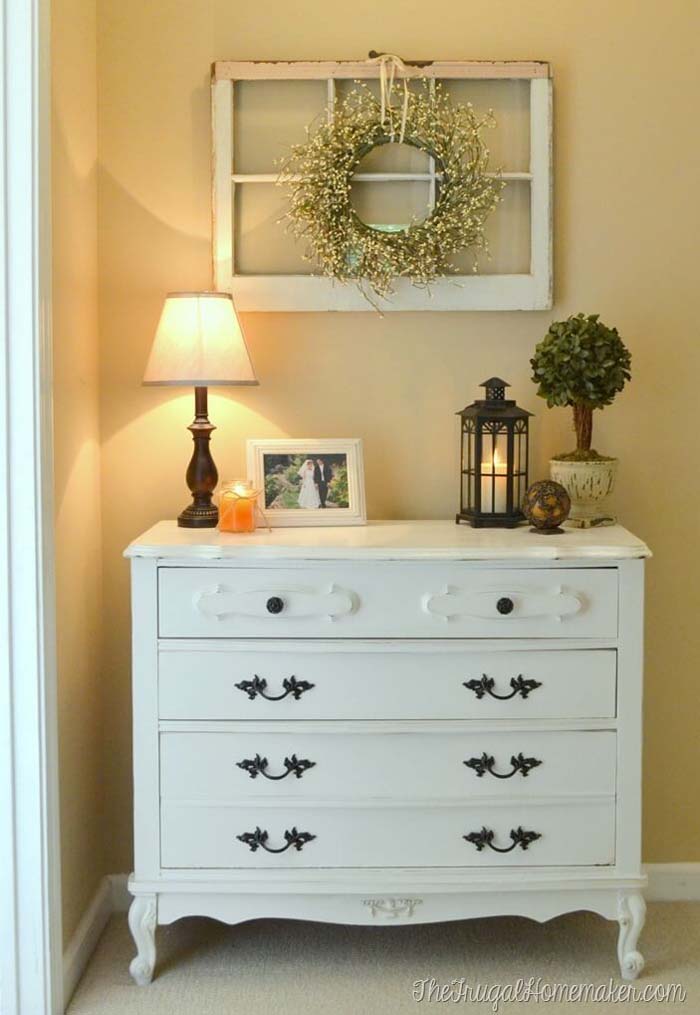 The windows are mostly repurposed into wall art because they have an amazing interior impact. When there is a blank wall in your home you need to update it with a piece that is impacting, special and customized, make your own window decor.
It can be a picture frame or a display for a farmhouse wreath. Experiment with the texture of the wood to enhance the vintage charm and make the repurposed window blend with the existing decor.
8. Simple Frame Has Big Farmhouse Style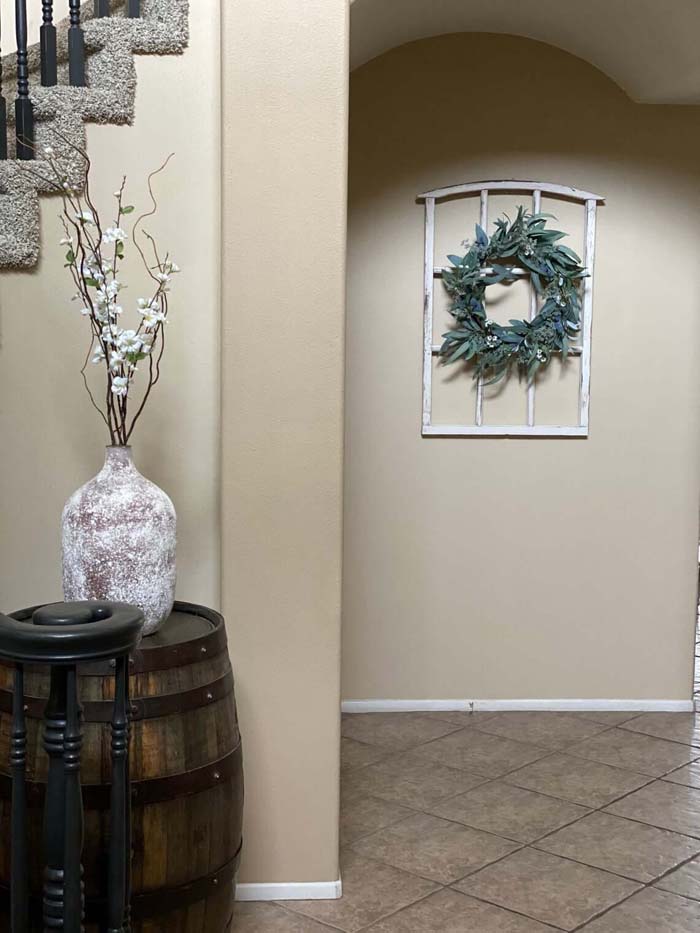 The greatest thing about the window frame repurposing ideas is that the frame itself can be just enough to create a memorable farmhouse impact on your interior.
Find an antique window frame and choose a blank wall to add some interest. Use the window frame as a support for seasonal decorations such as wreaths, galvanized vases with flowers, etc.
via Etsy
9. Frame Becomes Front and Center Wall Décor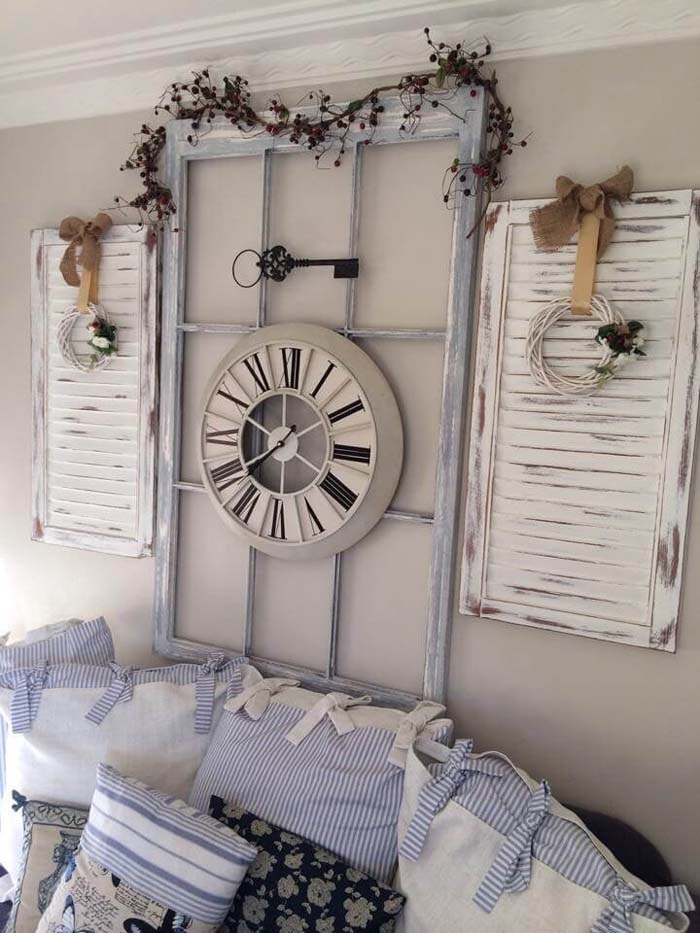 The window frame pairs perfectly with old shutters. Placed together on a wide blank wall, they replicate a countryside outdoor image.
The wooden surfaces easily accommodate hooks, screws and nails so you can easily update the wall decor with ornaments.
10. Window Panes Frame Vintage Clock and Prints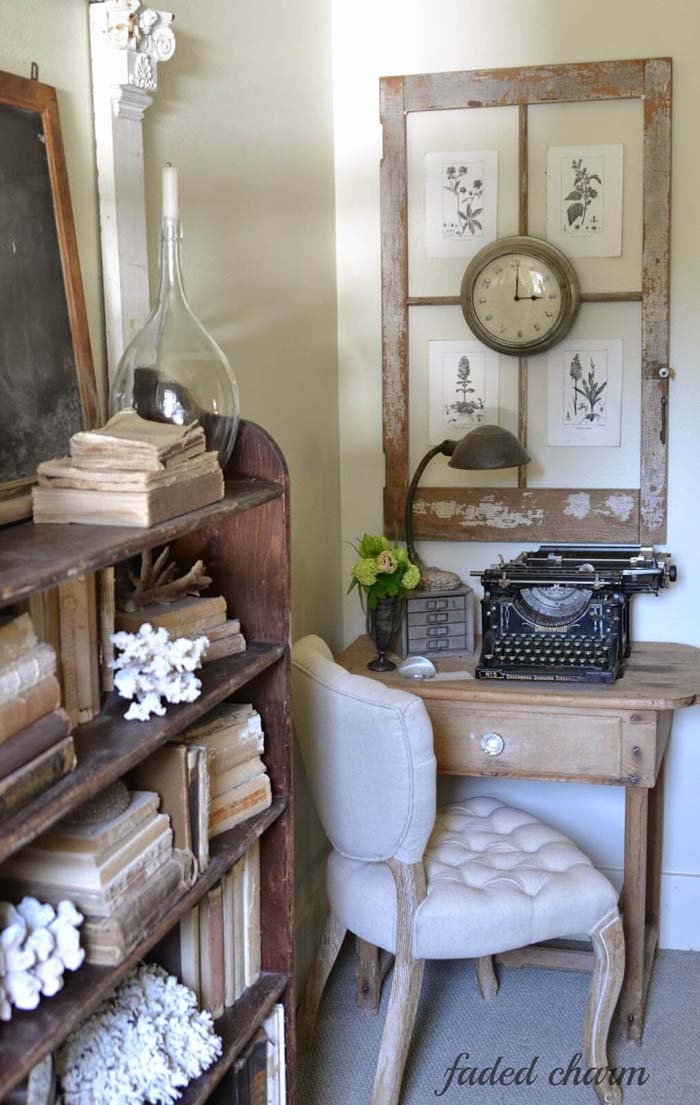 This repurposed old window idea is perfect for home office decor. In case you need a piece to relax you, the transformed window frame will do it perfectly.
Each glass pane is filled with a sketch of a botanic species. All four images are united in color, size and style. The middle of the window, where all slats meet, is covered by an antique clock which gives the wall art functionality.
11. Display Printed Map in a Window Frame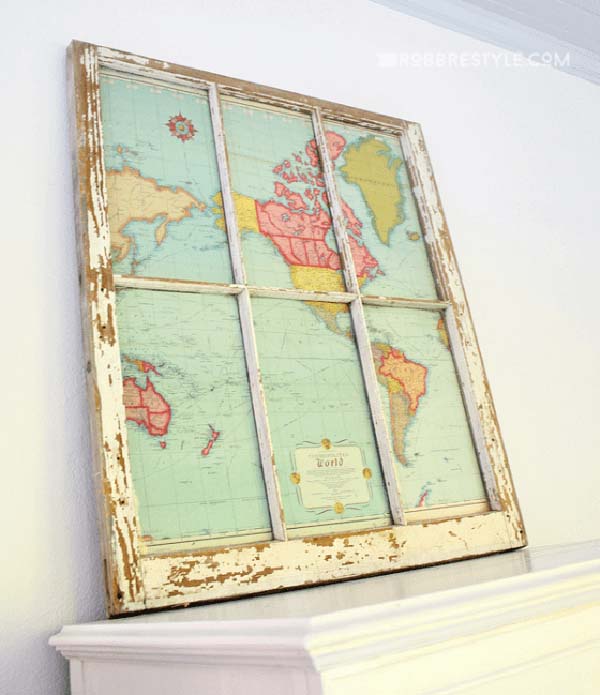 A map displayed in a window frame can be a wonderful personalized decoration for the mantel.
Whether you are a traveler or an adventurer, you will enjoy the transformed look of a plain colored map when inserted in a weathered wooden frame.
via Robb Restyle
12. Coastal Display Inside Repurposed Window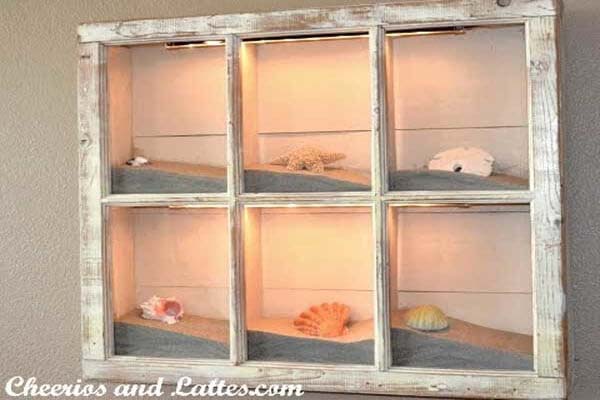 The old window frame becomes customized coast-inspired wall art. Adding a back of shiplap boards over the window frame turns it into a shadow box/
Install a light bar to the inside of the frame to let the stored items be seen in the darker part of the day. Some sand and your collection of seashells are enough to bring the beach sensibly inside your home.
13. Window Panes a Part of Upcycled Furniture Project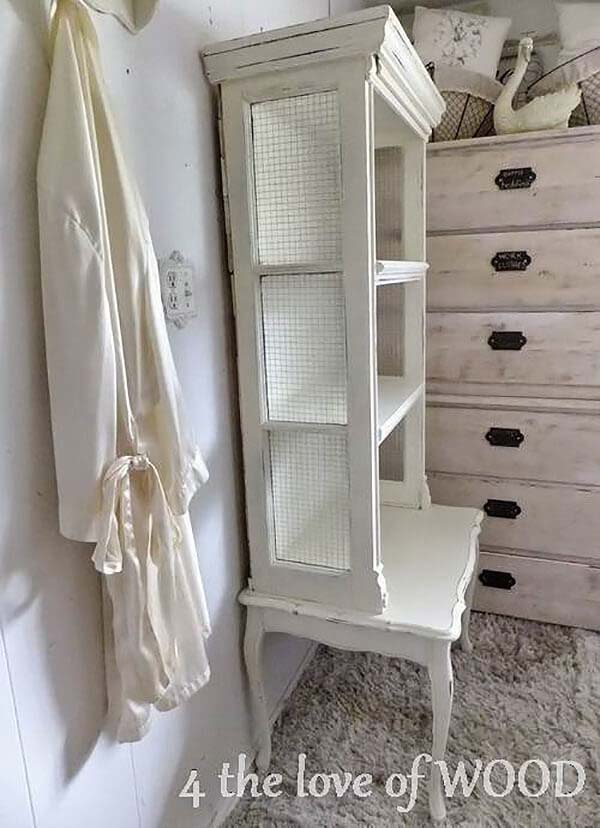 This is an interesting window repurposing idea. Usually, we see the windows placed individually on a wall or on a table. Here, more window frames are assembled together into a completely new item offering you extra space for storage.
The final look of the shelf unit is fantastic and matches perfectly the interior with a farmhouse touch.
14. Glass Table From Upcycled Window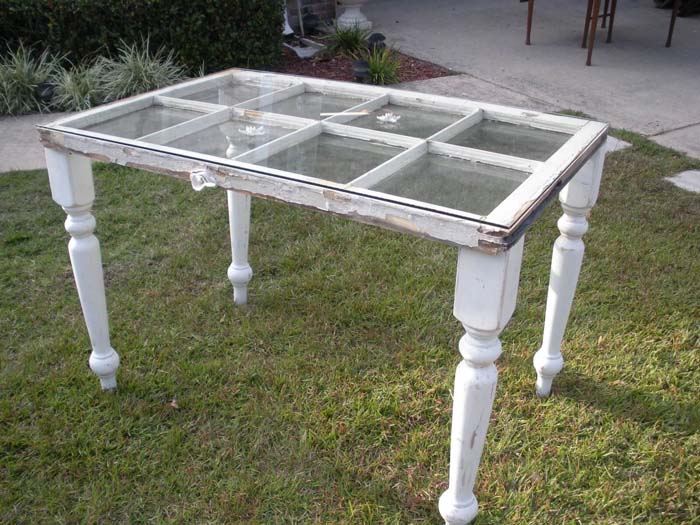 This customized dining table is a masterpiece. Made of old furniture pieces in good condition, the final result of the assembled table is a vintage-looking and rigid table.
The most interesting part of this DIY table is the tabletop. Instead of solid wood, the author uses an old window frame.
You can add another glass to the bottom of the frame to make empty sections just like the shadow box type and fill them with interesting small decorations.
via The Junktion
15. Add Mirror Behind Old Window Panes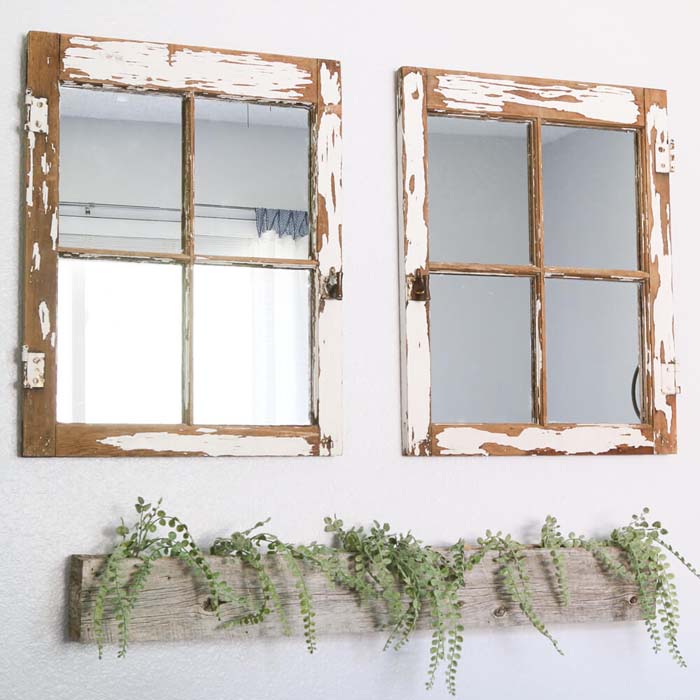 Mirrors are used a lot in interior design because of their help to make space visually larger and more attractive. When this feature is taken to a farmhouse interior, you may find it difficult to find a mirror in the store which matches the existing decor.
Thankfully, here we have an inspiring suggestion with old window frames. They are upgraded into mirrors and hung on the wall.
This decor idea can be reproduced with one large window frame flipped on its longer side if you prefer to create a bolder statement piece.
16. Add Display Areas to Kitchen Island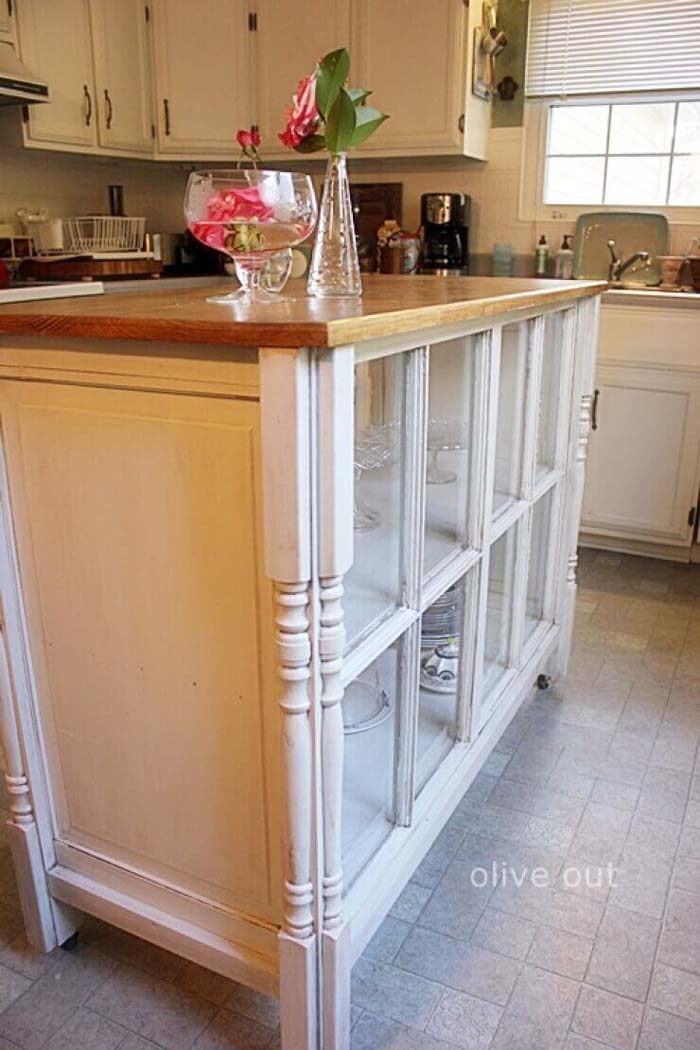 In case you are in a process of building an island for your vintage kitchen, you should definitely check this repurposed window idea.
Some old windows could be very helpful to create a customized piece combining vintage charm and functionality.
via Olive Out
17. Rustic Frame Adds Farmhouse Character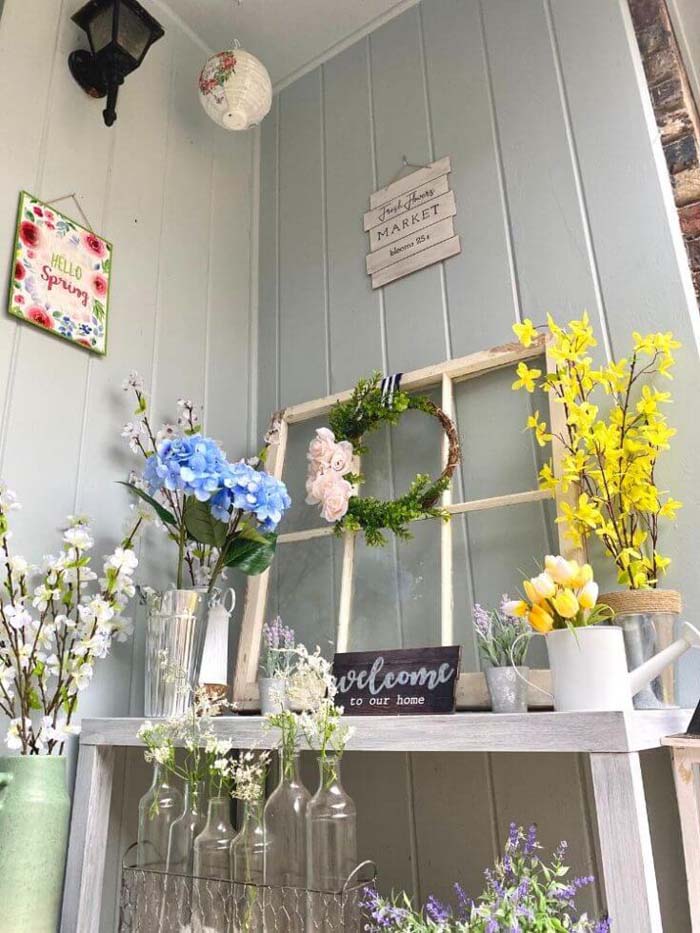 The window frame can be used to give height to your corner decoration. Placed on a side table, it ensures visual interest vertically, especially when a piece of embellishment is hung on it.
This spring arrangement is so fantastic with the fresh bright colors of the field flowers. They stand out against the neutral background thanks to displaying them in glass flower containers.
18. New Mirror Refreshes an Old Frame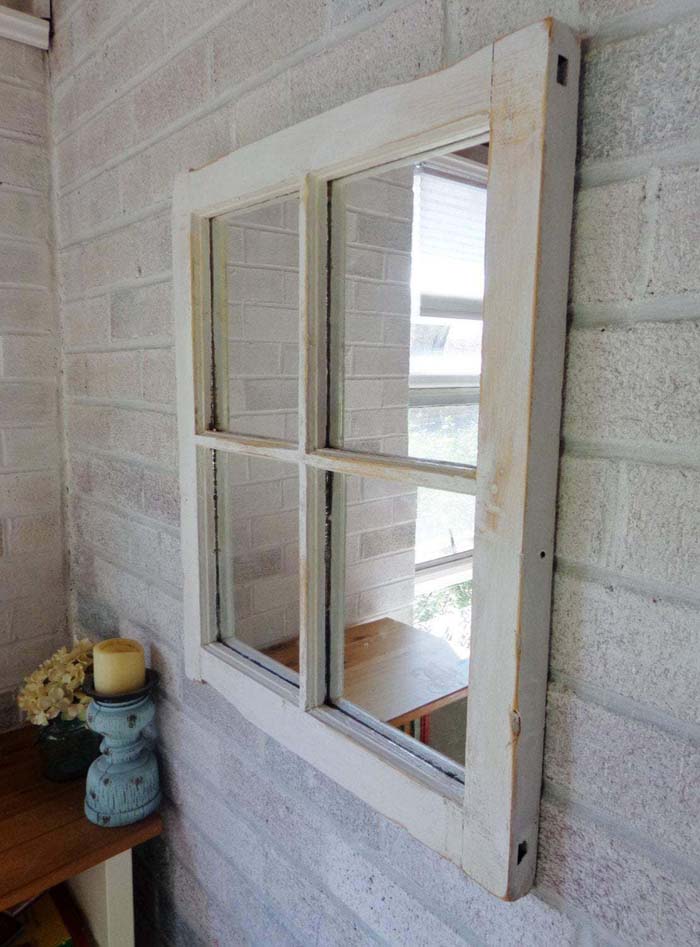 This mirror idea is great for entryways and bathrooms where there are farmhouse accents. Any window frame can be repurposed into a farmhouse window in one simple step.
Replace the glass panes with mirror sections. The treatment of the wood surface can additionally enhance the farmhouse look of the mirror holder and also help you match the new wall art with the existing decor.
19. Create a Hat Hanger From Antique Window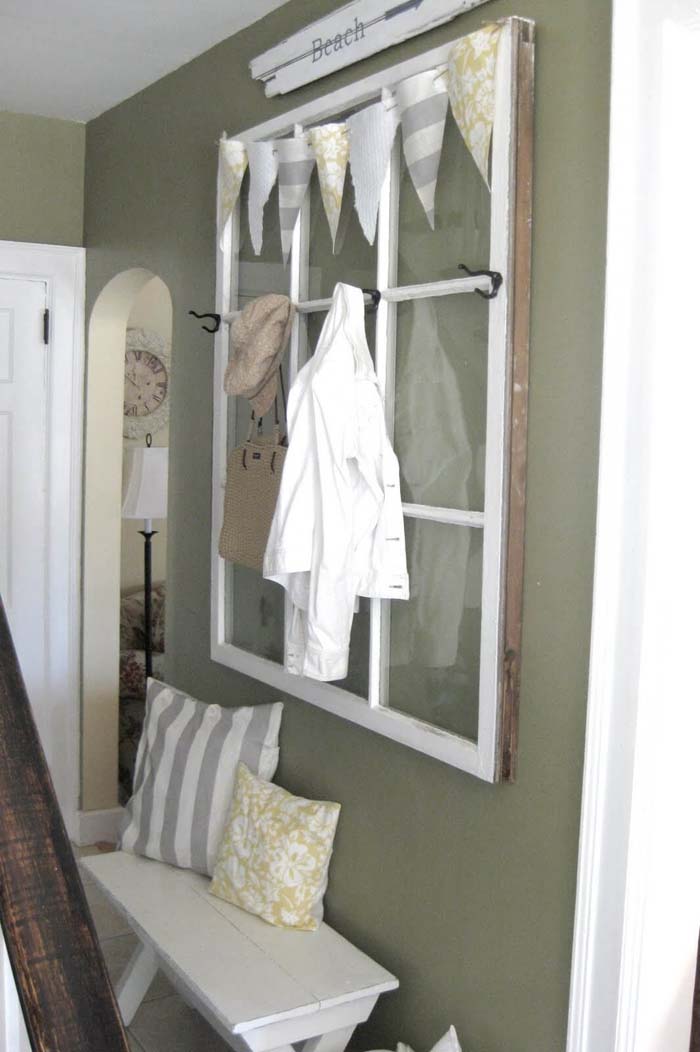 The neutrally decorated hallway easily embraces a window frame repurposed into a functional coat rack.
Depending on the surrounding interior you may want to give the wood surface a fresh coat of paint or leave it revealing the signs of damage.
Once you are happy with the surface, add a few hooks to hang your everyday jackets, bags, etc.
via Aimee Weaver
20. Wall Displays Vintage Window Collection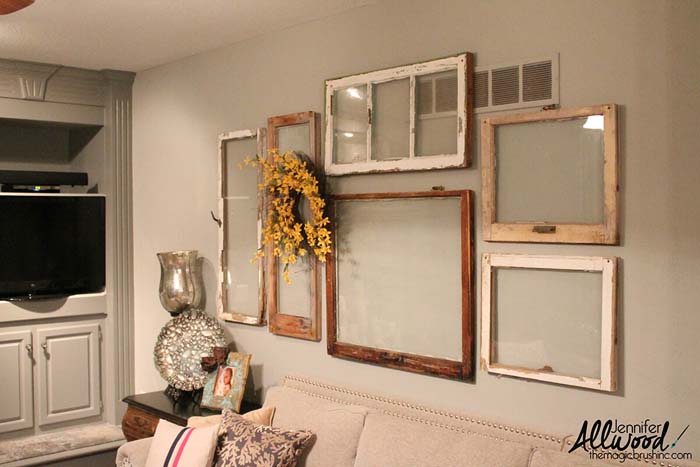 Is your living room missing a statement piece? Easy, creative and very impacting- the collage of old window frames creates an art gallery.
They differ in size, model and surface and that makes the collection even more impacting. You can place seasonal hanging decor on some of the frames to add a pop of color.
21. Large Window Frame Becomes Jewelry Organizer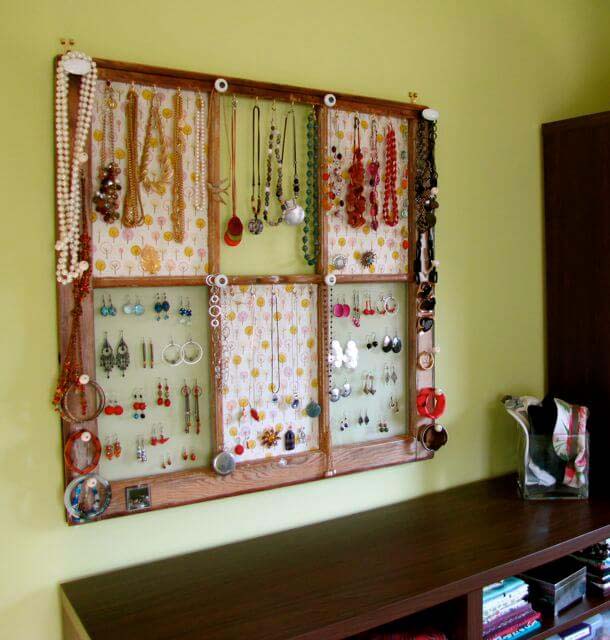 Every woman needs a special display for her jewelry. Being smaller, the jewelry types are difficult to find if they are stored in containers.
Instead, place them on a window frame filled with mosquito net to sort them by type and find the item you are looking for easily.
22. Spanish Window Turns Into Wall Art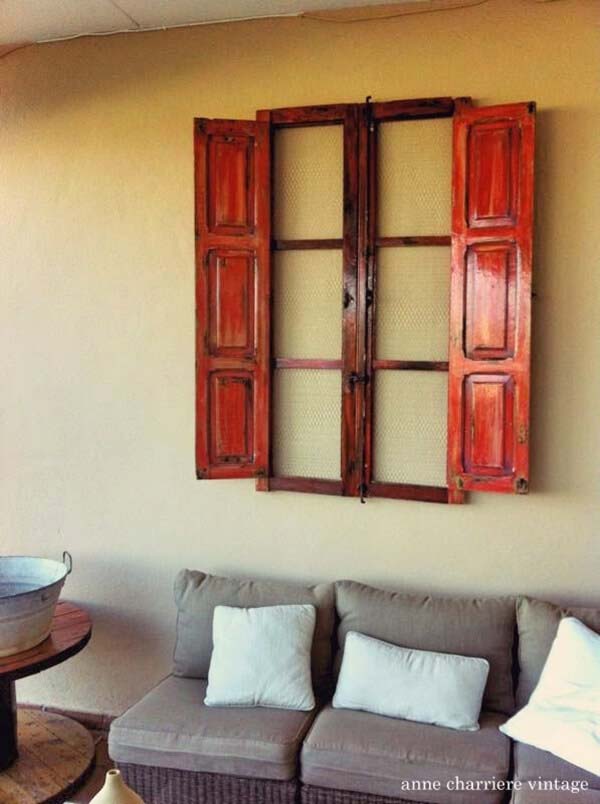 Bringing a Spanish window inside your living room will make it very exotic, relaxing and inspiring.
A piece of this vintage window type can be suspended on its own on the wall above the sofa or be repurposed into a frame of images, paintings or other decor pieces.
via Anne Charrieer
23.  Jewelry Display Organizer From Upcycled  Window Frame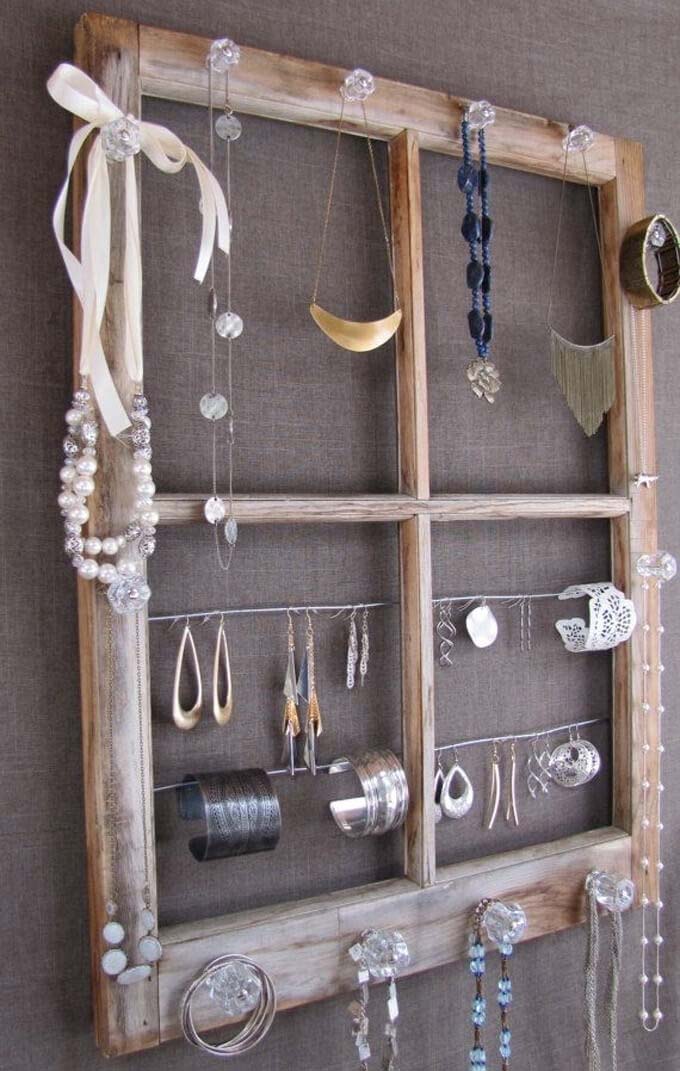 This is another jewelry organizer idea with a repurposed window frame. It requires less rework and modifications.
Find knobs that you like and screw them on the wooden surface. If the places for hanging are not enough, stretch the cord or wire at the back of the frame.
24. Leaded Glass Becomes a Statement Piece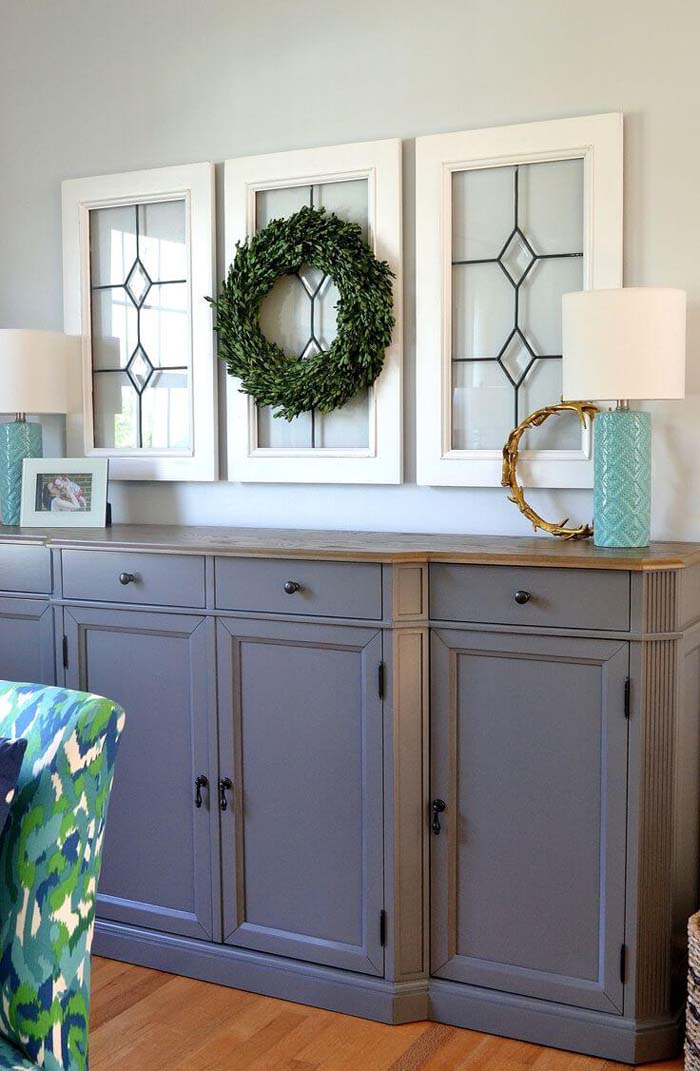 The leaded glass windows are so classy and elegant that there is no need to make any modifications to use them as interior wall decor.
Use two or three of them to create a statement piece. The simplicity of the design is complemented by the symmetry of the window arrangement and added wreath in the center.
25. Window Frame Gets Mini Flower Box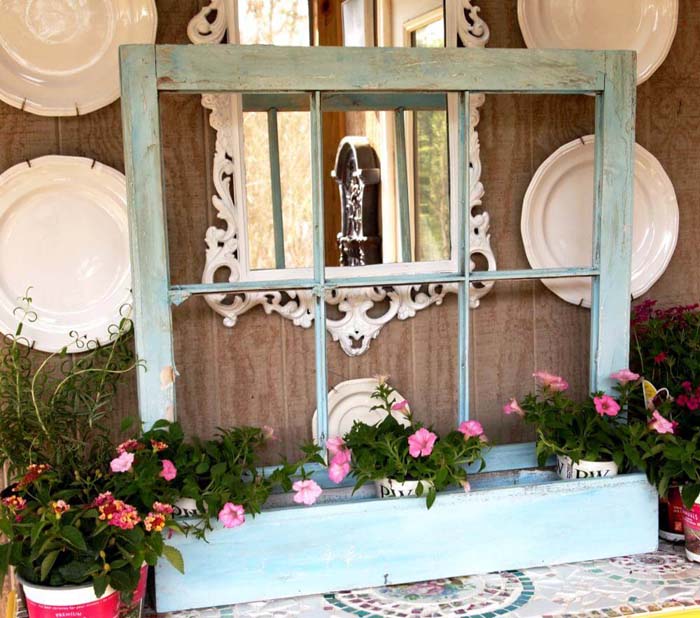 This is an amazing decor idea that spreads charm, warmth and coziness. An old window frame is placed above a flower box to create a customized flower planter.
Especially, if climbing flowers are inserted in the box, the slats of the panes could be very useful in acting as a trellis. The spring centerpiece is complimented by more flower pots on each side and a collection of vintage plates hung on the wall and easily be seen through the window.
26. Precious Modern Photo Becomes Antique Keepsake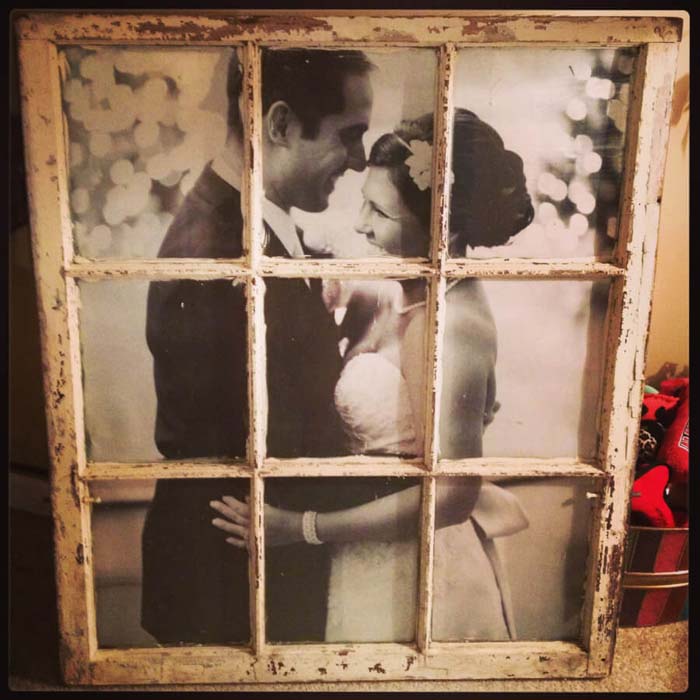 The old window will make a special photograph look more precious and special. The repurposed frame works best with a black and white photo because of the rustic design of the wooden windows.
You can enhance the vintage feel by distressing. When you look at the new photo frame you will instantly feel warmth and nostalgia – a great way to remember a special moment.
via The Hamby Home
27. Window Frame Becomes Cottage Wall Art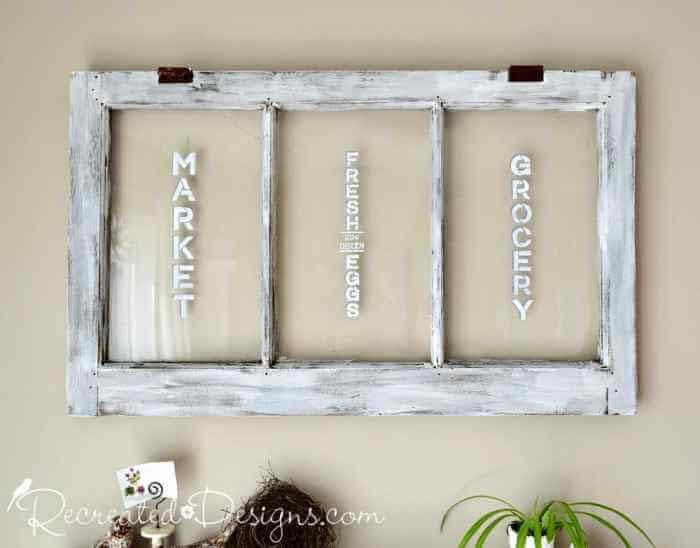 The window frame can act as a farmhouse sign in your updated decor. Stencil fun words on every glass pane and hung them on a blank wall.
In case you doubt your painting skills, you can find vinyl signs on Etsy and seal them on the glass. Don't forget to give the window frame itself a distressed look by whitewashing and sanding the wood.
28. New Mirror Gets Vintage Styling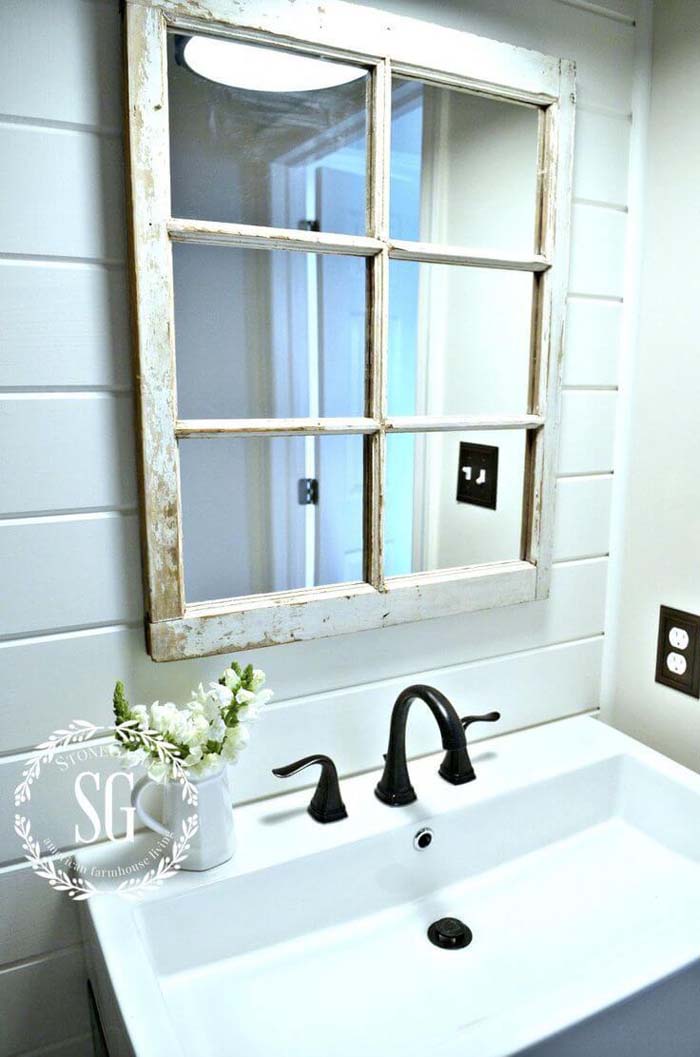 The black vintage faucets and the shiplap wall lining of this bathroom need a special mirror to enhance their farmhouse impact.
The old window frame equipped with mirror panes in the places of the glass panes adds the perfect touch of vintage.
29. Kitchen Island From Upcycled Window Frames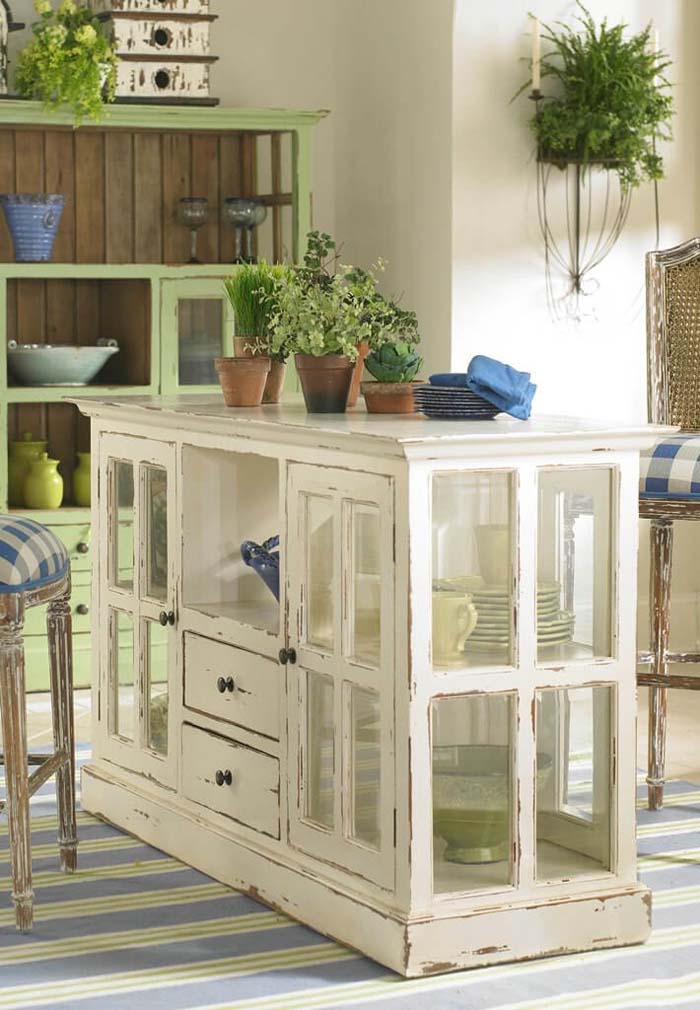 This outstanding kitchen piece of furniture works both as an island and as a shabby chic vitrine of vintage tableware.
The piece is built out of solid wood and window frames. The white color combined with the open concept of the island thanks to the glass doors let the piece create an extra storage place without affecting the general airiness.
Signs of age mimicked by the distressed areas give the piece an authentic look that easily pairs with the surrounding rustic colors.
30. Window Frames Make Fast and Easy Terrariums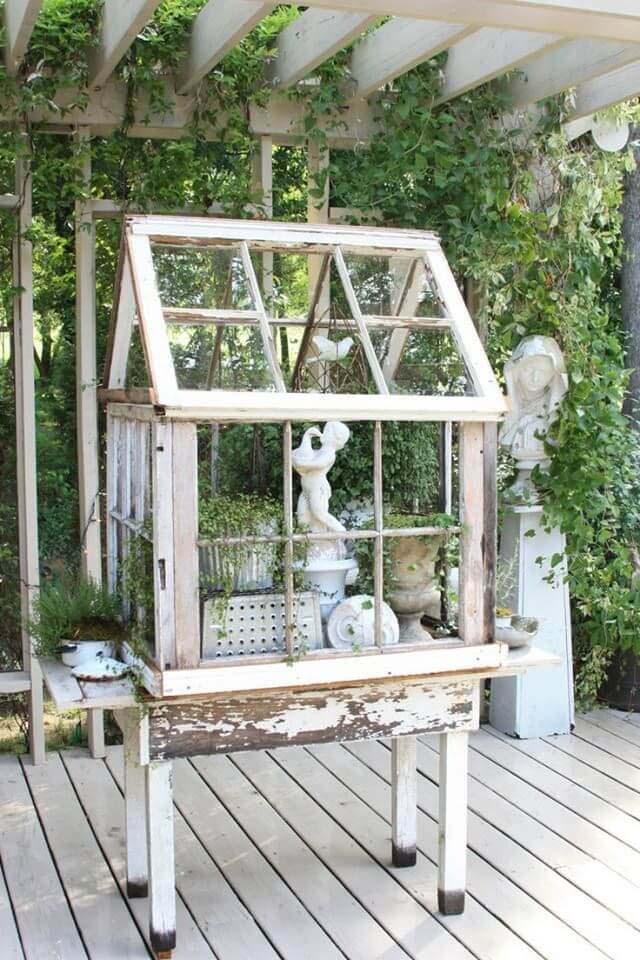 Isn't that the most amazing small greenhouse? Placed on an old wooden table, the terrarium stands out among the outdoor pergola decoration.
It is created out of six old wooden windows assembled into a window box with a roof. Inside, there is a smaller in size representation of garden decor consisting of a statue in the center and a few ceramic flower pots.
The theme framed by the repurposed windows reminds the Victorian gardens and adds a one-of-a-kind classic farmhouse touch to the outdoor living space.
31. Quick Clothes Rack With Vintage Wallpaper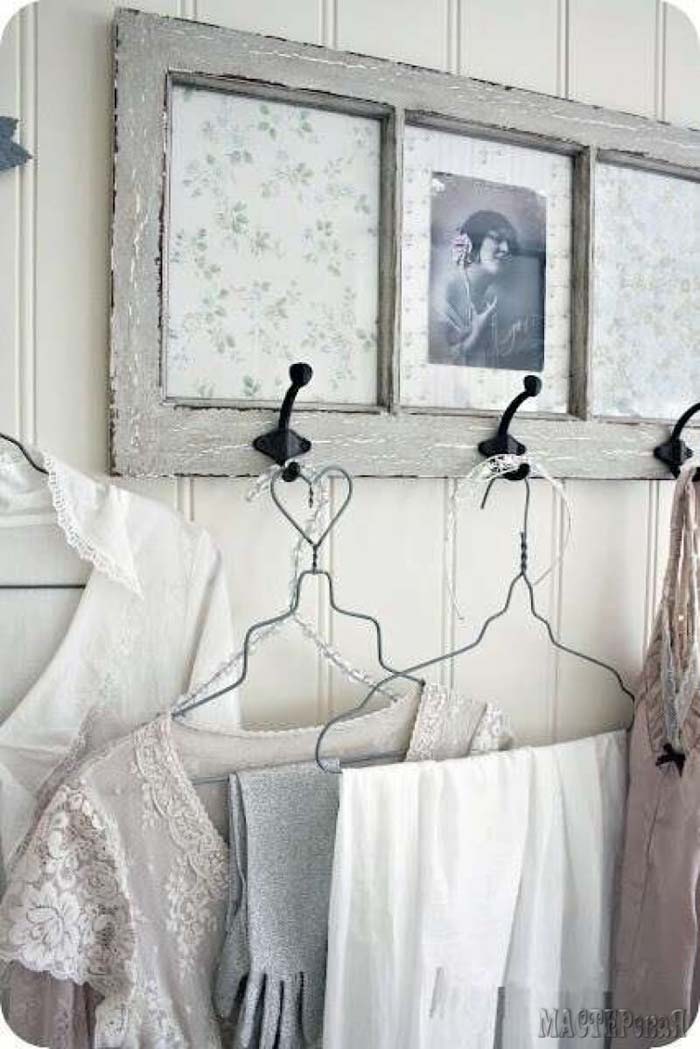 Give the repurposed window frame a feminine touch with the decoupage technique. You can apply napkins to the wood or use floral scrapbook paper to decorate the glass.
The latter works best on a window frame with sections that repurpose into frame holders.
32. Hand-Painted Floral Scene on Window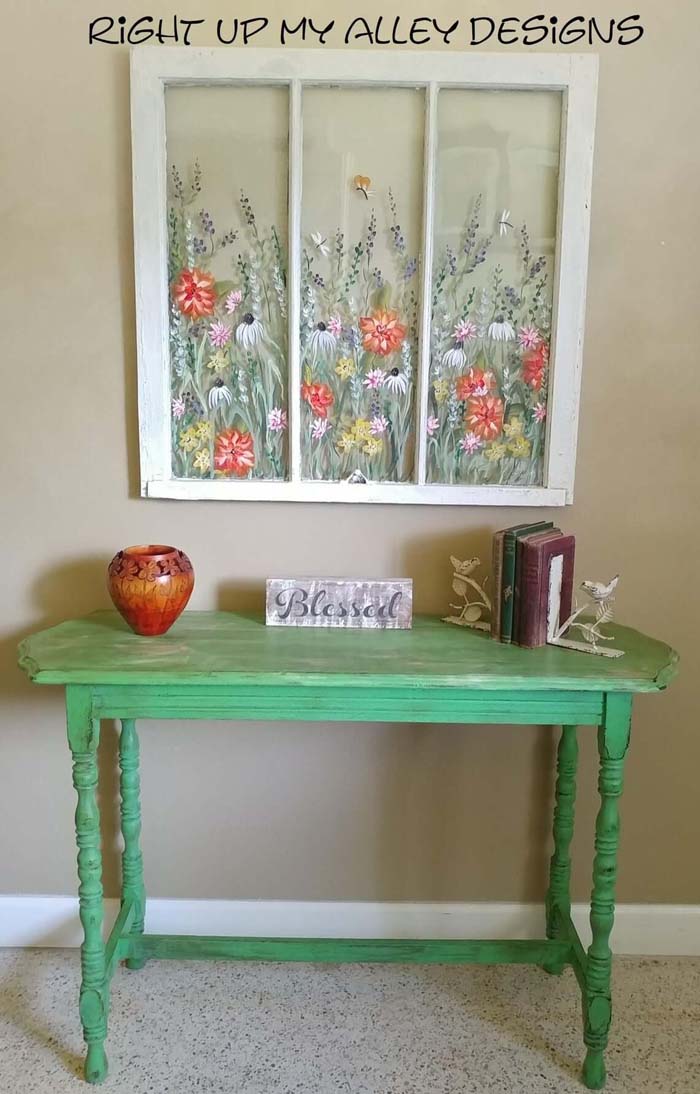 This is a hand-painted wall art made with acrylic paints. The glass panes of the window are used as a canvas to make an indoor stained glass window.
The design of the window consisting of three separate panes makes it an interesting background for the personalized images painted.
via Etsy
33. Panes of Glass Hold Family Memories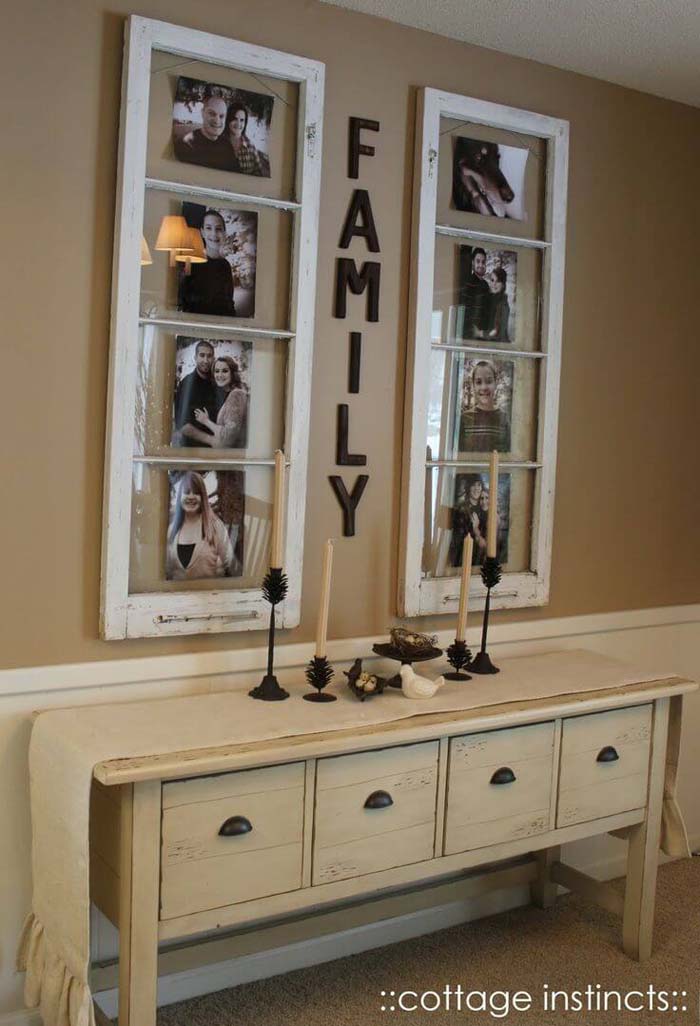 Welcome your friends with two large picture frame holders representing the members of the family. For this idea, you need two identical old wooden windows with glass panes.
Hang them vertically on the wall leaving a short distance between them empty.
Add letters forming the word "family" in this space. In addition to matching the three wall decor pieces in color, make sure that the photographs displayed are black and white for an improved vintage feel.
34.  Display Coffee Table From Window & Reclaimed Wood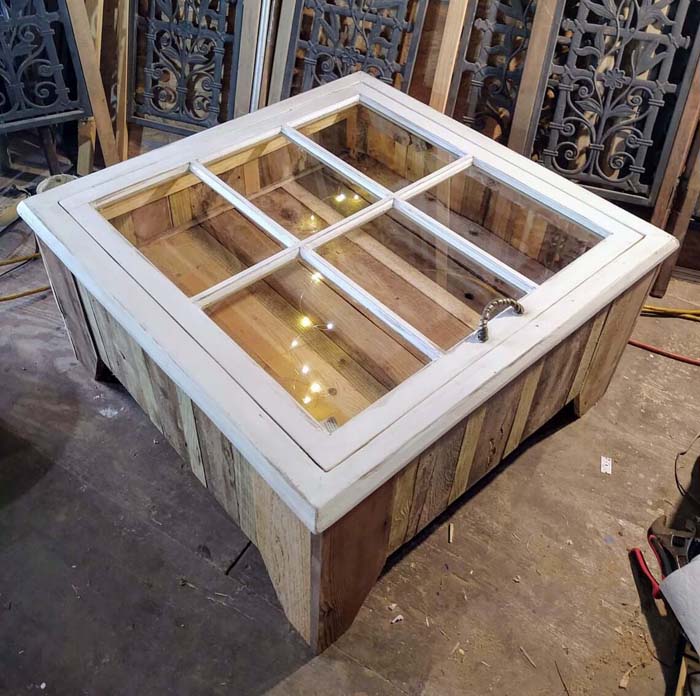 We see the shadow box design once more in this hand-made coffee table. It is entirely built from reclaimed materials which create a unique design.
The table top is made with a window frame still holding a hook for opening. There is one hollow section to fill with candles, pebbles, and faux flowers. This idea can be modified by adding slats underneath the window frame to create more storage sections.
via Etsy
35. Frame Dollies for Country Cottage Décor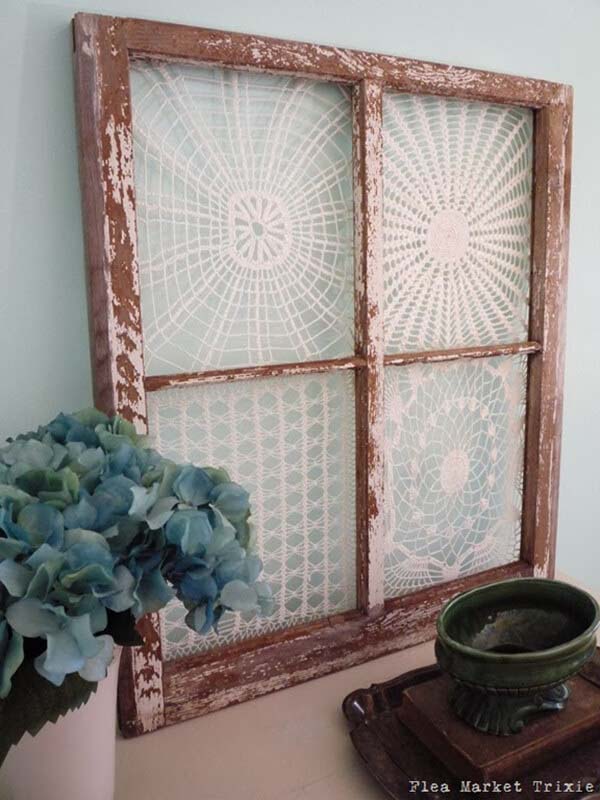 Another wall art idea including a repurposed weathered window combines the curious textures of the knitted dollies.
You can get them ready-made in a craft store or probably you have a few left from your grandma? This is a wonderful way to save them and praise their value.
36. Quickly Frame the Family Monogram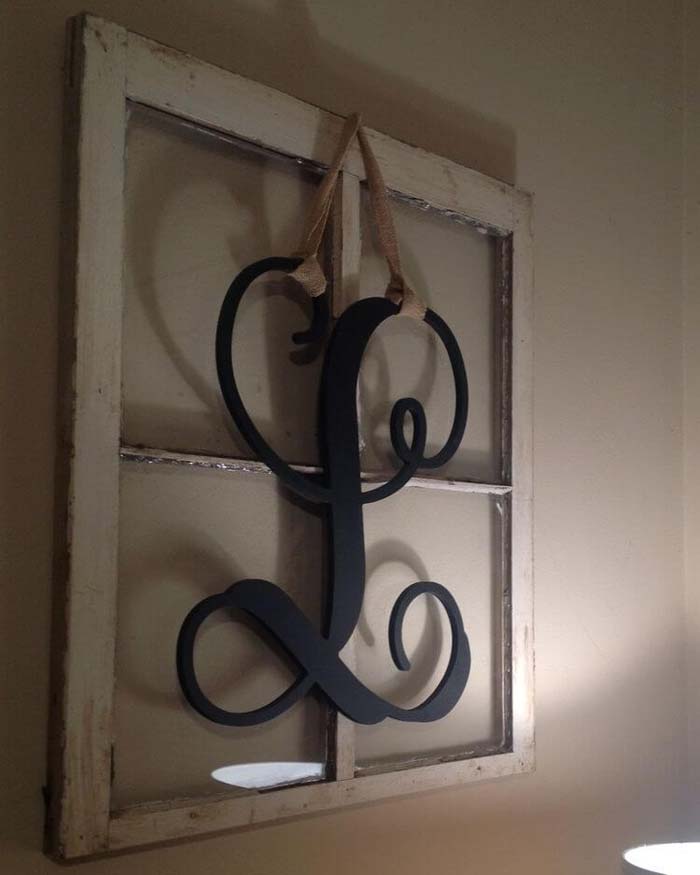 The initial art is a preferred piece of decor for giving your home a personal touch. Monograms can be easily found but usually, they need some help to stand out.
An old wooden window with an attractive surface look is great to create an elegant backdrop for the initial with no effort at all.
37. Mirror Effect Spray Paint for Fast Window Project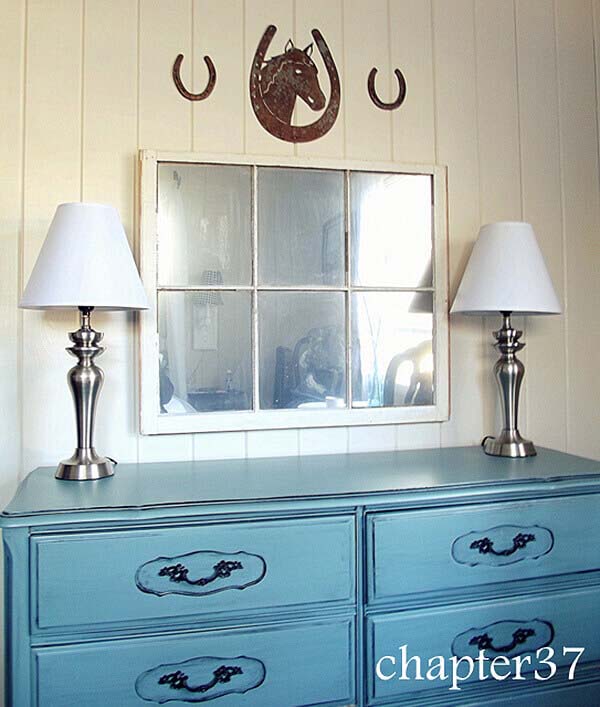 If you are looking for a quicker way to turn a window frame into a charming farmhouse mirror, you can use glass spray paint instead.
The surface won't be that reflecting as standard mirrors but you can still see what is standing opposite the mirrored surface.
38. Room Partition From Hanging Window Frames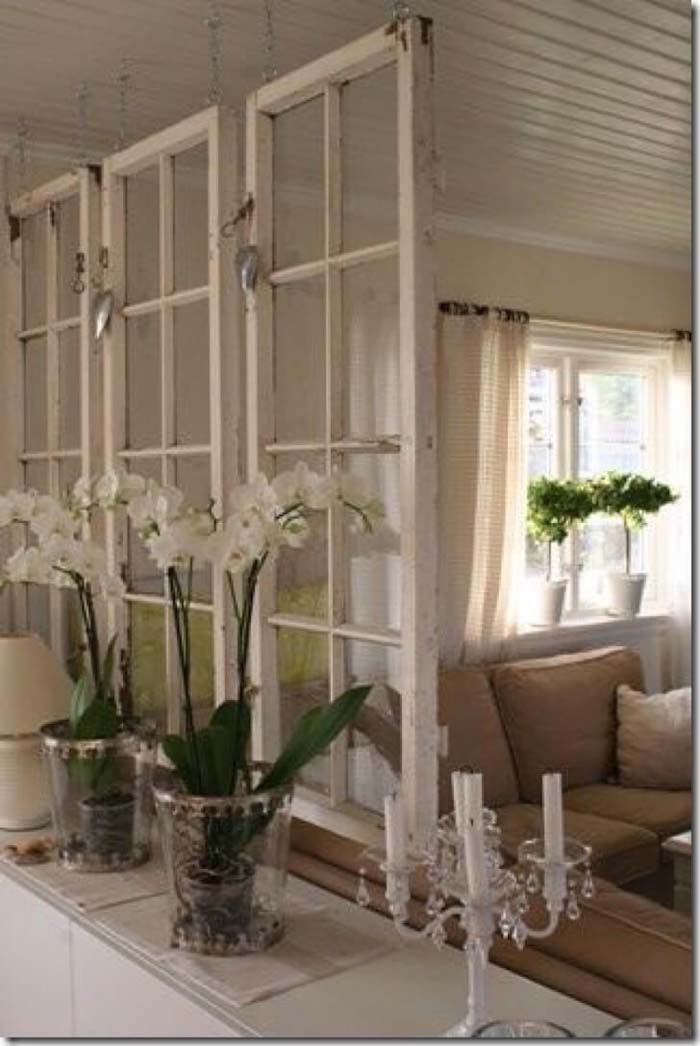 You can use window frames to create a one-of-a-kind partition. It works perfectly for open spaces to separate areas by their application and functionality.
The window frame partition won't affect the airiness of the space and will create an interesting interior design element.
39. Antique Window Frame Gets a Towel Rack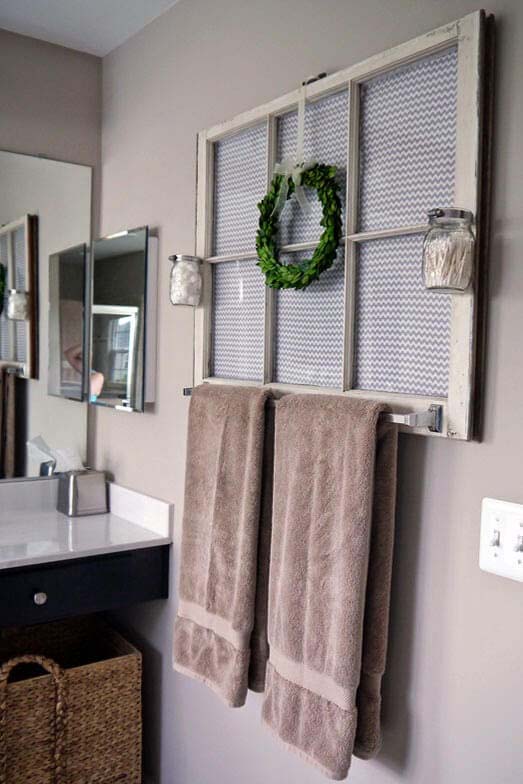 If you want to make sure that towels are properly stored and dried on your repurposed window rack, use a towel rack instead of knobs.
Add metal clamps to the sides to hold mason jars in place. They can be used for the storage of smaller bathroom essentials such as cotton buds or cleaning pads.
If you prefer to enhance the decor effect of the rack, use the clamps to place glass vases in.
40. A Window to Your Dream Destination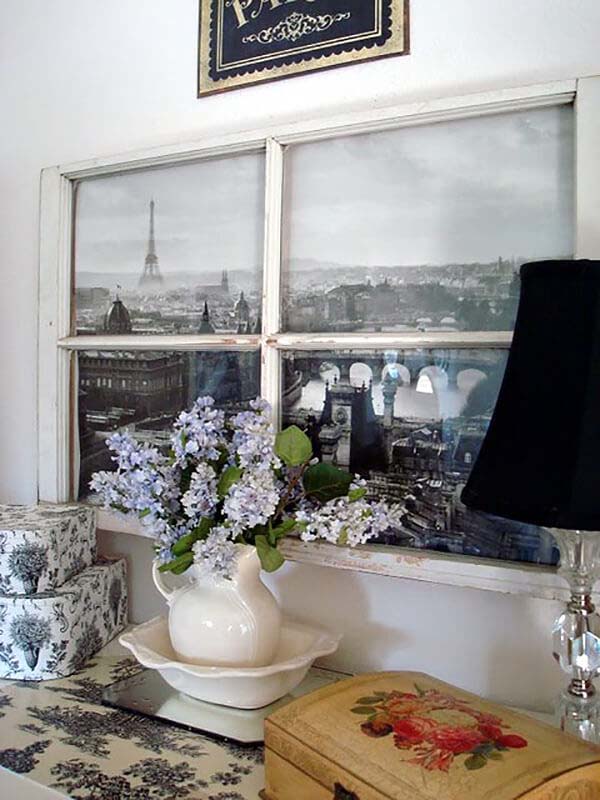 This framed picture takes you to another reality. The image is so realistic that you would like to take another look to convince yourself that this is a printout, not a landscape seen through the window.
The shabby chic kitchen or living room will become more personalized if you place a wall art capturing a favorite place of yours or a special to your heart destination.
The fun project is doable by any DIY beginner as long as you have an old window frame.
via Starshine Chic
41. Side Table From Double Window Panes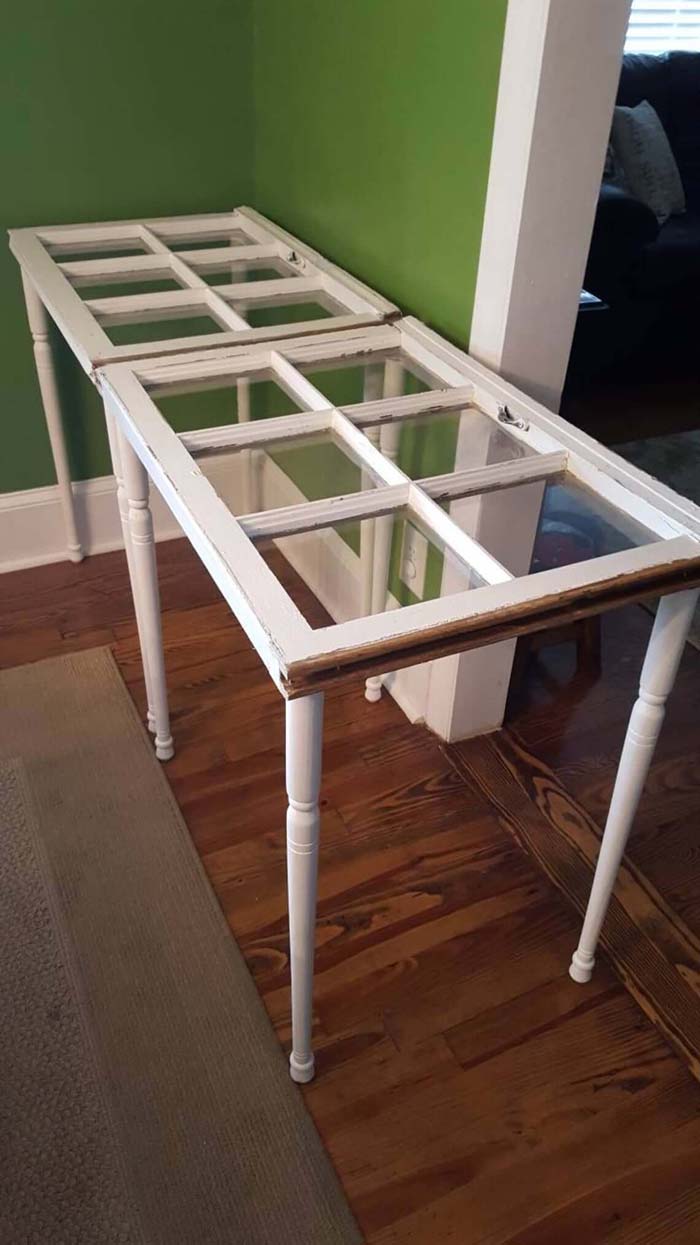 Whether you need side tables for a special occasion or additional tables in your sitting room, this hand-made table is outstanding.
The white-painted legs pair with the white color of the window frame. The shorter sides of the windows are left unpainted to create more interest by revealing the original application of the windows.
via Etsy
42. Window Frame Becomes Vertical Garden for Succulents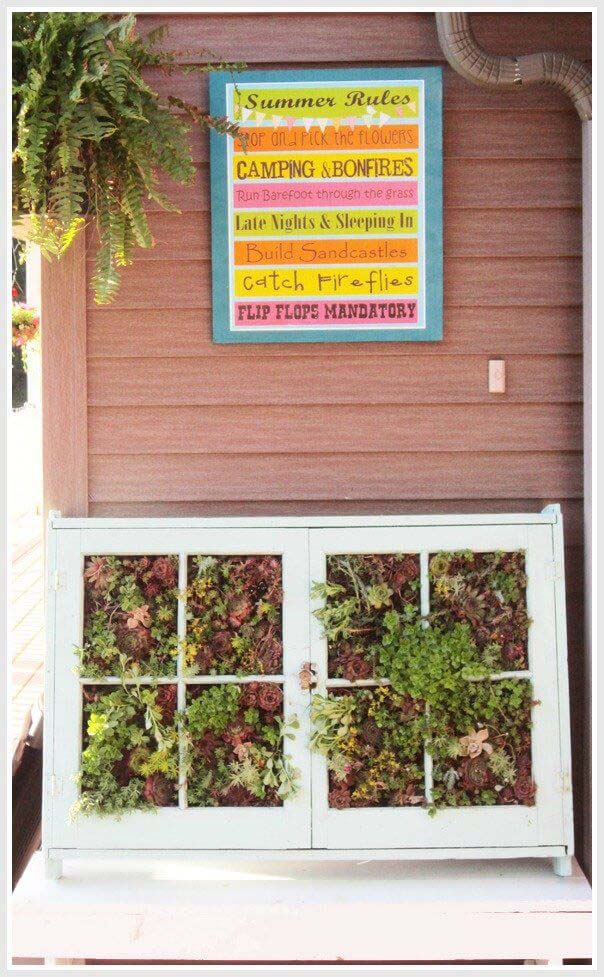 This living wall art mimics the shadow box design. The difference here is that instead of the mass look, you get a customized design thanks to adding small window frames on top of the base frame.
This succulent garden is easy to make and very impressive once you place it on the wall or on the side table.
43. Micro Seed Starter Greenhouse From Window Frame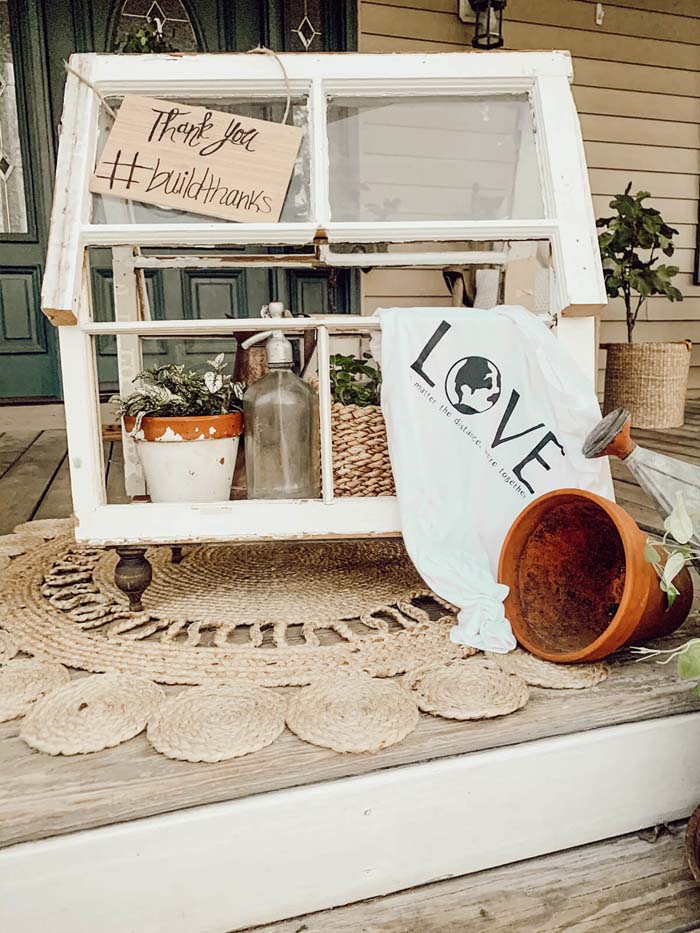 This DIY idea with old window frames is great for making a vintage terrarium or a small greenhouse for your seasonal plants on the porch.
The structure mimics a house and the transparency of the glass lets you clearly see what is inside. You can leave some of the frames empty for an enhanced weathered effect.
44. Farmhouse Towel Holder From Two-Pane Frame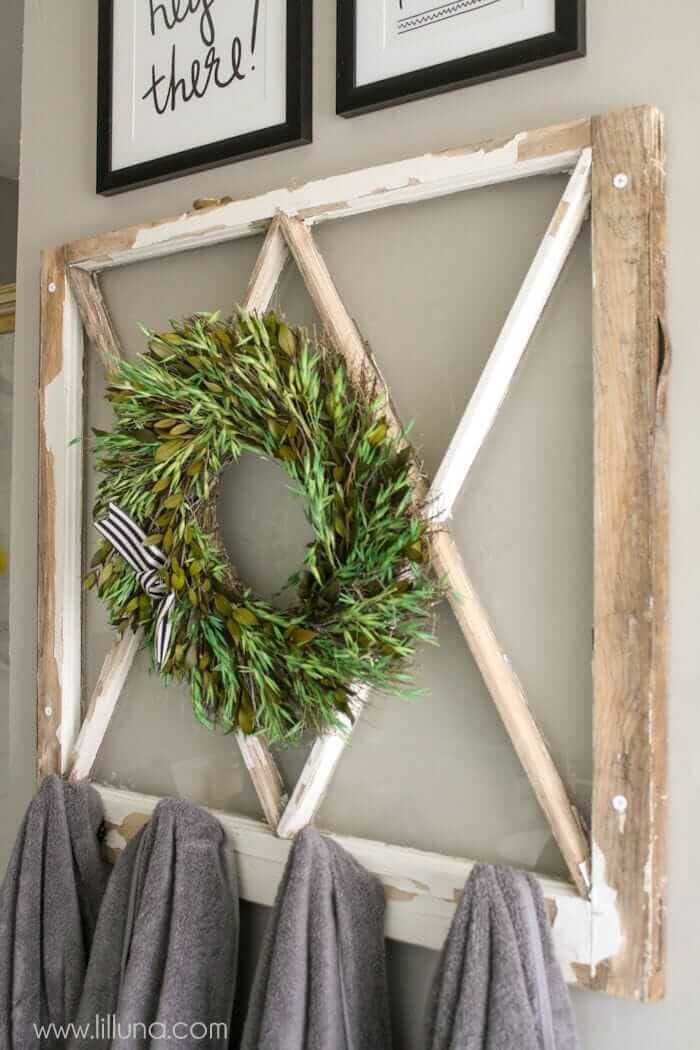 Make a special towel holder for your cozy bathroom with an old window frame.
Find hooks that match the worn farmhouse look of the wood and screw on the lower part of the frame. Leaving the top part of the window unused lets you use it as a decorative canvas.
Seasonal decoration or a simple universal wreath will add extra beauty and a warm vibe to the air.
via Let's DIY It All
45. Modern Word Art in a Vintage Window Frame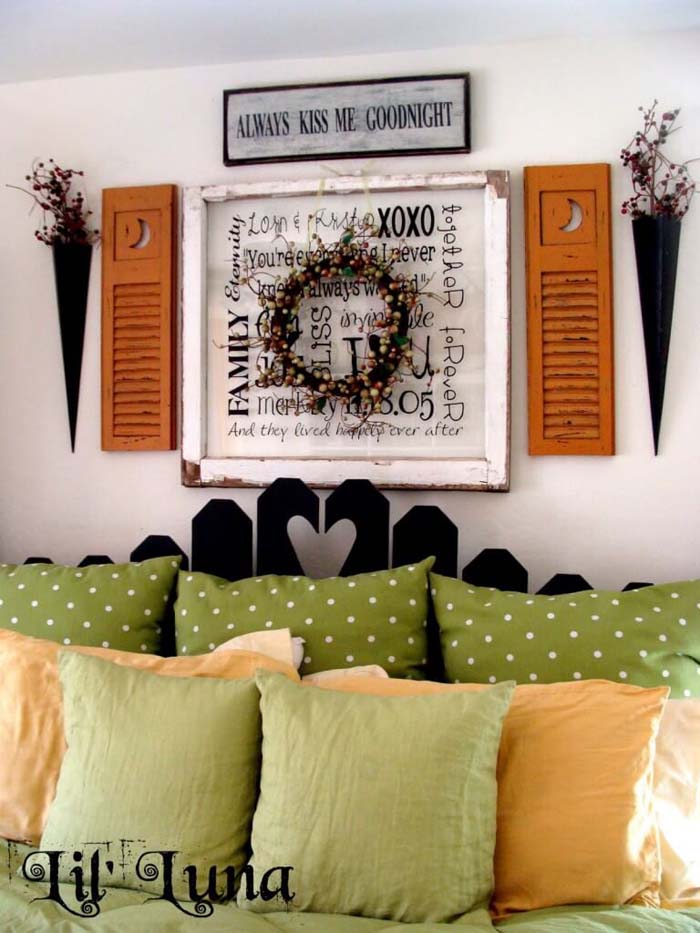 Your vintage window decor can be given a modern touch with vinyl words affixed to the glass. To let the wording be easily read, apply white paint or add white paper to the back of the frame.
This creative modern farmhouse decor pairs perfectly with the orange shutters and black vases embellishing the empty wall above the sofa.
A small grapevine and berry wreath in the center of the window helps the window art to unite with all other pieces of the wall collage.
46. Mug Rack and Display With Chicken Wire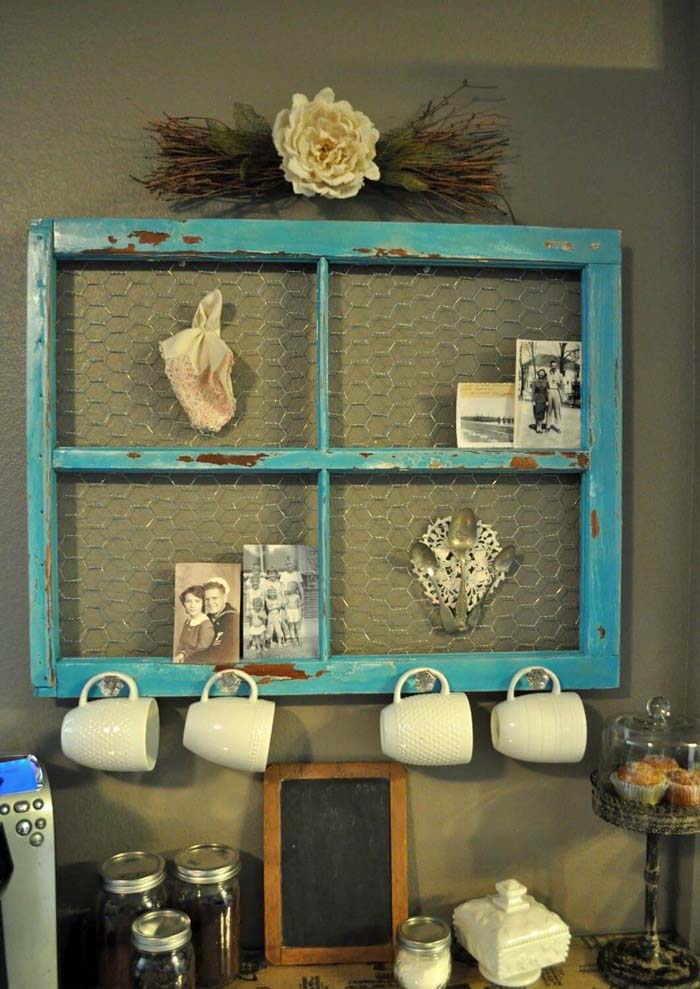 Add chicken wire under the window frame to enhance the farmhouse look and to make the frame a useful part of the kitchen decor.
The openings of the wire can be used to hang decorations. The lower part of the wooden frame becomes a mug holder thanks to the addition of screws or knobs.
Make the frame more eye-catching by painting it a bright and bold color such as green, blue or yellow.