35 Cute Summer Farmhouse Decor Ideas
Inspired by the bright, calm and informal atmosphere of the farmhouses, we have decided to gather for you ideas for farmhouse decoration that will easily fit into your summer décor. The longer and warmer days are already knocking on our doors so we should honor them properly.
Farmhouse decoration is always affected by the vintage, rustic and shabby chick designs and that makes it easy to fit into the surrounding interior or exterior.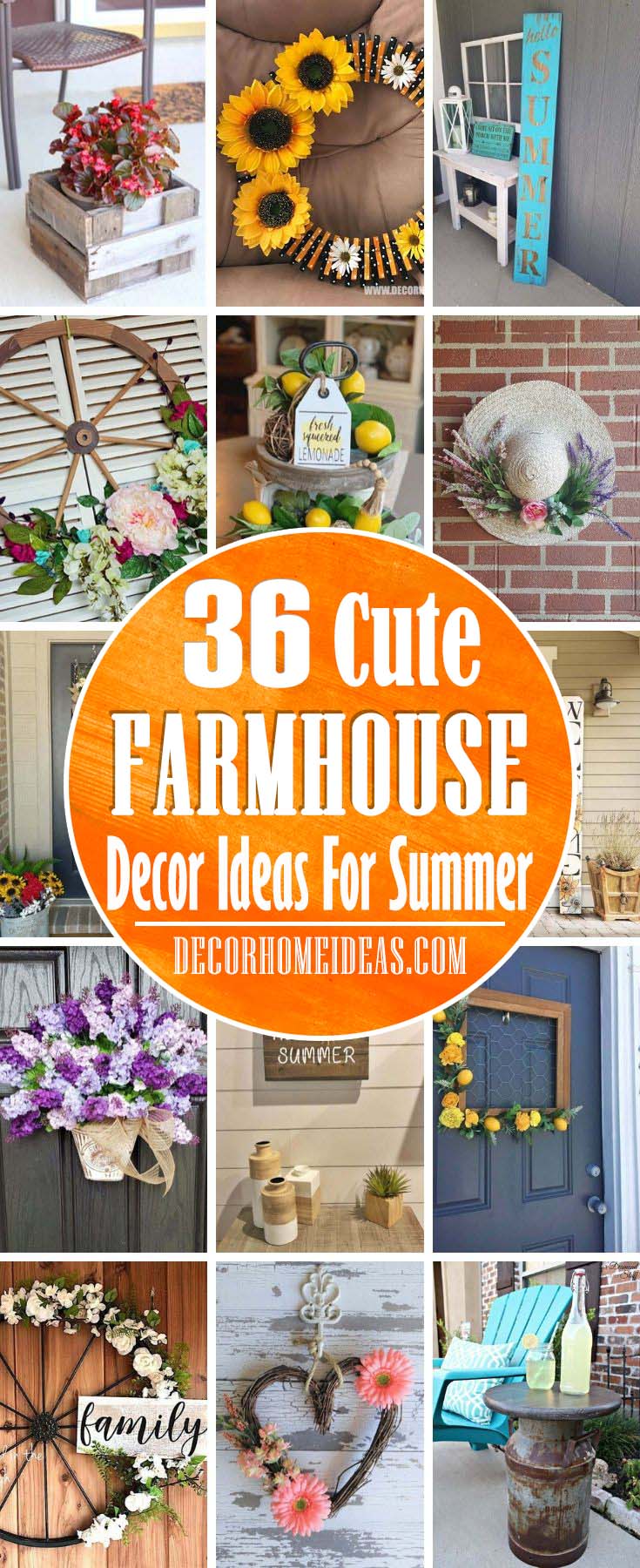 Don't forget to PIN this image for quick access to all these ideas!
All of the summer farmhouse decor ideas that follow will brighten up and improve the space.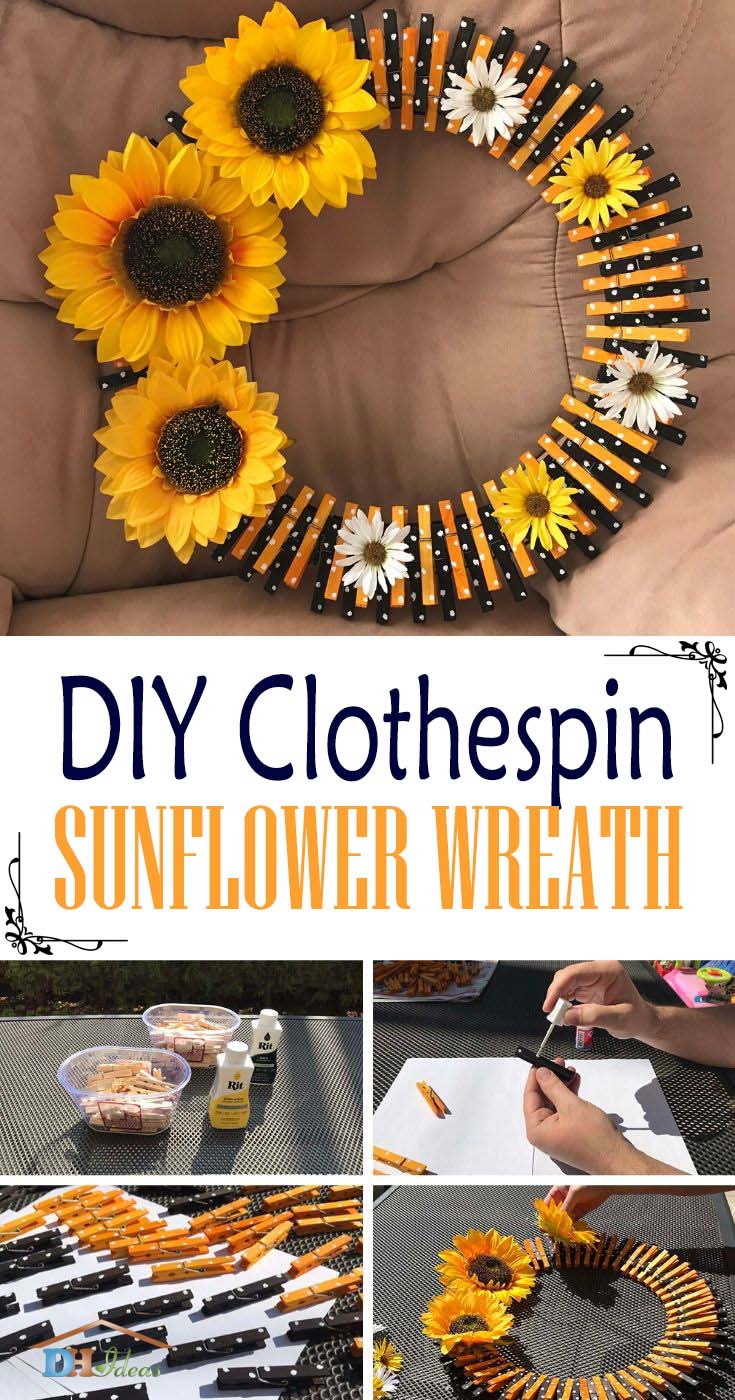 The easiest DIY summer farmhouse project is this clothespin wreath. We have a full step by step tutorial HERE.
A Bicycle with flowers Throw Pillow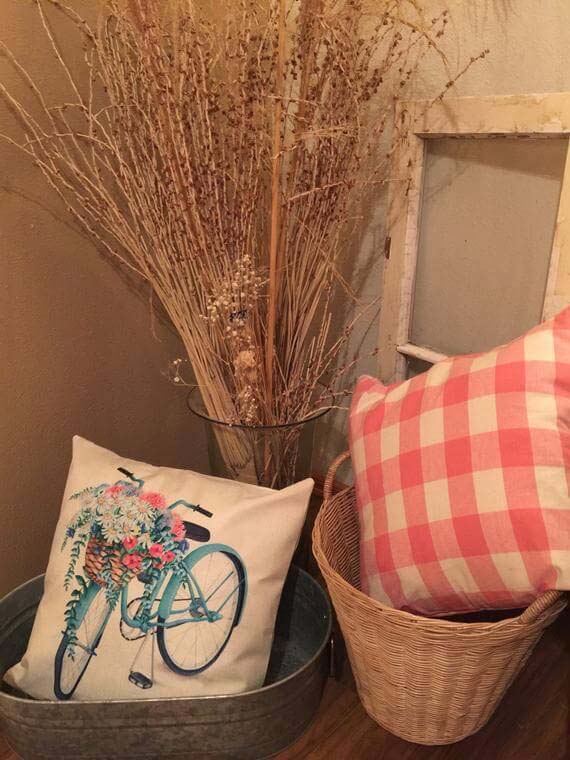 A small accent as a decorative pillow makes a significant effect with the help of the fabric design. A vintage bicycle with a basket full of flowers reminds of the free summer days in the past.
Find it here: Etsy
Assorted Flowers with Wooden Welcome Letters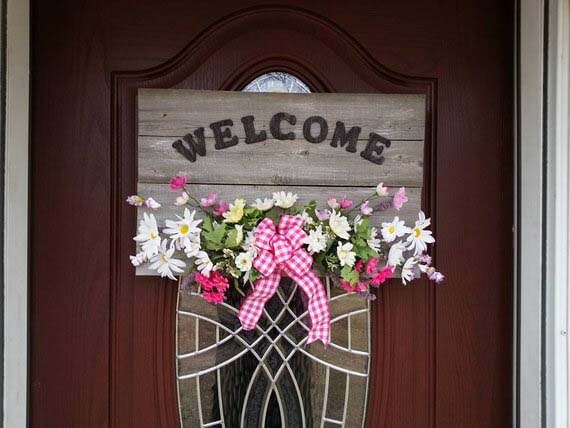 Worn wood welcome sign combined with a bouquet of seasonal faux flowers is the perfect farmhouse inspired summer decoration for the front door.
Find it here: Etsy
Burlap Banner with Sunflower and Garlands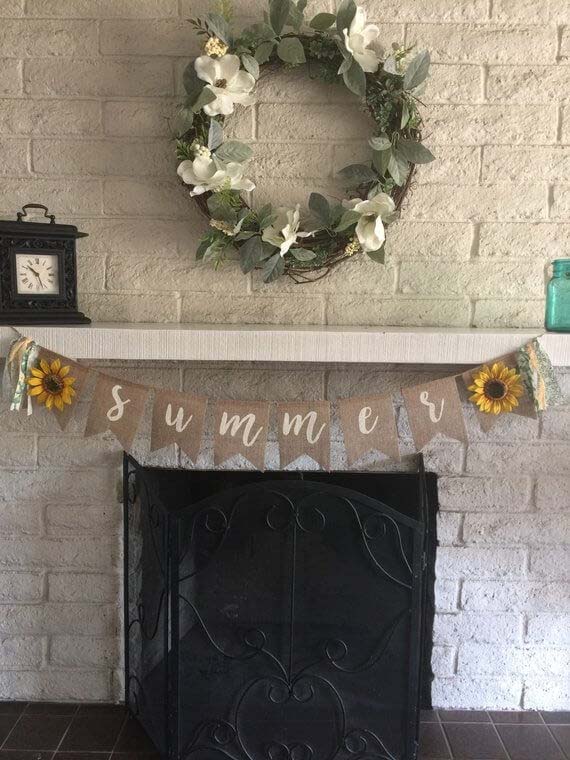 The fireplace is used in winter. How can we decorate it so that it doesn't remind us of the cold days? A rustic burlap banner with a clear statement for the expected summer will make the cold fireplace brigther.
Find it here: Etsy
Bustling Flowers with Welcome Sign Wreath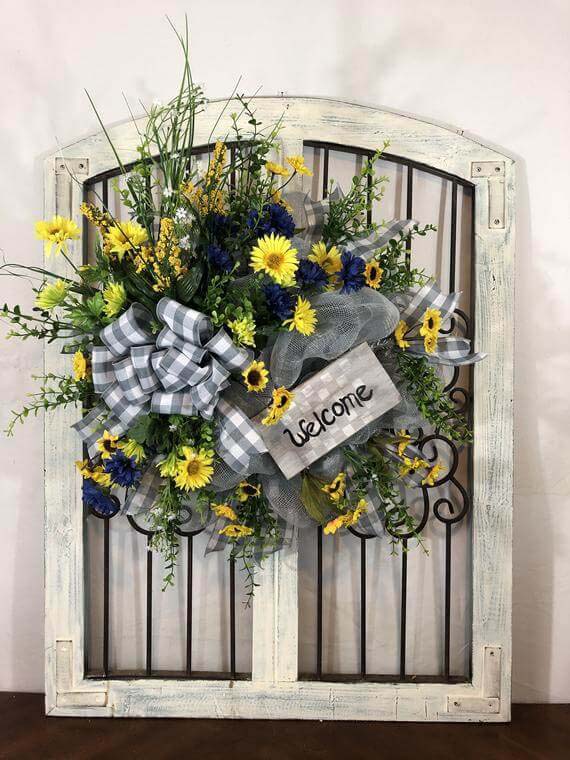 The farmhouse wreath is inspired by nature – field flowers that are not arranged in a strict pattern, a ribbon with texture and design like the old cottage tablecloths. That is complemented by a welcome sign inscribed on a miniature checkmate representation. All these symbols are so summer and so farmhouse style!
Find it here: Etsy
Elegant Lilacs of Different Shades Wreath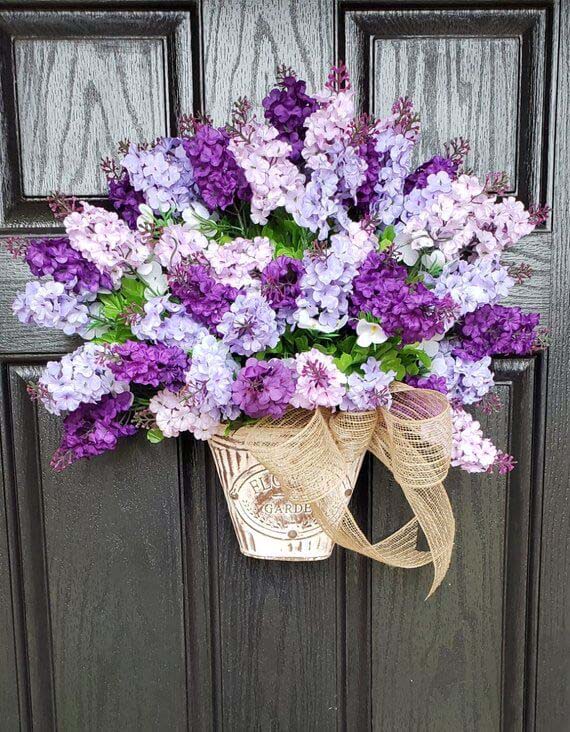 This bouquet of lilacs is a great welcoming front door decoration. Lilacs are a symbol of summer. The arrangement of the sprays and the purple shades are of excellent balance and make this wreath a farmhouse decor that deserves many compliments.
Find it here: Etsy
Farmhouse Meets Beachy Coffee Table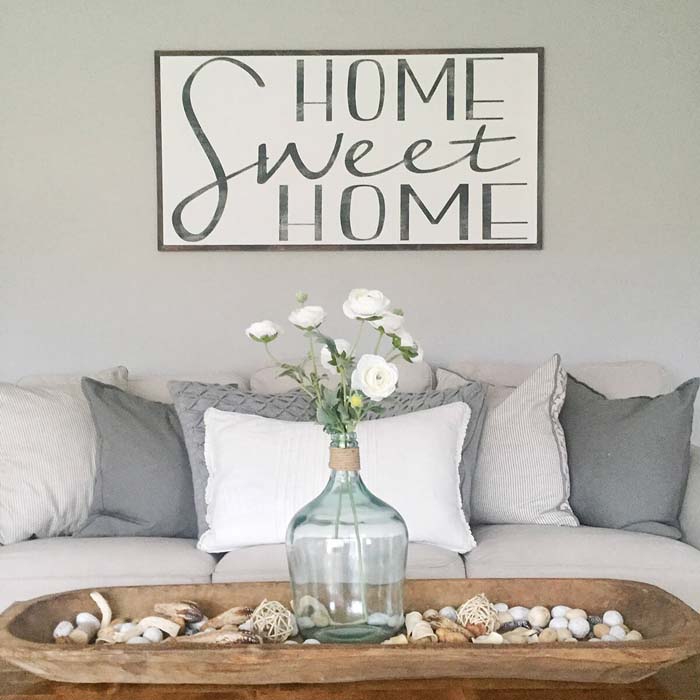 Old household and pottery will always find their place in the contemporary interior. An old dough bowl will add a farmhouse touch to the room, filled with seashells, river rocks and other sea gifts will make a rustic arrangement that will lift the relaxation level up.
Find it here: Etsy
Fresh Summertime Ball Jar Bouquets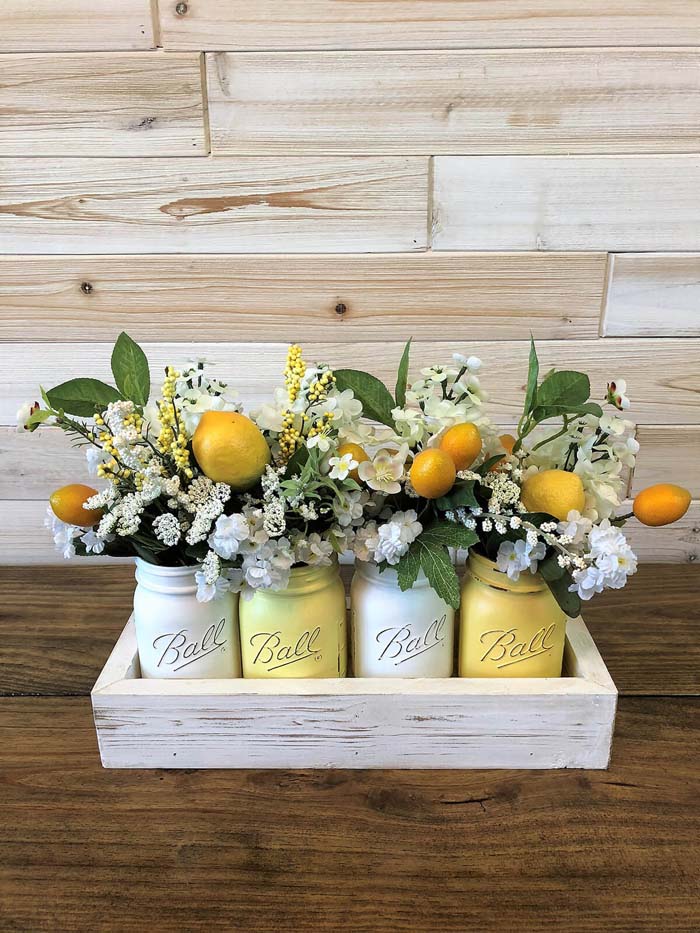 Yellow and white are perfect color choice for summer farmhouse decorations. The Mason jars and the faux but quite realistic bouquet of flowers and fresh lemons will brignten the living room. Placed in a small rustic wooden planter, they will be the preferred centerpiece for the summer season.
Find it here: Etsy
Grapevine Heart Wreath with Pink Flowers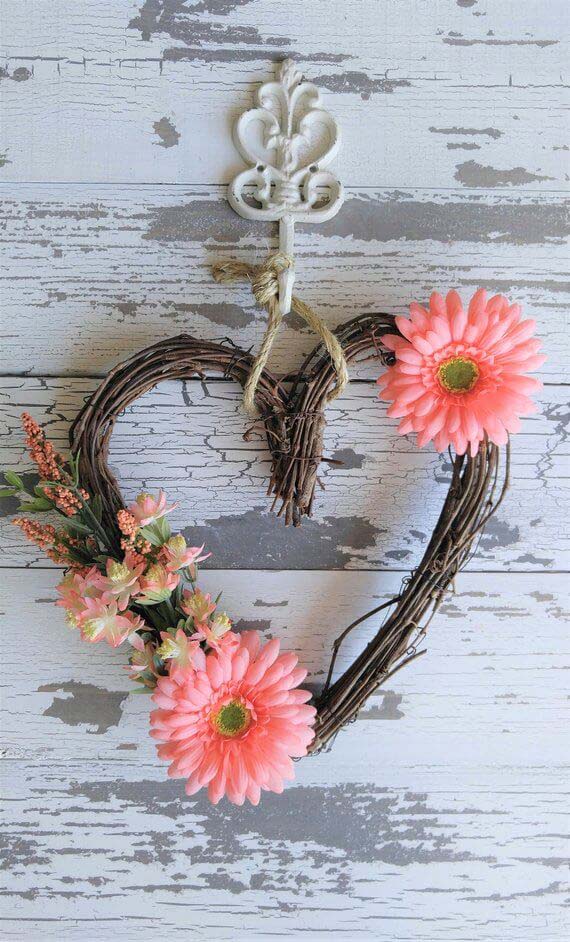 We have already shown you how many creative ways there are to use the grapevine. Using natural materials that can be actually found in the farm is a great idea.
Find it here: Etsy
Industrial Farmhouse Summer Sign for Tabletops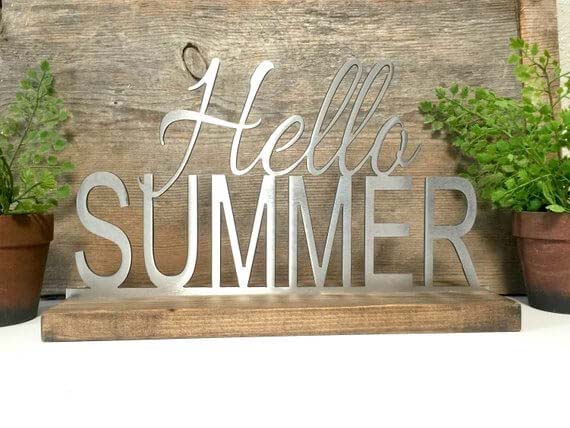 If you have furnished and designed your home according to the industrial concept and yet you secretly need a bit from the farmhouse warmth, there is a gentle way to blend these styles together. This sign is a balance between metal and wood and is just the right amount of farmhouse influence into the modern home.
Find it here: Etsy
Kiss of Pink Summer Blossom Basket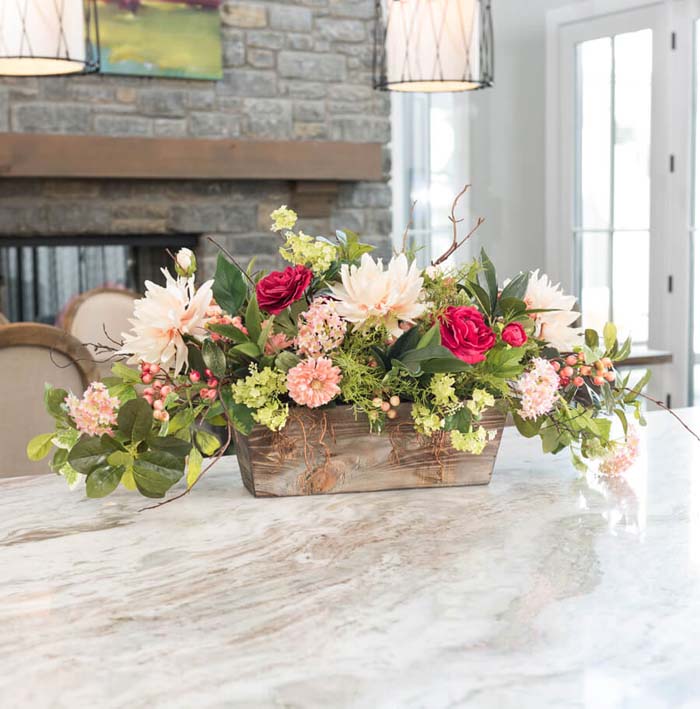 The easiest way to make a huge summer effect to your home is adding a basket with beautiful flowers. It is portable, beautiful, it can be of size, materials and colors your like.
via Petals
Lemon-Focused Decorations with Basket and Sign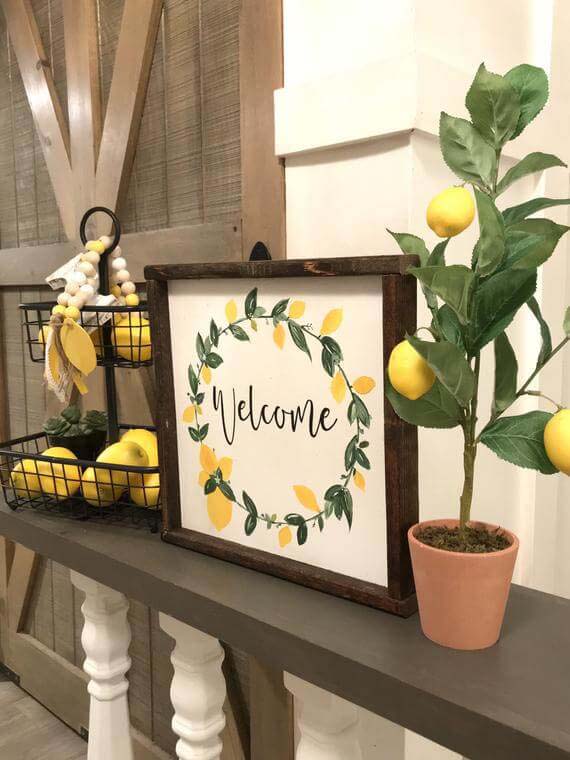 This arrangement is a great example of a farmhouse decoration as it actually contains symbols and items that are usually found there. Lemons, wire basket, terra cotta pot, a wooden frame and domination of lemons – it all says welcome summer!
Find it here: Etsy
Lemon Frame Wreath with Chicken Wire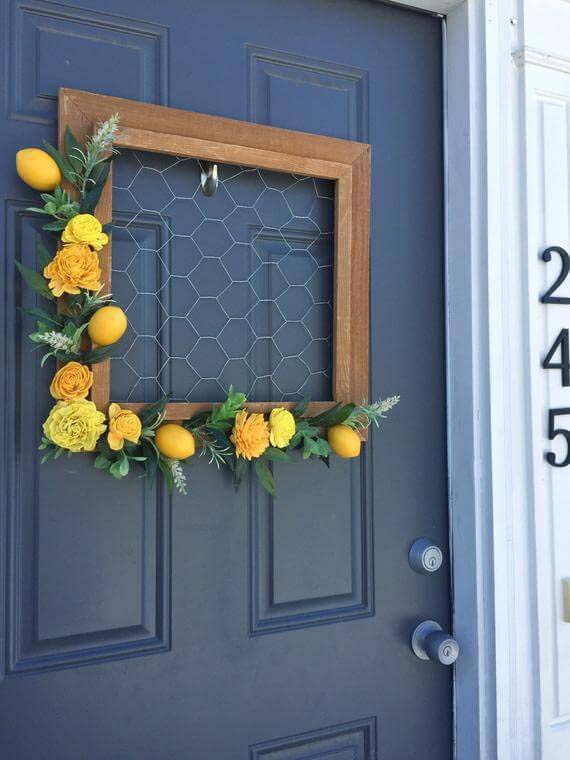 Among all possible variations of the front door wreaths, there is another great idea of how to utilize the typical farmhouse chicken. Frame it and glue faux summer flowers and lemons, of course. If you don't have time for that, check the link below to get it right now.
Find it here: Etsy
Metal Bicycle Wheel with Welcome Sign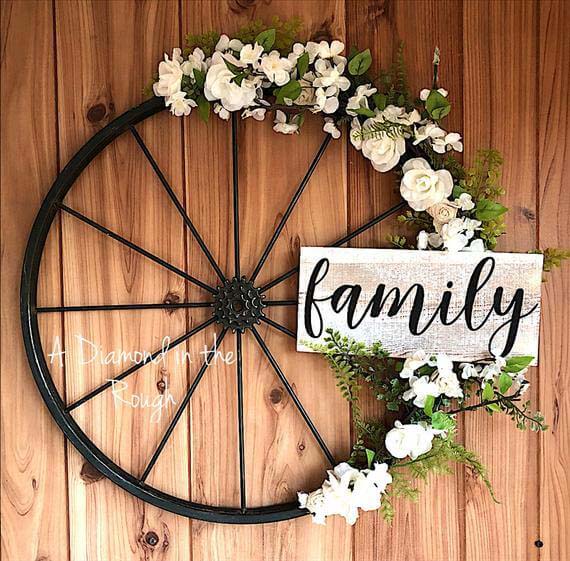 Metal, wood and flowers- the greatest combination when it comes to farmhouse decoration. It comes as a retro bicycle wheel which serves as a focal point for the veranda or the porch.
Find it here: Etsy
Perfect Milk Can Side Table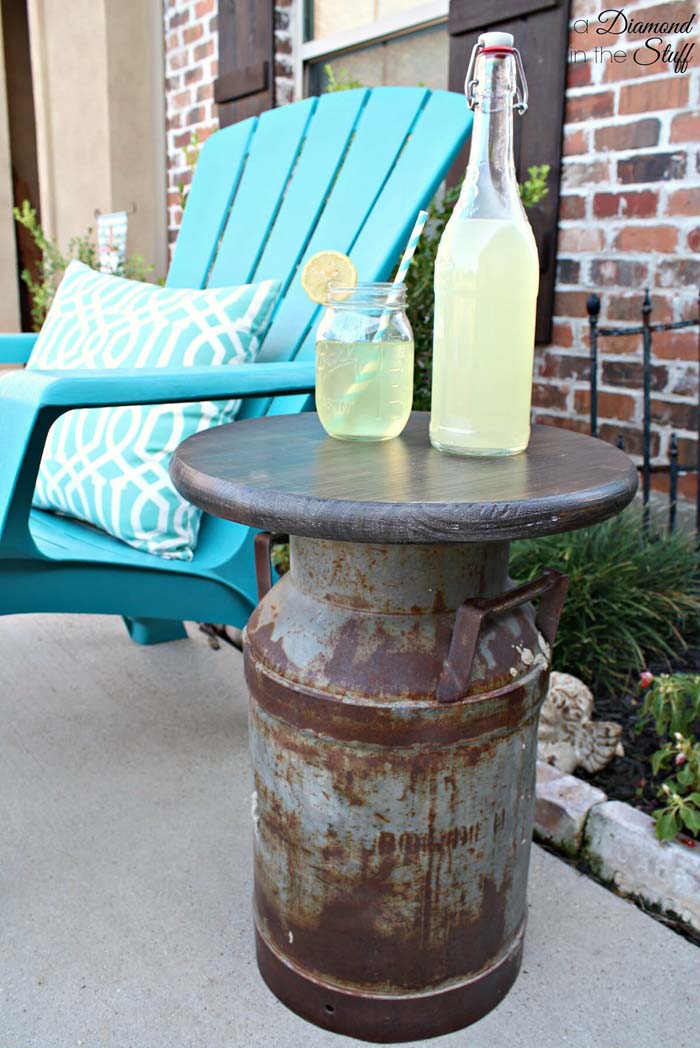 Thrift shops are irreplaceable when it comes to antiques. If you happen to find an old milk can, take it as it will easily add the feeling of the past summer moments when there haven't been any worries. Place a wooden countertop and use as a side table.
Find it here: A Diamond In The Stuff
Personalized Letter Wreath in Frame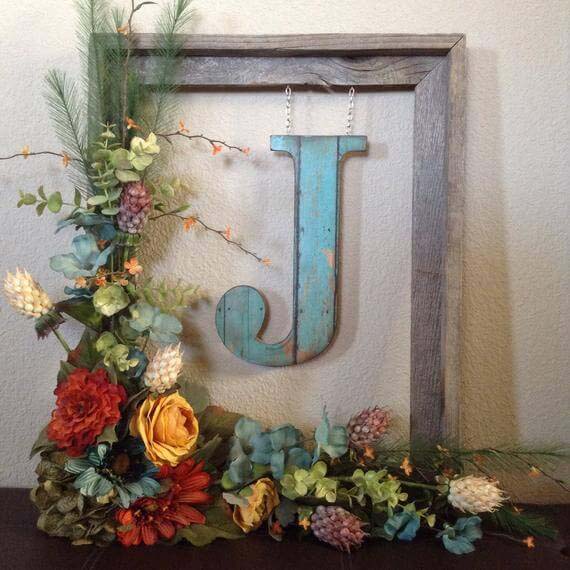 The farmhouse decorations can also be very personal. A framed wreath with a hanging letter means a lot. The combination between worn wood and faux seasonal flowers will add comfort and warmth to the space the frame is added to.
Find it here: Etsy
Refreshing and Fun Summertime Lemon Wall Art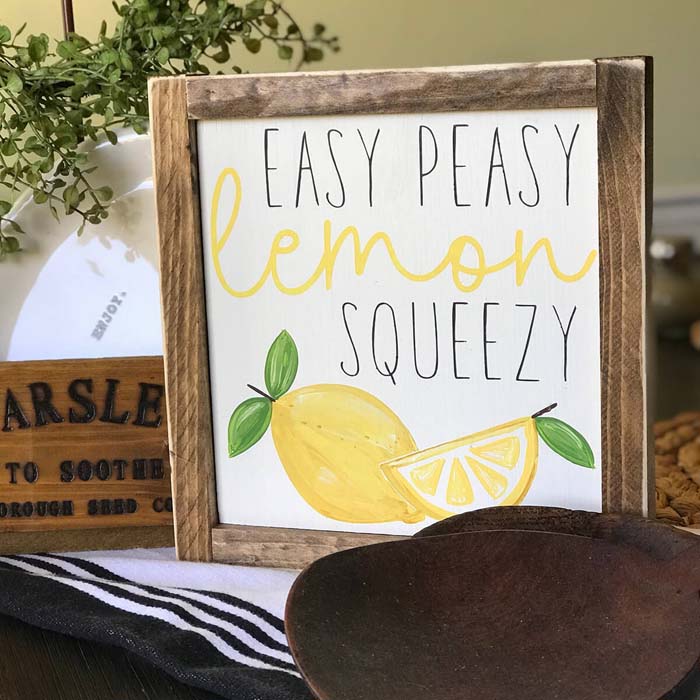 Lemons are preferred symbol for farmhouse summer decoration for their color is bright and because summer is the season they are mostly consumed. Inspire yourself and your guests with a fresh statement with this framed lemon playful thought.
Find it here: Etsy
Reversible Welcome Summer Distressed Wooden Sign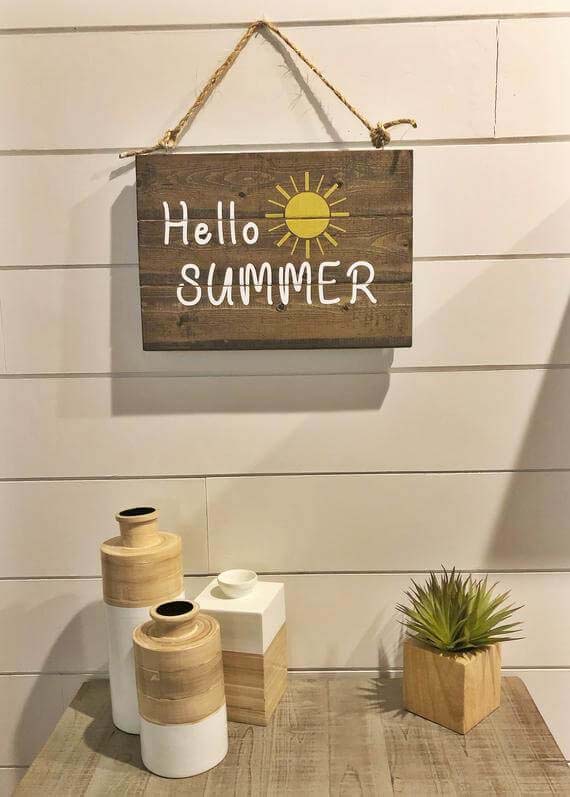 If you would like to invest in decoration that is universal and yet doesn't loose its farmhouse effect, you will love this distressed wood sign. On the one side it welcomes summer, on the other – winter.
Find it here: Etsy
Rustic Hanging Bottle Vase or Chandelier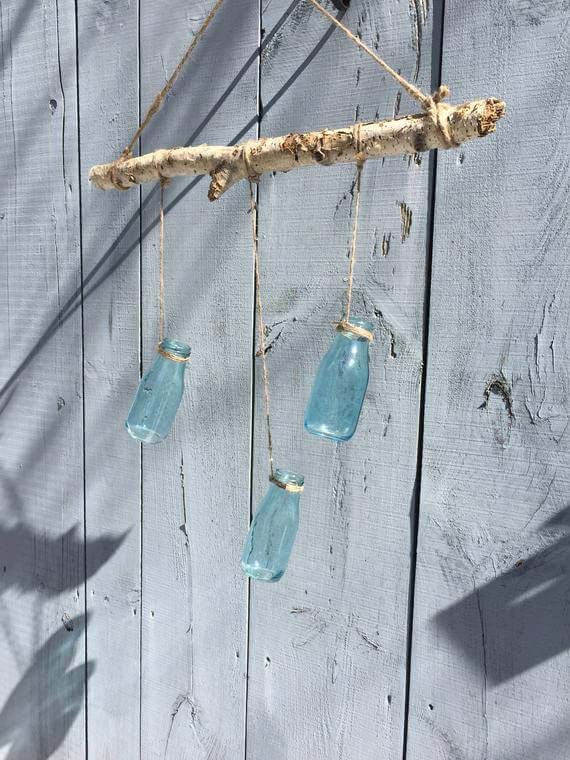 The supplies that make this interesting decorations are objects used in the countryside life. The hanging bottles are multifunctional as they can be used as candle holders or vases.
Find it here: Etsy
Rustic Lemonade Stand Decorative Sign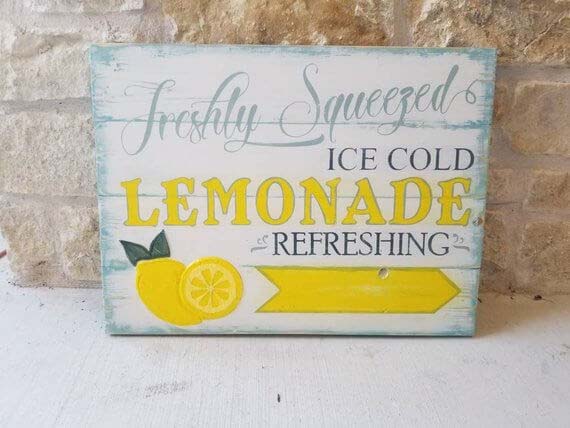 For those of you who enjoy having guests at their homes, there is a sign that clearly indicates where the party is. The sign is very joyfull and playfull, made of wood and is the perfect summer decoration.
Find it here: Etsy
Simply Lovely Mason jar Wall Sconce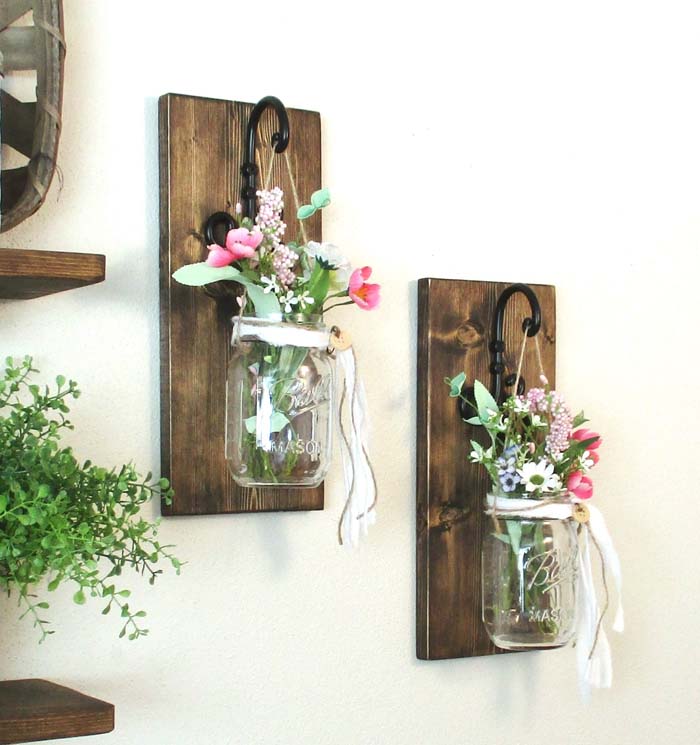 These scones are very beautiful because of their simplicity and romantic effect. This is a very practical farmhouse decoration as it can be used not only in summer. Add seasonal flowers in spring and summer, dried flowers in autumn, evergreen twigs.
Find it here: Etsy
Slice of Watermelon Farm Sign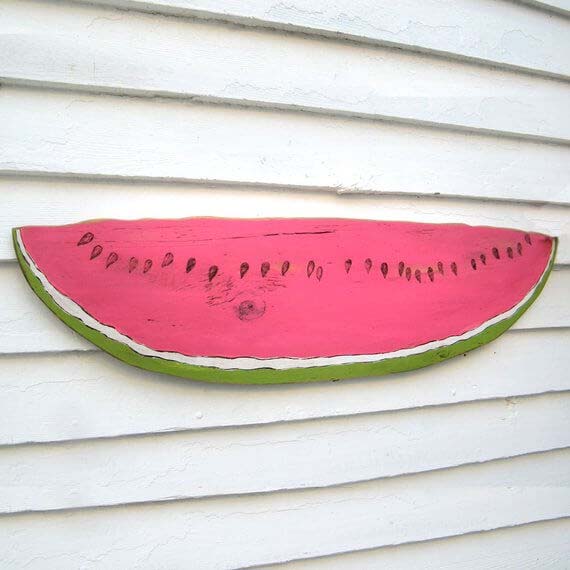 A slice of watermelon will surely brighten the atmosphere of the home. This decoration is suited especially for summer with its tasty colors and playful shape.
Find it here: Etsy
Stunning Grapevine Wreath with Colorful Flowers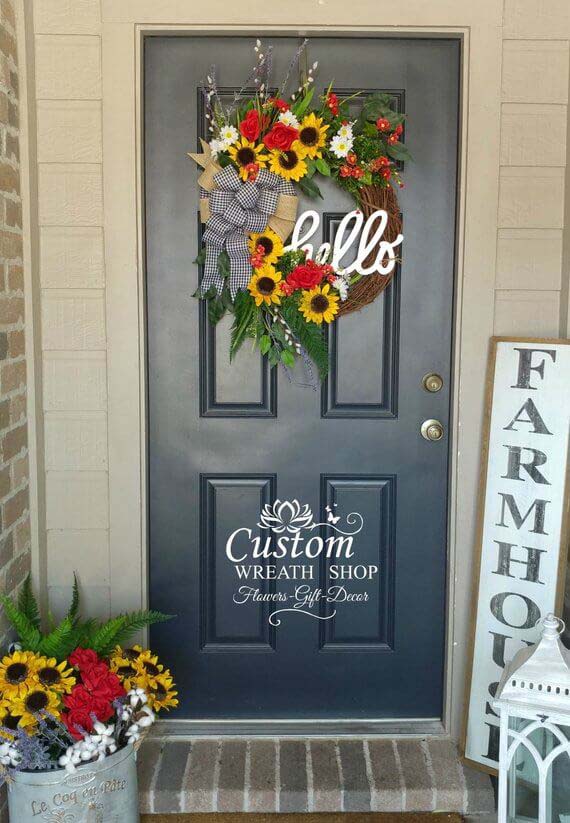 A vinegrape wreath in combination of sunflowers and burlap ribbon is a wonderful front door sign. All materials remind of the farmhouse landscape.
Find it here: Etsy
Sunflower and Candle Table Arrangement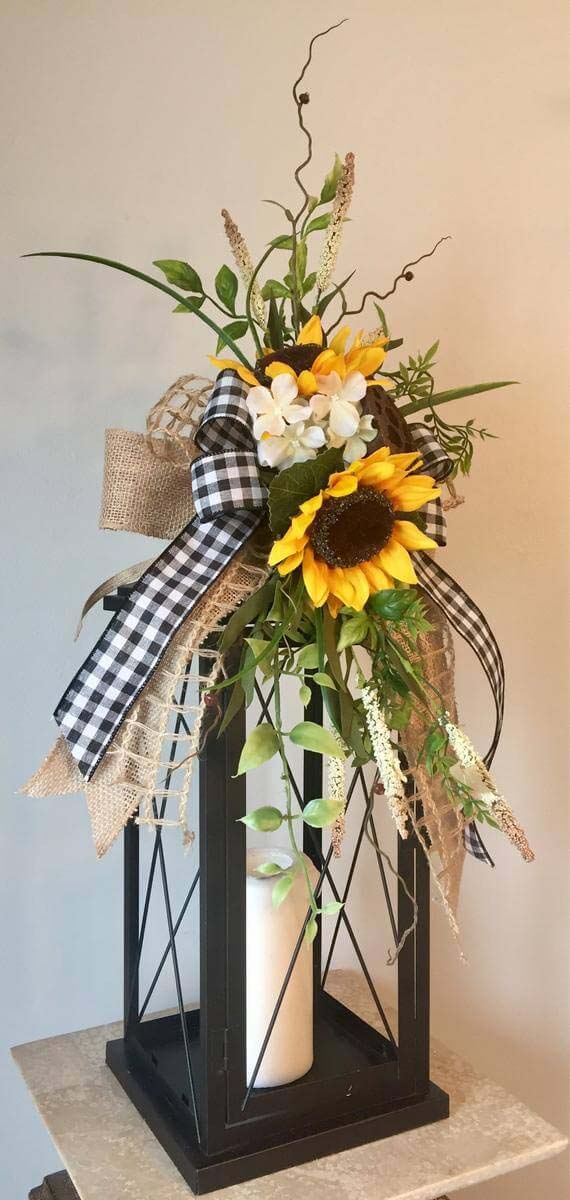 You can easily add a farmhouse touch to existing decoration. Small bouquets of field flowers or fabric and flower arrangements will amazingly change the look of any ornament.
Find it here: Etsy
Sunflower and Wicker Wreath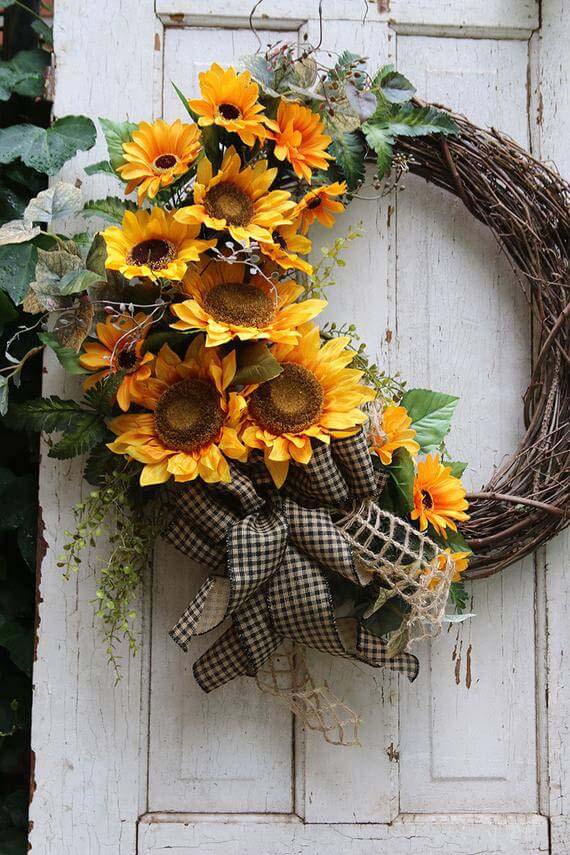 This wreath is another variation of the grapevine circle, ornamented with sunflowers. It makes a great farmhouse impact because of the sunflower concentration and the large bottom bow.
Find it here: Etsy
Sweet and Simple Floral Straw Farm Hat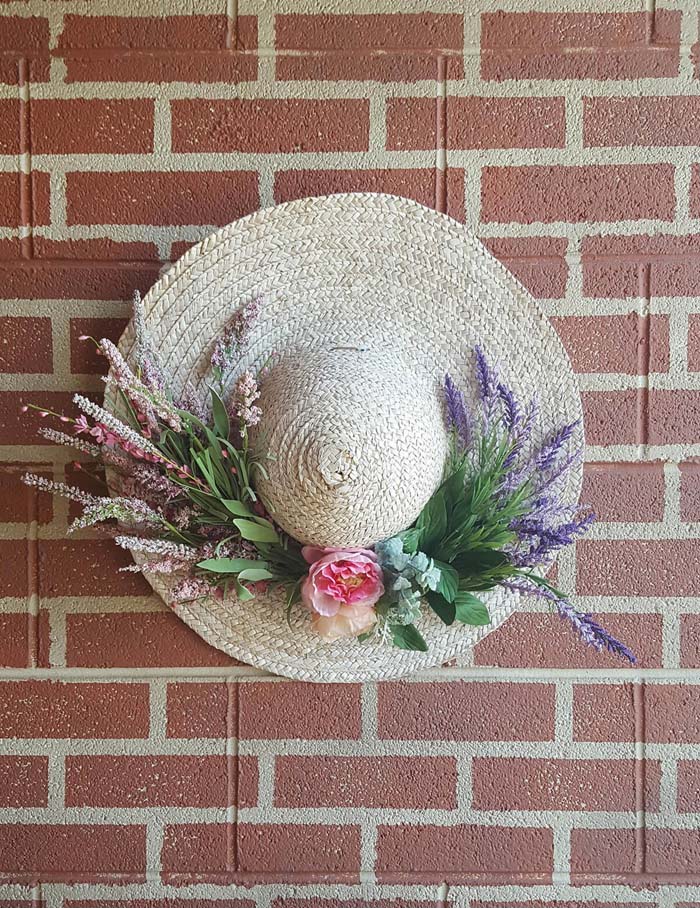 Remind yourself of the calm and relaxing days at the farmhouse when you have put a straw hat to protect your face from the sun and have had a cold lemonade. A straw hat with flower decoration will retrieve the memories and bring the smile on your face any time you look at it.
Find it here: Etsy
Sweet and Simple Petite Pallet Planter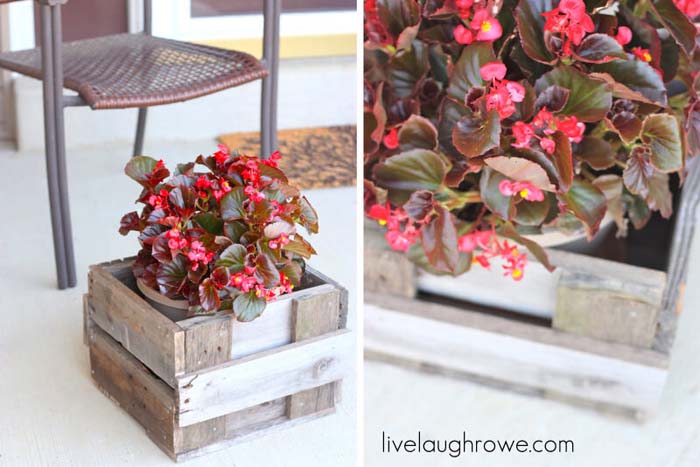 f you are not open to drastic changes, you can easily make a small change that will invite the farmhouse ambiance just as good – put your flowers into small crate-like planters. If you'd rather purchase than make these yourself
via Live Laugh Rowe
Unique Burlap Sunflower Wreath for Farmhouse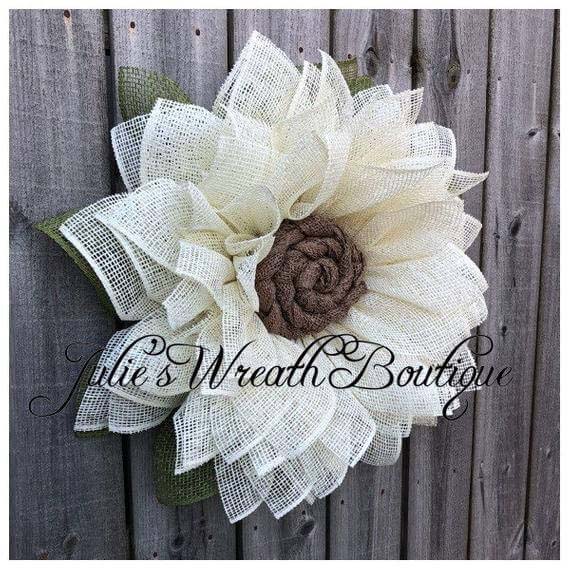 Made only from burlap fabric, this incredible sunflower is a must have decoration! The earthy colors, beautiful shapes and size create a realistic sunflower which reminds of the summer days at the coutntryside.
Find it here: Etsy
Vertical and Unique Painted Wooden Sign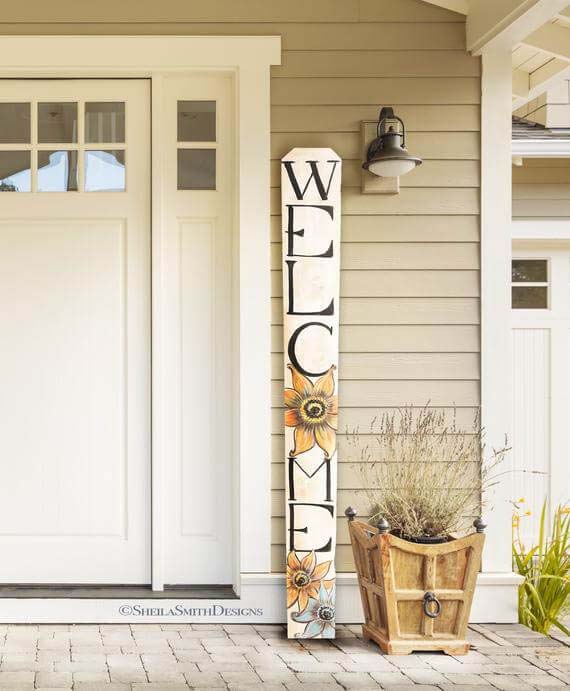 If you want to welcome your guests but the wreaths are not your thing, a large rustic noticeable sign will enjoy your sight.
Find it here: Etsy
Vibrantly Blue Vertical Summer Welcome Sign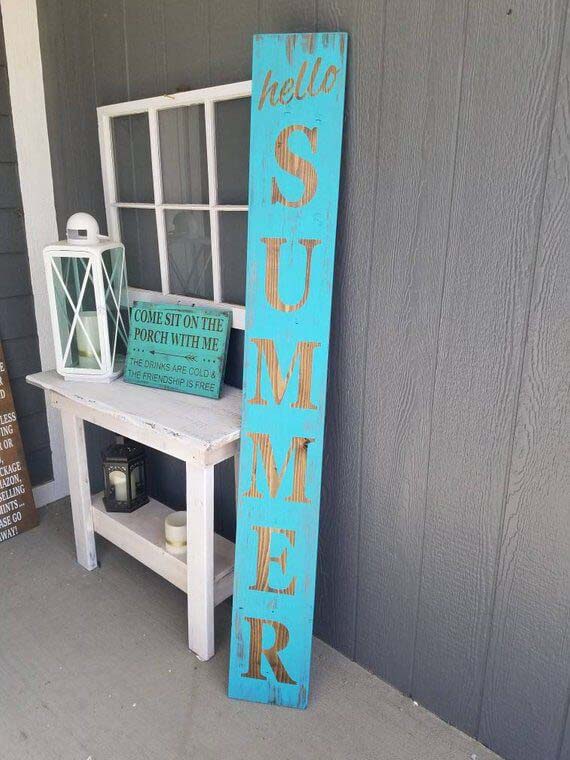 Farmhouse decorations can be very cheerful. Welcome summer with a farmhouse sign in bright blue. The letters are left unpainted to contrast with the blue background.
Find it here: Etsy
Vintage Tribute to your Favorite Summer Spot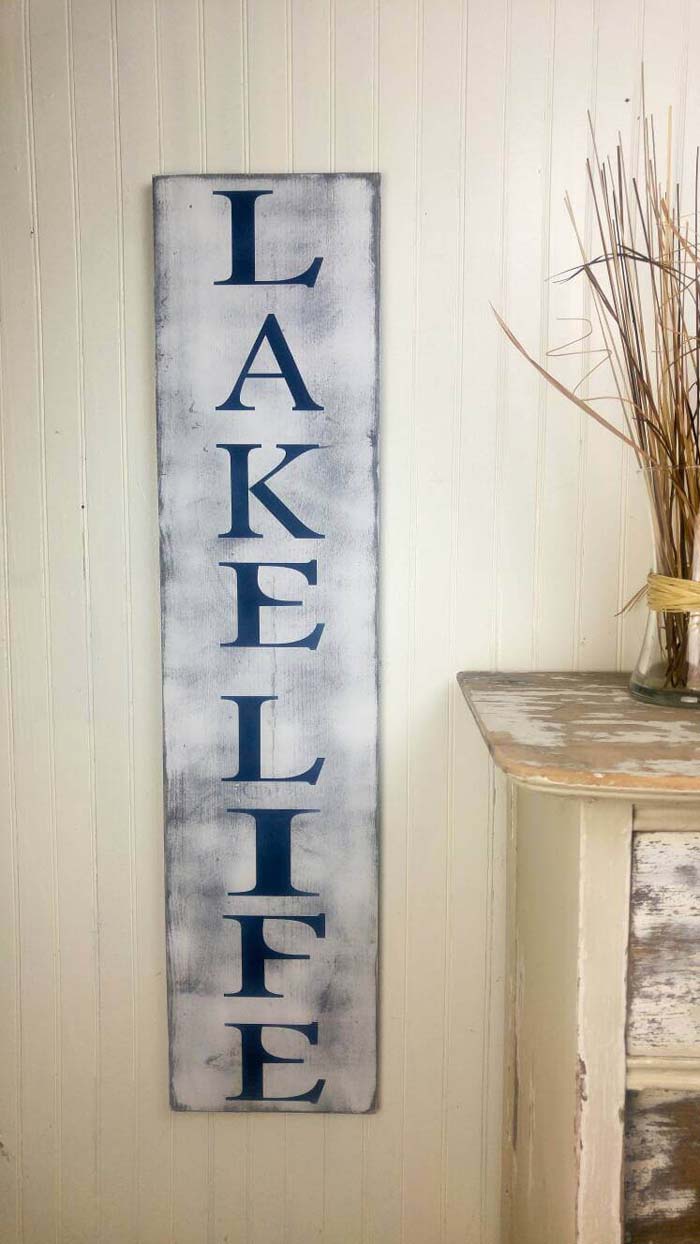 Dreams are more than allowed when it comes to decoration. State what your favorite summer nook is with a rustic sign with distressed effect.
Find it here: Etsy
Wagon Wheel Wreath with Various Flowers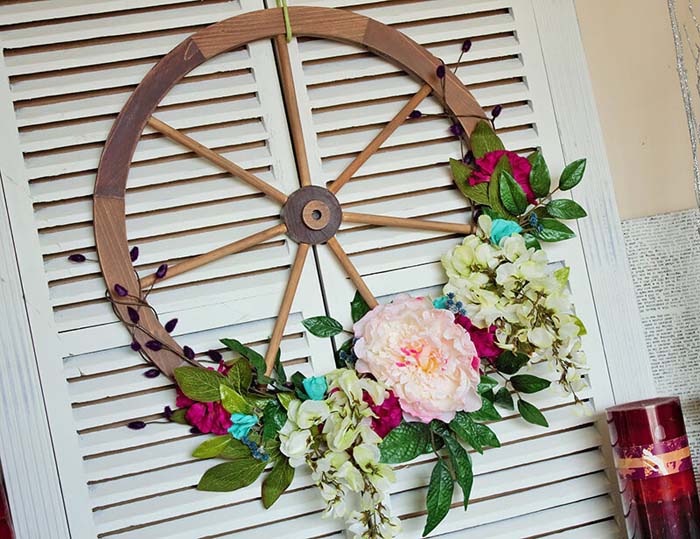 The circular shape of a wagon wheel is used as a background for a gentle mix of flowers. Wagons are an antique means of transport that has lost its value as a vehicle but their value as a farmhouse decoration will never be understimated.
Find it here: Etsy
Wispy Dried Flowers Wreath with Bow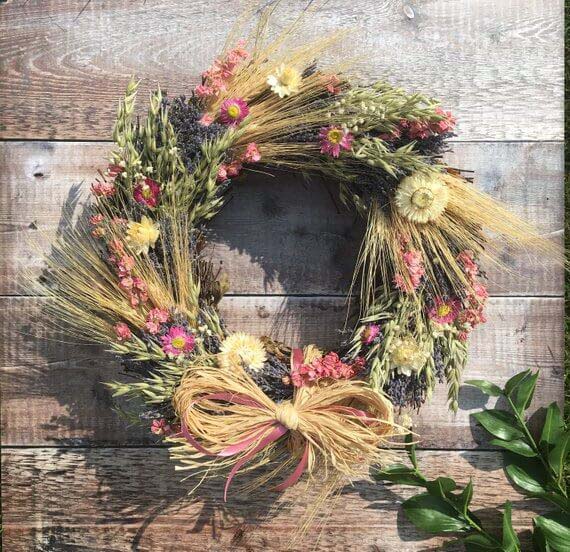 Field flowers are magnificent with their endless life and magical shapes. Woven in a wreath they will decorate any fence or front door beautifully for long time.
Find it here: Etsy
Wooden Sign for Selling Lemons Tag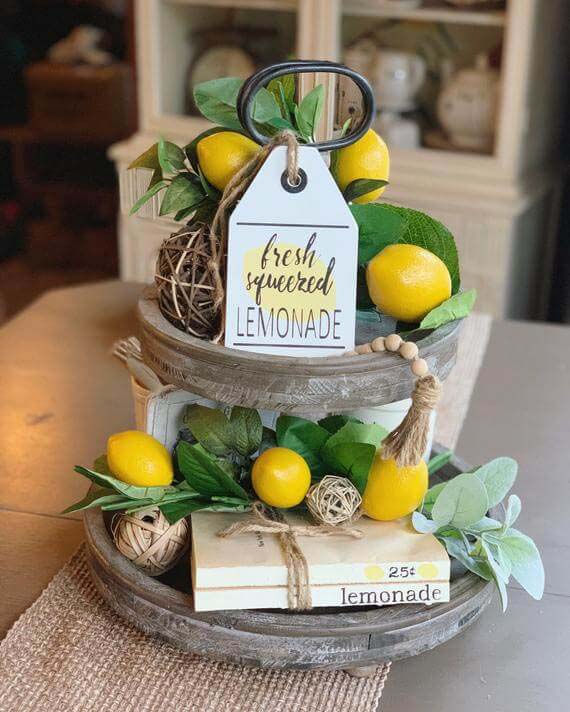 Be playful and at your summer mode with a bright wooden sign! Attach it to a stand with fresh lemons and grapevine balls. It is a quite small sign bit it is the best finish to a decoration ispired by the farmhouse life.
Find it here: Etsy