Give yourself an enjoyable time spent outdoors with garden decoration that is inspired by the coziness and warmth of the countryside.
The ideas we have gathered for you will contribute to improving the aesthetic value of your backyard regardless if they are small or big additions to the existing space.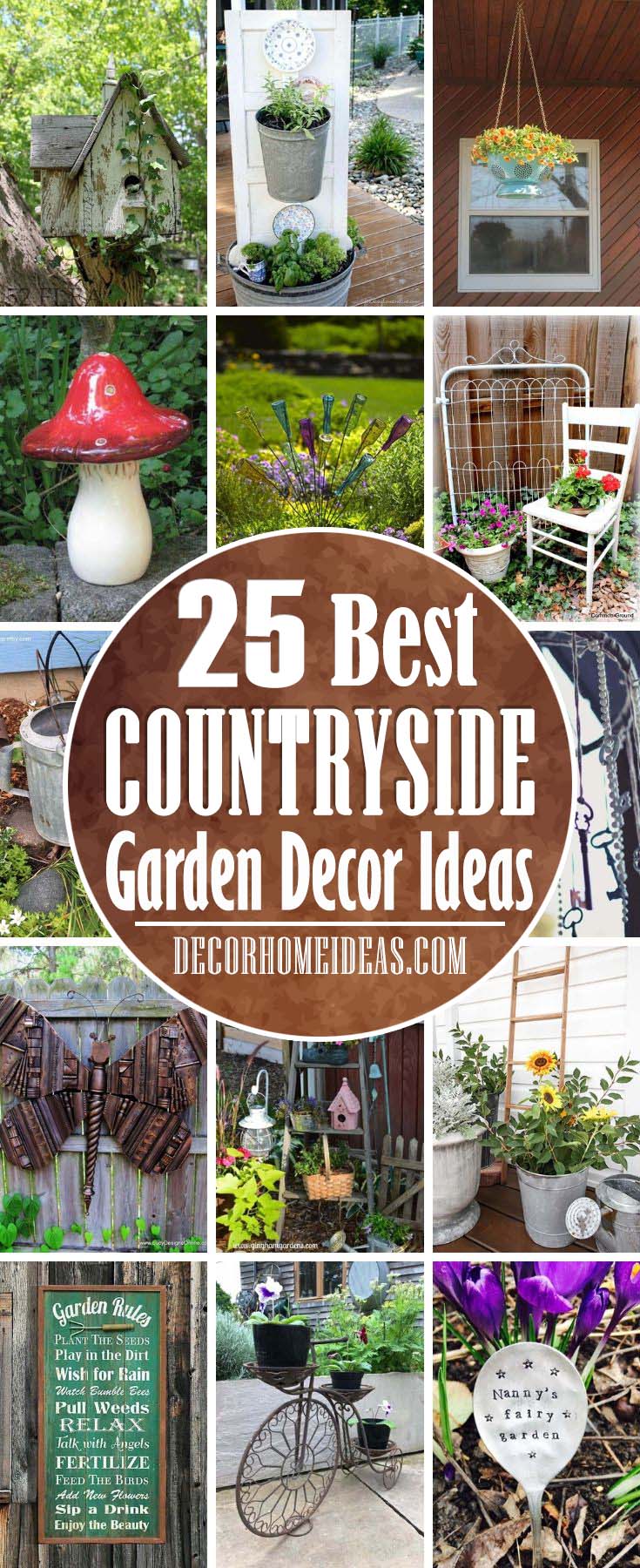 From hanging signs, through interesting flower holders, to ideas for herb gardens, we promise we will inspire you to start enhancing the outer space of your property.
1. Spectacular Giant Butterfly Decoration for the Backyard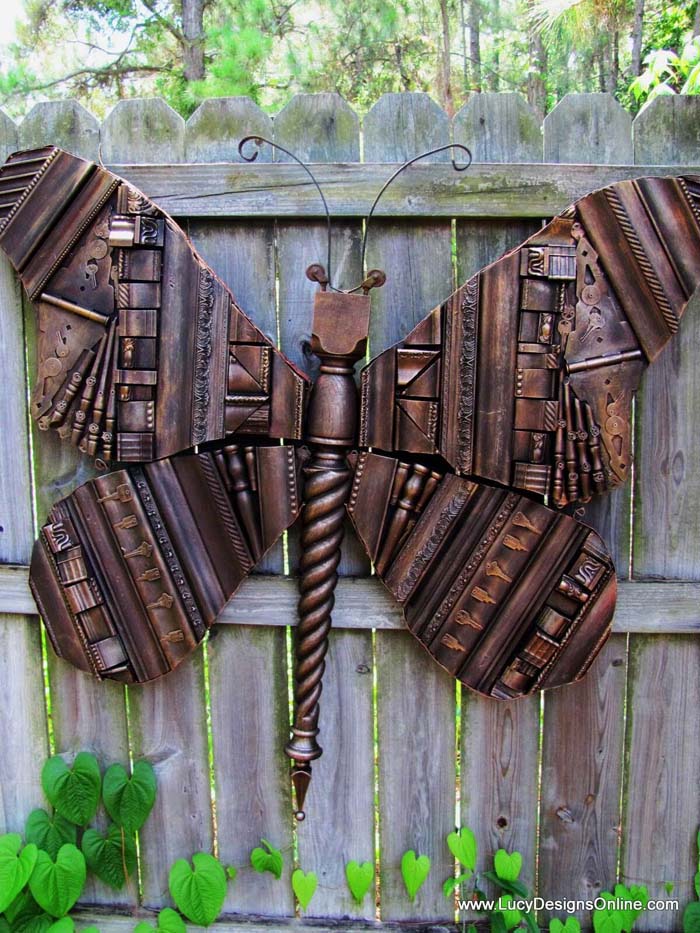 This giant butterfly is made of bits and pieces including picture frames, keys and hardware. It is a spectacular addition to the backyard decoration.
via Lucy Design
2. Make a DIY Birdbath from an Old Lampshade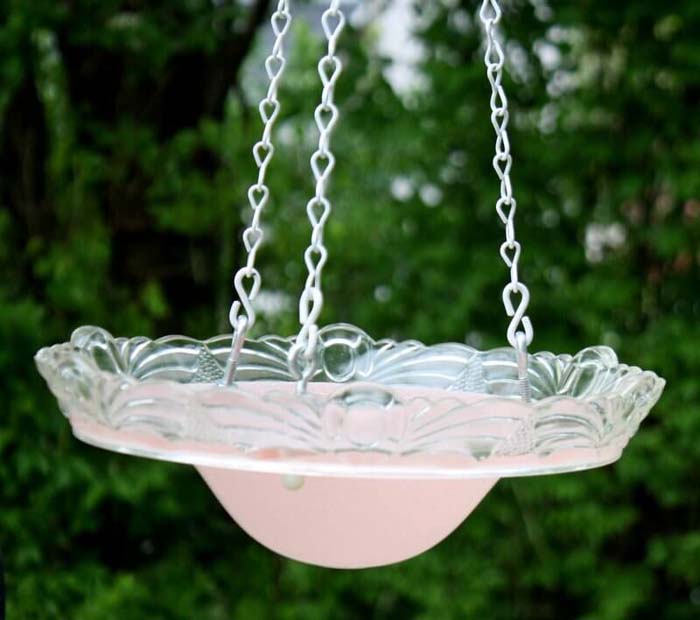 Make a birdbath out of an old lampshade. Add a hanging kit to attach to a tree branch and enjoy the natural beauty of the wildlife visiting your garden.
via That`s My Story
3. Evoke Nostalgia with a Wrought Iron Bicycle Planter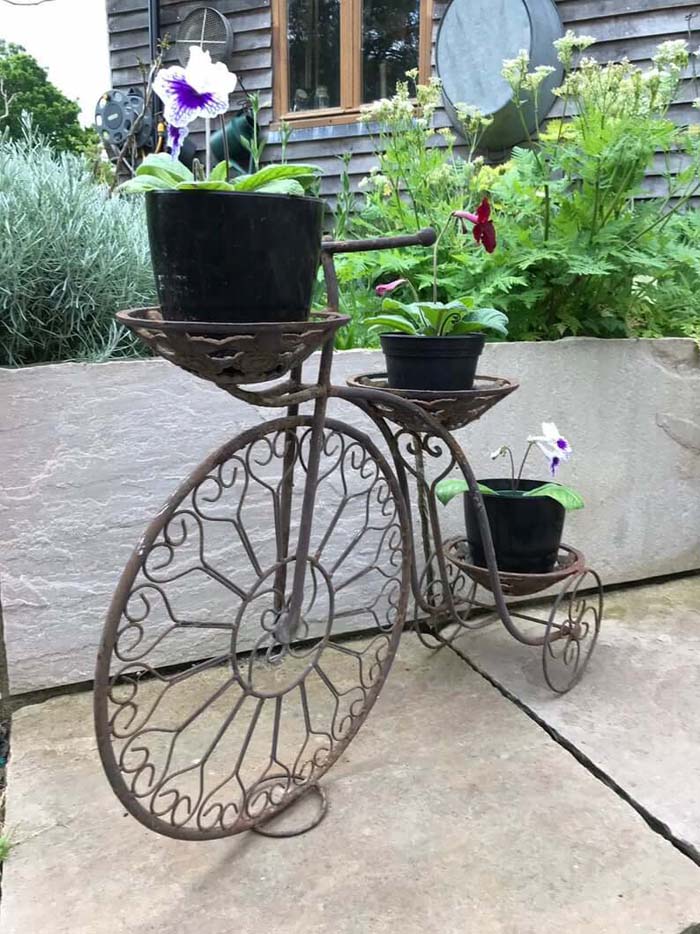 The bicycle is a symbol of the countryside summer memories, those times when we have fewer worries.
If you want to add more romance and calming effect to your garden, get a wrought iron planter in the shape of a bicycle.

4. Create Unique Garden Decoration with DIY Bottle Bush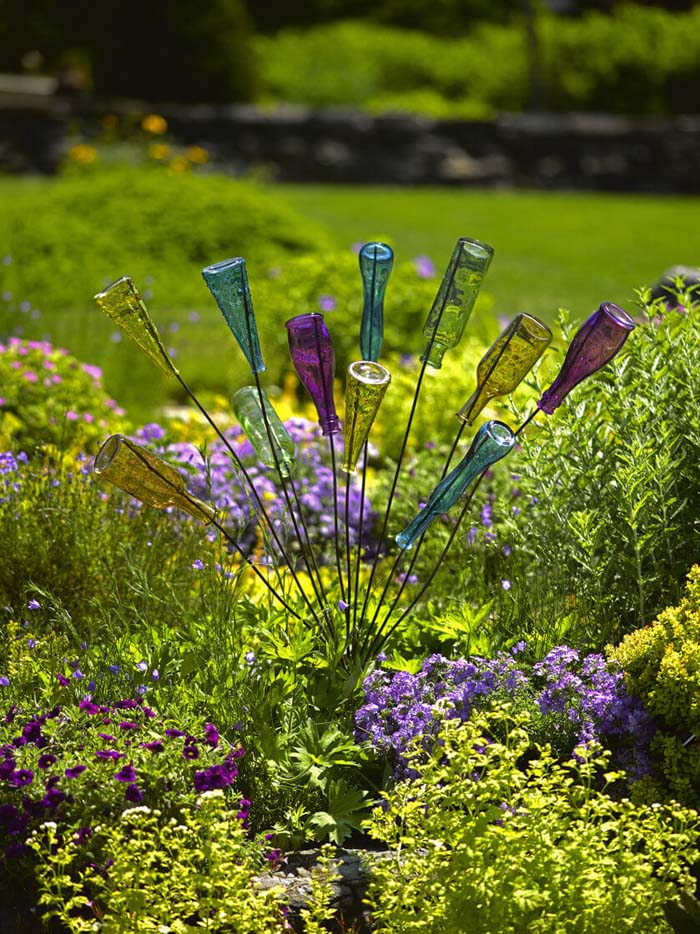 This creative bottle bush is a ready product from the Internet.
However, you can easily make an interpretation of it using milk or similar glass bottles inserted on iron sticks.
via Gardeners
5. Elevate Your Garden with Personalized Plant Markers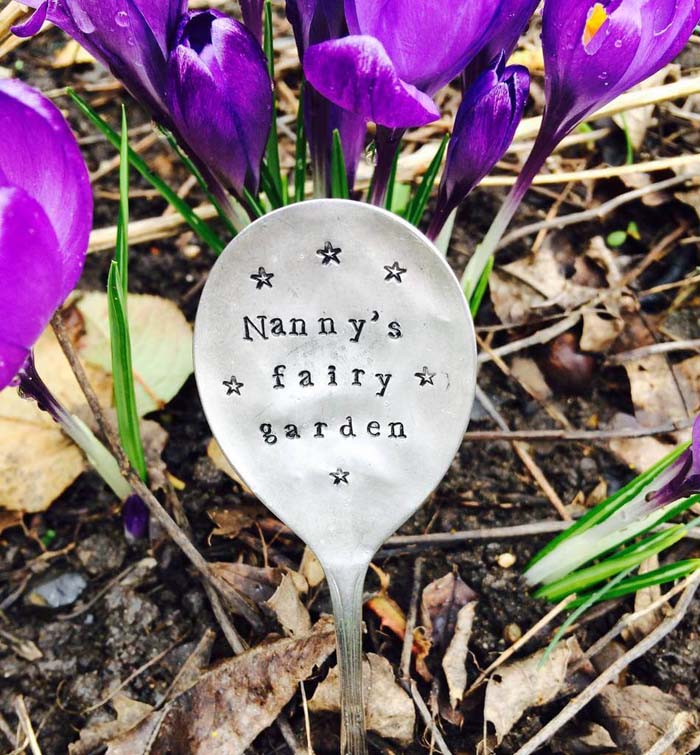 This is a fun plant marker that will be an appreciated personalized gift.
Every plant in the garden can be marked with a shiny metal spoon with a personalized address.
6. Decorate with an Upcycled Wind Chime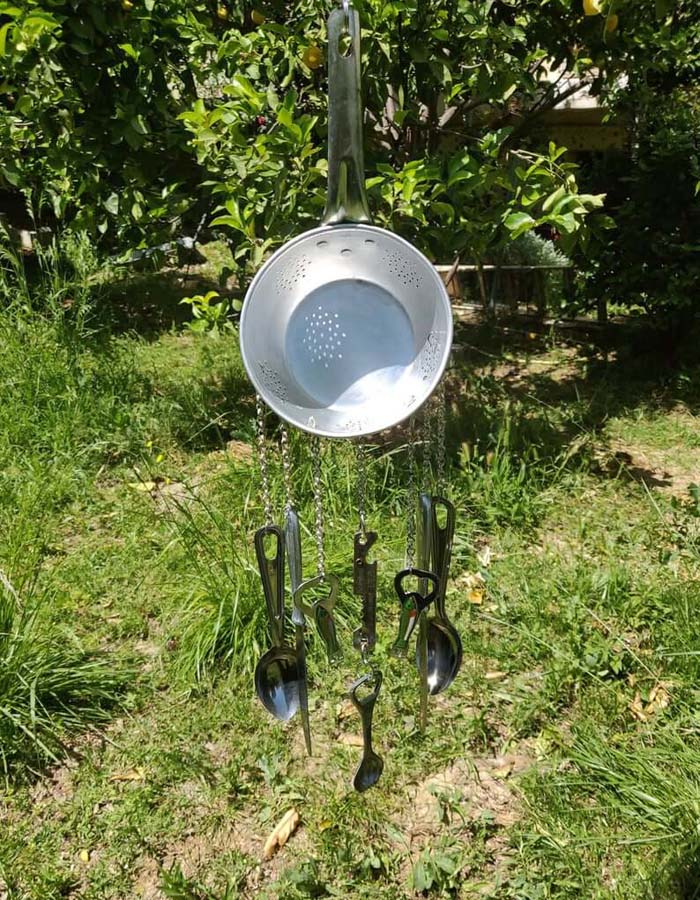 This is a decoration that will remind you of your childhood spent in the countryside.
Made of upcycled colander, knives and spoons, it will be tinkled by the wind and spreading magical sounds.

7. Brighten Your Garden with a Whimsical Mushroom Decor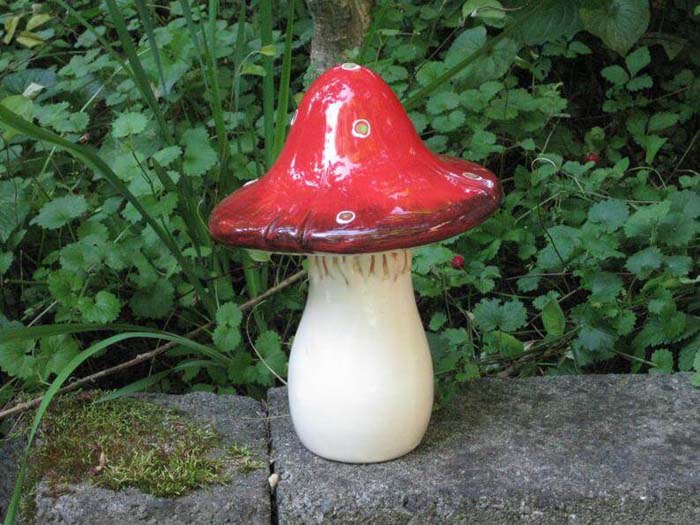 This whimsical and fun mushroom will look great in your garden or yard.
It is quite tall and glossy and it will be noticed anywhere you tuck it. Bring the treasures of the countryside forest into your home.

8. Make a Vintage Garden Nook with a Rustic Planter Display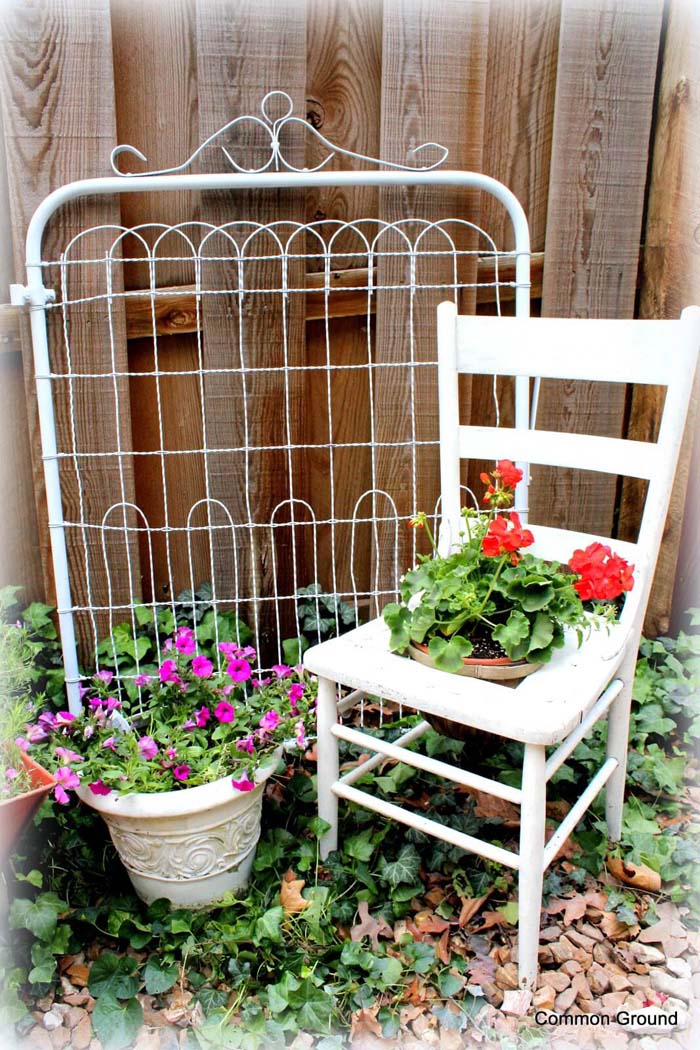 Make a vintage nook in your garden. If you have an old metal fence gate, a shelf, paint them in white to let them show up against the ambient environment.
Repurpose an old chair into a flower holder. This nook will easily become the focal point of your backyard.
via Common Ground
9. Transform an Old Animal Cage Into a Plant Stand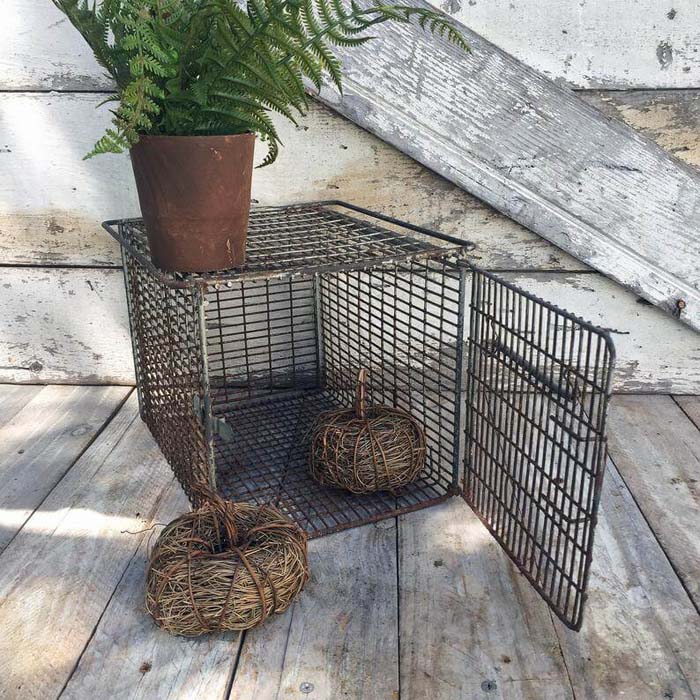 An old animal cage can be used as an interesting plant stand. It is very durable and could be a multifunctional countryside decoration nowadays.
Use as a plant holder in the day, cage your plants in the night if you are worried that can be damaged by your pets.

10. Turn a Traditional Cottage Colander into a Flower Pot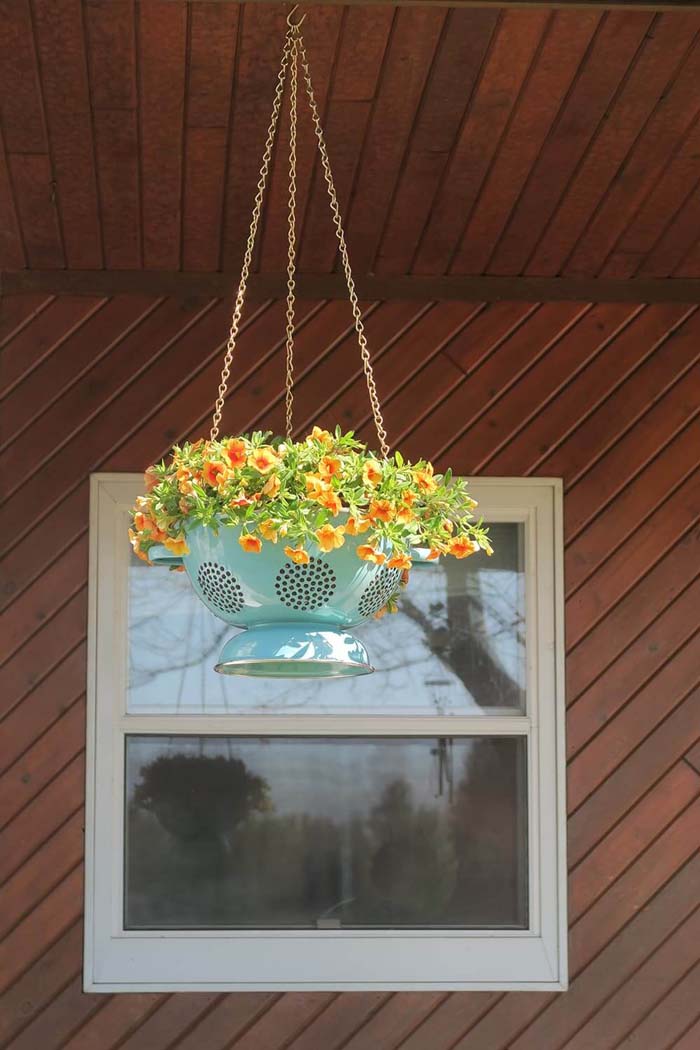 This colander reminds us very much of the cottage utensils from the past.
Use it nowadays as a beautiful flower pot that can be displayed even in a suspended position. The fabricated holes are just enough to ensure well drainage.
via Hello Nature
11. Rustic Garden Rules Sign for a Summer of Inspiration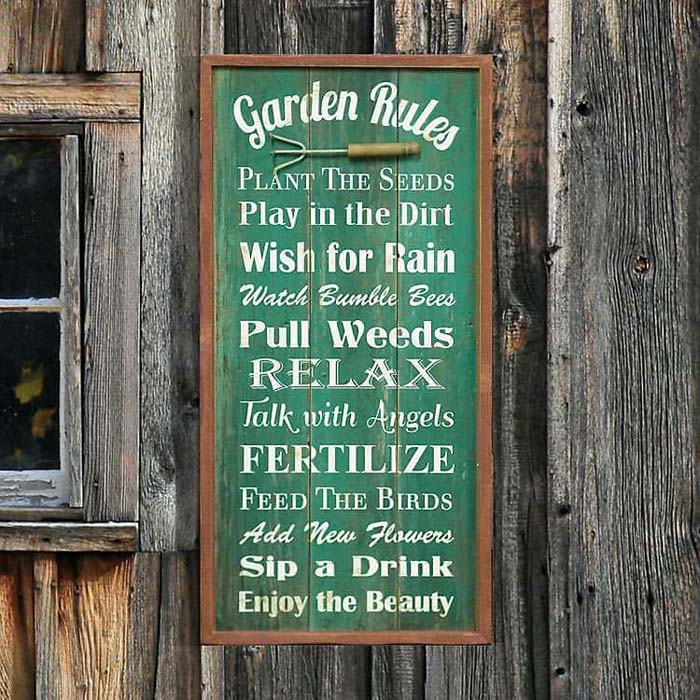 A beautiful rustic sign with garden rules inspired by life in the countryside would be your summer daily inspiration.
All of the rules are so touching and natural, that they may be considered valid nowadays.
via Kirklands
12. Upcycled Lamp Garden Totem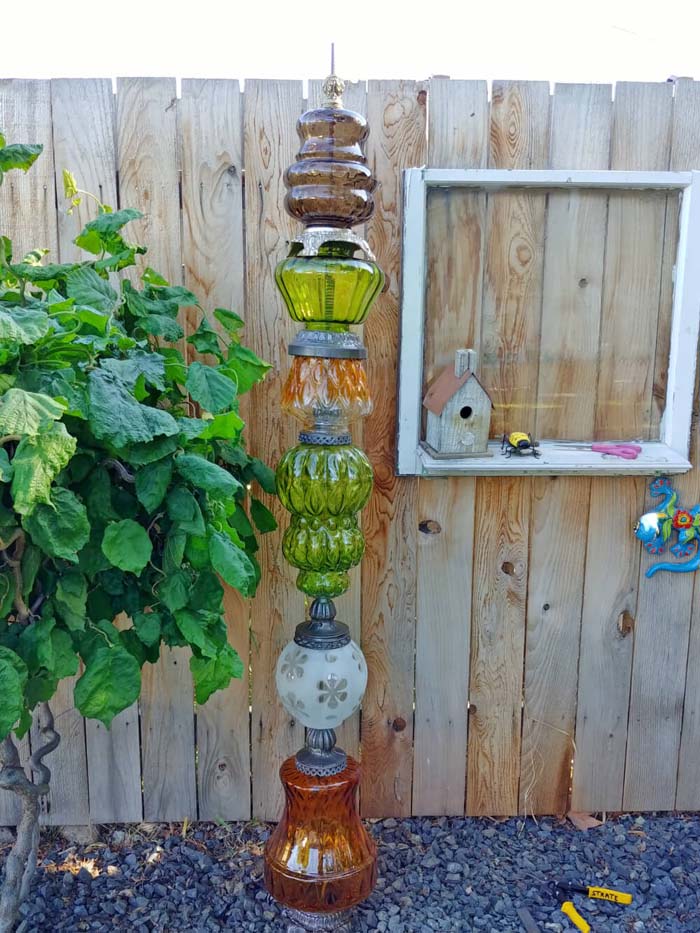 Learn how to make yourself an upcycled lamp garden totem.
This piece of garden art will look well somewhere around the sitting area or tucked in the shrubs.
13. Create a Romantic Ambiance with Beeswax Candles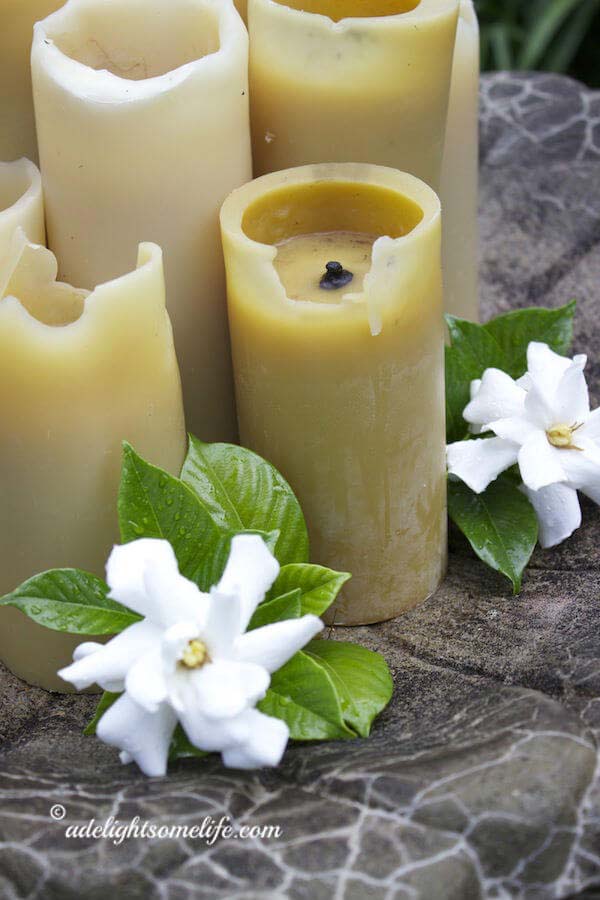 Add some countryside feeling with beeswax candles. Instead of spreading them at different places, group them for a better visual effect both when not used and when lit.
If you are thinking about what could be the best place to put them, the birdbath is just perfect for that. Surround with beautiful aromatic flowers and enjoy the warm light and romance they create.
14. Honor Countryside Habits with a Wooden Milk Trug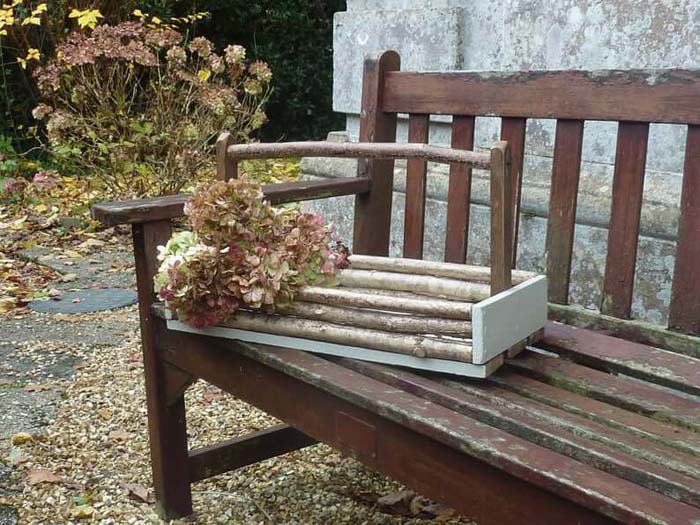 Once nature treasures and supplies were very valued and used for various applications.
Revive this trend and honor the countryside habits with a milk trug. It is made of worn wood and branches and could be a great container for fresh flower stalks or pots.

15. Make Garden Decor with Old Pulleys and Metal Buckets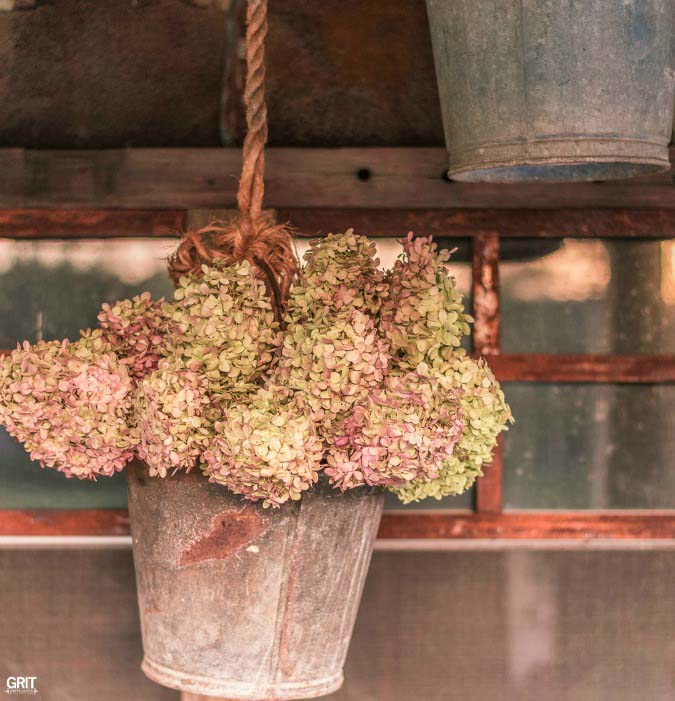 Are you looking for outstanding garden decoration?
Combine old pulleys with rusted metal buckets and make a plant hanger that will enhance the beauty of your backyard.
via Jayne Margaret
16. Rustic Charm with a Jangling Sailboat Sign Garden Bell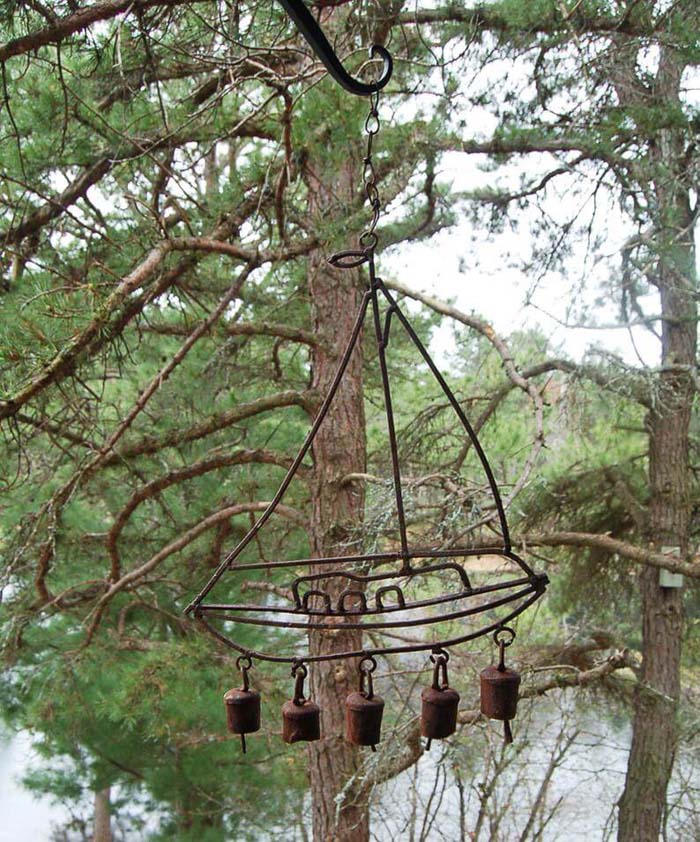 An old sailboat sign as garden bells would add a magical countryside impact with its jangling.
The rusty patina developed in the years has made the decoration very rustic and very beautiful. It could be hung everywhere with the help of a hook.

17. Invoke Memories with a Galvanized Watering Can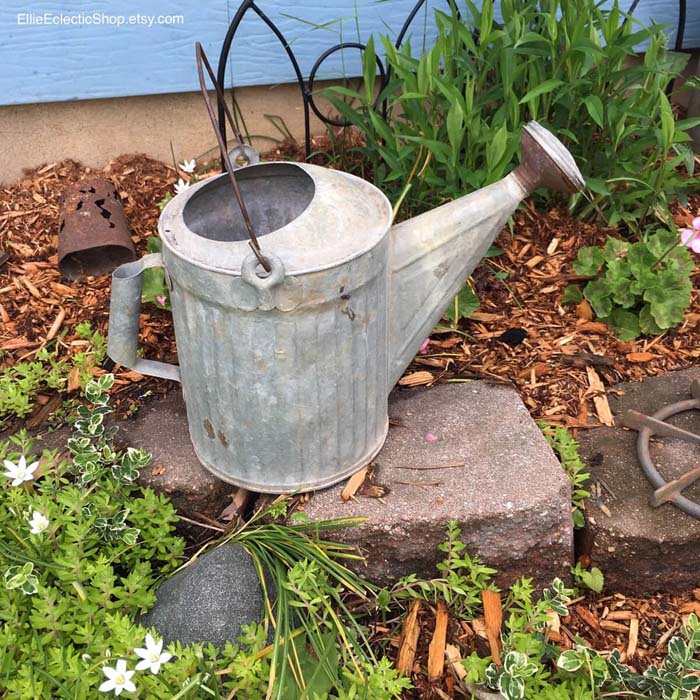 Sometimes you don't need to do a lot to decorate an area from your home in a certain design.
There are items that bring up the right amount of impact without any modification or additions, as this galvanized watering can do.
Placing it somewhere vivid in your garden is just enough to recall the countryside memories.

18. Build a Wildlife-Friendly Birdhouse for Your Backyard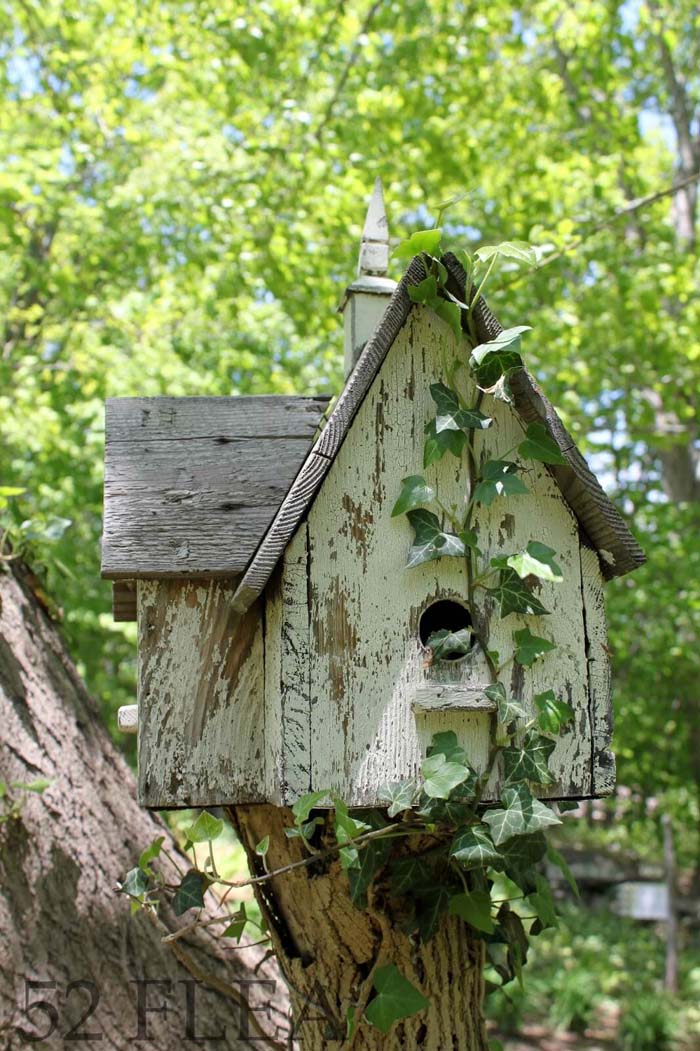 Have you ever made yourself a birdhouse?
It reminds us so much of the childhood years spent at the countryside cottage…
Having such on the trees of your own backyard would make the outdoor atmosphere more wildlife-friendly, cozy and pleasant.
via 52 Flea
19. Repurpose a Metal Mailbox into a Flower Planter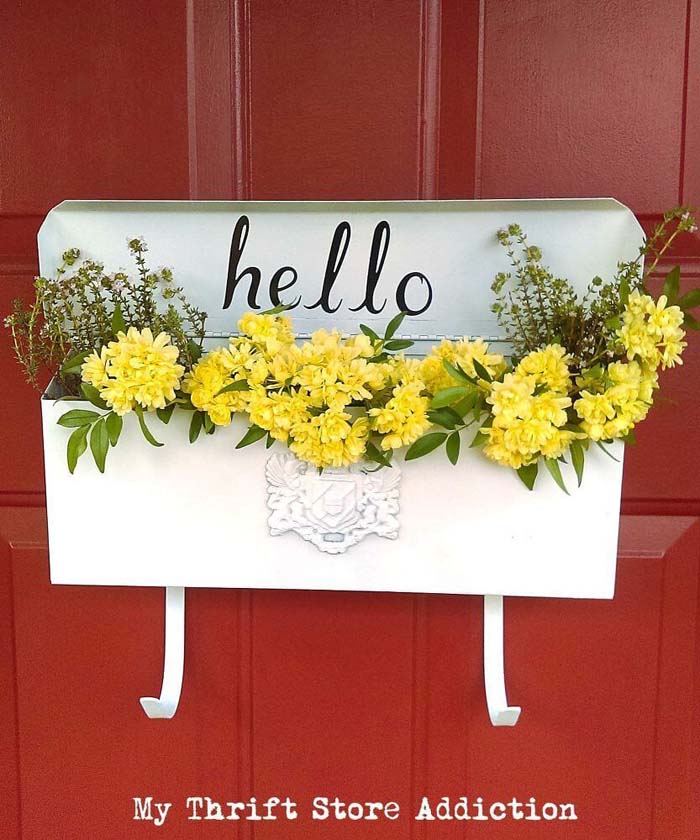 Another great item from the thrift shop is the old mailbox. Made of metal, it is resistant to outer conditions. And the best about it is that it can be repurposed and used as a vintage flower planter.
Just paint the surface if you don't like its aged look and hang it on your front door.
20. Make a Quirky Bird Bath from an Old Dinner and Tea Set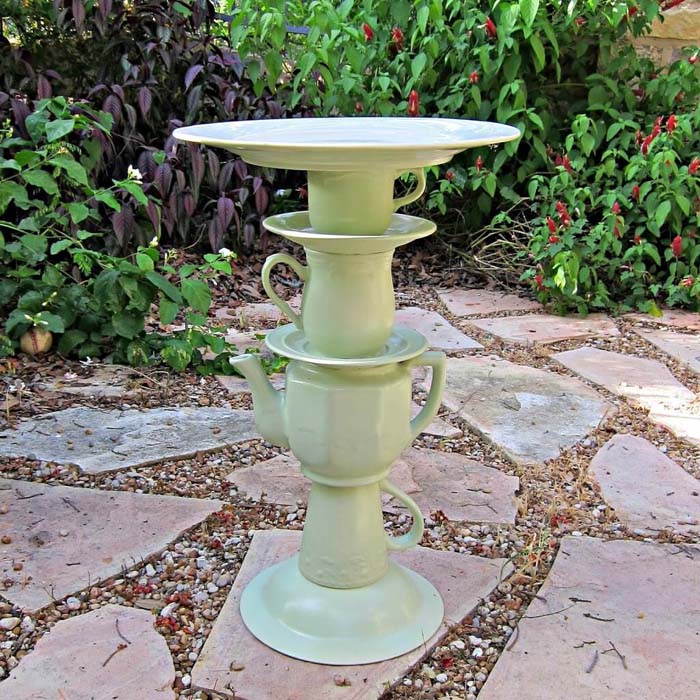 Have you ever wondered what to do with the old dinner and tea set?
Make a whimsical birdbath in a couple of hours and honor the lovely memories when the sets have been used.
via Morena`s Corner
21. Rustic Mid-Century Urn Planter for Patio Decor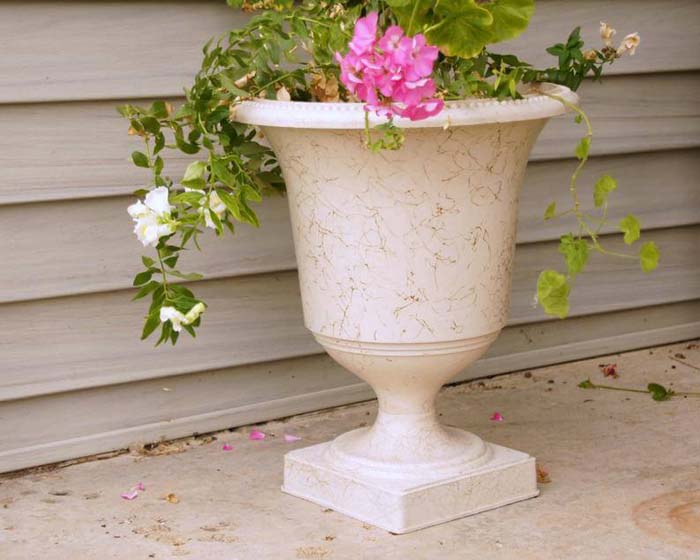 A large mid-century planter in the shape of an urn is a great rustic decoration for the porch or the backyard.
The texture makes the planter look like a treasure from the past.

22. Use Ladders as Vertical Plant Stands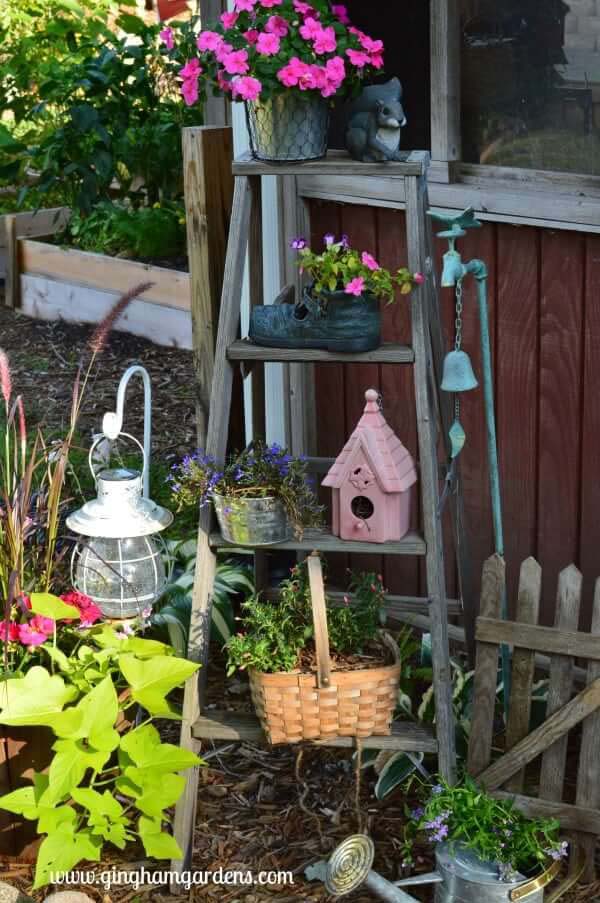 Ladders are a great vertical plant stand. They could be also a great rustic addition to the garden if the correct plant holders are accommodated on the steps.
Old woven and wire baskets, metal buckets, galvanized watering cans are perfect for this purpose as they also fit in the countryside decoration concept.
via Gingham Gardens
23. Create a Rustic Herb Garden for Culinary Experiences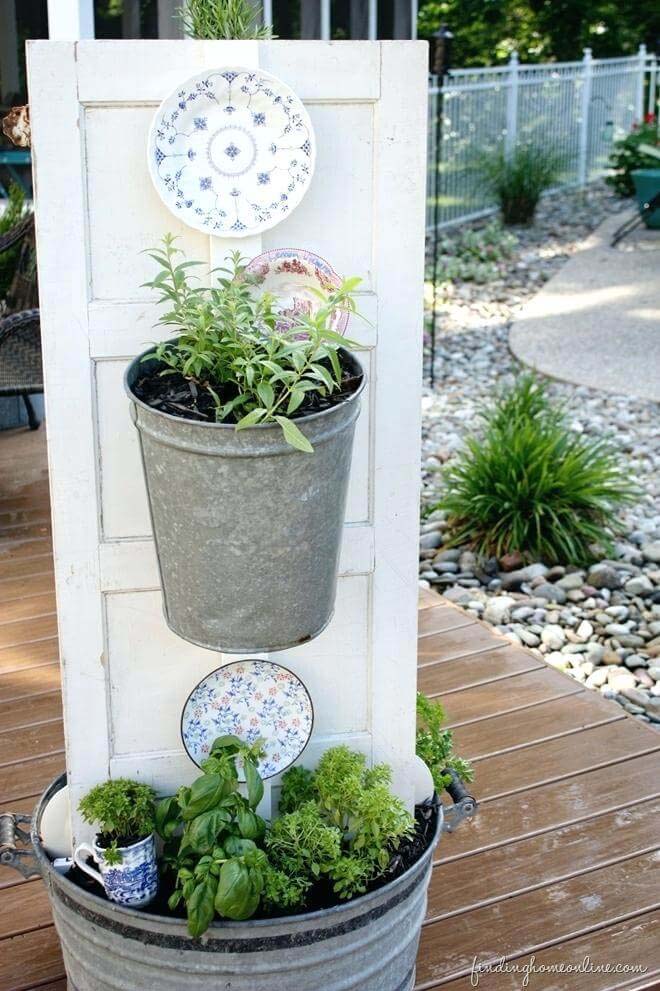 This herb garden is a great countryside decoration and appreciated addition to the flavors' variety for all culinary addicts.
If you love the rustic finish, check how to make it yourself on the link below.
24. Make a Rustic Backyard with a DIY Ladder Planter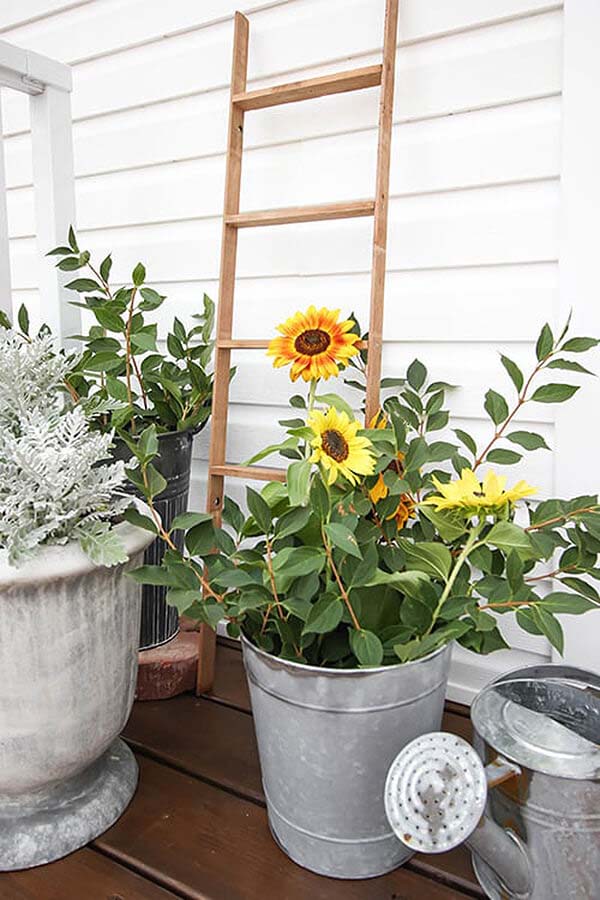 A great DIY project that will bring the countryside to your porch or backyard.
Make a mini ladder to combine with your rustic flower pots.
25. DIY Wind Chime with Jangling Keys and Beads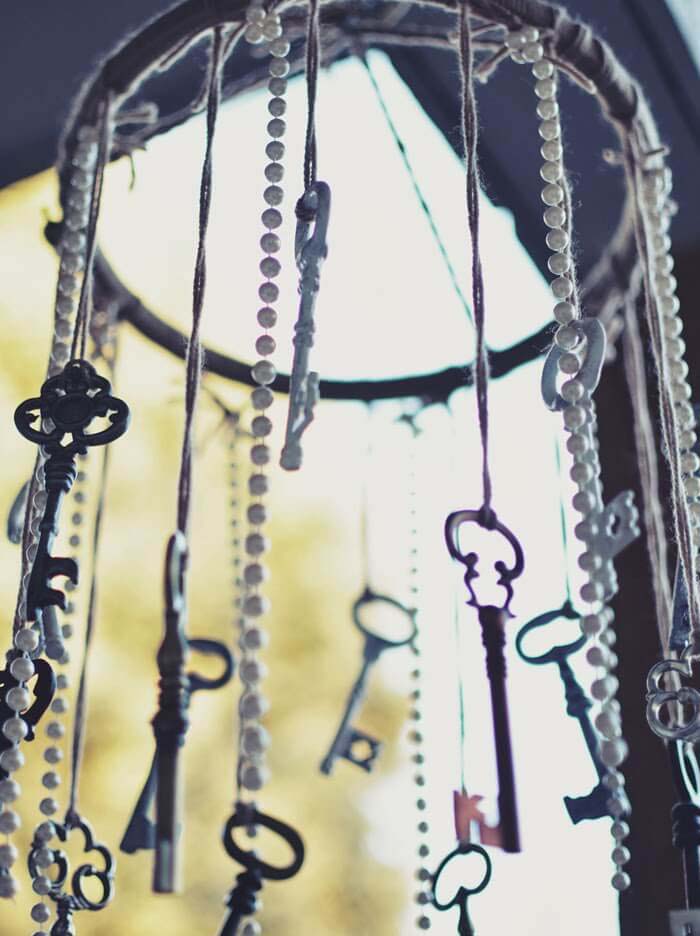 There are many do-it-yourself projects for wind shims and this one is one of the most attractive ones!
A bunch of keys, some beads, a wooden strip, covered in the brown yarn are all the supplies you need! Making it is very easy so you will soon enjoy the calming sounds of jangling keys.
via Can Can Dancer