There's something delightfully unexpected about fence planters — they take an otherwise ordinary structure and turn it into a work of art.
If you're looking for ways to add more natural beauty to your outdoor space, these simple container gardens are the perfect option.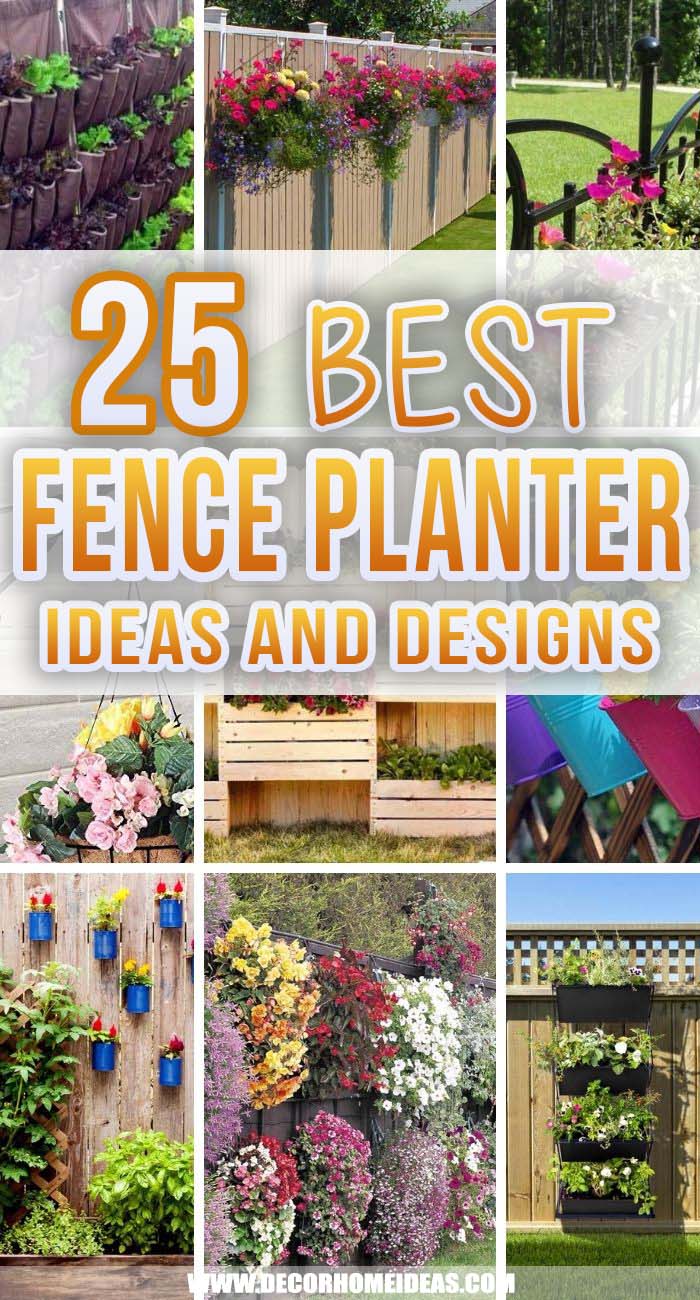 For inspiration, check out these gorgeous fence planters; there's one for every style.
1. Easy Wooden Board Planter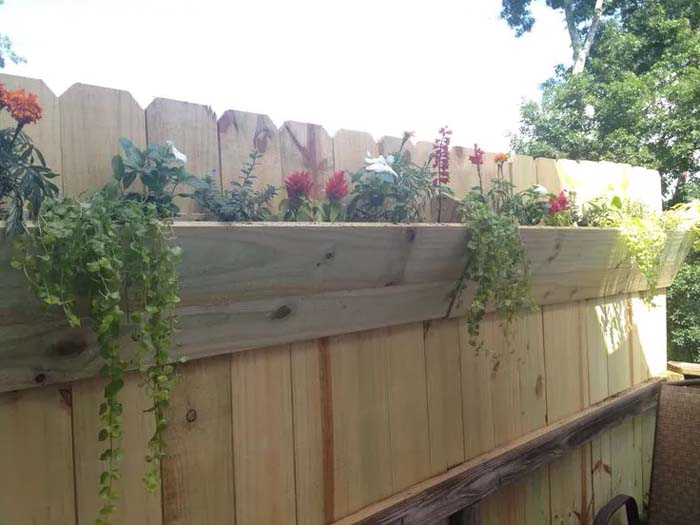 Do you have a wooden fence? These 2×4 gutter planters are an easy DIY project. You can make them with boards from any lumberyard in a weekend.
The trick to this design is the angled construction; it creates space for soil and gives the plants room to grow.
2. Planter Box Shelves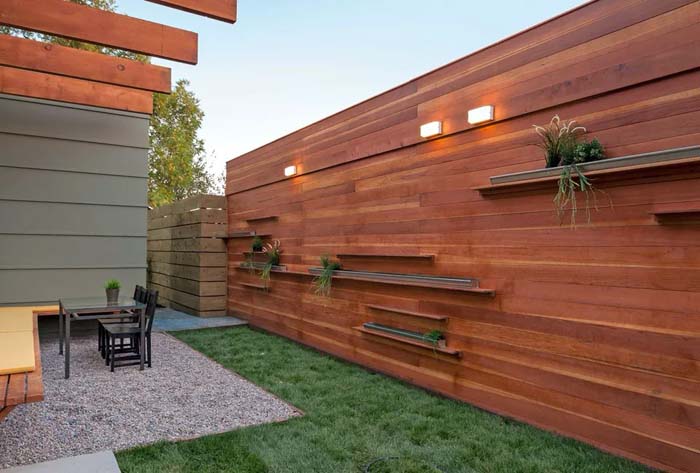 If you have a modern fence, crisp, rectangular planters look best. Here, shelves extend out from the wall, creating a support system for simple, shallow gutter planters.
Fill them with plants, and watch the greenery cascade over the edges.
via Zillow
3. Iron Window Box With Hooks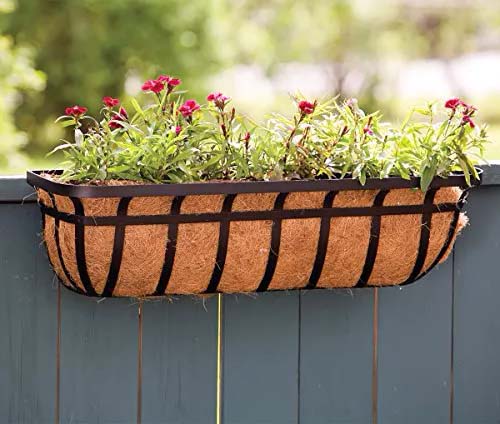 It doesn't get much easier than this fence planter — just slip the hooks over the top of the fence, and you're done!
The lovely iron basket complements a farmhouse or a cottage. These planters work best on half-height fences.

4. Pretty Painted Hanging Buckets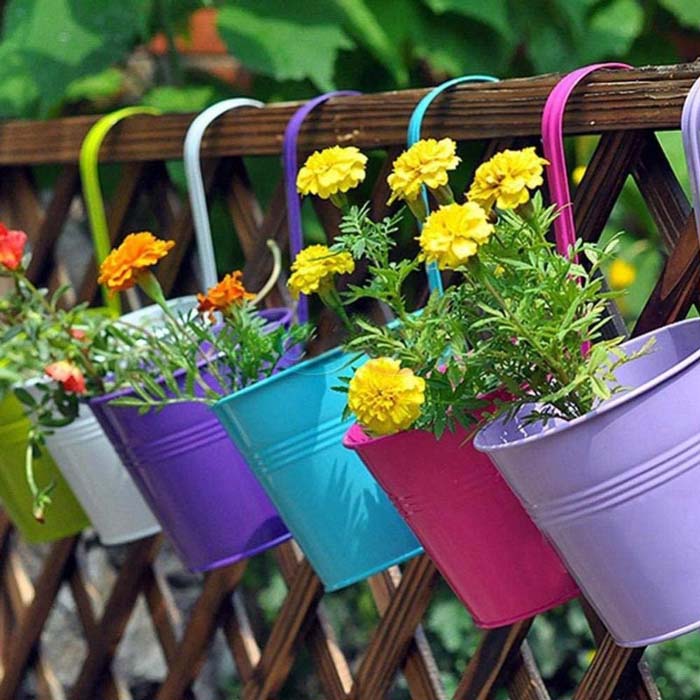 Bring new life to your garden with these stunning hanging planters. Each one is made from metal and painted in a different vibrant color; together, they're a joyful addition to any fence.
With the integrated hooks, installation is a breeze.

5. Colorful Grouped Succulent Pots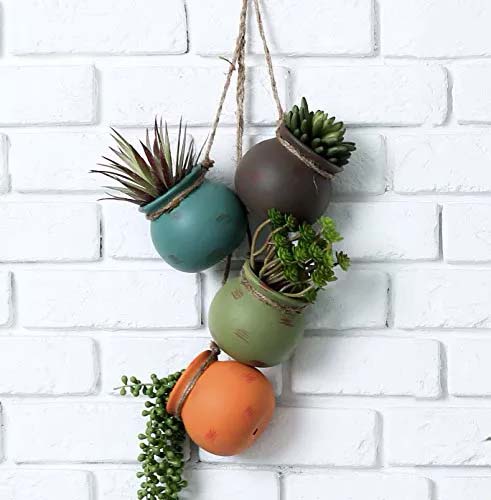 Add hanging planters without damaging your fence with these adorable mini flower pots.
They hang on sturdy ropes; just slip the top loop over a hook, a fence post, or a sturdy nail. This is a great option for brick or metal fences.

6. Wall Of Colorful Flower Baskets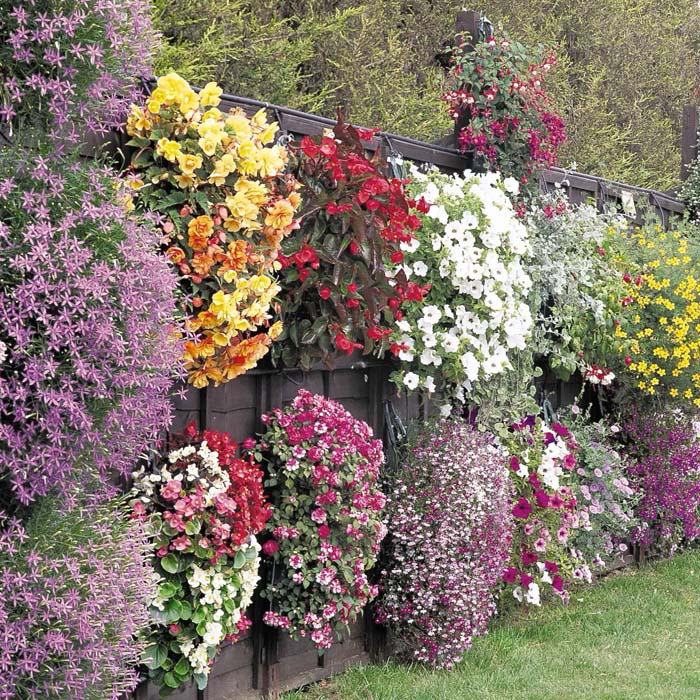 Conceal an unsightly fence with these gorgeous planters. Much like hanging baskets for your porch, they're designed to allow flowers to cascade over the side, creating a wall of color.
Make sure to consider the final length of the vines before mounting them in multiple rows.
7. Traditional Wrought Iron Planter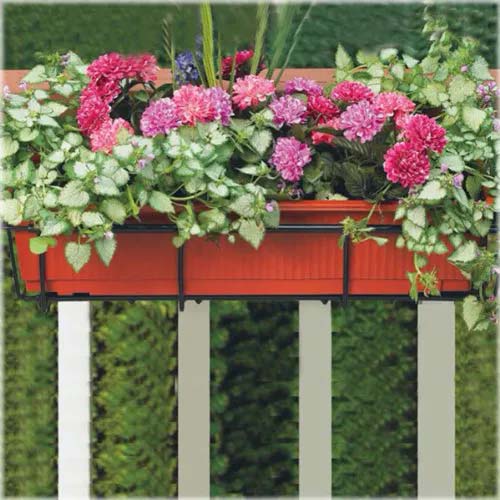 Upgrade your fence in minutes with this adorable flower box. Rear hooks slip securely over your fence railing; they're adjustable, so you can create a snug fit on any fence.
The wire-frame design allows water to drain easily after rainstorms, reducing the risk of over-watering.

8. Repurposed Wooden Crate Planters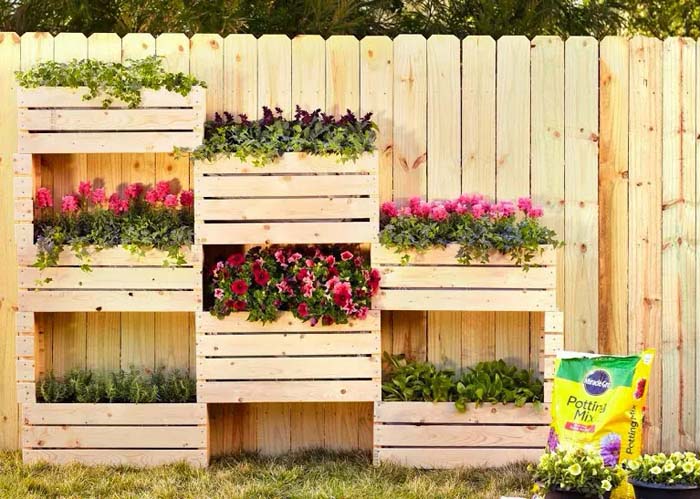 How cute are these little crate planters? They're the perfect way to upgrade your fence if you don't want to add screws or nails — just stack them in front of the fence.
Before you add soil and plants, make sure to nail the overlapping edges together for stability.
9. Easy Hanging Jars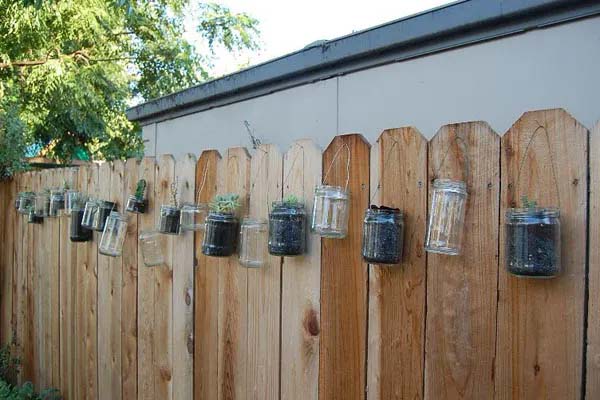 If you've been trying to find a use for old glass jars, here's a great idea: turn them into hanging fence planters.
The clear glass shows off the rich color of the soil, creating a gorgeous contrast with the fresh green leaves.
To hang your planters simply use a loop of wire; wrap the ends around the lip of the jar for a tight hold.
10. Pipe Gutter Planting System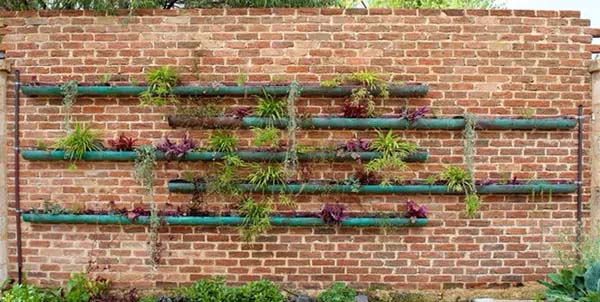 Long, shallow gutters are a great way to make your own fence planters. If you don't have gutters, you can achieve a similar effect by cutting a PVC pipe in half lengthways.
Mount the gutters on your fence, and use them just as you would a traditional flower box.
11. Fence Hooks Allow For All Season Baskets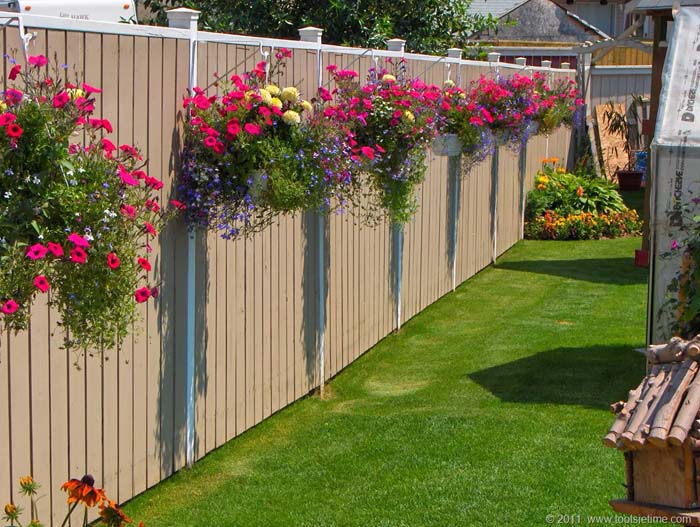 Hanging baskets aren't just for your front porch — they're also a lovely addition to your fence. Installing them is incredibly easy; just buy triangular plant brackets and mount them to the fence posts.
The unique shape provides plenty of support for a planter.
via Tootsie Time
12. Eclectic Wall Mounted Garden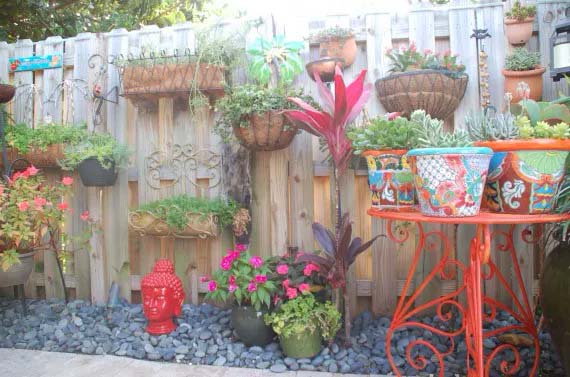 Are you going for a fun, bohemian vibe in your garden? Collect a bunch of mismatched wall planters, and hang them at different heights on the fence.
The effect is artistic and charming, especially if you use planters in varying colors and materials.
13. Vertical Pocket Garden Planter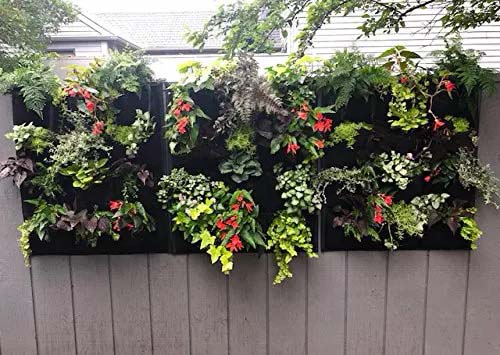 Creating a vertical garden is a breeze with these super-affordable hanging planters. They resemble over-the-door shoe organizers — each cloth pocket holds soil and a plant.
When water accumulates, it can drip out of the bottom for effective drainage.

14. New Use For Old Bags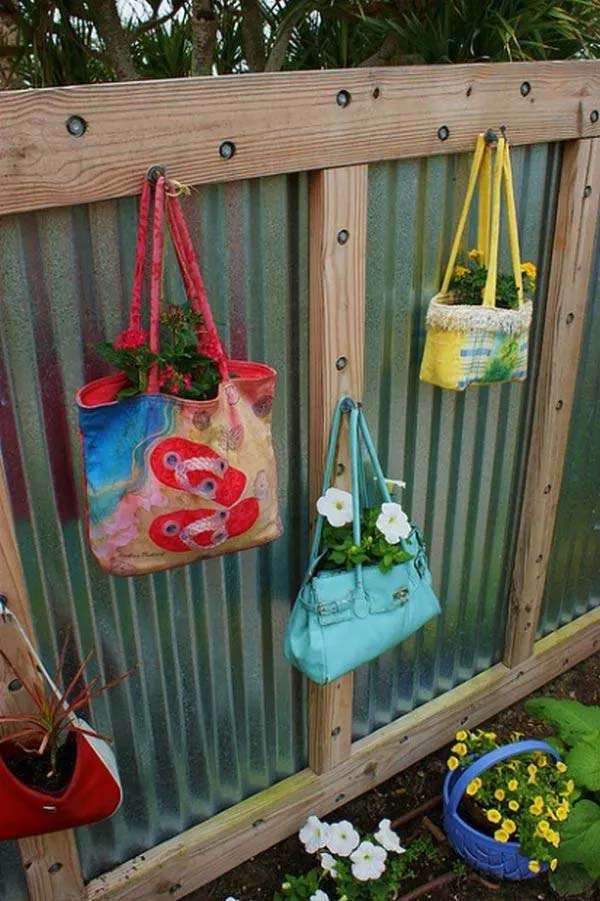 Do you have a stash of purses and beach bags that sit unused in your closet? Give them a new purpose by using them as hanging fence planters. Simply slip the handles over a hook on the fence, and you're ready to plant.
Anytime you need to add soil, simply carry the bag to a potting table.
15. Ornate Basket Hanger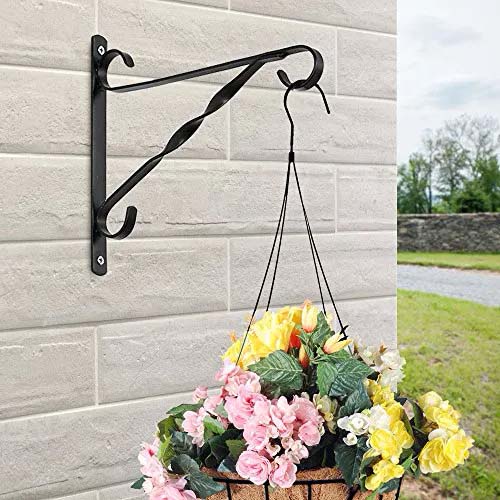 Sturdy brackets are a great way to add hanging plants to any vertical surface, including fences. Since these brackets are highly visible, you can upgrade your yard by choosing ornamental models.
This version features twisted iron and elegant curves; it's perfect for a Victorian home.

16. Upcycled Tin Can Planters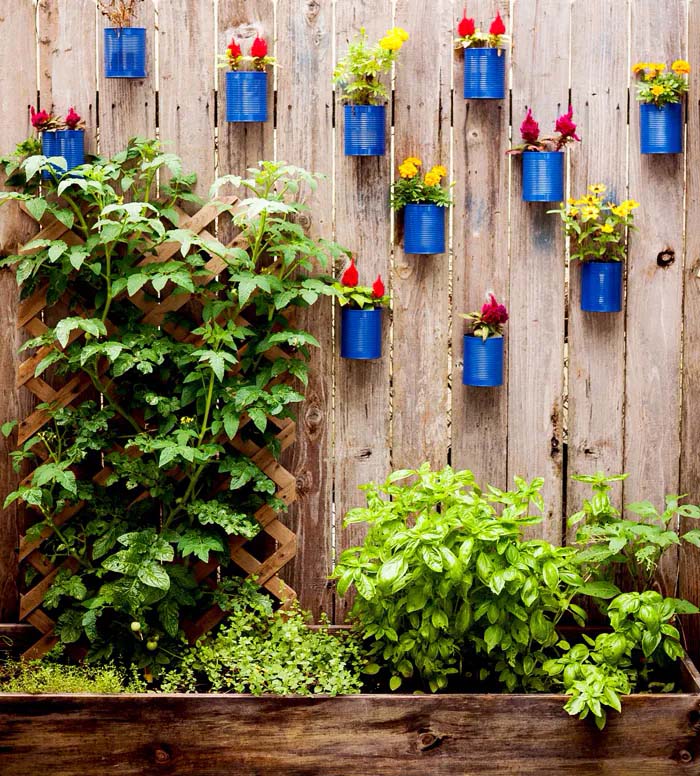 Upgrade your fence and recycle cans at the same time with this clever DIY planter project.
All you need is a few old coffee cans and a can of paint — you can even paint each can a different color for a rainbow effect. Use wood screws to secure each can to the fence.
via Ciera Design
17. Add Flair With Stylish Baskets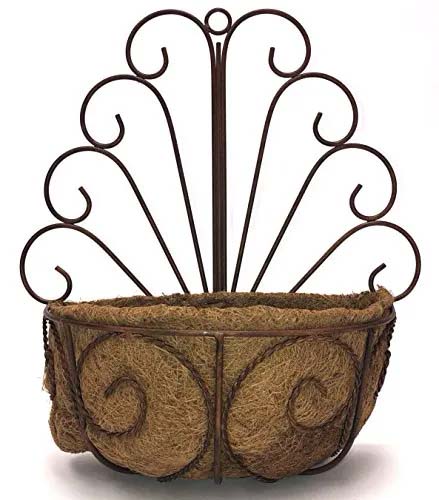 Fence baskets are a lovely way to decorate your outdoor space. Add a bit of vintage charm with this adorable peacock design.
The curving metal posts rise above your greenery, giving it an extra-special aesthetic.

18. Rail-Sitting Porch Planters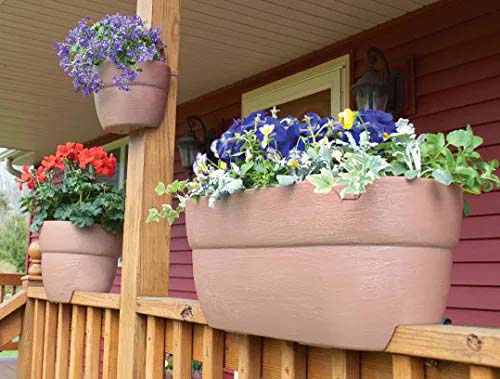 When you have a low fence, traditional hanging planters can place plants too far below eye level. These rail planters are a fun solution. They rest on top of the rail, elevating the flowers and making them easier to see.
We love the natural colors, which blend into a variety of exterior environments.

19. Wall Garden From Repurposed Shoe Holder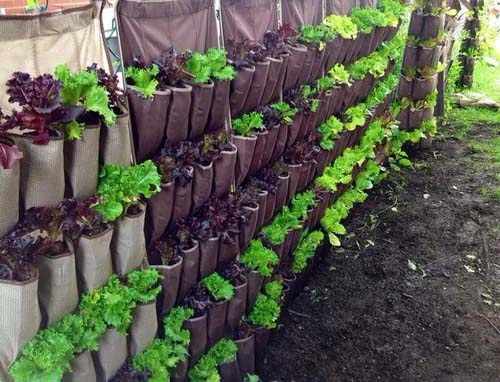 Don't want to spend money on expensive planters for a large fence? No problem — pick up a fabric shoe organizer instead.
They're designed to fit over doors, so they offer a great deal of coverage at a budget-friendly price. This is a wonderful way to create a living wall of greenery.
via Garden Web
20. Balcony Planter Secures To Rails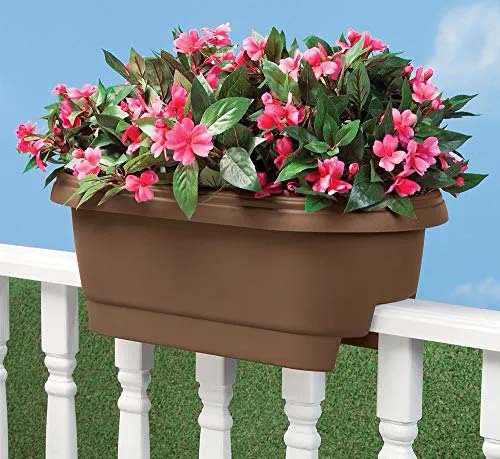 If you have a fence with a flat, rectangular handrail, this terra-cotta planter is a great choice. It features an indented base that fits neatly over the rail.
Mounting holes inside the base allow you to secure the planter with screws.

21. Slim Profile Fence Mounted Shelves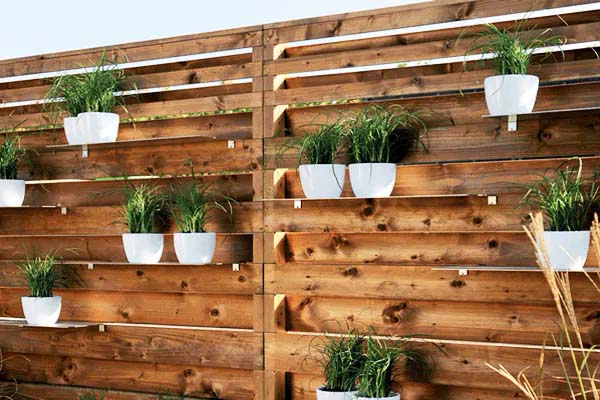 Create a clever floating illusion with slim plant shelves. Each one is incredibly thin, so it seems to disappear when you install it on a fence.
Top each shelf with a simple potted plant; the pots appear to hover as if by magic.
22. Galvanized Metal Hanging Succulent Garden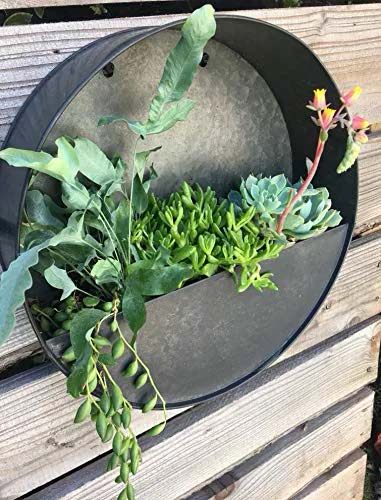 Turn your fence into a succulent garden with this adorable round fence planter.
It looks like a vintage basin; a simple half-wall holds in the soil, allowing full visibility of your gorgeous succulents.

23. Frame Small Plants With Upcycled Crates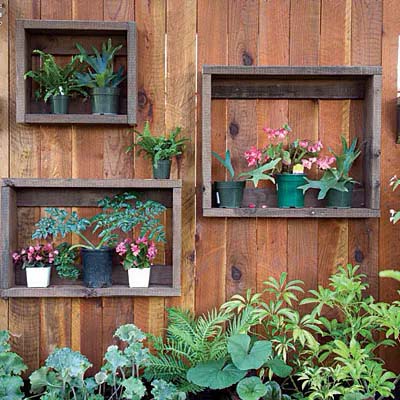 Save money and keep old crates out of the landfill with these DIY fence planters.
You can make them from crates or old pieces of wood — stain the pieces to match, or leave them unfinished for a rustic look.
via Sunset
24. Repurposed Photo Frame Planter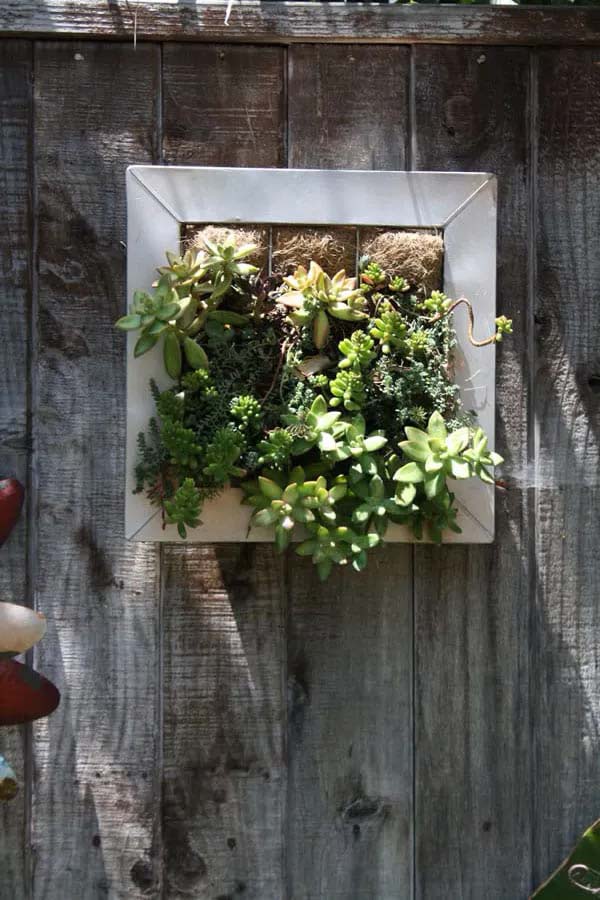 This adorable little planter upgrades any type of fence. It's made from a picture frame with tiny vertical planters where the photo should be.
As the succulents grow, they turn into a framed work of art.
25. Stacked Metal Planter Boxes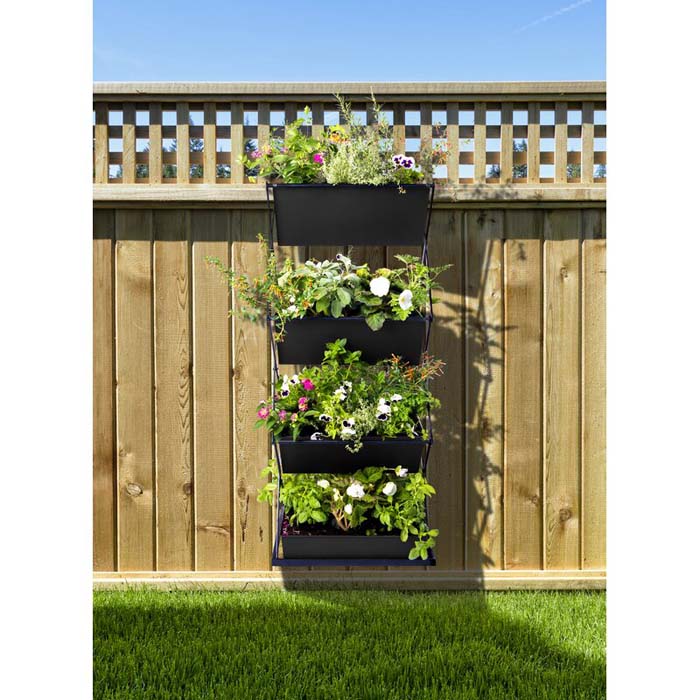 Show off a tall fence with the help of this vertical planter. It features four different planting boxes, each with plenty of room for flowers or herbs.
Add climbing plants, and you'll soon have a solid stripe of greenery.

26. Succulent Wall Planter Adds Big Impact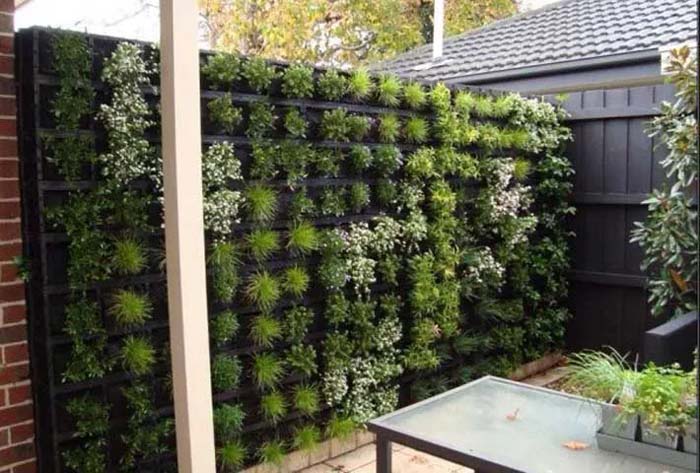 Succulents are some of the most spectacular plants for fences, especially if you're a beginning gardener.
They're low maintenance, and they can grow in a range of settings. Here, ivy and succulents are planted in vertical rows. As they grow and overflow out of the planters, the fence turns into a stunning living wall.
27. Iron Fence With Integrated Flower Baskets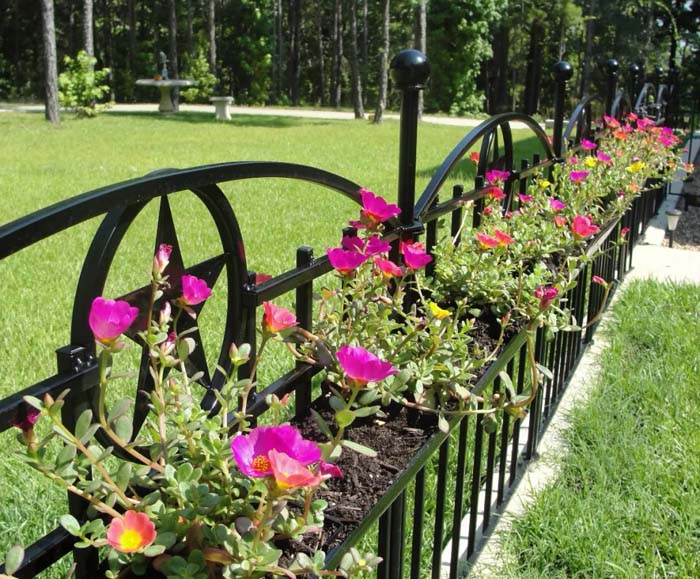 Sometimes, the best fence planters are the ones that look like a natural part of the fence itself. Case in point: this stunning wrought-iron fence, which features matching baskets.
The metal blends in, so the flowers look like they're growing in mid air.