PVC pipes are used in many ways nowadays. Though the major reason for their existence is for plumbing installations , the creative minds have made it a very useful item in the crafting world.
All the way from plumbing to crafting and home decor, the  PVC pipe has gone through a major facelift. These easily available pipes are versatile and very budget friendly and anyone can do anything out of it.

Using PVC pipes in decorations has become a trend and you can find many designs and ideas on the internet.
Decorating with PVC pipes is becoming popular because of its cost effectiveness and the fact that it lasts for a long time.
Having a PVC pipe, a powerful cutter and hot glue is all you need for most of the PVC related crafts.
We here at "Decorhomeideas" have collected the  best 20 ideas on how to use PVC pipes creatively. Read on to know more.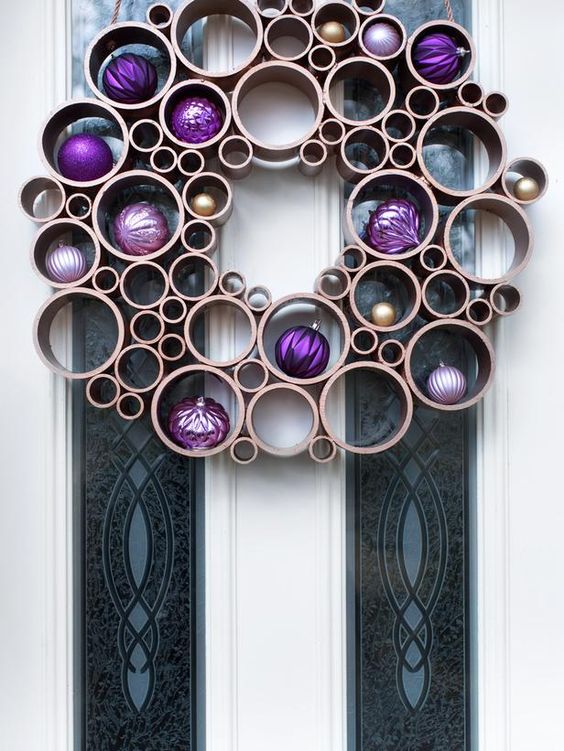 Photo: Credit
This is a beautiful way to use PVC pipes for decoration. With different multi-sized pipes, the look created is just awesome.
2. PVC Pipes Racks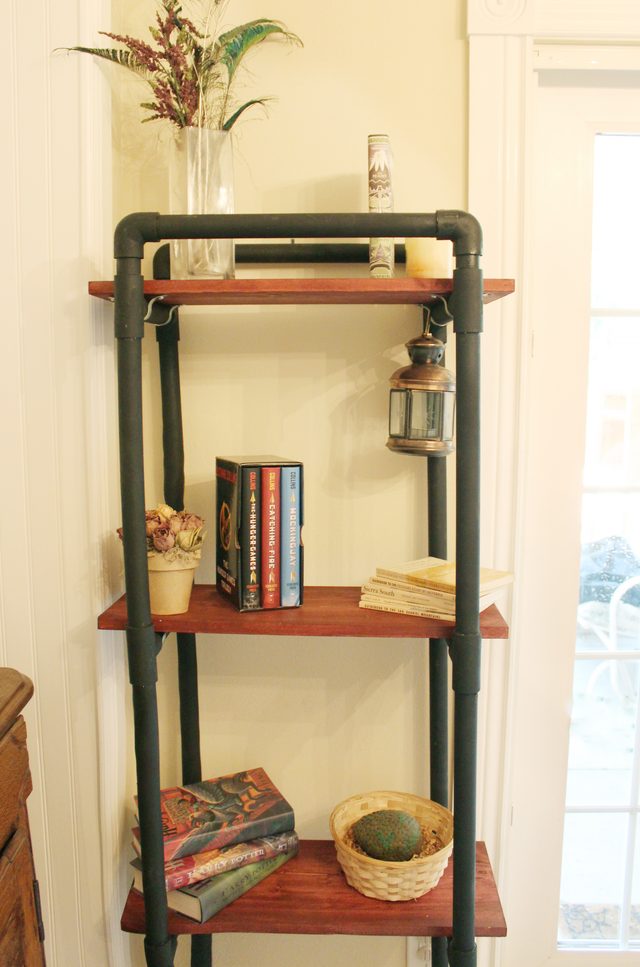 Photo: Credit
This is a very practical and  a very budget friendly rack as well, made from PVC pipes. The usage of wooden pieces for the shelves gives the stand a grip and helps to serve accordingly.
3. Bed Lamp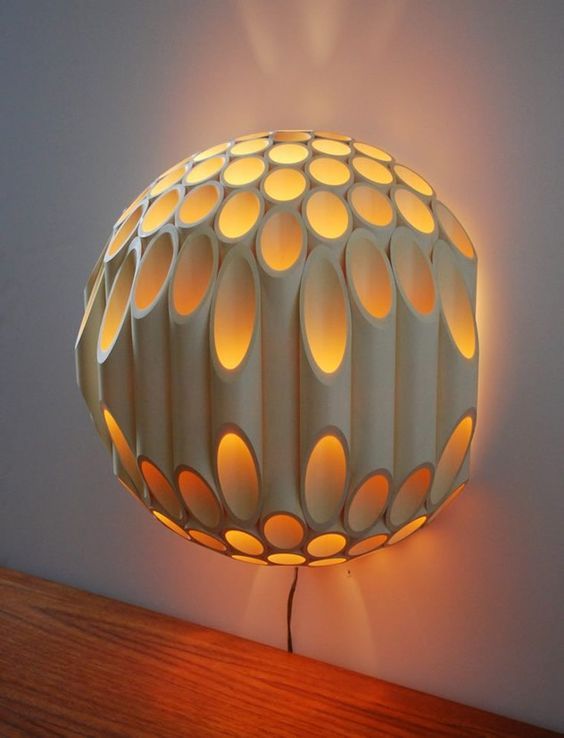 Photo: Credit
What an awesome way to use PVC pipes. This beautiful lamp gives a 3D effect with its angled edge cutting and is a must have for any modern home.
4. Bangle Holder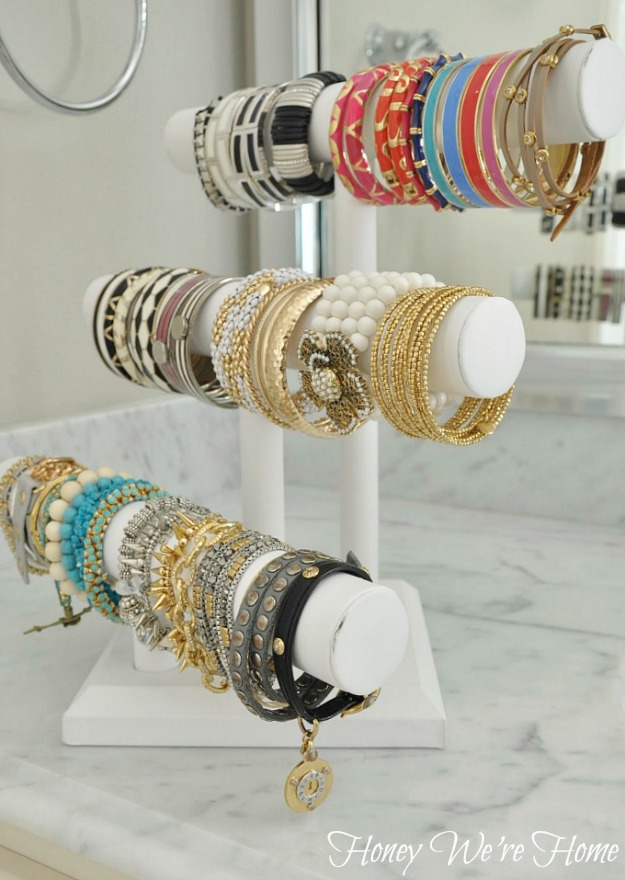 Photo: Credit
If you are a bangle lover then this beautiful stand made of  PVC pipes is a must. This clean and neat looking stand is a valued addition to any girls room.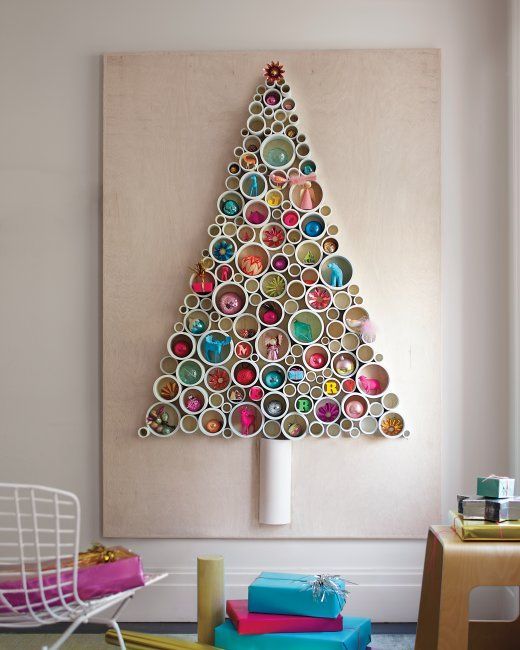 Photo: Credit
This is a beautiful way to decorate that empty wall.
The usage of varied size PVC pipes gives this vertical tree a perfect shape, and the detail of filling the pipes with ornaments makes this a colorful piece on the wall.
6. Pen Stands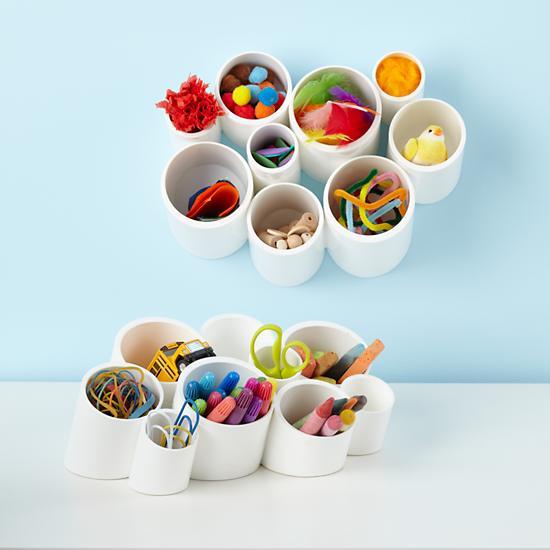 Photo: Credit
A neat way to hold all your stationary requirements in place. This is a very simple, yet practical DIY using PVC pipes and we love it.
7. Towel Dryer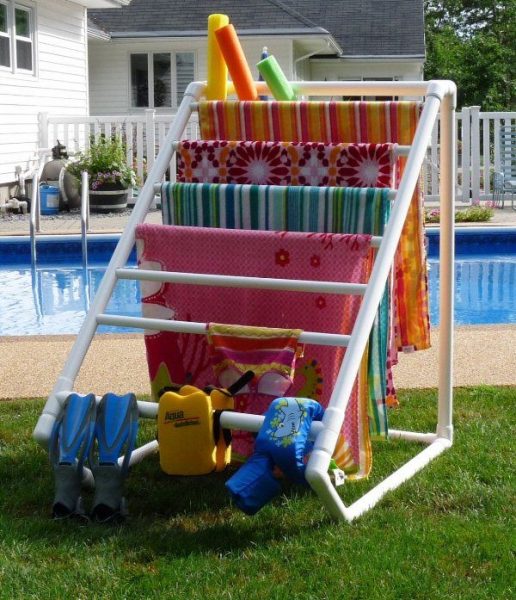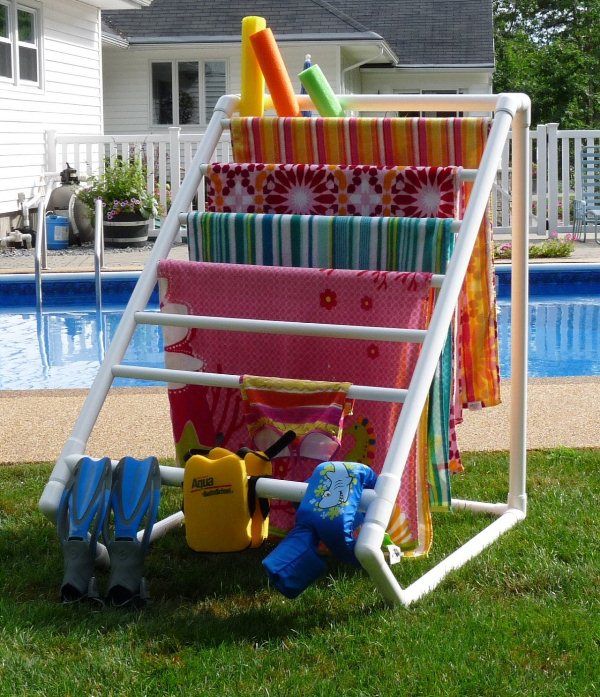 Photo: Credit
Another easy and budget friendly way to create something which is practical to use and lasts for days. This PVC pipes stand is a must for all.
8. Divider wall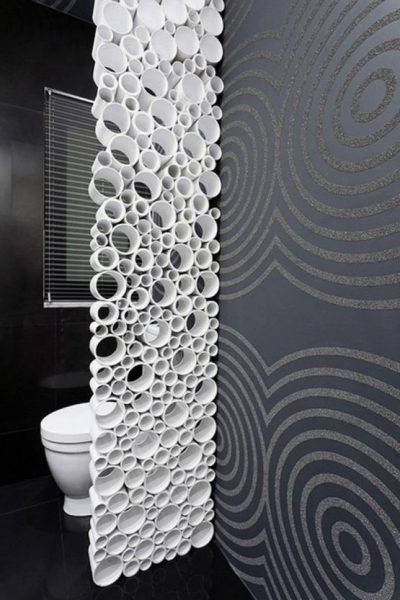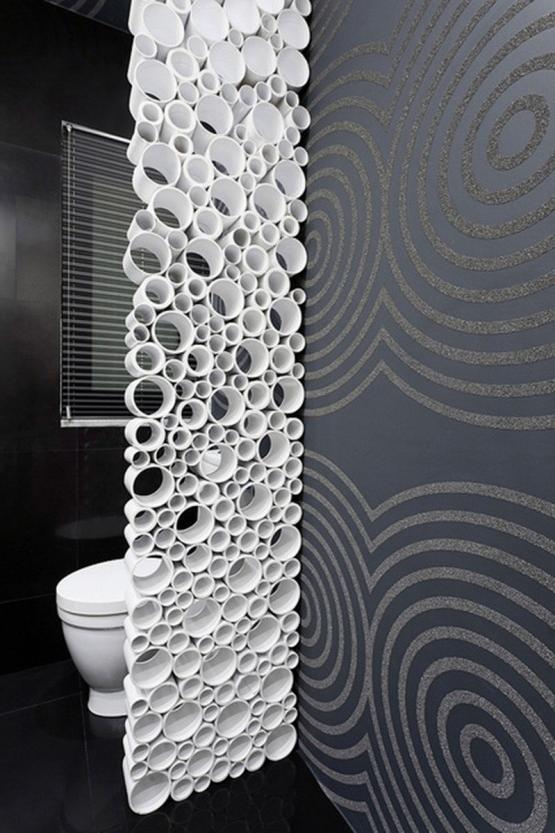 Photo: Credit
Who knew PVC pipes can be used as a divider wall? This Picture explains it all. A beautiful creation from a very creative mind.
9. Photo Frame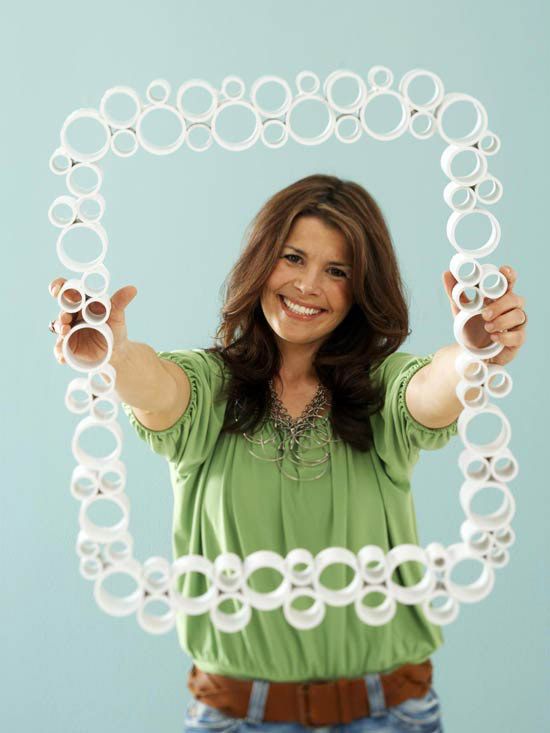 Photo: Credit
A wonderful way to jazz up your boring wall is with this simple and easy to make the photo frame. The different sized PVC pipes makes it very abstract and trendy.
10. Vases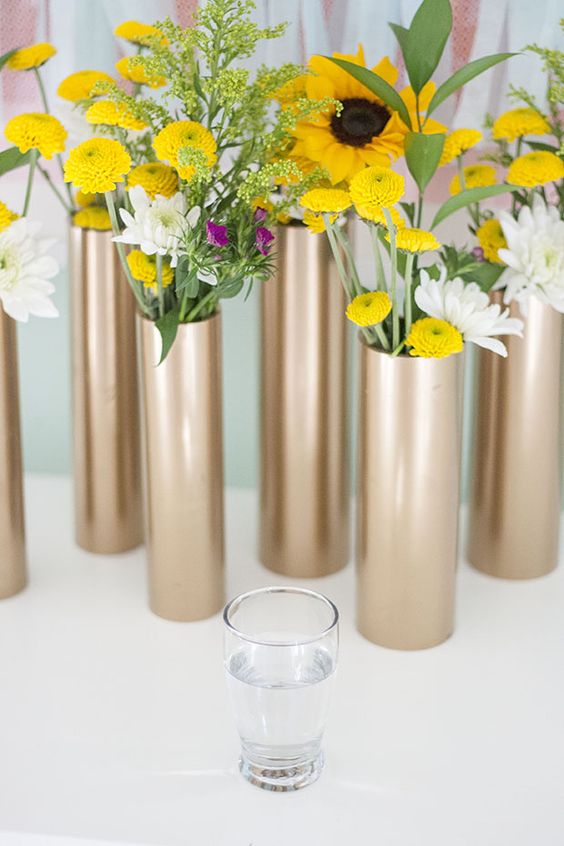 Photo: Credit
What a wonderful way to decorate the dining table. If it is your wedding and you are looking for a cheap and budget friendly way to decorate the wedding lunch then this is it, vases made of PVC pipes.
11. Play Balls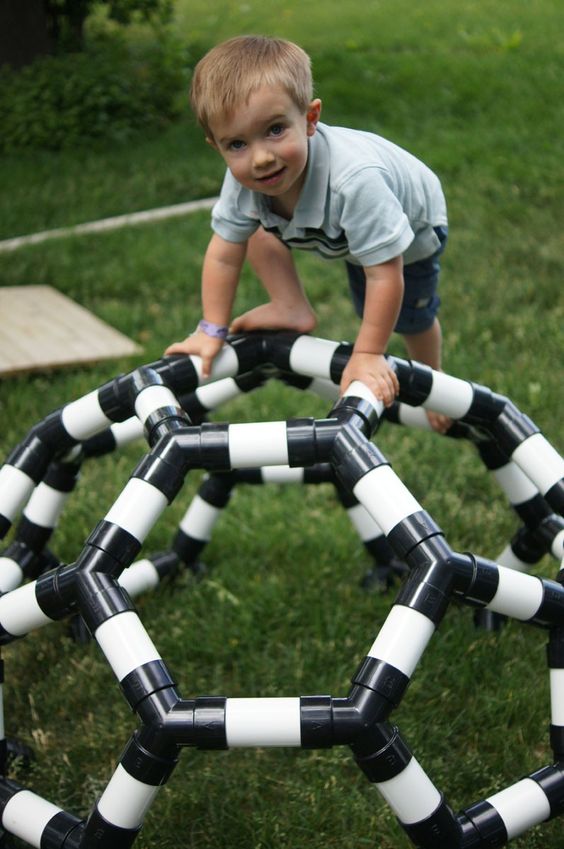 Photo: Credit
Hate investing too much on kids play requirements? DIY with regular PVC pipes. The best thing is, you can make them together with your kids and wake up their inner creative soul.
12. Kids Garden Chairs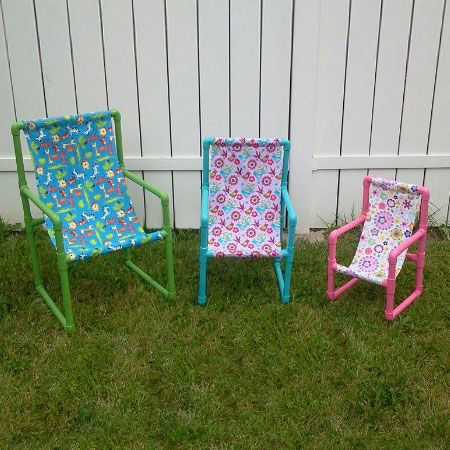 Photo: Credit
These super cute chairs made out of PVC pipes are a great way to save money and teach your kids to value recycling.
Paint the pipes any color you want, add a colorful fabric and there you have it, brand new garden chairs for your little ones.
13. Hanging Planters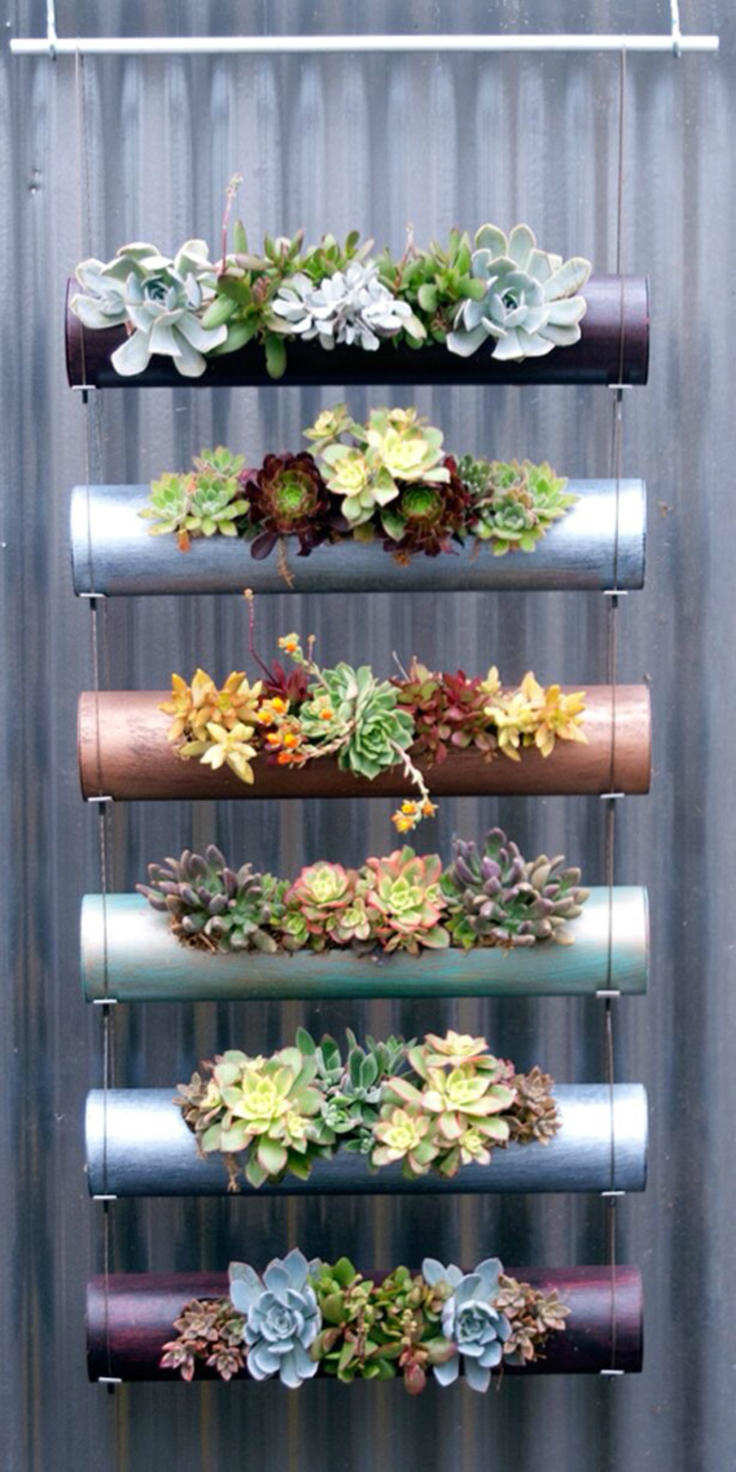 Photo: Credit 
If you enjoy gardening, then this beautiful hanging planter made of PVC pipes is a must to jazz up your lovely garden.
14. Shoe Rack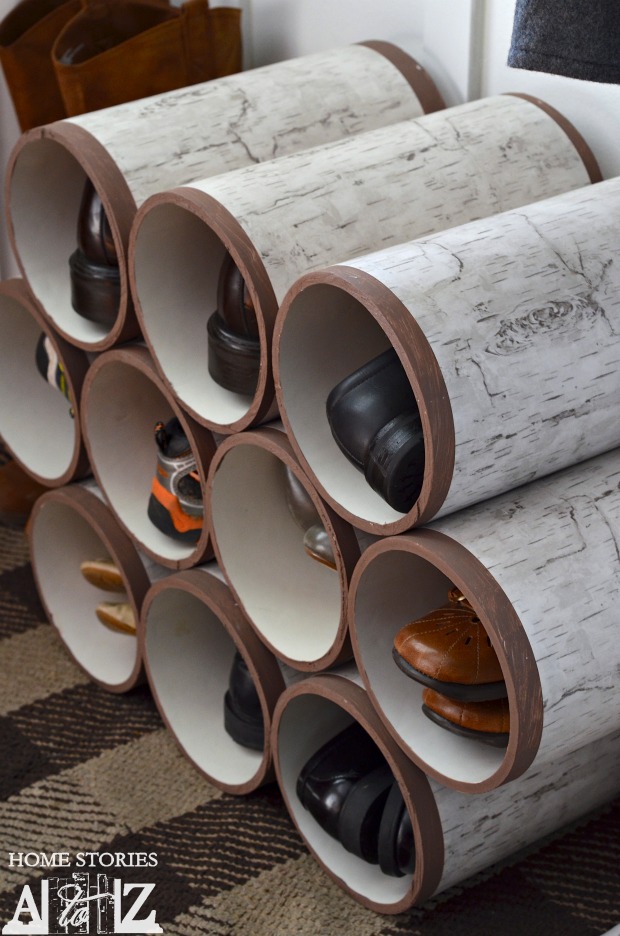 Photo: Credit 
Another simple yet stylish way to organize shoes in your home, is by making a shoe rack as shown in the picture using PVC pipes.
15. Laundry Bags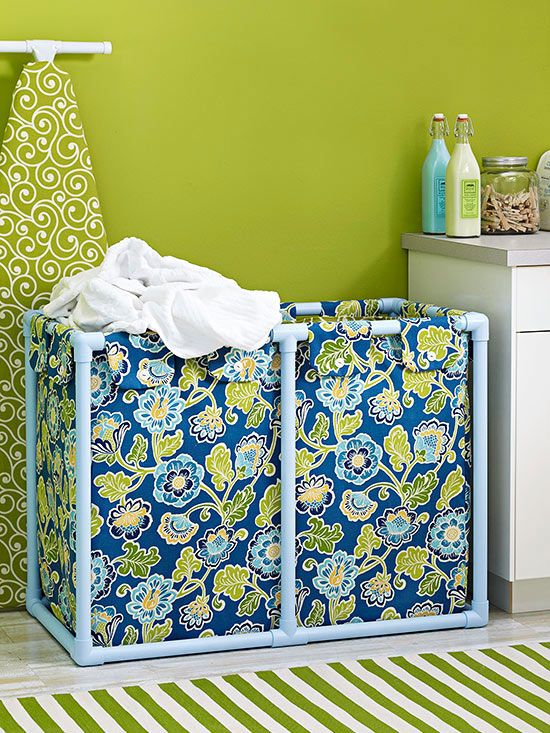 Photo: Credit 
Similar to the DIY Kids garden chairs, this laundry bag is the perfect DIY project. Why buy a bag which can be done at home for a much lesser price using PVC pipes.
The picture above is a perfect example of what you can do with a little time and creativity.
16. Planters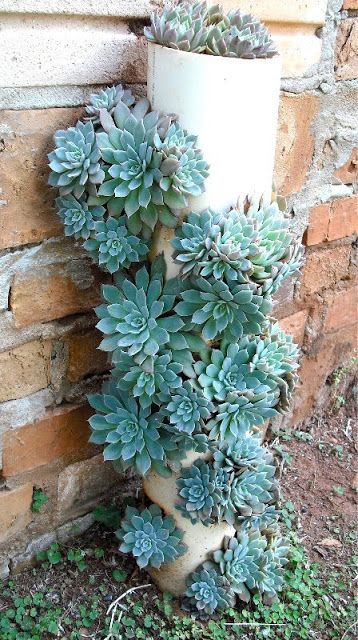 Photo: Credit 
Ceramic planters may break and will lead you to but them over and over. Instead of a ceramic planter,  you can use PVC pipe as shown above, to grow your succulents and other plants in your garden.
Works out cheap and lasts longer.
17. Cycle Holders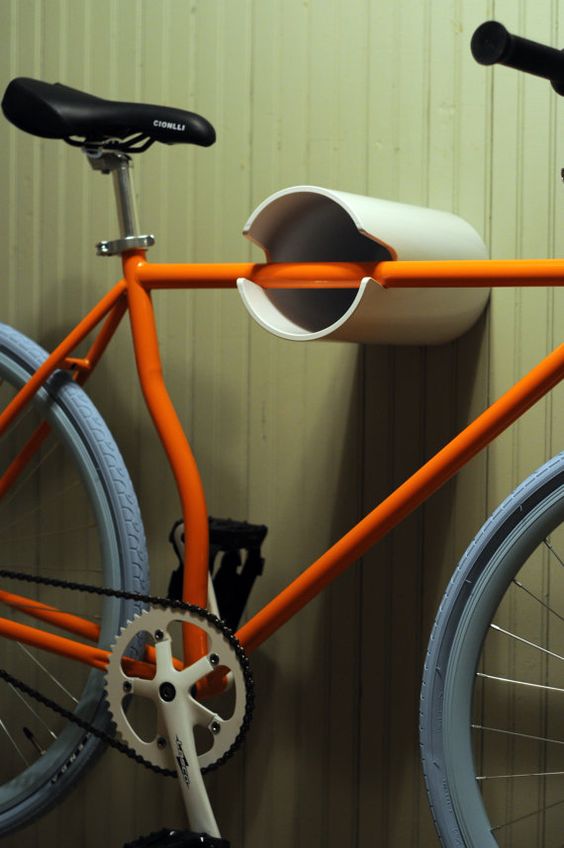 Photo: Credit
You can use a PVC pipe to park your bicycle in an efficient way. This simple and easy DIY is a must for every garage.
18. Stationary Holder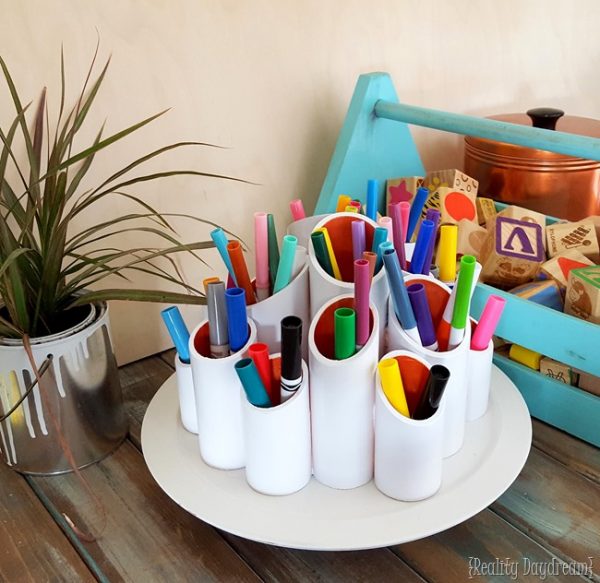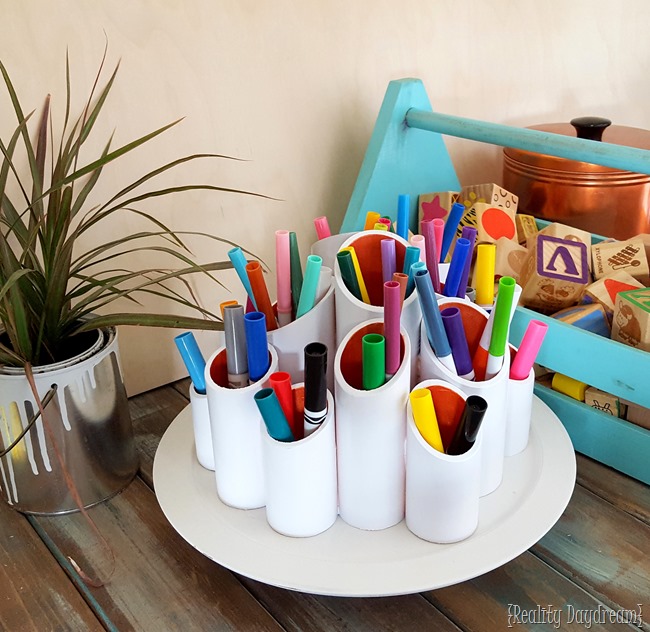 Photo: Credit
This photo depicts a beautiful way to organize your stationery using PVC pipes. These makes the organization easier and easily accessible.
19. Wine Rack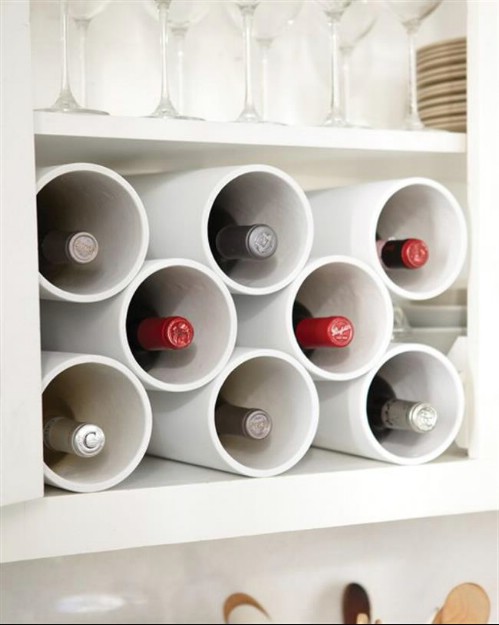 Photo: Credit
Simple yet elegant, is all we can say to this wine rack done using PVC pipes. The rack lasts long, looks pretty and neat, making it a perfect way to store your wine collection.
20. Asymmetrical Vases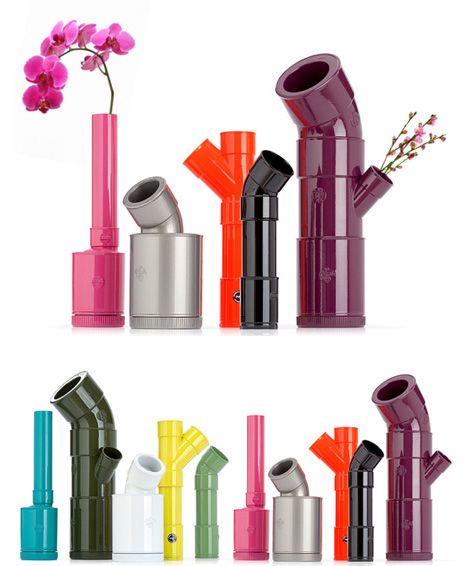 Photo: Credit
These asymmetrical vases made out of colorful PVC pipes are to capture one's eyes for sure. This gives an abstract feel to the place.