Crafting is a hobby recommended for people working with computers and exercising too much mental activity.
The moves performed with the hands let the focus be on the mechanical movements which relax the mind.
At the same time, there are people practicing crafts as a regular job. In both cases, the need for a dedicated place to do the crafting is needed.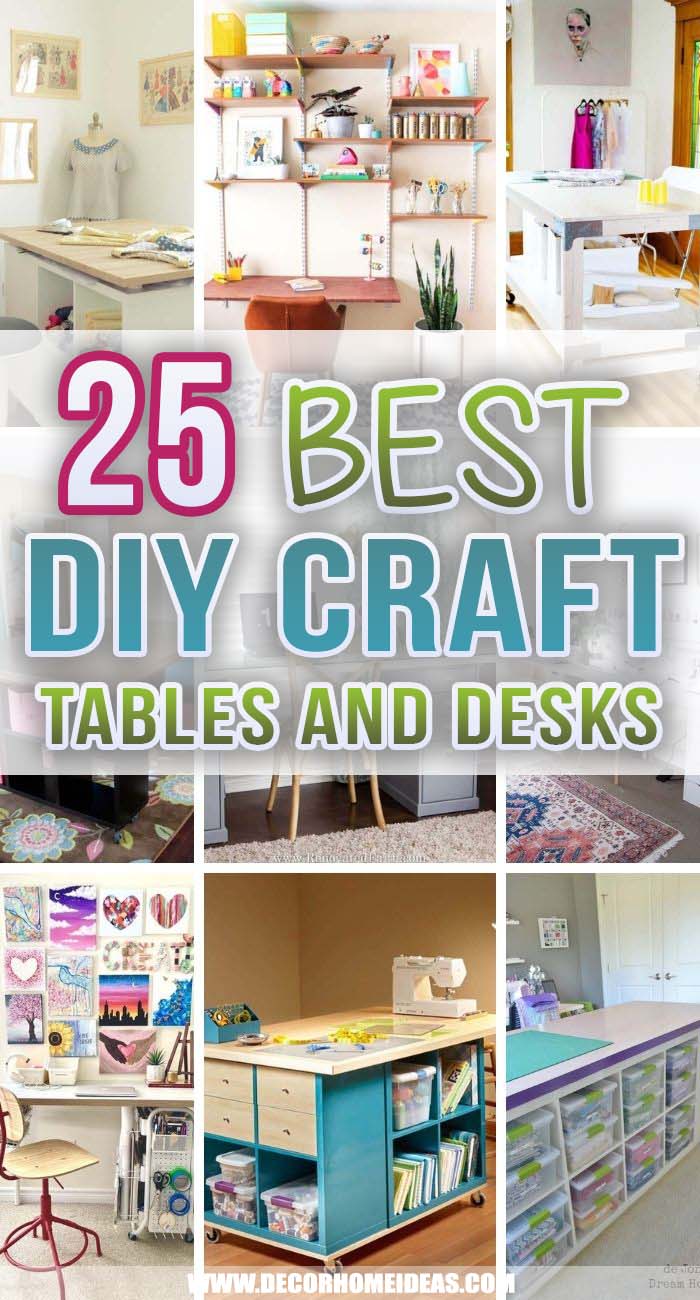 Crafters have different needs when it comes to supplies but they all need a crafting center to get creative and realize their ideas.
We have collected 25 of the greatest craft tables and desks which will let you practice your hobby or work comfortably.
1. Posture Friendly DIY Tall Crafting Desk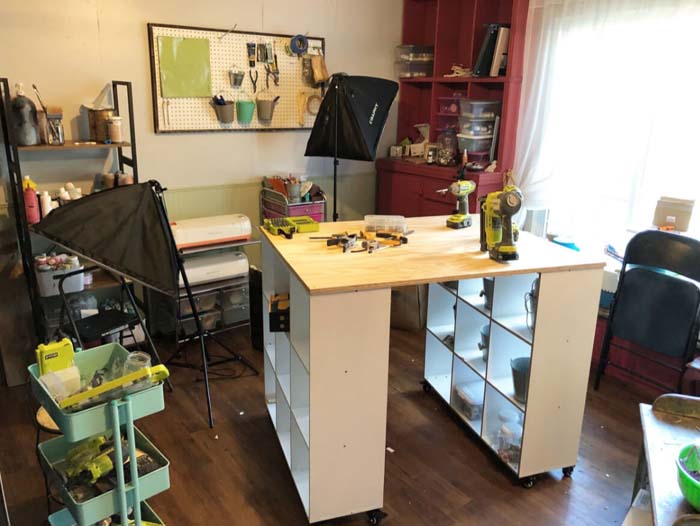 If there are a lot of tools and supplies needed for your craft activities, then you may need a smaller crafting table to make sure that airiness remains.
This crafting table design is of a small footprint but of an increased height to offer outstanding functionality. The supports of the wooden tabletop have a dual function as shelving units with added light.
The wheels at the bottom let you easily move the workstation around the room to always have quick access to your supplies.
via Megan Plus Five
2. Hack Ikea Table Into Crafting Desk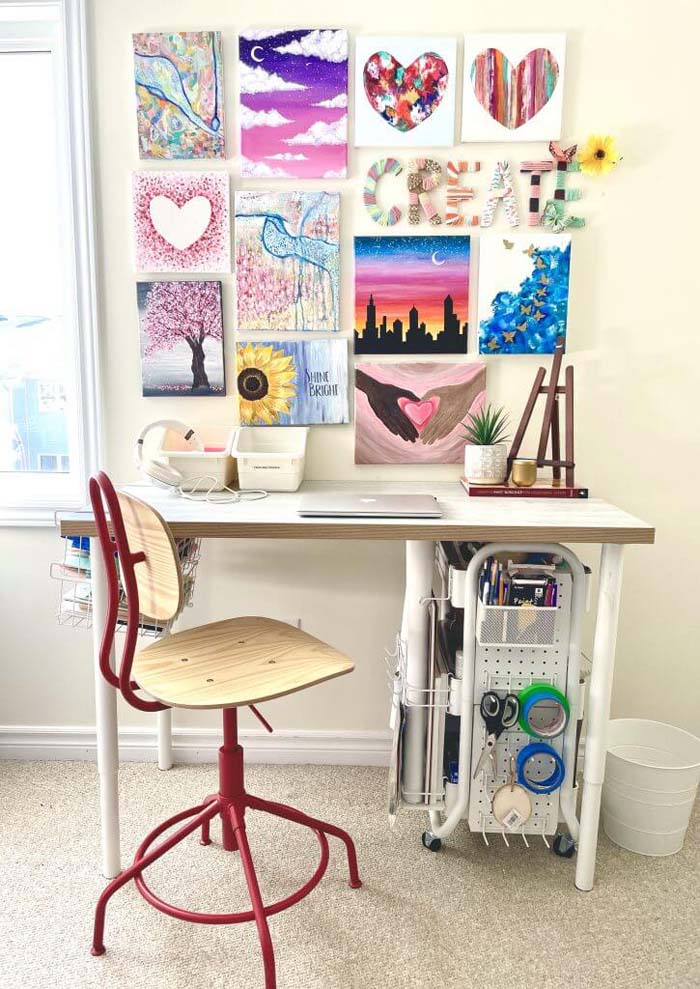 If you are looking for a budget-friendly idea for creating a workspace in your home, try this inspiring idea.
The table is from Ikea and as always it combines functionality and a space-saving design in one. Add baskets to the bottom of the top to store craft items.
via Feeling Nifty
3. Pint-Sized Craft Station Keeps Little Ones Busy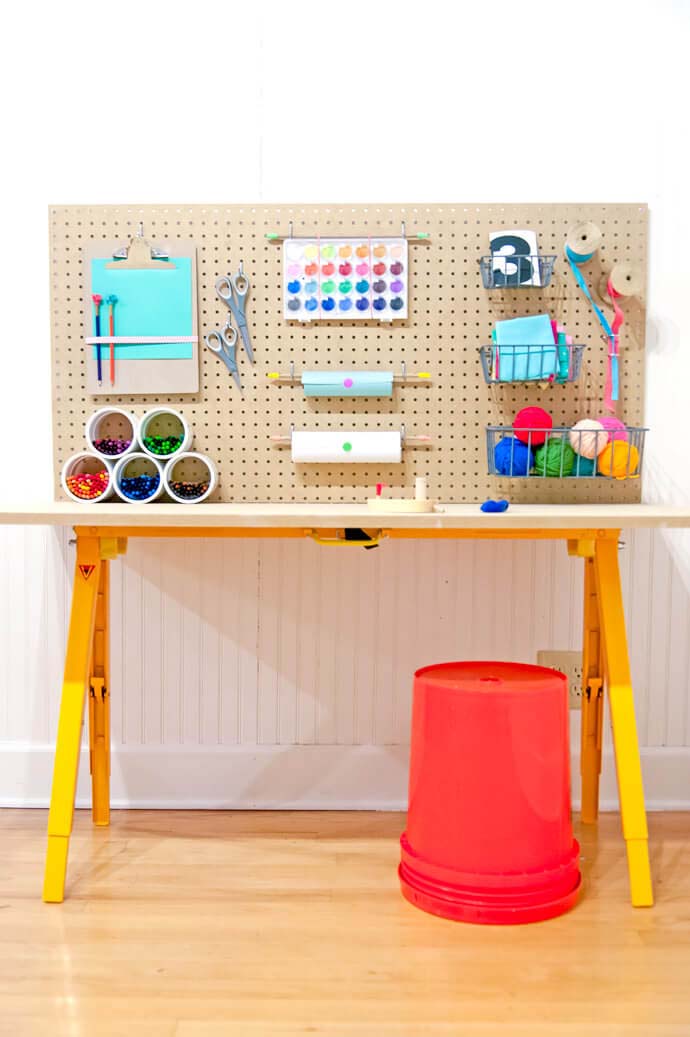 Pegboards are probably the best storage solution for smaller tools and accessories. They can be successfully included and used by toddlers and parents.
This cheerful craft space has been built for a kid to let him practice his hobby in a dedicated place and learn how to take care of his tools by arranging and storing them neatly.
4. Magazine Holders Organize Craft Papers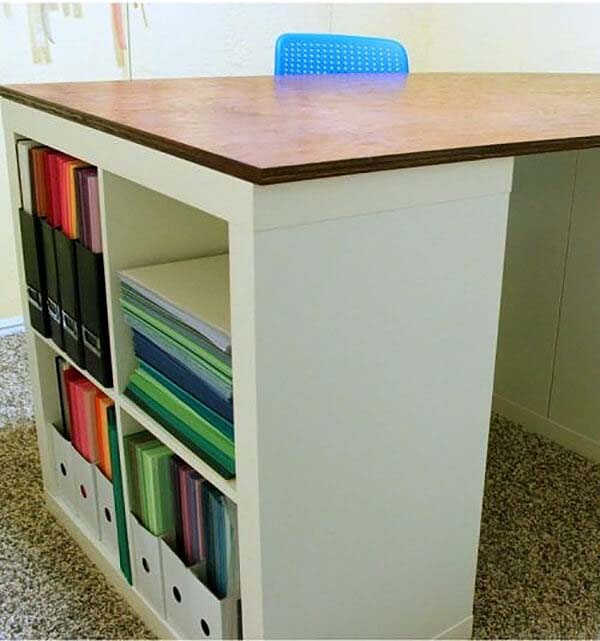 Use office containers to make your crafting table more organized. This hack is good for hobbies and professions that require paperwork.
Instead of bins, get folder organizers and place them on the base sections. This idea is also applicable for crafts with paper such as scrap booking, paper flower works, quilling, etc.
5. Portable DIY Counter Height Cutting Table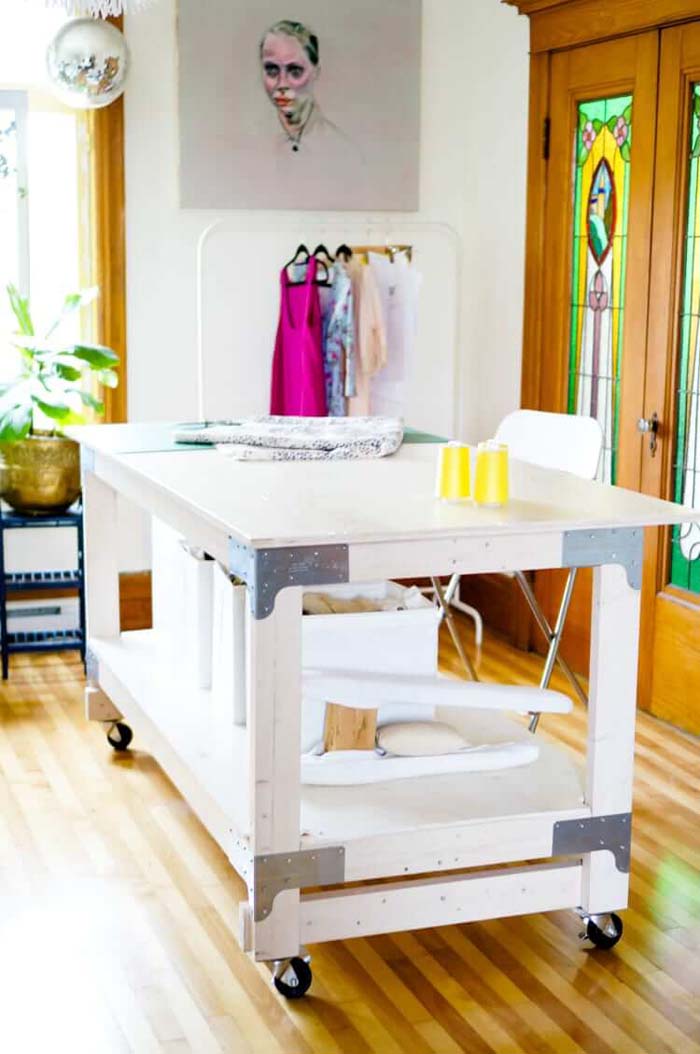 Enjoy your sewing projects in the brightness of the sunlight. With this movable sewing table, you can move around the room to adjust it at the right angle you may need.
25 Best DIY Craft Tables and Desks To Make Your Own Creative Oasis video:
The tabletop is at the perfect height that will ease and minimize the back bending which is a disadvantage of this profession. There is a shelf the size of the tabletop at the bottom where you can store heavy tools thanks to its thickness and bearing capacity.
6. Crafting Desk Created From Basic Storage Cubes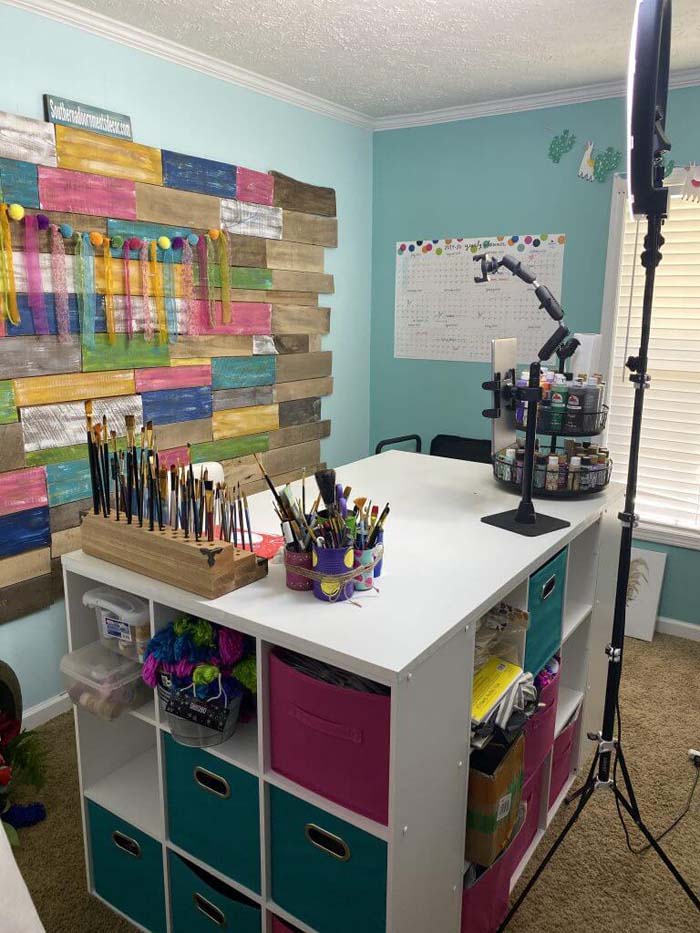 Cubbies are another preferred storage solution because of the size of the compartments set. The functionality of this design is used in this craft island idea. There are cubbies for storage on each side of the rectangle desk.
Added baskets offer neater storage and add cheerful colors to the creative workspace. The top is wide enough to make your craft ideas and you can add more organizers to the corners if there are tools and items you use more frequently.
7. Extra Large Cutting Table Hides Bulky Batting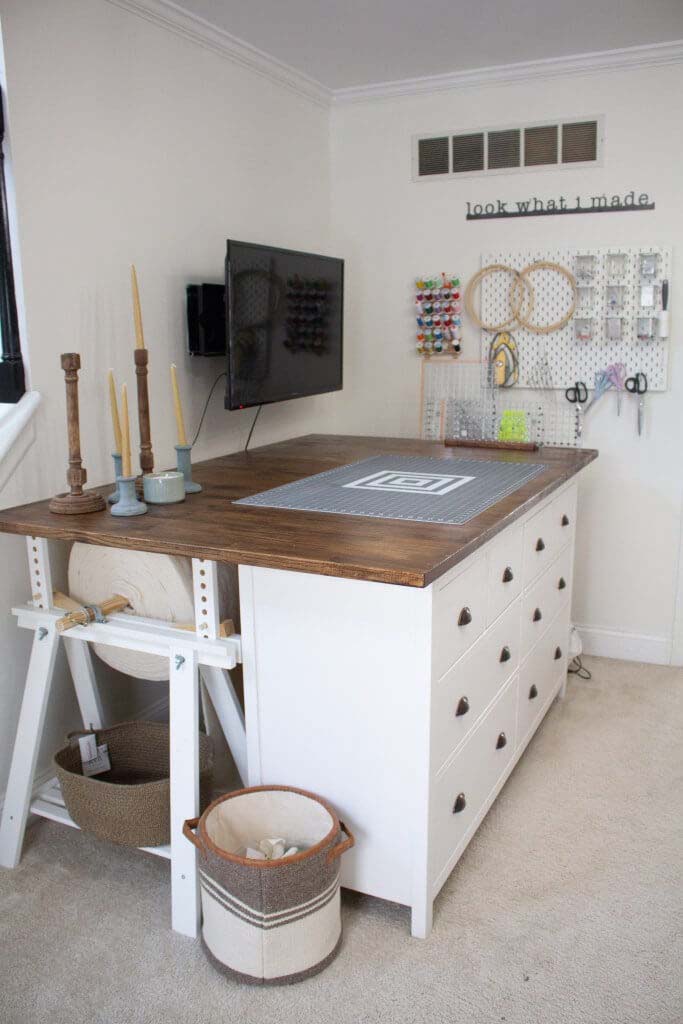 This table idea unites a standard dresser, ladder-like support and a solid wooden top to create a corner workspace illuminated by the sunlight from the window opposite it.
The creative idea takes advantage of the number of drawers provided where any kind of stuff can be hiddenly stored. The tabletop is wide and rigid. The most impressive part of this workplace is the hidden hideout for bulk batting.
via Quilting For 4
8. DIY Craft Table From Small Bookcases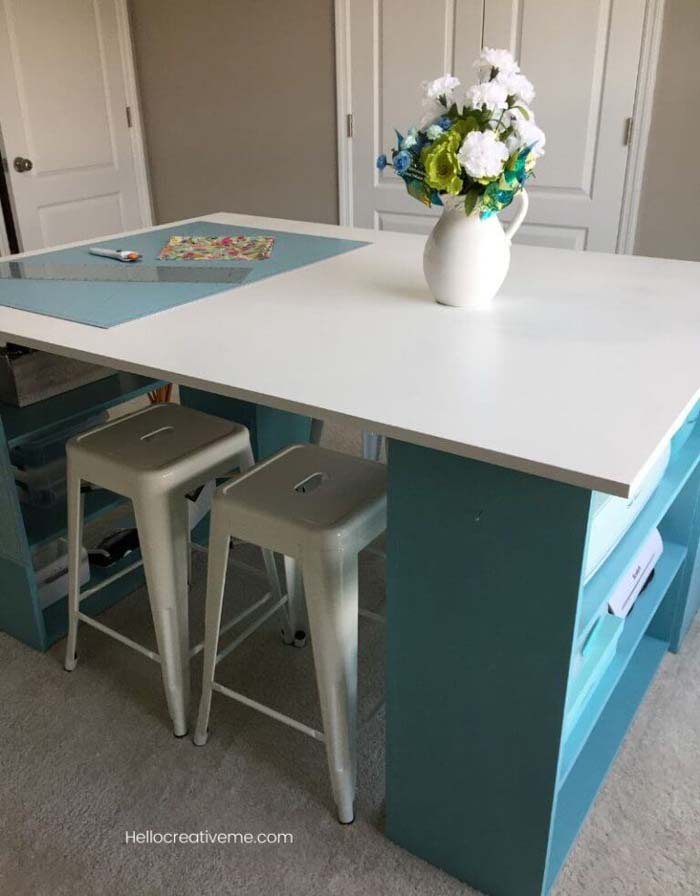 This crafting center is customized to your needs- enough storage places ensured in the leg supports wide and polished tabletop for delicate materials and plenty of room to spread all tools and yet comfortably work.
The colors and the materials of this table have been made with an aim to match the existing decor and enhance the visual elegance of the space. Two handy tools stay tucked below the tabletop to use when your body feels tired or you need a break for a coffee.
9. Adding Doors to Craft Table Hides Clutter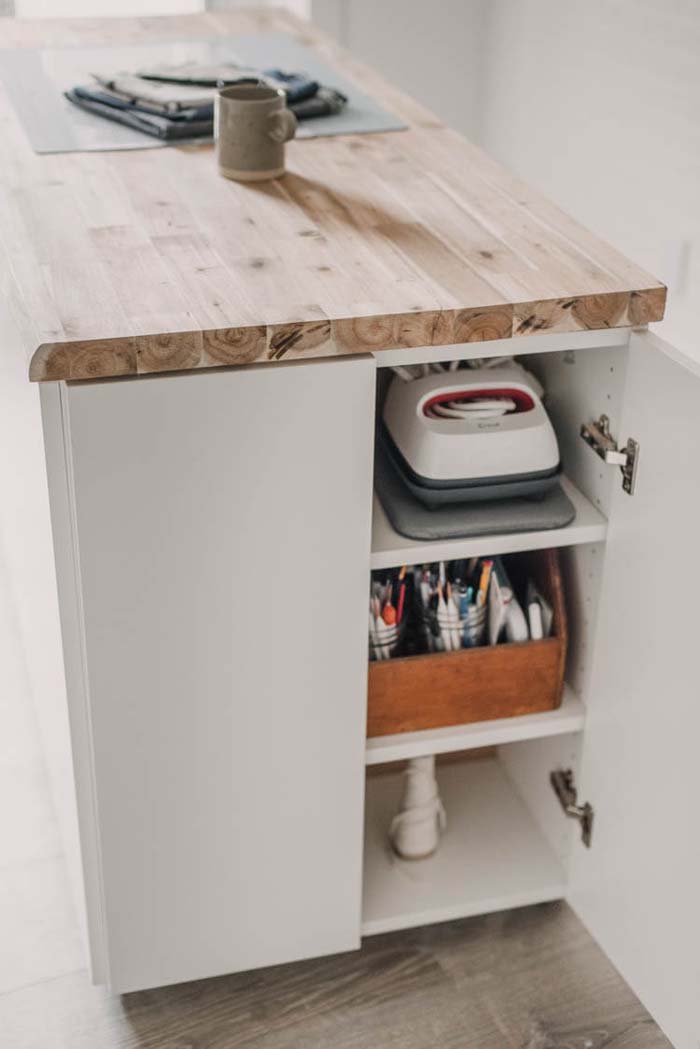 If you feel that an open-concept crafting center would rather create a cluttered general look in the room, you can go for a center with hidden storage.
Usually, storage happens in the supports of the structure in the shape of drawers or cabinets with doors. This design is also great for blending it easily with the rest of the decor.
via Lemon Thistle
10. Open Cube Cubbies Allow Flexibility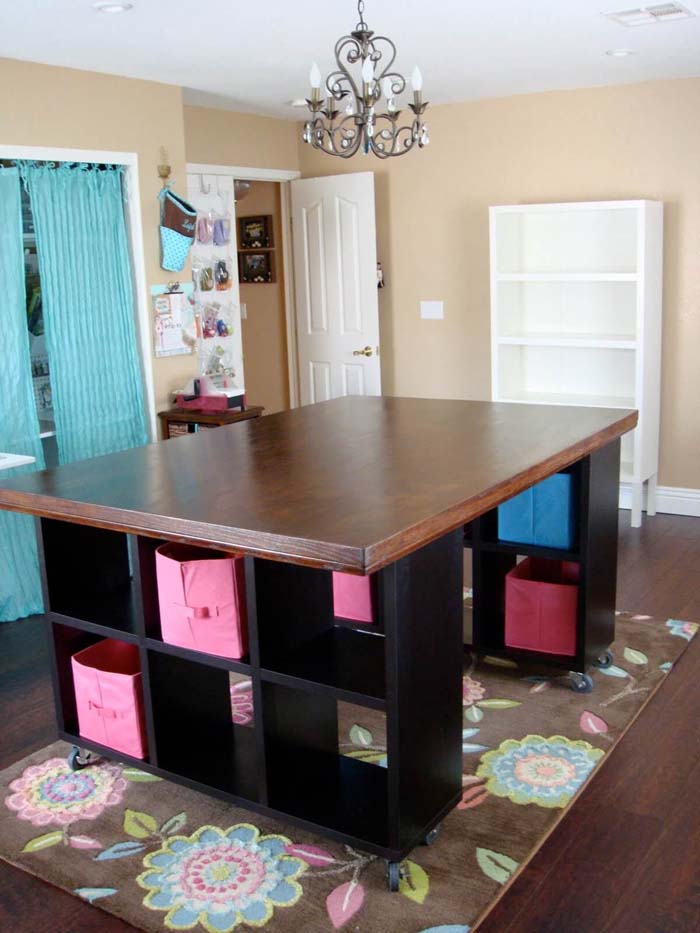 This work table design can be called universal for all types of professions and hobbies. It is wide enough, rigid, movable and with plenty of storage sections.
The solid wooden top is great for sewing, painting or other types of hand-crafting. On each side of it, there are legs in the shape of cubby storage. Sorting and organization are decided in fabric bins in bright colors matching the carpet under the table.
via Artful Leigh
11. Repurposed Factory Table Gets New Life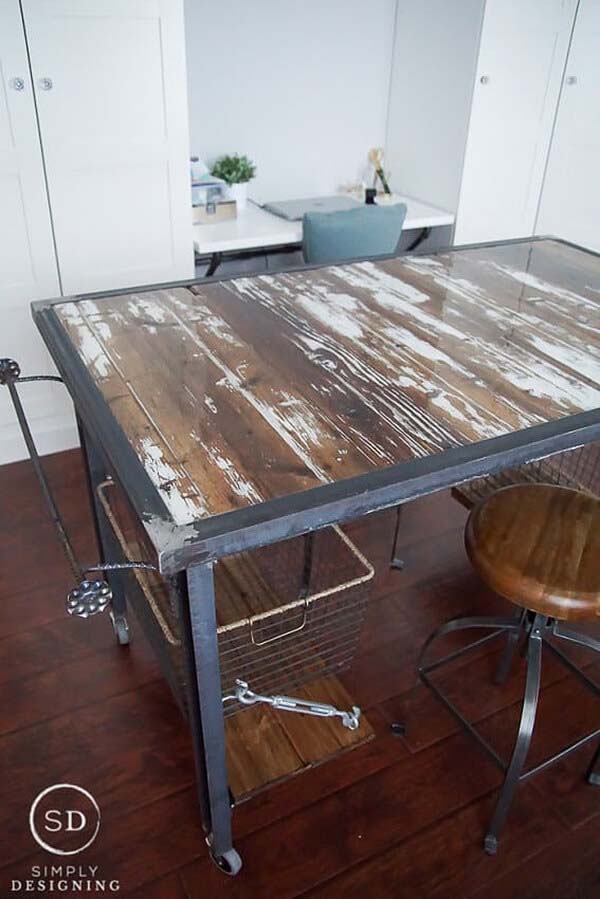 When you create your craft center, you need to make sure that its design inspires you. When you are a fan of the industrial charm in furniture design you can make your own crafting table that reflects your taste.
The featured table offers functionality, rigid structure, mobility and enough storage place. The dark colors accentuated with white hues seen in the texture of the wooden tabletop, create an interesting decor accent in the minimalist room.
via Simply Designing
12. Long Table Separates Design and Sewing Stations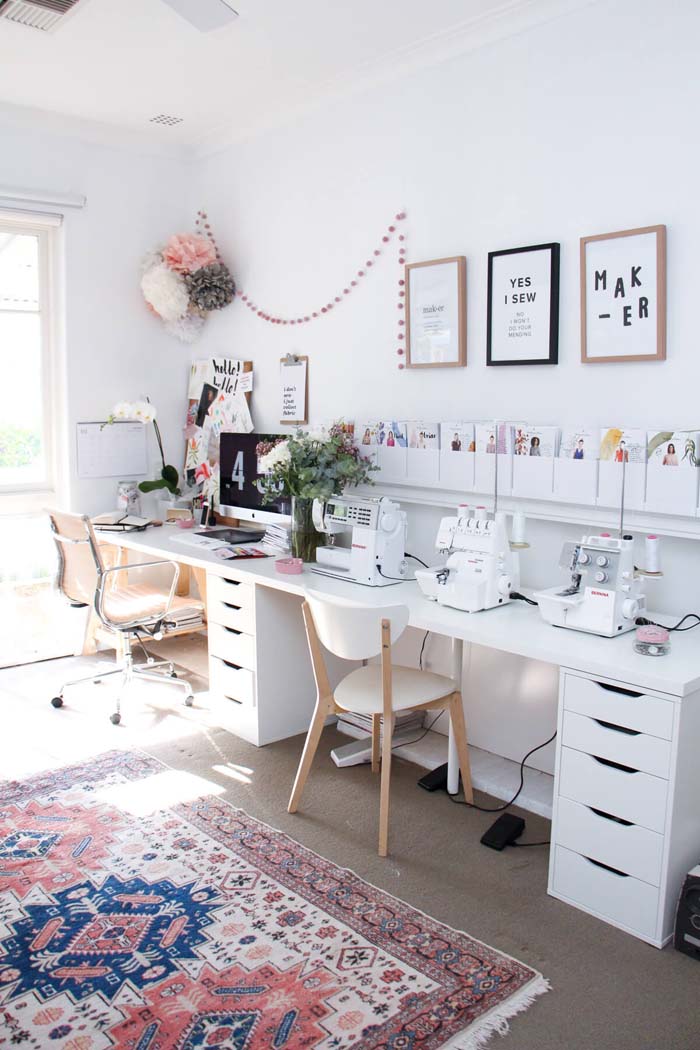 You can add to your home a sewing table following the inspiring design of this clever desk idea. Whether to practice it professionally or to make fun DIY projects, the workspace is enough to do it comfortably.
The white desk covers a big part of a blank wall to ensure two workspaces. Above each of them, there is a continuous shelf unit where magazines are neatly stored.
The drawers on the right side of the desks offer a sufficient amount for storage of all possible tools and work-related accessories.
via Megan Nielsen
13. Small Corner Becomes Built-in Craft Station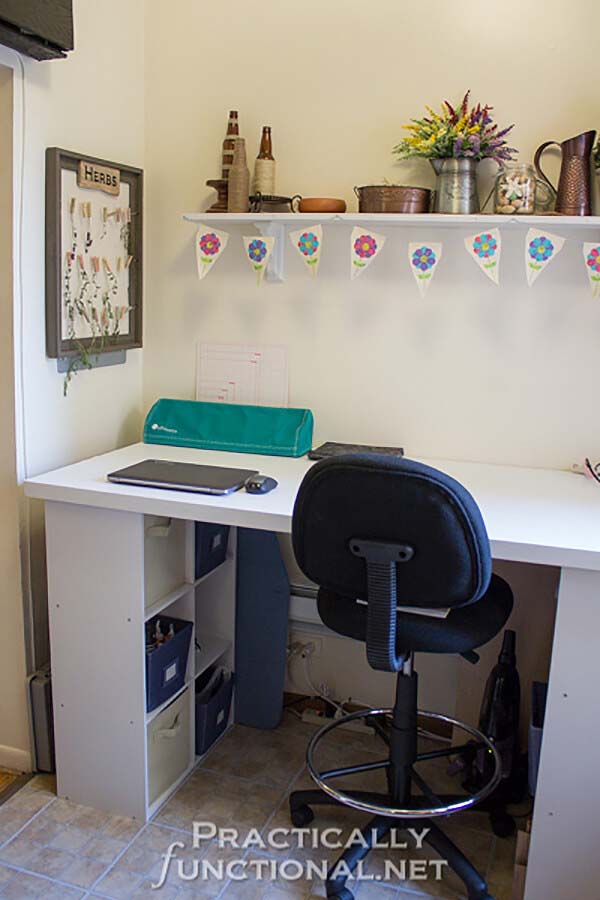 If you are limited in space and yet want to create a dedicated area for your crafting ideas, there is a practical table design for you, too. It fits in a small corner thanks to its slim design and small footprint.
The desk is perfect for card making, decoupage, and even drawing because of the sufficient size tabletop. The legs of the desk act as shelving units with cubbies where fabric bins fit. Pull the bin out and take the supplies you need.
Once you put it back everything looks perfectly organized and decluttered.
14. Craft Table Hides Ikea Alex Cabinet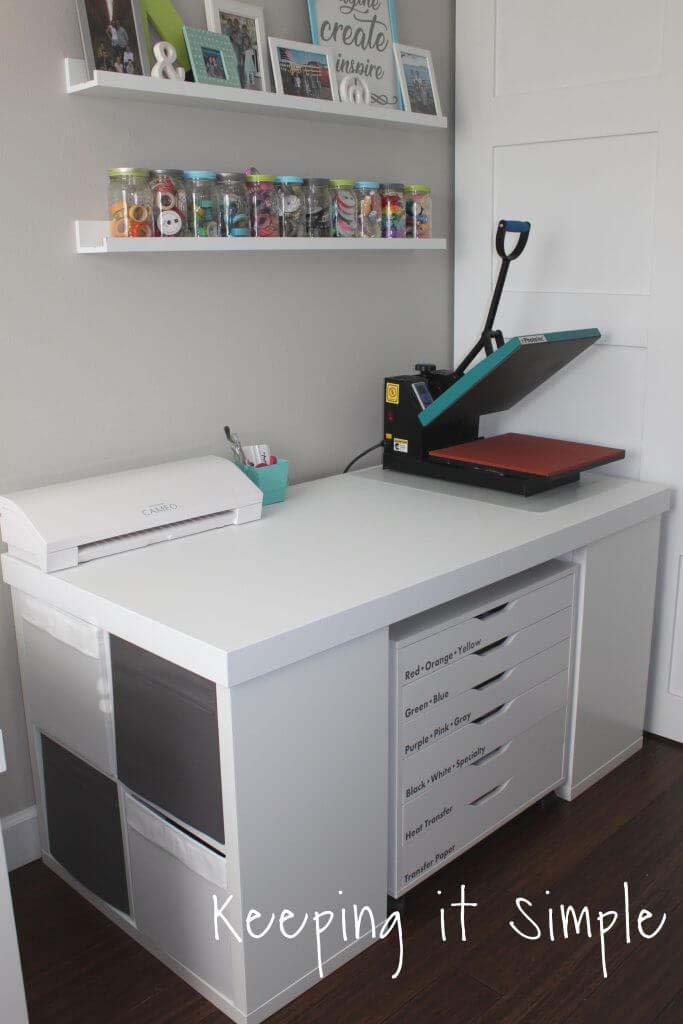 Another Ikea inspiring series let us create our own customized crafting desk. The polished tabletop is perfect for more delicate craft activities.
The lower part of the structure is entirely closed with two types of storage containers. At the sides, there are cubby-shaped bins for the hidden organization of bulkier and heavier items. The center is covered by drawers with labels to find easily the pieces you need.
15. Ikea Alex Cabinets Become Large Craft Station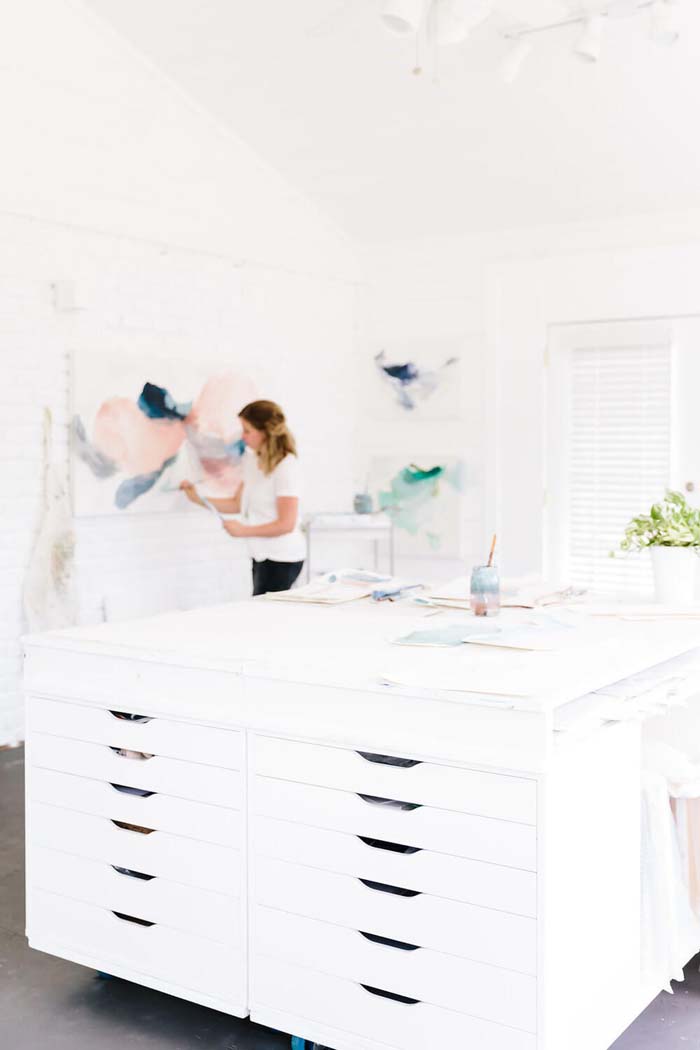 If you have a number of craft supplies you want to organize neatly and sort properly, you do not need to dedicate an entire room for your work or hobby. Instead, you can install a larger table equipped with a big number of drawers.
This comfortable item comes from Ikea and is perfect for homework spaces, cabinets, and offices. It is set on casters to make moving to different places possible.
via Deeann Rieves
16. Seamstress Table From IKEA Kallax Cubes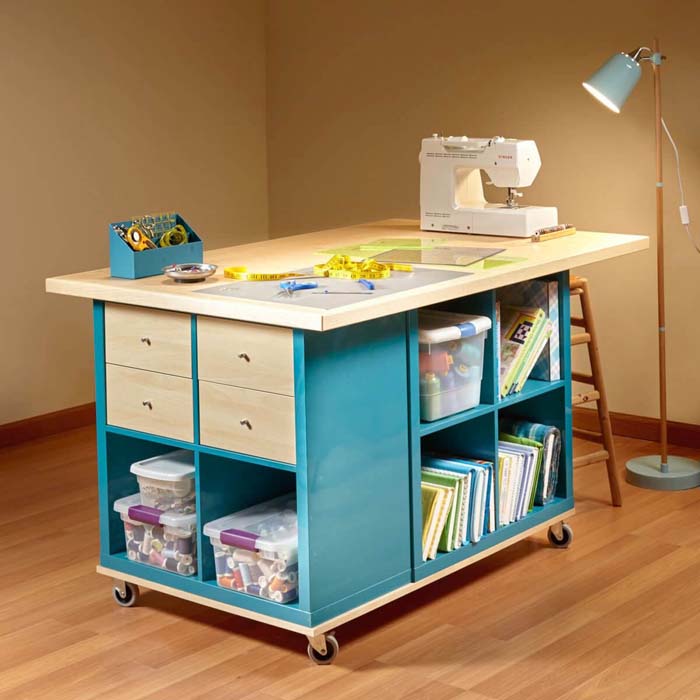 The Kalax series of Ikea is also a great source for building your customized crafting center. The modules are prepared for easy assembly and are quite affordable compared with other products.
If you are still looking to make the work center more appealing in look, you can use paints, change the pulls, add interesting storage containers that will instantly transform the store-made look.
via Family Handyman
17. DIY Crafting Desk From Ikea Rast Dresser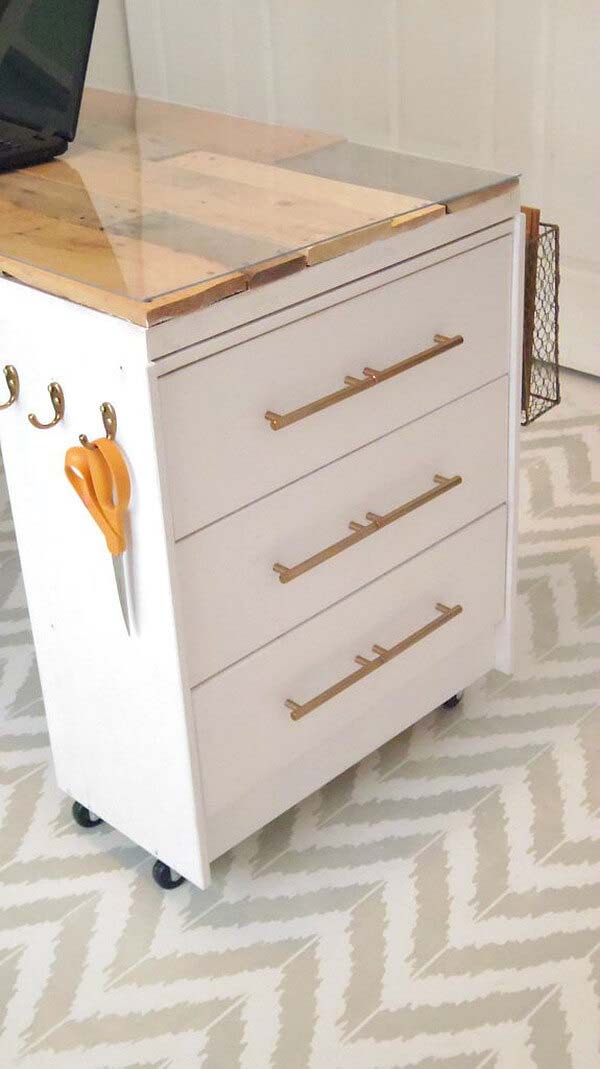 Another clever DIY IKEA craft table hack totally transforms the original product! Once you follow the steps in the link below, you will end up with an appealing, functional and budget-friendly desk where there is plenty of room to practice any type of craft.
Added casters make moving of the stylish crafting center possible.
18. Combine Cubbies to Store Long Fabric Rolls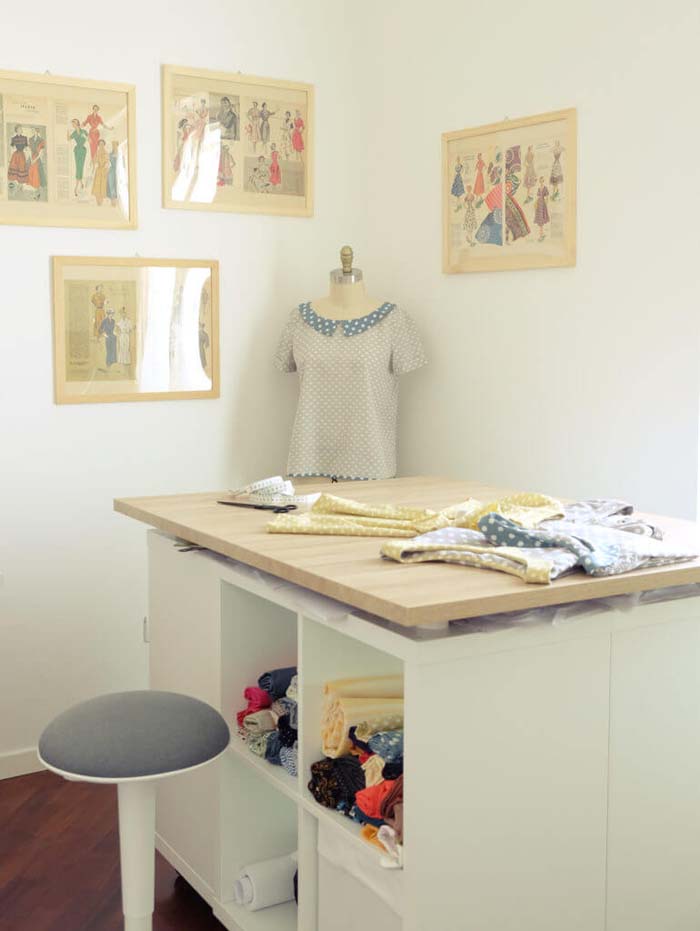 This is another interesting table design for designers or sewers. Instead of one low shelf for storage at the bottom of the table, here we discover open-concept cubbies where you can place the fabric pieces and easily access them as needed.
A good amount of light is very important for this profession or hobby and the design of this table idea has considered it. The casters installed at the bottom will let you move the table around the room to enjoy the natural light coming from the windows.
via The Yellow Peg
19. Super-Sized Craft Station Has Room for Two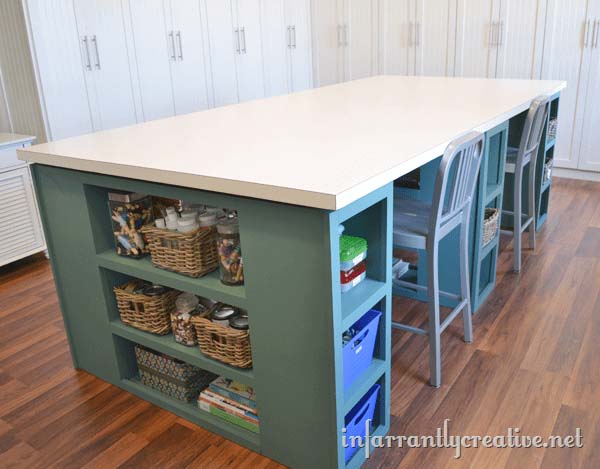 This crafting table idea can be inspiring for other home improvements, for studying desks for your kids. Its oversized structure aims to ensure comfort and storage room for all possible items related to its application.
It mimics the design of a kitchen island but instead of cabinets for storage, we discover open-concept legs where there are shelves for storage.
The center of the table is supported by another leg with cubbies which also divides equally the tabletop. Thus, there are two workspaces complemented with comfortable chairs which can be tucked under the top once the project or homework is done.
20. Seamstress Table Has Room for Big Projects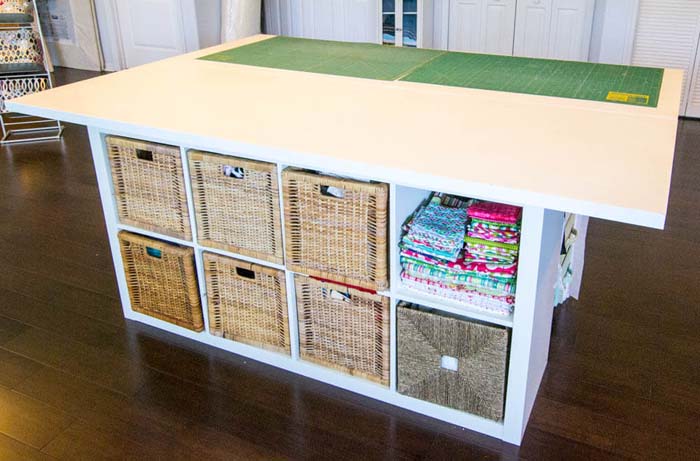 This craft table has been designed to make sewing enjoyable, comfortable and fun. The large tabletop ensures space for fabric cutting, stretching and measuring of large models.
The bins below it are inserted in cubbies to keep the supplies neatly organized and at a short and accessible distance.
Finished in white with rattan and twine bin textures, the sewing center is also a statement piece of the room creating an enjoyable for the eyes contrast with the dark brown floor.
via Sew Can She
21. Industrial Look With Faux Concrete and Workhorses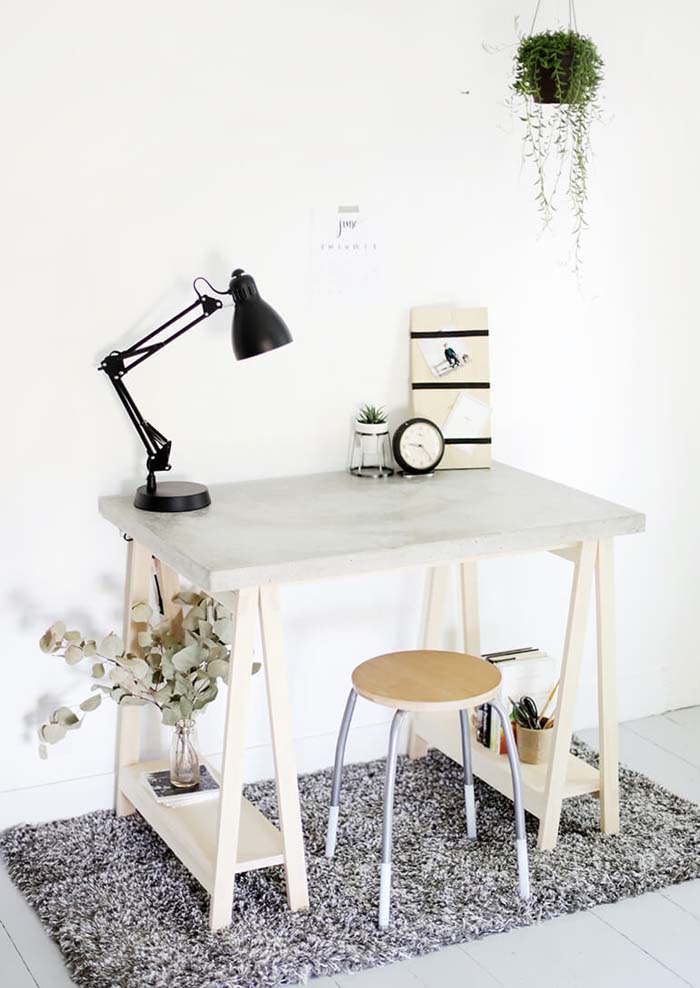 The design of this small work table aims to fit in the existing Scandi interior. It is of a small footprint but offers comfort and space for your tools.
The top mimics concrete texture which combines whimsically with the wooden equipped with shelves for storage at their bottom.
22. DIY Craft Table Blends Into Any Room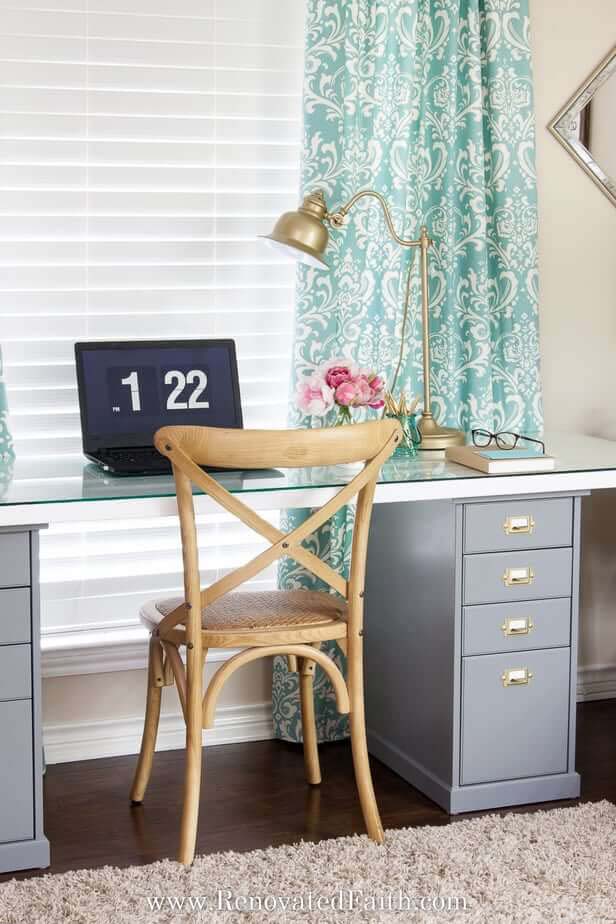 Ikea's storage solution plays an important part in our collection. Their compact size, functional design and appealing look make them a preferred source for work and craft nooks as well.
The greatest feature of this craft center is its contemporary look combining wood in grey and metal accents showcased by the drawer pulls.
via Renovated Faith
23. Clear Tubs and IKEA Expedit Organize Crafts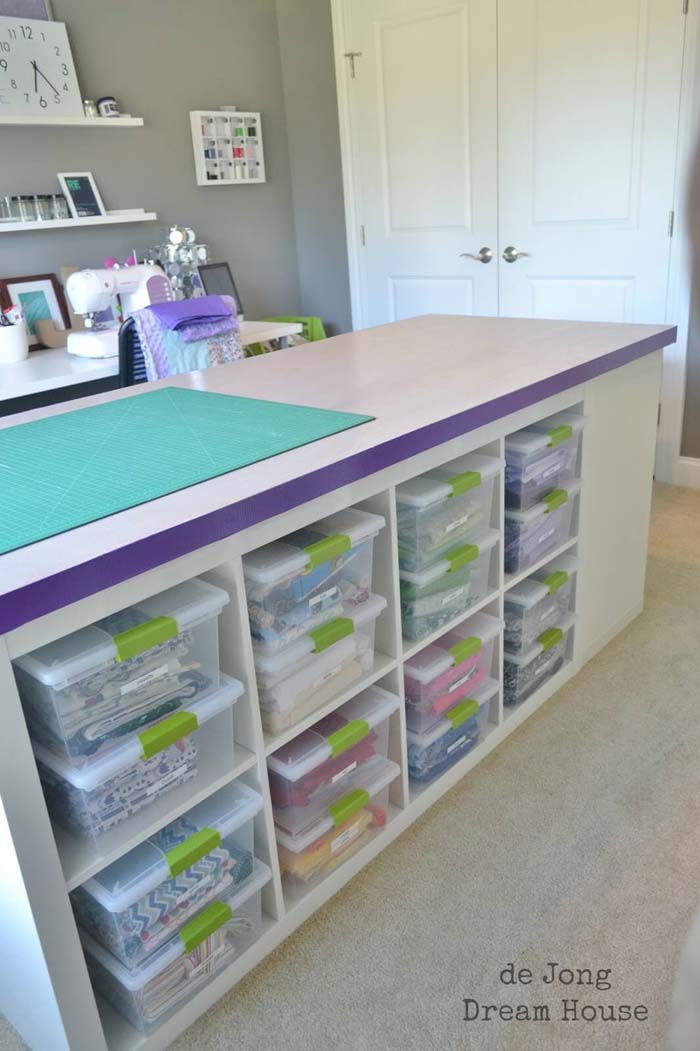 This is a big work center offering you not only a wide tabletop to get creative but also a number of wide storage places to set all needed accessories and tools at a one-hand distance.
Since this workplace has been made for a sewer, proper storage of the fabric pieces has been an important part of the planning. Driven by the budget as well, storage in the cubbies happens in comfortable and affordable plastic bins from Ikea. You can see what is stored inside and stack them for optimum space-saving.
24. Simple Cubby Cubes Organize Lots of Clutter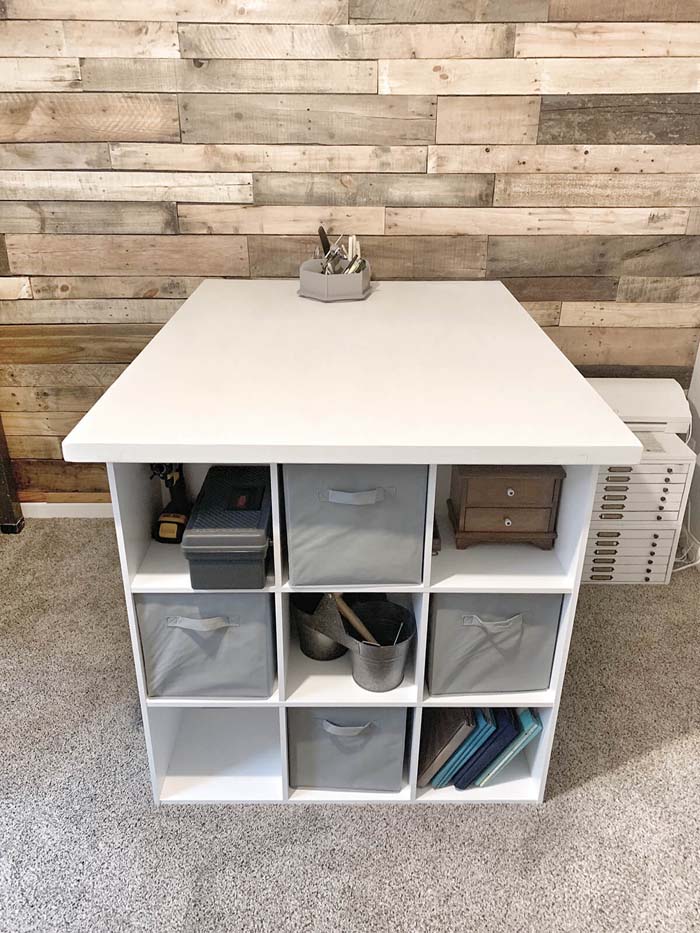 This inspiring craft table design is based on the functionality of the affordable nine-bin cubby cabinets. They are repurposed into legs of the craft center positioned at a distance to accommodate a solid tabletop.
Assembling the pieces of the workstation is pretty easy and eventually, you will enjoy a large enough table that fits any decor thanks to its minimalist design and white neutral color.
25. Wall-Mounted Craft Station Lifts Supplies off Floor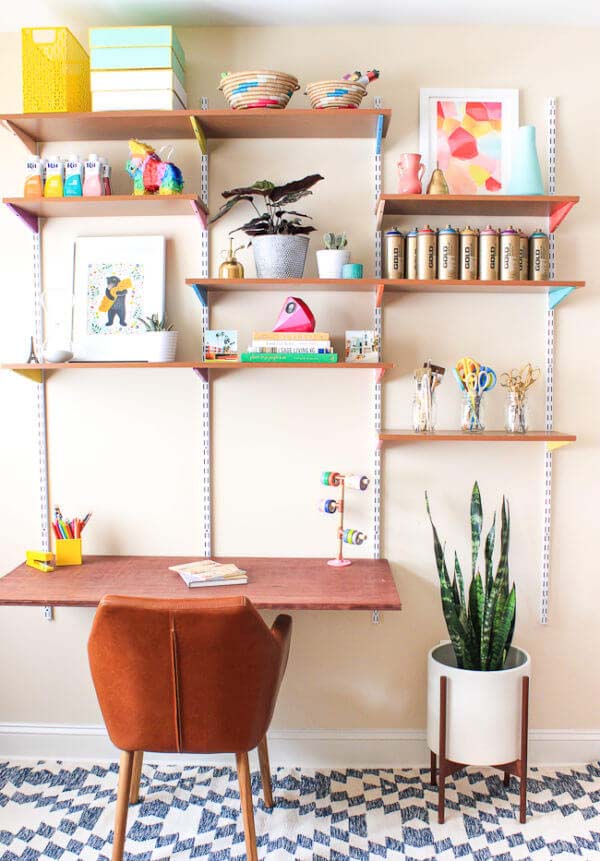 With an industrial touch and loads of creativeness, the unique crafting workspace ensures comfort, and relaxation and adds style to the interior.
The desk and the adjustable two nine-bin cubby cabinets transform into this amazing DIY craft table with storage in a quick weekend warrior project.
Honestly, the shopping will take longer than assembly when you roll up your sleeves to create this amazing craft table for your personal recreational space at home. The open bins make it easy to see all of your supplies and access them as well.
On top, the counter is large enough to arrange all of your supplies to make the most of your precious crafting time.
This table can be positioned in the center of the room so you can work around all sides, or slid up against a wall to take up minimal space. shelves for storage are installed on metal profiles with colorful wooden corbels with hidden screws.
All your stuff will easily find a dedicated place on the shelves on the wall. The desk space is wide enough to easily do your work at natural light.
via The Crafted Life