Are you short on space? Do you have too much stuff randomly placed in the rooms? Whichever of these the case with you is, you must be looking for a way to organize and de-clutter each room.
There are storage solutions for various items, sizes and shapes. Using them to organize the items that seem as not belonging there or are piled up creating a messy look, will instantly tidy up the space and bring you relief from having a clutter-free and welcoming home.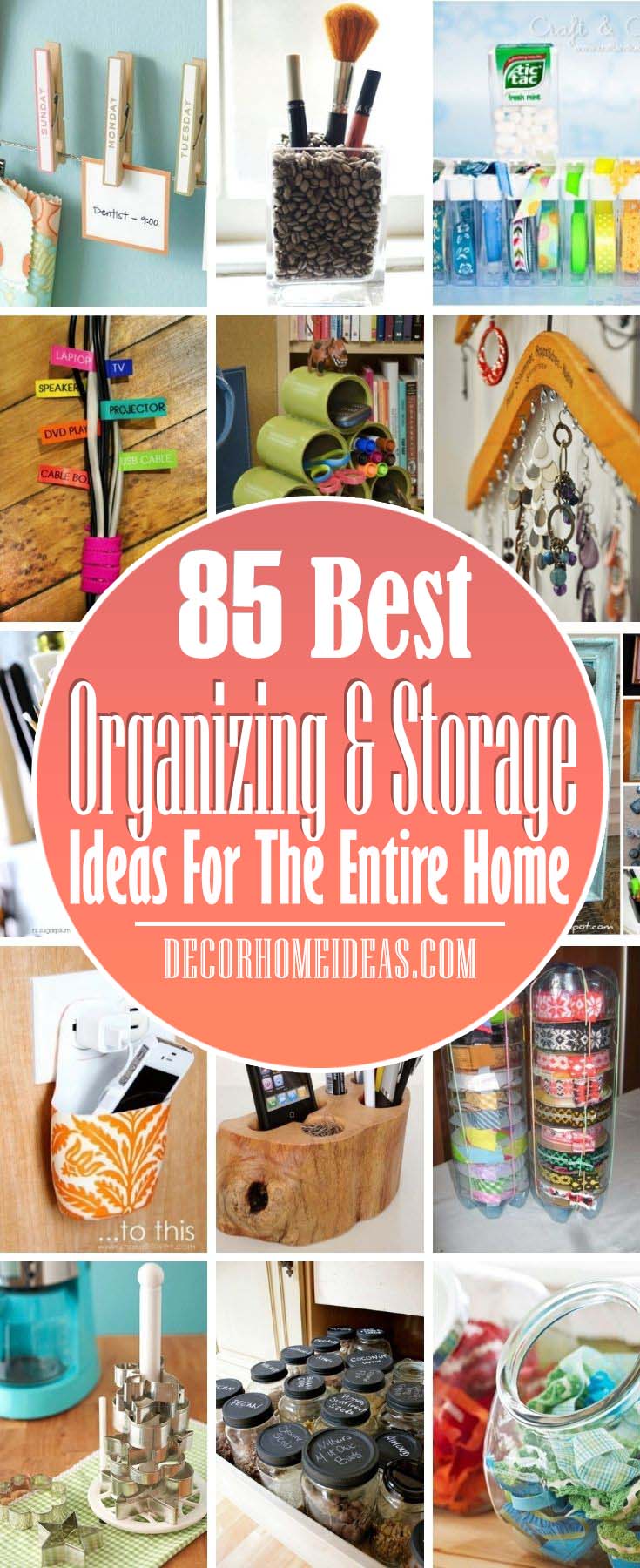 Do you want to see our tips for the storage and organization of the entire home? Don't wait anymore!
Organize Your Kitchen
1. Reorganizing Plastic Bags for Pantry Storage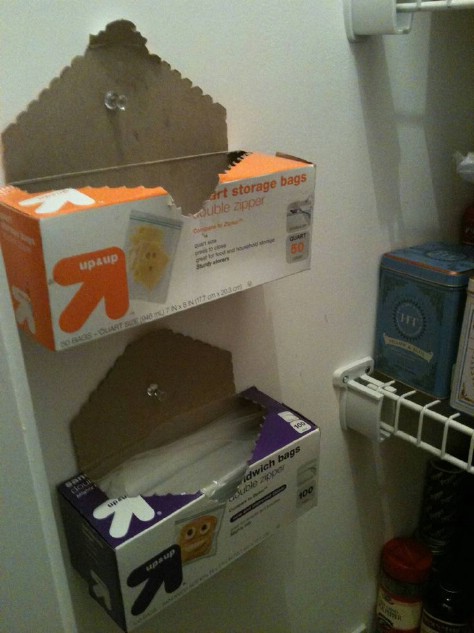 Instead of filling a drawer with the plastic bags, hang their containers onto the internal side of the pantry door. Use thumbtacks or nails.
2. Versatile Storage Solutions from the Dollar Store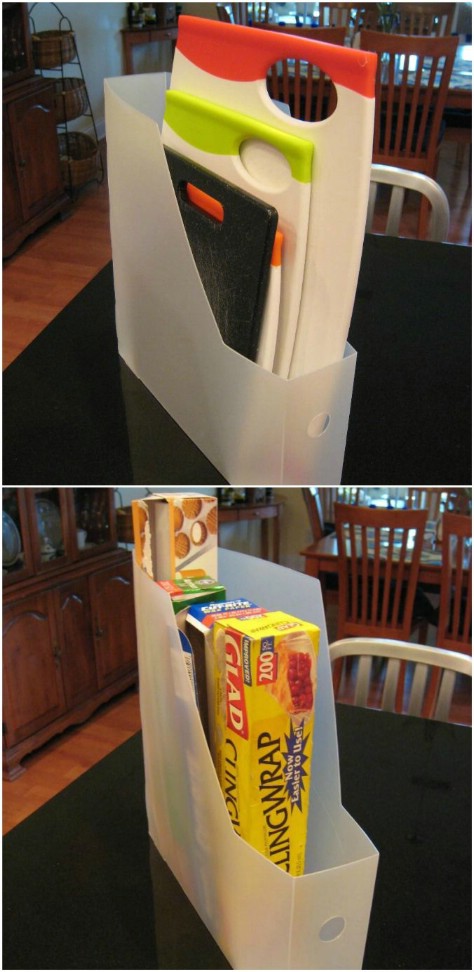 The file or magazine holders from the Dollar store are cheap and universal storage solutions.
Used in the kitchen, they can store the cutting boards, the wrapping or baking paper packages, etc.
via Chica and Jo
3. Creative Tea Storage Solutions for Tea Lovers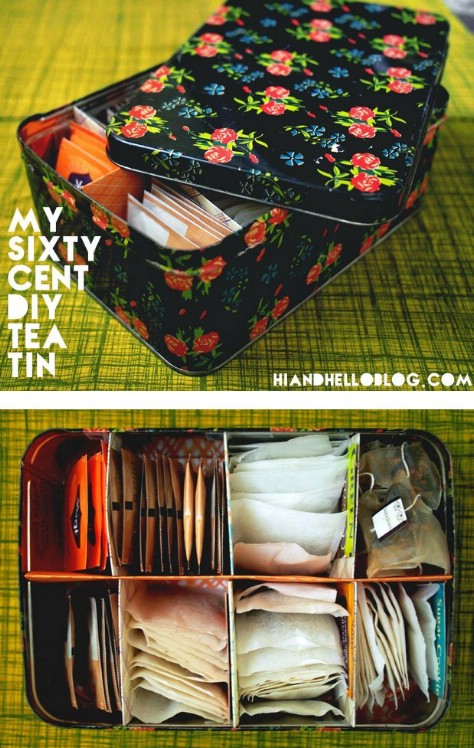 If you are a tea addict, then you must have a big collection of tea flavors.
Instead of piling the carton boxes onto the kitchen countertop, put the tea bags into a repurposed tin box that will store them all far more tightly.
via Hi and Hello
4. Store Veggies and Fruits in Drawers for a Tidier Kitchen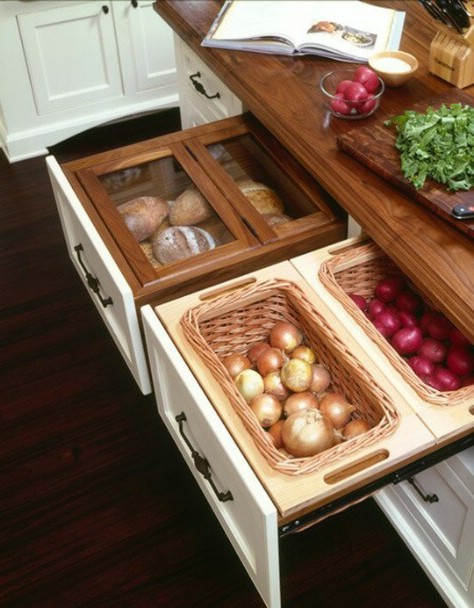 Store your veggies and fruits in drawers instead of on the countertop. Once you hide them from the sight, the kitchen will look far tidier.
Plus, the products will be well protected from dirt.
via Charish
5. Easy Way to Get Your Cleaning Supplies Organized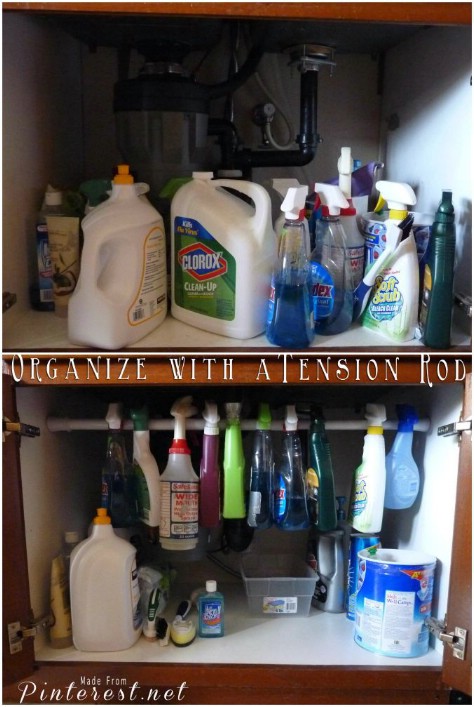 This hack is very simple to be incorporated in any kitchen where the cleaning detergents take up an entire cabinet and yet it is very difficult to find what you are looking for.
The spray nozzles can be used for hanging onto a tension rod. Placed higher into the cabinet, it will create a second level for storage.
6. Maximize Storage with Vertical Tension Rods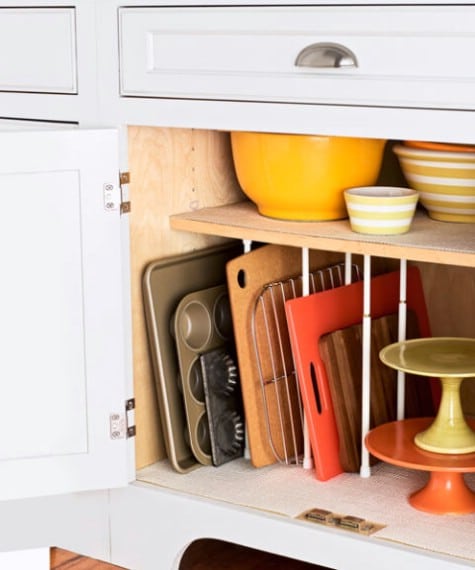 The tension rods can be also used vertically to create compartments for the storage of trays, cutting boards and other similar stuff.
Thus, they will take up less space and will be more organized.
7. Optimize Your Space with Adjustable Pegboard Dowels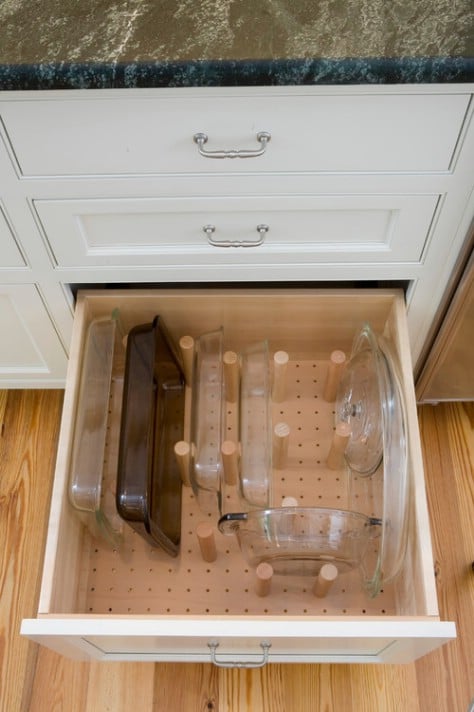 The pegboards give the opportunity to adjust the dowels in a way that suits your needs most. You can use them in every space, even in the kitchen.
via Houzz
8. Clever Way to Use Egg Cartons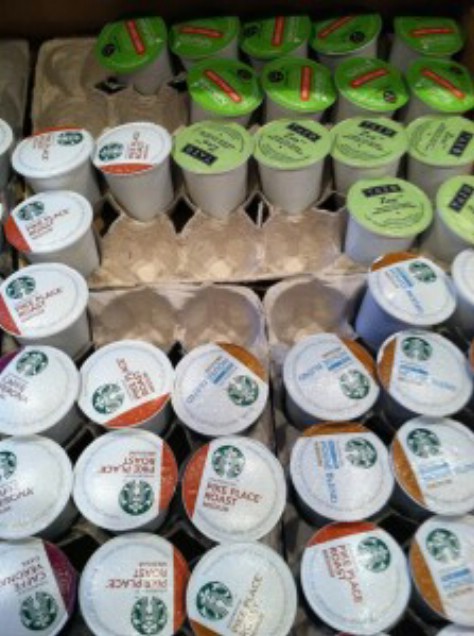 The applications of the egg cartons are numerous and fantastic. Here is another inspiration of how to use them to organize the K-cups at home.
9. Repurpose Hanger Clips for Storing Open Food Packages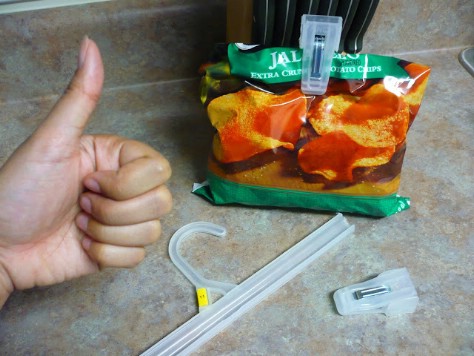 Store the open food packages well with a repurposed clip. Take the clips of a hanger and just close the package.
10. Organize Your Cookie Cutters for Optimal Accessibility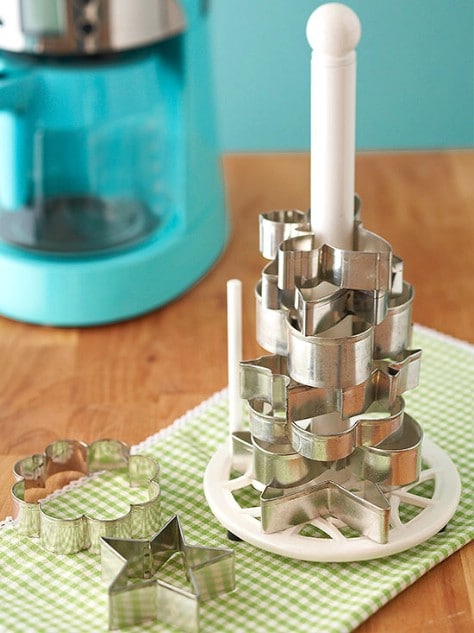 The time for baking cookies is coming. Where do you store your cookie cutters?
I bet that you find it difficult to find all the shapes you have. You can organize them easily and find the cutter you need by inserting them onto a paper towel rack.
via BHG
11. Make Meal Prep Easier with Lazy Susan Trays!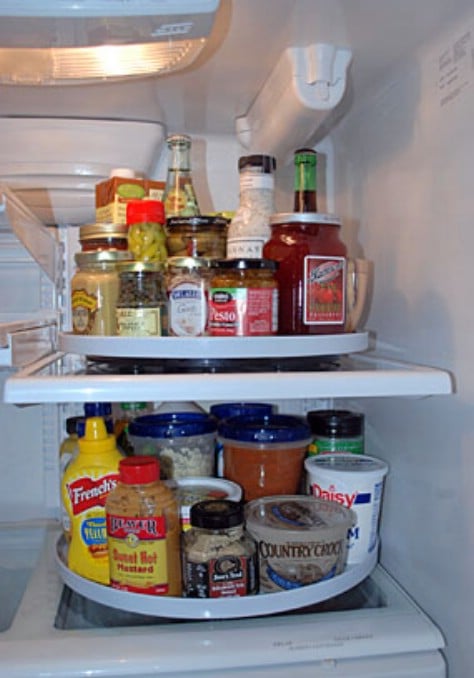 The Lazy Susan trays come to help in spaces where access is limited or difficult.
They can be used on the top levels of the refrigerator and save you time from reaching to grab the sauce bottle in the deepest corner.
12. Label Your Spice Jars for Faster Cooking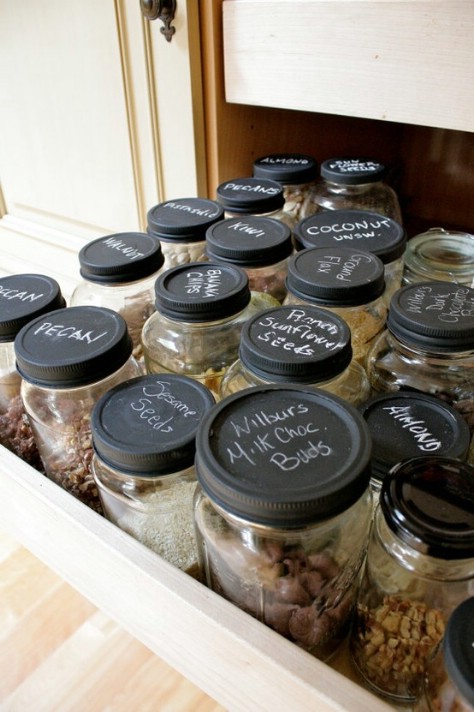 If you are using identical jars for the storage of spices and dry herbs, mark their lids to save time from taking out each jar until you find what you are looking for.
Paint the lid with chalkboard paint and simply write the name of the spice contained in the jar.
Organize Your Clothing
13. Utilize Bedroom Door as Scarf Storage Solution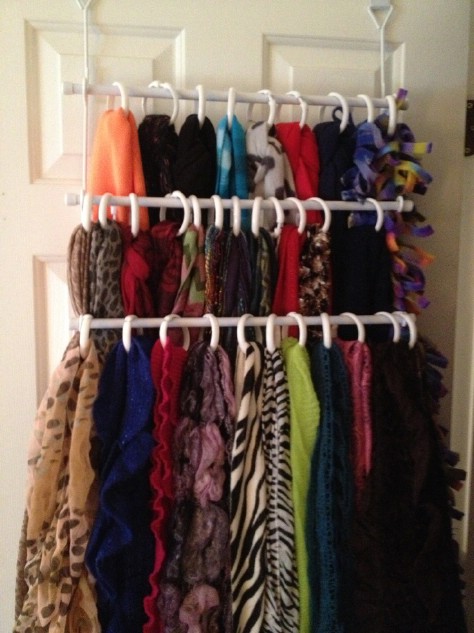 Use the bedroom door as an extra storage space. Hang rods and put curtain rings on them. Thus you can neatly store and display the scarf collection.
14. Store Your Belts and Ties in Style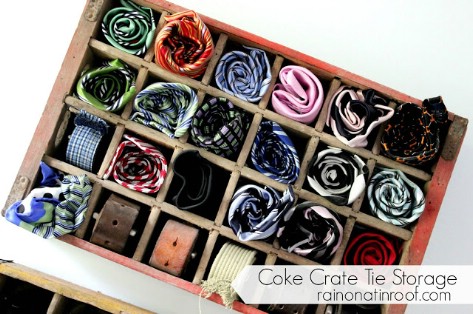 Use the compartments of a coke crate to store accessories like belts and ties. This crate can be very helpful also for the storage of underwear, jewelry, scarves, etc.
15. Make More Room in Your Drawer with a PVC Pipe Organizer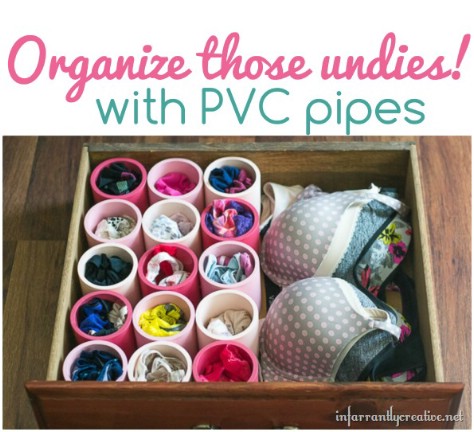 PVC pipes can be helpful not only in their general application. Repurposing them into a drawer organizer, they can store separately identical items in a very neat way.
Store your underwear, your jewelry, your belts, your ties, anything that would otherwise be thrown or piled up in the drawer.
16. Keep your Flip-Flops in Order with Letter Stands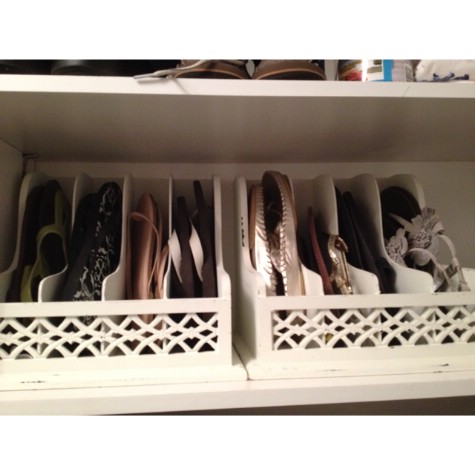 If your flip-flops are scattered on the shoe rack, you can finally organize them with letter stands.
17. Practical and Versatile Organization Solution: Cork Board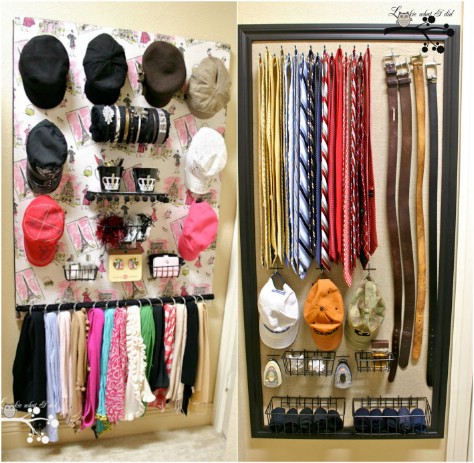 Cork is affordable and very helpful material when it comes to organization.
A large board of it can be hung on a wall or attached to the internal side of a cupboard or cabinet and store various items.
via Look What I did
18. Use Pipe Cleaners for a Low-Cost Fix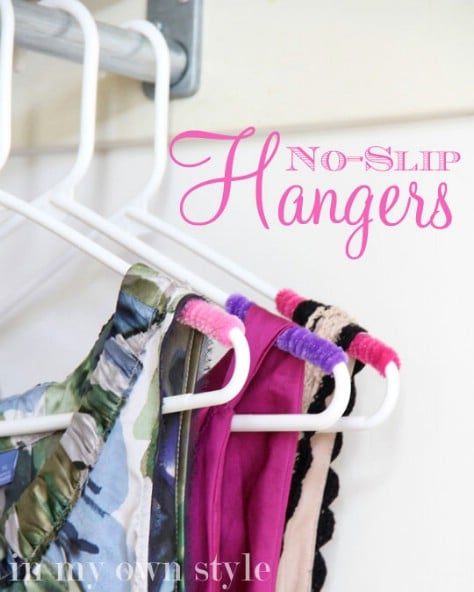 The link below introduces an easy and very affordable trick for how to stop your clothes from falling off from the hangers.
Get a few packages of pipe cleaners from the Dollar Store and weave one on each side of the hanger. Easy, isn't it?
via In My Own Style
19. Hack the System and Save Money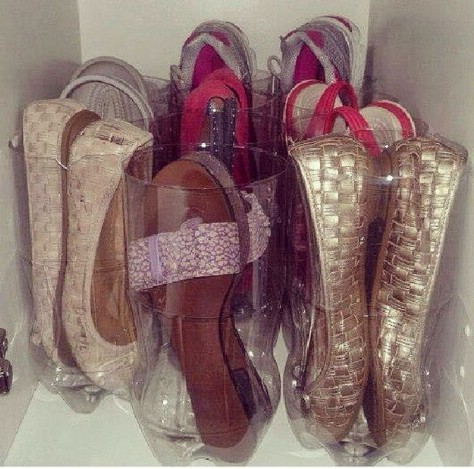 Using a plastic bottle as a shoe organizer is not only a great hack but also an environment-friendly solution.
Just cut the necks of the bottles and insert a pair of shoes in each bottle.
20. DIY Cable Holder for All Your Gadgets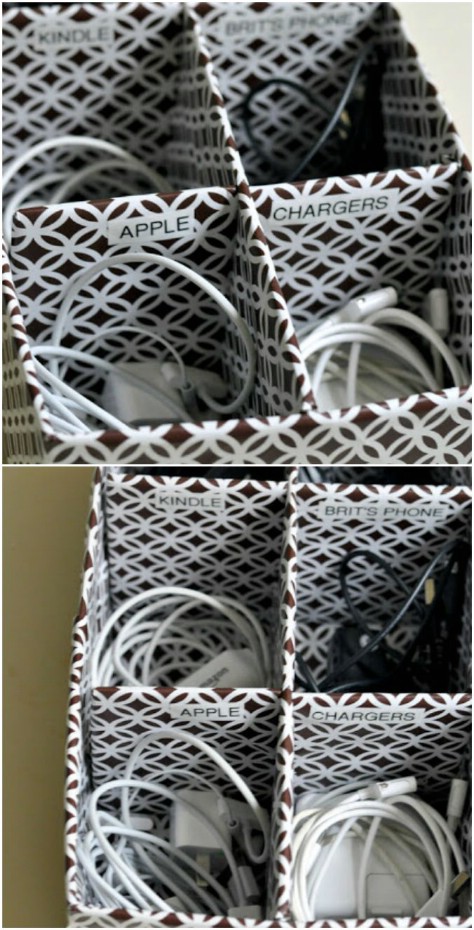 Nowadays we possess many gadgets that are all charged with almost identical cables.
You can organize them all and easily recognize the cable you need with this DIY cable holder.
21. Travel Organizer for Neatly Storing Clothes and Accessories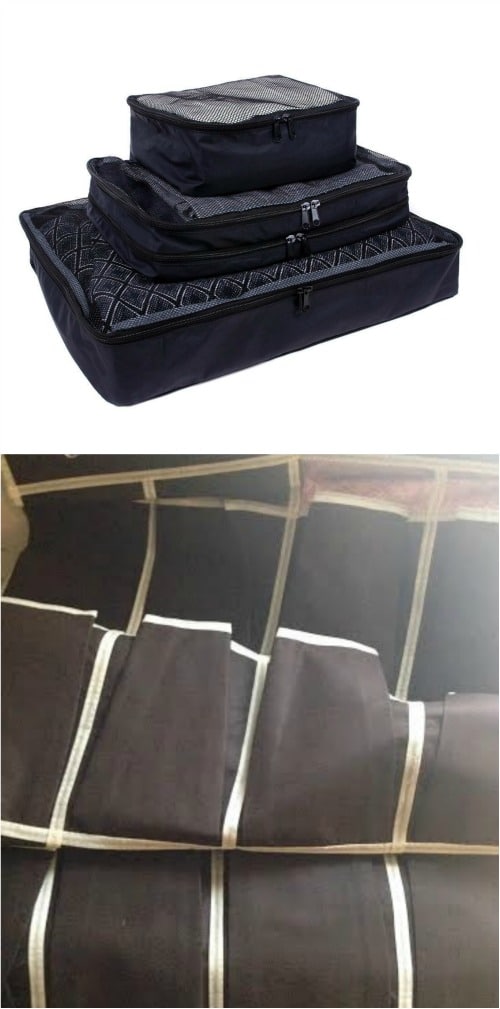 This travel organizer has compartments that can store neatly large clothes keeping them wrinkle-free and small accessories like belts, socks, underwear.
It can be used also used as an extra storage bed under the bed.
via Amazon
Organize Your Cords
22. Upcycle Toilet Paper Rolls Into Cable Holders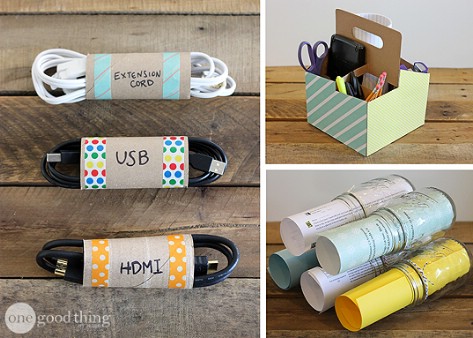 Upcycle the toilet paper rolls by turning them into cable holders.
Use washi tape to decorate them.
via One Good Thing
23. Label Cables for Easy Organization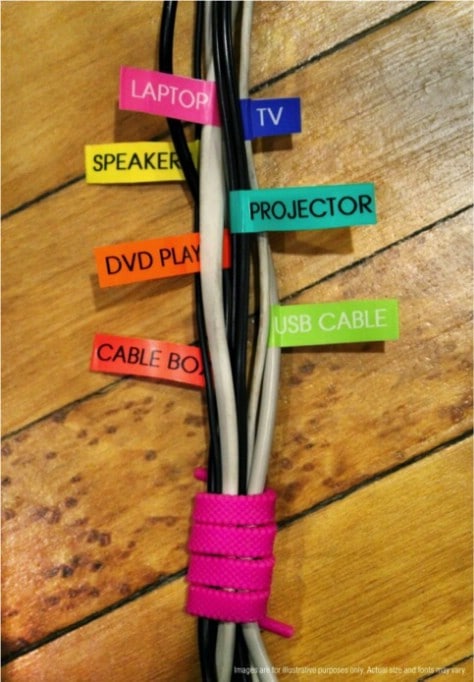 Use bright labels to mark each cable in a sheaf. Make sure to use a different color for each cable to find and remember them easily.
via Yes Missy
24. Repurpose Bread Tags for Cable Labeling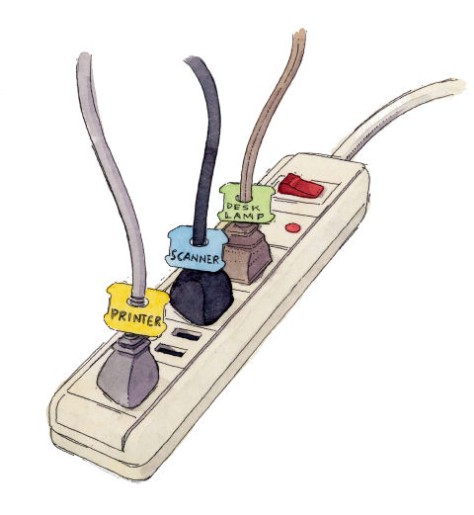 Another way to mark the cables of the appliances or media is to repurpose the bread tags into labels.
Simply write the name of the gadget the cable belongs to with a permanent pen.
via Makezine
25. Keep Your Cables Tidy and Organized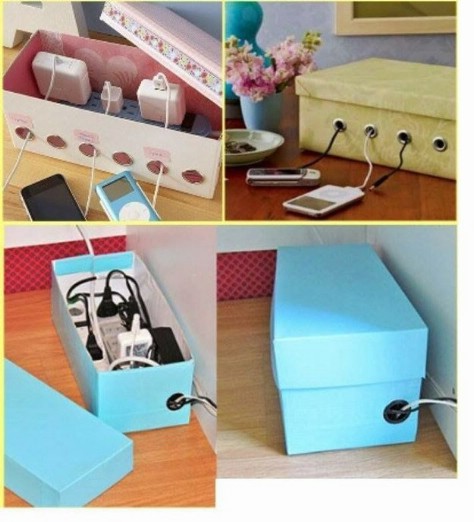 Give the charge cables a good look by storing them in a decorated shoebox.
Make a hole for each cable to go through ad be easily pulled out. Place the box next to a wall plug.
26. Create a Multifunctional Cable Holder with Binder Clips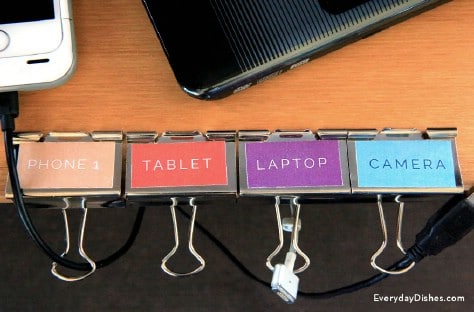 Repurpose the binder clips into a multifunctional cable holder. Simply mark them with the name of the item they belong to and clip them to the desk.
They will not only let you quickly identify the cables but will also hold them tight limiting them from falling down.
via Everyday Dishes
27. Keep Family Electronics Organized and Charged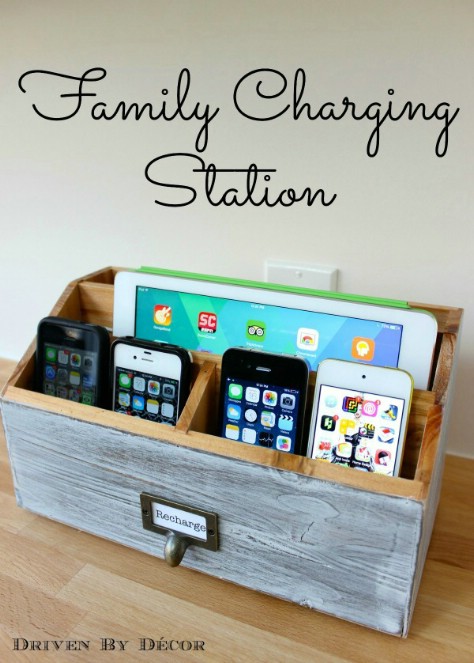 This station is very easy to do and is a genius way to keep all the family electronics at one place while being invisibly charged.
via Driven by Decor
28. Store More than Just Shoes in Your Shoe Organizer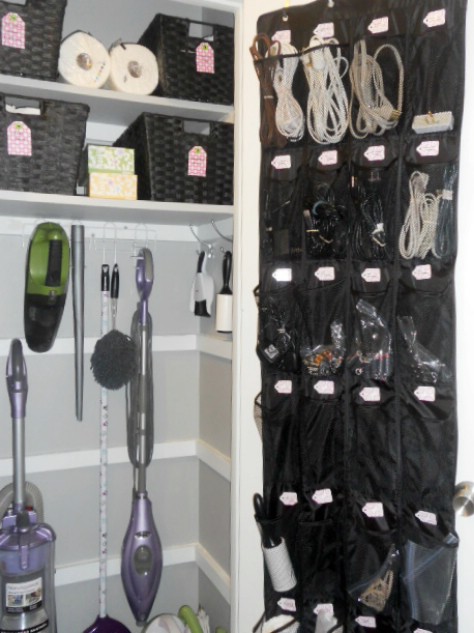 The shoe organizers can store far more things than just shoes. Depending on the room they will be placed, you can use each compartment for storage.
29. Create the Perfect Phone Holder for Your Needs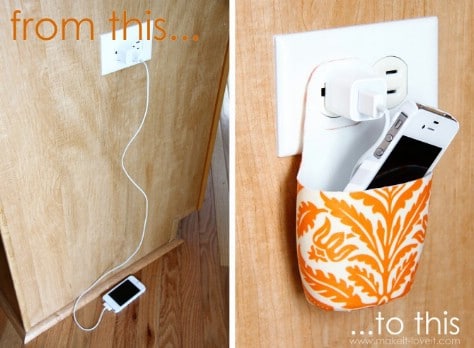 Believe it or not, this is not an item you can buy, you can only make it yourself!
Some mod podge, an interesting piece of fabric and a lotion bottle cut into a pattern create a holder that will keep the cell phone safe while being charged.
via Make It Love It
Organize Your Hair, Jewelry, and Beauty Supplies
30. Never Lose a Hair Tie Again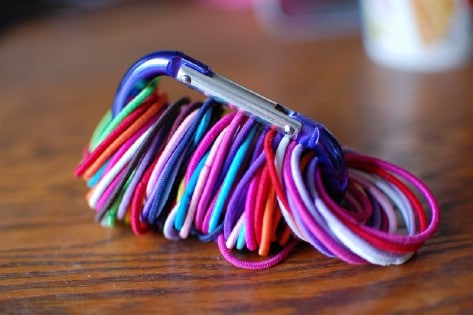 How often do you lose your hair ties? By storing them on a carabiner, you will easily find them.
31. A New Way to Store and Display Your Perfumes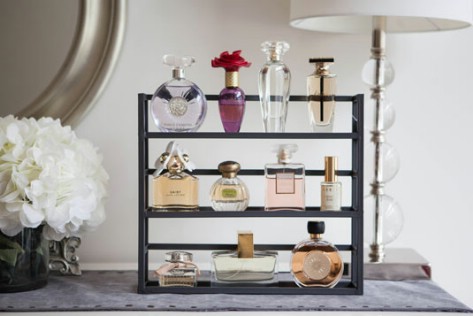 Use a spice rack as a perfume display. It will give you a few levels for storage and will de-clutter the vanity.
via StyleCaster
32. Neatly Store Make-Up Brushes with a Toothbrush Holder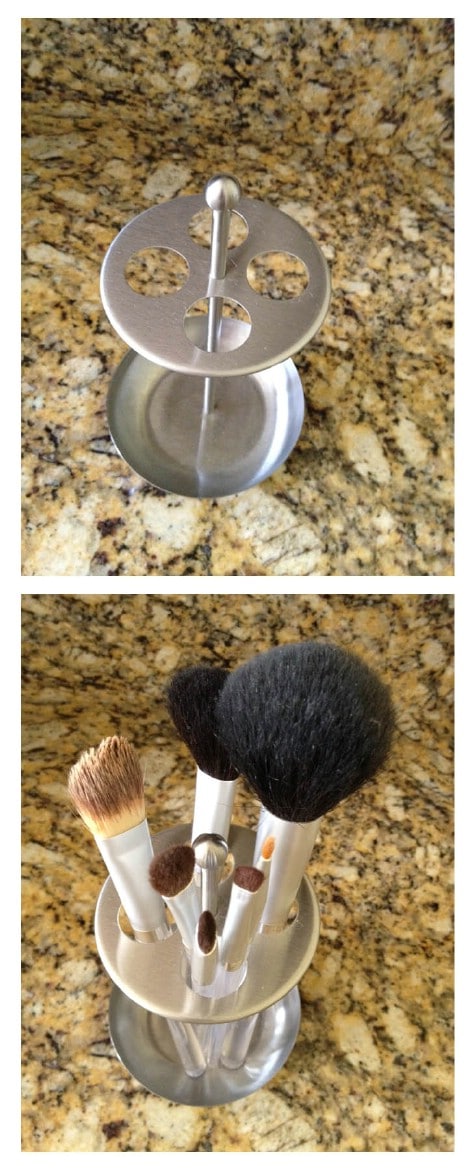 This is a very smart hack for how to neatly storage the make-up brushes and keep them clean for their next usage.
Just repurpose a toothbrush holder into a make-up rack.
via Saecca
33. Transform Any Container into a Make-up Organizer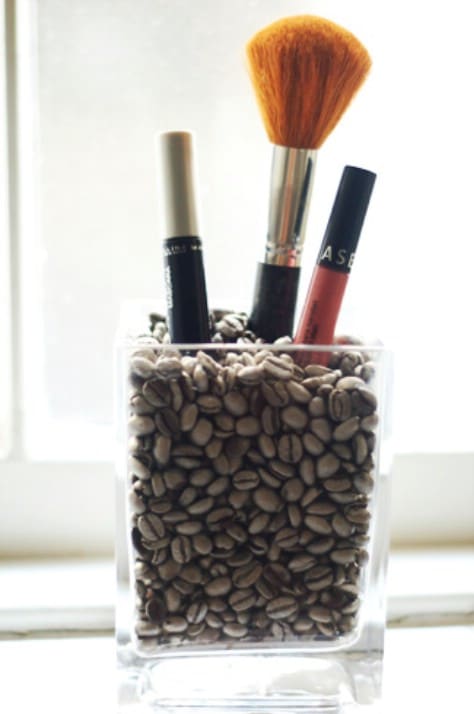 Any container can be turned into a make-up organizer as long as it is filled with material that will let thrusting of the items.
For example, a glass vase filled with coffee beans or colored sand will keep the brushes standing and stored at one place.
34. Organize Your Makeup Like a Professional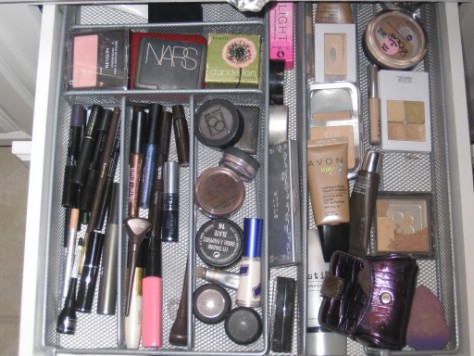 If you store your makeup in a drawer, then you must spend a lot of time finding what you are looking for.
Instead of letting the items roll freely in the drawer, limit that and organize them with the kitchen utensil organizers.
via JennySue Make up
35. Create an Elegant Jewelry Organizer with a Wooden Hanger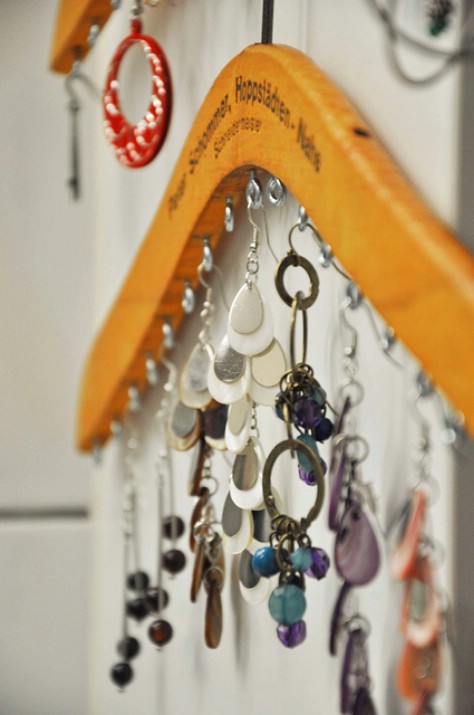 The organizers of jewelry must be well thought because they not only have to keep it in one place but also store each piece separately.
The idea for repurposing a wooden hanger into a necklace and earrings organizer will give you both. Just put in screw hangers on the bottom side and hang your collection.
36. Transform a Cork Board into a DIY Jewelry Organizer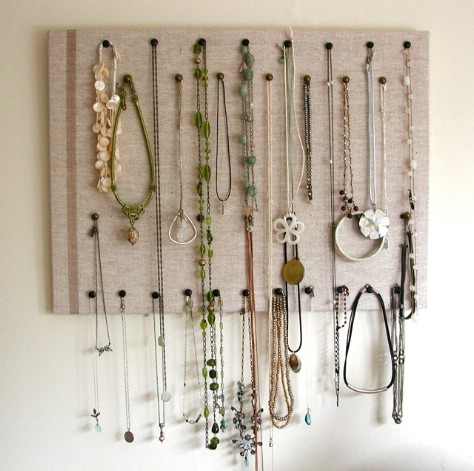 Another DIY jewelry organizer could be the corkboard. It is very easy to transform it into a storage place only by inserting furniture or thumbtacks.
37. Affordable Jewelry Storage Solution for Your Home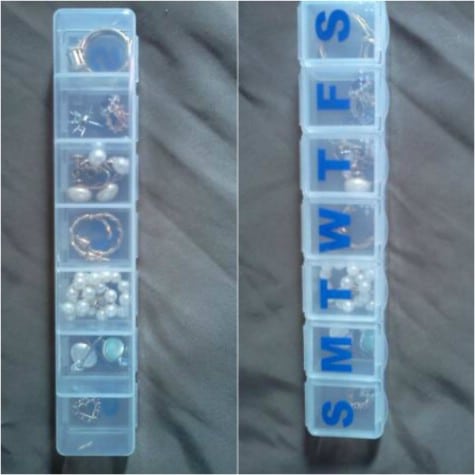 You don't have to invest a lot of money into organizers. You can store properly your stuff in a very affordable way.
A pillbox for less than 5$ could organize all of your rings and earrings.
38. Store All of Your Hair Accessories in a File Holder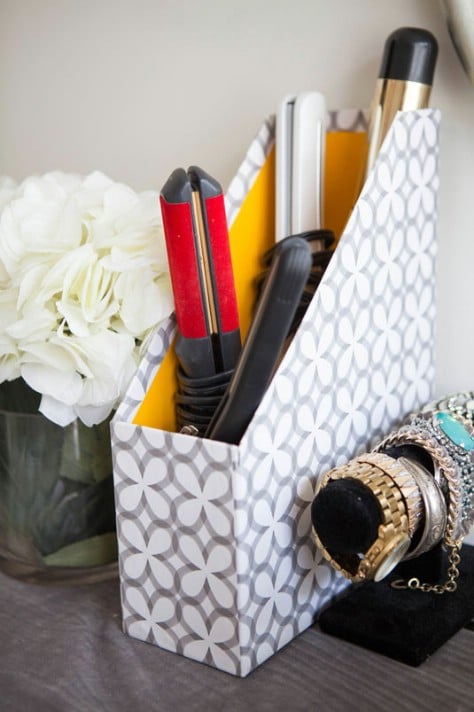 Dressing up a plain file or magazine holder could turn it into an accent with a functional application.
Used in the bedroom, it can store all of the hair accessories.
via Cosmopolitan
39. Gain Extra Storage Space with an Over-the-Door Shoe Organizer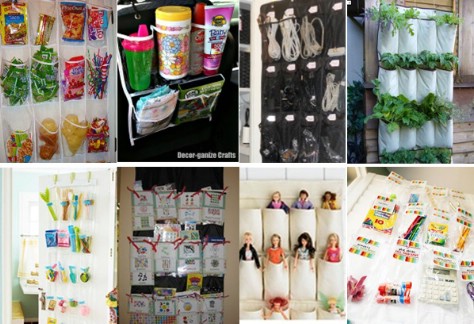 Depending on the room the shoe organizer will be placed in, it can quickly become an extra storage space.
The advantages of this organizer come with its mounting over the door and plenty of compartments for storage. Its price is also quite low!
40. Organize Your Make-up Palettes with Desk File Organizers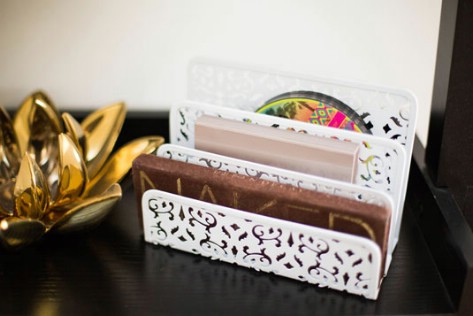 If you regularly use make-up palettes, then you would enjoy this display idea.
The desk file organizers will keep all of the larger palettes in one place and close at hand.
via Cosmopolitan
41. Create Space in Your Vanity Drawer with a Magnetic Board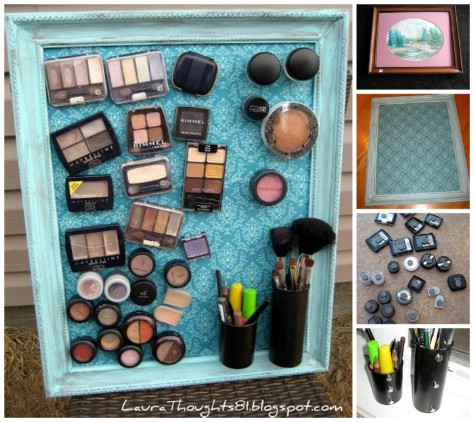 If there is no space in the vanity drawer for the entire make-up collection, you can make yourself a magnetic board.
Replace the canvas of a picture with a metal sheet. Decorate it with wrapping paper to give it a decorative value. To attach the make-up products to it, glue small magnetic pieces on their bottoms.
via Laura Thoughts
42. Utilizing Magnetic Tape for Effective Storage Solutions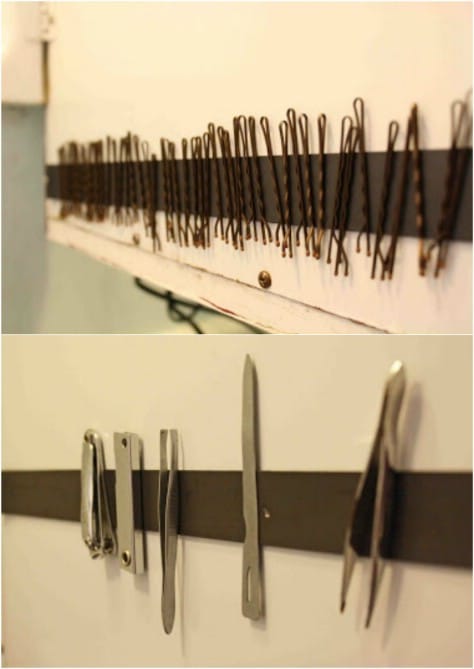 We have seen magnetic tape used in the kitchen for the organization of the kitchen utensils.
Well, it can be used anywhere as long as storage of metal-based items is required.
via Superwoman
43. Get Organized with Paper Clip Holders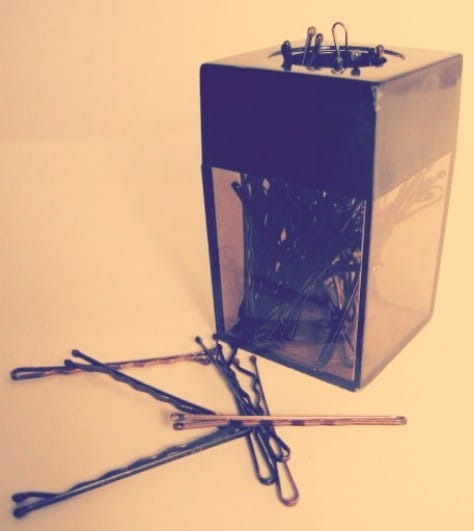 If the magnetic tape is not to your taste, then get a paperclip organizer and fill it with bobby pins.
via Explosion
44. Compact Storage for Your Bathroom Essentials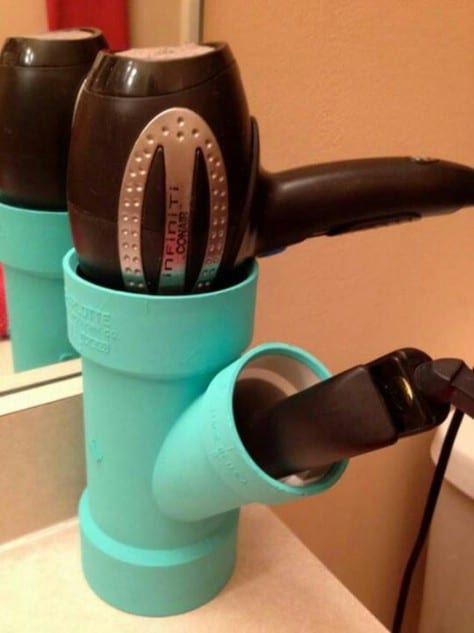 Spray paint a PVC pipe to make it's industrial look more attractive and store the hairdryer and straightener compactly in the bathroom.
via Etsy
45. Organize Hair-Dressing Appliances with Cabinet Hooks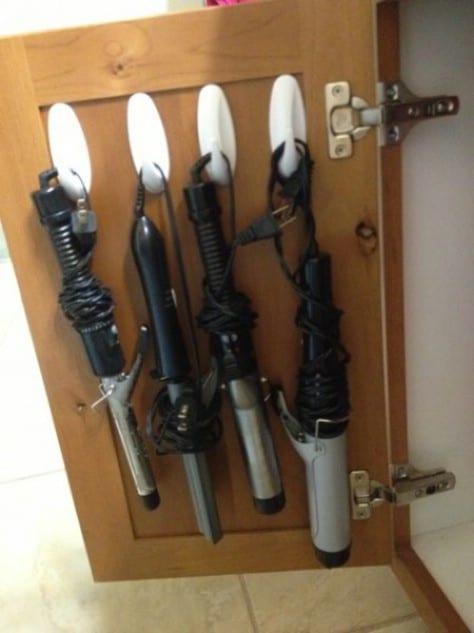 The inside of the cabinets in any room could be turned into another storage place.
These cheap hooks sealed on the sink cabinet in the bathroom can organize all the hair-dressing appliances in one place.
via Make It My Own
Organize Your Office Supplies
46. Organize Your Home Desk with Cupcake Trays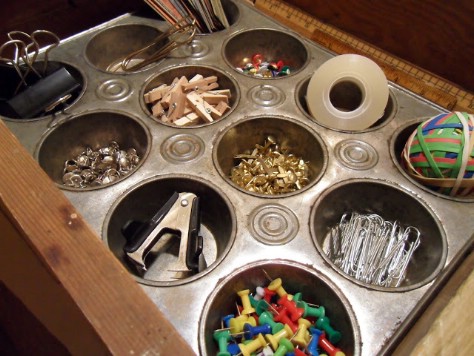 Working from home could be a challenge. However, make it more pleasant by organizing the supplies of your home desk with things you already have on hand.
The cupcake tray provides you with at least 6 nests to store separately all the office supplies you use.
via Tattered Style
47. Improve Office Organization with Drawer Dividers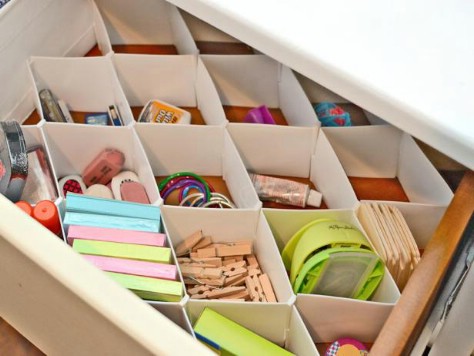 If you prefer to store the office supplies hidden from the sight, use a drawer divider to find and access what you need easily.
via HGTV
48. Construct a DIY Food Tin Pyramid Storage Rack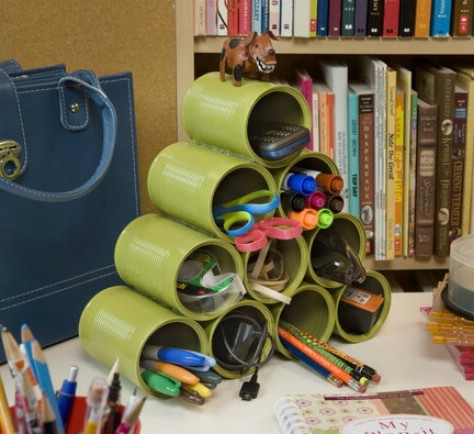 Stack food tins in a pyramid pattern using a hot glue gun. The handmade rack will have a small footprint but will be able to store most of the office supplies because of its tiered design.
49. No Crafting Skills Required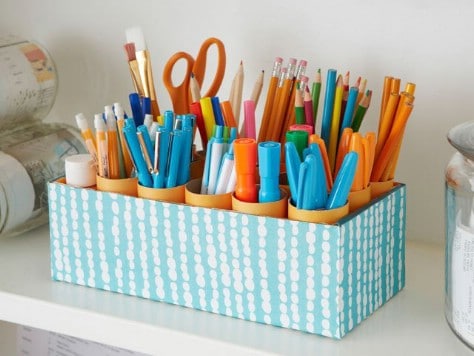 Decorate a shoebox with paper or fabric on the outside. Then place toilet paper rolls in it. You can secure their bottoms to the box with hot glue.
via Southern Living
50. Create a Unique Desk Organizer Using Cork Trivets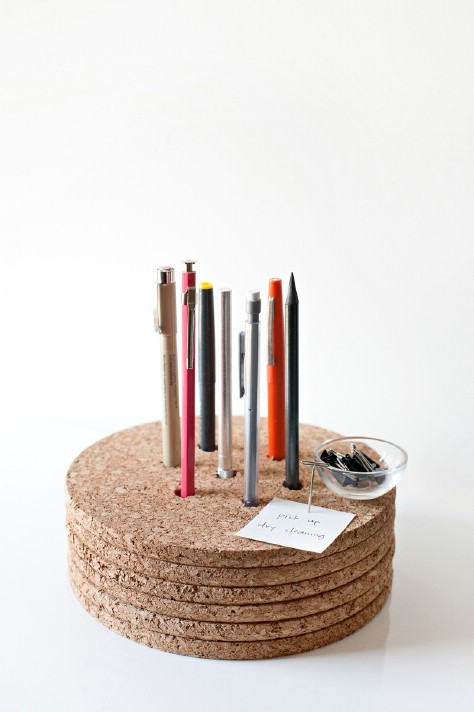 The step-by-step tutorial below gives us the opportunity to make ourselves a stylish and non-traditional desk organizer from cork trivets.
51. Handcrafted Tree Stump Office Supplies Organizer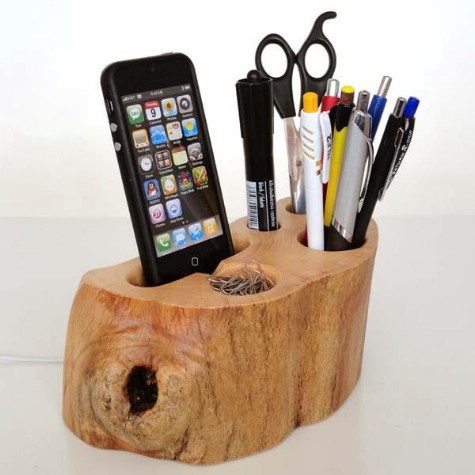 This organizer is a handmade product that contains compartments for the most often used office supplies.
If you like its rustic and natural design, find a tree stump and hollow out the storage sections with proper tools.
52. Reuse Altoid Tins for Practical Office Organization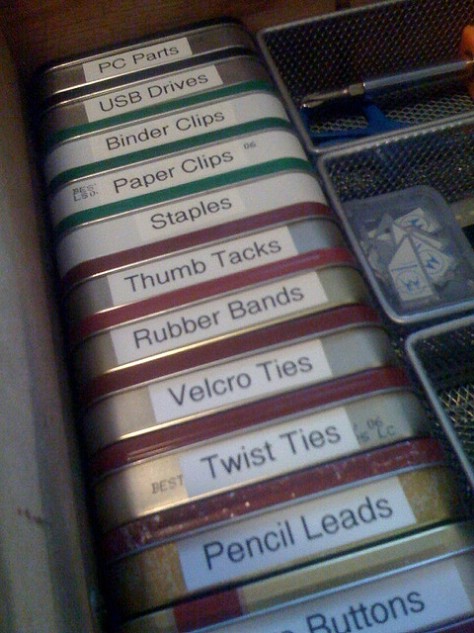 The design of the altoid tins lets easy stacking without risk of sliding. They can be also aligned horizontally in a drawer.
To repurpose them into organizers, label them with the name of the items they hold.
via Flickr
53. Get Creative with Your Home Office Schedule Display Ideas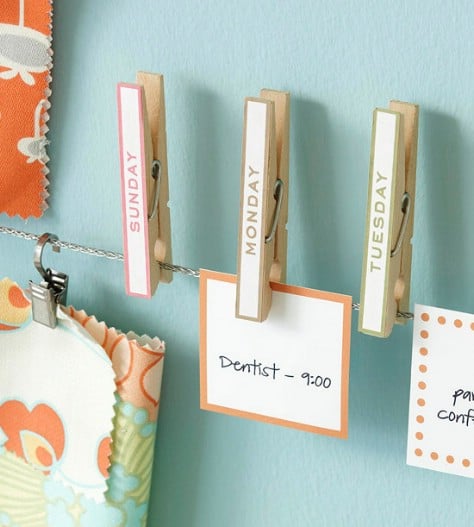 Do you miss your office whiteboard? This idea for a schedule display will do as well in your home office.
via BHG
54. Perfect for Any Office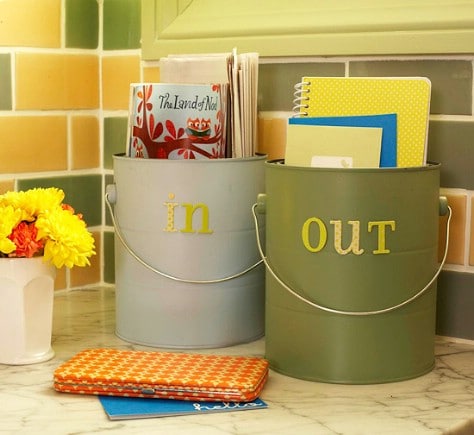 These buckets have been repurposed into incoming and outgoing mail containers.
If your work doesn't involve such communication, they can be used to store the notebooks, pads or files.
via BHG
55. Create a Multi-Purpose Command Station for Your Family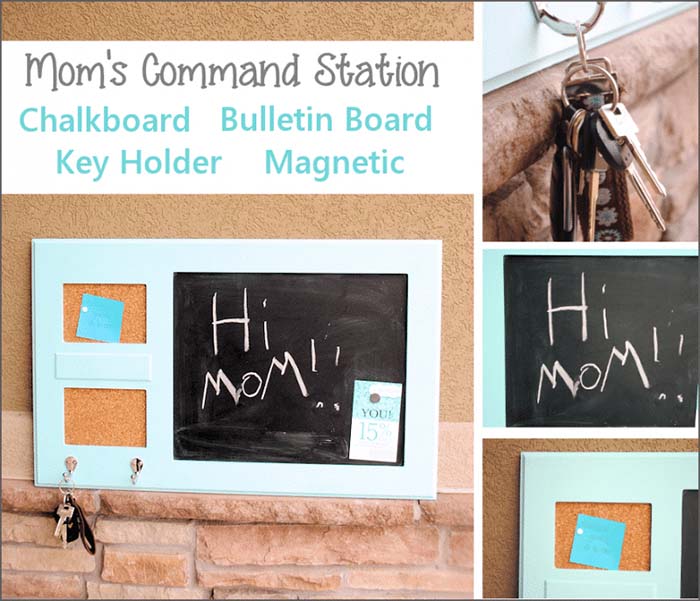 Make yourself an impressive and multifunctional command station for less than 15$.
It has a bulletin board, magnetic part, chalkboard and key holder- shortly all you need to organize the family tasks at one visible place!
Organize Your Craft Room
56. Create a Cozy DIY Craft Station in Your Closet

Are you a DIY addict? Then, you must be eager to have your own craft station.
The closet can be transformed into a workplace by adding shelves, a pegboard and storage baskets.
via Beneath My Heart
57. Optimize Your Craft Space with an Easy-Access Supply Rack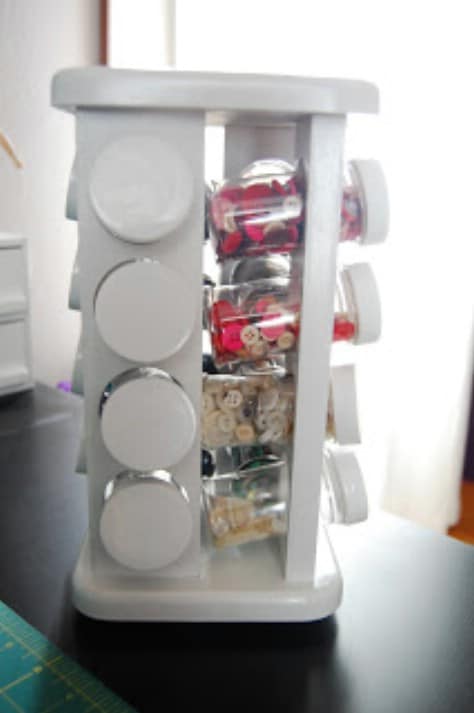 Instead of keeping semi-full packs with small craft supplies, gather the identical ones at one place.
Place the rack onto your desk or onto your craft station countertop.
58. Wine Rack Doubles as a Craft Supplies Organizer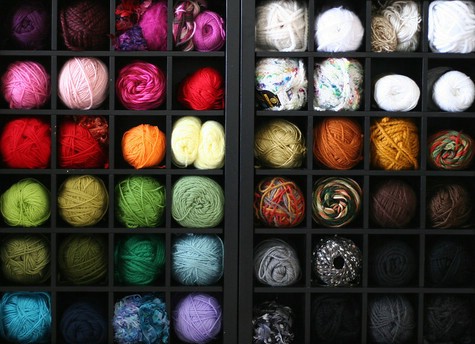 A wine rack could turn into a fantastic craft supplies organizer! It has many and deep enough compartments.
This rack can be also used for storage and organization in the bedroom or in the closet.
via Pretty Prudent
59. Store Your Yarns Efficiently with a DIY Yarn Organizer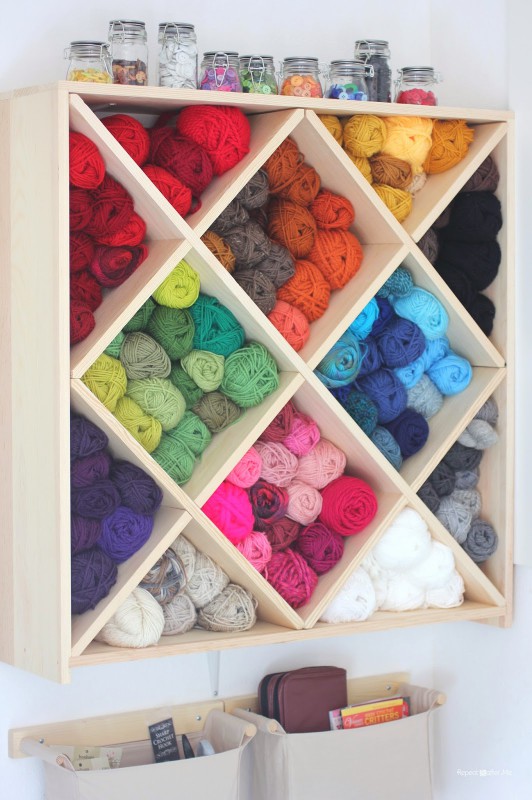 This DIY yarn organizer offers larger compartments that aim to store yarns belonging to one palette in one place.
60. Perfect Storage Solution for Higher Levels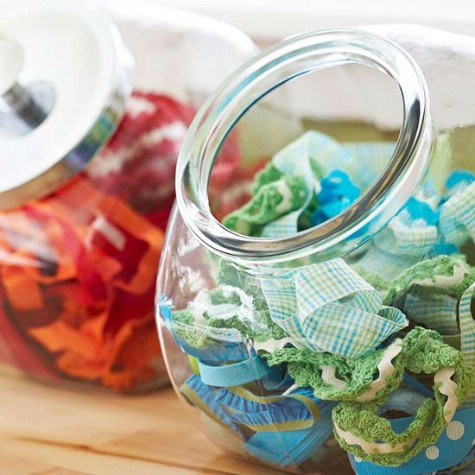 The candy jars from the Dollar Store could be your solution for storing items on higher levels. Their design allows easier access to the content.
61. Keep Your Ribbons Organized with a DIY Ribbon Holder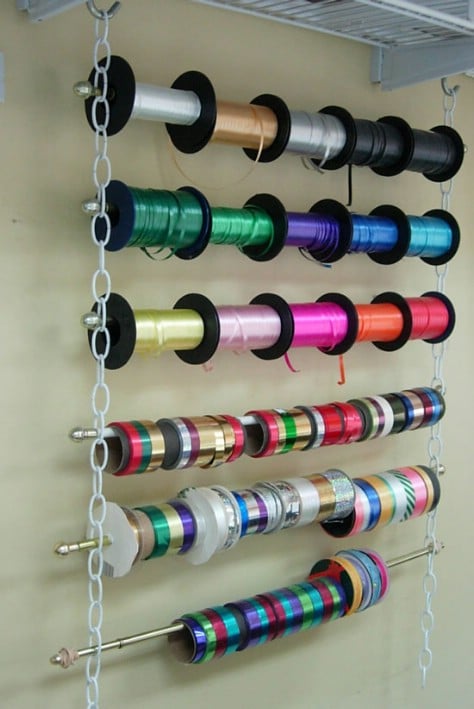 This DIY ribbon holder is not only an organizer. It actually doesn't limit the rotation of each ribbon so you can cut the length you need without dismantling the rod.
via In My Own Style
62. Make Crafts Sparkle with Glitter Salt Shakers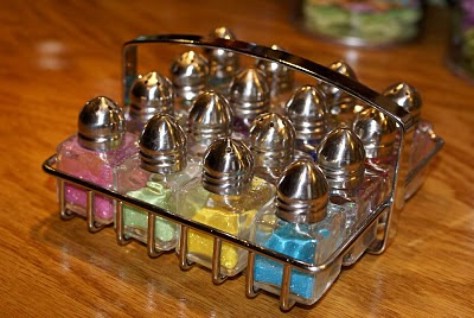 Salt shakers are a great organizer and dispenser of craft glitter!
via Organize Things
63. Repurpose A Sugar Dispenser for Craft Room Organization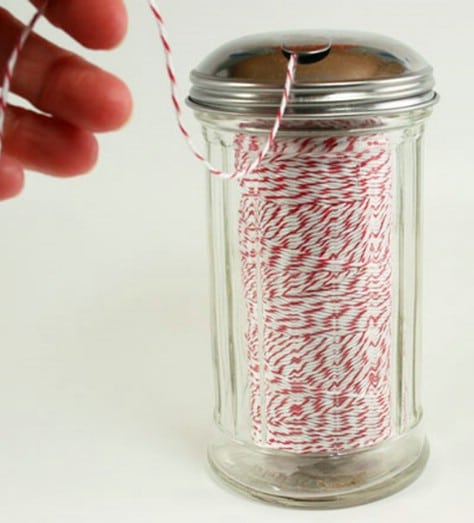 Another kitchen item that can be useful in the craft room is the sugar dispenser.
Place a twine in it and pull the end through the lid hole. This repurposed organizer will keep the twine from unraveling.
64. Convenient Spool Organizer for Easy Thread Access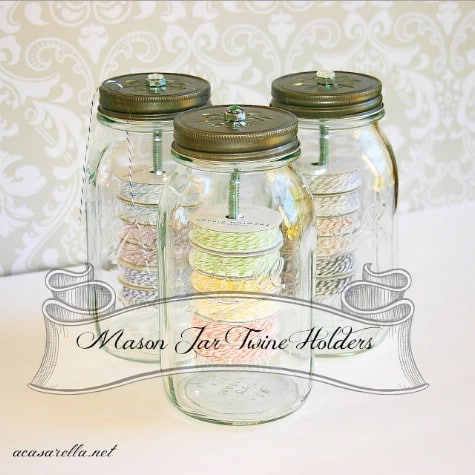 This twine organizer lets you easily access and work with 8 spools. Drill the lid to insert a bolt or a short metal dowel that will hold the spools.
Drill holes onto the lid to pull through the end of each thread.
via A Casarella
65. Creative Storage Idea for Small Twine Spools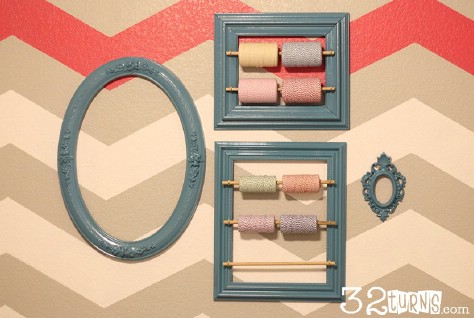 Here is an idea of how to charmingly store the smaller twine spools. Attach screw hooks on each side of the frames which will hold wooden dowels.
Then insert the spools on each dowel.
via 32 Turns
66. Creating a Unique Decorative Piece with Upcycled Plastic Bottles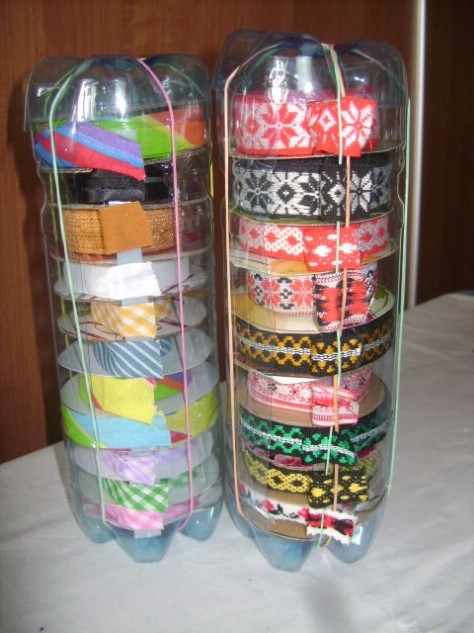 Cut plastic bottles into halves. Then put in ribbon spools and pull the end of each through a small cut at the side of the plastic.
To make sure that the two bottles are well attached together, use rubber bands.
67. Never Lose a Needle Again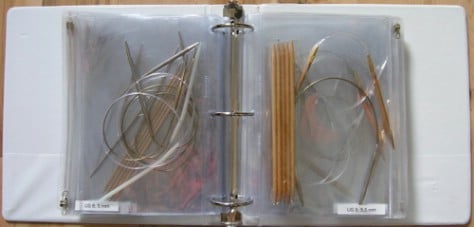 Knitting and sewing needles don't have feet but they do get lost very easily! With this storage idea, this won't happen again.
Get a folder and fill it with transparent file bags. Label each bag the size of the knitting accessory it holds.
68. Organize Scrapbooking Supplies with Hangers in Closets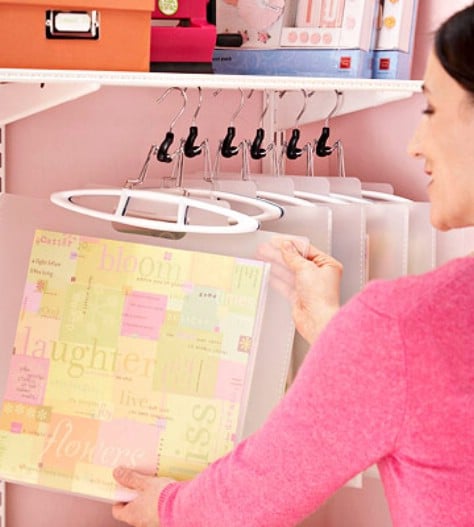 Hang your scrapbooking supplies on hangers and organize them in an empty space of the closet.
via BHG
69. Organization Made Simple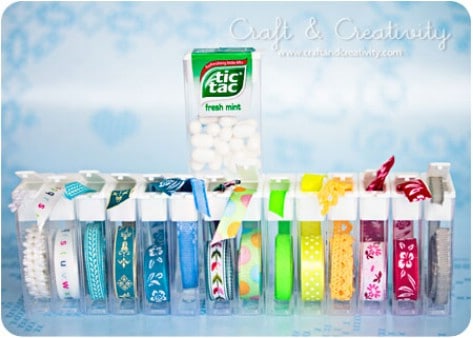 The Tic Tac containers come to help you organize the smallest ribbon spools.
Each container can hold only one spool. Pull the end through the hole and use as needed.
via Pretty Prudent
Organize Your Kids' Stuff
70. Keep Your Kid's Room Clean and Organized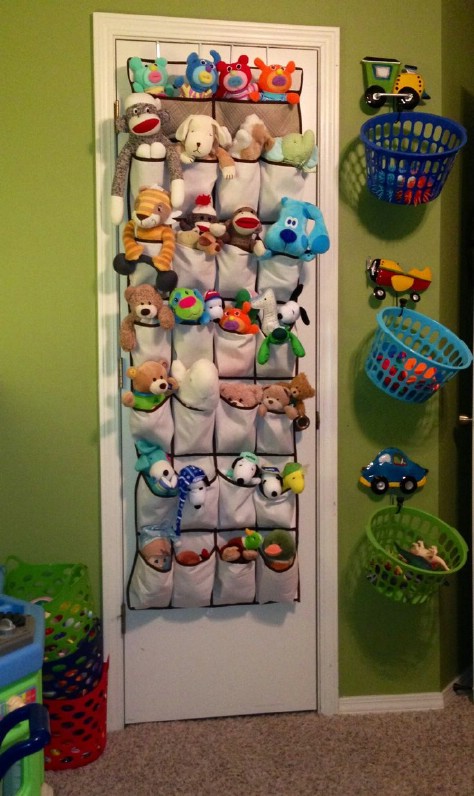 The shoe organizer can help with the de-clutter task in the kids' room. Placed over the door, it can store plush toys or smaller toys and accessories.
71. Create a Themed Plush Toy Storage with a Swing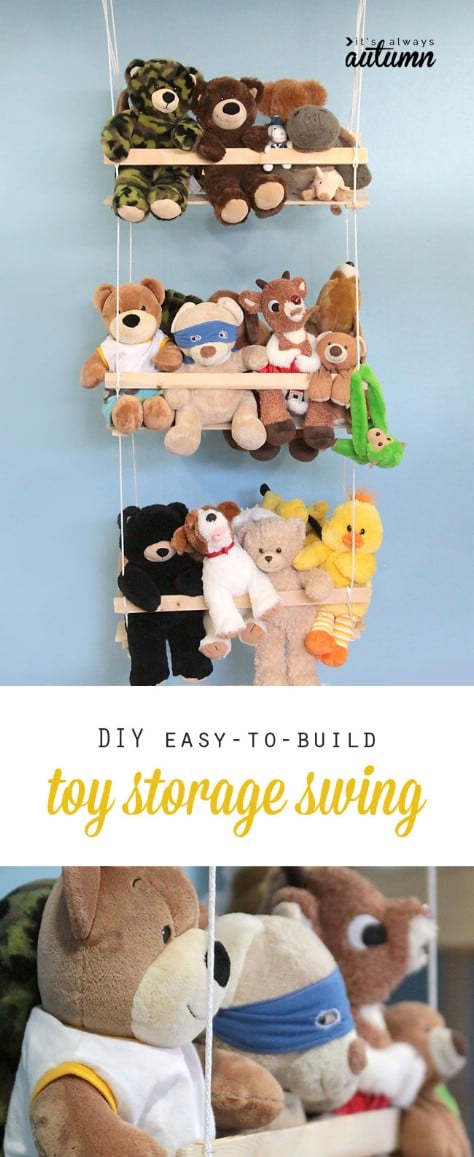 If you want storage in the kids' room to look more attractive and thematic, you can make a swing. Having three levels, it can accommodate most of the larger plush toys.
72. Repurpose an Old Ladder for Additional Toy Storage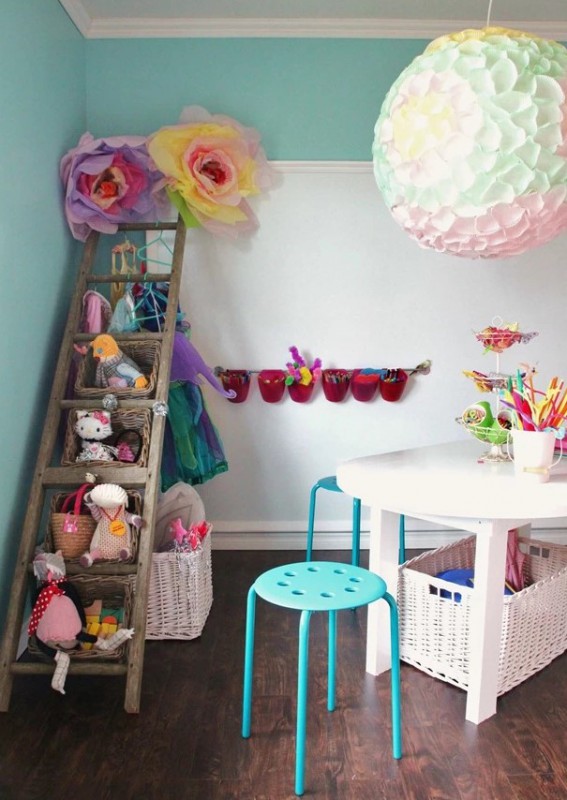 Repurposing an old ladder into an additional storage place is a functional and very appealing solution.
Leaning one against a wall of the kids' room will differentiate a small nook for storage of toys.
via HGTV
73. Keep Your Balls in Place with a Bungee Cord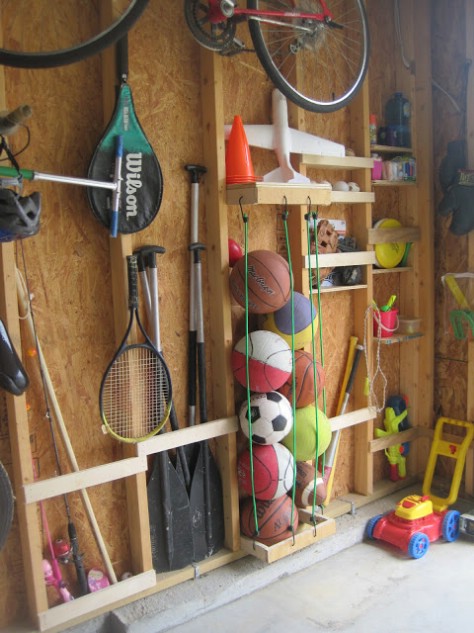 Want to keep the balls in one place? It sounds easy but not if you want them stored vertically!
The thing that will keep them from rolling all around is the bungee cord.
74. Tension Cords for Every Need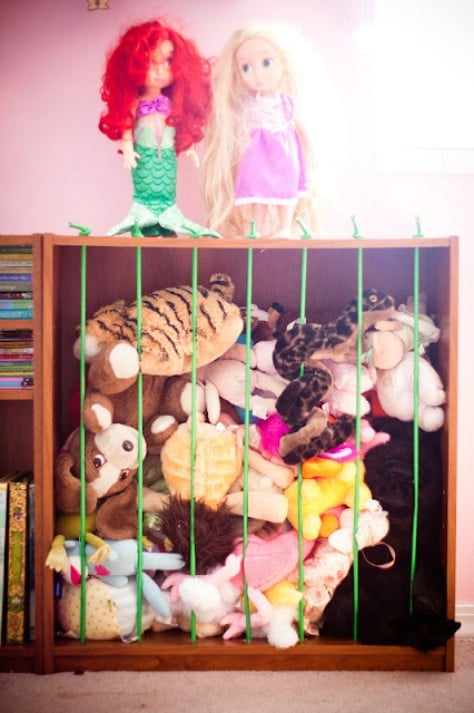 The bungee cords can be used anywhere where the compartment is opened and there is a possibility of the items falling out.
75. Smart Storage Hack for Bath Toys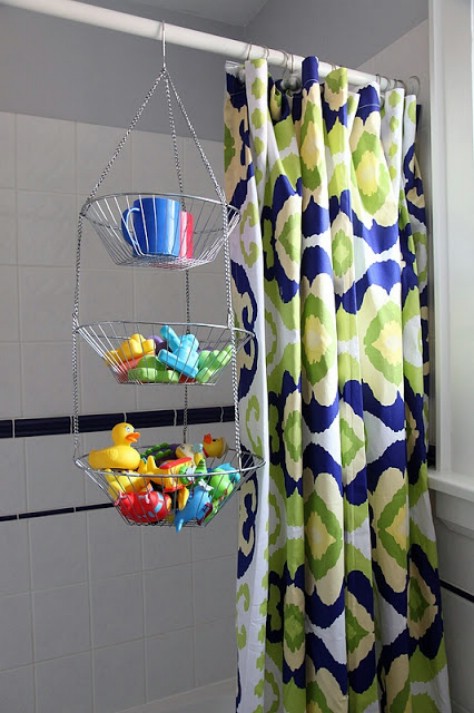 The easiest way to make a small kid like having a bath is to include toys in the whole process.
Drying them each time takes a lot of time, so here is a smart storage hack that will store all of them without taking any of the bathroom floor and will also ensure self-draining and drying.
via 8 Foot Six
76. Maximize Kids' Room Storage with a Suspended Toy Rack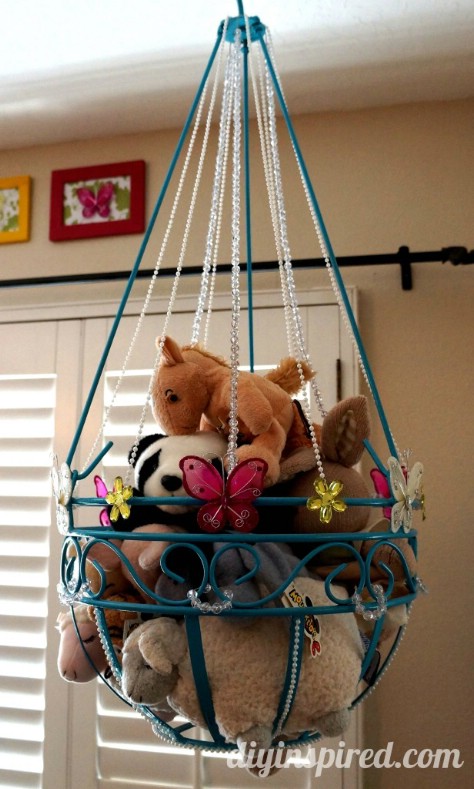 This is a similar idea for a suspended storage place for toys. This time it is used in the kids' room as a way to increase the storage places without taking any of the floor space.
via DIY Inspired
77. Smart and Convenient Storage Solution for Board Games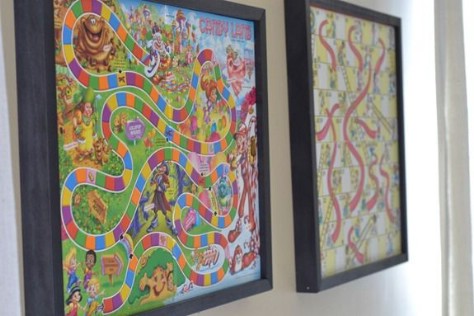 One of the easiest and smartest solutions for storing all of the board game pieces is this one- storage in a plastic bag that is attached to the back of the game board.
78. Keep All of Your Child's Toys in One Place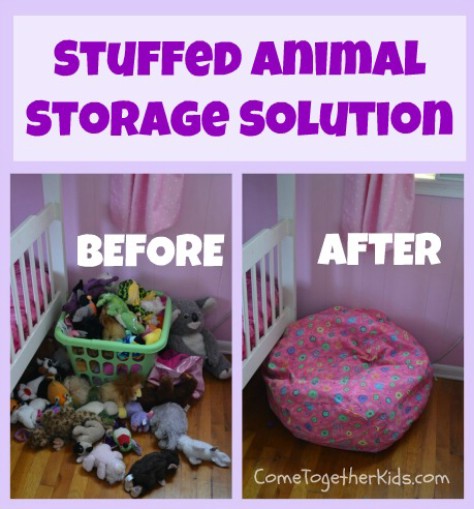 Lift the storage to another level and give it also the functionality. Get a bean bag cover and fill it in with all the plush toys.
79. Optimize Toy Storage with Plastic Boxes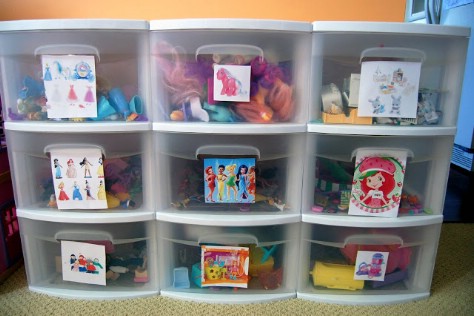 Store the smaller toys in plastic boxes. Their design allows stacking vertically which is an optimized storage solution.
Mark each box with a picture to let the kids easily understand what has to be put in there.
80. Transform Toy Containers into Educational Fun!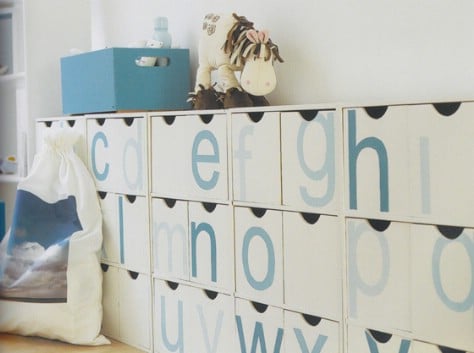 Use the front of the toys containers as a learning board. Write all letters and numbers and use the game method to let them study the signs.
via Project Nursery
81. Make Road Trips More Fun for Kids with Toy Storage Solutions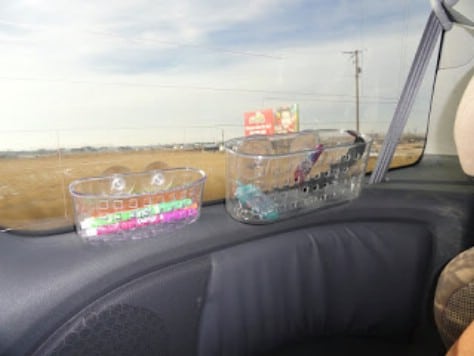 Make traveling with kids more pleasant by organizing the toys in containers at close reach.
Attach to the window shower cubbies with suction cups and put all the stuff your kid will want to play with during the trip there.
via Moser Moments
82. Showcase Your Kids' Art with Clipboard Wall Displays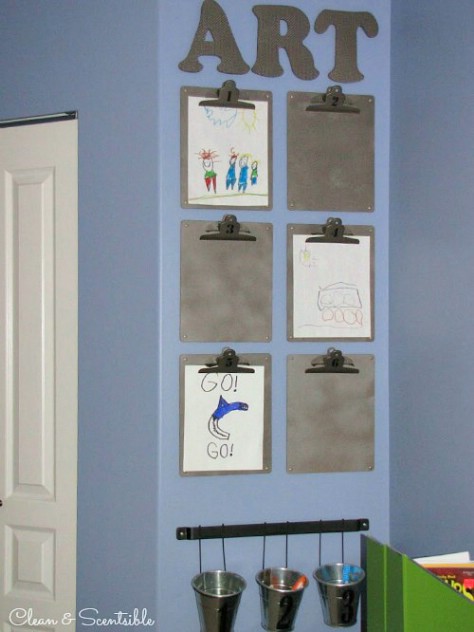 Dedicating a special place for your kid's art is very cute, however, it is always not enough. We have found a great idea!
Make a display with clipboards that will let you regularly change the displayed arts of your kids.
83. Maximize Garage Space with Styrofoam Board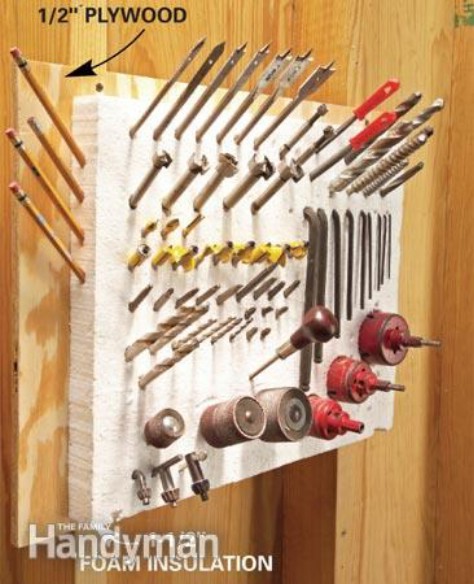 Are your bits and tool pieces organized? If not, here is a smart idea that will put them all in one place and will give you visibility and easy access to them.
Glue a styrofoam board onto a plywood piece and then attach it to the garage wall.
via Family Handyman
84. Easily Store Paint Swatches with a Screw Hook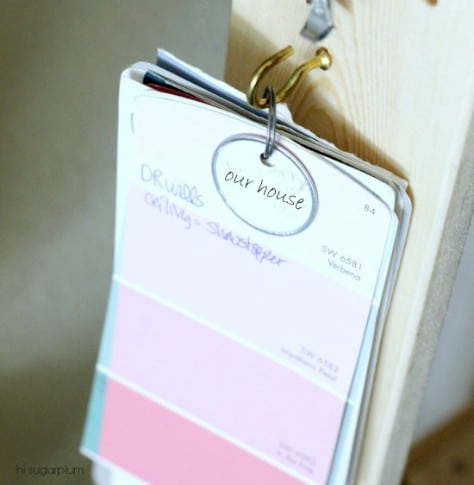 If you want to save the paint swatches that have been used for your home, here is a space-saving and easy idea to do that.
Mount a screw hook somewhere and insert the paints swatches on a key ring.
via Hi Sugarplum
85. Transform Cans into Creative Home Storage Solutions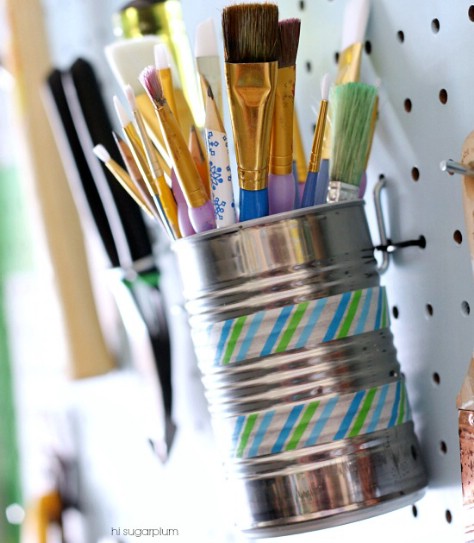 The tin cans are a supply of various crafts that help with the home organization.
You can paint them, decoupage them or decorate them with washi tape to let them fit into the existing interior.
via Hi Sugarplum
86. Wall-Mounted Belt Rack for Wrenches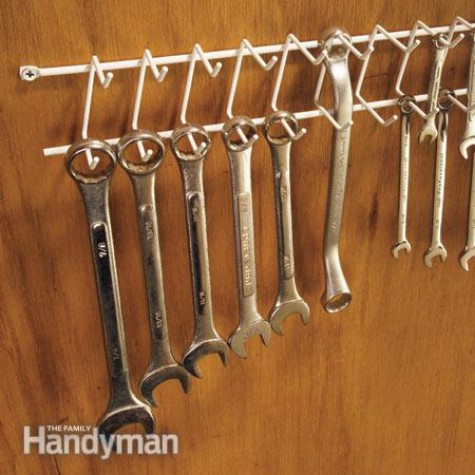 Attach a belt rack to a wall in the garage and hang the wrenches on it. It is a very affordable and easy way to organize the tools.
via Family Handyman
87.  Hold Items in an Eye-Catching Way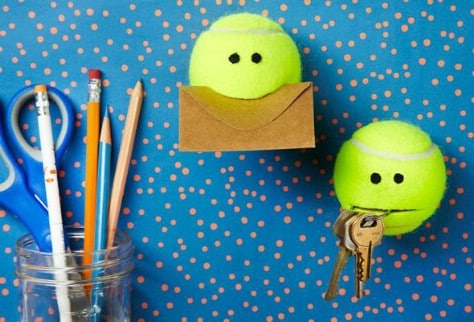 Such a cute storage idea is the best way to make your kid become more organized.
Make a slot in the tennis balls that will imitate a mouth and will actually hold the items. You can either paint the eyes with a marker or sharpie or glue felt dots instead.
via PG Good Everyday