50 Smart Dollar Store Organization and Storage Ideas To Help You Keep Everything In Place
The organized space doesn't only look well, it relieves the stress and makes the space look bigger.
There are a lot of ways and products meant to help us keep our homes neat and tidy but some of them could cost us quite a lot of money and time.
Organization doesn't have to be expensive to be effective or good looking. On the contrary, the local Dollar Store could be your savior because of the endless list of products that can be repurposed to bring the order in the mess.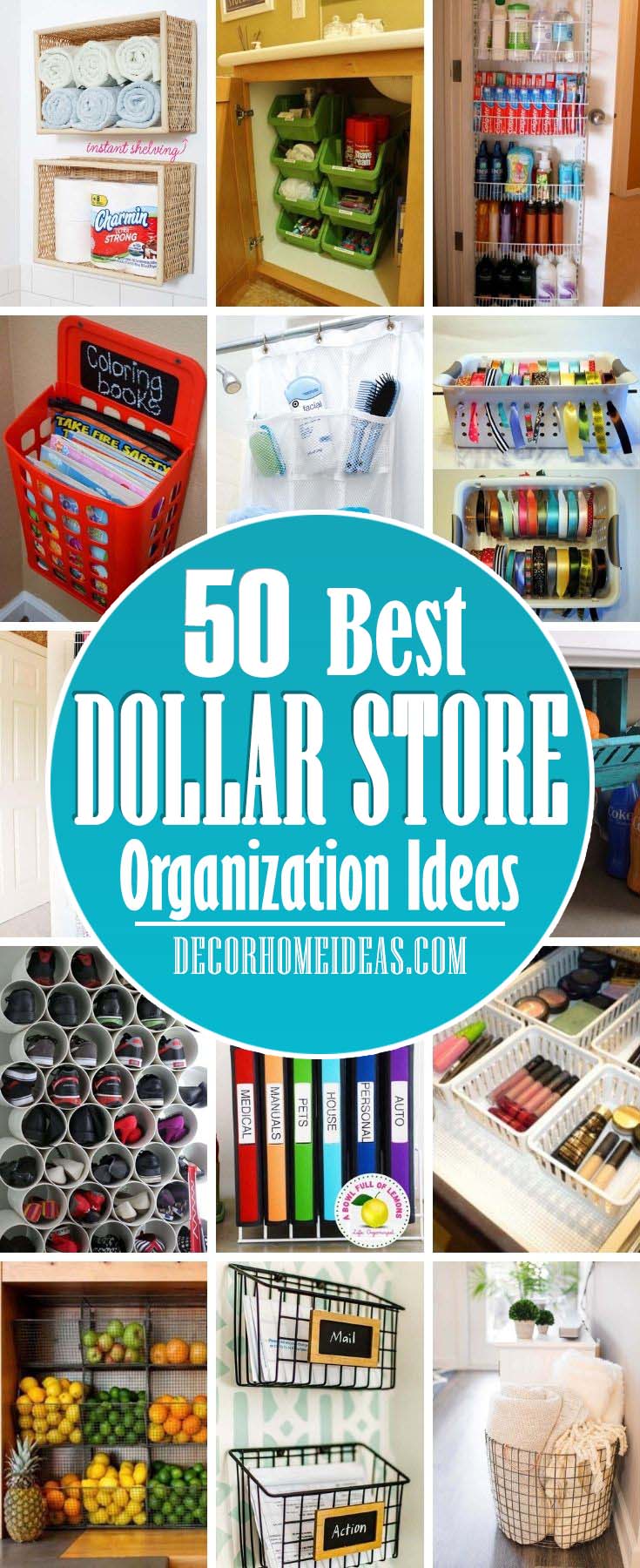 Don't forget to PIN this image for quick access to all these ideas!
From the bathroom, through the kitchen and the living room, you would be surprised to find out how many opportunities the Dollar Store products can give you to make your oasis more organized…And most of them will cost you less than $10.
Adorable Candy Jar Craft Shelf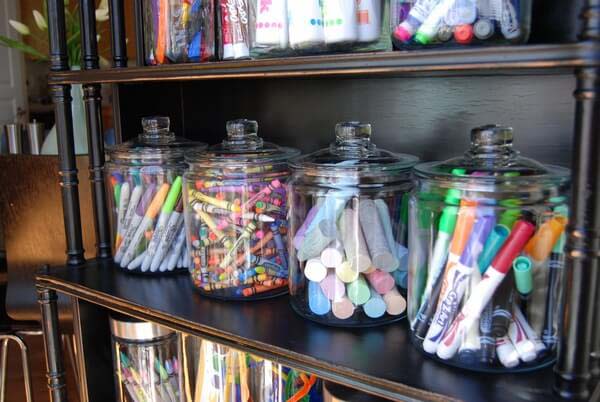 Have you changed the places of the painting supplies 100 0000 times looking for a way to make them more organized and trying to define them per type?
Well, the candy jars are what you need- they are large, transparent, charming and the perfect painting supply organizer!
via Raising Lemons
Adult Goals Important Paperwork Station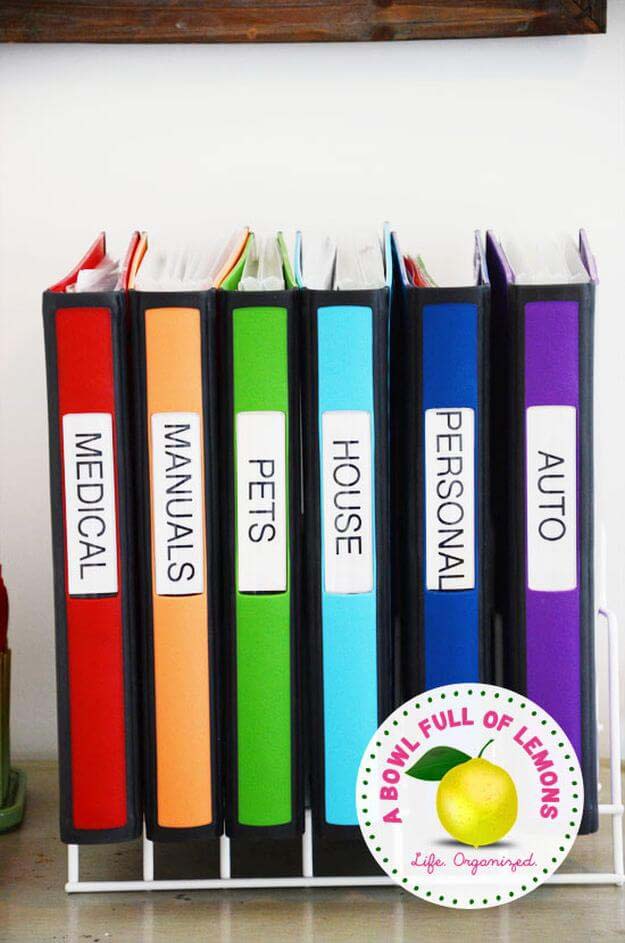 Use a dish organizer for your binders. You will be surprised how easily they slide in and out.
All Your Muffin Tins in One Basket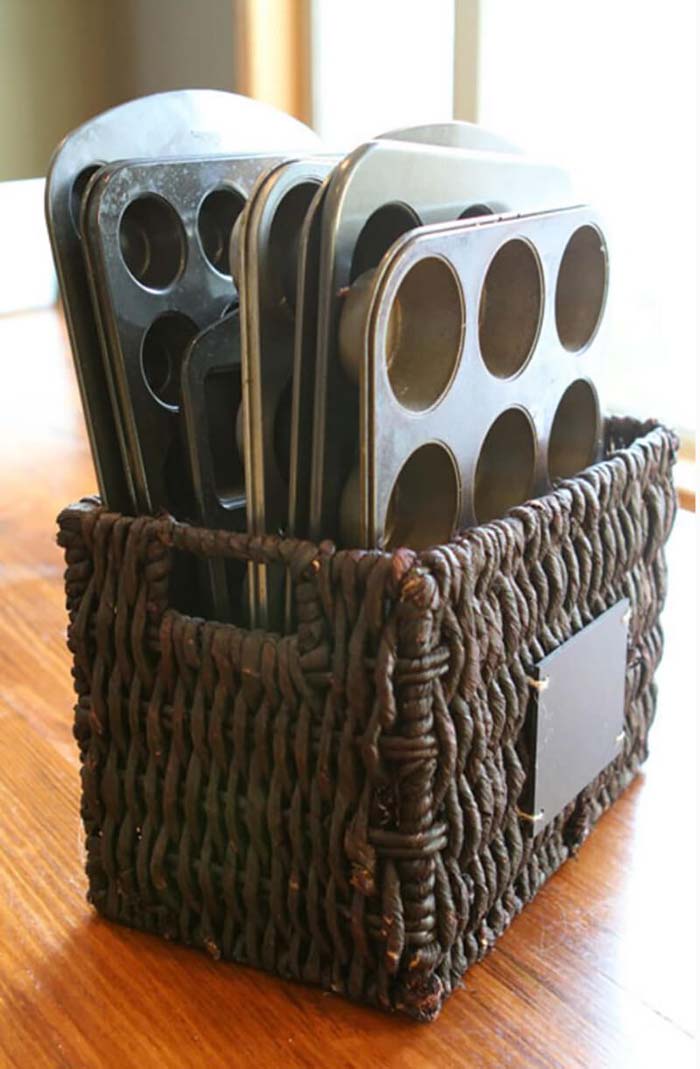 If you like baking, then you must have the full collection of muffin tins. Since the moulds are of different diameter, they cannot fit tightly into each other.
Want to find a way to keep them more organized? A wicker basket from the Dollar Store is all you need to store 6 tins.
via I Am Baker
Aluminum Foil and Cling Wrap Holder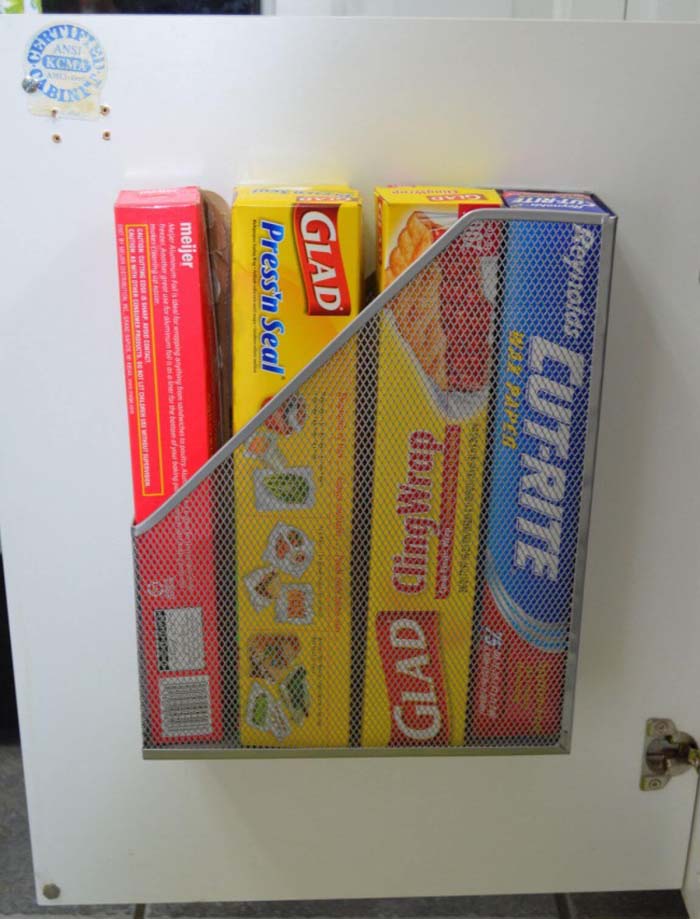 The magazine organizer can easily be repurposed and used as a kitchen helper.
Glue or screw it to a cabinet door and store neatly the aluminum foil and cling wrap boxes.
Baskets and Labels Dollar Store Organization Ideas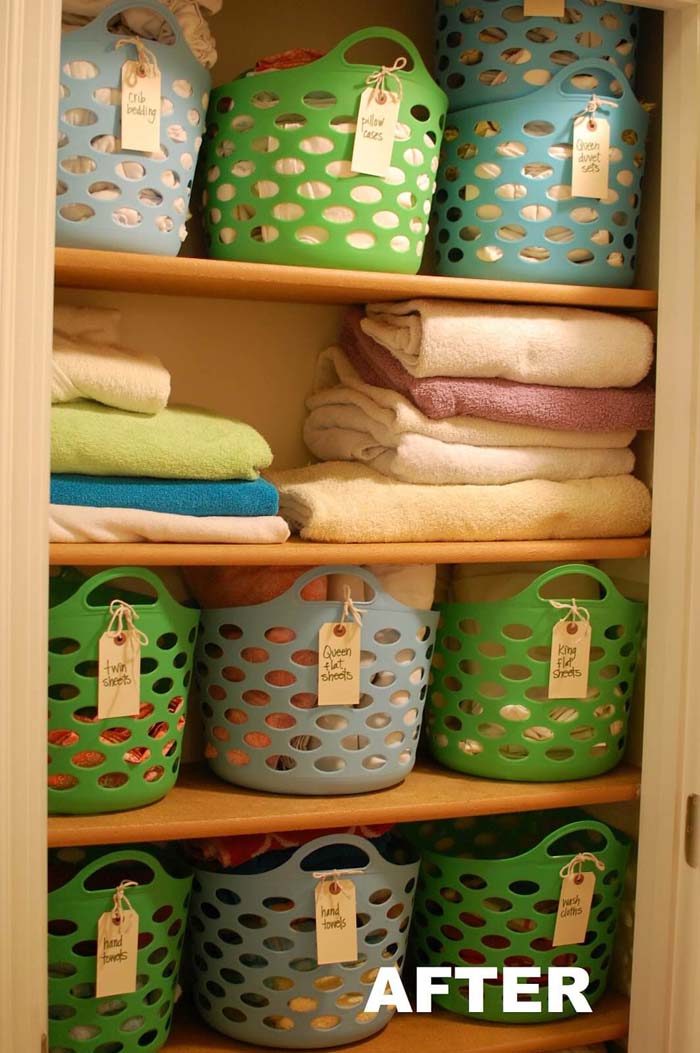 Dollar Stores sell baskets in various sizes, shapes and colors so you can easily find what works for the space you want to make more organized.
If you want to take organization to another level, add labels to mark what should be stored in each.
By the Door Mail Baskets

Do you want to sort your mail? You can do it in cheap and very trendy way with the wire baskets from the local Dollar Store.
They usually come in white but if you prefer another color, spray paint them. Add labels or chalkboard frames to mark their intend.
Clean and Collected Cutting Board Organizer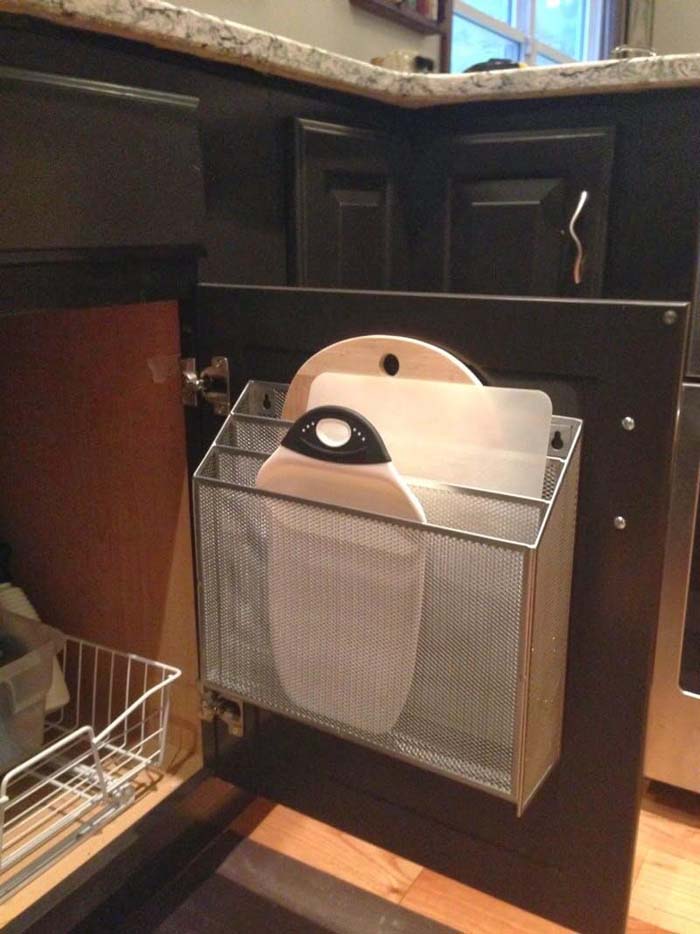 The magazines sorter comes in help in kitchen.
Attached to the internal surface of a cabinet door can be a place for storage of cutting boards, trays and similar larger utensils that will otherwise be piled up on the countertop.
Concentric Vertical Pan Stacking Rack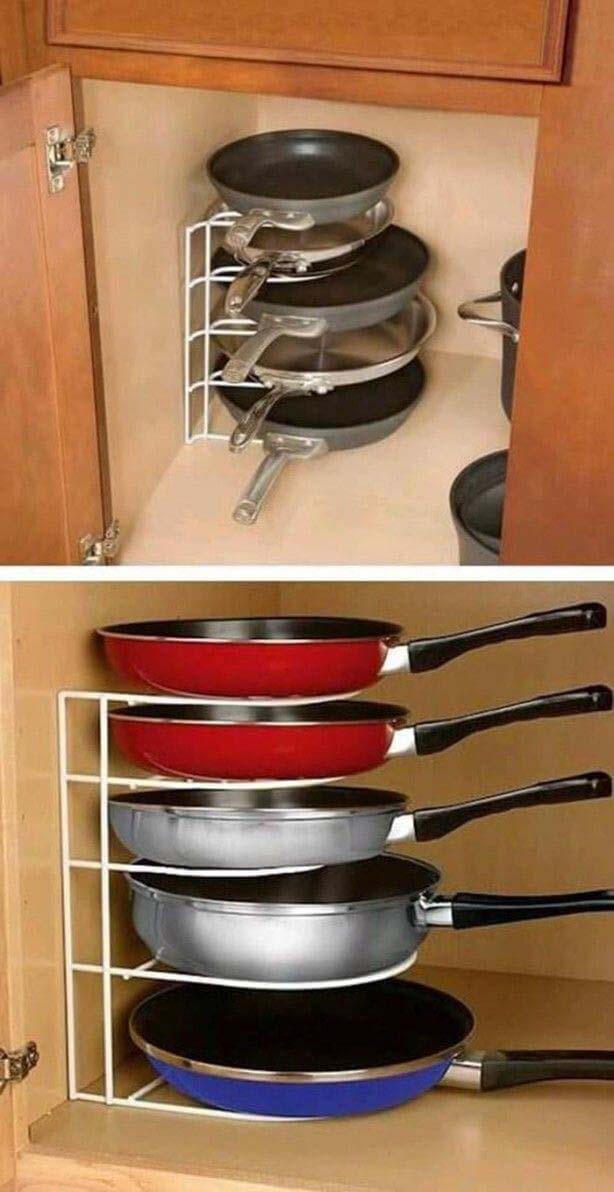 Use a dish or bathroom rack to store your frying pans. Fix it to the internal surface of a cabinet to make sure that it remains rigid after stacking the heavy pans.
This clever organization hack will help you protect the surface of the metal from scratching and damaging.
via Amazon
Cool PVC Pipe Styling Tool Tree

Use PVC pipes to store safely your hair dryer and strengthener.
Transform the dull plastic finish into glamorous with spray paint and sparkling dust.
via Remi Ashten
DIY Tubside Bath Toy Organizer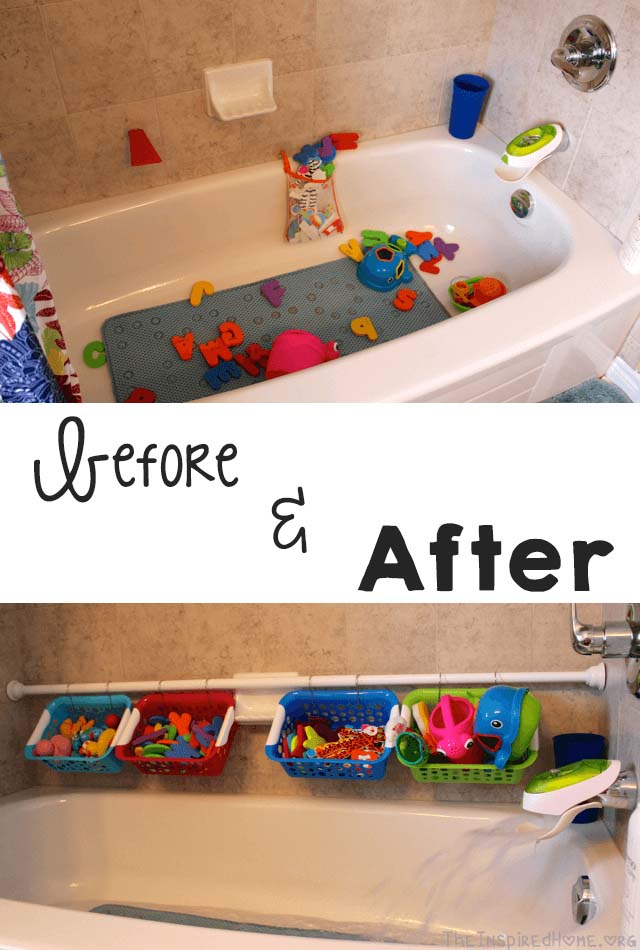 This idea will help you organize the bathroom toys without taking up and of the floor space.
On the contrary, they will all be stored at one-hand distance which will ensure safer and funnier time spent in the tub.
DIY Wall-Mounted Trash Bag Rollers

Those of you who want to organize even the trash bags so that they are easy to find and easy to reach, try this simple and quick DIY roject.
The supplies you need are a wooden dowel, curtain rod brackets and hardware to fix it to the cabinet wall.
via Simply Organized
Dollar Store Organization Ideas for Makeup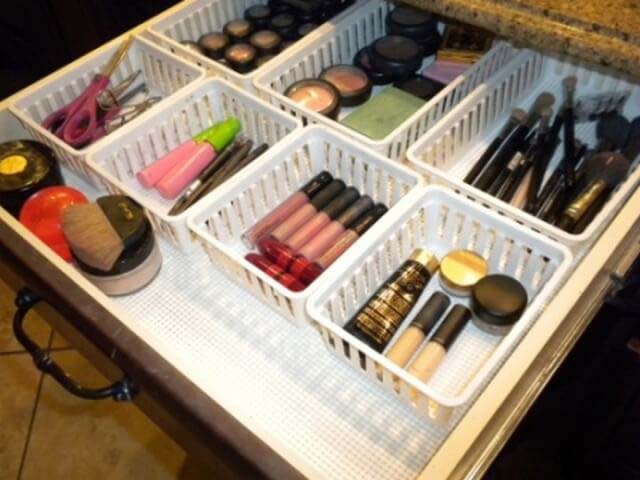 Instead of spending time finding your mascara, make the drawer of your vanity more organized with plastic baskets.
By sorting the products in each one, you will quickly spot what you are looking for and will store them properly.
Easy Canned Good Pyramid Dispenser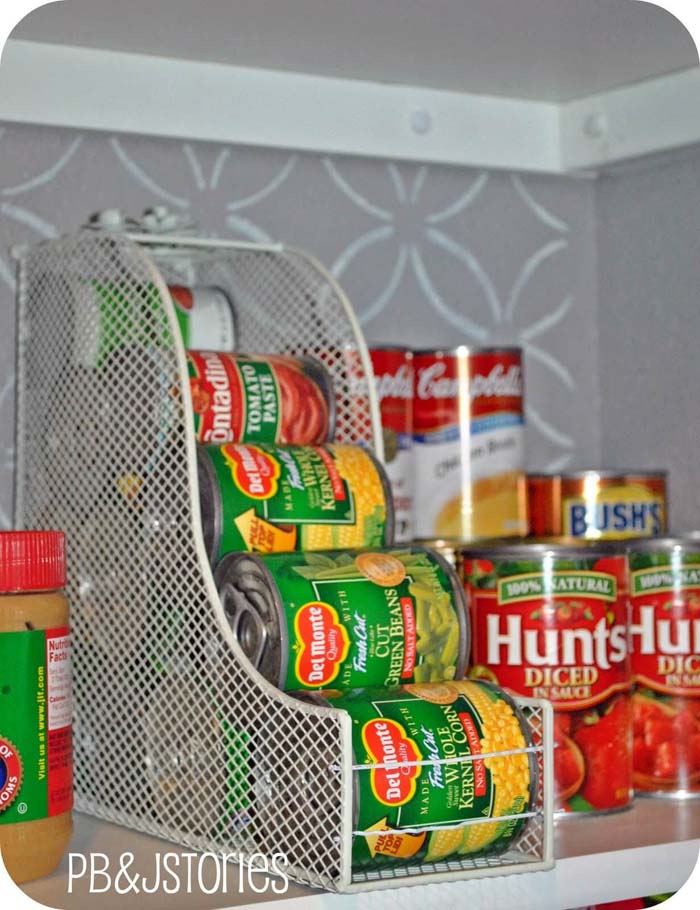 The magazine holders find another application- as a space-saving can organizer in the pantry. It will cover a small space from the pantry shelf but will ensure the stacking of the cans vertically.
via PBJ Stories
Easy One Hanger Scarf Rack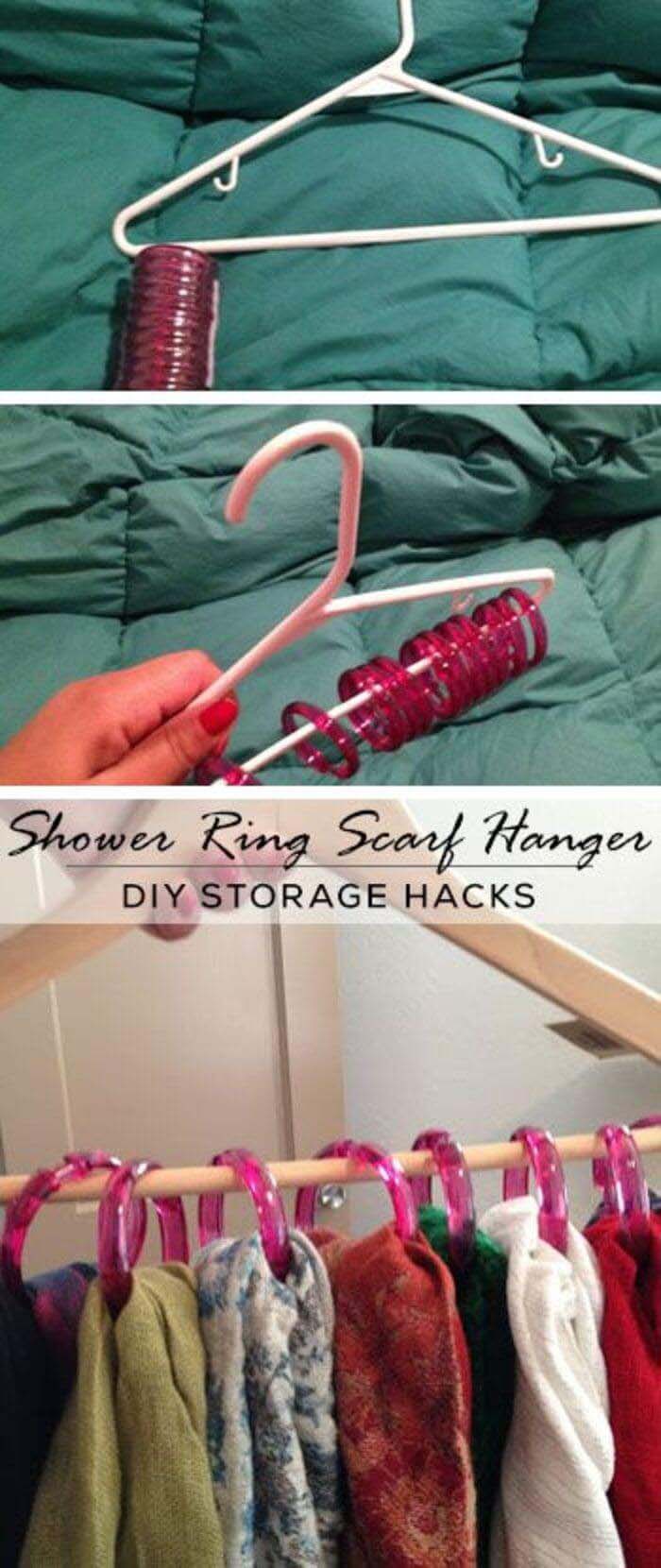 A shower ring set and a wooden hanger will let you organize your scarves in a neat and space saving way.
To keep the rings from sliding, put clothespins between them.
via From The Desk
Extra Bathroom Space for Extreme Couponers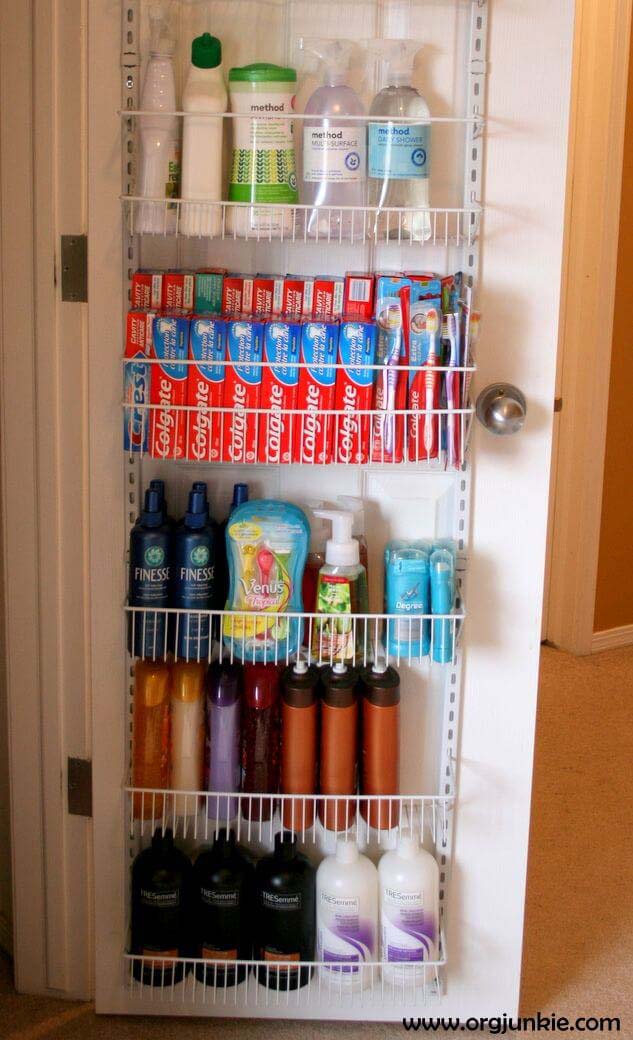 A wire over-the-door organizer is all you need to increase the storage places in every room of your home.
It is narrow, with adjustable shelves and easy to install.
Falling Tiers Accessory Tree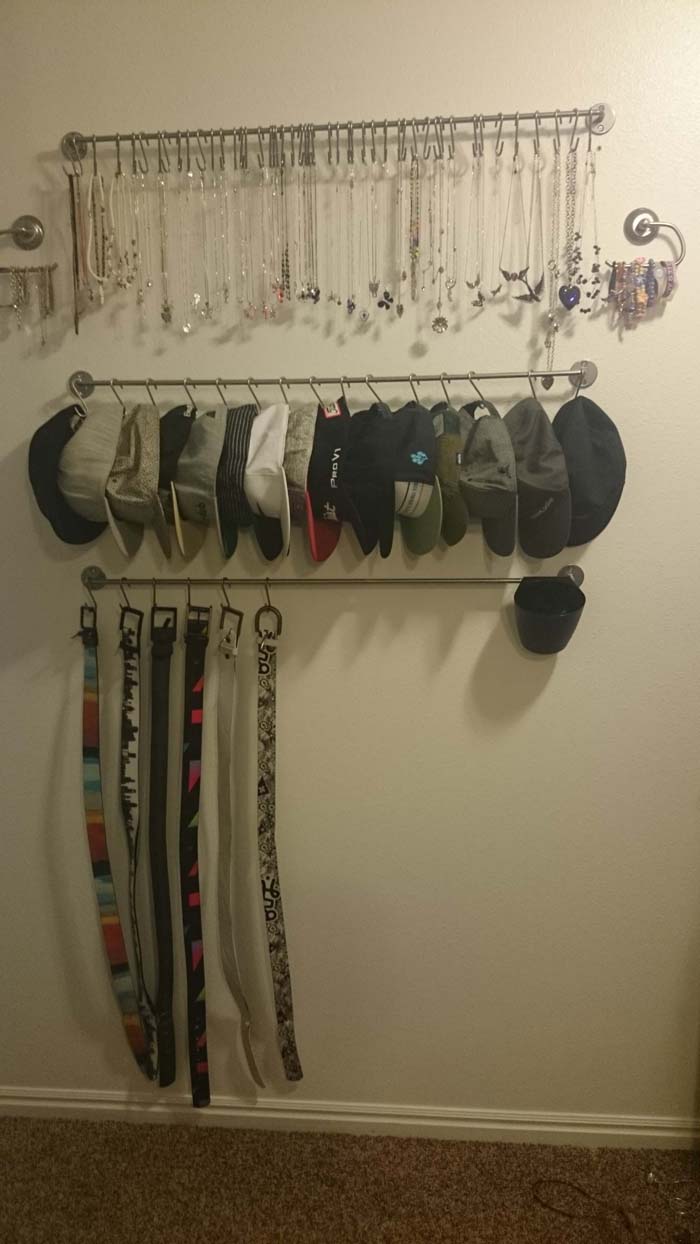 This simple idea to organize your jewelry, hats, belts and other accessories is space-friendly as it utilizes the space of the bedroom vertically.
Use S-hooks to attach each item separately and easily take it off.
Fun Wall-Mounted Coloring Book Corral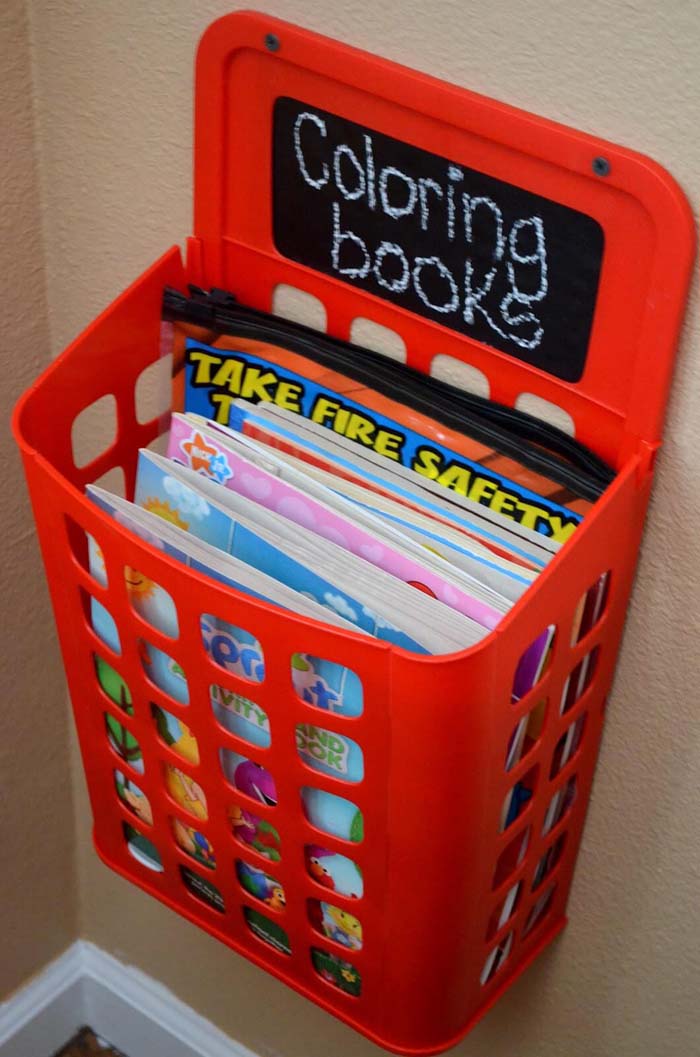 Can't stand toys and books spread everywhere in your home? Organize them with a repurposed garbage can.
Use a piece of a chalkboard or chalkboard foil to mark its use.
Garden-Inspired Wrought Iron Fruit Baskets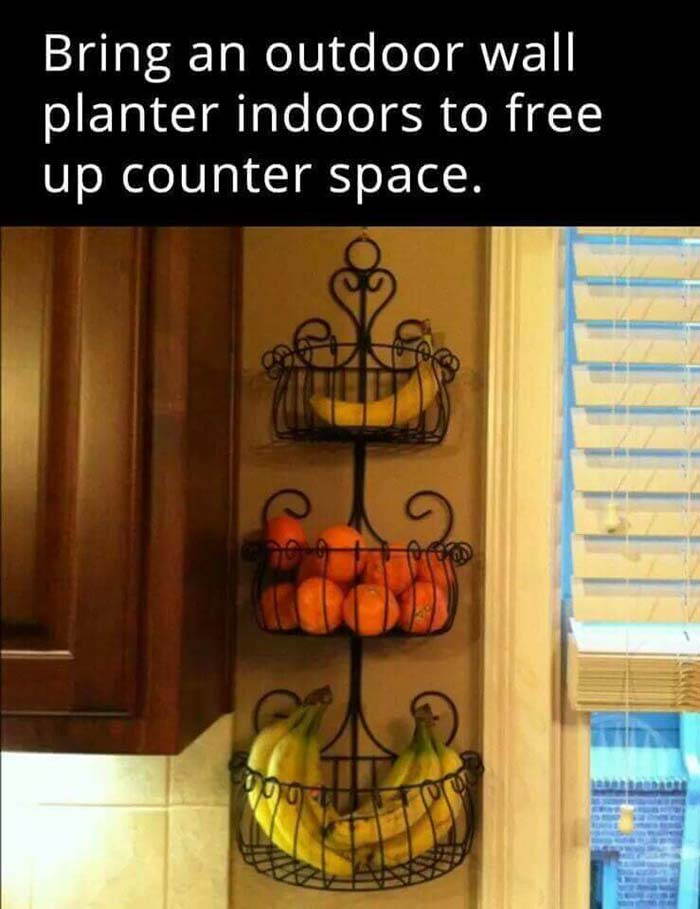 The wire baskets for flower pots are very beatiful and aesthetic and that lets them quickly fit well into the kitchen interior.
Their openings will help prolong the freshness of the fruits and vegetables stored because of the eased air access.
Gift Wrapping Accent Wall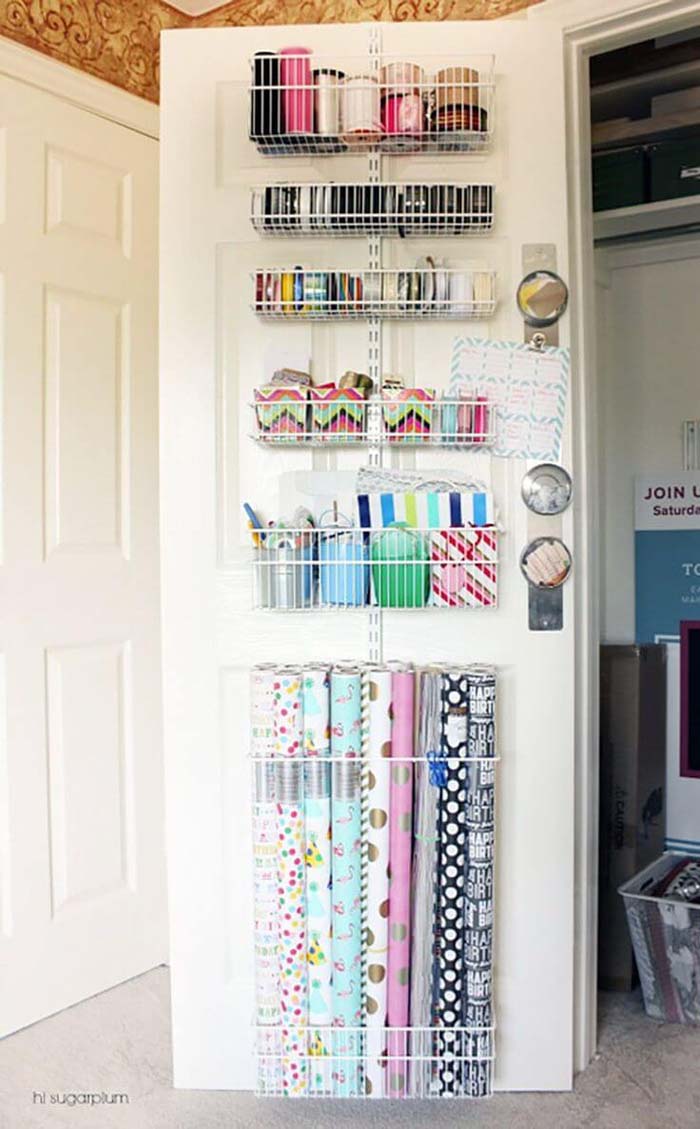 The over-the-door wire rack can increase the storage and organization level in the pantry.
Thanks to the adjustable shelves, you are able to store safely even the high rolls of wrapping paper.
Hanging Kitchen Utensil Hooks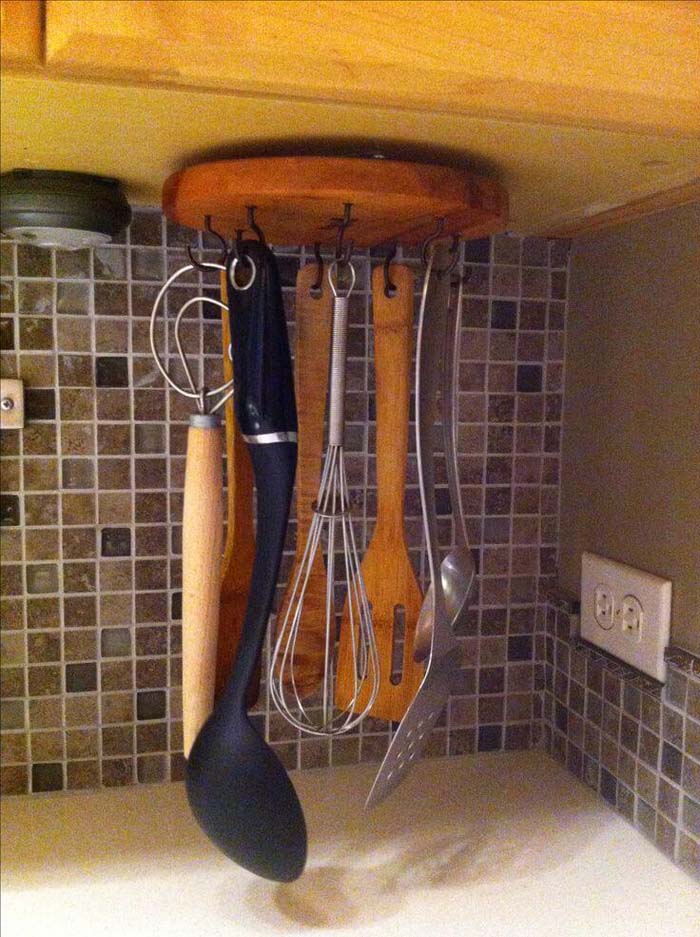 Use command hooks to keep your cooking utencils neat and organized.
Screw them into a wooden pad, fixed to the bottom of the kitchen cabinetry.
High and Dry Fresh Fruit Crate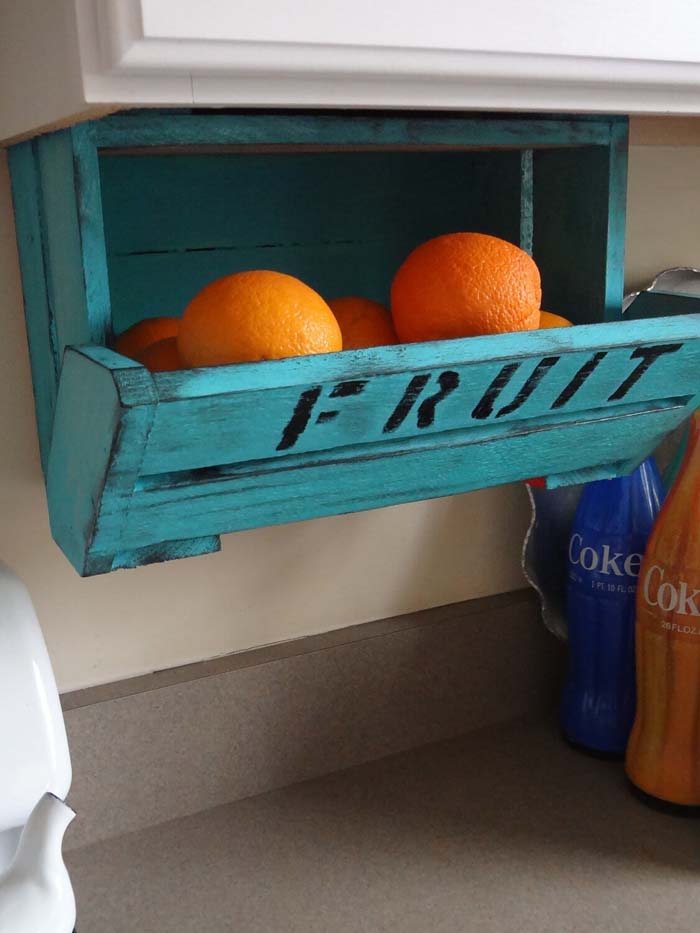 Similar to the wire garden baskets, any open-type container can be used for fresh storage of fruits and vegetables.
In order to save space, fix it right beneath a kitchen cabinet.
via Iowa Girl Eats
High and Dry Power Strip Basket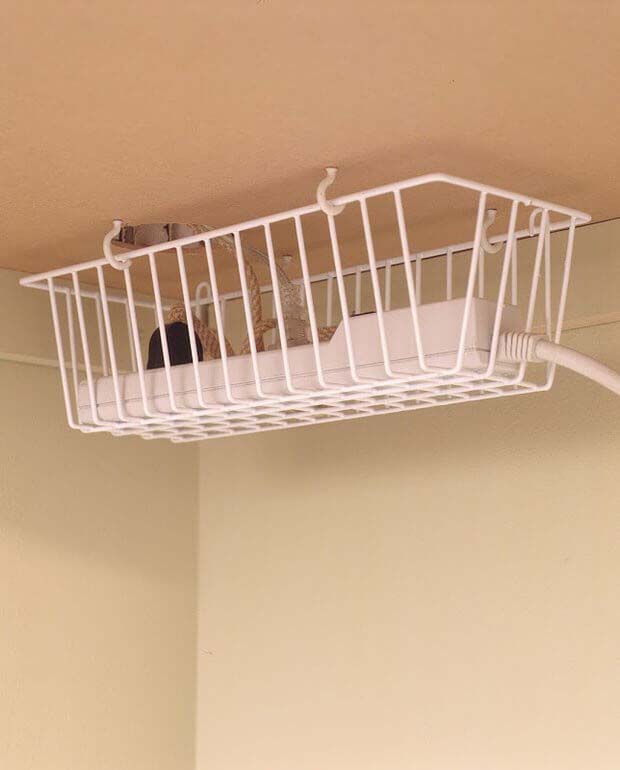 For less than $1 you can keep power strips organized and protected.
A metal basket screwed to the bottom of your desk will keep the power strip both near to you and off the floor.
His and Hers Shower Organizers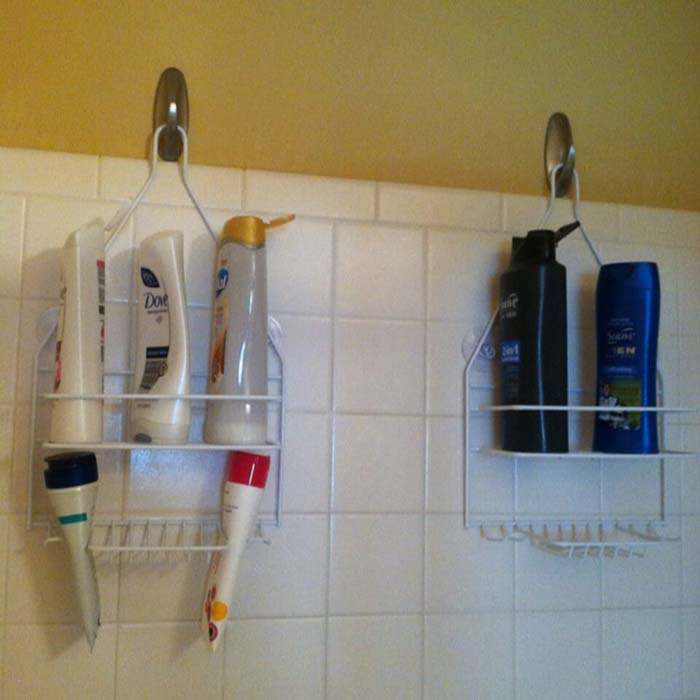 These racks are small but just enough to store separately and neatly the individual cosmetic products in the bathroom.
A Home for All Your Cords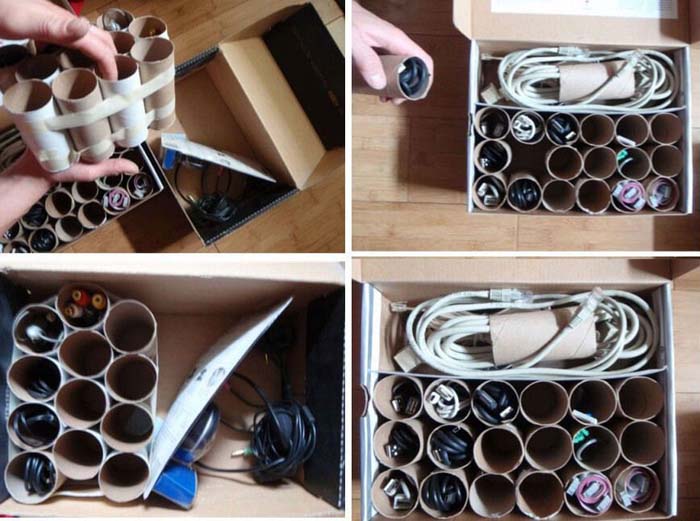 With this idea you will both eco-friendly and organizing guru.
All you need to do is to group a few toilet paper rolls together with tape and then to place them in a paper box. Use each compartment to store a cable.
via A Little Craft In Your Day
Instant Access to Storage and Sandwich Bags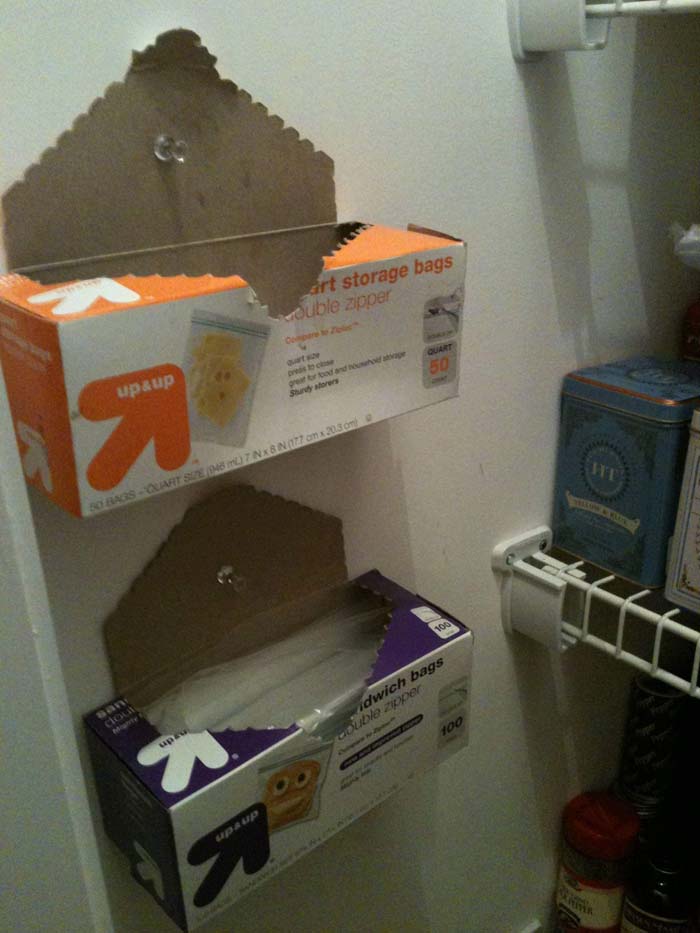 Binding pins could be very useful in the kitchen.
Use them to pin the opening of the carton boxes for sandwich and storage bags to the internal surface of a cabinet door.
Instant in-the-door Broom Closet Idea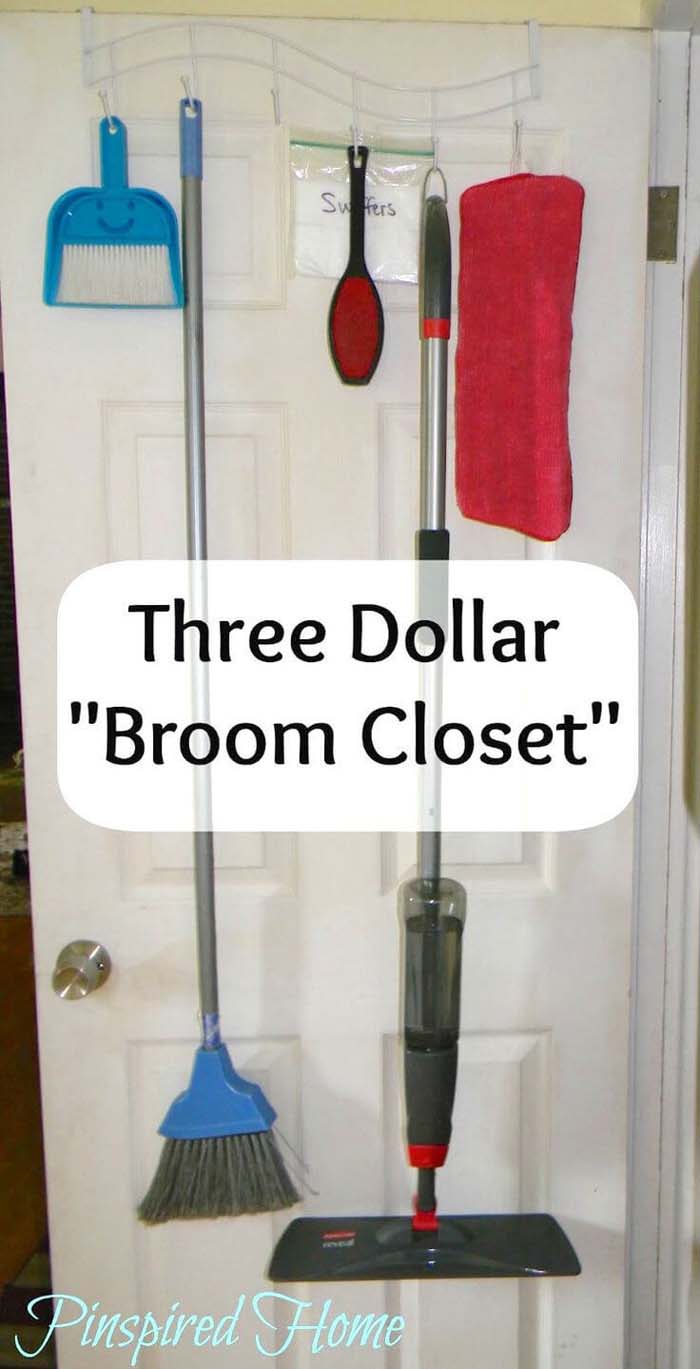 An over-the-door hook rack for $3 will organize your cleaning brooms.
Place it at the inside of a door that will keep them hidden, the basement or the closet door, for example.
via Pinspired Home
Kids Craft and Coloring Bucket Bar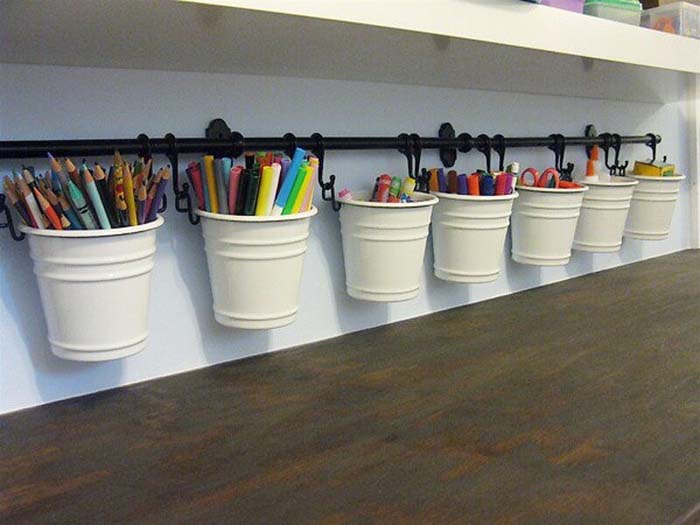 A curtain rod, hooks and charming metal baskets can become a beautiful and organized display of the kids craft supplies.
Laundry Basket Ribbon Dispenser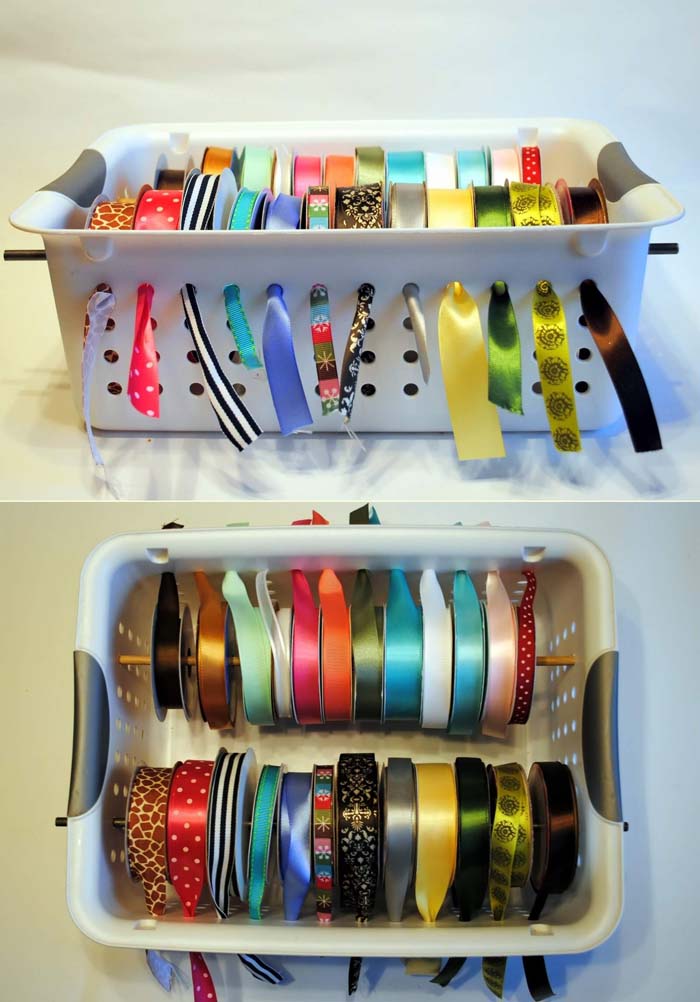 The plastic baskets with holes are a great way to keep those ribbons of yours organized.
Insert a wooden or plastic dowel from one end to the other. Put the spools on the rod and take out the ribbon end through the basket holes.
via Spunky Junky
Lightweight Wire Guest Bedding Tote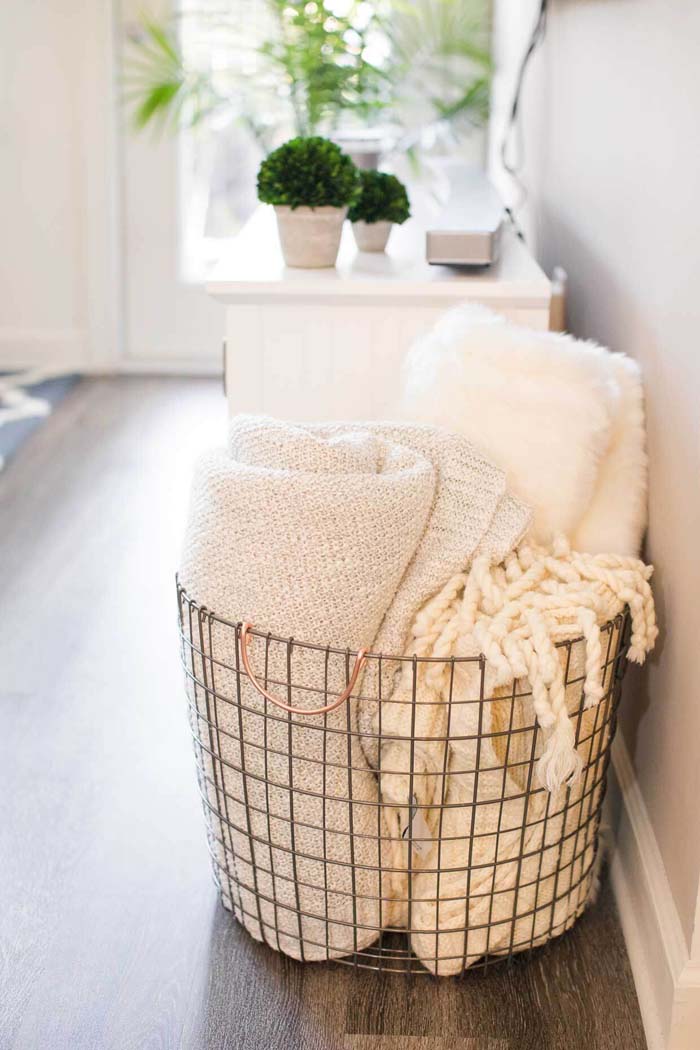 A wire tote is affordable and stylish container that easily finds its place in the living room or in the bedroom.
Use it to store bedding sets, throws and pillows.
via Poor Little Girl
Magnetic Strips for Small Bathroom Tools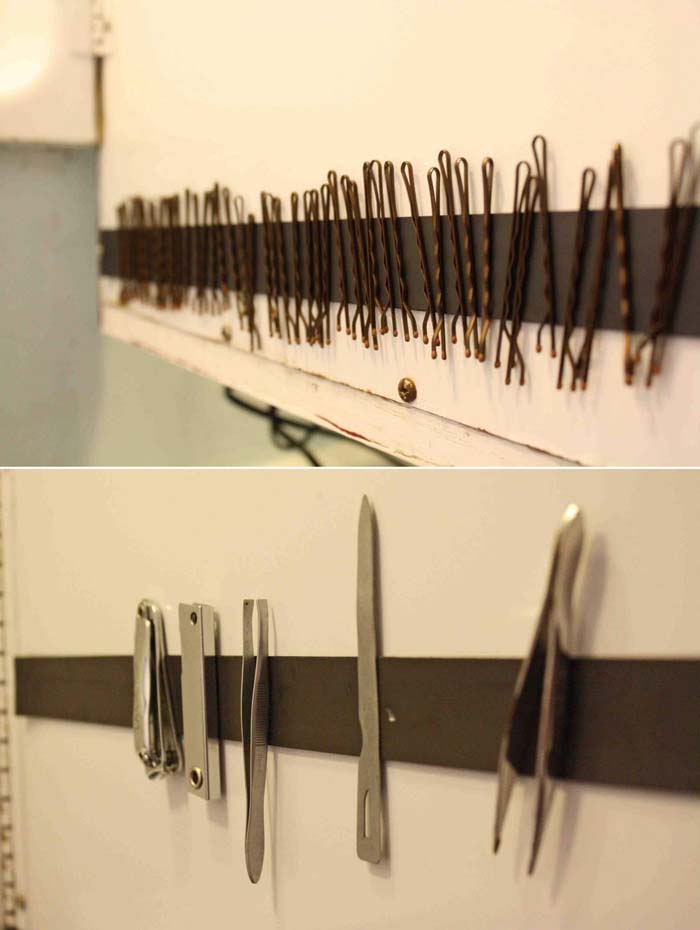 We have seen the magnetic strips as knives organization tool. You can take advantage of their slim and neat look in the bathroom.
They can "attract" all of your hairpins and the manicure set.
via Super Woman
Plastic to Rustic Rope Basket Makeover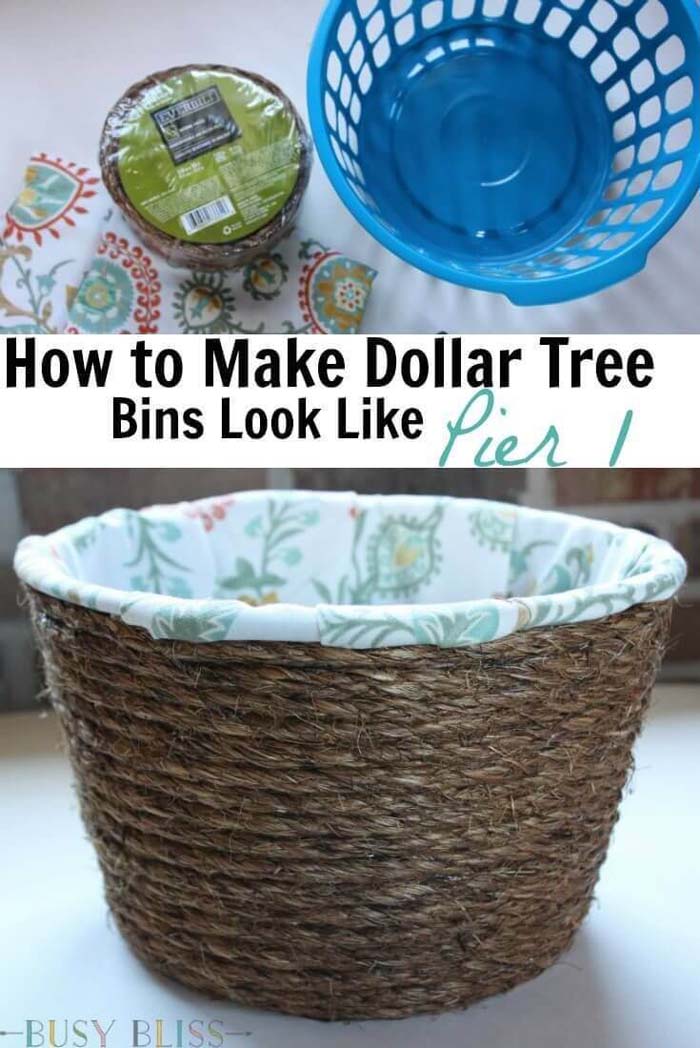 If you are looking for a cheap storage solution but don't like the ordinary and faded look of the containers, you can always do retouches.
The plastic bin becomes a rustic kitchen accent with some fabric, rope and a hot glue gun.
via Busy Bliss
Pool Tube Shoe and Boot Forms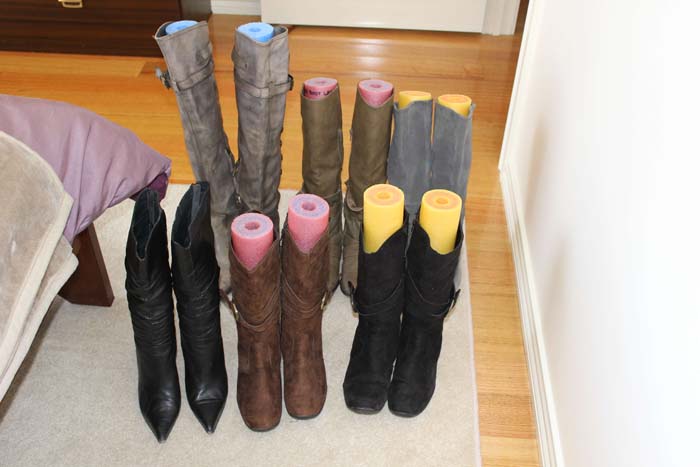 If you don't have a dedicated organizer for boots, then you must seen the consequances from not storing them right.
Luckily, the pool tubes from the Dollar Store are able to save your boots for the next season.
via Angies Lookbook
Pop Art PVC Shoe Tree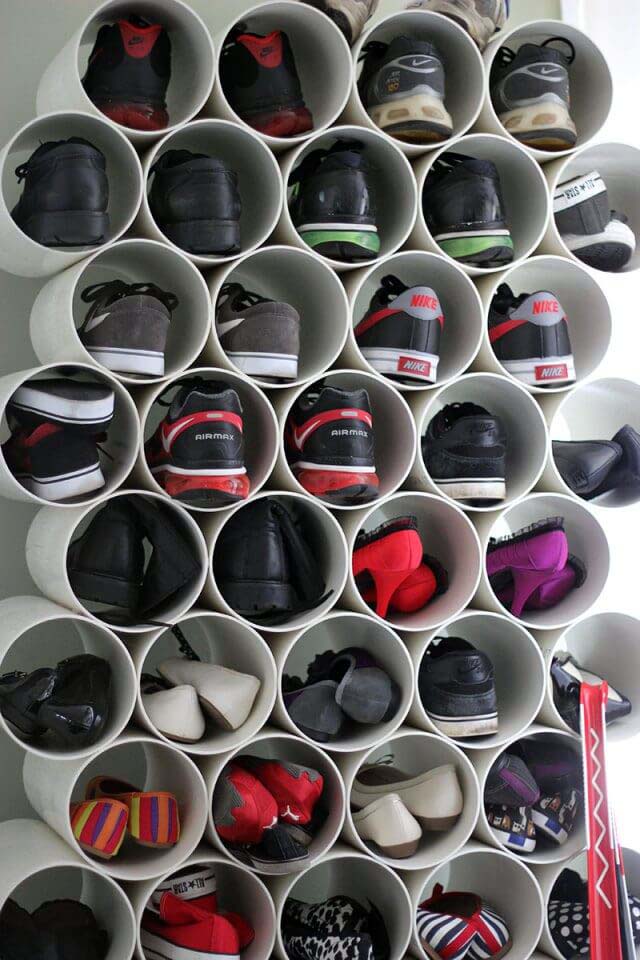 Cut PVC pipes at lengths to fit your shoes. Stack them next to a wall in the closet to increase the storage space.
If you want to give the handmade rack a decorative touch, wrap the pipe in patterned paper or paint in different colors.
via Womans Day
Pretty End-of-Day Face Cleaning Display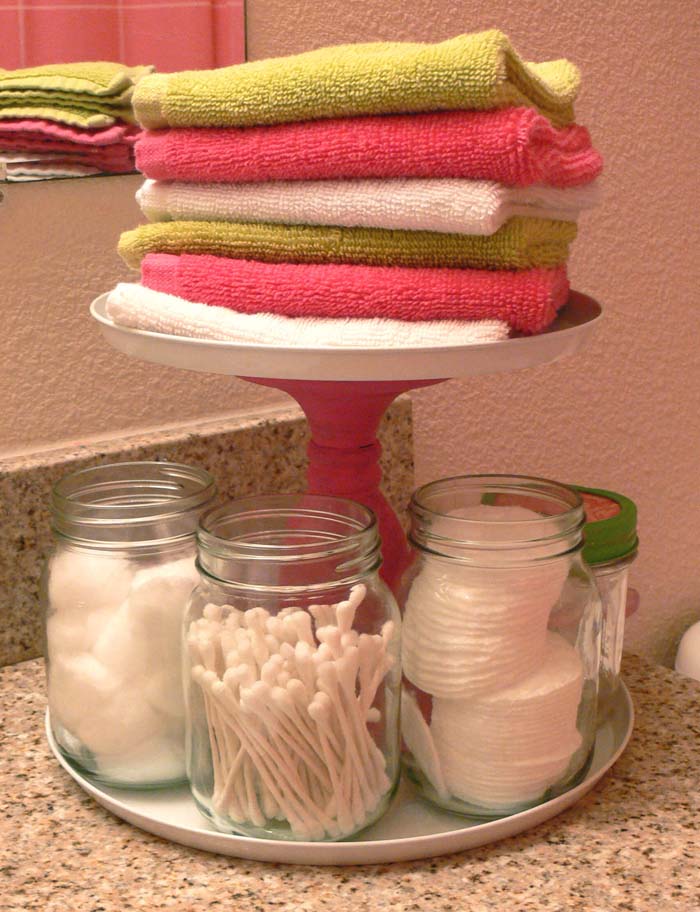 A cake tray and a pedestal make a setting for face cleaning accessories.
For a neater and more hygienic storage, put the cotton buds and the make-up pads in jars.
A Pretty Way to Display Makeup Brushes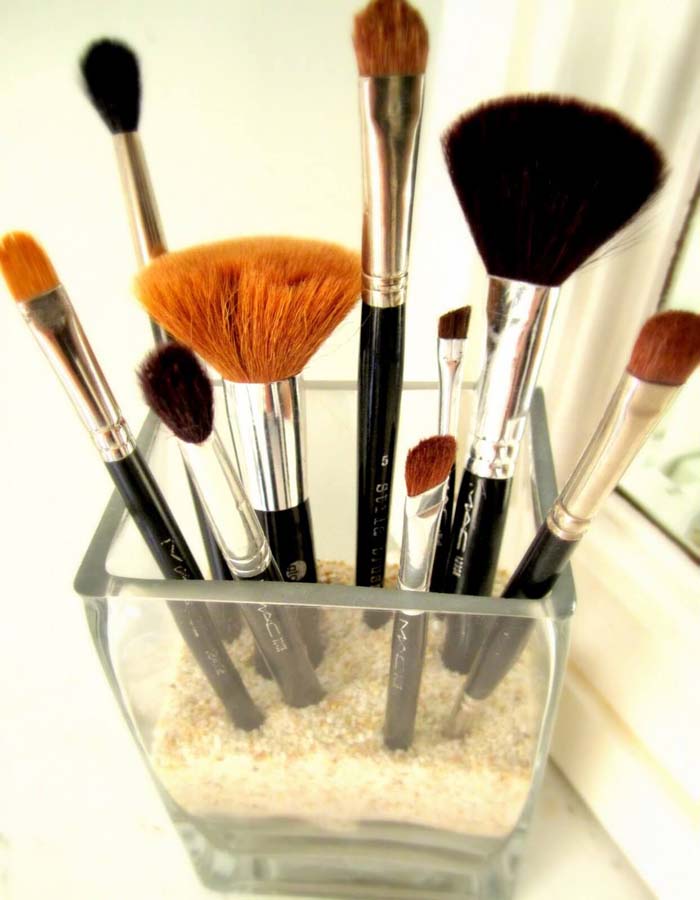 A glass bowl and decorative sand are the only supplies to make a fancy brush holder for your vanity.
A Rainbow of Tanks on One Hanger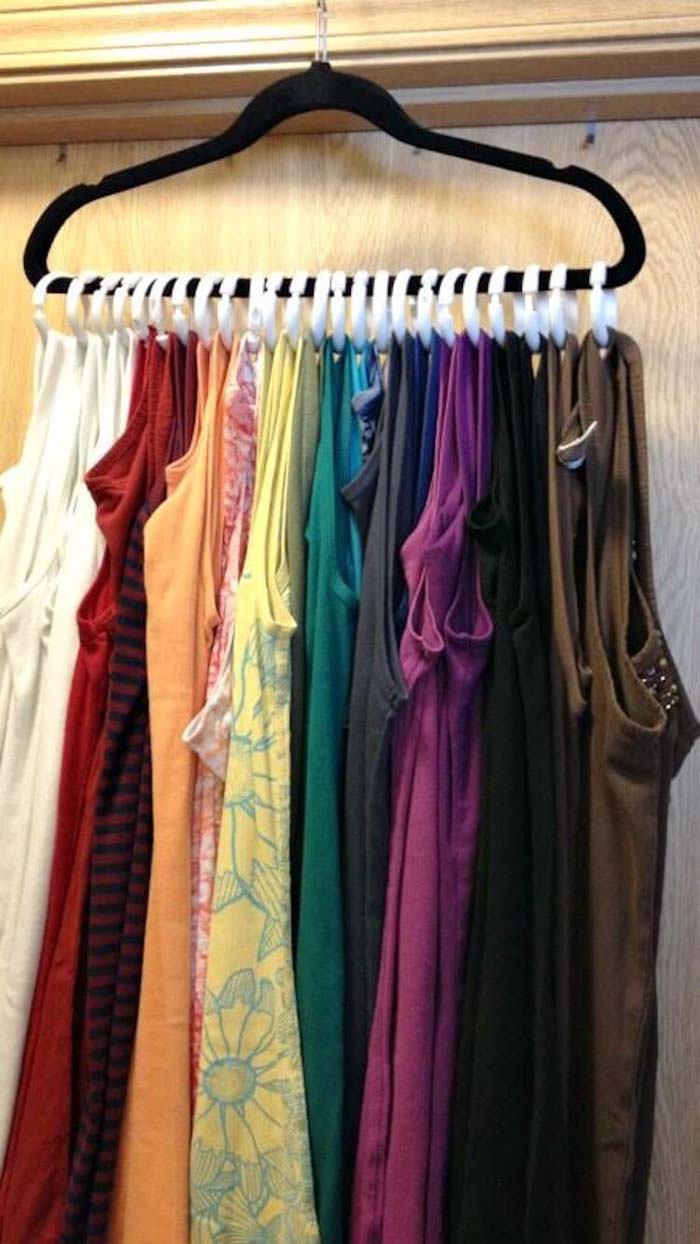 If you want to keep the tank tops neat and free from fold marks, you can hang them all on one hanger.
Do you want to know how? Simply by add curtain hooks to the vertical support of the hanger.
See-Through Linen Closet Caddies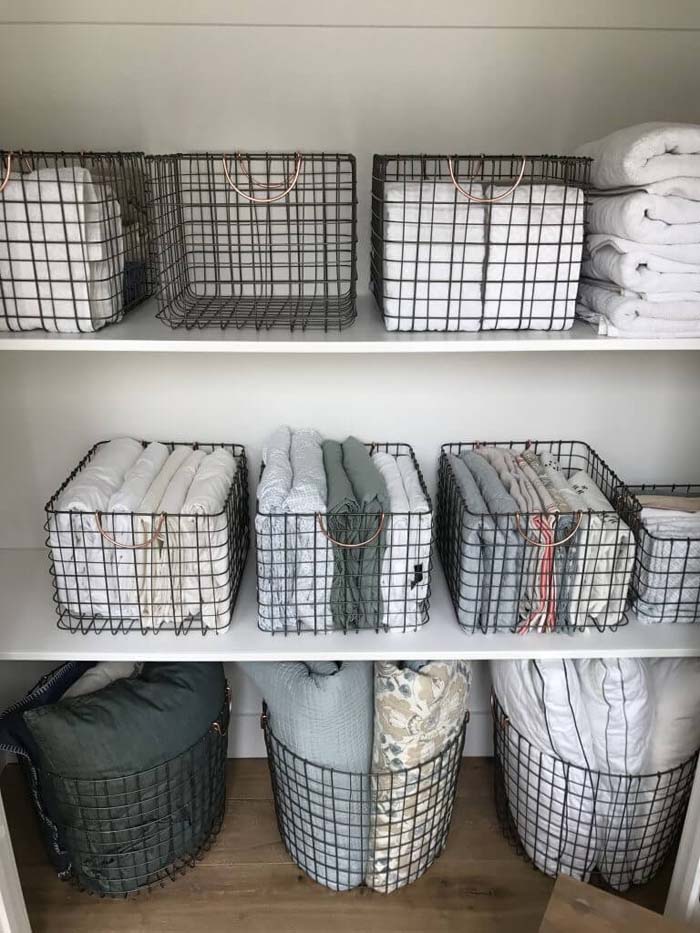 Wire totes are offered in various sizes and shapes. Because of their vintage look, they have become a preferred budget-friendly storage container.
Their opened design is also an advantage as you can see what has been stored in them.
via Simply Organized
Shelf-Free Hanging Shower Tote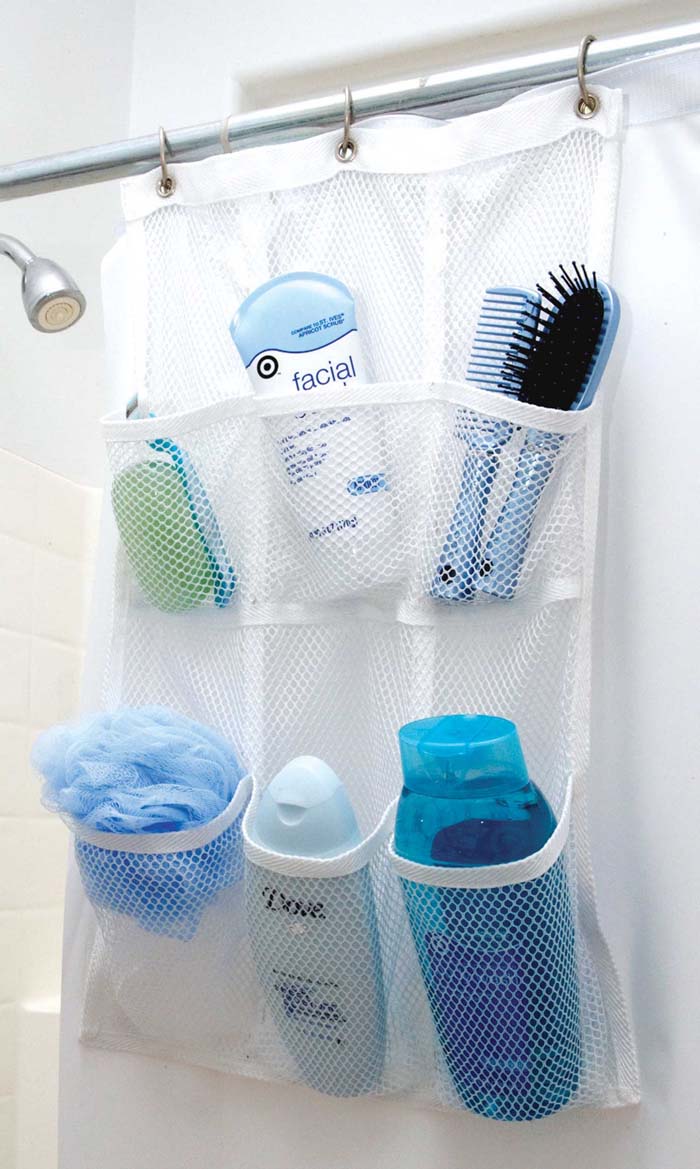 This idea for organization of shower accessories in the bathroom is perfect for small bathrooms where shelves are not an option.
For only $1 you can get a mesh organizer that can be attached to the bathroom curtain hooks.
via Camping World
Store Festive Leftover Cupcake Liners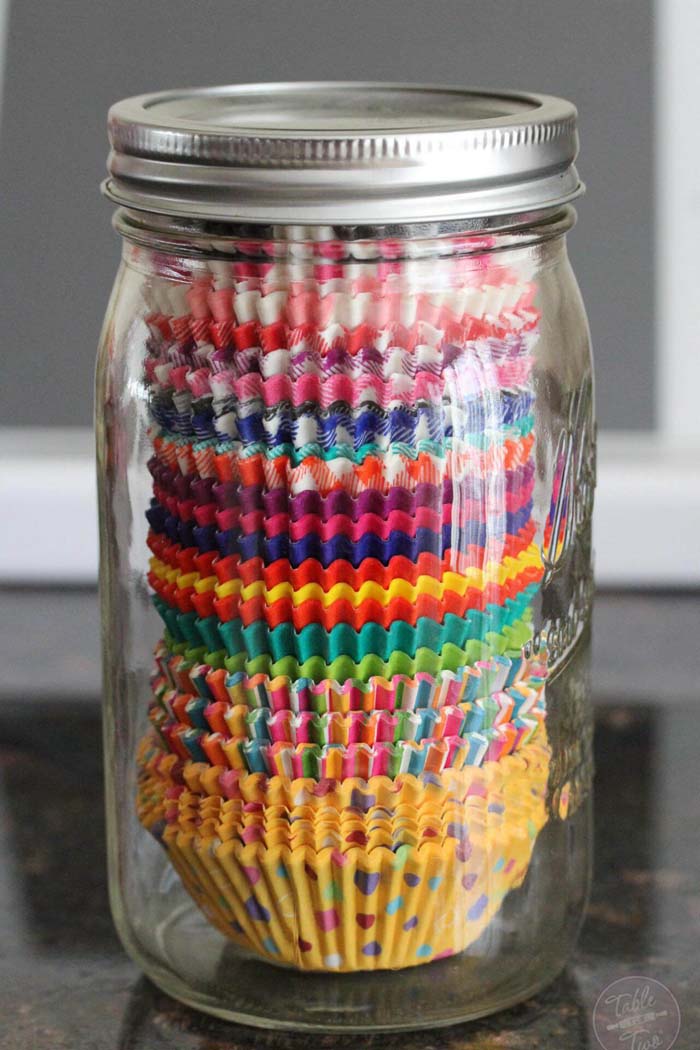 Cupcake liners come in carton packages which are easily torn apart from the beginning.
If you want to save the leftovers from each package, consider placing them in a jar. Apart from well organization, it will ensure good storage conditions.
via Table For Two
Sweet and Tidy Fruit Juicing Station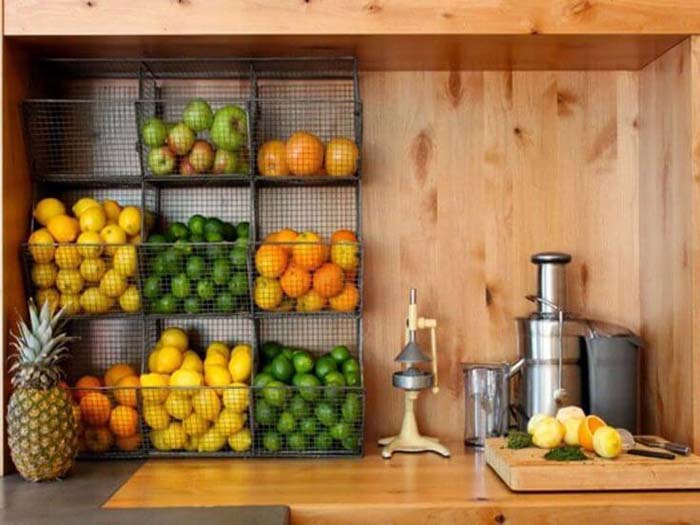 If you have a niche in the kitchen, you can utilize it with wire hanging baskets. They look very cute as if taken from a fresh juice market.
Because of the air easily accessing, the veggies and fruits will remain fresher longer time.
Transparent Lip Product Pyramid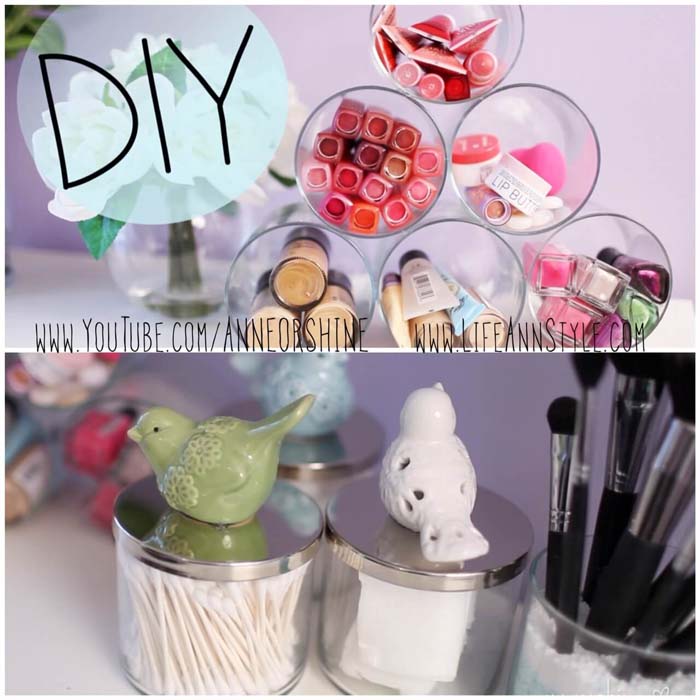 Make a transparent make-up organizer with plastic cups stacked in a pyramid shape.
If you use the containers with lids, make them more attractive by gluing cute figures on the lids.
Under Counter Bathroom Nesting Bins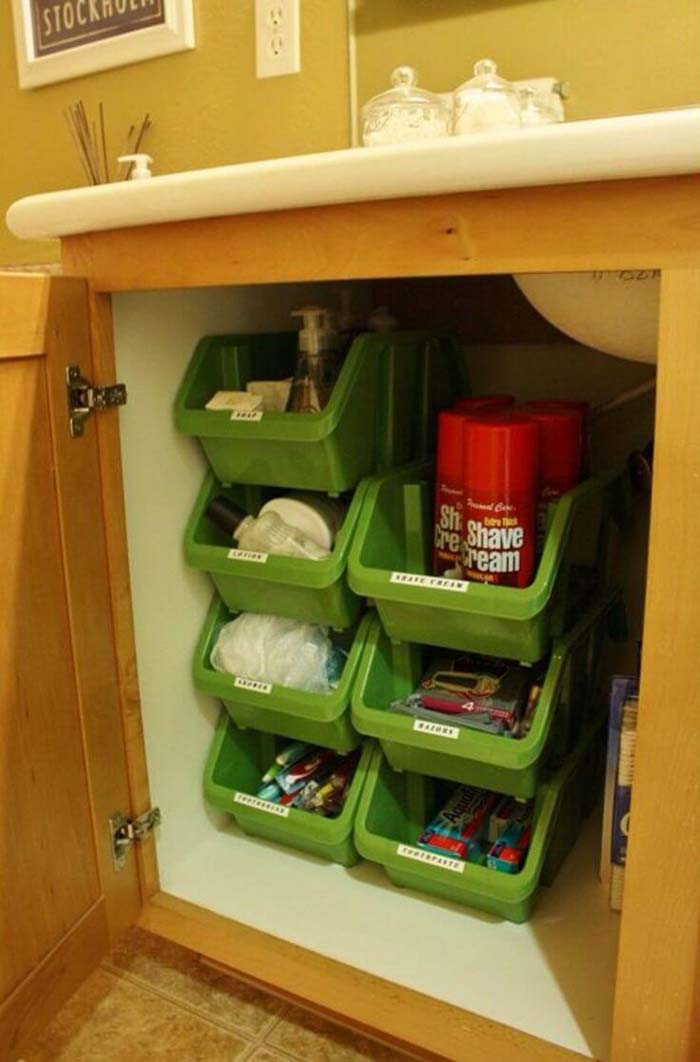 Nesting bins are a smart storage solution because of their stacking capability.
Take advantage of that and use them to arrange and store the cleaning detergents and other accessories under the counter of the bathroom sink.
Under-Shelf Kitchen Paper and Wrap Organizer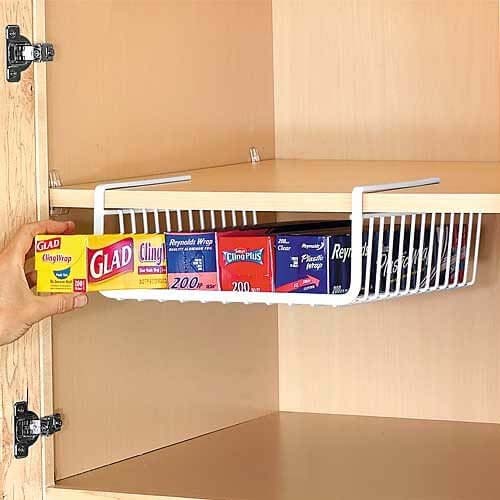 The versatility of this small organizer comes with its under-the-shelf mounting.
It can be used in every room of the house as you need extra storage space.
via Amazon
Wall-Mounted Bathroom Basket Shelves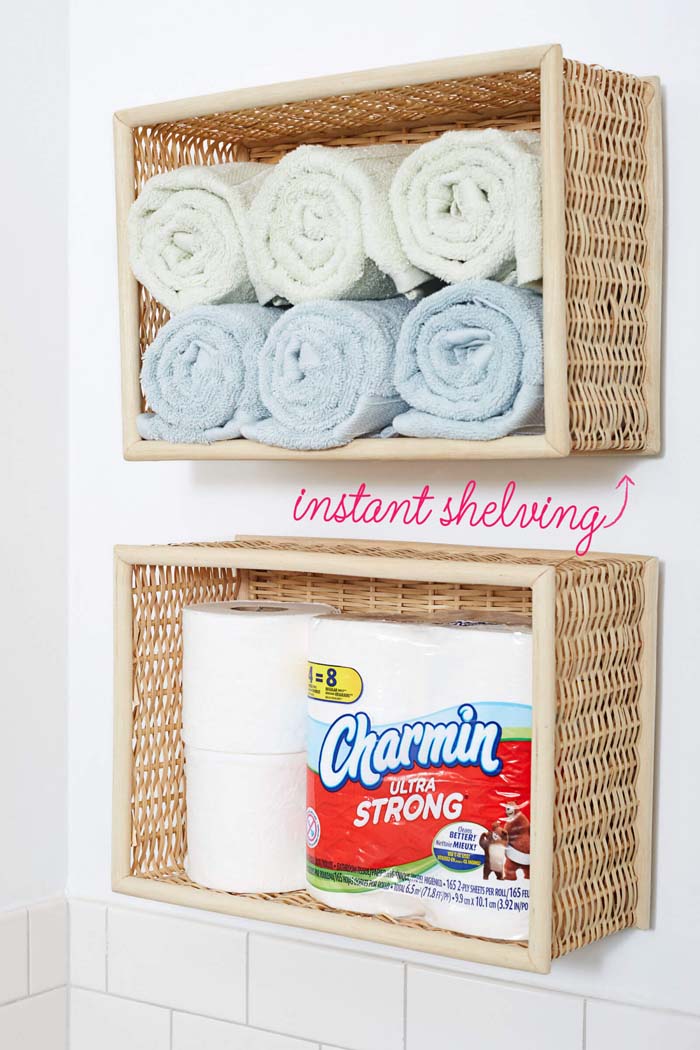 Hanging of baskets is a good and versatile solution when the walls are utilized.
In addition to the farmhouse charm they instantly add to space, they are also very cheap and easy to be installed.
When Accessories Are on the Menu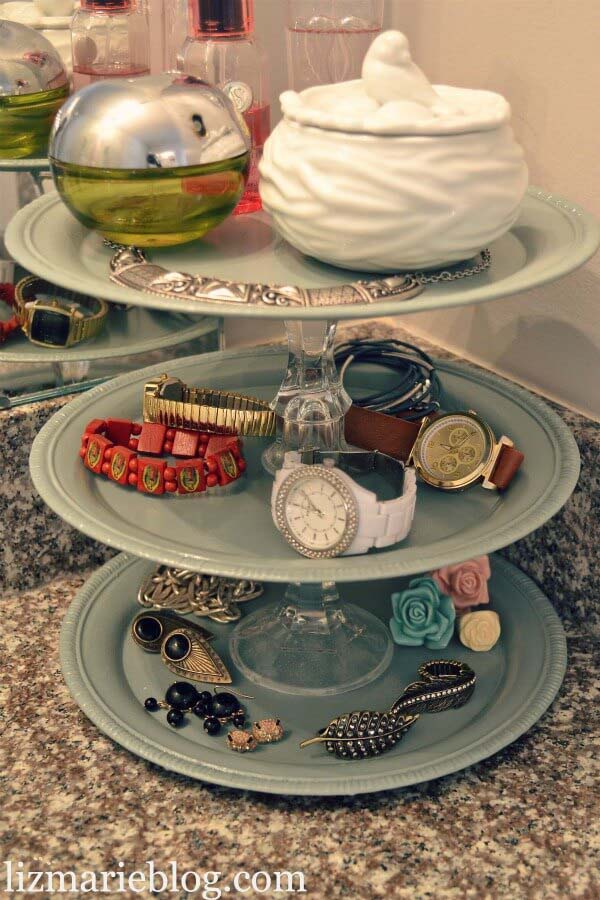 Repurpose an old cupcake stand into a vintage organizer for the vanity.
Place the jewelry, watches and perfumes you wear most often and find them quickly on the interesting tiered display.
via Liz Marie Blog
Your Own Hidden Hair Styling Station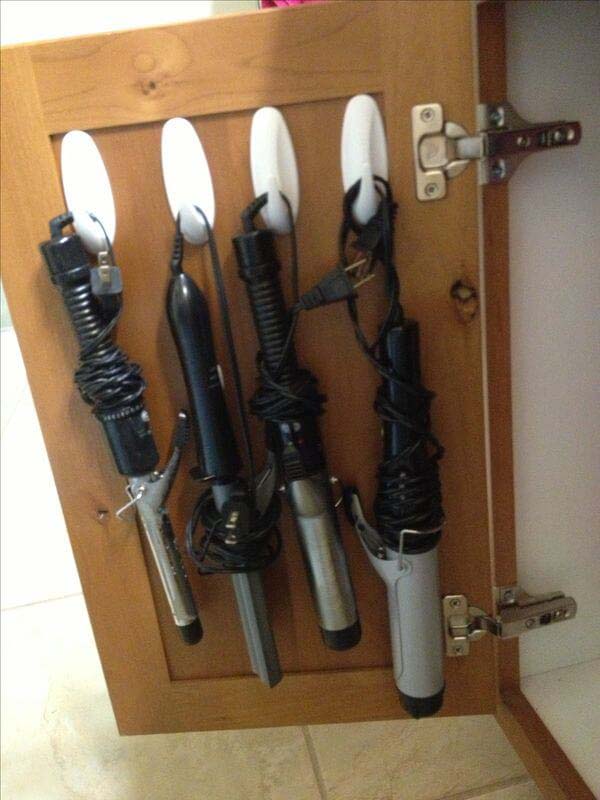 What's a better way to organize all of the hair stylying tools than this idea.
Use plastic hooks from the Dollar Store to hang all of them on the internal side of the bathroom cabinet.
via Beneath My Heart
A Zen Garden for Makeup Brushes

The ordinary fish bowl is decorated with small decorative pebbles.
They ensure thick and stable base for storage of the make-up brushes.