Easter is knocking on our doors! It is amazing how this divine holiday that appraises the revival of life always intertwines with spring. The season when flora and fauna 'wake up'.
Easter is one of those holidays we long for anxiously the whole year. We connect it with the valuably spent time with our families and close friends, the high moods and the coziness of home.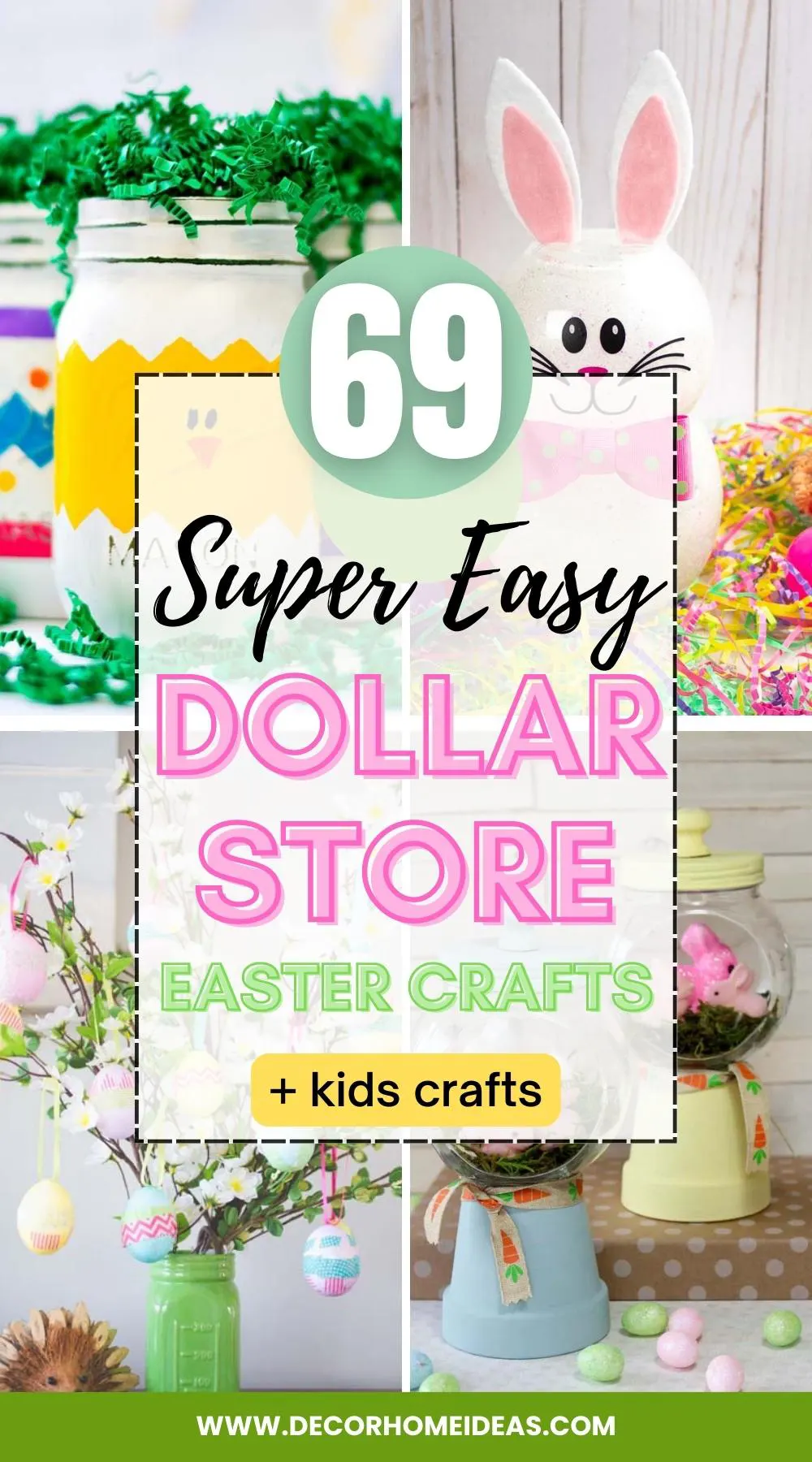 Most of us want that holiday mood not only in our souls but also on our tables and interiors.
The accents specifically made for the holiday make Easter even more special.
Combining the common symbols of Easter with spring, we decided to present to you easy-to-make decorations which will be the perfect finish to your holiday interior.
You would be amazed how ordinary supplies from the nearest Dollar Store are transformed into unique and cute decorations.
The best of it is that you would have a DIY customized décor that won't cost you a fortune and will be just as good as the expensive ready-to-buy home decorations sold at that time of the year.  
1. Adorable Bunny Families in Transparent Globes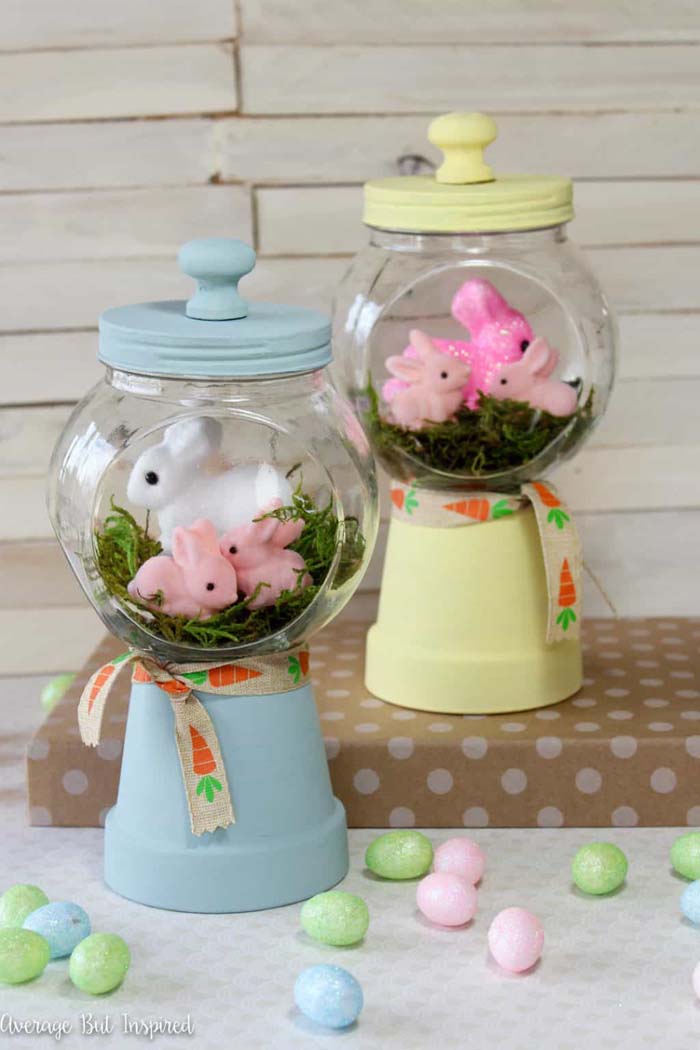 Everything about that idea is little! Little and so so cute! These bunny families are hiding in transparent globes! All of the materials are easy to be found in the Dollar store and will cost you less than a regular deli menu.
via Average Inspired
2. Create a Whimsical Bunny Pom-Pom Garland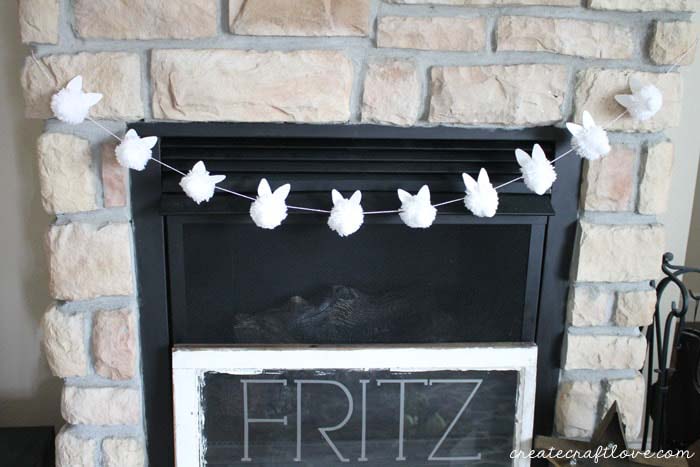 I bet you have already made a project with pom-poms! These are so universal that you can use them for various decorations and occasions.
Here is an idea for a gentle white garland made of bunny pom-poms. Hang it from your fireplace, place it on your window, hang it above your table – it will look well anywhere in your home!
3. Make Coffee Filter Peony Flowers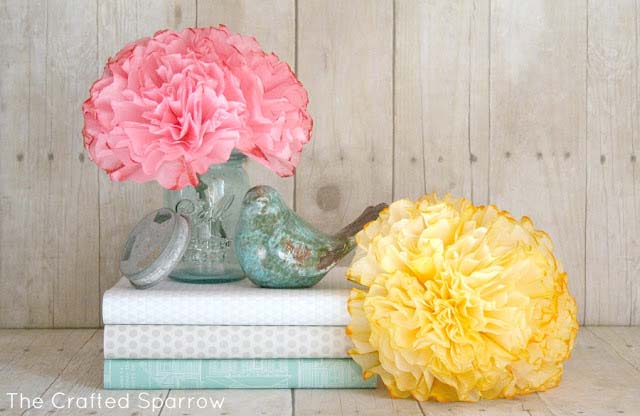 We mentioned how well spring and Easter go together. Here is an idea of how to bring spring into your Easter decoration. These peony flowers are made from coffee filters.
The rest of the materials are things you have at home so this will be a very easy project to do. The best thing is that these flowers may be used as a permanent décor or for various occasions so… don't think much!
4. Turn Dollar Store Pots into Designer Pots with Decoupage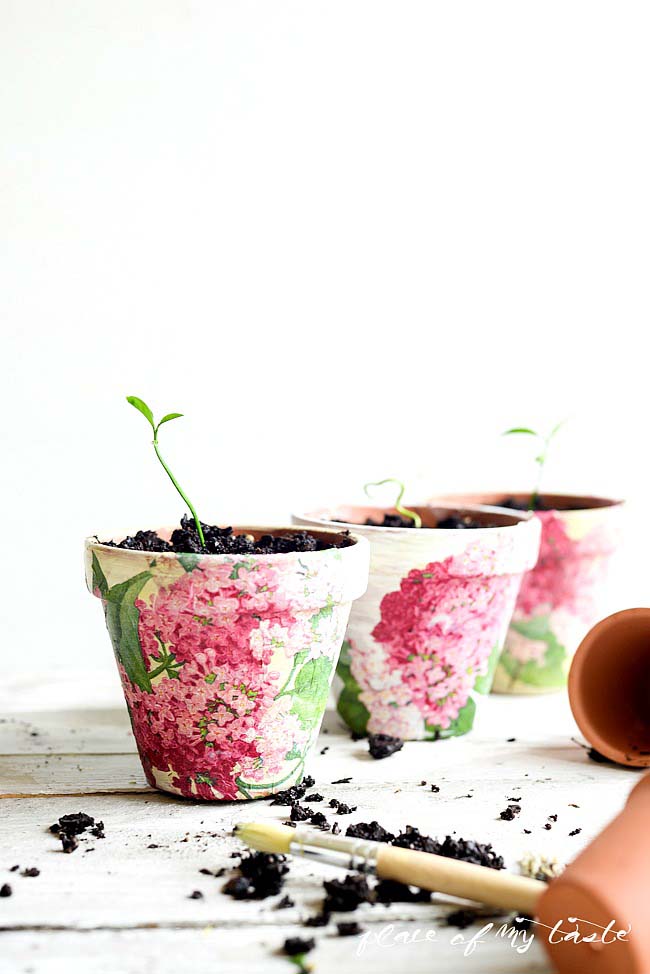 Decoupage, decoupage, decoupage! This craft technique could transform various objects and the final result is always amazing!
Check this idea for decoupage on plant pots which turns Dollar Store terra cotta pots into designer pots only through some paints and napkins!
5. Make Personalized Decorations with Foam Egg Topiaries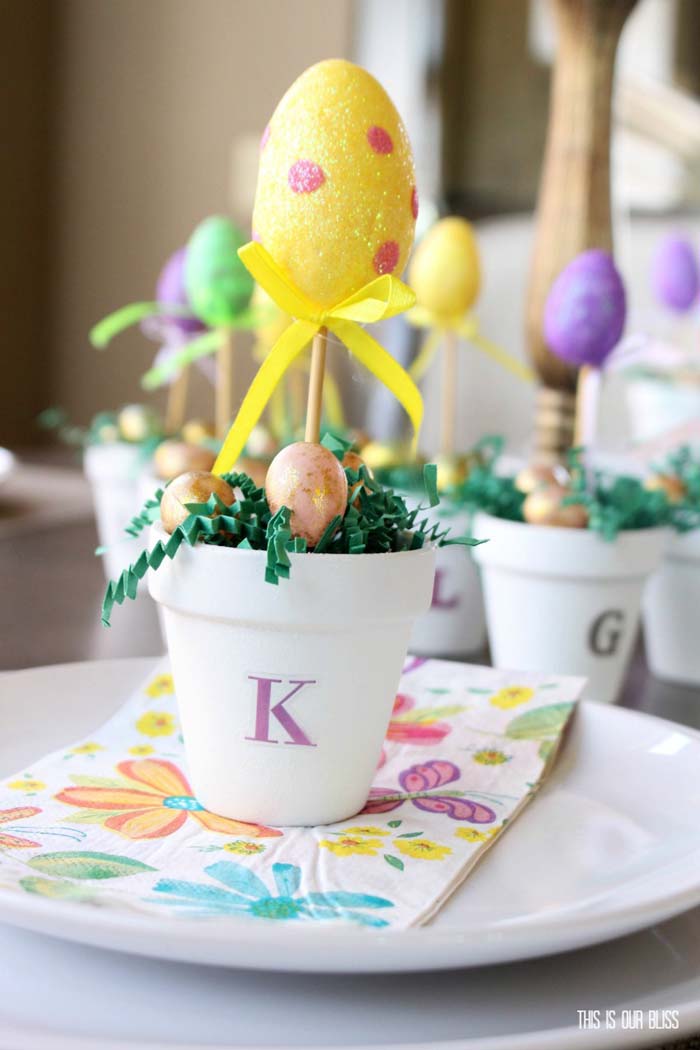 Here is an idea for personalized decoration. These egg topiaries made of foam eggs planted in Dollar Store pots could make a memorable gift for each member of your family.
6. Make an Easter Bunny Decor with Popsicles and Glue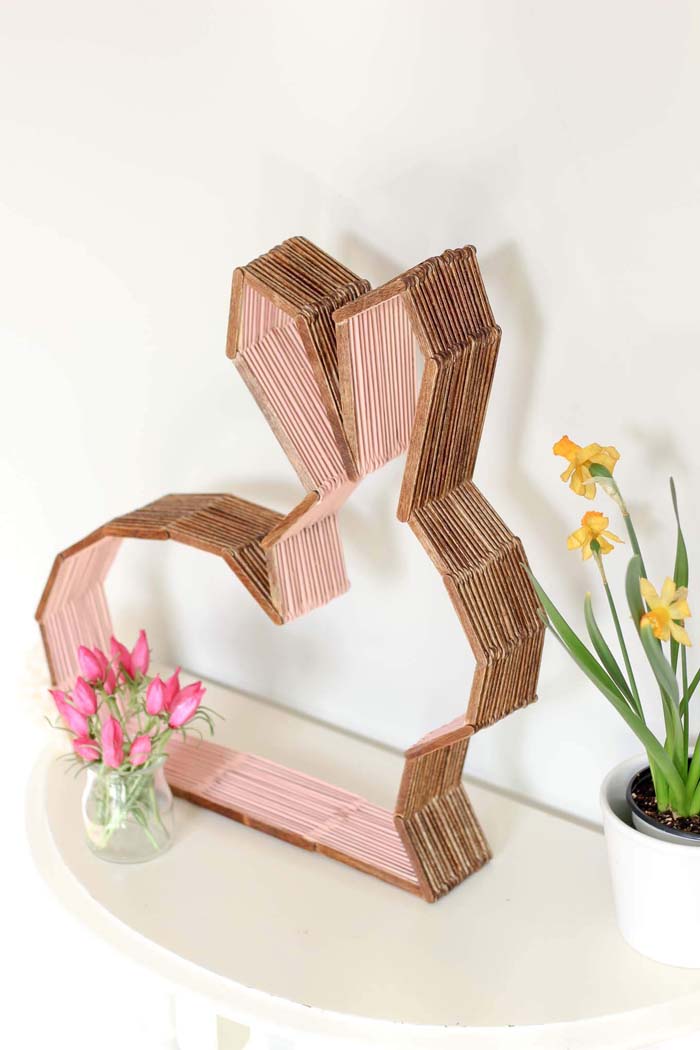 Using only popsicles and glue you can make a modern bunny figure that would give an unobtrusive and yet cute finish to your Easter decoration.
via Make and Do Crew
7. Welcome Spring with Handcrafted Birdhouses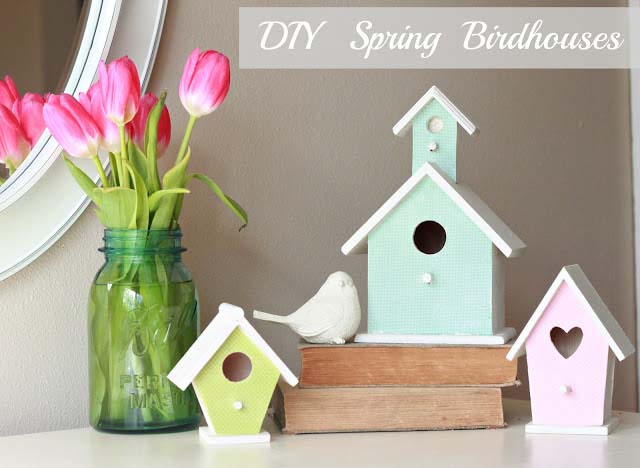 Here is a very cheering idea for you! Get ready birdhouses, paint and decorate them with craft paper that suits your interior. They are a lovely way to invite spring into your home!
8. Create Cute Yarn Chicken for Your Easter Egg Basket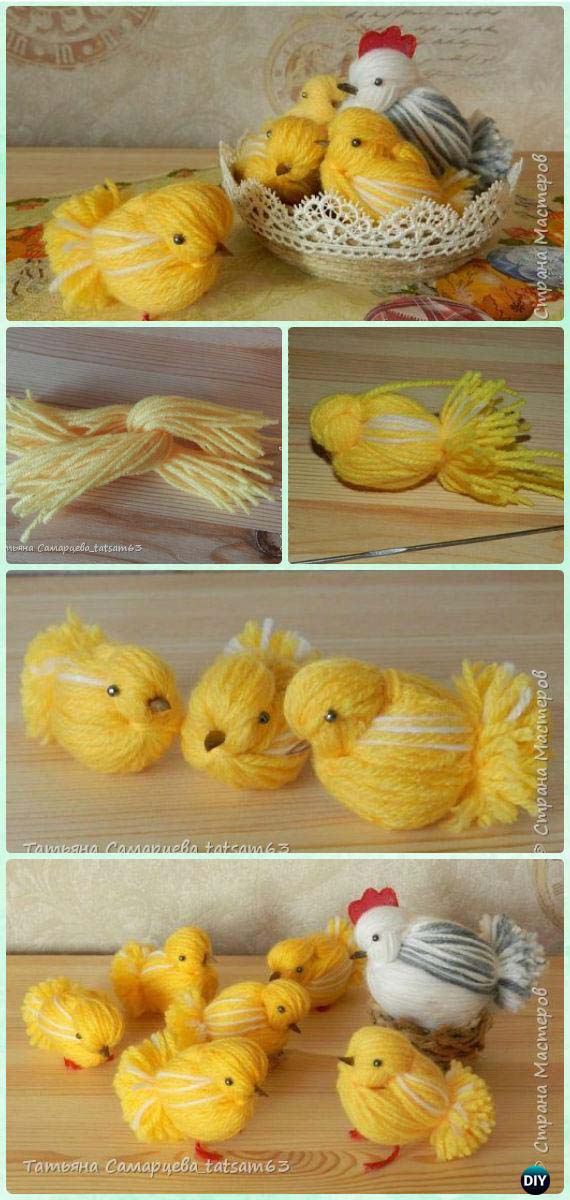 Which came first- the chicken or the egg? That's another topic! Since the painting of eggs is a must tradition for Easter, make these easy non-crochet sweet yarn chickens place over your basket of painted eggs.
via DIYHowTo
9. DIY Glittery Easter Bunny Nightlight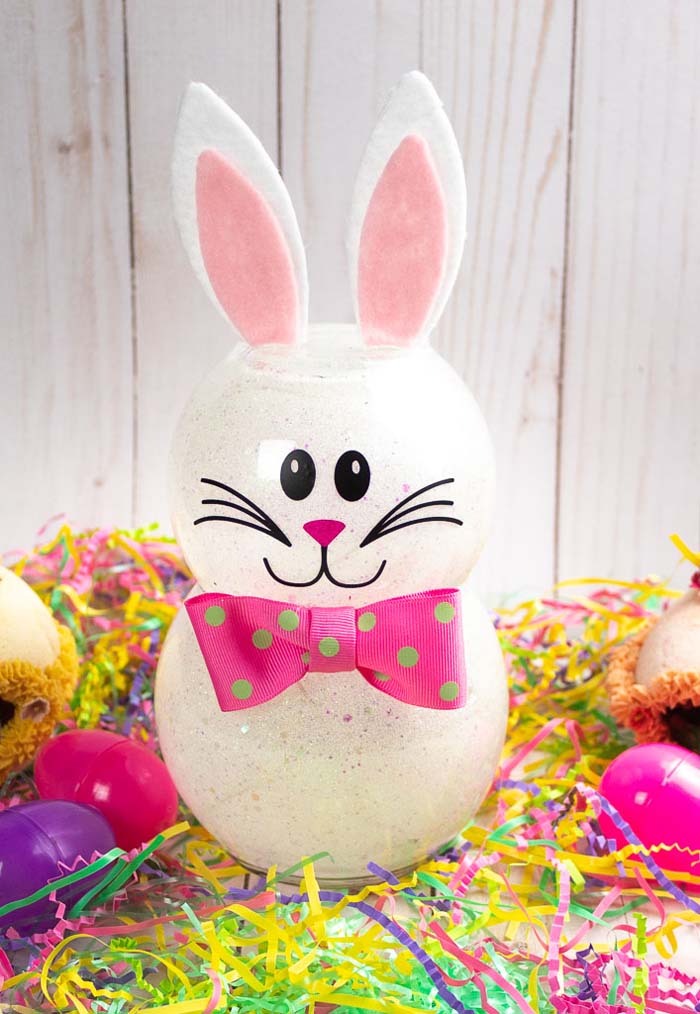 A glittery shining rabbit could be your favorite decoration for this year's Easter. Two glass bowls from the Dollar Store, some glitter powder, mod podge, fairy lights and the usual craft equipment are the materials you need to create this smiley figure.
It will be fun to engage your kids in the process and leave them to use it as a nightlight in their bedroom.
10. Make Faux Robin's Eggs with Foam and Paint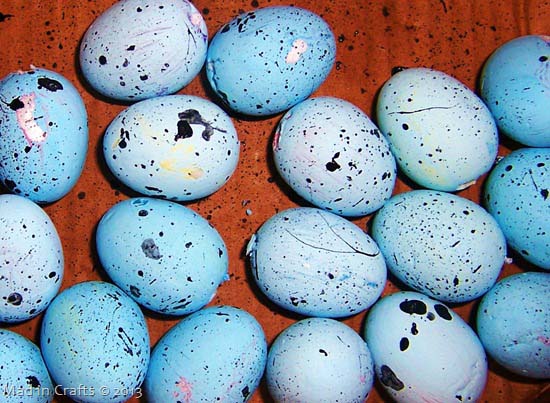 You can create dozens of realistic faux robin's eggs for only a dollar! Get a package of foam eggs, pick a paint color and get started. This is a very easy and fun DIY project so you can involve your kids in it.
via Mad in Crafts
11. Transform Mason Jars with a Bunny-Topped Lid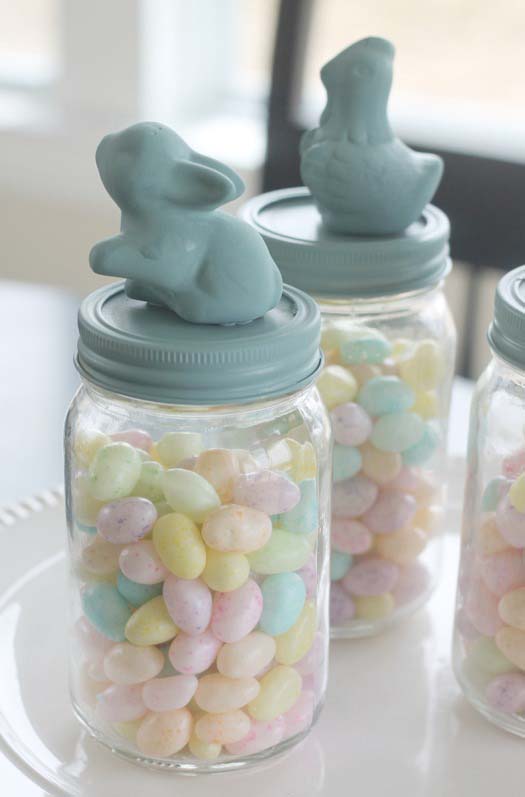 Mason jars are the most used material for Easter DIY crafts, aren't they? I have seen them transformed into candles, seasonings storage, vases, etc.
Here they have been repurposed into candy storage jars! And the best part of them is the bunny that has landed on the lid!
12. Get Creative with Easter Buckets for Kids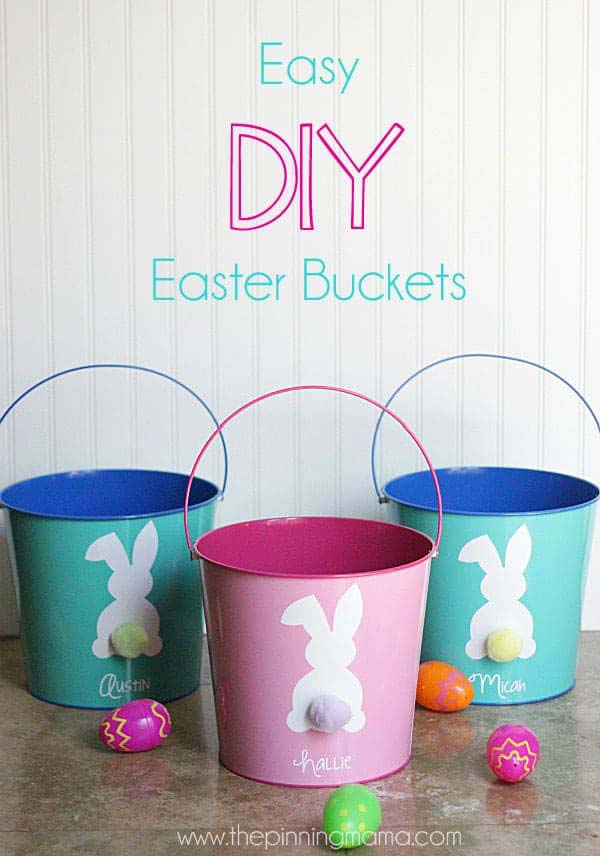 Personalized buckets for eggs or candies is definitely a good way to make your kids feel special on Easter day.
These simple and yet original buckets come in different colors in the Dollar Store. Print the free bunny pattern and follow the instructions.
via The Pinning Mama
13. Unique Easter Decor with Mason Jar Sweets Holders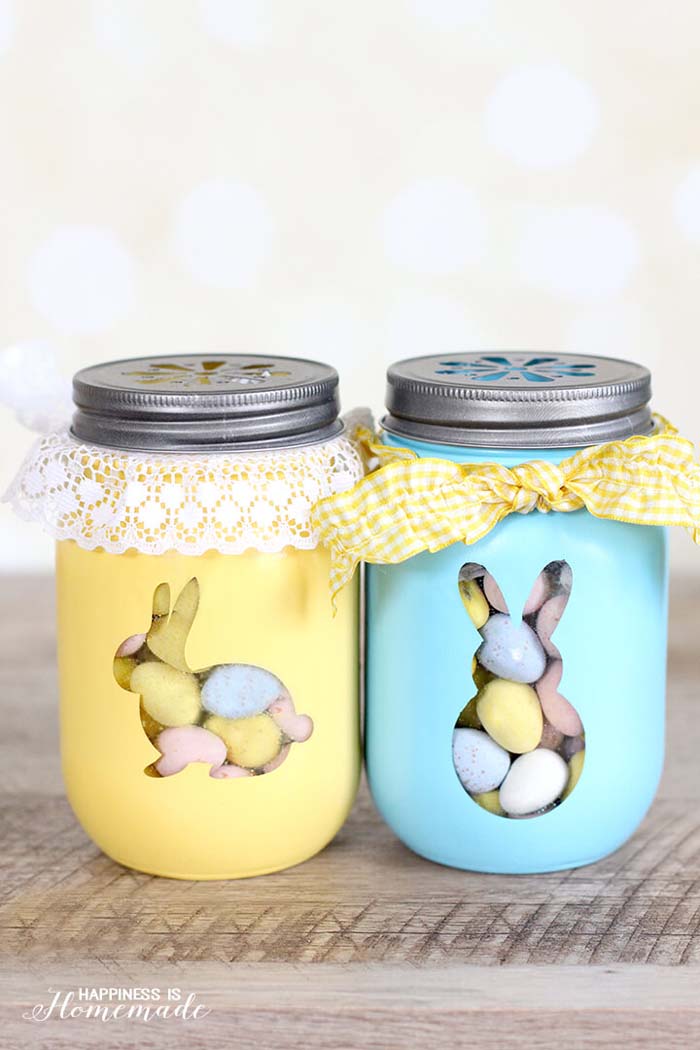 This is another idea of how to use Mason jars for sweets holders. Painted in different colors, only a silhouette of a bunny is left transparent.
We love the ribbon below the lid, it gives them a nice cottage accent that makes the jars unique addition to the Easter décor.
14. Make a Statement Piece with Dollar Store Candleholders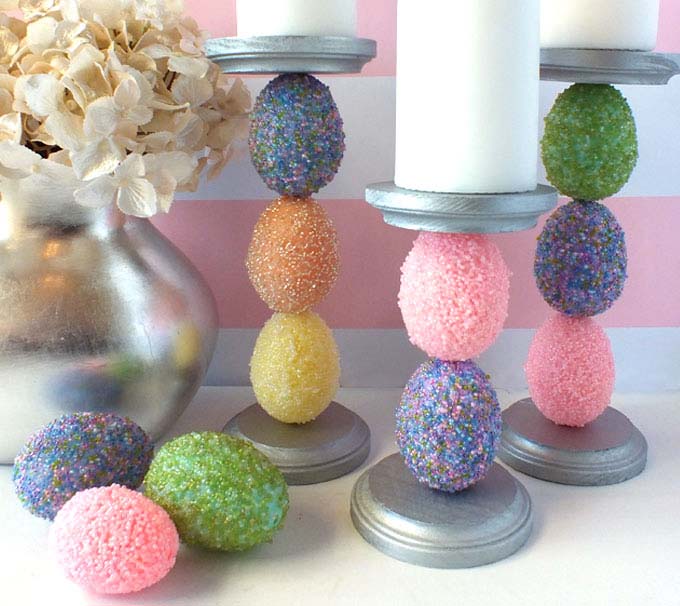 Looking for a more extravagant Easter decoration? These candleholders will be noticed! The materials can be found in the nearest Dollar Store and won't cost you much.
15. Colorful Mason Jar Nesting Craft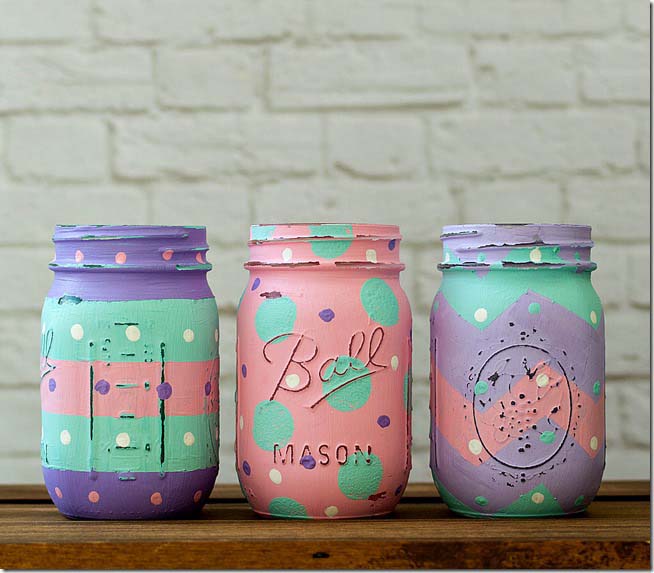 We love the color combinations of these Mason jars! They remind us so much of spring!
Making them requires only painting and enough time to let them dry completely. Fill them with faux grass or shredded green paper and you would have cheerful nests for your Easter eggs.
16. Turn Wine Glasses into Succulent Pots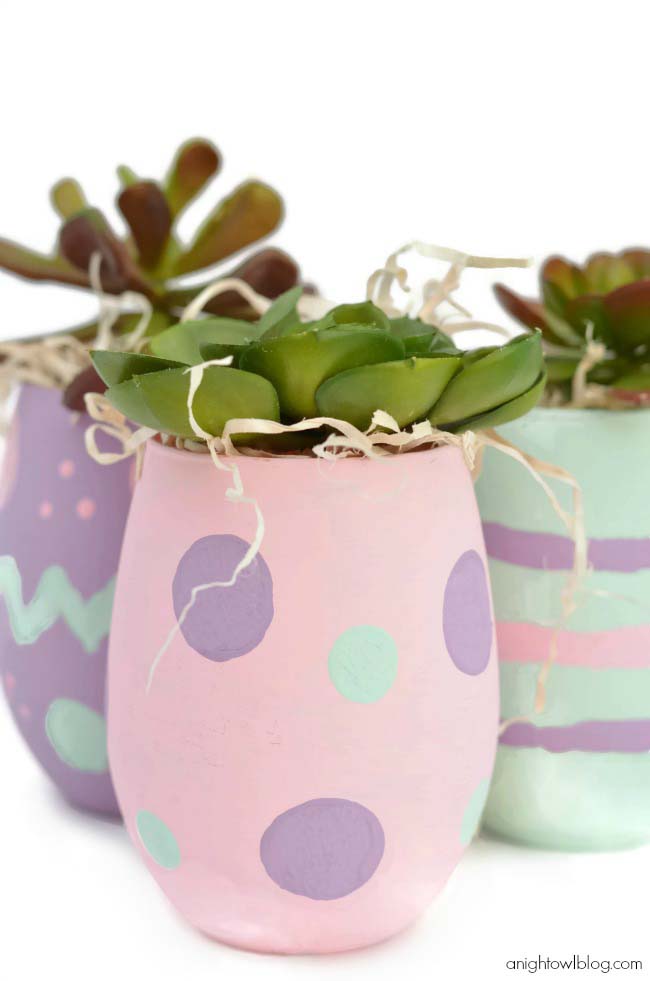 Using the same color combinations, you can paint wine glasses without stems and turn them into beautiful succulent pots.
17. Decorate Mason Jars with Cute Easter Animals Decor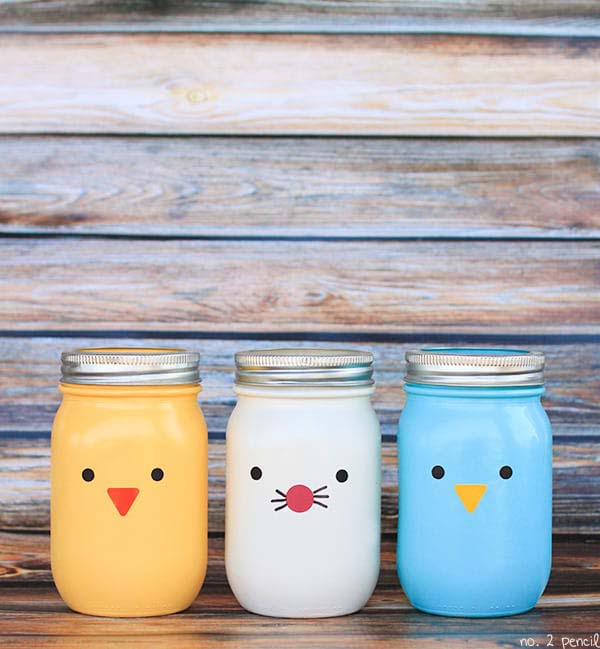 These Mason jars have been turned into cute animals, the perfect Easter gift for your kids. Fill them with candies, sweets or leave them empty for your kids to place their favorite egg inside.
via No. 2 Pencil
18. Transform Candy Jars with Animal Art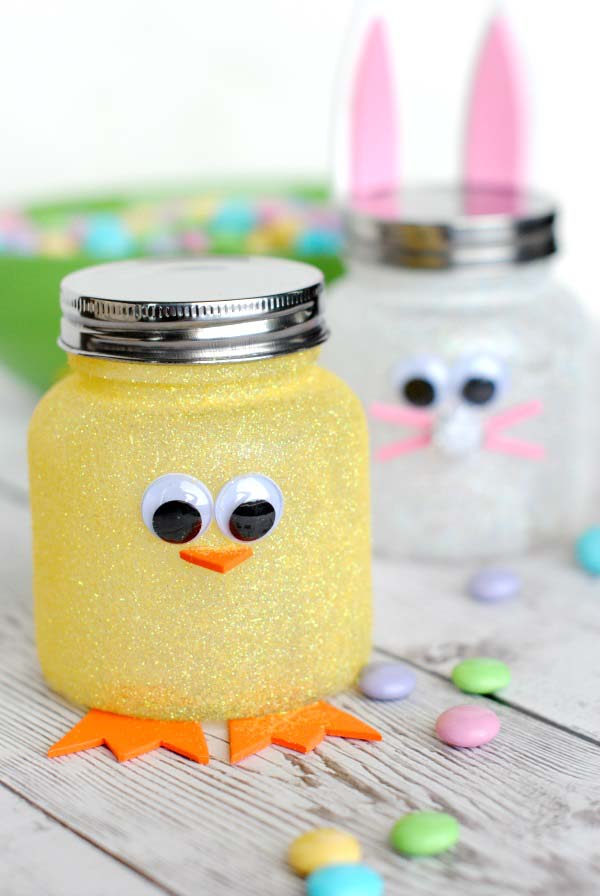 These adorable jars can become your kids' favorite Easter decoration. Fill them with candies and give one to every kid.
19. Make a Springy Easter Egg Tree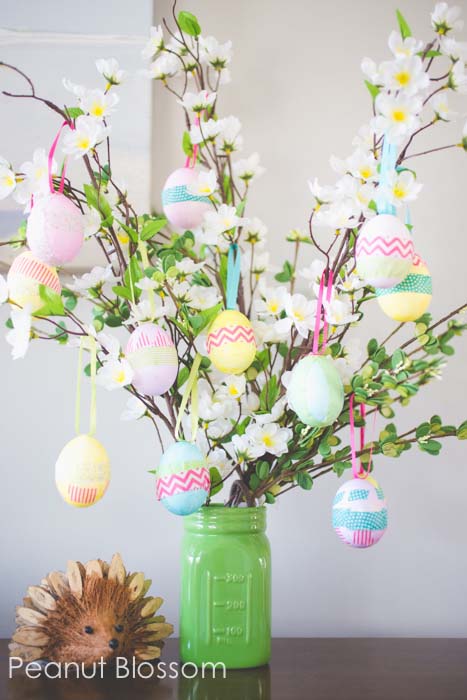 The egg tree is a must-project for Easter. It combines natural materials from your yard and some Easter supplies from your local dollar store.
That project is easy to be done and the end effect – adorable. Make sure to display the tree at a place where you can enjoy it easily!
via Peanut Blossom
20. Make Fake Chocolate Easter Figures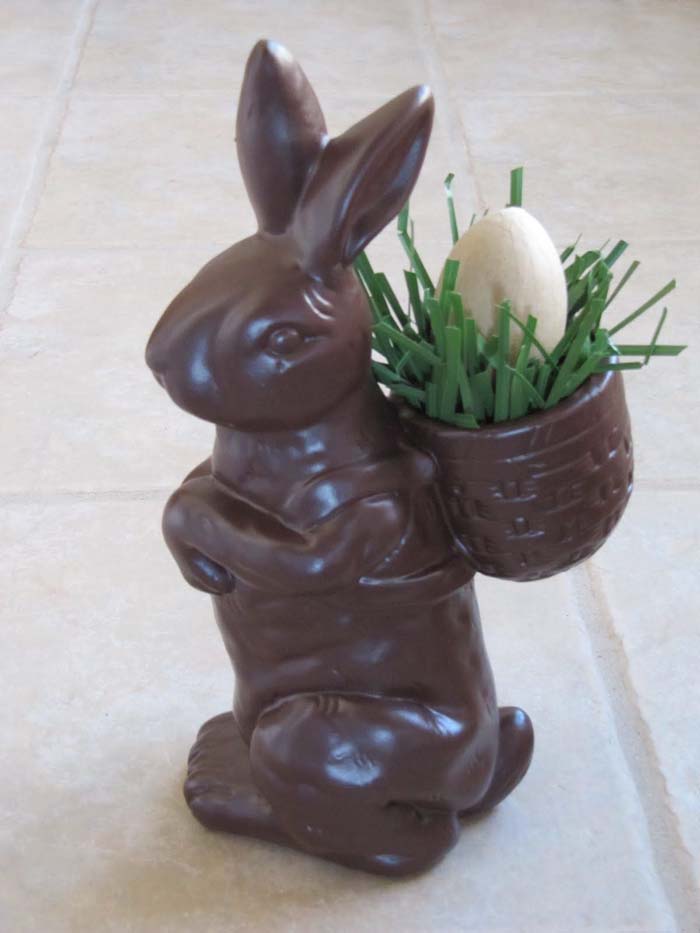 That chocolate bunny is so attempting! I would have considered eating it after Easter but…it is fake!
Karen suggests that any Easter figure can be turned into 'yummy' chocolate using only appropriate spray paint.
via Sew Many Ways
21. Decorative Faux-Natural Easter Eggs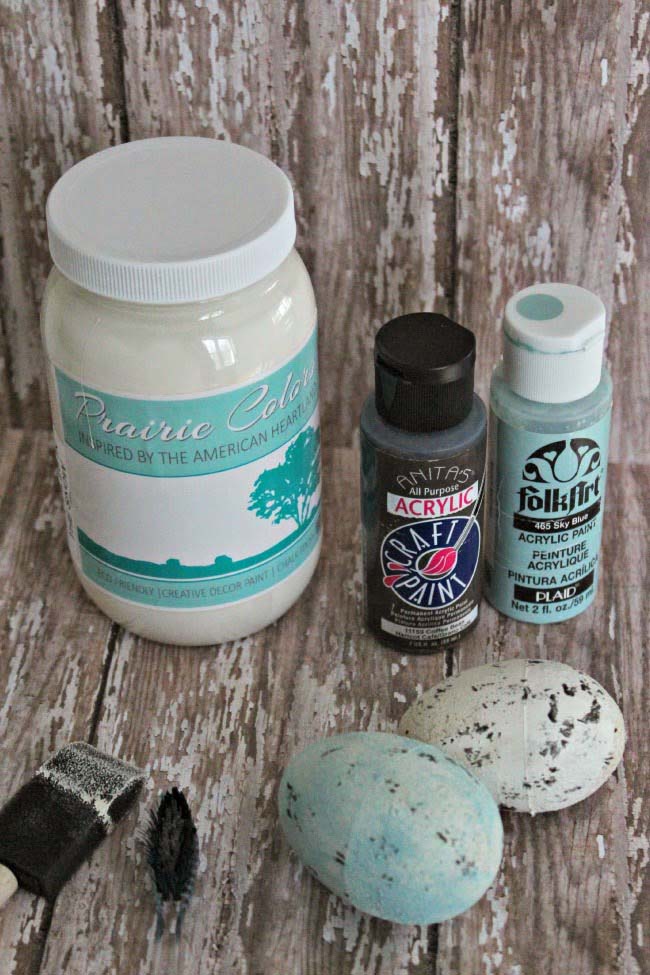 These Dollar Store plastic eggs have been dressed up to faux natural ones. Place them in a basket, in a crafted jar and make sure they are not mistaken with your edible Easter eggs as they do look so real!
22. Decorate Your Table with a Festive Easter Gnome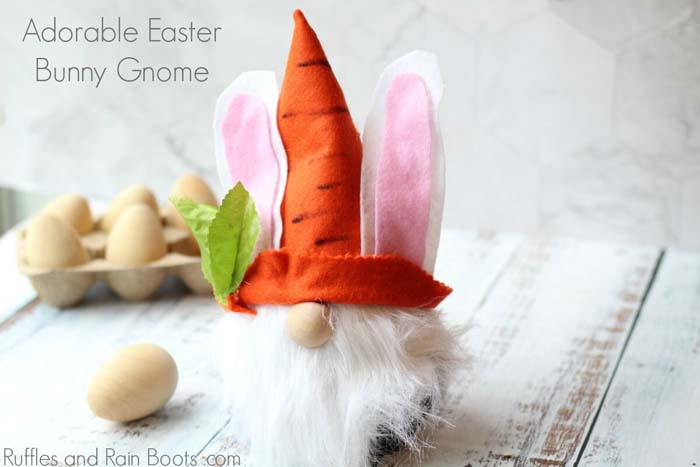 The next project is a fairy DIY Easter gnome. Get a jar, a pair of socks (yep, socks!), a black marker from the Dollar Store, some materials from a craft shop and make this fantastic and fun decoration for your Easter table.
23. Make Plastic Carrot Sculptures from the Dollar Store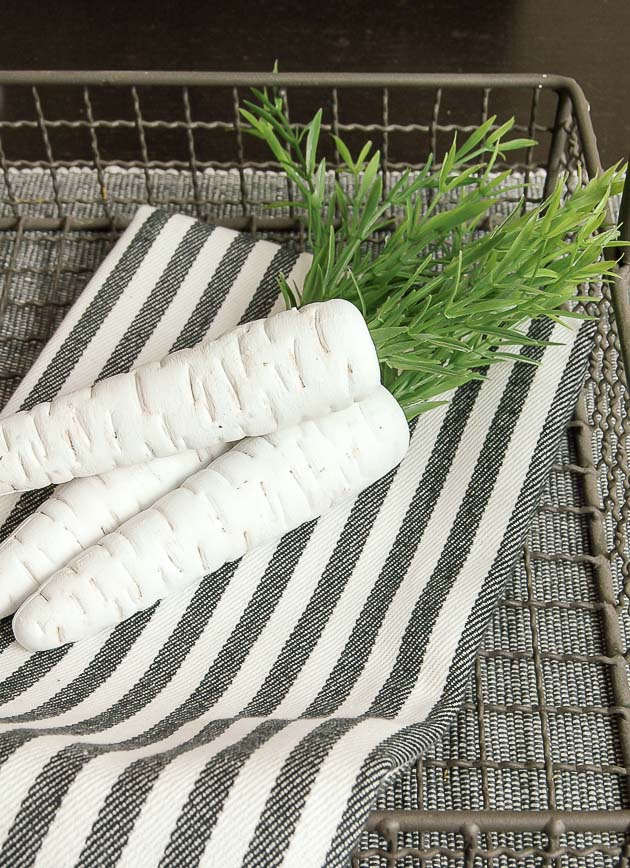 When I saw them first I thought they were gypsum.
You would be surprised that these carrots are plastic kid toys bought from the Dollar Store! Painting them with chalk paint has created that sculpture look which is just awesome!
24. Delightful Egg-Shaped Jelly Bean Topiary for Easter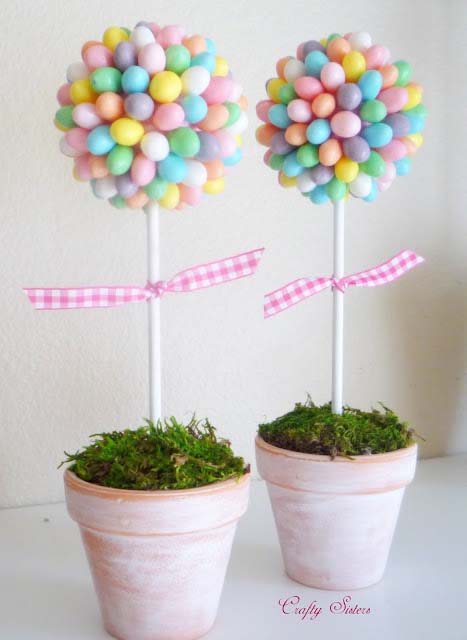 You haven't seen such tasty topiary anywhere, I bet it! Made of egg-shaped jellybeans, they are a must-have centerpiece for your Easter dinner!
There are some suggestions in the comments of the original post of how to make the topiary editable, so you may give that a try as well.
via Crafty Sisters
25. Create Cute Candy Pedestals for Easter Treats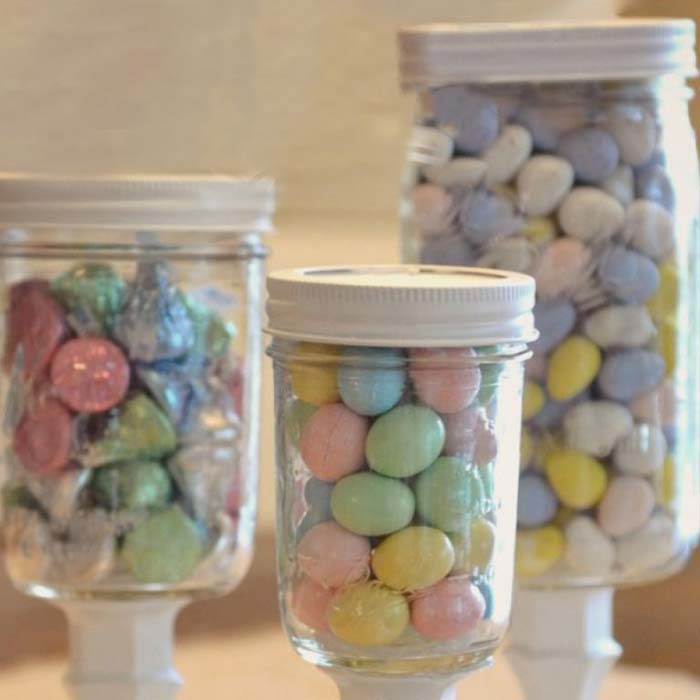 These candy pedestals are easy to be made. You can use them on various occasions, not only on Easter.
Made of Mason jars and candlesticks, they are an interesting way to treat your kids for the holiday.
26. Add Color with Moss Covered Bunny Canvas Art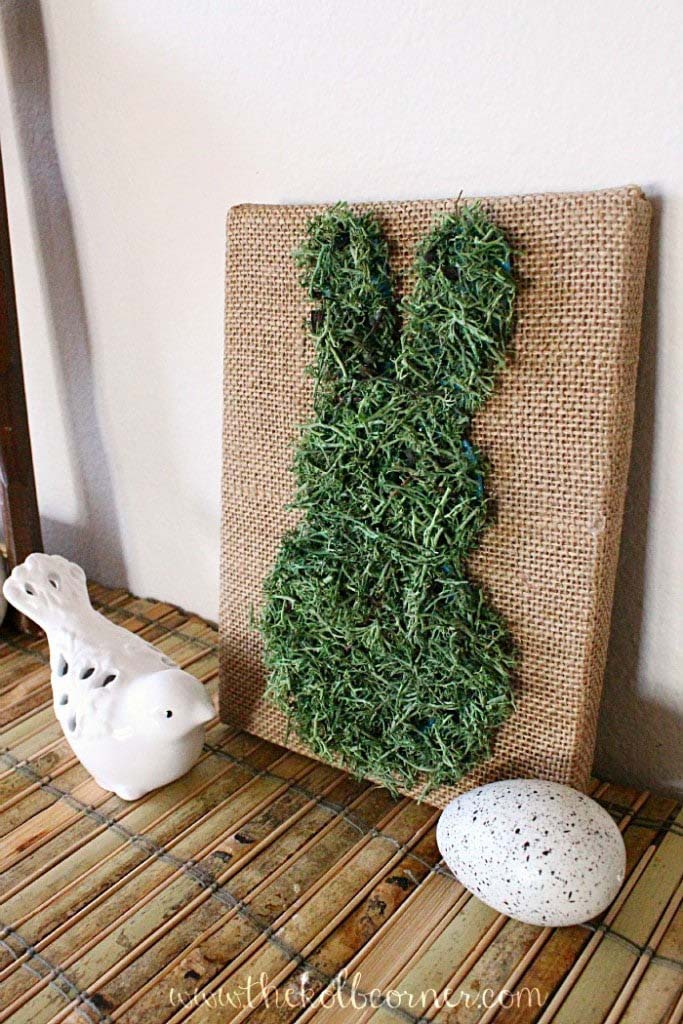 The Moss Covered Bunny Canvas Art is made of moss glued at a canvas patiently and in small sections.  This creative idea is the perfect complement to your Easter front porch decoration.
27. Welcome Spring with Ombre Vases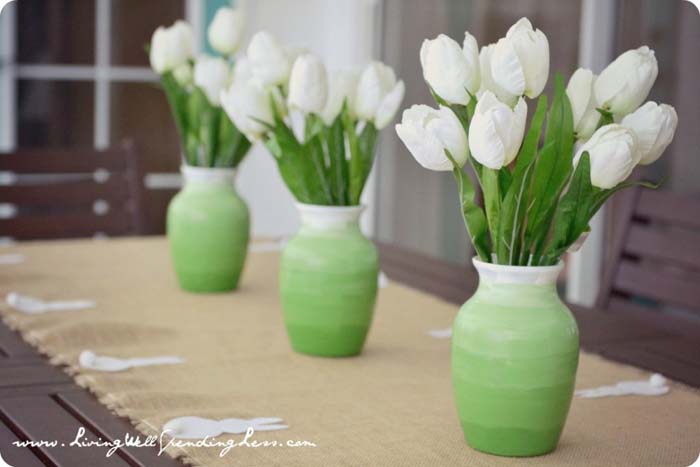 Dollar Store ombre vases – a cheap way to welcome spring in your home. Place the gradient-colored vases next to each other, fill them with seasonal flowers and enjoy.
28. Craft Easter Bunnies with Paper Beverage Napkins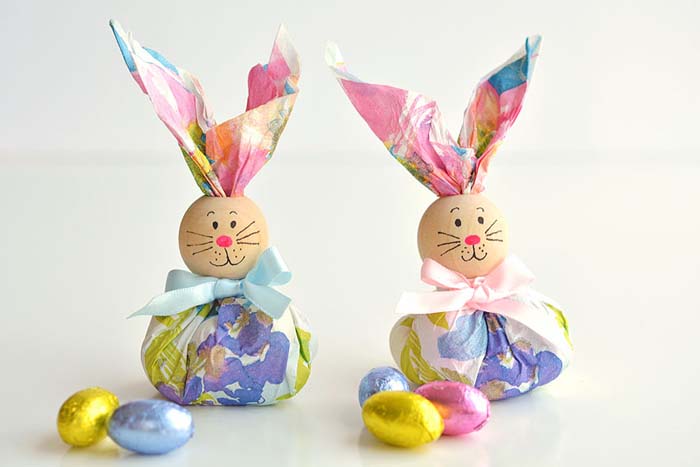 Made of small paper beverage napkins, satin ribbon, wooden beads, you can fill the bunnies with chocolate favors or any other sweets.
They are the perfect small Easter present for the smallest ones.
29. Easter-Inspired Mason Jar Decorations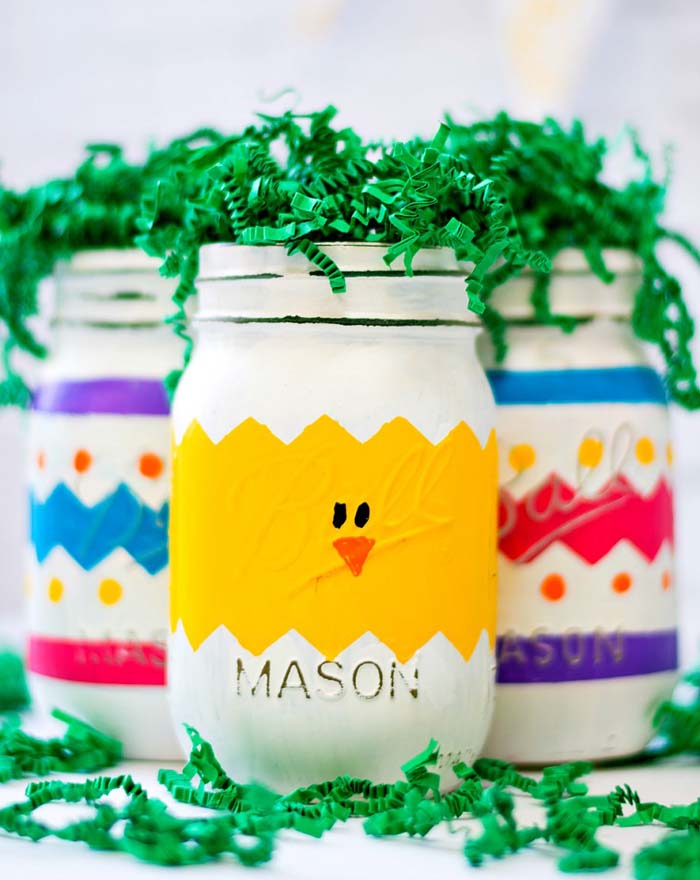 These mason jars have been inspired by Easter nail art ideas. The author has painted the multifunctional jars with acrylic paints.
Fill them with shredded green paper and place them anywhere in your home from where these cute jars will peep out.
30. Adorn Your Mason Jar Planter with Easter Bunny Decor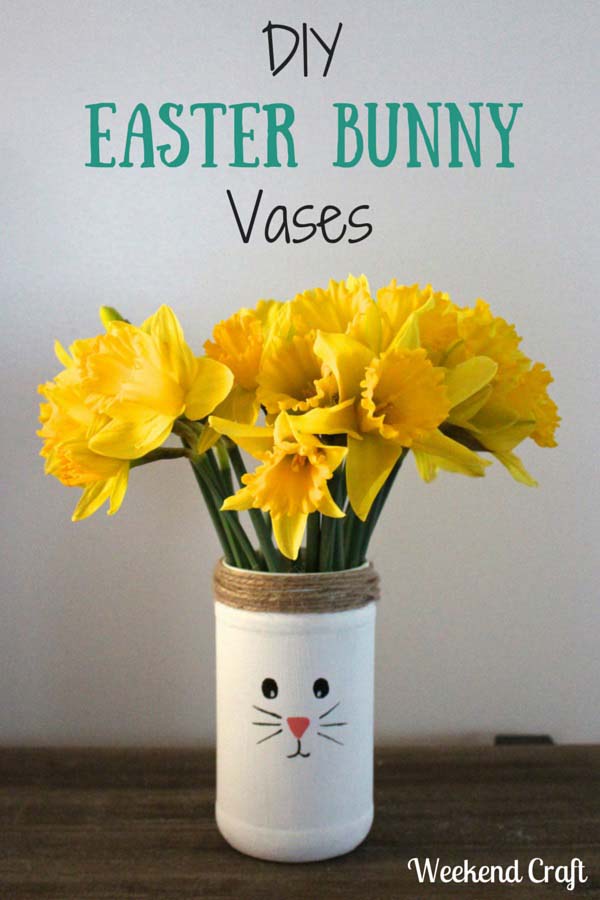 The bunny vases are another idea for the decoration of a vase, a mason jar or a regular jar in the spirit of Easter.
You can paint other animals or creatures that will accompany the bunny vase.
via Weekend Craft
31. Make an Ice Age Themed Easter Bucket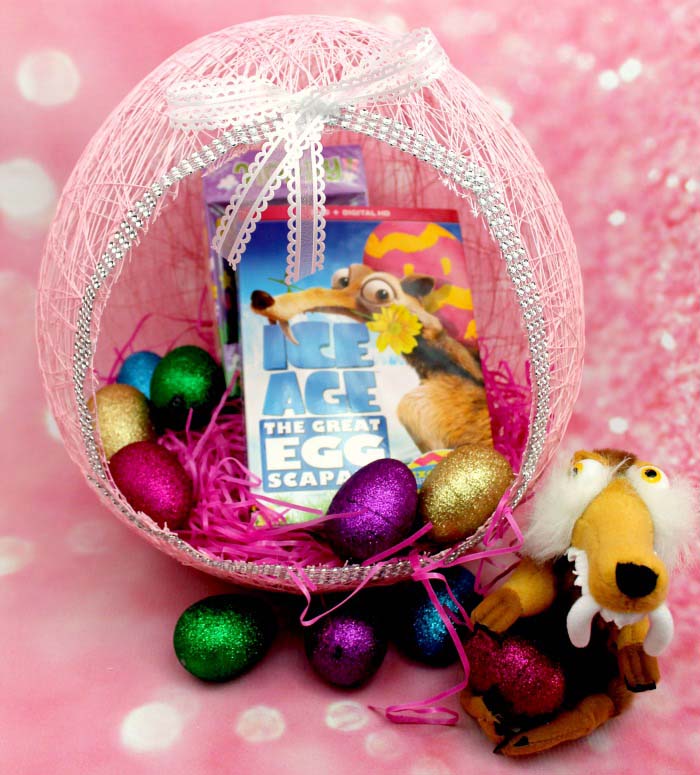 That Easter egg basket looks as if only a master in crafts could do it. The author argues that saying it is super easy to be made! One thing is certain – that will be on our favorite list!
via Mom Luck
32. Upcycled Decorative Eggs for Industrial Homes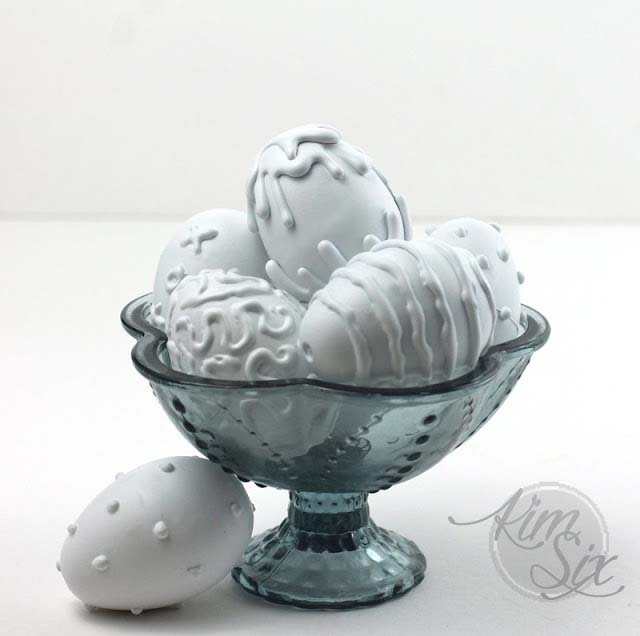 These decorative eggs could be a nice decoration for a more industrial or modern home interior.
Believe it or not, they are transformed from plastic Dollar Store eggs.
via Kim Six Fix
33. Create Adorable Bunny Planters with Recycled Tin Cans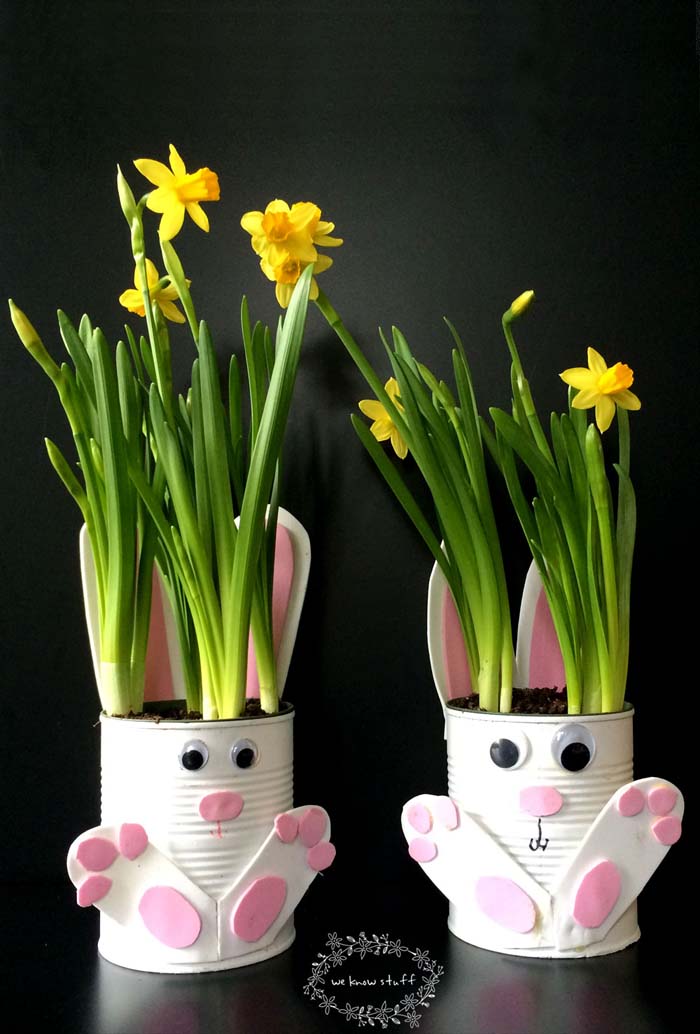 Tin cans are a great recycled material and the next idea proves it!
These adorable bunny planters have been made by tomato puree cans. Paint them with spray paint, add white and pink felt for the ears and legs, two large googly eyes and you are almost done!
via We Know Stuff
34. Upgrade Your Easter Decor with DIY Bunny Upgrades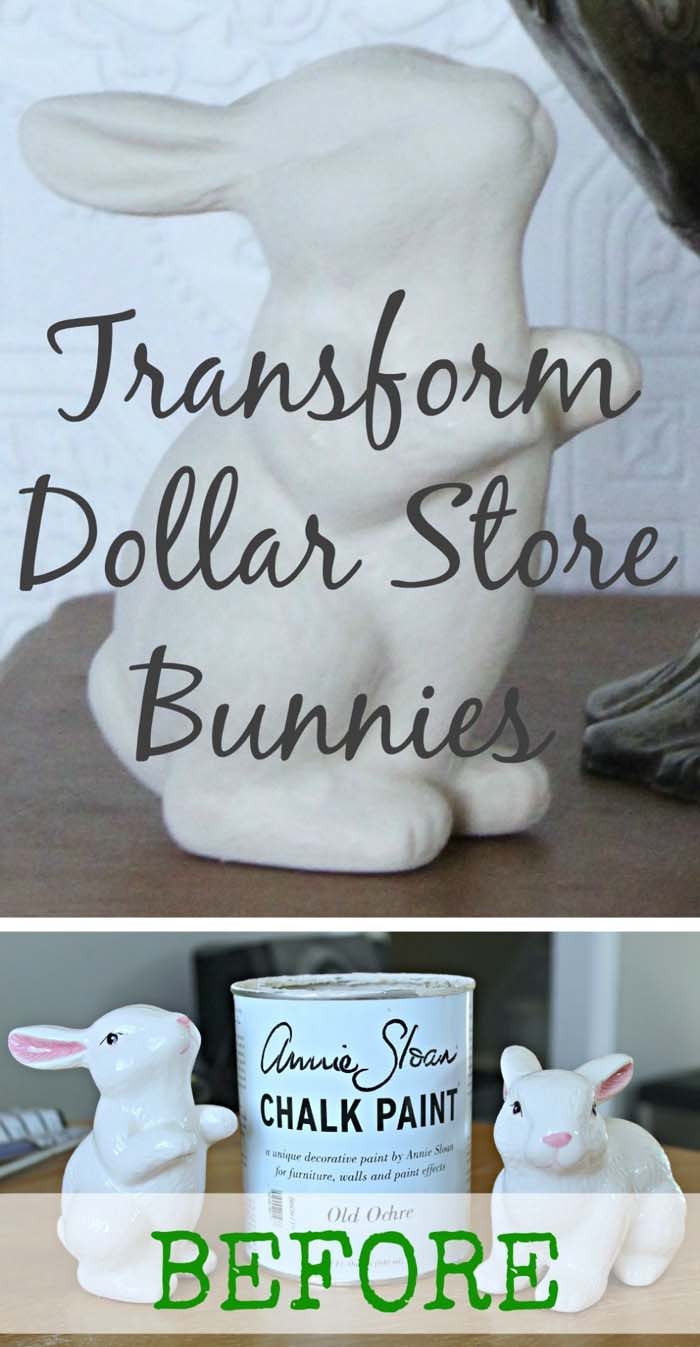 Easter Bunnies — Dollar-Cheap to Super-Chic is a very appropriate post name of the next Easter decoration idea.
Transform the cute bunnies from the dollar store into a stylish Easter décor.
via The Project Pile
Dollar Store Easter Crafts for Kids
Kids love holidays! They also love any kind of crafts that involve painting, cutting, gluing, anything which involves using their hands!
The craft list here is perfectly suitable for children of all ages so just let them experiment, let them learn, let them get messy!
You will forget about the mix-up they've made once you see their happy and pleased smiles!
The materials are easy to be found on the Dollar Store so when you start preparing your list of goods for your next shopping tour there, don't forget to include the supplies for the projects of the youngest family members!
We promise it will be fun for all of you and you will create not only nice decorations for your Easter holiday but also valuable memories!
35. Transform Dollar Store Bunnies into Chic Easter Decor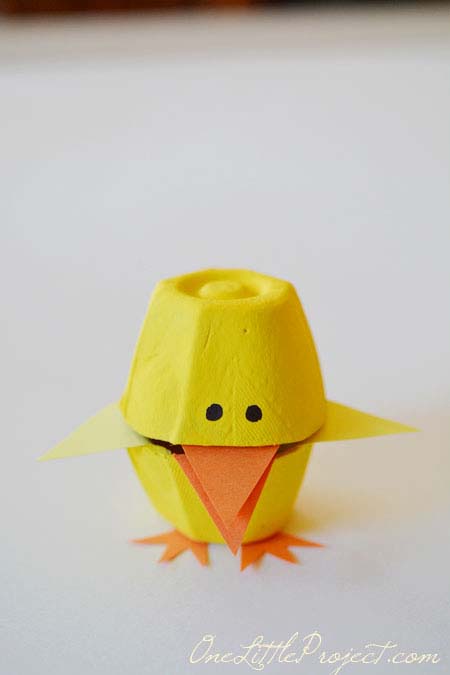 Debbie from One Little Project gives instructions on how to make small Easter chicks from an egg carton.
These adorable chicks can open their beaks and show the candies they hold.
36. Create Nested Chicks for Easter Fun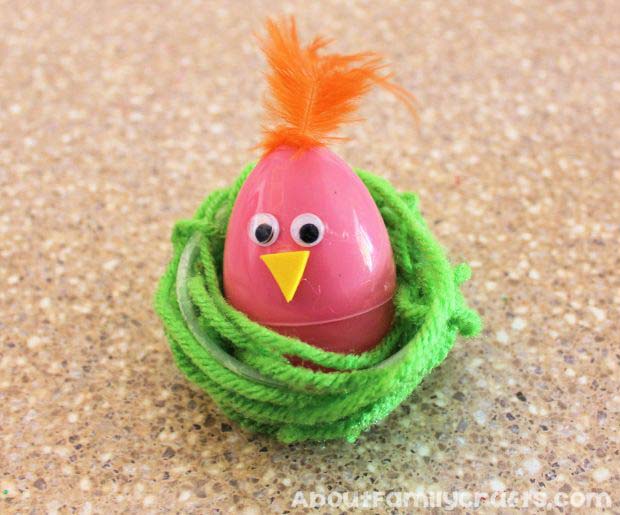 Plastic eggs are a great supply for Easter crafts for kids. Making these funny nested chicks is easy and big fun.
37. Handmade Easter Bunnies from Clothespins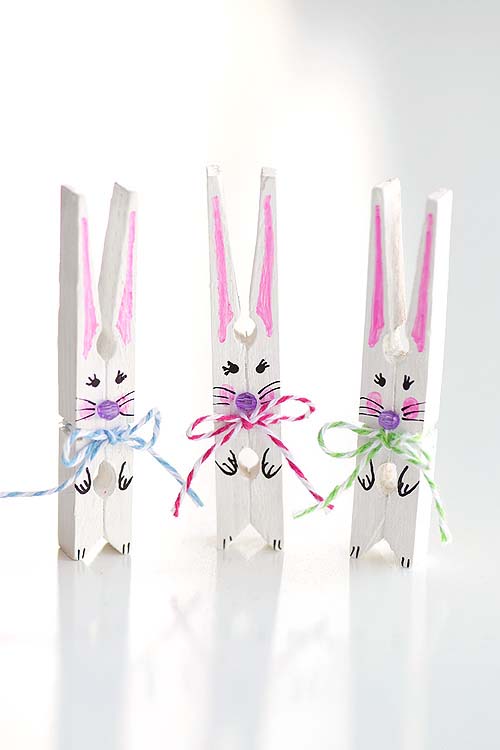 The Easter clothespin bunnies are another family craft project.
They could be cute napkin decorations on the Easter table if your kids could ever stop playing with them.
38. Create a Coffee Filter Easter Wreath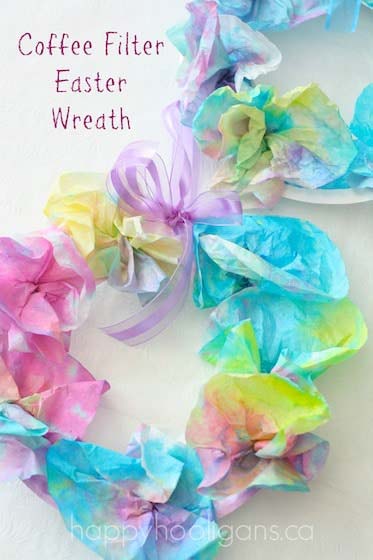 The Coffee Filter Easter Wreath is a clever idea for a simple and creative project for toddlers and preschoolers.
Focused on the old-fashioned way to let kids express and learn, this is an idea that needs inexpensive materials like coffee filters and water coloring. The steps are easy to follow and the making –fun for all involved.
via Happy Hooligans
39. Make a Personalized Easter Card for Your Kids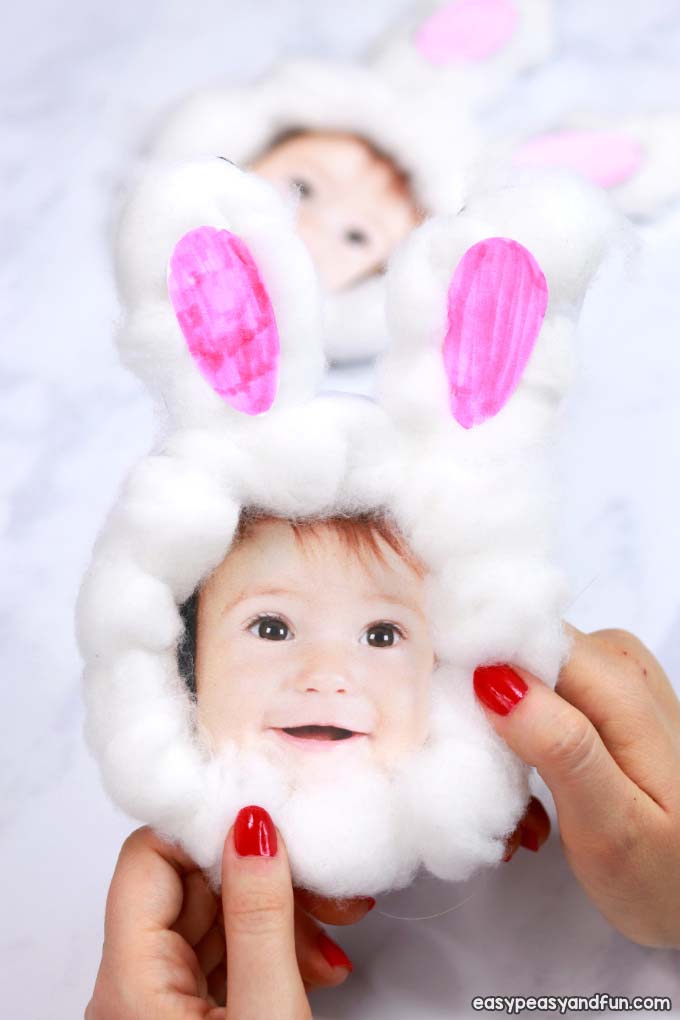 Would your kids like the idea of a personalized gift for Easter? The DIY Easter card is your thing! Choose a shot photo of your child, print the free template and let your kid finish the rest!
That project could also be a great classroom project.
40. Craft a Plastic Egg Flower Bouquet with Kids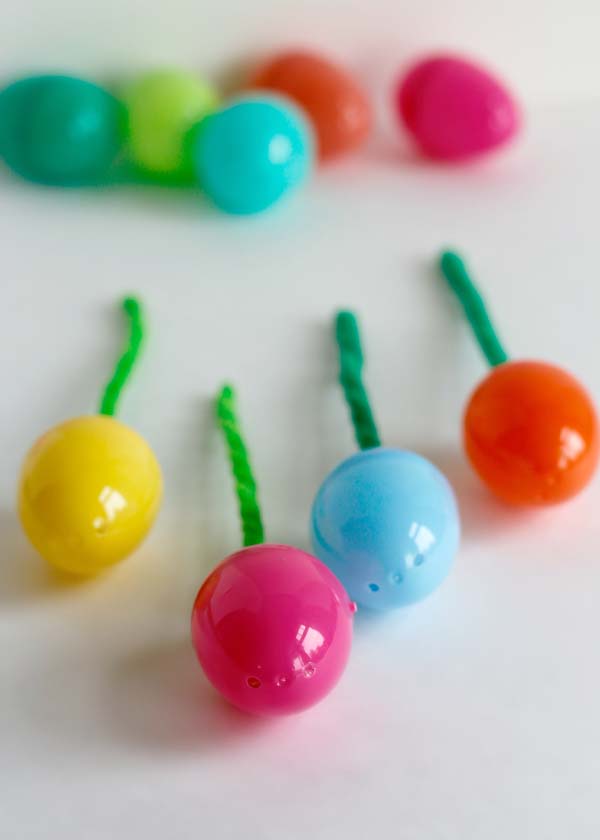 The idea for a plastic egg flower bouquet could be a great exercise for your kids' fine motor skills.
Unpack the Dollar Store package, separate the eggs in halves and let your kid put through the pipe cleaners through one of the bottom holes and then back down through the second hole. Let them twist the pipes so that they become strong 'flower' stems.
via Make and Takes
41. Build Rustic Stick Flower Pots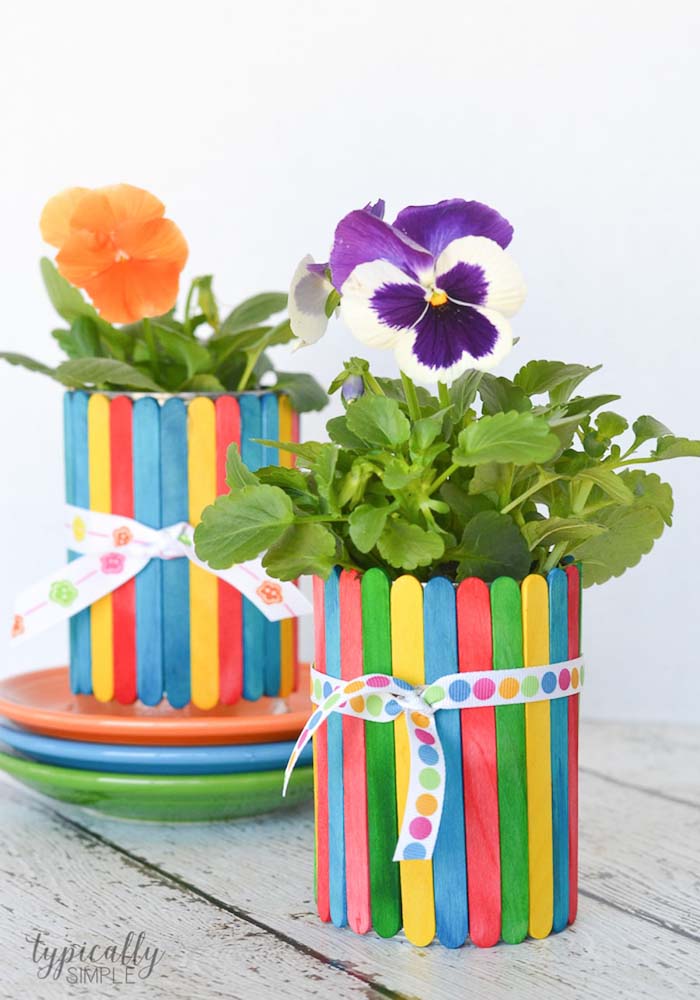 Have you been looking for a no-mess craft for your kids? Craft Stick Flower Pots could be your solution.
via Typically Simple
42. Create Adorable Doily Sheep with Kids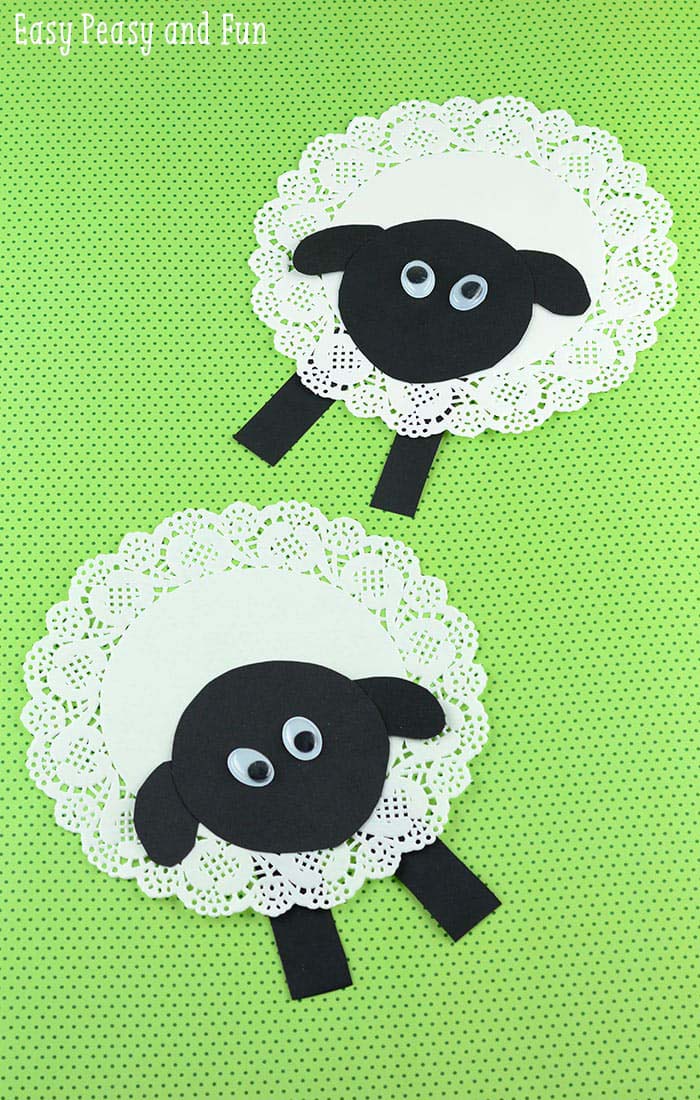 If you have some paper doilies, it is now the time to use them for a very easy and cute project – doily sheep. Prepare the sheep parts and let your kids arrange and glue them.
43. Egg-Shaped Bunny Craft for Your Kids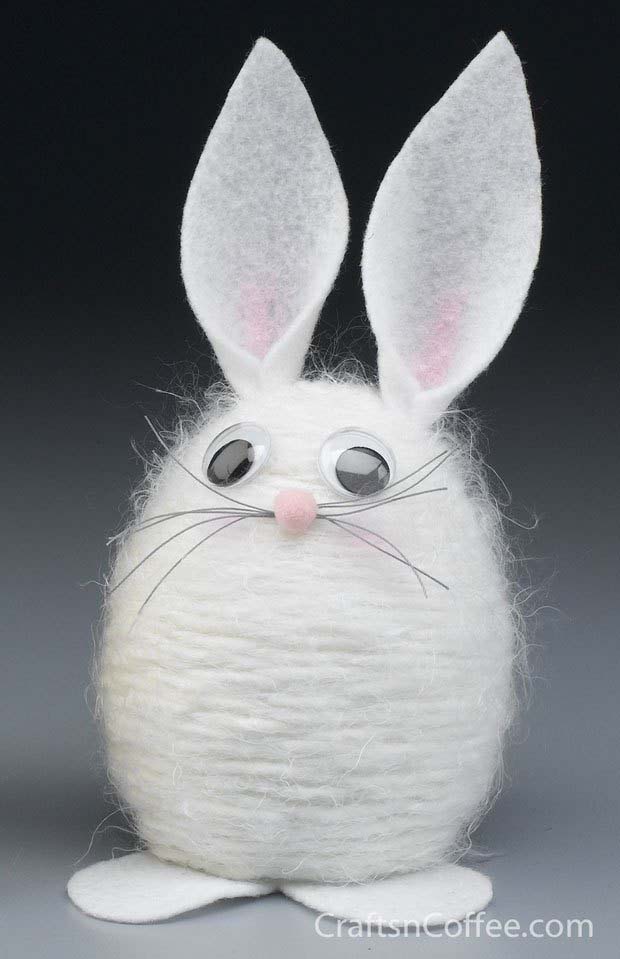 Bunny must be the favorite Easter character of all kids.
The craft by Crafts N Coffee transforms regular materials into a wonderful and relatively big rabbit.
As it requires some skills, we suggest that you work together with your kids. This egg-shaped bunny needs yarn, Styrofoam eggs, googly eyes, some felt, glue.
via Crafts N Coffee
44. Make Fun Easter Puppets from Wooden Spoons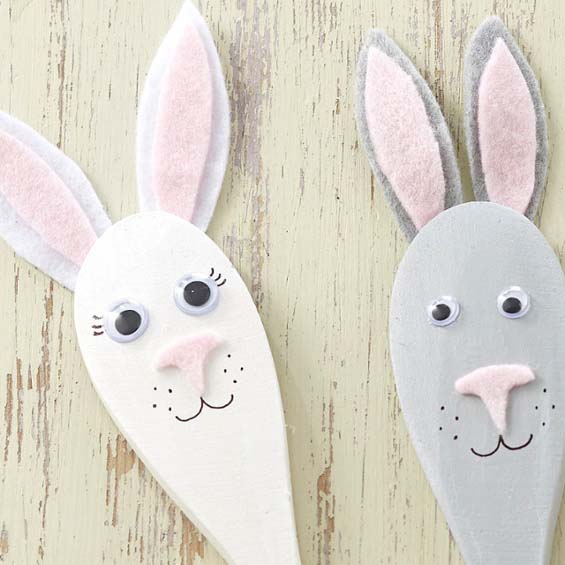 Do your kids play with everything but their toys?
The cooking wooden spoons can be turned into a funny bunny couple for a small puppet show with a little paint, googly eyes and inspiration!
via Hobby Craft
45. Personalize Named Chick Spoons for Craft Time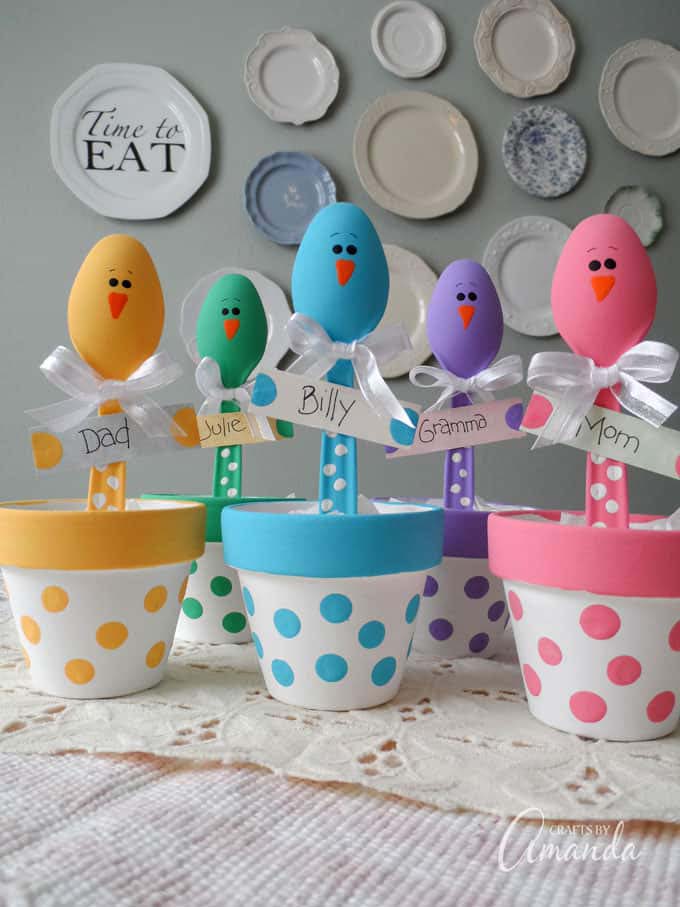 If you are looking for a more personalized craft to do with your kids, the named chick spoons are your thing.
Painted in different colors each of them has a label with the name of its owner.
via Crafts by Amanda
46. Make a Fluffy Yellow Chick Easter Invitation with a Fork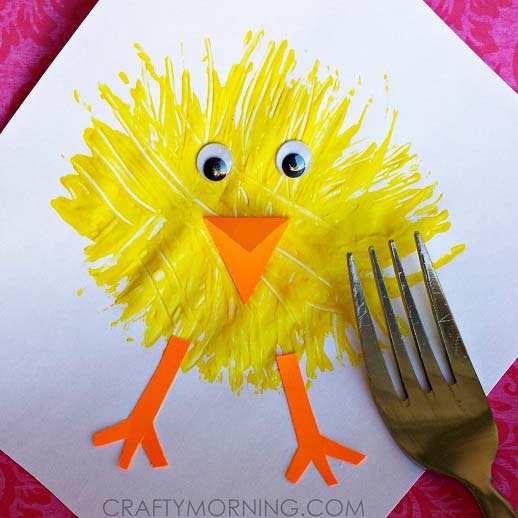 Let your kids do this fluffy yellow chick all by themselves! Painted with a fork, that cute image could make a great Easter party invitation card.
via Crafty Morning
47. Create Adorable Bunny Decor with Popsicle Sticks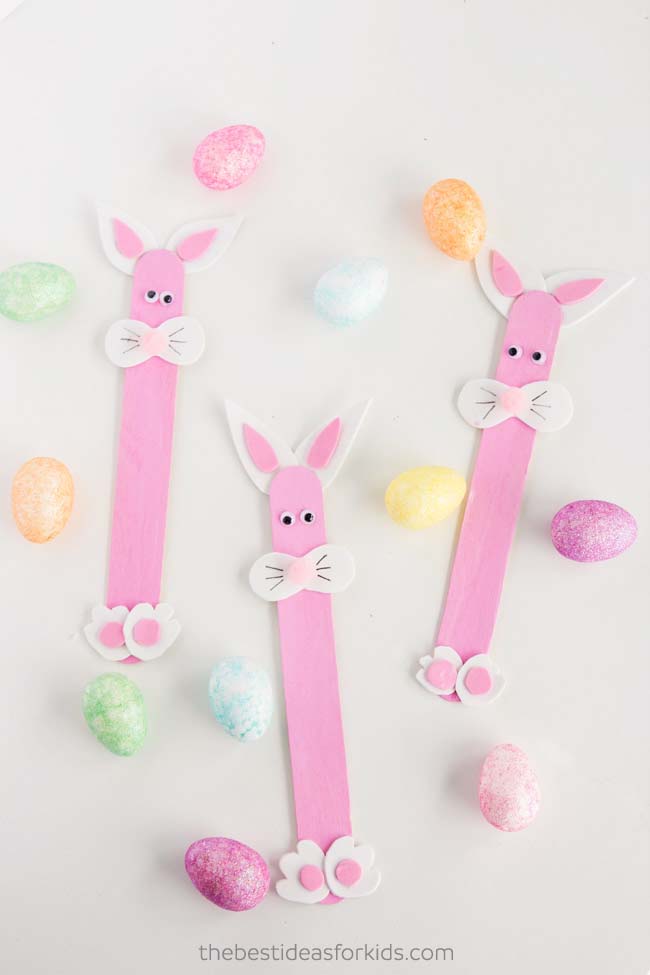 Kids will be eager to get involved in the making process of these popsicle sticks bunnies.
Painted in pink and decorated with cute ears and feet from foam sheets, these funny sticks could make a great gift for Easter or even a bookmark.
48. Colorful Doily Paper Easter Eggs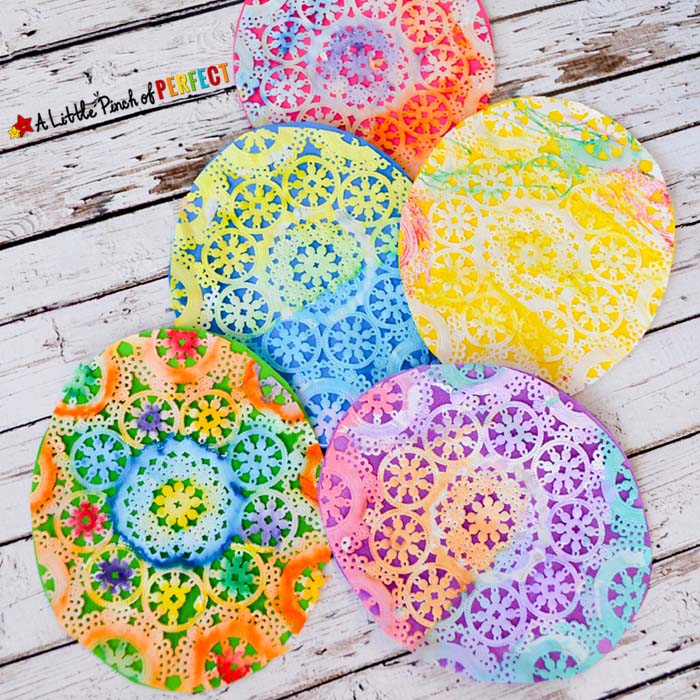 Be prepared to make dozens of these doily paper eggs when your kids see how easy and funny this project is.
You also won't mind that as it is one of the messy-less projects.
49. Transform Stones Into Easter Decorations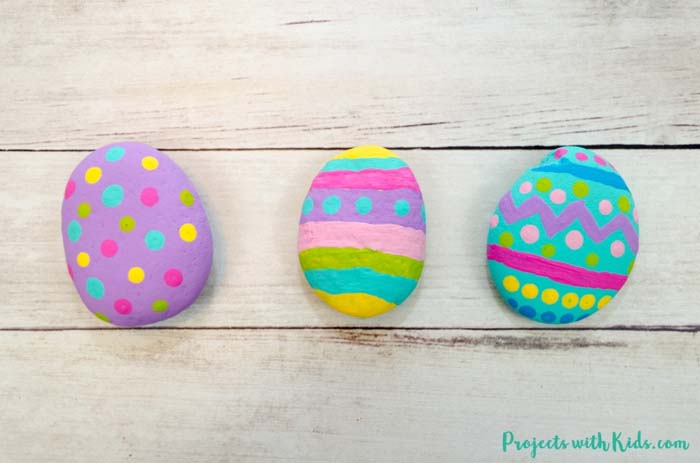 Do your kids have a collection of stones gathered at random places? Now it's time to finally use them and make beautiful colored in pastel shades Easter stones.
Your kids will be proud to contribute to your Easter decoration with their long-time gathered treasure.
50. Upcycle Yarn Threads into Fun Figures with Kids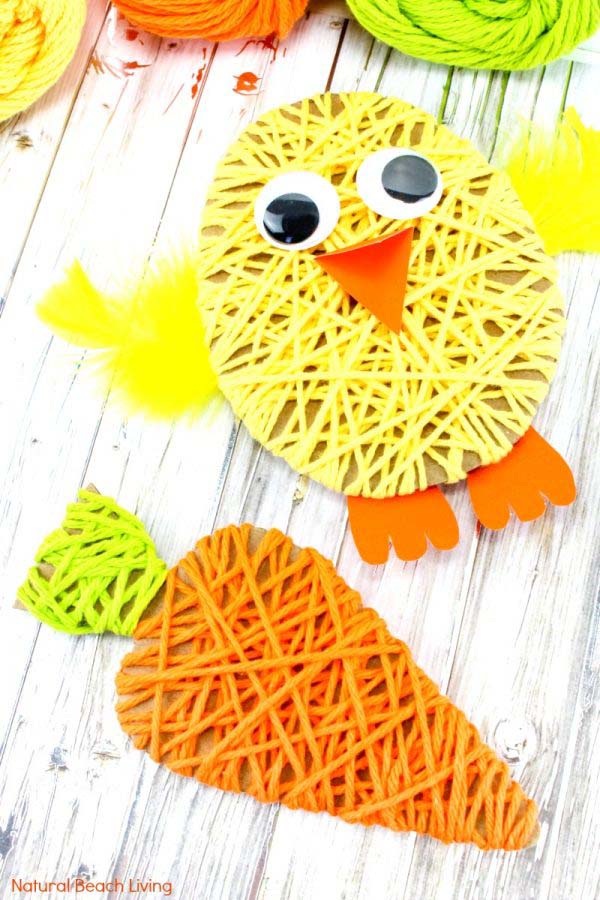 It is now the right time to use all yarn threads left from your knitting projects.
These adorable yarn figures of chick and carrot will engage your kids' hands and logical thought.
51. Create Festive Bunny Crafts with Paper Cups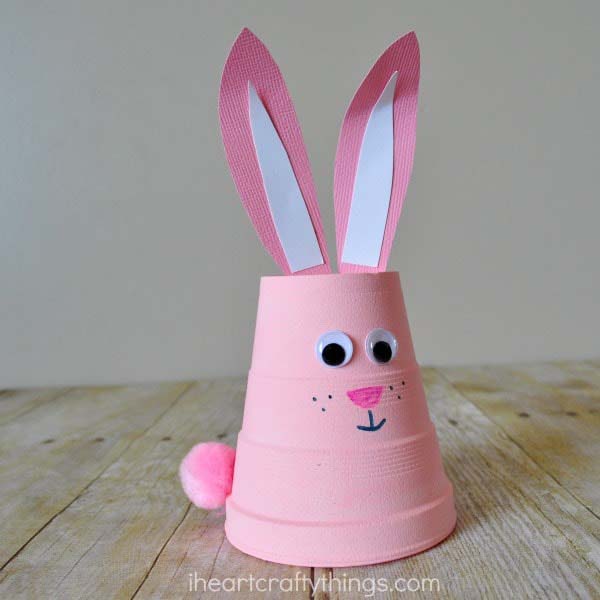 Make these fun and easy bunnies out of paper cups. You could use them later on to hide sweets or other candies for your kids.
52. Make a Foam Cup Easter Bunny Candy Holder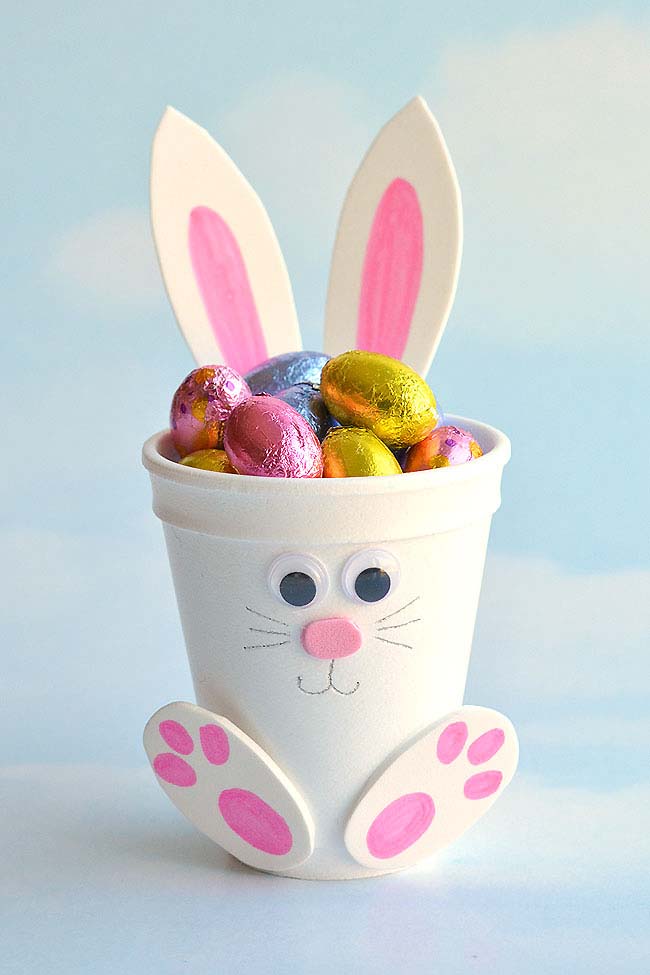 Debbie from One Little Project gives another idea of how to transform paper cups into Easter decorations.
The funny bunny may be actually used for juice, candies or any other sweets your kids may like.
53. Sweeten up Easter with Bunny Lollipops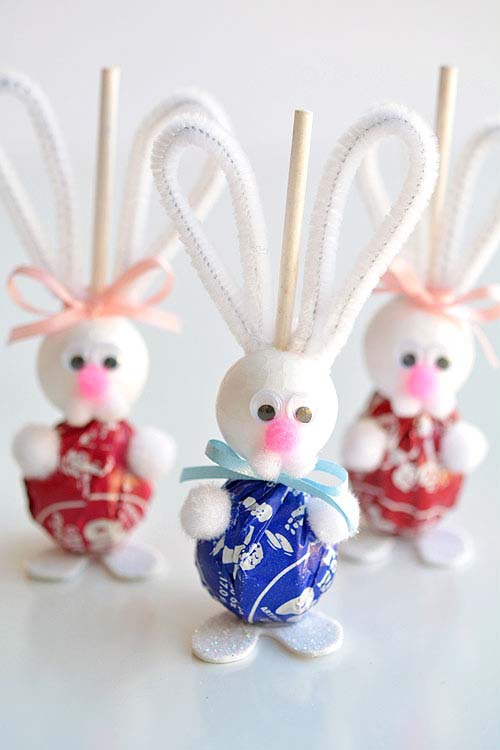 A treat and decoration in 1? Check this clever and sweet idea for Bunny lollipops.
54. Make Adorable Chick Decor with Popsicle Sticks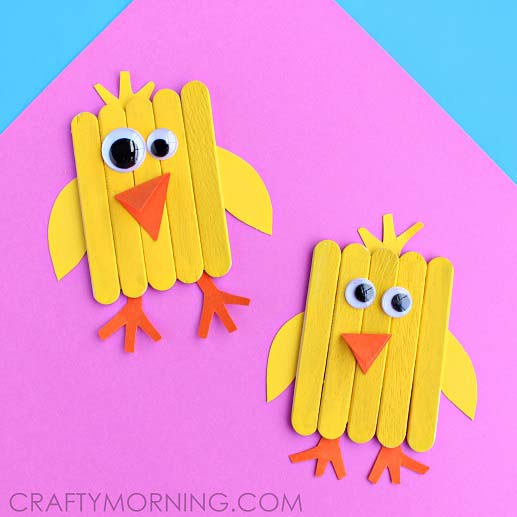 This craft idea is perfect for kids of all ages. A few craft sticks, glue and some paint and they will make an adorable little chicken as an addition to the Easter decorations.
via Crafty Morning
55. Create a Cute Bunny Garland with Paper Bunnies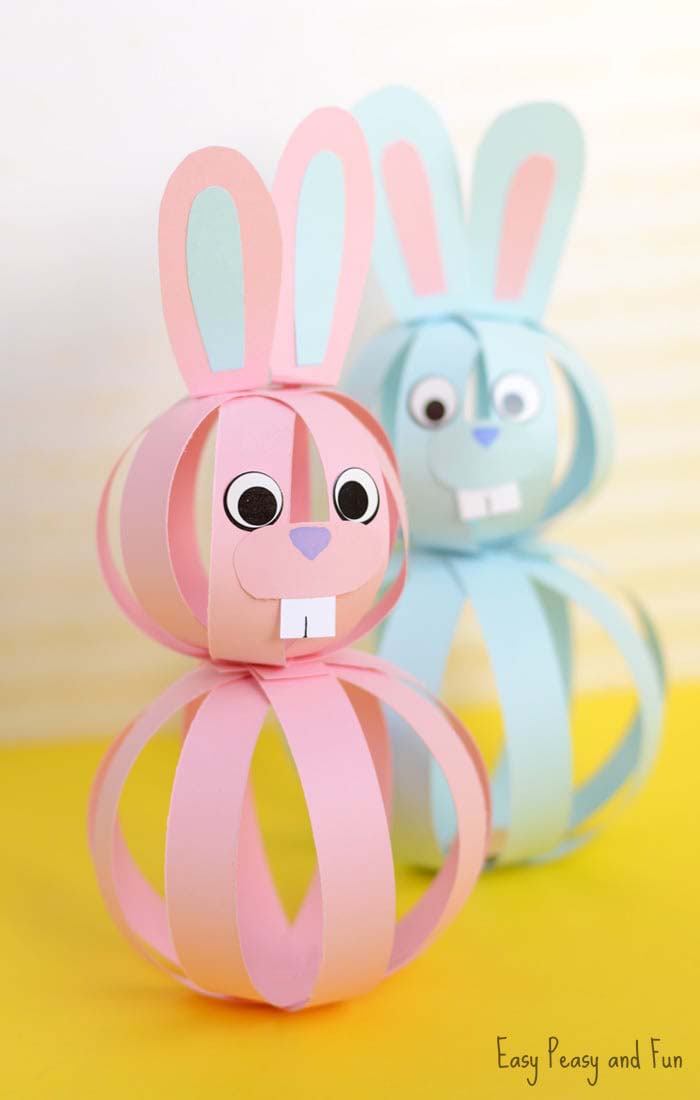 The next bunny craft is made entirely out of paper and is very easy.
Let your kids make as many as they want and help them hang the finished bunnies on a string to create an adorable garland for their room.
56. Paper Plate Chicks Made with Sewing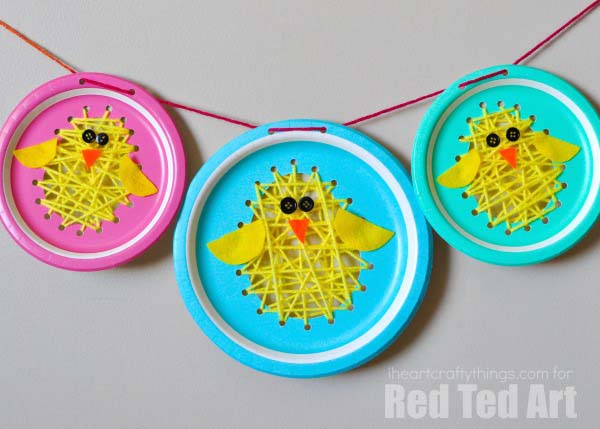 This plastic chick could be a perfect project not only for home occupation but also for school.
With the help of the tutorial in the link below, you would be able to introduce the first steps in sewing to your children.
via Red Ted Art
57. Create Adorable Paper Plate Easter Bunnies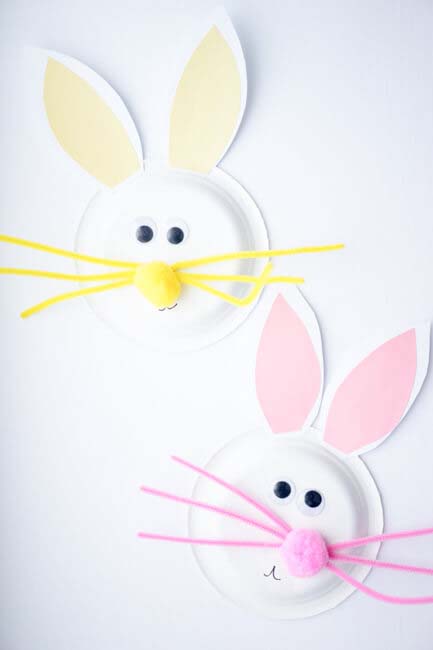 An easy project is the Easter bunny made out of paper plates.
Gather the supplies from the dollar store and let your kids assemble the googly-eyed funny bunny.
58. Upcycle Paper Plates into Cute Easter Chicks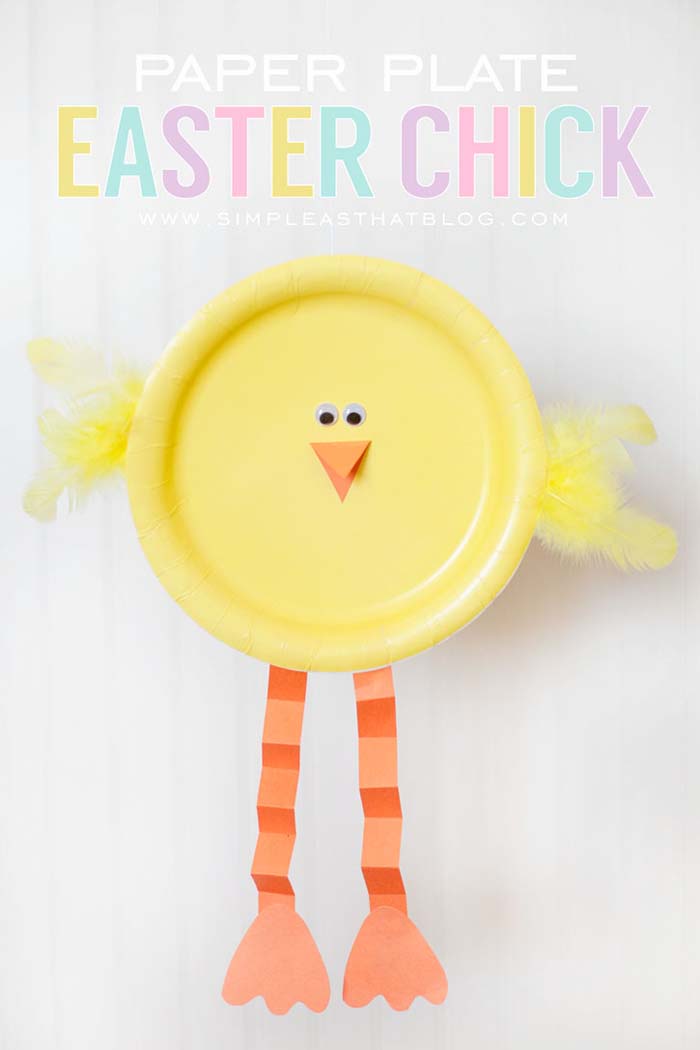 Your paper plate bunny needs a friend and that can be the cute long-legged chick that is so ridiculously charming.
via Simple as That
59. Craft a Cute Easter Bunny with Pinecones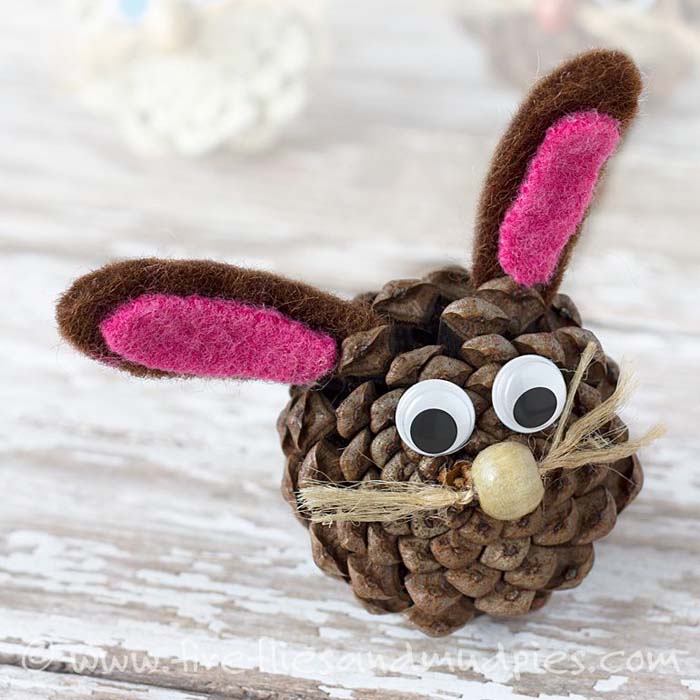 Most of us connect the pinecones with winter but they reach their maturity in springtime.
Why not use their perfect shape and texture for Easter decoration? Check these pinecone bunnies that your kids will be eager to do.
60. Cuddle Up with Easter Pom Pom Bunnies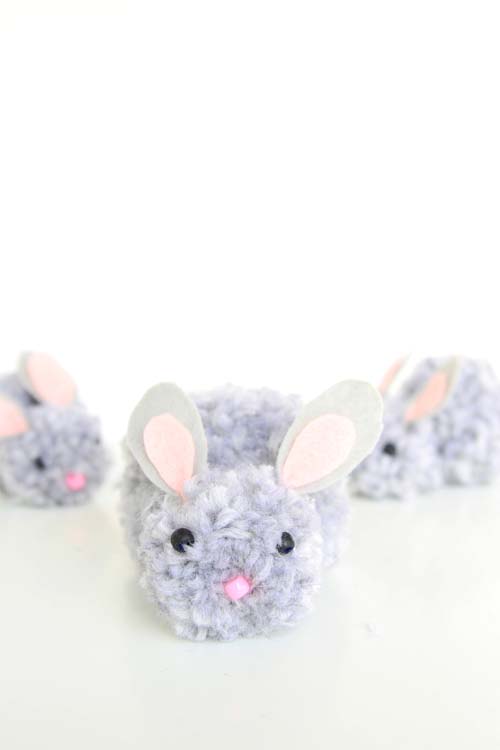 These are the cutest bunnies ever! Your kids will definitely love the idea of making them.
The pom pom bunnies are so soft that your children would love to cuddle them all the time.
61. Make a Pom Pom Chick Project for Kids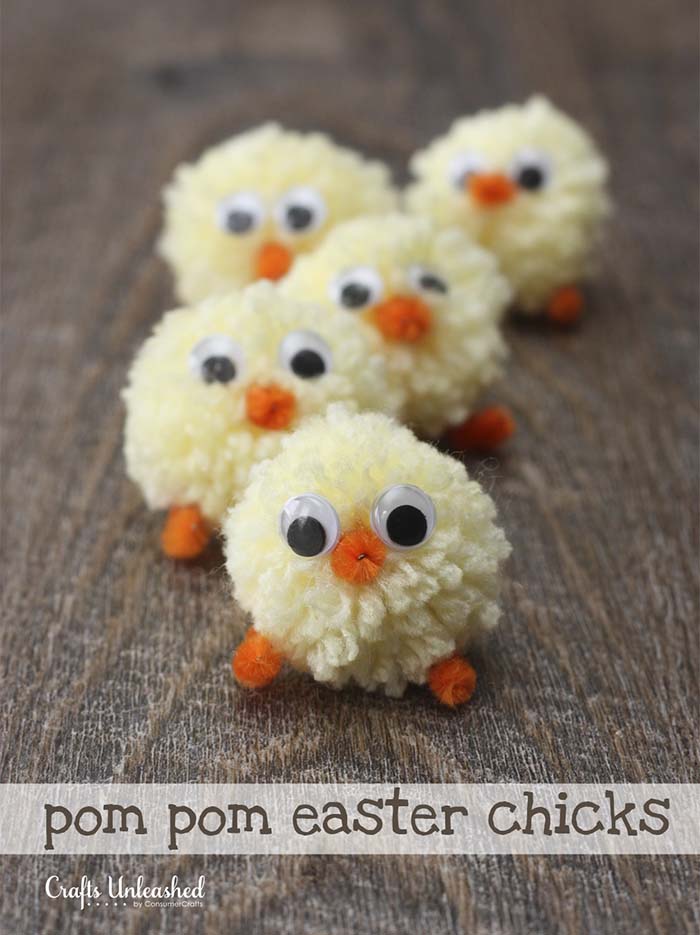 Another pom pom project for kids is this small sweet chicken.
Make sure you make enough of these as everyone would like to have one for themselves.
via Crafts Unleashed
62. Create Fun Easter Art with Potato Stamping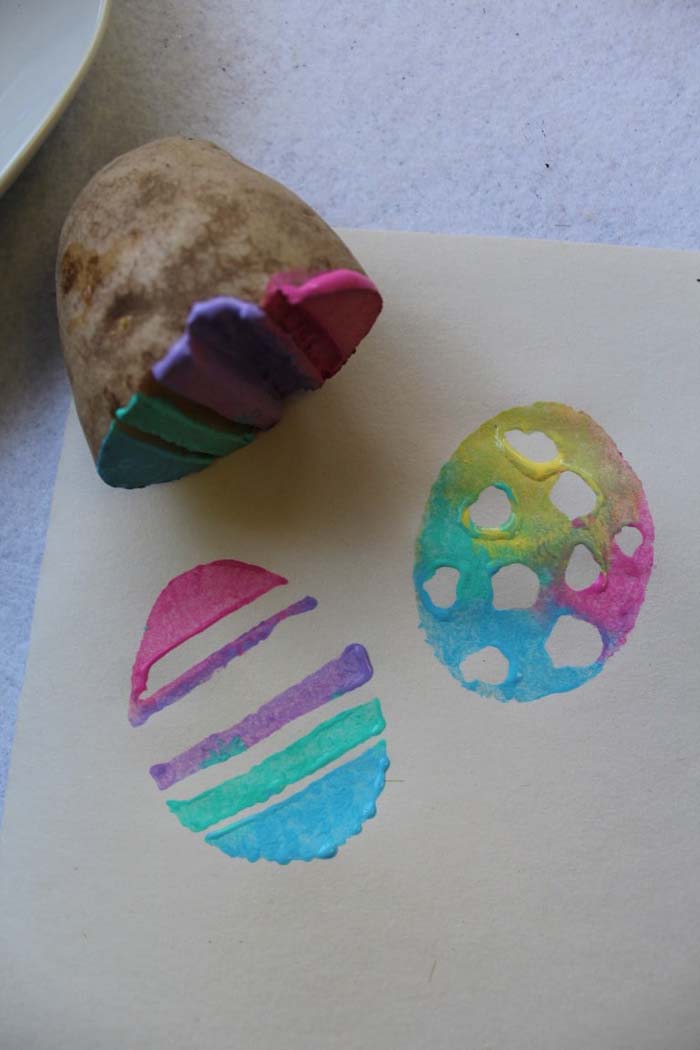 The potato stamp idea is great for the smallest kids. They would be amazed by the footprint a potato can leave.
Make the shape of the potato yourself and leave them to play with the colors. I promise you will see a lot of amazed and funny faces.
63. Unleash Your Creativity with Q-Tip Flowers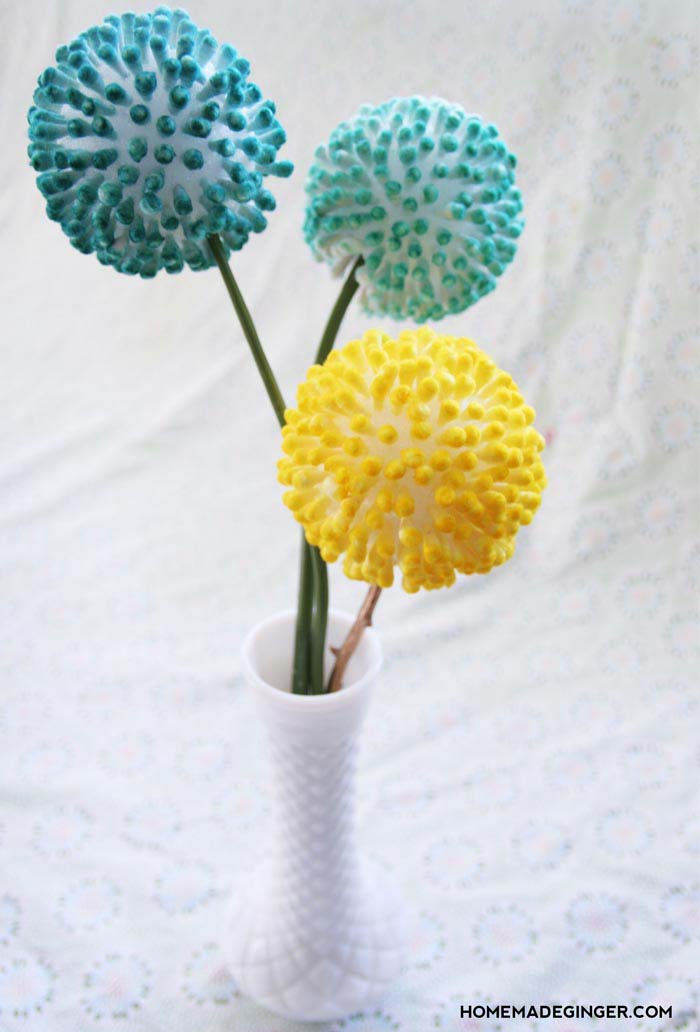 An interesting spring project, not only for kids but for adults as well, is that Q-tip flowers.
They look so good I am starting to consider making them myself asap. Get some fake flowers from the Dollar Store for the stems, a package of Styrofoam balls and a couple of Q-tip packs.
via Homemade Ginger
64. Make a Fluffy Sheep with Q-Tips and Clothespins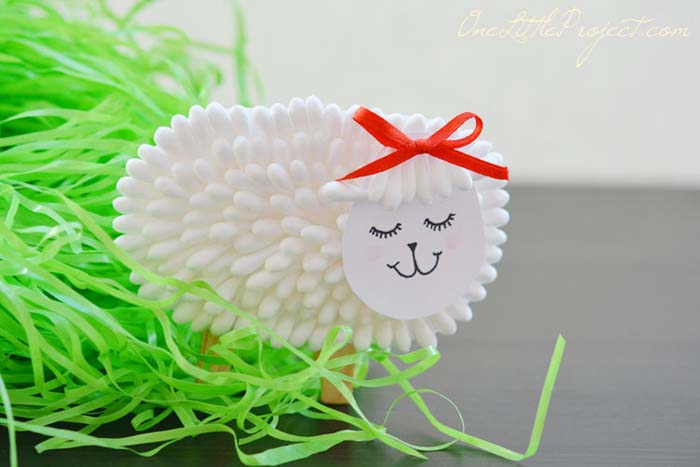 Use the Q-tips left to make this sweet dreamy sheep. Your kids will love the gluing part.
The legs of the sheep are made of clothespins so you can attach them anywhere.
65. Fill Socks with Rice to Make Funny Easter Bunnies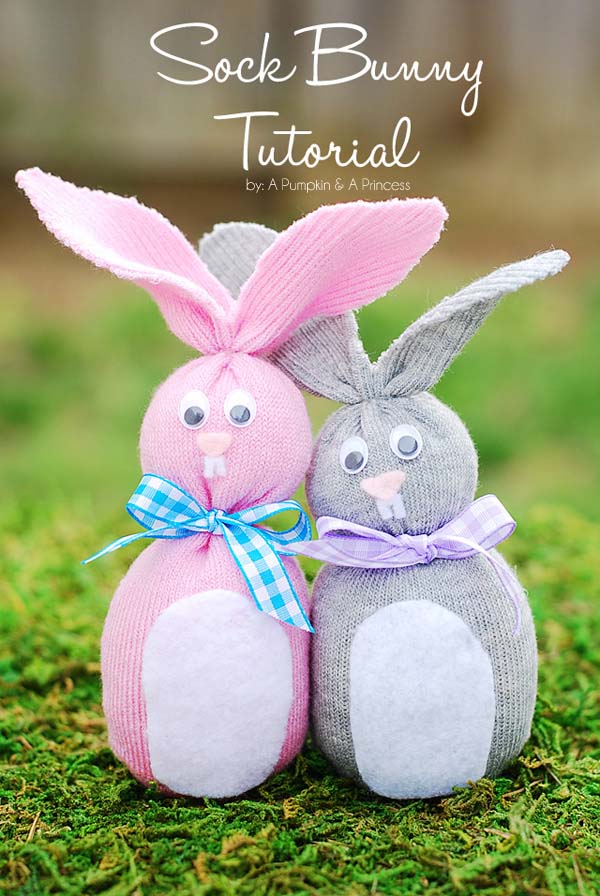 Have you ever wondered what to do with the remaining sock from the pair after the other one has mysteriously disappeared in the washing machine?!
It is time to get them out from the box of lonely socks and let your children fill them with rice to make these funny-looking bunnies.
66. Craft Colorful Easter Eggs with Tissue Paper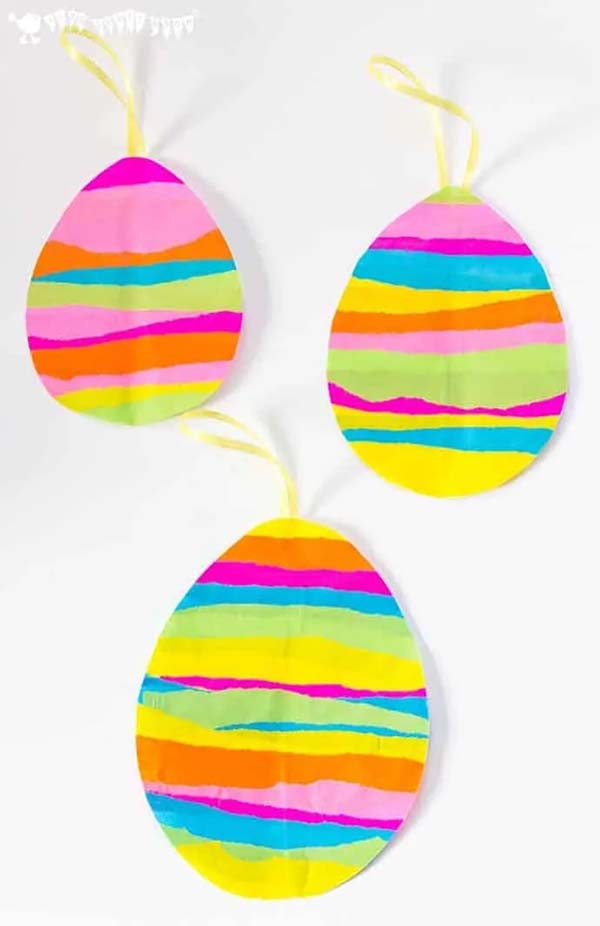 The kids will love making these brightly colored Tissue Paper Easter Eggs.
They could work as suncatchers if hung on the windows or be used to decorate invitation cards to the Easter party you would be hosting.
via Kids Craft Room
67. Create Festive Yarn Eggs for Easter Decor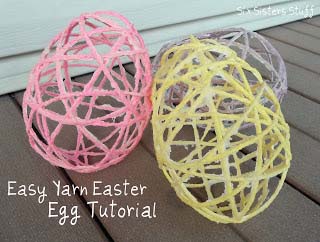 Another fun project for both kids and adults is this super easy yarn eggs. All you are going to need is glue, yarn and balloons.
Make them in different colors and arrange them in a basket to put as a centerpiece on your Easter table.