Spring is the season of renewal.
What was once a dense snow-covered winter is starting to become a bright and cheery spring.
This beautiful time of year requires some equally beautiful table decor and decorations.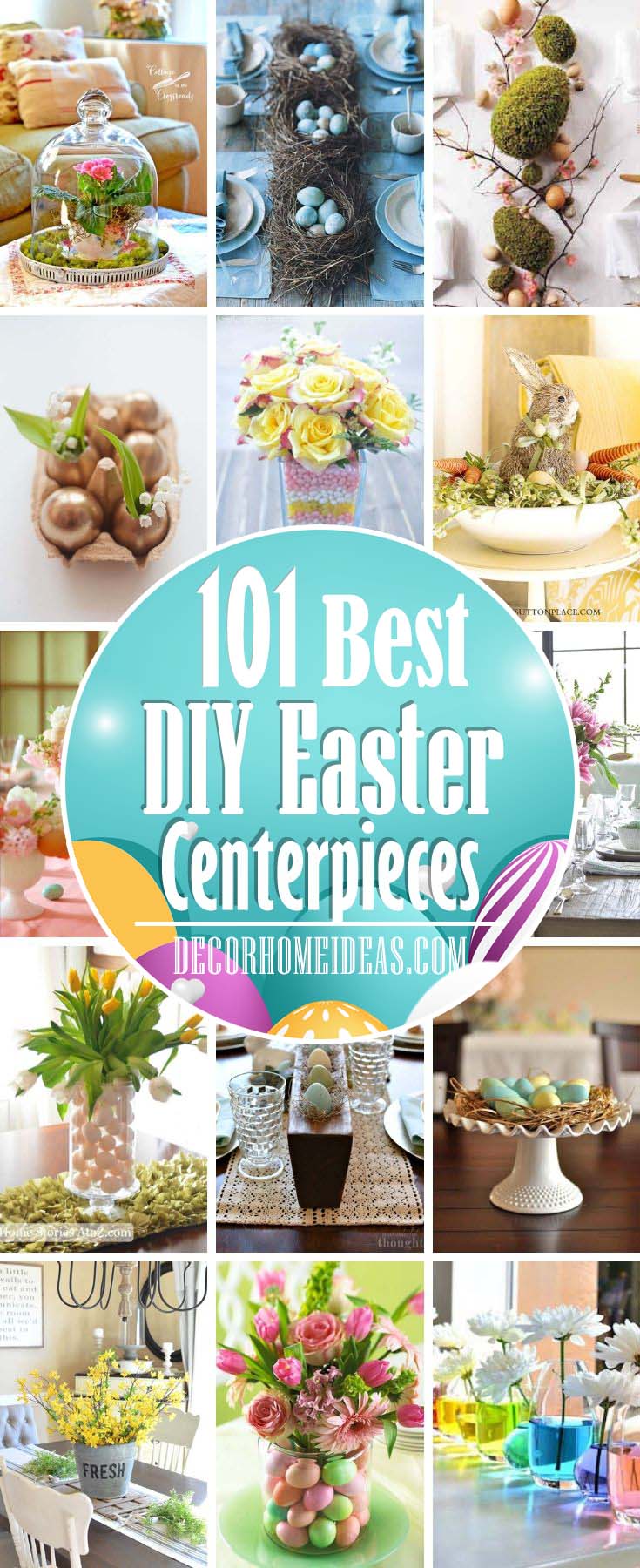 Check out these ideas for some simple but beautiful decor ideas.
1. 10 Minute Spring Centerpiece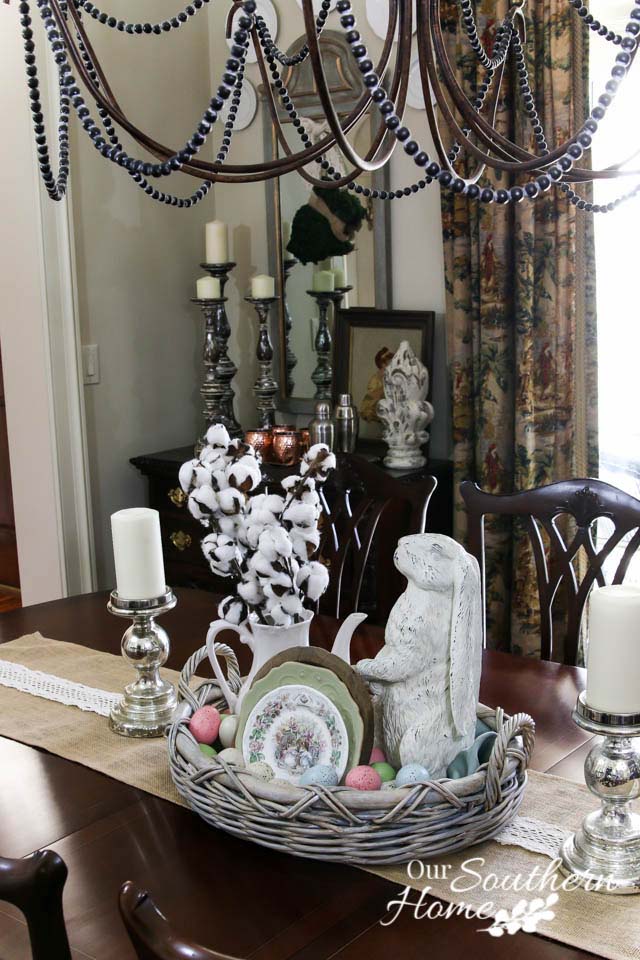 This entire table ensemble is really just a bunch of Easter decor arranged nicely. A large stone bunny in a basket and eggs surrounding a few classic plates.
2. Apothecary Jar Terrarium Easter Centerpiece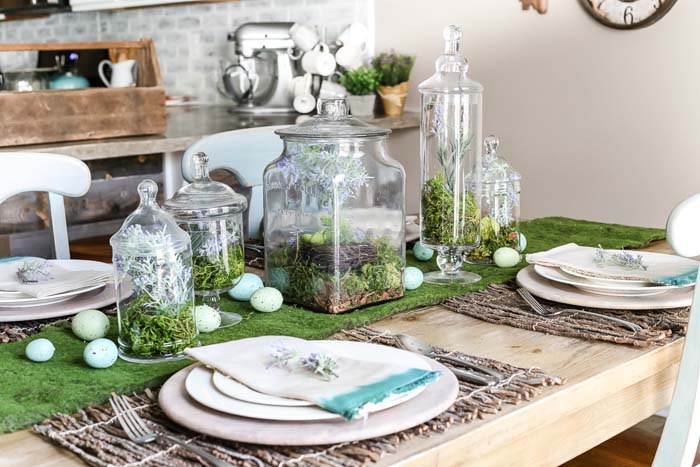 Using an assortment of apothecary jars you can fill them with nests and eggs to make a full table decoration.
via Bless'er House
3. Bouquet of Carrots and Flowers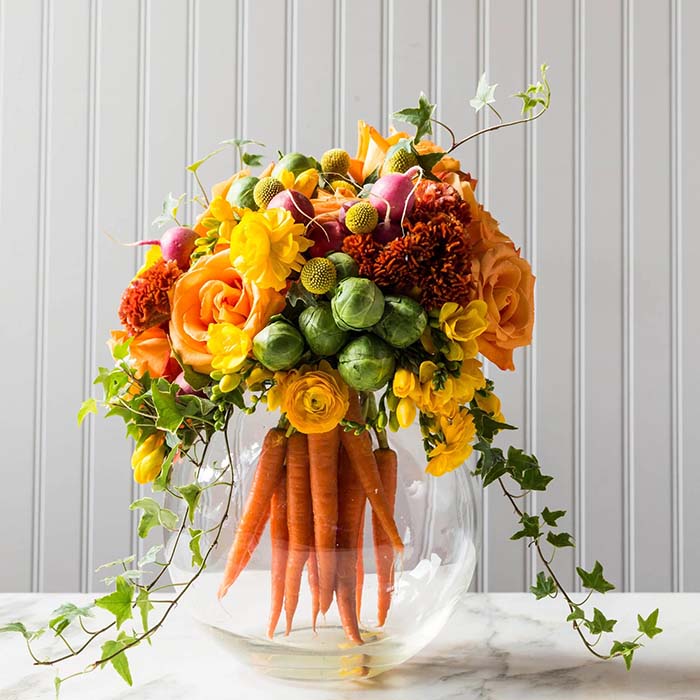 Take a glass jar and fill it with carrots. And top with flowers.
via Southern Living
4. Carrot Centerpiece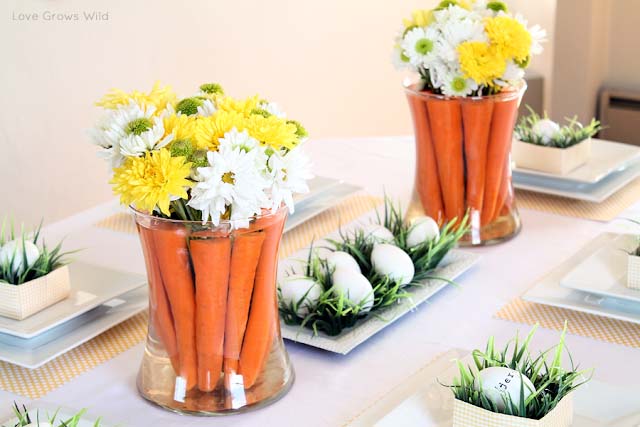 These adorable carrot centerpieces have glass jars filled with carrots. Then flowers are positioned on top.
via Love Grows Wild
5. Carrots Vase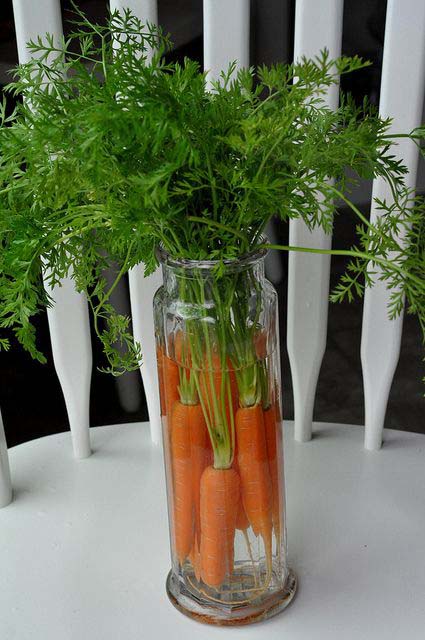 For a simple table centerpiece fill a glass jar with full carrots.
6. Daffodil Easter Centerpiece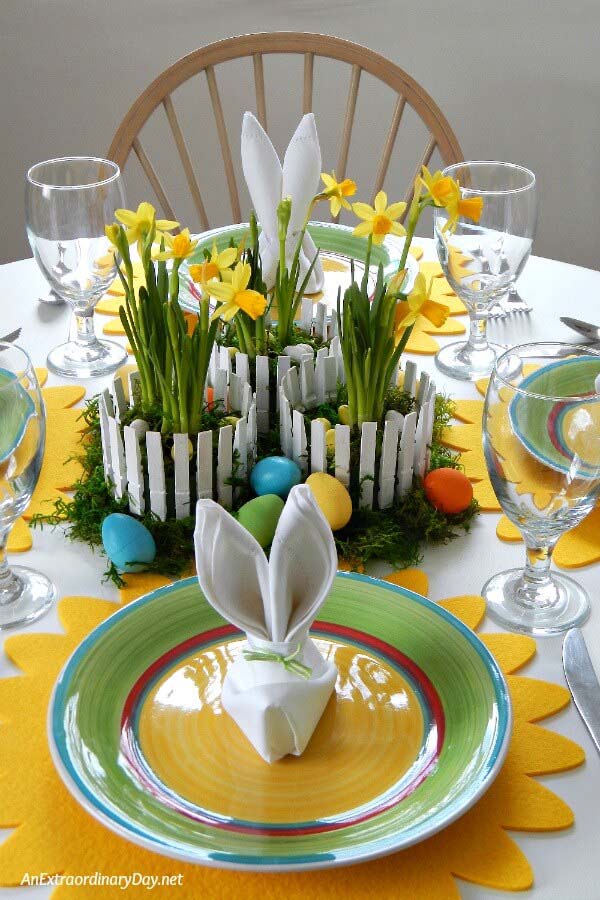 This Easter centerpiece is made using clothespins to look like baskets. Fold the napkins to look like Easter bunnies.
7. DIY Bucket of Flowers Centerpiece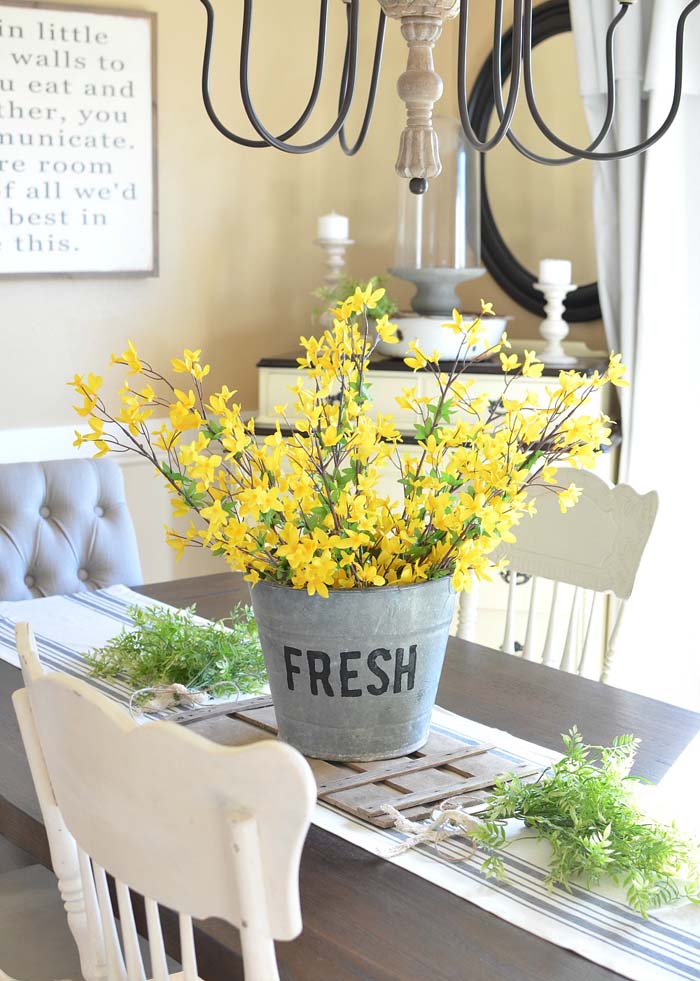 A classic farmhouse bucket that says fresh on the side is the perfect tub to fill with spring flowers.
via Sarah Joy
8. DIY Easter Basket Centerpiece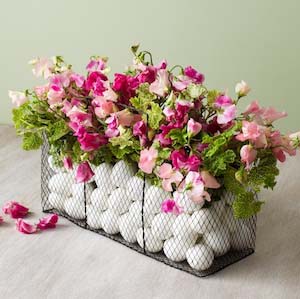 Fill a simple farmhouse egg basket with hard-boiled eggs. Then top with pink flowers.
via Tulipina
9. DIY Painted Bottles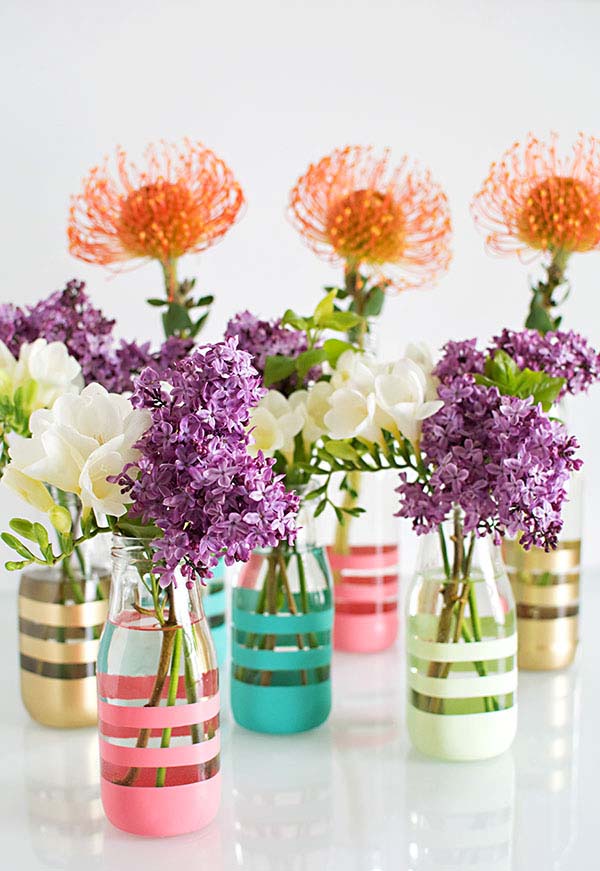 Have a few old rinsed out frappuccino bottles sitting around? Paint them with pastel colors and fill with flowers for a cheap but beautiful Easter decoration.
via Homey Oh My
10. Easter Bunny In Lantern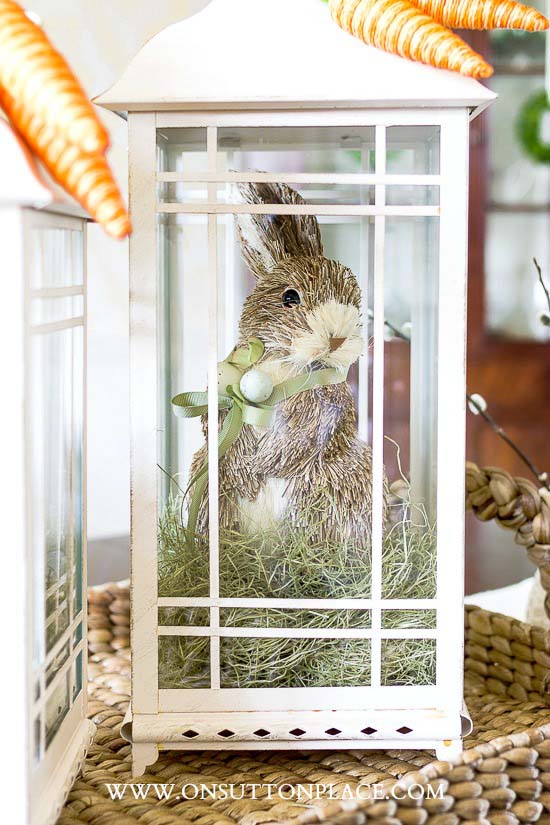 Take an old lantern and fill it with brown grass and a plastic or stone Easter bunny.
via On Sutton Place
11. Easter Cross Centerpiece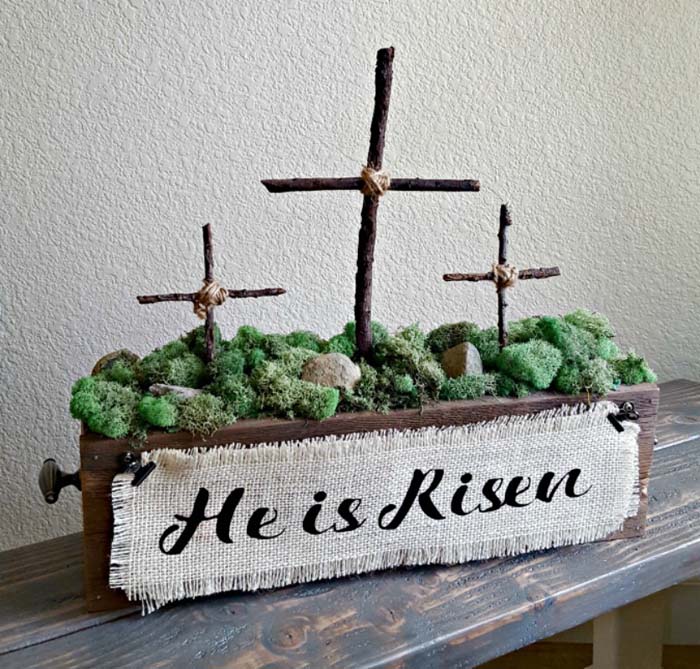 Use a long wooden box and fill it with rocks and small crosses.
12. Easter Egg Hunt Centerpiece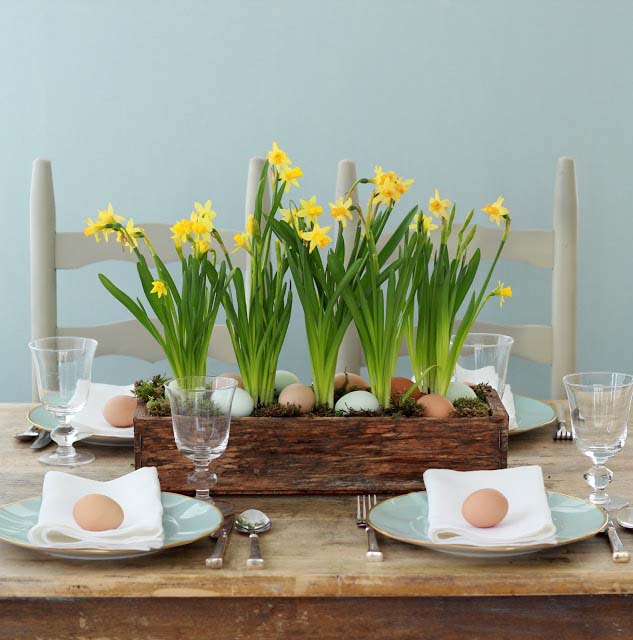 This simple centerpiece is beautiful Easter lilies planted in a long planter with a few hard-boiled eggs.
13. Easter Egg Topiary Tree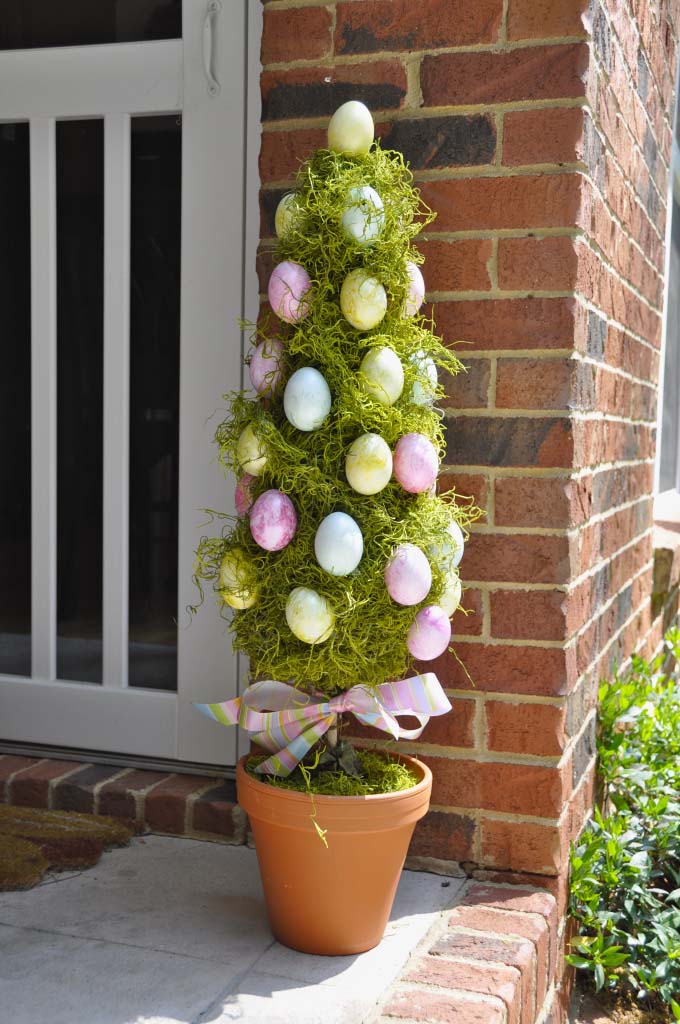 Take a grassy topiary tree and cover it with egg decorations.
via Sand and Sisal
14. Easter Egg Tree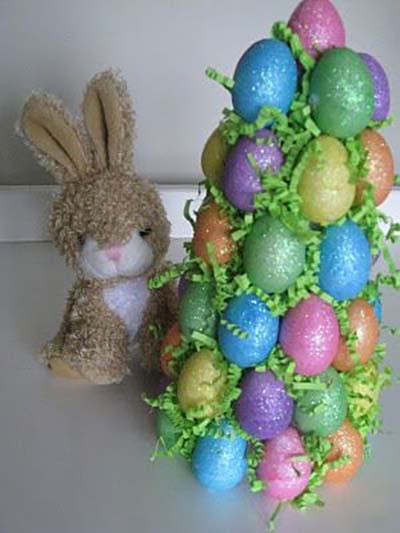 Easter eggs that are pastel-colored can simply be glued or wired together. Then cover the crevices with green Easter grass. It's the perfect Easter crafts project.
via Peanut Blossoms
15. Easter Egg Vase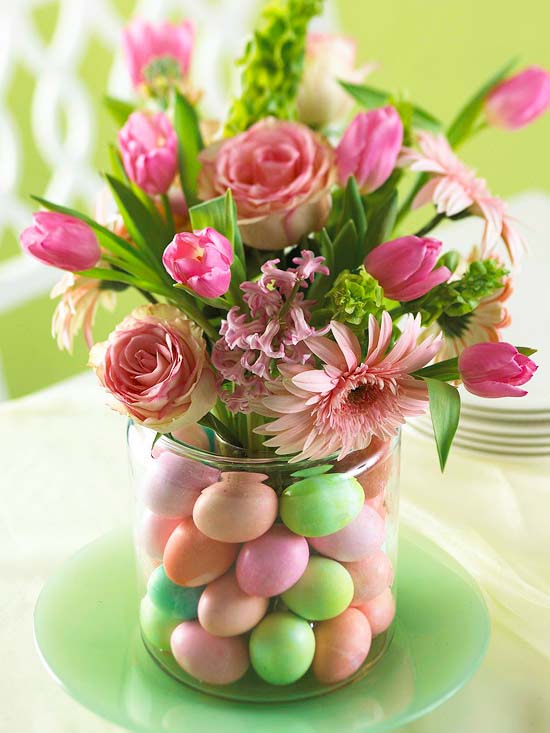 Dye hard-boiled eggs all different tones of pink. Then fill them in a glass jar and add flowers on the top. It completes a perfect centerpiece.
16. Easter Empty Tomb Centerpiece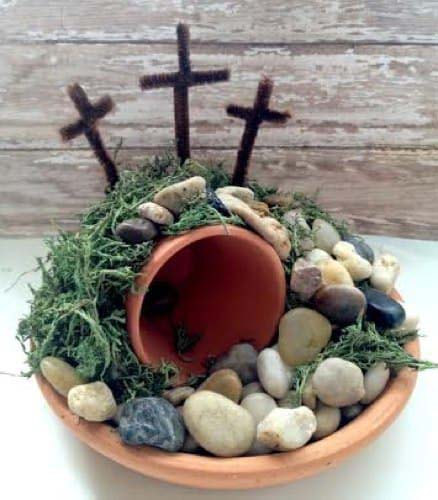 A planter laying on its side looks like the perfect Jesus sanctuary. Put rocks in front and cover with moss.
17. Easter Floral Arrangement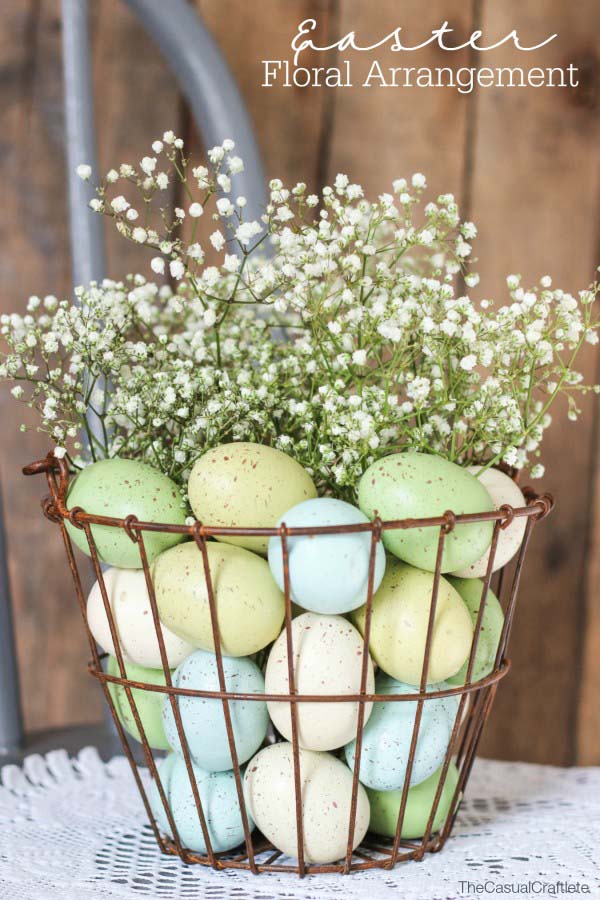 Fill a farmhouse basket with speckled eggs and flowers to make this beautiful centerpiece.
18. Easter in Bloom Tablescape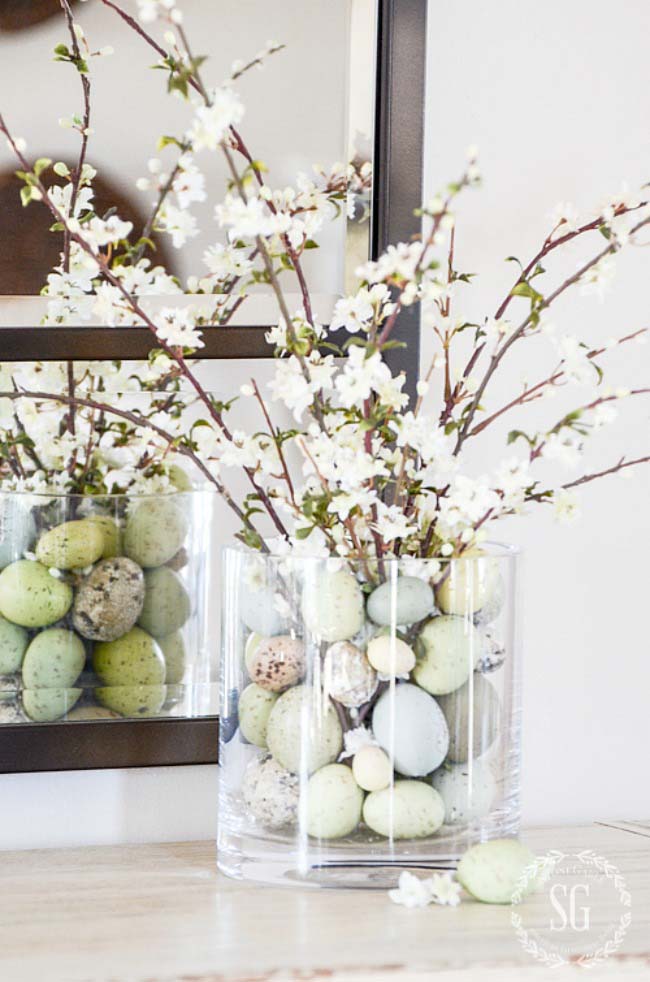 To make an entire tablescape use a glass jar filled with eggs. Then add a bunch of white limbs.
via StoneGable
19. Easter Peeps Centerpiece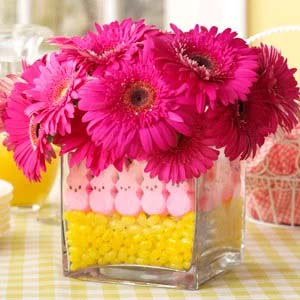 Fill a glass jar with a layer of jelly beans and then encircle peeps around the edges. Then fill with flowers.
via Taste of Home
20. Easter Table Setting Ideas Ball Jars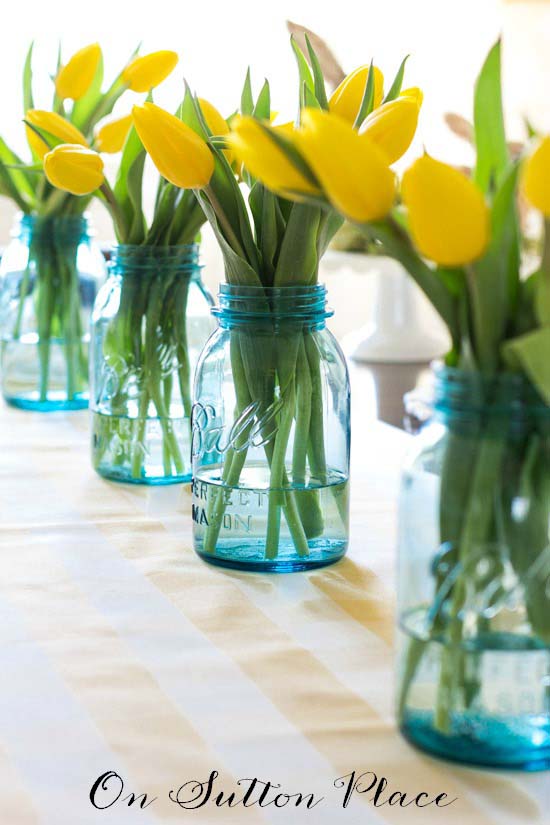 Simply use ball jars filled with Easter lilies. Line them up along a table for a perfect tablescape.
via On Sutton Place
21. Easter Table Spring at Fox Hollow Cottage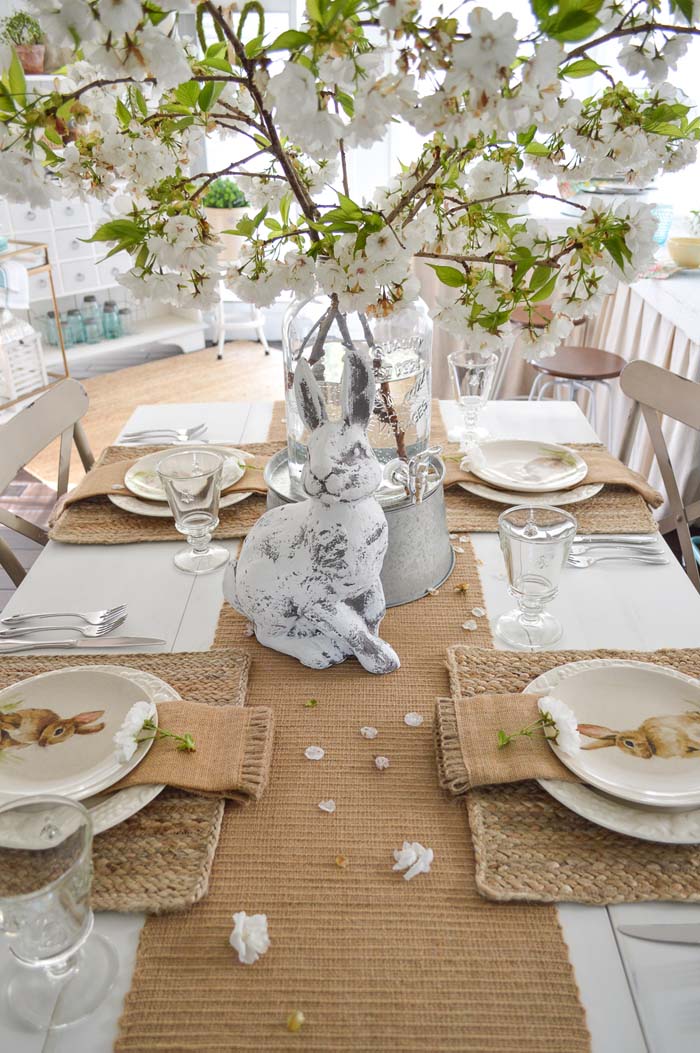 A very classic tablescape can be made with a white stone bunny and a vase of flowers.
22. Easter Wine Glass Centerpiece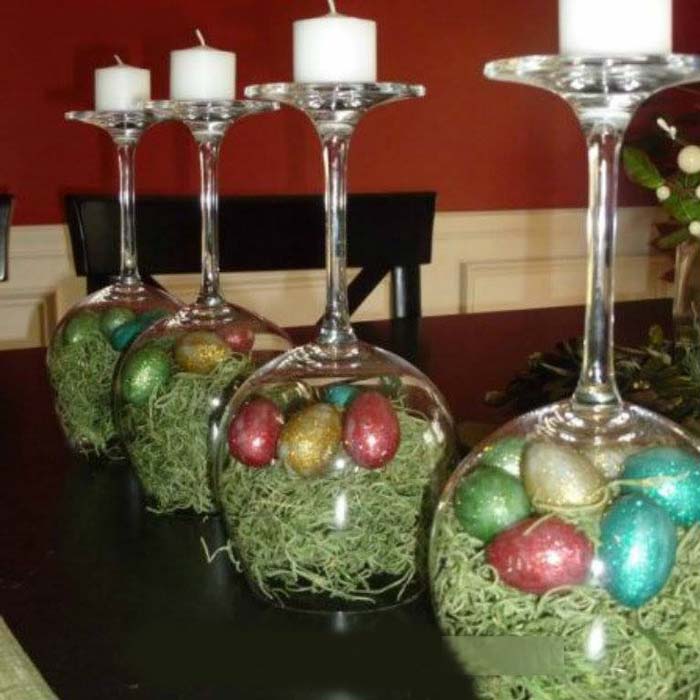 Fill a wine glass with a layer of eggs and Easter grass. Then flip them over on a table for a great Easter tablescape.
via Country and Victorian Times
23. Easy Easter Arrangement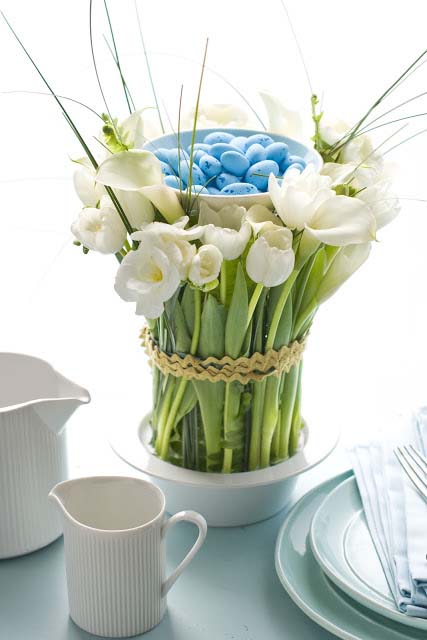 This whole Easter table arrangement is a white jar filled with eggs and white lilies around the edges. Tie the lilies with rustic rope.
24. Easy Mothers Day Breakfast Decor Ideas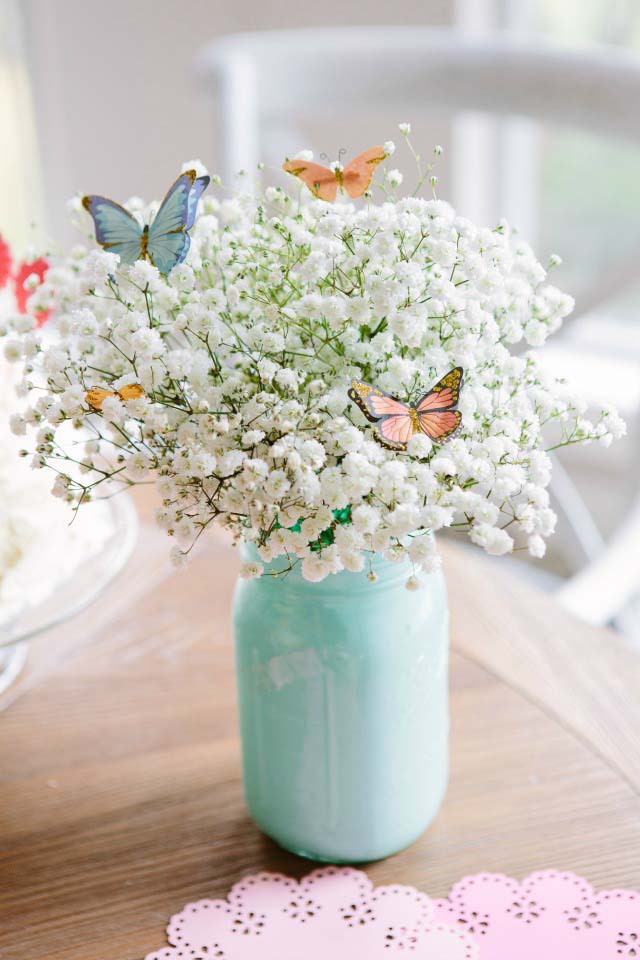 Paint the inside of a ball jar a nice light blue color. Then fill with white babies breath flowers.
25. Easy Spring Centerpiece Idea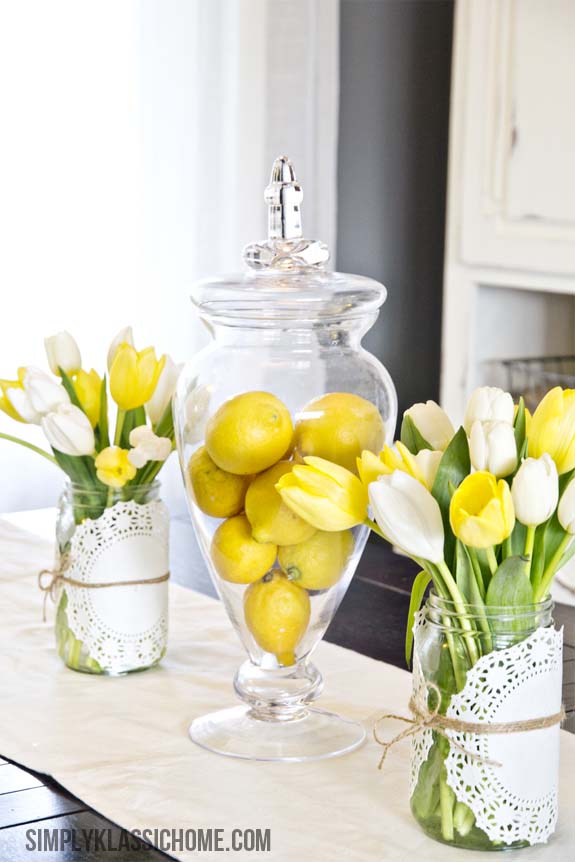 This super simple table centerpiece is simply a glass jar filled with lemons.
26. Eggshell Flower Centerpiece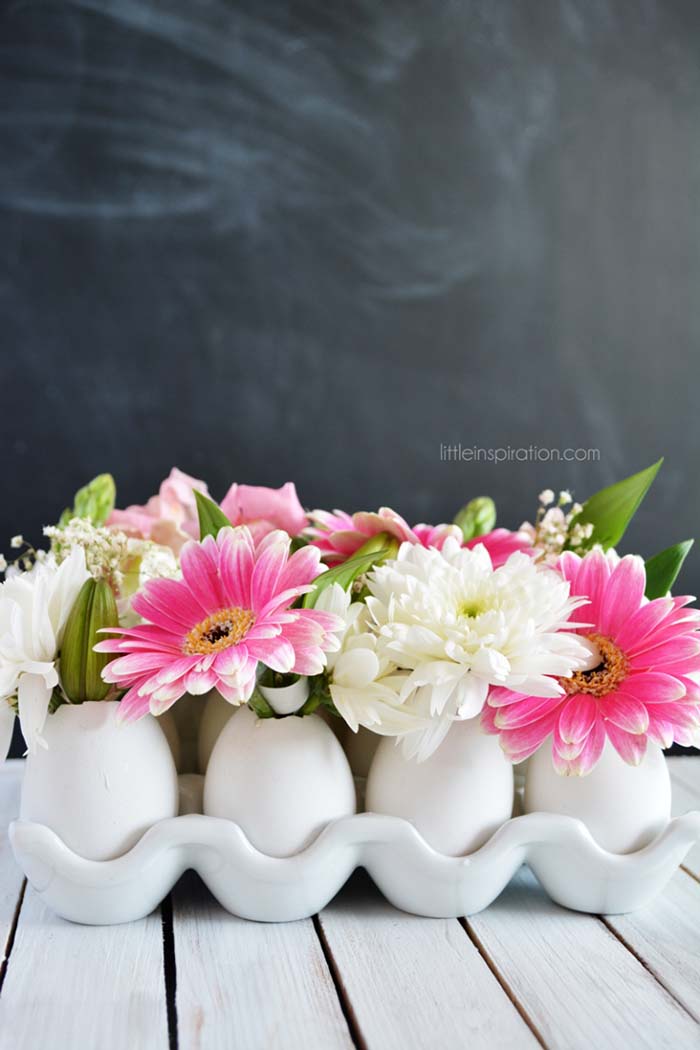 You can blow the center out of an egg and plant with small but bright flowers.
27. Elegant Easter Centerpiece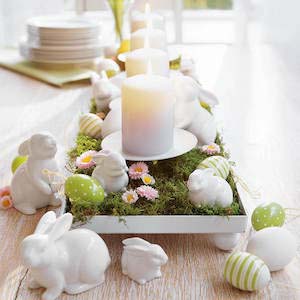 For a classic centerpiece just use a white plate with moss and white candles.
28. Farmhouse Spring Wooden Box Centerpiece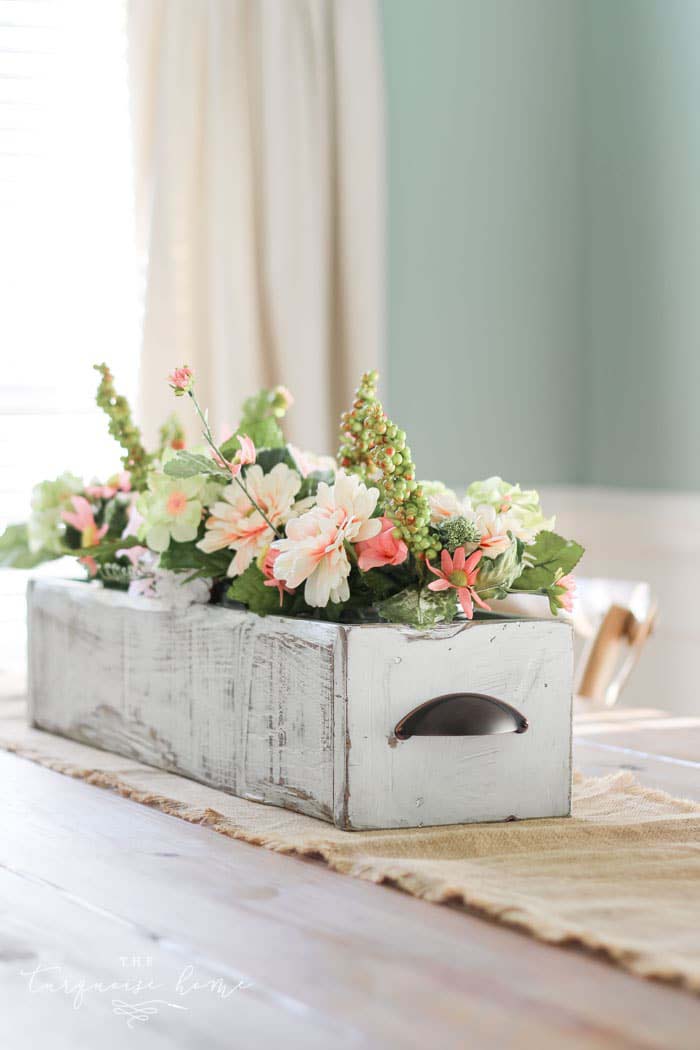 Take an old farmhouse box and paint white. Then fill with Easter flowers.
29. Flower Show Centerpiece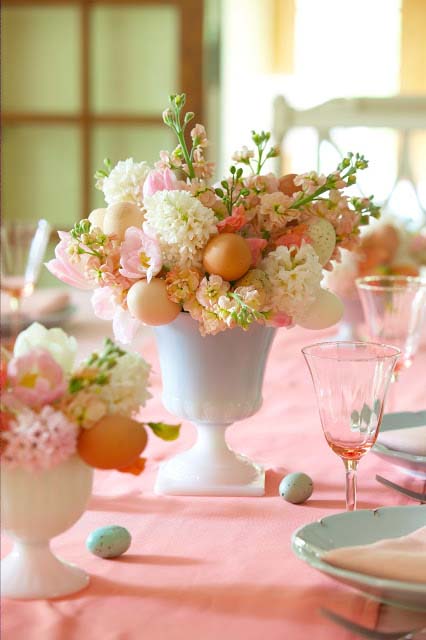 Use a tall white flower pot to plant your bright Easter flowers for your Easter centerpiece.
via Karin Lidbeck
30. Golden Eggshells and Flowers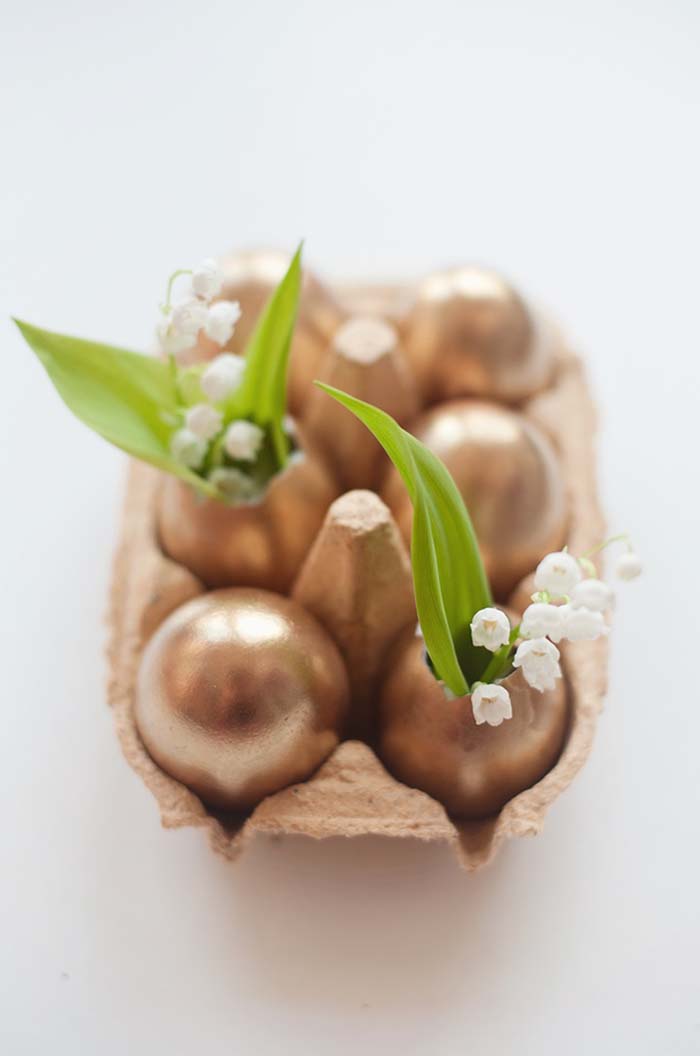 Paint emptied eggshells gold. Then fill with a few flowers for an elegant centerpiece.
via 79 Ideas
31. How To Make a Layered Candy Filled Vase With Flowers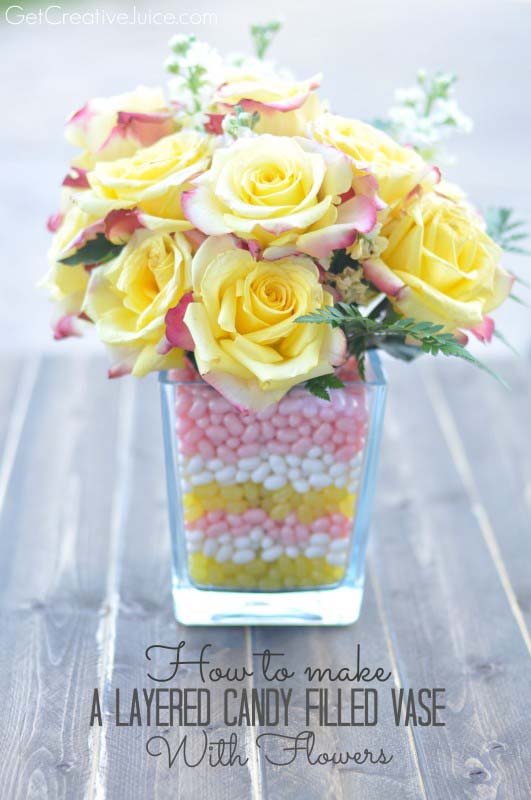 Take a glass vase and layer it with pink and white jelly beans. Then plant flowers inside.
32. Jelly Bean Candle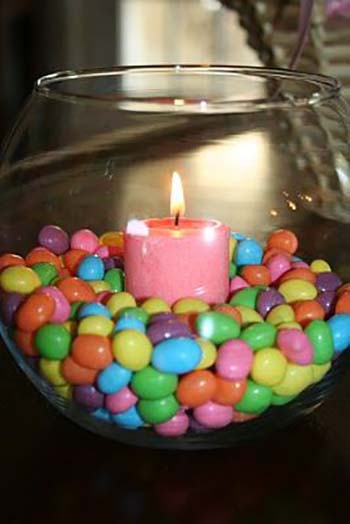 A glass fishbowl is perfect for layering easter jelly beans. Then put flowers on the top or a candle.
33. Jelly Bean Floral Arrangement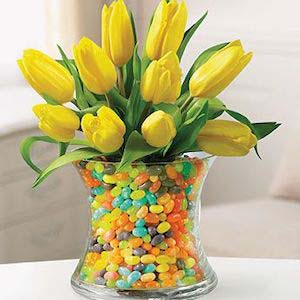 This simple arrangement is a glass jar filled with jelly beans and flowers.
34. Lemon Drop and Tulip Bouquet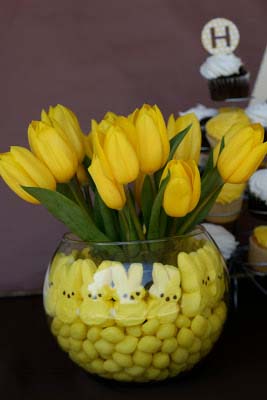 Fill a glass jar with lemon drops. Then layer a layer of yellow peeps. Put flowers on top to complete the Easter look.
35. Lilac Easter Centerpiece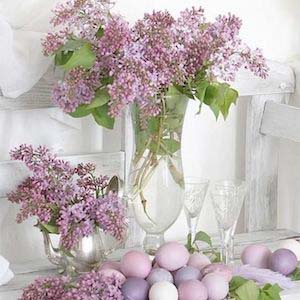 Glass jars can simply be filled with water and lilacs from your yard to give your home a spring touch.
36. Lily Easter Table Centerpiece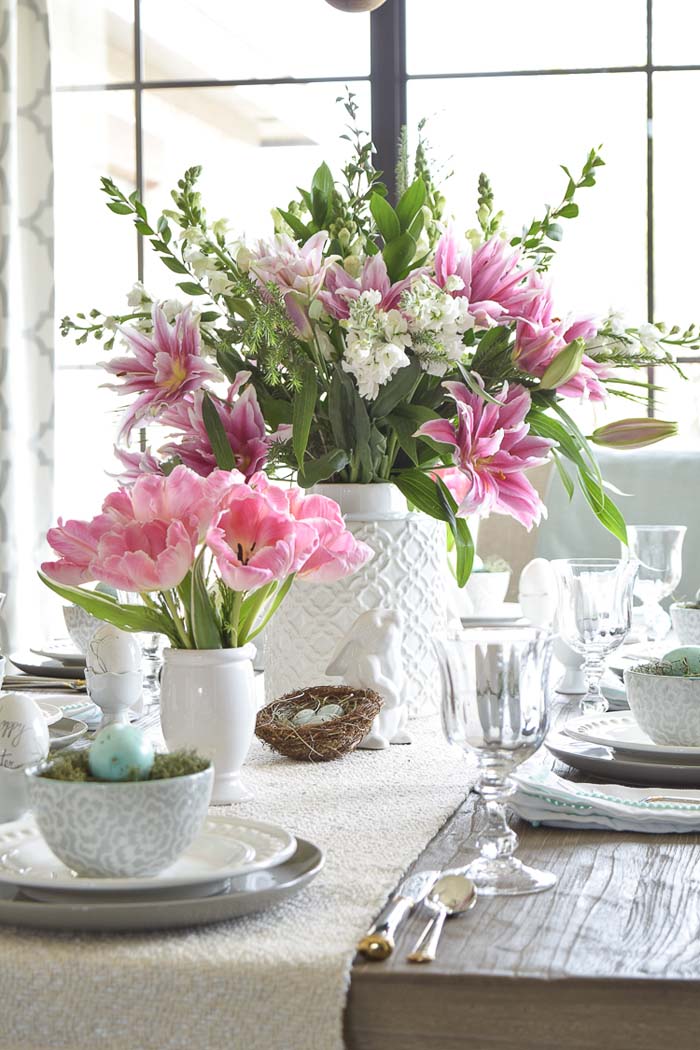 This entire centerpiece is a white jar and filled with flowers. Along with that are light blue bowls with moss and eggs.
via Z Design at Home
37. Mason Jar Spring Decor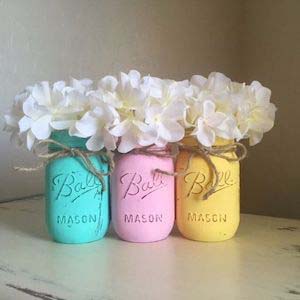 For a farmhouse Easter look just paint the inside of ball jars. Wrap a string around and fill with flowers.
38. Milk Glass Easter Centerpieces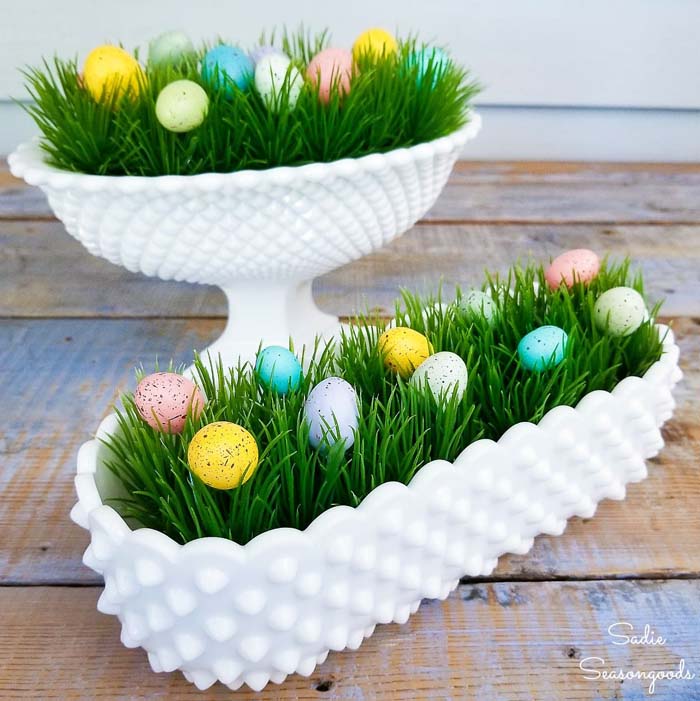 Simply fill elegant white bowls with grass and easter eggs.
39. Modern Farmhouse Easter Brunch Tablescape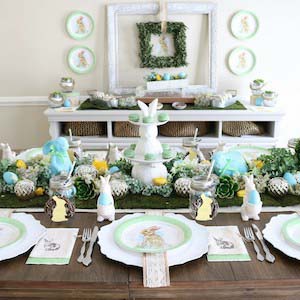 Modern Easter looks can be created with white table decor, white bunnies and light pastel eggs.
via Oriental Trading
40. Mossy Egg Tablescape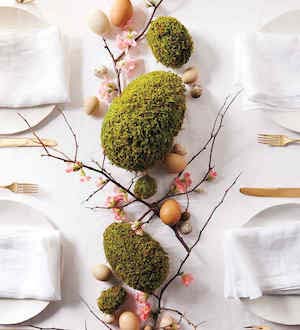 Cover classic plastic eggs of varying size with moss.
via Martha Stewart
41. Nest Cake Stand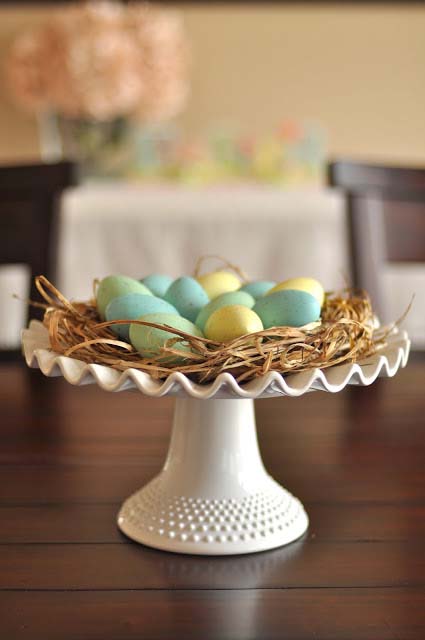 Take a cake stand and put a nest on top. Then fill the nest with pastel-colored easter eggs.
42. Paint Stick Basket Project Opener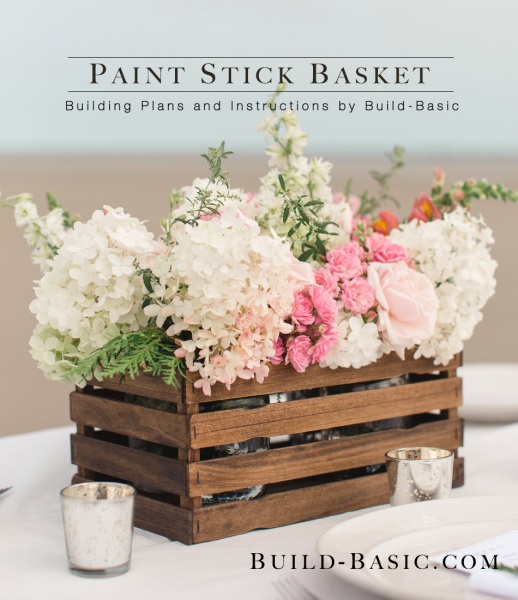 Use paint sticks to make a basket. Then fill the basket with flowers.
via Build Basic
43. Peeps centerpiece main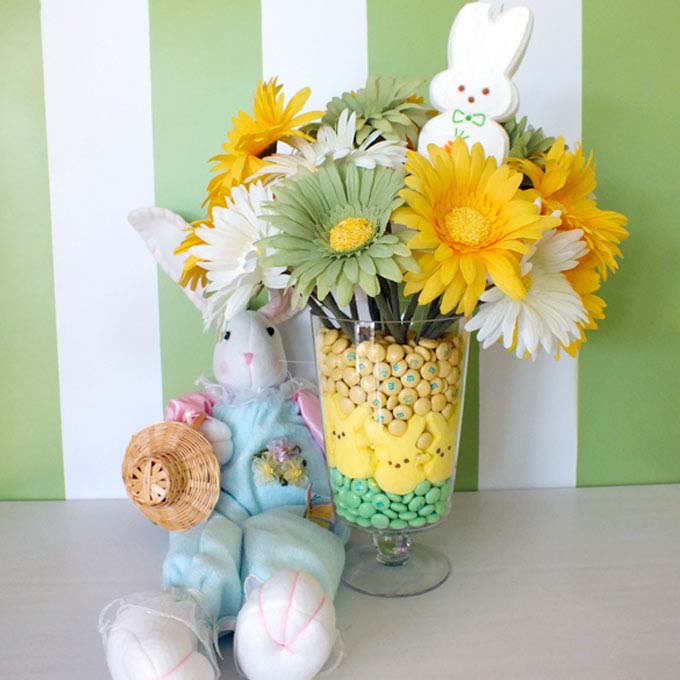 Peeps are the perfect centerpiece. Fill a glass jar with jelly beans and peeps. Then top with flowers.
44. Peeps Mason Jar Candles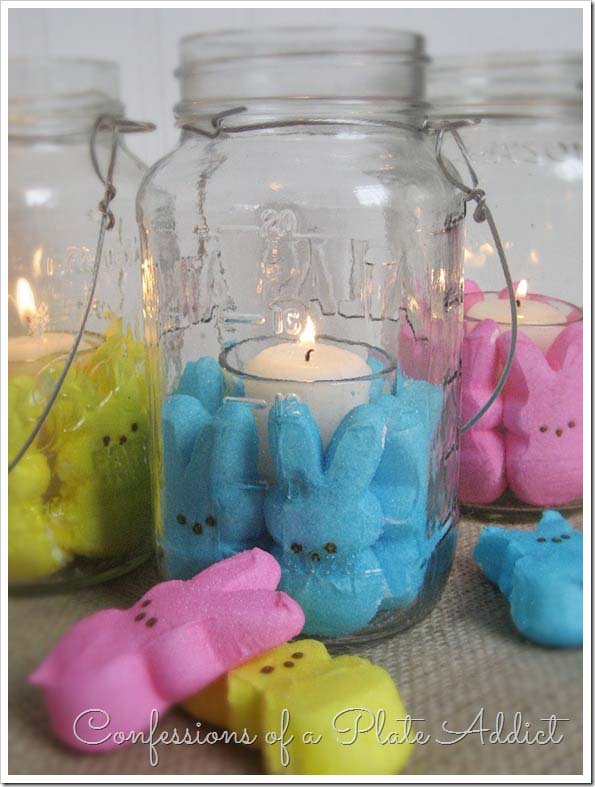 For a simple votive surround candles in a mason jar with peeps.
via Confessions of a Plate Addict
45. Rainbow Centerpieces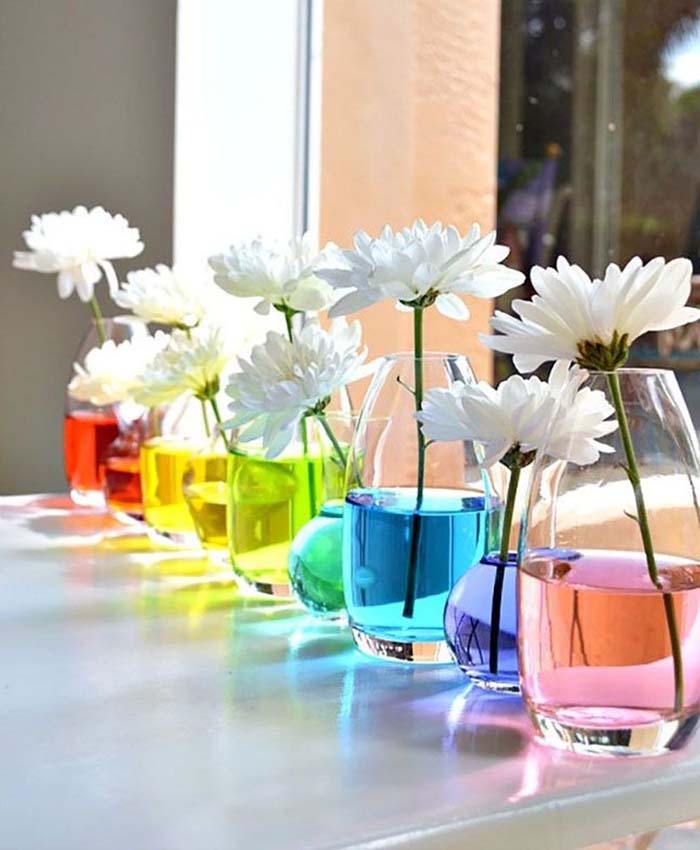 To make a rainbow flower centerpiece simply dye water in a ball jar and add white flowers.
46. Recycled Easter Bunny Vase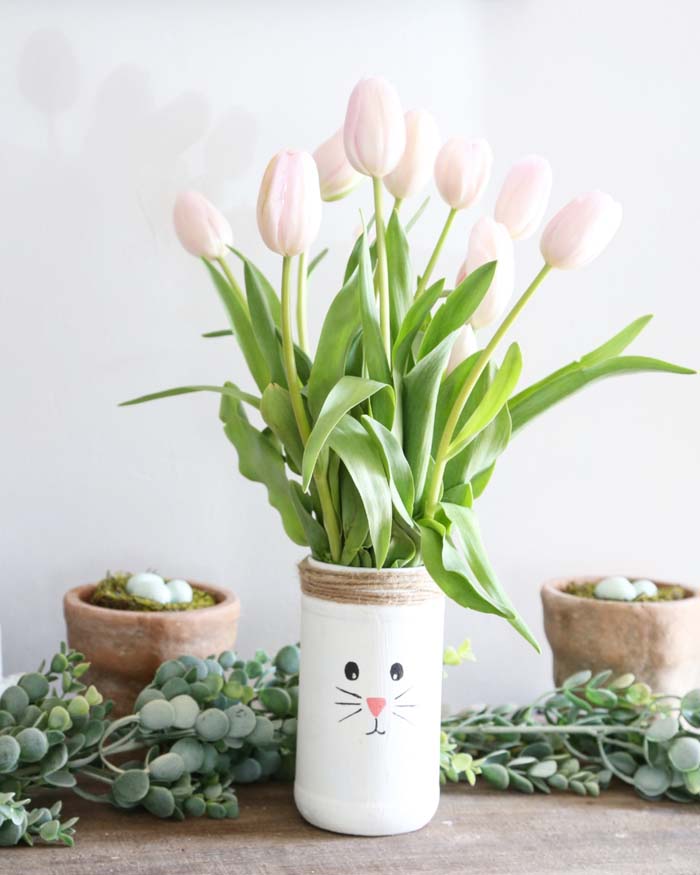 Using a large glass jar paint the inside white. Then add a bunny face and beautiful flowers.
via Weekend Craft
47. Rustic Bunny Wreath Centerpiece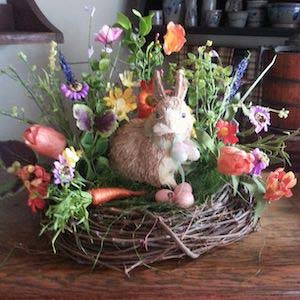 This bunny wreath looks more like a nest. Then the bunny and flowers on top complete the look.
48. Rustic Easter Centerpiece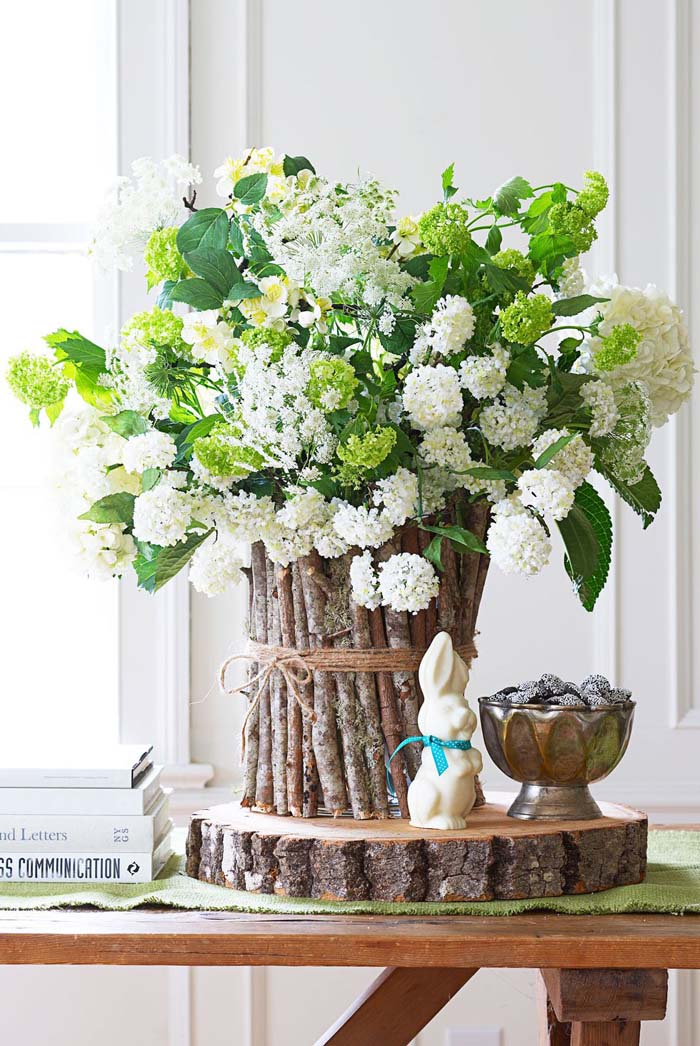 Using small twigs you can make a round twig vase. Then fill with big beautiful flowers.
49. Simple and Rustic Easter Centerpiece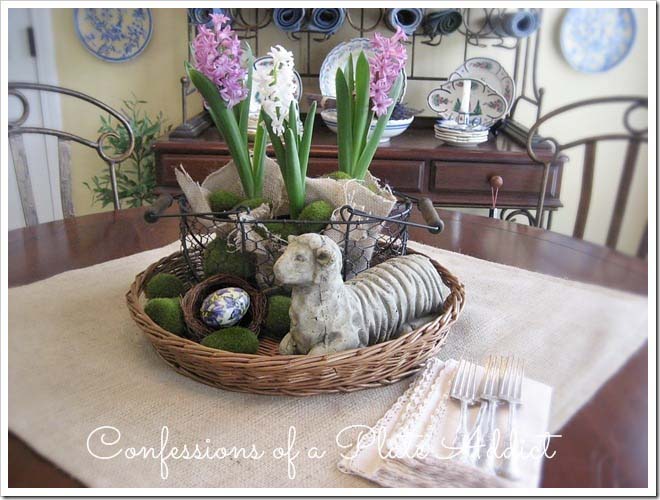 Take a basket and add a rustic sheep. Complete the rustic Easter look with purple and white easter flowers.
via Confessions of a Plate Addict
50. Simple Bird Nest DIY Centerpieces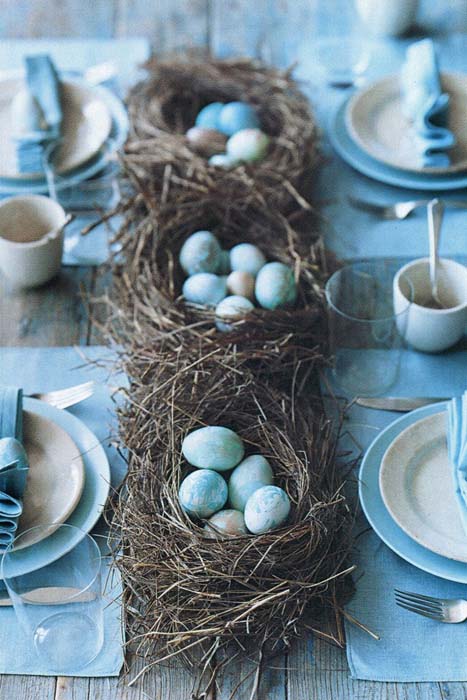 Make an entire table runner with nests and small robin eggs.
via Early Ivy
51. Simple Spring Table Centerpiece Lemons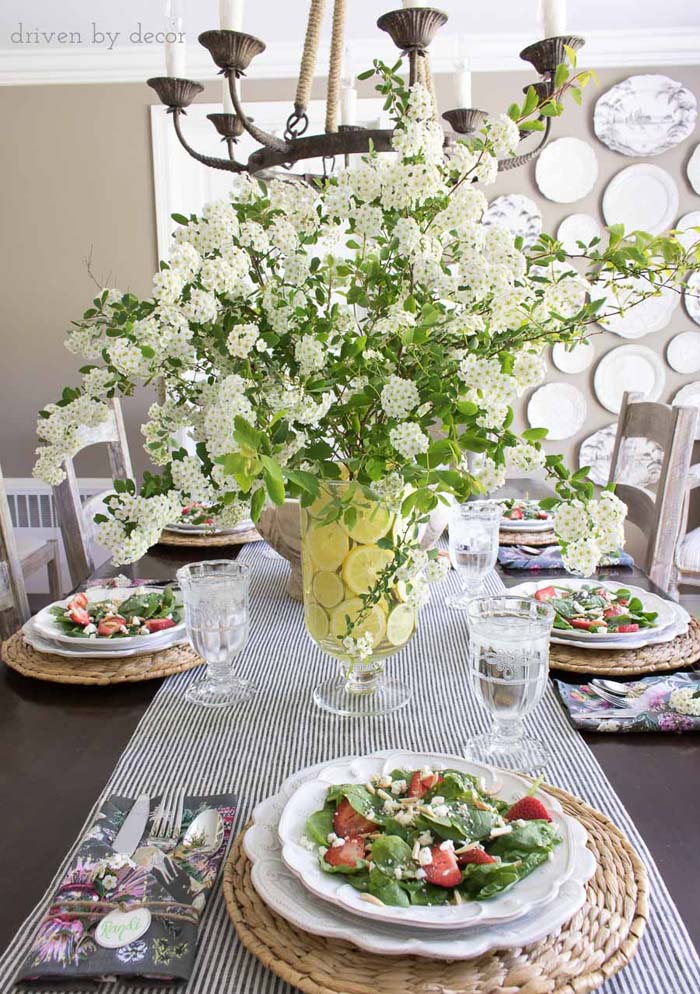 This simple centerpiece is sliced lemon floating in water. The flowers out the top complete the whole look.
via Driven by Decor
52. Soft and Lovely Easter Tablescape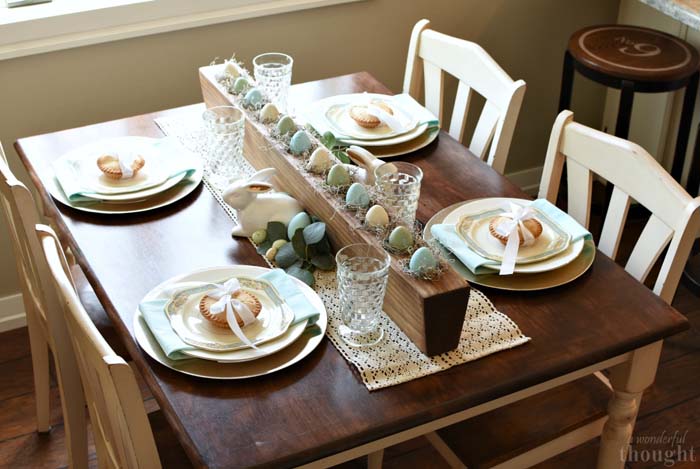 For a simple and small Easter table runner just take a thin long box and fill with nest material and eggs. Centerpiece is the perfect Easter wooden craft project.
53. Spring Bunny Centerpiece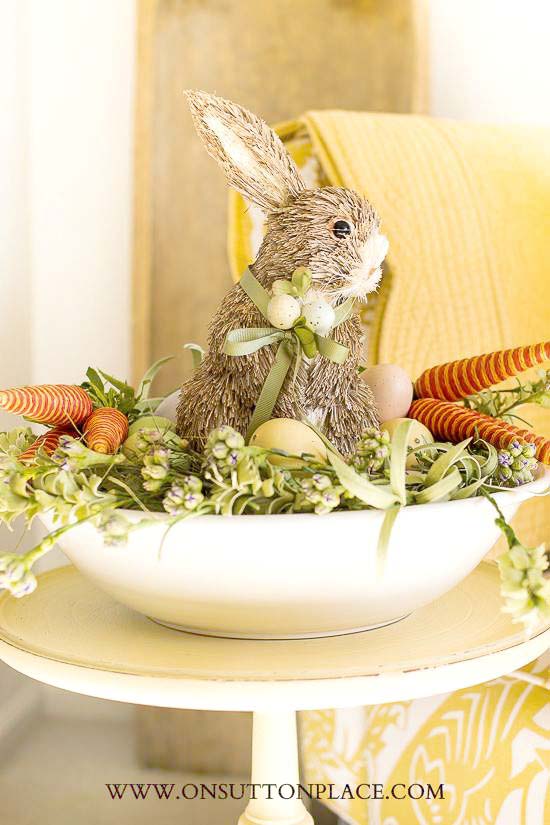 This white bowl is filled with green and white flowers and carrots. Then a bunny on top to complete the look.
via On Sutton Place
54. Spring Decorations Ideas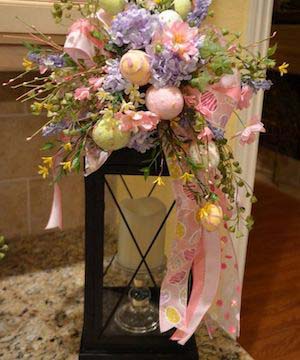 Use a lantern to fill it with a white candle and top with flowers.
55. Spring Dining Room Decorating Ideas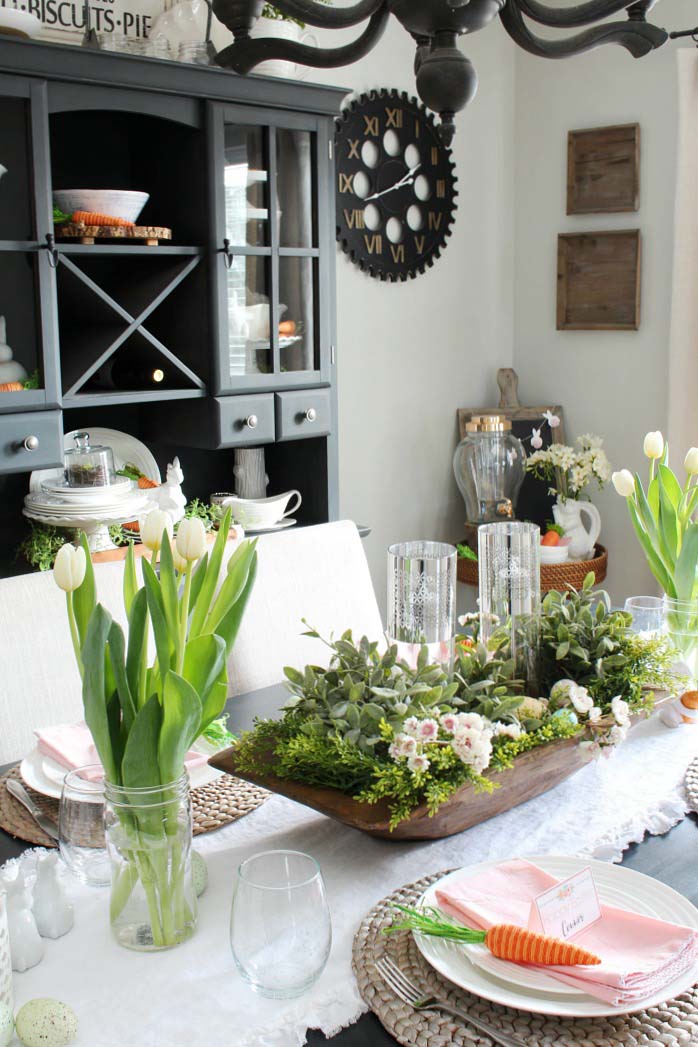 Take a long wooden bowl and fill with green moss and flowers. Then to finish the look add a candle in the middle.
56. Spring easter table cabbage tulips centerpiece rabbits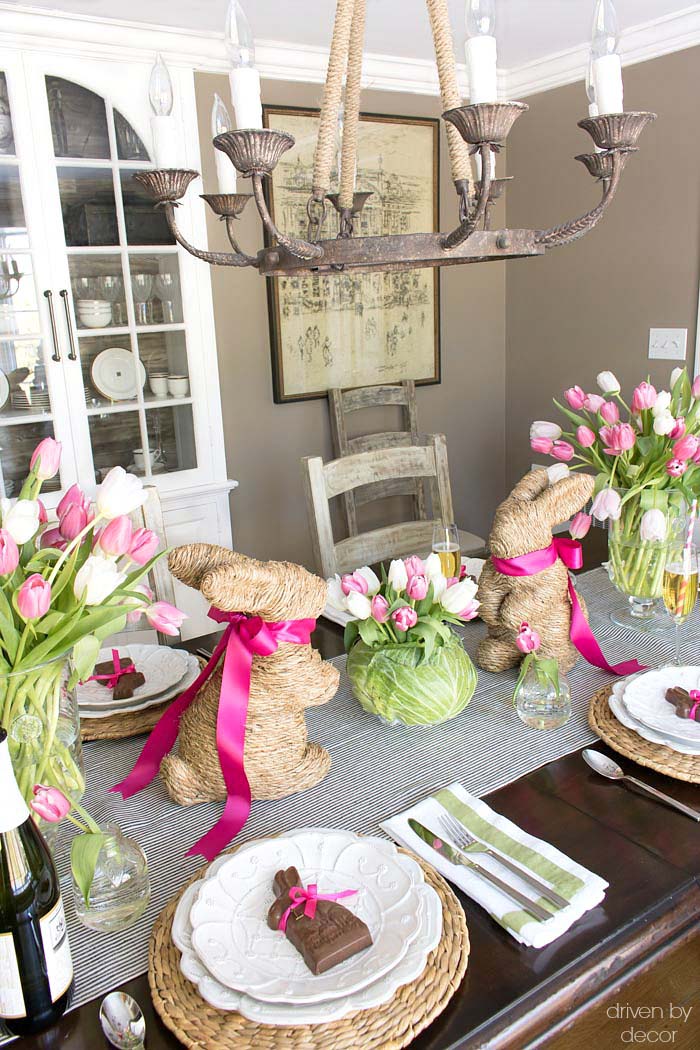 For a simple plate decoration use chocolate bunnies on each of your guests plates.
via Driven by Decor
57. Spring Easter Tablescape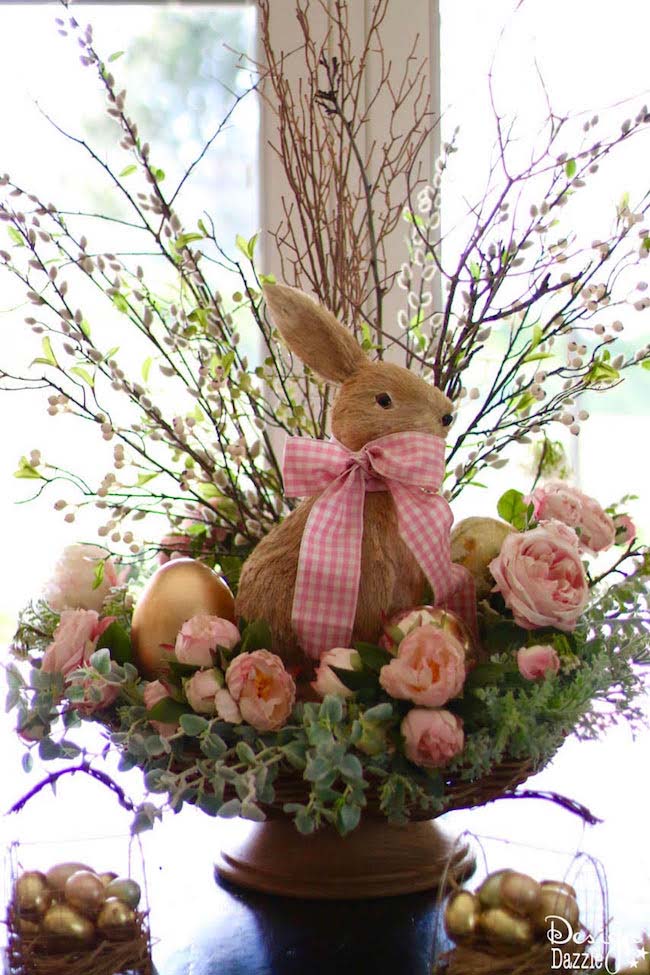 An entire tablescape can be made by using a large birdbath as a base and filling it with a large bunny and flowers.
via Design Dazzle
58. Spring Floral Centerpiece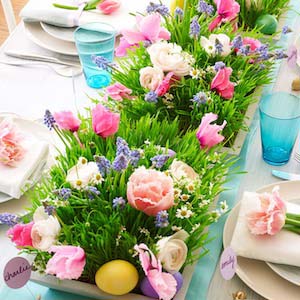 To make an entire table runner use a large box and plant bright flowers and green grass.
59. Spring Pussy Willow Centerpiece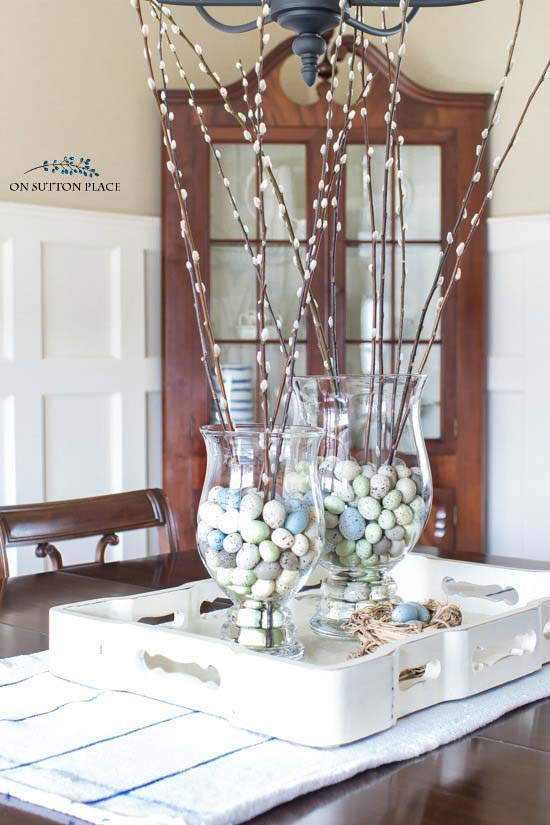 Use large willows in a glass vase to make a white and tall table centerpiece.
via On Sutton Place
60. Spring Tulip Centerpiece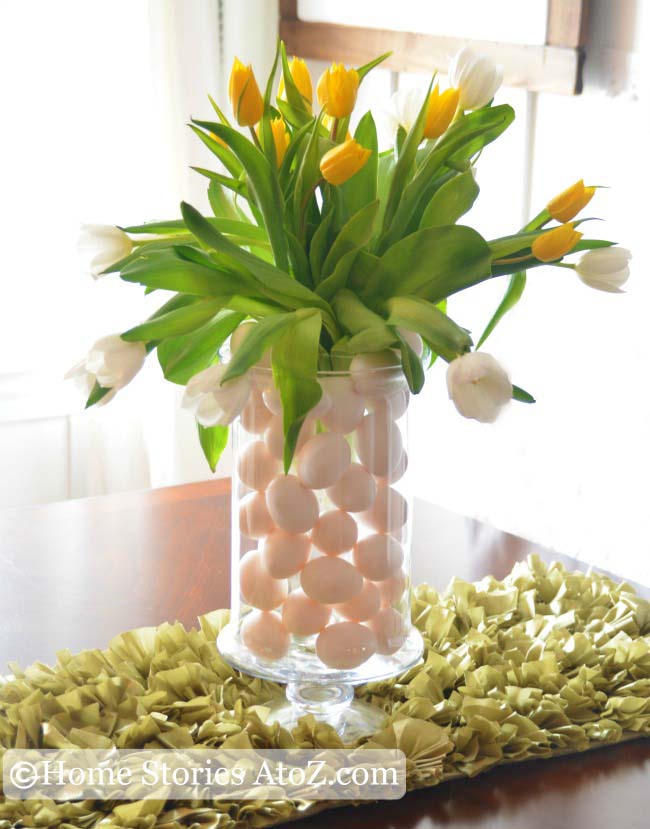 Fill a tall vase with white eggs. Then put Easter lilies in to finish the easter look.
61. Spring under glass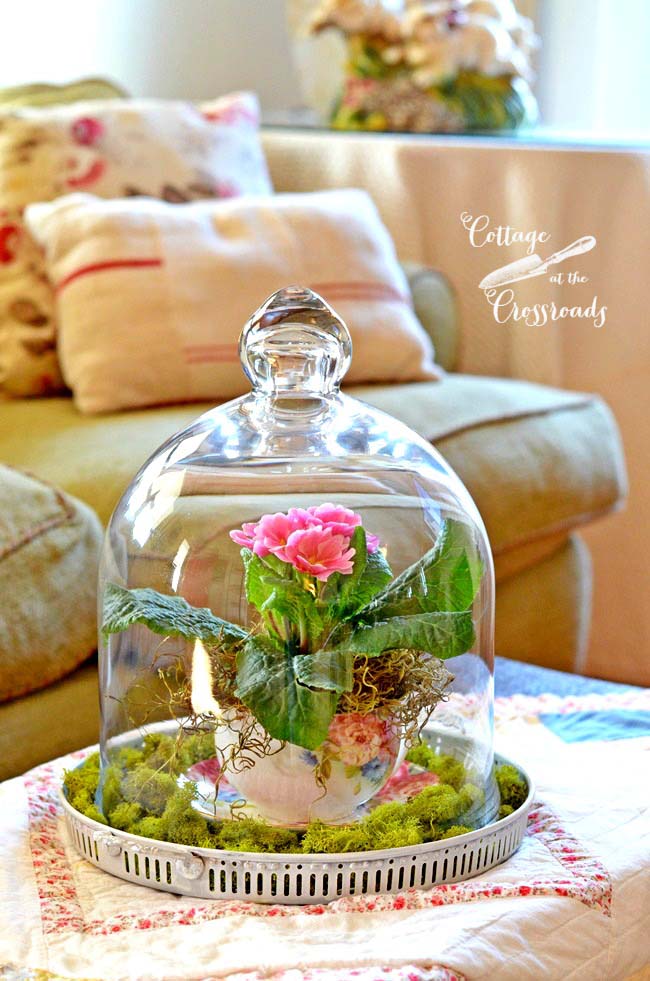 Use a small terrarium and fill it with bright flowers and a small white bowl.
via Cottage at the Cross Roads
62. Sweet Easter Decoration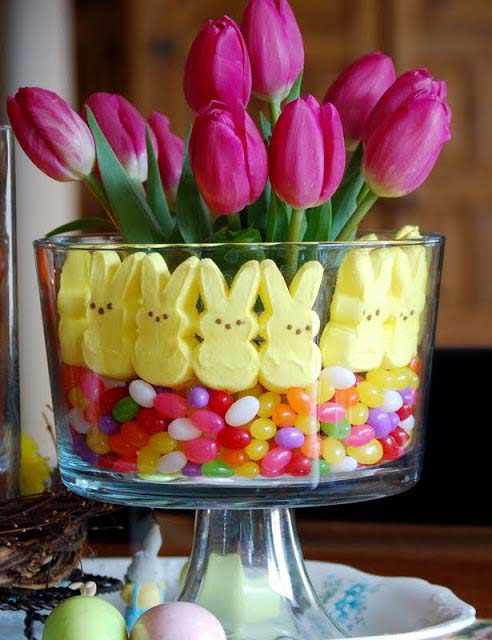 This decoration uses a glass bowl filled with jelly beans. Then a layer of peeps are added with a few flowers in the middle.
via Ciao Bella
63. Yellow Daffodils and Blue Eggs Centerpiece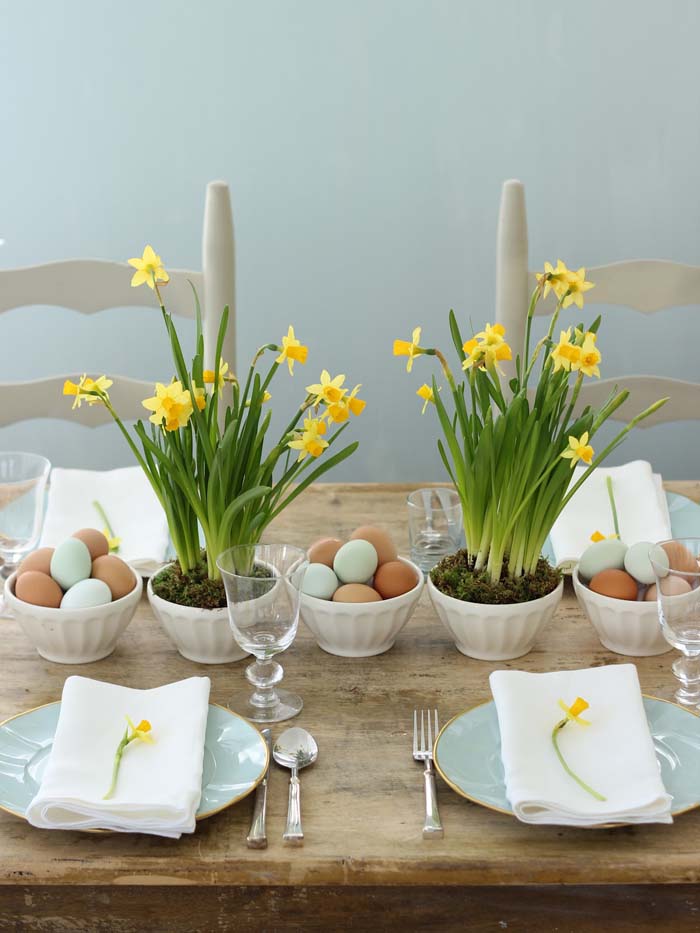 Fill a variety of white bowls with eggs and flowers. Then add them to a table runner centerpiece.