Easter is known for its bright colors and fun Easter bunny spirit.
However, a lot of people don't like that look. For some homes, the bright colors and colorful spirit are too much. So instead of going for pastel colors, choose deep, warm red, beige and brown colors, because of their versatility with warm and cool colors.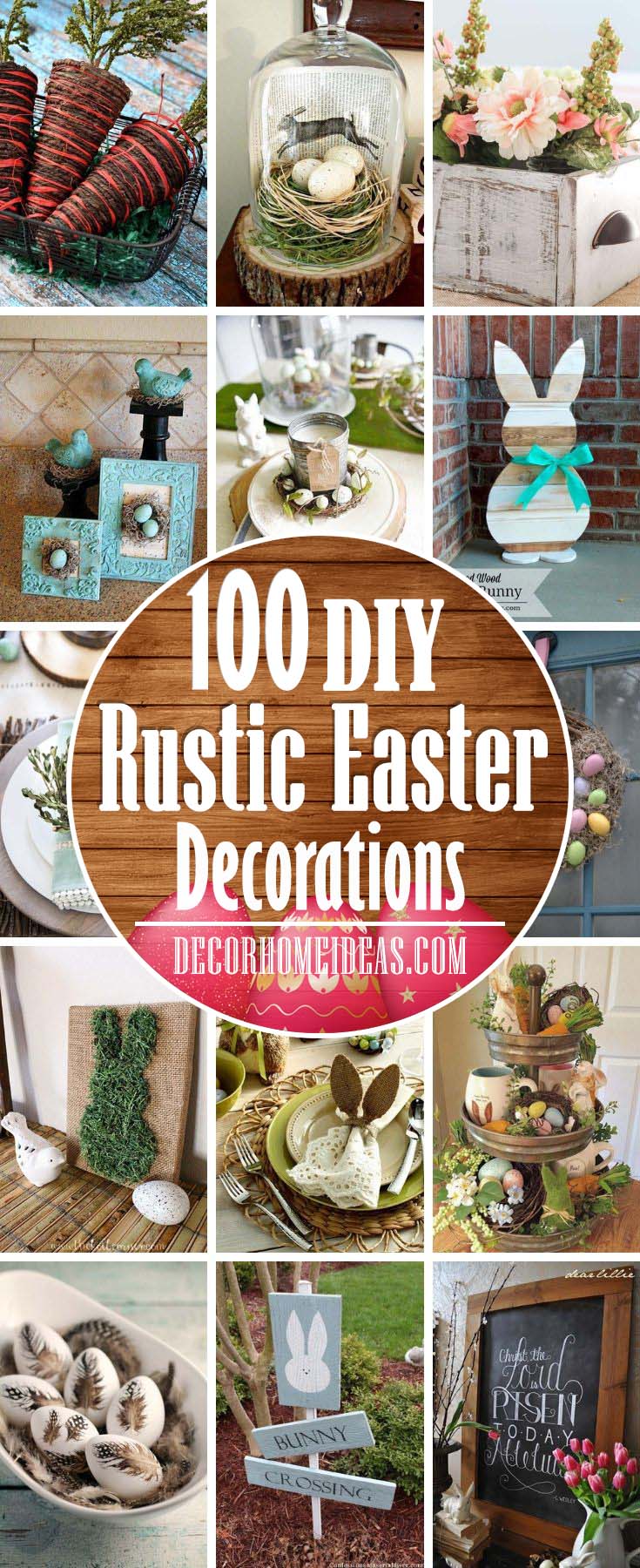 There are many places that you can purchase rustic Easter decor.
This adds the Easter spirit to a home without completely taking over the home with color. Check out these ideas for purchase and do yourself rustic Easter decorations.
1. Decorate Easter Basket with Monotoned Eggs and Bunny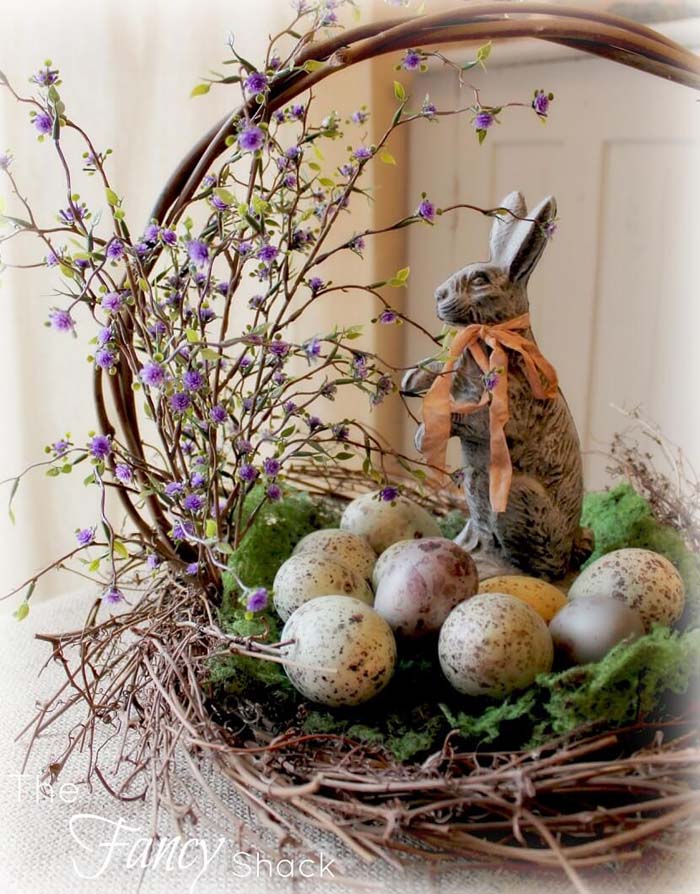 This simple basket is filled with monotoned eggs and a brown and tan bunny. It is simple but beautiful.
via The Fancy Shack
2. Create a Beautiful Bird's Nest Basket with Petunias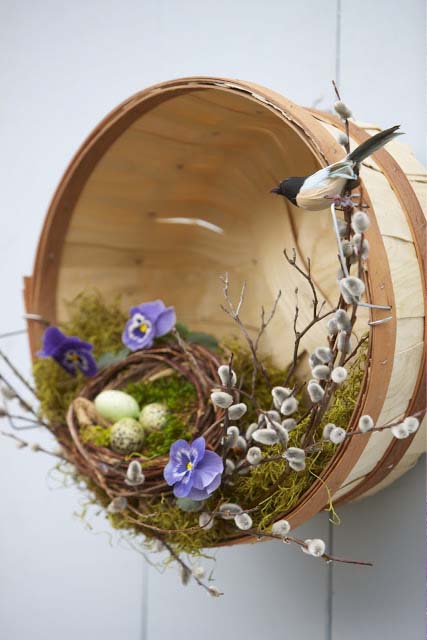 Make an adorable basket nest by filling it with eggs, nest and baby birds. A small pop of color is nice with the use of the petunias.
via Your Cozy Home
3. Make a Decorative Napkin Holder with Twigs and Wire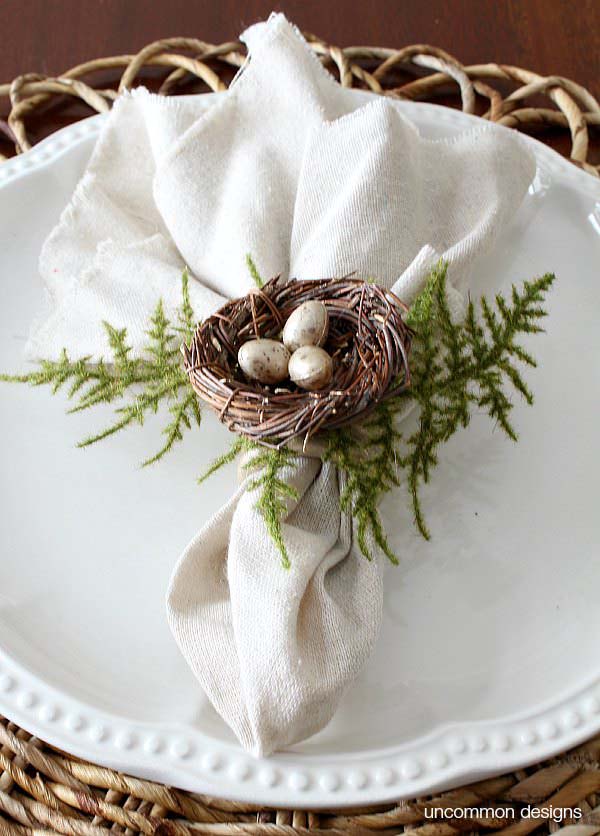 Use wire and twigs to make a cute mini birds nest and attach it to a napkin holder for a very classy-looking napkin holder.
via Uncommon Designs
4. Use a Pedestal to Support Your Birds Nest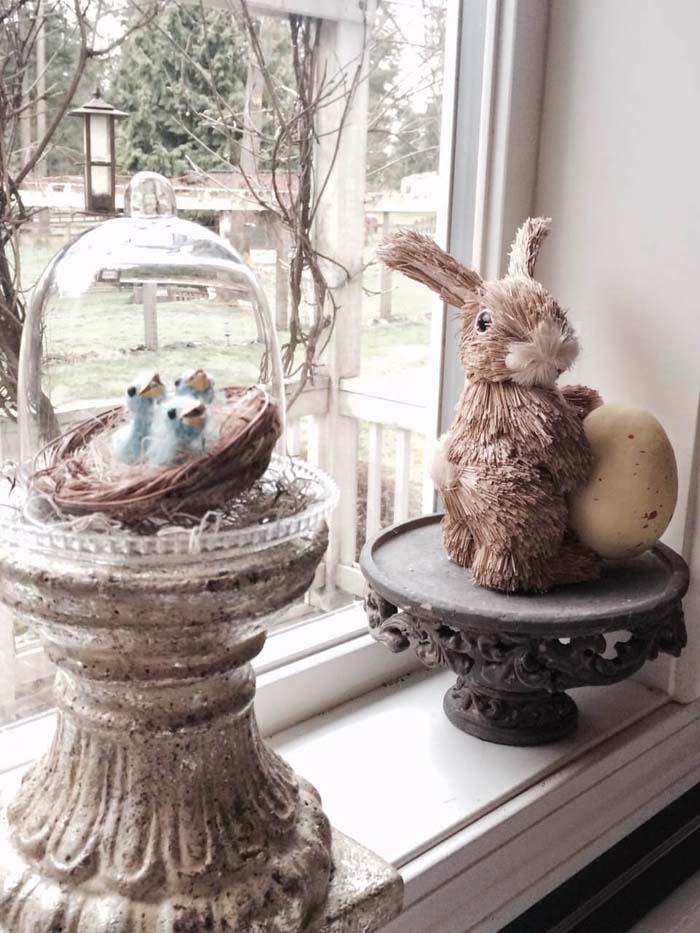 A pedestal is a perfect base for a small bird's nest. For an extra quiet hint of Easter – add a bunny on the side made with wicker.
via Little Farmstead
5. Craft Paper Bunnies and Moss Balls for Your Garland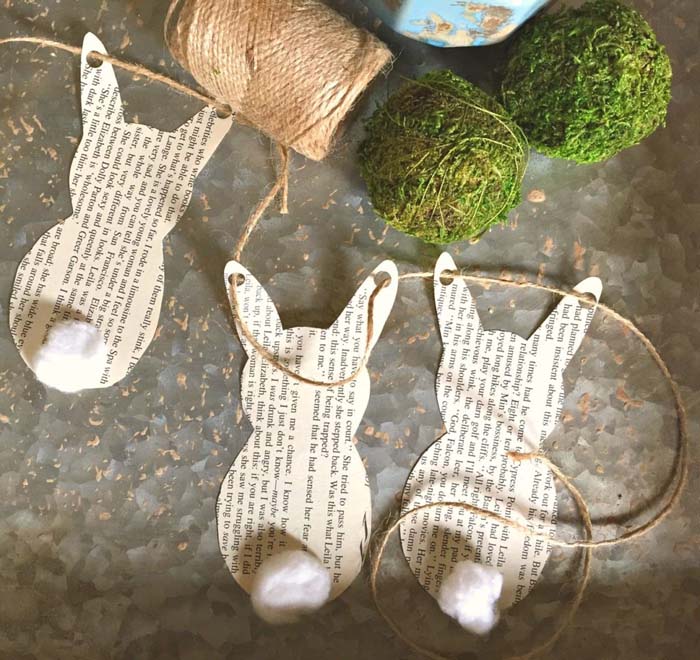 Cut bunnies out of classic book pages. Then string them together for a bunny garland. It is a simple pop of Easter for your fireplace or door.
6. Embellish Your Home with a Bunny Crossing Sign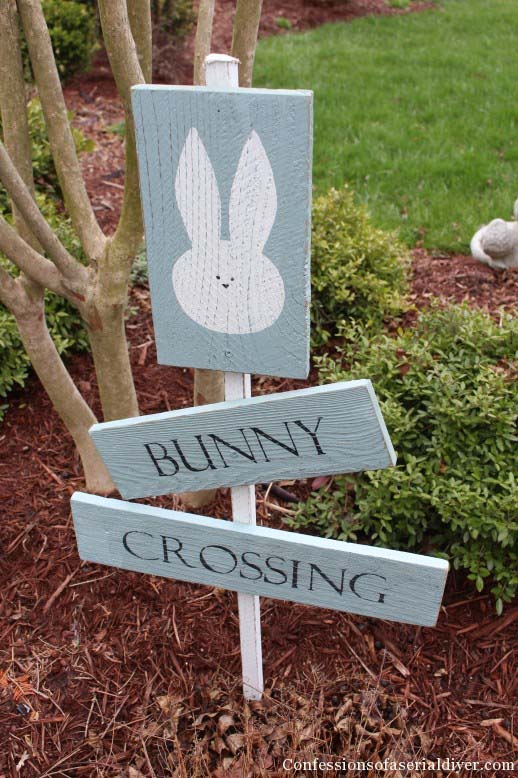 This outdoor bunny sign adds a quiet pop of color to the front yard. Everyone walking into your home will feel the Easter spirit.
via Confessions of a Serial DIYer
7. Elevate Your Front Yard with Painted Bunny Burlap Sacks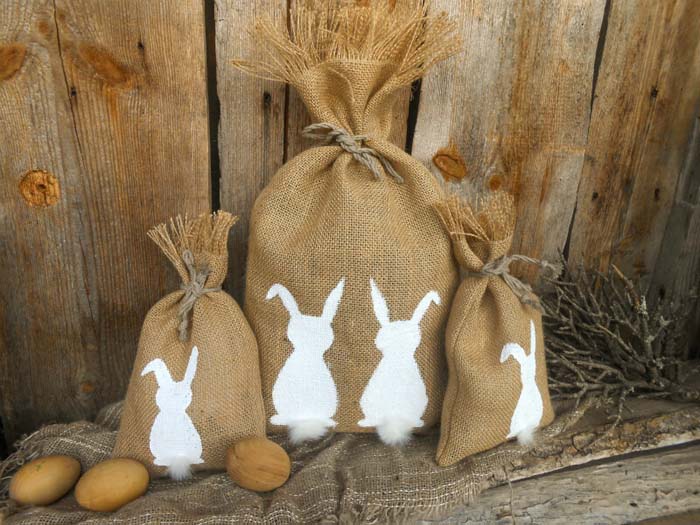 Paint burlap bags with white bunnies and fill them. Then place them in your front yard for a simple Easter decoration.
via Vivi Creative
8. Add a Fluffy Bunny Tail to a Rustic Chair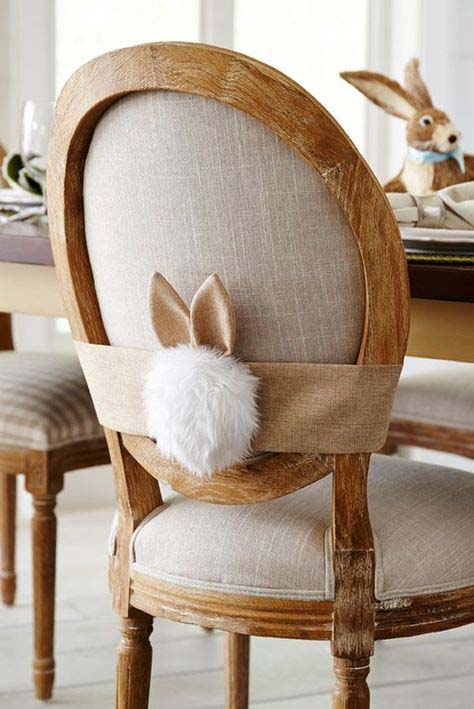 Use a rustic chair and add a white fluffy bunny tail. Attach it with a burlap. The fluffy bunny tail is an adorable touch.
9. Make Modish Napkin Holders with Burlap Bunny Ears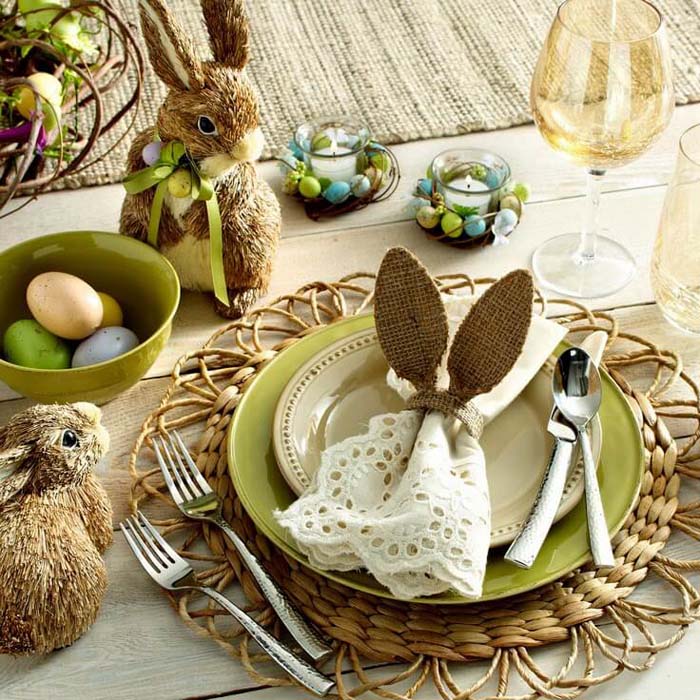 Add burlap bunny ears to a napkin holder for a rustic bunny touch. It adds some Easter and completes an Easter table setting.
10. Upgrade Pillows for Easter with Burlap Bunnies Art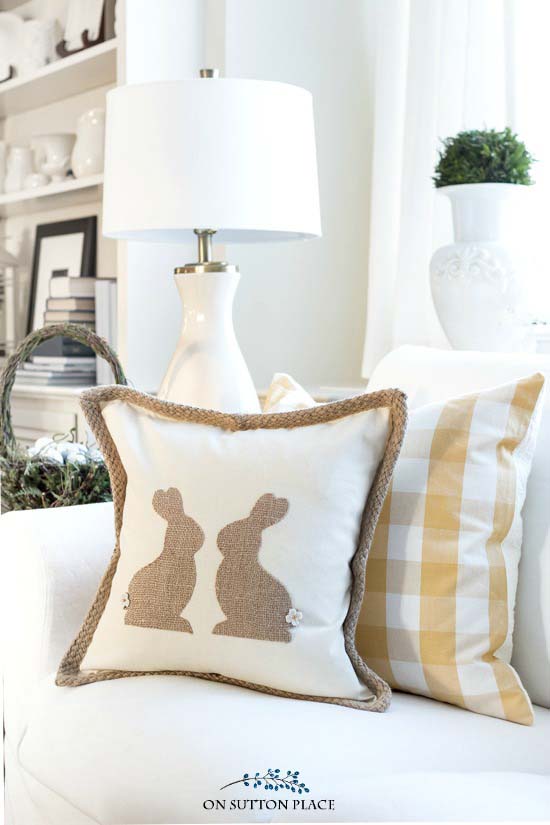 Easter your couch by adding a pillow with burlap bunnies and a burlap edging. It is a simple but effective way to decorate.
via On Sutton Place
11. Adorable Painted Black Bunnies Table Runner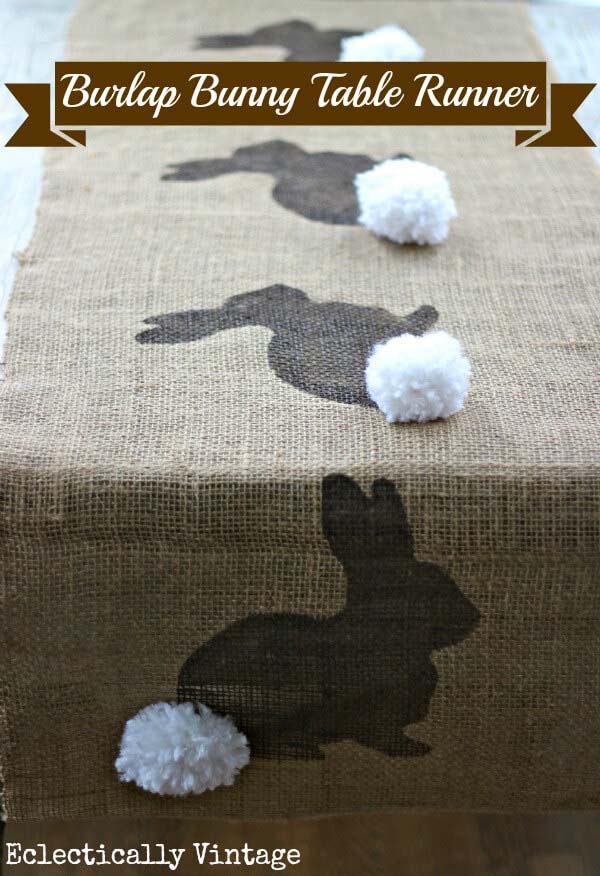 This simple table runner has painted on black bunnies with white fluffy tails.
via Kelly Elko
12. Create a Natural Table Runner with Burlap and Nests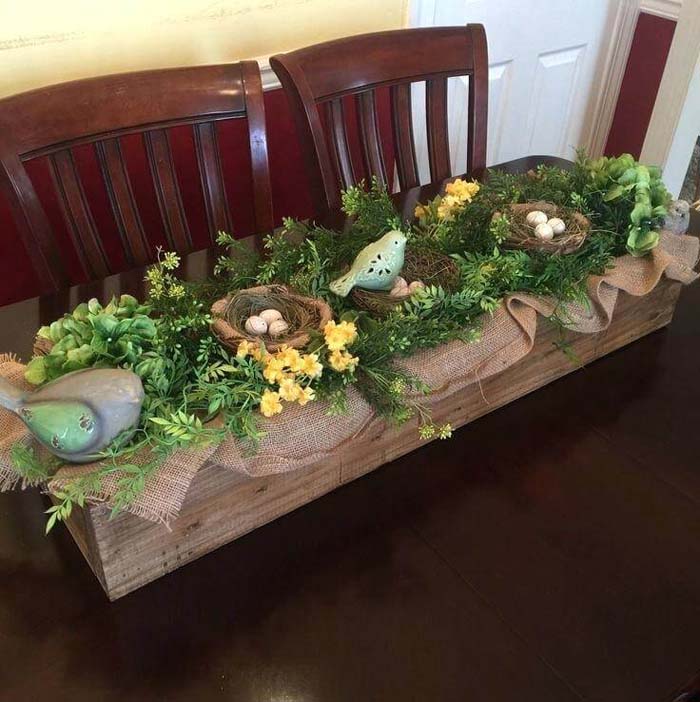 Take a long rustic box and fill it with burlap, nests and small birds. It makes a perfect 3D table runner.
13. Make Easter Bunny Crafts using Burlap Napkins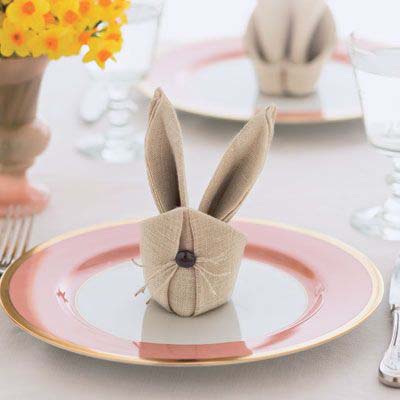 Fold a burlap napkin in the form of a bunny with ears. It is complicated but a great way to add some quiet Easter spice to a table.
via Delish
14. Celebrate Easter with a Carrot Filled Flower Vase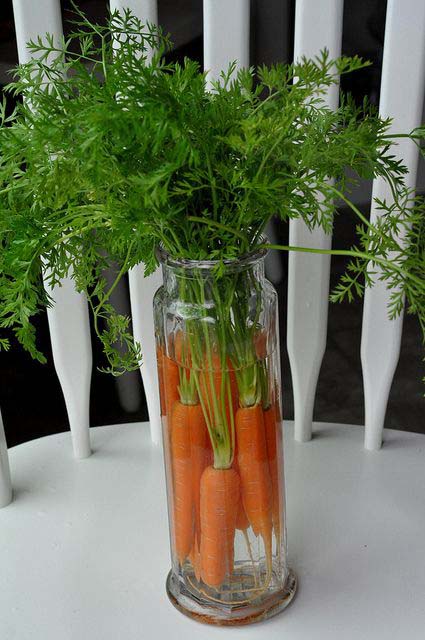 Add some full-sized carrots with large tops into a jar of water. Bunnies love carrots.
15. Create a DIY Wicker Heart Wreath with Chicks Accent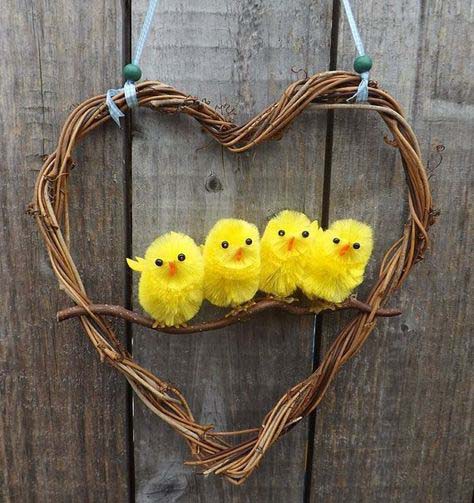 Use wicker to form a heart. Then add a bar across with cute yellow birds. Add a string to hang it as a wreath.
16. Elevate Easter Decor with Framed Bird Nests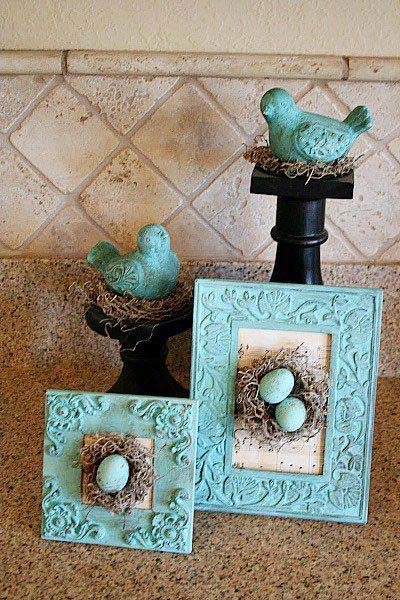 This simple decoration can be found at the Dollar Store. It is light blue frames with nests in the middle.
17. Add a Rustic Easter Twig Cross to Your Front Door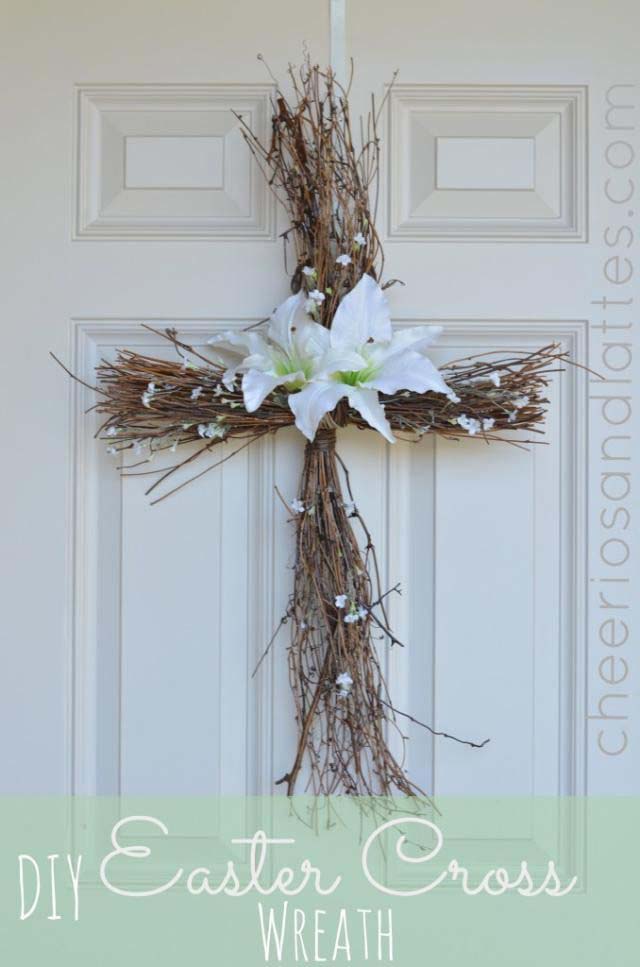 Use wicker twigs to form a large cross. Add a white bow and hang from your door.
18. Add Color to Easter with String Carrots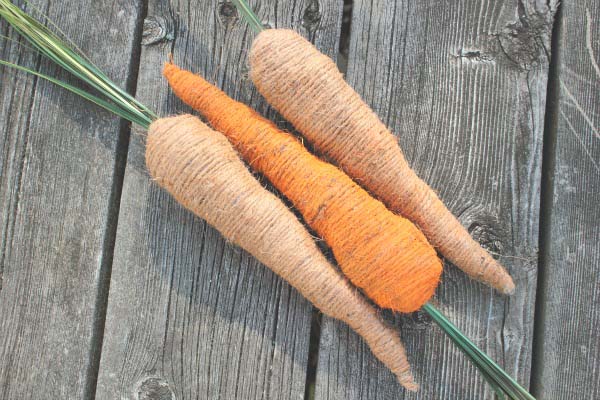 Wrap a light orange string around in a carrot shape and add green to the tops. The orange carrot will add a little color without being too loud.
via Creek Line House
19. Make a Rustic Bunny with Moss and Ribbon Accent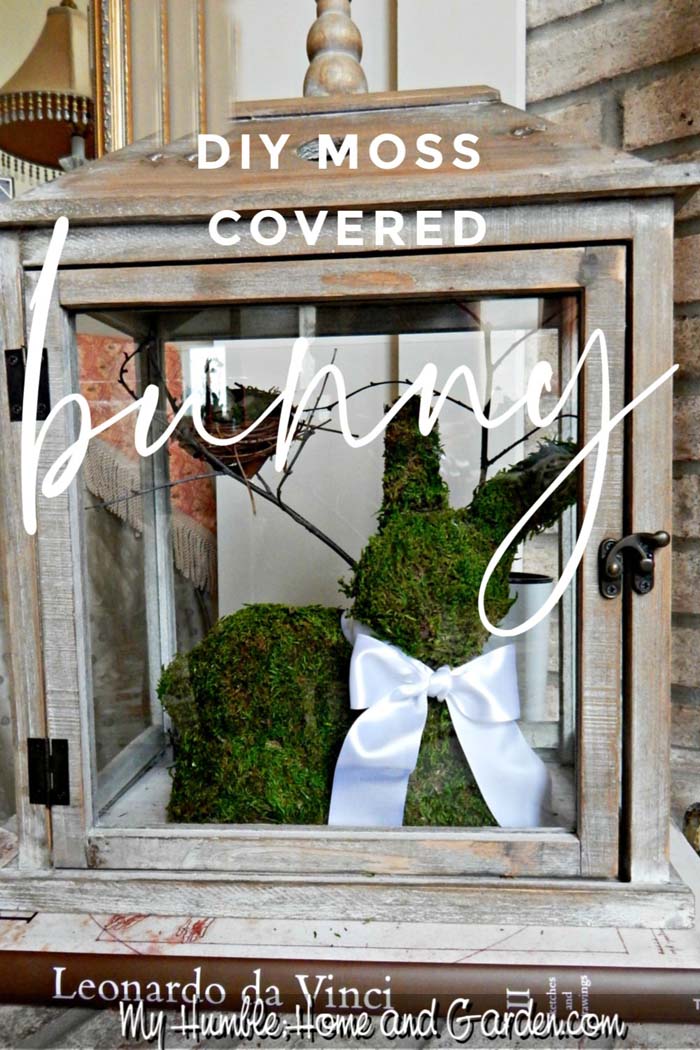 Put a moss-covered bunny inside of a lantern for a great Easter front porch decor.
20. Enhance Your Garden with a Wooden Easter Bunny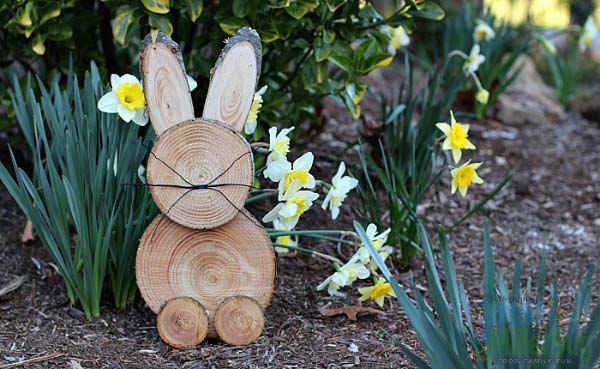 Use slices of a log to make a bunny shape. Add the bunnies whiskers to finish the look.
via Mom Unleashed
21. Fill Dollar Store Glass Jars with Easter Grass and Eggs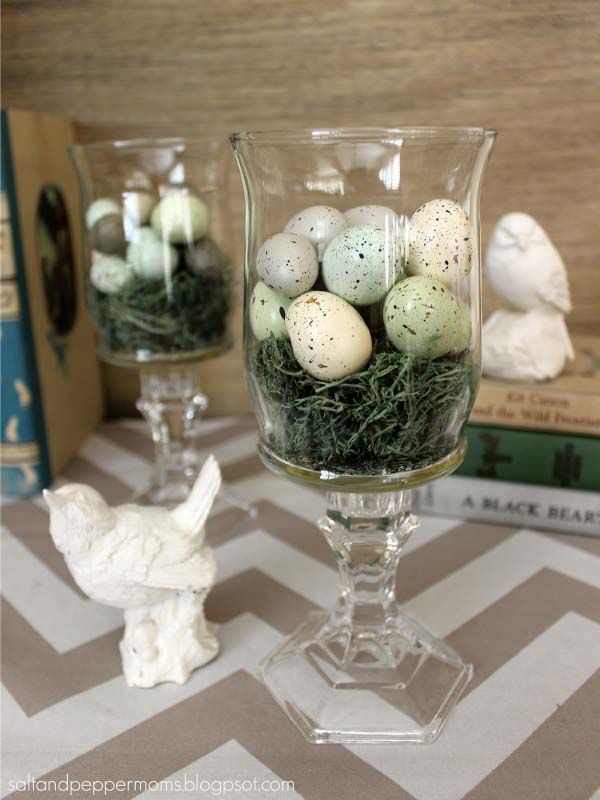 Simple table decor is made from glass jars filled with Easter grass and pastel eggs.
22. Use Rustic Easter Egg Decorations from Dollar Store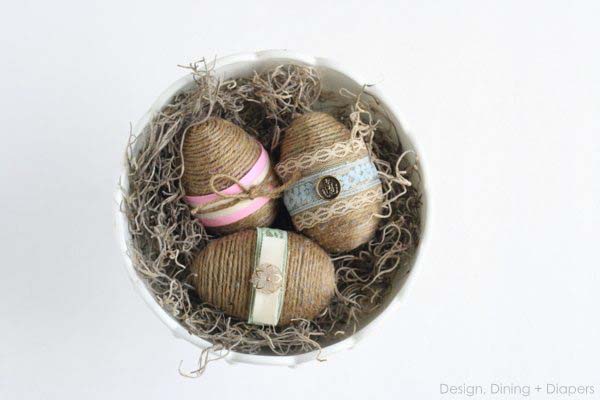 Wrap traditional brightly colored eggs with rustic string. Then put them in a white bowl with some Easter grass.
via Taryn Whiteaker
23. Rustic Easter Decor with Fishbowl Nest and a Bunny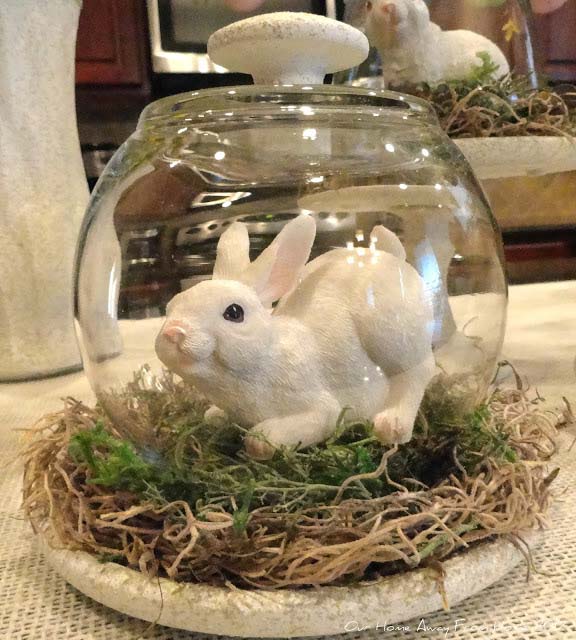 A fishbowl is a perfect base for adding a white bunny and placing it in a nest.
24. Incorporate a Candle to Your Rustic Easter Basket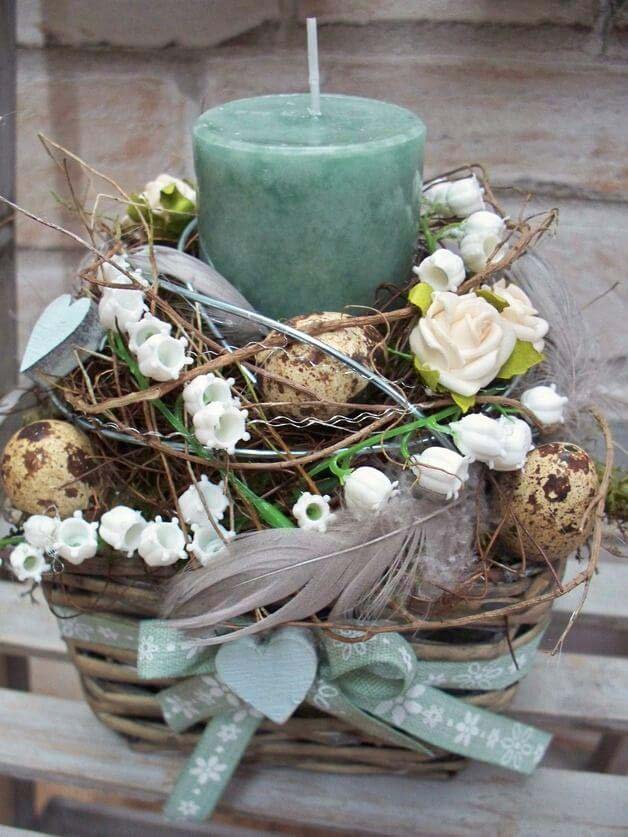 This elaborate rustic Easter basket has colorful flowers and birds. It also has a pale blue candle.
25. Rustic Easter Table with Customized Pastel Blue Eggs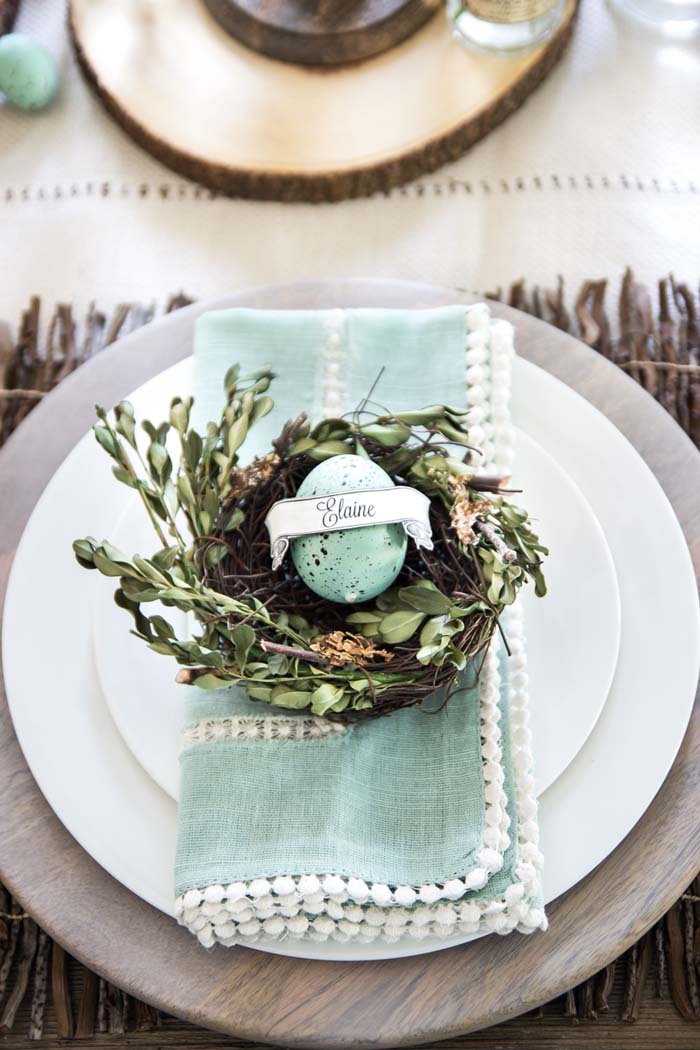 Make pastel blue colored eggs and add the name cards for a nice rustic Easter touch.
via Bless'er House
26. Paint Adorable Bunnies on Rustic Pallet Pieces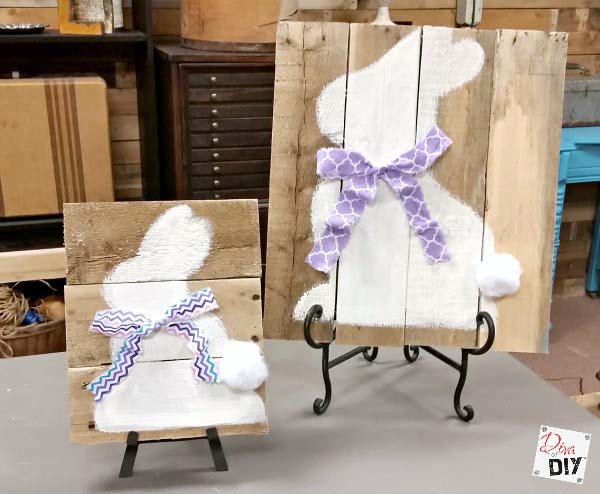 Pallet pieces can be put together and sanded. Then paint on a white bunny. Add an adorable bunny bow.
via Diva of DIY
27. Build a Rustic Book Storage with an Easter-Themed Box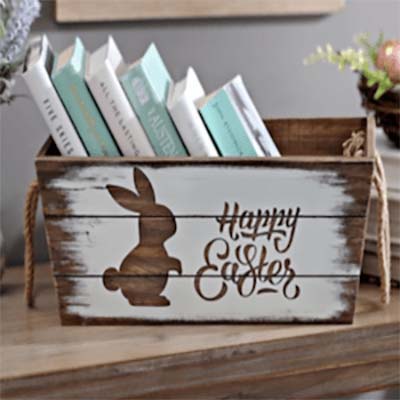 This crate is made Easter by painting a bunny and "Happy Easter" on the side.
28. Decorate a Vase with Rustic Easter Ornaments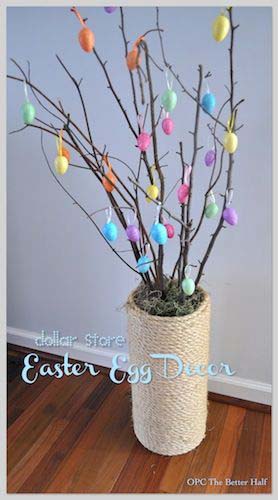 Wrap a vase in rustic string or ribbon. Then add twigs and Easter egg ornaments.
29. Adorn Your Table with a Rustic Easter Egg Centerpiece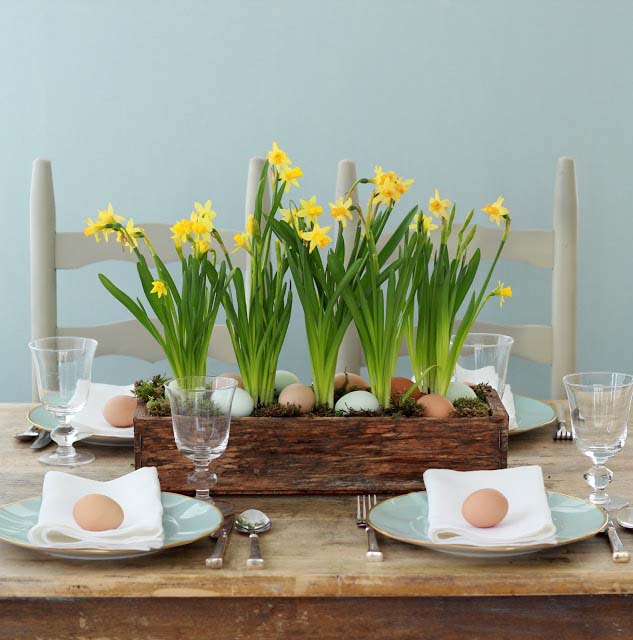 This centerpiece is filled with nests, yellow flowers and Easter eggs.
30. Decorate Tall Vases with Plant Life and Eggs for Easter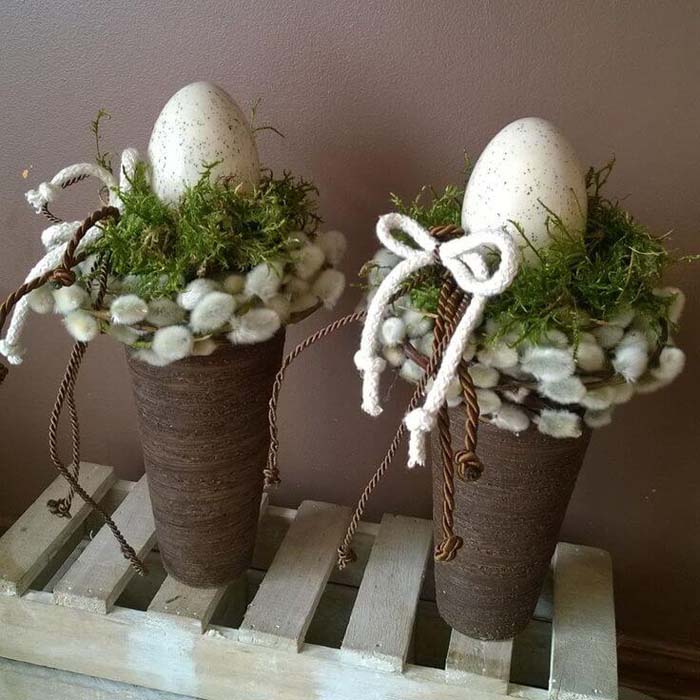 Take tall rustic vases and attach white and green plantlife and an oversized white egg.
via Szines Otletek
31. Upcycle a Rustic Can into an Easter Candle Decor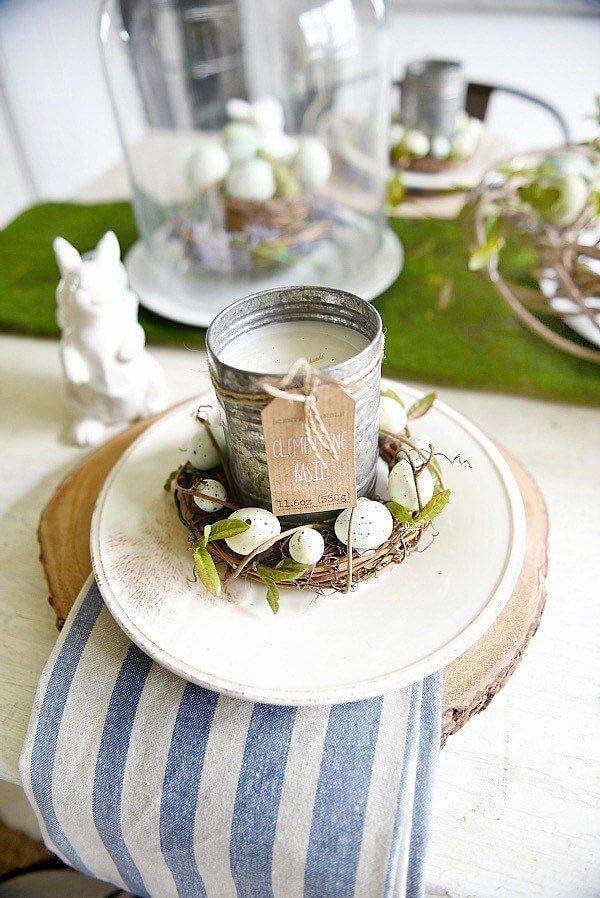 For a classy table setting add a candle with a name tag to each plate and surround it with a wicker nest.
via Oscar and French
32. Make a Rustic Wire Basket for Easter Eggs and Flowers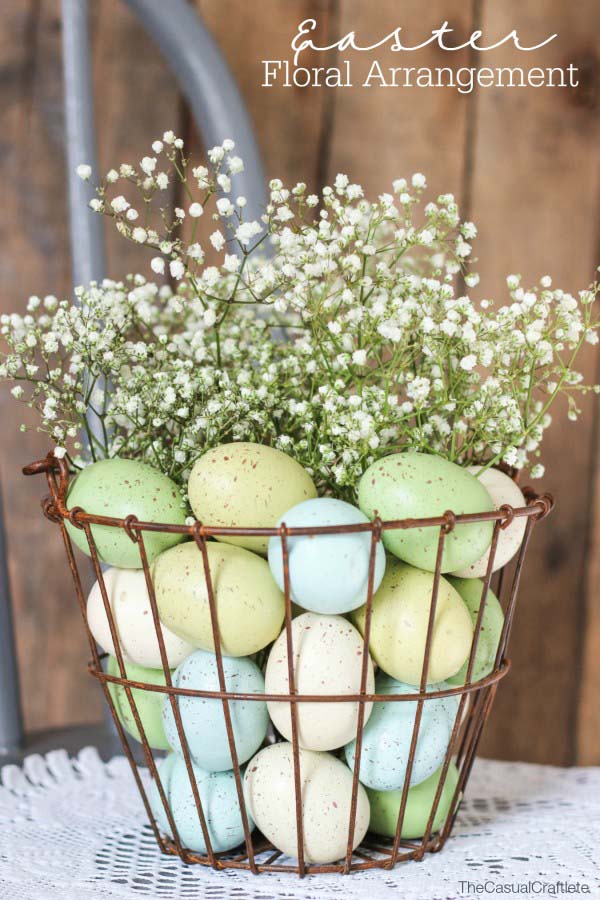 This classic egg basket is a perfect Easter holiday decoration.
via Purely Katie
33. Place Your Bunny Garland above a Rustic Chalkboard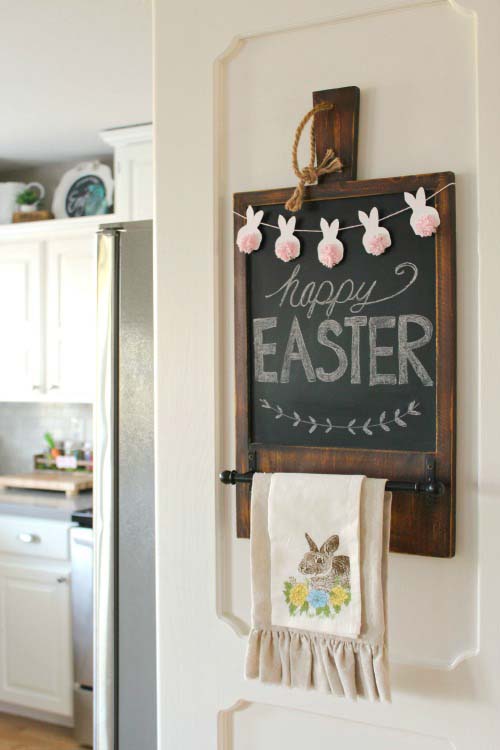 Simply cut Easter bunnies from paper and string together for a garland.
34. Hold Easter Egg Nests on Whitewashed Candleholders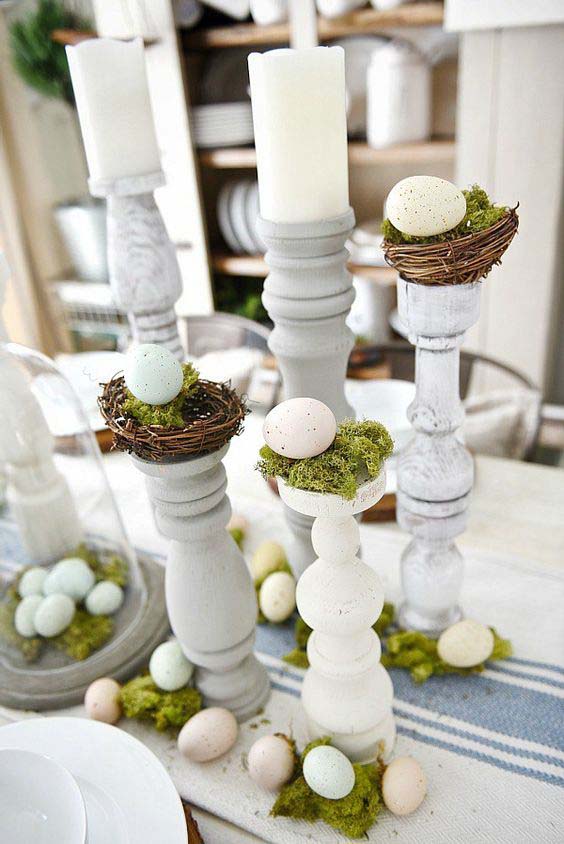 For a white themed house use these tall flower vases but instead of flowers fill with nests and eggs.
via Liz Marie Blog
35. Make a Wicker Easter Wreath with Burlap Accent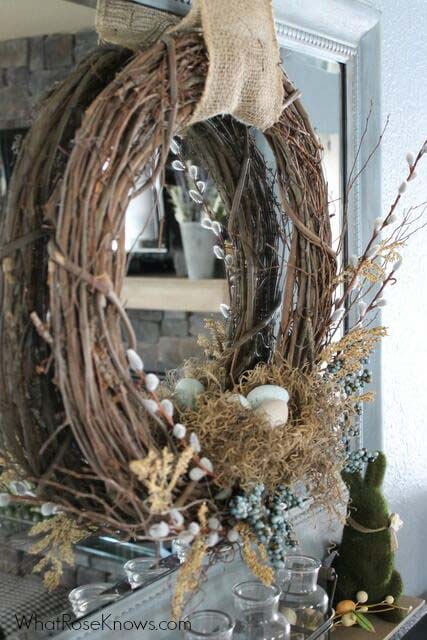 This wreath is made with wicker, a nest and a pastel-colored egg. Hang it with a burlap ribbon.
via What Rose Knows
36. Decorate a Door with a Rustic Wreath with a Fuzzy Bunny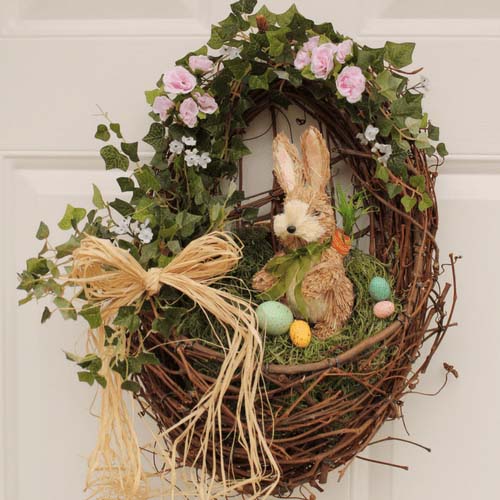 Here is a wicker wreath with a small bow and a fuzzy bunny. The eggs are a small touch but add nice color.
via My Mommy World
37. Welcome Spring with a Burlap and Eggs Wreath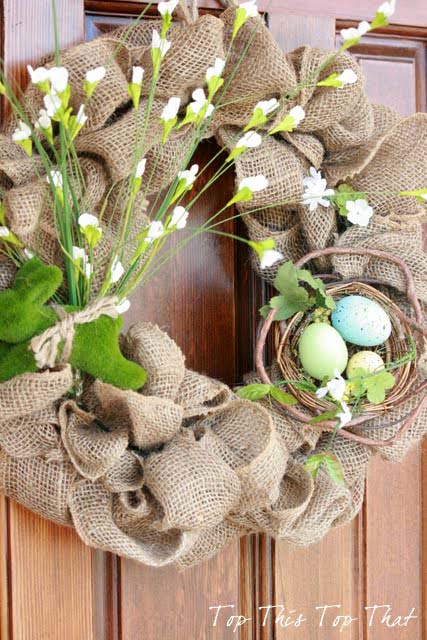 Use burlap to make a wispy wreath. Then add a nest and eggs to the bottom.
via Duke Manor Farm
38. Table Runner with a Profusion of Easter Decor Elements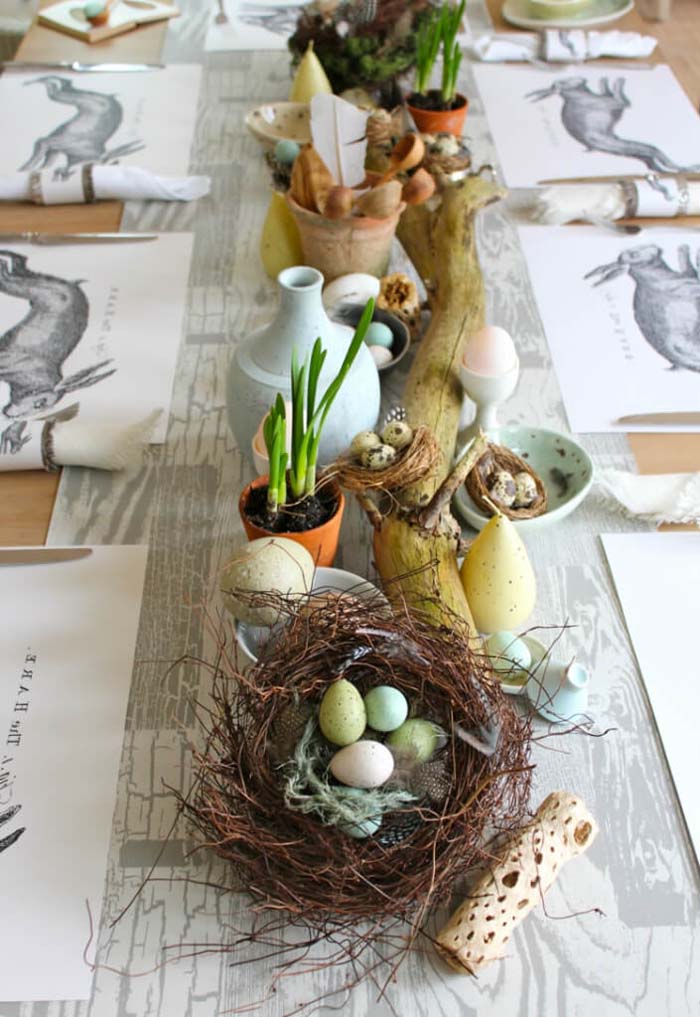 This elaborate table runner has a light-colored base and a plethora of Easter decor including nests, sticks and pastel eggs.
39. Use Egg Shell Planter as Name Card Holders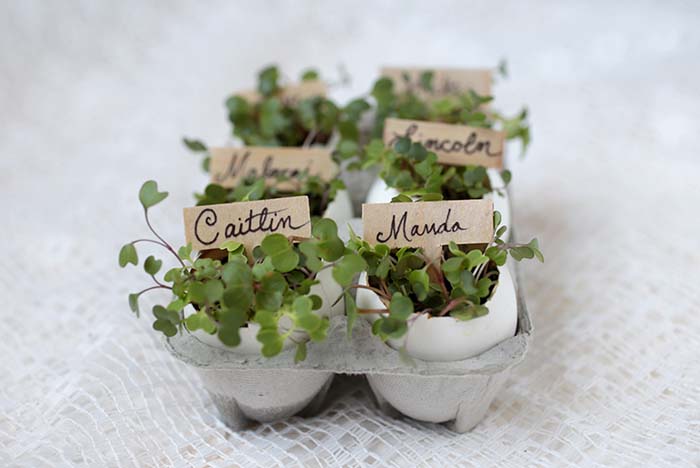 Use eggshells as a base and fill with soil and mini plants. Then you can place name cards inside.
via Merry Thought
40. Rustic Twig Wreath with a Burlap and Bunny Accent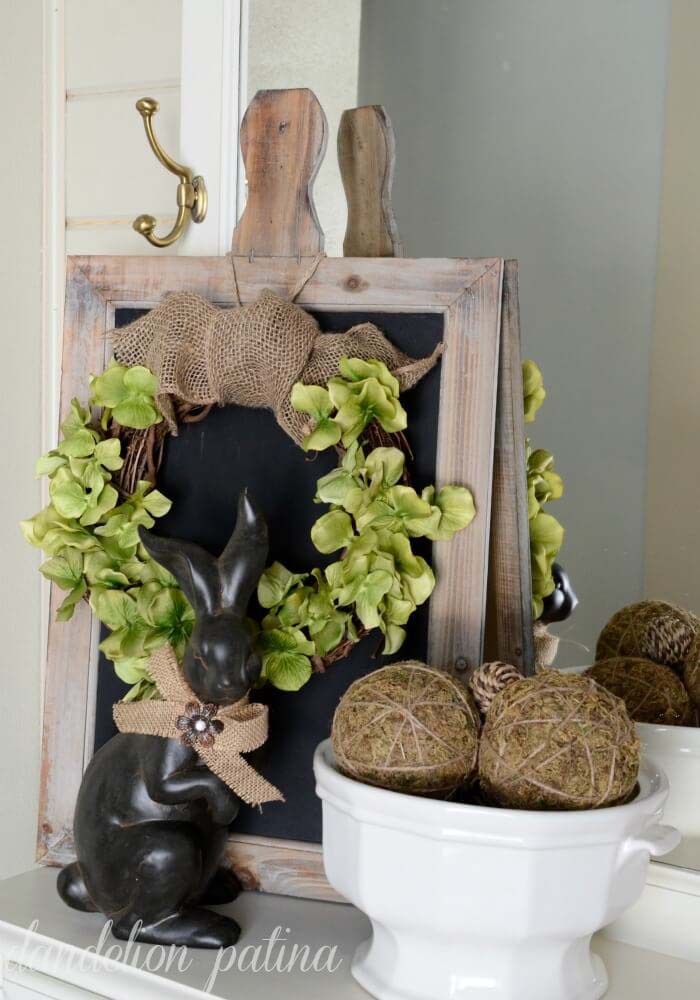 An elegant wreath is simply some light green plants wrapped in a circle.
via Dandelion Patina
41. Easter Farmhouse Decor with Burlap Bag and Bunny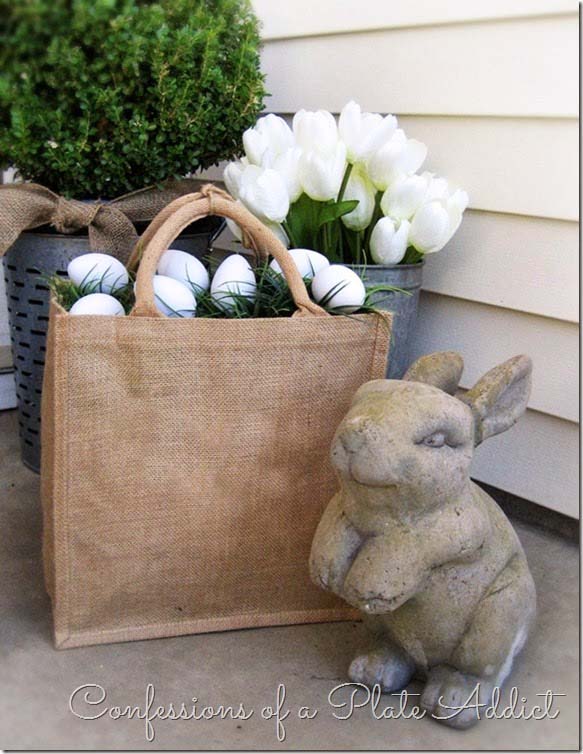 For a simple farmhouse decoration fill a burlap bag with green plant life and a rustic bunny.
via Confessions of a Plate Addict
42. Glue Feathers on Boiled Eggs for a Rustic Easter Look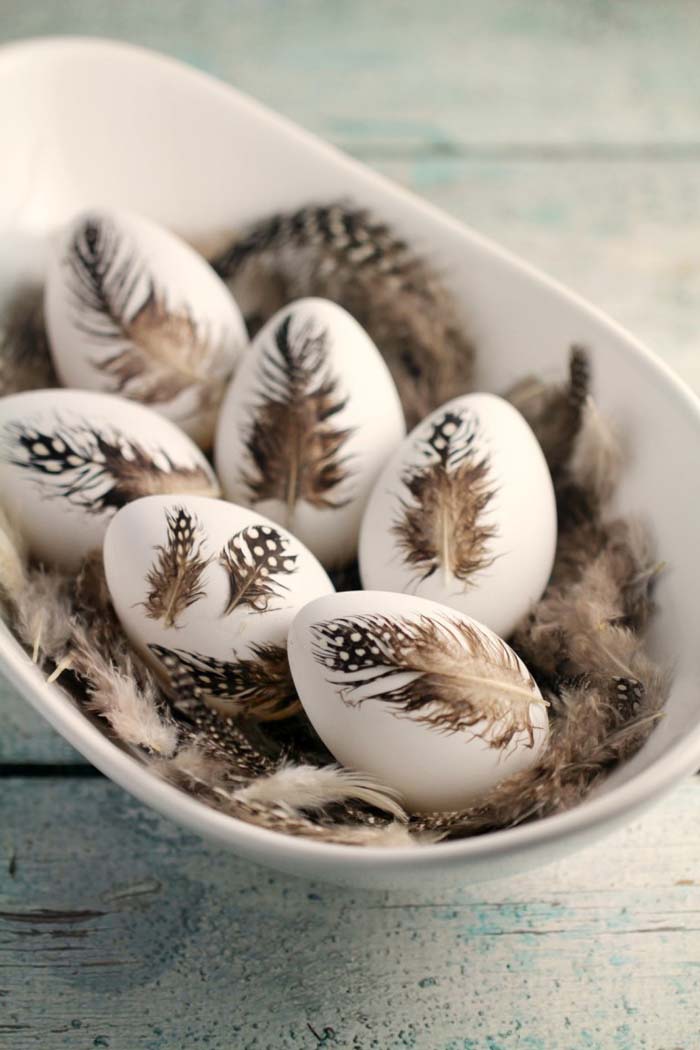 Hard Boil eggs and glue feathers to the outside. This gives it an easy decoration.
via Frugal Mom Eh
43. Use a Floating Shelf for Your Rustic Easter Decorations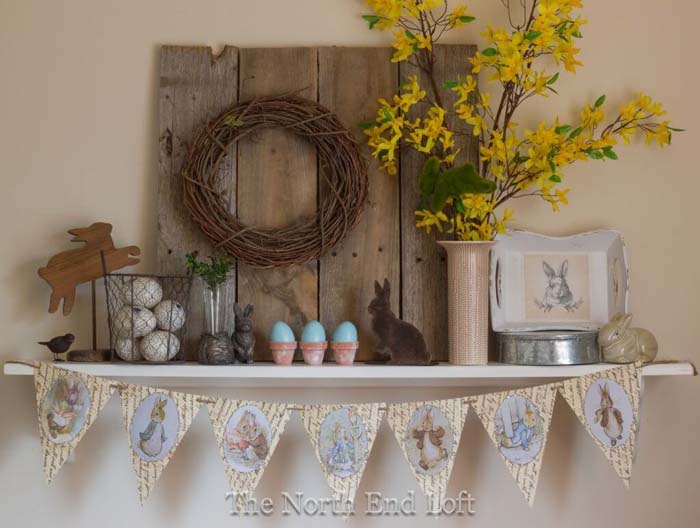 For a simple shelf banner just paste classic bunny pictures on banners. Then decorate the rest of the shelf with other rustic decorations.
44. Frame a Rustic Easter Egg Wreath with Chicken Wire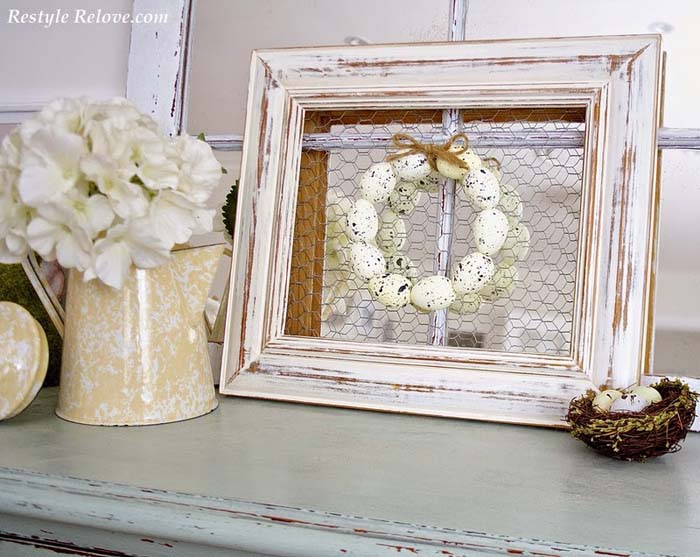 Take a rustic wooden photo frame and attach chicken wire. Then add a white wreath to the front. Perfect wooden Easter crafts idea.
via Restyle Relove
45. Decorate Walls with a Charming Easter Mug Garland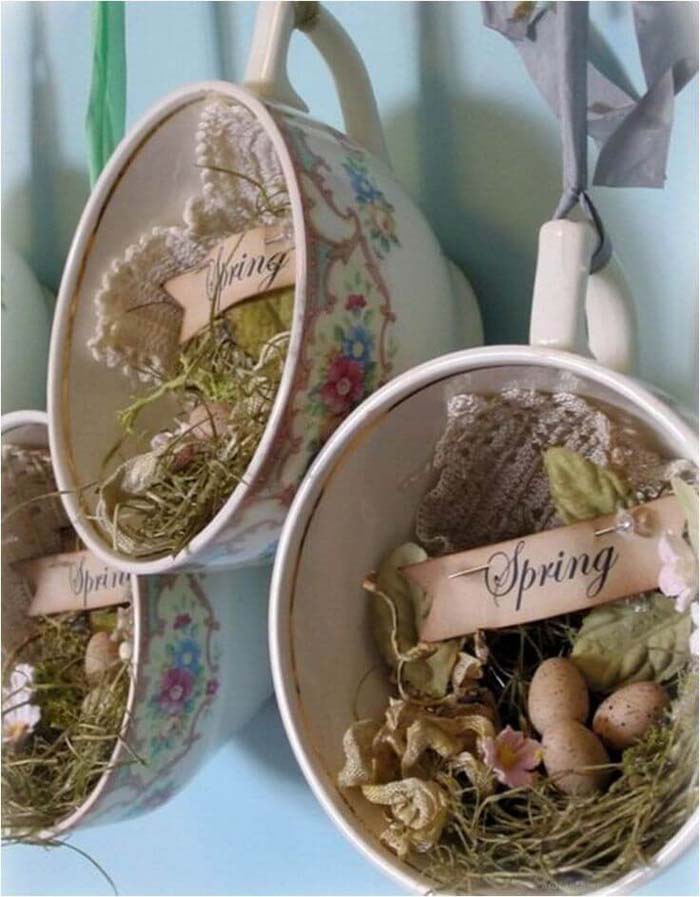 Beautiful mugs can be filled with greenery and light eggs. Then you can hang them with a rustic ribbon.
46. Make a Rustic Burlap Bunny with Greenery Backdrop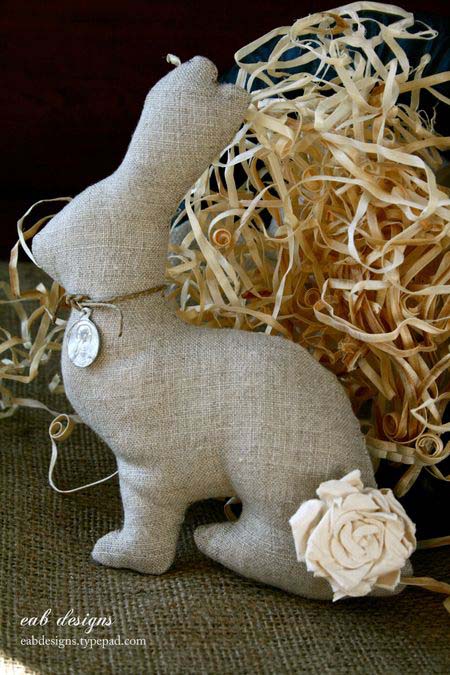 Burlap bunnies are easy to find at most craft stores. With the greenery behind it is a rustic Easter decoration.
via EAB Designs
47. Bring Rustic Elegance with a Moss and Burlap Bunny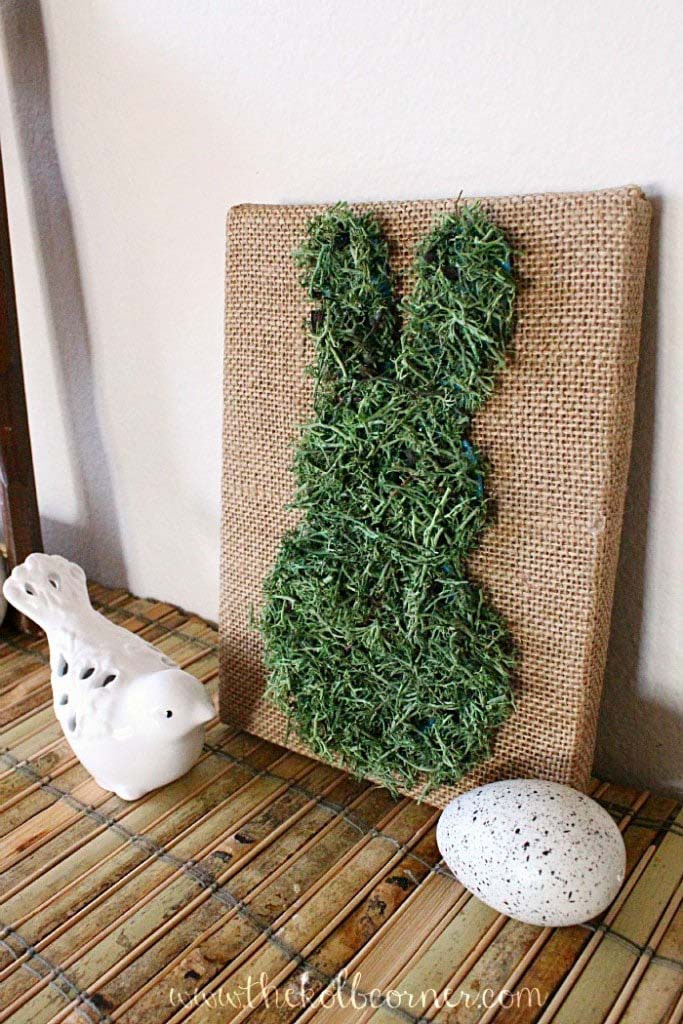 Use a burlap canvas to attach a moss bunny. Add a white bird and egg to the front to complete the look.
48. Elevate a Rustic Chalkboard with Easter Moss Bunnies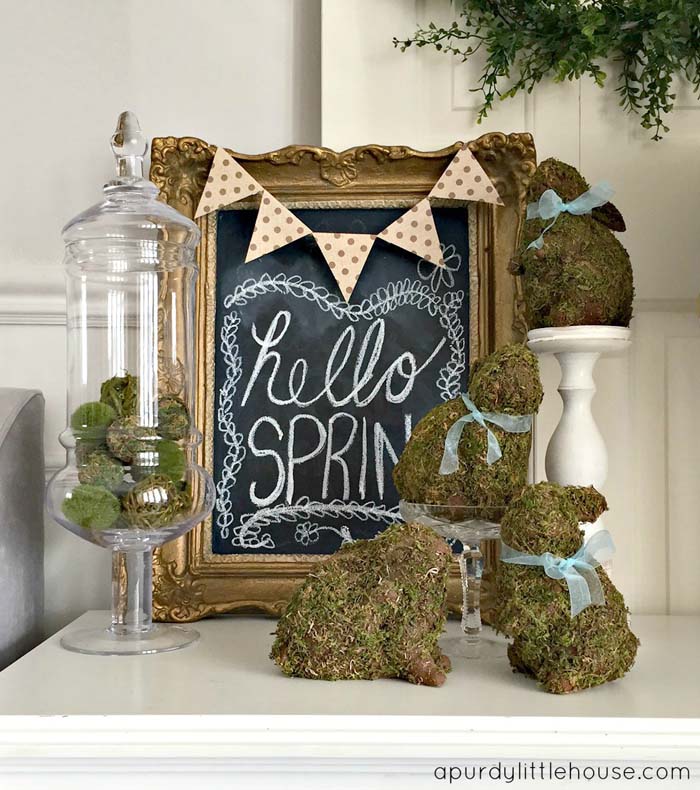 Cover all sizes of bunnies with moss and put in front of a chalkboard sign that says "Happy Easter."
via A Purdy House
49. Create Rustic Easter Eggs with Moss and Ribbons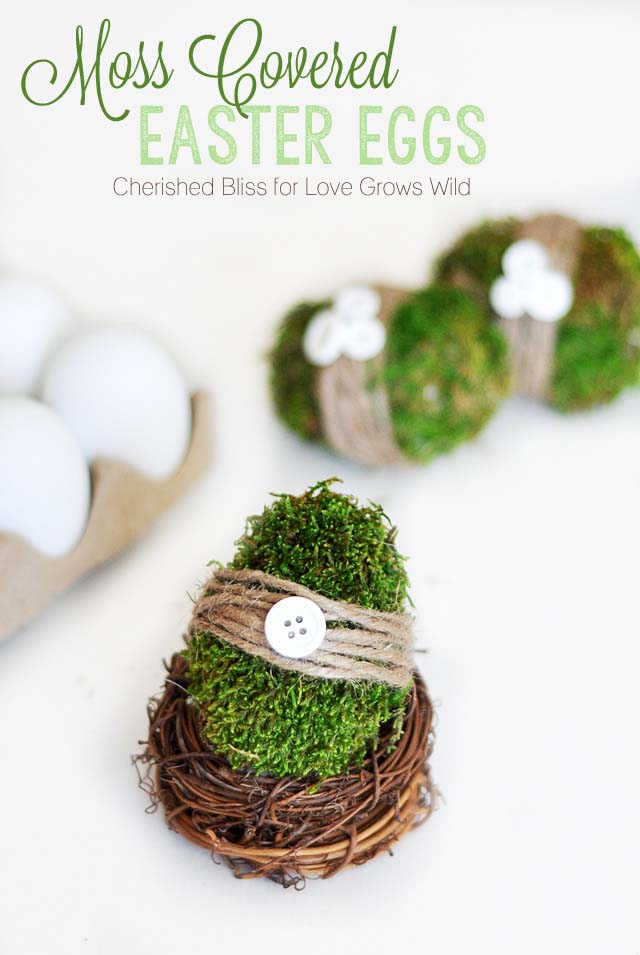 Use moss on top of classic plastic eggs.Then wrap with rustic ribbon and white buttons.
via Love Grows Wild
50. Beautify Your Door with an Easter Moss Monogram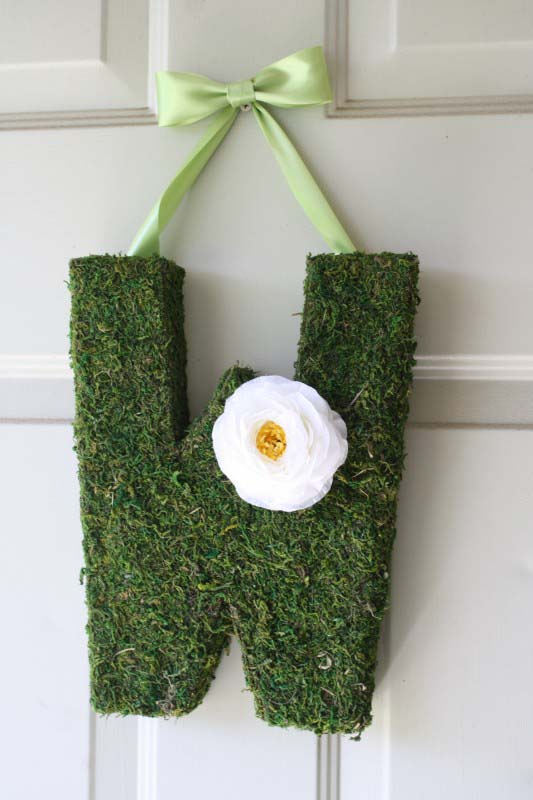 Moss can be glued on anything including a large monogram letter. Hang with a light green ribbon.
via Catch My Party
51. Add Color to Rustic Wreath with Easter Eggs and Ribbon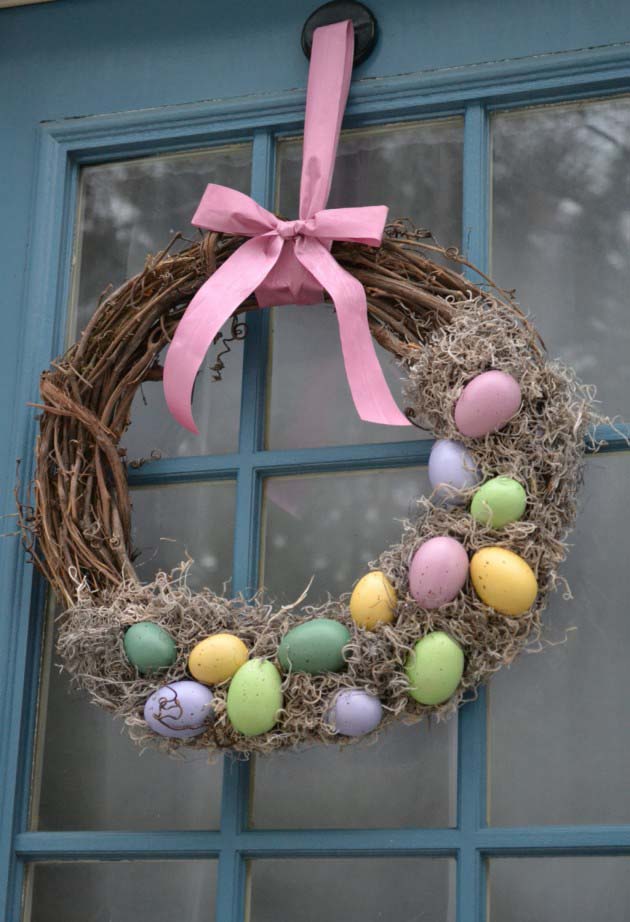 Wicker can be used to make a round wreath. Then add nest material and pastel eggs.
via ChudleighLane
52. Egg-Shaped Wreath with a Rustic Monogram Accent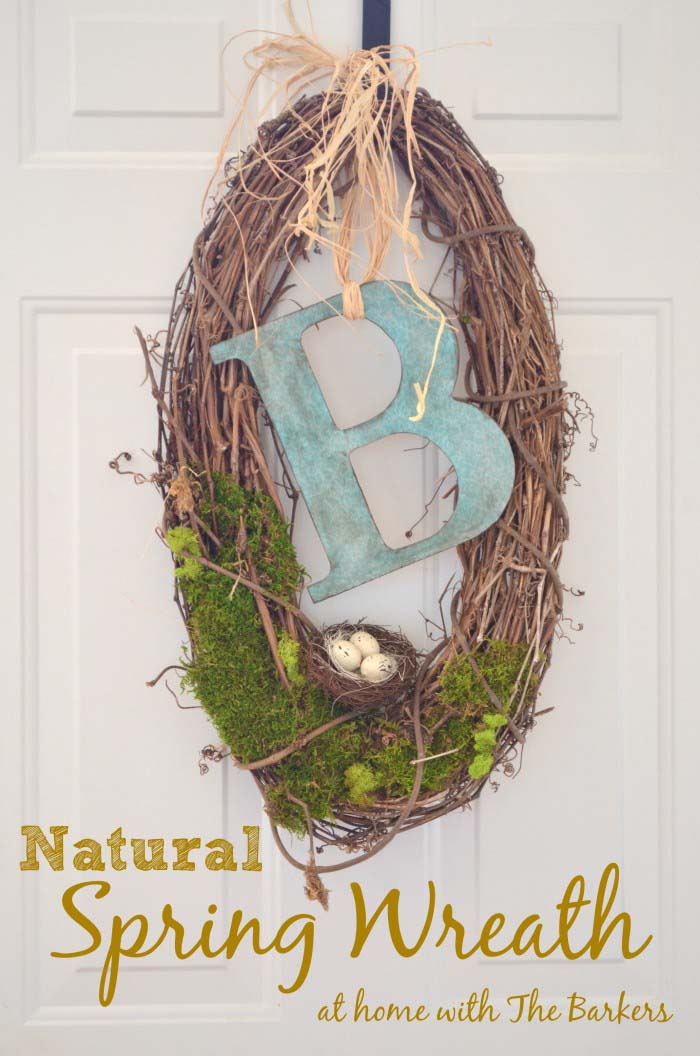 Use wicker to make an egg-shaped wreath for the Easter season. Add the monogram of your name to personalize it.
53. Add Rustic Touch to Cutlery with a Burlap Bunny Bag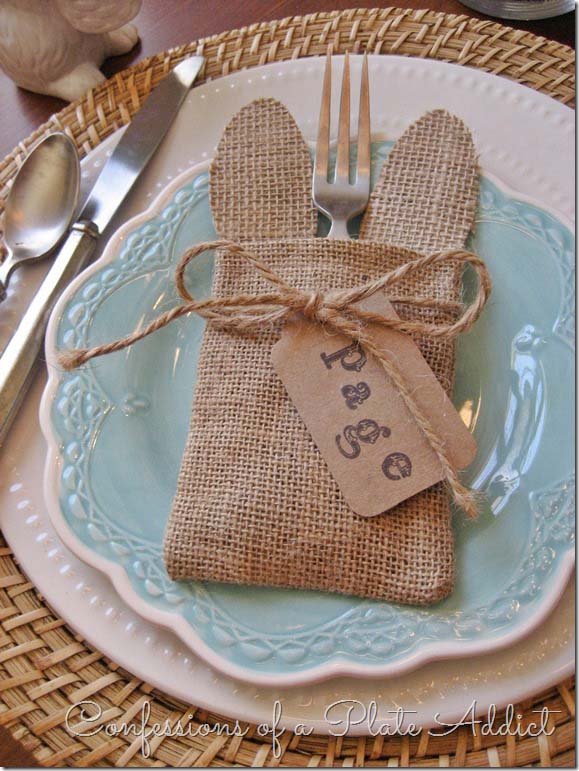 A rustic placemat is a burlap bag with silverware in it. Then add a tiny ribbon.
via Confessions of a Plate Addict
54. Enhance Rustic Paint Stick Basket with Colorful Blooms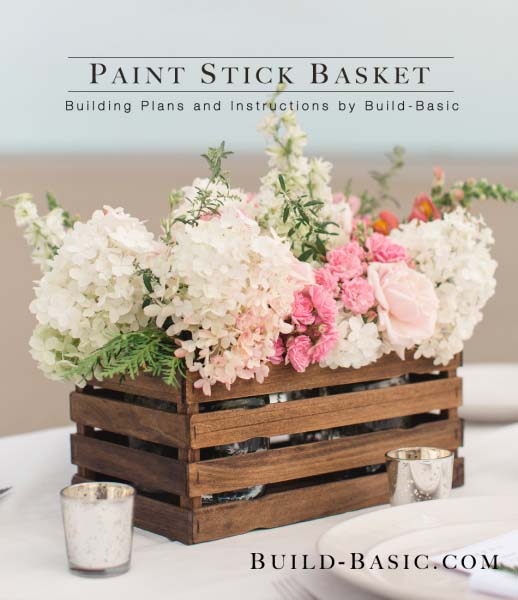 This classic stained basket is a nice rustic color but the pop of color really finishes the look.
via Build Basic
55. Brighten Your Wooden Easter Bunny with a Ribbon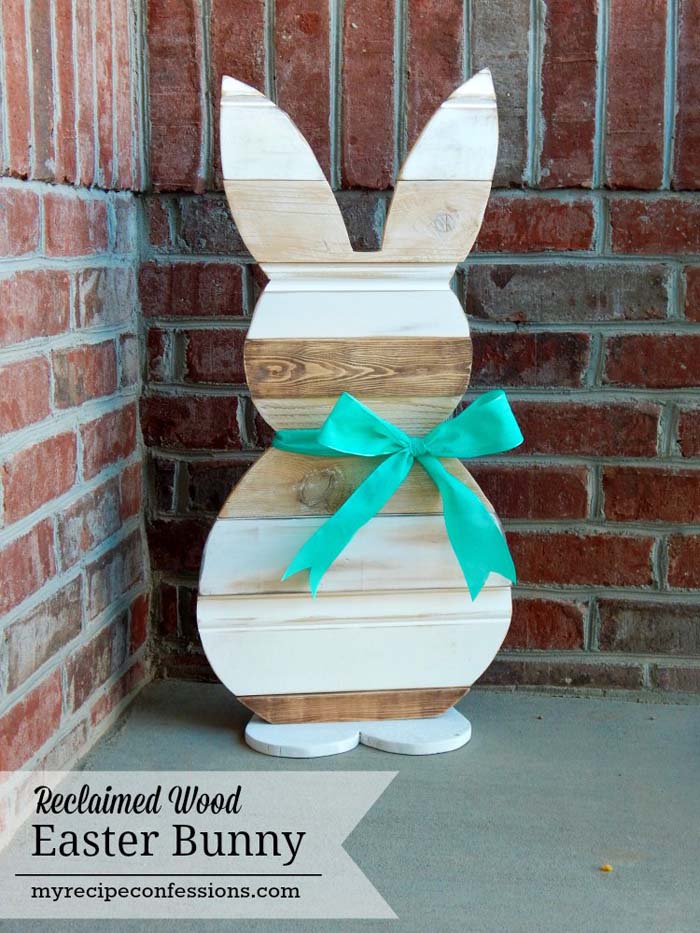 Glue together layers of wood and sand nicely. Then cut into a bunny shape. The addition of the bow really completes the look.
56. Place Layered Wooden Easter Eggs on Your Porch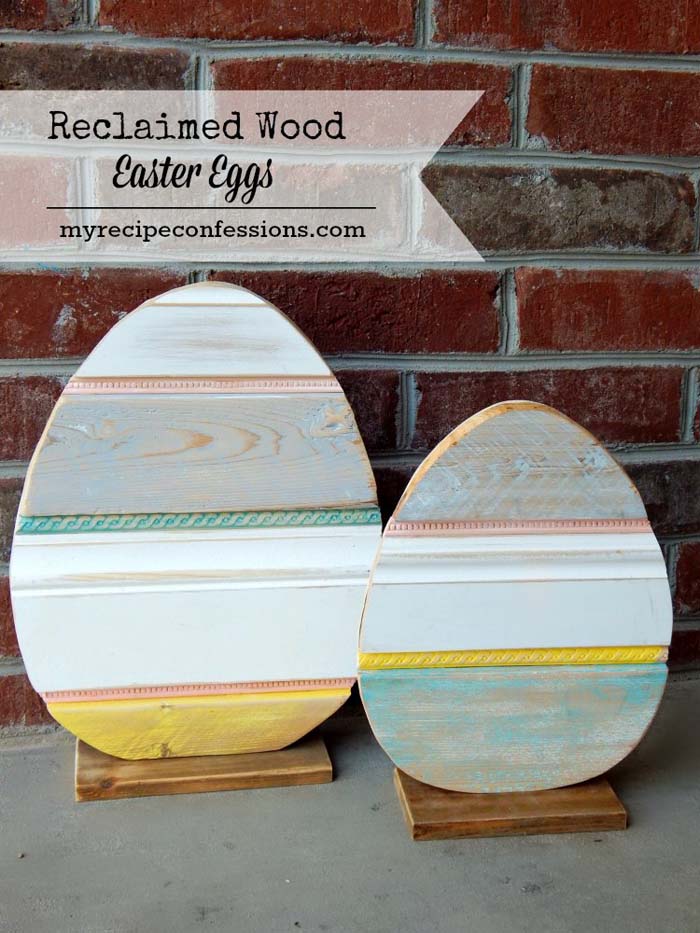 Layer together different colored wood using pastel and light colors. Then cut into an egg shape.
57. Use Upcycled Materials to Make a Rustic Cross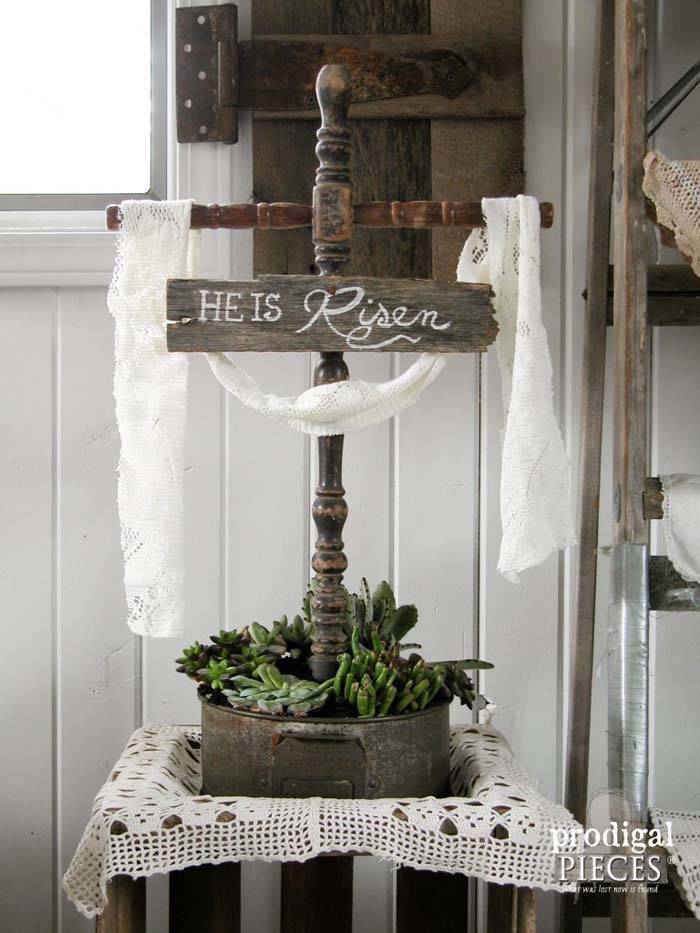 The Easter celebration is about Jesus rising from the dead. So make this rustic cross with white threading that says 'Jesus has Risen.'
via Prodigal Pieces
58. Make a Table Centerpiece with Bird Nest in Glass Jar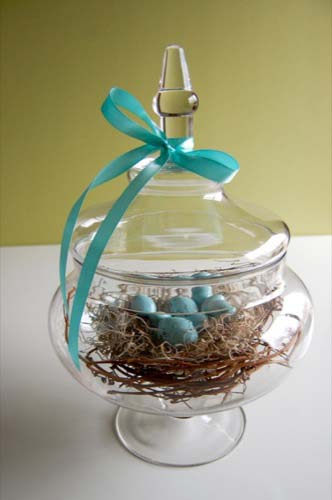 Fill a mini glass jar with a birds nest and pastel eggs for a perfect centerpiece.
via No Biggie
59. Craft a Carrot Decoration from Rope and Ribbons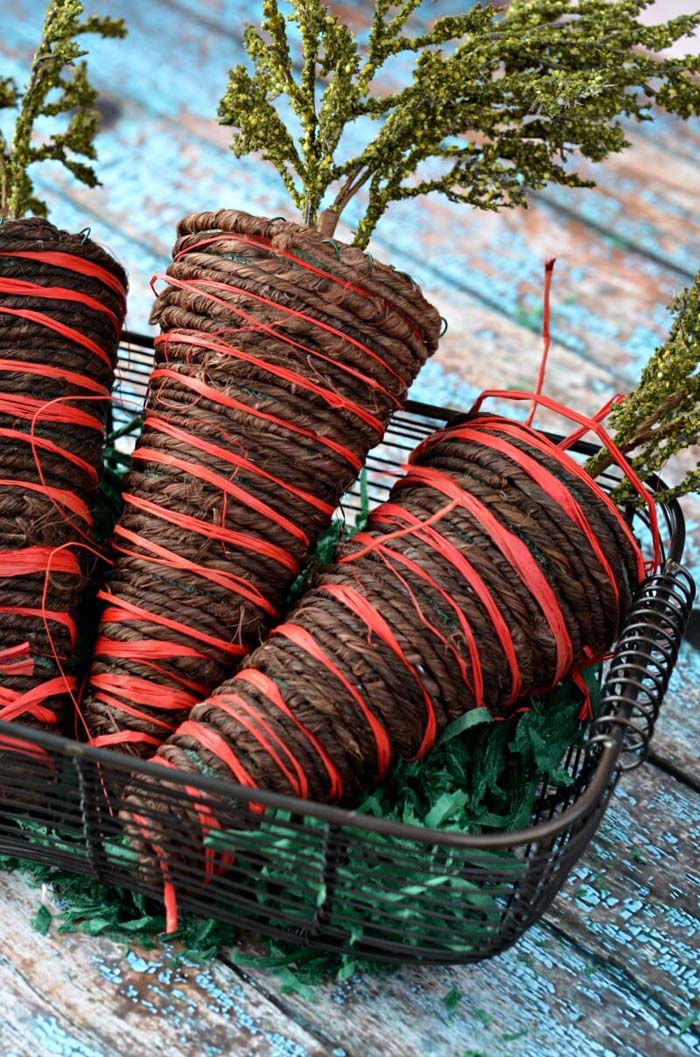 Use a rope to shape a carrot. Then add some orange rope to complete the look. And then add greenery to make a carrot.
via Sun and Sea Salt
60. Add a Rustic Rope Tail to Your Painted Bunny Pallets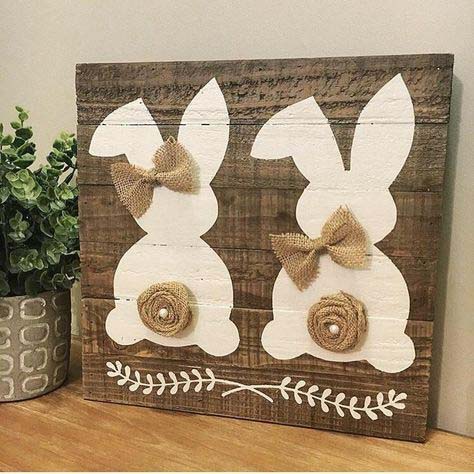 This simple wall art uses pallets painted with white bunnies. The rope as the tail makes a simple but rustic bunny tail.
61. Use a Rustic Picture Frame and Burlap for a Cross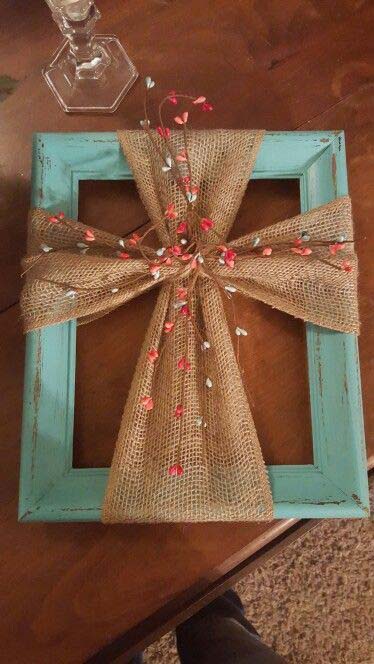 A rustic picture frame is a perfect base. Add a burlap cross and red plants.
62. Wicker Wreath with Rustic Cross and White Flowers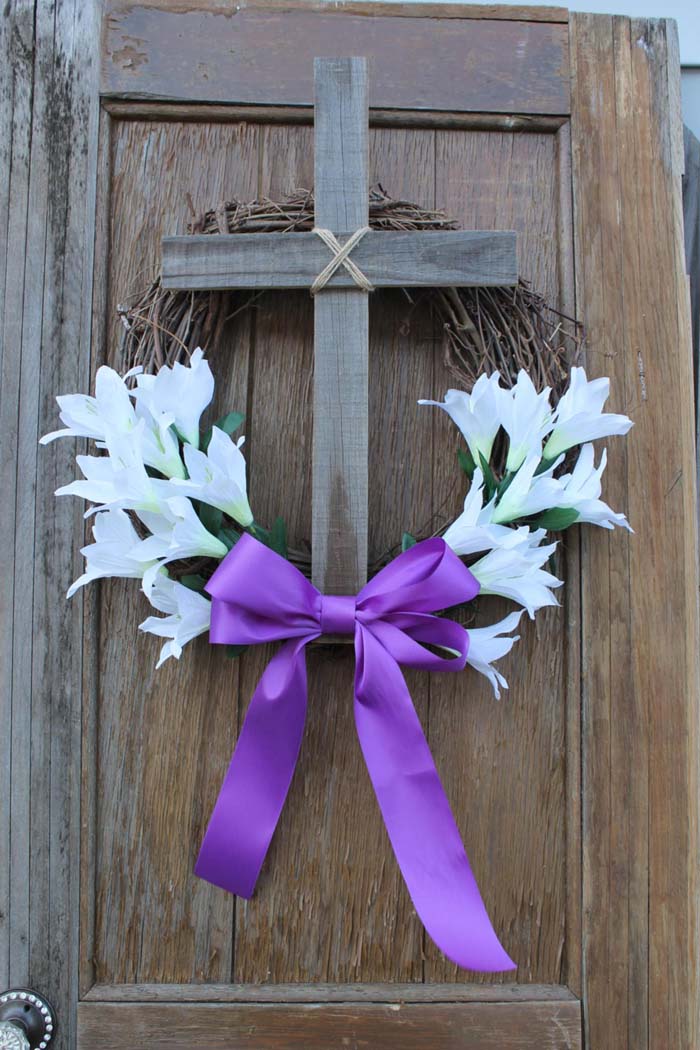 A wicker wreath is a classic base. Then add a cross and white flowers to make a perfect Easter door wreath.
via Etsy
63. Make a Rustic Flower Vase with Twigs and Bunny Accent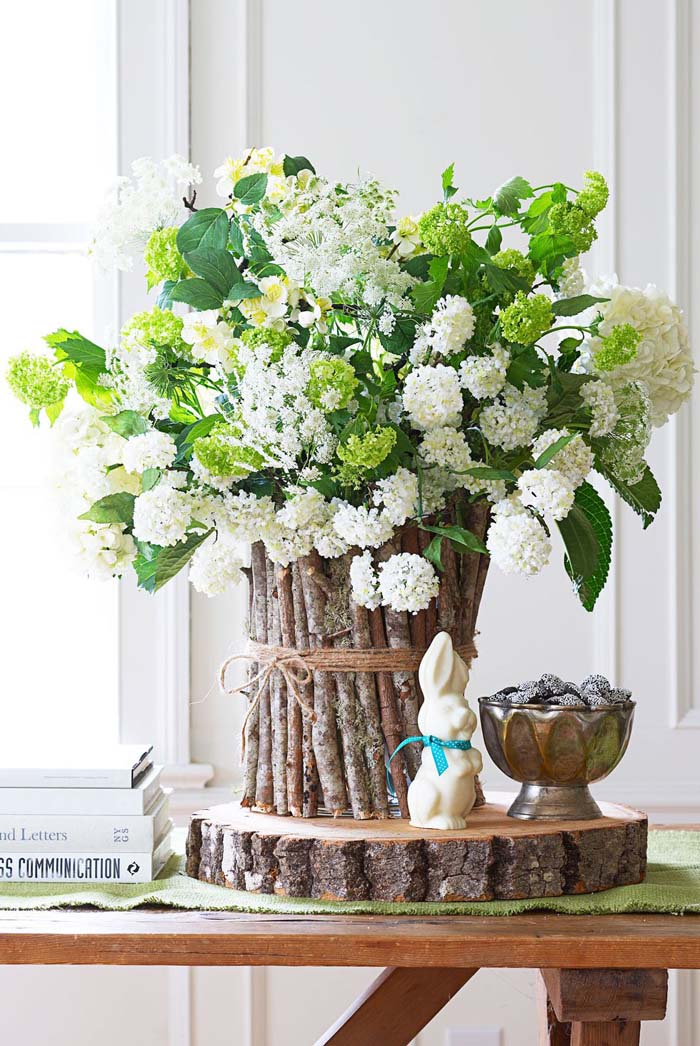 Use small twigs and attach them to the outside of a vase. Then fill with white and green flowers.
64. Personalize a Rustic Crate with Easter Decor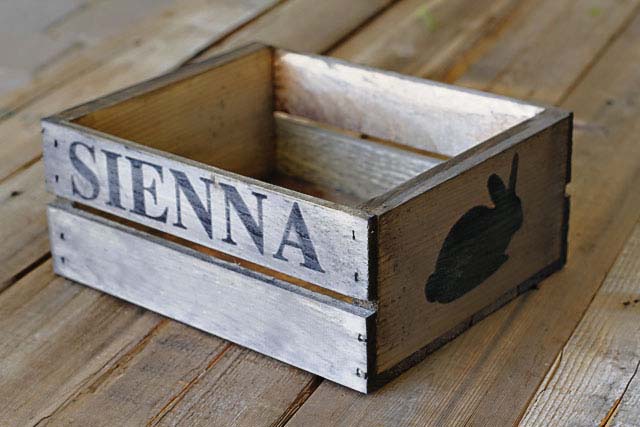 This rustic crate is the perfect base for an Easter decoration. Paint with a black bunny to finish the look.
via Lil Blue Boo
65. Create a Tiered Easter Display with Galvanized Trays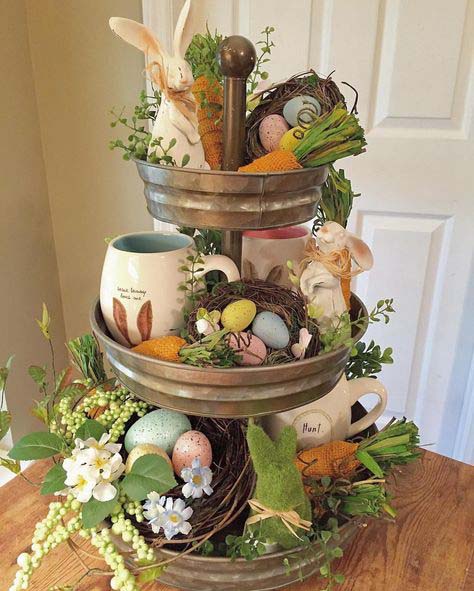 Use a metal three-tier tray and add bunnies and chicks. Along with that add rustic twigs and pastel eggs.
66. Rustic Fireplace with Greenery and Bunny-Tail Ribbon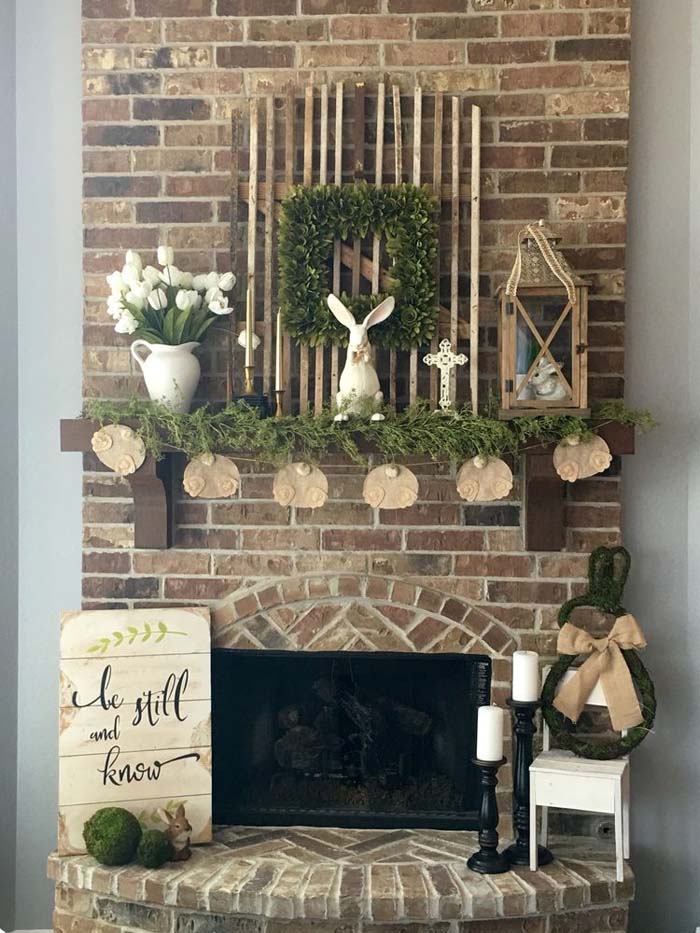 Make an entire fireplace look by adding greenery across the hearth and ribbon made from burlap and look like bunny butts.
67. Craft a Rustic Easter Picture Frame with Egg Accents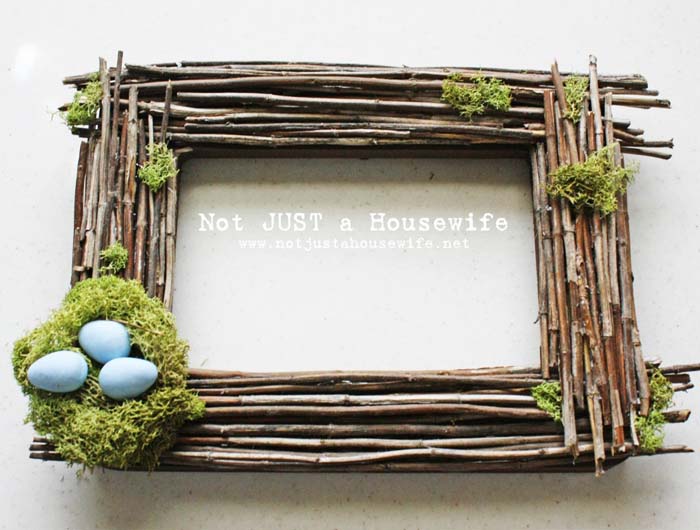 Use a picture frame as a base and glue on twigs. Then add a small nest in the corner with pastel eggs.
68. Place a Bunny in a Rustic Easter Basket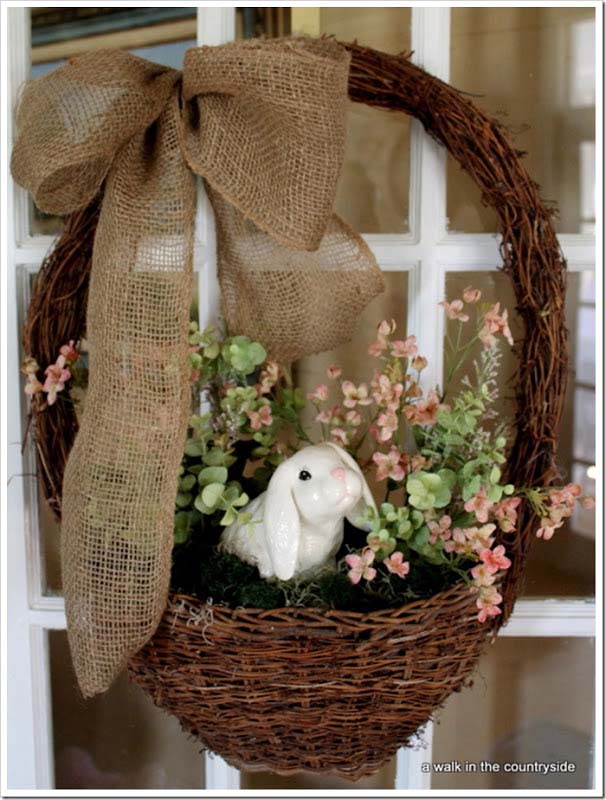 This rustic Easter basket is a perfect wreath. Especially when filled with green and bunnies.
69. Supplement a Rustic Wreath with Colorful Easter Eggs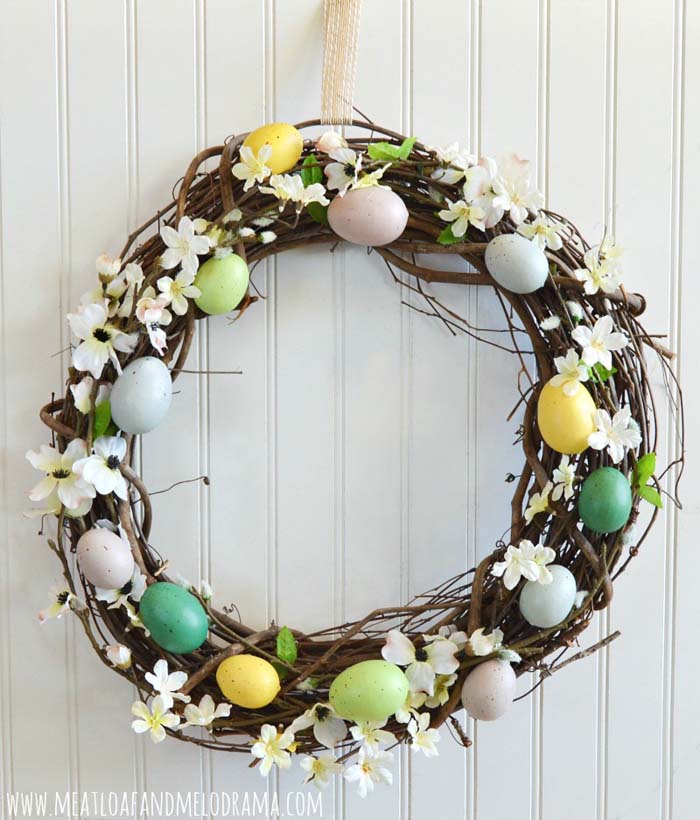 Rustic wreaths are the perfect base. Then add pastel eggs and small white flowers.
70. Rustic Bunny Wreath with Grapevines and Burlap Ribbon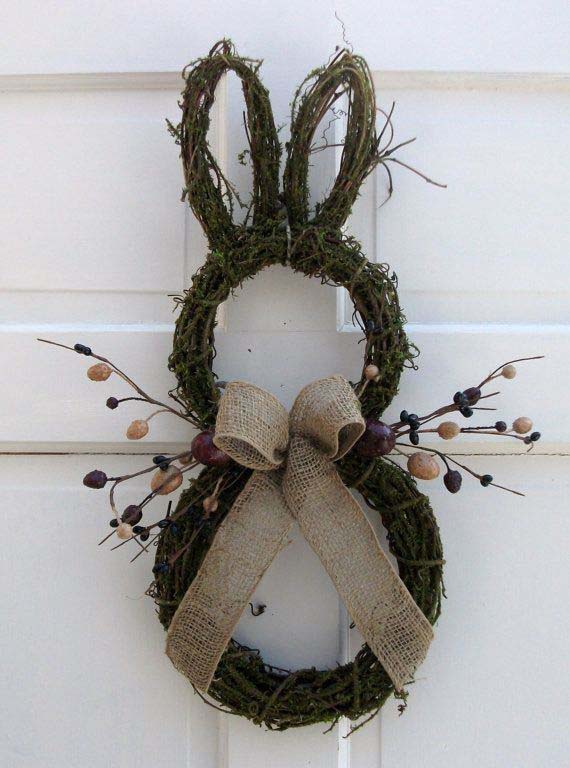 Use grapevine to make two round circles. Then make bunny ears and attach it all together to make a bunny wreath.
71. Utilize Brown Strings to Make Rustic Carrots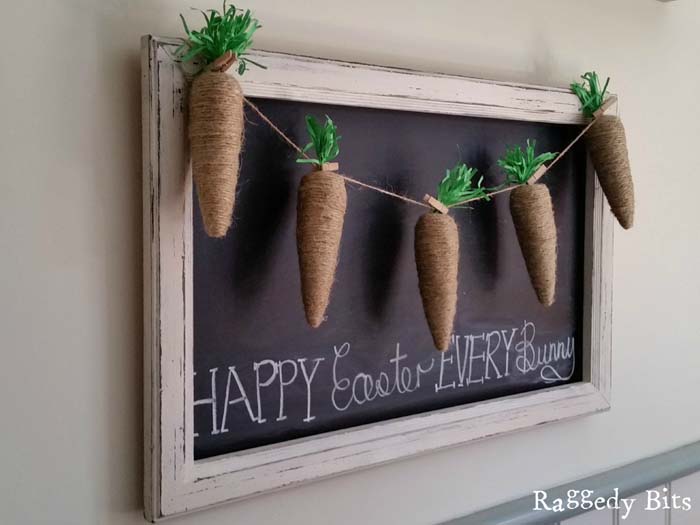 Make rustic carrots with brown string. Then add carrot tops with greenery. Then string together for an Easter garland.
via Raggedy Bits
72. Improve Table Decor with Rustic Paper Mache Eggs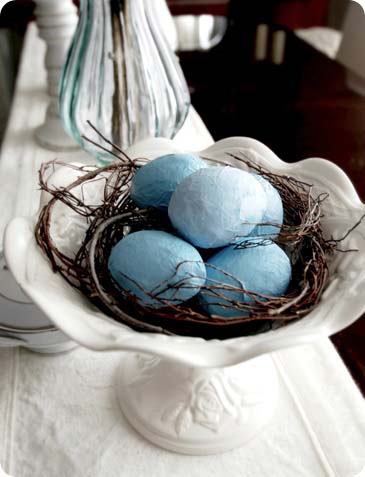 Starting with paper mache create light-colored eggs. Then add to a nest to make a table decoration.
73. Craft Tree Limb Placeholders for Food Cards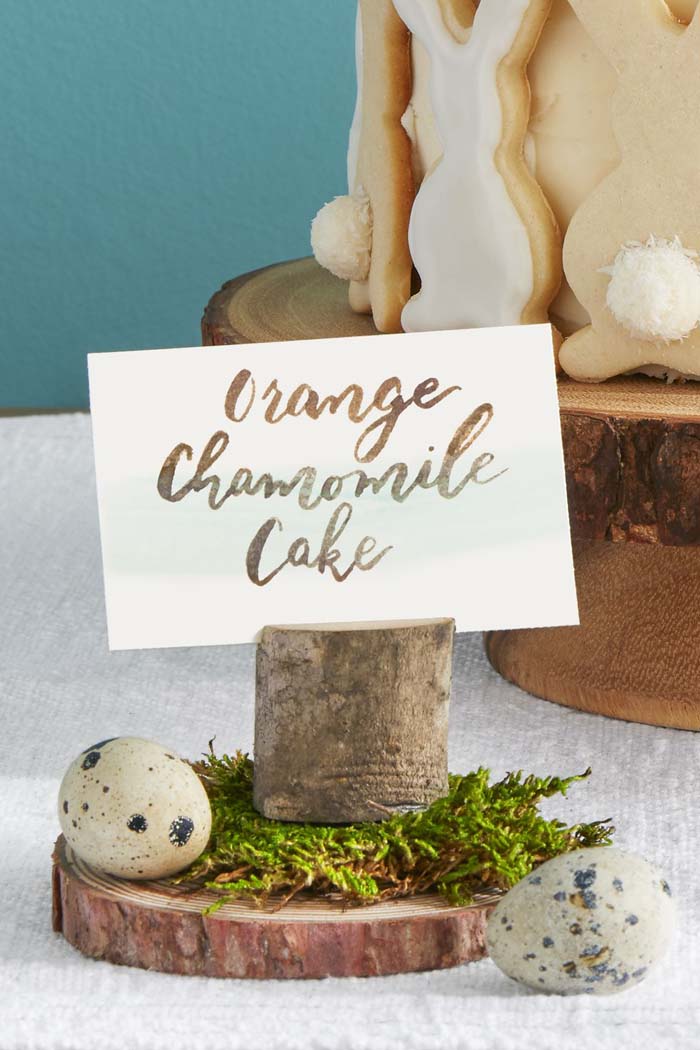 Small tree limbs can be cut into two-inch pieces and carved to hold the cards that say what each food is.
via Country Living
74. Enjoy Easter with a Bunny and Nest Table Centerpiece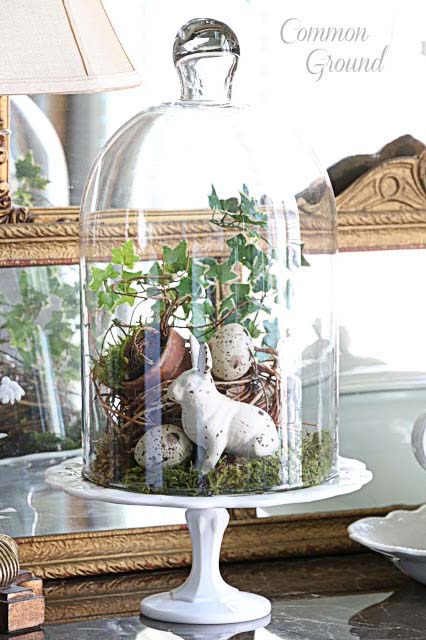 A clear cake cover is a simple cover for a bunny and nest. It makes a perfect table centerpiece.
via Common Ground
75. Show Christ's Resurrection with a Chalkboard Message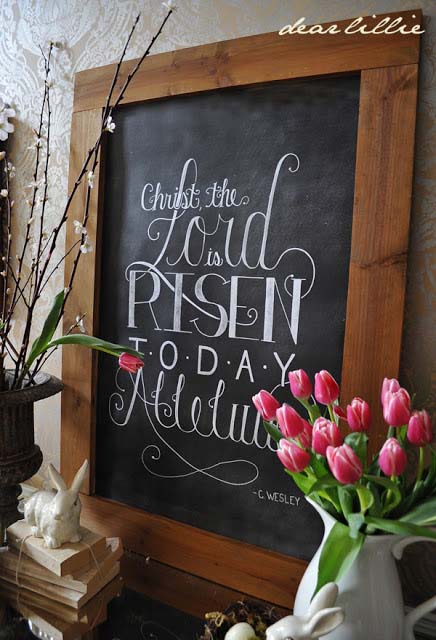 Paint white lettering on a chalkboard. Make it say 'Christ the Lord is Risen' since that is what Easter is all about.
via Dear Lillie
76. Rustic Easter Centerpiece with a Filled Wicker Basket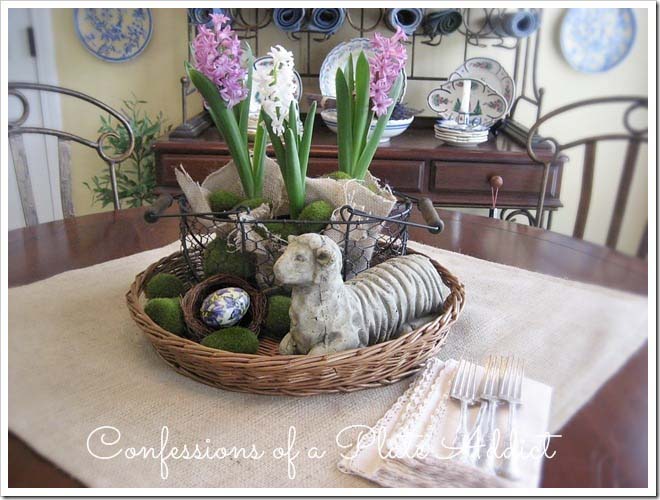 This wicker basket holds together a small lamb and green Easter plant life. It adds a perfect addition to an Easter table.
via Confessions of a Plate Addict
77. Make Rustic Wreaths with Egg Nests for Easter Decor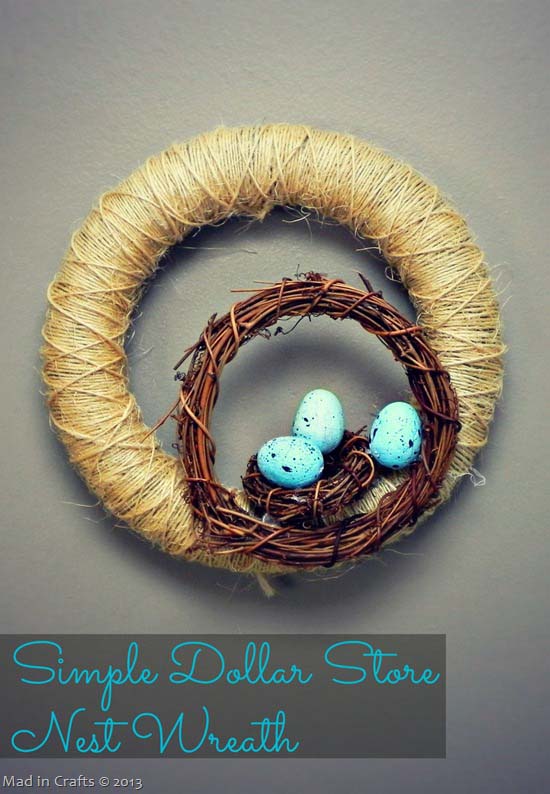 Make a couple of wreaths of varying size then add them all together. To give it the Easter look add a nest and eggs.
via Mad in Crafts
78. Adorn Your Door with a Simple Rustic Easter Wreath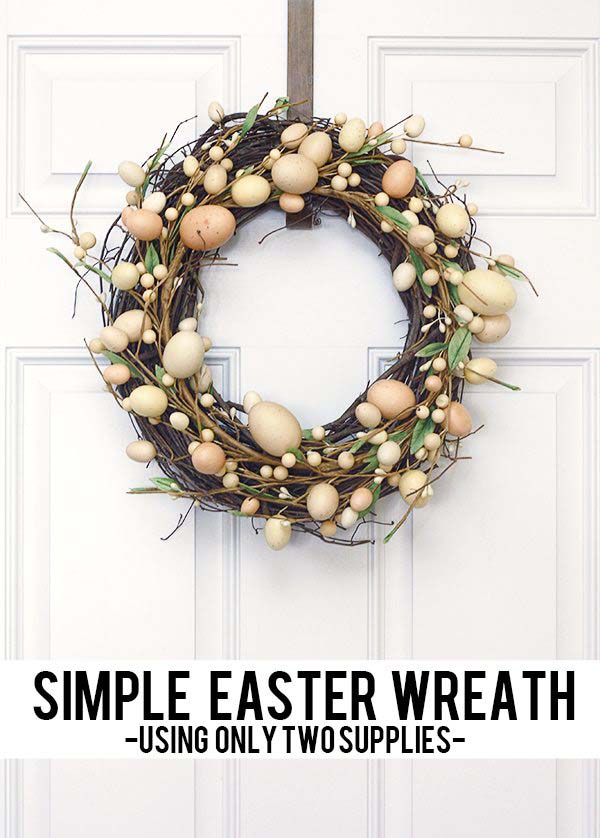 This Easter wreath is made from wicker, greenery and white eggs.
via Live Laugh Rowe
79. Make a Rustic Table Runner with Wooden Egg Holder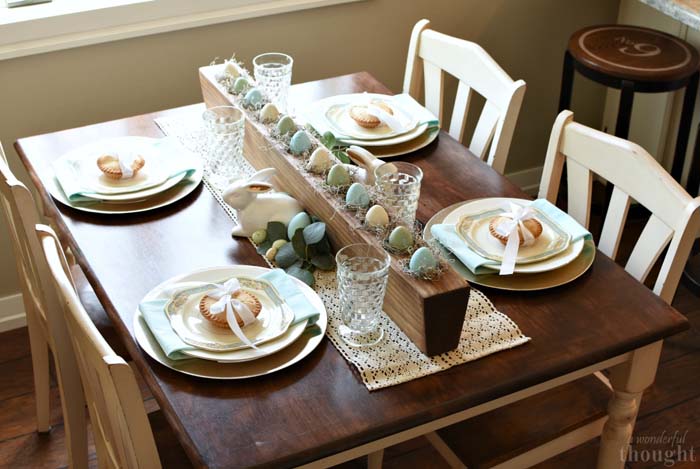 For an entire Easter look try this white plate with white ribbons and a long narrow egg table runner.
80. Rustic Paper Bunny and Eggs Display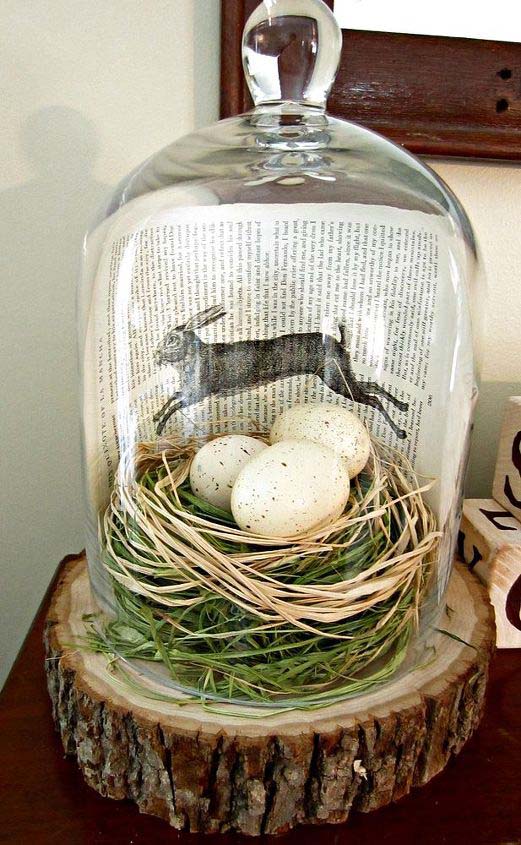 Print a bunny on a piece of rustic book paper. Then add white eggs and cover with a clear cake cover.
via Hometalk
81. Classic Easter Table Decor for a Rustic Touch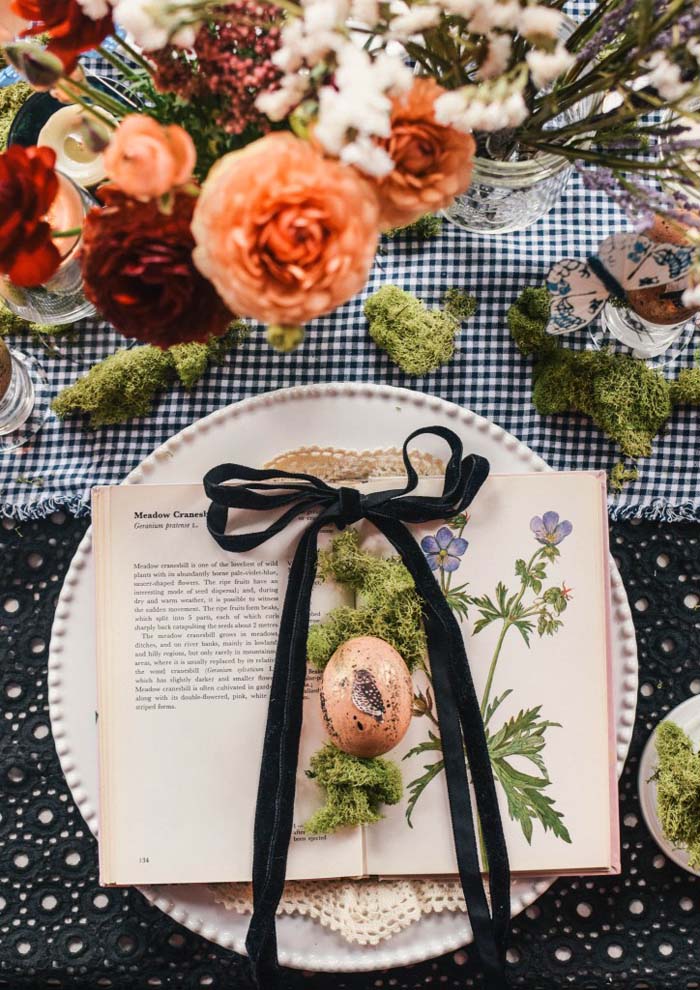 Classically decorate your Easter table with greenery, egg and beautiful printed flowers on a rustic paper.
82. Add Color to a Grapevine Wreath with Tulips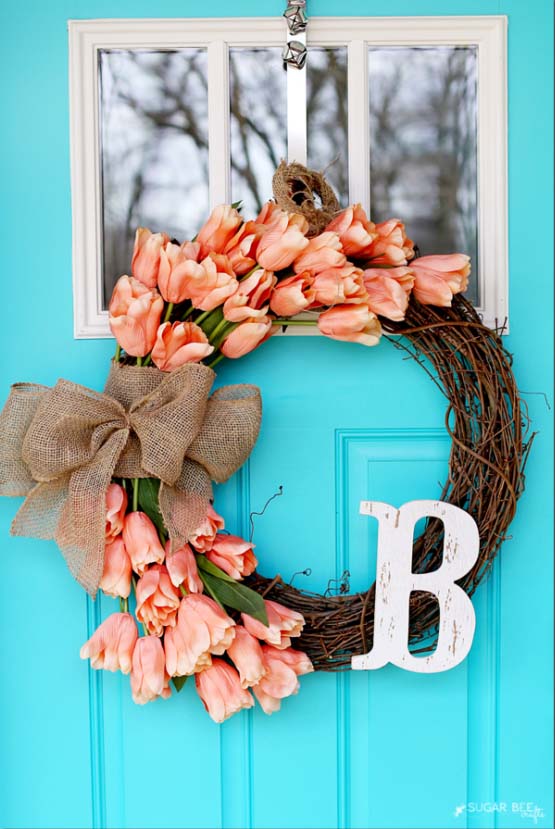 This wreath is made from grapevine. Then orange tulips are added for a pop of color.
via Sugar Bee Crafts
83. Create a Beautiful Easter Table Setting with Paper Mache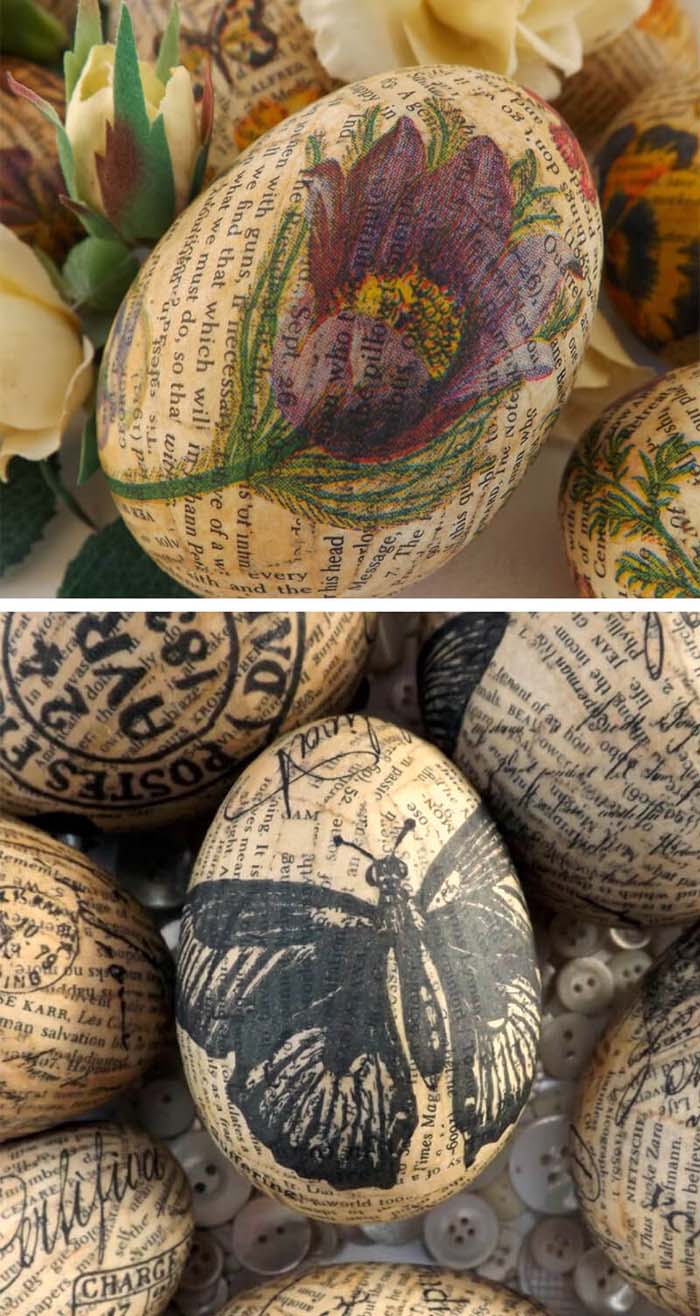 Using paper mache, coat plastic eggs with rustic paper and paint on beautiful flowers. It is the perfect Easter table setting.
via Sew For Soul
84. Craft a Stenciled Burlap Bunny Table Runner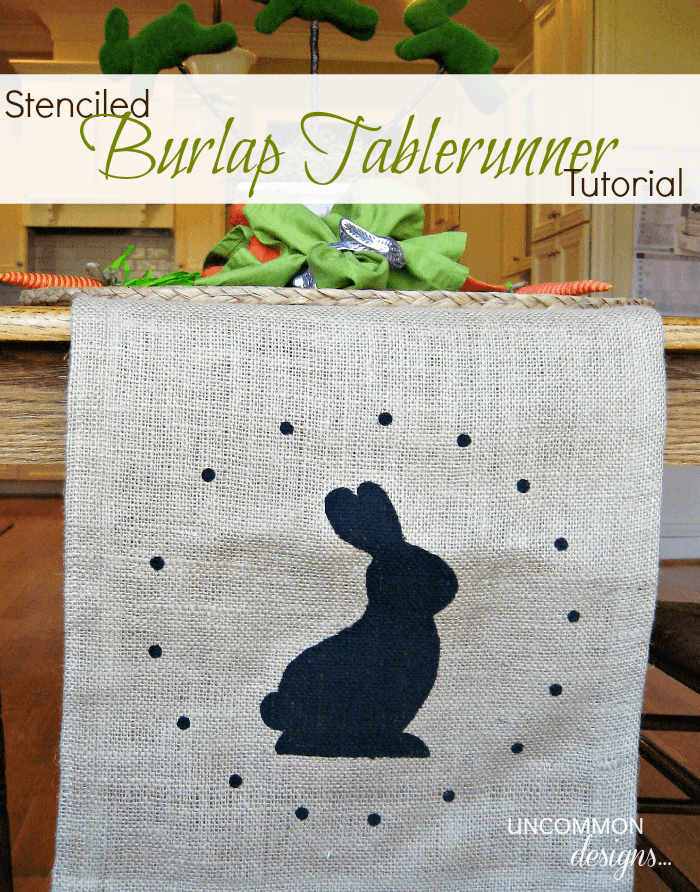 To make a quiet and simple table runner start with burlap and paint on a black bunny.
via Uncommon Designs
85. Accent Your Rustic Door Wreath with Wooden Bunnies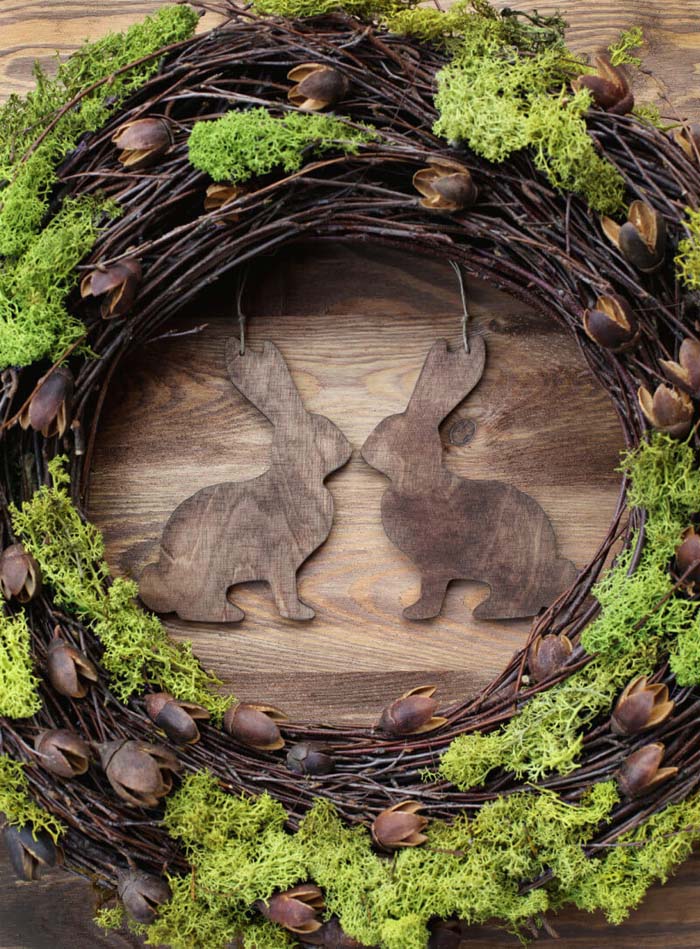 Use twigs and grapes fine to make a rustic door wreath. Add small wooden bunnies to the middle of the wreath.
via Botanika Studio
86. Make a Rustic Nest with Blue Eggs and Paper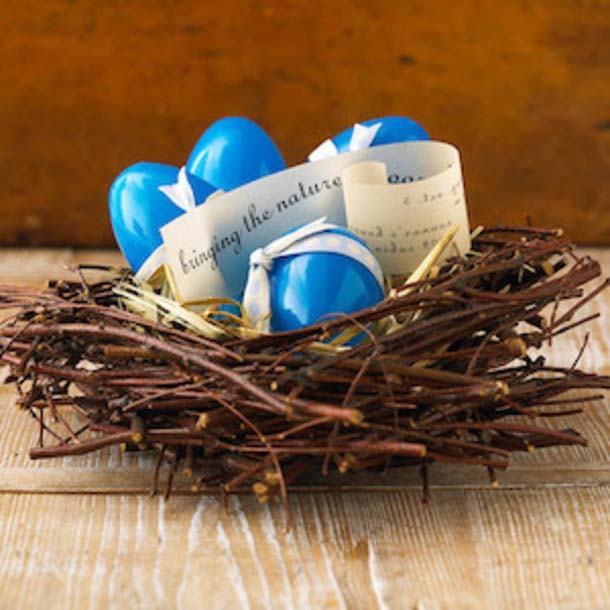 Make a simple nest and fill with eggs and rustic paper.
87. Impress Guests with Twine Carrots in a Woven Basket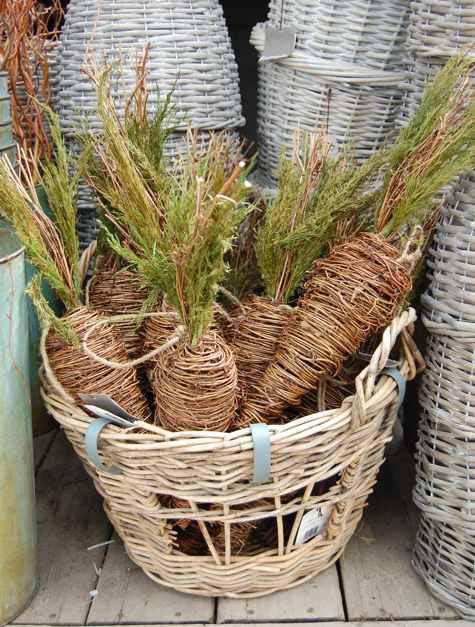 Carrots can be made with twigs and top with greenery to look like carrots. Place them in a wicker basket.
via Terrain
88. Add Vintage Elegance with Wooden Easter Eggs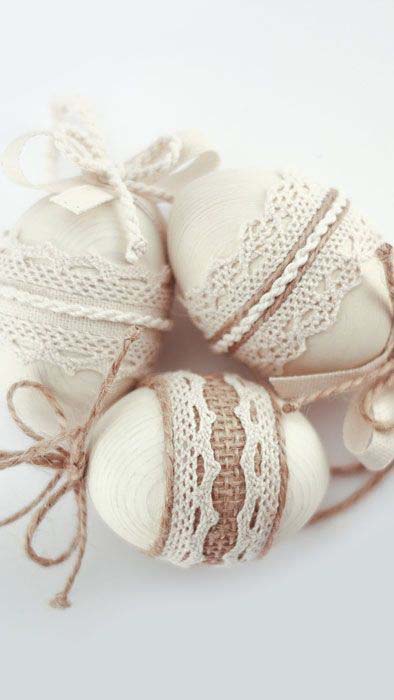 Make vintage eggs from wooden eggs. Then encircle with ribbon or brown string.
89. Festoon a Rustic Wicker Basket with Daffodils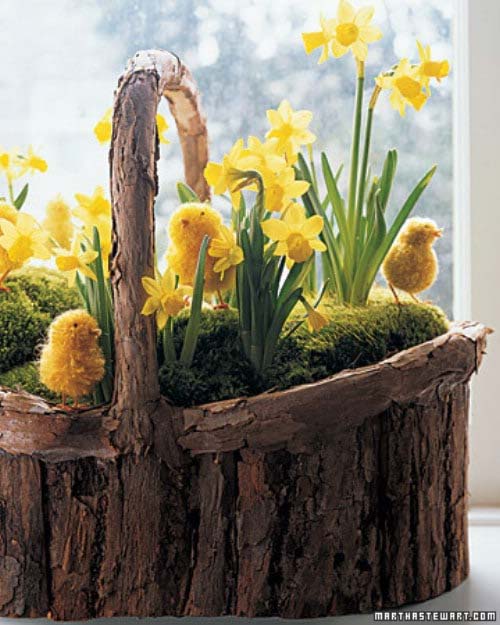 Plant daffodils in a wicker basket. Then add chicks for a perfect Easter look.
via Martha Stewart
90. Place Unique Easter Antiques in Wooden Crate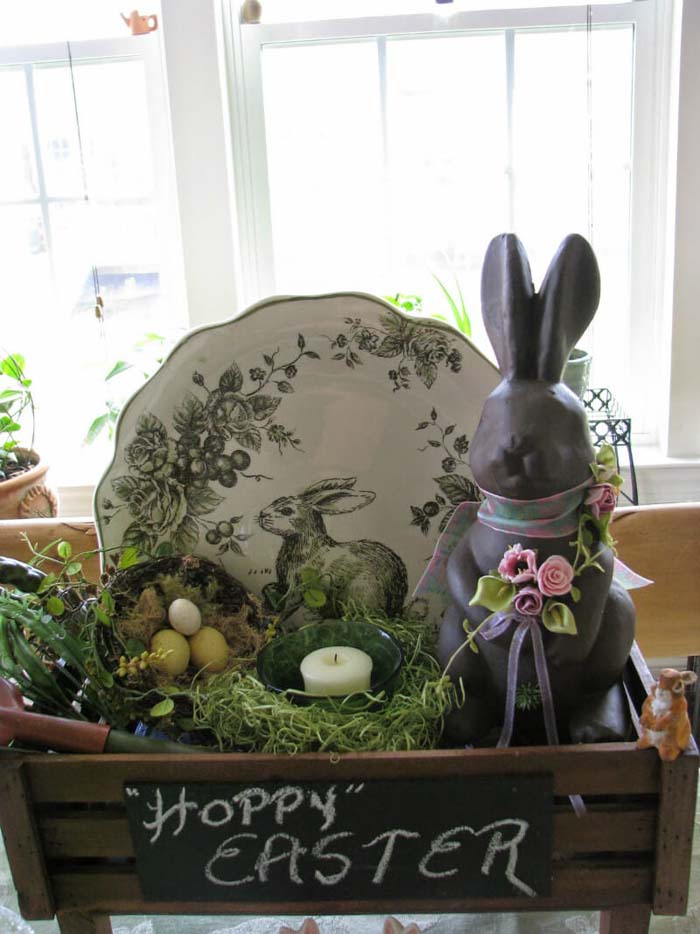 This wooden crate is filled with Easter antiques including a bunny, eggs and candles.
via Designs By Pinky
91. Rustic Wooden Crate Filled with Pink and Green Flowers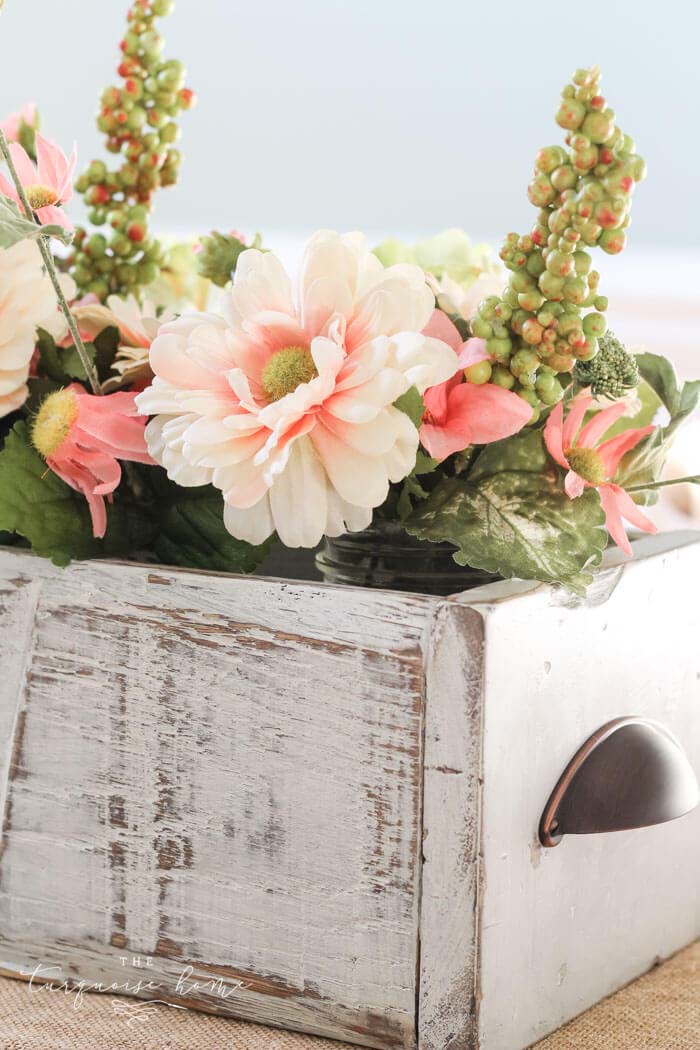 Take a rustic wooden crate and fill with pink and green flowers.
92. Share a Message of Hope with an Easter Sign Wreath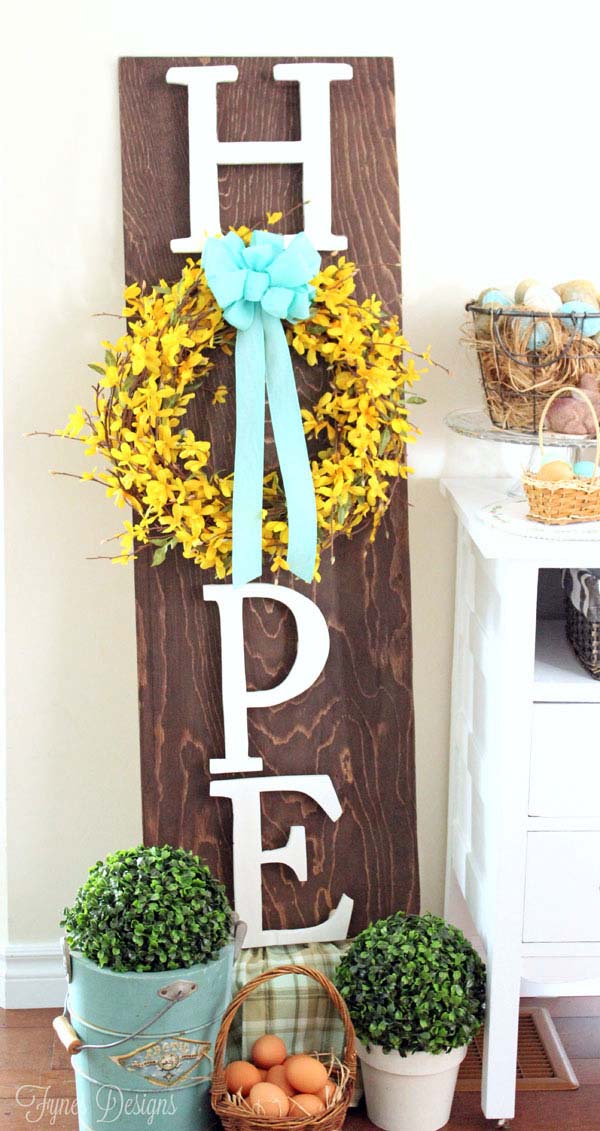 Easter is about Jesus and the hope of springtime. Make this HOPE sign with large wooden letters and a wreath as an O.
via Fynes Designs