The best place to start decorating for Easter is your front porch, as the front door is the first thing that people who come to your home see.
If it is grungy and in terrible shape then they may judge you prematurely.
So consider keeping your front porch decorated with beautiful decorations.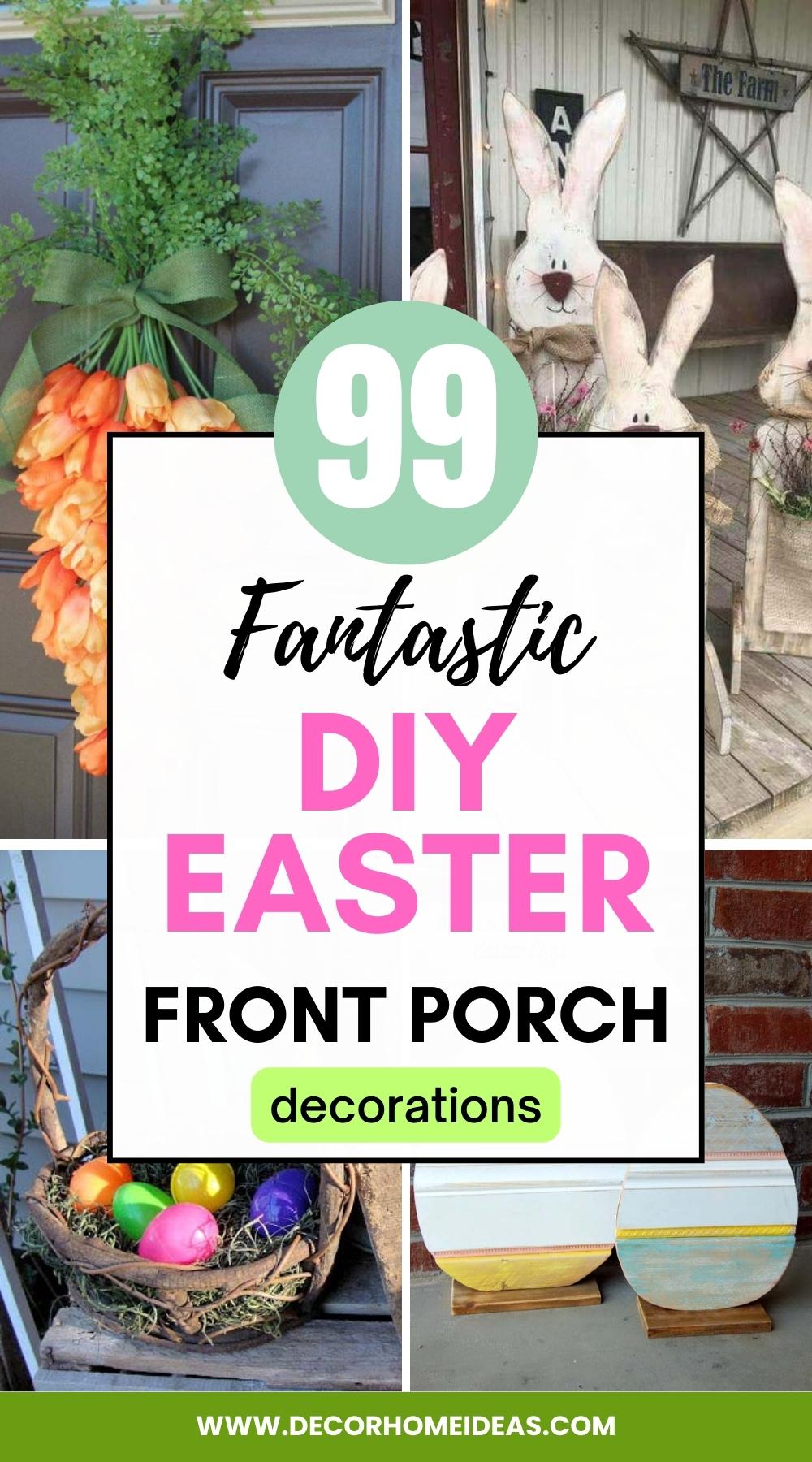 No matter the month or time of year, there is something to be celebrated.
Easter is right around the corner and it is time to celebrate spring and a changing of seasons.
Enjoy your Easter with some great front porch decorations.
1. Decorate Your Porch with a Peep-Adorned Wreath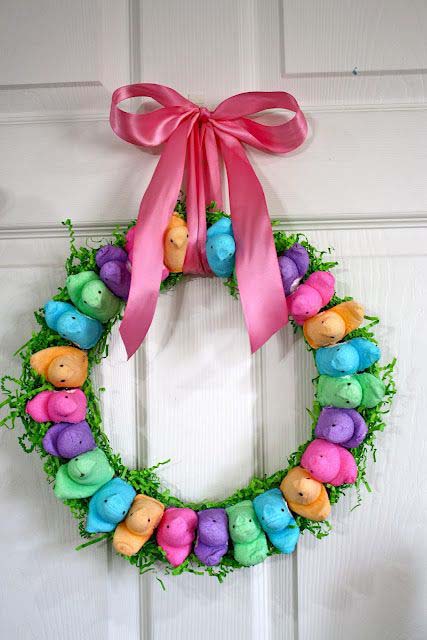 Peeps can be for more than just snacking, they are the perfect front door wreath decoration.
2. Spruce Up Your Porch for Easter with an Antique Chair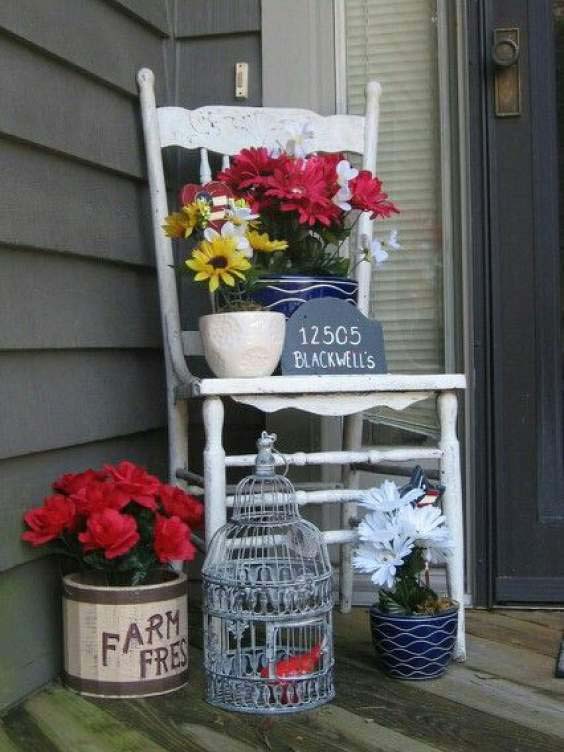 Do you have an antique chair sitting around? Add a cute Easter sign and Easter basket and your porch is ready for the holiday.
3. Make an Brown Wreath with an Moss Easter Bunny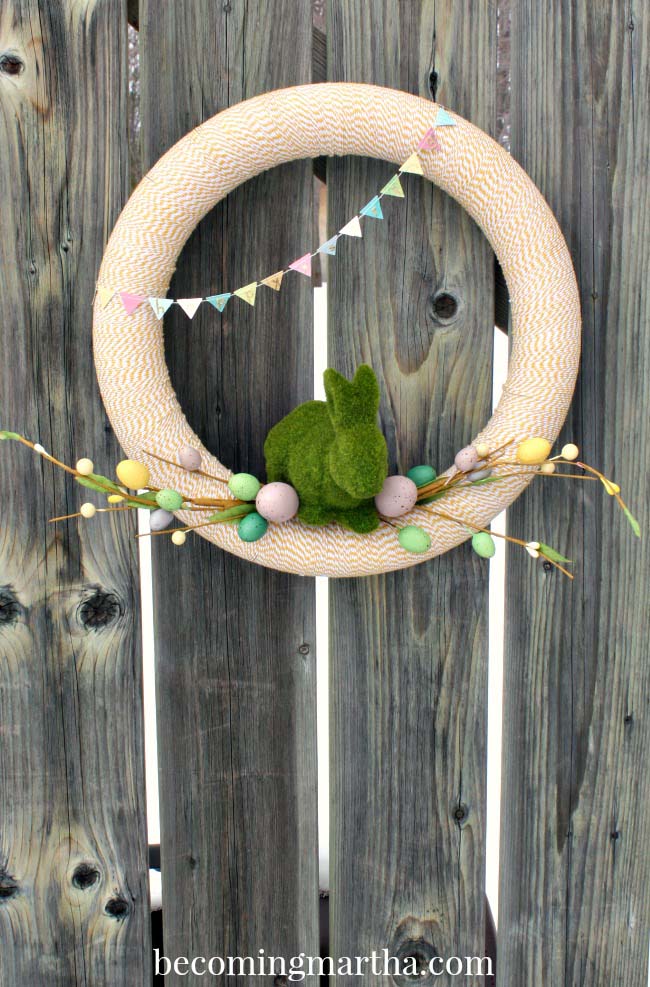 For a simple Do it Yourself front door wreath, try adding a basic brown wreath with a green bunny and a few classic eggs and straws.
via Becoming Martha
4. Rustic Birdhouse and Watering Can Spring Doorway Decor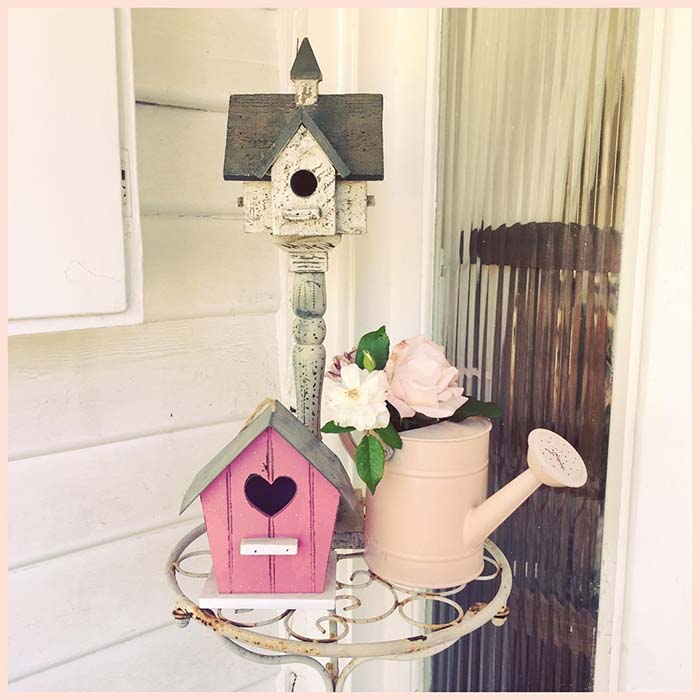 This spring front door decoration is made from rustic birdhouses paired with a classic metal watering can.
5. Create an Easter-Themed Bird Bath on Your Porch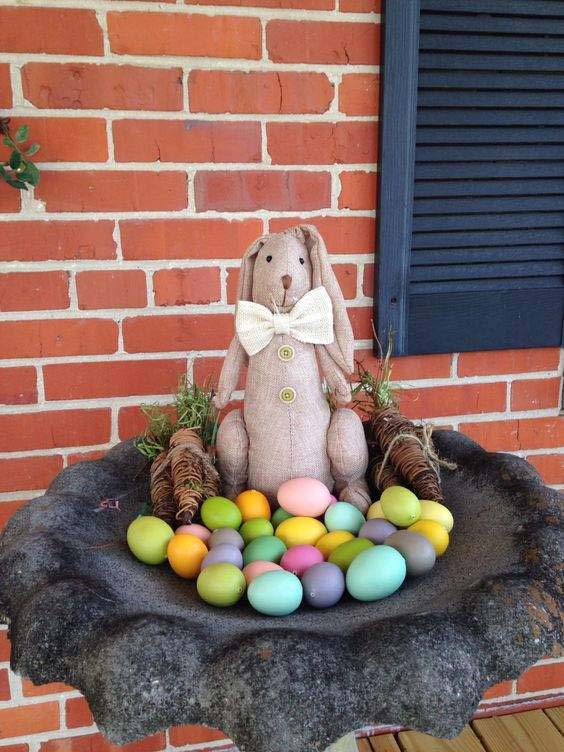 Make your birdbath Easter-themed by adding a bunny and fake bird eggs.
6. Add an Easter Touch to Your Porch with a Big Stone Bunny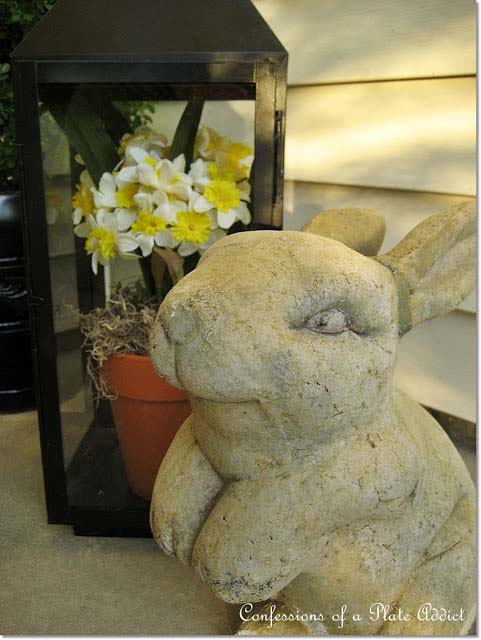 Try this oversized stone bunny to make your front porch Easter-themed. This bunny is perfect for those front porches that you don't want to scream Easter.
via Confessions of a Plate Addict
7. Draw Bunny Footprints with Chalk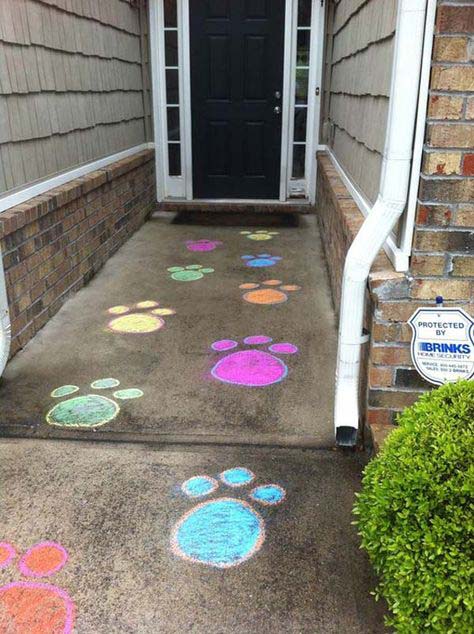 Have a child in the home? They will really enjoy these easter bunny footprints colored with chalk.
8. Impress Guests with a Bunny Pushing an Easter Cart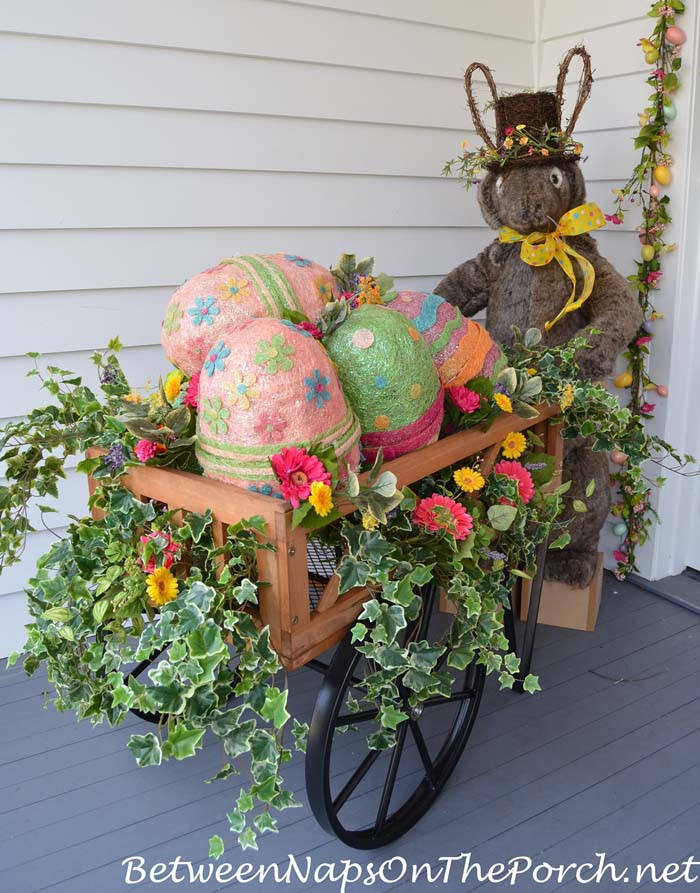 This adorable gardening basket is perfect for some Easter decor. Fill with flowers and oversized easter eggs and don't forget the bunny to push it.
9. Make a Rustic Easter Bunny Using Burlap and Moss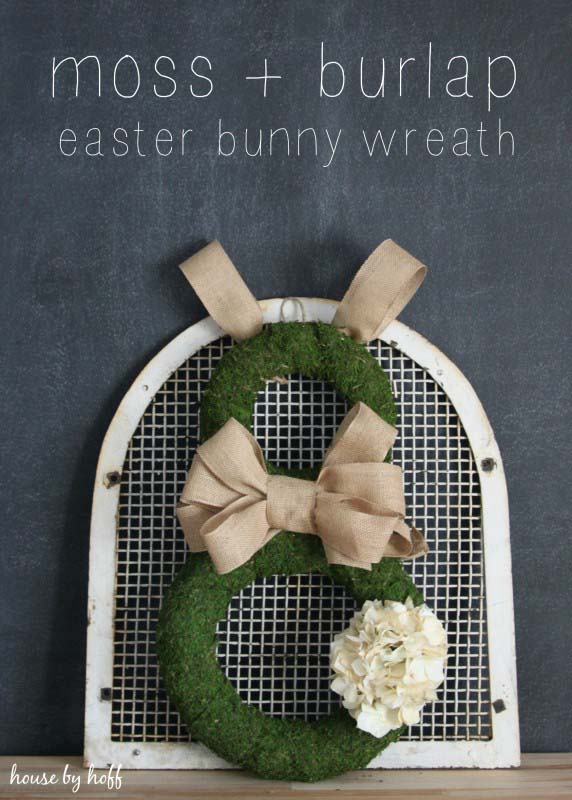 Use an 8 sign from a crafting store and wrap in grass ribbon. Then add ears and a big bow to make it look like an Easter bunny.
via House by Hoff
10.Painted Pallet Carrot with Green Ribbon Topper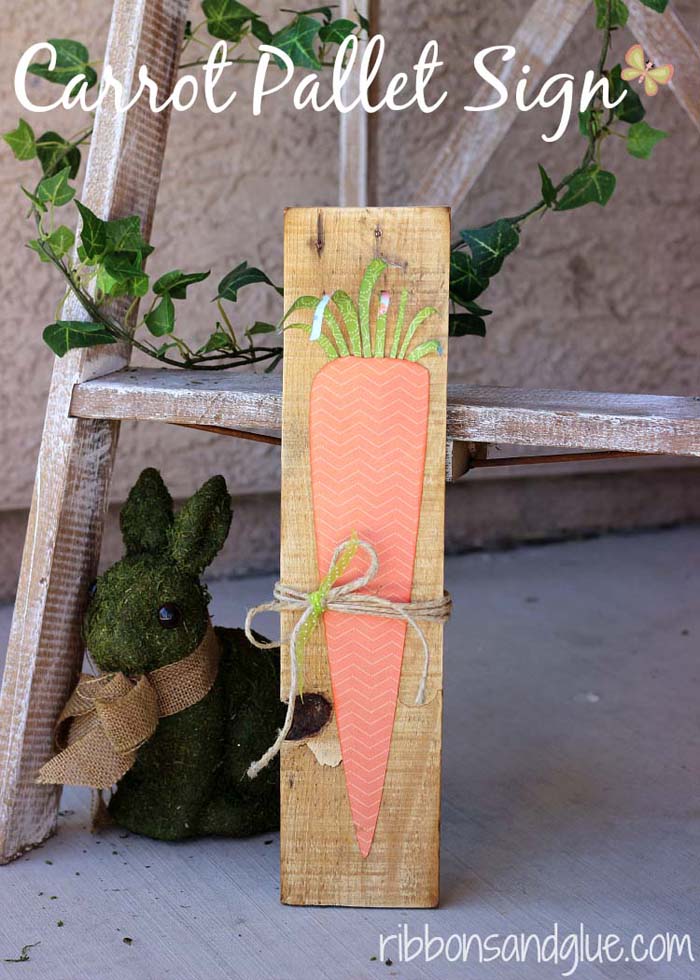 Paint a simple piece of a pallet with an orange carrot. Then add green ribbons for the carrot top.
via Ribbons and Glue
11. Build a Chocolate-Looking Bunny with Wood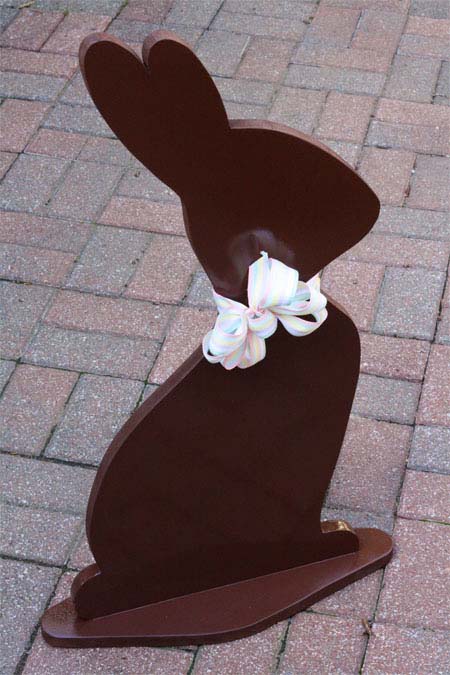 Cut a simple Easter bunny shadow from a piece of wood. Then add a base and paint it in dark brown for a simple but classic looking Easter decoration.
via Skip to My Lou
12. Upgrade Your porch with Colorful Easter Bunny Topiaries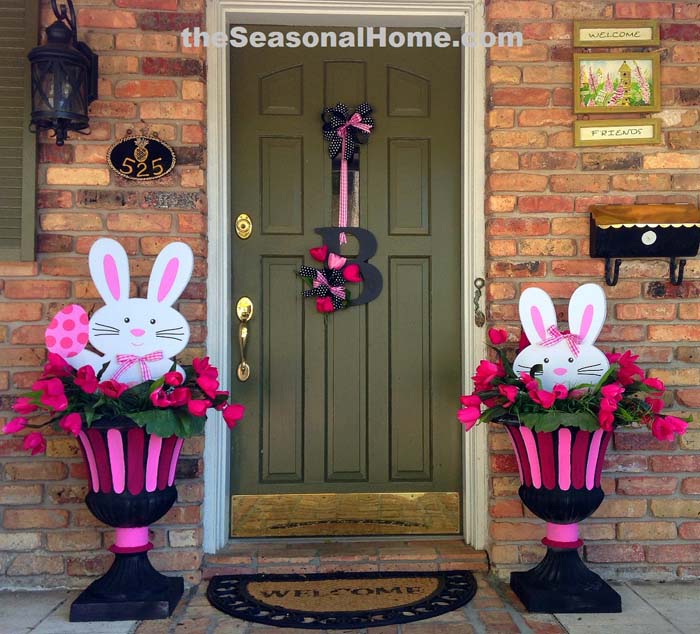 If you already have flower pots around your front door but have not yet planted them with flowers then fill them with greenery and oversized wooden bunny heads.
via The Seasonal Home
13. Make a Rustic Bunny and Sunflower Decor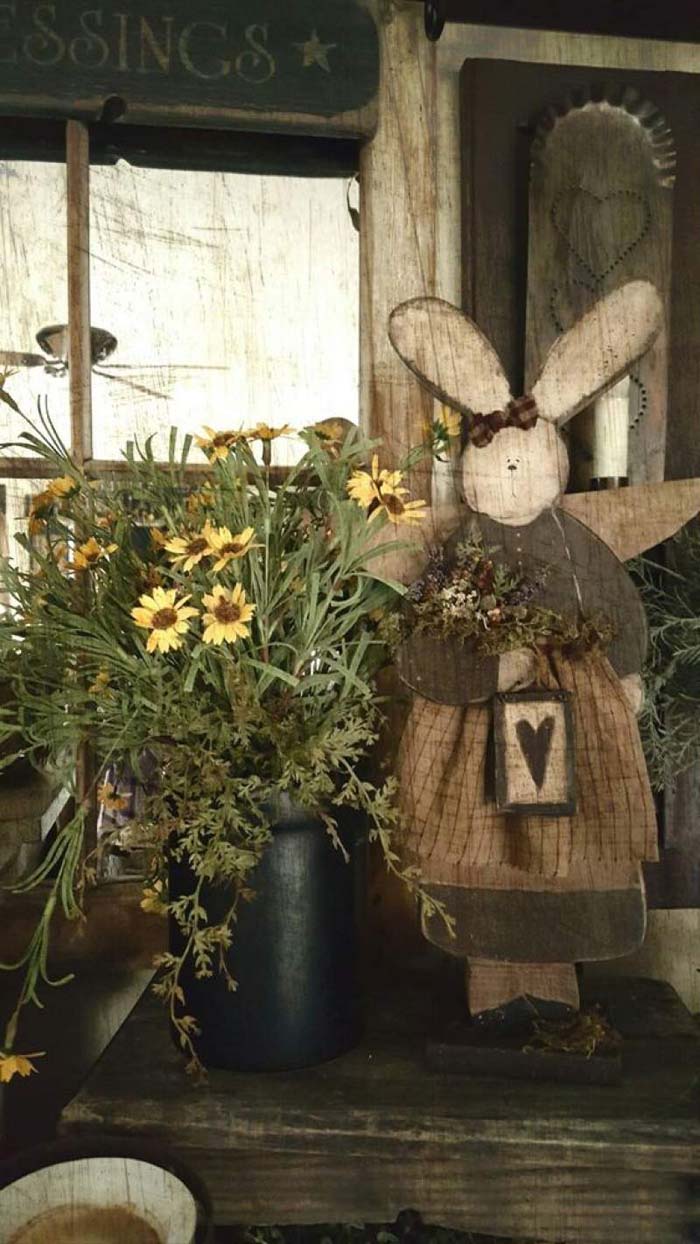 These are very rustic decorations. Wooden bunnies and black milk jugs filled with sunflowers and greenery.
14. Add Bunny-Themed Pillows to Your Cozy Easter Porch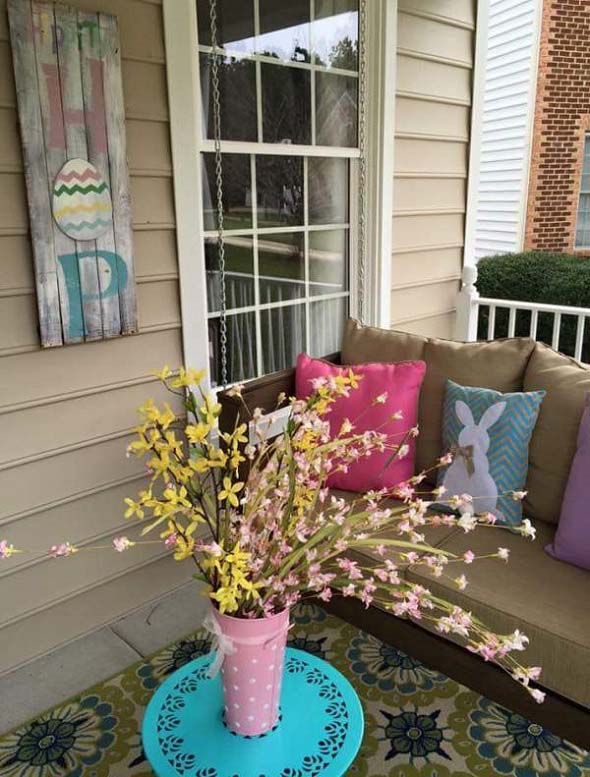 For an entire Easter porch look, add bunny-themed pillows to your front porch and large flowers in a pot.
15. Make a Rustic Easter Cross and Frame with Twigs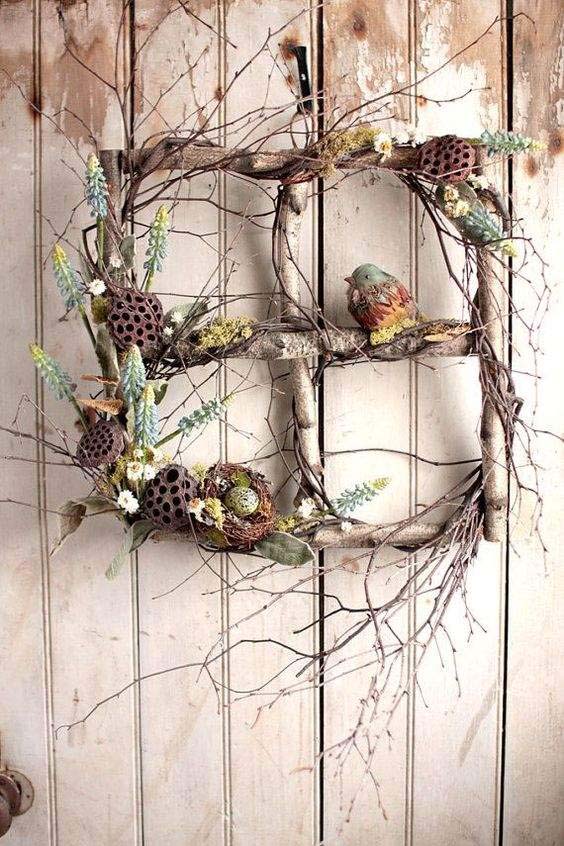 Take twigs and twist them together as a window frame. Then add flowers and birds. It adds a light Easter touch to your front porch.
16. Easter Decor with Wooden Baskets and Bunnies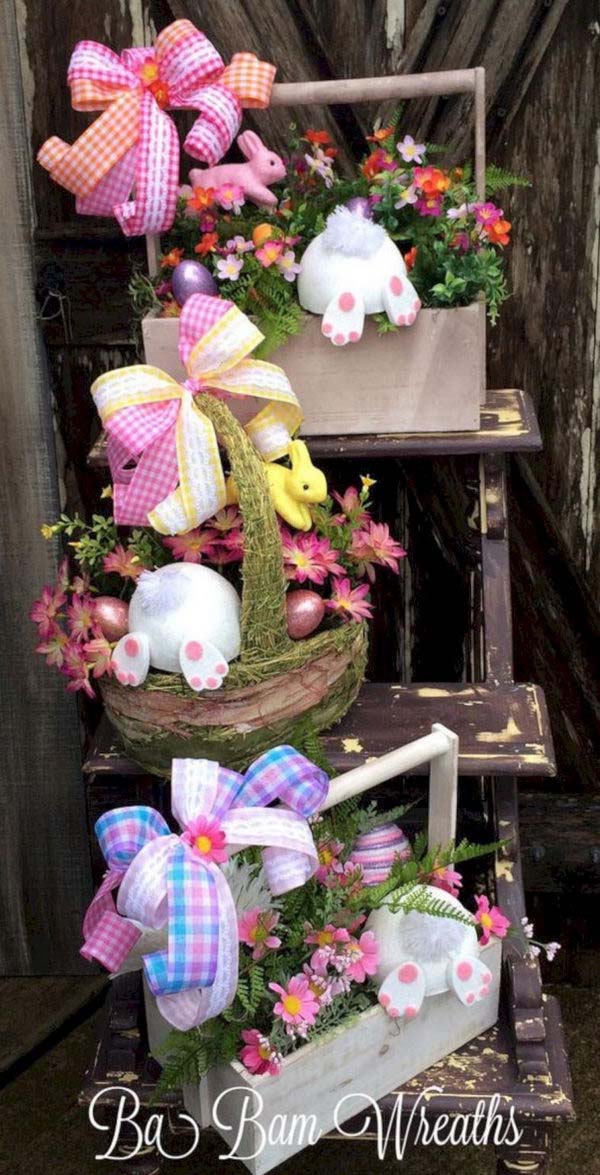 Wooden baskets are perfect to fill with flowers and bunny butts for a hilariously cute front porch decoration.
via Ba Bam Wreaths
17. Upcycle Wooden Logs into Bunnies for Your Porch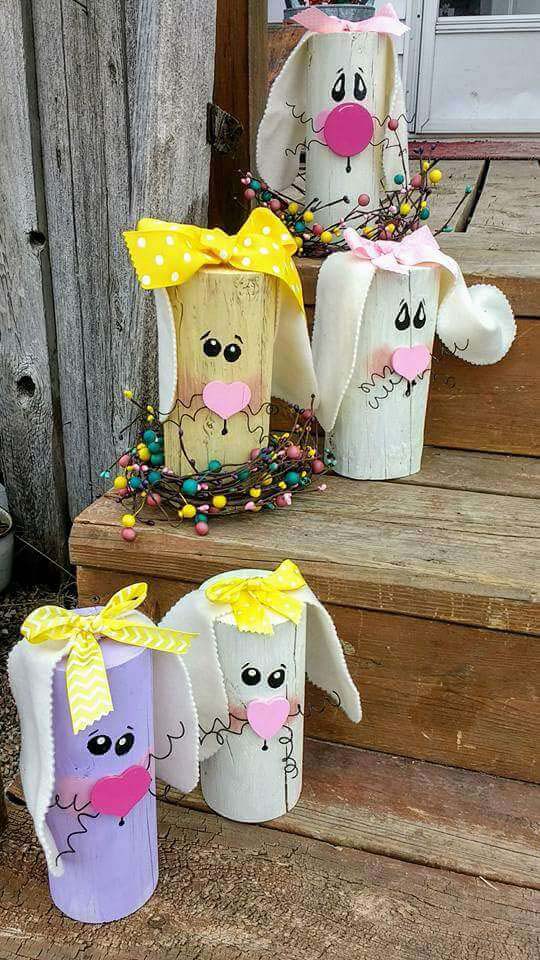 Simple logs can be painted white and ears can be added. The perfect pastel-colored bow on the top completes the bunny look.
18. Make a DIY Easter Egg Topiary with Wire and Flowers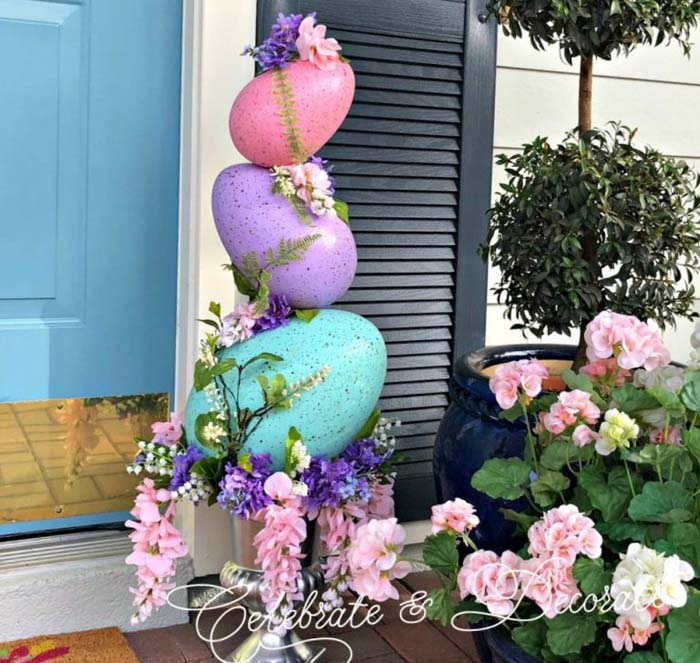 Stack oversized eggs using wire and cover them with pretty flowers and ribbon.
19. Craft a Colorful Easter Wreath with Speckled Eggs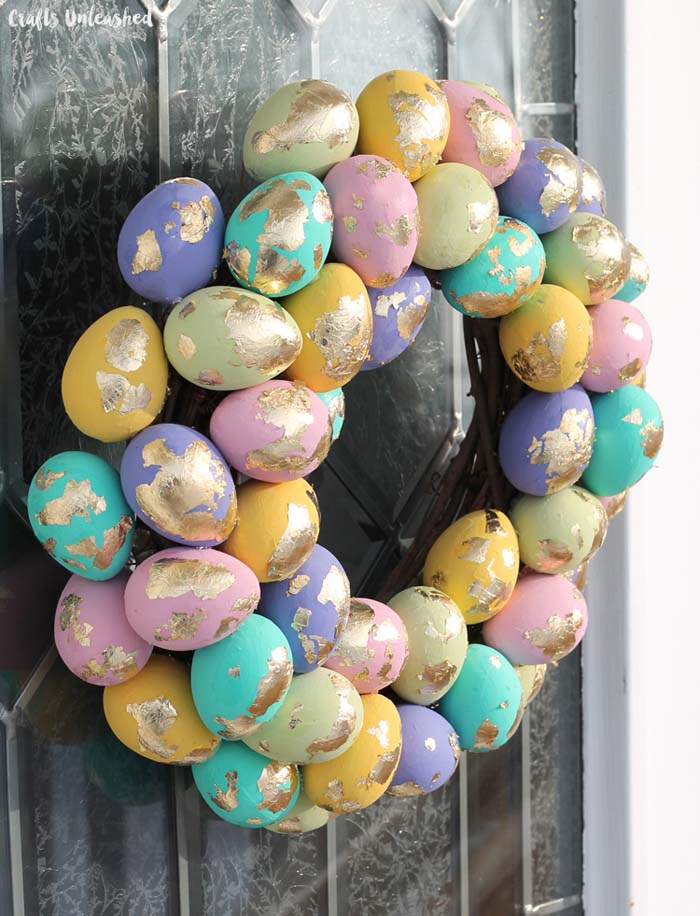 Use fake eggs to paint them gold leaf and speckled. Then add them to a front porch Easter-themed wreath.
via Crafts Unleashed
20. Enhance Your Porch with Big Moss Bunnies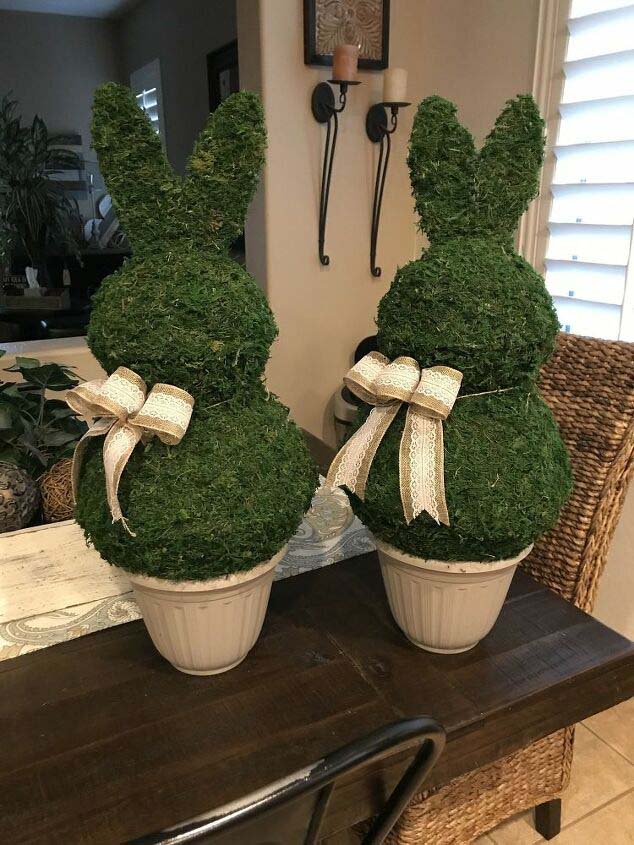 These oversized grass bunnies are perfect for a simple front porch decoration that can hold up to any Easter weather.
via Hometalk
21. Put a Moss Bunny in a Lantern for a Rustic Look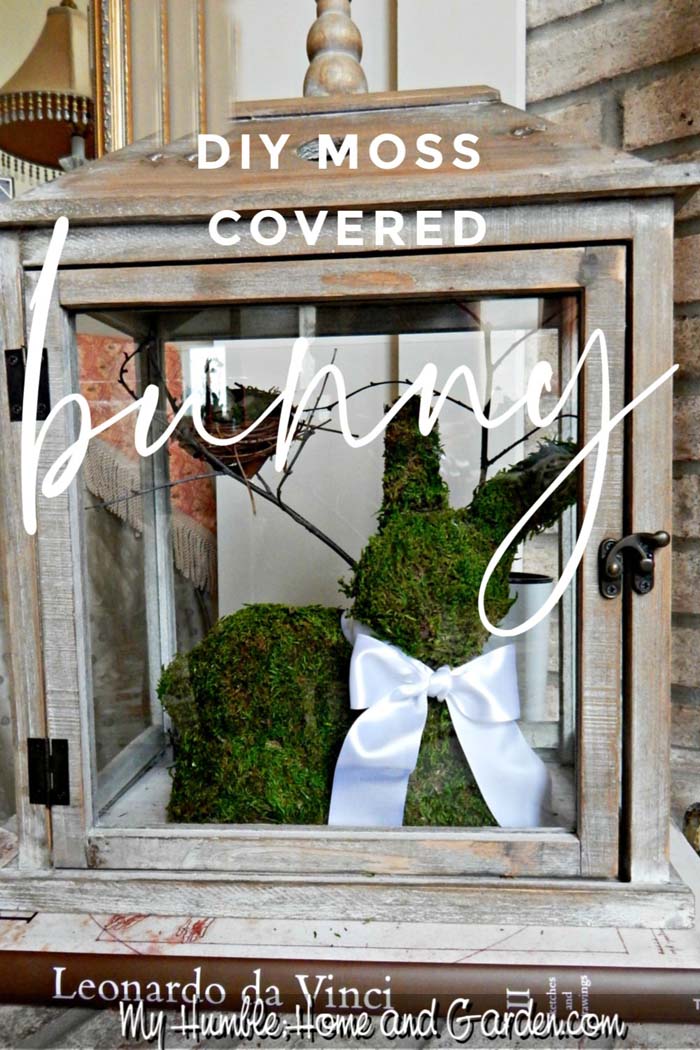 This moss-covered bunny is the perfect addition to an oversized lantern on your front porch.
via My Humbled Home and Garden
22. Spread Easter Cheer with Bunny Painted Flour Sacks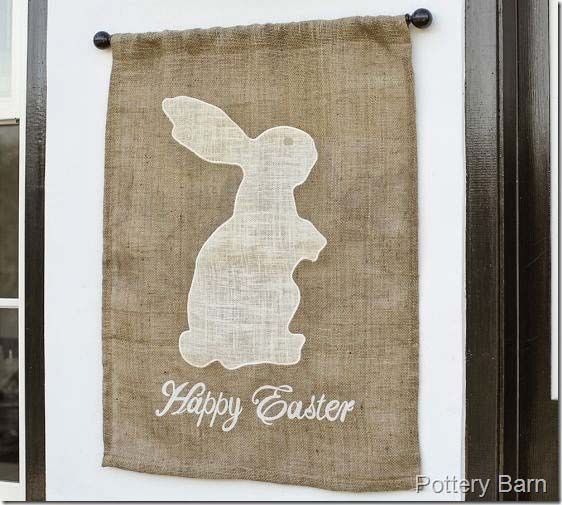 You can print white classic bunnies on old flour sacks for simple around the house decorating.
via Confessions of a Serial Plate Addict
23. Easter Decor with Burlap Sacks and Wood Bunnies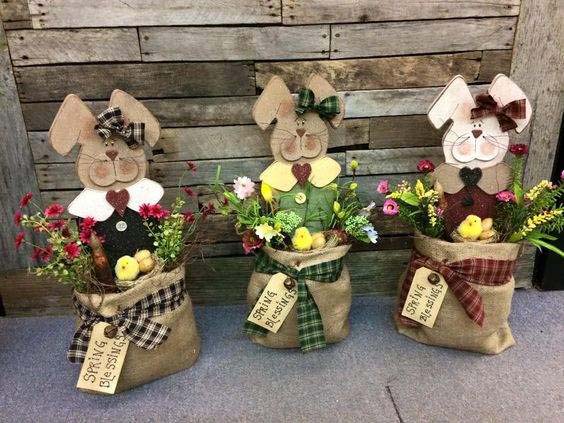 Fill burlap bags with foam and then add wooden bunnies and flowers for a complete look.
24. Add Greenery to your Bunny Burlap Wreath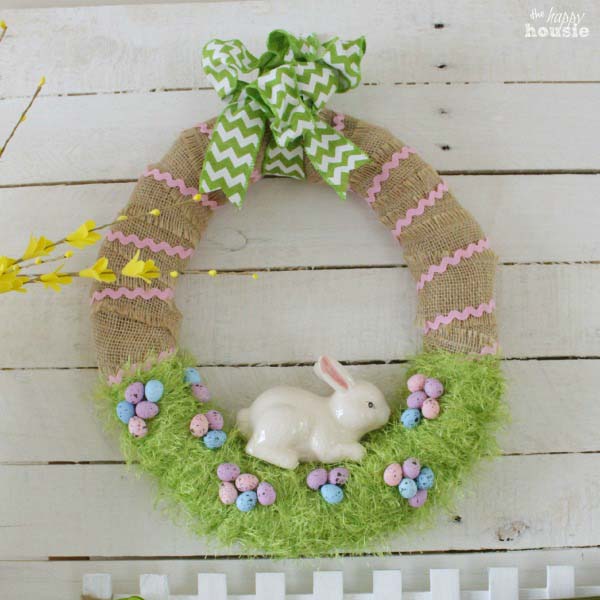 Wrap a wreath with burlap and green grass towards the bottom. Then add a wooden or ceramic bunny and some easter eggs to the grass.
via The Happy Housie
25. Easter Door Wreath with Rustic Ribbon and Cotton Balls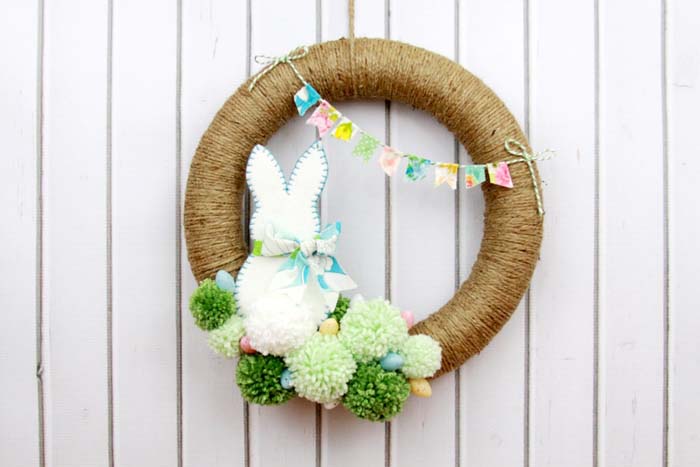 A perfect classic door wreath is this one. Wrap the wreath in rustic ribbon and add cotton balls that are green and white for the grass.
via Lil Luna
26. Make Adorable Wooden Easter Eggs with Chick Art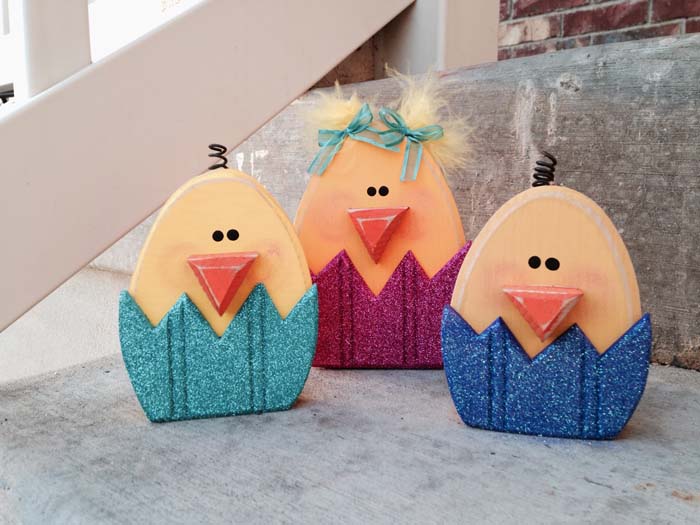 These wooden Easter decorations are wooden eggs that appear to have coats and faces. The perfect touch is the orange chick nose.
via Saw Dust Sanity
27. Rustic Easter Decor with White Bunny Lantern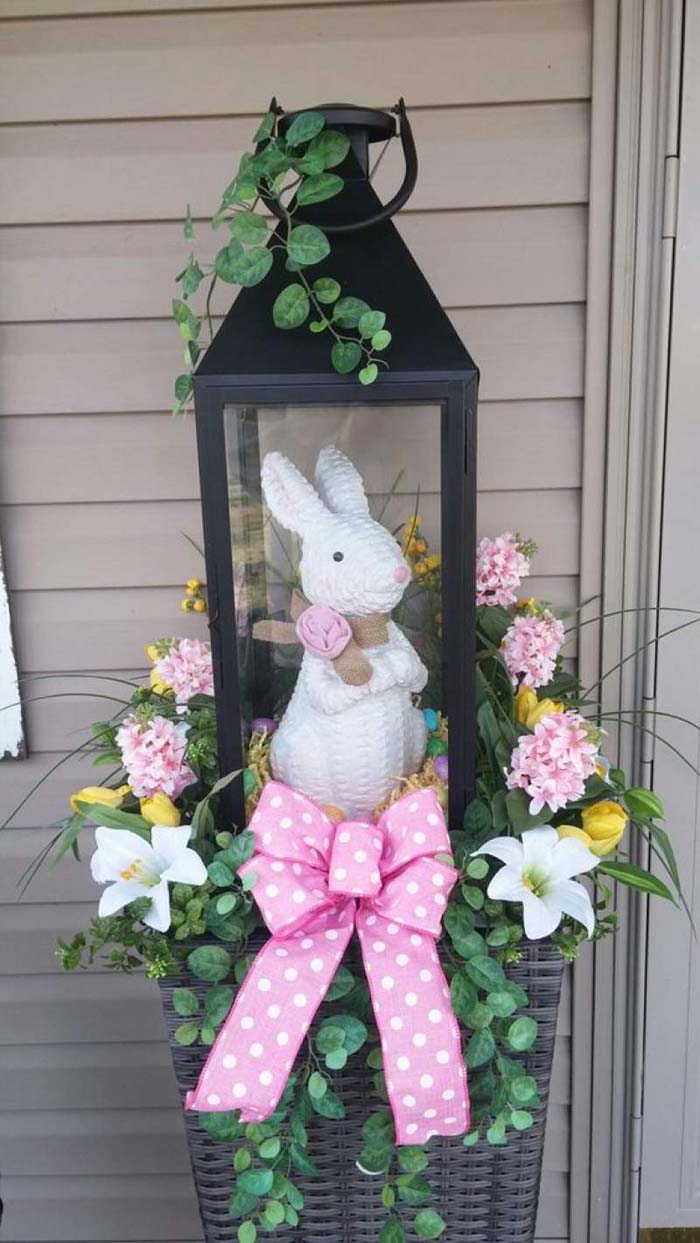 Add a perfectly white bunny to a lantern. It will add a rustic touch and help protect it from the Easter weather.
28. Make a Farmhouse Window with Easter Decorations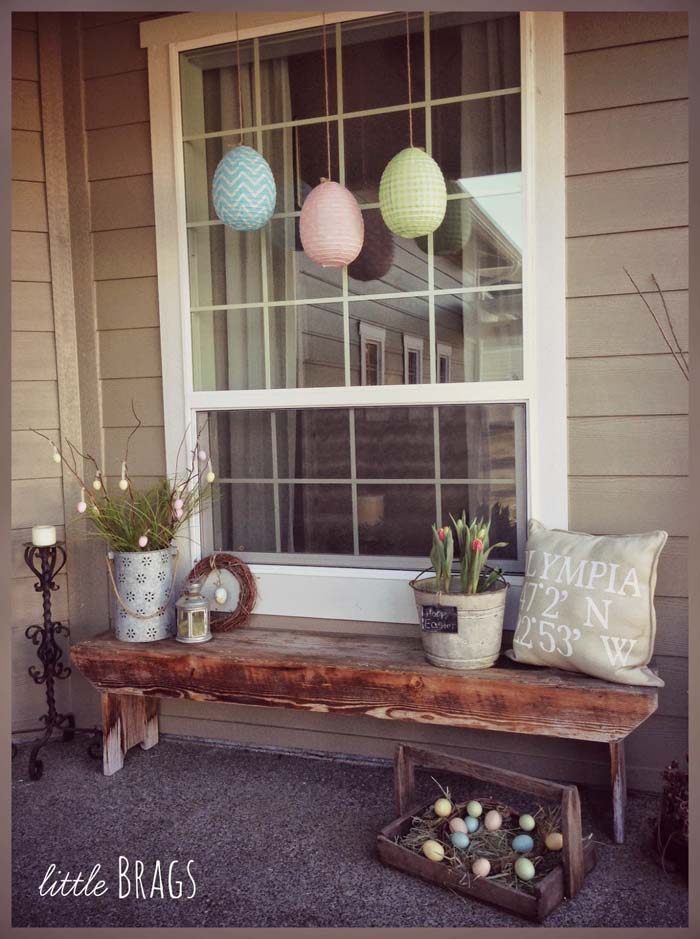 For an entire front porch, look try this bench that is stained and a basket filled with grass and eggs.
via Little Brags
29. Decorate a Rustic Christmas Tree with Easter Eggs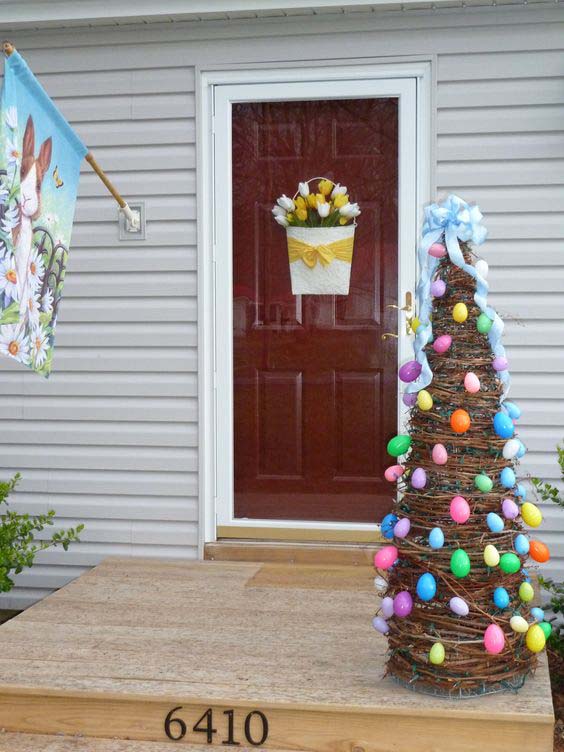 Christmas trees are typically reserved for Christmas. But this Christmas tree is made with rustic material and covered in Easter eggs.
via Pinterest
30. Decorative Easter Egg Planters for Porches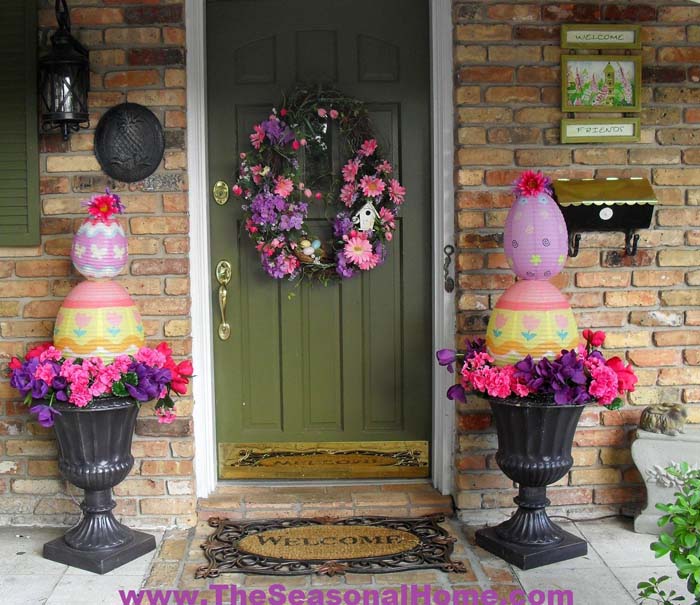 Add oversized Easter eggs are the perfect addition to empty front porch planters.
31. Transform Your Porch Planter into an Easter Egg Topiary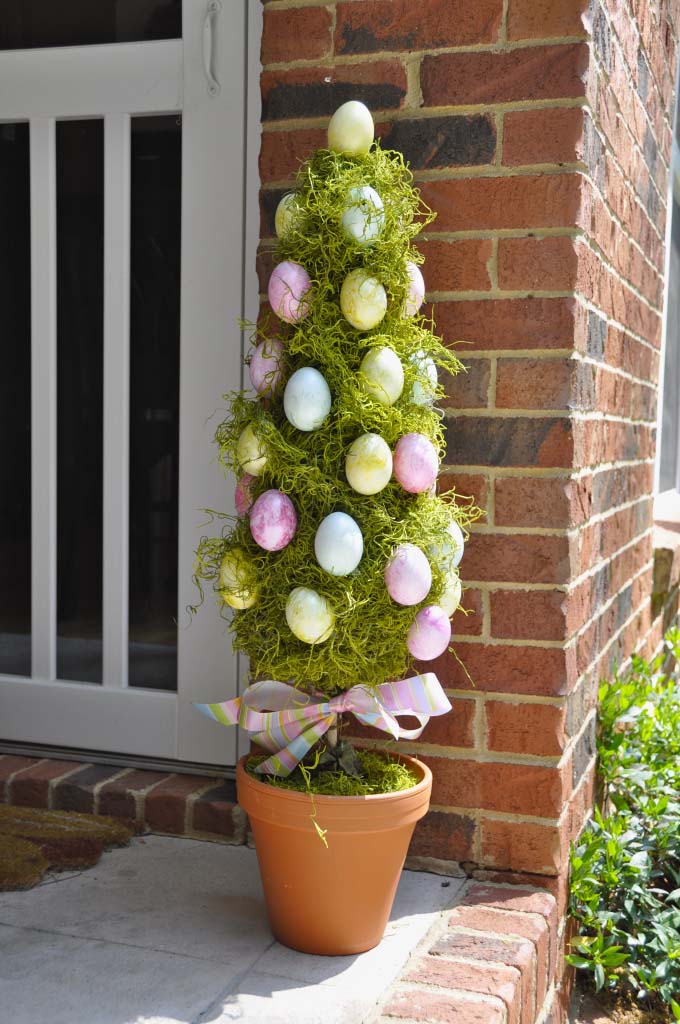 This Easter tree is fuzzy and grassy but also has oversized Easter eggs to complete the look.
32. Enhance Your Easter-Themed Porch with a Rug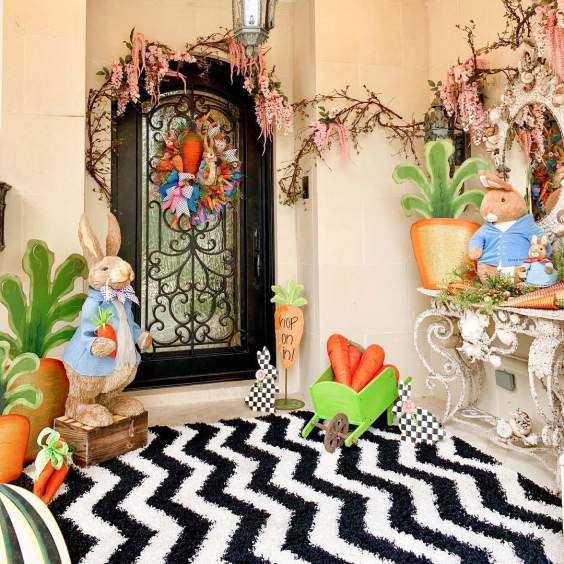 A whole front porch look includes a colored rug, oversized rustic bunnies and lots of greenery and flowers.
33. Add Rustic Carrots to Your Porch Planter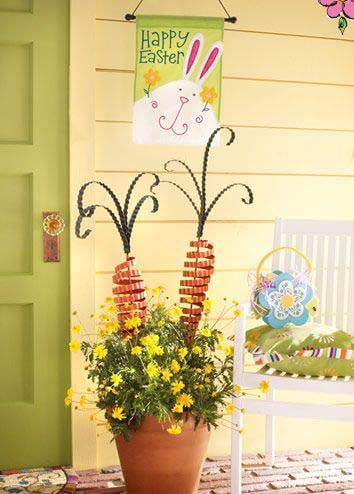 This flower pot is filled with flowers and oversized metal carrots.
34. Use Carrot Decor to Make an Easter-Themed Porch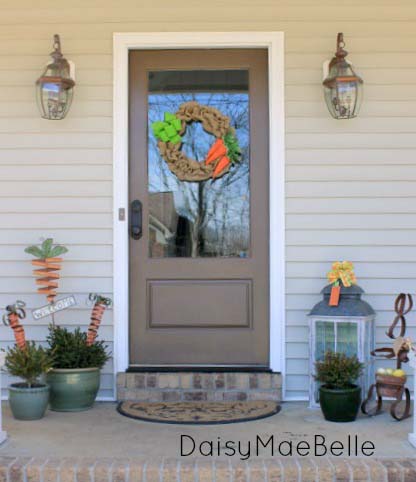 For a quieter front porch look try just some rustic lanterns, a few metal carrots and some planters filled with greenery.
via Daisy Mae Belle
35. Adorn Your Door with Nature-Inspired Easter Lights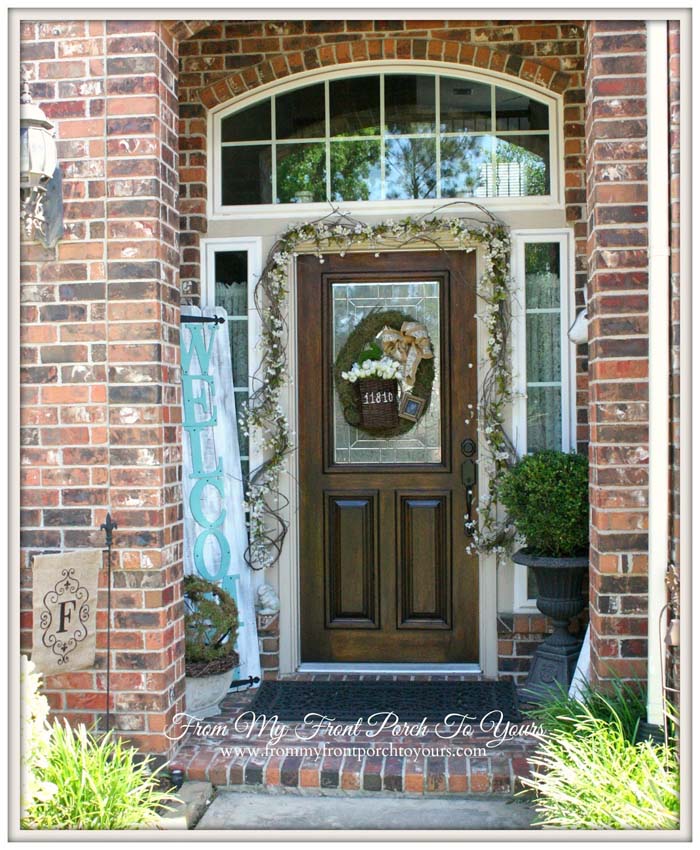 This simple decor can easily be made by Christmas greenery and Christmas lights. It is a nice transfer of holiday decor.
via From My Front Porch to Yours
36. Simple Green Wreath for a Festive Easter Porch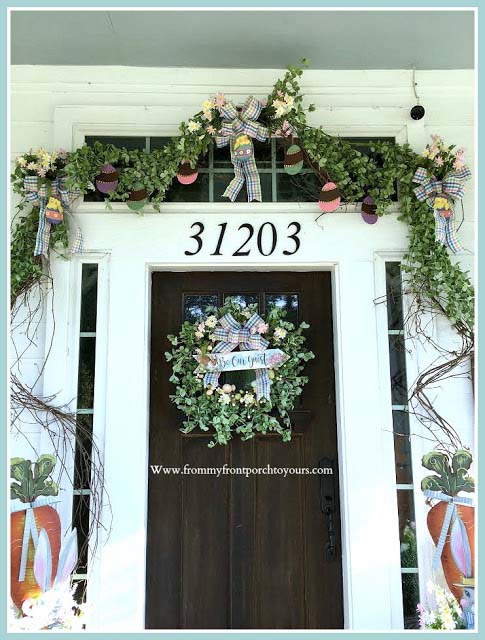 A simple and less colorful front porch wreath can be made with a be our guest sing and simple green wreath.
via From My Front Porch to Yours
37. Decorate Your Porch Staircase with an Easter Garland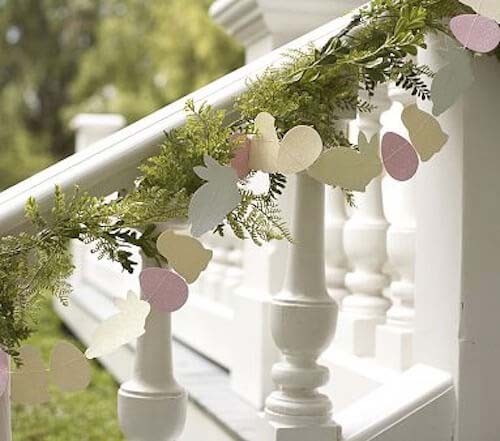 Cut Easter bunnies and eggs from cardstock and string them together for an Easter garland.
via Project Nursery
38. Embellish Your Porch with a Rustic Easter Ladder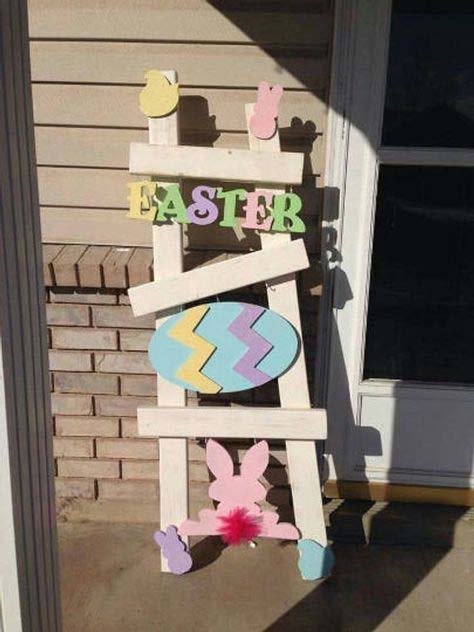 Make a rustic ladder from 2 by 1 wood. Then decorate with Easter signs and eggs.
39. Brightly Colored Easter Wreath for Front Door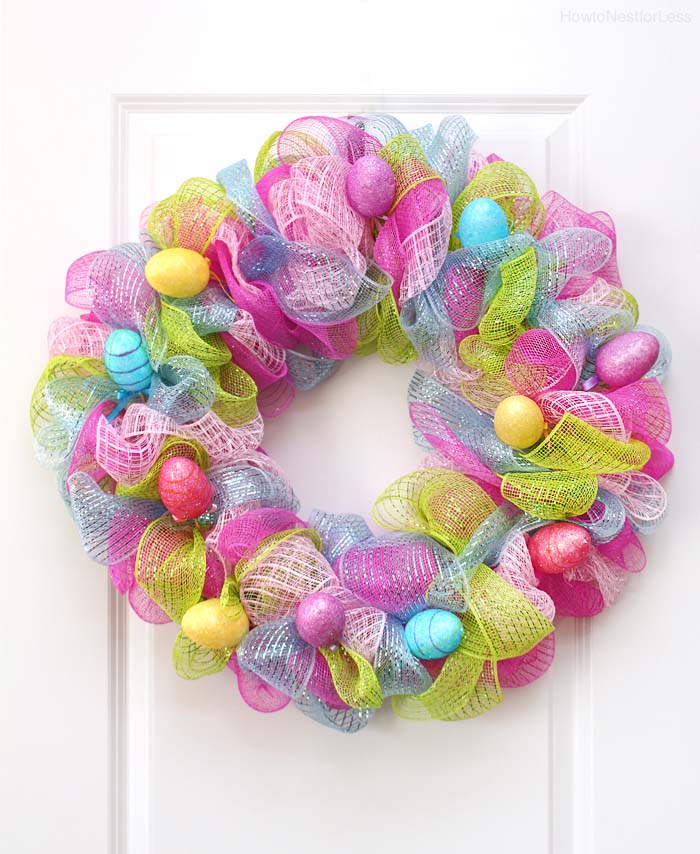 Easter wreaths should be brightly colored like this one made from Easter colored shimmery ribbon.
40. Unleash Your Creativity with a Monogram Bunny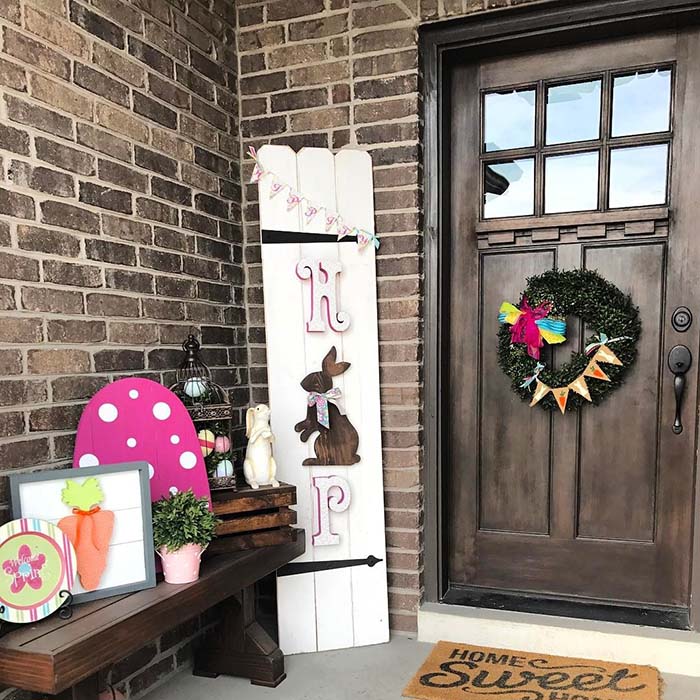 There are many types of Easter wooden signs that can be made like these ones. One says HOP with a bunny as the O and another is an egg.
41. Craft Easter Eggs From Metal Sheets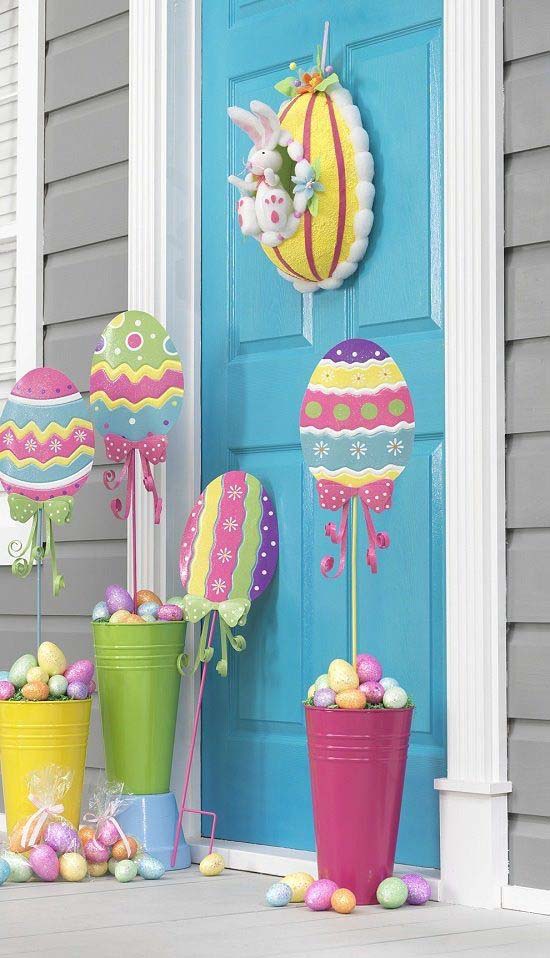 Easter eggs can be made from metal sheets and put in metal tubs with easter eggs filling the tub.
via Shelley B Home
42. Elevate Your Porch Decor with Easter-Themed Swing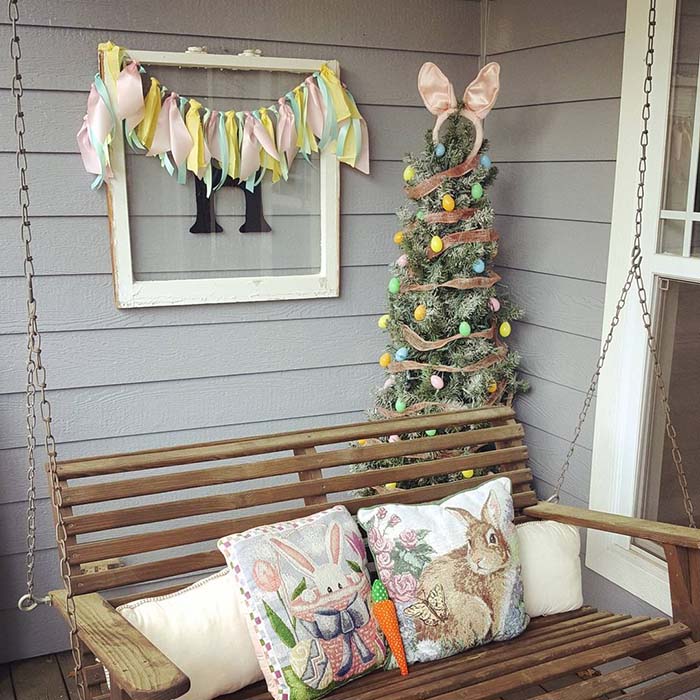 If you have a swing on your front porch don't let it go naked. Add some bunny pillows for a simple Easter spice.
43. Add Colorful Cushions to Your Porch Seats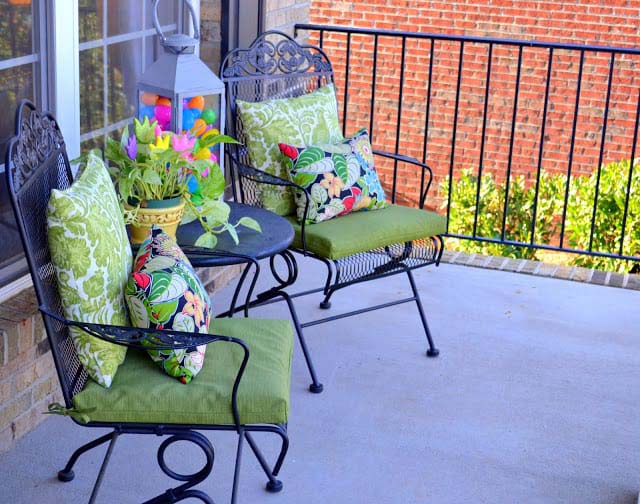 Adding colored and green pillows to your front porch is simple and effective decor.
via Worthing Court
44. Make Adorable Easter Directional Signs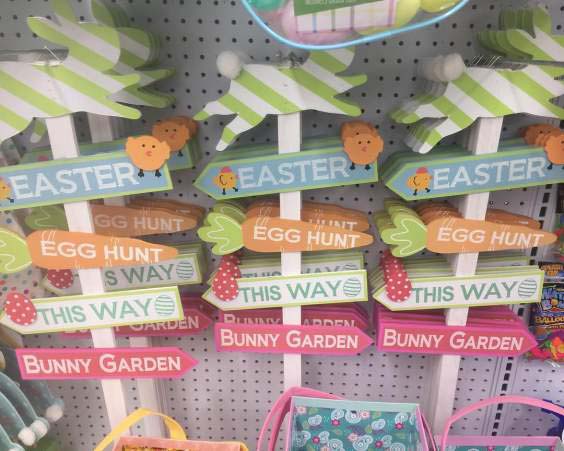 You can purchase these adorable Easter signs that point in different directions and say different Easter things.
via Five Below
45. Rustic Porch Farm Chair with White Wooden Bunny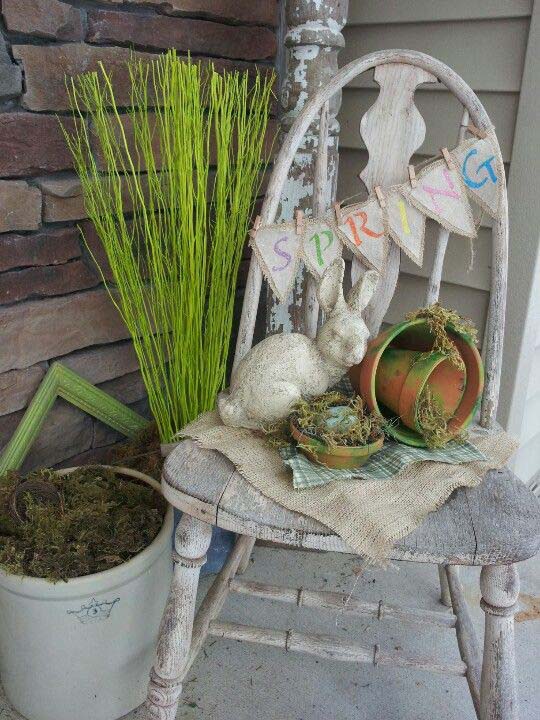 For a very rustic look use an old farm chair with a white rustic wooden bunny.
via Pinterest
46. Fill Front Porch Planters with Easter Lilies and Eggs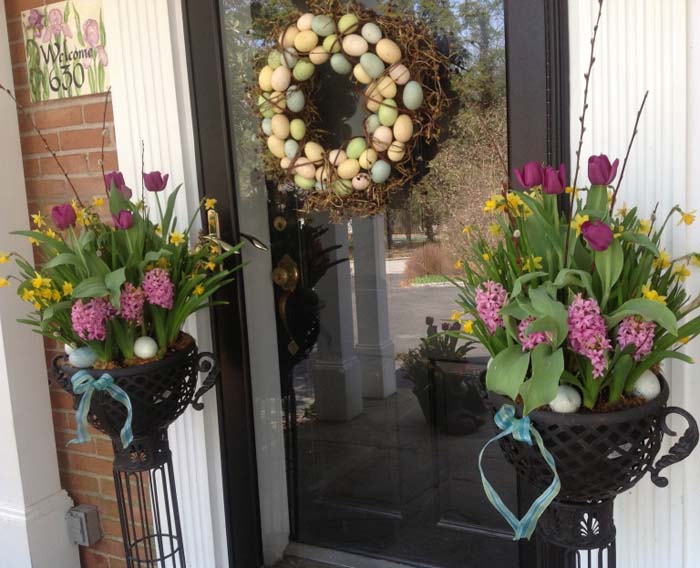 These front porch planters are filled with eggs and Easter lilies.
47. Rustic White Easter Wreath with Bunny Centerpiece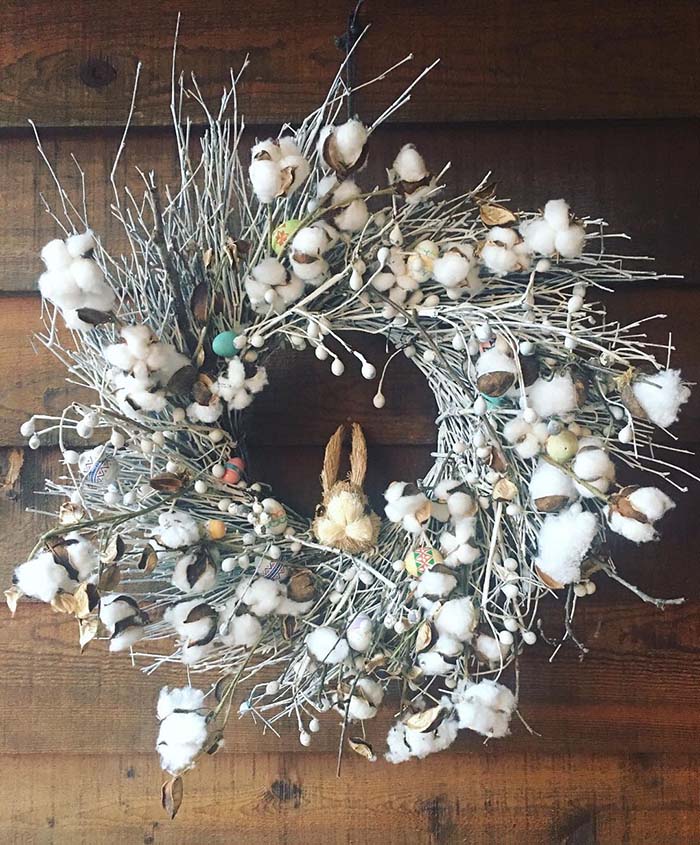 This rustic wreath has twigs that are dusted white. What makes it the Easter theme is the bunny poking up in the middle.
48. Upgrade Your Fence with an Egg and Burlap Wreath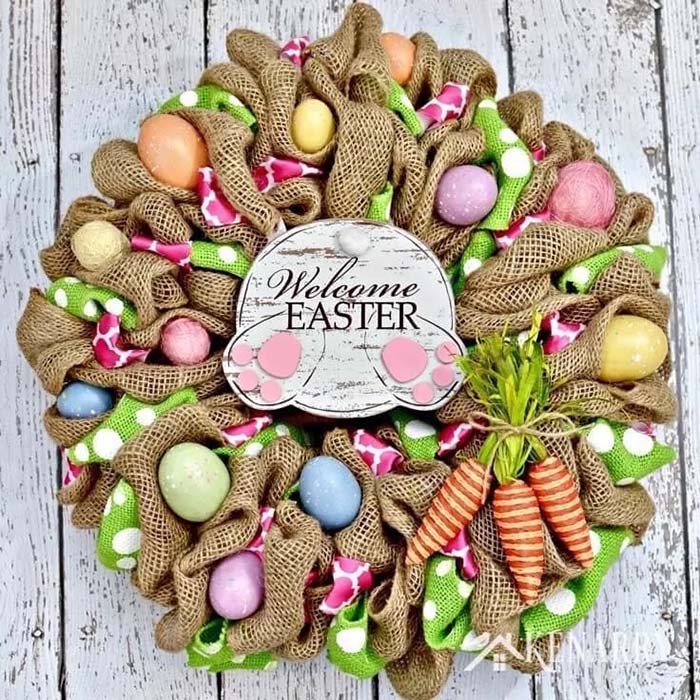 An elaborate Easter decoration is this wreath that has burlap and colorful eggs in it.
via Kenarry
49. Brightly Colored Wreath from Dollar Store Supplies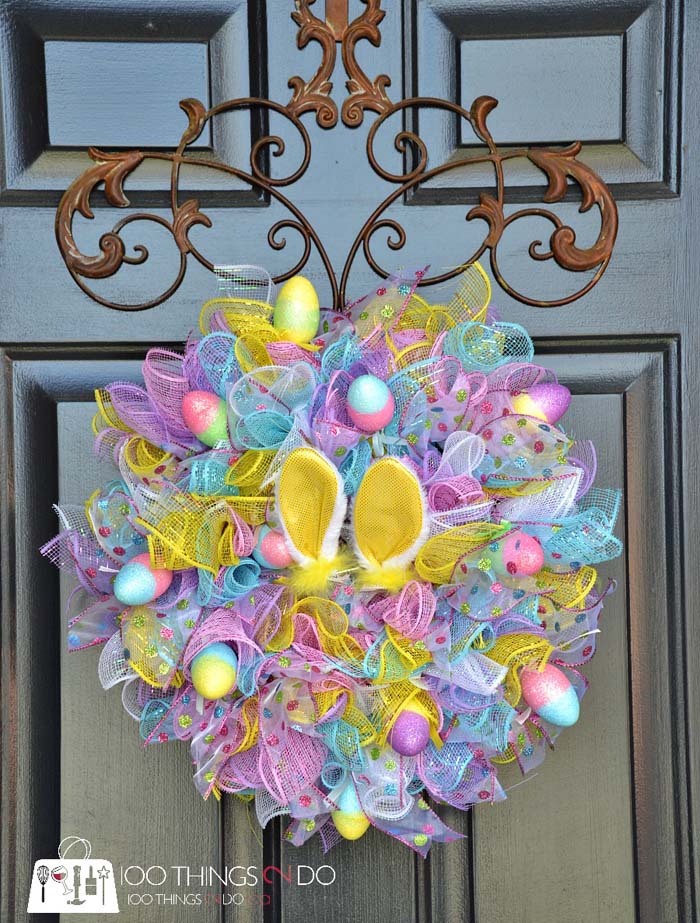 This wreath is made completely from Dollar Store materials. It is simple but brightly colored and adds a great Easter touch to your front door.
via 100 Things 2 Do
50. Create a Fuzzy Bunny Wreath for Your Door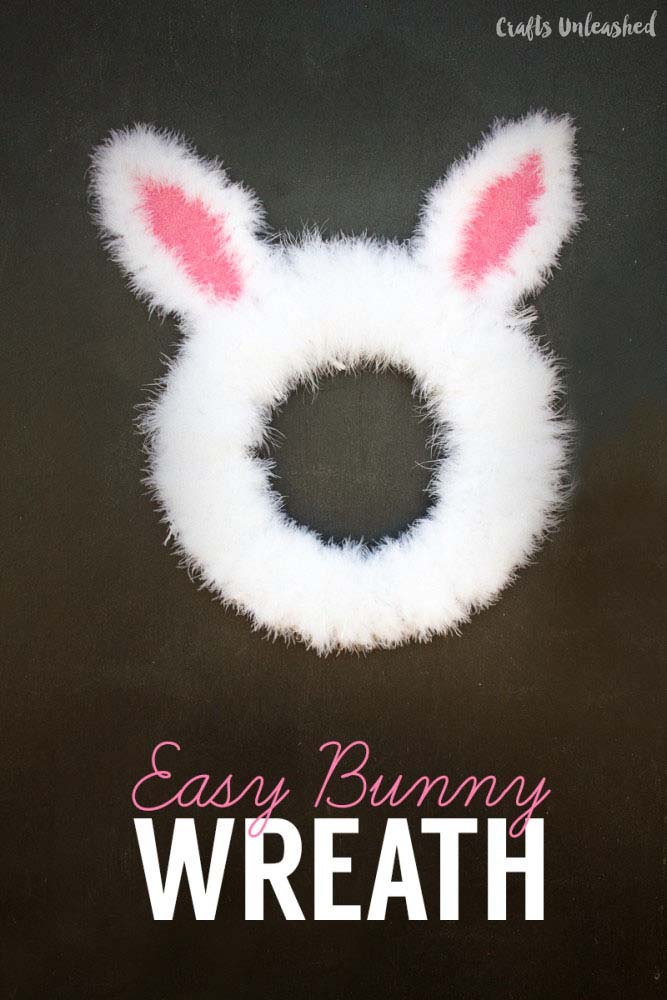 Take a wreath ring and cover it with fuzzy bunny material. Then add bunny ears. This creates a simple bunny front door decoration.
via Crafts Unleashed
51. Make a Chic Doorway Garland with Plastic Eggs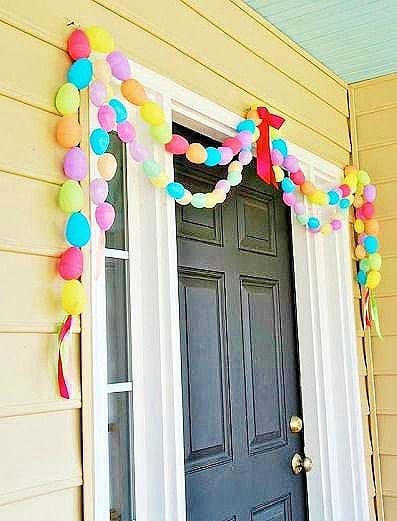 Make garland by stringing together plastic eggs.
via Honey and Fitz
52. Upcycle a Vintage Chair to Hold Your Easter Decorations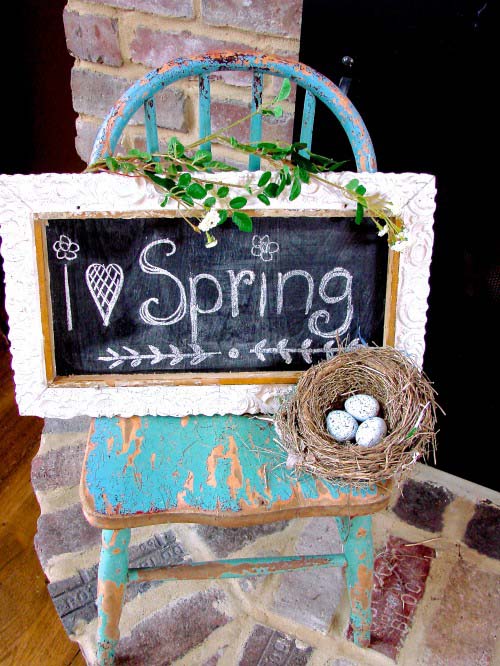 For some farmhouse decor, try writing Easter on a rustic chalkboard and placing it on an old stained farm chair.
53. Use a Grass and Egg Burlap Sack with a Bunny Accent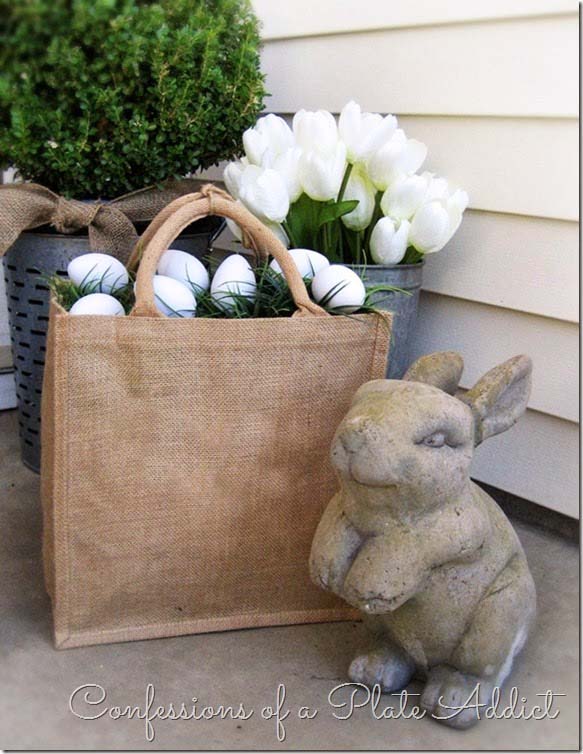 A stone bunny is the perfect addition to your Easter front porch.
via Confessions of a Plate Addict
54. Decorate Your Front Door with an Artistic Burlap Bunny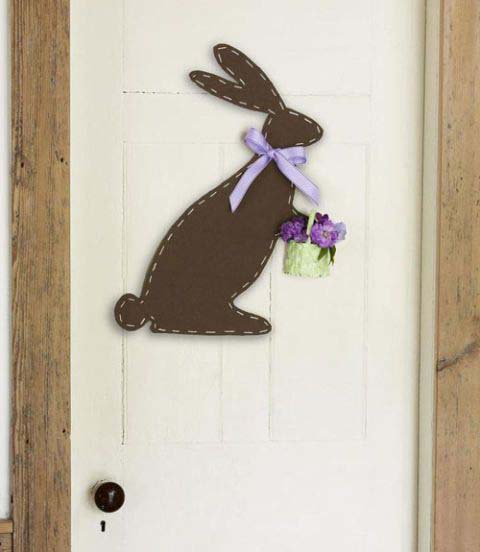 This bunny is made from dark burlap material. The stitching around the edges gives it a touch of color.
55. Turn a Fence Picket into an Easter Bunny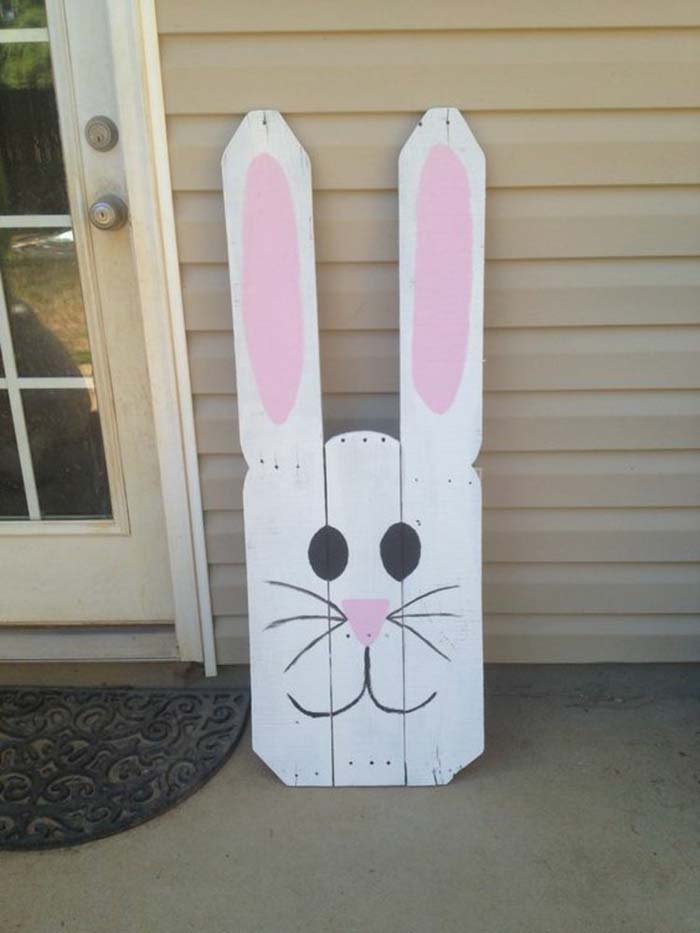 Using a pallet it is simple to make a bunny face. Just paint on the essentials and the pink ears.
56. Hang Your Egg and Flower Wreath with a Burlap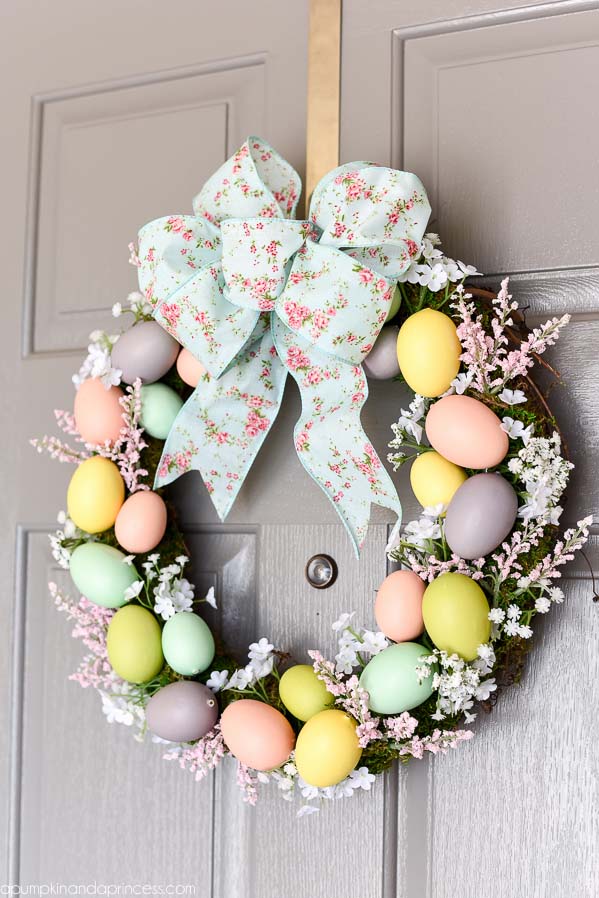 This Easter wreath is made with colorful plastic eggs and greenery. It is hung with burlap.
57. Impress Guests with Colorful Easter Entrance Decor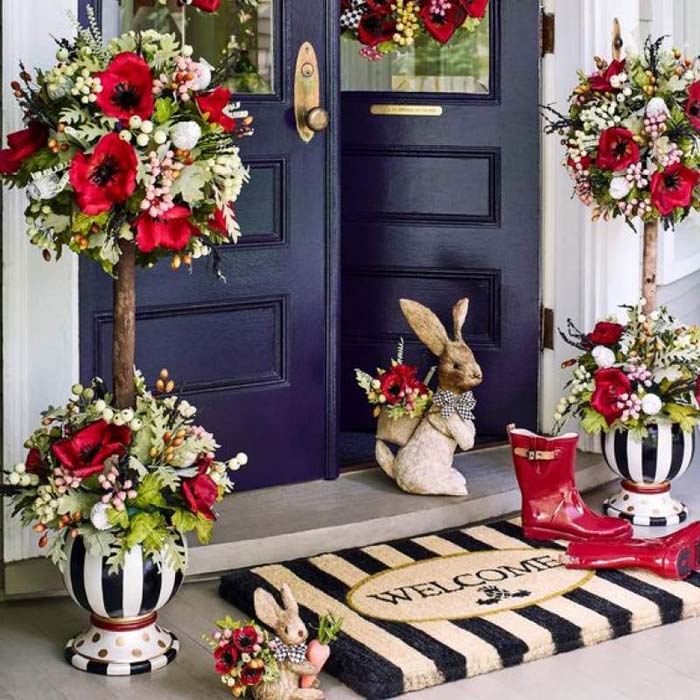 Bright and tall decorations are made simply by stacking brightly painted planters.
58. Make Farmhouse Easter Front Porch Decorations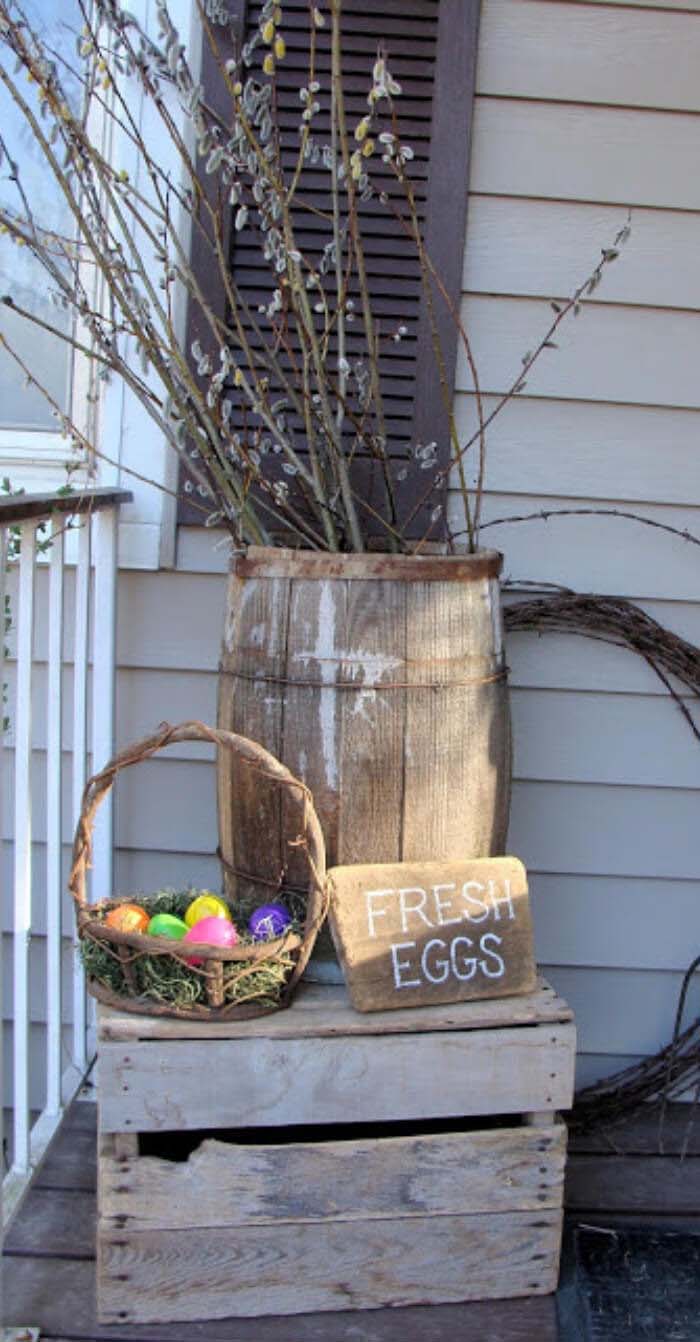 Stack Easter baskets and Easter bunnies on an old egg carton for a very aged Easter look.
via Broadbent Hams
59. Enhance Porch Sitting Area with a Candy Lantern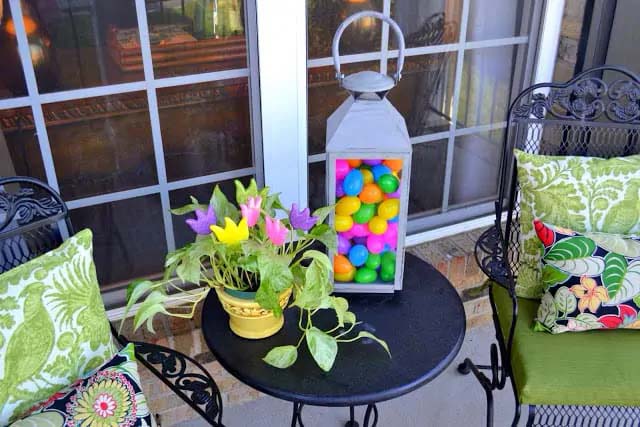 Simply fill an old lantern with some colorful eggs for a simple but cheery front porch Easter decoration.
via Worthing Court
60. Spruce Up a Porch with Rocking Chairs and Easter Decor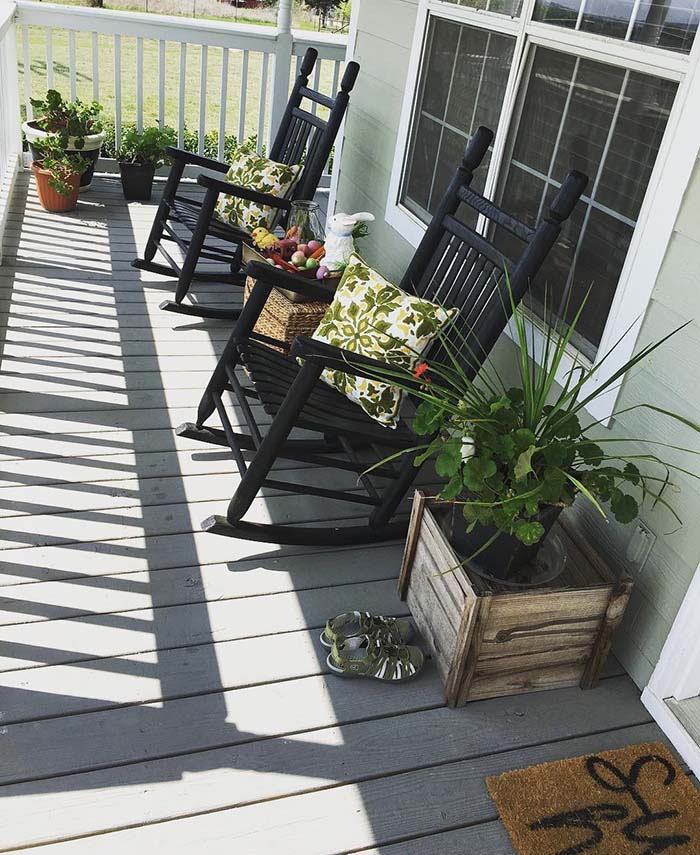 If you have two beautiful rocking chairs on your front porch then add some pillows and Easter decor to them.
61. Craft Giant Peeps Using Styrofoam and Paint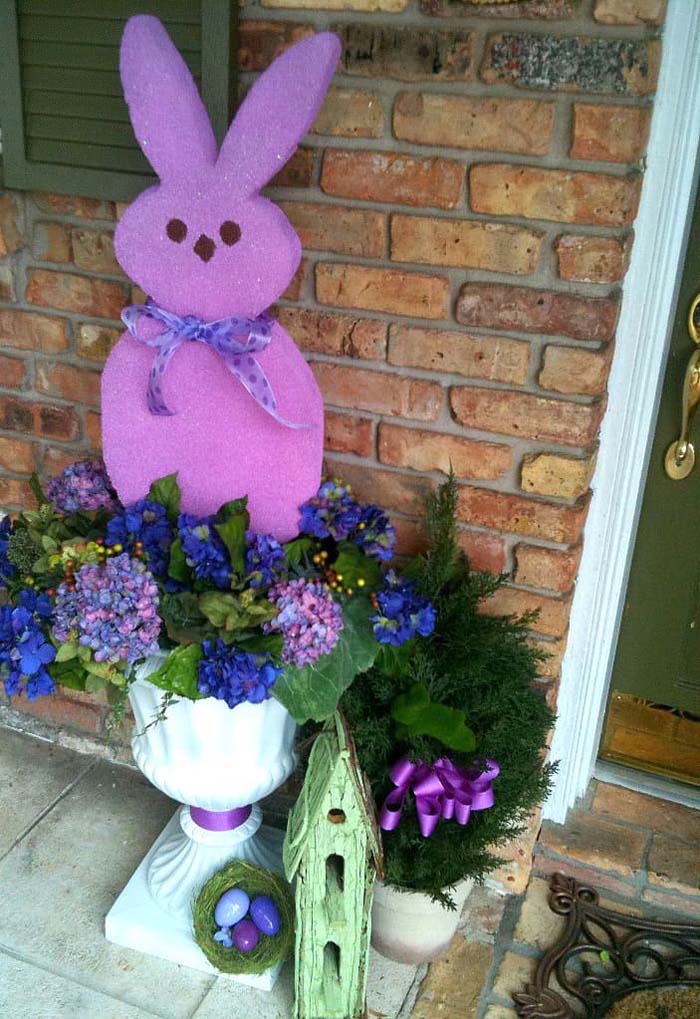 Using styrofoam cut out some giant peeps and paint them pastel colors. The ribbon bows really finish the look.
62. Decorate Your Door with a Grapevine Bunny Wreath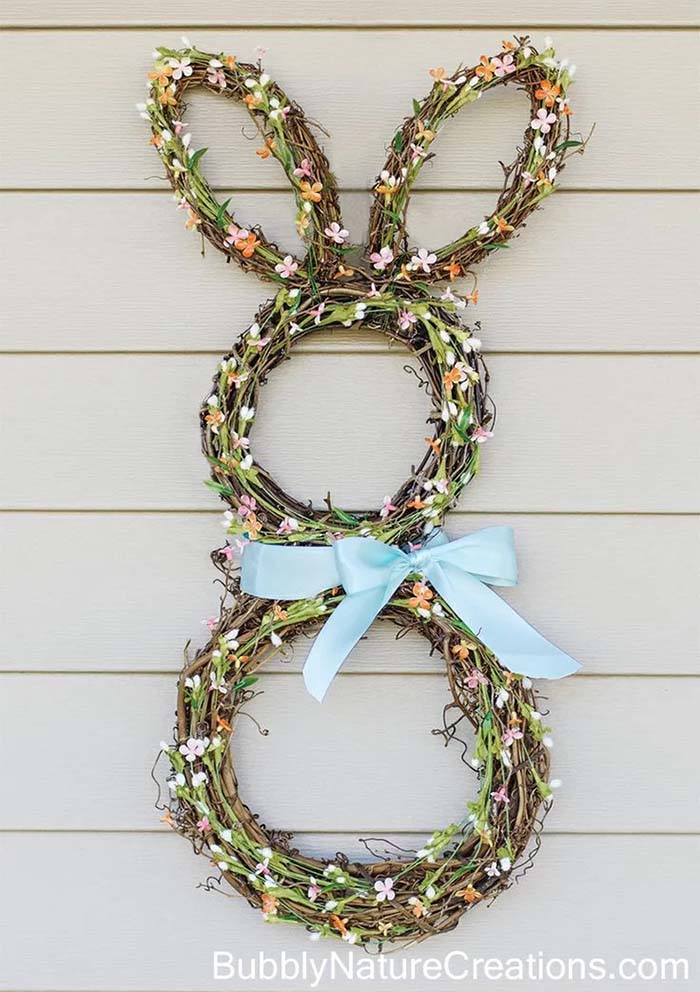 This wreath is made from a lot of grapevines. By making two circles one larger than the other and ear shapes, they can all be mixed together to make a bunny look.
63. Bring Nature to Your Porch with an Easter Grass Wreath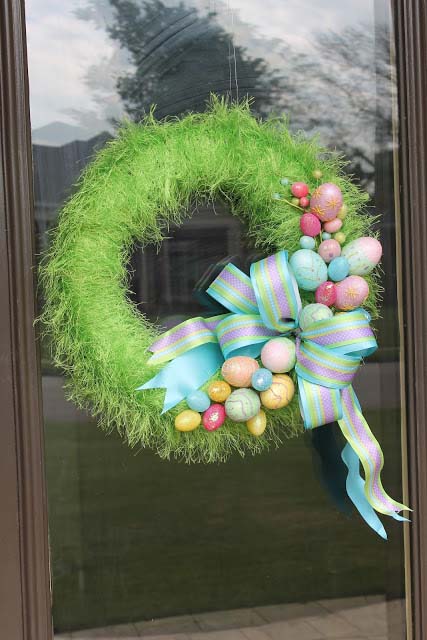 This wreath base is covered in green grass. The addition of the colorful eggs is a great Easter touch.
via Miss Kopy Kat
64. Customize Your Door Wreath with Colorful Ribbons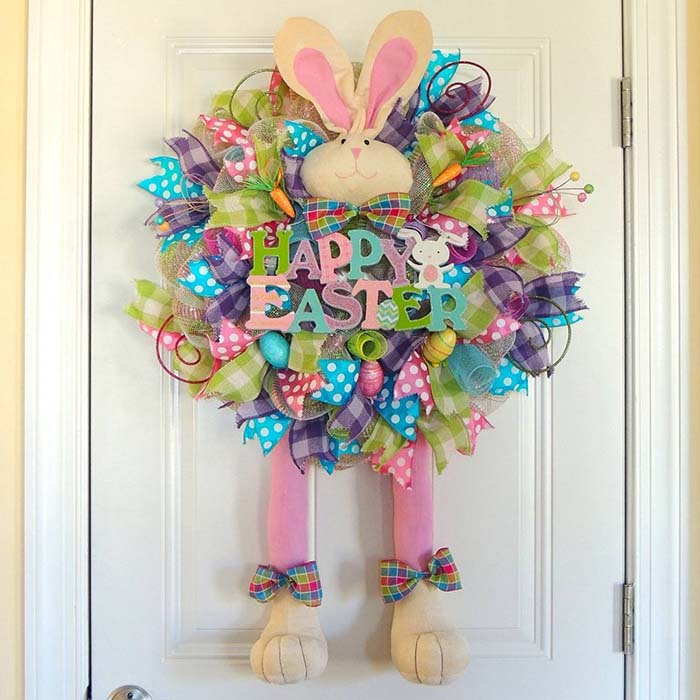 Use a bright-colored ribbon to decorate a wreath. Then add a bunny face and legs to make it very Easter-themed.
via Etsy
65. Brighten Your Porch with Wooden Bunnies and Chicks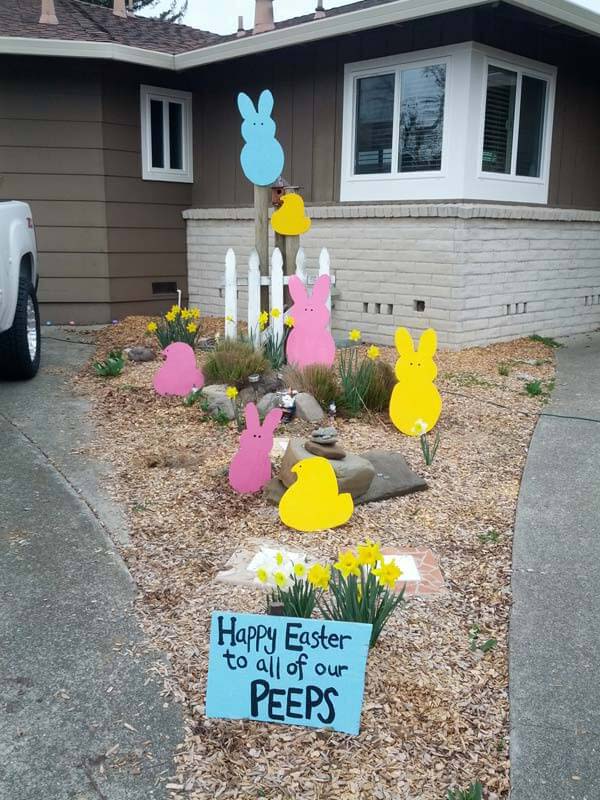 Make a mini temporary garden in your front yard with wooden bunnies and chicks.
66. Spread Festive Joy with a Bunny Sign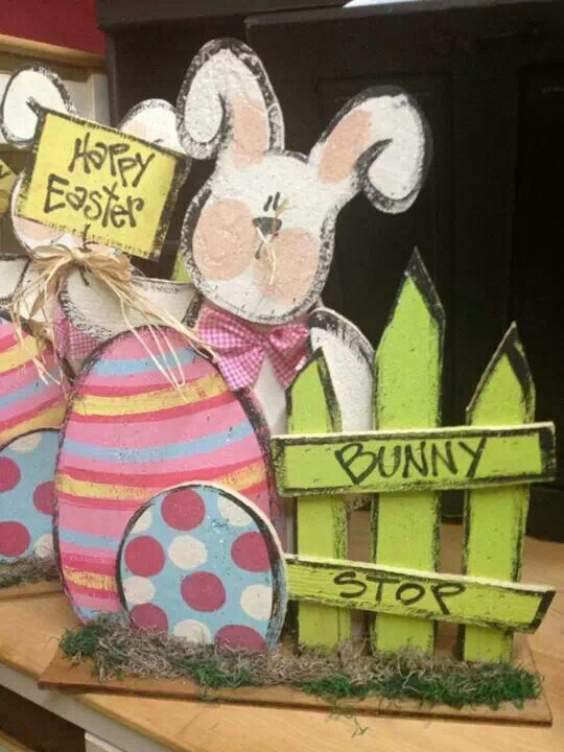 This adorable Easter sign features a wooden fence with a bunny. There are also colored eggs in this Easter sign.
67. Make a Stacked Bunny Art for Your Porch Staircase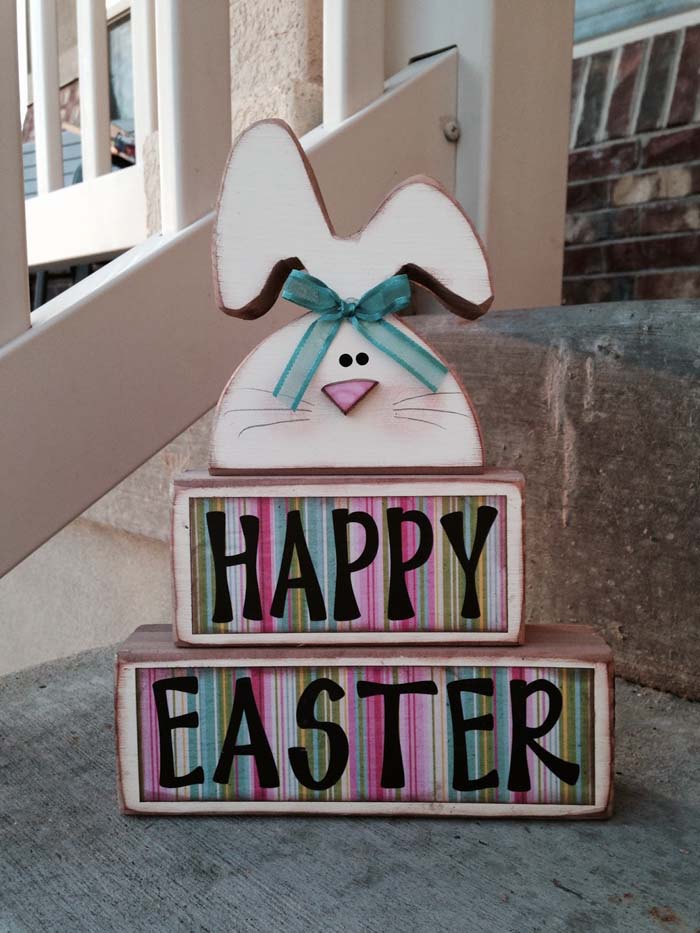 These mini stackers say happy Easter with a cute bunny peeking over.
via Saw Dust Sanity
68. Decorate an Easter Cross will Lilies and Burlap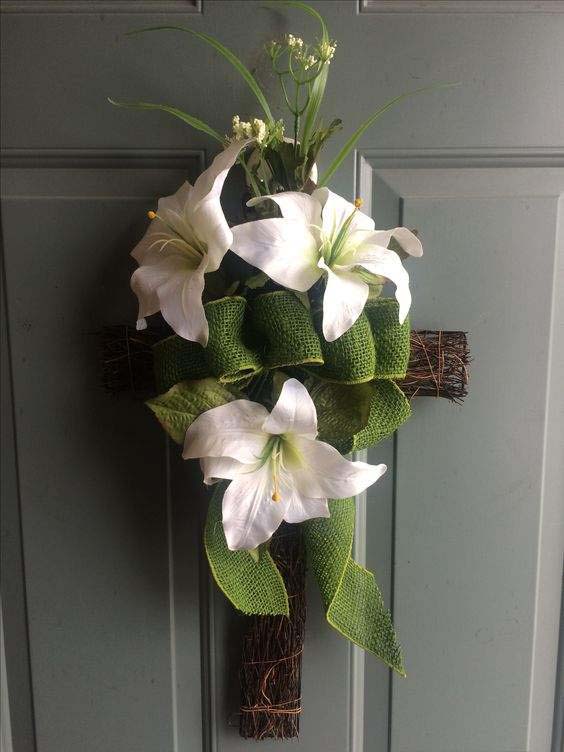 Easter is all about how Jesus died and saved our sins. This do it yourself wooden cross features green ribbon and Easter lilies.
69. Add Character to Your Porch with an Oversized Egg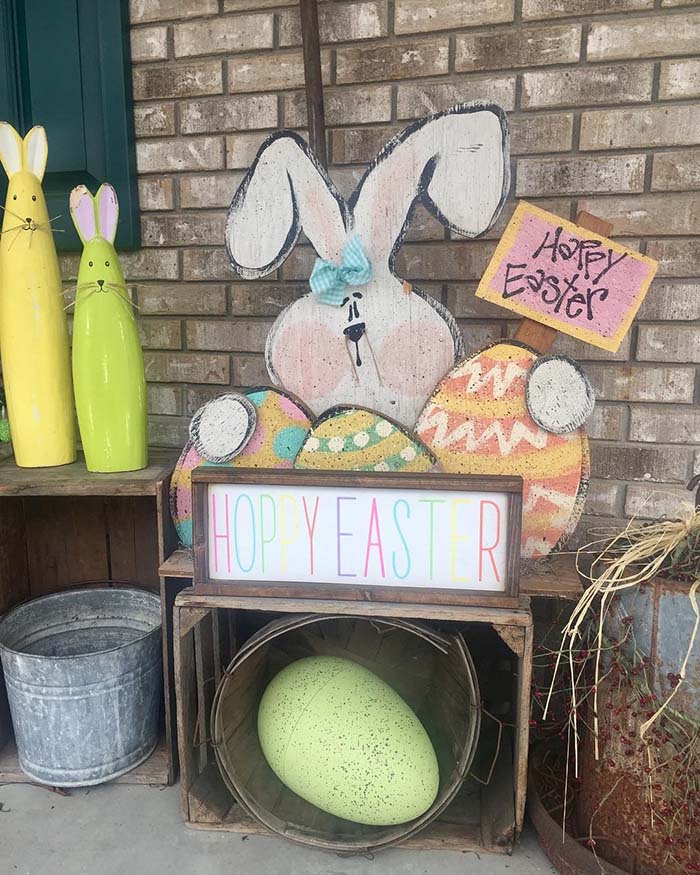 This whole front porch scene features an Easter bunny holding Easter eggs and an oversized Easter egg below.
70. Upcycle a Wagon Wheel into Easter Decor with Flowers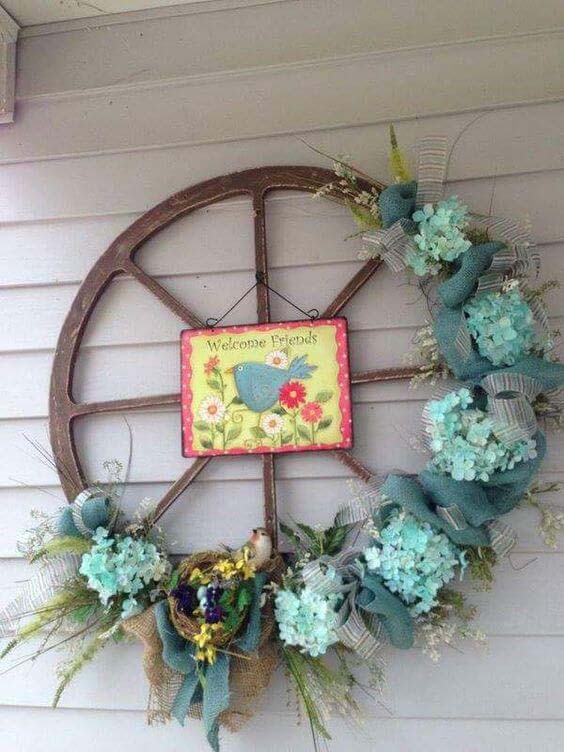 A basic wagon wheel can be made to be an easter theme by adding ribbon and Easter flowers.
71. Give Your Pallet Bunny a New Look with a Hat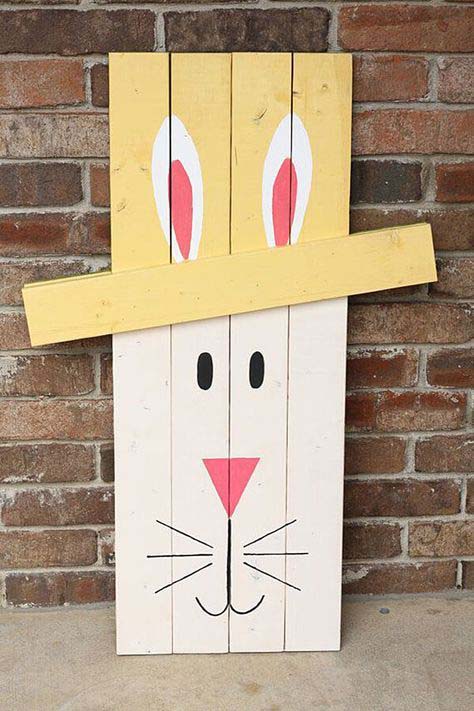 If you have a pallet laying around you can use three slices of it lying parallel and one across. Paint a little bunny face to make it look like a bunny with a hat.
72. Welcome Guests with an Easter Pallet Bunny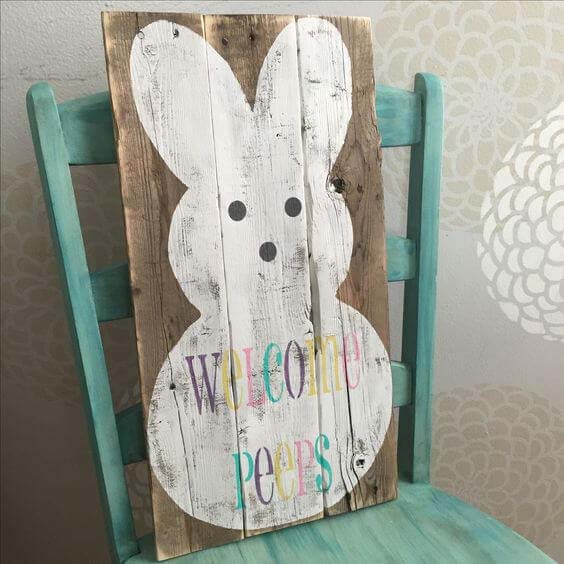 For another pallet project screw three pallet pieces together. Then paint on a white bunny and face.
73. Garnish Your Porch Rail with an Easter Egg Garland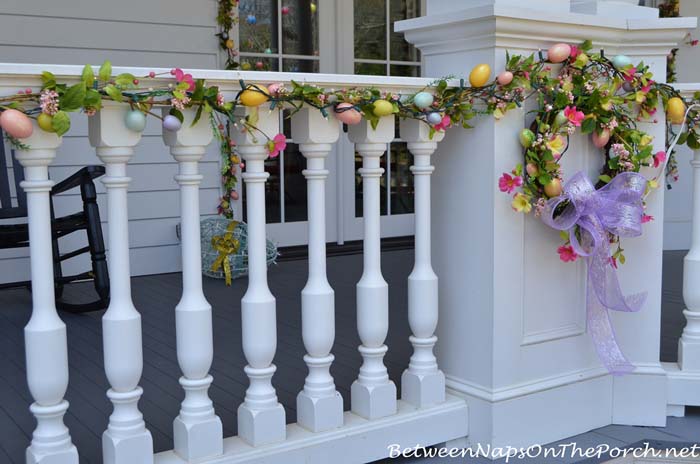 Make an egg garland with eggs and greenery to make a pretty decoration for your front porch rail.
74. Make a Rustic Bunny Couple with Upcycled Metal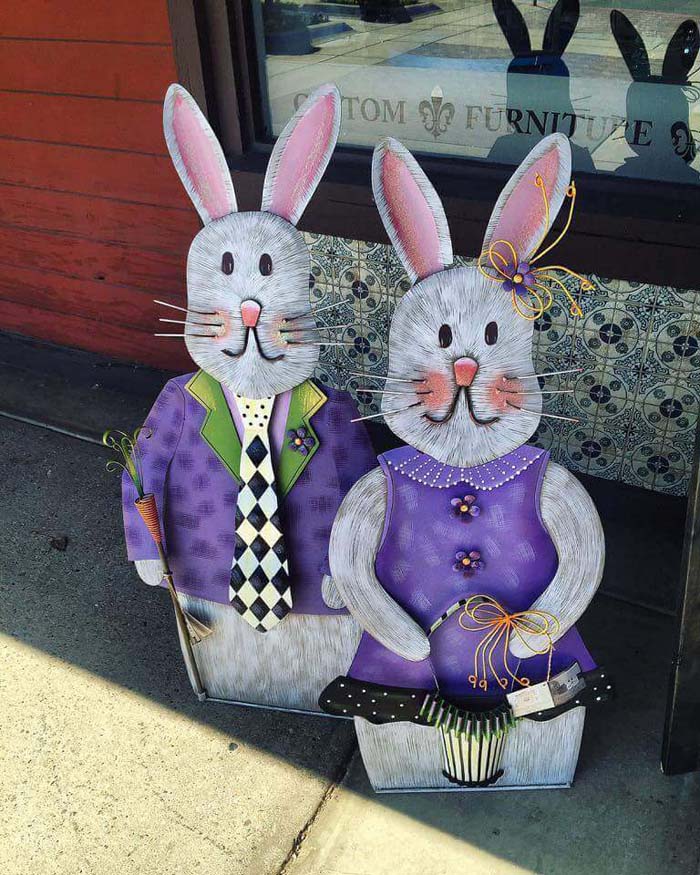 These adorable rabbit couples can be purchased. They are made from painted metal.
75. Create a Rainbow Bunny Wreath with Peeps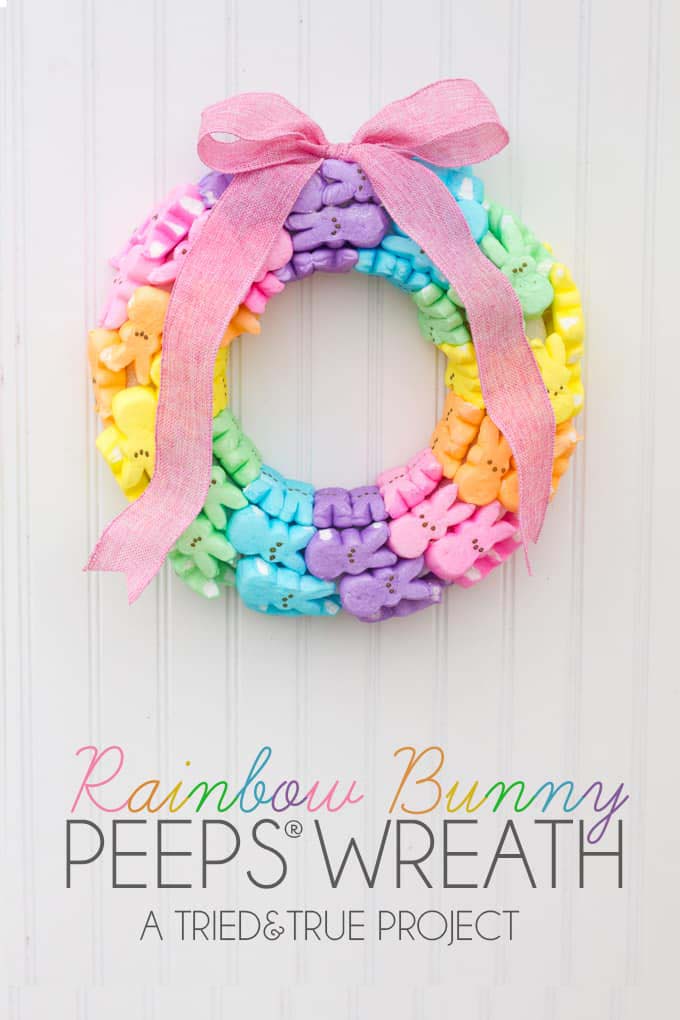 Use a lot of colored peeps to encircle on a wreath base. This finishes a great peep wreath.
via Tried and True
76. Uplift Your Porch with a Repurposed Wood Bunny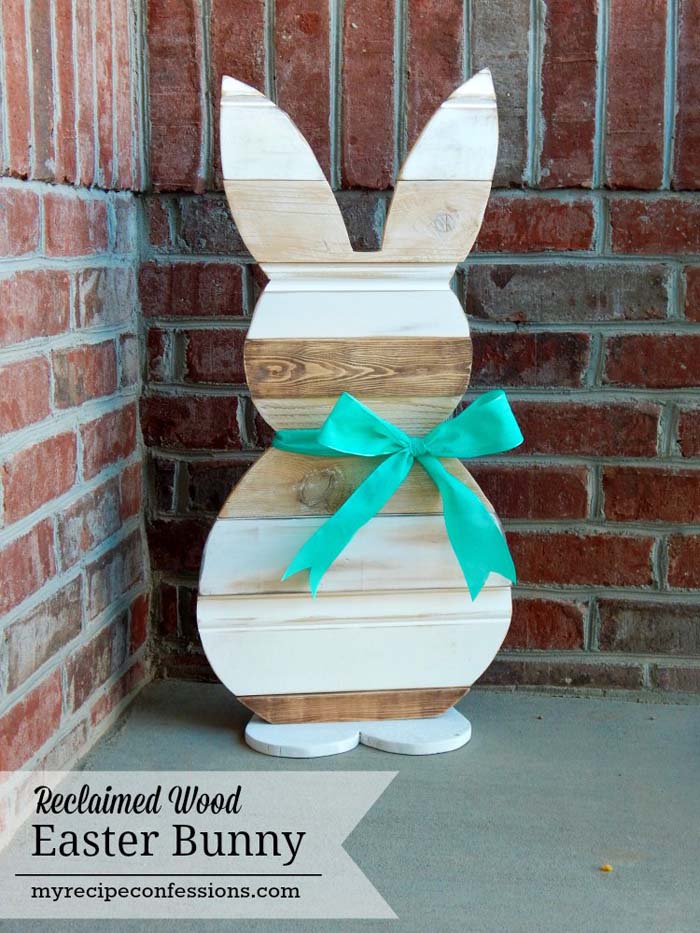 Sand down and connect together wood scraps. Then cut them into a bunny shape.
77. Upcycled Wooden Eggs for Easter Porch Decor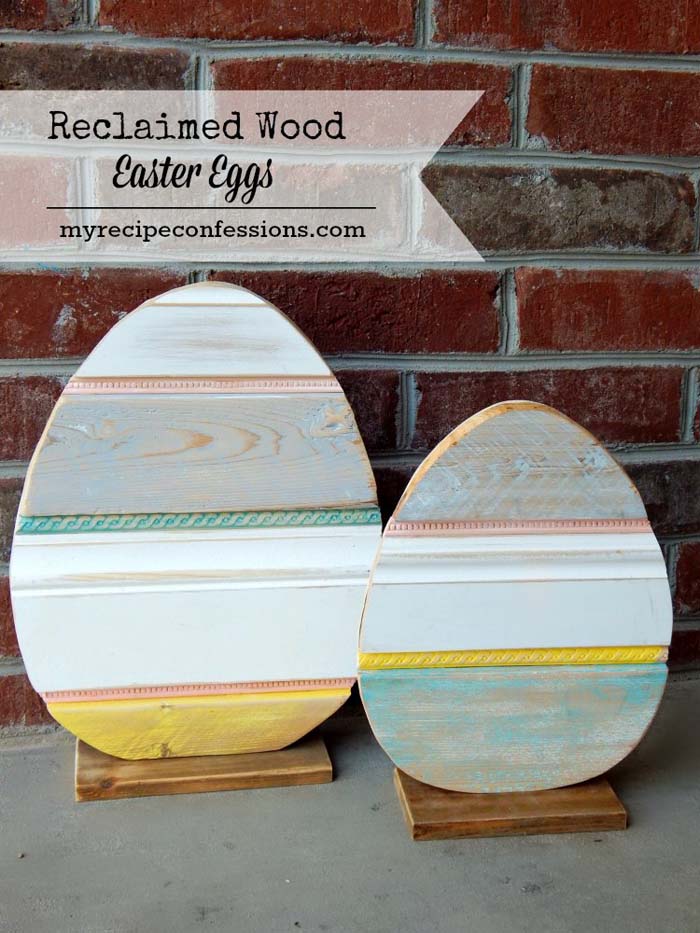 Glue together three or four strips of sanded wood and cut them into an egg shape. Then paint to look like a dyed egg.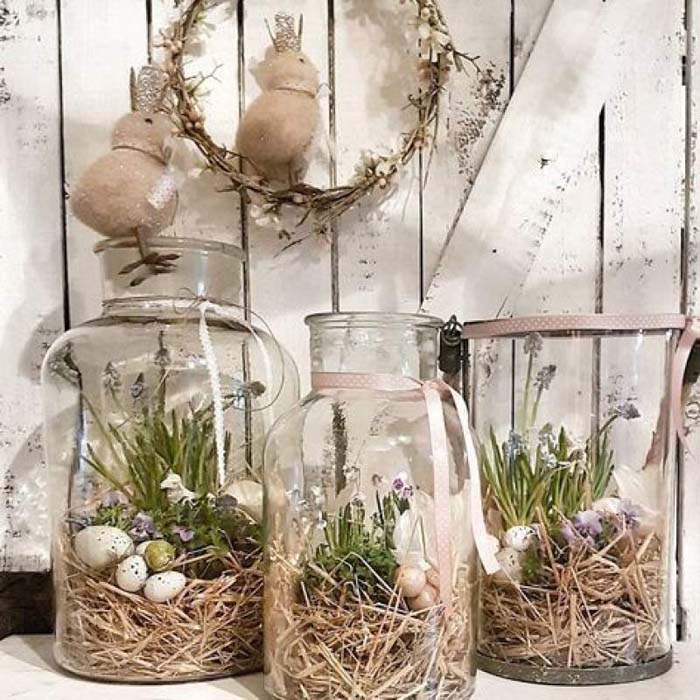 These jars are filled with small dried twigs and also have greenery with purple flowers. Add a few eggs to give it a complete Easter look.
via Instagram
79. Rustic Easter Front Porch with Upcycled Materials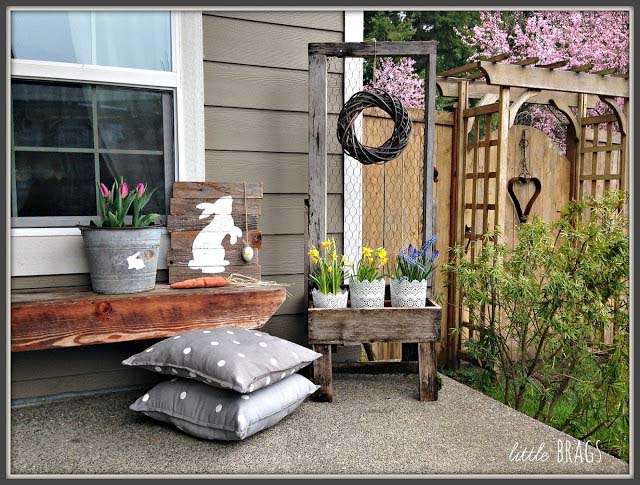 To add an entire front porch Easter view, try this wooden sled with chicken wire. Also, a shadow painted bunny on wood adds to the entire look.
via Little Brags
80. Charming Front Porch Look with Galvanized Planters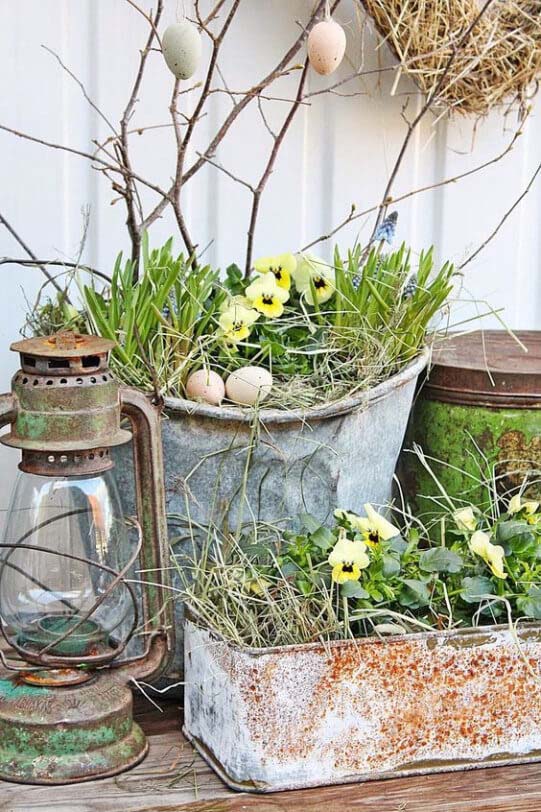 Old washtubs are adorable as a front porch look. It is easy to fill with all types of flowers and greenery.
81. Add Easter Eggs to Your Galvanized Planters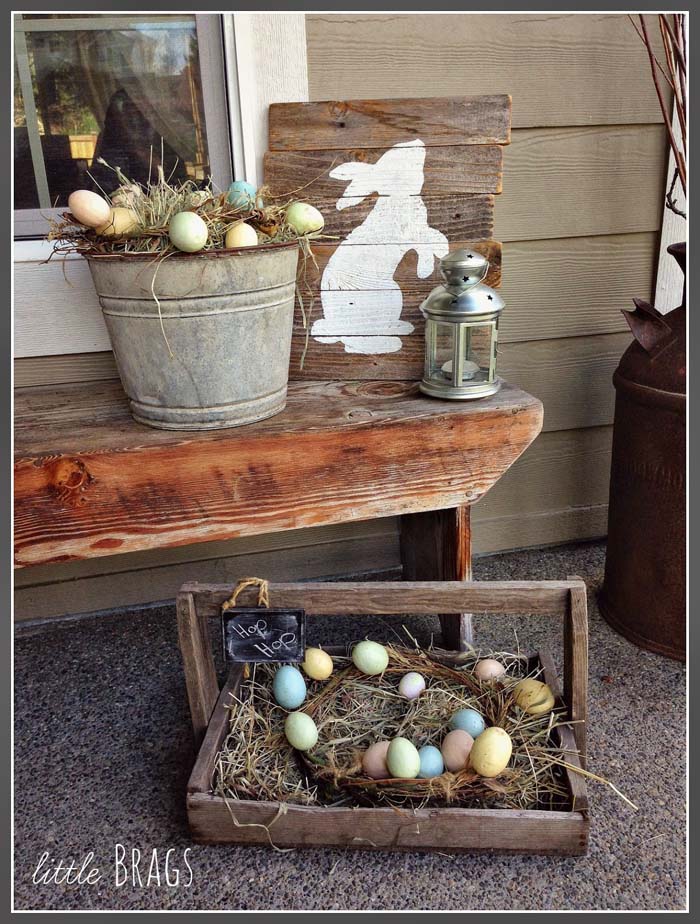 Old baskets and wooden boxes are adorable for front porch decorations. You can also paint shadows of bunnies on the boxes to add to the look.
via Little Brags
82. Place a Rustic Egg Sign with a Wooden Basket Accent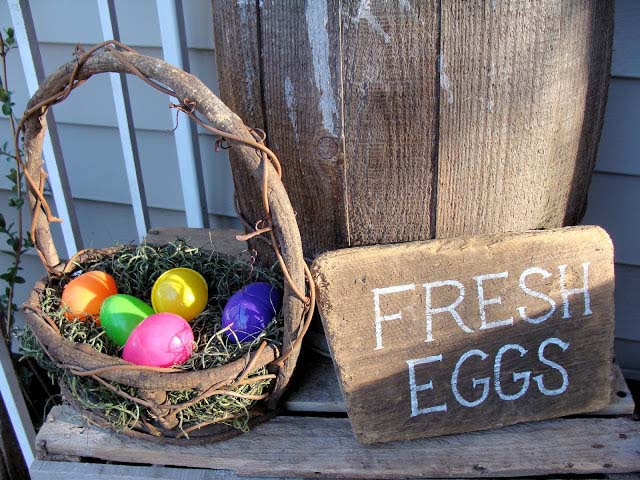 Rustic baskets are great for a simple front porch decoration. Just fill them with grass and eggs.
via Dragonfly Swamp
83. Make a Rustic Easter Tray for Your Porch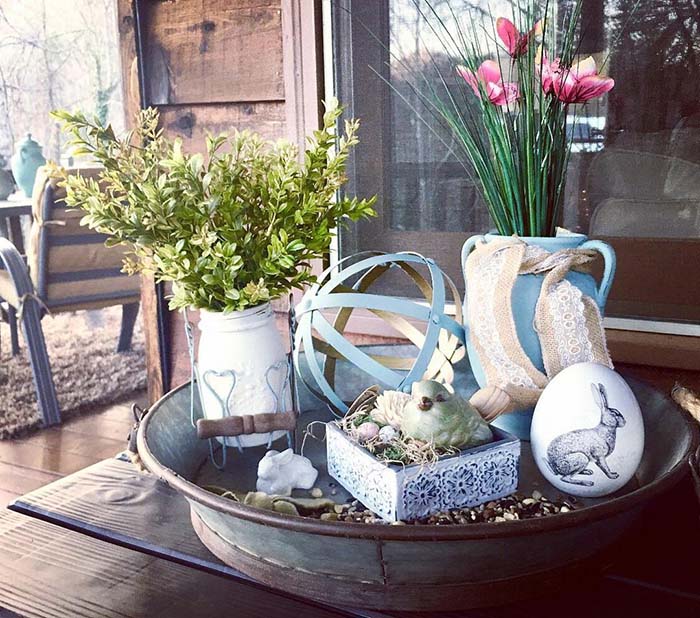 This classic front porch decoration features a plethora of white rustic decor with Easter-themed bunnies and eggs painted on.
84. Create a Simple Tree with Easter Decorations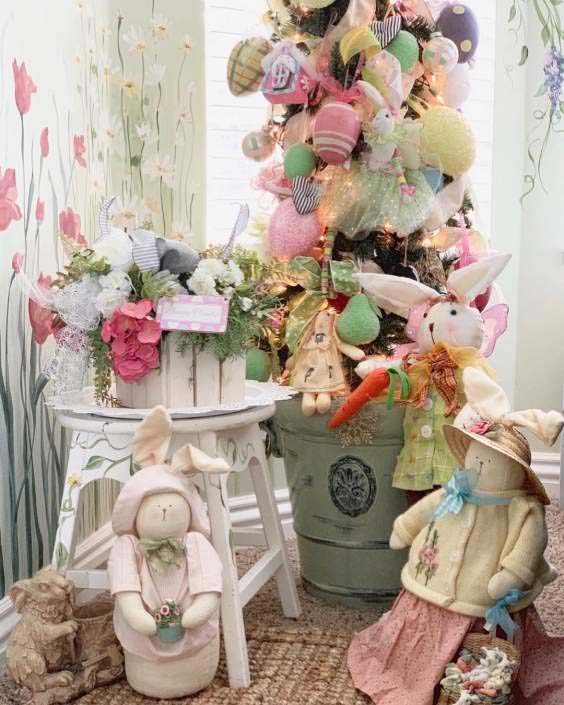 Although it is a simple Christmas tree in this photo you would never know it based on the amount of Easter decorations that are featured on this tree.
85. Galvanized Watering Can Planter with Egg Accents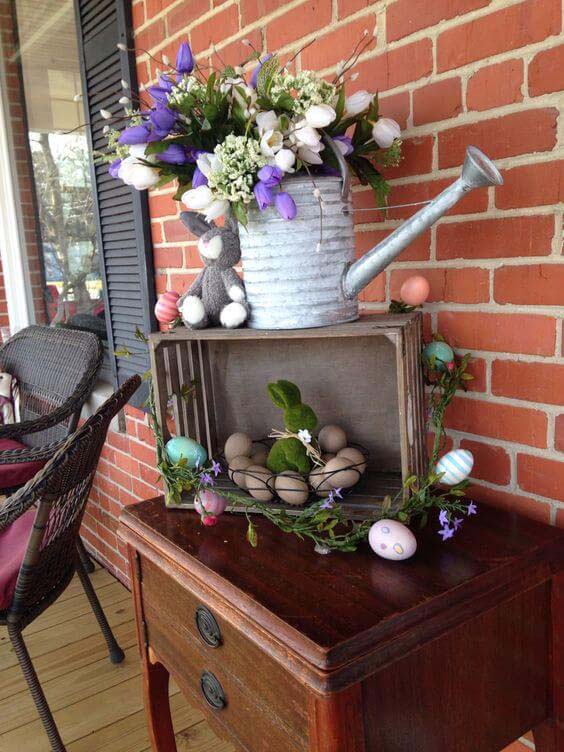 For simple front porch decor, just add a wooden crate and fill Easter accessories – bunnies, eggs, grapevines, etc.
86. Craft Adorable Skinny Bunnies with Wood and Paint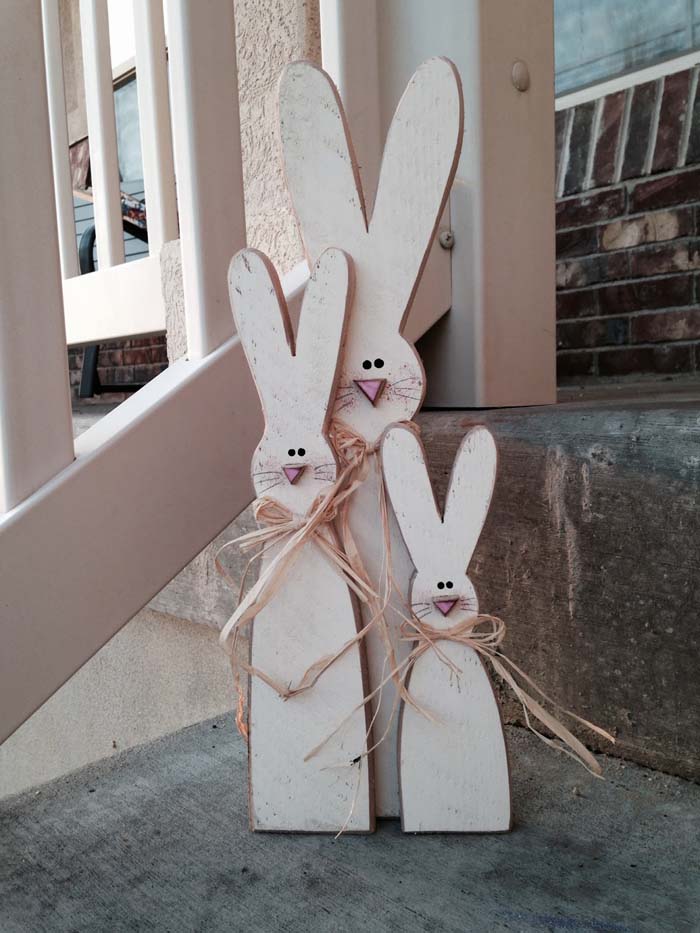 These adorable skinny bunnies are cut from wood and painted.
via Saw Dust Sanity
87. Add Bunny Lanterns to Your Porch Planters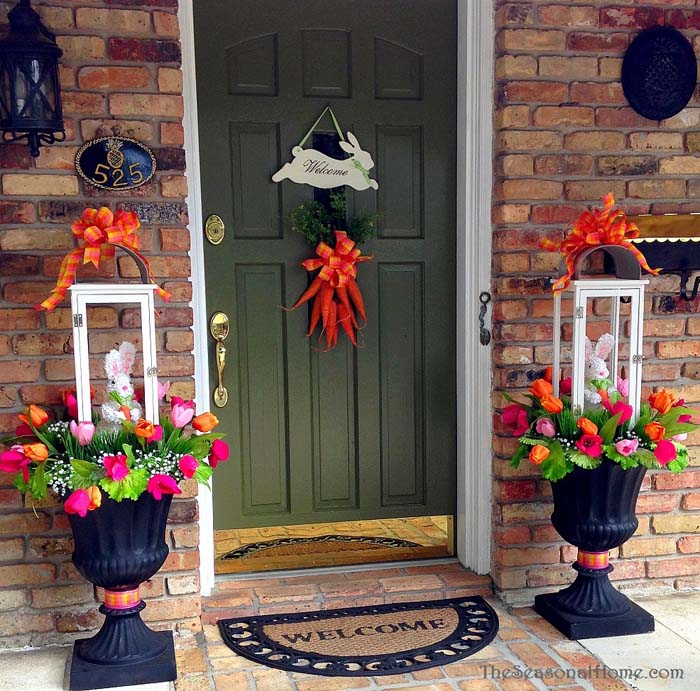 Bunnies are a perfect addition to a lantern and fit perfectly in front door planters.
88. Make a Carrot-Themed Wreath with Orange Flowers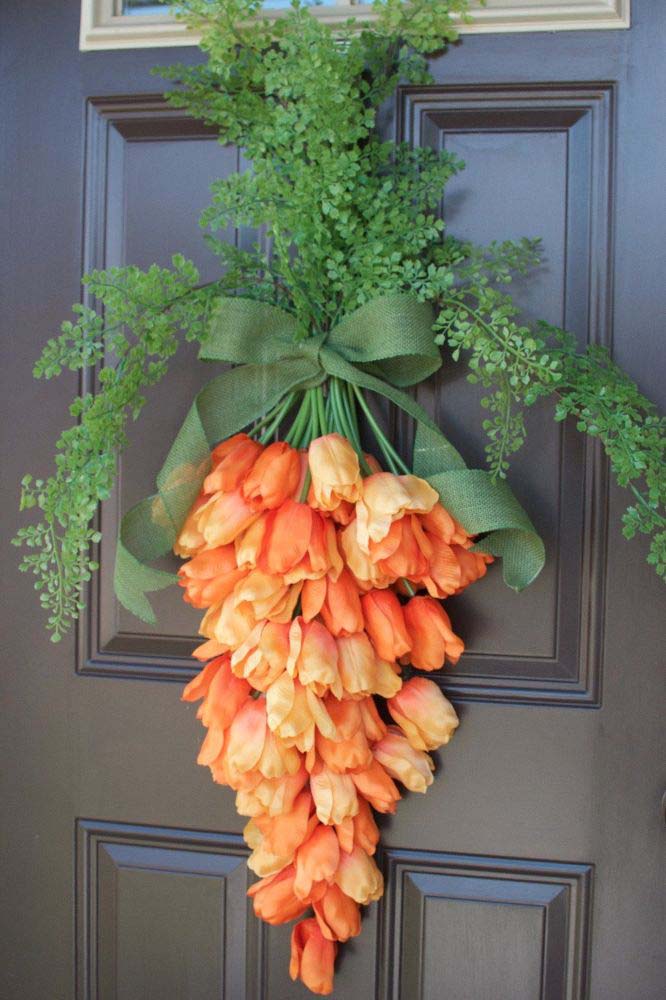 Orange roses are adorable for a door wreath. They hang upside down and when cut to the correct lengths can make it look like a carrot.
via Hometalk
89. Rustic Door Garland with an Easter Table Accent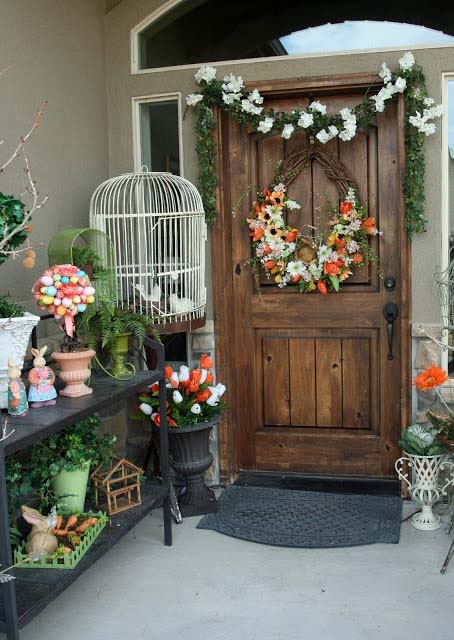 For an entire porch look put green garland and white flowers around the door. Along with that, put a table of Easter decoration.
90. Create an Egg and Moss Spring Wreath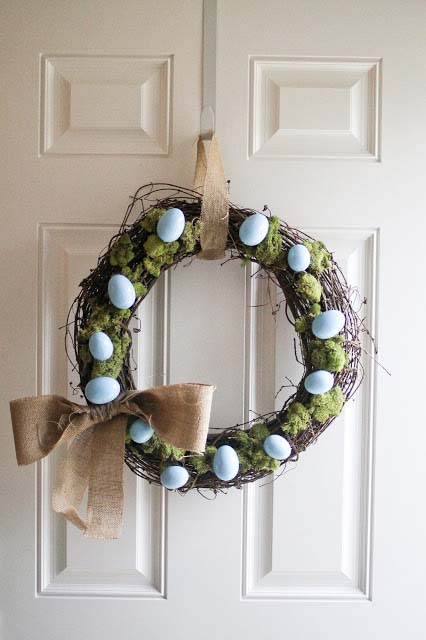 For a simple spring wreath use green moss and eggs to decorate a wreath.
via I Love You More Than Carrots
91. Make a Colorful Door Wreath with String Eggs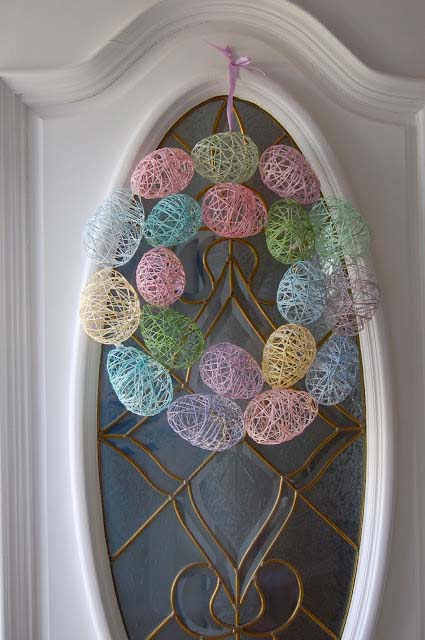 Take plastic eggs and glue wrapped yarn around. Then cut the plastic eggs out. Then use them for a door wreath.
via Wine and Glue
92. Greet Guests with a Cute Bunny Craft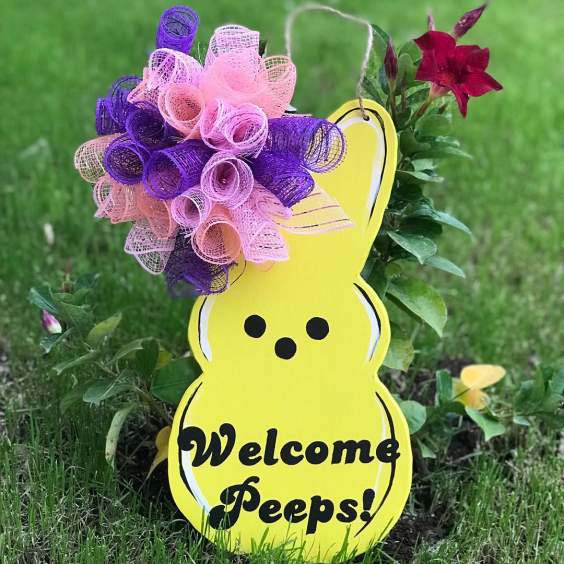 Cut a wooden peep and paint yellow. Then decorate with ribbon. Add a 'Welcome Peeps' sign.
via Chicken Peach
93. Transform an Enamel Bucket into a Tulips Planter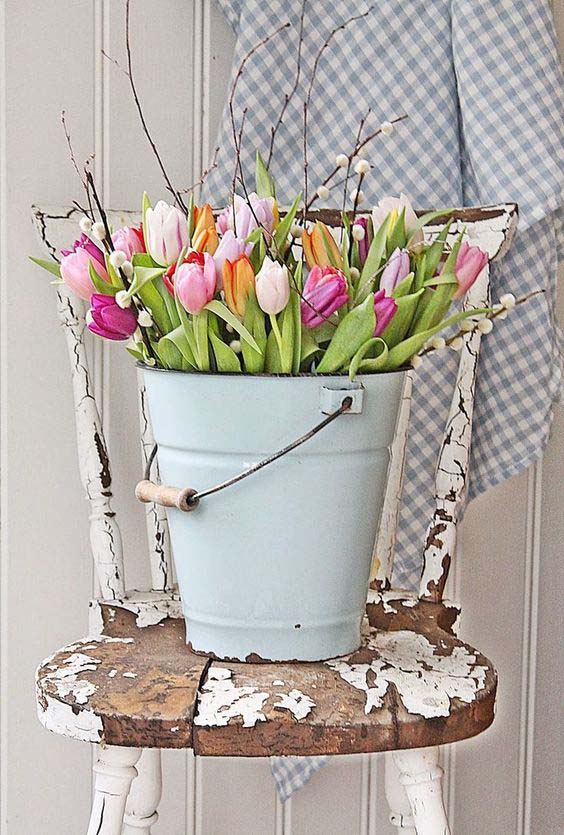 This white enamel bucket is filled with pastel-colored tulips and small flowers.
via Urban Flowers
94. Vintage Easter Decor with Rustic Chair and Egg Basket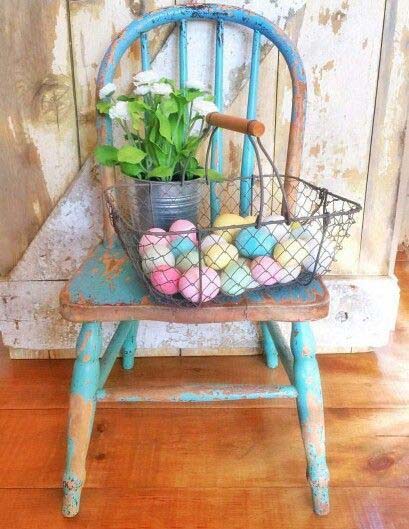 Put a basket of vintage eggs onto a farmhouse chair. Place it in front of your door for a cute decoration.
95. Add Easter Charm to Your Front Porch Swing
File adorable farmhouse pillows on your front porch swing. Then add eggs in a basket for an overwhelmingly Easter decoration.
96. Adorn Your Porch with a Vintage Watering Can Planter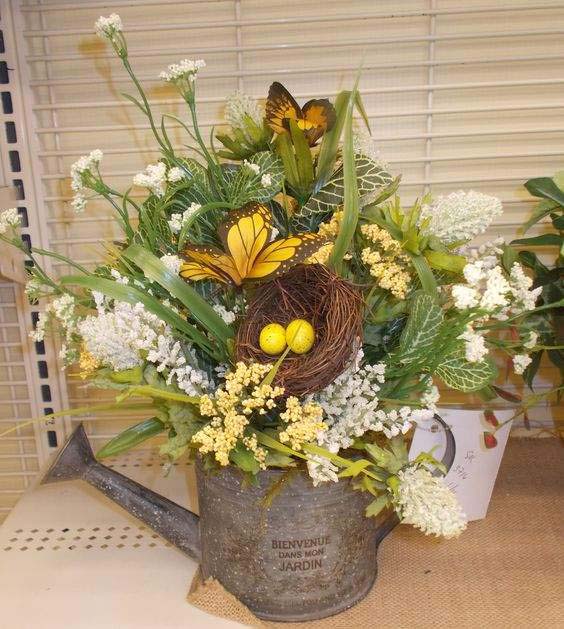 Fill a rustic watering can with all types of flowers and beautiful spring decor.
97. Make a Rustic Welcome Sign to Celebrate Easter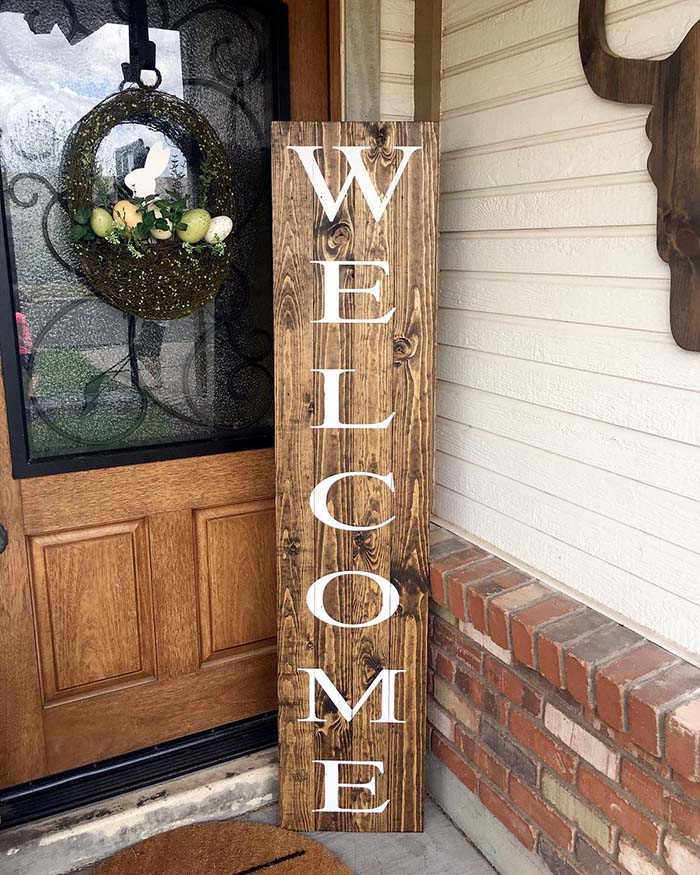 This rustic 'Welcome' sign is perfect for any holiday but especially the spring holiday of Easter.
98. Use Wooden Animal Planters for Easter Porch Decor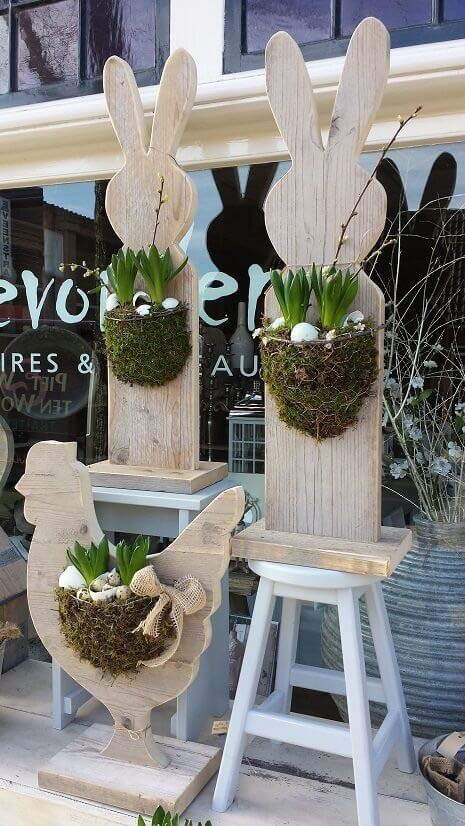 These basic wooden bunnies have perfect planters to hold a small amount of flowers.
99. Bring Farmhouse Charm with Wood Bunny Planters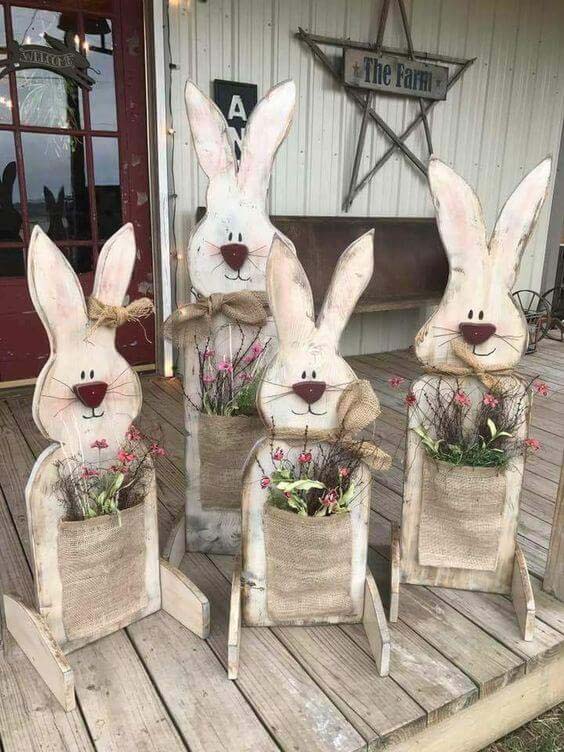 Rustic thin bunnies are a simple decoration idea. They are perfect for hanging rustic bags for planting small flowers.
100. Transform a Ladder with Easter Decor Pieces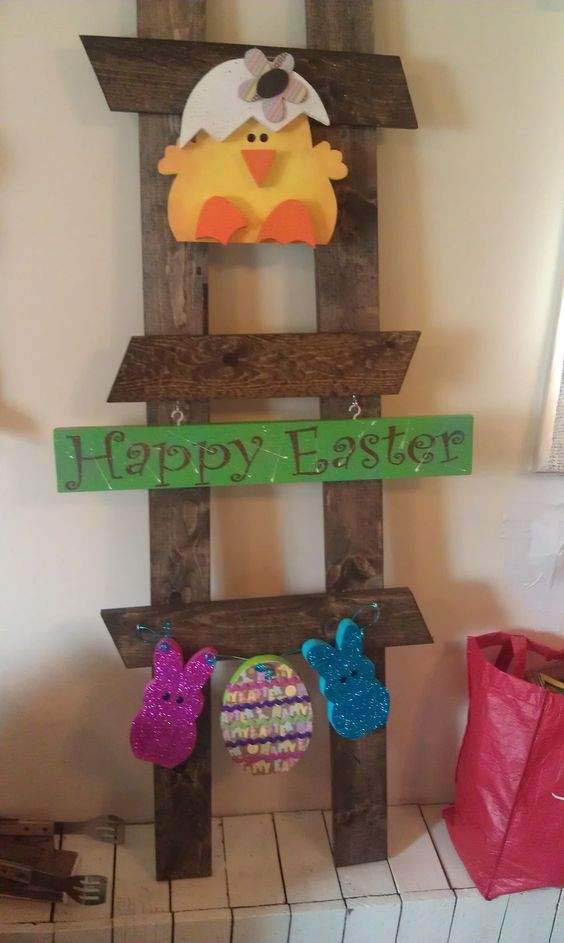 Make a ladder and add a garland of bunnies and eggs. Then paint 'Happy Easter' on it.
101. Spread Joy with Front Porch Easter Decor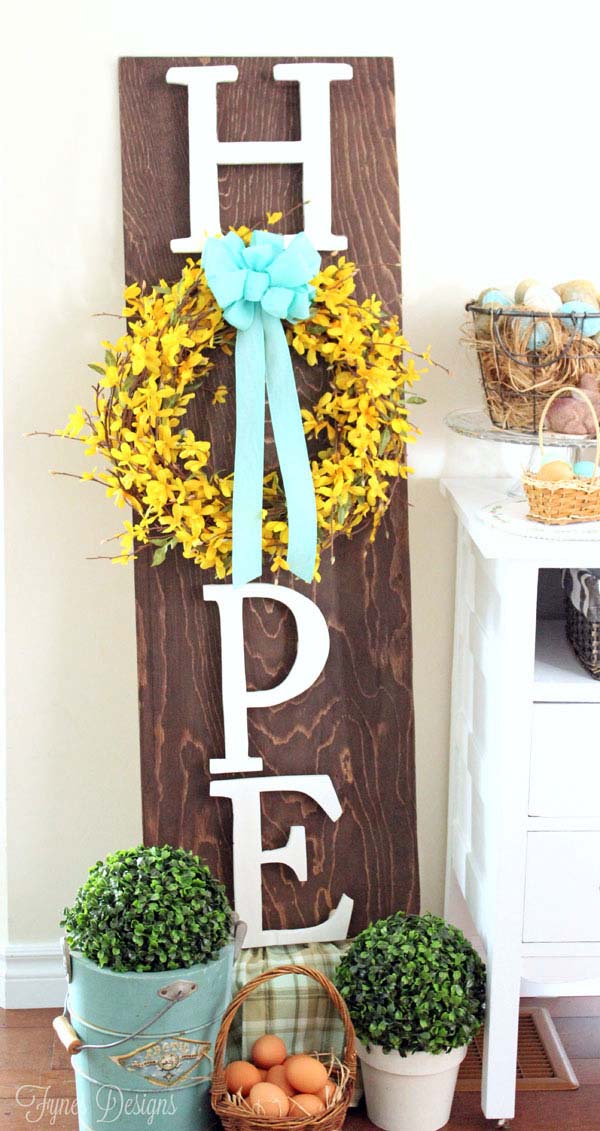 Start with stained wood that has HOPE painted on it. Use a wreath for the O. It is a perfect spring decoration.
via Fynes Designs
102. Upgrade Your Easter Wooden Bunnies with Carrot Art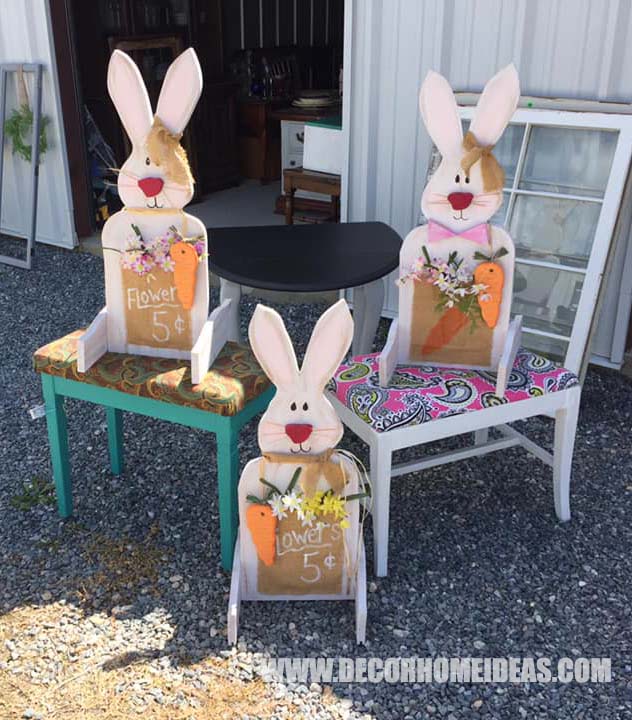 These wooden bunnies are cut with jigsaw and then legs are attached. Burlap bag at the front to put your flowers.
103. Place a Huge Easter Bunny at Your Door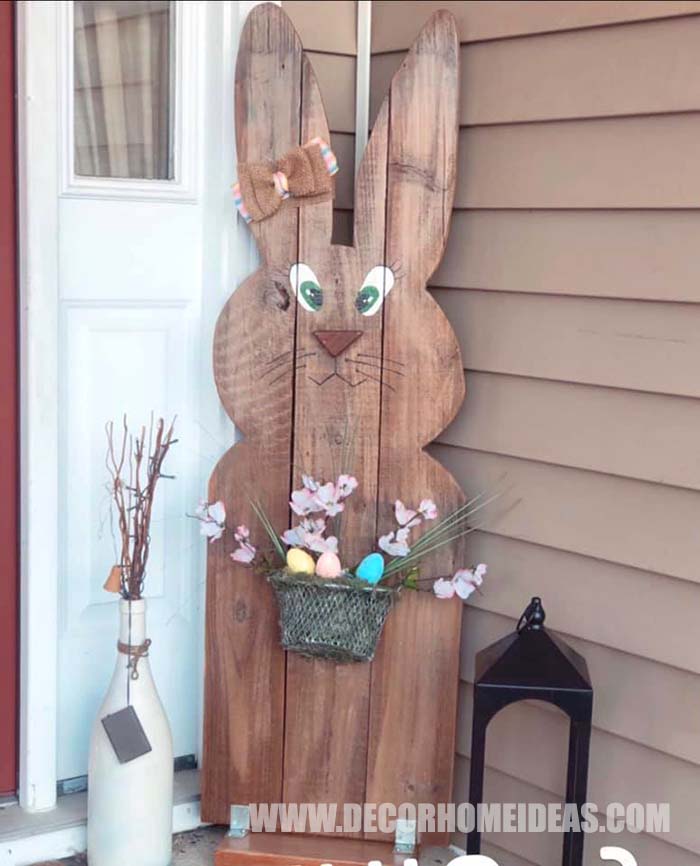 If you need something bigger for your Easter front porch, this bunny will be the perfect decoration.