The snow is melting and the temperatures are rising — after a long winter, it's finally Spring!
New decorations are the perfect way to refresh your home for the change of seasons.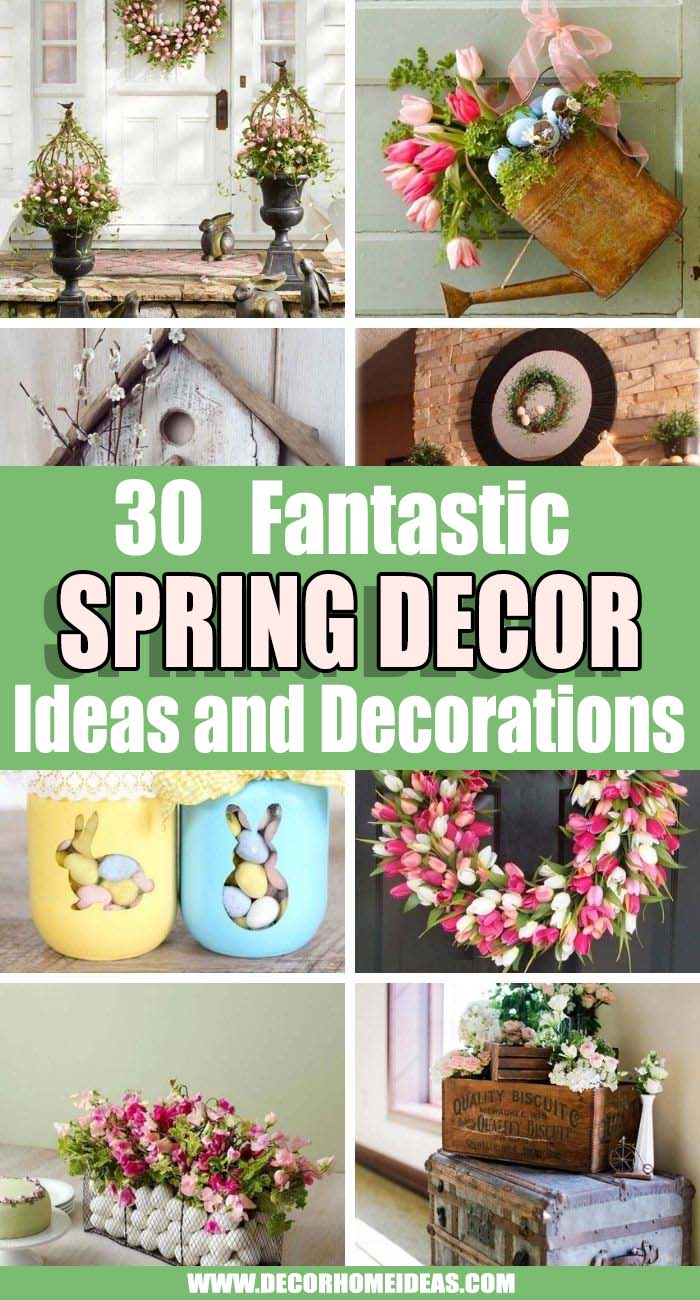 From quick DIY centerpieces to spectacular outdoor wreaths, these spring decor ideas bring and color life to your space.
1. Plant Wheat Grass In A Long Box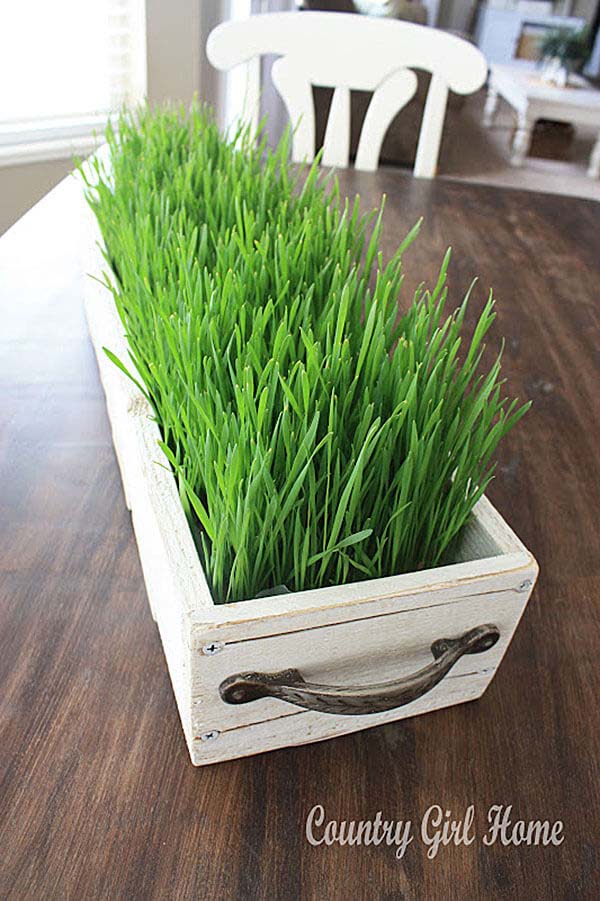 With its bright, cheerful shade of green, this simple centerpiece transforms any table in the house.
Set it in the dining room for a fun, easy decoration, or place it on an entryway table to welcome guests to spring gatherings.
2. DIY Burlap Rabbit With Pom Pom Tail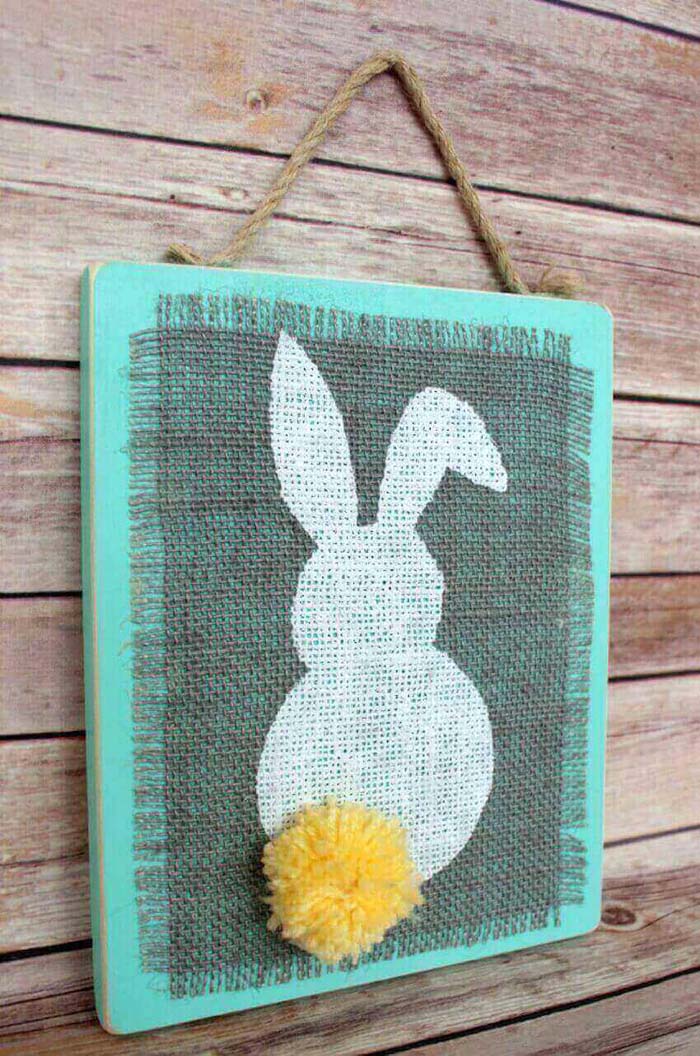 Are you getting ready for Easter?
This adorable bunny rabbit wall hanging is a quick, easy DIY project. All you need is a board, burlap, paint, and a yarn pom pom.
For maximum spring fun, paint your board a bright, vibrant color and use a contrasting pom-pom.
3. Vintage Crates House Spring Blooms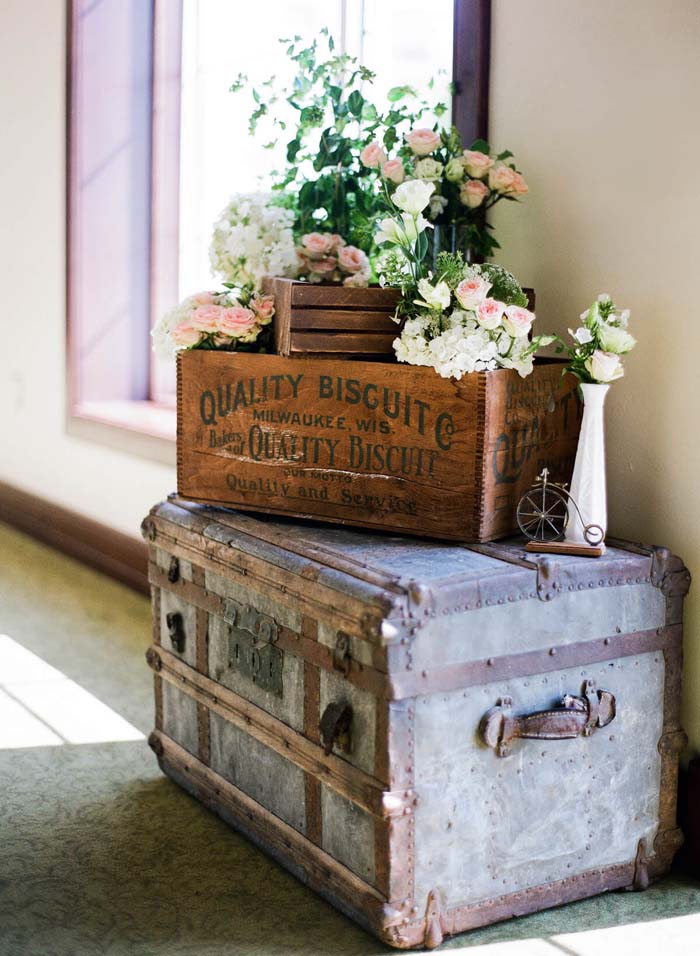 Show off your collection of antique trunks and crates by turning them into a sweet spring vignette.
The artfully stacked pieces look lovely in a hallway or a corner of your living room, and the fresh spring florals enhance the vintage charm.
4. A Tiered Stand Displays Spring Elements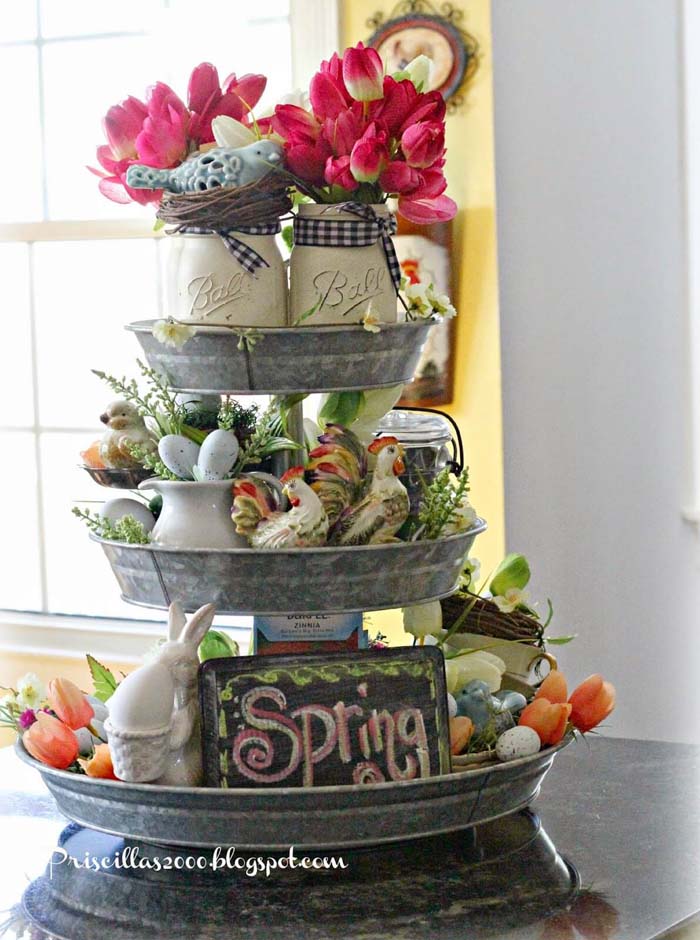 Do you have a tiered dessert stand that's used only for parties?
Break it out this spring and load it up with seasonal items — Mason jars filled with flowers, bunny and bird figurines, and Easter eggs create an adorable arrangement.
Tuck artificial tulips into each tier for a burst of color.
via Priscilla's Blog
5. Tulips And Easter Eggs Welcome Spring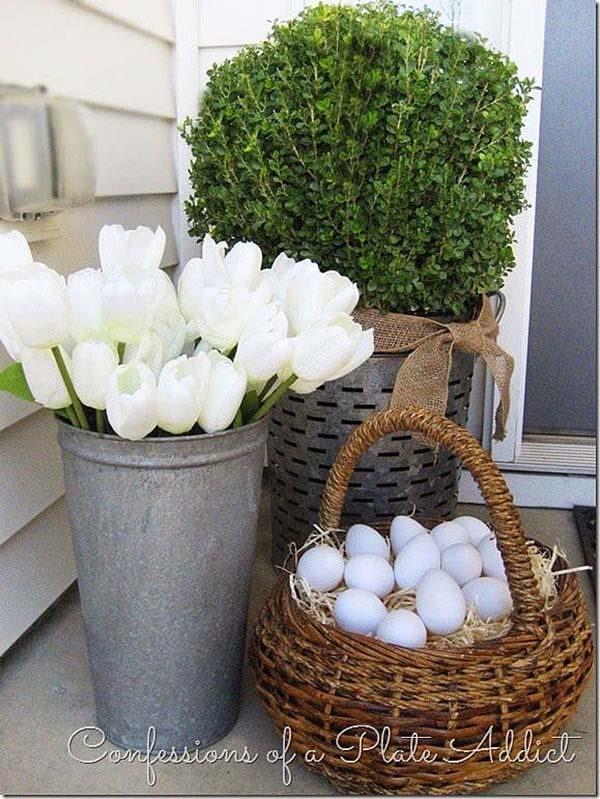 Brighten your porch for the new season with elements that are symbolic of spring: fresh eggs, tulips, and bright green plants.
This is a fun opportunity to use your favorite baskets and pails — the trick is to use pieces in different heights for a dynamic display.
via Confessions of a Plate Addict
6. Trio Of Bright Trees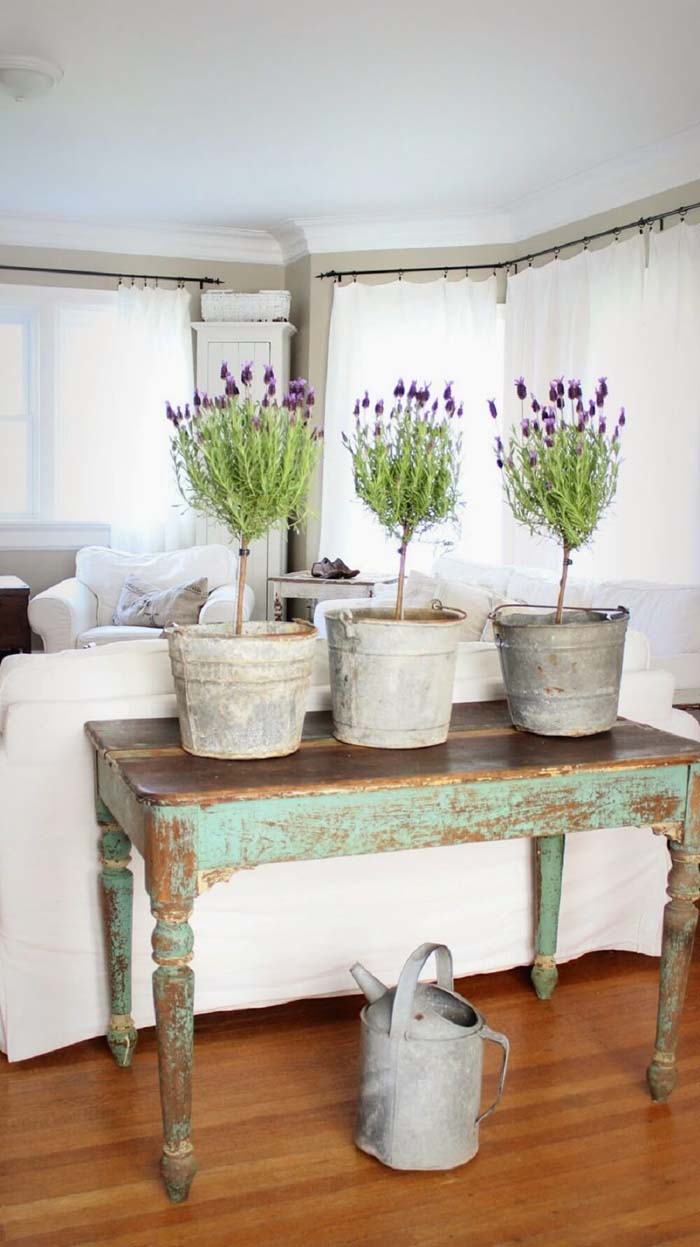 If you're longing to get a jump on the spring planting season, why put your precious flowers at the mercy of cool weather and late frosts?
Enjoy their beauty until the weather warms up by bringing them inside.
The extra color brightens your home, and your plants will stay safe until it's time to transplant.
7. Brighten A Mantel With Spring Themed Décor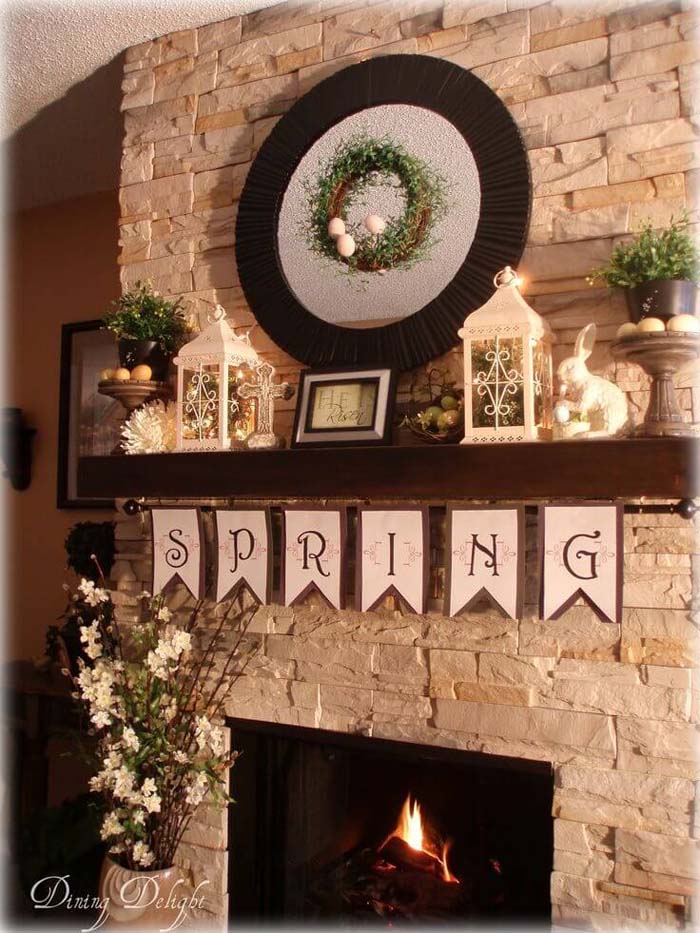 Your fireplace mantel is the perfect place for a stunning spring vignette.
Use it to show off a collection of beautiful items. Here, figurines, lanterns, and an adorable bunting banner ring in the new season.
If you already have potted plants on your mantel, accent them with a few Easter eggs for good measure.
via Dining Delight
8. Grapevine And Catkin Bunny Wreath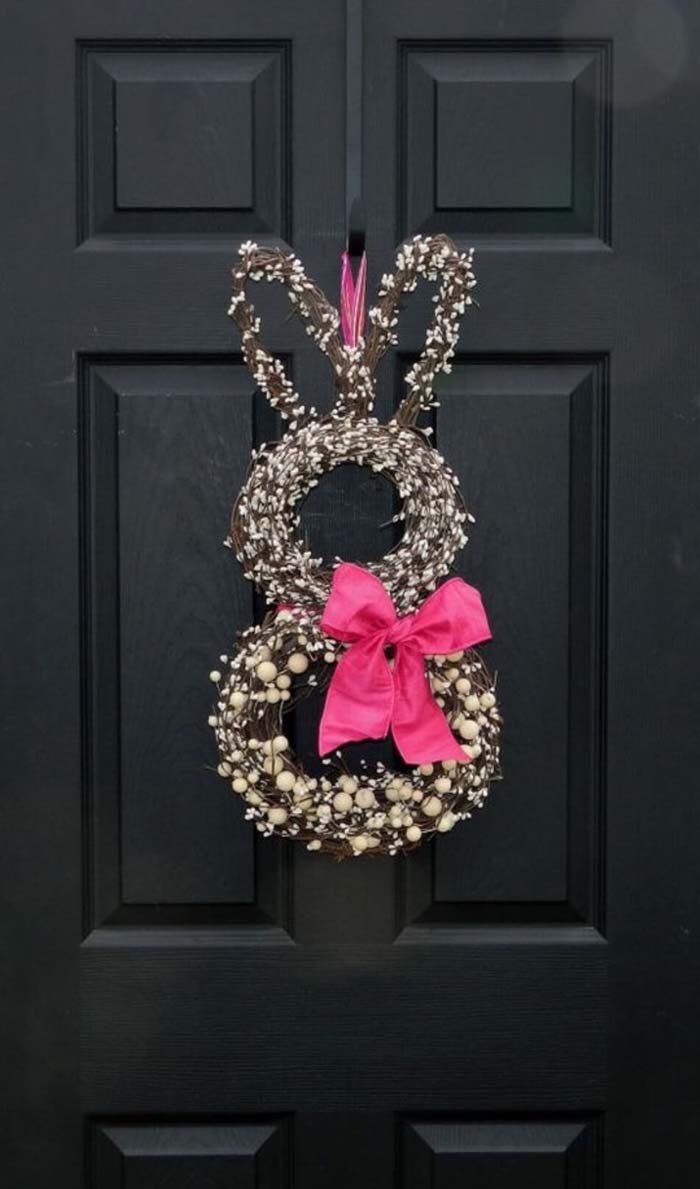 This adorable bunny wreath is a fun way to dress up your home for Easter.
The twine base and budding flowers capture the spirit of new growth and re-emerging life, and the brilliant pink accents make your friends and family smile.

9. Add Easter Eggs To A Floral Centerpiece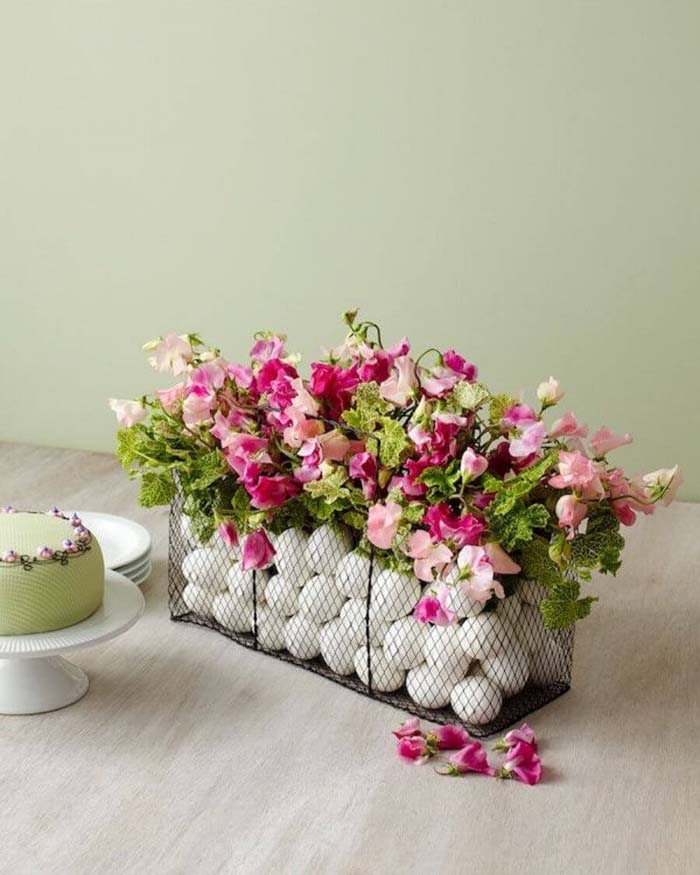 Are you hosting an Easter brunch or spring baby shower?
Decorate the table with this clever centerpiece. The wire basket shows off the fresh white eggs, which conceal the stems of the leaves and flowers.
Use real or faux flowers to suit your budget.
via Mamie Titine
10. Simple Yet Whimsical Pom Pom Branches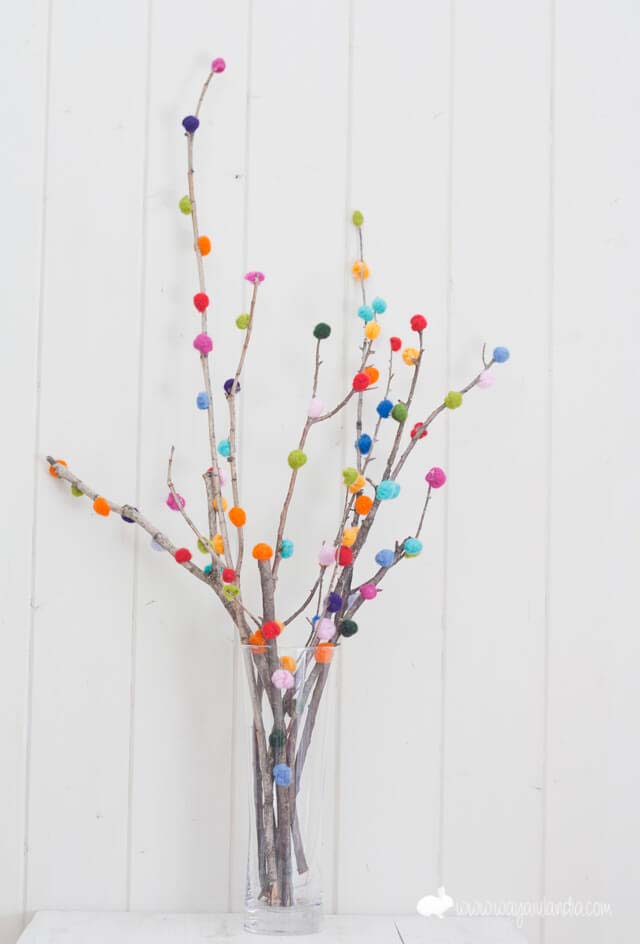 If you're looking to bring color and life to a hallway table, head outdoors to pick up a handful of sticks.
Glue on a collection of colorful pom poms, and you'll have a unique and cheerful bouquet that looks stunning in a clear vase.
via Wayaiulandia
11. Large Hydrangea Blooms On Antique Candlesticks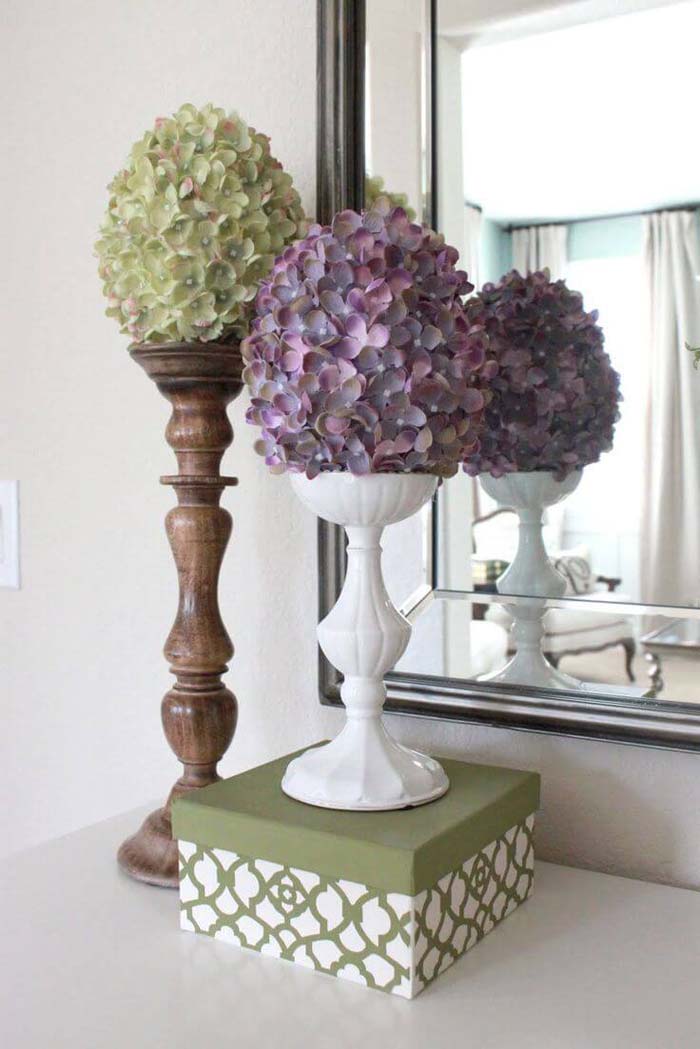 Elegant and antique-inspired, this display suits a traditional home.
The vintage candlesticks take the place of vases, supporting balls of faux flowers.
We love the colorful box, which adds height and a contrasting texture.
via Artesanato Decor e Culinaria
12. Repurpose A Vintage Watering Can With Flowers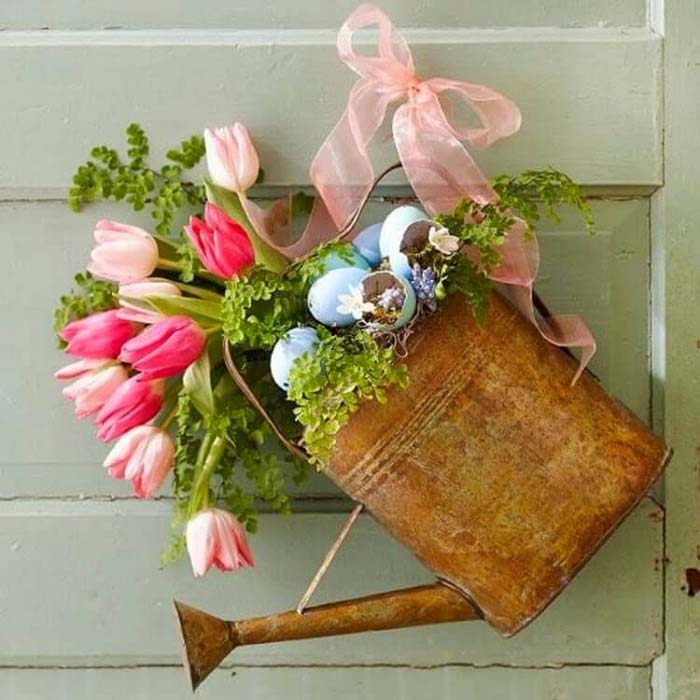 An old, rusty watering can become new again in this lovely decoration, which you can hang on the wall or set on a table.
Just fill it with your favorite spring flowers, moss, and greenery; you can even add an egg or two.
Decorate the handle with a pretty ribbon bow.
via Deavita
13. Tiny Nest In A Teacup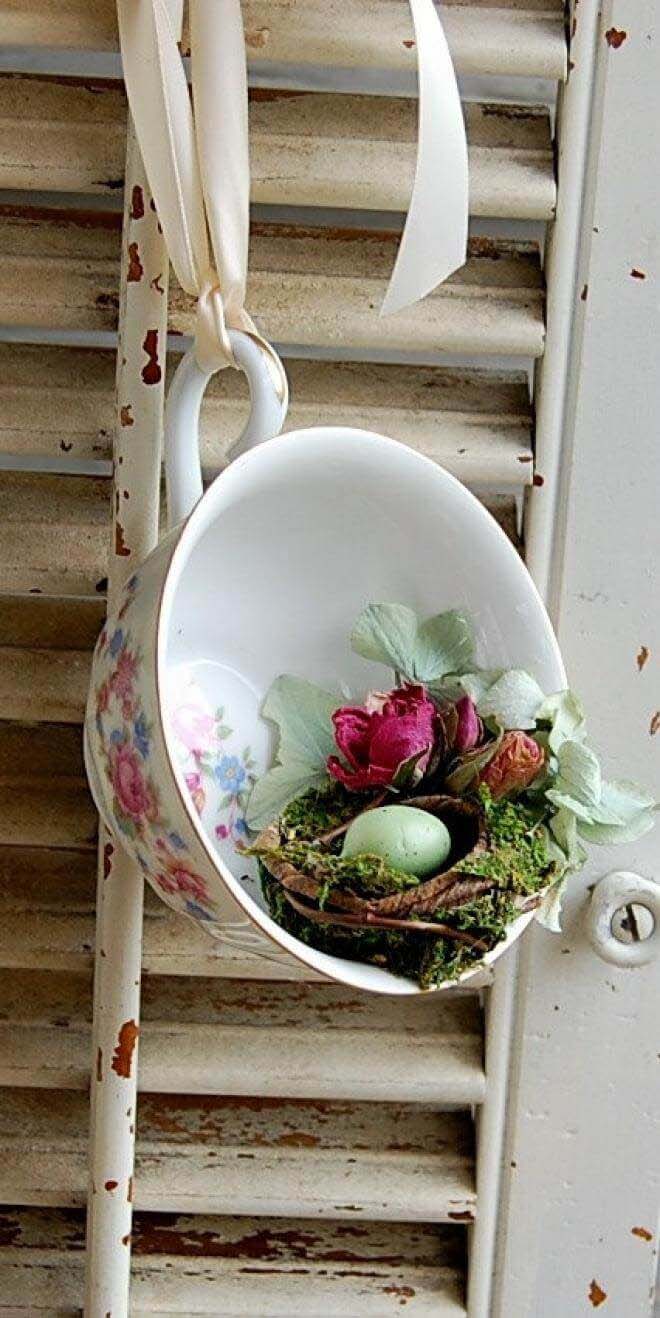 This delicate spring decoration proves that the best things come in small packages.
It's all about details — the tiny bird's nest, miniature egg, and scattering of fresh flowers and leaves are the perfect complement to the feminine teacup.
via Zurnal+
14. Budget Friendly Rose Kissing Ball

Decorate your table on a budget with this DIY centerpiece.
You probably have many of the supplies around the house; to save money, head to the thrift store for the vase and faux flowers. The best part?
It requires no watering, and the petals stay bright and cheerful all season long.
15. Bright Tulips And Monogram Wreath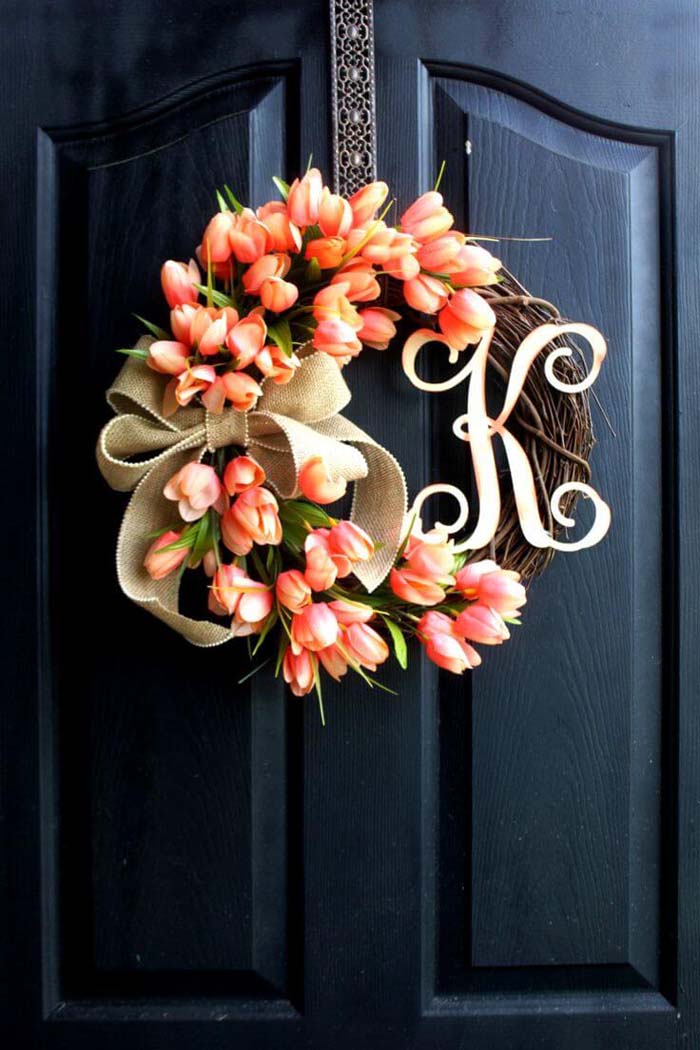 Be prepared for compliments when you hang this spectacular wreath to celebrate the spring.
The magic lies in the materials — the twine wreath, wood letter, and burlap ribbon set off the brilliant colors and textures of the tulips.

16. Coordinate Vase Filler With Flowers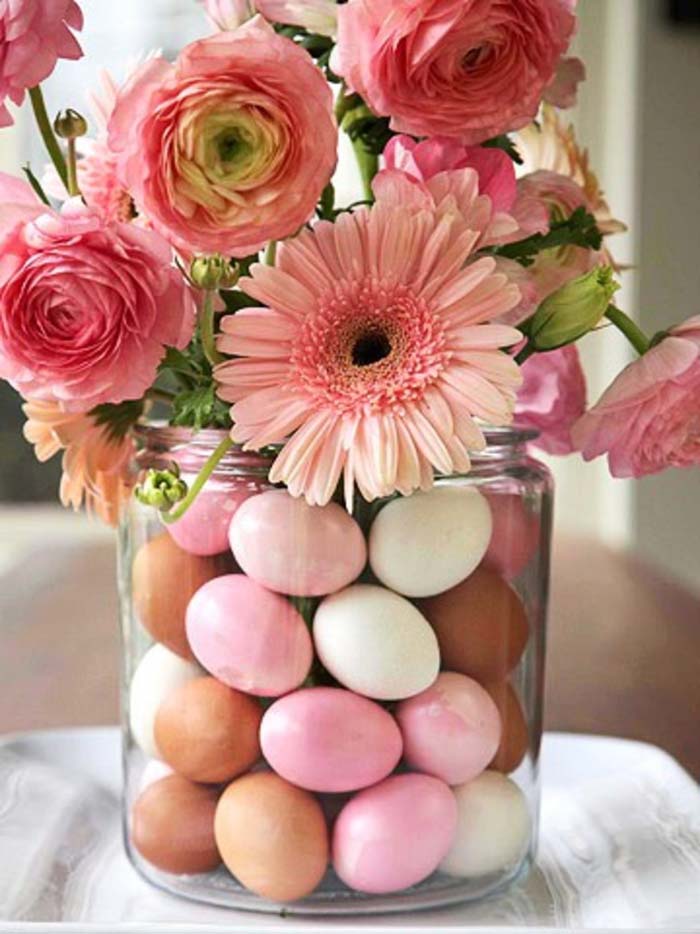 Are you short on time?
Put together a spring decoration in minutes — simply fill a clear vase or jar with colored eggs and add a bouquet of flowers. It's fresh, unique, and perfect for Easter or any spring event.
17. Yellow Branches Make A Big Impact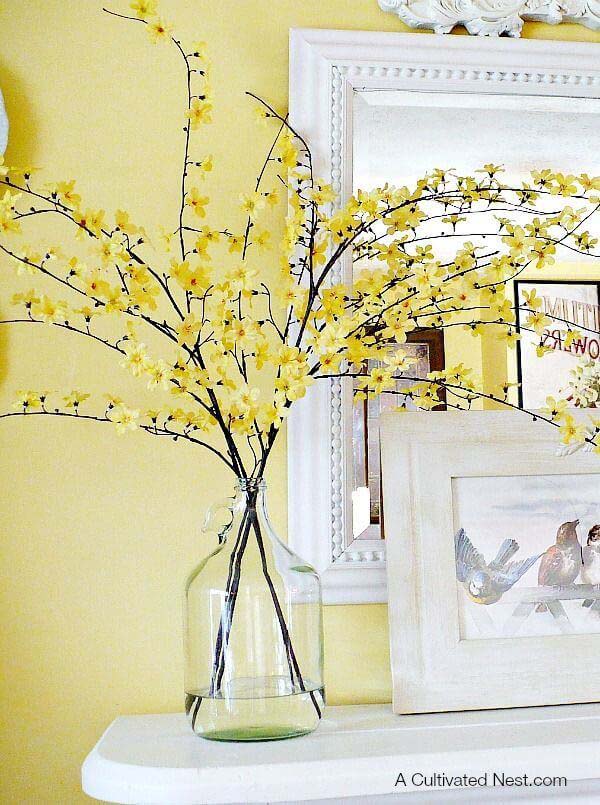 Bright and lively, these flowering branches are a breath of fresh air for your hallway or front entry.
The vibrant yellow instantly lifts your spirits, and the dark stems add a crisp contrast.
Choose real branches or select artificial options for minimal maintenance.
18. Spring Wreath Bursting With Tulips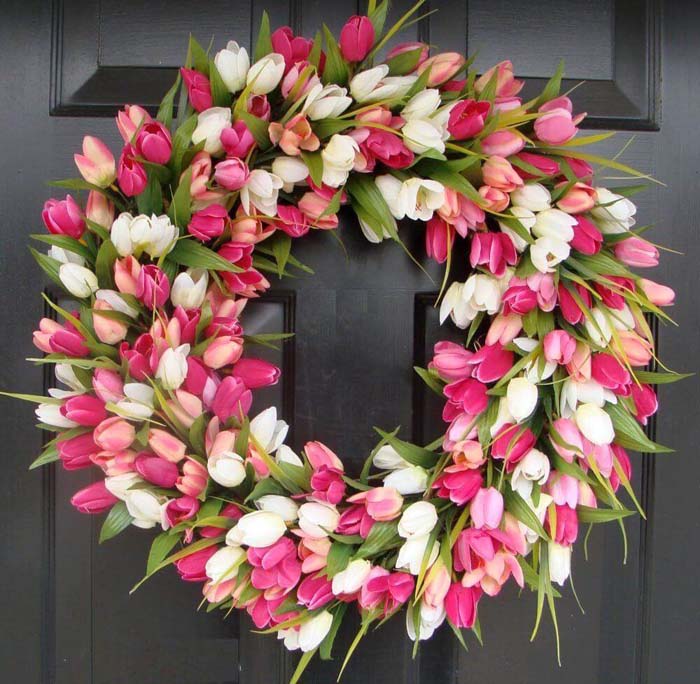 It's impossible not to smile when you see this lavish wreath.
It's made entirely of tulips in varying shades of pink and white, with delicate green stems peeking out between the blooms.
The large size fills your front door.

19. DIY Hanging Mason Jar Vases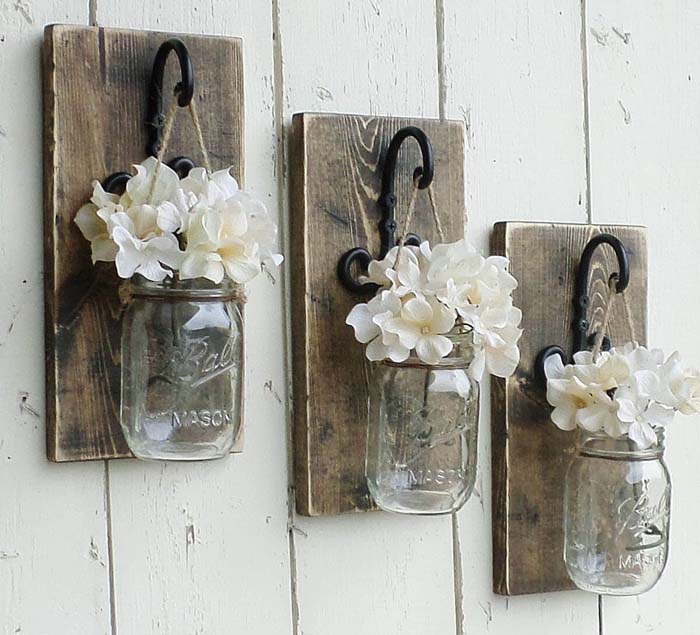 Give your modern farmhouse a rustic spring vibe by turning Mason jars, reclaimed wood planks, and vintage hooks into wall art.
As long as you can operate a drill, this project is a breeze to make — plus, you can fill each jar with the flowers of your choice.

20. Complement Purple With Green Moss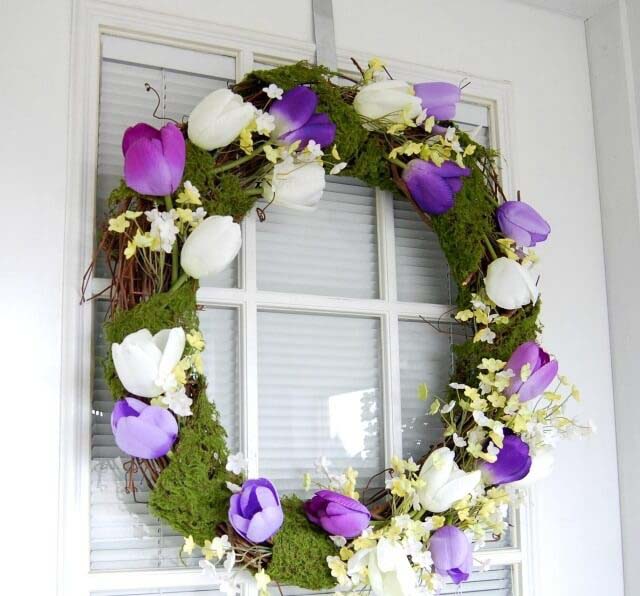 Bright green moss is the highlight of this stunning wreath, which defies expectations at every turn.
Tiny yellow flowers balance the stunning white and purple tulips, creating a riot of color and life that transforms the look of your front door.
via Deavita
21. DIY String Art Flower Art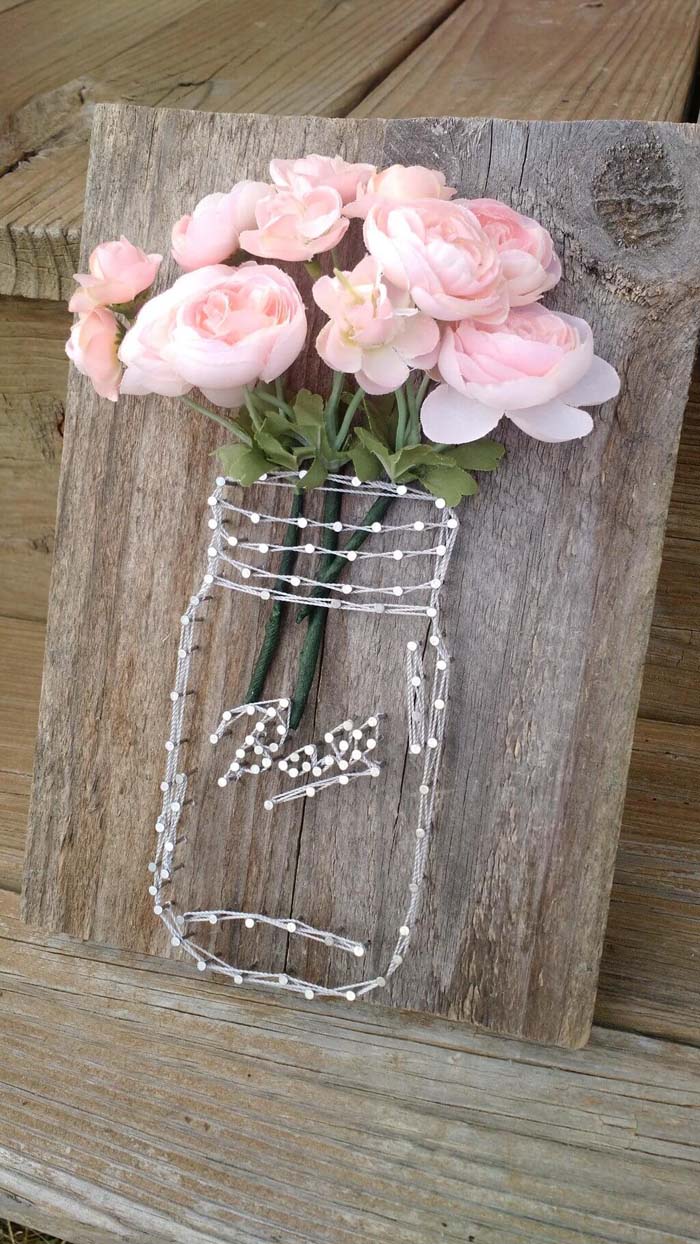 This clever take on traditional Mason-jar decor is a cheeky way to decorate for spring.
Instead of using a real glass jar, create the outline of one using nails and string.
Tuck a few artificial flowers behind the strings to complete the illusion.
via Ejka
22. Shabby Chic Floral Milk Crate Centerpiece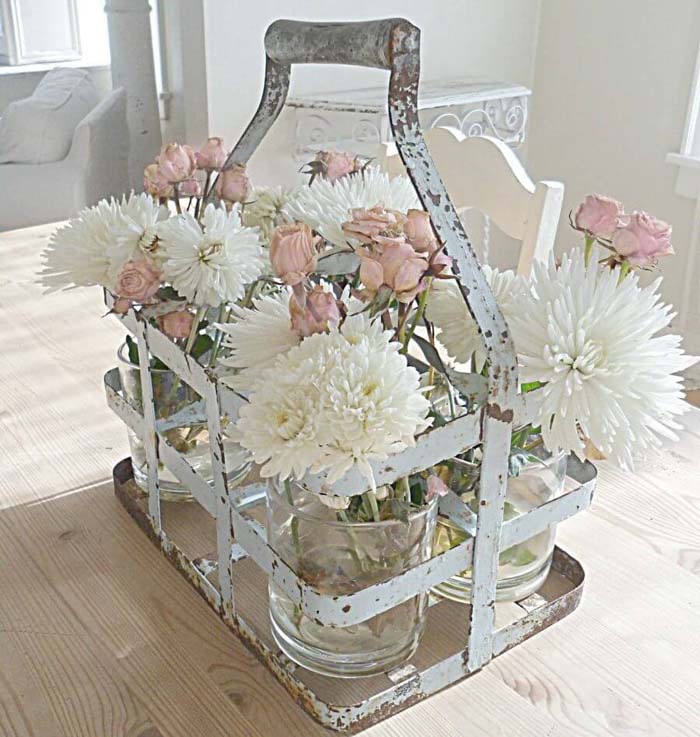 The milkman might be a thing of the past, but you can still find vintage metal milk crates in antique stores.
Instead of glass jars, fill the crate with clear glasses; then, you can use them as small vases for beautiful spring blooms.
23. Floral Birdhouse Nest Wall Art Piece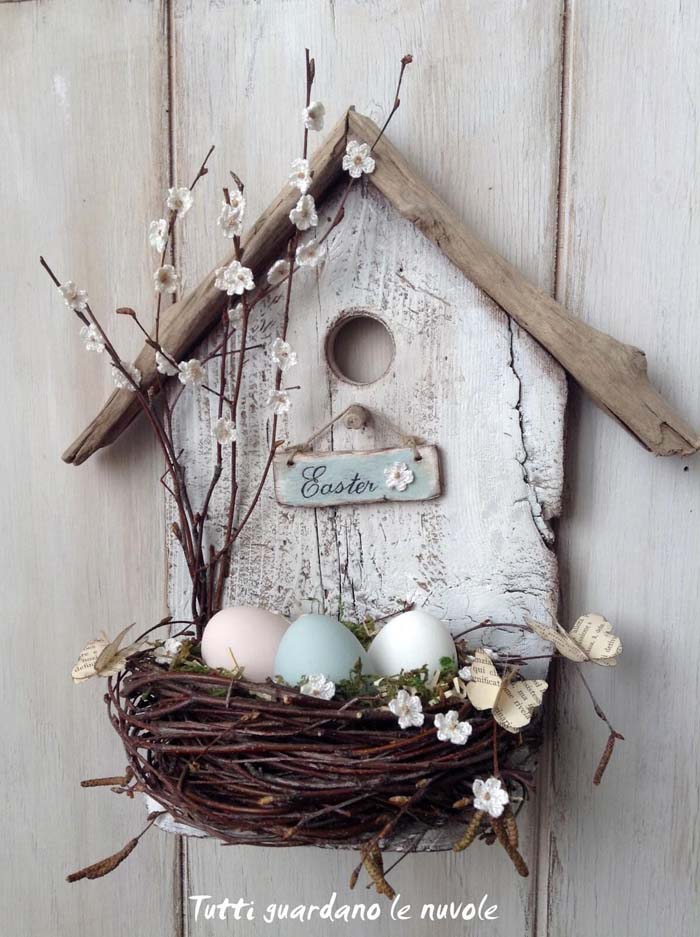 A bird's nest filled with eggs signifies new life — that means it's the perfect decoration for spring!
Mount your faux nest on a sweet birdhouse-shaped backing and add a few flowering branches for an extra dose of spring charm.
24. Add Spring Color With Flowers And Paint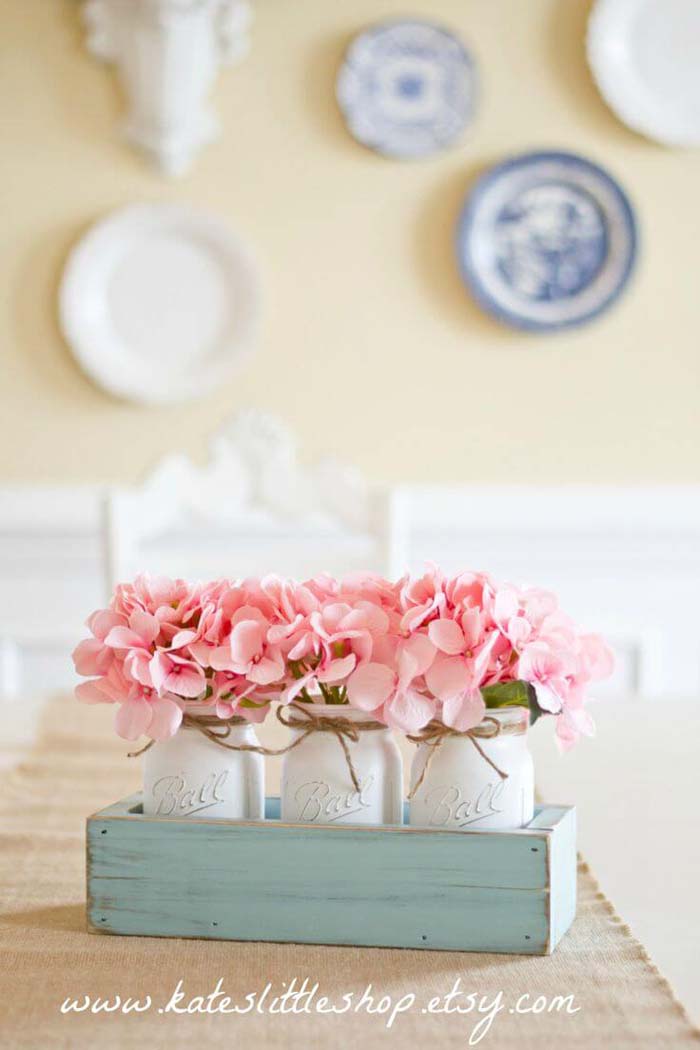 Go all in on the farmhouse vibe this spring by creating a centerpiece with Mason jars and a wooden crate. The trick?
Paint the jars with milk paint and use a spring-themed shade on the crate. That way, your flowers will look even more vibrant and lovely.

25. DIY Spring Bunny Candy Jars

Are you hosting a spring event? Send your guests home with these sweet DIY party favors.
The reverse stencil offers a peek at the treats within, and the homey ribbon trim adds a country vibe.
26. Repurposed Umbrella Door Décor

Have you ever seen anything like this whimsical umbrella decoration?
It's a breeze to create — just fill it with tulips and secure it with a ribbon.
The handle slips easily over any hook in the house.
27. Bright Floral Nest Arrangement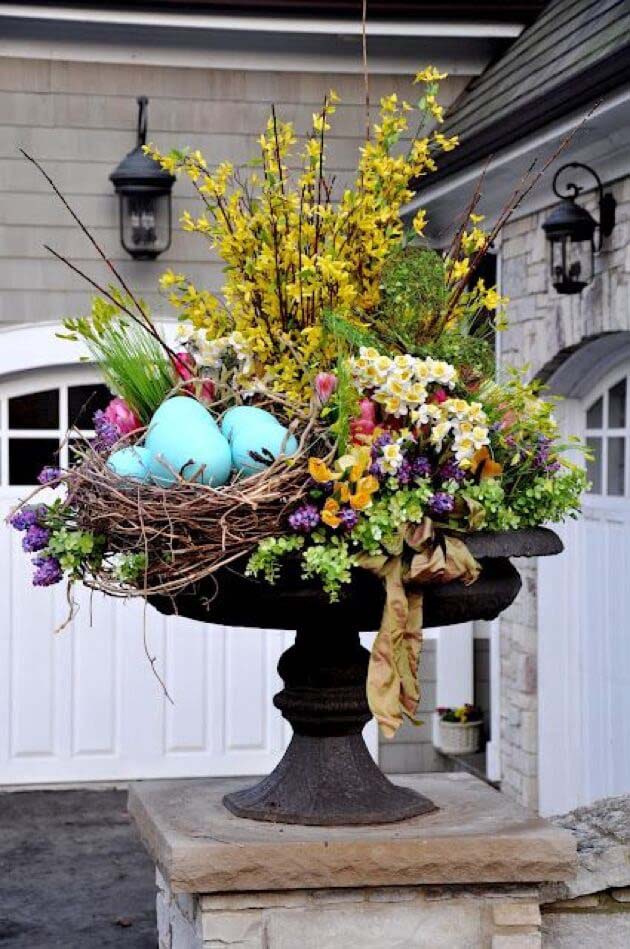 Ward away from the grey of early spring with a colorful, natural-themed display.
This project uses a large planter as a base; you can fill it with flowers, greenery, a nest, and a few oversized eggs to create a fun and whimsical decoration.
28. Cohesive Greens, Tulips, And Rabbit Porch Display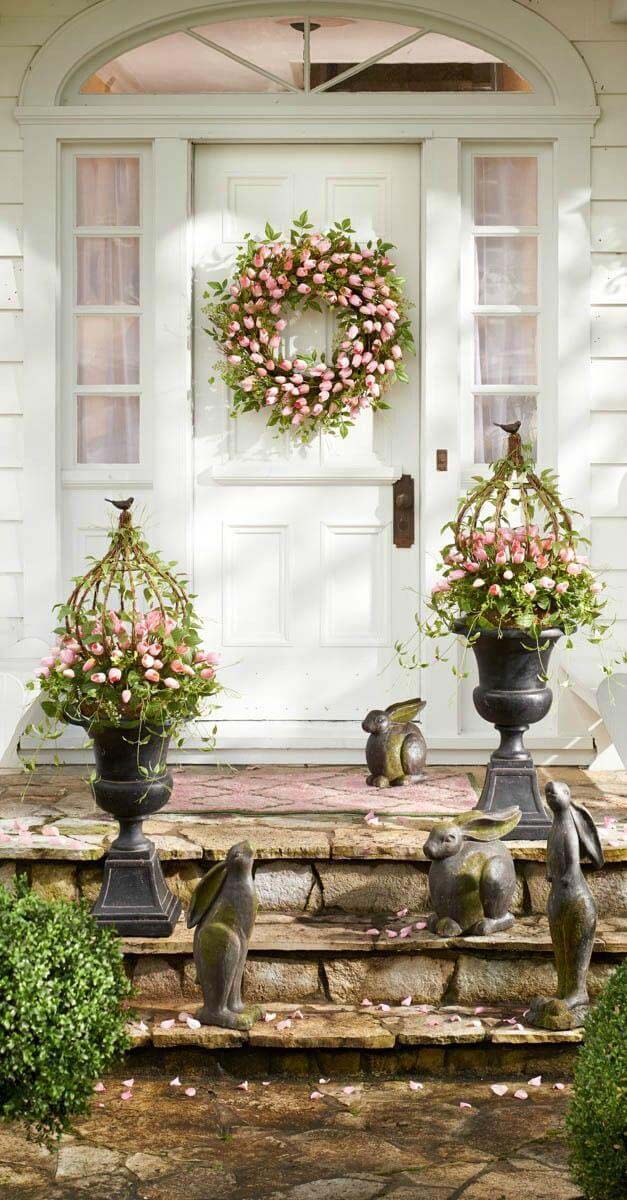 Delight guests with this tulip-heavy display, which brings to mind images of a magical cottage tucked into an enchanted forest.
The wreath and planters use identical flowers for a charming, upscale look.