Is your front door lacking a personal touch and interest? Decorating it to give it the right amount of attraction and beauty is easy. And do you know how that can instantly be achieved? By hanging a wreath.
Today's topic is colorful, spring-inspired and bright. The topic is DIY Spring Wreath Ideas that are easy to make and are budget-friendly.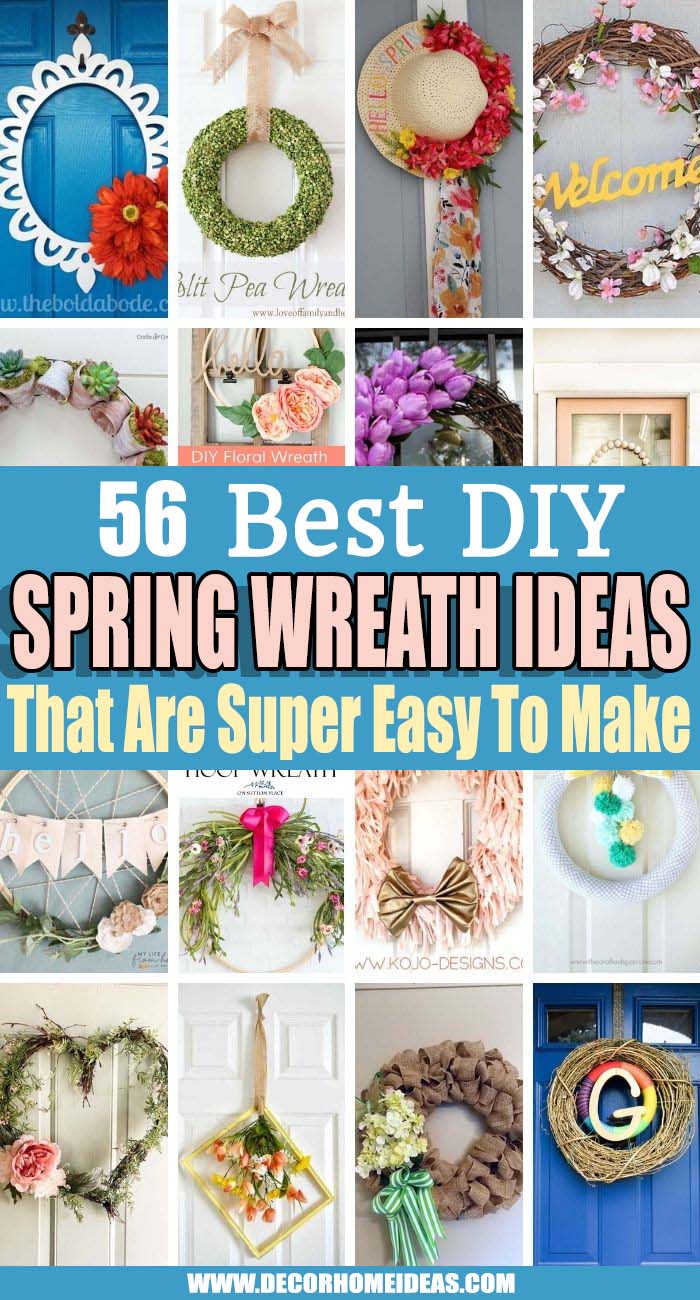 Each of the ideas here will transform the look of the front door by bringing a piece of the sun, a vibe of delicacy and a bundle of freshness to initiate the homely look and welcoming reception of your guests from the start of your home.
1. Moss Wrapped Hanging Birdhouse Wreath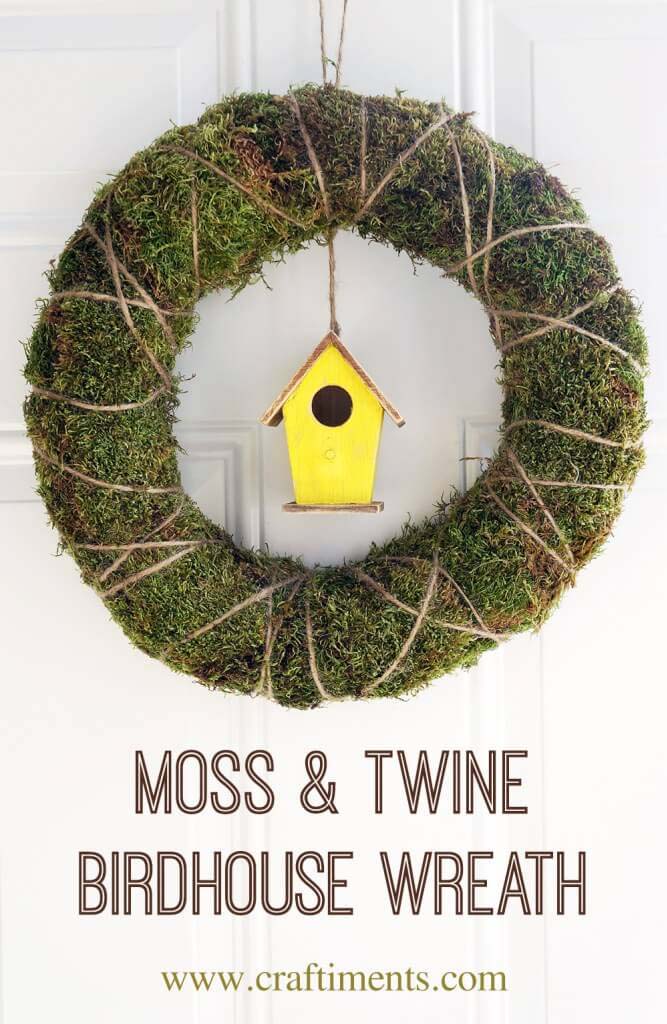 The supplies for this wreath cost only $6 which cannot be judged from its final adorable result. A straw wreath form is covered with sheet moss. Twine is wrapped around it randomly to give the wreath a rustic touch.
A great addition to the finished wreath is a small birdhouse that has been given an antique look by painting and distressing it.
via Craftiments
2. Half Bursting Blooms Wreath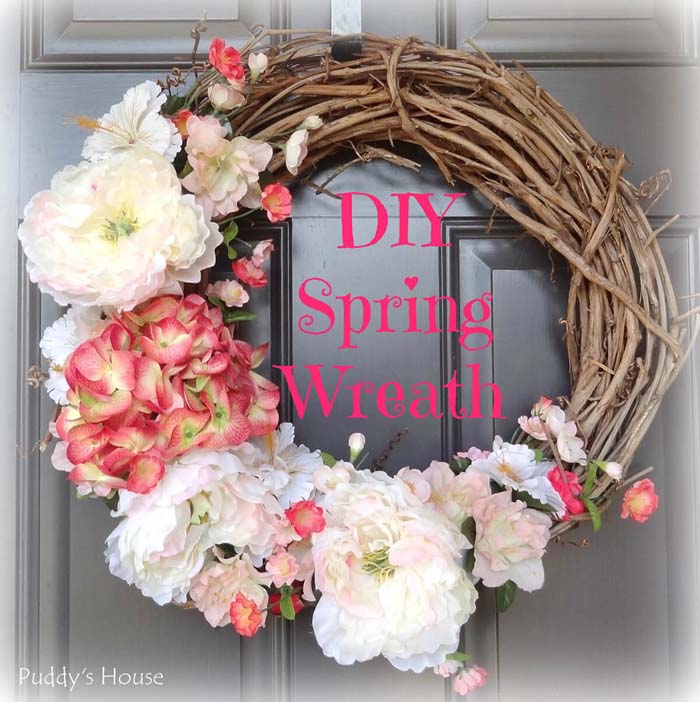 Some people don't like faux flowers but they can be a better supply when it comes to a wreath that will be used for a longer time.
Hopefully, there is a variety of artificial clusters and flowers that look exactly like real ones. The bouquet of peonies and hydrangeas used to add color onto a grapevine circle attracts with the gentle finish of each leaf to such extent that you may want to touch and smell it to convince yourself that they are not real.
via Puddy's House
3. Succulent Simplicity Wreath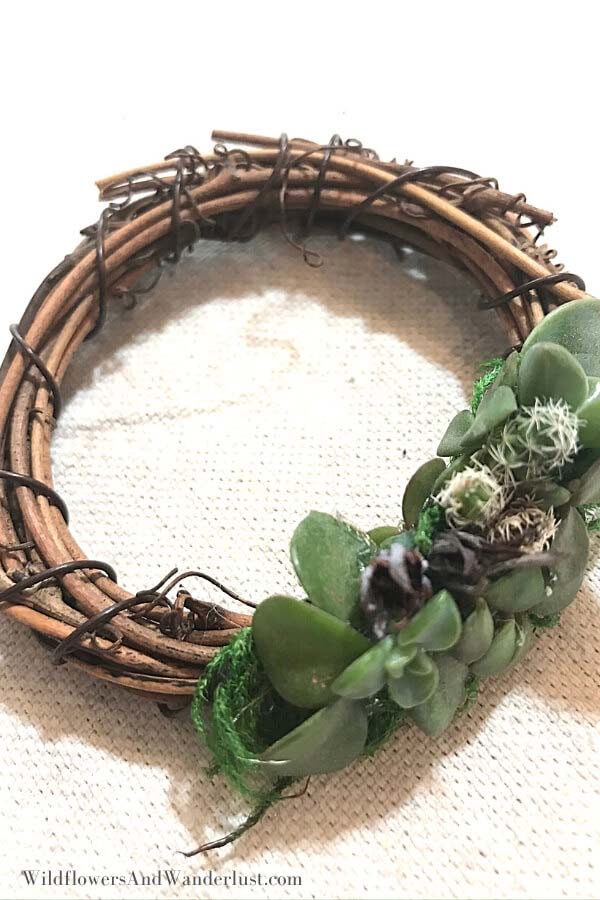 The idea for the embellishment of this grapevine wreath is faux succulents. Before gluing the pieces, make a trial to see how they look grouped together and if their position on the wreath is the best.
Succulents are one of the trendiest plants these days so choosing them to beautify your door will add a fresh contemporary vibe to the front door.
via Wildflowers and Wanderlust
4. Wrapped Foam And Tulip Hello Wreath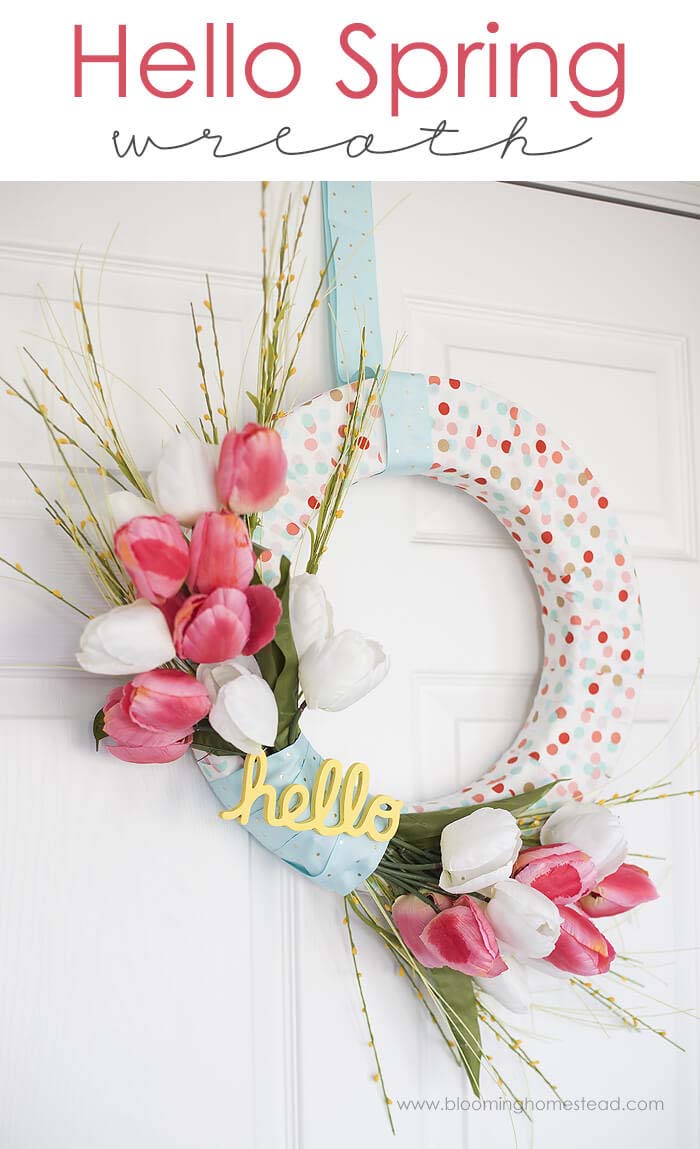 Are you excited about spring? Then celebrate it with a wreath embellished with one of spring's symbols- the tulip.
A styrofoam circle is wrapped with a polka-dotted ribbon. It makes a cute and refreshing base for a bouquet of faux tulips, green leaves and twigs secured to the wreath with blue ribbon.
To make the wreath more attractive and season-festive, add a small sign hello to the bouquet.
via Let's DIY it All
5. Paper Flowers In Bold Color Combo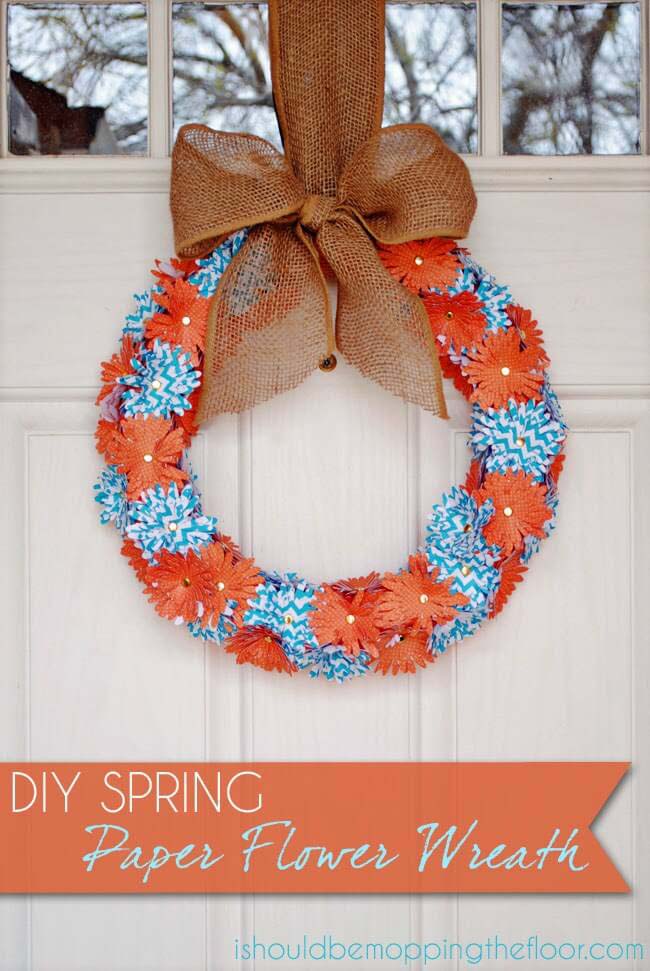 In case you have craft paper sheets and a Silhouette cutting machine or a similar gadget, you can use it to make paper flowers to decorate a foam wreath.
There is a variety of free paper flower cut files, single or stacked ones. Choosing a stacked flower will give the wreath a 3-D look and feel.
via I Should Be Mopping The Floor
6. Burlap And Bright Hydrangea Wreath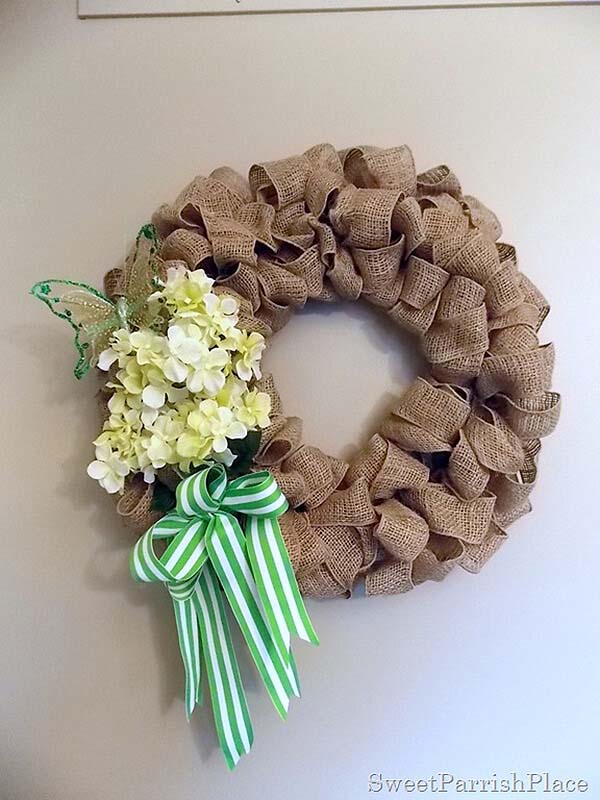 Burlap fabric is often used either for a background or for a rustic finishing element. Its casual look and rougher texture provide a farmhouse calm that adds a homely feel to the ambiance.
Twisting the burlap in a bow has given the wreath form volume and charm. A bright ribbon in green and white stripes marks that the warmer season has come. A hydrangea from the Dollar store and a clip butterfly complete the spring look.
7. Bright Blooms On A Burlap Base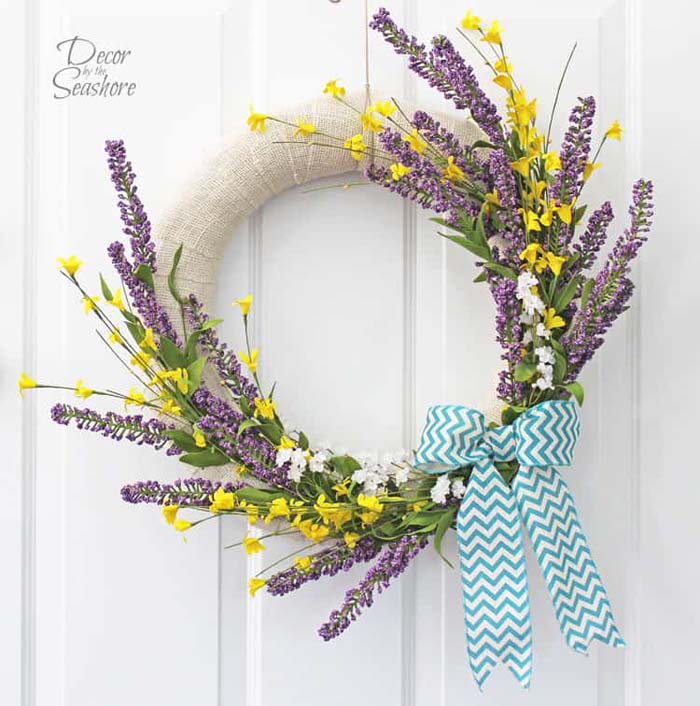 This is one of the most amazing spring wreath ideas as it fills the ambiance with cheer and color, inspired by nature.
A foam wreath is firstly wrapped in burlap ribbon. Then two identical bouquets of spring flowers are placed opposite each other on one of the wreath sides.
The greatest thing about this wreath is that you can change the embellishment on and off thanks to the easy way to attach and detach it.
8. Birds Nest Floral Arrangement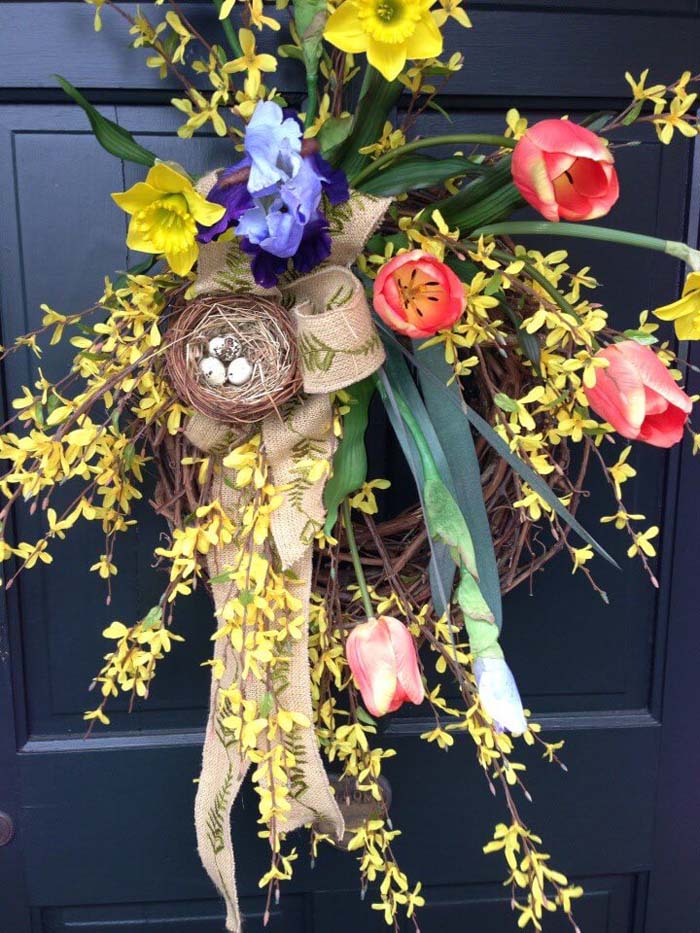 A bouquet of spring flowers is attached to a grapevine wreath. Instead of being precisely aligned along with the round shape, the flowers are left hanging from the point where they are tied to it to create a bursting pop of colors.
Another symbol of spring is gently added to the wreath- a small nest glued to a wide burlap ribbon.
9. Hello Spring Greens Wreath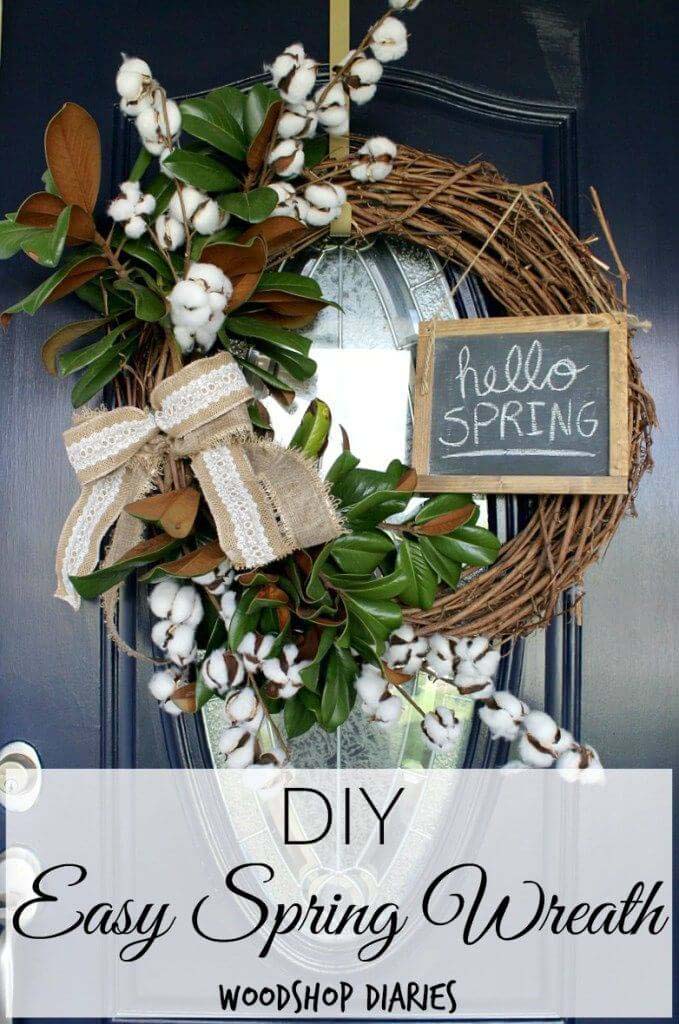 Cotton twigs have the ability to bring warmth and coziness closer so using them for your spring wreath will surely make your front door very welcoming.
A grapevine wreath has been chosen as a basis for this spring decor. Its advantage comes from the possibility to thrust things in between the sticks. So instead of making a wreath for every season, you can only change the embellishment.
via Woodshop Diaries
10. Bright Welcome With Spring Cherry Blossoms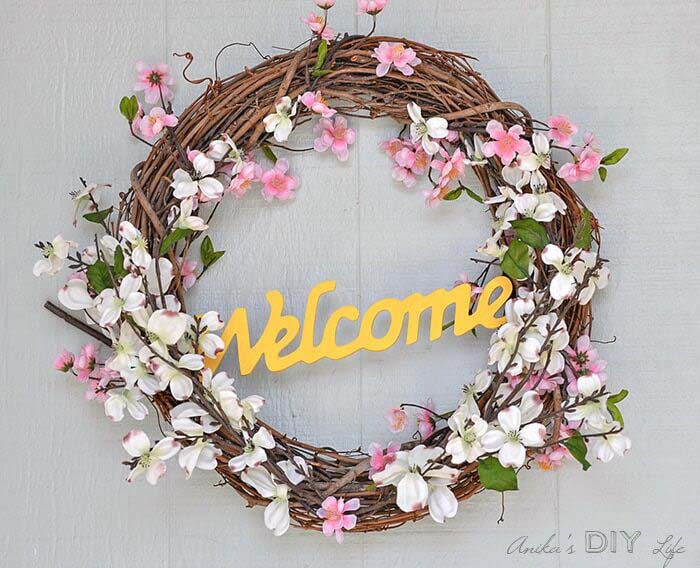 You know that spring is coming when you see the first cherry blossoms. They are so beautiful and so aromatic that you must have a cherry tree to enjoy that even if your yard is the tiniest one.
Using this motif as a decoration of a grapevine wreath will make the front door decor very cheerful and alive.
via Anika's DIY Life
11. Vibrant Folded Crepe Paper Wreath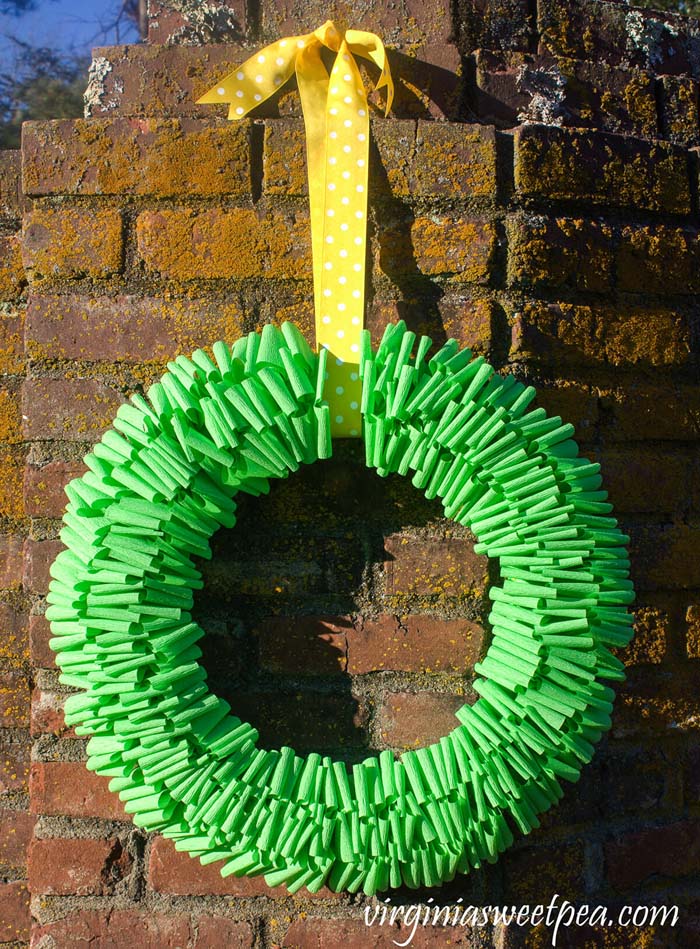 An affordable supply for your spring wreath can be crepe paper. Colors like green, yellow, pink, red and white are all related to the warm season and the revival of nature.
Making the cute curves on the foam wreath is done by overlapping identical sections of crepe paper with pins.
Complete with a bright ribbon that coordinates with the color of the paper you have chosen.
12. Fun Spring Colored Pom Poms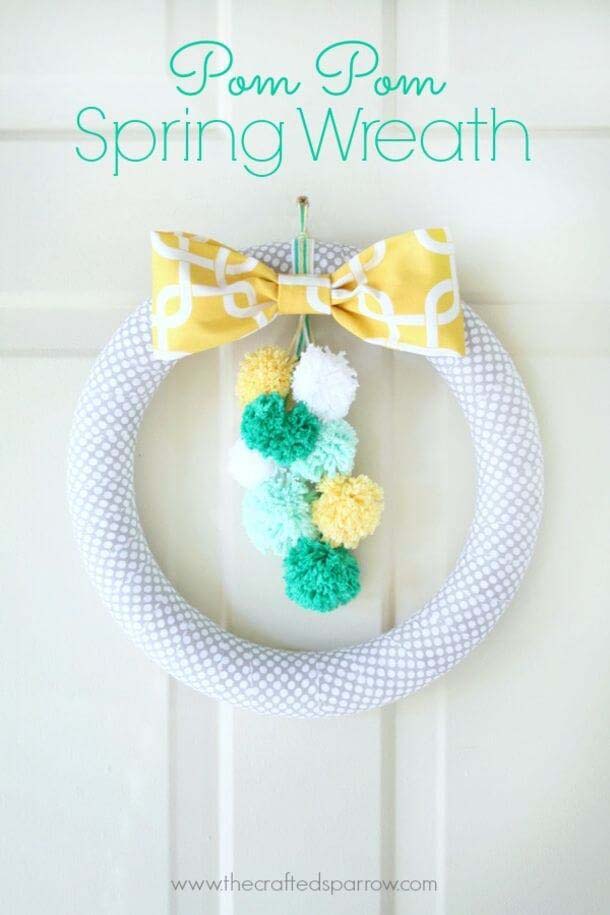 Pom-poms are a great way to add a point of interest to any decor theme as long as the right colors are chosen. And what are the colors that you relate to spring? Green, yellow and white.
When it comes to twine you can find them in the pastel palette and in a more contrasting variation.
Make your pom-poms and then tie a long piece of yarn to them. Leave them dangling to let the bundle be the focal point of your wreath.
13. Add Florals To A Cutout Frame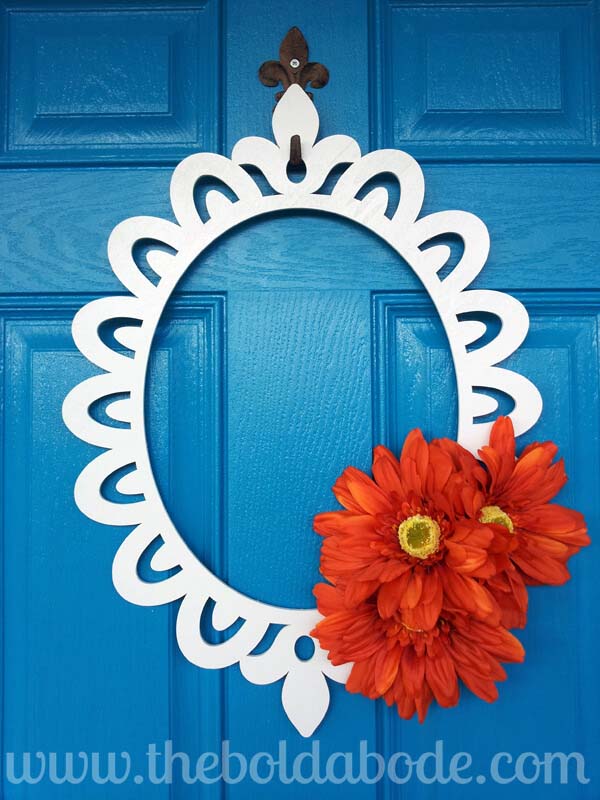 This wreath idea features a non-traditional basis to attach the accents on. Instead of foam, wire or grapevine wreath, a plywood frame becomes the backdrop for a bouquet of faux flowers.
Find the faux flowers you will enjoy seeing on your front door and glue them to the wood.
via The Bold Abode
14. Heart Shaped Spring Greens And Grapevine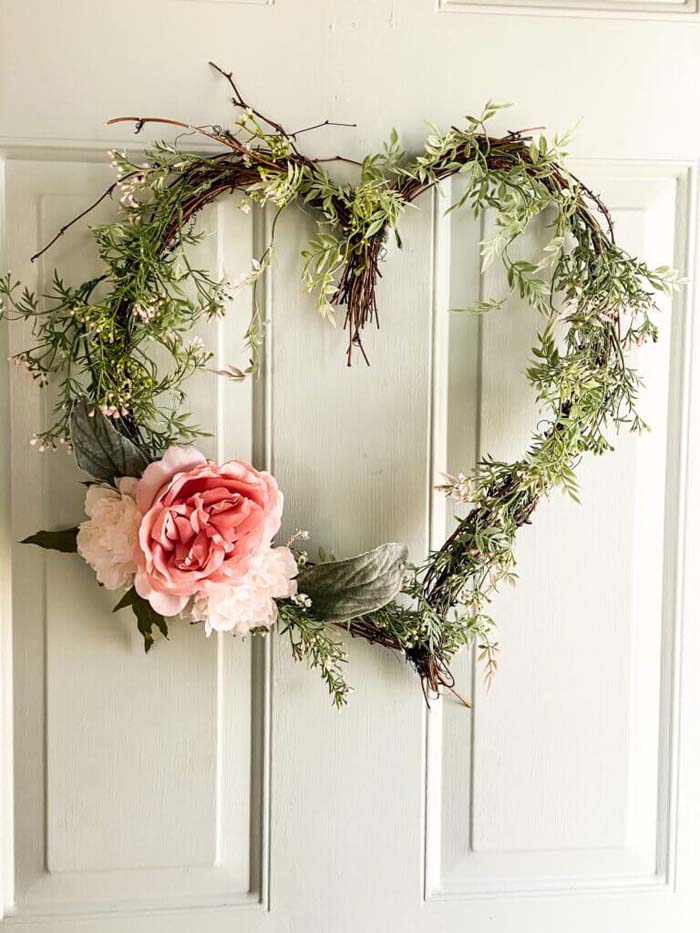 This wreath idea reveals the steps for making your own heart-shaped basis from grapevine garland.
After you are done with shaping the wreath, the greatest part follows- decorating it. Weave around the grapevine greenery like ficus and baby's breath-like flower.
Leave a part empty where the blossoms will be tucked. One large rose in pink or white and two smaller flowers will be just enough to give the wreath the perfect final touch that will make your front door ready for spring.
15. Fragrant Eucalyptus And Dried Flowers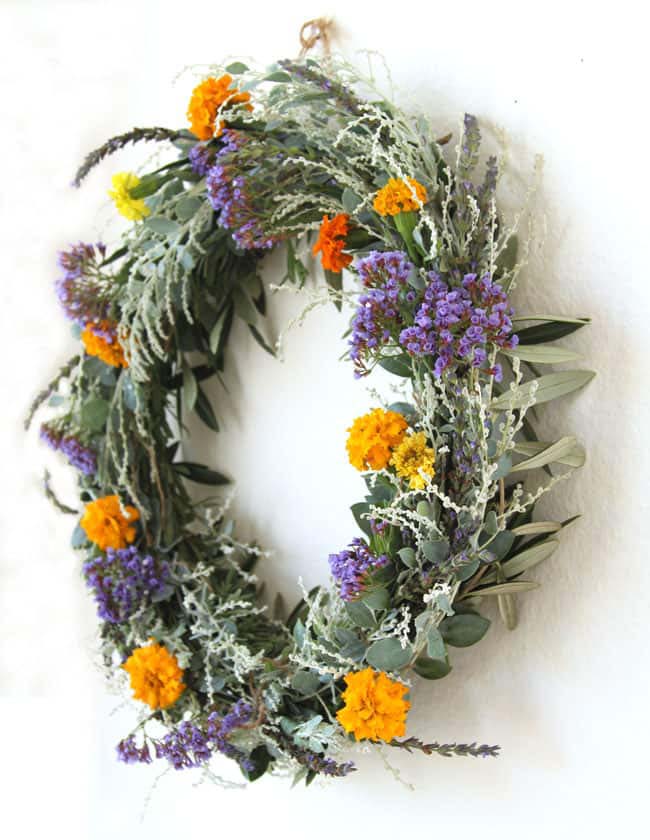 Using dried field flowers for your DIY wreath will give it an unexpected effect inspired by the wild nature in spring.
You would be amazed to find that the entire wreath is made out of plants and flowers so no artificial wreath base is required.
16. Hang A Bright Frame With Silk Flowers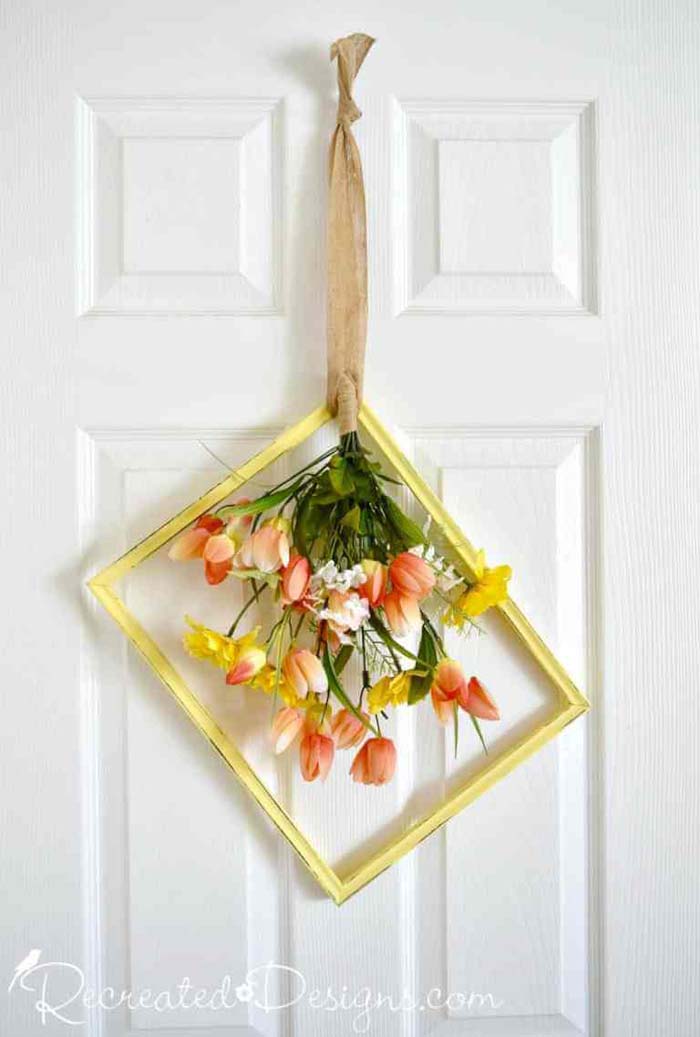 Have a frame that is no longer used? Take it out as it is the best way to give your front door a framed piece of spring.
A bouquet of faux flowers is tied tightly with a burlap ribbon. A wider piece of ribbon is used to hold the bouquet in place on the corner of the frame.
The non-traditional position and repurposed application of the frame make it a great art for the front door.
17. Budget Friendly Flower Wreath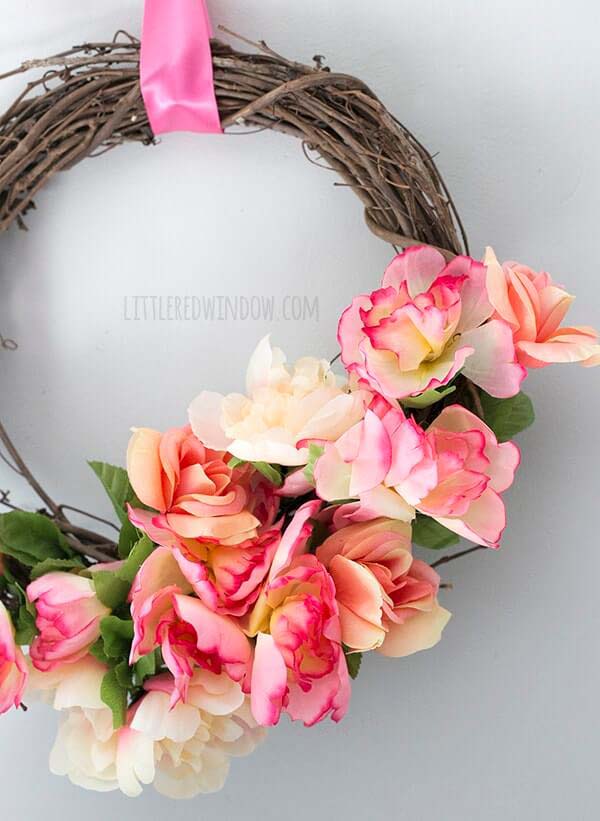 The most important part of this DIY project is to find faux flowers that look well. You will be probably surprised that these have been taken from a Dollar store. So next time there, check if there is something that could do.
Then just thrust each flower stem into the grapevine form. Use a ribbon to attach the spring decor to your door.
18. Intricate Wreath Of Lace Doilies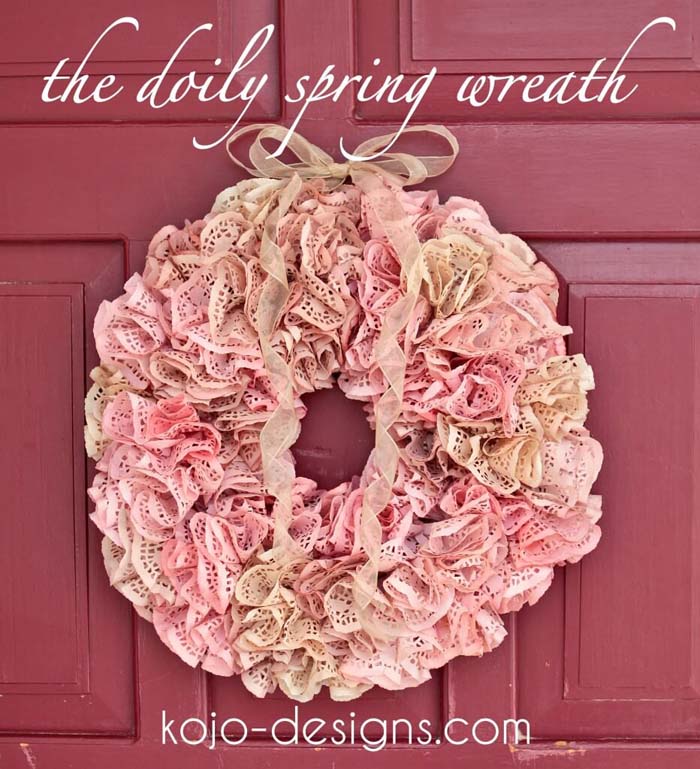 Another affordable supply that can already be on hand is the doilies. They have been colored with eco-friendly paints to give them the aged effect.
Then every doily is gently pressed in the middle to form a ruffle. To secure them onto the wreath form, hot glue is used. A foam wreath or a cardboard circle can easily accommodate this type of decoration.
via Kojo Designs
19. Bright Fluttering Butterfly Wreath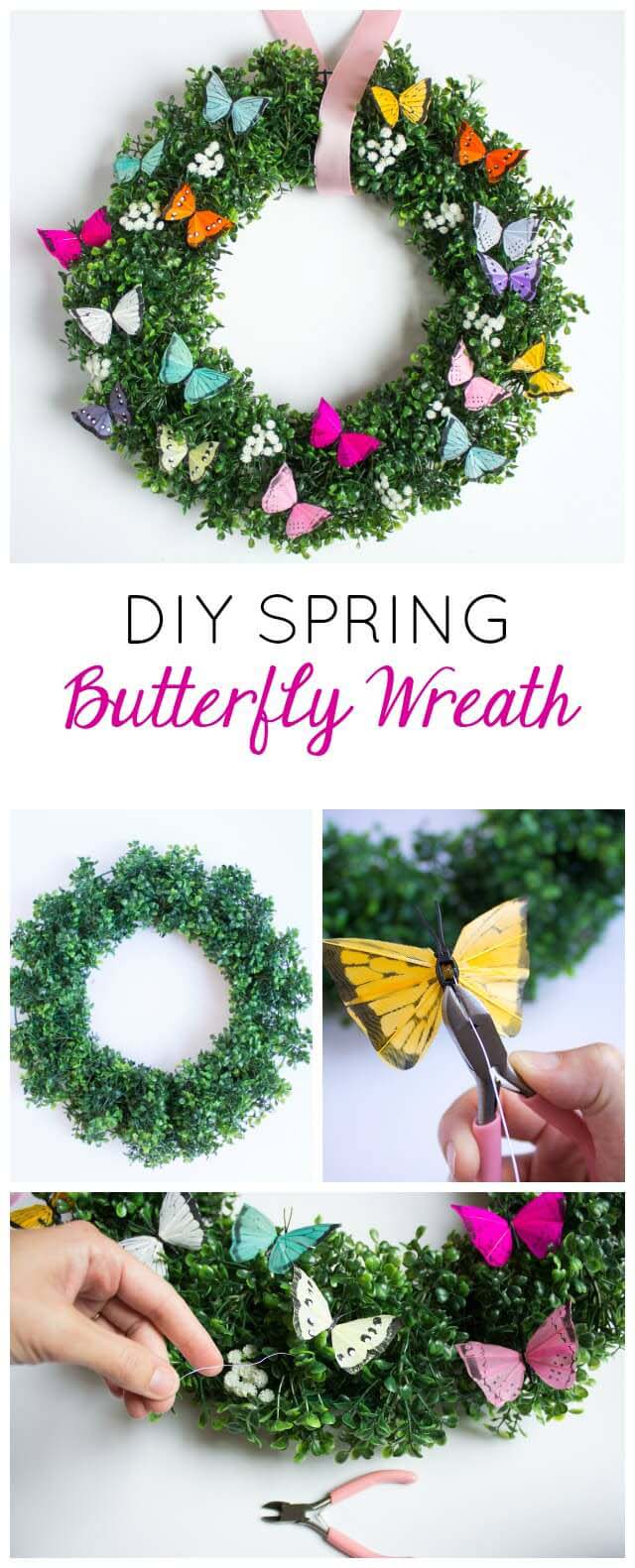 This wreath looks like taken from a fairy tale with its cute butterflies alighted on it.
To recreate this design, take a boxwood garland and wrap it around a treat form. Then thrust the butterflies into the boxwood following a zigzag pattern.
20. Embroidery Hoop Floral Swag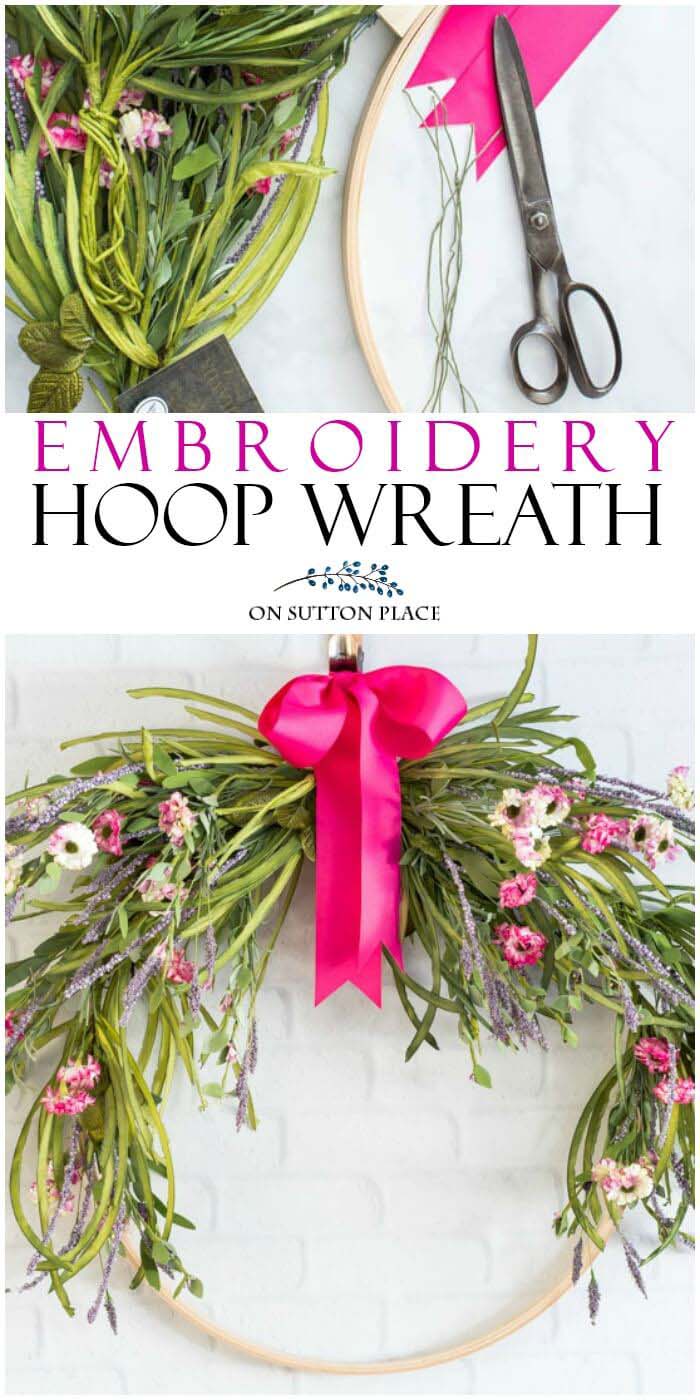 An embroidery hoop is used as a base of this easy DIY spring wreath project. The wildflower bouquets are actually artificial. You can find them by the name teardrop swags.
To hide the bottom of the sprays and ensure a hook for the wreath a wide pink ribbon is twisted into a bow.
via On Sutton Place
21. Simple Moss Chair Hanger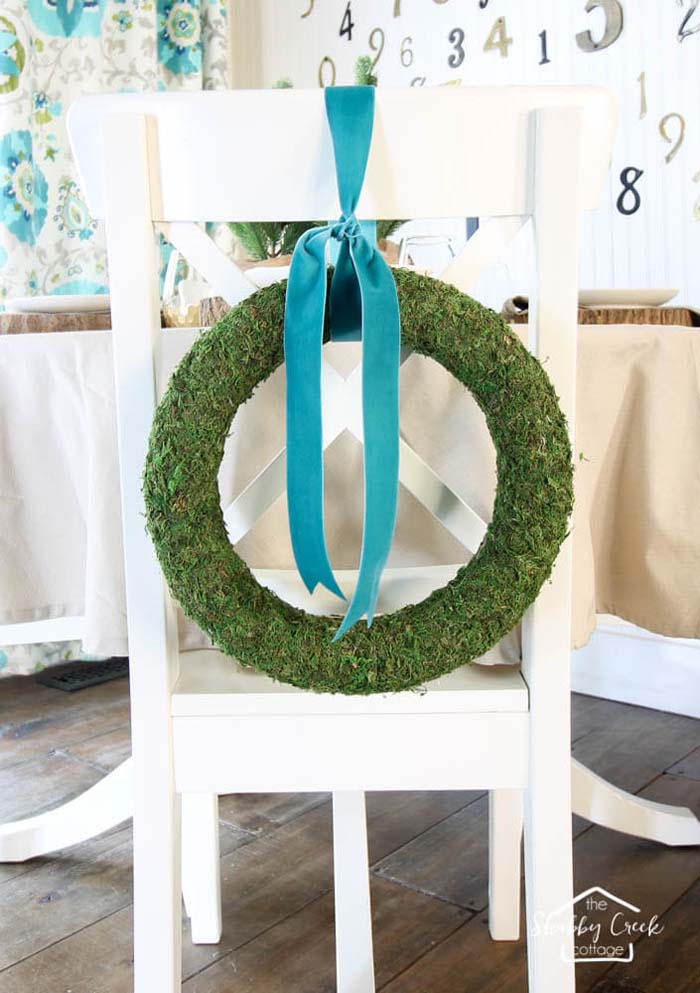 The simple look of this DIY wreath makes it a good addition to a minimalistic home.
The wreath form is covered with moss sheets to create a living decor accent. A velvet blue ribbon tied onto it makes the wreath more eye-catching and ensures a means to hang it on the door.
22. Decorative Twine Hello Banner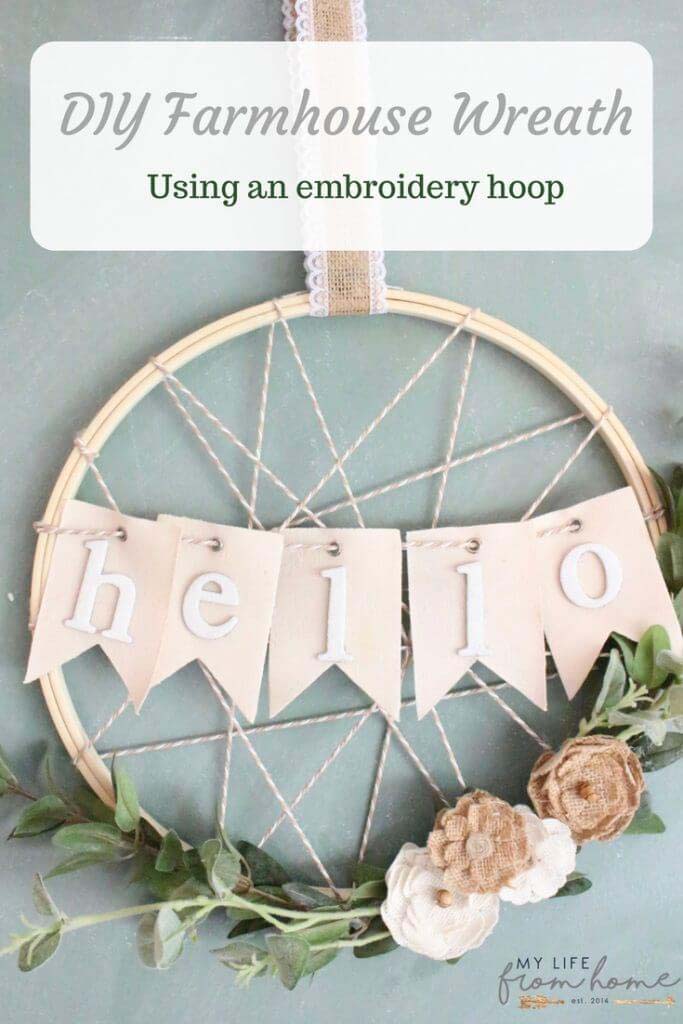 Because of their round shape, embroidery hoops have become an alternative to the typical wreath forms.
The bottom of it has been decorated with twigs and burlap flowers. The hollow section has been filled with a striped string stretched around the hoop. It forms a figurative net on which a cute hello banner is threaded.
The charming farmhouse look of the wreath is finished with a burlap and lace ribbon.
23. Make A Bold Statement With Stripes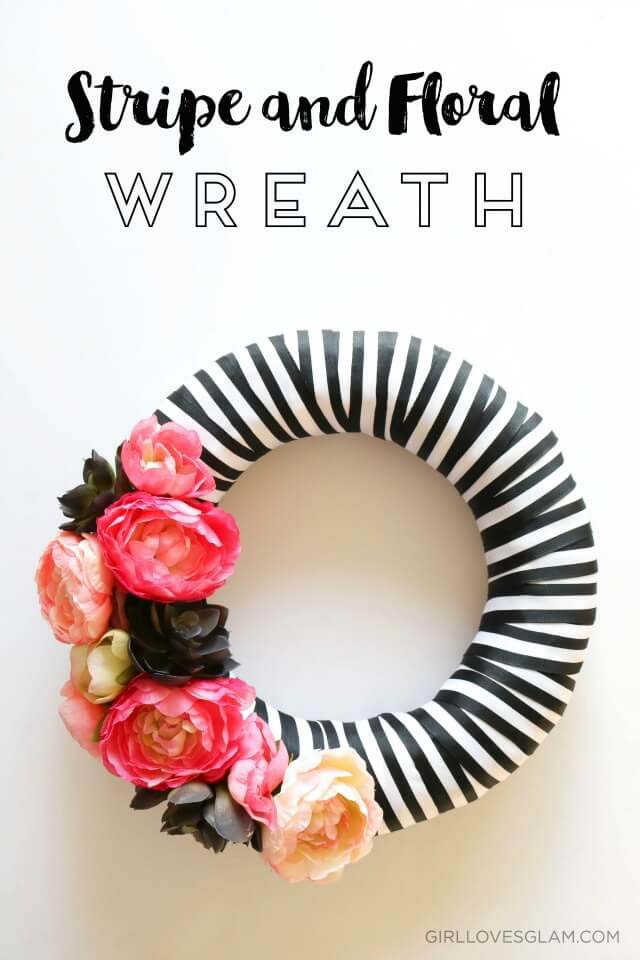 If you are a bolder person that loves to decorate leaving a personal touch and impression, this DIY wreath idea is just for you.
The wreath project starts with wrapping a form with an eye-catching striped ribbon. The blossoms are chosen to decorate half of the wreath are in pink, yellow and black.
via Girl Loves Glam
24. Fake A Wreath With Upcycled Wood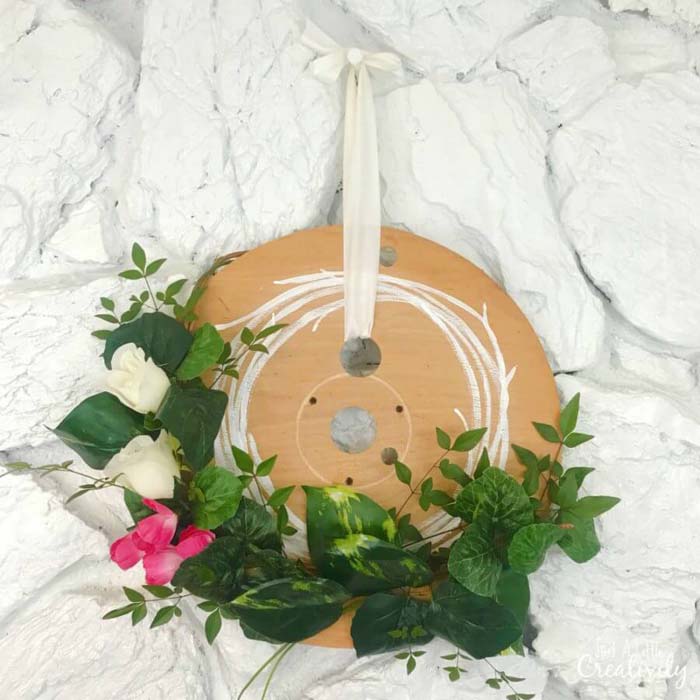 This is one of the most unique DIY wreath ideas. It upcycles a piece of wood from an old cable spool. Mimicking a grapevine with paint on it easily focuses the attention and makes the spool application clearly stated.
A faux vine and flowers complete the handmade project turning it into a welcoming piece for the front door.
25. Pretty Pink Felt Wrapped Wreath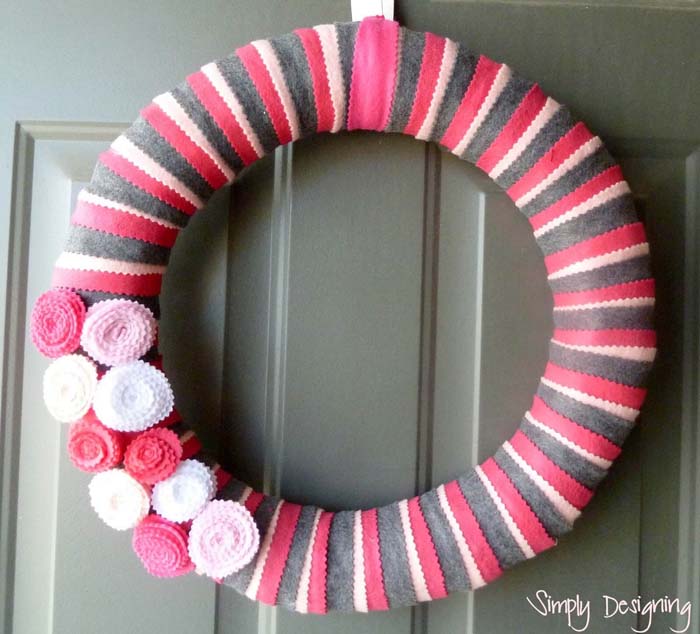 The color pattern of this wreath makes it a bold DIY example that can beautify an ambiance that is missing a point of interest.
The material you need to create the same look is felt strips in three colors. Choose those that remind you of spring or such that will look well on the background of your door.
Then start alternating the pieces onto a straw form, hot gluing them in place.
via Simply Designing
26. Colorful Clustered Balloon Wreath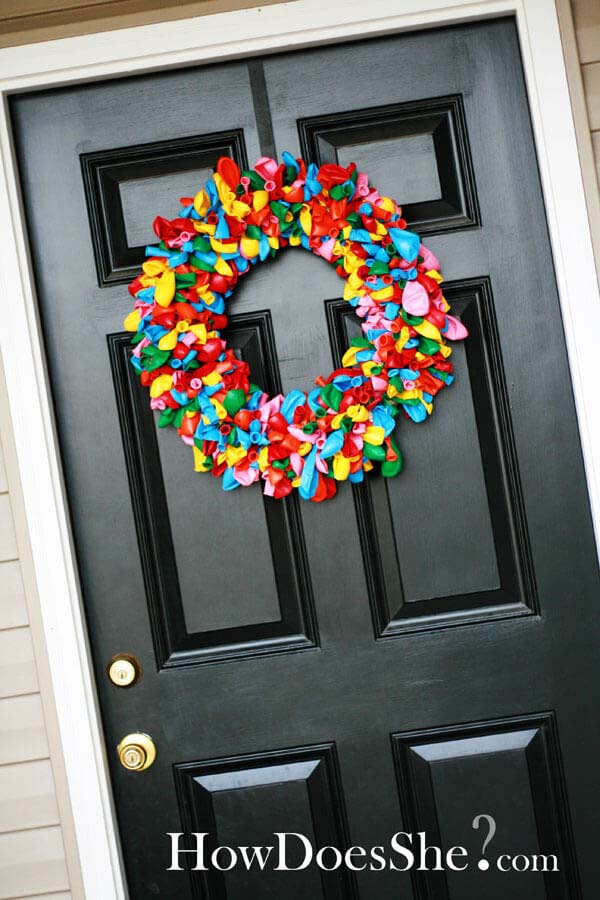 This DIY wreath is a fun project your kids can involve in. The typical embellishment presented by flowers is replaced by plain balloons.
Their vivid colors and the pattern they are aligned on the wreath form creates a burst effect that will make your front door very festive and cheerful.
via How Does She
27. Mixed Greens With A Pop Of Blooms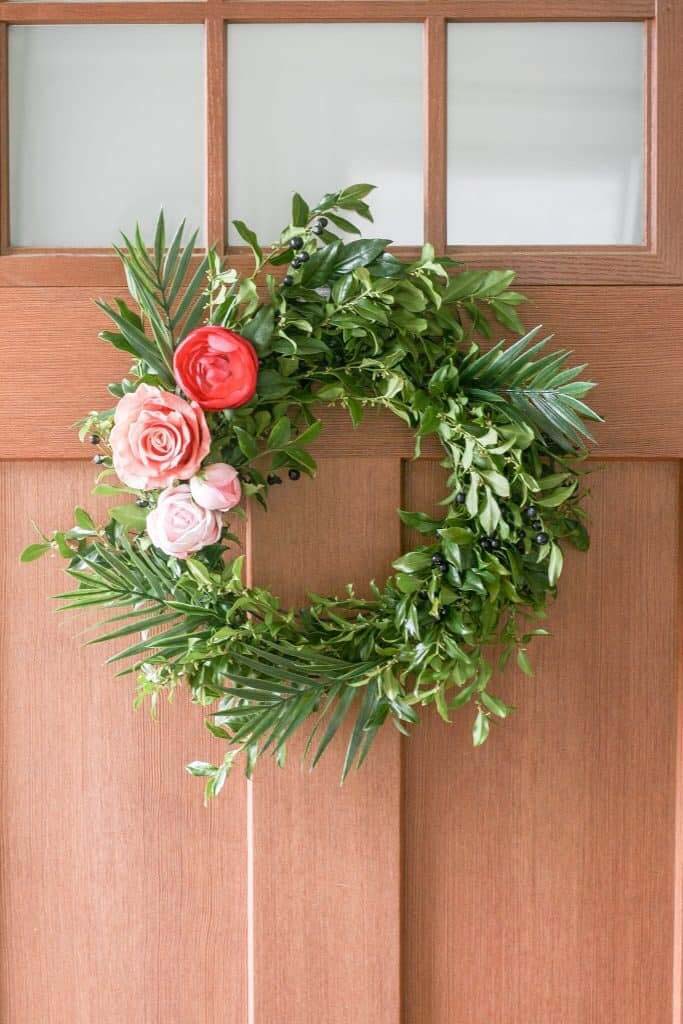 A great idea for a DIY wreath shows how to mix real and faux flowers. Since real flowers won't last long, they are replaced by artificial ones of a fine fabrication.
The greenery which forms the shape of the wreath is real. Depending on the twigs you will choose, it can last for an entire season- boxwood, berry bush twigs, etc.
via Decor Hint
28. Frame A Rainbow With A Grapevine Wreath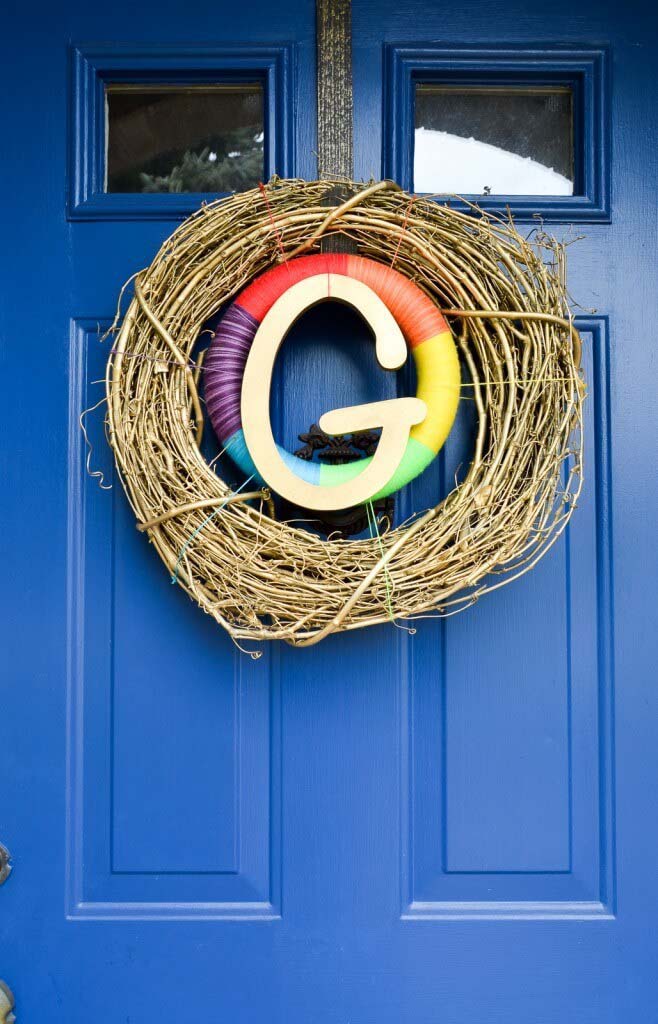 This wreath attracts with its unusual design. Instead of having one circle, there are two- one made of grapevine, looking like a nest. A smaller wreath in the rainbow colors finds its place inside the larger one.
The center of this front door art is taken by a large monogram of the family name.
via Albion Gould
29. Monochromatic Tulip Color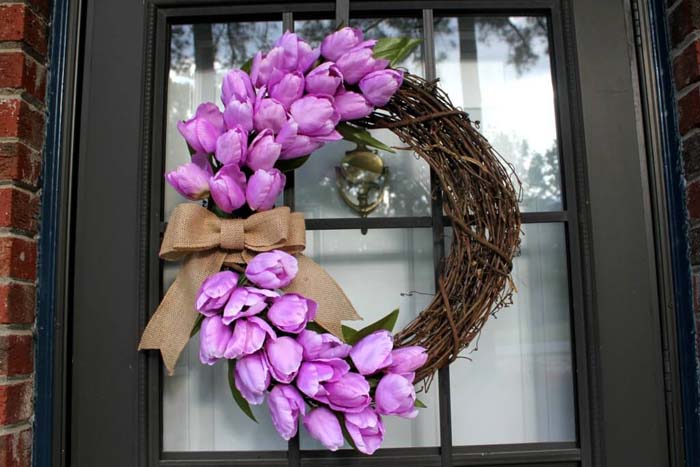 If you are a traditionalist and prefer the simpler look, you will fall in love with this DIY wreath.
Half of it shows the farmhouse authenticity of the grapevine, the other half explodes with two gorgeous tulip bouquets in lilac.
via Finding Mandee
30. Layered Wreaths With Flower Detail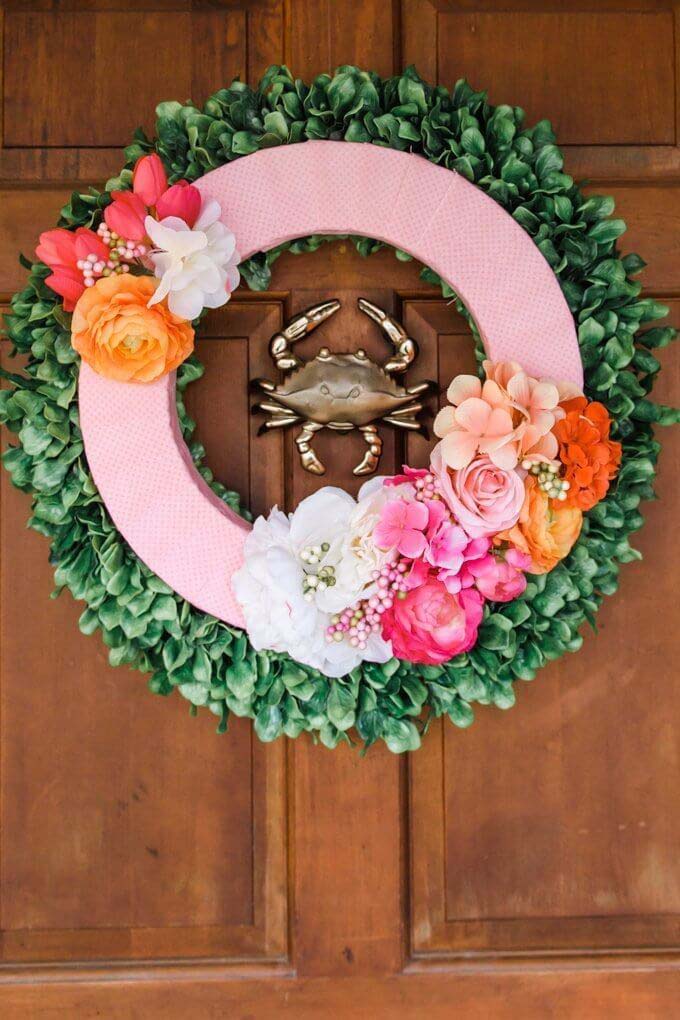 This wreath is one of the most unique ones in our collection thanks to the non-standard design.
The wreath is laid on a layer of boxwood garland to create a backdrop for flowers and berries.
The color of the wreath can be customized to match your front door and the colors of the chosen blossoms.
31. Add Flowers To A Spring Hat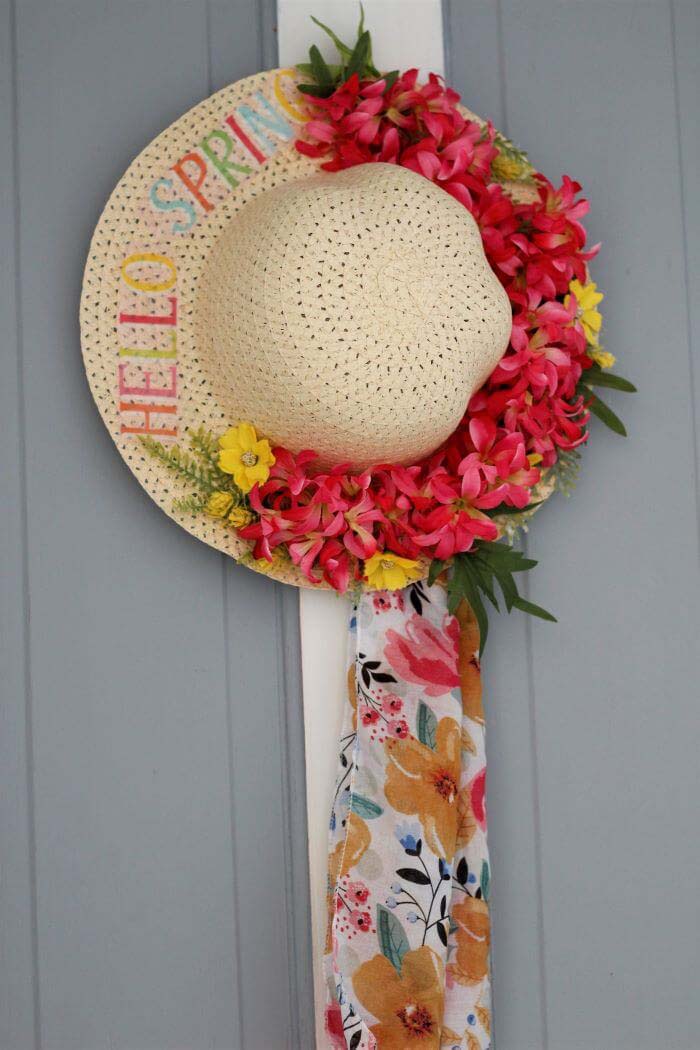 Use the round shape of a straw hat and its strong relation with the sunny weather to create a one-of-a-kind front door wreath.
Add faux flower garland on one of the sides. The other leave empty to decorate with a "hello spring" sign.
The unique craft is finished with a beautiful scarf in a spring theme.
32. One-Of-A-Kind Linen Fringe Wreath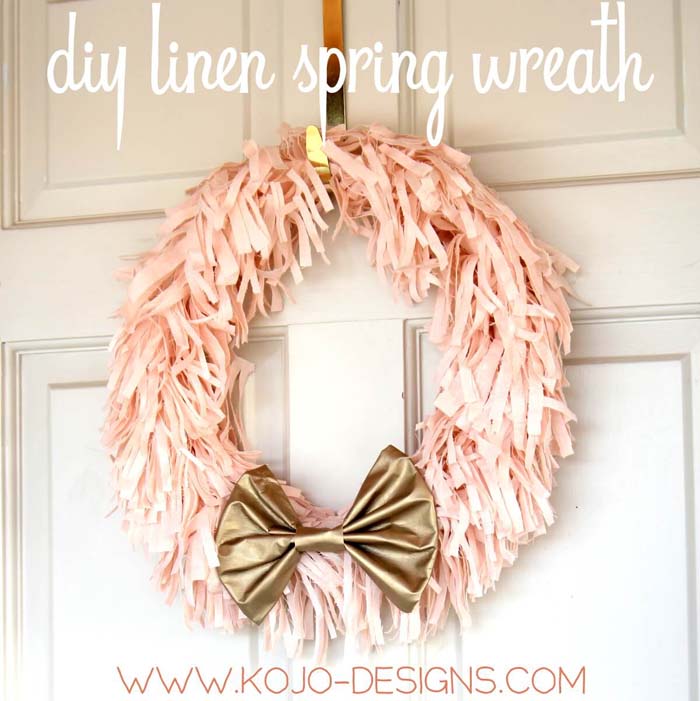 A wreath form from the Dollar store has been given a unique shaggy look with strips of linen.
All of the strips have been preliminary cut in a fringe pattern to create an unusual design. Add a golden bow to make the wreath look finished.
via Kojo Designs
33. Burlap Base With Changeable Flowers

This design is not only very festive but also very practical. To welcome spring, two bouquets of lavender and forsythia are attached to the burlap base of the foam wreath.
Once spring is gone, they can be replaced with other embellishment typical for the season or for the holiday thanks to the floral wire used to secure the sprigs.
34. Nestled Bird Nest Floral Wreath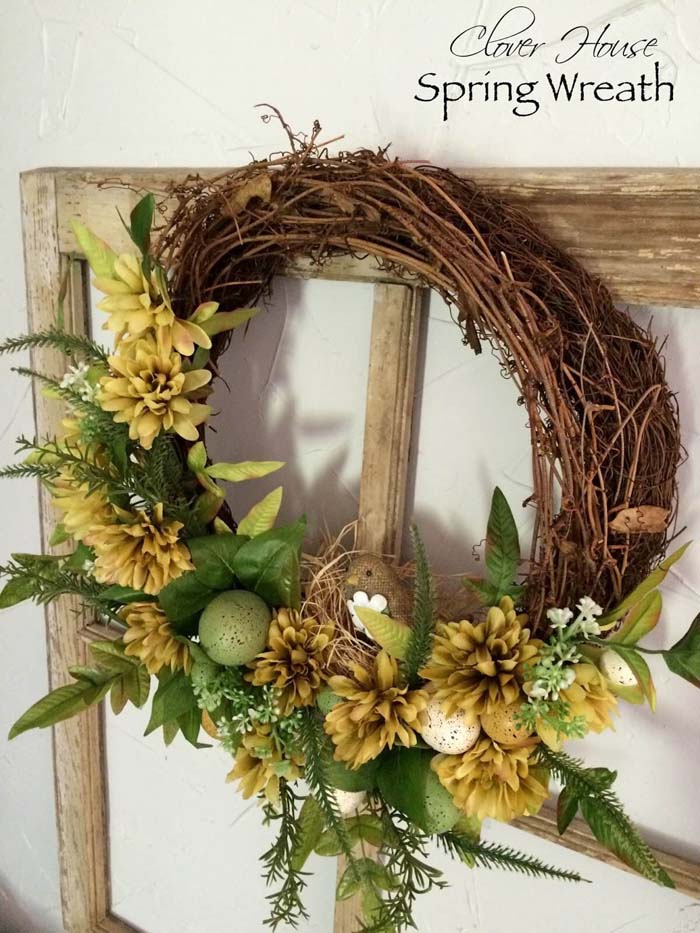 If spring is coming, then Easter is also knocking on the door. And why not combine the symbols of both in one wreath?
On a grapevine wreath greenery, small yellow faux flowers and eggs cover its bottom part.
A beautiful bird made of burlap has alighted on a nest in the center of the embellishment.
via Our Clover House
35. Repurpose A Frame With Felt Flowers

This is another idea of how to use a wooden frame as a front wreath. The decoration is different and that creates an interesting accent. Instead of faux flowers, flowers are made out of felt strips.
The colors are in the pastel palette and easily create a cheerful feeling for the coming spring.
via CBC
36. Polka Dots And Spring Eggs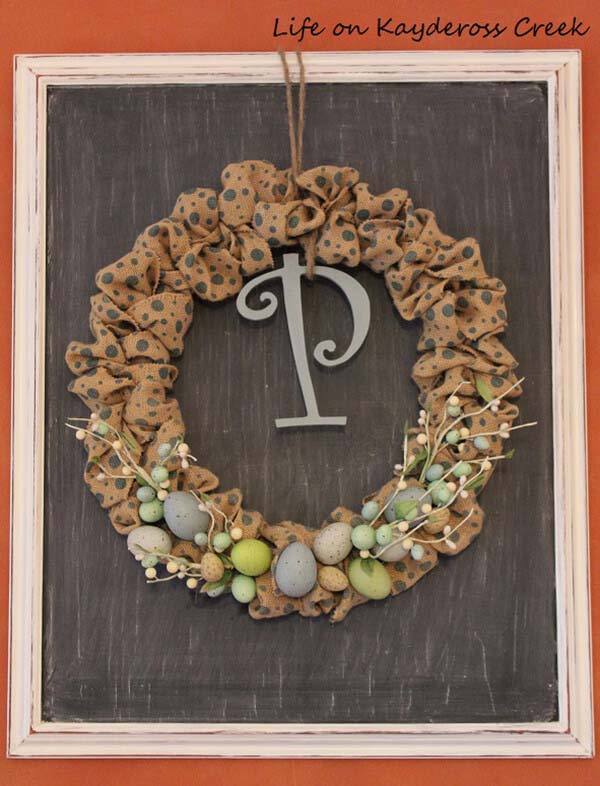 Making this wreath is easy. The ordinary burlap is replaced by a polka-dotted one that creates the shape of the wreath.
On its bottom, eggs from the Dollar store give it a point of interest.
The creation is attached to a framed chalkboard to give the front porch a farmhouse feel.
37. Bright Tulips With Monogram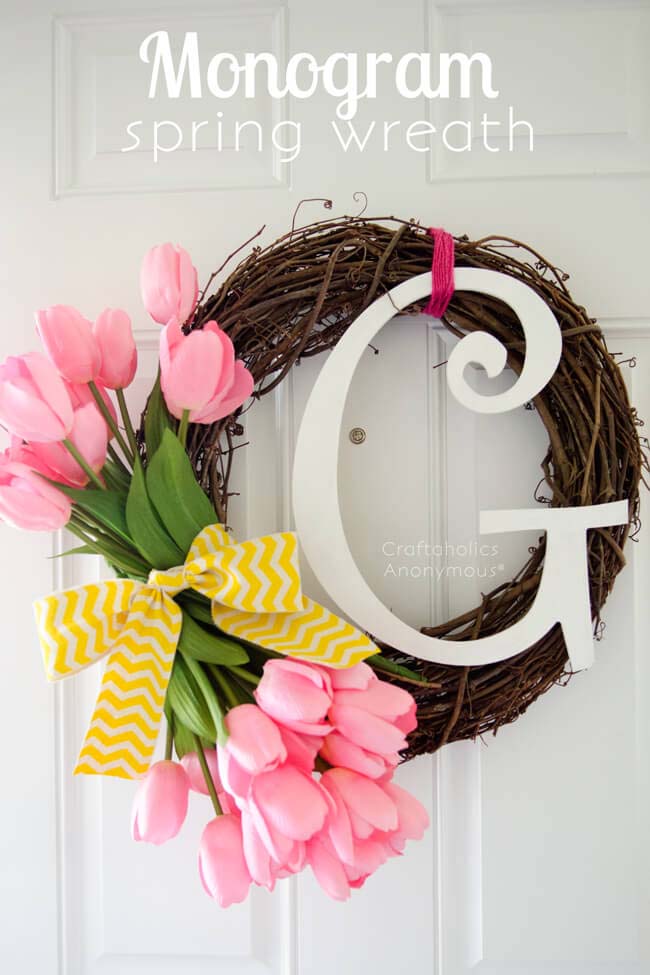 The wreath can be more than just a wreath. It can become very personalized by attaching a large monogram to it.
When choosing the design of the letter, make sure that it pops out against the backdrop.
38. Wild Moss And Perfect Peonies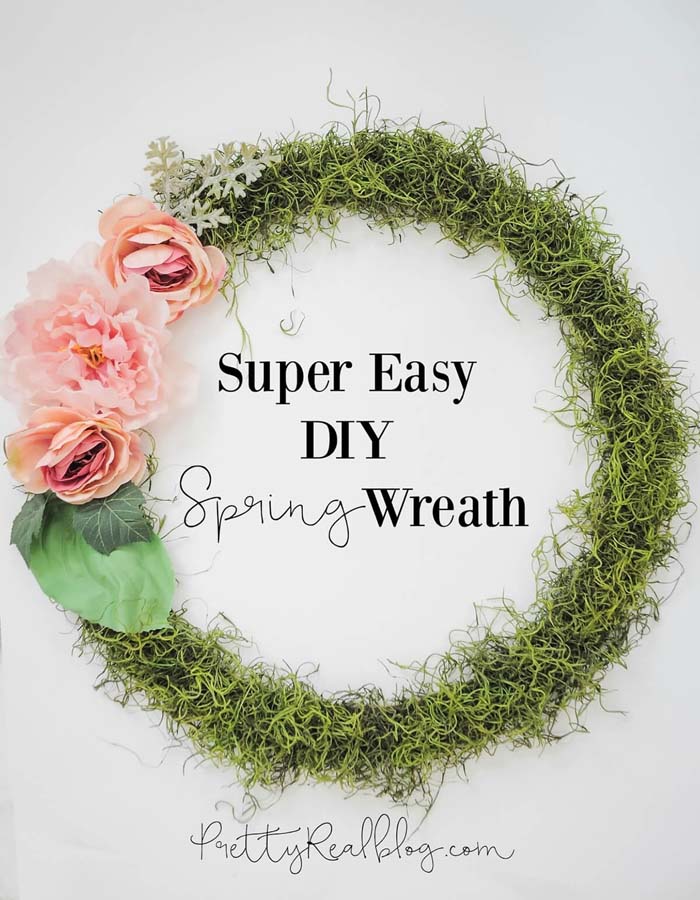 Resisting peonies is impossible. They are very beautiful and gentle and are a symbol of spring.
Attaching them to a wreath covered with moss will create a unique and appealing front door decor.
via Pretty Real Blog
39. Easy Paper Cone Flower Wreath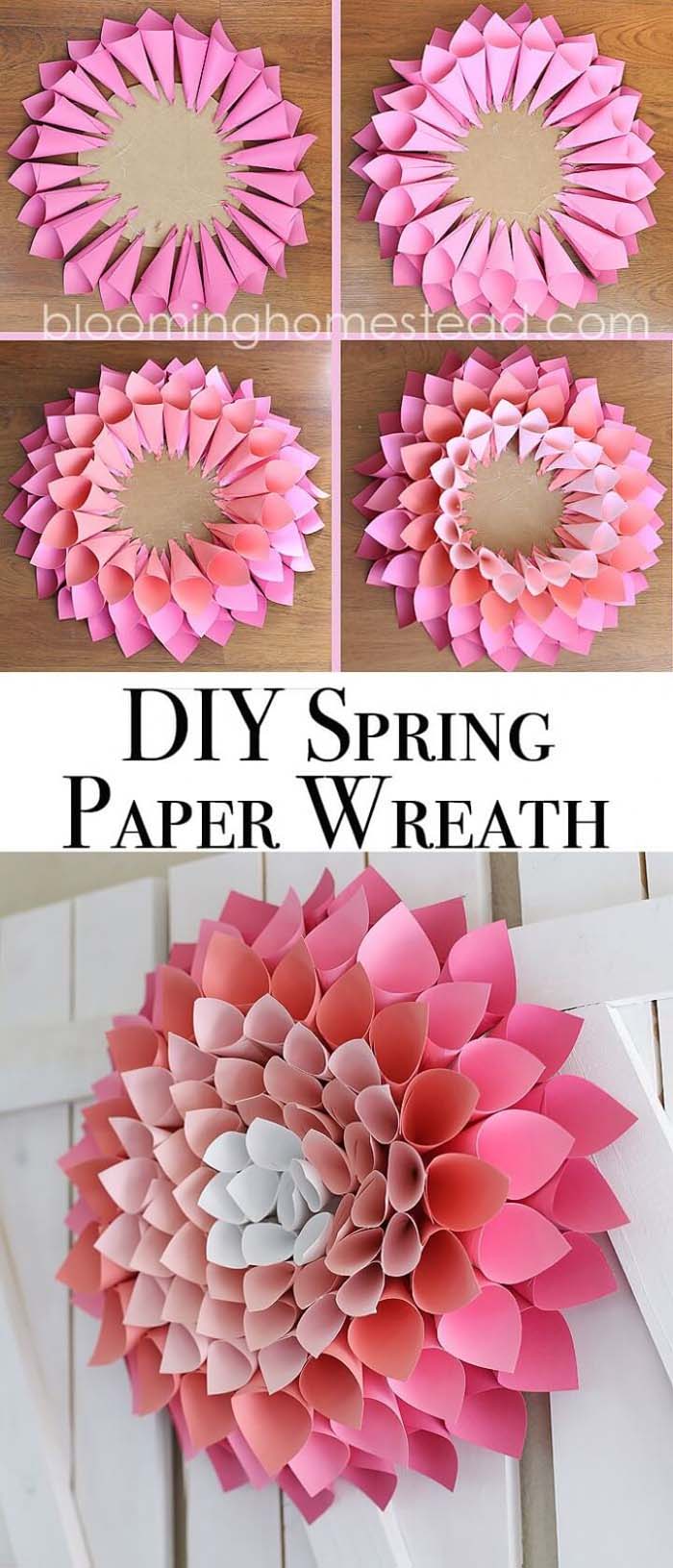 This wreath idea features using paper instead of the standard embellishment supplies. The cones are made out of paper sheets aligned to form an ombre effect.
Every cone is cut, rolled and then glued to a cardboard circle.
The wreath can be customized in size and colors that will suit your front door.
40. Add A Colorful Nest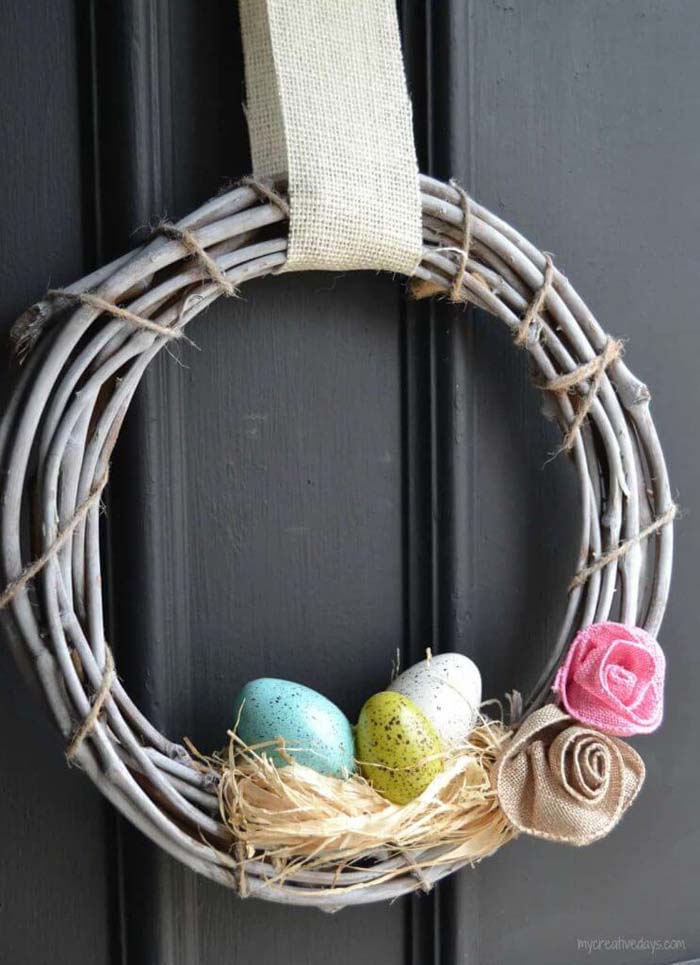 The simplicity of this wreath makes it so charming. Three typical symbols of the spring season are used to decorate it- eggs in a nest, burlap roses and grapevine.
To make sure that every piece of this wreath pops out, use different colors for each element.
via My Creative Days
41. Opt For Bright Berries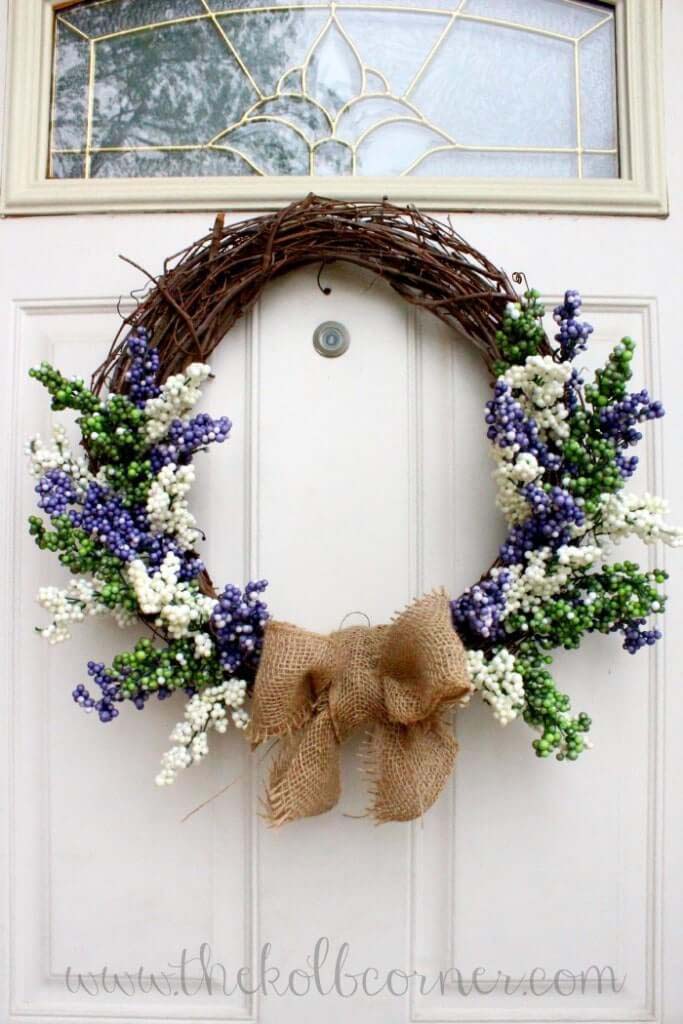 A white front door is a universal canvas so the options for your wreath are literally endless.
This idea shows a wreath design using the traditional grapevine as a base. Being neutral, it accommodates two rich bundles of berry twigs in three colors.
The spot where the two bouquets meet is hidden with a large burlap bow.
42. Spring Blooms With Natural Wood Beads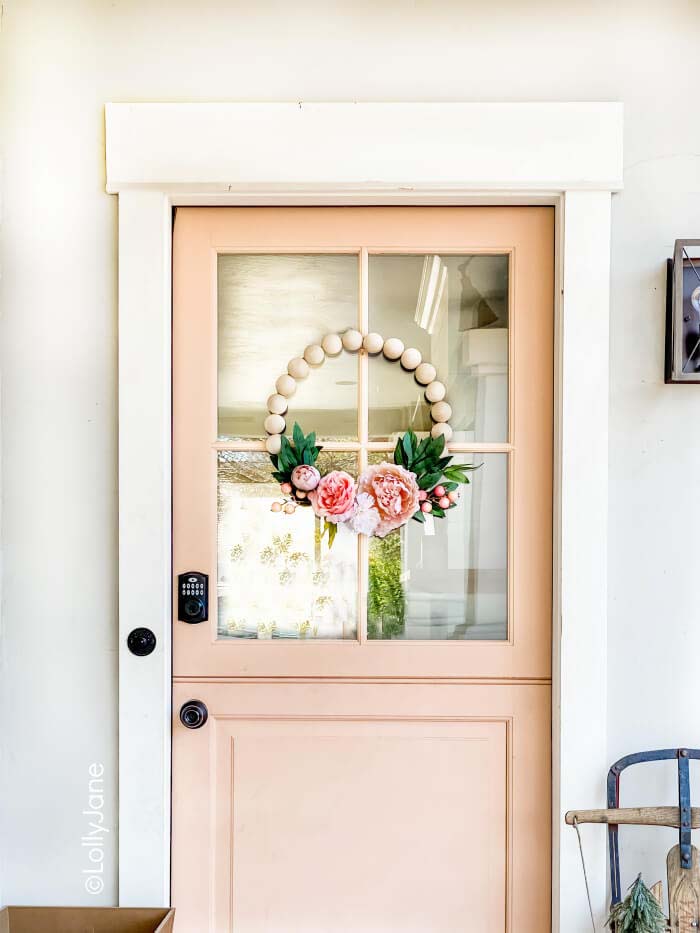 This wreath has been pinned more than 2.2 million times for three months and the reason for that is that it is irresistible!
A wood wreath form accommodates split wooden balls. Surely, this form can be replaced with an embroidery hoop. Then the faux flowers chosen to accentuate the wreath are glued on.
The final result is a unique wreath looking like one bought from the stores.
via Lolly Jane
43. Decorative Button DIY Flower Wreath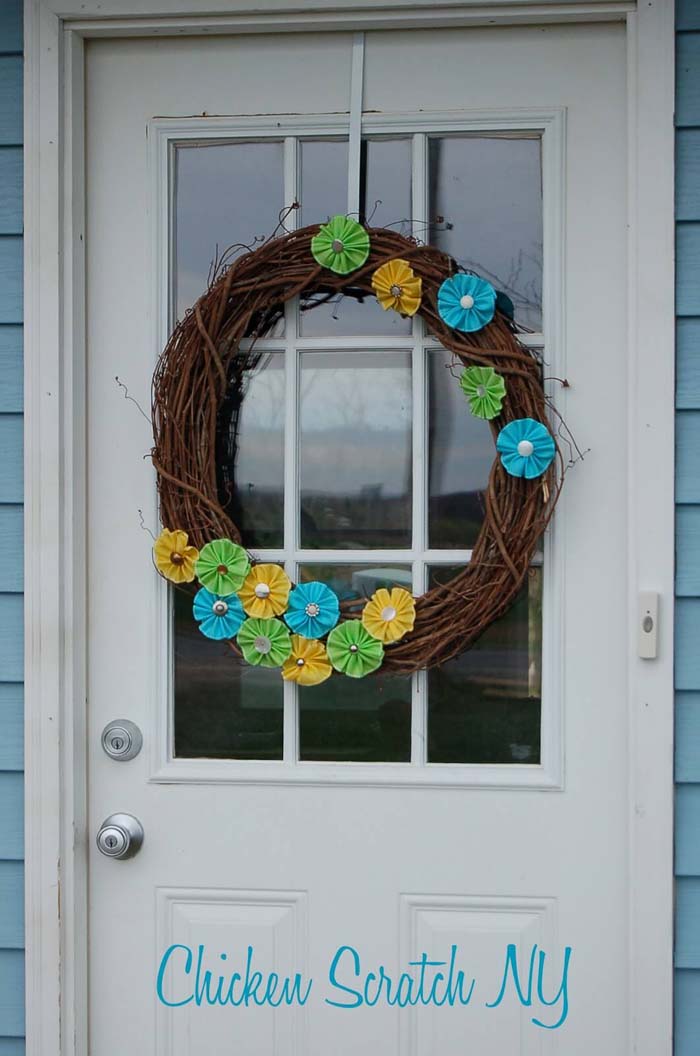 This is a DIY spring wreath idea that requires basic sewing skills. The flowers are replaced with ribbon ones. The center of each one is taken by an antique button.
All of the fabric flowers are glued onto a large grapevine wreath which ensures the perfect rustic neutral background.
44. Tulip And Twig Spray Wreath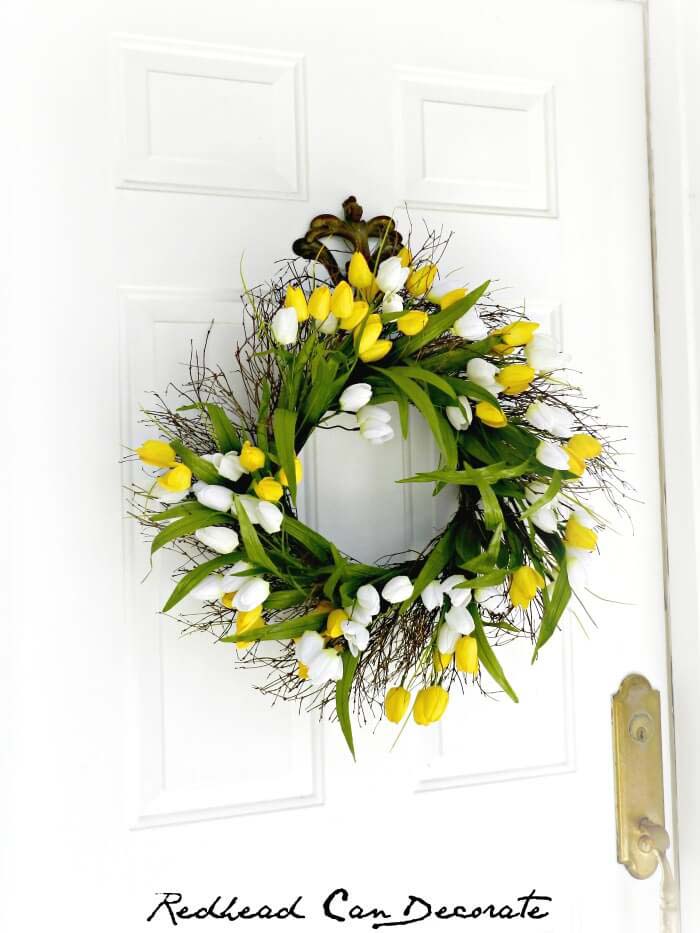 The branch wreaths are amazing because they recreate the motif of the shining sun.
Layering tulips in white and yellow over the branches will continue this pattern and will make your front door spring appealing.
45. Make Your Own Grapevine Wreath With Tulips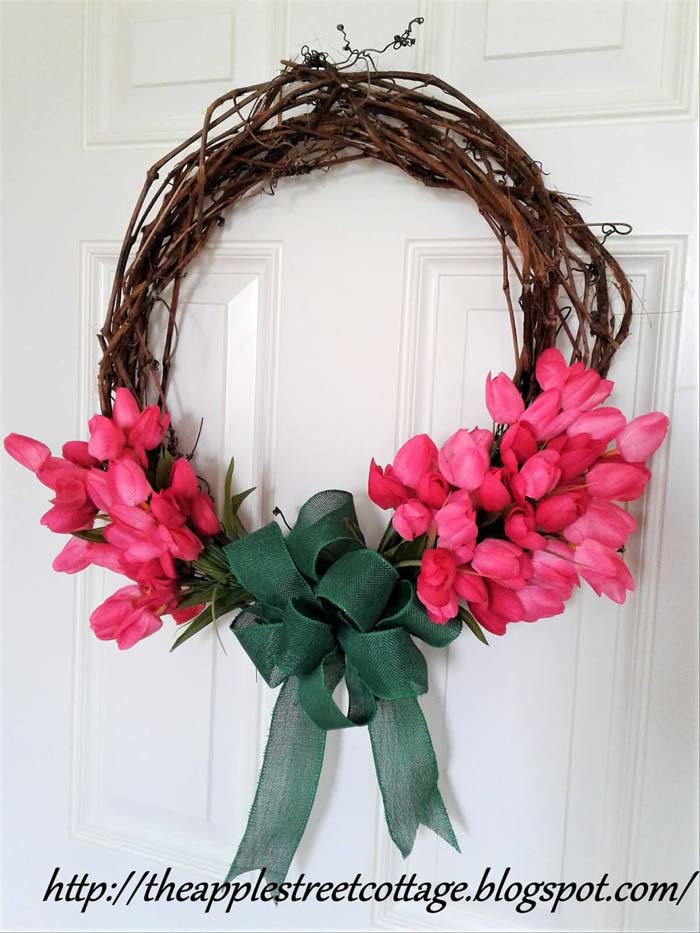 Have you ever wanted to make your own grapevine wreath form? The tutorial below will give you instructions on how to do it.
The large green ribbon on the bottom of the wreath hides two tulip bouquets, the easy-to-be-recognized symbol of spring.
46. Easy Fabric And Paper Butterfly Wreath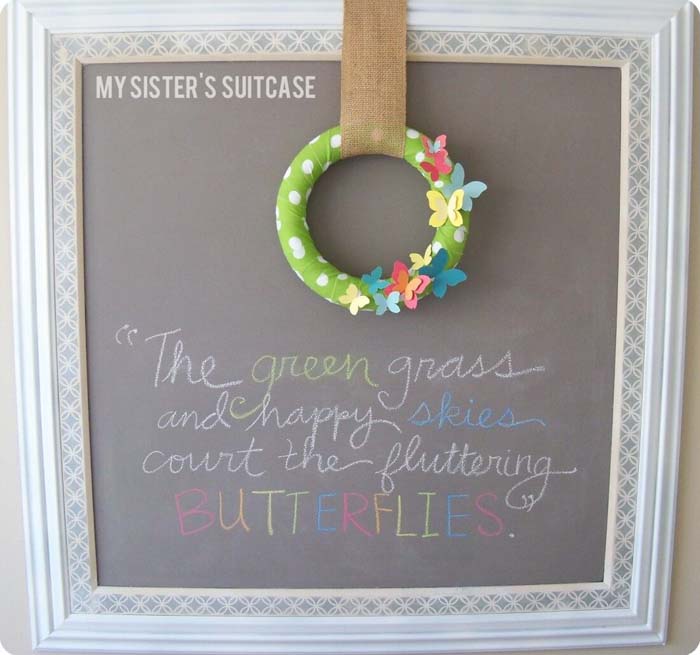 A cute craft that celebrates spring vividly! The colors are cheerful, the pattern of the fabric- playful, the butterflies- magical!
Start by weaving fabric around a foam wreath. The butterflies are cut from paint chips. The dimensional look is achieved by folding each butterfly in half down its center.
The project is easy and fun so involving your kids in it is a great idea!
47. Two Toned Burlap Succulent Wreath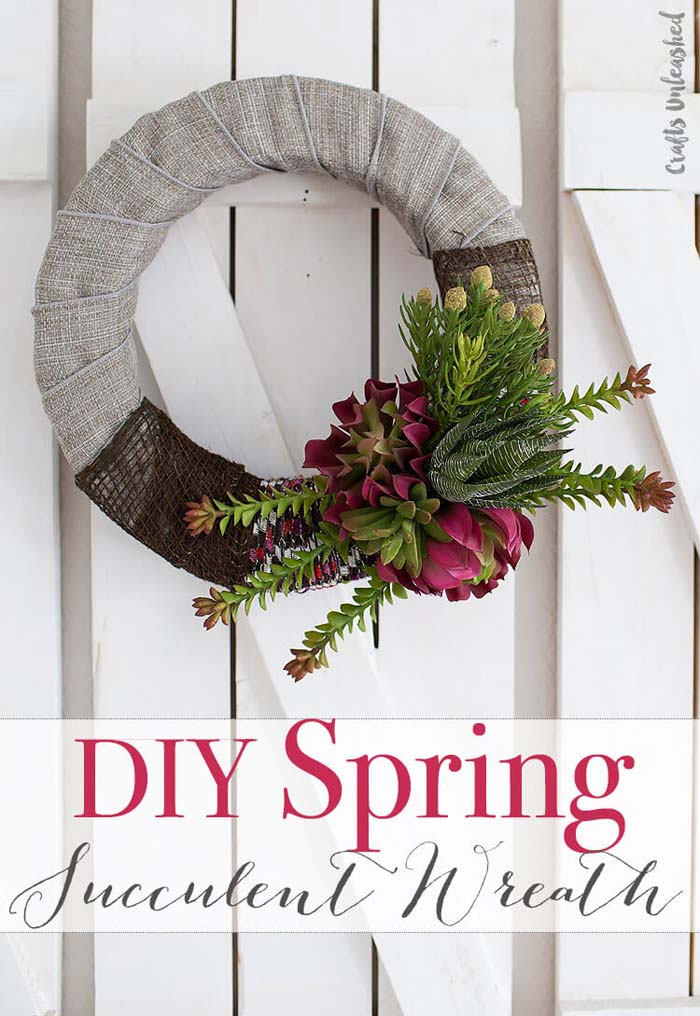 f you have loved the idea of using faux succulents instead of blossoms for your wreath, here is another design you can get inspiration from.
The foam form is wrapped with burlap ribbon to create a rough but very welcoming backdrop for the embellishment.
The succulent group is secured to the wreath with floral pins so in case you want to try out another floral configuration, it will be easy to detach the existing one. on Succulents are on trend right now, and this spring wreath makes good use of the faux variety.
48. Dollar Store Floral Hoop Wreath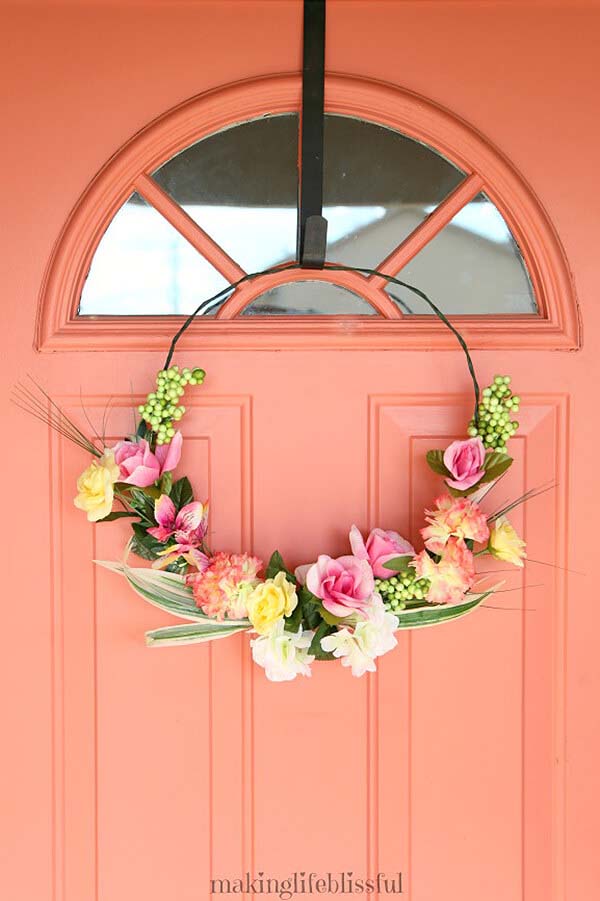 Are you going to believe that this unique wreath has been made out of supplies from the Dollar store?
The key to making the faux flowers look attractive is to arrange them well so make sure that you do some trials before attaching them to the wreath base made of thick floral wire.
49. Tiny Terracotta Pot Succulents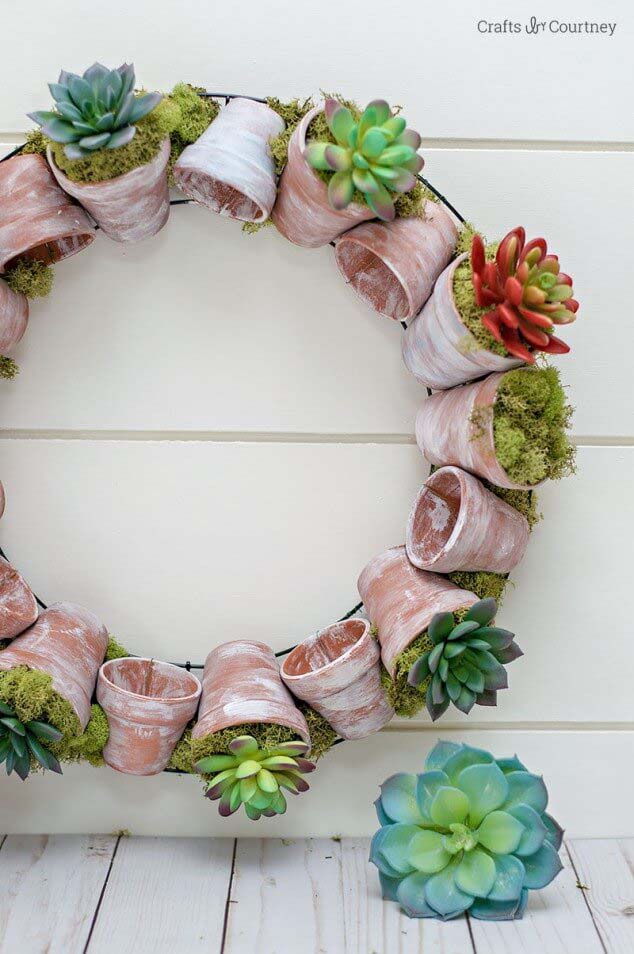 This is another wreath idea that incorporates trendy succulents. The amazing thing about it is that succulents are not glued directly to the wreath base.
Tiny flower pots accommodate them. To attach them securely to the wreath you only need wire.
Once the wreath is ready, hang it on the door and enjoy the pretty effect of the succulents in whitewashed pots.
50. Split Peas Add Texture To Spring Green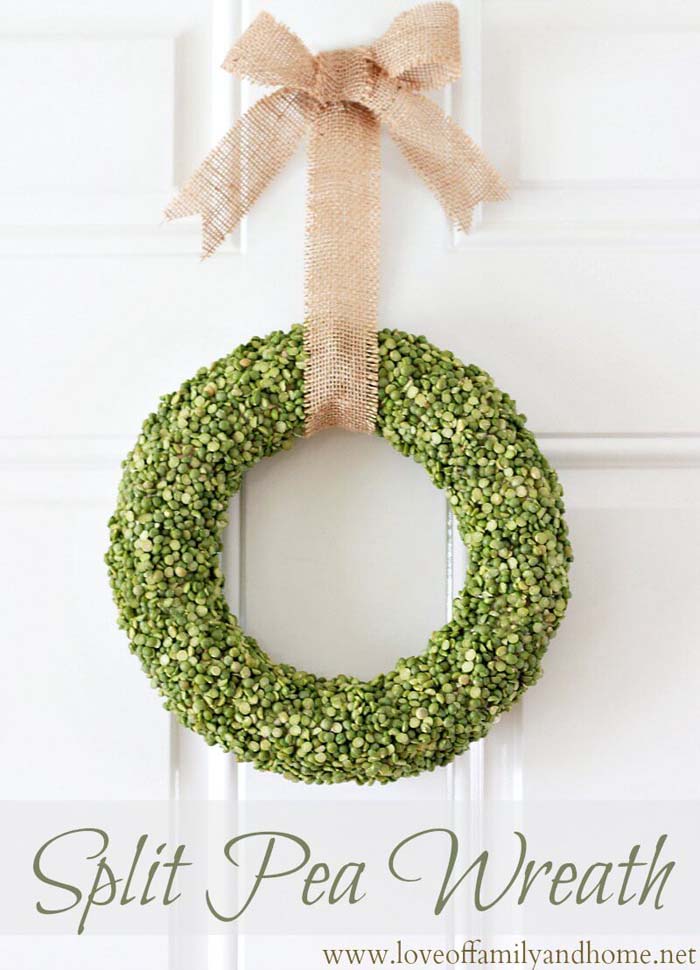 Releasing creativity leads to amazing results, as this wreath is! We saw moss sheets, grapevine, fabric, felt and many more supplies used to decorate the wreath form.
The green color of this wreath has been achieved thanks to split peas. The straw form is generously covered with Mod podge to let the peas stick onto it.
This inspiring wreath idea is one of the easiest and most budget-friendly ones.
51. Eclectic Floral Mix

This amazing wreath stands out with its modern look. An embroidery hook is decorated with faux leaves and blossoms on its halfway.
The contemporary effect is achieved by the careful choice of flowers, a moderate amount of accents and mostly because of the leather strap used to create the loop for attaching.
via Persia Lou
52. Fill A Metal Tire With Flowers

There is a DIY spring wreath idea for you addicts to the vintage farmhouse style! The base of this wreath is a metal home decor piece in the shape of a tire.
Two floral foam cubes sit inside the tire to later accommodate the sprigs of faux flowers. They are secured well to the metal with hot glue.
53. Hydrangea Blooms With Wood Detail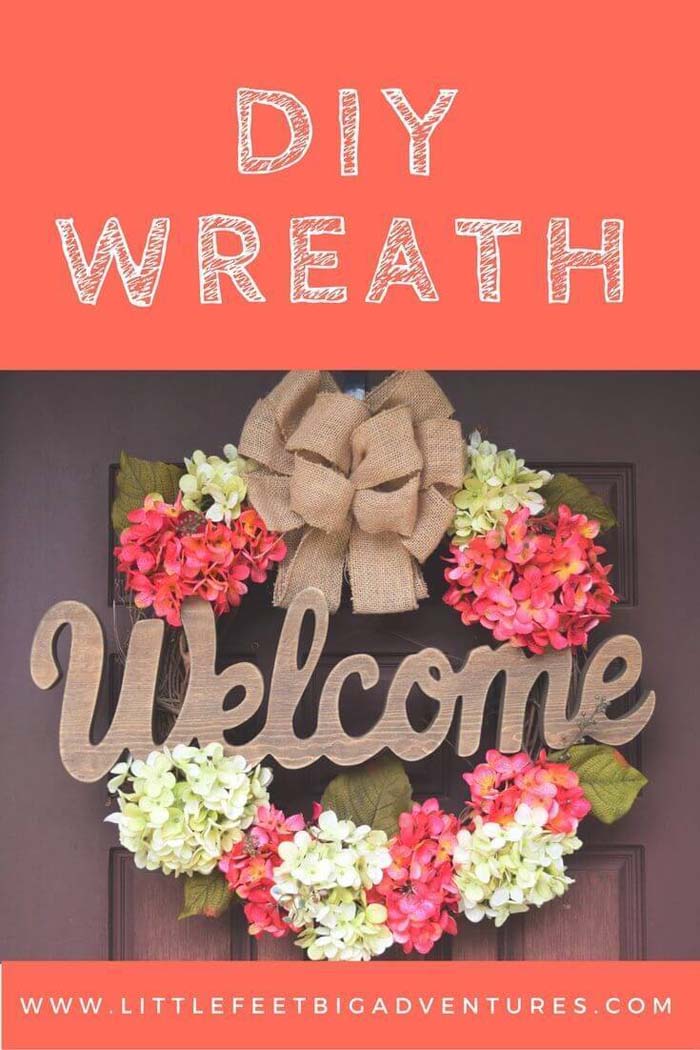 Nothing will make a bolder statement to your guests than the "welcome" sign.
This spring wreath idea uses this motif by placing it in the middle of a grapevine form covered with hydrangea blossoms.
The hanger on the top of the wreath is hidden by a large burlap ribbon which enhances the rustic look of the wreath.
54. Burlap Bow Daisy Wreath

Daisies and sunflowers are the most cheerful flowers. They are in a round shape and that reminds me so much of the sun.
This daisy-themed wreath is made out of poly burlap formed into bows. The rosette in the center is made out of a thickly rolled yellow burlap.
All of the daisy sections are attached to a wire form with pipe cleaners.
via Grillo Designs
55. Lavender Pops On A White Base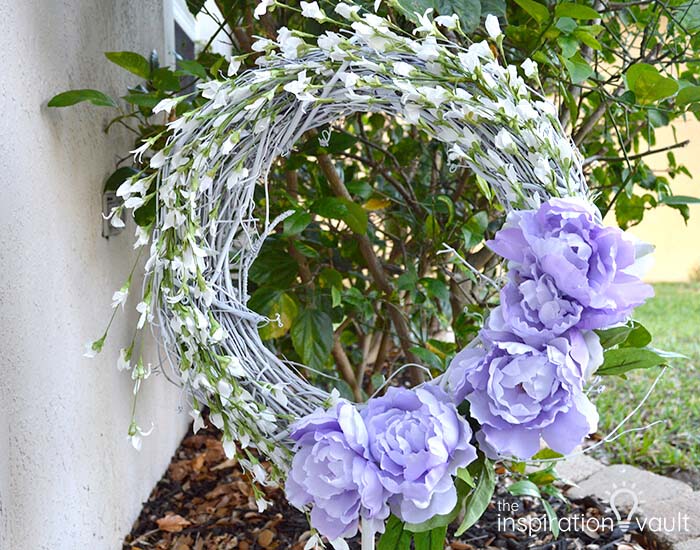 If you want to uplift the grapevine form, you can always paint it. Spraying it is the perfect method to cover a shape with such texture and of such material.
Plus, white gives the wreath a gorgeous farmhouse look and ensures a universal canvas for the flower accents.
via Elle Marie Home
56. Lush Fern Base Wreath

If you don't want to see the base of the wreath, you can always hide it. When the form is foam or wire, covering it is easy. But how about grapevine?
This idea shows you how to cover it with greenery twigs and leaves. The natural background sets an authentic backdrop for a bouquet of white faux peonies.
57. Say Hello On A Repurposed Frame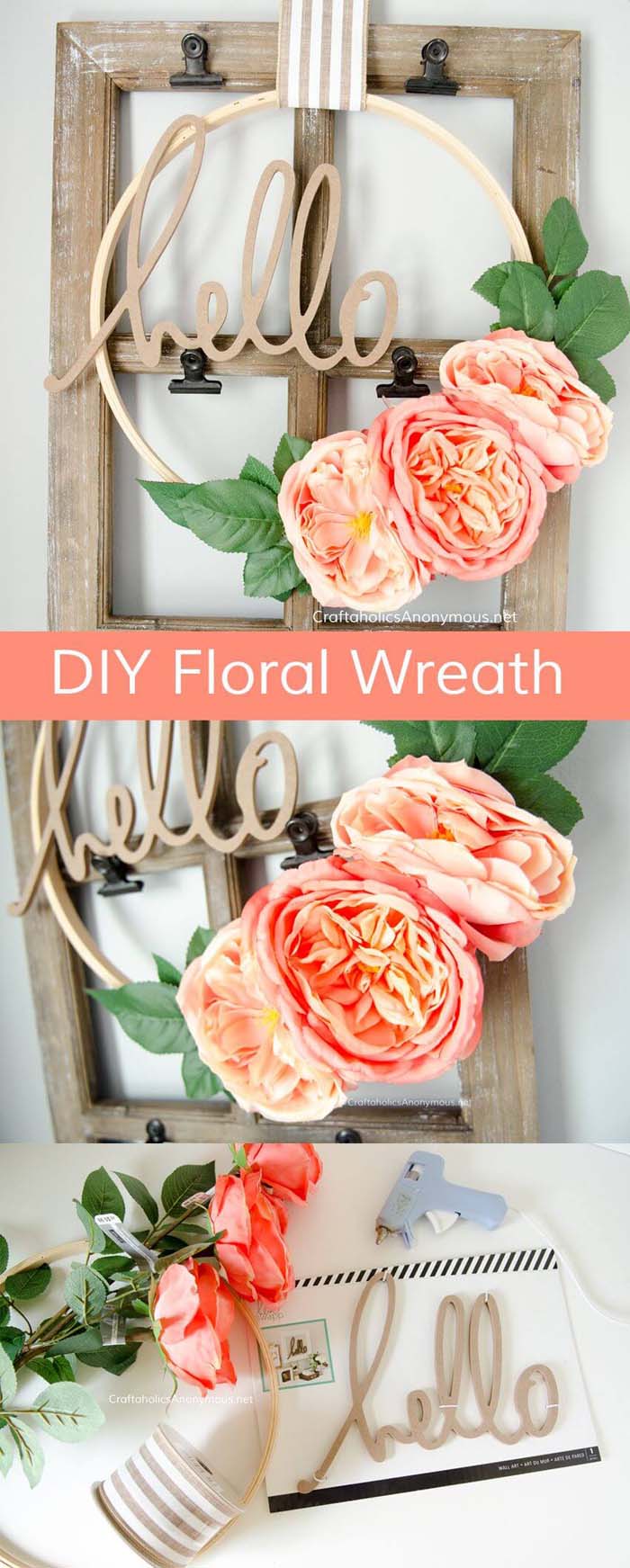 Looking for a farmhouse wreath to suit your welcoming porch? All elements of this wreath lead only to enhancing the appealing atmosphere.
The base of the wreath is an embroidery hoop. One of its sides possesses a "hello" sign. The other one is left for a peony bouquet.
The finished wreath is hung onto a weathered window frame to recreate a scene from the cottage living.