21 Gorgeous Dollar Store Decorations for Spring That Are Budget-Friendly
The birds are singing and new leaves are starting to appear; spring is finally here!
A new season calls for new decorations that bring life to your space. Are you on a budget?
No problem — if you know where to look, you can get gorgeous supplies without breaking the bank.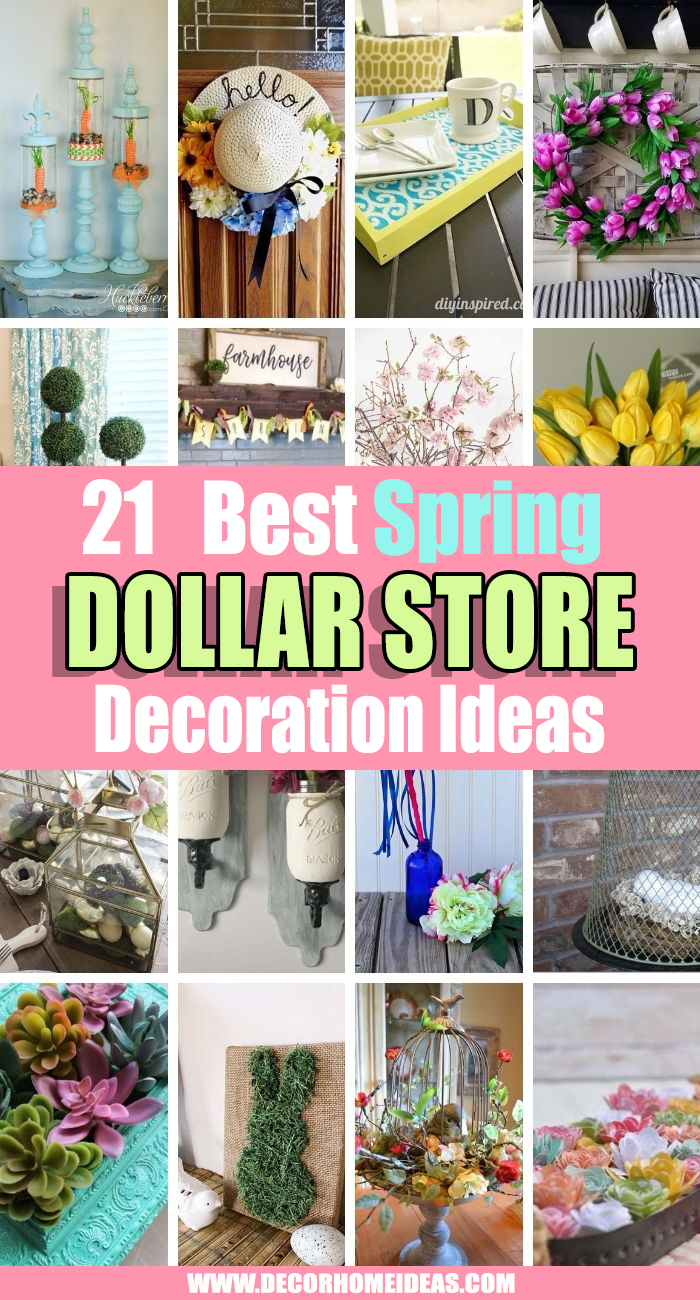 Break out of the winter rut on the cheap with these beautiful dollar store decorations for spring.
1. Adding Elegance With Golden Lanterns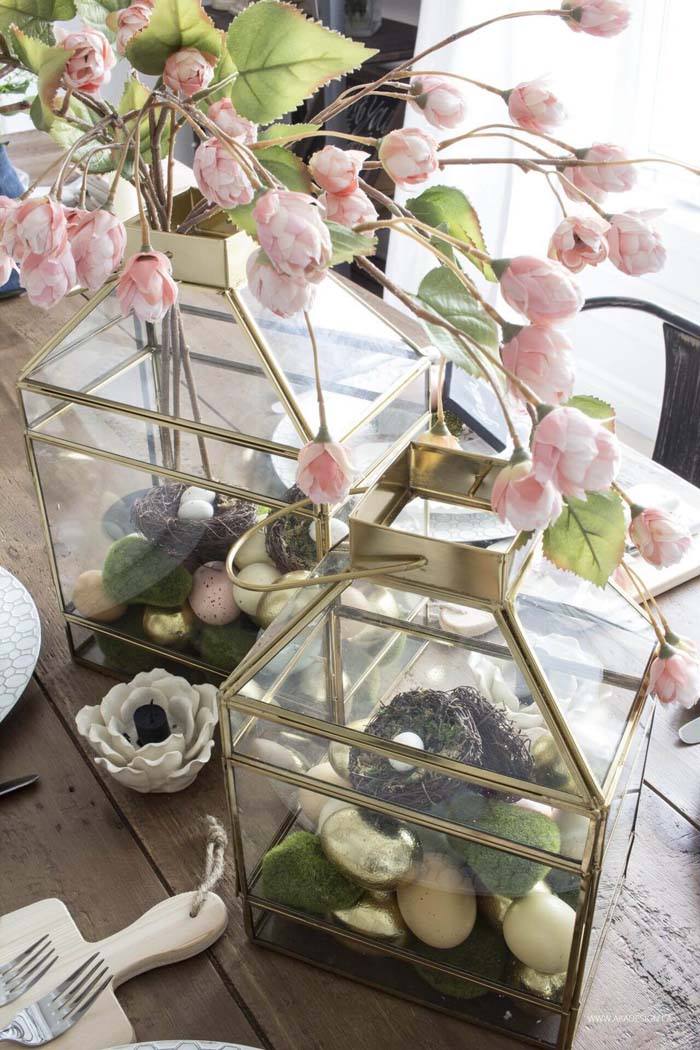 Looking for a sophisticated take on spring decor?
Replace your vases with gold-framed glass lanterns.
Fill them with small spring-themed trinkets from the dollar store: eggs, tiny nests, and artificial flowers all look lovely. For a more minimalist look, stick with an elegant bouquet of fresh flowers.
via Homemade Lovely
2. Beautifully Appointed Springtime Colorful Tray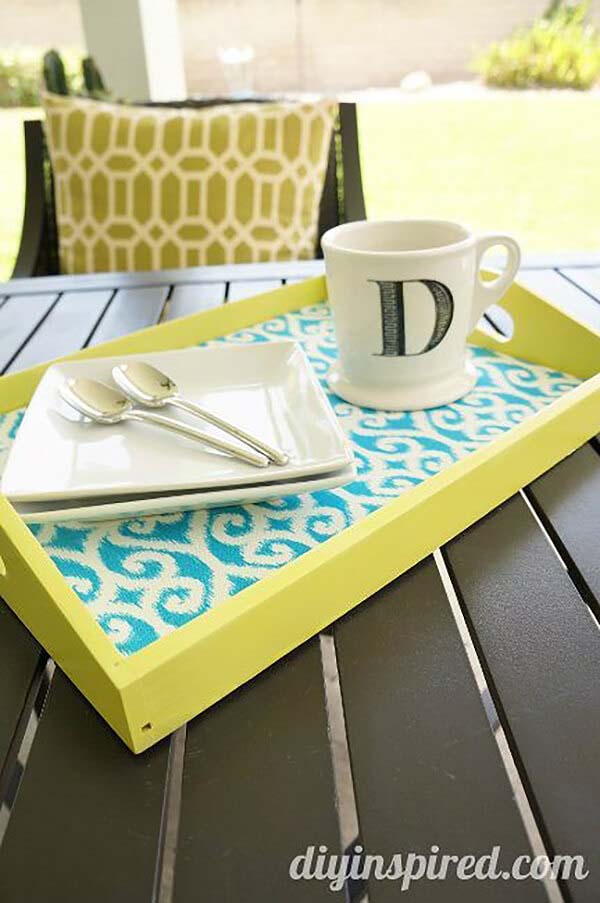 Spring is the perfect time to serve tea or coffee on the front porch.
Make your daily treat more joyful by serving it on a colorful tray. Pick up an inexpensive wooden tray and coat it in a bright, fresh color.
A craft-paper lining adds an extra-lively look.
via DIY Inspired
3. Candy Heart Centerpiece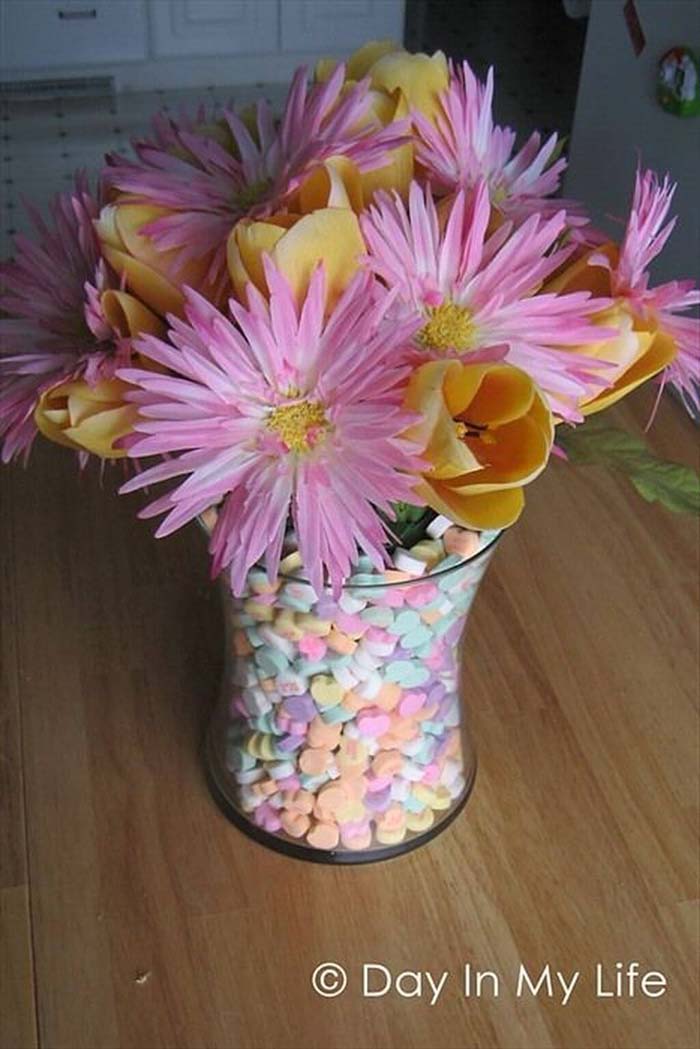 After Valentine's Day, hit up the sale section at your local store to find a few bags of discounted candy hearts.
Add them to a clear glass vase from the dollar store, and you have a beautiful and unique way to display your favorite spring blooms.
via A Day In My Life
4. DIY Dollar Tree Sun Hat Wreath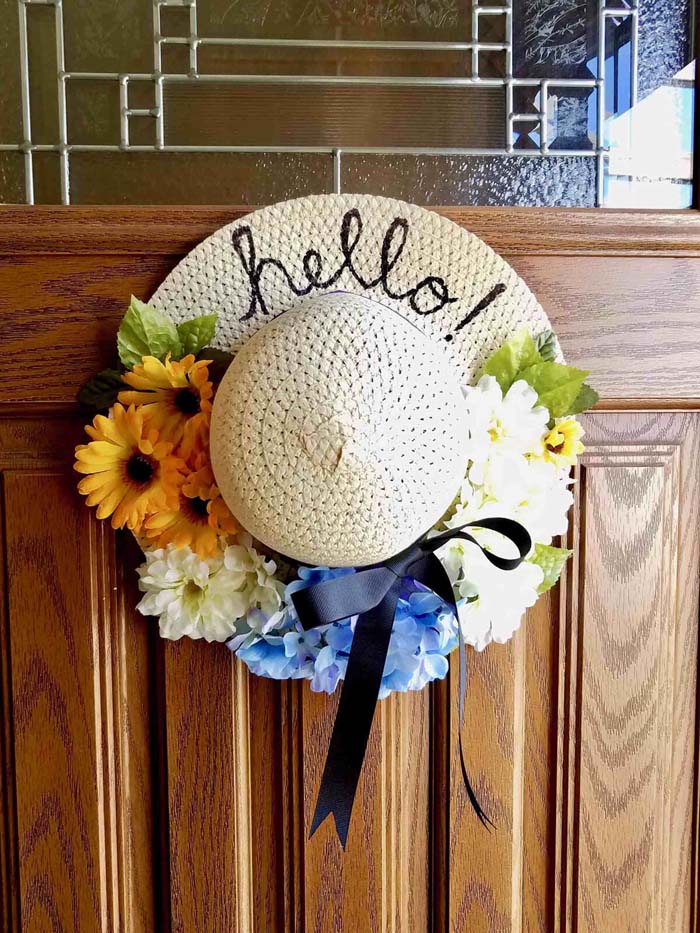 Give your front door a sweet spring makeover with an adorable DIY wreath. The secret?
Swap out the wreath for a cheap dollar-store sun hat. With the addition of a ribbon and a few faux flowers, you have a decoration that will delight all of your Easter visitors.
via We Three Shanes
5. DIY Paper Flowers Tutorial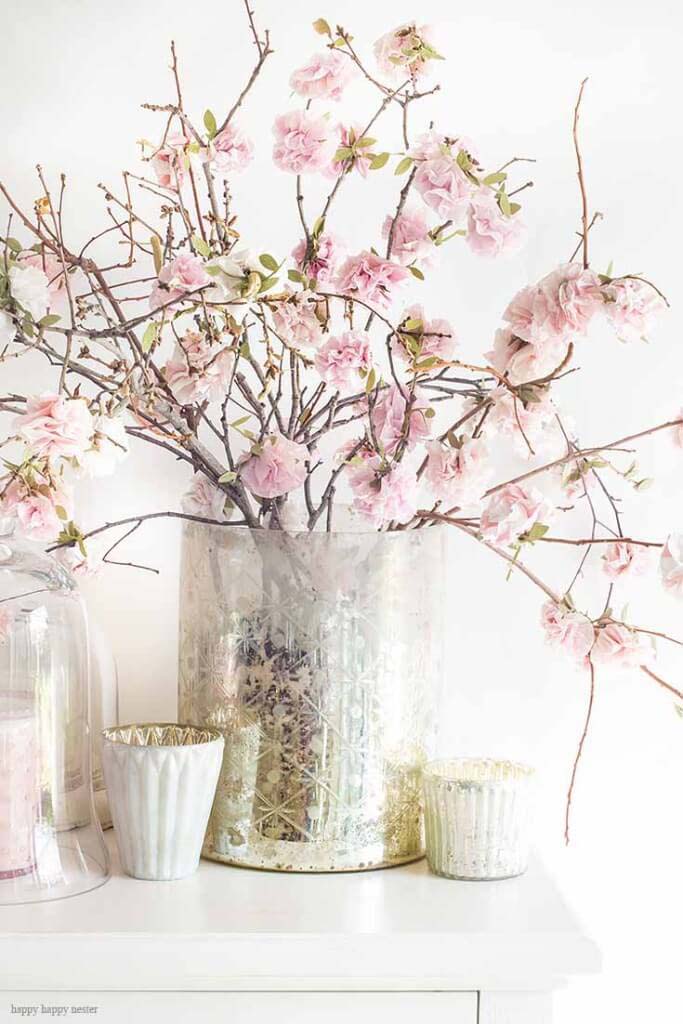 If you're feeling crafty, take a few hours to make these stunning paper flowers.
When you attach them to branches you pick up outside, they look like an expensive piece from a high-end home-decor boutique — no one will ever guess you made them with paper from the dollar store!
6. DIY Spring Flower Basket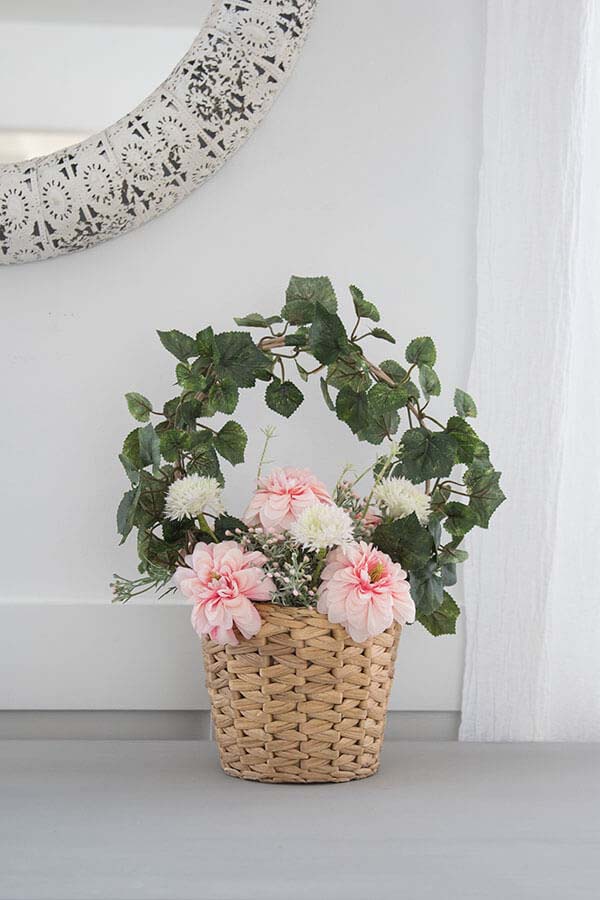 Flowers are a beautiful way to dress up your front entry for spring. Instead of splashing out on a real potted plant, make your own for a few dollars.
All you need is a basket, an artificial ivy vine, and some beautiful faux flowers.
The end result looks gorgeous and, as a bonus, requires zero maintenance.
7. DIY Vertical Succulents Garden Wall Hanging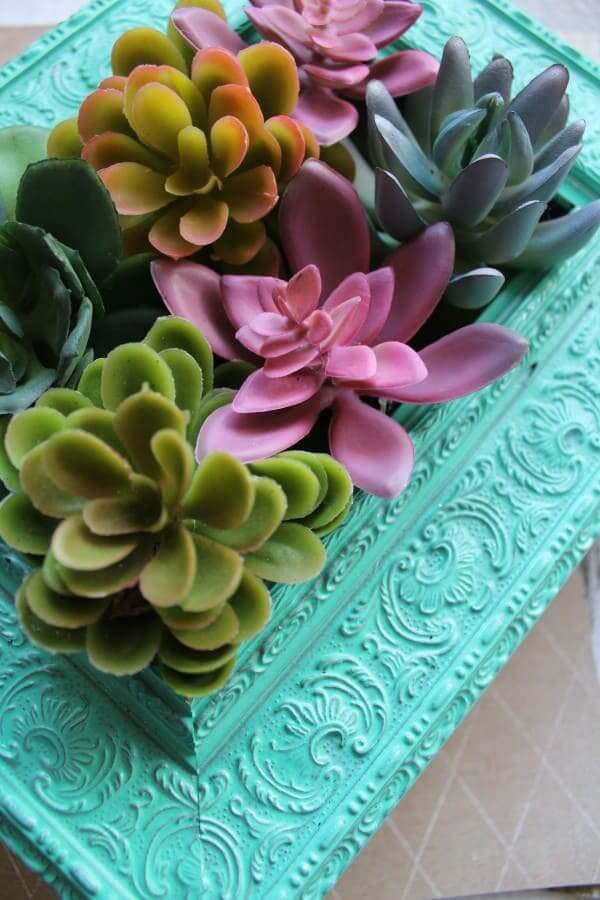 Turn any wall into a spring succulent garden with the help of an old picture frame.
Paint it with a fresh, vibrant color and fill the center with plastic succulents from the dollar store.
The entire assembly adds depth and texture to your wall, and you don't need to worry about watering or pruning.
8. Dollar Store Ombre Vases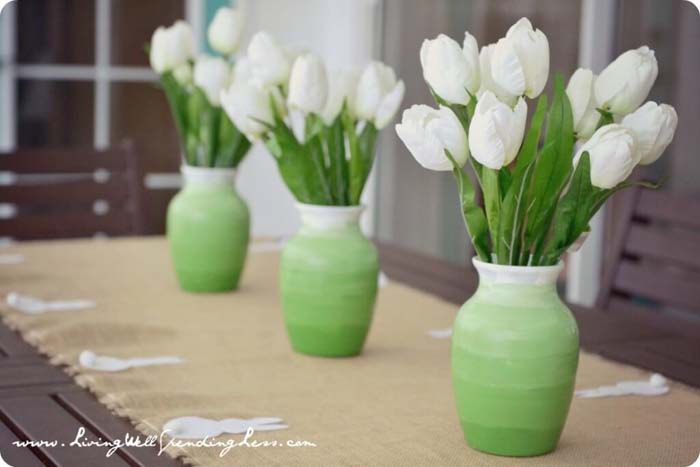 Spring is all about flowers, but why use plain vases?
With a few shades of paint and some cheap containers from the dollar store, you can make designer-quality vases.
They're a breeze to paint, and the ombre coloring is right on-trend.
9. Dollar Store Wire Cloche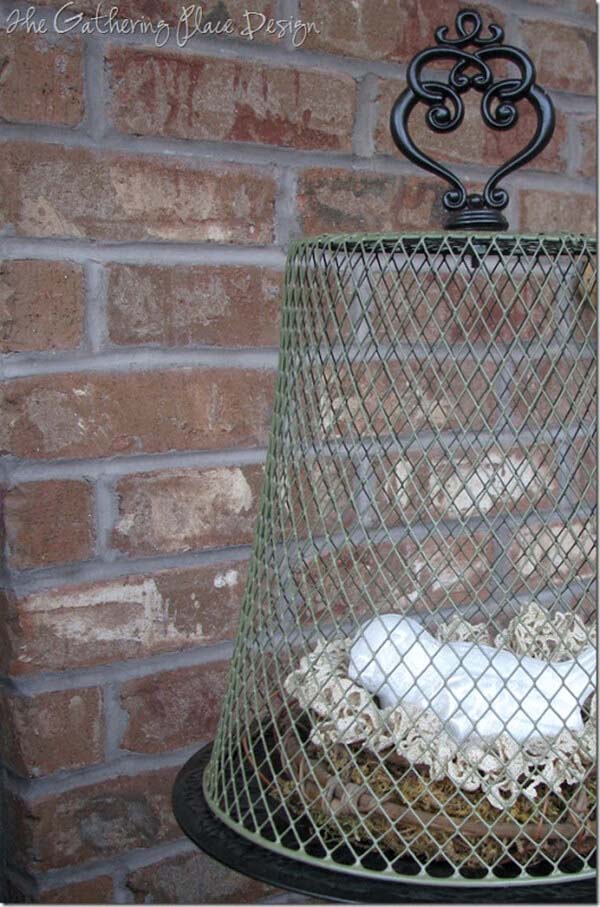 To look at this Cloche, would you guess that it's made from a dollar-store garbage can?
This clever project is a fun way to decorate your home for Easter. It's affordable, quick, and beginner-friendly.
via The Gathering Place Design
10. Easter Apothecary Jars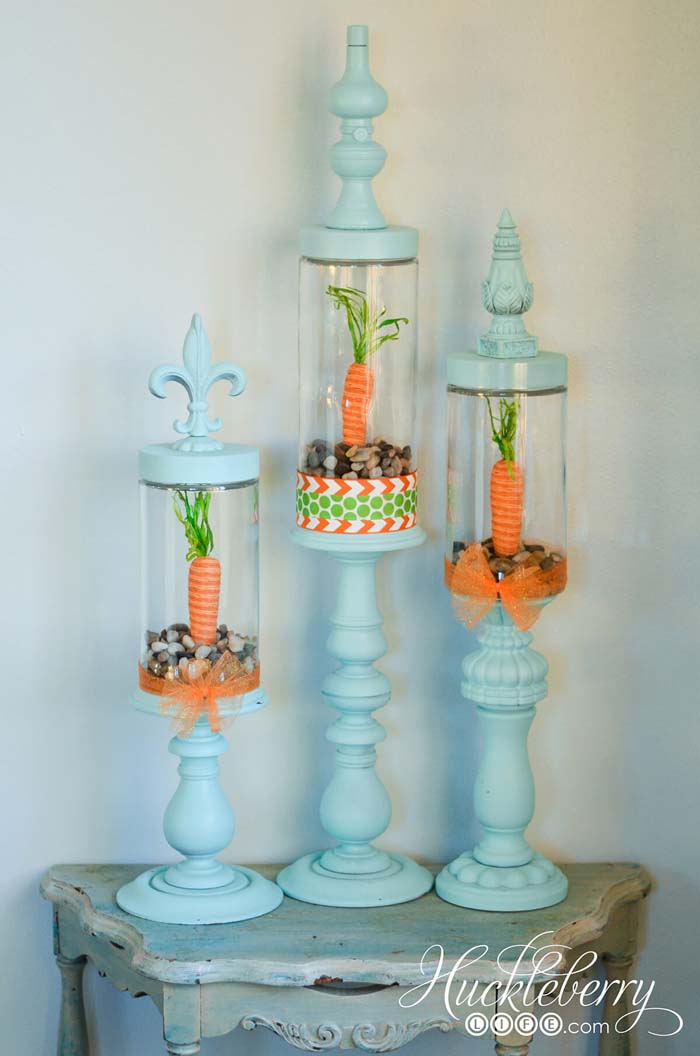 Create a vintage spring vignette with a few DIY apothecary jars.
These pieces look high-end, but you can pick up all of the supplies at a thrift store, dollar store, and outdoors.
Let your creativity flow — fill the interior with candy, choose a variety of paint colors, or go wild with the ribbon accents.
via Huckleberry Life
11. Easy DIY Floral Spring Banner Decor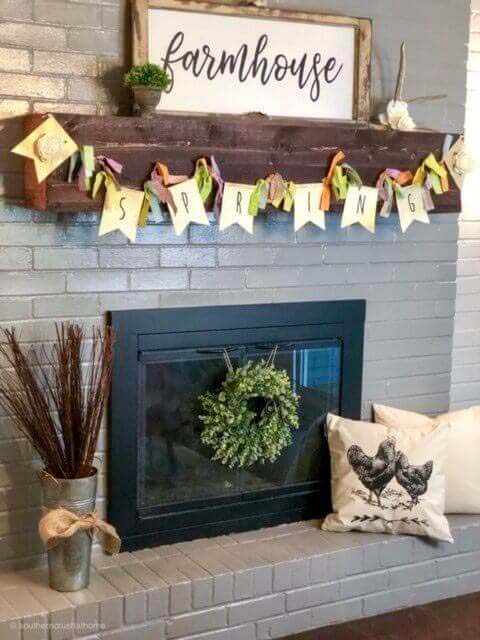 A gorgeous bunting banner is a lovely way to highlight a mantel or a doorway for spring.
This version uses tiny flags paired with simple fabric tassels. It's the perfect fabric stash-buster; you can use up all of the small scraps in your sewing room.
12. Easy Dollar Tree DIY Spring Tulip Wreath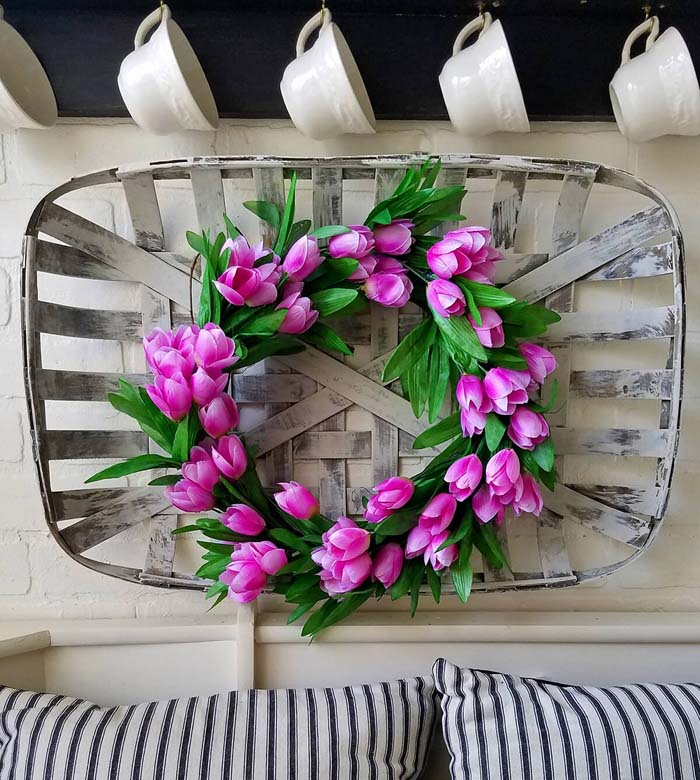 Celebrate the iconic spring tulip by creating a DIY wreath. It's an explosion of color and texture that brightens any room in the house.
Plus, you can get all of the faux flowers you need at the local dollar store. Go with a single color or mix it up for an ultra-cheerful design.
via Follow The Yellow Brick Home
13. Elegant Floral Bird Cage Design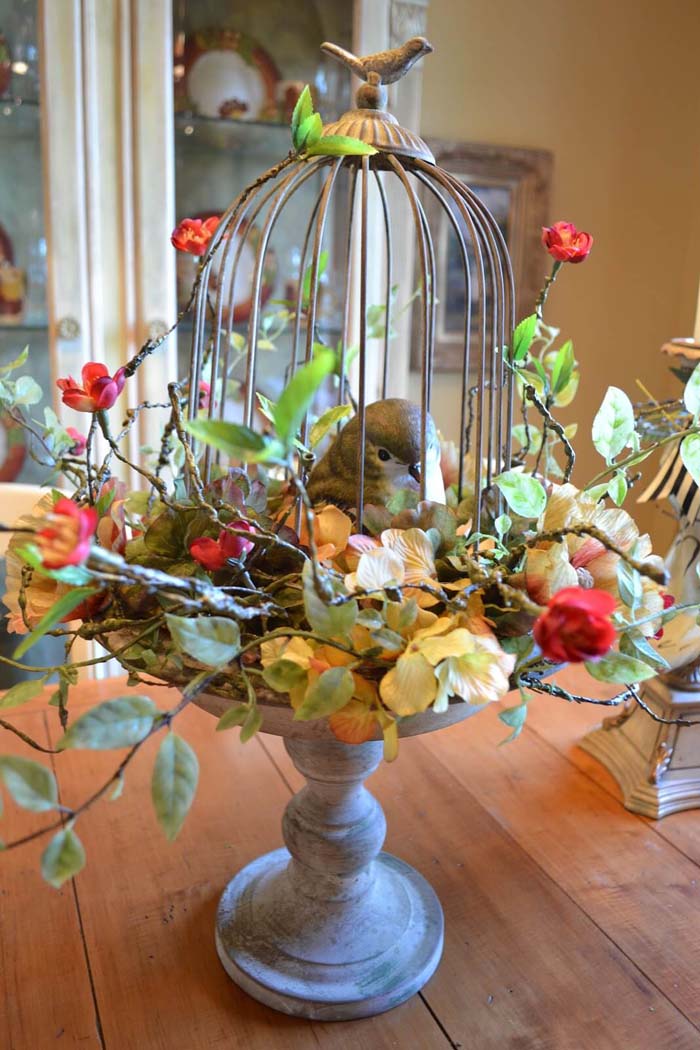 Are you looking for a DIY spring centerpiece?
A sweet floral birdcage is timely and unexpected.
This project is fast and easy to make — bonus points if you can find an adorable bird figurine to sit in the nest of flowers.
via Kristen's Creations Online
14. Encased Ball of Springtime Greenery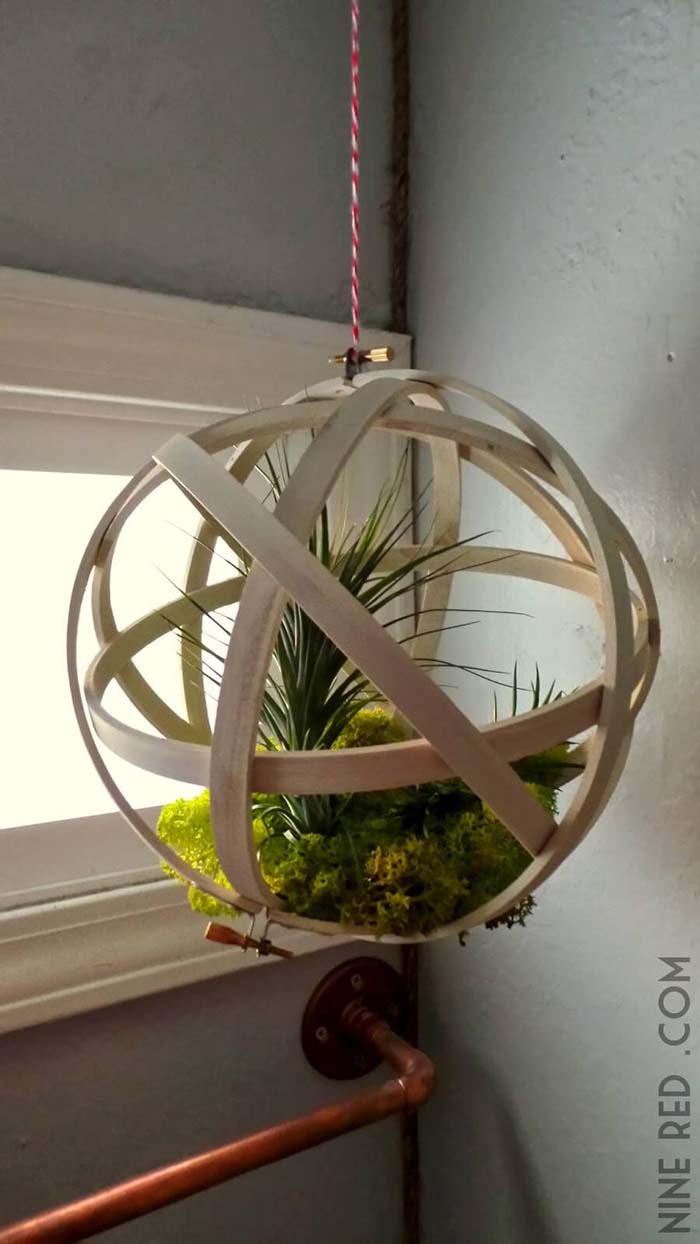 Have you ever seen thick wooden embroidery hoops at the dollar store?
Pick up a few to create this clever sphere. The open center is the perfect spot for artificial greenery, moss, or flowers.
via Nine Red
15. How to Make Kokedama (Japanese Moss Ball)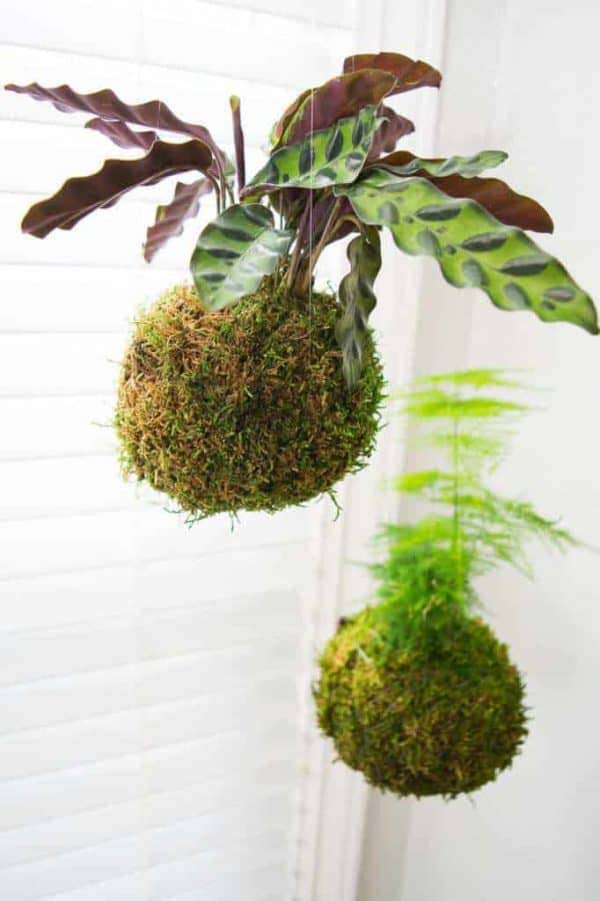 Fresh and natural, these DIY Japanese moss balls fill your home with the color of spring.
Whip them up quickly using cheap supplies and hang them in front of a window. They also make great wall decorations.
16. Jelly Bean Jar DIY Easter Centerpiece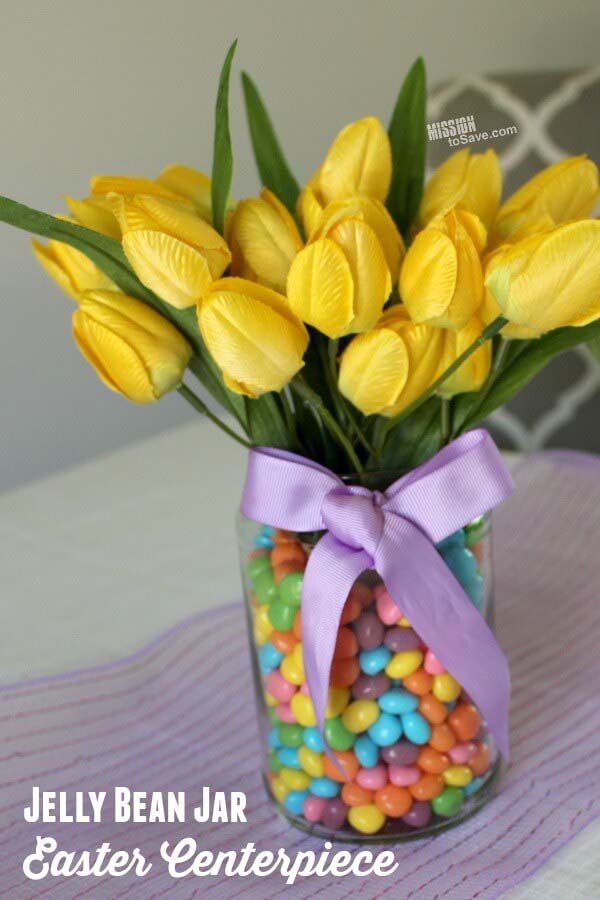 It doesn't get any easier than this DIY spring centerpiece — tuck a bouquet of faux tulips into a mason jar and fill the excess space with colorful jelly beans.
The result is delightfully joyful and fun; you may want to leave it on your table long after your Easter brunch.
via Mission To Save
17. Moss Covered Bunny Canvas Art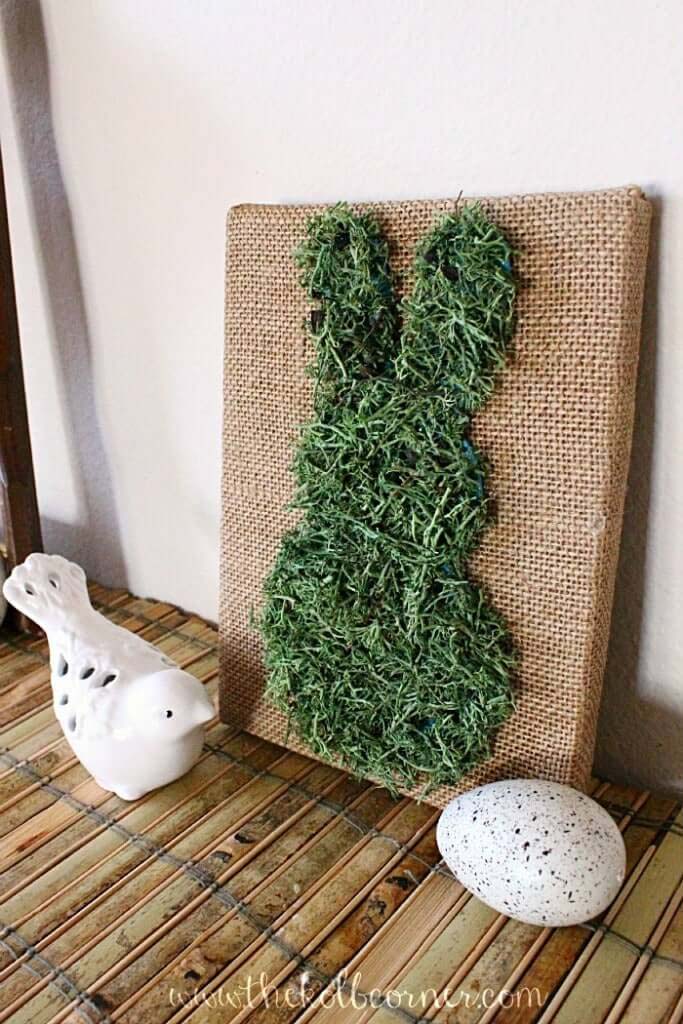 Change up your wall art with this sophisticated Easter decoration.
By using burlap and artificial moss, it brings an elevated feeling to a playful shape.
Since it's ultra-light, you can hang it from any type of nail or hanger.
18. Paper Flower Spring Centerpiece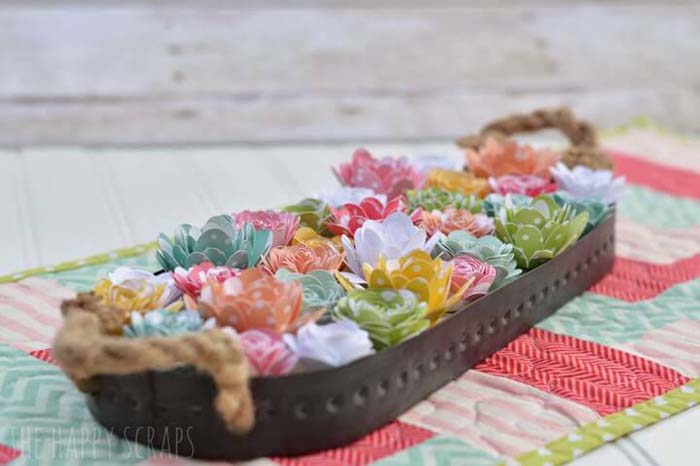 Charm your family and guests with this unique flower centerpiece.
Each of the flowers is made with rows of paper petals, giving you the freedom to choose any color and pattern.
We love that it's low-slung, so you can see your guests across the table.
via The Happy Scraps
19. Rustic Yet Elegant Wall Sconces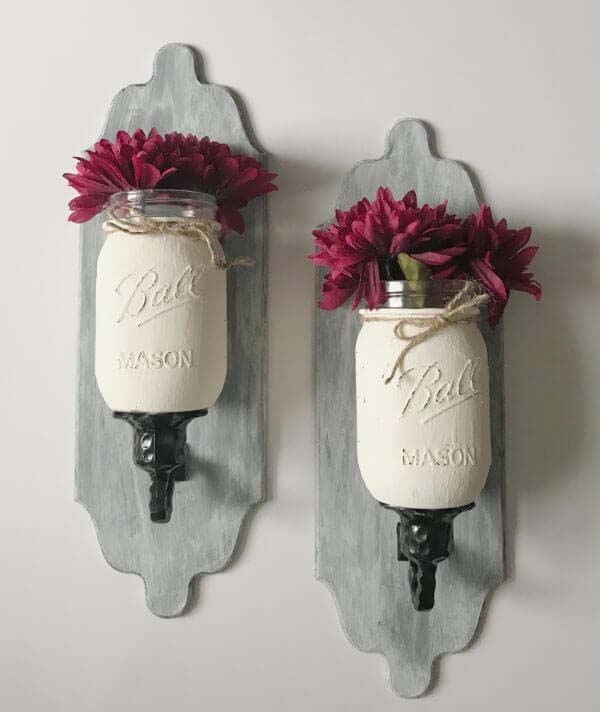 Frame a window, a doorway, or a piece of art with these spectacular wall sconces.
Though they use rustic elements, the end result is remarkably elegant.
Finish them off with a few of your favorite flowers for a spring vibe.
20. Spring Flower Wand with Ribbons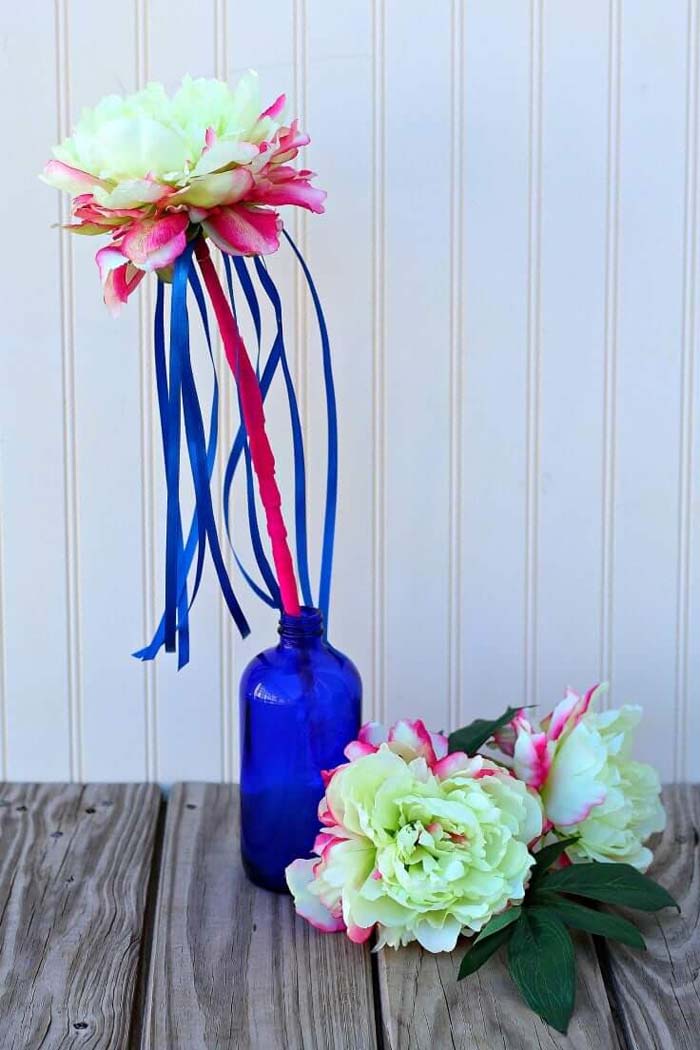 If you have little ones, this spring flower wand is sure to be a hit.
With its trailing ribbons, it makes a great toy or decoration.
Place it outside, and the ribbons will blow beautifully in the breeze.
via Kenarry
21. The Easiest DIY Topiary Trees on a Budget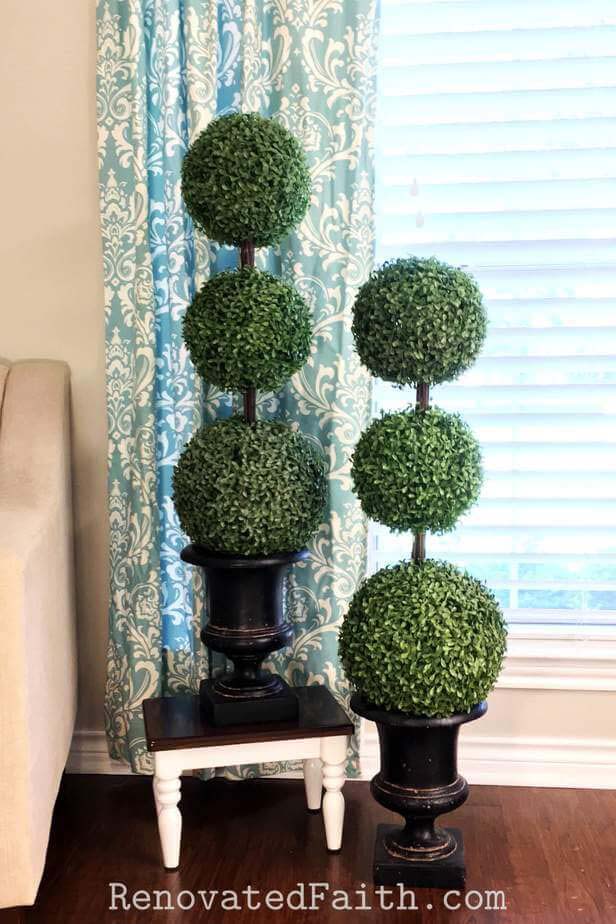 Topiaries are a timeless decoration. Instead of buying expensive pre-made models, make your own with supplies from the dollar store.
Add a ribbon for a pop of color, or leave them as is to showcase the lovely green leaves.
via Renovated Faith