Are you already thinking about how to decorate the indoors and the outdoors of your home for the upcoming spring? You have come to the right place as we are going to present to you our most favorite rustic porch decor ideas!
They will create a harmonious connection with the surrounding world as they are all inspired by the revival of nature spring brings forth.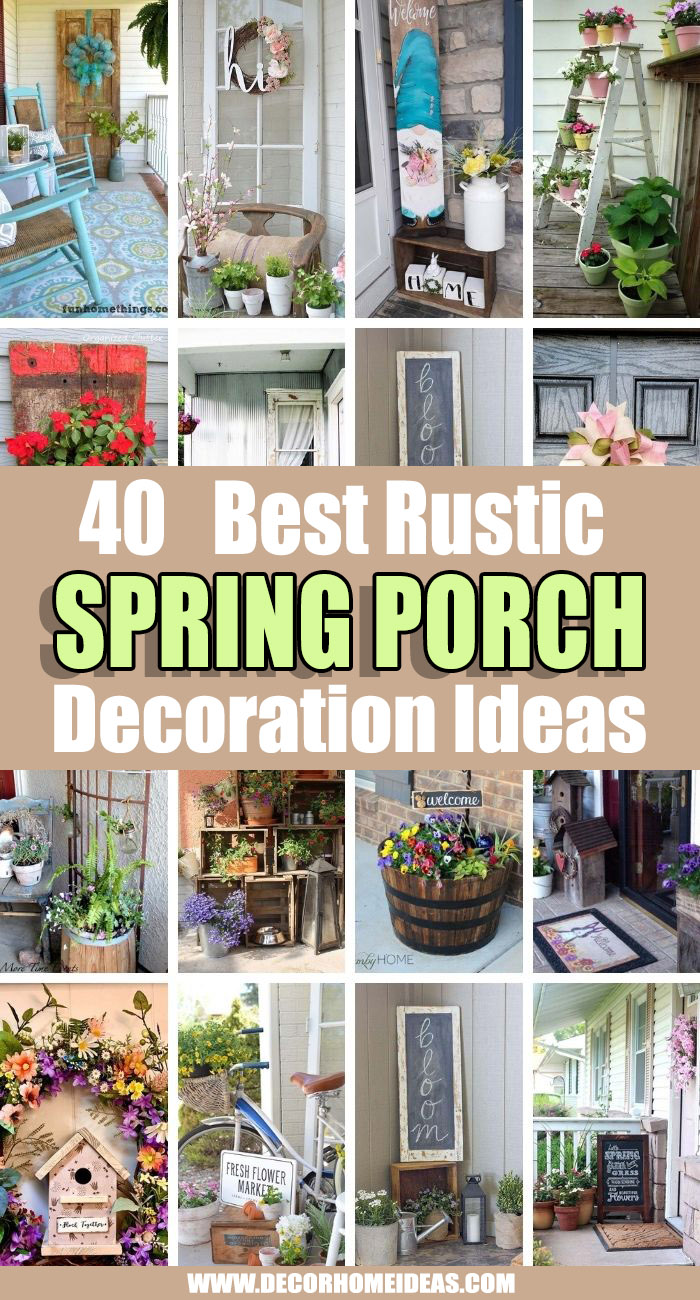 Incorporating rustic textures, motifs and colors, all of them promise to be unique, budget-friendly and promising pleasant times spent on the porch during the first warmer days.
1. Vintage Wagon Spring Flower Planter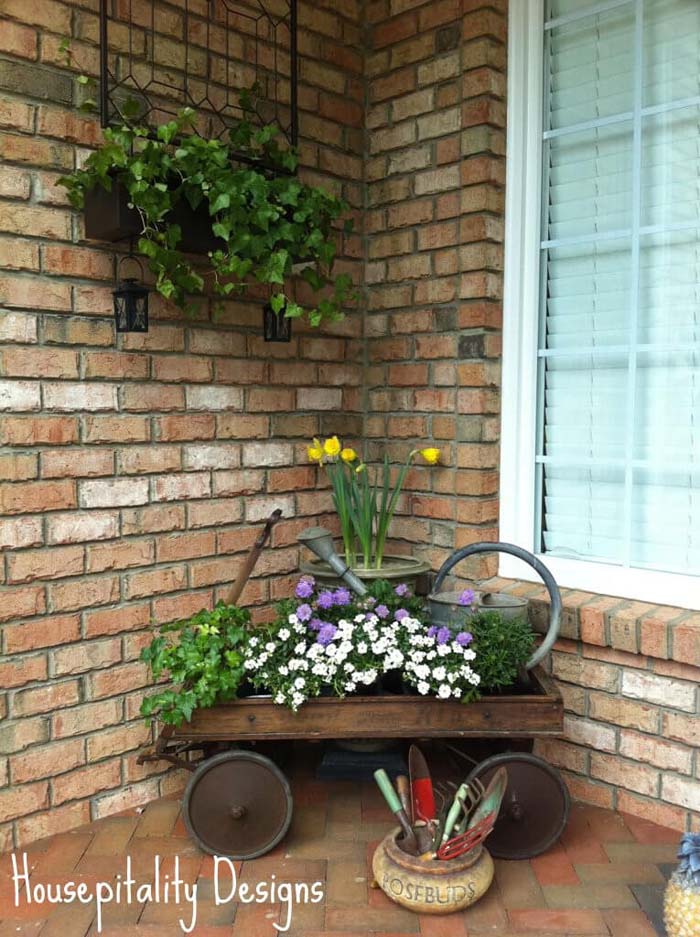 Flowers always are always a good idea when it comes to indoor or outdoor decor. Placing them in an non-traditional container or planter is a promise for instant attraction and unique touch.
Gather the armory of vintage items you have got and repurpose them into your new spring porch decor.
2. Repurposed Headboard Planter Idea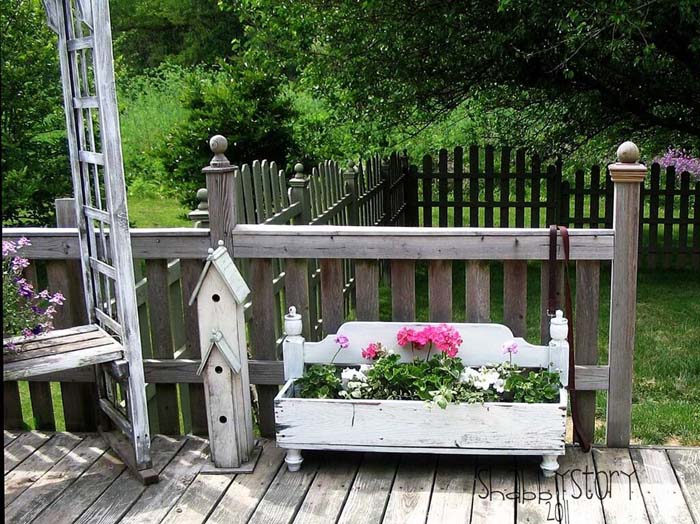 Make your porch unforgettable with a unique handmade planter! This one has been made out of an upcycled headboard. Its rustic effect over the porch is complemented by an antique birdhouse.
3. Corner Spring Hutch Flower Display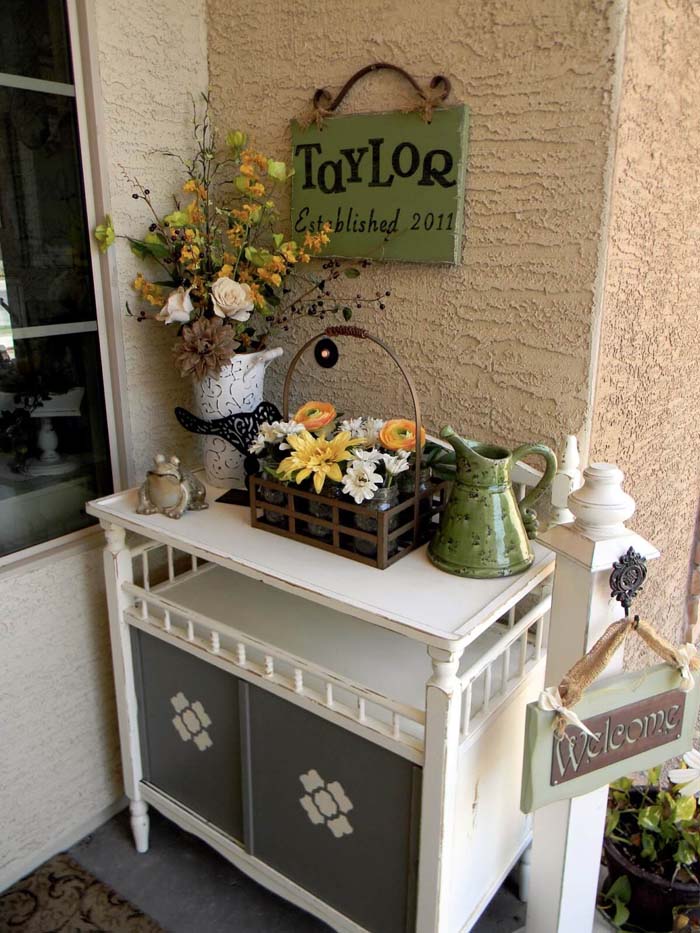 Make a small flower market on your porch. Use a vintage drawer or hutch as a display for a set of antique items holding flowers.
The rustic nook is complemented by a handmade post and a welcome sign that make the porch more than inviting for all guests.
4. Sweet Colorful Family Name Plaque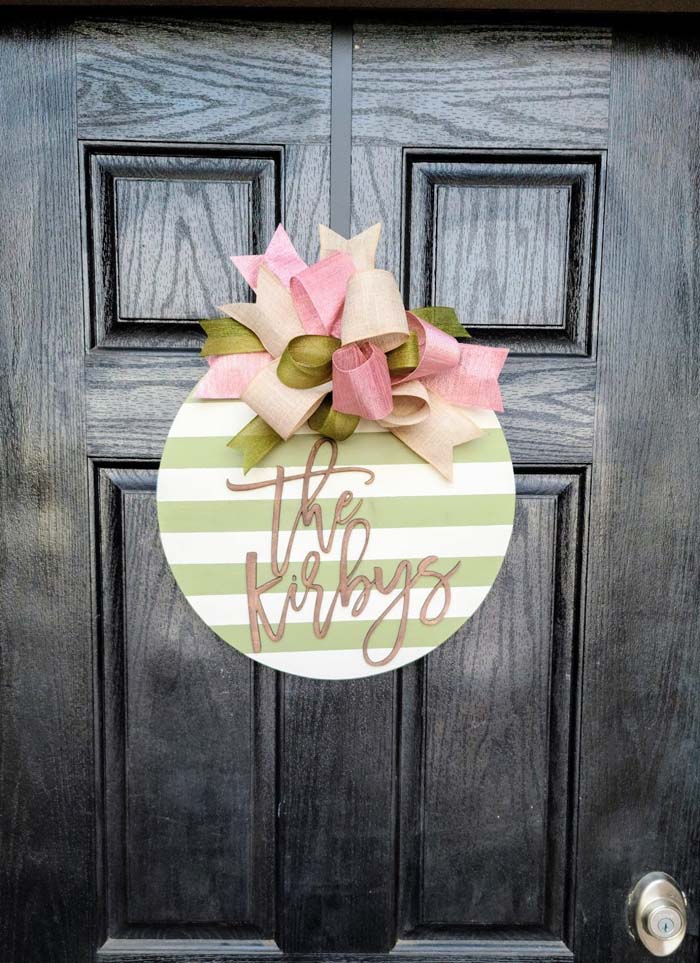 Are you looking for a front door decoration that is not traditional but yet not too extravagant?
This hanger will create a point of interest with its yellow and green stripes and gorgeous ribbon arrangement on its top.

5. Reimagined Bicycle Basket Décor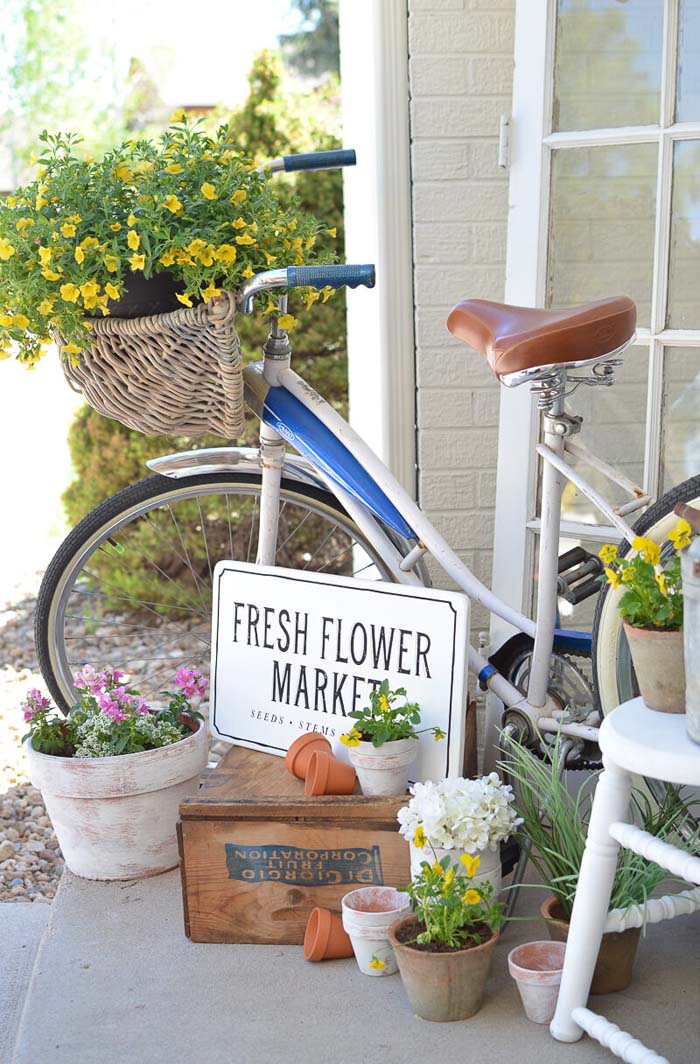 Another idea for a flower market on the porch features a scene where a bicycle becomes the background for potted plants.
The pots are various in sizes but their look is aged with the whitewash technique.
via Sarah Joy Blog
6. Sunshine Yellow Flowers Welcome Spring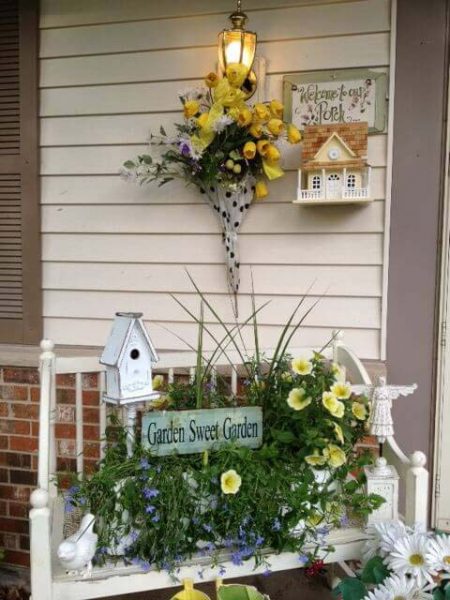 Decorate a piece of your porch with rustic elements and flowers on each level. Start with the floor, placing flower pots, vases, lanterns.
The middle level is accommodated by an antique bench accommodating a green tuft of plants. It is surrounded by white accents, symbols of spring.
The top level is represented by a bouquet attached to the sconce, a wooden house miniature and a welcome sign.
7. White Hydrangeas Monogram Wreath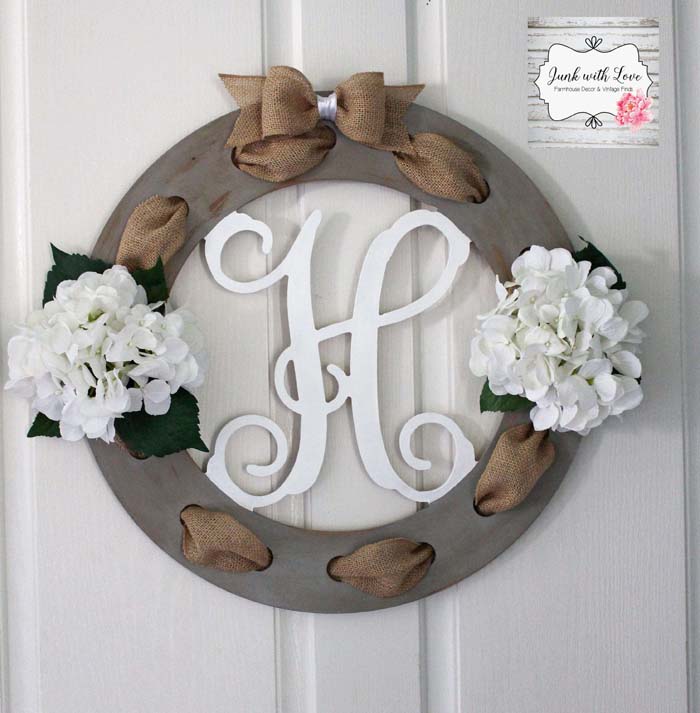 The wreath is the typical front door decor. Thanks to the various designs and patterns it can become a unique addition to your porch decor.

8. Personalized Chalkboard Welcome Sign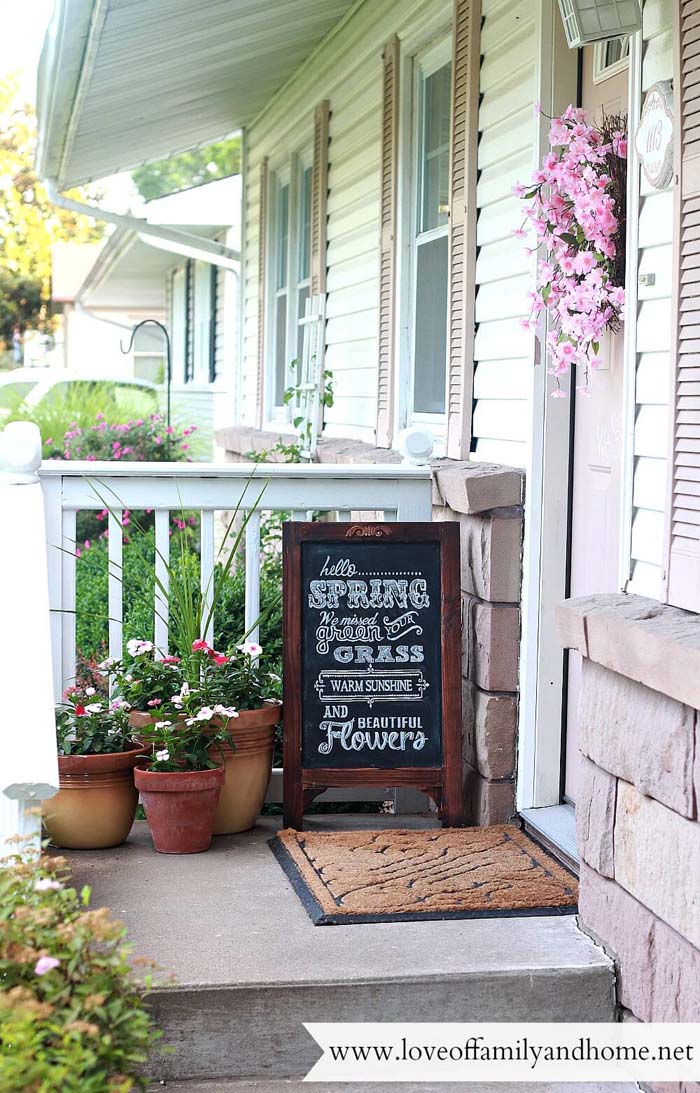 The chalkboard signs are a typical representative of the rustic farmhouse decor.
Depending on the inscription on them, they inspire with warm words or welcome with cheerful sentences.
Use one to mark the coming spring and praise the things it brings. Add a set of large pots with flowers next to it.
9. Galvanized Metal And Flower Door Display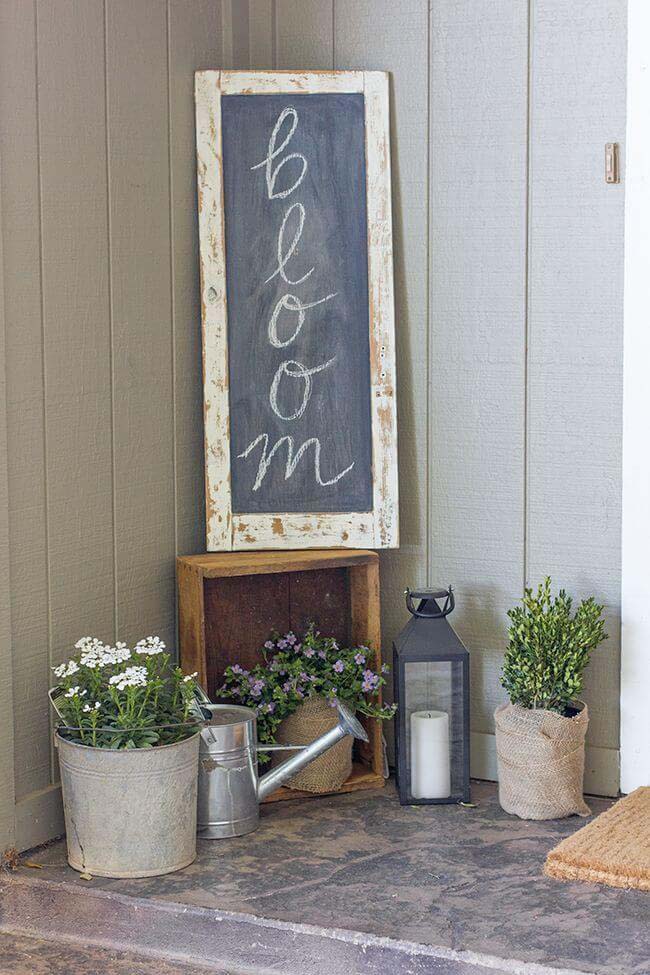 An old crate holds a pot wrapped in burlap and becomes a stand for a weathered chalkboard sign.
On both sides of it vintage items fill a corner space of the porch to set the mood for the warmer season.
via Jenna Sue Design
10. Get Artistic With A Chalkboard Message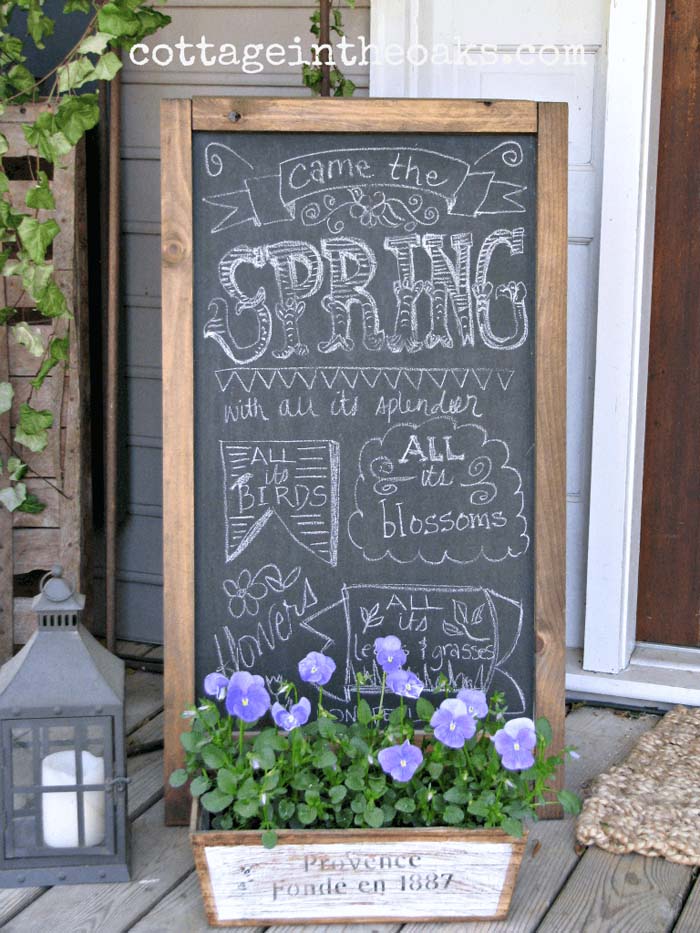 This chalkboard sign mentions the greatest things about spring.
In front of it, a small planter made of wood holds blooming flowers to create contrast and to confirm that spring is coming.
11. Welcome Birds And Flowers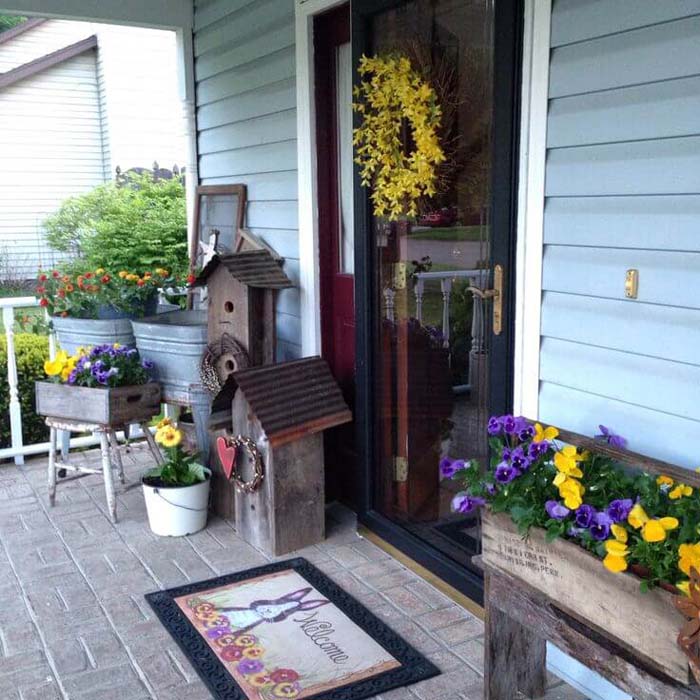 If you have a big porch, you can recreate a flower nook like this one.
Vintage galvanized containers and old wooden pieces of furniture become planters with a unique appearance.
A collection of birdhouses placed next to the front door enhances the natural setting.
12. White Standing Signpost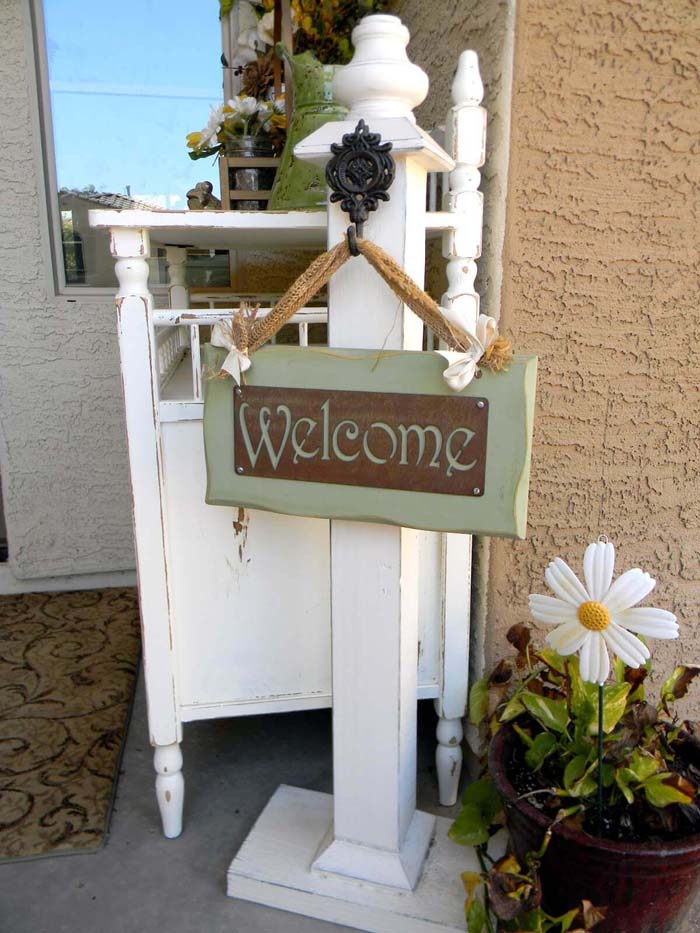 Make sure that your guests are feeling welcomed!
This handmade wooden post will ensure a high place for your welcome sign.
13. Upcycled Vintage Chair As Planter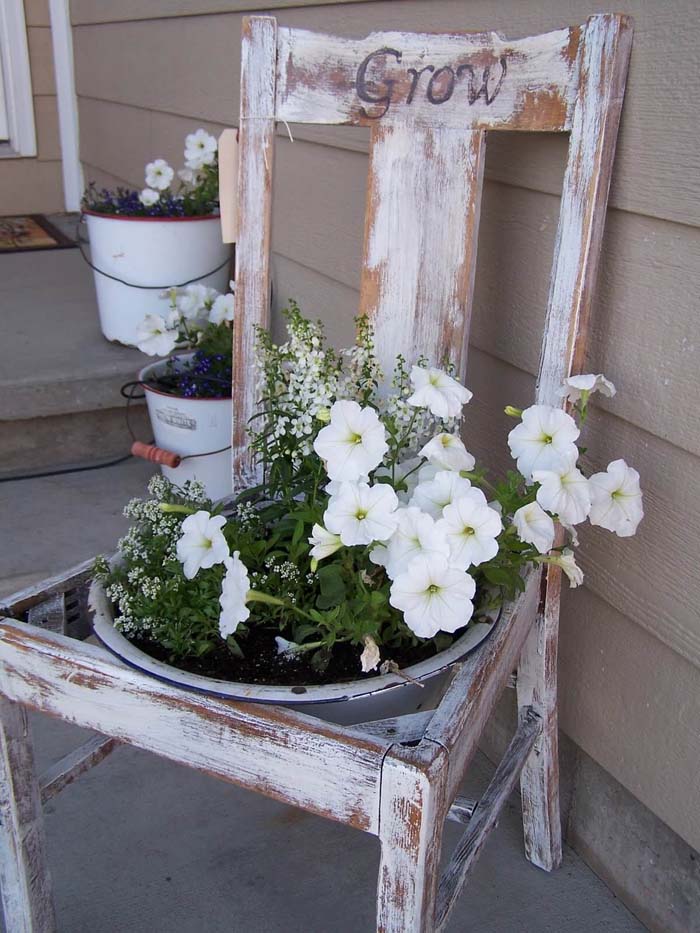 Turn an old and useless wooden chair into an outstanding rustic plant stand.
To make space for the flower pot, take off the sitting board. An old tub or pan will fit easily into this area and will enhance the farmhouse charm of the repurposed stand.
via To Spitaki Mou
14. Spring Favorite Daffodils In Antique Mailbox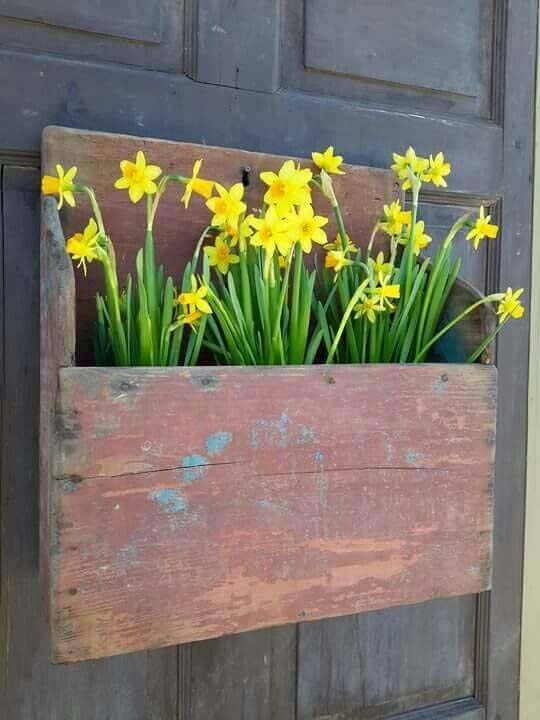 An old mailbox becomes a front door hanger for blooming daffodils!
A great idea to celebrate spring with the most vivid and aromatic flowers typical for this season.
via Bielhani
15. Reclaimed Wooden Plank Floral Display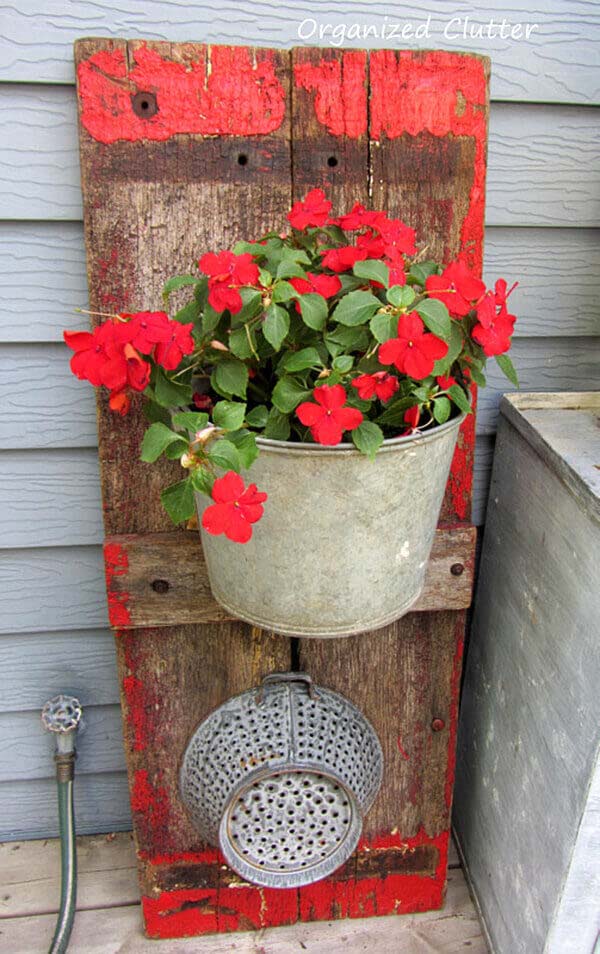 This panel can be made by a DIY beginner! If you like the idea of a weathered rustic plant stand, prepare two pallet slats and a bucket.
Add an old colander at the bottom and lean against the wall on the porch.
16. Porch Container Garden Space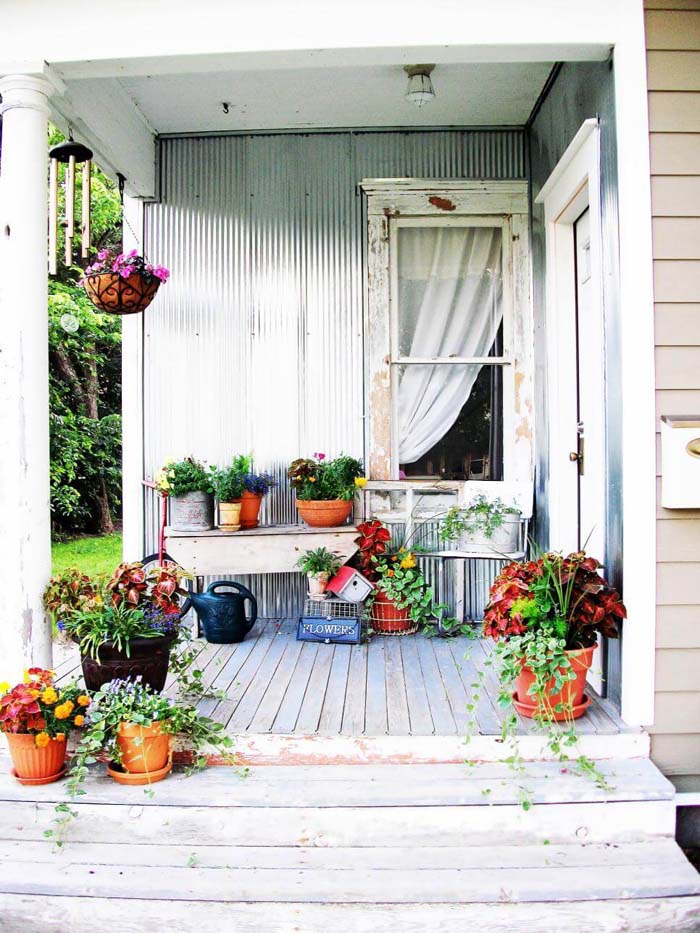 Want a simple idea for spring decor for the front porch? Just take out the pot collection you have got.
Experiment with the arrangement of flowers and plants and colors of the pots for greater impact.
via DIY Network
17. A Barrel Planter Brings Flowers To The Porch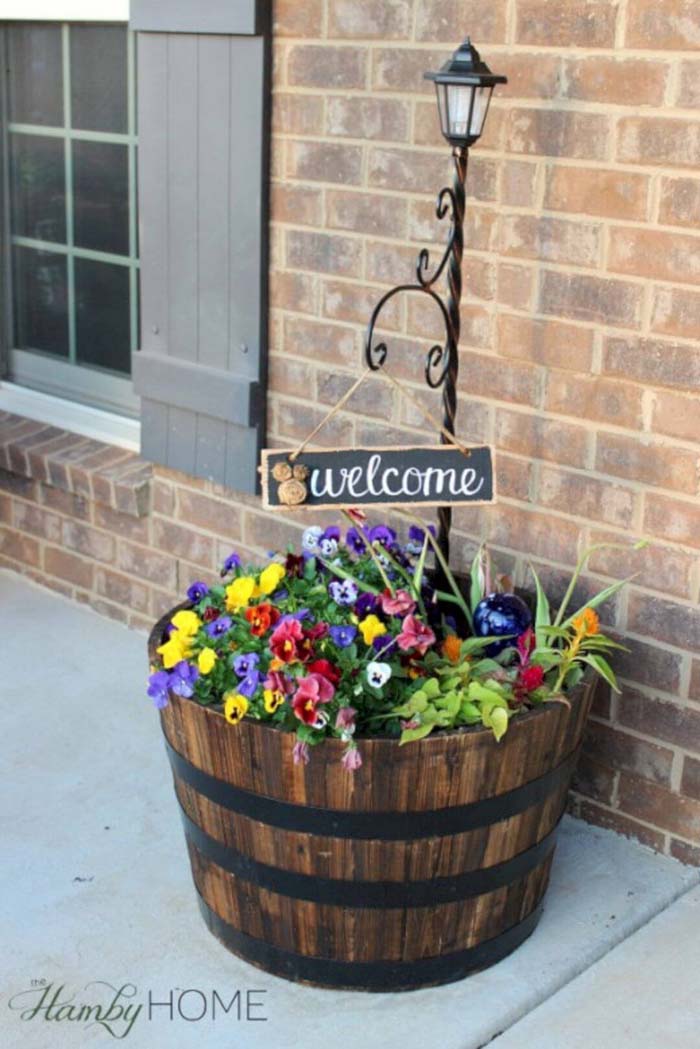 Make the welcome sign more aromatic by placing it into a flower pot. But not a typical one, repurpose a barrel into a planter.
This simple idea requires only filling it with soil and blooming flowers.
Put the welcome sign on a high level to ensure that it is clearly seen. The lamp post is a great idea as it will sprinkle gentle light in the night.
via The Hamby Home
18. Rustic Spring Seating Bench Space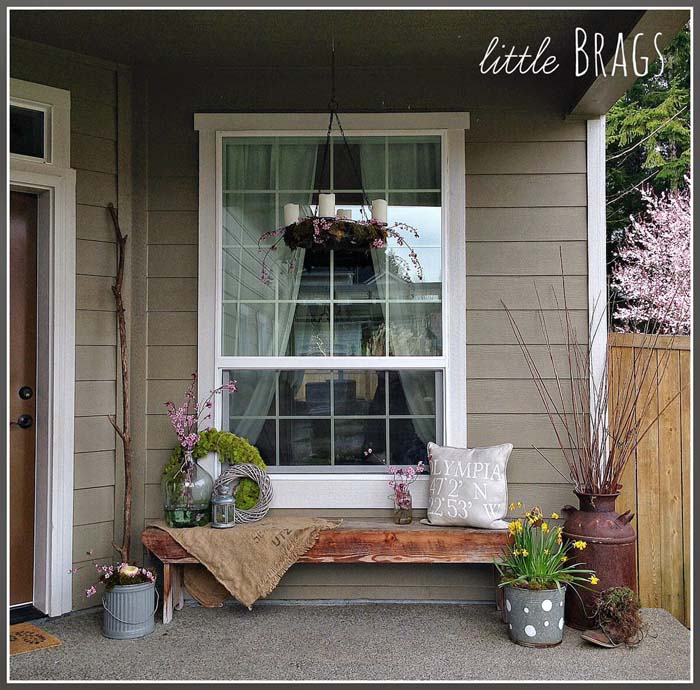 That bench on the porch will surely be needed in summer to provide extra sitting places. But for spring it can be repurposed into a stand for rustic outdoor decor.
Place a burlap cloth to imitate a tablecloth. The wreaths and glass bottles are repurposed into vases and the pillow enhances the indoor motif.
On both sides of it decorate with vintage containers turned into vases.
via Little Brags
19. Bright Colors And Bunnies Herald Spring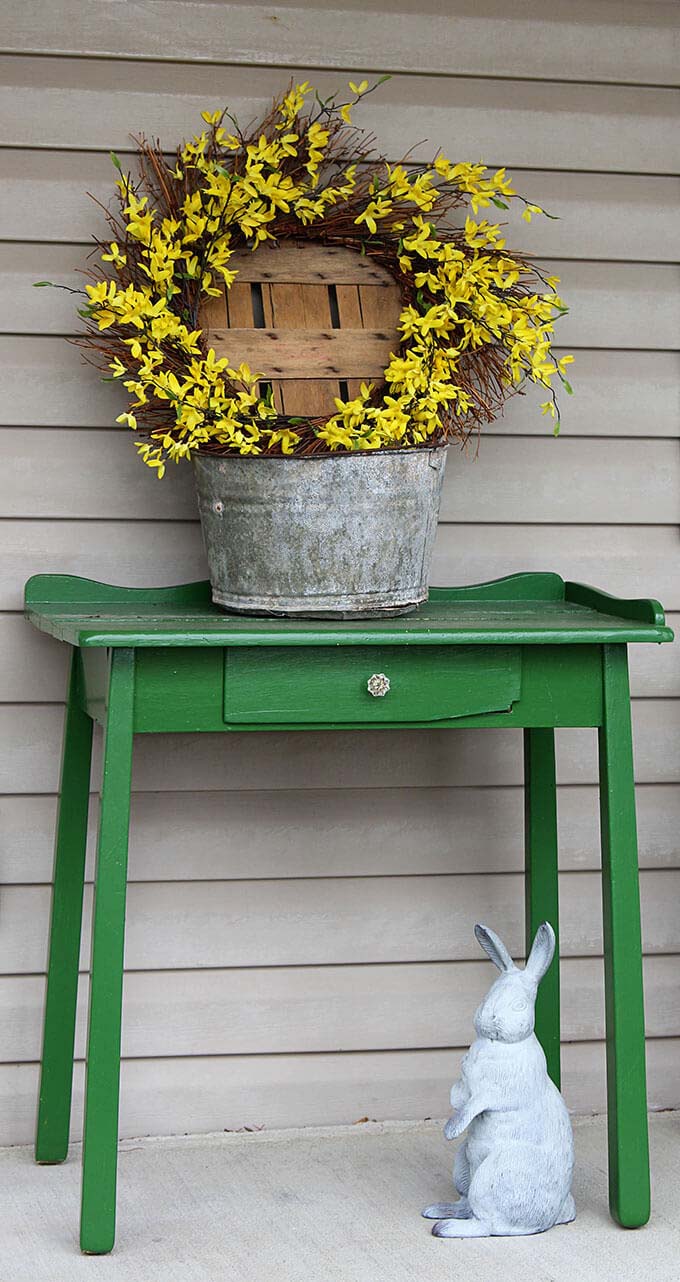 Green and yellow- a bright color combination that spring gives us as a present to enjoy!
Use this motif for your spring porch decor. It is featured by a small antique table painted in bright green and a wreath made of the first blooming twigs.
20. Monogram Wreath With Hydrangeas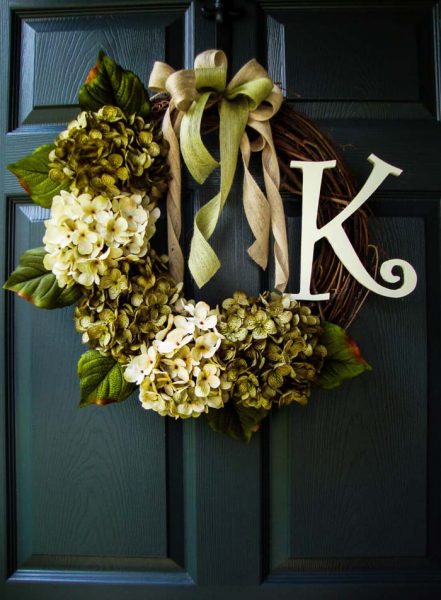 Give the front porch wreath a point of interest and a personal vibe with a large initial.
The earthy colors chosen for this wreath create a welcoming accent.

21. Vintage Milk Jug Flower Table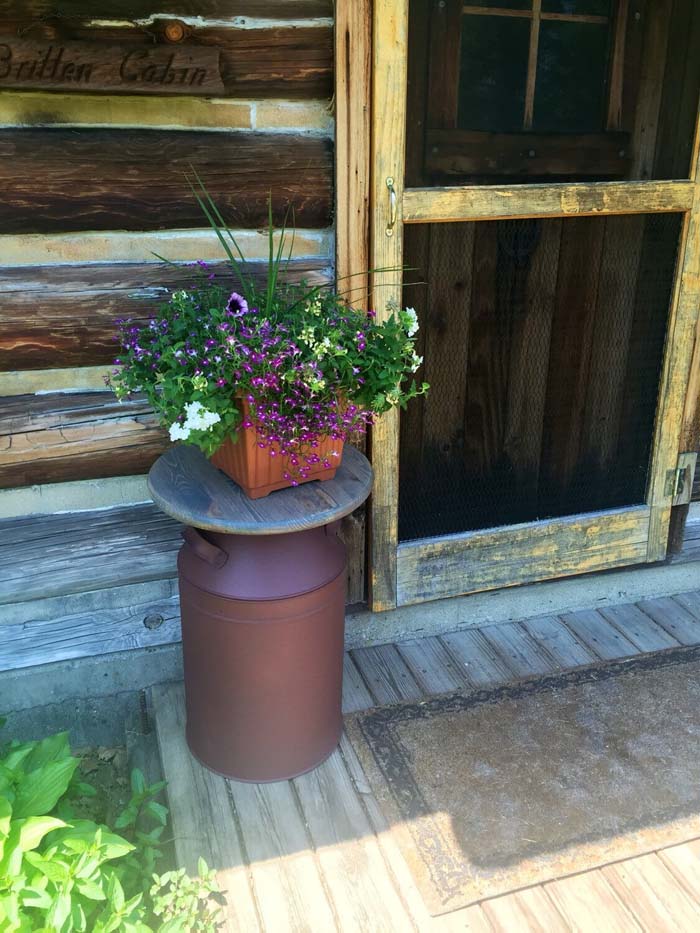 Old milk can be bought for only a couple of dollars at the flea market becomes a unique part of the spring porch decor with only a few modifications.
Its rusty surface has been painted matte red. A wooden circle at the top ensures a display for a pot with a blooming tuft.

22. Purple Spring Flower Welcome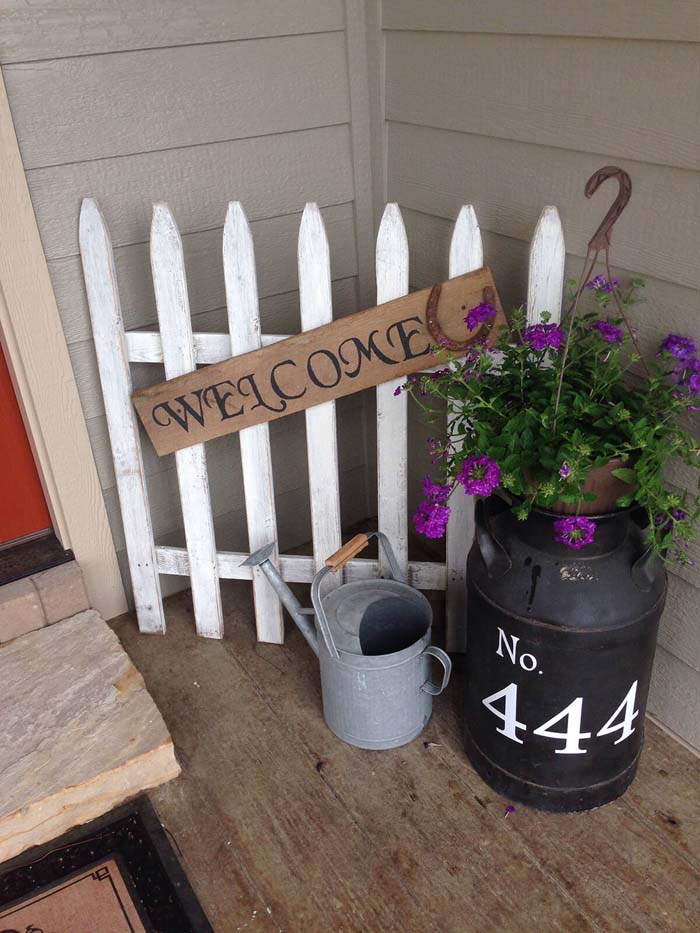 Placing the welcome sign on a non-traditional background is a promise for quick attraction.
In this case the rustic wooden sign is attached to a small picket fence. Its untypical place, on the front porch ensures that the sign is the first thing your guests will see
23. Warm Weather Porch With Swing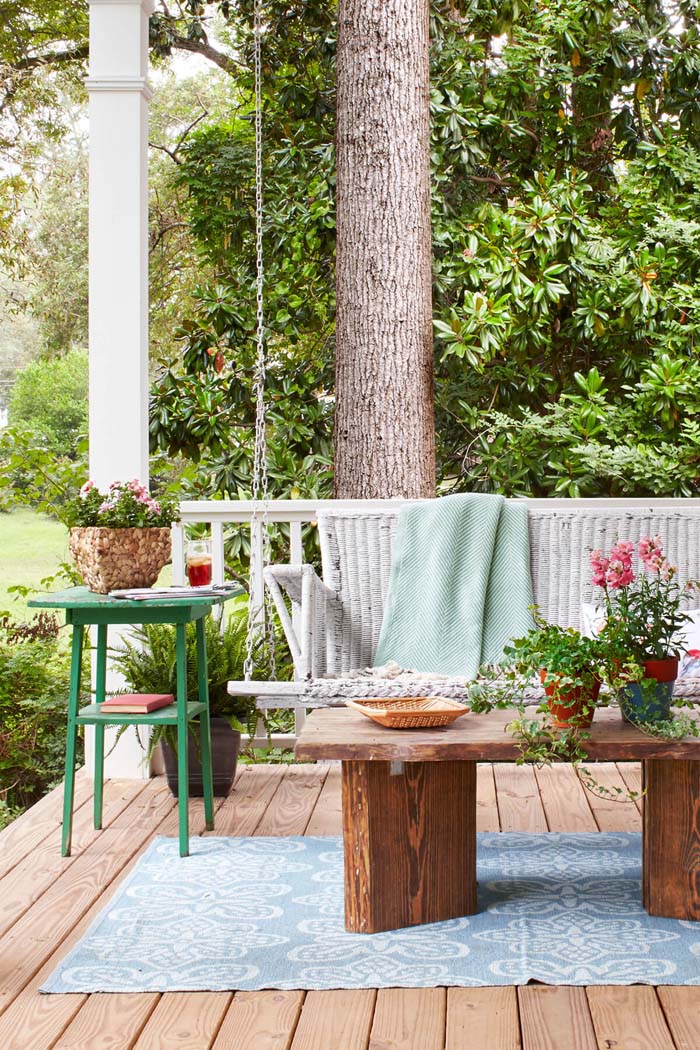 After the long winter, you will surely want to enjoy the warmer weather spending more time outside.
With an antique swing like this one, the porch will be the coziest place this summer.
Its inviting look is enhanced by the solid wood table and the side vintage stool in vivid green showing off the first blooming flowers.
via Country Living
24. Farmhouse Style Flower Stand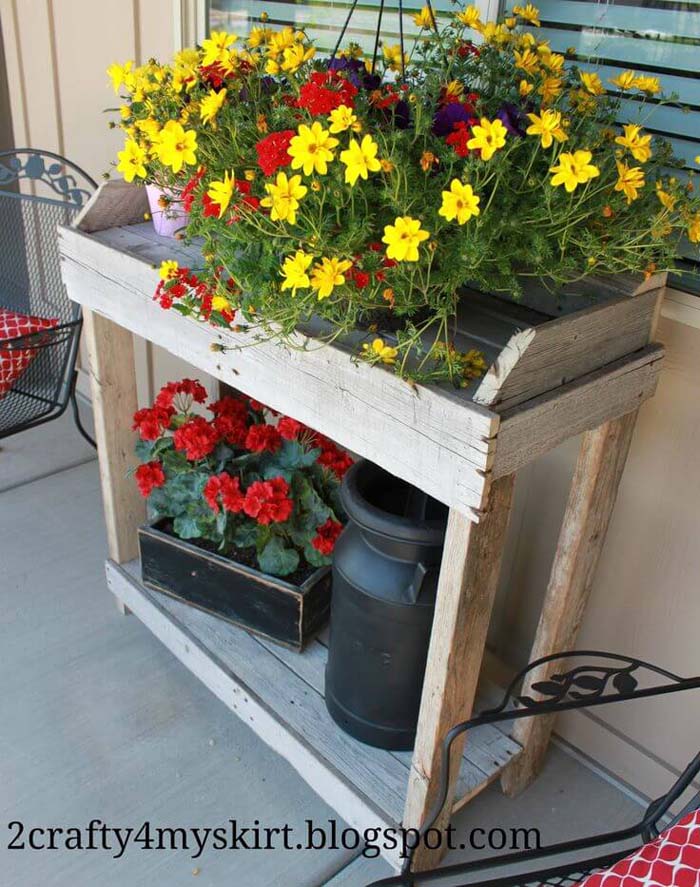 The coming of spring is the start of practicing the green thumb for the new year.
This potting bench celebrates the warmer weather becoming a two-tiered display for flower pots.
25. Hanging Solar Powered Twinkle Lanterns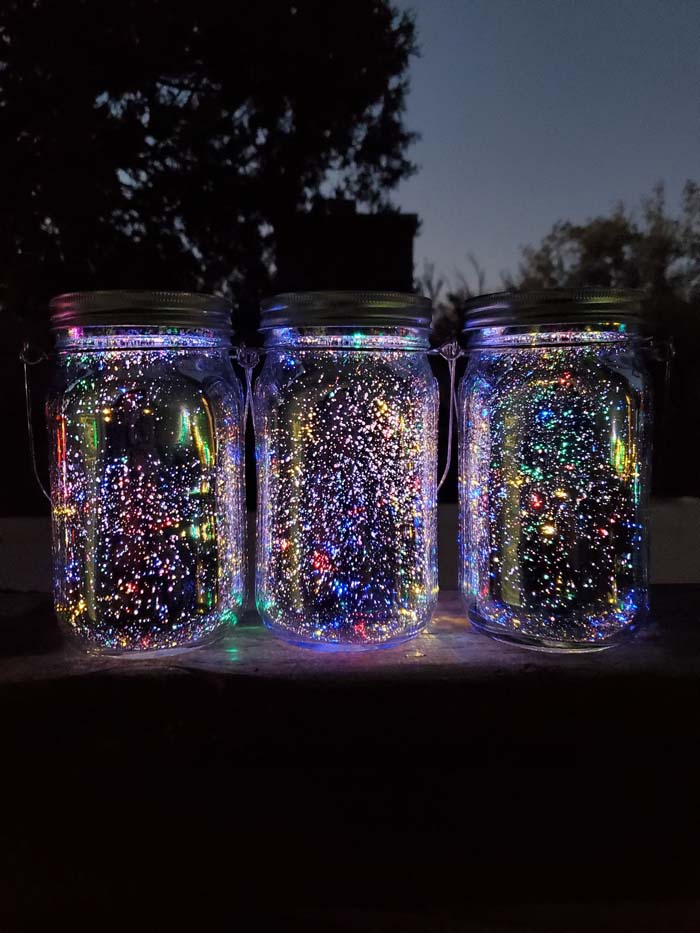 The patio won't be a patio without solar lights.
In case you want something more authentic and unique, this set of jars illuminating captured universes in nighttime will make the porch the most magical space of your home.

26. Charming Welcome Gnome Sign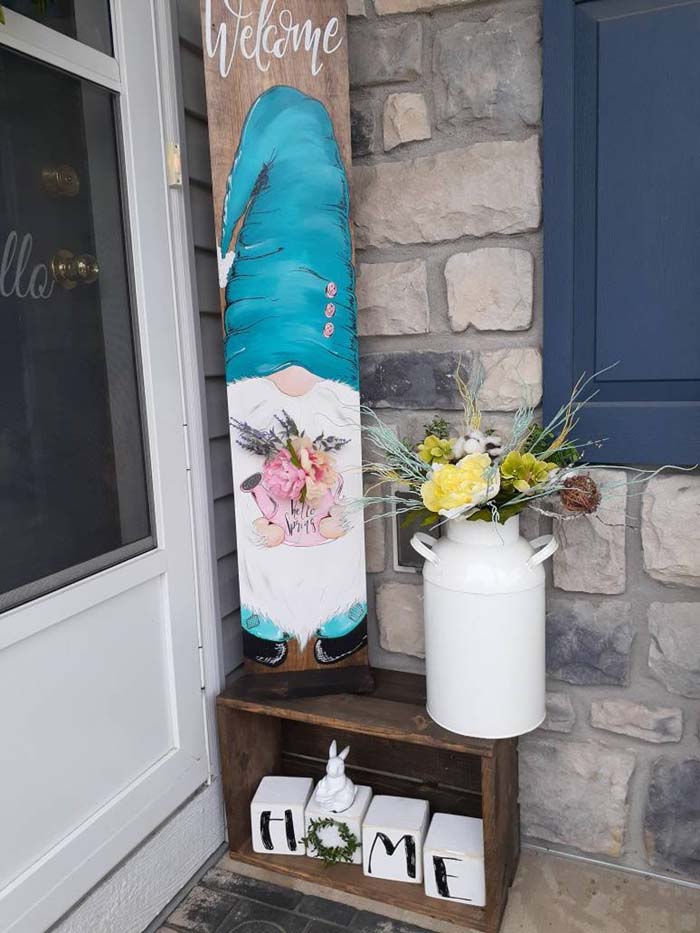 A fairytale creature says welcome at the front porch! So charming and so unique! Its image is painted on a large wooden board.
To fit it into the spring season, the gnome is holding a watering can with flowers.

27. Vibrant Floral Birdhouse Wreath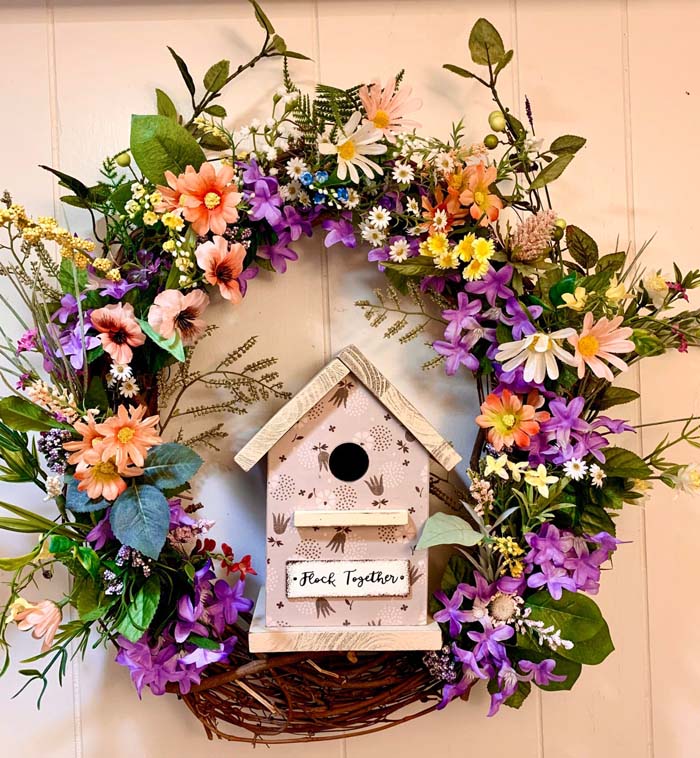 A typical sign for the coming spring is the sound of birds chirping.
This is why the birdhouses are accepted as a symbol of spring. Including them in your porch decor will make the expectation more exciting.

28. Spring Plantings In Mason Jars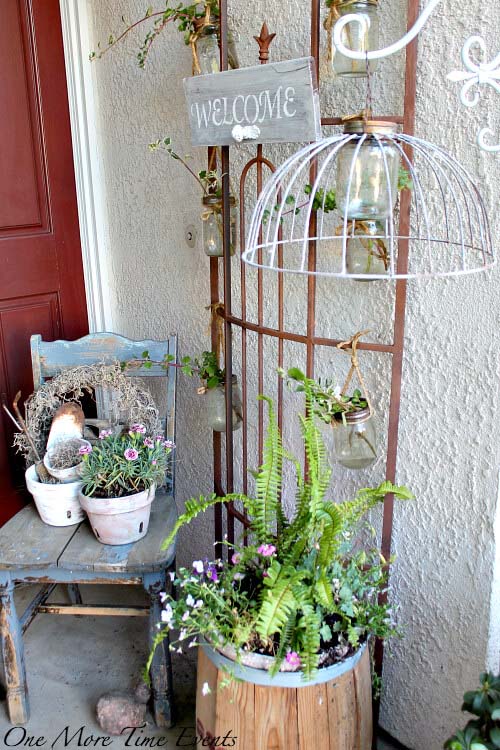 Take out the trellis for your vines from the garage earlier than usual. Tie twine around the neck of jars and use its ends to attach them to the trellis.
Fill the jars with candles, field flower bouquets, green twigs.
29. Bring Cheerful Color To Your Porch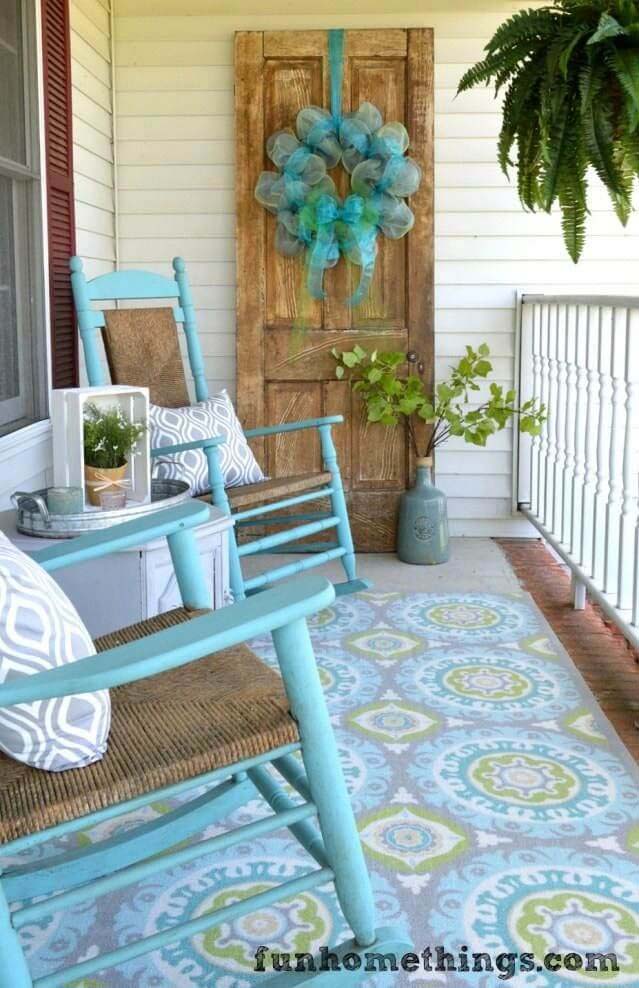 This decoration easily anchors the spring mood with its vivid colors and rustic textures.
Brown and turquoise make a great combination originating from nature.
30. A Variety Of Spring Blooms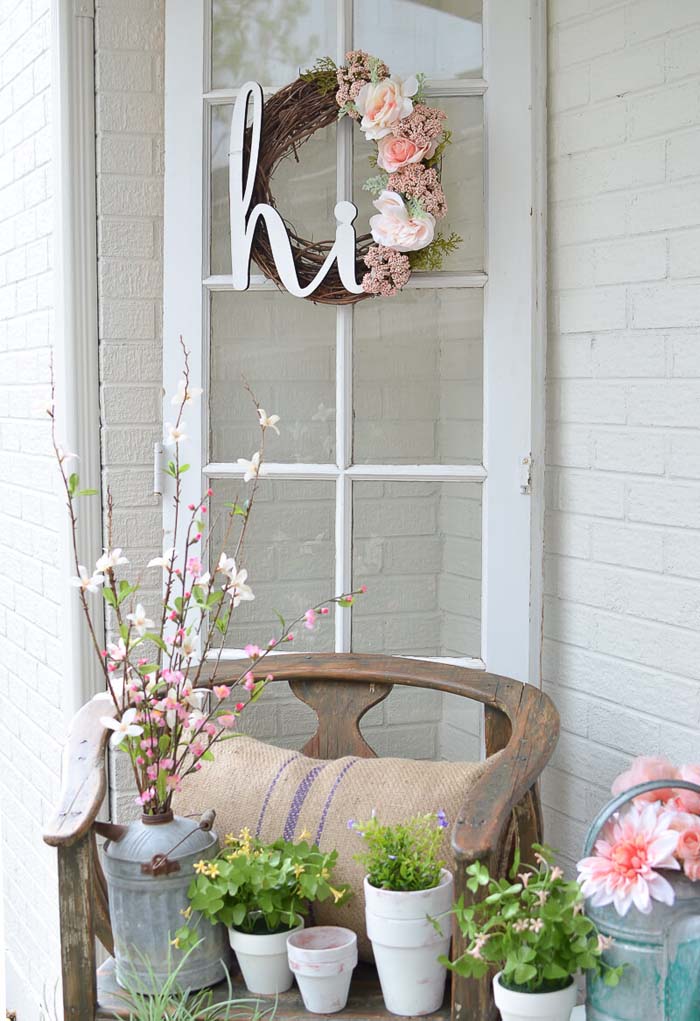 Make the porch more welcoming and provoking sweet talks with rustic accents. They have that natural capability to make the atmosphere more casual and inviting.
A wreath hung onto a repurposed door, an old armchair upgraded with a burlap pillow backing a set of terra cotta pots state clearly that the porch is no longer lonely.
via Sarah Joy Blog
31. Spring Terrariums And Bursting Bouquet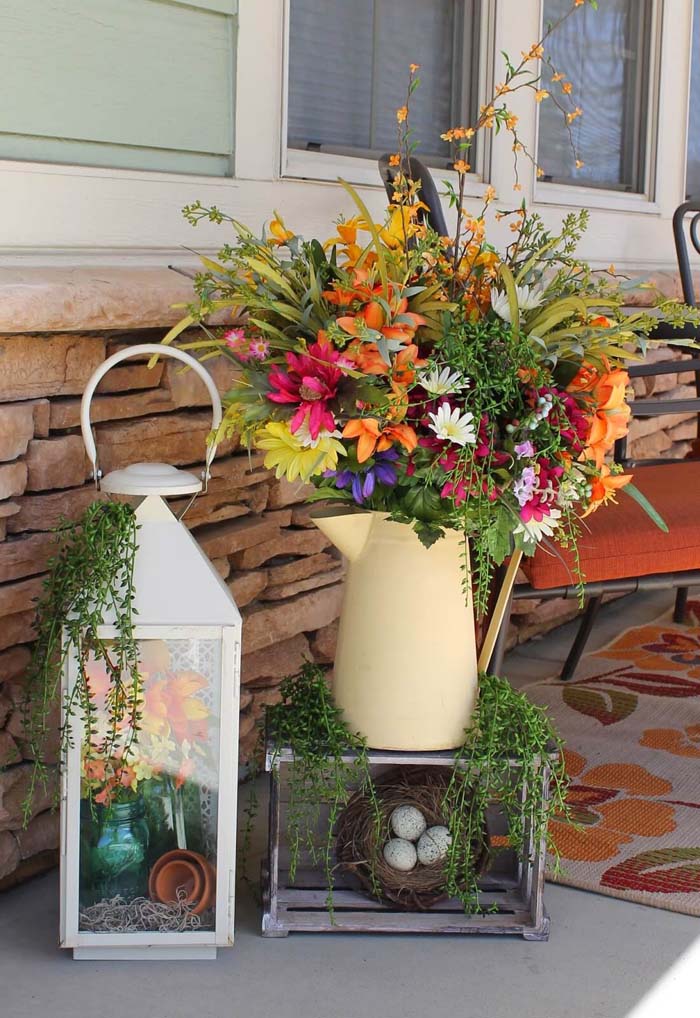 Simple items like a watering can, a lantern and a crate make a beautiful rustic setting for spring-themed porch decor.
They are all filled with natural elements, typical for that season- a nest, green vines, blooming flowers.
via Southern Seazons
32. Pastel Bunny Welcome Sign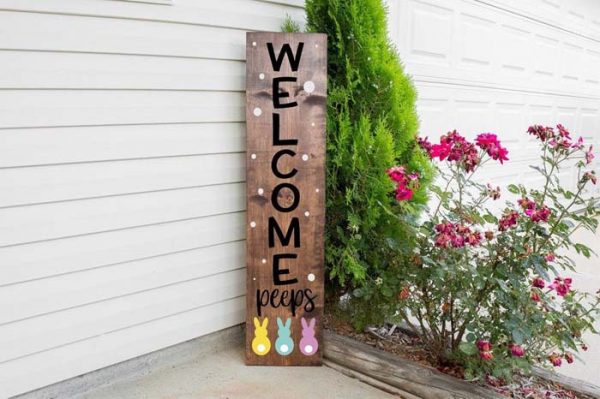 Spring is related to Easter and including cute motifs of this jolly holiday will make the decor more cheerful and festive.
The traditional wooden rustic texture of the wood is being given a fun element with the image of three bright bunnies- most probably their number coincides with that of the family members.

33. Rustic Crate And Door Sign Display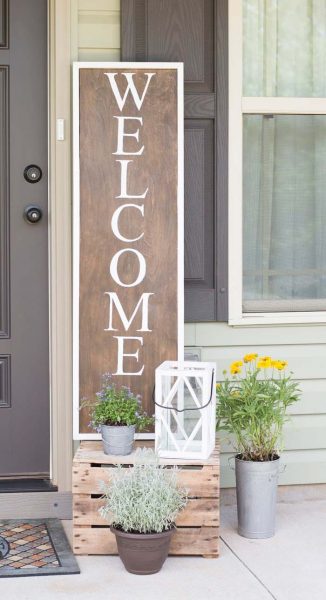 A quick uplift of the porch for spring features an oversized wooden sign with contrasting letters and frame of the same creamy color.
It is leaned against the wall and placed onto a crate to be clearly seen. In front of it three vintage pots hold flowers. The white accent is enhanced by a lantern.
via Delightful Order
34. Bright Tulip Rain Boot Bouquet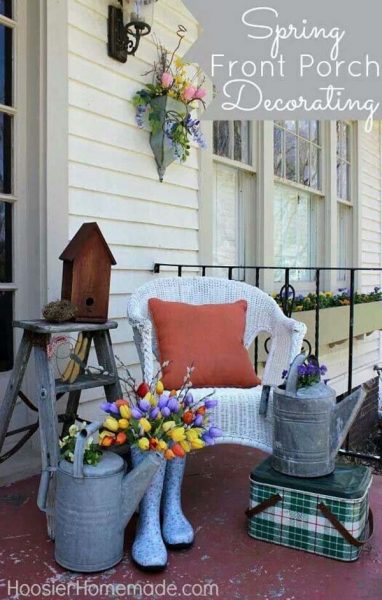 Nothing says spring more than the rain boots. But instead of walking in the rain, they are under shelter on the front porch, holding tulips.
The extravagant effect is smoothened by the antique beauty of traditional countryside living items- watering cans, a hand-knitted blanket, an old ladder and a birdhouse.
35. Bright Boho Pillows Add Spring Color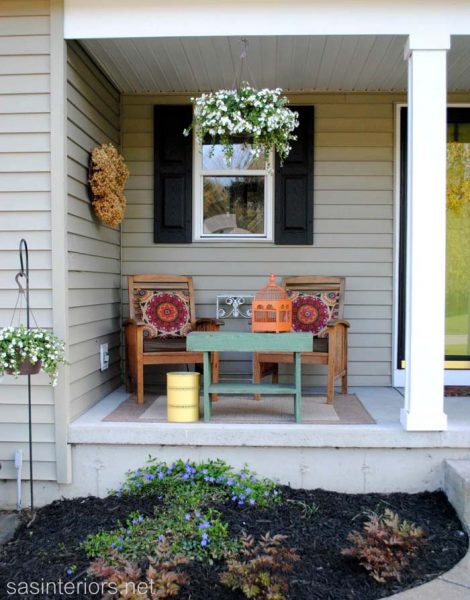 Spring is about revival and so should look at our porch.
The addition of accents in vibrant colors like the burning orange, the grass green and the funky yellow makes the mood more cheerful and turns the porch into an inviting spot.
via Jenna Burger
36. Stacked Spring Garden In Wooden Crates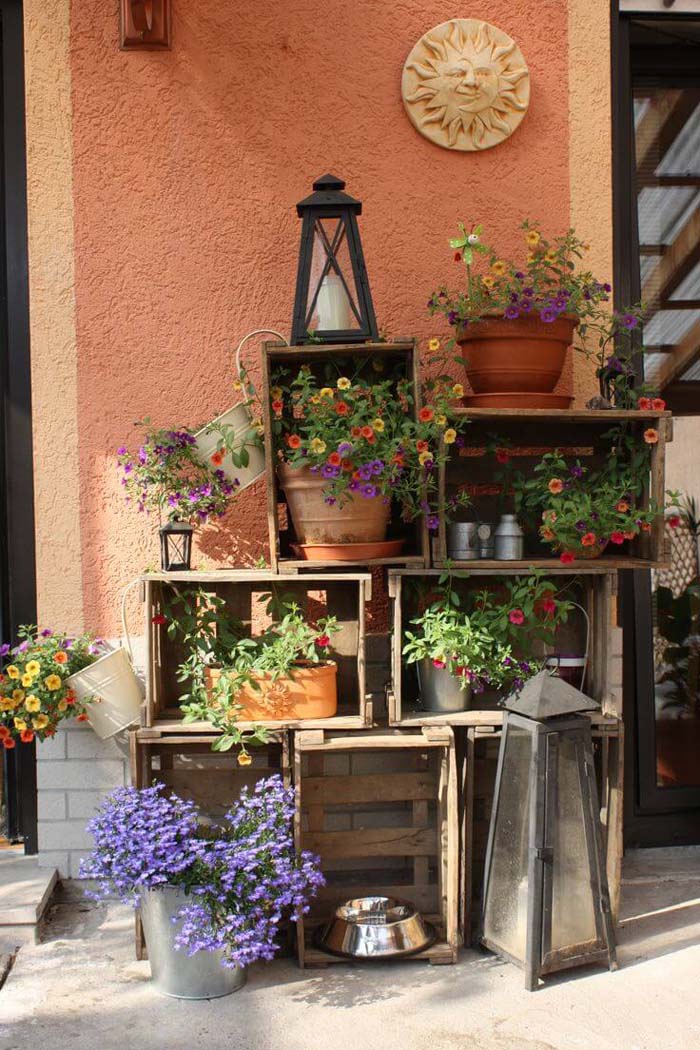 Make a gorgeous vertical stand for your first outdoor flowers with crates. Their shape allows different stacking patterns, almost like cubicles but in a more old-fashioned authentic look.
Use the space inside each to nest small galvanized pots. The top surface of the stand can accommodate larger pots. All gaps between the laths can be used to attach metal buckets with hooks.
37. Colorful Pastel Pots Highlight A White Ladder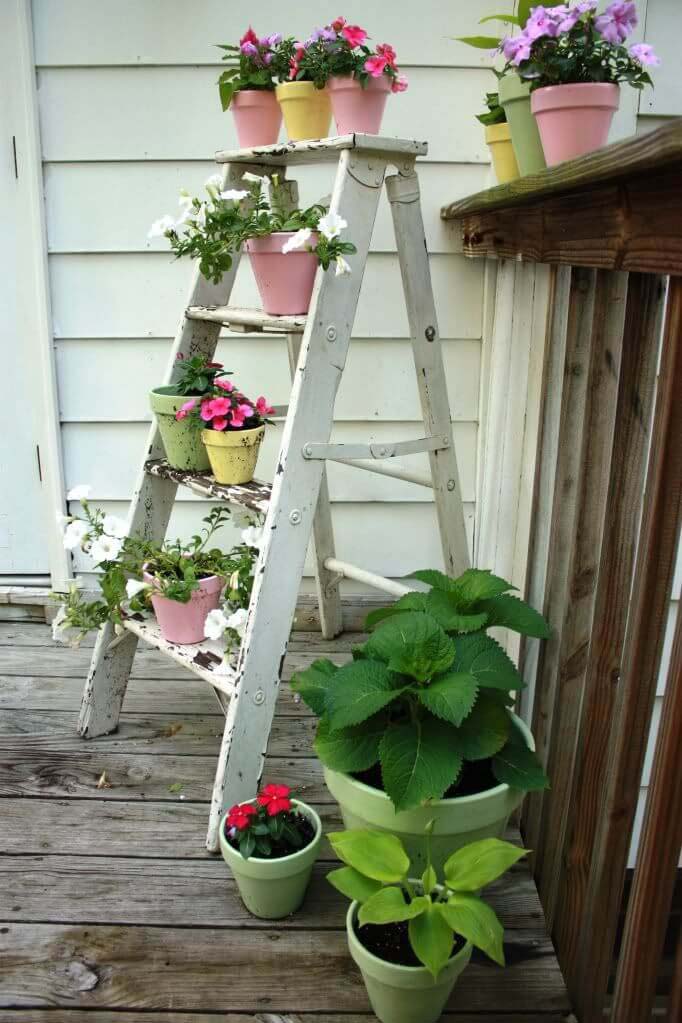 You have noted that most of the rustic spring porch ideas use flowers.
This old wooden ladder has been left distressed and weathered to become a neutral background for colorful pots and flowers.
via Bower Power
38. Cozy Turquoise Rocking Chair Porch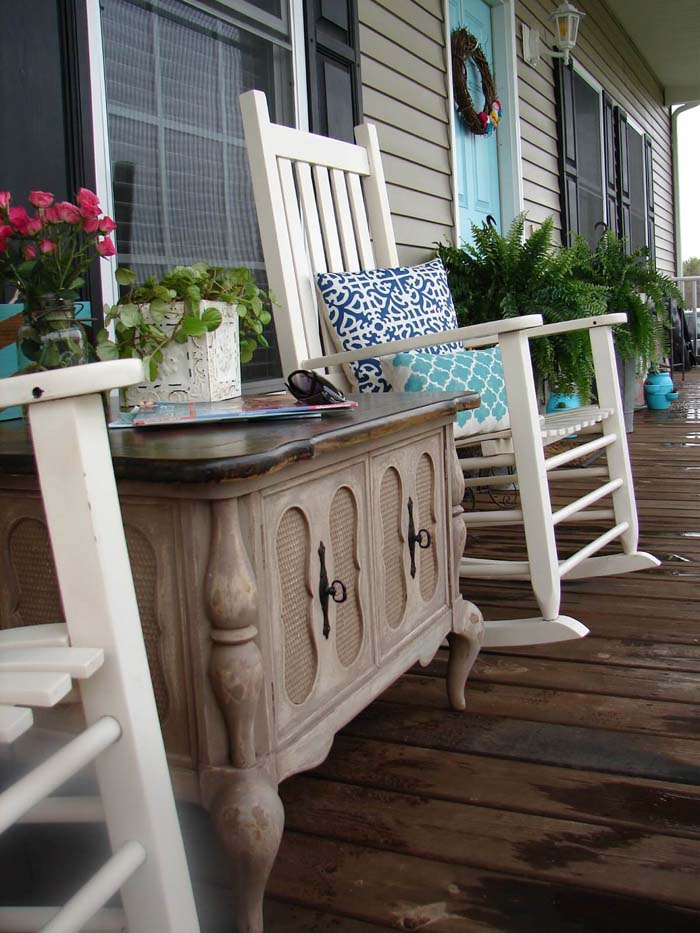 Give the rustic romantic atmosphere at the porch a point of interest by decorating smaller accents in one vibrant color. Turquoise, orange, yellow, all match perfectly with the warm brown.
Use the color you have chosen for pillows, rug, pots and see how easily the porch will switch into the spring theme.
39. Trailing Plant And Bright Catkins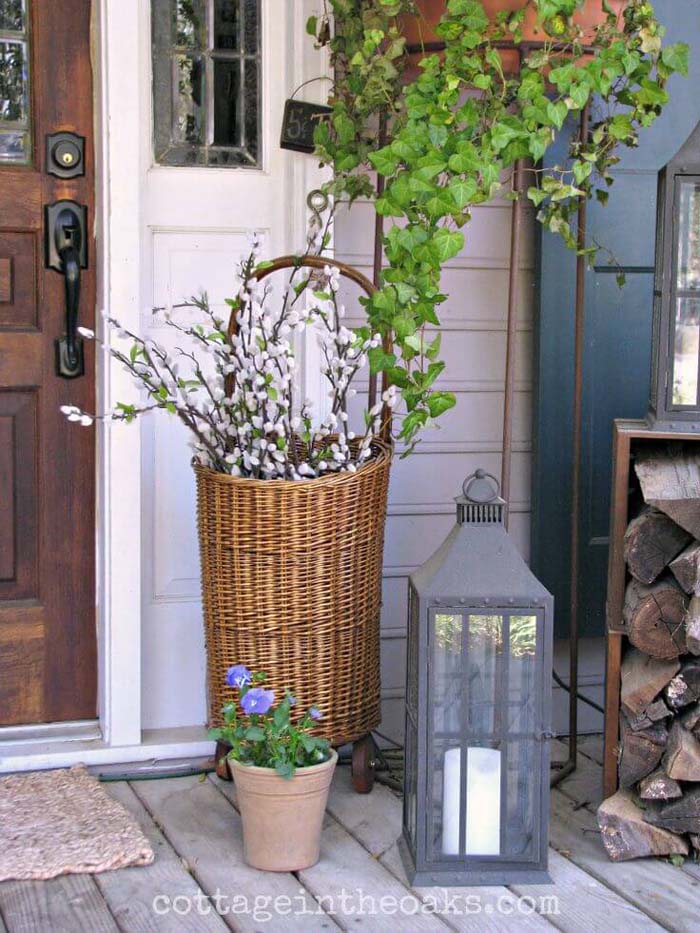 You can concentrate your spring porch decor on a very small space- the spot next to the front door, for example.
The pleasant rustic decoration is represented by a tall wicker basket. The gentle cotton twigs make a nostalgic statement.
A vintage oversized lantern holding a LED candle enhances the cozy vibe.