You likely have some older chairs that have faded into non-use and become an eye-sore.
Rather than tossing them, try upcycling them and letting their beauty and memories live on.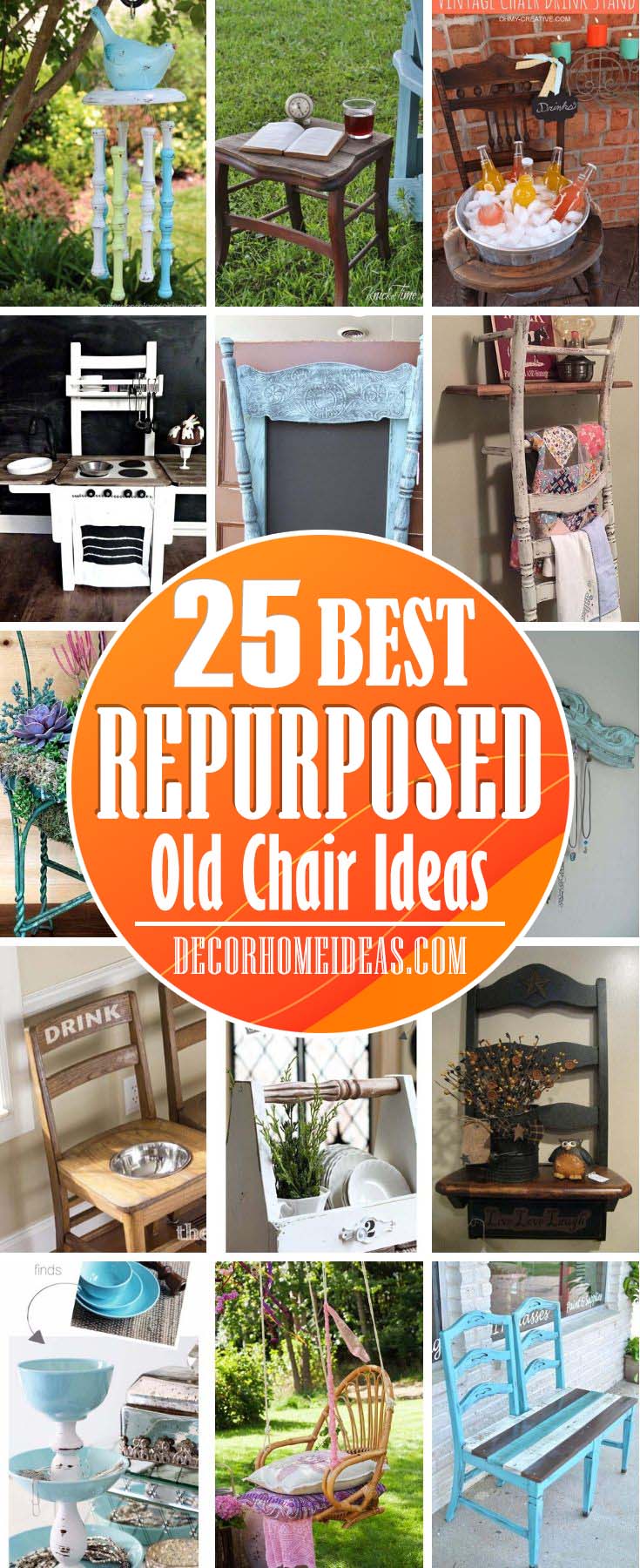 These fantastic DIY ideas to repurpose old chairs are super creative and will turn them into unique masterpieces. Easy to both make and customize you are sure to find a weekend project!
1. Build a Modern Upcycled Outdoor Bench with Two Chairs

Craft your own outdoor bench with this modern upcycled chair idea.
Two chairs, facing towards one another, are connected with three wooden boards where their seats used to be.
The backs of the chairs act as a unique armrest. The now black bench also contains storage below where the footrest was prior.
2. Transform an Old Chair into a Beautiful Plant Holder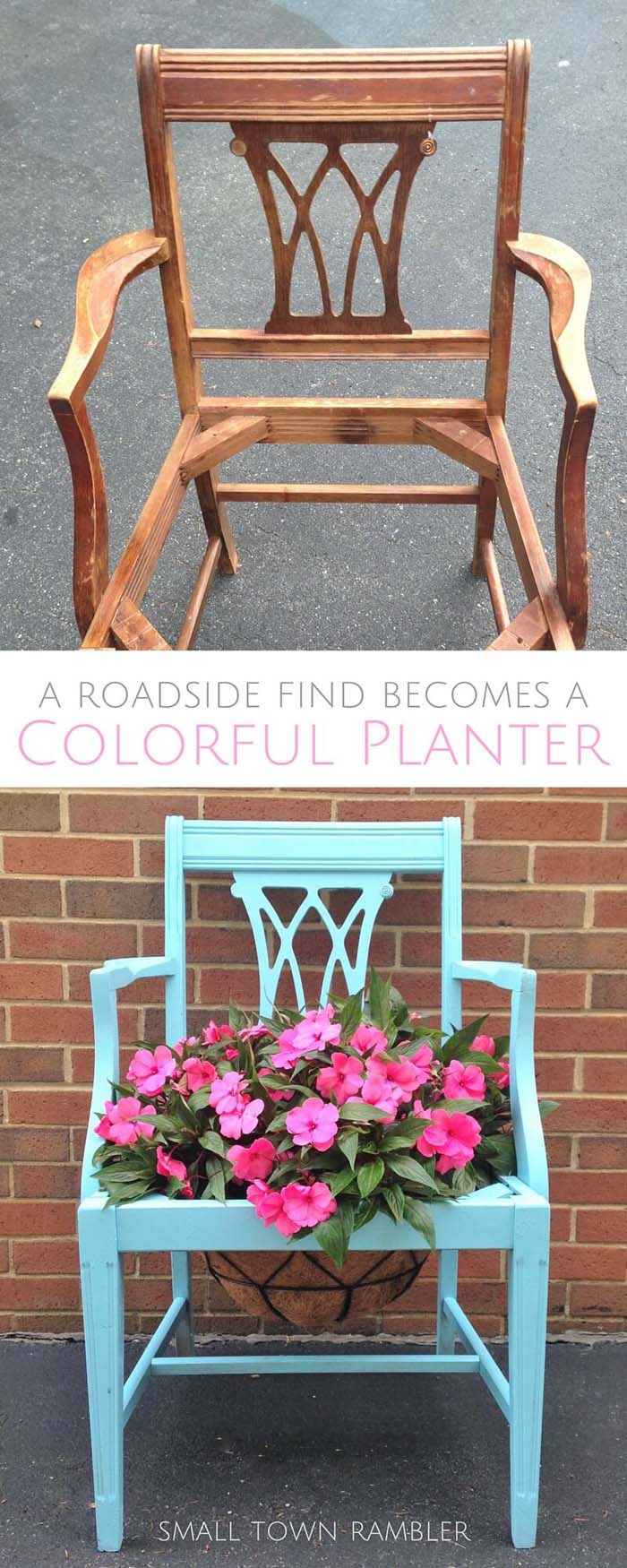 Turn your former seat into a wonderfully elegant spot for your plants with this DIY idea.
A chair with its seat removed is painted a bright mint blue and converted into a planter chair.
Try adding a colorful pink floral arrangement to accentuate the vibrant colors.
3. Hang a Whimsical Chair Swing in the Garden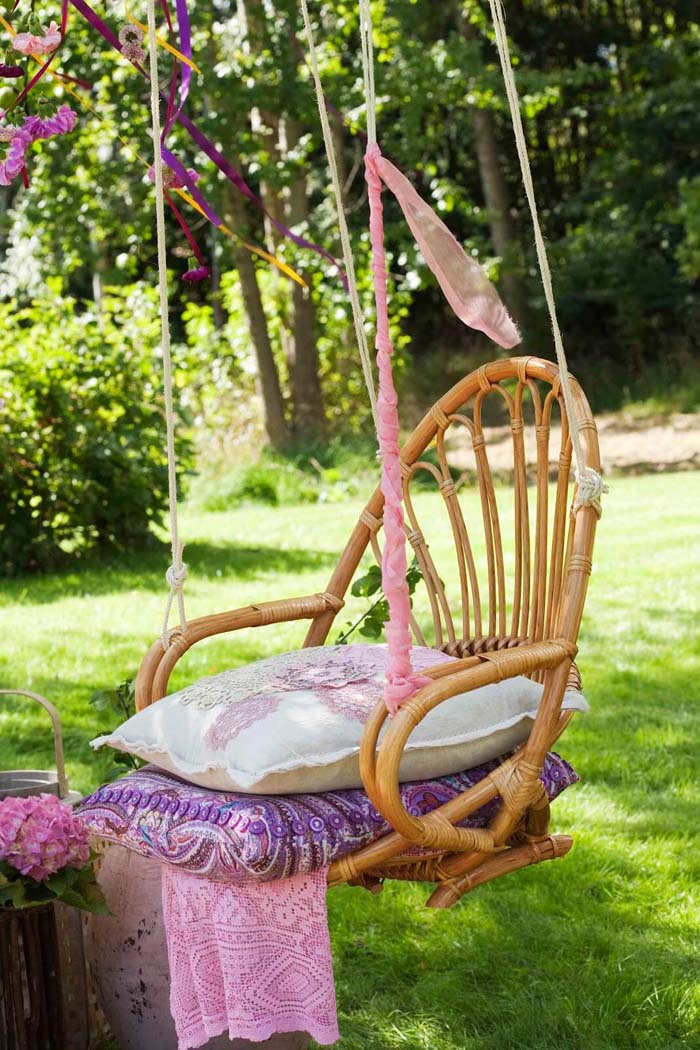 This whimsical DIY idea works for those chairs with questionable legs.
A rounded wicker chair with no legs hangs in the garden from a nearby tree with four supporting ropes.
Decorated with comfortable pink and purple laces and pillows this chair swing is reminiscent of relaxing tea parties.
via So Mee
4. Antique White Flower Accent Chair for Foyer Corner Table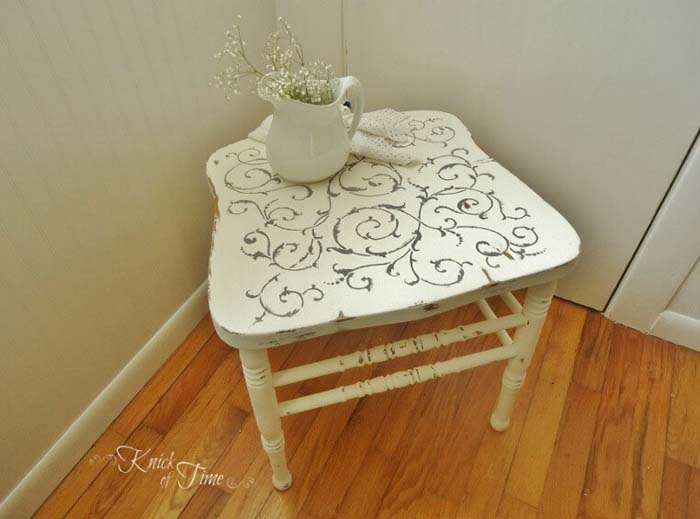 Try this fun and easy DIY idea if your chair is losing its back and arms.
The seat and legs of a chair have been painted in an antique white and placed in the foyer as a corner table.
The seat has a floral design embellished on its top. Decorate with a simple white flower for a clean, minimalist look.
via Knick Of Time
5. Repurpose Old Chairs for Dog Feeding Trays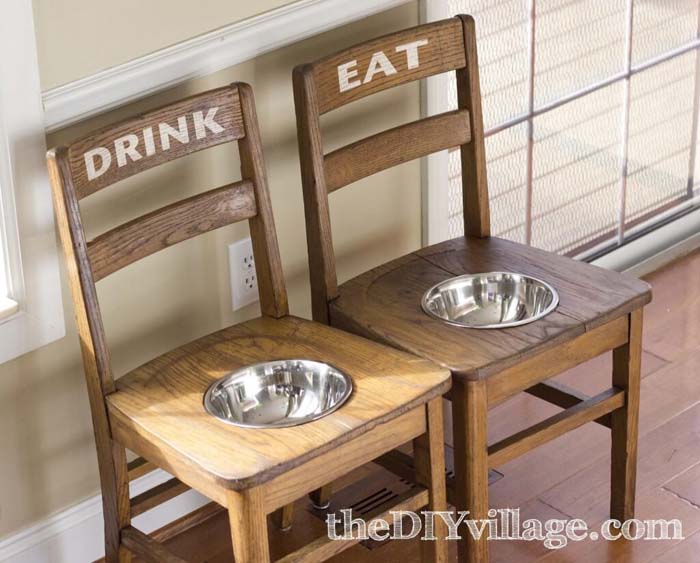 Give your furry companions their own outdoor serving tray with this repurposed chair idea.
Two metal feeding bowls rest in the seats of two wooden chairs. Labels for food and water are stenciled in the back.
via The DIY Village
6. Upcycle a Chair Leg into a Jewelry Storage Solution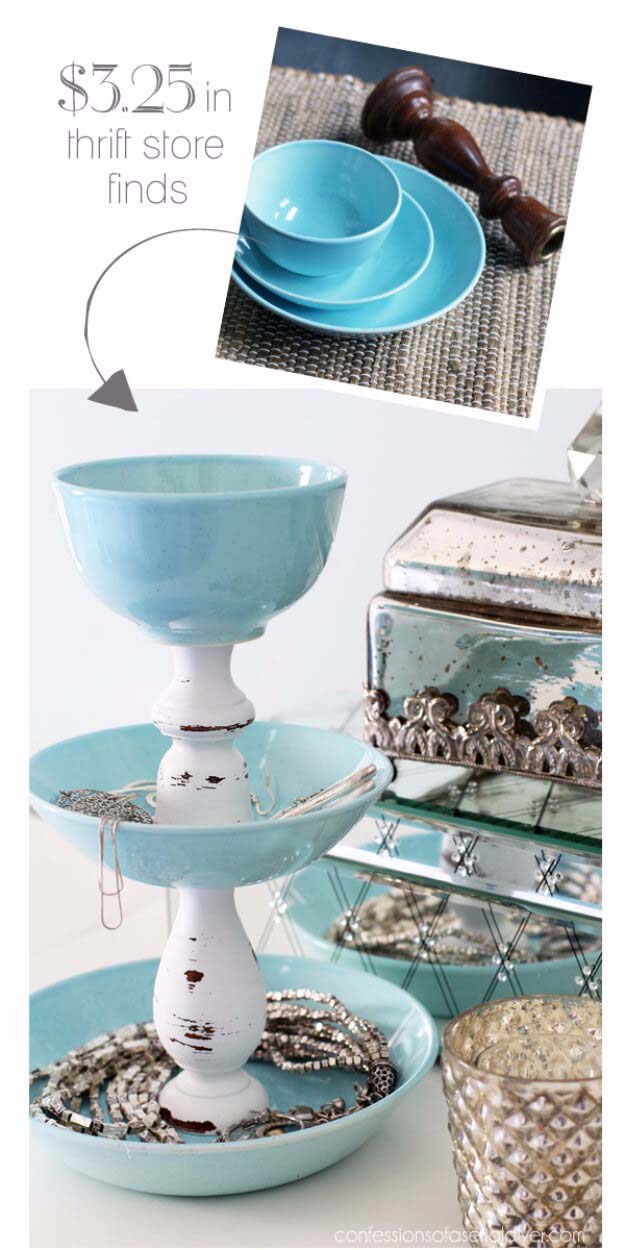 If you can only salvage the leg, check out this idea.
Three different in size blue bowls are secured unto an overturned white chair leg.
The now upcycled jewelry storage gives new opulent life to the chair.
via Confession Of a Serial DIYer
7. Transform an Old Chair into an Overflowing Succulent Planter

Make an overgrowing succulent planter from a delipidated metal chair with this adorable DIY project.
The seat of a green metal chair has been turned into a planter filled with many variations of succulents.
With many colors and textures, the succulents rest easily in their new home.
via Garden Therapy
8. DIY Tote from a Recycled Chair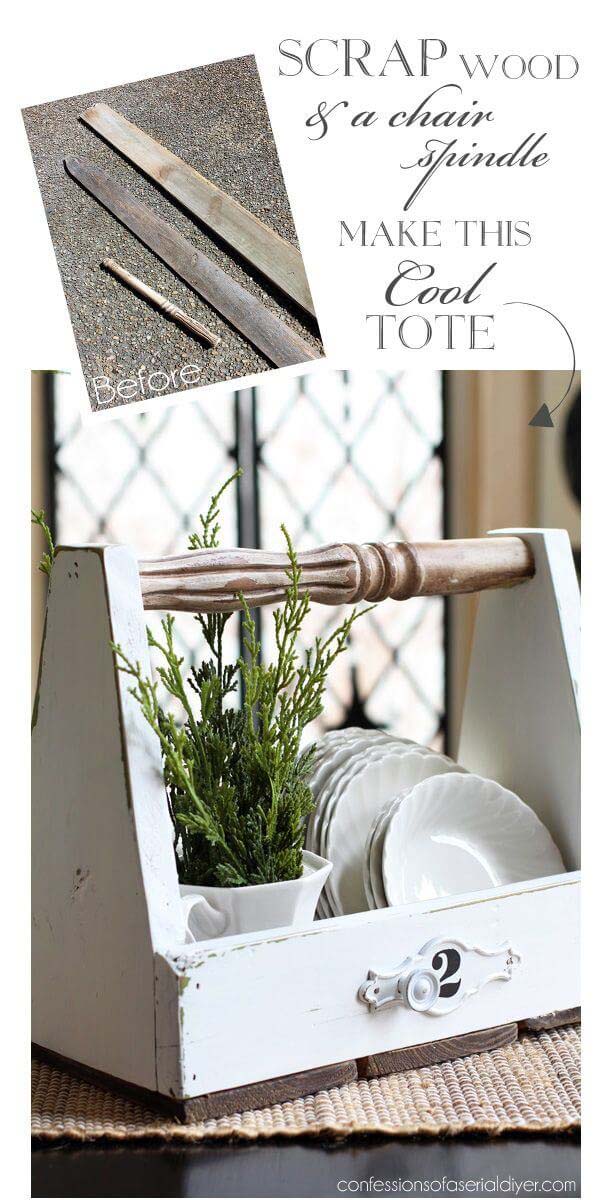 Completely reenvision your chair with this DIY idea.
A white tote has been constructed from various scrap boards and a solid leg from the recycled chair. It can be used to store glassware.
Try adding a drawer knob or stenciling for a finished look.
via Confession Of a Serial DIYer
9. DIY Candy Stripe Chair Transformation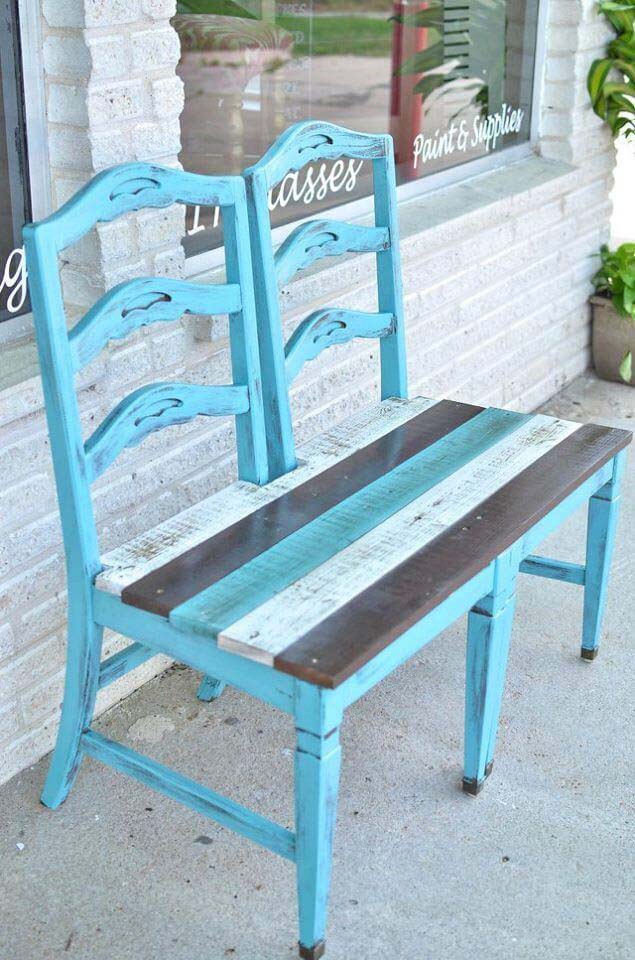 Reinvent a pair of older chairs using this cute and colorful DIY idea.
Two wooden chairs have been painted in a chalky blue and joined together with five boards at the seat.
The wooden boards are painted in brown, blue, and white for a candy stripe vibe.
via Levante
10. Repurpose a Chair Back into a DIY Ladder Shelf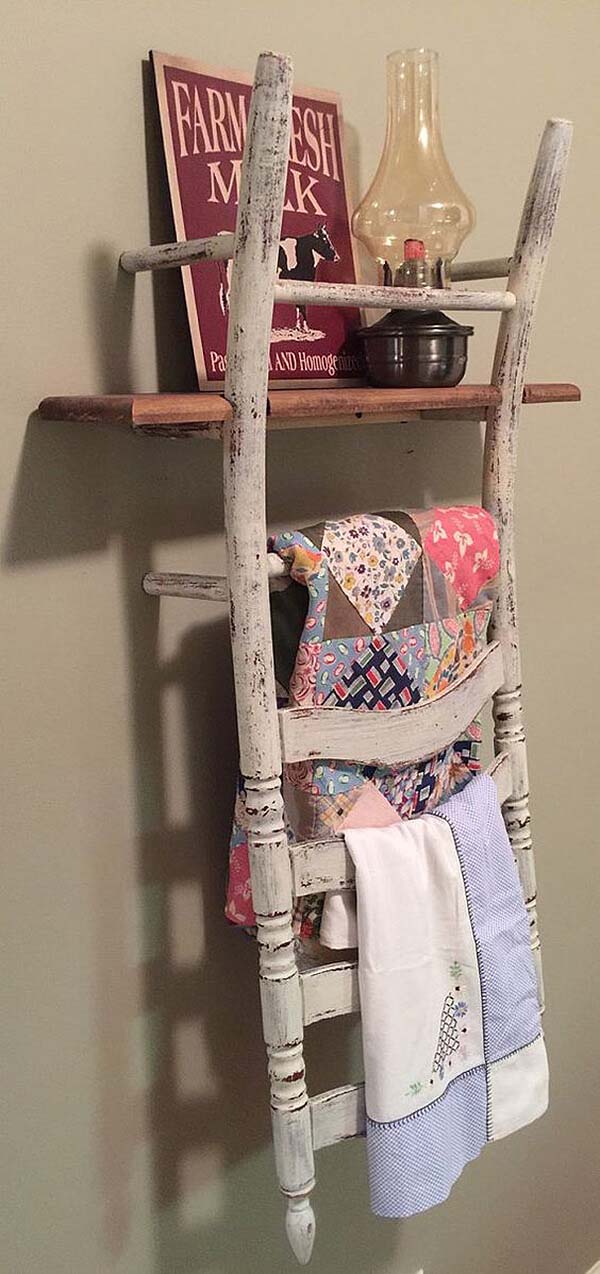 Get creative with your chair back in this DIY project.
A ladder shelf has been created from a chair back painted in faded white. It is joined to an existing shelf and drilled into the wall.
Try hanging a blanket over one of the "rungs" for a cozy look.
via Etsy
11. Craft a French-Style Bench with Two Upcycled Chairs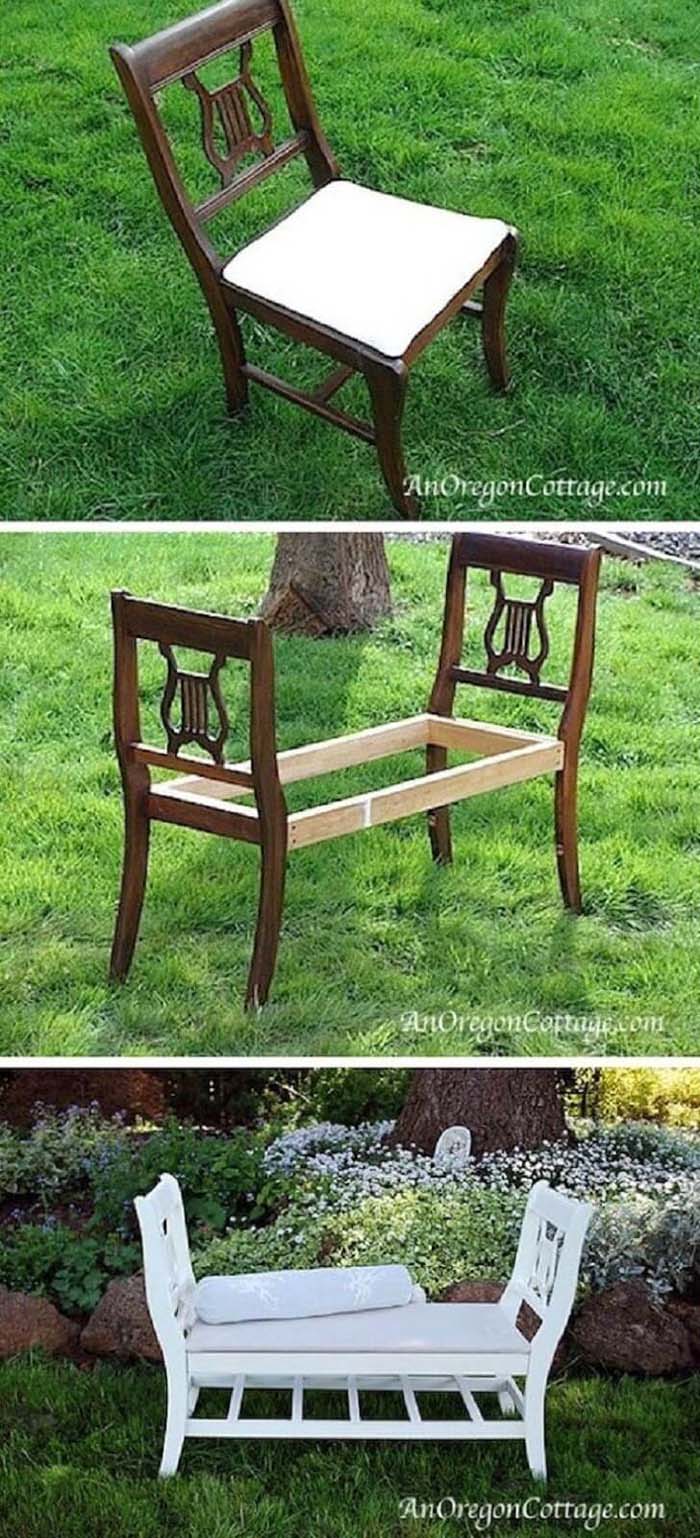 Create an elegant French-style bench with this upcycle DIY idea.
Two dark wooden chairs have their seats removed and are used as sidings for a rectangular bench. This refined look is perfect inside or out in the garden.
12. Transform a Chair into Decorative Shelving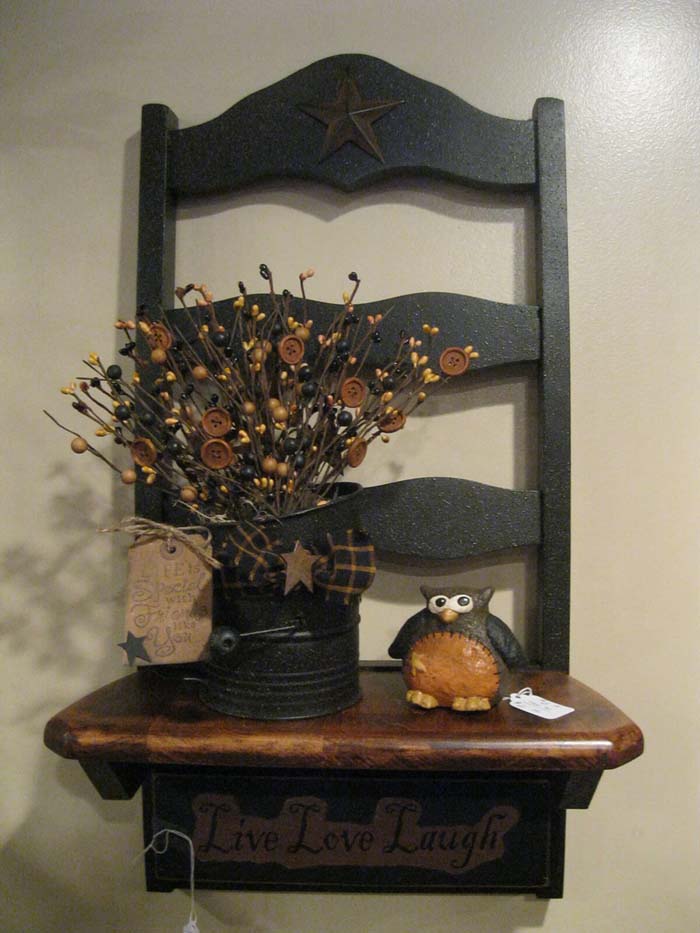 Rethink your chair as a decorative shelving system in this upcycle idea.
A chair without legs is affixed to the wall with its seat serving as a shelf for your favorite seasonal decorations.
Try painting the chair back in a darker color for a modern look.
13. Make an Outdoor Nook with a Repurposed Chair Table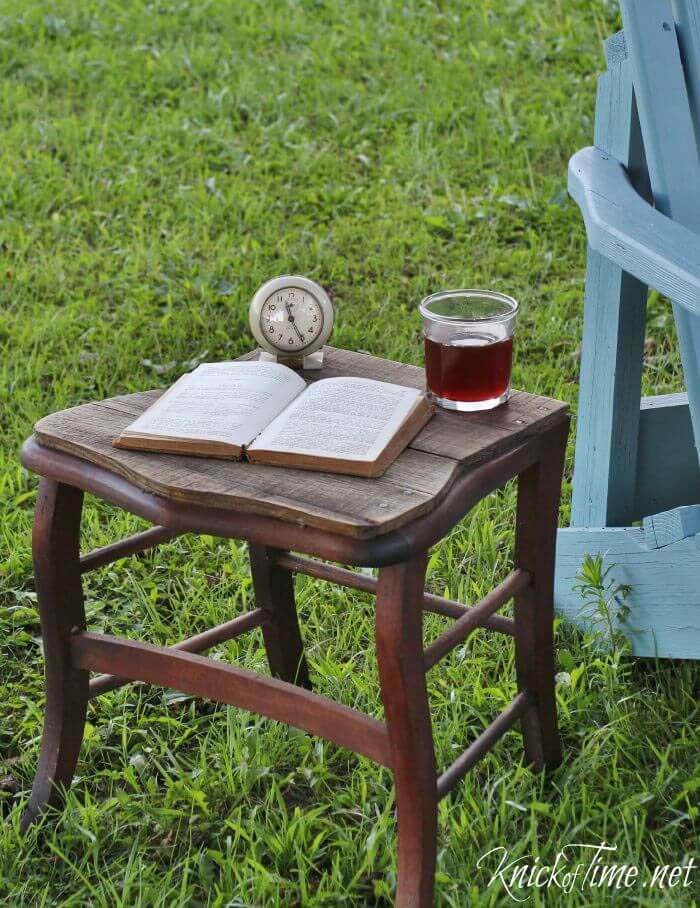 Create your own little nook with this idea. With its back and arms removed, the seat of a chair now serves as a rustic side table.
Use it to hold your outdoor beverage and book of choice.
via Knick Of Time
14. Create an Elegant Photo Display with Upcycled Chairs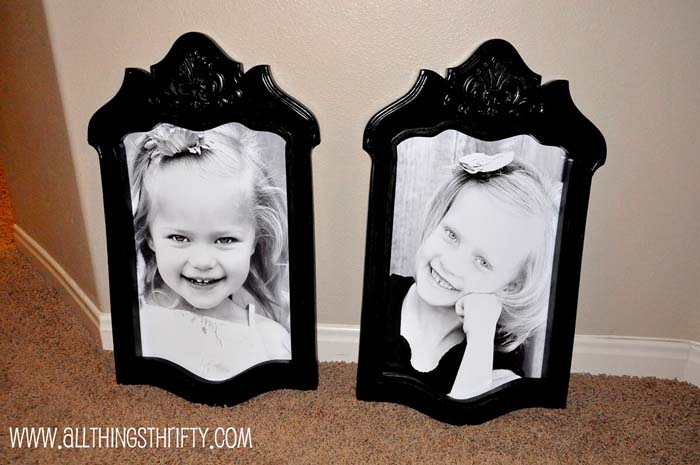 This adorable idea uses the backs of older chairs to hold onto life's precious memories.
The insides of two chairs' backs have been removed, leaving the perfect space to hold your most dear pictures.
Paint the frames in black or a bold color of your choice.
15. Beautify Your Home with Antique Chair Back Planter Box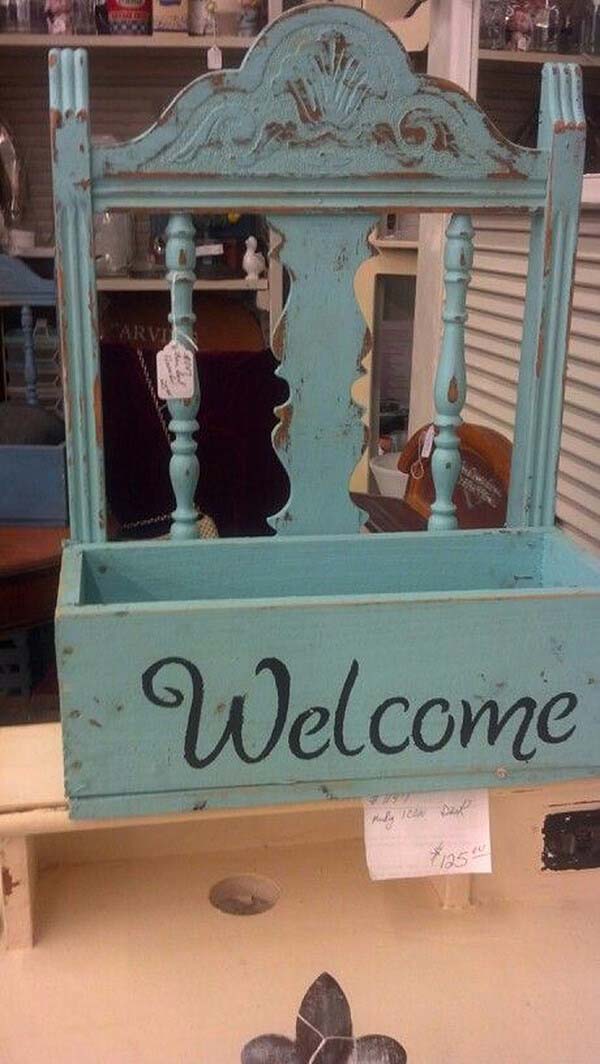 Let the natural curves and structure of an older chair back accentuate your beautiful floral arrangement with this DIY weekend project.
An older chair back, painted in faded antique blue holds a labeled planter box.
16. DIY Repurposed Chair Photo Holder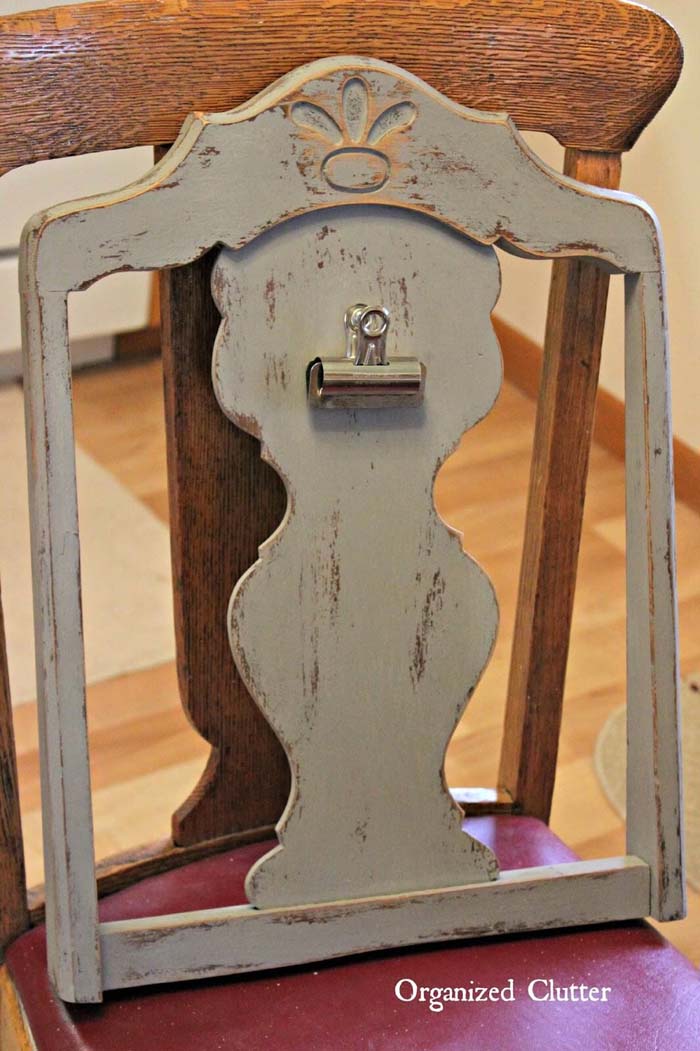 Create a chic photo holder using a repurposed chair with this cute DIY idea.
A metal binder clip has been fastened to a solo chair back that has been painted in faded gray.
17. Transform Old Chairs into a Kid-Friendly Cooking Station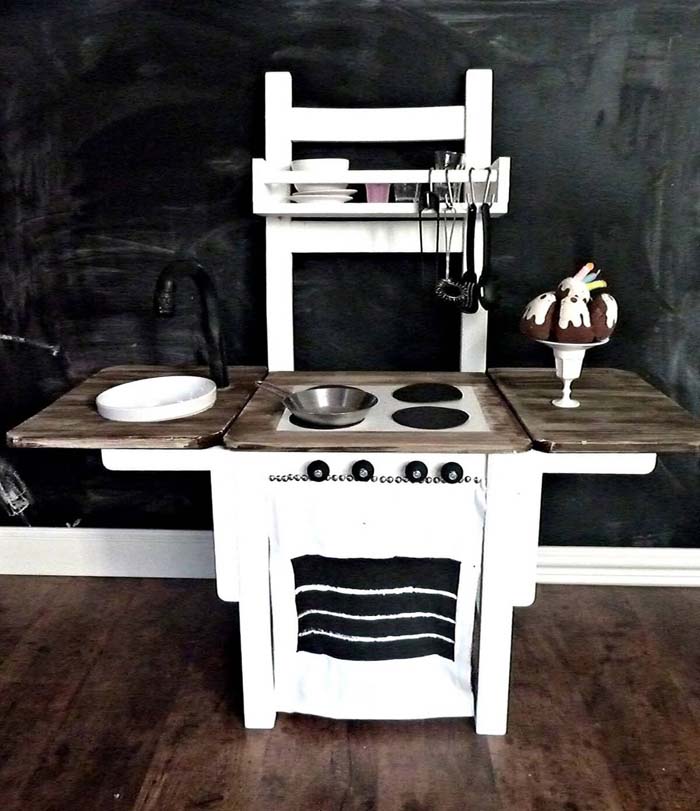 Let this DIY idea turn your older chairs into a play station of true wonder.
A mock stove and cooking station have been prepared from various seats and white painted chair backs. It even includes a dish towel rack.
via IKEA Hackers
18. Make a Wind Chime with Upcycled Chair Spindles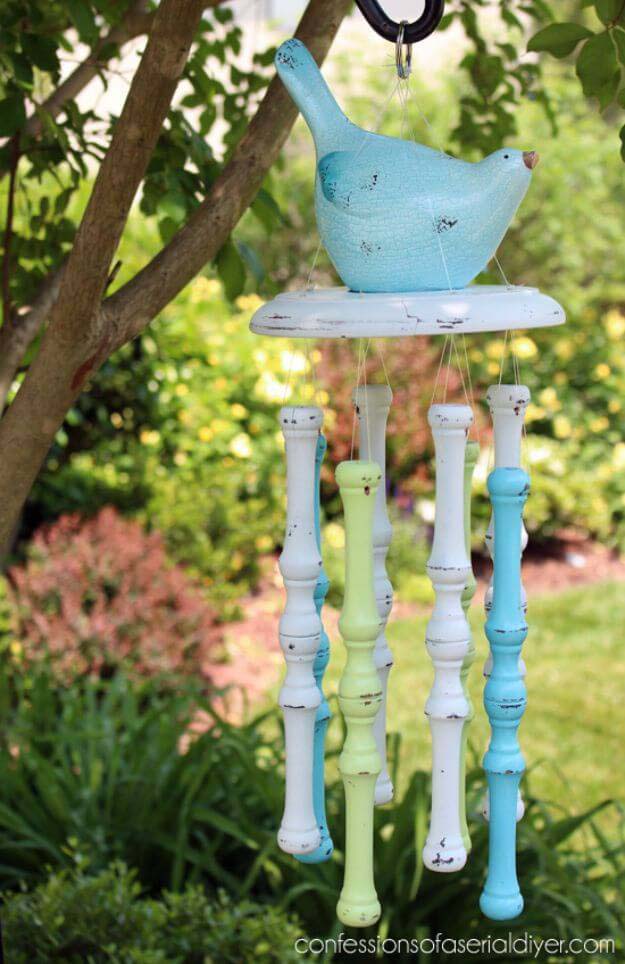 Give your front porch a whimsical wind chime using this chair repurpose idea.
The chair spindles are painted in yellow, blue, and white pastels and serve as wind chime flutes. Add a wooden bird on top to complete the look.
via Confession Of a Serial DIYer
19. Repurpose a Chair Back into Wall Art with a Blue Finish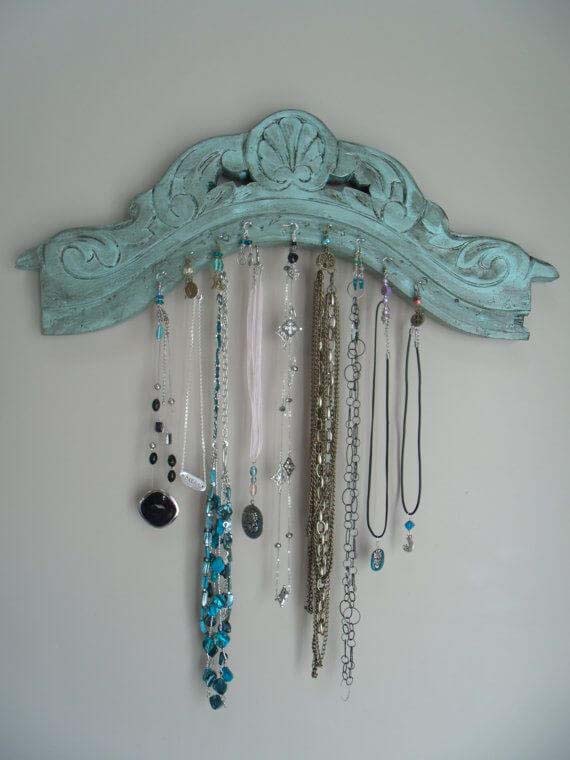 If all you can salvage is the head of the chair back, then try this DIY idea.
The decorative piece is painted in antique blue, fastened with jewelry hooks, and secured to the wall.
20. Transform an Old Chair into a Refreshing Drink Cooler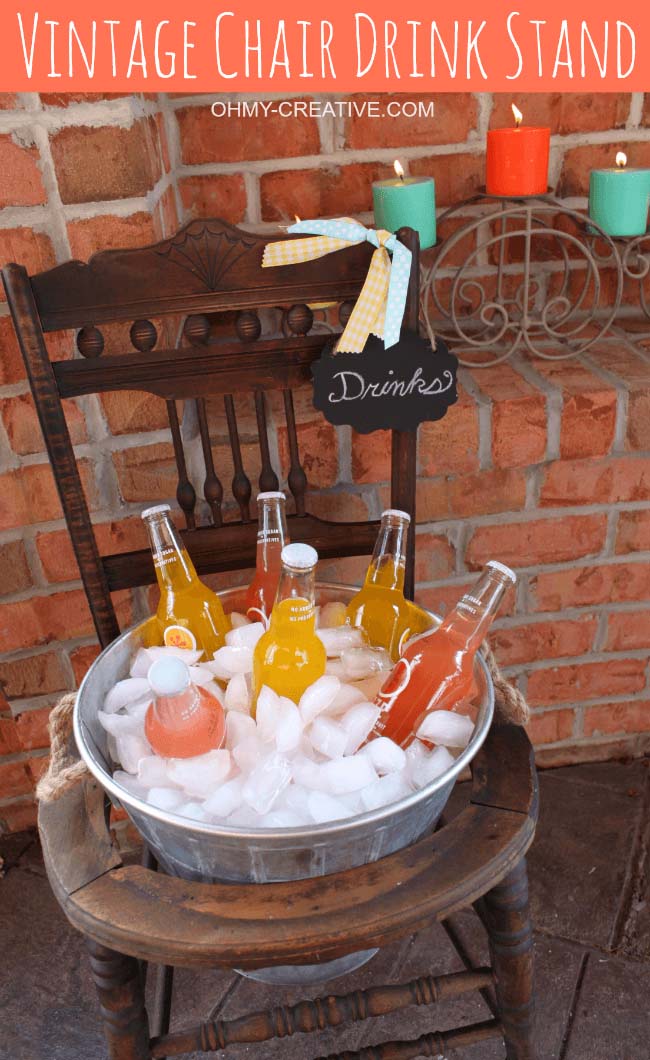 Use this nifty DIY idea to repurpose your older chair into a functional drink cooler.
The chair seat has been hollowed out to hold a metal bucket that stores ice and your favorite porch drinks.
via Oh My Creative
21. Upcycle Your Chair Back into a Vintage Chalkboard Entrance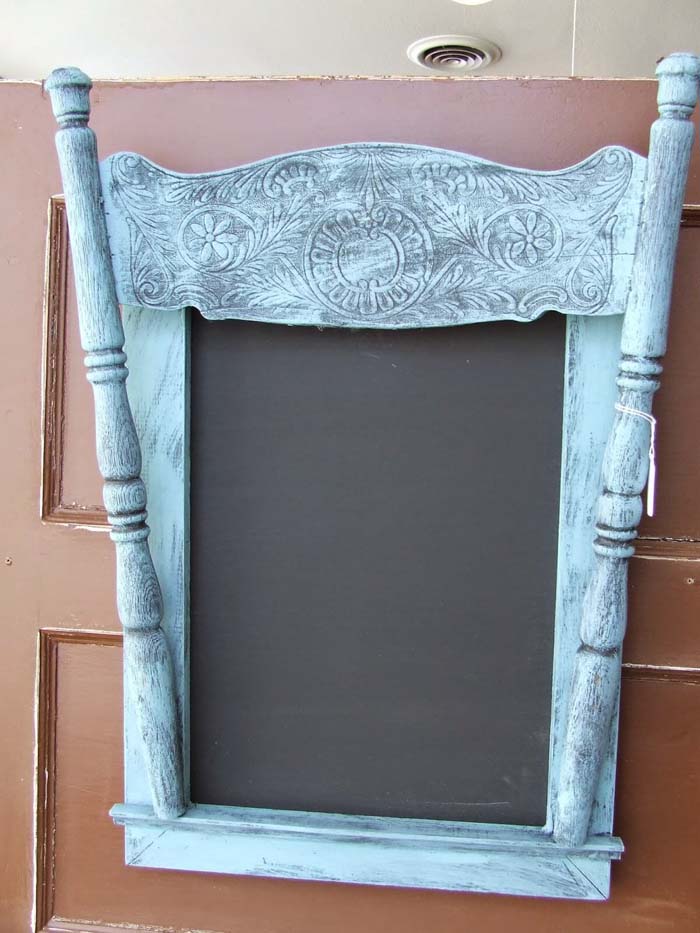 This convenient idea upcycles your older chair back into a chalkboard.
A chair back frame attached to the front door is painted in antique teal and used to frame a chalkboard. A small tray is included to hold the chalk.
22. DIY Outdoor Wall-Mounted Coat Rack from a Chair Back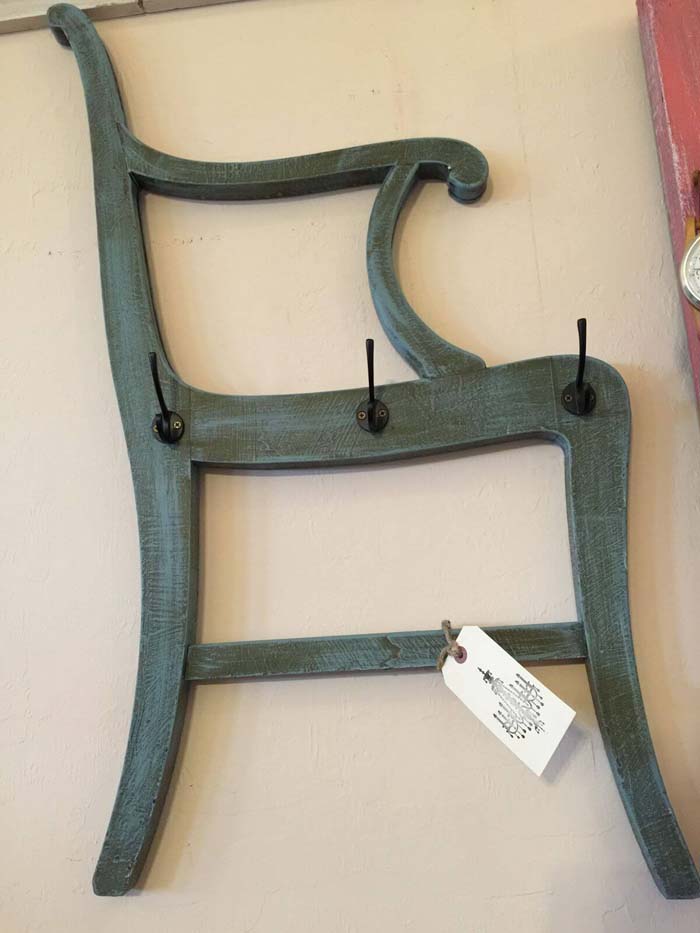 Show off the elegant shape of the chairside with this useful DIY idea.
Painted in a grayish-green, the chair back is secured to the wall and given three hooks to serve as an outdoor rack.
via Mamas TV