The outdoor bench is more than just a sitting place. It is a cozy spot where you can enjoy the peace of nature of your property. Furthermore, having such increases the curb appeal of the outdoors, especially if it is one of a kind.
Today, we will show you designs of outdoor benches which have been built by the hands of the homeowners in a way to match the existing decor and fit into their dreams for a comfortable and practical piece of outdoor furniture.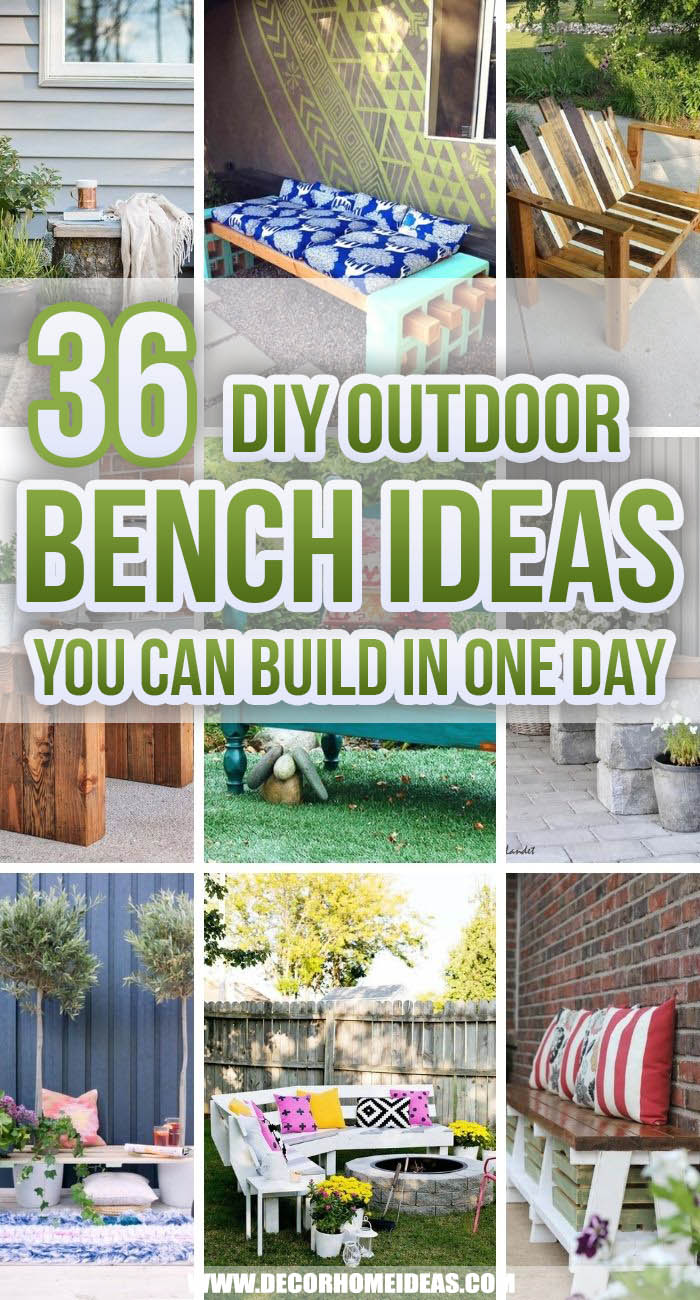 By the end of this post you will have an idea of how to build a beautiful bench and create a cozy seating area in your garden or backyard.
1. Adirondack Style Striped Bench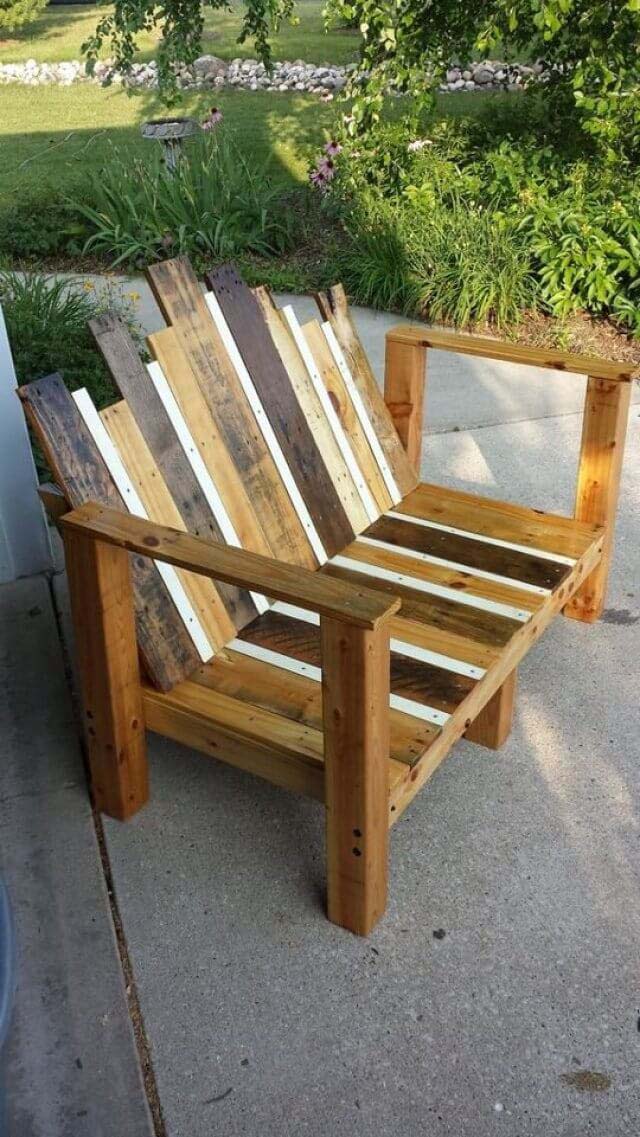 This DIY outdoor bench project is for people who love to upcycle and create unique pieces with their bare hands.
The charming design speaks for rustic addiction and taste for quality materials as wood is. It is big enough to accommodate two people to enjoy the sunset, the perfect setting for a quiet night.
via Instructables
2. Repurpose A Vintage Headboard As A Bench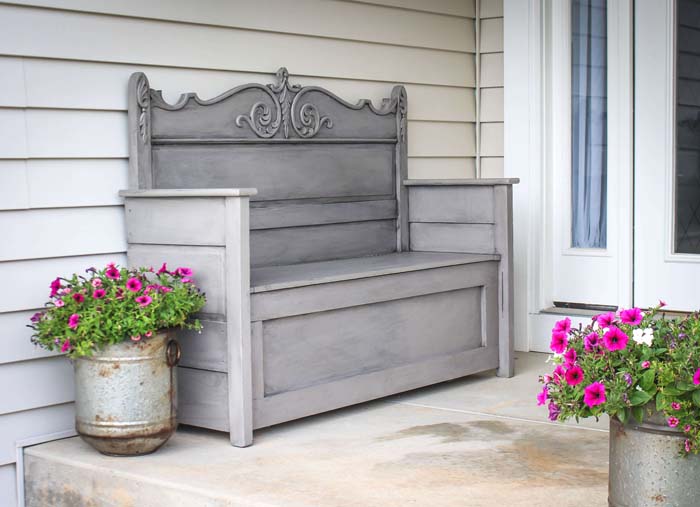 Whether you have changed your bed or you have come across a lovely aged headboard at the flea market, you will love to recreate this vintage piece of sitting furniture that looks like a royal throne.
It has another advantage that is related to the storage feature.
The seat can be lifted to hide throws or cushions in case staying out takes longer. The below-the-seat box can also hide heavier accessories that are used when practicing the green thumb and thus help to declutter the garden.
via Ruggy DIY
3. Bright White Coastal Style Bench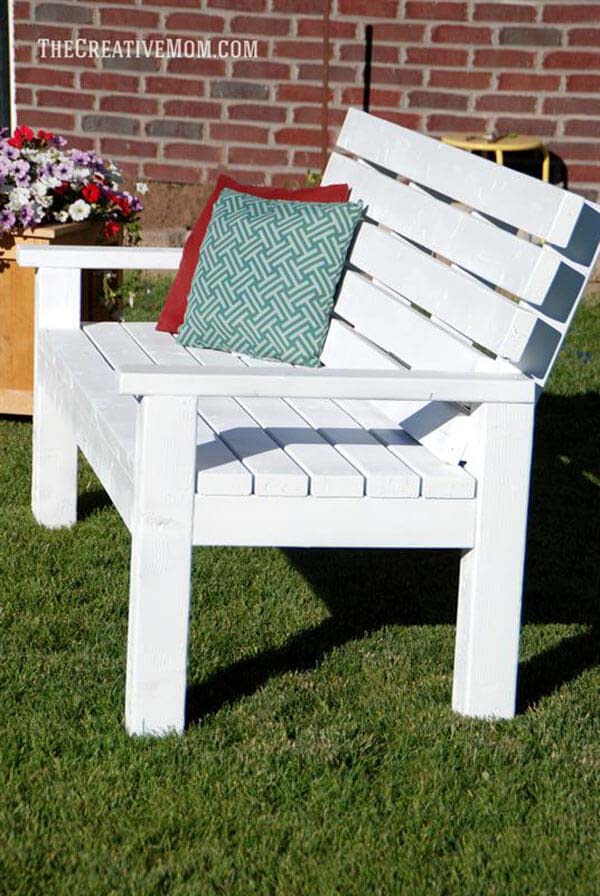 Looking at this bench, you will transfer to another scenery- sitting on the porch of a beach house admiring the sound of the waves.
The casual look and the white color make this DIY outdoor bench a piece inspired by the coastal style. Having it in your backyard will make it more welcoming and warm.
via The Creative Mom
4. Bench Seating For Two With Table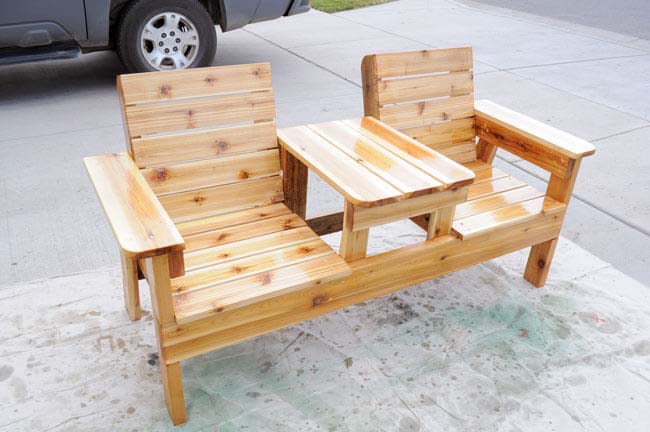 This outdoor bench has taken into consideration the comfort level when spending time outside. Provided with a shared table, a couple can have a drink or two or why not a meal under the stars.
The idea features an elegant finish achieved by staining the wooden parts in a blonde stain. The bench can change its decor effect easily by painting it or distressing it.
5. Upcycled Claw Foot Tub Bench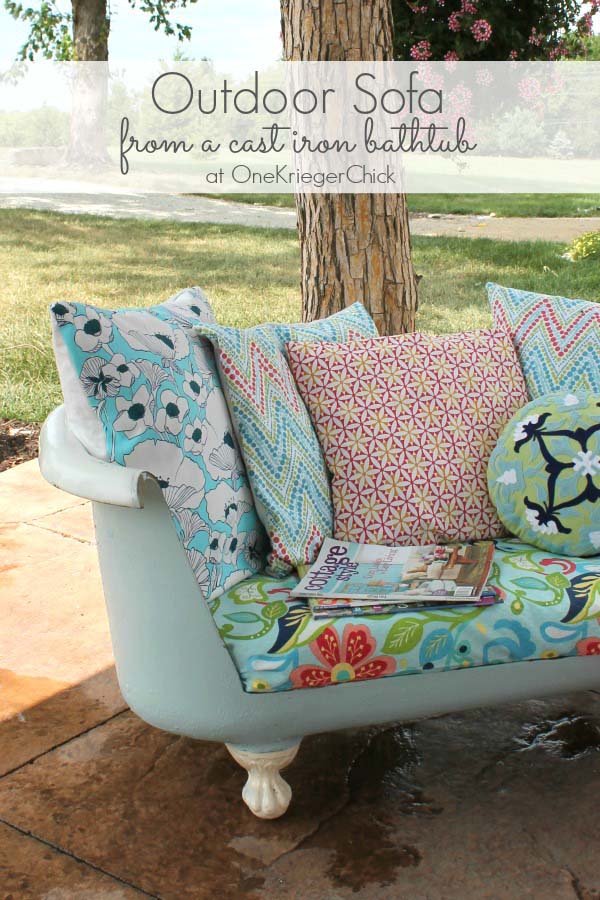 Looking for an affordable DIY garden bench design? This is one of those where you don't need to start building from a scratch. One of the sides of this cast iron tub has been cut to allow sitting. To ensure comfort and warmth, cushions are added in cheerful patterns.
If the tub you have got is with a weathered look, you can refresh it with paints. If you are looking for a bold vintage statement, leave it in its current outer condition.
6. Quirky Colorful Wood Plank Bench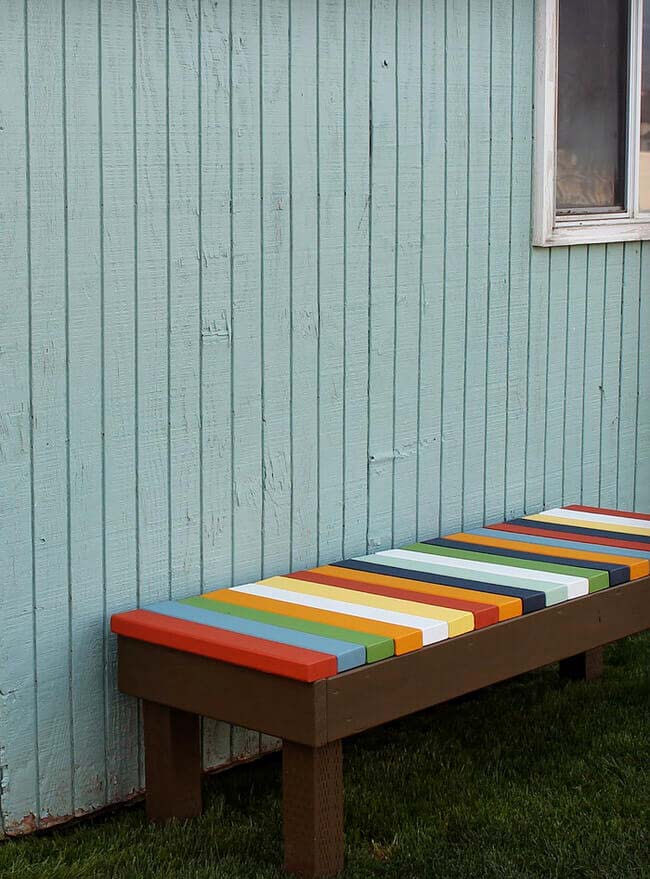 If you are keen on the eclectic style or your backyard is missing a point of interest, this is your idea to change that quickly and affordably.
A low bench is built out of slats to be placed next to a plain wall where it will pop out and provide space for relaxing. Each lath from the sitting part is painted differently to create a piano-patterned rainbow.
via Aristocrafty
7. Stylish Bench Made From Old Chairs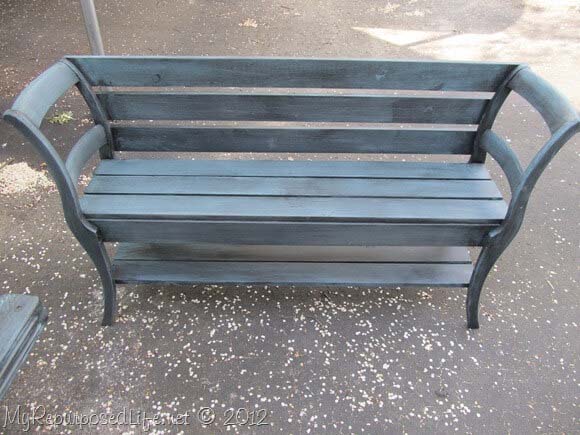 Don't throw your old chairs. Instead, incorporate them in your new DIY outdoor bench. Replace their seats to make the assembling of a long seat possible.
This part of the dual bench is made with slats that connect the sideways of a chair and that create a unique curved end design.
8. Easy Cinder Block Bench Frame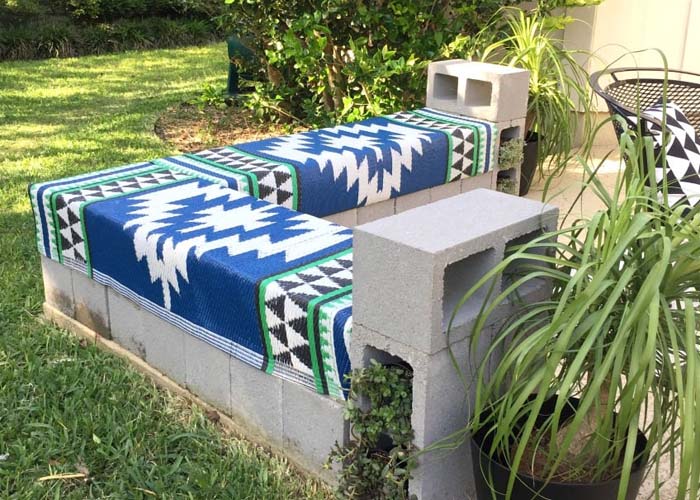 Because of the shape of the cinder blocks, this bench can be built as an edge of a relaxing zone in the backyard. Layer the cinder blocks next to each other. Use concrete to attach them firmly together. The ends of the L-shaped bench have a cinderblock more to create a finished look.
Any rugs, blankets or throws can be thrown over the cement blocks to make sitting more comfortable and give the bench a unique and cozy look.
via Jennifer Perkins
9. Stacked Log Planter Bench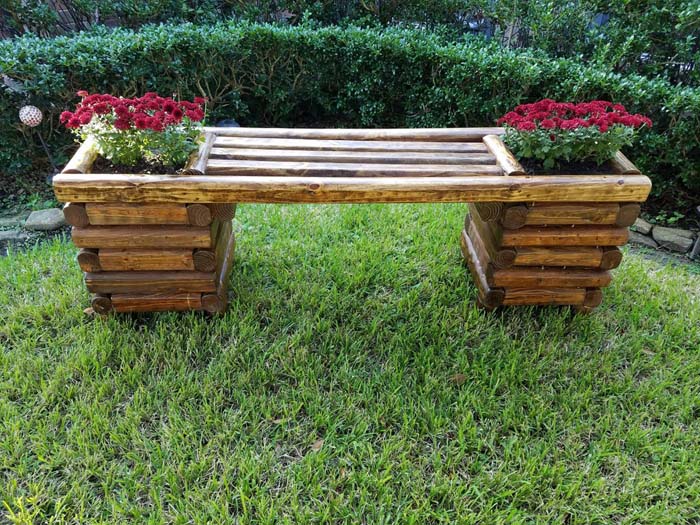 The perfect place for this bench is at a spot that is missing character and charm. It is made of logs that create a sitting area finishing at both sides with planters.
While sitting there you can enjoy the smell and color of the flowers.
via Instructables
10. Four Poster Headboard And Footboard Bench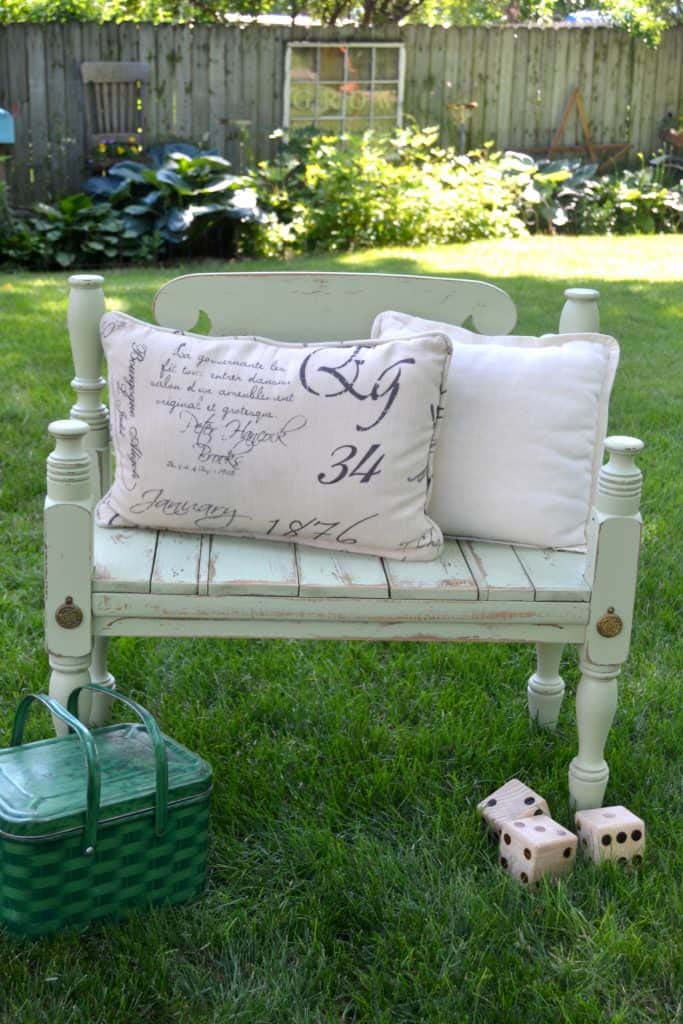 This is another way you can upcycle a headboard into a functional outdoor piece of furniture. All you need to add is slats for the sitting part that comply with the length of the existing headboard.
Depending on your preferences, you can give the whole bench a fresh coat of paint. But looking at this distressed finish, don't you wanna sit and take away with a favorite book?
via My Creative Days
11. Planter Mounted Pallet Bench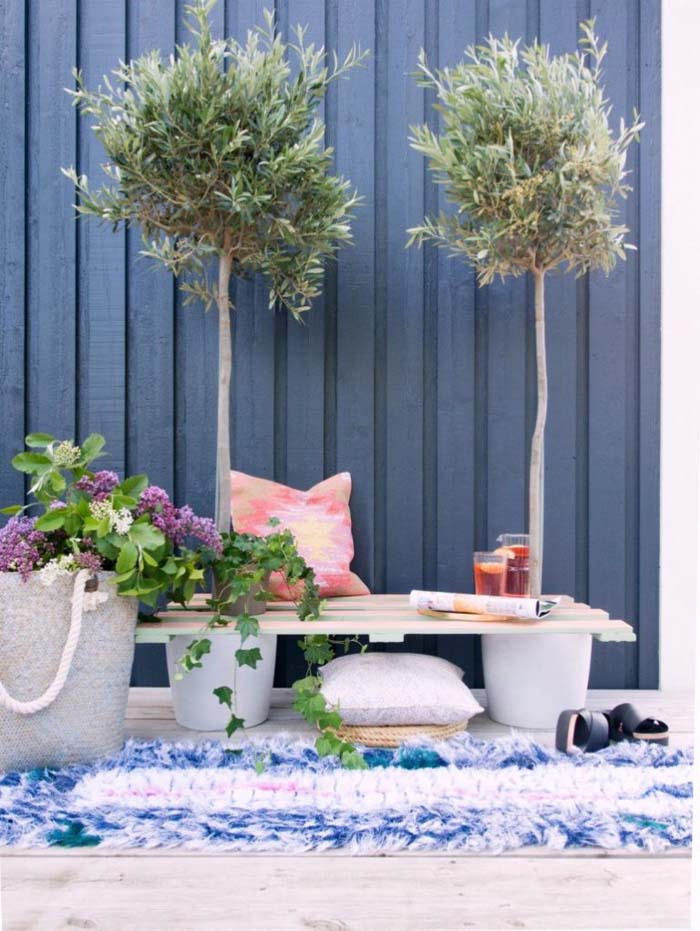 This pallet bench has been built to be secured over two existing large pots. So if you already have such, prepare slats and measure them so that the ends of the finished bends go a little bit out of the pots.
As a result, you be enjoying a comfortable bench seat surrounded by nature.
via Monsters Circus
12. Wood Stump Bench DIY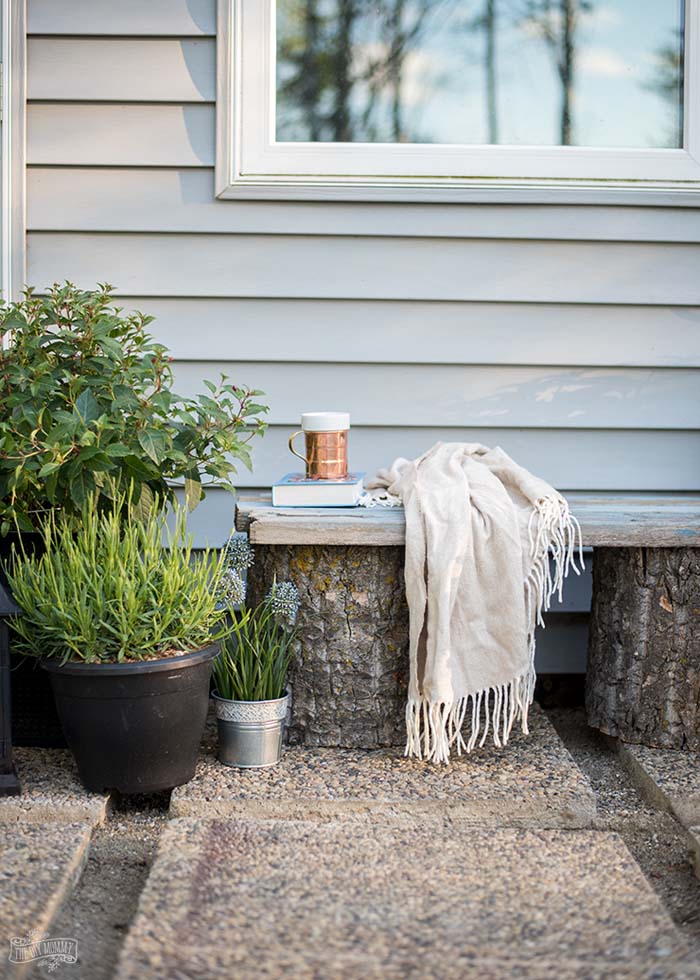 If you have two large and stable items like pots or logs, you already have the supports for the outdoor bench.
The rest is easy- just attach long slats together to make the sitting part. That can be reclaimed beams, pallet slats or the seat from an old bench.
Because of the farmhouse design of this outdoor bench, the accents it will stand out against should be also related to nature like pots, flower stands.
via The DIY Mommy
13. Simple Farmhouse Style Bench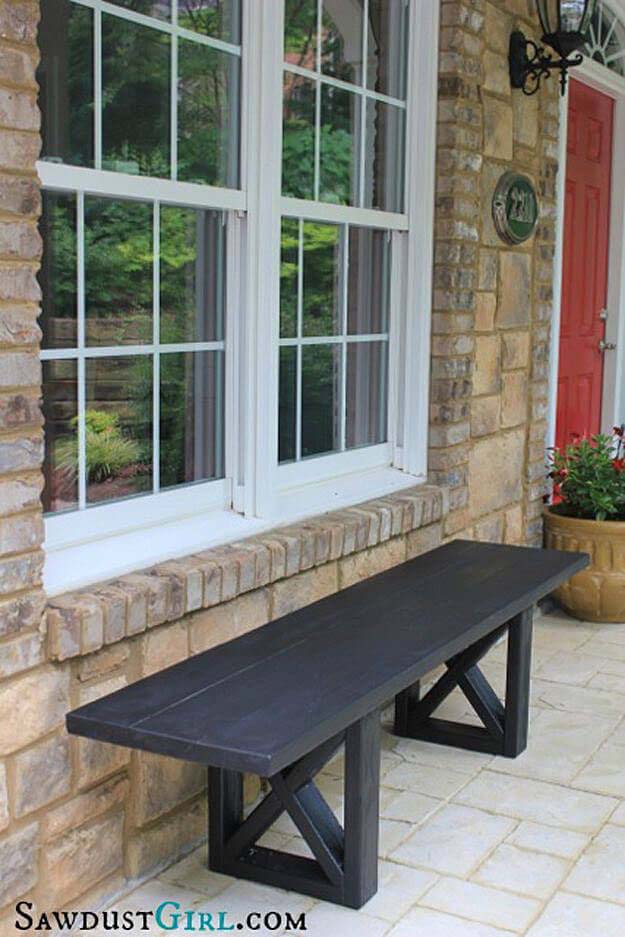 The X-shaped legs of this DIY outdoor bench make it so farmhouse attractive. Their clear lines and complex geometry contrast with the simple design of the seat.
Placed against a wall, the bench doesn't need a back.
via Sawdust Girl
14. Curtained Canopy For Privacy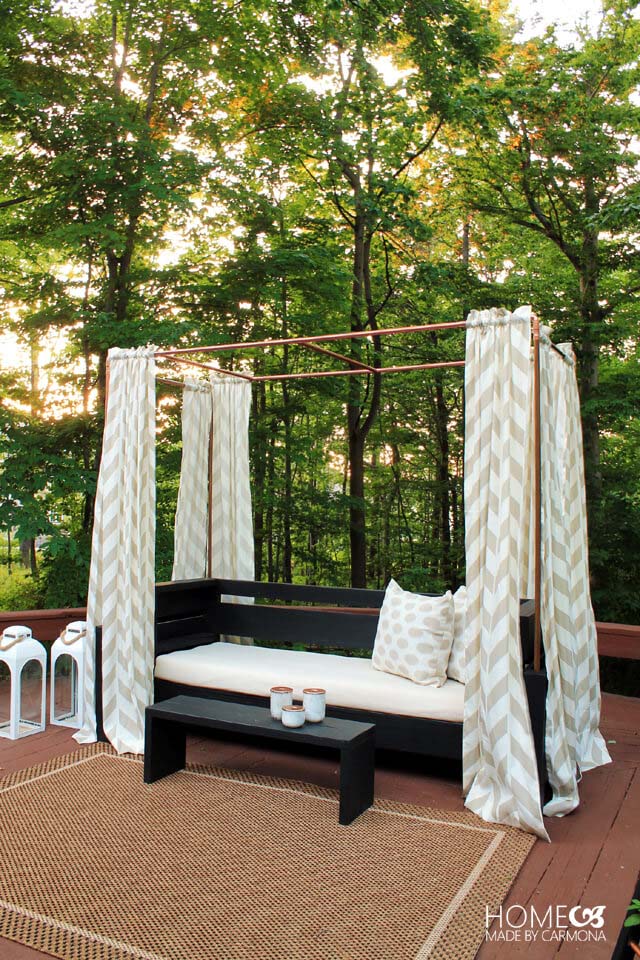 The canopy around this bench makes it a private oasis in an otherwise not that hidden place. The bench itself is not a difficult structure. It is made out of wood that has been stained dark to let the accents pop out.
The seating is supplied with a soft cushion where one person can even have a good nap.
15. Cottage Chic Cushioned Bench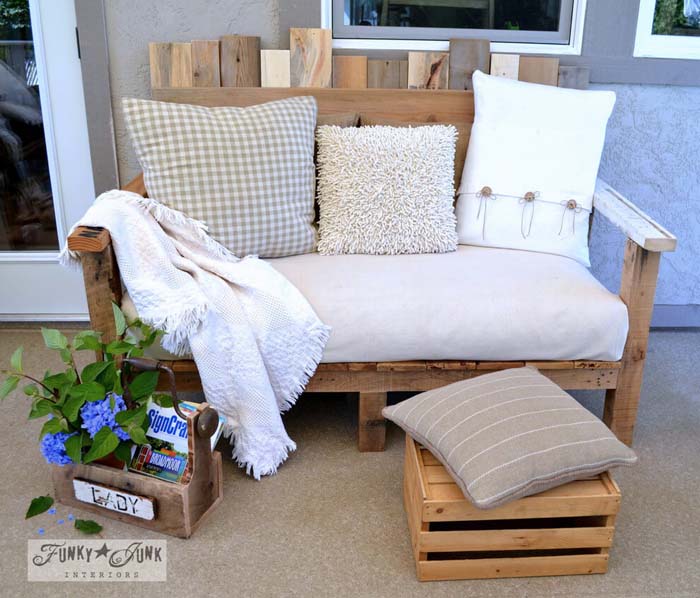 The shabby chic effect of this handmade bench has been achieved thanks to the state of the incorporated wood. It is reclaimed and has signs of age showing.
In front of it, there is an extra for optimum relaxation after a long day- a cozy crate-made stool where the legs can be rested.
16. Traditional Plank Seating Bench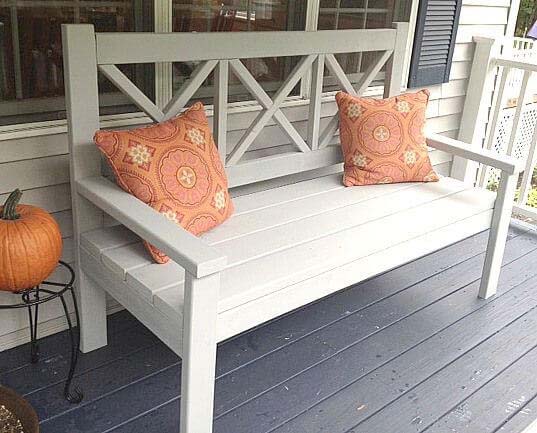 This DIY bench takes the X-section to another part. Usually, we see this geometry figuring the shape of the legs. This time, it is used to form the back. This makes it unique and eye-catching.
Placed on the porch, it will provide additional seats when needed. It can also become part of the seasonal decor by adding cushions in thematic color on either of its sides.
17. Bright Bedframe Upcycle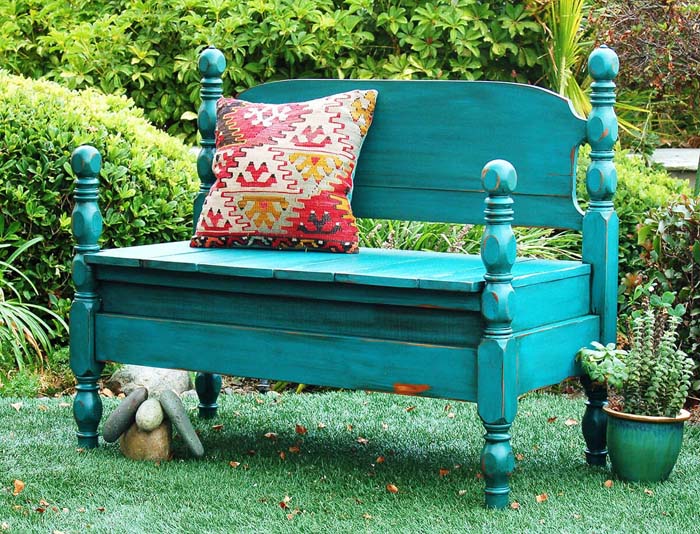 All pieces of this bench apart from the slats forming the seat are made by upcycling an old bed frame.
Apart from its unique look, the bench grabs attention with its color and signs of age.
18. Stunning Stacked Board Bench Planter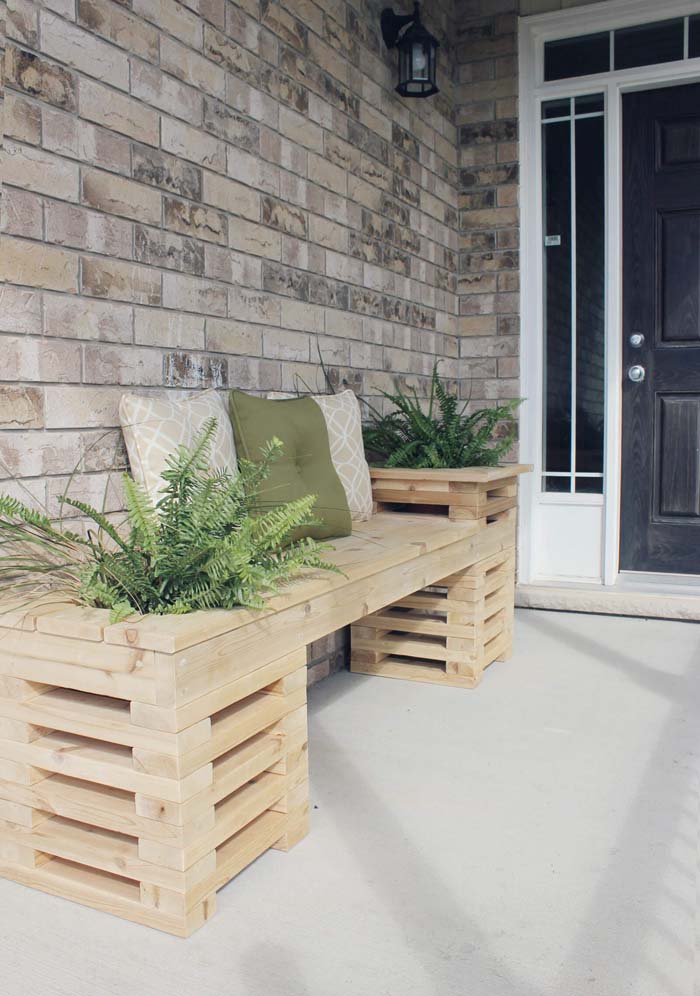 Making this bench will take some time, however you will be delighted by the final result.
So stylish, elegant and unique, it provides a place for two. Being placed on the porch, the creators have also thought about a way to make it lift the welcoming level of the home.
That is ensured with the two end sections for pots where the typical ferns spread their leaves.
via Brittany Stager
19. Small Scale Shabby Chic Bench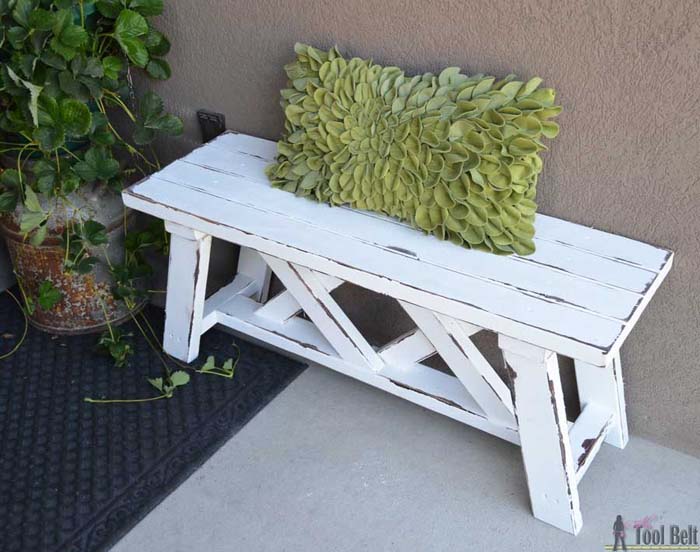 In love with this distressed farmhouse beauty?
You can easily make it based on the free cutting list and instructions below. It is relatively small so finding an empty place for it won't be an issue. After all who will be against having an outdoor bench that welcomes so much?
via The Idea Room
20. Dual Sided Bench And Corner Table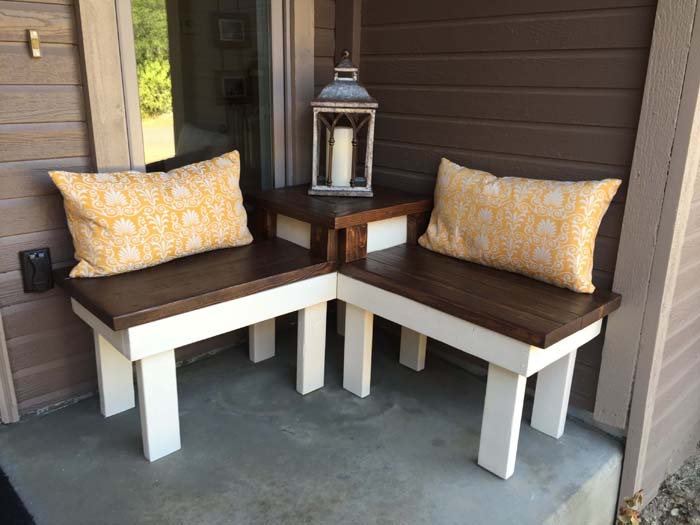 If you prefer zoning, even at the porch, this outdoor bench will let you create a corner for the morning coffee and for the end night glass of wine.
Its design foresees a compact footprint and maximum comfort. The side table is in between the seats to let all people feel cozy and stay for longer there.
via Pinspired To DIY
21. Repurposed King Headboard Long Bench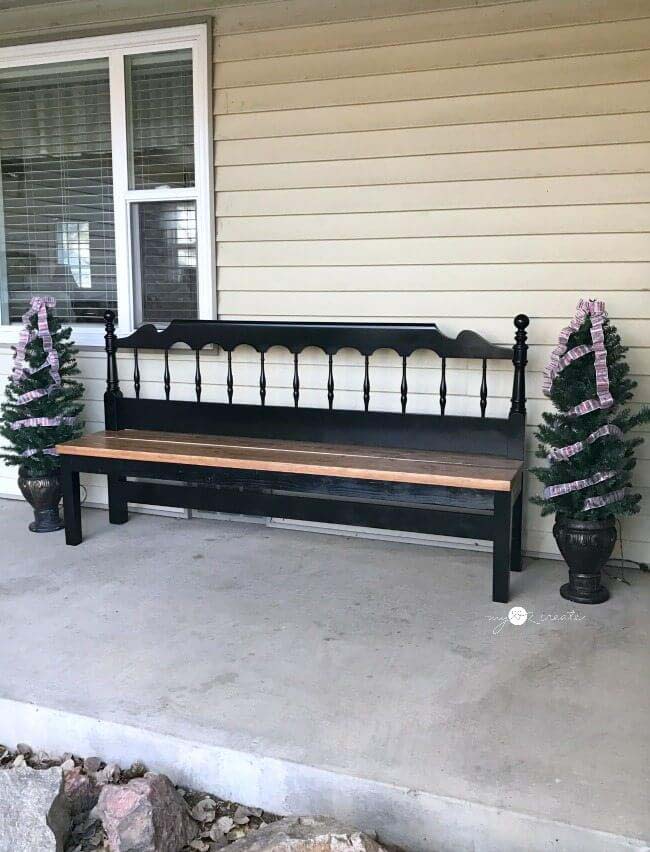 If you are a big family and there is space on the porch, then you will be able to find a place for this large outdoor bench. Its size is defined by the size of the headboard of a king-sized bed.
Depending on the message you would like to send, you can follow the example or paint it in one brighter color.
22. Beauty In Simplicity Modern Bench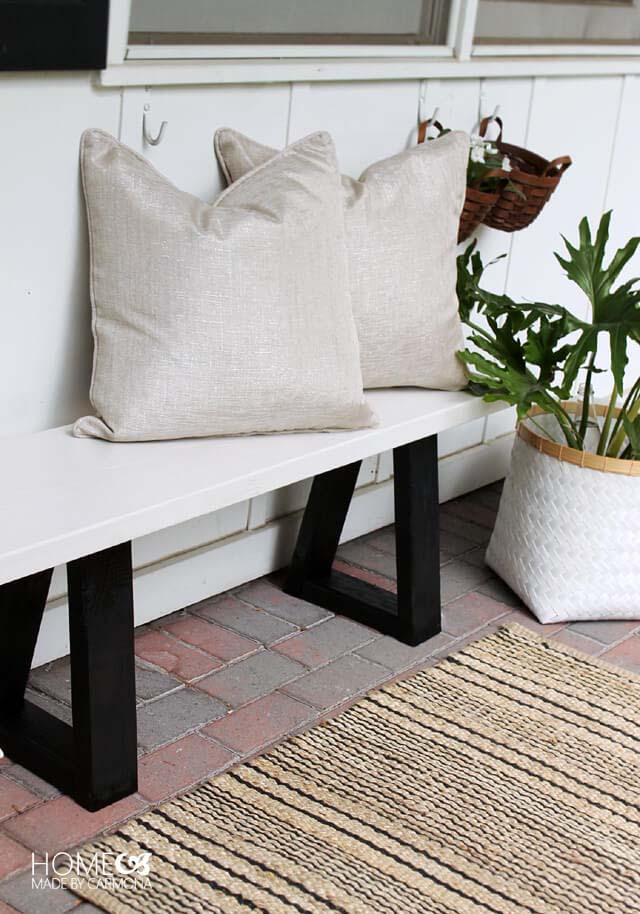 The design of this bench will be liked by people who are looking for a modern addition to their outdoor space. The angled supports give the wood an industrial feel which matches the brick floor.
Since there is no back allowed, add soft cushions that will make staying on the bench more pleasant.
23. Natural Elements Combine In Minimalist Bench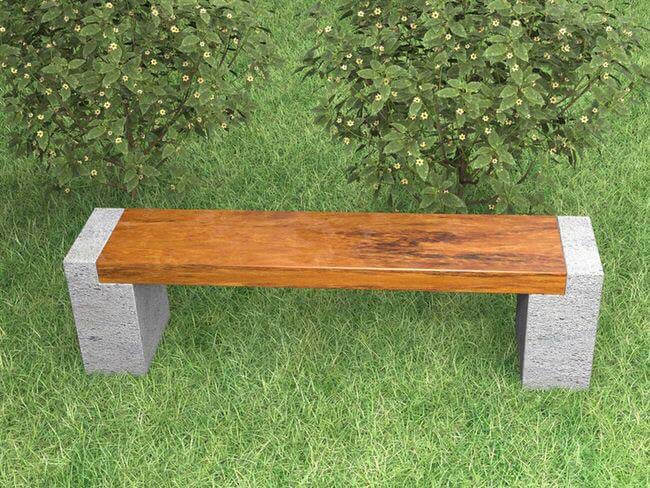 This simple design of a bench will ensure a good match with the surrounding nature and easy make. Two concrete blocks serve as supports of a solid beam to make the concrete bench more appealing.
The stain of the wood is typical for the farmhouse style and what could fit better in this natural scenery?
24. Bench Oasis With Pergola And Trellis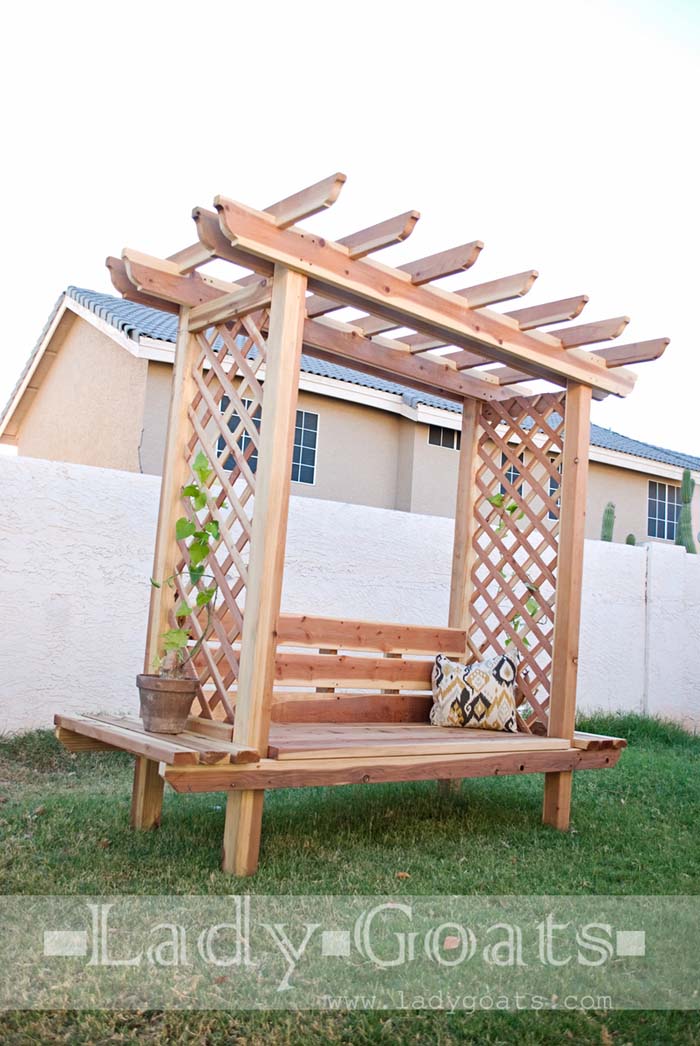 The purpose of the design of this bench is to eventually create a cool oasis under the hot sun.
The shade will be ensured by the pergola-like roof. The climbing plants will make their way to the top thanks to the trellis-like sides of the bench.
via Ana White
25. Simple Yet Substantial Wood Bench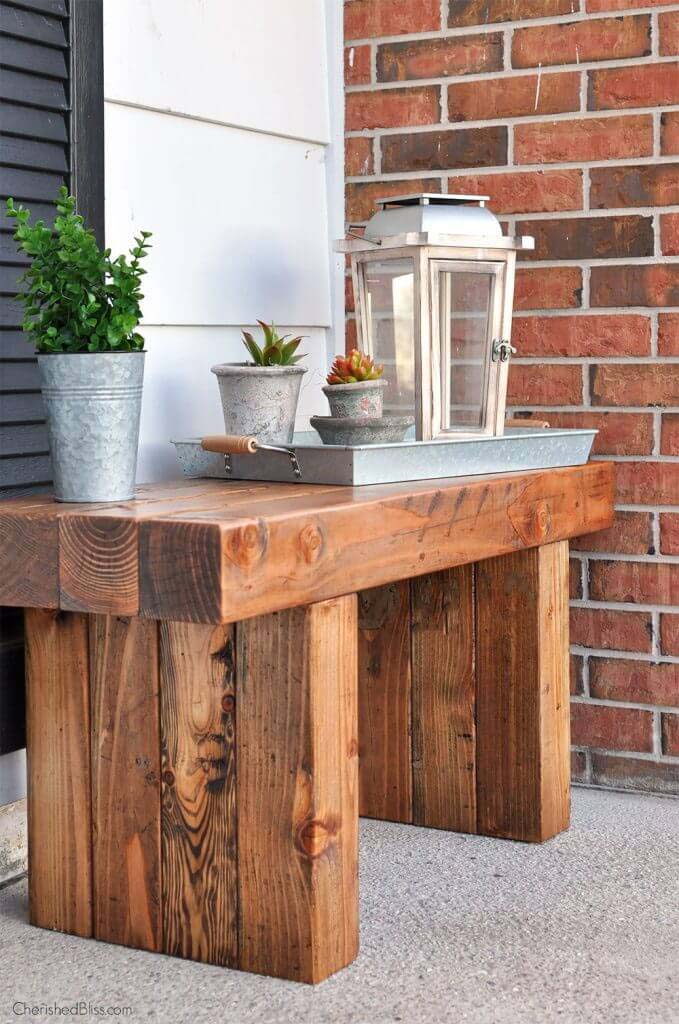 A small outdoor bench could be a handy piece of furniture. Use it as a flower stand and as a sitting place when people are more than the seats.
It is made of heavy-duty logs that give it a unique customized finish.
via Cherished Bliss
26. Custom Fire Pit Semi Circle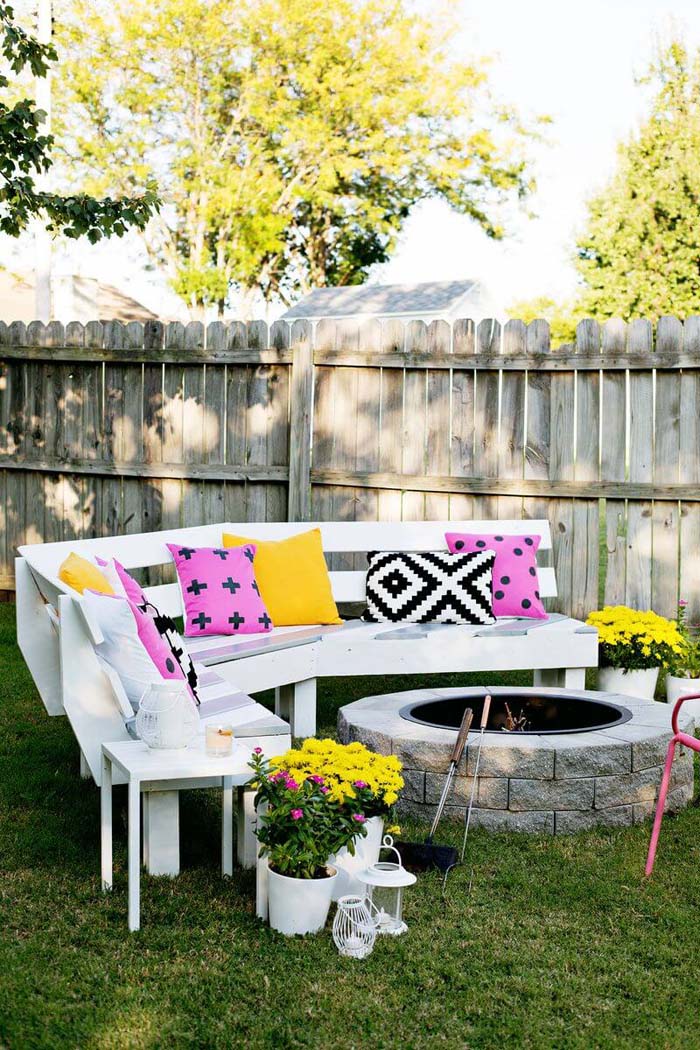 If you want to create a feature that will appeal to more gatherings outside, make a fireplace. The sweet talks and the fun jokes will be more pleasant if there is also a sitting area next to it.
This DIY outdoor bench follows the curves of the built-in ground bonfire to make this zone of the backyard more comfortable.
via A Beatiful Mess
27. Ample Seating Extra Long Green Bench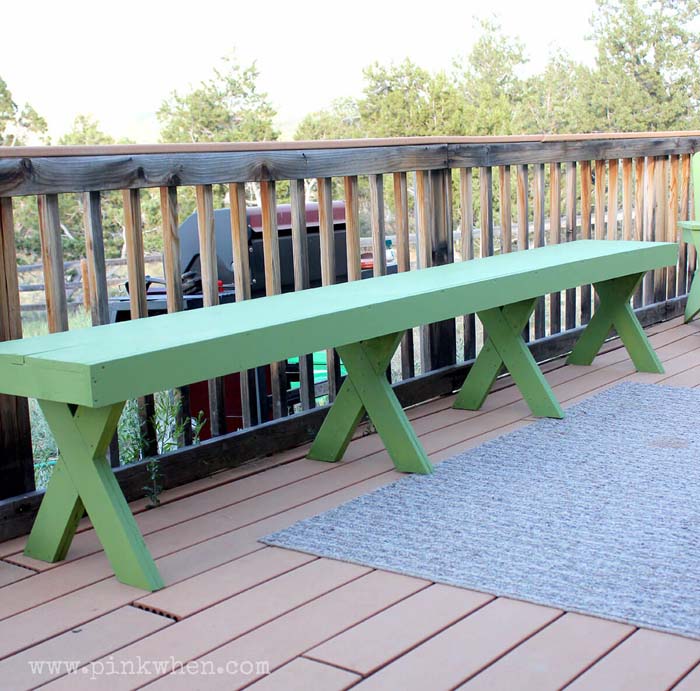 The thin design of this bench makes it the perfect addition to the porch. It can be used for bigger gatherings for more people to comfortably sit.
When unused, it has a particular charm because of its bright green color. Placed along the fence, it won't take much space and will give the dark ending of the porch a point of interest.
via Pinkwhen
28. Cinder Block And Beam Padded Bench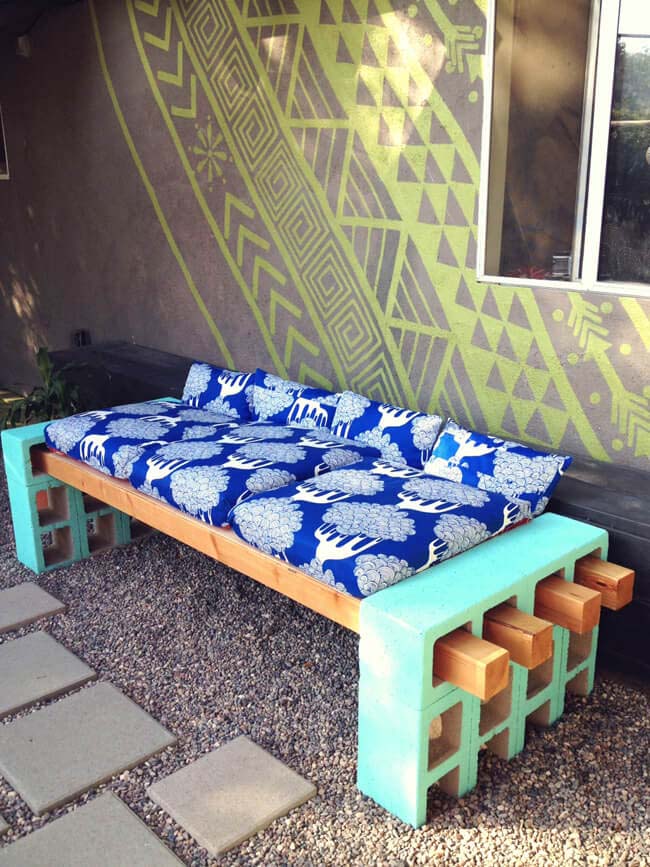 We have shown you a great DIY cinder block bar idea. Now it is time to show you how to make a cheerful outdoor bench with the cinder blocks that you have left and 2×4 lumber.
Place it in the backyard where there is a nice view but no means to enjoy it. You can also build it in a dead corner to make a transition between the porch and the garden.
In addition to the cinder blocks, you need wood posts to insert into the fabricated holes and paint.
via Lena Sekine
29. Sawhorse Leg Storage Bench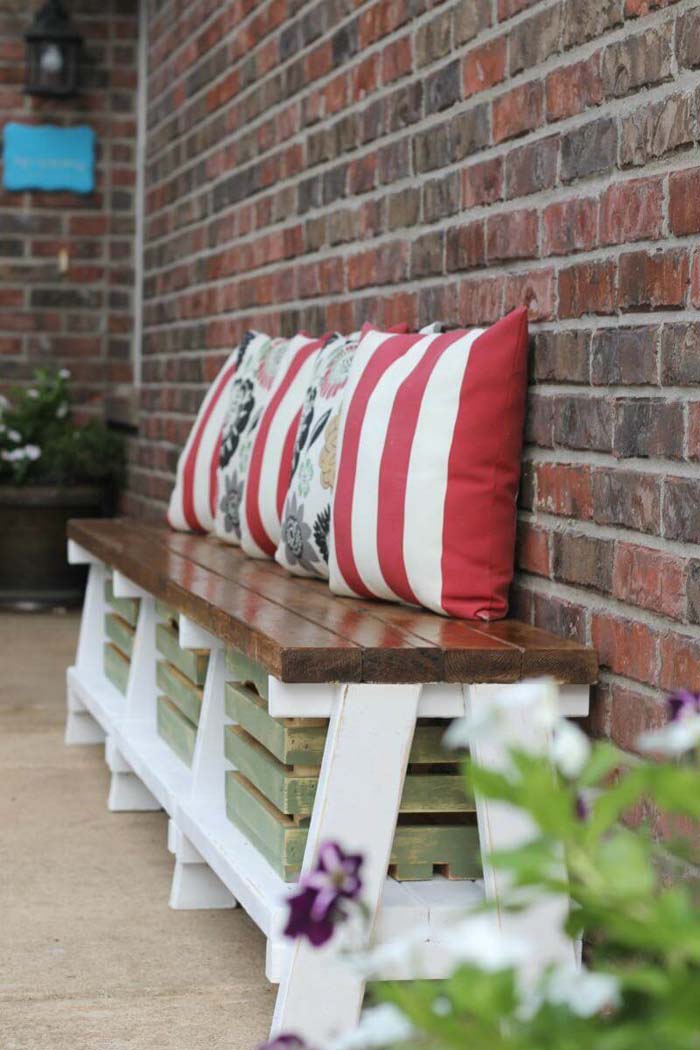 The farmhouse look of this storage bench has been enhanced by the three crates placed in the allowed compartment. They are not only a means to give this piece a unique look.
They are also very functional, especially if you have been missing a place to store the watering hose and gardening accessories.
An outdoor storage bench could be used to keep kid's toys in order.
30. Budget Friendly Farmhouse Bench DIY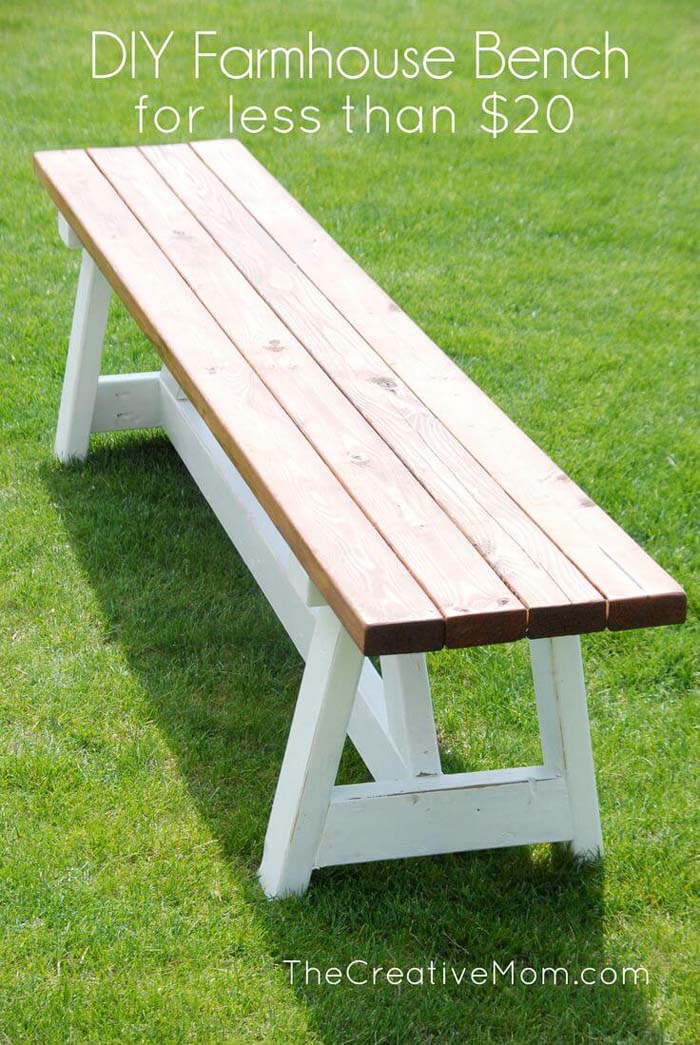 There is an affordable way to have this outdoor feature even when you don't have any scraps at the garage.
Take the lumber material recommended and dedicate a weekend to build it. The design, the material and the color combination are looking to add a farmhouse charm to the outdoors.
via The Creative Mom
31. Corner Storage Bench Seating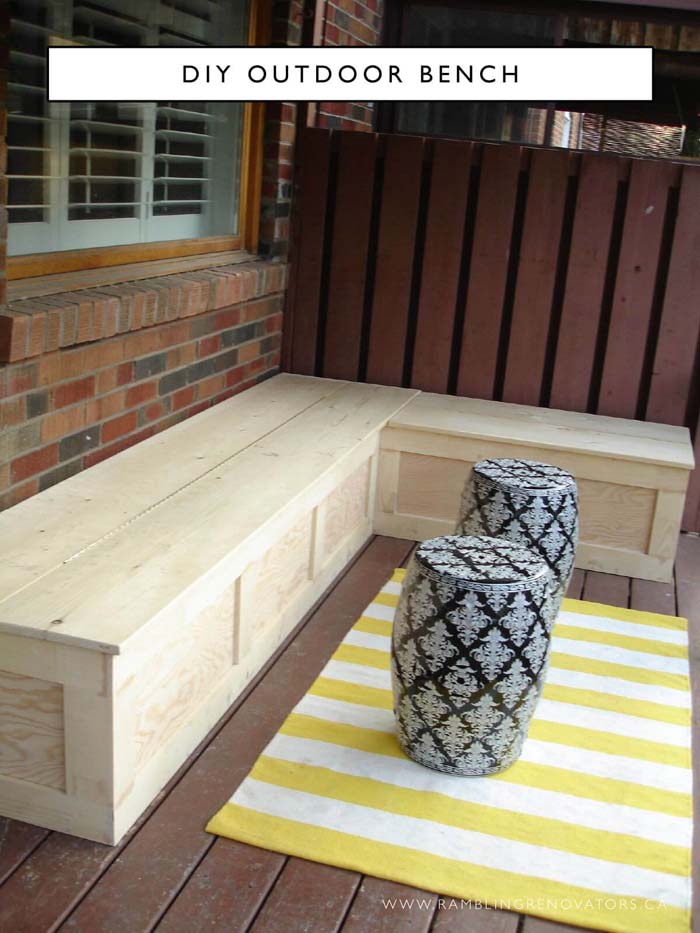 Having a small porch? You can provide a zone for spending time out at it with this practical bench. It follows the lines of the wall to ensure a wide enough sitting area which hides an opportunity for storage beneath.
Add a rug in front of it and a small table to tie up the relaxing zone.
32. Dark Wood Beam Park Bench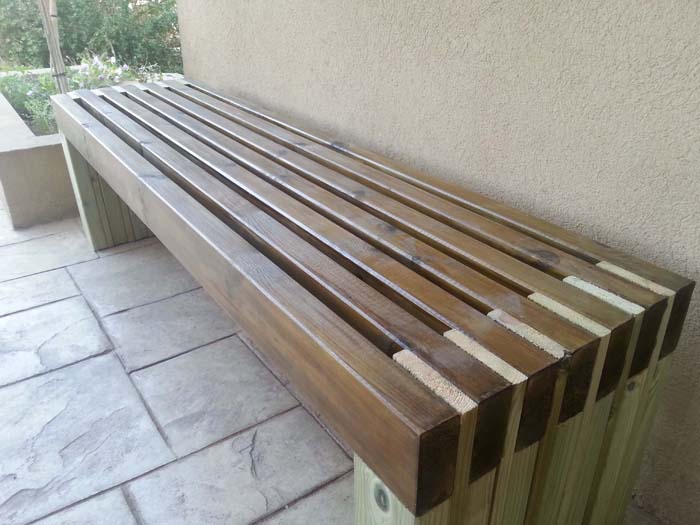 The design of this wooden outdoor bench reminds me of those of the city park ones. If you connect it with the relaxing memories of the times spent in the park, you can add it to your backyard.
It is made of pine posts painted in a dark stain. There isn't a back but placed against a wall, should be comfortable enough.
via Ana White
33. Upcycled Pallet Daybed Bench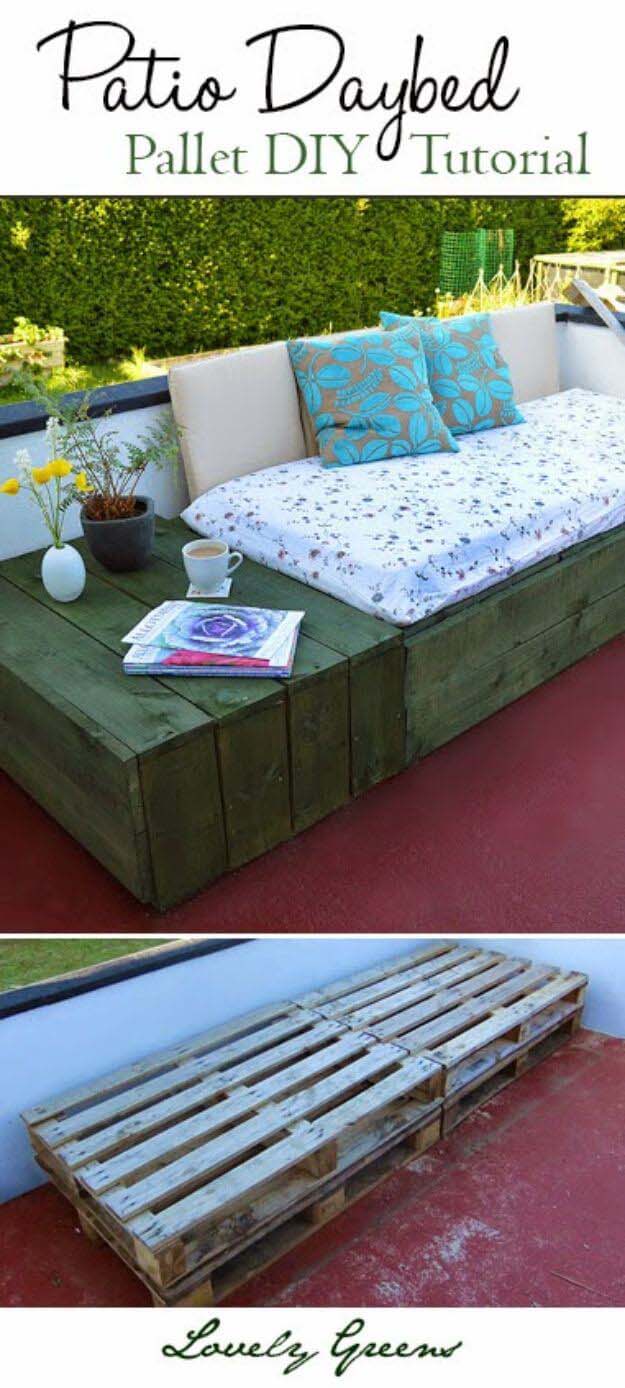 Using pallets for a DIY project is the most affordable option as you can find pallet wood for free or buy some on a deal. Having 4 pieces is just enough to make a bench the size of a sofa.
Stack them in two rows of two and put cushions to make the wood structure comfortable.
via Lovely Greens
34. Stone Block Bench Supports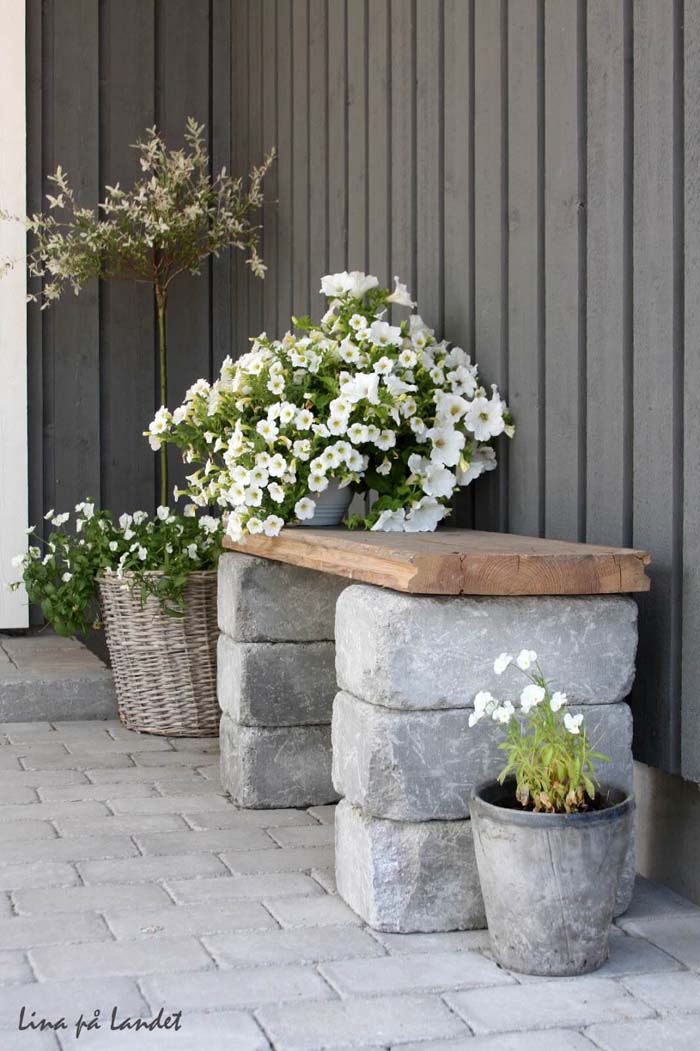 Looking for an outdoor bench idea that is made of stones?
This bench has been built to match the classic look of the zone adjacent to the front porch. Instead of the typical wood bench, we see a unique piece that combines two gifts from nature – stones and wood.
The stones are stacked and secured rigidly to form supports remind a stone-henge sculpture. The unfinished raw wood that stays on top of them gives the bench a personal touch.
via Lina Pa Landet
35. Zen Box Joint Wooden Bench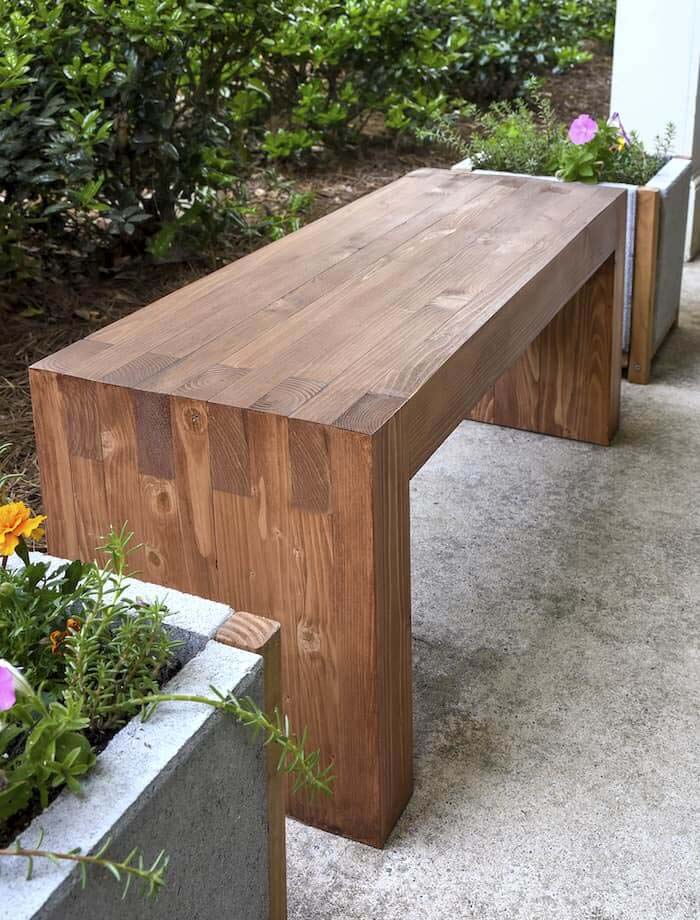 This wooden bench is placed at the edge of an unprotected patio as if a transition between the artificial and the wildlife.
Its size is perfect for sitting to enjoy nature and have a relaxing morning coffee in quiet hours. On both sides of it, there are large concrete flower pots to outline its zone and make it more appealing.
via DIY Candy