50 Creative DIY Pallet Sign Projects and Ideas You Can Do Today
From all possible ways for decoration, it becomes clear that the wooden signs are the simplest and the most impressive means to add interest and beauty to space.
One of the endless sources of ideas is the pallets and they come as a source of material for DIY wooden signs.
Adding the numerous ways for decoration and personalization of the wooden slats, you are given the possibility to make a perfect accent for your home.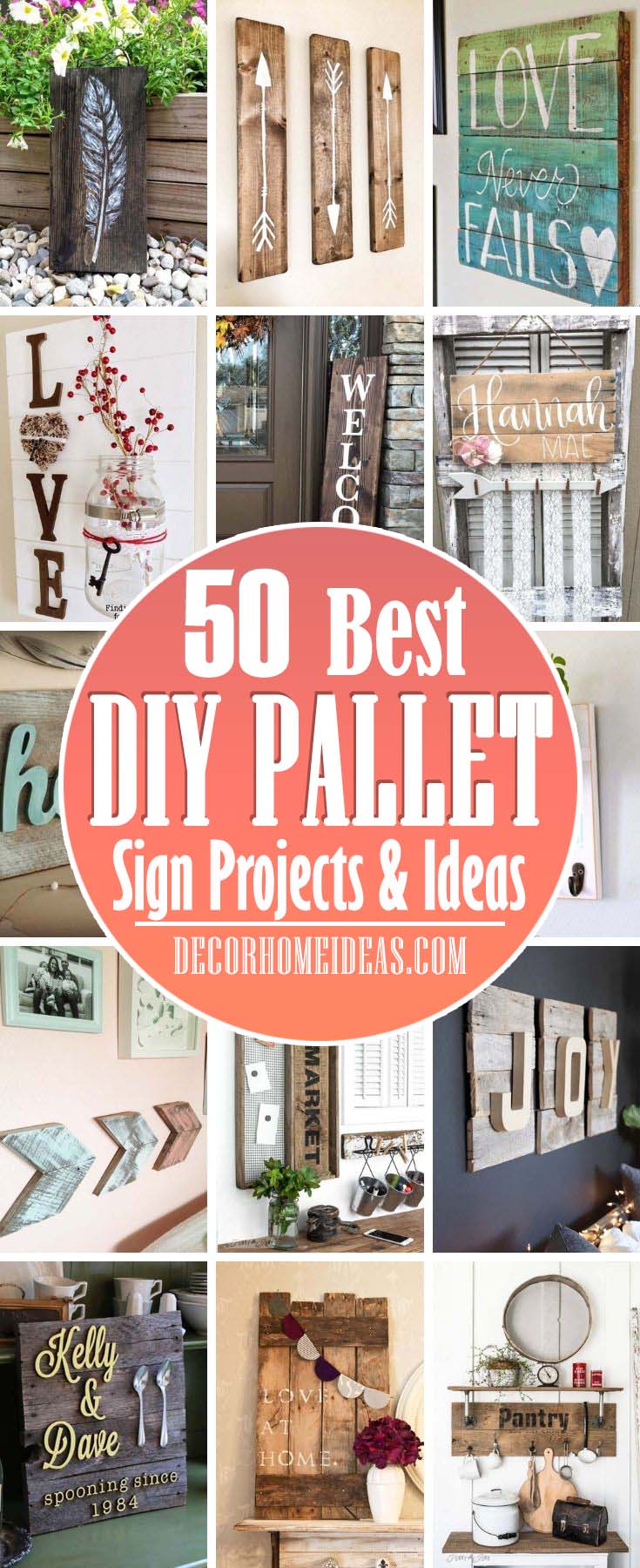 Don't forget to PIN this image for quick access to all these ideas!
The collection of DIY pallet signs that follows will let you find a project that suits your interior.
Don't worry about the supplies. If you are a true DIY fan, you must already have them somewhere in your garage. If not, you can easily get them from every store.
Aged Barnwood Sign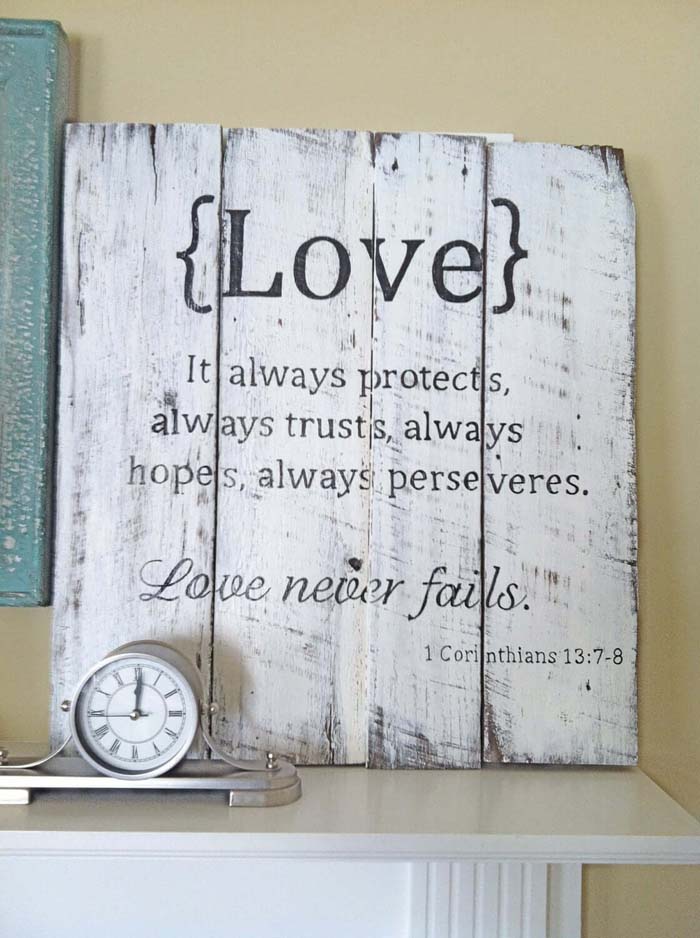 Four slats, some paint and a favorite phrase are all you need to make this aged sign. Suitable for a farmhouse or rustic interior, this sign can be easily made at home.
Attach the slats next to each other. Then white-wash the surface. For a neater look, use a preliminary cut stencil with the inspiring phrase.
Anniversary Date Driftwood Sign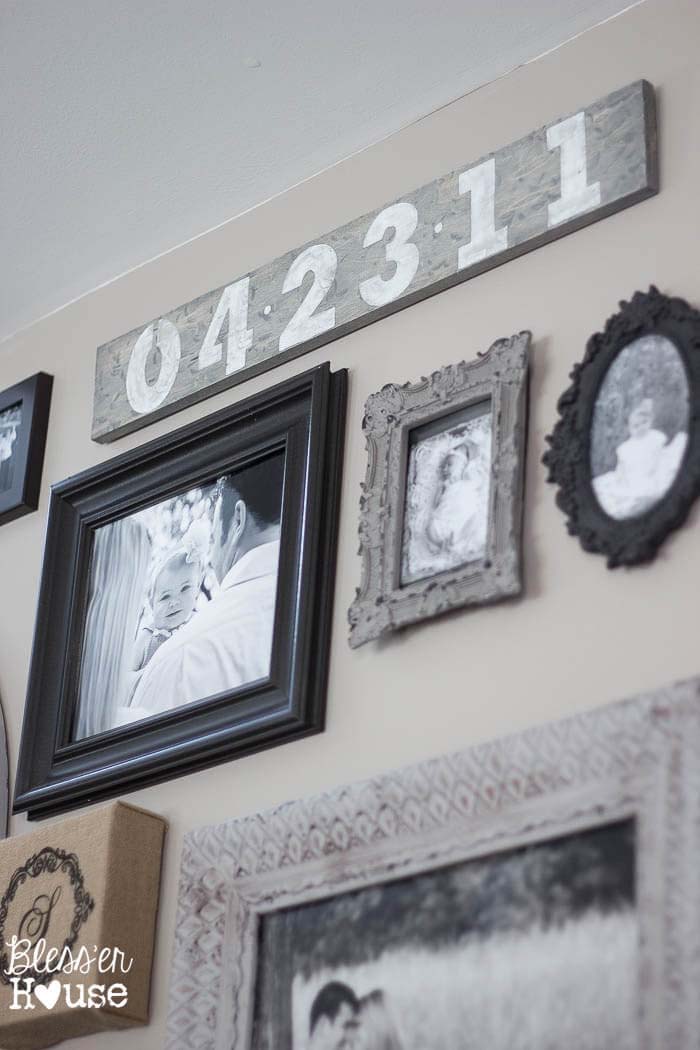 For those of you that are more sentimental and like to emphasize on the valuable things in their lives, a handmade sign with their anniversary will confirm the importance of this date.
Just grab a slat and paint the numbers using stencils.
via Blesser House
Be Grateful Pallet Art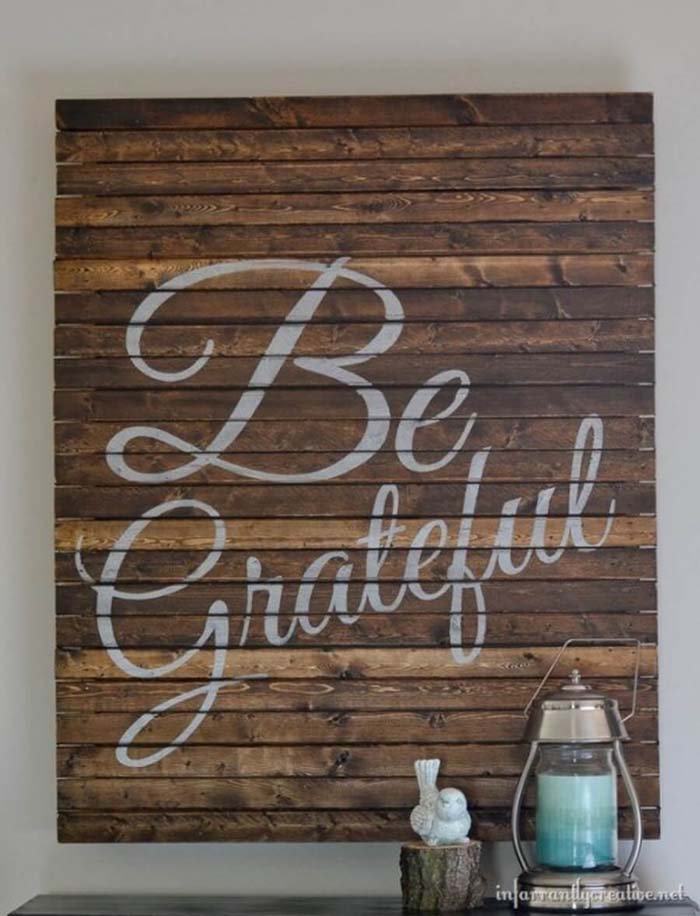 A decorative wood panel serving as a background for an inspirational word or phrase will be more than an accent in the room.
It can be made of pallet slats or other wooden material depending on your preferences for the width of the components.
You need to preliminary make a stencil with the phrase. Lay it onto the wooden surface and trace it with a brush or spray into the empty letters.
Boho Decor Feather Sign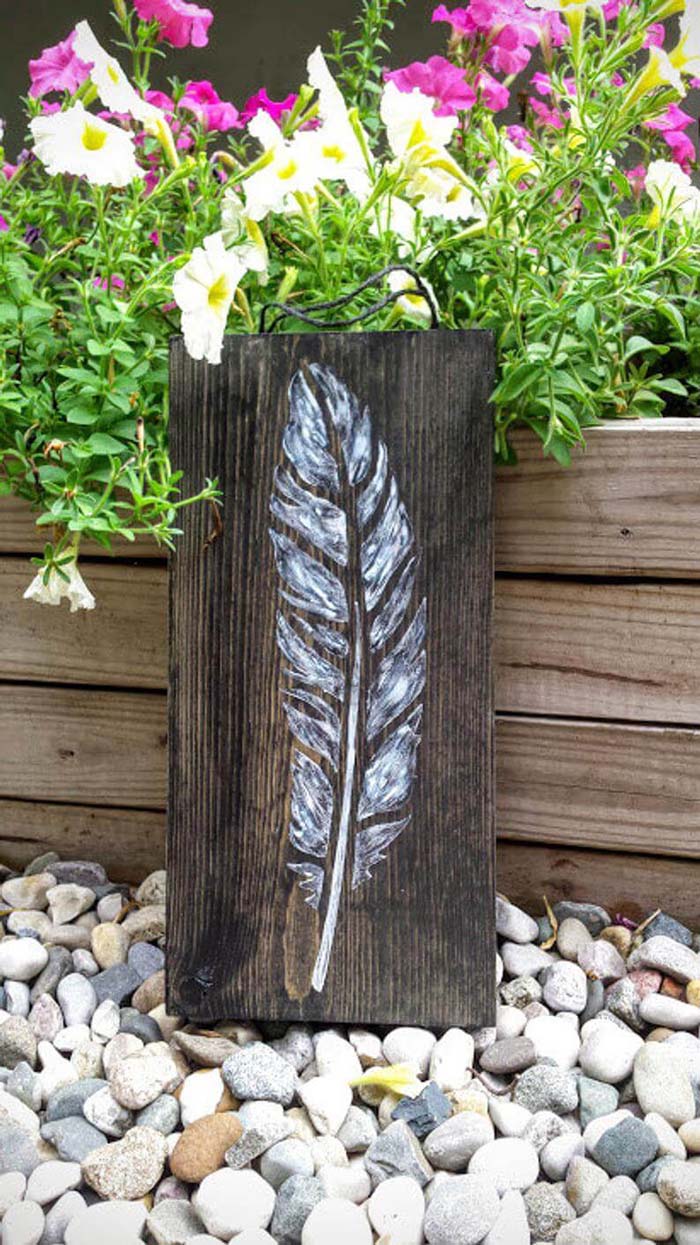 This sign is sold on the link below but we are sure that each of you can easily recreate it with the help of a wooden slat and a brush.
Cut the piece of wood into the length you desire and paint the feather. If you find it difficult to draw it yourself, use a stencil.
Bow Holder and Organizer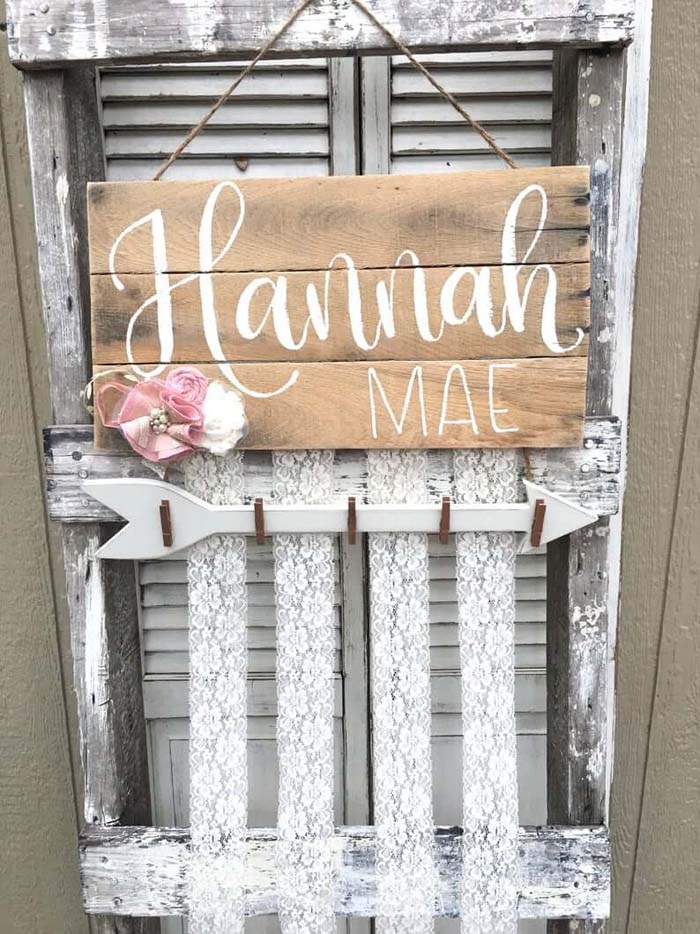 This sign is a special way to welcome a new family member. Personalized with the name of the baby and a gentle ribbon, it is also complemented by an arrow.
If you add hooks or clothespins to the arrow, you can use it also as a display of photos.
Creative Lighting Elements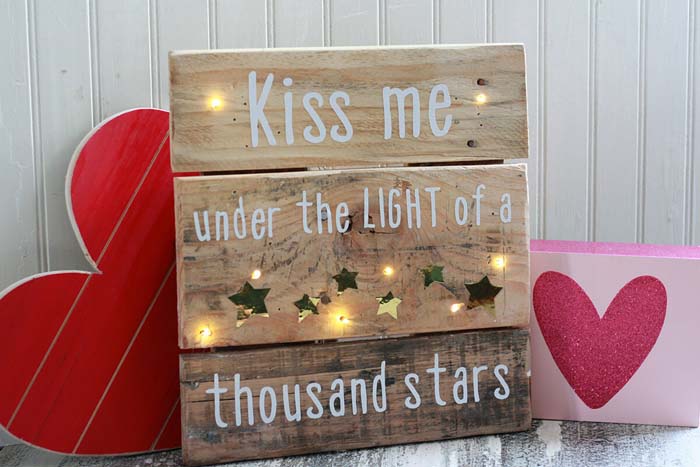 When the handmade sign has also cut shapes, back them up with fairy lights to achieve a more interesting and more romantic decorative effect, especially at night.
via Everyday Jenny
Distressed Barn Wood Word Art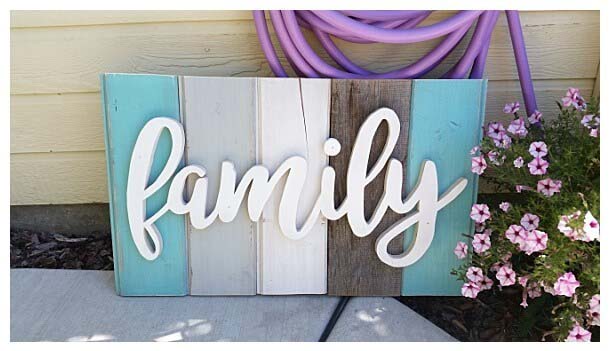 This word art will attract attention and will bring smiles each time you see it. Made of barn wood, each slat is coated with one layer of paint so that the charm of the imperfections is still seen.
Give them a bit of sanding for a more distressed look and fix the word cut from wood on. It can be leaned against the wall or hung onto it.
via Dreaming In DIY
DIY $3 Welcome Sign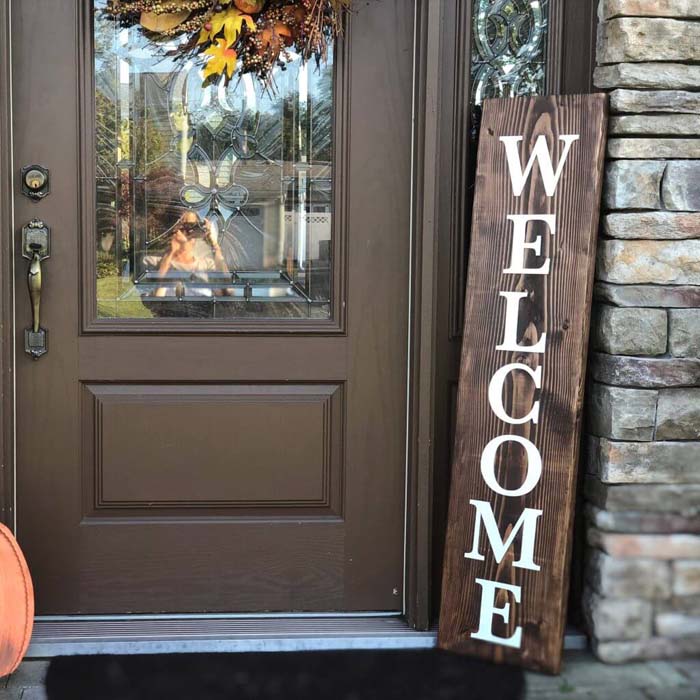 If you want to make an impression from the front door, make it with a large rustic sign. As simple as it looks, making it requires a slat, stencils and paint.
If your door is painted in a dark color, use the same color for your sign. Along with the aesthetic look, you will also let the letters pop out.
DIY Eat Sign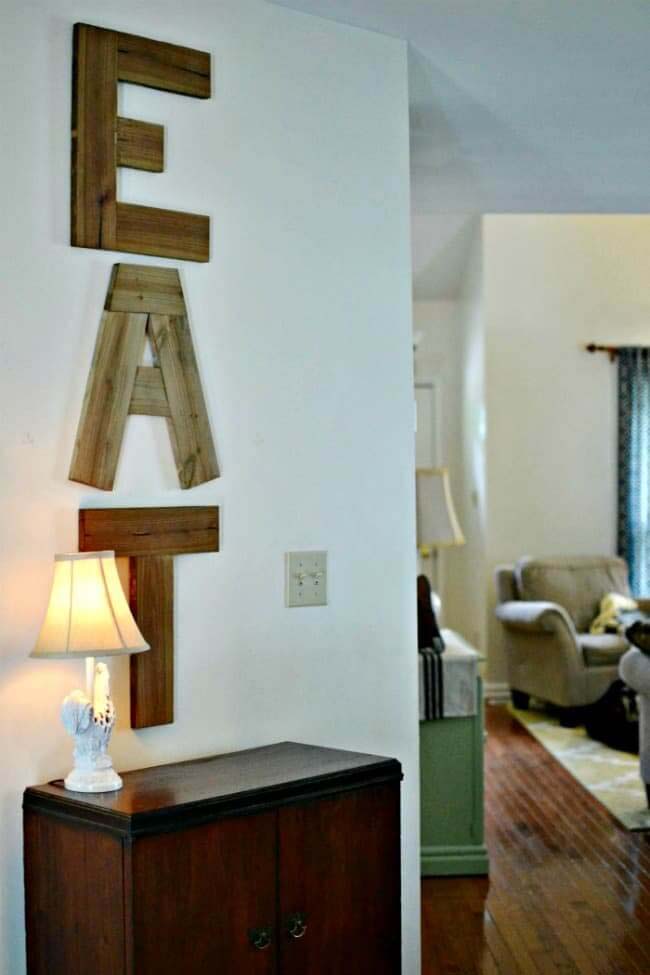 A wall art consisting of large letters will become an instant eye-catcher especially when its place is strategic and thoughtful.
An easy and fun way to mark the most common activity in the kitchen is to make word art "EAT" from scrap wood like pallet slats.
DIY Eat Sign From Pallets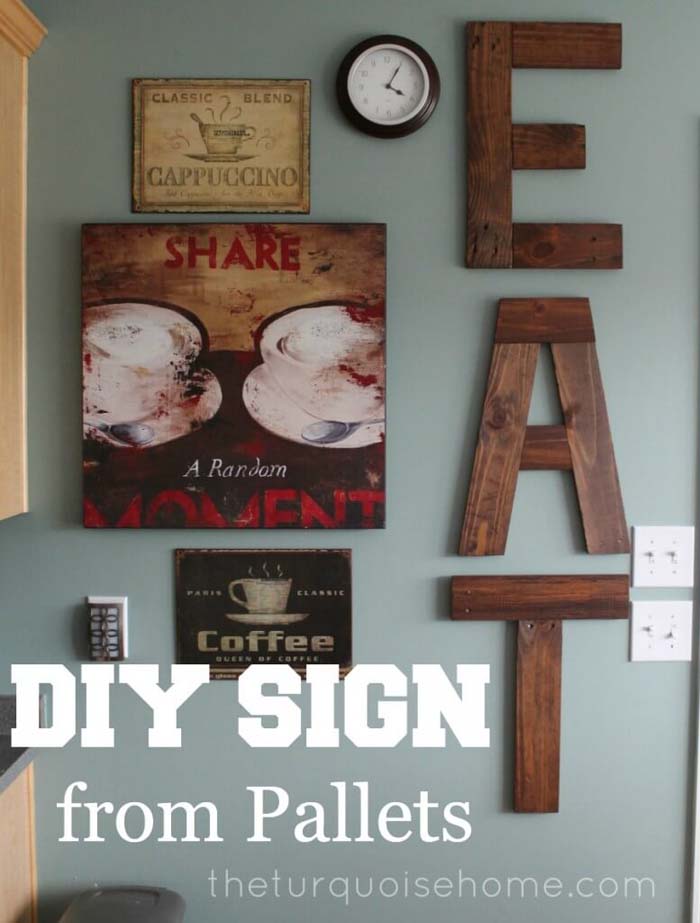 In contrast with the previous DIY word art, this one keeps the same color concept for all letters to create a continuous look.
DIY Home String Art Barnwood Pallet Sign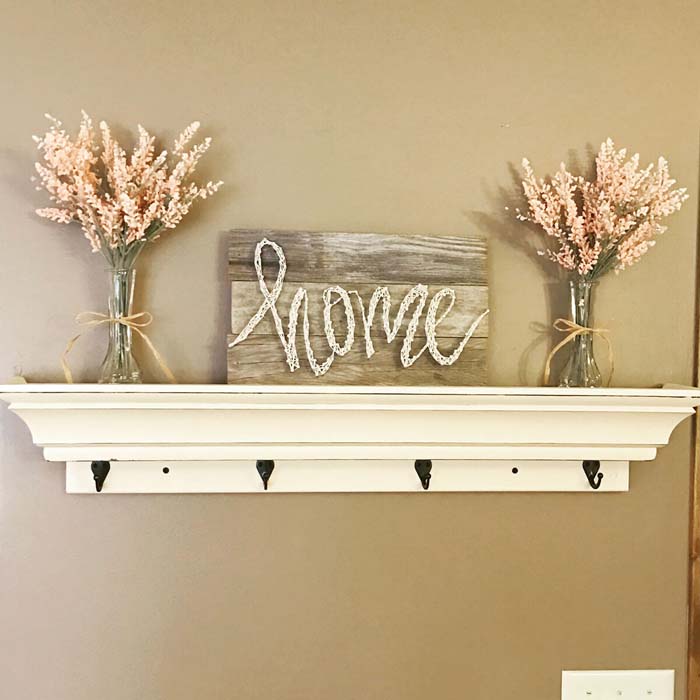 This wall art sparkles with its simplicity and delicacy. Made of three pieces of slats, this rustic beauty can scream from the entryway what is the most important place for you.
The inscription is made of string woven around nails that outline the letters.
DIY Jute Rope Love Sign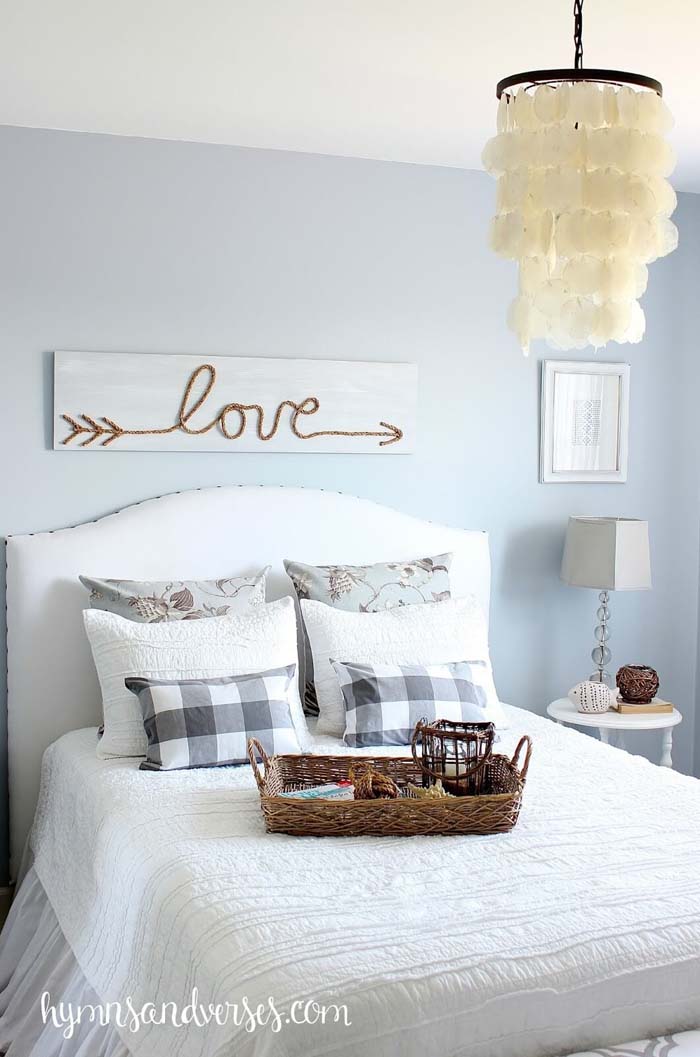 A piece of laminate or a pallet slat become the surface for an artistic love sign. Made of rope, the word looks like a twisted arrow.
Before securing the rope, mark down the letters to make sure that it will look well when finished.
via Hymns and Verses
DIY Key Holder With Plant Shelf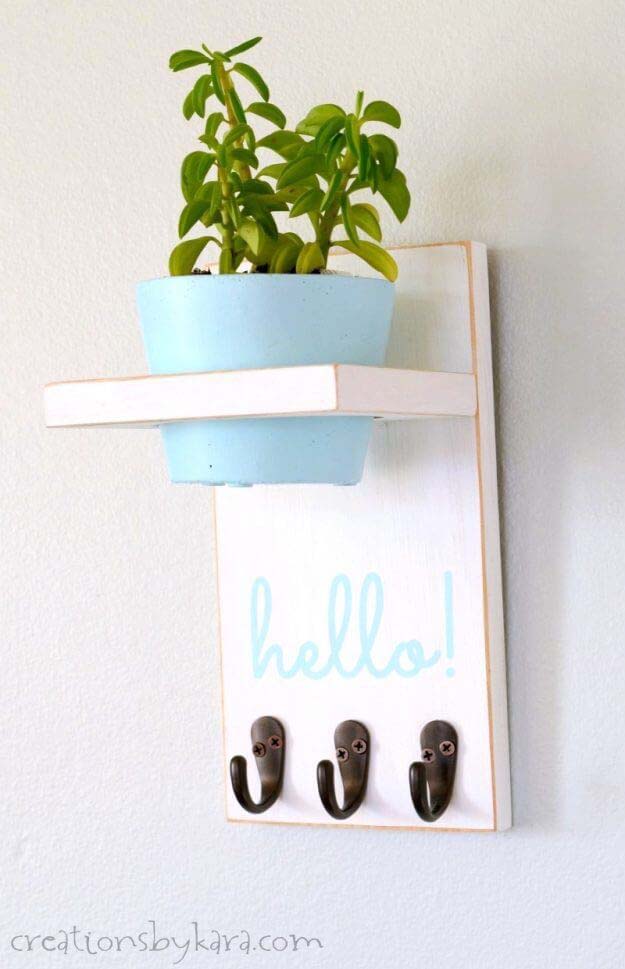 The handmade signs can be lifted to another level and also be functional. Adding a few hooks to the bottom, you can use it fo hanging keys or small accessories like necklaces, bracelets, scarves.
If you want to increase its decorative value, add a shelf with a hole to hold a small plant.
DIY Pallet Art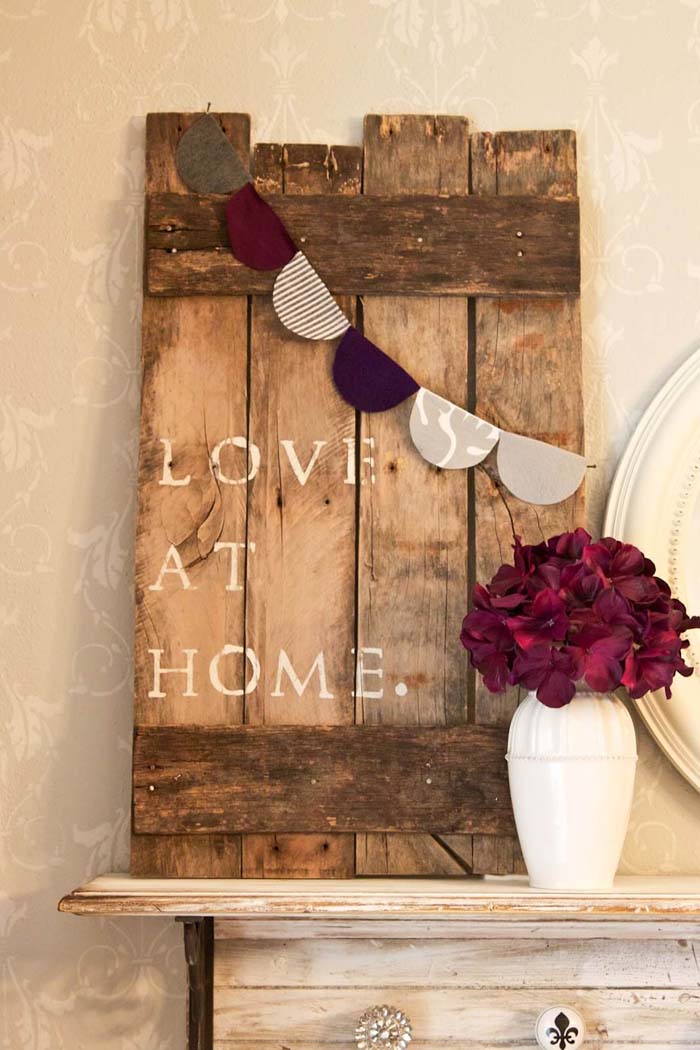 If you like the combination between rough and weathered material and delicate wording, you can find the instructions of how to make this sign below.
It will surely inspire you for more love at home regardless of where it is placed.
via Colors and Craft
DIY Pallet Board Sign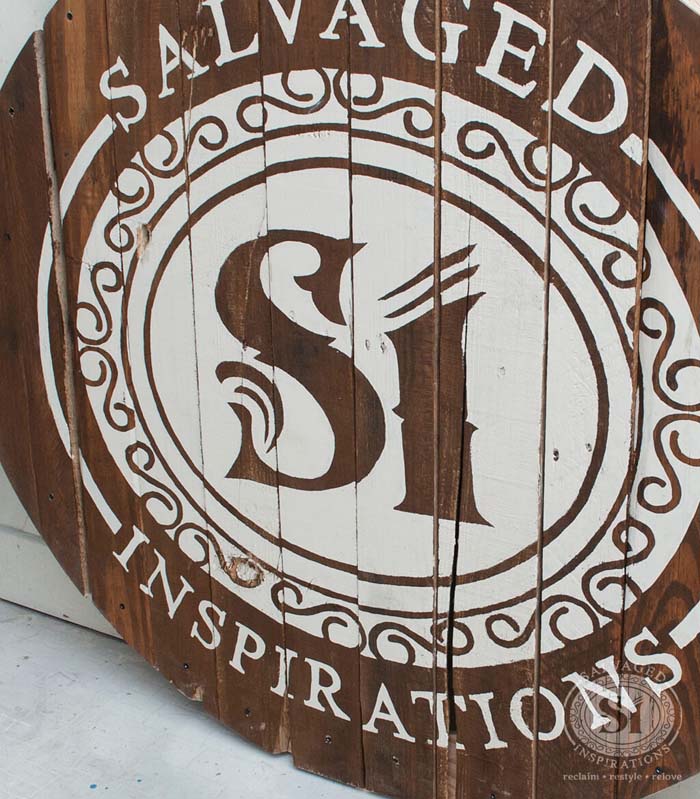 Since wood of pallets is not hard to be cut, they let you play with the shapes of the signs.
Attach the slats together and then cut in the desired shape.
DIY Pallet Wood Arrows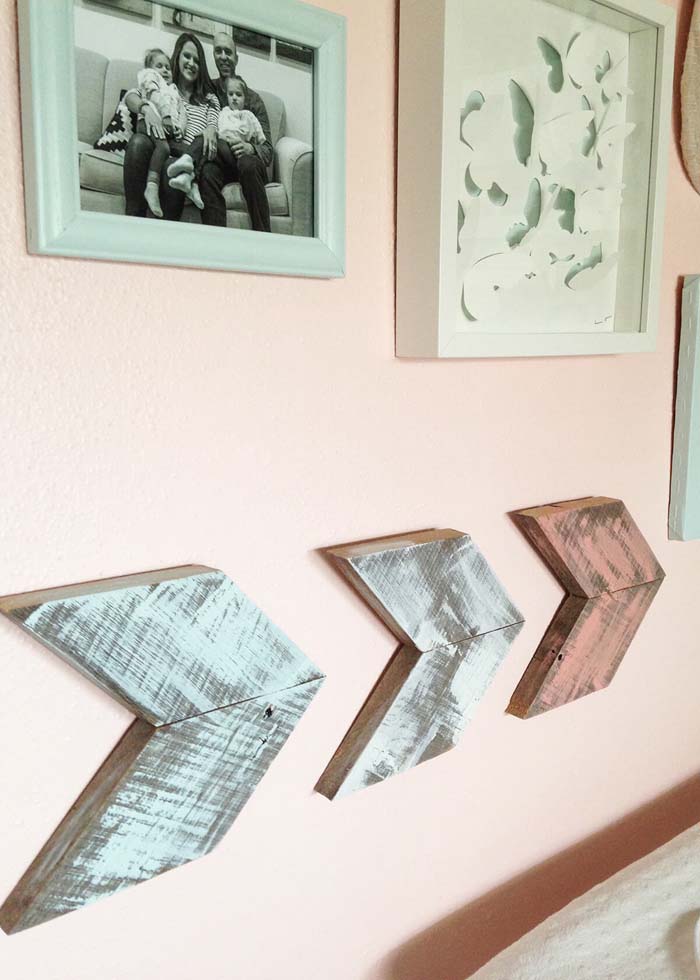 The symbolism behind the arrows is very interesting. While they are mostly connected with the forest and nature, they can also remind of the ancient ties of our ancestors.
Their role as a decorative element can simply go to pointing at a special direction that makes them worth doing them to add a fun vibe to a room.
via A Little Kooky
DIY Potting Shed Garden Sign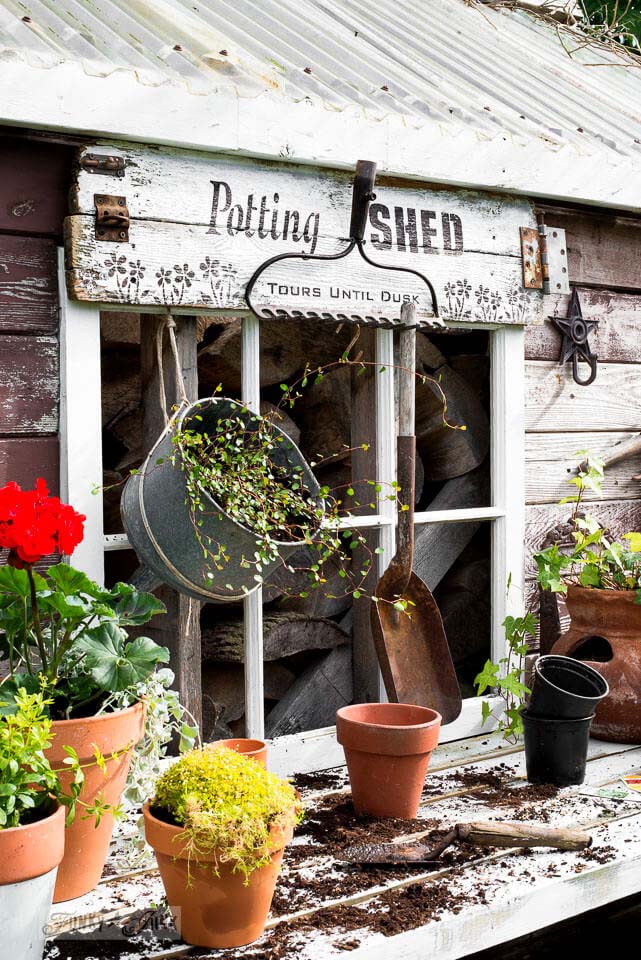 If you have a potting bench, then it deserves a special sign to mark its significance.
This project doesn't require any special materials. On the contraty, any leftover hardware, tools and pieces of pallet slats will be just enough to make it.
DIY Rustic Fall Wood Sign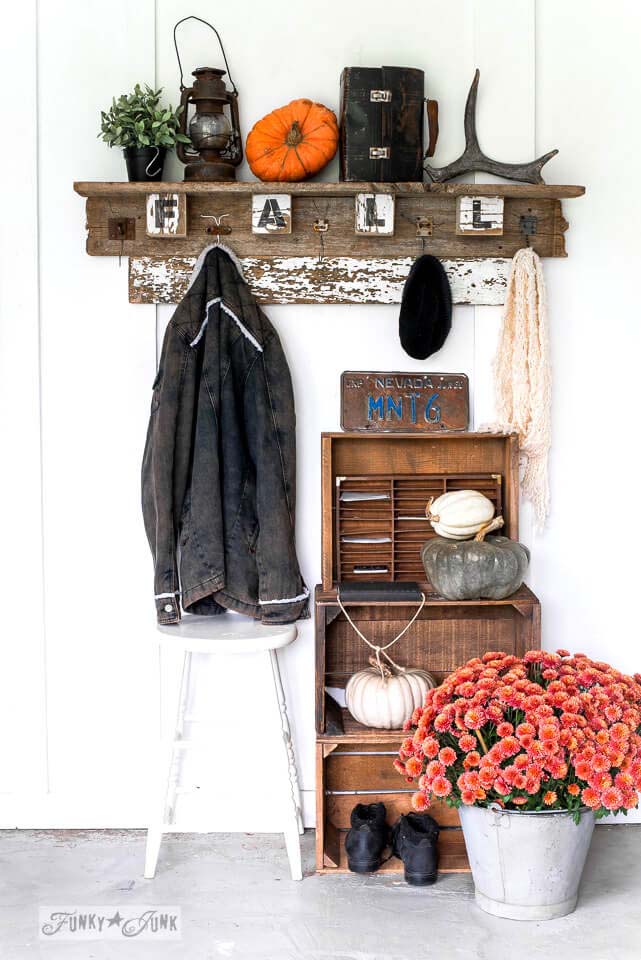 Celebrate fall with a handmade rack and sign made entirely of pallet pieces.
The greatest about this project is that the letter cubes are interchangeable so this rack can be used as a permanent vintage furniture of your entryway.
DIY Stained and Painted Wood Idea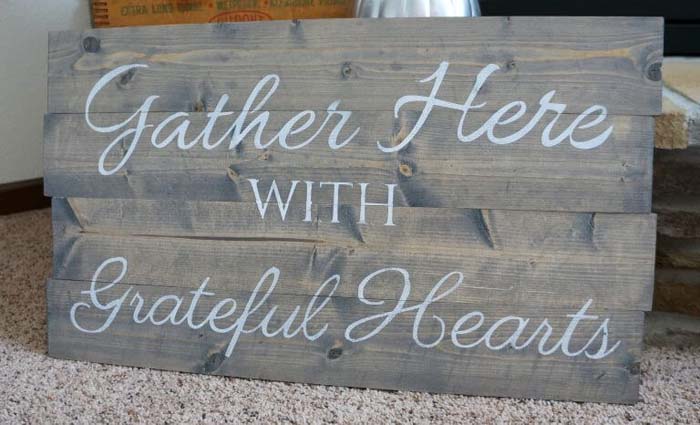 Depending on the size of the phrase you would like to inscribe, attach a few slats together. The easiest way to do it is to nail two posts across the slats at their back.
The rest is up to you- you can repaint the surface if you prefer a more clean and continuous look. If you leave the wood weathered, it will add a farmhouse effect to the room.
DIY Wood Arrows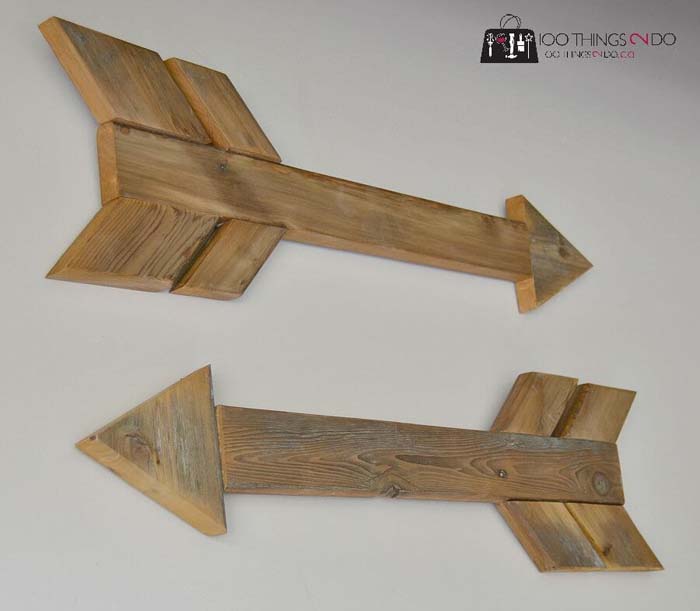 These two arrows pointing in opposite directions are a visual metaphor of the creator's life.
If you like the idea and find yourself in it, you are going to need some scrap wood to form each element. To finish them and give the pieces an identical look, sand them down and coat with a layer of varnish.
via 100 Things 2 Do
DIY Wood Signs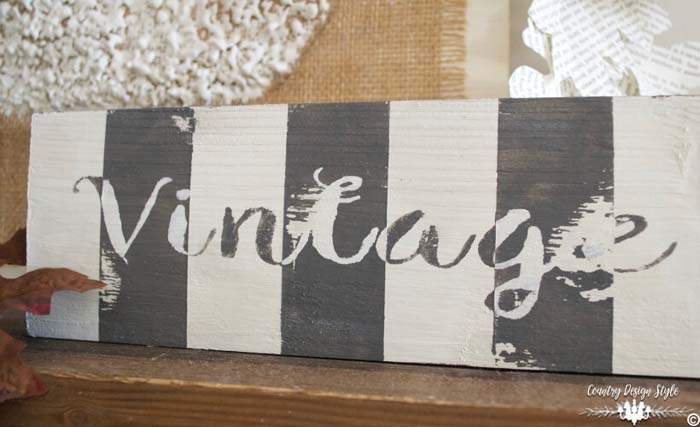 Although the stripped pattern makes the sign look like made of several pieces of wood, it is actually a simple project that won't take you more than 20 minutes.
Use a painter's tape to differentiate the stripes. Paint each stripe and then put the stencil down.
Because of the black and white combo, you need to paint each letter in the color opposite to those of the background. Thus you would create a domino effect that will instantly grab the attention.
DIY Woodland Sign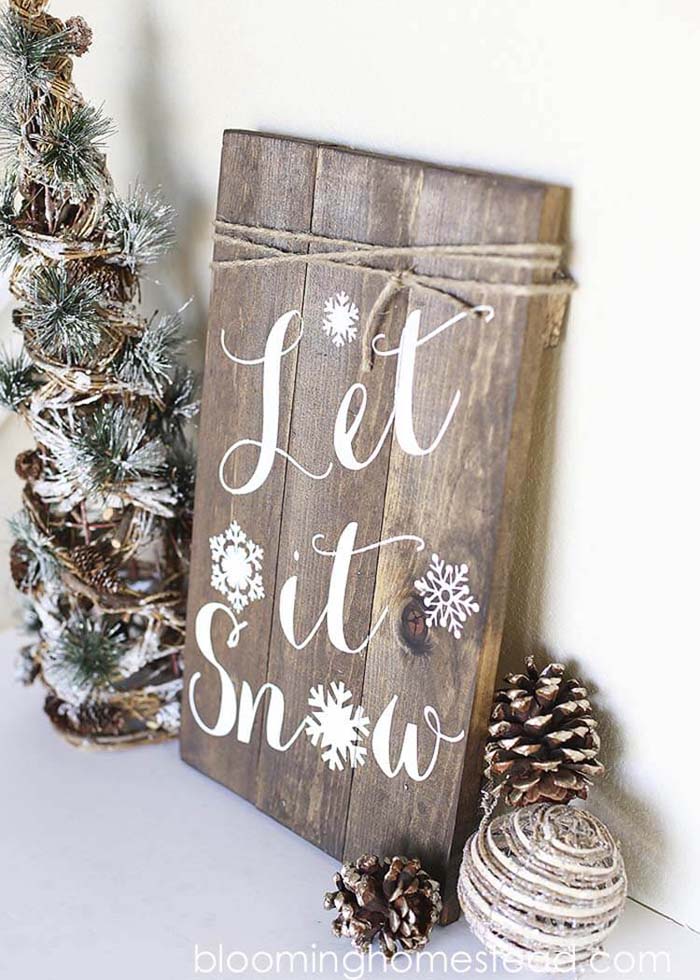 Signs are an easy and affordable decorative means to celebrate a season or a holiday.
This small piece of winter festive sign is made of one slat cut in three equal lengths and two bracing pieces for the back.
After staining it in dark, the inscription has been painted using a stencil. Since snowflakes are a symbol of wintertime, sdd snowflakes here and there.
via Live Laugh Rowe
Farmhouse Style Inspired Home Sign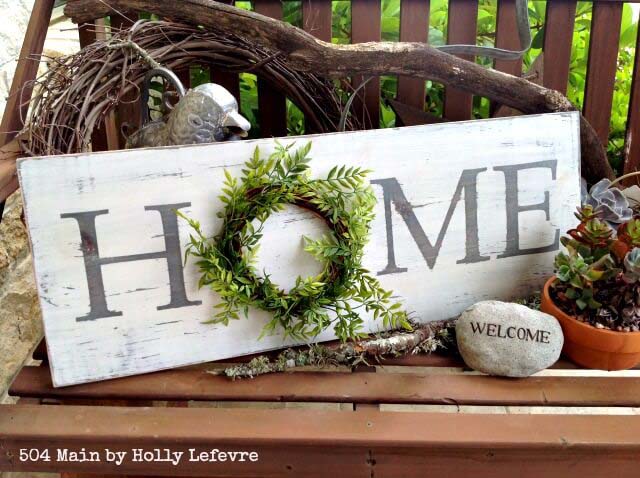 This sign is perfect for indoor and outdoor decoration.
Whether standing alone or in a group with other decorative elements, it is standing out with the alive accent in the place of the letter "O".
This small wreath can be made of a real or faux vine.
via 504 Main
DIY Friends Quote Wood Pallet Project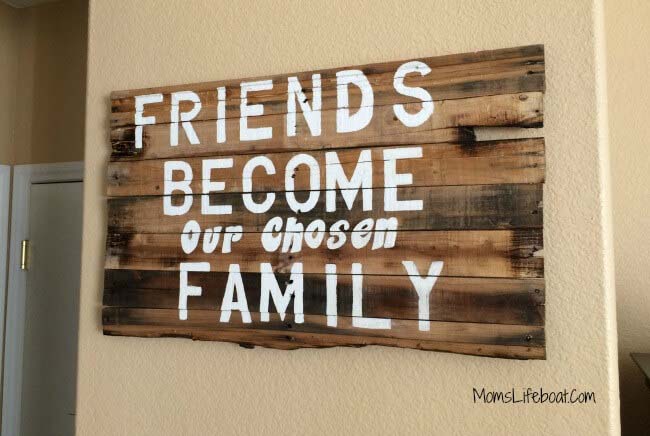 We can't choose our family but we are given the chance to choose our friends.
Mark the significance of your friends with a sentimental sign made of scrap pallet wood.
Attach four slats together using backing pieces and write them by hand this beautiful and true saying.
via Moms Lifeboat
Heart of the Home DIY Sign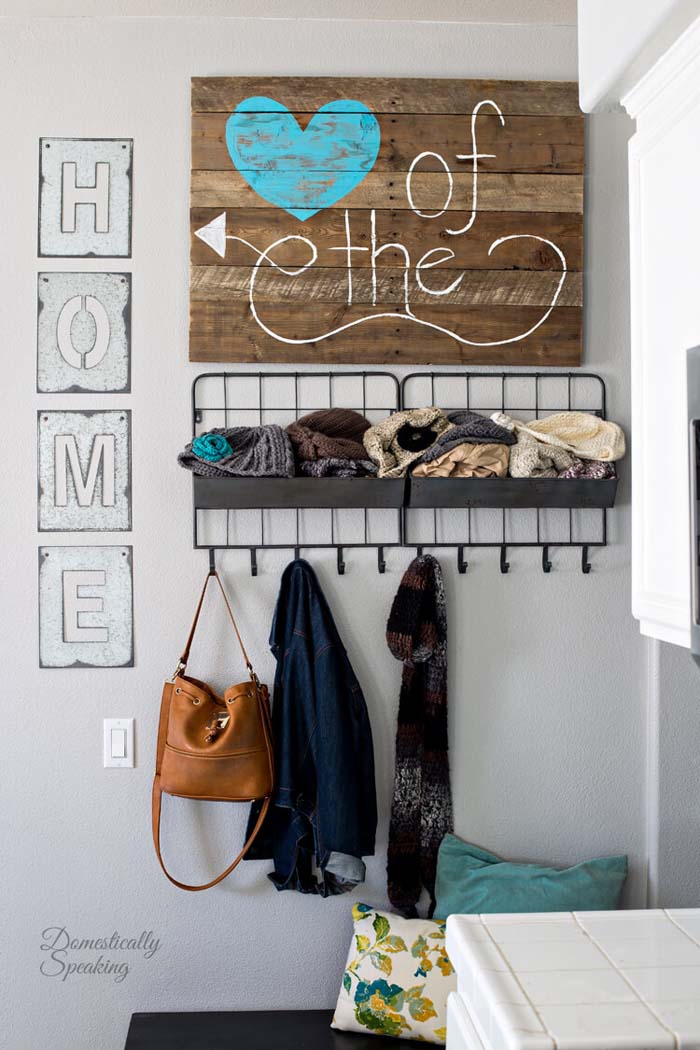 This interesting wall art will intrigue all puzzle lovers. The entirety of the message is got through two signs that can easily be made yourself.
Hello Sunshine Sign
This artistic sign is a shining way to say hello from your front porch. The color choice and the tail blue inscription make the sign outstanding and bright.
The image is entirely painted by hand so if you don't have such skills, maybe you should sketch the sun pieces prior to painting them.
How to Create a Man Cave Wood Sign
Your husband would be thrilled to have his own sign for the man cave. If you can't find it in the stores, try making it.
Cut a board into a rectangle shape or attach two pallet slats together as to have a wide surface for the bold letters.
The letters can be cut from vinyl and sealed to the wood or you can write them down with paint.
How to Make a DIY Spooning Pallet Sign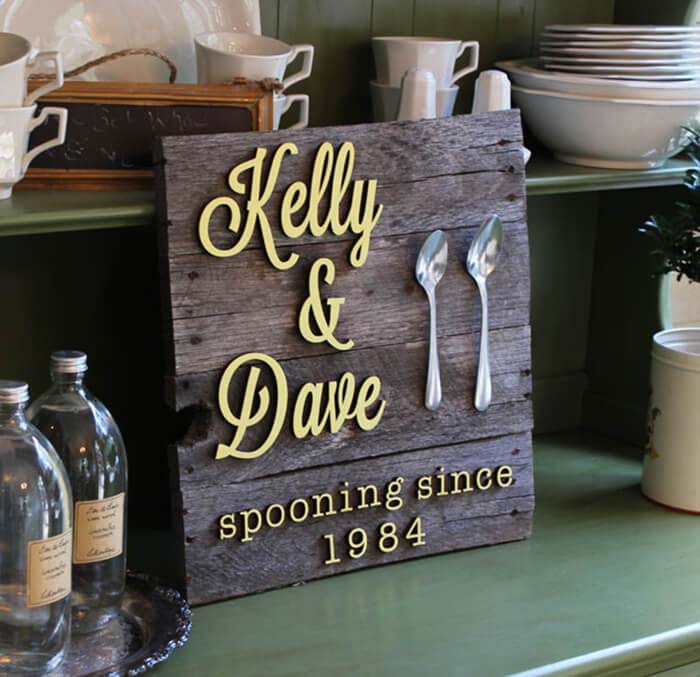 Are you wondering what to give your hubby for your anniversary? Don't be anymore! This playful sign is the most charming gift ever.
Made of scrapped wood for basis and script wood letters, it states the couple's names and year of family establishment in a fine way.
via Craft Cuts
Inspirational Quote Wood Pallet Art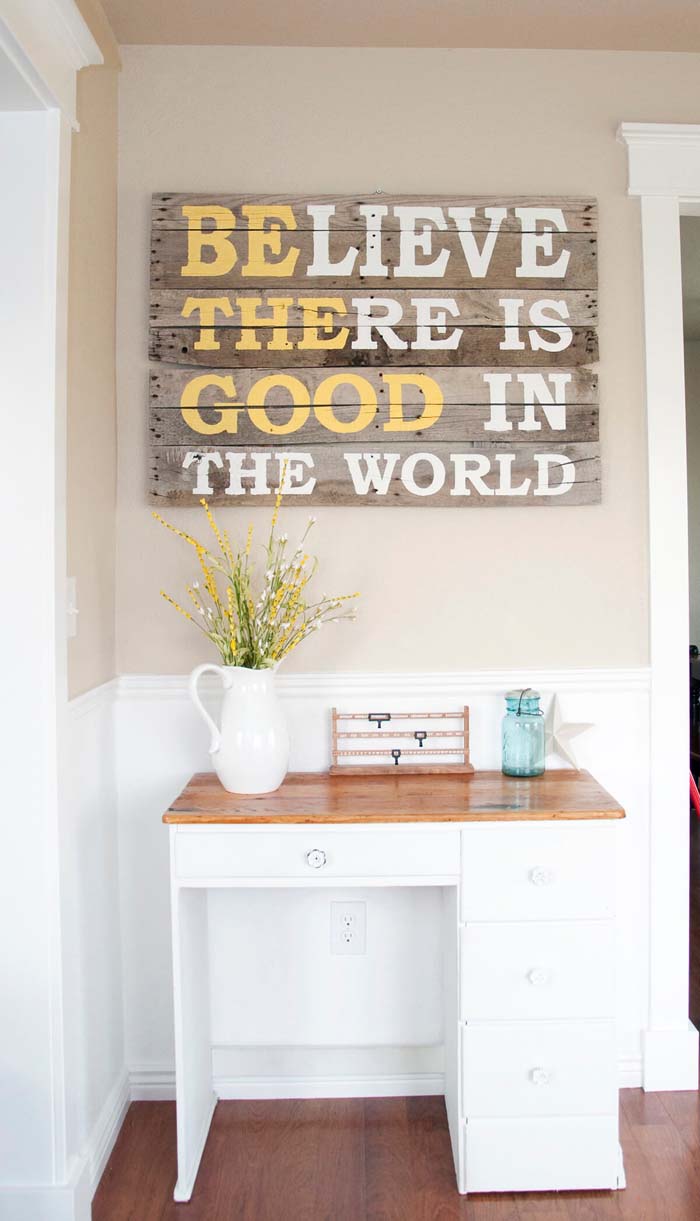 The inspiring phrases are an easy way to get motivated.
Combine that with a decorative function and make yourself an outstanding sign for your entryway.
Love Letters Idea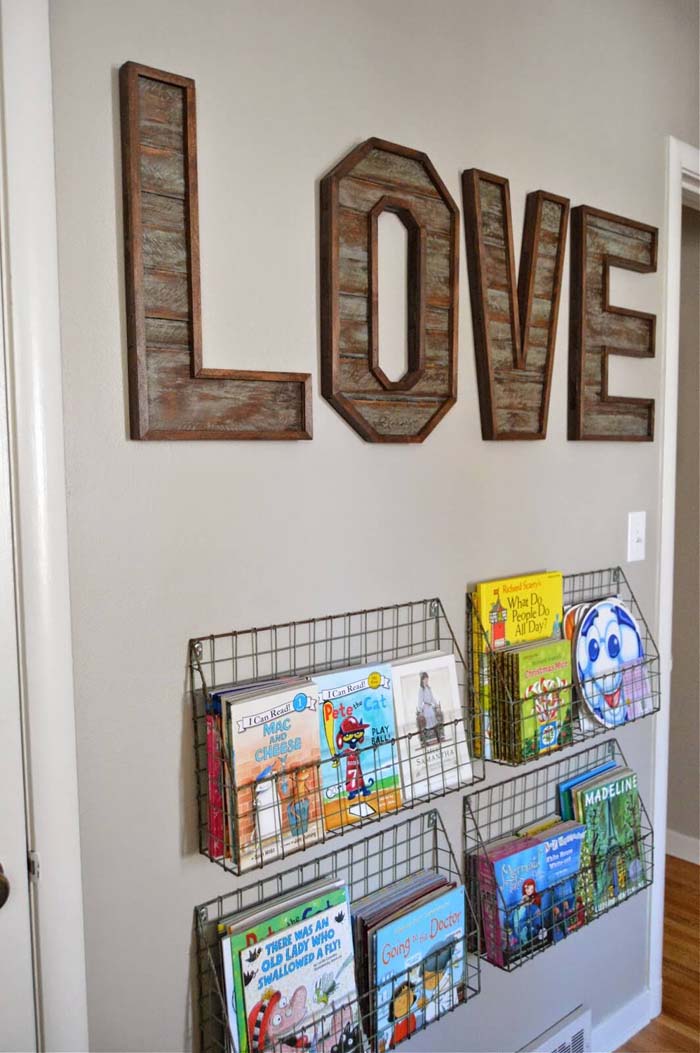 Kids have to be shown and taught the important values in life. Do it with a handmade word art made of scrap wood pieces.
To make them pop out and stress their importance, hang them on a wall that doesn't have any other decoration.
via Kruses Workshop
LOVE Slat Sign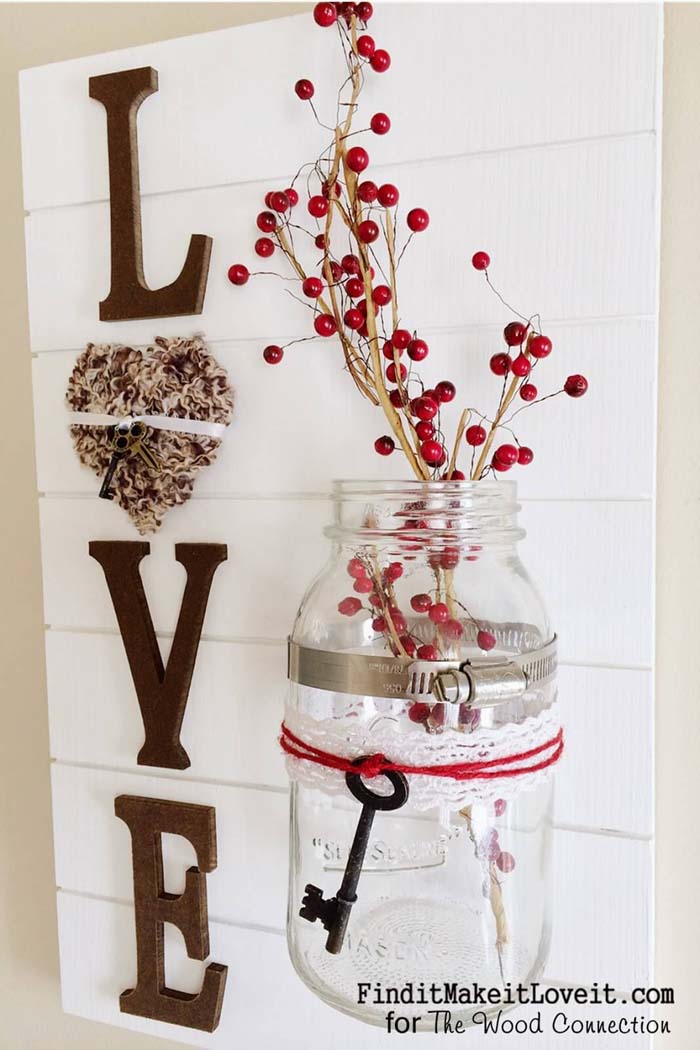 This cute art is more than a sign as it lets you display seasonal flowers or decorations in a mason jar.
The basis is made of 7 slats attached together and painted in thick white color.
The focus on love is additionally enhanced by the small heart craft that replaces the "o" letter and the symbolism behind the keys embracing the heart and the jar.
Love Story Sign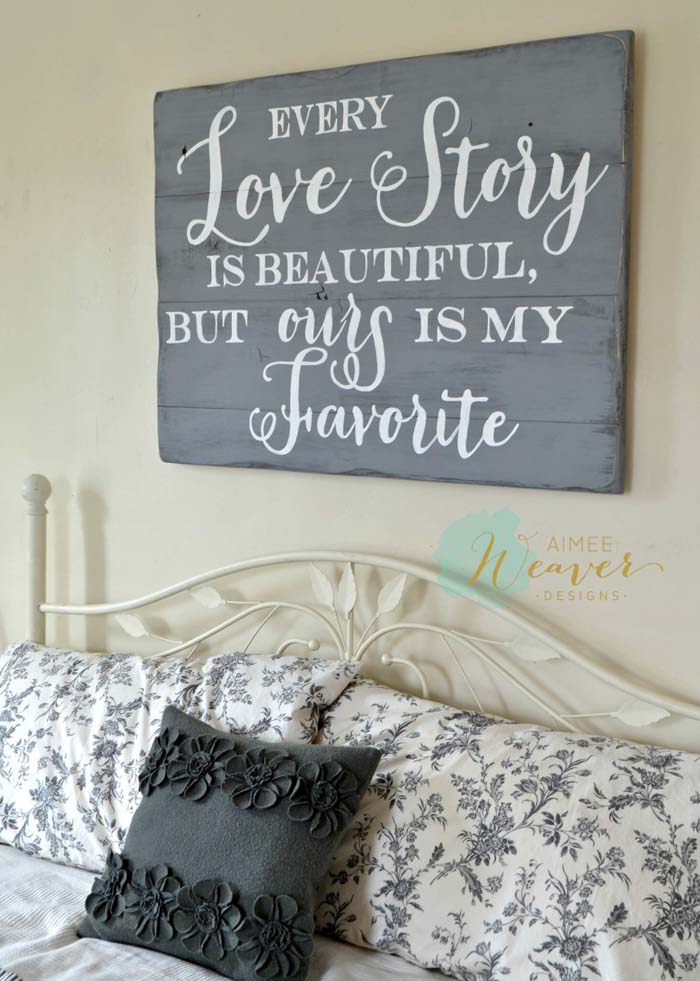 This large sign is simple but very exhaustive. Made of pallet slats, the surface is painted in dark grey to match the decorative elements in the bedroom and to let the phrase stand out.
via Aimee Weaver
Love You More Wood Sign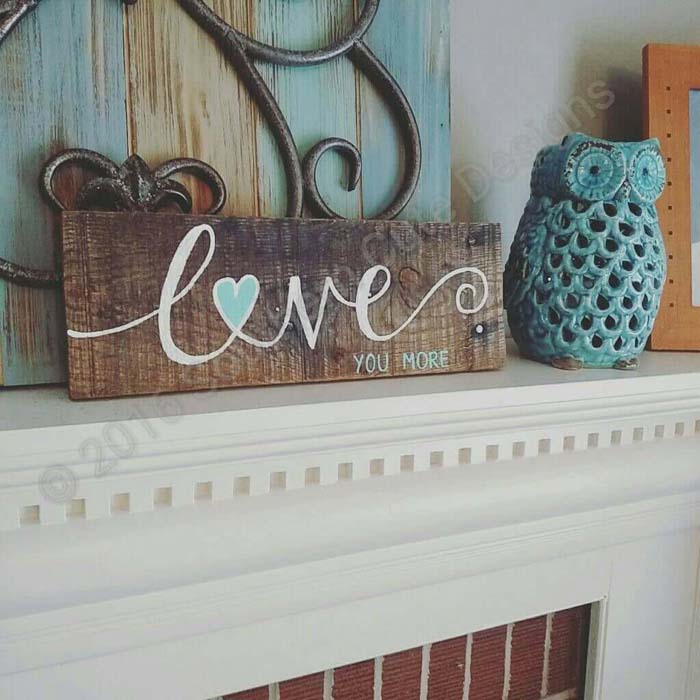 Make a beautiful and simple sign to enhance the vintage vibe of your living room. All you need is a weathered beam and paints that go well or match the rest of the decor.
Make Your Own Pallet Sign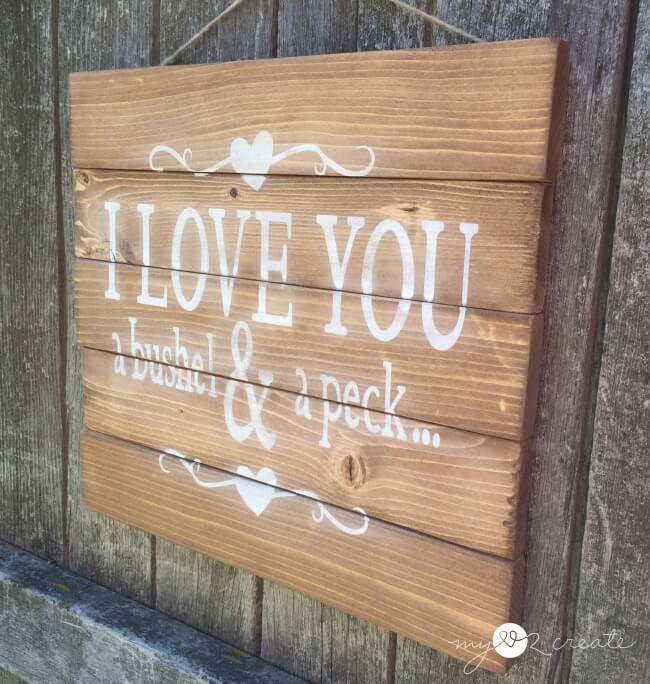 As long as you have a favorite phrase, you can materialize it on a sign. You need to prepare the surface by adjoining slats from pallets, reclaimed wood or scrap wood.
via My Love 2 Create
Musical Quotations For Extra Meaning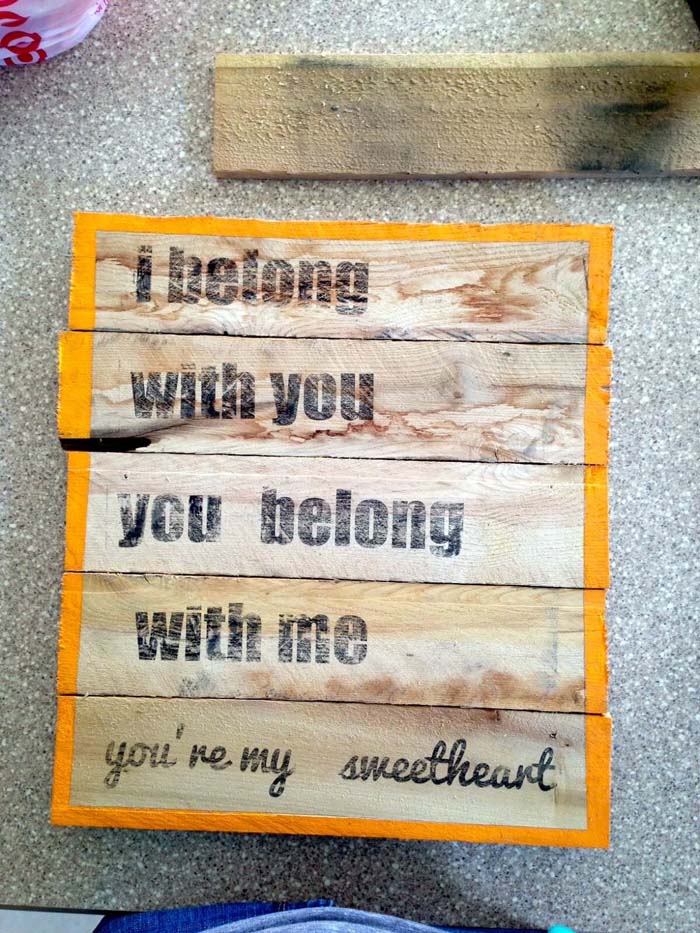 Another way to make an inscription on wood is to transfer it. If you haven't tried that technique yet, you need to know that it is very easy as long as you have freezer paper and ink jet printer.
via Little Bit Funky
Painted Pallet Sign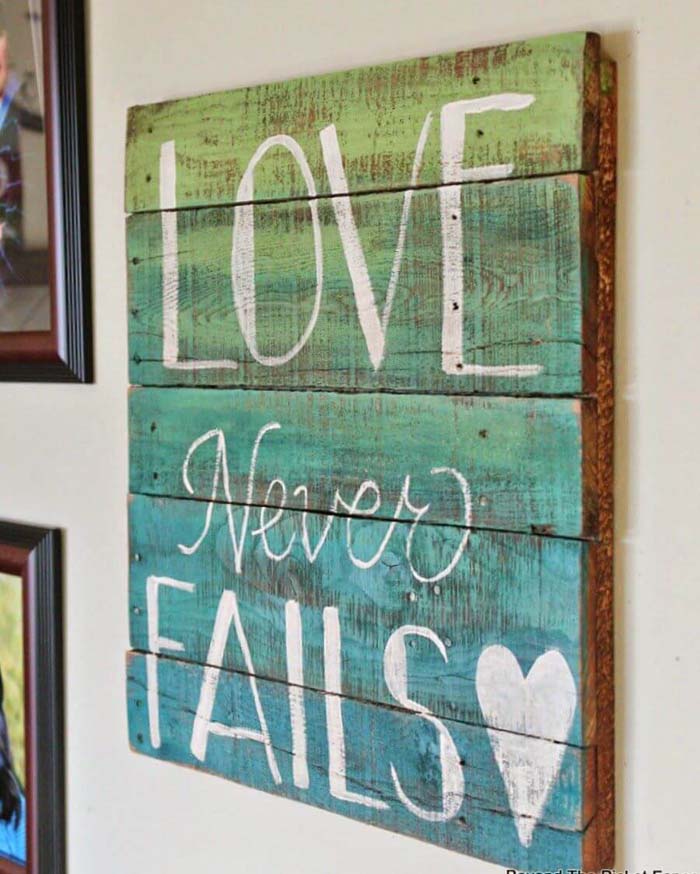 The technique for achieving this well-looking ombre finish is given in details in the link below.
The overflowing coastal colors are an amazing way to add character and color to a room.
Pantry Sign Shelf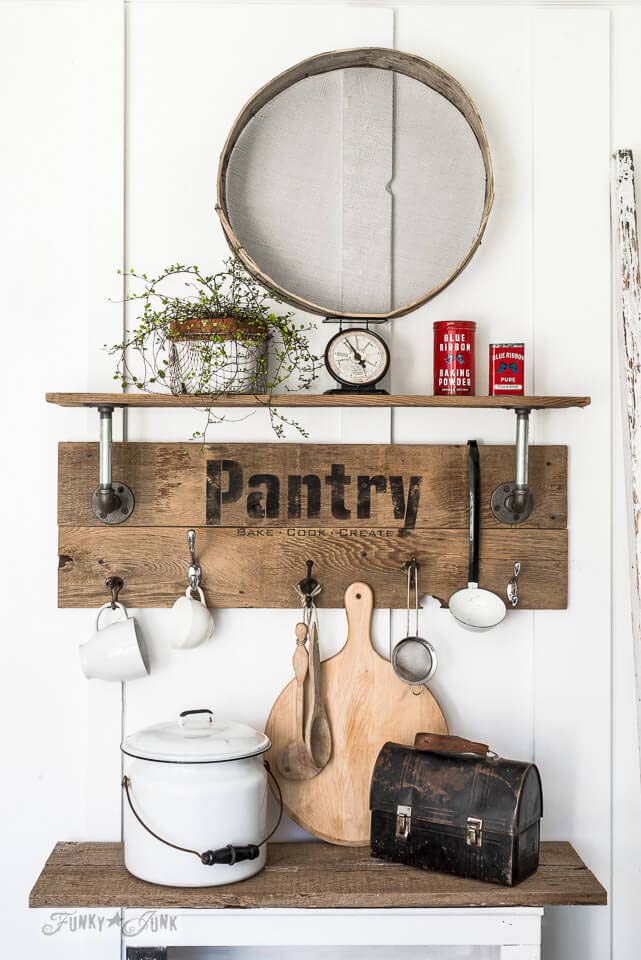 A wooden sign can successfully add industrial vibe to your place if you use piping and metal hooks.
In this case they are also an irreplaceable part of the craft as they join the sign with a shelf.
Pineapple Wooden Welcome Art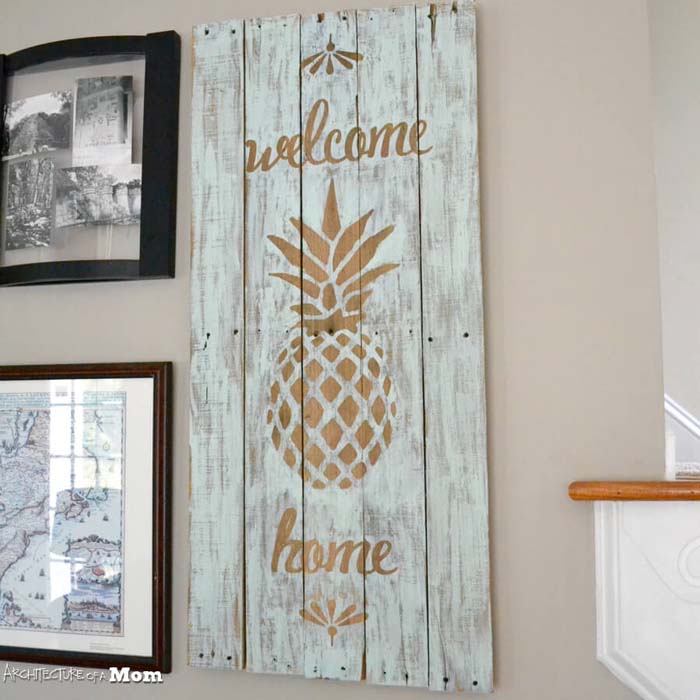 Using a summer symbol like the pineapple you can quickly make a summer festive welcome sign for your entryway or your porch.
After joining the wood slats together, put the stencil on and give the surface a white-wash coat.
Pipe Laundry Sign Hanging Station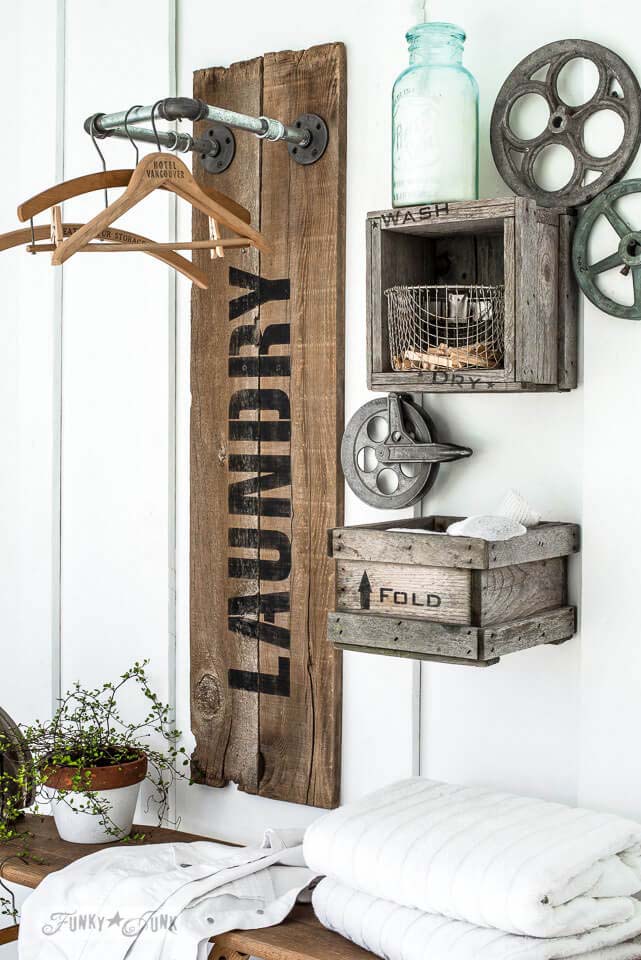 This inspiring project is for a laundry room sign. Along with its decorative feature, it also provides a practical usage gained through the industrial piping used as a station for hangers.
How to make a Plain Wood Board Look Rustic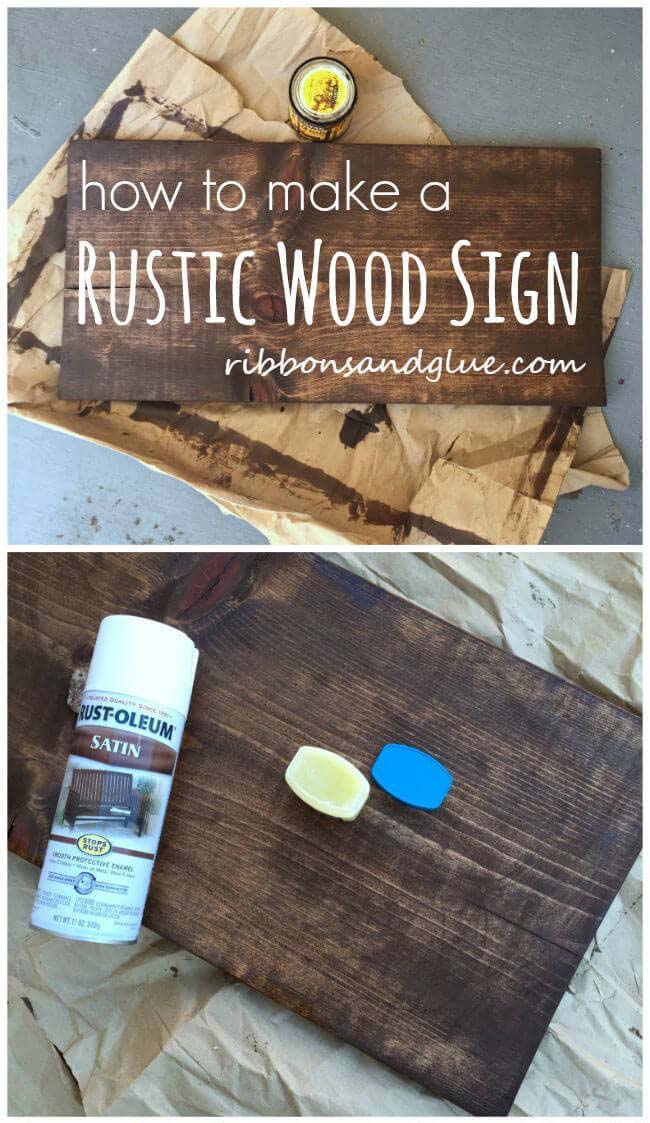 I bet you admire the DIY rustic signs. They are so deep, so aged and so impressive.
If you have ever wondered what you have been missing to achieve the same rustic effect, check the hints below.
via Ribbons and Glue
Reclaimed Wood Coffee Crate Lid Sign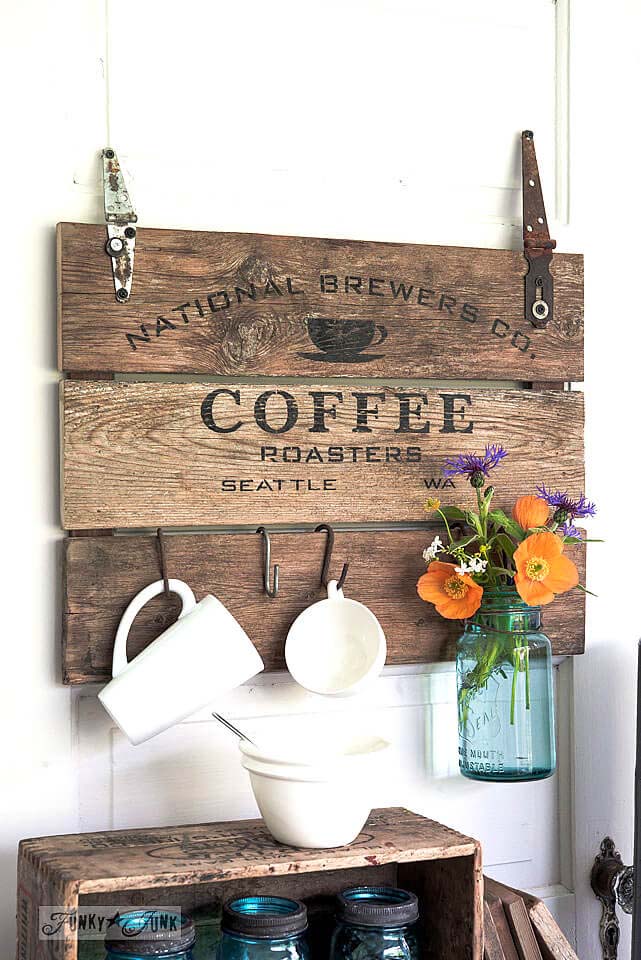 Such a reclaimed wood sign can mark the significance of the morning coffee in the kitchen or outside at the porch. To begin with, find some scrap wood.
If you like the inscription, you can make yourself a stencil ot purchase it somewhere. Don't forget the hooks, the rustier they are- the greater vintage impact the sign will make.
Reclaimed Wood DIY Christmas Sign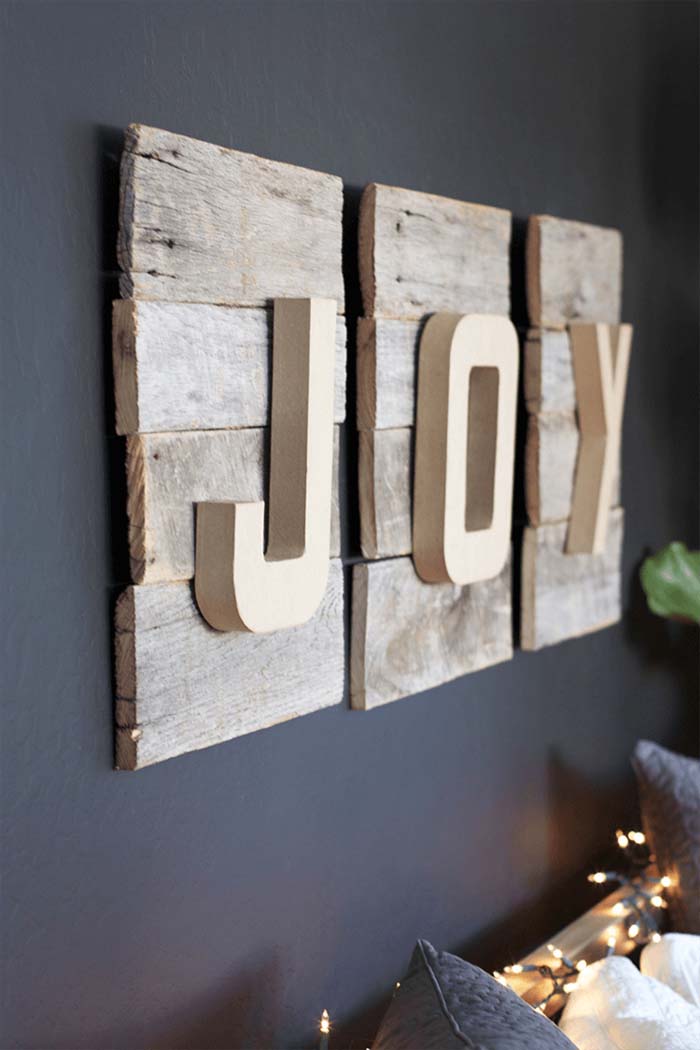 This word art is entirely handmade. Every letter has its own backdrop made of pallet slat pieces.
The letters have been cut by a jig saw. Depending on the wall color, you can leave the wood untreated or paint if contrast is needed.
via Kristi Murphy
Reclaimed Wood Love Rope Sign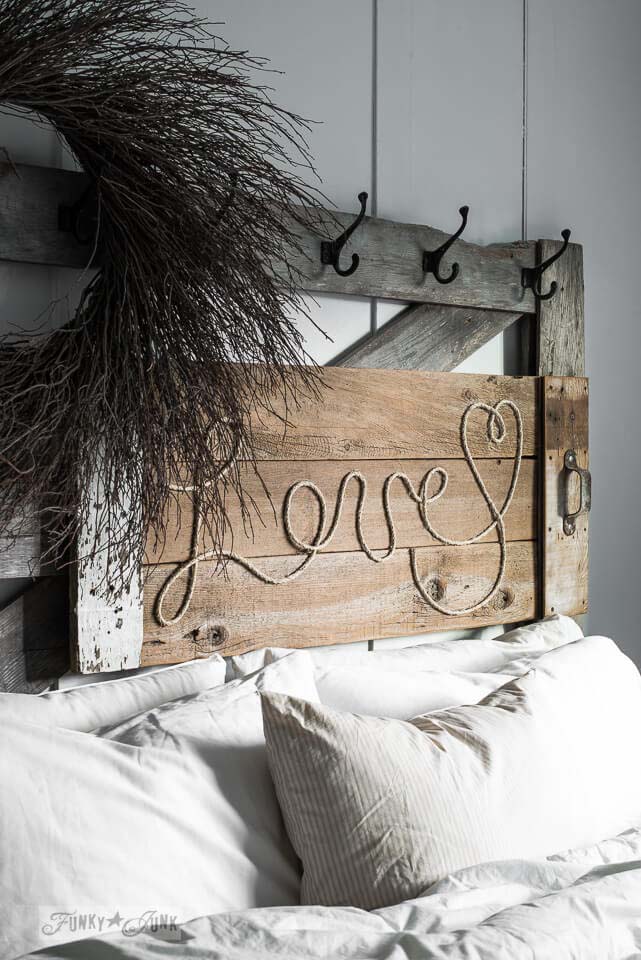 This sign deserves a special place in the bedroom. Whether attached to the headboard or above the bed, it will add romance and gentle vibes to the space.
Rustic DIY Street Pallet Art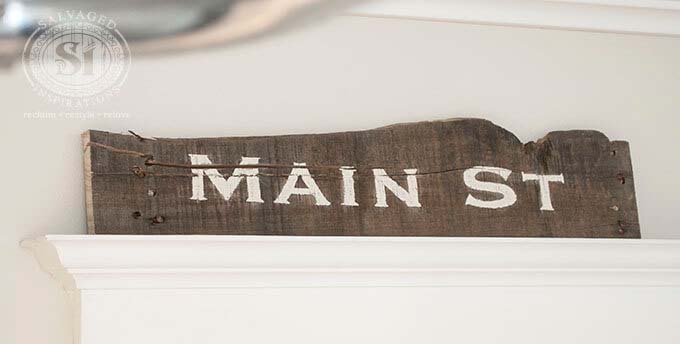 If you want to add more character to your space, do it dramatically with a handmade sign that has nothing to do with perfection.
The weathered and damaged look of the piece creates a really rustic feeling.
Set of 3 Wooden Arrows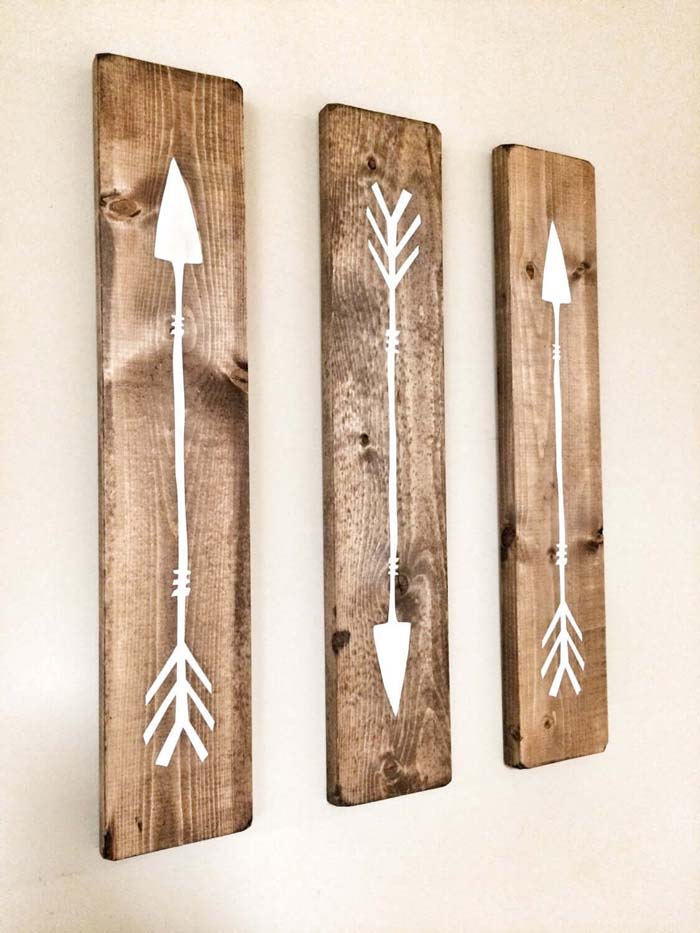 It became clear that arrow signs are very popular. This one is another alternative of having the symbol in your home.
Making it requires only wood slats and paint. The background and arrow colors may vary as to match your interior and preferences.
Home Stenciled Pallet Heart Home Decor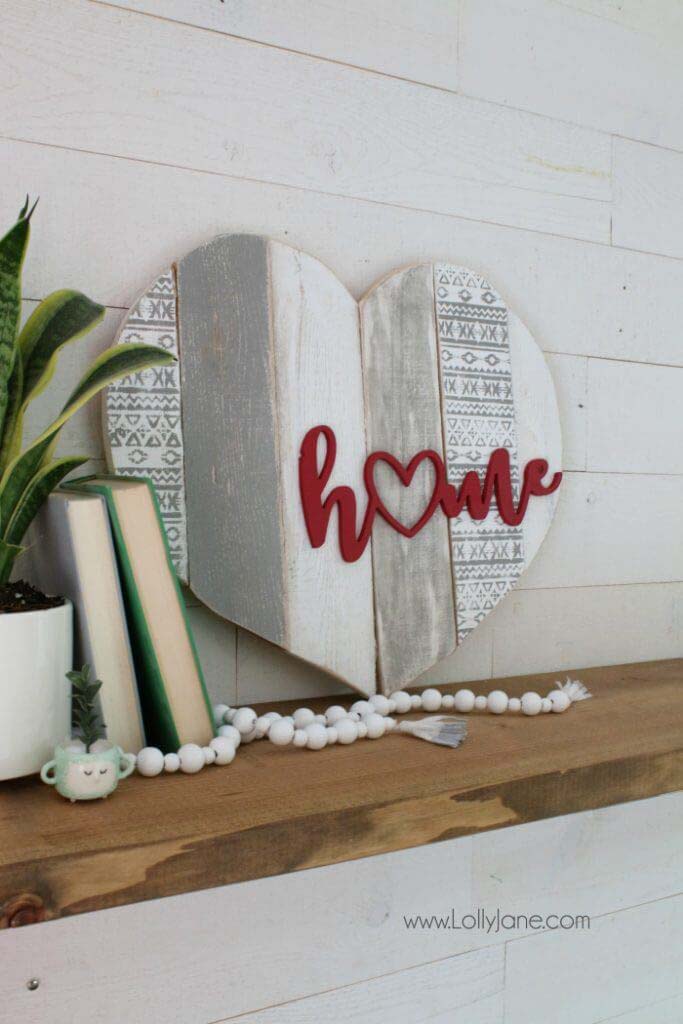 This project is one of the most creative ones as it hides more than what you can see from the first sight.
Made in the shape of a heart possessing the word home in vivid red color, it says "Home is where the heart is".
via Lolly Jane
Super Easy HELLO Spring Pallet Art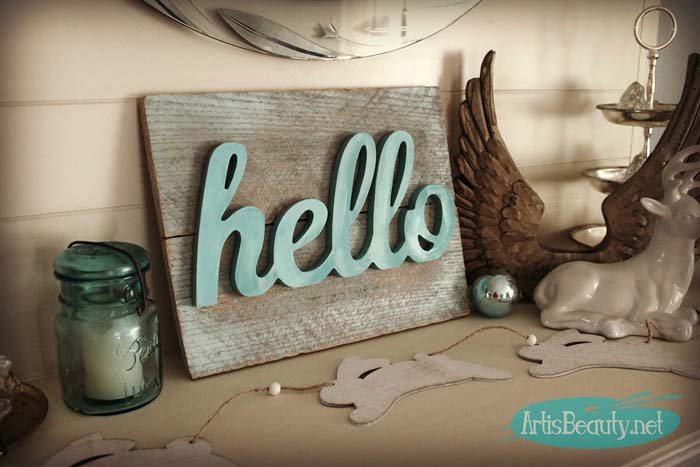 The backdrop for this sign is made of two pallet signs. What makes it interesting is the word hello painted in contrasting color.
If you don't have a jigsaw, making it will be difficult. The good news is that you can find similar woodcuts in the dollar store. So next time you visit it, take a look around.
via Art Is Beauty
Super Market Shopping List Sign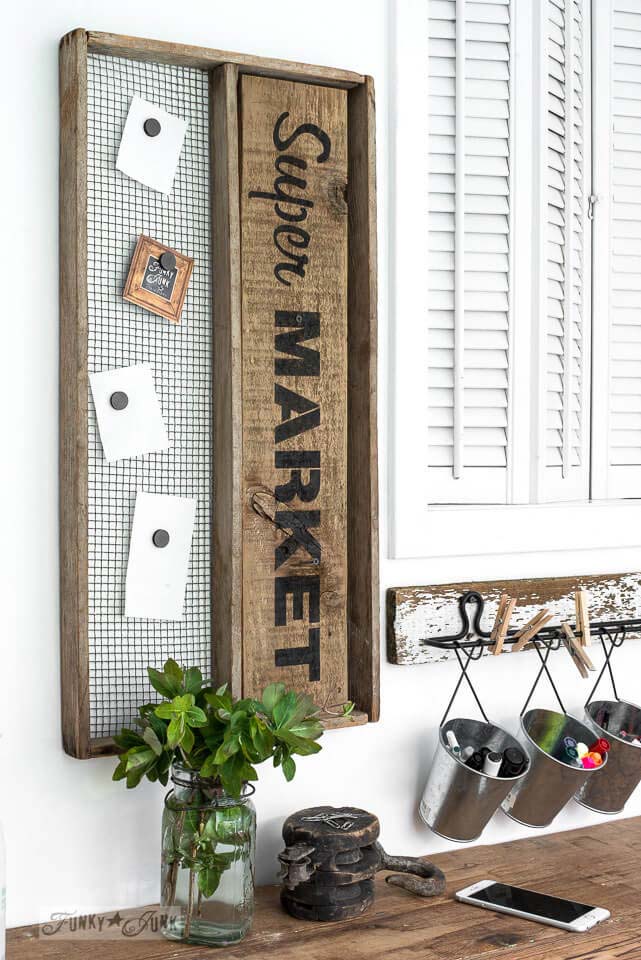 We are used to leaving notes on the fridge. But how do you feel about making a special place for these in the kitchen?
This great idea comes as a rustic sign which has a special compartment for notes.
Thankful Grateful Blessed Pallet Wood Sign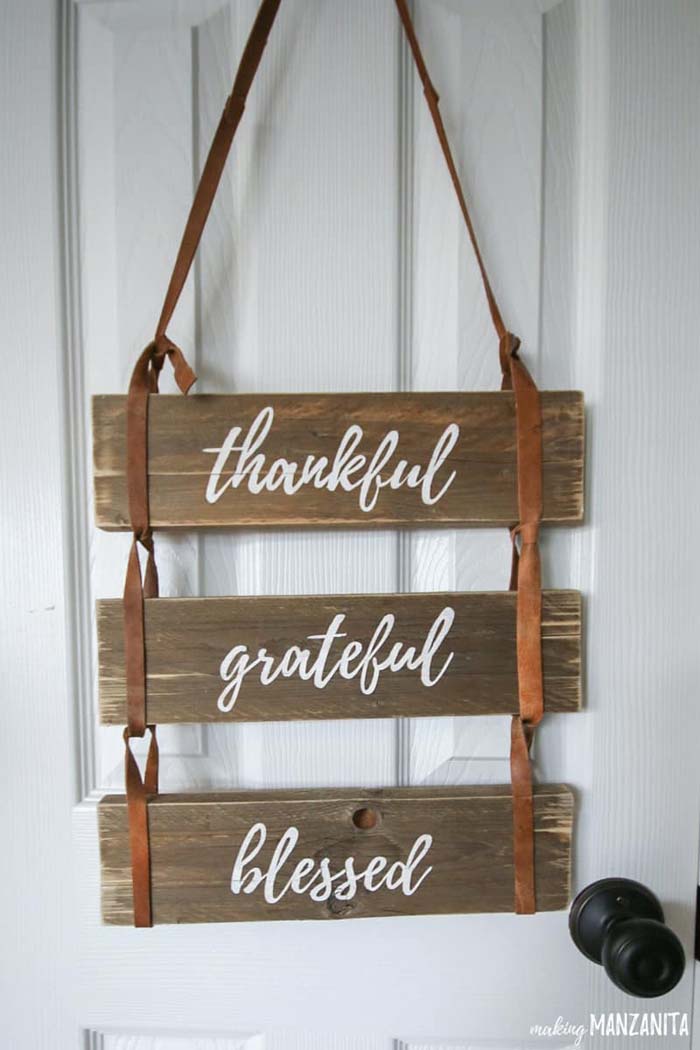 This sign could be a great addition to the fall decor of your home or can be a permanent decoration if you live these values.
The special rustic effect is achieved through the weathered look of the slats and the leather stripes.
via Making Manzanita
Wood Pallet Love Quote Art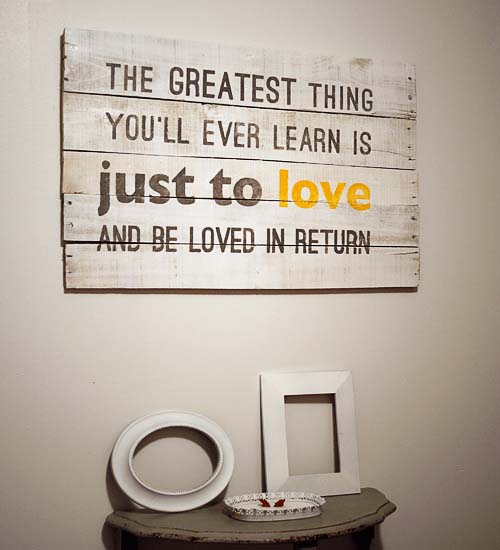 Such large piece of art can quickly become an appreciated decoration above the sofain your living room. Its size and the color choice will easily grab the attention.
If the statement inspires you, feel free to download it. You can always look for other meaningful phrases to transfer on your pallet background.