Your bed's headboard is probably the most notable element in your bedroom decoration and really gives the room its uniqueness. There are a lot of different types and headboard styles on the market.
There are wooden, satin, leather, metal, cheap and expensive. It is easy to buy one, but it is important to combine it with the appropriate ambient and the rest of the furniture in your bedroom.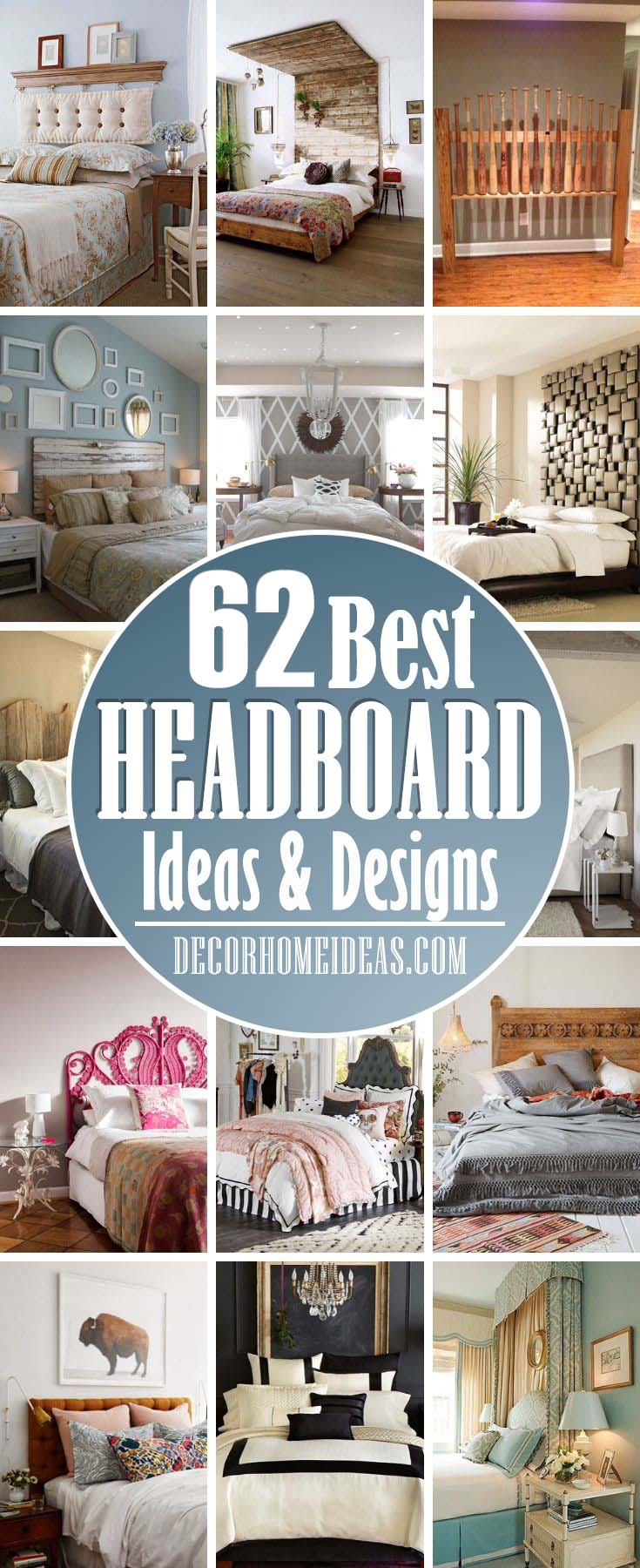 Knowing how hard this could be, we prepared for you a set of 62 amazing and cool headboards you can buy, from big to small and from retro to futuristic. Besides that, in this list we also have the best DIY ideas that can be easily made at home using vintage, forgotten stuff from your attic.
1. Art Gallery Headboard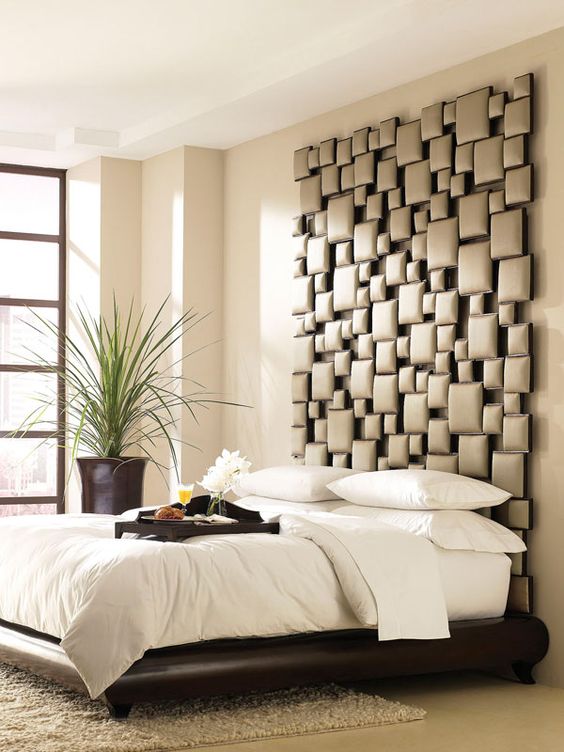 Photo: Credit
Our first proposal is to use a collection of different-sized art store canvases to create an artsy, gallery headboard wall. Paint them in a semi or high-gloss, bold color to get a contemporary look, like the bedroom shown above.
You can also use recycled cardboard boxes if pre-stretched canvases are expensive. In order to add dimension paint the sides in a contrasting color.
2. Black and White Headboard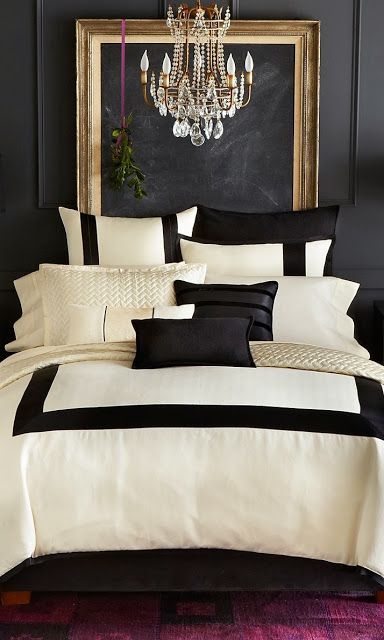 Photo: Credit
This bedroom design is proof that black and white is always a good idea, even when it comes to bedroom design.
Some may say that a black and white combination is too dark for a bedroom, especially when we use black walls, but as you can see on this room decoration, it all depends on how you create the decor of the space. In order to get the luxury interior design the perfect piece can be a crystal chandelier.
3. Vintage Map Headboard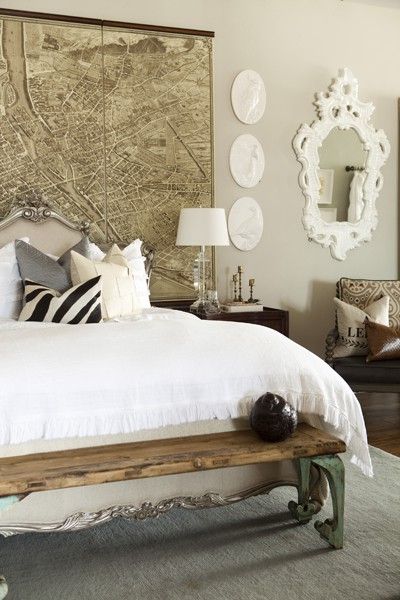 Photo: Credit
If you want a gorgeous eclectic bedroom design, you can combine a headboard with vintage map wall art, French headboard, vintage wood bench, zebra pillow, gray pillow, gray rug and fairy tale mirror with white frame.
4. Aqua, Gold and White Drapery Headboard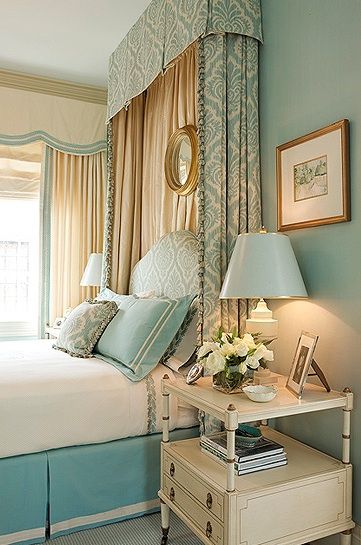 Photo: Credit
One more great idea is to use aqua, gold and white drapery headboard alone or layered to add depth, color and drama to your bedroom.
If you want to say hello to yourself in the morning a rounded mirror with a golden frame will be a great combination with this drapery.
5. Silver Headboard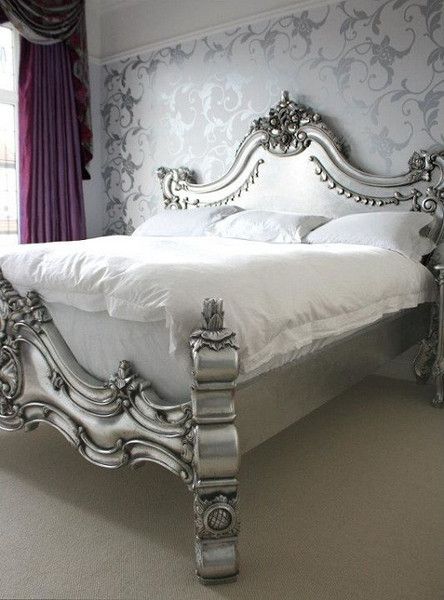 Photo: Credit
Silver tones are considered as a color of luxury in interior design, with a feeling of comfort and relaxation.
With this silver headboard design, you will transform your bedroom into a luxurious and glamorous space.
6. The Simplicity of Gray a Headboard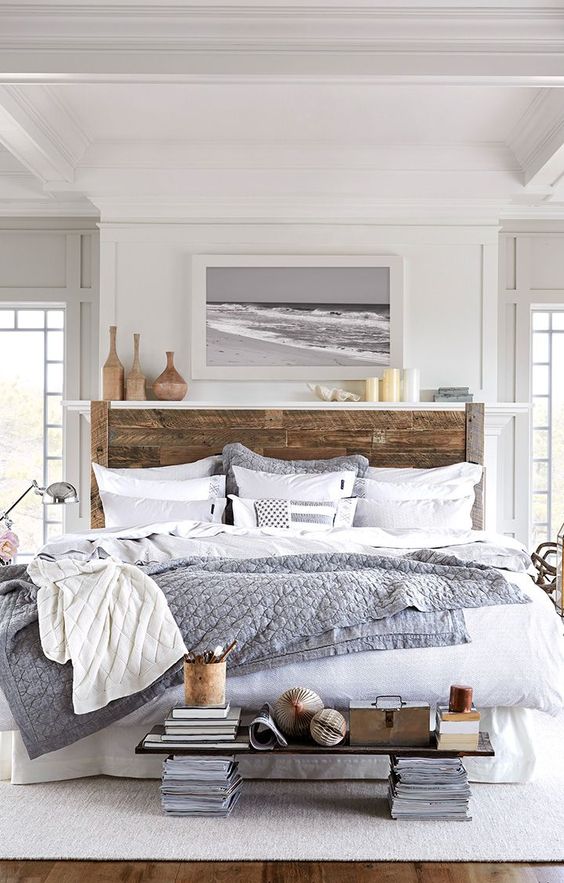 Photo: Credit
The simplicity of grey, white and soft blue is a brilliant balance of warm and cool and the vibe they give out is ideal for any sleeping space.
You can also add an eye-relaxing picture of some seascape to your headboard and decorate the shelf over your head with some vintage bottles.
7. Dainty Print Headboard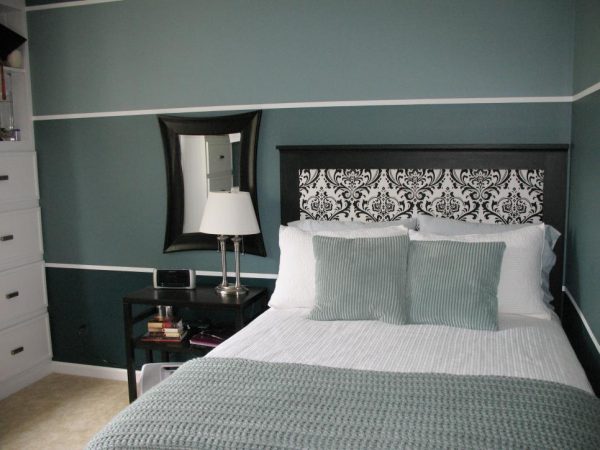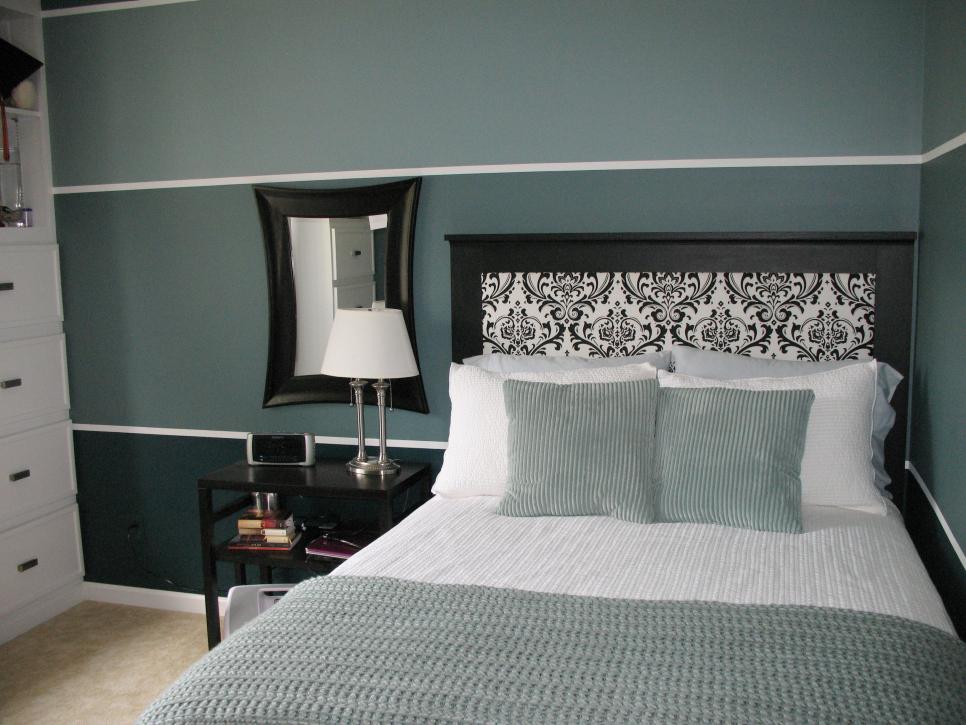 Photo: Credit
What really makes this bedroom pop is the contrast between the wall stripes and the dainty print on the headboard.
Thanks to a combination of teal, black and white this space can represent virtually any age.
8. Tall Tufted Headboard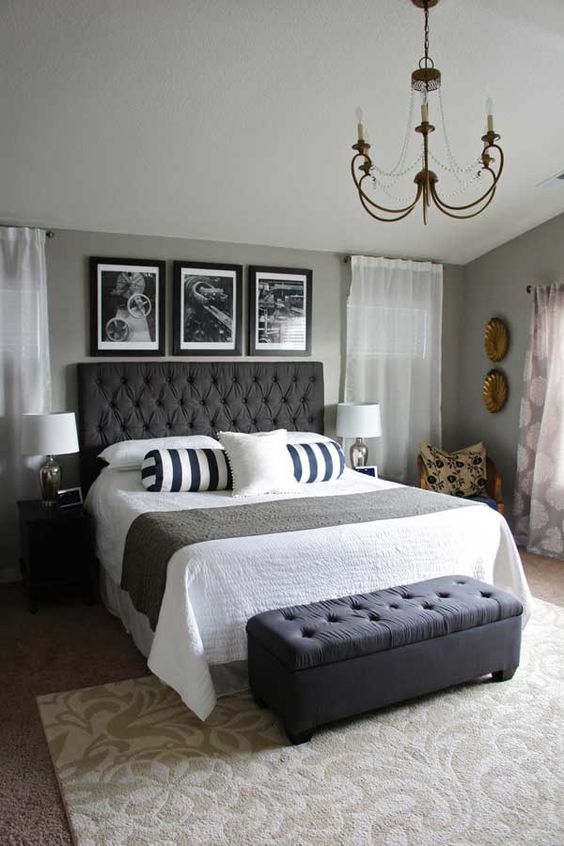 Photo: Credit
This is a tall tufted, gray headboard with the popular beige color over it. This headboard can be combined with a huge bolster pillow.
9. Rustic Country Headboard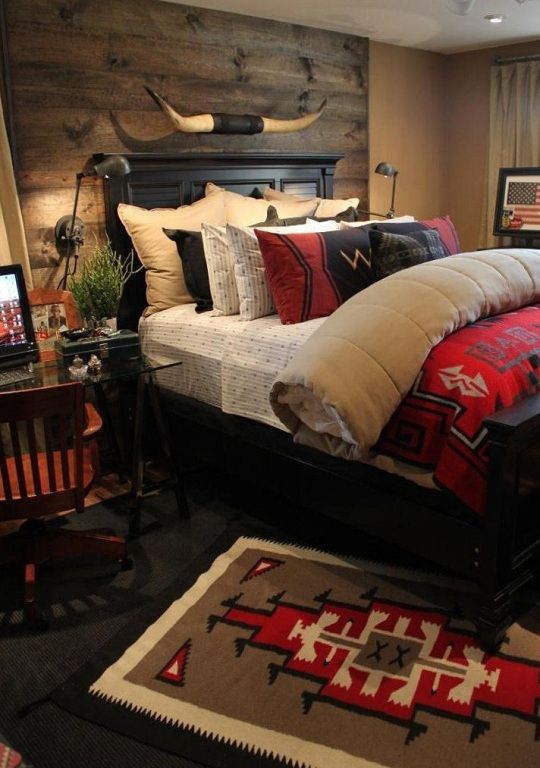 Photo: Credit
For the fans of domestic, warm, country atmosphere there is a wooden headboard that could be decorated with some hunter trophy like the longhorns shown in the picture above.
10. Girly Headboard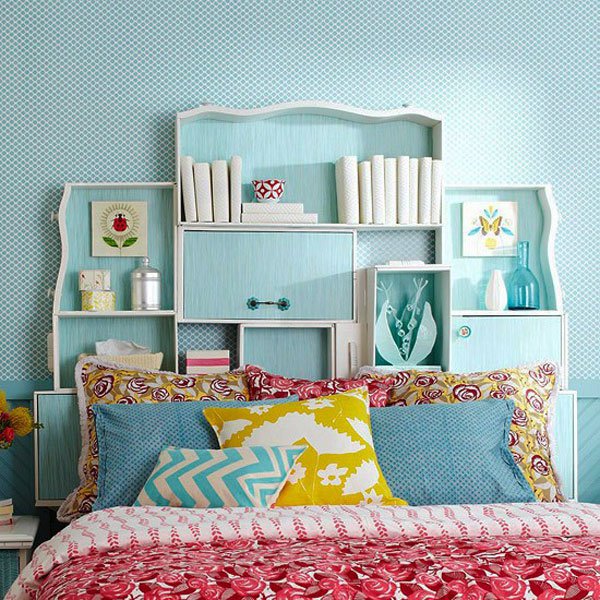 Photo: Credit
Besides being incredibly cute and original, this girly, gentle-looking headboard also comes in very handy, because you can also use it as shelves or storage space.
11. Autumn Inspired Headboard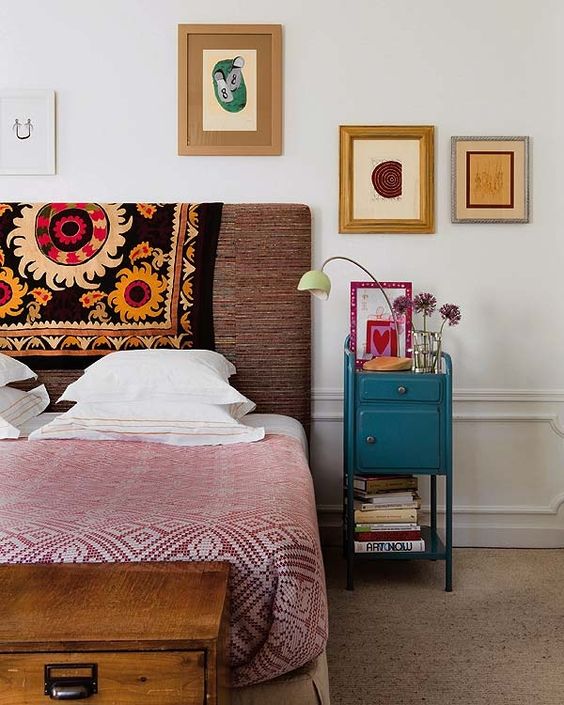 Photo: Credit
Your bedroom doesn't have to be a soothing, neutral decor.
In case you want something a bit brighter, a bit more eclectic, then this autumn-inspired headboard is a great solution for you.
12. Opulent Elegant Headboard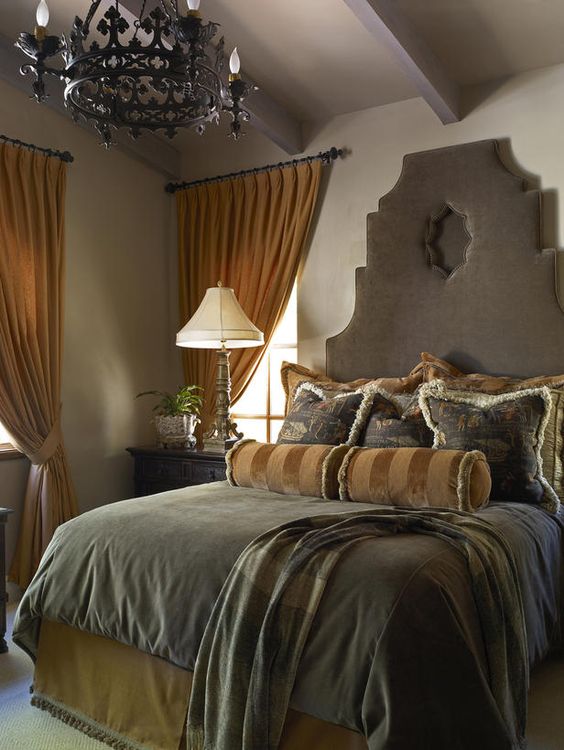 Photo: Credit
Here is a stunning pearl gray statuesque headboard which highlights the gray ceiling beams.
The gray palette is complemented with lush gold drapes that flow over into the lamp and linens.
13. Bright and Bold Cottage Headboard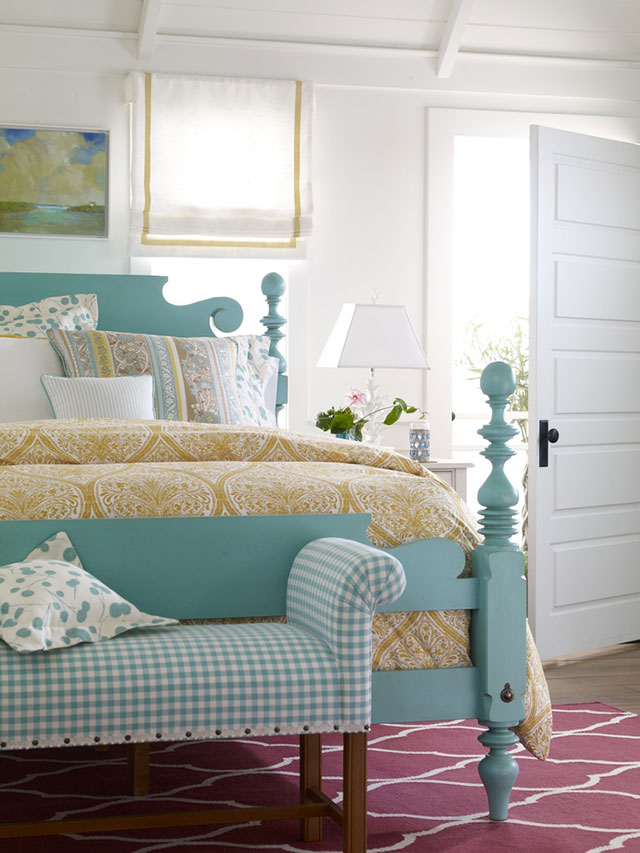 Photo: Credit
This is definitely a bright and bold spin on traditional cottage styles, and it will definitely breathe new life into your bedroom. 
One more great inspiration for your bedroom is a cool blue headboard combined with yellow details and brightly painted walls.
14. Leather Headboard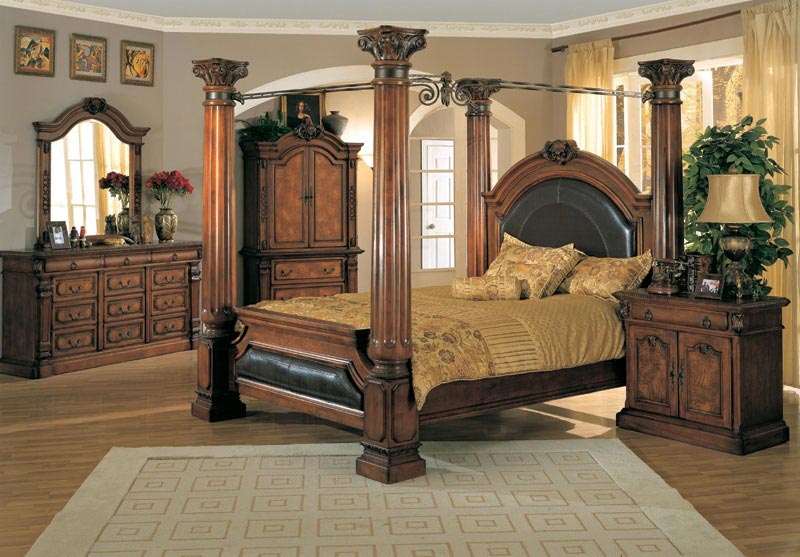 Photo: Credit
If you choose to buy a king-size bed, then you should try the combination of leather and wood for your headboard that will give your bedroom vintage and luxurious look.
15. Gray Wooden Headboard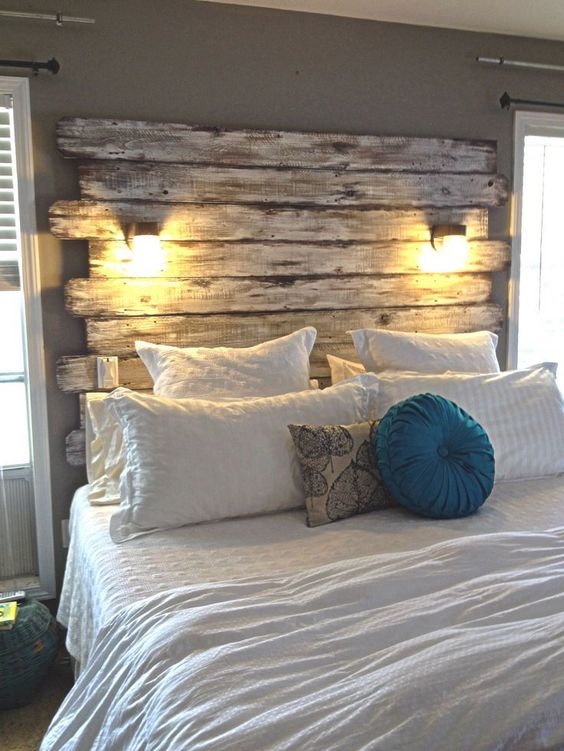 Photo: Credit
For young people who like simplicity, a light gray wooden headboard, would be a great choice.
This design is refreshed with two symmetric night lamps, perfect for a bedroom reading session.
16. Refreshing Orange Headboard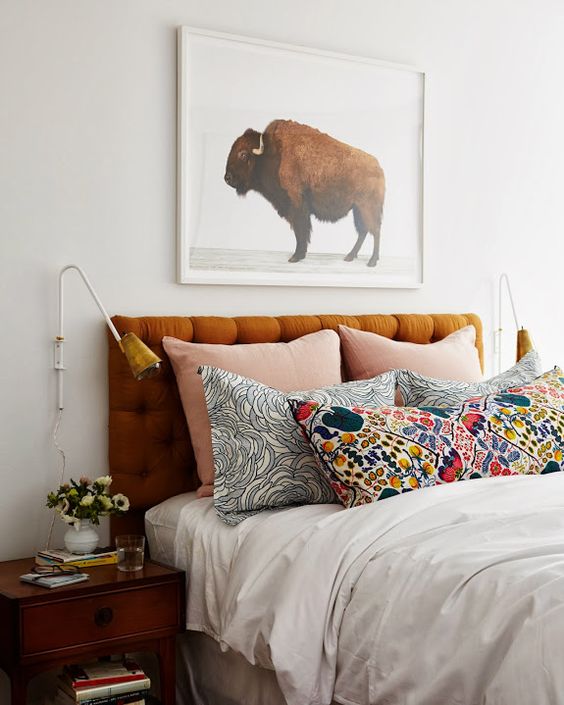 Photo: Credit
If you need refreshment, go with an orange, tufted headboard that looks great with colorful pillows and flexible yellow night lamps.
17. White Fairy Tale Headboard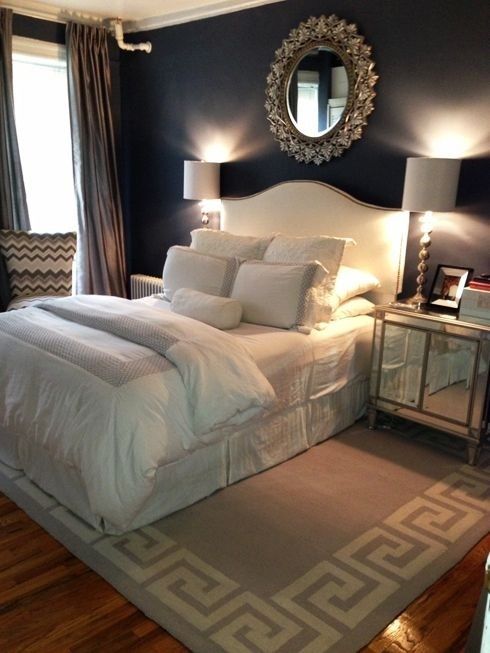 Photo: Credit
For those who'd like to have fairytale dreams, here is the bedroom with a beautiful white, curled headboard perfectly, combined with a navy blue wall, a round mirror with a silver frame and two elegant white night lamps.
18. Simple Gray Headboard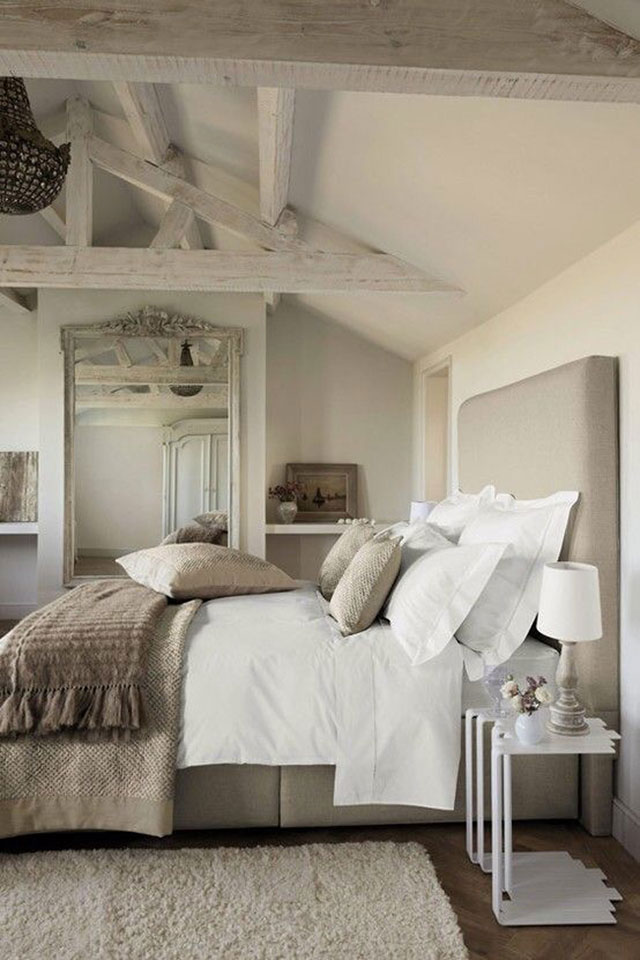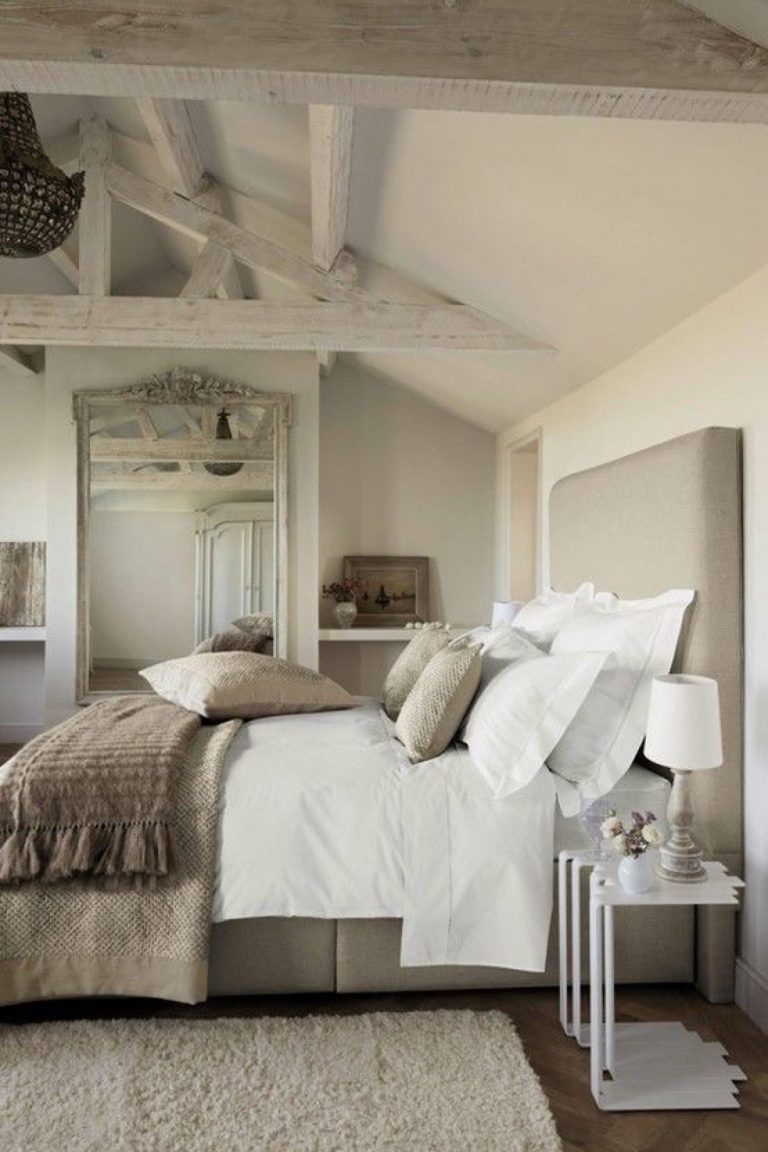 Photo: Credit
For those who like the simplicity here is a simple, but an outstanding bed with a tall, flat, gray headboard.
The design is finished with a large vintage mirror and white beams instead of a common ceiling.
19. Exotic Cane Headboard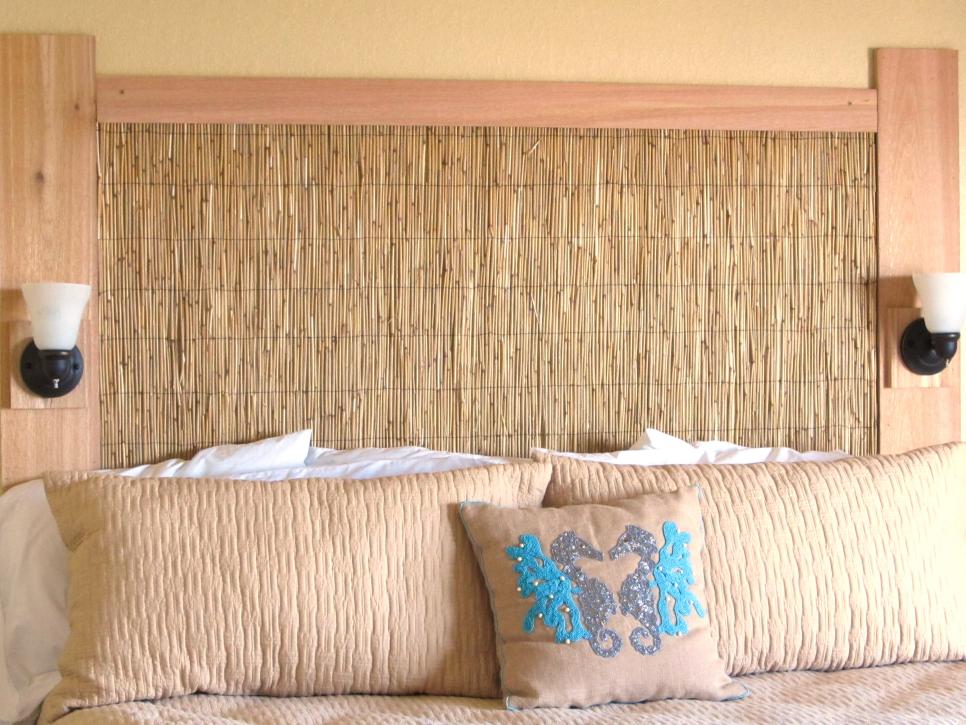 Photo: Credit
This headboard made of powder pink wood with a cane in the middle and two white lamps fixed will make your room exotic and different.
20. Elegant Leather Headboard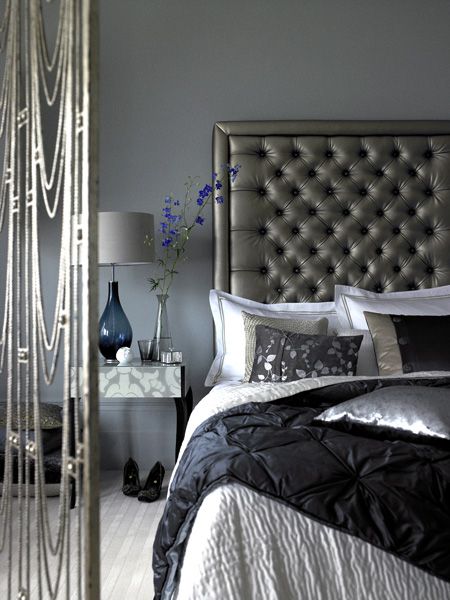 Photo: Credit
Want something elegant, sophisticated for your bedroom?
How about a dark gray, leather tufted headboard combined with silver and navy blue details and bedsheets?
21. Light Summer Headboard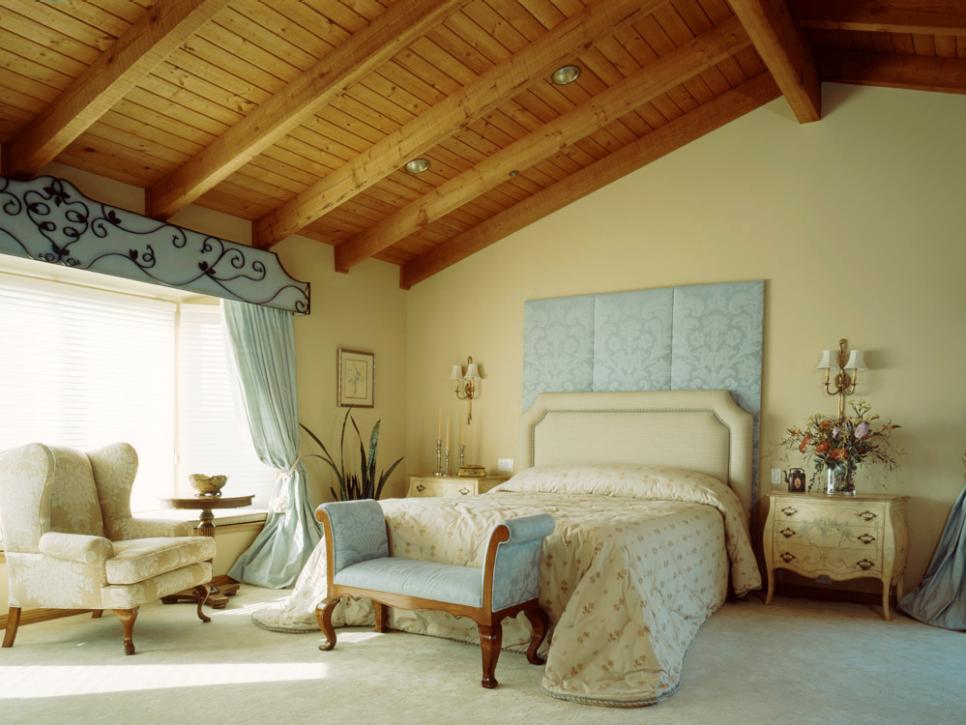 Photo: Credit
If you like a lot of light, summer colors think about the white leather headboard with beveled corners and the sky blue wall with ornaments behind it.
 22. Sleeping Beauty Headboard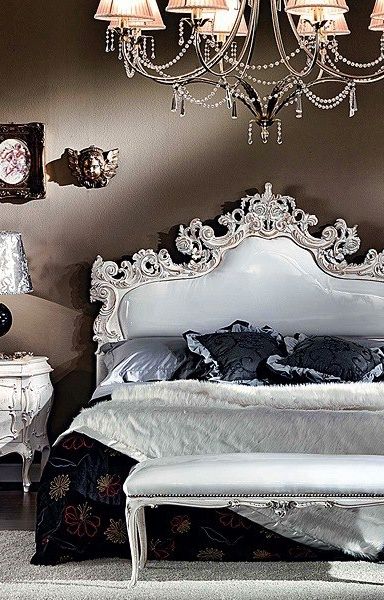 Photo: Credit
Here is the silver headboard with the shape that reminds us of our favorite fairy tales that look great in combination with crystal chandelier and navy blue pillows.
23. Simple Black Headboard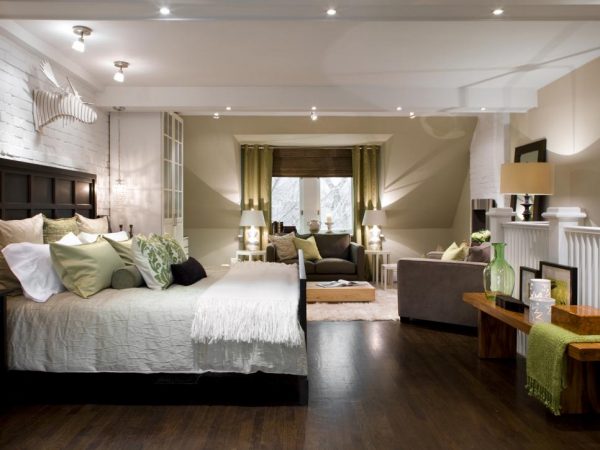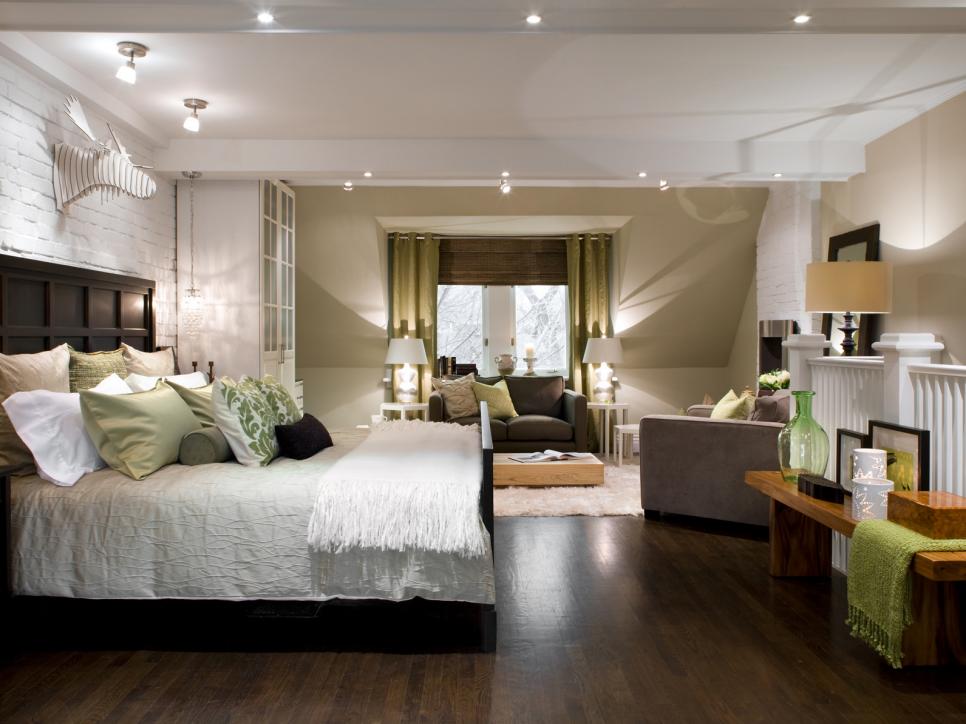 Photo: Credit
The simple, black wooden headboard with carved rectangles would be a great solution for a bedroom with wooden parquet and light walls.
The white wooden deer detail above it will give this simple room a very special look.
24. Moroccan Themed Headboard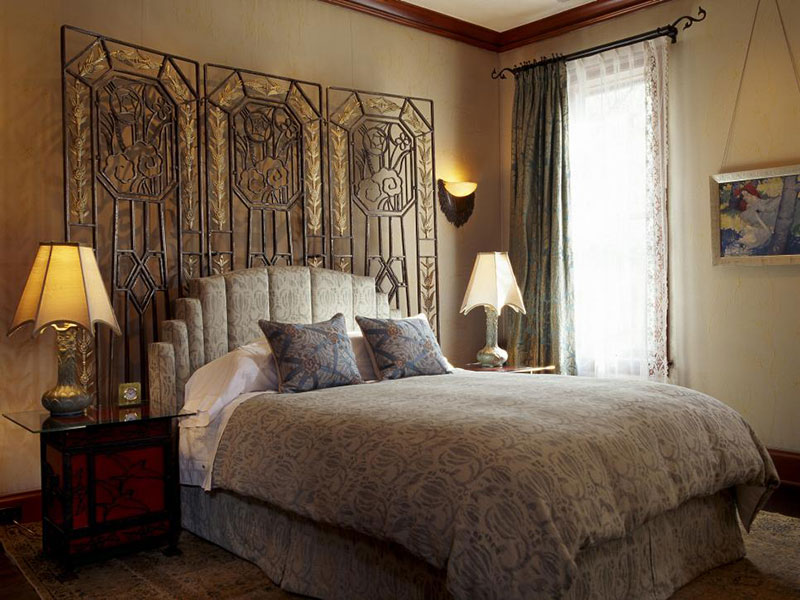 Photo: Credit
Want to feel the touch of the orient? Choose this Moroccan-themed headboard, decorated with dark colors and lots of details in a golden shade.
 25. Upholstered Headboard with Nail Head Trim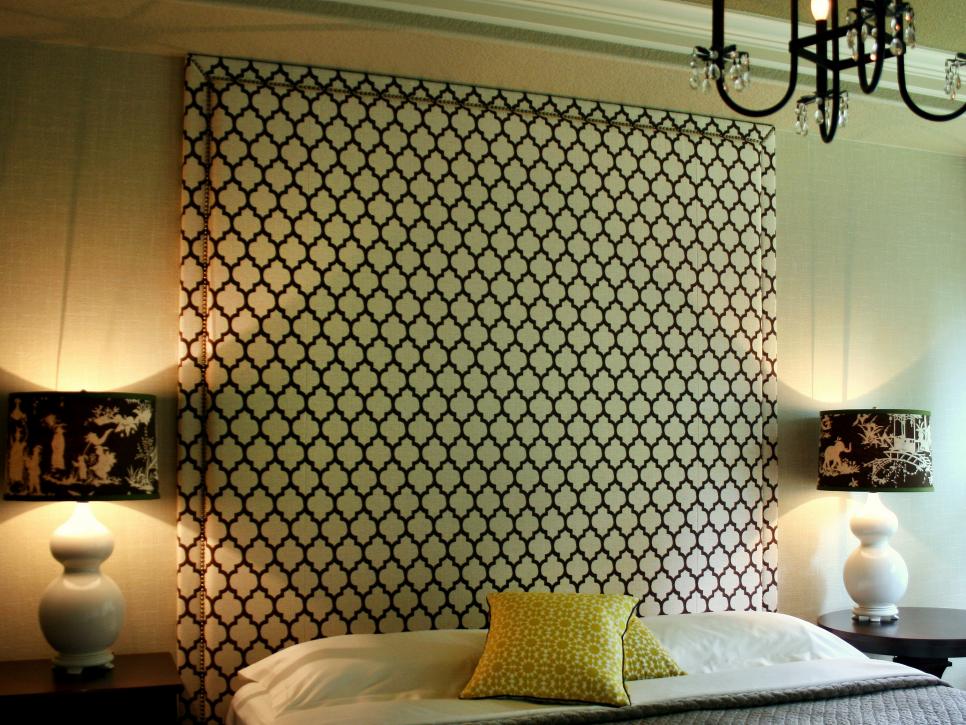 Photo: Credit
If you prefer an absolutely elegant and bold statement, this upholstered headboard with nailhead trim is definitely what you need.
26. French Style Headboard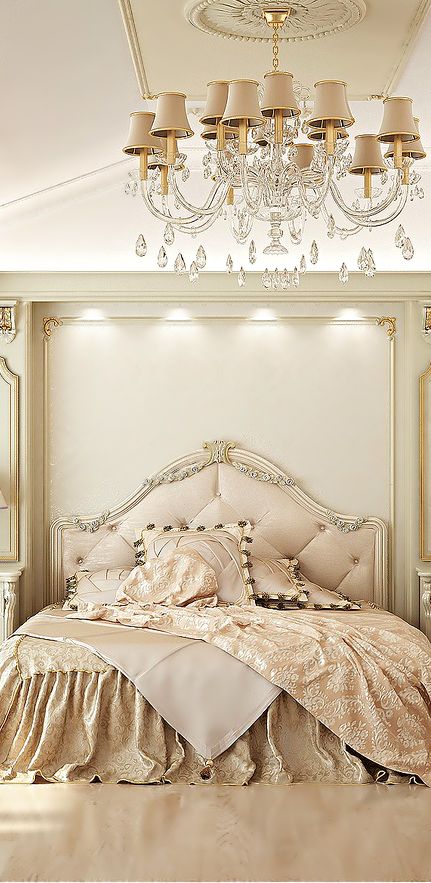 Photo: Credit
French-style furniture is generally quite expensive, especially the timeless style inspired by Louis XVI, but if you can afford it to yourself we propose you a French white headboard with a characteristic shape and beautiful elegant details.
27. Classic Metal Headboard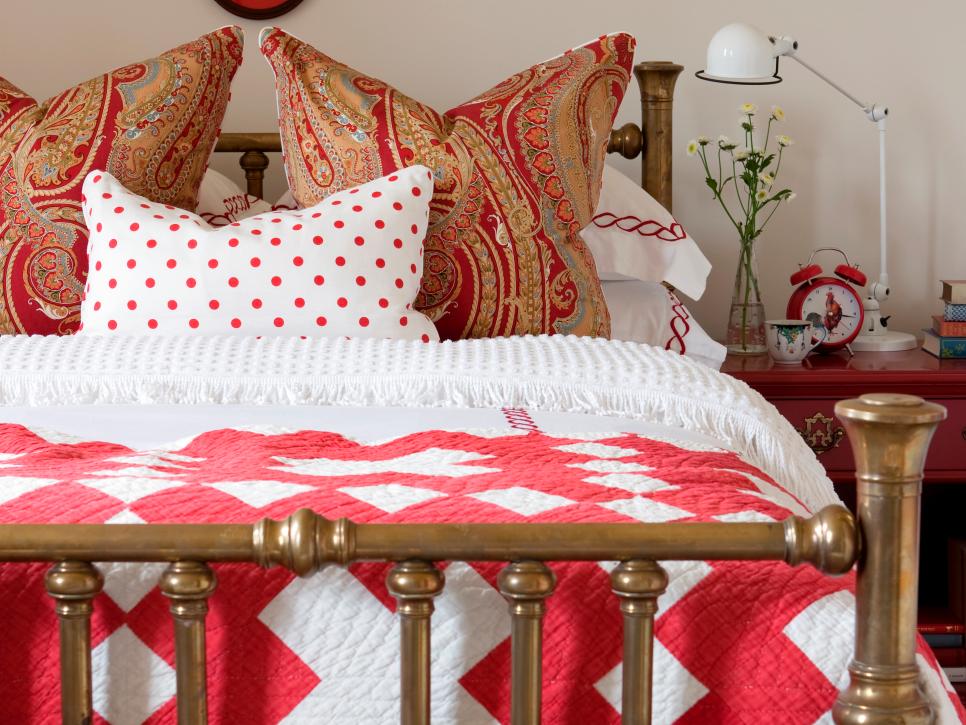 Photo: Credit
The classic metal headboard will look great mixed with different types of bed sheet's prints such as floral, check, geometric, stripe, polka-dot, paisley, toile, or plaid.
28. Gothic Church Headboard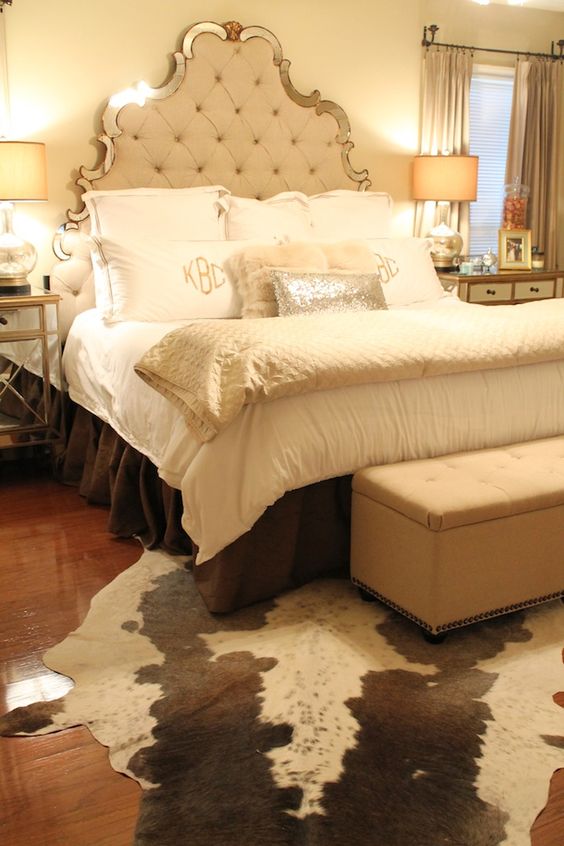 Photo: Credit
For those who love vintage styles, this Gothic church white tufted headboard with a gold curled frame will be a perfect solution.
29. Boy's Headboard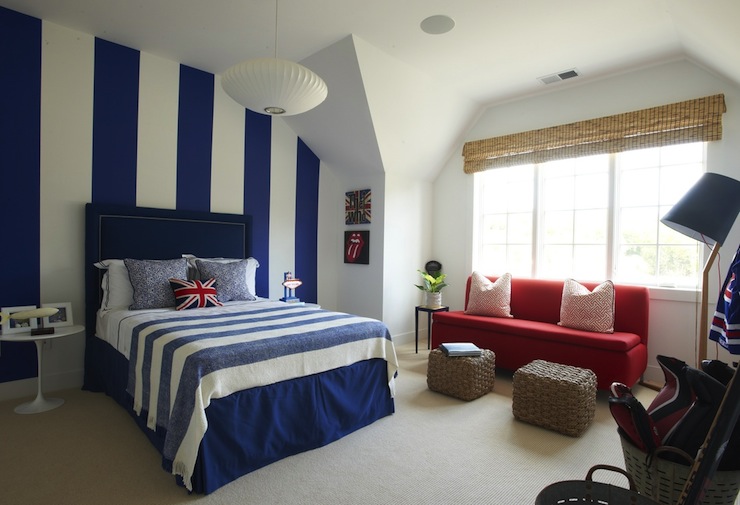 Photo: Credit
The blue velvet headboard with silver nail head trim is perfect for a boy's bedroom with a striped white and blue vertical accent wall.
30. Coral Headboard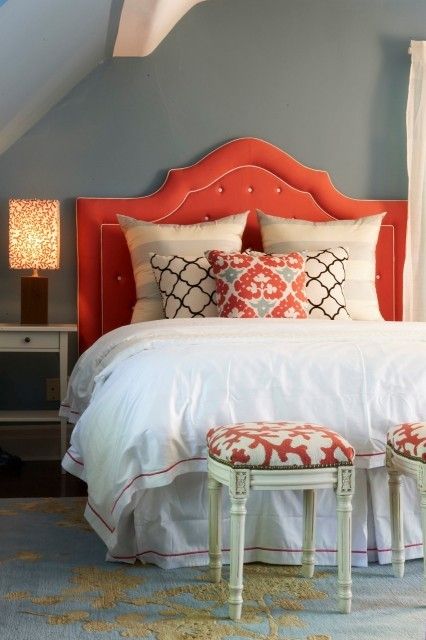 Photo: Credit
This coral headboard is warm and youthful, and it looks amazing with warmer metals like brass and gold, or paired with darker neutrals like mocha, charcoal gray, and smokey blue.
31. Peacock Pink Headboard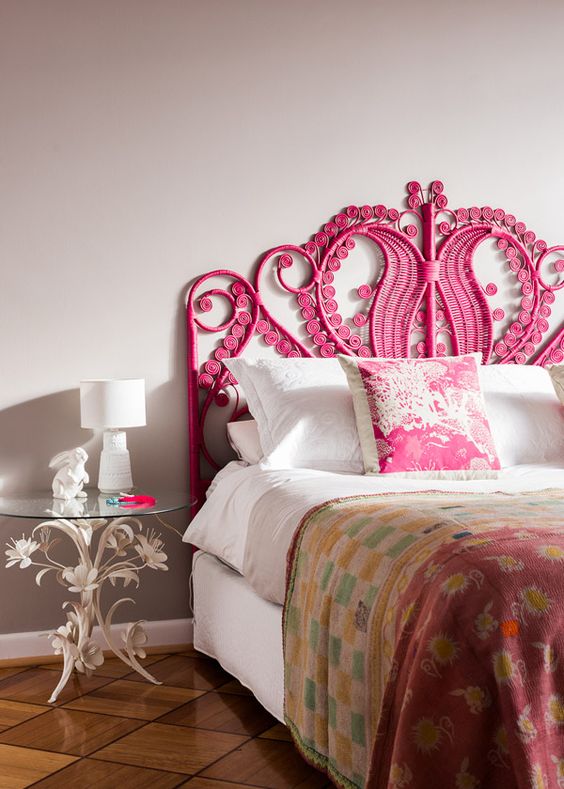 Photo: Credit
The peacock pink headboard looks awesome in combination with a vintage quilt and glass night tables. This is a perfect design for a girly bedroom.
32. Boho Headboard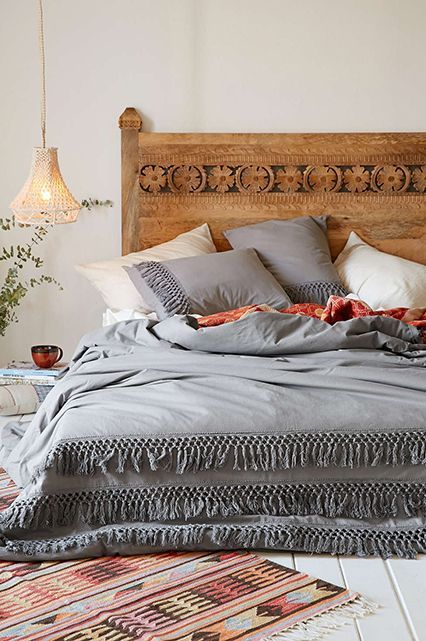 Photo: Credit
For the fans of the boho style we prepared this beautiful boho wooden headboard with carved flowers. This can be combined perfectly with a multicolor ethnic print carpet.
33. Cottage Headboard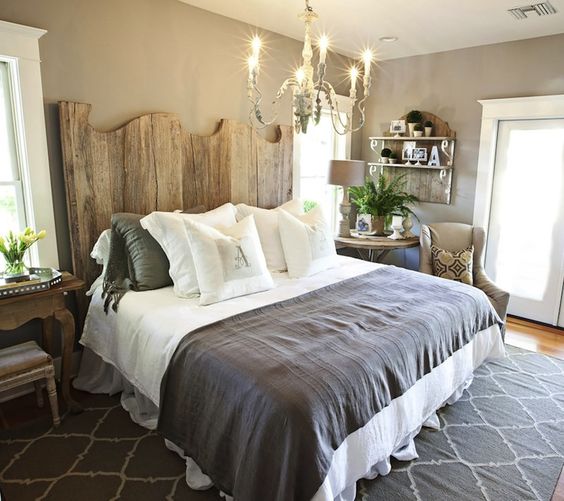 Photo: Credit
This massive wooden headboard would be a perfect combination with taupe walls, gray blanket shams and gray antique chandelier.
34. Girly Green Headboard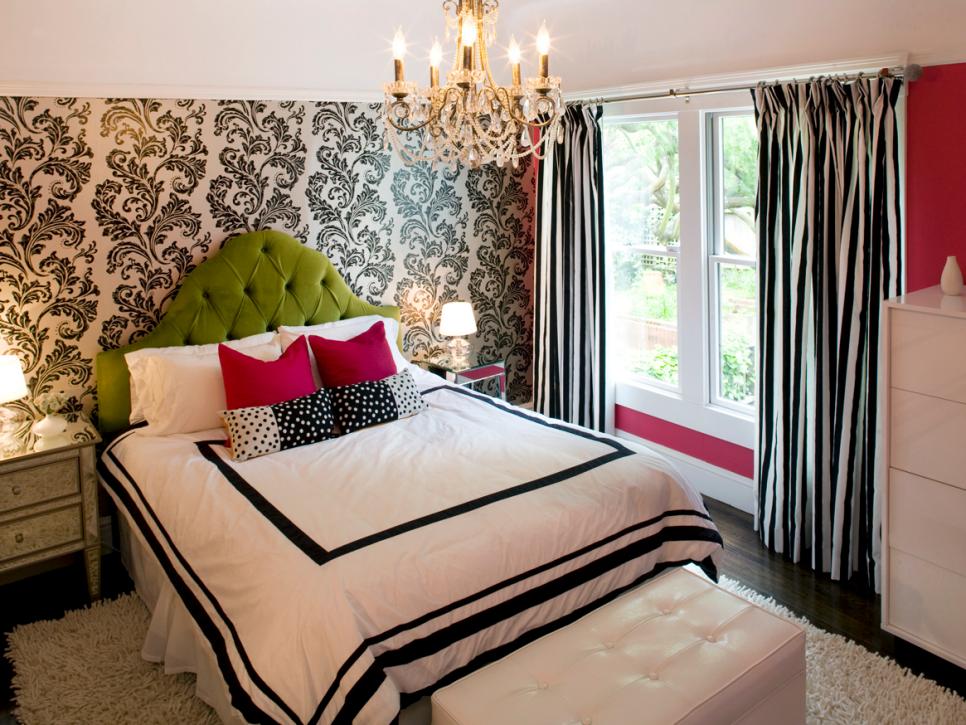 Photo: Credit
A girly green tufted headboard can be very a refreshing detail. Combine it with black and white lines on the curtains and black and white wallpaper with ornaments.
 35. Tufted Gray Headboard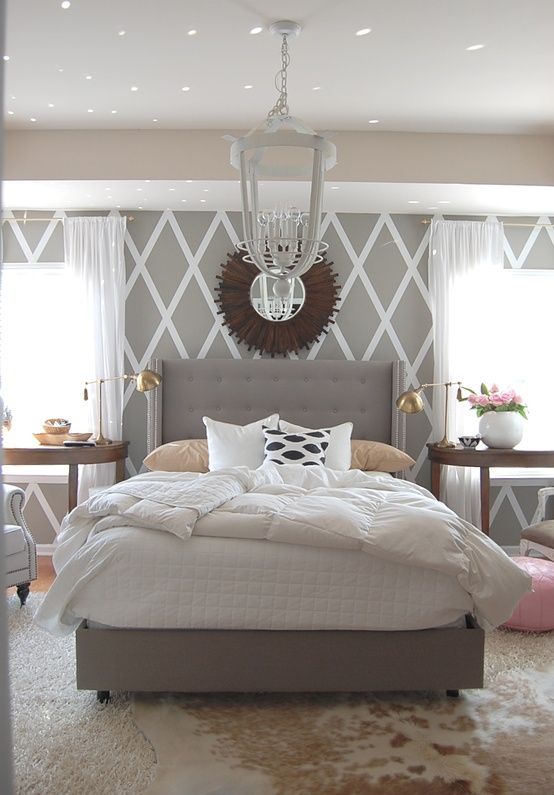 Photo: Credit
The tufted leather gray from the photo can be combined with almost everything. In this example, it looks great with a diamond pattern accent wall.
 36. Icy Blue Headboard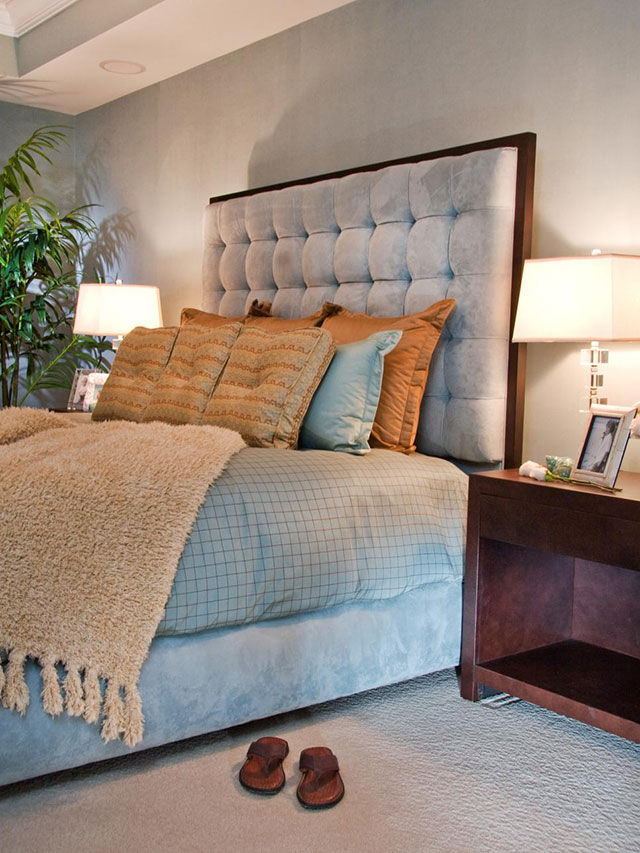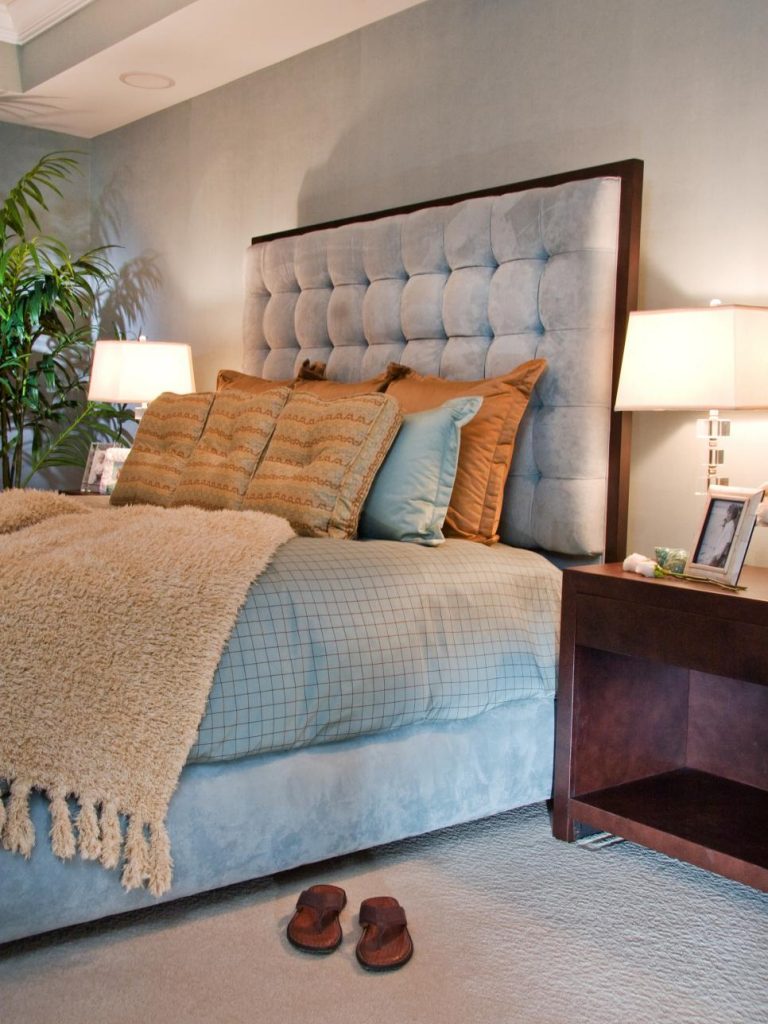 Photo: Credit
This beautiful tufted headboard was inspired by sophistication with a healthy dose of comfort.
A cool, icy blue suede was used in order to complement the contemporary bedroom and provide a gorgeous backdrop for the toffee and ice-colored bedding.
37. Peacock Turquoise Headboard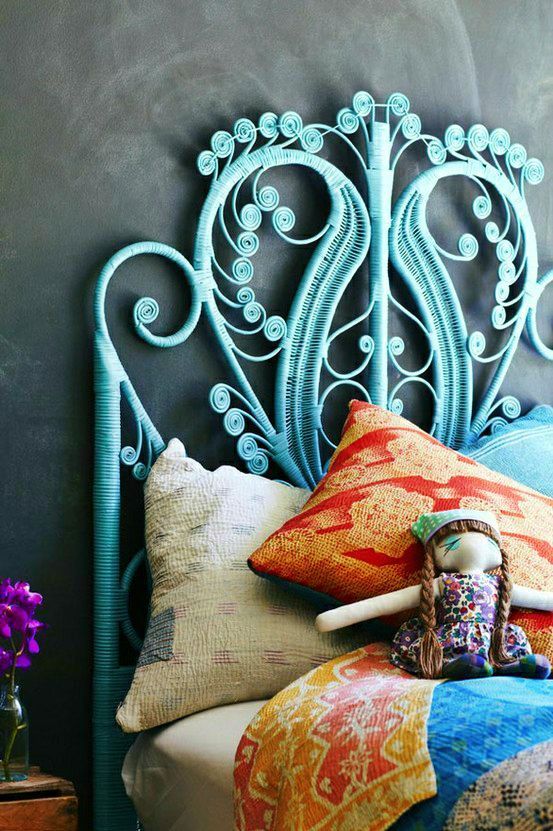 Photo: Credit
We have one more girly proposal for you with a turquoise peacock headboard that suits great with beautiful, colorful bed sheets.
38. Wrap-around Headboard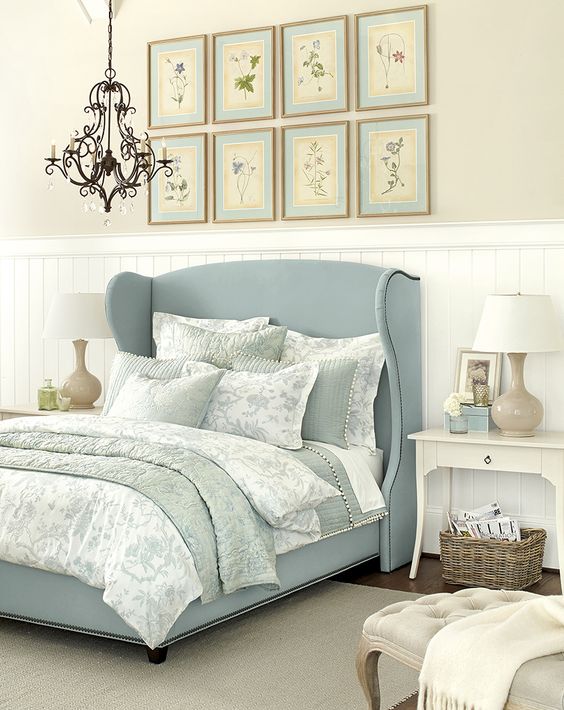 Photo: Credit
The graceful wings of this adorable sky blue headboard will envelop you in cozy and wrap-around comfort. The headboard would be perfectly combined with two rows of simple, vintage botanical illustrations.
 40. Brown and White Headboard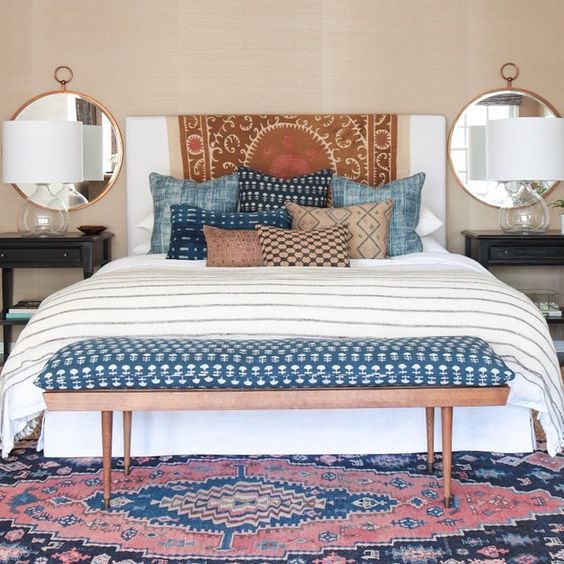 Photo: Credit
This oriental, brown and white headboard with ornaments can be perfectly combined with symmetrically rounded mirrors behind the nightstands.
41. Vintage White Headboard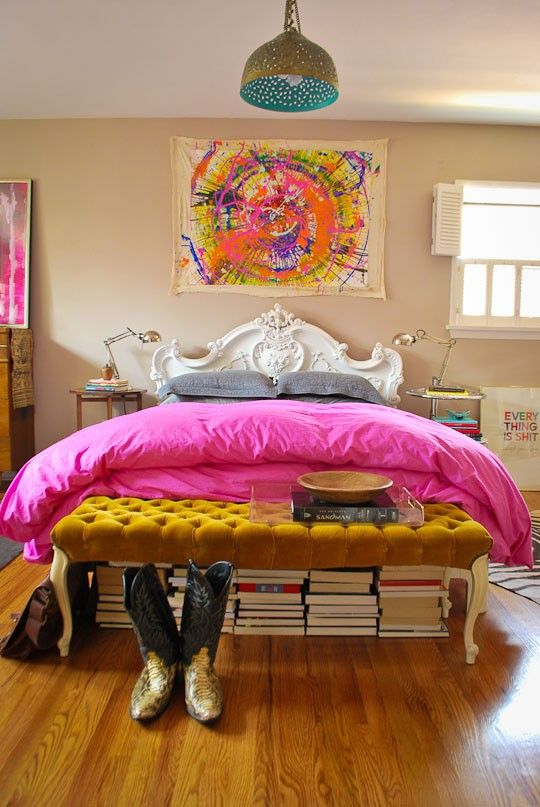 Photo: Credit
The vintage white headboard in combination with the vibrant pink comforter on the bed and the yellow velvet ottoman with a tufted design creates a distinctly perky and chic ambiance in this eclectic bedroom.
42. The Upholstered Black Headboard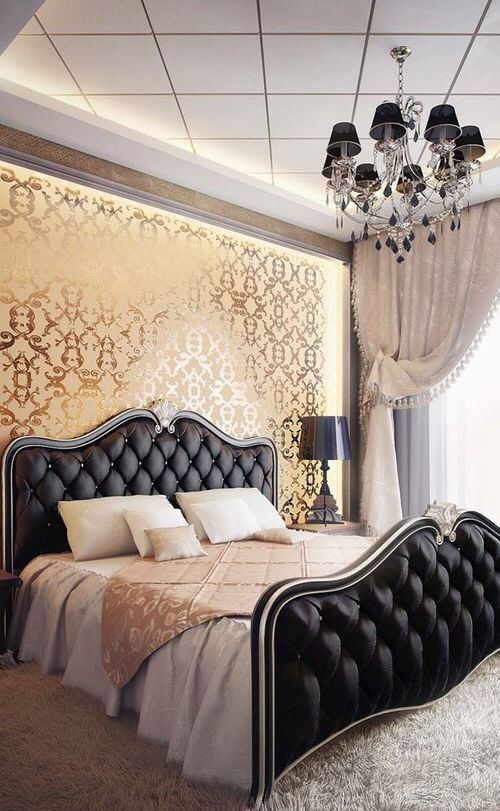 Photo: Credit
The upholstered headboard in combination with black, and gray area rug and gold wallpaper design makes this bedroom really luxurious and plush.
 43. Twin Headboards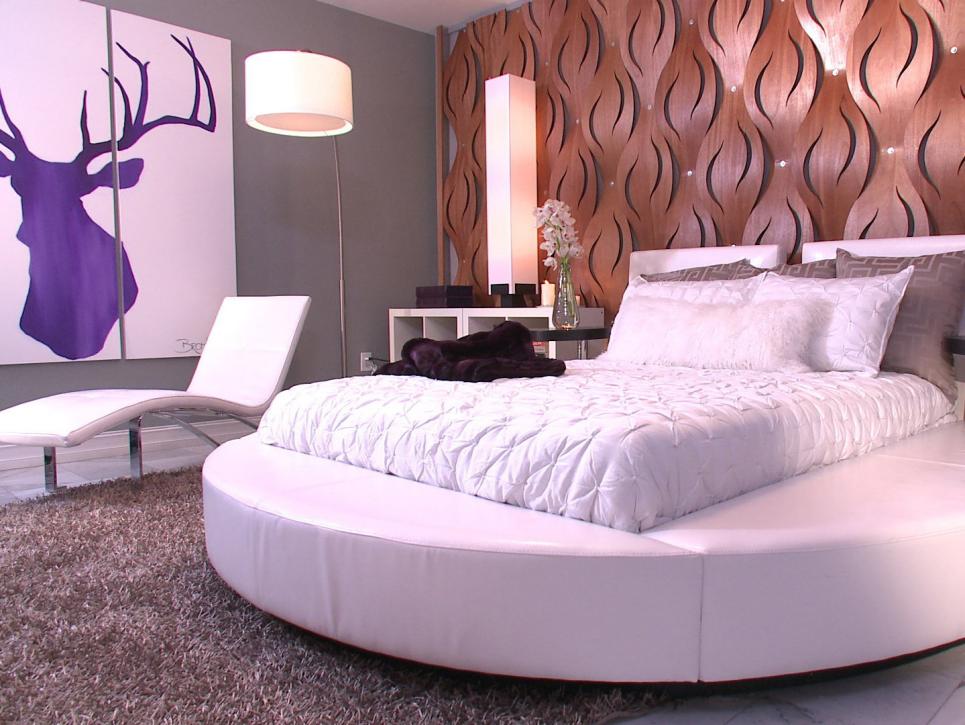 Photo: Credit
These minimal twin headboards, covered in the same sleek, white vinyl as the rest of the bed, provides a comfortable spot for lounging without visually competing with the focal wall.
 44. White and Blue Headboard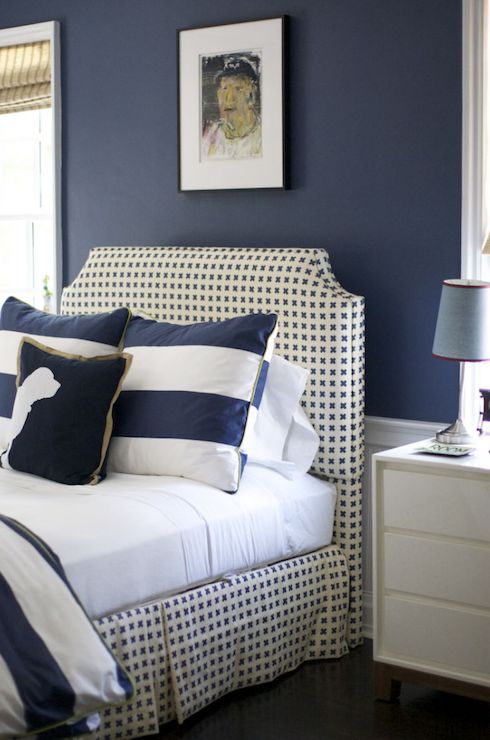 Photo: Credit
The white and blue upholstered clipped corners boy's headboard with matching bed skirt is perfectly paired with white and blue awning stripe pillows, navy blue walls paint color, crisp white wainscoted walls and windows, covered in striped roman shades.
 45. The Upholstered Cream Headboard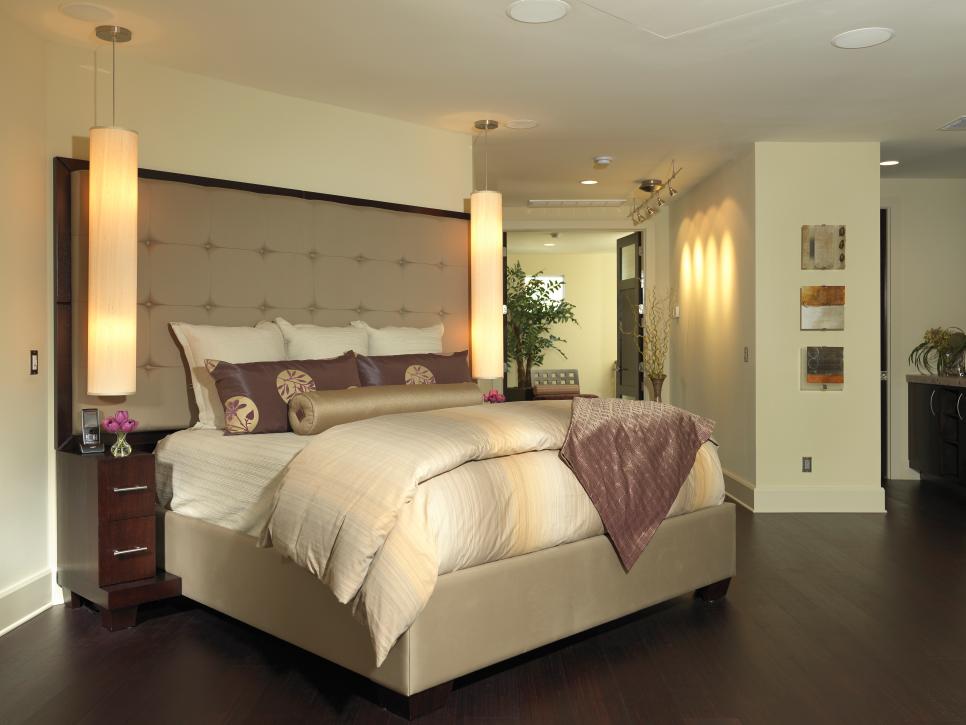 Photo: Credit
The upholstered cream headboard with pendant lights adds an interesting focal point to this bedroom making it a soothing oasis.
 46. Old Barn Door Headboard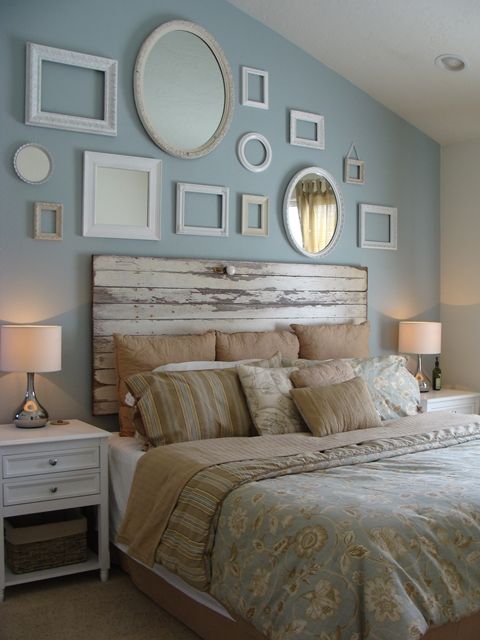 Photo: Credit
This interesting headboard can be easily made of an old barn door. In order to get a more dramatic look, you can make a collage of vintage mirrors on the wall along with some newer picture frames and just paint them all in shades of white.
47. Persian Headboard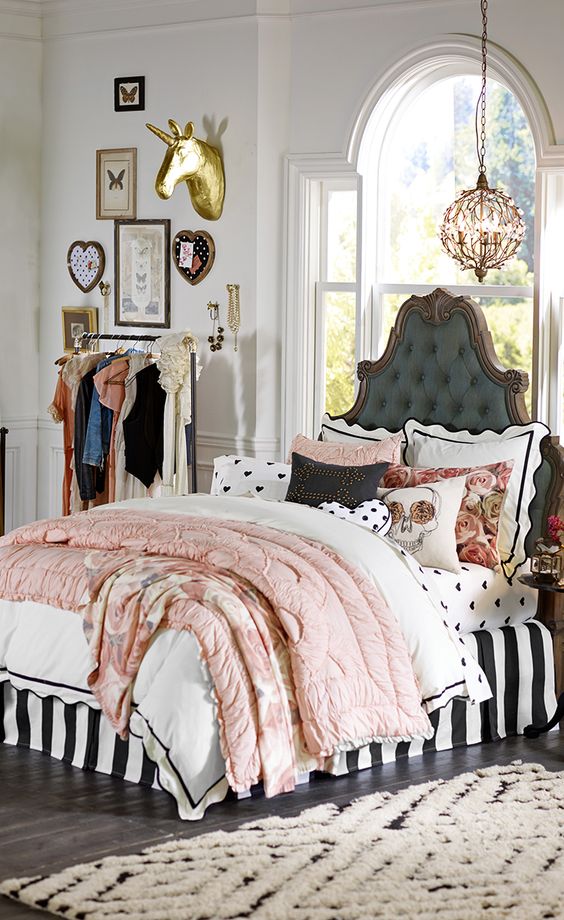 Photo: Credit
In case you want to add a little feminine frill to your sleep space use this Persian tufted black headboard with a pastel Persian quilt.
48. Hanging Headboard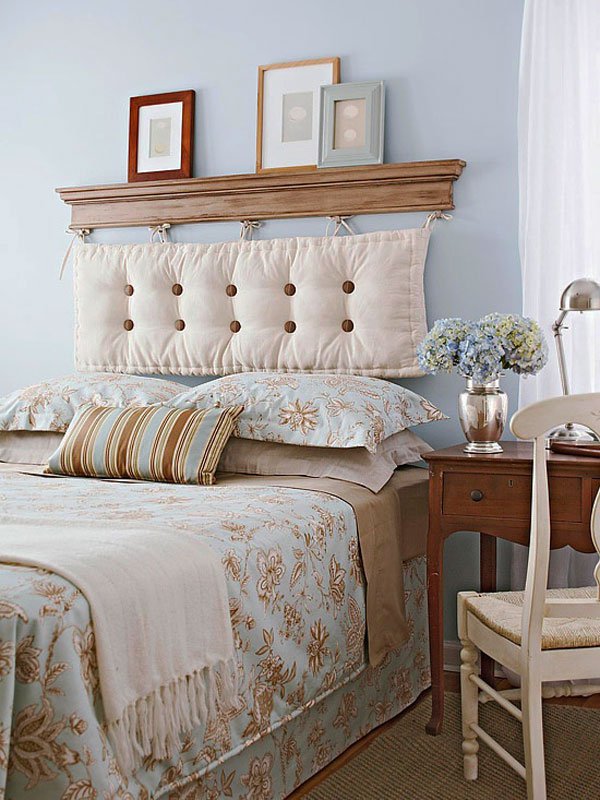 Photo: Credit
This perfectly padded cream and brown headboard hanging on the wooden shelf would be a great combination with light blue floral bed sheets and pillows.
 49. Pastel Wrap-around Headboard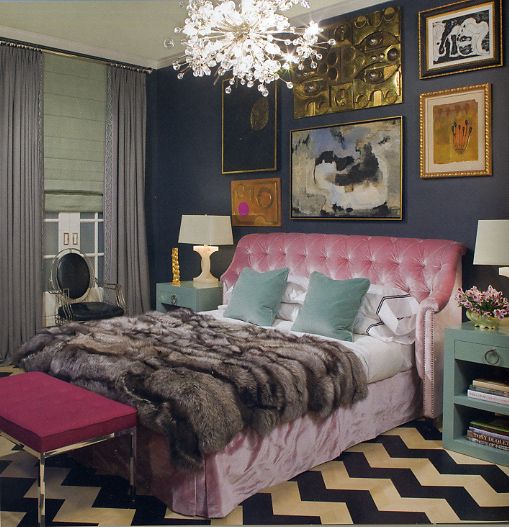 Photo: Credit
In order to make your bedroom cozy, choose a pastel tufted wrap-around headboard in combination with cozy fabrics in pillows, throws, and drapes like velvet, corduroy, or fur.
50. Black Headboard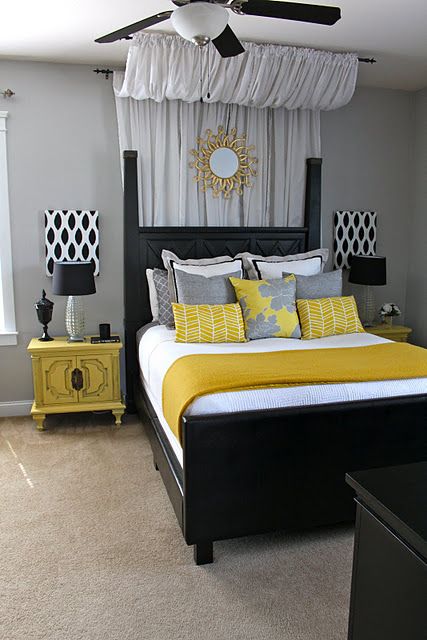 Photo: Credit
The black padded headboard works well together with white and yellow details. All of these colors look perfect in a combination of two. For example, gray and black work well together, and so do white and yellow.
51. Versace Golden Headboard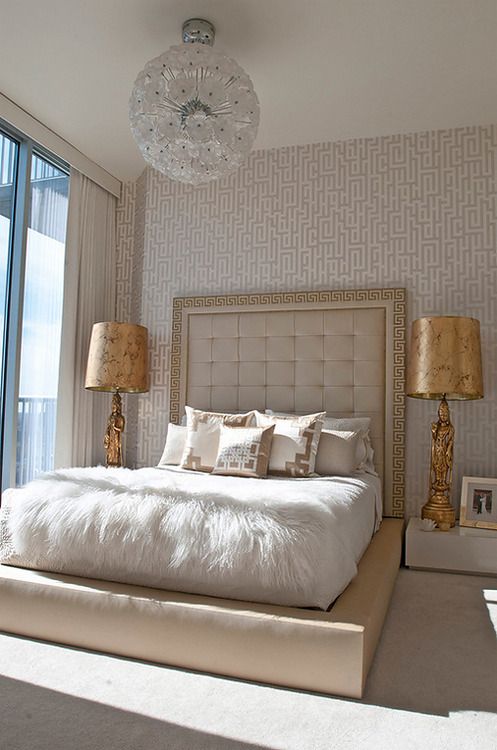 Photo: Credit
The plush scale of this cream-padded headboard with Versace golden frame matches great with the low nightstands and the statement gold lamps.
52. Silver Padded Headboard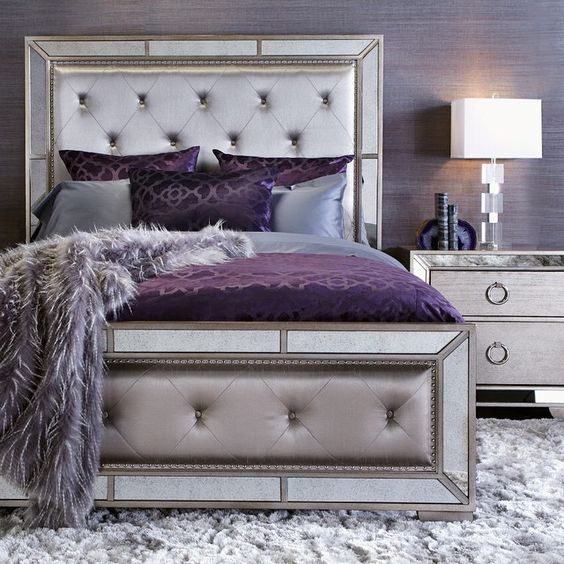 Photo: Credit
This silver padded headboard doesn't have to look cold if you add some passion to your bedroom with a purple accent wall, satin purple pillows and sheets.
53. Seagrass Headboard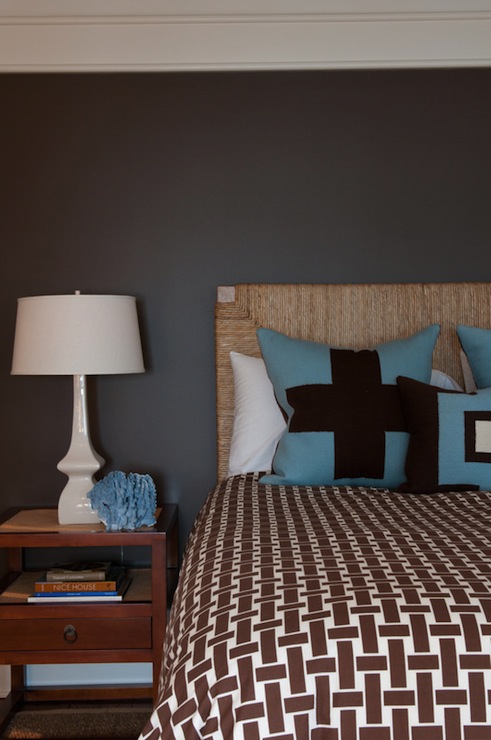 Photo: Credit
Make a perfect brown and blue boy's bedroom with a seagrass headboard, framed with dark chocolate brown walls and bed covered in white and brown lattice bedding with blue and brown geometric pillows.
54. Asymmetric Plank Headboard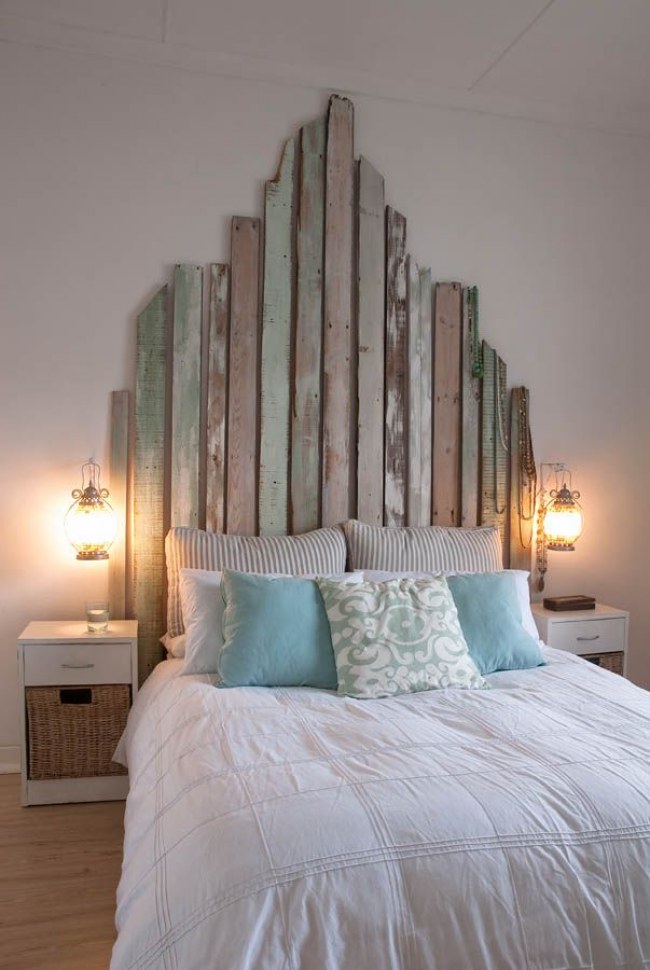 Photo: Credit
Add a nice rustic look to your bedroom with a headboard made of asymmetric planks that will complement the soft, pastel blues and whites, to create a very clean and comfortable space.
 55. Sailor's Headboard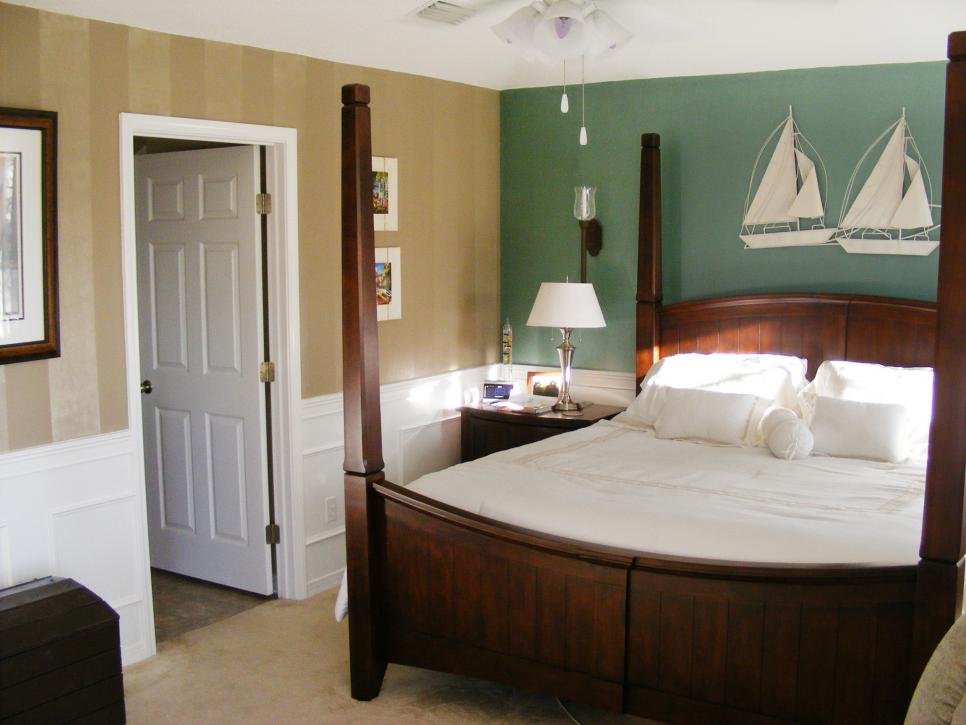 Photo: Credit
The wooden brown headboard will match great with these crisp white sailboats that are an eye-catching addition to the teal focal wall. Their 3-D appearance also adds a sophisticated touch to this master bedroom retreat.
 56. Elegant Navy Blue Headboard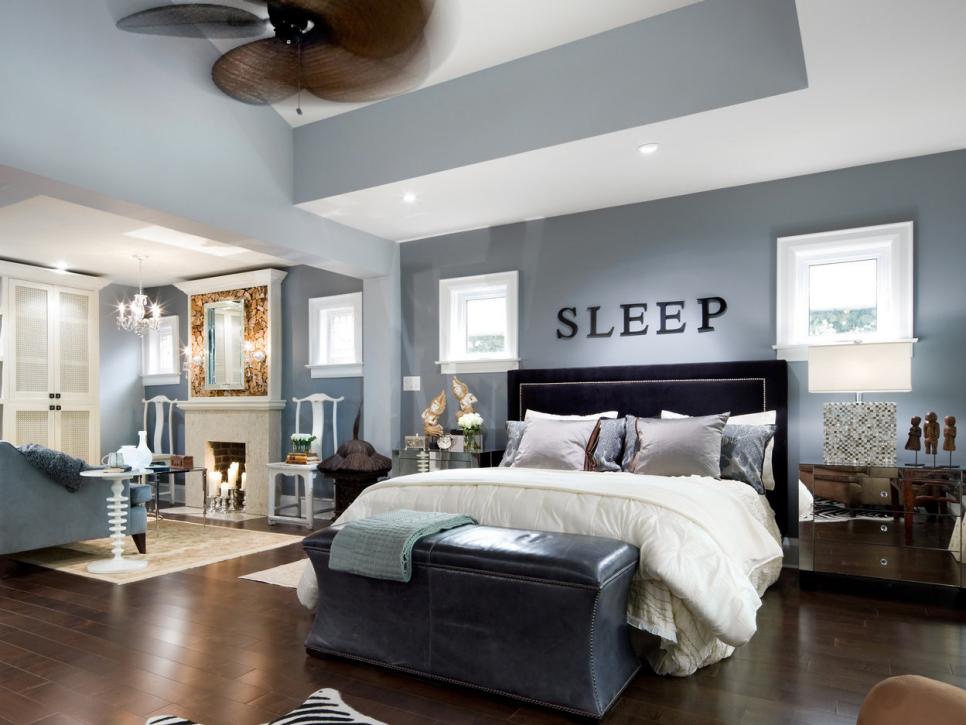 Photo: Credit
You can reach timeless elegance for your bedroom by combining elegant navy blue headboard with layers of luxurious fabrics and finishes, in order to enhance the blue-gray walls and evoke a polished vibe.
57. Yellow Girl's Headboard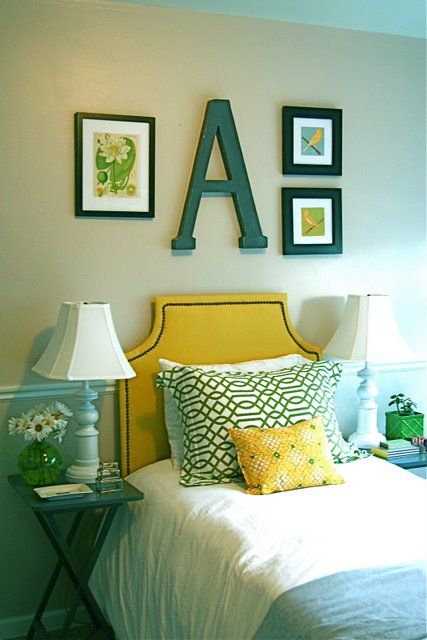 Photo: Credit
The yellow headboard feels right at home next to the powdered blue lamp bases. Near-neutral walls let these bedroom accessories speak for themselves.
58. Tufted White Headboard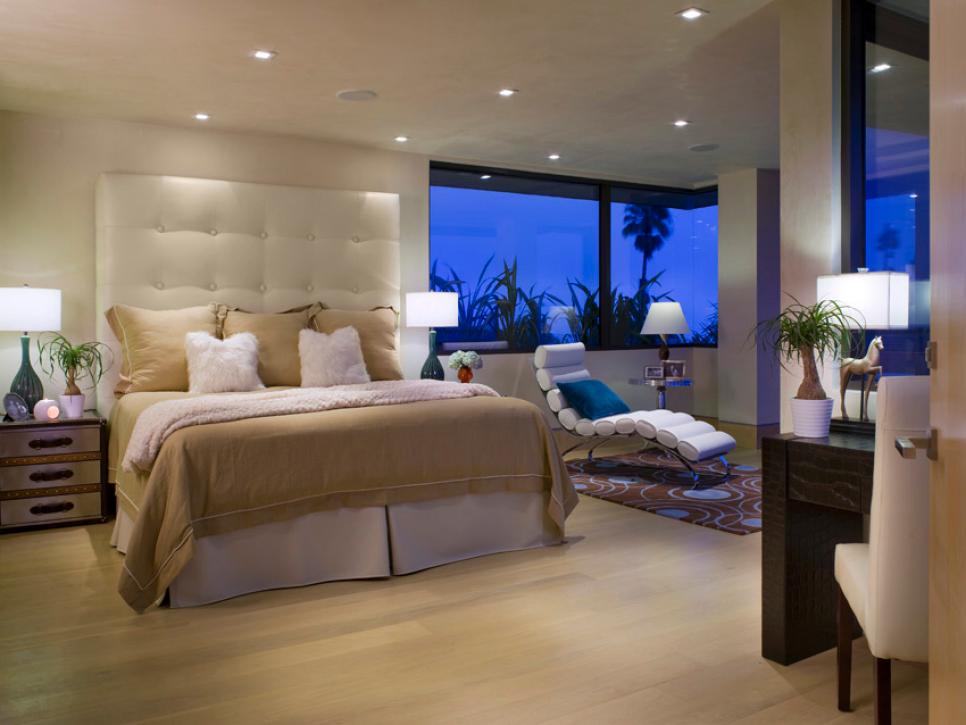 Photo: Credit
The modern, tufted white headboard will look perfect in combination with white wall design, high ceiling, white night lamps and cream and turquoise details.
 59. Vintage Asian Headboard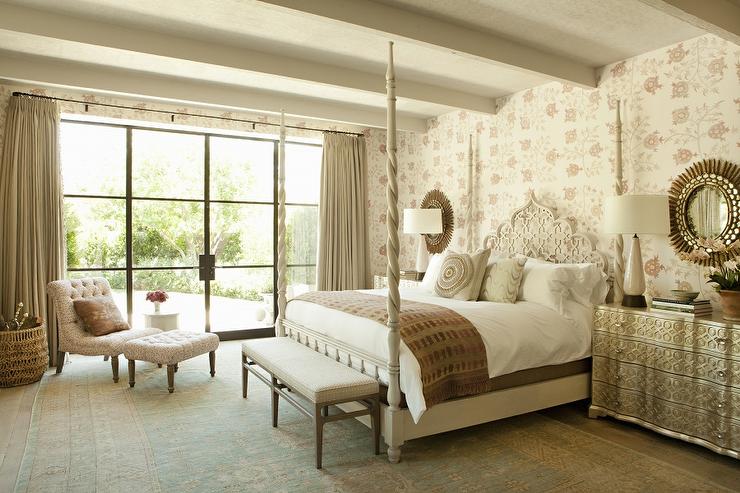 Photo: Credit
If you are a fan of vintage Asian style, then this white headboard will be a great decision. It can be combined with gold details in your bedroom and white and brown furniture.
60. Cheerful Yellow Headboard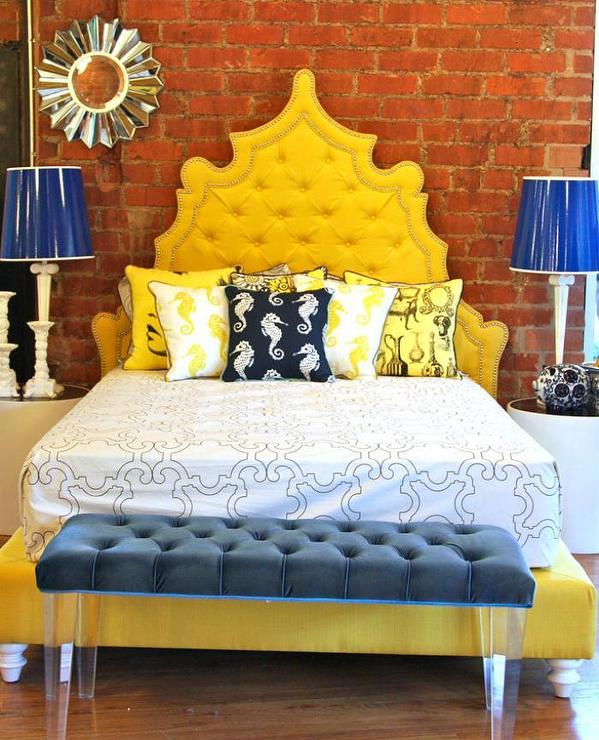 Photo: Credit
 For those who like cheerful colors, we propose this yellow tufted curly headboard that will look great with a blue sofa, electric blue night lamps and a brick wall as a contrast.
61. Handmade Wooden Headboard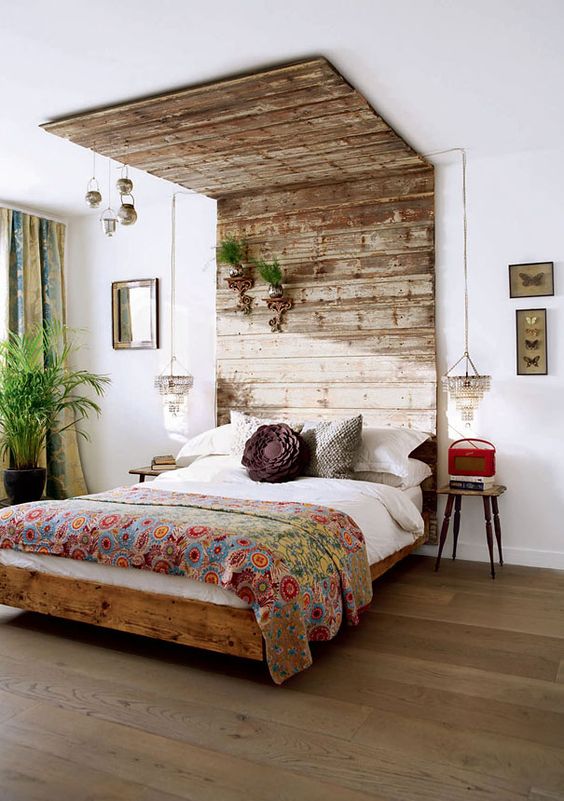 Photo: Credit
Here is one definitely unique idea for your headboard that you can make using wooden boards lining them up to the ceiling. The wooden rustic bed and night tables will make this ambient warmer and more vintage.
62. Big Funky Headboard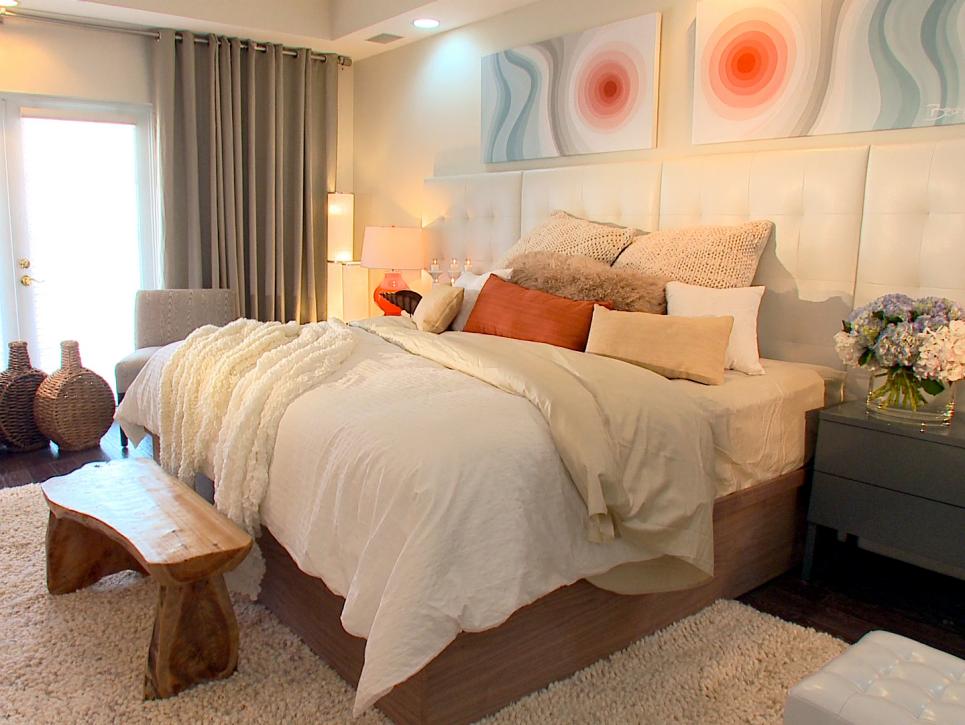 Photo: Credit
This big white funky headboard that makes the chilling ambient in this bedroom in combination with colorful pictures above it, pastel color details and a handmade wooden bench is definitely a statement.
Repurposed Baseball Bats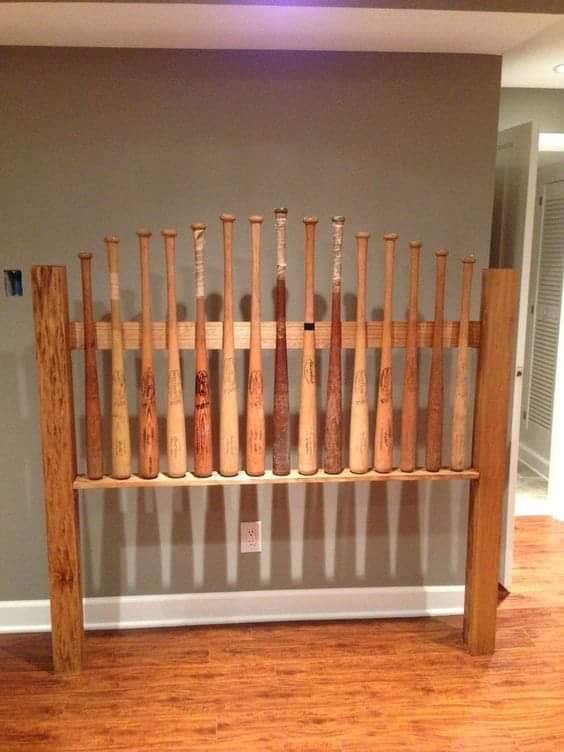 If you are wondering what to do with all the baseball bats that are lying around, here is an excellent idea.
Align them on a wooden rack to create a unique headboard. Different shades of wood will give it rich color and contrast.