One of the most exciting things about planning for a new baby is coming up with nursery ideas.
Although baby boy rooms used to be limited to either baby blue and white or bright circus colors, baby boy nursery ideas are much more sophisticated today!
While blue and white are still popular trends in baby boy rooms, the particular shades of blue vary from the traditional baby blue all the way to dark navy.

In addition to soothing shades of cream and white, grey is a popular new neutral in nurseries. Patterns and accent colors such as lime green and orange add personality to the baby's room.
For baby boy rooms ideas, think about adventure. Nursery designs for boys inspire creativity and a sense of adventure on the water, in the mountains, or on a safari.
Accent walls and unique wall art are great ways to add visual interest to the room.
You might also be interested in: The Ultimate Checklist- How to create the Best Baby Nursery
Complete the adventure with coordinating bedding, pillows, rugs, light fixtures, and toys. Here are twelve baby boy room ideas that are sure to inspire your creativity.
1. Baby Blue and White Nautical Nursery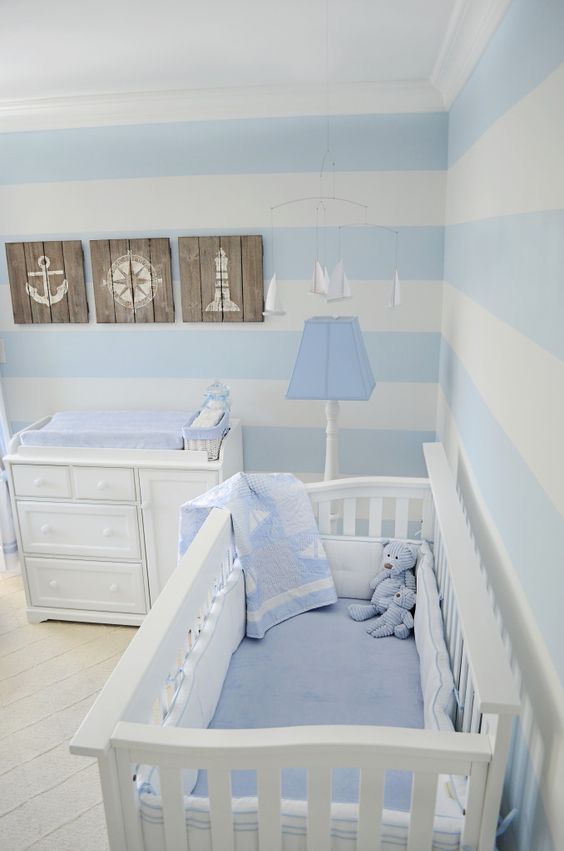 Photo: Credit
This baby boy nursery design uses a blue and white color scheme that is both bright and calming. The large horizontal stripes on the walls are the main focal point of the room and mirror the stripes of the nautical themed bedding.
Rustic wall art inspires thoughts of adventures on the sea and provides a contrast to the soft quilt and stuffed teddy bears. The future sailor can drift away to sleep watching the soft white sailboats floating above his crib.
2. Rustic Owl-Themed Baby Boy Nursery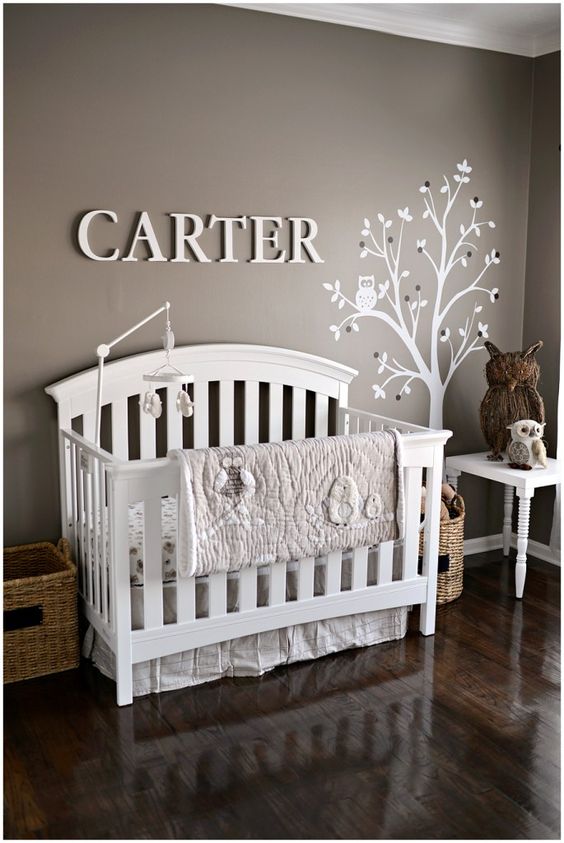 Photo: Credit
Who doesn't love a wise owl? Brown walls and wicker baskets create a neutral, rustic environment that is the perfect haven for a baby boy.  Owls are wise, curious, and a little mysterious. They make wonderful companions for a baby boy nursery design.
This nursery idea features friendly owls perched on a table and soft white owls on the baby's quilt. It even has a wall decal with an owl in a tree watching over the baby's crib.
White wooden letters spelling out the new baby's name provide a sweet finishing touch to this nursery idea.
3. The Classic Safari Nursery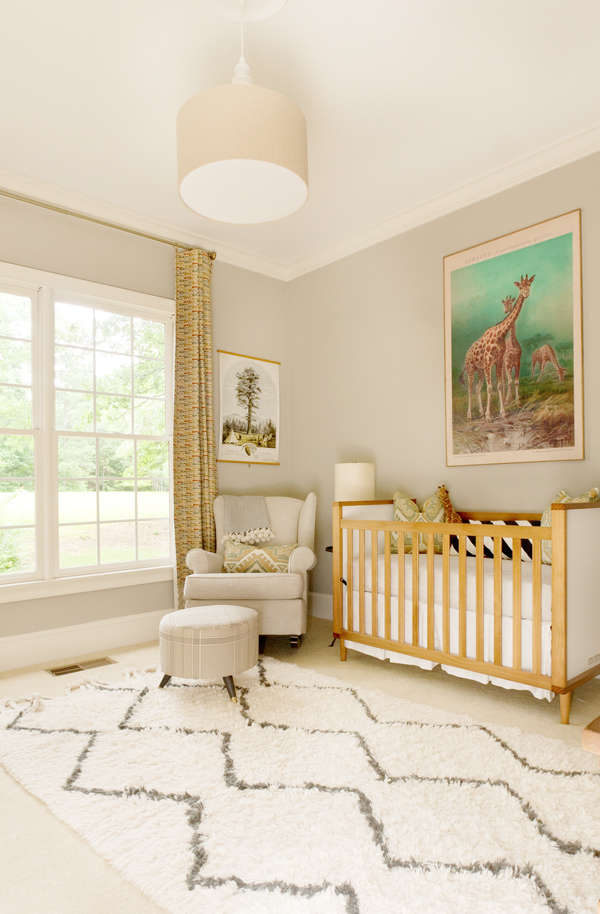 Photo: Credit
While an African safari design might bring to mind bright tribal patterns and animal prints, this baby boy nursery idea takes a much more classic approach. The cream-colored walls, chair, carpet, and light fixture set are clean and crisp. The bright natural light entering the room from the window brings additional warmth into the room.
African safari design elements are soft and subtle. The curtains and pillows add some tribal texture and color to the nursery.
The gray and cream zig zag in the rug hints at a zebra pattern that is also reflected in the pillows. Wall art depicts soft safari colors and inquisitive giraffes.
4. Little Grey Elephant Nursery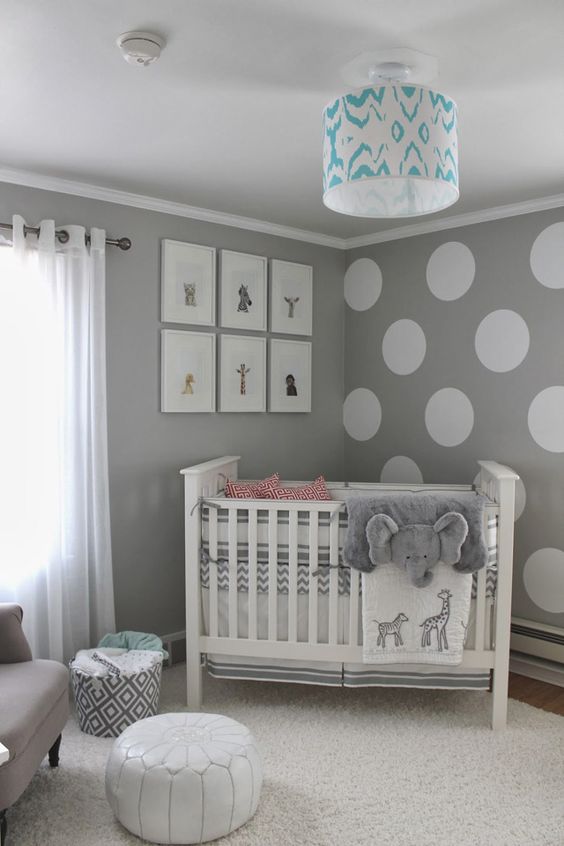 Photo: Credit
Grey is a popular neutral right now, and this baby boy nursery uses grey and white as a neutral base palette for the room.
This nursery design uses lots of bold patterns rather than bold colors to make this baby boy's room fun and cheerful. There are giant white polka dots on the walls, a diamond patterned basket on the floor, and a chevron crib sheet.
Cute baby animals are hanging on the walls and from the baby's crib. The red swirl patterned pillows in the crib and turquoise ikat ceiling light add some pops of bright color.
5. Bubbly and Bright Baby Boy Nursery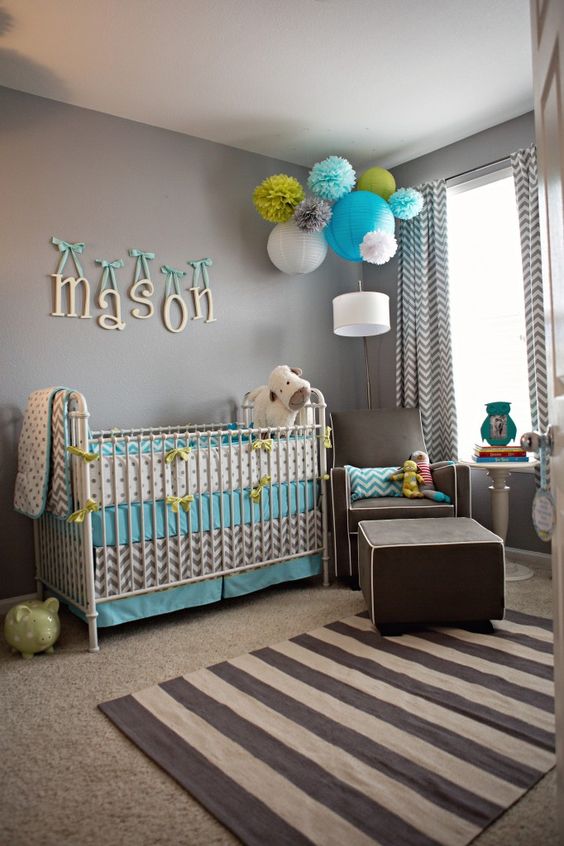 Photo: Credit
This baby boy room also uses a neutral grey as its base. The design uses both pattern and color in playful ways.  Grey stripes, chevron, and polka dots cover the crib, curtains, and rug. The crib and pillows also have patterned pops of turquoise chevron.
The corner of the room features a variety of decorations hanging from the ceiling in shades of white, grey, turquoise, and celery. They almost look like floating balloons. Whimsical white letters hang from the wall with turquoise ribbon.
6. Old World Adventure Nursery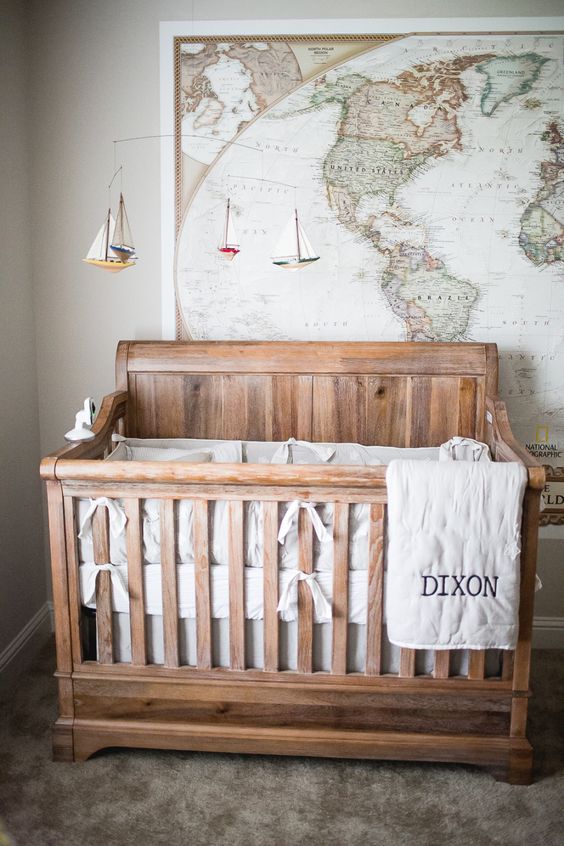 Photo: Credit
The design of this baby boy nursery is reminiscent of an old world adventurer. The colors are all simple neutral shades of cream and brown. A mural-sized map covers the wall next to the crib. Even the greens and browns of the map give it an old world adventure feel.
The crib looks like it is made from old, rustic wood. Perhaps the same wood that an adventurous young boy might find on a ship? Simple sailboats make up the mobile that floats above the baby's crib.
This is a nursery for an adventurous young boy who might one day sail across the ocean on his own.
7. Modern Woodland Wanderlust Nursery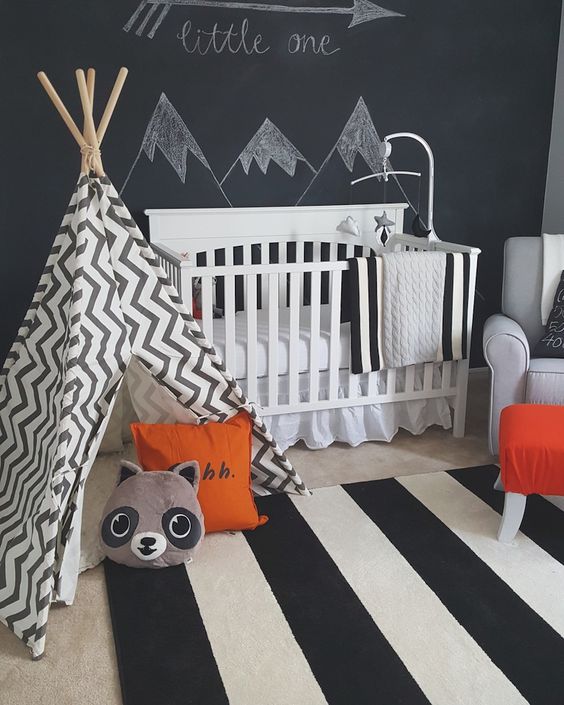 Photo: Credit
Black and white don't necessarily seem like they would be great colors for a nursery, but this modern woodland nursery shows how they can work. The simple white crib and bedding is surrounded by a world of playful adventure. The nursery features a wall covered in black chalkboard paint.
The arrow and mountains drawn on the wall in chalk inspire dreams and adventures that await this baby boy. This nursery even features a small teepee where a young boy can crawl in and imagine a thousand new adventures.
The pops of orange add the perfect amount of color to this boy's room.
8. Classic Nautical Navy and White Nursery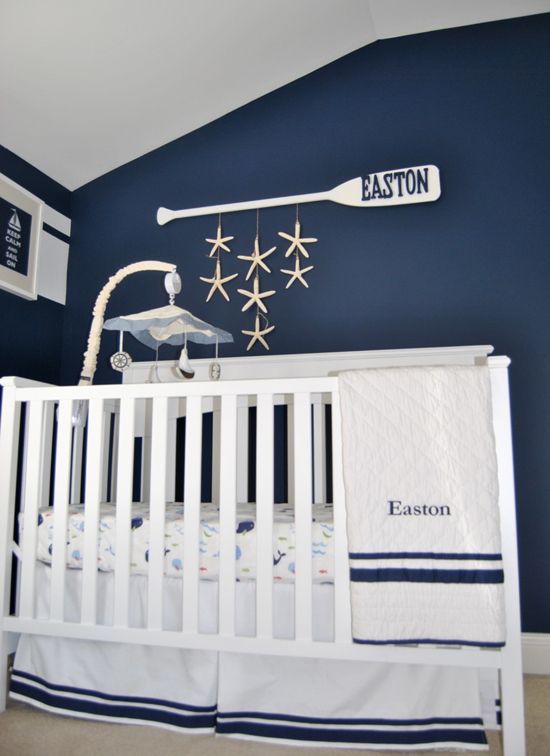 Photo: Credit
Navy and white are true classics for a baby boy's nursery. Dark blue walls are a new trend for baby boy rooms. The white crib and navy and white striped bedding, however, provide a bright contrast to the navy blue walls.
The crib also features sheets with adorable sea creatures  and a nautical inspired mobile. A white boat paddle hangs from the wall personalized with the baby boy's name.
Strings of white starfish hang from the boat paddle to complete the nursery's classic nautical theme.
9. Up, Up, and Away in a Beautiful Balloon Nursery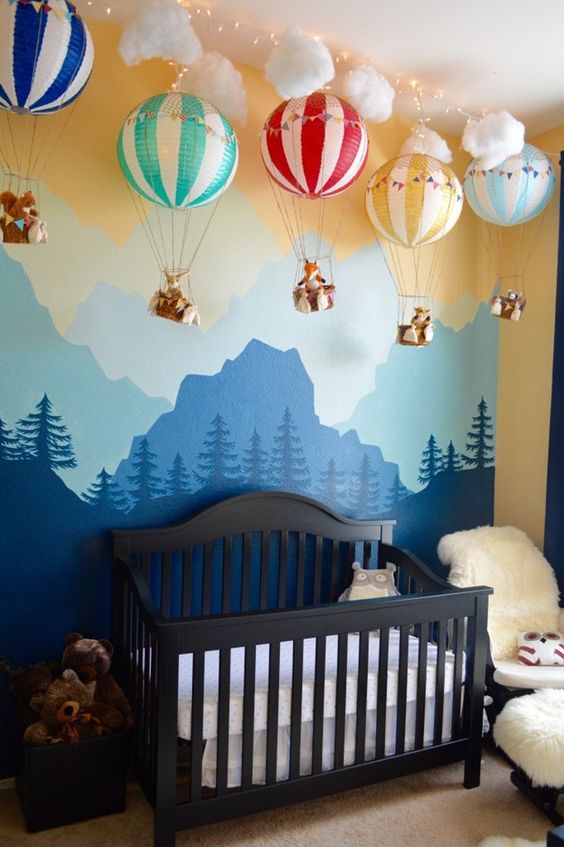 Photo: Credit
Parents won't mind the late nights and early mornings with the baby in this beautiful nursery. An amazing mural of mountain peaks in shades of blue sets the scene for this fantastic room. Brightly colored hot air balloons float in the puffs of clouds and tiny strings of lights above the mountain range.
Tiny stuffed animals ride in the basket of each individual hot air balloon. A simple black wood crib and white bedding do not detract from the amazing scene behind and above the crib. Woodland stuffed animals such as bears and owls are scattered throughout the room.
10. It's Not Easy Being Green Nursery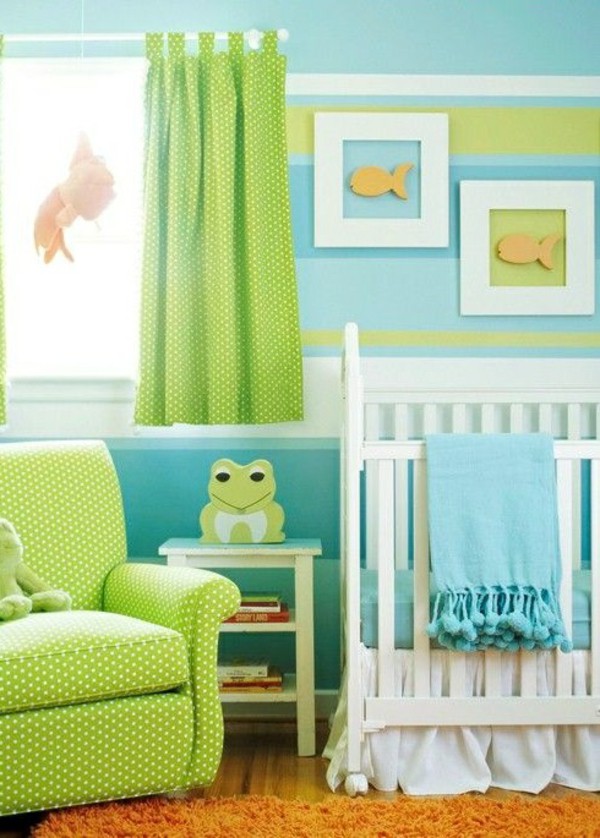 Photo: Credit
 It may not be easy to be green, but it's easy to love this bright nursery idea. In contrast to the neutral white, cream, brown, and grey nursery ideas, this baby boy room features bright lime green, turquoise, and orange. This baby room brings to life a brightly colored pond.
Happy green frogs are surrounded by lime green polka dots in the chair and curtains as well as a stripe on the walls. The walls feature two shades of turquoise and some pops of bright white stripes.
The white crib is covered with a turquoise sheet and blanket. An orange shaggy rug covers the floor to coordinate with the orange goldfish hanging on the wall and from the ceiling.
11. The Modern Safari Nursery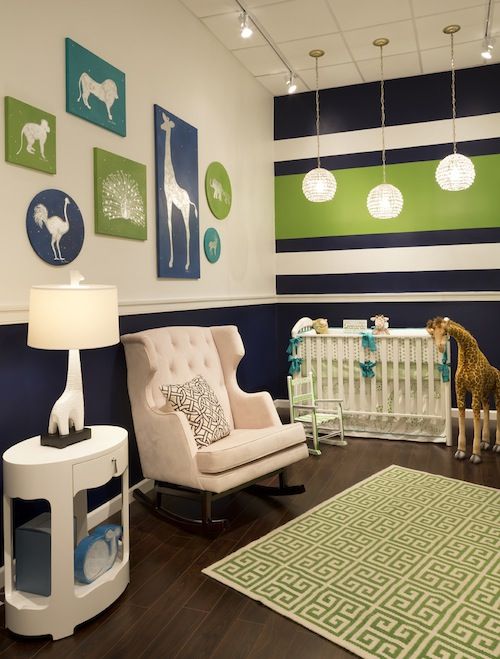 Photo: Credit
Another way to use the safari theme in a baby boy room is by adding a modern twist. Where the classic safari nursery used neutrals creams and whites, this boy's room has bold patterns and colors.
One wall of the nursery has bright, bold stripes in white, navy blue, and green. Solid white replaces the stripes on the neighboring wall.
A gallery wall showcases of safari animals on green, blue, and teal canvases of different shapes.
A green and white patterned rug covers the floor. Modern track lighting and ceiling fixtures brighten the room along with a giraffe shaped lamp. This nursery even has a stuffed giraffe the size of the baby's crib.
12. Rustic Cabin in the Woods Nursery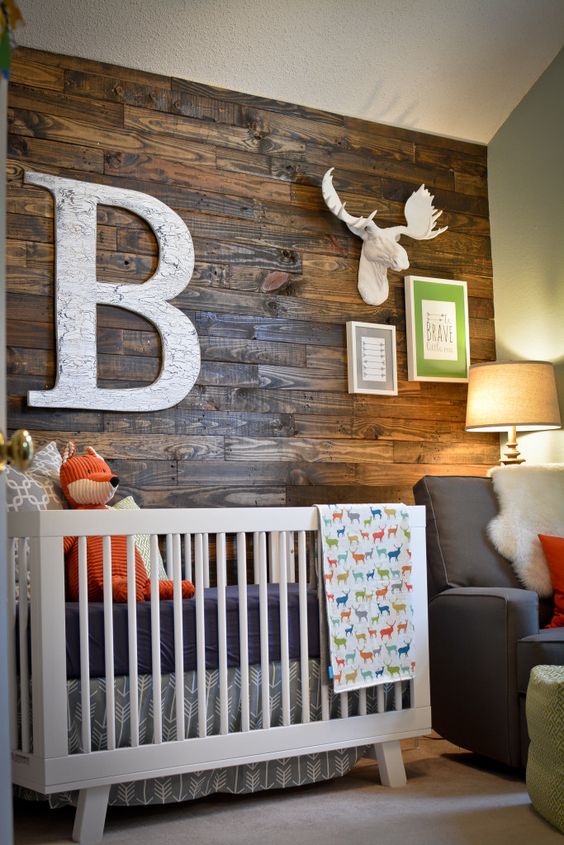 Photo: Credit
The wood-paneled accent wall in this baby boy's room instantly gives the feel of being in a rustic cabin.
This little boy's rustic accent wall even has its own model of some big game this future hunter might want to display in his own hunting cabin.
The accent wall is finished with a large rustic monogram letter and framed art. Greys and whites also serve as a neutral background in this nursery.
The simple white crib has patterns of arrows and brightly colored woodland animals. Accents of bright orange add a playful vibrancy to the room. This nursery cabin comes complete with a furry blanket on the chair.