If you're searching for teen girls bedroom ideas, try to see their room's design through their perspective.
Teenagers always have a different point of view than adults — beyond a place to sleep, it is where every teen escapes from the grown-up world of rules and demands.

I have chosen 31 Cute Bedroom Ideas for a teenage girl to help you get started. Hope you will enjoy them and find what you are looking for.
1. Upgrade Your Teen Bedroom Design with Pink Accents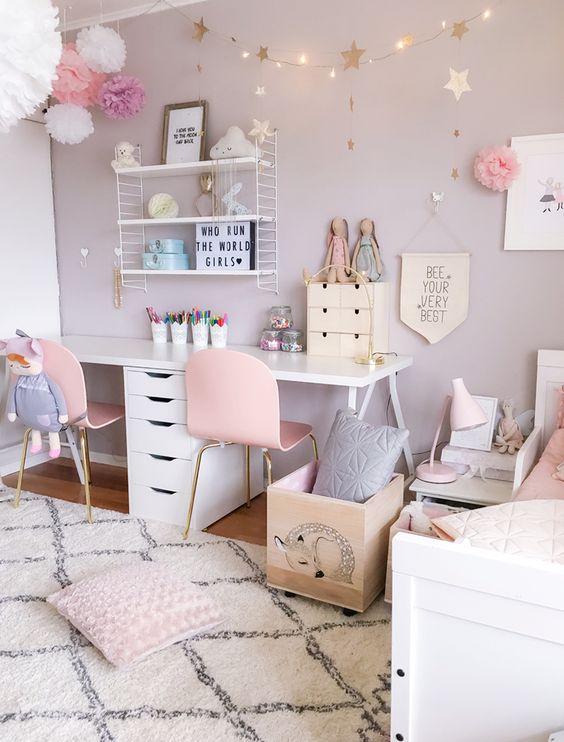 Photo:Credit
What really caught my eye about this design of a teen room in pink are the little details that really do matter – the motivational quotes, the starry garlands, the paper flower that add so much texture… all these small accents make the girl's bedroom really special and cozy.
Moreover, the sleep and the study areas are nicely separated even though the room is not very spacious.
2. Maximize Space with a Poky Modern Teen Bedroom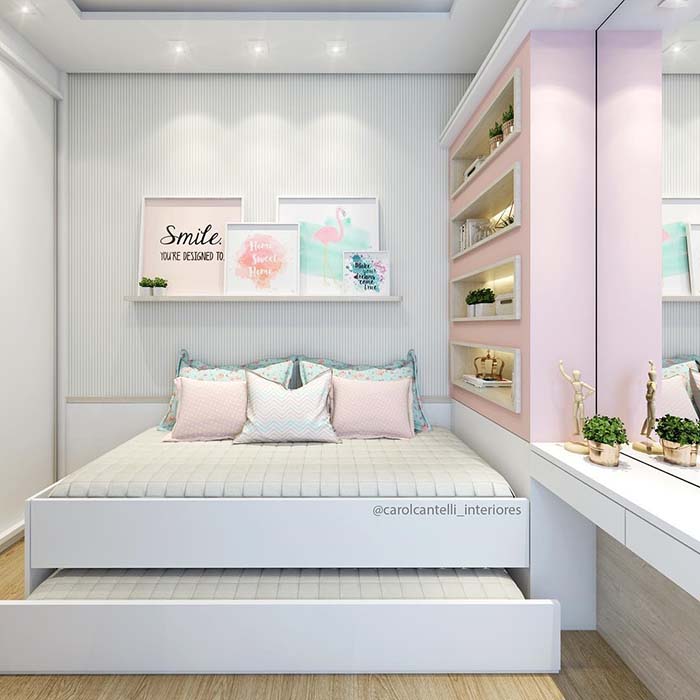 The tiny bedroom space used to be a problem for many people. But not anymore! Check out this stylish expensive-looking teen room design.
Even the room is super small, everything is in its proper place, without overloading the environment! Beautiful and timeless solutions!
via Carol Cantelli
3. Turn Your Teen Bedroom into a Cozy Retreat with a Rope Swing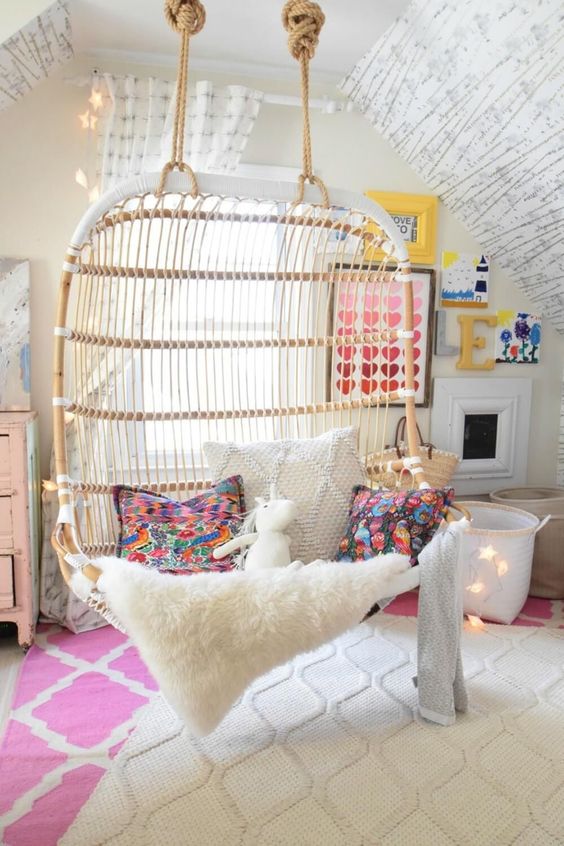 Photo:Credit
While adults usually prefer a space that's relaxing and understated, teens are the ones who appreciate vibrantly painted, high energy rooms…like this one!
Even though the focus is on the cool centered rope swing, there are tons of other cute accents such as the posters on the wall, the carpet and the vintage dresser in pink tones.
4. Stand Out with Dark Decor in a Teens Bedroom Design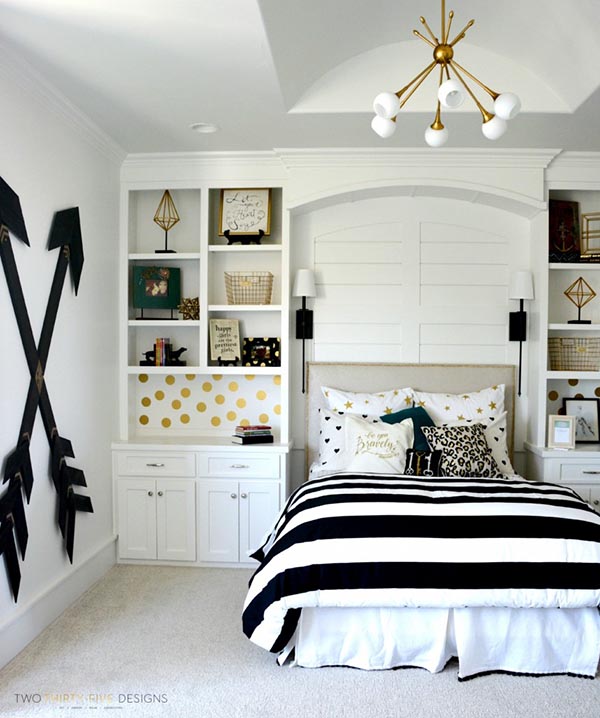 Photo:Credit
Here is another bold girl bedroom design. The first two things I have noticed are the wooden wall arrows and the fact there is no pink anywhere in the room. You can find the detailed tutorial for these smashing arrows here.  😉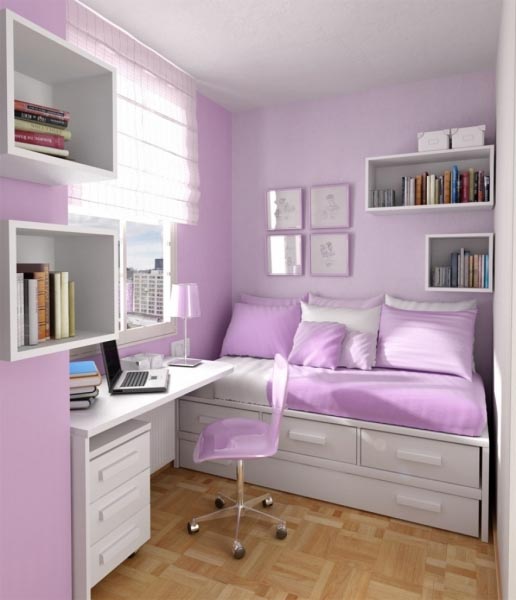 Photo:Credit
This tiny teen girl bedroom is a great example of smart planning. Space has been used very wisely and there is enough storage space for every girl's needs. Plus, the bright lavender paint makes the whole design so girly and brings lots of tenderness to the bedroom.
6. Add Glamour and Personality to a Teen's Bedroom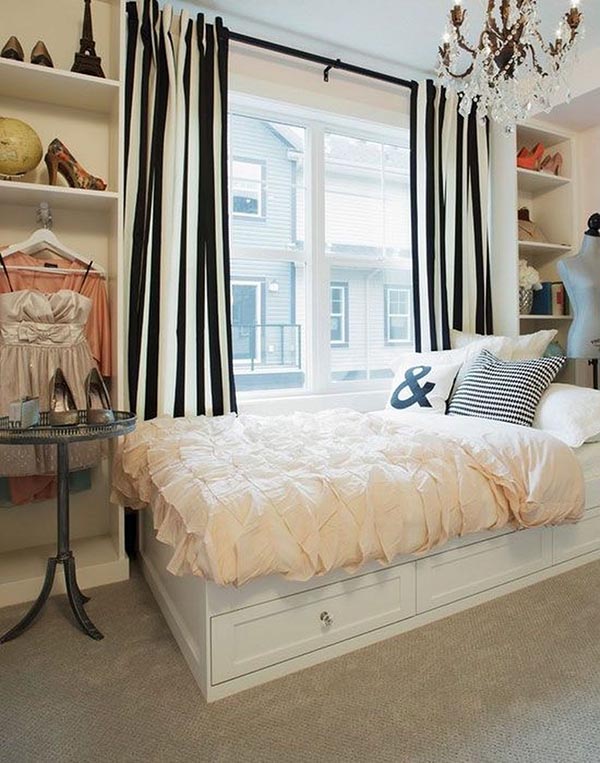 Photo:Credit
If you want to bring your girl's bedroom some grown-up feel, run away from the classic pink shades.
How about adding a chic crystalline lampshade?
Or striped curtains in black and white? The eccentric wall shelves, the Eiffel Tower's effigy, and the fluffy carpet inject instant glamour to the teen room.
7. Elevate a Teen Bedroom with Pastel Accents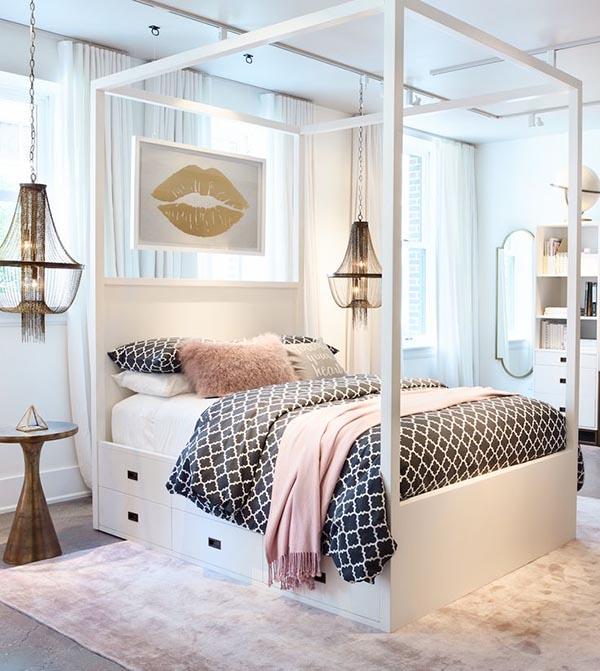 Photo:Credit
Teen girls are usually the ones who tend to choose more complicated design so it is quite hard to understand what they really want.
What I like about this contemporary girl teen décor in the picture is the fact it is eccentric with bold accents, but at the same time harmonious.
8. Add a Touch of Class with Yellow and Emerald Green Accents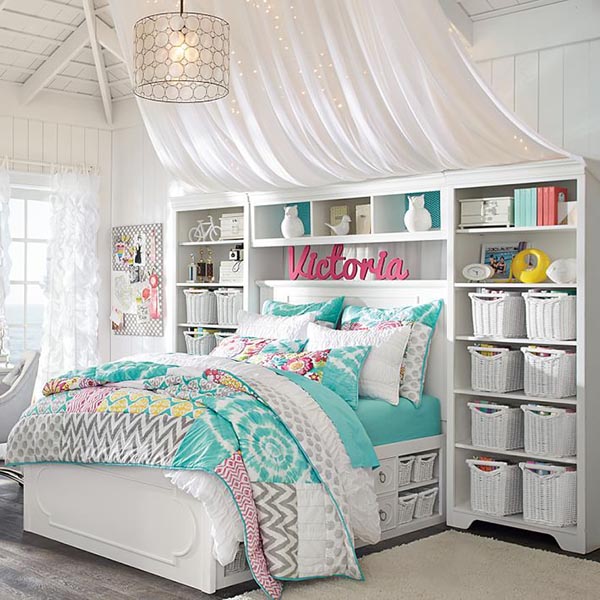 Photo:Credit
This is one of my favorite teenage girl room ideas. Whatever can be said, the main subject of the room is the bed.
I love the way how part of the storage area is incorporated in the bed. I also love the fun colorful accents in yellow and emerald green.
9. Light Up a Teen Bedroom with Ambient Lighting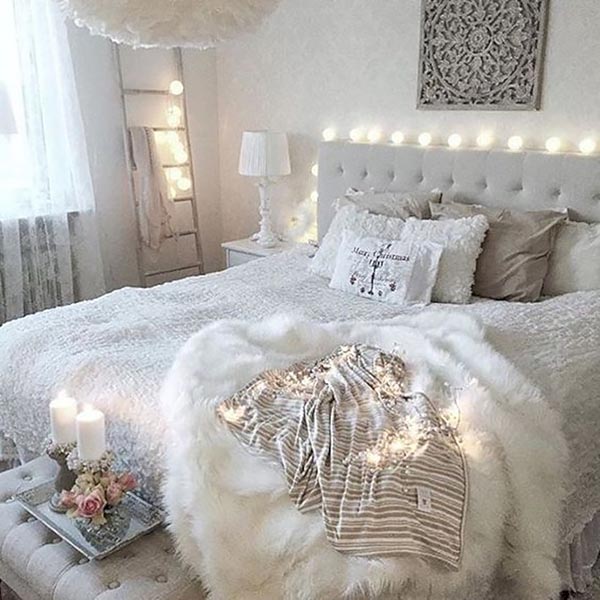 Photo:Credit
While I was searching for girl teen room ideas, I found this picture which could be very inspirational for all the crazy parents-DIYers with a limited budget.
You can make a partial makeover by painting the walls in white, adding some shiny girly accents, and some LED lighting.
10. Bring Coastal Vibes with Surfboards and Mirror Accent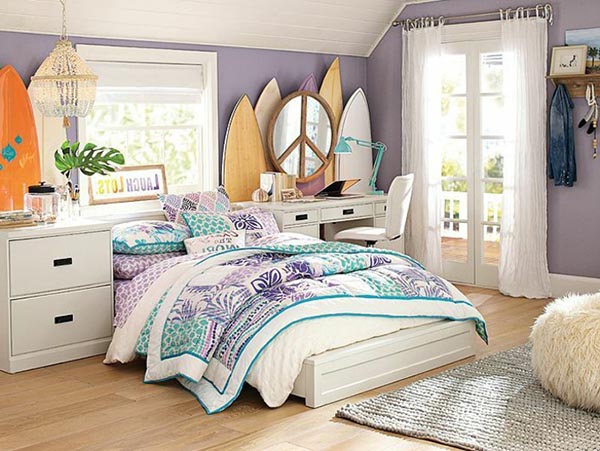 Photo:Credit
Here is a great example of a themed girl bedroom design.
Check out the cool hippie-style details such as the mirror, the surfboards transformed into a wall decoration. The whole design brings joy and makes the room very cozy.
11. Add Some Texture in a Teen Bedroom with Cool Drapery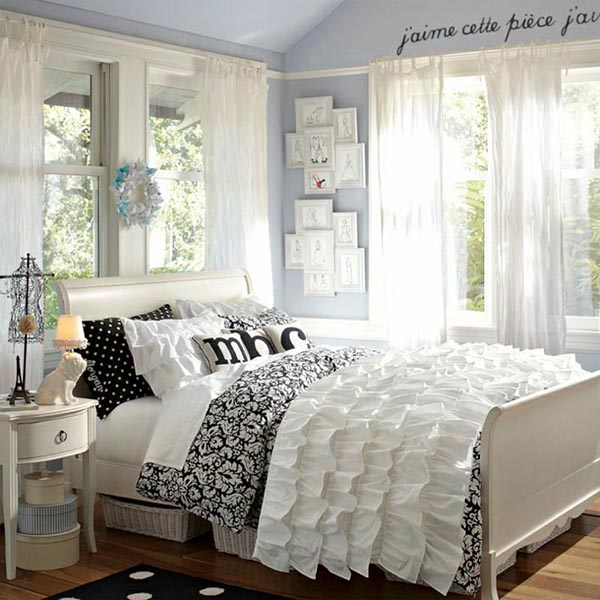 Photo:Credit
Everything in this teen room design has been perfectly selected to add texture and make the room look "full" and "welcoming".
The photo frames on the wall work as a delicate boundary between the two windows and they are the final touch to the bedroom décor.
12. Bring Farmhouse Charm with Rustic Bedroom Decor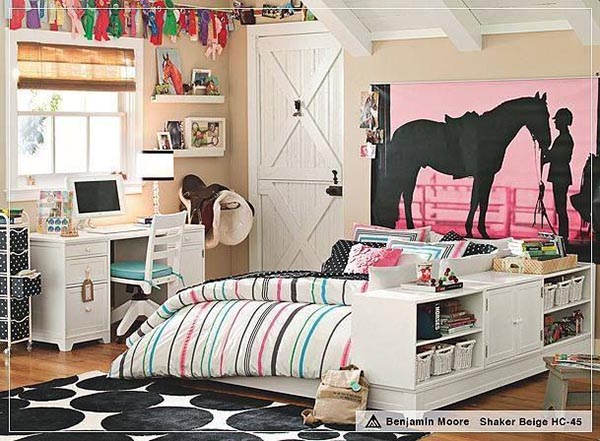 Photo:Credit
After I have seen tons of cute bedroom ideas for teenage girls, I am sure the wooden floor gives this welcoming, undemanding look to the room.
Plus, almost everything firs it. So definitely go for a wooden floor.  😉
13. Give Teen's Bedroom Elegant Touch with White Color Scheme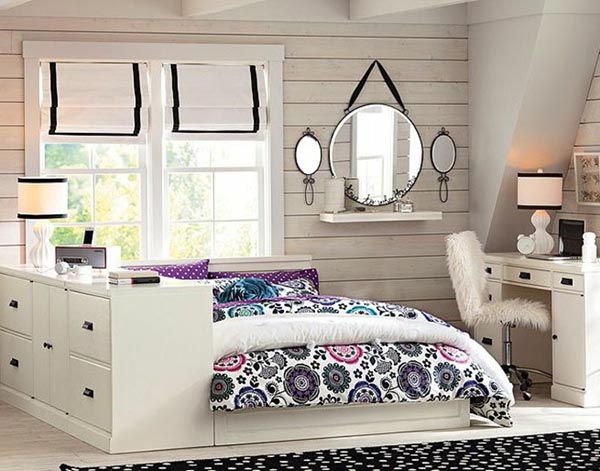 Photo:Credit
The first thing I have noticed here was the white wood walls. Wood is such a classical material but the white color makes it look even more stylish and timeless.
14. Upgrade Your Teen Bedroom with a Summer Vibe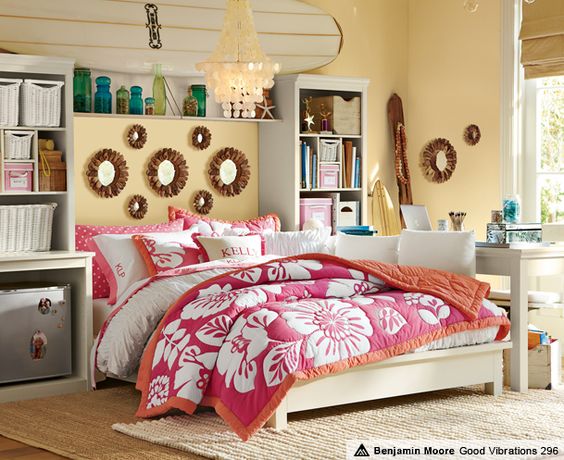 Photo:Credit
When you are looking at this teen room, all you can think about is summer breeze and relaxing ocean views.
The walls are painted in cool lemon color and perfectly fit the small marine accents (the surf, the 'abajur' made of shells etc.)
15. Personalize a Teen Bedroom with Rustic Wall Art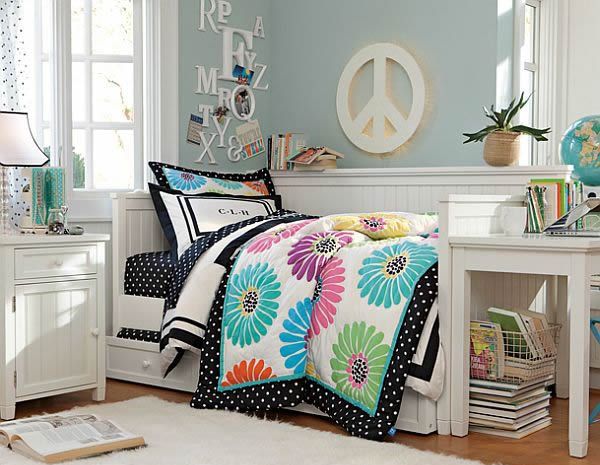 Photo:Credit
Ask yourself what is the first thing you have noticed in this picture showing a teenage girl bedroom?
The large PEACE sign on the wall? The bold floral bed cover? The wall letters?
In fact, all those details matter and they make the whole design look so eye-catching and timeless.
16. Transform a Teen's Bedroom into a Dreamy Study Sanctuary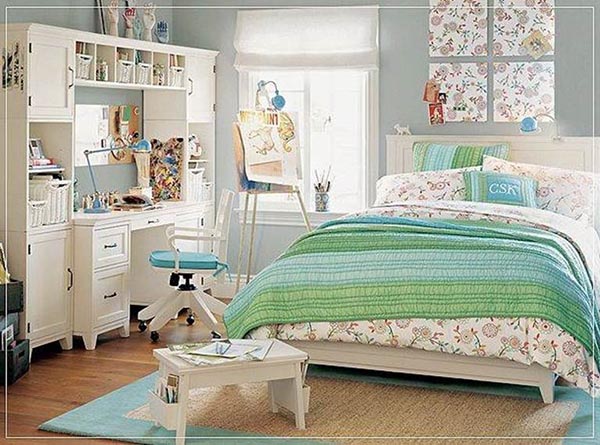 Photo:Credit
Here is another idea of how to use the limited teen girl room space wisely.
There is a delicate invisible boundary between the sleeping area and the area for studying. Also, the white color pairs great with the emerald green and the floral elements. I find it very girly and stylish.
17. Get Unmatched Aesthetic with Vintage Girl Teenage Bedroom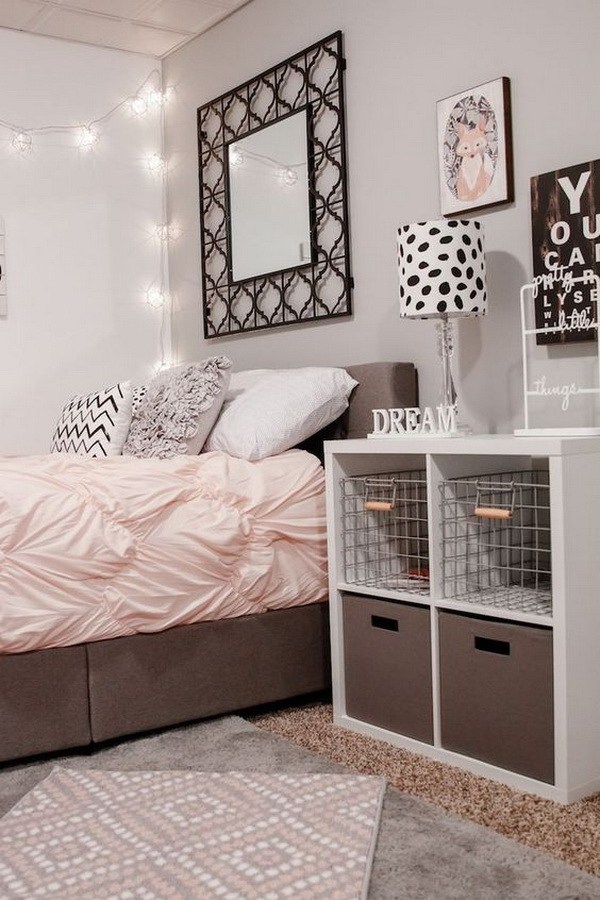 Photo:Credit
Rose ashes pink color and grey are also a good choice for girl teen room design.
Decorate the wall with beautiful canvas, paper butterflies in pastel colors, round decorative mirror in white and voila! 😉
18. Create a Glamourous Retreat with a Turquoise Teen Bedroom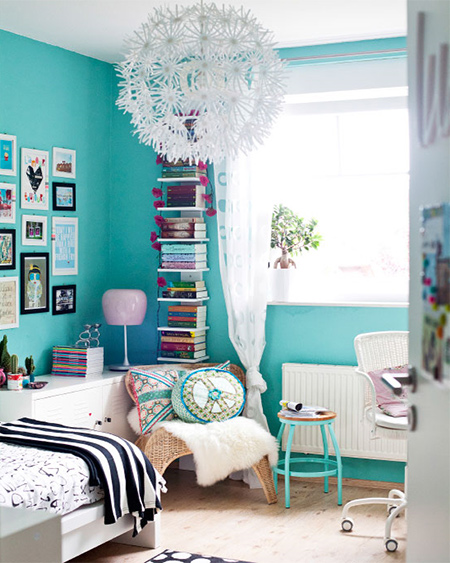 Photo:Credit
Regardless of the limited space, this lovely teen girl room in turquoise has study, sleeping, and chilling areas.
In fact, with smart planning, you can design a bedroom that incorporates all the elements a teenage girl needs for a peaceful and practical space.
19. Make a Statement with a Polka Dot Carpet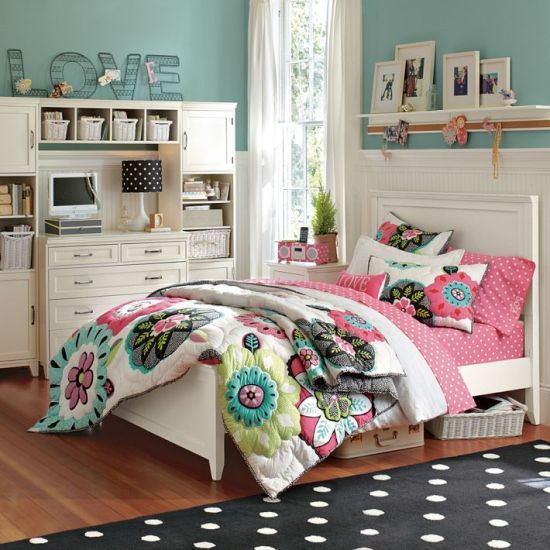 Photo:Credit
Inherently joyful, polka dots make a strong statement, wake up a room and work well with tons of other patterns and colors. Maybe that's why this simple shape is a decorating classic.
20. Get a Timeless Look with a Functional Wooden Headboard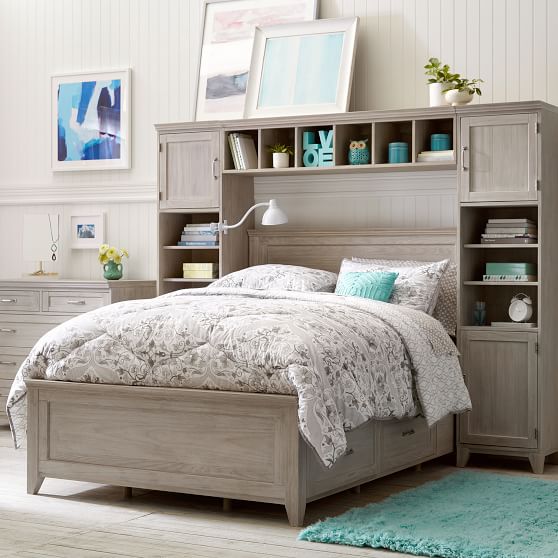 Photo:Credit
We all agree that wood is classic and timeless material to decorate your home.
But when you add some mint color elements – the design is becoming more youthful and cheerful…perfect for your grown-up teenage girl bedroom!
21. Combine Style and Warmth with Purple and Loft Bed Accent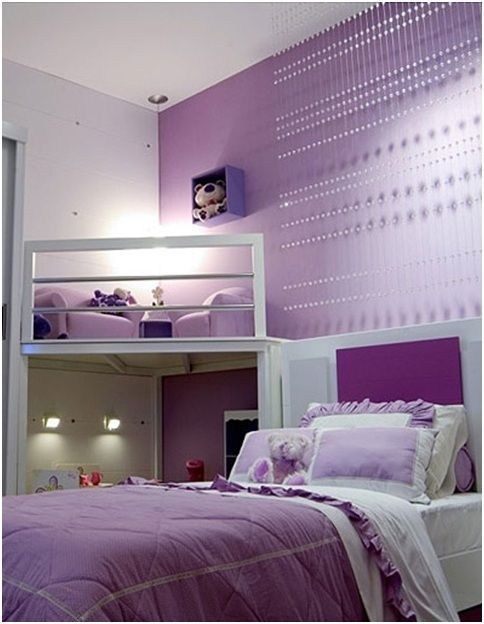 Photo:Credit
This purple teen bedroom looks larger than it actually is due to the bright tones. Light lavender paint seems to pair well with white and grey. Plus, the cabinet storage and the wall shelves are a true space-saver!
22. Bring a Contemporary Vibe with a Study Area Under Bed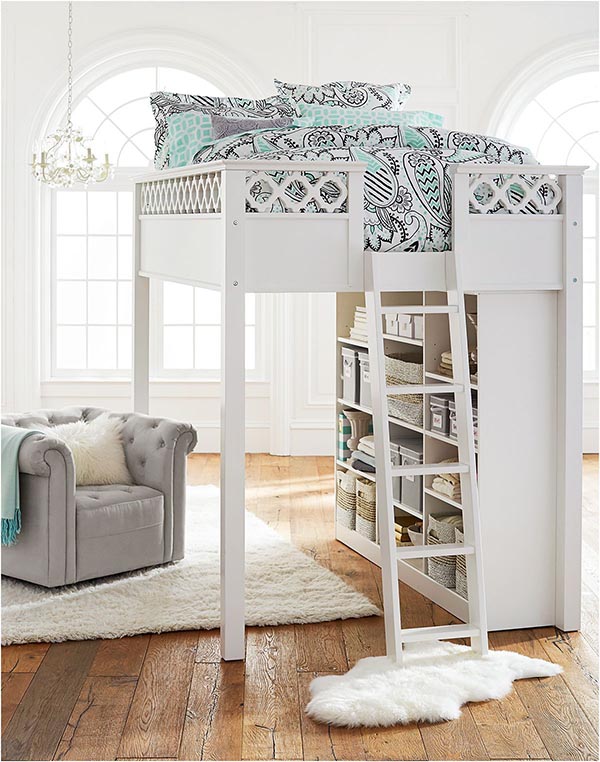 Photo:Credit
This lofted bed in white represents a study and a sleeping area in one.
It is extremely practical (a true space-saver!) and it also creates a very cozy, secluded space for your teen girl. I just love it (hope you do, too).  😀
23. Create a Winter Wonderland with a Teen Bedroom Design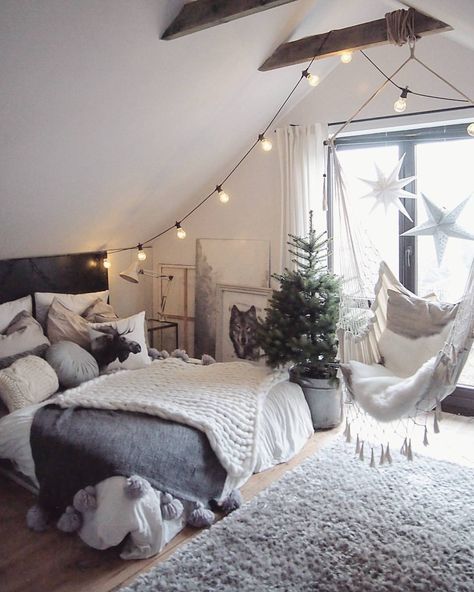 Photo:Credit
This rustic-styled teen room design, with a centered hammock seat and large window, is very timeless and cozy.
24. Make an Artistic Statement with a Marble Accent Wall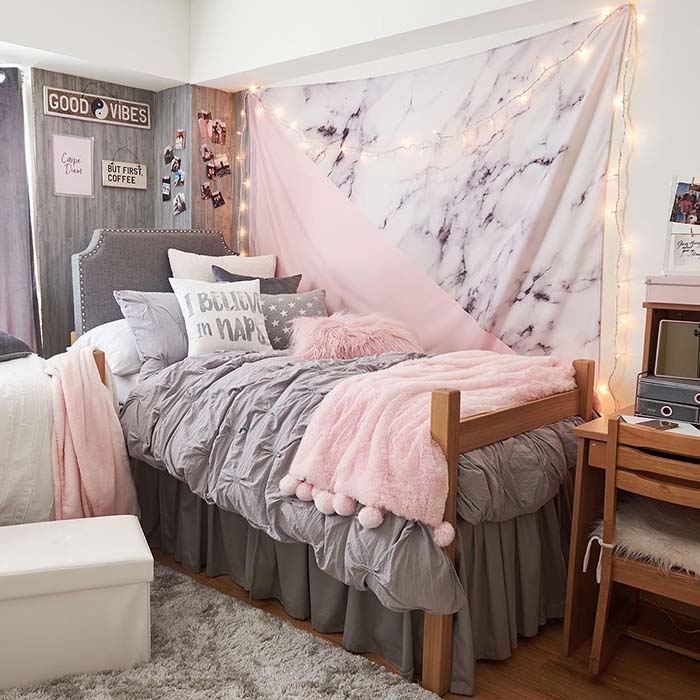 Which is your favorite – tapestry, photo displays, or a gallery wall of prints? Or how about a marble wall hanging? It looks so stylish and ageless without necessarily breaking the bank.
via Dormify
25. Create a Calming Atmosphere with a Gray Color Scheme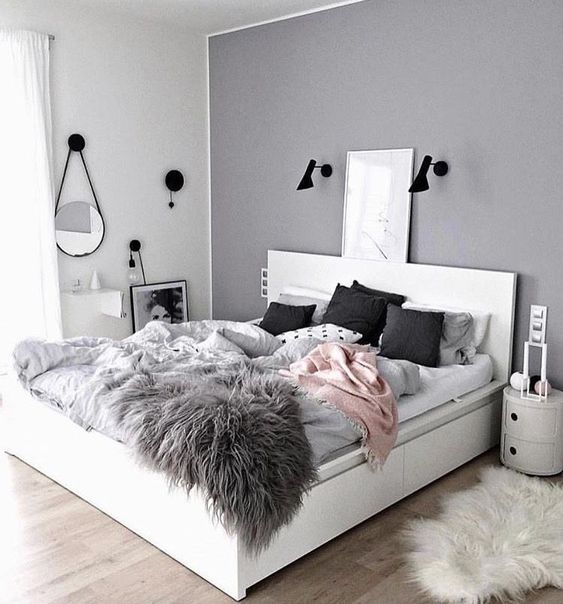 Photo:Credit
Grey shades are not the most common for decorating a teenage girl bedroom. However, it could fit well if you add the right accessories.
Spot the fluffy accents, for instance, that make the room looks luxurious and modish.
26. Enhance Teen Bedroom with Stylish Shelves and LED Lighting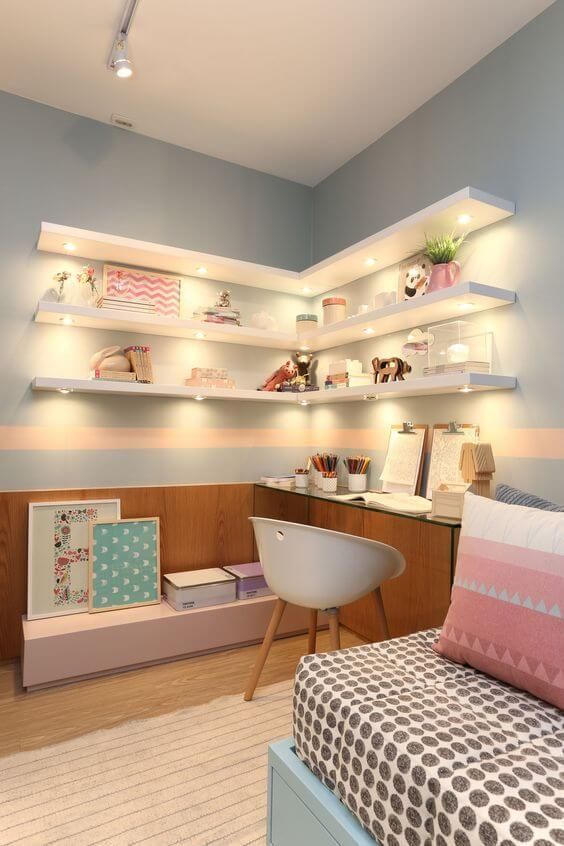 Photo:Credit
When speaking of teenage girl bedroom decorating ideas, the shelves are one of the things you need to consider and plan carefully.
You need to look at them not just like a storage space but also as a cool detail (similar to the ones in the picture).
27. Create a Fairy Wonderland in Your Teen Bedroom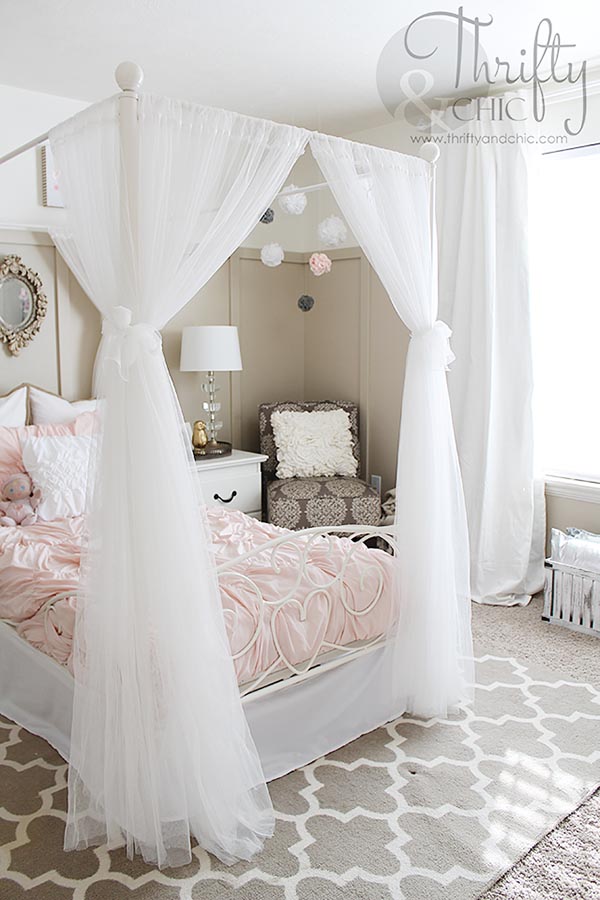 Photo:Credit
This is one of my favorite cool girl room ideas! I love the bright tones – they bring joy and warmth to the bedroom. It is very fairy and it is suitable for younger girls.
The white canopy over the bed does create a princess-like paradise, doesn't it?
28. Include a Cozy Reading Nook in a Teen's Bedroom Design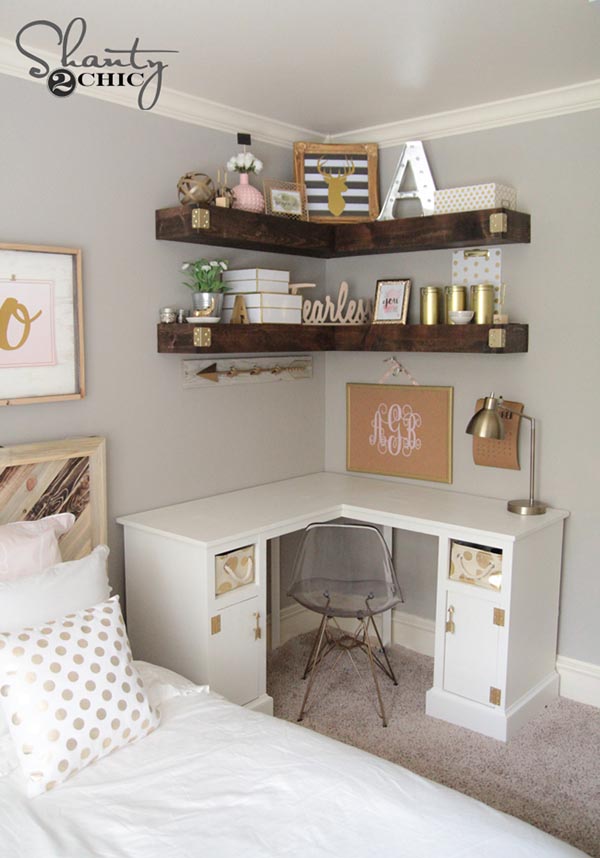 Photo:Credit
Here is a cute and practical space for studying with DIY wooden floating corner shelves. Again – the small details do matter.  💡
29. Unwind in Total Luxury with Cute Teenage Girl Bedroom Decor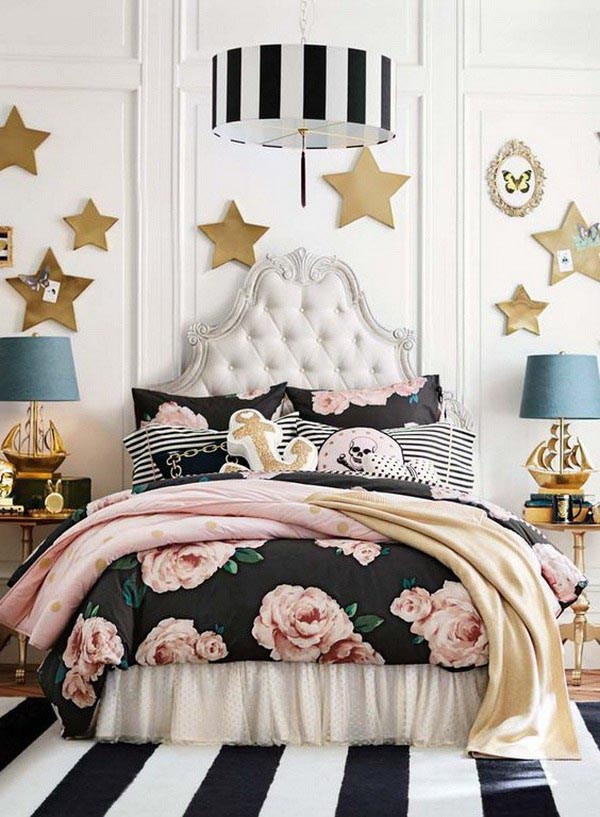 Photo:Credit
Here is a dreamy teen room, full of fashion, summer, fun, adventure and a whole of personality for teen girls.
30. Bring Sophistication to a Teen's Room with Wall Makeover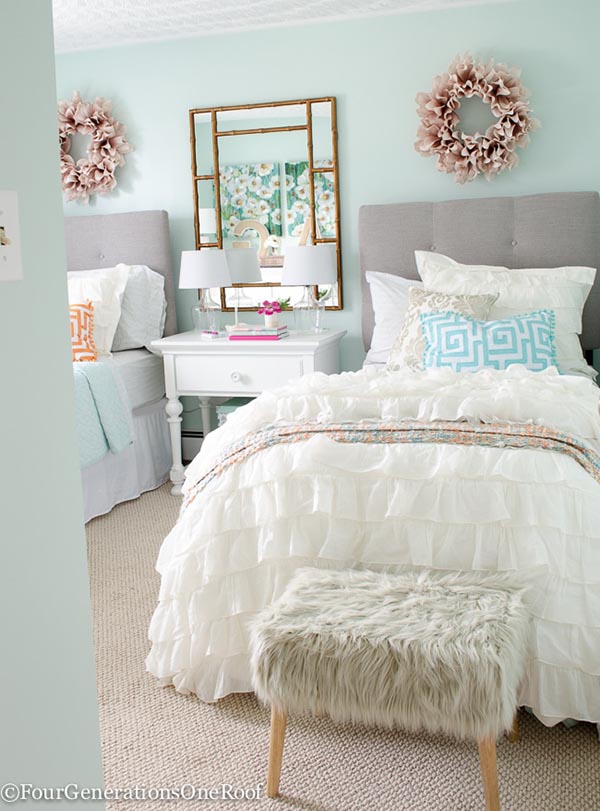 Photo:Credit
If you want to renew your teen girls' bedroom, the easiest and the cheapest way is to paint the walls differently.
How about this cool bright green color called green trance by Sherwin-Williams?
Then, you can add some small details which do not cost a fortune such as cushions, a vintage mirror, or a wreath of paper flowers.
31. Relax in Cozy Comfort with a Centered High Bed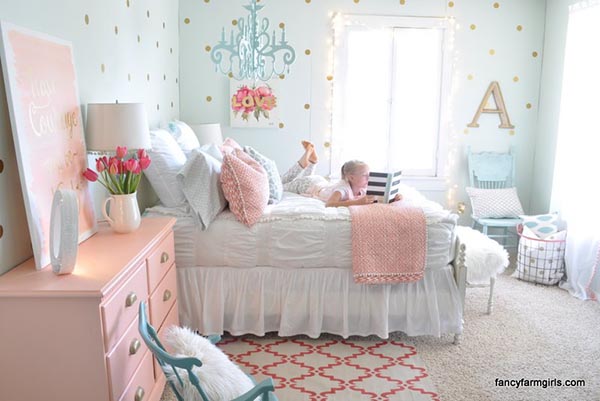 Photo:Credit
I know you will fall in love with the warm pastel tones but take a detailed look at the centered high bed! Looks cozy and comfortable, isn't it?
The additional texture is stylishly achieved by using lots of cushions and floral elements.