It is quite difficult to choose a bedroom design especially when it is for a teenage girl.
There are tons of things you need to consider, things that would make your daughter's room a little paradise for her.

You can read our article about: 17 Cheap Ways To Decorate A Teenage Girl's Bedroom to get some DIY ideas on how to decorate teenage girl bedroom.
The main thing you need to keep in mind while designing a teenage girl's bedroom is the color scheme.
When speaking of girl's bedrooms, the pink color used to be the most common one. Nowadays, it gives way to the purple which brings out some elegance and classiness of the room.
Plus, you would love the dazzling touch that the purple color is adding to the whole design.
Here are 17 purple bedroom ideas for a teenage girl that will definitely inspire you.
1. Maximize Space in a Small Purple Bedroom with Loft Bed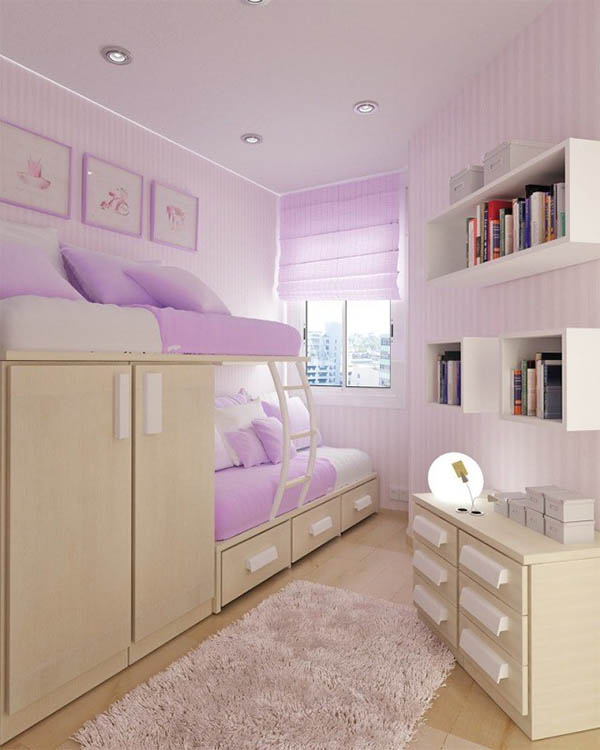 Photo:Credit
This purple teen bedroom looks more spacious than it actually is thanks to the bright tones.
Light lavender paint seems to pair well with yellow, white, and grey. Also, the cabinet storage and the wall shelves are a real space-saver!
2. Accentuate Your Purple Bedroom with White Furniture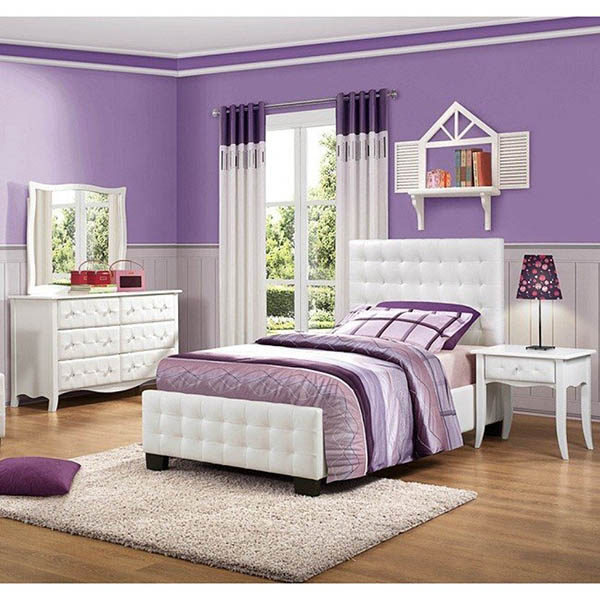 Photo:Credit
When I was searching for teenage girl purple bedroom ideas, I found this picture and I fell in love with the upholstered bed, the cute wall bookshelf above the bed, and the soft combination of white and bright purple tones.
It allows you to add some sassy accent (such as an emerald green, or yellow) and make the bedroom design even more intriguing.
3. Elevate Your Teen's Purple Room with Eiffel Tower Wall Decal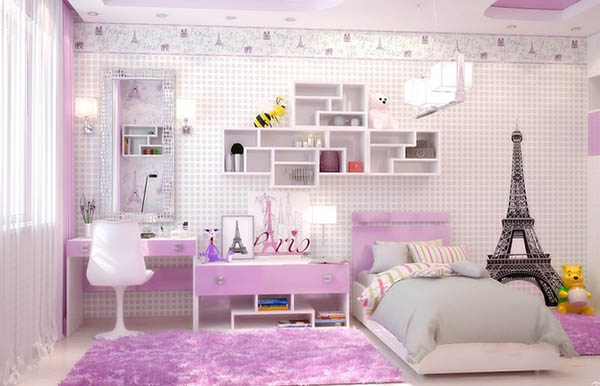 Photo:Credit
Here is a thought – why don't you give your girl's bedroom a grown-up feel with a chic Eiffel Tower wall decal?
For this design, the eccentric shelves and the fluffy carpet inject instant glamour to the room.
Also, if your girl's room is quite spacious, you can arrange all the furniture in one line emphasizes the grown-up feel.
4. Add Glamour to a Purple Bedroom with Pastel Accents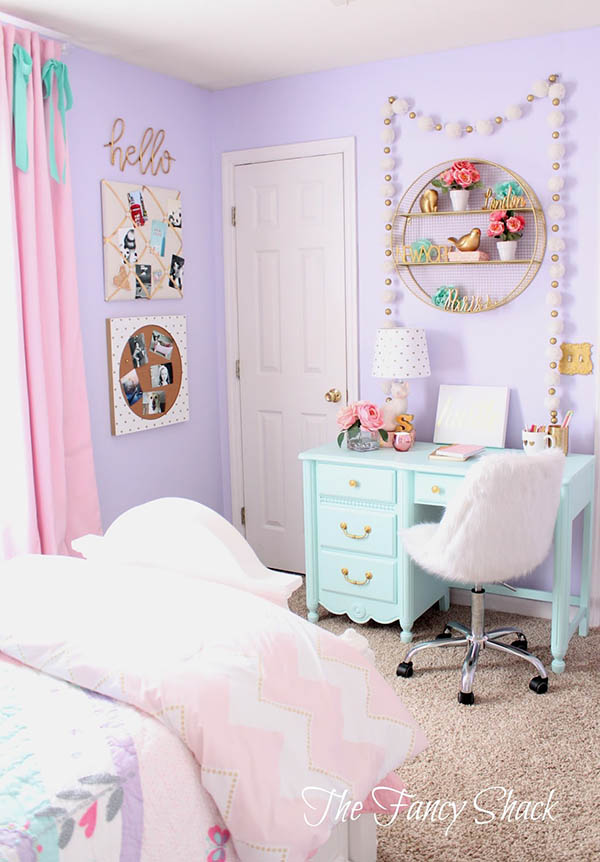 Photo:Credit
To be honest, this is one of my favorite teenage girl purple bedroom ideas!
I love the pastel tones – they bring joy and warmth to the whole room's design.
It is very fairy and it is suitable for younger girls. Those cute accents like the DIY photo board, the snowy white fluffy chair, and the golden-accented circular shelf above the desk are making this design so unique and eye-catching. Don't you think?
5. Add a Touch of Elegance to Your Bedroom with Floral Accents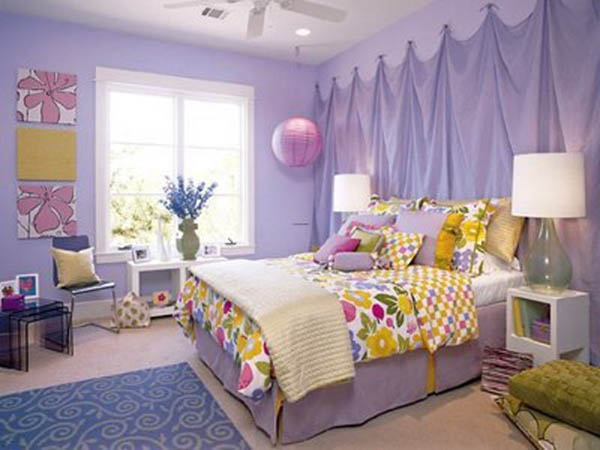 Photo:Credit
This purple bedroom is very cozy, bold, and attractive thanks to the colorful floral accents.
They bring some vintage feel to the design. The best thing about the purple is the fact it pairs well with tons of other colors (and this picture proves it!)
6. Create a Roomy Feel in Your Bedroom with Light Purple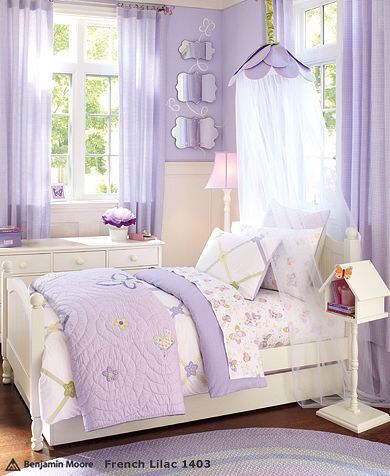 Photo:Credit
This girl's bedroom design reminds me of a fairy tale.
The canopy over the bed does create a princess-like paradise, while the bright layered cushions make it cozy. Thanks to the huge windows and the white tones, the room is very bright and welcoming.
7. Create a Lavish Look with Emerald Green and Purple Accents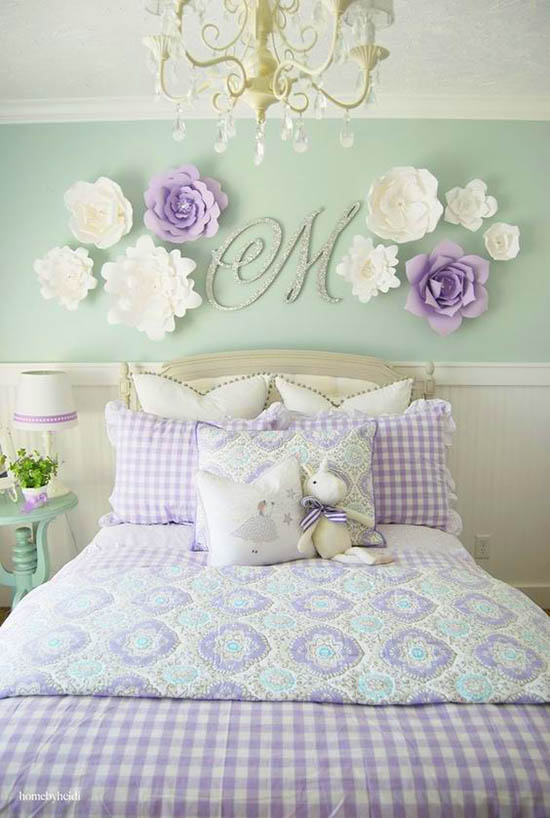 Photo:Credit
All the purple shades pair great with the emerald green paint.
In fact, this combination makes the girl's bedroom looks very stylish.
The paper flowers on the wall and the cushions are adding volume to the whole look. I smell a bit of classy vintage scent.
8. Transform a Bedroom with Perfect Pairing of Purple and White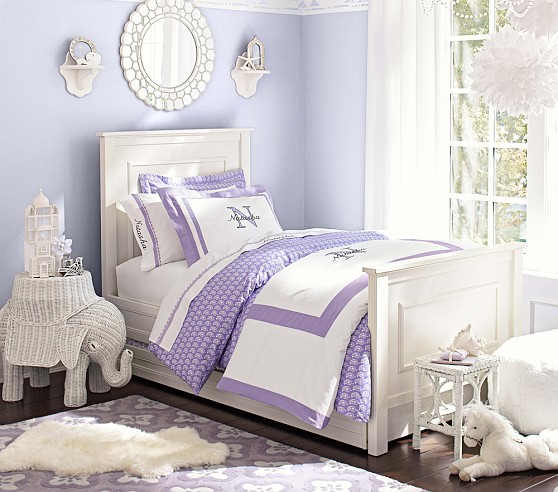 Photo:Credit
The white color is the most suitable one to pair with purple.
In case you have chosen darker purple shades, adding some white accent could prevent from making the girl's room too dark and unwelcoming.
White is generally associated with innocence, purity, safety, and virginity. It is considered to be the color of perfection.
9. Light Up a Teen's Purple Bedroom with String Lights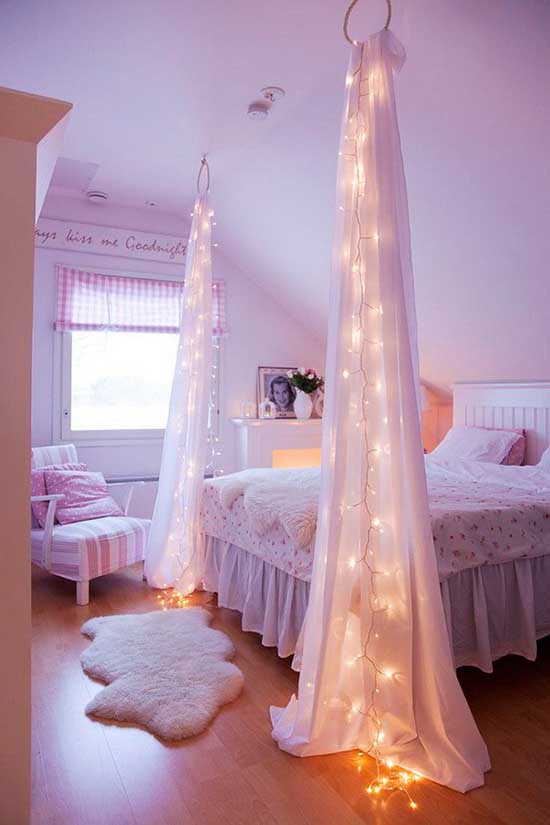 Photo:Credit
I wanted to share this creative girl's bedroom lighting decoration with you. Just stretch some Christmas lights and a couple of sheer draperies from the ceiling and voila – your girl will live in a fairy tale.
10. Transform Your Toddler's Room into a Purple Fairytale Retreat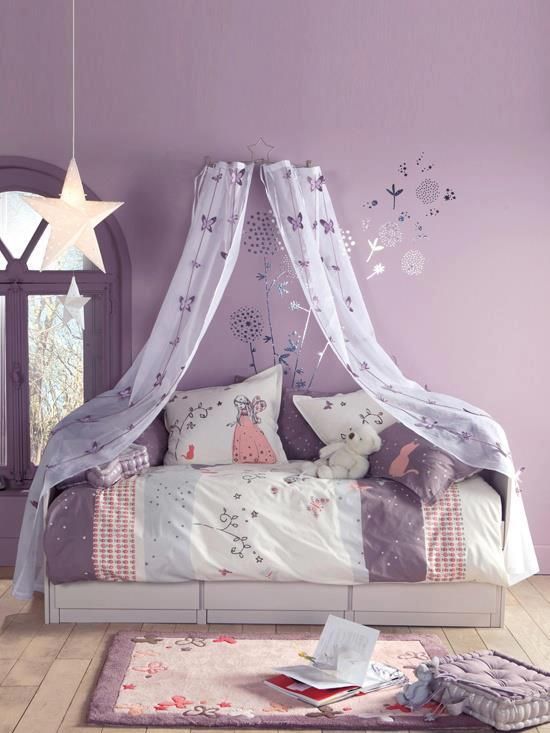 Photo:Credit
Here is how to create a fairy purple design for your toddler's room with a basic coronet canopy, hung with sheer material over a wrought iron bed. The cute floral wall stickers and stuffed animals complete the look.
Related: 12 Awesome Boy Nursery Design Ideas You Will Love!
11. Give a Teen's Bedroom Vintage Charm with a Purple Brick Wall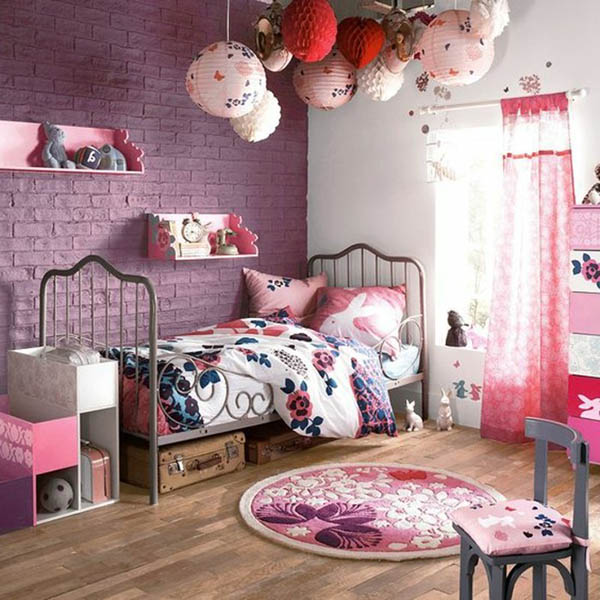 Photo:Credit
I simply adore the dark purple brick wall and the rustic feel it brings to the girl's bedroom!
The additional texture is stylishly achieved by using lots of paper lanterns and bookshelves. Those are helping out to make the room more welcoming and homey.
Tip: Even though it may sound weird, consider using some red accents – the red color actually pairs well with the purple shades.
12. Enjoy Calming Beauty of White Paired with Lavender Shades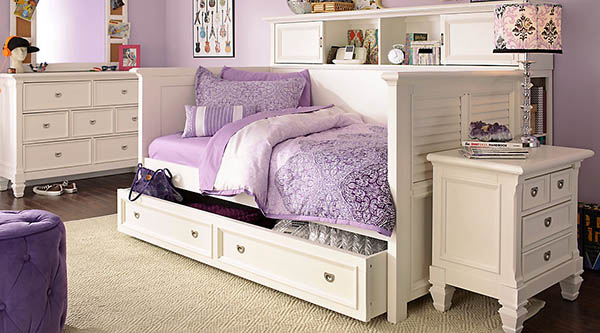 Photo:Credit
Here is another great example of how great the white color is pairing with the purple shades. Moreover, this design offers plenty of storage for the teen girl's stuff.
The dark wooden floor makes a nice contrast with the light furniture and the lavender paint on the walls.
13. Decorate Your Girl's Room with a Dreamy Cherry Blossom Tree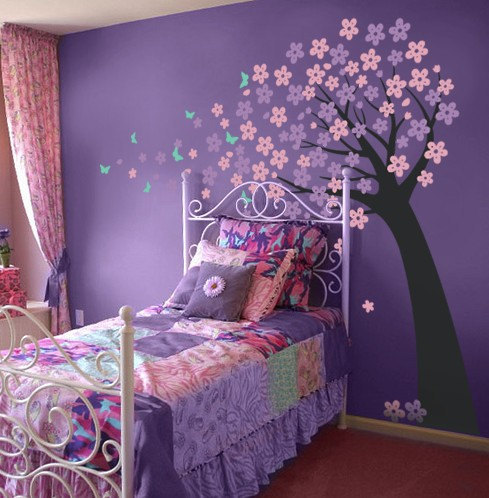 Photo:Credit
This is one of my favorite purple bedroom ideas.
The cherry blossom tree adds a cute twist to this lovely purple bedroom design. Designed for perfect emplacement to dribble behind the girl's bed!
14. Make a Bold Statement with a Teen's Purple Bedroom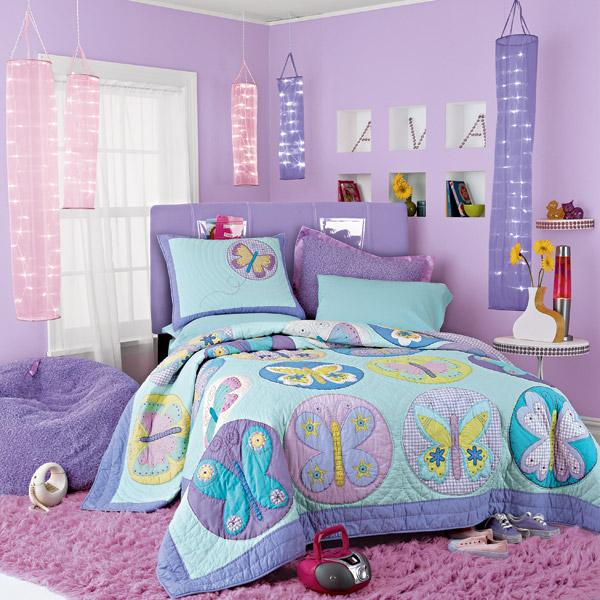 Photo:Credit
I find the design of this purple teenage room very bold and kind of surreal thanks to the variety of shapes and color tones.
It looks like a very successful experiment. Plus, the bright purple color of the walls makes the room looks brighter and more spacious.
15. Contemporary Purple Teen Bedroom with a Reading Nook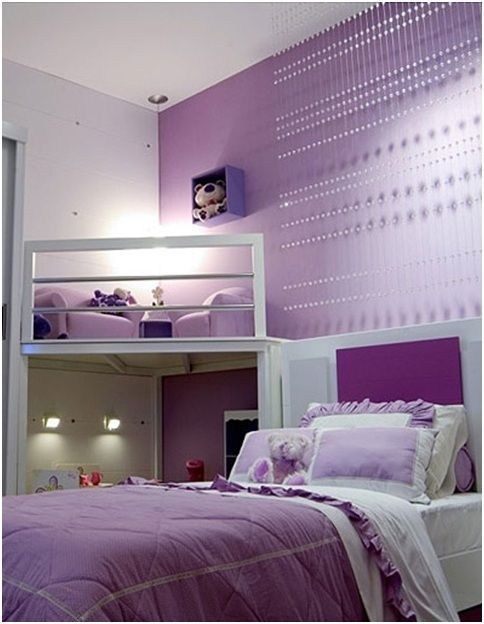 This edgy design shown in the picture is great for smaller girls bedrooms.
The first association that came to my mind was with the interior of a spacecraft due to the wall lighting and the loft reading nook.
16. Indulge in the Lavish Look of Lavender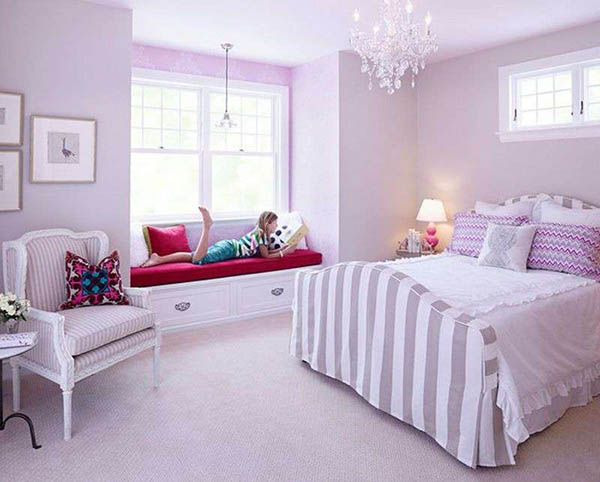 Photo:Credit
This is one of my favorite purple girl room ideas.
It is very chic and relaxing thanks to the lavender color painting. However, there is nothing bold in this bedroom design as there are no lots of color tones and shapes used… In the end, it is still very stylish and clean.
17. Get Rustic Elegance in Purple Bedroom with Wooden Drawers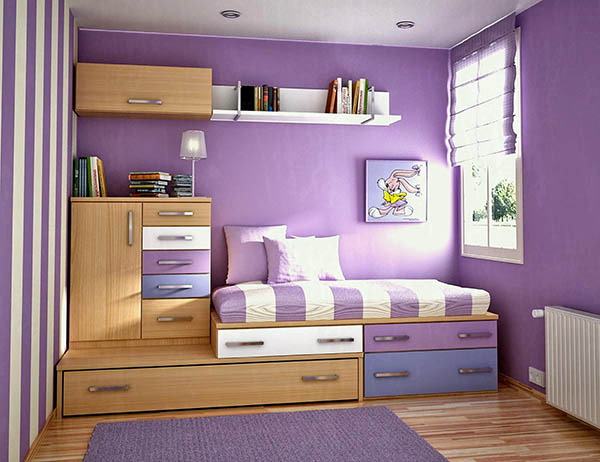 Photo:Credit
The combination of dark purple and wooden furniture may seem a bit strange for some of you.
But in my opinion, it looks very natural and makes the bedroom feels cozier. Check out the funky stripy wall and the Lola Bunny poster… I am simply in love with this purple girls bedroom!
If you liked these cute purple bedroom ideas for teenage girl, please SHARE it with the buttons below!