Unusual kid bed designs help create whimsical, dream-come-true spaces, a sanctuary, where kids can sleep, play, explore, and dream.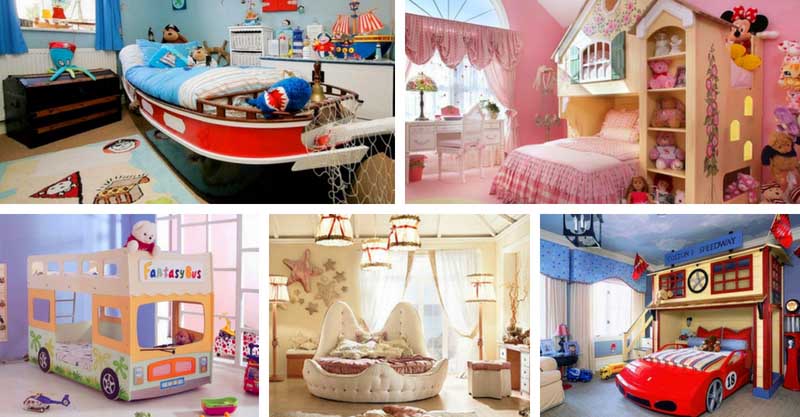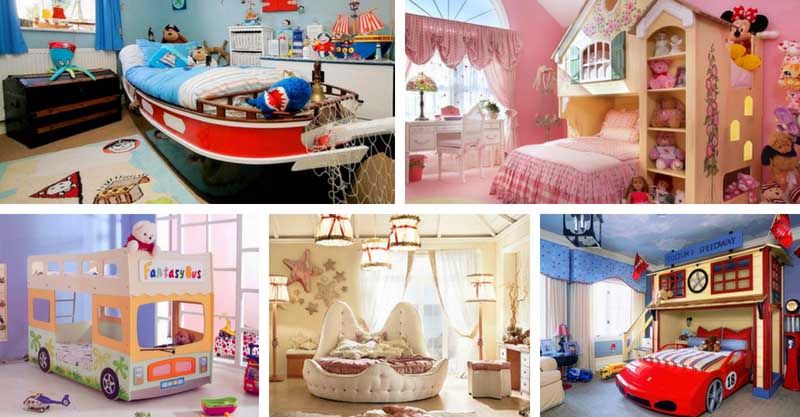 All kids need some space to play, learn, and dream, and the more, the better. Unquestionably, cool, outside-the-box bed designs that go far beyond pure functionality help create spectacular bedrooms, which support kids' creativity.
Actually, creating an inviting kid space could prove to be a demanding task, mainly because sometimes parents tend to recreate their own dream kid bedroom.
So, parents should always keep in mind that whether gender neutral, boy's, or girl's, kid spaces should reflect the kid's personality. If their age allows it, kids should be necessarily involved in the process of decorating.
Furthermore, kid rooms grow with children over the years. Keeping to the basics and introducing new items when kid's taste changes is a working solution.
Whatever kids are dreaming about – a pirate ship, a jungle-themed or forest-inspired space, or a princess castle, a sturdy, solid bed is a must. Apart from providing comfortable sleeping, the bed should also offer plenty of storage.
To further encourage tidiness and control clutter, practical, easy-to-access yet fun storage and display options should be included. Usually, labeled colorful baskets, bags, and boxes and open shelving are a common choice. In addition, less clutter means more floor space where to move and play.
Using organic materials, a restrained color palette, and pastel hues and incorporating quirky décor items help create stylish, functional, and comfortable yet fun, playful spaces. Beds of unusual, bold design add dashes of whimsy and make kid bedrooms a special, magical world where children can rest and play.
1. Gender-neutral Bed Designs
Although traditional kid bedrooms are respectively in pink for girls and in blue for boys, themed gender-neutral kid bedrooms with statement beds are gaining popularity, mainly because children share rooms with their siblings.
In gender-neutral hues, such as greens, yellows, and browns, with versatile furniture in natural wood tones, these multifunctional spaces can still reflect kids' personalities. Incorporating bold patterns, pops of color, and different textures enlivens the room and lends it a complete, layered look.
When it comes to creating gender-neutral kid bedrooms, usually, forest- and tropical-themed designs work well. Nautical- and farm-inspired rooms are also a stunning solution.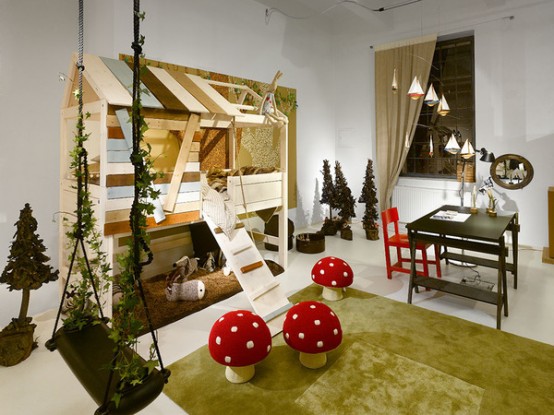 In the picture above, a whimsical woodland-themed gender-neutral kid bedroom in earthy colors. A stunning wooden house- loft bed design is a space-saving solution, which provides some extra space to play.
Polka-dotted mushrooms just in front of the bed add color, fun, and visual interest. A charming swing with climbing vines is definitely a creative solution. A table and chair add to the functionality of the space.
Some mini-trees complete the look of this truly magical bedroom, which is a dream-come-true for any child.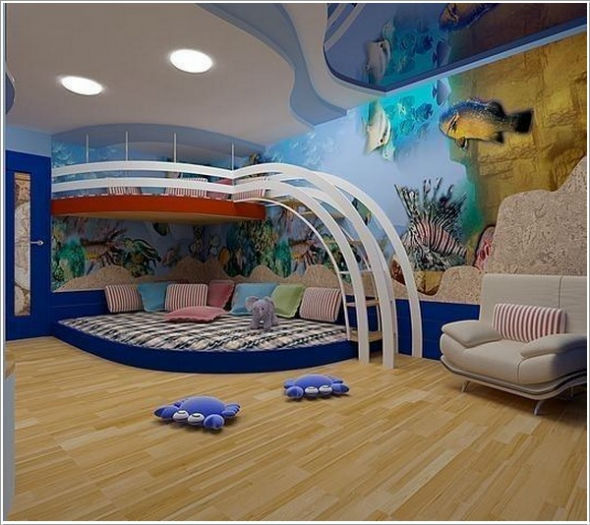 Above, another enchanting gender-neutral bedroom with a mind-blowing bed design. Aquarium-themed mural on the walls and ceiling creates a sense of adventure and adds touches of whimsy. A unique ladder leads to the bed.
Underneath it, a cozy space with multiple throw pillows, a perfect spot for playing and daydreaming, is positioned. This magical bedroom is definitely an imaginative design solution!
Boys love adventures, planes, trucks, trains, pirate ships, fire engines, racing cars, football, "Star Wars",  dinosaurs, and soldiers.
Any of these ideas will work well to introduce a fun novelty bed design and create practical yet magical boy bedrooms where any boy can sleep, have a rest, play, study, and dream.
Generally, a boy bed of original, unique design can transform any bedroom and make it an extraordinary space.
As they create a sense of coziness and comfort, rugs are a must-have décor element.
Wallpaper, posters, wall decals, accessories, and kid artwork pieces are common ways to both infuse boy bedrooms with color and add texture, visual interest, and personality.
Including blankets, throw pillows, and stuffed animals can help any boy's imagination run wild, and the more, the better.
Chalkboard walls are also a fun accent. Furthermore, they offer the opportunity to draw on the walls, and any kid would definitely love this.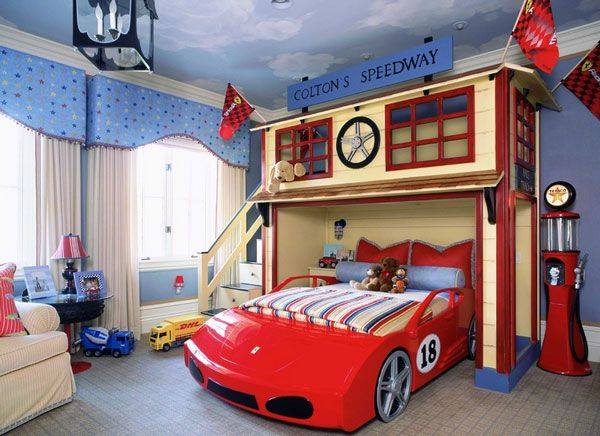 In the picture above, an awesome boy bedroom in blue and red with a uniquely painted ceiling. A bed of racing car design immediately grabs the eye.
Unquestionably, a creative design solution! Ferrari flags, a gas station, a car wheel, and toy trucks add to the theme. A ladder with steps that double as storage leads to the loft, which offers some extra space to play.
A bedroom like this one can make any boy spend as much time as possible in his own space!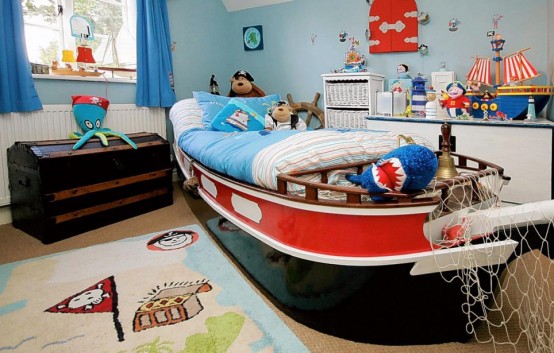 Above, a fascinating pirate-themed boy bedroom with attention to detail.
The blue wall color is reminiscent of the sea and sky and creates a sense of serenity. A boat bed makes a statement décor item.
A pirate-themed area rug and pillows, plenty of stuffed toys/including a shark/, a toy ship, flags, a ship steering wheel replica, a bell, and other accessories add extra visual interest and complete the look of the space.
A wooden chest is a fun yet practical storage solution. If a boy is crazy about pirates, this bedroom is definitely a dream-come-true for him!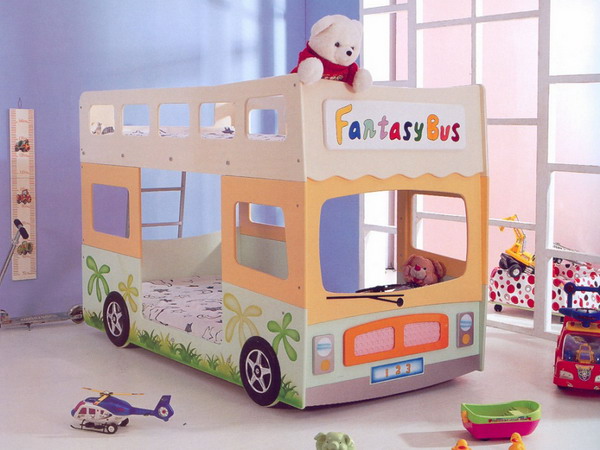 Above shown is a fabulous shared boy bedroom with adequate floor space to play. An intriguing bus-shaped bunk bed design offers comfortable space for sleeping.
This airy, bright space with plenty of toys can make any boy happy!
3. Girl Bed Designs
As girls adore castles, princesses, carriages, canopies, Cinderella, doll houses, Snow White, and mermaids, bedrooms that incorporate such décor items can make any girl happy.
Soft, pastel colors, a variety of patterns and textures, floral-themed fabrics and wall coverings, mirrors, and some pink accents lend the space a girly look. As for the accessories, incorporating colorful umbrellas, butterflies, buntings, and wall murals and lettering helps create a heaven for any girl.
Shabby Chic and vintage décor items also work well in girl bedrooms. Adding layers of appealing cushions and pillows creates a sense of comfort and coziness. Eye-grabbing boxes and baskets offer a practical storage solution.
However, incorporating beds of unique design helps create adorable, magical spaces, which any girl will adore.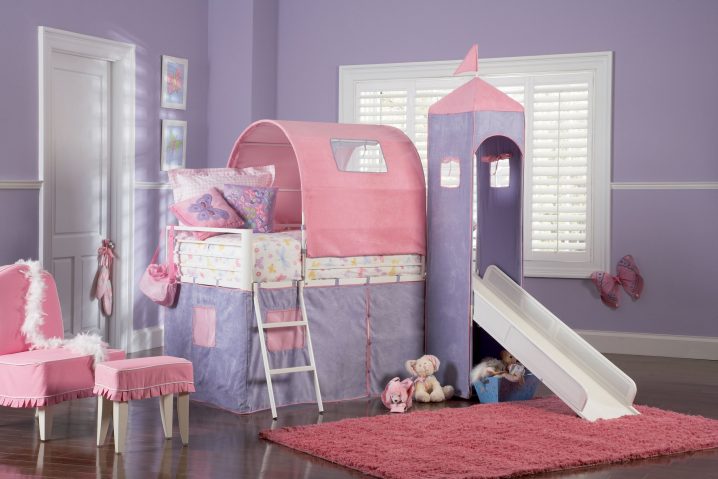 In the picture above, a fascinating girl bedroom in pastel pink and purple. A princess-inspired tented loft bed offers a practical, space-saving sleeping solution.
A covered hiding space underneath the bed provides space to play and dream. Furthermore, a slide with a tent-style tower adds extra functionality and visual interest.
An area rug creates a sense of comfort and coziness. Stuffed toys and wall art complete the look of this girl bedroom.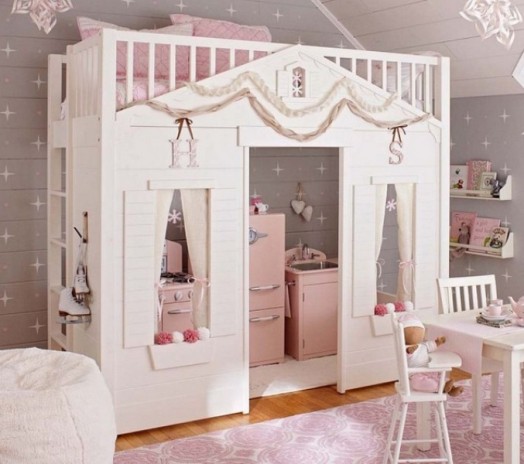 Shown above, a charming girl bedroom with a cottage-style loft bed. A ladder leads to the bed, while the space below is turned into a mini-kitchen.
Positioned just in front of the house, a toy dining space offers extra functionality and fun. This is simply a picture-perfect girl bedroom!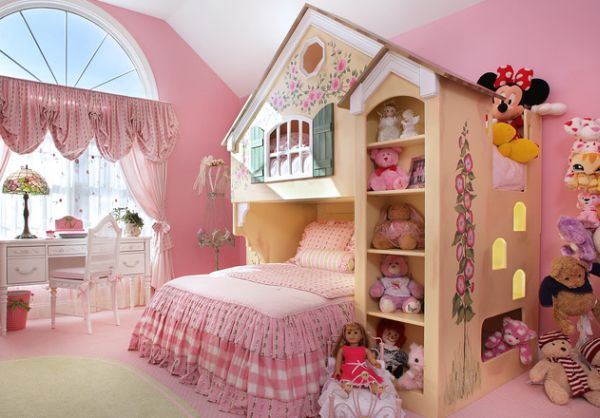 Above, an awesome girl bedroom in pink. A playhouse-style bed is a spectacular statement piece of furniture. This design is classic, functional, and elegant, with adequate storage for all toys.
A ruffled bed skirt and layered curtains add to the girly look of the space. A gorgeous window creates architectural and visual interest.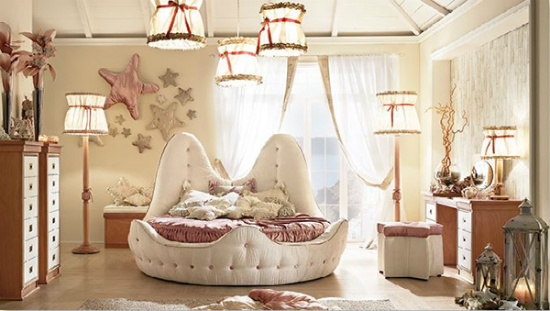 In the picture above, a magnificent seaside-inspired girl bedroom. A round velvet bed definitely makes a statement.
All furnishings and décor items are delicate, sophisticated and add to the girly look of the space. Sea star-inspired wall art and throw pillows add to the theme of the room. Truly impressive!
Whether parents plan to decorate a gender-neutral, boy, or girl bedroom, shared or not, beds of unusual, bold design can help create unique, whimsical spaces where their kids will love to sleep, play, and dream.
Don't miss the absolutely amazing boy nursery ideas: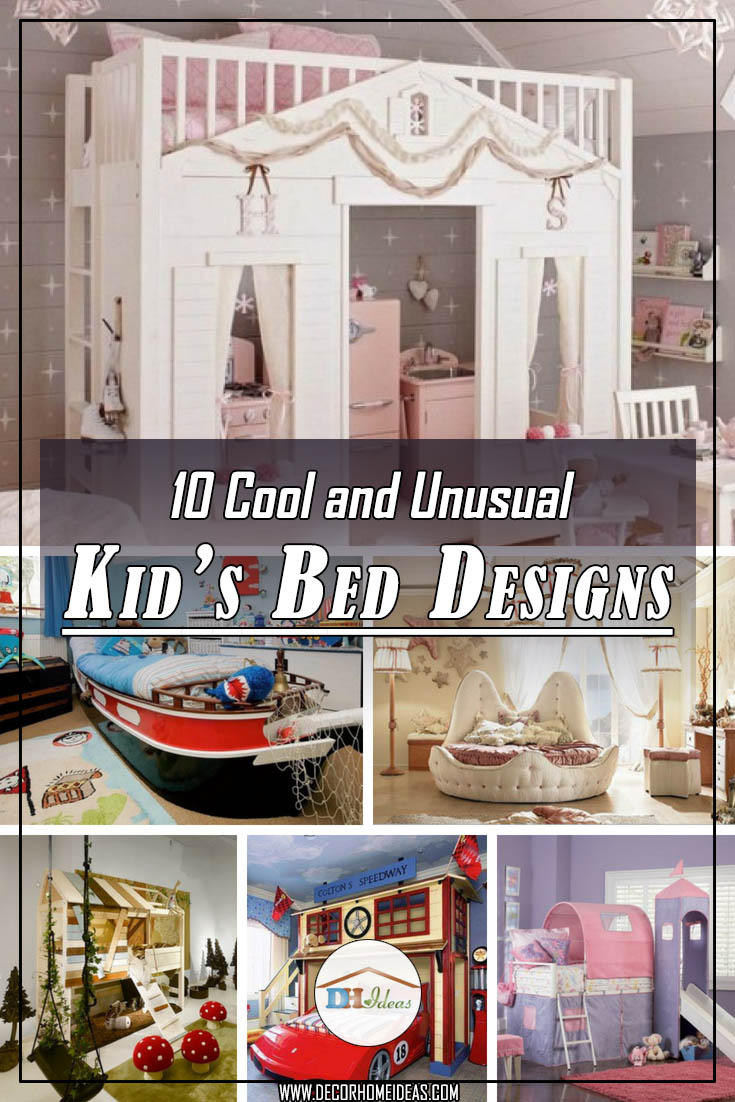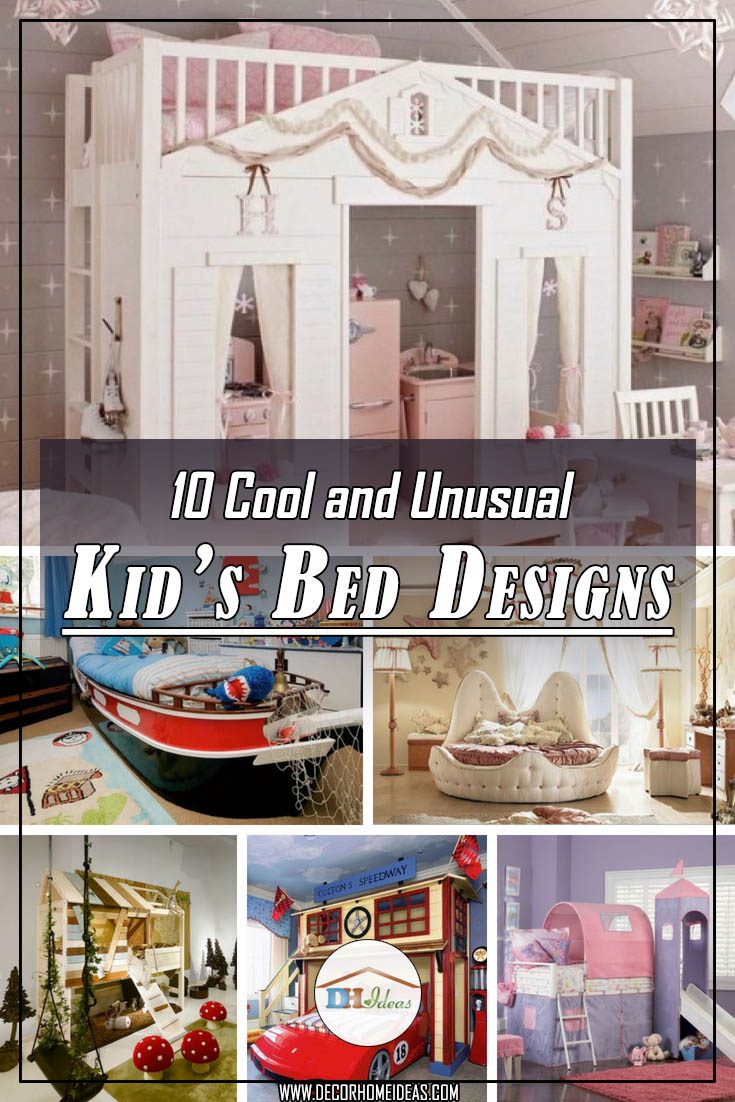 Click on the buttons below to SHARE it with your friends and family!