My daughter has always wanted to add or change something to the decor in her bedroom.
And believe me – it has been a nightmare until I found this list with 17 fun DIY cheap ways to decorate a teenage girl's bedroom… which I will share with you.

Your teenage girl's bedroom decor will quickly go from blah and boring to funny and amusing!
One thing I can ensure you – these simple bedroom decorating ideas for teenage girls are easy to make and can be customized to fit her taste and personality!
Let's the fun begin! 😉
1. Add a Chic Touch to Your Girl's Bedroom with Wooden Shelves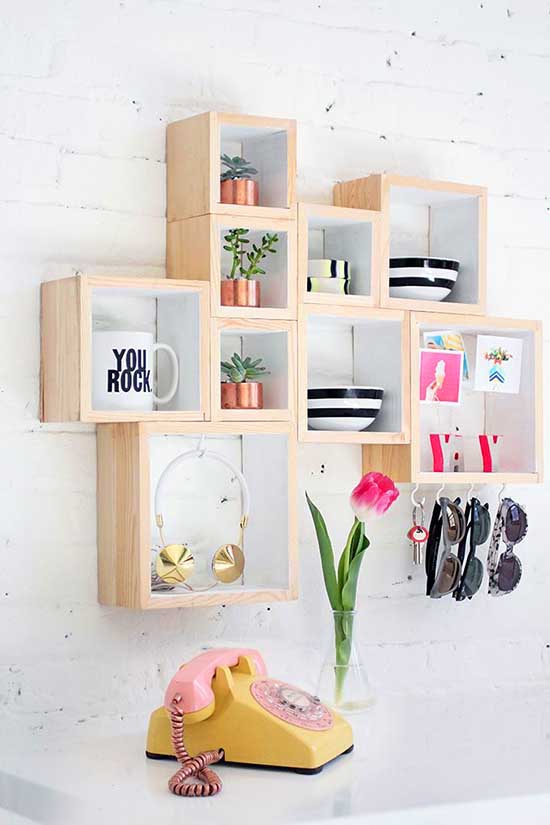 The simple wooden box shelves are a great wall decor for teenage girl bedroom. They bring chic and different touch to the whole room and the wooden goes with all kind of materials and colors.
These type of shelves would perfectly fit above the desk.
Similar ideas to this one you can find here.
2. Spice Up Your Kid's Room with a Cozy Bench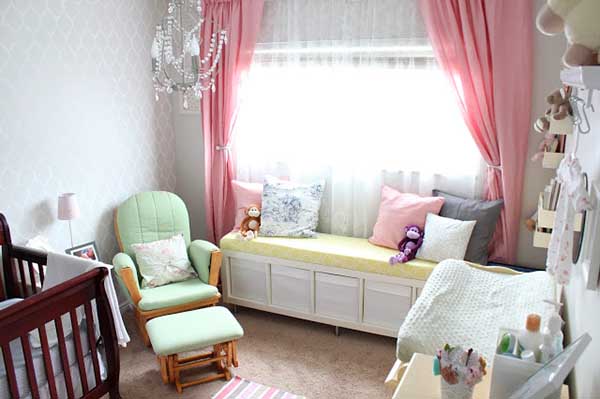 Talking about teenage girl bedroom decorating ideas, this IKEA DIY no-sewing bench brings a whole new world to the kid's bedroom. It's very easy to be personalized and makes the atmosphere cozier.
Here is a detailed explanation how to do it step by step: DIY IKEA bench – tutorial
3. Personalize Your Teen's Bedroom with a Wire Wall Grid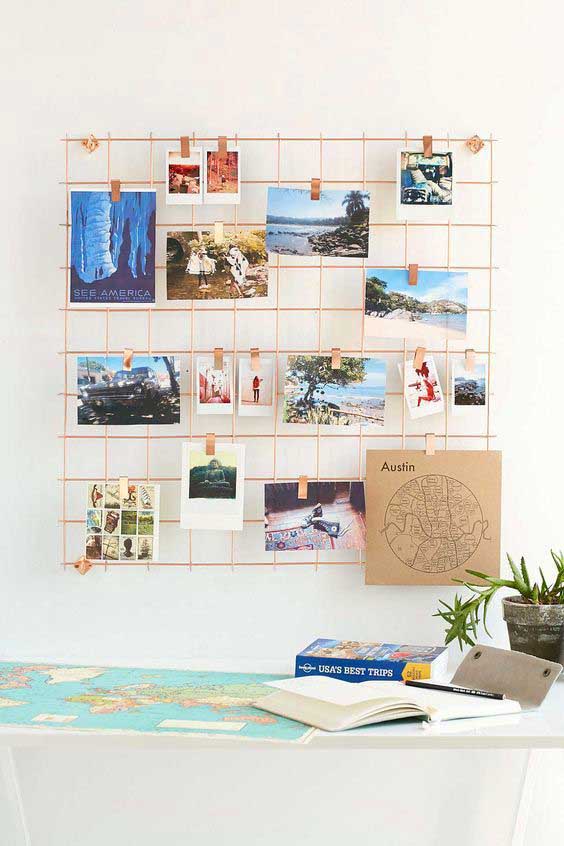 When you're collecting ideas how to decorate a bedroom for teenage girls, keep in mind that the wire wall grid is a perfect choice for the ones who prefer the simple, minimalistic decor. It can be used to display photos or leave important sticky notes.
As there are not many colors, the wire wall grid can easily go with pretty much everything. As a hint – why don't you add a desk or a little IKEA table next to it?
Here is how to do the wire wall grid step by step: Wire Wall Grid
4. Keep Make-Up in Order with a DIY Magnet Board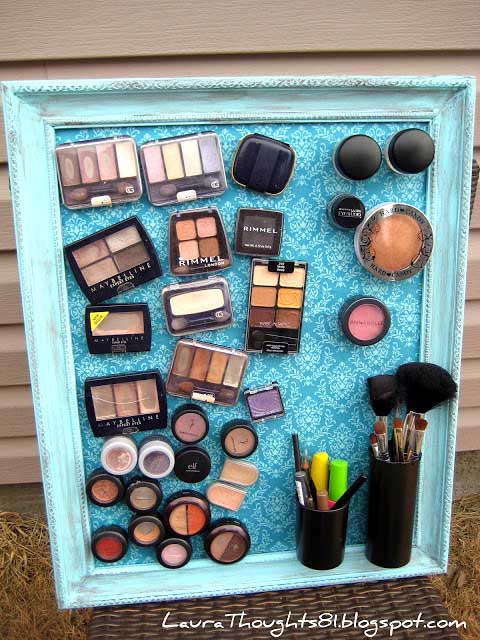 The DIY make-up magnet board is maybe one of the most suitable bedroom decor ideas for teenage girls. In one hand, it looks cool and artsy, from the other hand – it helps to keep all the make-up in order.
You can use an old picture frame and customize it in an appropriate color. Here is how.
5. Get Creative with a Vintage Mirror Frame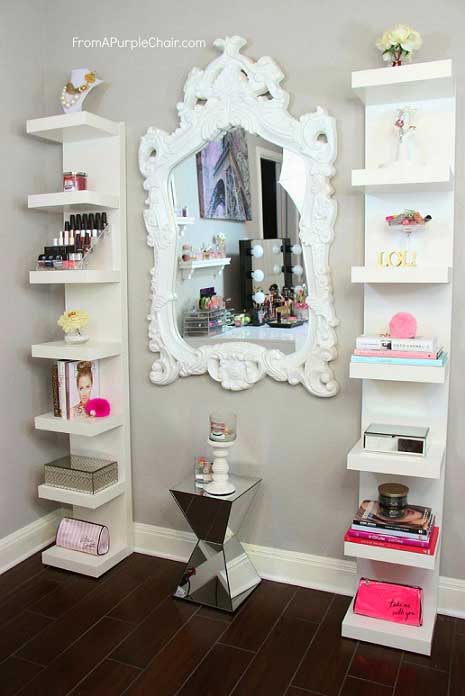 All the teenage girls are usually very foppish so if you are wondering how to decorate a bedroom for a teenage girl, just remember – a big mirror in the middle of the room cannot be a wrong choice!
As a hint, add some kind of old-looking frame that will bring an extra vintage chic to the whole decor.
A detailed tutorial and similar ideas, you can find here.
6. Brighten Up the Room with a Flowers Lampshade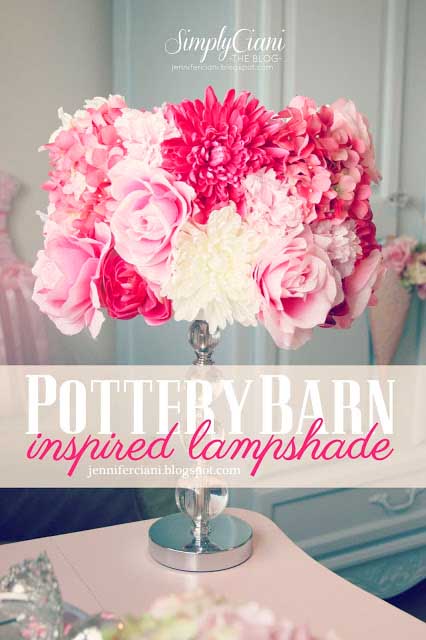 The lighting is always crucial no matter if we are talking about living room furnishing or decor for teenage girl bedroom. Here is something girly and stylish from me – flowers lampshade.
The full tutorial how to bring the early spring into your daughter's bedroom, you can find here.
7. Make Enchanting Scene in Her Room with Starry Night Lights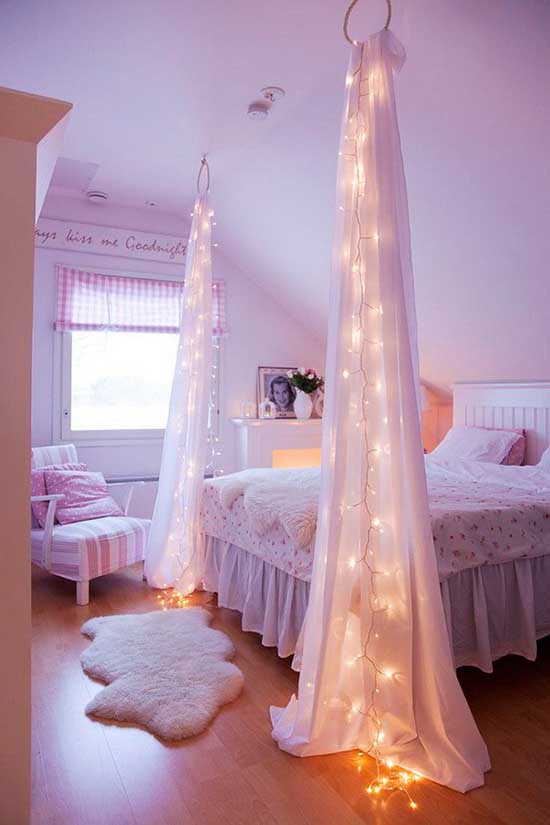 Every teenage girl loves fairy tales and wants to be the princess saved by the beautiful prince. The starry night string lights are one of the most magical decorating ideas for teenage girl bedroom.
However, it may seem difficult for amateur DIYer, trust me it's not! To help you get started, I'm giving you the detailed tutorial.
8. Repurpose Shopping Bags into Creative Storage Solutions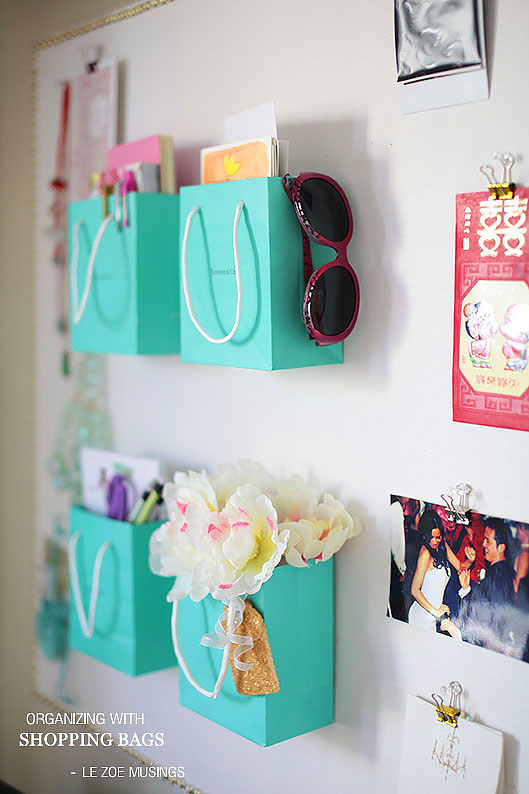 You can easily make Tiffany's shopping bags organizers for decorating teenage girl bedroom. It's not just that they are eco-friendly but they are also very stylish and girly in the simplest way possible!
These cool organizers can go to the wall above the office space or above the bed.
You will find the detailed tutorial here.
9. Bring Style and Comfort with a DIY Hanging Macramé Chair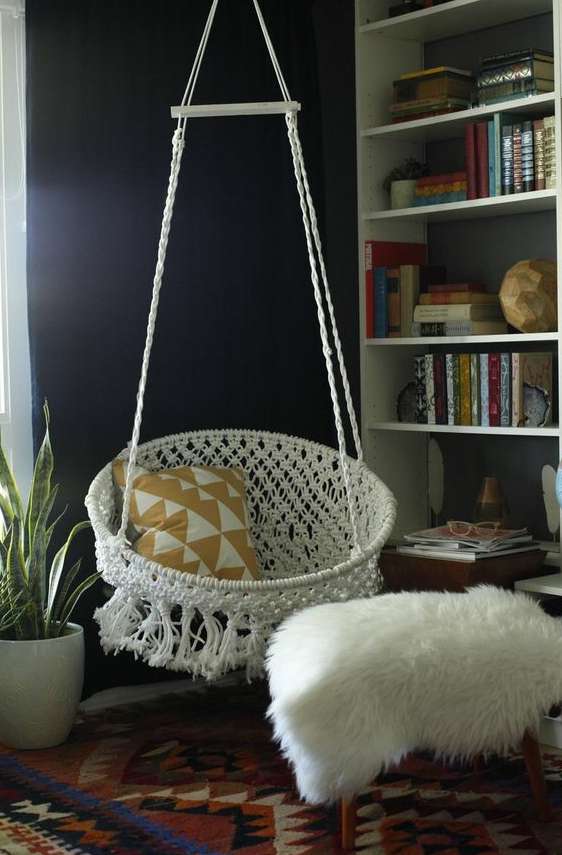 If you are searching for teenage girl bedroom decorations, consider this DIY hanging macramé chair – it's pure boho chic on a budget!
Everything you need is 1700 feet of clothesline, scrap wood, an old chair frame, and a hula hoop. This tutorial will guide you how to build it on your own.
10. Turn a Bedroom into a Calm Oasis with Turquoise Accents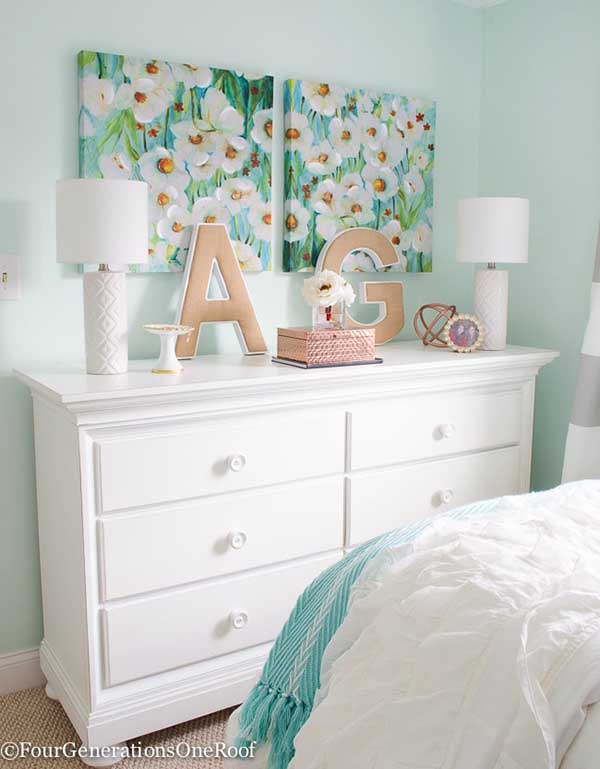 Painting the walls in turquoise is one of the most popular ideas for teenage girl bedroom decorating. This vibrant color has a calming effect on the mind and body. Plus, it's super chic!
In case you have already chosen another color for the bedroom walls, you can add some accessories in turquoise as a final touch. More ideas HERE.
11. Refresh the Look of Your Teenager's Room with Polka Dot Wall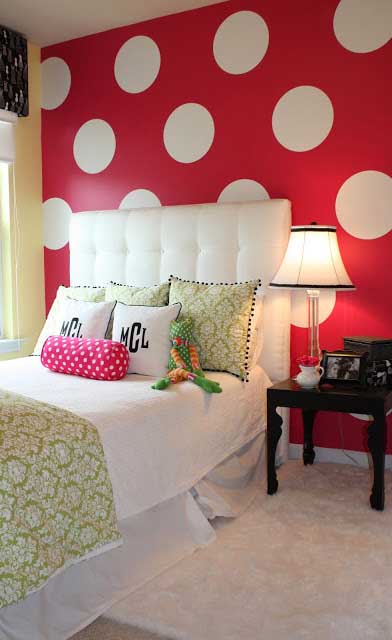 Polka dots are a suitable bedroom decor for teenage girls. It brings retro atmosphere. They don't necessarily need to be in white and red tone, you can customize them as per your daughter's taste.
Here is an easy step-by-step tutorial.
12. Elevate Her Room with a Paper Heart Wall Art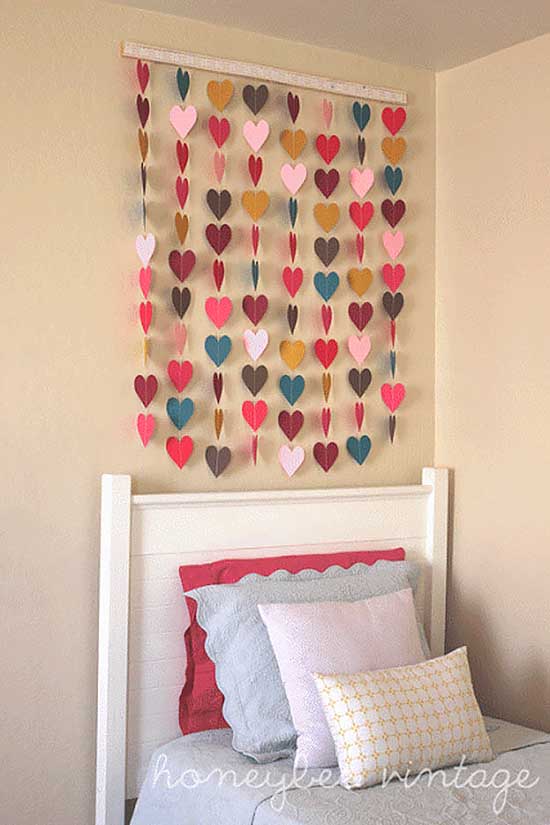 To all crafty people: stop wondering how to decorate teenage girl's bedroom – the paper heart wall could be your answer! You can play with the hearts' size and colors.
But the best part is that you can have a little bonding moment with your teen daughter as you can work as a team while crafting the wall art.
More similar ideas can be found here.
13. Bring Farmhouse Charm with Upcycled Vintage Frames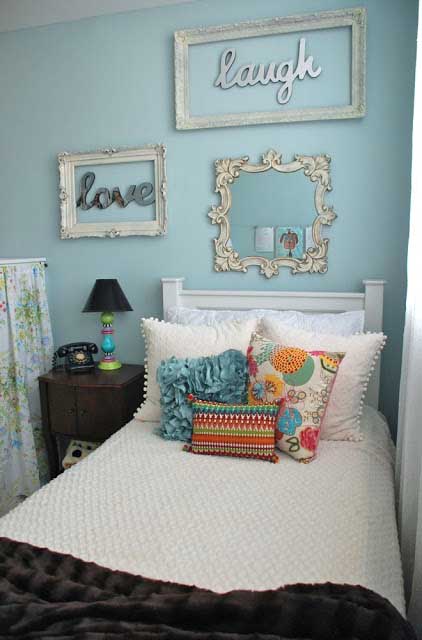 One of the most important teenage girl bedroom decorating tips I can give you is to look for simplicity. You don't necessarily need to give tons of money for expensive accessories.
For instance, the vintage frames above the bed would be a great wall decoration. You can find them on some flea markets and garage sales. Here is some more chic inspiration here.
14. Add a Splash of Color with a Dahlia Paper Wreath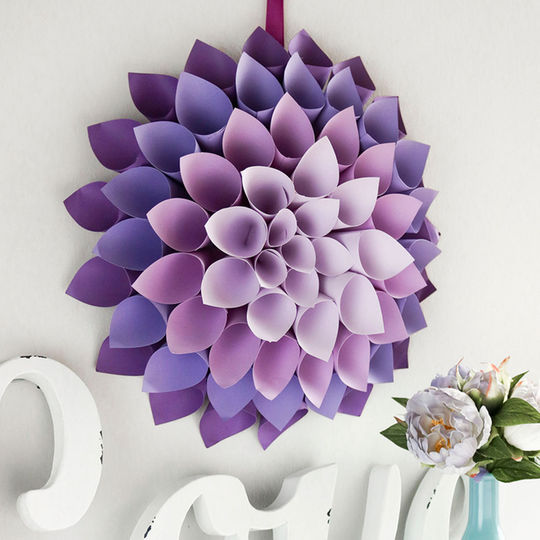 This is something for master DIYers – Dahlia paper wreath. You are free to play with the colors considering the whole bedroom decoration.
This is a helpful tutorial how to do it in 8 easy steps. Can't wait to see the result!  😀
15. Create a Magical Setting with Lighted Flowers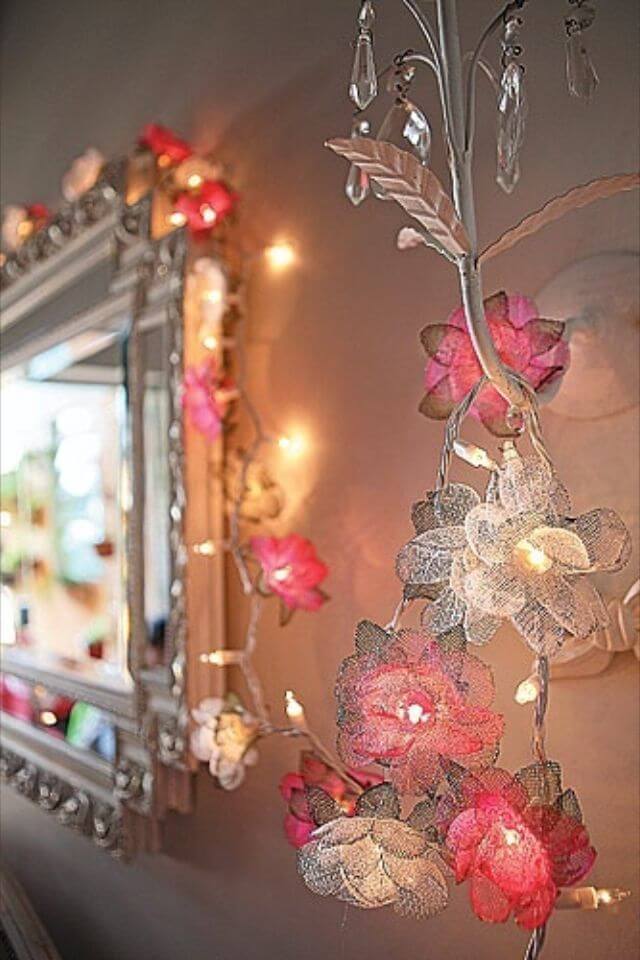 Combining flowers and lights is one of the trendiest (and cheapest!) decorating ideas for teenage girl bedrooms. All you need to do is attaching some artificial flowers around a mere wired lighting.
Play with your imagination, be YOU!
Some more similar ideas – here.
16. Add Charm and Cozy Vibes with Colorful Macaron Pillows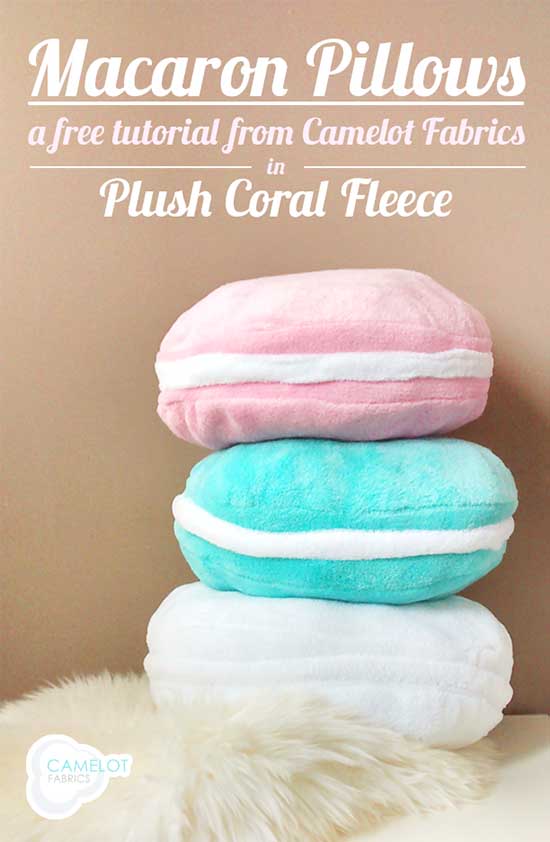 The macaroon plush pillows are something every young girl is dreaming about!
They are soft, cute, come in different colors and sizes and are a great touch to the décor for teenage girl bedroom.
Do it yourself step by step.
17. Make a Masterpiece with a Floating Flower Headboard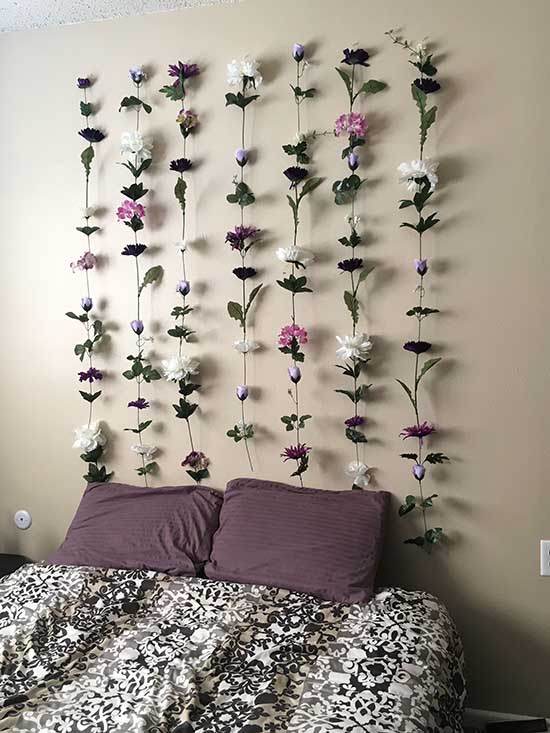 While searching in the Internet for cool decor ideas for a teenage girl's bedroom, you may notice lots of them are including flowers. In the end, girls will be girls!   🙄
Here is a very quick and super easy tutorial on how to make a flower wall using just a bunch of fake flowers, hot glue, a few nails and a bit of fishing line. Great for a headboard!
18. Upgrade Your Teenager's Room with a Polka Dot Wallpaper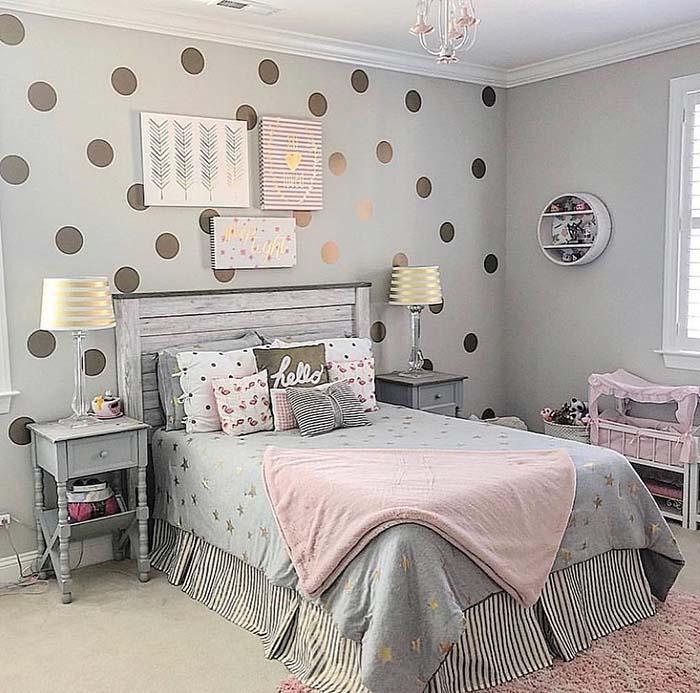 Photo: Credit
Create a polka dot wallpaper by cutting circles from paper and stick to the wall. You can use golden texture to add more glam to the room.
19. Create a Contrasting Illusion with White and Pink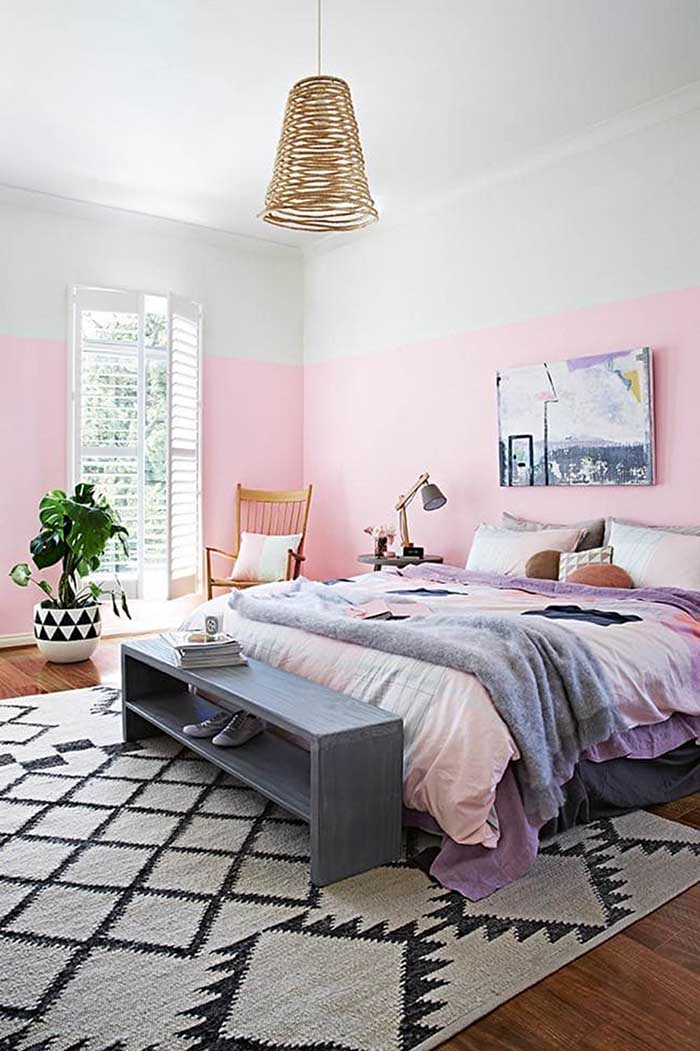 If you don't paint the walls up to the ceiling in the same color you could create the illusion of higher ceiling.
Moreover, combining two colors, for example white and pink, will add more contrast to the room.
Bonus Idea:  Maximize Storage Space with a Built-In Closet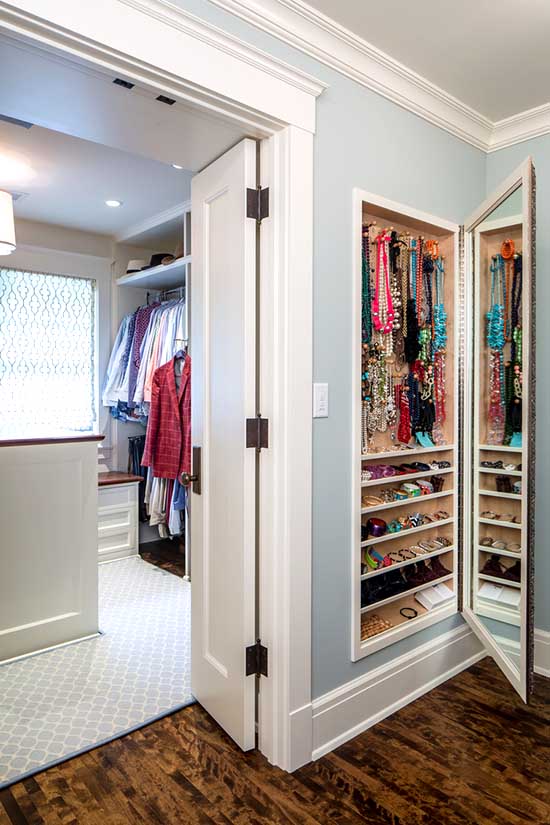 If you are stuck between tons of DIY ideas how to decorate a bedroom for a teenage girl, consider the built-in storage as an efficient use of space.
Girls usually have much more stuff than the boys so this "hidden" storage will make the bedroom looks tidier. This idea is particularly good for small spaces.
If you liked these ideas, please SHARE with the buttons below.
You can find more great ideas in our Recommendation section below!