Flexible and versatile, fabric bins are a fun way to bring color and pattern to your storage system.
Whether you need a place to store extra blankets or you're building an organizer for kids' toys, these soft yet sturdy baskets have you covered.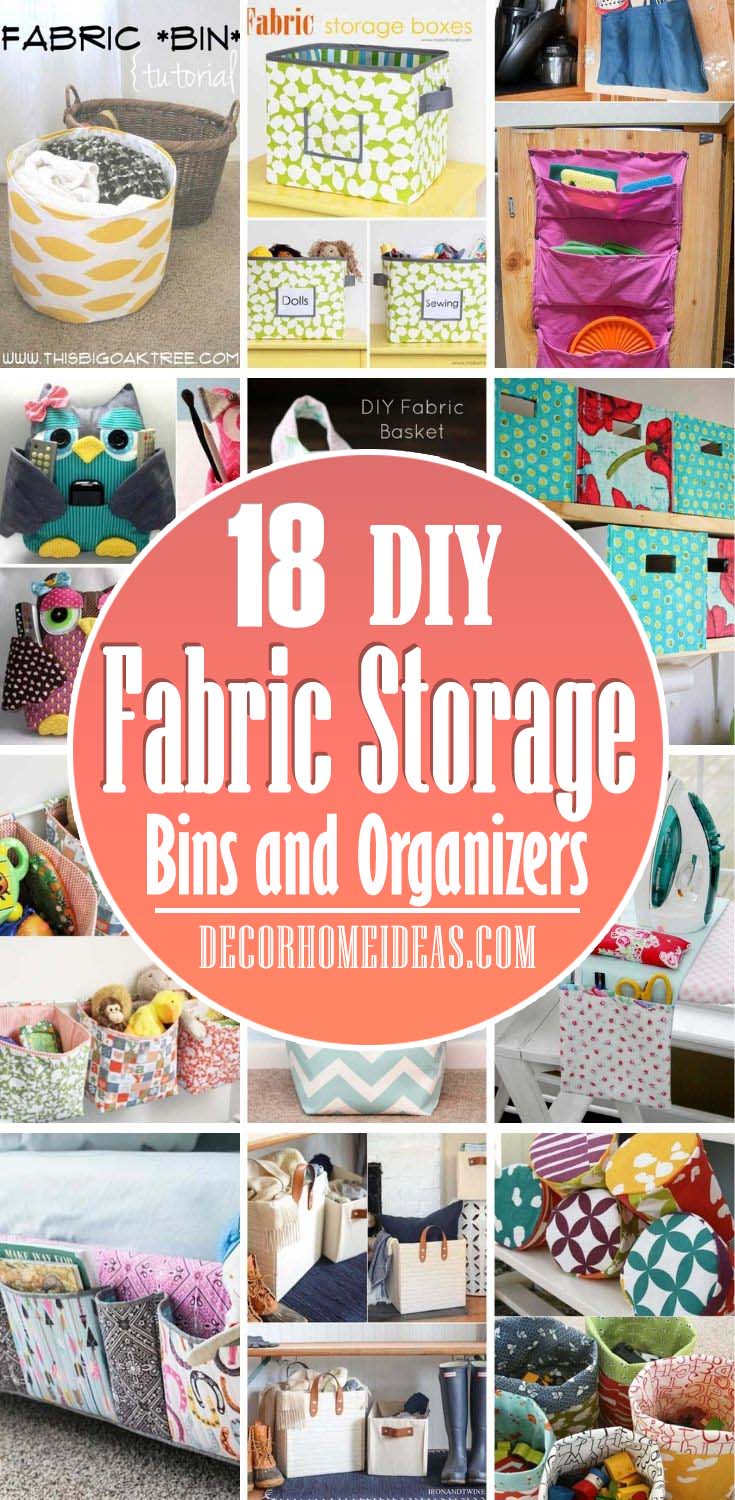 The best part? They're cheap and easy to make, so you can design a custom system that's the perfect fit for any spot in your house.
1. Bedside Pockets Organizer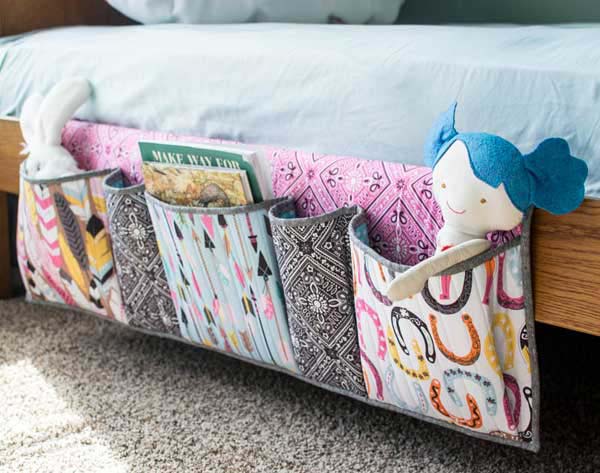 If you've ever rushed around at bedtime trying to find your child's favorite toy, this clever pocket organizer can help.
The flap tucks under the mattress, positioning the pockets vertically next to the bed for easy access.
Create multiple pouches to hold all of your little one's most important items, including pacifiers, toys, books, and more.
This project is fast and simple to make, so you can finish it in a couple of hours, or if you have a monogramming machine you can create it even faster.
via Sew Can She
2. Contrasting Color Mixed Fabric Bins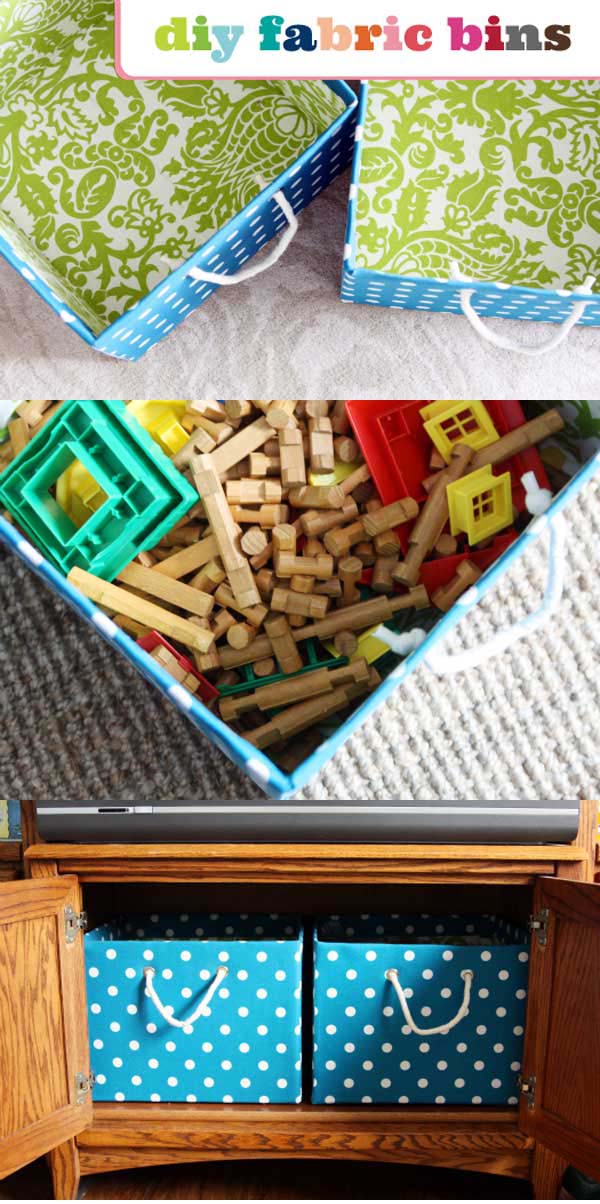 Brighten up any spot in the house with fabric bins made from two different colors. The trick? Choose prints and tones that pop next to each other for an eye-catching effect.
Here, brilliant blue and lime green look gorgeous from every angle.
Adorable rope handles make it easy to lift and carry the bins around the house — just tie a knot to keep each end in place.
3. DIY Belt Strap Bin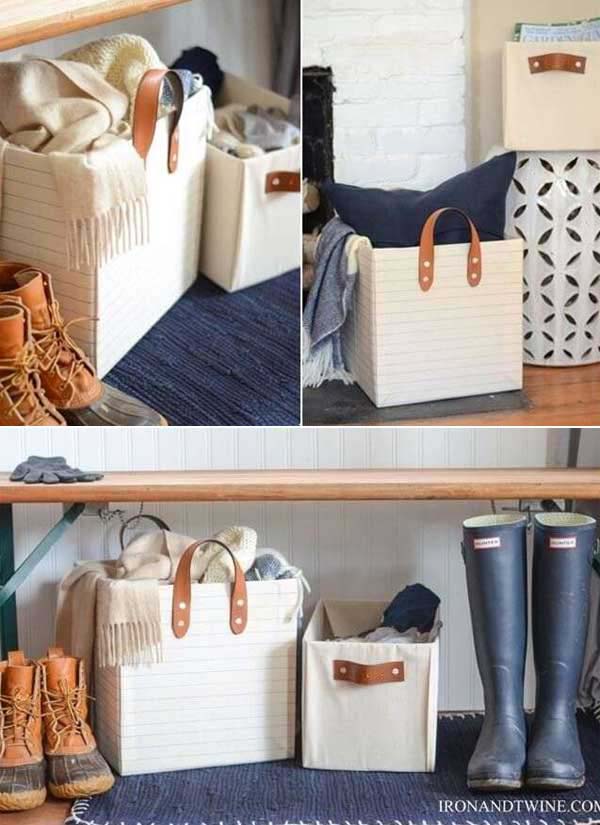 Simple fabric bins get a sophisticated upgrade in this creative DIY project.
All you need is an old leather belt — cut it into strips and attach it to the bin with binding screws. The rich camel color looks stunning next to the simple cream fabric.
Adjust the ends of the leather strips to create a custom look, or leave them flat for a timeless result.
4. Easy DIY Ironing Board Organizer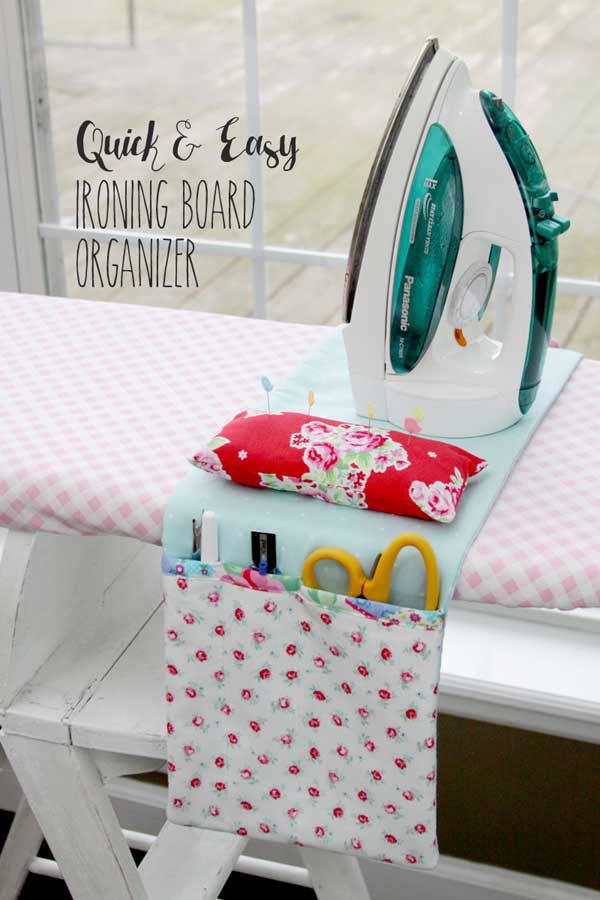 The humble ironing board is a crucial part of any sewing or craft room.
Ensure that all of your key supplies are close by with a cute ironing board organizer.
This creative solution consists of a rectangle of fabric with pockets sewn into each end for scissors, fabric markers, seam rippers, and other tools. Customize the pocket size with simple seams.
via Flamingo Toes
5. Fabric Bins with Handle Openings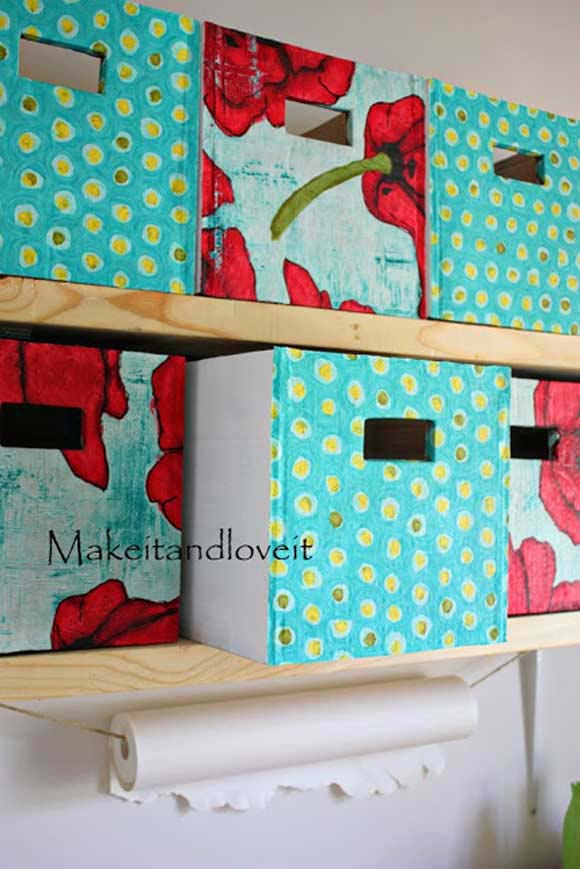 Are you looking for a quick way to upgrade your existing bins without spending much time or money?
This project has you covered. All you need is enough fabric to cover the front of your boxes — glue it on, fold the edges over, and you're done.
If your bins have cutout handles, just use a razor knife to trim the fabric.
via Make It Love It
6. A Fabric Covered Milk Crate Bin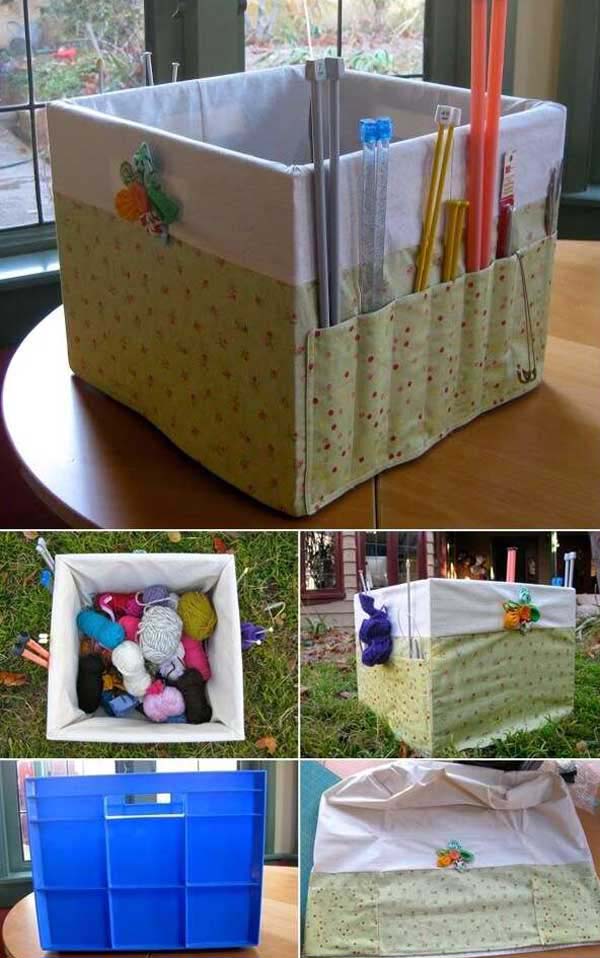 Milk crates are known for their incredible strength and durability, but they're not the most beautiful storage options.
With a few scraps of fabric, you can turn an ugly crate into a beautiful and functional bin.
The fabric covers the interior and the exterior, preventing small items from slipping through the cracks. With its slim side pockets, this is the perfect way to store knitting or crochet supplies.
7. Fabric Diaper Bag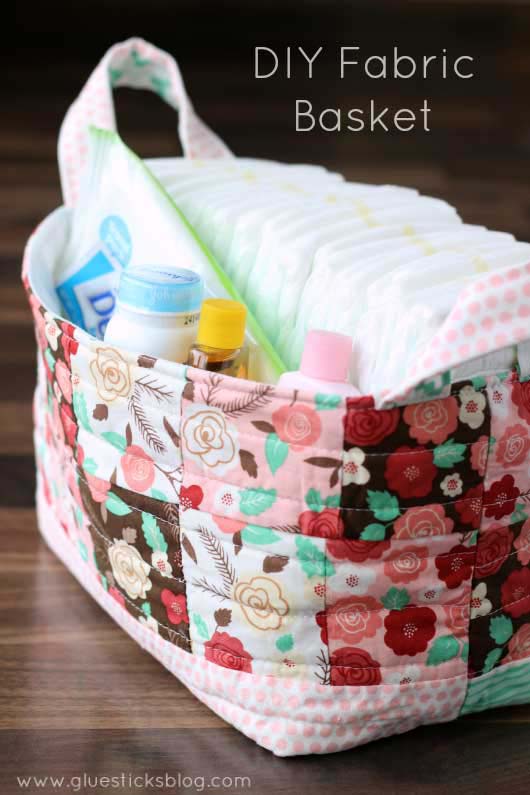 If you have a baby, you know that diaper changes can happen anywhere in the house.
Keep your supplies with you using a DIY fabric diaper bag. The rectangular shape is perfect for a stack of diapers and wipes, with enough space left over for powders and creams.
With its thick side handles, you can carry this basket from room to room with one hand.
via Glue Sticks
8. Fabric Pocket Organizers for the Kitchen Cupboard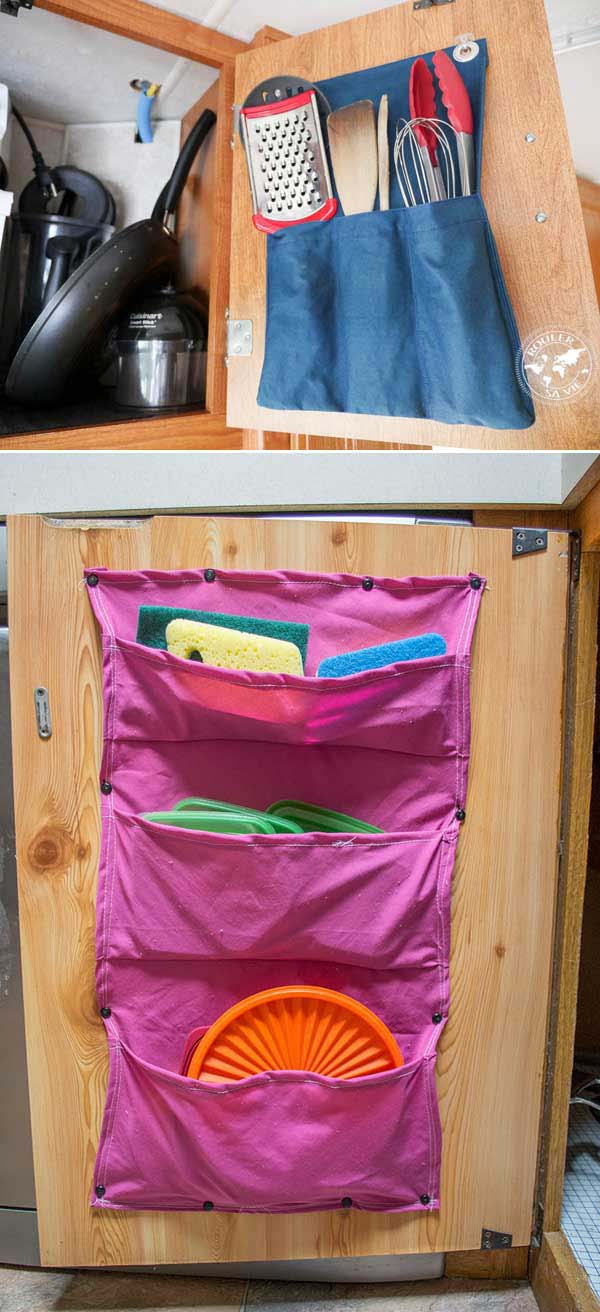 Do you have drawers that are overflowing with large utensils and kitchen tools?
Clear out the clutter with a DIY fabric pocket organizer. The tall, narrow pockets hold your items in easy view, and the flexible material adjusts to fit everything from whisks to wine openers.
Tack the pockets inside your cabinet doors for a space-efficient solution that frees up drawer space.
9. Fabric Storage Basket with Handles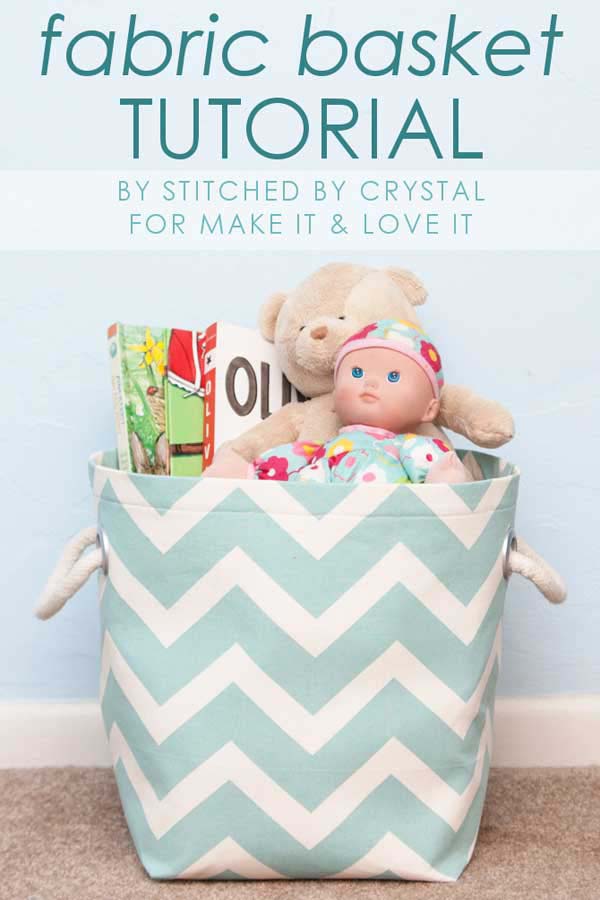 Corral any loose items you have lying around the house with this DIY fabric storage basket.
Using thick upholstery fabric, you can make sturdy baskets that hold toys, winter hats, accessories, blankets, or towels.
We love the thick rope handles, which run through metal grommets for a professional look. Choose fun, colorful fabrics to create a storage unit that also serves as a piece of decor.
via Make It Love It
10. Fabric Storage Boxes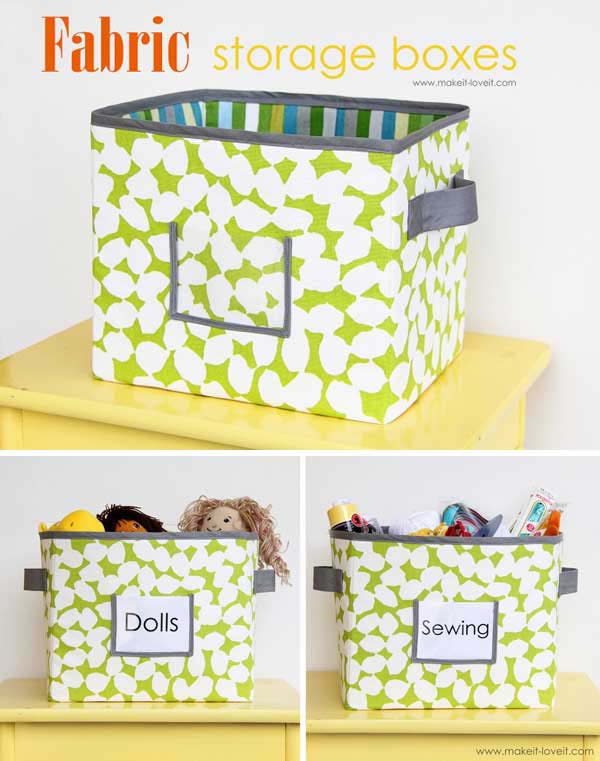 Bring order to a bookcase or a set of cubbies with a fabric storage box.
The stiff sides help the box maintain its shape, even when full, and the classic cube construction fits neatly onto a shelf.
For even more organization, add a clear pocket that holds printed labels. Whether you're dealing with toys or kitchen supplies, these colorful baskets are a fun, pretty option.
via Make It Love It
11. Hanging Storage Baskets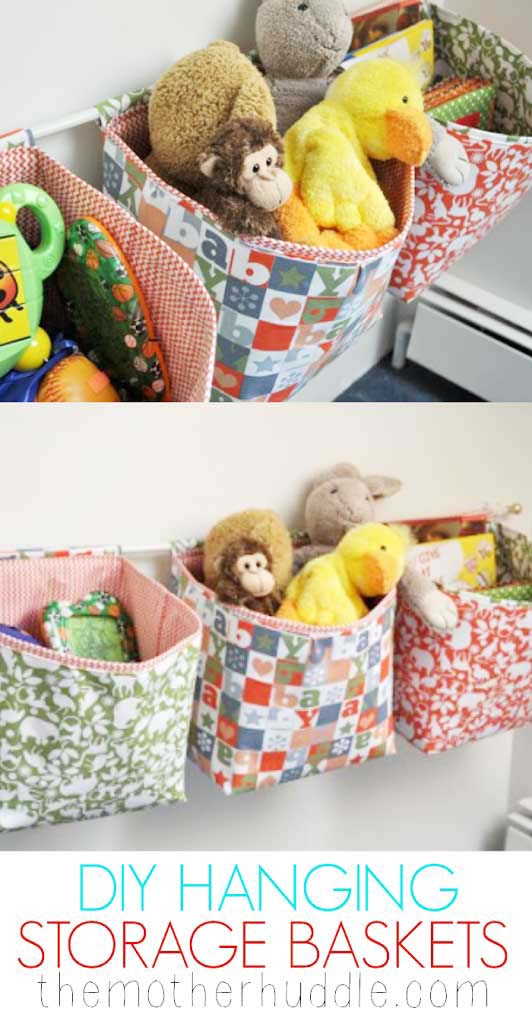 Organize your child's playroom or your craft space with this innovative hanging storage system.
Using a delicate metal curtain rod and easy DIY fabric baskets, it turns an empty wall into a beautiful and functional space.
You can customize the size of the baskets to match your belongings — use tiny baskets for threads and bags of buttons, or go big for toys, books, or clothing.
via U Create Crafts
12. Owl Remote Control or Sewing Tool Storage Caddies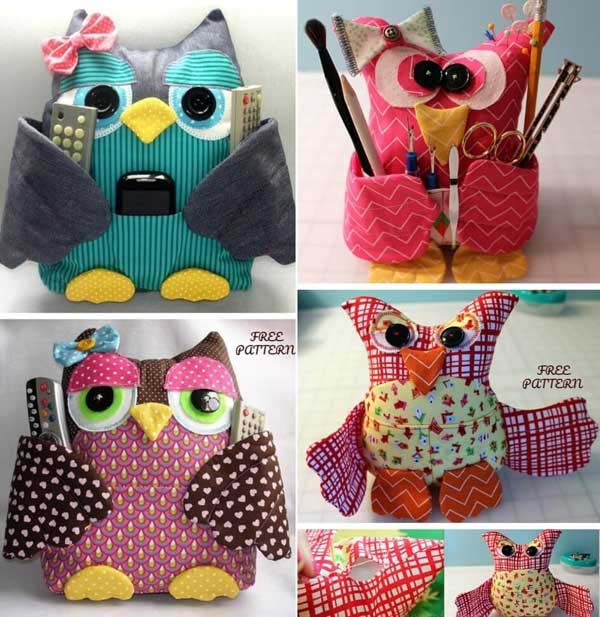 Is there anything sweeter than these owl storage caddies?
Made from fabric, they make adorable additions to your living room, office or craft room.
You can choose the colors that pop in any space — a mix of patterns, tones, and solid fabric brings these critters to life.
Use the wings or the front pockets to hold remote controls, scissors, pens, or any other small items you need to keep track of.
13. Reversible Fabric Storage Bin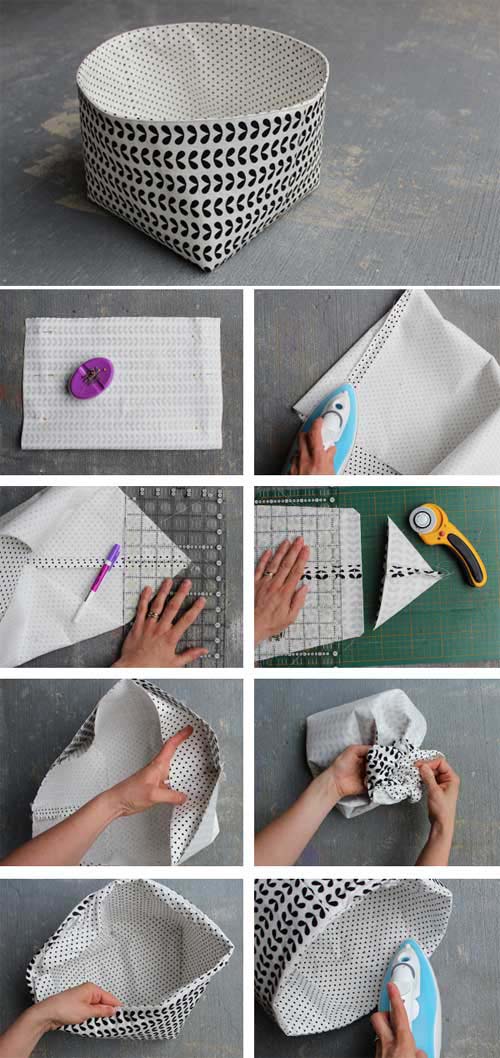 Change the look of a room in minutes with this creative fabric bin.
All you need to do is use two different fabrics for the lining and exterior; when you're ready for a change, just flip the bin inside out for a totally new style.
Although it looks complicated, this fun bin is surprisingly easy to make for anyone with a sewing machine and an iron.
via Haberdashery Fun
14. Round Bottom Fabric Storage Bins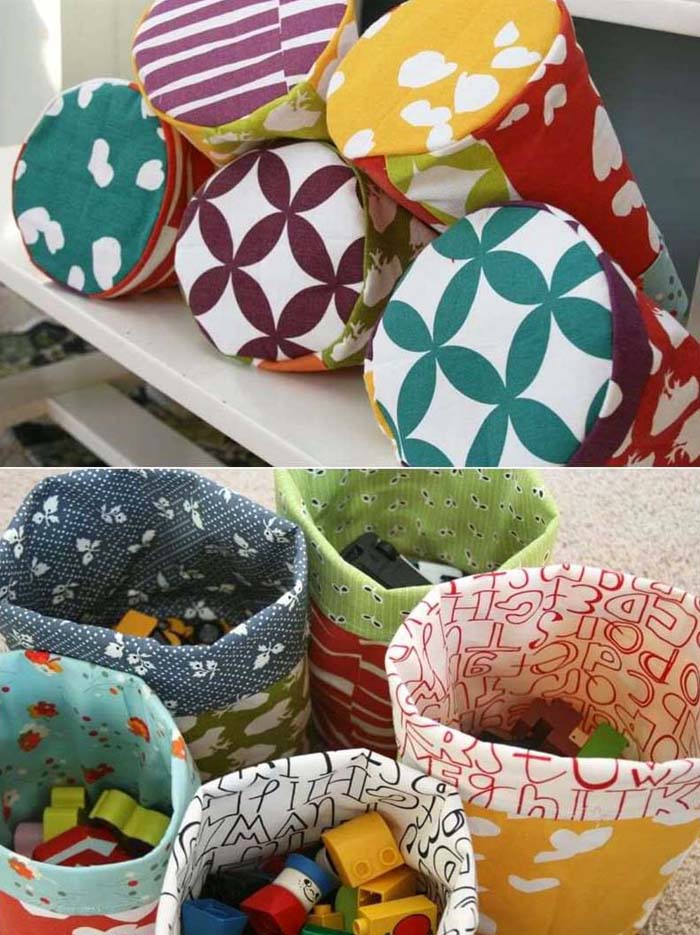 Keep your kids' building blocks, puzzle pieces, and toy cars contained with these super-cute fabric bins.
The magic is in the round shape and tall sides, which prevent tipping and keep tiny items secure.
A fun cuff design emphasizes the contrasting fabrics on the interior and exterior of each basket.
15. Round Fabric Bin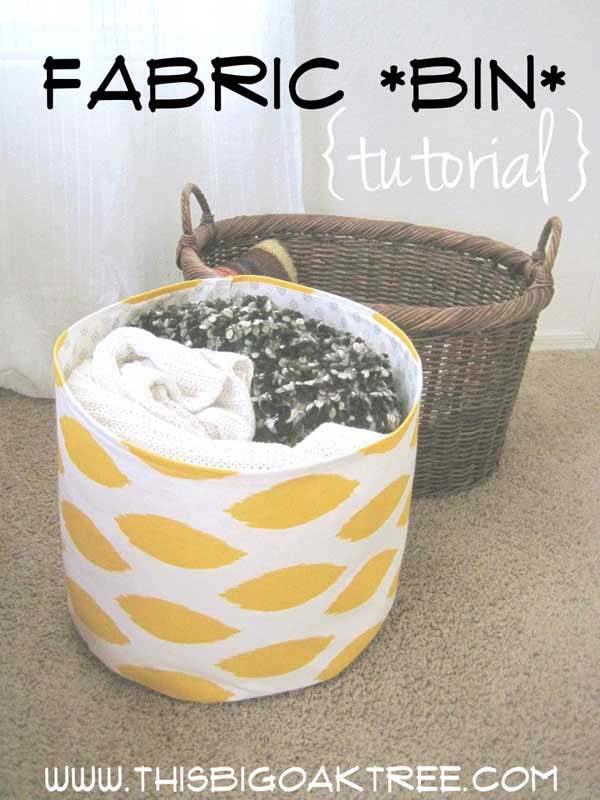 With a couple of yards of fabric, you can create a stunning round bin for blanket, pillow, or towel storage.
Pick a trendy print or a bright color — the large size combined with the fun fabric turns these bins into a focal point of a living room or kids' bedroom.
via The Big Oak Tree