When cold weather hits, does your mudroom turn into a jumble of boots and outdoor gear?
A great organization system can eliminate the clutter, help you find the right item quickly, and make the mudroom into a functional family space.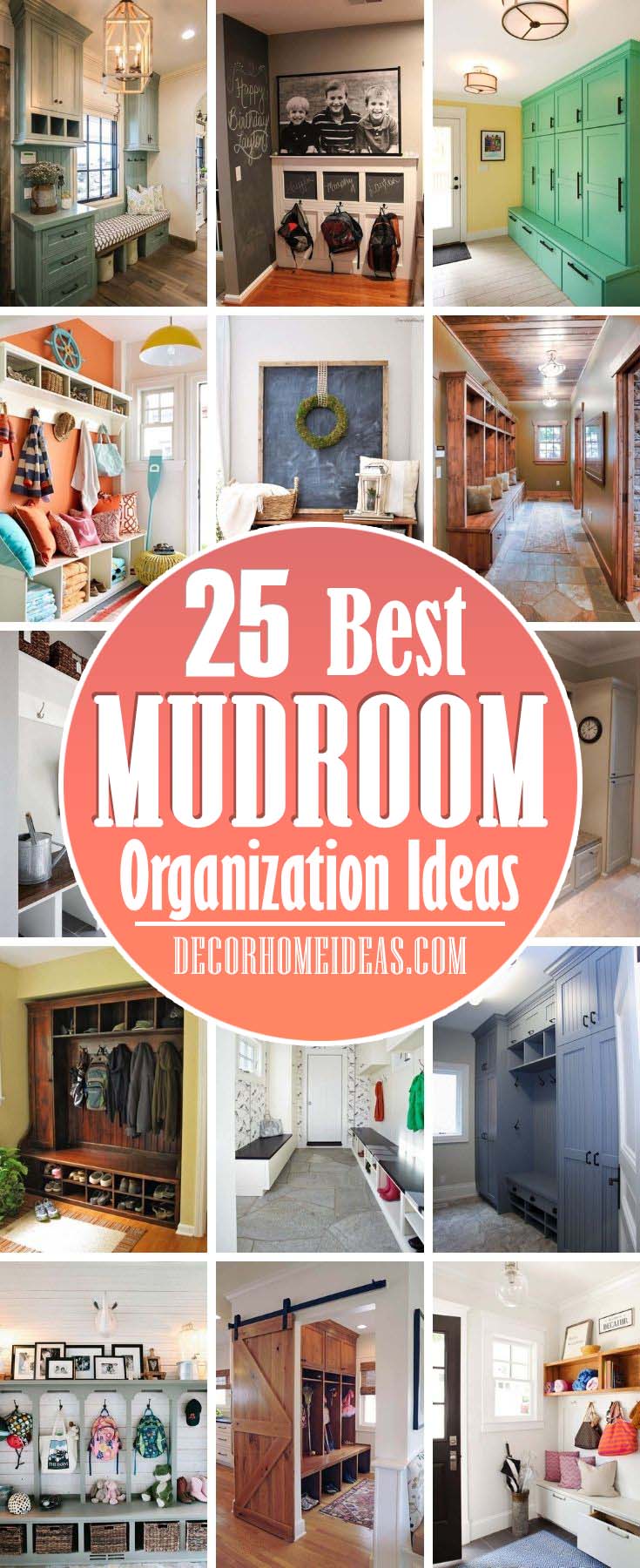 Whether you have a large room or a tiny alcove, these stunning mudroom designs can help you find the best solution for your space.
1. Utilize Storage in a Narrow Mudroom with Wall-Mounted Crates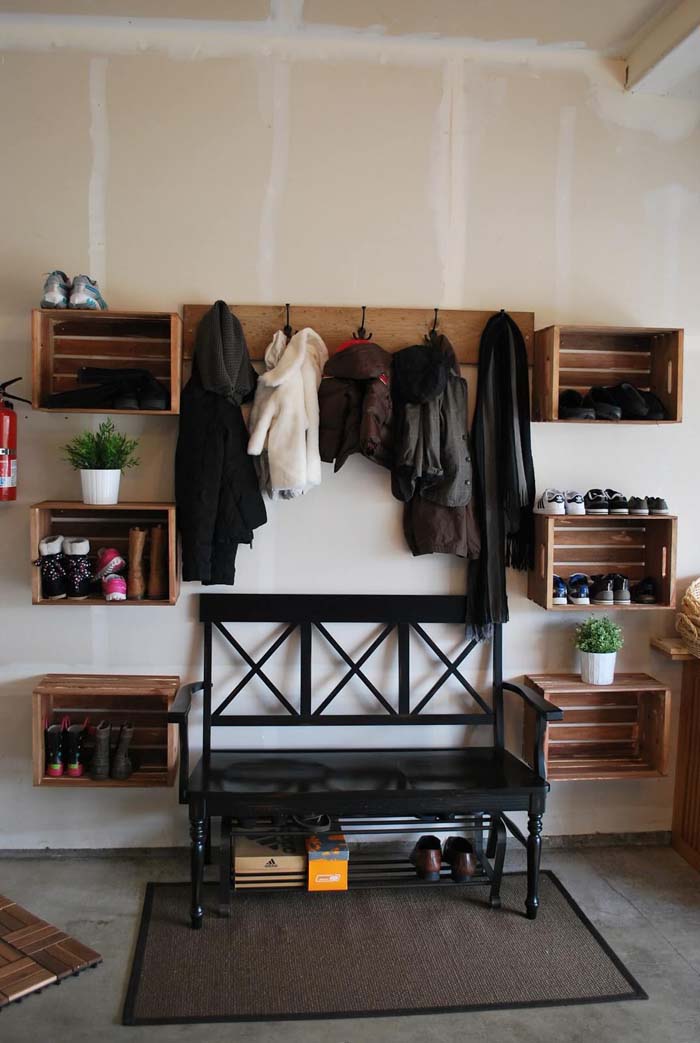 If you're working with a narrow mudroom with minimal floor space, turn the wall into a storage area.
Here, wall-mounted crates and hooks create space for the whole family's shoes and coats.
The center bench creates a handy place to sit while you get ready.
2. Outfit Your Mudroom with a Colorful Storage Solution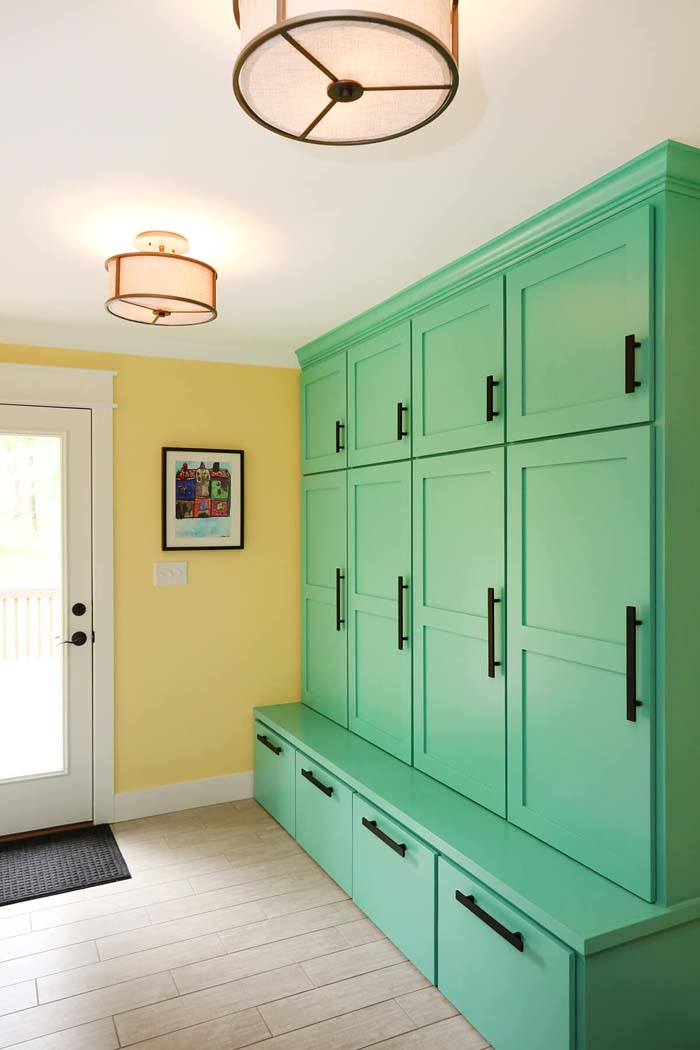 Bid farewell to clutter with this gorgeous mudroom organization system.
Each family member gets a shoe drawer, a hanging cabinet, and an upper cabinet.
We love how the drawers extend out to add extra storage and create a built-in bench. The bright color makes the space feel inviting and cheerful.
3. Nature-Inspired Wallpaper for Mudroom Organization Ideas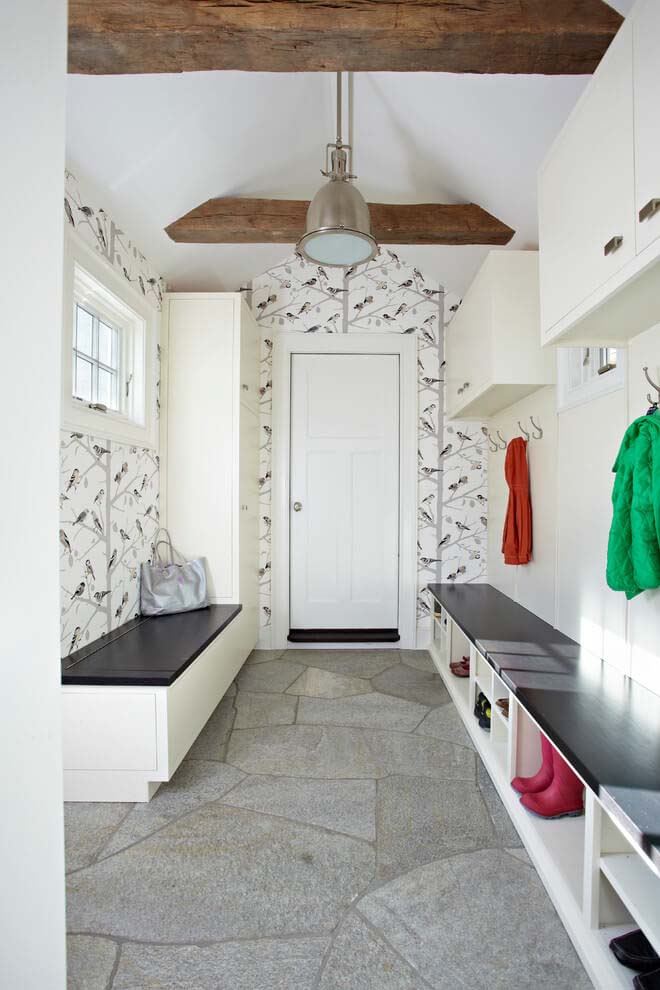 Wallpaper is making a comeback, as you can see in this beautiful mudroom design.
The playful bird print enlivens the simple white storage cabinets, all without making the space feel cramped.
Two rows of benches help multiple people get ready at once.
via Houzz
4. Create a Wood-Accented Mudroom with a Built-In Bench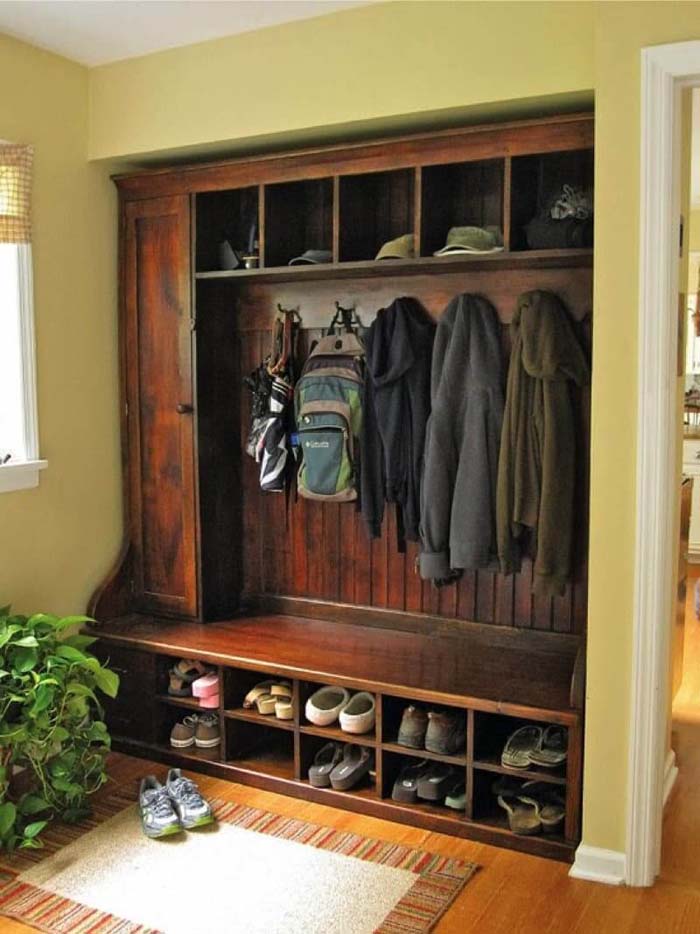 Mimic the grand woodwork in your historic home with a dark wood mudroom unit.
This clever piece tucks into a small alcove, adding shoe compartments, hanging hooks, and storage for hats or accessories.
There's even an integrated bench for convenience and comfort.
5. Turn Your Entryway into a Mudroom with a Hutch Storage Unit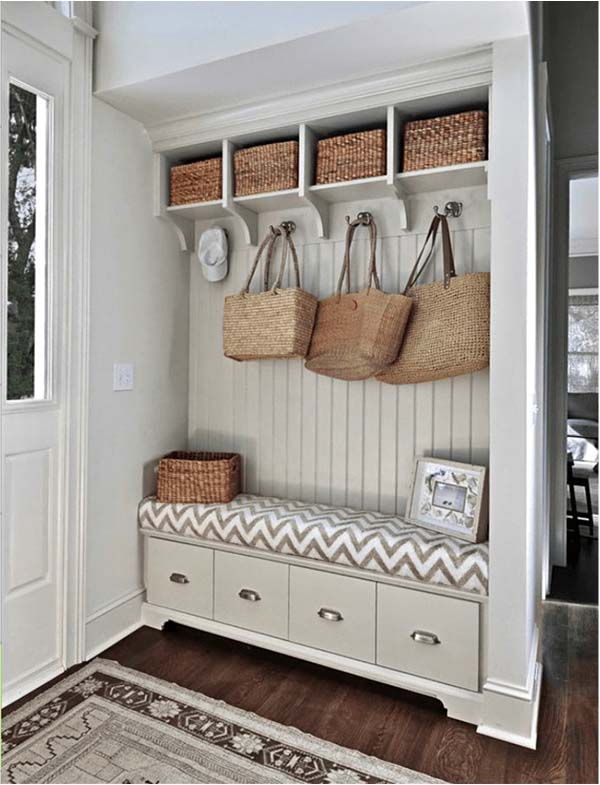 Are you lacking a formal mudroom?
Create your own by adding a simple hutch storage unit near your front door.
This stunning design employs rattan baskets and chevron-print bench upholstery for a fresh and trendy look. Large lower drawers keep your entryway free of loose shoes.
via Homedit
6. Contemporary Mudroom Design with Wall-Mounted Storage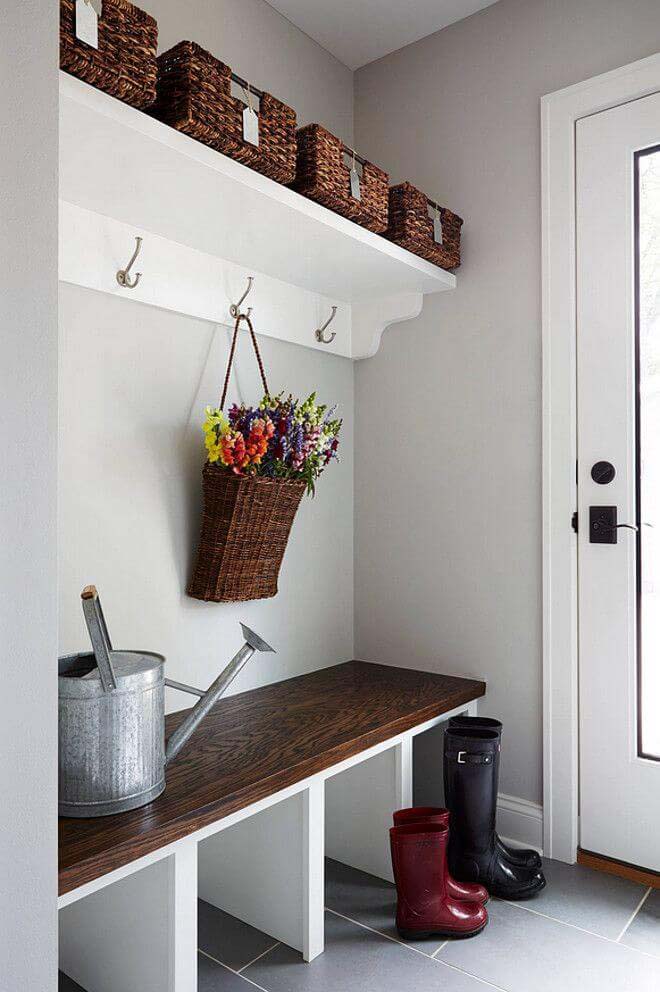 Simple and streamlined, this lovely mudroom design mimics the clean lines of a contemporary home.
A wall-mounted shelf offers storage, while sturdy hooks hold your coat.
The real star is the bench, which uses vertical legs to support weight and create divided shoe compartments for easy organization.
7. Add Style to Your Mudroom with Farmhouse-Inspired Storage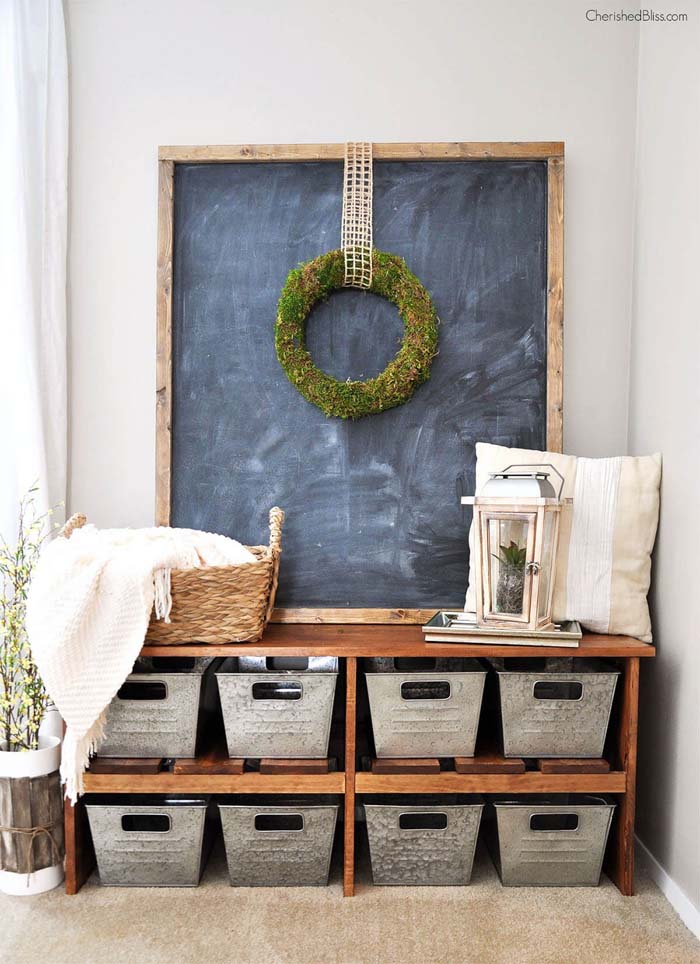 Are you constantly trying to corral loose mittens and hats?
Keeping them together is a breeze with this farmhouse-inspired system.
Galvanized metal tubs hold accessories, and a rustic wooden bench-bookcase combo keeps the tubs in order.
Use the bench as a seat, or add a chalkboard and a few decorative accents to dress your mudroom for the season.
via Cherished Bliss
8. Create Personal Space for Kids with a Cubby Organizer Bench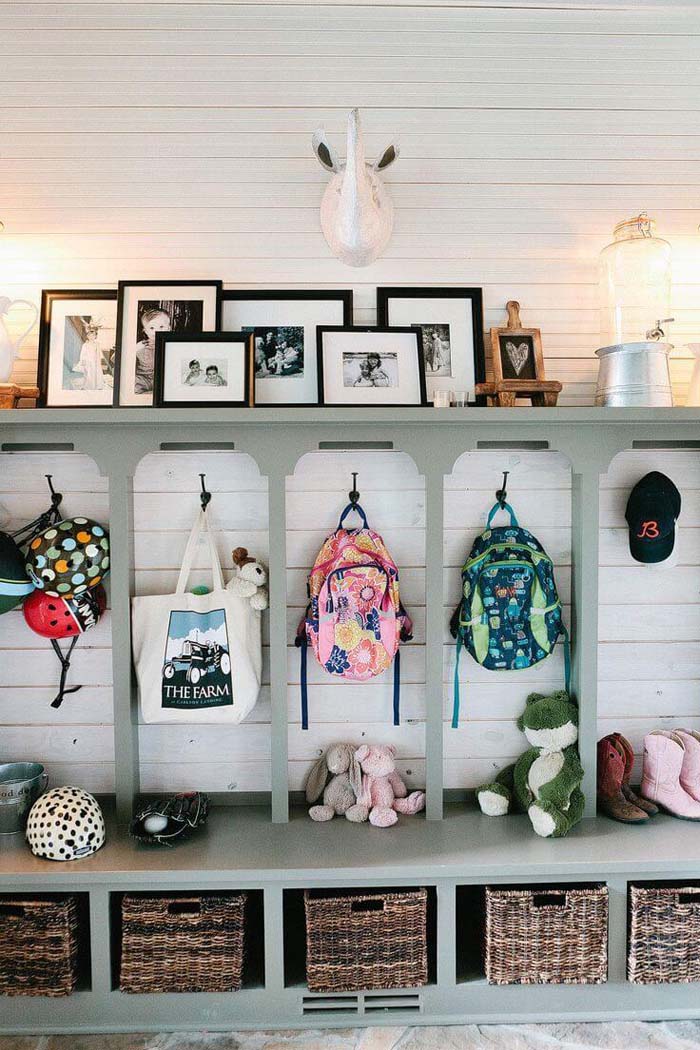 Give each of your little ones a special place for their gear with this cubby-style organizer.
The architectural dividers mark each person's boundaries and the lower area doubles as a bench and shoe storage.
The soft green color and wicker baskets add a rustic touch.
via Style me Pretty
9. Enjoy Comfort with a Mudroom Window Bench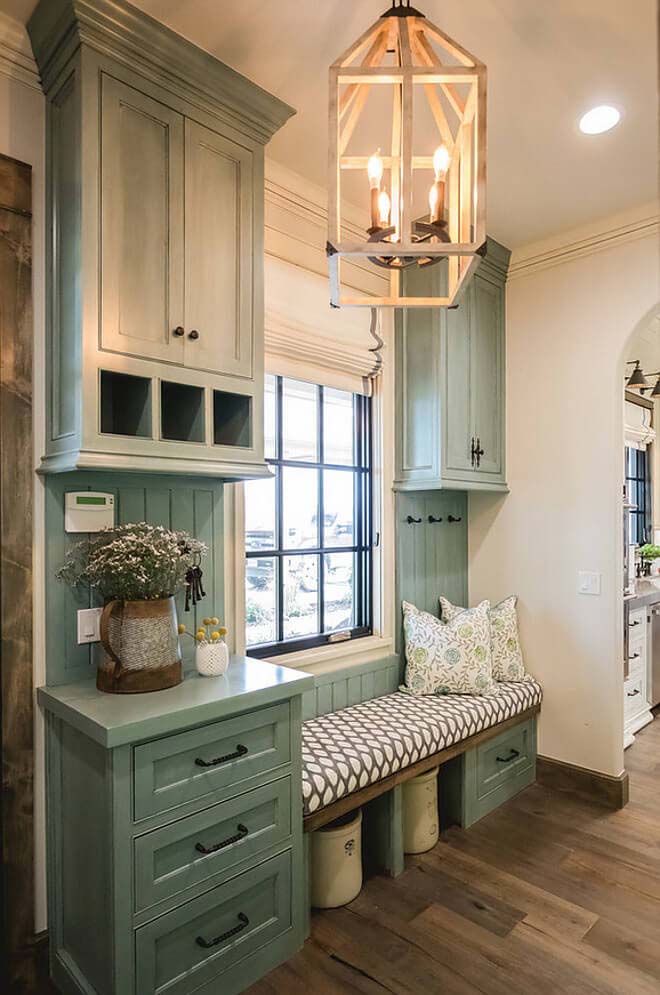 You won't be able to resist a moment of relaxation when you have this lovely window bench in your mudroom.
Wall-mounted cabinets frame the window, and lower storage drawers encourage organization.
Add a few printed accent pillows for a welcoming touch.
10. Keep Your Mudroom Neat with a Marble Bench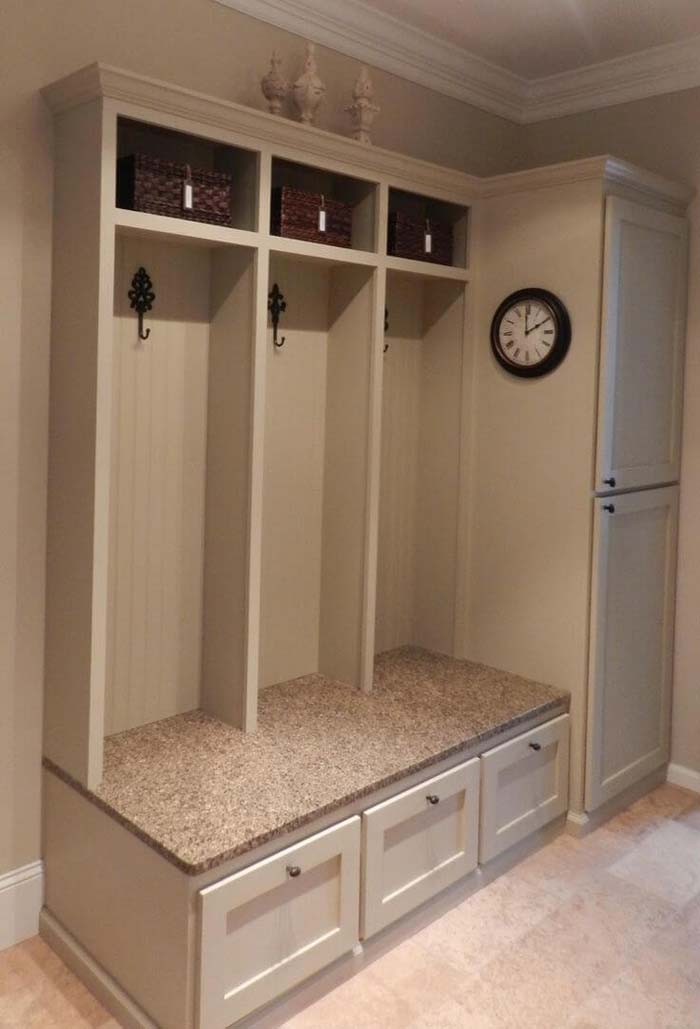 The mudroom is the hub of activity in your home — keep it clean and neat using a marble bench.
The hard material resists stains, so you can wipe it down for an instant refresh.
Simple dividers and shelves help your family stay organized.
via Decor You Adore
11. Bring Life to Your Mudroom with an Ocean Blue Color Palette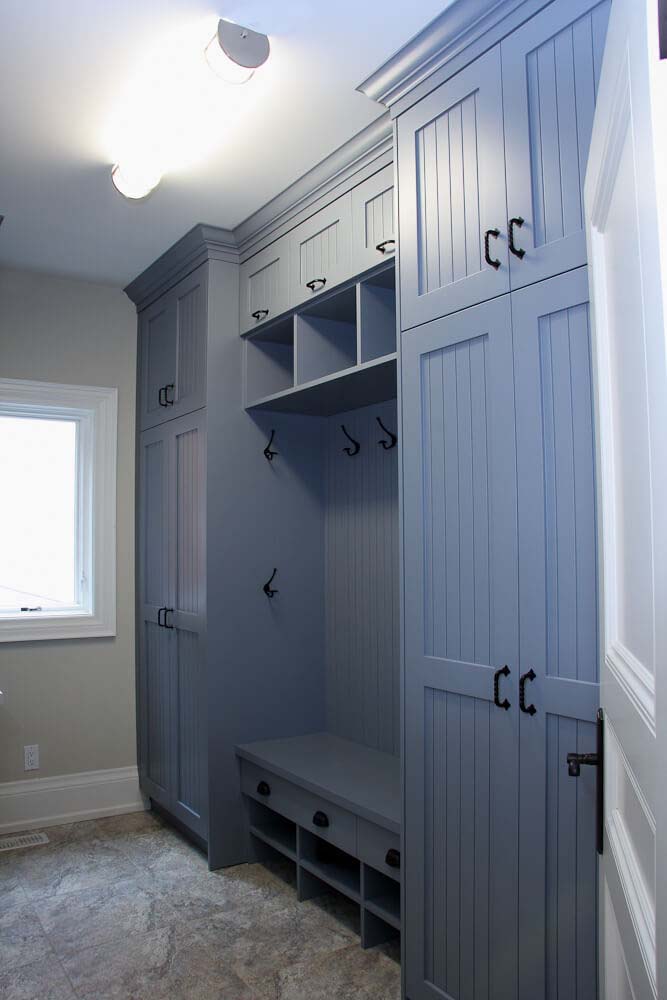 There's nothing like color to bring a space to life — this mudroom uses a soothing ocean blue to set a calm vibe.
Floor-to-ceiling cabinets provide space for all types of seasonal gear, and the low built-in bench creates a seat without sacrificing hanging storage.
via Decorpad
12. Bring Joyful Vibes with a Brightly Colored Accent Wall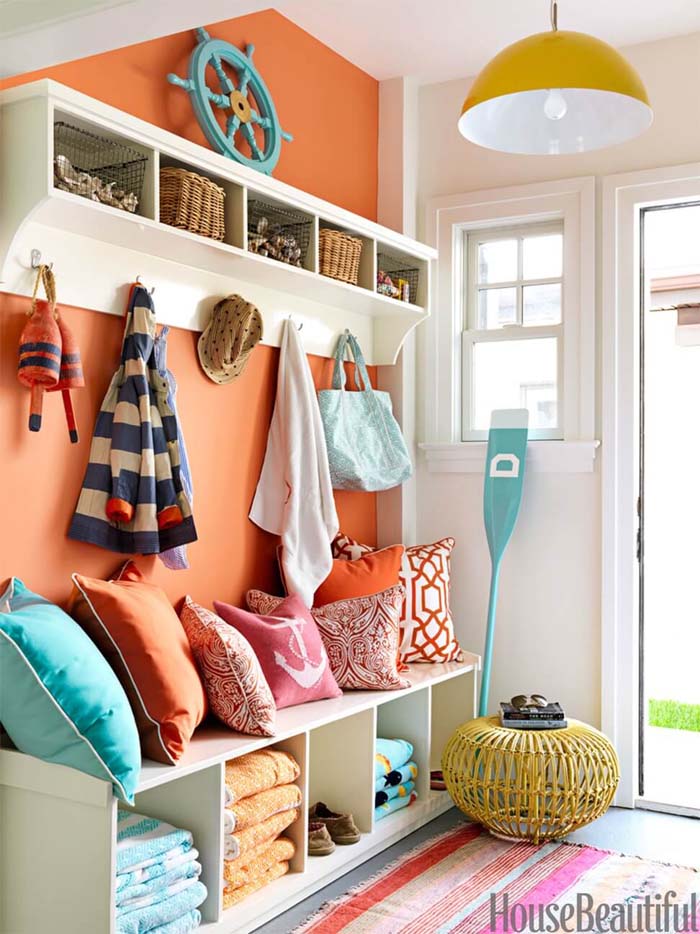 Reflect your home's cheerful personality with a colorful accent wall in your mudroom.
This project uses bold oranges and teals to set off a simple white storage system for an effect that's sure to bring a smile to everyone's face.
via House Beautiful
13. Entryway with Reclaimed Wood Cubbies and Vintage Bench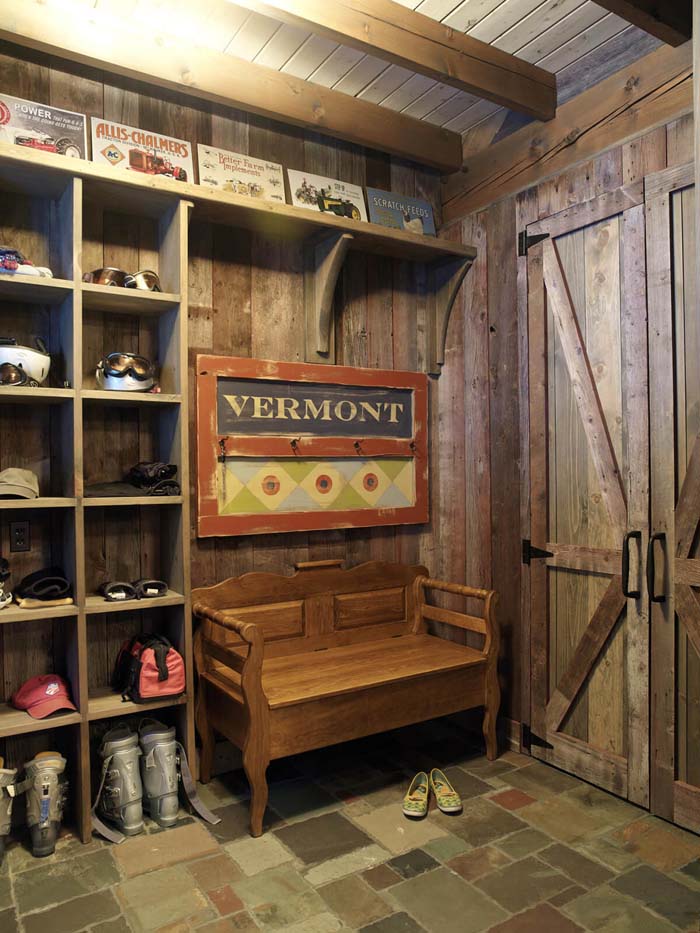 Looking for a project that's affordable and DIY-friendly?
Use reclaimed wood to build full-height cubbies.
Your crew can use their cubbies for shoes and gear, so it's always ready to go when they are. Add in a vintage bench to enhance the rustic style.
14. Utilize Space in a Hallway Mudroom with Bench and Pillows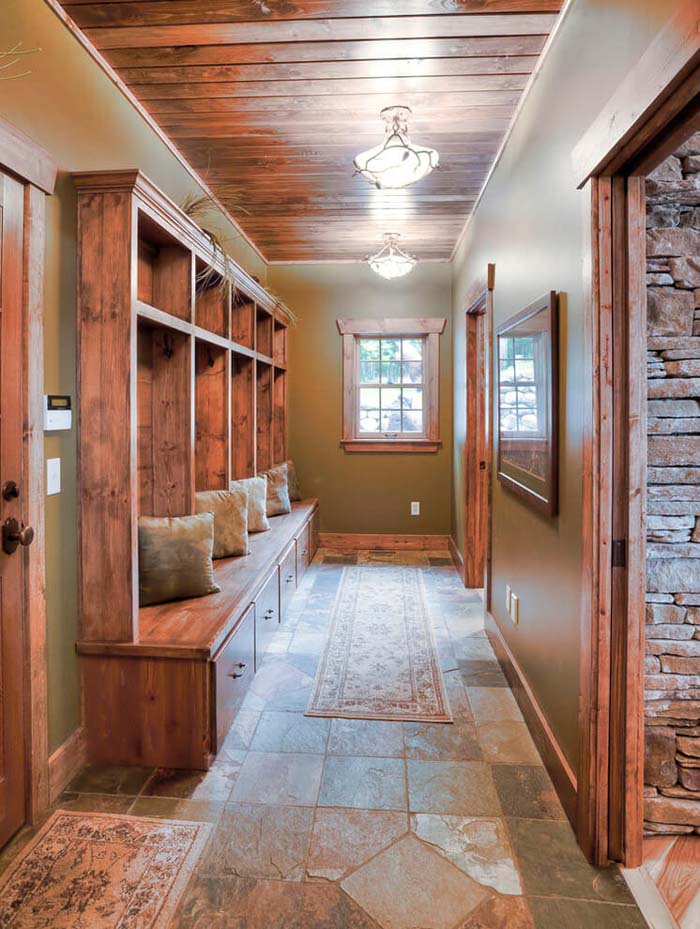 Make the most of a hallway-style mudroom with a bench that spans the length of the space.
This unit adds a top hutch to create a built-in look and maximize the wall area.
A few accent pillows bring in just the right touch of softness and style.
via Houzz
15. Maximize Airflow and Reduce Clutter with Screen Doors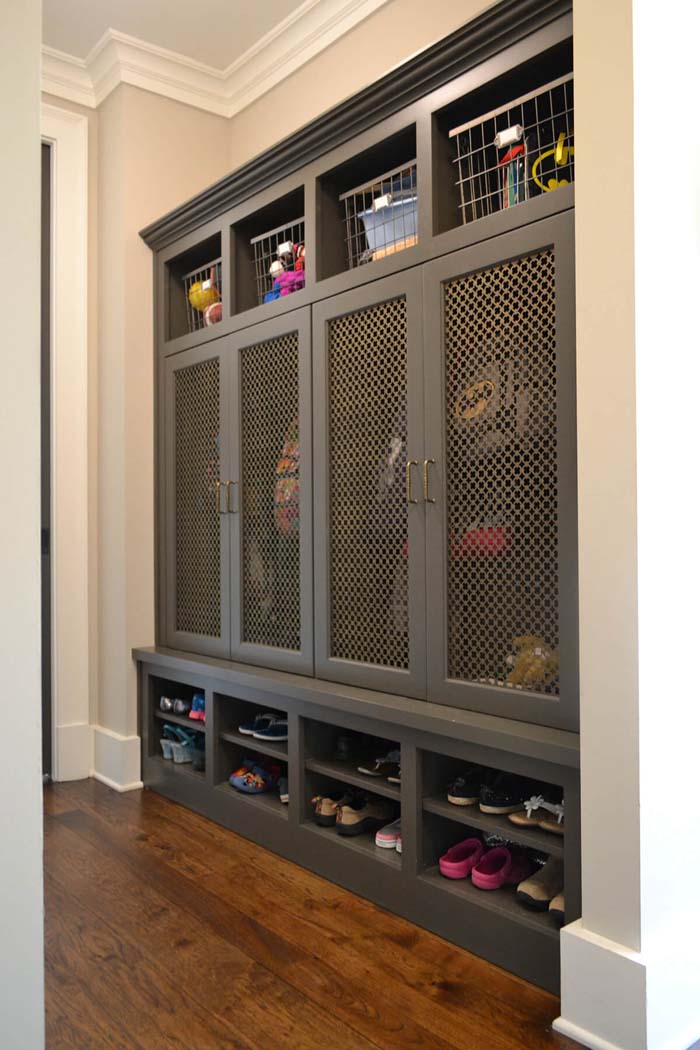 When you live in a wet or snowy climate, you know that airflow is crucial for drying out damp gear.
This creative system uses screen doors to reduce visual clutter while promoting air circulation.
The result is both elegant and practical — perfect for families.
via Riverview Redo
16. Transform Your Mudroom with DIY Shelves and a Bench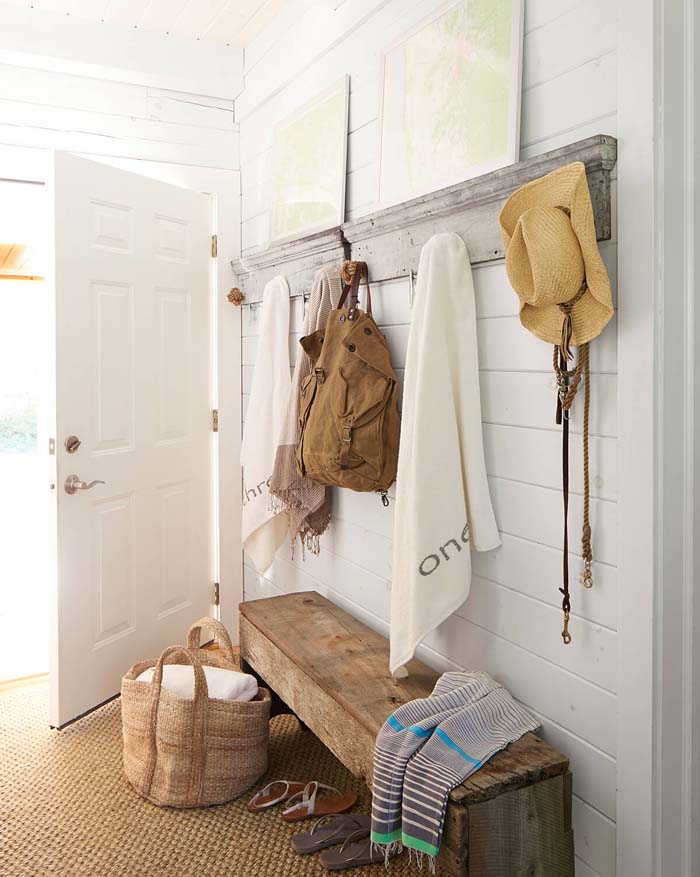 If you want to makeover your mudroom on a budget, look to this project for inspiration.
A bench and two hanging shelves bring order to open space. You can even make the shelves yourself using leftover molding and a few hooks.
17. Neat and Modern Mudroom with Clean Lines and Crisp Shapes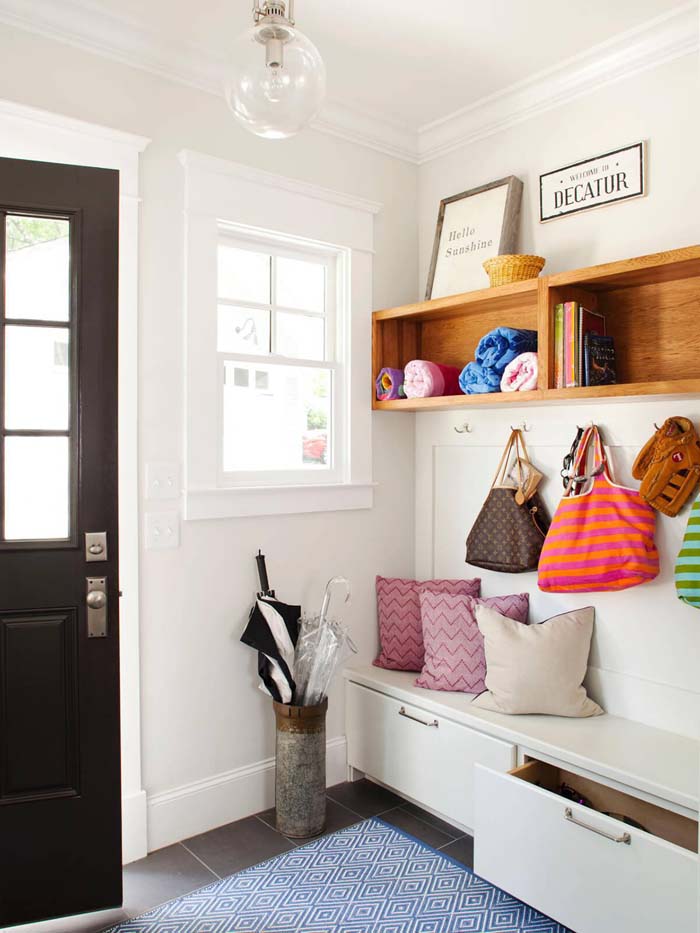 Clean lines and crisp shapes keep this modern mudroom looking neat.
Lower drawers double as seating, and the wall-mounted cubby uses a vertical divider to delineate the space.
Don't want to put hooks directly on your wall? Use a simple wooden frame for extra stability.
via HGTV
18. Maximize Storage in Small Spaces with Drawers and Hooks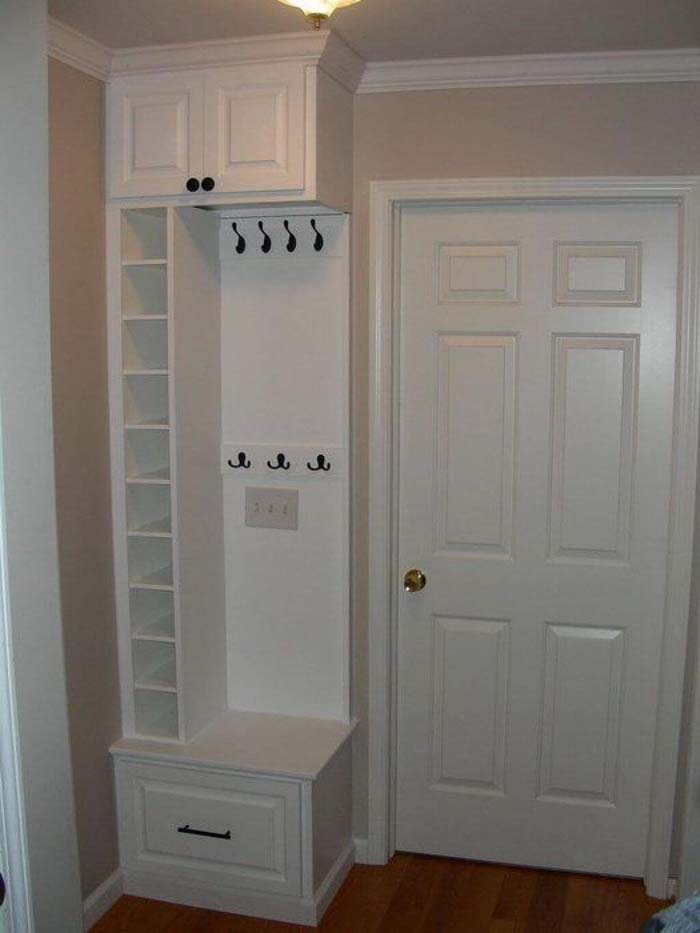 This project proves that no space is too small for an organization.
Even if you have just 2 or 3 feet of space, a vertical unit with built-in shoe cubbies, drawers, and upper cabinets creates tons of storage.
Two rows of hooks is a clever way to increase hanging storage.
via Lumberjocks
19. Create Territorial Space for Kids with Chalkboard Cabinets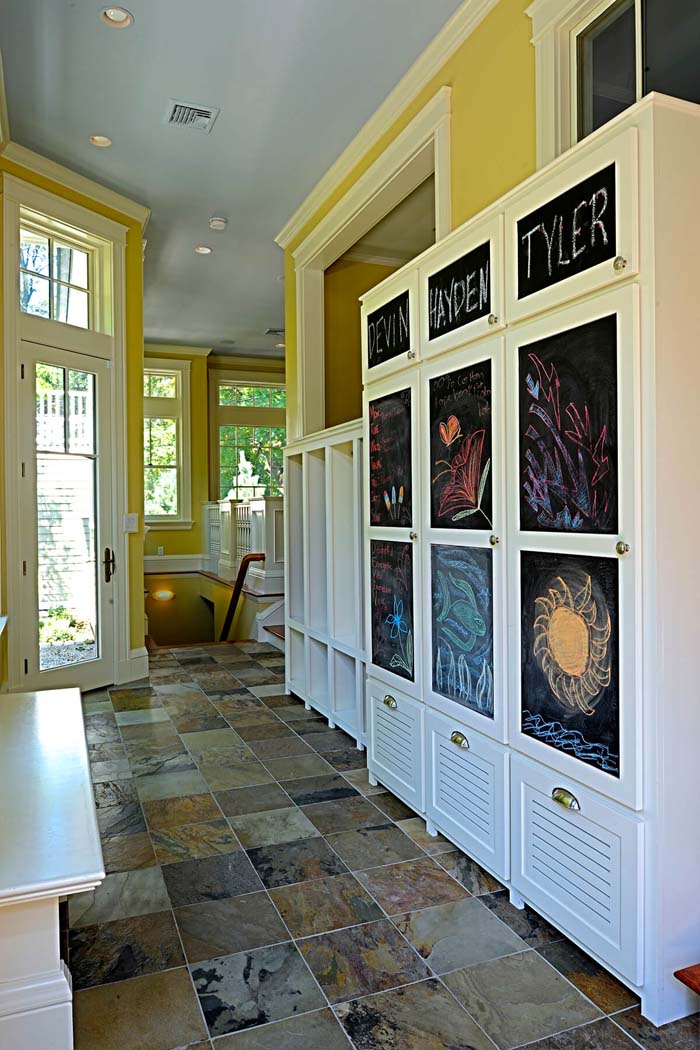 Are your little ones territorial about their belongings?
Chalkboard-covered cabinets give them the freedom to mark their storage areas.
The white cabinets and tile floors keep everything looking neat.
20. Elegant Mudroom Combining White and Dark Wood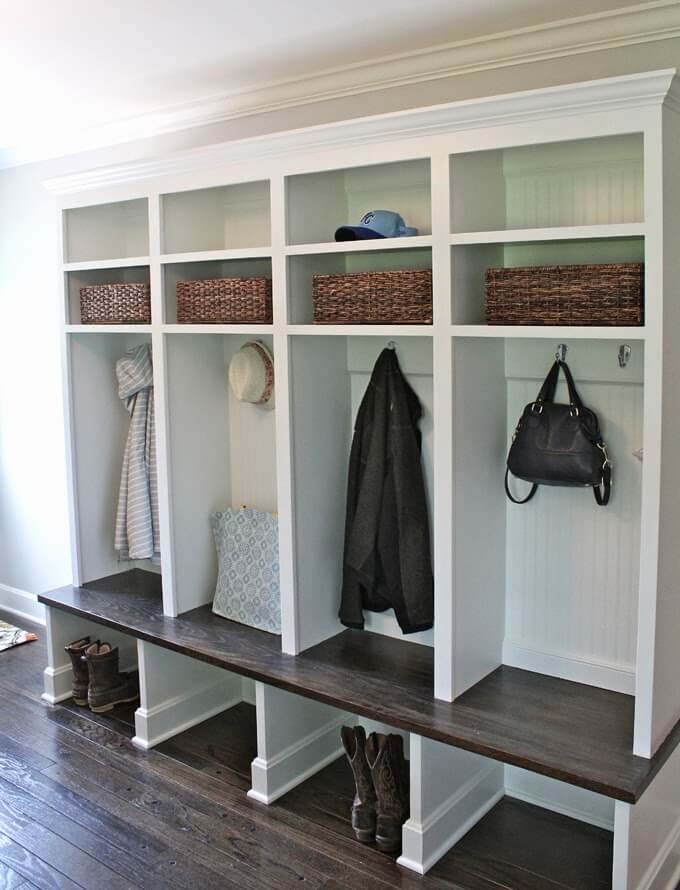 Create a mudroom that will look lovely for decades by combining white and dark wood.
The white finish makes the space feel more open, and the dark-stained bench makes the storage system pop.
21. Bring Country Charm with Built-In Storage and Wicker Baskets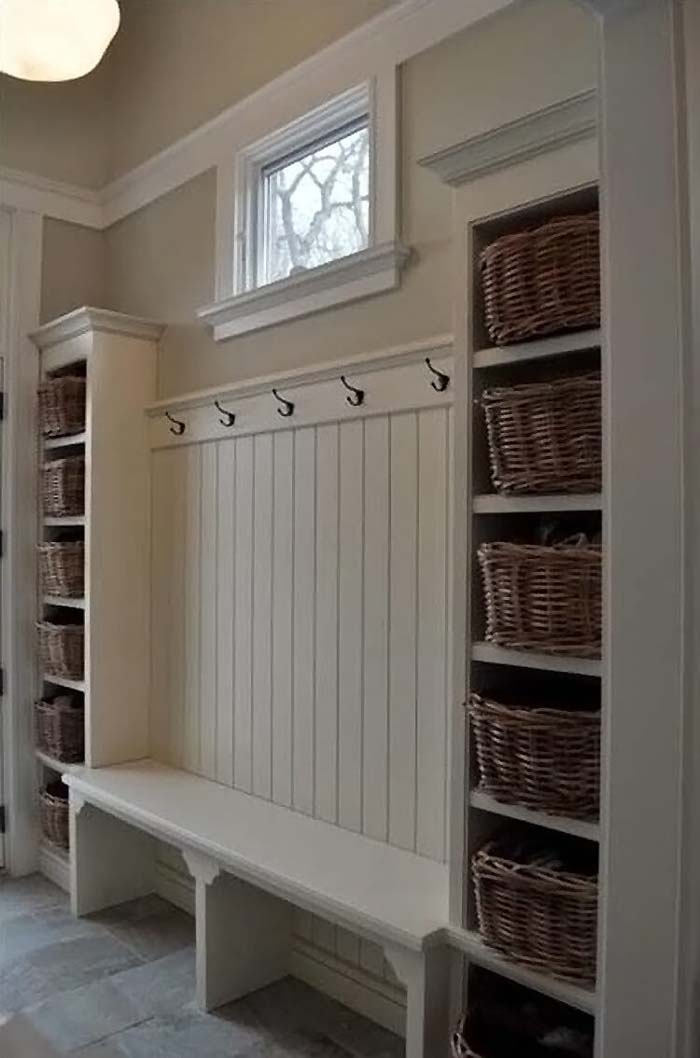 Bring a charming cottage vibe to your mudroom by adding built-in storage towers connected by a bench.
A coat of white paint brightens the room, and wicker baskets bring a natural texture. Add wainscoting and a chair rail for extra visual impact.
via Espace Buzz
22. Close Off Your Mudroom in Style with a Sliding Barn Door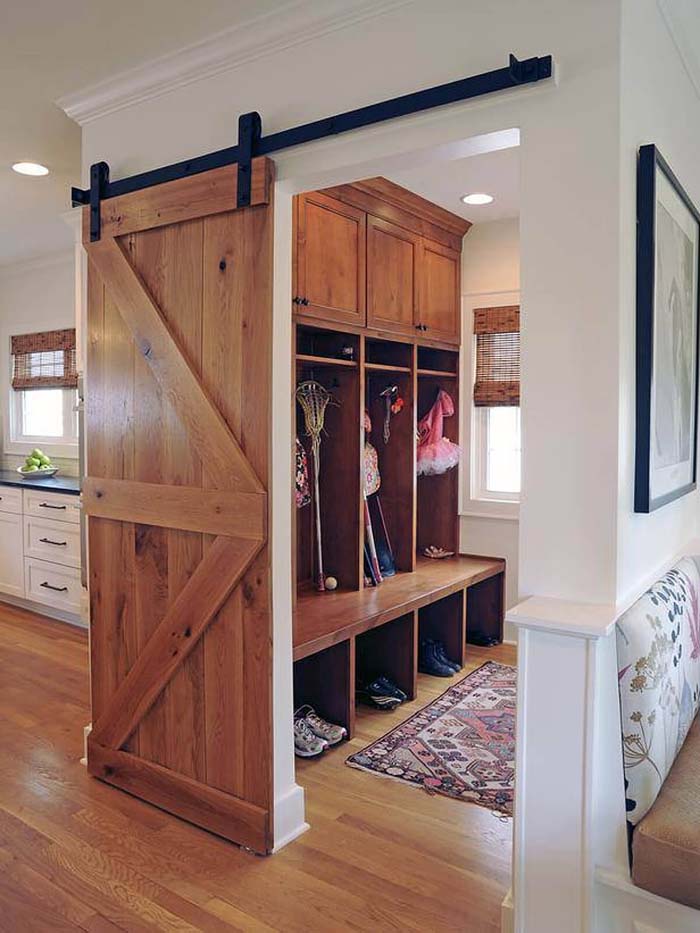 Have you ever wished you could close off your mudroom?
Here, the homeowner used a stunning sliding barn door for exactly that effect. As a bonus, the door looks gorgeous whether it's open or closed.
23. Hang Up Backpacks in Style with a Family-Focused Mudroom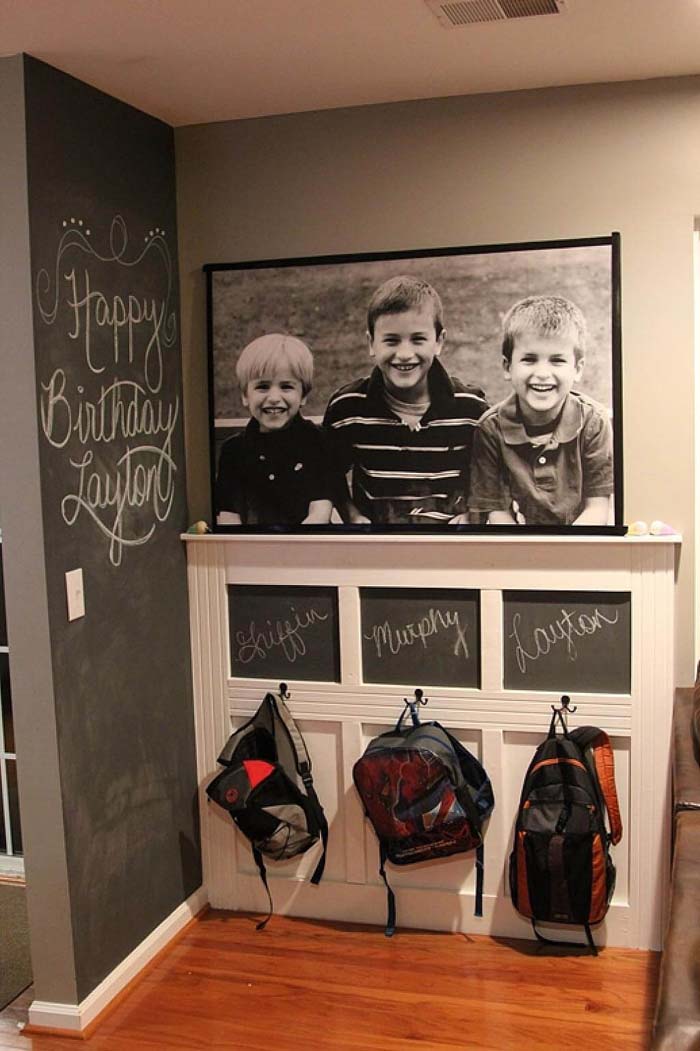 Help your kids identify their backpacks by adding small chalkboard panels to your mudroom.
A simple row of hooks creates a handy spot for backpacks and coats.
Here, a sweet family photo reflects the order of the hooks for an adorable personal touch.
via Homebunch