It can be overwhelming to know what to do with a piece of furniture that you don't really like or that doesn't fit the décor of your home.
Instead of getting rid of the furniture and buying something new, you can easily make it over into a new piece.

Get the inspiration that you need to tackle your next makeover project when you check out these 28 great examples.
1. Upcycle an Old Coffee Table into a Comfy Bench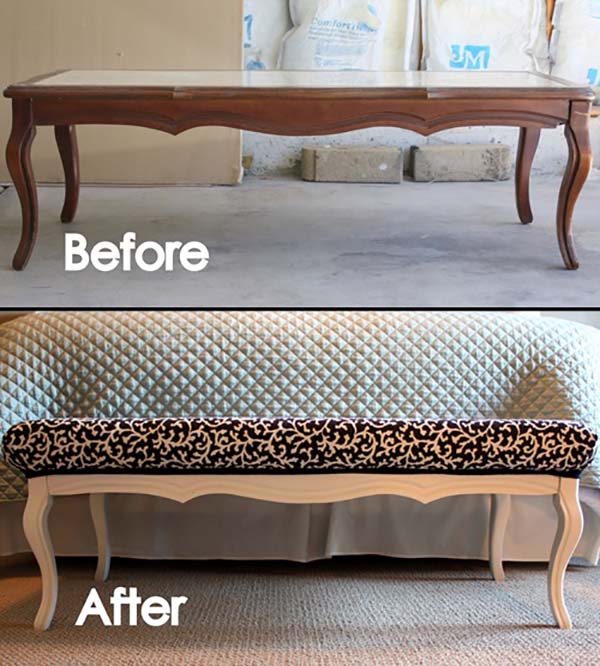 Turn an old coffee table into a comfortable bench with a fresh coat of paint and a cushion.
Make sure to pick a fabric that complements the rest of your décor.
via sabbyinsuburbia.blogspot.com
2. Transform Your Dresser into a Stylish Storage Station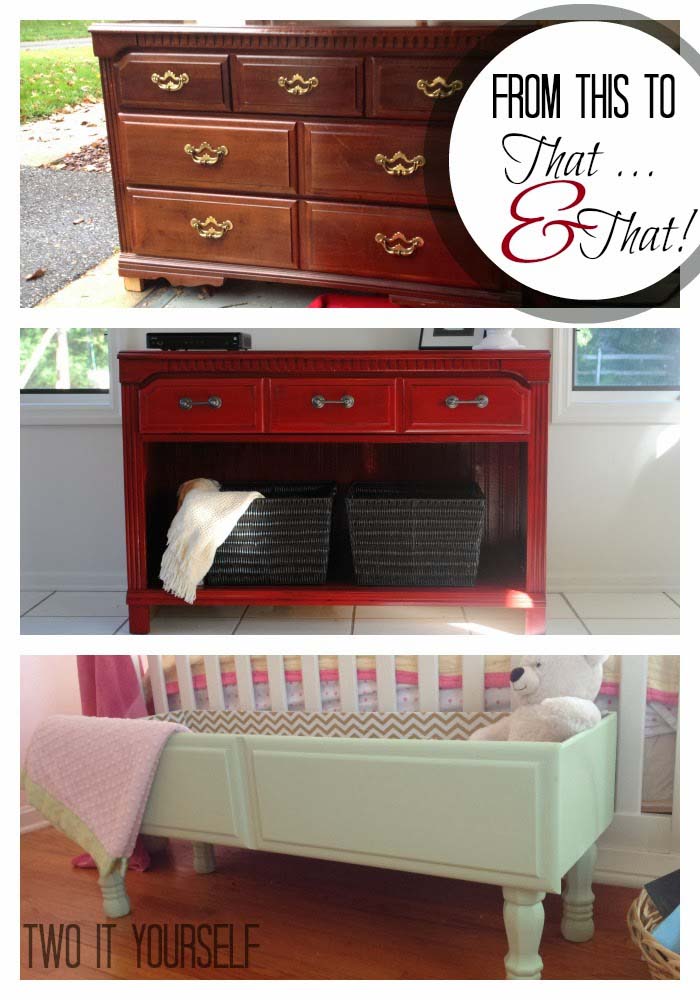 A fresh coat of paint brightens up this old dresser.
Take out the bottom two drawers to make storage space. Add small legs to the drawers to turn them into child-friendly storage boxes.
3. Repurpose an Old Dresser into a TV Stand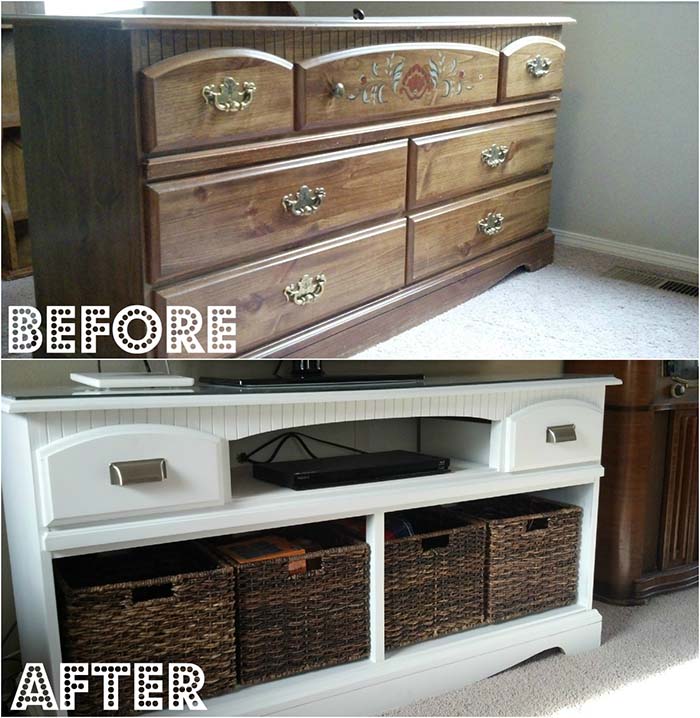 By removing most of the drawers on an old dresser, you can easily get the room you need for your TV, gaming consoles, and DVDs.
Brighten it up with fresh paint and new hardware.
4. Refresh Your China Cabinet with Fresh Coat of Paint

A simple coat of paint that is then distressed, and some new hardware give an old china cabinet a new lease on life.
via confessionsofaserialdiyer.com
5. Upcycle an Old Coffee Table into Rustic Entryway Benches

Cut an old coffee table in half lengthwise and then paint and finish these halves.
They make great benches when secured to the wall in the entryway.
6. Create the Perfect Craft Station with a Dresser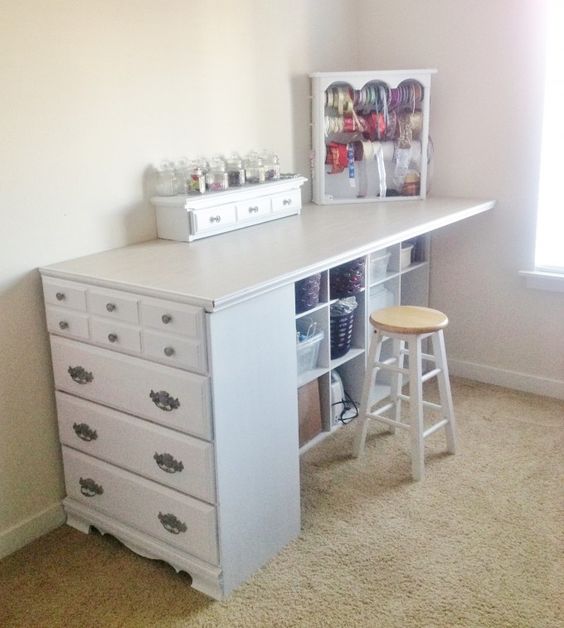 An old dresser has plenty of storage for crafting equipment. Adding a long top and extra storage provides a work surface, as well.
7. Make a Functional Storage Unit with IKEA Shelves

Instead of putting three IKEA Expedit units side by side, turn one 90 degrees to allow for side storage. Paint the exposed side with chalkboard paint, which is perfect for family lists.
via ironandtwine.com
8. Give Life To Antique Piece of Furniture with Chalk Paint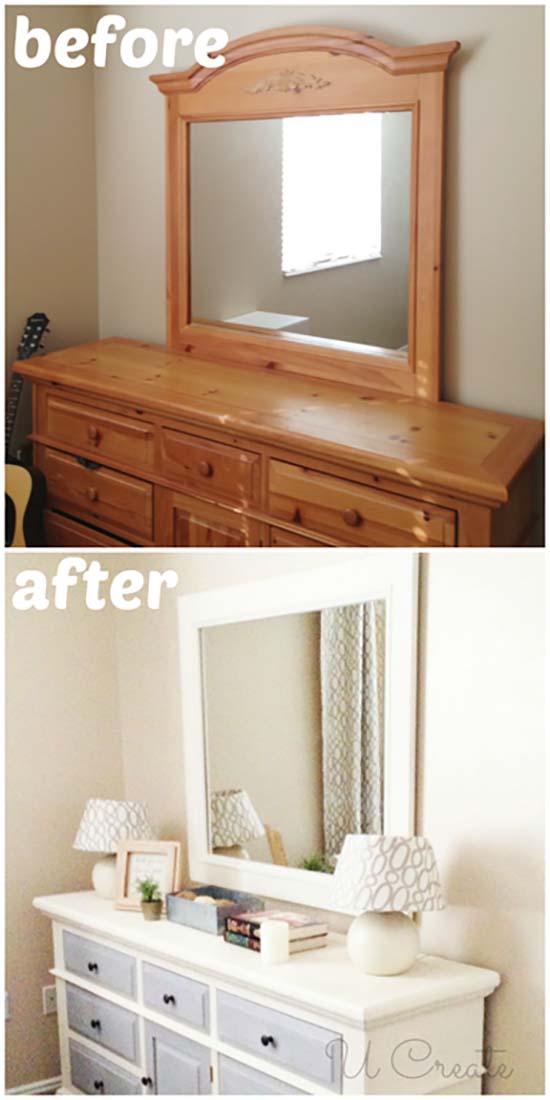 A little elbow grease and some white chalk paint will bring any old dresser back to life.
Skip distressing the paint for something a little more modern.
9. Repurpose a Classic Bed into a Vintage Bed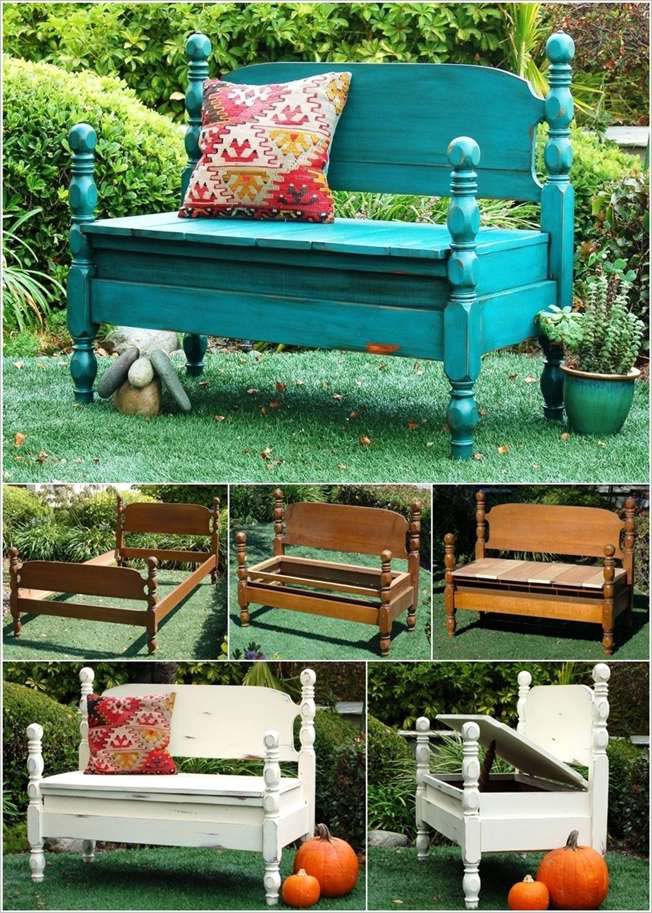 Old beds are usually trashed, but you can bring it back to life as a garden bench.
Shorten the sides of the bed, add planks for seating or hidden storage, and then paint it.
10. Build a Stylish Clothes Rack with a Rustic Ladder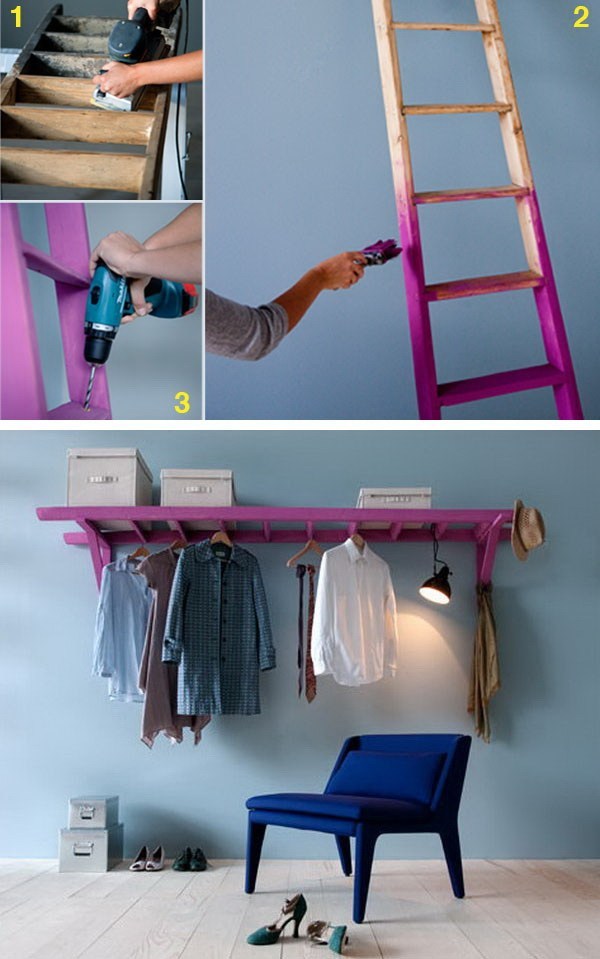 Paint an old ladder a bright color for a pop of interest and then hang it on the wall.
Clothes can be hung on the rungs, providing you plenty of storage space.
11. Upgrade Your Kitchen in Style with an Old Wall Cabinet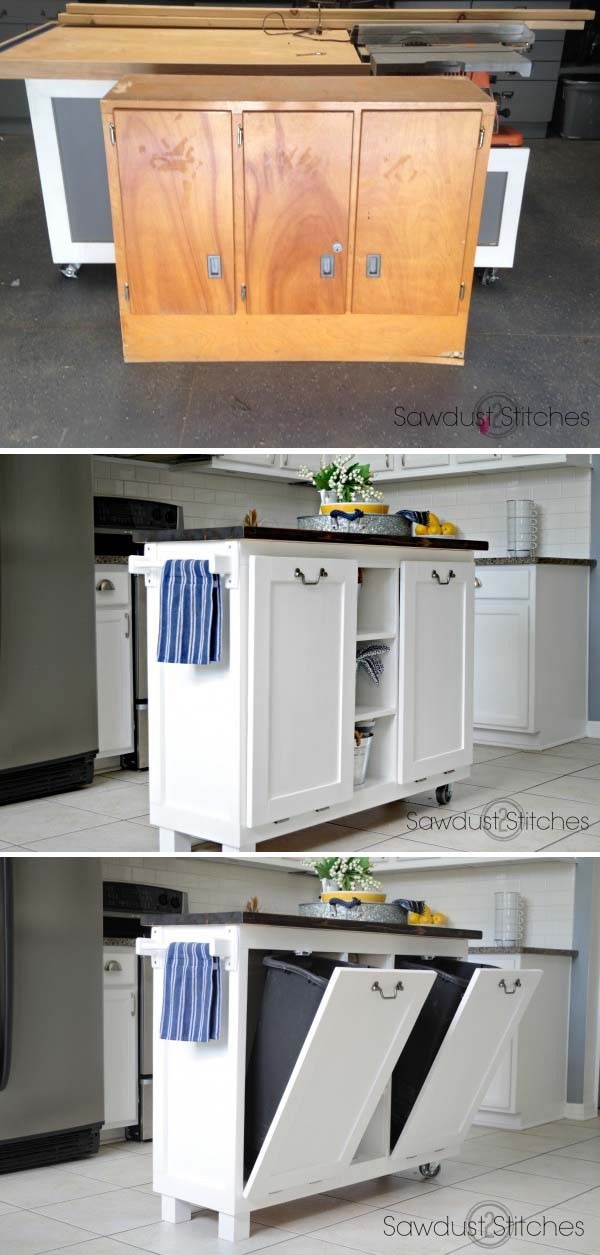 Old wall cabinets make great kitchen islands.
Replace the doors with ones hinged at the bottom and leave some open space for storage.
Add feet or casters, paint the piece, and top with butcher block.
12. Give Dining Table a Farmhouse Look with Interlocking Boards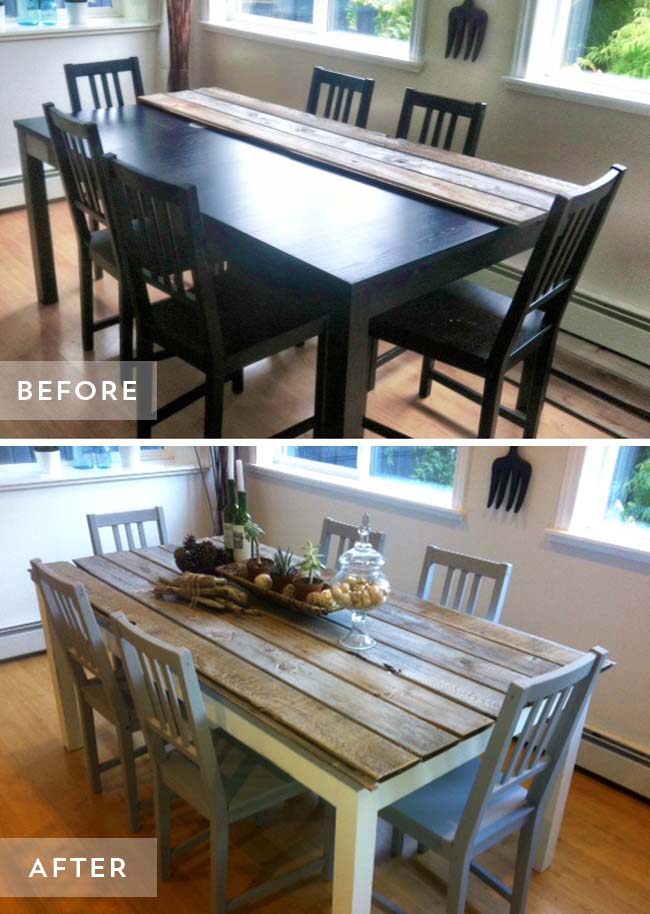 Remove the top of an old dining room table and replace it with interlocking boards.
It's then easy to paint and distress the legs and frame for a new look.
13. Build a Chic Side Table with an Old Dresser

A fresh butcher block top, new paint and hardware, and some open spaces in place of drawers makes this perfect for storage.
14. Transform a Thrift Store Cabinet with an X-Patterned Lattice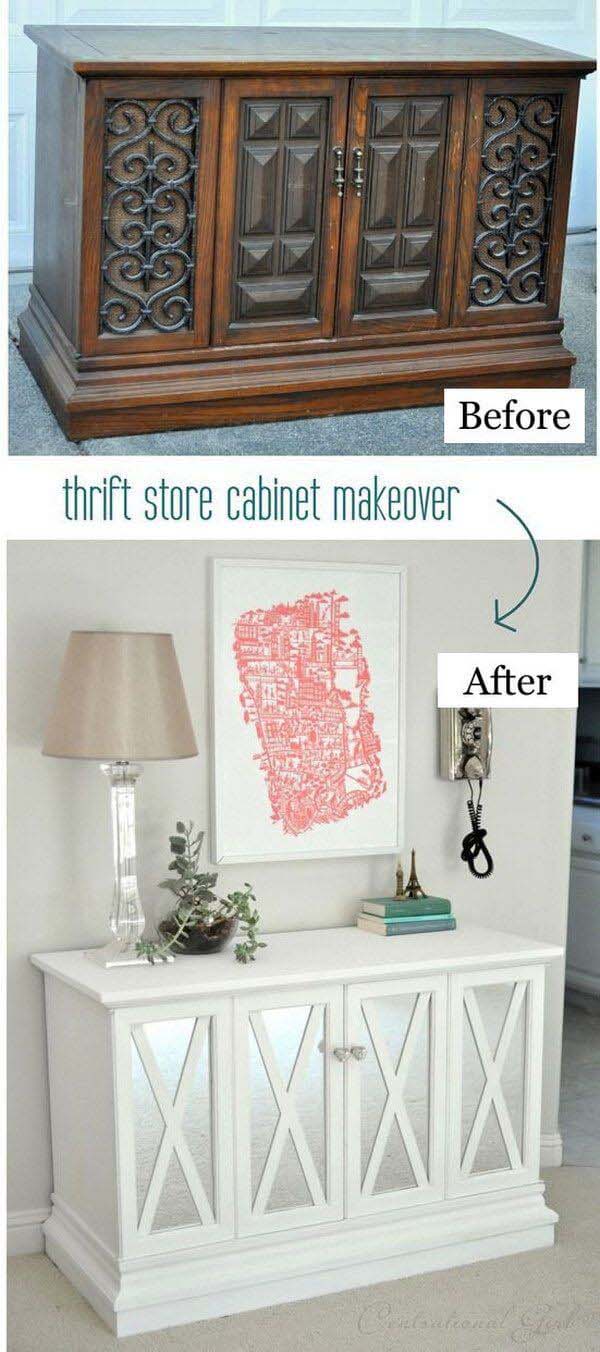 A dark and dated cabinet looks great with white paint and with the heavy and ornate doors updated.
Replace the carvings with X patterned lattice for a fresh look.
15. Add Style and Functionality with Paint Laminate Furniture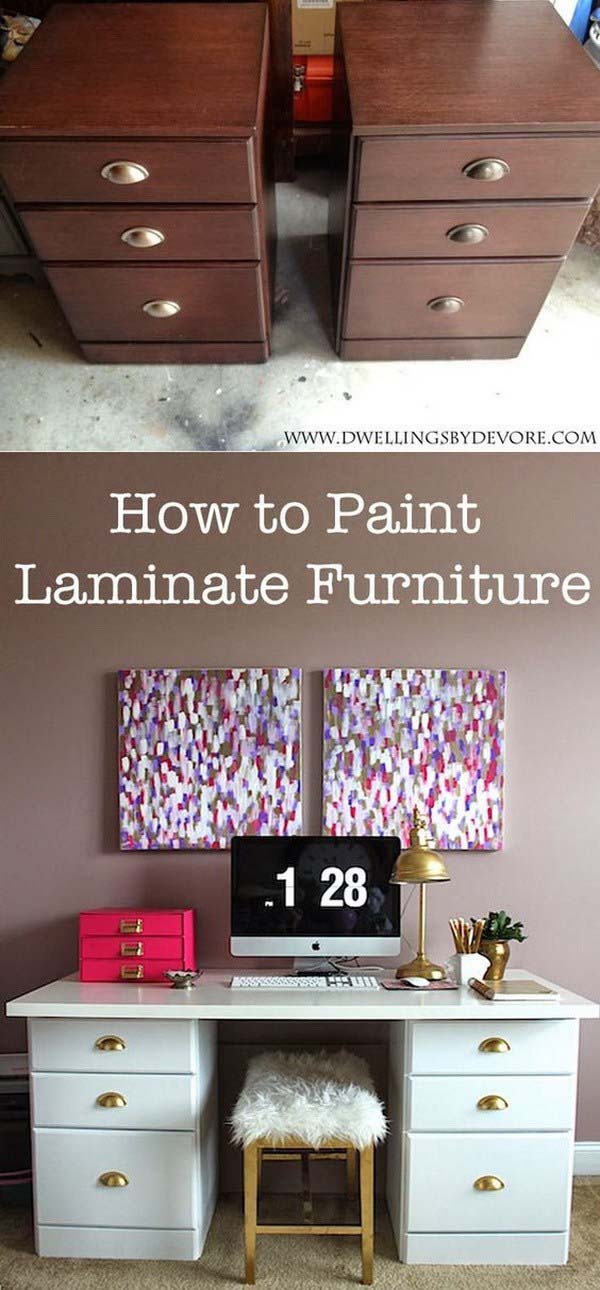 It can be tricky to paint laminate furniture, but carefully sanding it first is key.
You can then choose a light and high-gloss paint for a fresh look.
16. Give Old Cabinets New Life with a Light Blue Finishes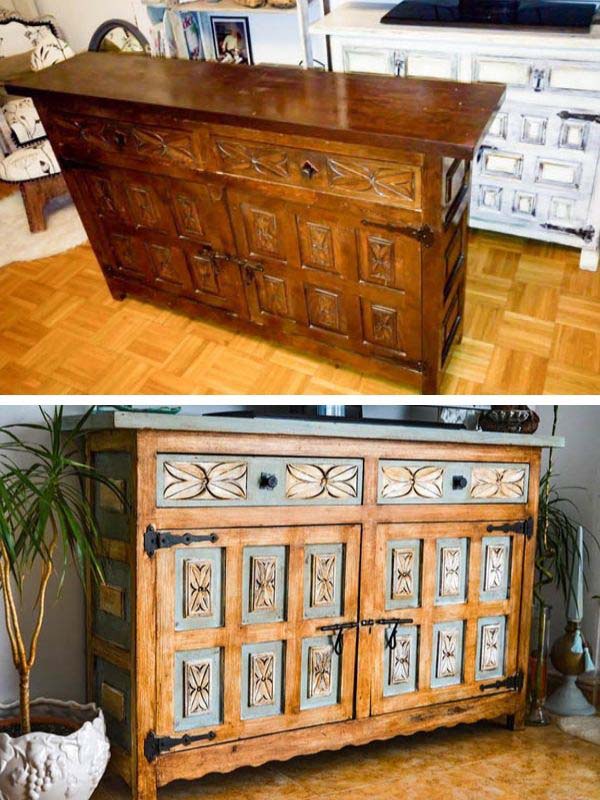 The ornate carvings on this old dresser really pop when they are outlined with a contrasting light blue.
Using the same blue on the top of the dresser ties the piece together.
17. Give Your Workspace a Luxe Upgrade with Copper Details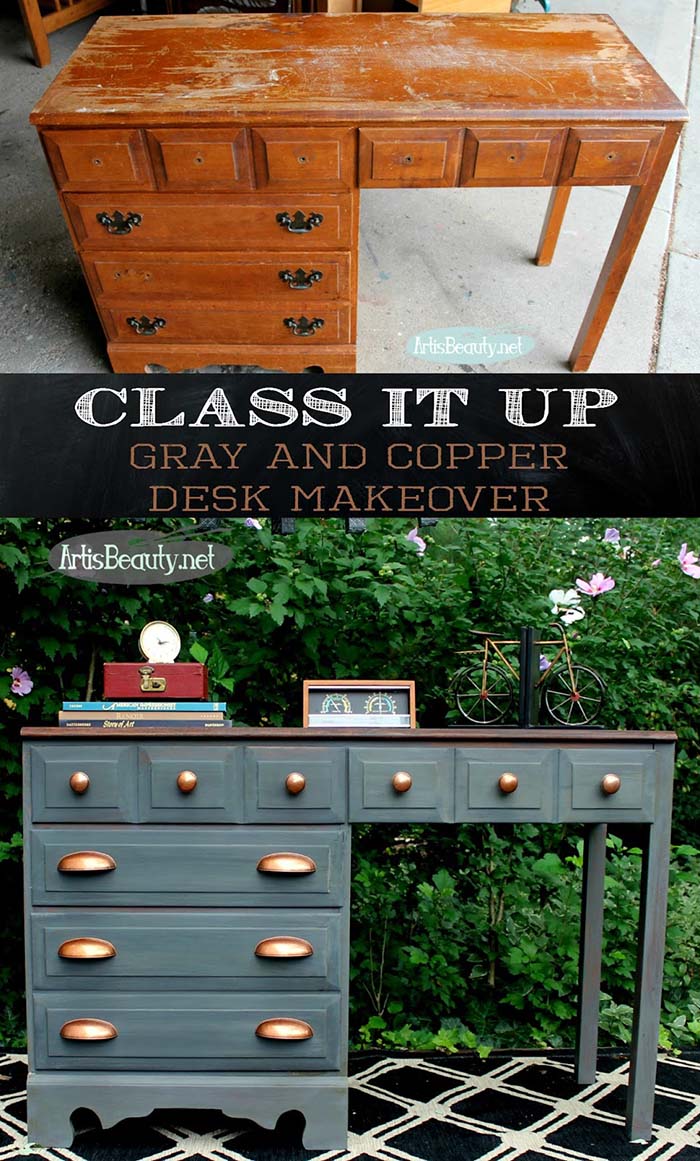 Glam up an old desk with moody blue paint and gorgeous copper pulls and knobs.
A freshly stained top finishes the look and makes it look expensive.
via artisbeauty.net
18. Transform Your Pantry Cabinet with Stunning White Paint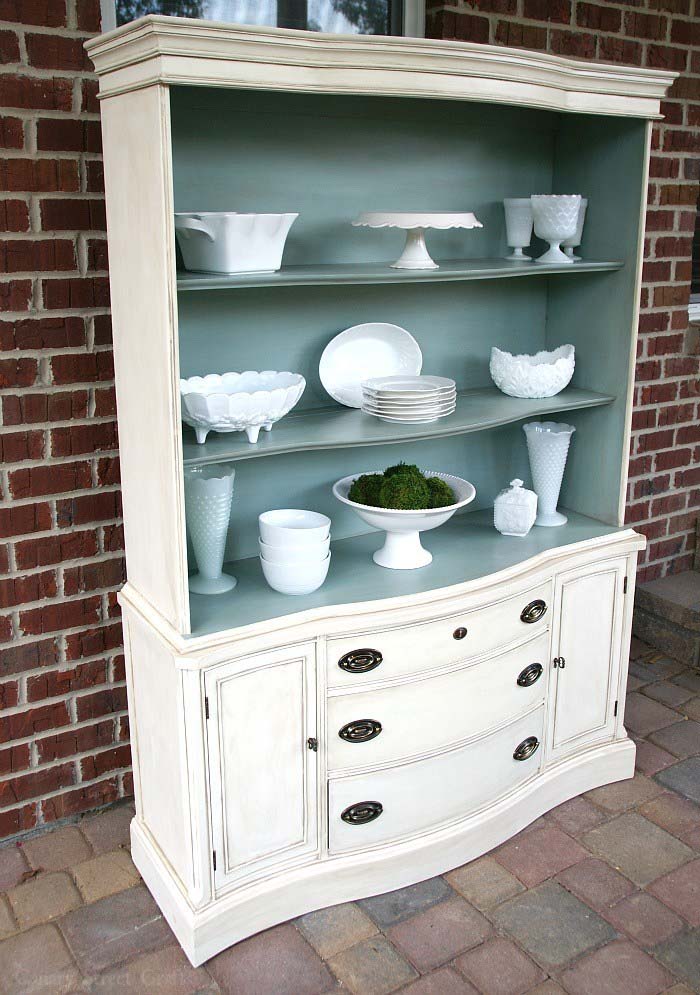 Bright white furniture isn't for everyone, but you can easily age your cabinet or other furniture using paint, not wax.
This highlights the details of each piece.
19. Revitalize Your Headboard into a Porch Swing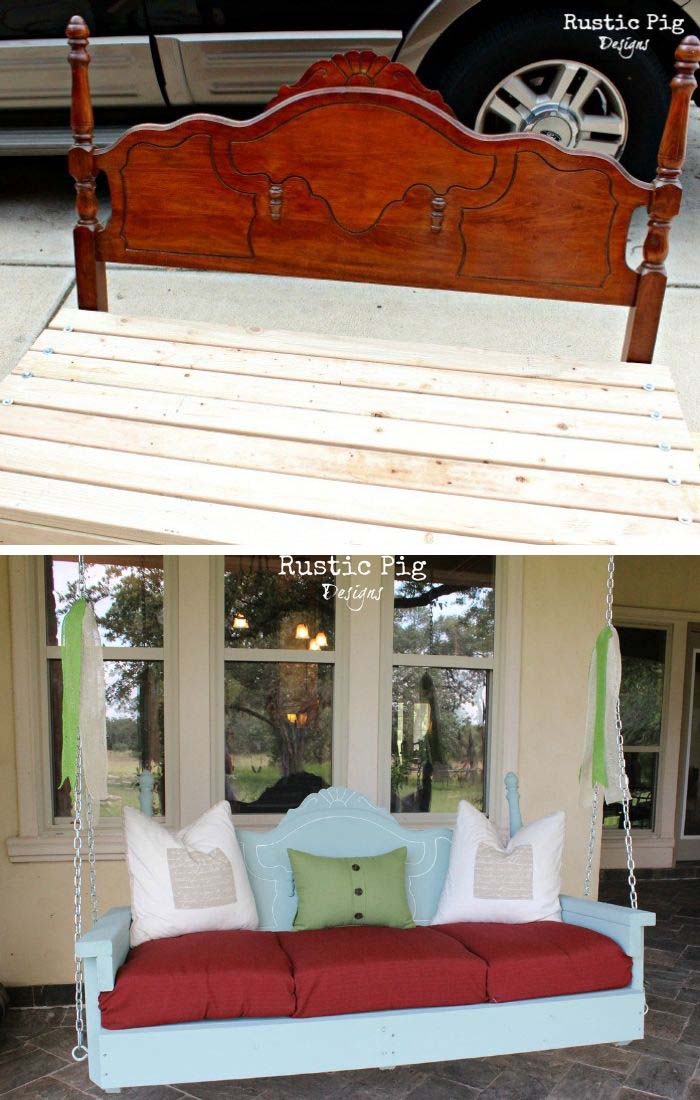 Use an old headboard from a bed to make a unique front porch swing for your home.
Pick a color that will pop and will help showcase the carvings on the headboard.
via therusticpig.com
20. Refresh Your Home with a Fresh Look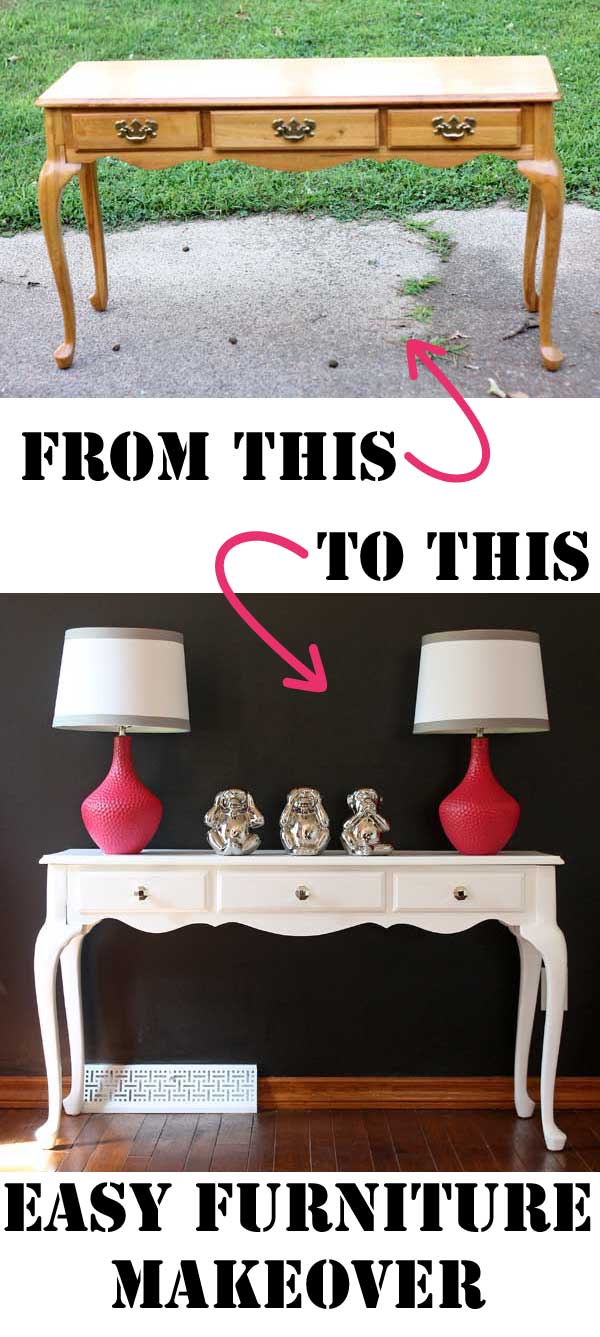 A boring wooden console table can enjoy new life when painted fresh and bright white and finished with shiny knobs.
This allows the delicate lines of the piece to pop.
21. Build a Comfy Bench with Functional Storage Space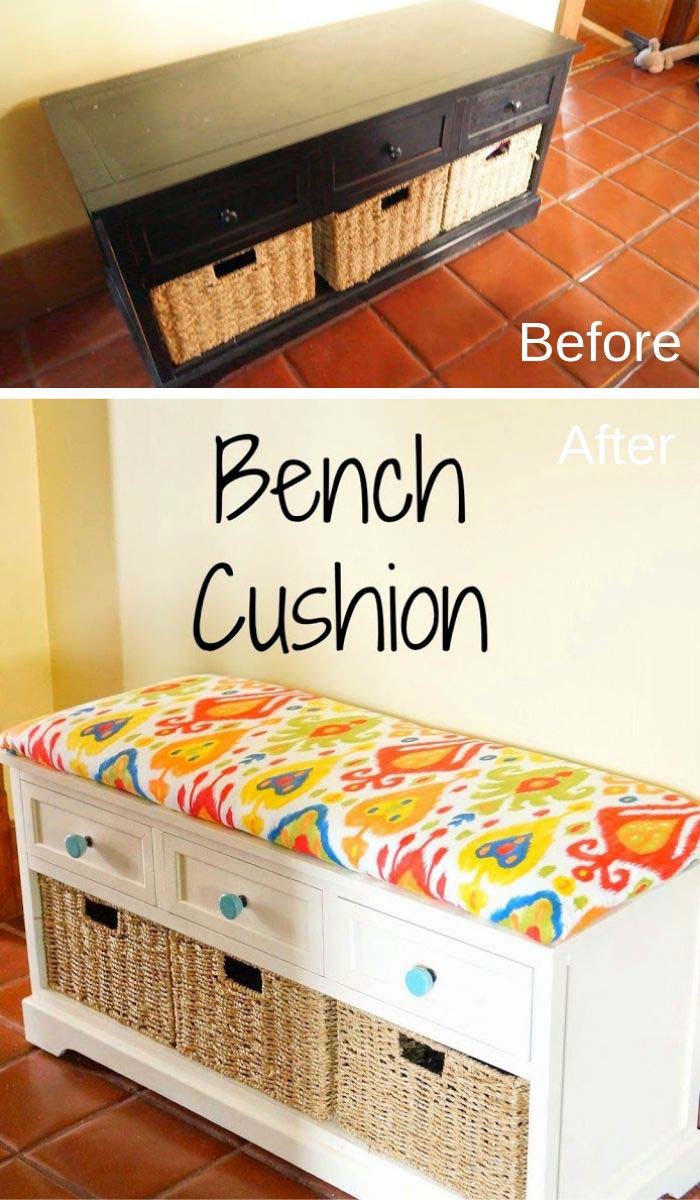 Even people who don't sew can enjoy a new bench cushion.
It only takes around 15 minutes and uses a staple gun and spray adhesive to hold the new cushion in place.
22. Paint Your Old Chairs for a Modish Look

Update an old chair without reupholstering it when you paint the fabric.
Make sure to use a paint designed specifically for this job.
via refunkmyjunk.com
23. Create a Rustic Porch Bench with an Upcycled Headboard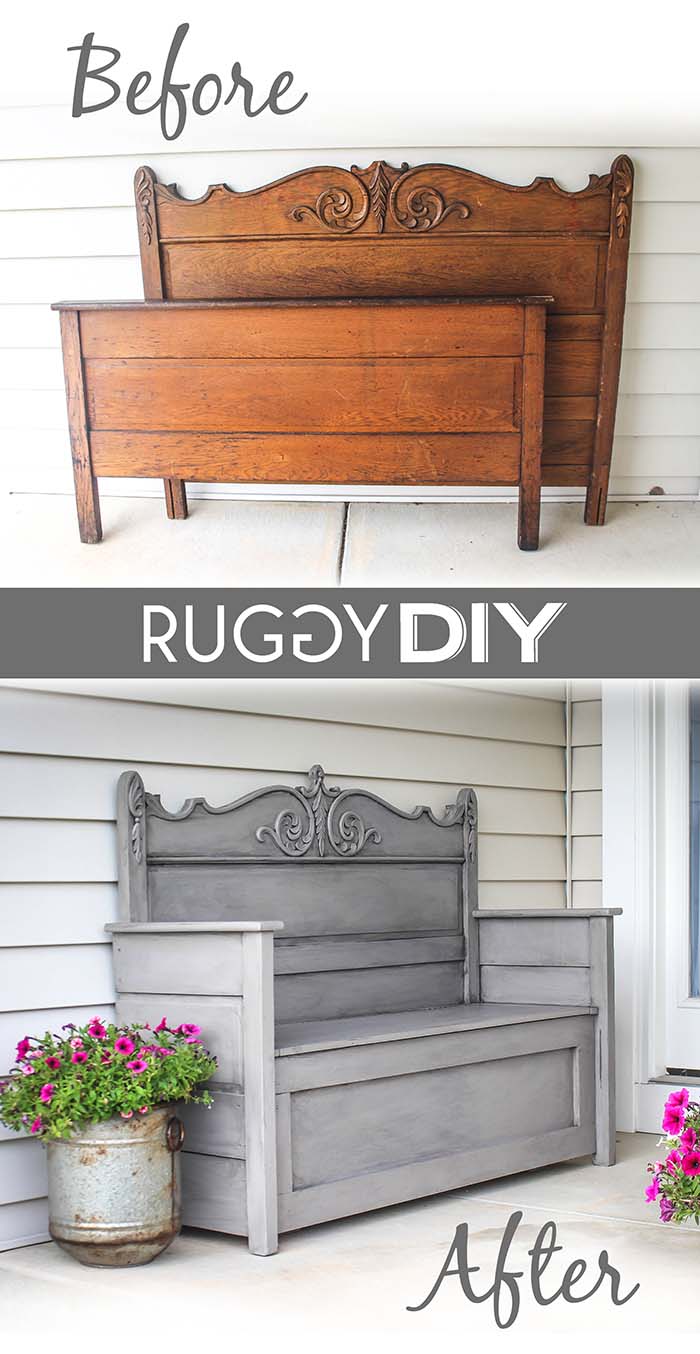 Ornate headboards look great when repurposed as benches.
The detailed carving really makes the piece stand out.
via ruggydiy.com
24. A Simple Way to Rejuvenate Your Cabinet Cubby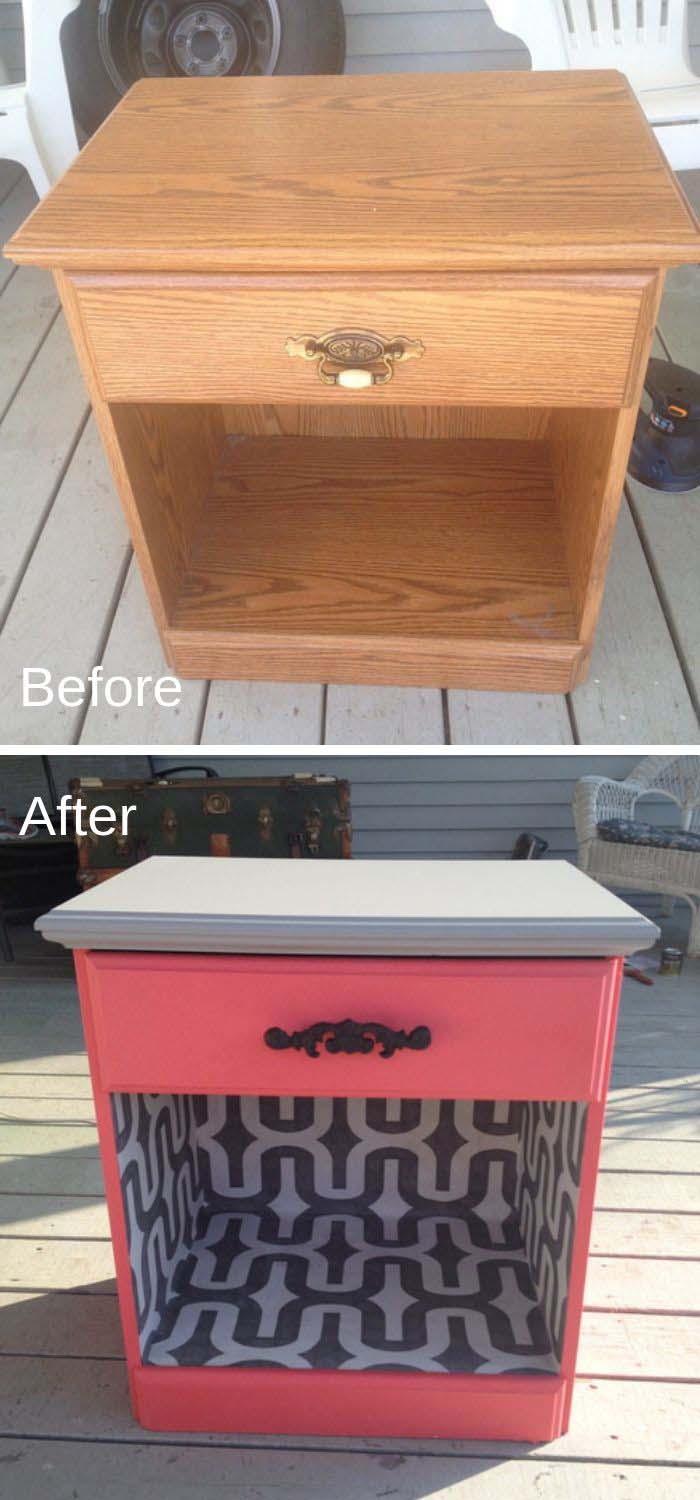 This cabinet cubby is given new life with bright paint and some fun fabric on the inside.
25. Upgrade Your Home with an Apothecary Cabinet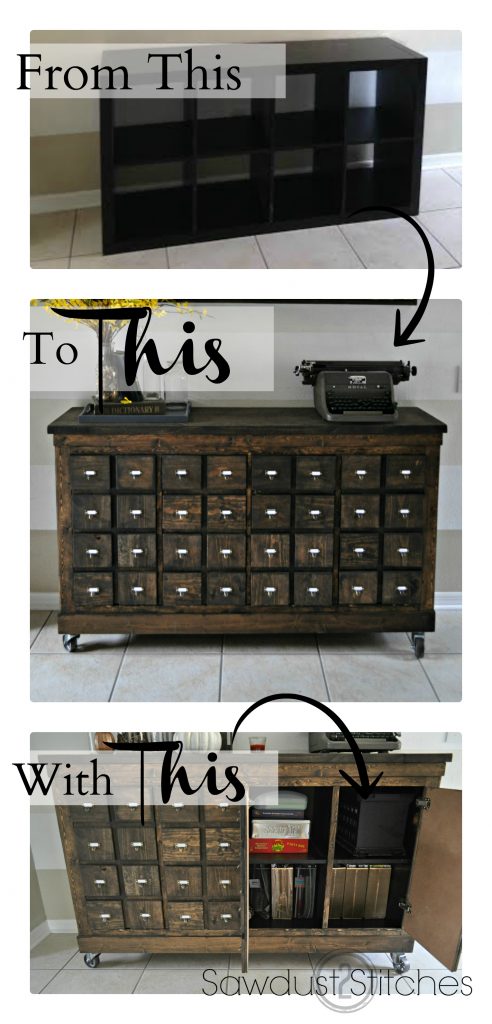 Turn old IKEA cabinets into a gorgeous apothecary.
With hidden swing doors, you can hide anything inside.
26. Reimagine a Dresser Hutch into an Elegant Side Table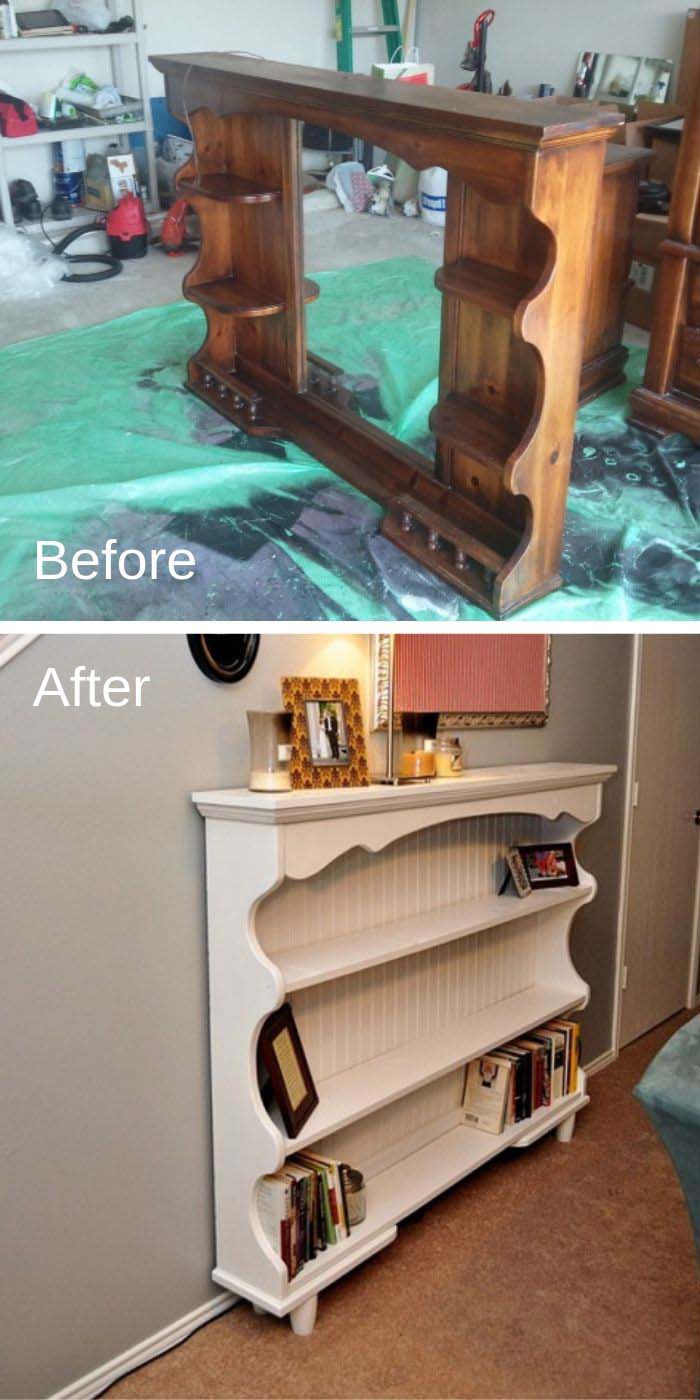 An old dresser hutch makes a great side table with a little paint and imagination. You will need to add a back, but that makes it a durable piece.
via hannahbunker.com
27. Give New Purpose to an Old Desk with a Makeover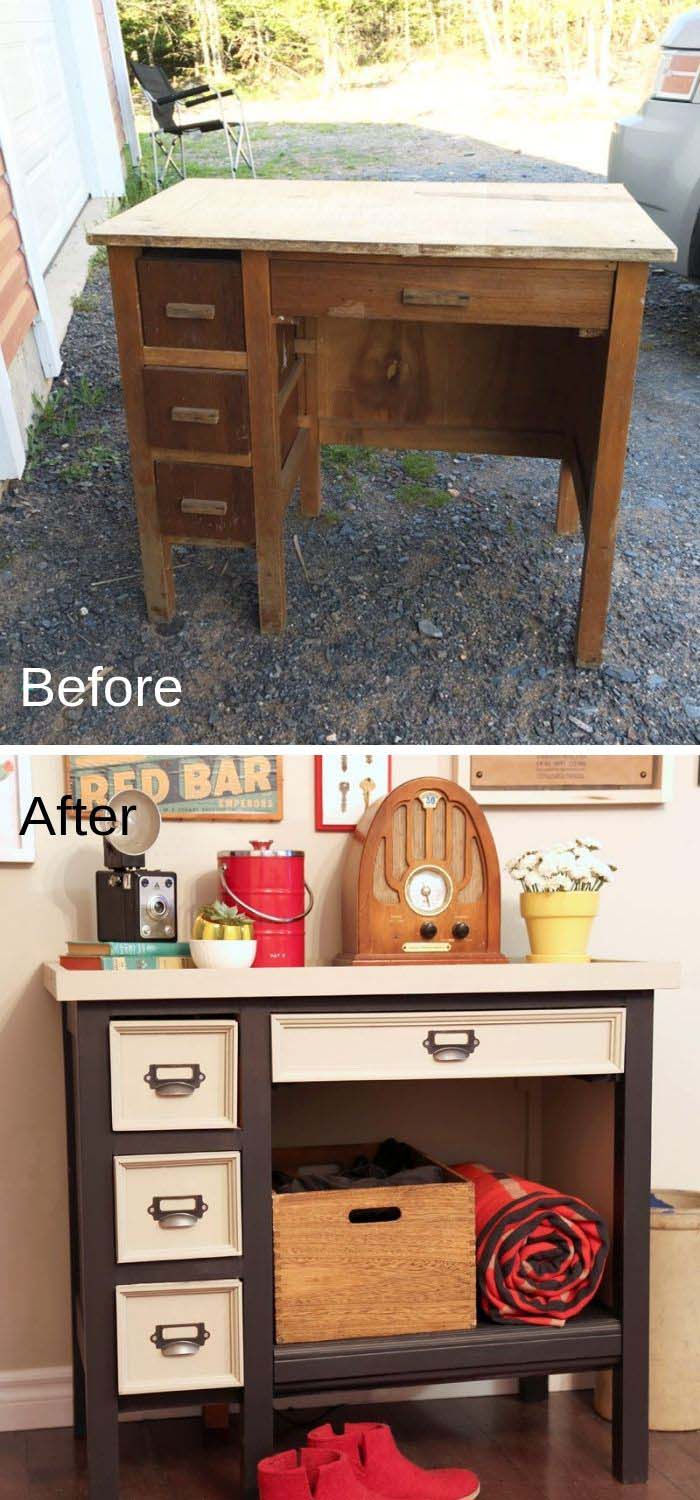 Instead of throwing away an old desk, give it new life with paint, fresh pulls, and some shelving.
This will make it one of the favorite pieces in your home.
via fynesdesigns.com
28. Turn Vintage Chairs into a Modern Porch Set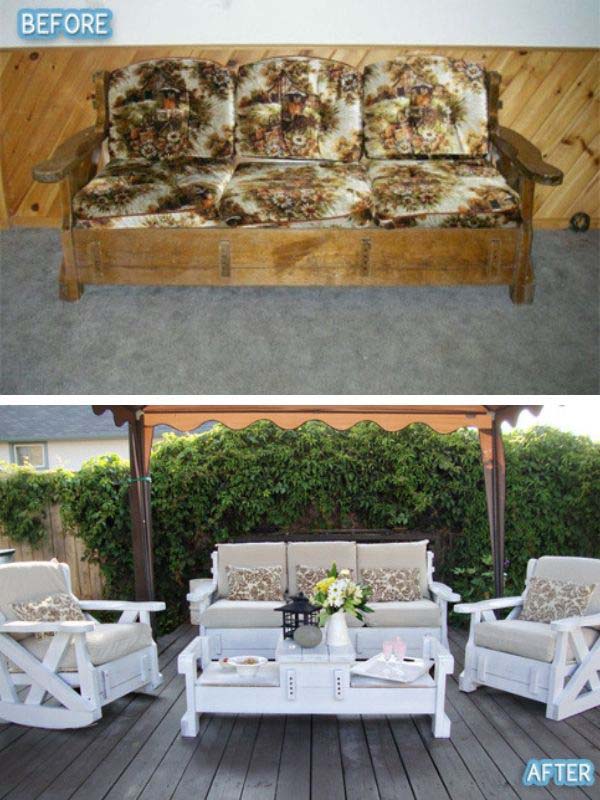 Updated outdoor furniture will make you want to spend time outside with your friends and family. Keep everything light and airy with neutrals and white paint.
via hometalk.com
The next time that you have an old piece of furniture that you want to makeover, you will be able to draw inspiration from one of these 28 great ideas.
Making over your furniture is a great way to save money and to create a custom piece that you will love.