Hidden doors bring an element of magic to an otherwise practical part of your home.
Whether you need to add storage or create a secret passage from one room to another, a concealed door is a fun solution.
As you identify potential places for hidden doors in your house, these clever ideas can provide inspiration.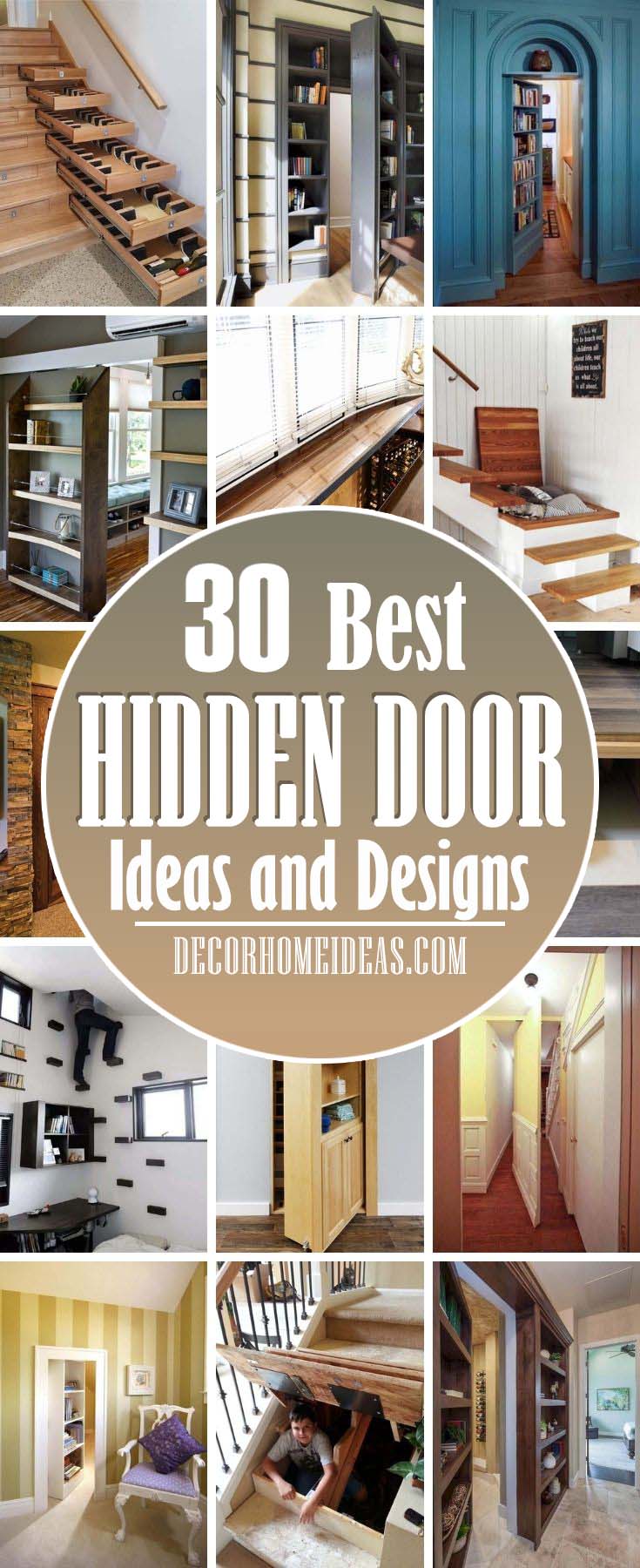 Take a look at the best hidden door ideas that we have selected just for you and pick your favorite.
1. Under-Stairs Hideout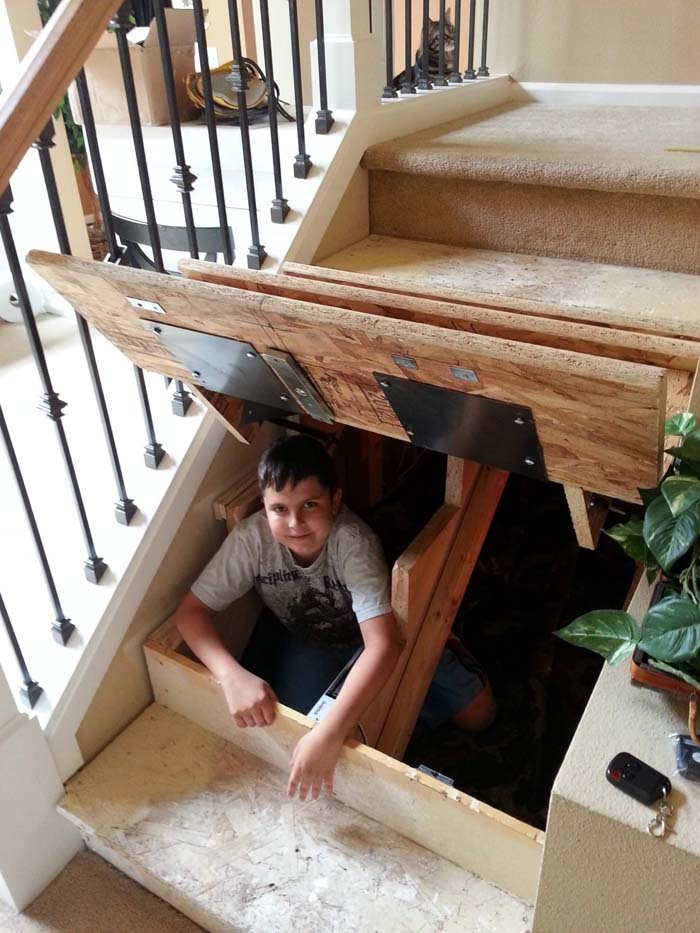 If you have stairs in your house, space underneath often goes unused.
This creative solution turns that open area into a storage spot.
The treads of the stairs lift up on hinges, revealing a spot for boxes and totes.
Plus, since it's indoors, you don't have to worry about moisture or extreme temperature swings.
2. Shelf-Style Attic Storage Access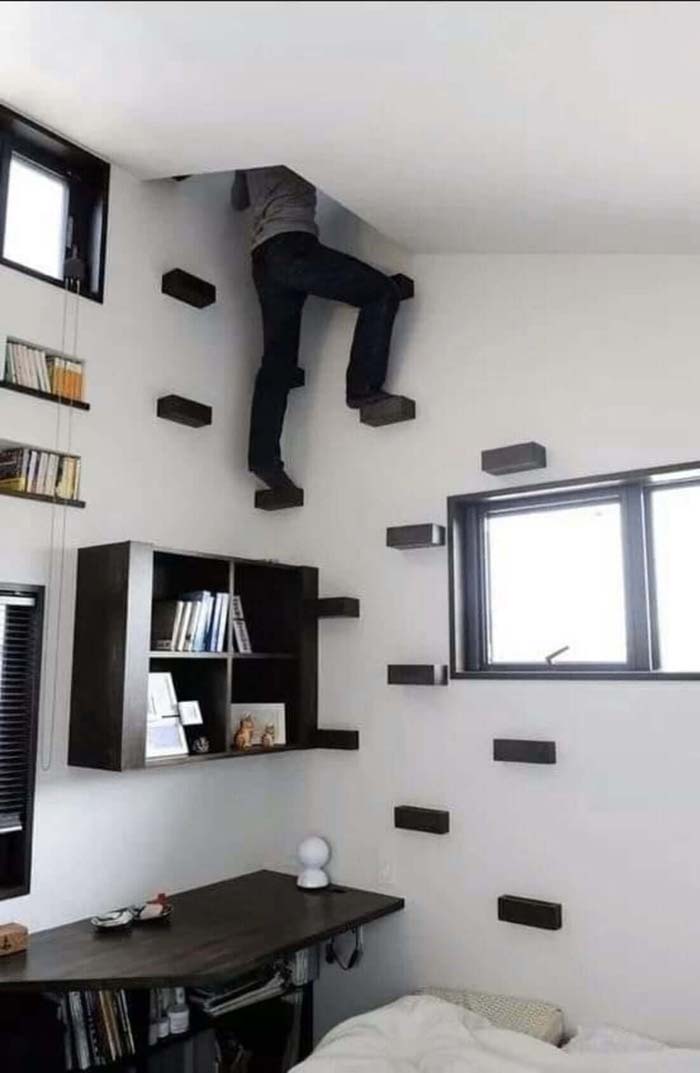 An attic or a lofted storage area is a great way to use the extra vertical space in your room — but how do you access it without hauling a ladder into this space?
Here, a series of heavy-duty wall shelves double as steps, so you can climb up to reach the hidden area.
3. Swinging Bookshelf Hidden Door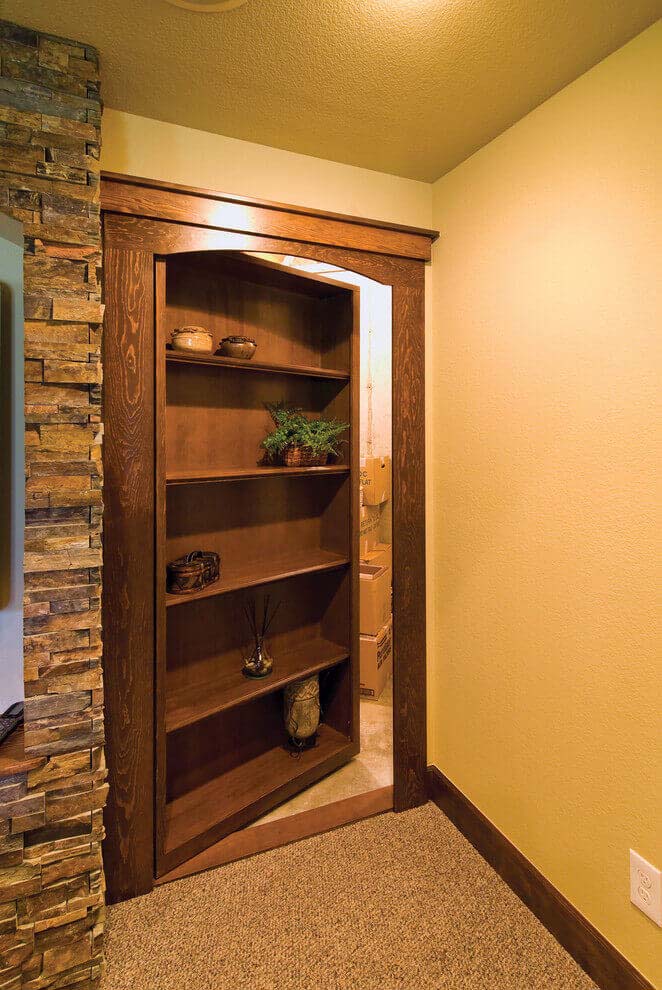 Climb through into a secret storage room by covering the door with a hinged bookshelf.
When the door is shut, the shelves look like a built-in unit.
To get to your belongings, simply push the shelf inward and step over the threshold.
4. Trap Door to Hidden Wine Cellar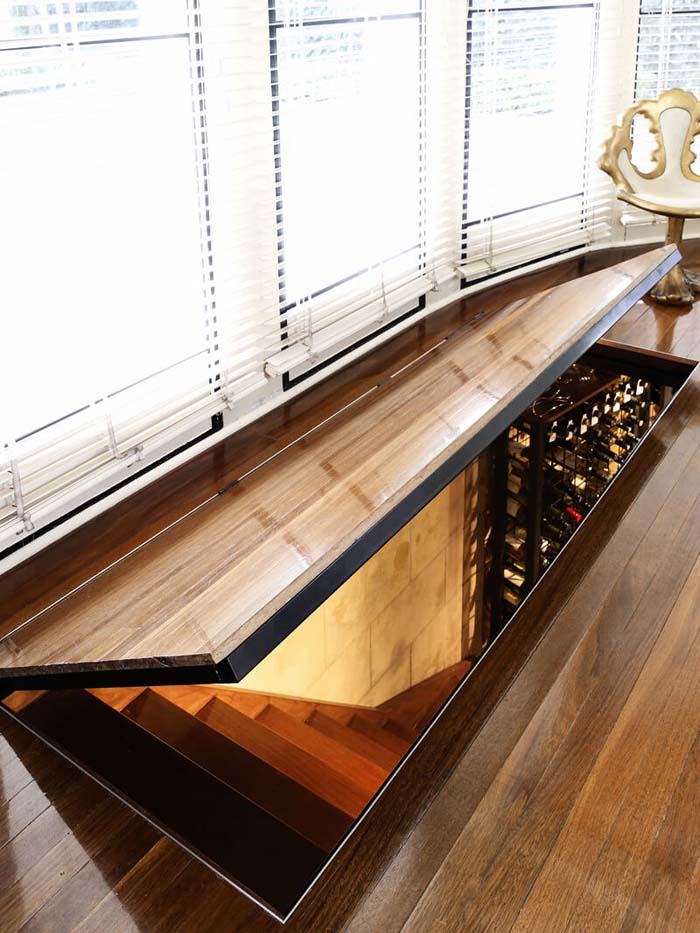 Are you a wine aficionado?
This clever wine cellar is a must.
A hidden trap door swings upward, revealing a hidden cellar.
You can even slide a sofa or a rug over the door for extra concealing power.
5. Secret Kitchen Drawers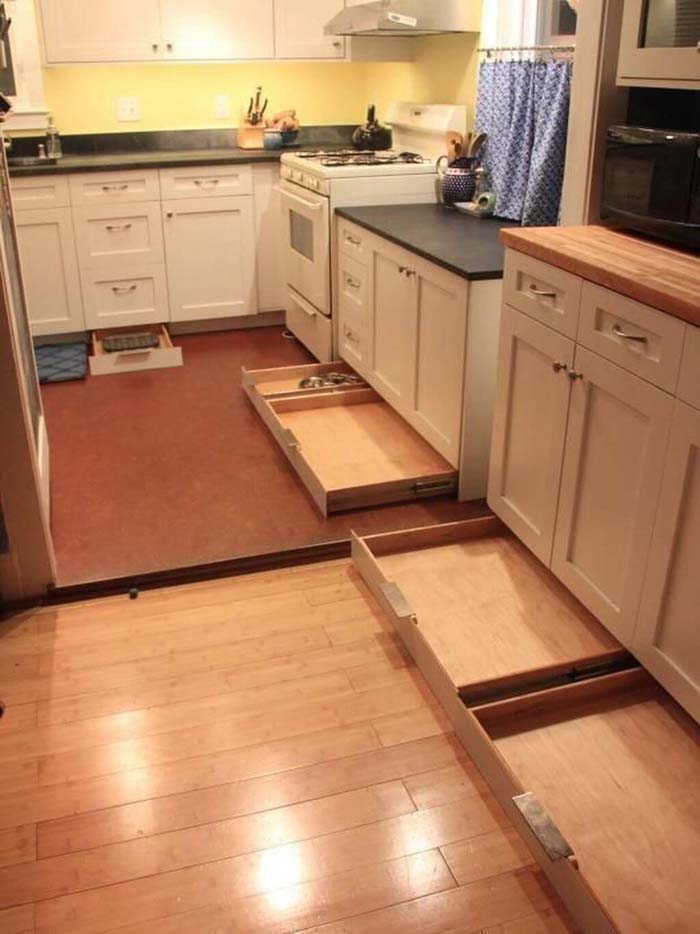 When you have a tiny kitchen, every inch of space matters.
Replace the baseboards on your cabinets with hidden drawers.
The large, shallow space is the perfect spot to store everything from serving platters to baking sheets.
6. Sliding Bookcase Doors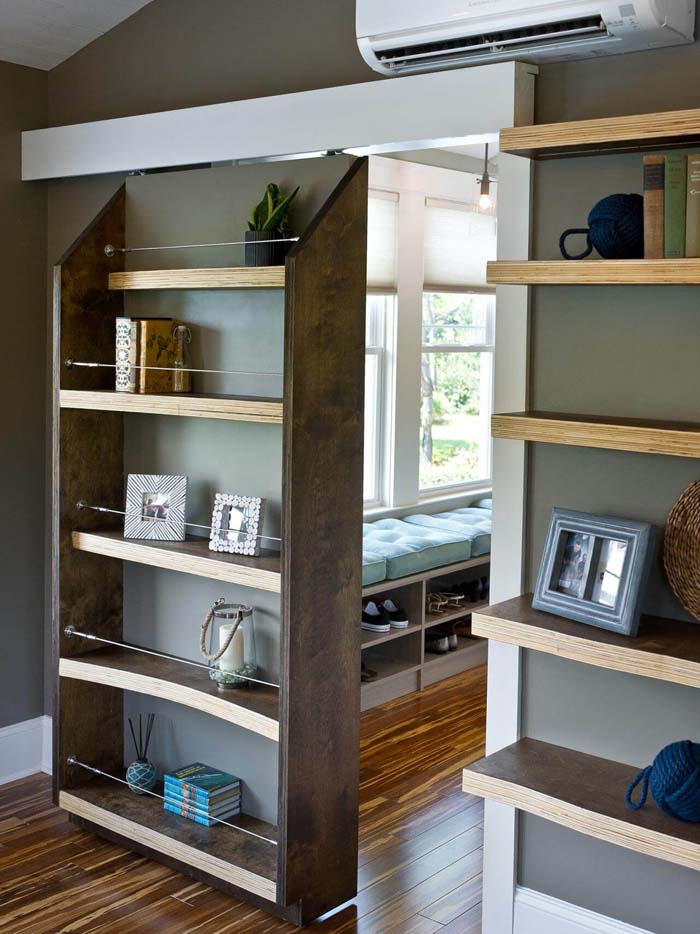 Sometimes, an open doorway requires you to sacrifice storage space.
This clever solution covers the doorway with a bookcase that's mounted on barn door-style sliders, giving you the best of both worlds.
7. Hidden Storage Closet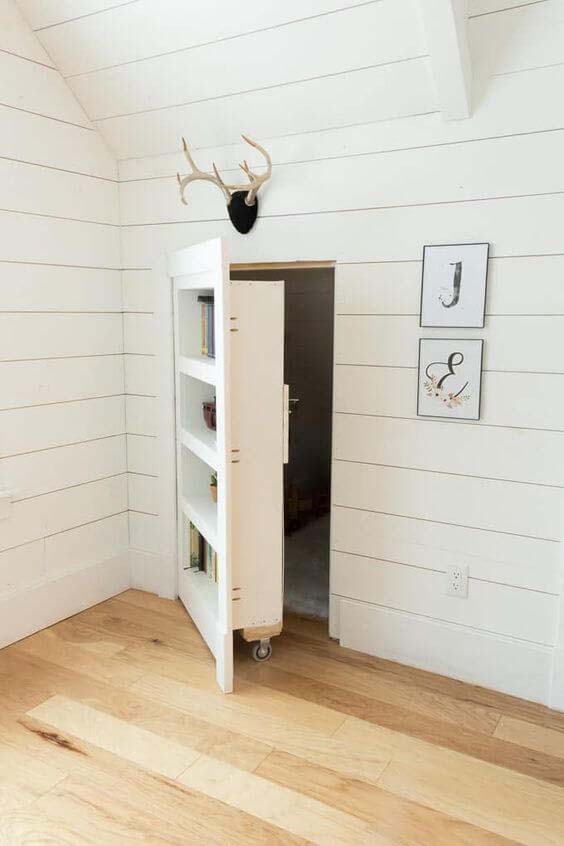 Are you looking for a way to hide an unusually shaped storage area?
Block the doorway with a bookcase on wheels.
The sturdy wheeled base helps support the weight of the shelves, so you can load up each one with books without affecting the hinges on the side.
8. Rock-Covered Secret Storage Door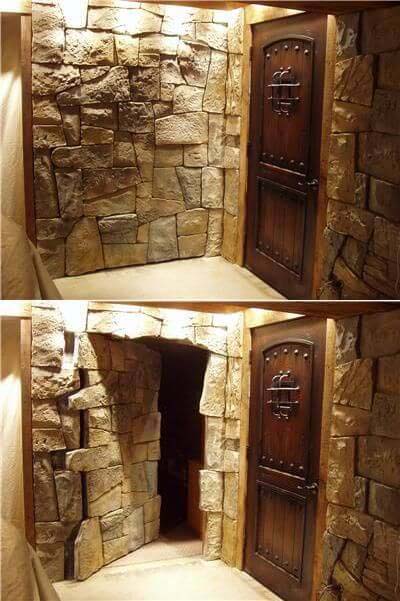 To look at this entryway, you'd never guess that there's a secret hidden behind the rock wall — but look closer, and you'll see the hidden door handle camouflaged in one of the rocks.
The offset stone pattern makes it easy to conceal the door and the hinges.
9. Pivoting Wall Section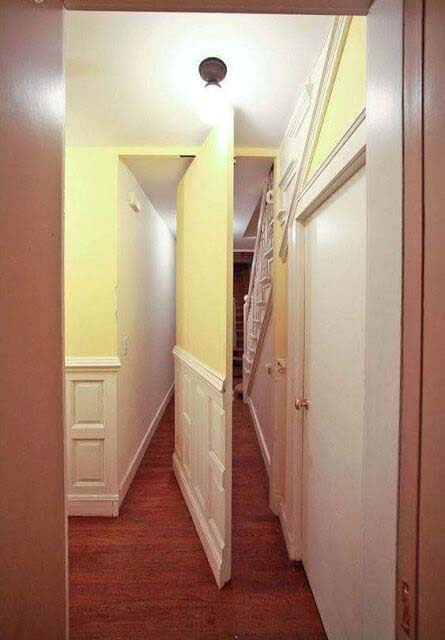 You'll feel like you've entered a mystery story when you install this pivoting wall; it swings 360 degrees, enabling you to change the look of the wall or access the room beyond.
This solution is best added to an existing door opening that's already been reinforced for load-bearing purposes.
10. Under-Stair Wine Storage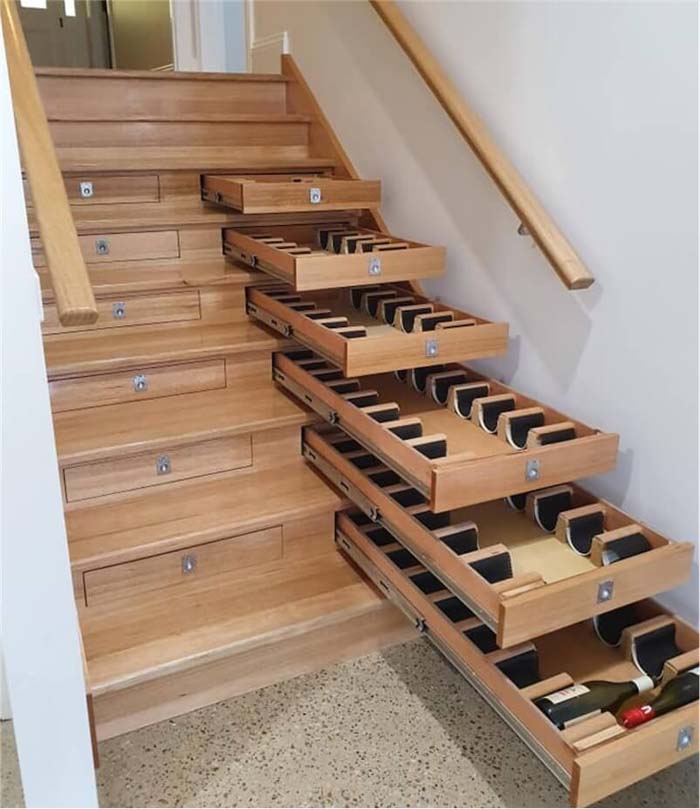 Don't have room for a wine cellar in your home?
No problem — you can build it into a staircase.
Under the tread of each stair, two small drawers pull out to reveal individual wine bottle holders.
Secure and space-efficient, this solution is a wine-lovers dream.
11. Hidden Kitchen Trap Door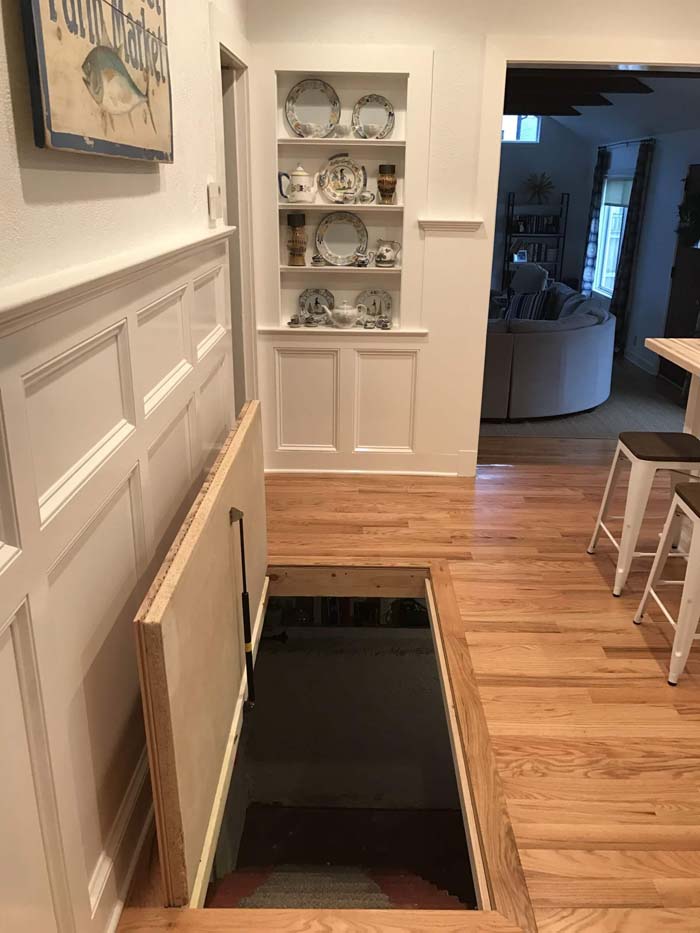 A basement is a handy spot to store all of your extra belongings, but the access stairs can take up valuable real estate in the house.
Instead, try adding a swinging trap door in the kitchen. It frees up floor space and allows quick access to the basement.
12. Hideaway Playroom with Mini Bookcase Door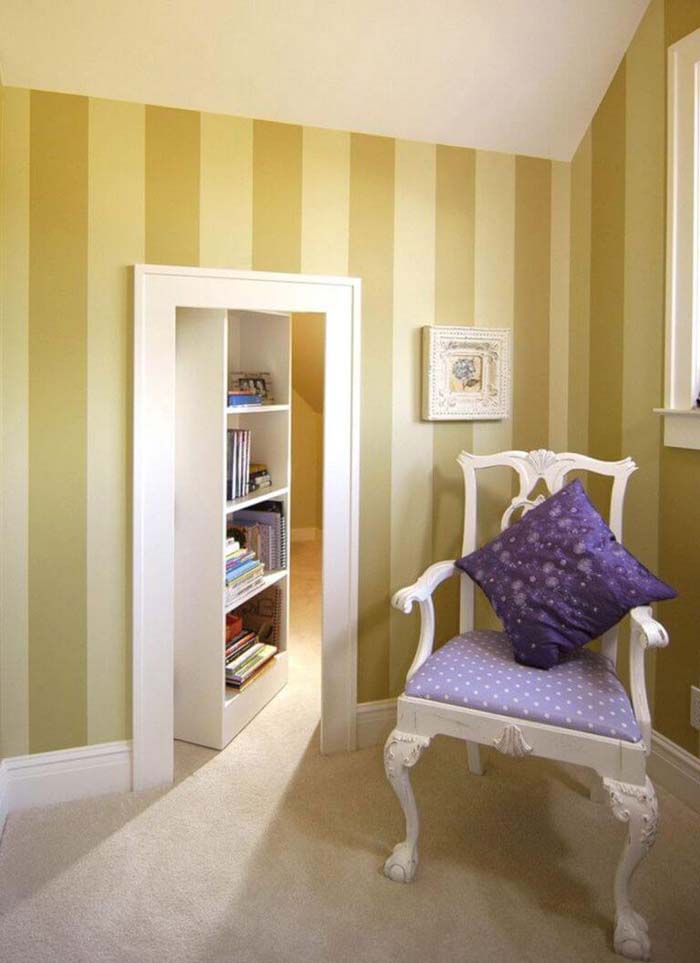 Who says hidden doors need to be full-sized?
Delight your kids by creating a secret playroom sized just for them.
A miniature bookcase swings inward, providing just enough space for your little ones to walk through.
From the outside, the bookcase looks like any other built-in.
13. Bookcase Pocket Door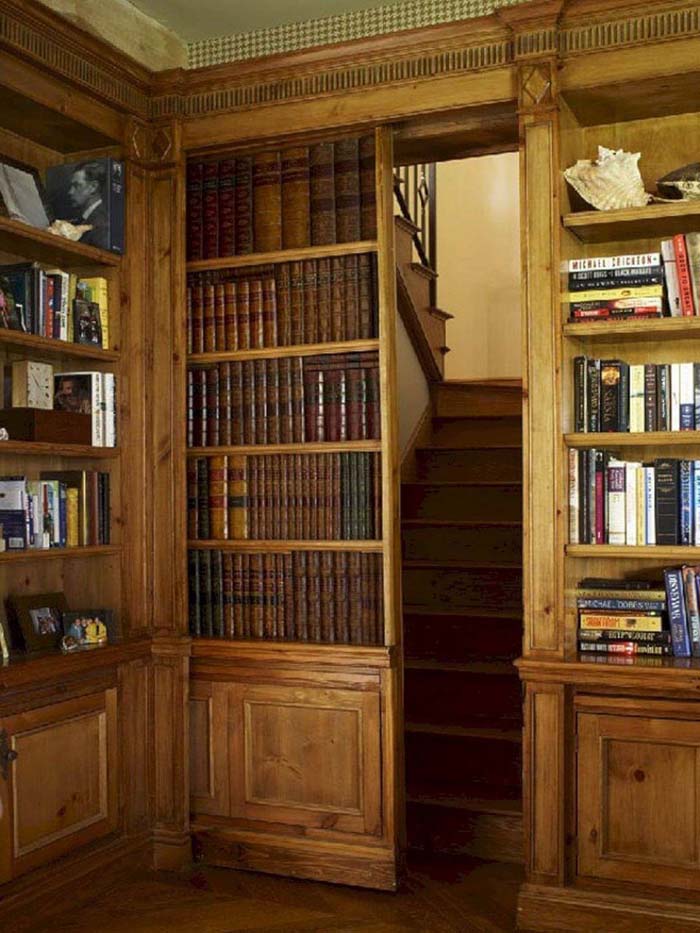 In centuries past, back staircases allowed servants to move through the house unnoticed.
Embrace this tradition by hiding your little-used stairs with a pocket door.
The trick is to use faux books; they look realistic, so no one will guess they're hiding a secret door.
14. Storage-Style Pantry Access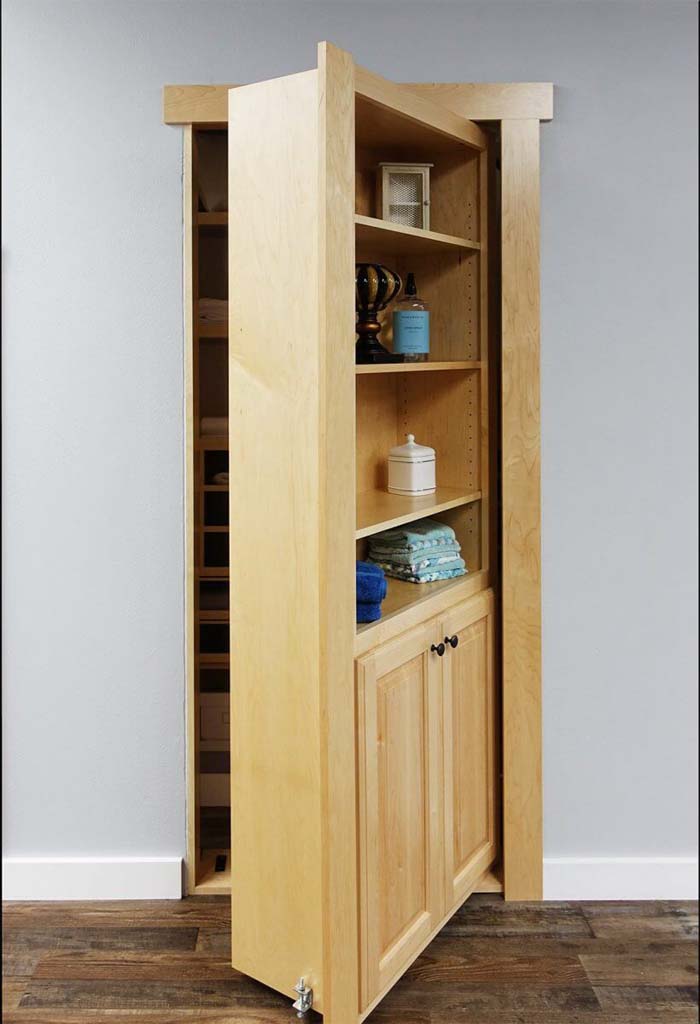 A pantry is a fantastic way to keep your kitchen organized. Instead of wasting wall space with an open door, why not maximize it with a swinging storage unit?
The sturdy unit offers extra storage and display, all while hiding the pantry from view.
15. Raised Platform with Flip-Up Doors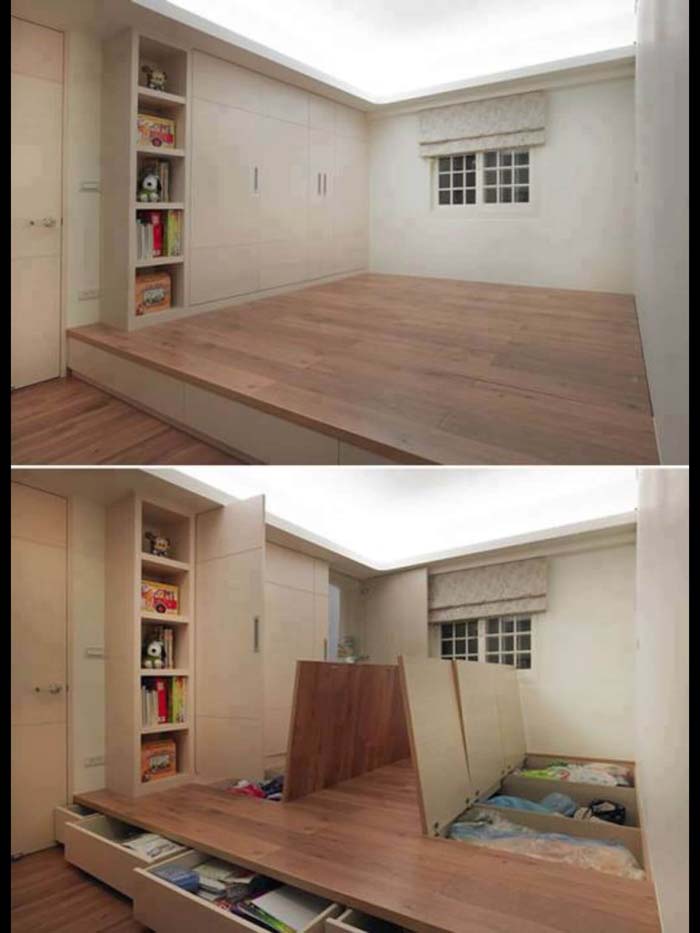 This clever solution adds storage without taking up floor space.
The secret is the raised platform; it creates just enough room for hidden drawers and hollow compartments.
Simple hidden trap doors double as usable floors.
16. Flip-Up Coffee Table Workspace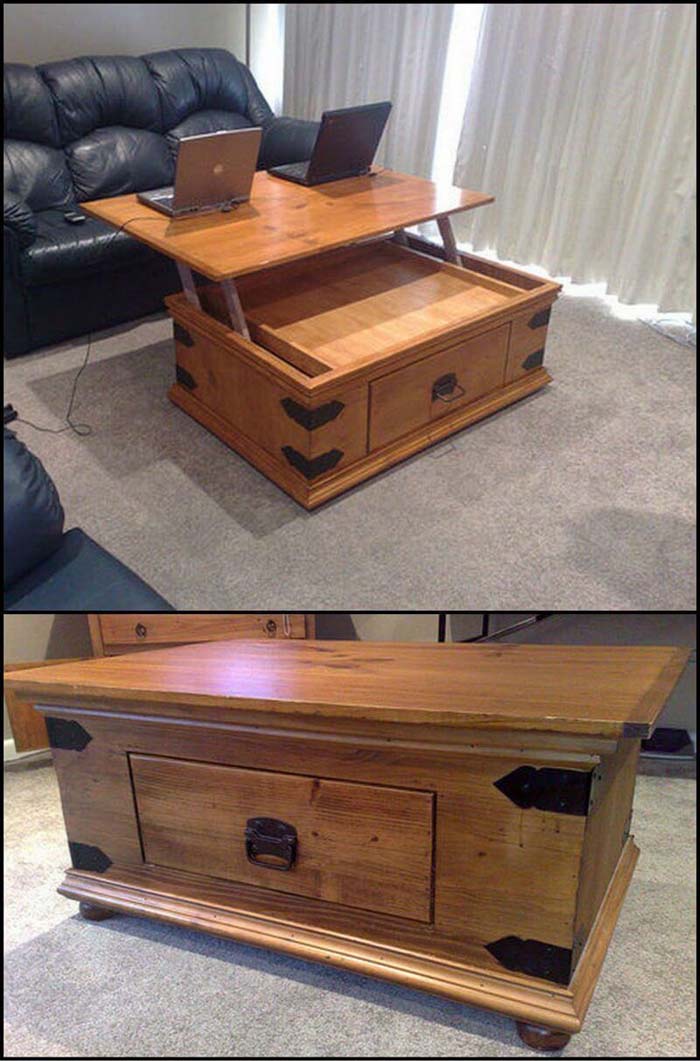 The coffee table is an essential part of your living room.
If you work from home, a flip-up version helps the space double as an office.
Just pull up on the tabletop to create an elevated work desk for your laptop.
In a small apartment, this piece can also serve as a dining table.
17. Corner Bench Basement Access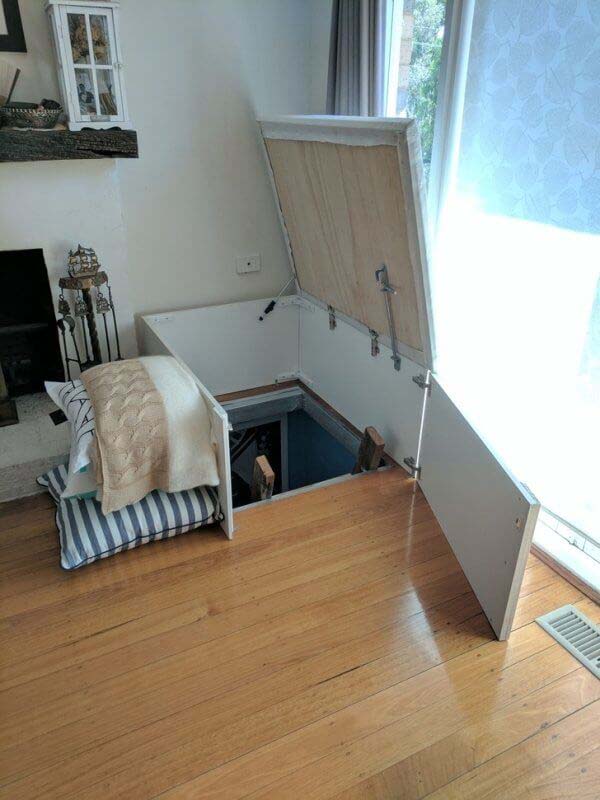 A trap door is a great way to access your basement — but if you need to climb down with a ladder, it's not always possible.
Here, a simple faux bench hides the basement opening, leaving plenty of space for the top of the ladder.
18. Bookcase-Covered Wine Storage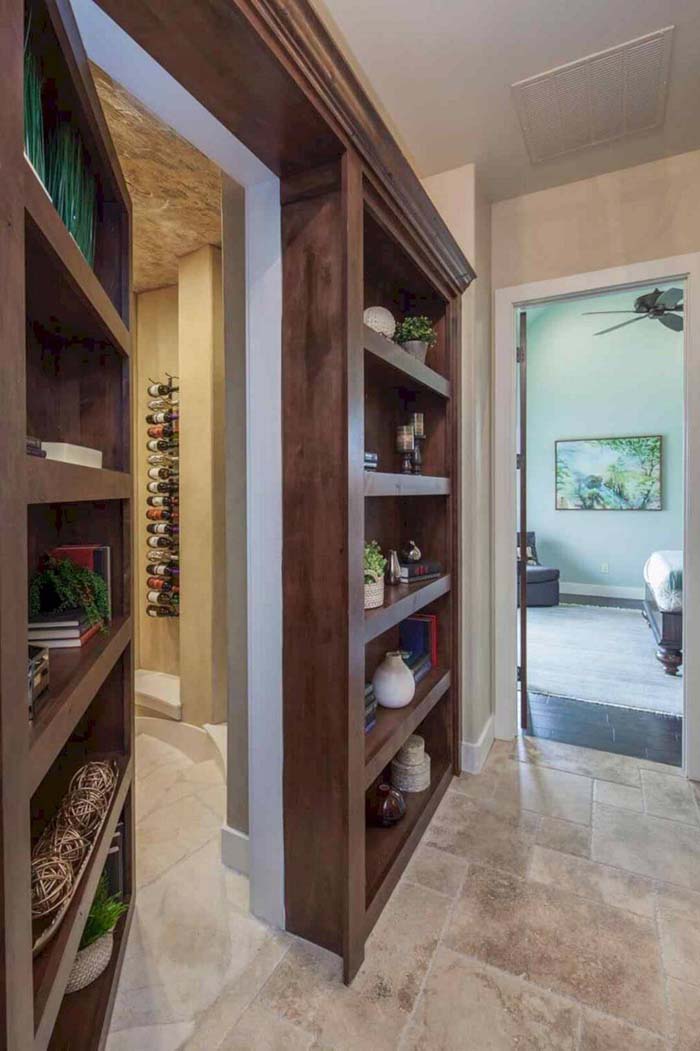 There's something magical about a door that's hidden behind a bookcase — and it's even better when that door leads to a wine storage room.
Delight your guests when you push the latch and lead them to your secret stash.
19. Two-Sided Secret Door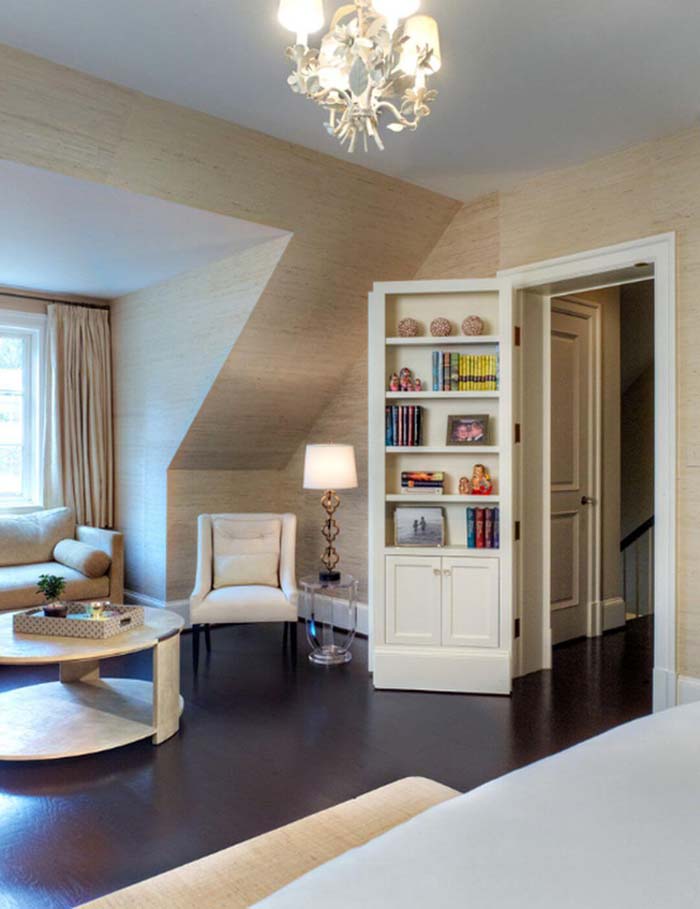 This creative two-sided door is a fun way to conceal the passage between two rooms.
By using both sides for storage, you can hide the door effectively without sacrificing storage space.
20. Swinging Library Bookcase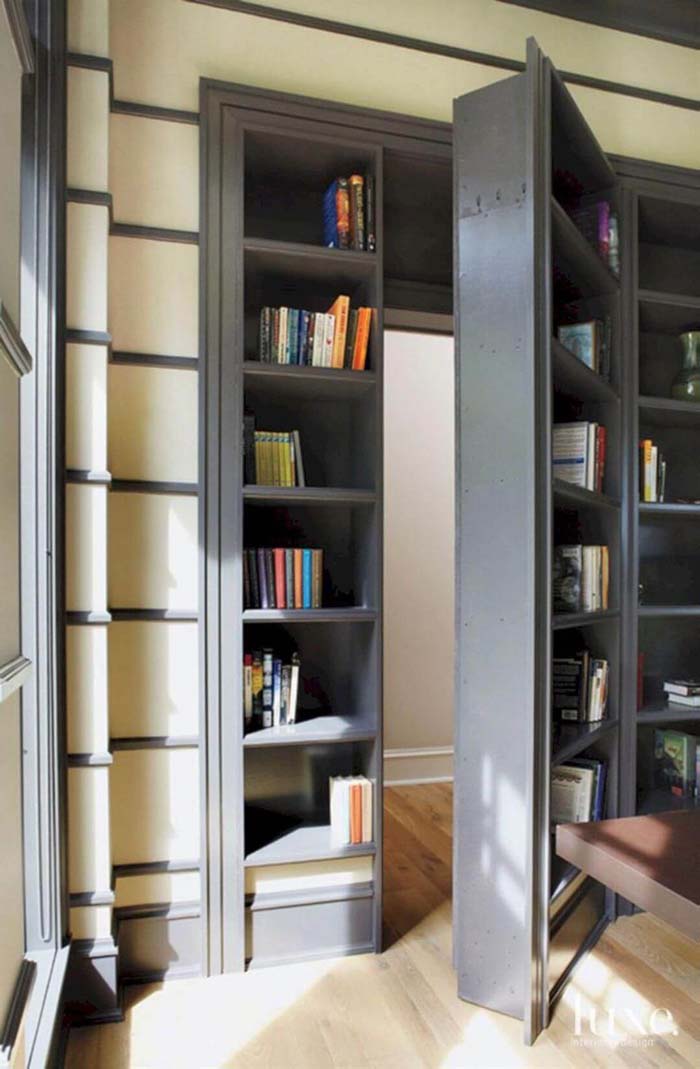 If you've ever read mystery novels, you know that the hidden doors are often located inside the library.
Bring that feature to life by mounting one of your built-in bookcases on a set of heavy-duty hinges.
Visitors will never even know the door is there.
21. Lift-Up Floor Panel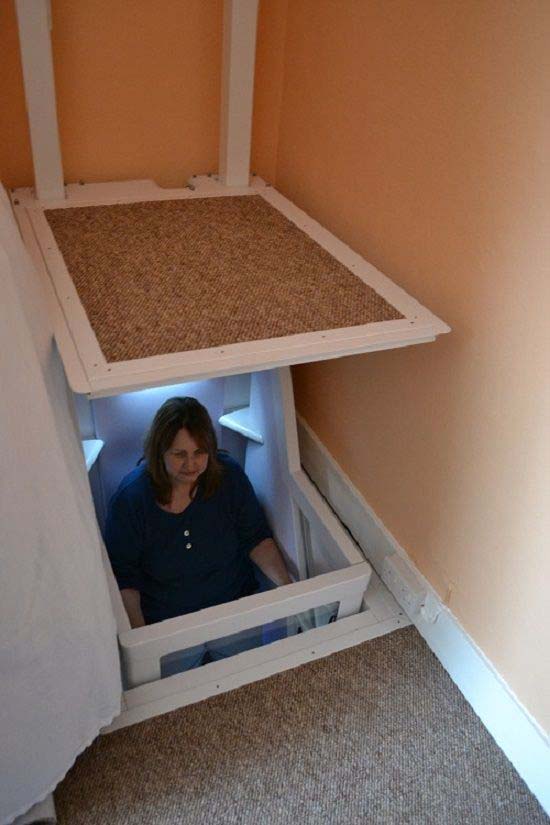 This creative variation on a trap door features a section of flooring that lifts straight up and balances on a set of rails.
Underneath, a hidden compartment creates extra storage.
22. Faux Bookcase Door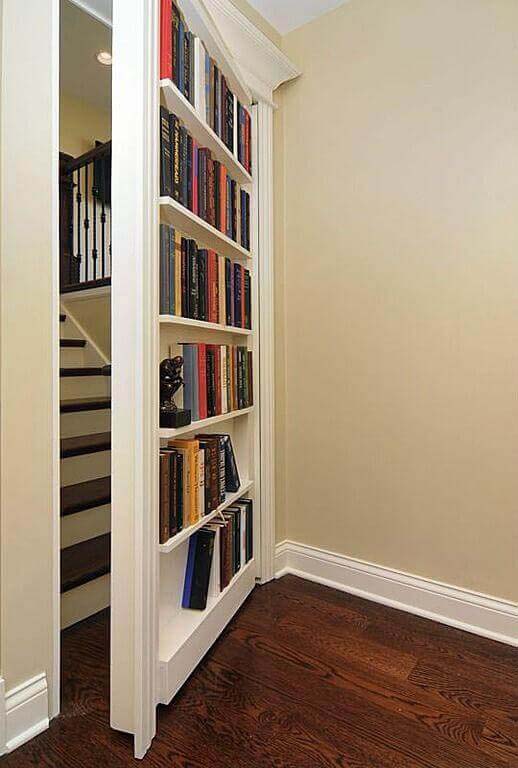 Control access to a part of your home by hiding the door behind a faux bookcase.
From the front, this door looks like a standard set of shelves.
At an angle, you can see that the books are cut in half, creating a shallow, lightweight door.
23. Stair Storage Compartment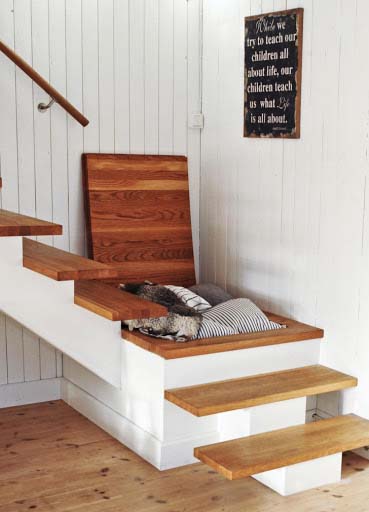 Can you create a hidden door if you have floating stairs?
This solution shows you how.
The corner of the staircase features a hidden door covering a hollow compartment that's ideal for blankets, pillows, or out-of-season apparel.
24. Swinging Bookcase with Decorative Molding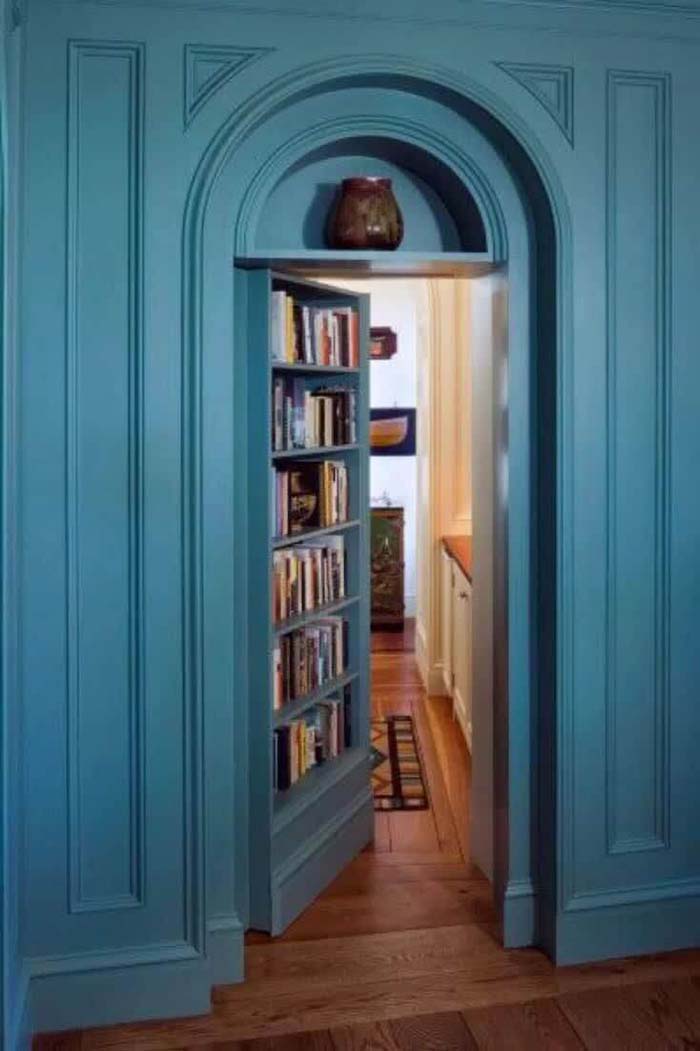 Decorative molding is the secret to this hidden door; it helps the bookcase look like a traditional built-in piece.
This is a great solution for a room with two doors — it makes the second door more fun and exciting.
25. Under-Floor Pantry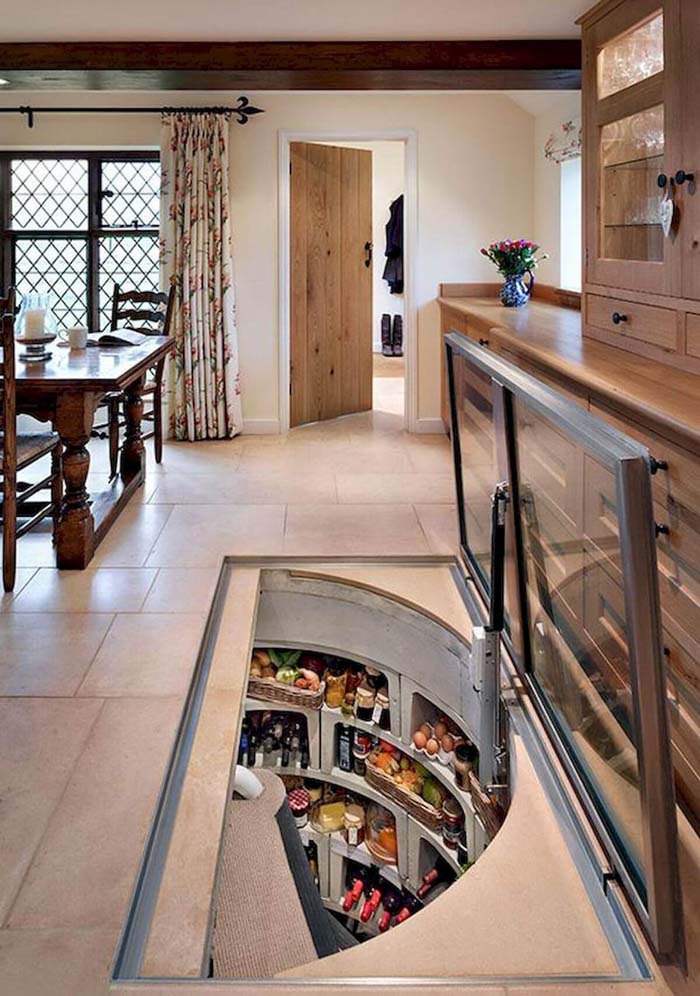 Don't have room for a traditional pantry?
Create one below the floor with a trap door.
A half-spiral staircase makes the most of your limited space
26. Lift-Up Staircase Door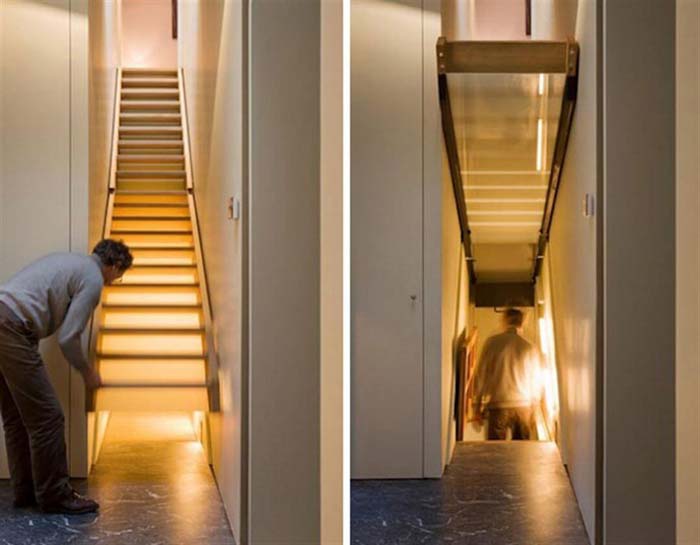 Turn a narrow staircase into an unexpected door by replacing the lower half with a rotating set of treads.
When you lift the bottom tread, the section flips up and enables you to walk through into the room beyond.
27. Window Frame Hidden Storage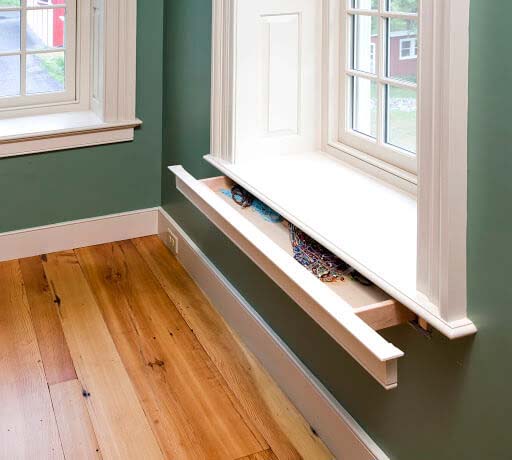 Do you need a way to hide your valuables?
Turn a window frame into a storage space by adding a slide-out drawer.
The baseboard looks like a traditional model, so no one will guess that it's hiding a compartment..
28. Hidden Gun Storage Drawer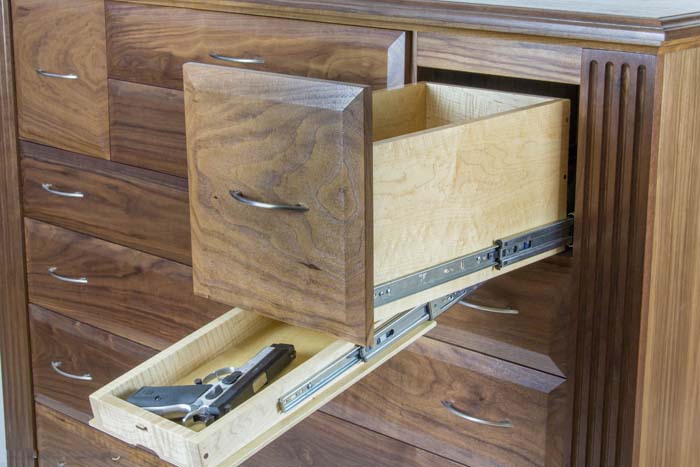 Safe gun storage is a must, particularly when you have children.
Here, a secret drawer is built into the bottom of a dresser drawer.
Add a lock for extra security.
29. Shallow Floor Compartment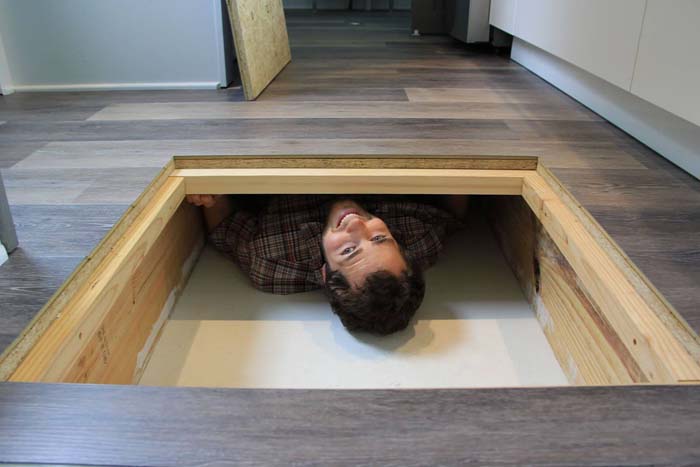 In many homes, there's an unused space under the floorboards.
Using a hidden door, you can transform that empty area into functional storage.
Just replace a section of flooring with a lift-out door, and you'll have plenty of room for books, blankets, and other items.
30. Surprise Rotating Wall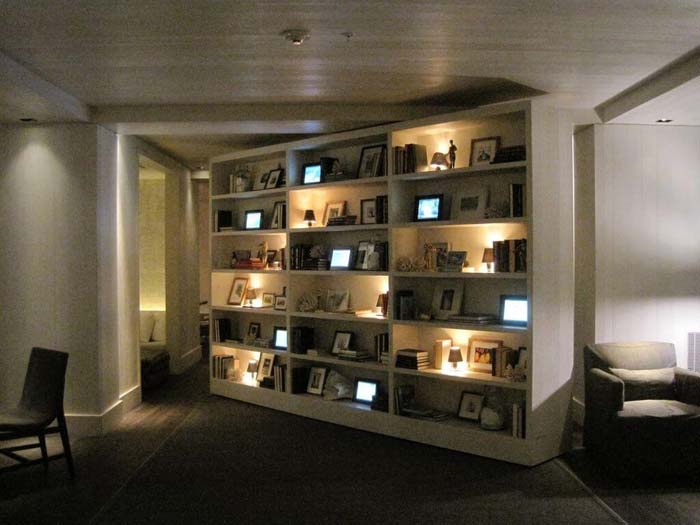 Who says hidden doors need to be small?
This thrilling design transforms an entire wall of built-in bookcases into a secret access door.
Use it to conceal a guest bedroom, a storage area, or a wine room.
31. Sliding Bookcase Laundry-Room Door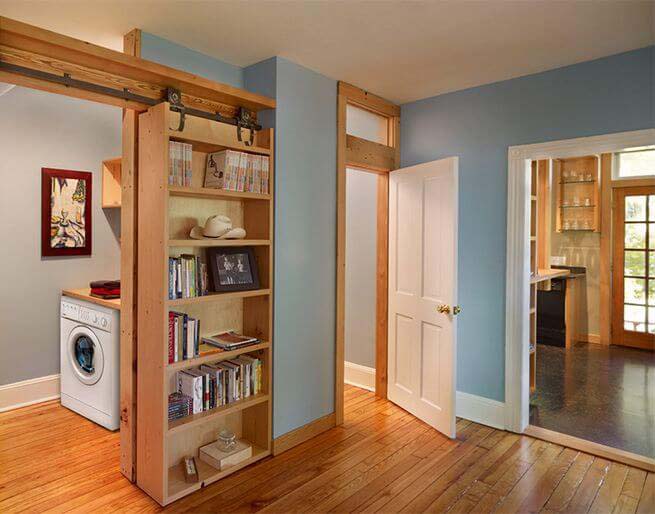 A laundry room is a great addition to your home, but you might not want to see the washer and dryer every time you walk by.
Instead of a traditional door, why not mount a bookcase on barn door hardware.
Slide it open on laundry day and close it the rest of the week.